If there's anything stopping you from going short, today's short hairstyles and haircuts will be your wake-up call! As a matter of fact, nothing can compare to the freedom of a bared neck, not to mention stress-free styling routine for owners of fine locks.
The ease of styling, however, isn't the only reason to switch to short haircuts for women. The truth is, hair types are not created equal. Still, most of them may come as both a blessing and a curse. Remember how many times you left your place with a mess in your thick hair because you couldn't tame it? Or, maybe you've tried all the volumizing products in the hair aisle to finally make your fine hair look fuller.
When you can relate to any of the scenarios, short haircuts come in. For fine hair, they can add a ton of depth and movement while whipping thicker manes in a balanced shape. For that reason, Glaminati team have searched the web for the most stylish and practical options that will not only beautify your look but also take your hair type to the next level.
Life is too short not to cut your hair short, and the latest pixies and bobs are living proofs. Dive in!
*We may earn money from affiliate links on this page. Please check out our disclosure policy for more details.
Why You Should Choose Short Hairstyles For Your Fine Hair?
How Do You Know You Have Fine Hair?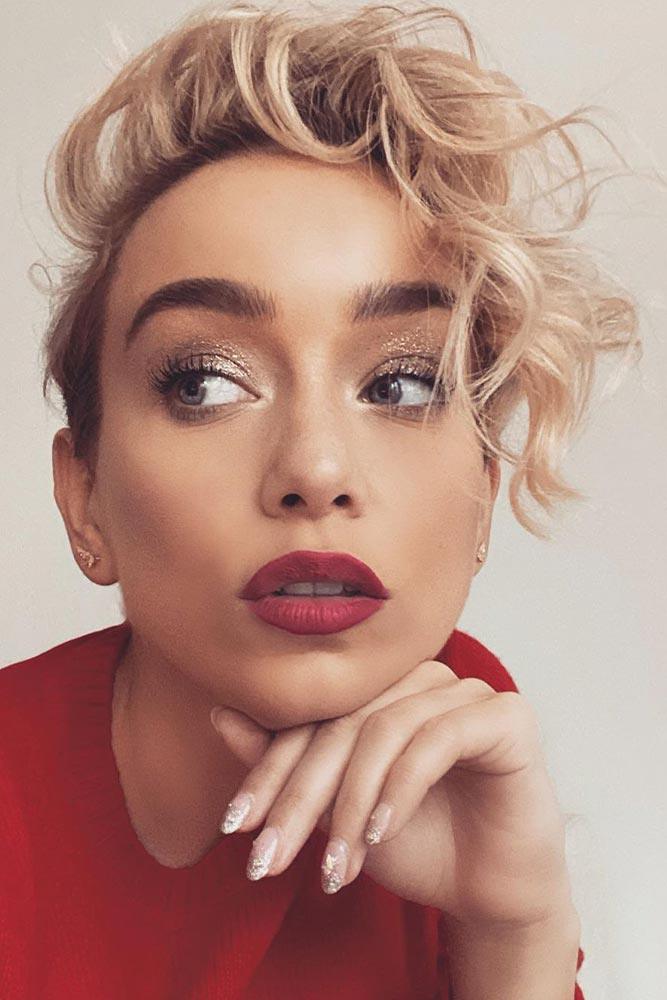 Credit photo: instagram.com/sarah_louwho
Very often, the problem with short haircuts arises when you choose the one that does not fit your hair type. Is there a simple way to determine what type of hair you have? In fact, there are a few, but the easiest one would be with your hair strand.
How to determine your hair type?
All you need to do is to take a strand of your hair and hold it between your fingers.
Thin hair:if you can't feel anything in-between your fingers, then you are the owner of fine hair.
Medium hair: if you can feel the strand lightly, you've got the medium hair type.
Thick hair: if you feel the strand well, you're a proud owner of a thick mane.
Is Short Hair Better For Fine Hair?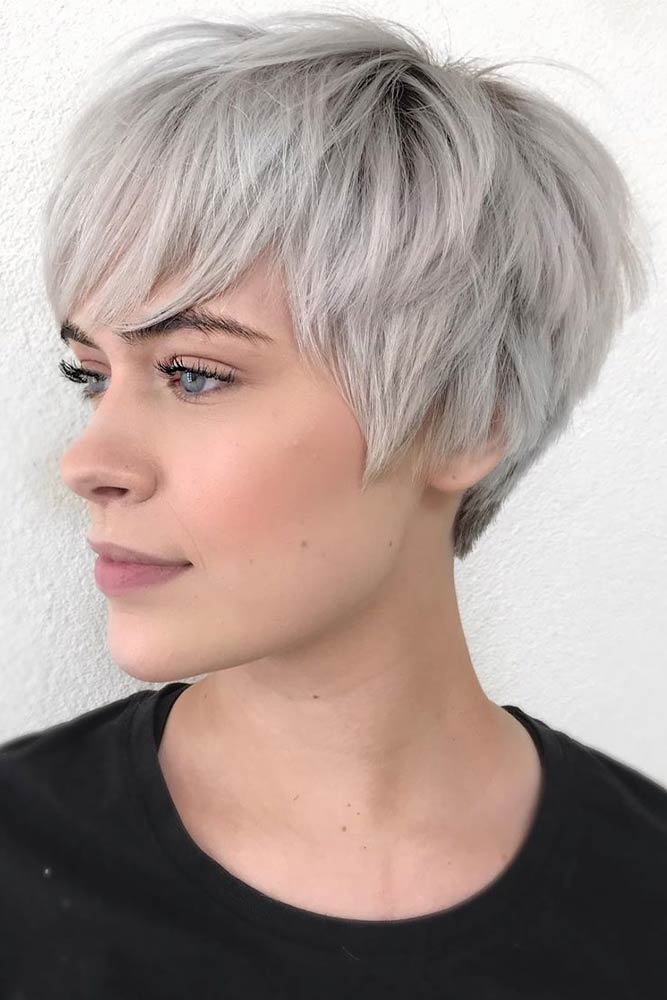 Credit photo: instagram.com/jaywesleyolson
Many short hairstyles seem to be created for fine hair. The truth is that while such cuts as bobs or lobs add shape to thin hair, choppy pixies add that lacking thickness to your hair. Also, those cuts that are longer in the front result in keeping the weight in one place so that the rest looks fuller. In case you still have doubts, here's a short list of advantages that short hairstyles and cuts can bring into your life.
Advantages of short hair
Short hair prevents your hair from falling flat by keeping up with a balanced weight.
Despite being short, this length allows for various texture customizations like layering, which makes the hair fuller.
When fine hair is shorter, it's easier to create long-lasting volume without using a lot of styling products.
Keep it in mind that if you want your shape to hold better, you need to consider short hair over longer cuts.
Should Fine Hair Be Layered Or One Length?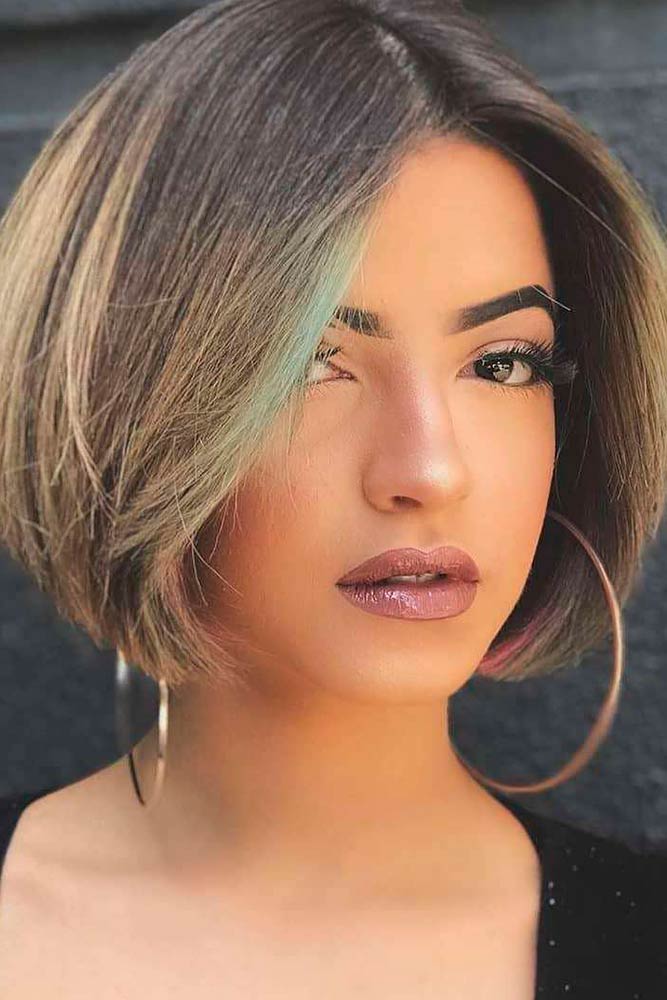 Credit photo: instagram.com/cortesdivosoficial
Many ladies are head over heels about short hair, but fine hair type is something that stands in the way. If you are not a professional hairdresser, it may difficult for you to figure out whether the layered or one-length cut is the one that will complement your hair type best. We are going to reveal a secret – fine hair goes well with either one length or light layering. But how to choose between these two options? Let's discuss the pros of each one so that you have a picture of your ideal look.
One-length
For outlined, perfectly shaped straight hairstyles, one-length haircuts are key.
Sleek styling also looks its best on well-leveled haircuts.
One-length cuts are easier to grow out in case you'd like to get back to a longer look.
Layers
If you need some volume at the top, then you need to ask for some layers added to the rounds of your head.
For messy, carefree styling, layers are the first thing to consider.
Those who love textured looks also can't do without layers.
What Can I Do For Fine Hair? Styling Tips & Tricks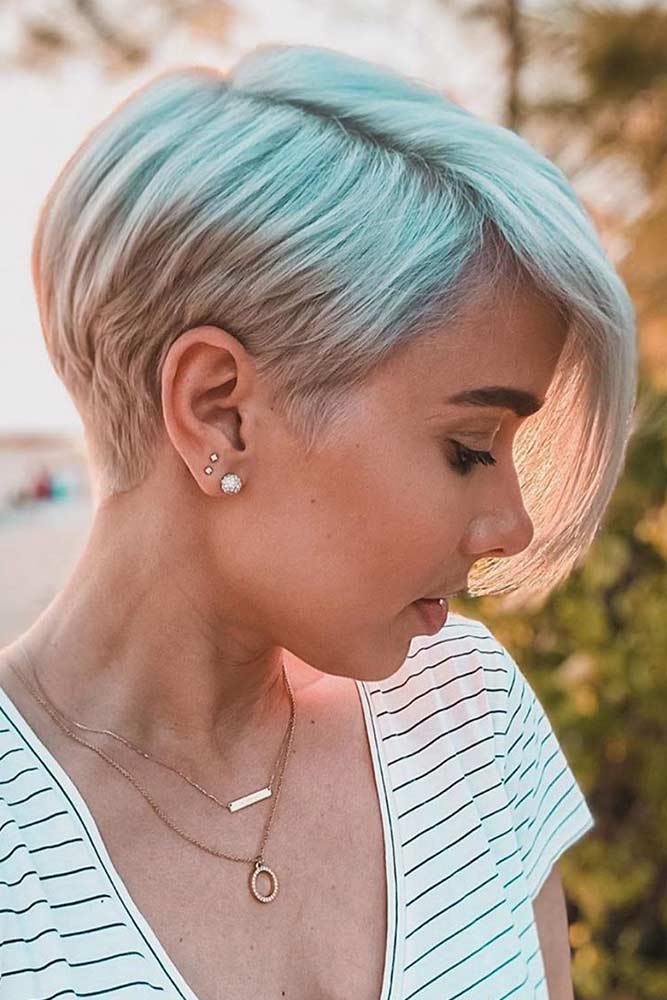 Credit photo: instagram.com/emilygodet
There are many short female haircuts to choose from. Still, without care, it's impossible to get the most of your haircut, no matter how awesome it is. Here's a little cheat sheet to dealing with short haircuts.
Products
Volumizing shampoo and conditioner – choose lightweight hair products for your fine hair.
Do not apply your conditioner on the scalp – mid-length and ends only. Otherwise, your hair will look greasy in a few hours.
Use a clarifying shampoo once a week to get rid of the build-up.
Apply some mousse to your wet hair before blow-drying it.
Introduce a quality dry shampoo into your routine.
Keep a small bottle of dry shampoo in your purse 24/7.
Soft-hold hairspray is one of your good friends too.
For a more natural full appearance, you can spritz hair fibers into the roots.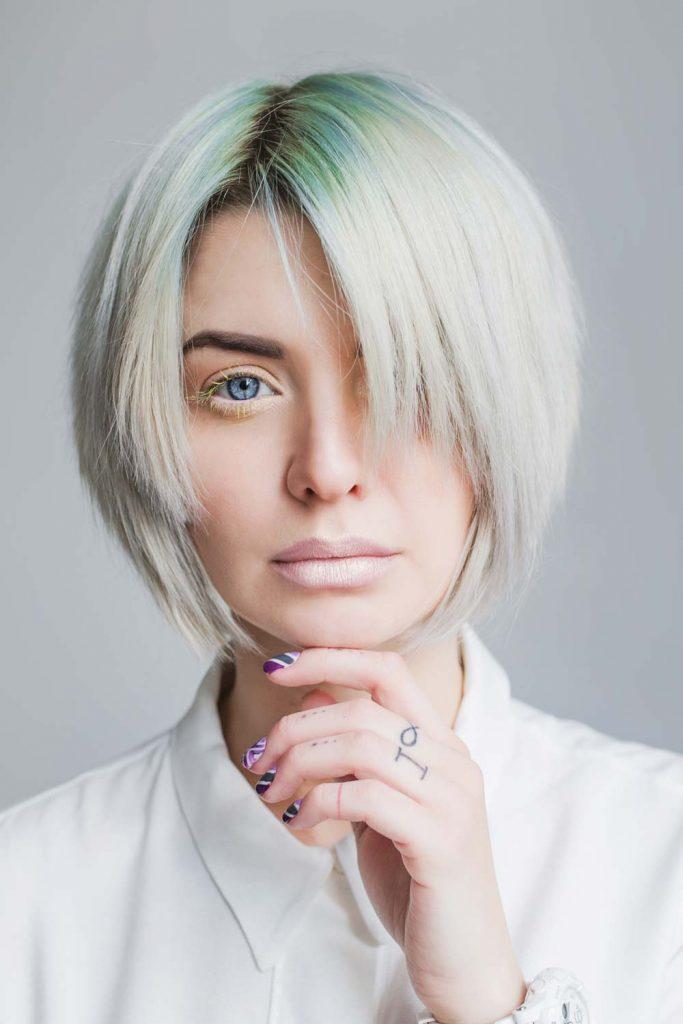 Tools
Blow-dry to activate all the products you have worked in your hair.
Use the round brush only at the end of the blow-drying routine.
You can always opt for some Velcro rollers to add some volume to the crown.
Styling tips
The less often you shampoo your hair – the better.
Scrunching your hair with conditioner works well for air-drying.
It is always best to spray your products on your hands first and then work them into the hair.
Backcombing at the crown adds height to your hair.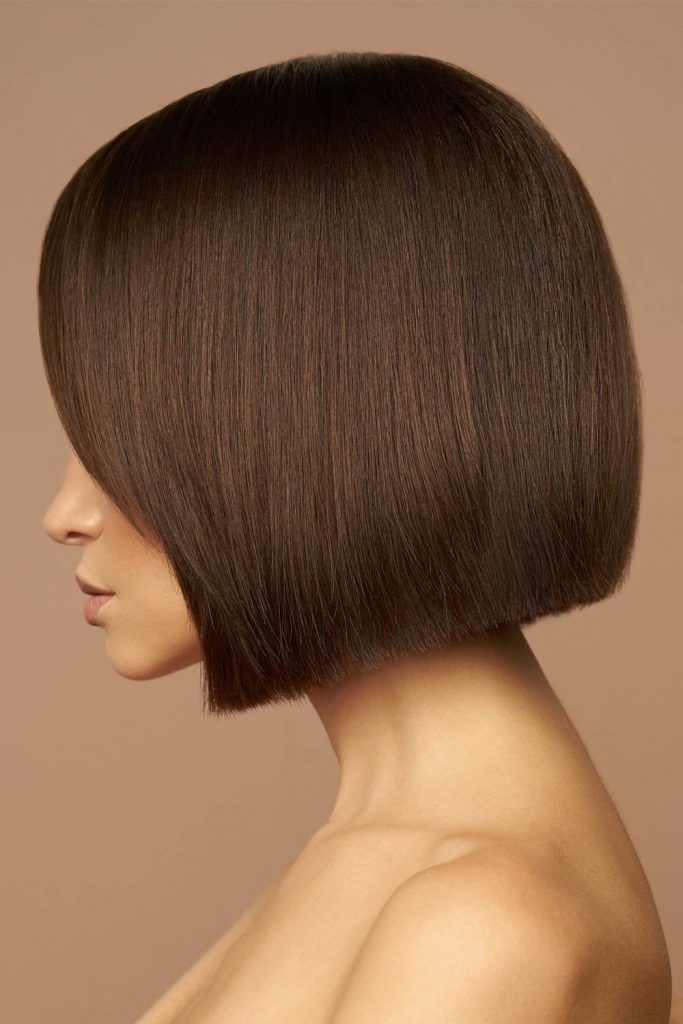 Salon hack
One of the lasting ways to add visual volume to your main is highlighting your tresses.
Another long-lasting volumizing effect will be granted by an in-salon treatment designed for the purpose.
Lastly, use clip-in extensions to boost your volume. You can either purchase them on the web or get them at your hairdresser's.
How Can I Make My Fine Hair Look Thicker?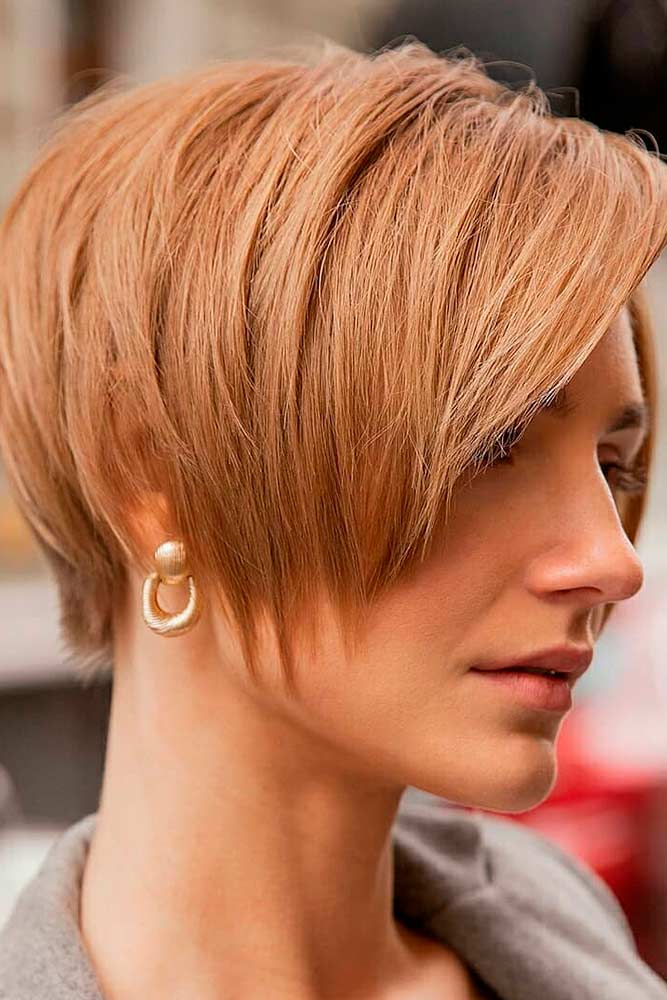 Credit photo: instagram.com/emilygodet
No matter how good a short hairstyle is, it may not make your hair look thick enough. However, there is a list of things that can, and we are going to share them with you:
Thickening shampoo
Condition your hair before you shampoo it
Say 'yes' to a quality mousse
Use a deep conditioner every now and then to prevent breakage
Sleeping in an updo or a bunch of them will prevent hair flattening
Root powder works well for the thick hair impression
Use dry shampoo even on clean hair
Wear hair extensions
Tease the roots – backcomb your hair in small sections and spray some hairspray on the roots
Consult your doctor – you need to realize that fine hair and thinning hair are two different types of hair. In the first case – you were born with it, in the other – it may a medical condition causing the thinning
Perfect Short Haircuts to Match Your Face Shape
Round Face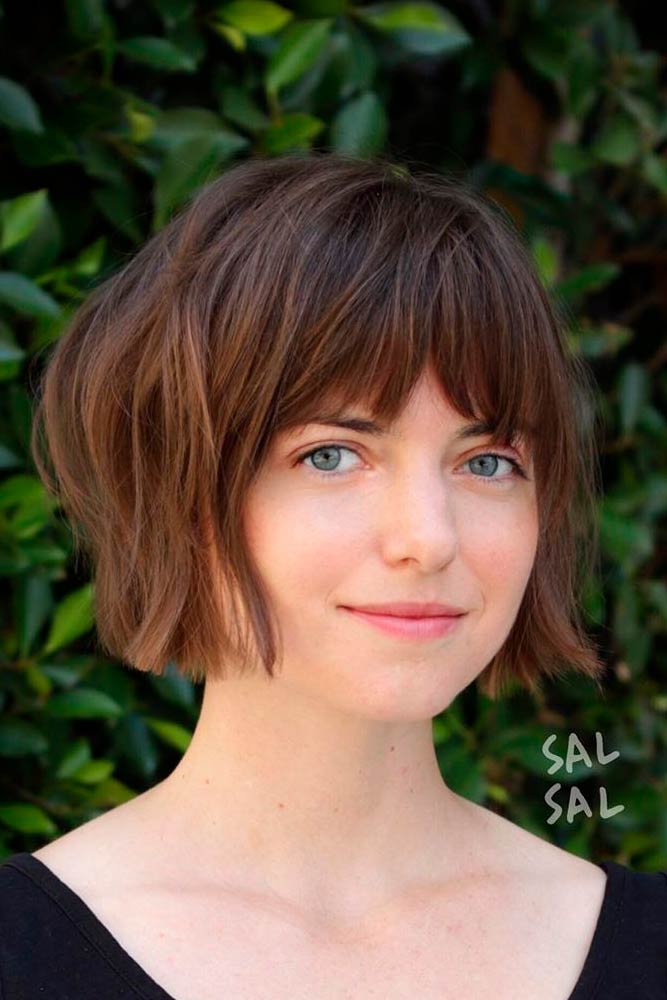 Credit photo: instagram.com/salsalhair
Many ladies get disappointed when choosing the perfect short haircut; they discover that it does not suit them at all. Such a thing may happen if you pick the haircut that is not beneficial to your face shape. The thing is that round faces almost have no angles, and that means that a cut that will take care of that is a must. Short womens haircuts with piecey layers, curtain bangs, or regular bangs will do. The more angular the cut looks, the better it will complement your face, we say you consider all sorts of pixies or bobs with bangs. Soft layered bobs with a wispy fringe will also be a good idea, as they will create more volume and movement that will visually make the face slimmer.
Square Face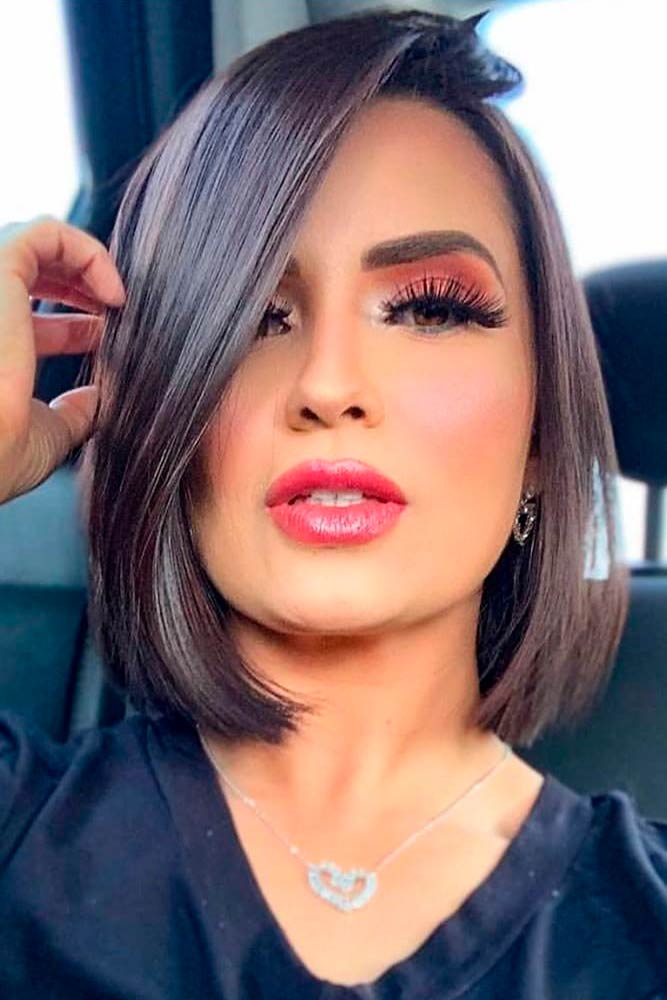 Credit photo: instagram.com/joycecatharinee
A square face is a complete opposite of a round one. This means that instead of creating angles, you need to soften those you already have. That is why piecey layers are no good in this case. You need to opt for softer and deeper layers instead. Anything that smooths out those angles will fit you perfectly. Side-swept medium-length blunt bob, inverted bob, and rounded straight bobs are the short haircuts for thin hair that also complement square face shape.
Triangular Face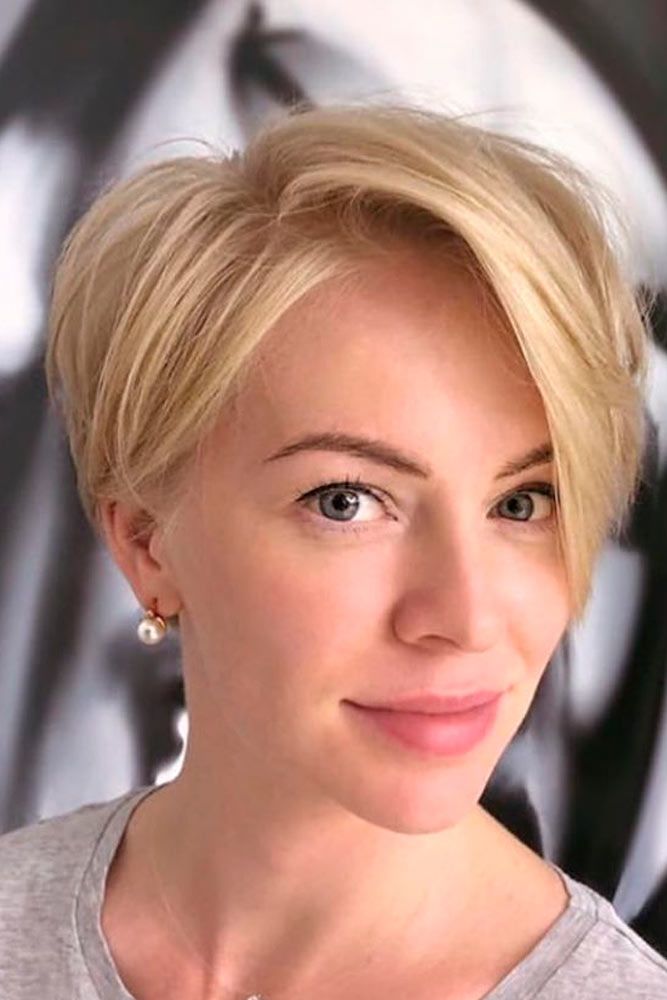 Credit photo: instagram.com/curtosqueamamos
The trick with the triangular face is that it is too wide on top and too narrow at the chin. Such a face is tremendously flattered by the cuts that mask away the widths on top and broaden the chin part at the same time`. And short layered haircuts are exactly what you need. Side bangs and deep layers are your best friends here. Usually, layered pixies are the best to help you deal with such shape effectively.
Oblong Face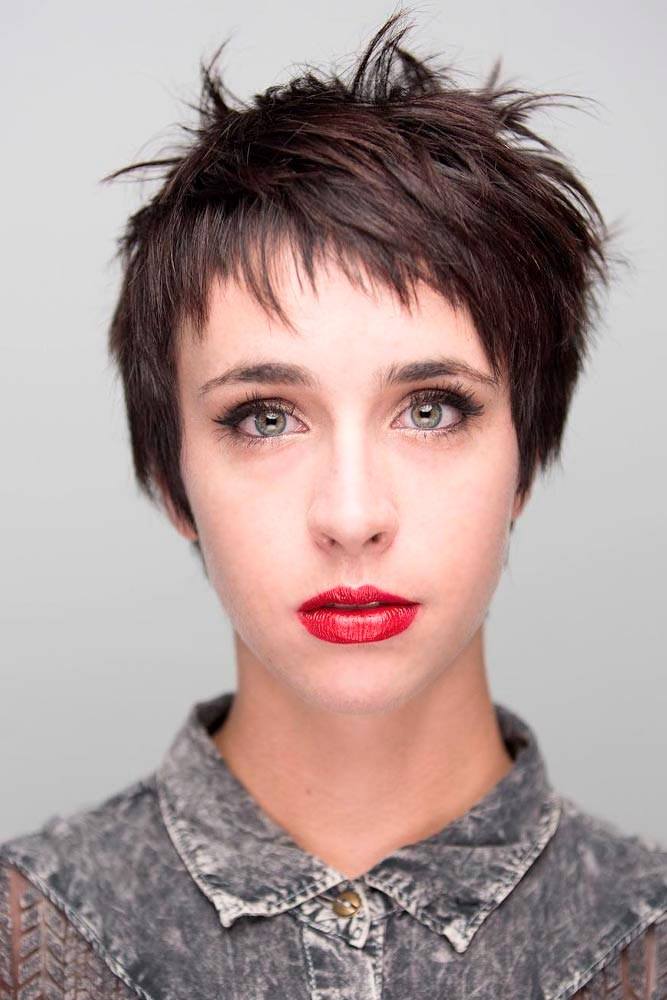 Credit photo: instagram.com/andrewdoeshair
While oval face shape is considered to be the perfect one, an oblong face is a little further from the idea. As you can judge by the name, such a face defines too much length which should be visually shortened with the help of a haircut. A suitable cut will make a face look more proportional, and that is the key to the flawless look. In most cases, the bangs deal with the task more than well. A pixie cut is one of the best short haircuts for an oblong face, especially if it features light choppy layers and defined texture on top.
Oval Face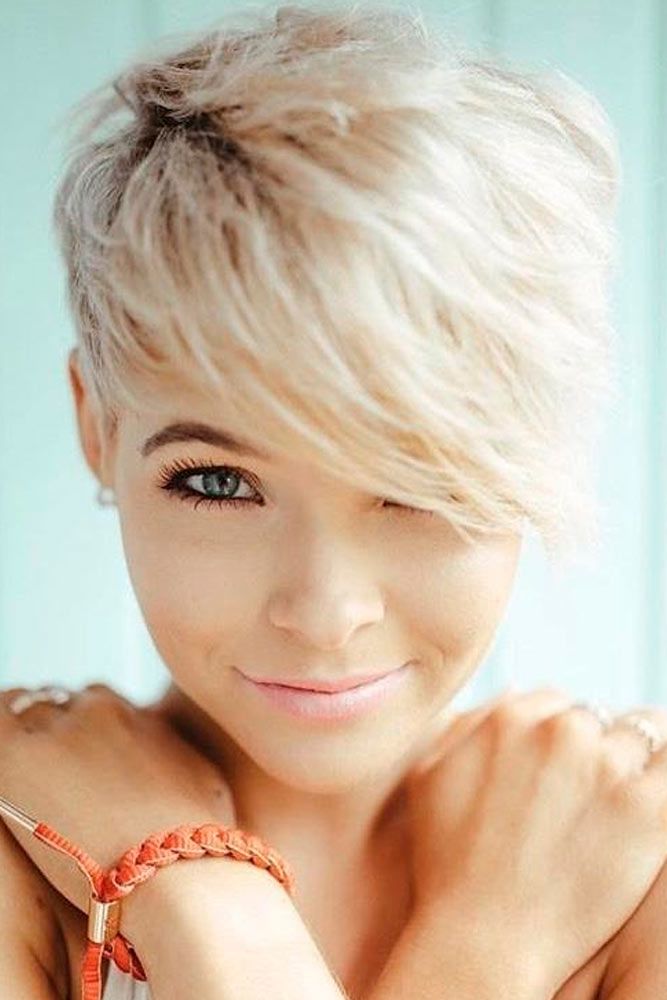 Credit photo: instagram.com/christinaperez93
To tell the truth, there are almost no limits when it comes to oval face shape. There is barely a cut that wouldn't flatter you. That is why you can easily sport any cut starting with very short haircuts and ending with short haircuts with bangs. However, piecey pixies with a side bang and some layering are the hottest trends of this season, keep it in mind.
Buzz Haircuts For Fine Hair
Buzz Cut Hairstyle Ideas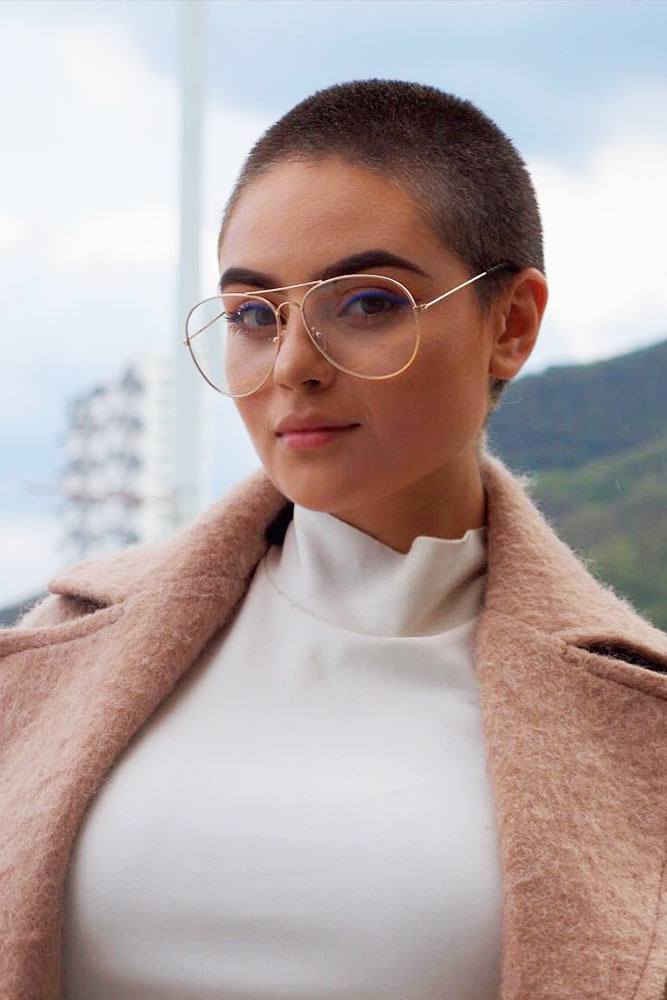 Credit photo: instagram.com/lulu_iglesias
Very often when you hear about a buzz cut, you imagine a male soldier. However, that is not the only case when the cut comes in more than handy. The truth is that more and more women these days prefer to clip their hair short and get over it. Clearly, very short haircuts for women require the lowest maintenance there is, but that does not mean that they come in one shape for all. You would be surprised by the number of variations a skilled hairdresser can come using different hair dyes as well as special designs and patterns.
Platinum Blonde Buzz Cut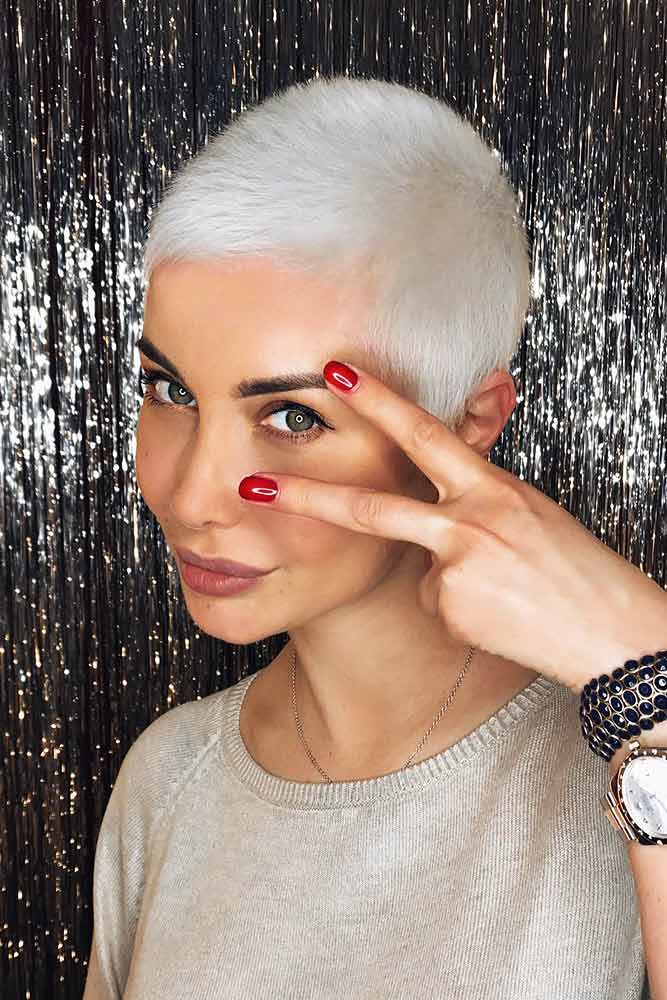 Credit photo: instagram.com/ryabchik.moscow
A buzz isn't the first thing that women come up with when thinking of a short haircut. Well, that's the point! Not everyone has the guts to cut their hair to the minimum length, as well as open up the face completely. This is what will make you stand out in the crowd, showing off your bright individuality! Besides, you can always amp up such women's short haircuts with some trendy color. The sought-after platinum blonde has never been so big! And last but not least, you won't ever need to search for short hairstyles for fine hair, as such a short idea simply builds the needed balance in texture.
Razored Buzz Cut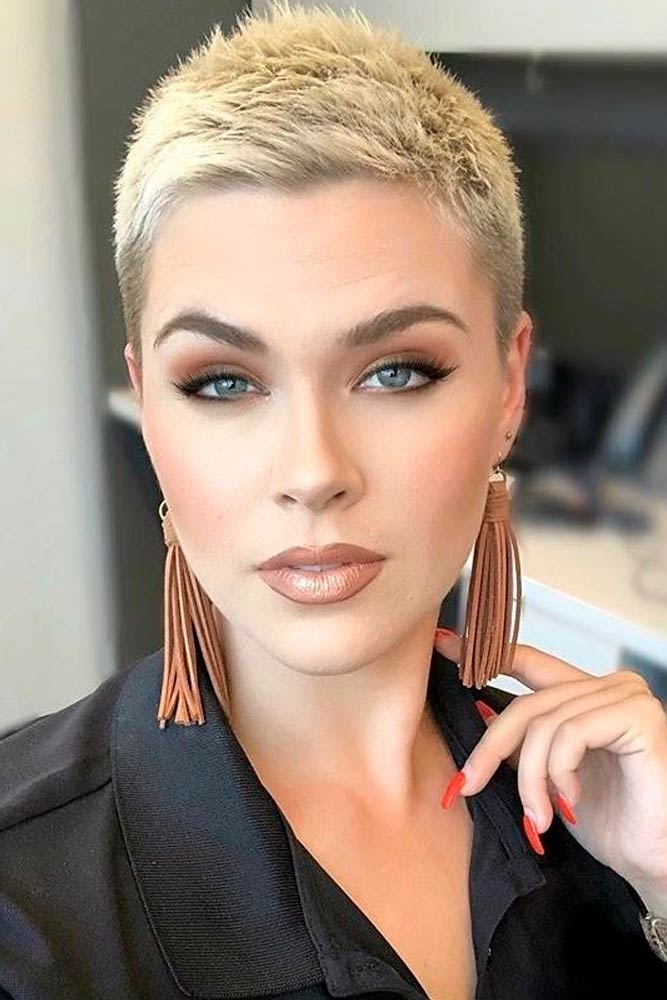 Credit photo: instagram.com/strength.n.dignity_31
While still on the topic of very short haircuts, we'd like to introduce to you this seductive buzz-cut woman with short blonde hair. Yes, lady, the haircut that used to be a man's military cut is now your ticket to the spotlight! Many trendsetters love to pair this cut with some outstanding colors to add some feminine flair. And should we mention that with such women's short haircuts, you will never have to care about thin and flat looks? There's nothing like a stress-free styling routine!
Pixie Hairstyles For Fine Hair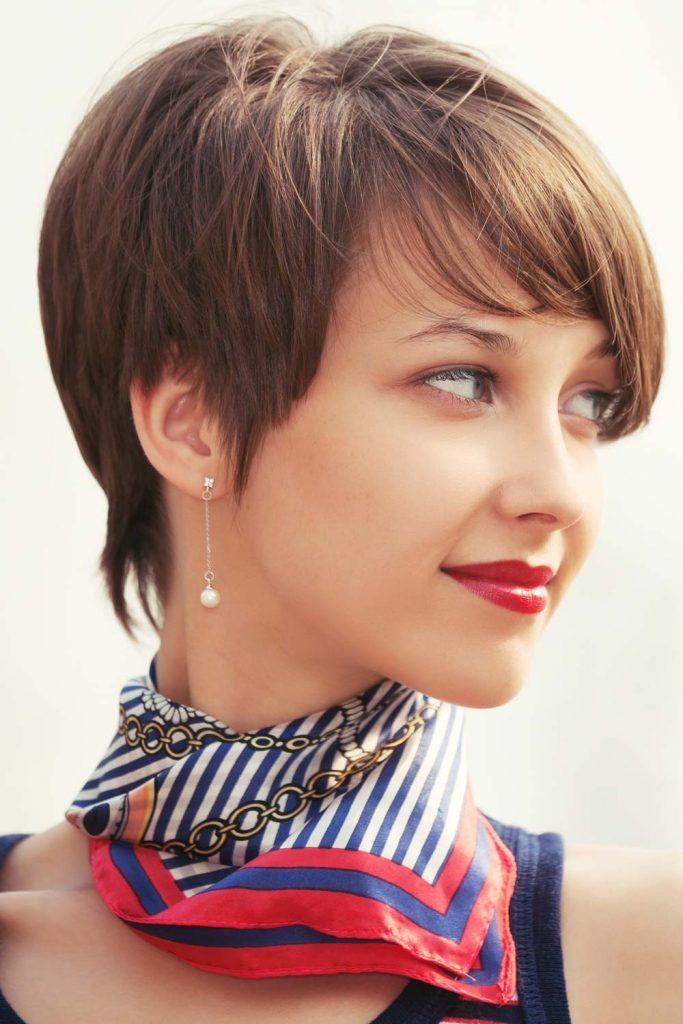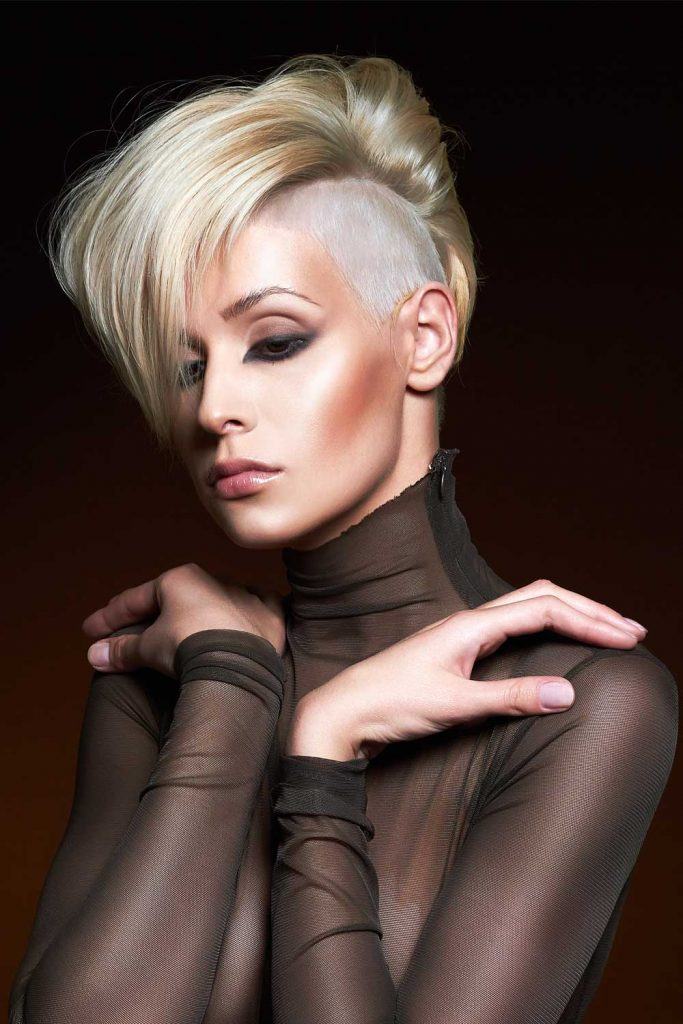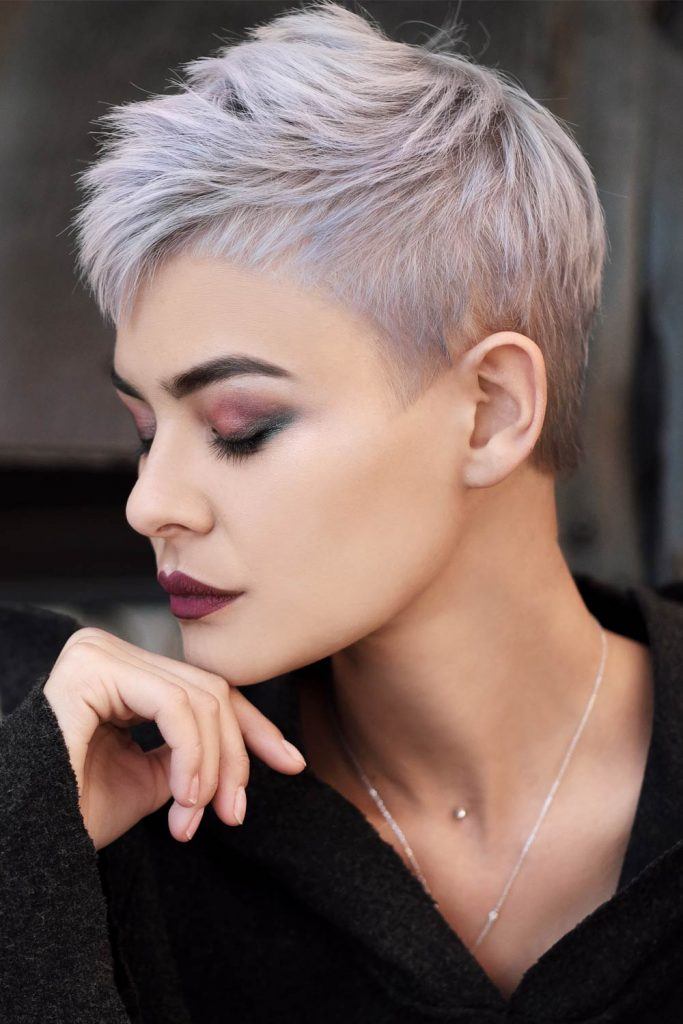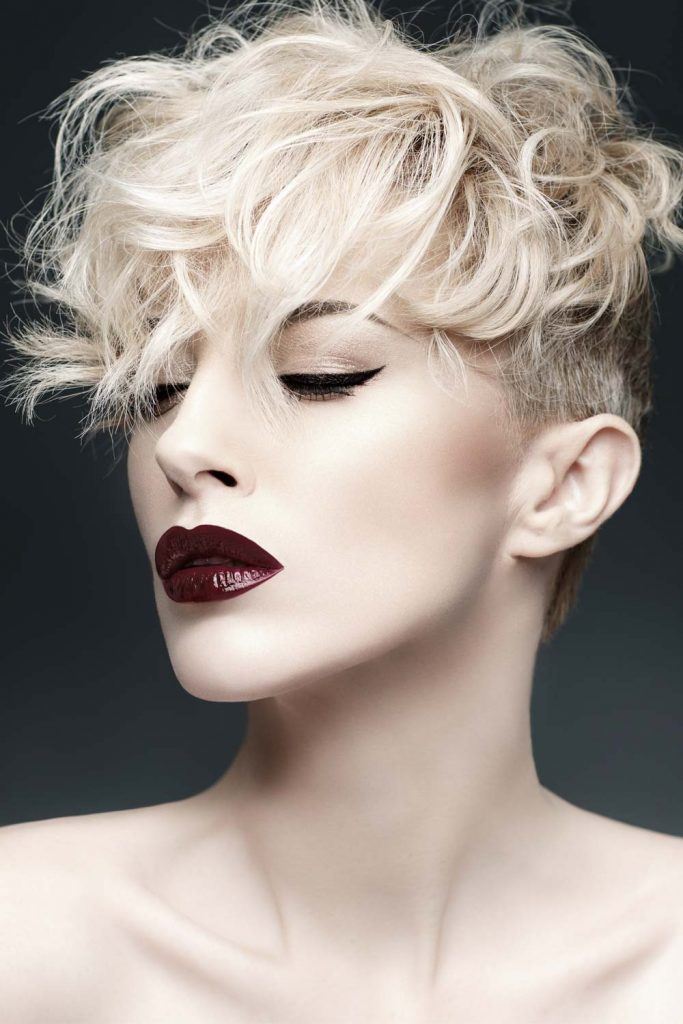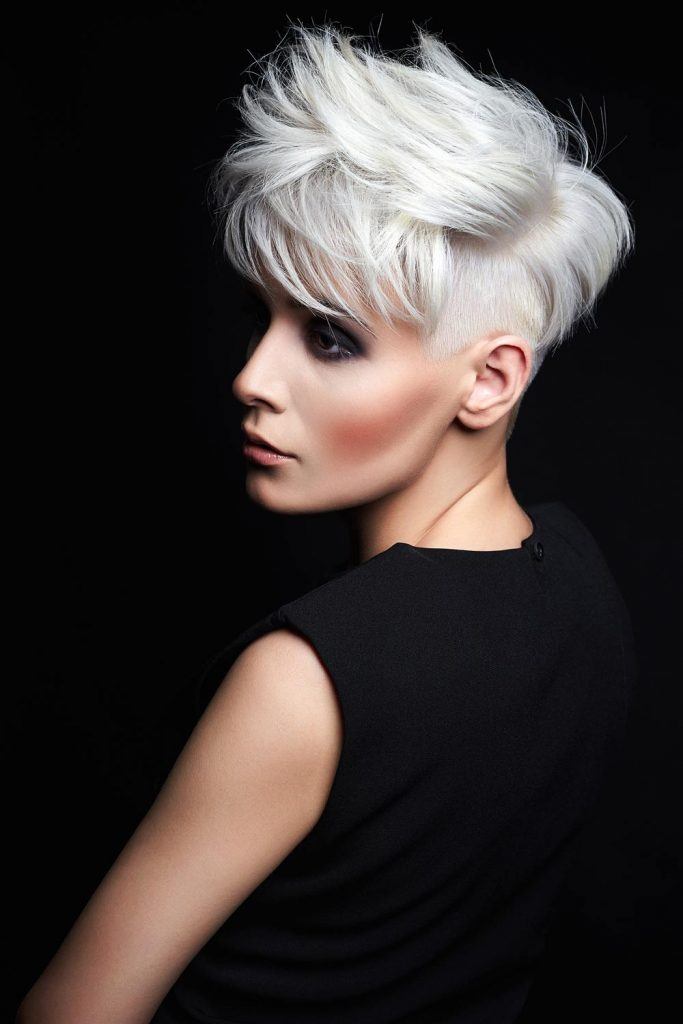 Short Pixie With Long Bangs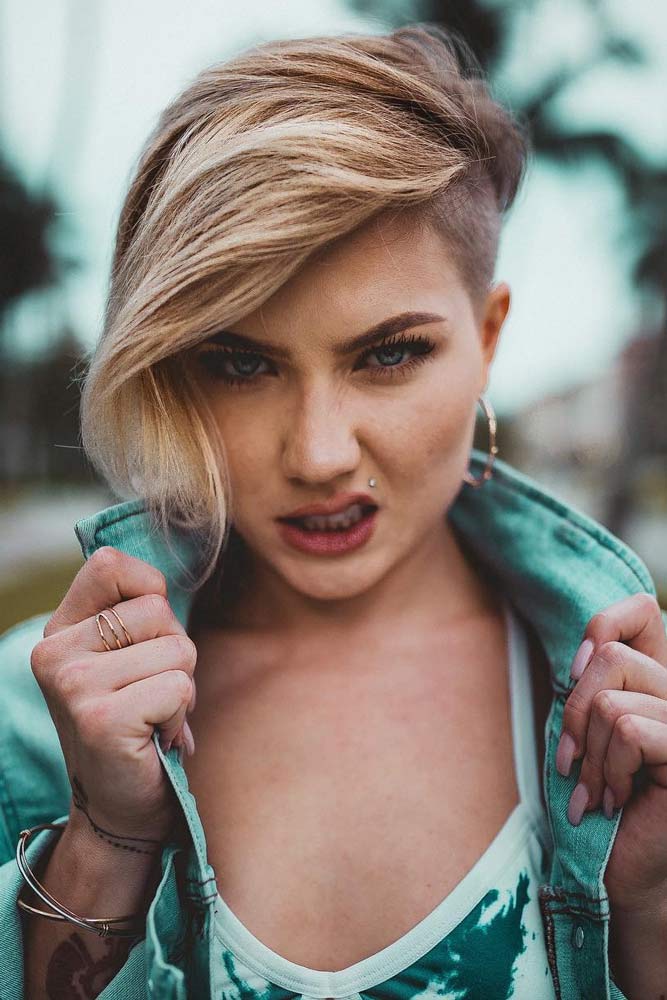 Credit photo: instagram.com/sky_eyes_
Another fantastic way to let your inner rebel take over your look! This pixie leaves us speechless with the serious character and great visual impact. As you might have noticed, this time, a pixie doesn't come alone; it's accompanied by long side-swept bangs to add even more volume and framing magic to the front. Just like many pixie haircuts, this idea is absolutely versatile and can be styled differently based on your mood and outfits.
Undercut Pixie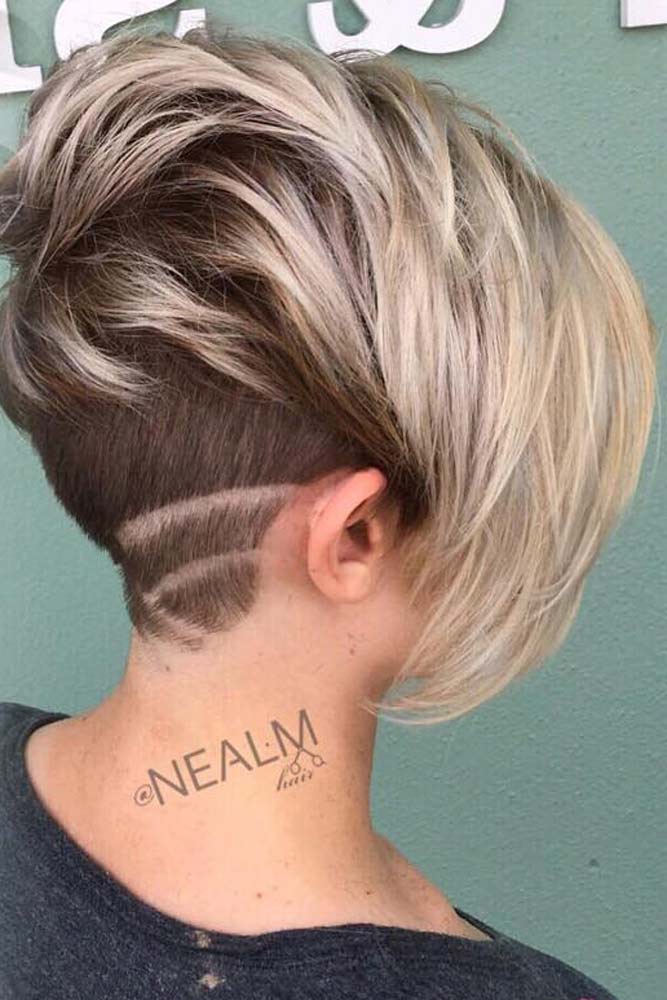 Credit photo: instagram.com/nealmhair
Pixies are never boring for one simple reason: they can adapt to any image and nicely blend with another haircut. Here you can see an eye-catching combination of the good old undercut and ageless pixie haircut finished with a creative hair design. Layers on top add a lot of definition while providing dynamics and dimension to the mane. Cut a long story short, this look is low maintenance but totally cute. Cut your back and sides really short and add some feathers the top for a look that's fab and full of volume. On top of that, the cut is very comfortable in terms of styling: you can do nothing and flaunt with a look to steal.
Not-Quite-a-Pixie Cut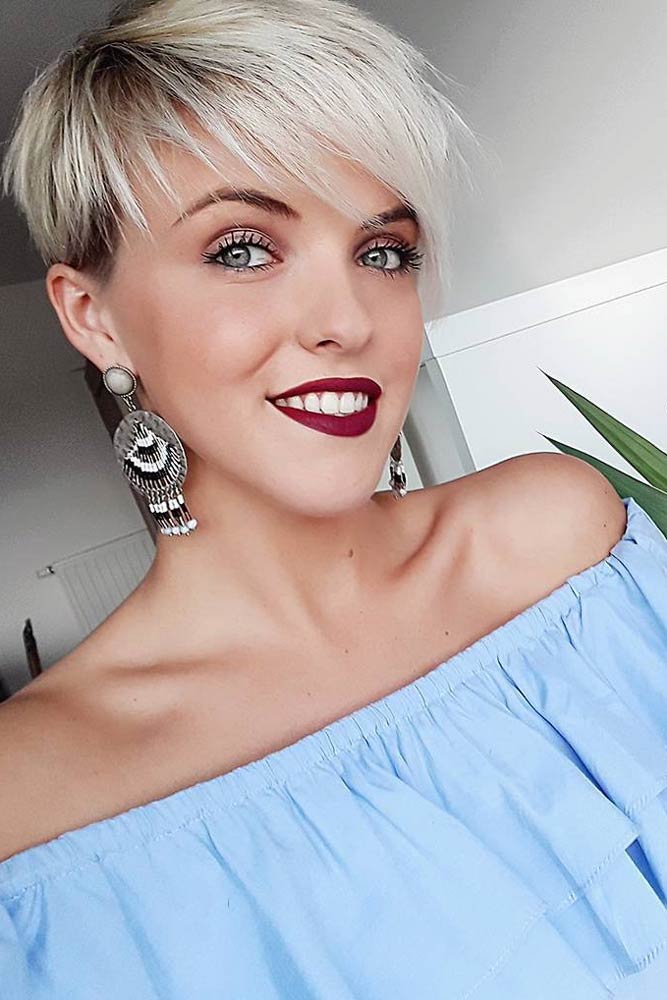 Credit photo: instagram.com/flore_mrs
This look is really fun and edgy. With long and choppy angled layers that are slightly shorter in the back, it adds a ton of volume and movement. It also helps elongate your face and accentuate your facial features, which is a win for ladies who'd like to work on their face shapes. Apart from the sharp structure of the haircut, the styling choice also takes part in making this pixie looking so different. The hair was styled with a flat iron that made the edgy layers so sharp and distinctive. And if you style it with a blow dryer, simply drying it, you will see a gentler, more even hair texture that will remind that wearing versatile and cute short hairstyles is fun!
Carefree Pixie With Sideburns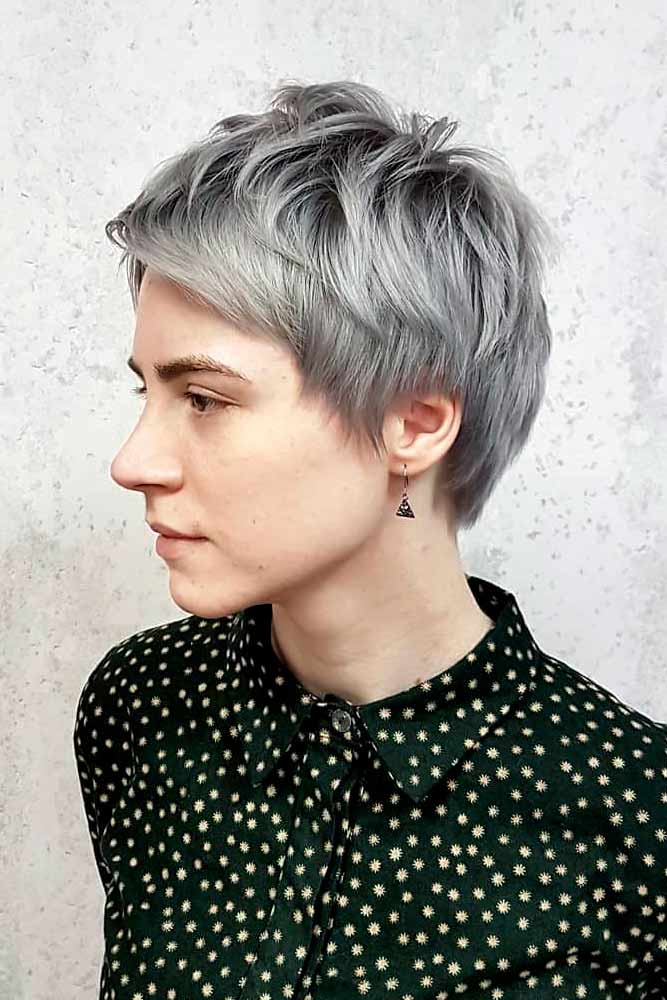 Credit photo: instagram.com/alexisplatun
You can get your hair layered to volumize its silhouette; you can get yourself a fringe to have more room for volumetric styling. And finally, you can let your sideburns do its own thing to create a fuller look to your hair. Short length hairstyles for fine hair are indeed full of surprises! For example, these long sideburns are fashionable and help create the illusion of thicker tresses. Isn't that an amazing way to get the effect of fullness?
Short Pixie Hairstyles With Shaved Sides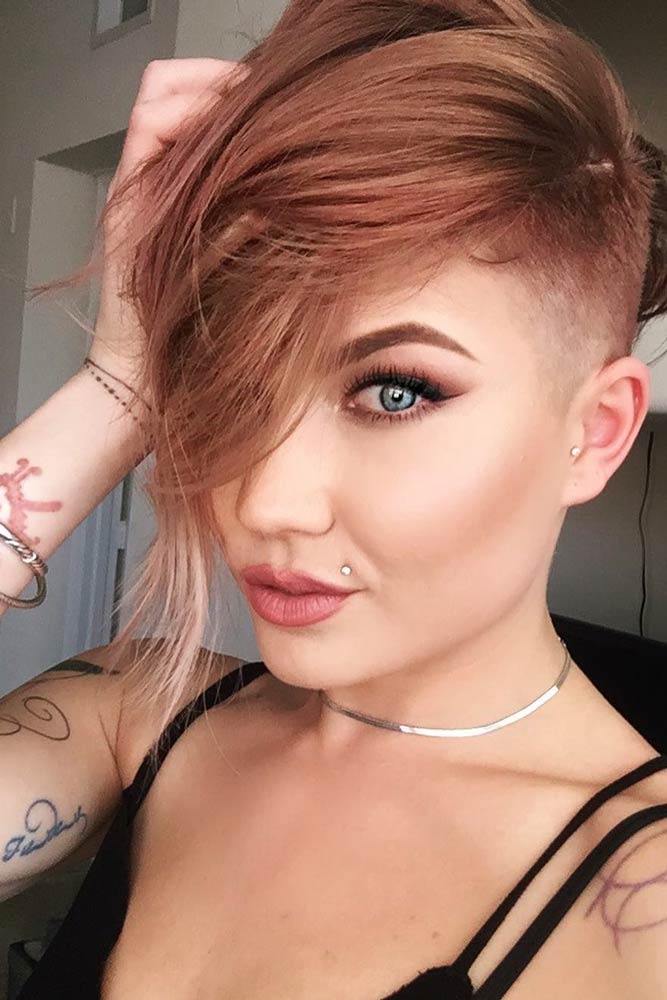 Credit photo: instagram.com/sky_eyes_
This funky look with really short sides and back and longer combed forward layers is a bit daring. And it goes without saying that only those women who are brave enough to have all eyes on them can pull it off. At first sight, the idea may seem to be too long and heavy for fine hair. However, in reality, this swaggy cut adds height and volume to your thinner hair. To make it work best for you, ask your stylist for subtle layers that will make the texture airy and thus more manageable. As for styling, sweep your top to the side: it will add extra volume while showing off your awesome shaved sides.
Short Hairstyles For Punk Princess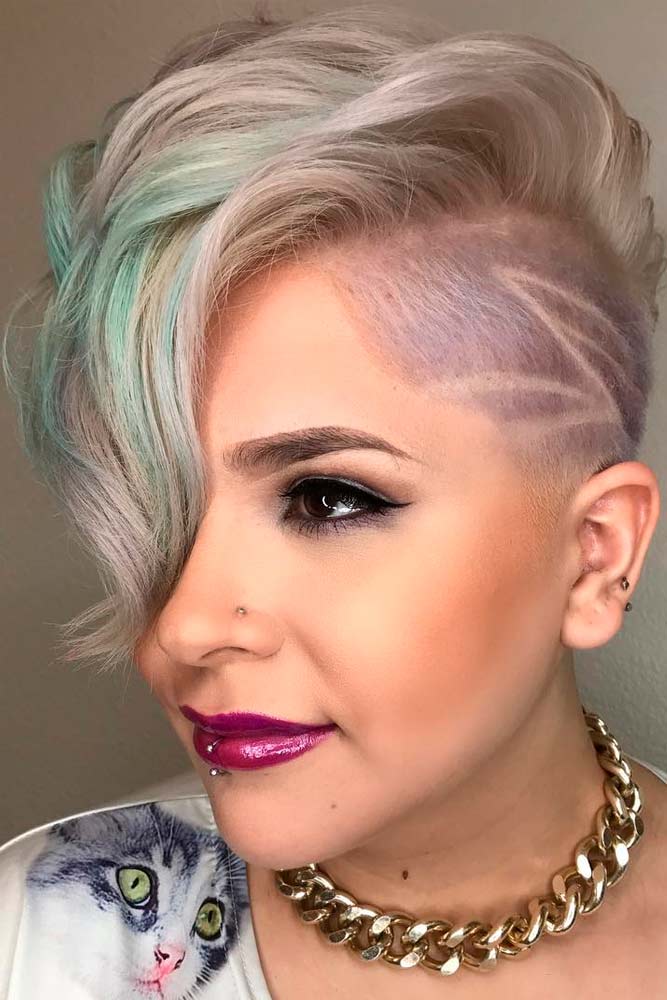 Credit photo: instagram.com/behindthechair_com
Let's not forget what a crucial role our hair plays in our self-expression. When we want to change something in our life, it just so happens that we start from our hair. And when we are about to show how different we are, we go for bold changes, turning our hair into a palette of experiments. This zig-zag shaved pixie with feathery layers is totally edgy. Still, the haircut isn't the only thing in this look that makes heads turn. The faux-hawk adds a lot of puffed up layers on top for a rocker chic vibe. Recreating won't require a lot of time. Yet, you should ensure you've got enough hair gel to make it right. And last but not least, things will get even more fascinating with some bold colors: this look is one that screams for a bright and daring burst of color.
Peter Pan Pixie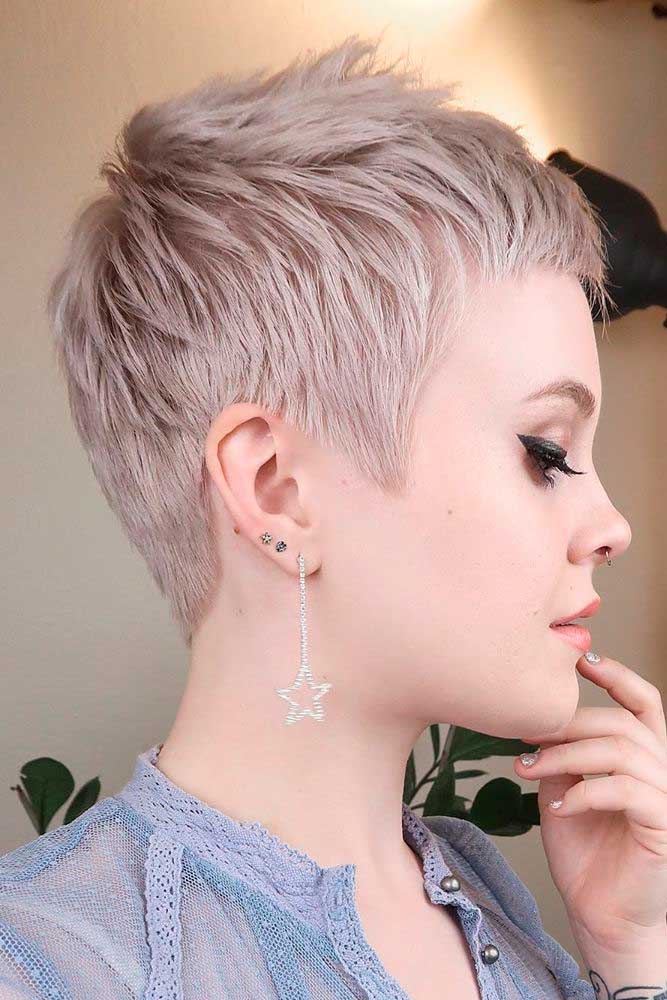 Credit photo: instagram.com/sarahb.h
This boy cut is totally adorable and chic. Its trendy taupe color is what makes the pixie really sweet and sassy. Due to various little layers running through the cut, it looks like it came from the famous tale. And even though it's rather a tomboy haircut, paired with a stylish shade and defined texture, it still preserves the girly mood. And, most importantly, it deals with fine hair, building perfect balance for the whole look.
Shaggy Tapered Pixie
Credit photo: instagram.com/sarahb.h
There are as many short hairstyles for women as you want because you can always customize your cut and style, creating a one of a kind look. This taped pixie is totally adorable with its tapered layers that add a ton of texture. Those with thicker tresses would not be able to pull off this cute look. So, embrace your fine locks and totally own this sassy short pixie! And now you can see with your own eyes that very short hairstyles don't kill the feminine vibe. On the contrary, they can reveal it from a new angle. Keep your top well-shaped and defined if you want the hairstyle to fit in your sophisticated, smart image.
Side-Parted Disconnected Pixie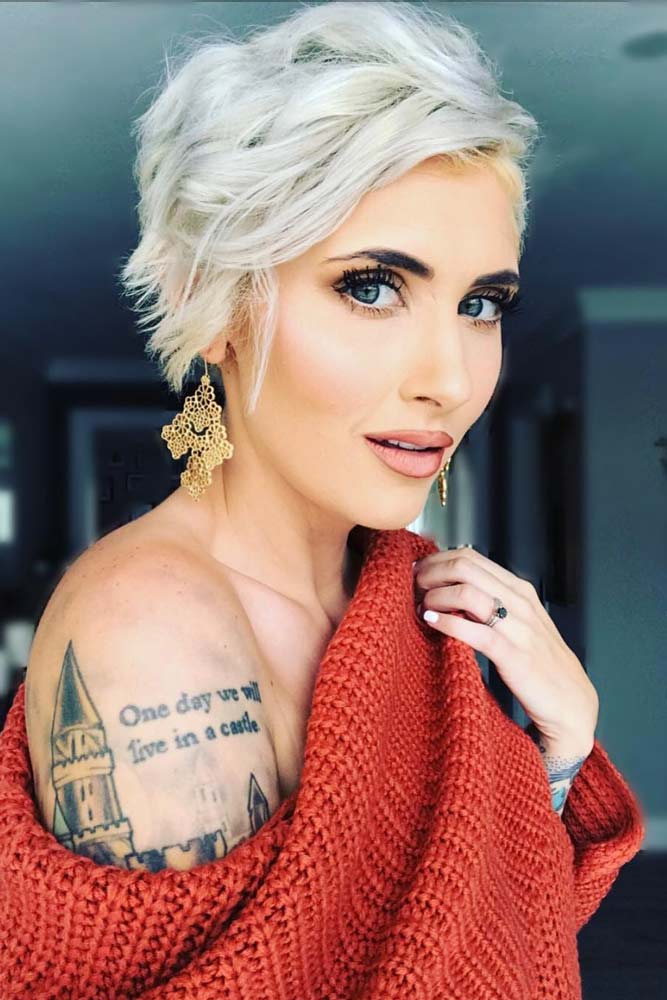 Credit photo: instagram.com/rayahope
This adorable pixie with disconnected layers that are swooped over to one side will add a ton of volume to your fine tresses. Dark roots with silver or blonde over-tones will add more dimension for a playful, flirty vibe, which will also nicely complement both casual and formal looks. Besides, such short layered hairstyles are surprisingly easy to style: just work some texturizing product into your damp tresses, adding more movement by running your fingers through the length. If you want to have a more defined texture, you can give your top some passes of a flat iron. To finish the look, give it a coat of a lightweight hairspray to forget about countless touch-ups throughout the day.
Buzzed Summer Short Hairstyle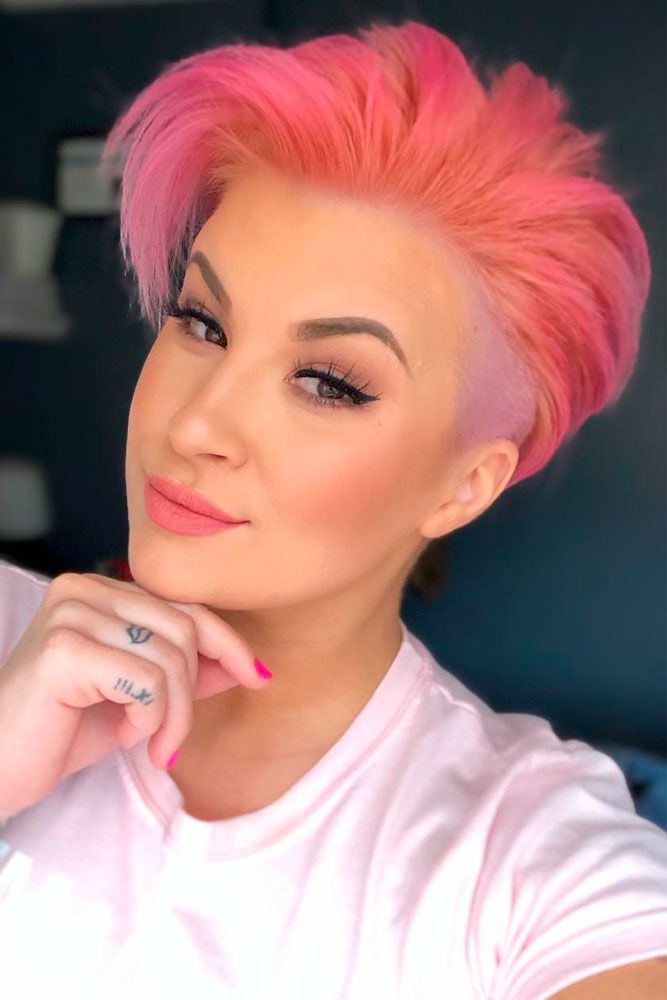 Credit photo: instagram.com/kassiabarbo
Whoah, it's getting pretty hot, isn't it? And it seems like it has something to do with short hairstyles 2020 has prepared for this summer. This look is perfect if you want to bring out your inner punk rock chick. The buzzed cut with long layers on the top that form long, side swept bangs is super cute and trendy. If you are feeling really brave, you can dye your hair bold color. The good news is, there are a plethora of ways to style the top: you just need to be equipped with several foams and pomades to define your strands and keep them in place all day long. To achieve the look from this pic, semi-shine hair gel is key.
Mohawk Haircut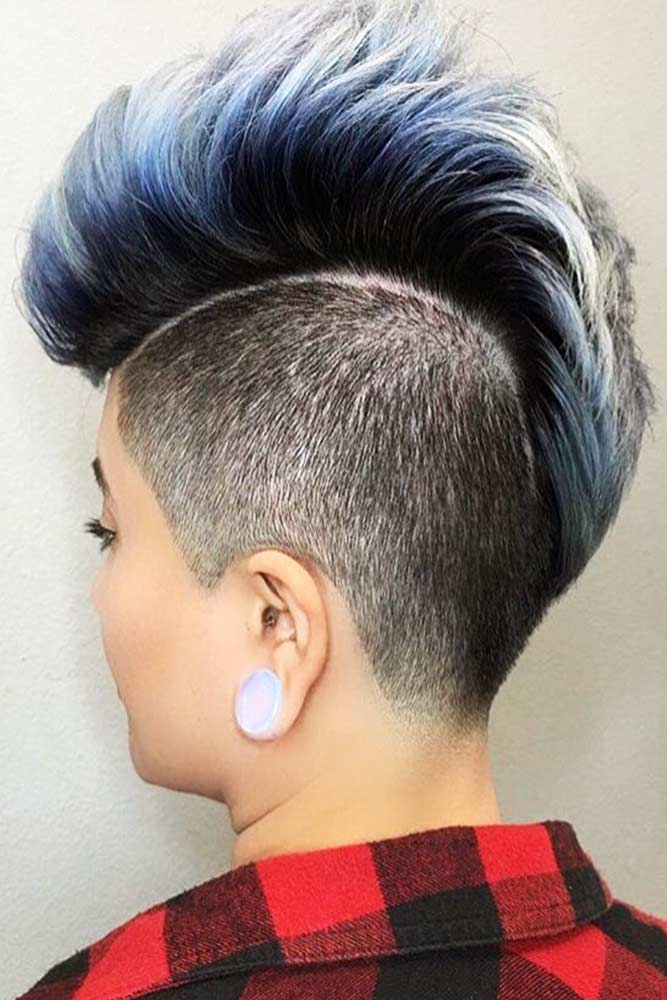 Credit photo: instagram.com/pink_nouveau
In times when you wish there were some more edginess to your hair, Mohawk is key. In general, a classy Mohawk requires the sides to be shaved, while the thin strip of your hair runs from the front of your head to the back. Mohawks require volume, and thus if you choose this type of short hair, you may get ready to spend some time on fixing it every morning. On the bright side, no pun intended, you can get as experimental with the colors as you like. Besides, many womens short haircuts these days are decorated with fancy patterns on the shaved sides.
Mohawk Haircut With Bright Shaved Pattern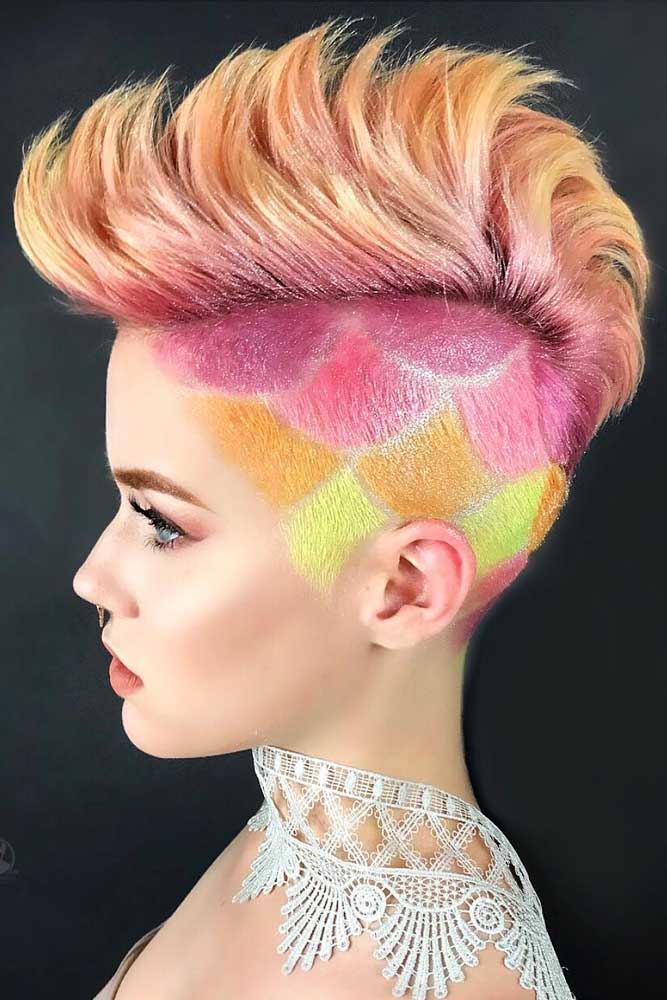 Credit photo: instagram.com/bottleblonde76
Mohawks have nothing to do with limitations; in fact, they're a huge canvas for hair experiments. Whether it's color, shaved design, or texture on the top, such short haircuts for women allow you to get as creative as your soul desires. Here, for example, you can see a jaw-dropping pixie haircut customized with bright fish-scale design and styled into a daring Mohawk. Of course, such short hairstyles need to stay in place all day long, so make sure to apply strong hold clay to the hair, and finish the look with hairspray.
The Best Pixie Haircuts Ideas From Instagram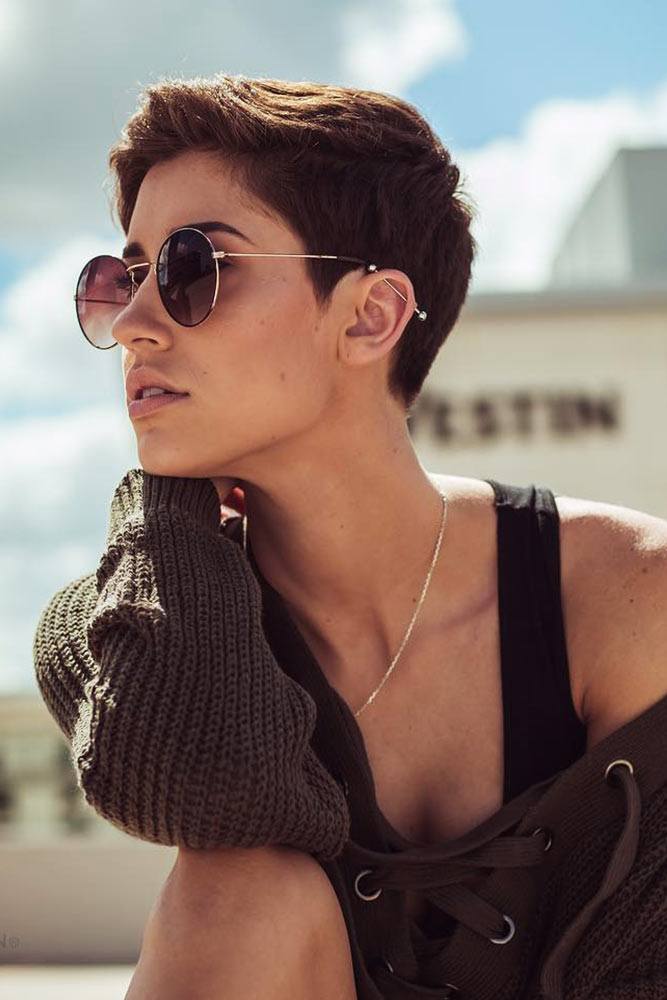 Credit photo: instagram.com/jordan_shugart
Those of you who are always on-the-go need a cut that is easy to manage, we know that. Nevertheless, every woman wants her hair to look stylish and cared for. That is when short pixie haircuts come in. The fact is that the number of pixie variations is almost unlimited. This means that no matter thick or fine hair you have, you can always find the cut that will complement it most. What is more, playing around with various dyeing techniques and a pixie is pure fun!
Spiky Long Pixie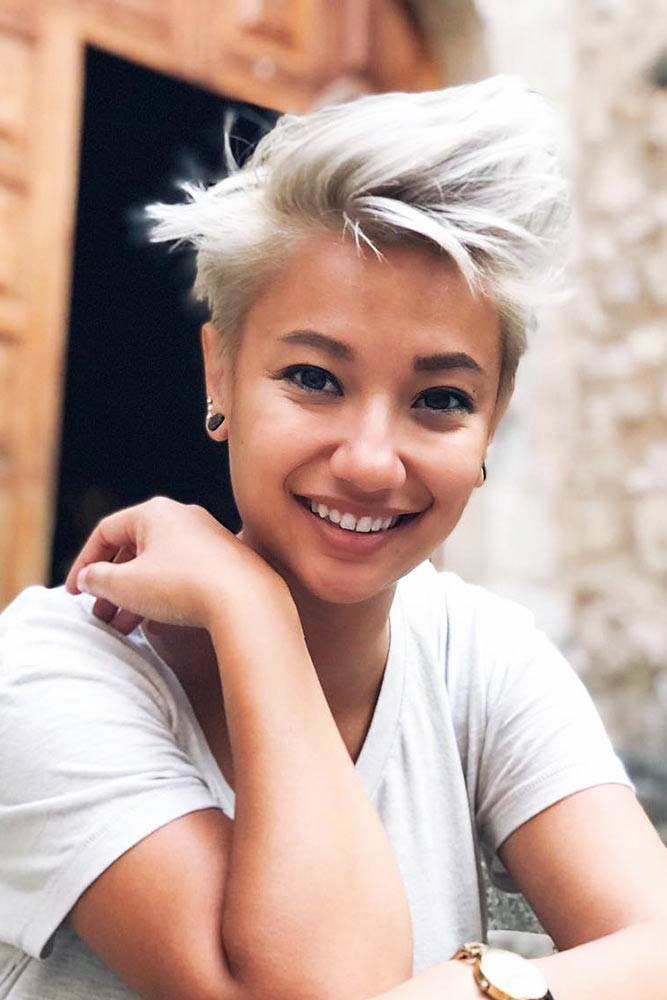 Credit photo: instagram.com/lexinedeluca
Most women stay away from the idea of getting short hair cuts because they think they will end up with no styling choices to play with. If you're one of them, you've never been so wrong! The variety of hairstyles for short hair knows no end, and here's one of the most iconic pixie short hairstyles for women to prove that to you. With a bit of hair pomade and textured spiky finish, you can lift the top and style it in different directions, thus adding more movement and character to your look.
High Afro For Curly Hair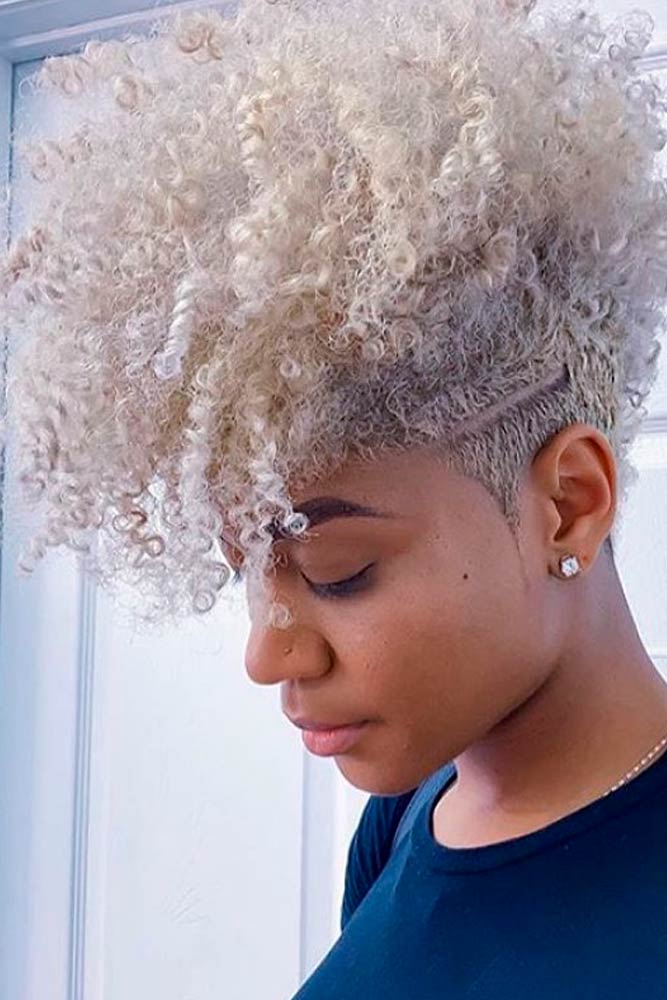 Credit photo: instagram.com/rhondivasboutique
Some consider it a curse the other would kill for it. In case you have not the slightest idea of what we are talking about – these are the curls. Sure, tight curls are difficult to manage, as well as to style. On the other hand, for those with straight hair, curls are easy to get without the long-term use of curling iron. The best way to solve the curly girls' dilemma is to opt for cute short haircuts that complement the structure most. The thing is that many bobs, as well as pixies, come in more than useful for those who want to tame their curls. However, if you'd like to go sassy rather than classic, you can get a feminine version of an undercut: the tight sides will keep those curls in place.
Burgundy Pixie With Undercut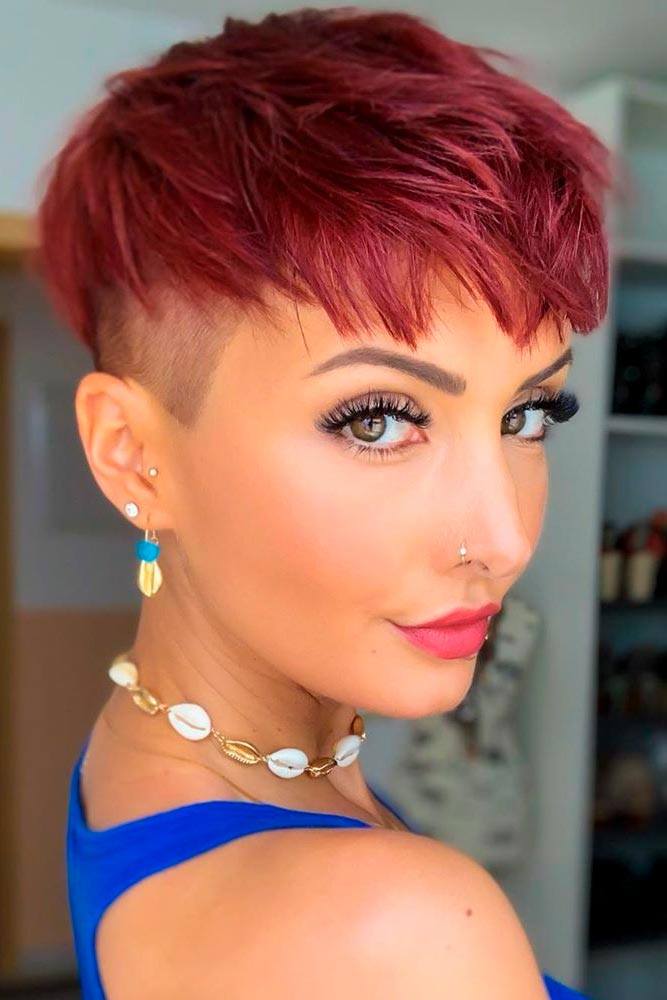 Credit photo: instagram.com/jejojejo87
Sometimes keeping your hair at its shortest is key to dealing with thin locks. You see, since you can't make your hair thicker in nature, you can play with textures to create an illusion of a fuller look. As weird as it may sound, very short haircuts like this undercut pixie are the best option to create a visual balance in texture. The sides are clean and the top is chopped and messy. Together, they create a contrast that balances out the whole look and makes it thicker visually. Needless to say, we love how womens short haircuts get more and more modern each day. You can also try messy short hairstyles for thin hair that involve sea salt spray to make this amazing duo even brighter.
Grey Tapered Crop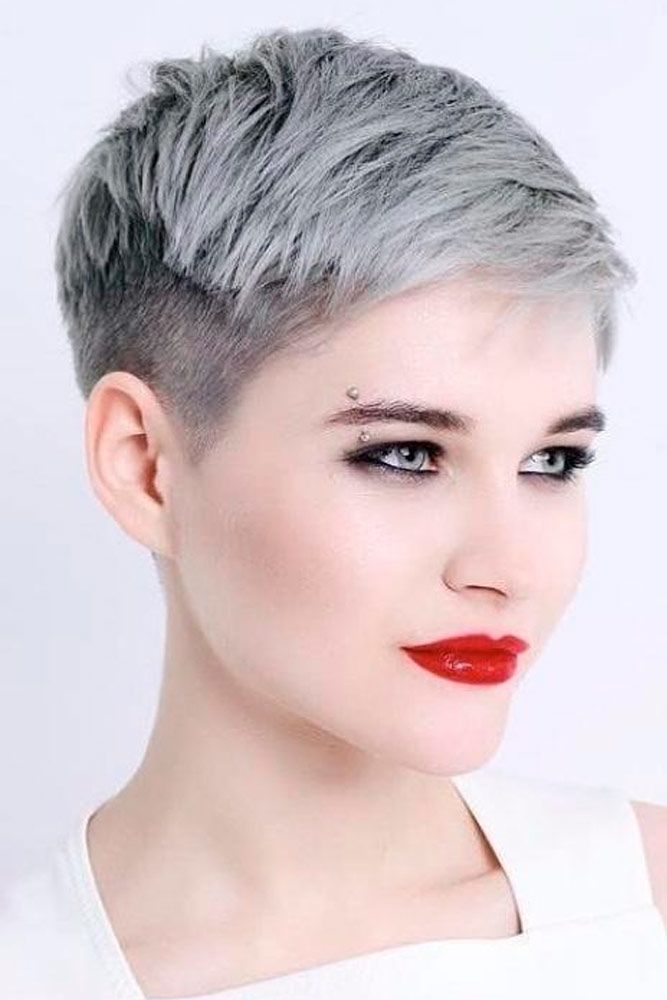 Credit photo: instagram.com/pmsalon.blond
A short tapered crop with this amazing greyish tone is one of those cute short haircuts that you've been seeing on Instagram lately. Although it may seem to be a hard-to-get short hair cut, it is far from being a commitment. Besides, it will work wonders for your fine and thin hair texture! Just ask your hairstylist for a taper and a copped texture on top: this duo is the best weapon to fight flat looks with tons of lively movement. If you wonder how to style short hair like this, the answer lies in styling products such as pomades, clays, and sprays that will give you different textures and looks.
Pixie Cut With Layered Side Bang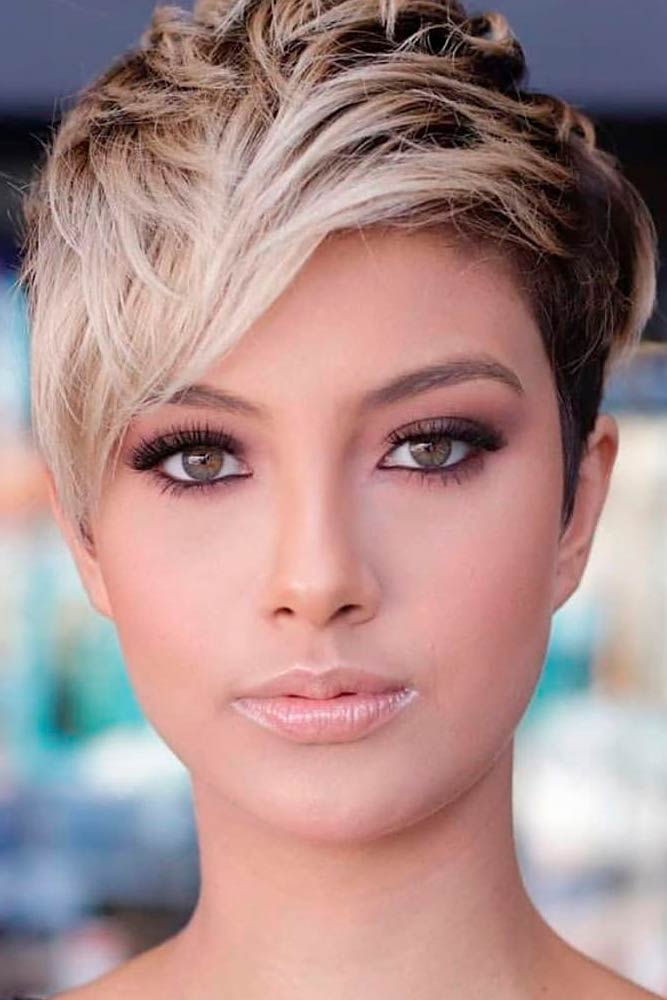 Credit photo: instagram.com/anaa.favaron
No wonder that pixie is on the top of the most requested short haircuts women Google each day, as they're so many ways to look unique with them. And bangs are probably the best way to breathe individuality into your pixie by rocking face-framing and cute short hairstyles. You can go with a soft taper that softly transits to a longer top. The top, in its turn, can seamlessly blend with bangs to create a single whole with your cut. As for hair styles for short hair with bangs, messy textured finish or side-swept look will work just great.
Blonde Choppy Pixie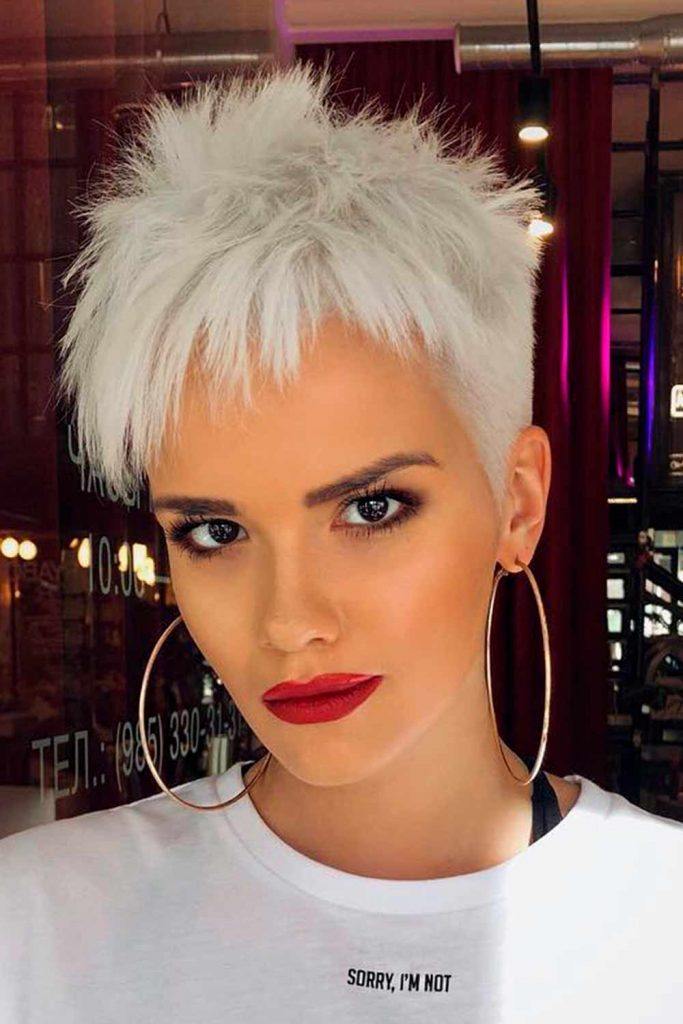 Credit photo: Instagram.com/ryabchik.moscow
Shaggy Pixie Hairstyle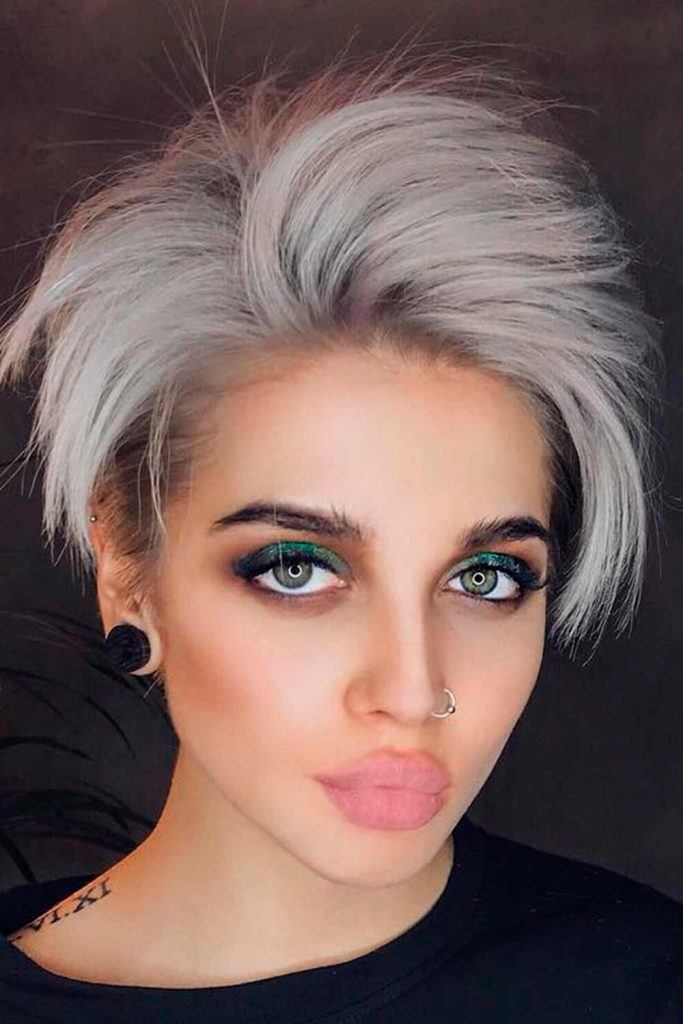 Credit photo: instagram.com/ryabchik.moscow
Pixie cuts for thin hair must feature layers to amp up the texture, so why don't make them shaggy for a lovely carefree look? A shag can adapt to any look and image; it can be neat and sophisticated or cheeky and disheveled. When planning an appointment for a pixie cut for thin hair, ask your stylist to work on the ends only so as not to lose much weight. Then, nothing can stop you from experiments! For straight and voluminous looks, use a nozzle attachment when drying your hair. And if you want to add some freedom to your hair, use some texturizing spray and shake your hair well.
Short Bob Hairstyles For Fine Hair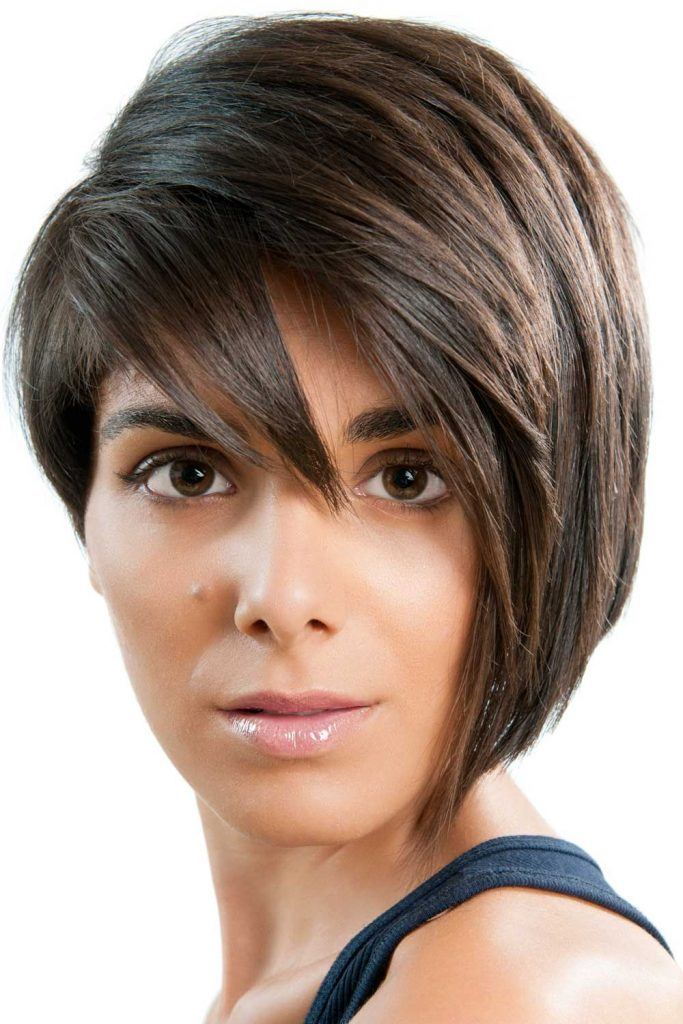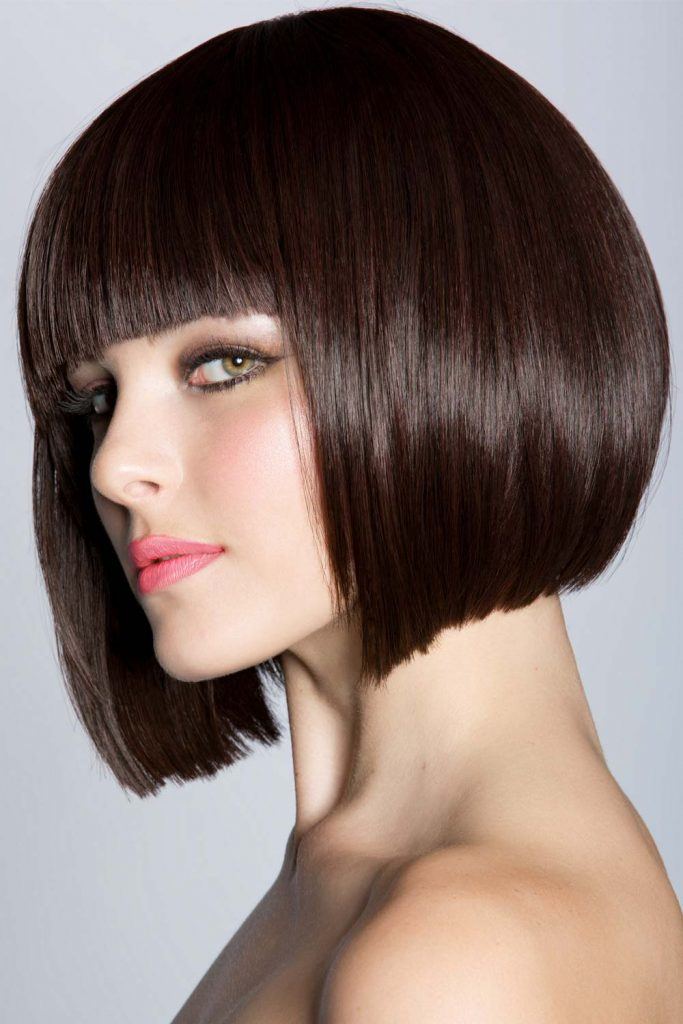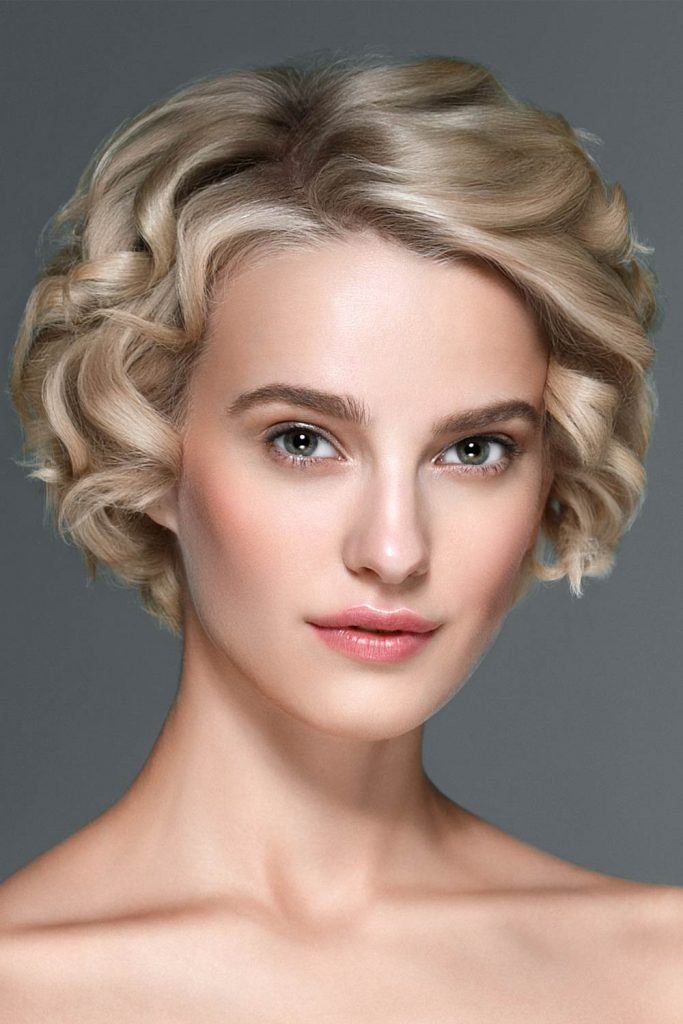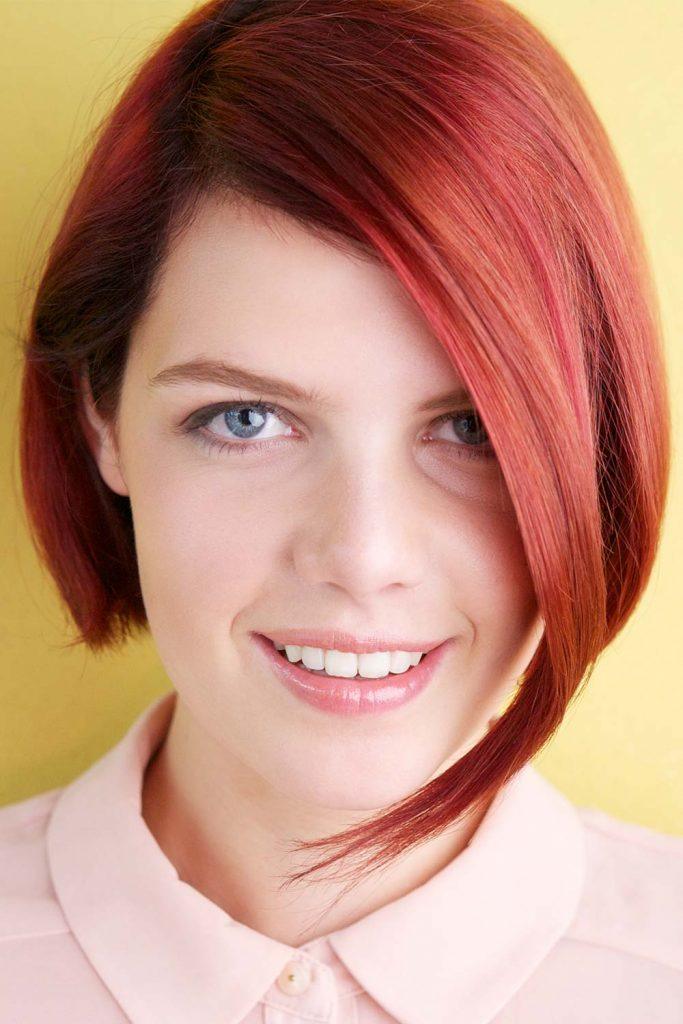 Straight Cut Sleek Bob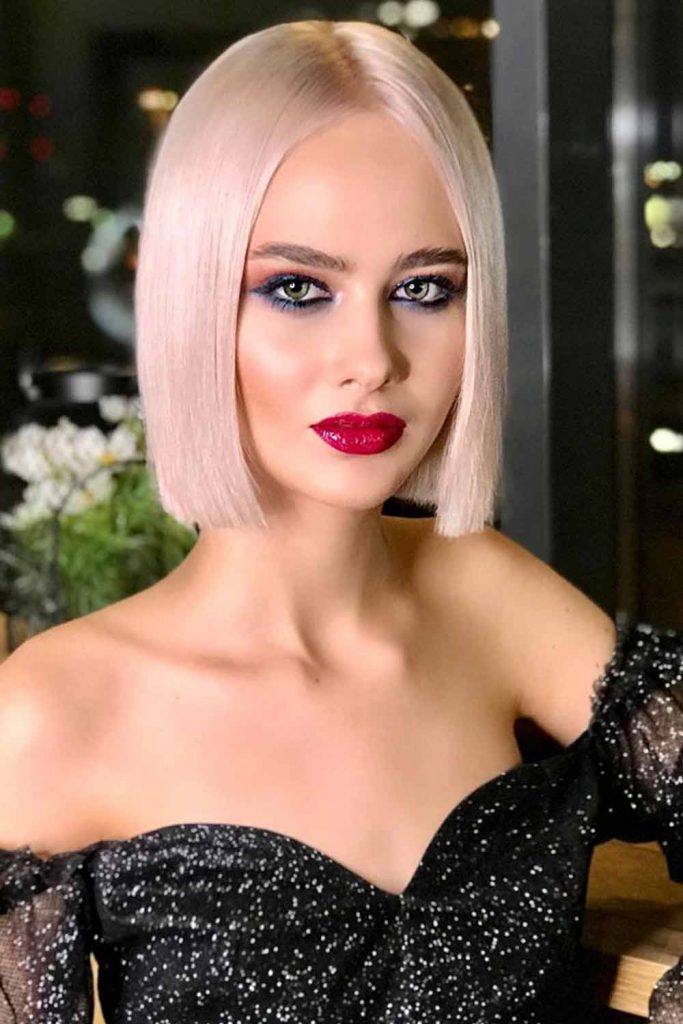 Credit photo: instagram.com/julia.vorontsova.blond.expert
Those who like polished and elegant looks can try sleek hairstyles for fine hair. However, you should be careful choosing the length for this kind of hairstyle. If the hair is too long, it will outweigh the roots, making it flat rather than sleek as a result. As you can see, fine hair short bob haircuts are just the very thing you need. Ask your stylist to make the cut as blunt and precise as possible so that you can easily create those sexy and shine-reflecting short hairstyles women are so crazy about! To make the hair shiny, make sure to condition your hair and use shine-enhancing oil-based styling products.
Layered Bob With Feathered Bang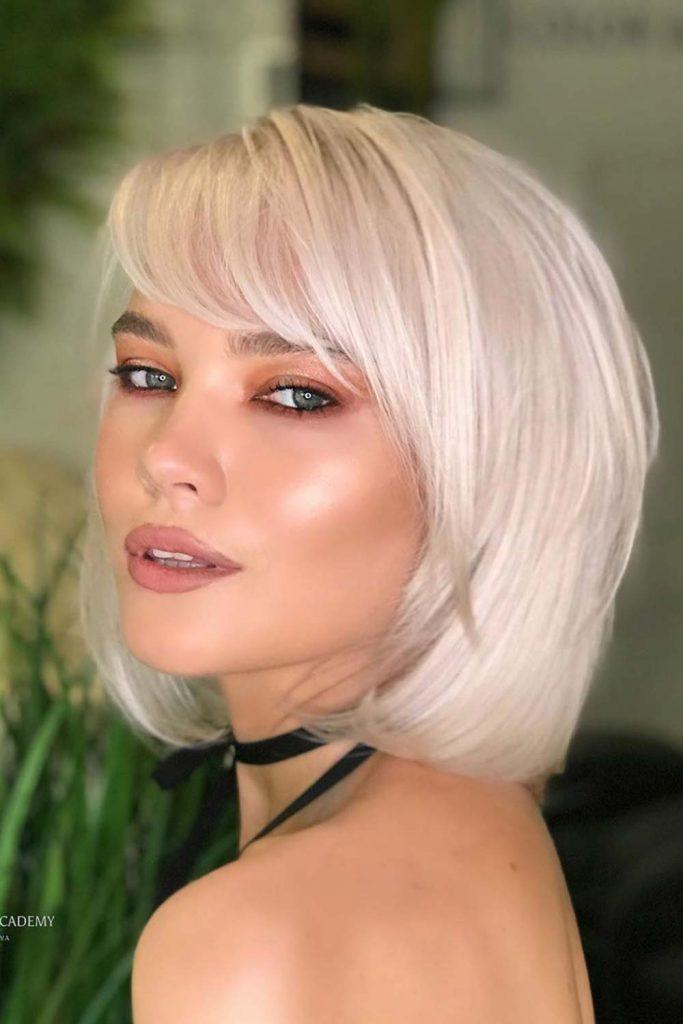 Credit photo: instagram.com/julia.vorontsova.blond.expert
Here's another classy idea of short hair for women who wear bangs while also having fine hair. Fine hair looks best when there's something that enhances natural volume and keeps up with the overall balance. And a blunt shoulder-length bob with slightly curved edges and layered bang will do the trick! Folded ends will not only give a bit of framing but will also lift up the hair. At the same time, the layered bang will create an illusion of thicker locks with its lightweight layered texture, making it easier for you to experiment with various short hair styles for girls. There are a plethora of easy hairstyles for short hair like this cutie, but a round brush and hairdryer are all you need to perfect your casual look.
Pink Layered Bob With Soft Waves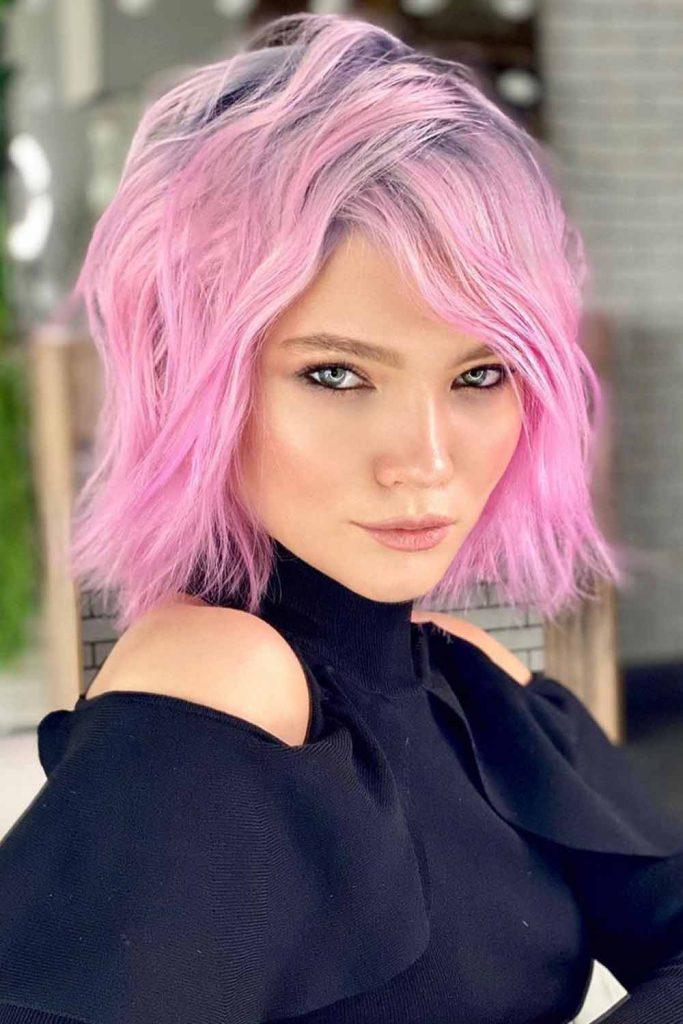 Credit photo: instagram.com/julia.vorontsova.blond.expert
Do you know why low maintenance short haircuts are so special? When you don't need to keep track of every single grown-out inch, you can go for many different color experiments! Plus, with the right color technique, short female haircuts can look more voluminous due to the movement and dimension of shades. Here, you can see how soft shaggy layers make the hair lively and dynamic. And this lovely pink color with purple roots is the icing on the cake! You can also spice up this look with bangs; short hairstyles with bangs are just adorable.
Shaggy Bob For Curly Hair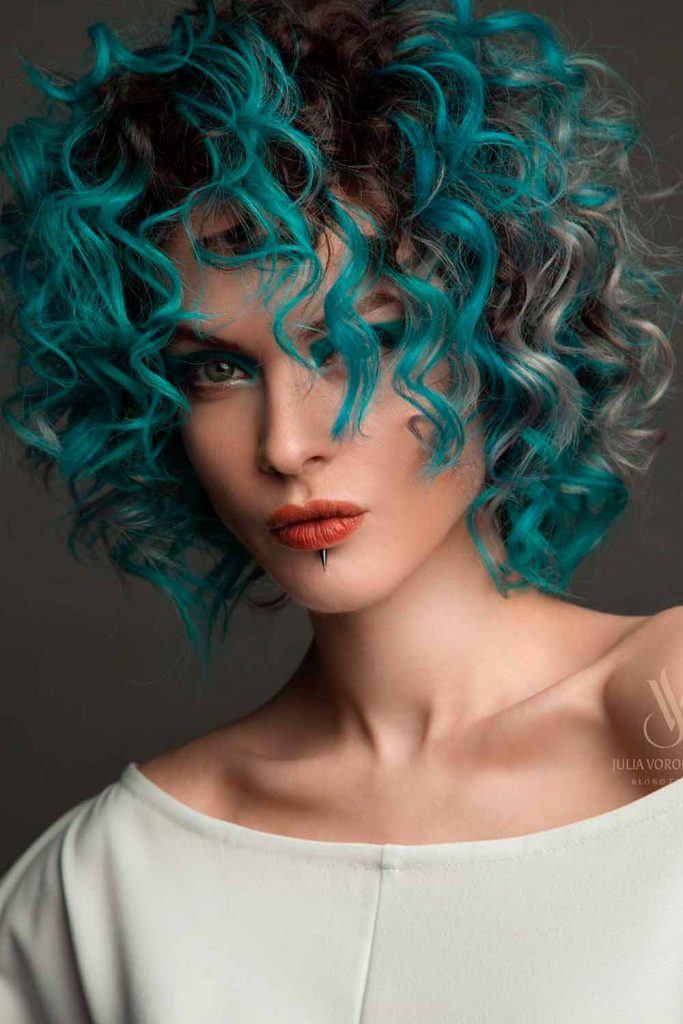 Credit photo: instagram.com/julia.vorontsova.blond.expert
Among all the pictures of short haircuts taking over your social media feed, this is a game-changer! Curls, colors, and amazingly lively texture of short haircuts with bangs - that's nothing but art! As you might have noticed, a shag looks different on curly hair. When done on curls, shaggy layers define every single curl, thus adding more volume to the hair. The good news is, with curly hair, you can play with various easy short hairstyles by changing the shape and texture of your curls. For such experiments, curly foams, mousses, and gels are musts!
Midnight Inverted Bob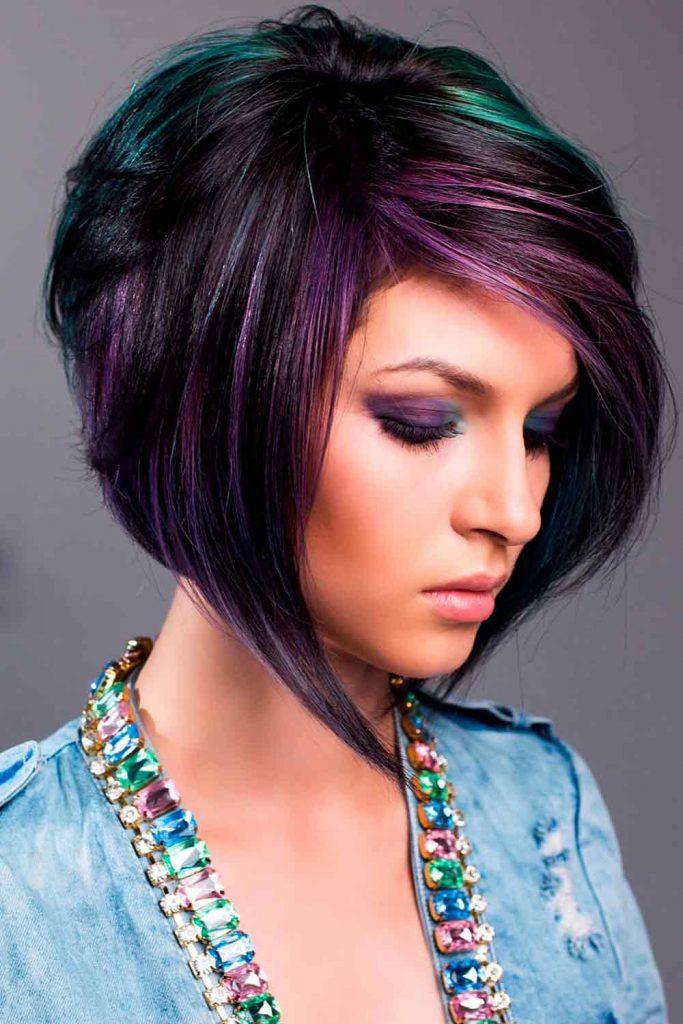 Credit photo: instagram.com/julia.vorontsova.blond.expert
Inverted haircuts for fine hair have something more for women to offer besides their power to volumize the mane. With the hair that is short on the back and gradually gets longer at the front, creating volume in the hair will be a breeze, especially if you go for sharp-angled layers at the front of your short hairstyle. Alongside that, such a structure can add a lot of character to your look, making your unique image complete. While there are tons of short hair hairstyles, there's no better idea for fine hair than classic straight style with a curvy finish.
Rounded Bob With Parted Bang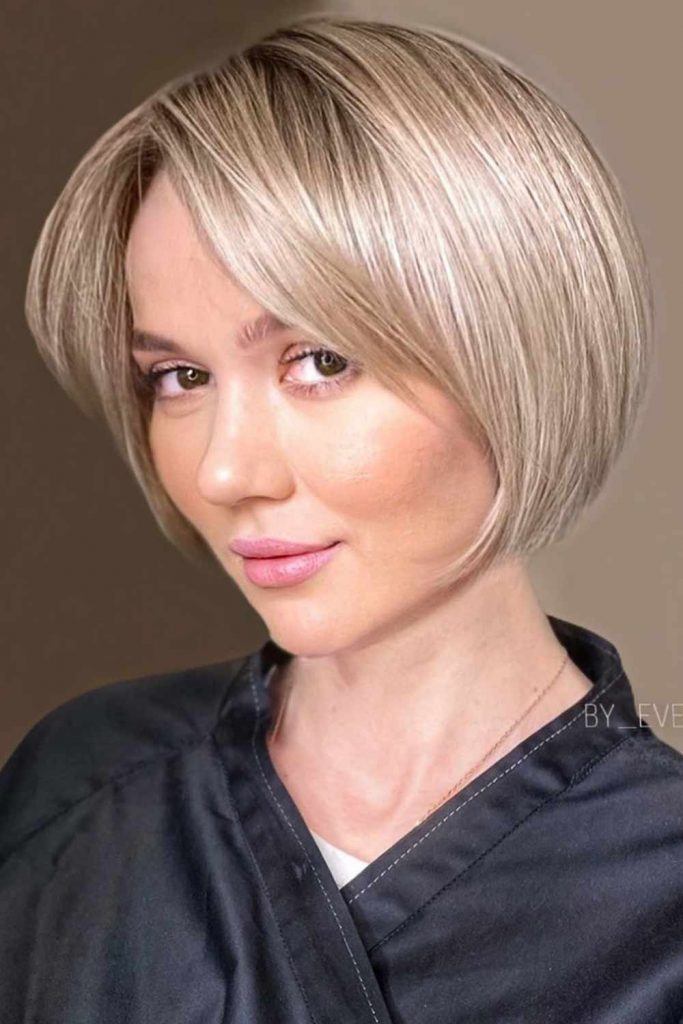 Credit photo: instagram.com/by_eve_gunina
No words in the world can't describe how great this style is. It looks effortless and harmonious at the same time with its smooth and seamless graduation from a short rounded bob to long curtain bang. This is another example of short hair cuts for girls that feed two birds with one scone, combining stylishness and practicality. The bangs add tons of volume to the roots while the transition to the rounded bob creates a nice full silhouette. Moreover, it's one of those easy hair styles that you can do with a round brush and hairdryer. And last but not least, it's a great look if you're not into very short haircuts for women.
Colorful Layered Bob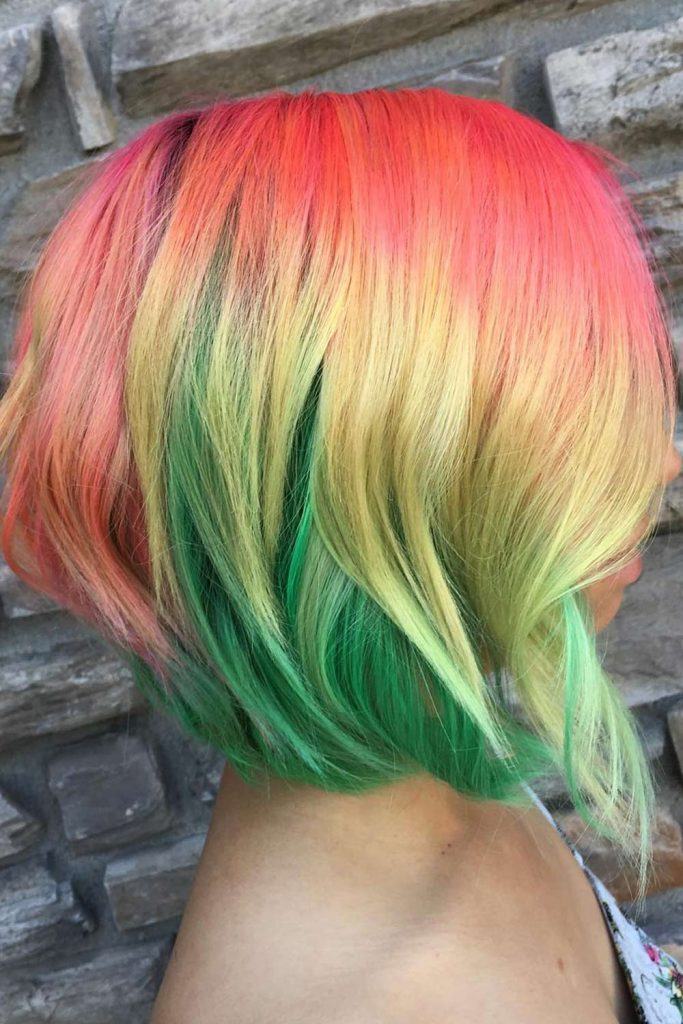 Credit photo: instagram.com/hairbyfranco
This colorful approach to hairstyles for thin fine hair shows the creative side of short hair! The cut is pretty simple in terms of structure, but it still has enough volume and movement that will be your best friends on your way to creating sexy hairstyles with a lifted crown and light ends. By the way, according to modern colorists, medium short haircuts are the best base for color plays. That's because it's easier to regrow your natural color with shorter lengths. Oh, and don't forget about layers: they are what add dynamics to this colorful bob.
Blonde Reverse Bob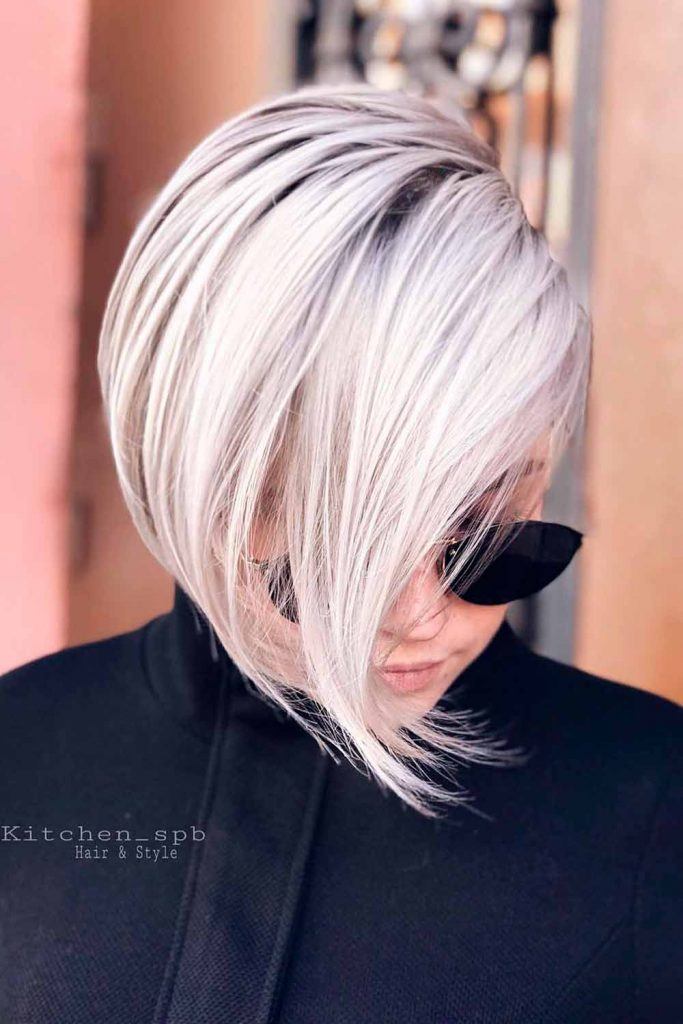 Credit photo: instagram.com/by_eve_gunina
To turn short women haircuts into short sassy haircuts, there must be some kind of a highlight in your look that will show how different you are. How about a reverse bob with a dramatic long front cascading from a rounded back? We think there's no need to mention how beneficial this cut is for those with fine hair: it's just all about the volume! You can try lots of short haircut styles with this bob; anything from sleek and polished to wavy and braided is at your disposal.
Short Smooth Bob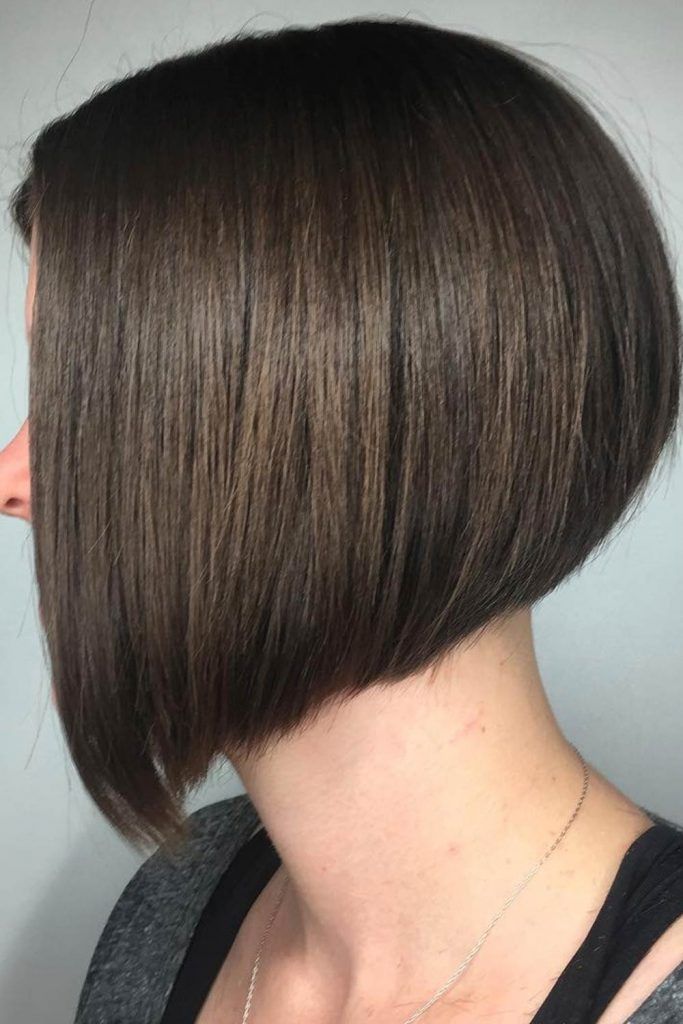 Credit photo: instagram.com/presleypoe
Modern hairstylists love to accentuate short straight hair with slight curves to diversify the classic blunt silhouette. But that's not only for the sake of creative feel in the hair; it's a new take on haircuts for thin straight hair! It turns out that graduated rounded bodies get even more voluminous with the curvy line. And just like many women's short hair ideas, this cut will look splendid if you pair it with a layered touch on top.
Edgy Pixie Bob With Textured Top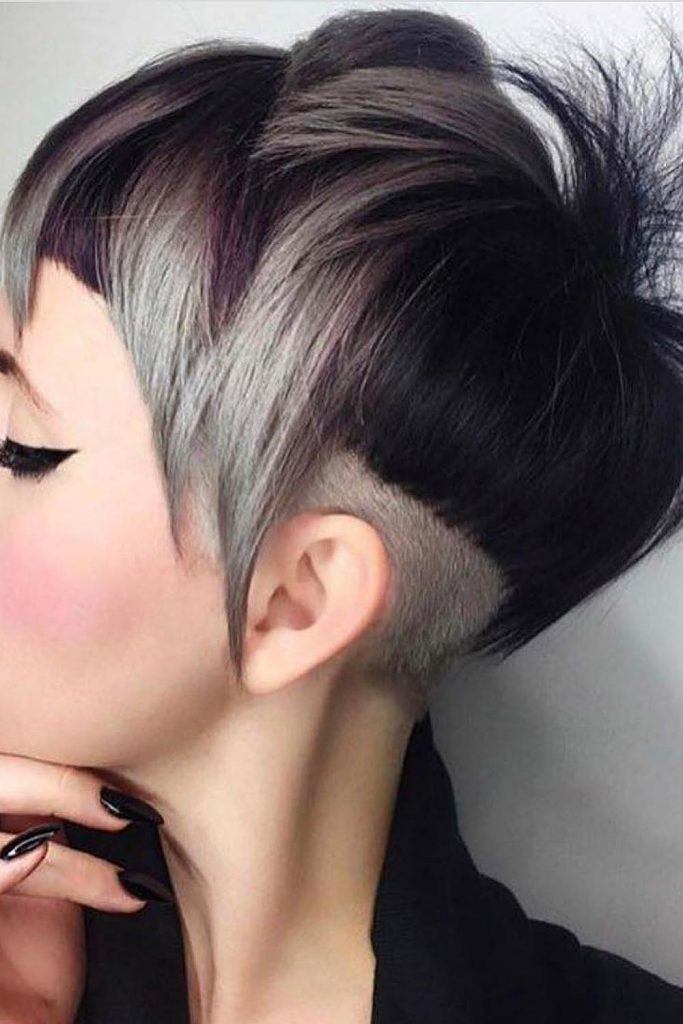 Credit photo: instagram.com/presleypoe
When you think of a pixie bob, what comes to your mind? Those bulky twists of classic pixie bobs are all the rage, as they're considered trendy hairstyles for women of all ages. But how about you to step out of classics and give life to something unique? Pixie bobs may seem to be super short haircuts that don't have much room for experiments. Still, short-hair girls can take a creative approach to both levels, styling the back straight and adding texture to the top.
Punky Style For Short Fine Hair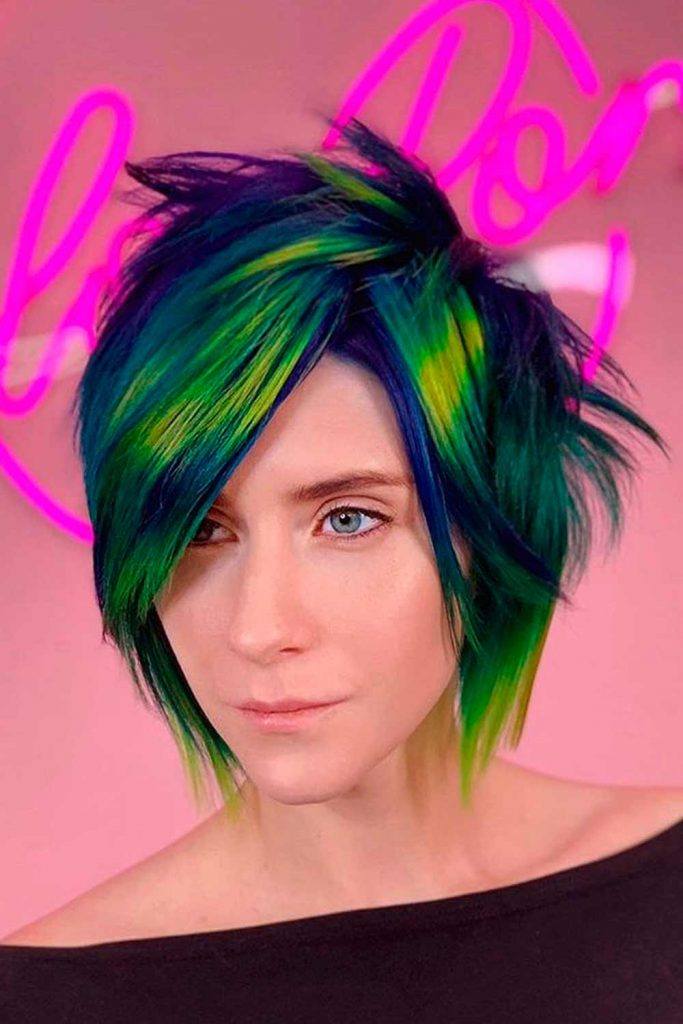 Credit photo: instagram.com/katrin.kotova
Short to medium haircuts have always been the best friends of women who like to be different. It's short enough to maintain the look with ease, and flexible for different cutting and coloring ideas. And this pic is here to show that women's short haircuts allow for self-expression, too! Get yourself sharp layers and a modern punky shag, color it however you want, and be ready to catch eyes. Besides, it's very easy to create hairstyles for fine thin hair with such cuts: just tousle everything and use texturizing sprays.
Two-Toned Layered Bob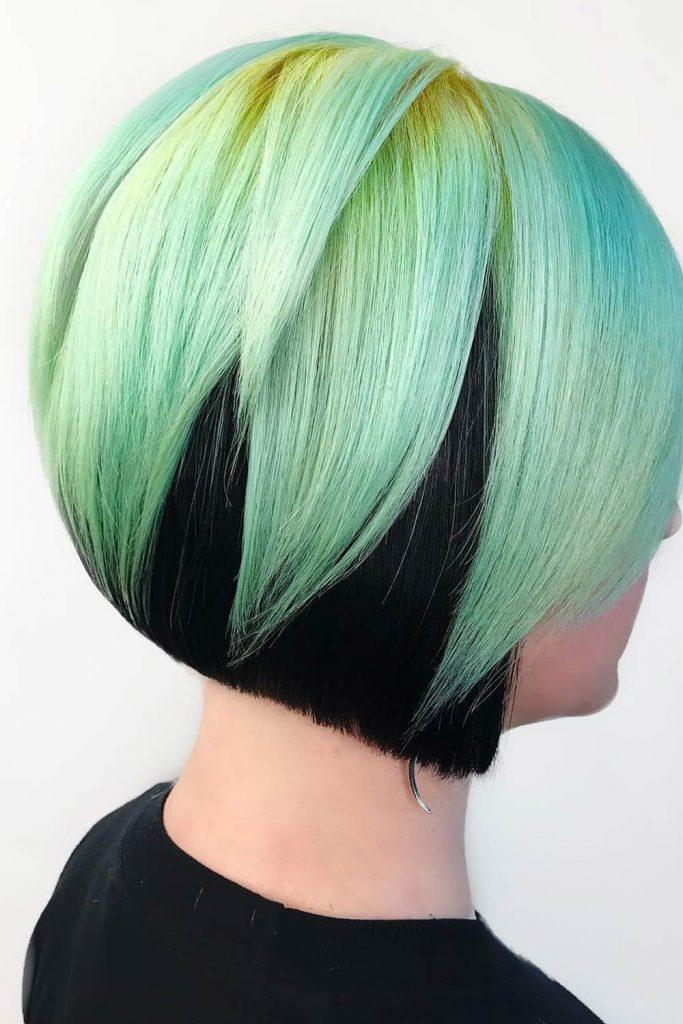 Credit photo: instagram.com/presleypoe
There are some easy to manage short hairstyles for fine hair that are not easy to forget once you see them! Of course, such styles are done with creativity in mind. Hands down, this two-toned layered bob has captivated us with its colorful aesthetics once and for good! It takes the courage to color medium short hairstyles such funky shades, no doubts. So if you have the guts to reach the spotlight, that would be your guide. This messy short hair look has a lot of natural volume not only because of the layered ends but also because of the color play!
Two-Toned Parted Bob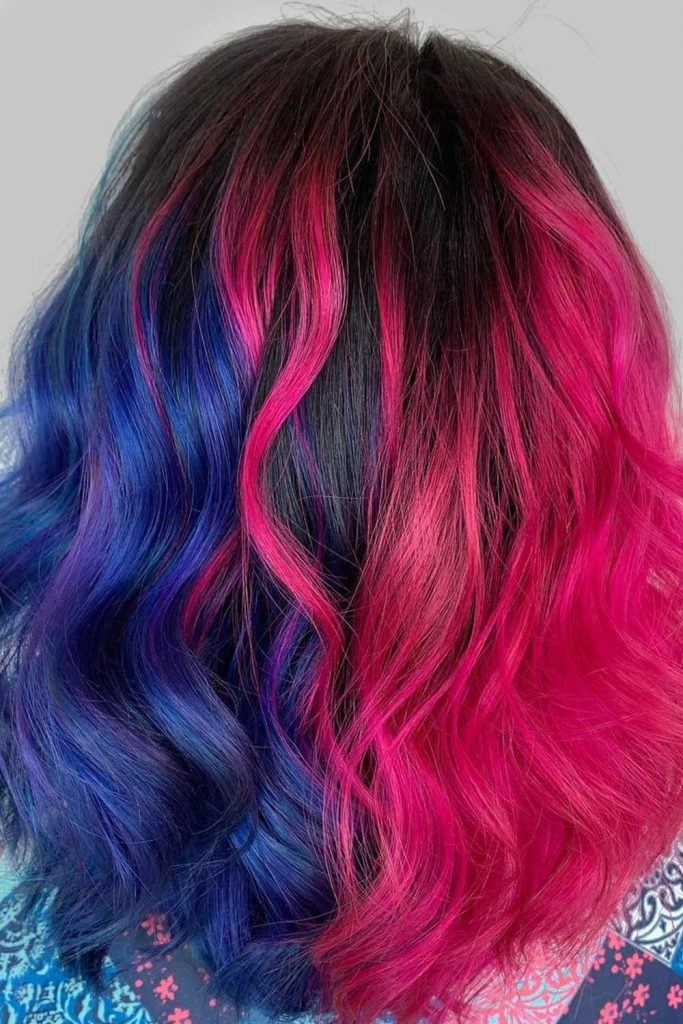 Credit photo: instagram.com/cadencecolorist
Two-toned bobs seem to have taken the world this year, so we think it's time to make it an official bob type! Seriously, more and more girls are coloring their cute short hair two shades at once, covering one side with a darker shade and other with a lighter hue. No wonder, though; it looks just stunning! And this idea simply takes the biscuit with its perfect middle part and long sharp tresses on the front! By styling short hair in the center, you spread all the hair evenly, thus creating a perfect balance. Now, can you imagine how awesome any styles for short hair will look on this masterpiece?
Razored Bob For Fine Hair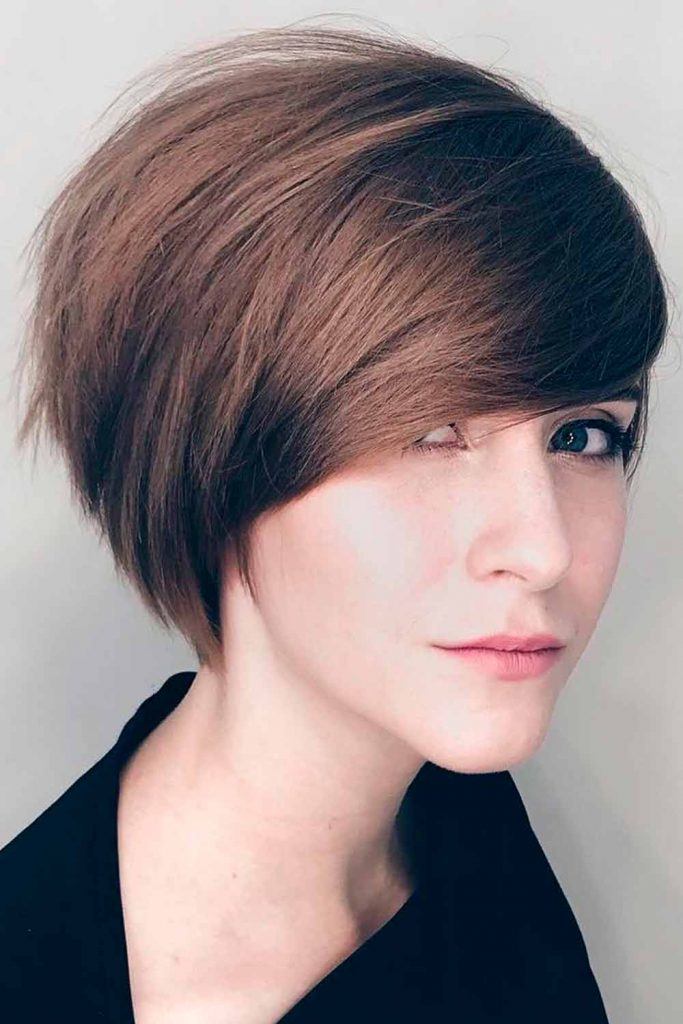 Credit photo: instagram.com/katrin.kotova
Before considering a razored bob, you should do your best to find a skilled stylist or ask your hairdresser if he or she is experienced in giving such a cut. This perfectly outlined, well-shaped, and sharp haircut requires precision, so the jaw-dropping style you see above is pro work. We can't help but say that this idea is one of the short layered haircuts fine hair looks best with. That's because the razored ends give texture without cutting off much density. Once you try this cut, you are free to create sexy short hairstyles with a deep side part, as well as recreate cute hairs tyles with waves at the front.
Classic Blonde Bob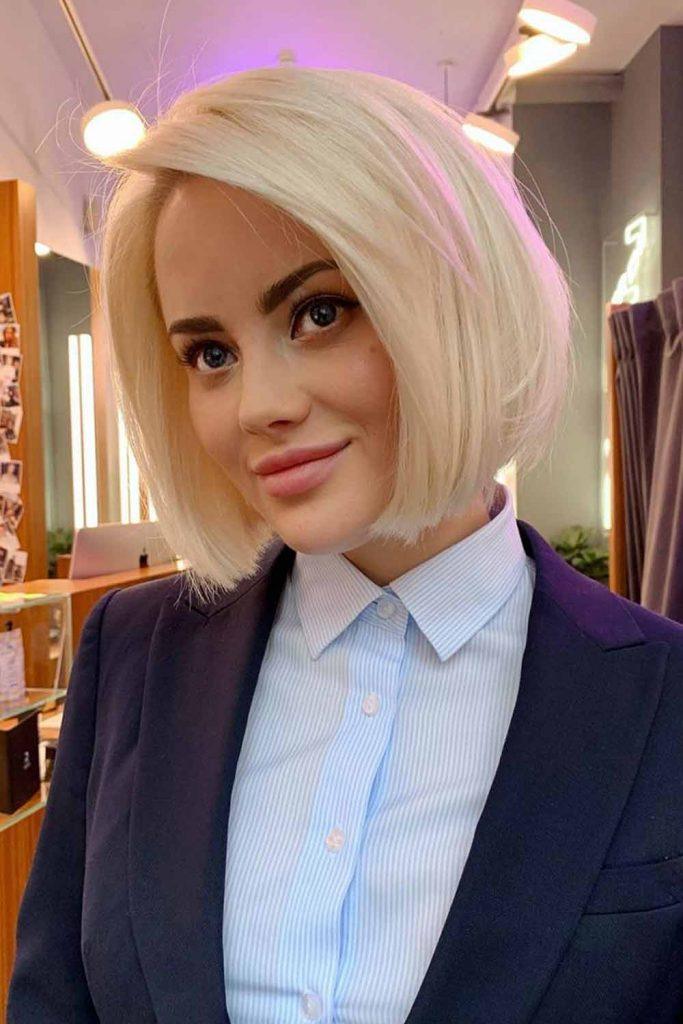 Credit photo: instagram.com/ryabchik.moscow
What can be better than classics that have survived through years of ever-changing trends in charts of short female hairstyles? Every detail in this hair cut style is sophisticated and perfectly balanced, so if you're looking for bob hairstyles for fine hair, you can pick this one with your eyes closed. All you need for adding fullness and keeping volume in is here: from a volumizing side part to the curvy ends.
Tousled Wavy Bob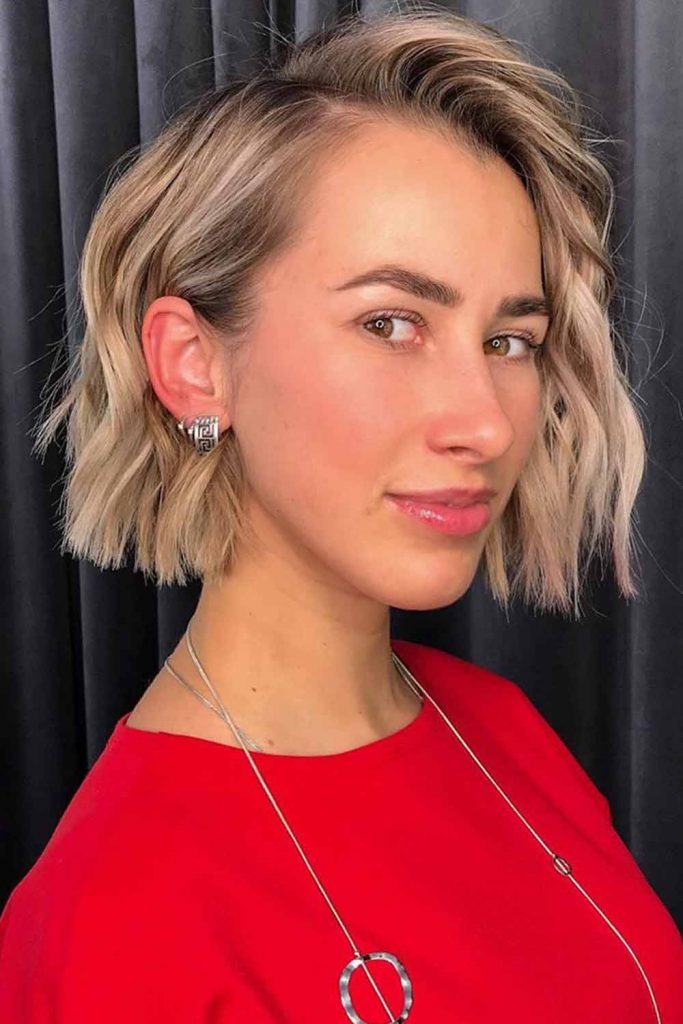 Credit photo: instagram.com/ryabchik.moscow
Short blonde haircuts show their best sides when styled messily, there's no doubt about it! Whether it's short feminine haircuts like a chin-length bob with a blunt body or daring pixies, if it's blonde, it should be messy. Waves will also be a good addition! Before styling your blonde short hair, apply some texturizing mousse to make it wave-friendly. Then, wave your hair and coat it with a sea salt spray. Finally, shake your head and enjoy the look!
Sharp Bob Hairstyle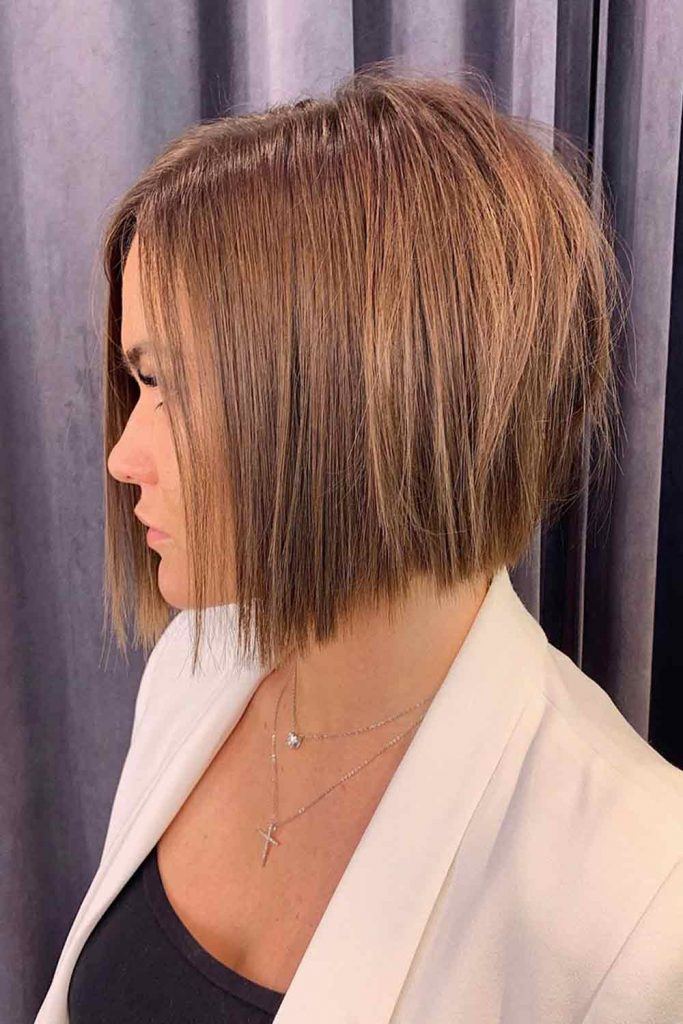 Credit photo: instagram.com/ryabchik.moscow
Since we can't have too much of a good thing, here's one more razored bob to steal, which is among the hottest new short haircuts! Again, the ends are razored to create that transparent effect at the edges and sharpen them at the same time. Well, this is what results in short edgy haircuts. With this simple but striking bob, you can go for various hairdos for short hair, but the sleek version will always be the hit.
Platinum Blonde Bob With Feathered Layers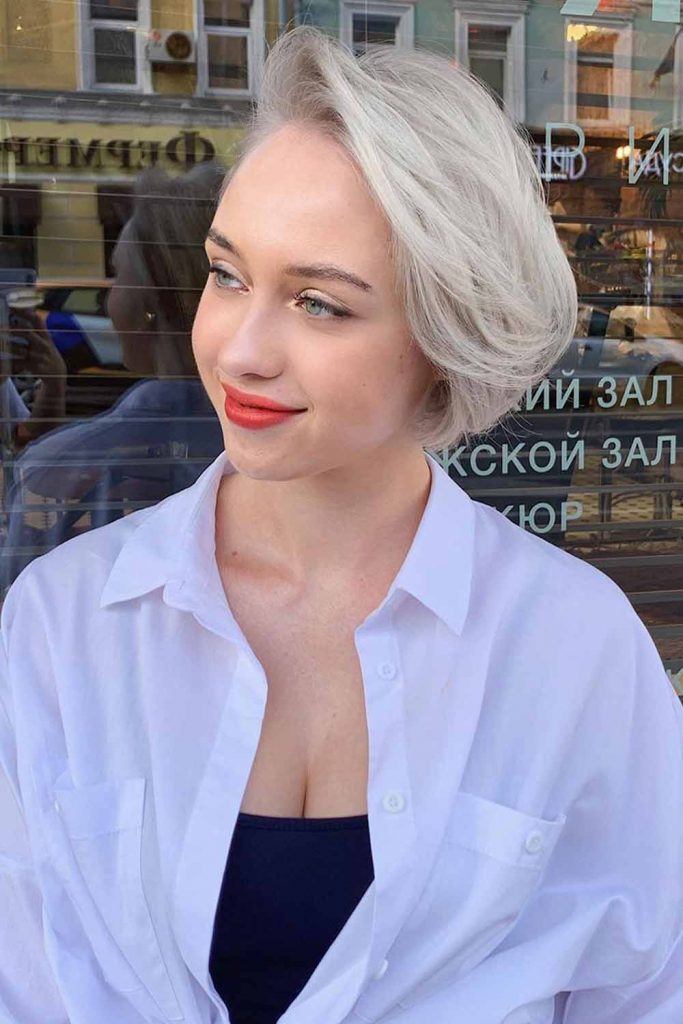 Credit photo: instagram.com/ryabchik.moscow
Do you want your hair to take a flight to the land of eternal volume? If so, you should discover feathers that will literally lift up any hairstyle for short hair. In this pic, you can see how lightweight feathers added to short asymmetrical haircuts give life to brand new hair texture. Who needs fake tresses when you can get the most of women's short hairstyles with the help of asymmetry and the right layering? As usual, blowdryer and round brush will be your besties.
Short Bob With Long Side Bang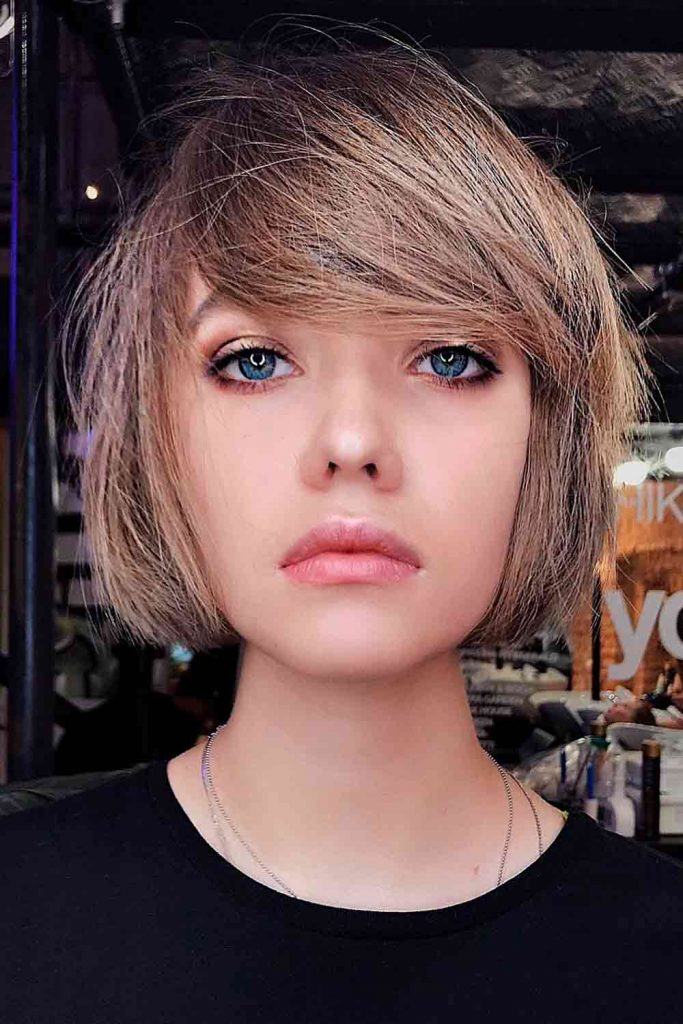 Credit photo: instagram.com/ryabchik.moscow
Wondering how to perfect the idea of short hair with side bangs? Make the bangs long! The contrast of lengths is something that will never go out of style while always upgrading women's short hairstyles. Apart from framing big foreheads, a short bob cut with long bangs will add a whole lotta volume to the front, making the hair look fuller. Sweep your bangs to the side a little to open up your brows, as they play a crucial role in our looks!
Girly Bob Hairstyle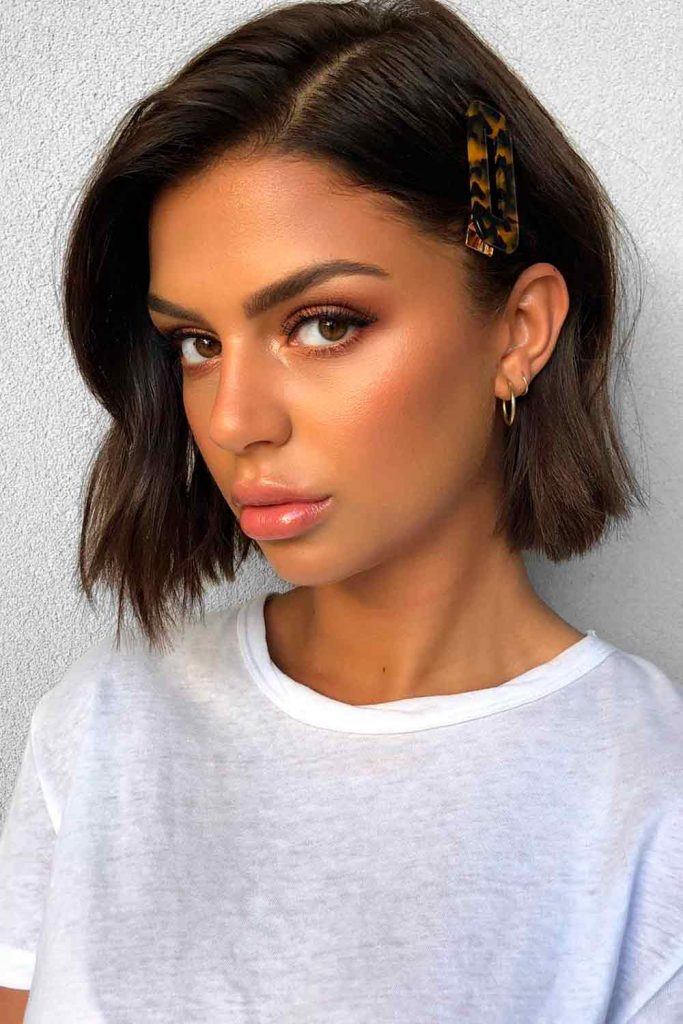 Credit photo: instagram.com/parisrosehairartistry
When you're short of time to style your hair, you can leave your look up to a couple of beautiful barrettes. With the latest boom on fancy clips and pins, there's no way you don't have a cutie in your jewelry box! Just a small accent is enough to create a girly romantic mood for your hairstyle, as well as make it match your outfit. For a balanced look, part your hair slightly off the center and pin it on one side.
Wavy Bob With Layered Ends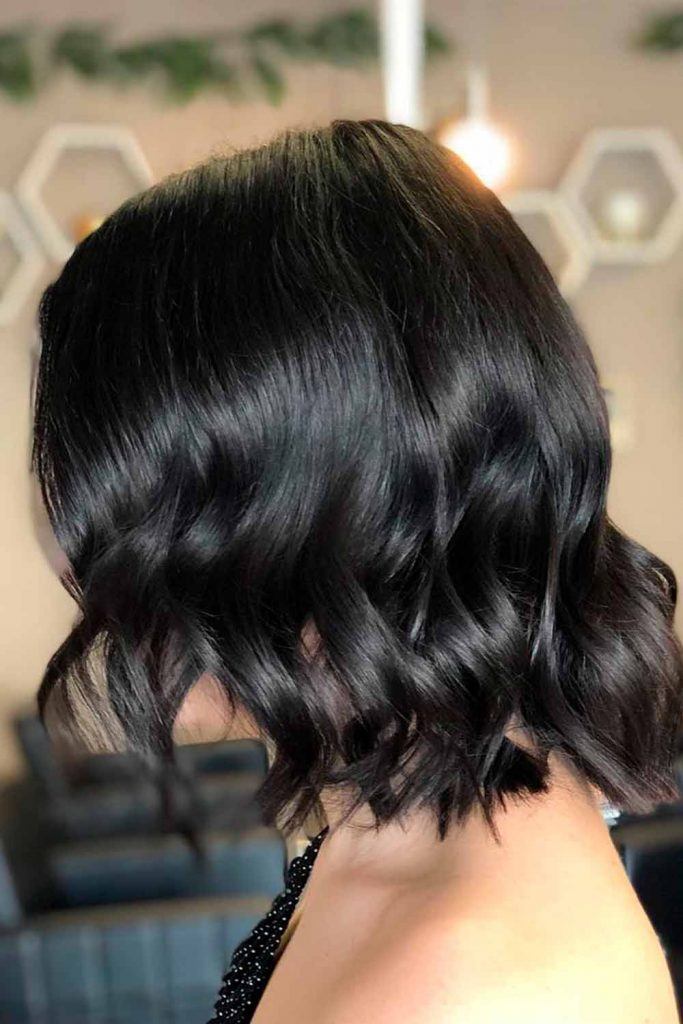 Credit photo: instagram.com/antheajameshair
The science of waving your hair is about a harmonious combination of your hair texture and your haircut. If you wear your hair wavy most of the time or you have naturally wavy hair, you should pick layered short hairstyles for fine hair wisely. The universal and always-working approach to layering short length haircuts would be razoring the ends only. In this way, you will create defined, sharp, yet lightweight ends that will perfect your wave.
Classic Bob With Long Parted Bang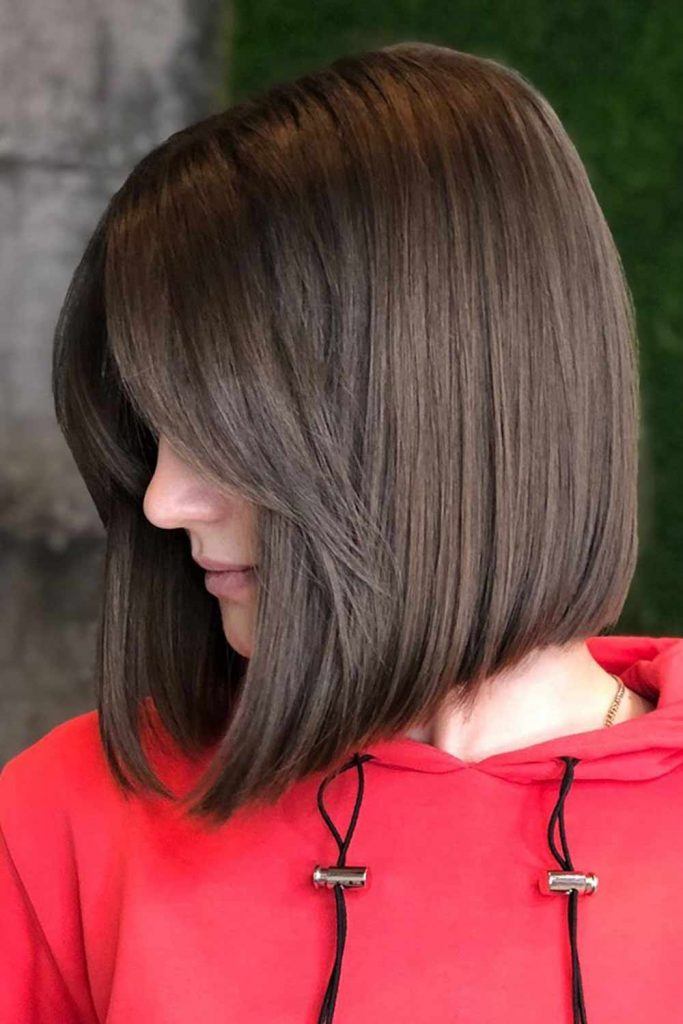 Credit photo: instagram.com/olgacolorist
Although the best short haircuts for women often come with bangs, you should remember that bangs are not created equal. The way your bangs fit your look depends on your texture, and in the context of short straight hairstyles with bangs, you should also pay attention to the blend of textures. Here, long sharp bangs fall on a pointed straight bob, creating an amazing play of angles. What makes the look so special is the smooth but distinctive blend between the two.
Rose Gold Layered Bob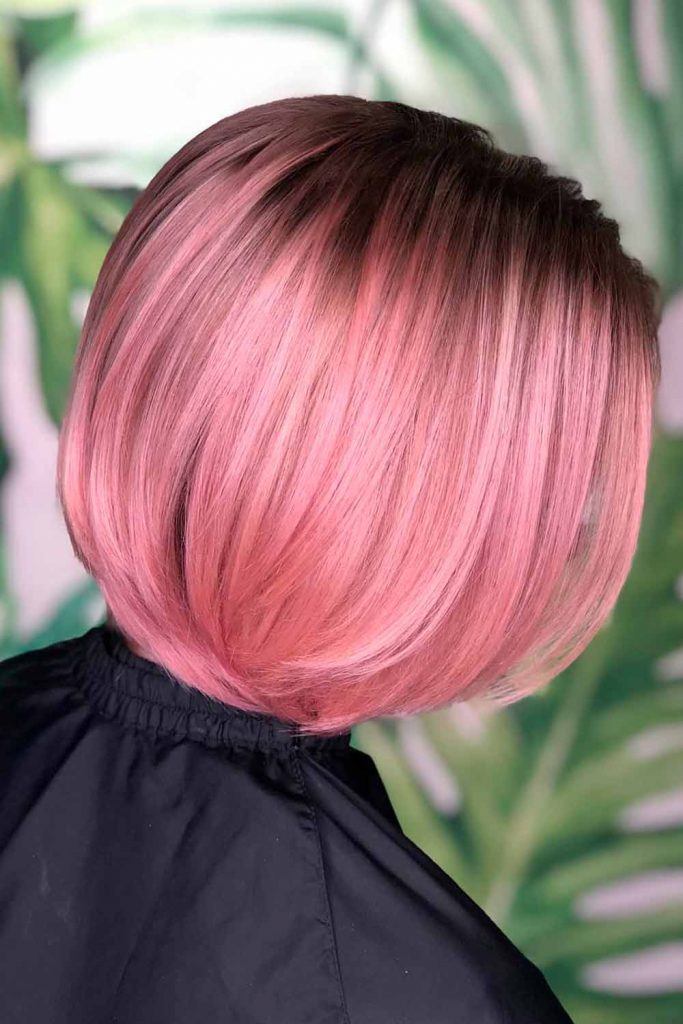 Credit photo: instagram.com/olgacolorist
We will never get tired showing our readers how a unique shade can turn classic haircuts into brand new looks. Apparently, you're no stranger to this versatile rounded bob; it works equally well for everyone and that's why it's always on everyone's lips. But here, you can see how it can work only for you if you color creative and stylish shade. Rose gold is a huge trend in the coloring world, so it has many variations to choose from for your sweet sassy haircuts. Here's a hair hack: make the roots darker to add more depth and fullness to your hair.
Short Stacked Bob With Wavy Layers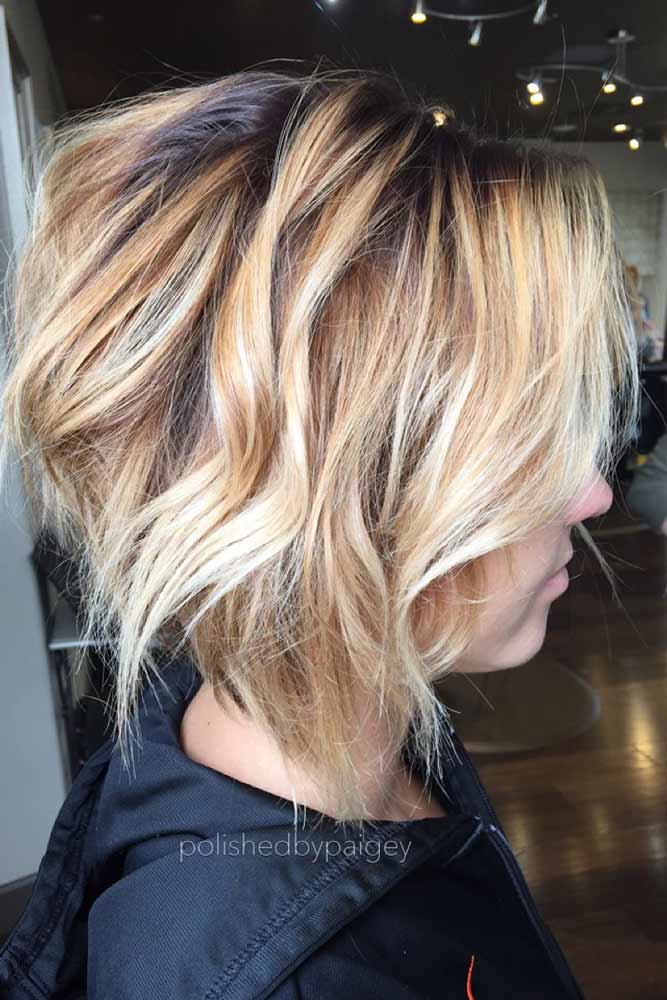 Credit photo: instagram.com/polishedbypaigey
Now, let us tell you one thing about dealing with fine hair: it's not only about a haircut or hairstyle. It's about both plus the right color combination! This hairstyle is flattering for those with fine hair, as the highlights and stacked layers will add more depth and dimension. Nicely chopped tresses of a stacked bob will create the actual volume for your hair, while pleasant, effortless highlights will enhance the effect visually, getting most of the look. Its styling routine won't become a commitment if you have salt spray and hairspray. Blow-dry your hair, spritz some salt spray, scrunch your hair a little, and finish everything with regular hairspray.
Asymmetrical & Deep Side Bob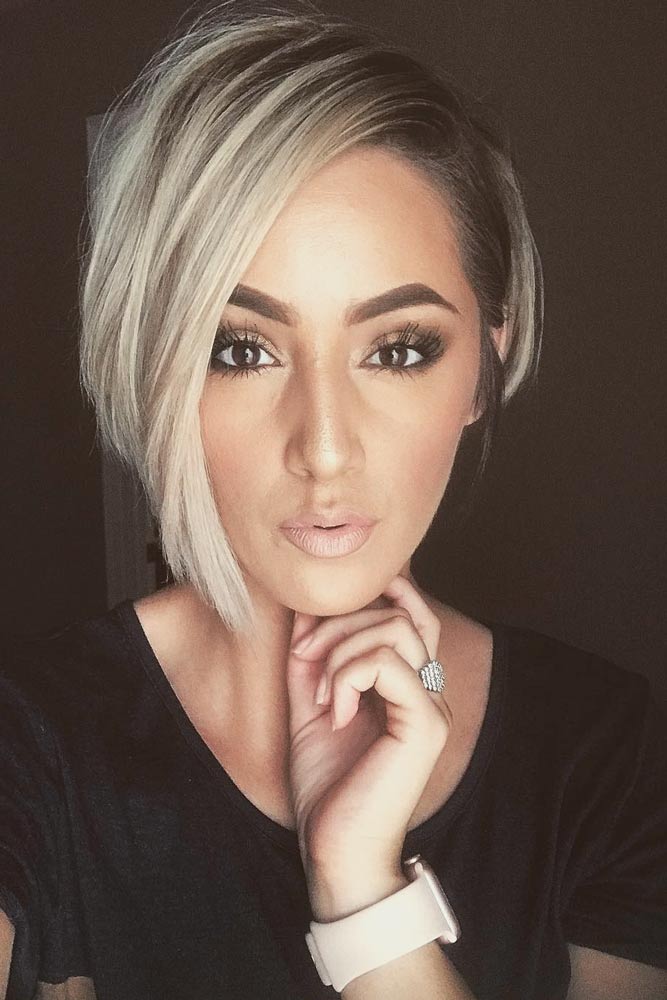 Credit photo: instagram.com/ezmialove
The variety of short bob hairstyles is so vast that sometimes they don't even look like bobs. Here, for example, the haircut crosses the line between a pixie and a bob, giving an absolutely new take at both of them. This dramatic asymmetrical bob is daring. But if you opt for icy blonde tones, you'll add a bit of seduction and playfulness to the overall edginess. By the way, even though it's pretty short, it's actually a great canvas to your styling creativity. Be it a wavy or super straight hairstyle, it will look ravishing, no doubts.
Short To Medium Messy Layers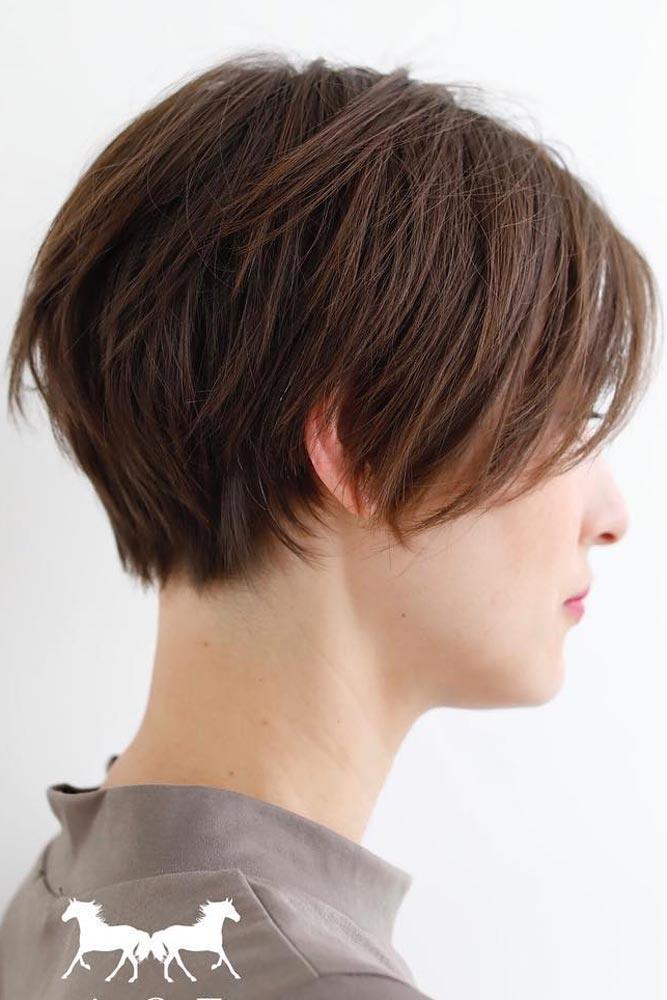 Credit photo: instagram.com/anhcotran
This look is great for those with round or square faces, as it is really slimming. With its slightly shorter layers in the back and messy front layers, it's fun and carefree cut that adds fullness to your locks. Since the front tresses are longer, they don't only give a stunning face-framing effect but also provide you with lots of creative styling options. If you want to make the beautifying effect even bigger, you can slightly wave the front locks. In this way, you will simply turn your casual hairstyle into a formal, big-day look that will go well with dresses, jeans, and literally everything you'd like to put on.
Stacked Bob With Balayage Hues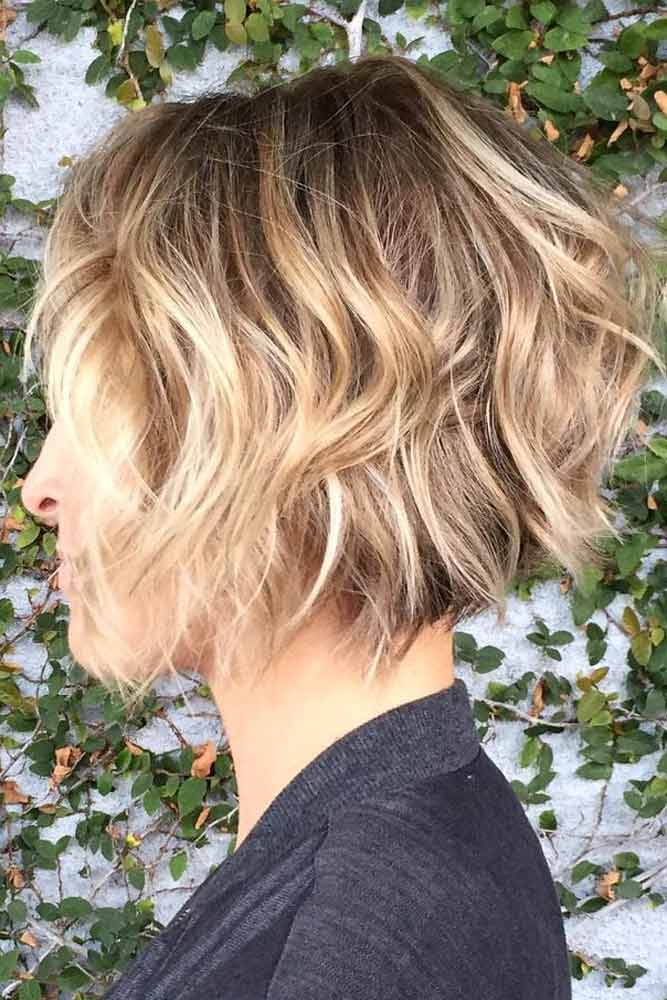 Credit photo: instagram.com/chrisgreenehair
Choppy layers really add a lot of volume to thinner tresses. And this chocolate brown to honey blonde balayage creates a stunning waterfall effect that adds even more texture and volume to this edgy cut. Needless to say, the look is so well-shaped and voluminous that it doesn't even need styling. Yes, it's the so much desirable wash-and-go! To keep up with a bouncy, lightweight, and textured body of this masterpiece, make sure to do deep conditioning once a week. This will always keep your hair manageable and soft, setting the beauty of layers into motion. Plus, any hairstyles for short hair you'd like to recreate will be absolutely straightforward.
Tousled Beach Short Hairstyles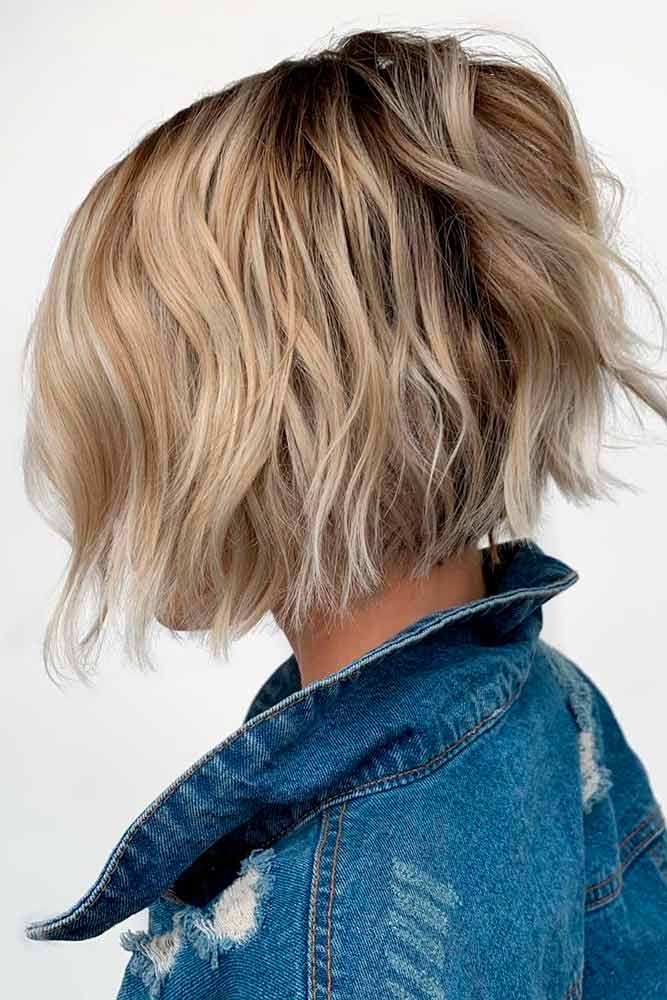 Credit photo: instagram.com/styled_by_carolynn
This short cut is really fun, as it looks totally effortless with its beachy waves. It will appear especially stunning with platinum blonde streaks. Or add bold color like neon pink or electric blue streaks to give it more of a punkish edge. In fact, short layered bob hairstyles look their best when finished with wavy texture: waves can amp up the whole silhouette, enhancing the color and natural volume. And this tousled beachy bob is living proof! The way these dynamic messy waves lift up the mane is just to die for. Whether you rock your days with a punky attitude or your look is all about romance and femininity, tousled wavy bob has an approach to all girls and images.
Short Hairstyle For Chin-Length Layers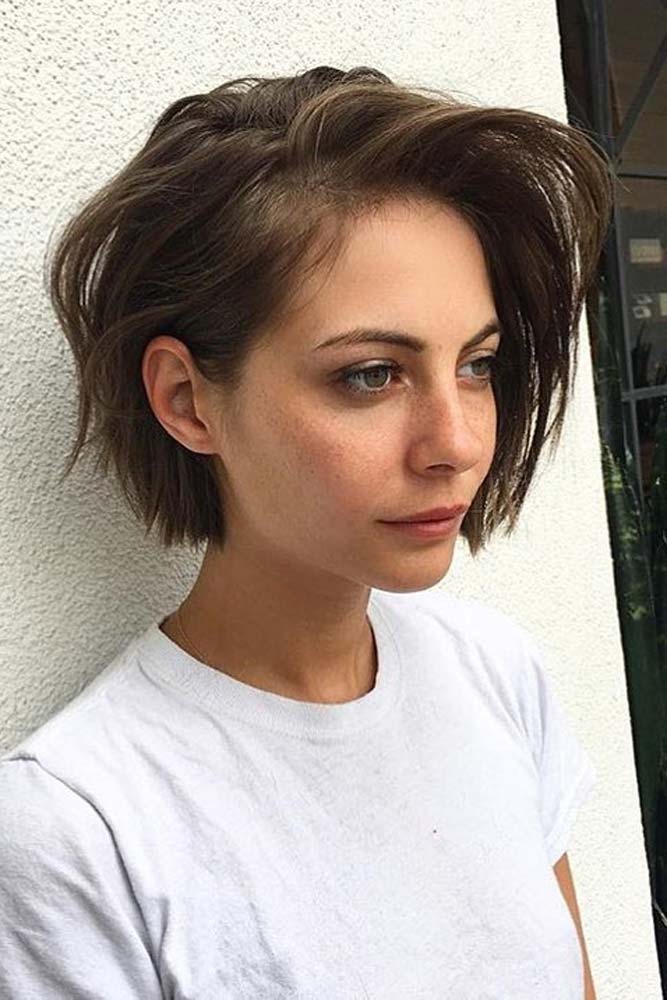 Credit photo: instagram.com/mechesalonla
There are some simple but versatile short hairstyles women from all over the world, including famous ones, won't ever stop sporting. This retro bob with chin grazing layers is celebrity-inspired and totally adorable! No wonder if you see your favorite actress or singer with this classic bob spiced up with a hint of modern flair: it's very practical and stylish at once. If you're one of those women who know the value of time and also want to keep up with fashion, this bob is just what the doctor ordered. A hairdryer and soft hairspray are all you need to make stylishness meet practicality in your life.
Short Bob With Braided Fringe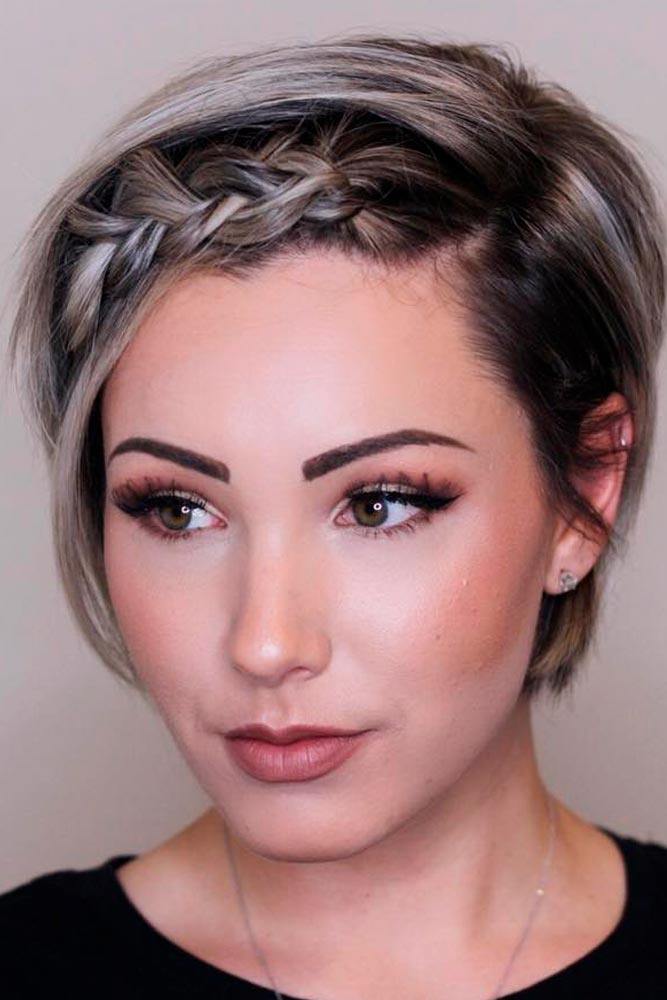 Credit photo: instagram.com/chloenbrown
If you think that you can't create braids on pixies and bobs, here comes one of the cute hairstyles for short hair that is going to change your mind. For instance, If you have a fringe or your haircut has longer layers that cascade to the front, this is where you braid can take place. Even a hint of braided texture is enough to spice up your casual look and make it more elegant. This thick braid across your bangs will add some fullness to thinner hair. We think a Dutch or milkmaid braid will work best for a Boho chic and sexy look.
Wet & Disheveled Short Style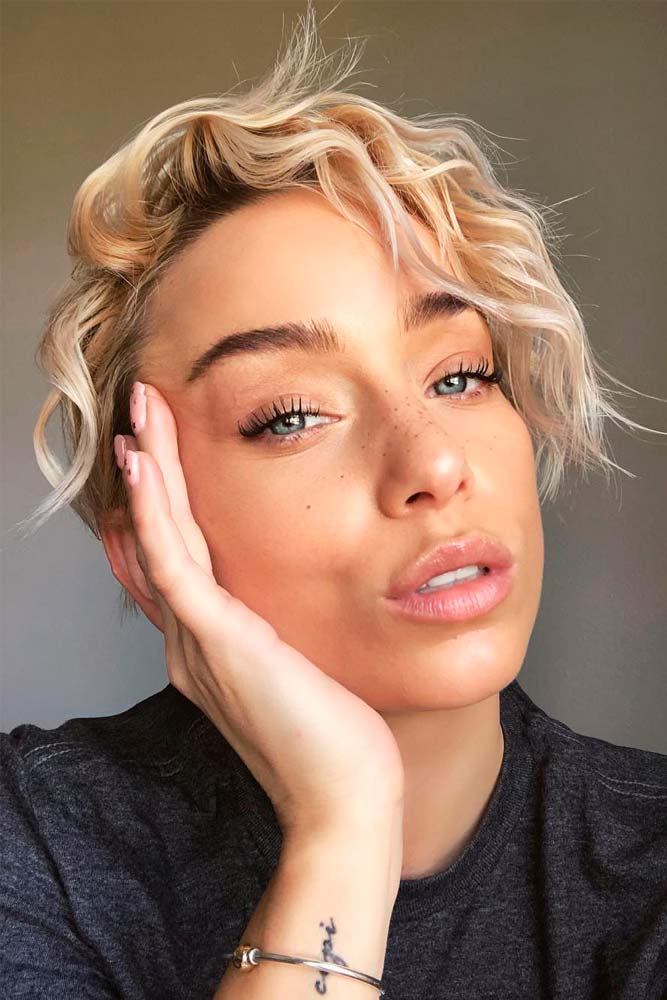 Credit photo: instagram.com/sarah_louwho
Those who are looking for short wavy hairstyles, here's an idea that will put an end to your search! What can be better than messy wet waves that actually look like a real waterfall flowing on your mane? These choppy, modern layers are chic yet carefree while the disheveled layers add fullness. Although the waves in itself aren't really voluminous, their distinctive texture works wonders, creating a full appearance to the strands. Of course, you will need some product to maintain the texture, but it's well worth the effort! As a matter of fact, this hairstyle takes some time: you should prep your hair when it's wet and style it when it's damp. But, as we told you already, the result is worth it!
Sleek Sophisticated Short Hairstyles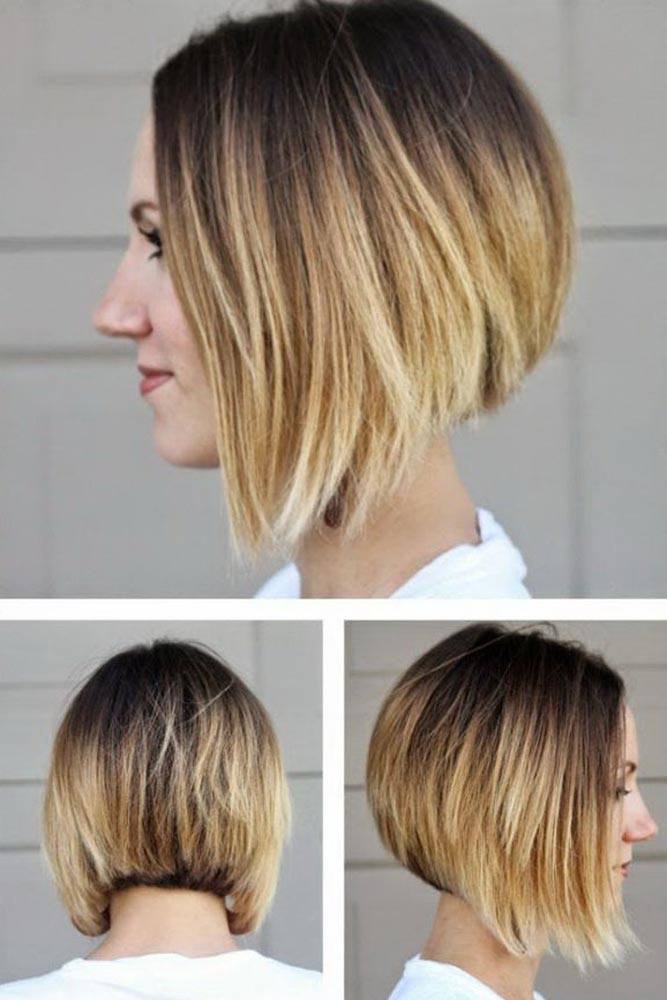 Credit photo: instagram.com/bloglovin
It's no secret that straight hair texture tends to fall flat, regardless of how many products you used to amp it up. And when it's fine, things are getting even trickier. Luckily for ladies with such a hair type, there are perfectly-shaped short to medium hairstyles that can perfect your styling life. This look is great for those with straighter locks and round face shapes. Have your hair cut into a defined bob and style to add volume to the crown. A few minutes with a flat iron on the edges and you're good to go!
Bulky Angled Cut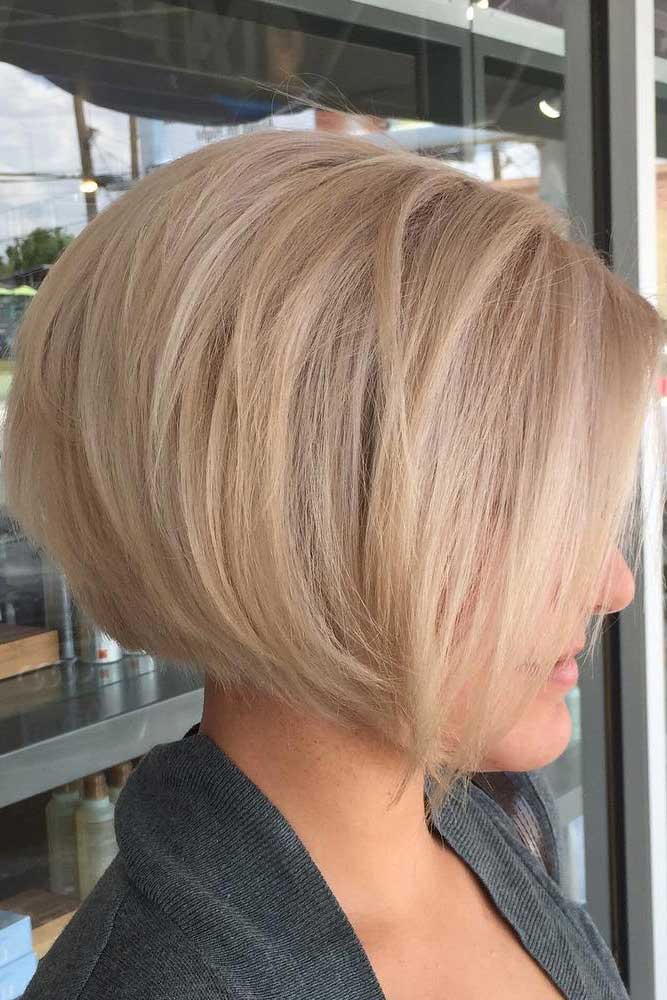 Credit photo: instagram.com/jenhairinspired
When it comes to choosing an idea from the variety of short to mid-length hairstyles for fine hair, remember: nothing can beat voluminous inverted bobs. It doesn't matter how thin or thick your hair is, this type of haircut has the power to take your texture to the next level, giving it an amazing bulky twist. This angled bob will create a perfectly rounded silhouette to add volume to your thinner tresses. All you need to do is blow it dry with a round brush to add fullness to this cute haircut. It's one of the most popular short hairstyles for those with fine hair, not for nothing: it's easy to style and super chic to wear.
Two-Toned Sleek Bob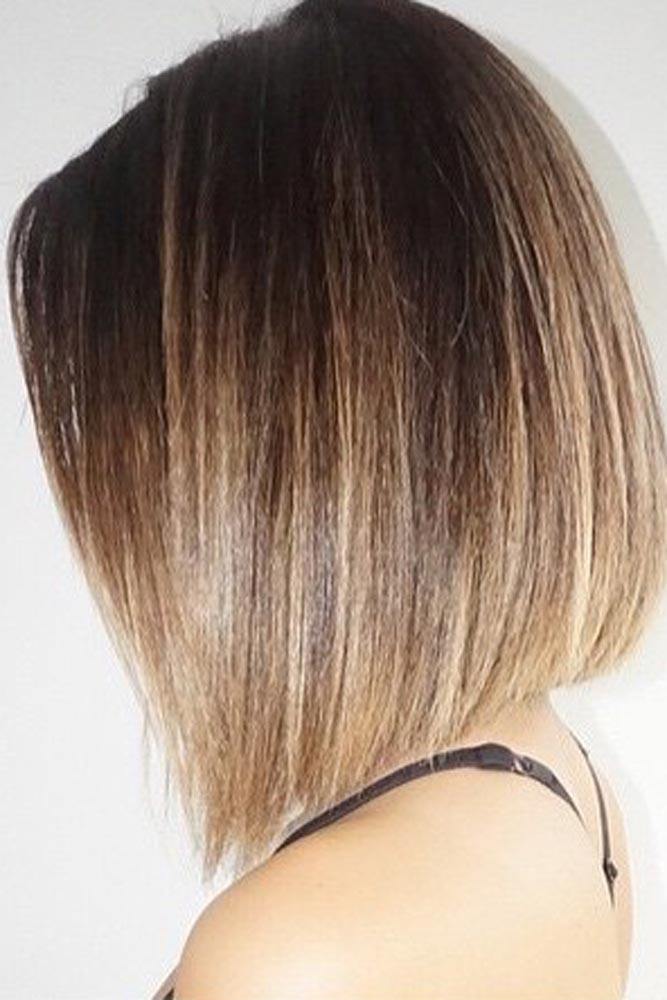 Credit photo: instagram.com/cleencuts
This cut is cute for those who want a straight medium layered haircut. The subtle layers add more body, but the darker roots are what really will add fullness to this adorable and trendy style. Ladies who appreciate the beauty of simplicity should definitely give this idea a shot. Keep in mind that sleek styling usually requires regular conditioning with oils and shine spray to enhance the sleekness. In general, there's nothing complicated about the look, yet its visual impact is absolutely fabulous. Also, you can play around with the parting, changing the mood of your look in this way. A side-part will add some flirty character, while a middle part will make the look more sophisticated.
Tousled Layered Bob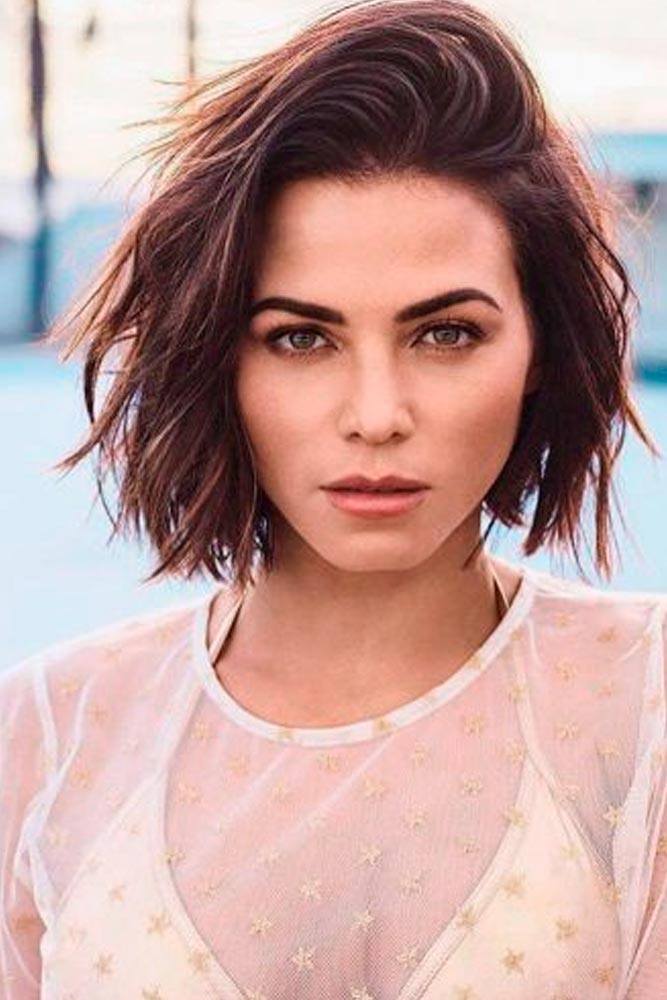 Credit photo: instagram.com/chihaircare
Believe it or not, tousling and layers are all you need to make every single look complete. If you're going for a walk with your friend, you can finish the hairstyle with a fancy hat that matches the outfit. For a date look, some lovely hair accessories will do the romantic trick. When going for a wedding ceremony, floral embellishments or even real flowers will be enough to make this bob fit the occasion. Who would've thought that messy hairstyles would turn out to be so versatile?
Stacked Bob & Side Dutch Braids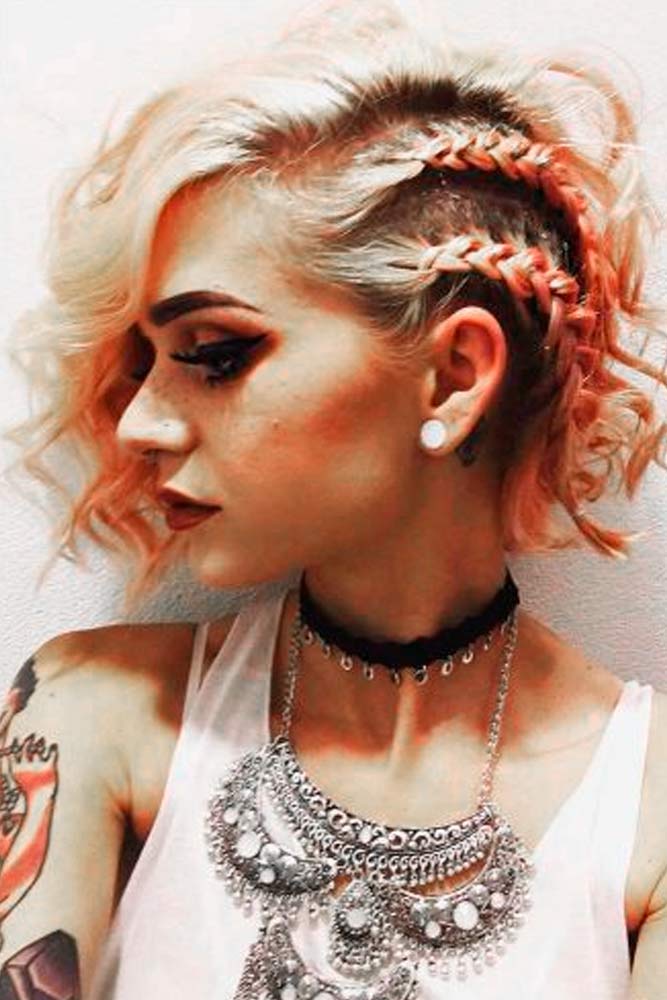 Credit photo: instagram.com/_wildfern
Braids know how to amaze! While most people associate them with femininity, these little cuties show that they're not as simple as they seem to be. Braids, whatever they are, can become a part of your daring hairstyle, thus finishing it with a beautiful texture. How about you to create a side-swept look on your stacked bob, braid one of the sides, and show everyone how different you are? Besides a statement-making look, you will also spice up your hair with the so much needed volume.
Headband Braid For Short Hairstyles
Credit photo: instagram.com/chloenbrown
Who needs accessories when we can always create them with our hair? Furthermore, hair accessories may weigh down the look, which is a disaster for those suffering from flat tresses. Not only is this bob headband super voluminous and edgy but also very lovely and girly. The best thing is, you can do the hairstyle in less than an hour: just wave your hair and create a braid that falls as a headband.
Easy-To-Style Side Fringe Bob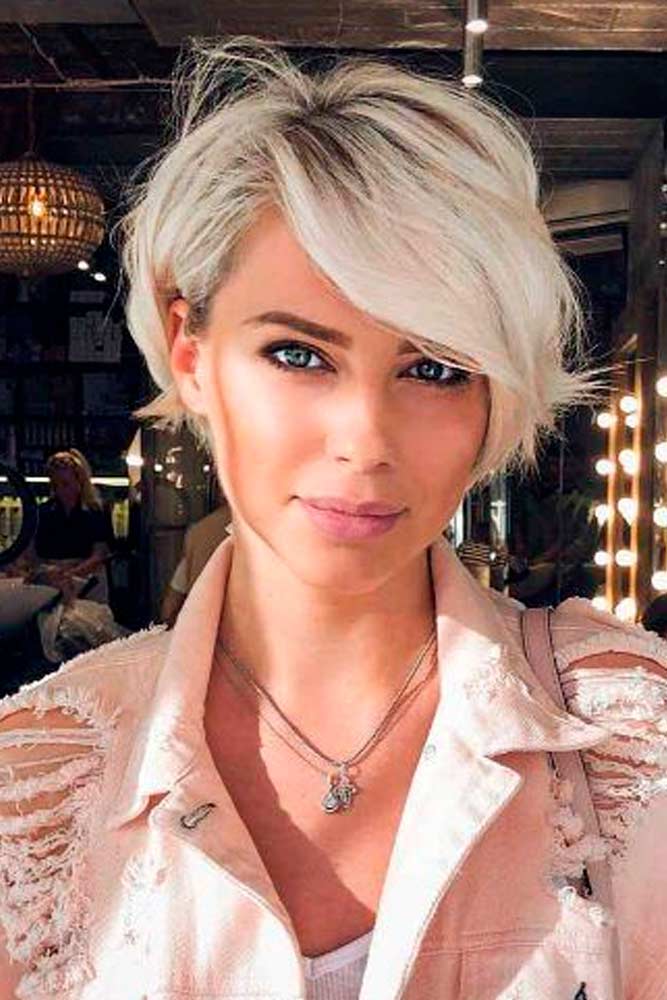 Credit photo: instagram.com/ryabchik.moscow
Let us share with you one more wash'n'go that you will never want to change once you go for it. It's a super short bob with a long fringe that blends with the rest of the hair seamlessly, forming an organic whole. When dealing with fine hair, it's very important to keep the perfect balance between your fringe and your cut. Why is this cut called "easy-to-style"? Well, how would you call a haircut that doesn't even require blow-drying? Yep, you can leave it air dry and still look ravishing. How? Layers are the secret password.
Short Bob Hairstyles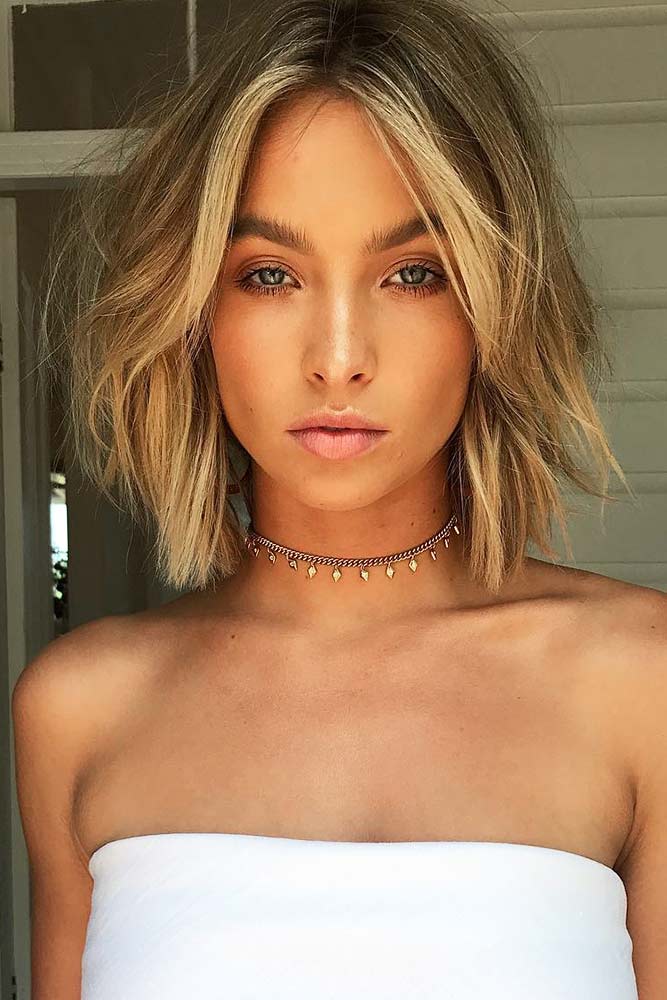 Credit photo: instagram.com/emmachenartistry
There are times when going too daring is not your cup of tea, and long cuts require too much attention. In times like this, short bob haircuts come simply irreplaceable. Not only are they classy, but there are also hundreds of looks to pick from. For instance, if you crave some gentle and romantic look, we suggest you opt for a jaw-length bob and style it according to the mood. Be it a messy sort of mood or a polished one – the choice is yours!
Asymmetrical Short Bob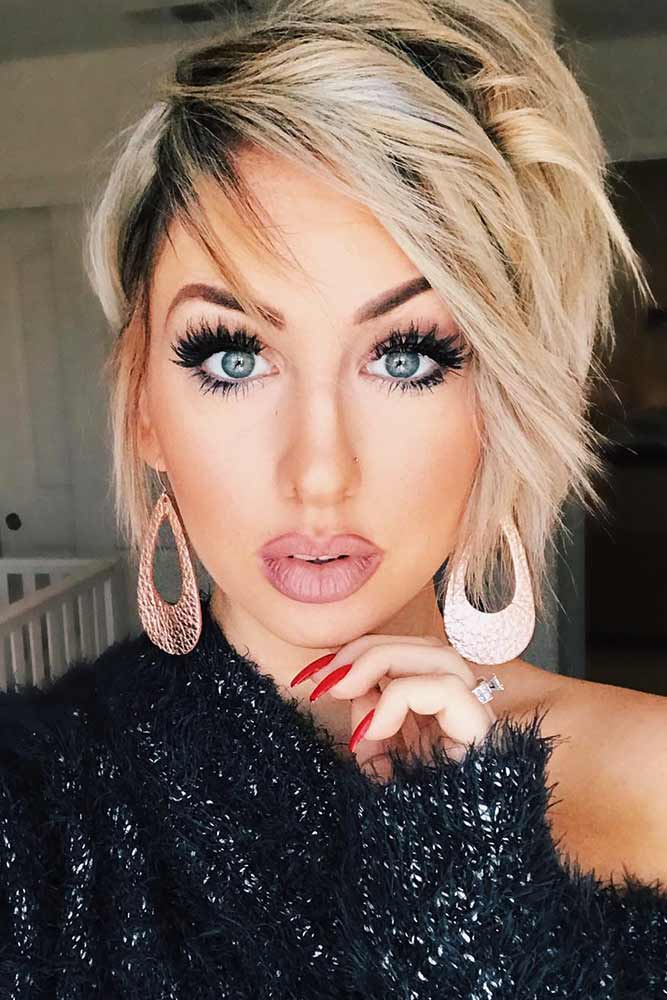 Credit photo: instagram.com/jenschmierer
Whenever you want to add some volume and fullness to your hair or work on some facial features, asymmetrical short haircuts come in. Of course, you can go for an asymmetrical feel with any length, but short hair is the best canvas to show off the sharpness of contrasts. On super short bobs, a touch of asymmetry looks especially impressive, creating a fantastic fusion of a pixie and a bob. If you'd like to draw attention from your sharp angles or add some visual length to your round face, style the heavy portion so that it's textured and full, as such short hair styles are the perfect way to balance out your look.
Shoulder Length Bob For Natural Curly Hair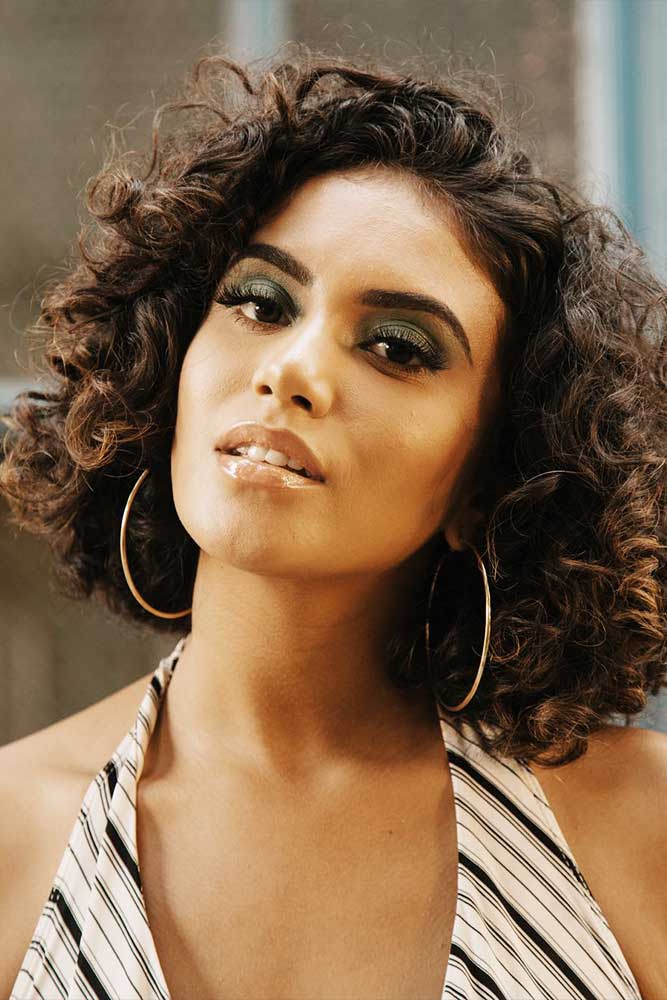 Credit photo: instagram.com/rhondivasboutique
Short hair styles for women with curly hair are the saving grace their locks have been waiting for their whole life! Curls are tricky, especially if they're not maintained right. And the longer the hair is, the tougher it is for you to keep up with those curls. That's why keeping your hair at short-to-medium length will be the best choice. First off, short hair cuts for women with curls are the best way to enhance their pattern, as the chances of matted hair are lower or shorter lengths. Second, short curly haircut styles are unbelievably stylish and beautiful, as such a length makes the curls bouncy and the silhouette full.
Side Swept Messy Bob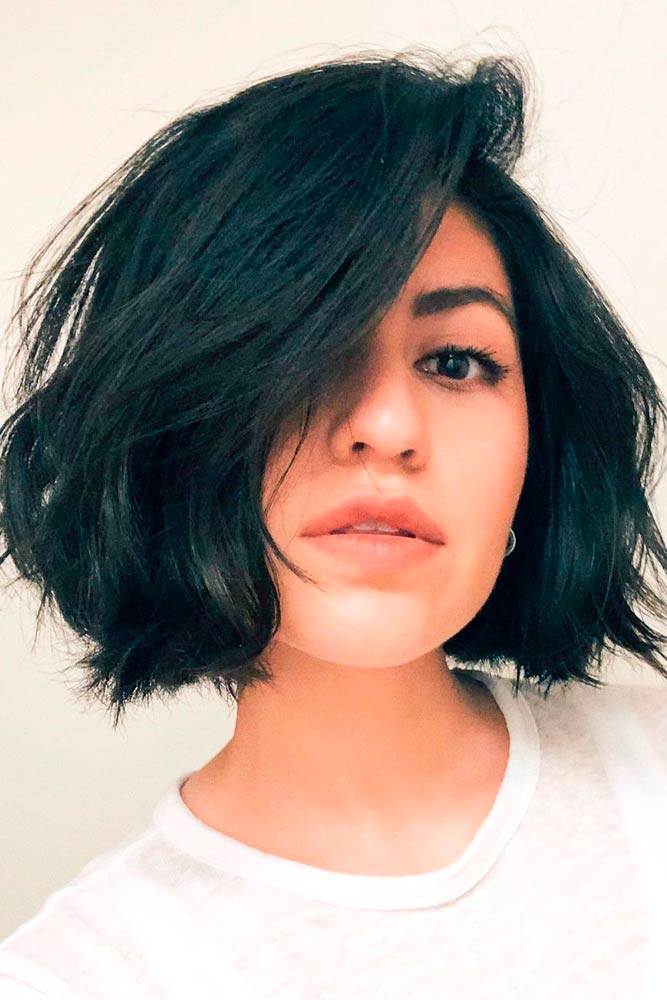 Credit photo: instagram.com/chrisjones_hair via Instagram
Now, you're probably thinking "I'm actually looking for short haircuts for fine hair, but this mane is certainly thick and dense"! Yes, it is. But only because this mane has found its perfect idea in the variety of short womens haircuts. With a blunt structure of a bob cut and lively thick layers throughout the hair, you can create a masterpiece that will never fall flat or lose its volume on the roots. Yep, short hair women are sometimes so afraid to get is all you need to make natural volume stay.
Hairstyle Options For Short Hair
Twisted Half-Up Short Hairstyles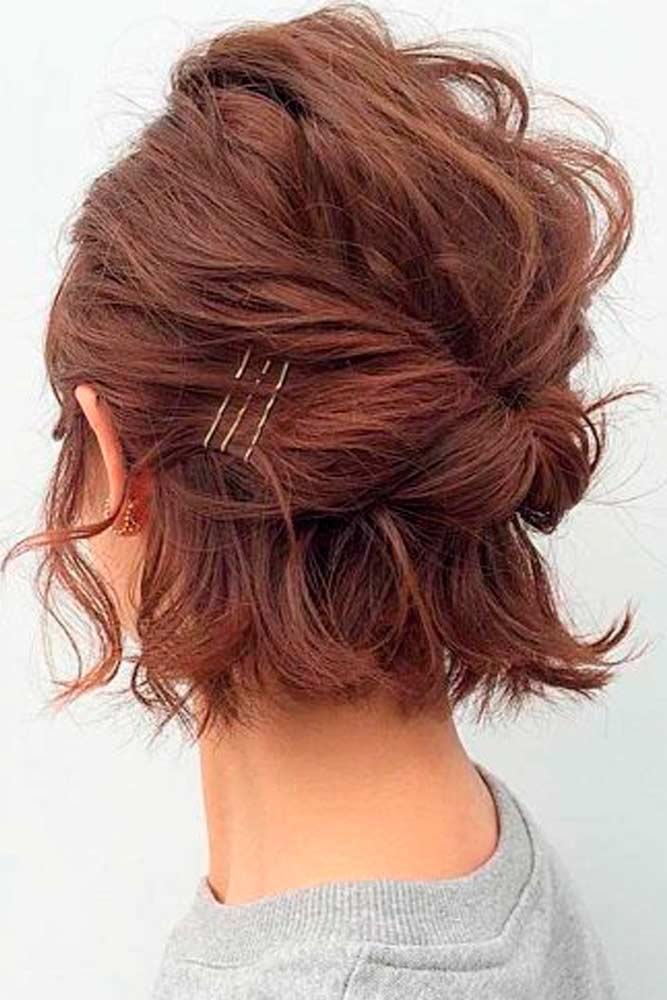 Credit photo: instagram.com/ryohei_katayama
For some unknown reason, women tend to bury their hopes of wearing feminine updos when they get short haircuts. Gone are those days when 'short' meant limitations, ladies! In fact, such days didn't even exist, as once you take a creative approach to your hair, you can turn it into an updo that will also work on your fine hair. Wave your layers, do some twists, pin them at the back, and tousle up the crown saying "voila!".
Messy Half Bun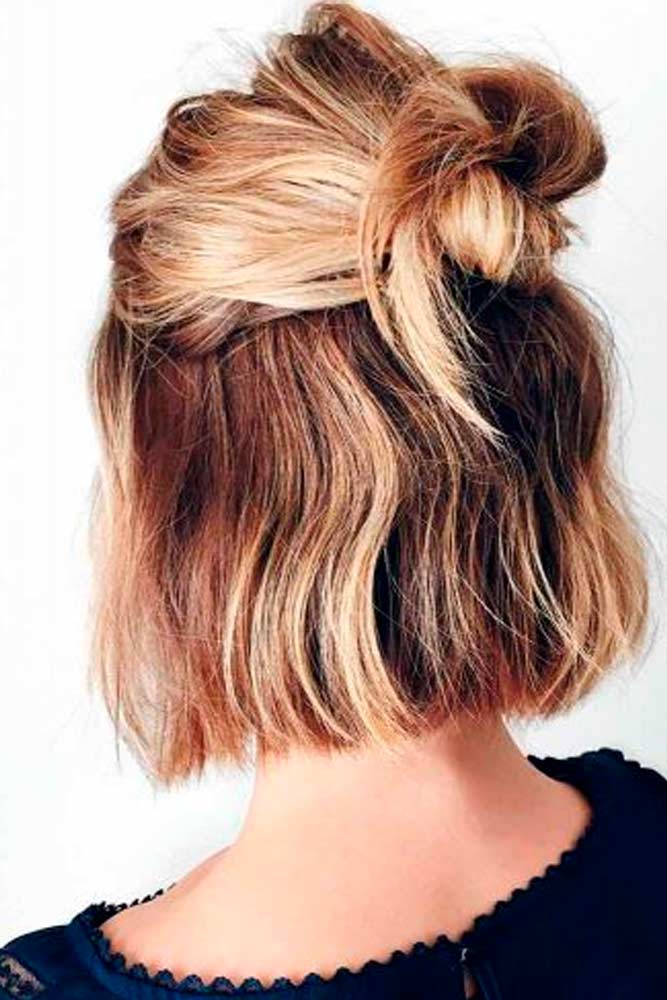 Credit photo: instagram.com/kristin_ess
Whether you're staying at home all by yourself or going to get some sweets to watch your favorite series, you still want your hair to look decent. That's why we've prepared an amazing casual or even home hairstyle you can do in minutes to always feel confident with your short locks. The rules are simple: wave your hair a little, section off the top layer, and twist it into a loose bun. Then, tousle up some edges and enjoy the effortless volume and fullness in your hair.
Dutch Braid Updo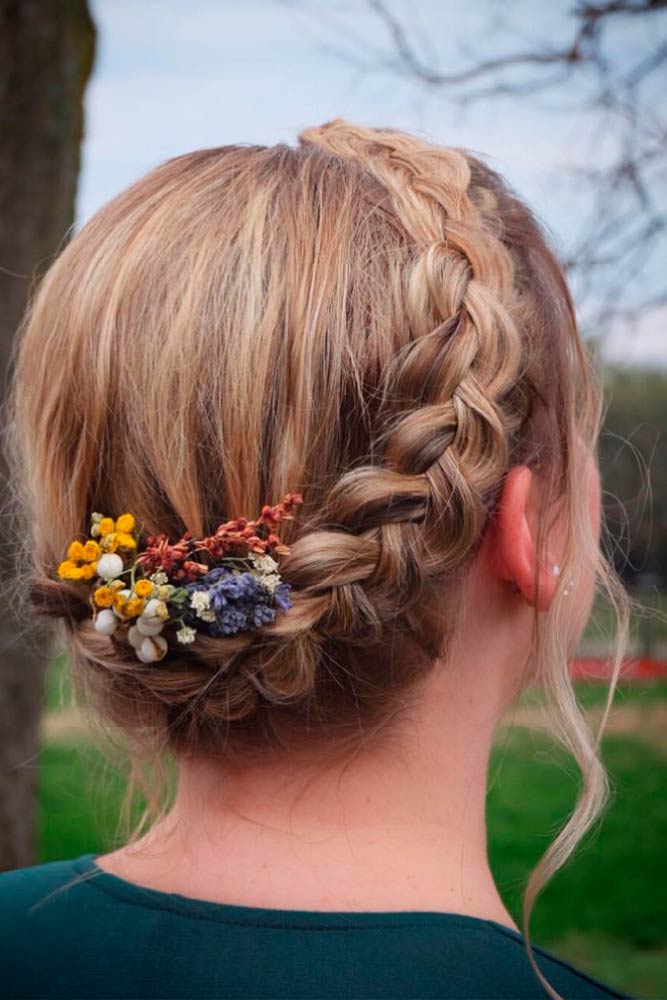 Credit photo: instagram.com/Alex_HairCraft
Your eyes aren't lying to you: that's an all-over crown braid updo done on short hair. Obviously, the hairstyle requires a rather short-to-medium length, as it incorporates all the hair. And the secret of creating the style lies in working without much tension on second-day hair. Yes, we're not kidding. Second-day hair is more manageable for braiding because hairs don't stick out when they're a little bit greasy.
Space Buns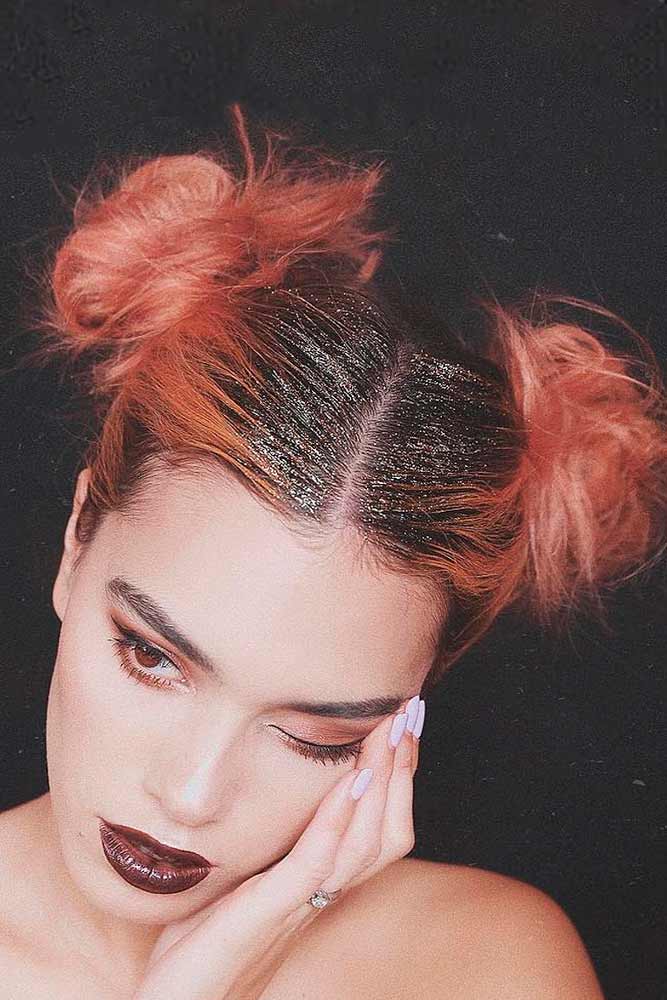 Credit photo: instagram.com/xandervintage
Nothing can compare to space buns when you're about to strike everyone with cuteness and sexuality at the same time. There's no need to tell you how simple such hairstyles are, but there's still something we should mention: go wild and creative to create a space bun look to remember. Once the buns are ready, add some messy touch to them by tousling up the edges to that they stick out like crazy. Add a bright red hair shade. That's how you can create a funky modern updo!
Quick Bandana Short Hairstyles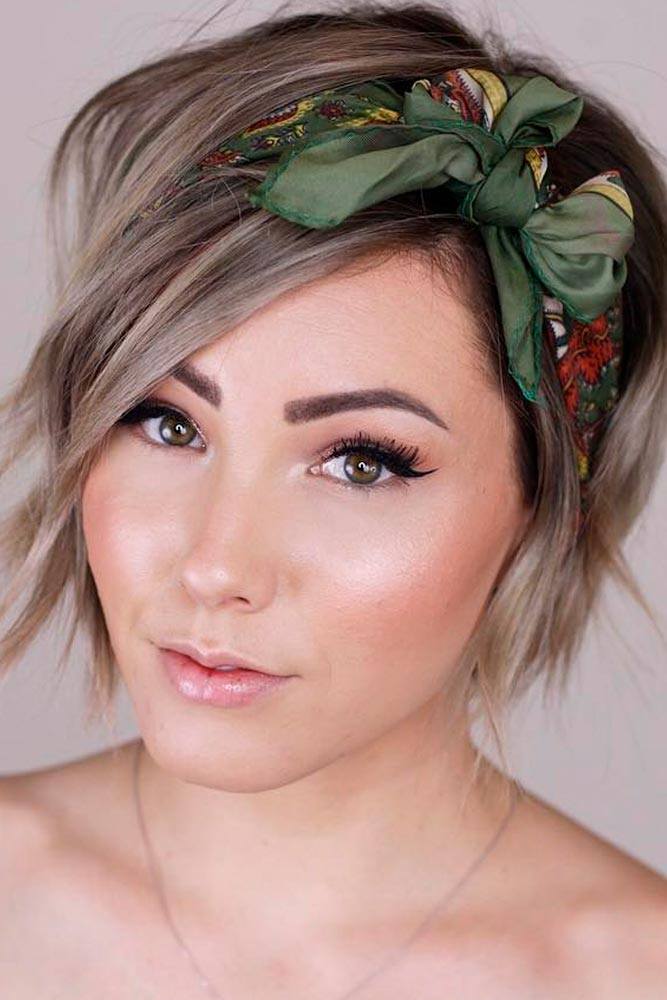 Credit photo: instagram.com/chloenbrown
Probably the easiest hairstyle of all time! That's the case when you can do an absolutely fashionable and decent updo even if you're short of time and haven't washed your hair for days. A stylish bandana or scarf can be your saving grace. The only thing you need is to tie your crown with the accessory, and that's it! And the fact that it will maintain fullness in your hair is just the icing on the cake.
Braided Faux-Hawk Short Hairstyles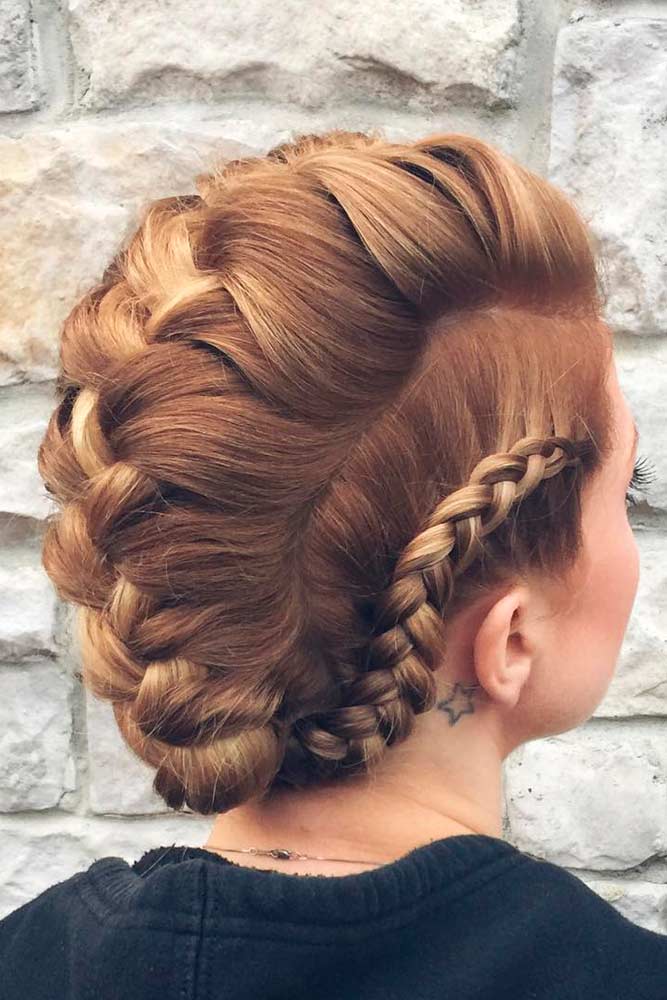 Credit photo: instagram.com/alex_haircraft
Everyone who thinks that doing a faux hawk on short hair is impossible should see this idea! With the help of braids, you can create your own, textured version of the trendy hairstyle. Braid the top into a classic Dutch braid, working with big strands. For the sides, it's better to go with tighter types such as three-strand or fishtail braid.
Short Hairstyle For Curly Bob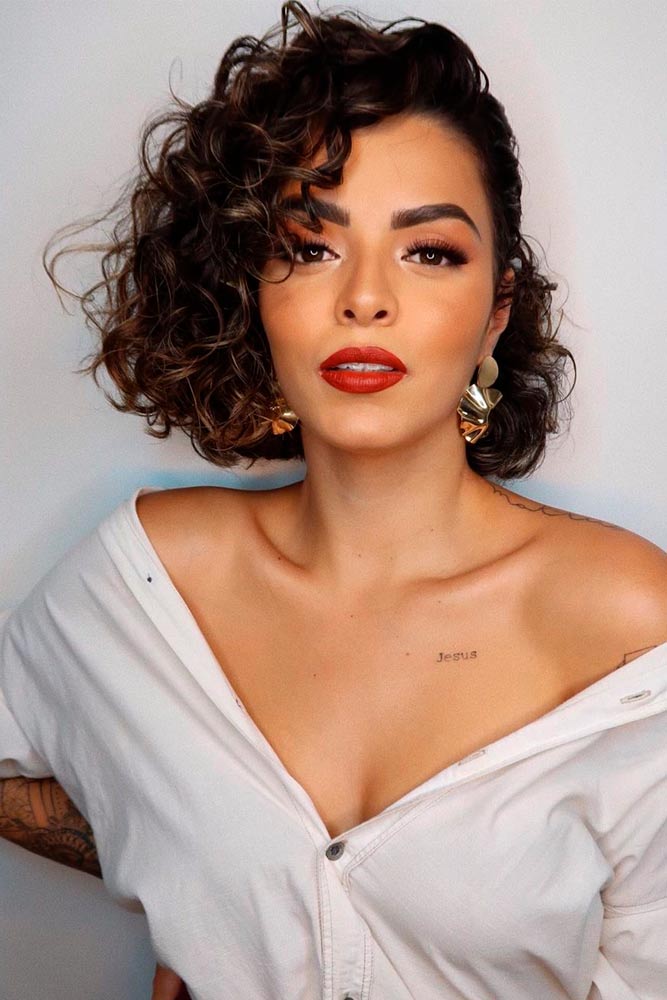 Credit photo: instagram.com/nathaliebarros
We just can't leave you without short curly hairstyles you can wear on a daily basis! Yes, it's just a side-swept bob. But the way these defined, well-shaped curls stand out makes this hairstyle simply unforgettable. To achieve a look like this, coat your hair with a product designed for curl definition. Once it adapts to the texture, sweep those curls and get ready to shine!
Curly Updo Hairstyle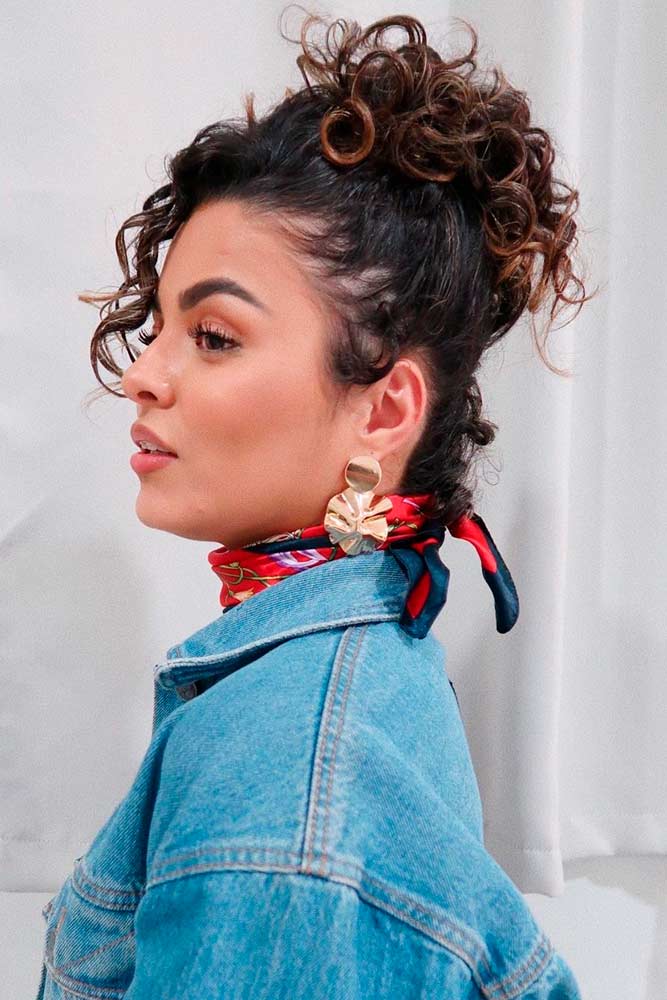 Credit photo: instagram.com/nathaliebarros
The texture of curly hair is so pleasant that even the simplest hairstyles for short curly hair look like red-carpet hairdos. And this updo is no exception. Though it doesn't take much effort to tie your hair into a high bun, you should make sure that you've prepared your curls for the hairstyle. Condition them, apply a product that enhances manageability, and then go on to create an updo. P.S. The messier, the better!
Low Bun Short Hairstyles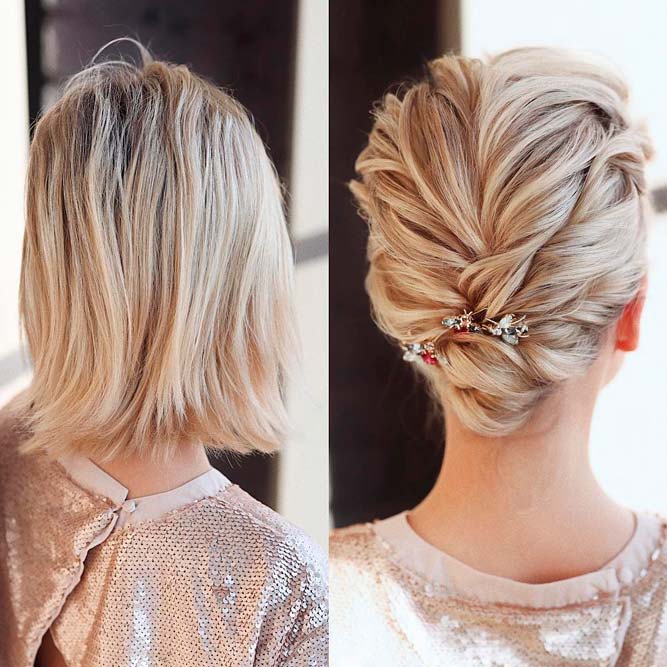 Credit photo: instagram.com/tonyastylist
Let's be honest: without this transformation pic, it's hard to believe that this hairstyle was done on short hair. And while it may seem to be too complicated, in fact, it's nothing but a breeze. Again, you need to start working with second-day hair or with an oily product applied. To create the hairdo, just twist your strands from both sides and tie them low, securing with some accessory.
Celebrities Choices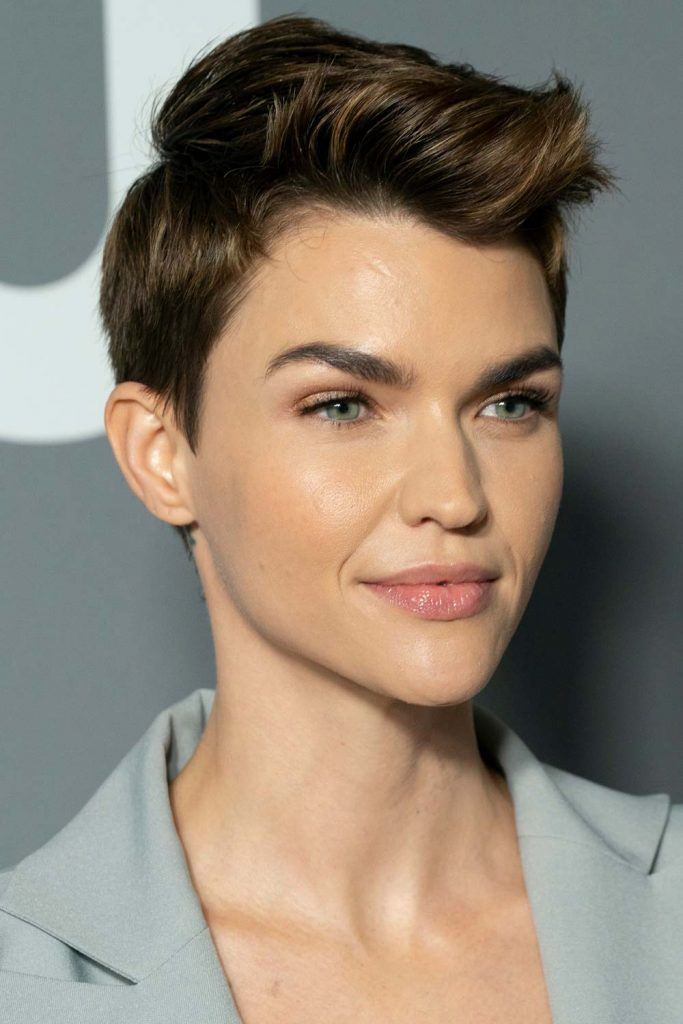 Credit photo: lev radin/Shutterstock
Credit photo: Andrea Raffin/Shutterstock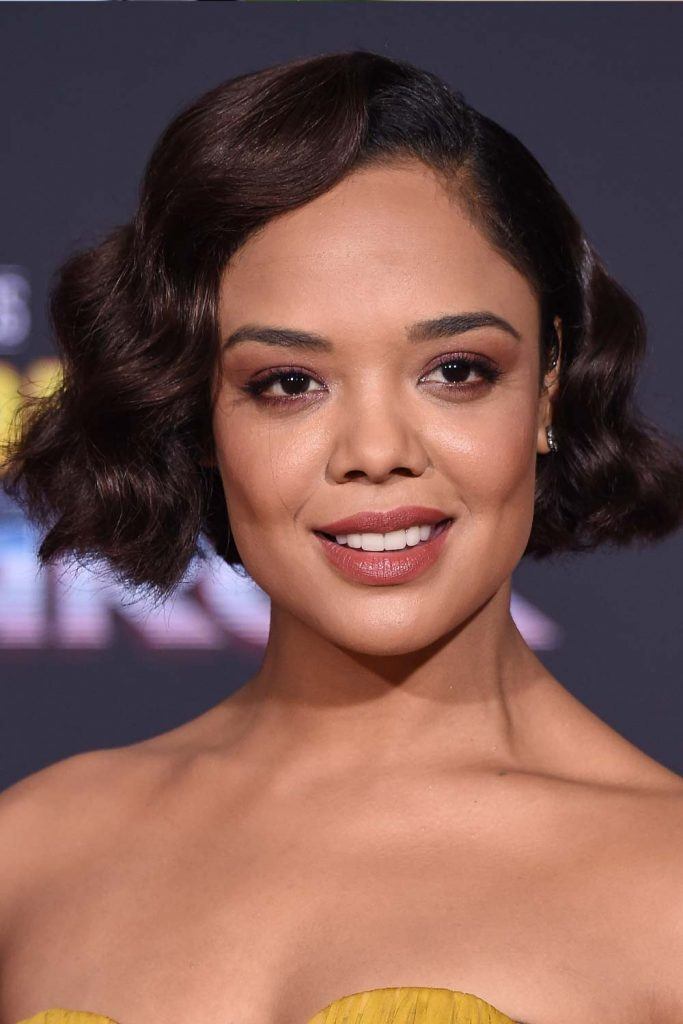 Credit photo: DFree/Shutterstock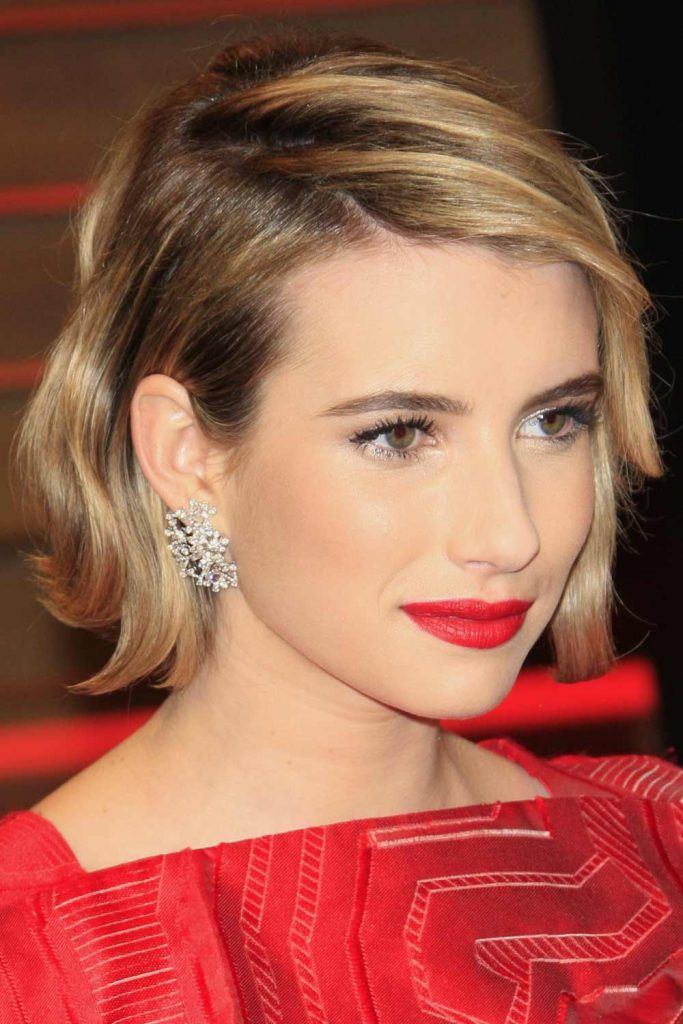 Credit photo: Kathy Hutchins/Shutterstock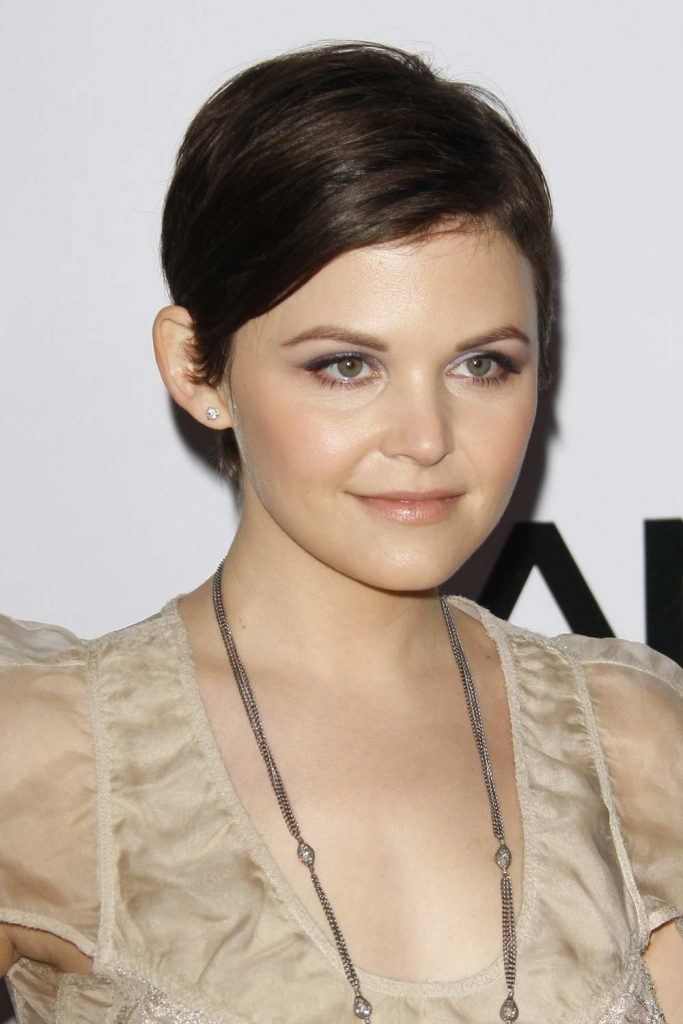 Credit photo: Joe Seer/Shutterstock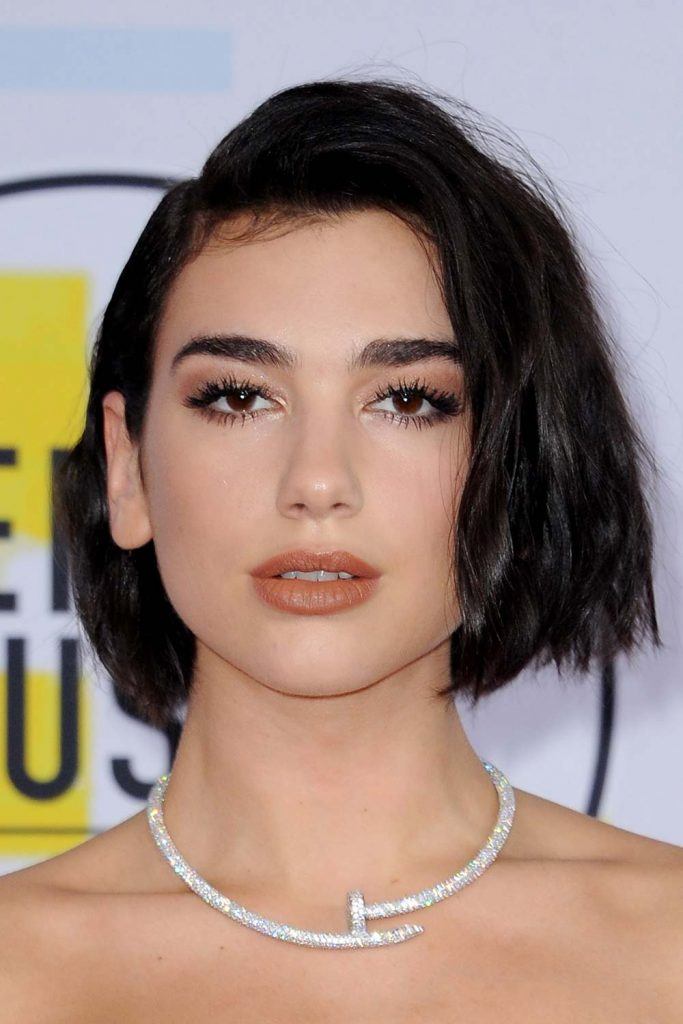 Credit photo: Tinseltown/Shutterstock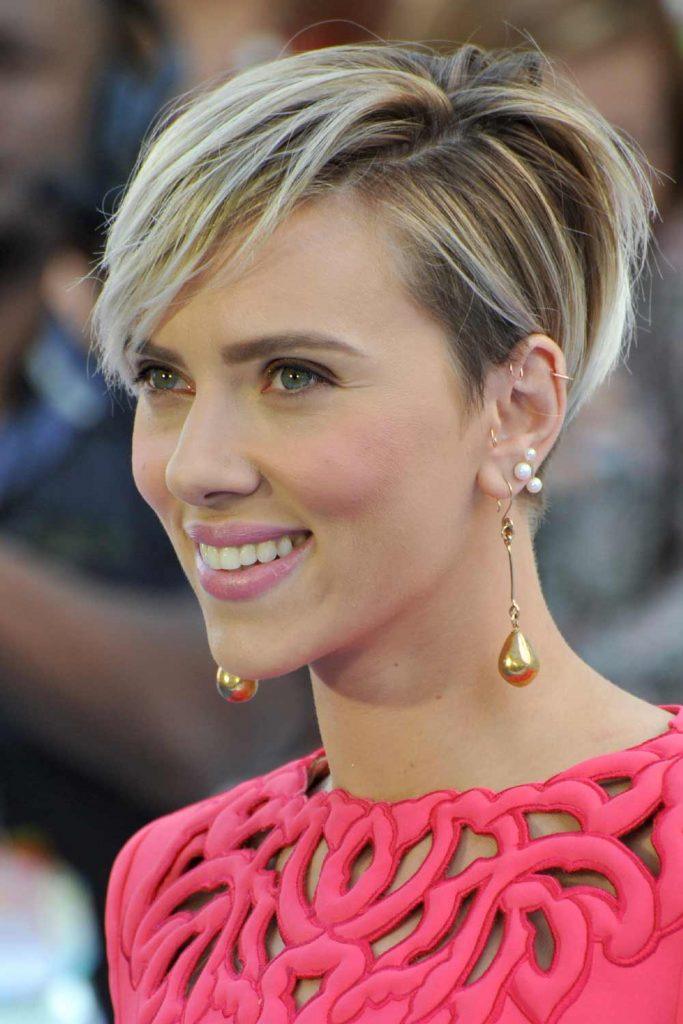 Credit photo: Jaguar PS/Shutterstock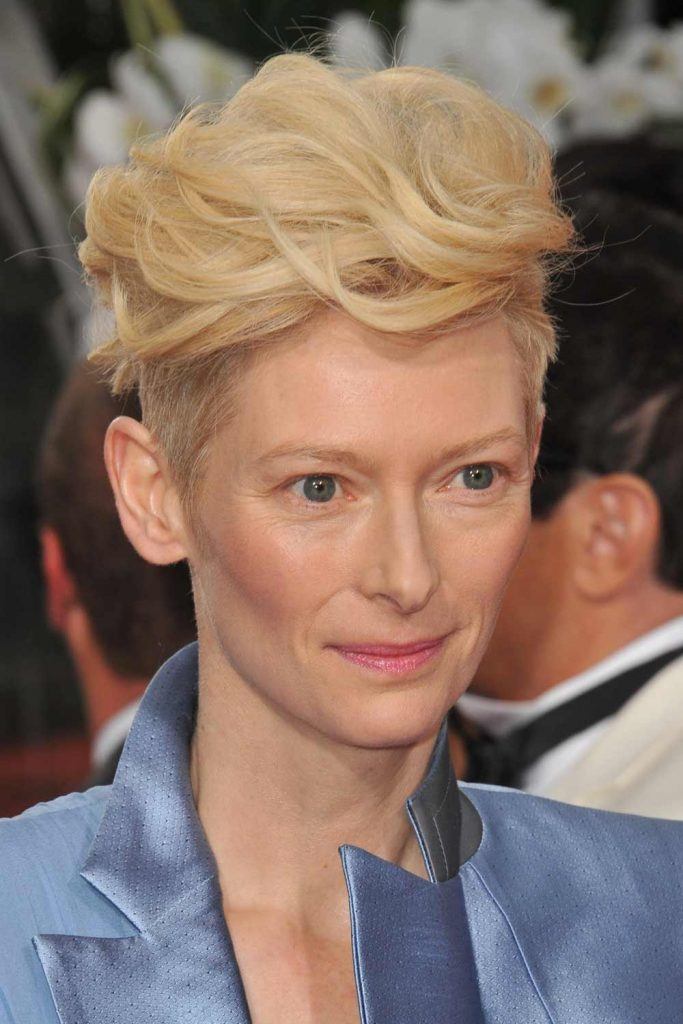 Credit photo: Featureflash Photo Agency/Shutterstock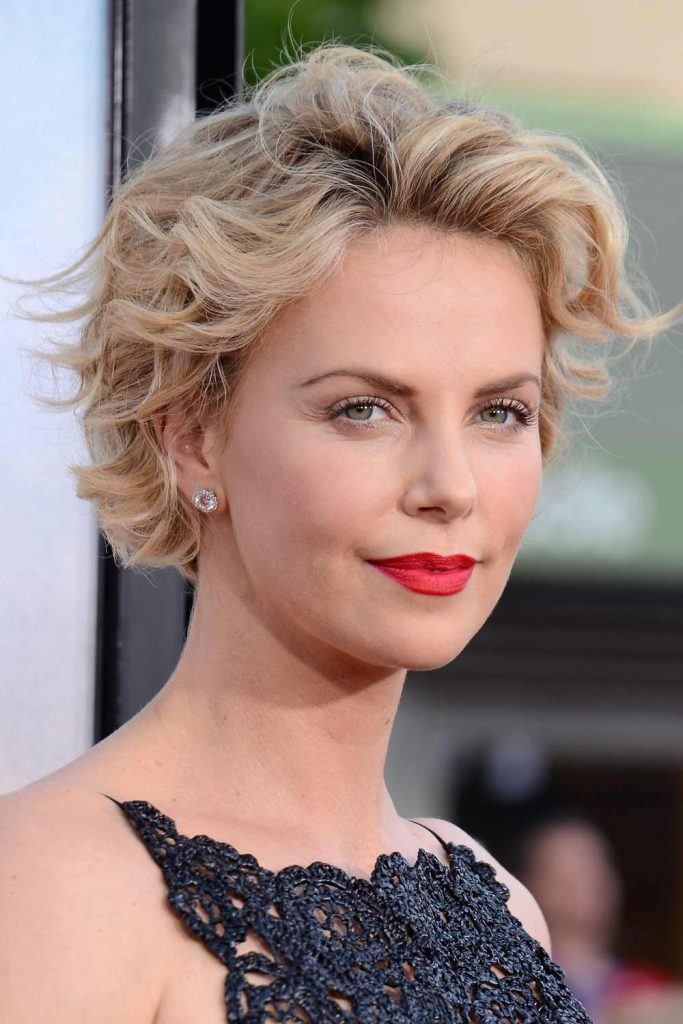 Credit photo: Tinseltown/Shutterstock
Feeling bold enough to try one of these short hairstyles? We think you're ready! And we know that no matter which cut you choose, you're going to be totally sexy and stylish!
FAQ: Short Hairstyles
Does short hair make you look fatter?
That's not true. If you would like to soften your features, such short hairstyles as asymmetrical pixie, medium bob accompanied by soft waves could be a great option. Add volume at the ends and avoid short cuts at the sides; don't use a short bob that is at the chin or higher and you will look stunning.
What haircut makes hair look thicker?
Textured haircuts where the length of the hair is between the ear and collarbone look thicker.
Pixie is a fuss-free option that makes your hair appear fuller, an angled bob adds some shape, feathery layers will create some life and texture. In addition, bangs provide an instant fullness to your haircut.
How can I hide my scalp with thin hair?
Getting a short and textured cut can add volume and hide your scalp.
Coloring your hair regularly as well as adding bangs and/or a deep side part will also draw attention away from your scalp.
We should not forget about including volumizing products into your hair care routine.
Finally, hair extensions, hair toppers, and wiglets disguise your scalp instantly adding length and volume.
REFERENCES:
Fine hair has the smallest circumference, coarse hair has the largest circumference, and medium hair is anywhere between the other two. Source
How you wash your hair and the products you use can go a long way toward maintaining smooth, shiny hair. Source
Dermatologists many a times encounter questions from patients and even colleagues asking about how to keep their hair looking clean, healthy and beautiful. Source
Was this article helpful?