Some ladies don't even know how advantageous short hair with bangs can be. And we find it to be real trouble, as this simple, yet very creative combination is a chance for every lady to take her look to the next level.
Wearing bangs has always been the best way to customize your haircut, making it emphasize your best features and hide up some flaws. Just imagine: a simple fringe can give more individuality to your present cut. It's not magic; it's true. And today we will prove that to you.
Whether you already rock your days with a short cut or you've come up with a thought of image changes, these ideas will inspire everyone. Whatever lifestyle or image you have, you will see an idea that will captivate you. Dive in the inspo-world of the beautifying, unique cuts and styles!
Structured Pixie With Soft Bangs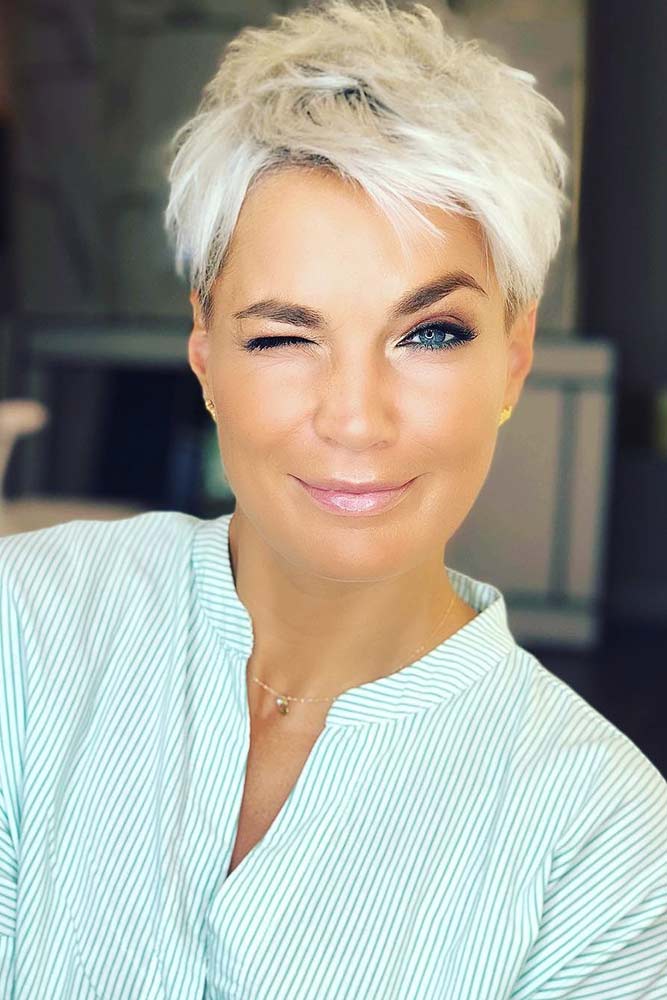 Credit photo: Instagram.com/karapylka
Believe it or not, a little touch of layered charm and short hair with side bangs teamed up is enough to make your look more modern. Soft layers add more oomph to the top, making it very structured and airy, and a little fringe gives a pleasant, well-balanced silhouette.
Layered Pixie With Long Bangs + Undercut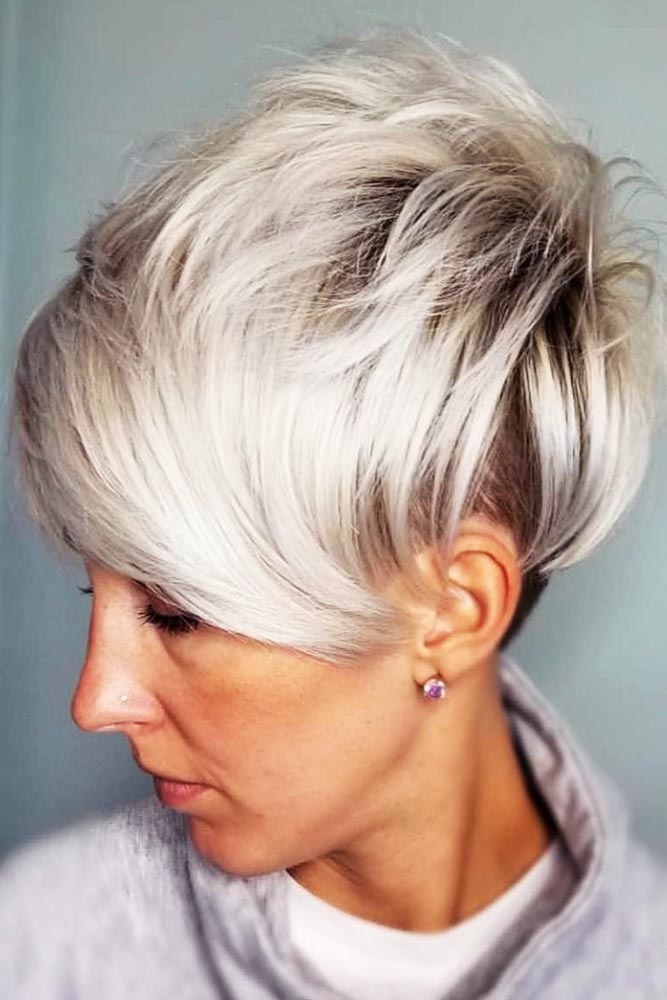 Credit photo: Instagram.com/amanda.j.giordano
The truth is, your fringe haircut can be anything you want! For example, this idea of short layered hair with bangs is designed to add more volume to the crown and provide a gentle framing touch. As for the undercut, it's the highlight that individualizes the whole style.
Asymmetrical Wavy Pixie + Undercut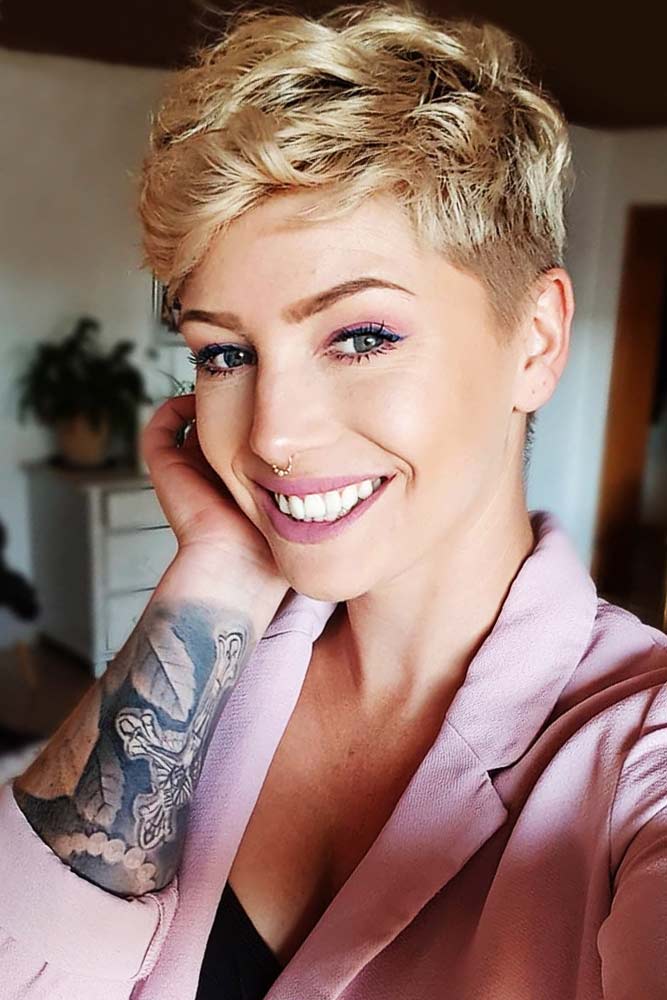 Credit photo: Instagram.com/anna_maria_theresia
It's no secret that the best way to tame thick, wavy or curly hair types is to cut your hair short. And if you want to make the most out of your texture, you should freshen up your short curly hair with bangs! Look how nicely the undercut sides finish the sassy side-swept pixie.
Spicy Undershaved Pixie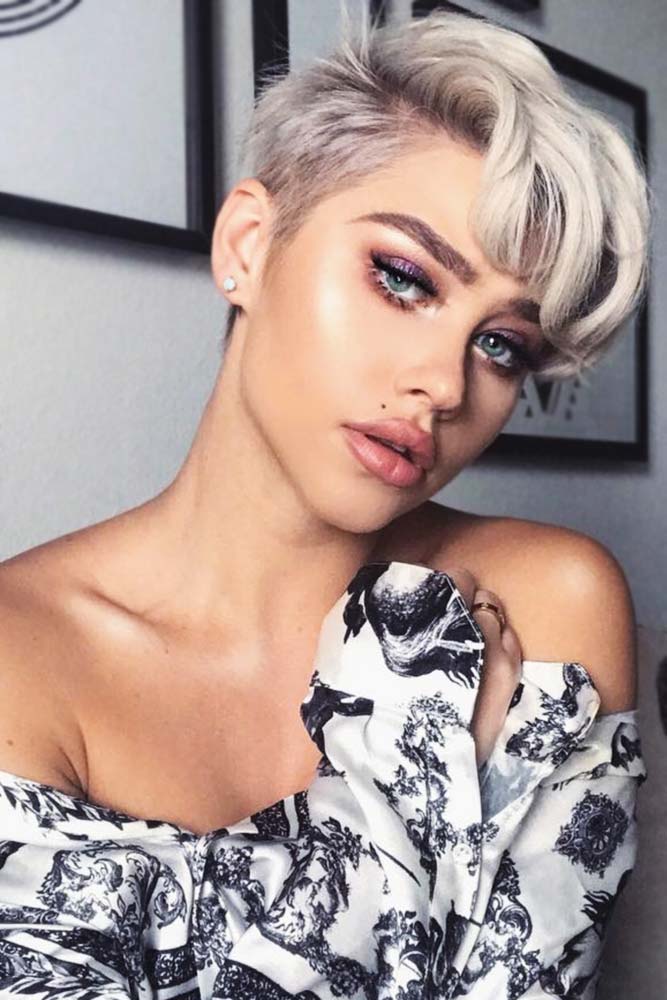 Credit photo: Instagram.com/autumnhartt
Ladies who like playing around with texture contrasts should be brave enough. Why? Well, you'll need the courage to flaunt with a really different pixie cut with bangs: the sides and back are shaved closely, putting the longer top in the spotlight. Isn't that daring?
Sharp Pixie For Fine Hair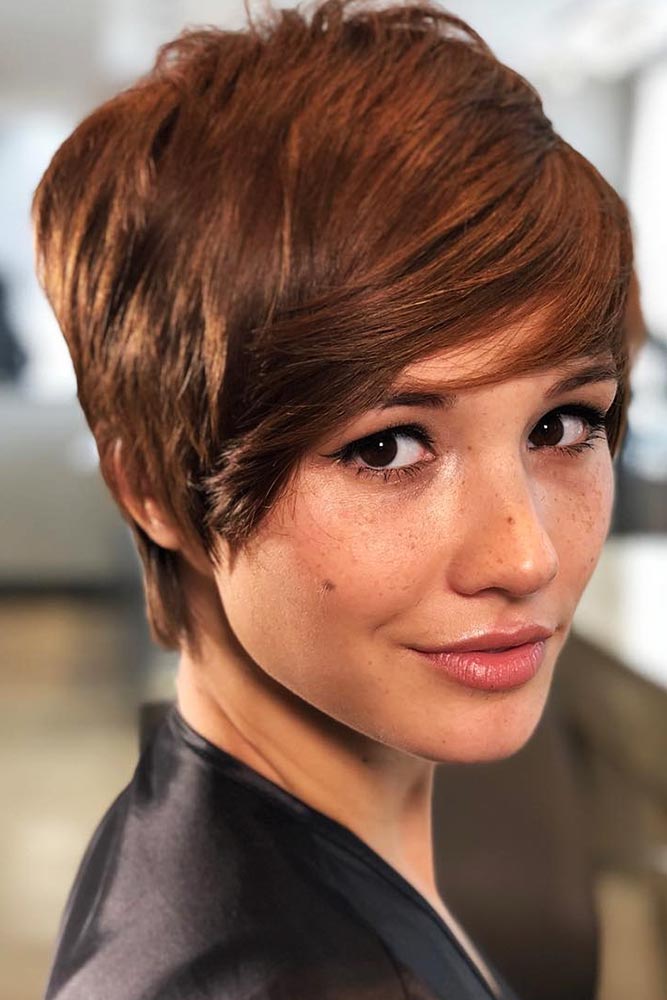 Credit photo: Instagram.com/emilyandersonstyling
Short hairstyles with bangs that are meant to work on fine hair are all about making it appear fuller. This edgy, a bit choppy idea, features a long side bang that stretches from crown to the side, thus giving a well-groomed, full look.
Contemporary Bowl Haircut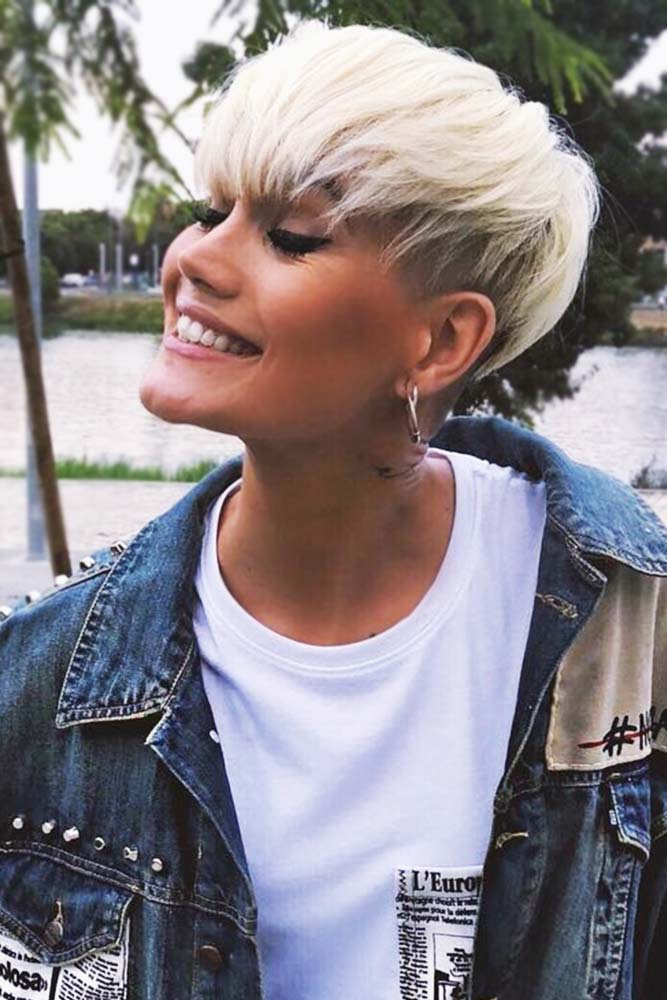 Credit photo: Instagram.com/sandra_sinh
The good-old bowl cut is back in town! This time, it's not just a one-length, all-over bang haircut; it's a modern, versatile idea that can perfectly fit into any tomboy lifestyle. This short blonde hair with bangs looks great with its a bit tapered sides and choppy bang that falls on the forehead.
Undercut Pixie With Choppy Layers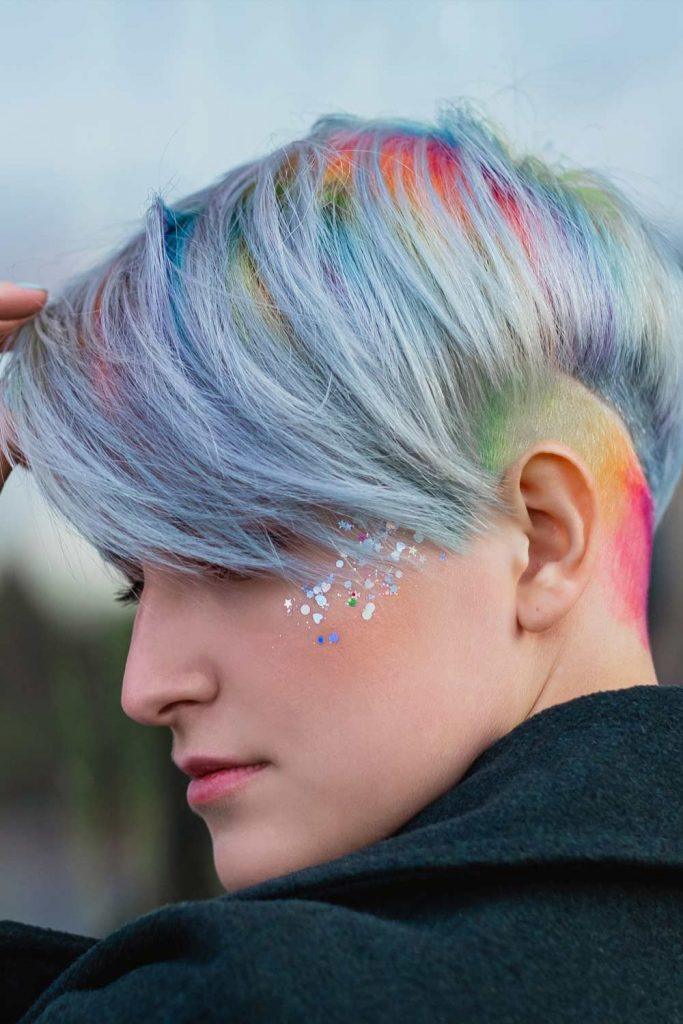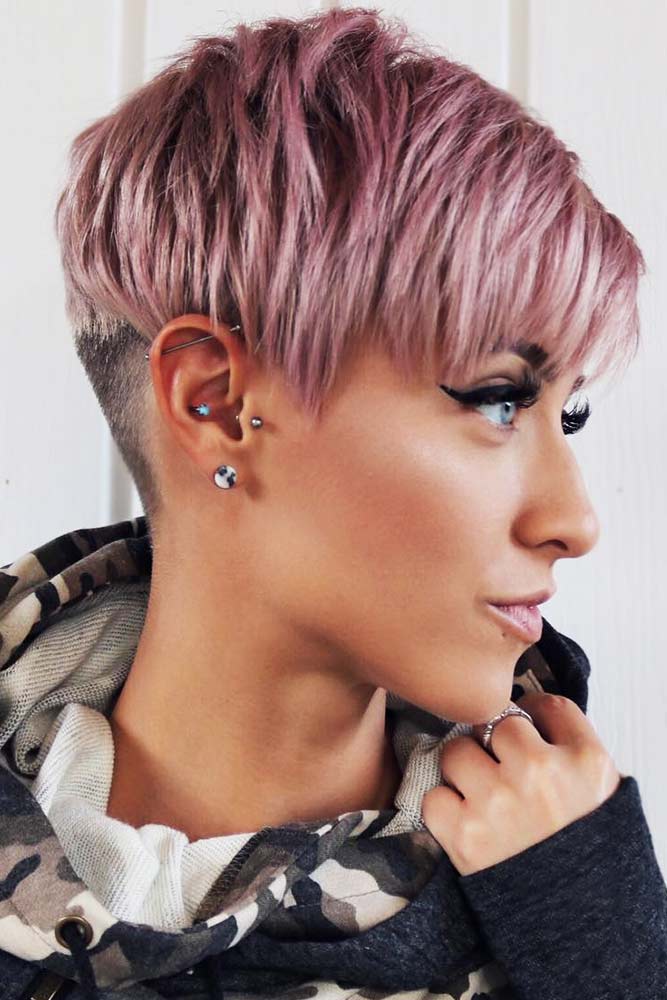 Credit photo: Instagram.com/the.oliviadanielle
If you want to find short haircuts with bangs that can reveal your punky soul, don't pass by the ideas like this. An undercut seems to be the best finishing detail for bold looks: this time it's not an exception. Go for an eye-catching color, get some spicy, choppy layers, and style your pixie to the side to make a statement.
Pixie With Long Bangs + Slight Taper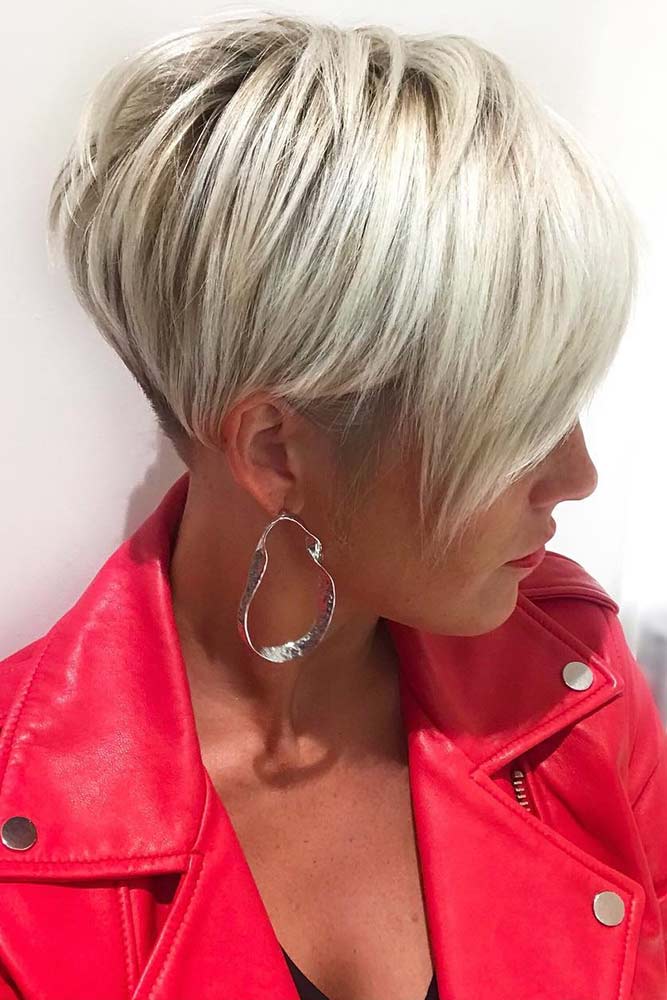 Credit photo: Instagram.com/lavieduneblondie
Do you know what makes her short hair with long bangs look that airy and lifted? Let tapered sides answer this question. Yes, a light taper on the sides and back is enough to accentuate your short haircut.
Pixie Cut With Short Bangs + Mid Taper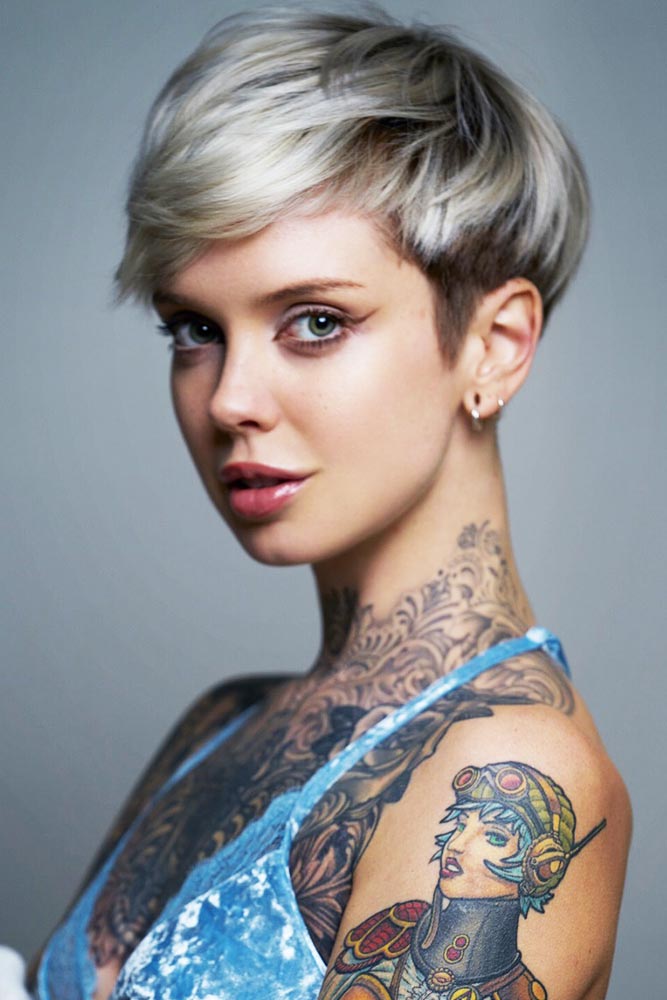 Credit photo: Instagram.com/saraontheinternet
The mid taper is more distinctive than previous ideas. So if you're a woman who wants her short cut to catch eyes, don't hesitate to copy this pixie. Its short layered bangs stand out due to the defined tapered texture, which is a win-win for cheeky girls.
Layered Wispy Bob With Light Bangs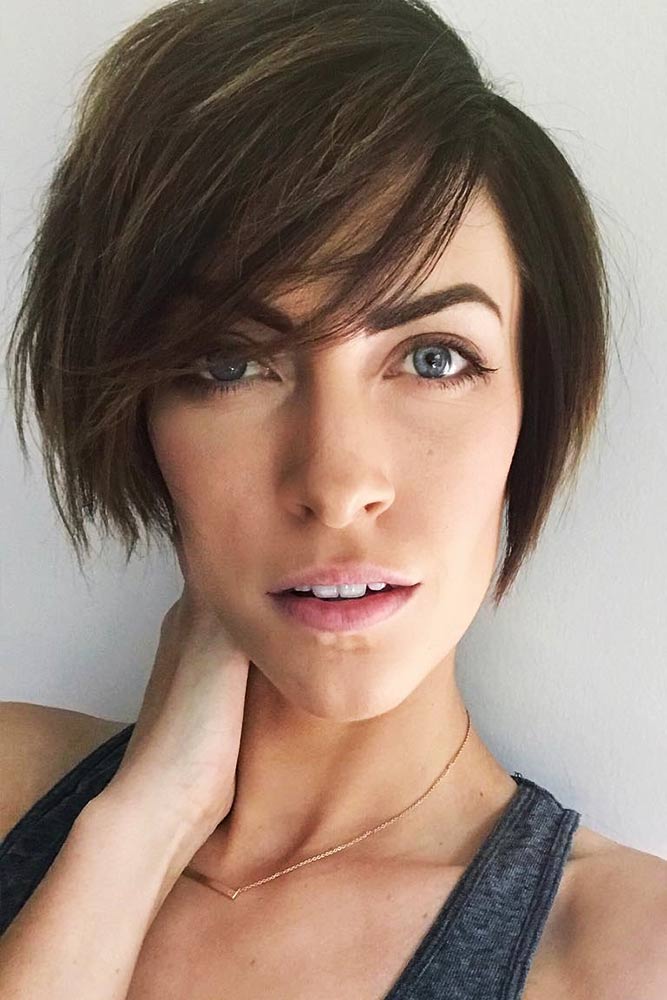 Credit photo: Instagram.com/freebirdandcompany
We're not going to leave you without a short bob with bangs! Since bob is one of the most iconic short haircuts, many ladies will love how defined it gets when it's spiced up with a fringe: the layers make the silhouette fly, while the lightweight bangs work on the face shape.
Angular Blonde Bob With Straight Bangs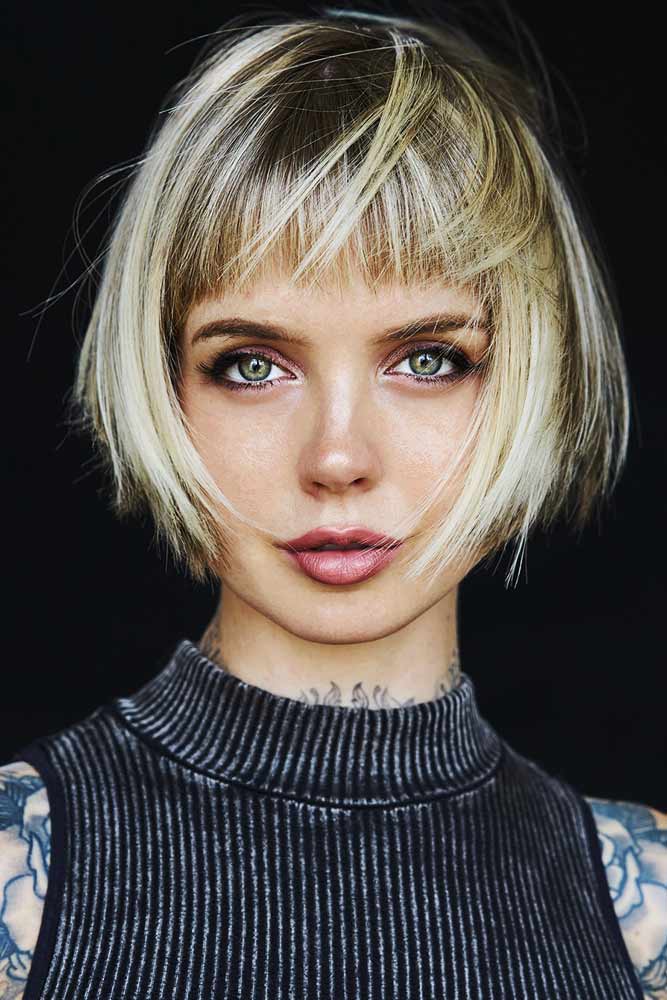 Credit photo: Instagram.com/saraontheinternet
Besides the grenade for her haters, Matilda has left something for stylish ladies. The classic angular bob with bangs has been popular since the very 80's, and now it can perfectly beautify ladies with round face shapes.
Bushy Lob Cut With Below-Brows Bangs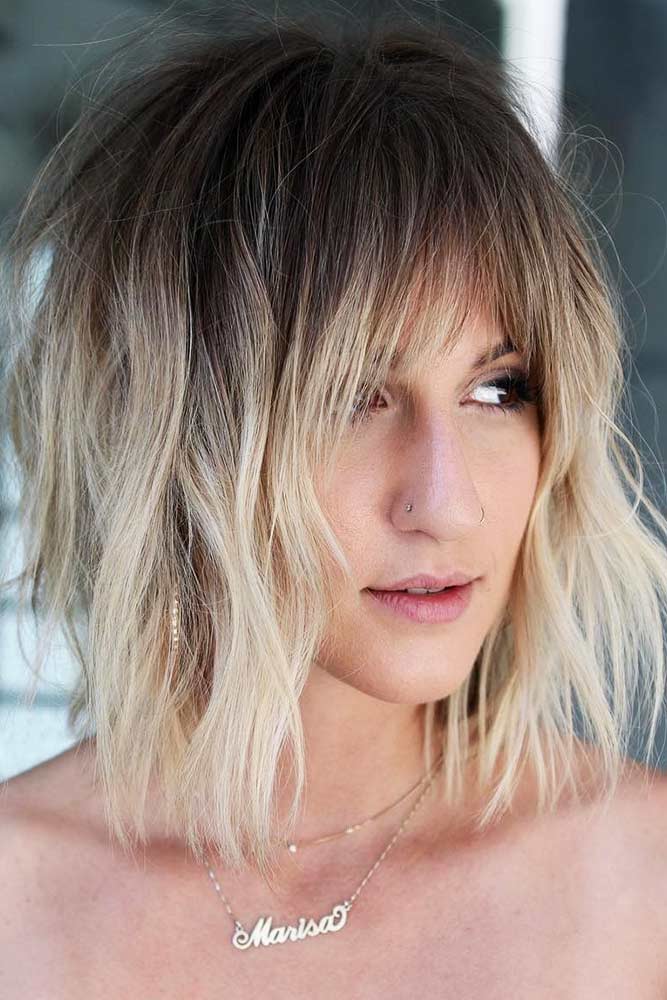 Credit photo: Instagram.com/salsalhair
The fringe that falls on your eyebrows without hiding them is not only a wonderful way to lift up the body of your cut but also to frame up your broad forehead. Soft texturizing on the ends will make the layers appear bushy, which will awesomely complement a lob cut.
Jaw-Length Choppy Bob With Thick Bangs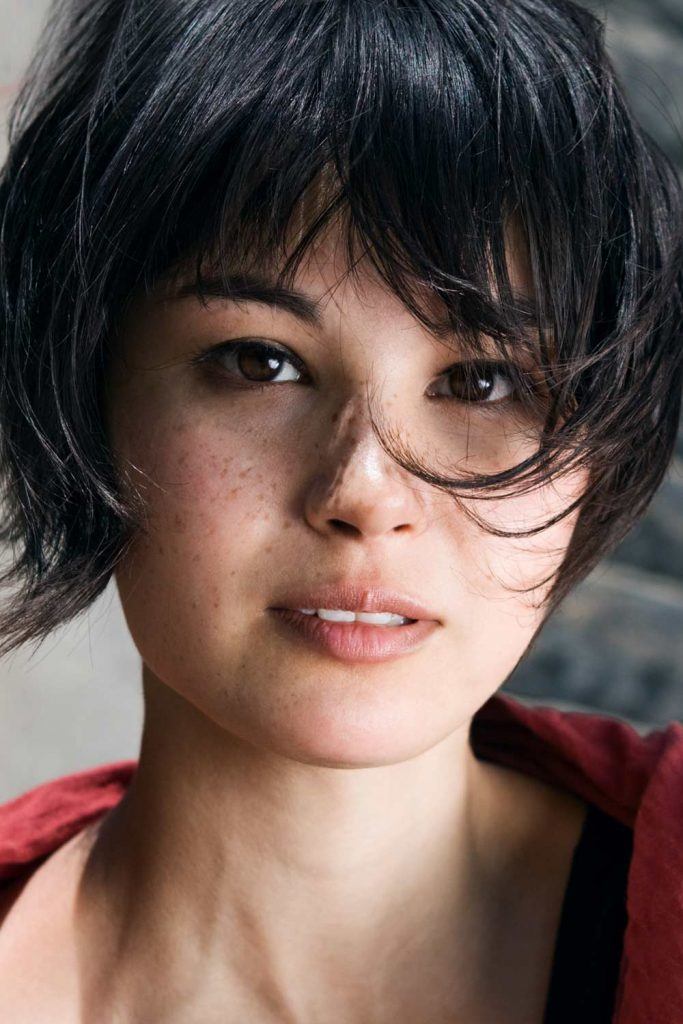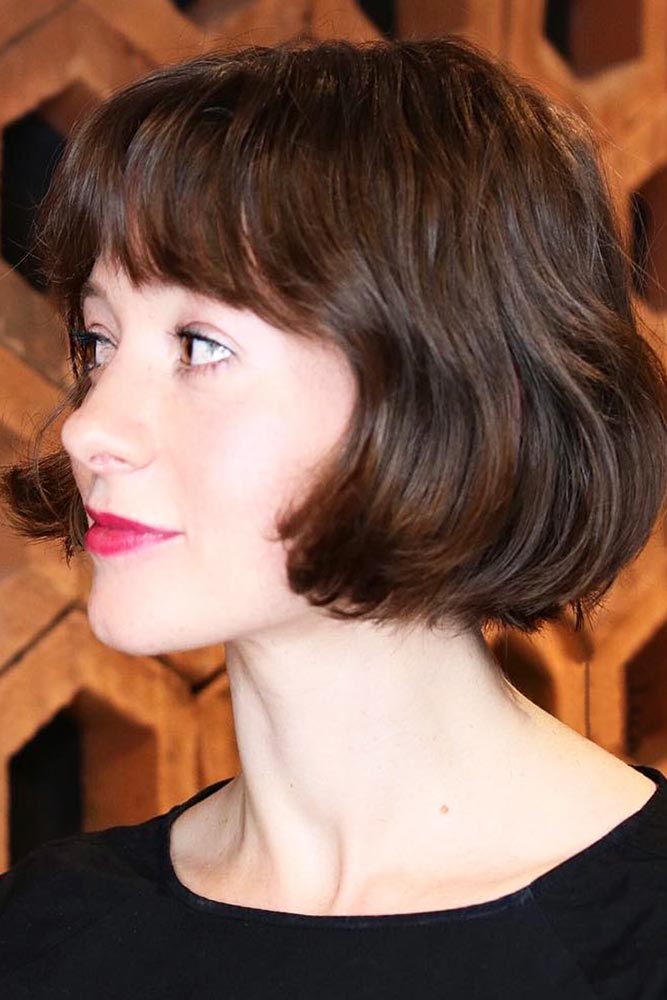 Credit photo: Instagram.com/salsalhair
How do you like this Amelie-like haircut? Yes, the French girl haircuts will never become outdated. This idea is the number one choice for those who want to flatter their face shape: the effortless, framing body will sort out any flaws.
Side-Parted Jaggy Bob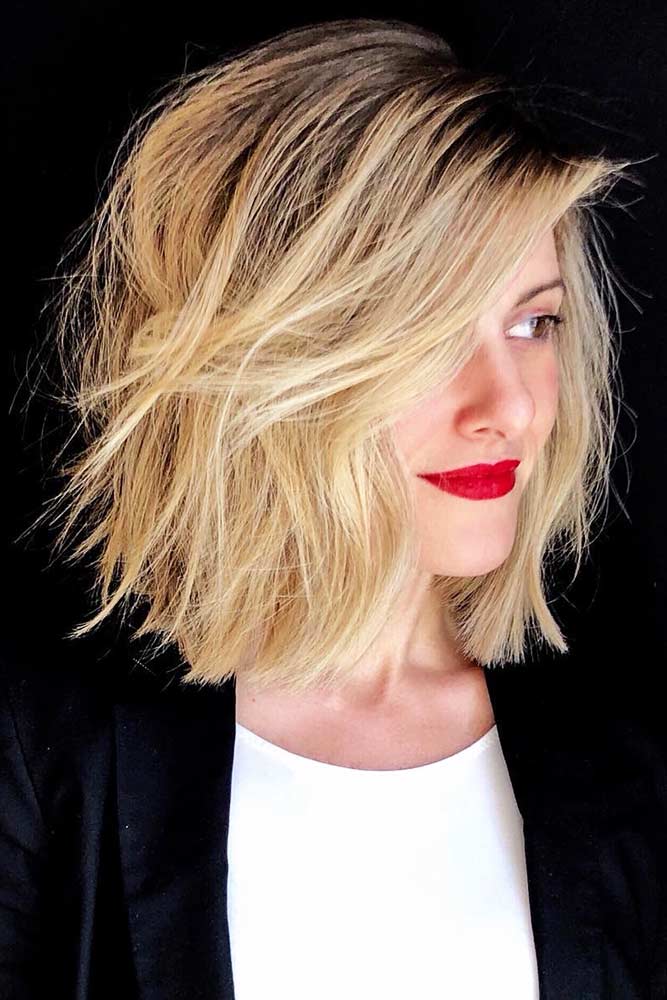 Credit photo: Instagram.com/chrisjones_hair
Nothing gives more lift to the top better than a deep side part. This way of parting makes one side outweigh the other, giving the whole silhouette an imbalanced, voluminous look. Of course, to enhance this power, jaggy layers and a long bang are essentials.
Cropped Bob With Flipped Out Tips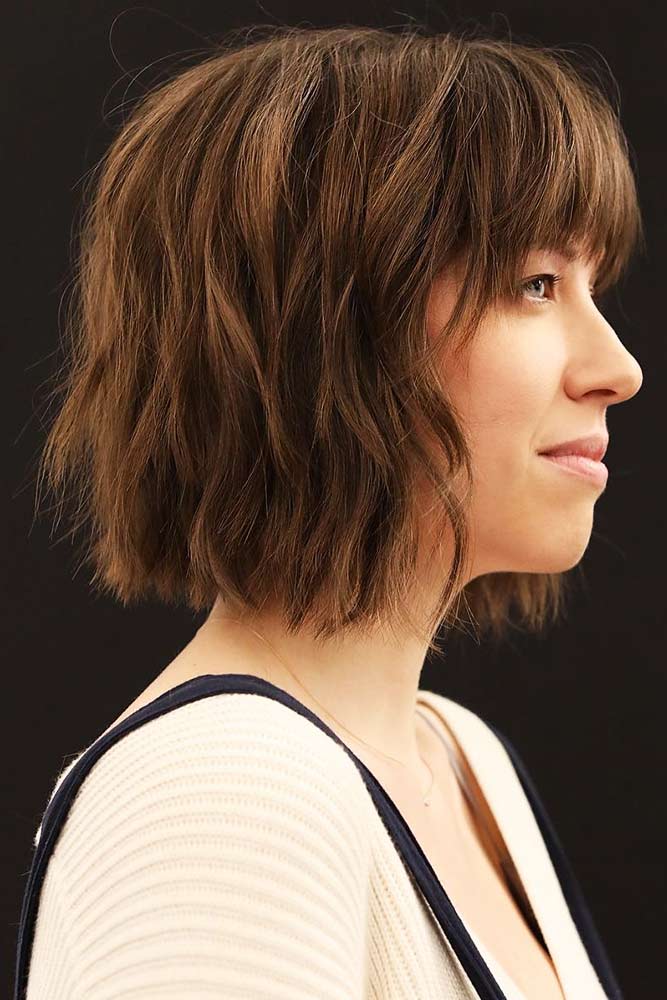 Credit photo: Instagram.com/anhcotran
Most short haircuts get rounder to the ends. How about you to look different? The flipped out tips of this bob go great with its copped texture. The straight, thick bangs also play an important role: they bring balance to the look.
Tousled Cut With Thin Sweeping Bangs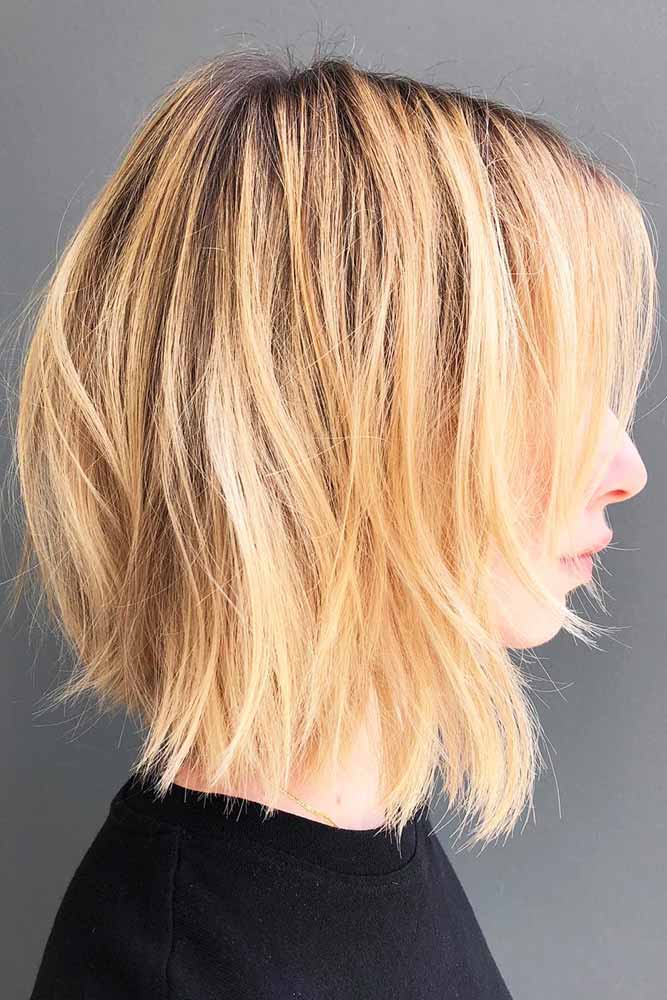 Credit photo: Instagram.com/anhcotran
While thin hair is considered troublesome for many ladies, a thin bang has nothing to do with it! This is one of the popular medium length layered haircuts with bangs that feature a tousled look and texture imbalance: the hair gets thinner in the fringe area, sweeping along the body and giving it a lot of fullness.
Short Bob With Bangs + Textured, Choppy Layers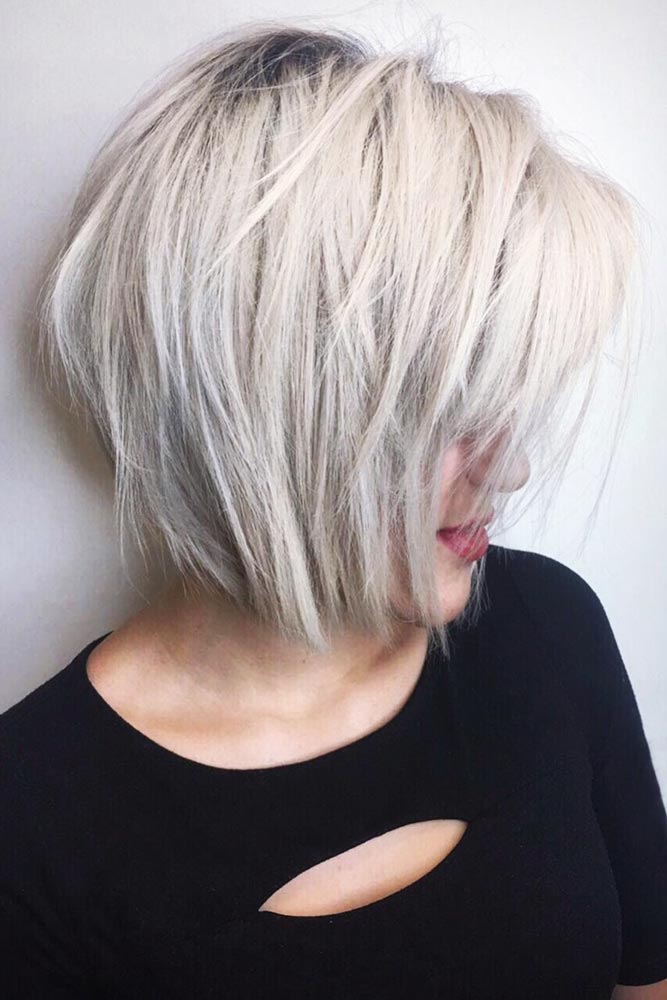 Credit photo: Instagram.com/cutyourhair
It's no secret that a layered inverted bob with bangs is the key to unbelievably voluminous looks. And even though many ladies rock it, you can make it less common by combining cutting techniques: the length can be textured, and your fringe can be chopped at the ends.
Ecaille Colored Layered Bob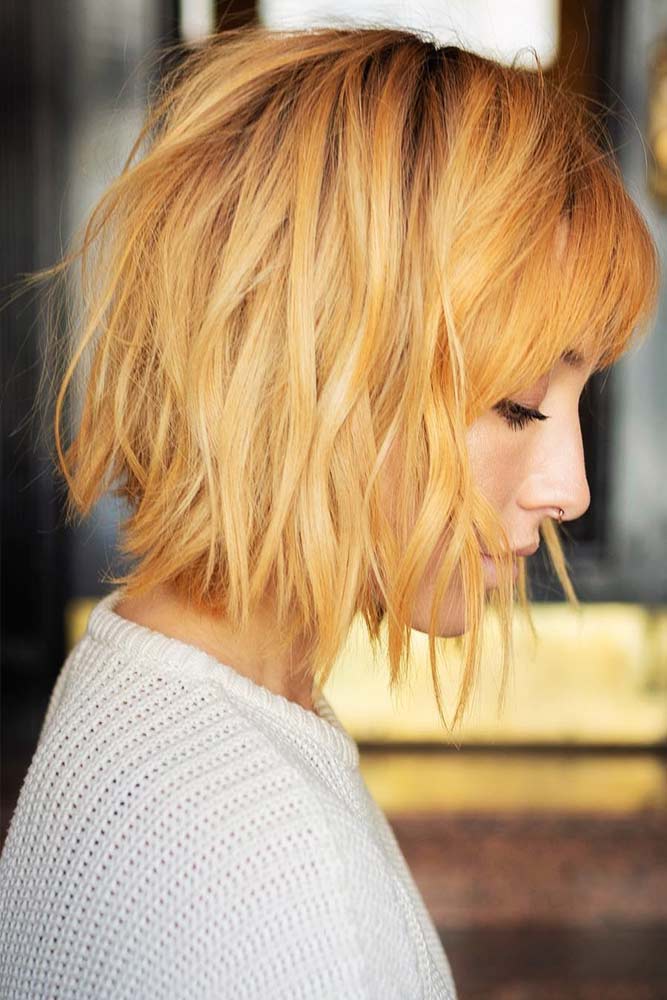 Credit photo: Instagram.com/cutyourhair
Do you know that the effect of short wavy hair with bangs can be even more powerful? Don't forget that color decisions are also responsible for the movement and volume in your hair. The ecaille coloring, where various tones of light brown and blonde melt together, is a good way to add some depth to your cut.
Blonde Pixie With Side Bangs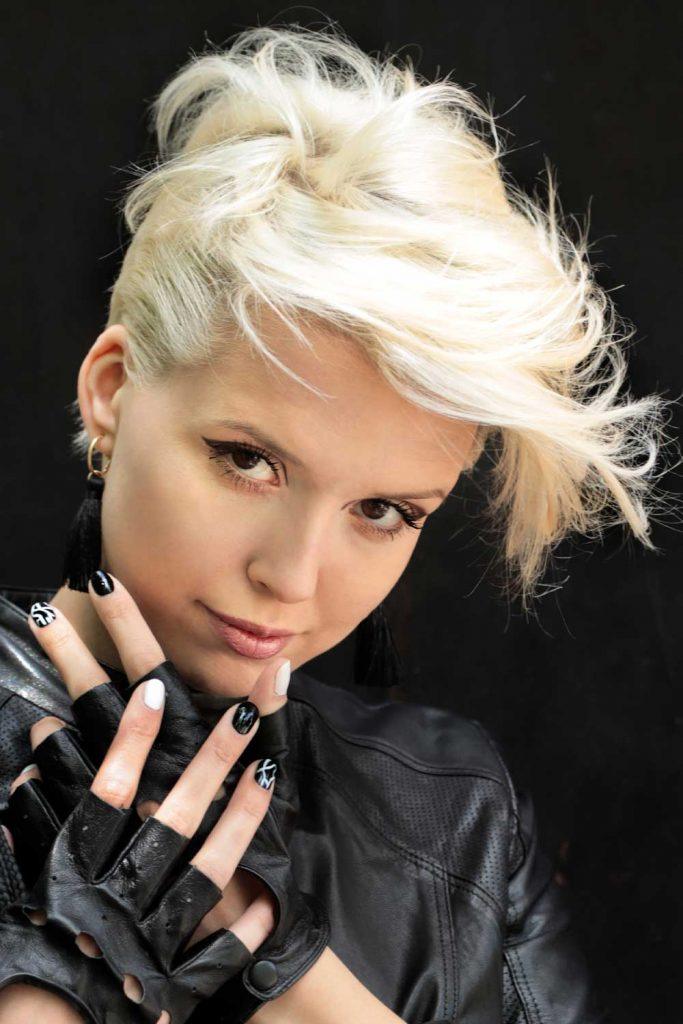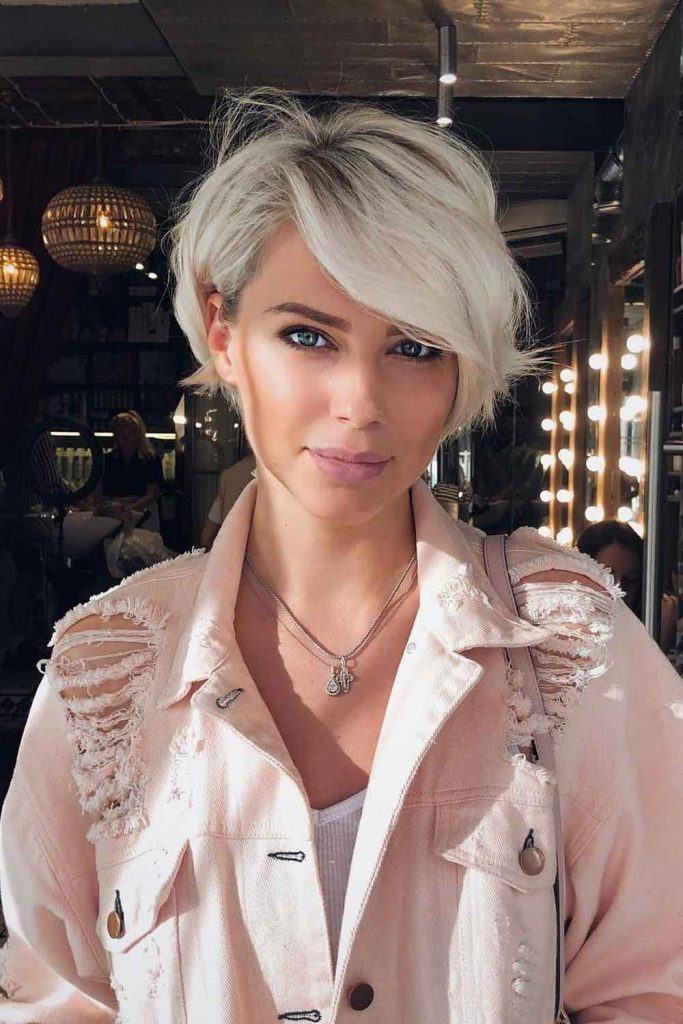 Credit photo: Instagram/ryabchik.moscow
Framing your petite face with blunt bangs is not always an option. That is when layered side bangs come in more than useful. Pair the bangs with stylish platinum blonde and slightly outgrown roots, and your seasonal look is ready!
Curly Short Bob WIth Layers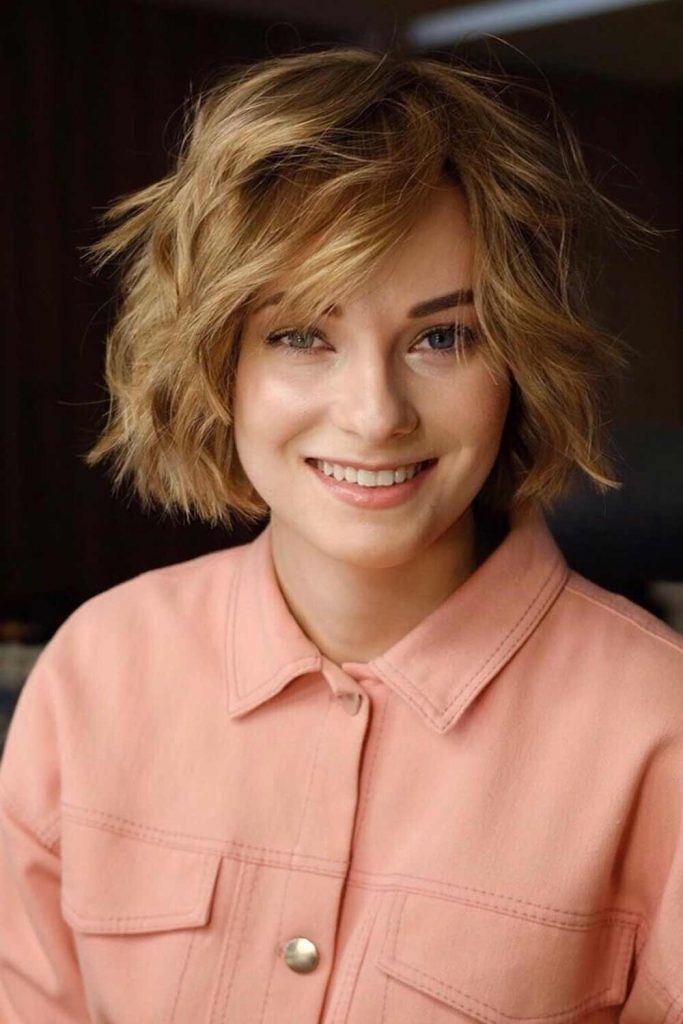 Credit photo: Instagram/mainpointsalon
Fine hair is not always easy to tame. If you do not want to opt for anything too dramatic, curly layered bob is what you should consider. The glowing honey tint will complement the hairstyle better than anything!
Short Bob With Blunt Bangs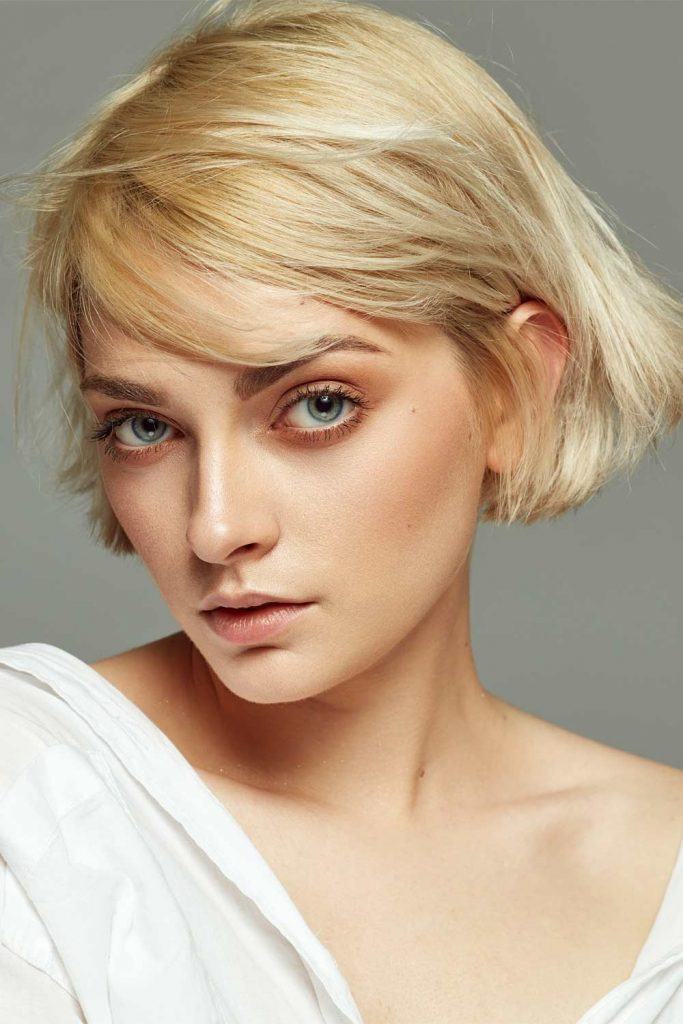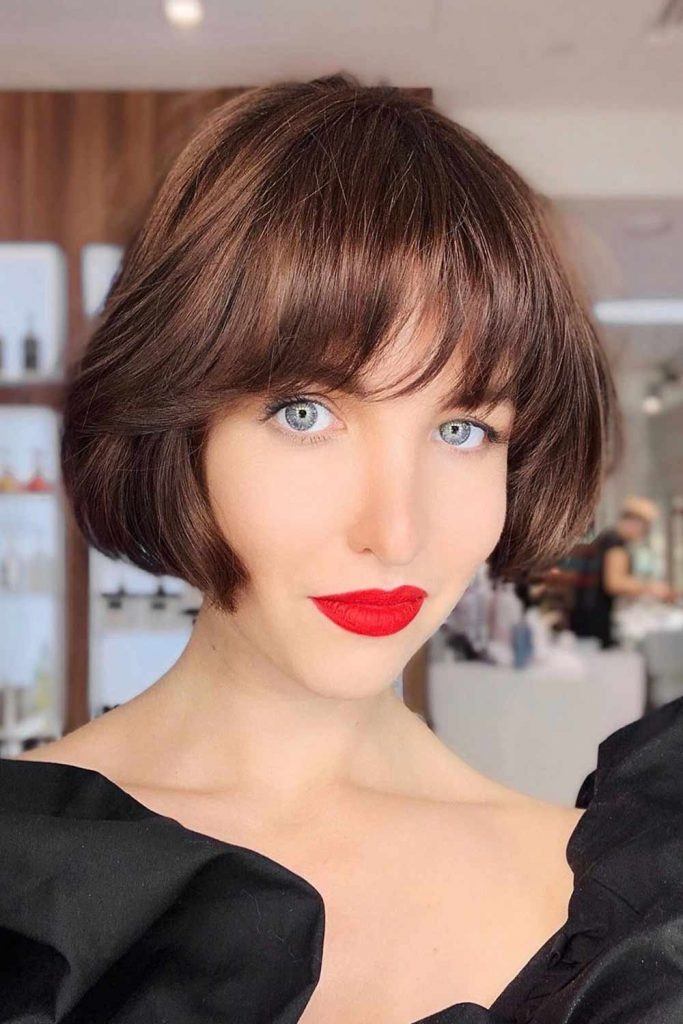 Credit photo: Instagram/mainpointsalon
Going classy is always a worthy idea. In this case, a chin-length bob paired with blunt bangs creates that coquette and chic impression many crave for. Do not forget to color your pout red!
Honey Gold Short Bob Haircut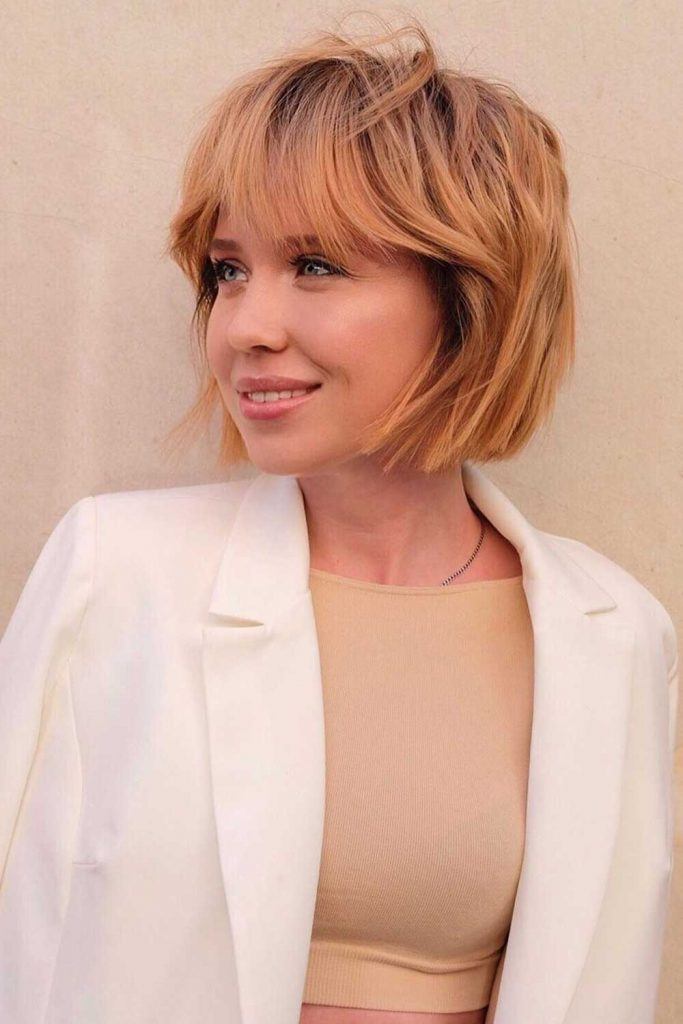 Credit photo: Instagram/mainpointsalon
When you can't decide whether straight or wavy you want to go this, opt for a stylish compromise. A slightly disheveled mane of honey gold will complete any look and occasion seamlessly.
Short Bob With Curtain Bangs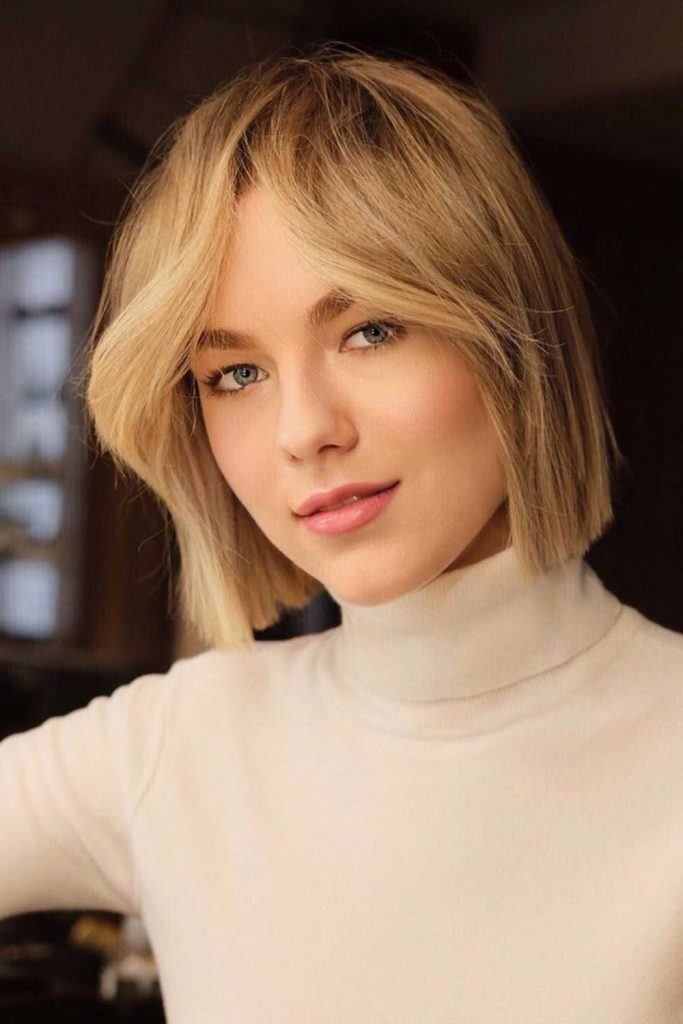 Credit photo: Instagram/mainpointsalon
There is something inexplicably magnetic about those curtain bangs. If you wish to achieve the mysterious but ultra-modern look, pairing the short bob with curtain bangs is a worthy idea. Besides, curtain bangs have the power to add volume to the fines hair there is!
Round Bob With Side Bangs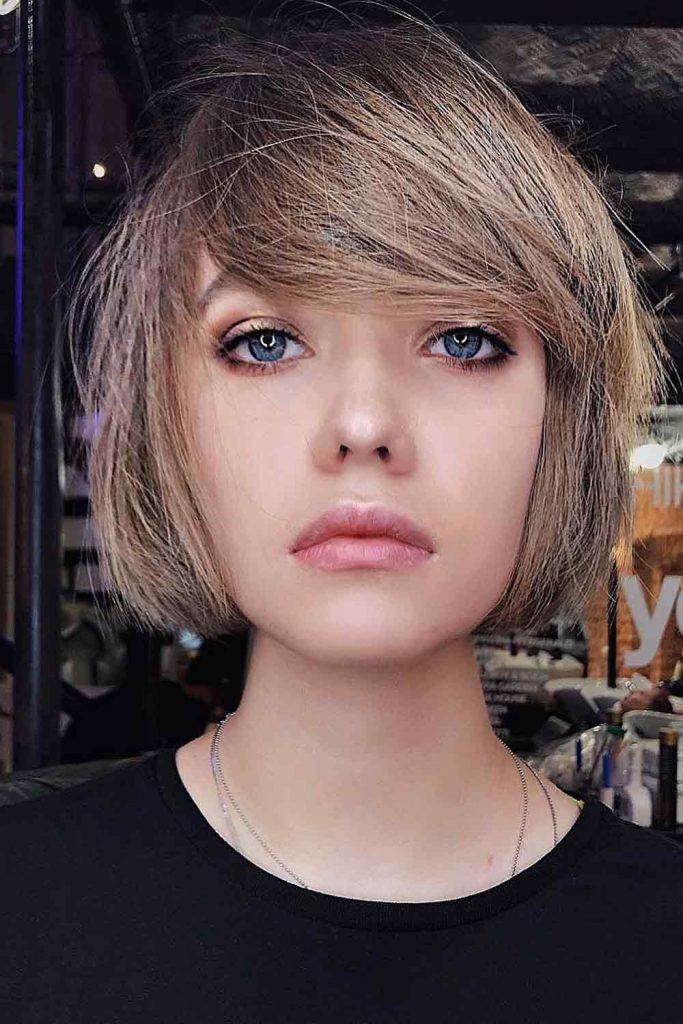 Credit photo: Instagram/ryabchik.moscow
Standing out from the crowd is a daily goal for many. In case you belong to the category, and you have nothing against a slightly edgy look, then this is precisely what you need. Round bob with side bangs will complete than the rebellious style of yours, and it is not going to pass unnoticed!
Red Curly Pixie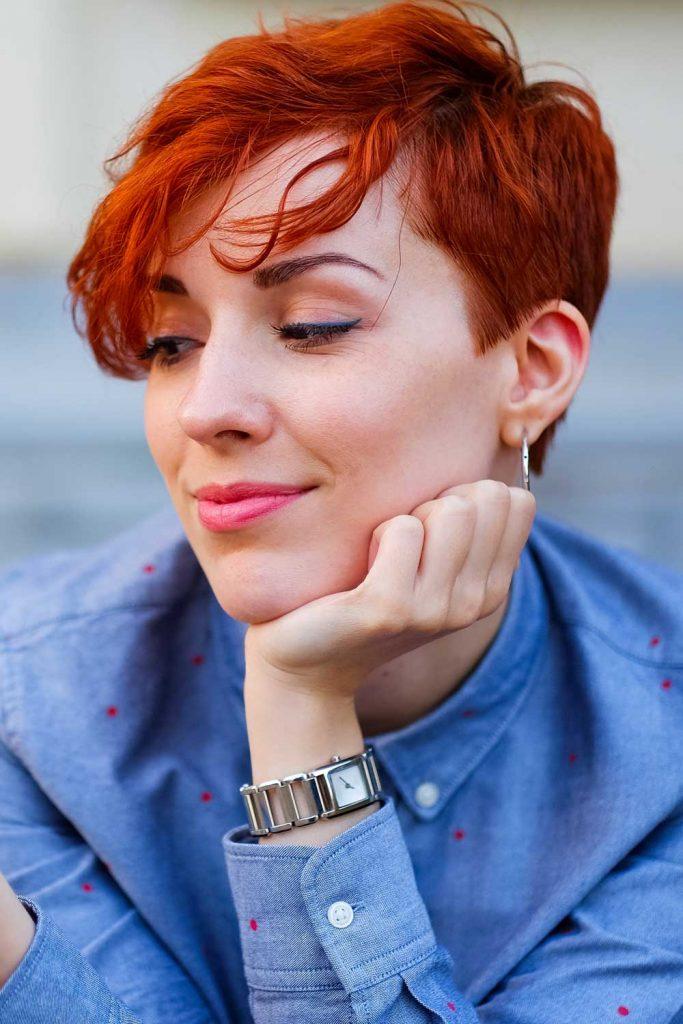 Round Ice Blonde Bob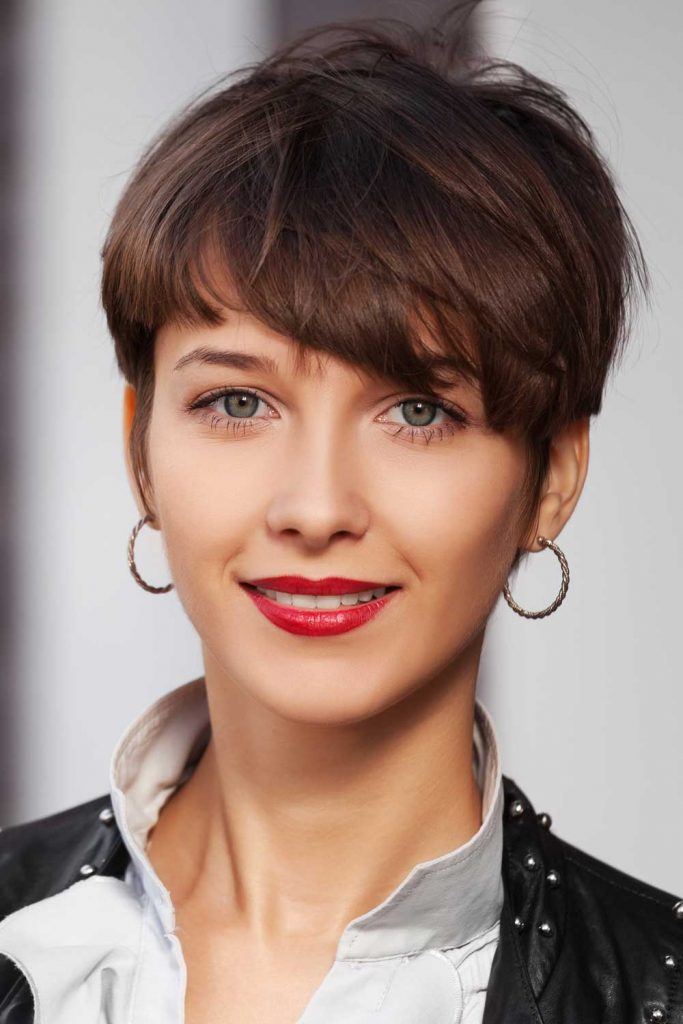 Now that you are familiar with the latest fringe haircut ideas, it's time to call your hairstylist! And don't be afraid to play around with texture: it can change your style for the better.
FAQ: Short Hair With Bangs
How do you style short bangs with short hair?
Half updo with a topknot that you can secure with a scrunchie (preferably similar color to your hair).
Low bun, using bobby pins to secure loose hairs.
Split your hair down the middle, braid your bands down going behind your ears to get bangs out of your face. Another option is to tie the rest of your hair into a low ponytail.
Pin your bands to the side or secure all of it at the top.
You can use accessories like headbands, scarves to enliven your look.
Are bangs good for short hair?
Bangs are a great option for short hair because they draw attention to your beautiful eyes and can accentuate your cheekbones as well. In addition, they make you look younger.