Awesome Tattoo Ideas For Artistic Souls
Meaningful tattoo ideas are featured in this photo gallery. Tattoo art is a popular kind of self-expression that has been a part of people's cultures all around the globe for centuries.
From protective totems and tribal symbols to combat and military rankings to the symbols of love to the stories of people's lives. Tattoo art has evolved over time, and we will also discuss it in this post.
Read on to plunge into the artistic world of permanent markings.
Tattoo And The History
Source: svetaponedelnik via Instagram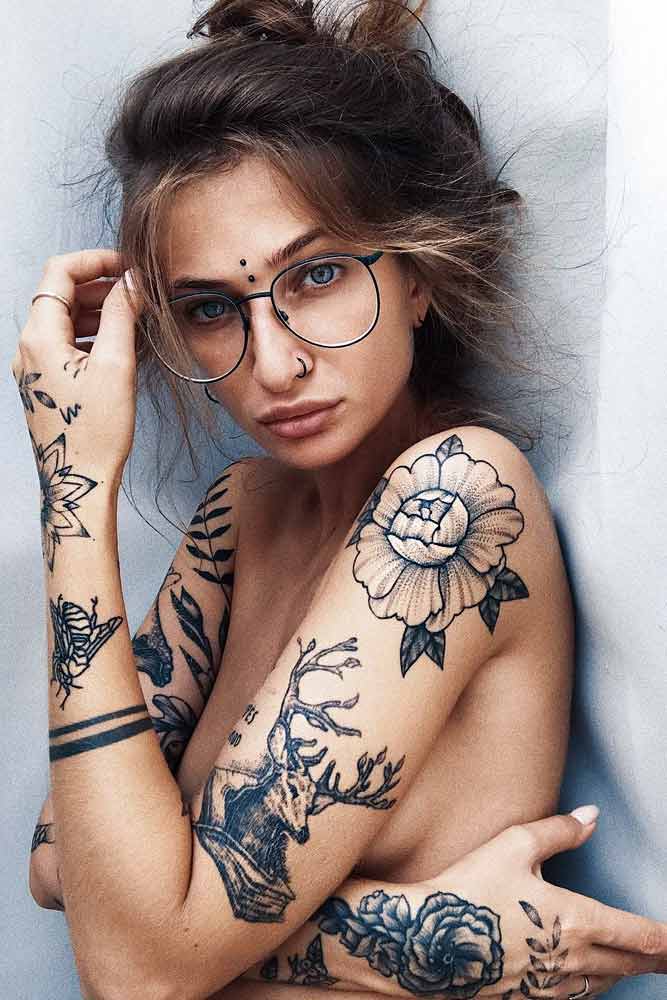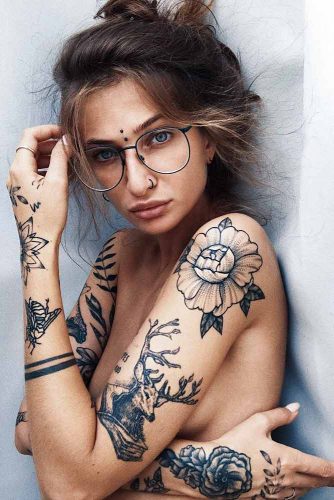 What is a tattoo?
It is a permanent marking on a person's skin that is made with needles and ink. When the ink penetrates into the dermis, the 2nd skin layer, the skin repairs, and the design is exposed underneath the new skin layer.
What are the origins of tattoo art?
In Scandinavia, Portugal, and France scientists found evidence that tattooing had been practiced over 12 thousand years ago.
And the oldest tattoo ever found is on the mummy called the Iceman. The mummy was discovered in the ice of Alps, and its age was about 6-7 thousand years. Mummies with tattoos were also found in Siberia and Egypt. Tattooing was common among the Celtic and Germanic tribes, as well. Which leads us to the conclusion that tattooing was widespread early in the human history.
Popular Tattoo Designs And Their Meaning
Some tattoo designs are more popular than others. Many people choose to get a lotus, a butterfly, a feather, a dream catcher, or the sun tattooed. And we think that it's essential to know what such designs represent.
Lotus Flower Tattoo
Source: goodtattooclub via Instagram, sue_versipellis_tattoo via Instagram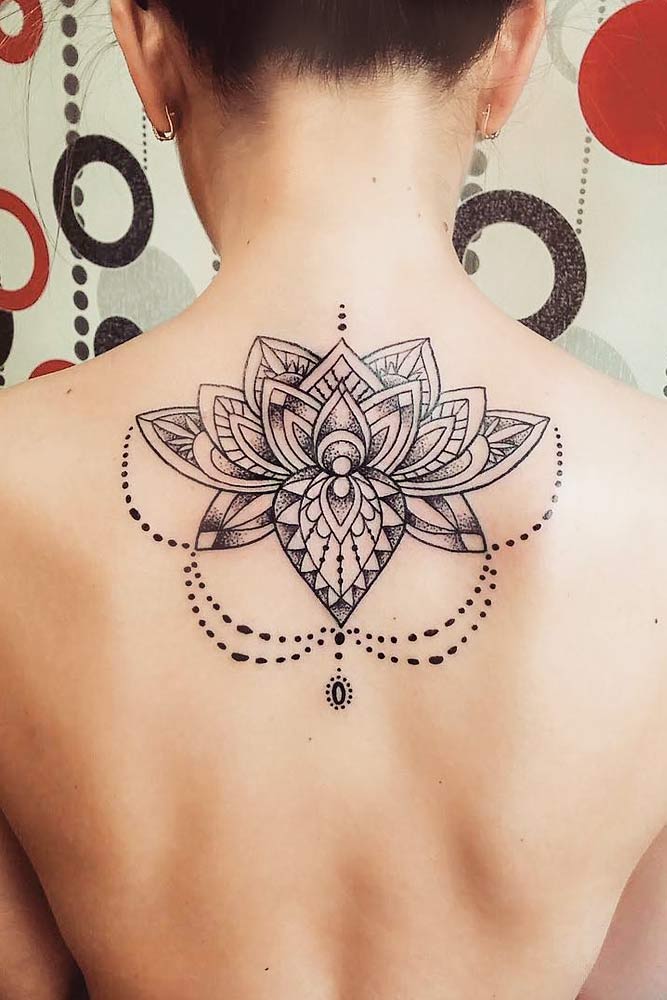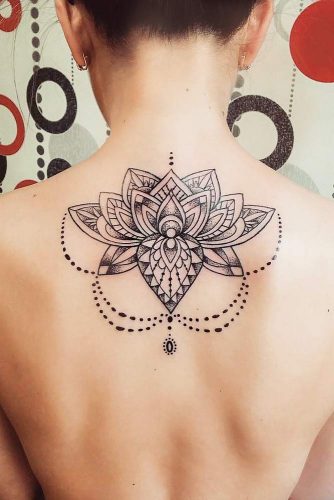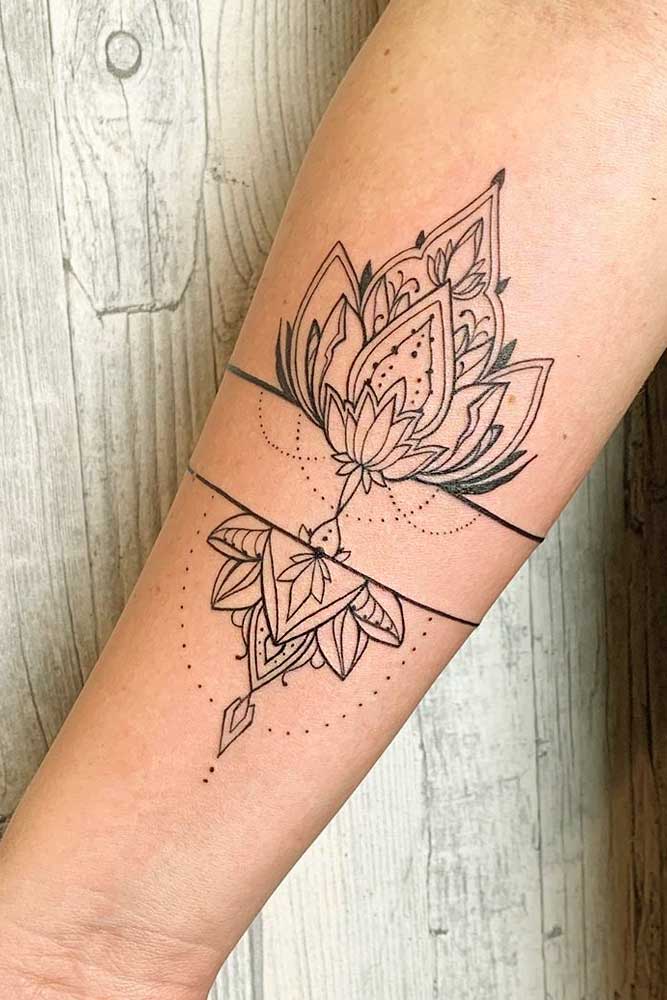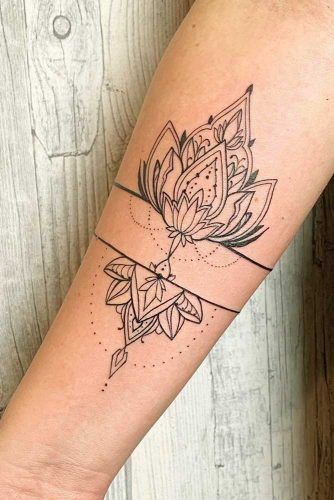 Lotus flower tattoo has a deep meaning in different cultures.
In Buddhism, a lotus represents piousness and purity.
And in Ancient Egypt, it symbolized the outset of life or reincarnation. Egyptians believed that when life originated on the planet, a lotus flower emerged from the sea.
In Chinese culture, this flower is a symbol of marital harmony, the purest feminine beauty.
The Western culture views lotus as the reflection of divine conception, rebirth, new beginnings, searching for the meaning of life.
Butterfly Tattoo
Source: tattooist_banul via Instagram, tattooist_dal via Instagram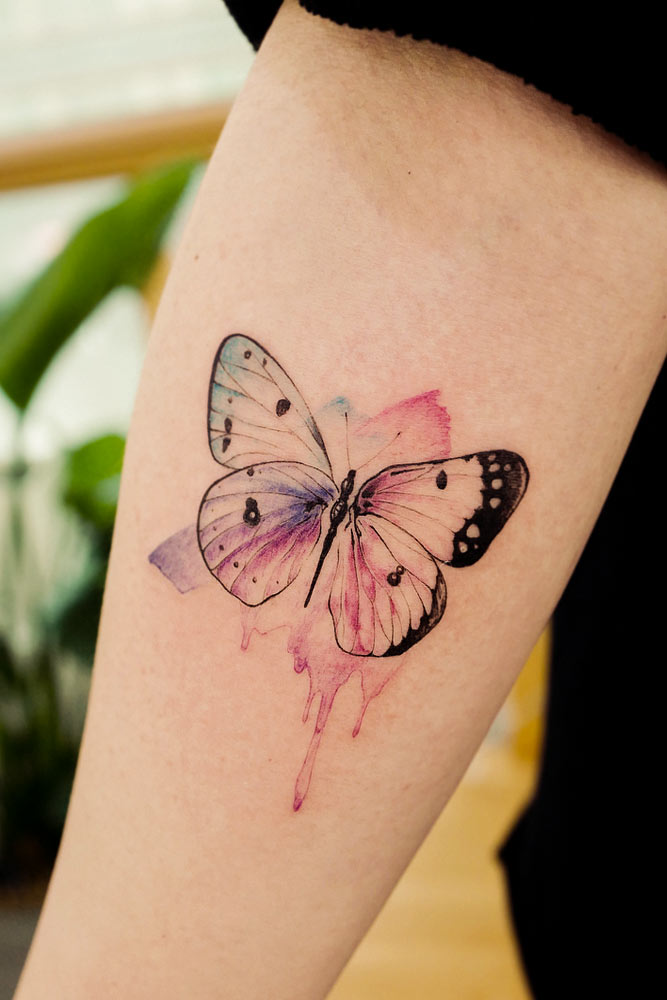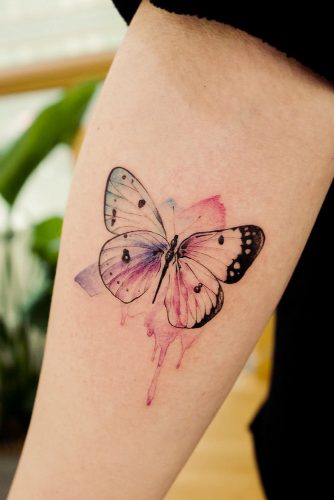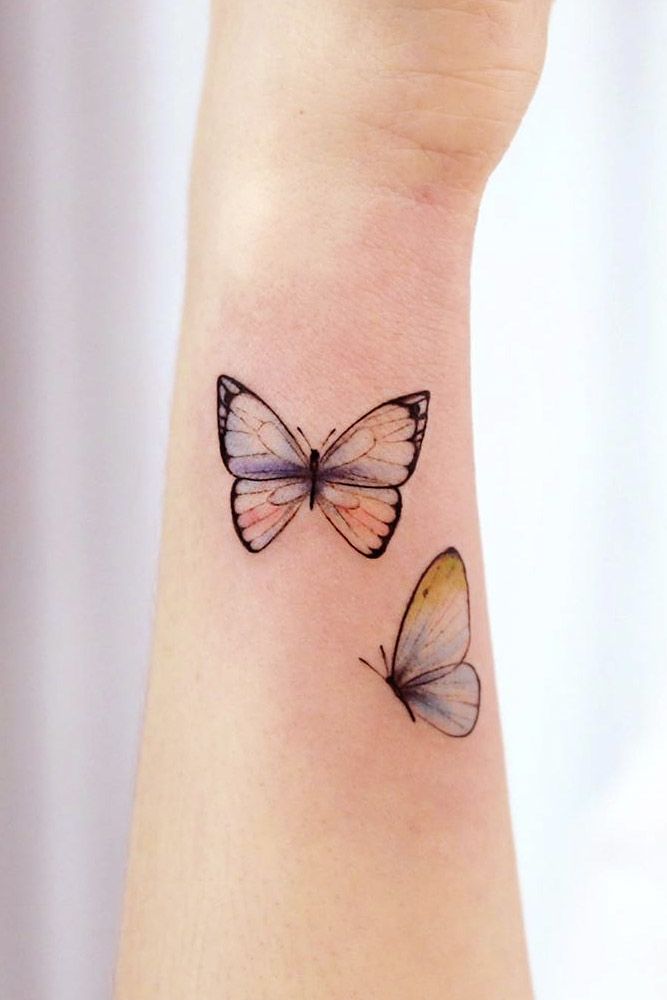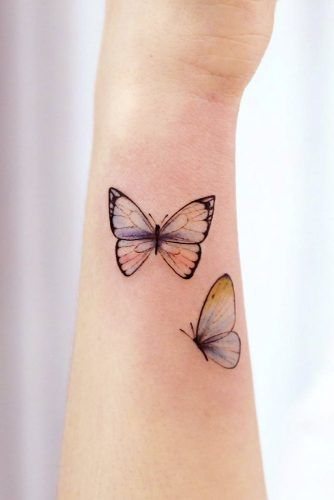 Butterflies represent metamorphosis, change, rebirth, and beauty. From a practically ugly creature, a butterfly turns into a vibrant insect. Japanese people believe that souls are often trapped in butterflies. Butterfly tattoo not only has a deep meaning but also looks very beautiful.
Feather Tattoo
Source: serpents_ink via Instagram, NAME via Instagram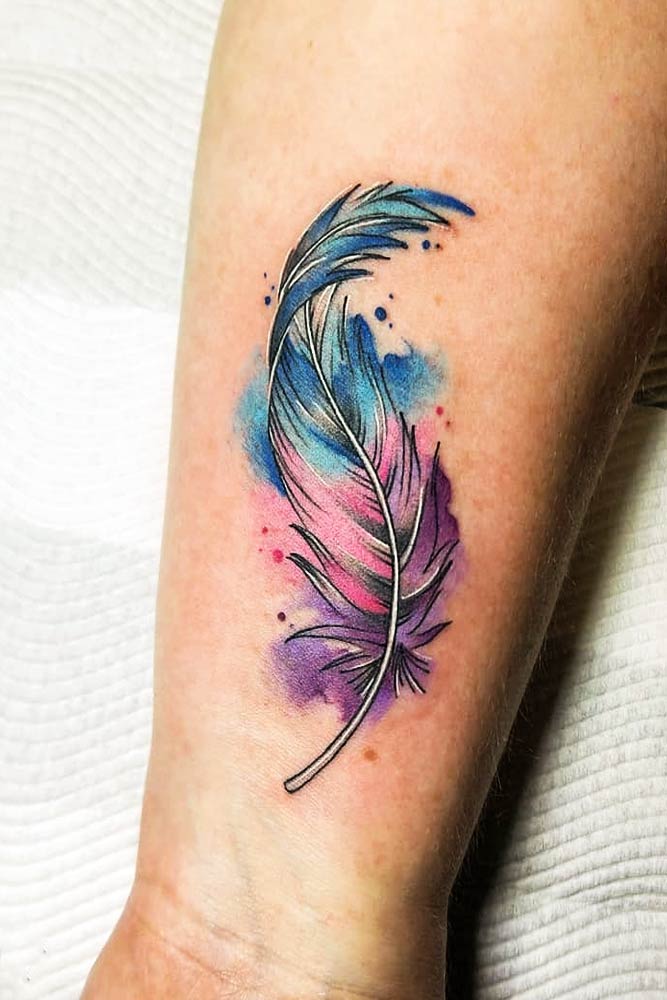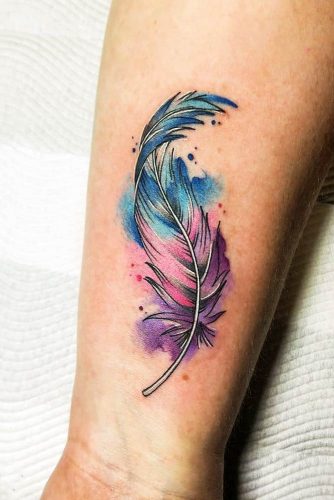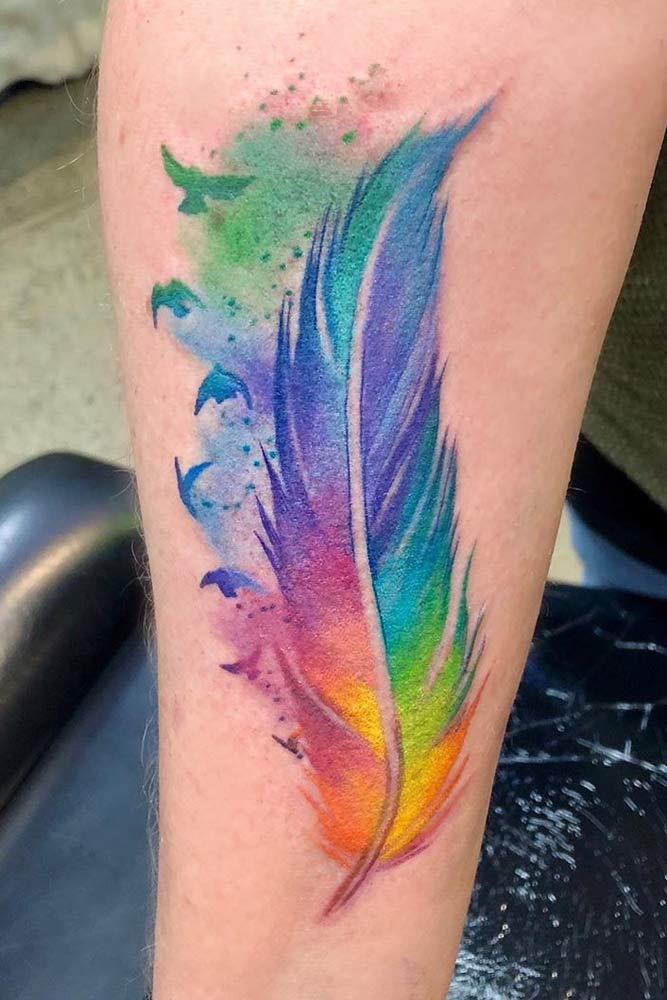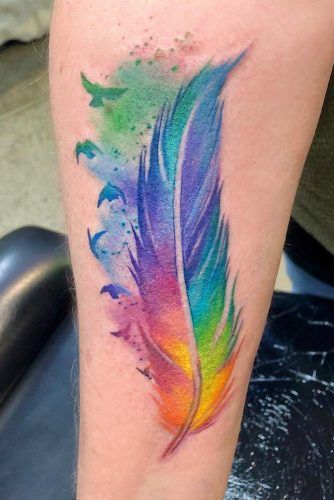 The meaning of a feather tattoo is a bit contradictory. Some cultures associate it with luck and birth, while others with loss or death. But when it comes to tattoo meaning, it's always about your own perception.
Dream Catcher Tattoo
Source: koray_karagozler via Instagram, aeri_tattoo via Instagram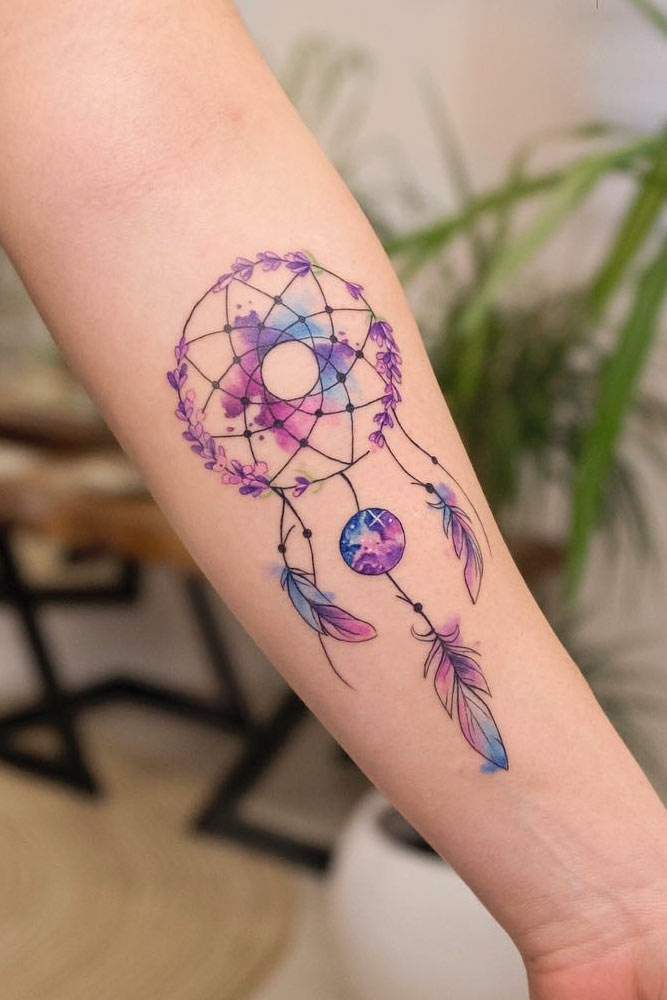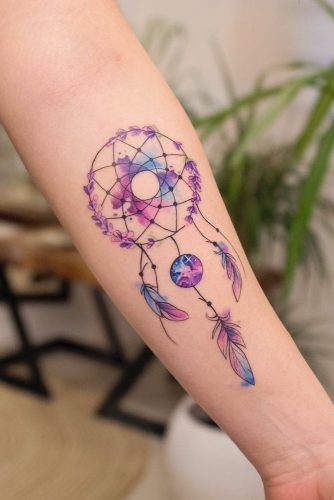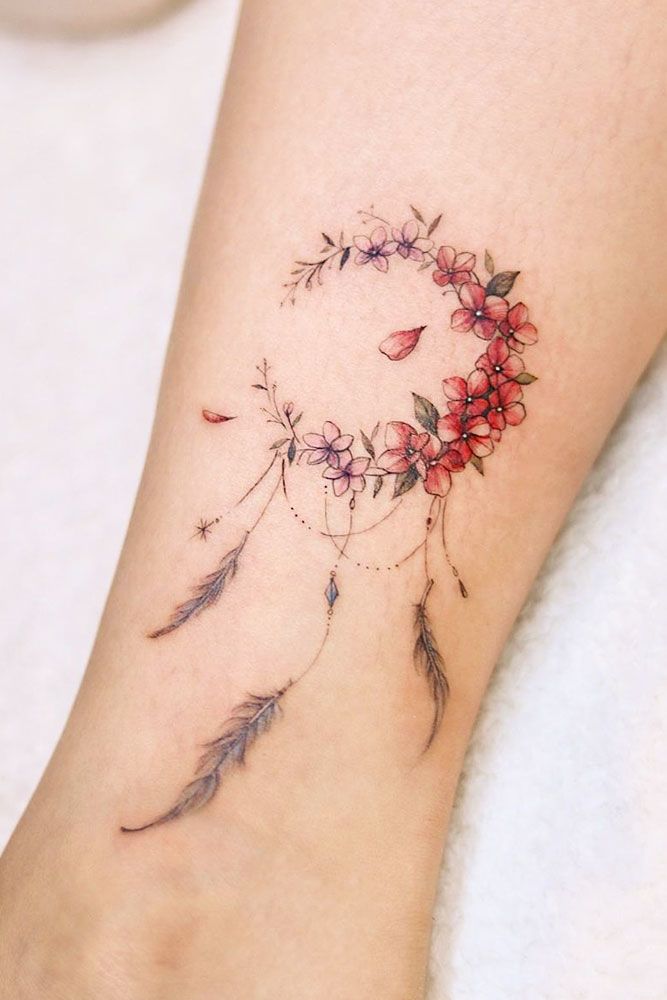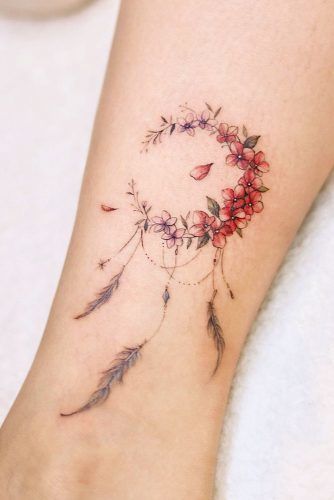 Get a dream catcher tattoo, and you will get the protection against bad luck, bad dreams, and also evil spirits. It will bring you good fortune, happiness, success.
Tattoo Of The Sun
Source: goodtattooclub via Instagram, merry_pop_ink via Instagram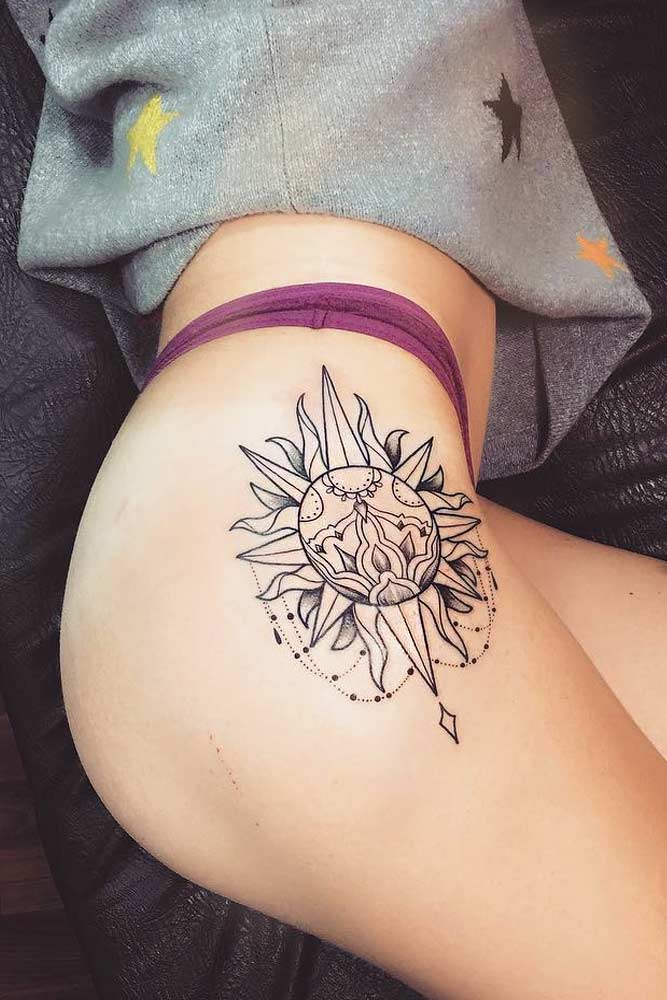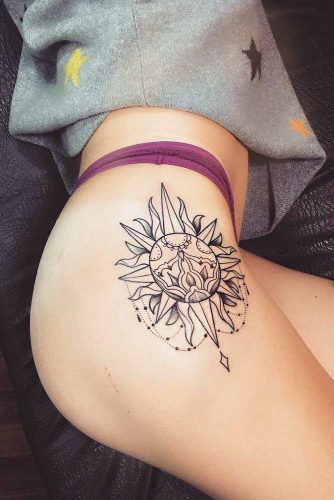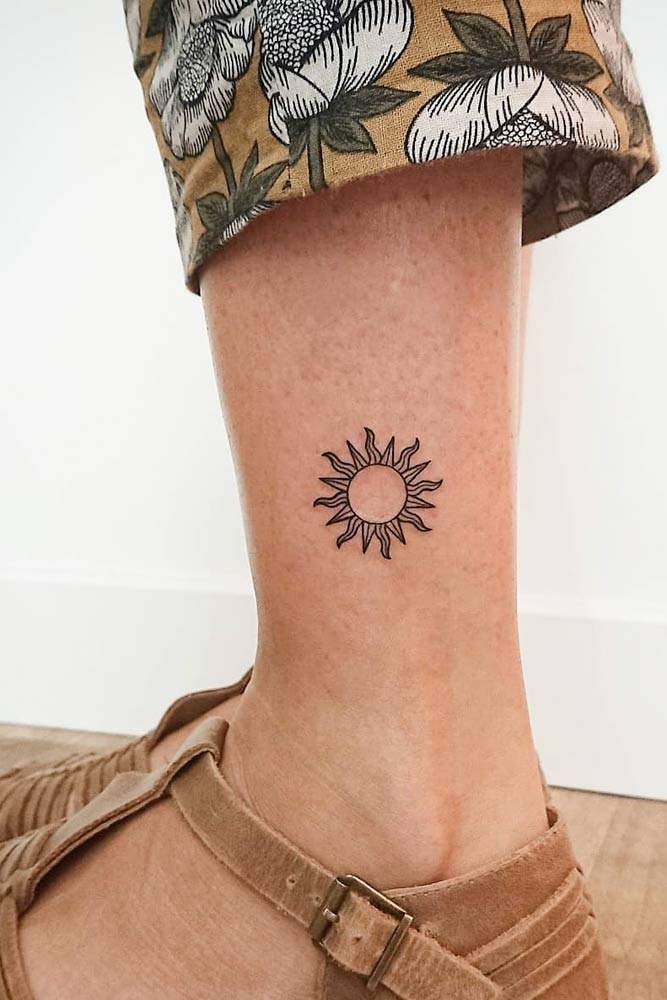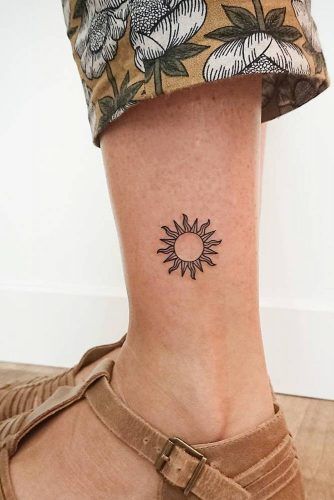 The sun stands for many positive things – power, rebirth, perseverance, new beginnings, fertility, and life. Get one if you wish to leave behind all those rough times.
Popular Styles Of Tattoo
Here are some popular tattoo styles for your inspiration. See which style is true to you.
Watercolor Tattoo Style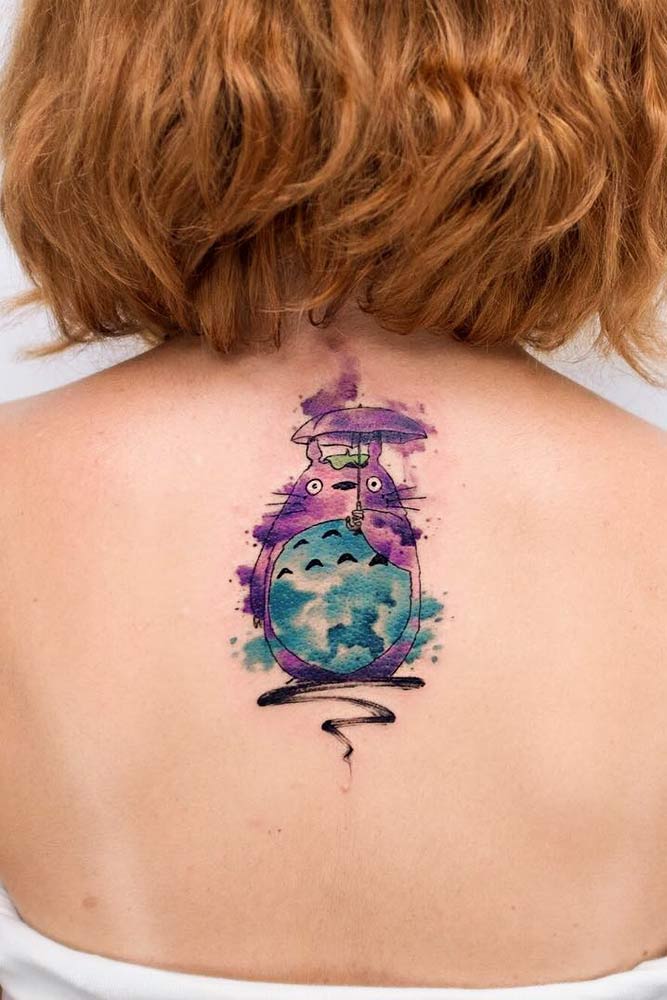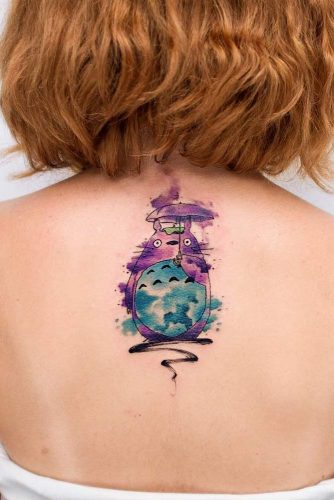 It is a nice idea for those who wish to rock a piece of art on their body. The style is named after the actual method of painting because it resembles its freeform and lack of straight lines. And yes, most of the designs in this style are as cute as this one.
Source: koray_karagozler via Instagram
New School Tattoo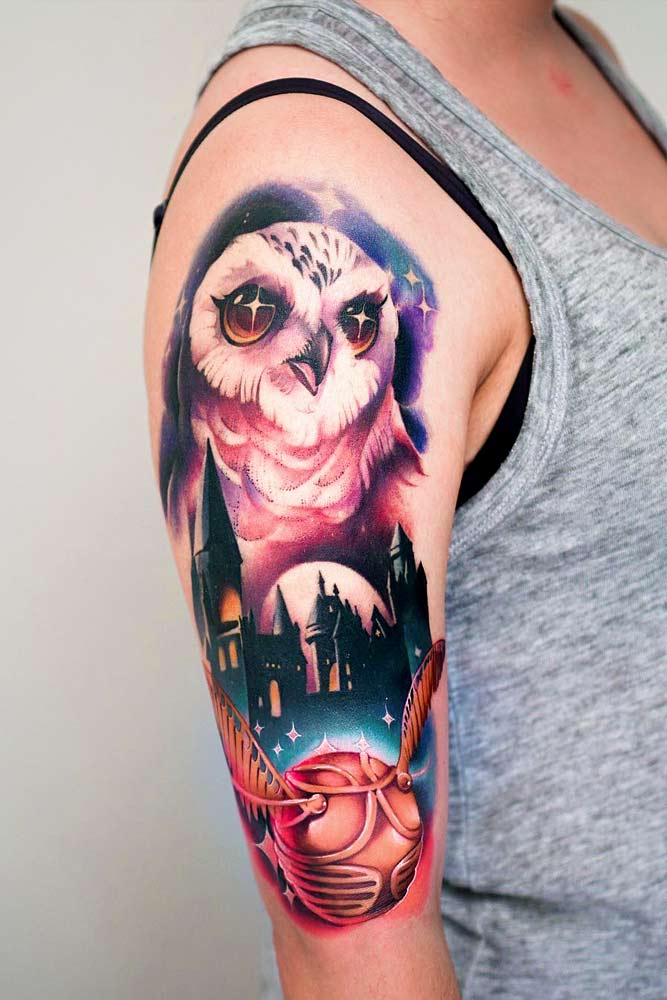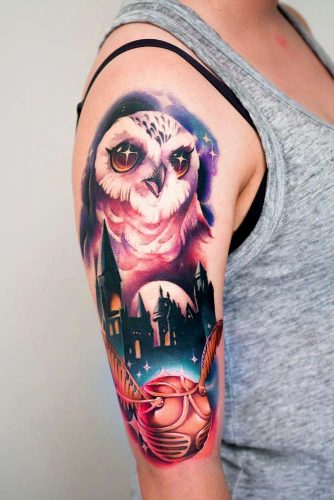 New school tattooing styles originated back in the 1970-s. Heavy outlines, exaggerated depictions, and vivid colors are peculiar to this style of body art. In this pic, the owl is much bigger than the castle, which is definitely an exaggeration.
Source: steven_compton via Instagram
American Traditional Tattoo Style
The American traditional tattoo style is also referred to as the Western style. Dark and heavy strokes are often used in a traditional tattoo design. In this pic, the Western tattoo has a religious context.
Source: dannyderrick via Instagram
Neo-Traditional Tattoo
The neo-traditional tattoo style is a kind of the American traditional or the old school tattoo styles, but with the modern flair. These are cool tattoos with bold lines, realistic cartoons, and images. This idea may work great for Pokemon fans.
Source: _missfreya_ via Instagram
Outline Tattoo Style
Outline tattoos are among the most popular tattoos. Such tattoo art is understated and simple yet exceptionally beautiful. If you wish your tattoo to be more about form and art, go for an outline tattoo. It's a great canvas for flowers like shown here.
Source: ira_shmarinova via Instagram
Geometric Style Tattoo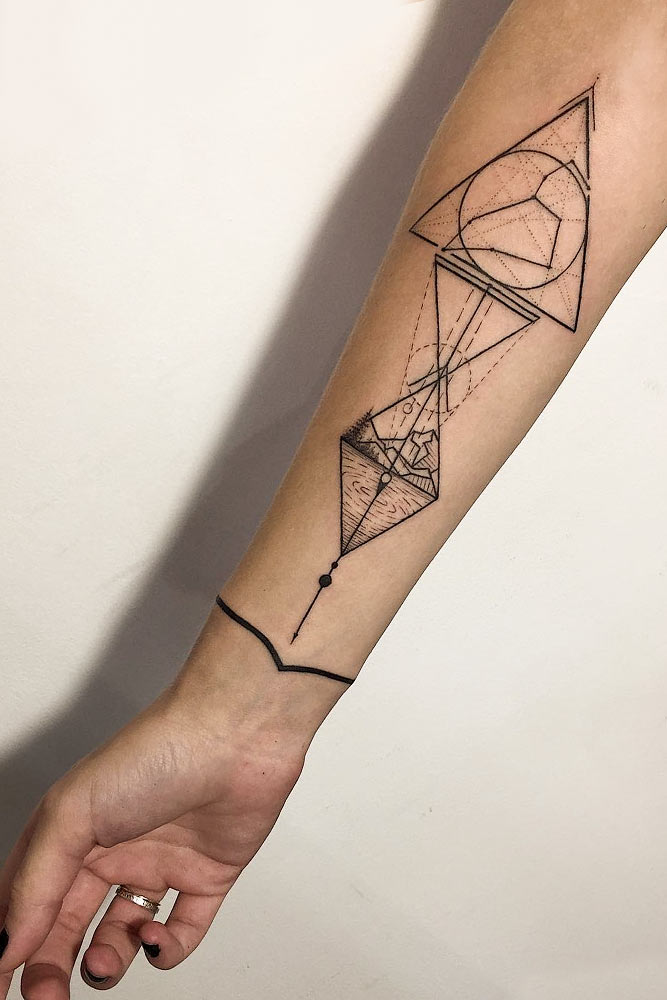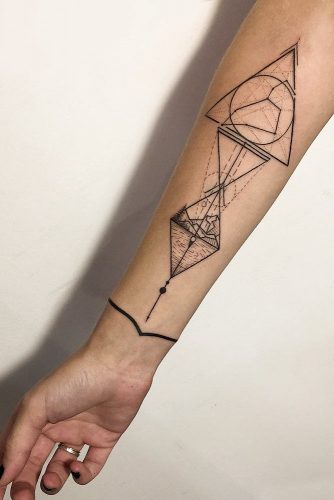 Geometric tattoos are among the most meaningful tattoo ideas. It's because one can convey so much via geometric figures and symbols. In this pic, the impact of the space objects on the tides is shown.
Source: dasha_sumtattoo via Instagram
Ornamental Tattoo Style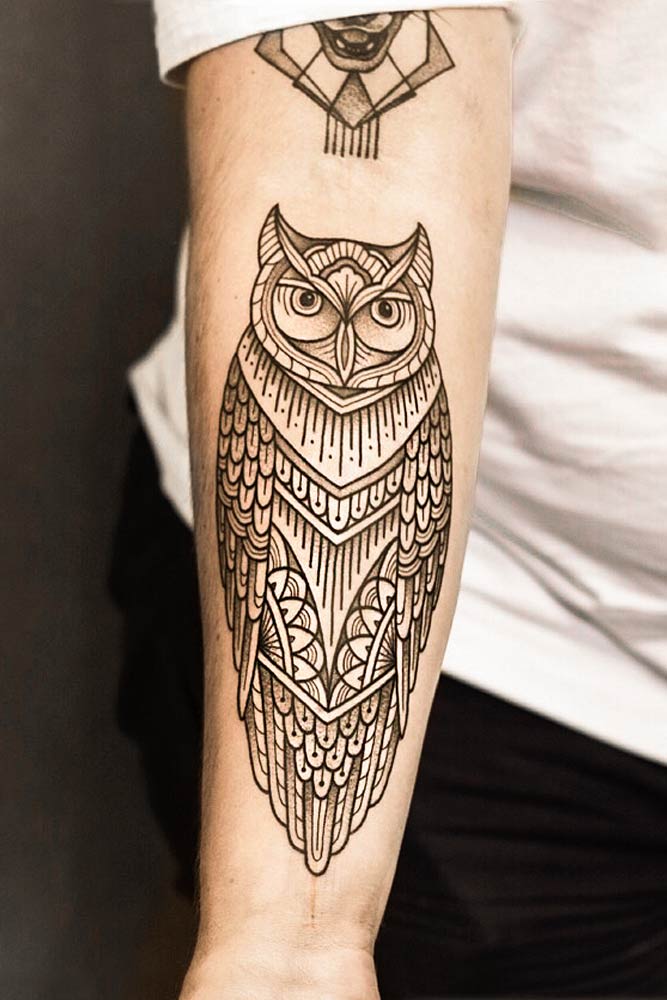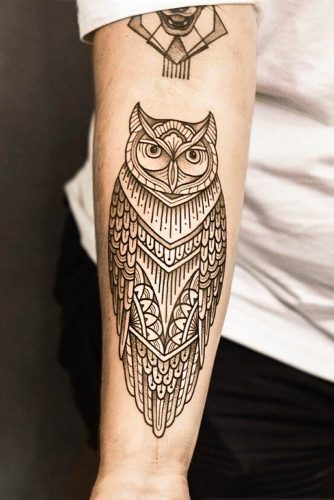 In case you are looking for unique tattoo ideas, go for an ornamental tattoo. Such tattoos tend to be done with black ink. The owl pictured here represents wisdom and intelligence.
Source: kottattoo.studio via Instagram
Mandala Tattoos
If you wish to choose a tattoo that will cover a large area on your body, here is an amazing suggestion for you. As shown in this pic, Mandala tattoos have the shape of a circle or semi-circle.
Source: helen_hitori via Instagram
Realistic Tattoo Style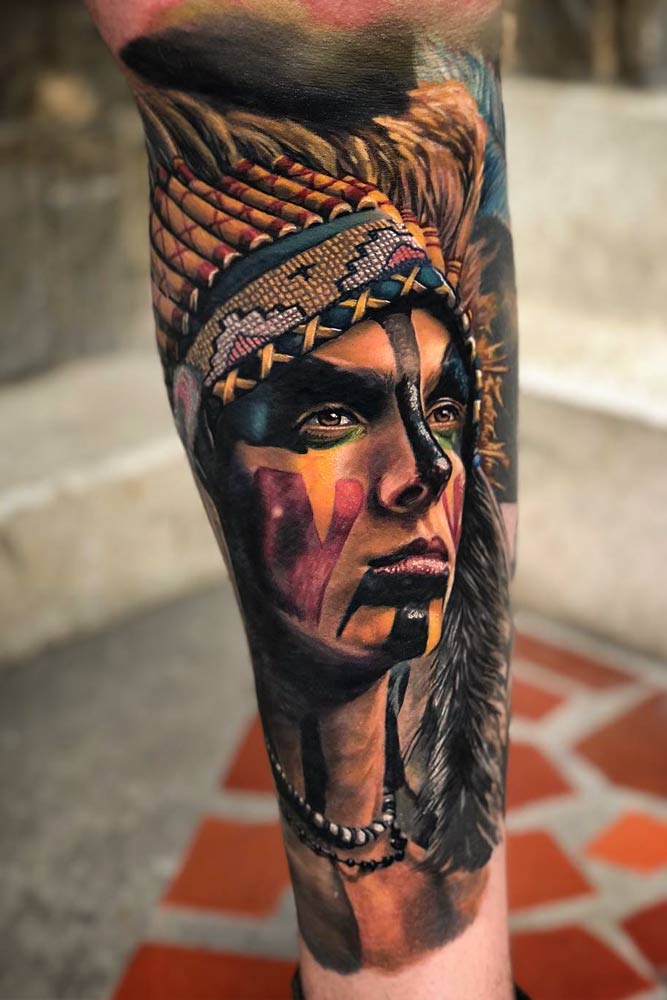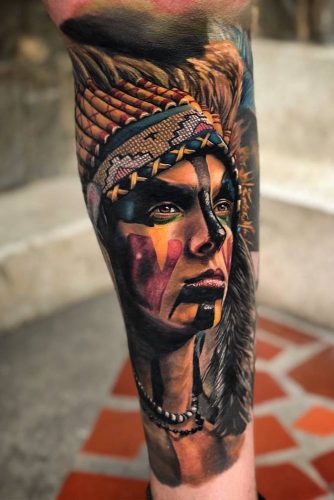 This tattoo design looks hyper-realistic, as if this American Indian man is living in the skin! And of course, in case you wish to get a design like this, we would recommend that you find an experienced tattoo artist.
Source: allenbrunn via Instagram
Blackwork Tattoo Design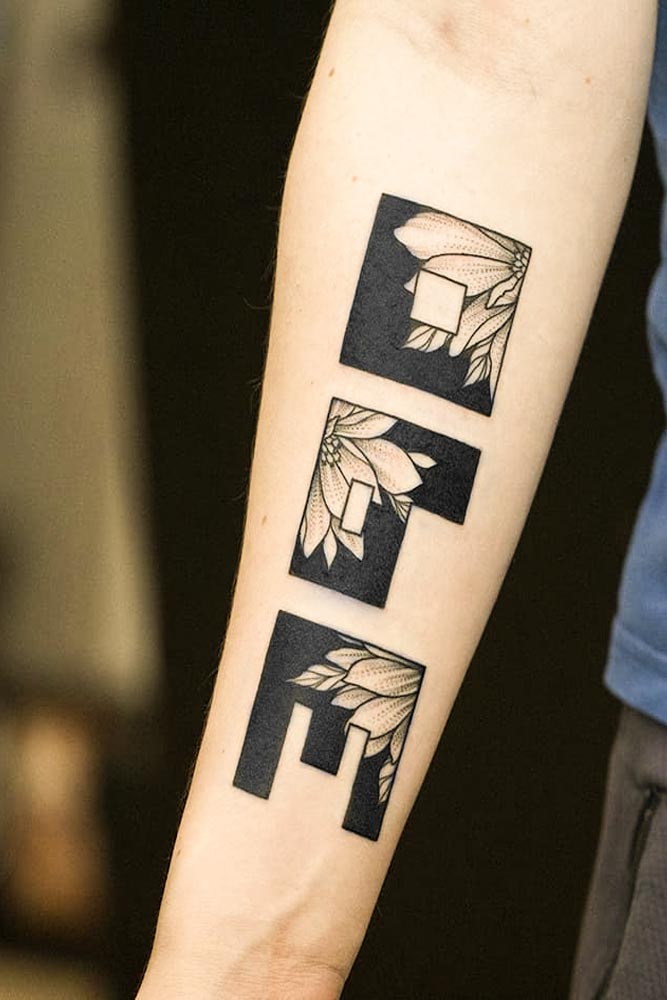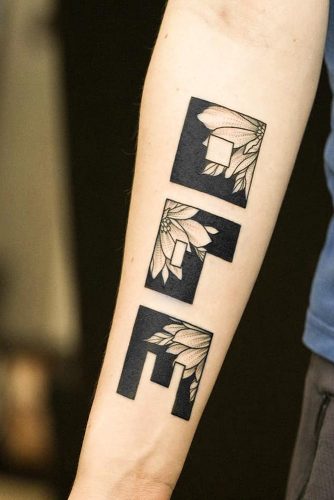 The Blackwork tattoo style involves simple tattoos that occupy much space on a person's body and that are done with black ink. Not any black tattoo is Blackwork. But, for example, a large black square could be called Blackwork.
Source: matildatattoo via Instagram
Japanese Tattoo Style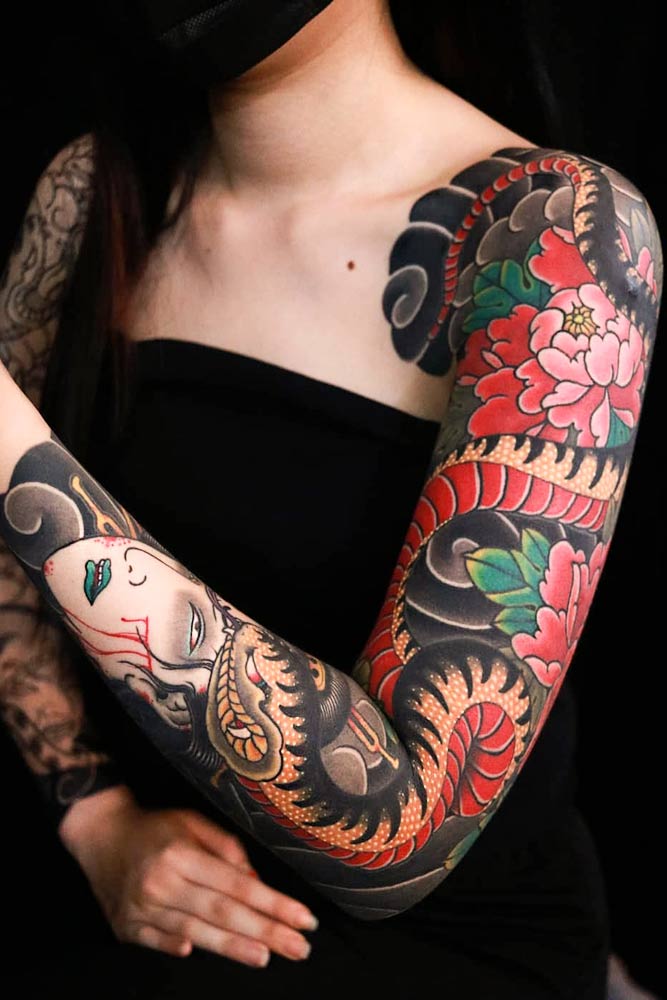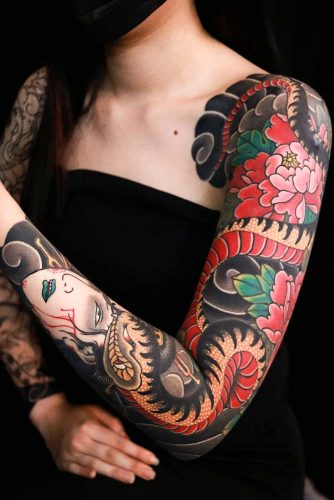 This full sleeve tattoo with flowers and a dragon in a Japanese style is super daring. Japanese tattoos tend to occupy large areas on a person's body, and they often have spiritual meanings.
Source: horikaka via Instagram
Dotwork Tattoo Style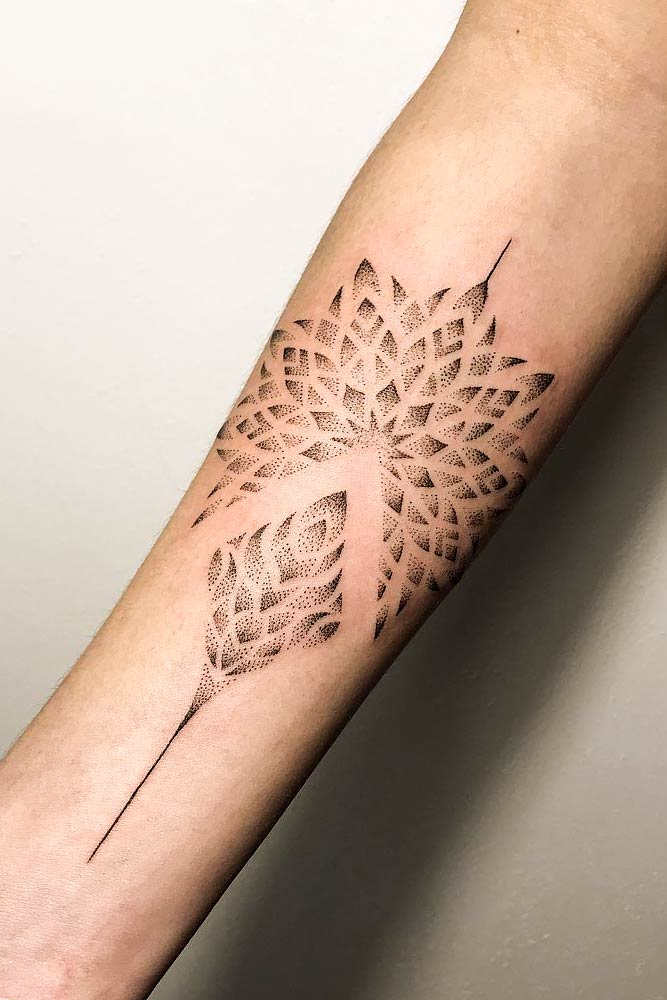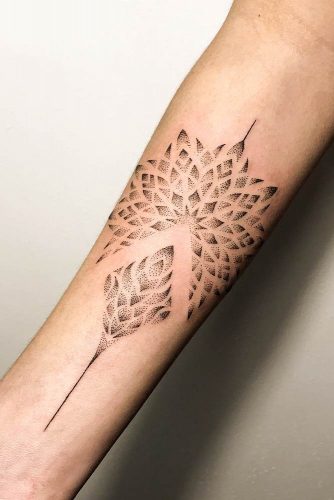 Dotwork tattoos are intricate because they consist of a huge number of dots. You can imagine how much time it will take to get one. But it will definitely worth it! Look at this pic, this tattoo is practically 3-Dimensional.
Source: dasha_sumtattoo via Instagram
Minimalist Tattoo Style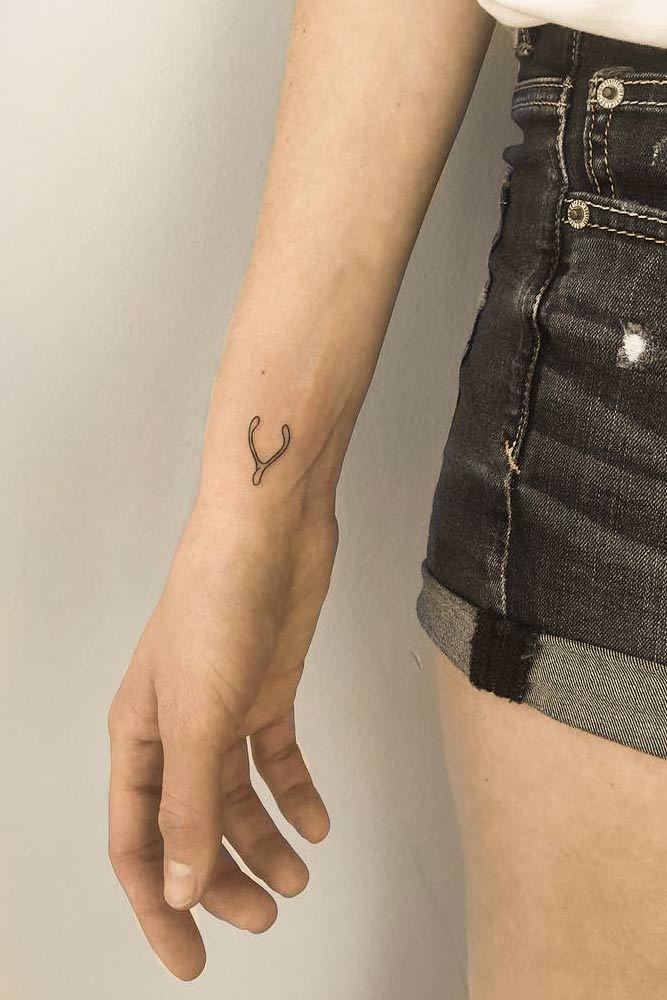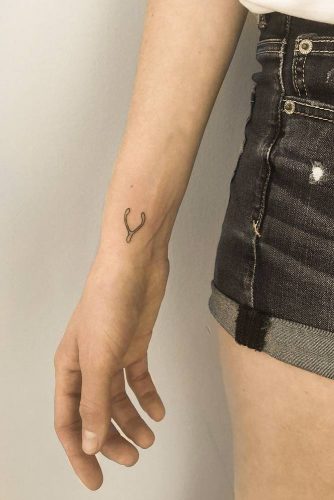 Minimalist tattoos come in a variety of sizes and shapes. But oftentimes, such tattoos involve angular shapes, crisp lines, and meager color palettes. The wrist tattoo design pictured here is barely visible.
Source: joannamroman via Instagram
We are sure that you like all tattoo ideas for girls that we share here. Don't forget to save them for later. And discover more ideas on our blog.
Celebrities With Tattoo
Angelina Jolie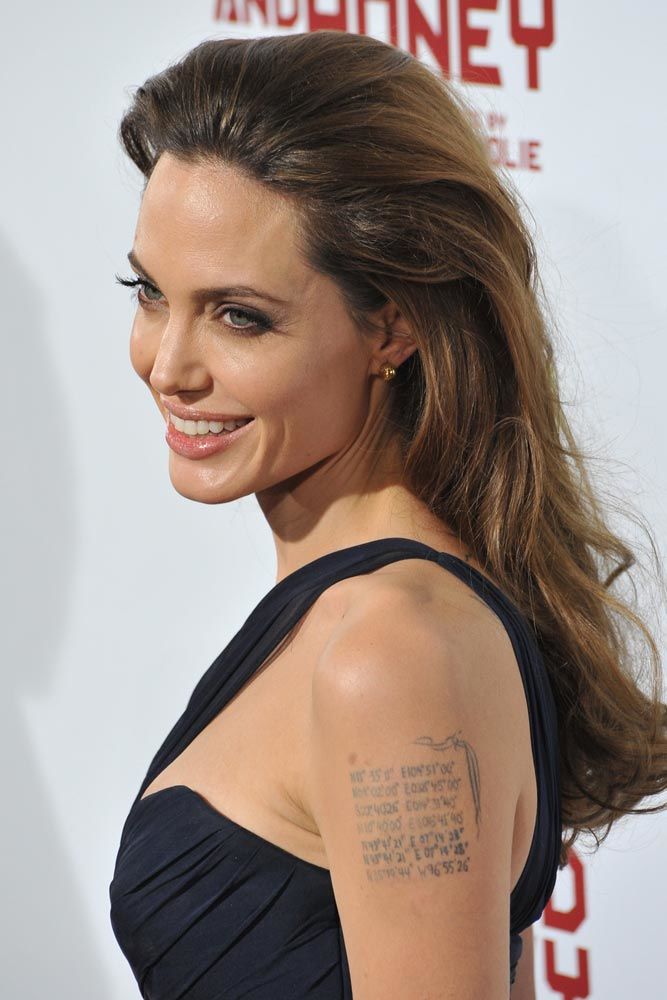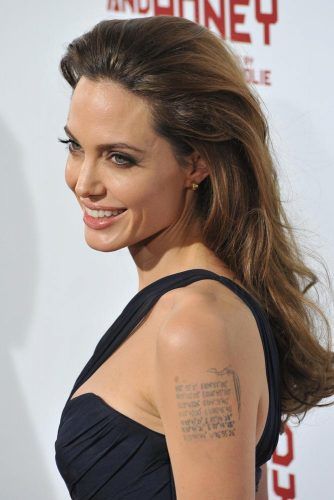 Angelina Jolie is a beautiful example of how women with tattoos can look super feminine no matter what occasion. She has so many of them, and each is a definition of her own personality and style. Most of them carry a personal meaning as she has stated and we believe that. Tattoos that carry a special message will never make you tired of them on your body, and Angie proves that.
Source: Jaguar PS/Shuttershock
Sabina Kelly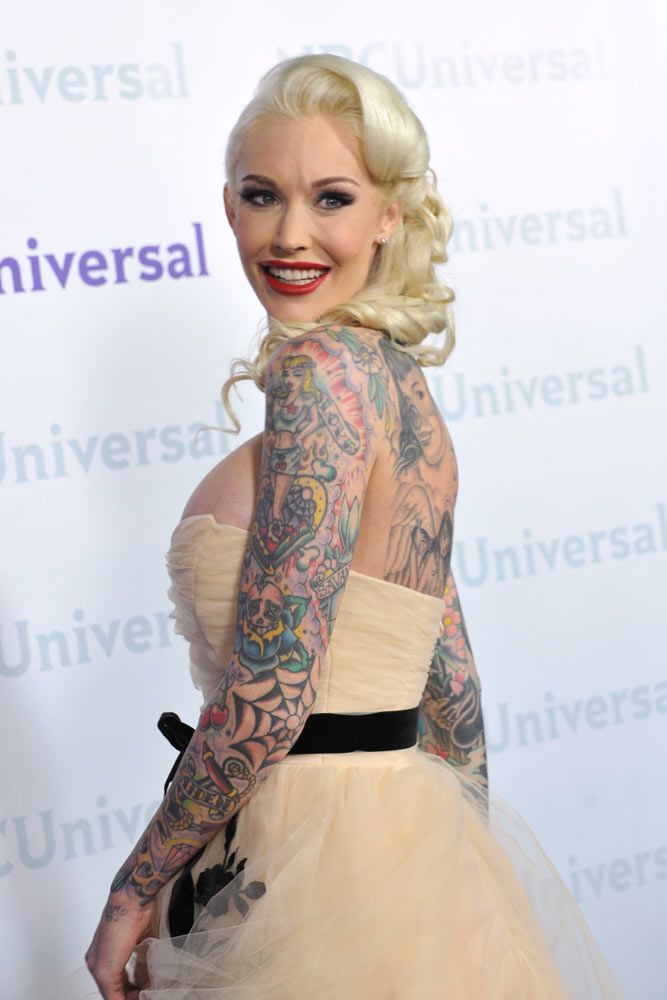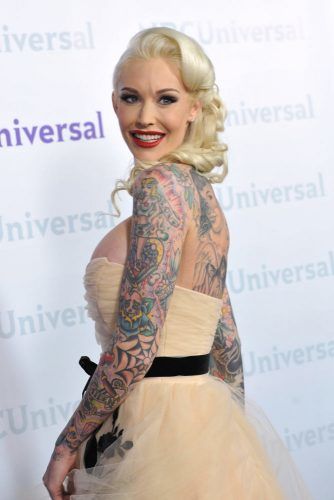 Wow! Sabrina Kelly and her unforgettable tattoo look amazing together! A full sleeve with colorful tattoos can change the appearance of the person so much adding a bit of spice to it. Have a look at our celebrity! She is confidently rocking it and shines brighter than anybody with her colorful images.
Source: Jaguar PS/Shutterstock
Kristin Bauer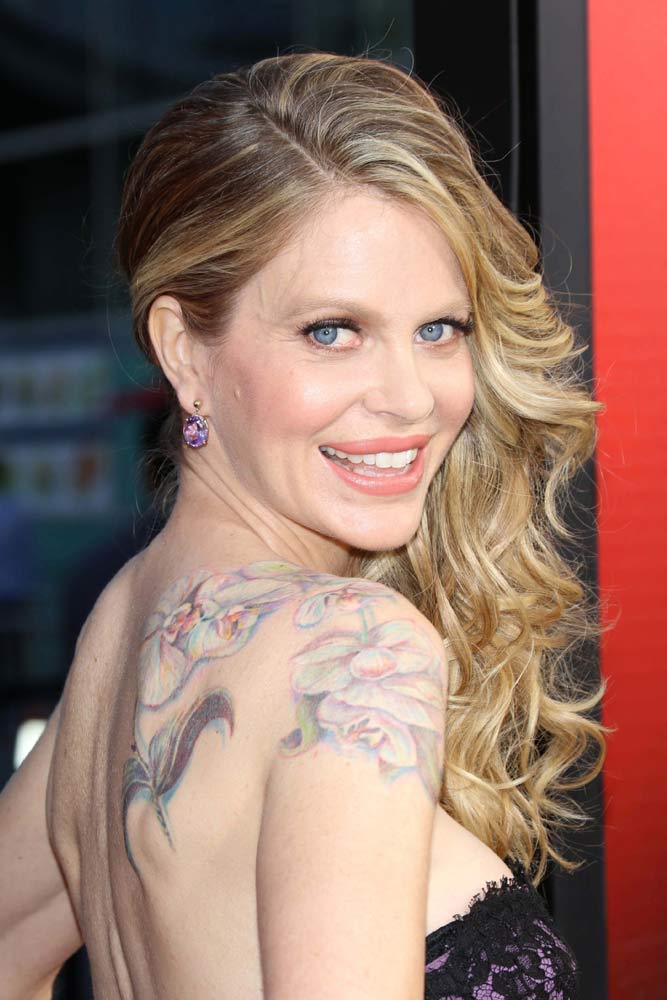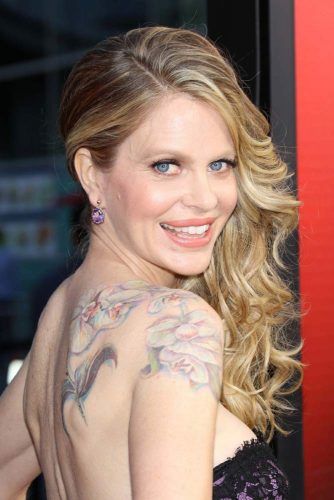 Such tender and beautiful tattoos will forever be classic in the industry. Even celebrities as Kirstin Bauer are obsessed with a cute and tender flower tattoo. Using light colors, thin lines, and a special watercolor technique, she got herself a true definition of beauty on her skin.
Source: s_bukley/Shutterstock
Laura Wright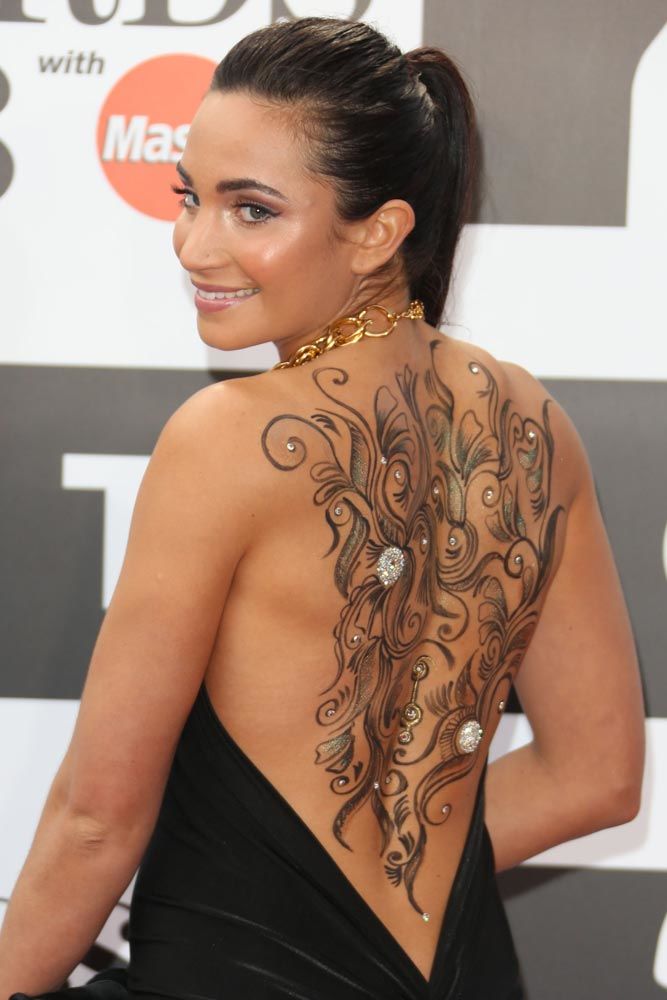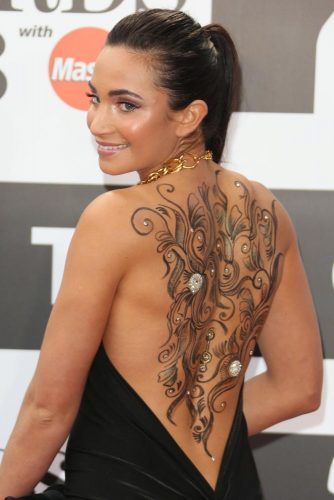 We love a beautiful ornamental tattoo, and it seems like Laura Wright loves it too! Just look at her back that is inked with a huge tattoo like that. It looks super creative, fresh and outstanding as we don`t see celebrities with such art pieces on their skin often.
Source: Featureflash Photo Agency/Shutterstock
Megan Fox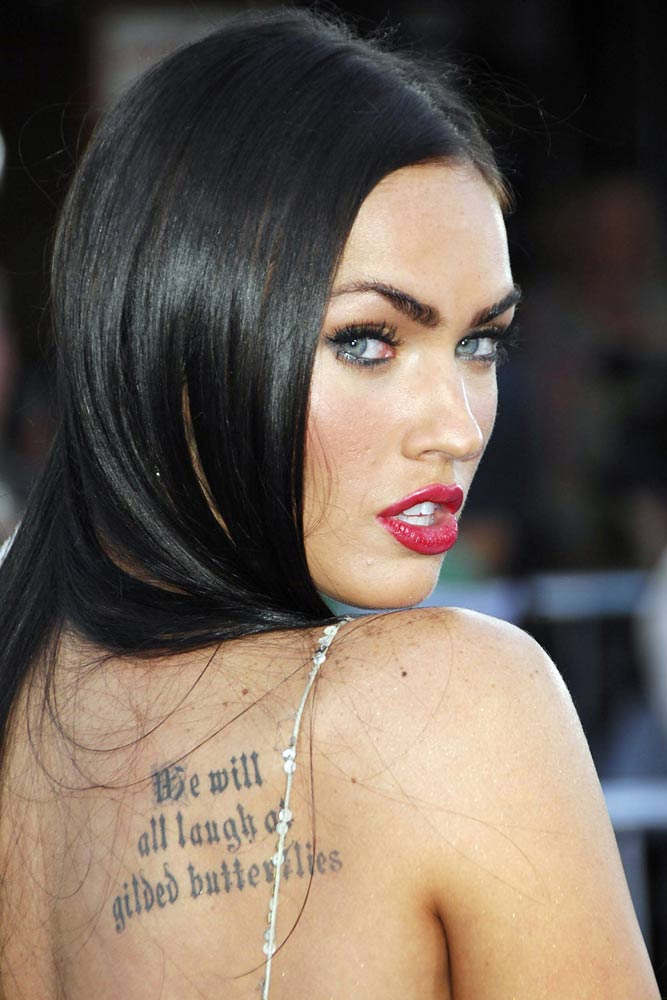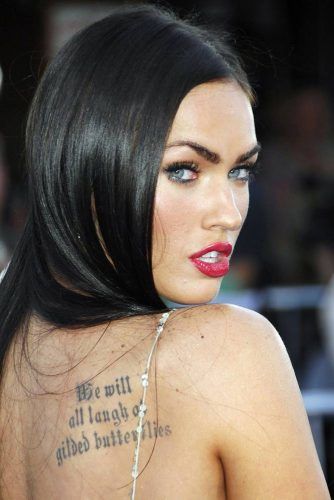 A popular tattoo with lettering is a very popular choice among people all over the planet, and there`s nothing strange about it. Simplicity and meaning are there without anything to uncover. Megan Fox prefers them too. A beautifully scripted phrase looks so essential on her body that we can`t imagine her without it.
Source: Everett Collection/Shutterstock
Rihanna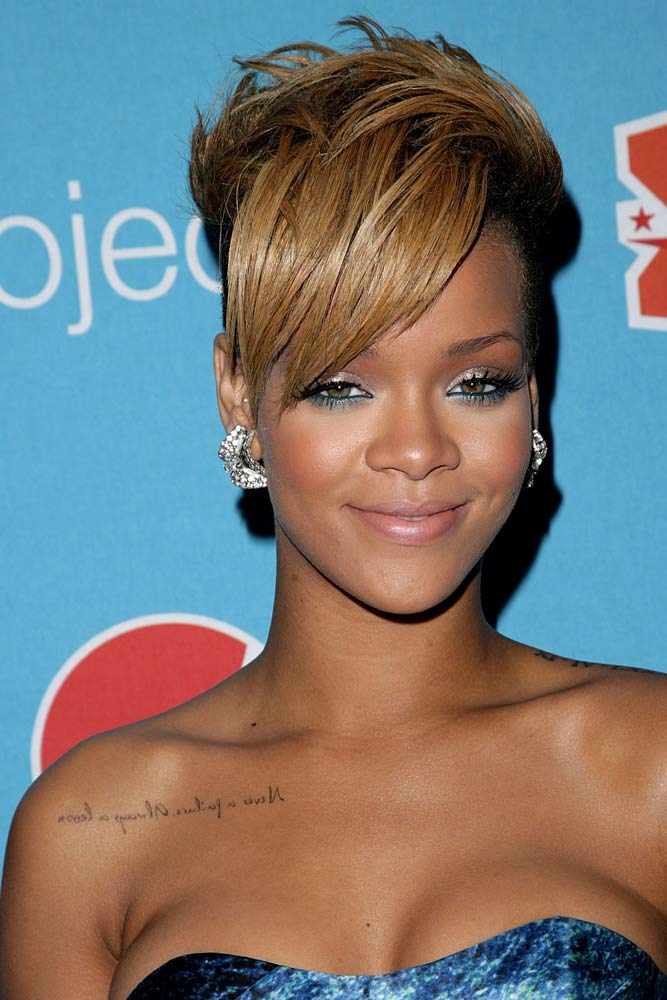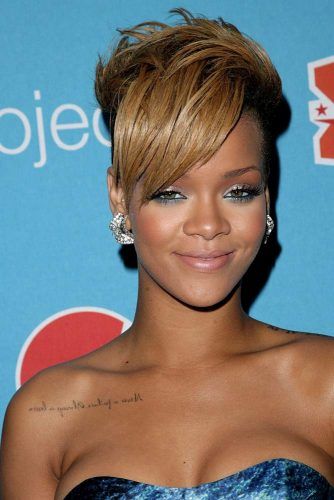 Guess who is also a fan of lettering tats? Rihanna herself! She adores thin lines, and carefully written words look stunning under her boney collarbone. It is such a small detailed tattoo, but it brings in so much style to her look.
Source: Everett Collection/Shutterstock
Maitland Ward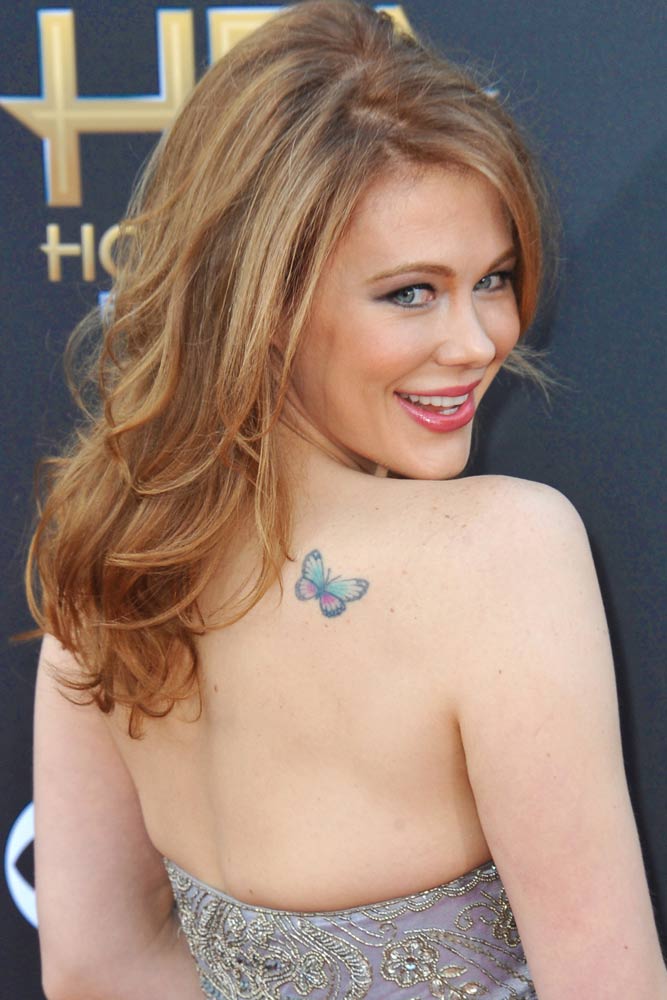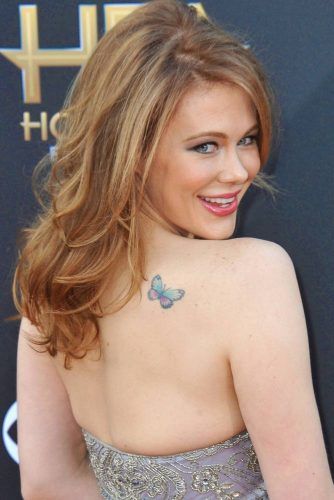 What makes you hesitate about getting a butterfly tattoo? Easy, simple and unforgettable it will for sure leave a beautiful mark on your life. Look at Maitland Ward with her gorgeous tattoo and make a choice in its favor.
Source: Jaguar PS/Shutterstock
Lena Headey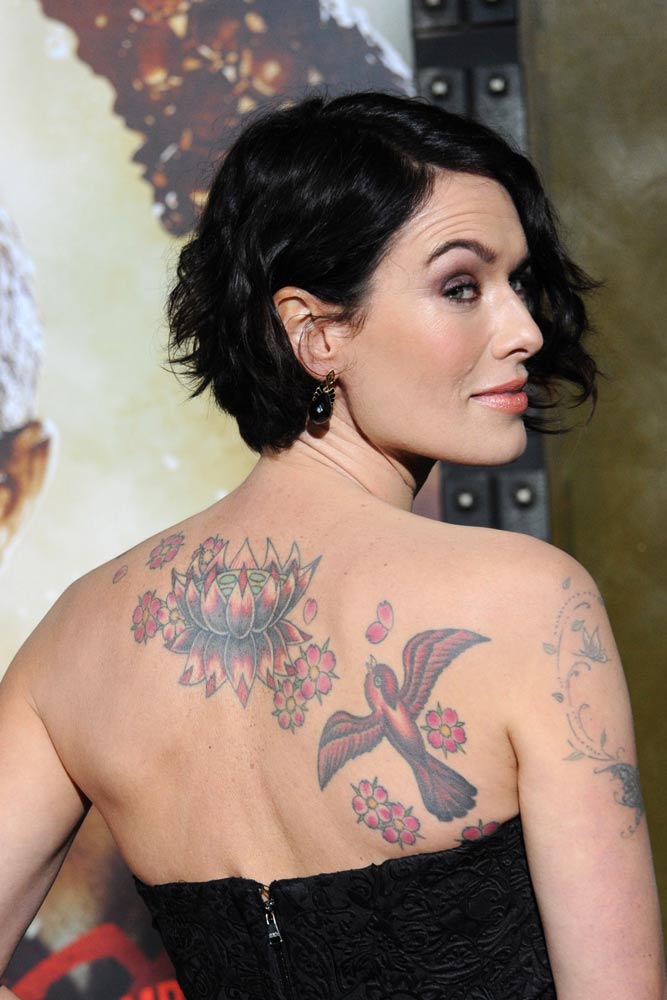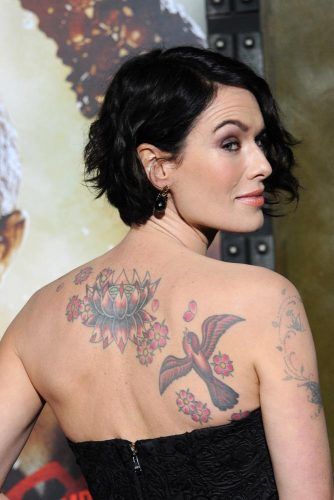 Lena Headey`s lotus flower tattoo looks amazing on her! She brings so much definition and dimension to her appearance that it can`t be unnoticed. Such a simple but creative and colorful choice will make any place you choose for your flower pop.
Source: Featureflash Photo Agency/Shutterstock
Cher Lloyd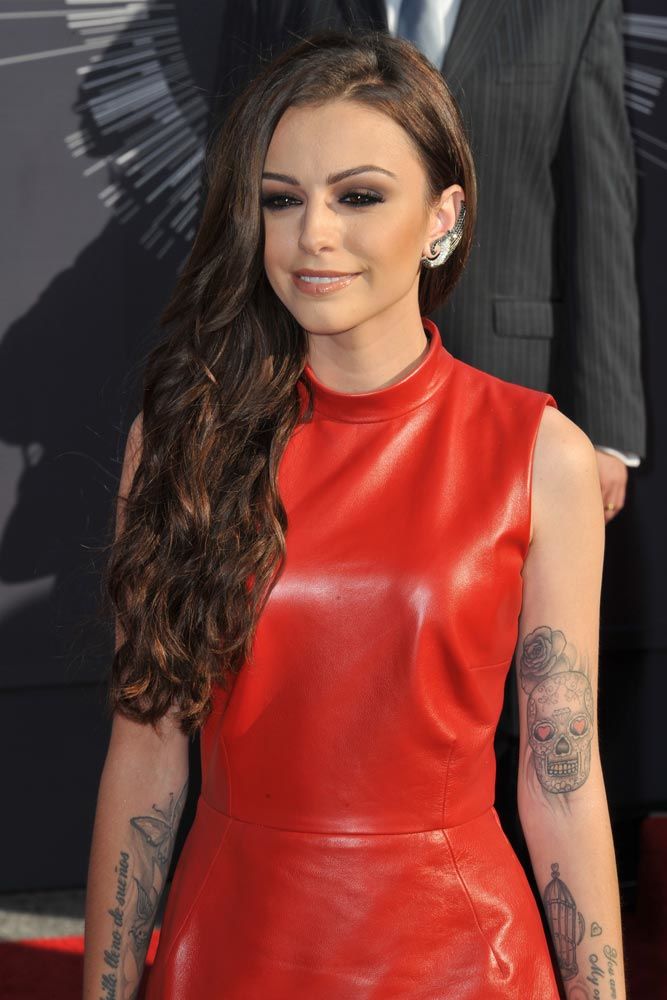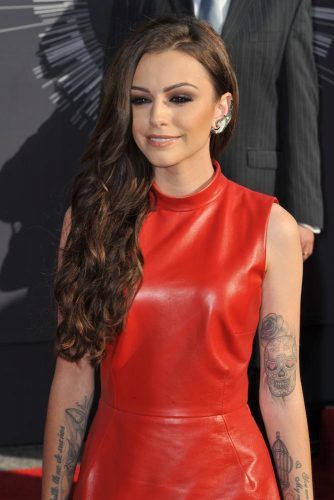 Petite and charming Cher Lloyd is covered with tattoos, and we love that! Doesn`t that look amazing? Look at her skull tattoo on the left arm. Such a heavy sign decorated with feminine ornaments make it into her own style perfectly.
Source: Featureflash Photo Agency/Shutterstock
Ruby Rose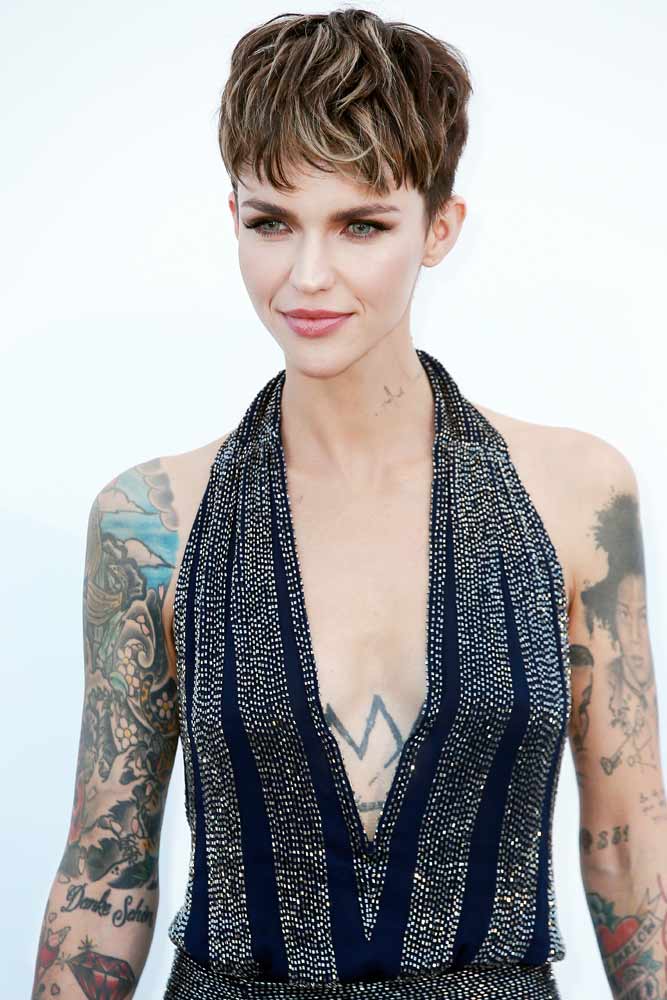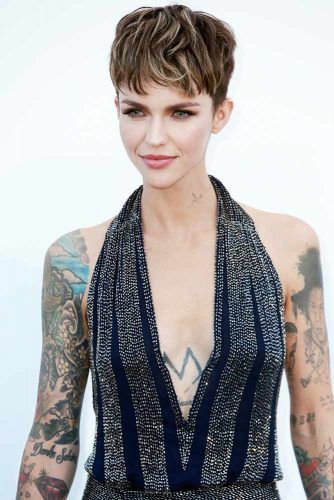 We think there are no people in the world who haven`t talked about Ruby Rose`s tattoos. Her beauty is undeniable, and the way she adds these colorful tattoos to it is the proof. Her full sleeve tattoo looks amazing so don`t listen to those who say it is a bad idea. We are sure it will look perfect on you too.
Source: Andrea Raffin/Shutterstock
Creative Tattoo Ideas For Women
Minimalist Floral Bracelet For Wrist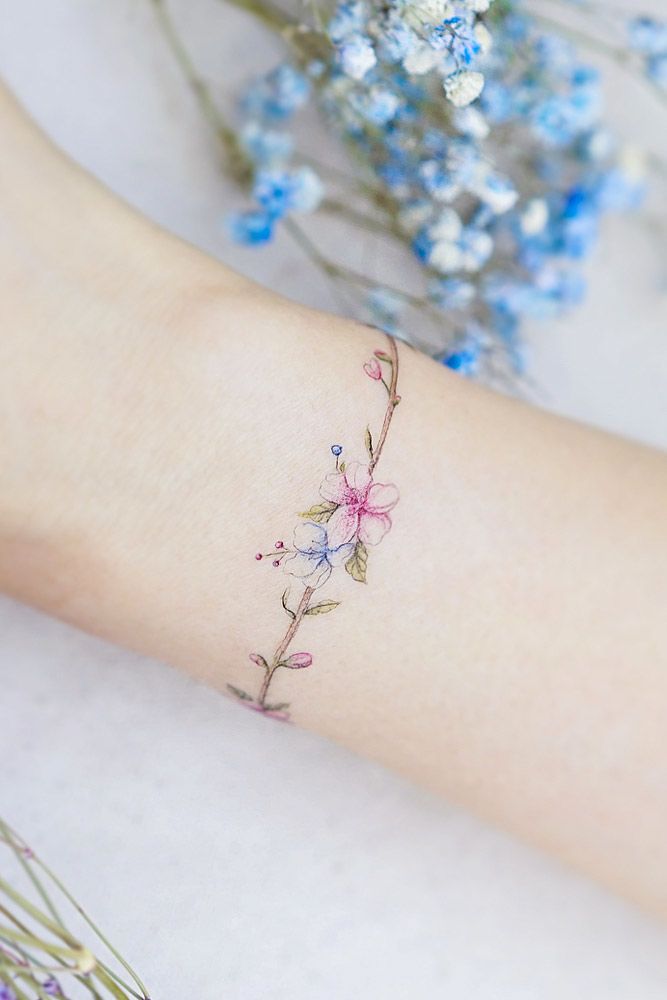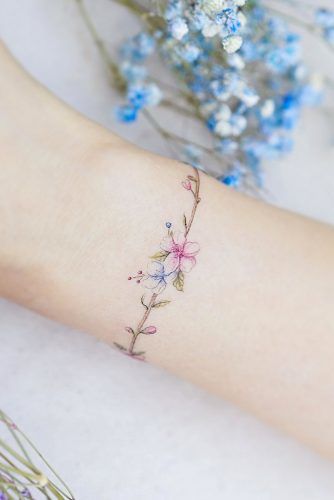 Among unique tattoo ideas, you will for sure find this tender flower bracelet. With thin lines, it looks absolutely stunning on the wrist.
Source: mini_tattooer via Instagram
Tiny Watercolor Flowers On Wrist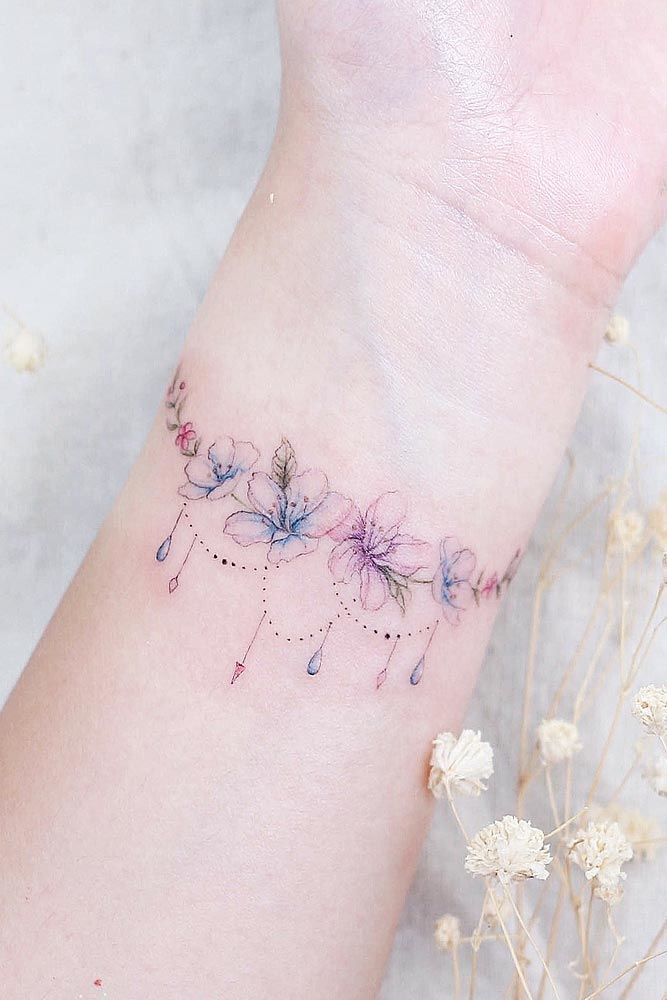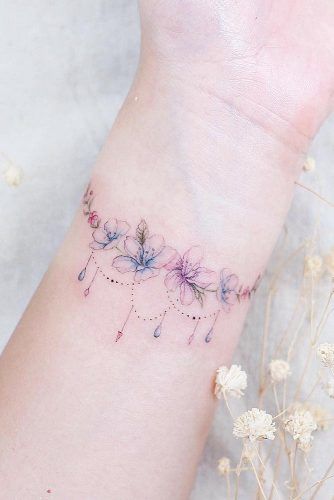 Another super cute flower option for the wrist that you can find in our tattoos ideas for girls. It is a great image for those who would love to have a tattoo but wouldn't want it to be too big and colorful.
Source: mini_tattooer via Instagram
Small Lotus Flower Tattoo Design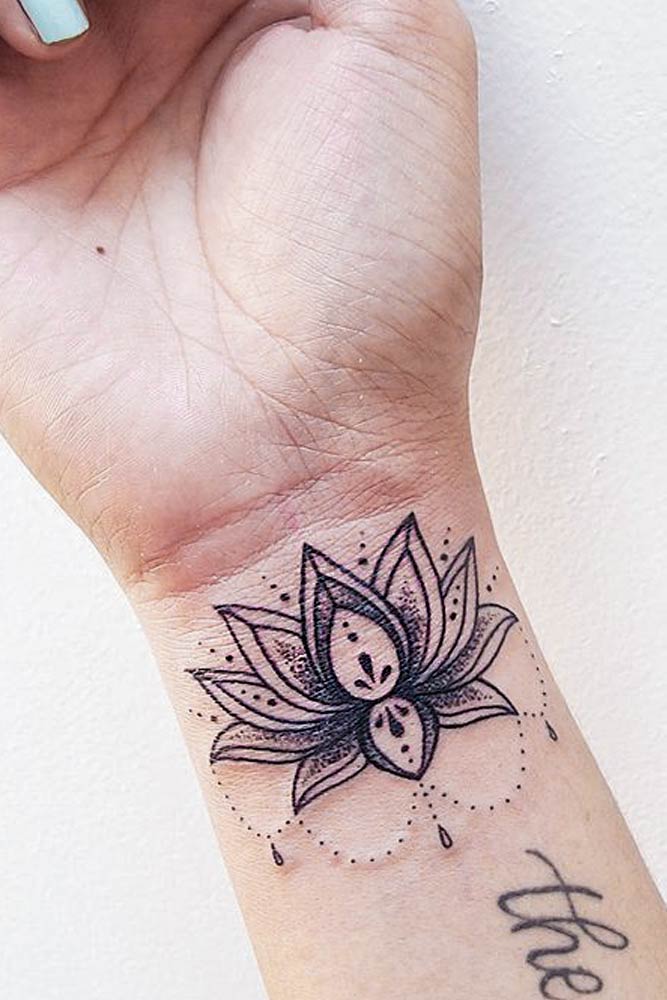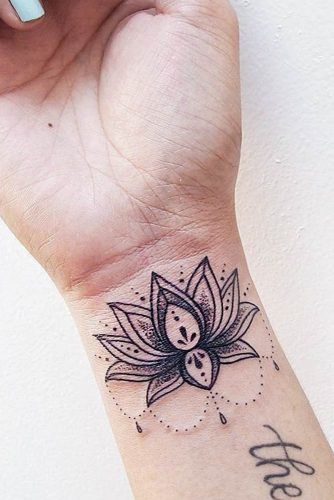 It isn't a secret that a lotus tattoo has a lot behind it. That is why we think it is important to mention it in tattoo ideas with meaning.
Source: jessicachanner via Instagram
Minimalist Lotus Flower Design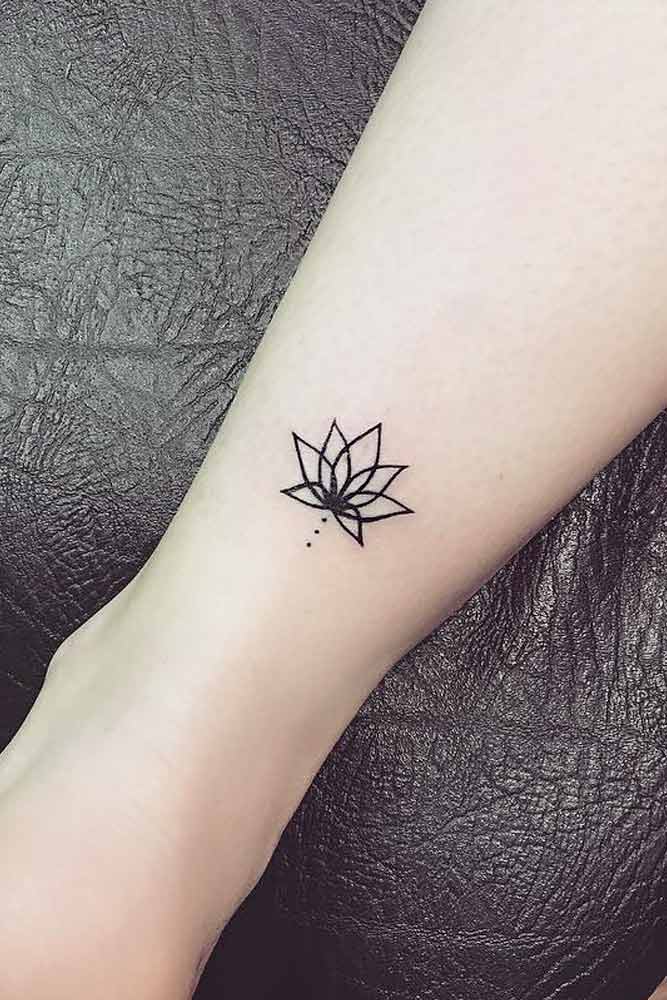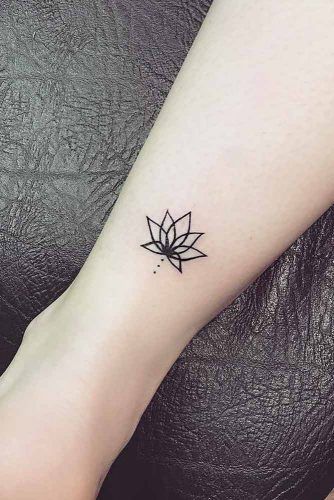 Simple tattoo ideas go so well together with small tattoo ideas. When combined together they can create a tiny tattoo that will mean a lot but look super simple.
Source: goodtattooclub via Instagram
Forearm Watercolor Lotus Flower Tattoo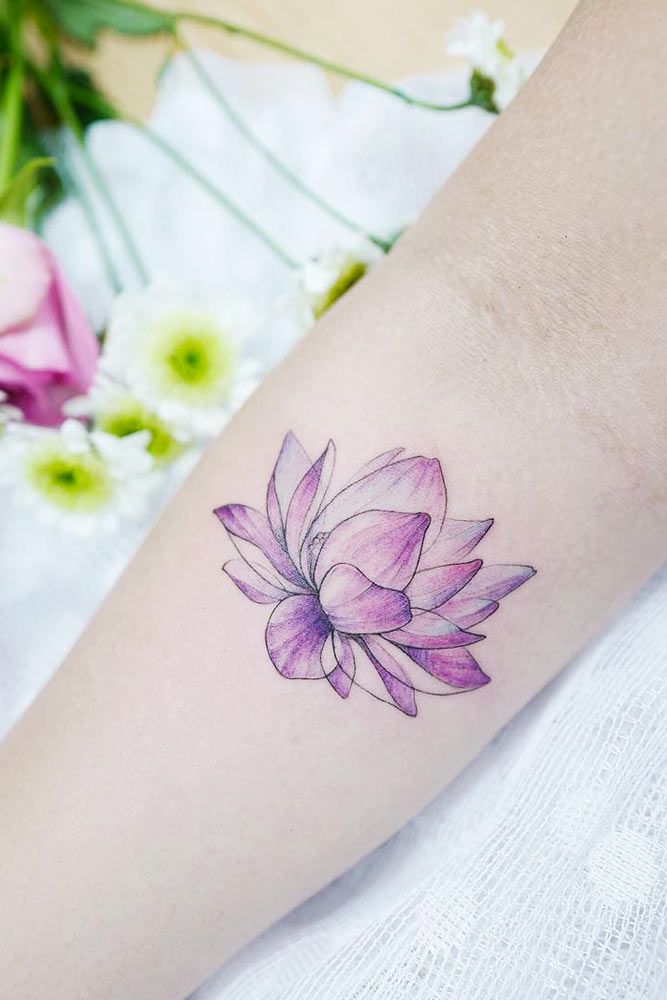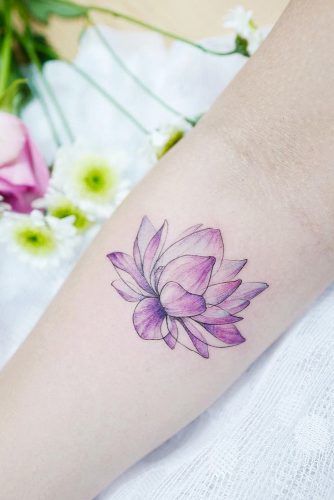 Watercolor is in the trends right now and we love how cute and tender this technique looks. Just imagine it in forearm tattoo ideas and look at the one we have prepared as an inspiration for you.
Source: tattooist_banul via Instagram
Small Lettering Tattoo For Wrist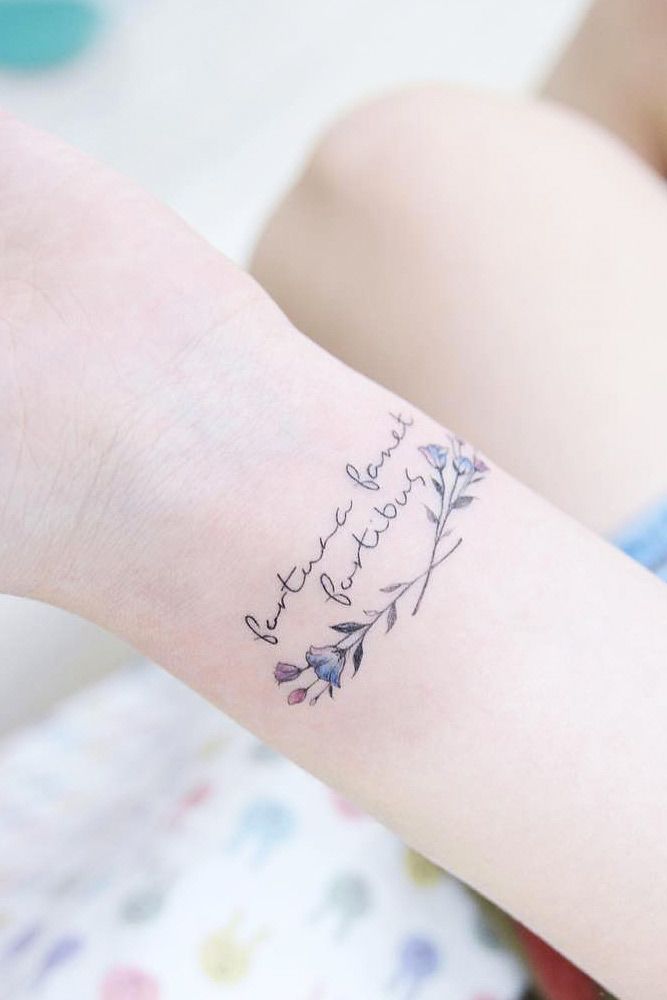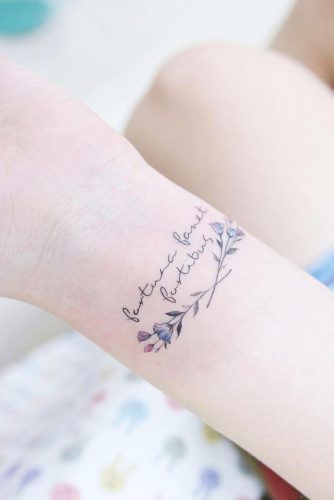 Small tattoo ideas for women should definitely include these tiny lettering tattoos for wrists. Combine it with a tender image and it is the best choice you can make.
Source: tattooist_banul via Instagram
Watercolor Dream Catcher Tattoo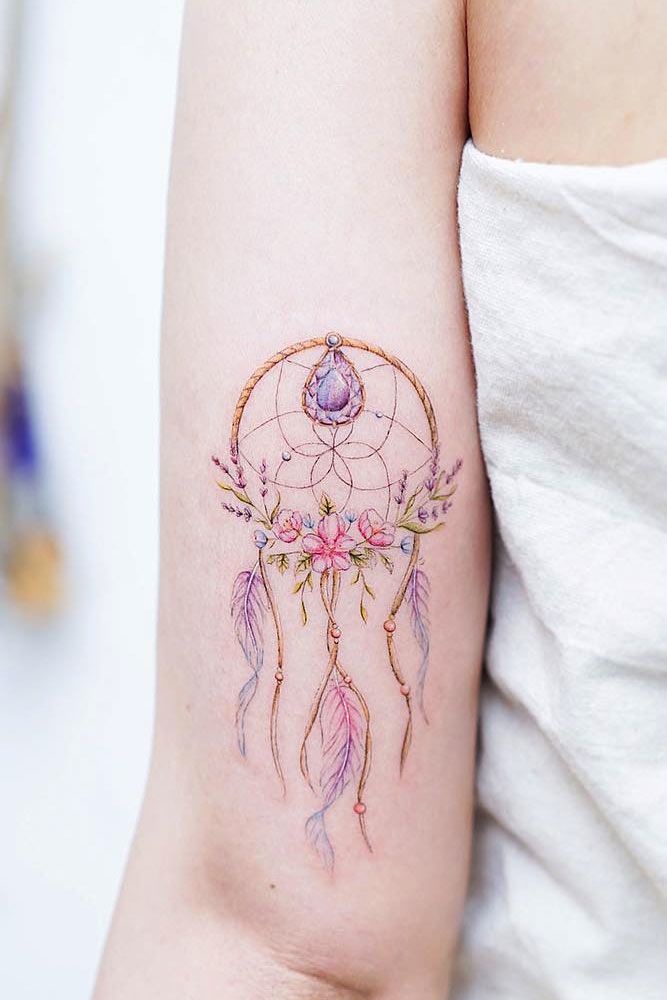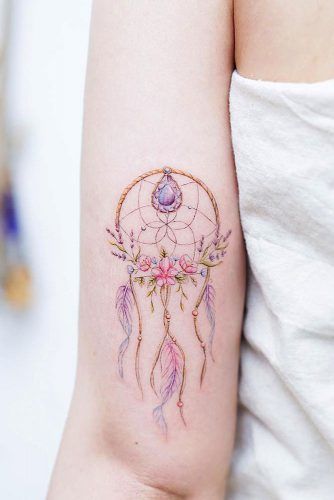 A dream catcher tattoo is a true classic that will never get old in the tattoo industry. Of course, it is one of the cute tattoo ideas!
Source: mini_tattooer via Instagram
Mandala Fox Tattoo On Thigh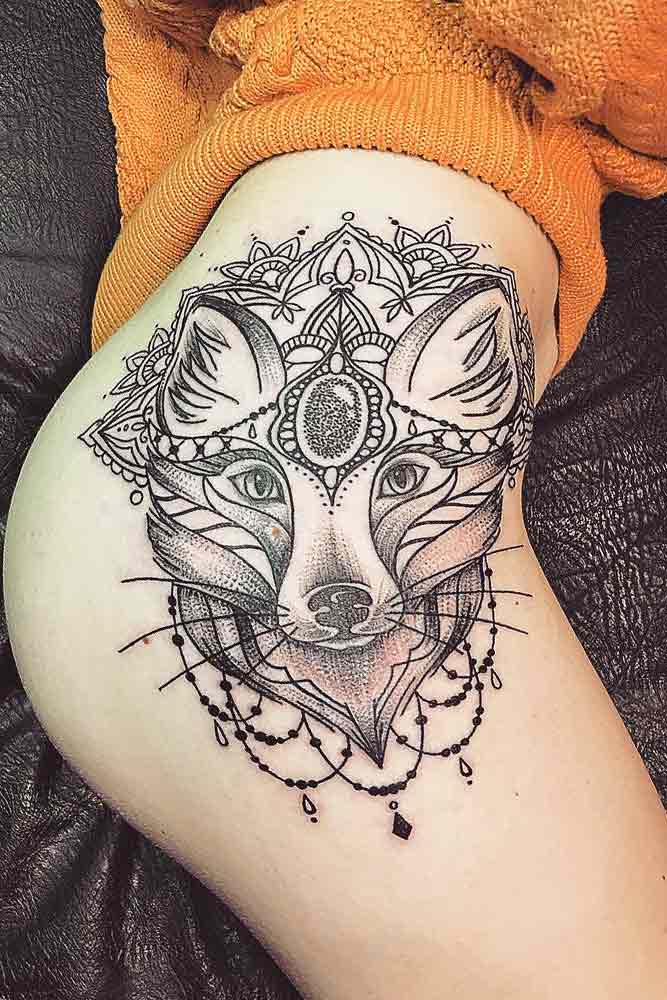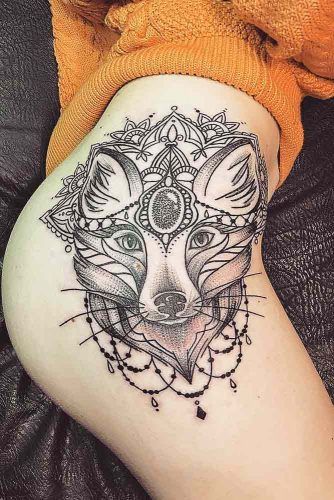 Are you looking for sexy tattoo ideas? Then we have one ready for you. Just have a look at it!
Source: goodtattooclub via Instagram
Watercolor Tattoo With Geometric Elements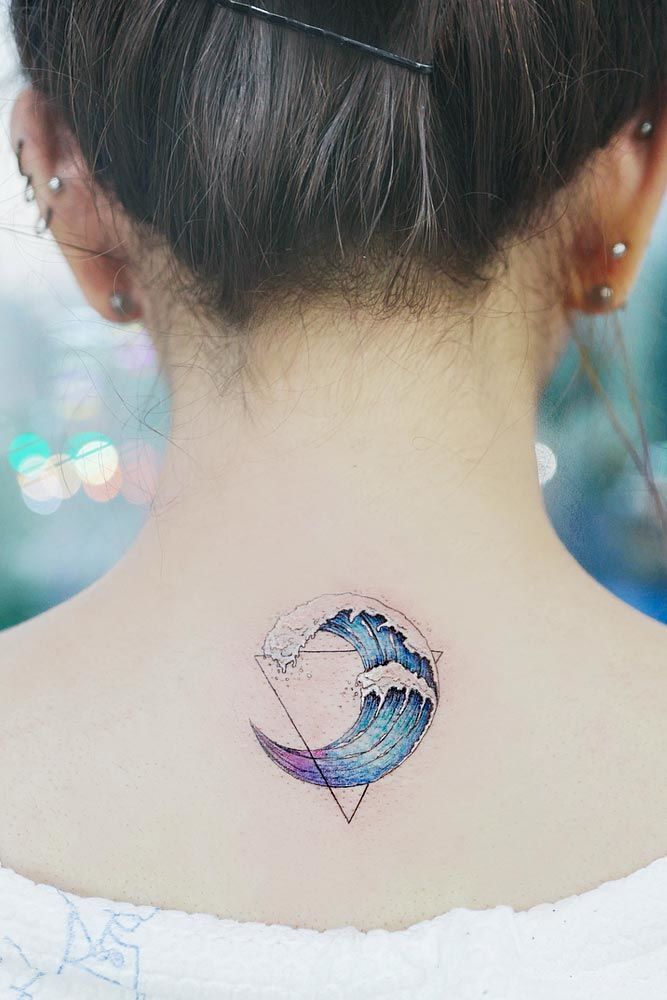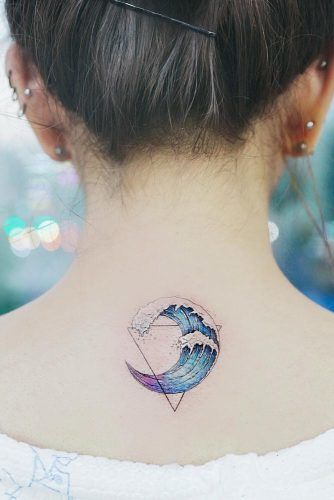 A geometric tattoo that is mixed with a watercolor technique is super good looking. Don't you agree?
Source: tattooist_banul via Instagram
Landscape Tattoo Idea On A Side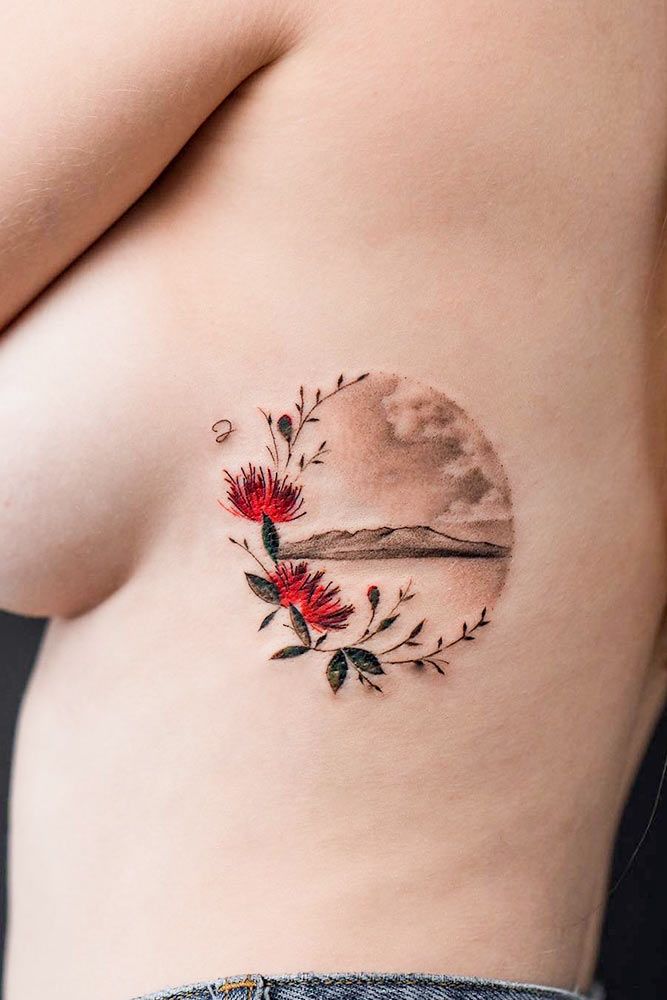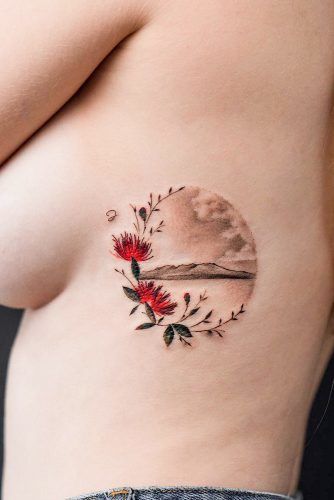 This landscape tattoo with beautiful flowers on the side is for sure in good tattoo ideas.
Source: rey.jasper via Instagram
Red Flowers Tattoo On Leg
Red flower tattoo ideas are super rare but we love how good they turn out in the end. Would you mind having such a tat on you?
Source: rey.jasper via Instagram
Poppy Flower Watercolor Tattoo With Geometric Elements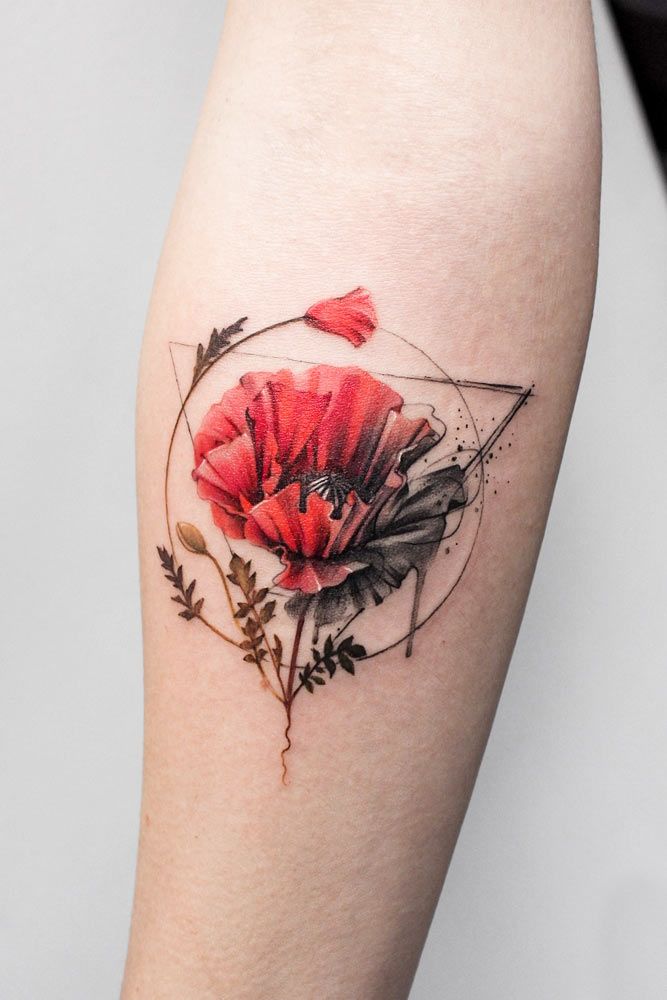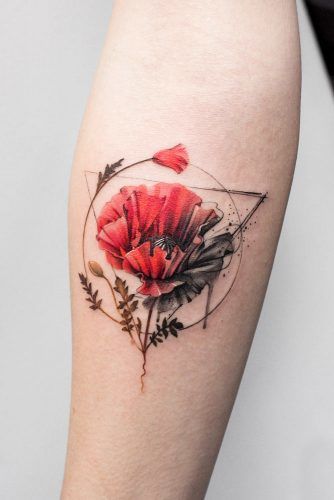 Another geometric tattoo with a watercolor technique that looks super unique in girl tattoo ideas. What do you think?
Source: debrartist via Instagram
Big Fox Tattoo Idea On A Thigh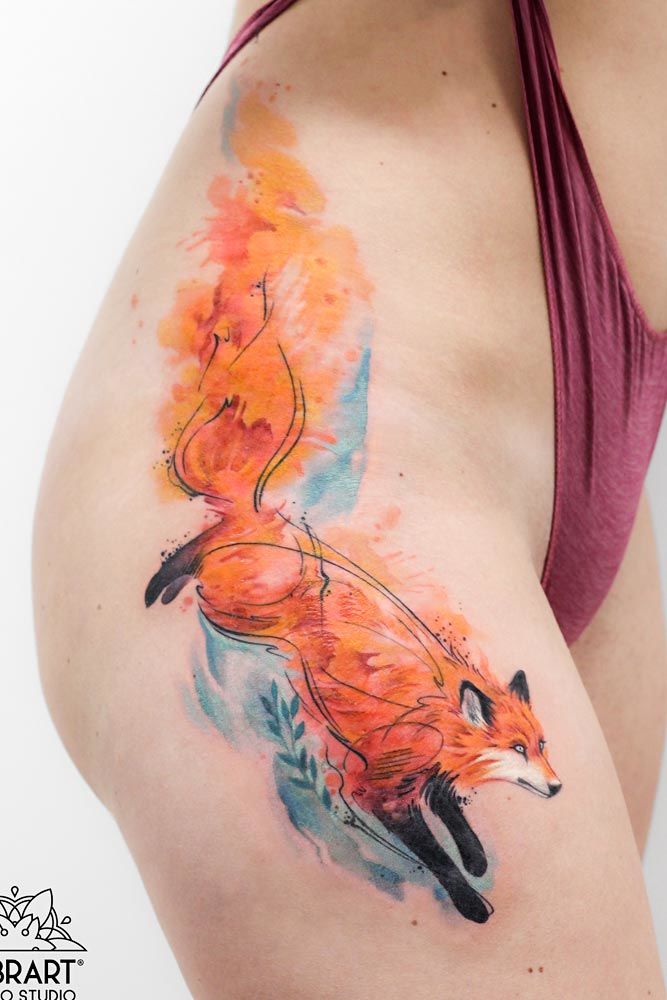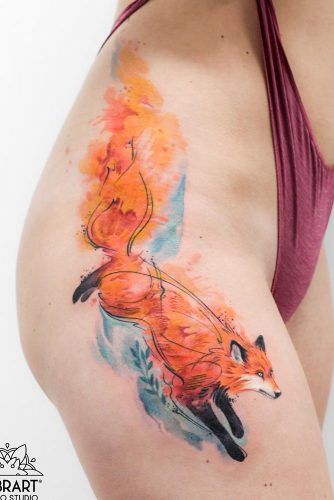 Big tattoos are on fire now especially those ones that look like this one. Truly different in other cool tattoo ideas.
Source: debrartist via Instagram
Forearm Galaxy And Geometric Deer Tattoo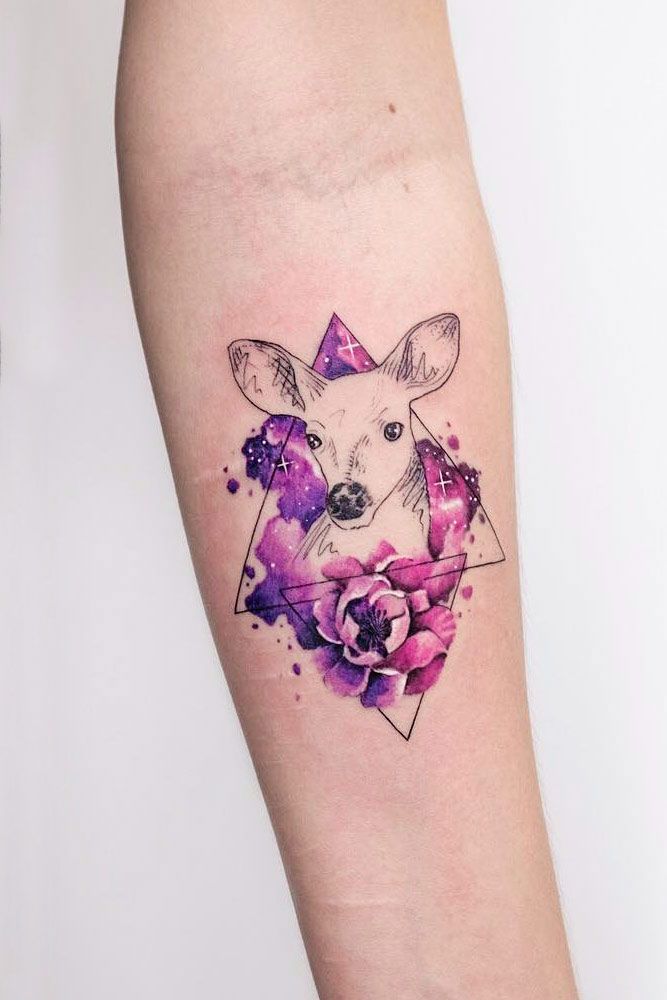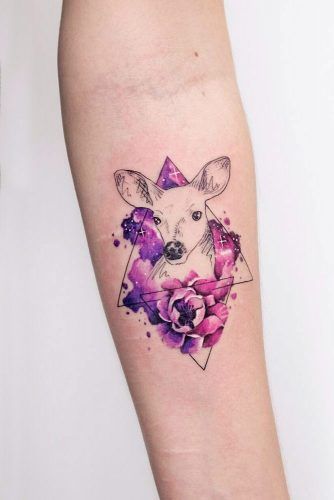 What do you think about arm tattoo ideas like this? Make a beautiful accent with the help of color and you will love the results.
Source: koray_karagozler via Instagram