Meaningful tattoo ideas are featured in this photo gallery. Tattoo art is a popular kind of self-expression that has been a part of people's cultures all around the globe for centuries.
From protective totems and tribal symbols to combat and military rankings to the symbols of love to the stories of people's lives. Tattoo art has evolved over time, and we will also discuss it in this post.
Read on to plunge into the artistic world of permanent markings.
*We may earn money from affiliate links on this page. Please check out our disclosure policy for more details.
Tattoo And The History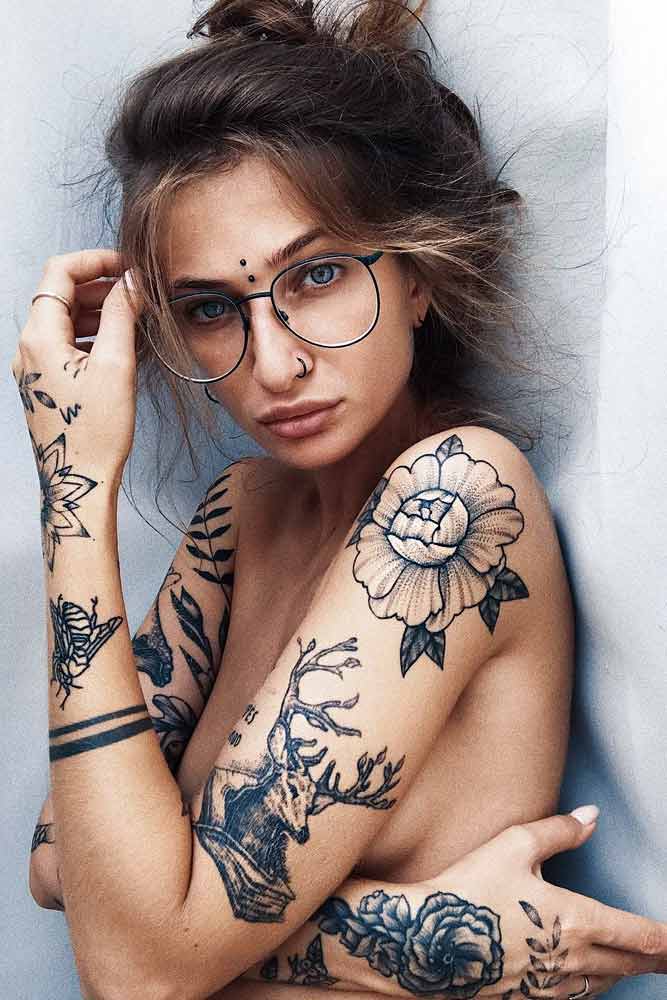 Credit photo: instagram.com/svetaponedelnik
What is a tattoo?
It is a permanent marking on a person's skin that is made with needles and ink. When the ink penetrates into the dermis, the 2nd skin layer, the skin repairs, and the design is exposed underneath the new skin layer.
What are the origins of tattoo art?
In Scandinavia, Portugal, and France scientists found evidence that tattooing had been practiced over 12 thousand years ago.
And the oldest tattoo ever found is on the mummy called the Iceman. The mummy was discovered in the ice of Alps, and its age was about 6-7 thousand years. Mummies with tattoos were also found in Siberia and Egypt. Tattooing was common among the Celtic and Germanic tribes, as well. Which leads us to the conclusion that tattooing was widespread early in the human history.
Popular Tattoo Designs And Their Meaning
Some tattoo designs are more popular than others. Many people choose to get a lotus, a butterfly, a feather, a dream catcher, or the sun tattooed. And we think that it's essential to know what such designs represent.
Lotus Flower Tattoo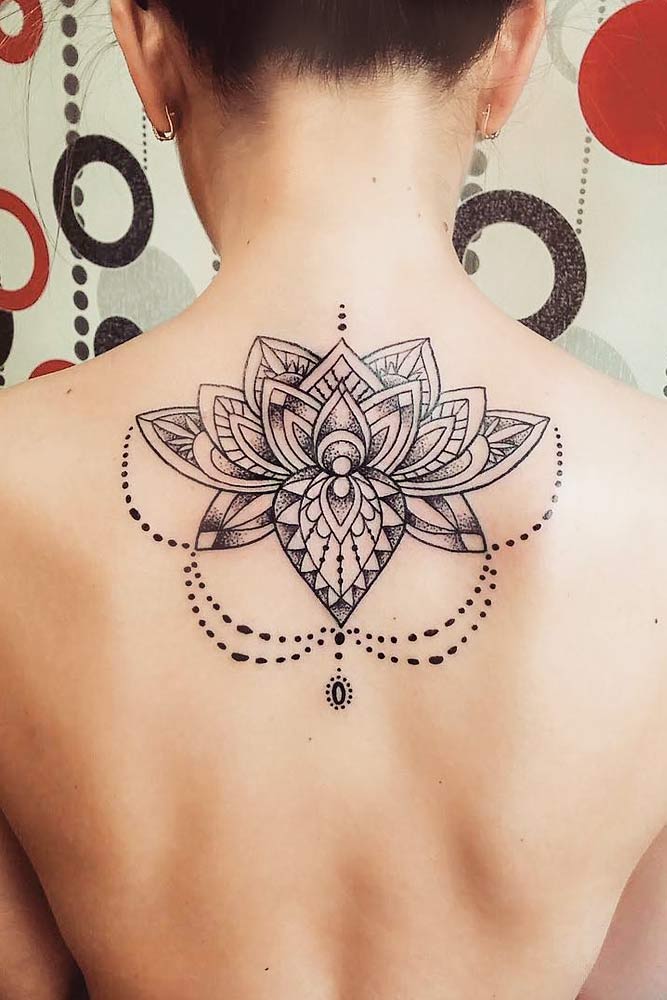 Credit photo: instagram.com/goodtattooclub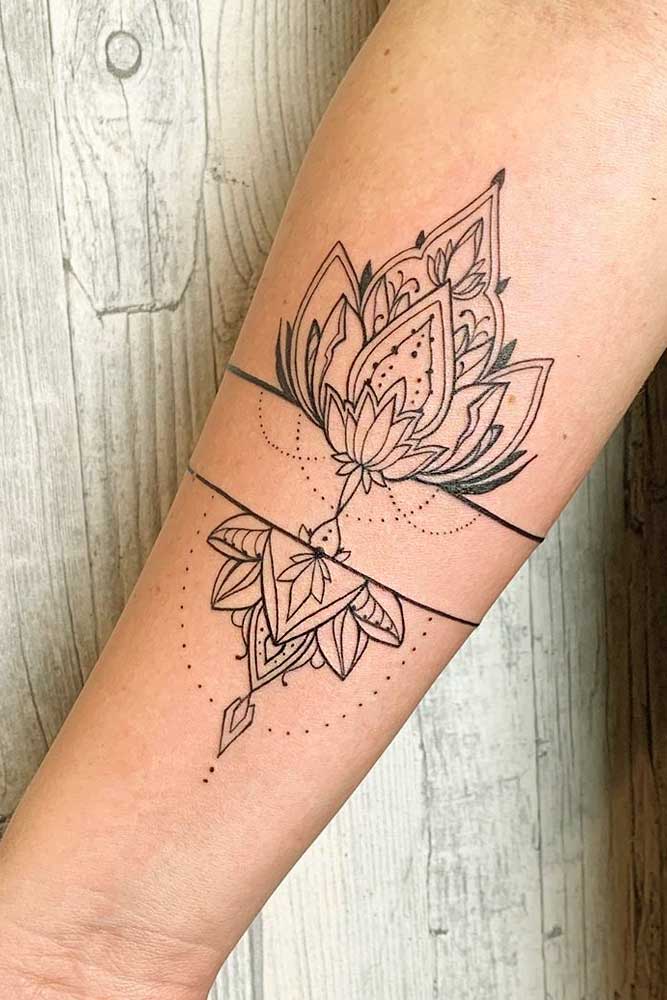 Credit photo: instagram.com/sue_versipellis_tattoo
Lotus flower tattoo has a deep meaning in different cultures.
In Buddhism, a lotus represents piousness and purity.
And in Ancient Egypt, it symbolized the outset of life or reincarnation. Egyptians believed that when life originated on the planet, a lotus flower emerged from the sea.
In Chinese culture, this flower is a symbol of marital harmony, the purest feminine beauty.
The Western culture views lotus as the reflection of divine conception, rebirth, new beginnings, searching for the meaning of life.
Butterfly Tattoo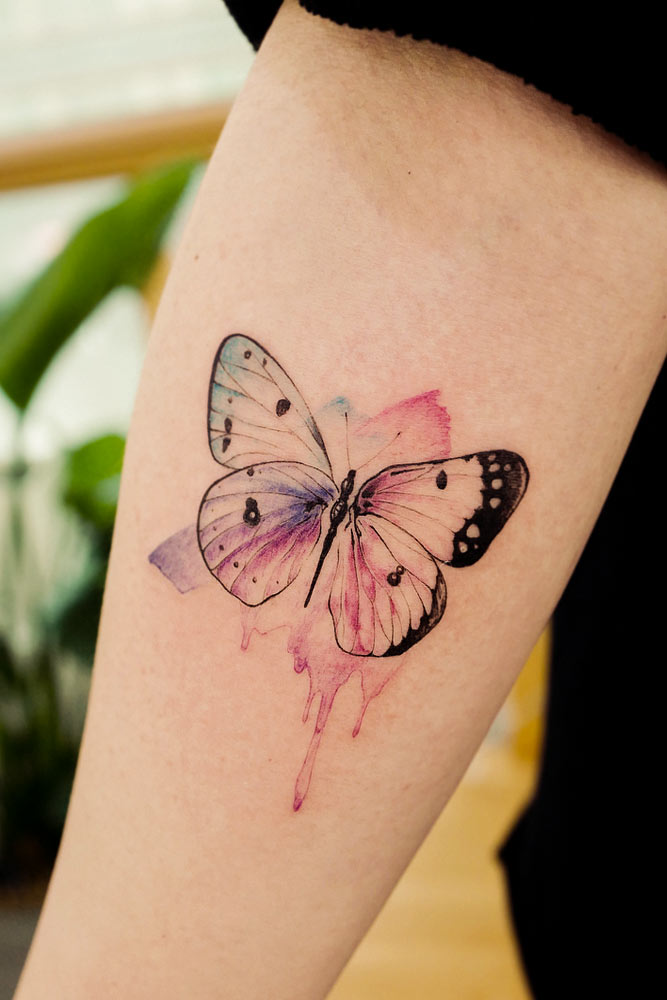 Credit photo: instagram.com/tattooist_banul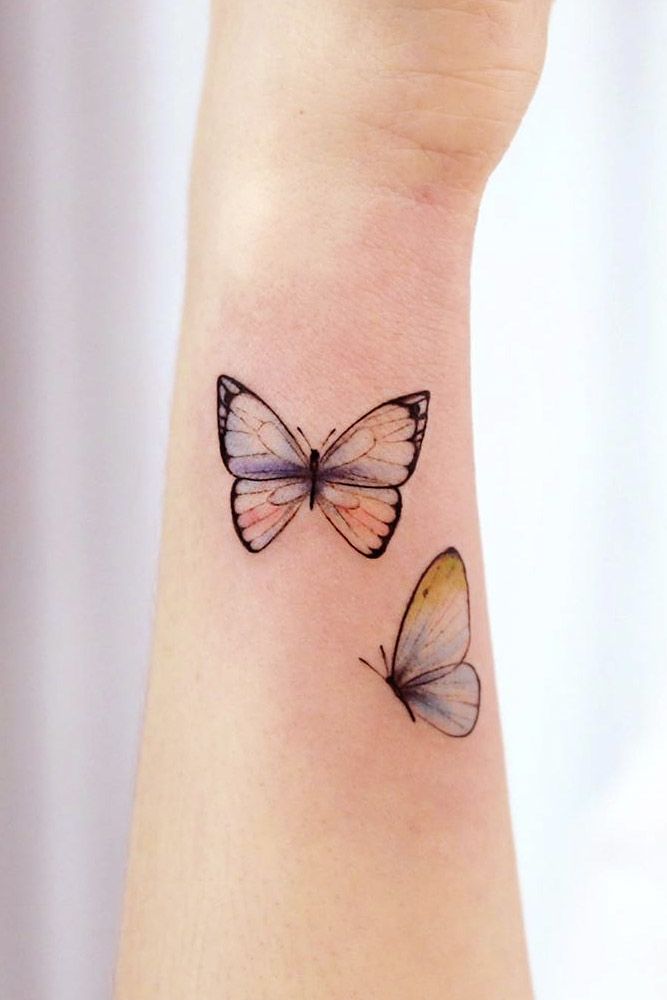 Credit photo: instagram.com/tattooist_dal
Among all the tattoo ideas butterfly one carries a great variety of meanings. Amazingly, such relatively small tattoo ideas can carry such a deep sense, depending upon who wears them and what you choose to accompany your butterfly tattoo ideas with.
Very often, butterflies represent metamorphosis, change, rebirth, and beauty. All that is inspired by the life cycle of the stunning creature. From a practically ugly creature, a butterfly turns into a vibrant insect. Japanese people believe that souls are often trapped in butterflies. The butterfly tattoo not only has a deep meaning but also looks very beautiful. If you combine it with a gentle rose, you can point the change of course in your love life and romance too.
Feather Tattoo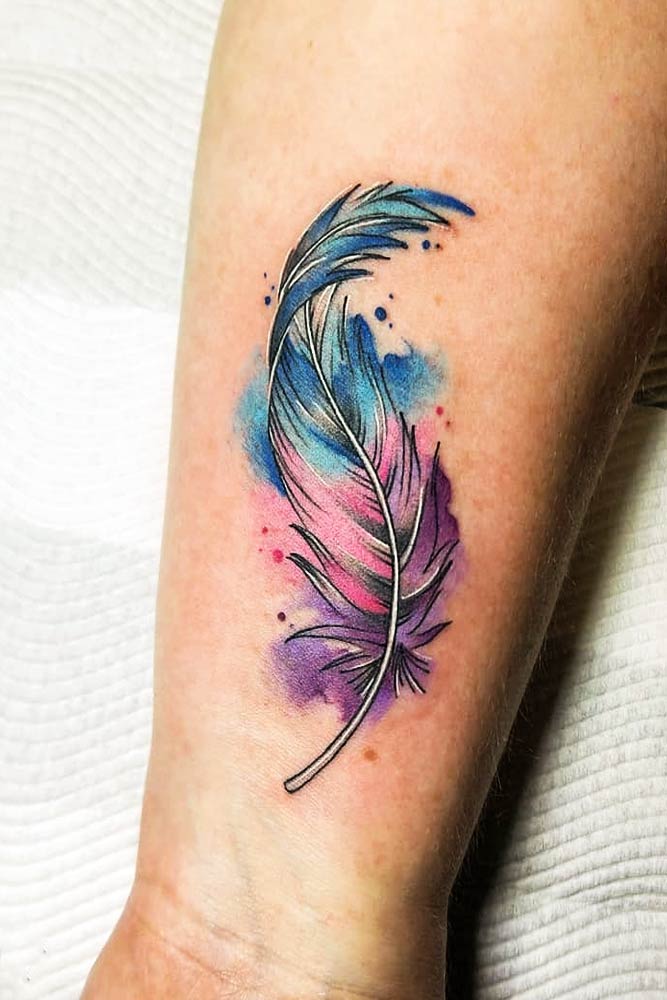 Credit photo: instagram.com/serpents_ink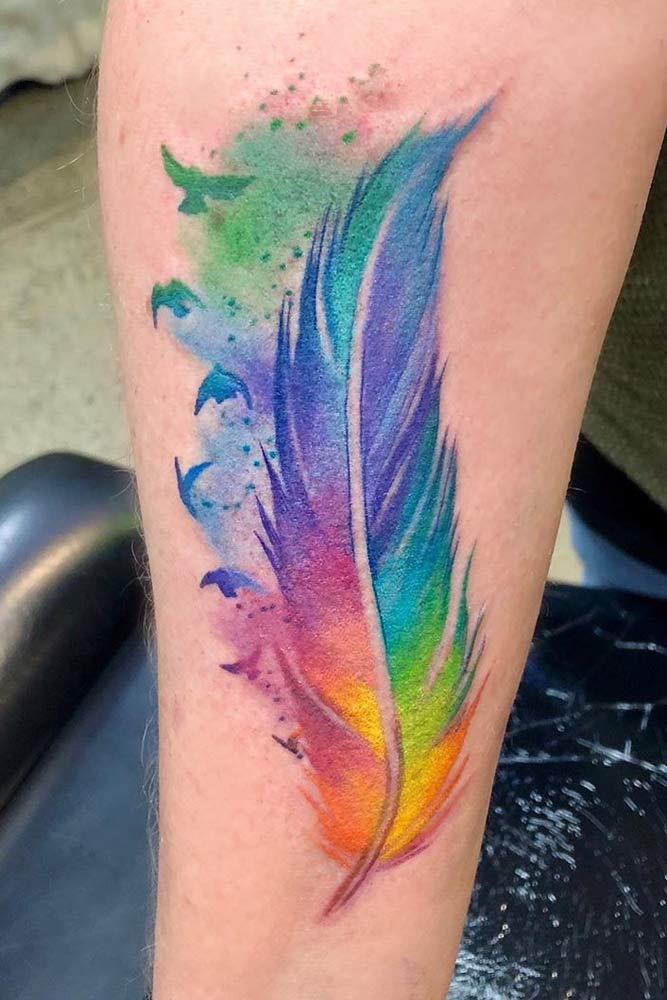 Not everyone is equally fond of simple tattoo ideas. If you want to dig in a little deeper on the symbolism and ancient culture of a feather tattoo, you should realize that ancient Egyptians believed it to be a sign of the divine. At the same time, Native Americans assume that a feather has the power to take you traveling to the spiritual world.
When you seek meaningful tattoo ideas, you have to understand that each bird that is the primary wearer of fancy feathers has its history too. Thus, an eagle is a bird of pride and confidence, while an owl will project its wisdom on you. At the same time, a peacock symbolizes kindness and sincerity. Think wisely before you opt for hand tattoo ideas that involve such a potent image.
Dream Catcher Tattoo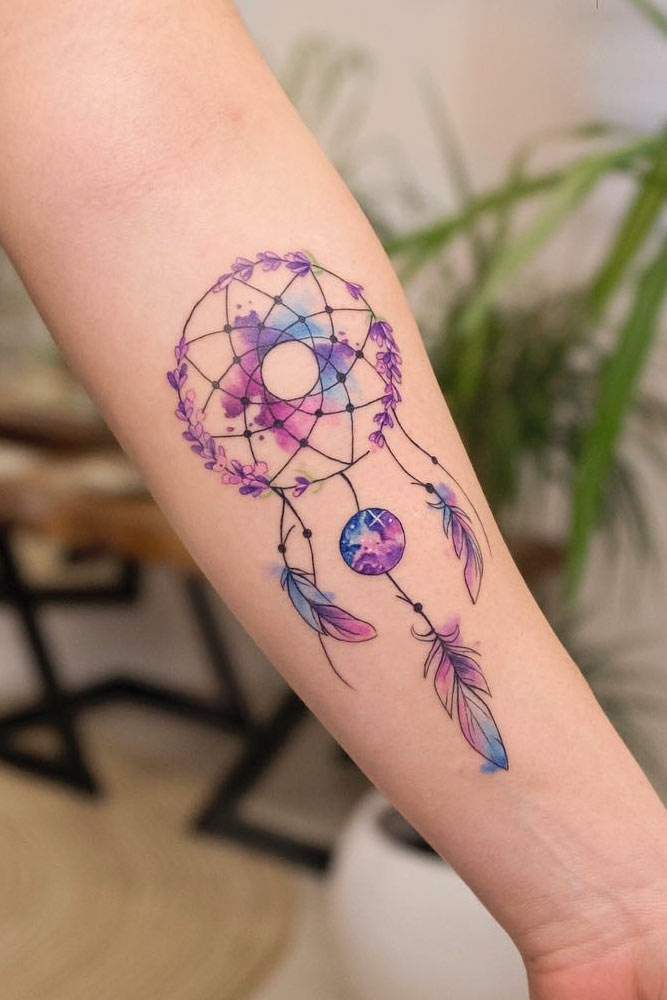 Credit photo: instagram.com/koray_karagozler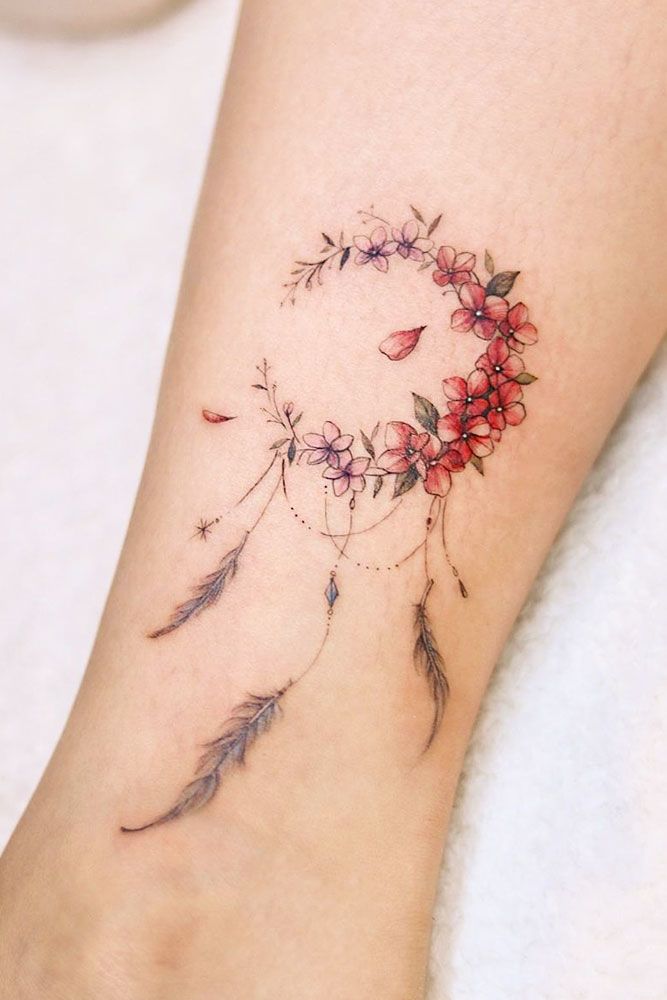 Credit photo: instagram.com/aeri_tattoo
Some tattoo ideas for women are a lot more popular than the rest, and the dreamcatcher variation is among those requested symbols. However, when you browse through impressive tattoo ideas drawings, it helps to wonder as to what they are supposed to mean. The fact is that aside from looking great, a dreamcatcher is a powerful symbol that can help you get rid of bad dreams and negative experiences.
The image of a dreamcatcher can't be referred to as small tattoo ideas for women, yet the deep meaning and protection it offers are worth the sacrifice. Get a dream catcher tattoo, and you will get protection against bad luck, bad dreams, and also evil spirits. It will bring you good fortune, happiness, success.
Tattoo Of The Sun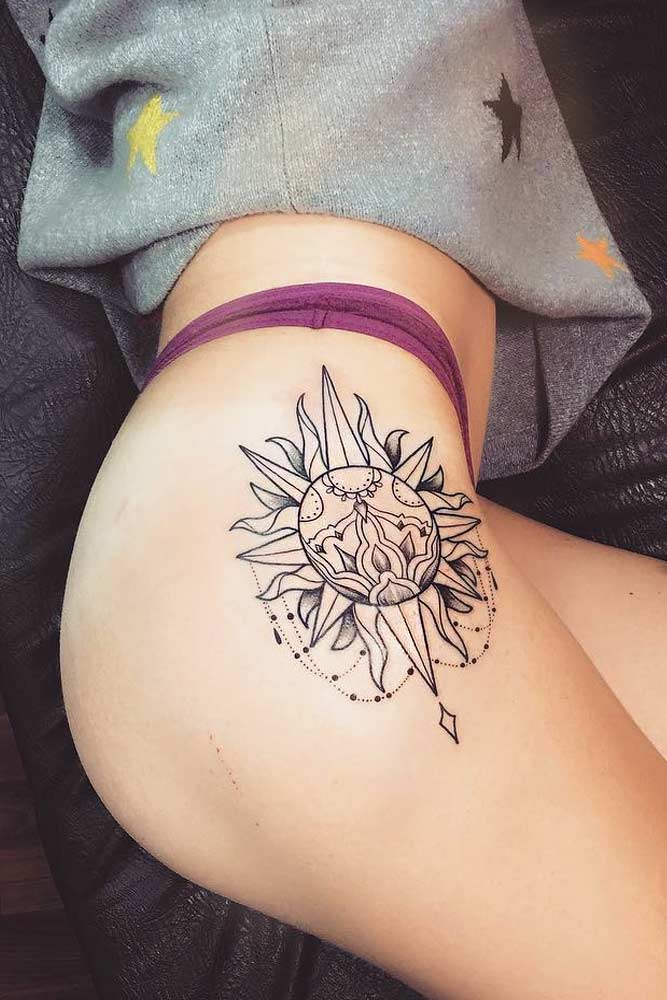 Credit photo: instagram.com/goodtattooclub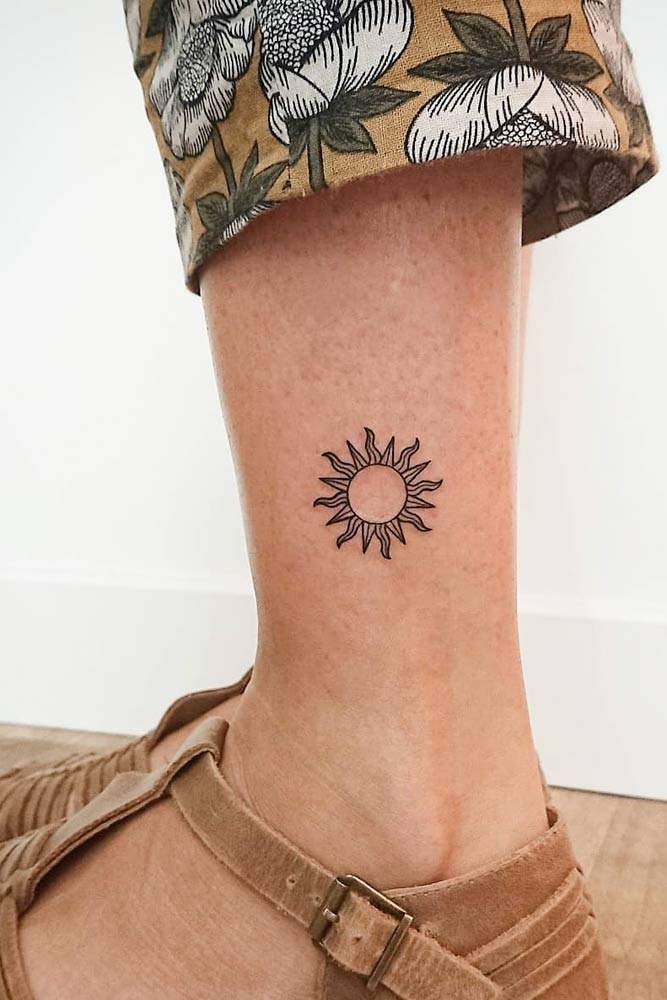 Credit photo: instagram.com/merry_pop_ink
It is possible to treat tiny tattoo ideas as quite whimsical and not capable of carrying a deep meaning. However, the assumption is nothing but misleading. The fact is that even the smallest sun depiction will have one of the most powerful meanings. All it takes is to realize that there is no life without the sun, and you will need no further convincing.
In various cultures, the sun stands for many positive things – power, rebirth, perseverance, new beginnings, fertility, and life. If you seek minimalist tattoo ideas, get one if you wish to leave behind all those rough times.
Fox Tattoo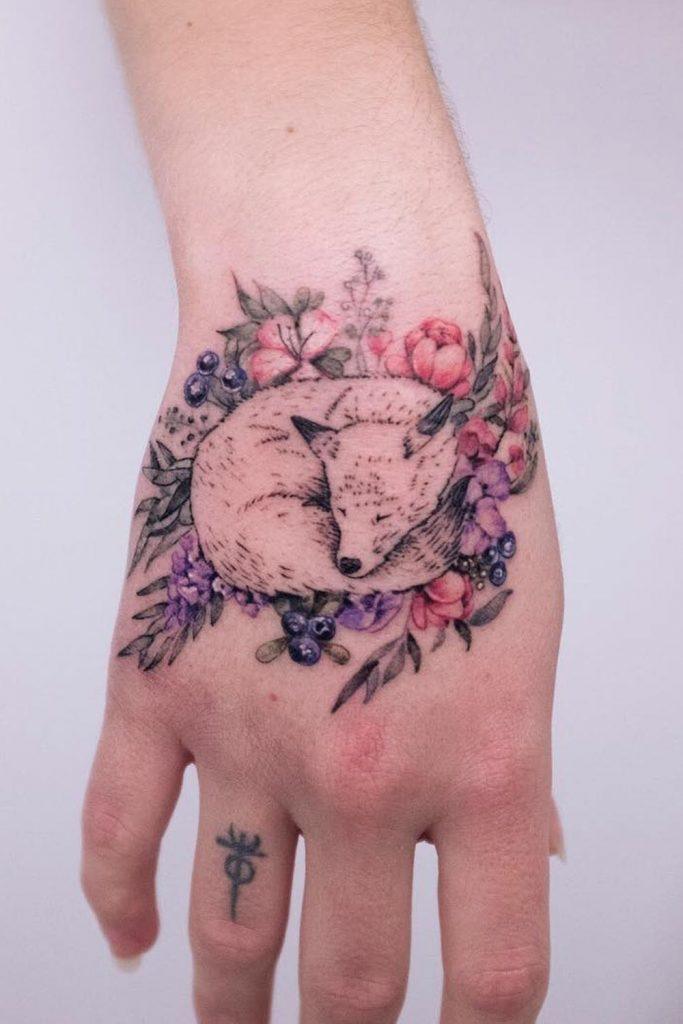 Credit photo: instagram.com/koray_karagozler
There are many tattoo ideas with meaning that is as beautiful as the depiction itself. However, nothing can compare with the flair of a wise and incredibly captivating fox. Besides, there are so many to adorn the gorgeous animal image, to make it as personal and unique as possible. The moment you start considering cute tattoo ideas with a fox as the primary accent, you should realize that the animal is deemed to be smart, cunning, and ready to act in most cultures. Feel like you can relate? What are you waiting for?
Tattoo of the Arrow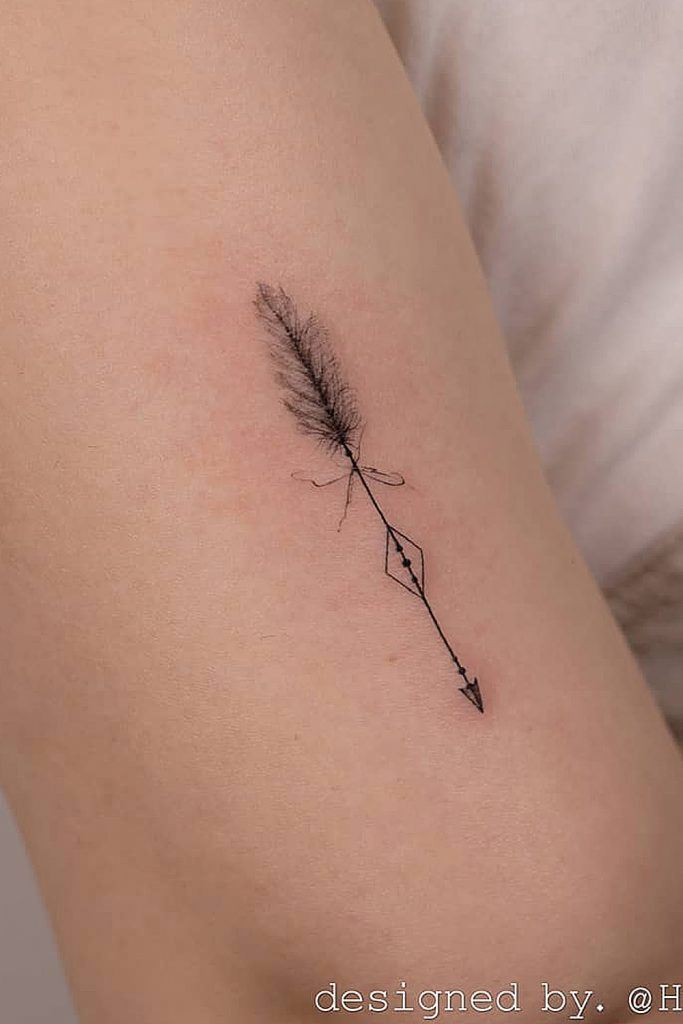 Credit photo: instagram.com/handitrip
If you are not a fan of flower tattoo ideas, you may feel like there is no other customizable variant to play around with. Nevertheless, that is not true. An arrow tattoo belongs to the category of easy tattoo ideas, yet the versatility of meanings to which you can entitle it is impressive.
It is an utterly potent tattoo idea for a woman - the symbolic image of an arrow. In case you belong to the Native Americans, the depiction would resonate with cultural roots. These days arrows are used in the tattoo world to emphasize strength and sense of the right direction. Besides, a triumph over something you have been struggling with can be projected through the image too.
Bird Tattoo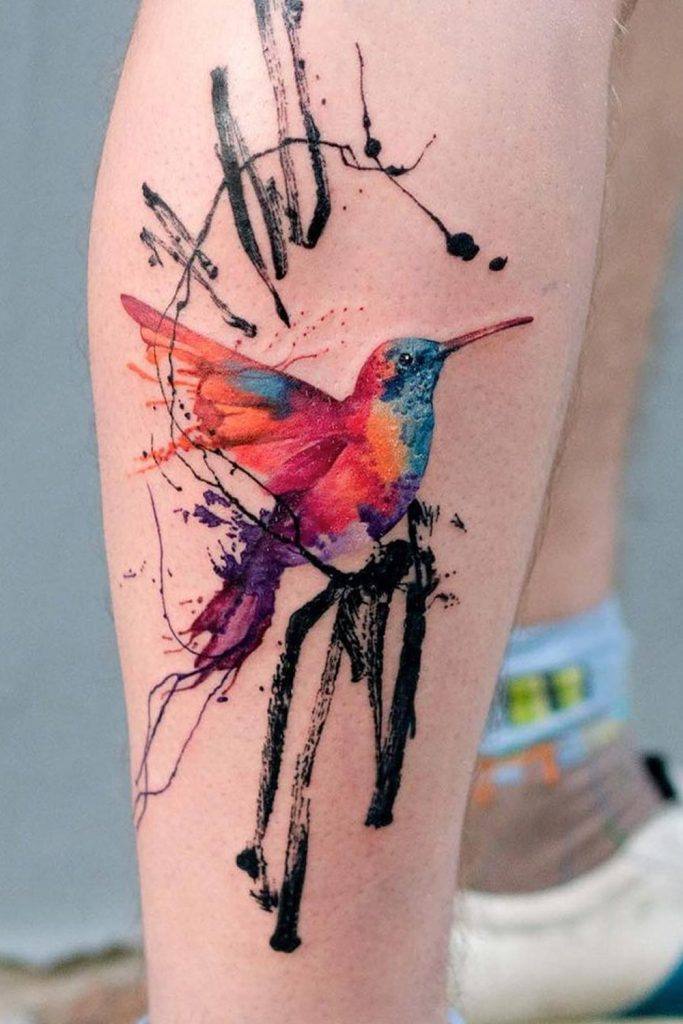 Credit photo: instagram.com/koray_karagozler
A bird image is often viewed as nothing more but yet another one on the list of cute tattoo ideas. Nevertheless, the deep sense hidden behind it will strike you with its power. A bird is a symbol of freedom, and what is more important – the sign of liberation, no matter what type of liberation you may have in mind.
Compass Tattoo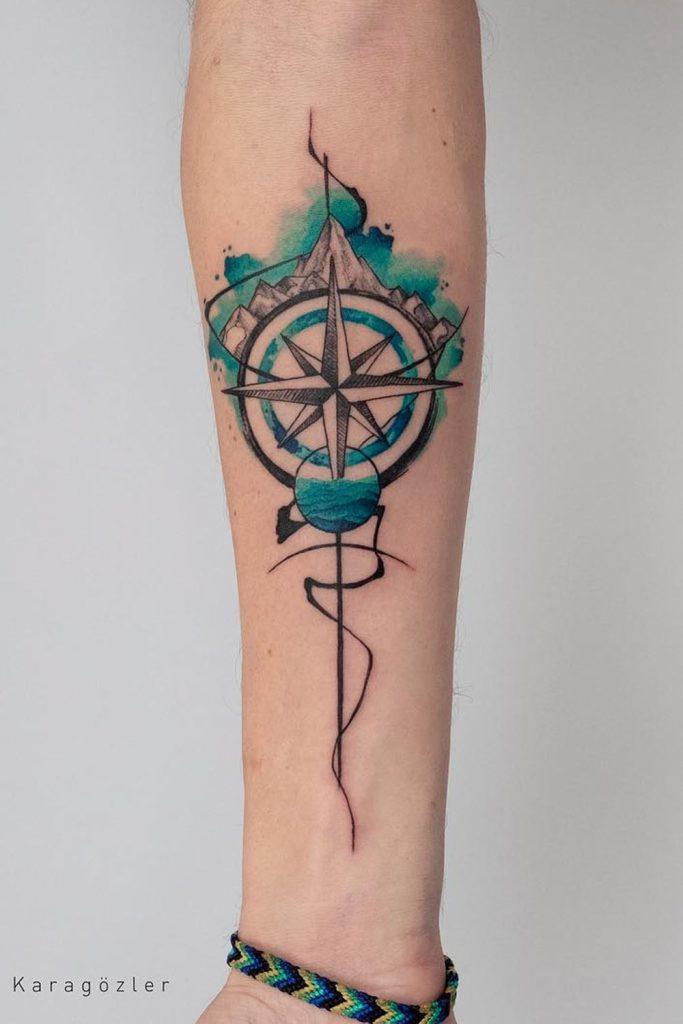 Credit photo: instagram.com/koray_karagozler
Compass can't be often described as one of the best tattoo ideas for women. Yet, the connotation that the image carries is worth the attention if you are interested in something utterly meaningful, unique and beautiful. Compass tattoo ideas are packed with a sense of direction in life and good luck vibes so that anyone can benefit from potent protection.
Koi Fish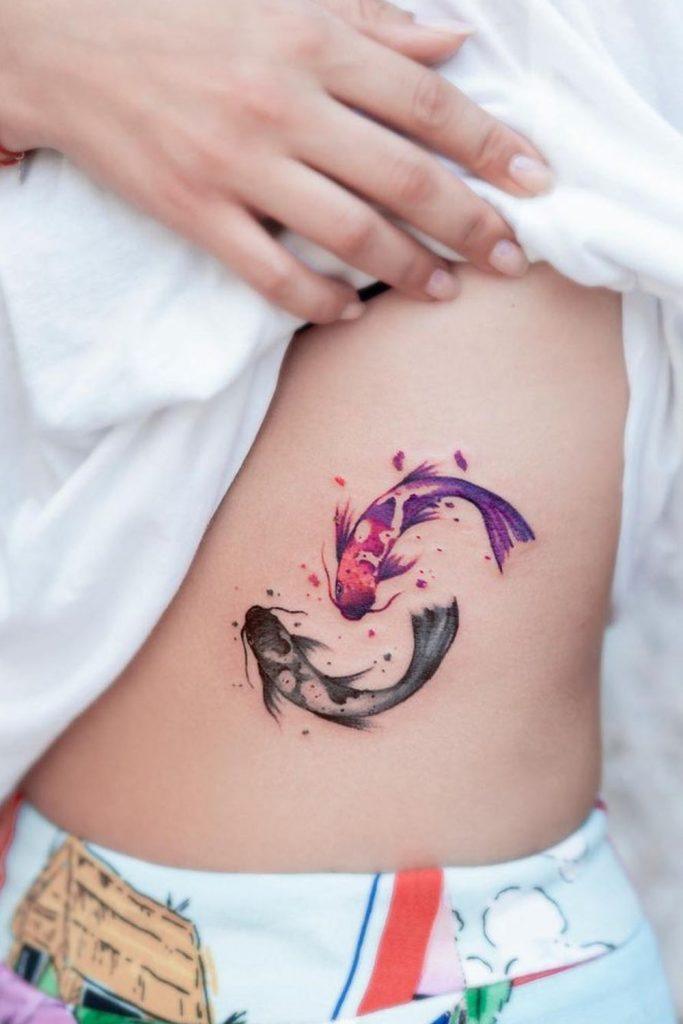 Credit photo: instagram.com/koray_karagozler
Koi fish belongs to the category of meaningful tattoo ideas that are growing in popularity at the moment. The strength and bravery that the notion represents will come to the taste of the pickiest wearer. However, you need to make sure that your fish are facing up rather than down.
Tattoo of the Moon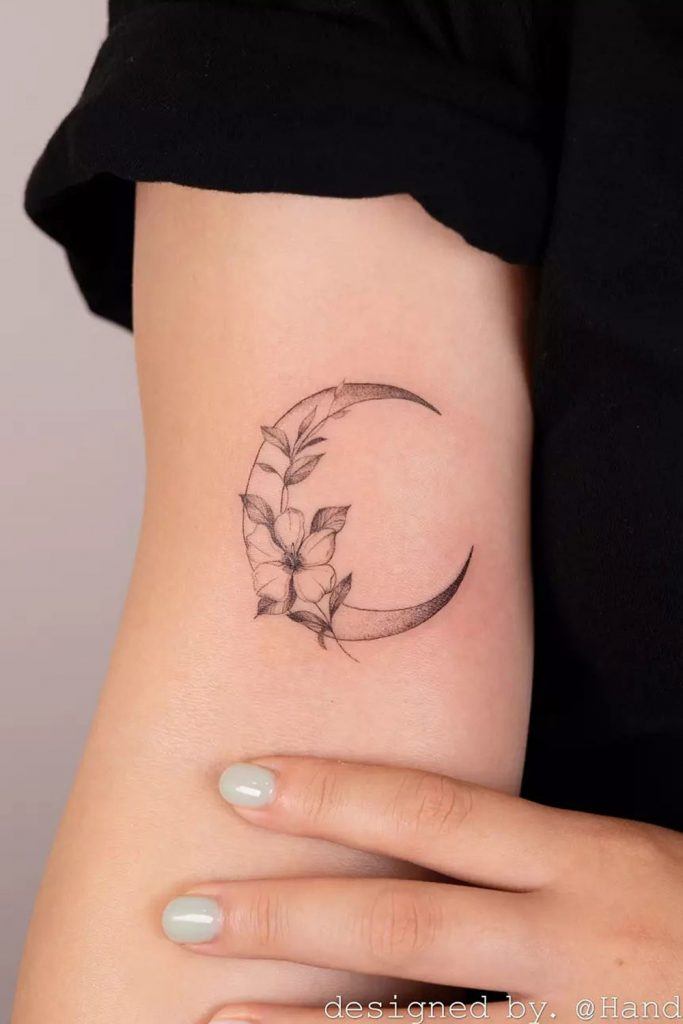 Credit photo: instagram.com/handitrip
Among countless tattoo ideas for girls, the moon takes one of the leading positions. If you think about it – there is no wonder why. The symbol of life and mystery can conquer the most curious mind. What is more, there are so many fabulous ideas to pull off!
First Tattoo – How to Prepare?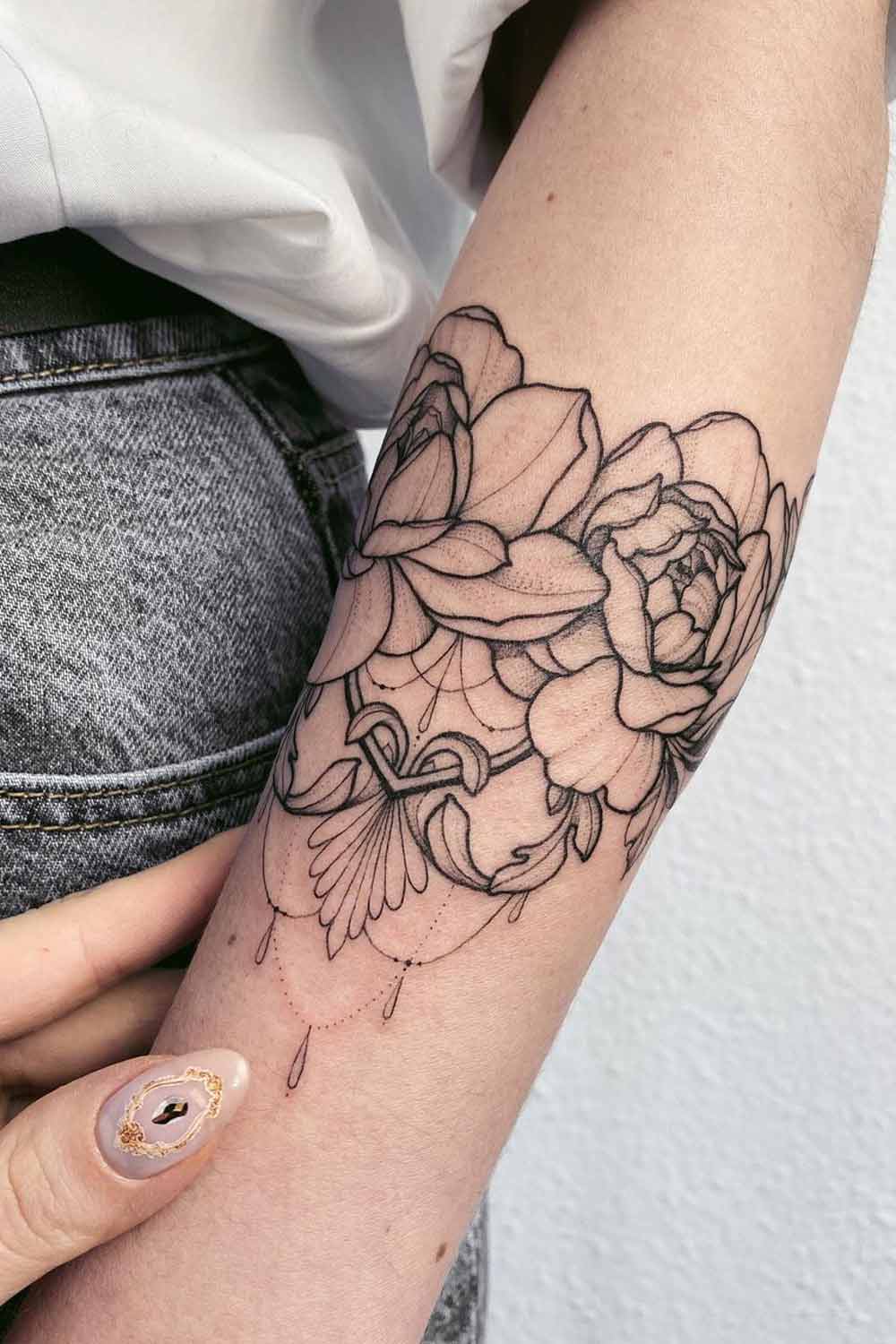 Credit photo: instagram.com/veronicalilu
Getting a tattoo is a task you must approach with full responsibility. It is not enough to browse through the first time tattoo ideas and choose your favorite design. You have to figure out how to prepare yourself for the tattoo process. There is a list of dos and don'ts that you may want to evaluate, and we will share it with you.
What to do before Tattoo Ink Session
It's a common assumption that the primary responsibility for the tattoo session's outcome lies on the artist. Yet, many factors depend on you. So, what to do before getting a tattoo? Make sure that you cover all the points disclosed below:
Sleep well. As overwhelming and exciting as the upcoming session may be, you shouldn't stay up late. It is recommended that you visit the salon fully rested and ready for the session. If you feel tired and sleepy, your state may have a directly negative impact on the session's lengthiness and the outcome. Besides, if you are not fully rested, you may be twice as susceptible to pain. Moreover, when you fall asleep in the chair, you will send the artist confusing signals, which is not a good thing during such an important process.
Keep your body hydrated. You are well aware of how to get a tattoo since you may have done it before or watched others get it. Despite your familiarity with the process, one thing that could have escaped your attention is how hydrated and dehydrated skin reacts to ink. Well-hydrated skin absorbs the ink a lot better than dehydrated. Thus, you should ensure unlimited water consumption 24 hours before the sesh. What is more, keeping a bottle of water next to you throughout the session and sticking to the routine afterward will help your skin heal better.
Shave. It is impossible to tattoo an area with a lot of hair covering it. That is why you should do the honors and shave the area before you head to the salon. However, if you have little experience in the field and worry that you may cut yourself in the process, you should let your tattoo artist know so that they shave the area for you. Should you be open up for a waxing session, you need to schedule it a few days before the tattoo appointment so that your skin has a chance to heal well.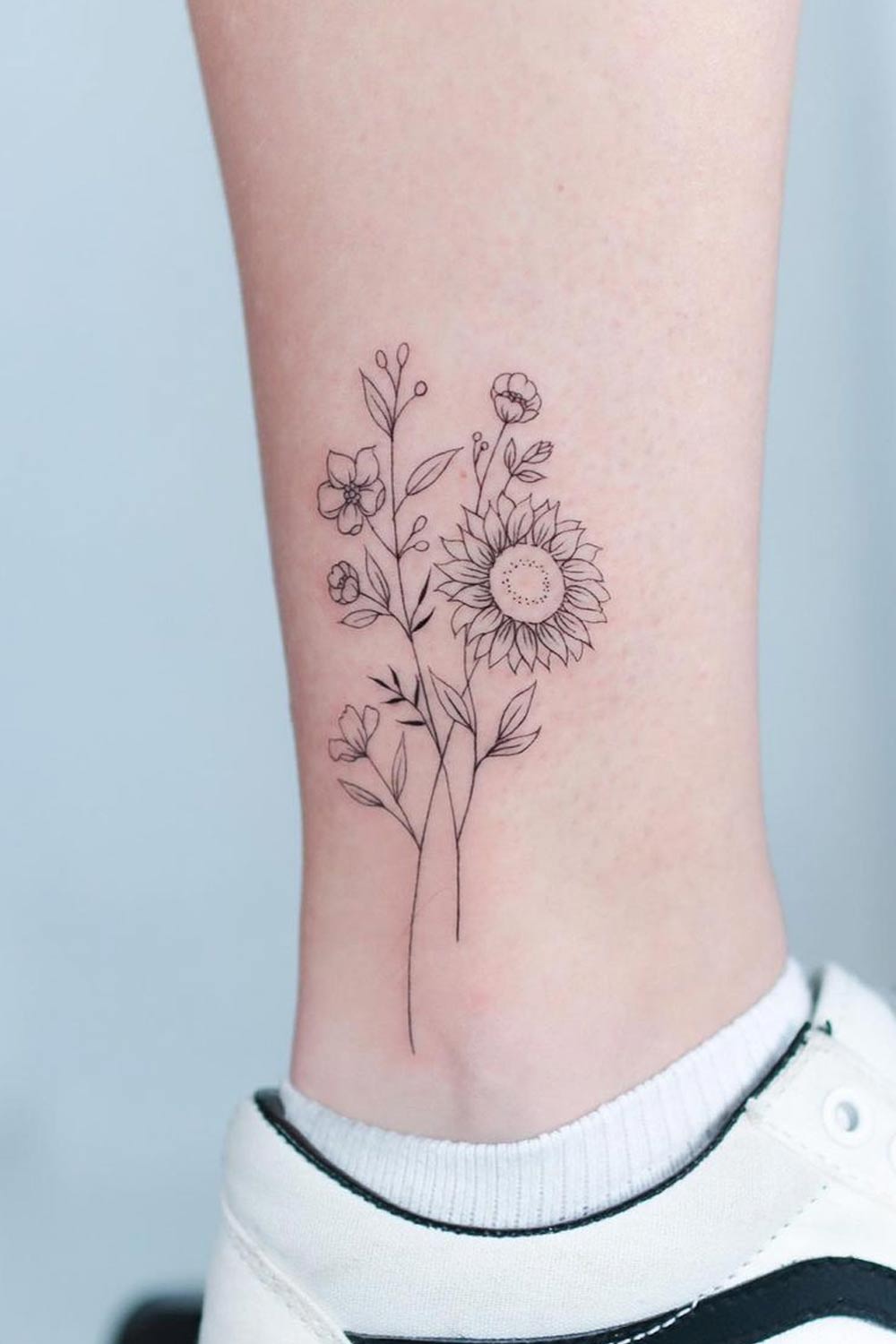 Credit photo: instagram.com/firstjing
Take a shower. No matter how obvious the tip sounds, you'd be surprised how many people skip on it. The main reason we emphasize taking a shower before you head out to the salon is that the process will leave small cuts and opens on your skin, so it is crucial that your body is as clean as possible and has the tiniest chance of infection is ruled out.
Moisturize well. As we've mentioned, well-hydrated skin is key to a successful tattoo session and satisfactory outcome. Yet, aside from the inner hydration, you may also want to moisturize your skin from the outside. It helps to moisturize your skin twice a day a week before the session. However, skipping the step on the day of the appointment is critical since you don't want anything to get under your skin together with the ink and the needle.
Bring snacks. Going through the session with your stomach growling isn't the best approach especially if you are in for a lengthy session. That is why you should have a proper meal before the tattoo appointment and bring in some snacks to ensure you don't get hungry during the process.
Dress appropriately. No matter how much you like your complicated and fancy style, the tattoo parlor isn't the place to show off. You should dress so that you feel comfortable throughout the session. Thus, industry experts suggest that you don't wear anything restrictive and uncomfortable. Keep in mind the area that you will have tattooed, don't put on your fav skinny jeans while heading for a leg piece.
What You Shouldn't do Before Ink Session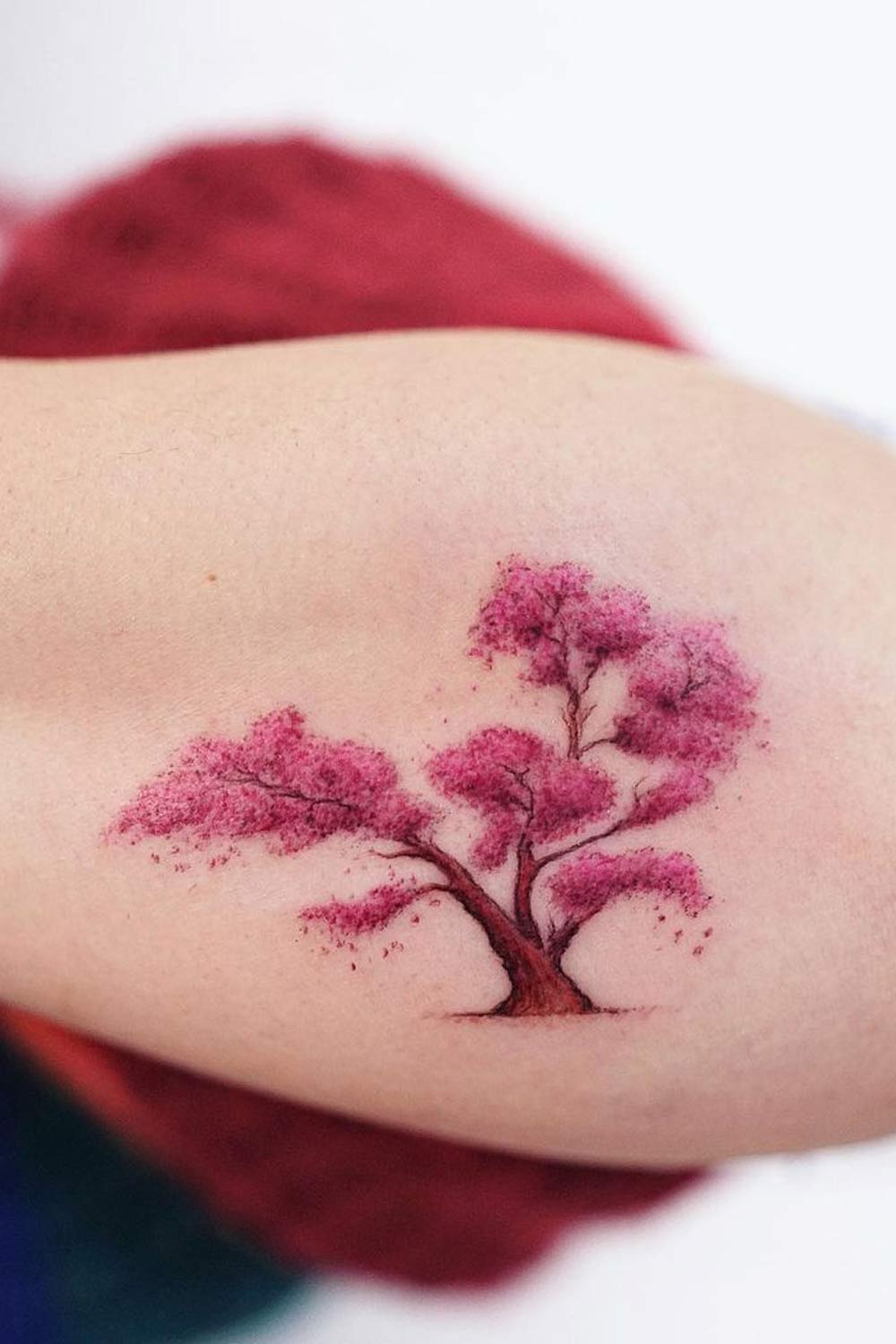 Credit photo: instagram.com/ayhankrdg
When you are starting to brood upon how to prepare for a tattoo session, you should keep in mind that there are things you shouldn't do before heading to the salon. Let's review the don'ts quickly.
Rule out intoxication. When we talk about beginner tattoos, it is pretty obvious to be a little scared of what is about to happen. Thus, some people choose to drink up to boost their courage and potentially dull the pain sensitivity. No matter how great an approach it sounds in your head, the field experts emphasize that you should show up fully sober for the appointment. Any type of drug or medication can have a potentially dangerous impact on your organism and affect the session's outcome. Stay clear of blood-things meds too.
Damaged tissue. Whether it is a small cut, burn, or fresh tan peeling off – you should reschedule your tattoo appointment. The main reason for that is that your tattoo won't heal well when your skin is already dealing with trauma. If you want your ink to look like it is supposed to, you will keep that in mind above all.
Exhausting exercise. Heading to the gym before your tattoo session is okay as long as you don't try to outdo yourself. Anything that will make you feel extra sore should be discarded. If you neglect the advice and opt for a difficult workout, your muscles will ensure that your healing process is extra painful.
Touch your tattoo. No matter how tempting it is to poke, stroke, and touch your fresh ink or the tools used in the process – don't! All the instruments used are most likely sterilized to eliminate any chance of infection and related complications, and you don't want to change that. Touching the tools or the fresh would with your fingers may transfer all sorts of infections, which is not the outcome you count on.
Cancel. Force-Majeure happens, and there is little we can do about them. However, if you can't prevent that – try not to cancel your session at the last minute. If you value your relationship with the artist, you will try to warn them in advance, at least.
During Your Tattoo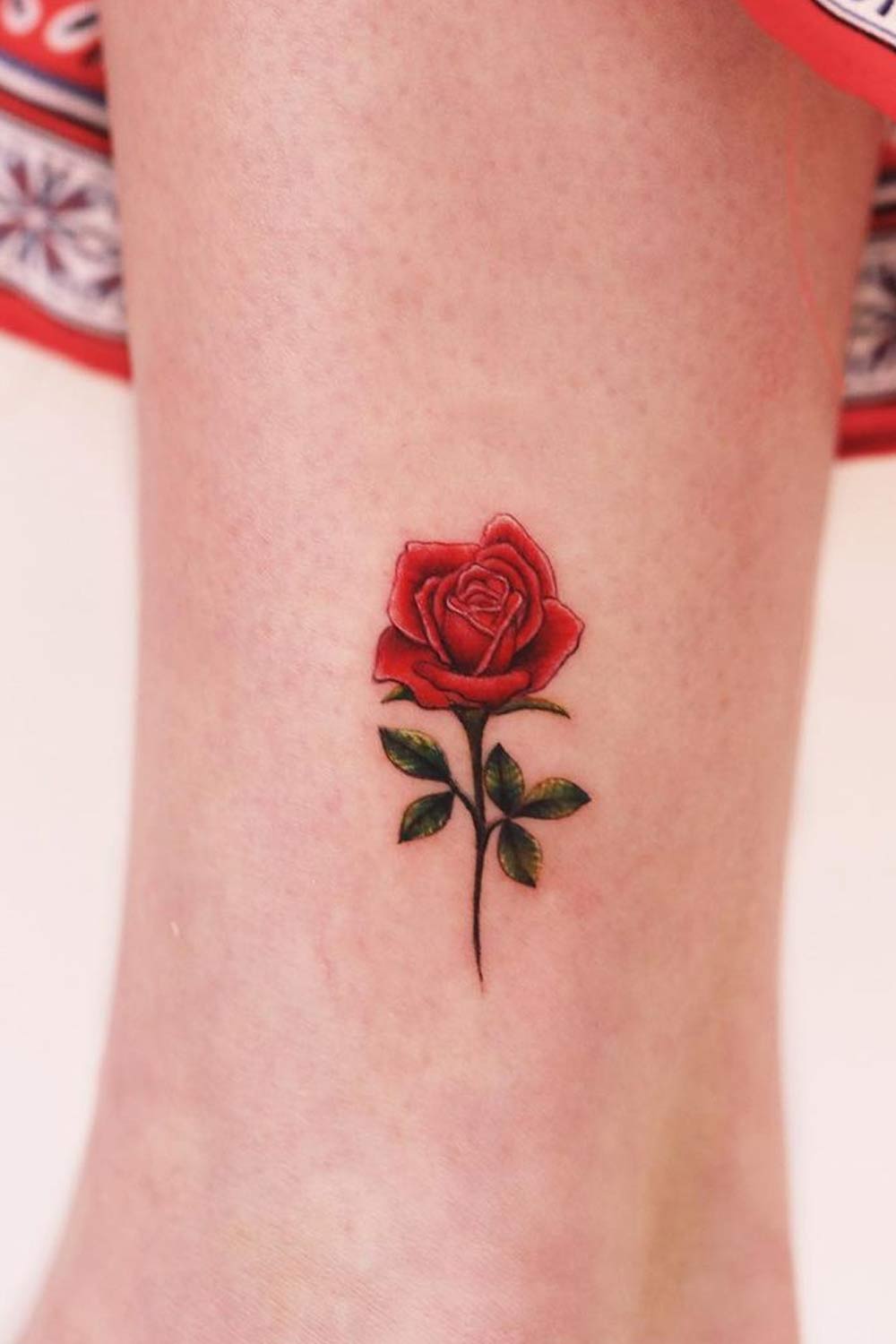 Credit photo: instagram.com/ayhankrdg
After you are through with your first tattoo ideas and book the appointment, do all the preps and rule out all of the donts, you need to figure out how to behave during the session. There are a few points to consider.
Bring in entertainments. The best tattoos take the longest to be completed. Thus, the chances are that you will spend more than a couple of hours at the salon. So, you can bring any sort of entertainment that will take you through the session. Find an interesting podcast, download a movie, or a book. However, make sure that your entertainment activity does not make your body move so that the ink session isn't disrupted.
Bring a friend. If you feel you need some emotional support during the session, you can ask a friend or a family member to join in. However, it is best not to bring too many people with you, and you should leave the kids at home.
Ask questions. Some artists like to concentrate fully on their work, which is understandable. Nevertheless, if you feel something isn't right, you shouldn't be reluctant to ask questions. What is more, a detailed interview with the tattoo master before you get inked is a great option too. You have to choose the artists who know what they are doing, and anyone reluctant to answer some of your questions should be discarded for safety reasons.
How to Take Care of Your Tattoo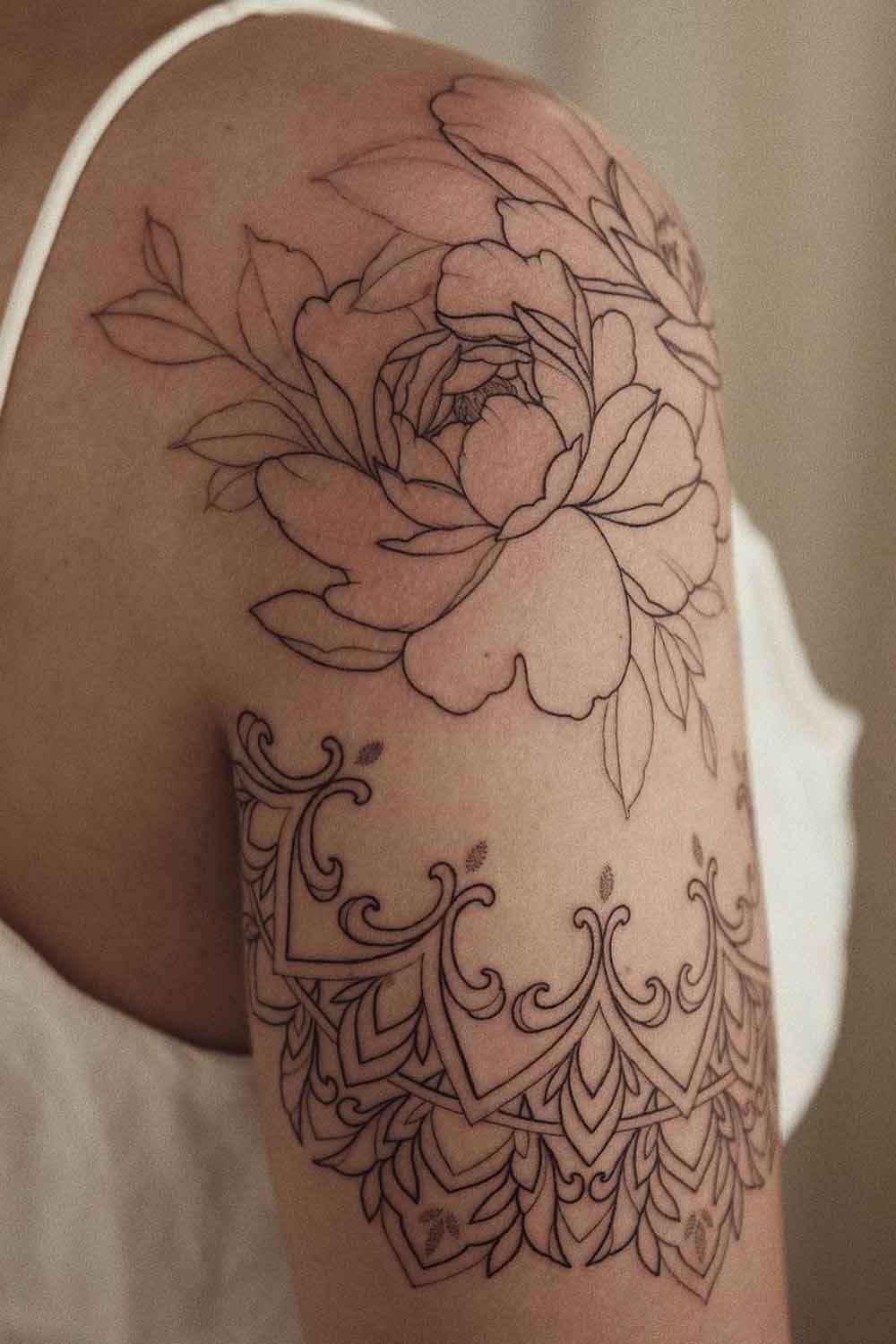 Credit photo: Instagram.com/veronicalilu
You may want to head home and enjoy your new tat when you are through with the ink session. Yet, the process isn't over until your tattoo is fully healed. A dedicated tattoo aftercare routine is what you should imply for. Let's discuss some of the most common tattoo care tips to help you deal with the situation properly.
Day 1. If it is your first tattoo, you may not know that the tattoo healing process depends on its intricacy in the first place. However, the better the aftercare process, the sooner it will heal. To start with, you should follow the tattoo aftercare instructions strictly. If your artist told you to keep the plastic wrap on the tattoo for a precise amount of time, you shouldn't take it off neither sooner nor later. Usually, it depends on the size of the tattoo. When you take the cover off, you will see your ink oozing some plasma, blood, and ink leftovers – that is okay. You should wash the oozing off using aroma-free soap and lukewarm water. Apply some tattoo ointment or suggested moisturizer. No rubbing or scratching is allowed.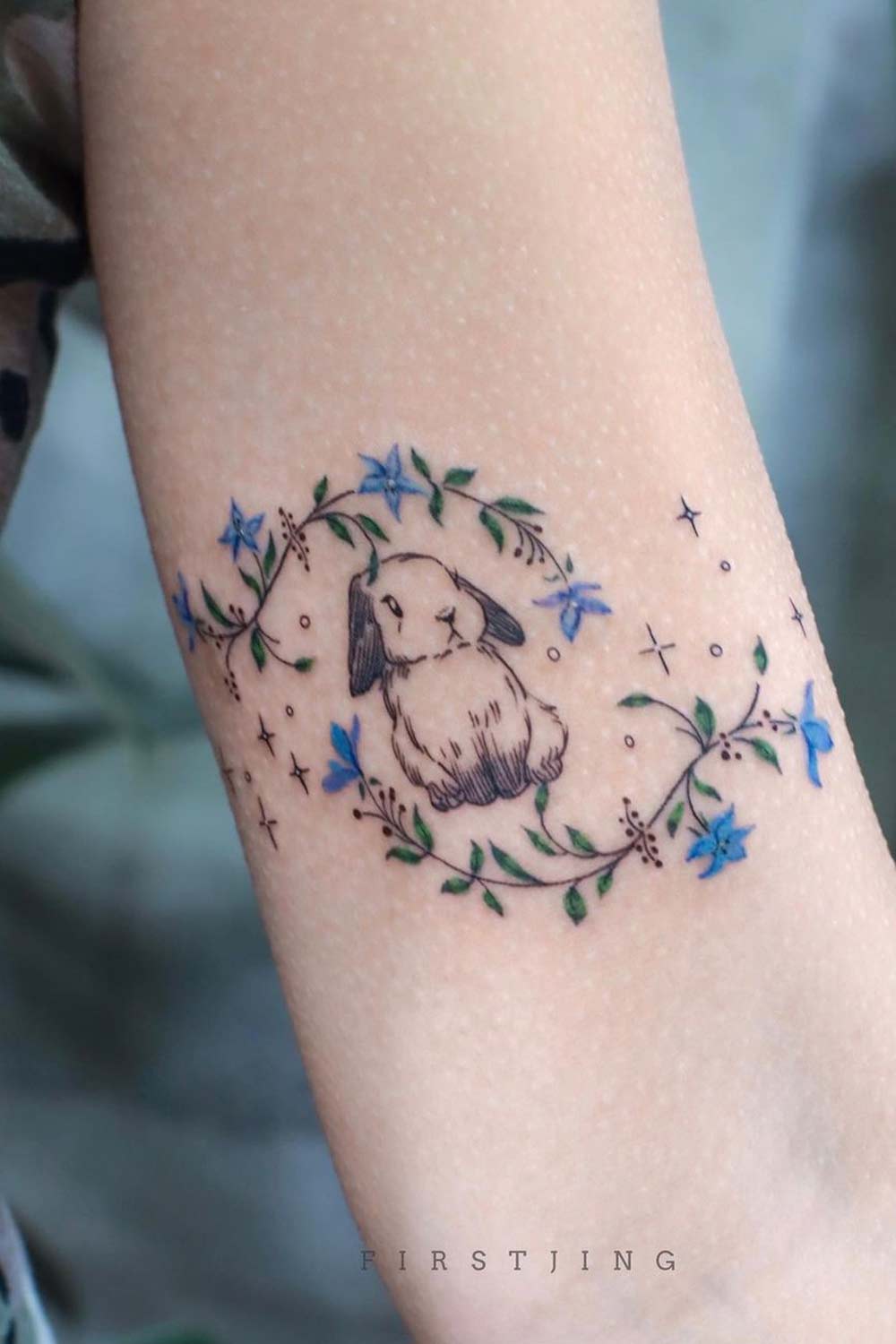 Credit photo: instagram.com/firstjing
Day 2-3. When you learn how to take care of a tattoo on a daily basis, you will realize that there is nothing complicated about it if you stick to the basic rules. A few days in the healing, your design will start looking a little duller, and scabs will begin to form. It is vital that you don't pick your healing tattoo and wash it 1-2 times a day. Apply alcohol-free moisturizer every time you carry out the procedure. If there is any excess ink pouring out, there is nothing to worry about – it is natural.
Day 4-6. The further you get with your new tattoo care, the easier it will become. The scabs will be more visible and tempting to pick, but unless you want to ruin your tattoo with scars, you will resist the temptation. Keep washing and moisturizing your ink at least 2 times a day.
Day 6-14. If your day by day tattoo healing process goes as planned, those annoying scabs will start to flake off starting with day 6. The area will begin to itch, and the only way to deal with that is to apply your moisturizer a few times a day. However, if your tattoo looks swollen and red by day 6, you should see your artist or a doctor for consultation.
Day 15-30. The second week into the healing will be a lot more enjoyable since most of the itching sensations will pass as the top layers of your skin heal. Yet, the tattoo won't look as bright as you are hoping it to until the lower layers heal properly. It will take up to 3 months, depending on the size of the ink. However, the better is your hydration and moisturizing routines, the sooner your tattoo will look its ultimate best.
Popular Styles Of Tattoo
Here are some popular tattoo styles for your inspiration. See which style is true to you.
Watercolor Tattoo Style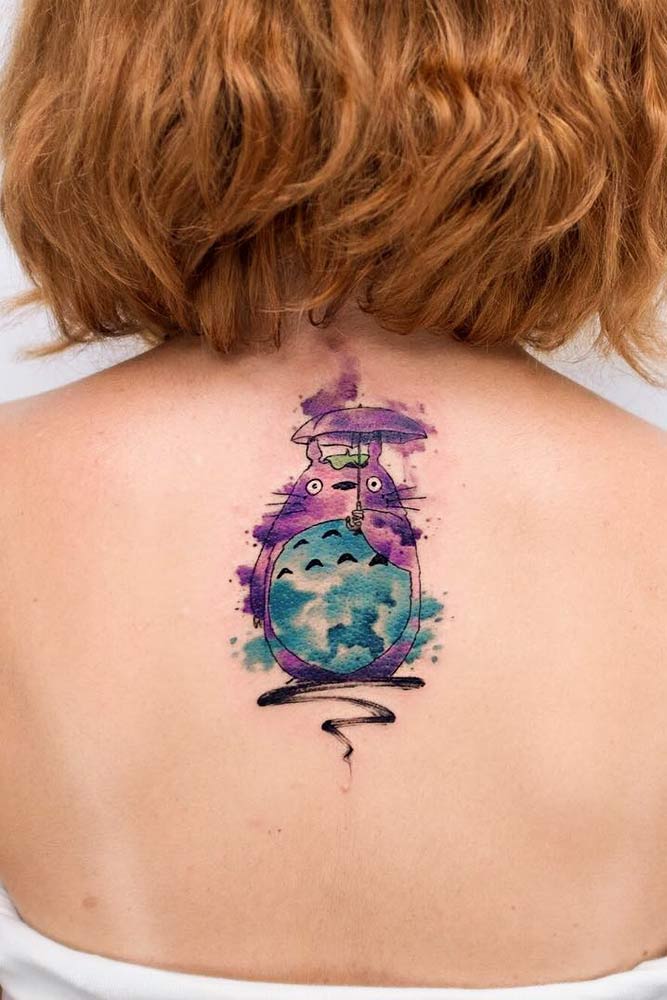 Credit photo: instagram.com/koray_karagozler
It is a nice idea for those who wish to rock a piece of art on their body. The style is named after the actual method of painting because it resembles its freeform and lack of straight lines. And yes, most of the designs in this style are as cute as this one.
New School Tattoo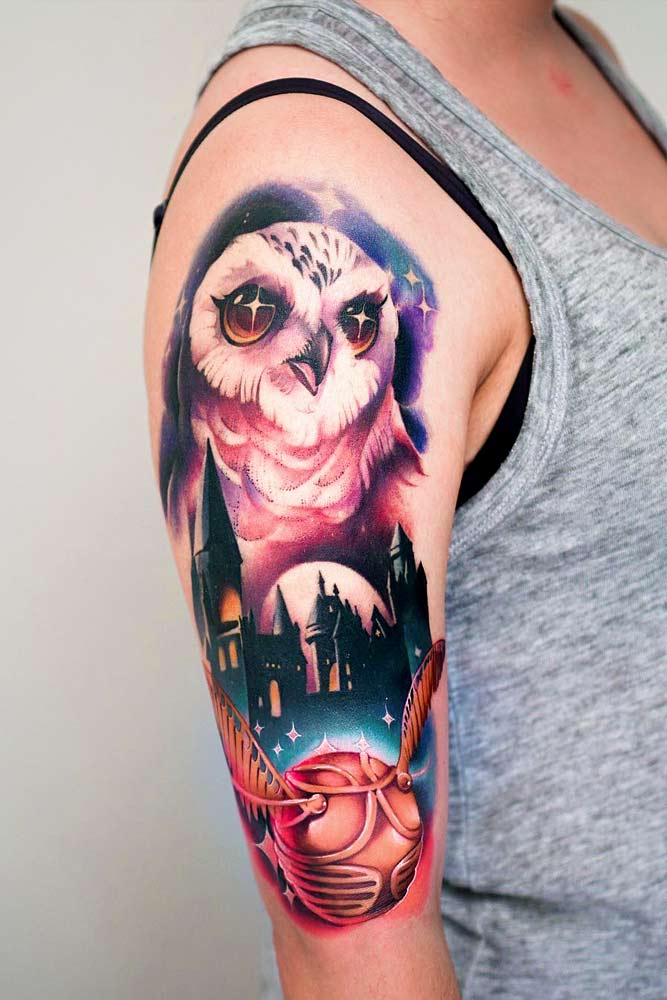 Credit photo: instagram.com/steven_compton
New school tattooing styles originated back in the 1970-s. Heavy outlines, exaggerated depictions, and vivid colors are peculiar to this style of body art. In this pic, the owl is much bigger than the castle, which is definitely an exaggeration.
American Traditional Tattoo Style
Credit photo: instagram.com/dannyderrick
The American traditional tattoo style is also referred to as the Western style. Dark and heavy strokes are often used in a traditional tattoo design. In this pic, the Western tattoo has a religious context.
Neo-Traditional Tattoo
Credit photo: instagram.com/_missfreya_
The neo-traditional tattoo style is a kind of the American traditional or the old school tattoo styles, but with the modern flair. These are cool tattoos with bold lines, realistic cartoons, and images. This idea may work great for Pokemon fans.
Outline Tattoo Style
Credit photo: instagram.com/ira_shmarinova
Outline tattoos are among the most popular tattoos. Such tattoo art is understated and simple yet exceptionally beautiful. If you wish your tattoo to be more about form and art, go for an outline tattoo. It's a great canvas for flowers like shown here.
Geometric Style Tattoo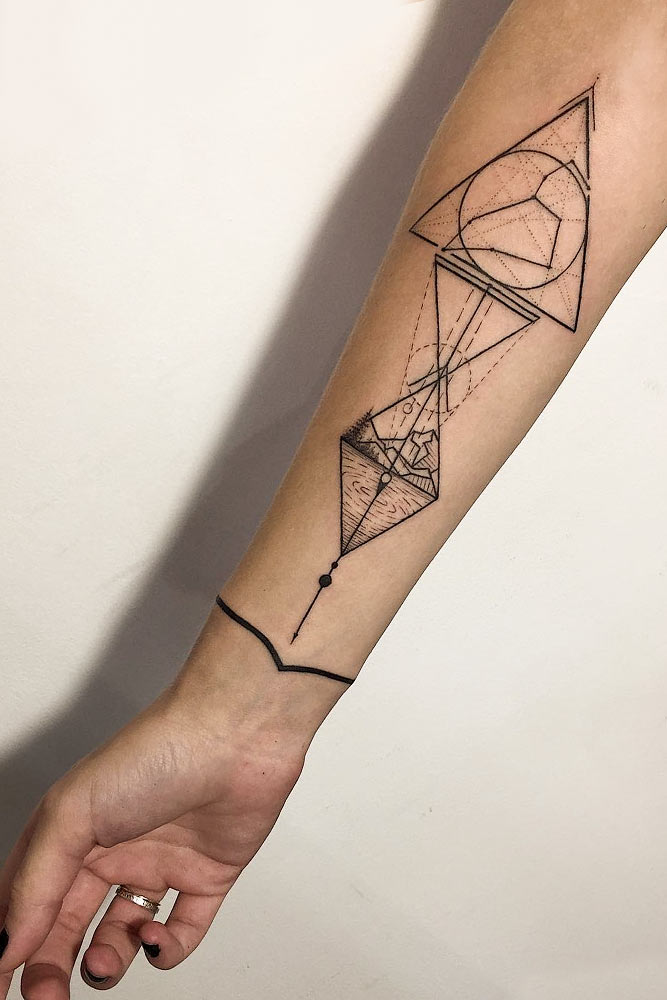 Credit photo: instagram.com/dasha_sumtattoo
Geometric tattoos are among the most meaningful tattoo ideas. It's because one can convey so much via geometric figures and symbols. In this pic, the impact of the space objects on the tides is shown.
Ornamental Tattoo Style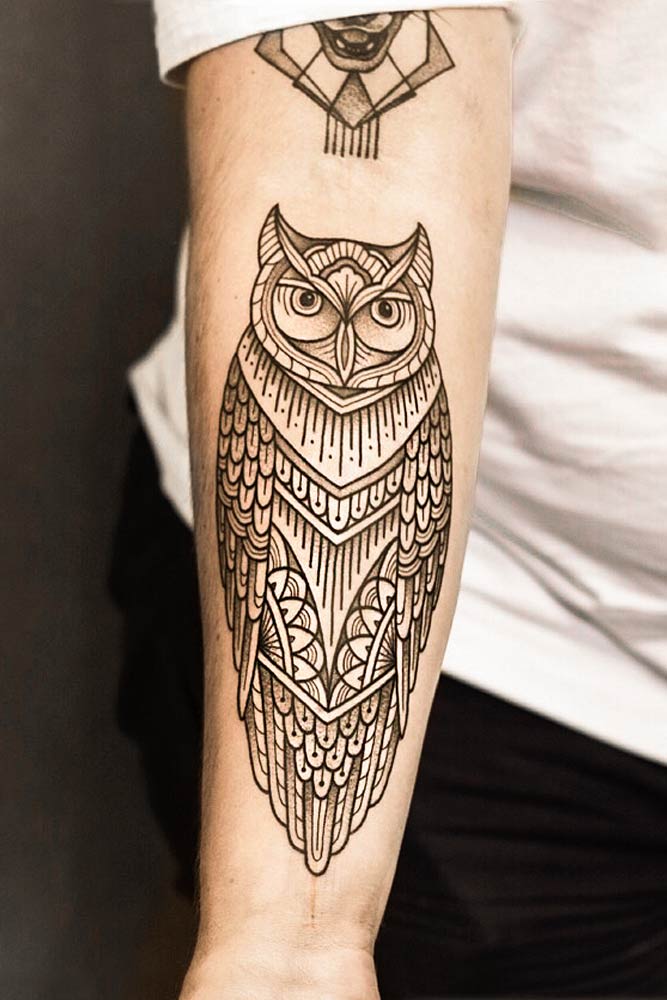 Credit photo: instagram.com/kottattoo.studio
In case you are looking for unique tattoo ideas, go for an ornamental tattoo. Such tattoos tend to be done with black ink. The owl pictured here represents wisdom and intelligence.
Mandala Tattoos
Credit photo: instagram.com/helen_hitori
If you wish to choose a tattoo that will cover a large area on your body, here is an amazing suggestion for you. As shown in this pic, Mandala tattoos have the shape of a circle or semi-circle.
Realistic Tattoo Style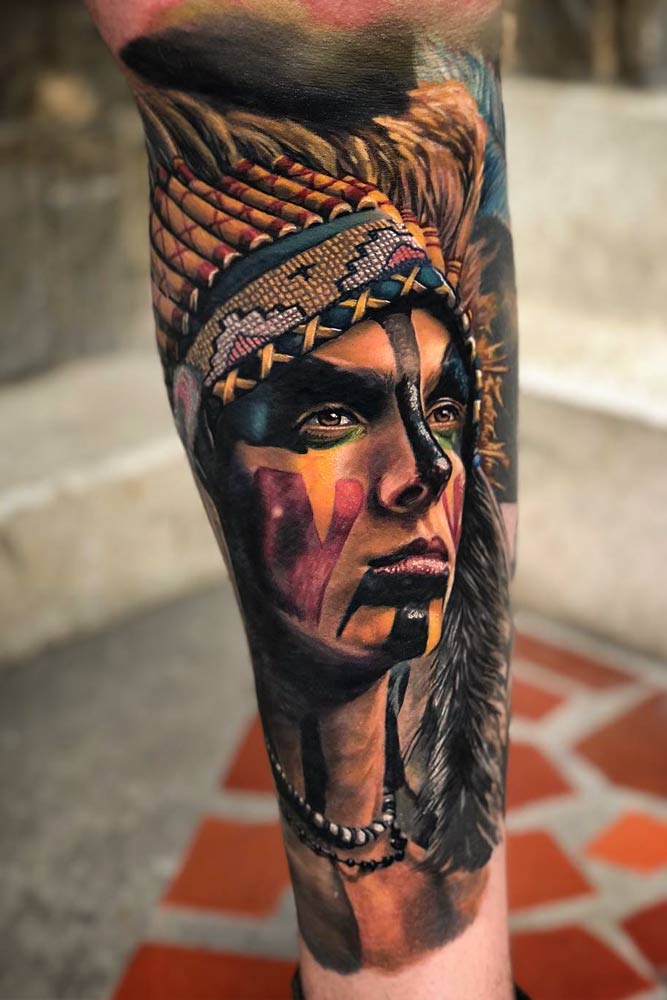 Credit photo: instagram.com/allenbrunn
This tattoo design looks hyper-realistic, as if this American Indian man is living in the skin! And of course, in case you wish to get a design like this, we would recommend that you find an experienced tattoo artist.
Blackwork Tattoo Design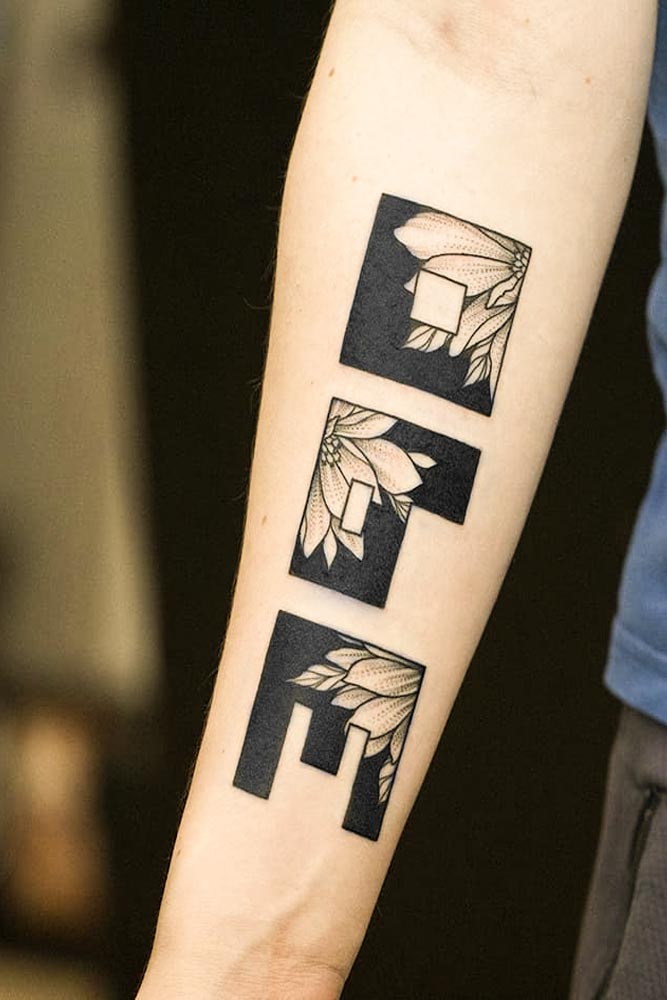 Credit photo: instagram.com/matildatattoo
The Blackwork tattoo style involves simple tattoos that occupy much space on a person's body and that are done with black ink. Not any black tattoo is Blackwork. But, for example, a large black square could be called Blackwork.
Japanese Tattoo Style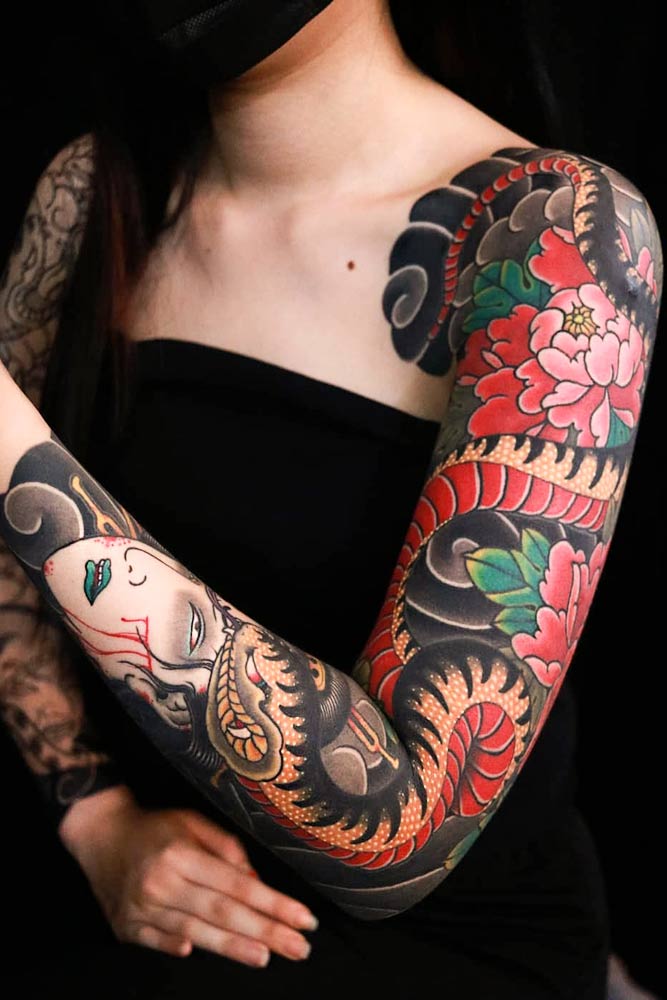 Credit photo: instagram.com/horikaka
This full sleeve tattoo with flowers and a dragon in a Japanese style is super daring. Japanese tattoos tend to occupy large areas on a person's body, and they often have spiritual meanings.
Dotwork Tattoo Style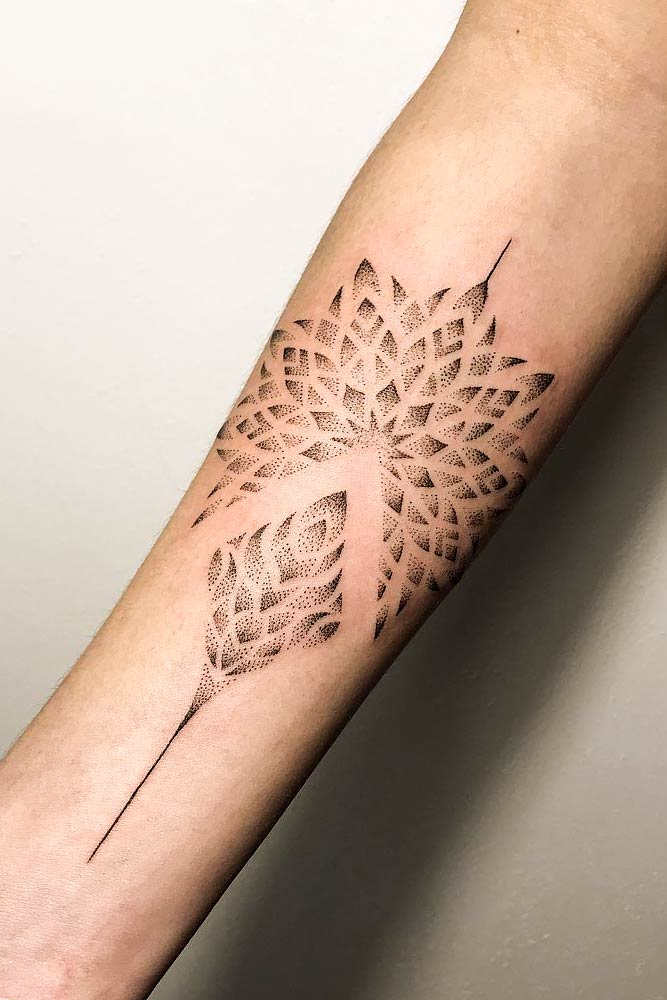 Credit photo: instagram.com/dasha_sumtattoo
Dotwork tattoos are intricate because they consist of a huge number of dots. You can imagine how much time it will take to get one. But it will definitely worth it! Look at this pic, this tattoo is practically 3-Dimensional.
Minimalist Tattoo Style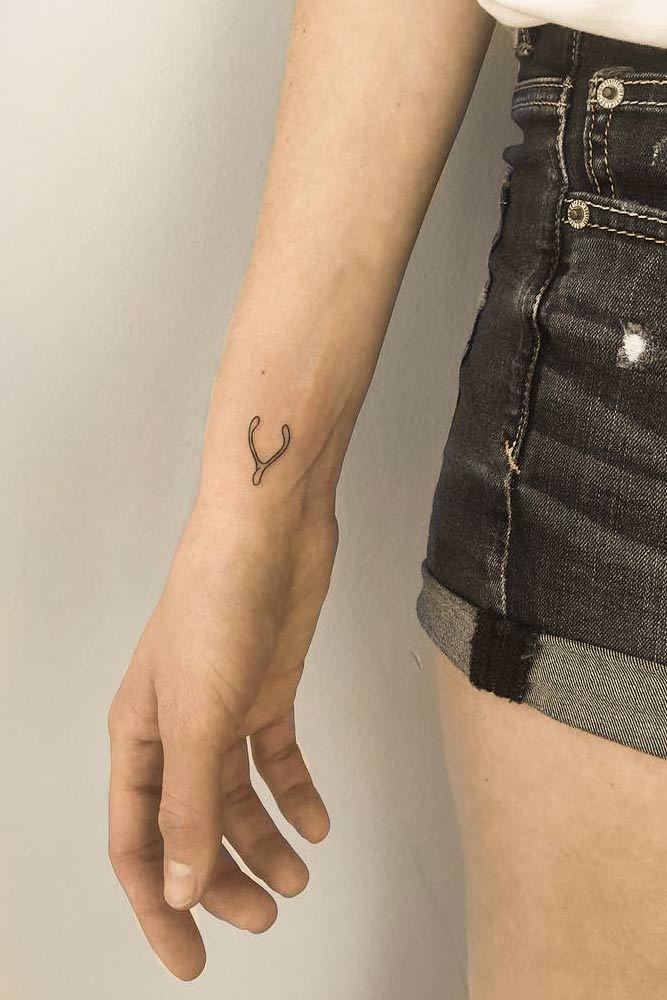 Credit photo: instagram.com/joannamroman
Minimalist tattoos come in a variety of sizes and shapes. But oftentimes, such tattoos involve angular shapes, crisp lines, and meager color palettes. The wrist tattoo design pictured here is barely visible.
We are sure that you like all tattoo ideas for girls that we share here. Don't forget to save them for later. And discover more ideas on our blog.
Do you have a tatoo?
Anonymous quiz
Yes, I have!
No, but I want to make some
No, I would never do that
Do you have a tatoo?
No, but I want to make some
17.24
No, I would never do that
6.90
Voted : 29
Celebrities With Tattoo
Angelina Jolie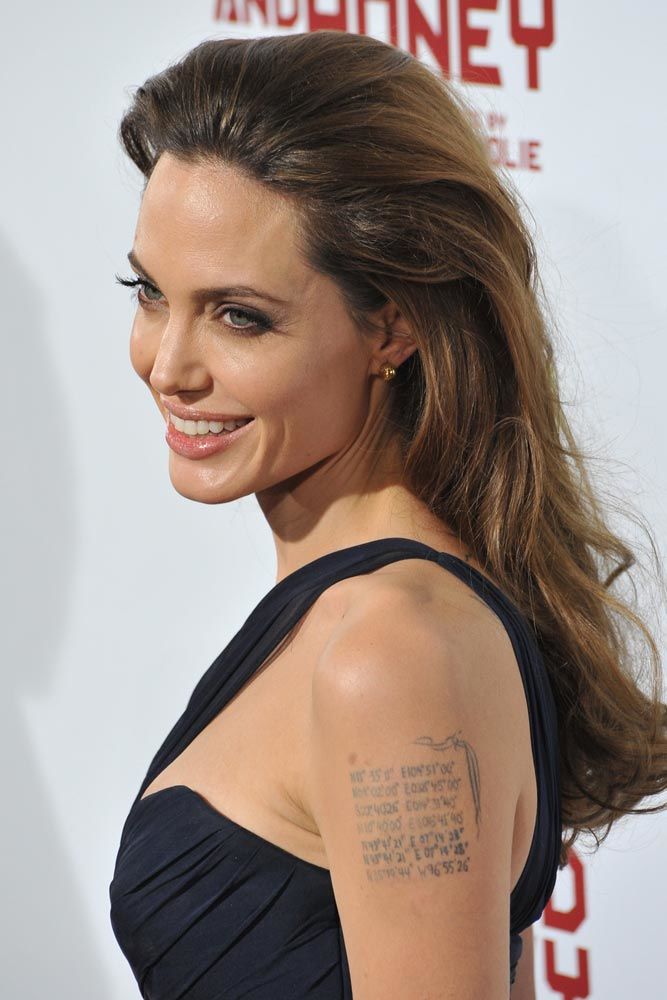 Credit photo: Jaguar PS/Shuttershock
Angelina Jolie is a beautiful example of how women with tattoos can look super feminine no matter what occasion. She has so many of them, and each is a definition of her own personality and style. Most of them carry a personal meaning as she has stated and we believe that. Tattoos that carry a special message will never make you tired of them on your body, and Angie proves that.
Sabina Kelly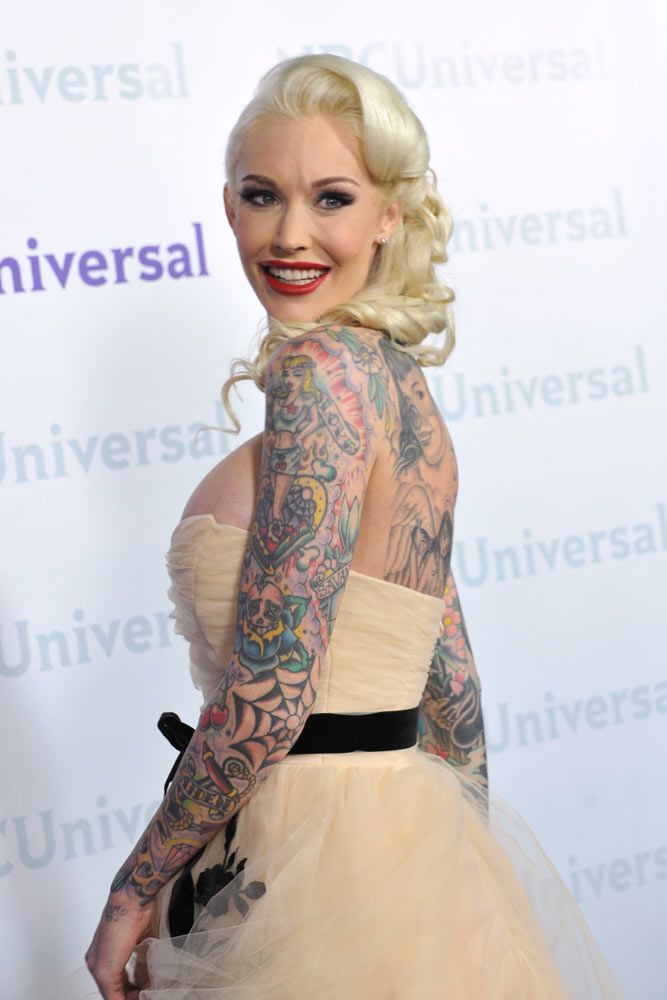 Credit photo: Jaguar PS/Shutterstock
Wow! Sabrina Kelly and her unforgettable tattoo look amazing together! A full sleeve with colorful tattoos can change the appearance of the person so much adding a bit of spice to it. Have a look at our celebrity! She is confidently rocking it and shines brighter than anybody with her colorful images.
Kristin Bauer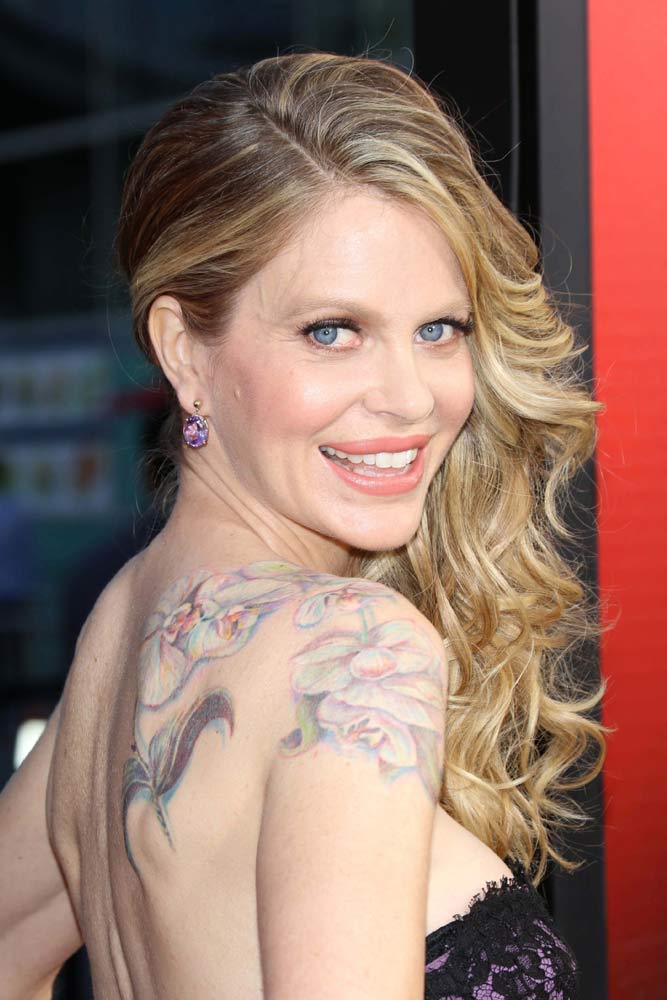 Credit photo: s_bukley/Shutterstock
Such tender and beautiful tattoos will forever be classic in the industry. Even celebrities as Kirstin Bauer are obsessed with a cute and tender flower tattoo. Using light colors, thin lines, and a special watercolor technique, she got herself a true definition of beauty on her skin.
Laura Wright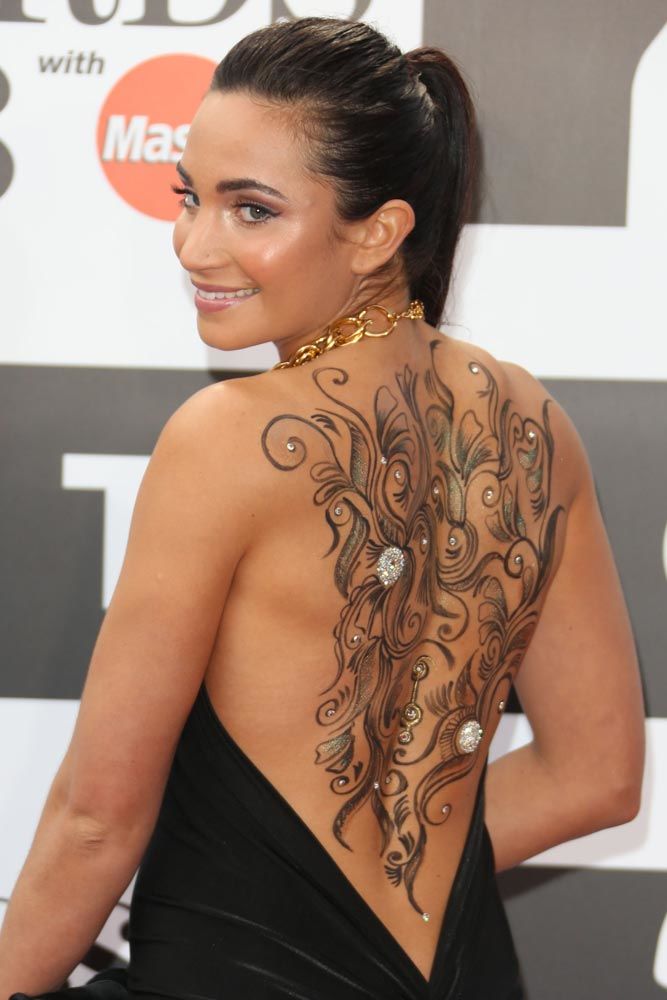 Credit photo: Featureflash Photo Agency/Shutterstock
We love a beautiful ornamental tattoo, and it seems like Laura Wright loves it too! Just look at her back that is inked with a huge tattoo like that. It looks super creative, fresh and outstanding as we don`t see celebrities with such art pieces on their skin often.
Megan Fox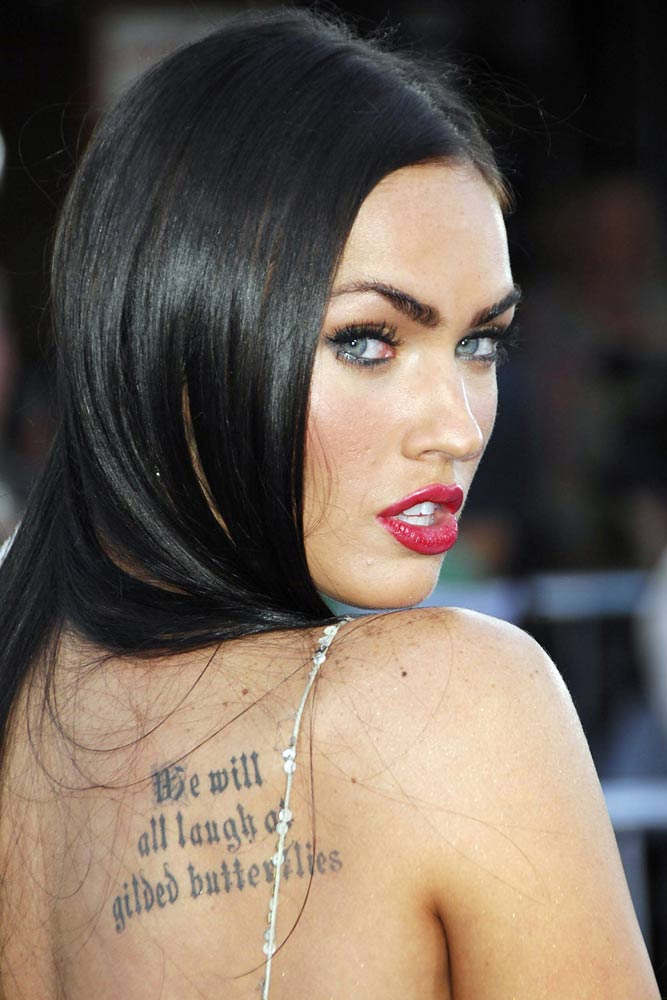 Credit photo: Everett Collection/Shutterstock
A popular tattoo with lettering is a very popular choice among people all over the planet, and there`s nothing strange about it. Simplicity and meaning are there without anything to uncover. Megan Fox prefers them too. A beautifully scripted phrase looks so essential on her body that we can`t imagine her without it.
Rihanna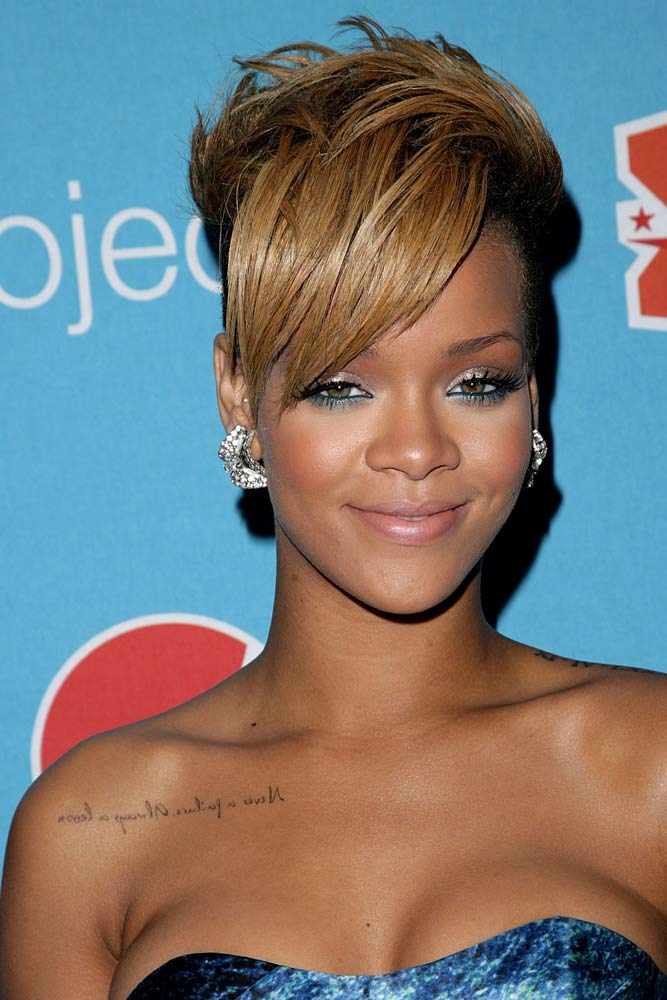 Credit photo: Everett Collection/Shutterstock
Guess who is also a fan of lettering tats? Rihanna herself! She adores thin lines, and carefully written words look stunning under her boney collarbone. It is such a small detailed tattoo, but it brings in so much style to her look.
Maitland Ward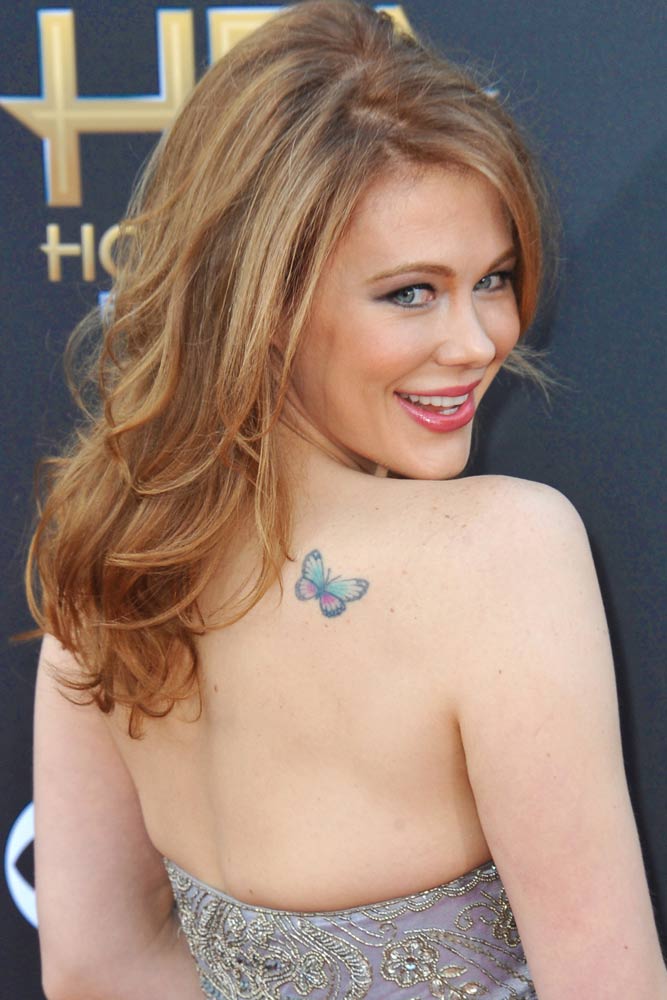 Credit photo: Jaguar PS/Shutterstock
What makes you hesitate about getting a butterfly tattoo? Easy, simple and unforgettable it will for sure leave a beautiful mark on your life. Look at Maitland Ward with her gorgeous tattoo and make a choice in its favor.
Lena Headey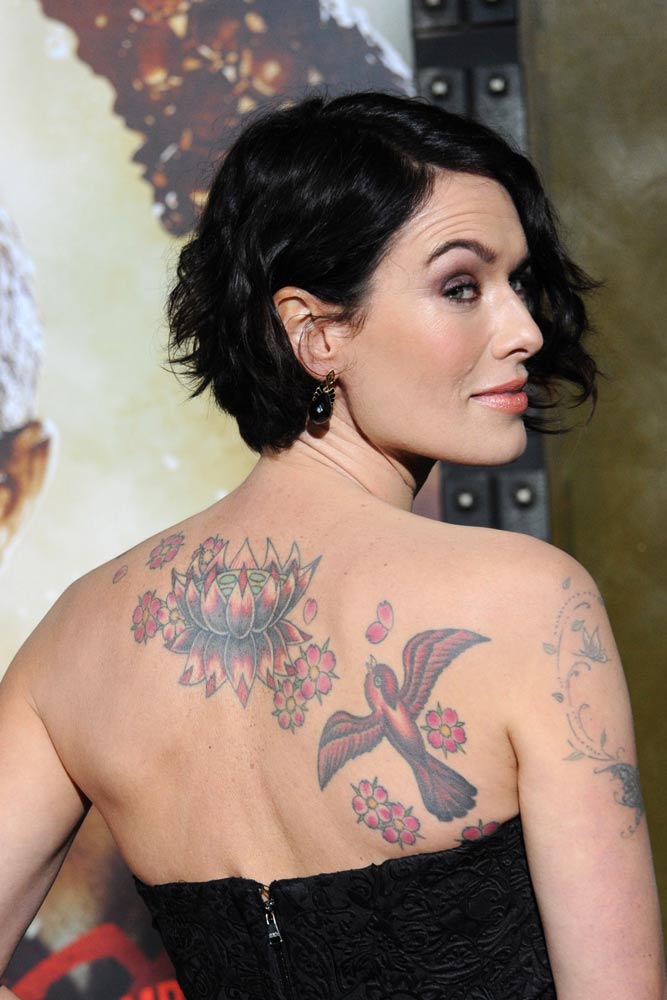 Credit photo: Featureflash Photo Agency/Shutterstock
Lena Headey`s lotus flower tattoo looks amazing on her! She brings so much definition and dimension to her appearance that it can`t be unnoticed. Such a simple but creative and colorful choice will make any place you choose for your flower pop.
Cher Lloyd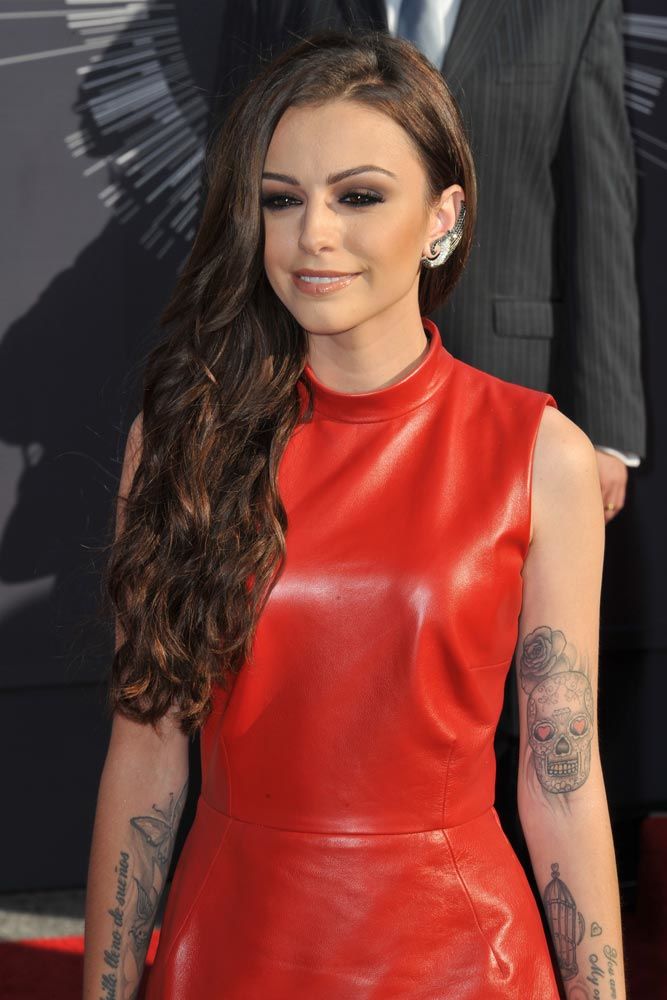 Credit photo: Featureflash Photo Agency/Shutterstock
Petite and charming Cher Lloyd is covered with tattoos, and we love that! Doesn`t that look amazing? Look at her skull tattoo on the left arm. Such a heavy sign decorated with feminine ornaments make it into her own style perfectly.
Ruby Rose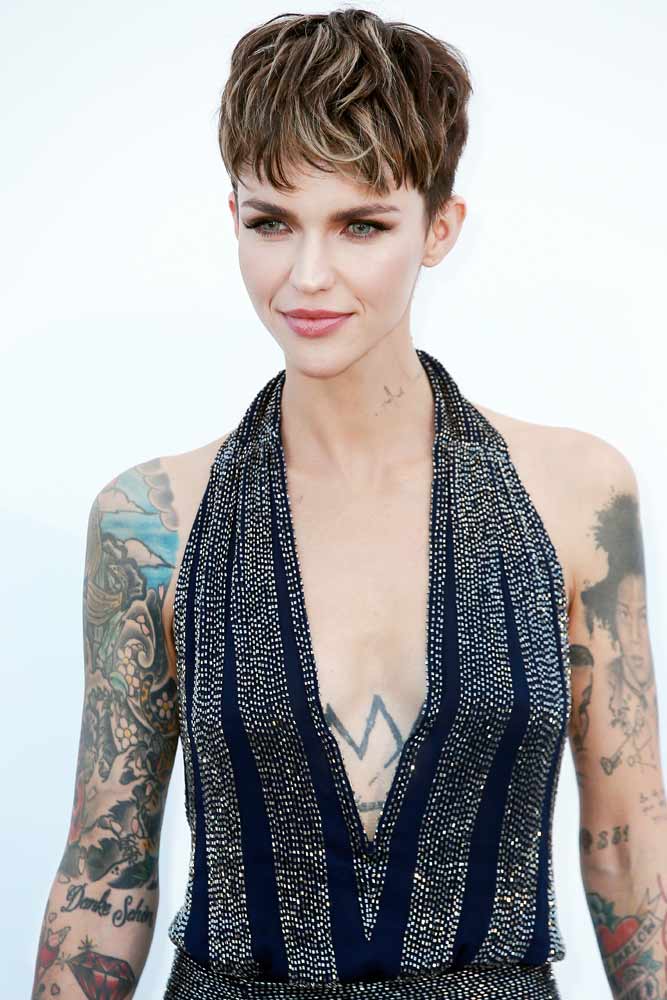 Credit photo: Andrea Raffin/Shutterstock
We think there are no people in the world who haven`t talked about Ruby Rose`s tattoos. Her beauty is undeniable, and the way she adds these colorful tattoos to it is the proof. Her full sleeve tattoo looks amazing so don`t listen to those who say it is a bad idea. We are sure it will look perfect on you too.
Creative Tattoo Ideas For Women
Minimalist Floral Bracelet For Wrist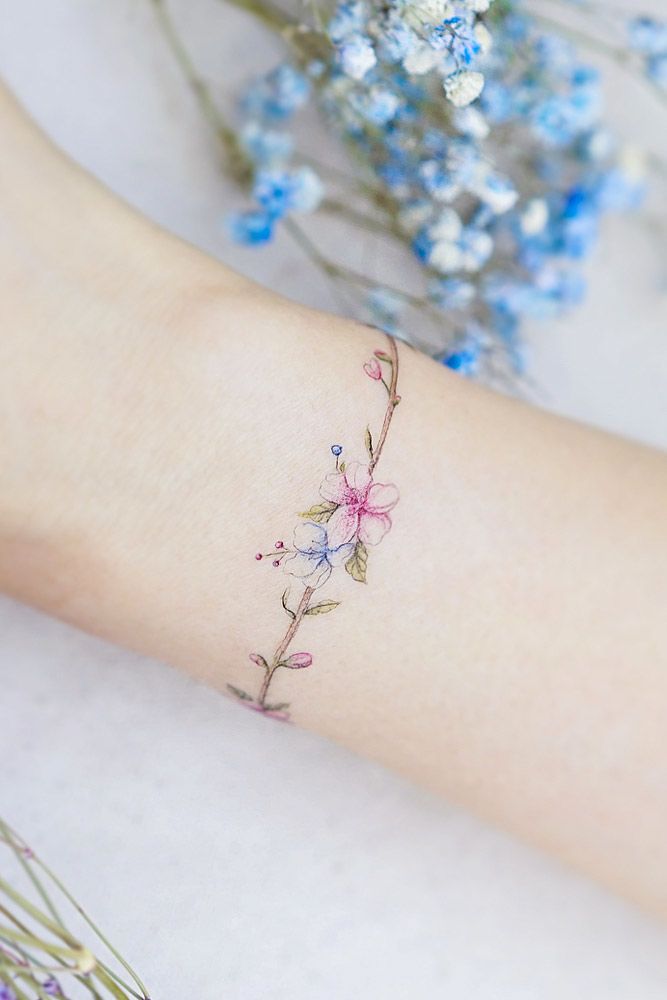 Credit photo: instagram.com/mini_tattooer
Among unique tattoo ideas, you will for sure find this tender flower bracelet. With thin lines, it looks absolutely stunning on the wrist.
Tiny Watercolor Flowers On Wrist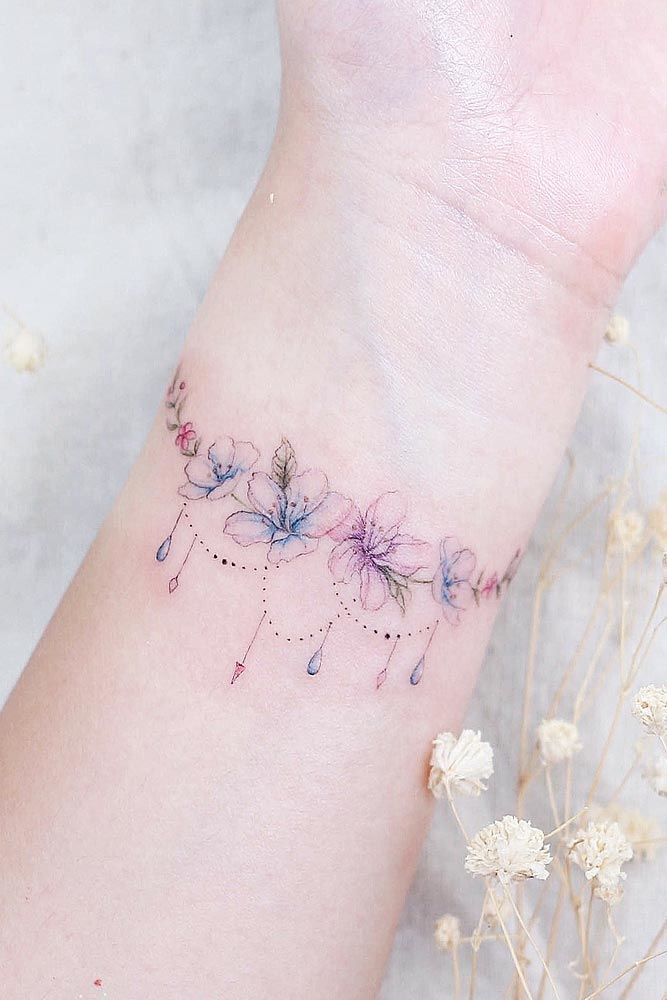 Credit photo: instagram.com/mini_tattooer
Another super cute flower option for the wrist that you can find in our tattoos ideas for girls. It is a great image for those who would love to have a tattoo but wouldn't want it to be too big and colorful.
Small Lotus Flower Tattoo Design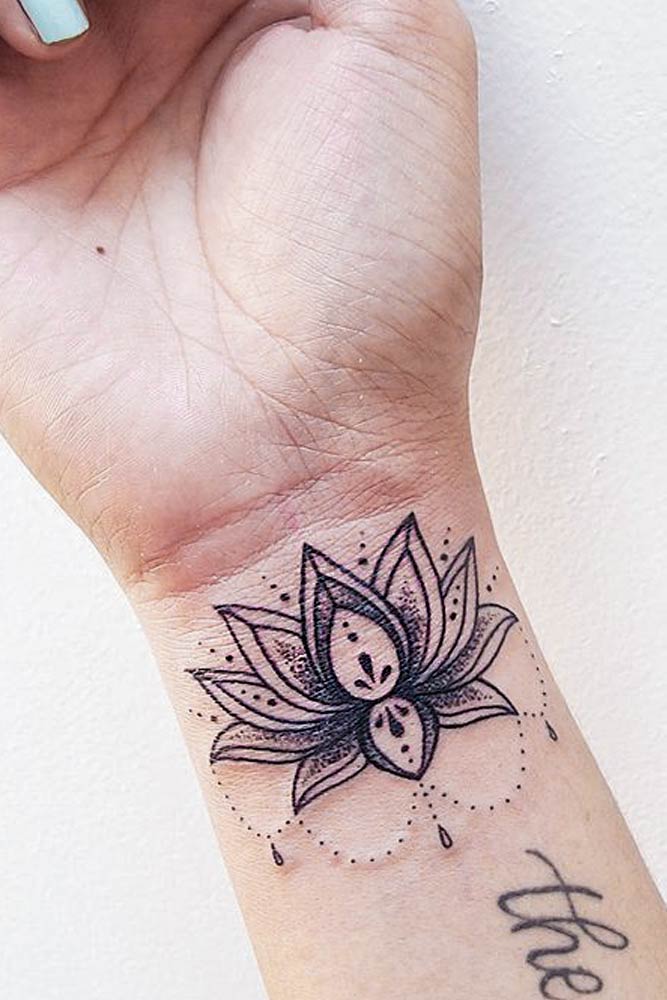 Credit photo: instagram.com/jessicachanner
It isn't a secret that a lotus tattoo has a lot behind it. That is why we think it is important to mention it in tattoo ideas with meaning.
Minimalist Lotus Flower Design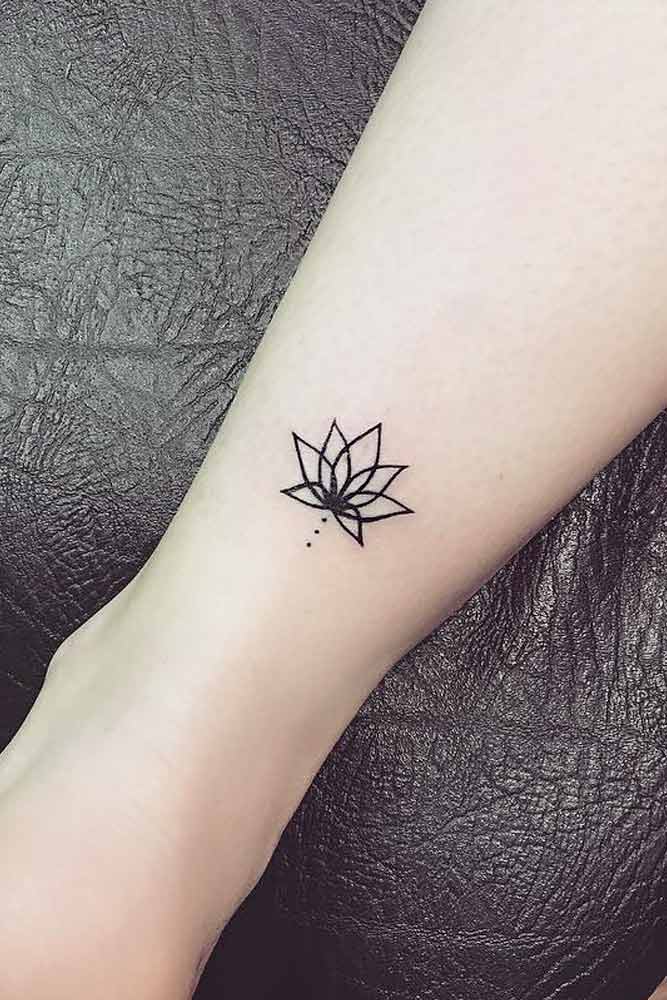 Credit photo: instagram.com/goodtattooclub
Simple tattoo ideas go so well together with small tattoo ideas. When combined together they can create a tiny tattoo that will mean a lot but look super simple.
Forearm Watercolor Lotus Flower Tattoo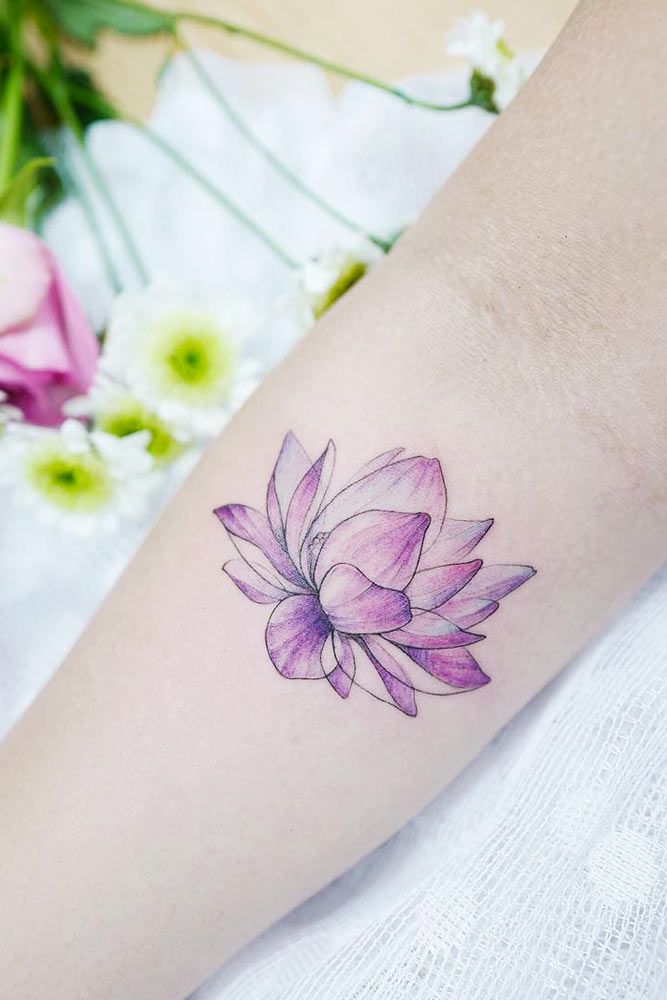 Credit photo: instagram.com/tattooist_banul
Watercolor is in the trends right now and we love how cute and tender this technique looks. Just imagine it in forearm tattoo ideas and look at the one we have prepared as an inspiration for you.
Small Lettering Tattoo For Wrist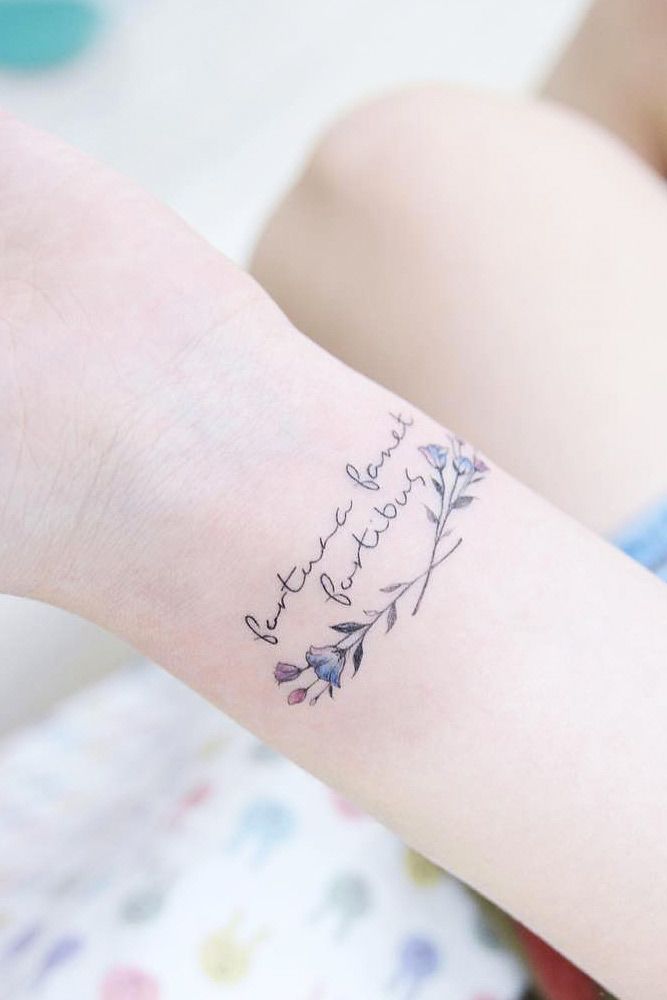 Credit photo: instagram.com/tattooist_banul
Small tattoo ideas for women should definitely include these tiny lettering tattoos for wrists. Combine it with a tender image and it is the best choice you can make.
Watercolor Dream Catcher Tattoo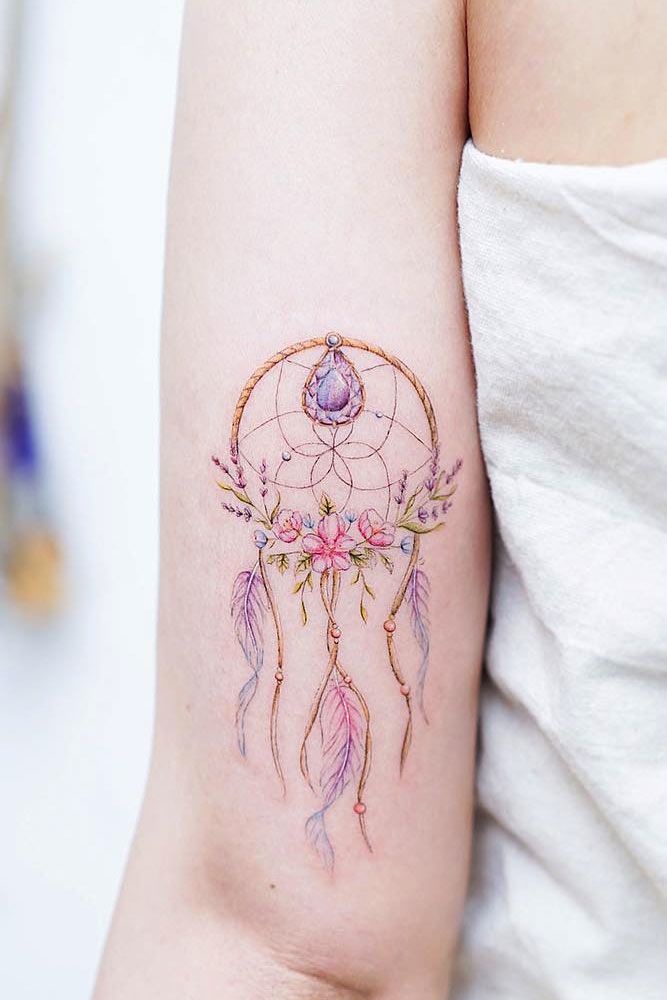 Credit photo: instagram.com/mini_tattooer
A dream catcher tattoo is a true classic that will never get old in the tattoo industry. Of course, it is one of the cute tattoo ideas!
Mandala Fox Tattoo On Thigh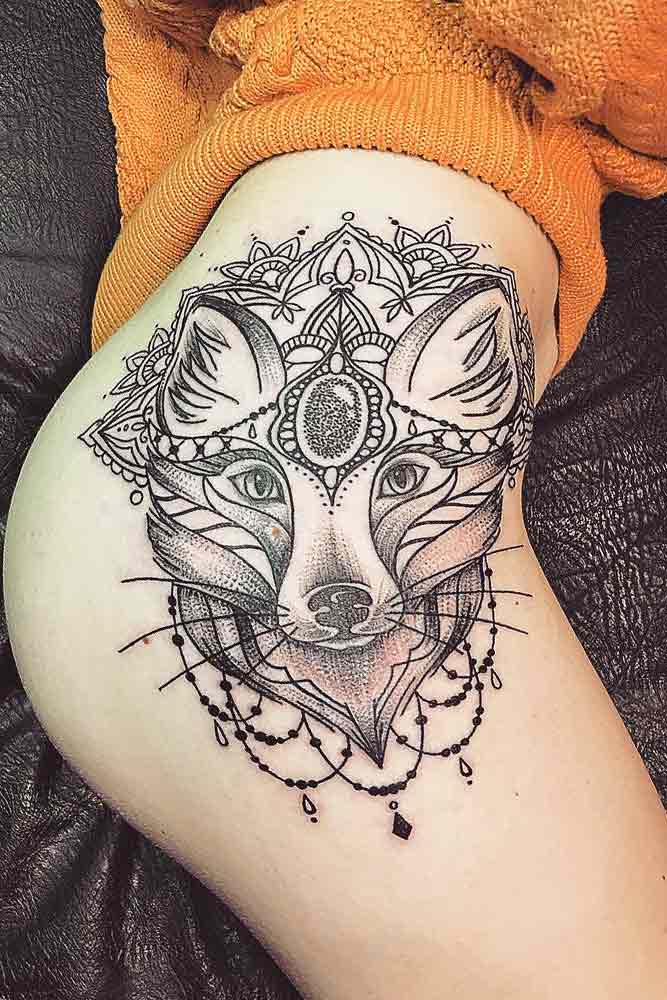 Credit photo: instagram.com/goodtattooclub
Are you looking for sexy tattoo ideas? Then we have one ready for you. Just have a look at it!
Watercolor Tattoo With Geometric Elements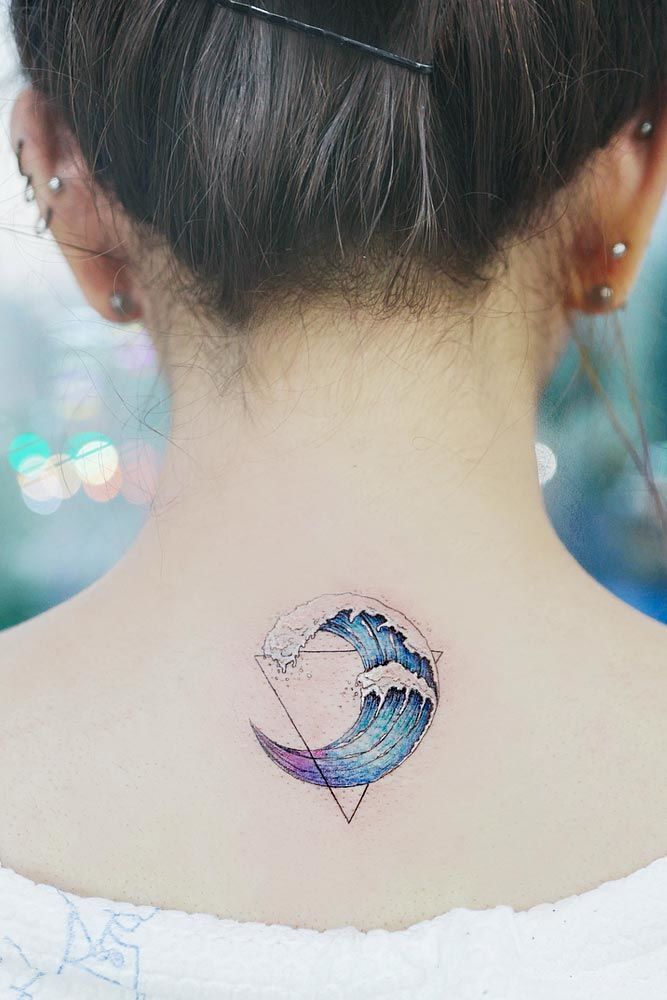 Credit photo: instagram.com/tattooist_banul
A geometric tattoo that is mixed with a watercolor technique is super good looking. Don't you agree?
Landscape Tattoo Idea On A Side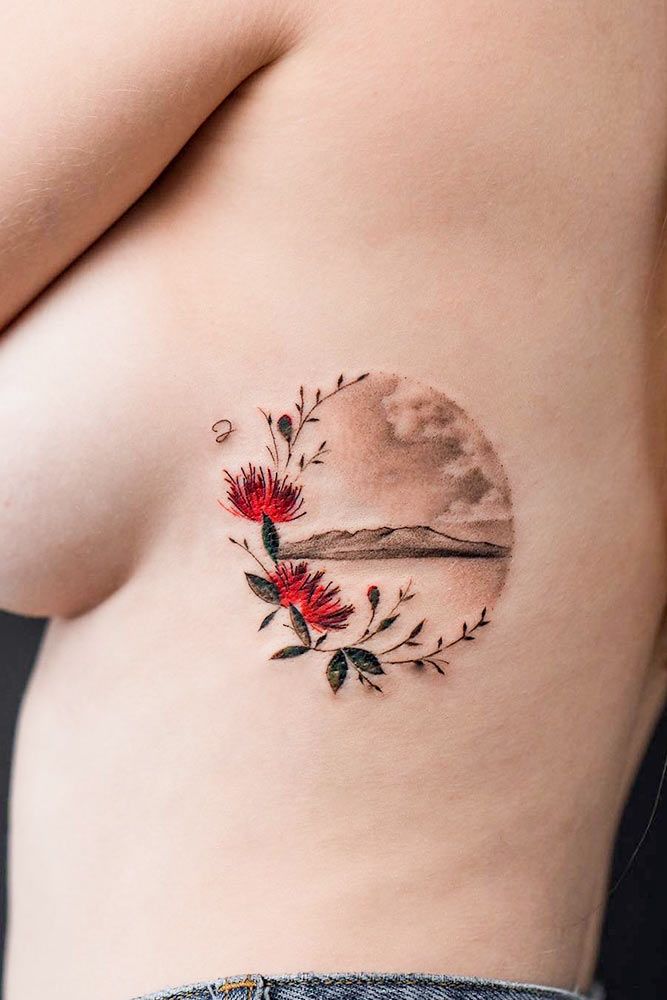 Credit photo: instagram.com/rey.jasper
This landscape tattoo with beautiful flowers on the side is for sure in good tattoo ideas.
Red Flowers Tattoo On Leg
Credit photo: instagram.com/rey.jasper
Red flower tattoo ideas are super rare but we love how good they turn out in the end. Would you mind having such a tat on you?
Poppy Flower Watercolor Tattoo With Geometric Elements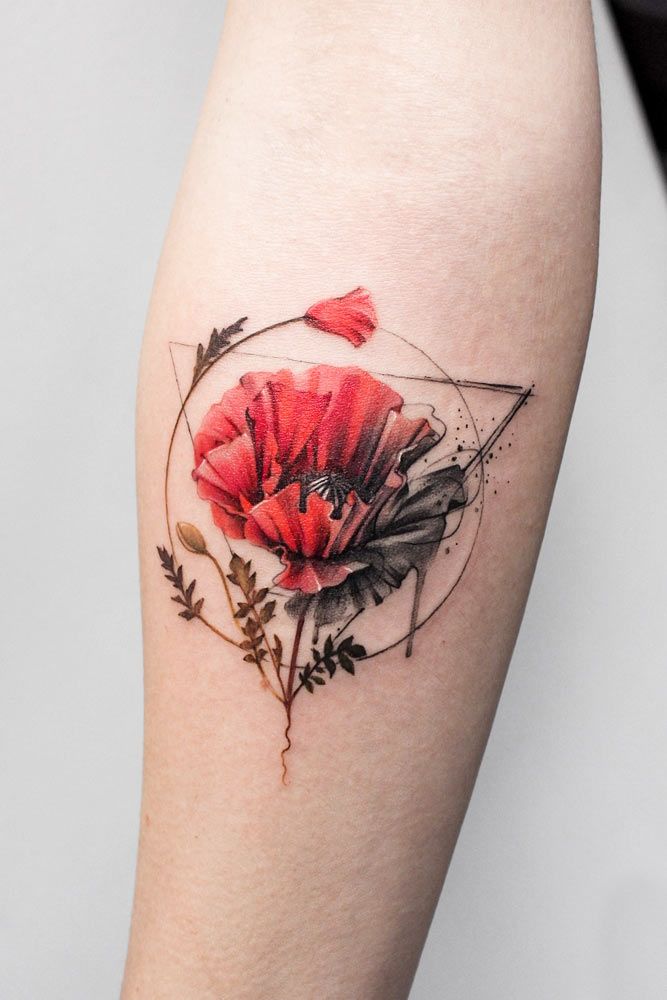 Credit photo: instagram.com/debrartist
Another geometric tattoo with a watercolor technique that looks super unique in girl tattoo ideas. What do you think?
Big Fox Tattoo Idea On A Thigh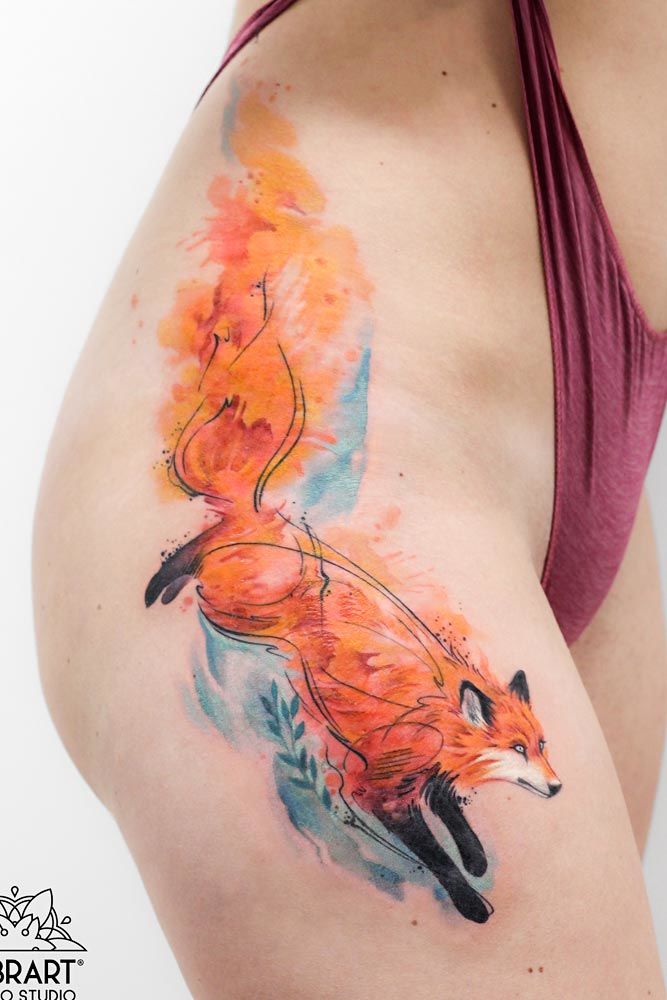 Credit photo: instagram.com/debrartist
Big tattoos are on fire now especially those ones that look like this one. Truly different in other cool tattoo ideas.
Forearm Galaxy And Geometric Deer Tattoo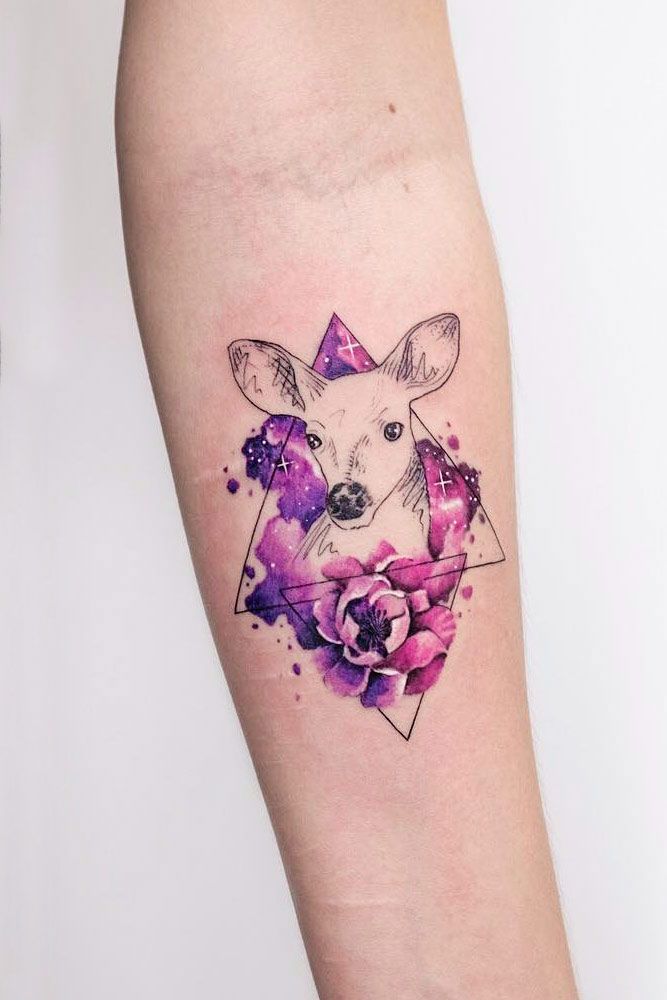 Credit photo: instagram.com/koray_karagozler
What do you think about arm tattoo ideas like this? Make a beautiful accent with the help of color and you will love the results.
Cute Galaxy Colored Cat Tattoo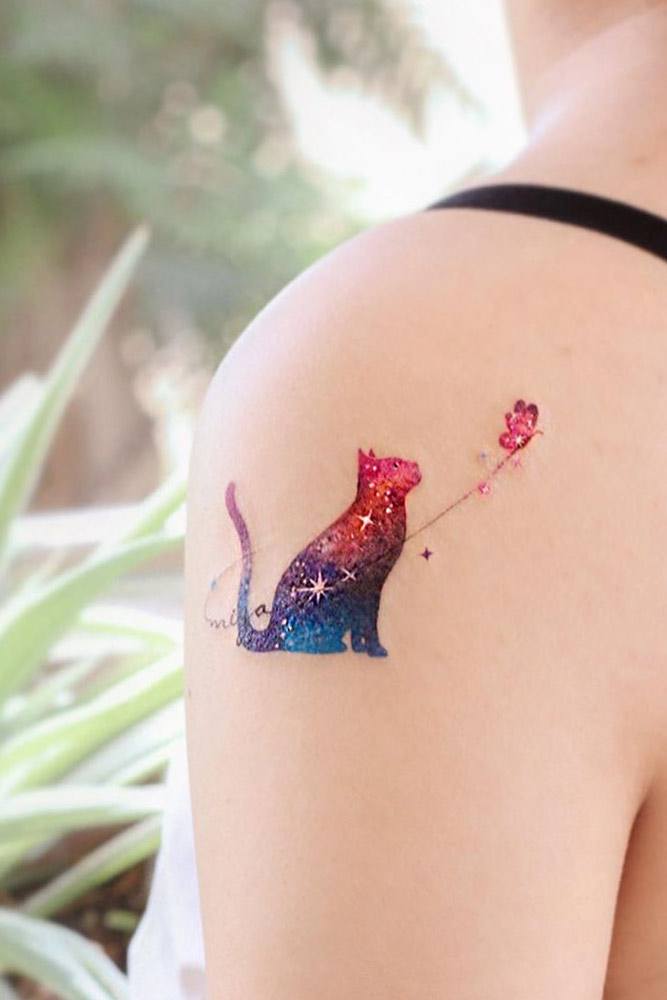 Credit photo: instagram.com/haenytattoo
The mesmerizing beauty of mysterious galaxies will always attract us with their depth. When people get cosmic and space-themed tattoos, they intend to capture deep feelings of hope and inspiration. As for cat tattoos, such ideas symbolize grace and life after death. So why not make these two inspiring meanings a part of your life with cute cat tattoos? All in all, no one knows what secrets a space cat may keep.
Moon With Contellation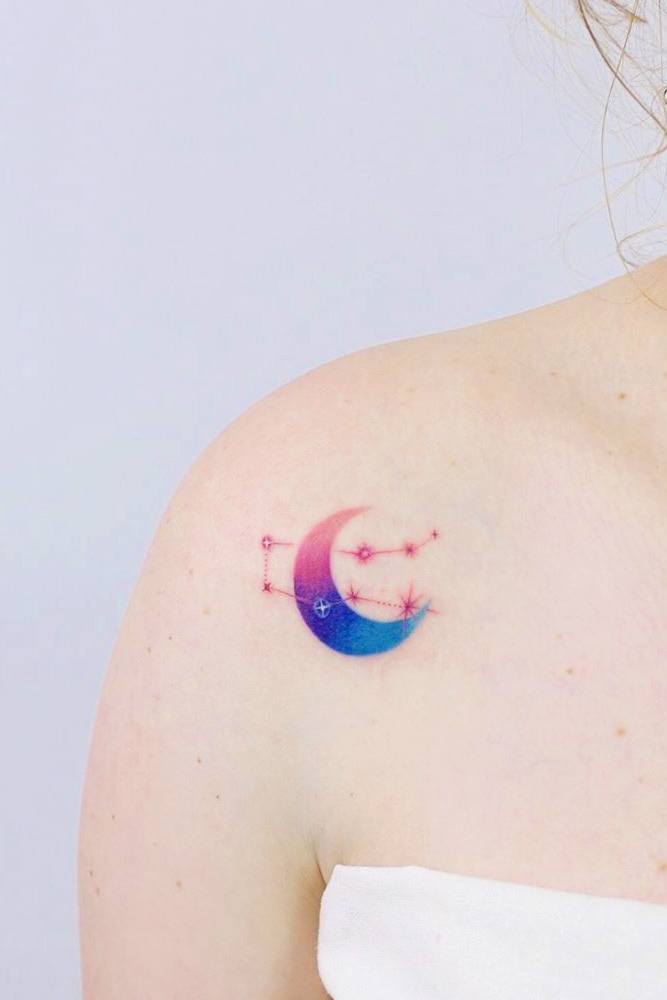 Credit photo: instagram.com/haenytattoo
Moon phases tattoo ideas where all the stages follow one another are pretty popular this day, as they symbolize the ever-changing nature of everything around us. How about you to choose your favorite phase? By the way, some meaningful constellation would be a fantastic way to individualize moon tattoo designs.
Galaxy Paws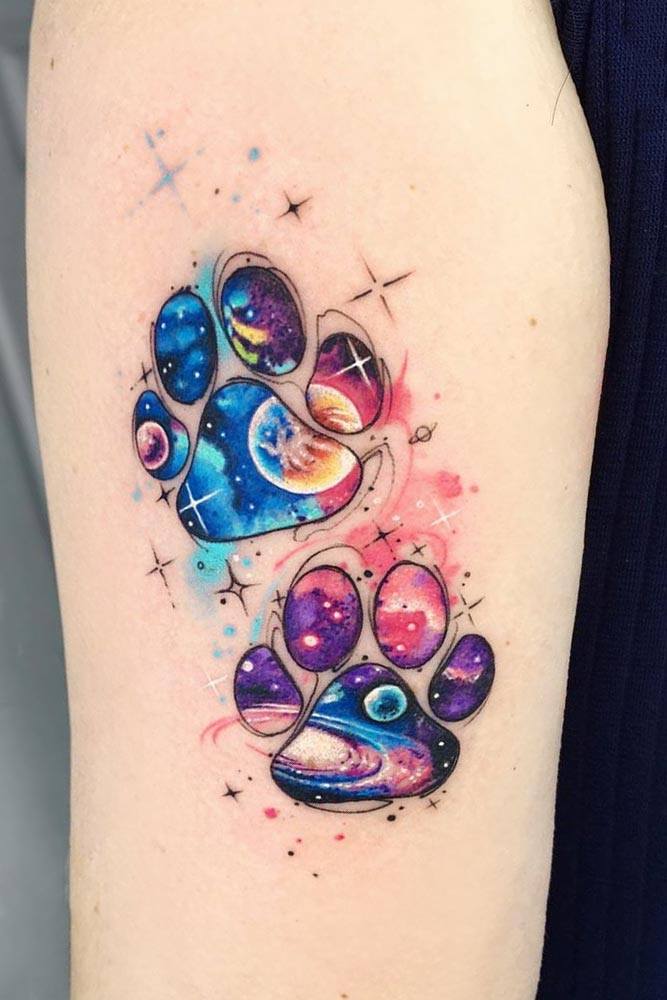 Credit photo: instagram.com/adrianbascur
We weren't joking when we told you that space cats were full of secrets we would never reveal! In fact, getting paw tattoos is the best way to keep the memory of your pet as close to you as possible. Of course, we will never forget our little friends. But, it always feels so right when we commemorate those we love. And, who knows, maybe the pet heaven looks this beautiful?
Owl Tattoo Design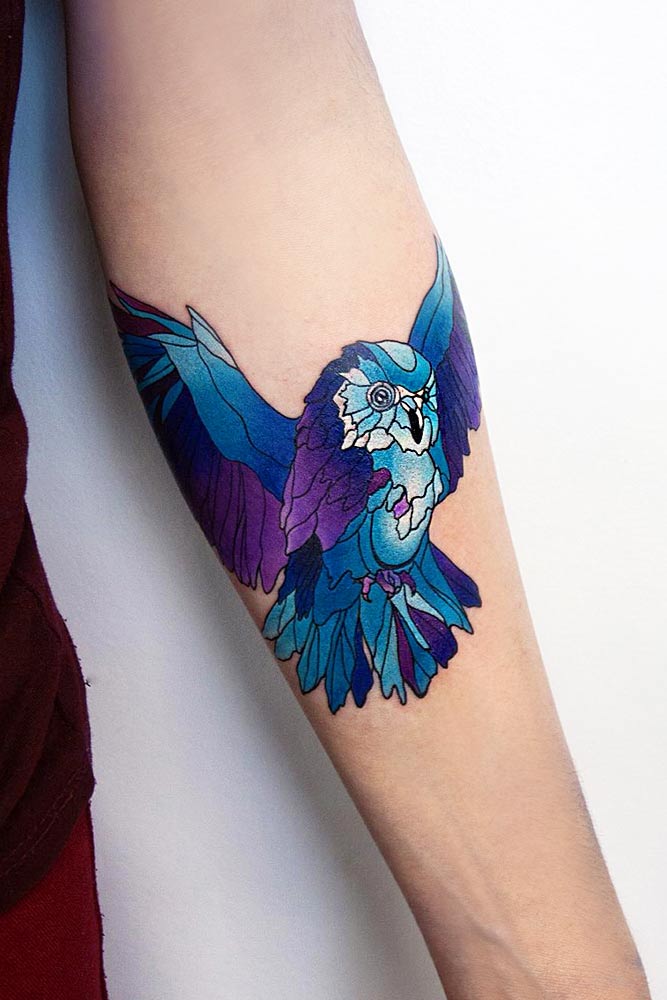 Credit photo: instagram.com/alisa_tesla_art
This mystic owl tattoo surely stands out from the great variety of owl tattoo designs. If you have a closer look at it, you will see how gentle the lines are, as well as how detailed the whole design is. Apart from representing wisdom and freedom of mind, such a spectacular design will also showcase your sense of aesthetics with its dimensional matching palette.
Jellyfish On Arm Tattoo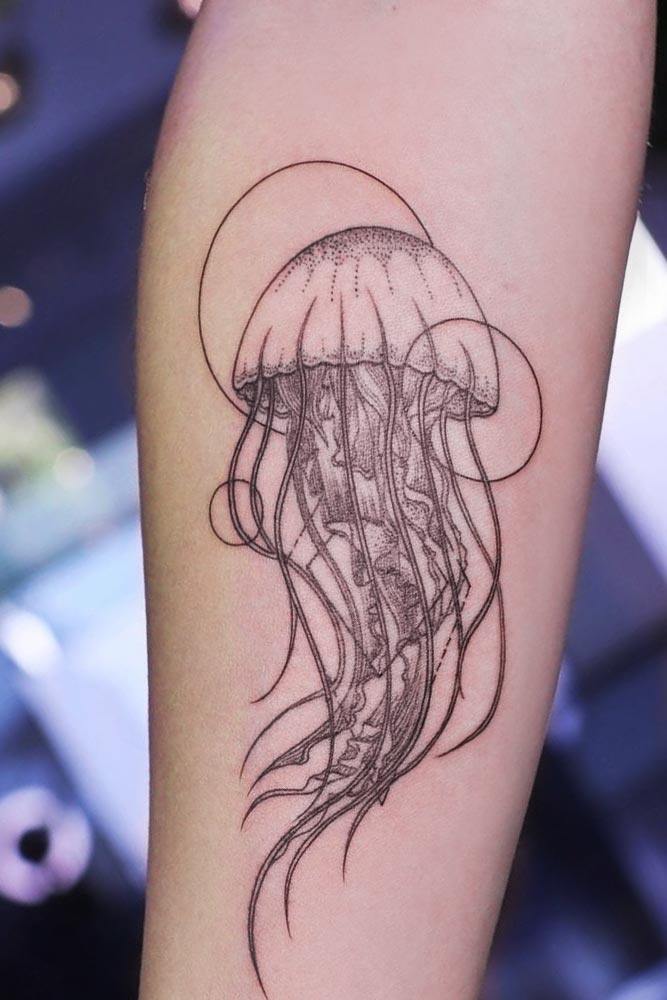 Credit photo: instagram.com/firstjing
Most people find dotwork and linework aesthetically-pleasant for their soft lines and strong shadowing achieved with dots. Also, an additional projection in minimalist style will add more character to your tattoo. As it turns out, jellyfish tattoo designs look amazing in this style. Wondering why you would want to depict a jellyfish on your skin? Well, this creature is able to find peace wherever it is, which is pretty inspiring, isn't it?
Galaxy With Planets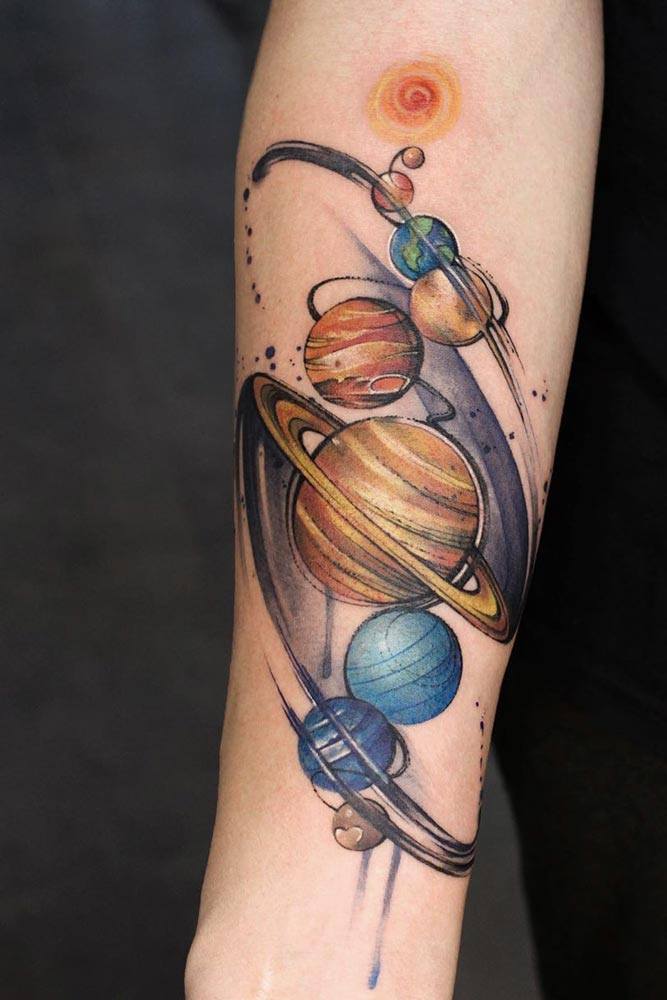 Credit photo: instagram.com/debrartist
The reasons why galaxies and space attract our attention are countless; they have a beginning but no end. Doesn't it remind you of something? By getting a watercolor galaxy tattoo, you may not only become a part of the mystery around us but also get yourself a reminder to always reach for the stars. And even though we don't really know where the outer space ends and begins and what places it keeps in secrets, we all live under the same sun. Therefore, planets tattoo will be a stunning complement to galaxy designs.
Rose Wrist Tattoo
Credit photo: instagram.com/ponywave
A wrist rose tattoo is the simplest and most feminine idea you can get to reveal the woman's nature blossoming inside you. Apart from its apparent meanings, roses symbolize new beginnings and mature love. Your rose may be a bright delicate blossom or a thorned wildflower, depending on the meaning you want to put into it. Whatever your choice is, it will look ravishing on a wrist.
Girl With Planet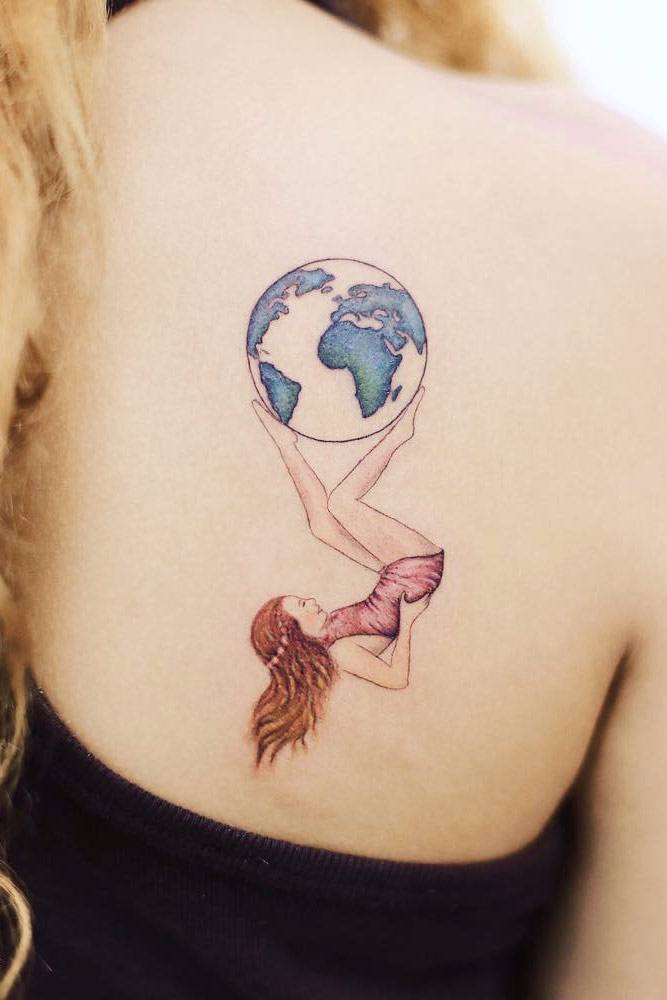 Credit photo: instagram.com/ayhankrdg
Who doesn't want to have the world at the feet? In fact, you can interpret this planet tattoo whatever you like and it will be still pretty joyful and encouraging. We think that this picture says that every person is an owner of his or her world; all you need is to remember that. And if not a creative tattoo, what else can help you keep this in mind?
Half Colored Butterfly Tattoo With Skull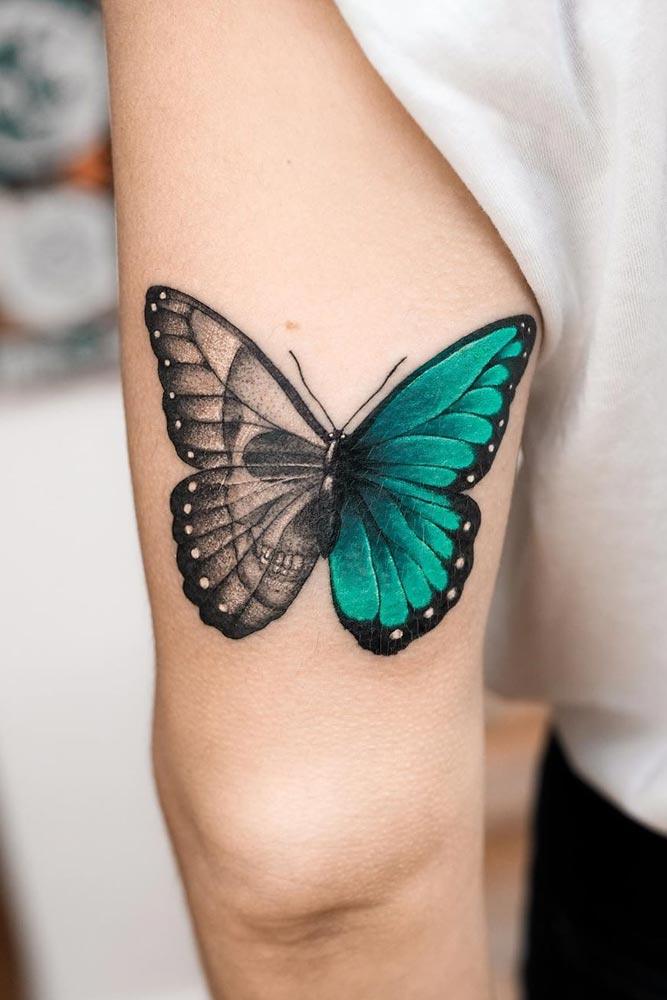 Credit photo: instagram.com/evgenymel
We may encounter various transformations in our lives, and butterfly tattoo designs are a fantastic way to represent the changes we go through. As for this skull butterfly tattoo, it seems to transcend the past and the future, where the former is black & white and the latter is bright and beautiful. At first sight, it's just a creative pic. But in reality, it's a very profound thought captured.
The Sun On A Back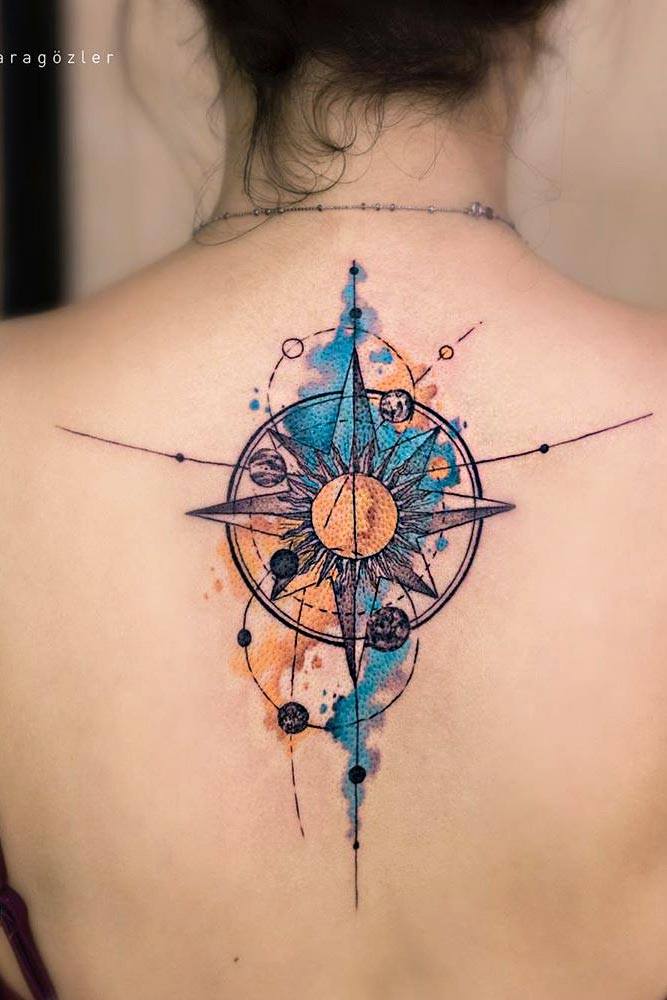 Credit photo: instagram.com/koray_karagozler
Many civilizations would worship the Sun as it was the source of life, energy, and light in every way. Although things have changed a lot, we are still attached to this star. So, if you don't know what to pick for your tattoo idea, you can go with modern sun tattoo designs. It can be a minimalist sun design, a complex and colorful idea or anything you want it to be: sun designs are a canvas to your imagination.
Broken Heart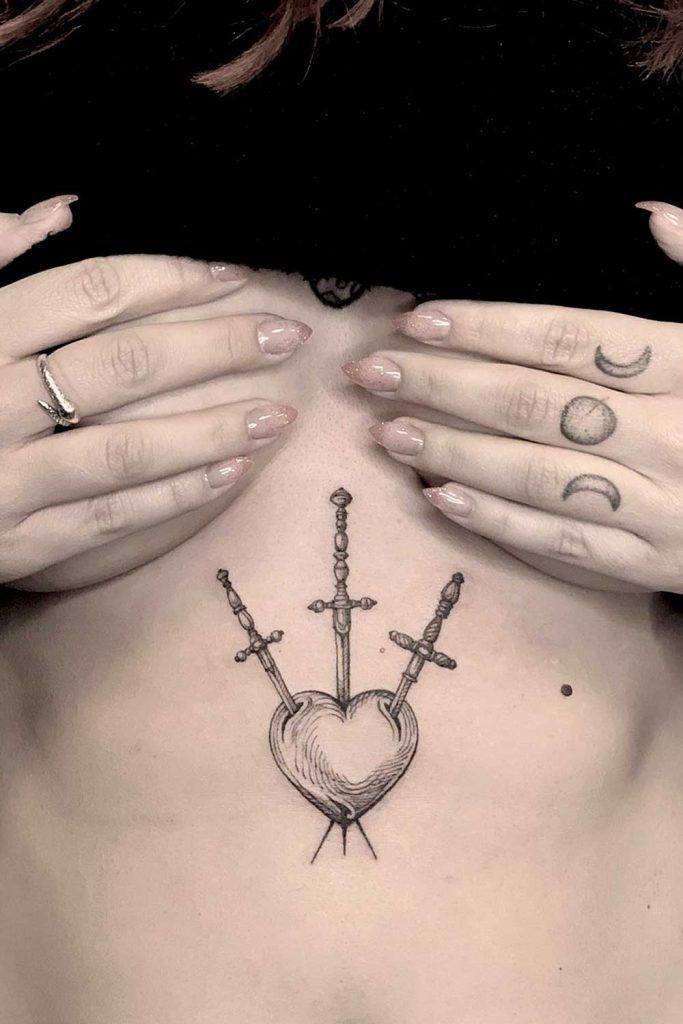 Credit photo: instagram/is_toms
When you think about it, heart tattoos are quite popular, no matter the sex. However, you need to remember one crucial thing – the meaning behind the tattoo. In the case with a broken heart, it is natural to assume that it resembles the loss of a loved one. Despite the dire meaning, we must admit that it still looks breathtakingly gorgeous!
Small Bird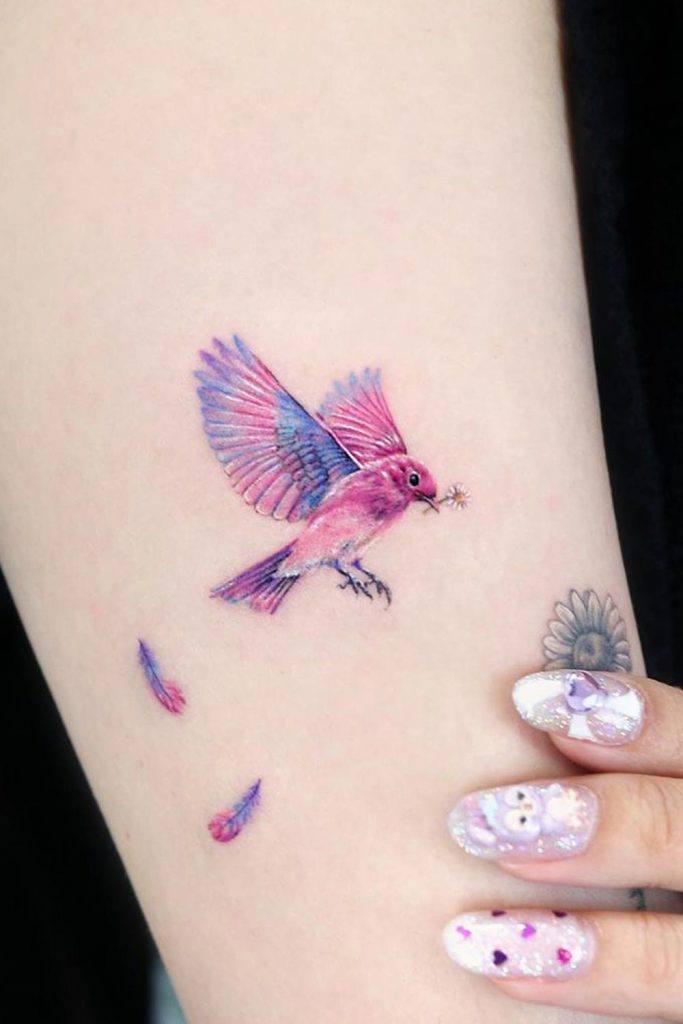 Credit photo: instagram/palette.tt
Bird tattoos are magnificent, and we are not going to deny it. If you are seeking for a freedom-representing tattoo, then there would be no more symbolic tattoo idea than this one.
Galaxy Colored Moon With Butterflies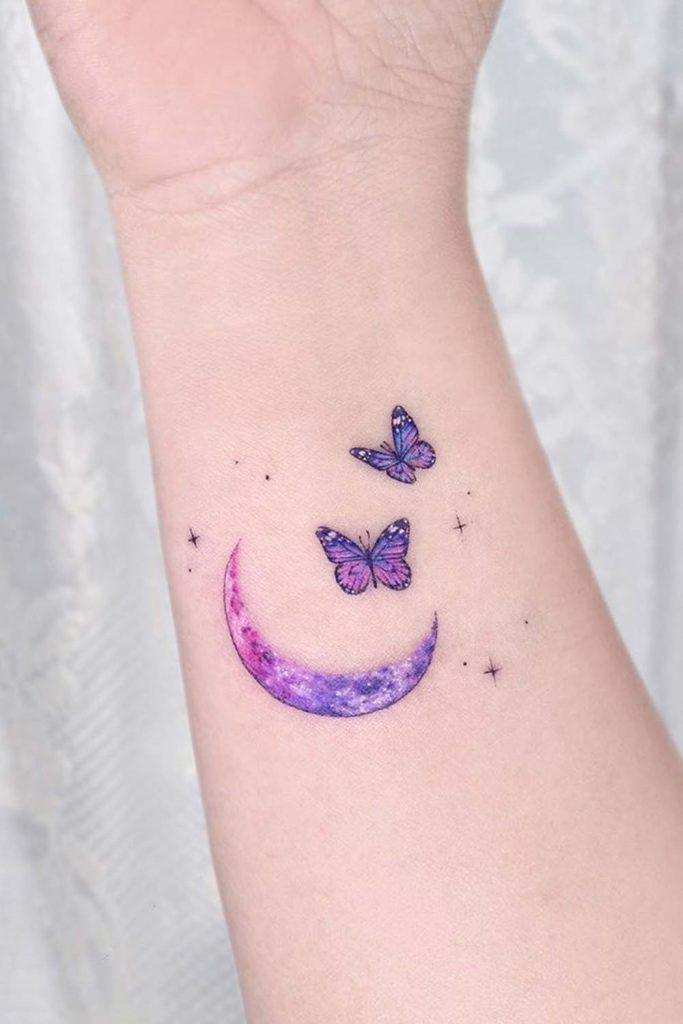 Credit photo: instagram/palette.tt
We know that galaxies are insanely beautiful and captivating. However, when you are thinking about inking the universe on your body, you should know that there is a lovely meaning to it too. Galaxies represent the vast meaning that humanity bears, a deeper understanding of the universe along with its supreme power.
Musical Themed Tattoo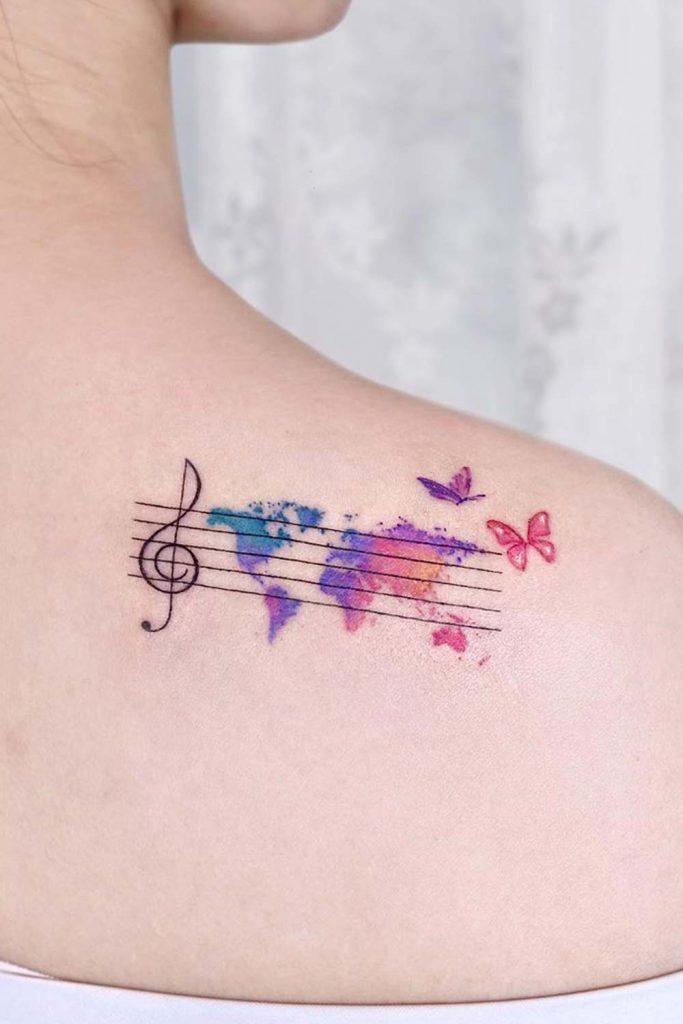 Credit photo: instagram/palette.tt
It does not take long to figure the musical tattoo meaning. However, the notes and the tunes involved are incredibly personal, and that is the main beauty of such a tattoo.
Sky Whale Tattoo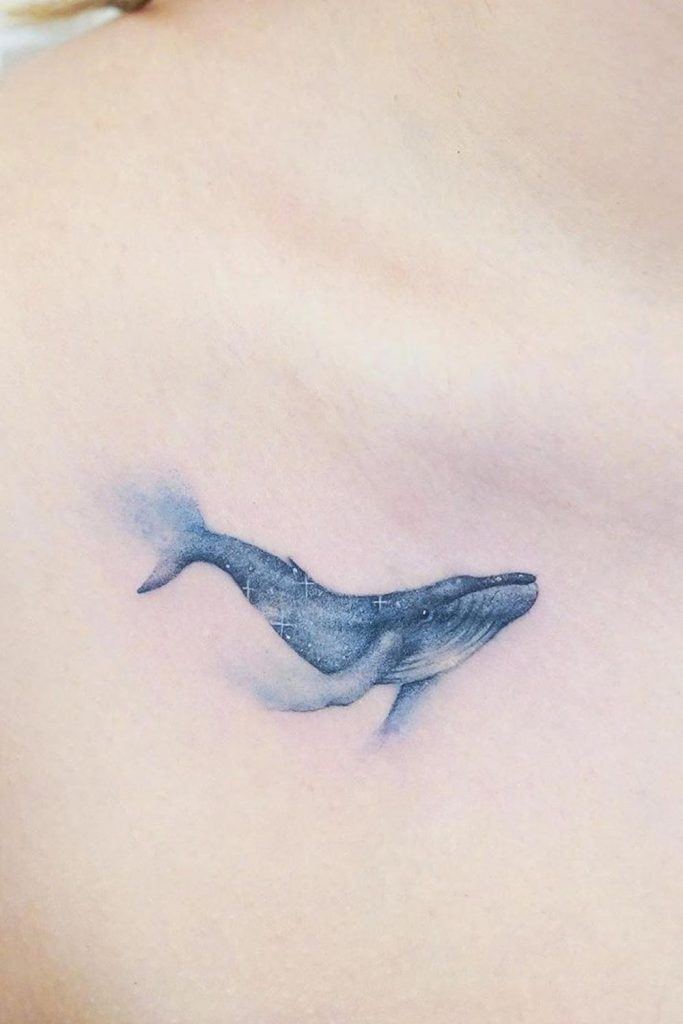 Credit photo: instagram/mini_tattooer
Whales are gorgeous and even a bit mysterious. That is why, apart from the impressive general look, they also represent harmony and family ties. Not to mention the fact that such tattoos are quite rare.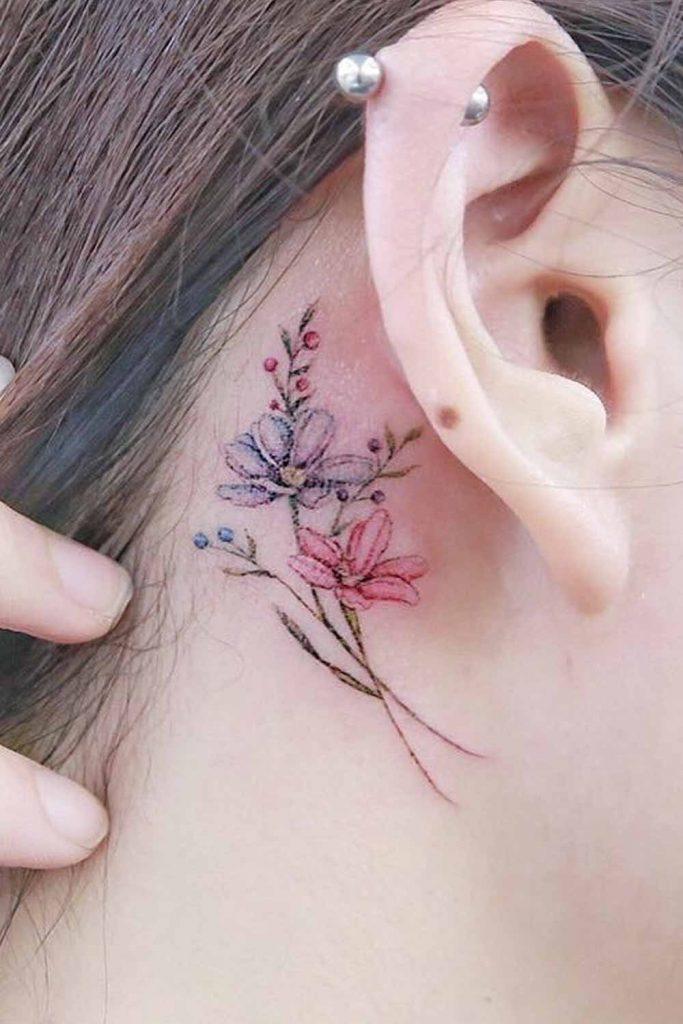 Credit photo: instagram/mini_tattooer
It is a well-known fact that each flower is entitled with its own peculiar meaning, and it is hard to characterize all of them with just one meaning. If you are aiming at something feminine and gentle while it is not caught by a naked eye of the stranger, then a hidden flower tattoo right behind the ear is what you need to consider.
Moon Dreamcatcher
Credit photo: instagram/tattooist_kerrigan
Dreamcatcher tattoos are indeed popular because of the protection they offer to the wearer. However, there is always room for creativity too. For instance, a moon-dreamcatcher mix in watercolor is magnificent.
Floral Eternity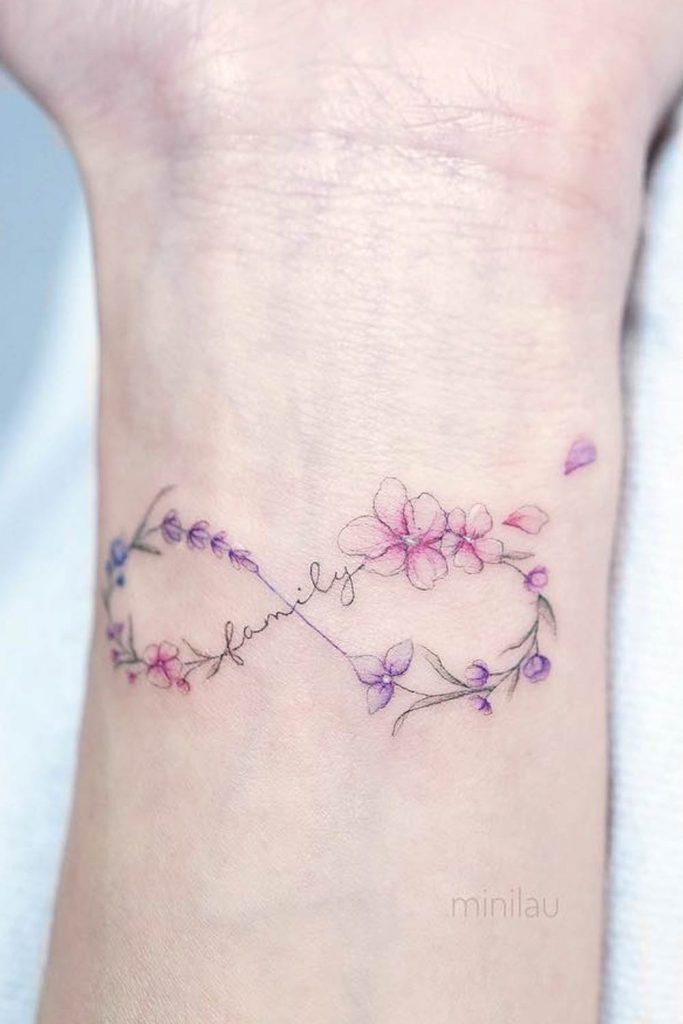 Credit photo: instagram/mini_tattooer
There are so many meanings to eternity tattoos that it is hard to list them all. However, if you are looking for both meaning and beautiful outlook, then flowers eternity is precisely what you need.
Forest Owl Tattoo With Moon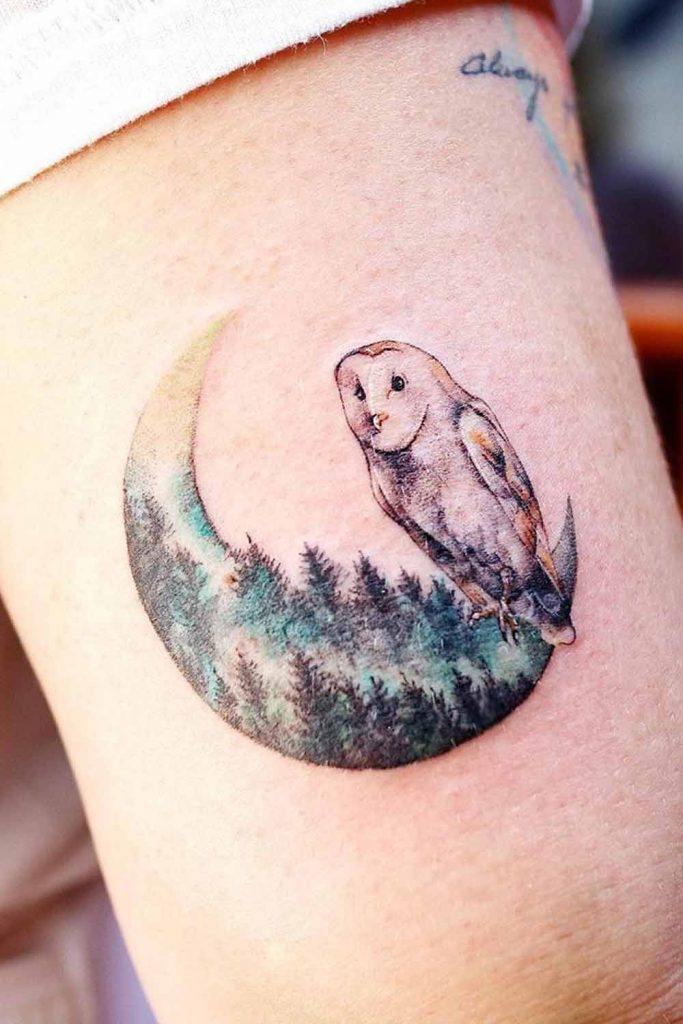 Credit photo: instagram/guseul_tattoo
Owls symbolize wisdom, everyone knows that. Nevertheless, such a detailed masterpiece mixed with all captivating details makes the tattoo stand out from the rest.
Small Water Heart
Credit photo: instagram/guseul_tattoo
The heart is love when you love someone deeply, and unconditionally, the two energies combine into a single flowing force. The best way to depict that notion is through the heart tattoo that is composed of two matching parts.
FAQ: Tattoo Ideas
How do I find a unique tattoo?
You probably already have some ideas in mind, find reference images (not tattoos) and discuss with your tattoo artist how your ideas can be incorporated in the best way. You can get inspiration also from art and nature. Decide on tattoo placement and discover your preferred tattoo style (realistic, abstract, geometric).
What should I bring to a tattoo appointment?
Once you discussed what your tattoo should look like and set an appointment. At least 24 hours before session:
do not consume alcohol, aspirin, coffee, too much sugar, dairy, processed foods;
drink plenty of water;
take in some Vitamin C;
eat a meal that contains garlic or onions (helps healing process);
shower;
wear comfortable clothes that allows an easy access to the tattoo placement area.
What's the least painful spot to get a tattoo?
The least painful spot to get a tattoo are areas of your body with fewer nerve endings like calf, outer shoulder, outer arm, and buttocks. Moreover, the size also defines the pain factor: the bigger it is, the more detailing it requires, the more it hurts.
What is a tattoo blowout?
Tattoo blowout takes place when a tattoo artist presses too hard when applying ink to the skin. That results in the ink spreading out in a layer of fat. This creates a particular blurring. Areas of thin skin are more prone to tattoo blowout. After tattoo is finished, follow all recommendations of your tattoo artist, avoid excessive stretching, pulling of the skin.
REFERENCES:
A tattoo is a form of body modification where a design is made by inserting ink, dyes and pigments, either indelible or temporary, into the dermis layer of the skin to change the pigment. Source
New school is a tattooing style originating as early as the 1970s and influenced by some features of old school tattooing in the United States. Source
How to Tattoo. A tattoo is a kind of body modification where ink is inserted into a sub-layer of your skin to stain it permanently in an artistic fashion or design. Source