Medium length hairstyles can look amazingly beautiful on every woman. They are especially suitable for the women with thick hair, - and if chosen and styled properly such haircut will add a spark to your appearance becoming the catcher of the delighted looks from all around.
Medium length layered haircuts are perfect for those who got tired of wearing long hair but are hesitant of making too radical changes and getting a very short haircut. Such haircuts look classy, yet stylish, beautiful, yet bold.
There are varieties of mid-length haircuts, and every woman can choose the haircut that best fits her hair type. If your hair is too thick and you have problems with styling it, try shoulder length haircut that can help make your hair more manageable. No matter whether you have curly or straight hair, there is a haircut designed specifically for you.
Now, let's have a close look at medium length hairstyles.
*We may earn money from affiliate links on this page. Please check out our disclosure policy for more details.
Medium Lenght Hairstyles Trend for 2023
Are you considering a new hairstyle and looking to keep it medium-length? We spoke to Olga Markuse, a seasoned hairstylist based in the UK with ten years of experience, to get her take on the current trends. Here are Olga's thoughts on the latest medium-length haircuts that are turning heads:
One of the core medium-length hair trends in 2023 is the revival of classic layers. The new version of the '2000 mainstream haircut is more textured, often razored, and features a great deal of face framing.

There's another significant reappearance – full bangs are growing popular again. Probably, it's just the right time to cut a fringe now, before everyone else has already done it.

Butterfly layers, a haircut everyone's been talking about lately, is essentially a combination of thick curtain bangs and heaps of face-framing layers. Undoubtedly, one of the best haircuts for thick hair to date.

A blunt cut bob is one more distinct trend, great for those with naturally sleek and heavy hair.
Whether you're looking for a new way to rock classic layers or want to try out a bold new fringe, there's something for everyone in this year's must-try haircuts. So don't wait any longer, read more and get inspired!
What Is Considered Medium Length Hair?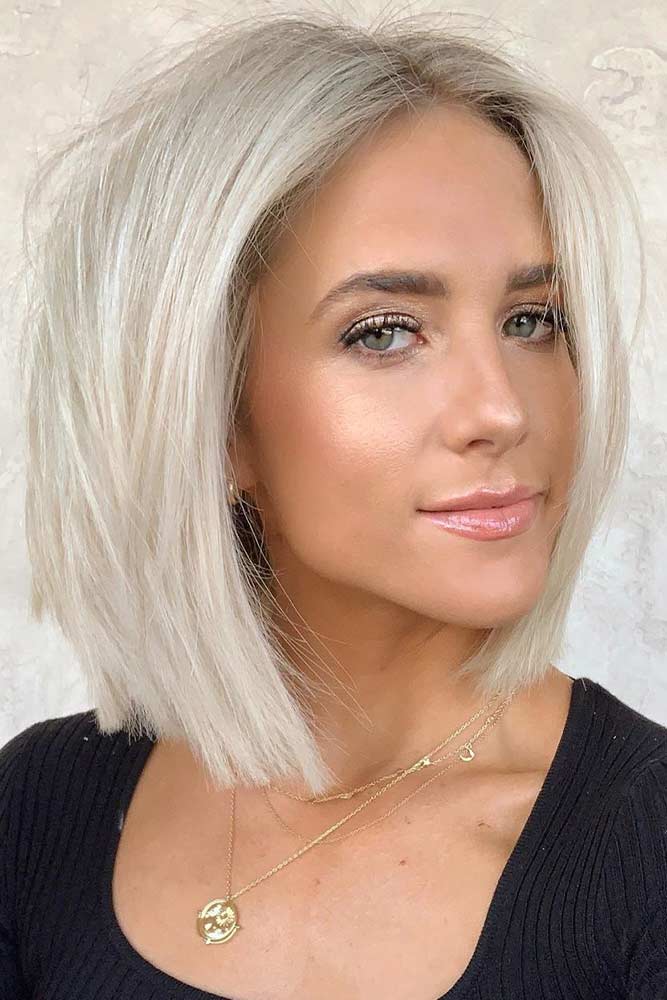 Credit photo: instagram.com/hairby_chrissy
In general, if the hair covers the neck and reaches the shoulderline, it's considered mid-length hair. When searching for some new medium haircuts to get inspired for the next appointment, you may encounter a little confusion. As it turns out, medium length hair splits into two sub-categories, and that's why medium hairstyles you come across may seem to have different lengths.
In general, medium hair can reach two lengths: neck length and shoulder-length hair.
Neck length usually hits somewhere between the chin and shoulder lengths, allowing women to experiment with lots of styling options while having a versatile short haircut.
Shoulder length has a cutting line just at the shoulder line, so the name speaks for itself. Basically, this length is the happy medium between long and short hair that allows for various hairstyles without weighing the hair down.
More Stylish Ideas With Medium Length Hairstyles
Medium Blonde Bob With Longer Sides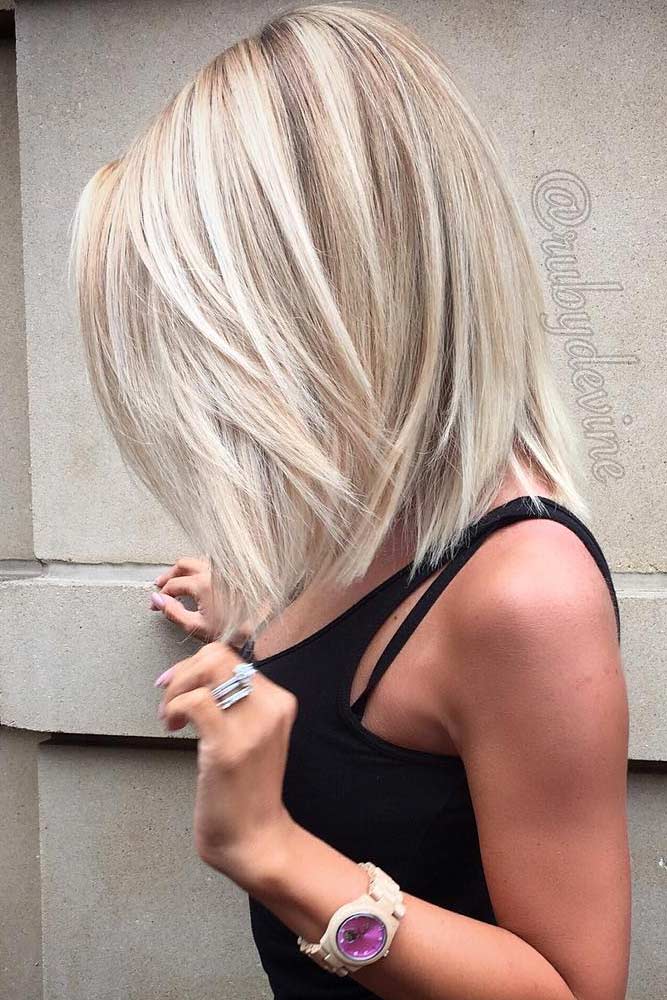 Credit photo: instagram.com/rubydevine
This long bob with longer sides is a perfect hairstyle when considering various medium hairstyles for thick hair. This bold look does require some experimentation, but the end result of a trendy look is well worth the trouble. This style looks well on various hair types but works especially well for straight hair. If you are a natural blonde, then you may want to consider adding the effect of highlighted hair to your look. This will cause your hairstyle to appear more dramatic and interesting. While this style is easily adaptable to the messy look, with a little time and effort, it can be transformed into a stunning, sleek style that will stop onlookers in their tracks.
Angled Long Bob Hairstyle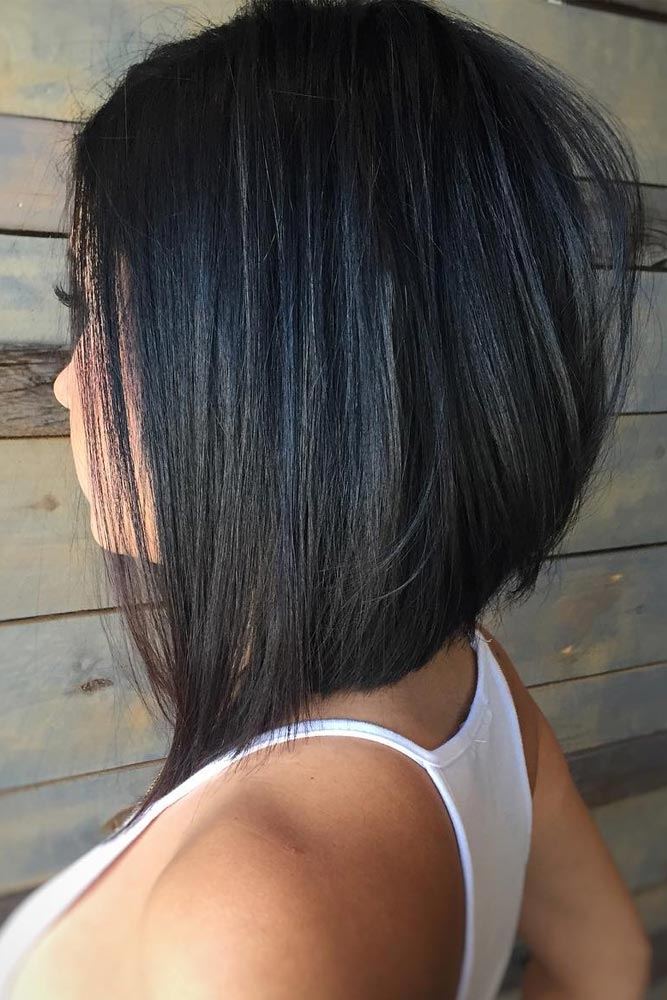 Credit photo: instagram.com/hairbyedwin
The inverted bob is a favorite hairstyle that has been in for at least a couple of decades. This style looks fantastic on both curly and straight hair. There are several variations of the bob haircut that women tend to rely heavily on as their favorites. If you decide to angle this style more sharply, it will add the whole new air to the look. While this is a rather easy hairstyle to obtain, one of the factors that leads to its popularity would be the "blow and go" due to the fact that it needs little to no styling to look amazing. This style is preferred by women with all hair colors, but it looks especially mysterious on women with black hair.
Shaggy Medium Length Hairstyles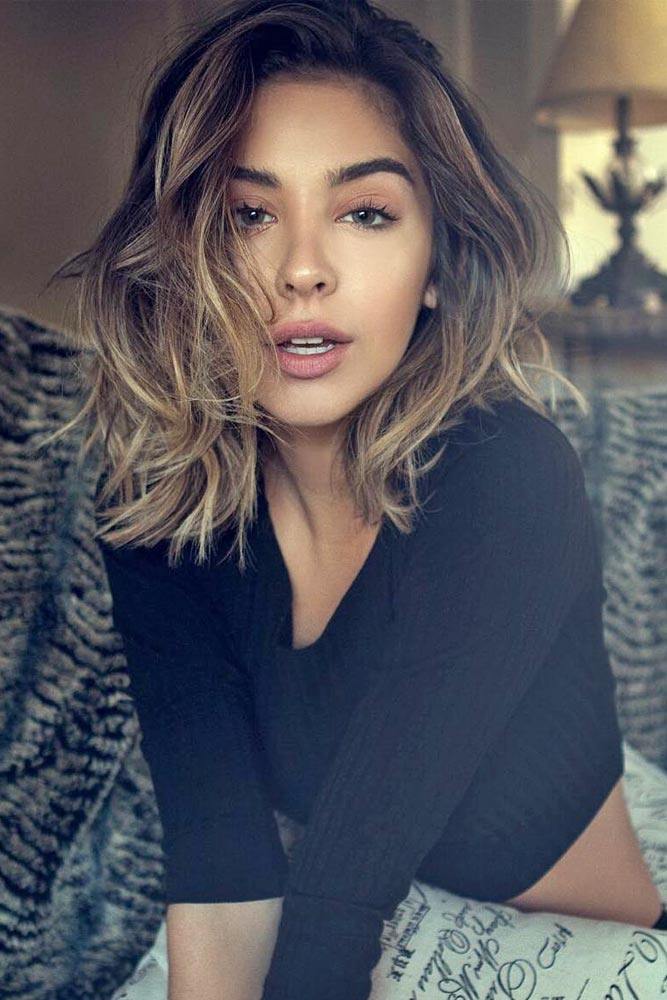 Credit photo: instagram.com/nadia_mejia
There's nothing quite like hair highlights to give a woman a boost of confidence in her hairstyle. The haircuts that appear the most natural are the shaggy type cuts that are very popular. The long bob haircut in the photo is a beautiful example of a cut created by using the model's natural volume and hair type to accentuate her features. Women with thick hair absolutely love this hairstyle. It's due to its ability to be a hairstyle that has a careless and beautiful look. The layered haircuts always grant the additional volume.
Medium Length Style With Layered Edges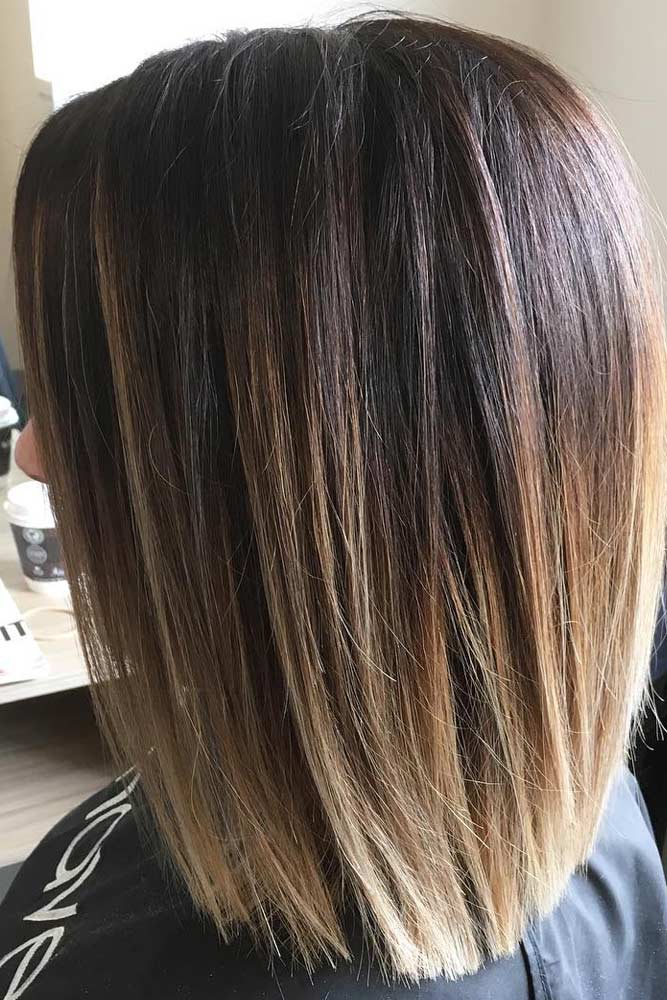 Credit photo: instagram.com/cutting_edge_hair_room
If you're looking for the perfect haircut for your straight hairstyle, this layered edgy cut may be just what you're looking for. If you would like to class up your hairstyle, then adding some highlights or ombre hair accents will do the trick. If you're brave enough to experiment, then you may just find the perfect color to compliment your personality. This is the perfect bob haircut for an easy chic style.
Wavy Medium Length Hairstyles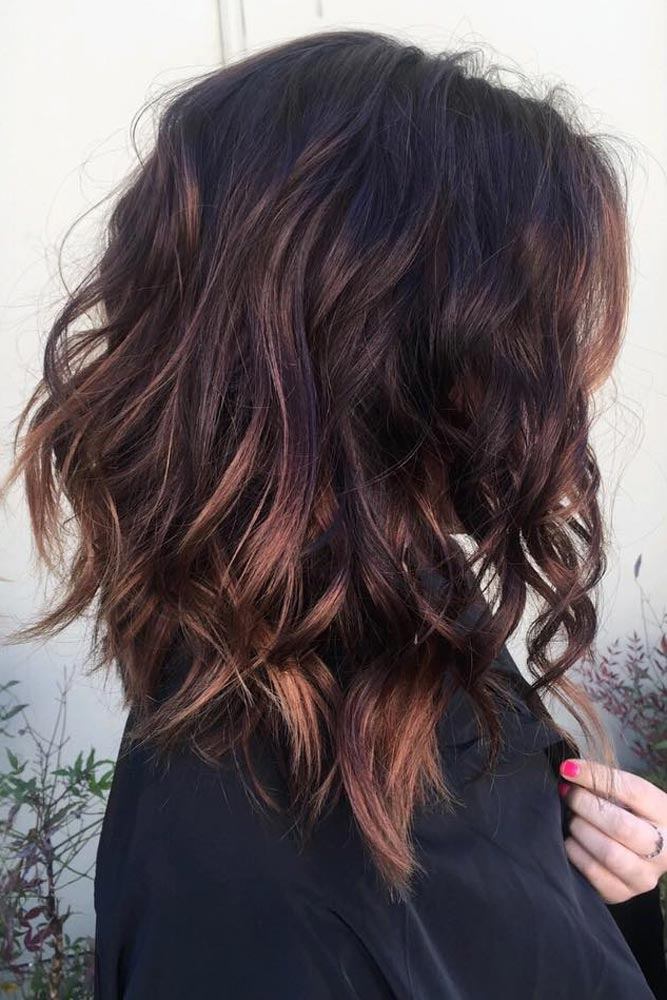 Credit photo: instagram.com/sadiejcre8s
If you have naturally wavy hair, then this is a great option for a shoulder length bob hairstyle. This model's brown hair color has gorgeous low lights. Even if you have straight hair, this style is obtainable by using a curling iron. The layered haircut gives this look tons of volume for a beautiful lustrous look.
Hairstyle With Edgy Layers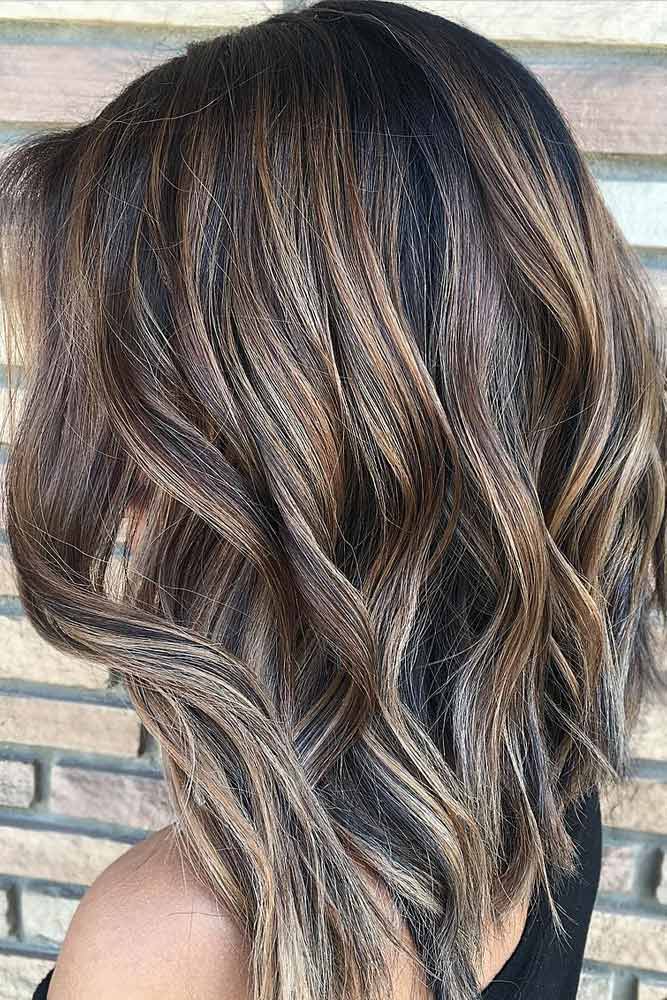 Credit photo: instagram.com/itsjerryanthonyhair
For women with shoulder length hair finding a style that you would adore could be a difficult process. The reason is that a huge number of various styles is available. Here the layers give this cut a good amount of volume. This is a style that is obtainable with minimum effort. The wavy hairstyle does lean slightly toward the edgy look that becomes more and more popular. The beautiful balayage hair color on this model gives her style a depth and dimension, while the ragged edges give off a fun effect.
Flipped Ends On A Medium Length Hairstyles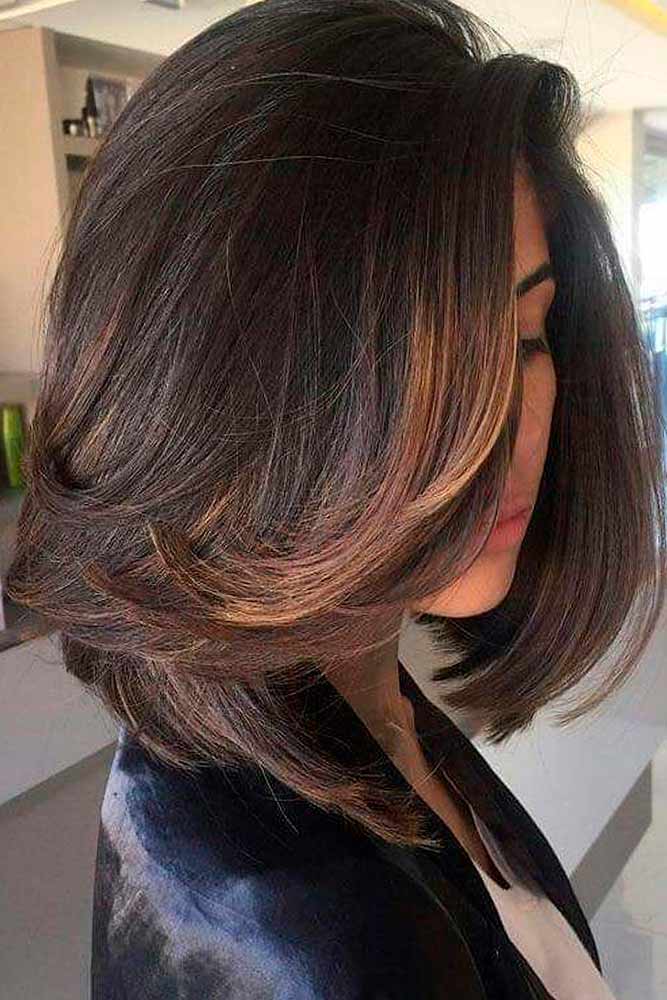 Credit photo: instagram.com/cortesdecabelofeminino
This gorgeous brown bob is a great style for these warmer months. It has long layers lightening up a thicker hair type and adding volume to a thin hair type. The wispy haphazard ends give this style a soft and appealing look. Simply put, this bob haircut is a favorite for an easy style. Besides, this round-shaped style is also versatile to be worn by women across a wide age range. It looks phenomenal on everyone. Bob haircuts are timeless, being around for several decades now.
Classic Lob With Bangs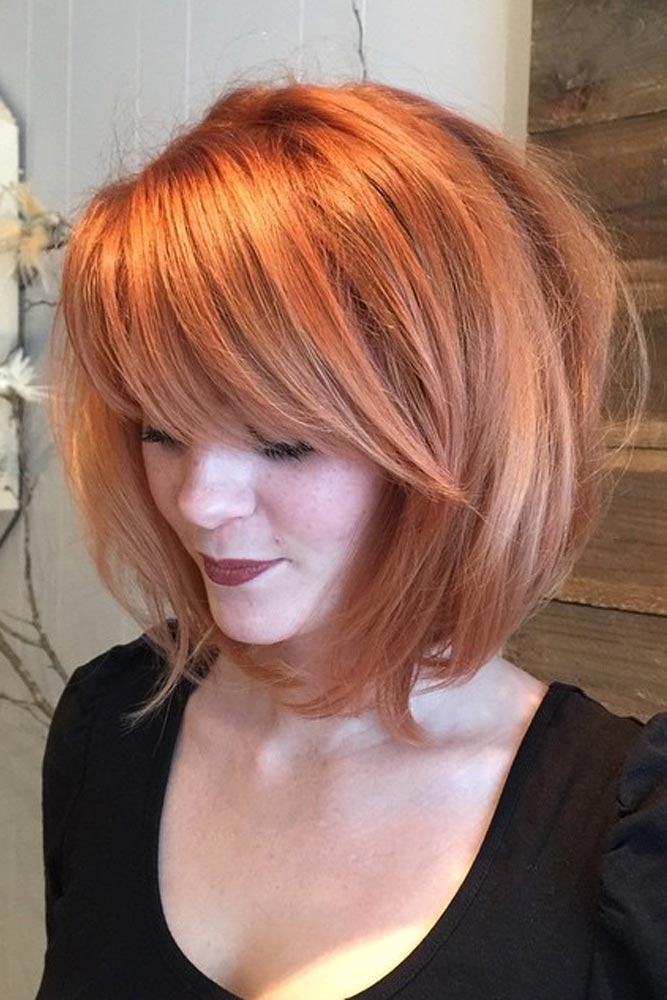 Credit photo: facebook.com/thenesthairboutique
This gorgeous lob haircut has a breath-taking auburn hair color that is impeccable. While some people are dead set against any and all hairstyles with bangs, this style is proof that they are gorgeous if paired with the right cut and color. If you are looking to alter your straight hair, you could try a slight elongation toward the front, making this haircut easy to manage.
Grunge Haircut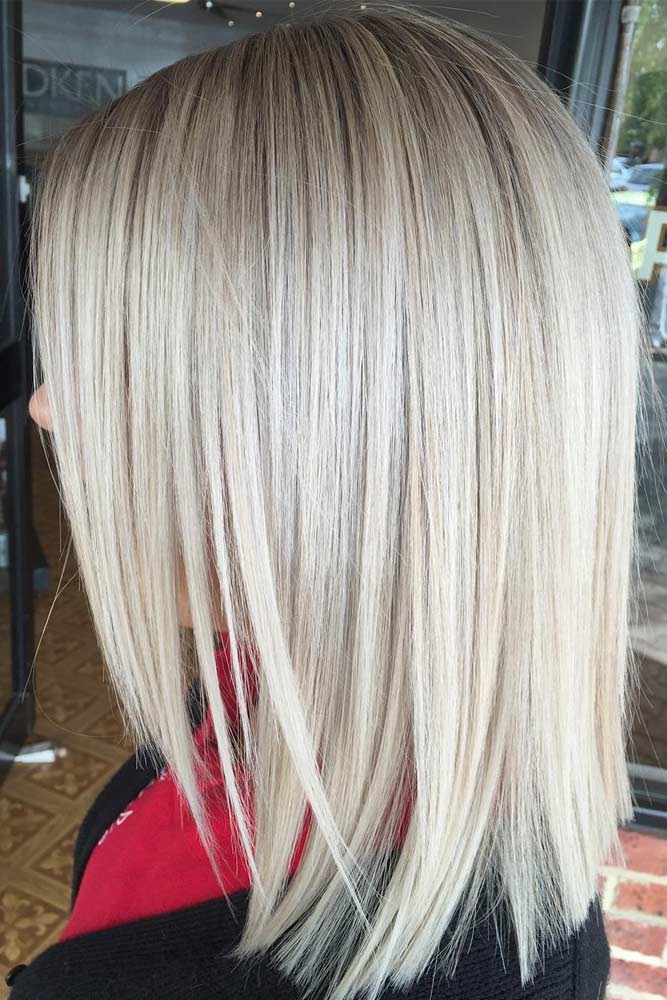 Credit photo: instagram.com/harttofcolor
This haircut title – a grunge cut – is a contradiction in terms of speaking about a blonde hair color. When we use the word grunge, we expect a bold color or dark color, but this is proof that a grunge cut will work for any hair color out there. This straight hairstyle has a slightly messy aura and it has been made more popular by the Hollywood elite. Among layered haircuts, this is one that adds a slight amount of volume but still blends beautifully with the length.
Careless Hairstyle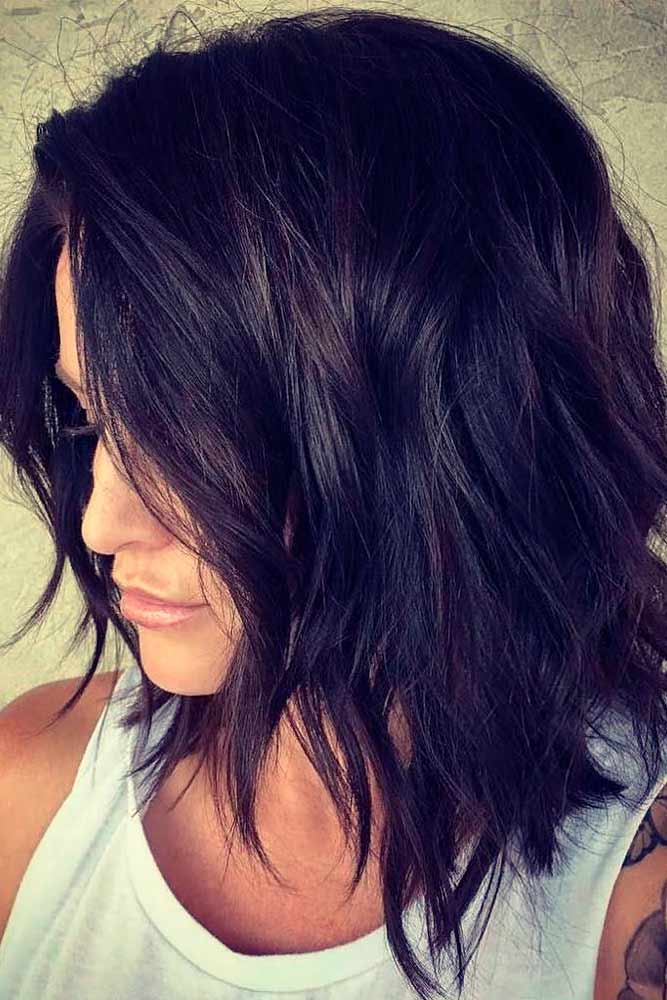 Credit photo: instagram.com/cortes_de_cabello
Let your hair be not too ideal and flow carelessly. Let the whole world see your wild and adventurous nature. You can wear it with or without bangs! Go for a walk and let the wind create even more mess with your hair!
Balayage Sexy Medium Length Hairstyles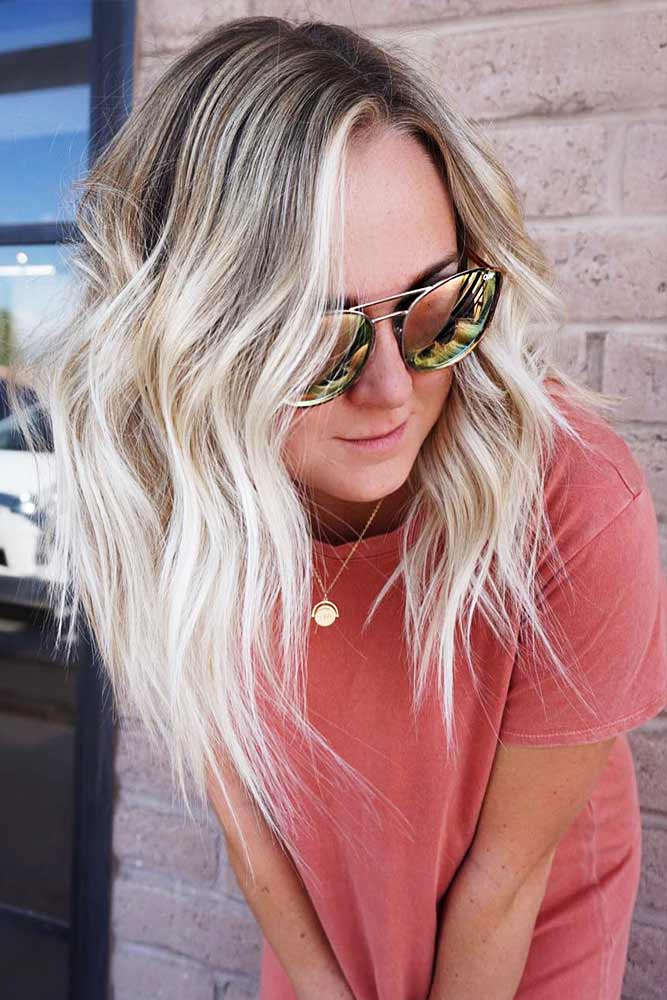 Credit photo: instagram.com/riyathai87
Combine your mid-length hair with balayage, and you are ready to have a summer rest. It looks cute and sexy. Go to the beach, party or a restaurant, - your hair will look incredible!
Asymmetrical Bob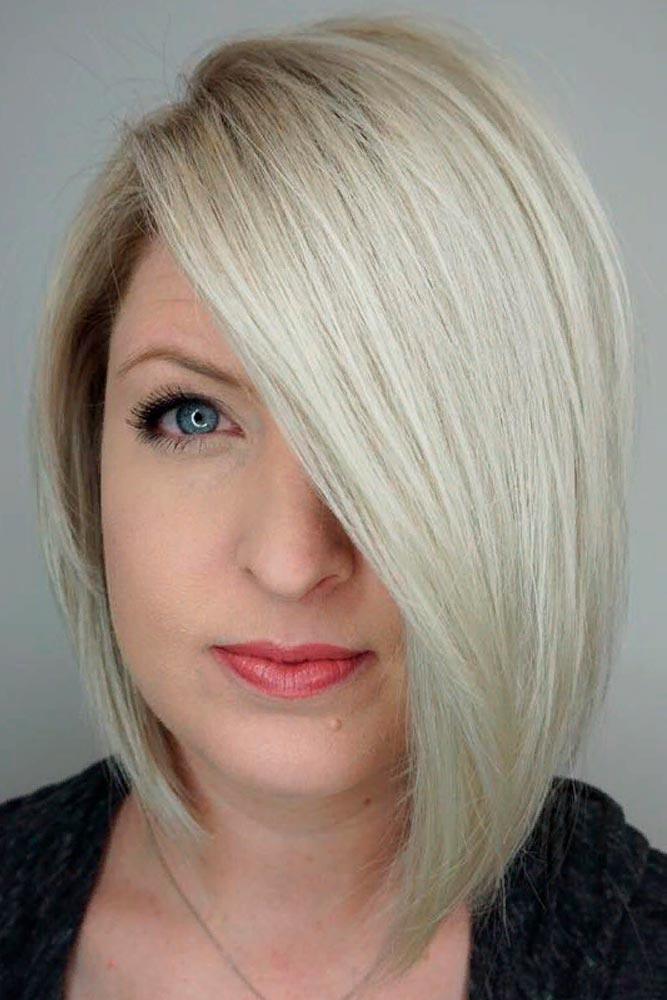 Credit photo: instagram.com/emilyandersonstyling
Want to experiment with your hairstyle? Then why not try asymmetrical bob to show off your experimental and adventurous nature? This kind of hairstyle gives a lot of room for variety and can be worn slightly differently every day.
Trendy Undercut For Medium Length Hairstyles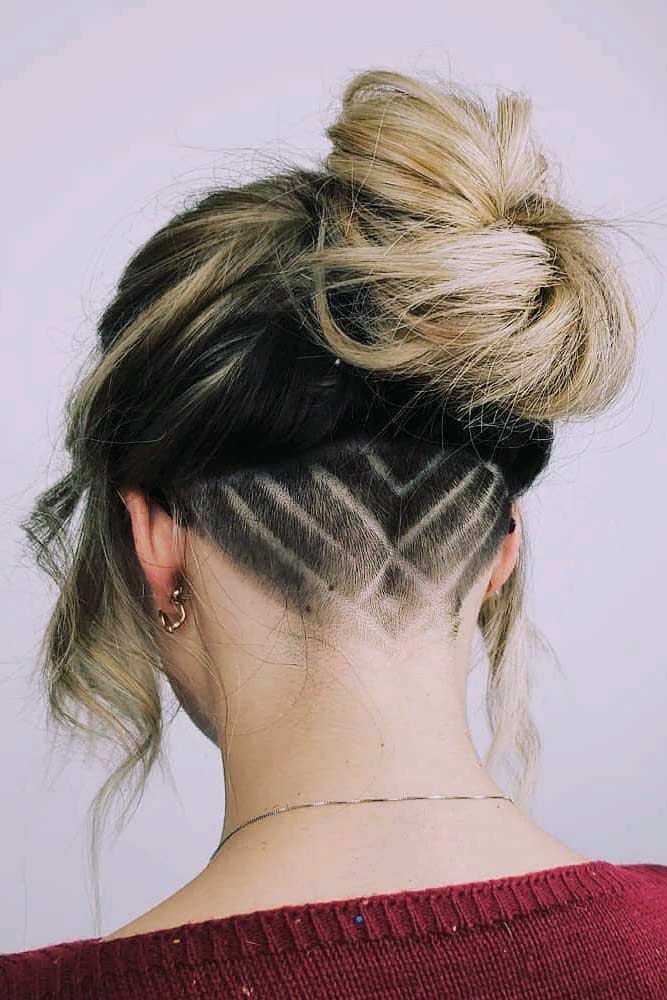 Credit photo: instagram.com/kyliesummershair
Undercuts are very popular this year. You can change your image according to the mood. To do this, just part the hair or gather it in a top knot.
Sweet Colored Waves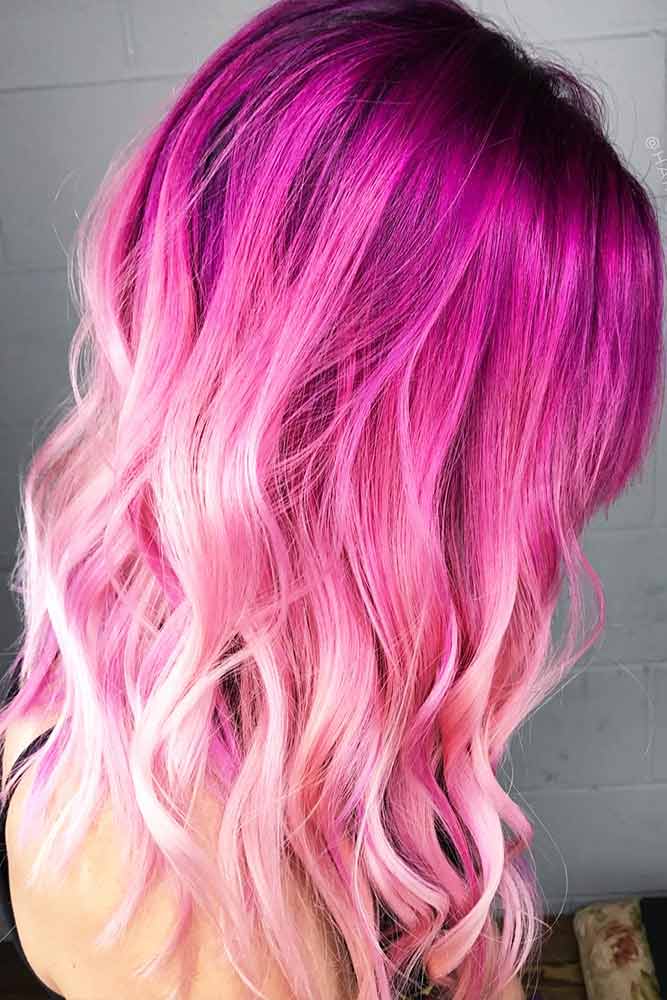 Credit photo: instagram.com/hairbyduhsavannah
Soft pink shades will help you create a cute but bright look. Ideal for more daring ladies.
Edgy A-line Bob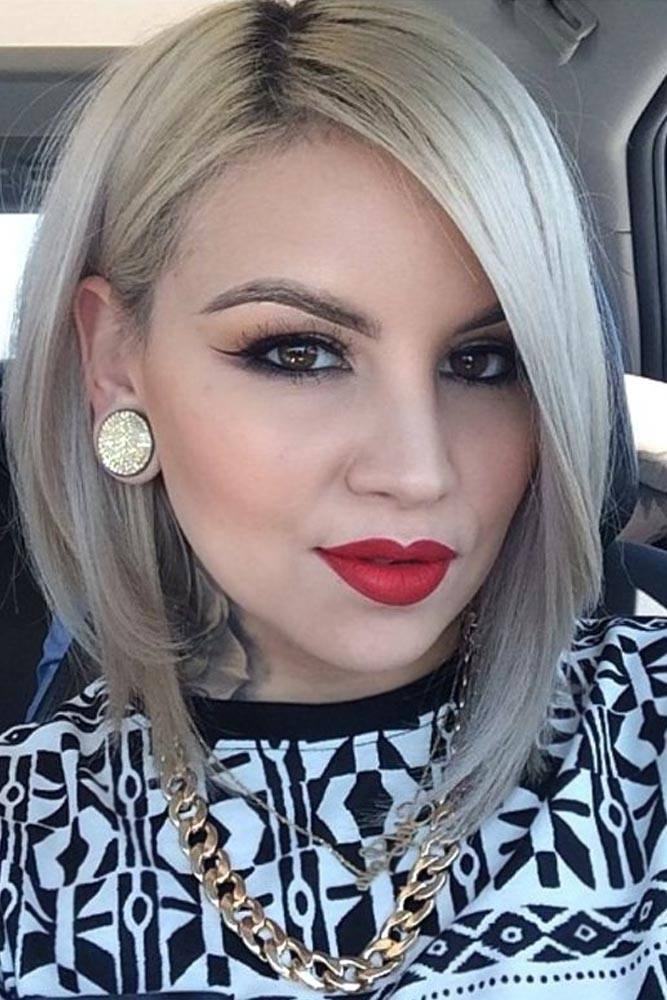 Credit photo: pinterest.com/loveoleander
This look will especially suit the women with a round or square face as it creates an oval silhouette and adds overall cuteness. This cut can be styled in a different ways leaving a lot of room for experimentation.
Sexy Look With Side Swept Bangs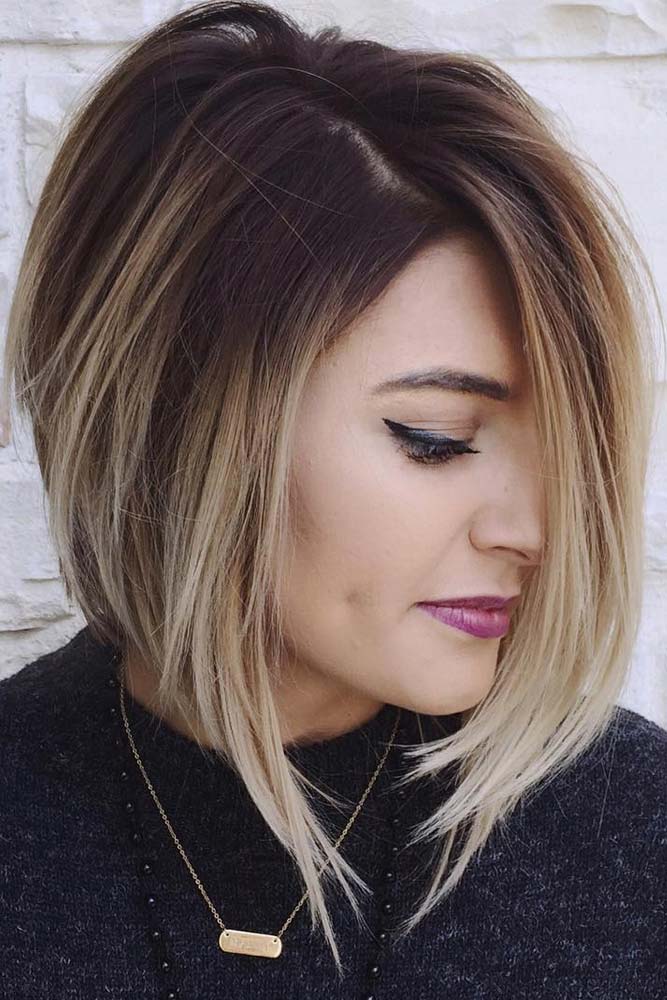 Credit photo: instagram.com/hairbyjessica_
Side swept long bangs create an asymmetrical effect that gives you a sexy and irresistible look. With some bold makeup added, you will definitely rock the scene.
Medium Length Hairstyles With Swoopy Layers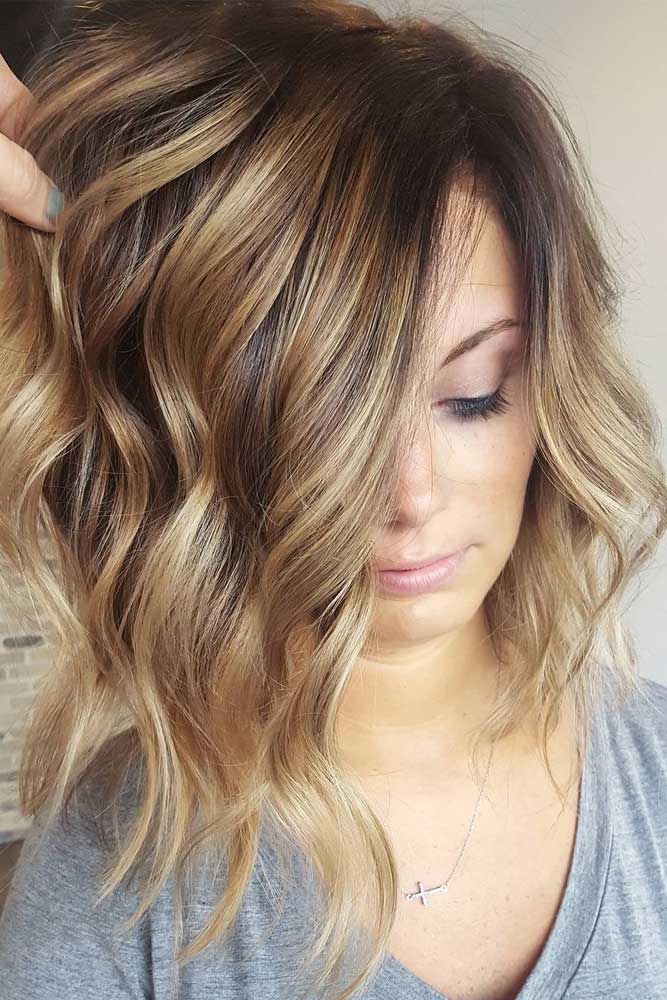 Credit photo: instagram.com/mikaatbhc
Add swoopy layers to your bob if you want to have a more dynamic look. Depending on your hair color, add some highlights or lowlights to add the texture to your hair. Such hairstyle looks interesting and adds a spice to your overall image.
Wavy, Shoulder Length Cut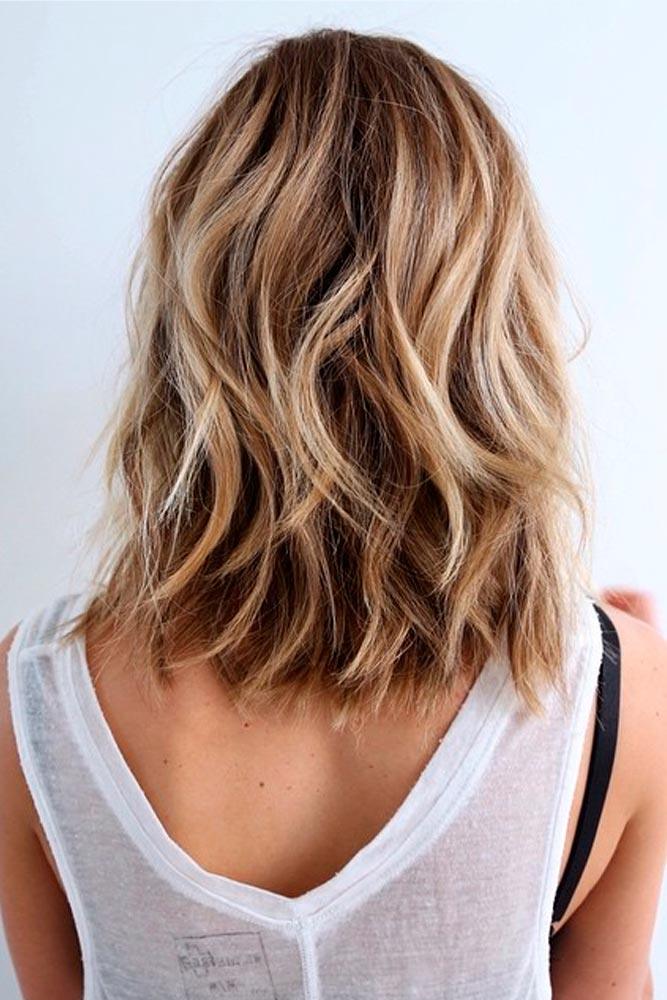 Credit photo: instagram.com/anhcotran
Shoulder length bob looks especially gorgeous with the wavy hair. Let your waves fall restlessly from the mane to the shoulders and create careless, yet sophisticated look. Such a look creates a retro vibe and is especially good for women who enjoy 1940's style.
Medium Length Hairstyles For Curly, Thick Hair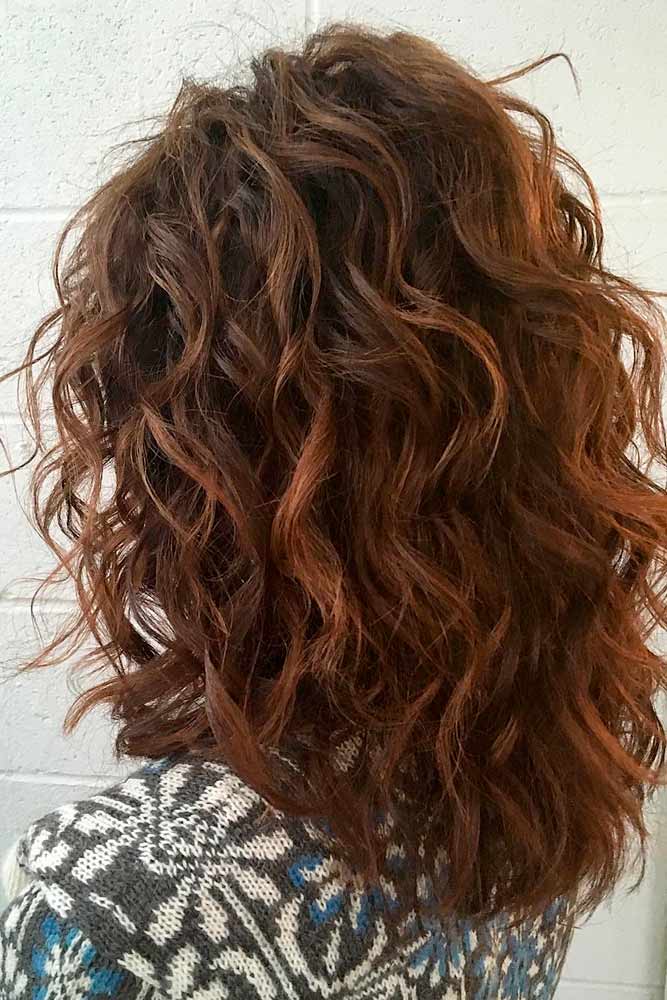 Credit photo: instagram.com/freeelancing
Women with naturally curly hair can achieve a stunning look by adding proper layers to shape and define shoulder length hair. If you want to give more dimension to your hair, you could try some bold color, for example, a cherry red hair with darker roots, a honey blonde to frame your face or any other color.
Graded Medium Length Hairstyles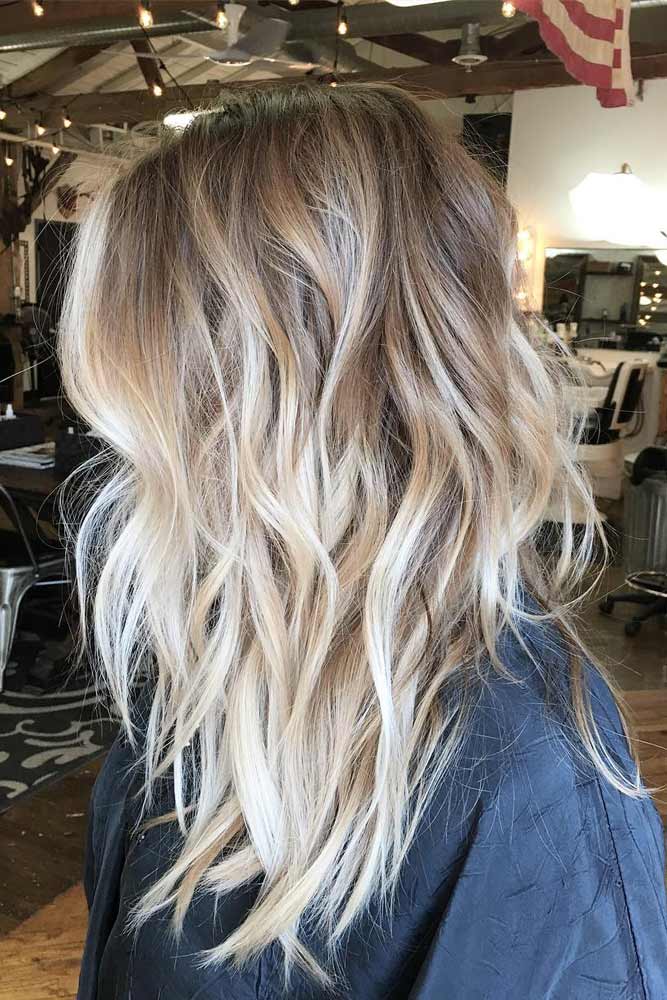 Credit photo: instagram.com/leahhofffhair
Color gradation creates enormously beautiful effect, especially on shoulder length haircuts. Such an effect is relatively easy to achieve and will look great no matter whether you have blonde or darker hair.
Blonde Shoulder Length Bob
Credit photo: instagram.com/chontelleberryman
If you have natural blonde hair, bob haircut is a perfect one to showcase your beautiful hair color. Such hairstyle is extremely easy to maintain and will look beautiful on every occasion. You could add some balayage to make your hairstyle stand out even more.
Ombre Medium Length Hairstyles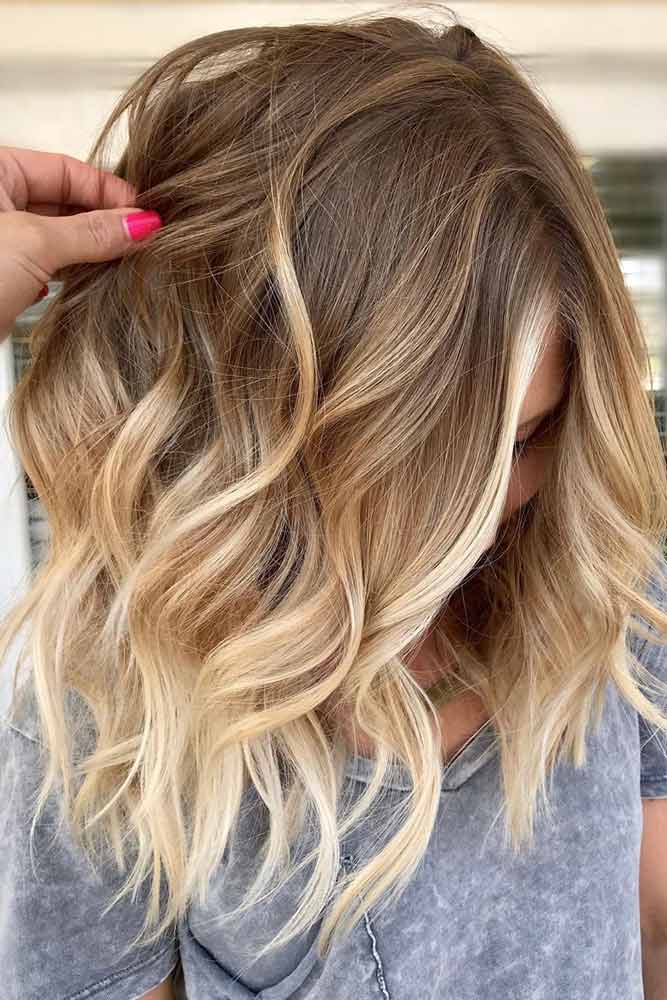 Credit photo: instagram.com/prissyhippiebeautyshop
Changing hair color is one of the ways of breaking up the density of thick hair. Ombre can create an airy effect, as it gets gradually lighter towards the hair ends. Depending on your natural hair color, you could experiment with different shades of color, from pink to a green one.
Bob With Highlights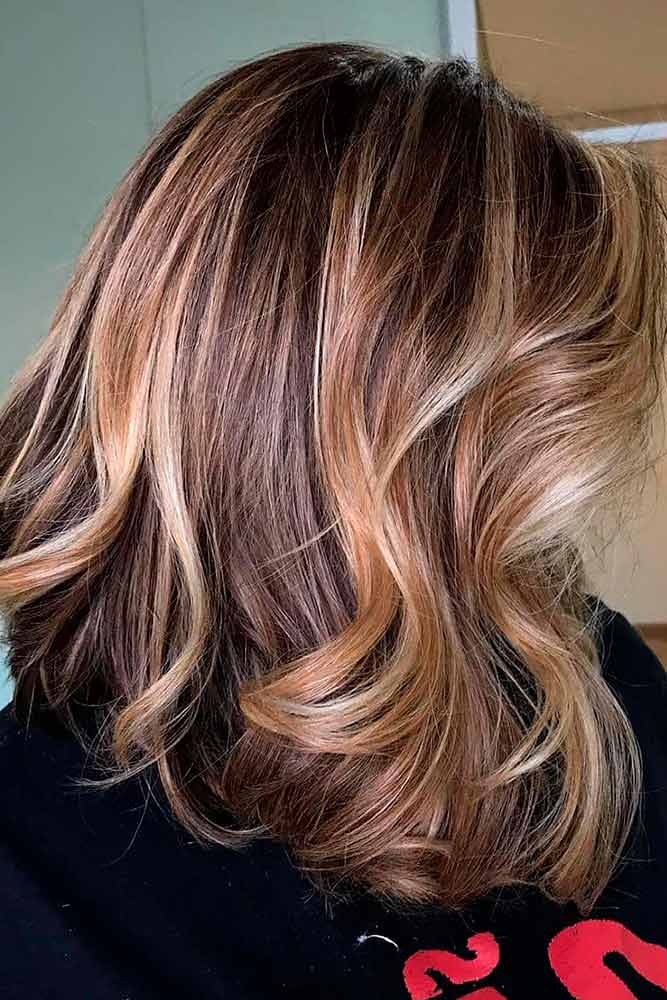 Credit photo: instagram.com/cortesdecabelofeminino
Highlights add extra volume to the classic bob. It's perfect for women with different types of hair and different color shades. Such a hairstyle will always be in trend. Just pick a shade that is a tone lighter than your base and give your bob a soft accentuating finish: you will love the way the lights enhance the beauty of your bob.
Outgrown Bob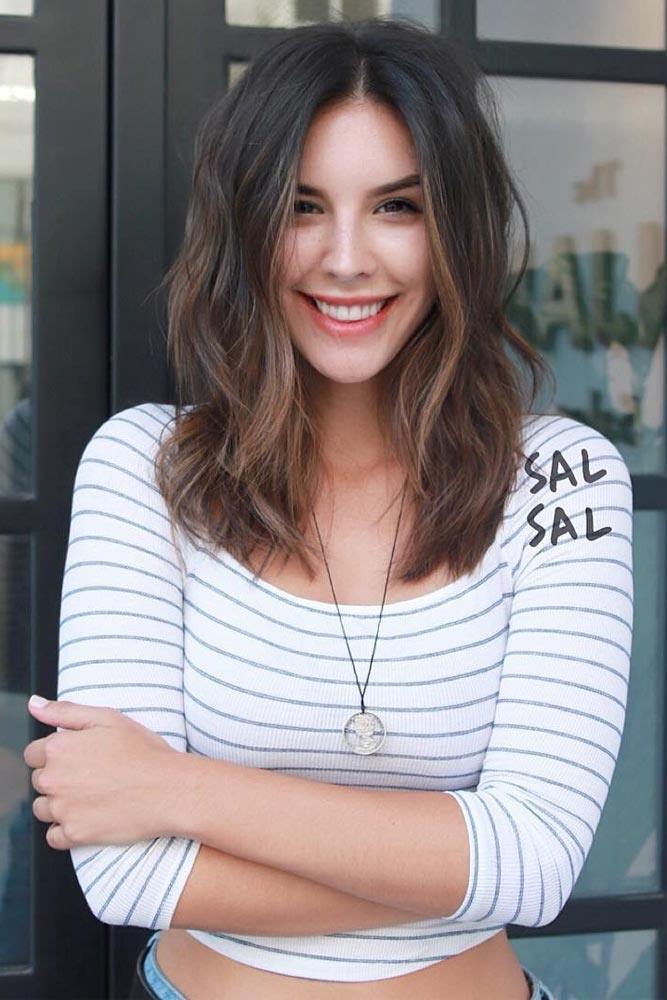 Credit photo: instagram.com/salsalhair
This style adds quite a deal of volume with loose and extra large waves. It's an effortless, yet modern, style, with its long bangs, sunkissed color and shaggy ends.
Straight Layered Medium Length Hairstyles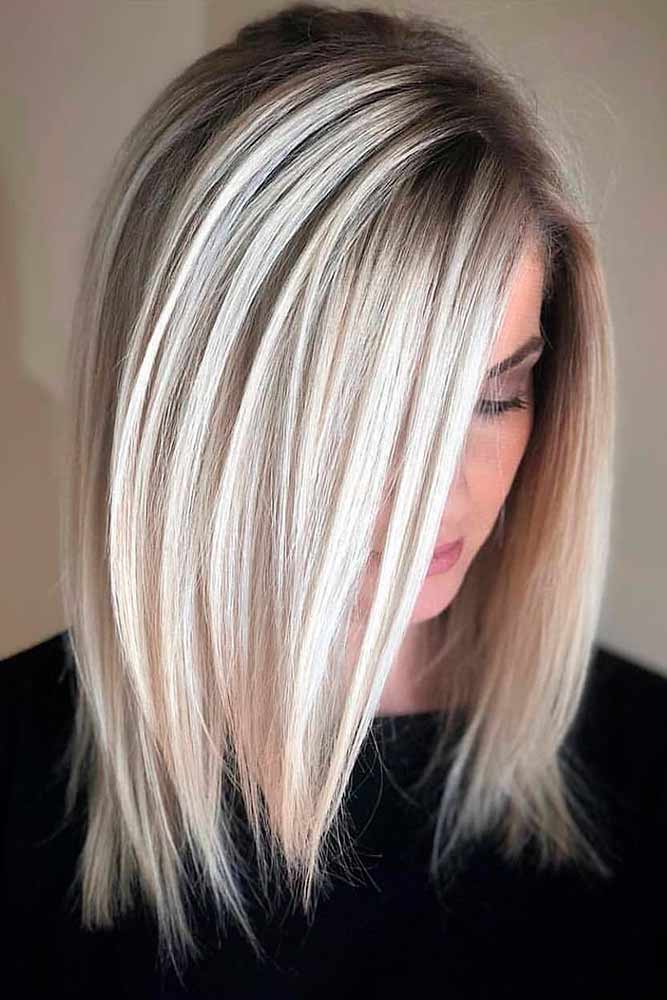 Credit photo: instagram.com/rochellegoldenhairstylist
If you like having slightly longer hair, this style is perfect for you. The perfectly straight and sharp angles of this cut fall to the front, creating the effect of outgrown bob. And the best thing is, this hairstyle can be worn either loose or put into an updo, leaving the room for styling variations.
Medium Length Hairstyles With Long Bangs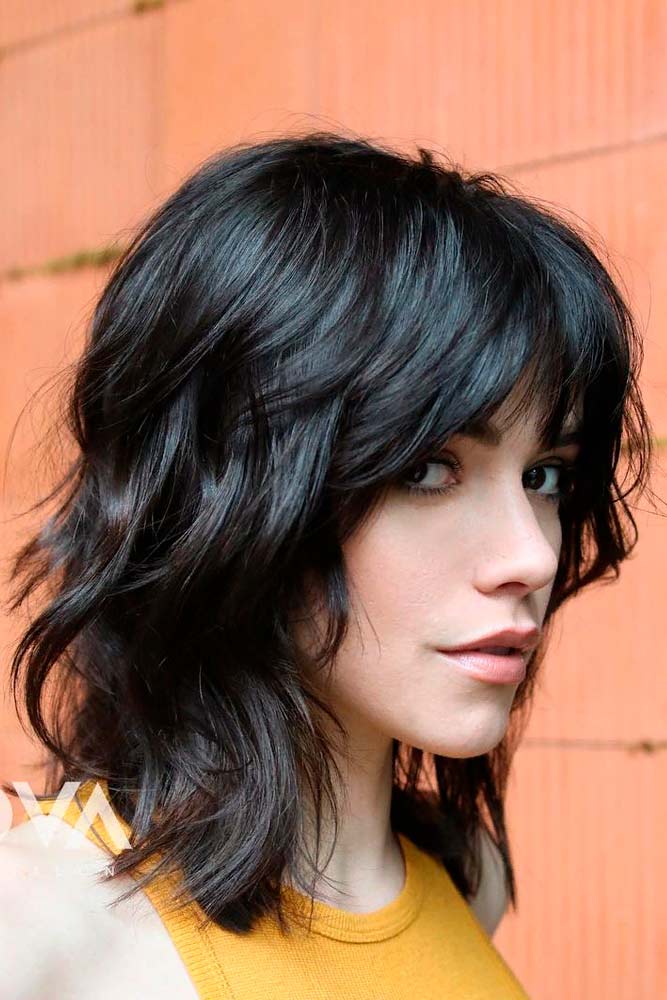 Credit photo: instagram.com/salsalhair
This hairstyle is suitable for women with thick hair who also like bangs. Try wearing long bangs, - in such a way you'll get all the attention on your eyes and beautiful face shape. You can wear such bangs either straight or sideways.
Shoulder Length Shaggy Waves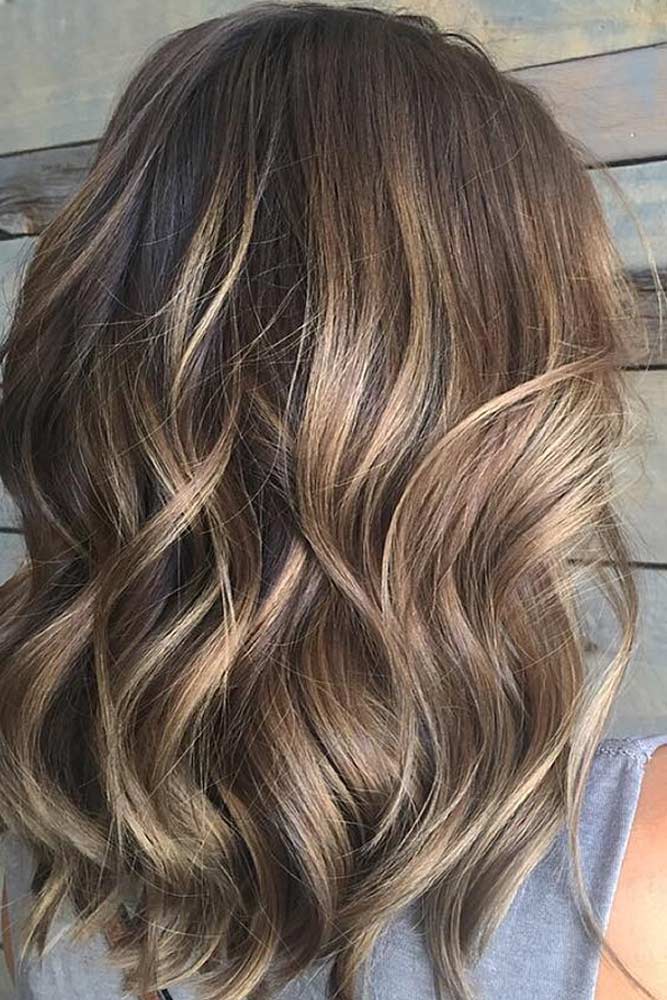 Credit photo: instagram.com/aimee_cuts_and_dyes
Shaggy waves effect can be achieved by leaving the ends of your hair disconnected while styling it. It creates very casual free look. Go for it if you feel like revealing your free-spirited nature.
Bouncy, Mid-Length Layers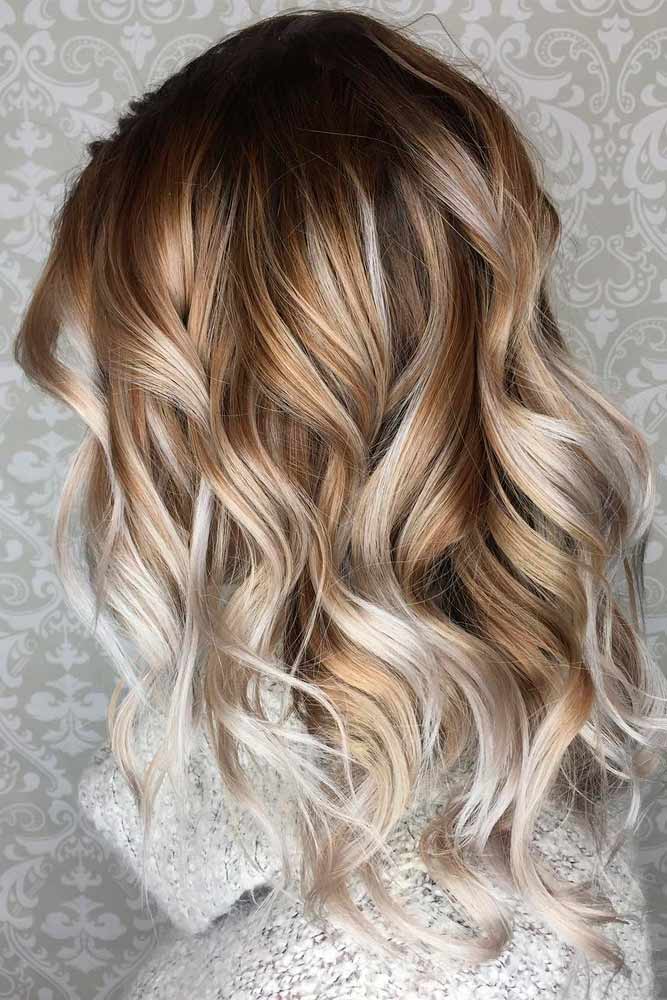 Credit photo: instagram.com/caryannstavrouhair
Creating soft transition of hair color will help achieve the romantic look. Use a round hairbrush and hairdryer to give your hair a natural bounce and highlight your gorgeously layered locks to look like a princess.
Layered "U" Cut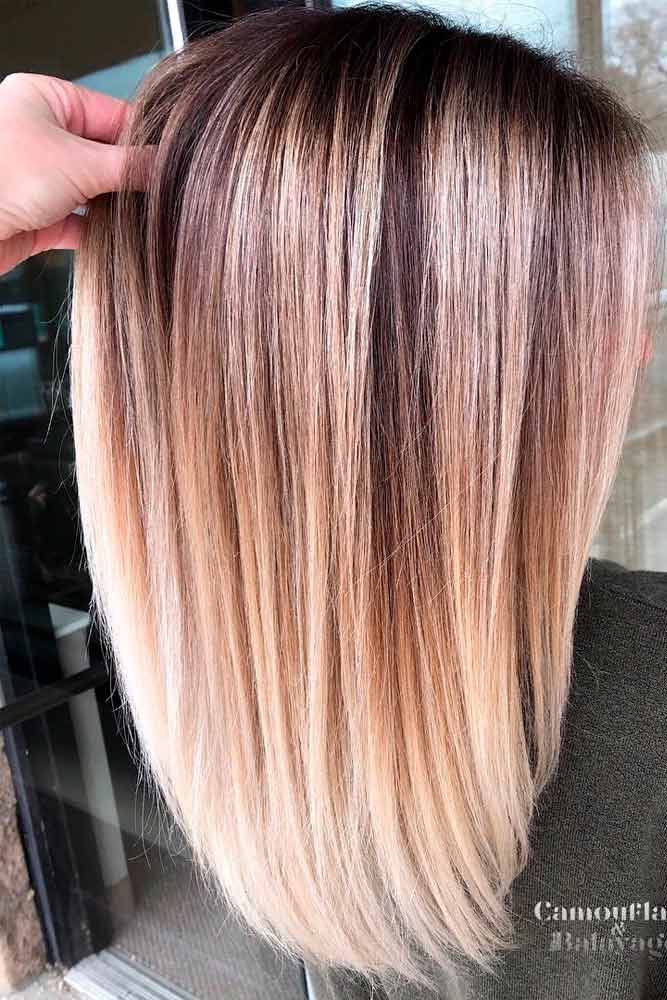 Credit photo: instagram.com/camouflageandbalayage
This type of haircut will show off the gradual change in length, as it's longer in the middle and somewhat shorter on the sides. No matter what type of hair you have, this haircut will add a little spice to your image.
Copper Shoulder-Length Layers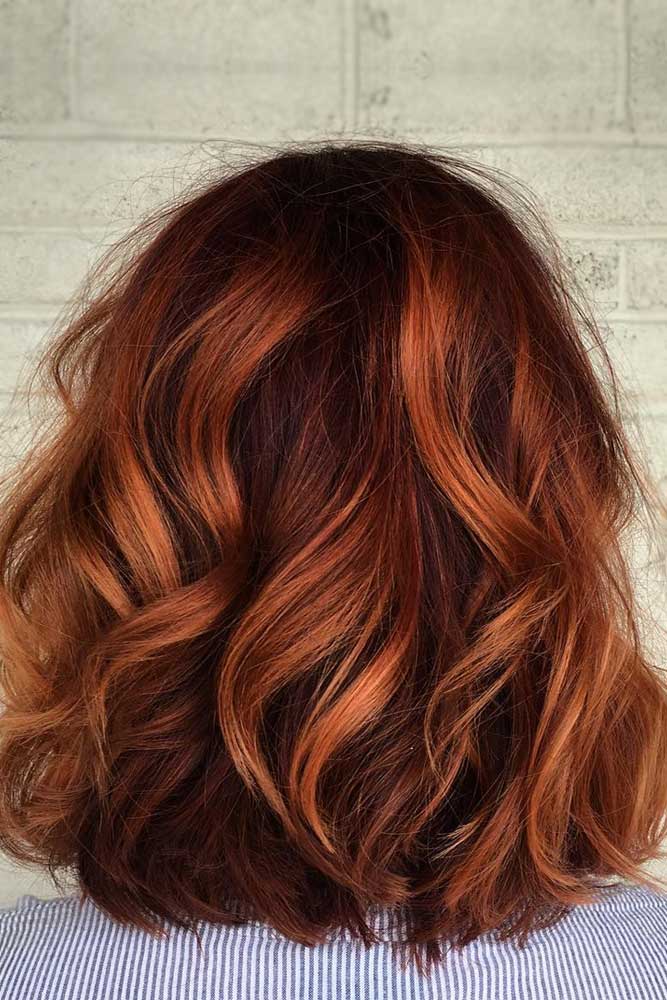 Credit photo: instagram.com/thefrenchtwistsalon
Pay attention to styling the ends of this hair cut. Make them either tamed or disconnected, depending on the desirable look.
Two-Toned Medium Length Hairstyles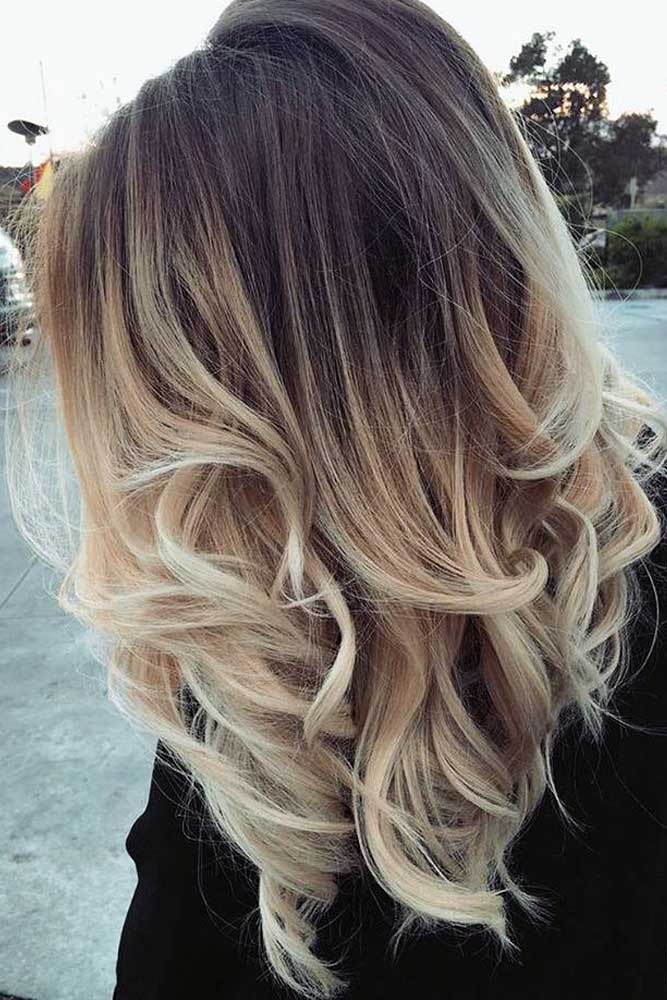 Credit photo: instagram.com/o_utlooked
Are you longing for a really dramatic look? Dye your hair with two different colors, - get bold and experimental! You can either slightly curl your hair or leave it straight, and no matter what you choose, your two-toned haircut will definitely be eye-catching!
Shaggy Medium Length Hairstyles With Bangs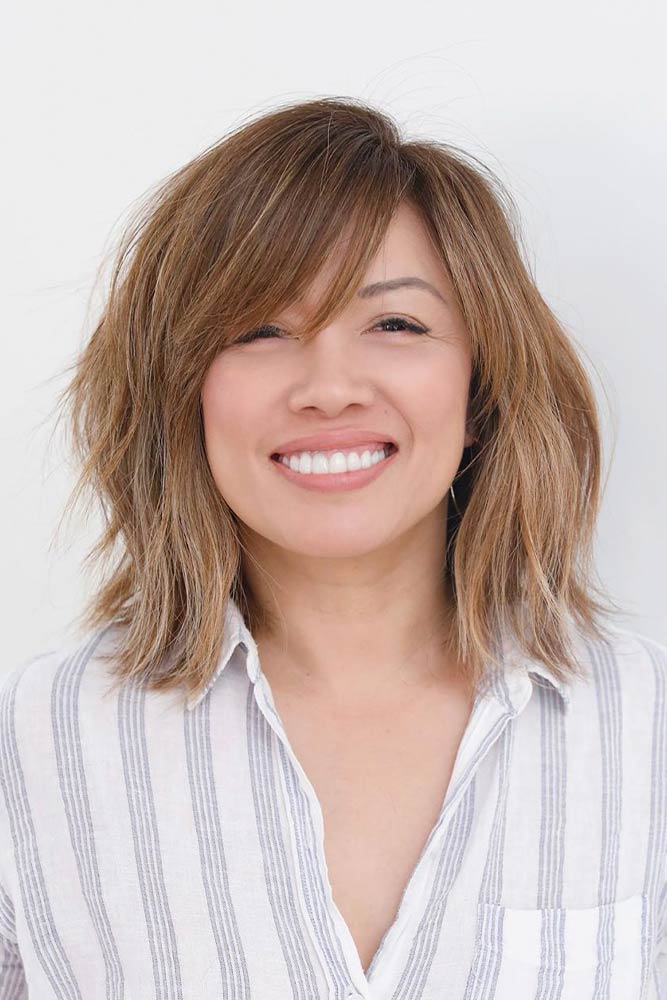 Credit photo: instagram.com/anhcotran
A shag haircut with nicely chopped layers can be a great addition to the way you dress, whatever your style is. It creates a messy and careless look, which is definitely worth trying, especially if you want to emphasize your carefree nature. Make sure to have a product that will define your layers to make the shaggy vibe intense and chic.
Medium Length Hairstyles With Thick Straight Bangs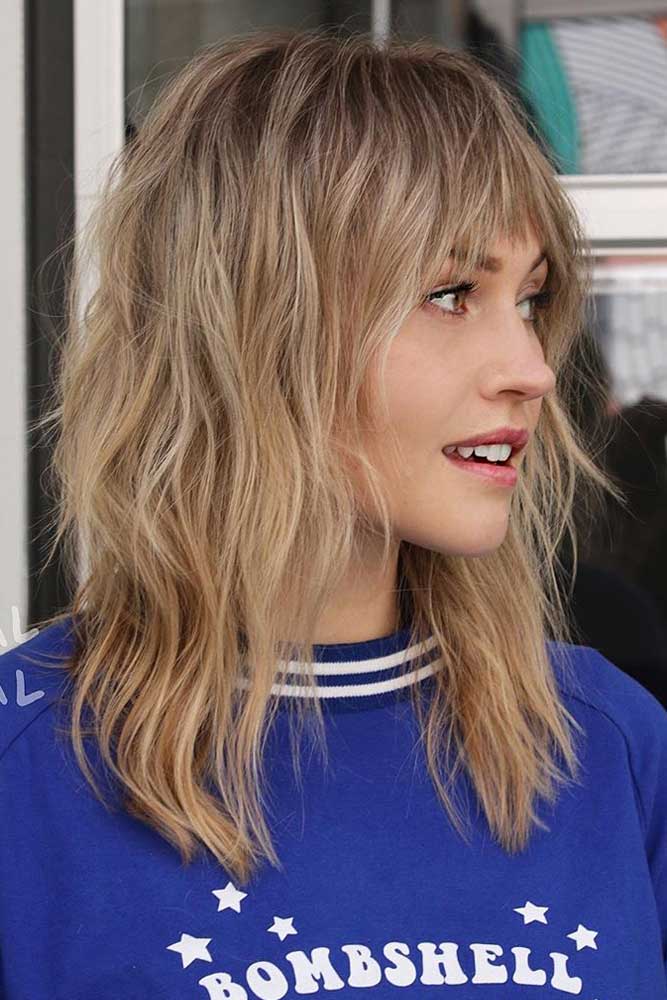 Credit photo: instagram.com/anhcotran
If you love wearing bangs, make it thick and straight, so that it becomes the attention grabber. Combined with classy-looking mid-length hairstyle, it will add some sparks to your image!
Medium Length Hairstyles For Thin Hair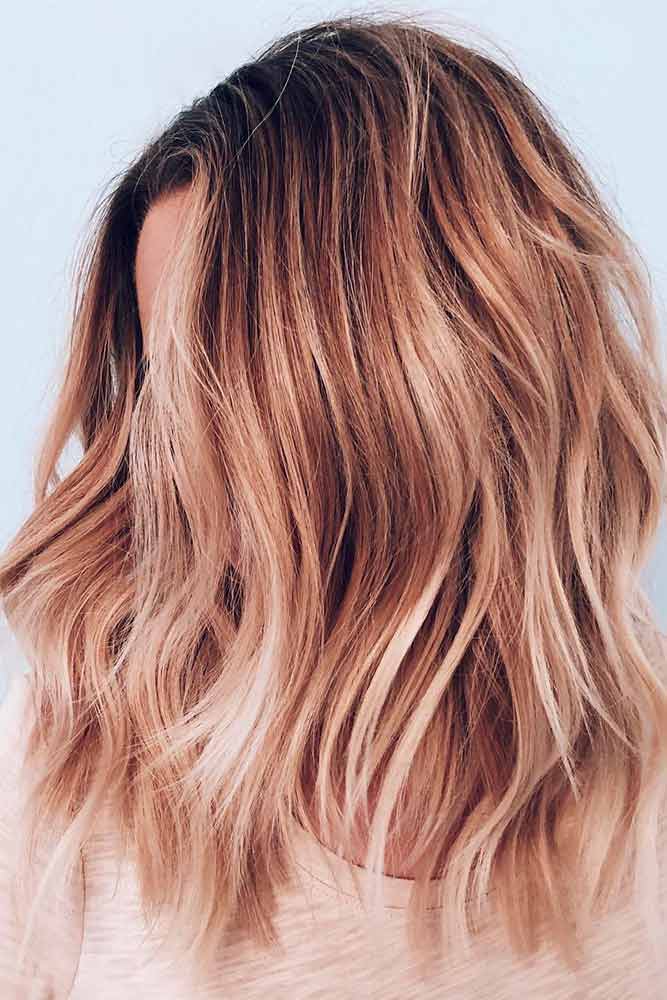 Credit photo: instagram.com/kristin_ess
If you have thin hair, don't worry. Go for a hairstyle that helps create volume and requires minimum efforts in styling. You can either have bangs or go without them, you can slightly wave your hair or leave it sleek or you can change your look every day! In fact, it's totally up to you. However, remember to finish your cut with layers, as they're what can really amp up your thin locks with volume.
Wavy Layered Medium Length Hairstyles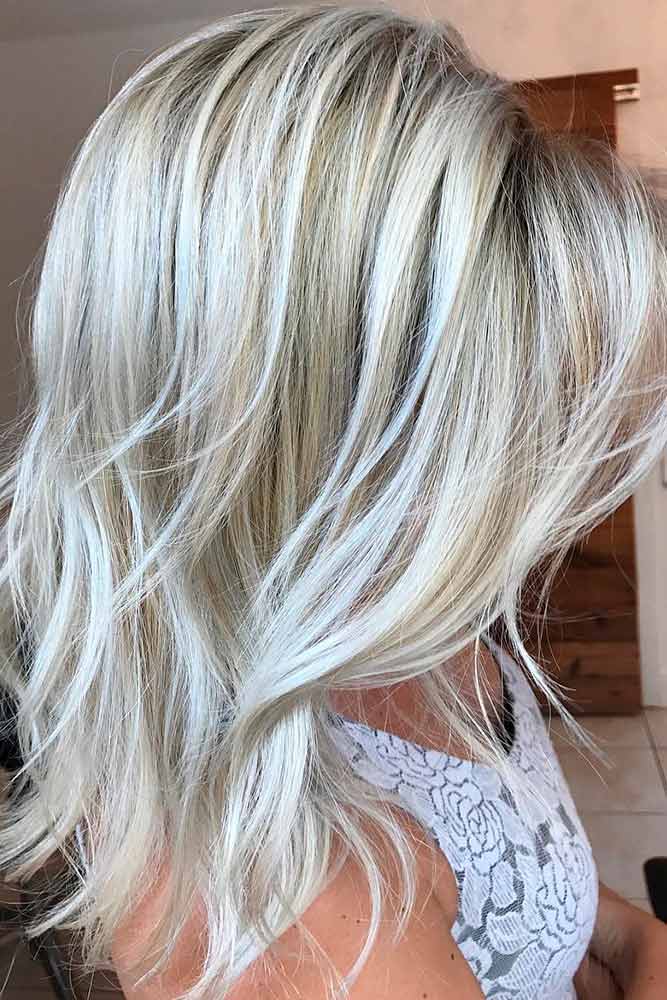 Credit photo: instagram.com/kellymassiashair
If you are lucky to have wavy hair, take full advantage of it and try different options. You can style your hair in a variety of ways and wear it either sideways or let your waves fall carelessly. You can also create more twisted waves for a more sophisticated look.
Ice Blonde Layered Medium Length Hairstyles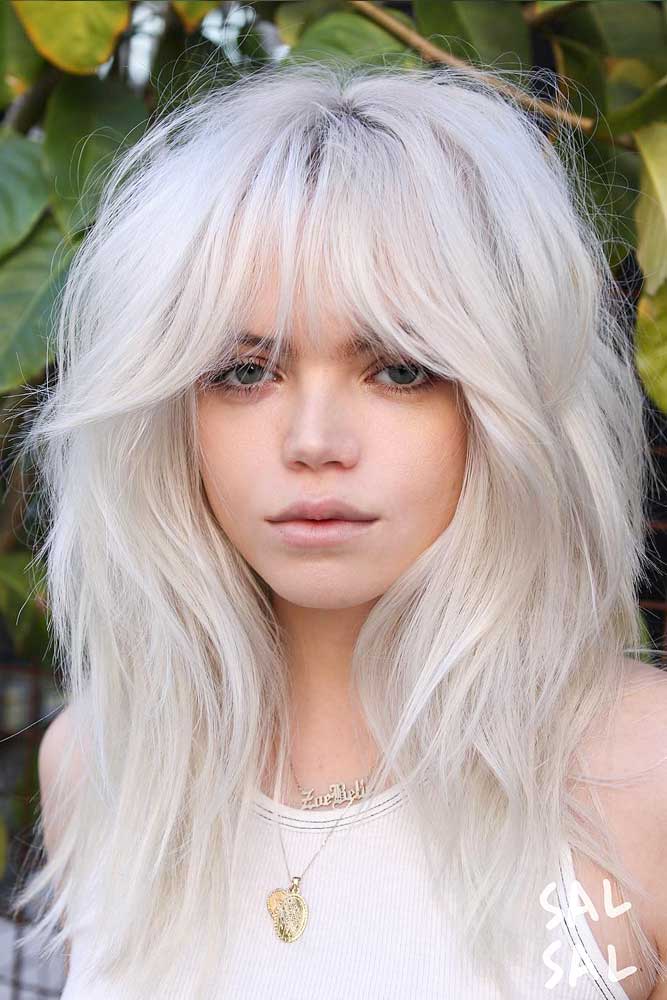 Credit photo: instagram.com/salsalhair
Ice blonde color itself adds a lot of mystery to the image. Do some small styling and add dimension to the hair to achieve even more mysterious and dramatic look! No one will be able to take eyes off you!
Slightly Wavy Lob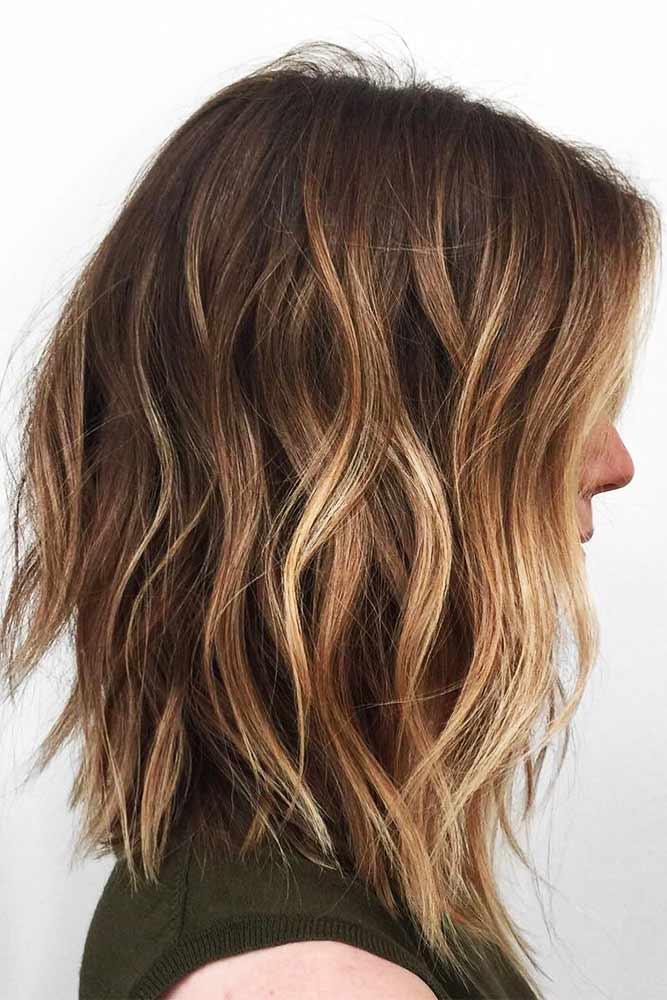 Credit photo: instagram.com/kccarhart
Slightly wavy lob is fresh and youthful hairstyle that can flatter literally everyone. Go for this hairstyle, and you won't regret it, as you will always look young and full of energy!
Blonde Tousled Bob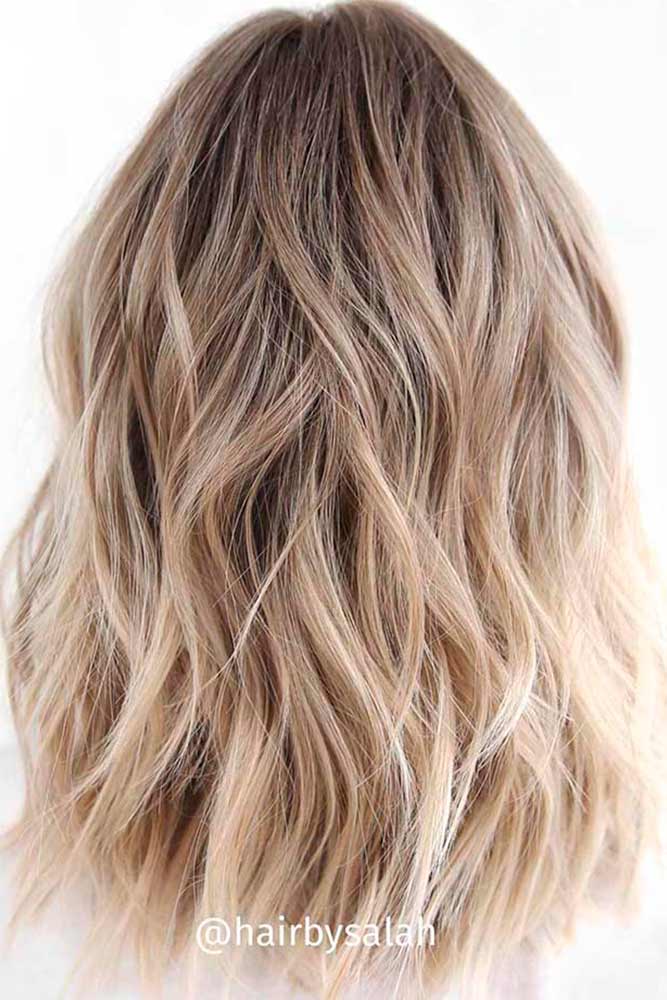 Credit photo: hairbysalah.com
Blonde color and beach waves are perfect if you aim for an effortless look. Keep your locks tousled to have that beach charm and make everyone envy you! No make up is needed when you have such a gorgeous hairstyle.
Brunette Lob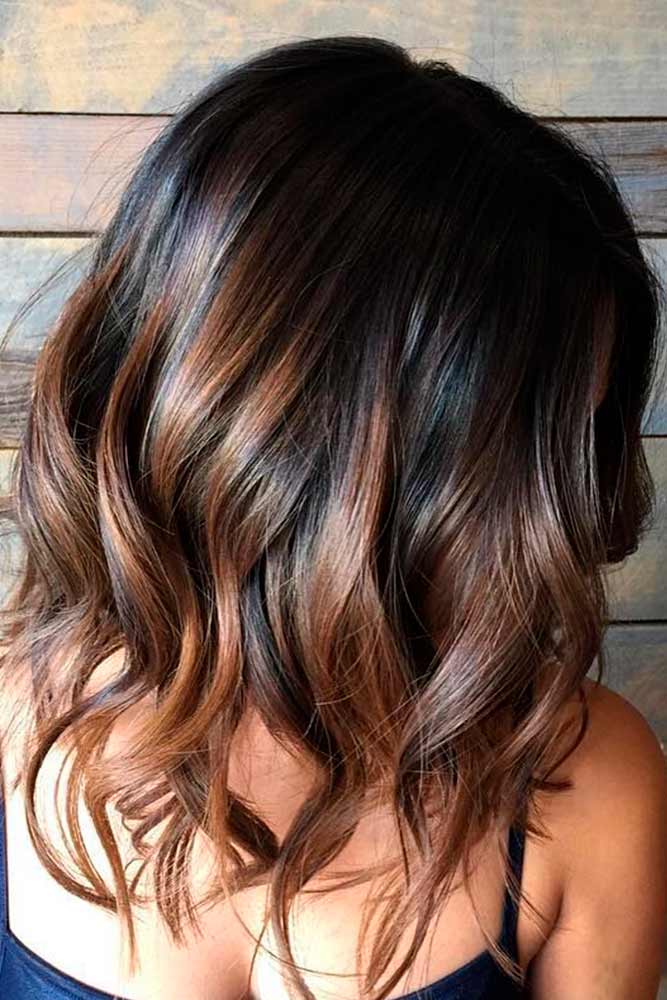 Credit photo: instagram.com/valloveshair
Lobs are very versatile and look beautiful with every hair color. If you are brunette you can have the lob and add some waves for a more romantic look. Highlight your waves with slightly different color and simply enjoy your new look!
Choppy Medium Length Hairstyles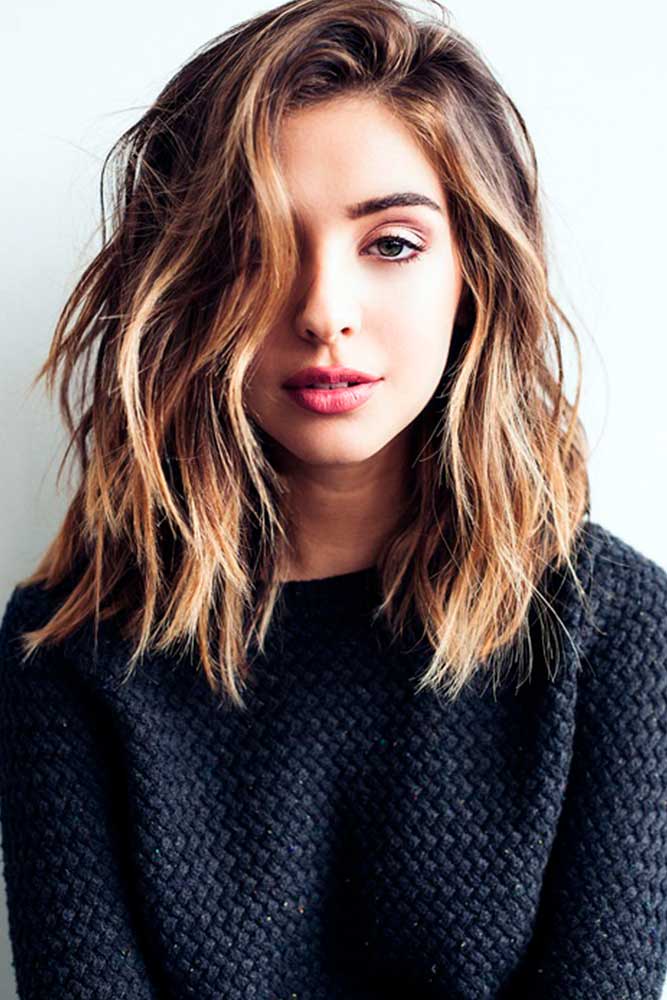 Credit photo: nextmanagement.com/
If your hair is too thick, go for a trendy choppy haircut that will frame your face in the best possible way. In addition, the multitude of layers will give you a fashionable look no matter if you choose a standard bob or slightly over the shoulder lob.
Sleek Bob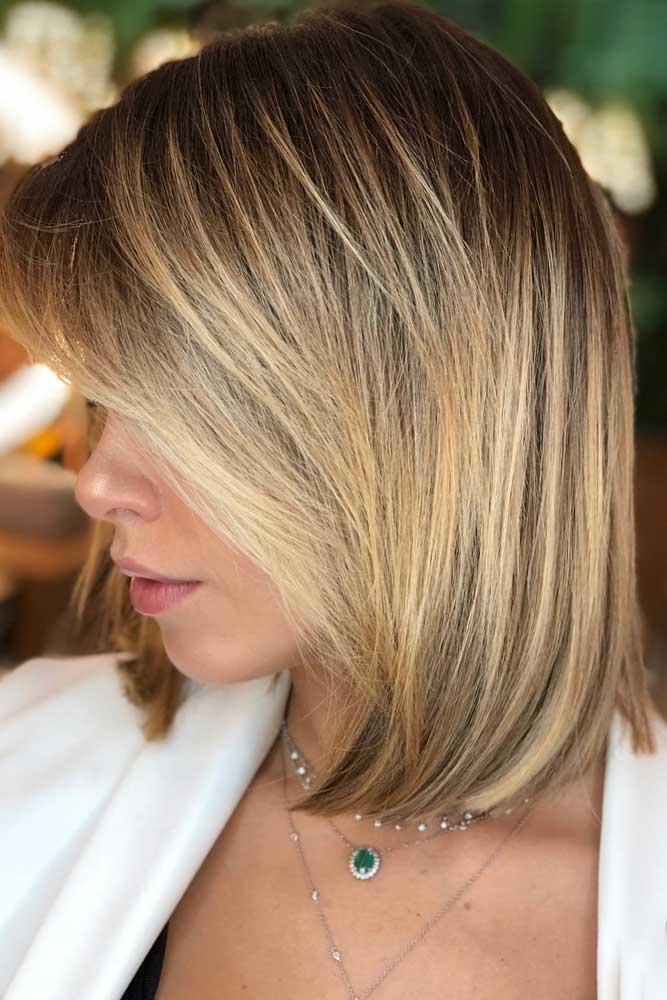 Credit photo: instagram.com/romeufelipe
This simple bob cut looks stylish and elegant. Plus, you'll have more styling options.
Messy Layered Long Bob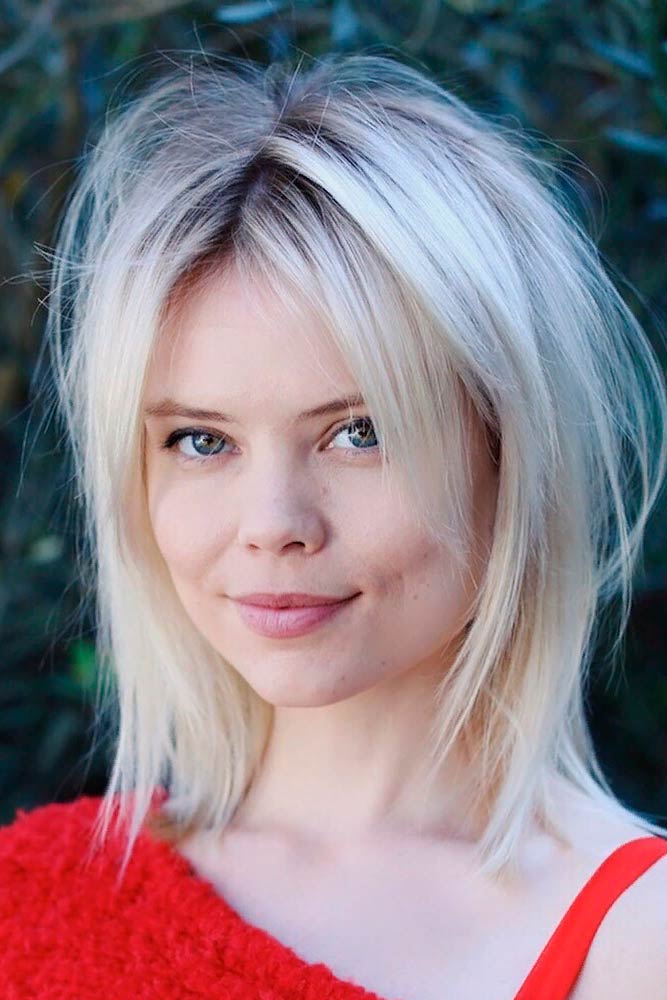 Credit photo: instagram.com/donovanmillshair
If you're looking for a low maintenance yet stylish haircut, then take a closer look at a messy layered lob. Although it seems as if you've just woken up, this perfect bedhead hairstyle will give your look effortless and breezy vibes. And thanks to the thickness of your hair, it won't take you much effort to maintain volume.
Chestnut Highlights For Layered Lob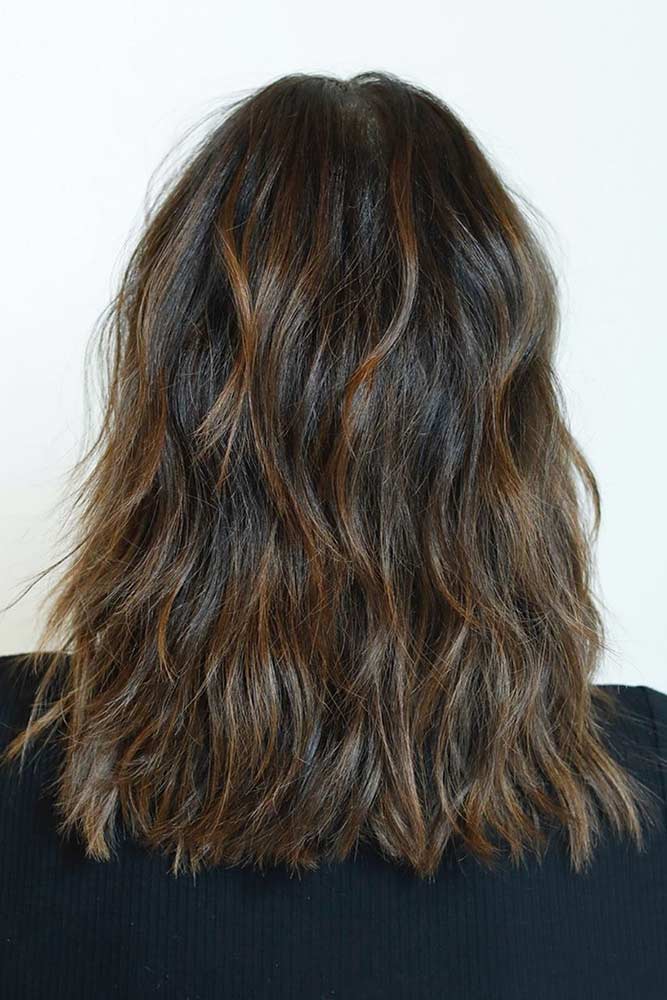 Credit photo: instagram.com/anhcotran
To give your chocolate brown hair a soft touch, add chestnut highlights to the top and bottom layers, which will create a shimmering ribbon effect. For added depth and dimension of your layered cut, enhance the movement of the layered structure with some texturizing product, tousling your layers to a messy finish.
Messy Blonde Lob With Fringe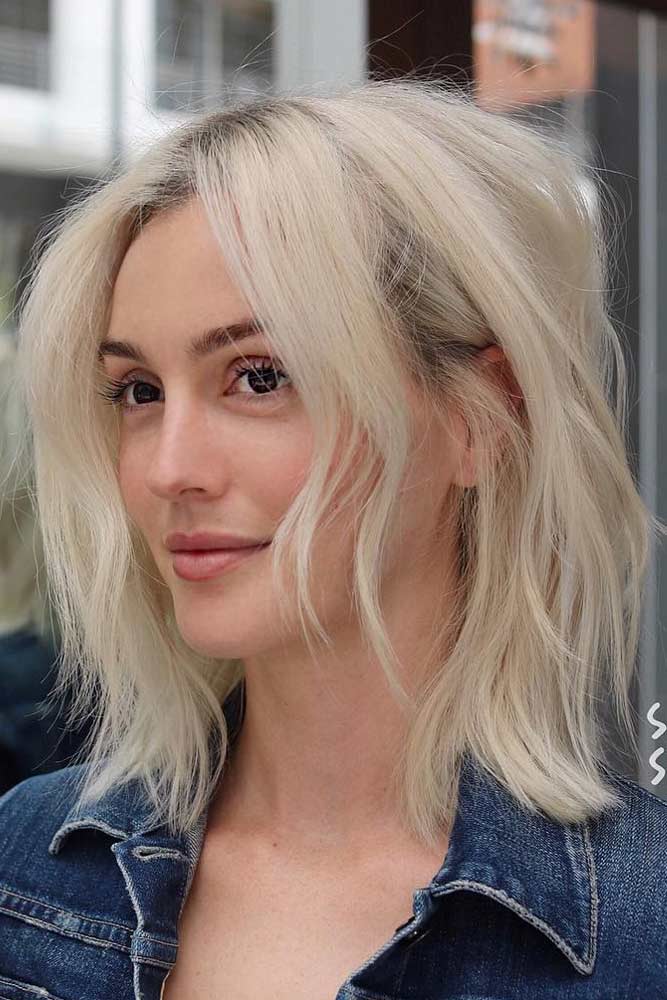 Credit photo: instagram.com/salsalhair
One of the greatest benefits of a long bob is that it can be styled to fit any ambiance. You can transform your busy nine-to-five lob into a casual one in the blink of an eye by simply tousling the tresses for a messier look. A piecey choppy fringe cut straight across your forehead will become a pretty adornment to such a hairstyle.
Colorful Sleek A-Line Lob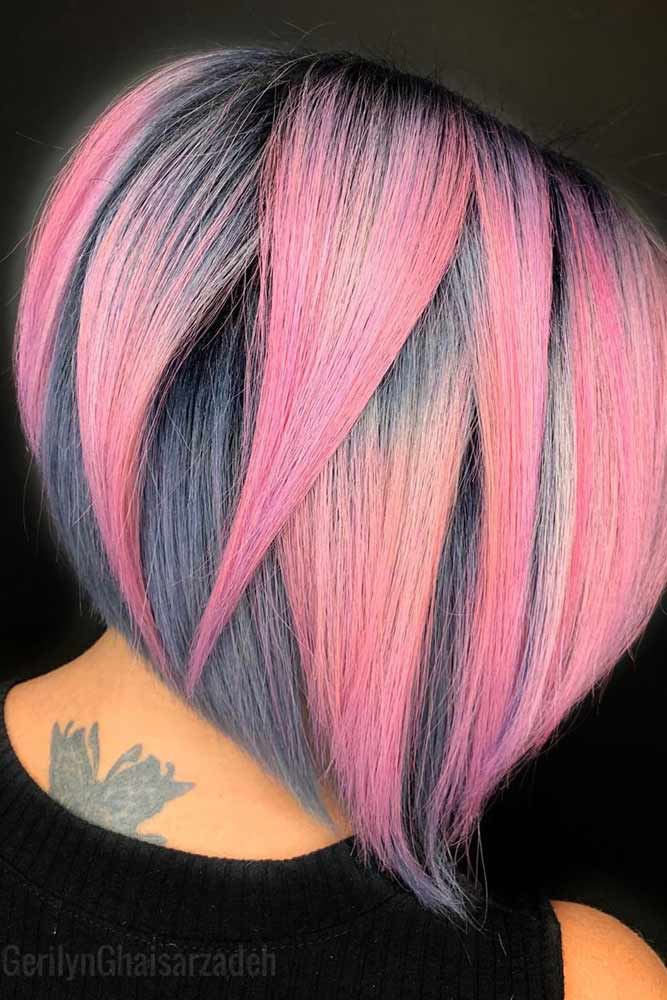 Credit photo: instagram.com/gerilynghaisarzadeh
To visually elongate your neck, go for an A-line bob. The angle at which it is cut makes it a very versatile yet flattering haircut that suits almost any face shape. As it's so sleek and sloping, you may want to add a fun twist to it. You can play around with the color, for instance. To keep up with the current fashion trends, opt for a colorful ombre that starts at the roots with dusty pink, blends with platinum blonde in the middle and gradually melts into purple at the ends.
Classic Inverted Bob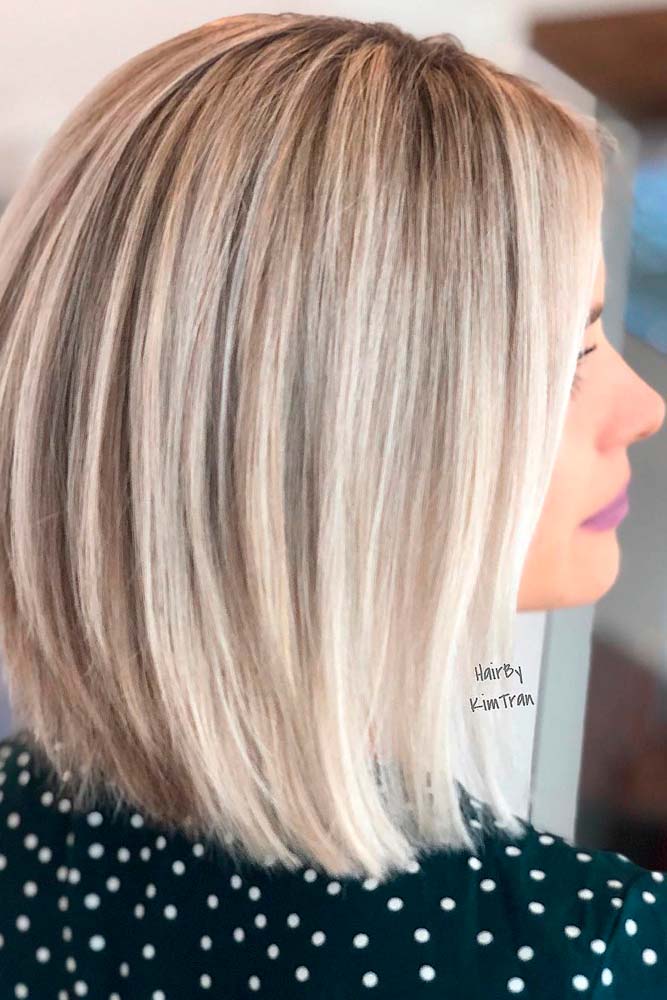 Credit photo: instagram.com/hairbykimtran
If it's your fist bob and you don't know what exact style to choose, you can never go wrong with a classic inverted lob. The change in length it offers makes it highly complimentary for basically anybody. Besides, it doesn't require very much styling or maintenance, as the layers it's cut in create a pronounced shape and volume without additional effort.
Rose Gold Ombre Layered Medium Length Hairstyles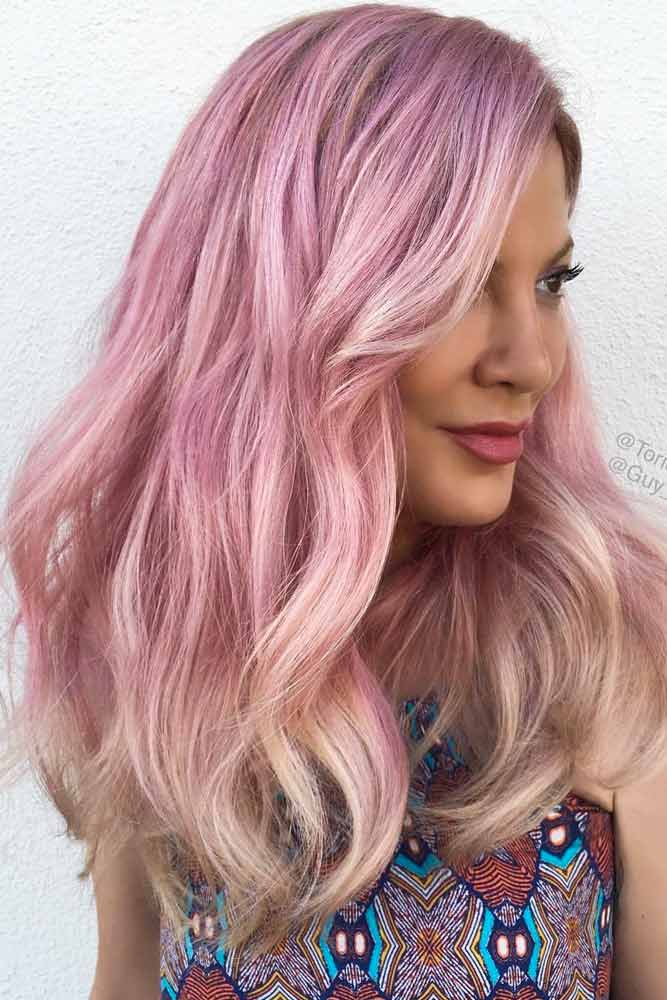 Credit photo: instagram.com/guy_tang
The rose gold color is all the rage currently. It's everywhere – in makeup, on nails and, of course, on hair. Dyeing your long bob in rose gold ombre technique makes a strong fashion statement, as with such a layered cut, your hair gains more edginess and dynamics. The roots start off chocolate brown and lighten up midway down to baby pink.
Messy Layered Long Bob With Blonde Highlights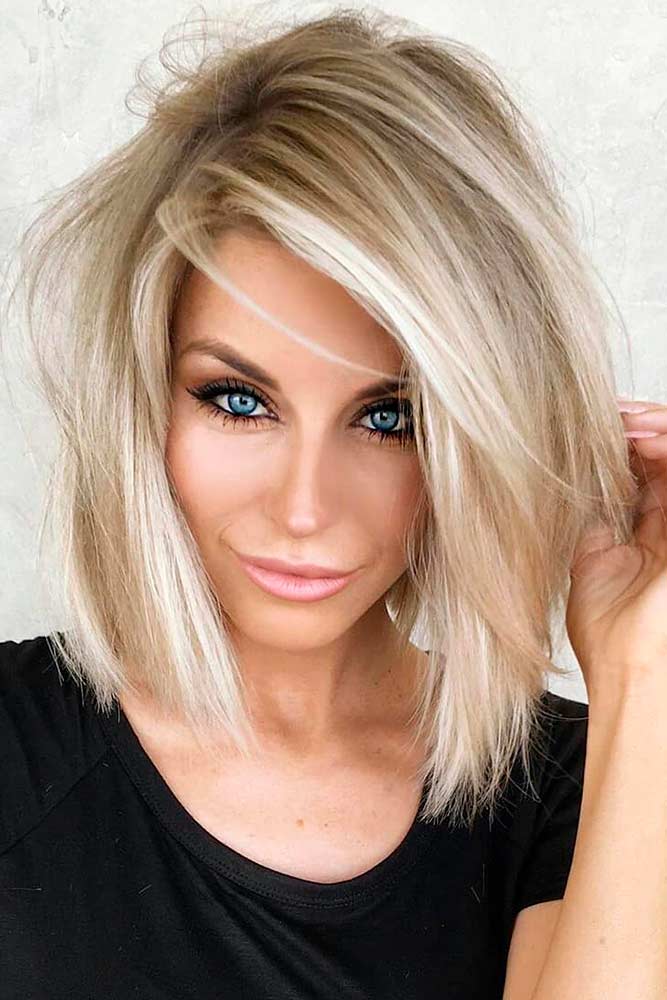 Credit photo: instagram.com/hairby_chrissy
The versatility and styling flexibility of layered bobs are what make them the most sought-after shoulder length haircuts of all time. Even without layers, bob cuts come as a canvas for endless experiments where you can adjust anything from a cutting line angle to the sharpness of the edges, not to mention the color.
However, when tailoring a bob, layers are the first thing to consider for one simple reason. With layered hair, you are free to recreate any shoulder length hairstyles you want with ease, especially when it comes to messy styles. Layers make the ends airier, and once you spritz them with a texturizer before drying, you will create a fantastic disheveled look. Also, when you really want to take it up a notch, highlights will be the best weapon.
Ash Blonde Medium Length Hairstyles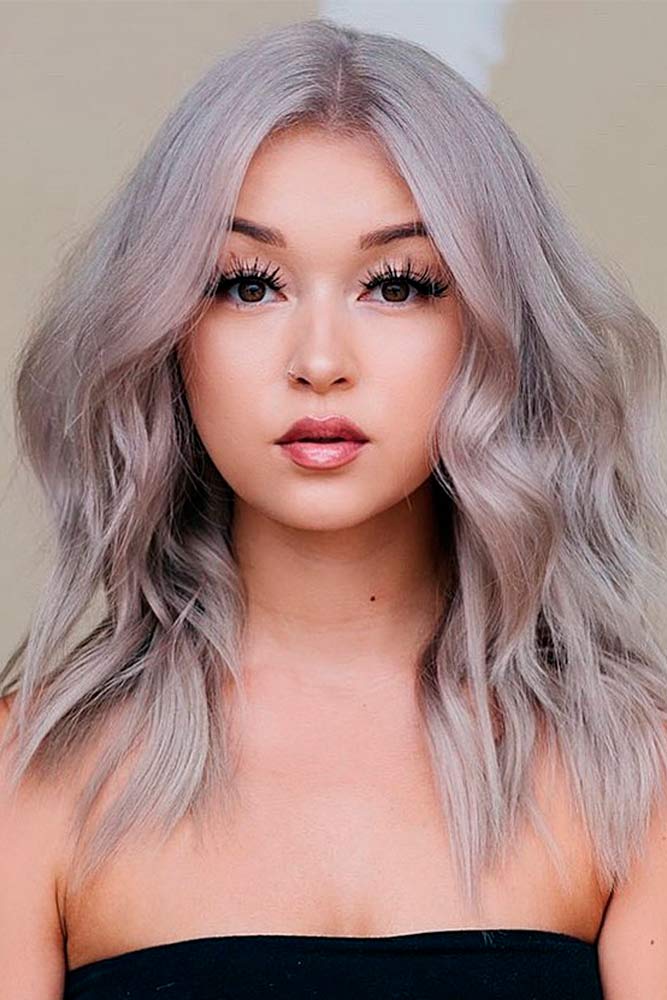 Credit photo: instagram.com/bescene
Now that you know that medium length haircuts have a certain range of lengths, you won't get surprised by ideas like that. In fact, it's the purest version of a shoulder-length haircut with its ends falling right at the shoulder line. What makes this cut so dimensional is the layered structure: the crown layers add a lot of volume to the top while the bottom sections make a style longer visually.
At first sight, such length may seem pretty simple. But, in reality, its simplicity is what makes it so amazing. Not only does it have enough hair for creative styling but it also can be a stunning base for trendy colors. Well, everyone's favorite ash blonde is no exception!
Ash Blue Shaggy Long Bob
For fine hair, medium length is nothing but the holy grail. This length keeps the hair at the point where it can't be outweighed by the length, preserving as much natural volume as possible. Of course, short hair may be even more advantageous in such cases, but medium length haircuts for women with thin hair offer much more room for styling games.
Here, you can see how lots of lively shaggy layers run through the edges of a long bob, spicing it up with dynamics and movement. The best thing is, there's nothing easier than styling a shag. In fact, you can even let it air-dry with some texturizing product. That's actually another advantage for those who'd like to pair it with a sultry ashy shade while keeping the hair safe.
Dark Chocolate Long A-Line Bob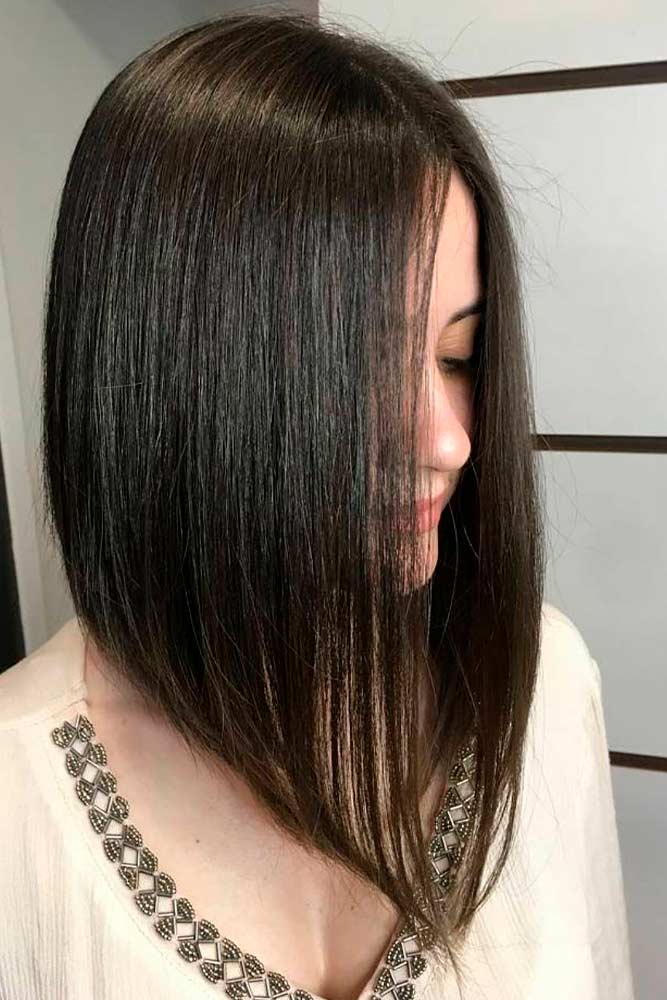 Credit photo: instagram.com/ri__reis
Let's talk about the sense of perfection this A-line medium length haircut breathes into its beholders. The perfectly outlined silhouette, as well as slightly curvy sharp edges and shine-reflecting finish of this bob simply wash away any traces of fine hair. Call it magic, call it true, but the point is to get the right haircut and take a thorough approach to its texture.
To recreate this mesmerizing hairstyle, your styling arsenal should include a flat iron, hairdryer, and round brush. Some shiny oil-based products will also come in handy in order to enhance the natural shine in the hair. As you know, many medium length hairstyles for women take less than half an hour to get them done, and this sleek brunette idea is the most prominent example. Be it a walk with a friend or a night out, this style will be your highlight.
Ginger Angled Lob For Straight Hair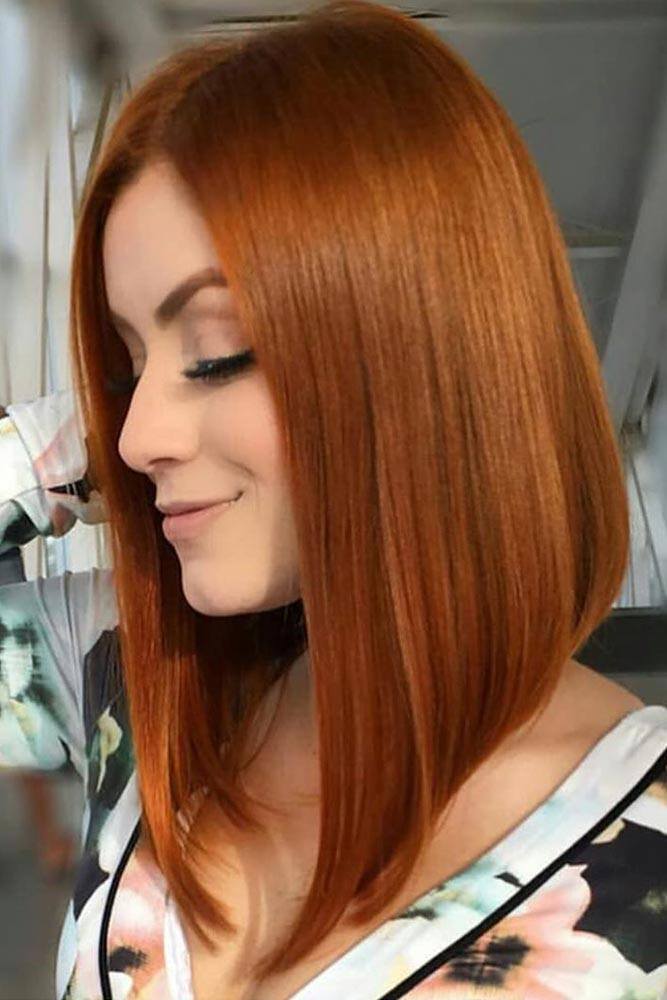 Credit photo: instagram.com/creativeartacademy
Besides allowing you to experiment with any shades you want, mid length hair can also enhance the beauty of the shade you choose. And, looking at this idea, we can't help but notice a new trend made of ageless classics. The way this enviable ginger shade flows and shines on the angled straight silhouette is just to die for!
Whatever hairstyles for medium length hair you'd like to try will look next-level gorgeous with this cut-and-color combination. A tip: If you're not a natural redhead, make sure to switch to styling products designed for color-treated hair.
Messy Lob With Layered Ends For Brunettes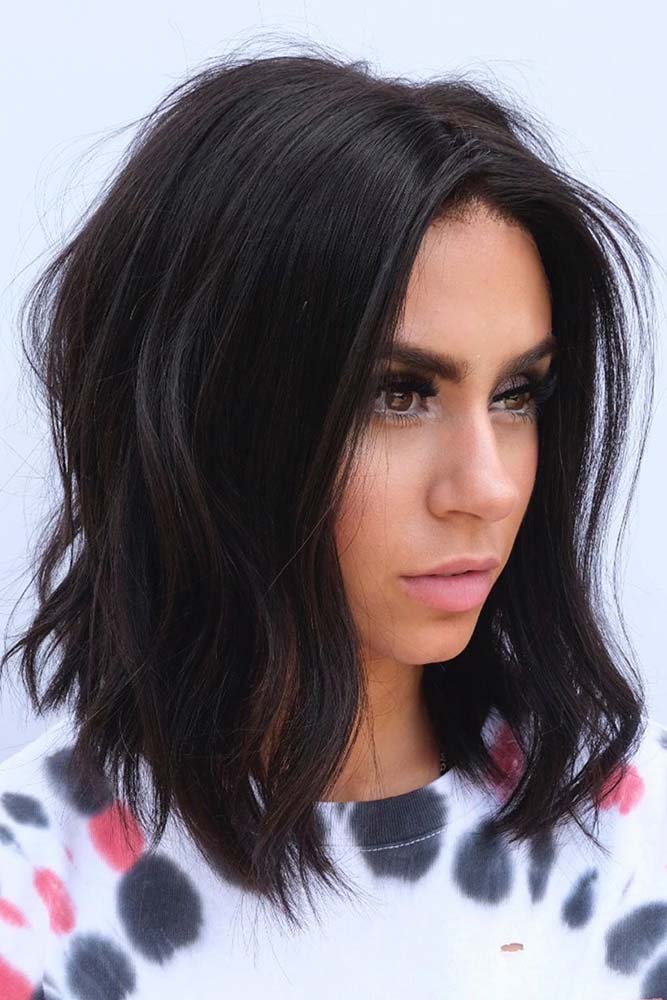 Credit photo: instagram.com/chrisjones_hair
When going for mid length haircuts, women with thick hair often consider layers. Believe it or not, some women still stay away from the magical power of layers because they're afraid of losing much density. What if we tell you that you can customize your layers and don't get all your hair layered?
By texturizing the ends, you can make your unruly locks behave while saving your precious dense mane. Basically, lightening up the ends is enough to make your hair manageable for creating medium hair styles. Just look at this carefree beachy bob: it only needs a layered touch at the tips. Needless to say, such a hairstyle looks ravishing on brunettes.
Chestnut Neck Length Bob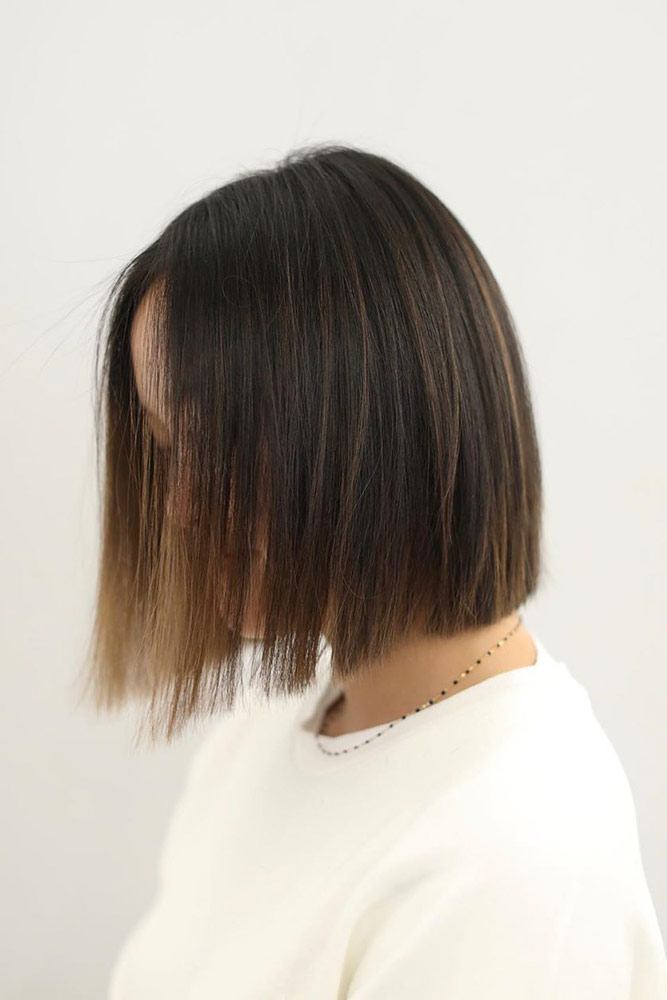 Credit photo: instagram.com/anhcotran
Finally, here comes the perfect compromise between short and medium length hairstyles! For those who always mind the details, a neck-length bob will be the best pick. It's not too long, not too short, and not too medium at the same time, whatever that means!
This bob looks its best when cut to one length and finished with softly layered ends. In this way, your haircut will have a precise, even body with lovely transparent ends that will flatter both fine and thick hair. Prep your neck-length masterpiece with conditioning and softening products before styling it with a flat iron, and you will get the most of this cut.
Angled Bob With Side Dutch Braid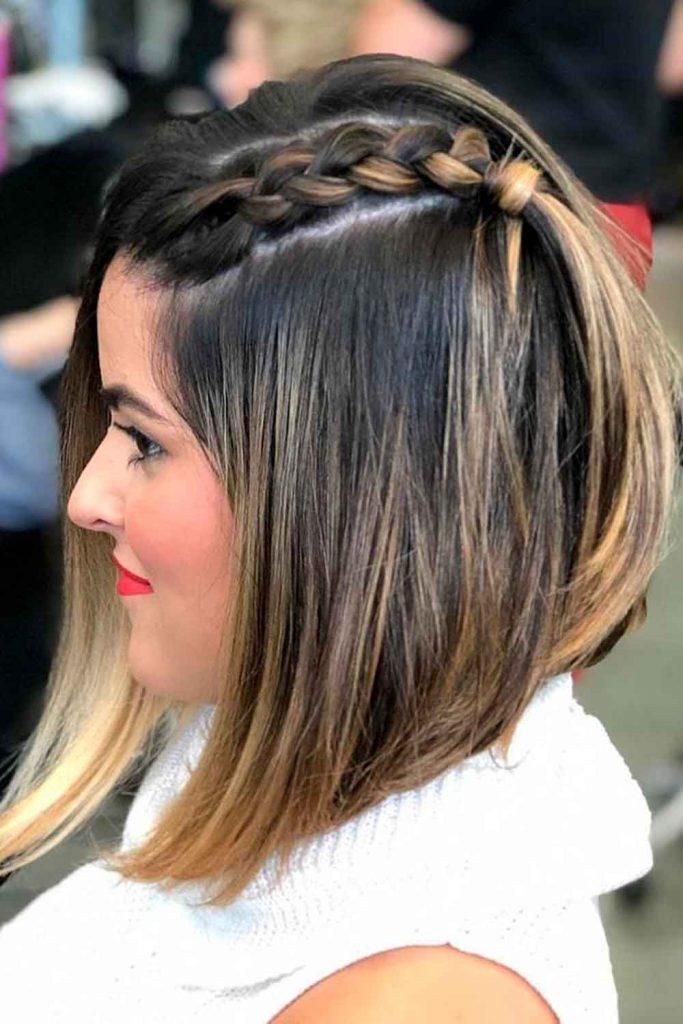 Credit photo: instagram.com/cortesdivosoficial
Angled bob with outgrown highlights indeed looks peculiar and unique on its own. However, if you wish to take things to another level, we suggest you play around a little with side braids. A Dutch one will transform your regular look into an elegant evening-out one!
Half-Up With Bow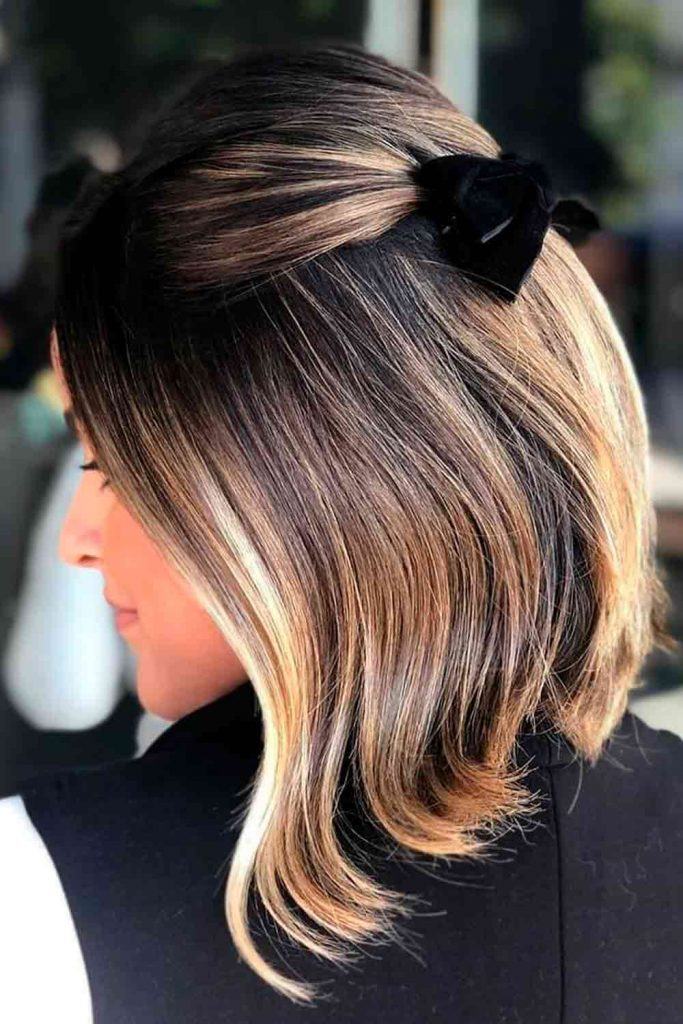 Credit photo: instagram.com/cortesdivosoficial
When you are headed for a formal event, but you are running out of time to come up with a super fancy hair look, we have an idea you can try out. Gather your locks into a simple half-up and spice it up with an elegant velvet bow. As simple as that!
Side Swept Layered Hairstyles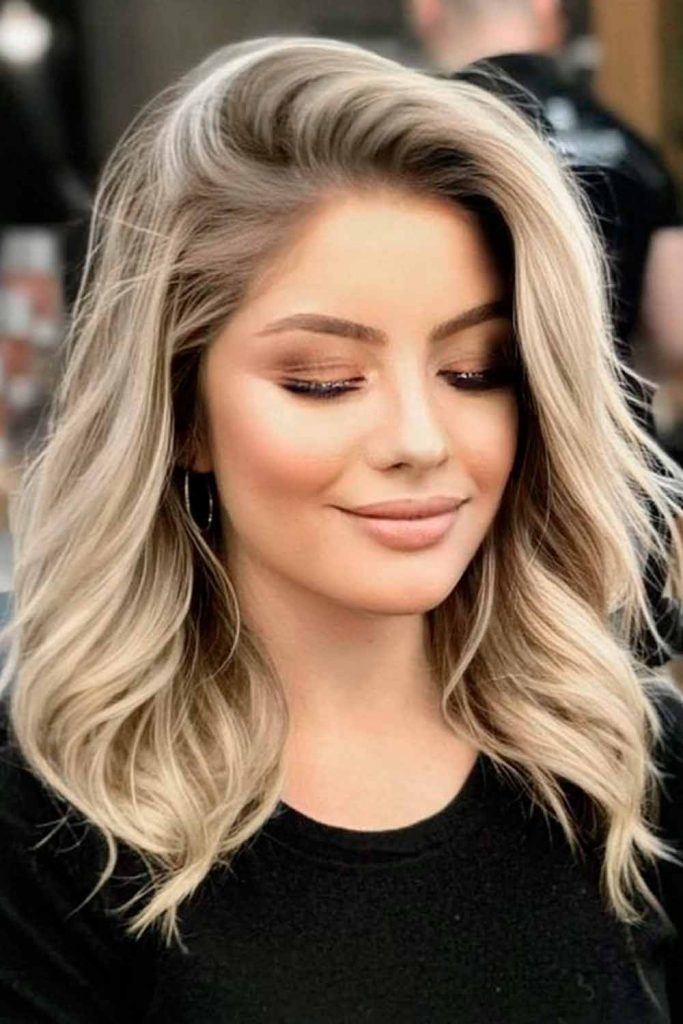 Credit photo: instagram.com/ilhankaymak
It is easy to underestimate how much a simple swipe can matter. In this case, it is all about the layers and the gorgeous dyeing technique, however that swipe-to-the-side move makes her hair stand out, and that is crucial.
Messy Wavy Lob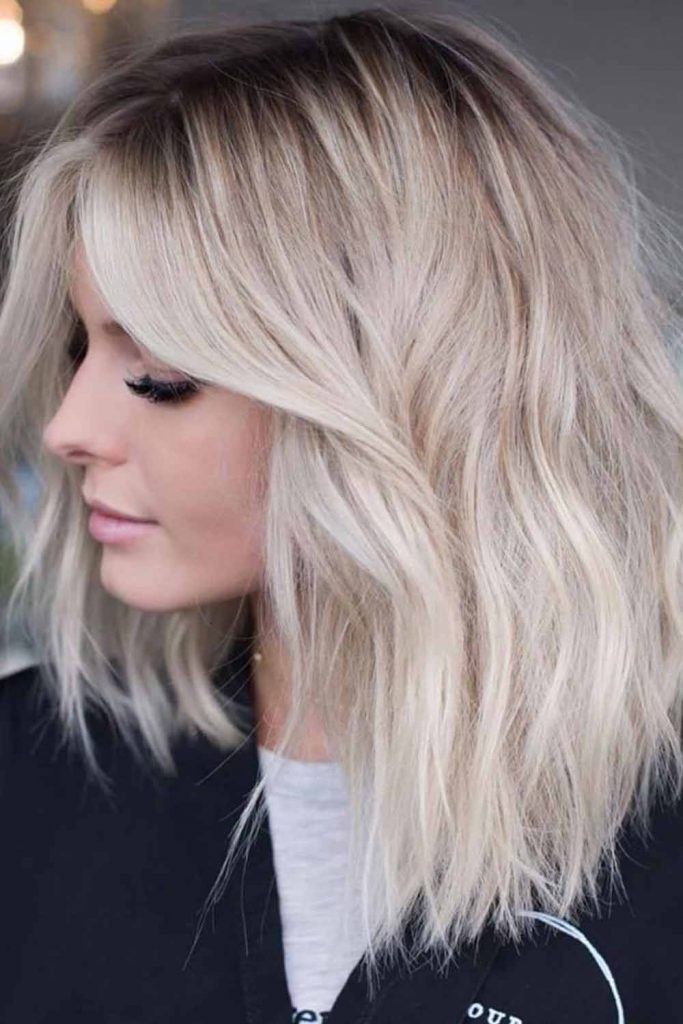 Credit photo: instagram.com/parisrosehairartistry
Being serious 24/7 is not for all, and we can relate to that. If you belong to the category of women who like to implement some messiness into the look, then this is the style to experiment with. Go for a blonde lob and light waves. You can even let the roots grow out for a better result.
Shoulder-Length Layered Lob
Credit photo: instagram.com/hairbymelissamelbourne
For those who refuse to let go of their length, here is an option with a platinum blonde color job. This long bob also called a lob is a beautiful cut that works exceptionally well on straight hairstyles. While women with thick hair have an easier time pulling this cut off, it is still attainable by women with thin hair. If you are seeking a more sophisticated look, simply add in some layers to your cut. This type of cut is on the long end of the bob haircuts spectrum and borderlines being considered long hair.
Hollywood Waves For Medium Hair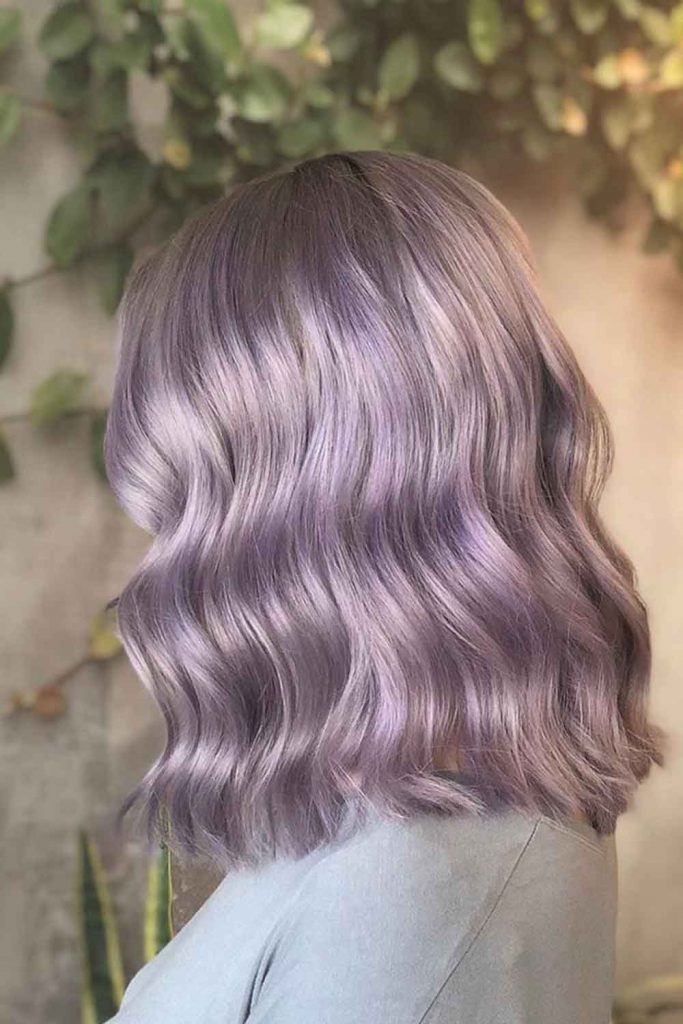 Credit photo: instagram.com/antheajameshair/
There is a reason why classiness never goes out of style. One look at these pastel lilac waves done in the Hollywood manner proves that modernism can be easily combined with retro vibes. The magical outcome will certainly steal the breath away from anyone who comes your way.
Ash Ombre For Wavy Lobe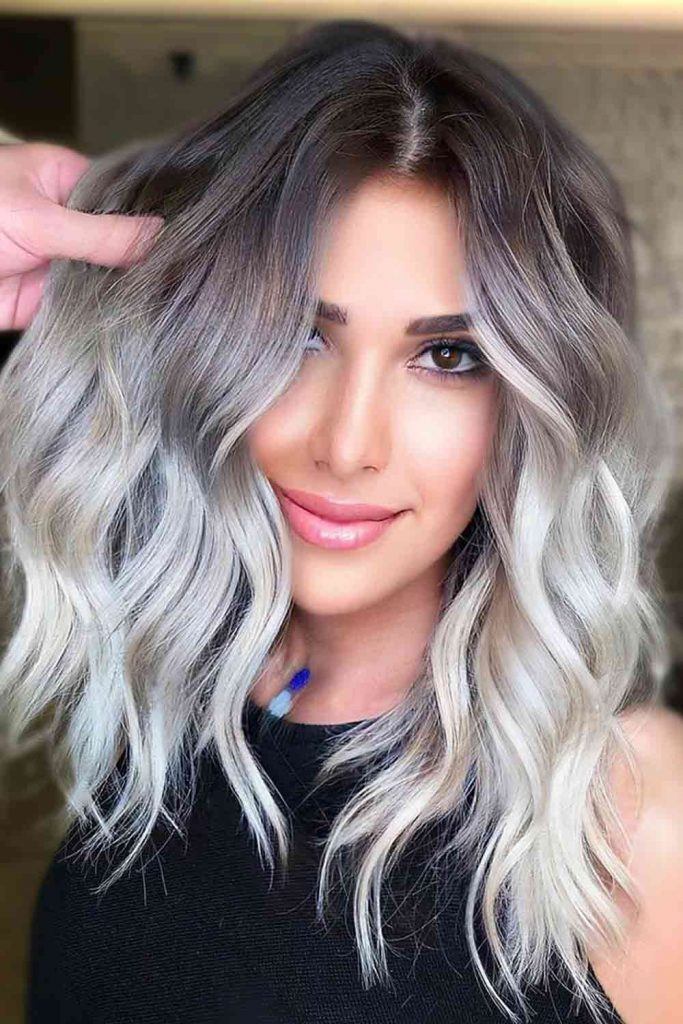 Credit photo: instagram.com/ilhankaymak
There are many different dyeing techniques to play around with these days. However, ombre is the absolute winner when it comes to a trendy image. It is basic in its core, but the masterpieces created with its help can be stared at for hours. See for yourself!
Sleek Angled Bob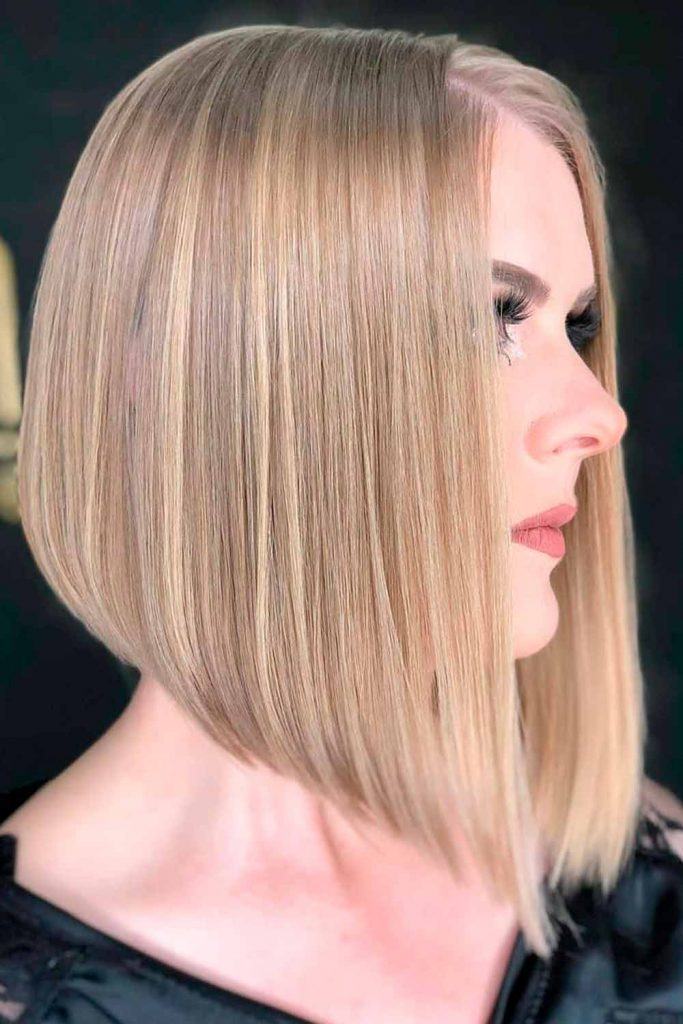 Credit photo: instagram.com/cortesdivosoficial
Some ladies do not get all the fuss about the waves when it comes to an everyday look. They usually prefer sleekness to messiness, and there is nothing wrong with that. In fact, we have an excellent idea at hand if you are in search of a fresh reserved update for your fashionable look.
Seductive Shag
Credit photo: Instagram.com/soraverly
This choppy medium length cut is ultra-sexy yet still sophisticated. With its textured layers and full fringe, it has a ton of volume. Add some bold and funky highlights to really make this look stand out!
Halo Updo Hairstyle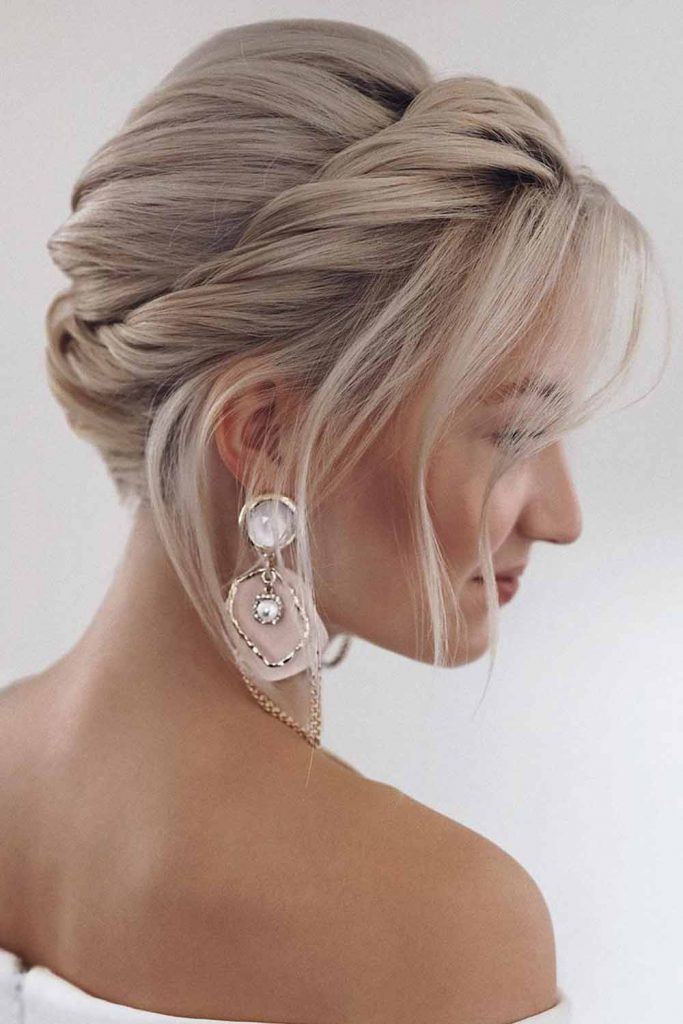 Credit photo: instagram.com/tonyastylist
The number of fancy hairstyles for longer manes makes some ladies think that with their medium length, there is nothing outstanding to be created. We are going to prove you wrong in an instance. The truth is that this supreme halo hairdo is not only magical to look at, but it is also easy to succeed with. Be it a party, a romantic dinner, or even your wedding such a hairdo will never be out of place!
Formal Updo For Medium Hair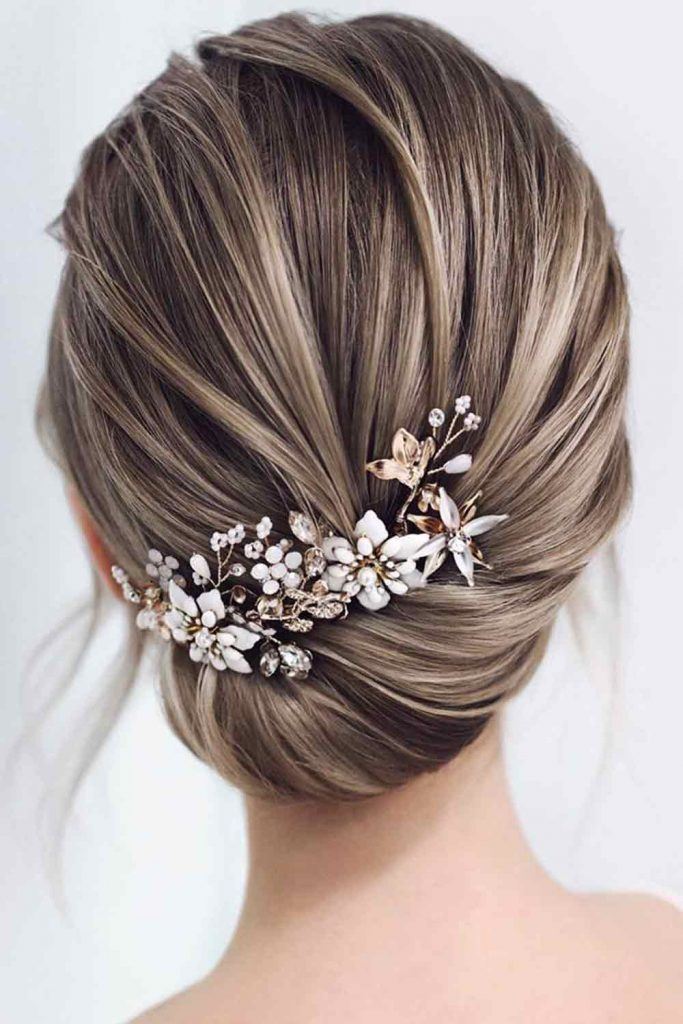 Credit photo: instagram.com/tonyastylist
Pure low French twist is classic, and we are not going to try to deny it. However, even the most reserved look can be upgraded with the help of a well-chosen accessory. This fantastic brooch complements the simplicity of the hairdo better than anything else, don't you think?
Side Top Knots Hairstyle for Medium Hair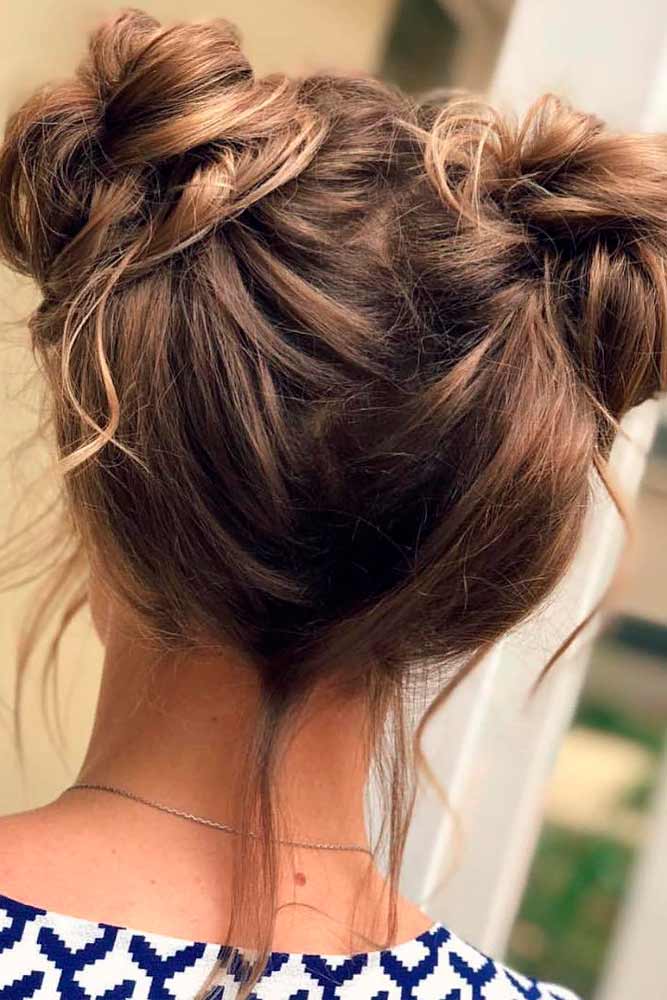 Credit photo: Instagram.com/hair_by_tati_usenko
It is hard to tell exactly where the trend for side top knots comes from but it is definitely TikTok that made it viral. And we absolutely do not mind it. This is one of those medium length cute hairstyles that give you a girlie and playful vibe. What is more, it works well for most hair types. So, no matter whether you have thick or thin locks, you will still be able to achieve the look.
Updo Hairstyle with Low Bow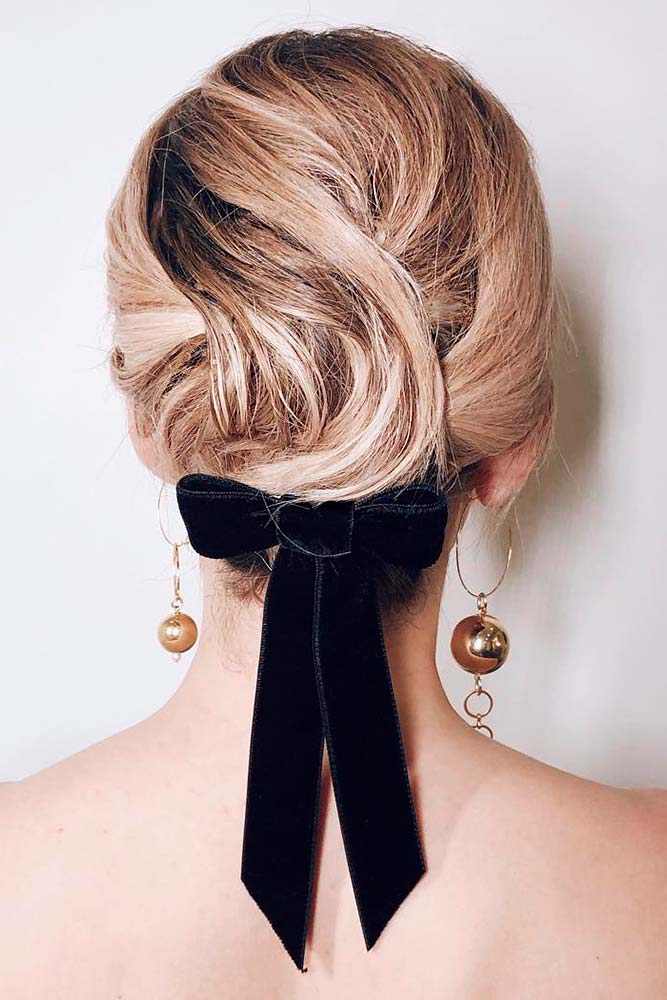 Credit photo: Instagram.com/kristin_ess
Medium long length hairstyles are incredibly versatile. They can be adjusted to suit any ambiance and match the majority of outfits. If you need to look elegant and sophisticated, then an updo hairstyle adorned with a low bow is your sure bet. While the styling is pretty easy, the final result is stunning.
Half Up Half Down Wavy Hair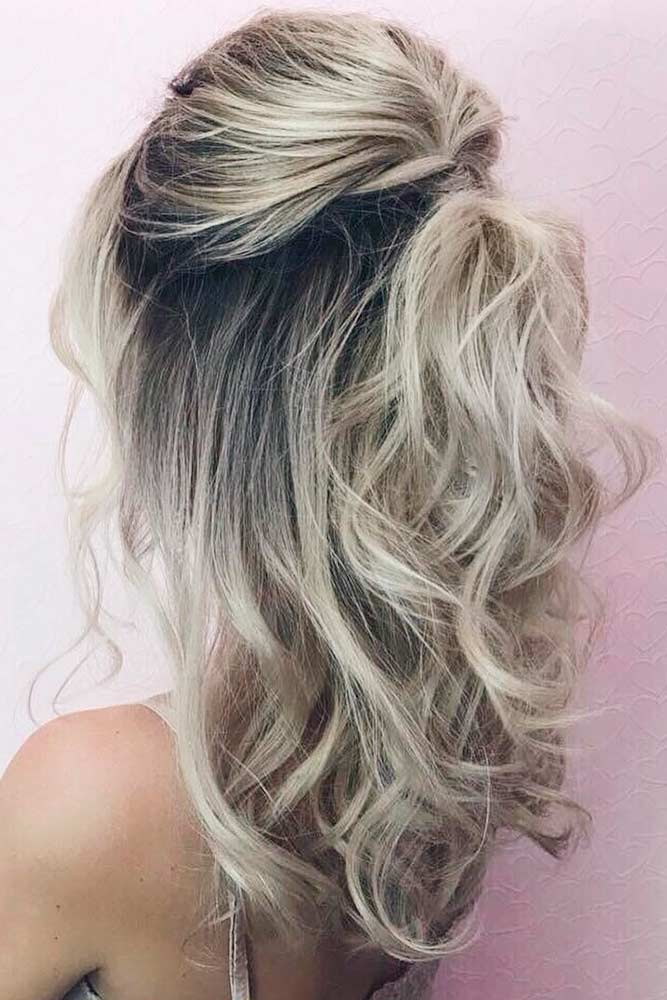 Credit photo: Instagram.com/irina_nguen
Girls with wavy locks who want to open up their face while still showing off the hair texture should choose medium length half up half down hairstyles. Simple and effortless, there is hardly a situation when such a hairdo would not look appropriate. And thanks to a prominent hair texture, the style comes out defined without hassle.
Braided Half Up Hairstyle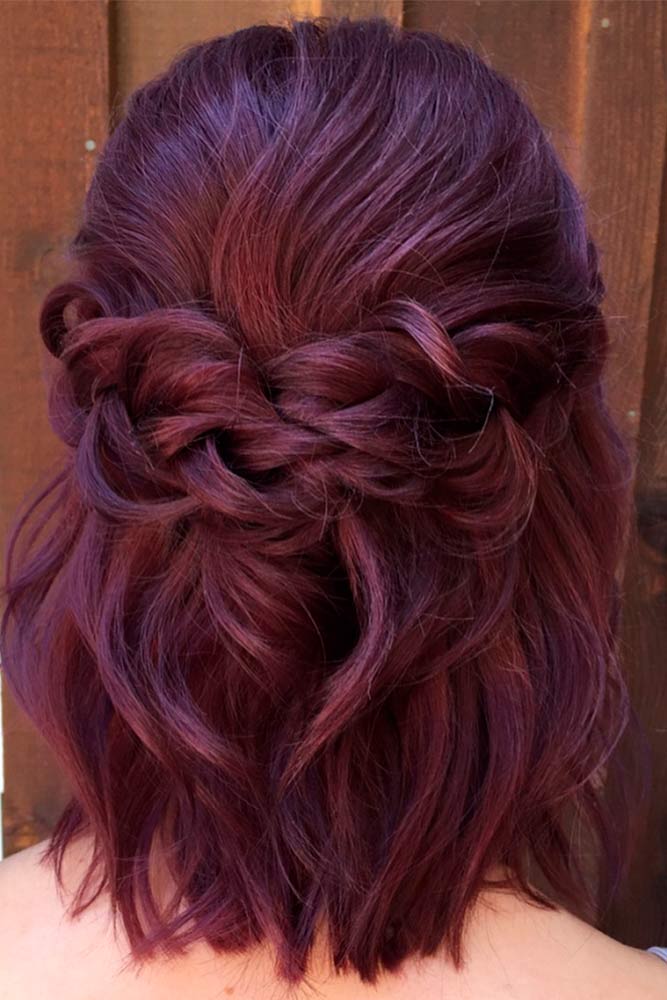 Credit photo: Instagram.com/heidimariegarrett
Whenever you have more time on your hands, why not play around with styling your half updo? For instance, incorporate a braid into the look to give it an intricate twist. If you are good at braiding, you can go for a waterfall braid, which will take your hairstyle to the center of attention. It also makes up one of the best medium length hairstyles for thick hair, allowing you to keep it in order.
Wavy Long Bob with Top Knot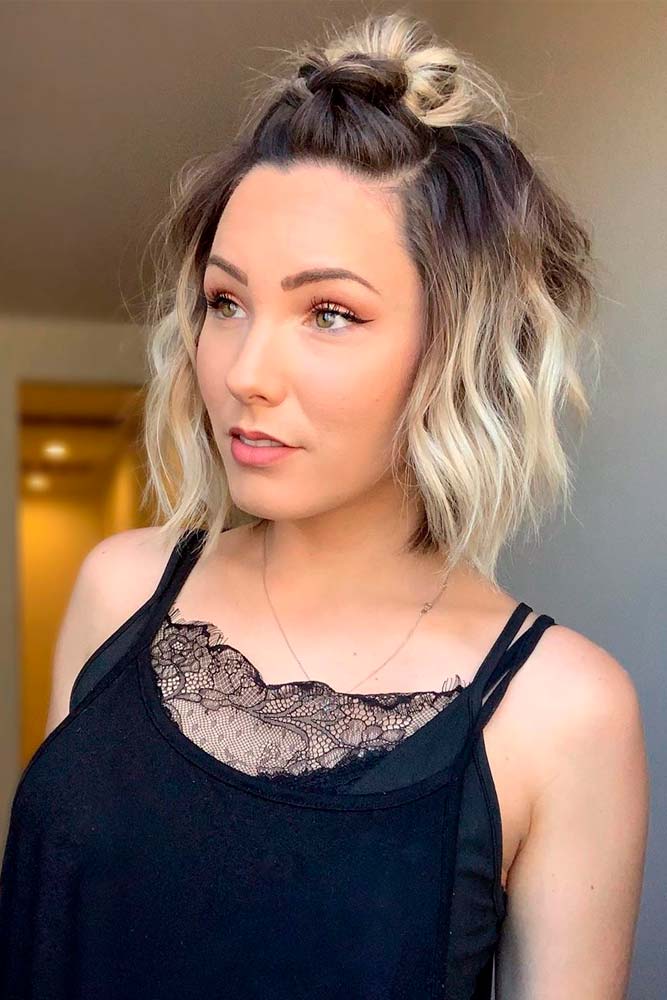 Credit photo: Instagram.com/chloenbrown
Medium length bob hairstyles are all time favorite for girls with any hair texture. However, if you were blessed with wavy locks, may we just say how lucky you are? It will not be difficult for you to pull off a beachy wave bob. Though, if you want to upgrade the style a little, tie your front hair in a top knot.
Messy Top Knot Half Up Hairstyle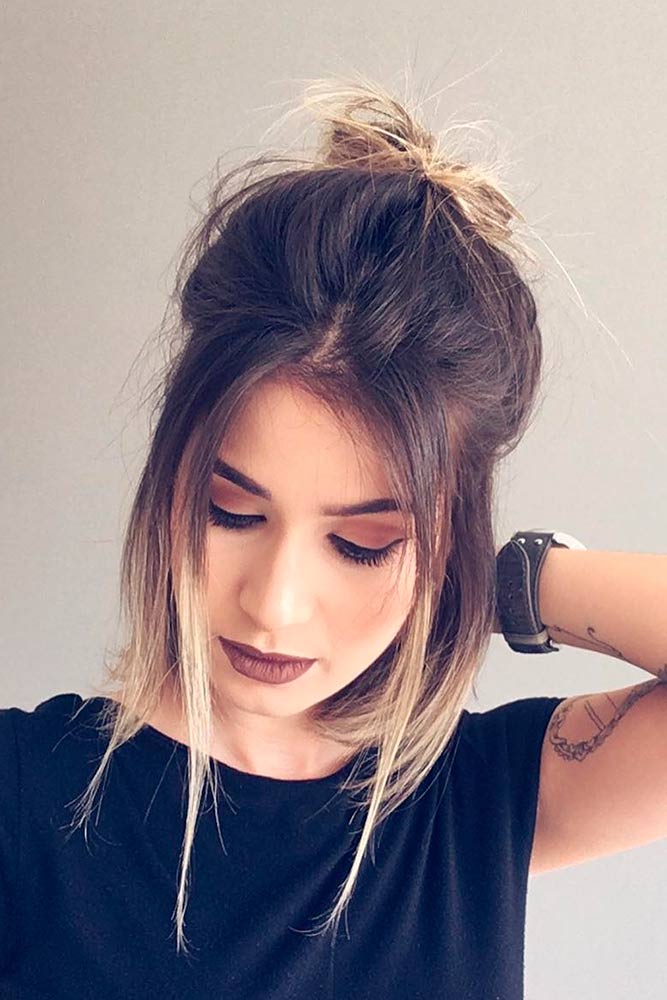 Credit photo: Instagram.com/asmakesdafra
If you are looking for medium length hairstyles for thin hair, a messy half up knot is your way to go. Thanks to tousled locks, it creates the illusion of fuller hair and the top knot adds volume to the crown. Leave several strands in the front of your face to frame it and you are guaranteed a dreamy hairstyle that will make everyone envy.
High Ponytail Hairstyle with Braid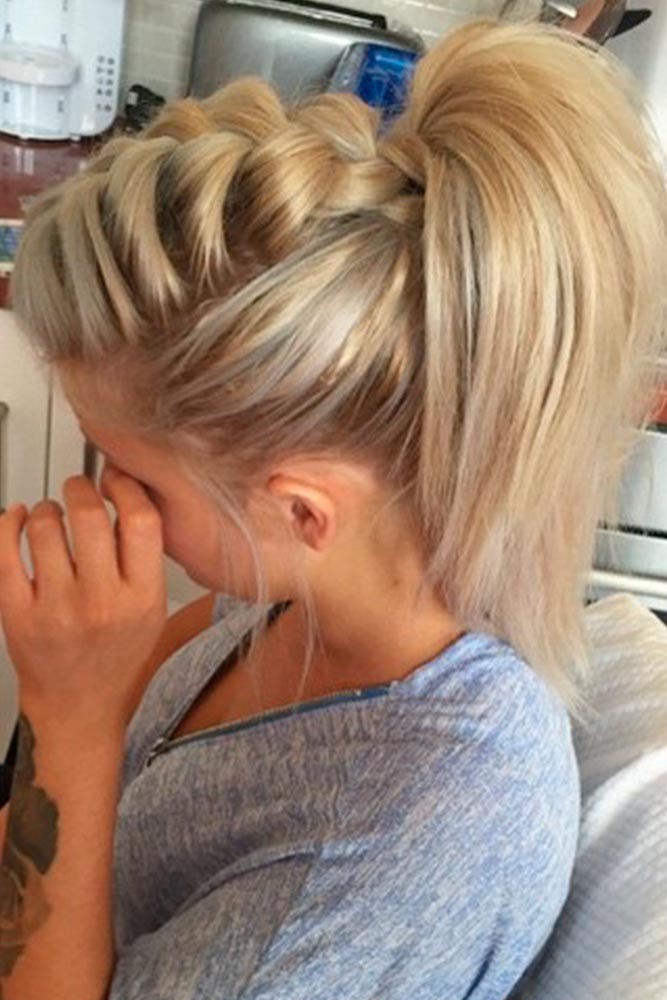 Credit photo: Instagram.com/wedlocks_mairead
For most hairstyles medium length is the golden mean, as you can braid it, tie it into a ponytail or both. A braid makes your pony more elaborate and unique. So, you can never go wrong with it. In case it comes out a little messy, no worries. This will give your hair look a charming flair. If you want to make a strong fashion statement with it, then it is better to tie your ponytail high on top.
Updo Hairstyle with Scarf Accessory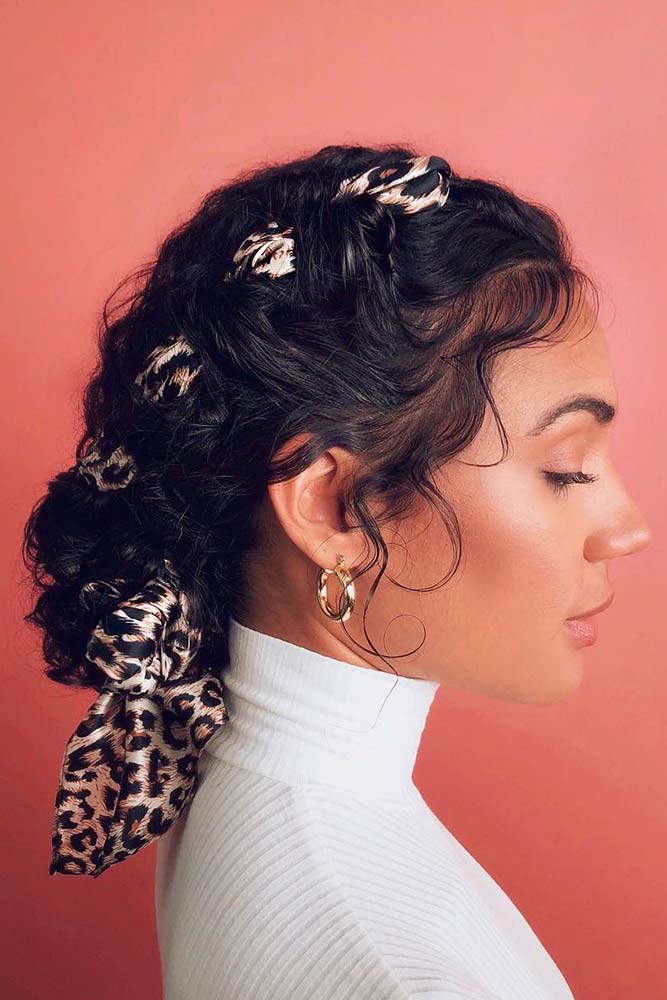 Credit photo: Instagram.com/kristin_ess
It is always a good idea to embellish your hairstyle with accessories. Those who are not into all kinds of hair pins, barrettes, clips, etc. can get away by weaving a scarf into an updo. This simple yet impactful trick works wonders for medium length layered hairstyles, as it allows you to easily secure your locks while ending up with a stylish hair look.
High Bun With Braid Hairstyle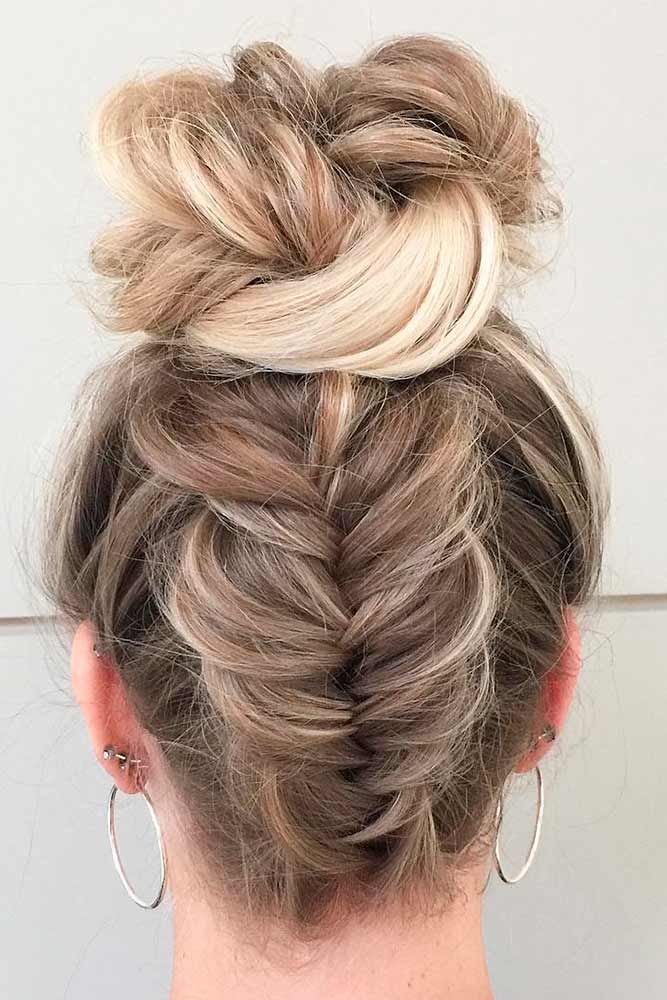 Credit photo: Instagram.com/mybighairday
If we needed to name the most popular medium length hairstyles, a bun would definitely be on our list. It is chic, classy and quite easy to do. But, should you feel like taking it up a notch, a braid is all you need. The style only seems that complicated. You just need to tilt your head and braid your hair in the back upside down. Then put the rest of the hair in a bun on the top of your head and you are all set.
Straight Bob With Top Braids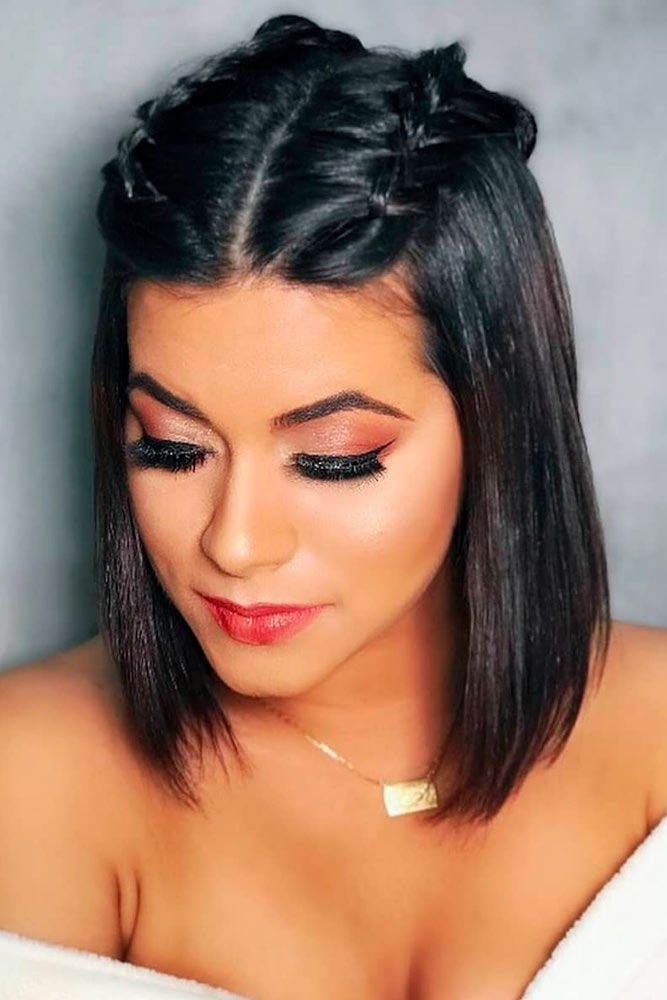 Credit photo: Instagram.com/yasmimandradereal
A straight bob is among the most common shoulder length medium hairstyles. However, if you want to add a quirky touch to it, you should complement the look with braids on top. The style of the braids depends on your preferences, braiding skills and sometimes the type of the bob itself. There are plenty of options to choose from, such as Dutch braids, French braids, cornrows and plenty of others.
Celebrities With Medium Length Hairstyles
Selena Gomez's Blunt Bob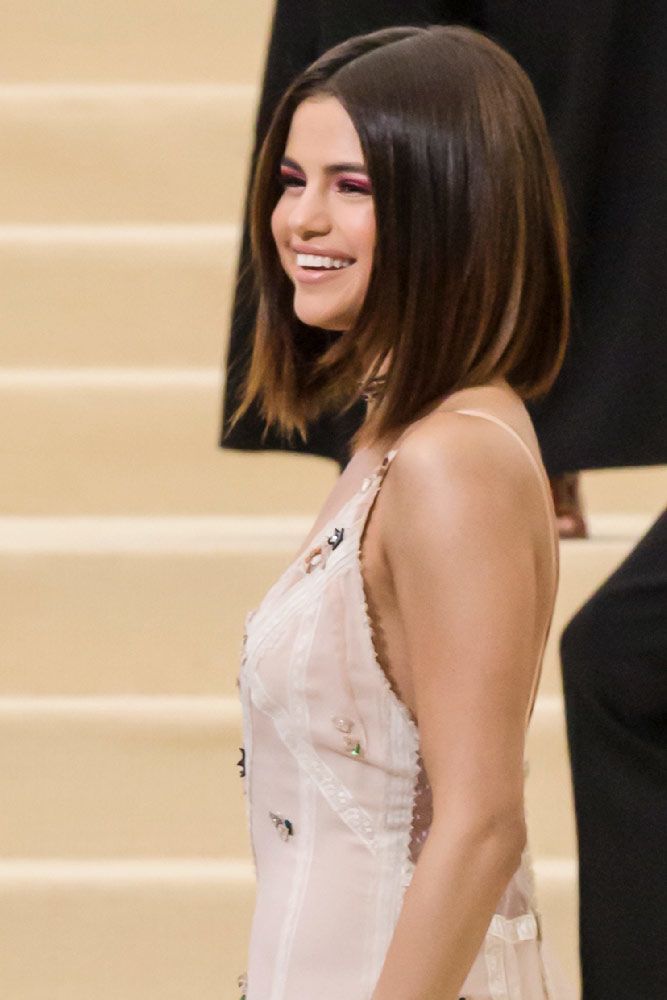 Credit photo: Ovidiu Hrubaru/shutterstock
If not celebrities, who else can be our style role models? These ladies are always on point, that's a fact. Take one of the popular trendsetters of today - Selena Gomez. Here she shows how the right haircut can complete the whole look. Her classic blunt lob gets rounder to the edges to frame up her face while the middle part creates a well-balanced silhouette.
Taylor Swift With Blonde Lob With Side-Swept Bangs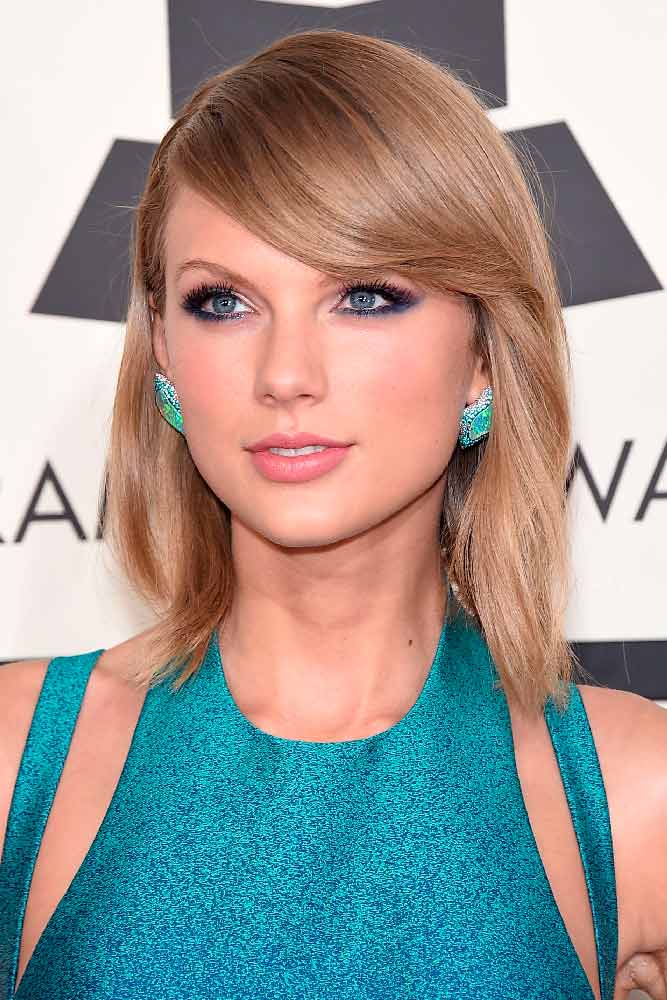 Credit photo: DFree/shutterstock
Taylor Swift is known for her loyalty to bangs. Sometimes it even seems like she was the one who created them! Okay, jokes aside. The point is that even a simple lob can look unique with the help of stylish bangs. They get a little bit twisted and perfectly blend with the rest of her hair. In this way, she rocks an immaculate and face-flattering look at once.
Layered Medium Length Hairstyle of Rosie Huntington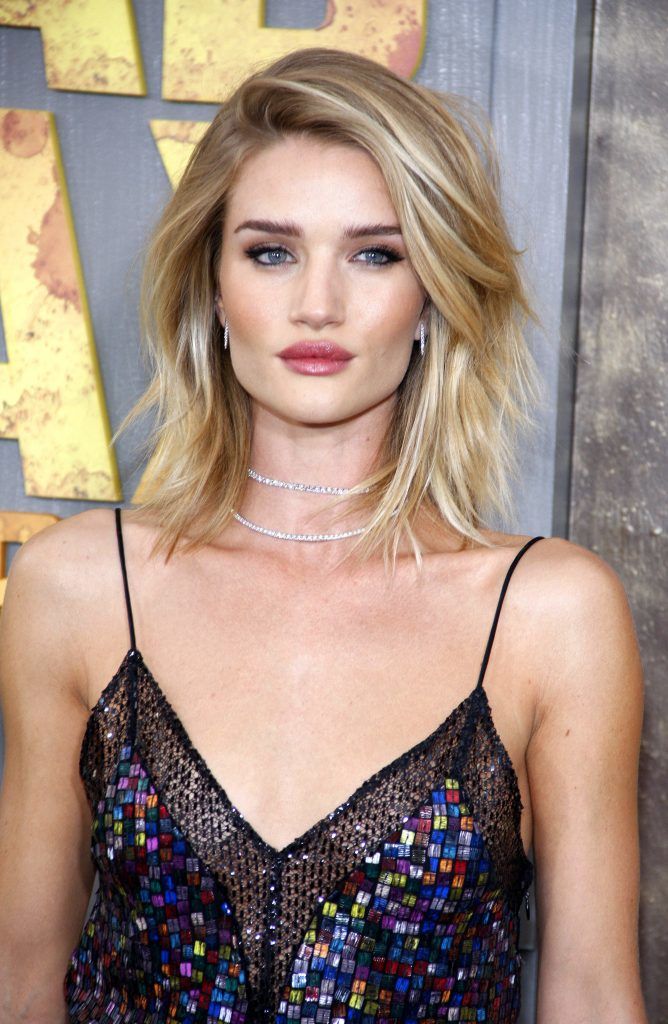 Credit photo: Tinseltown/shutterstock
Even though Rosie Huntington is a keen long-length lover, she couldn't resist the beauty of layered medium length hairstyles. Well, no wonder! Going for layers has always been the best way to lift up fine hair, giving them a lively, bouncy shape. As you can see, she chose various layers throughout the length which gave her a voluminous crown and airy lower portion.
Brown & Straight Lob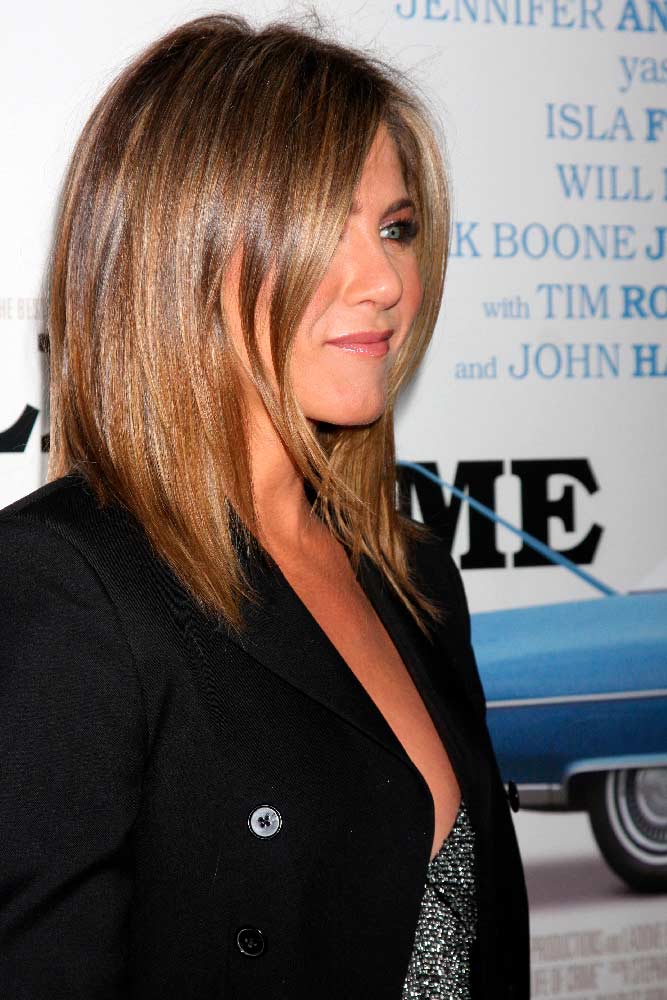 Credit photo: Kathy Hutchins/shutterstock
Jennifer Aniston still keeps up with her title of a trendsetter. There's no a girl who didn't go crazy about the Rachel hairstyle, that's for sure! And while the series character was all about layers and volume, the iconic actress opts for something more effortless and comfortable. This look does feature layers, yet, this time they take place at the ends to make her straight hair fall naturally on her face.
Margot Robbie and Blonde & Wavy Blunt Lob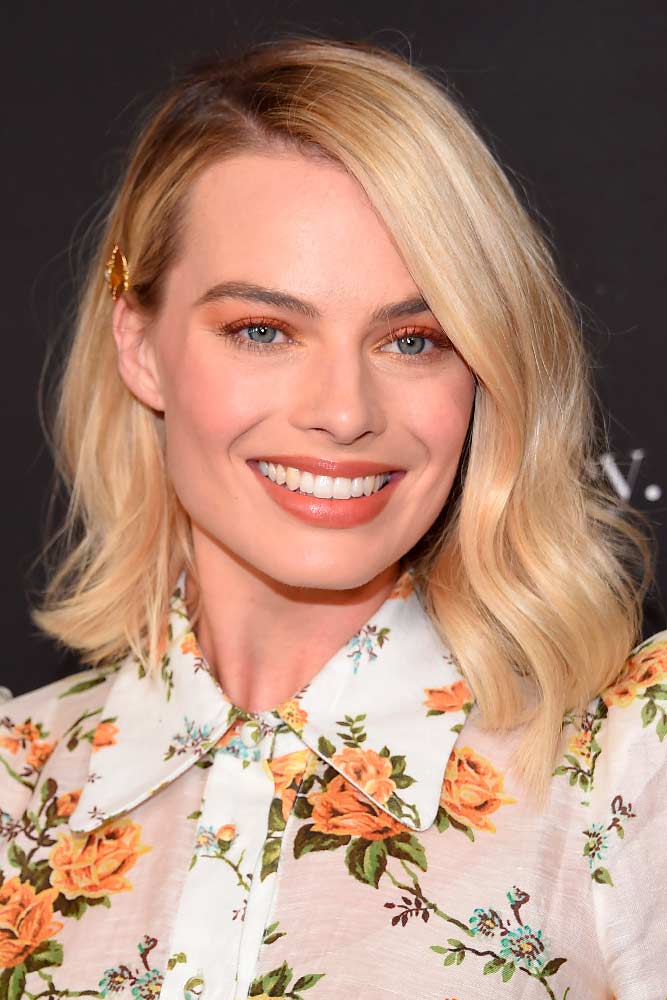 Credit photo: DFree/shutterstock
On TV screens, Margot Robbie can be both a gentle cutie and a sexy rebel. But in real life, she always slays cameras with absolutely feminine, authentic, and natural looks. This slightly wavy blunt bob, which is colored one tone lighter than her base, nicely accentuates her skin tone and balances out her facial features.
Lesley-Ann Brandt's Long Brown Bob With Highlights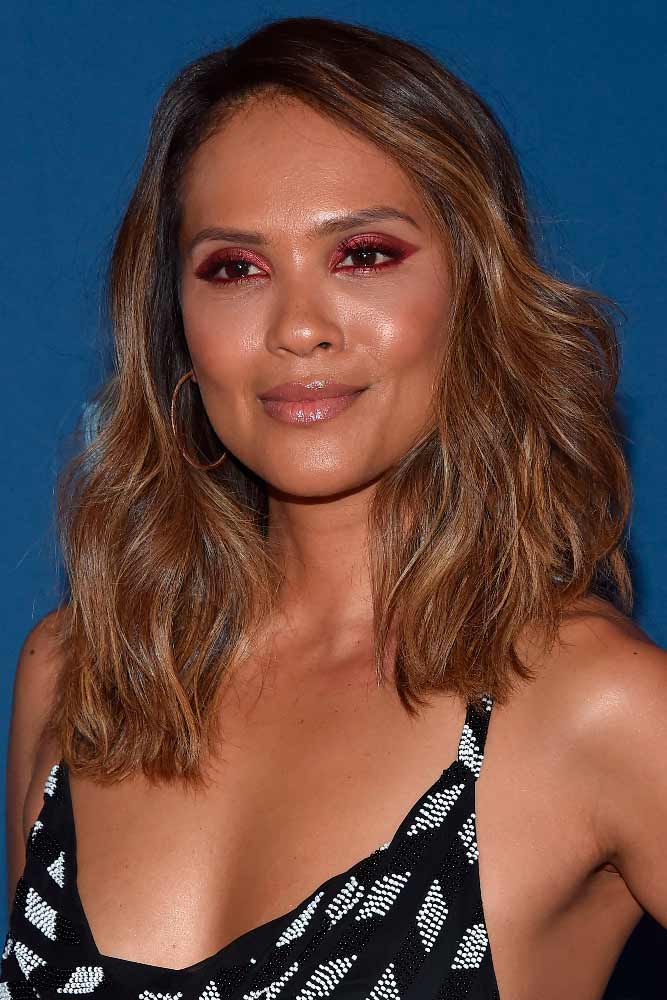 Credit photo: DFree/shutterstock
This Lesley-Ann Brandt's hair look is here to show you how beautifying highlights can be. Of course, here she shows up with a long brown bob that gets slightly wavy to the front. But the detail that really catches people's eyes is the tasteful play of color. The dark caramel highlights work ravishingly for her complexion!
Penelope Cruz's Layered Thick Bob With Waves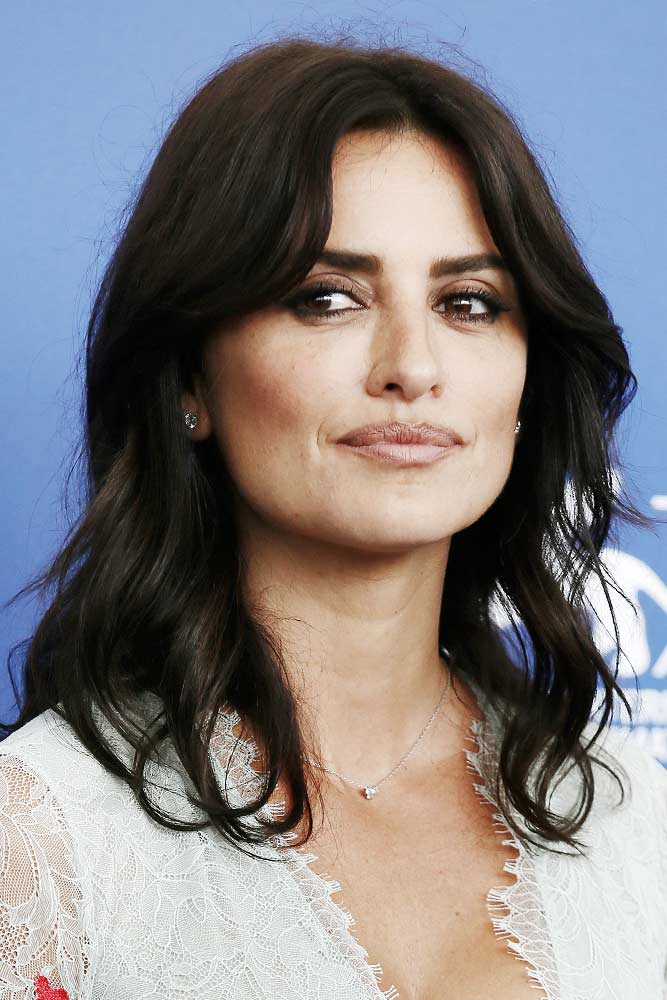 Credit photo: Andrea Raffin/shutterstock
Yes, most Penelope Cruz's looks are long-haired. And when she's about to rock a restrained, chic, and practical hairstyle, she goes for the happy medium - medium length hairstyles. In this pic, she somehow looks even more gorgeous than usual. Do you know why? She got her thick locks layered, thus adding pleasant movement to her hair and providing herself with a stunning framing touch.
Layered & Coppery Medium Length Hairstyles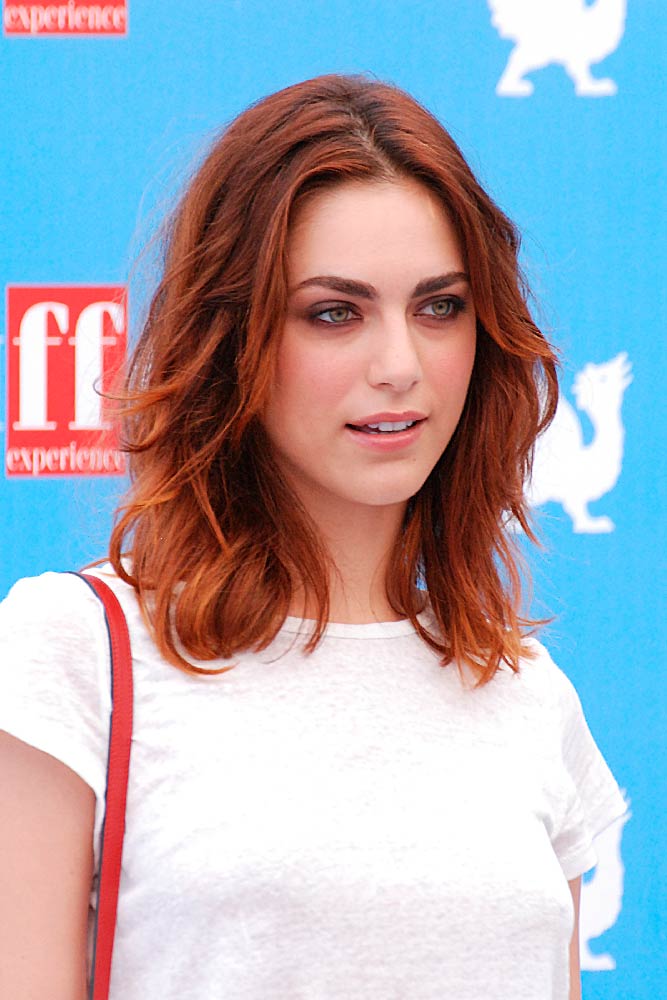 Credit photo: GIO_LE/shutterstock
How about you to steal a look from Miss Italia? Miriam Leone sports an enviable shade that no one can resist. And the same goes to her haircut. These thick layers add a lot of flirty mood to her shoulder length hair, giving it a great lift and edgy silhouette.
Jessica Alba with Feminine Curly Lob With Ombre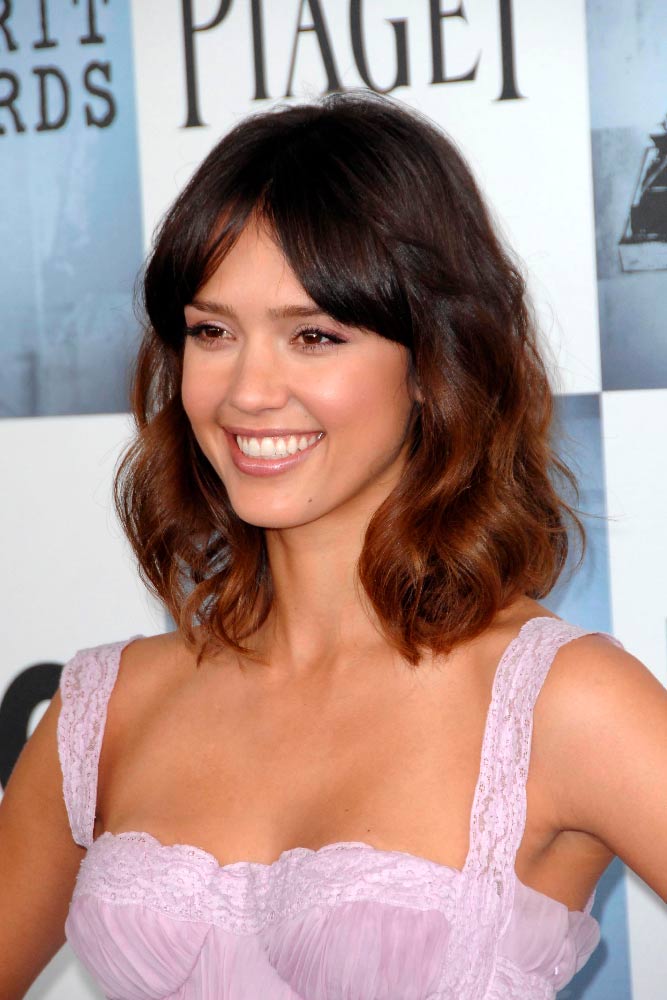 Credit photo: s_bukley/shutterstock
Jessica Alba looks great regardless of what styles and colors she pulls off. But this look is really different: here she looks as natural and effortless as never before. Her delicate curly lob with curtain bangs give a very cute and youthful vibe, and ombre coloring accentuates her awesome hair color.
illian Rose Reed's Long Shaggy Bob With Ombre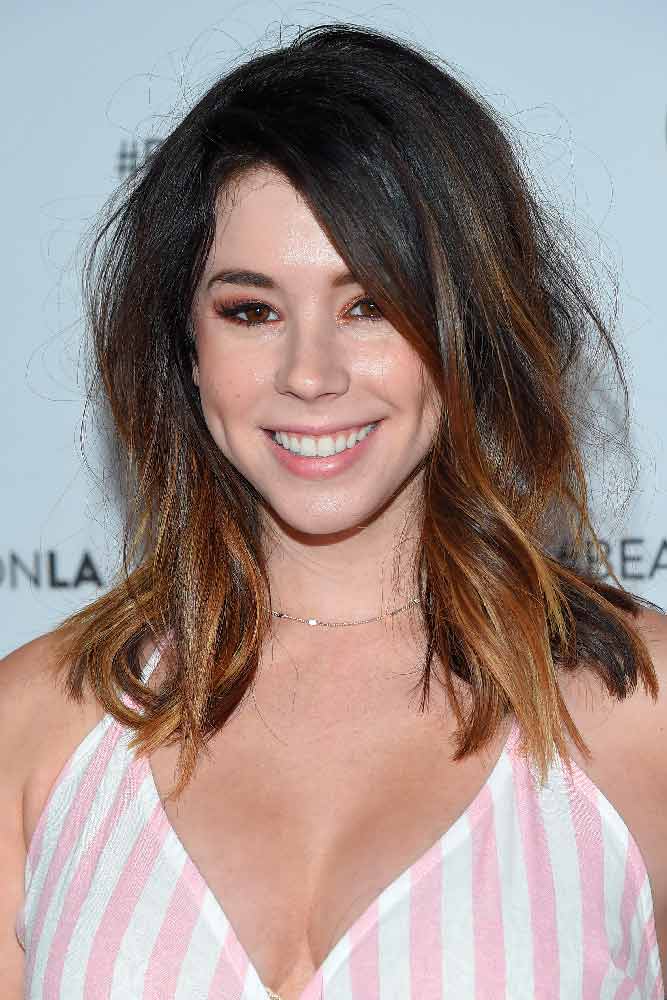 Credit photo: DFree/shutterstock
Jillian Rose Reed just loves to experiment with colors, lengths, and textures. We've seen her with many different styles, so we are ready to affirm that this look is officially the best look ever. Nowadays, naturalness is the most desired value, and this long shaggy bob with a soft ombre sticks to it at its best. Her look is full of movement and pleasant blend of colors, who could ask for more?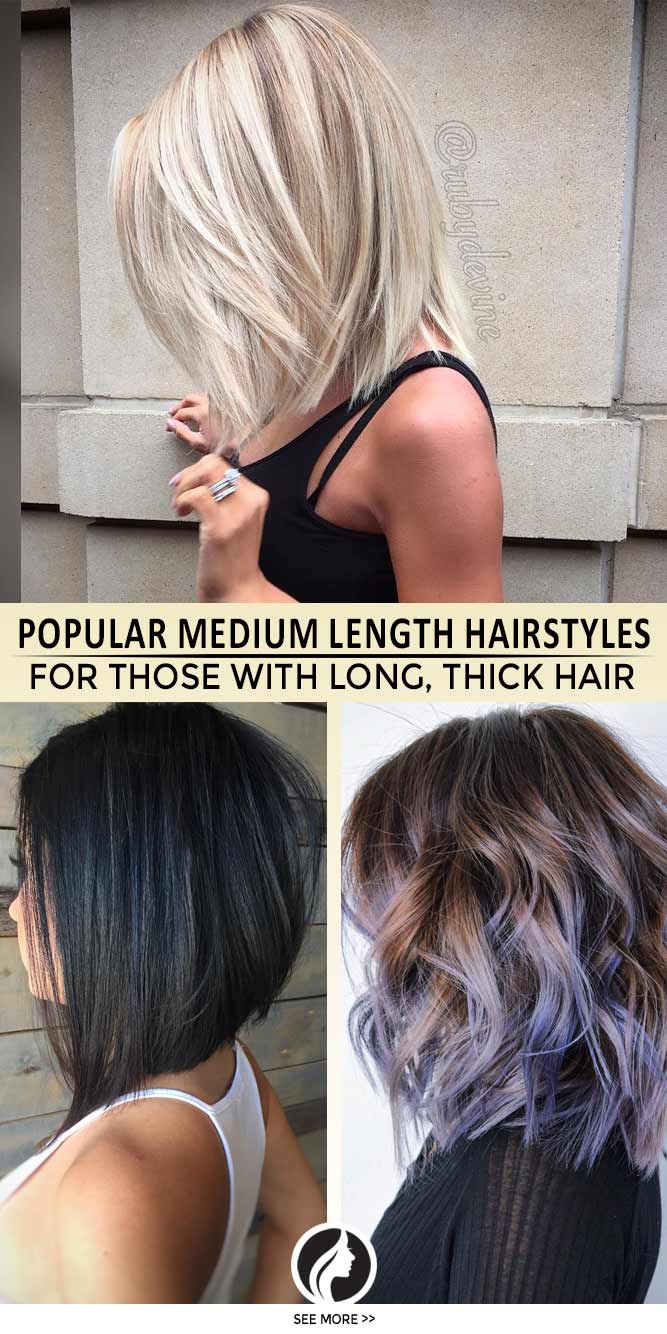 No matter what type of face or hair you have, you can always choose the medium length hairstyle that will look amazing and will highlight your true nature.
You also might like our article with 20 fun layered haircuts for medium hair.
FAQ: Medium Length Hairstyles
What are the hairdos for shoulder length hair?
Shoulder-length hair is perfect for a romantic, low or a topknot bun look. Backcomb your hair to create volume at the crown, then put your hair into a messy bun securing everything with pins. Half-up, half-down hairstyle is another stylish and practical option. Don't forget to leave out a few strands at the front for an effortless look.
Braids look great at every length. Micro braids, twists, box braids – choose what suits you best.
Is shoulder length hair good for round faces?
Shoulder-length hairstyles are flattering regardless of your face shape.
Shoulder-length waves as well as a long bob gives the illusion of length. Long layers will give your hair dimension and draw attention to your jawline, curtain bangs and the middle part also help elongate your face and balance your features.
Does shoulder length hair make you look older?
A shoulder-length haircut is face-framing and looks great with any age. You can add layers for more movement. Messy, wavy hairstyle will show off your beautiful features. A lighter color can make you look younger, go for highlights that are a shade or two lighter than your natural color if you don't want to change your hair color completely
REFERENCES:
A hairstyle, hairdo, or haircut refers to the styling of hair, usually on the human scalp. Source
Layered hair is a hairstyle that gives the illusion of length and volume using long hair for the illusion of length and short hair for volume, as an easy style to manage. Source
A lob or long bob is a form of haircut and a variant of bob cut. Source