You can express yourself and project your unique style through a variety of different elements. However, your manicure is the one thing that completes a carefully planned look and introduces a specific flair that can't be ignored. You can use your nails as a blank canvas to succeed with a true masterpiece, and we will guide you in the right direction. This expert-picked collection of pretty nail designs will make you feel like a red-carpet attendant on a daily basis. From neutral to extraordinary and bold is listed for your utter comfort and unwavering sense of style. Which path will you take this time?
Pink With Animal Print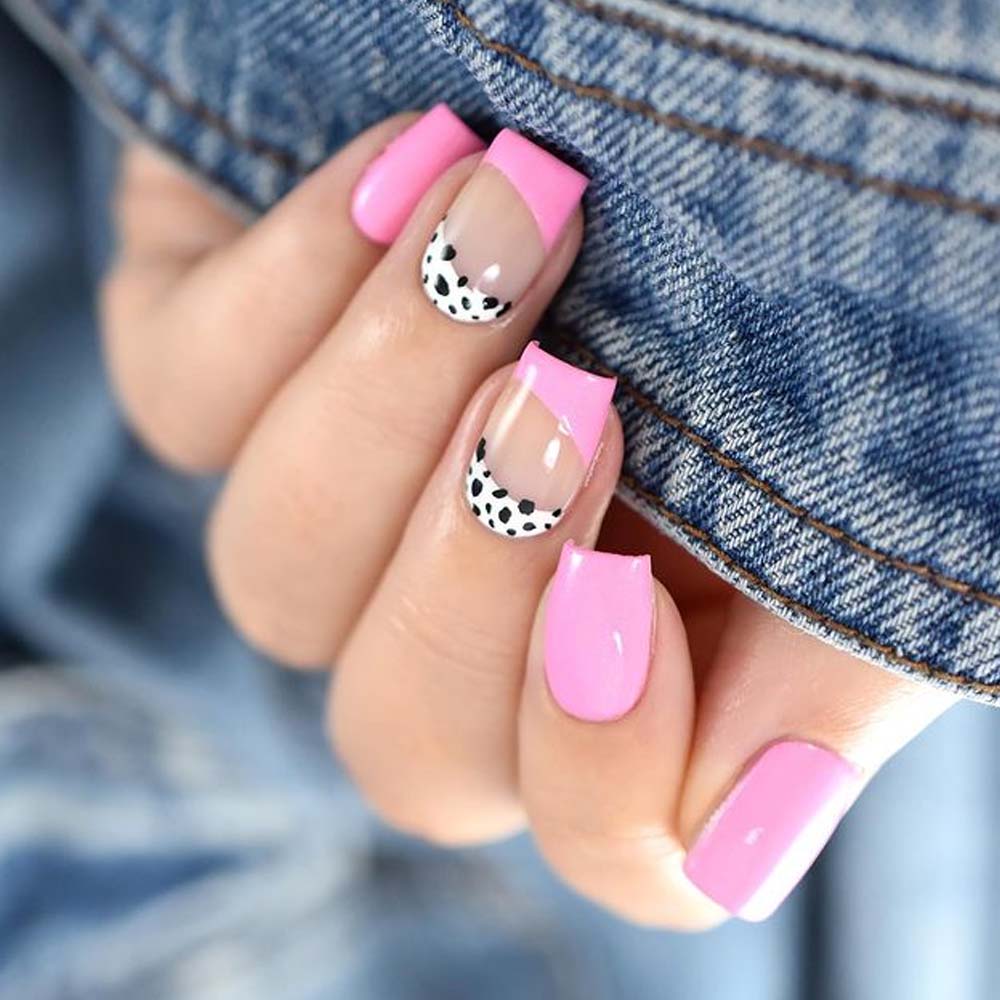 Credit photo: instagram.com/marinelp91
We can't deny the strong bond we share with nature. Thus, animalistic prints are highly requested in the nail art world. Should you be willing to unleash your wilder side, we suggest you pay attention to these exceptionally pretty pink nail designs with zebra-stripe accents. The gentle appeal of pink hues, the classy vibe of French tips, and captivating zebra stripes make a perfect blend of charm and ferocity, don't you think?
What are the most popular nail trends?
How do you make pretty nail designs?
What are the 5 basic nail designs?
How can I make my nails look pretty?
Strawberry Art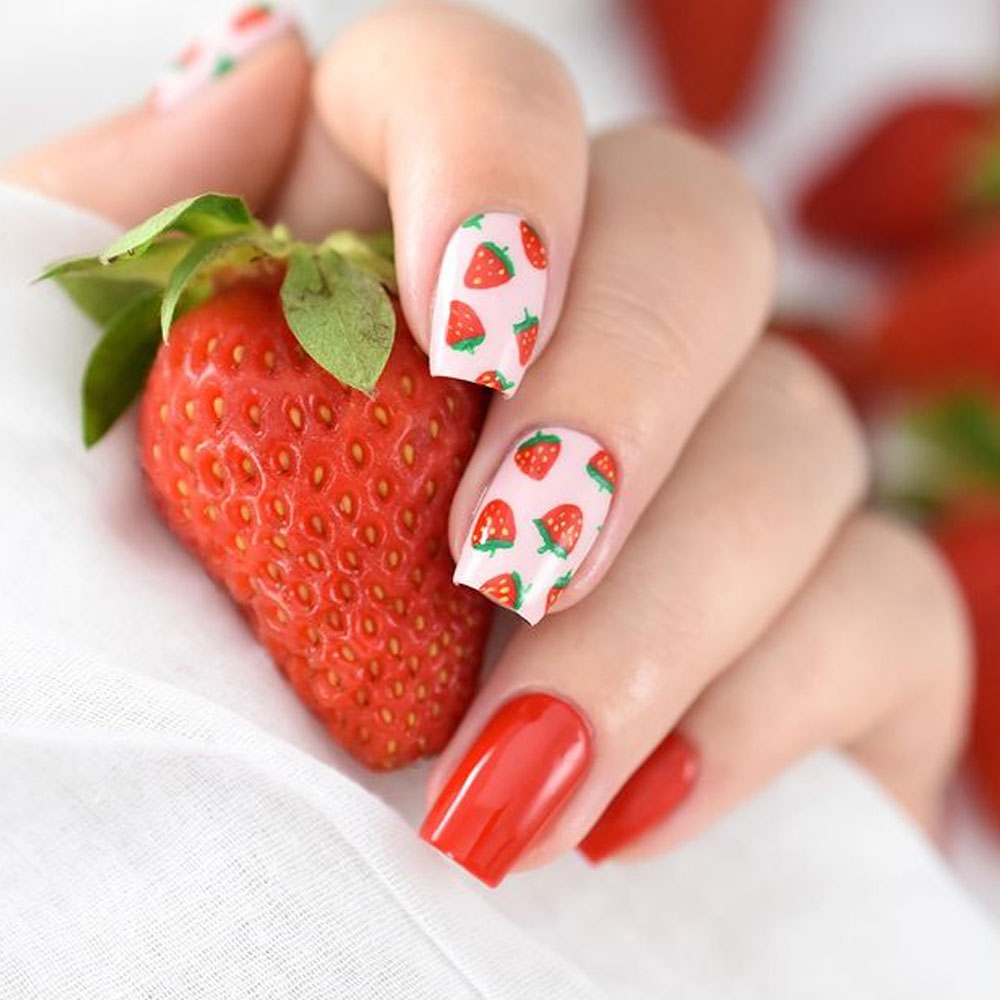 Credit photo: instagram.com/marinelp91
Pretty nails feature pretty elements. Isn't that the rule? Well, this can be a slightly subjective statement, but the fact remains – strawberry nails are sweet and playful. This eye-catching design balances the tempting allure of fresh strawberries and the classy flair of red nail polish. We are sure celebrities like Katy Perry wouldn't resist the temptation to sport such creative tips!
Flowers Design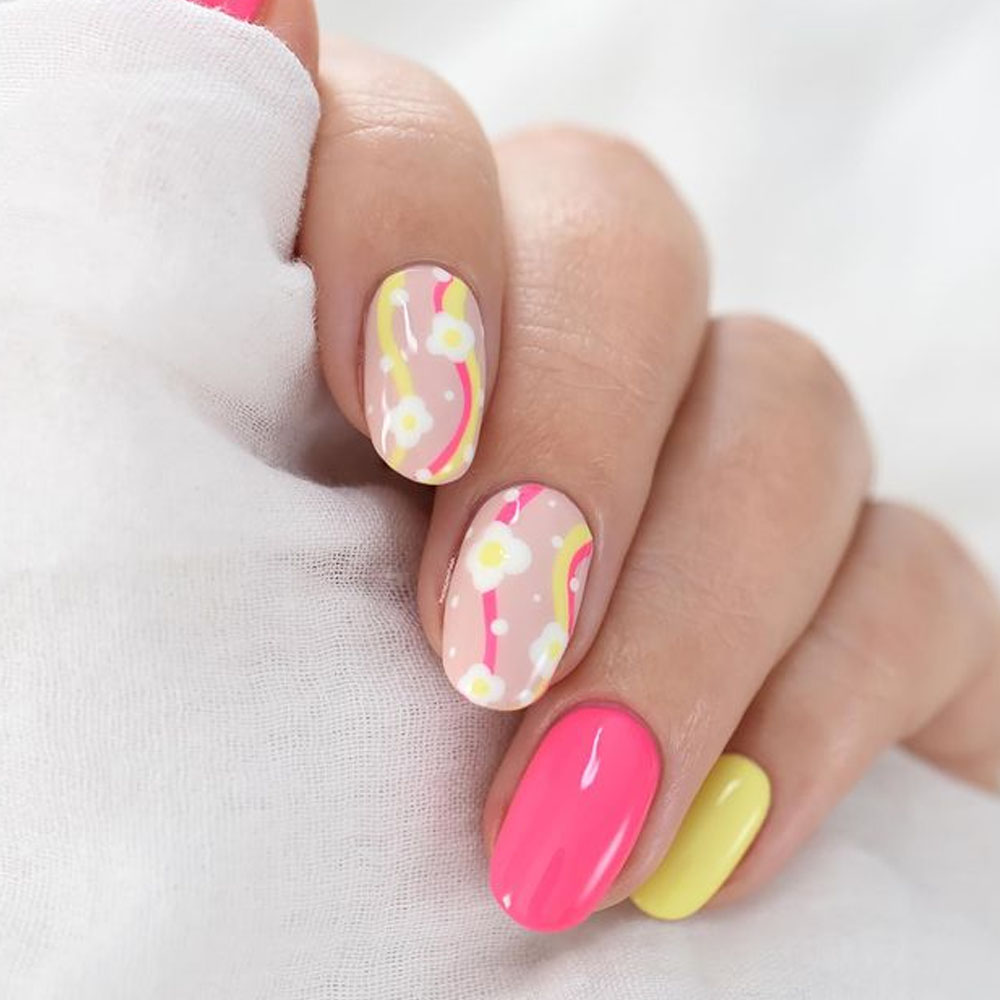 Credit photo: instagram.com/marinelp91
Some people claim that the variety of pretty nail designs for short nails is limited – we beg to differ. Short, rounded tips are perfect for gentle, barely-there flowers used as accent nails. The rest of the nails can be coated in slightly more vibrant shades to stress the delicate contrast of the nail art. Such a manicure will be a perfect addition to your summer vacation.
Christmas Candy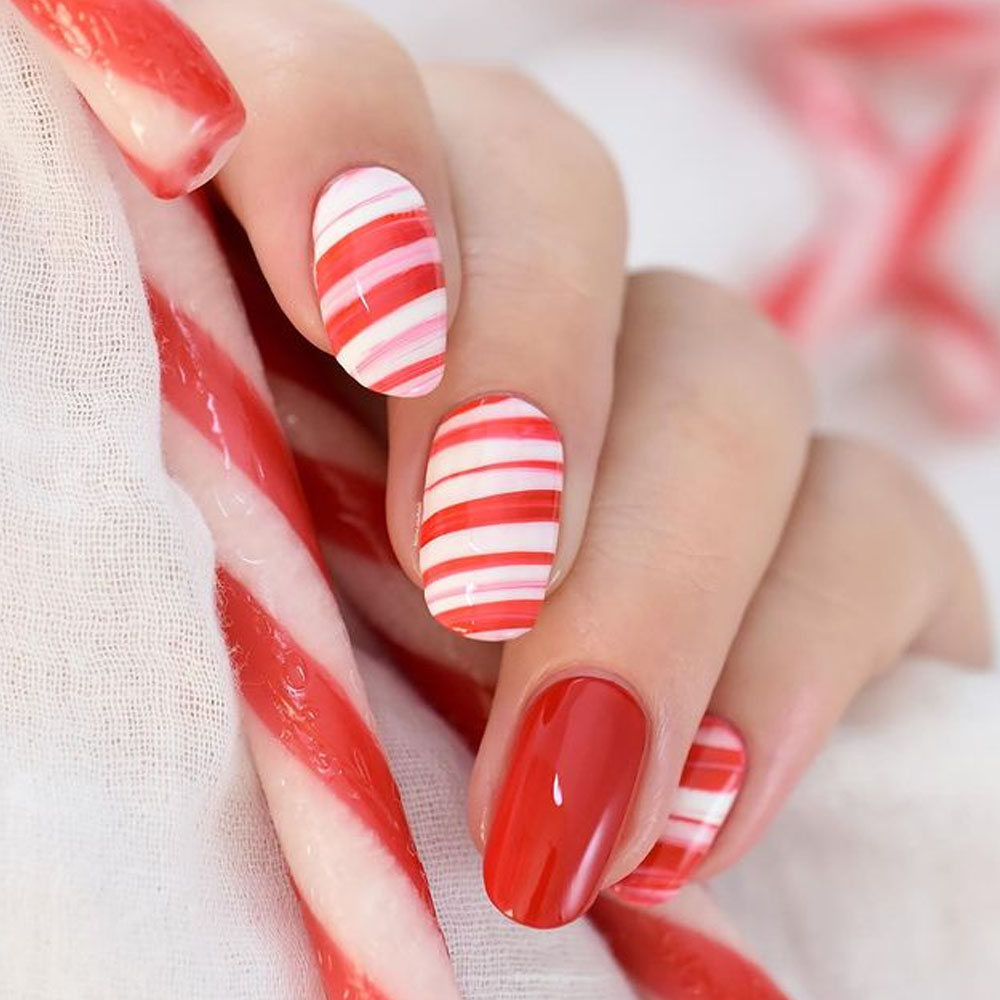 Credit photo: instagram.com/marinelp91
There's no such thing as an early Christmas manicure. Thus, we suggest you plan your festive manicures before the holiday season strikes. Candy canes are exceptionally requested during the festivities hence, depicting them on your tips would be only natural. If you are interested in a pretty nail color suitable for the design, Essie has launched a unique shade called Geranium that fits the goal ideally.
Pink Mix of Art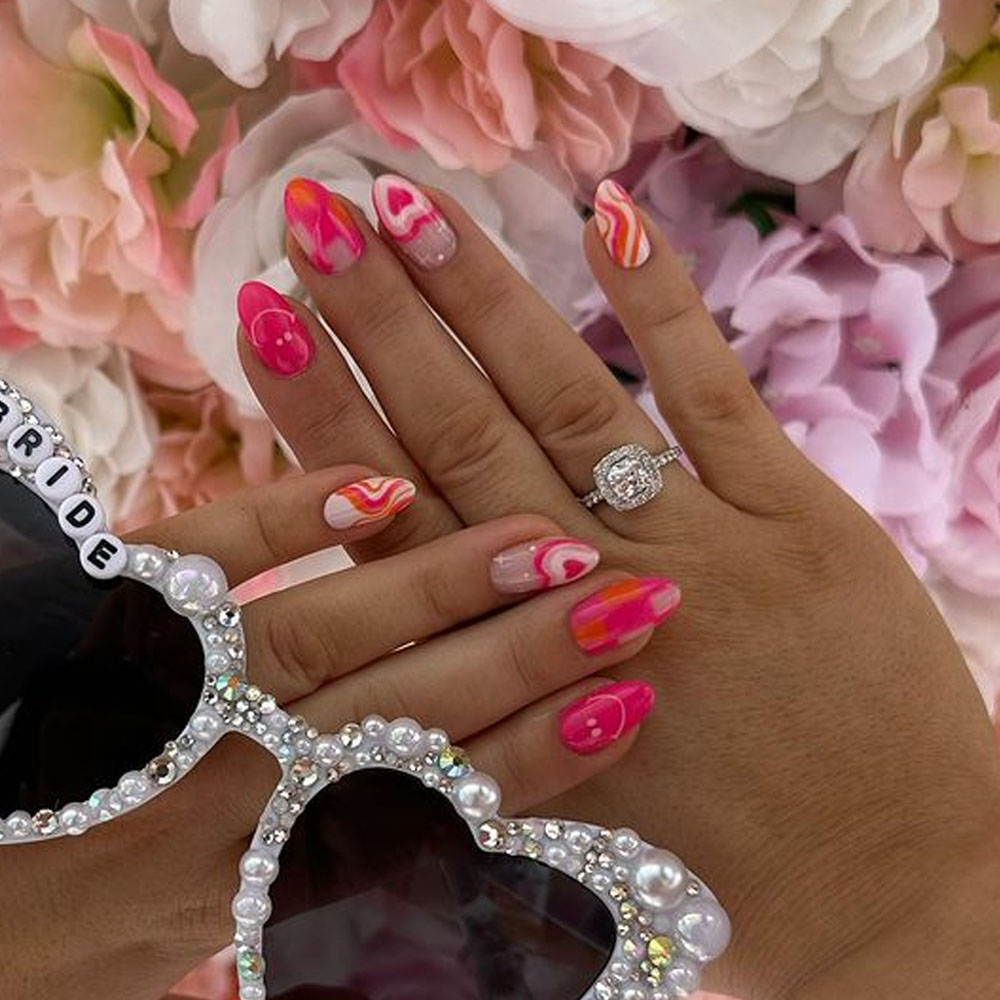 Credit photo: instagram.com/malishka702_nails
While pretty summer nail colors are pretty versatile, the pink palette would win the battle no matter what. Thus, considering mixed nail art in pink tints is a great way to emphasize your creative nature and the electric vibes of the season. You can play around with different techniques, patterns, and shades to create a masterpiece like the one shown in the picture.
Pastel Ombre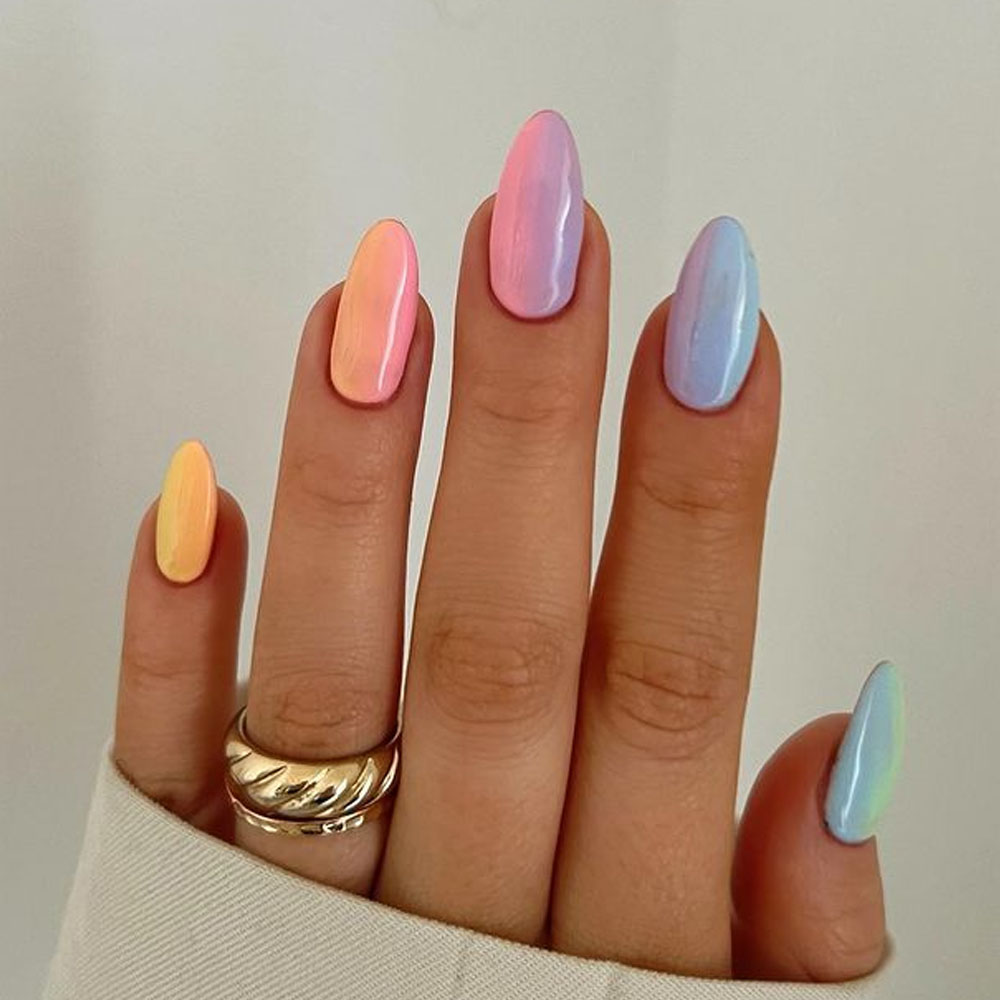 Credit photo: instagram.com/charsgelnails_
Those seeking beautiful nail designs that are both dreamy and elegant may want to pay attention to pastel ombre nails. The seamless blend of soft colors results in a gradient that can't be replicated twice in a row. Zendaya seems to have grasped the uniqueness of the style and features pastel ombre nails on various occasions to compliment her chic and feminine nature.
Peach Hearts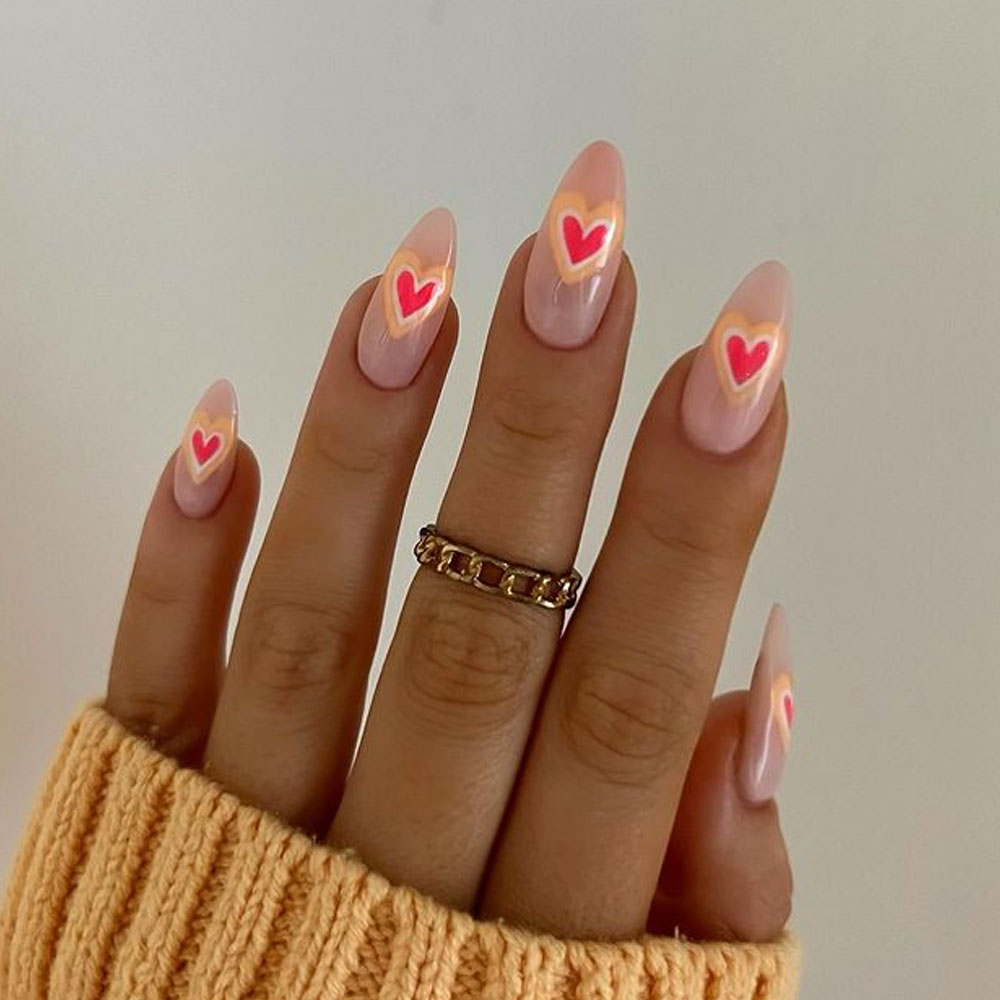 Credit photo: instagram.com/charsgelnails_
Pretty nail inspo comes from the heart, sometimes more literary than ever. All it takes is to coat your nails in a neutral shade and draw cute peach hearts in the middle. It happens so that Tom Ford's Sugar Dune collection suits the task well, but you don't have to limit yourself to a single hue. Use your imagination to succeed with a one-of-a-kind outcome!
Winter in Green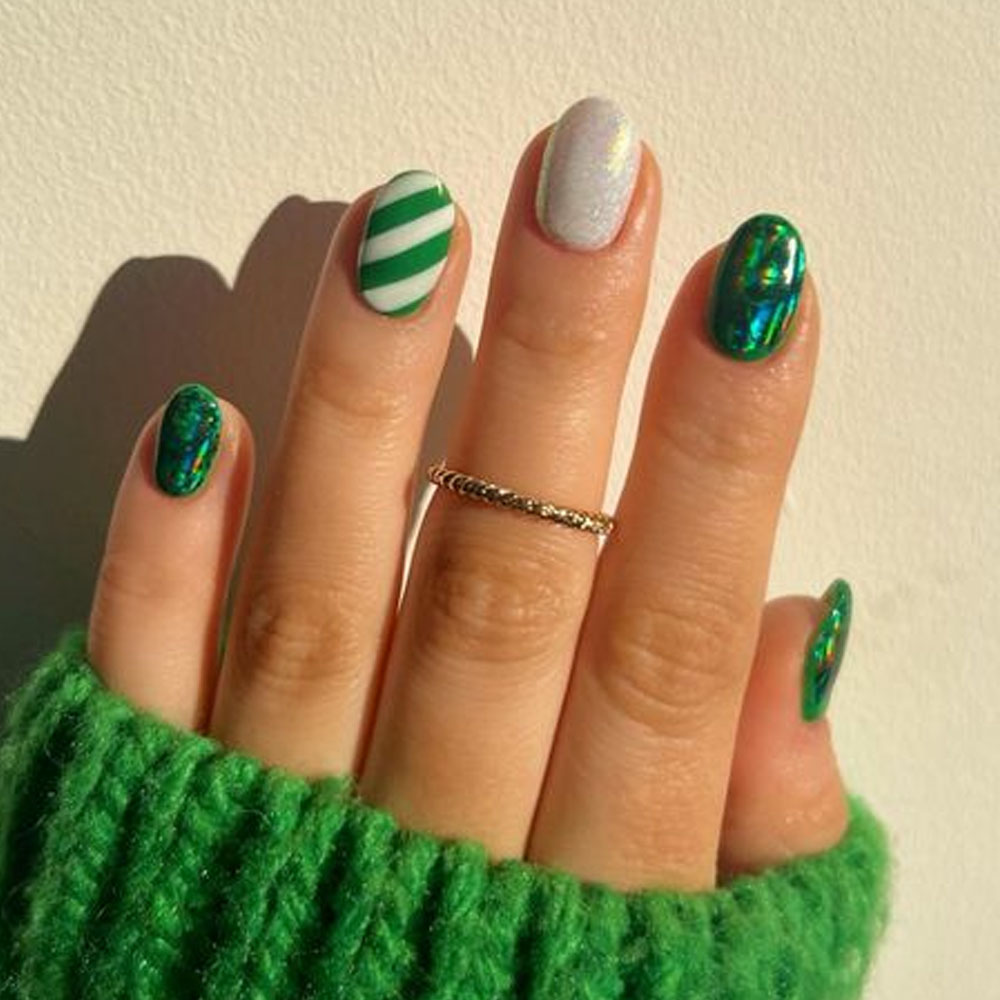 Credit photo: instagram.com/charsgelnails_
Pretty nails ideas for the winter season enlist many spicy shades and colors, and bright green is surely at the top of the list. This reach and refreshing shade can help you create a manicure that is both classy, festive, and unique at the same time. All it takes is to mix the textures and patterns well so that all elements perfectly sync with one another. We think that the design presented here showcases the perfectly green balance to inspire from!
Pretty Abstract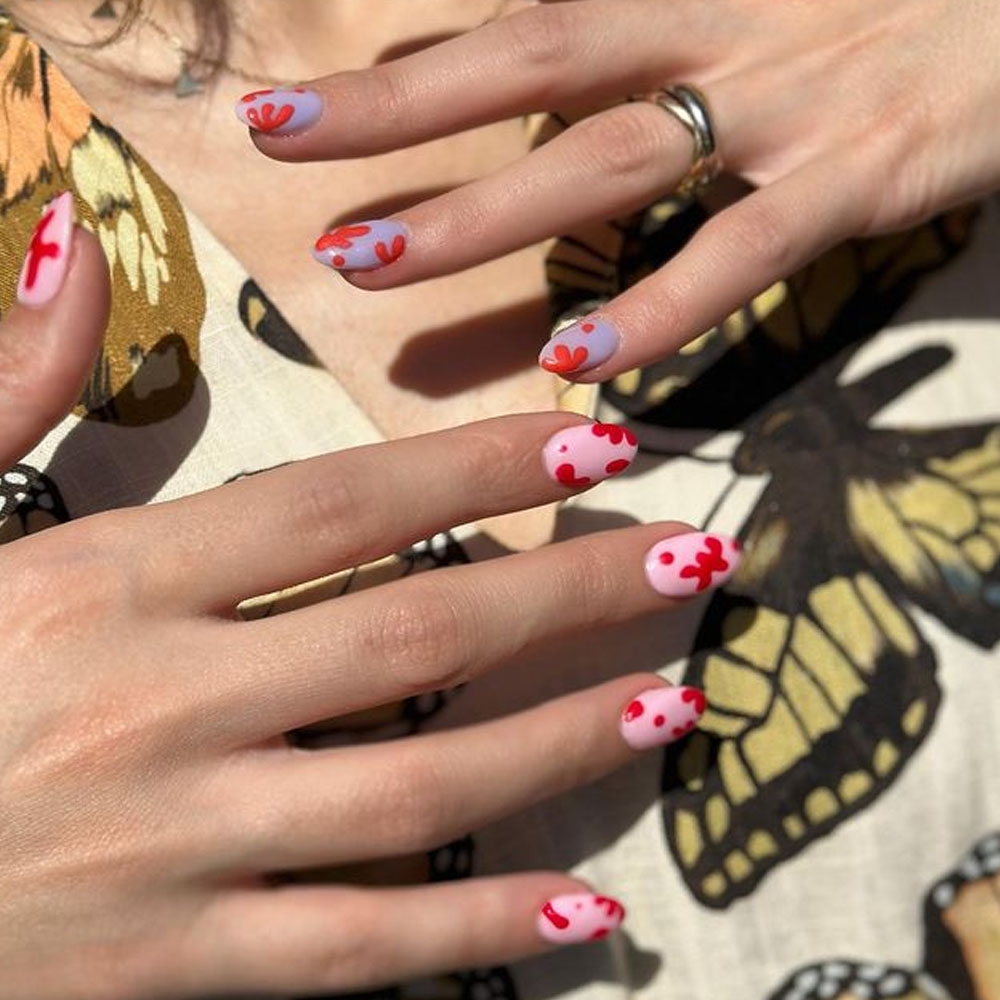 Credit photo: instagram.com/thehangedit
Pretty designs aren't always about well-defined images or patterns. Sometimes, a few blobs of color transform your tips into an avant-garde masterpiece. If you ask us, we think that Rihanna has mastered the art of abstract art before anyone else. Why not follow the Barbados icon's footsteps?
Checked Pattern With Flowers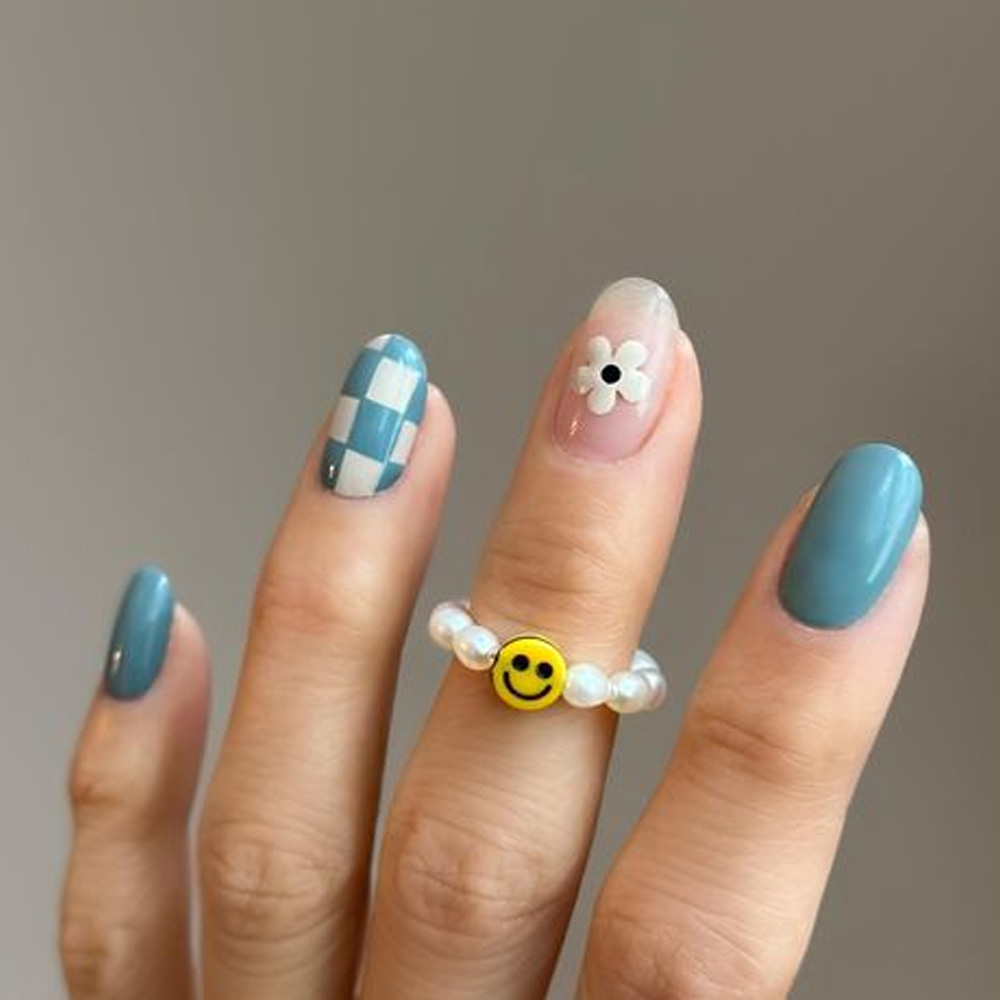 Credit photo: instagram.com/thehangedit
Sometimes, pretty nails designs are about matching the unmatchable. How does it work? Well, it is simple. You can combine a checked accent nail with a flower accent nail, showcasing them with the help of a properly chosen base color. In this case, gentle blue is the major player in the game, but a well-preserved balance of all the elements completes the design. In case you don't know where to get such a mesmerizing blue shade from, OPI's Big Bluetiful Planet may save the day.
Disney Love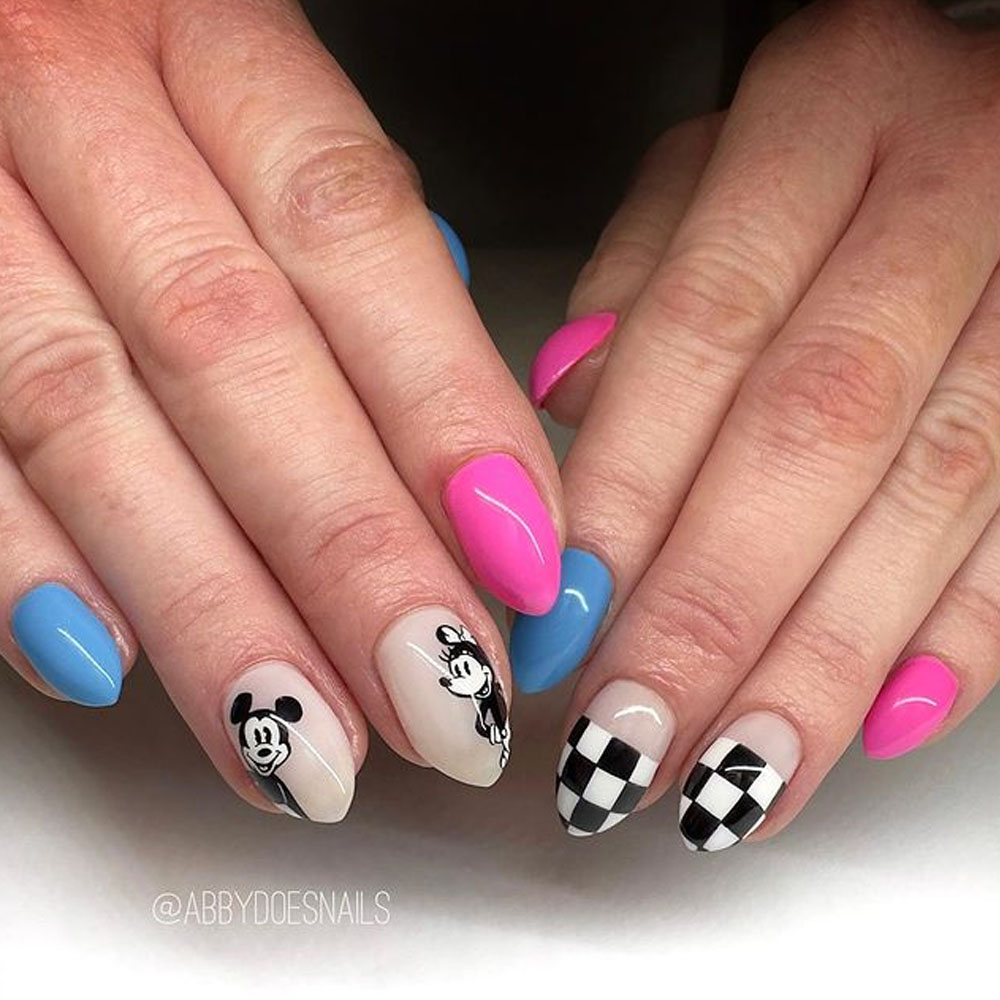 Credit photo: instagram.com/abbydoesnails
How do you show your love and devotion for something? You take major elements and encode them into your image. While a Disney-inspired outfit may not suit the office environment, a casual dress code won't have anything against a Mickey Mouse accent nail art. Moreover, some working policies centered around the creativity and individuality of their employees.
Butterflies Art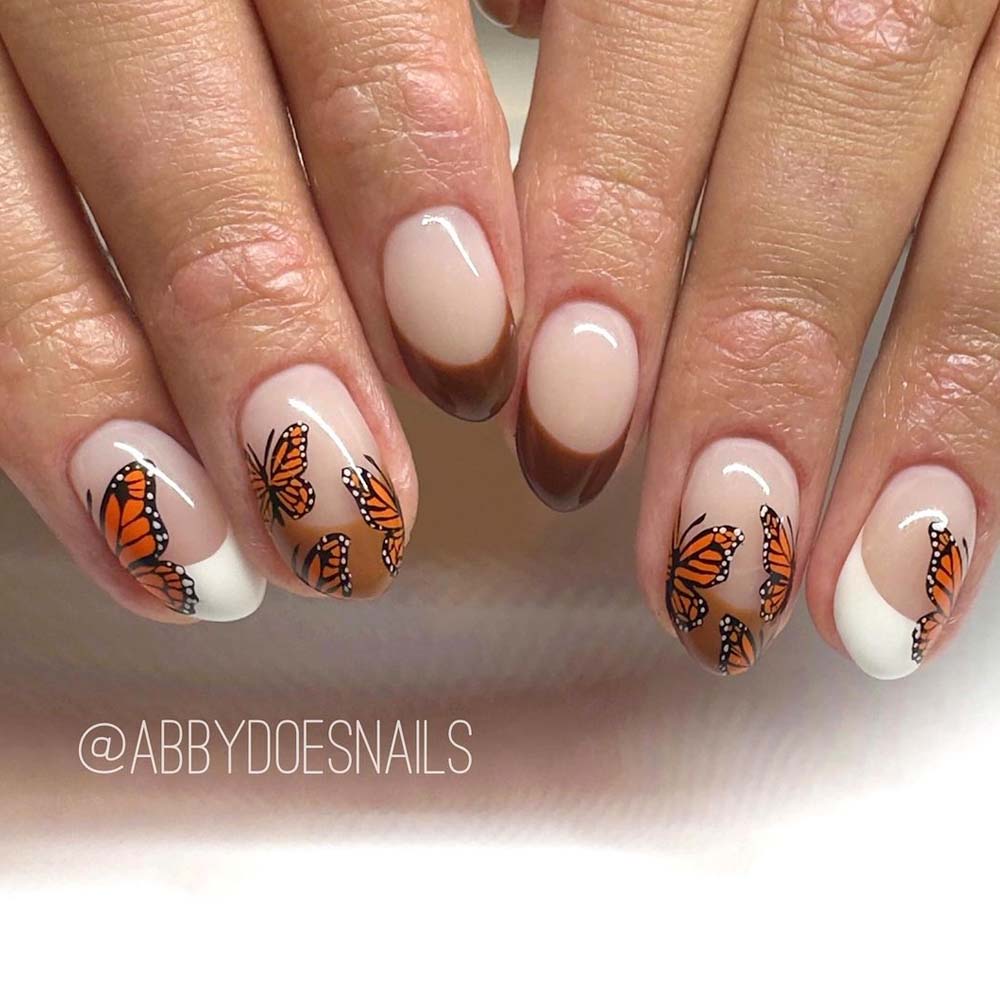 Credit photo: instagram.com/abbydoesnails
What is the synonym of nice nails? Everyone will have a personal opinion to share, but no one will argue about the visual appeal of butterflies. Thus, a classy French mani will acquire a whole new taste when spiced with cute and delicately depicted butterflies. You don't have to go over the edge bright with your butterfly nail art. As you can see, neutral designs are an option too. Moreover, Kylie Jenner is the one who's never underestimated the trendsetting flair of butterfly manicures.
Gradient Sky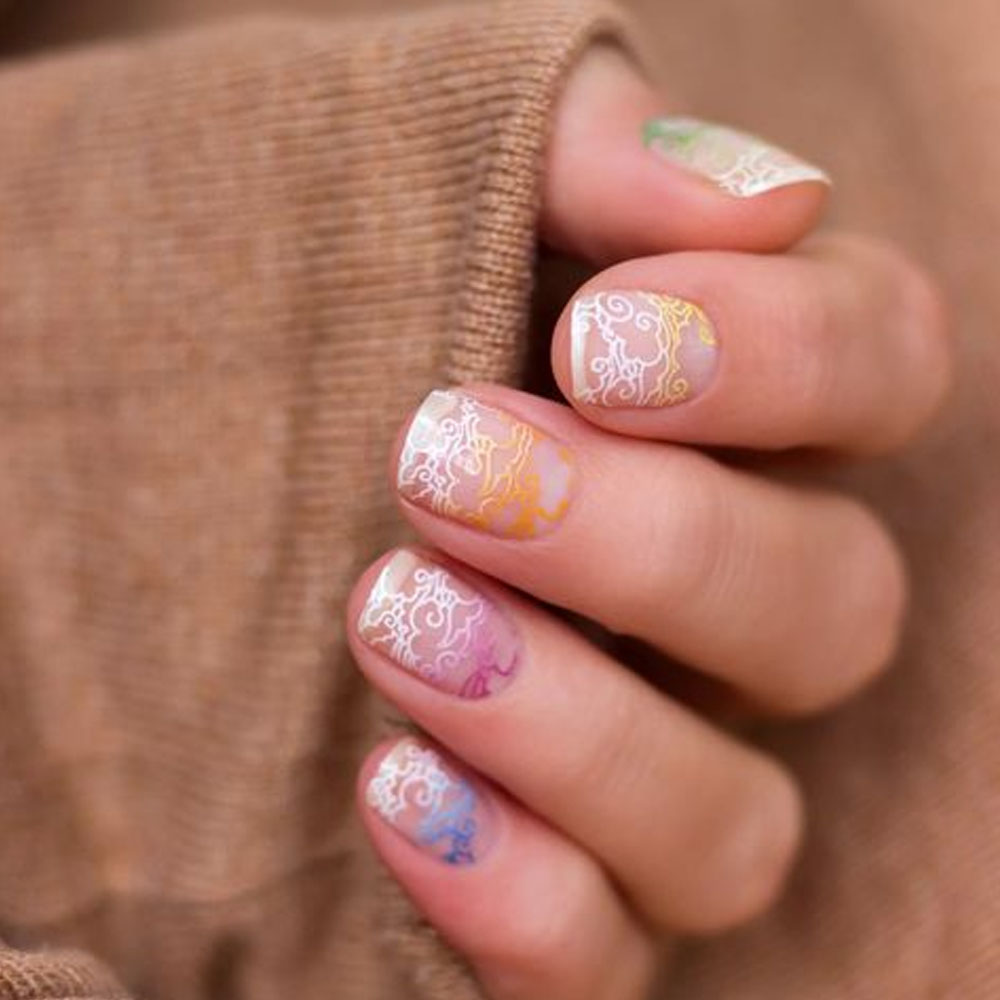 Credit photo: instagram.com/lackschaft
Nature is the greatest source of inspiration for every artist, and nail artists aren't the exception. Thus, while browsing trending nails pictures, you often come across sunset or sunrise sky nail inspo. A gradient sky is a perfect opportunity to play around with many vibrant hues without making your nails look too bold or screaming with color.
Green Quartz Nails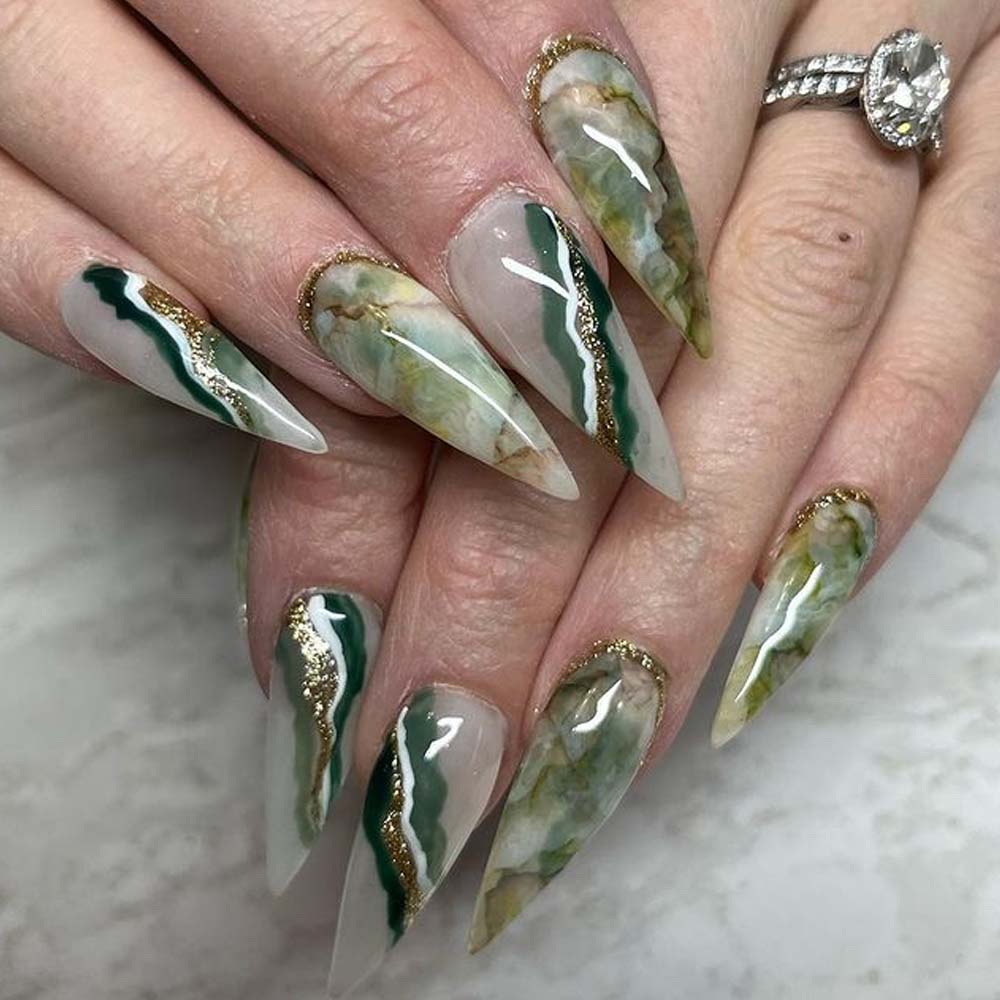 Credit photo: instagram.com/lori_nails
Cardi B is known for her exquisite and somehow extravagant taste, so it is no wonder why she'd be the one to pick quartz nails as her significant mani. Green quartz nails may be the starting point if you want to keep up with the edgy celebrity's experiments.
Neon Coffin Nails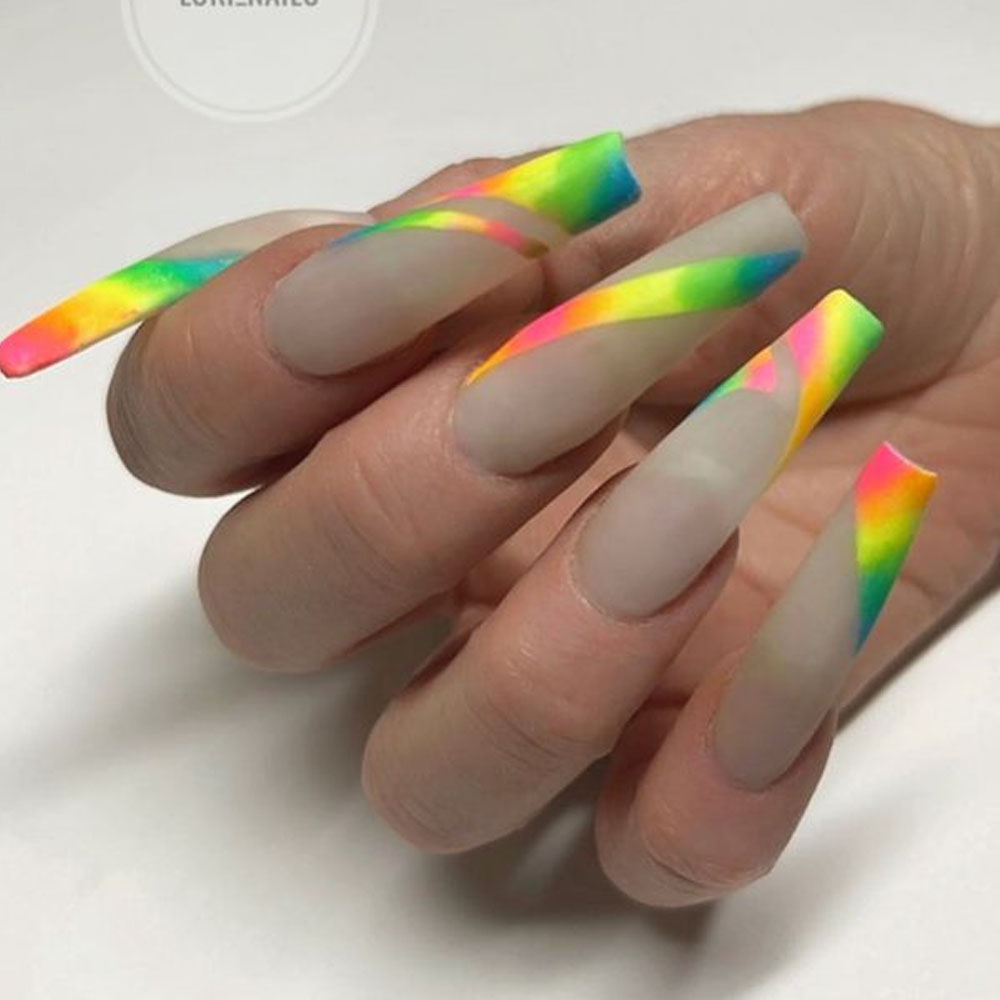 Credit photo: instagram.com/lori_nails
Pretty coffin nail designs entered the fashion world a while ago and seem to linger there. While neon nails can be daring and bold, you can use the neon gradient as a creative take on a classy French manicure and make the final impression slightly more blended. Besides, the KleanColor neon color collection is waiting for your approval.
Pretty Gnomes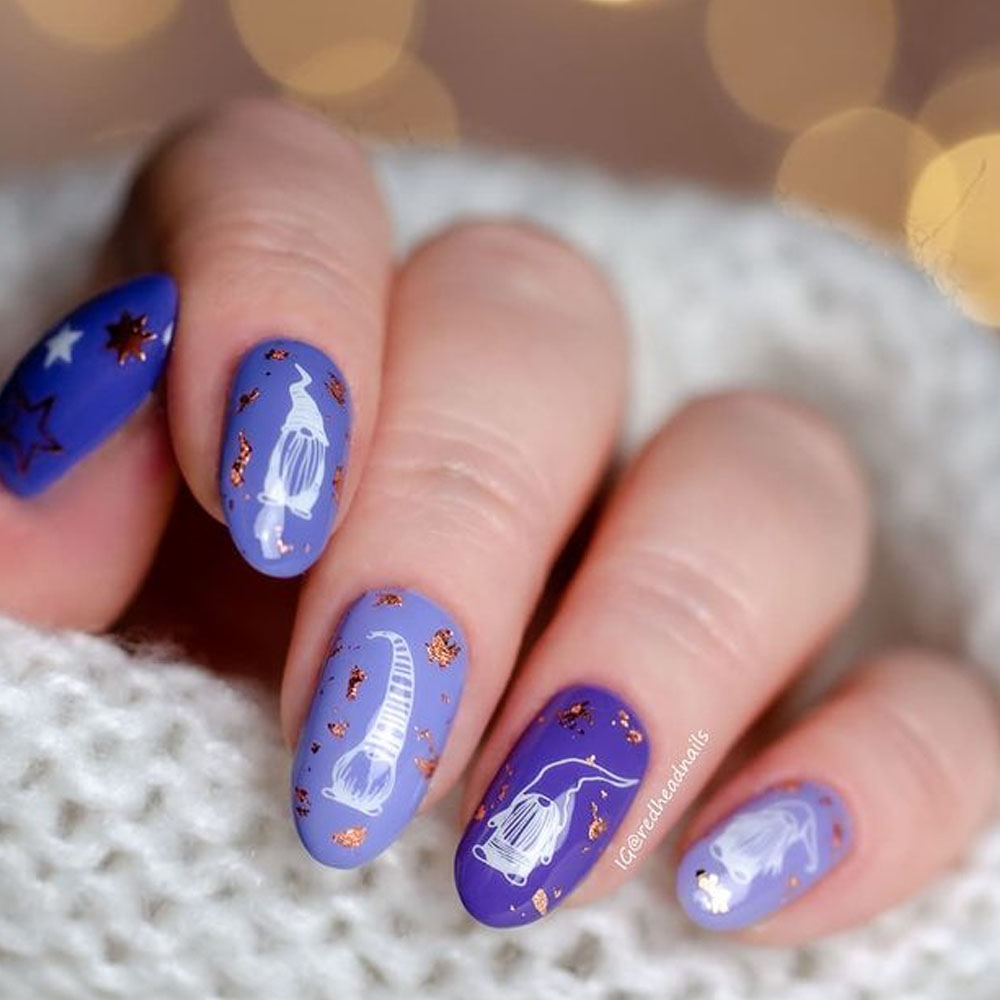 Credit photo: instagram.com/redheadnails
The moment you think about pretty gnomes, you imagine little fairytale men who live in the garden. However, we suggest a more whimsical and abstract take on the theme. A purple-shaded manicure with golden stars scattered all over the tip may be that metaphoric representation of the pretty gnomes we are talking about. What do you say?
Pretty Short Nails Ideas
Summer and spring nail designs often involve elaborate accents. Firstly, the warm weather as well as a great mood calls for something bright. Secondly, you wear no gloves now.
Pretty Nail Designs for Long Nails
And the latter are made of resin and resemble tiny sculptures. When learning about manicure accents, also pay attention to dangles. These allow you to have the real piercing done in your acrylic nails!
Trendy Marble Nail Design
i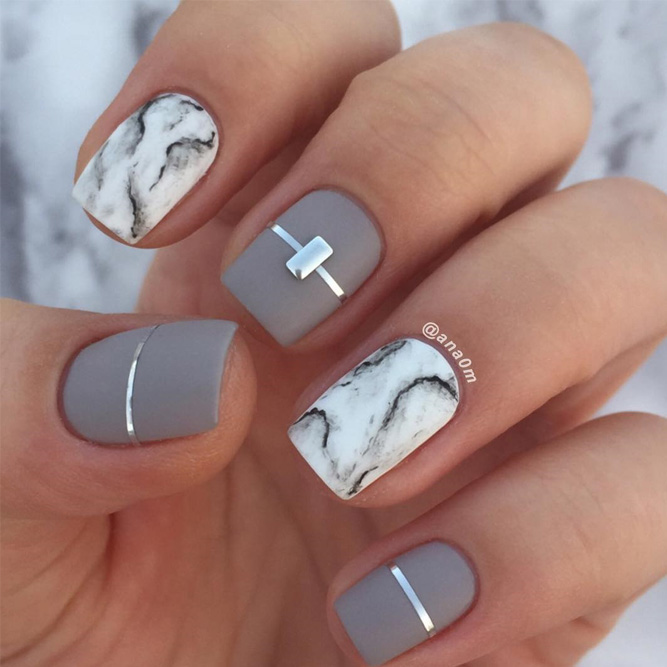 /
The water marble nail design has been trending for quite a while now and it isn't going to disappear anytime soon. Thanks to the multiple variations it has set off, you may easily find a style to match your preferences and nail shape.
Bright Ombre Nail Art
Everybody is so crazy about an ombre effect that it's basically everywhere. Your nails are no exception. Though, to keep up with fashion this season, you want to go for ombre design in bright or even neon colors adorned with omnifarious nail art, thus combining three hot trends in one mani.
Your nails can help you remain in the spotlight no matter where you go. However, the range of pretty nail designs is unimaginably extensive, so you may require a fair share of professional guidance to land the result you seek. Hopefully, this trendy collection will become your refer-to handbook in your time of need!
FAQ: Pretty Nail Designs
What can I use for nail art?
Manicure Tools.
Coats for the Base and Top.
Nail Brushes.
Nail polish.
Nail Files.
Nail Polish Remover.
Nail Decorations.
What is the apex of the nail?
The apex of a nail is the highest point in the center of the nail plate, it builds a symmetry of the nail and it is the point where you add strength. Forming a correct apex ensures that your manicure will hold longer and your nails won't look flat. That is why you should always make sure your apex is balanced.
Where to put the apex?
Apex is put at the weakest point of the nail: to identify it you can gently press the tip of the nail down, the point where your nail bed turns lighter is where you need to apply extra product to build your apex. It is built in the middle, not too close to a cuticle.
Where is OPI nail polish made?
According to a Koti spokeswoman, OPI manufactures and sells many well-known nail polishes and has been based in the North Hollywood, 13034 Saticoi Street since its inception in 1981. Currently produced in Sanford, North Carolina, Koti has the largest facility in the United States.
Is Essie made in China?
No, Essie is not an abuse-free brand. Essie products are present on the mainland China market, where local laws require testing performed on animals.
Why does my Essie nail polish chip easily?
Oily bases are more likely to chip prematurely as the nail polish or base coat is less likely to adhere to the nails.
Was this article helpful?