A Complete Guide To Couple Tattoos To Help You
Sometimes we choose extraordinary ways to show our love for each other. What about couple tattoos? A really romantic approach to show how much you believe in your love and bond being forever. Are you thinking about getting them and have no idea how to make a choice? We would be happy to help you with our tattoo ideas that can be the greatest way of expressing your feelings.
Main photo by Alex Gukalov/Shutterstock
Matching Couple Tattoos Designs
When we think about matching tattoos the stereotypical heart image pops up in our minds. However, we would like to reassure you that there are far more creative pictures that will help you express your feelings. Getting matching tattoos is an important step that for sure can help you show how much appreciation and love you feel towards your soulmate. The sentimental importance and uniqueness of such gifts will be with both of you forever. Isn' it the most romantic thing about inking couple tattoos on yourselves?
Small Couple Tattoos With Hearts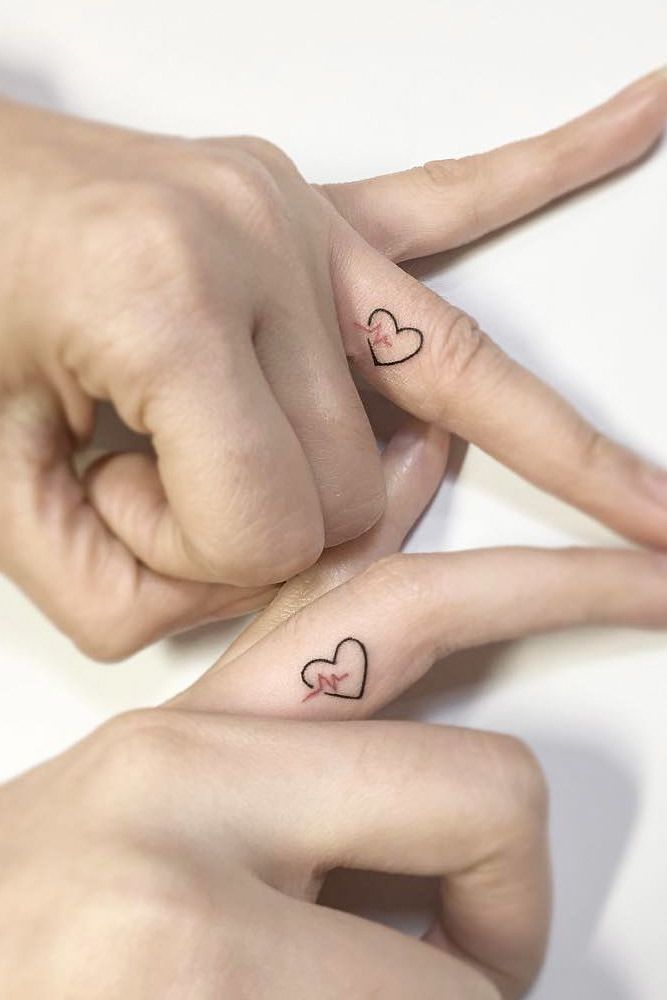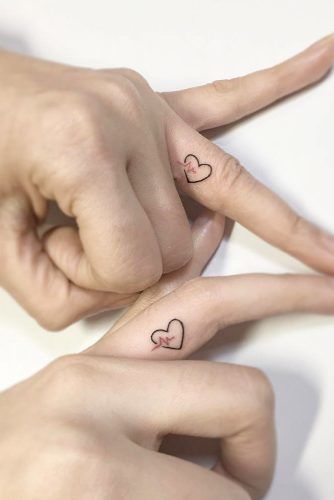 As the true classic heart tattoos can be modernized and inked in a new fresh way. What do you think about such small couple tattoos?
Source: playground_tat2 via Instagram
Couple Tattoos With An Ancor And A Compass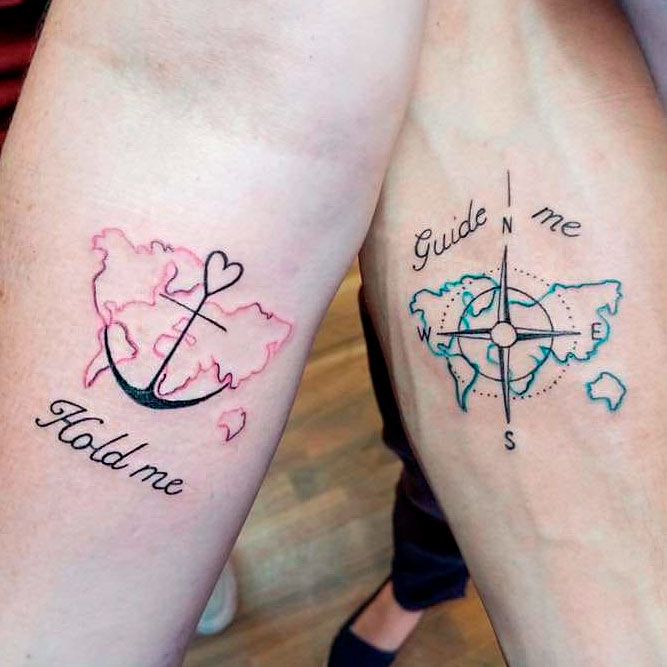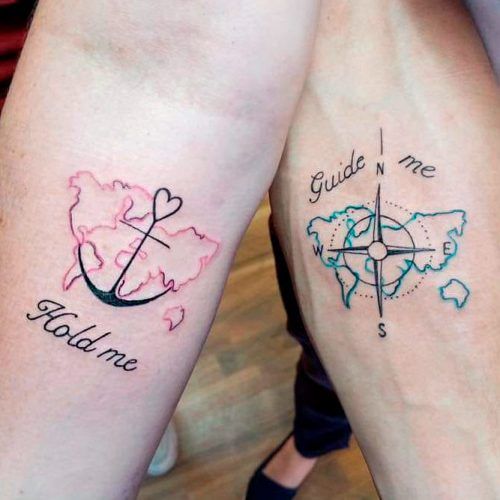 Soulmates always find the way to each other. Isn`t that the message you would like to show the world around you? If yes, then here is a perfect way to do it. With the help of your compass and anchor tattoos you will emphasize on your love.
Source: secondskinpirmasens via Instagram
Gorgeous Lion And Lioness Tattoos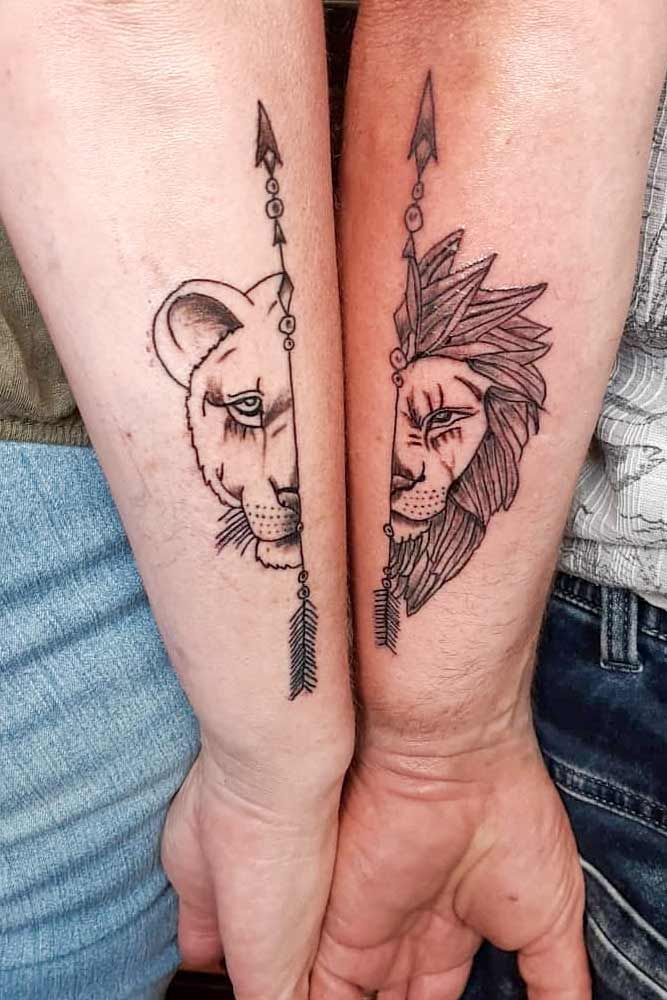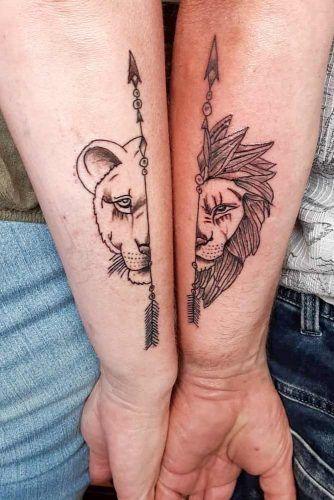 The king of the jungle and his queen by his side. Have you met yours already? If yes, then this matching tattoo will be perfect for you too.
Source: crea_miranda via Instagram
The Sun And The Moon Couple Tattoos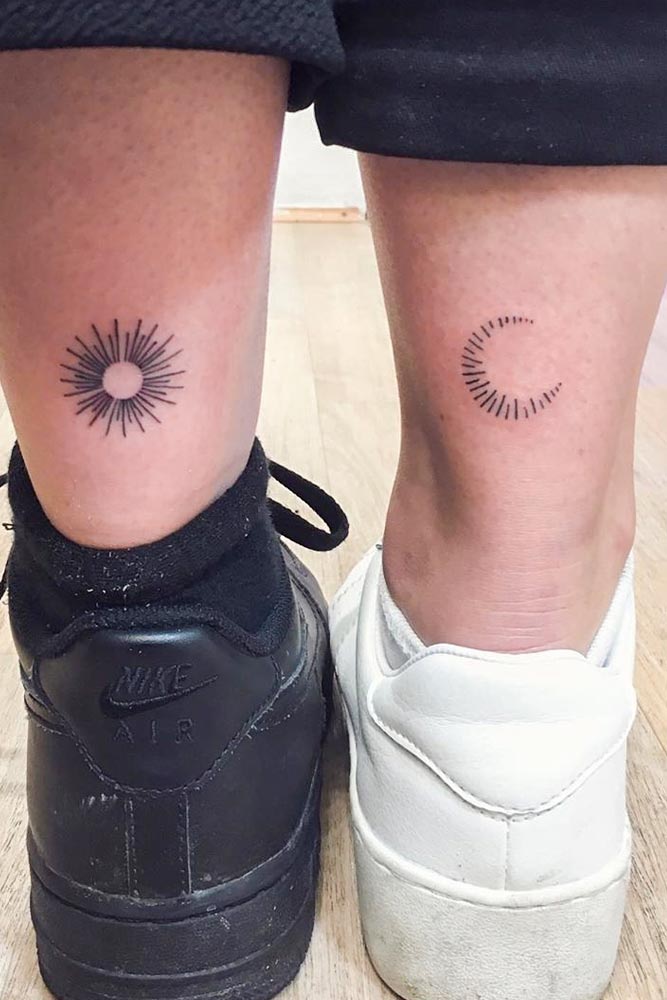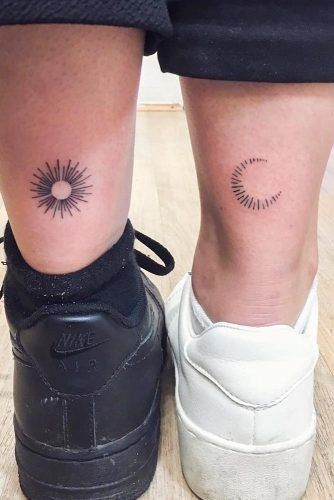 Calling her your sun or moon is the thing for your couple? Then there is a great way to make it symbolic for both of you. Why don`t you choose these two symbols for you love?
Source: charlotteglatt_tattoos via Instagram
Mandala Fox And Wolf Couple Tattoos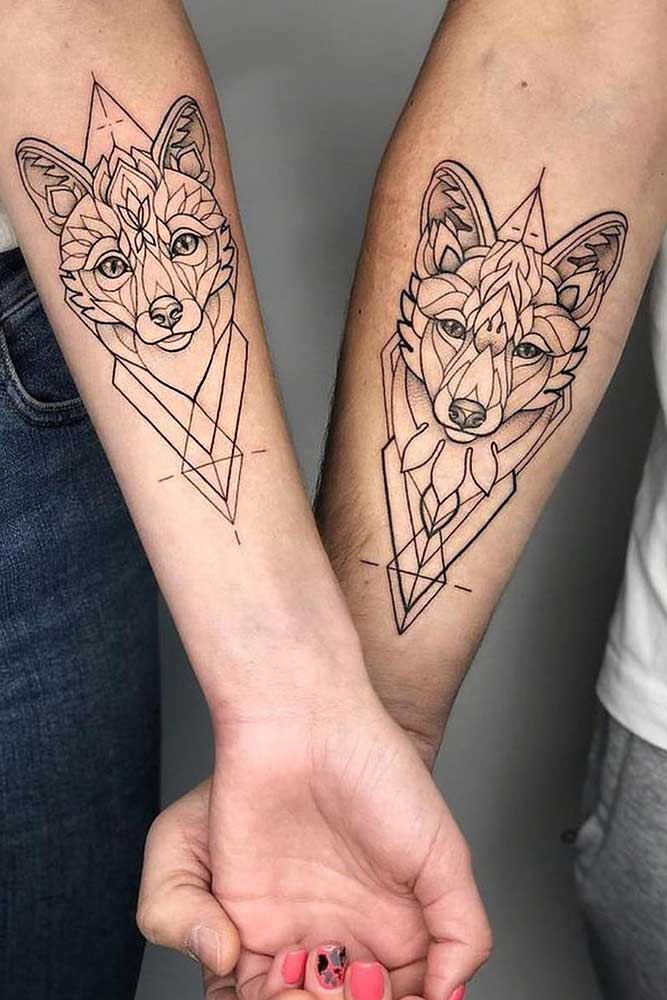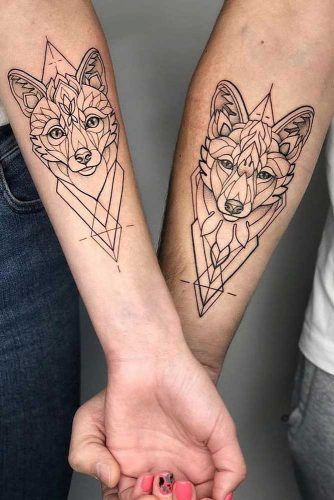 Graphic tattoos are really popular nowadays and they can make the way to the couple tattoos as well. These mandala fox and wolf tattoos are super cute, don`t you agree?
Source: tattooinkspiration via Instagram
Couple Wrist Tattoos With Lettering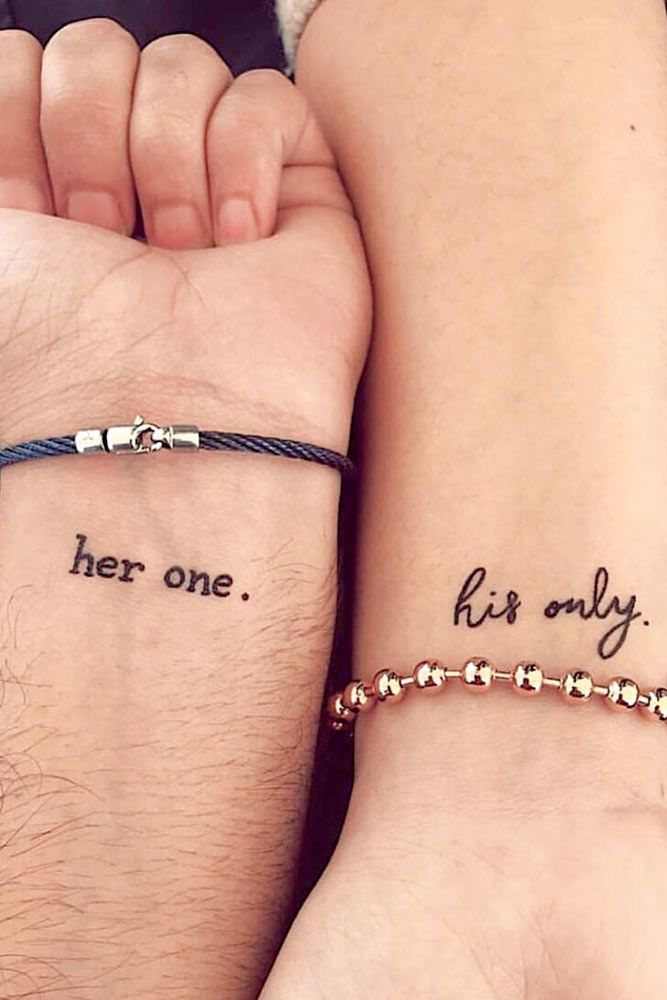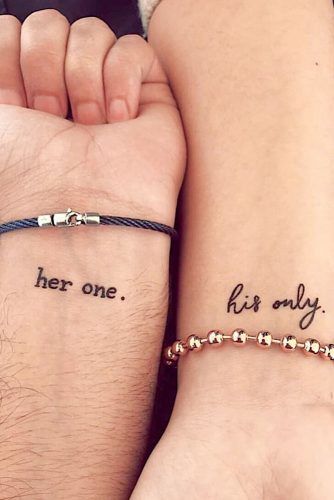 Lettering is super beautiful and can be very romantic. Choose something meaningful and it will be something that only you two will understand.
Source: tattooselections_ via Instagram
Arrow Infinity Sign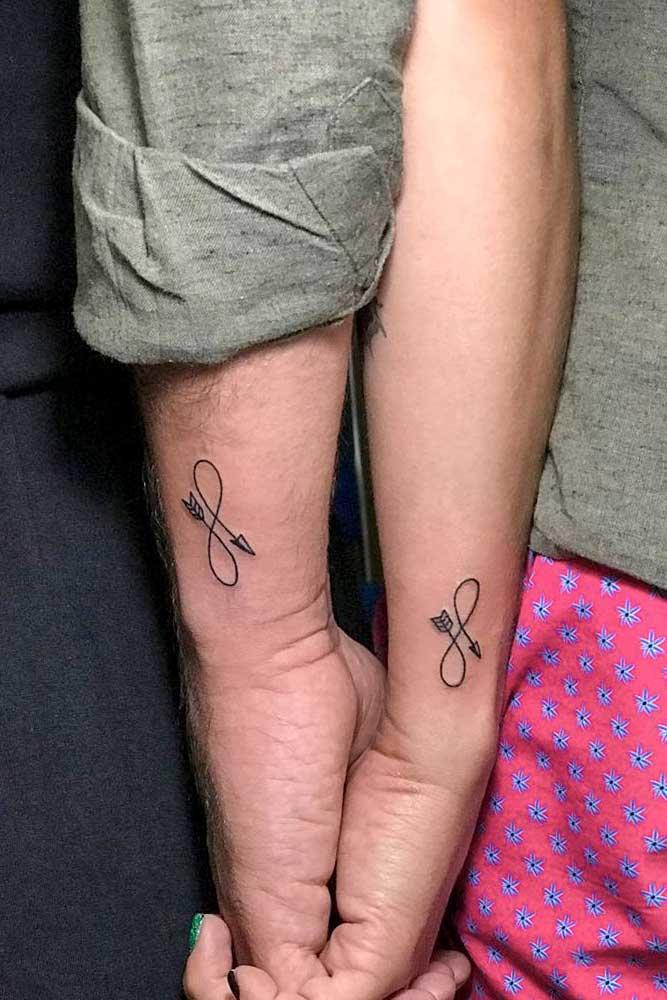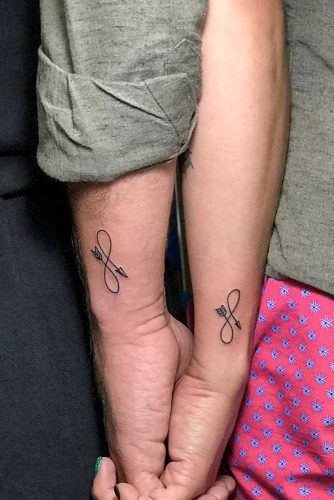 An infinity sign is a true symbol of love through the years. It is one of the most popular matching tattoos for couple and we absolutely are amazed by it. Personalize it and you will be so pleased with the results.
Source: benrock_tattoo via Instagram
Cute Couple Tattoos With Mickey And Minnie Mouse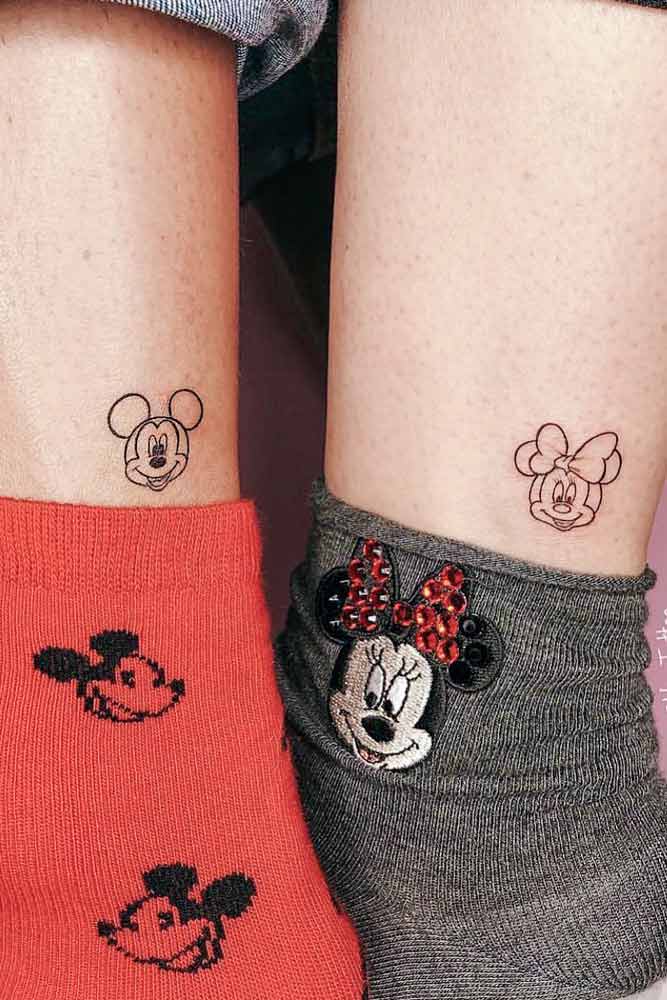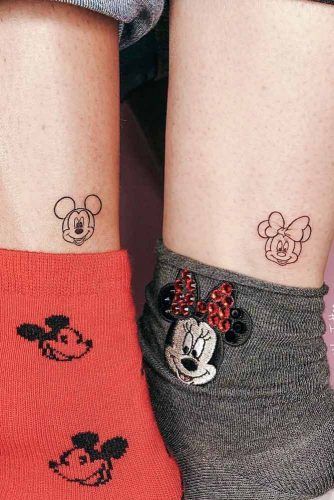 Mickey and Minnie will forever stay the symbol of the first love that everyone sees from their first days. Ink them into your skin and remind yourselves of how pure and romantic things are when you are in love.
Source: dovmemm via Instagram
Couple Tattoos Small Designs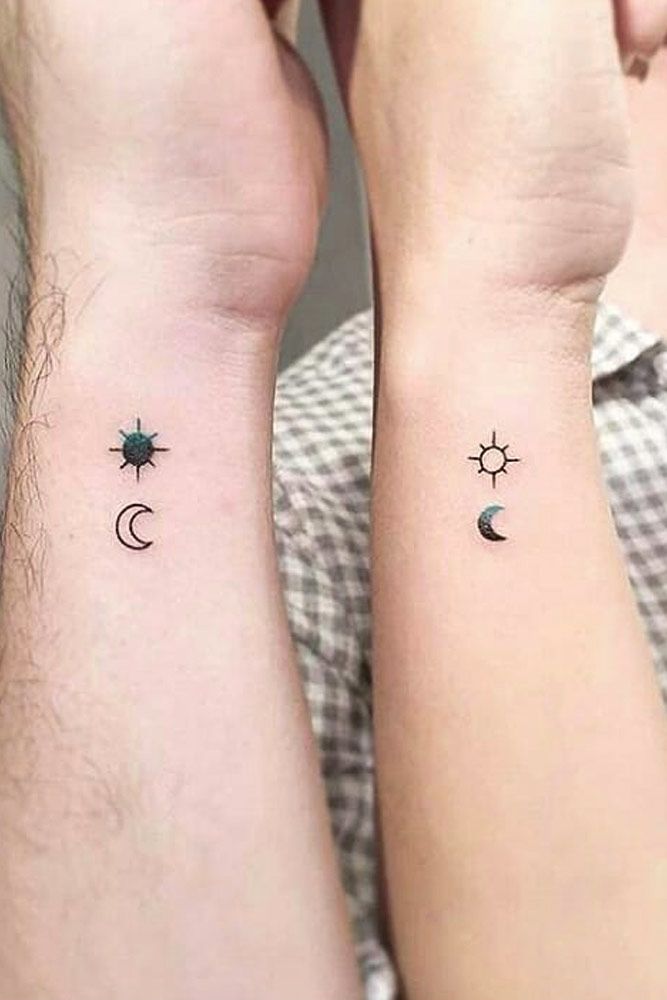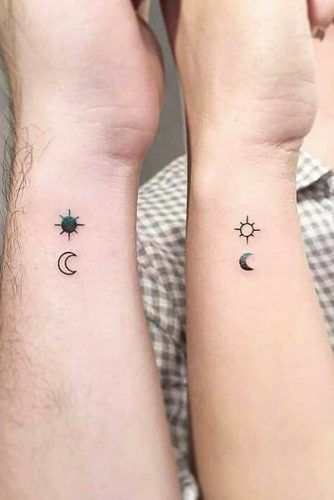 If you would like your tattoos to be simple and small, then this is perfect. These symbolic sun and moon tattoos will remind both of you about your cosmic feelings towards each other.
Source: playground_tat2 via Instagram
Cool Couple Tattoos For Real Superman And Wonder Woman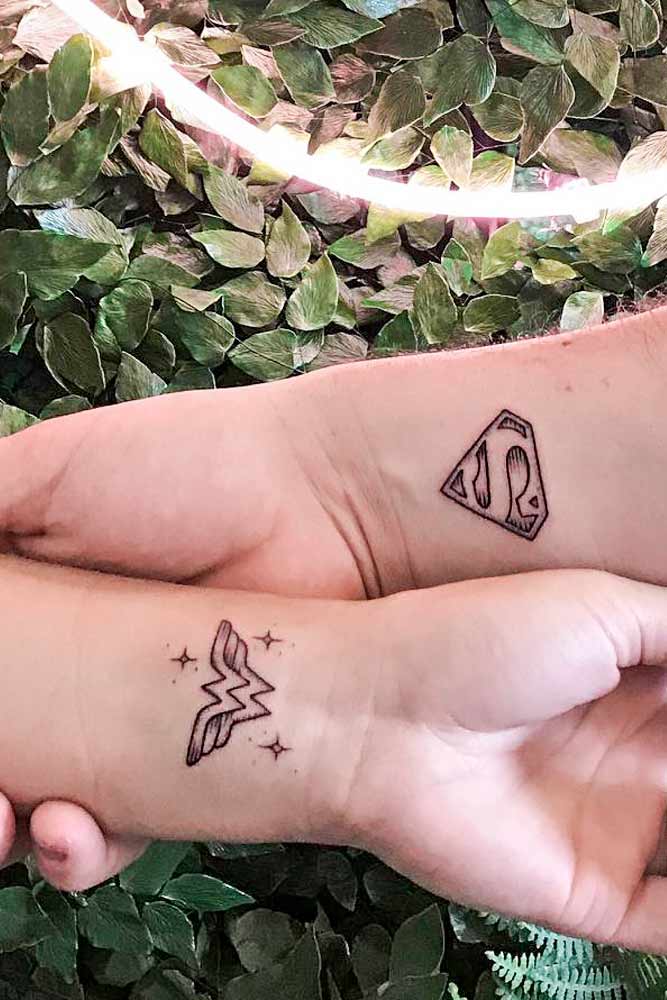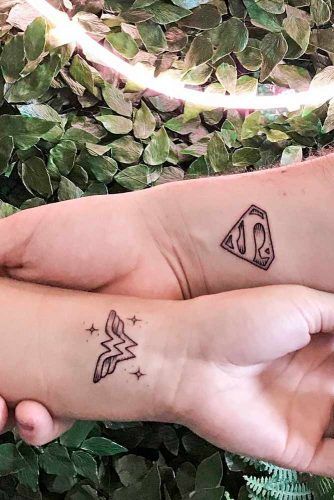 Are you looking for modern interpretations of tattoos? These superheroes ones will be with you all your life telling the story about how you two had supernatural attraction, saving each other all the time.
Source: claudiachristoltattoo via Instagram
Simple Couple Tattoos With Lines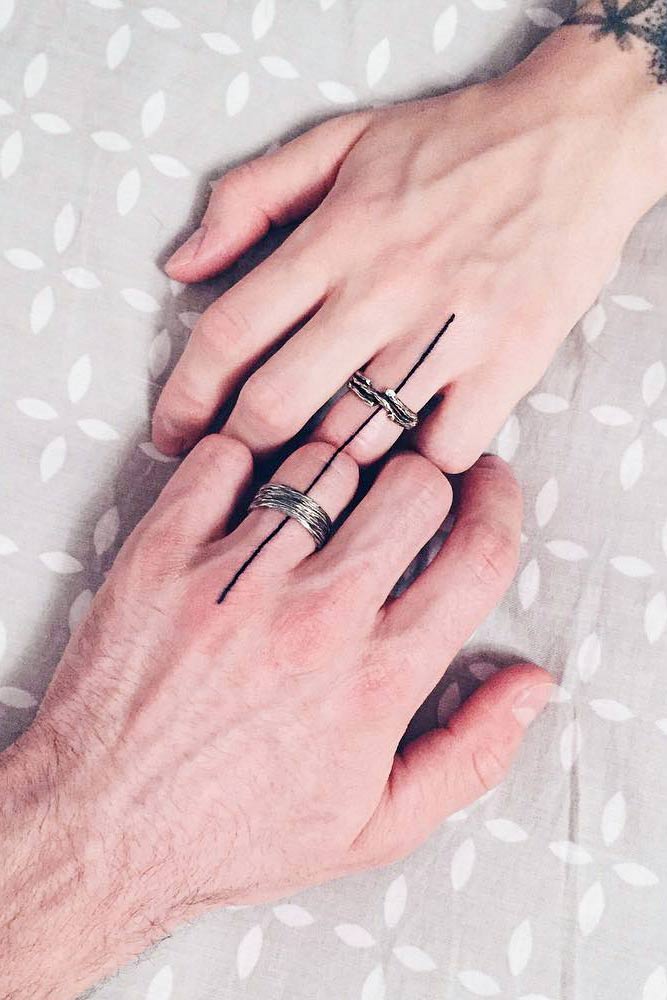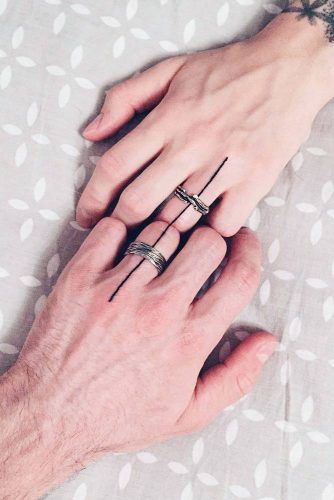 Simplicity is sometimes so underrated. Everyone wants something out of this world when even such simple lines can become super special and unique.
Source: e_bathory via Instagram
Couple Names Tattoos Ideas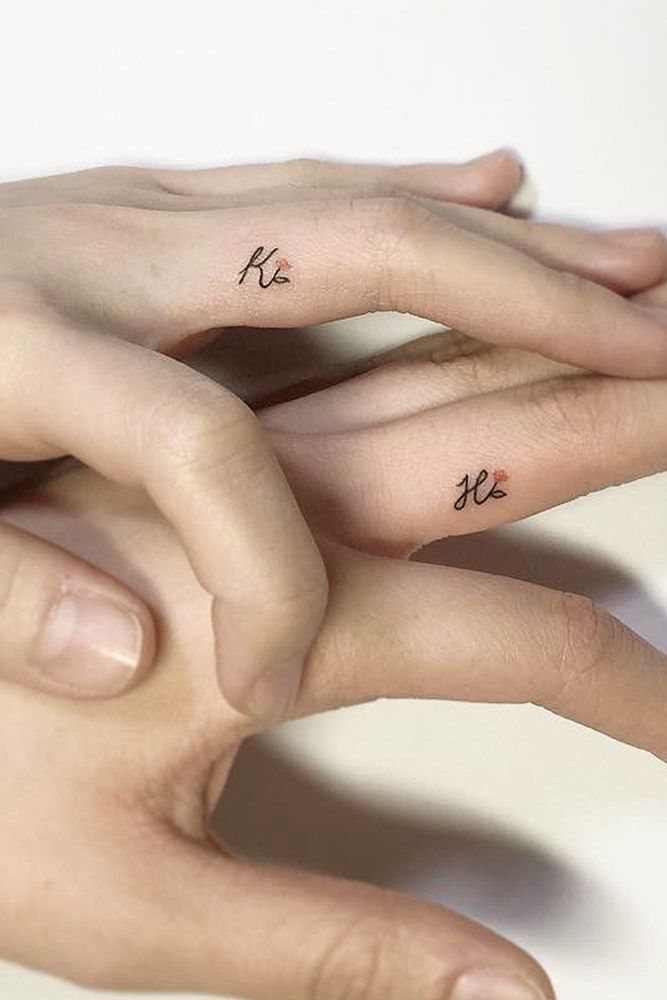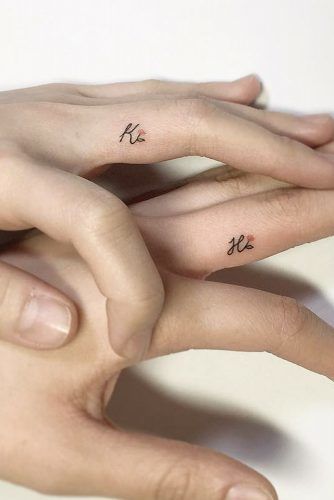 The tattoos with names will never go out of the true couple tattoos classics and that is what we love about them. Cute, romantic and truly exciting.
Source: playground_tat2 via Instagram
Simple Tattoo Idea For Couple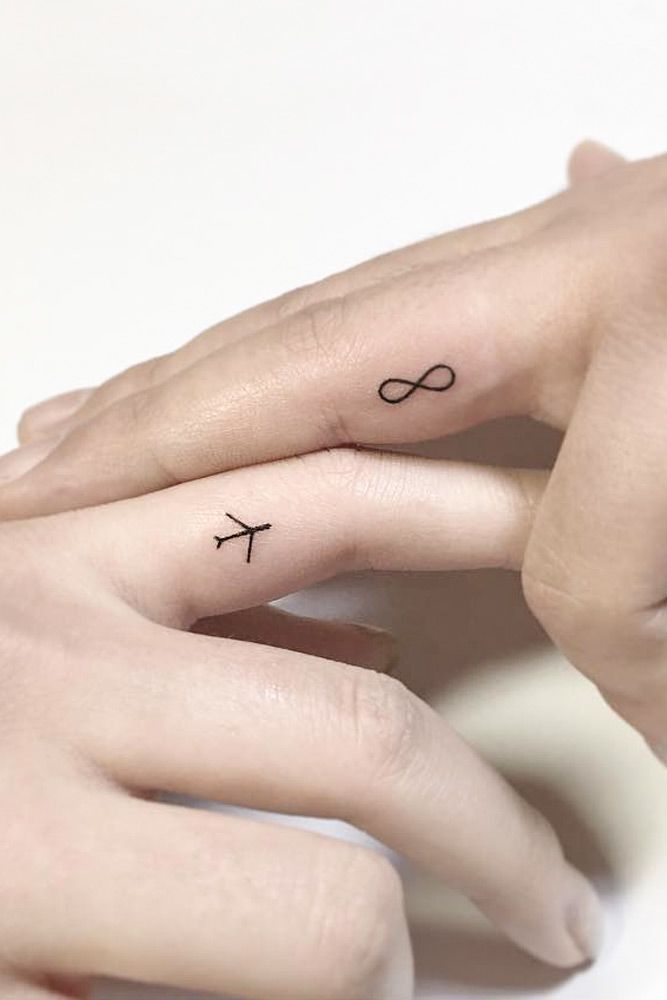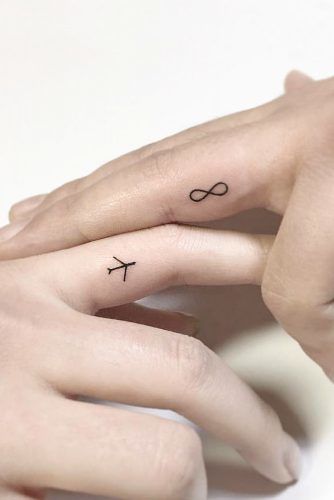 Best couple tattoos for sure have these simple tattoos in them. Add such little details and nobody but you will understand how much meaning they have for both of you.
Source: playground_tat2 via Instagram
Small Wrist Tattoo With Moon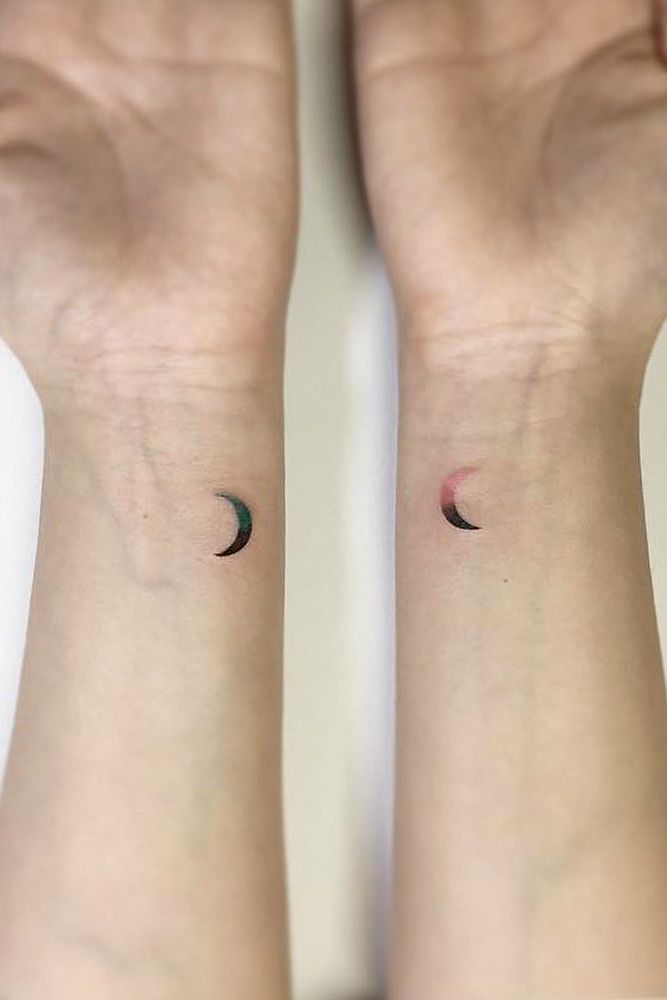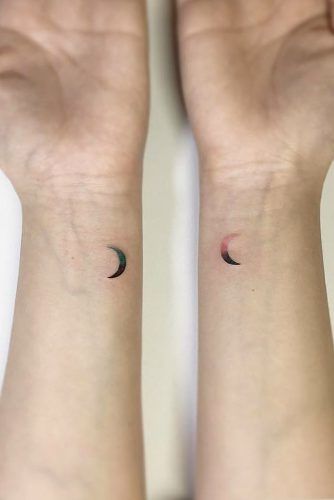 Do you prefer turning something really basic into super symbolic? This is what this idea is all about. So beautiful and special with the colors.
Source: playground_tat2 via Instagram
Small Outline Couple Tattoos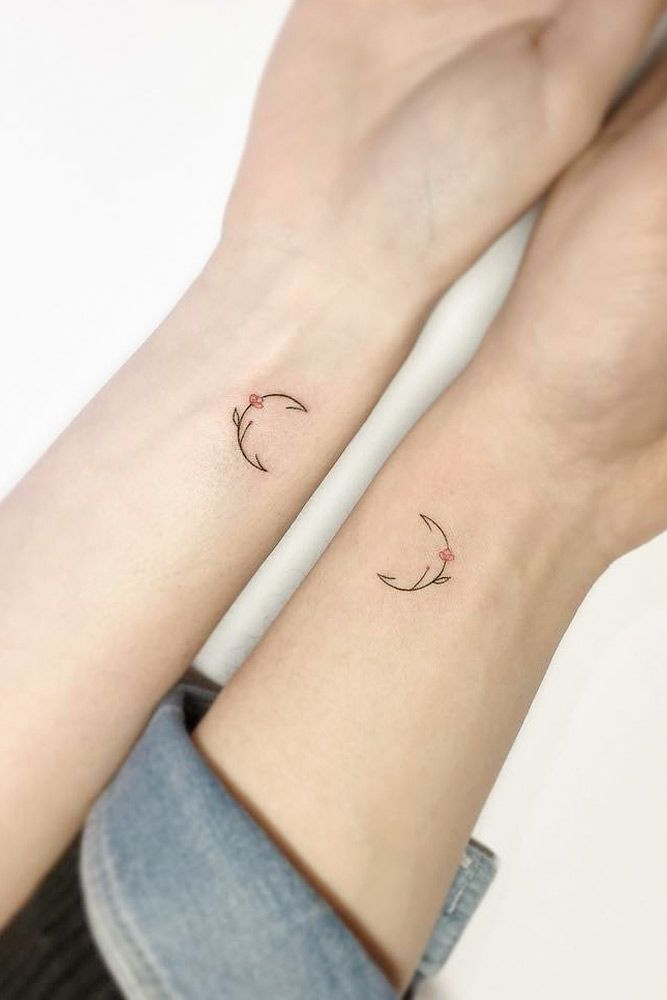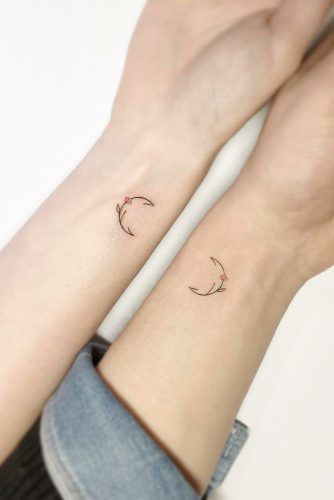 Outline tattoos look super tender and cute with their thin lines, don't you think? If you don't want your tattoos to take too much attention, this should be your number one choice.
Source: playground_tat2 via Instagram
Married Couple Tattoos With Dates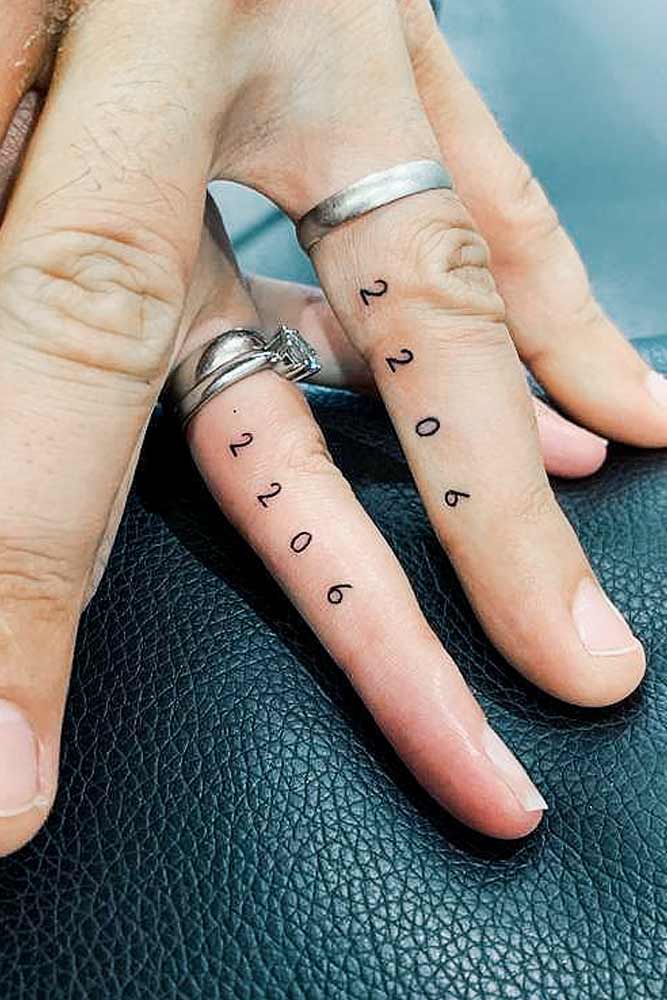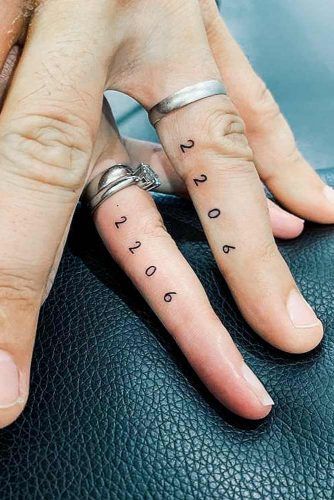 If you are married, then why don't you put that date that reminds of how much love both of you share? Super romantic it will be a great reminder forever.
Source: fine.line.tattoos.melbourne via Instagram
Chemical Elements Tattoo For Couple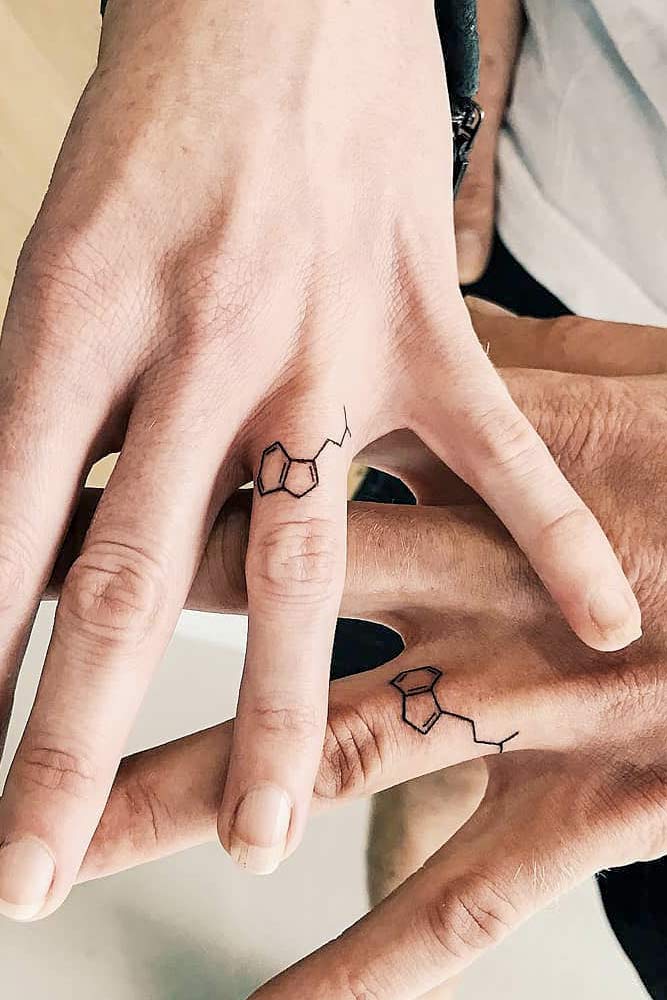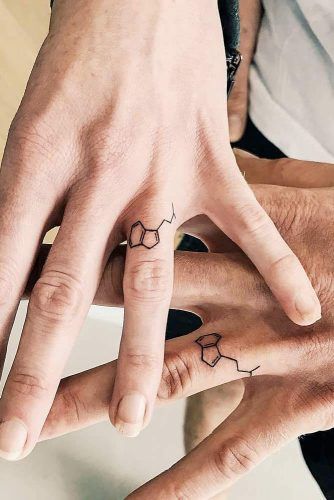 This cute and simple idea will only bond you more. Would you like that?
Source: fine.line.tattoos.melbourne via Instagram
Couple Crown Tattoos Design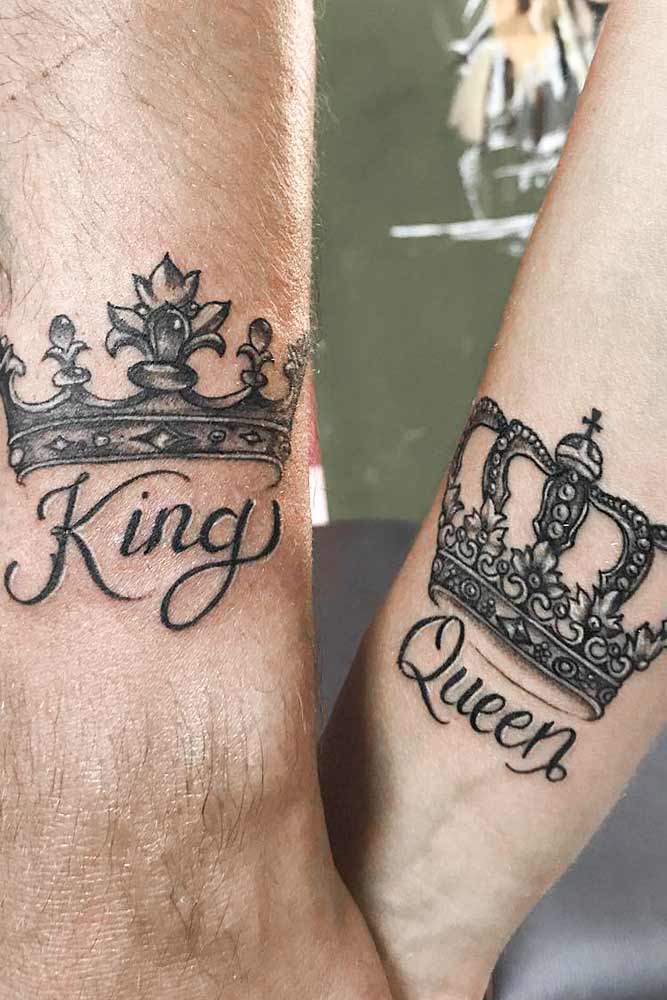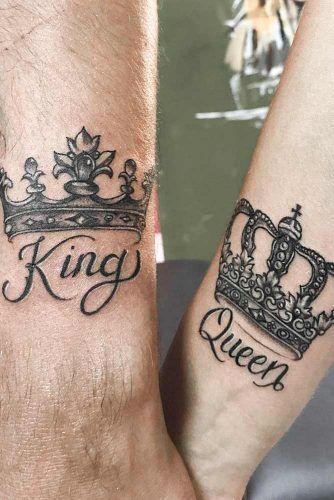 Crown tattoos always look chick and on point, especially if they are for couple tattoos. What do you think about such a luxurious idea for two lovebirds?Source: e.imeraj_ink_tattoo via Instagram
Matching Couple Love Tattoos With Puzzles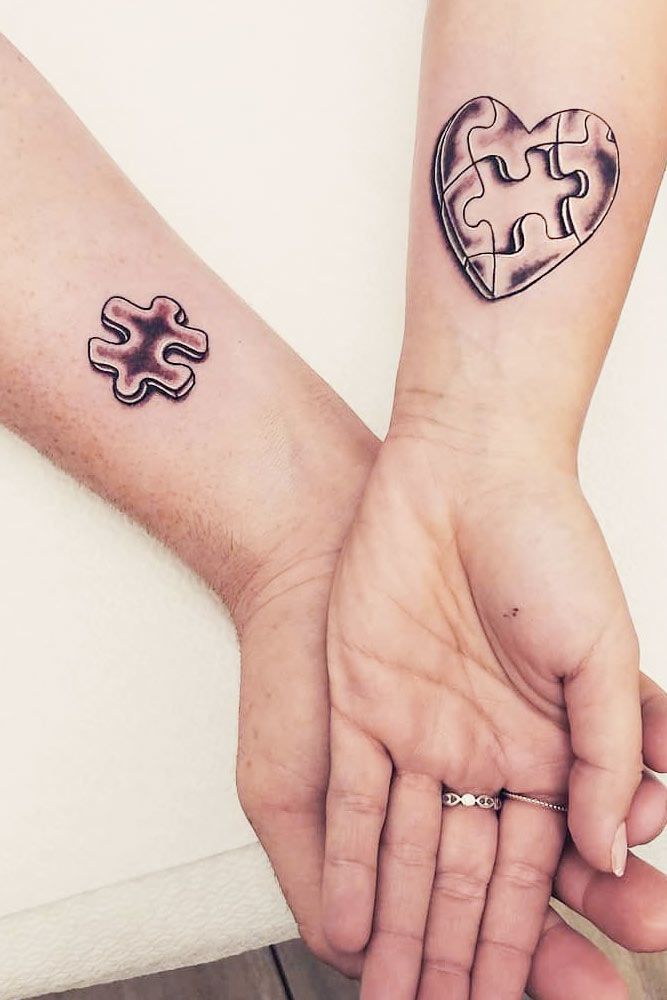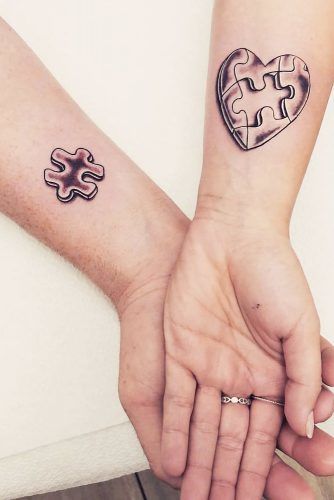 Puzzle tattoos are super cute and romantic. We love how great they look when talking about couple tattoos. What can you say about this specific one?
Source: mr.jones.tattoo via Instagram
Cute Birds Couple Tattoo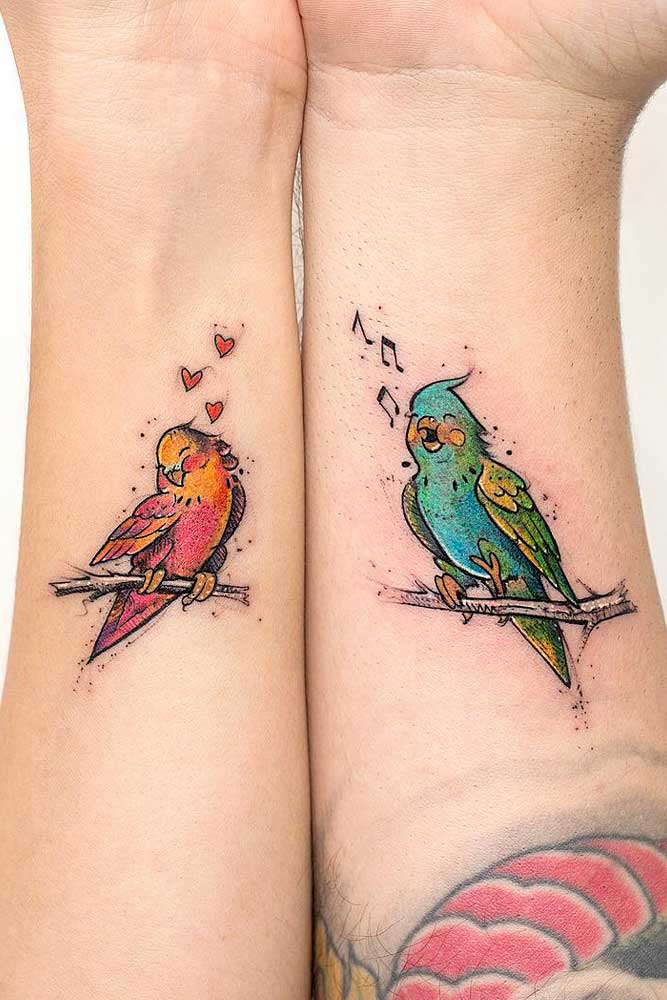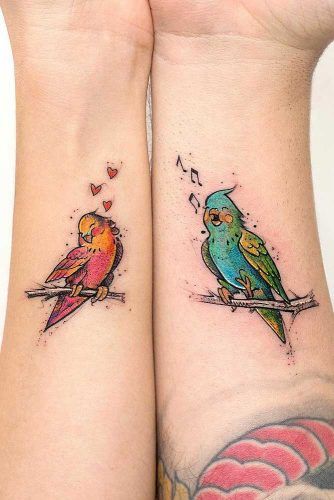 When we've called you love birds, we knew this idea would be brilliant! Cute and really symbolic it may be a great way to bring some meaning to your tattoos.
Source: robcarvalhoart via Instagram
"You and me" Couple Tattoo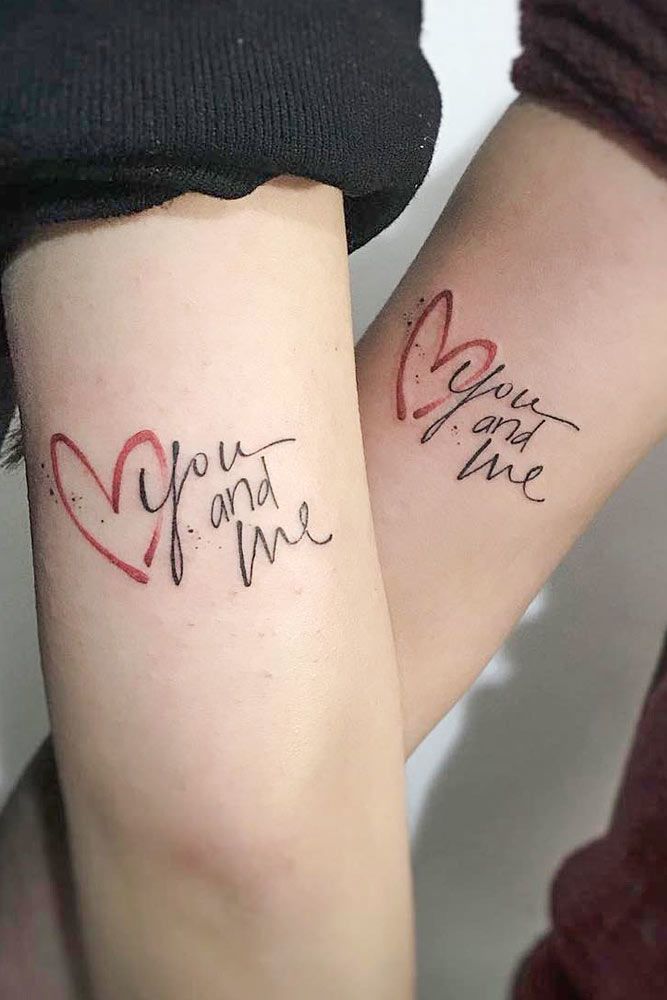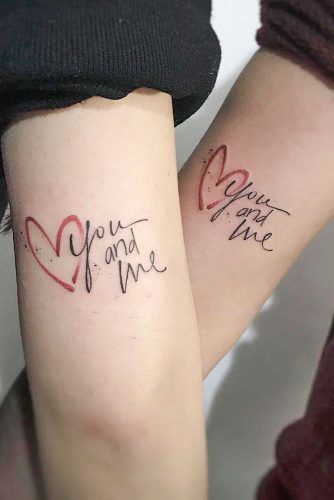 You and me is a powerful phrase that will no matter what circumstances remind you both that you have each other. Wouldn't you like to share something so strong and symbolic?
Source: mercuri_michele via Instagram
Minimalistic Wrist Tattoos For Couple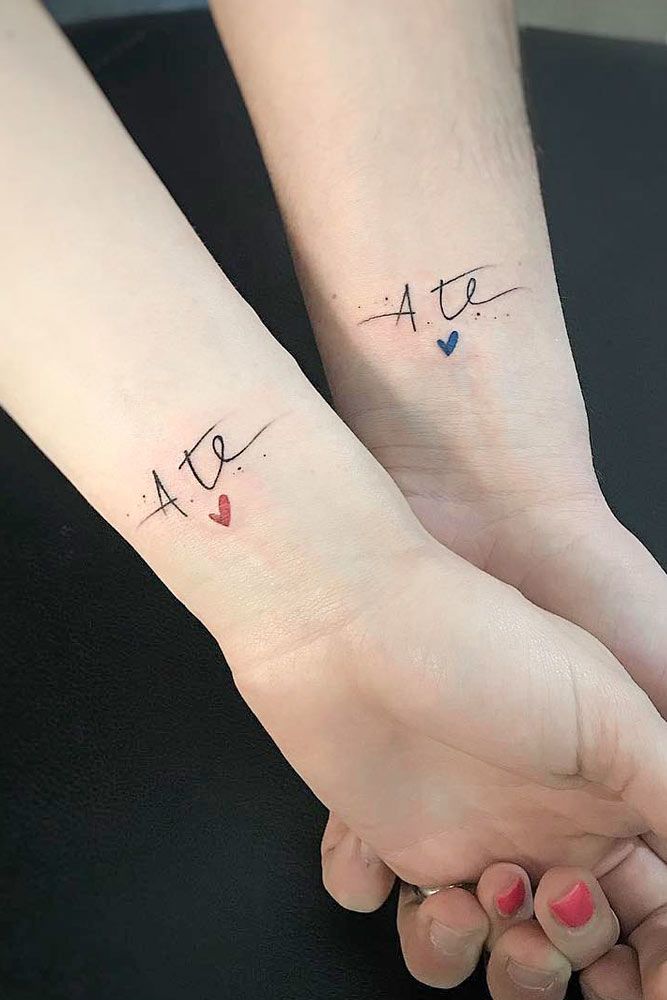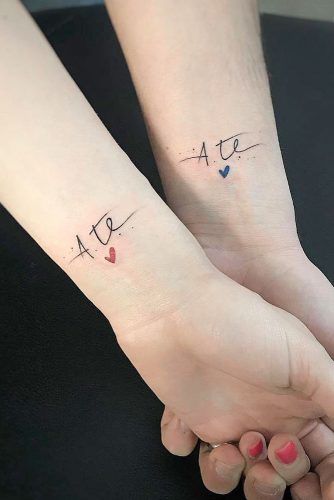 Wrists look really beautiful with small and minimalistic tattoos. Even such ideas bring so much meaning and vibe.
Source: mercuri_michele via Instagram
Cute Couple Tattoo With Lettering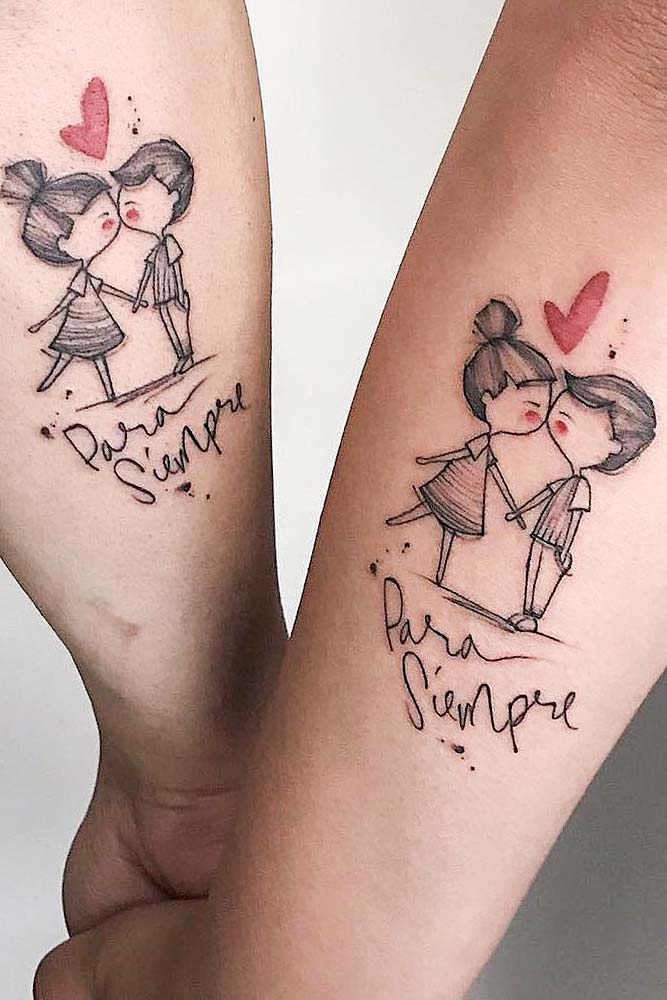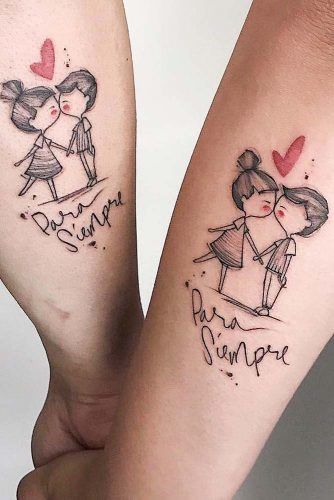 We believe that lettering can make your tattoo look so beautiful and so much more special than it is already. Choose a cute image and add a phrase with beautiful handwriting. Doesn't it look bomb?
Source: mercuri_michele via Instagram
Elephant Tattoo With Heart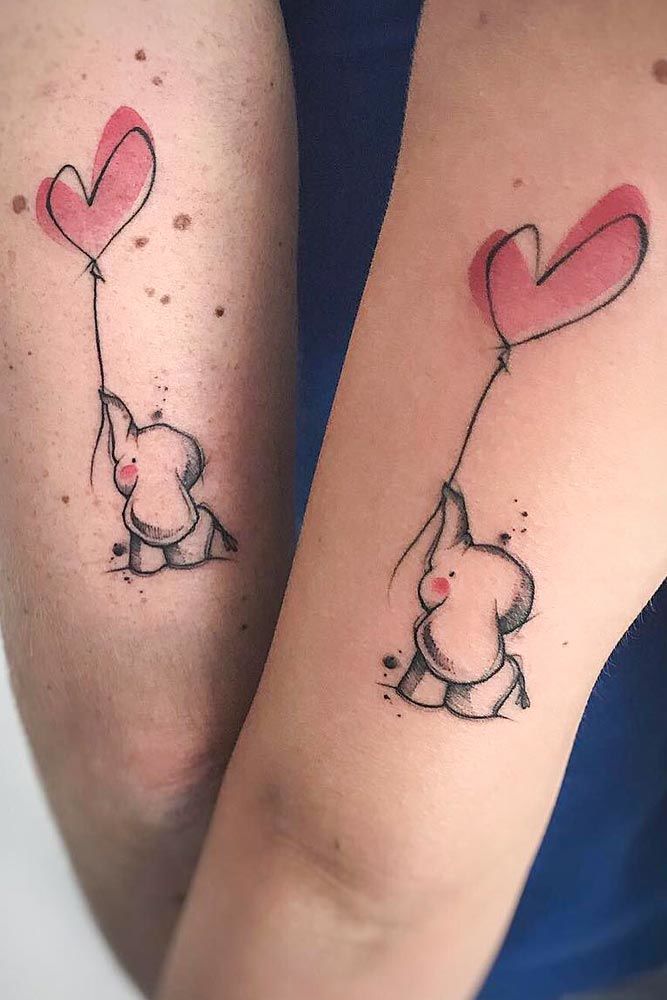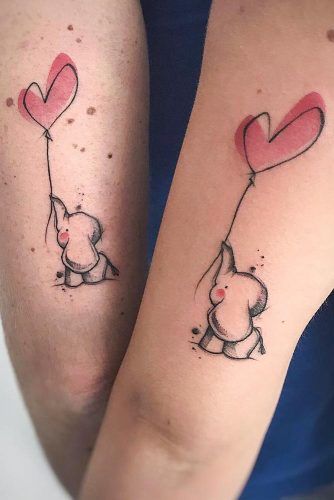 These cute tiny elephants can bring so much cuteness into your couple memories forever. Aren't you looking forward to it?
Source: mercuri_michele via Instagram
Watercolor Couple Tattoo With Trees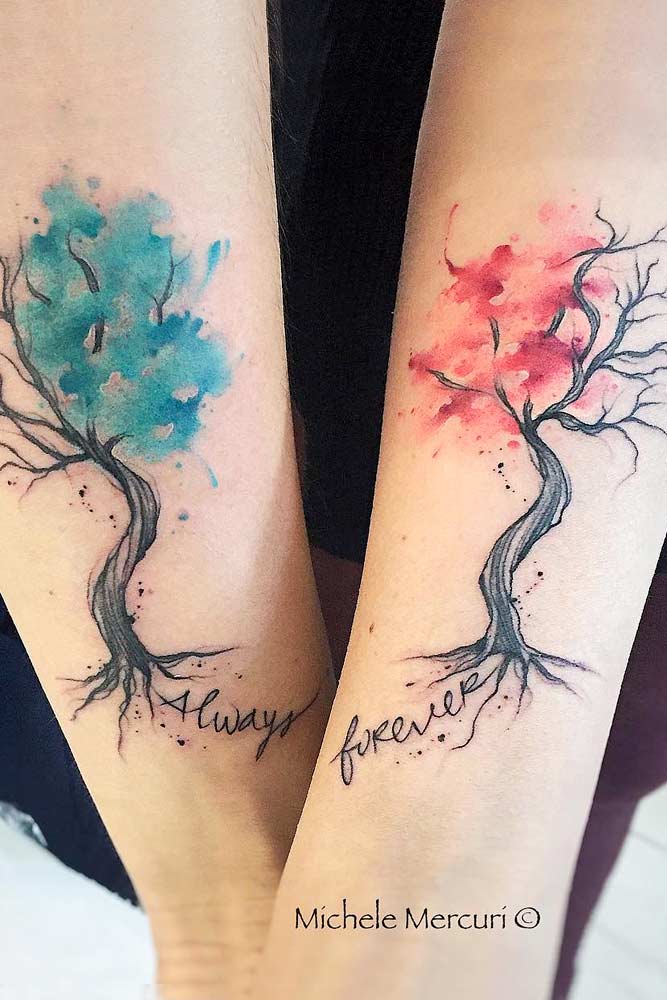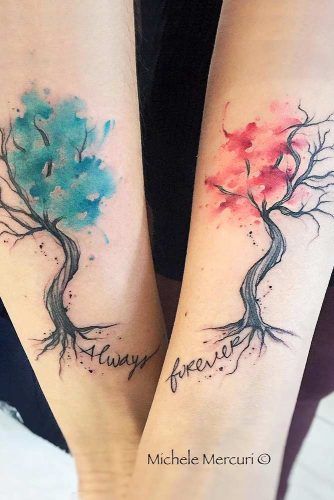 Watercolor will forever win the hearts of people. Including such a gorgeous technique into the couple tattoos are a brilliant idea in our opinion.
Source: mercuri_michele via Instagram
So many beautiful ideas that will breathe in more love and romance into your relationship. Would you like that? Through this selection, we hope to help with the process of choosing.