Creative Wolf Tattoo Pictures To Help You
A wolf tattoo is one of the most popular choices people take while choosing a tattoo. Do you think of getting one? We would be glad to give you some information about it. The idea on the meaning or what types of a wolf tattoo there are will be really useful before engraving it on your body forever. Follow our suggestion, get inspired with them and make your final choice of what you would prefer for yourself.
Wolf Tattoo: History And Meaning
Source: dinonemec via Instagram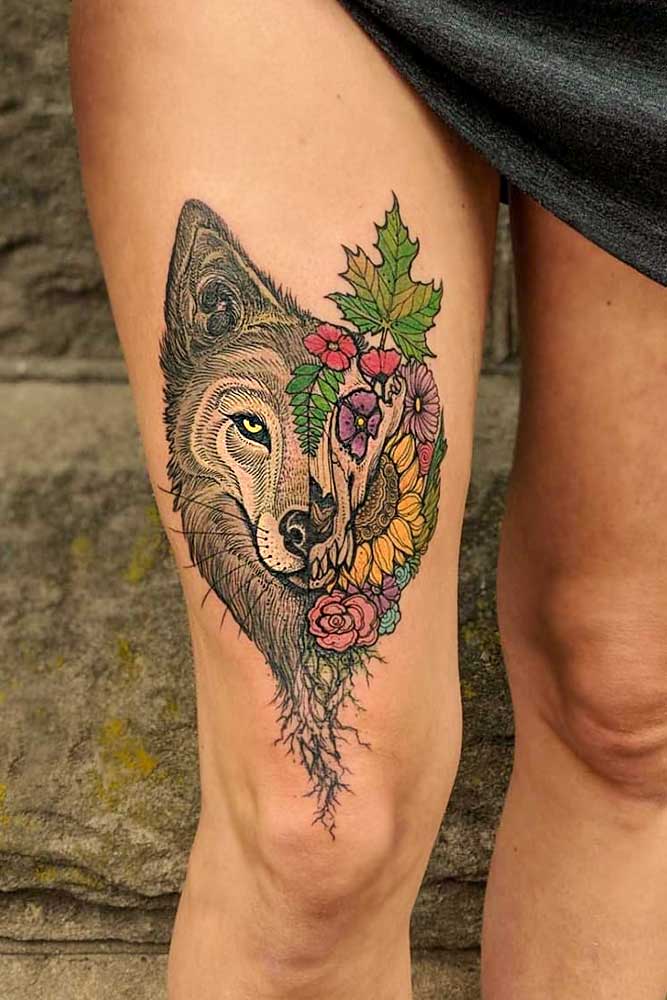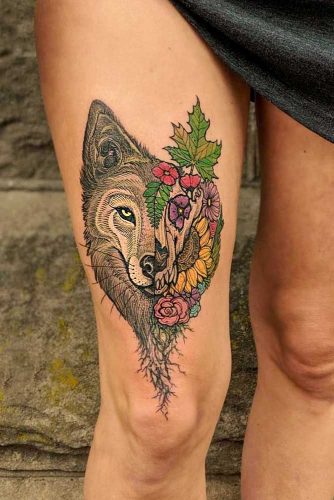 As you have already understood a wolf tattoo meaning is really important. A wolf is a mystic and symbolic creature that brings sense to a lot of cultures and tribes. Even native Americans saw a wolf as their totem animal that will walk them through hard times and bring loyalty to their families bonding them together even more. Why? Cause in their opinion the Big Spirit was inside of this animal. From there comes the legends of people turning into werevolves. This shows how much appreciation the tribes had for these beautiful, powerful and free animals. A power is the main characteristic of all of them. Loyalty and bond for sure have to be listed too. Wolves are strong and that is why many people associate them with protection. All these descriptions come from the behavior of this animal, how close it stays to other members of the pack and how strong it is by its nature. Is that what you would love your tattoo to mean? Then let`s choose the design you like the most for it.
Mandala Wolf Tattoo Design
Source: ofilhodatuta via Instagram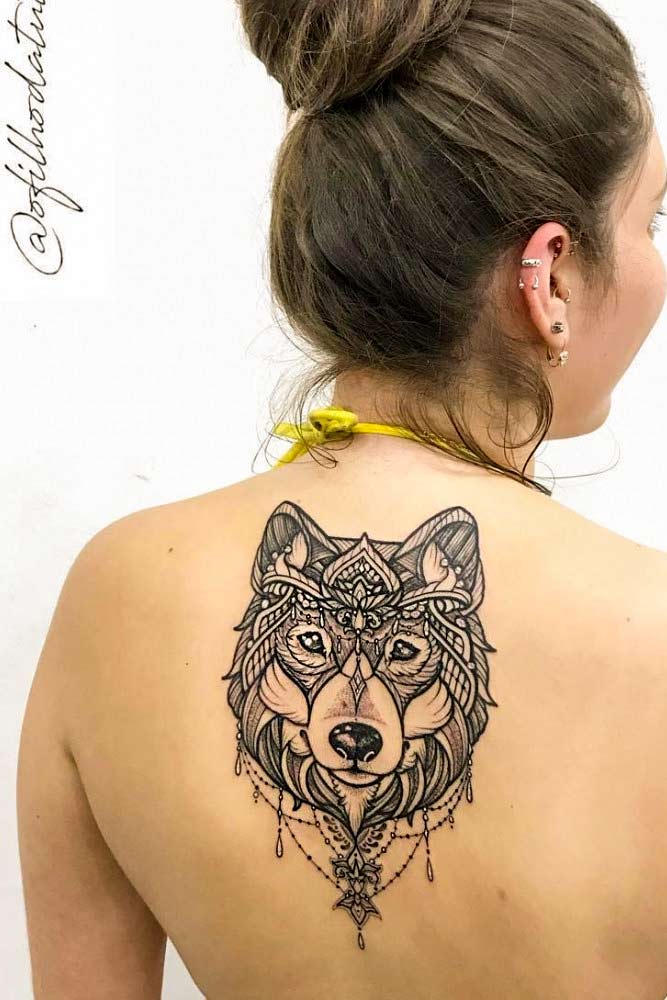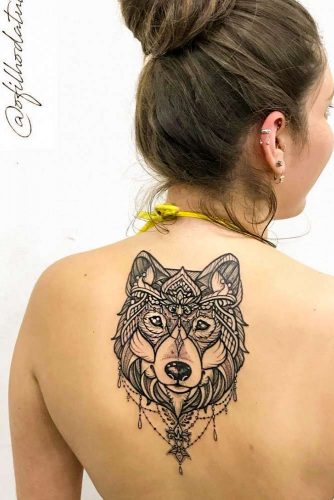 Really often nowadays people choose a mandala wolf head tattoo. The design of it looks unique and brings an additional meaning with all of the lines and bonds created. A beautiful picture will be definitely created on your body if you chose it for yourself.
Watercolor Wolf Tattoo With Tresh Polka Elements
Source: adrianbascur via Instagram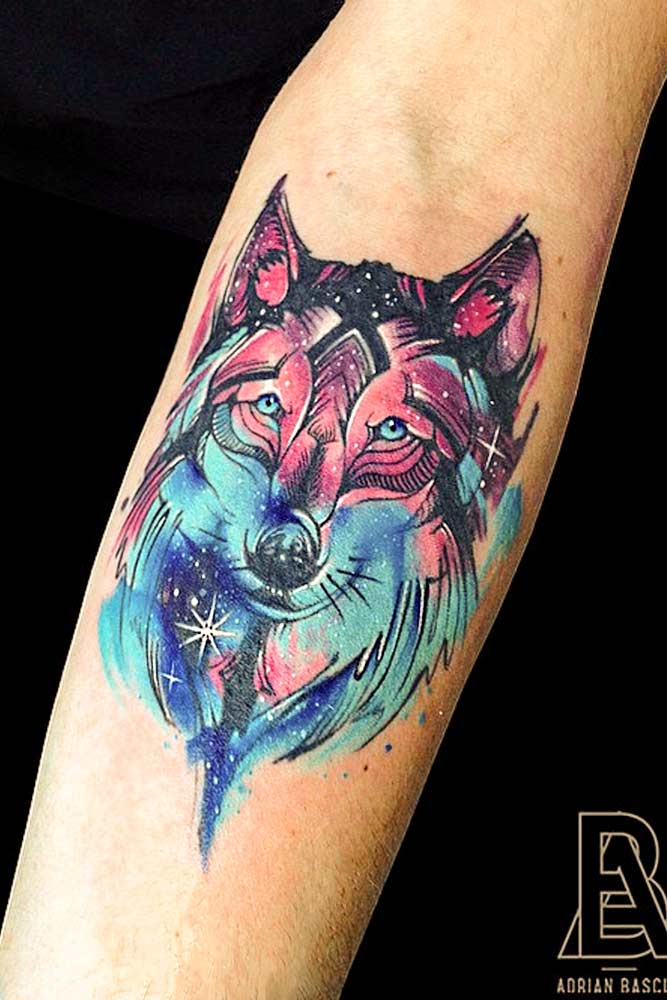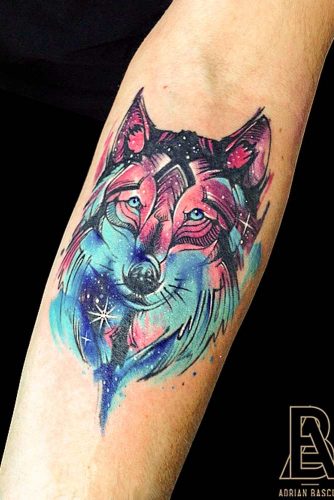 A colorful watercolor wolf tattoo is the one that you should definitely think of. No sharp lines, just pure color that creates the head of the wolf. It is all about your creativity and what colors you prefer to use. Looks magical and magnetizing, doesn`t it?
Watercolor Wolf Tattoo With Tresh Polka Elements
Source: pablo_ortiz_tattoo via Instagram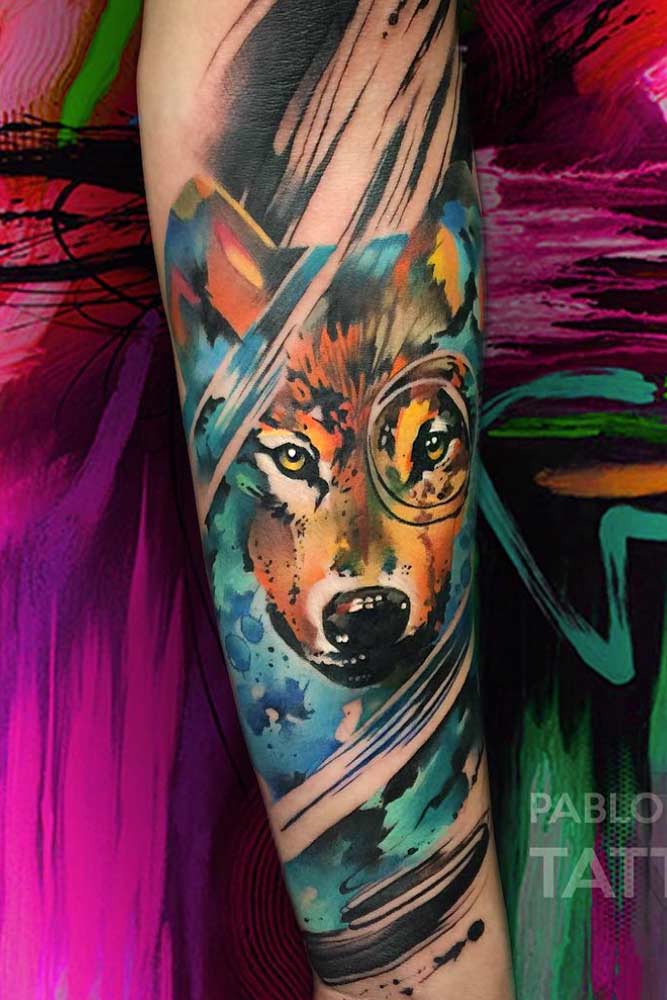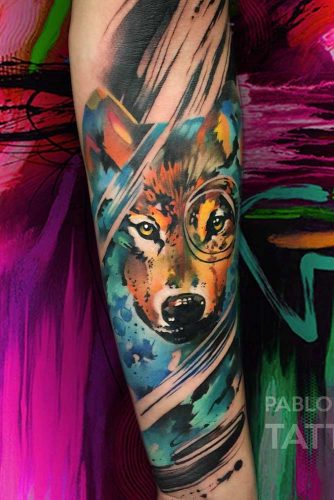 If you would like to have a big arm tattoo that will nearly look like a sleeve, then this inspirational idea is for you. Colorful lines and scratches, which look like drops of color around a wolf head, will be looking bomb on your arm. How special this colorful tattoo looks!
Outline Wolf Tattoo
Source: mariafernandeztattoo via Instagram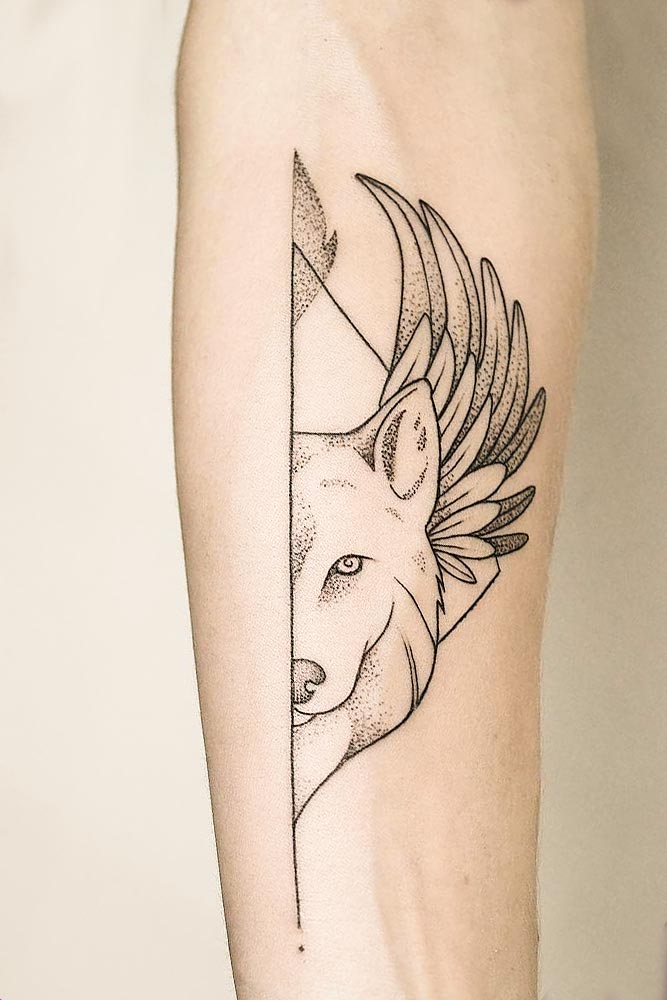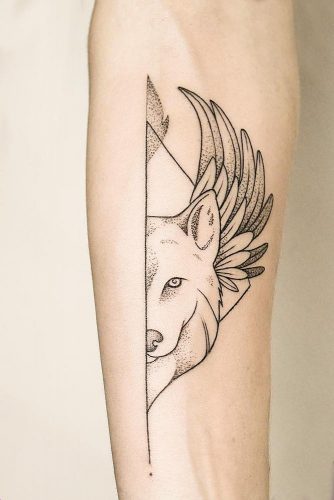 Thin lines and no color are the simple details that make this wolf tattoo idea so stylish. Just look at how classy it looks while bringing such a powerful message.
Wolf Paw Tattoo Idea
Source: debrartist via Instagram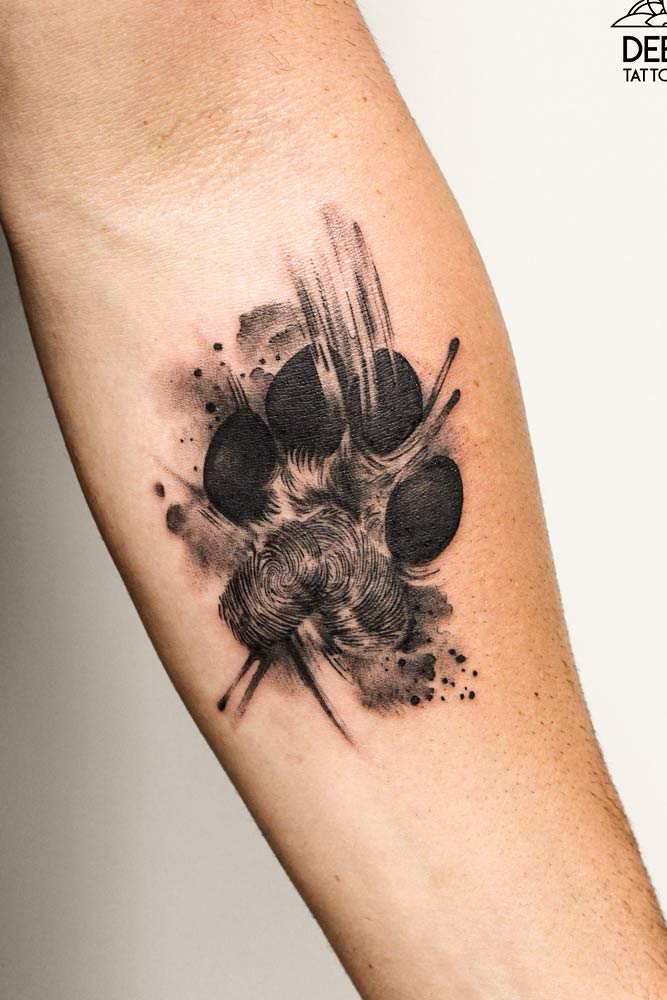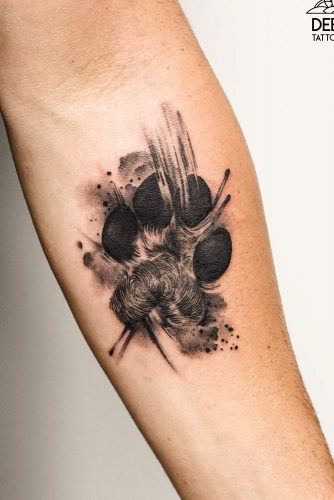 A wolf paw tattoo is an extraordinary one that will make you stand out. Such a meaningful mark will be an excellent symbol for all the characteristics a wolf carries.
Inspiring Tattoo Ideas Of Wolf Tattoos
Half Mandala Wolf Tattoo For Thigh
Source: wolf_loverss via Instagram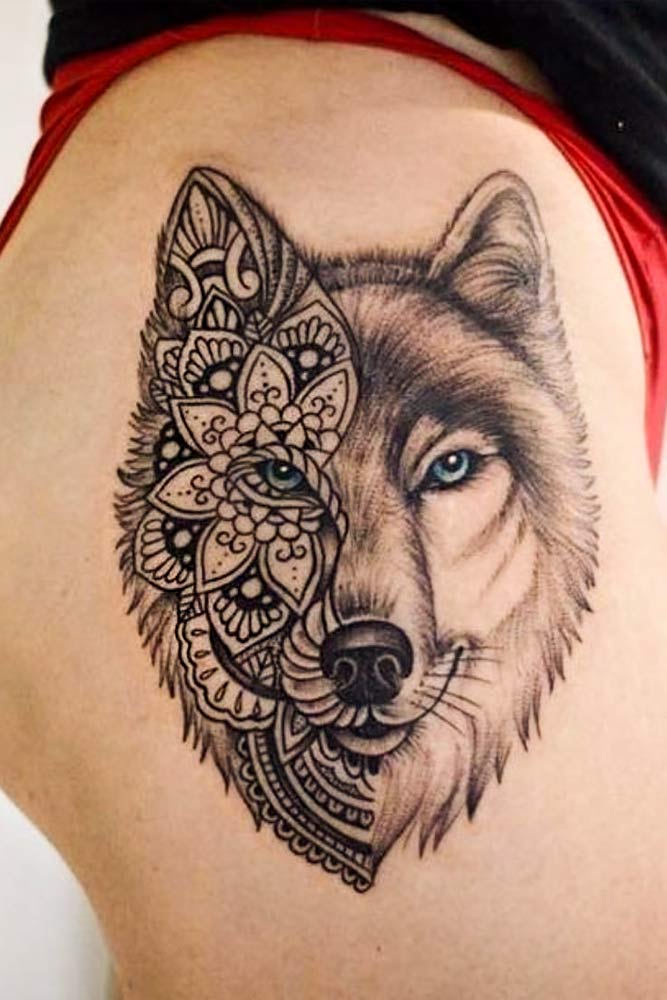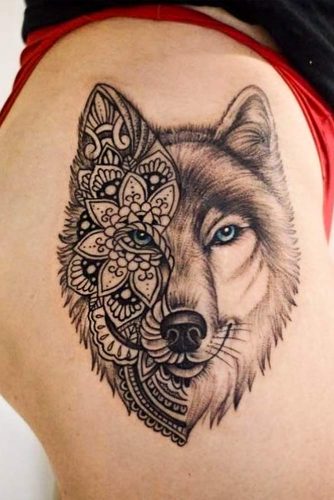 Choosing a thigh tattoo can be complicated. The picture has to be of perfect shape and size to compliment your figure without becoming just a bright spot. We love how this wolf mandala wolf tattoo looks on such a part of the body. The combination of two different styles for sure has its charm.
Black And White Wolf Tattoo With Geometric Elements
Source: trudy_nyc via Instagram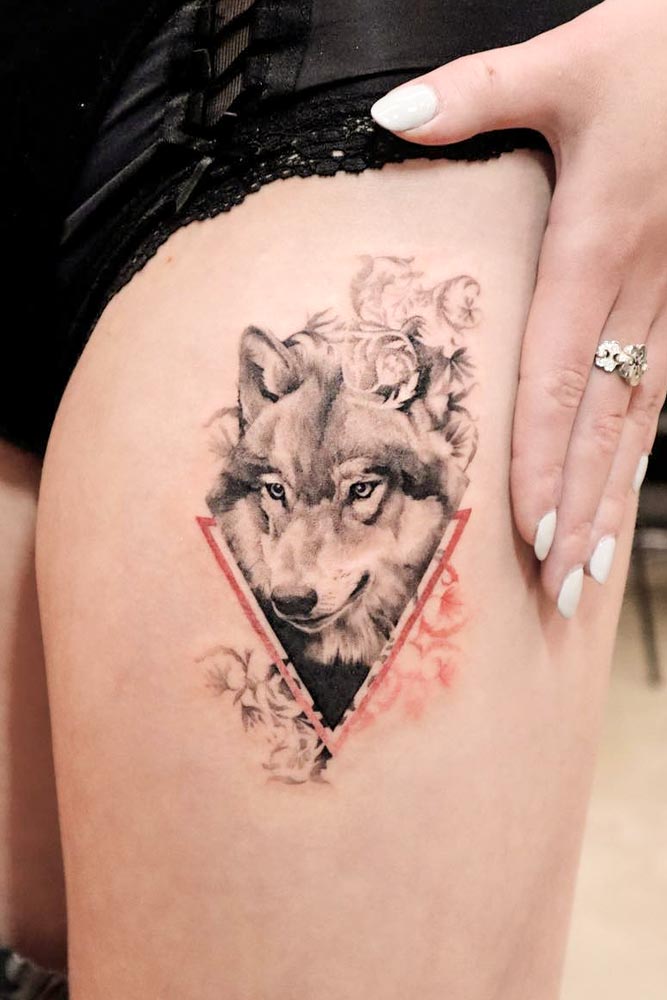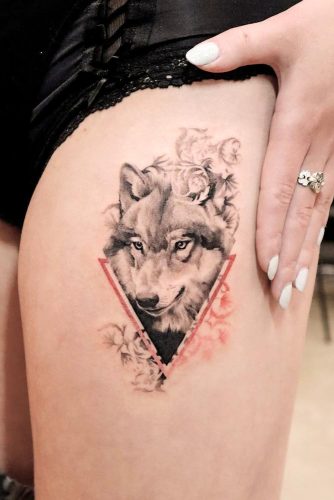 Geometric elements are super stylish nowadays, and we totally get why. Even a basic picture can become so interesting with the help of thin lines. Just look at this wolf tattoo that is decorated with geometry and colorful elements.
Geometric Wolf Tattoo Design
Source: trudy_nyc via Instagram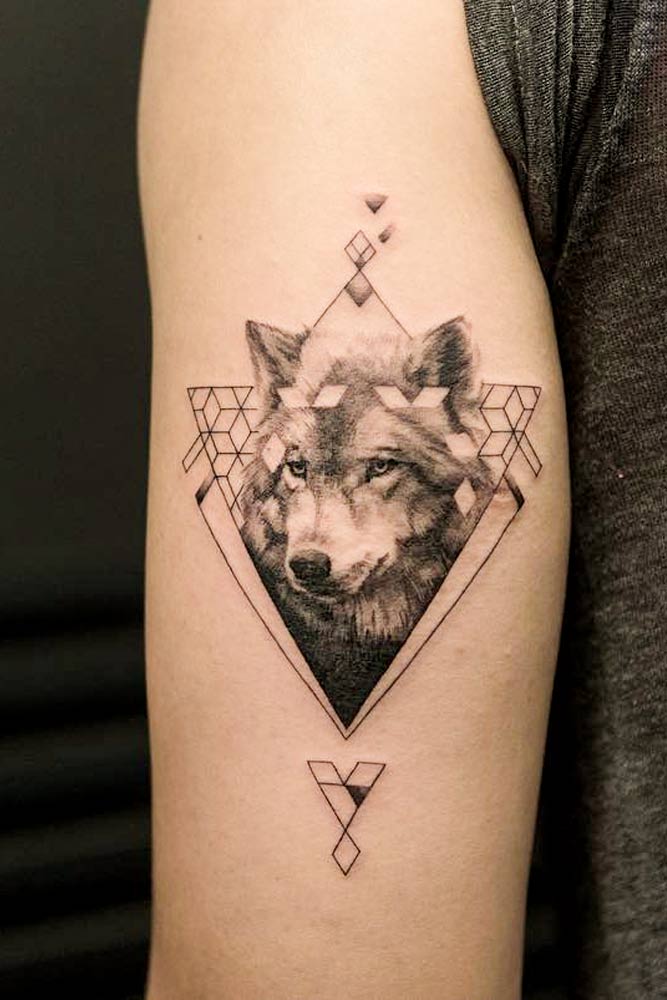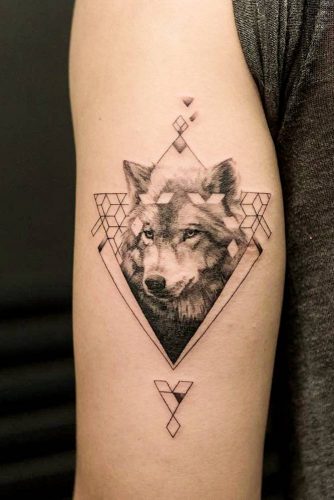 Another geometric wolf tattoo design is more complicated than the first one we have offered. Small details that make the whole picture even more exciting and interesting. Create a unique frame with their help for your wolf, and you will love how it looks.
Howling Wolf Tattoo Filled With Galaxy
Source: dariastahp via Instagram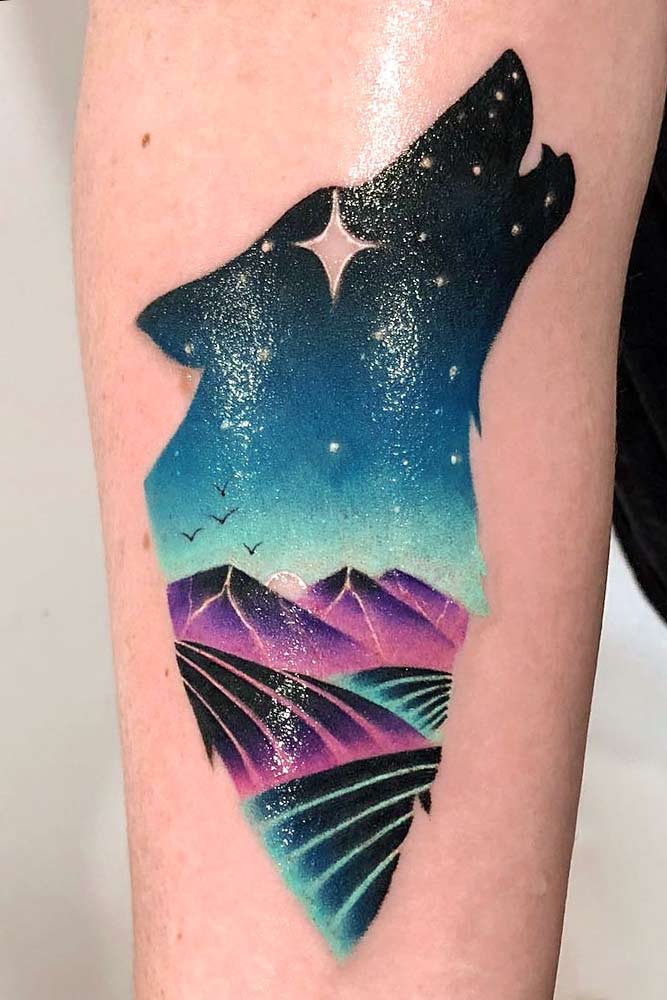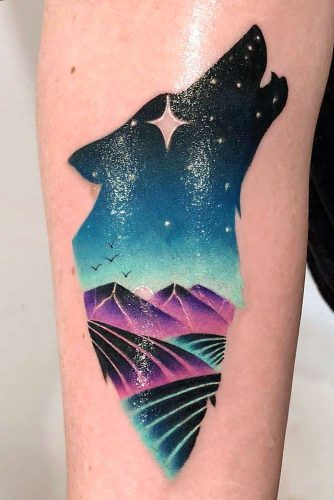 A howling wolf tattoo is sending chills down our spines. Why? We associate it with a scary sound that brings a sign of the wolf`s presence. A powerful meaning is behind such a tattoo, so if you are up for it, do it.
Princess Mononoke Tattoo With Wolf For Anime Lovers
Source: reh.tattoo via Instagram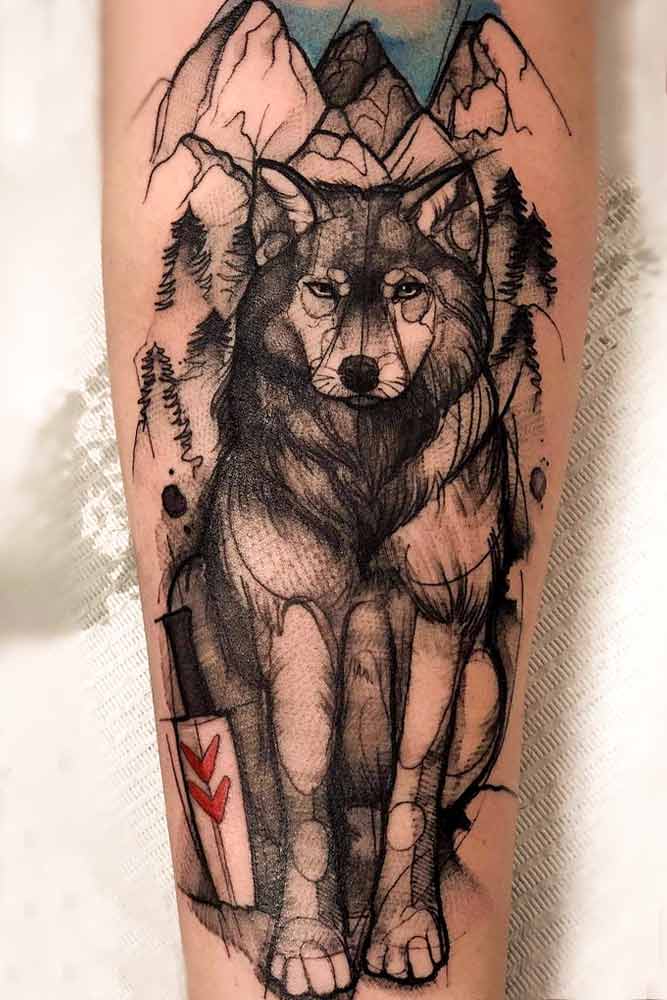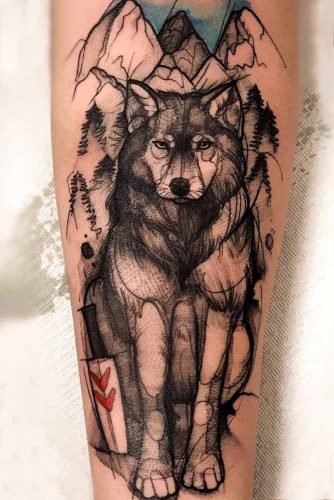 The best thing about tattoos is that you can combine any ideas you have together to create something unique and meaningful only for you. Do you love Anime and Wolves? Then why don`t you use them both as an inspiration source for a new tattoo?
Small Wolf Tattoo Design For Wrist
Source: soltattoo via Instagram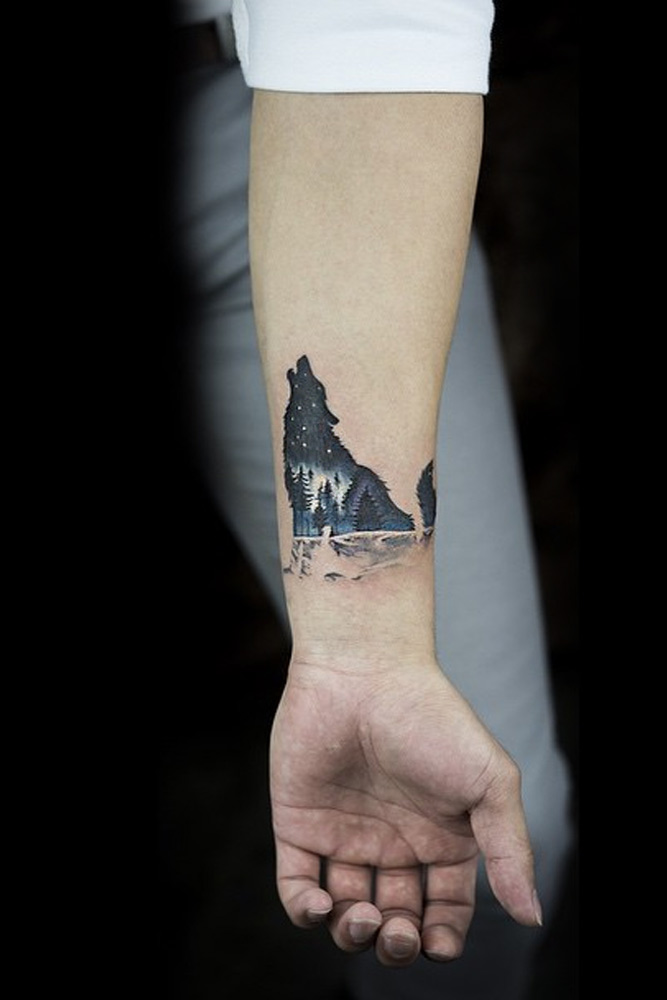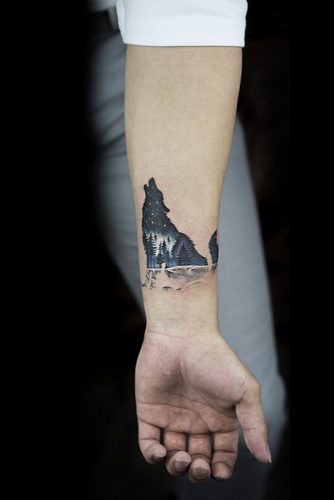 A really tender place as a wrist is really great for a massive, colorful or even a small wolf tattoo. Such a contrast will play its role in making your artwork appear even more outstanding. Any idea will be suitable for such a place so listen to your heart and get what it desires!
Wolf Tattoo Design With Deep Wild Soul Meaning
Source: soltattoo via Instagram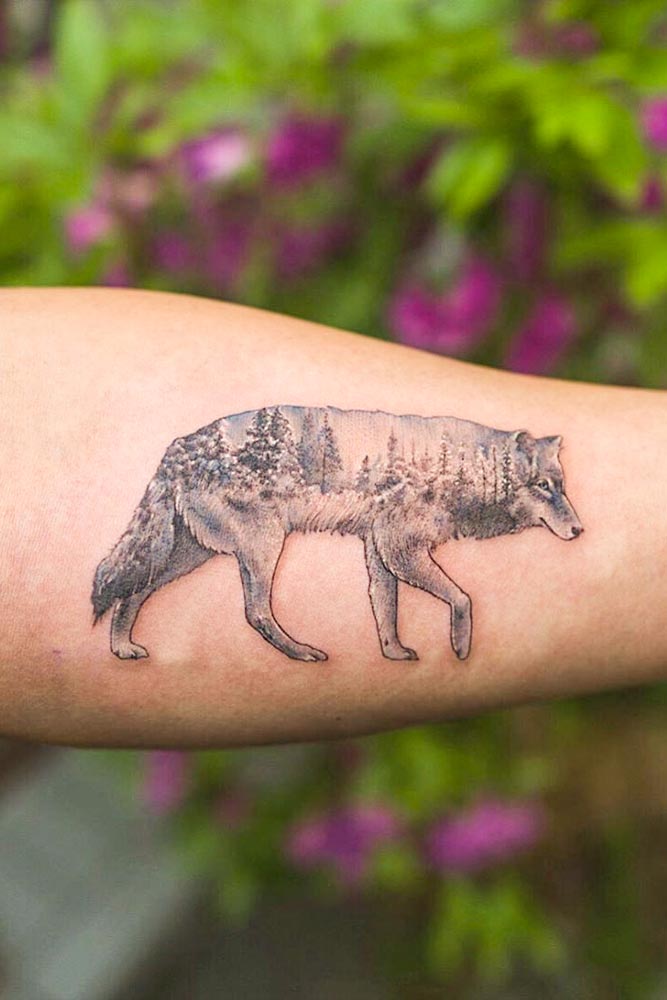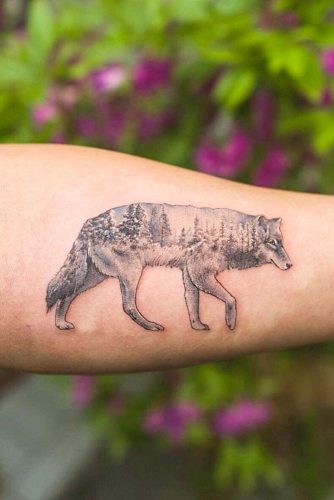 If you feel like you would love something more artistic, then think of getting an exciting design inside of the wolf tattoo you have chosen. Make it meaningful, and you will be content with results. They will show what you feel inside your soul.
Abstract Wolf Tattoo With Galaxy Colors
Source: aknowi via Instagram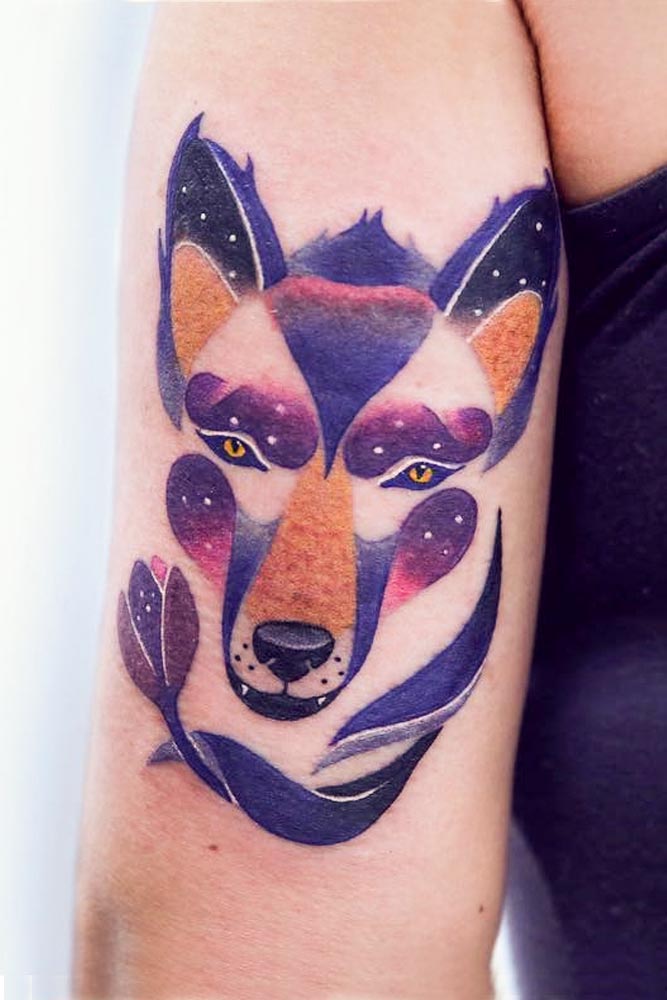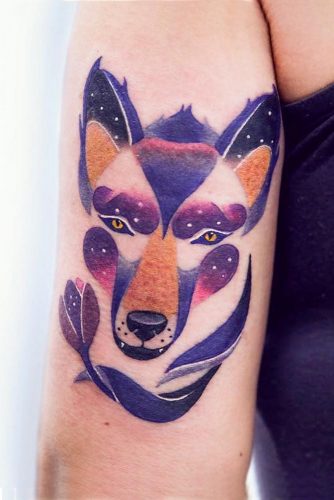 Another creative idea is an abstract painting that will help you show your feelings even better. Play with colors and techniques for such artwork, and you will never get bored of it.
Wolf Tattoo With Flowers
Source: nastiatattoo via Instagram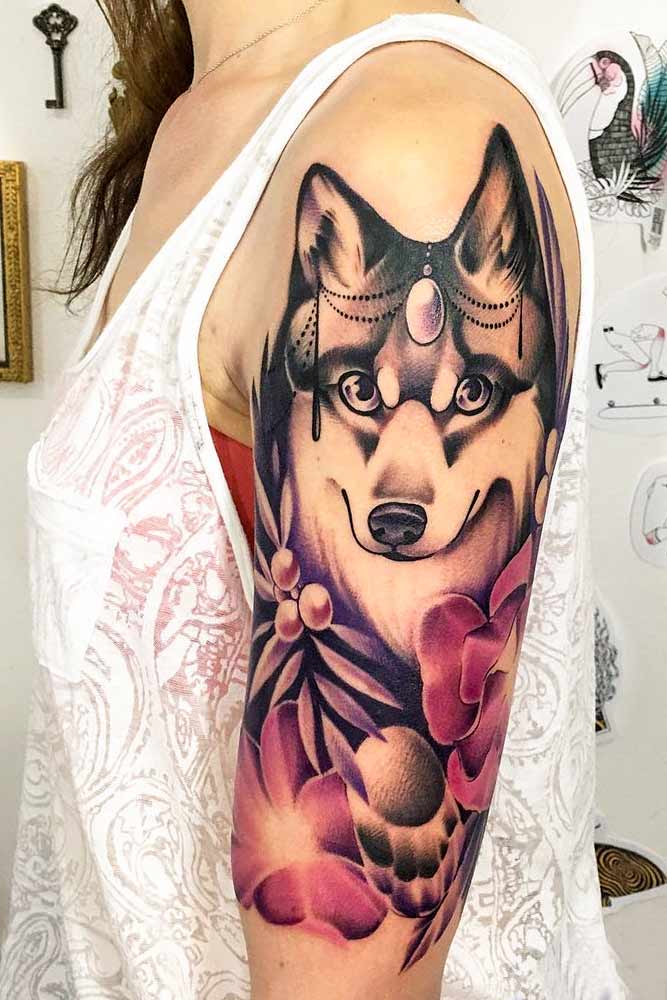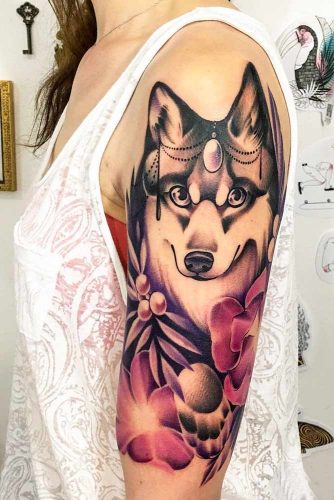 As you have understood, you have a canvas that you can paint with whatever you desire. Choose what shows your personality and your personal style. For example, are you an emotional person that associates himself with flowers? Then add them to your wolf tattoo.
Simple Wolf Tattoo
Source: tattooist_ida via Instagram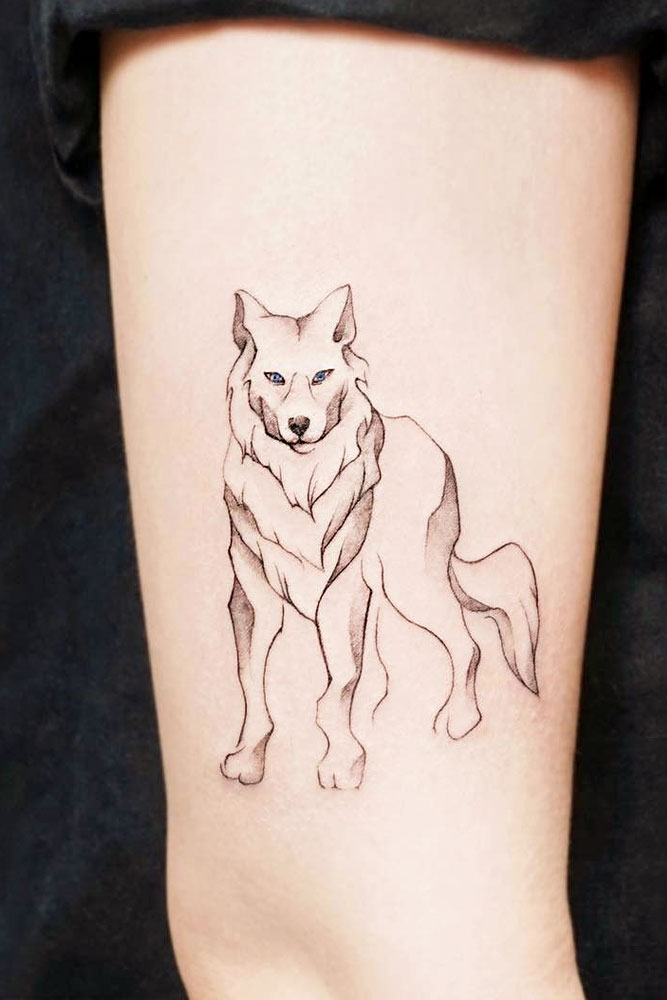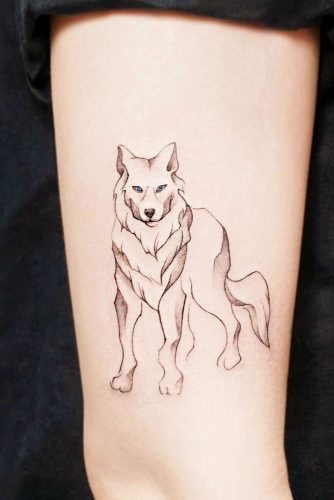 Sometimes style is in simplicity. Not a big size, thin lines without any fillings and small contrast details. That`s so good looking but still so basic that you won`t believe the fact how amazing it actually is.
New School Wolf Tattoo Design For Feet
Source: vika_kiwitattoo via Instagram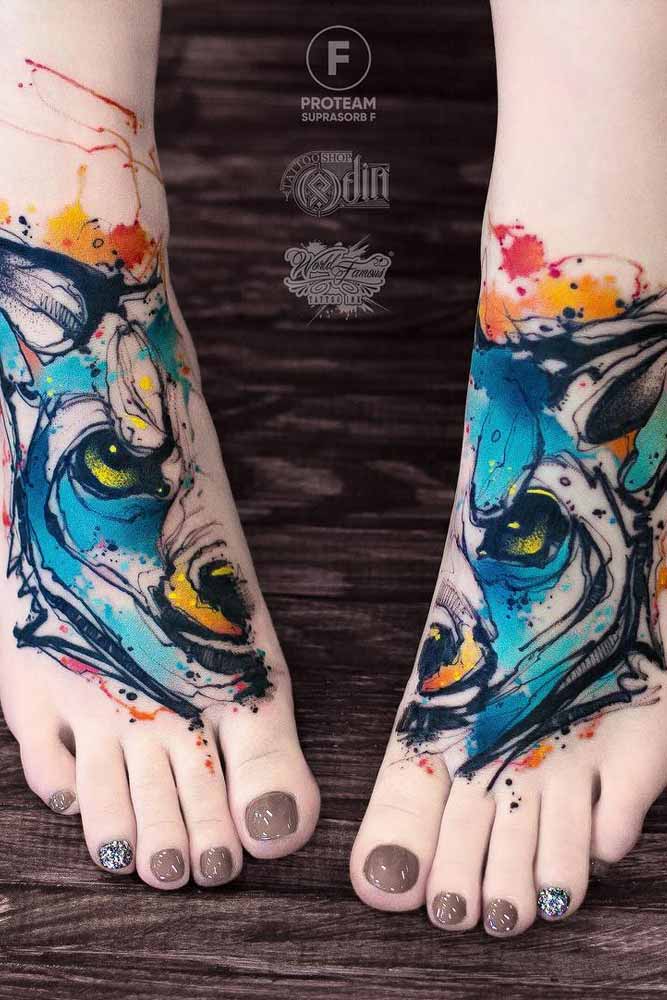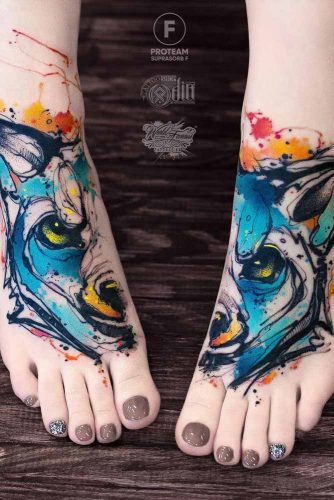 Modern, fresh and innovative. That`s what our generation is all about. Why don`t we create a wolf tattoo that matches these adjectives then? Split your colorful picture in two and place it on both feet. It`s such a bomb that can go off any second.
Realistic Wolf Tattoo With Flowers
Source: yershova_anna via Instagram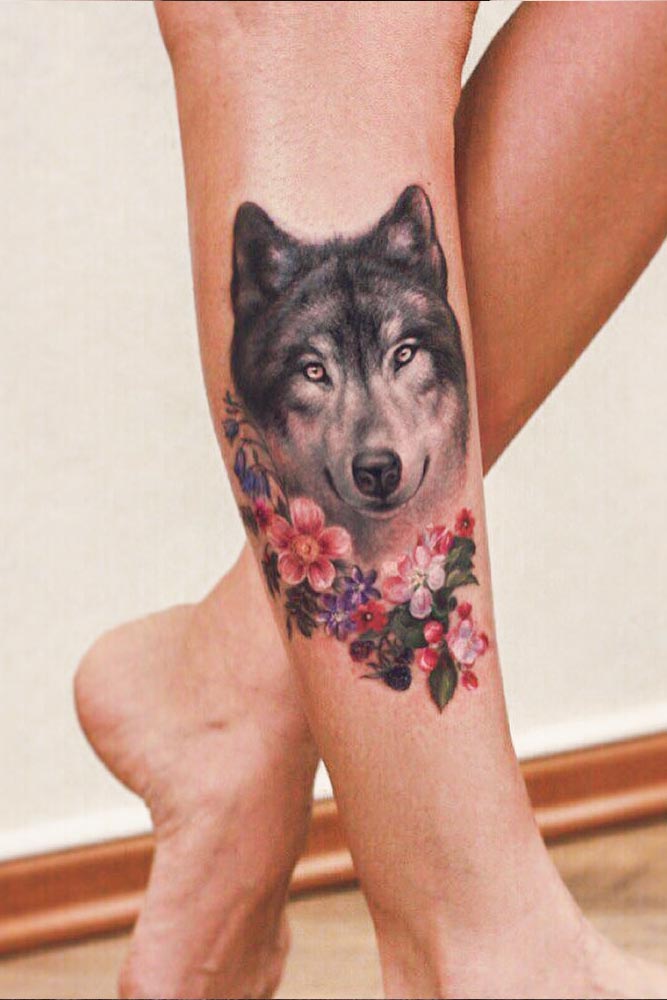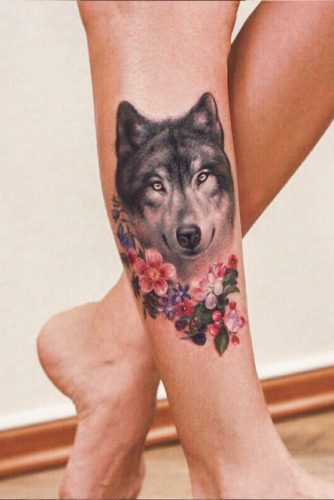 A genuinely unique technique of realistic tattooing has appeared recently and is not going anywhere soon. Of course, as it looks so beautiful and live that you can`t take your eyes off it. Add some other decorations like flowers and make them look real too. A whole painting is now on your body.
Watercolor Wolf And Fox Tattoo For Legs
Source: zdvyhl via Instagram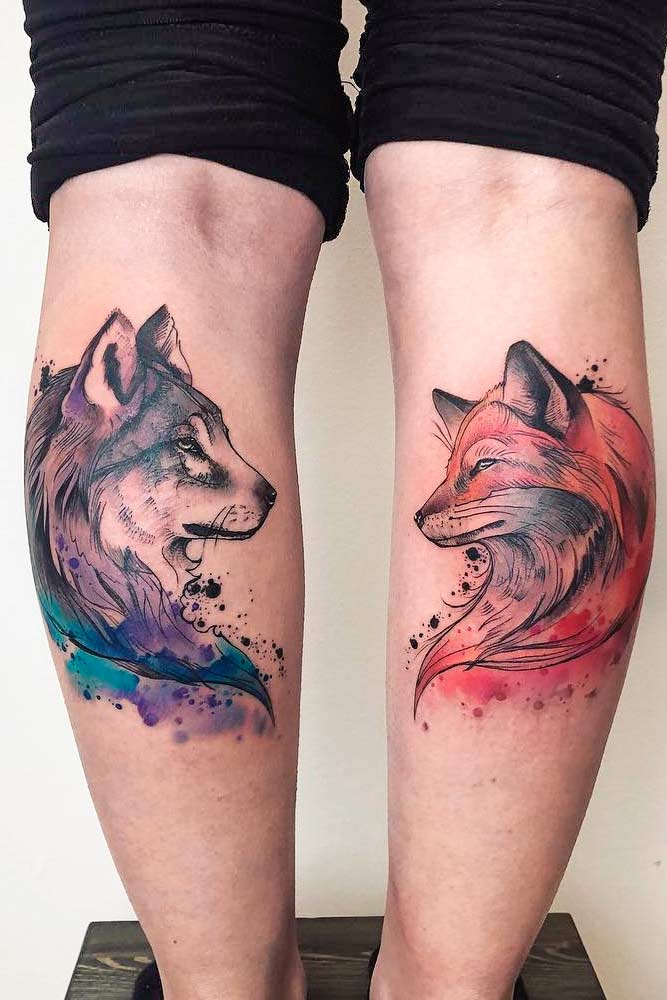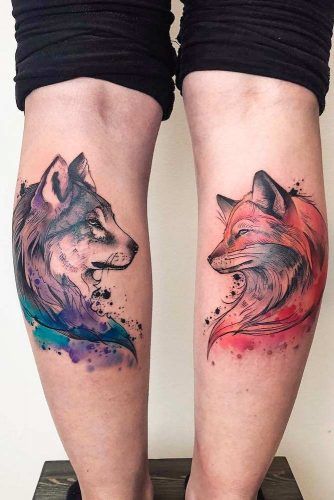 Yin Yang Wolves Back Tattoo
Source: sheila_oi via Instagram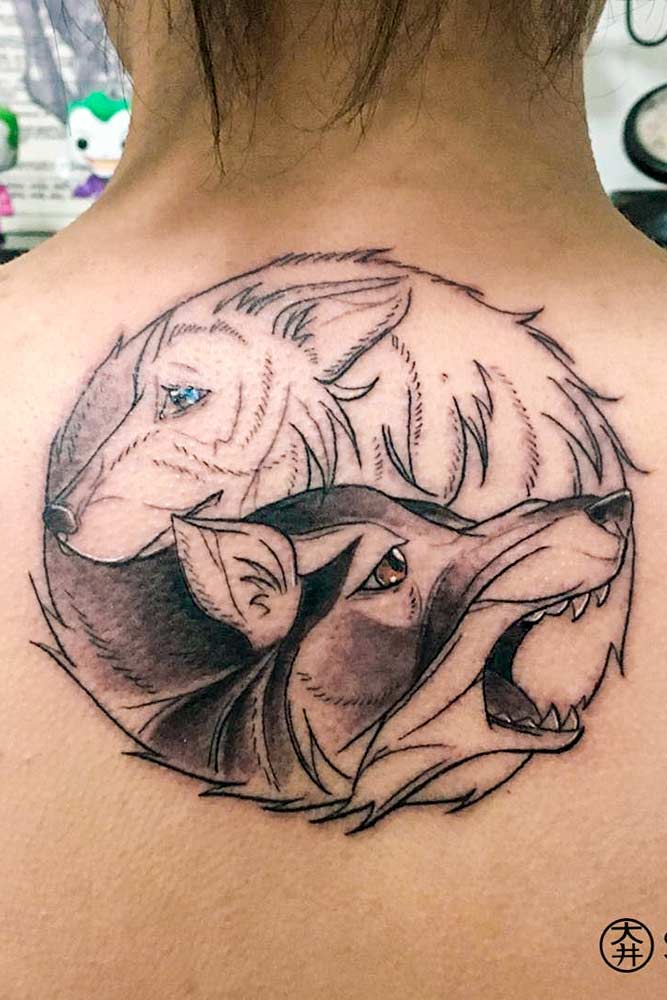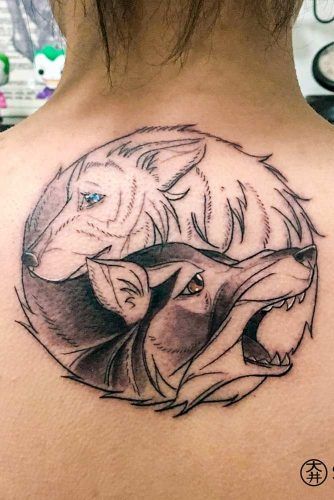 Mandala Wolf Tattoo Design
Source: yagorkao2_ via Instagram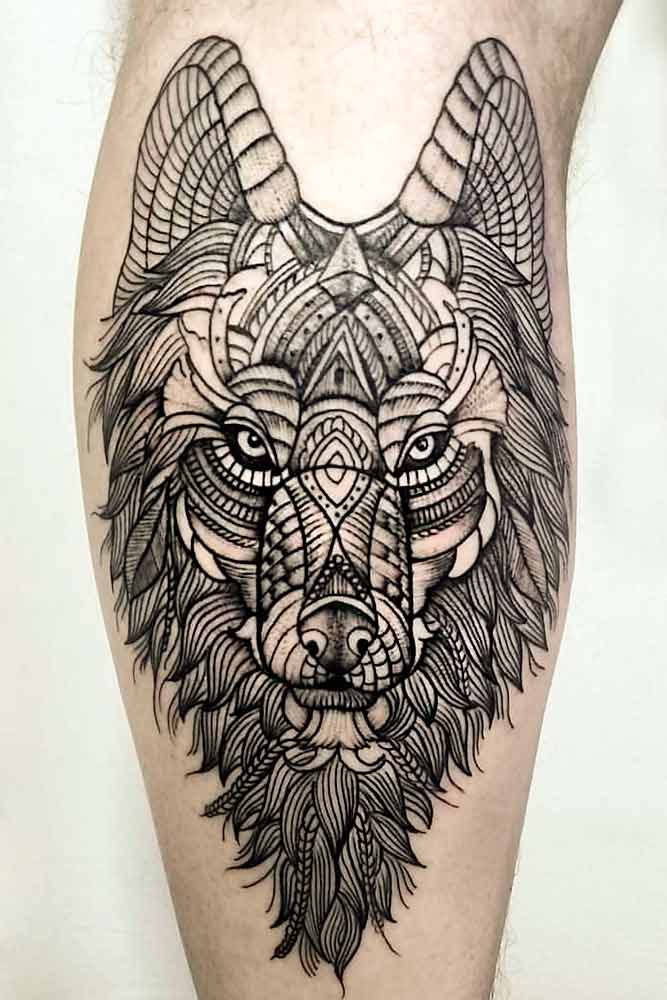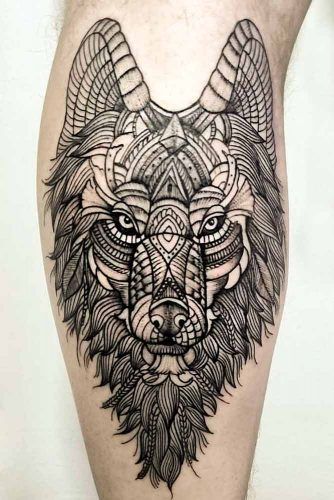 Wolf Paw Tattoo Idea
Source: captaincartagenavia Instagram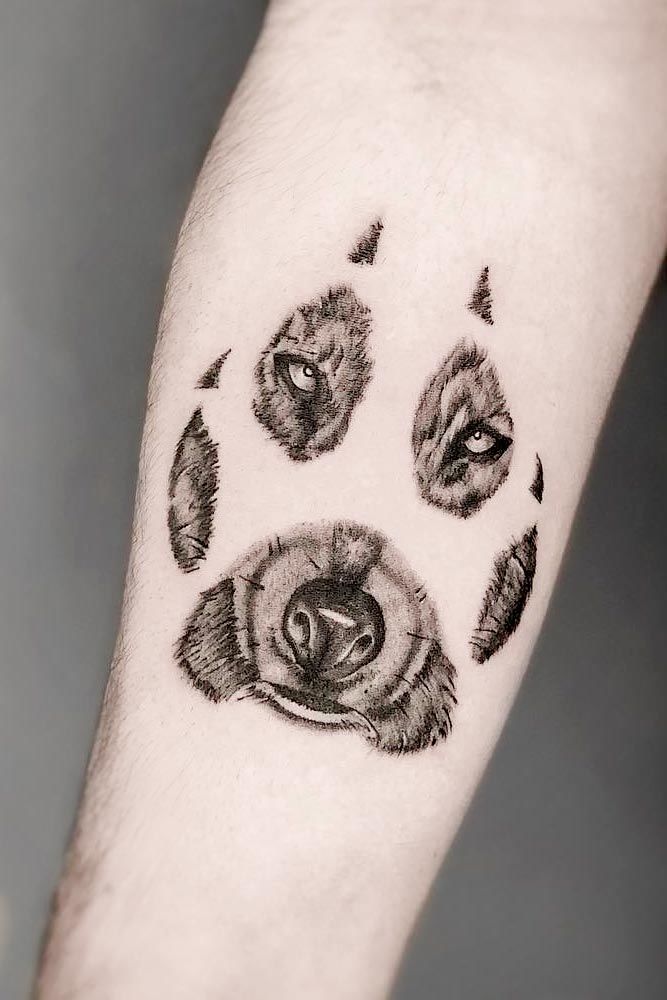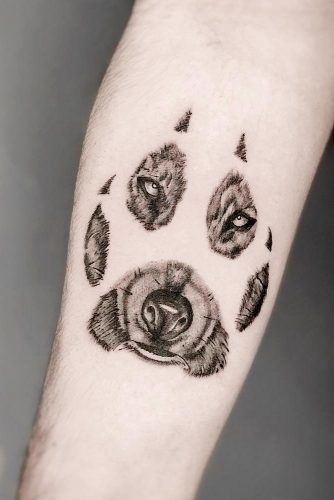 Watercolor Wolf Tattoo Idea
Source: hausen_backvia Instagram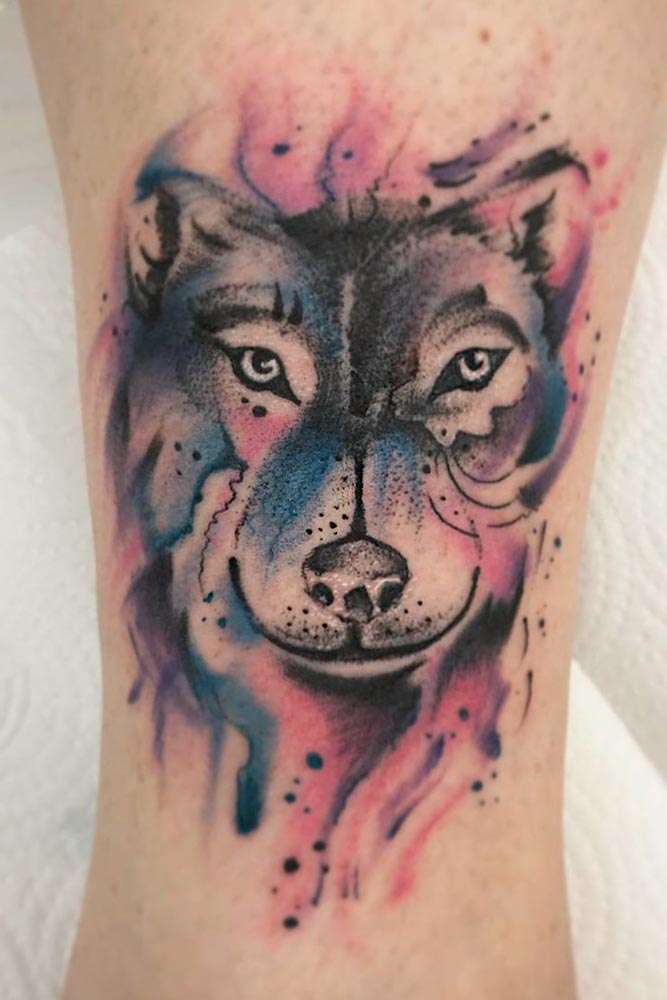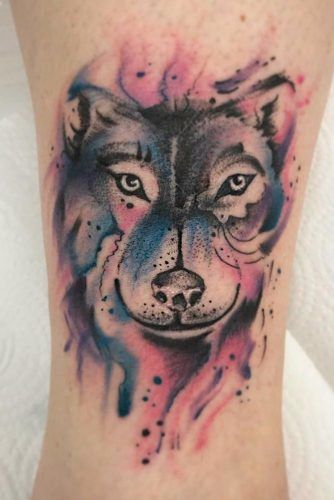 Wolf Tattoo Design For Fist
Source: k3v_inked via Instagram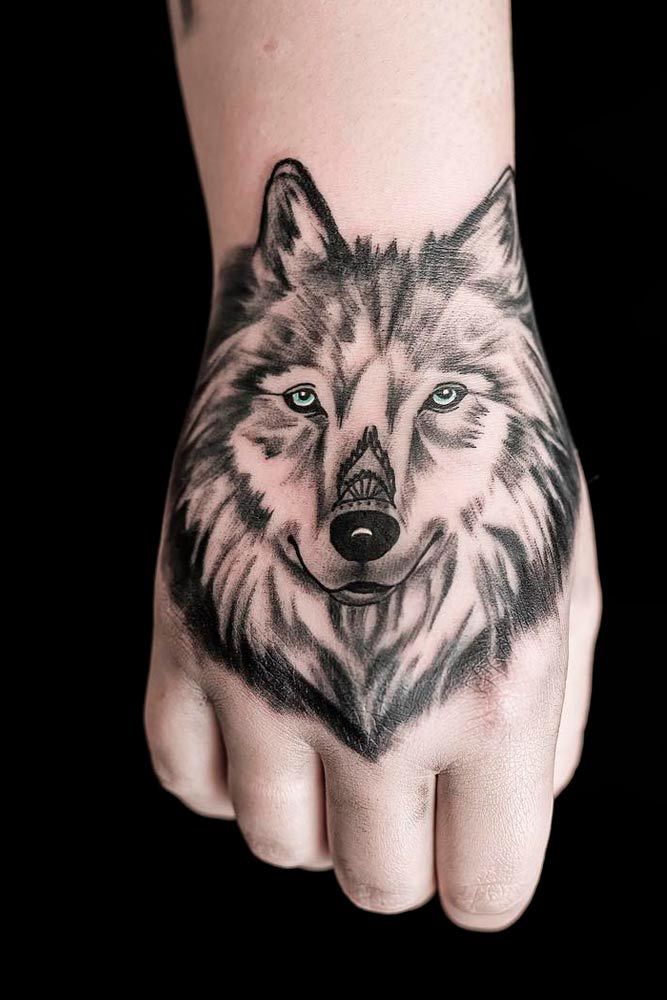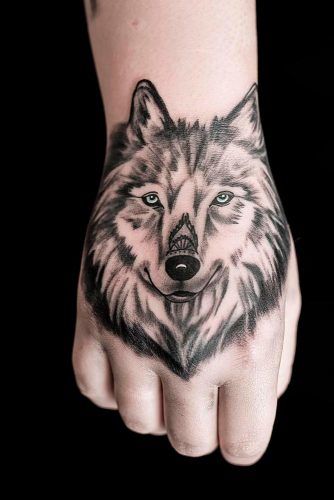 Outline Wolf Tattoo Design For Arm
Source: sally.mickey_ via Instagram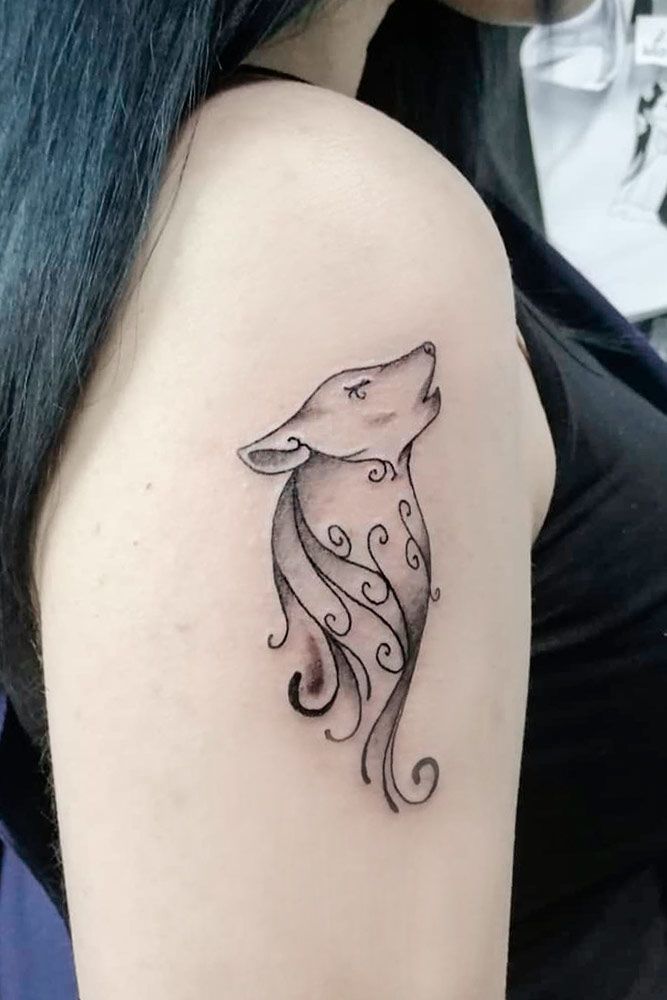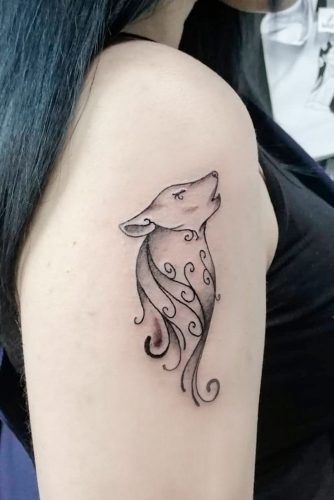 Watercolor Paws Tattoo Design
Source: somozaart via Instagram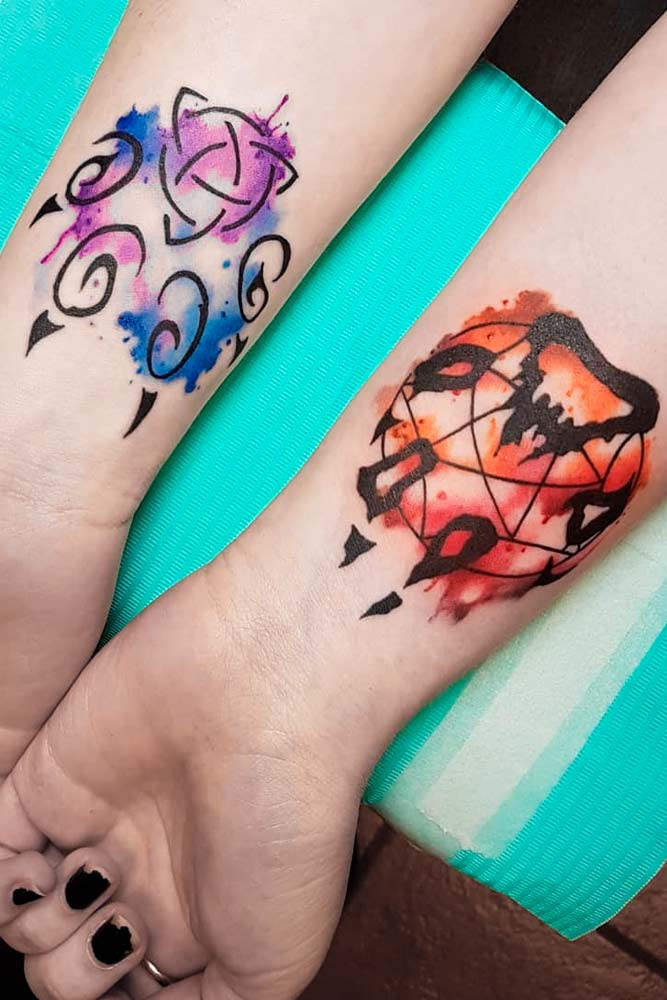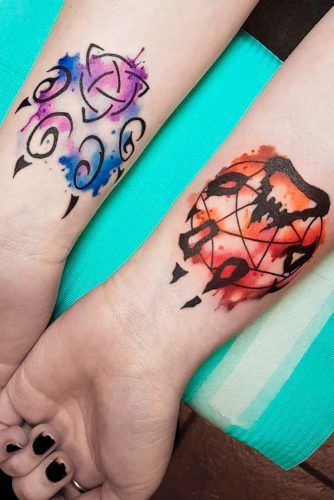 Wolf Tattoo With Mandala Elements
Source: dotty___smith___tattoo via Instagram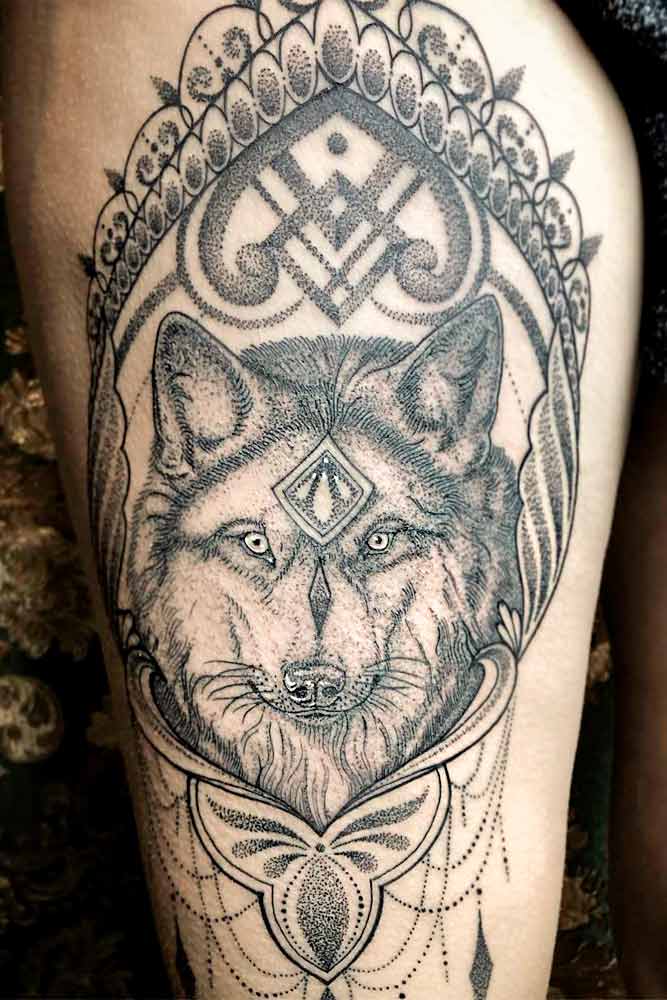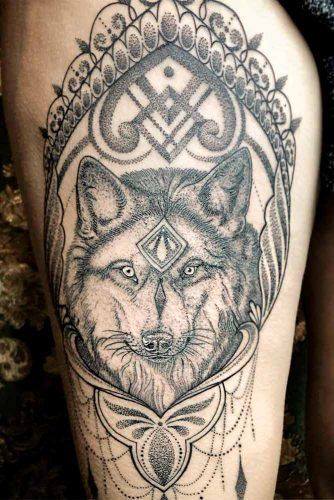 A wolf tattoo is all about its meaning and the message you would like to share with the world. Get creative to show what you feel inside. You will love the results.