Tattoo art is very popular nowadays. However, not everyone vies all the tattoo ideas as a part of mainstream culture. Some see the art as a meaningful way to express themselves and their views together with the belief. Today we are going to dive into the world of tree tattoo ideas and the ideas behind those. Who knows which design may inspire you!
*We may earn money from affiliate links on this page. Please check out our disclosure policy for more details.
What Do Tree Tattoo Symbolize?
Credit photo: Instagram.com/soltattoo
i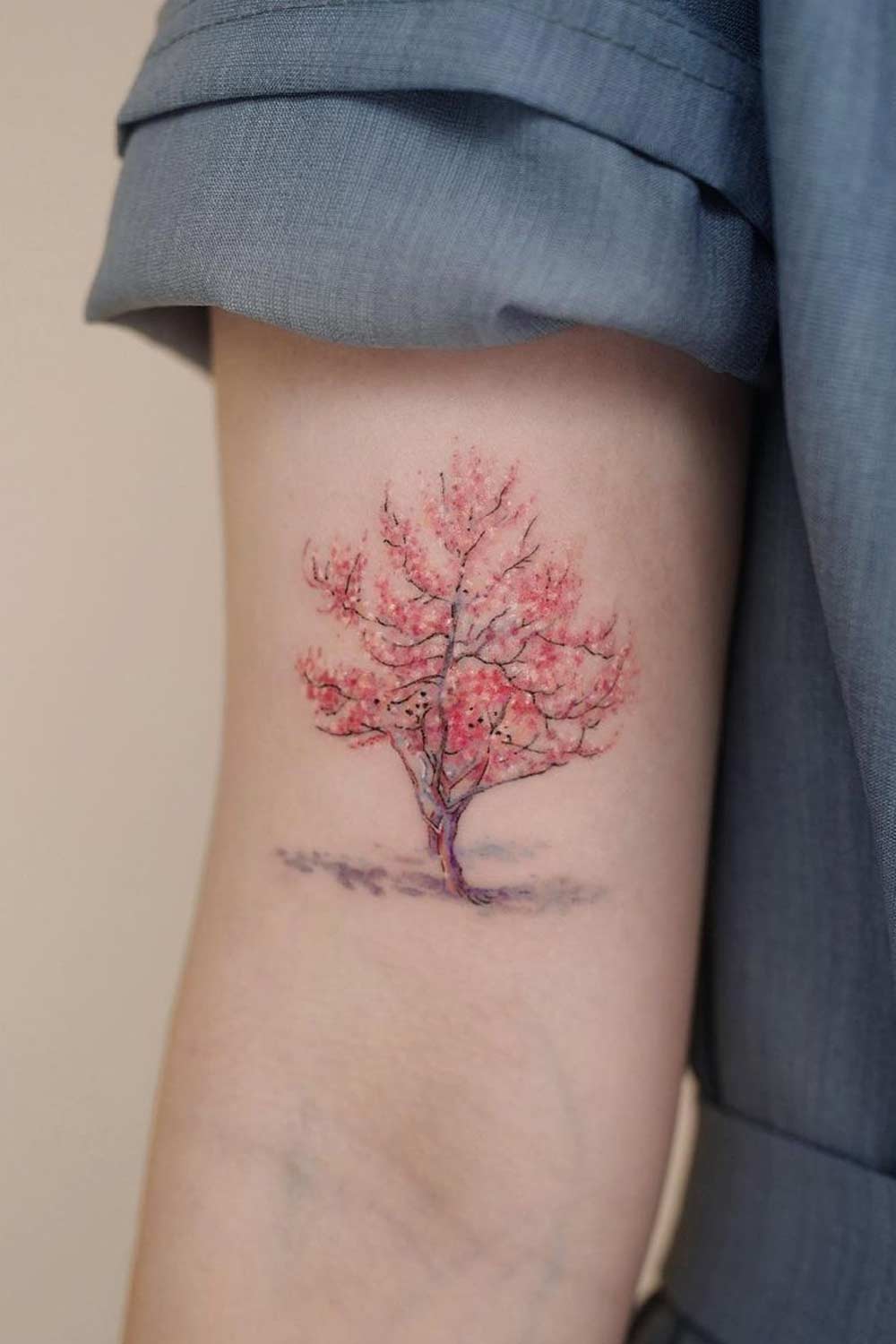 Credit photo: Instagram.com/nandotattooer
i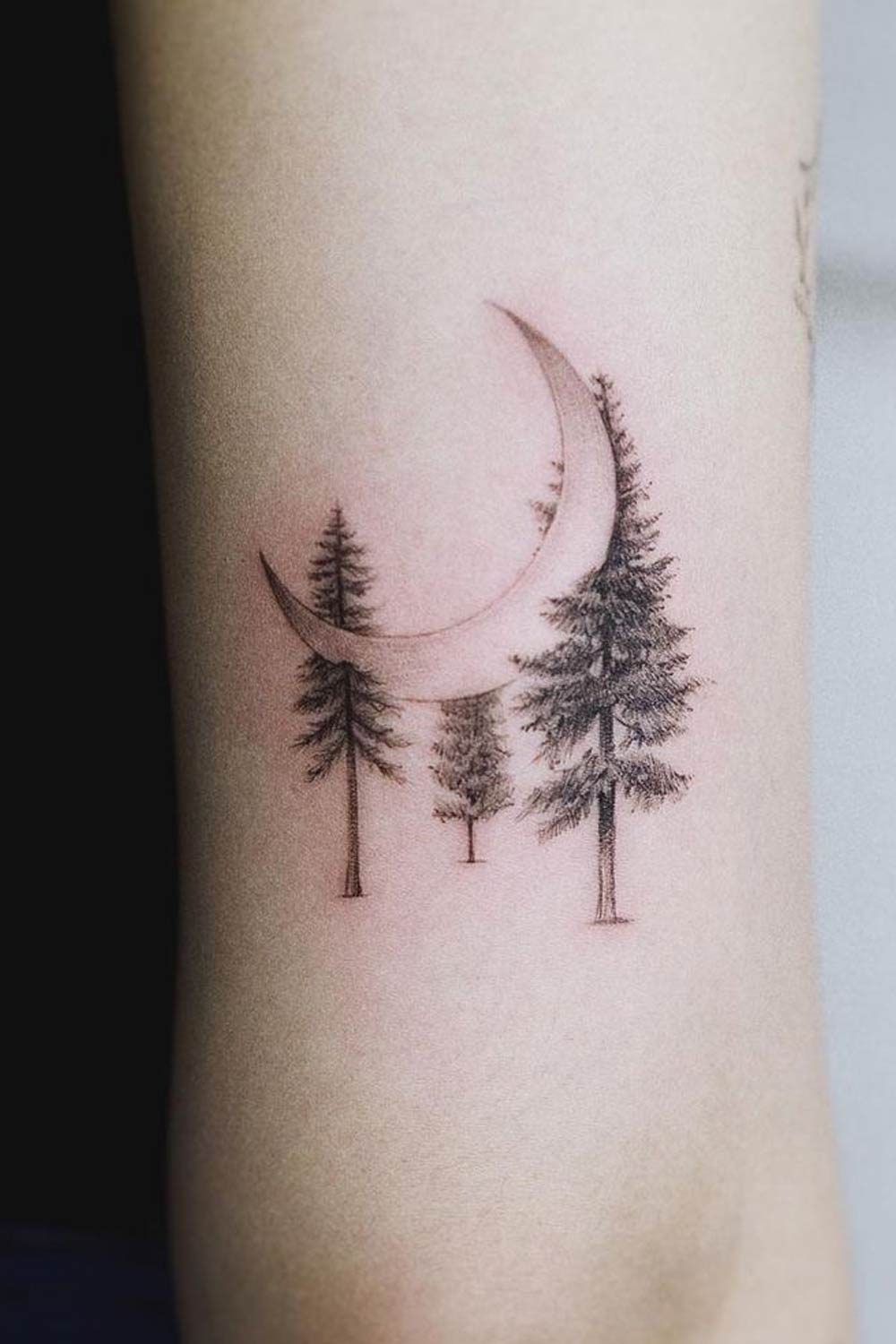 Credit photo: Instagram.com/nandotattooer
i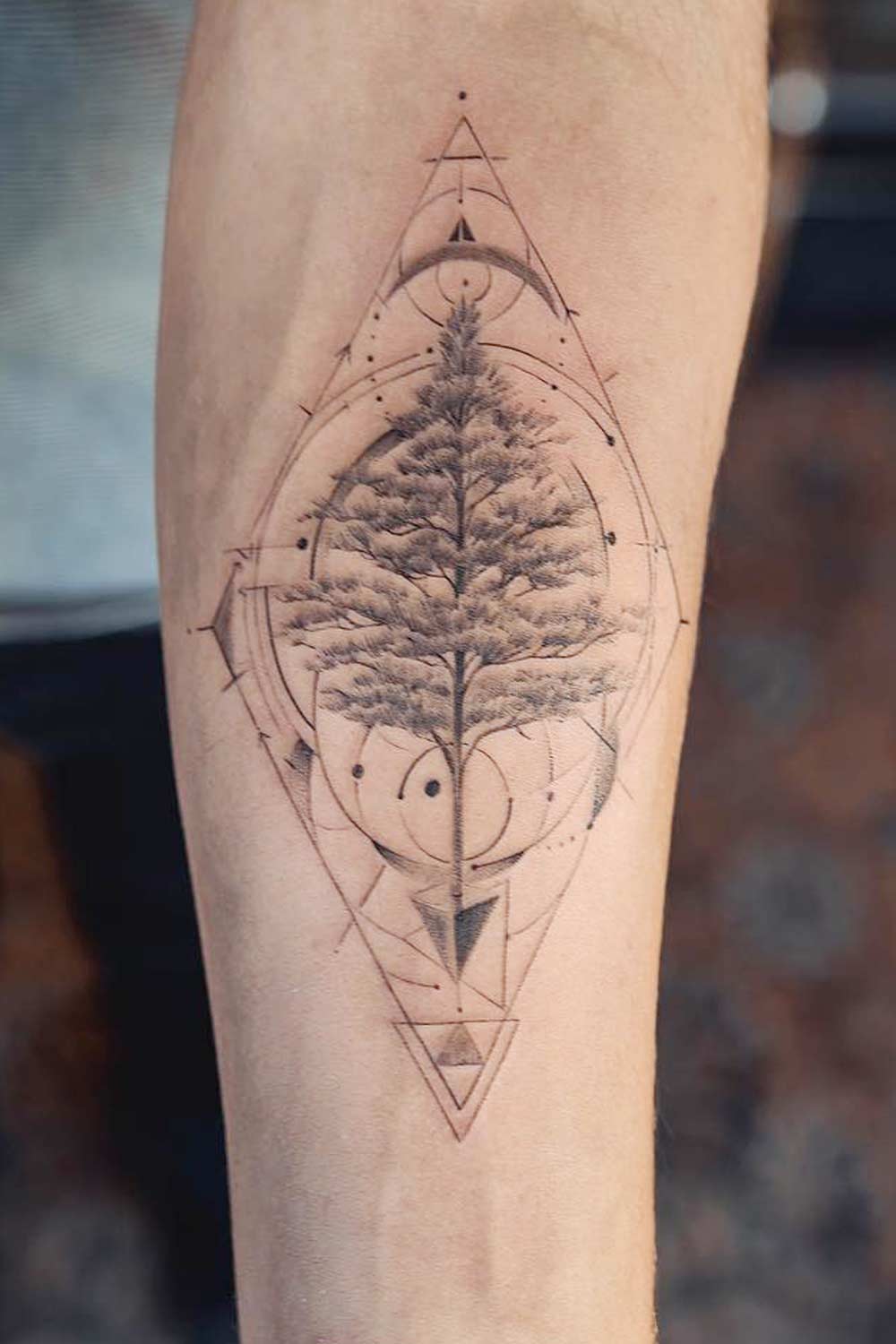 Credit photo: instagram/even_in_shadows
i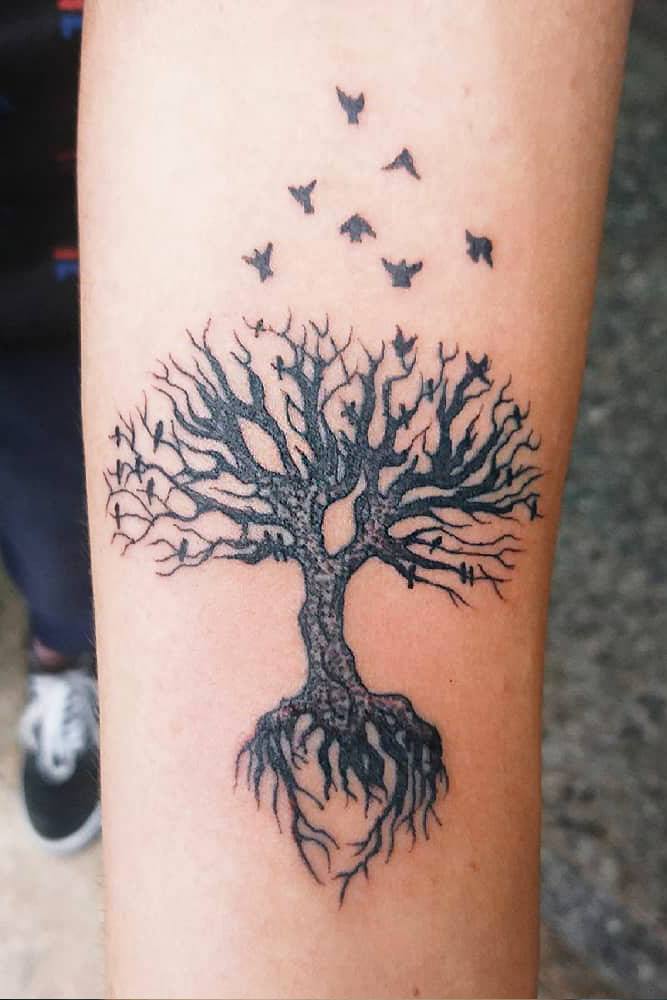 /
It would be natural to start with the tree tattoo meaning. When you think about it, trees symbolize something that is both sacred and ever-lasting. Throughout the ages, every culture had a tree they worshiped. Were these oak, elk, or cherry trees – that would not matter. What mattered was the fact that trees provide people with many means that help us survive. It can be the shelter, medical properties, or ever constriction material that you derive from any tree, yet the fact remains that trees are very useful and mostly irreplaceable. It isn't just the common practice to depict trees on your body, it dates centuries back. Also, there is a reason that your family members form nothing but a family tree. Besides, all the most essential holidays involve trees and wreaths, be it Christmas or any other festivity. So, if you think about it, there is no wonder why many people choose trees as their permanent tattoos.
What Does Tree of Life Tattoos Mean?
Credit photo: Instagram.com/nandotattooer
i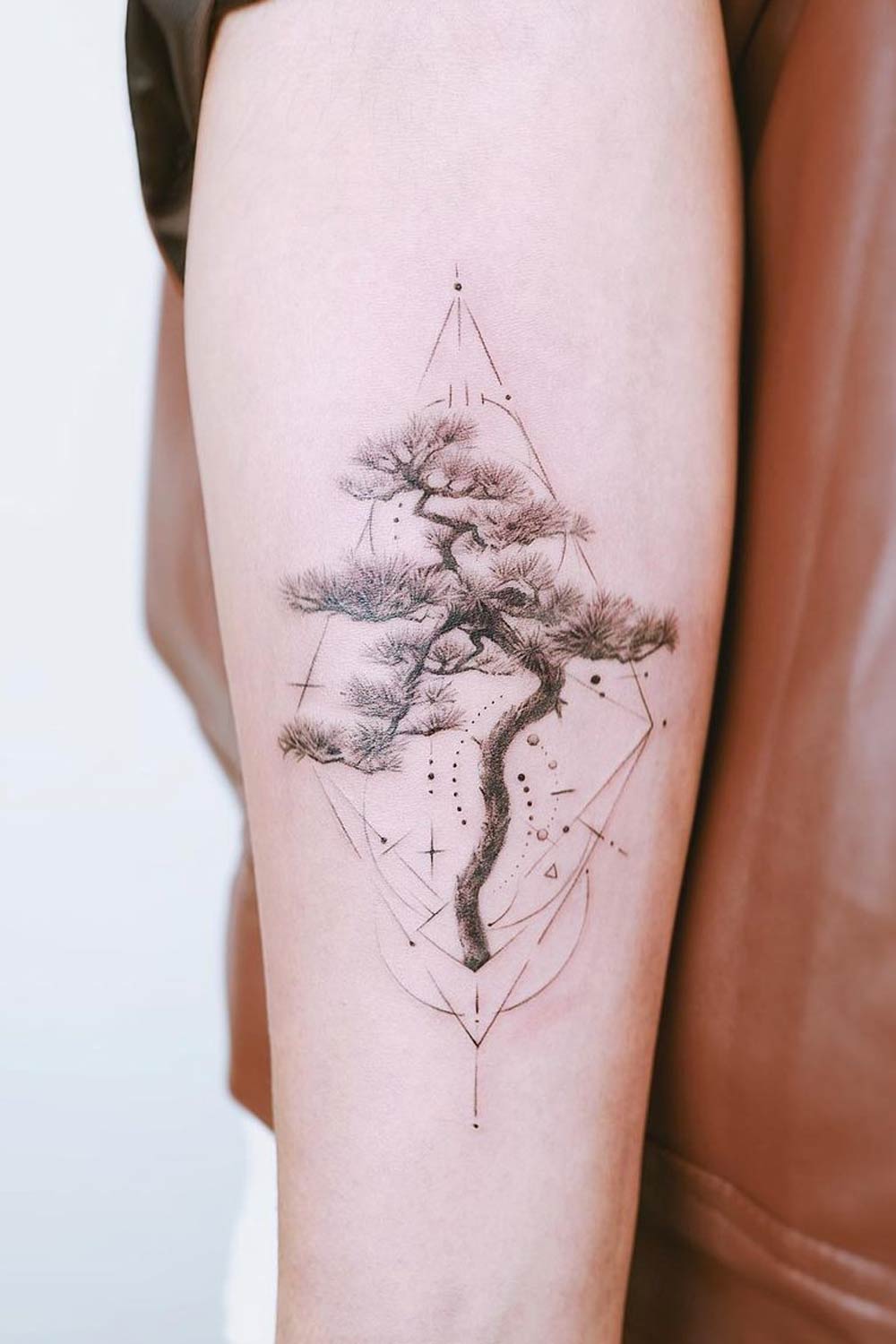 Credit photo: Instagram.com/nandotattooer
i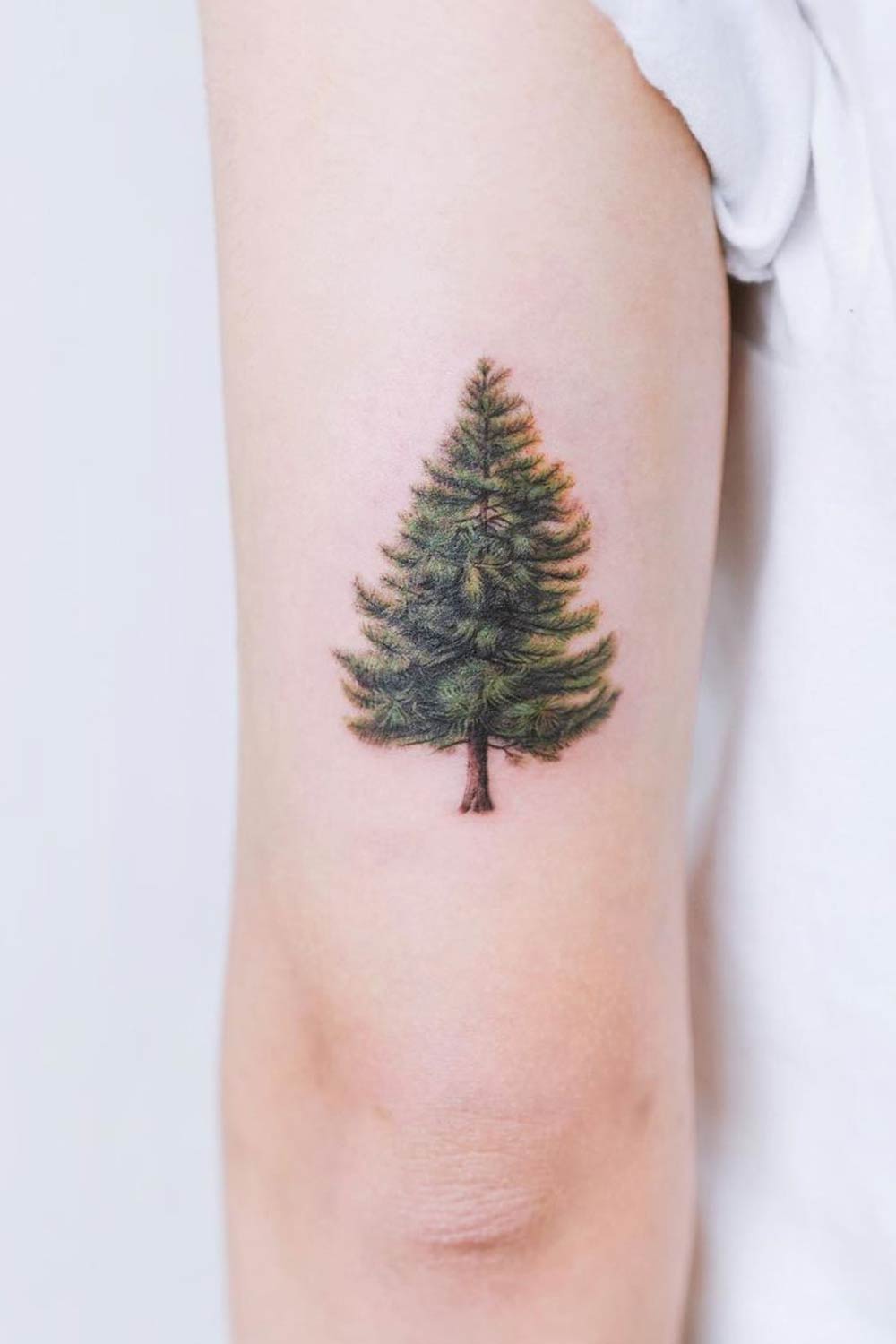 Credit photo: Instagram.com/nandotattooer
i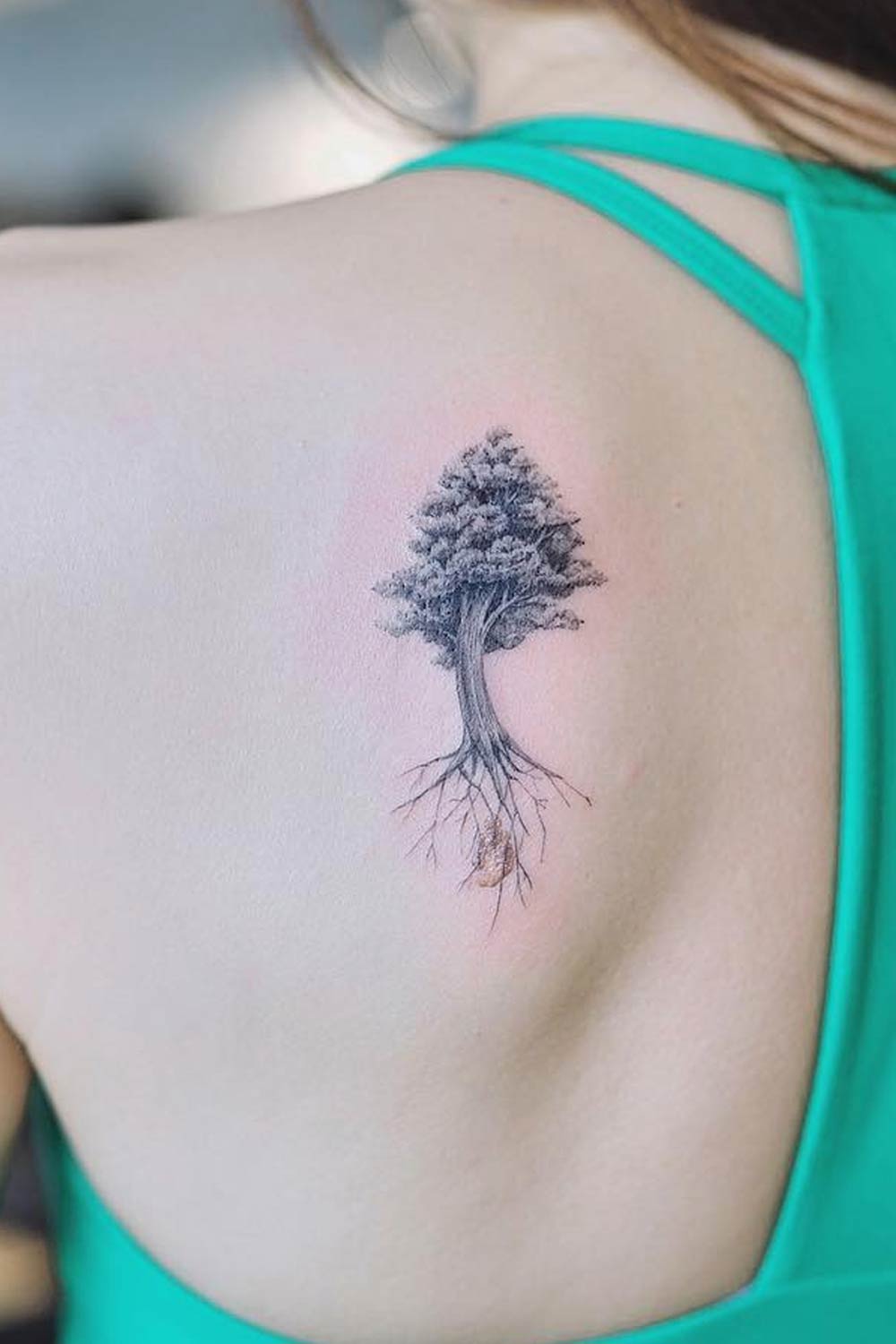 Credit photo: instagram/amanda_alzonetattoos_west
i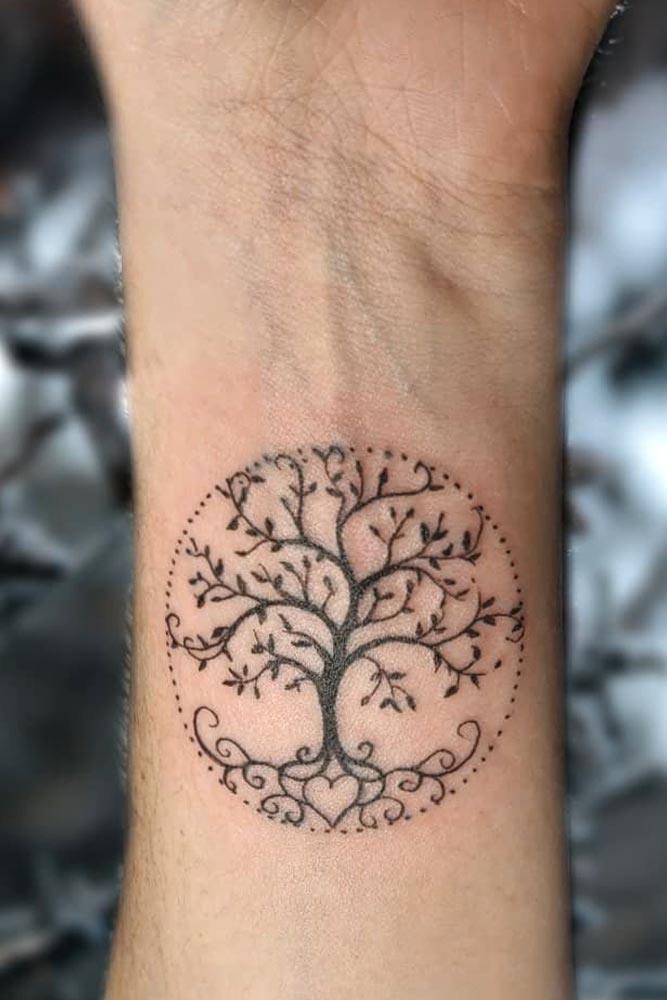 /
One of the most well-known tree tattoo designs would be a tree of life tattoos. It does not matter how popular it is, not all the people can grasp the full meaning of the tree of life symbol. The fact is that it symbolizes many things that intertwine together. They are immortality, knowledge, protection, strength, and even forgiveness. Due to the fact that all the notions are so different from each other, those who depict a tree of life on themselves choose to put in it the circle which connects all the notions and presents them as one.
What Does Cherry Blossom Trees Tattoos Mean?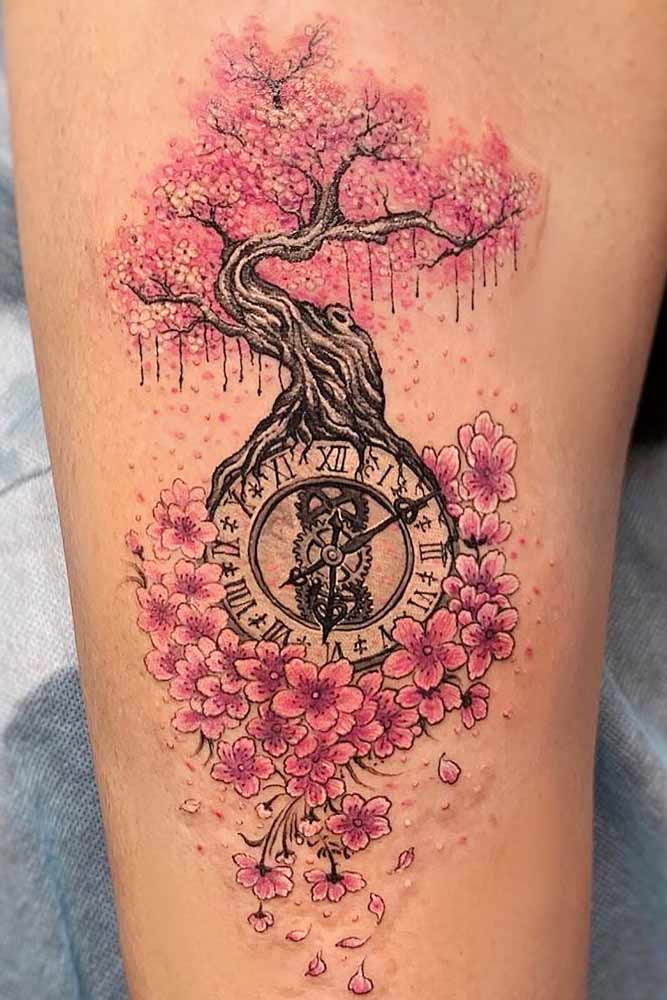 Credit photo: instagram/silveranttattoo
Cherry blossom tree tattoo designs are highly popular among women, and there is a reason for that. The truth is that in both Chinese and Japanese cultures, cherry blooms represent femininity. Where there is femininity, there is life so that these two notions cannot exist without one another. To put it simply, cherry blossom tattoos are the representation of the innocence that brings new life to this world.
Types of Trees and Their Meanings
Credit photo: Instagram.com/soltattoo
i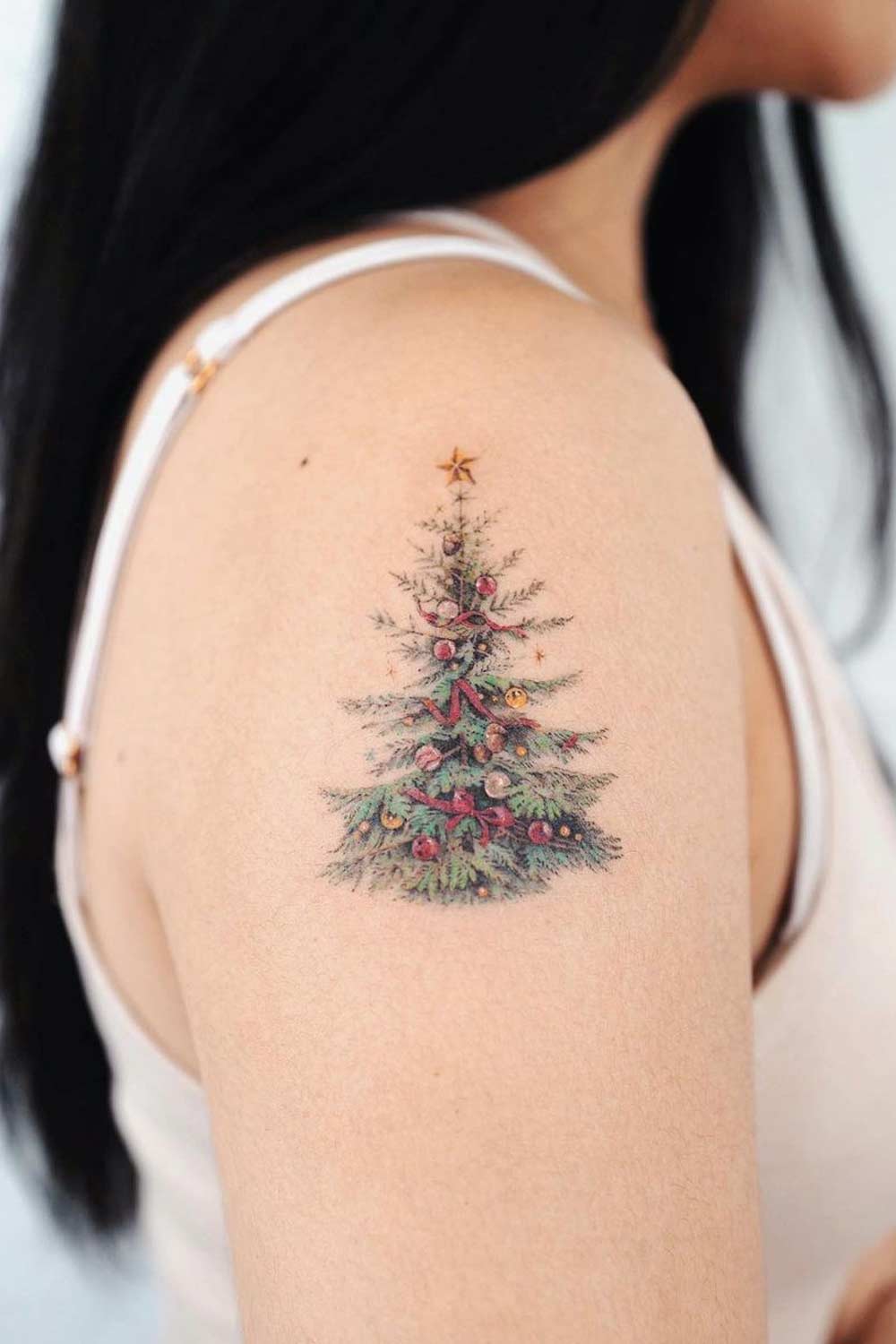 Credit photo: Instagram.com/nandotattooer
i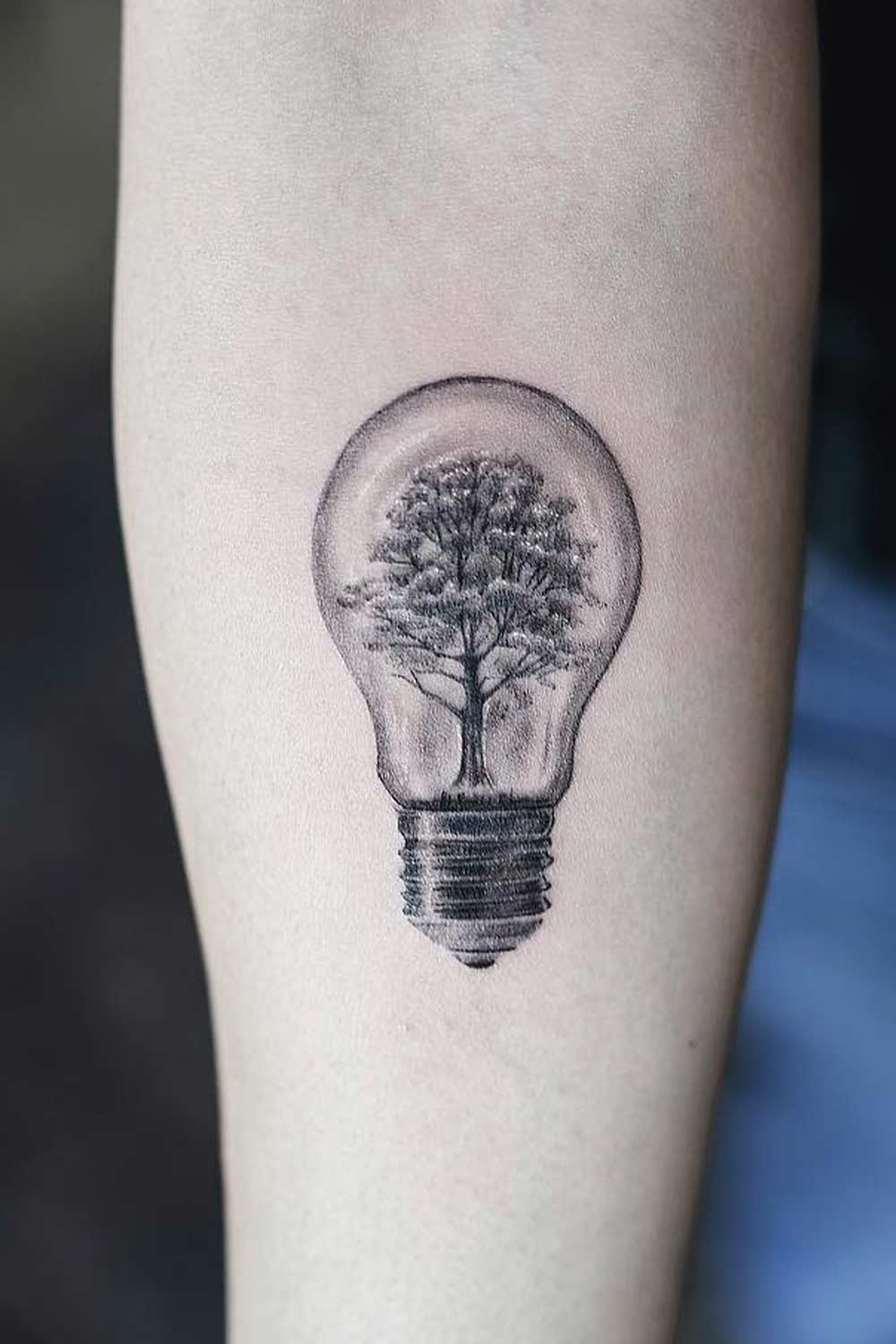 Credit photo: Instagram.com/nandotattooer
i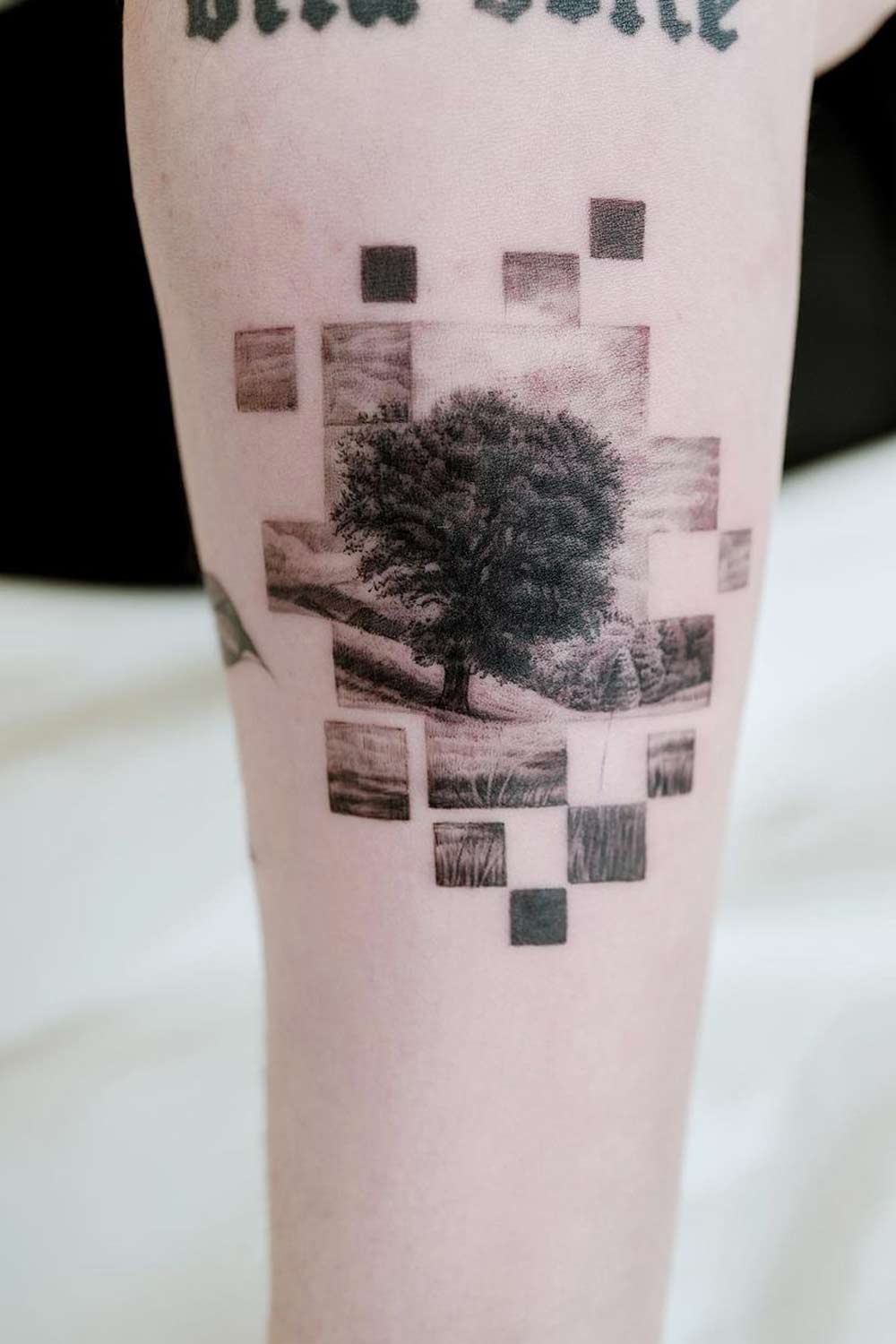 Credit photo: instagram/yagotav
i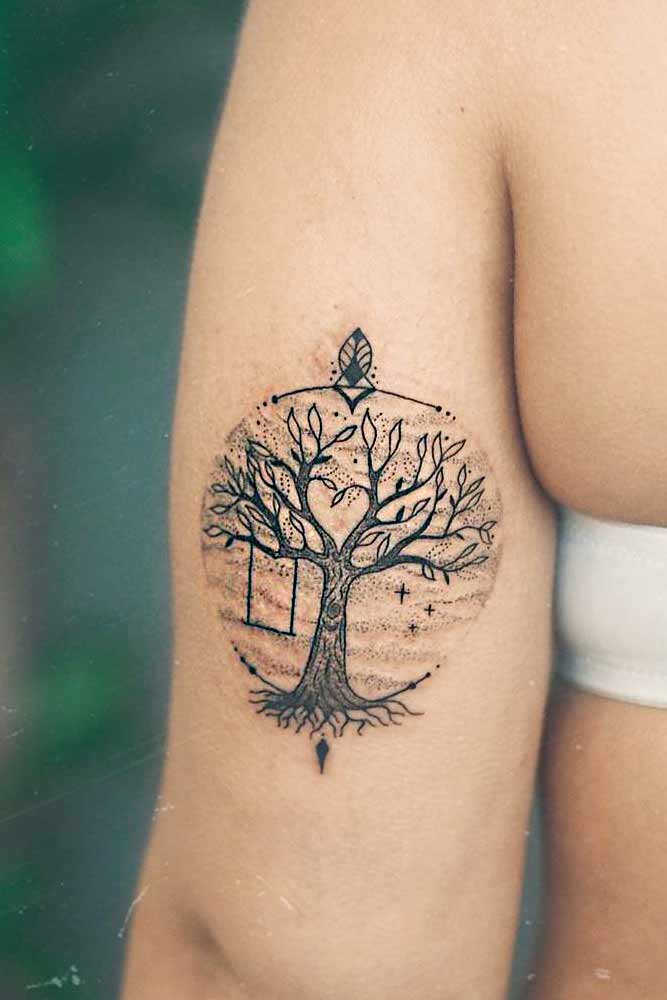 /
Just like any other object, every tree has a particular symbol to it. We are going to bring the mains ones to your attention.
Apple tree – there is some dualism to apples, they are both the forbidden fruit and the fruit of knowledge.
Ash tree – this is the tree of growth and development.
Aspen tree – if you are dealing with the mourning of someone you love, aspen tree tattoo is the one you need to consider.
Bay tree – the bay is the tree of glory.
Beech tree – lost knowledge and teachings of the past is what the tree represents.
Birch tree – a tree is symbolizing a fresh start.
Cedar tree – if you need some protection on a spiritual level, then cedar is your tree.
Cypress tree – cypress is the tree of death and mourning.
Dogwood tree – a very beautiful tree with quite a dark meaning to it. It represents apathy.
Elm tree – the tree of dignity.
Fig tree – represents fertility.
Credit photo: Instagram.com/evgenymel
i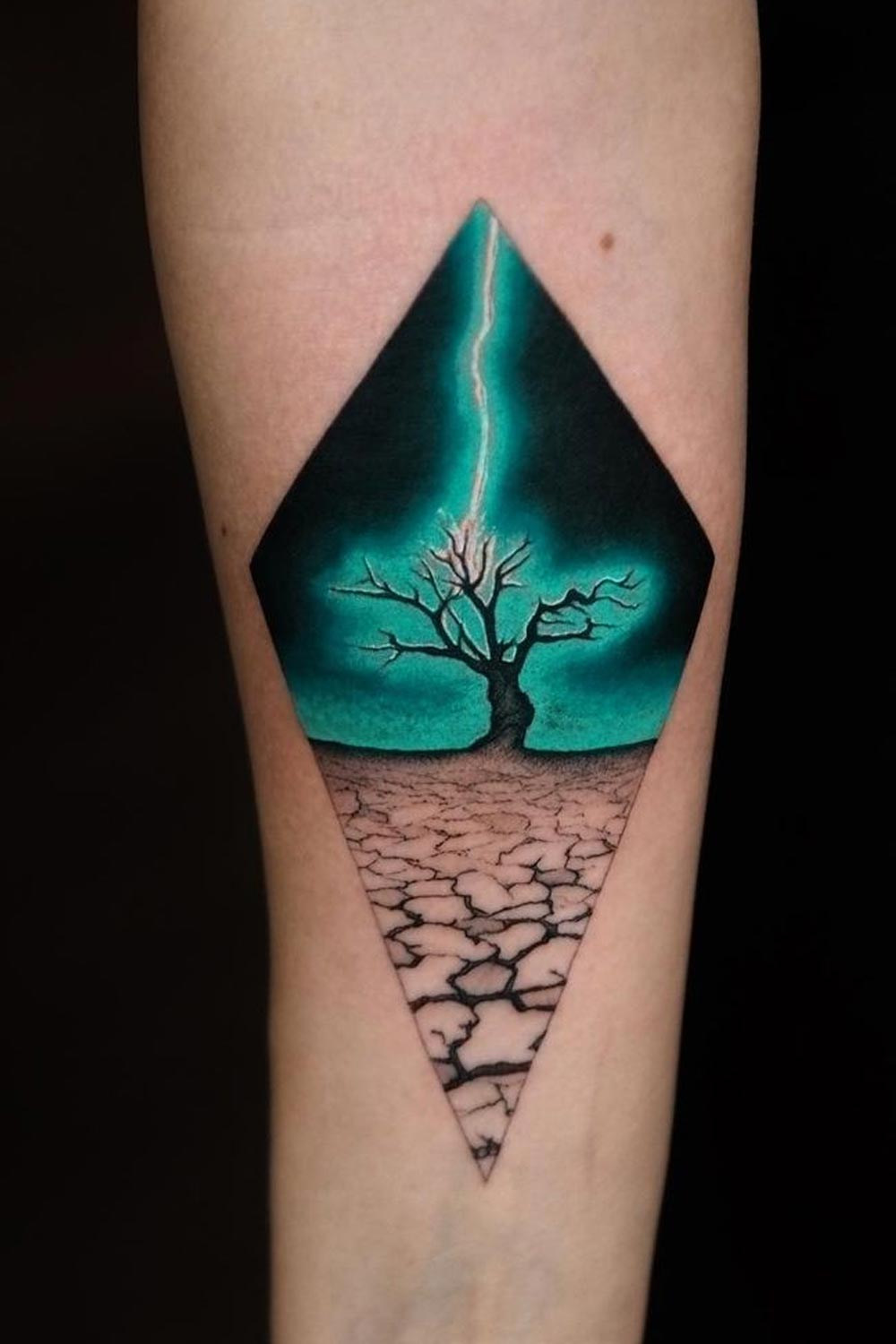 Credit photo: Instagram.com/nandotattooer
i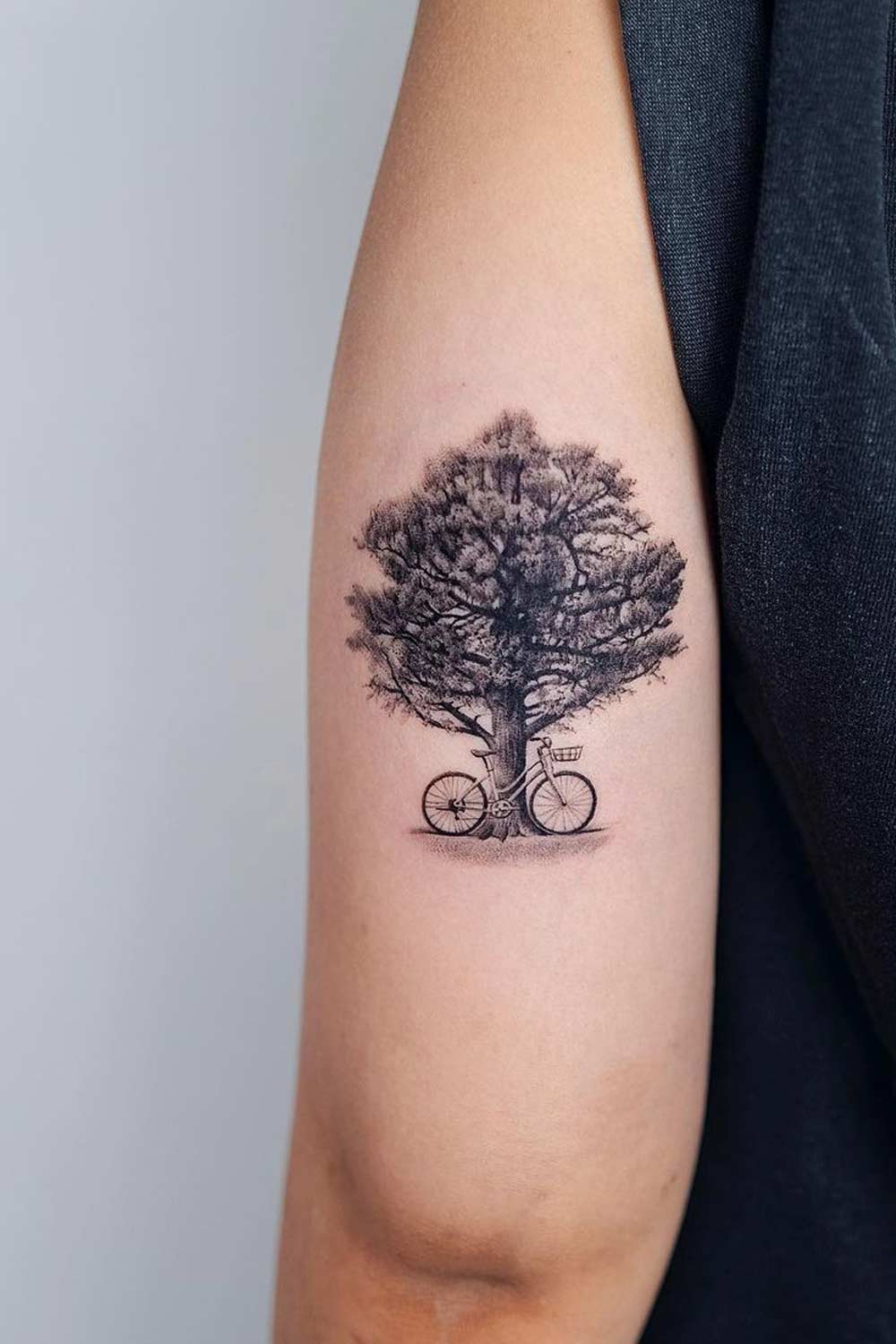 Credit photo: Instagram.com/soltattoo
i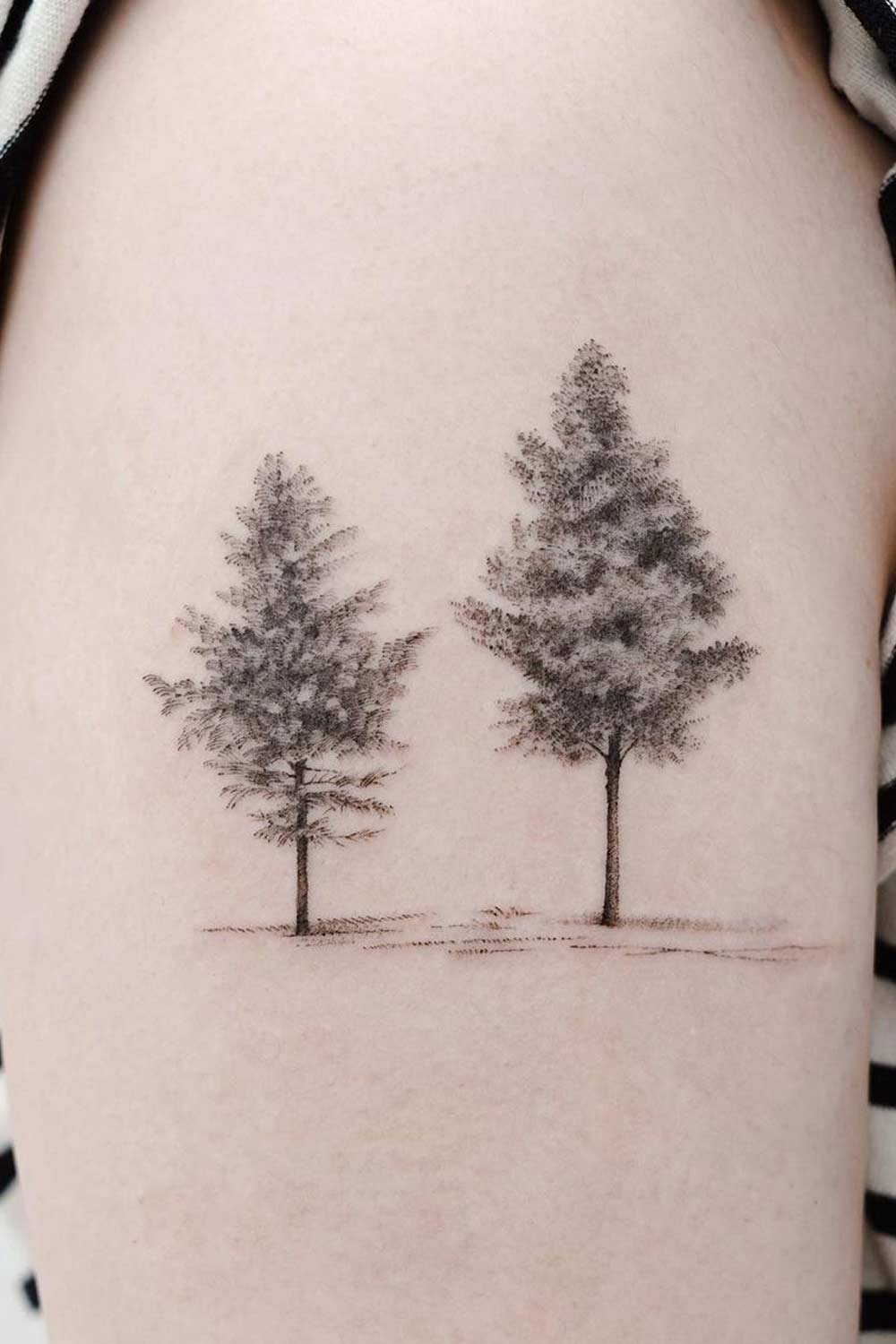 Credit photo: instagram/haenytattoo
i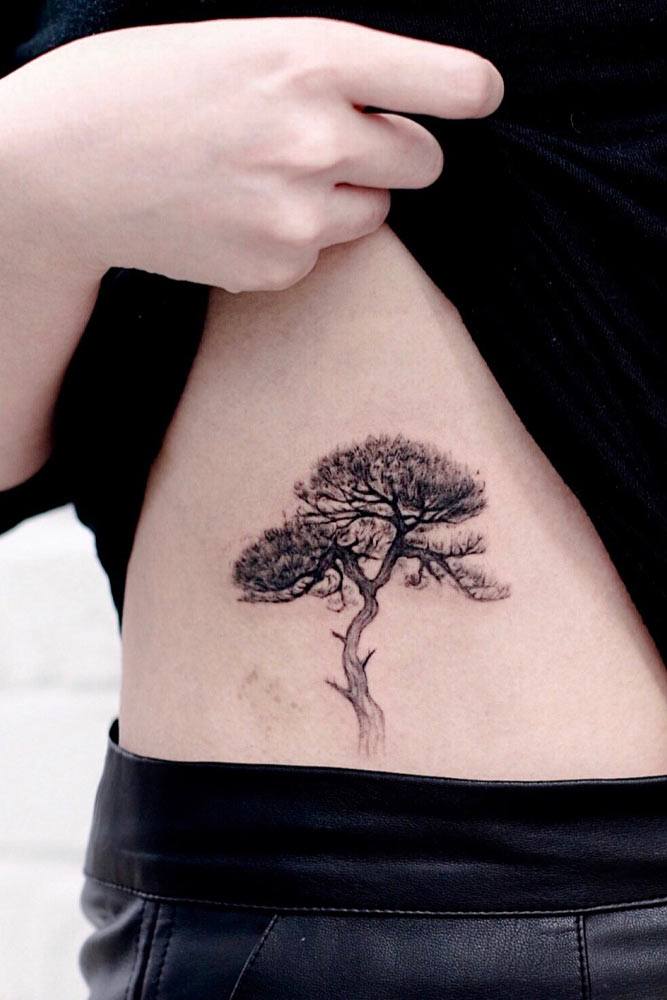 /
Hawthorn tree – is the tree of happiness.
Hazel tree – if you want to depict a symbol of wisdom on your body hazel tree is the one you need.
Holly tree – needless to say, that holly is the tree of spirituality.
Joshua tree – represents a strong will.
Laurel tree – there is a dual meaning to it since it can represent both victory and also deception.
Linden tree – a tree of love.
Maple tree – brings in harmony and balance into your life.
Oak tree – a symbol of brave and strong people.
Poplar tree – another tree with mourning connotation to it.
Walnut tree – lacking some focus? That is what walnut can help you with.
White pine tree – it is the tree of serenity.
Willow tree – if you lost your love and in the process of healing, then willow is the tree that can assist you in dealing with the process.
Yew tree – the tree of rebirth.
Half Floral Tree Design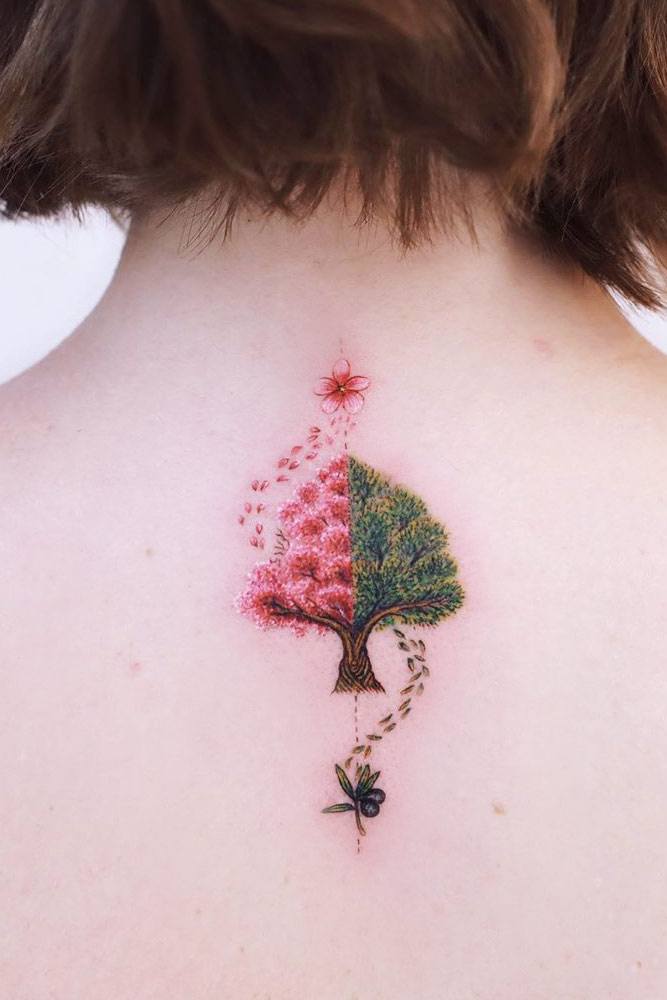 Credit photo: instagram/ayhankrdg
The beauty of the tattoos placed on the back lies in the fact that they remain hidden for the most part. If you are interested in the cutest tree tattoo designs on back, we suggest that you consider this half and half one. There is something magical about blooming trees and something eternal about their ever-green versions.
Oak Tree Tattoo With Geometric Elements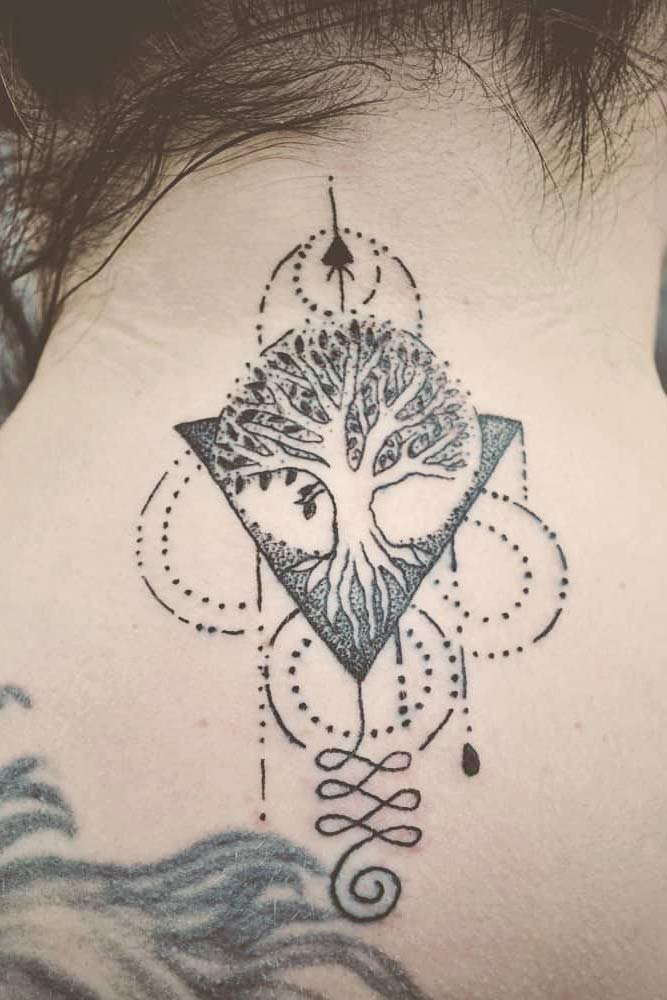 Credit photo: instagram/olafvaliduna
It is not enough to come up with a great and meaningful tattoo design. These days any tattoo should be a tribute to the trends. Thus an oak tree tattoo designs with geometric elements to it will symbolize your inner and outer strength and will look modern.
Palm Tree Tattoo Design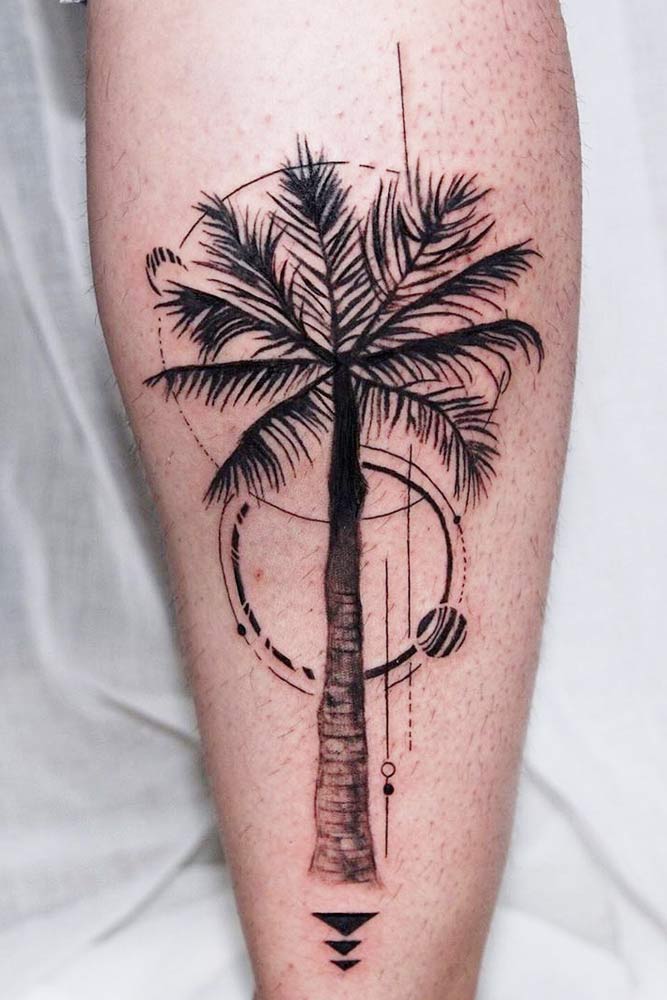 Credit photo: instagram/hongzo_tt
Among all the tree tattoos, palm tree tattoo designs are the most positive ones. They represent your active lifestyle and easy-going nature. Besides, if you are in love with summer and beaches, such a design is merely irreplaceable.
The Dawn of Life Colorful Tree Tattoo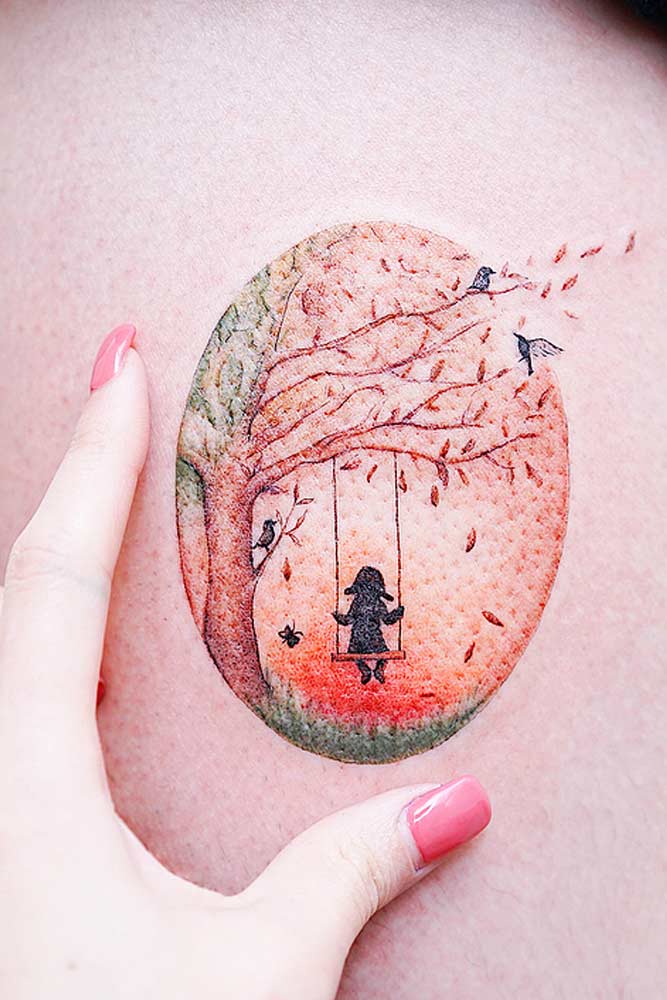 Credit photo: instagram/mini_tattooer
You do not need to depict a certain tree type to express the general idea you have in mind. In our view, the particular design represents both the dan of one's life as well as its circle that comes to an end sooner or later.
Simple Tree Tattoo Idea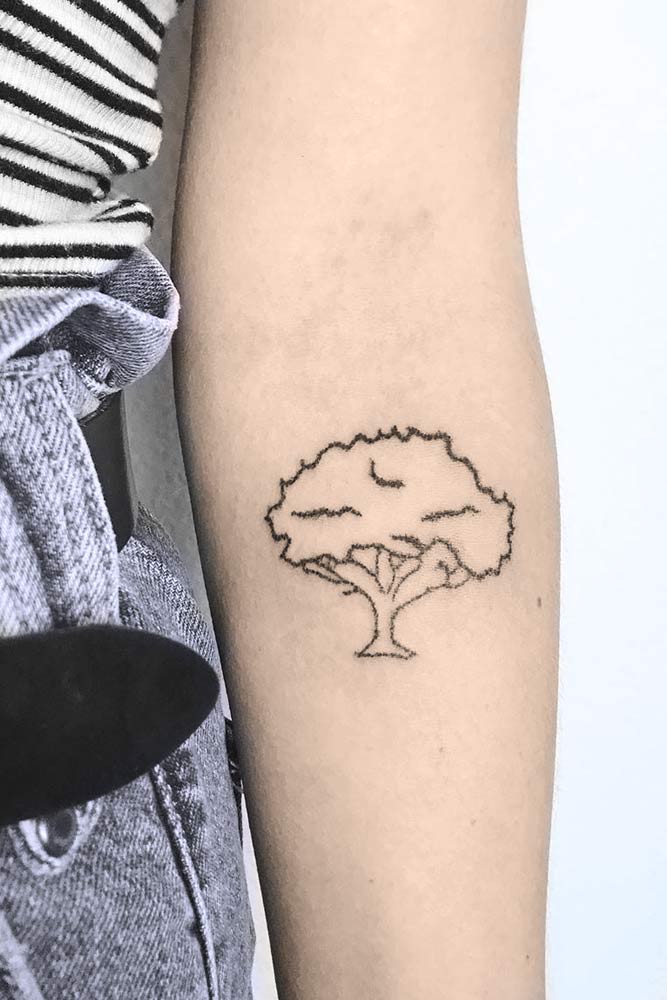 Credit photo: instagram/sevensession
There is a false assumption that the more complex is your tattoo, the more meaning it carries. However, we say that simple tree tattoo have a lot of symbolism and meaning to them too. It all depends upon what you breathe into your tattoo, even if other people can't see it.
Minimalist Tree Tattoo Design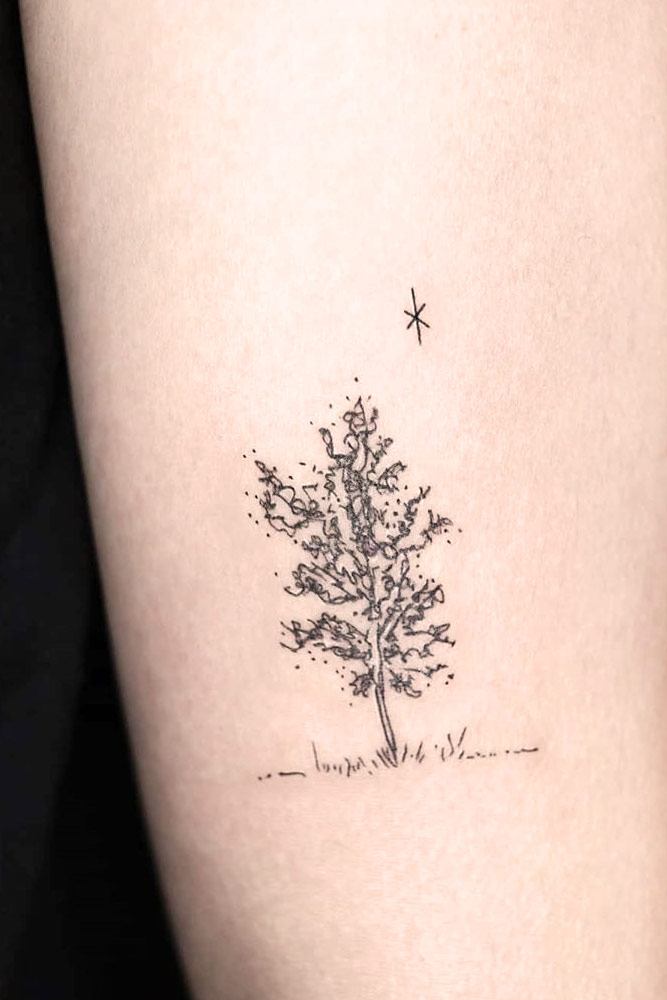 Credit photo: instagram/tattooist_namoo
Not everyone is courageous enough to devote a lot of body to the tattoo, especially if it is your first try. That is why minimalist tattoo designs are so requested these days. It needs to be added that the tattoo art that we know it now is incredibly attentive to the details so that even the smallest design can have dozens of details to it.
Watercolor Tree Tattoo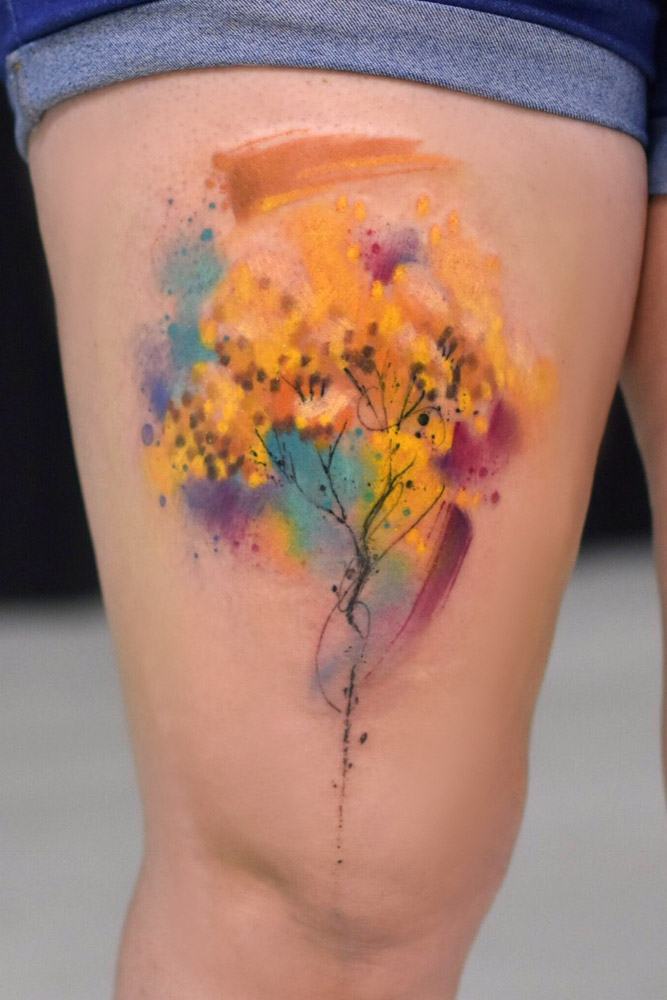 Credit photo: instagram/versusink
Abstract art attracted many people throughout the centuries. These days watercolor tree tattoo designs are insanely popular, and once you have a closer look at the particular design, you will get why. You can see the tree shape, but the most attention is attracted to the burst of color. If you lack some vibrancy and confidence in your life, you need to consider something of the kind.
Small Simple Tree Of Life Tattoo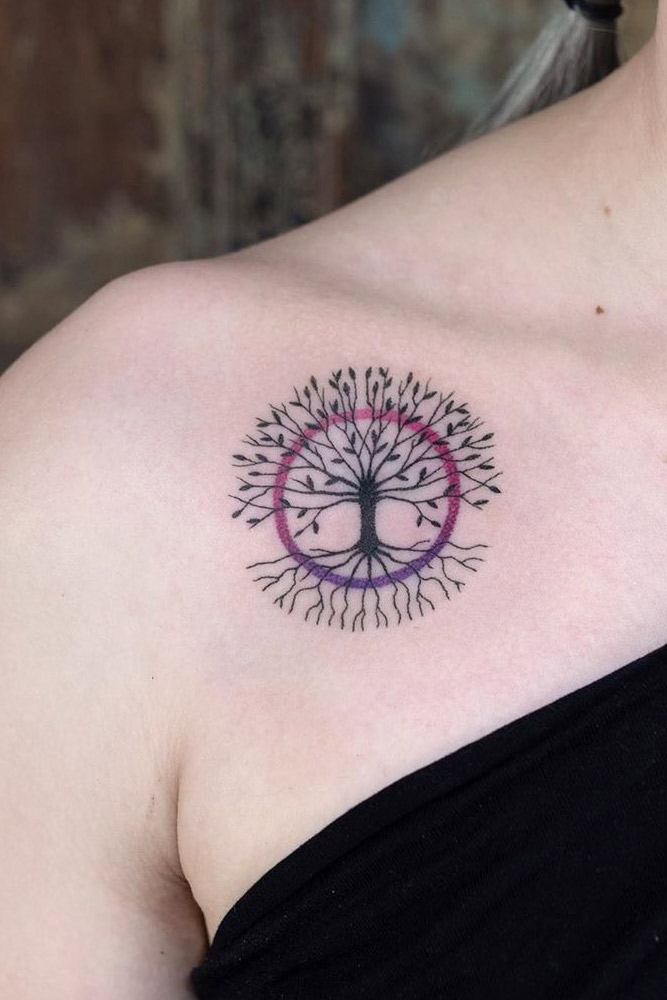 Credit photo: instagram/pejczi
Traditionally a tree of life is depicted within a circle. We all start our road at one time and end it at another. When we fade, the circle is complete. In case you are fond of meaningful small tree tattoos, this would be a perfect addition to your collection.
Half Colored Half Black Tree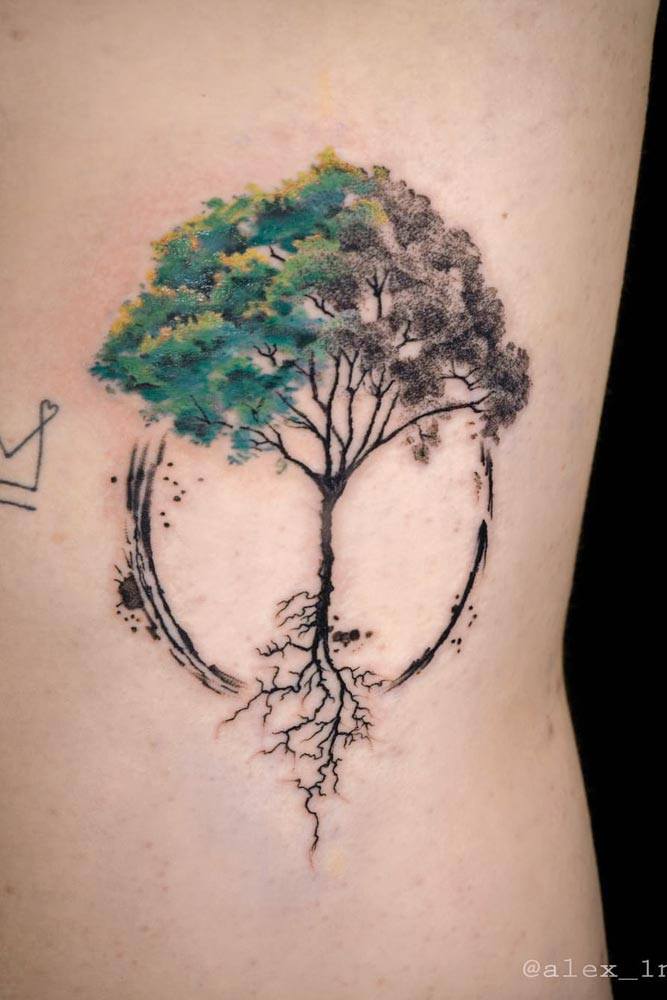 Credit photo: instagram/nurburgink
It does not matter how many tree tattoos ideas there are. Everyone chooses that particular one that corresponds to the personal worldview. Besides, unlike some decades ago, you can get any shape or color you want. If you can't choose whether colorful or black and white, your tattoo should be, it is best to compromise.
Galaxy Colored Tree With a Couple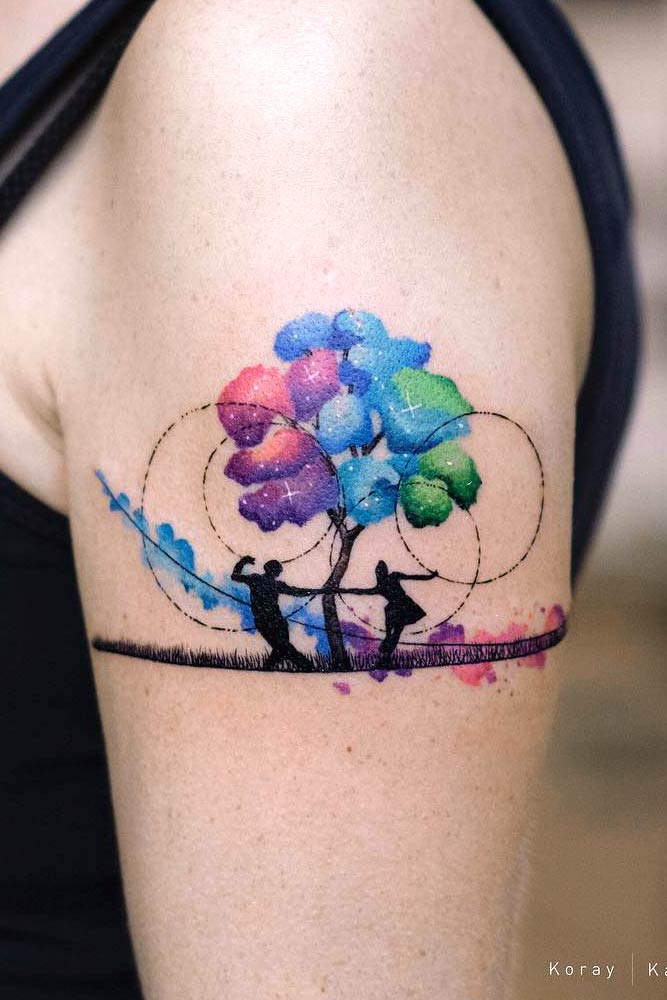 Credit photo: instagram/koray_karagozler
Everyone seeks the other half to spend their life with. Once you do and wish to memorize the moment depicted in the flesh, we have a great idea you can inspire from. You mean the world to your partner, let him know that he is the galaxy to you. Strengthen the though with a tree of life, and you will fall in love with each other even deeper.
Trees With Deer Tattoo Design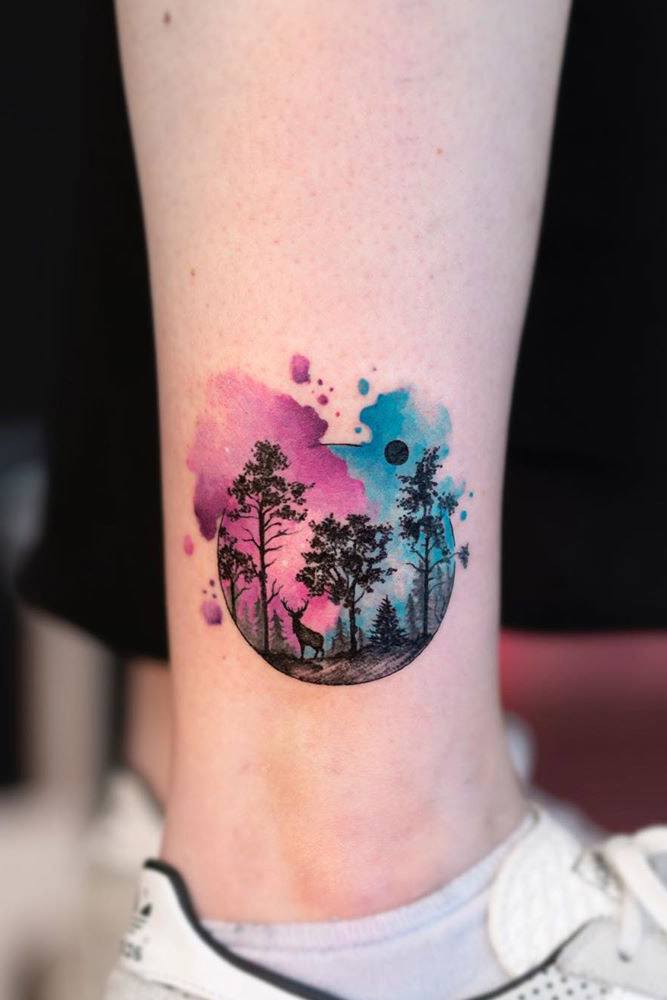 Credit photo: instagram/koray_karagozler
When one tree is not enough for you, go for a bunch of them. The truth is that detailed woods with a deer and watercolor background to them are more than expressive and special.
Half Colored Tree With Planet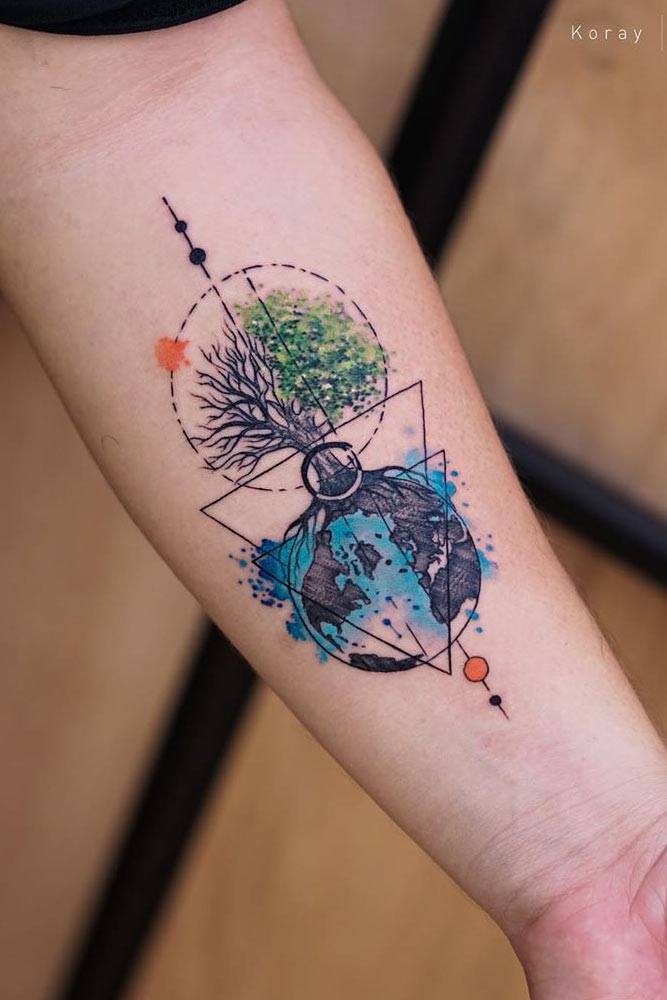 Credit photo: instagram/koray_karagozler
There is a reason why they call Earth the green planet. It is covered with woods. However, recently we are bringing a lot of damage to it rather than good. If you wish to emphasize the issue, this related tattoo is the one to think about.
Minimalistic Pine Tree Tattoo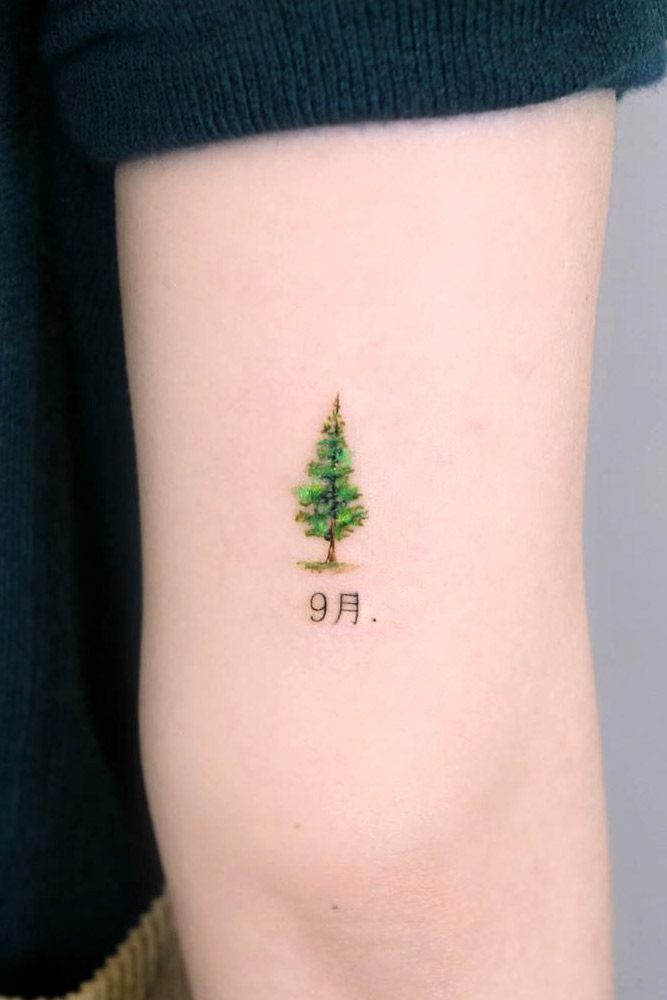 Credit photo: instagram/palette.tt
Even the smallest tree tattoo can be precise and colorful. If you are a fan of pine tree tattoo designs, this little cutely may come to your taste as well. Do not forget to entitle it with a meaning that only the chosen ones will know about.
Willow Tree Tattoo Design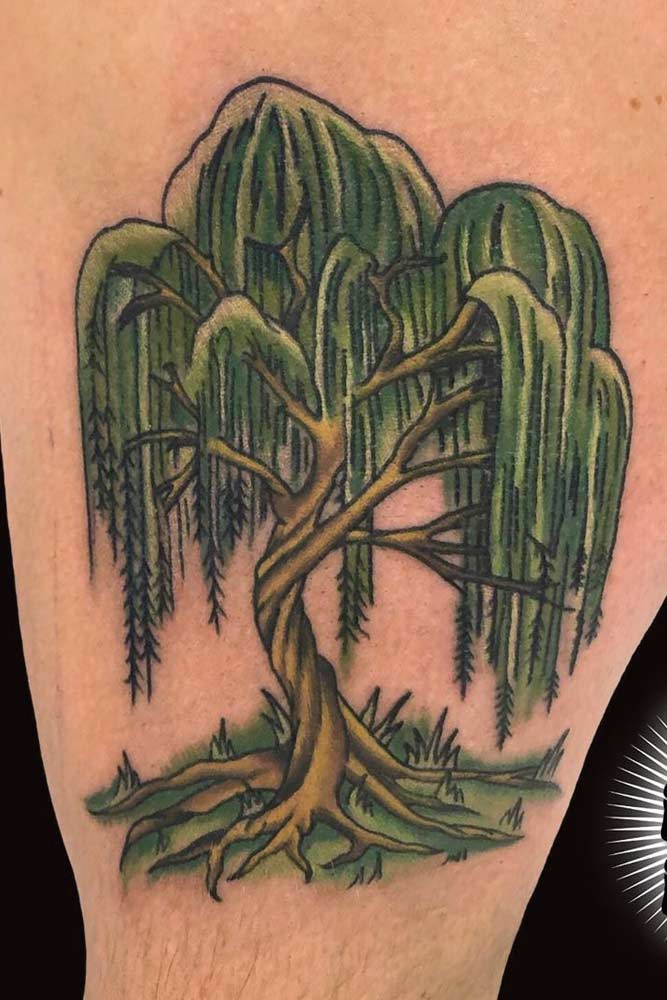 Credit photo: instagram/kendalharkey
Willow tree tattoos are indeed gorgeous-looking. However, you need to remember about the meaning that the tree bears. If you need a close symbol that would remind you that you will heal over time, this would be the one.
Some people opt for tree tattoos just because they are beautiful. However, we are going to prove it to you that there is much more to the image than you know. Choose the tree symbol wisely!
FAQ: Tree Tattoo
What does a dead tree tattoo symbolize?
A person wearing a dead tree tattoo can actually define its true meaning. Tree with no leaves or flowers servers as a reminder of an inevitable nature of life. It can inspire a person to life your life to the fullest without regrets.
On the other hand, the dead tree tattoo might stand for rebirth and the idea that you must go through the darkness before you can see the light.
What other meanings does a palm tree tattoo have?
Two palm trees depicted symbolize love and union. Palm trees and tropical flowers represent femininity and fertility. Lastly, a lone palm tree might stand for androgyny as the tree has both male and female images: tall and erect trunk as a sign of masculinity and fruit, in its turn, stands for fertility.
REFERENCES:
A tattoo is a form of body modification where a design is made by inserting ink, dyes and pigments, either indelible or temporary, into the dermis layer of the skin to change the pigment.Source.
A tattoo is a kind of body modification where ink is inserted into a sub layer of your skin to stain it permanently in an artistic fashion or design. Source.
Tattooing has been practiced across the globe since at least Neolithic times, as evidenced by mummified preserved skin, ancient art and the archaeological record.Source.
Was this article helpful?