Top inspirational teen bedroom ideas can be found here. They will definitely come in handy when you decide to design your bedroom.
When choosing the perfect bedroom design, keep in mind that it should have a thoughtful layout. Teenagers are quite demanding when it comes to any changes in their room. But as a general rule, include in your teen's room the following things: much storage space, a comfy sleeping bed, a study place with enough light, and a stylish touch.
Now let's explore some bedroom ideas for your girl or boy. And you can find tips on how to make your redecoration more affordable on the last page.
---
QUICK NAVIGATION
---
String Lights To Get Inspired
Recently it has become popular to use string lights for the interior décor. And it is not surprising why people love that so much. The lights add some special flair to any room décor.
Boho Teenage Girl Bedroom Idea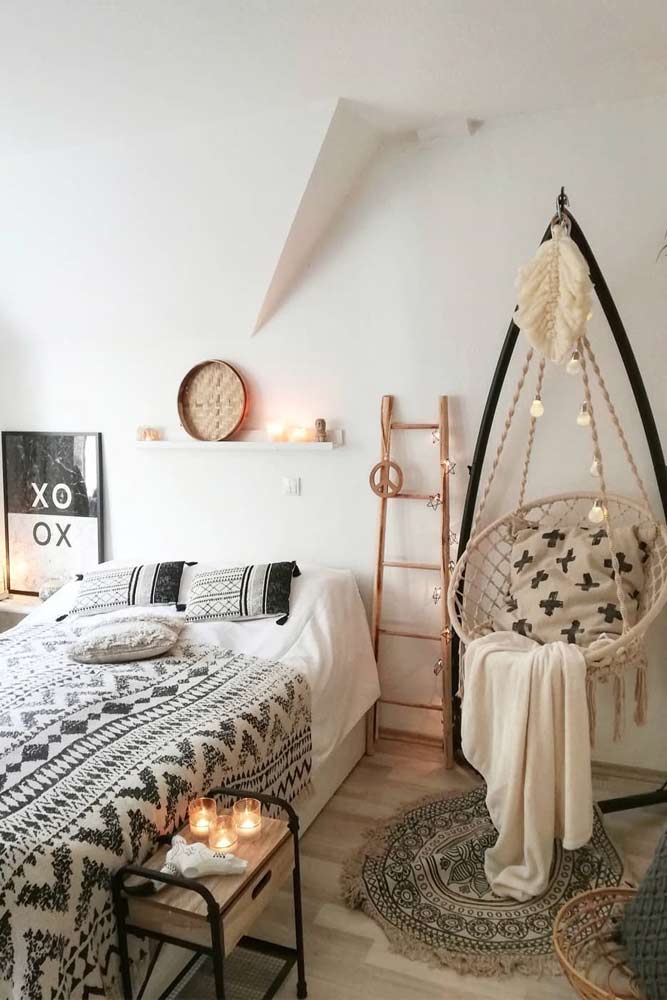 Credit: Instagram/sa_interiorstyle
Nowadays teenagers are well aware of the current trends and design-conscious. Your teen will appreciate if you let her feel that her room is her mini apartment where she can spend time with comfort. And expressing her personality is important for her too.
Cozy And Simple Teen Bedroom Idea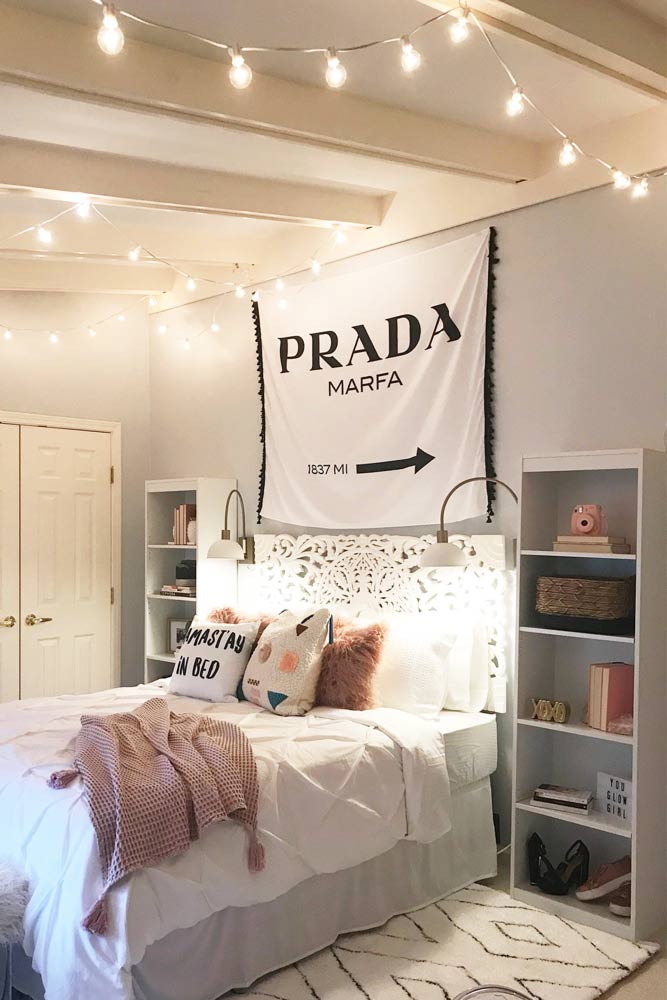 Credit: Instagram/6thirtydecor
It's one of the coziest teen bedroom ideas we have ever seen. Do you know that makes it so cozy? The involvement of soft fabrics and even fur plus pastel colors.
Cozy Teen Bedroom With A Platform Bed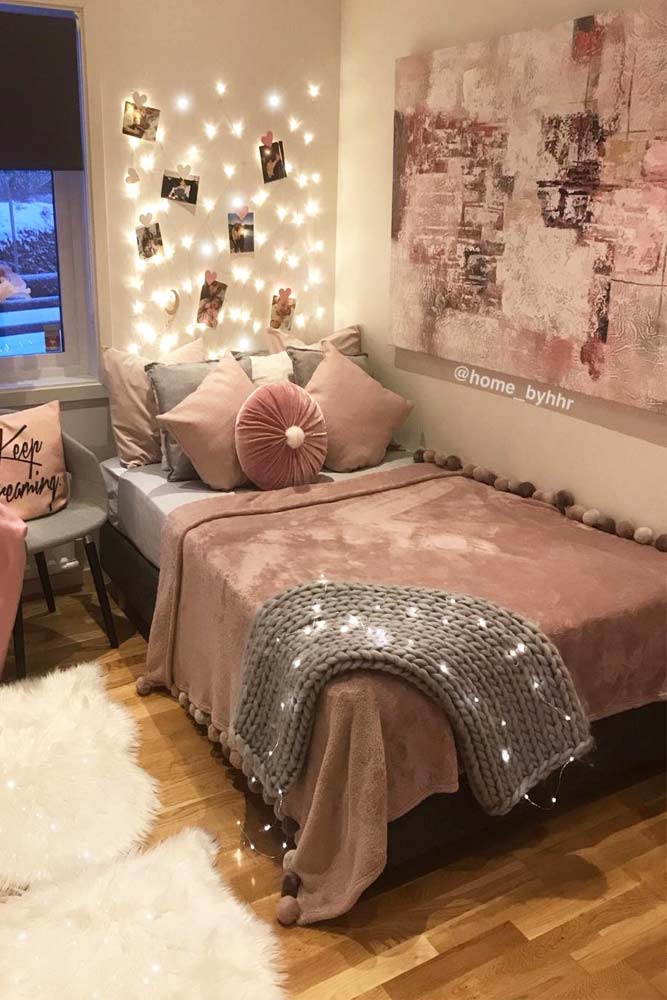 Credit: Instagram/home_byhhr
Buy your teen girl a platform bed, and her room will become cozier instantly. Subdued lighting, as well as warm pinks and peaches, only add on to this effect.
Dreamy Teen Bedroom Idea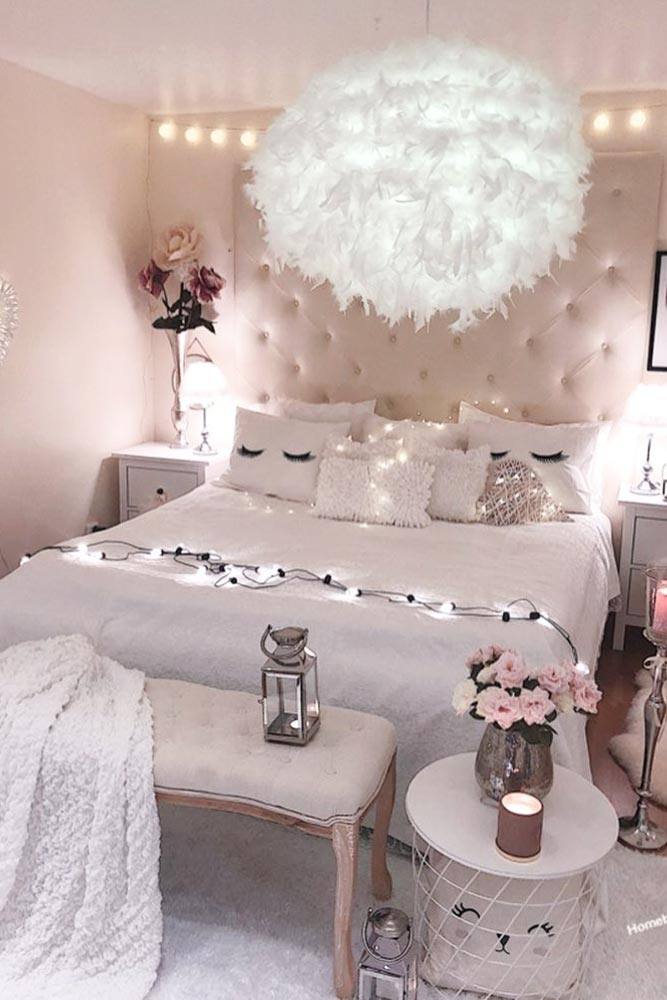 Credit: Instagram/homebyis
String lights and soft pastel shades make this bedroom idea the real Dream Keeper. Just one look at this picture, and we already wish to go redecorate our places.
Teen Bedroom With String Lights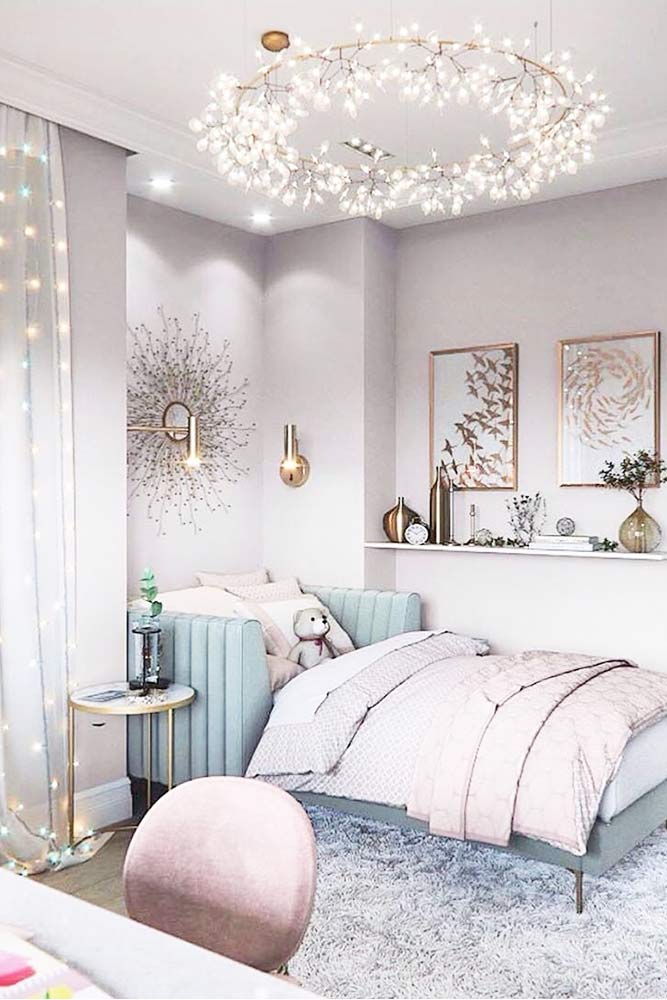 Credit: Instagram/studio_interno.ru
Hanging string lights is the most versatile way to embellish any bedroom: be it a Victorian bedroom with a posh white bed in the center or a gypsy design with lots of bright pillows.
Whatever teen room ideas you choose, you should always remember about this tiny, yet a super powerful detail that can enliven your place, finishing it perfectly. Look how the play of little lights gives a new perspective on the minimalist room! And don't worry; such details are appropriate to go with not only during Christmas!
Teen Bedroom With Stars Garland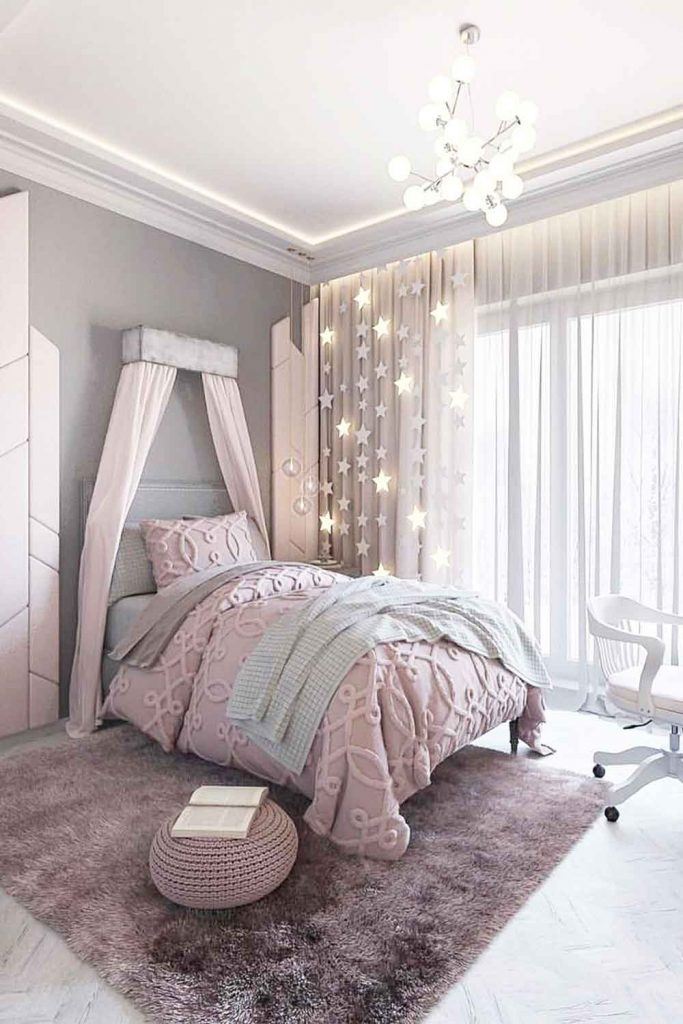 Credit: Instagram/ksenia_grant777
One of the best combos for a teen bedroom would be a mixture of pastel shades and string lights. However, let's not forget that every teen wants to be special, that is why unique star lights are the item to consider.
Girly Teen Bedroom With Canopy String Lights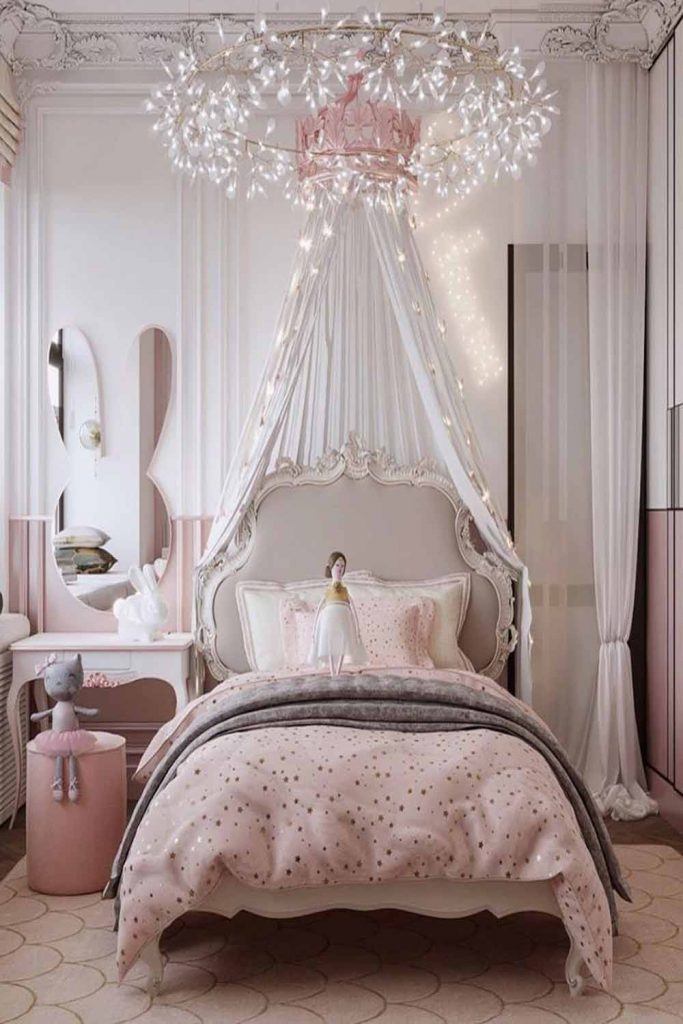 Credit: Instagram/dianayarullina
If you think that your girl is a Princess, then her room is supposed to look correspondingly. A canopy bed with lights encircling it will create that magical atmosphere than any teen lady will simply adore.
Boho Style Bedroom With String Lights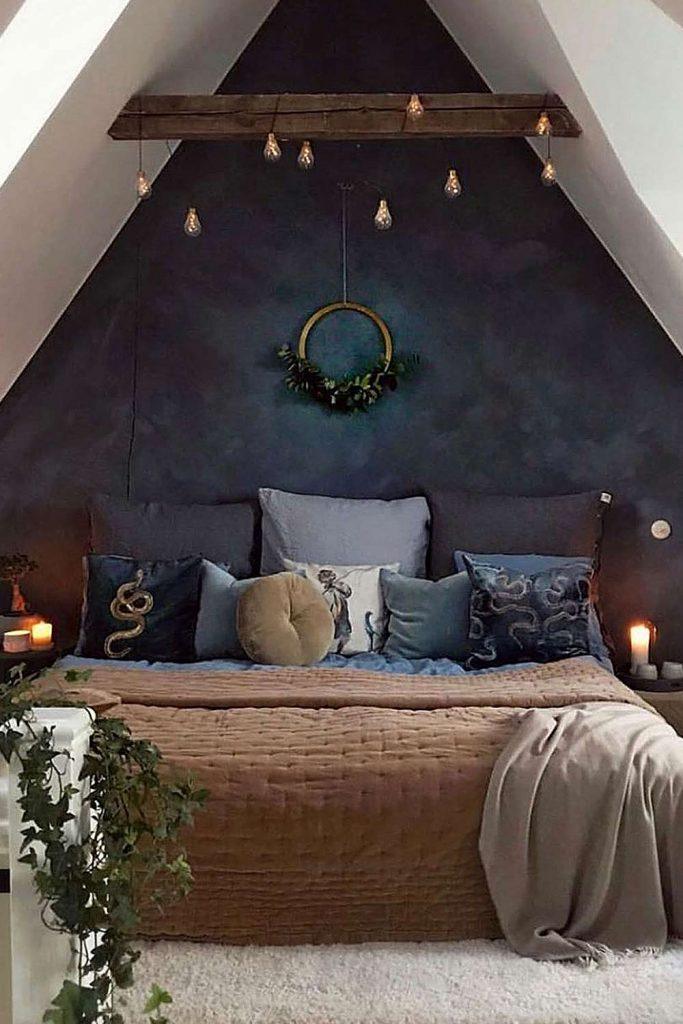 Credit: Instagram/hannasanglar
Play With Pastels
Pastel shades are perfect for a bedroom. Such shades are calming. And that's exactly what one needs when it comes to spending time in a bedroom. Plus, pastels are all the rage now.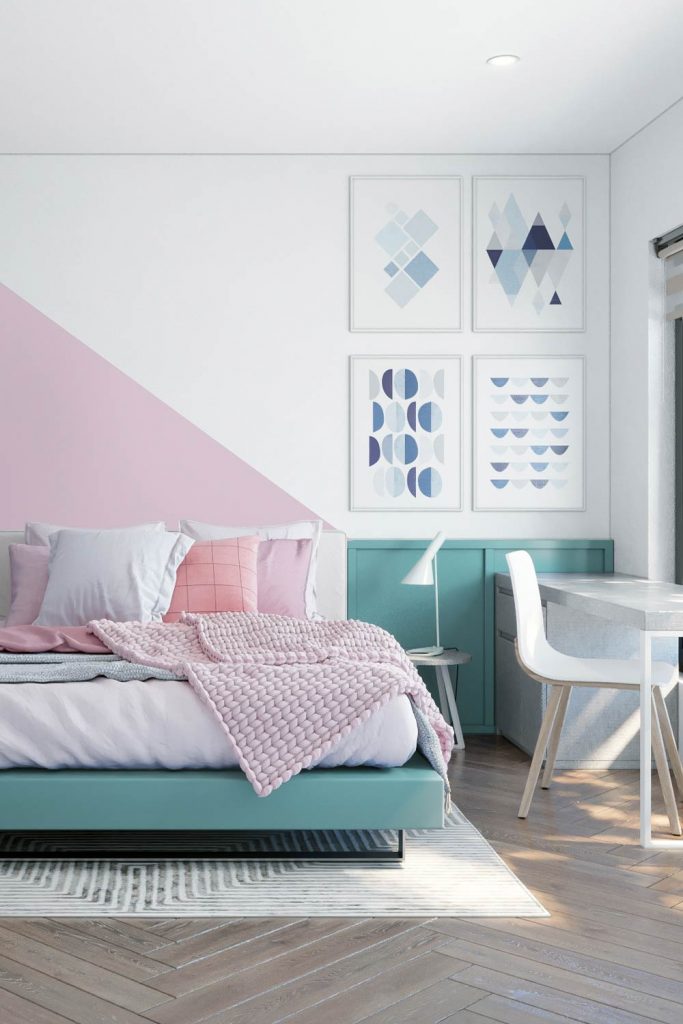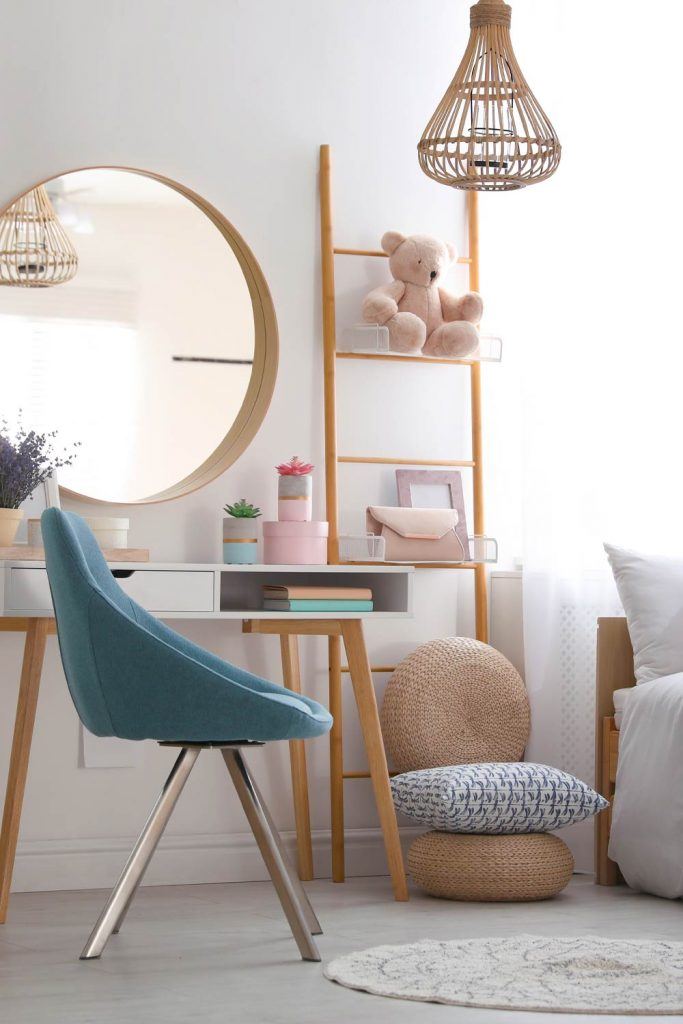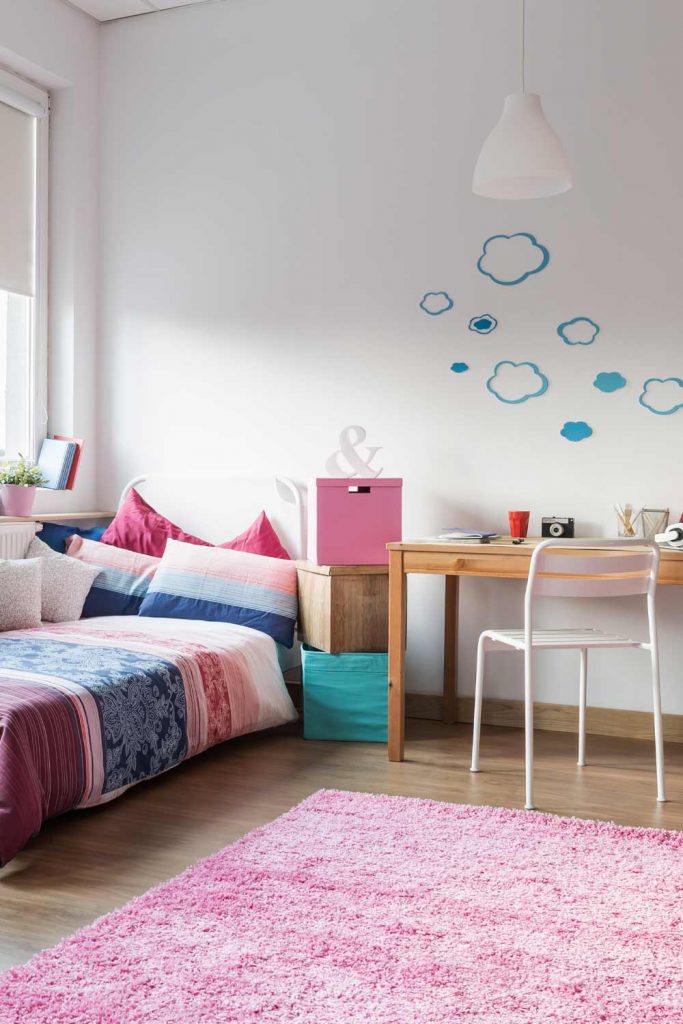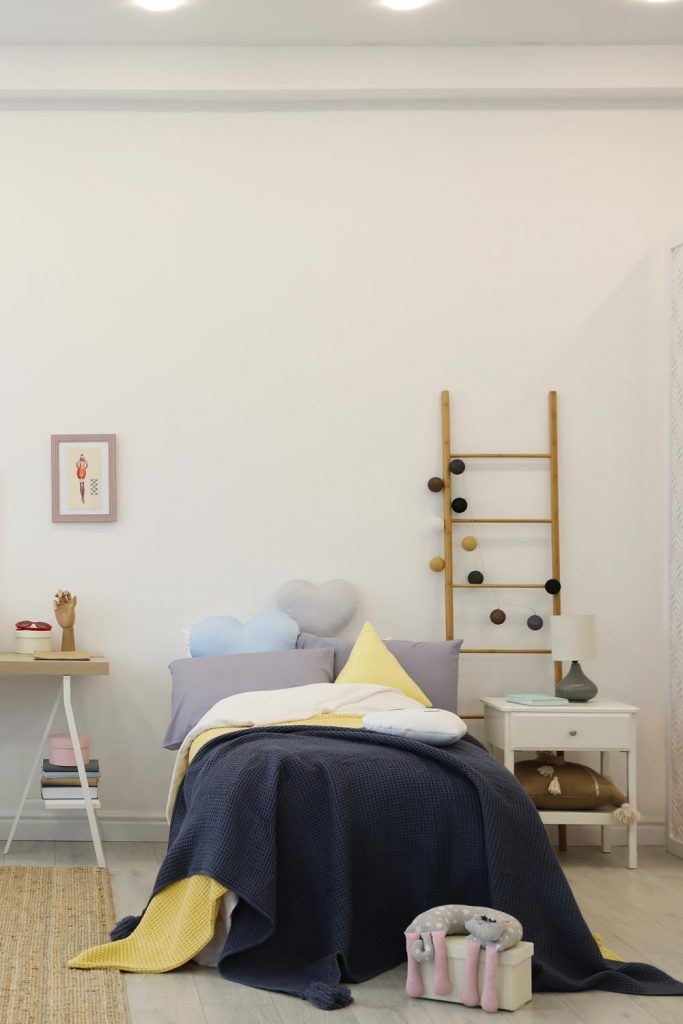 Teenage Girl Bedroom Ideas For Small Rooms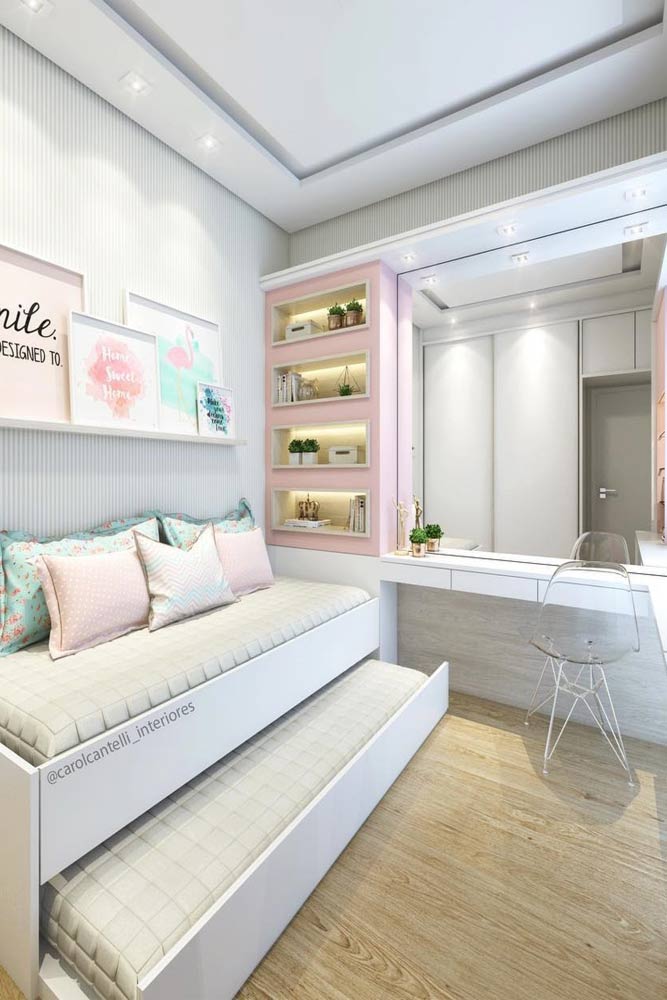 Credit: Instagram/carolcantelli_interiores
If your teen girl's room is not big, go for bunk beds. This type of bed is not that big and thus space-saving. Here you can see that when folded, this bed occupies little space.
Decorating Small Bedrooms For a Teenager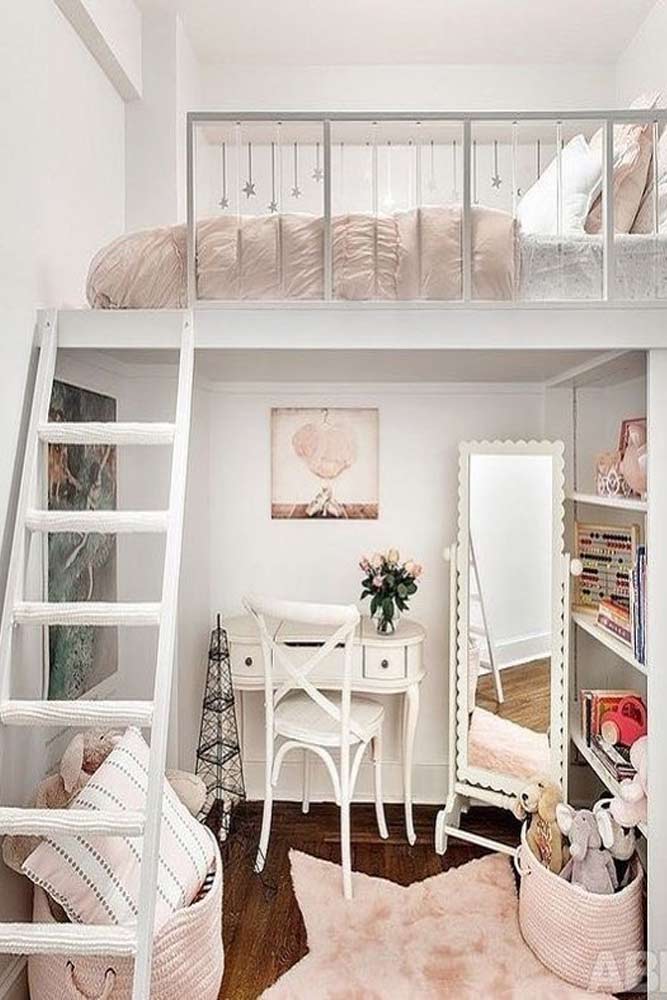 Credit: Instagram/tween_to_teen_stylefile
Here you can see one of the smartest teenage girl bedroom ideas for small rooms. Look close to it: every décor element does a good space-saving job. And light colors make the room visually bigger.
Modern Teen Bedroom With Throw Pillows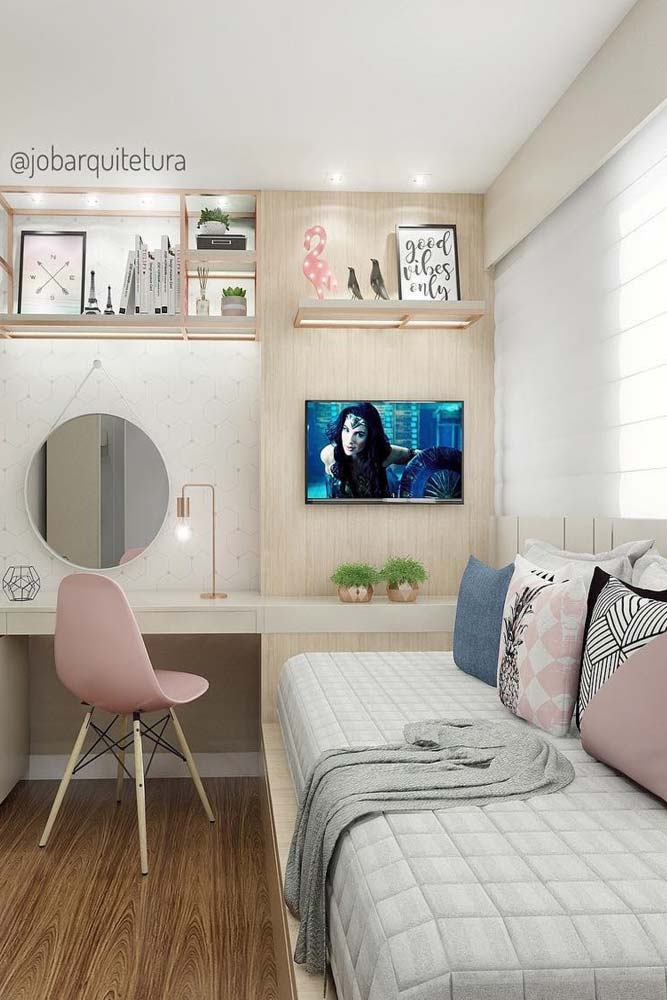 Credit: Instagram/jobarquitetura
If you want to add some accents to the room design, you can always incorporate throw pillows in it. Whenever needed, pillows can be easily replaced. It won't take much time or money.
Cute Colorful Teen Bedroom Idea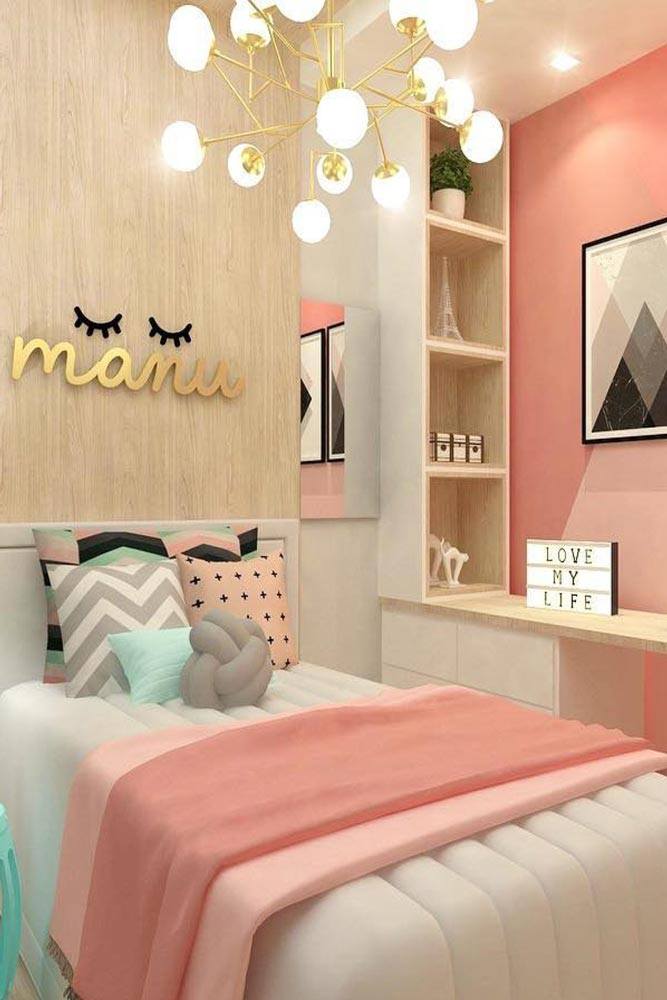 Credit: Instagram/arq.nayarareis
Every teenage girl has her dream bedroom design. Of course, tastes differ. But in general, it is a room that will express her creative self. With imaginative and bold elements like these, her room will surely stand out.
Easy And Clever Teen Bedroom Idea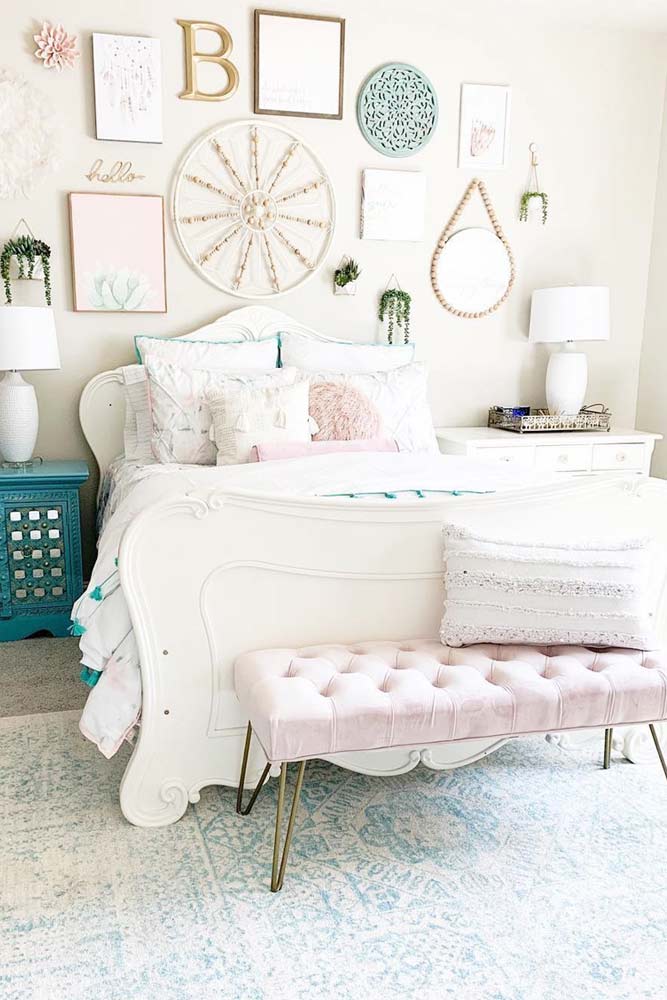 Credit: Instagram/red.nest.designs
When thinking about teen bedroom ideas, do not underestimate the value of clever storage space. She will need space for her books, clothes, makeup, and other personal things.
Cool And Calm Teen Room Design Ideas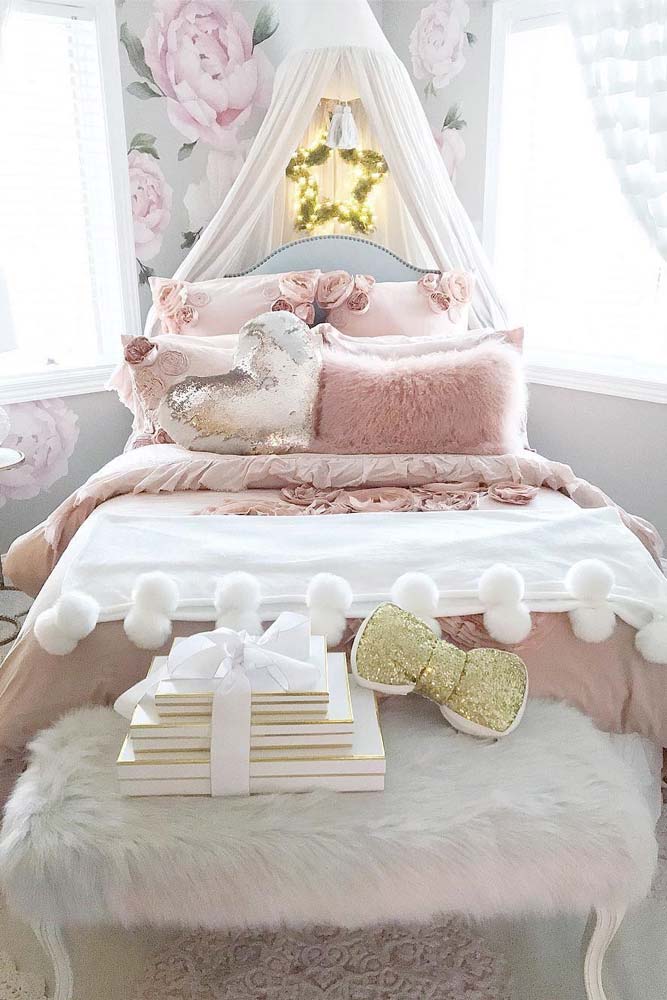 Credit: Instagram/nanlindy
When considering the room design for your teen girl, it's a nice idea to focus on lighter shades. As you know, bright and screaming colors are more aggressive, fit for mental activity, not relaxation.
Pastel Color For Teen Bedroom With Ring Wall Decor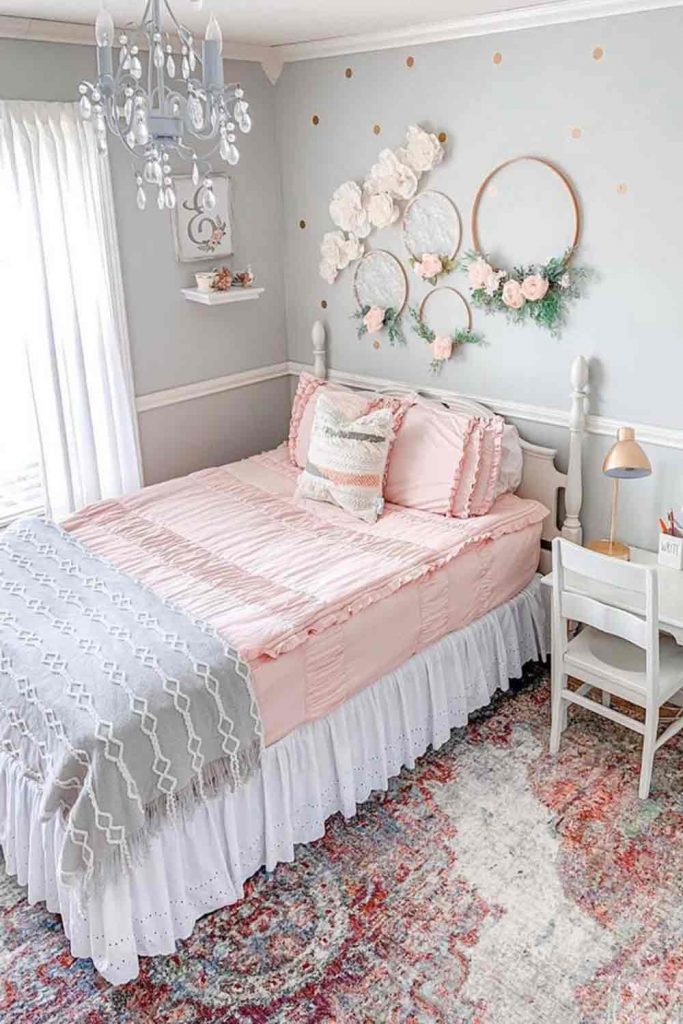 Credit: Instagram/peoniesandtwine
Keeping the general them subtle and paying the major attention to the details is something worth considering. The fact is that a pastel room decorated with rose ring wall décor and crystal chandelier hanging from the ceiling is breathtaking.
Teen Bedroom With Mirror Wall Decor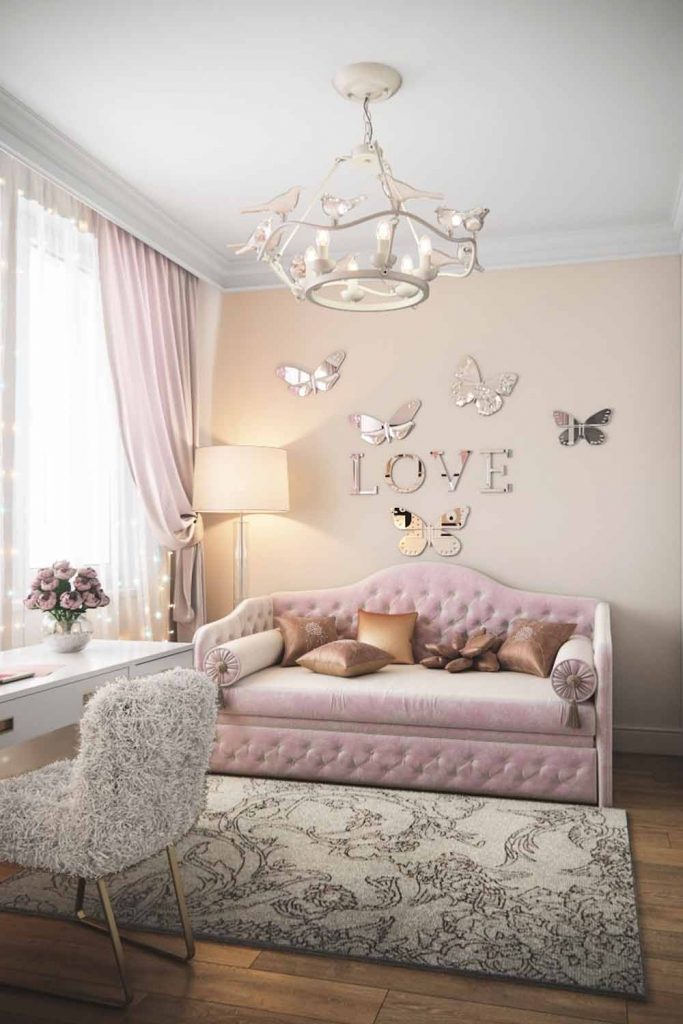 Credit: Instagram/studio_interno.ru
As the times change, so do teenagers' preferences. These days minimalism is at favor and you need to learn how to make use of it. That is why we suggest that you consider this room's simple interior and its wonderful mirror wall decoration.
Teen Bedroom For Tweens With Floral Accent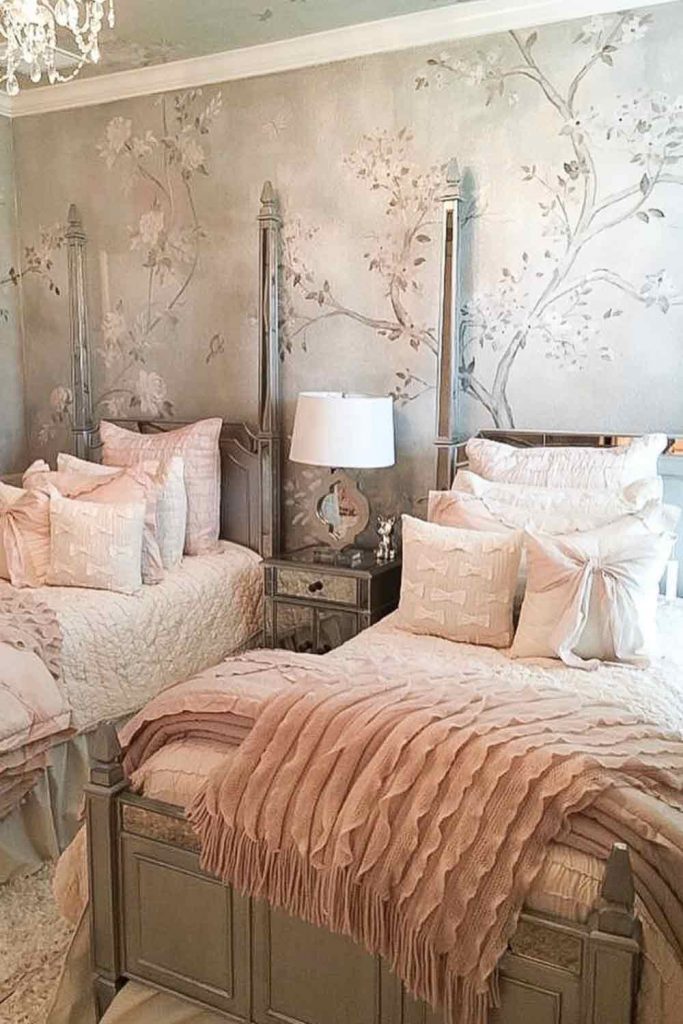 Credit: Instagram/_sweet_home_texas_
If it is a shared bedroom that you are about to decorate, your task becomes twice as difficult. In times like this, we would advise considering something stylish yet neutral. Such a floral wallpaper choice will undoubtedly fulfill the mission and will meet all the set goals.
Pastel Colored Teen Bedroom With Big Window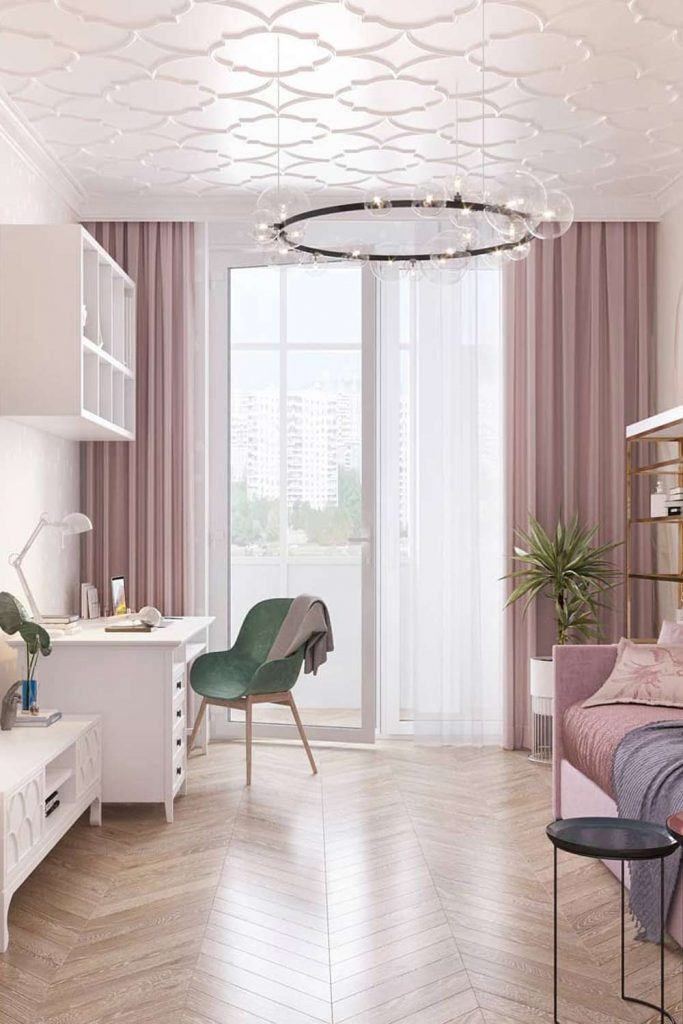 Credit: Instagram/kurtina_elena
Teen Bedroom WIth Painted Wall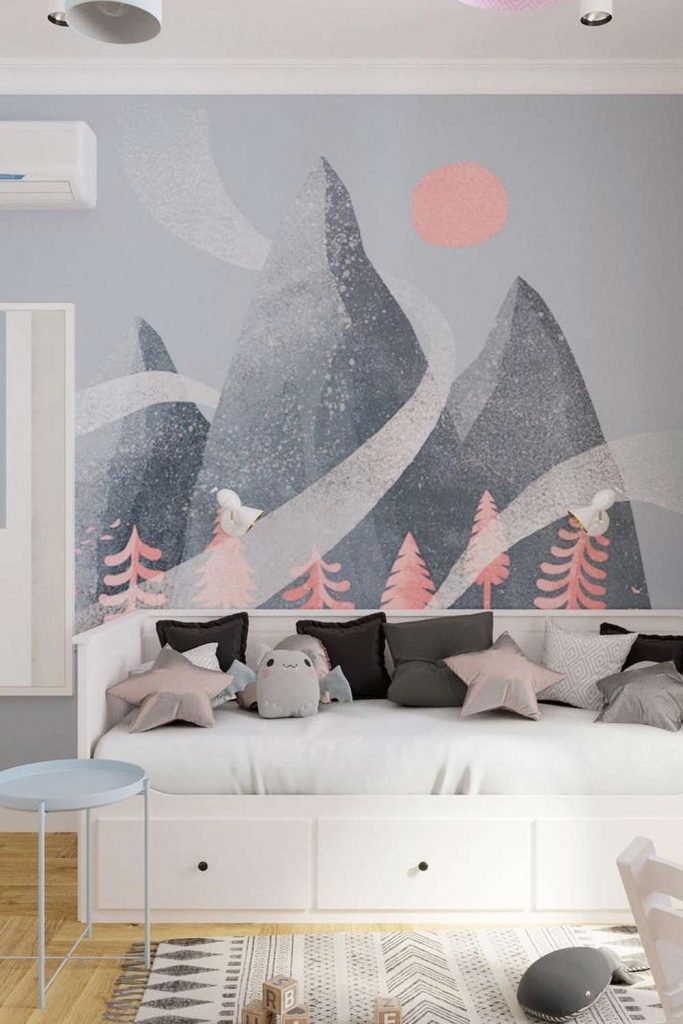 Credit: Instagram/flatforfox
flatforfox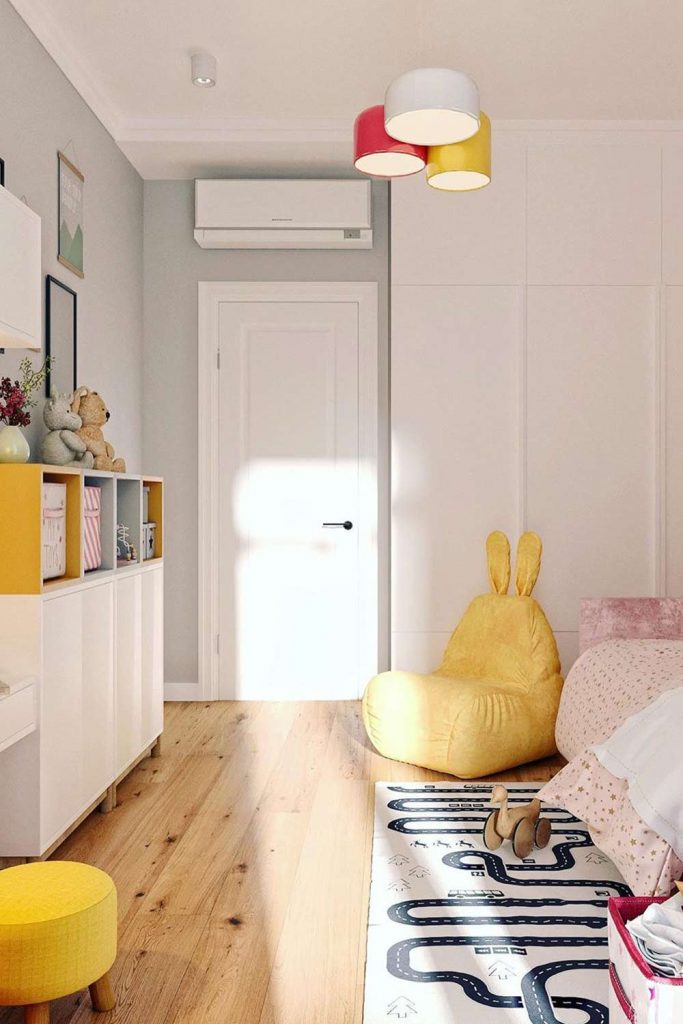 Credit: Instagram/flatforfox
Exceptional Modern Bedroom Designs
If you are a kind of person who hates everything girly, then go for a modern style bedroom. You can demonstrate your special taste via one of these bedroom designs.
Modern Teen Bedroom In Black and White Colors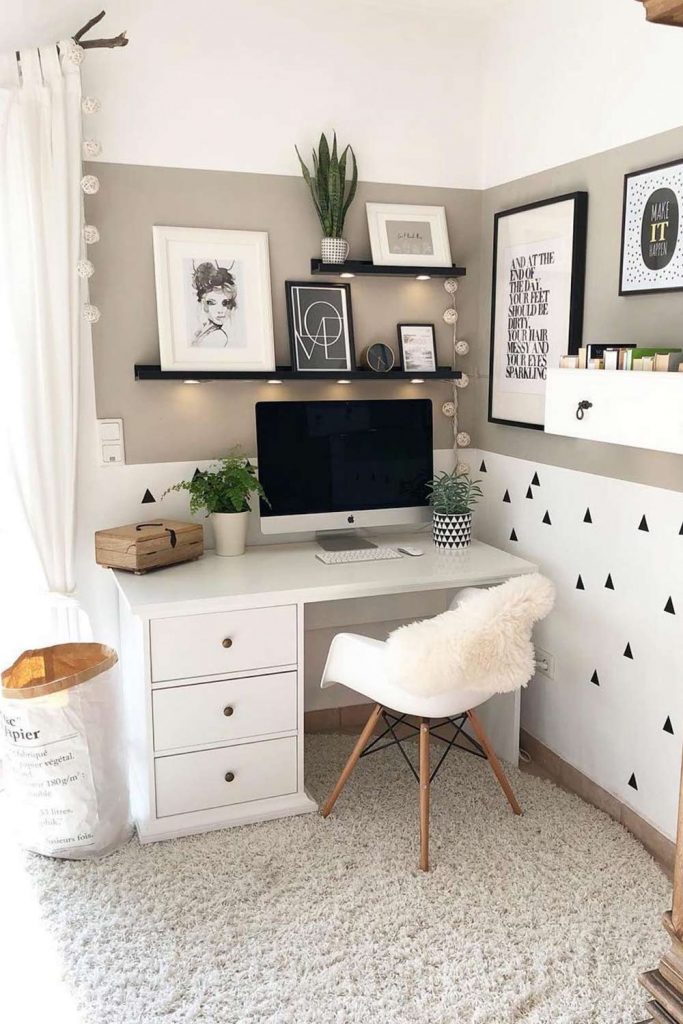 Credit: Instagram/weltenbunt
Modern Teen Bedroom With Bright Sofa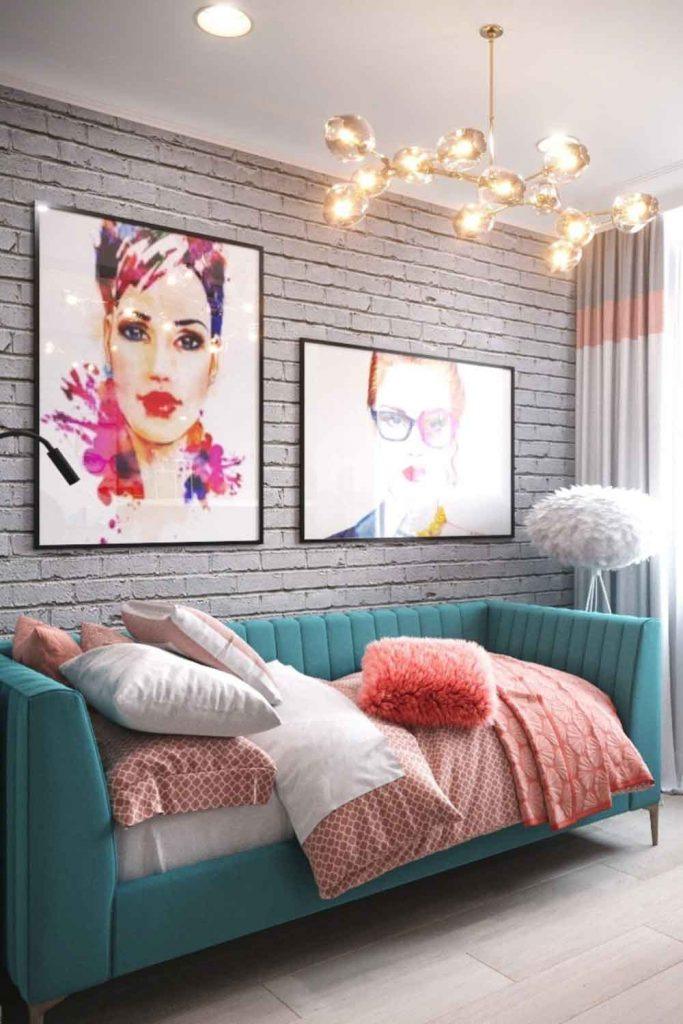 Credit: Instagram/studio_interno.ru
If you are raising a totally modernized teen, then you need to approach the matter of room décor carefully. We say that everything should be in moderation. Exquisite painting on the wall, modern chandelier, and a trendy color palette intertwined into the design should do it.
Stylish Teen Bedroom Organization In Gray Color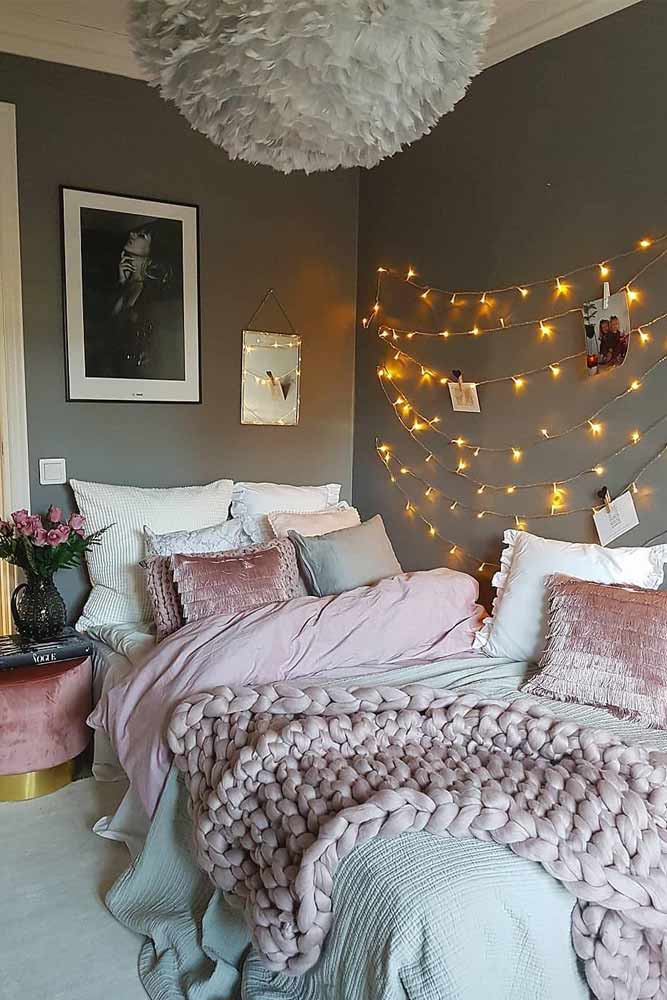 Credit: mrscarlissa via Instagram
When it comes to the modern style, pink, white and gray is a classy combination. This décor is spiced up with string lights and cute pillow accent.
Modern Teen Bedroom Space Organization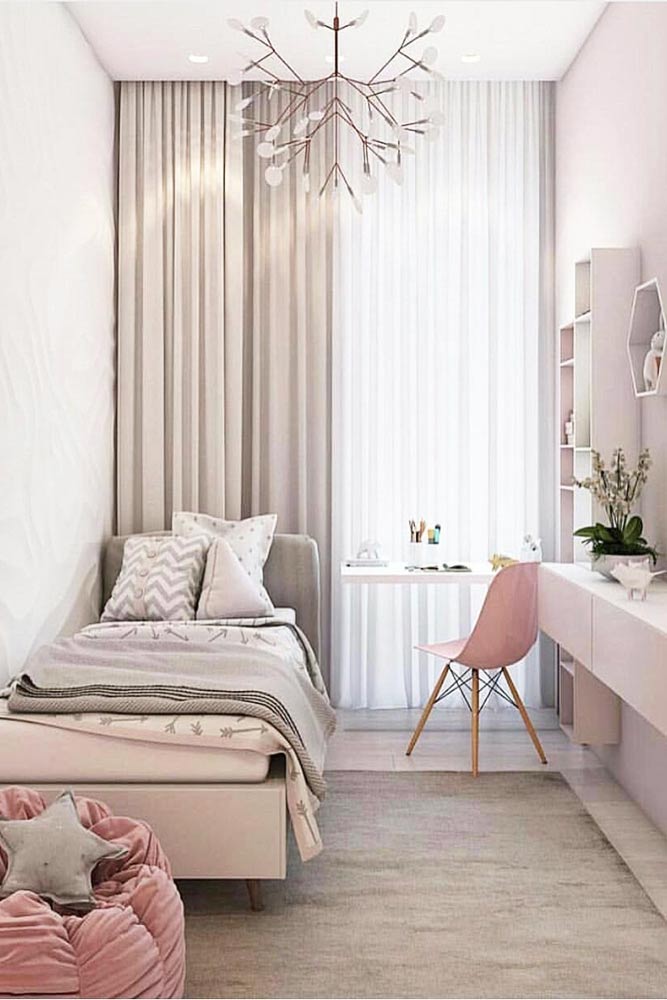 Credit: Instagram/DECORCRIATIVE
For your girl, her teen bedroom is more than a space to sleep in. It's the time when she starts exploring her independence. So, she will use this room to hang out, lounge with her friends, and study. The stylish design shown here will work great for all these purposes.
Stylish Teen Girl's Bedroom Idea With Modern Furniture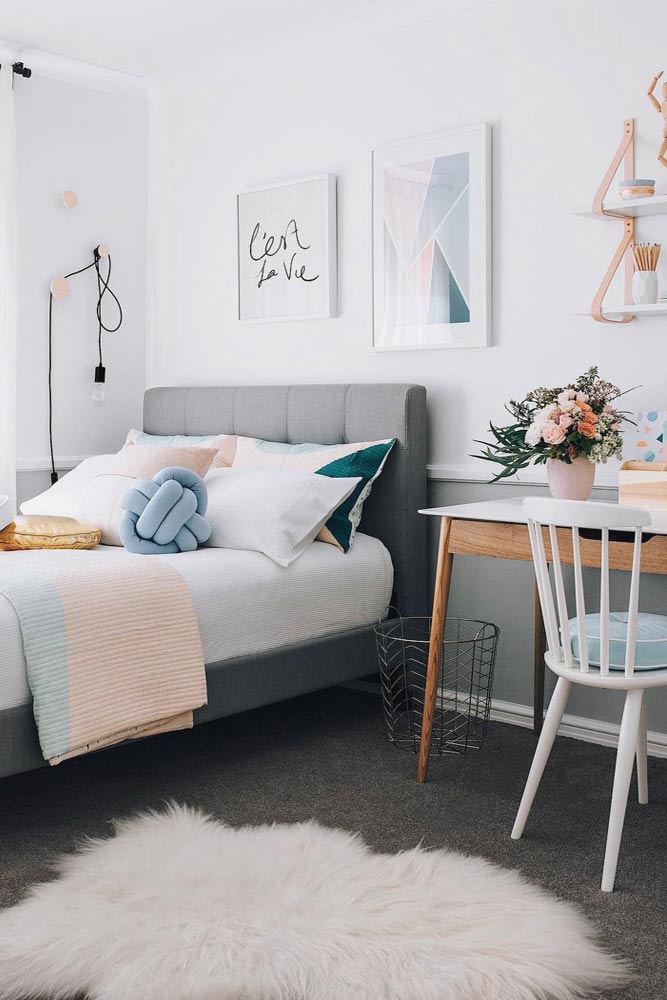 Credit: Instagram/oh.eight.oh.nine
Your teen girl will definitely say thank you if you add some interesting and expressive design element to her bedroom décor. It could be anything, starting with a lamp, and ending with a bin.
Teen Bedroom Design In White Color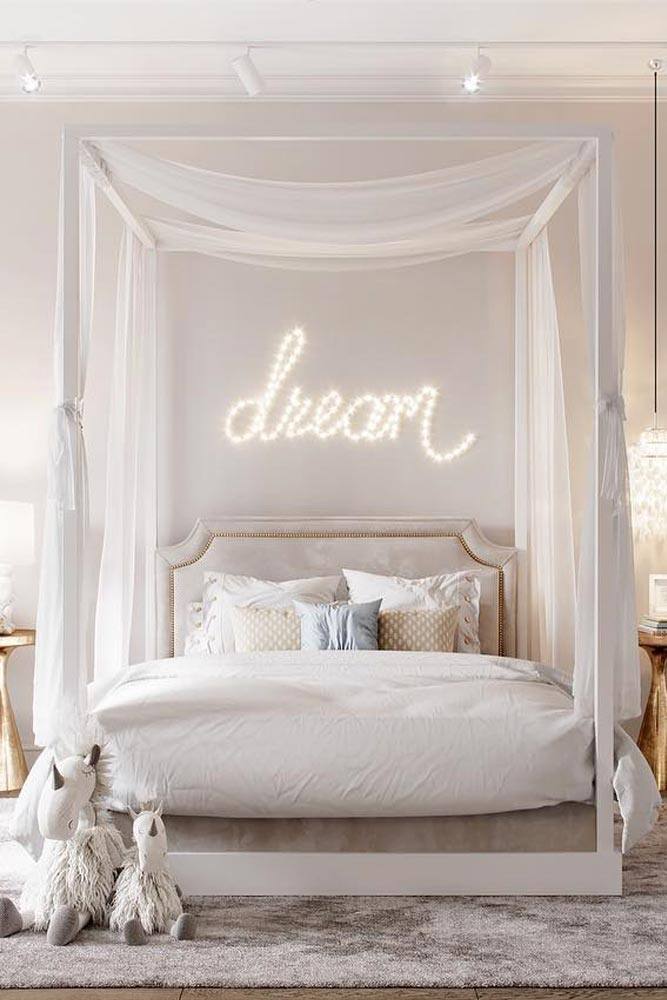 Credit: Instagram/studia_54
Inspiration is something that is planted and cherished from the very childhood, and the parent is the one to plant the seed. If you wish for your kid to become a creative person, then you should let him or her dream. Depicting it on the walls is the surest way to fertilize that seed.
Teen Bedroom With Canopy Bed And Striped Accents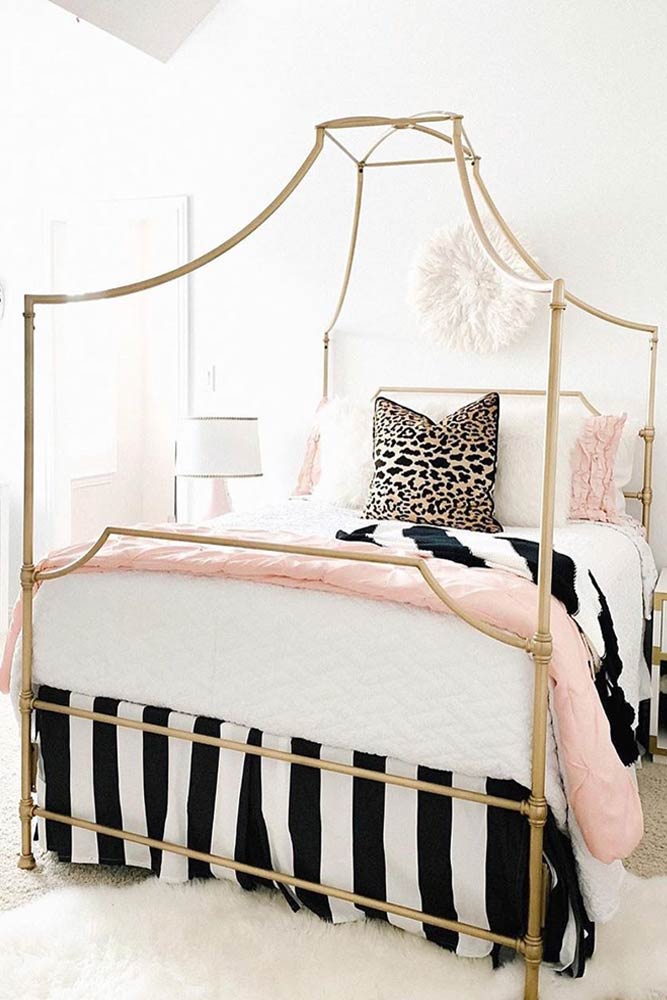 Credit: Instagram.com/decor_for_kids
Trends are changing at the speed of light, we all know that. However, if you wish to decorate your teen's bedroom according to the most recent trends, then animalistic patterns are the important ones.
Girly Teen Bedroom Decor With Eyelashes Accents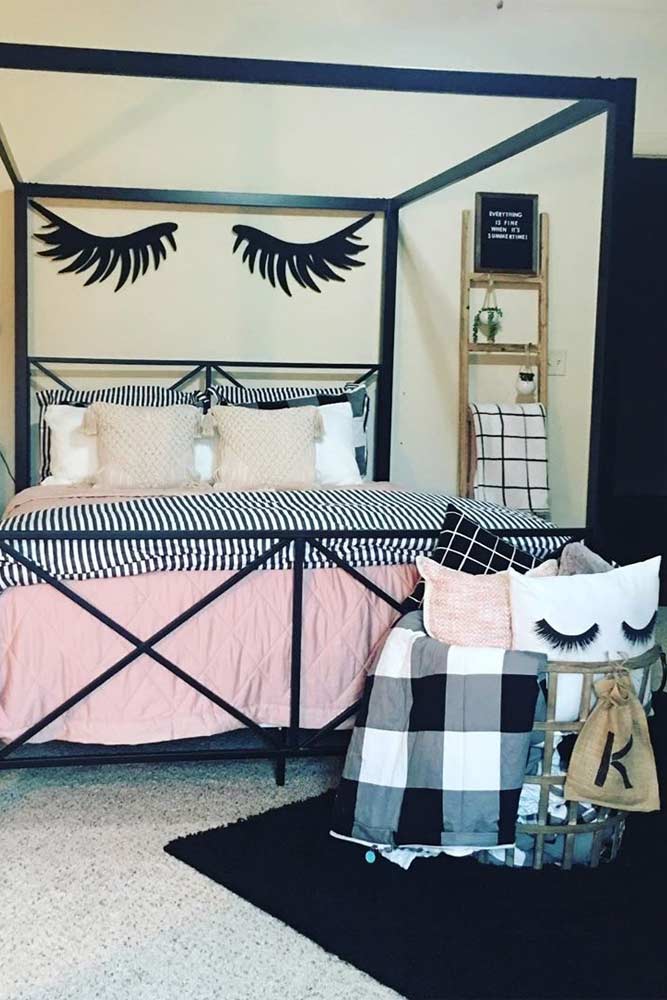 Credit: Instagram/ourdiamondintherough
It does not matter how old your little princess is the chances are that she is already mesmerized with the miracles that makeup does. To develop that feminine side and to succeed with an impressive interior, these eyelashes accents were created.
How To Add A Bright Color To Your Teen Bedroom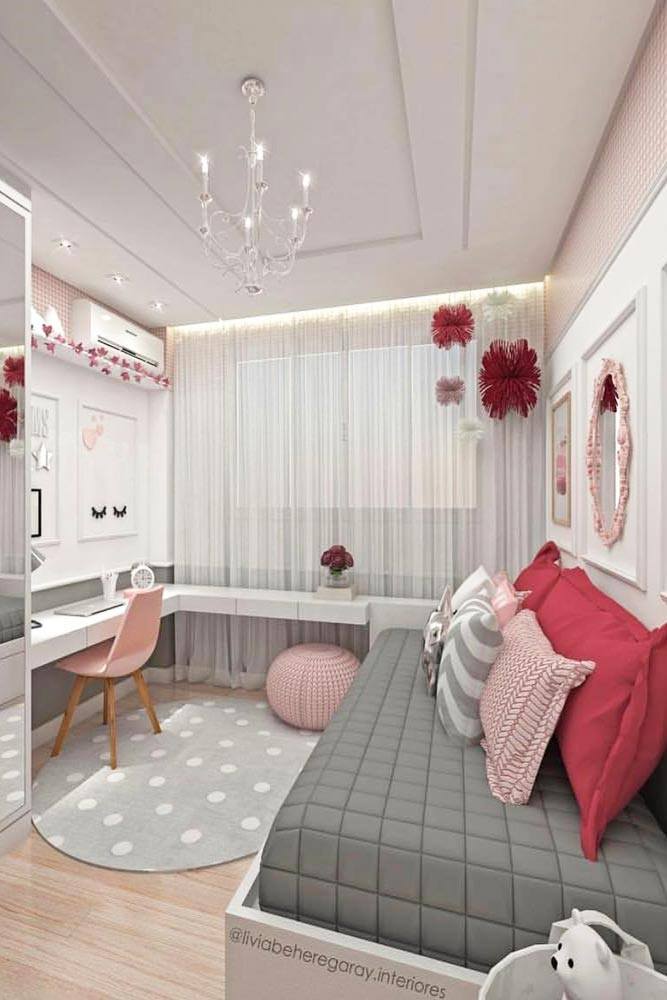 Credit: Instagram/liviabeheregaray.interiores
If you want your teen's room to be unique, let her add wall decals to her taste. A high energy place is something that many teens like. And bright accents on walls can help achieve that effect.
Minimalistic Teen Bedroom Idea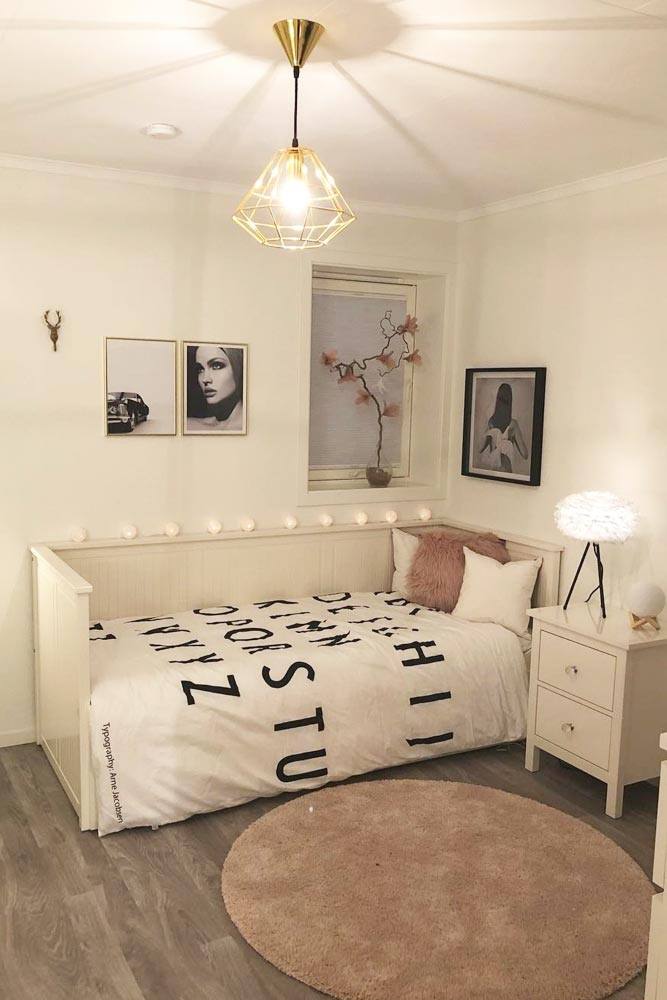 Credit: Instagram/_kristinestien_
When decorating small bedrooms for a teenager, it would be wise to go for the minimalist style. A small number of decorative elements will let the room seem not tiny. As opposed to heavy décor.
Cute Modern Teen Bedroom For Girls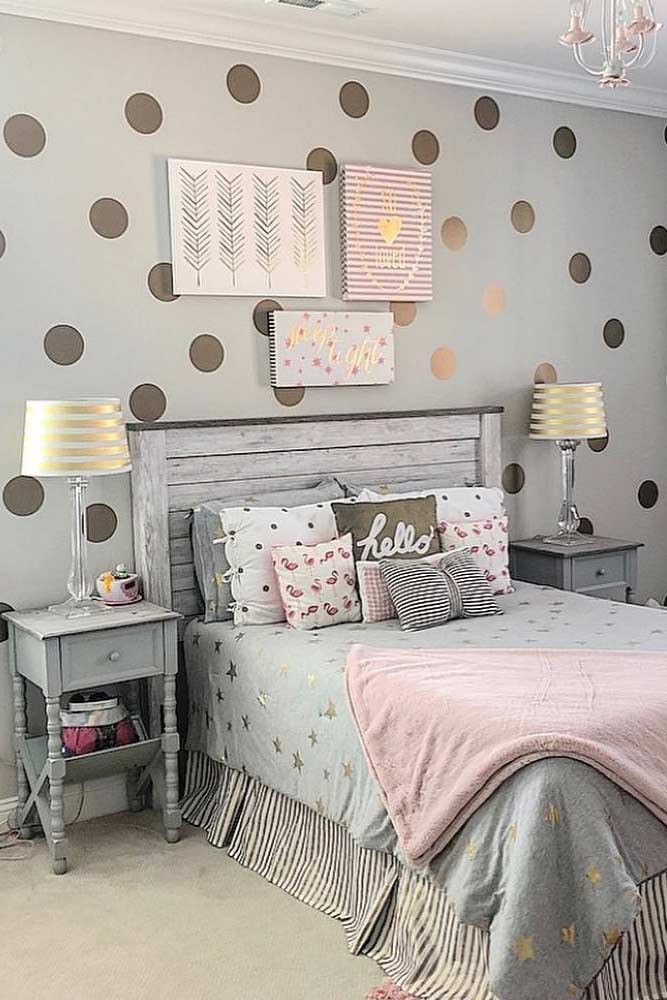 Credit: Instagram/carriecottondesign
Think about the wall color and décor of your girl's room. If the colors are relatively simple, you can add some posters, a mirror, and shelves as seen here. Be creative!
Teen Bedroom With Roses Wall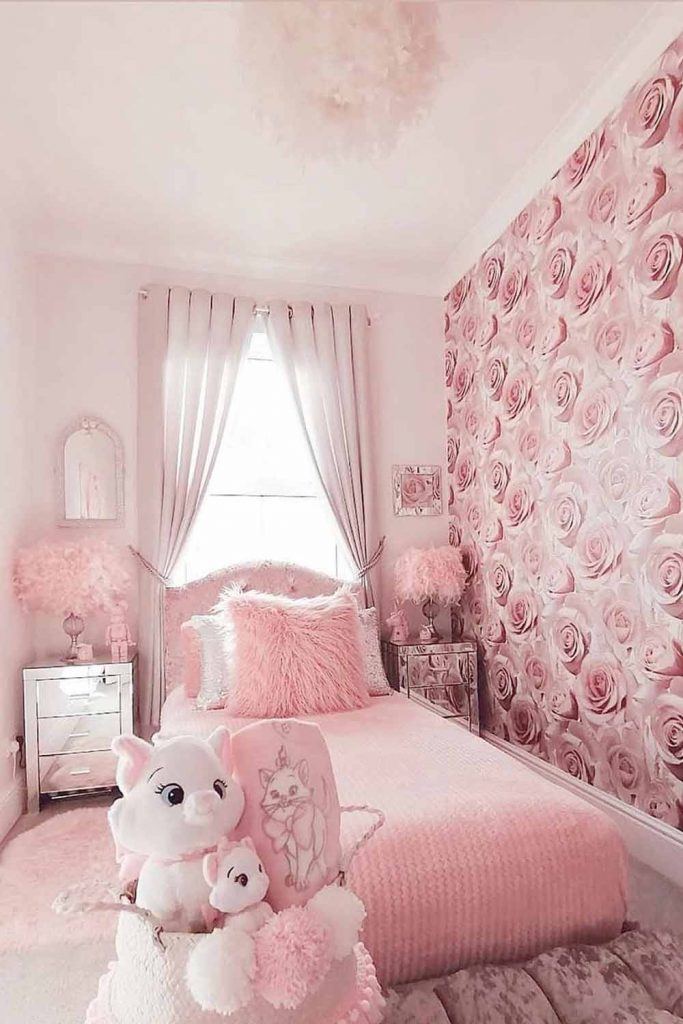 Credit: Instagram/the_harley_home
If it happens so that your teen is in love with pink hues, we have an excellent decorum idea at hand. Even though pastel pinks are prevailing, it does not seem like there is too much of them, don't you think?
Modern Teen Bedromm With Tree Wall Art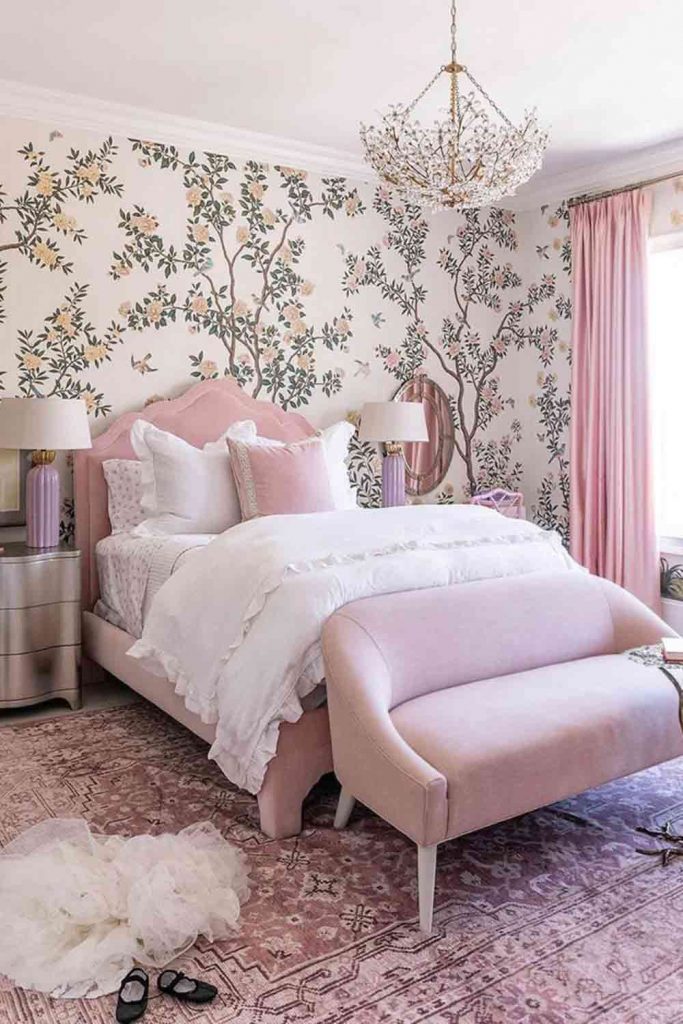 Credit: Instagram/alicelaneinteriors
Modern teens are indeed a lot more demanding. That is why you need to approach the issue of decoration as though you were to decorate your own room. A little bit of modernism mixed with soft accents may help you achieve the goal faster.
Modern Teen Bedroom With Rainbow Painted Wall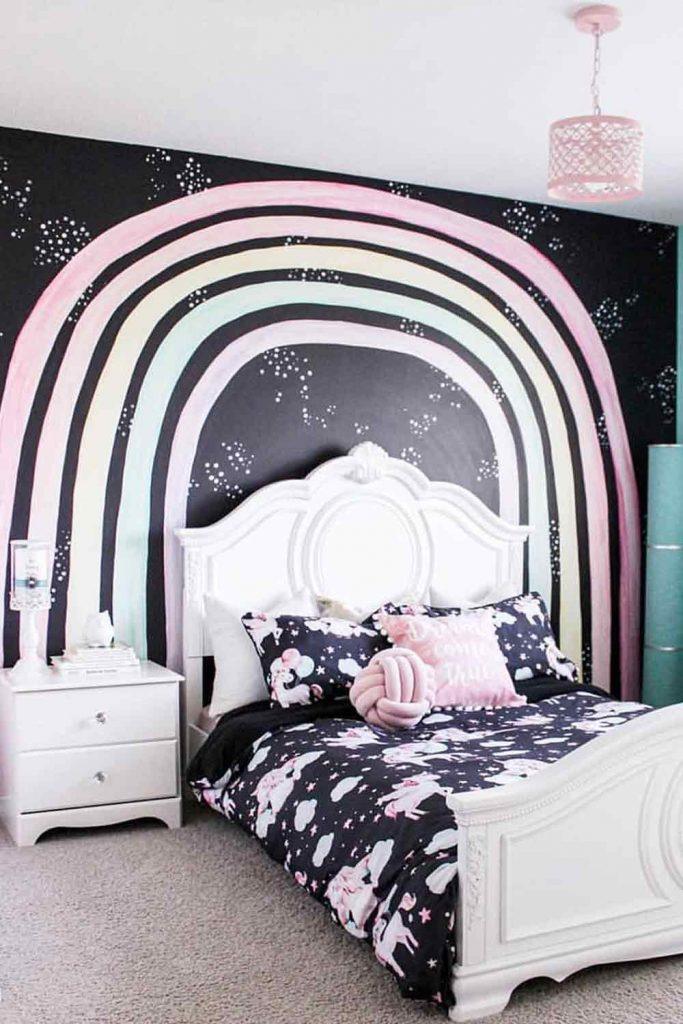 Credit: Instagram/illustrious_interiors
We are used to hearing that dark shades are not fir for kids' rooms. However, the times and approaches have changed, and it turns out that black can be easily introduced into a perfectly childish bedroom.
Personalize Your Bedroom With Unique Vintage Accents
If you are a girl who knows and values art, these decorating ideas will work great for you. Vintage accents can turn your room into the sanctuary for your inspiration.
Teen Bedroom With Vintage Bed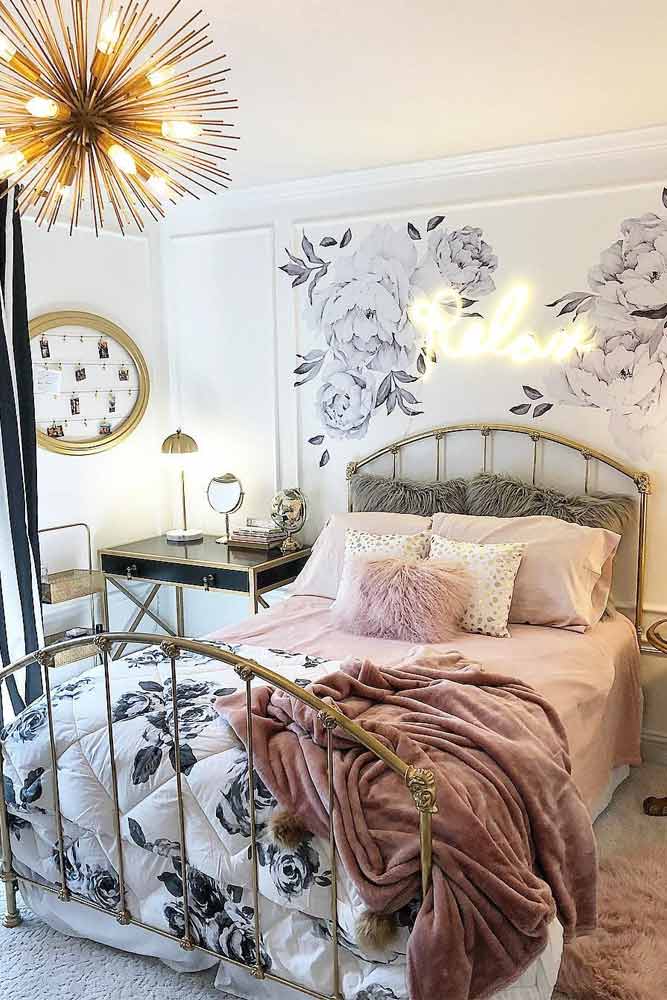 Credit: Instagram/markalleninspired
Now, here comes the idea that will help vintage style appreciators make all their dreams come true. The characteristics that make such girl room ideas special are their exquisite, rich, and glamorous look. Usually, they come in light color decisions, but you can go for something deeper and more textured if you want.
As you may have noticed, lots of cool bedrooms fuze modernity with vintage or retro accents. Actually, it's a stunning way to create a really unique place for your kid. This cool-toned idea with the creative, yet moderate mix of textile decision is something that will definitely appeal to elegant teen girls.
Cute Vintage Teen Bedroom Idea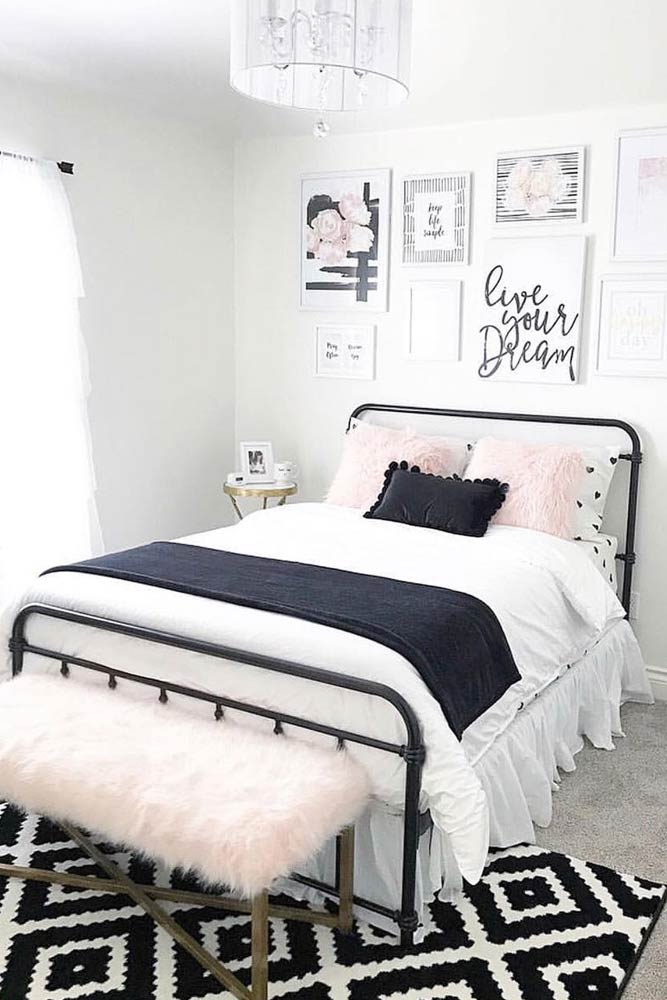 Credit: Instagram.com/decor_for_kids
When looking at this bedroom decorating idea, you know, it feels like home. The bedcover, pillowcases and the rug are the things that add some vintage vibes to this décor idea.
Sweet Teen Bedroom Idea In Pink Color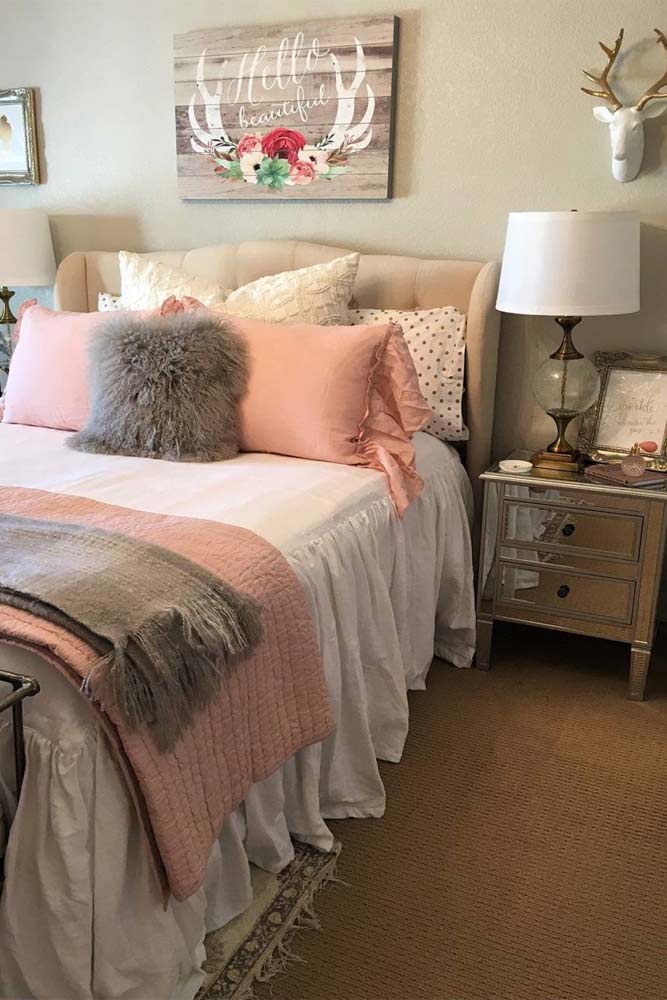 Credit: Instagram/layersbedding
Pinks, whites, and grays match with each other quite nicely. This decorating idea will work great for girls with a romantic nature and open heart.
Teen Bedroom With Vintage Accent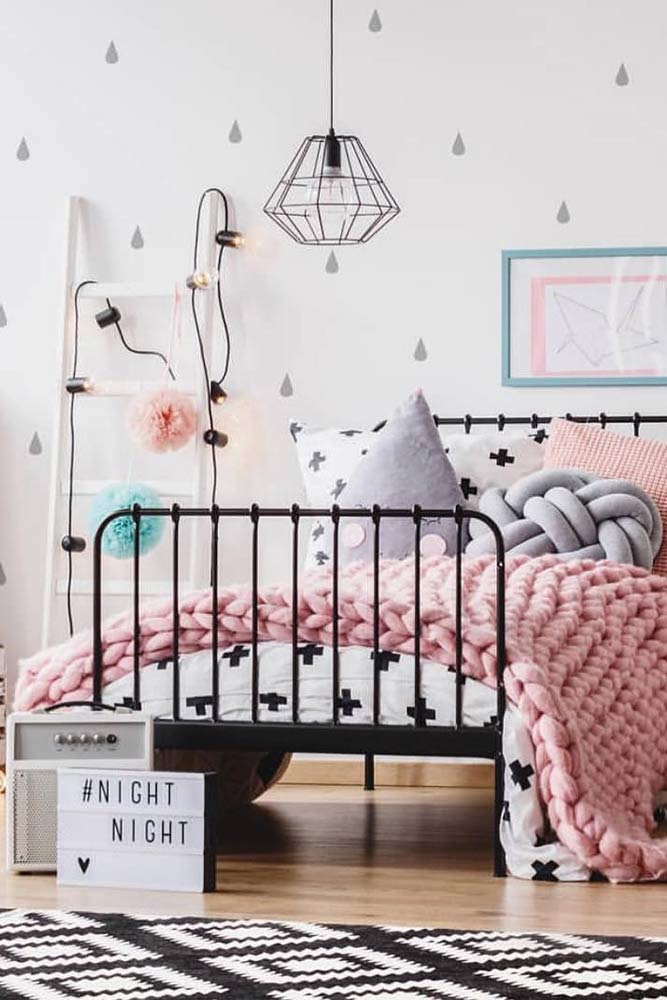 Credit: Instagram/ameliasmallrealtor
How about modern-to-vintage girls bedroom designs? Not only do such childish and girly patterns create a comfortable mood but also look very stylish. Girls that love fluffy toys, warm and cozy blankets, and cute little details all over their rest place won't be able to resist an idea like this.
Teen bedroom designs that mix modern decisions with retro vibes have always been in demand. Who would've thought that a retro-patterned carpet could have such a strong visual impact? Whitish wallpapers with minimalist design, simple light furniture, and pastel colors add the desired warmth and fun to the room.
Fantasy Teen Bedroom Idea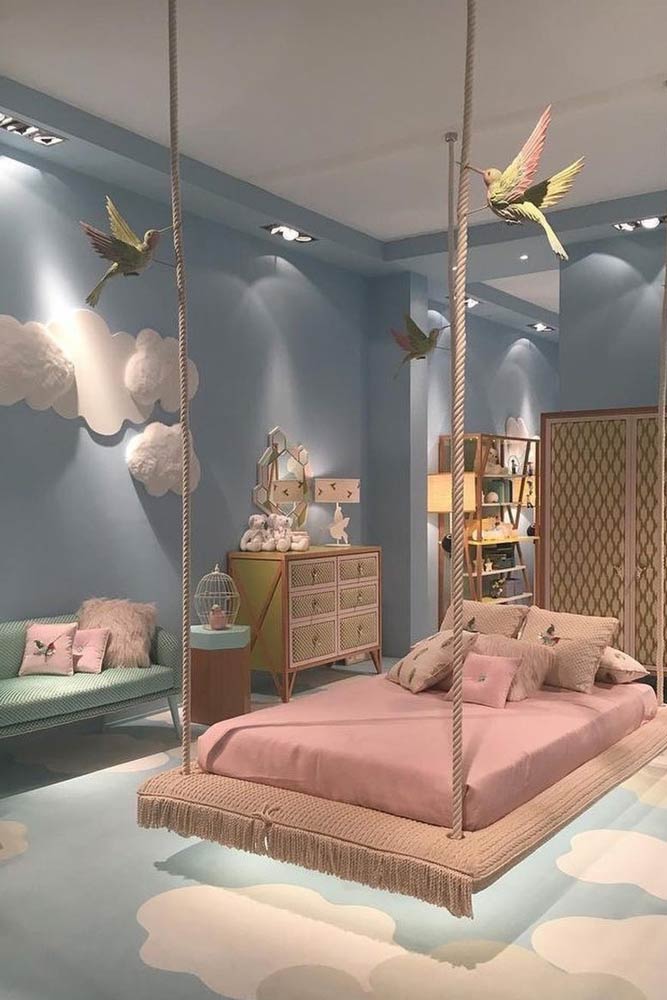 Credit: Instagram/decoramundo
Do you believe in fairy tales? We do. And we really love this bedroom decorating idea because it is reminiscent of the fantasy world. The flying bed is totally extraordinary!
Simple Teen Bedroom Idea With Vintage Bed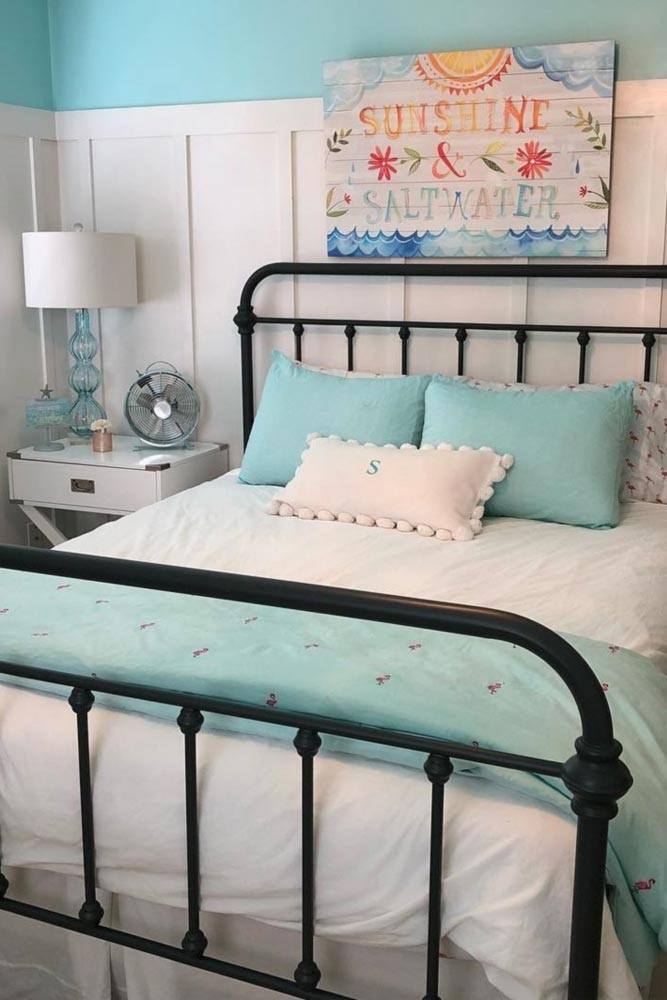 Credit: Instagram/eva_genell
What can we say about the vintage elements? They blend in the décor you have and bring a pleasant atmosphere to the room. Pick an antique-looking bed and build a magnificent sense of style around it.
Teen Bedroom Ideas With Bunk Beds
Interior designers often go for a bunk bed option when decorating teen bedrooms. It works great as an element of many styles like rustic, boho, modern, etc. Plus, a bunk bed is really functional because it occupies little space in a room. Here are some ideas for your inspo.
Rustic Bohemian Bedroom With A Bunk Bed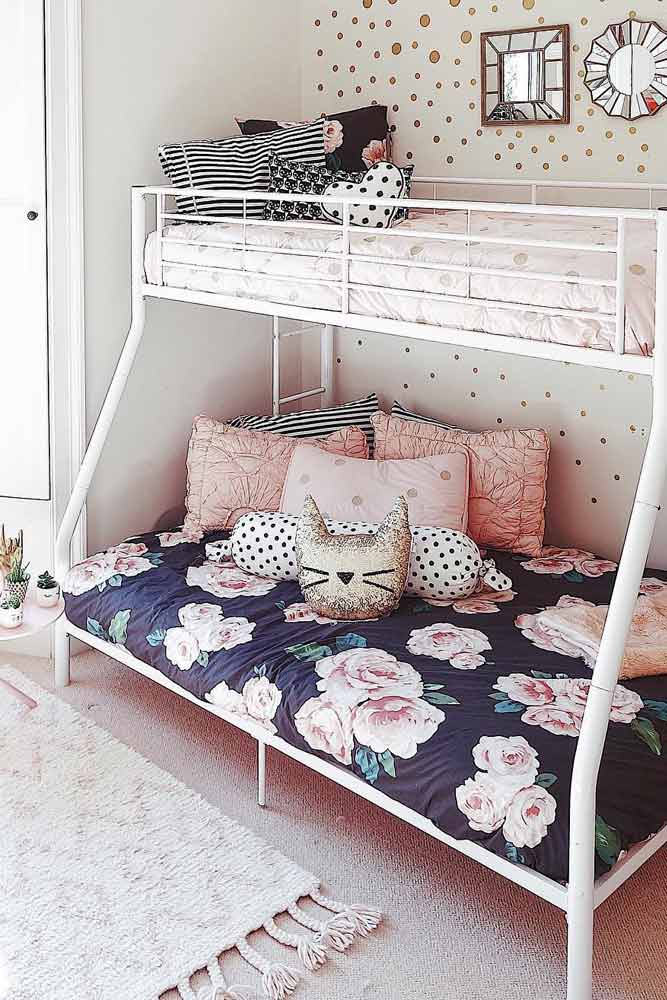 Credit: Instagram/carriecottondesign
Dreamy and light – that`s what we can say about this bedroom idea. Its simplicity is the key to its stylish flair. Put a bunk bed with an interesting design in your room, and it will become a gorgeous element of your décor.
Bunk Bed For Modern Bedroom Decor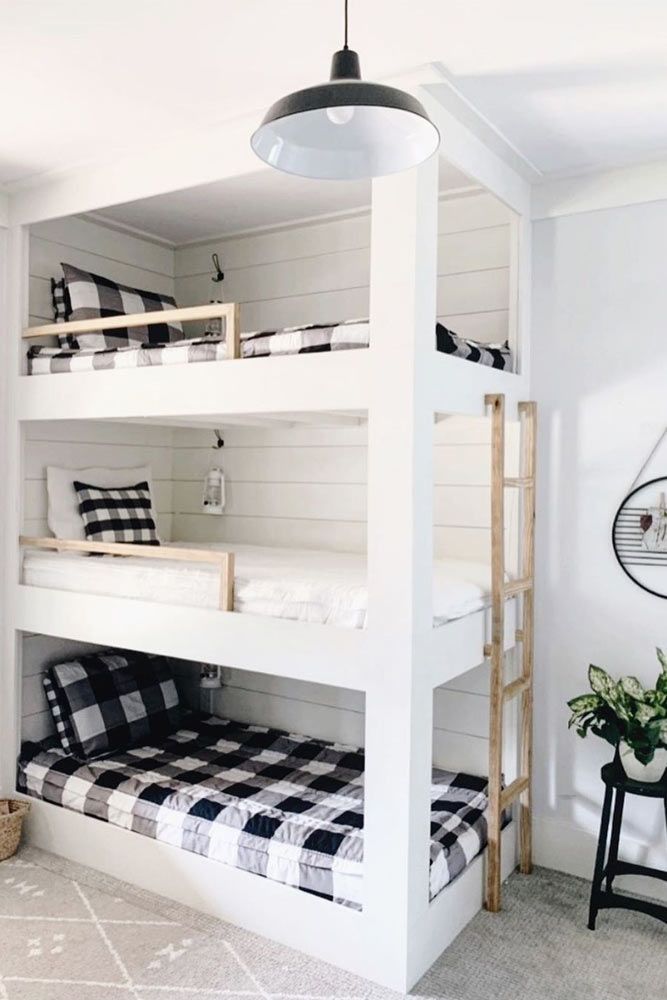 Credit: Instagram/foxholefarmhouse
The modern style is about extraordinary things. We believe that this bunk bed is one of them. Looking as if built into the wall, it won`t take too much space, making the whole room appear neat and stylish.
Cozy Teen Bedroom Idea With A Bunk Bed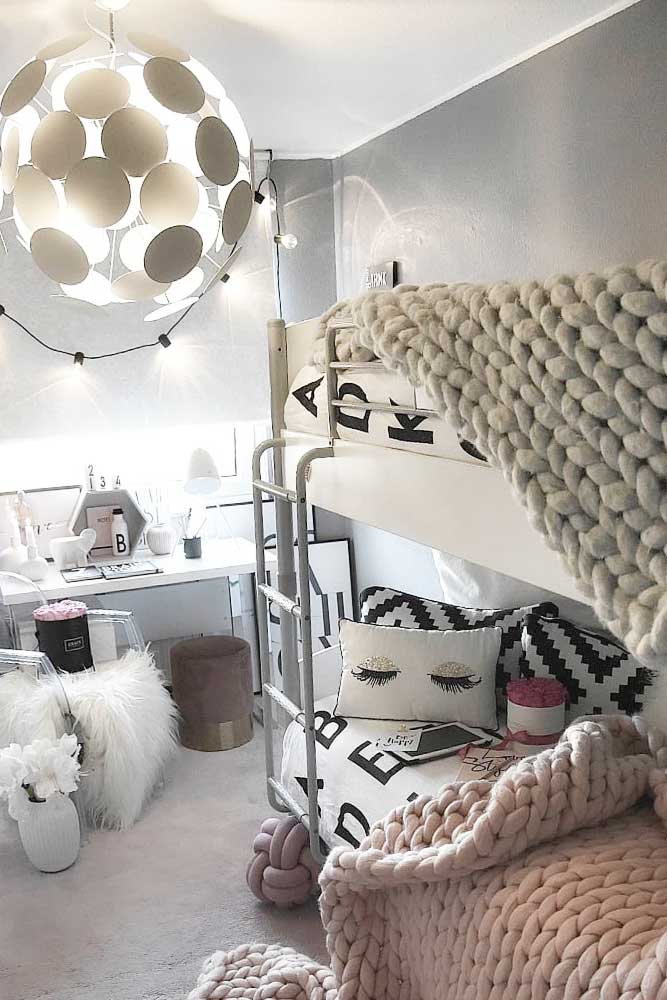 Credit: Instagram/zeynepshome
Putting a bunk bed into the room will become an excellent idea for creating a comfortable space for teens. Add some exciting accessories and details that will make the bedroom warm and welcoming.
Bunk Bedroom Idea With Boho Accents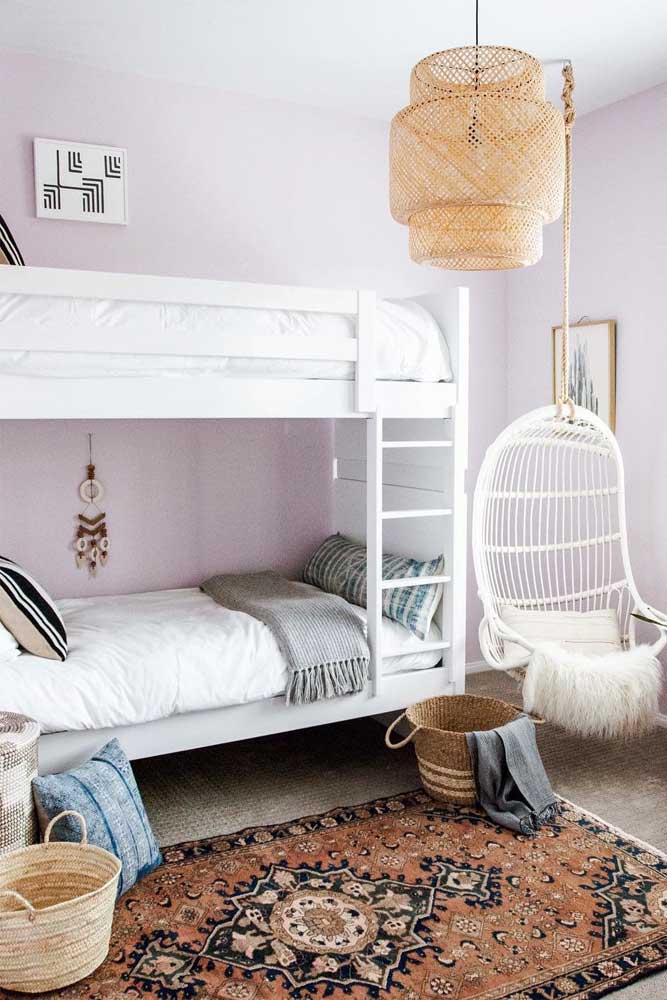 Credit: Instagram/anitayokota
First of all, when searching for teen girl bedroom ideas, don't forget to consider your kid's opinion about each layout and design decision as the mood of the bedroom should match her personality. In general, most cool room ideas feature spacious and light furnishing. For example, the bedroom above shows how creatively some simple, boho-inspired details can comfy up a white-toned bedroom.
Such a texture decision will not only create a joyful mood for its owner but will also emphasize her individuality. Wattled basket, colorful gypsy-like pillowcases, retro carpet: all these details can create a unique character for your kid's room.
Bunk Bedroom Idea In Pastel Colors With Patterned Pillows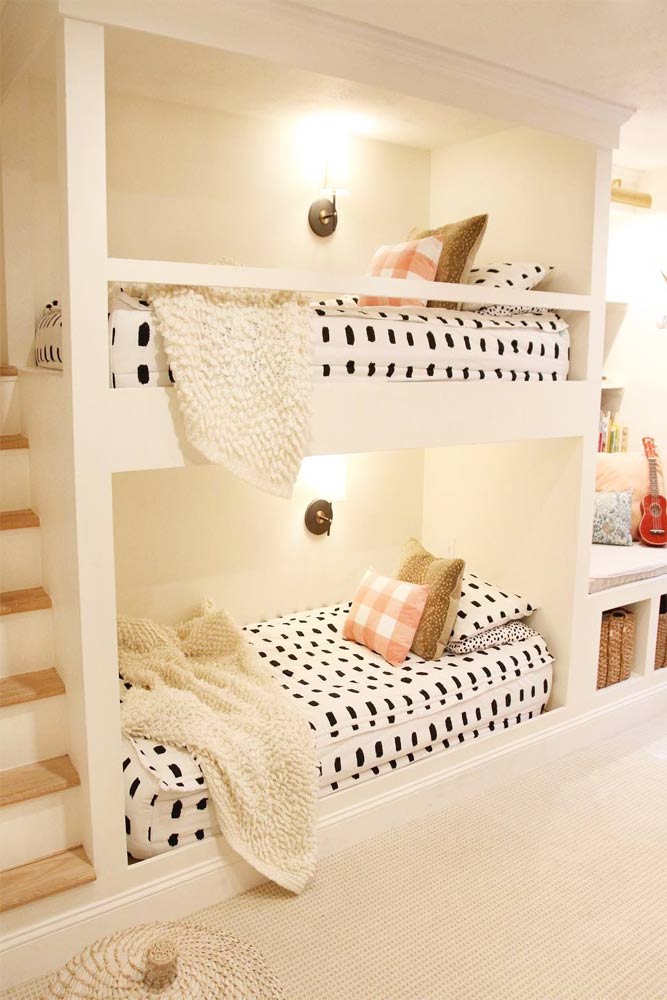 Credit: Instagram/chrislovesjulia
It just so happens that most teen girls bedroom ideas involve bunk beds. Well, the truth is, they have changed a lot. And now, instead of doubtful convenience, they offer a great choice of shapes and sizes, satisfying all safety requirements. Based on the age of your kids, you can get them a creative, and, most importantly, comfortable bunk bed, adding some special design features to flatter your sweeties.
As for the design in this pic, it's probably the dream teen bedroom of every girl: everything is so soft and harmonics that it's hard to take eyes off the details. Gentle pastel tones, accentuated with colorfully patterned pillows, is something that will make your little lady or ladies fall in love with her own home.
Simple Bedroom With Rustic Bunk Bed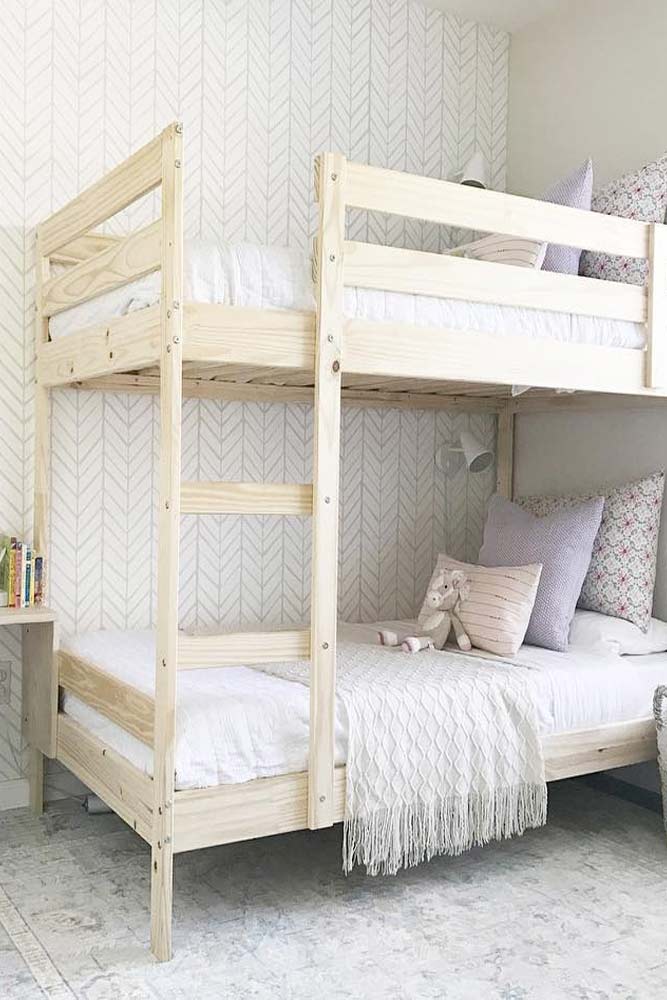 Credit: Instagram/hartley_home
Nowadays, more and more teens are getting into minimalist designs, especially when it comes to their sleeping place. While toddlers and children require seeing lots of colorful, eye-catching details that they can interact with, teenagers prefer to have a feeling of neutral color balance. Also, it's very important to look for not just cute room ideas. Having a lot of self-space is also crucial for the personal and creative development of your kid.
Room design ideas like this one are very affordable and pleasing to the eye at the same time. The point is to stick to one color scheme while keeping the layout very restrained. And even though this idea has a rustic bunk bed, the delicate details of the room make the overall picture very charming.
White Bedroom Idea With Modern Bunk Bed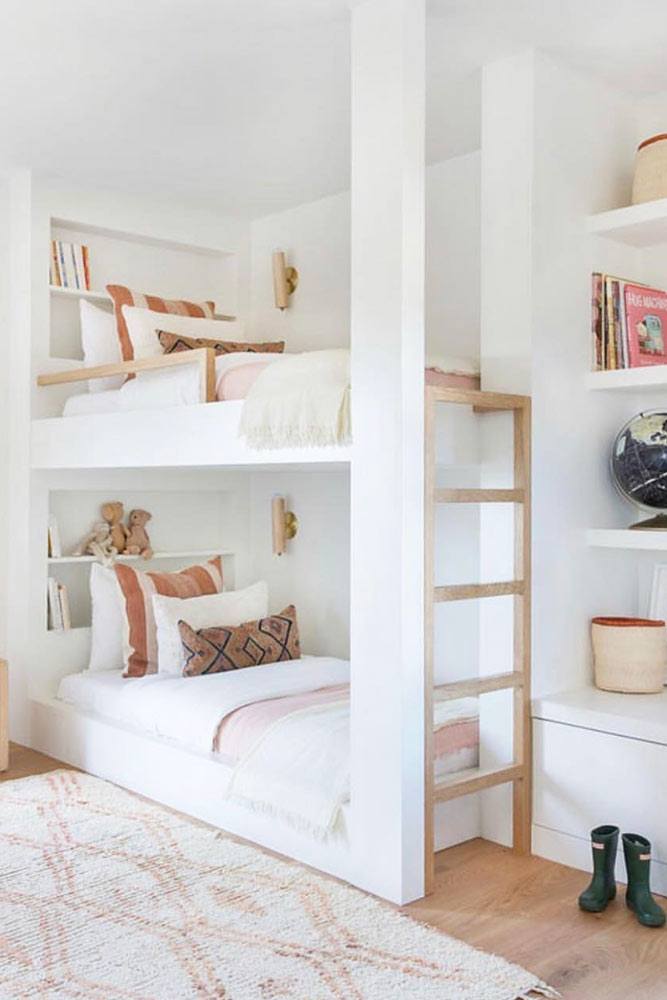 Credit: Instagram/amberinteriors
The fact that a bunk bed has been in for ages now does not mean that nothing has changed. The truth is that all that remained is a general idea. As for the rest, you should come up with a suitable suggestion depending upon the décor you wish to fit a bunk bed in. White bedroom with modern touch will look exquisite with the same gentle bed. You can trust us on that!
Bedroom Idea With Bunk Bed And String Lights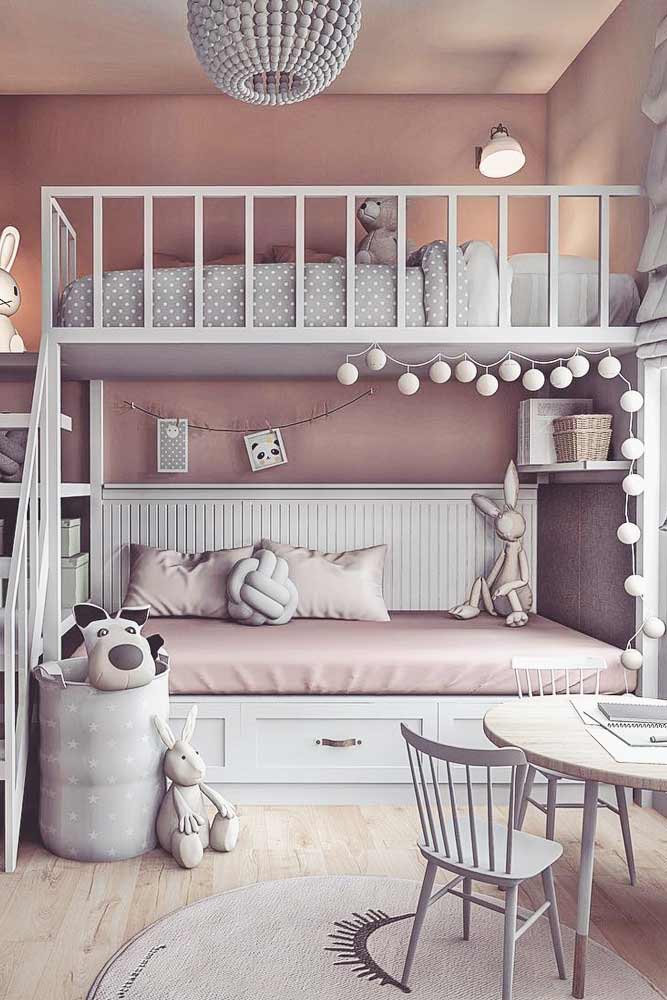 Credit: Instagram/lovingitpl
Let's not forget that a bed is not just a sleeping area. Very often we spend more time in bed than we think. That is why it should be as cozy as possible. A string of lights will add up to that cozy effect as well as they will surely serve a practical purpose since there is no such thing as too much light in a teen's room.
Bunk Bed Design For Small Bedroom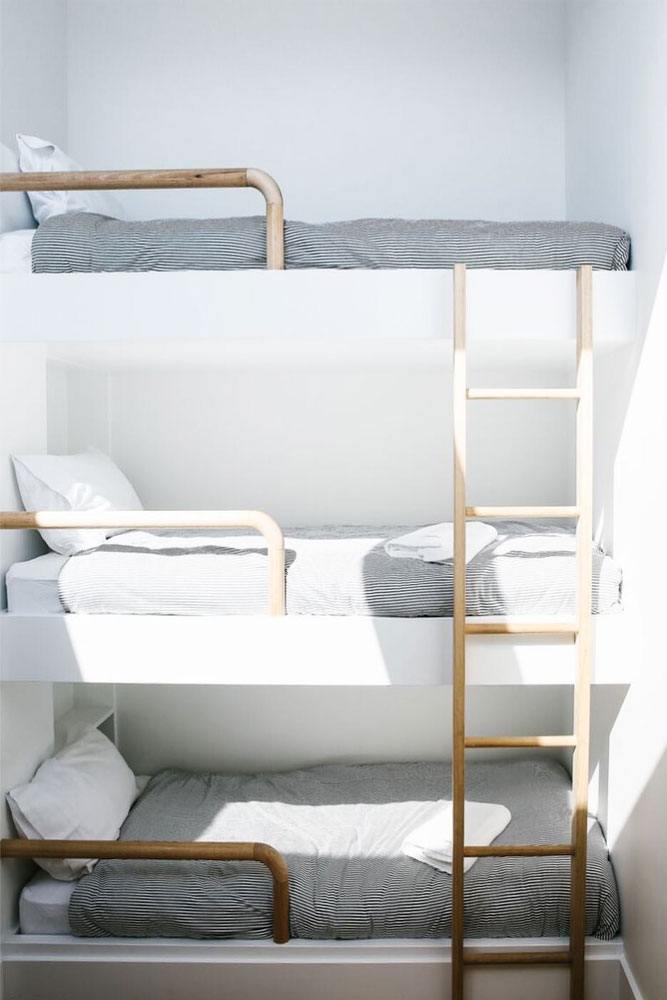 Credit: Instagram/saltatshoalbay
When you have a very small bedroom, but you need to fit in as many beds in it as possible – there is a proper way out. The thing is that bunk bed is a good solution in any situation, but when you are limited in space that comes in more than handy. Besides, no one said that a bunk bed couldn't be triple!
Teen Bedroom Ideas With Canopy Beds
Is there a girl who doesn't dream about a princess-like teen room decor? Luckily for dreamers, canopy beds that used to be a piece of luxurious and, of course, very expensive furniture, now can embellish anyone's bedroom. Its tent, covered with a lightweight fabric that falls on the edges of the bed adds a lot of softness and sophistication to the whole room.
Bedroom With Canopy Bed And Fur Pillows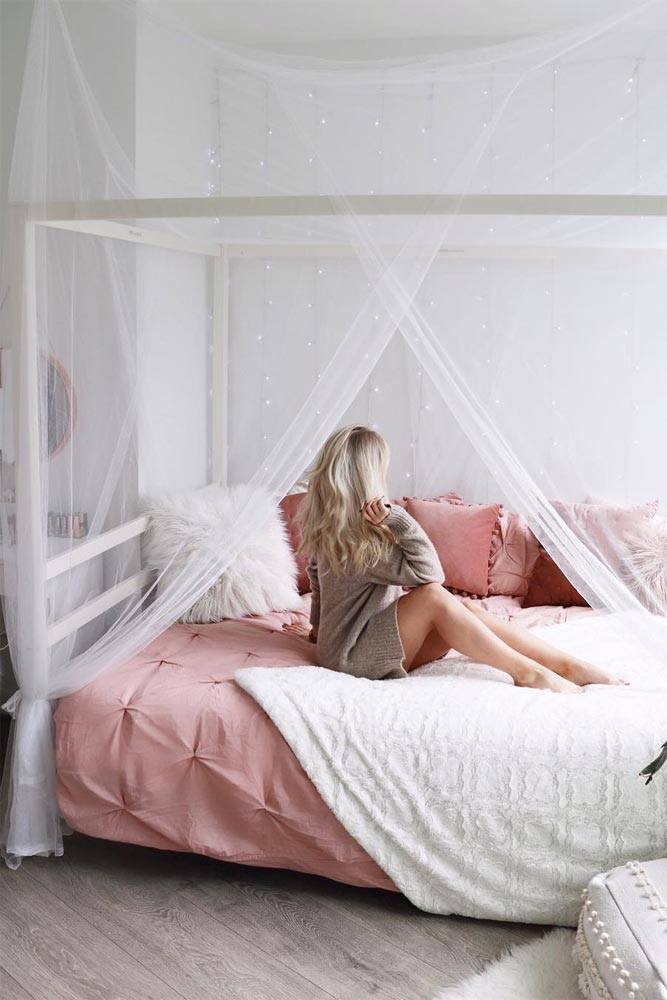 Credit: Instagram/lilylikecom
Obviously, you won't come across this pic among small teen bedroom ideas, as double beds require a pretty spacious room. If you decide to get such a bed for your child, you can be sure that it's a right and practical decision: since you can change the fabric, it can fit in any room design, from cute and girly to refined and minimalistic. Once you decorate the room with soft primary colors and big fur pillows, each morning of your girl will start as a little fairytale.
Bedroom With Canopy And String Lights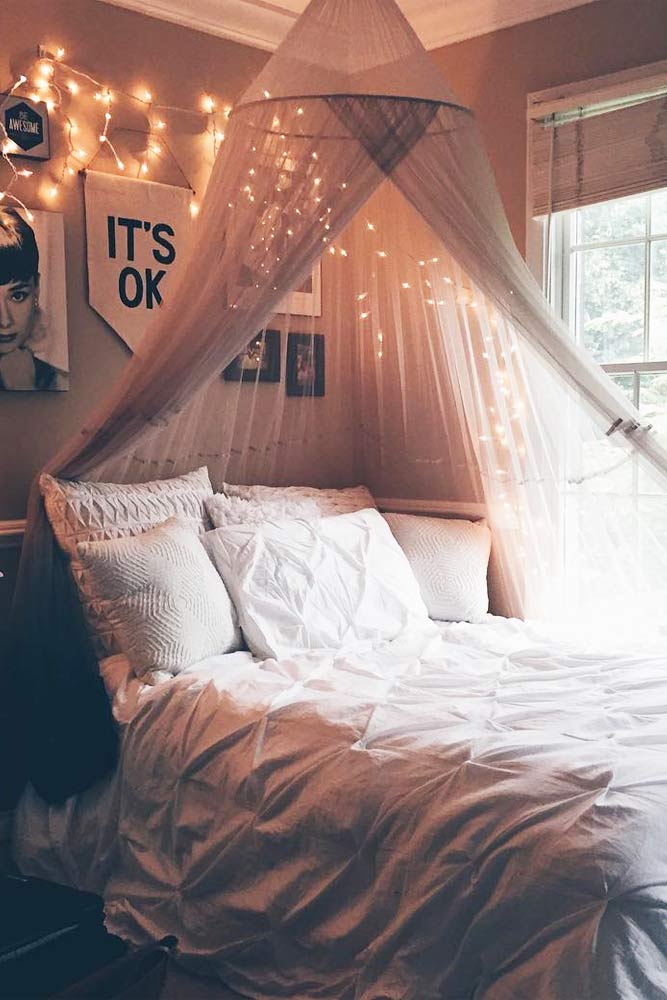 Credit: Instagram/katybellotte
Remember that the key to cute bedroom ideas lies in the right approach. In other words, everything that you put into the room of your kid should come right from your heart. And nothing can give the needed touch of warmness and pleasure than a couple of string lights hanged on the wall or attached to the top of a canopy bed.
The best thing about this idea is that it can add some more light, balance out the overall tone of the room, and give a friendly feeling of home that always waits for you to come. Yes, this is one of the most attention-grabbing room ideas.
Boho Bedroom With White Canopy Bed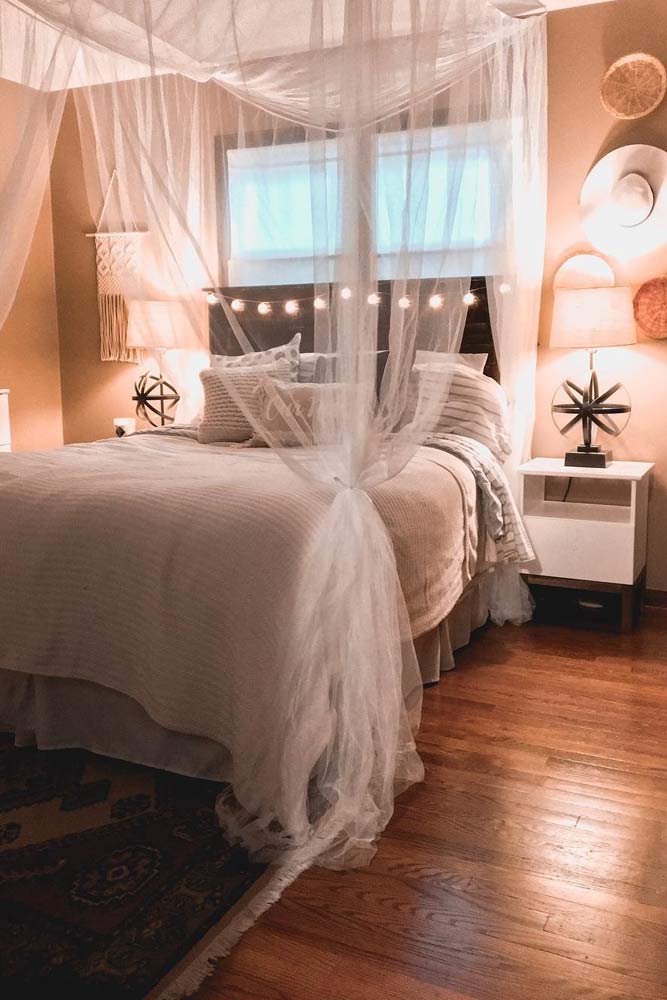 Credit: Instagram/myeclecticgrace
Those who want to make a bed the highlight of their teen bedrooms should look no further than a curtained sleeping place. It's a good way to build the needed balance between simplicity and comfort. All the furniture must be as minimalist as possible as the bed dimensions are quite space-occupying.
As a result, you can turn your room into an elegant and cozy place with warm lights and soft colors around. Also, many gentle room decor ideas come with contrastive, wooden floor material: it's a nice way to make your place homier.
Cute Vintage Teen Bedroom Idea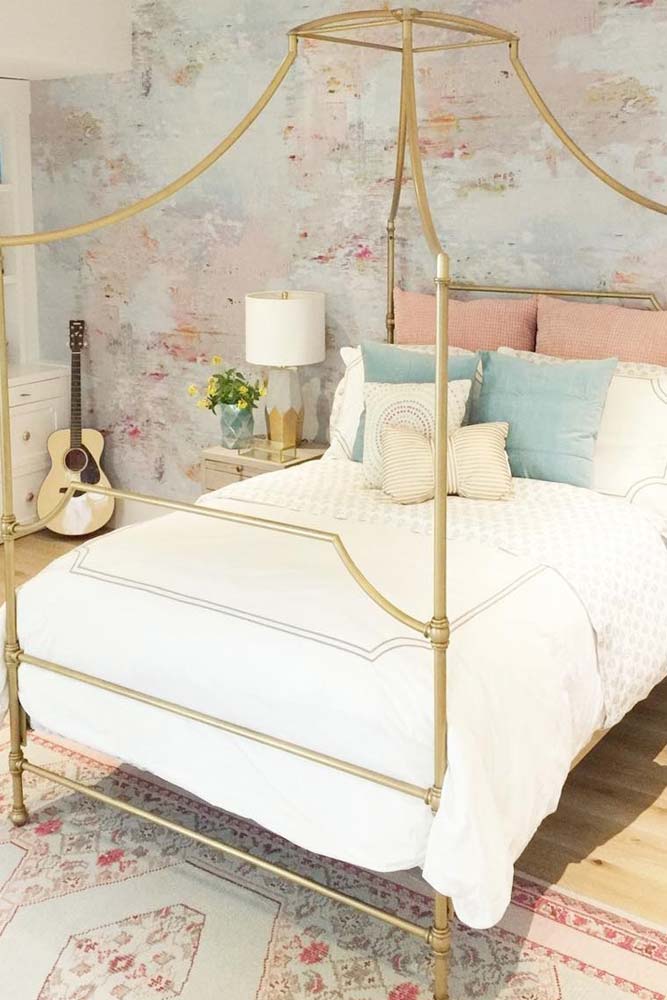 Credit: Instagram/maggiecruzdesign
Just look at this stunning vintage bedroom idea with the bed used as a focal point. In case your teen girl is fond of vintage things, she will really love this decorating idea.
Cozy Teen Bedroom Idea With Lights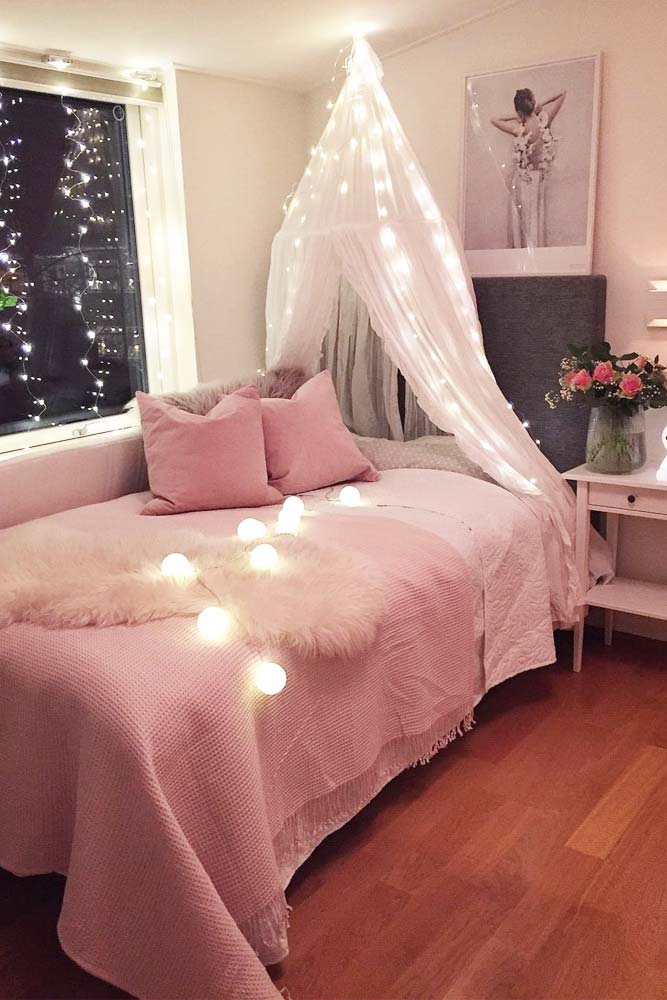 Credit: Instagram/interiorbyfrida_
Just look at this teen room idea in pinks and with decorative lights. How cozy and sweet it is. Pink fur complements a pink blanket quite nicely. And even the walls are painted in subtle pink. So girly!
Rustic Bohemian Teen Bedroom Idea With Canopy Bed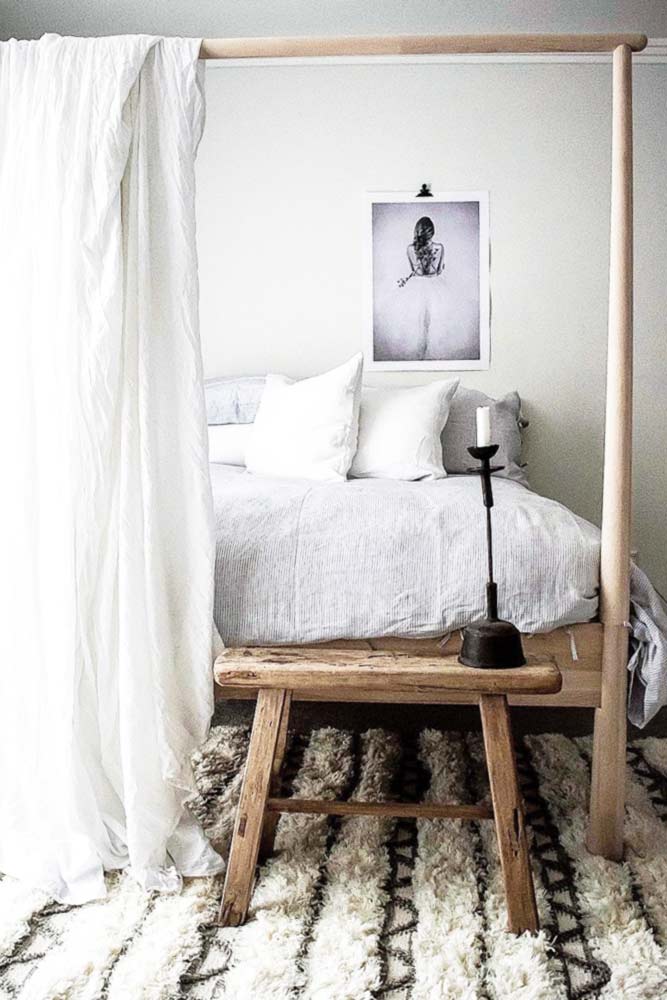 Credit: Instagram/bellalulu.interiors
A bohemian bed with a rustic touch to it would be surely appreciated by both teens and adults. That simplicity and elegance can't go unnoticed.
Teen Bedroom For Girl With Painted Wall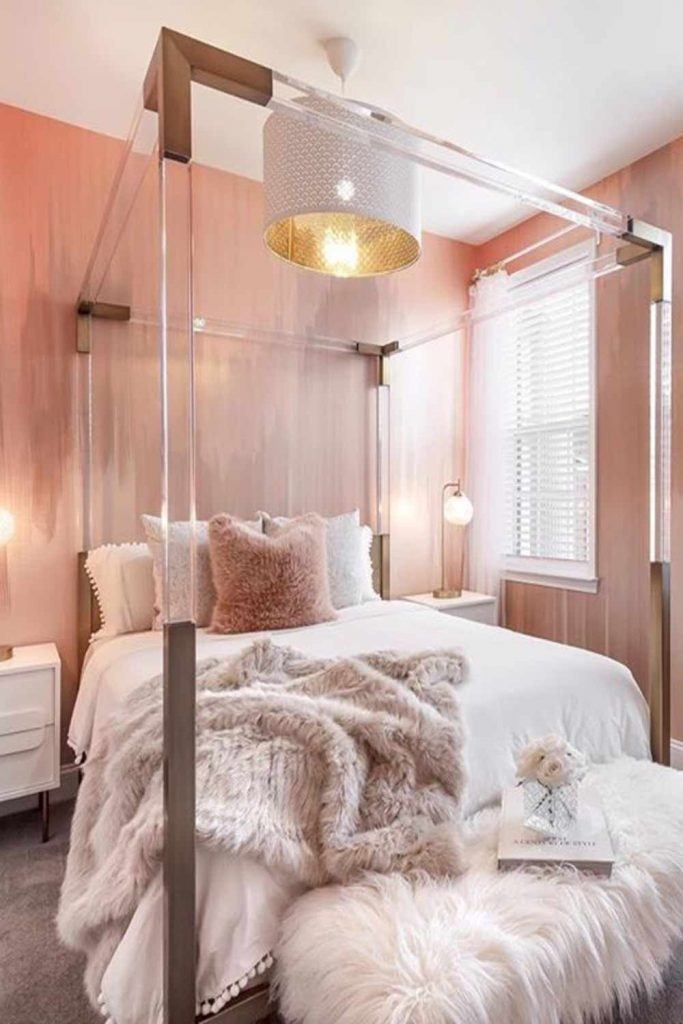 Credit: Instagram/aa_interiorstylist
Fluffy pillows, fluffy sheets, and bedside sofas, not to mention the carpets – all those things are adored by modern teenage ladies. However, it is essential not to leave the room palette out. We say those light peachy hues will steal her heart once and for all!
Teen Bedroom Ideas For Boys
In case you wish to redecorate your boy's bedroom, but you are at a loss for ideas – we have it covered for you. These modern ideas will fit it any taste, that is for sure!
Boys Teen Bedroom In Grey Shades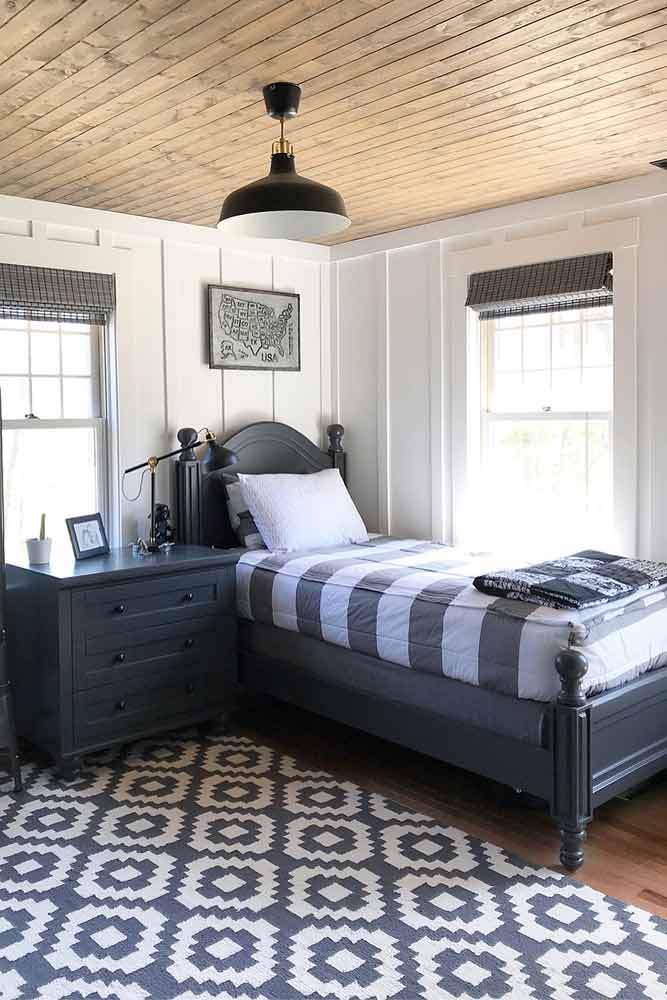 Credit: Instagram/angelarose_diyhome
It is essential that you choose proper shading for a boy's room. When it comes to grey hues, they are indeed calm and suitable. Besides, the monochromatic look grants the bedroom that stylish and unique charm.
Simple Boys Teen Bedroom With Bright Accent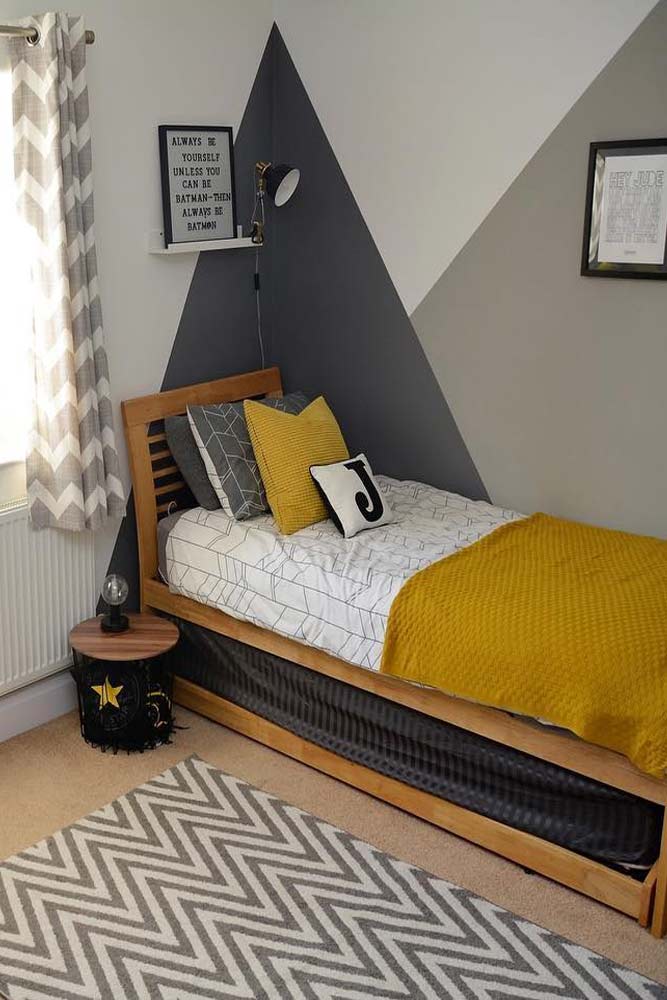 Credit: Instagram/placeshaperinteriors
When you are choosing a bedroom for your teenage son, it is vital that you keep his likes and preferences in mind. Simple options with bright accents may be just the perfect idea.
Grey And Blue Colors For Boys Bedroom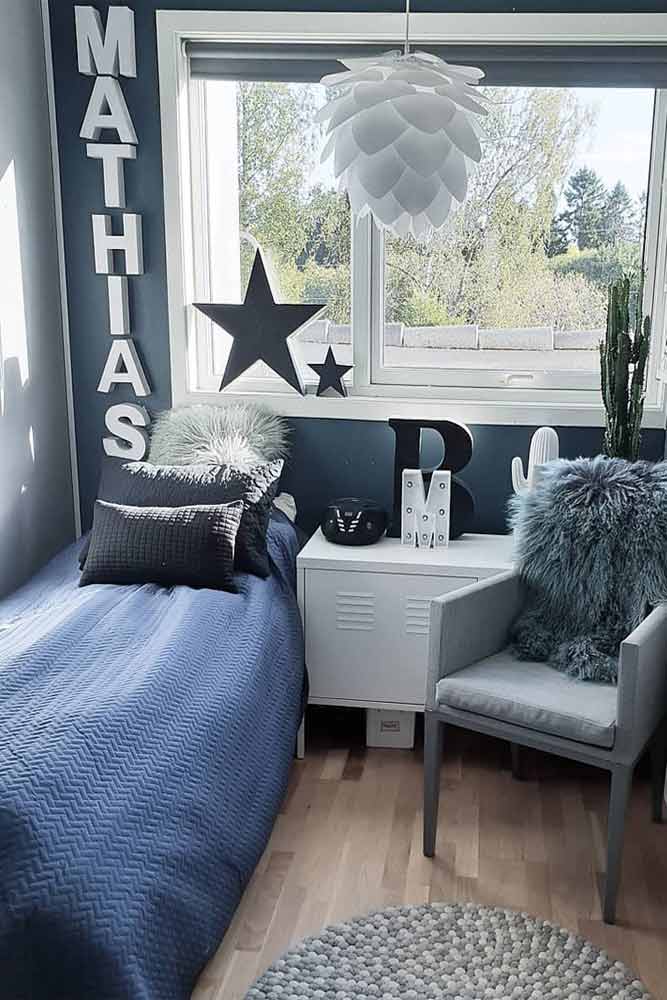 Credit: Instagram/hus10a
There are times when one color palette is not an option. In times like these, we suggest you combine the shades that match each other. The combo of blue and grey color is precisely the one. See for yourself!
Star Wars Teen Bedroom Design For Boy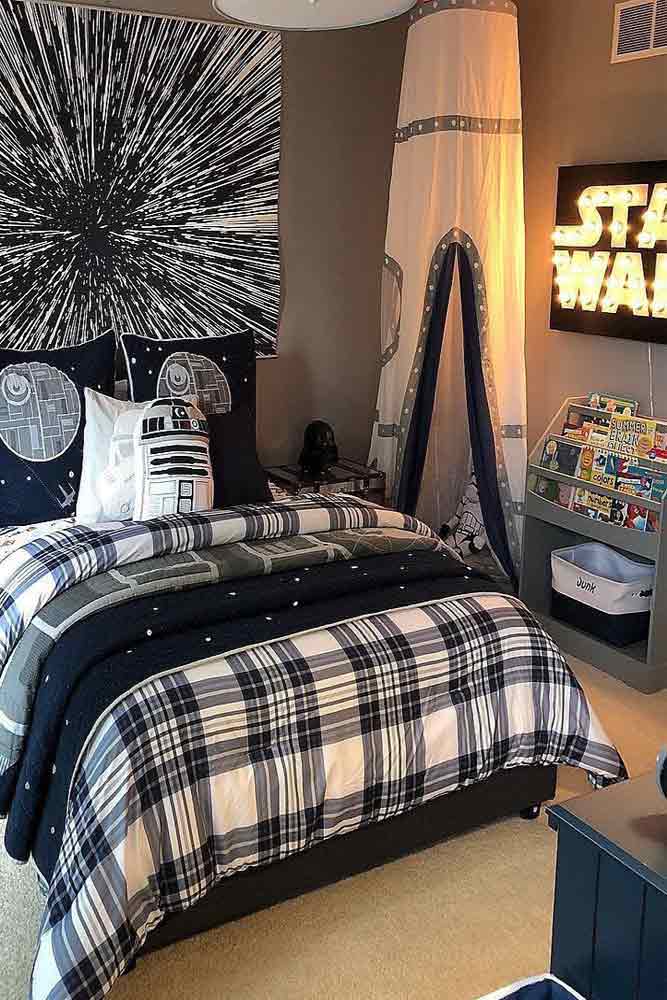 Credit: Instagram/homedecorinmorocco
Sometimes it seems that decorating a boy's room is a lot easier when compared to that of a girl's. We do agree with that. As a matter of fact, all you need is to consider his likes and preferences to come up with a perfect bedroom theme. In this case, Star Wars' mild obsession is played out more than skillfully.
Teen Bedroom For Boy With Wooden Furniture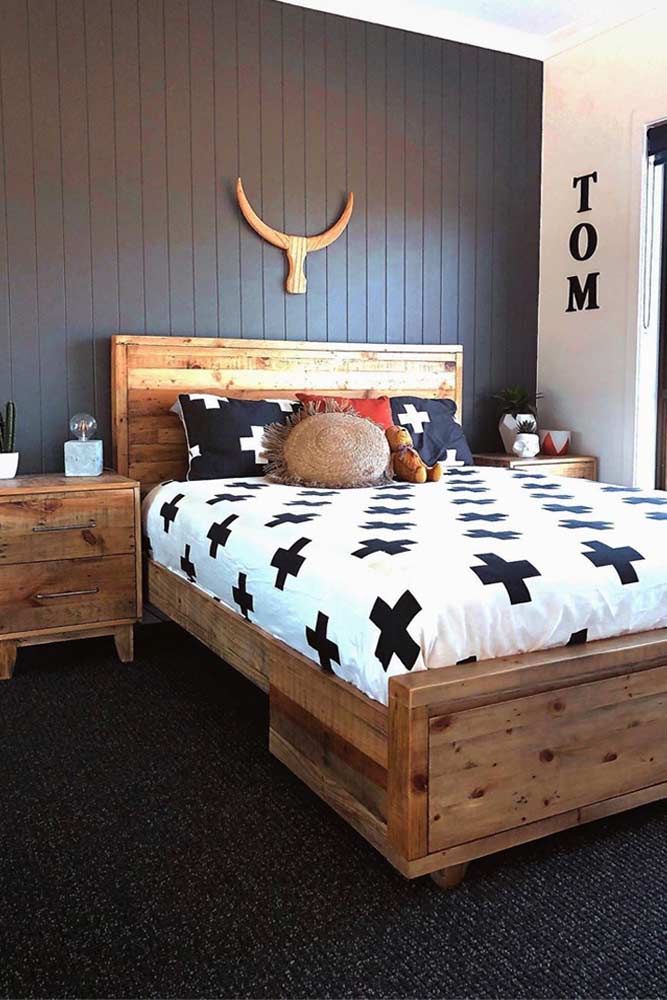 Credit: Instagram/builderseearsy_and_me
It is advised to keep away from bright hues when decoration your boy's bedroom. Sticking to the basics is the best way to succeed. Black and white tones, wooden accessories will go well together and will win his favor.
Teen Bedroom Design In Dark Color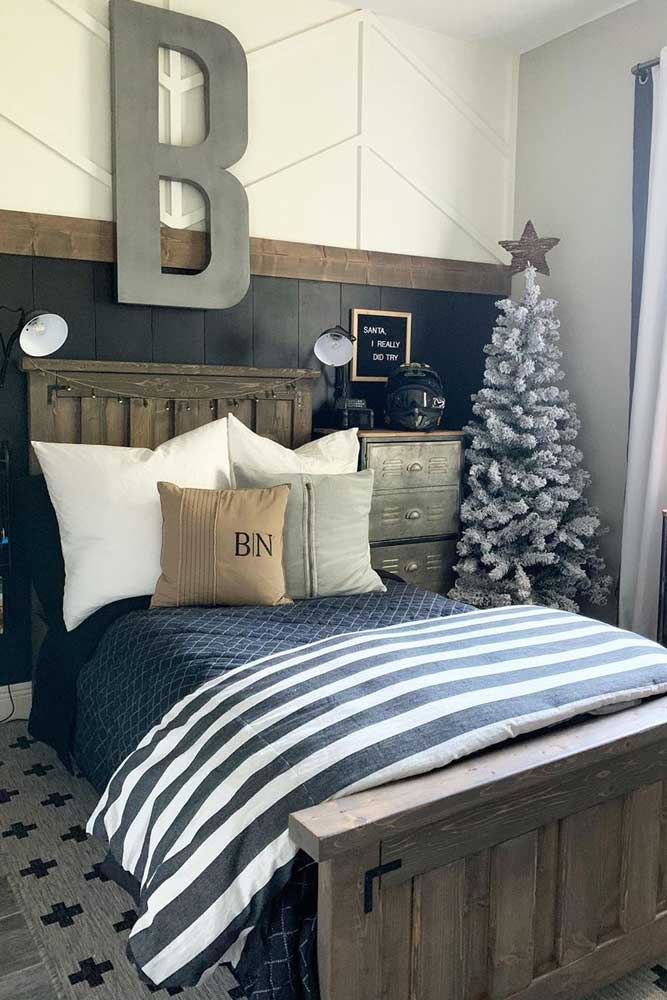 Credit: Instagram/ourrusticparadise
The darker – the better that is usually the key when it comes to boyish interior. Besides, it is unlikely that your teen boy will love lots of accessories scattered around the room, so you should refrain from making a mistake.
Inexpensive Ways To Decorate A Teenage Girl Bedroom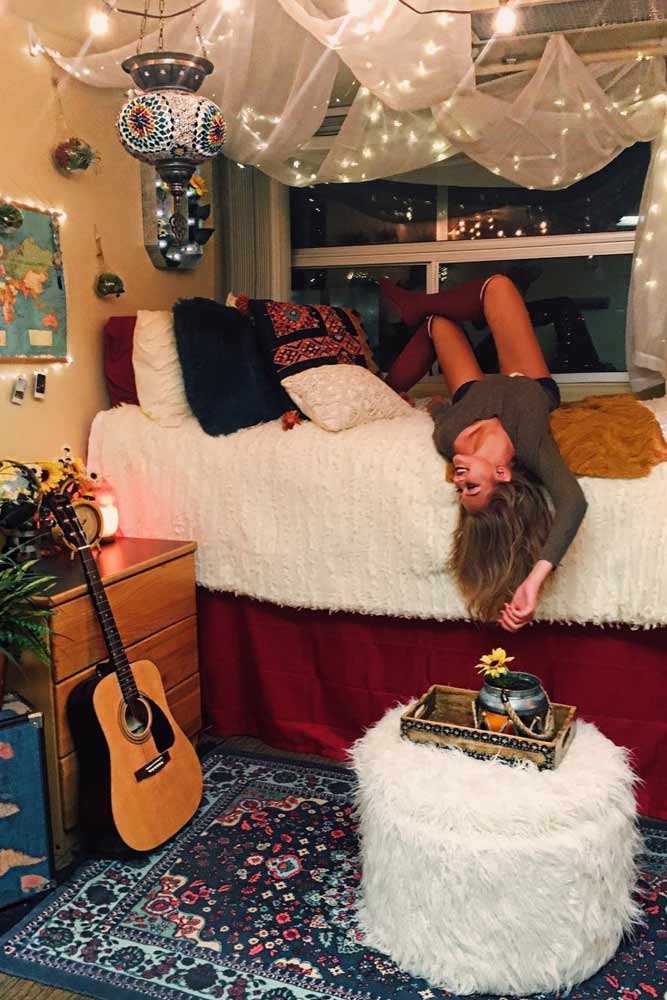 Credit: Instagram/oliviaedendyck
Looking for cheap ways to decorate a teenage girl bedroom? Follow our tips.
Start with furnishing. Do you know that you can easily get inexpensive yet quality furniture? Go for the vintage-style furniture. You can find it in flea markets and estate sales. Then you can either leave it as it is or paint it.
Think about the bedding in advance. You will save money if you pick the wall paint to fit the bedding, not vice versa.
Let the wall design pop. It's cheaper to decorate plain walls with some cute little décor pieces than opt for some exceptional wall décor created by professionals.
Buy a rug. A rug can cover the modest design of your teen's floor. Thus, you won't have to splurge on the new wood flooring. Just avoid natural materials as they can shed easily or just be too rough.
Add some DIY elements. For example, create pillowcases, using some old blankets, drapes, or clothes.
Do you like these teen bedroom ideas? We think that they are truly adorable and, what's also important, functional. More inspo is waiting for you on our blog.
FAQ
What should a teenage girl's bedroom include?
A perfect teenage girl bedroom should feature:
A big comfy bed.

A great variety of throw accent and decorative pillows.

String or fairy lights.

Wall posters.

Greenery.

Swing or basket chairs.

Rugs made of faux fur.

Mirrors on the floor.
How do you style a teenage bedroom?
To furnish a bedroom for teens perfectly, take these seven steps:
Invest in a high quality bed with a headboard.

Adorn the room with quaint and intricate details.

Create a favorable and comfortable environment for studying.

Consider statement elements.

Accentuate one of the walls with a different color.

Opt for bed linen in vivid tones and with an elaborate pattern.

Enlist the help of an interior designer for a better result.
REFERENCES:
A typical western bedroom contains as bedroom furniture one or two beds, a clothes closet, and bedside table and dressing table, both of which usually contain drawers. Source
Any teenager would admit that their bedroom is the perfect opportunity to show off their personal style. Beyond being just a space for resting, it's where they spend time playing with friends, catching up on homework assignments, and enjoying their favorite games. Source
Was this article helpful?