There are numerous advantages to having natural makeup. First, it looks as if you didn't wear any makeup. Second, it helps highlight your best features so that you look even more beautiful than you are. Third, it doesn't require tons of time and enormous efforts. However, to achieve the best result in your natural look, it is still important to know how to do makeup properly.
If you have blue eyes, you can add some makeup to make your eyes look more distinct and to stand out. Eyes are believed to be the window to the soul, so why not show your beautiful personality?
Green eyes or any other color of the eyes look no less beautiful by themselves, and the makeup can only emphasize natural beauty.
Frequently Asked Questions: Natural Makeup
What is natural makeup?
Many ladies around the globe are confused by one recent but the prevalent trend – natural makeup. Is there any difference between regular and natural makeup? Well, there is. The fact is that the primary intention of natural makeup is to grant you that perfect look that you wish Mother Nature has granted you with. Very often, men are even unable to tell a lady wearing natural makeup from the one who is not wearing any – so skilled those women are, aren't they?
Besides, in the majority of cases, those products that are claimed to be fit for natural makeup creation are made of natural ingredients so that they rarely contain any artificial colorants or fragrances, not to mention harmful heavy metals. That is one of the main reasons why so many girls around the world choose natural makeup to all the other kinds.
How Do I Keep My Makeup From Looking Cakey?
There is nothing worse than to spend a lot of time on putting your makeup on and then find out that it is nothing but cakey. We feel you, girl, that is why we offer you these simple tips to the rescue:
Moisturize – when your skin is well-moisturized, the makeup will sit perfectly on it.
Prime – a good primer will not only prepare your skin for foundation but will also even your skin out so that it looks naturally smooth.
Foundation formula – you need to choose a foundation that suits your skin type, not the best-advertised one. Oily skin requires oil-free formula, while dry skin needs creamy formula.
Foundation shade – the shade of the foundation you are going to use should resemble your skin tone as closely as possible.
The brush – you brush should correspond to your skin texture. Flatter brushes suit acne-prone skin types, while fluffier brushes are perfect for ladies with almost smooth skin.
Start off little – you can always add some more foundation when needed, so it is advised to start with the thinnest layer possible.
Blend – there is no such thing as too much blending./p>
Setting – this last step is as essential as all the mentioned above, so that choose the setting powder or spray that suits your skin and use it whenever you are putting on your makeup.
Beauty Guide To Natural Makeup
What Do I Need For A Natural Makeup Look?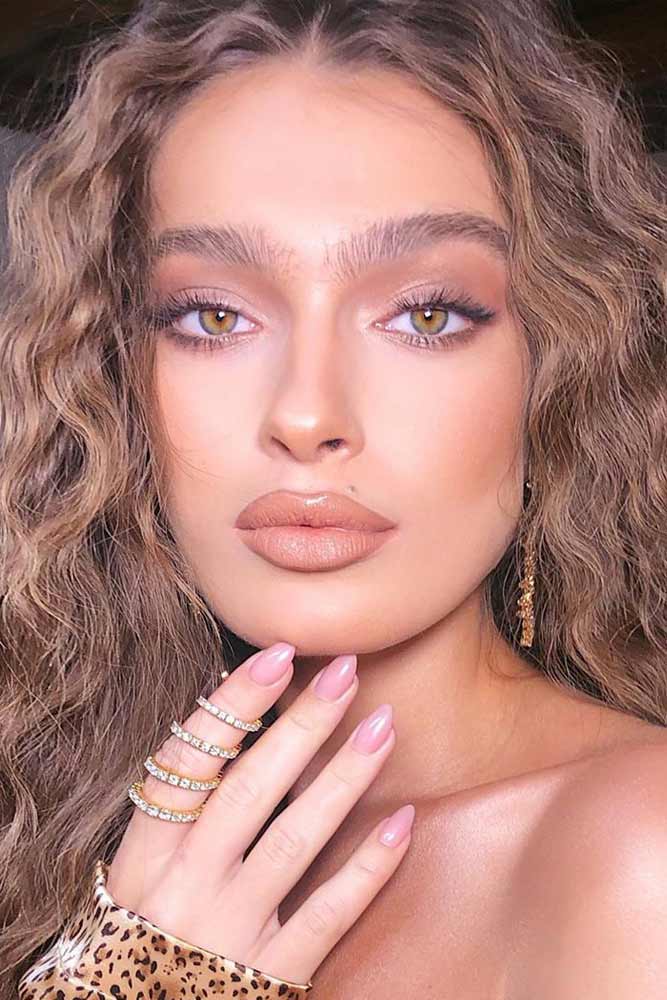 Source: Instagram/ortalelimeleh1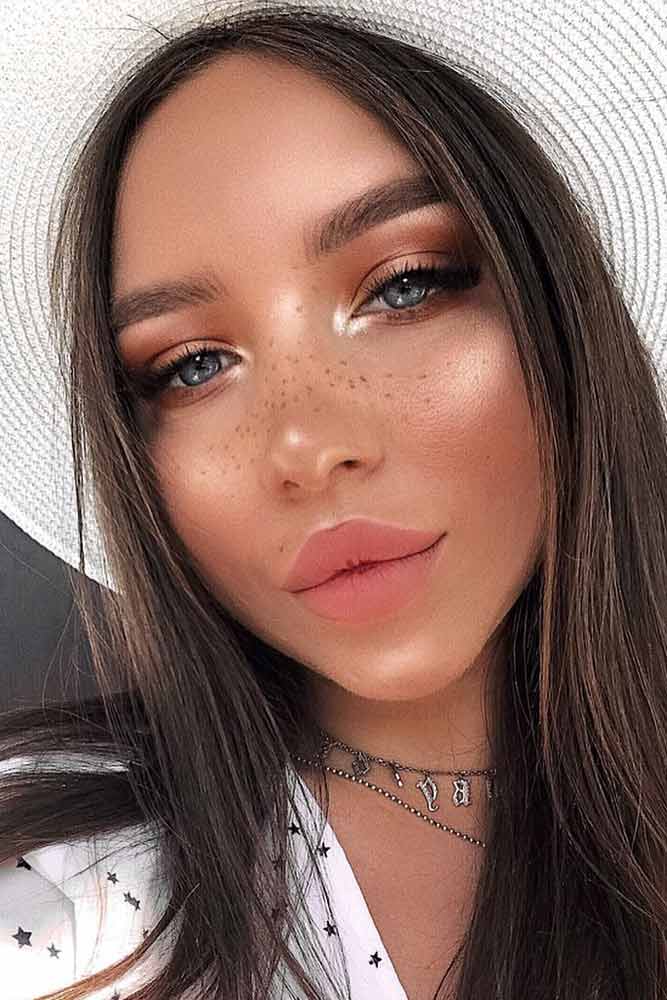 Source: Instagram/sonya_miro
Natural makeup is as great to look at as it sounds, however, to succeed with a proper look may take you some more time and effort than you think. We are going to guide you in the right direction as to which products to pay attention to when opting for a natural makeup look!
Moisturize – there is no need to explain this point, right?
Concealer – if you have any dark circles, you would prefer to get rid of, get yourself a quality concealer.
Foundation – the best way to grant your skin that smooth look and feel is to come up with an ideal foundation.
Blush – you need just a pinch of subtle blush for your natural makeup look, remember that!
Eyeshadows – as long as it is a nude eyeshadow palette – you can use it.
Lipstick – let your lips be as neutral as possible too.
Mascara – only a thin layer of mascara has a place in the creation of a natural look.
Liner – forget about the liner when you are working on your natural makeup look.
What Is The Best Natural Looking Makeup?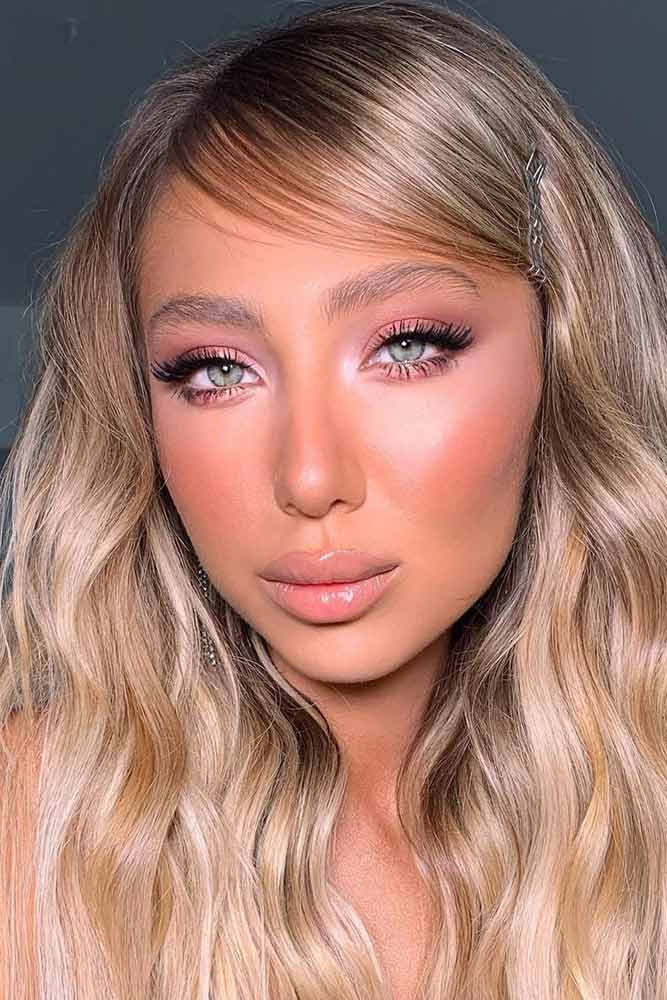 Source: Instagram/shanibaruch_makeup
Ladies how have been experimenting with their natural looks, know that the less is, the better. That is why we are going to share with you a list of essentials you should use when working on natural makeup creation:
Concealer
Foundation
Blush
Bronzer
Highlighter
Eyeshadow
Brow pencil/eyeshadow
Mascara
Lip balm
Natural Makeup Trends For The Perfect Look
Natural Makeup With Shimmer Eyeshadow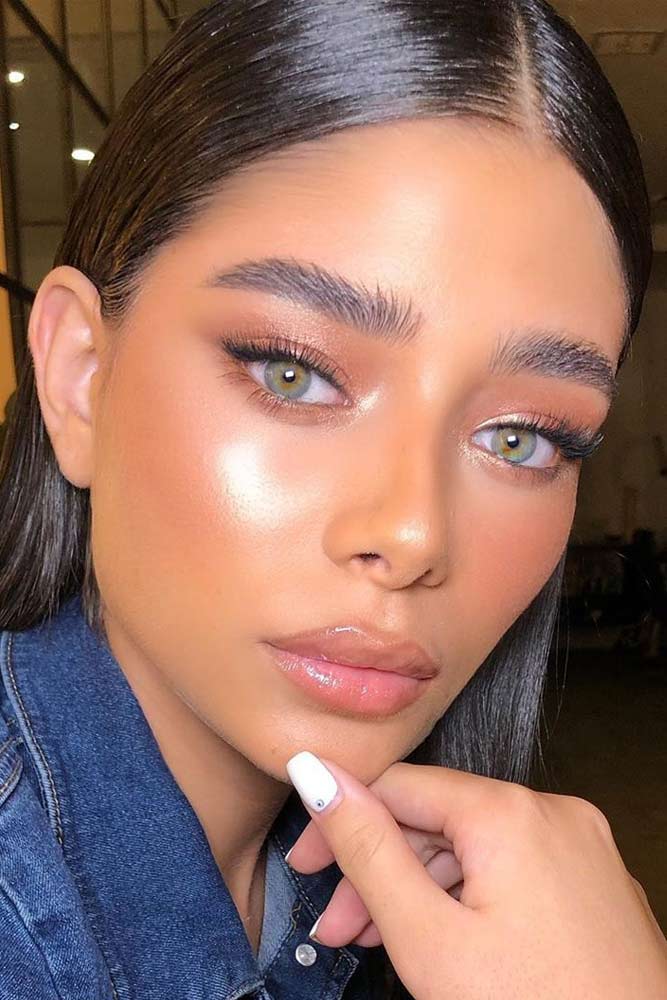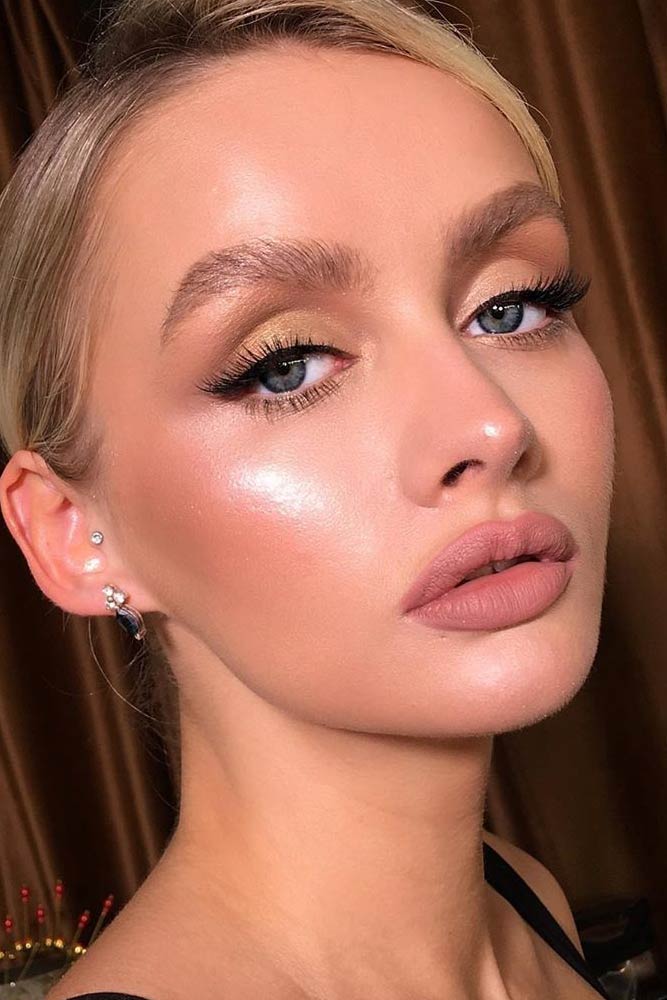 Source: Instagram/ortalelimeleh1, Instagram/tominamakeup
Some ladies think that there is no room for sparkles when it comes to natural makeup. We tell you what – if you like shimmer – go for it! The only thing that you should keep in mind is that bright and dark shimmery shades won't fit in the look. However, anything neutral can be implemented into your look with ease!
Natural Makeup Look With Highlighter Glow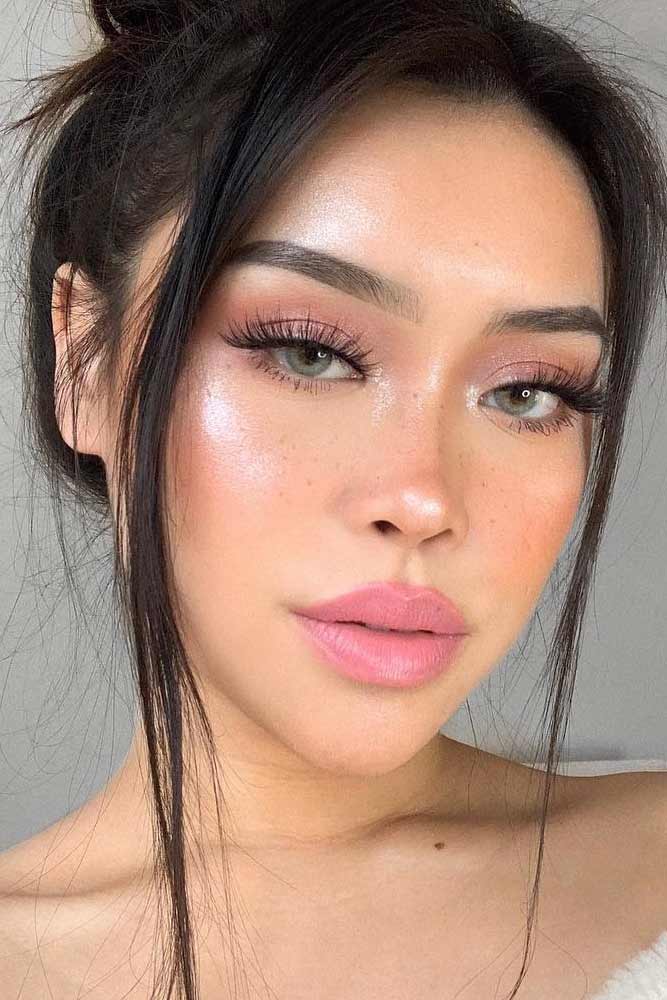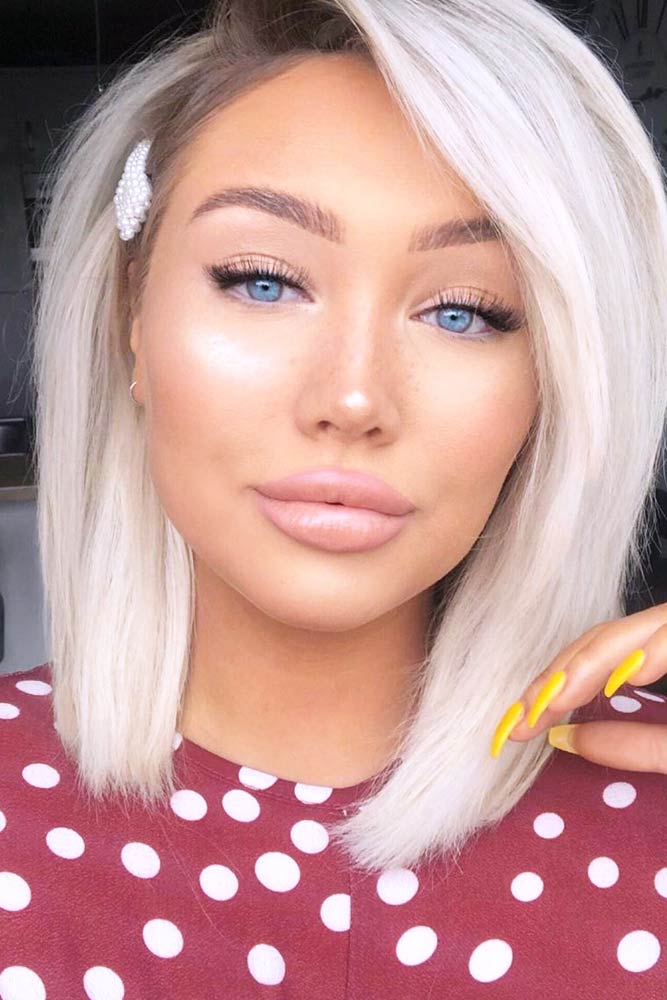 Source: Instagram/lynnacsecnarf, Instagram/ohmygeeee
This type of makeup is perfect if you want to emphasize your femininity and sexuality. Use eyeliner, mascara, lipstick and matte foundations to create a lovely and sexy look. Depending on your mood, you can use any color of the lipstick, add some eye shadows and also spotlight your beautiful eyebrows.
Using mascara and some lipstick might be all you need to look lovely. You might also use some tinted moisturizer if you want your skin look more even, and you are ready to go to the beach, party or simply walk around!
Natural Makeup With Eyes Accent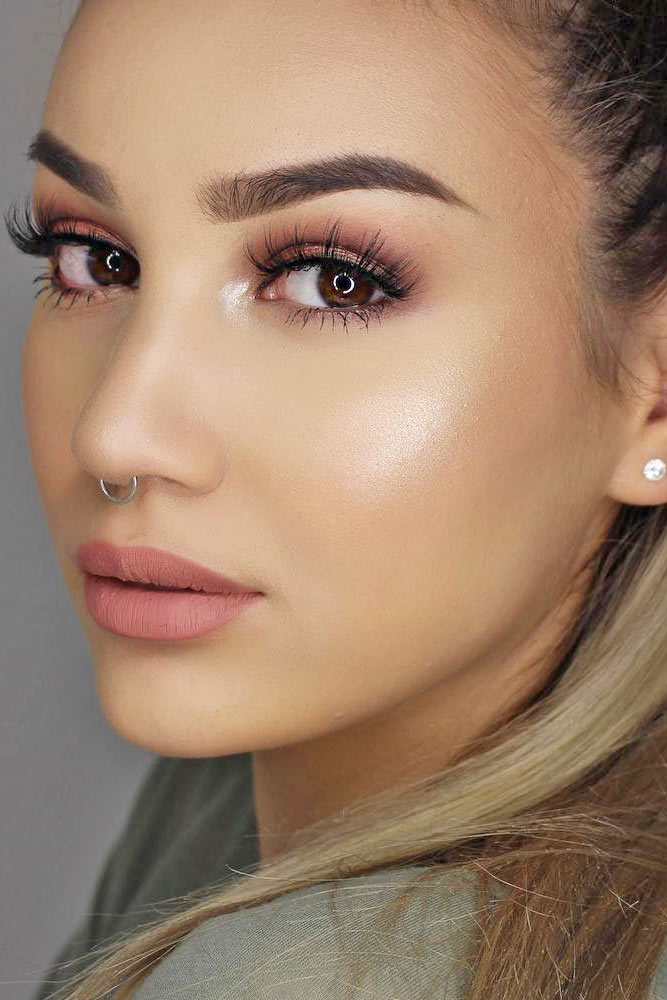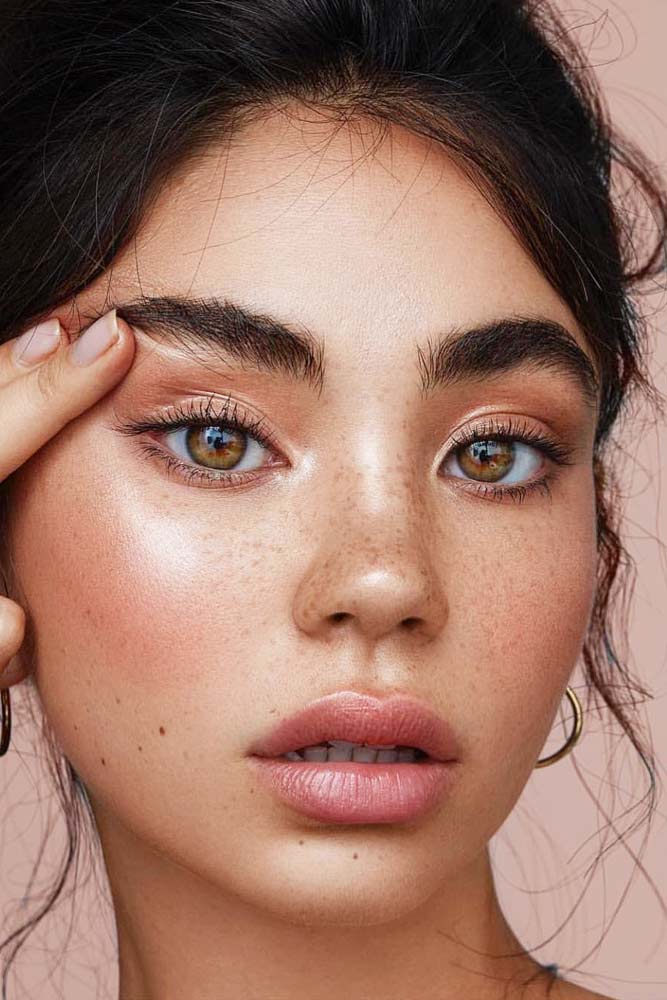 Source: Instagram/byjeannine/, Instagram/josecorella
Are you striving for a natural look with some little makeup added? Then make your eyes the center of attention. Depending on what eyes color you have, add some eye shadows and mascara, and no one would be able to take the eyes from you.
Soft Makeup With Winged Eyeliner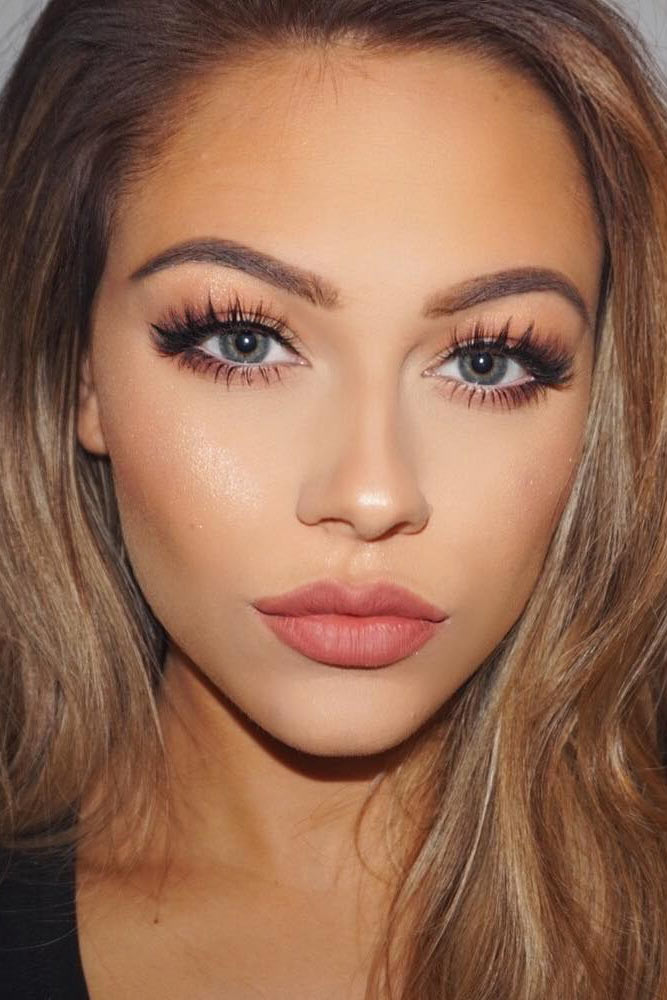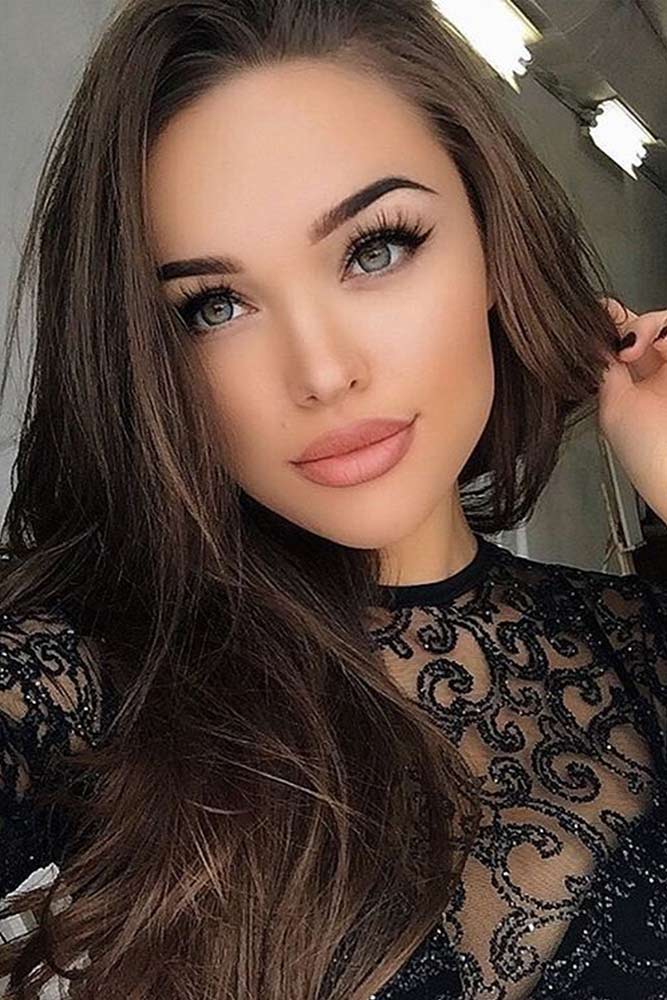 Source: Instagram/rhiastylesx, Instagram/natali_danish
We have all heard the expression that our eyes are the windows to our soul. Makeup is a way of expressing who we are while enhancing the natural appearance of our eyes.
This natural makeup look is simple yet stunning. It will accentuate your gorgeous facial features. This natural look will work for those occasions that do not call for dramatic makeup.
Create a winged eye look with black eyeliner around your eyes for a mysterious vibe. This works no matter what your eye shape or skin tone is. Follow it up with dark mascara for thick lashes. This look leaves out eyeshadow to create a toned-down cat eye effect. Pair that with cream blush and nude lipstick for a finished look that is simple yet elegant.
Natural Makeup With Soft Smokey Eyes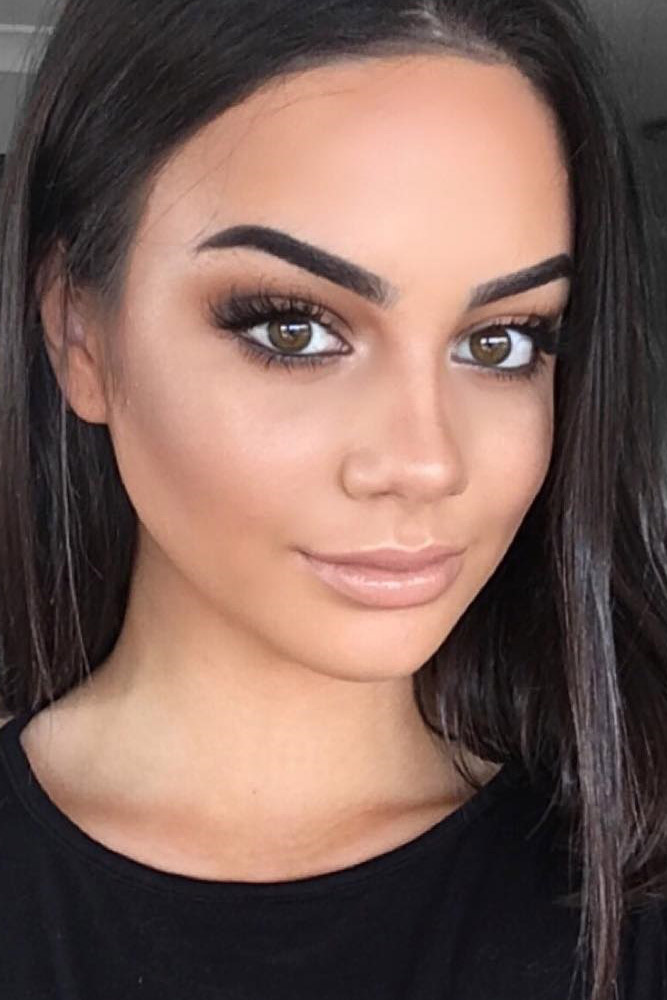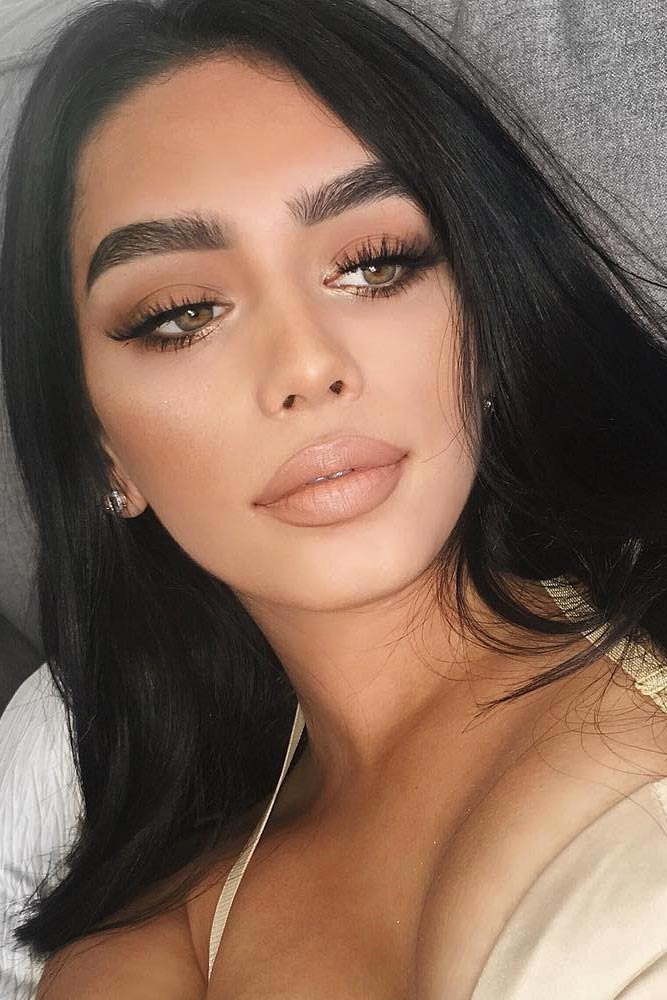 Source: Instagram/isabella_fiori, Instagram/janicejoostemaa
Smokey eyes are always sexy and a great way to add a flirty and mysterious vibe to your overall look. Nude makeup might take a bit effort to pull off the desired effect, but the finished look is well worth the effort. This is a great look for a date night or girls' night out. And a sexy evening dress pairs nicely with this sultry look.
Use black eyeliner and mascara to create a soft smokey eye look. On your eyelids, softly blend a cream color and peach eyeshadow. You can also blend these for pretty soft blush. On your lips, use natural lip balm to finish this simple, yet stunningly sexy look. For all of these products, it is best to use a natural makeup brand to keep your skin look and feel its best.
Natural Makeup With Perfect Eyebrows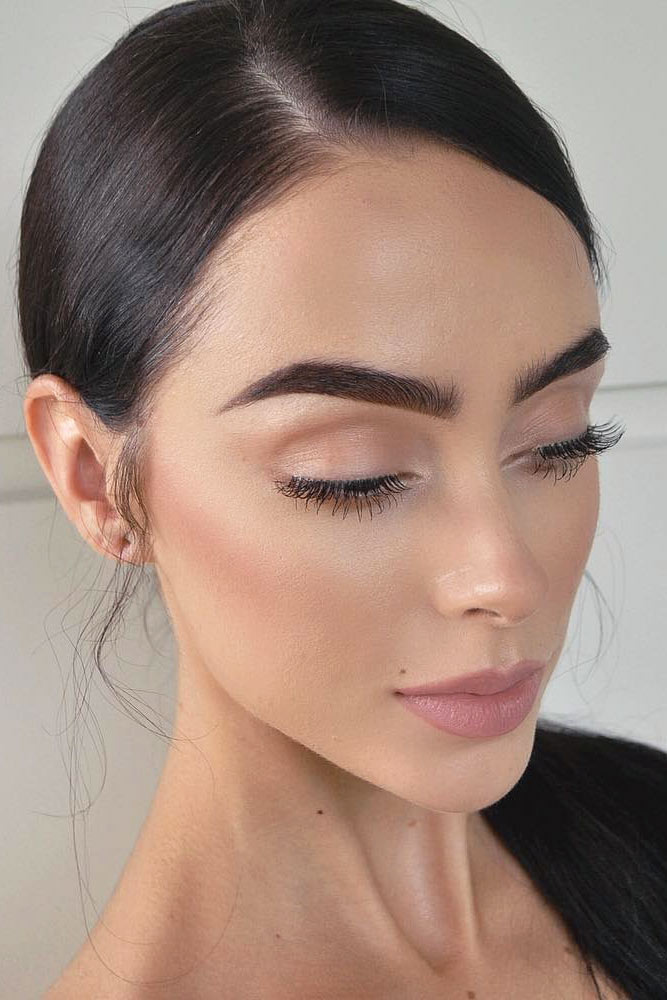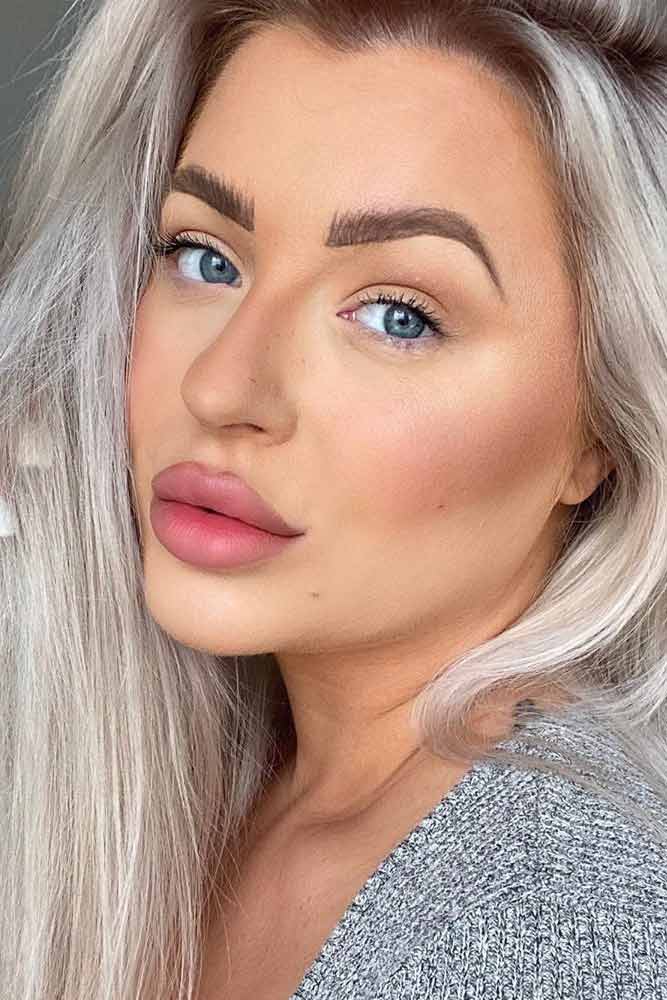 Source: Instagram/janicejoostemaa, Instagram/babsbeauty_
If you want a look that is clean and fresh to give your face a youthful and vibrant appearance, this look is ideal. And it will take you no longer than 10 minutes to pull off this look.
All you need to do is apply your foundation to achieve natural, healthy glow and then simply elongate your lashes with lengthening mascara. It is up to you if you want to use clear or black mascara to achieve this look. Nude matte lipsticks are a great way to complete this simple and clean look.
Simple Makeup For Any Occasion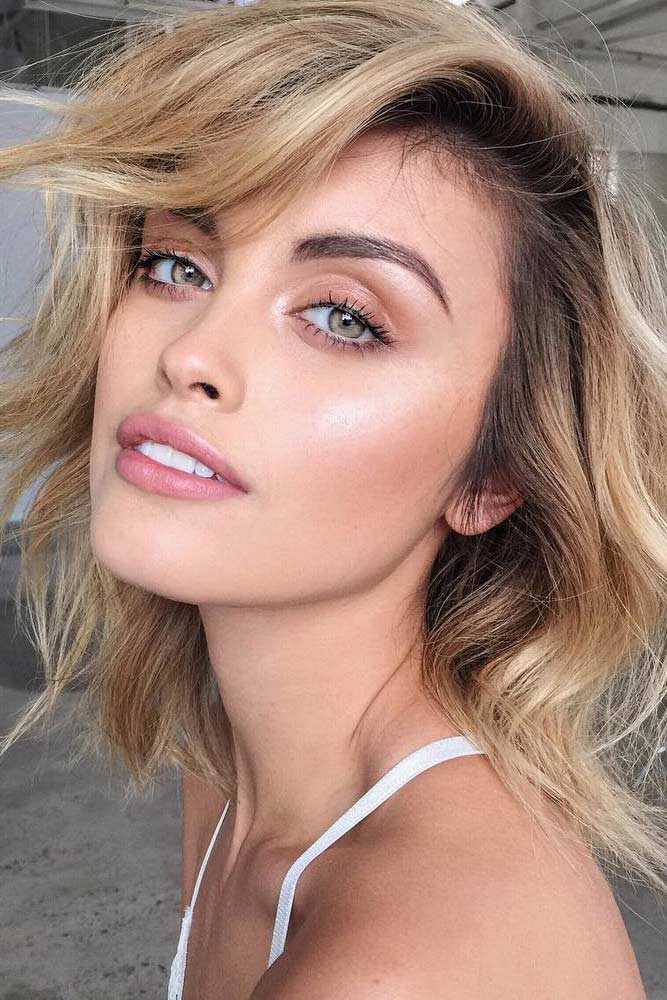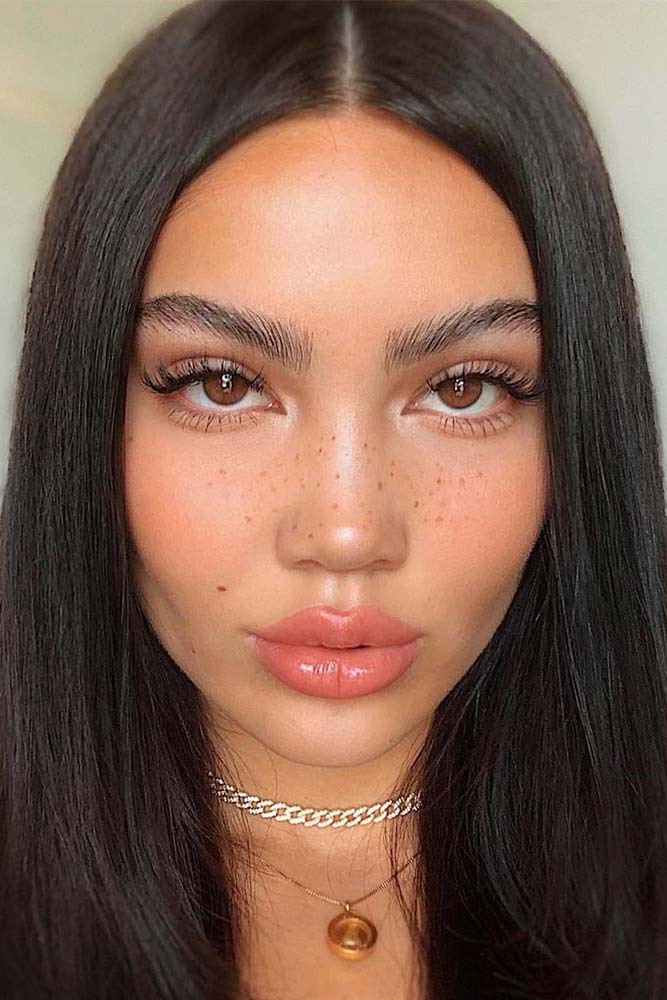 Source: Instagram/nadia_mejia, Instagram/amandakhamkaew
This simple natural makeup look is perfect for any occasion from a walk on the beach or a park in the city to a formal event. Organic makeup is always a good choice as it will help preserve your skin. This look is great if you want to accentuate your gorgeous cheekbones and lips with soft natural glow. Use foundation as your base and then apply cream blusher to your skin to give it soft, romantic glow. Do not apply anything to your eyes unless you want to elongate your lashes just a bit with clear mascara. Finnish it with pink lips makeup, using pale pink lipstick to give it just a hint of color.
Natural Makeup Idea With Black Liquid Eyeliner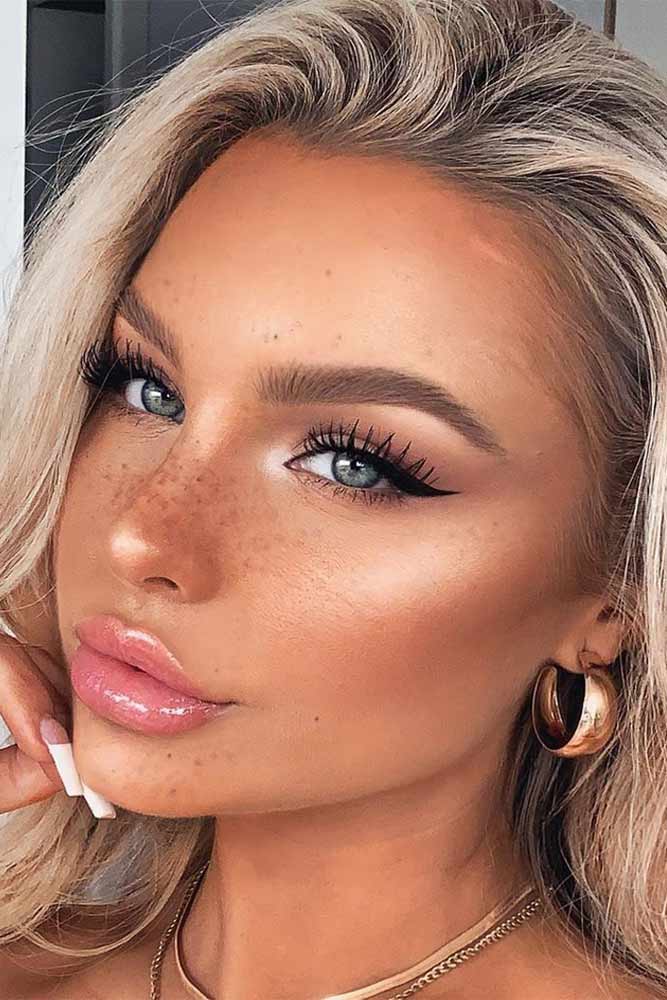 Source: Instagram/bybrookelle
One of the best parts about natural makeup is that it doesn't require a lot of time and effort. A natural makeup look is so sleek and sophisticated. They are perfect for the office as well as an evening out on the town. And they look stunning with an updo as all the attention will be then drawn to your gorgeous eyes.
Apply your foundation as desired for a smooth, natural look. All you need to do to finish this look is apply black liquid eyeliner above your eye and finish it with mascara and nude lipstick for a "barely there" look that is pure and clean.
Natural Look For Girls With Blue Green Eyes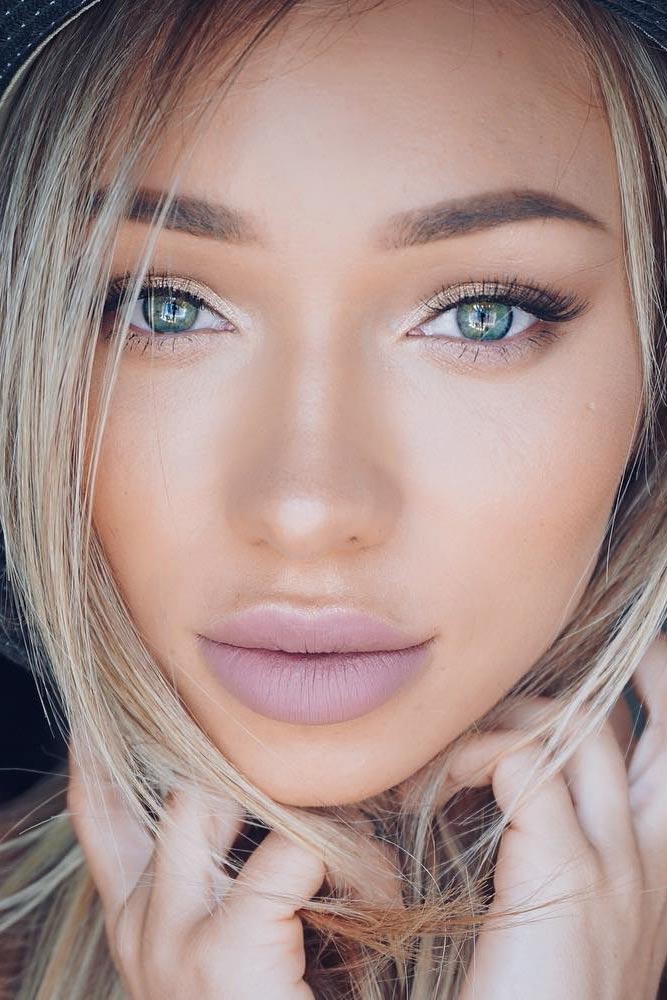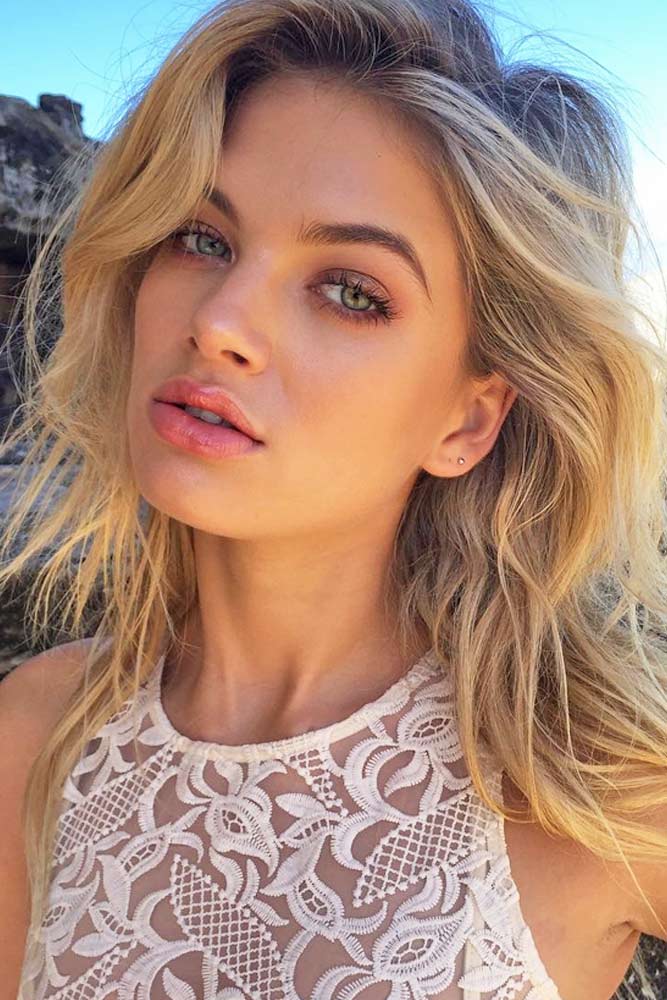 Source: Instagram/liza_lash, Instagram/meganblakeirwin
If you were blessed with blue or green eyes, you can play up your look using peach, cream or nude matte eyeshadow. You can easily find these in the cosmetic brands aisle in your local retail or beauty supply store. Try to purchase all natural makeup to keep your skin young and healthy-looking.
Use glow foundation to give it a romantic vibe, then blend peach and cream shadow on your eyelids for a natural effect. Draw a thin line with black eyeliner above your eye only. Finish it with pale pink or shimmery lipstick and get ready to relish compliments.
Natural Makeup With Lip Gloss For A Romantic Look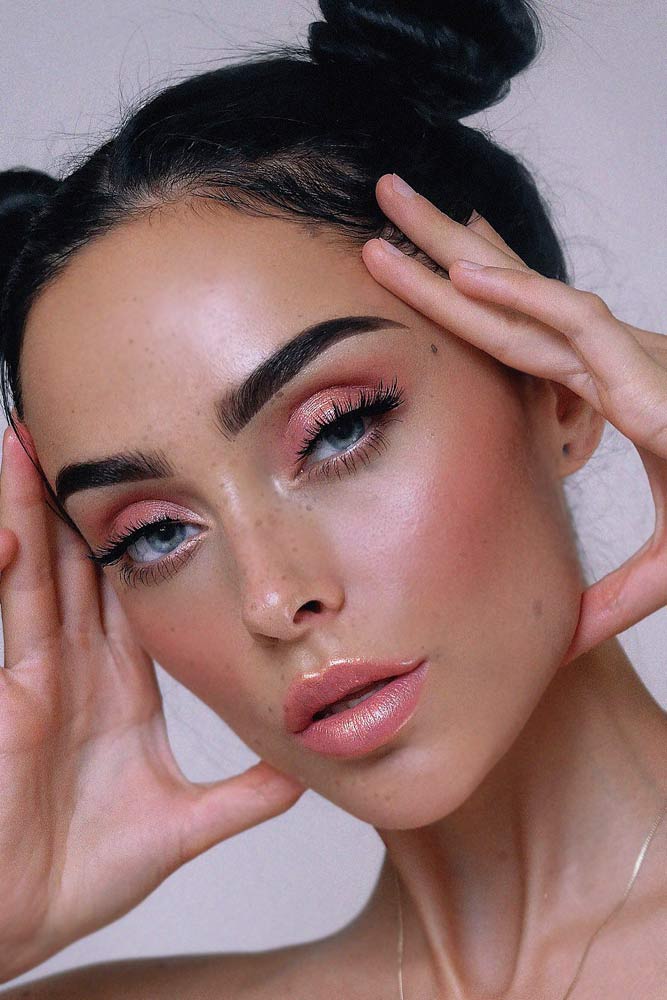 Source: Instagram/johannaherrstedt
Heavy makeup is not a "must-have" look for a date night. You can just as easily impress your boyfriend with a natural makeup look, like this one. But no matter what shape your eyes: round, oval or almond, this look is clean and fresh yet gives off soft, romantic glow.
Apply your foundation, as usual, using glow powder for a bit of extra shine. Then apply eyeliner and mascara but no eye-shadow. Finish it with glittering peach or pink lip balm. Then all you need is a sexy killer outfit, and your boyfriend will be speechless when he sees you walk into the room.
Simple Natural Makeup Looks For Every Day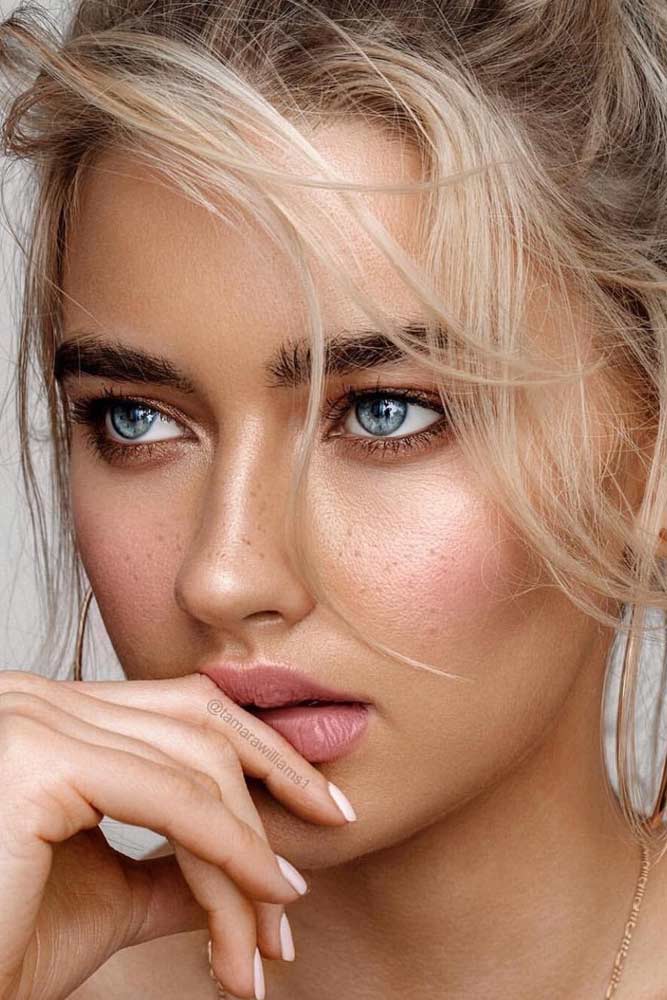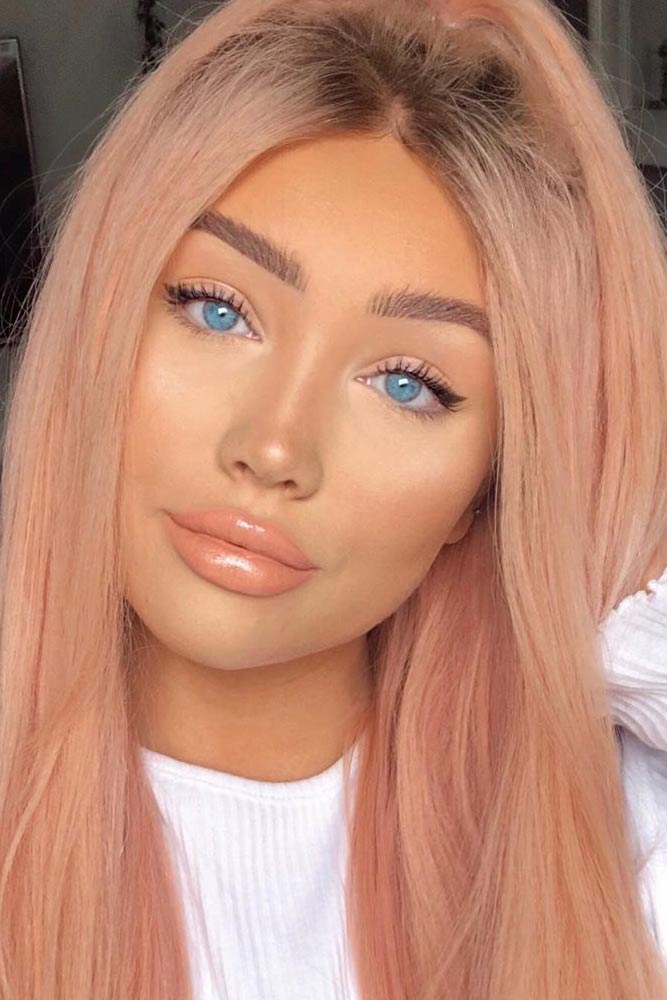 Source: Instagram/josecorella, Instagram/ohmygeeee
Natural makeup is ideal for those girls who don't want a dramatic look, aren't quite skilled at the art of makeup, or simply prefer a clean and simple look. Using makeup with natural ingredients will prevent breakouts and keep your skin younger and healthier looking.
Use nude or natural liquid foundations for a clean and polished look. Then apply a thin line of black eyeliner above your eyes only. Skip the eyeshadow altogether and apply clear mascara to lengthen your lashes. Finish it with nude matte lipstick. This look is perfect for the office or those times when you want a simple, clean look. It is classy, yet, still sexy.
Natural Makeup For Girls With Blue Eyes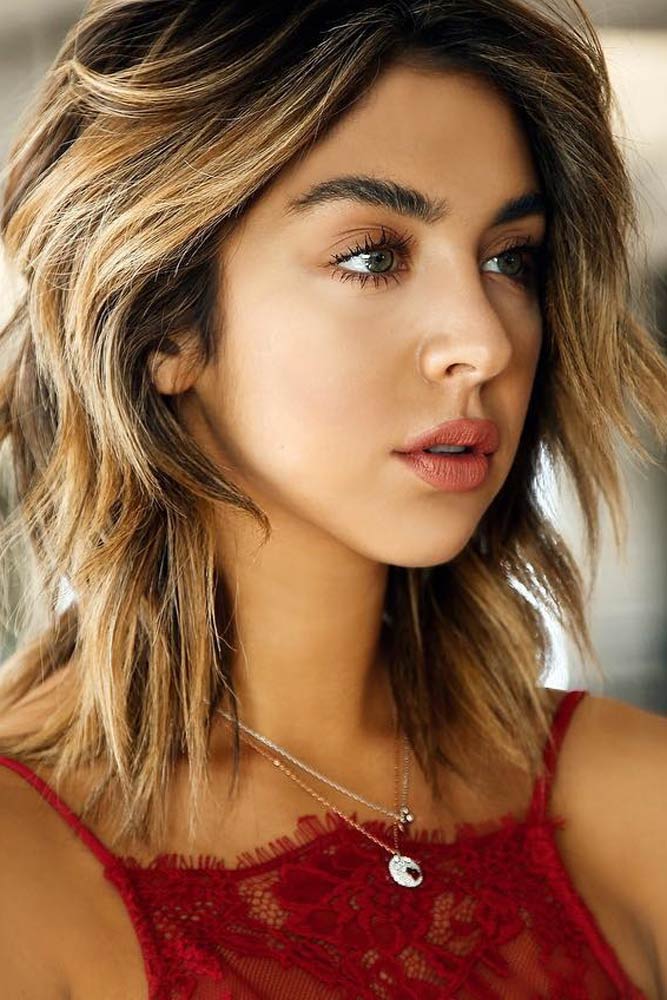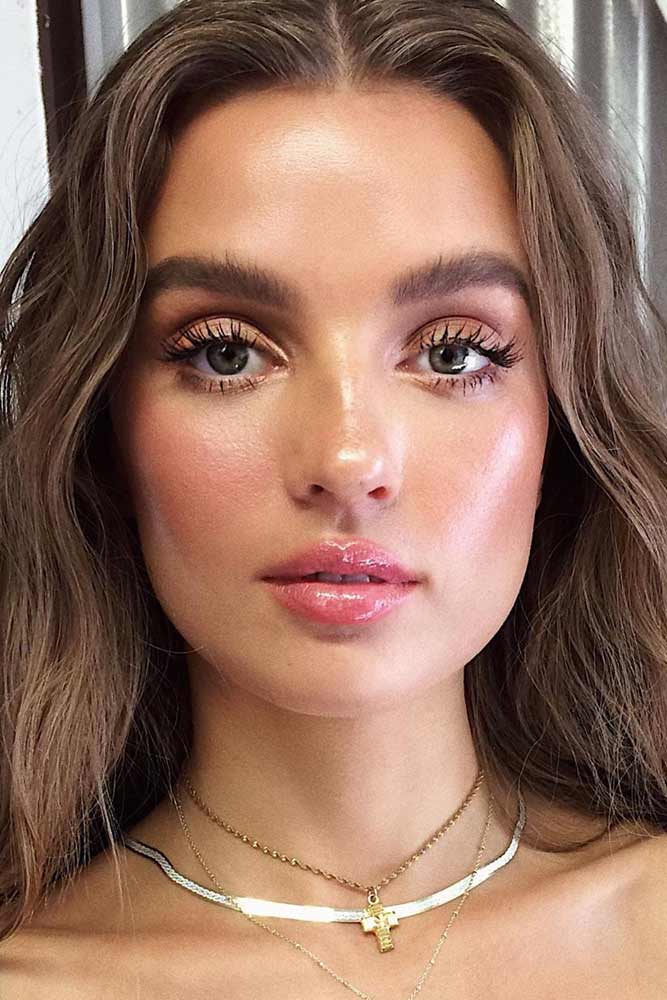 Source: Instagram/nadia_mejia, Instagram/brittsully
Most of the time the best natural makeup look is one that does not require a lot of products. Less is more when it comes to pulling off a clean and pure makeup look.
If you have blue eyes and are searching for a natural look, it is wise to use the best makeup foundation for your skin type to play up those gray eyes. All you need for this natural look is a thin line of eyeliner above your eye and a bit of mascara. Complete it with nude lipgloss for an effortless yet stunning natural makeup look that will accentuate your natural features.
Summer Makeup With Full Lips Accent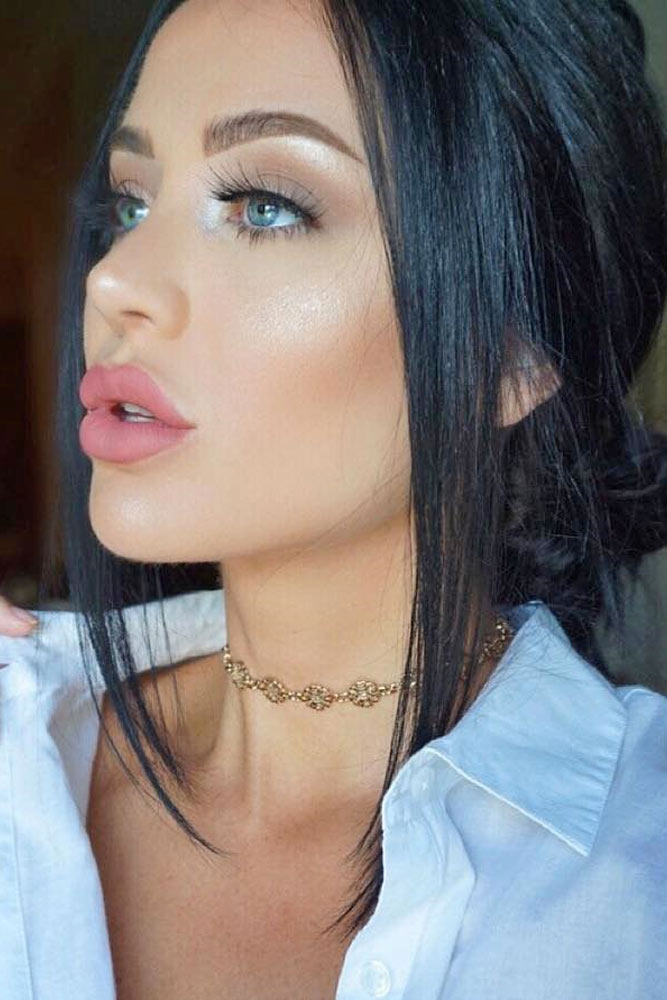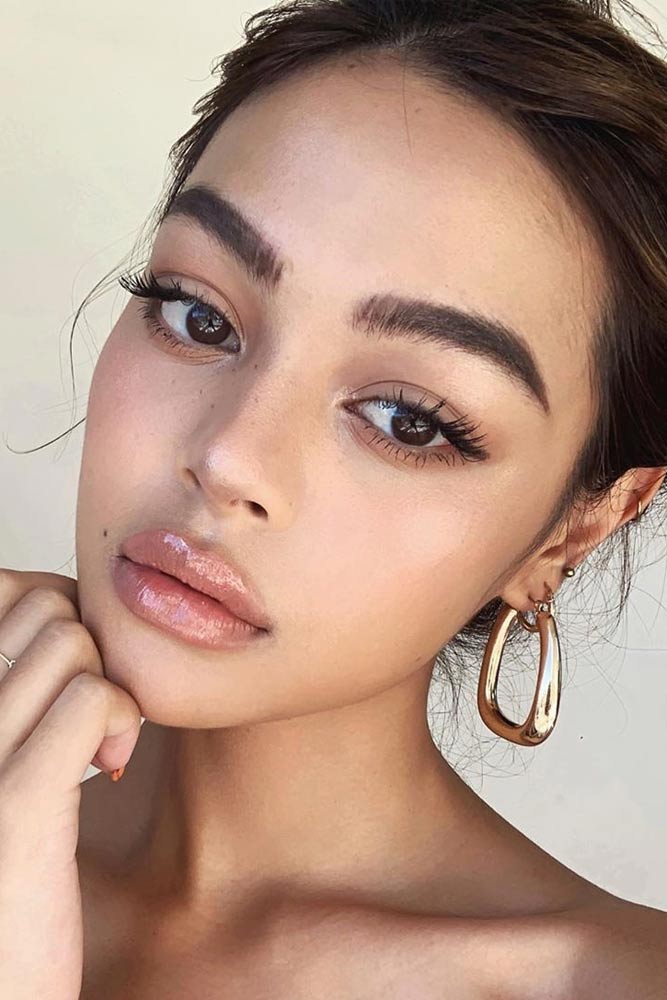 Source: Instagram/stephanieabsher, Instagram/lilymaymac
If your lips are full, you could put an accent on them by using a proper lipstick. There's no need to use some bright colors unless you are going out for a special evening and wear a nice cocktail dress. For a more casual look, use more subdued colors, like beige or subdued rose. You can go with or without mascara depending on how you are going to spend your day.
Lovely Makeup With Natural Liquid Lipstick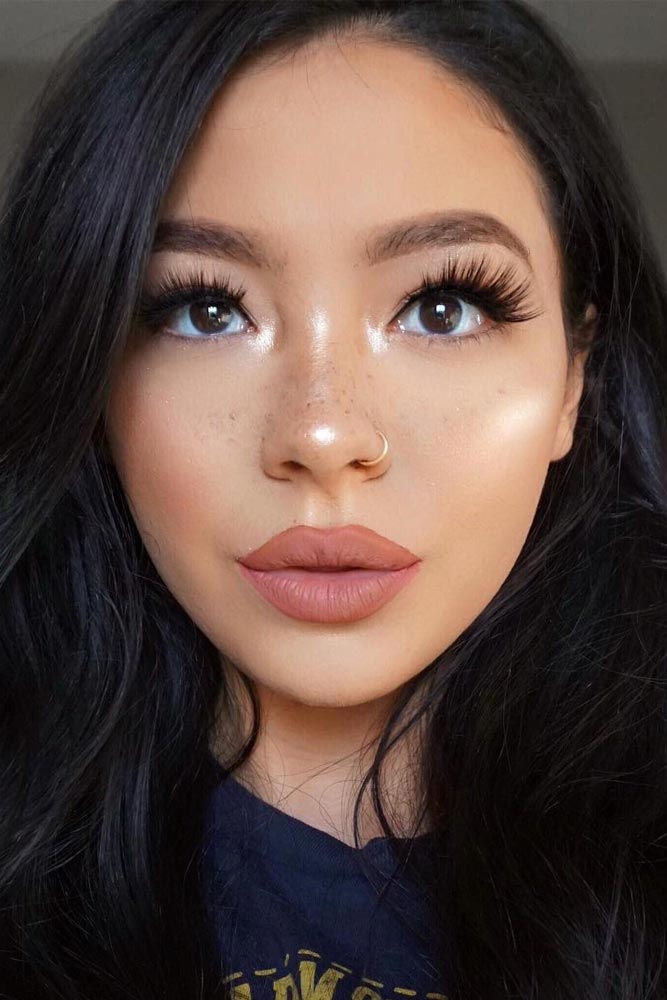 Source: Instagram/maryliascott
With as little as putting on some light foundation to even your skin and natural liquid lipstick to accentuate your lips, you will look irresistible. You could use a flower pin and some hand made jewelry to create a perfect summer all natural look.
Natural Look With Classy Eyeliner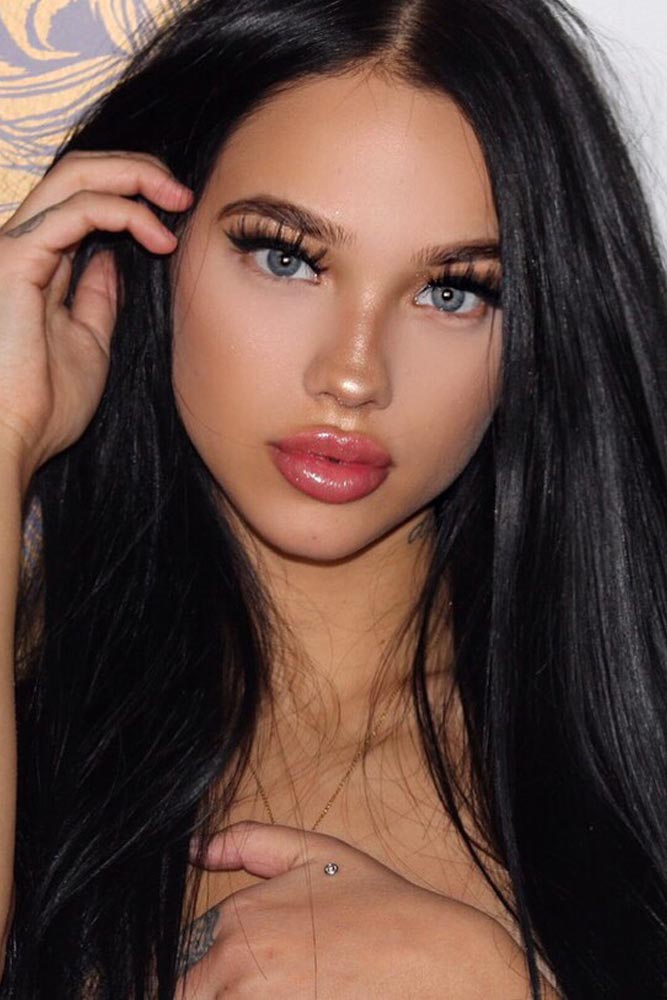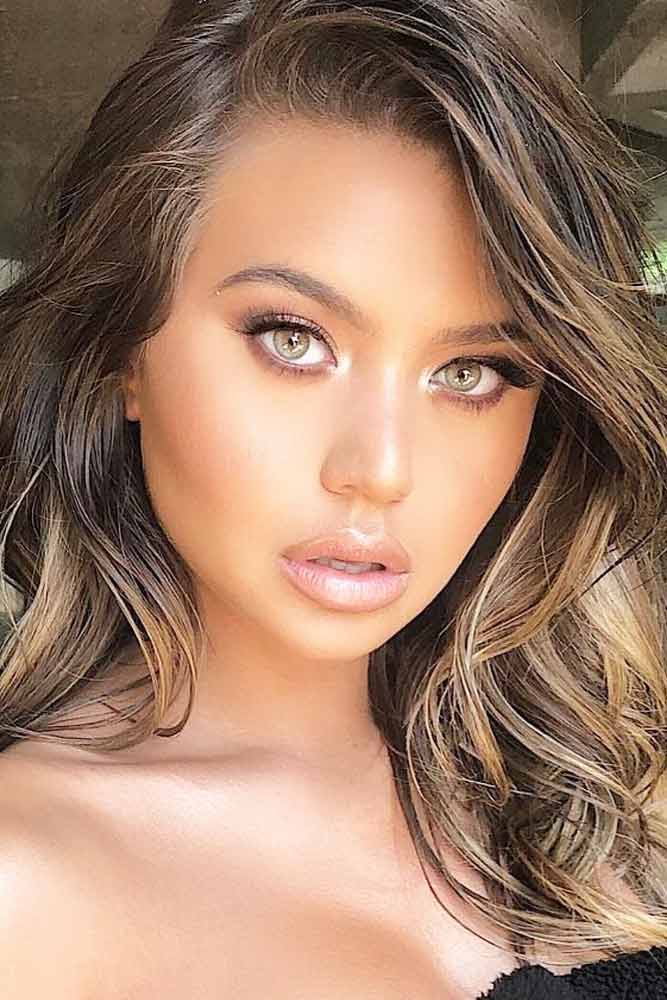 Source: Instagram/sophiiadiana, Instagram/sofiajamora
Summer is the perfect time to give your skin a break with the beauty of natural tan. This simple makeup look will make you feel confident as well as beautiful.
The main goal of natural makeup is to enhance, highlight and brighten your natural features. This look simply involves clear mascara for long lashes, natural cream blush, and nude lipstick. The key to nude lipstick is to apply a shade lighter than your lips. Use your finger to apply the lipstick for a more natural look. To give this soft, summer look a bit of dramatic flair, apply black eyeliner to the top lid only.
Natural Makeup For Girls With Brown Eyes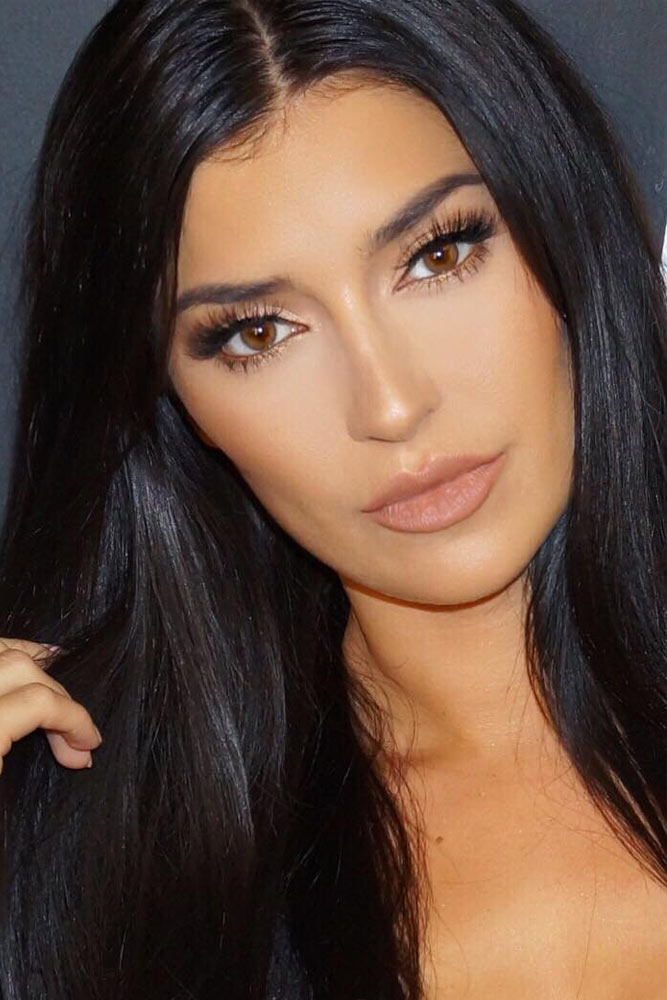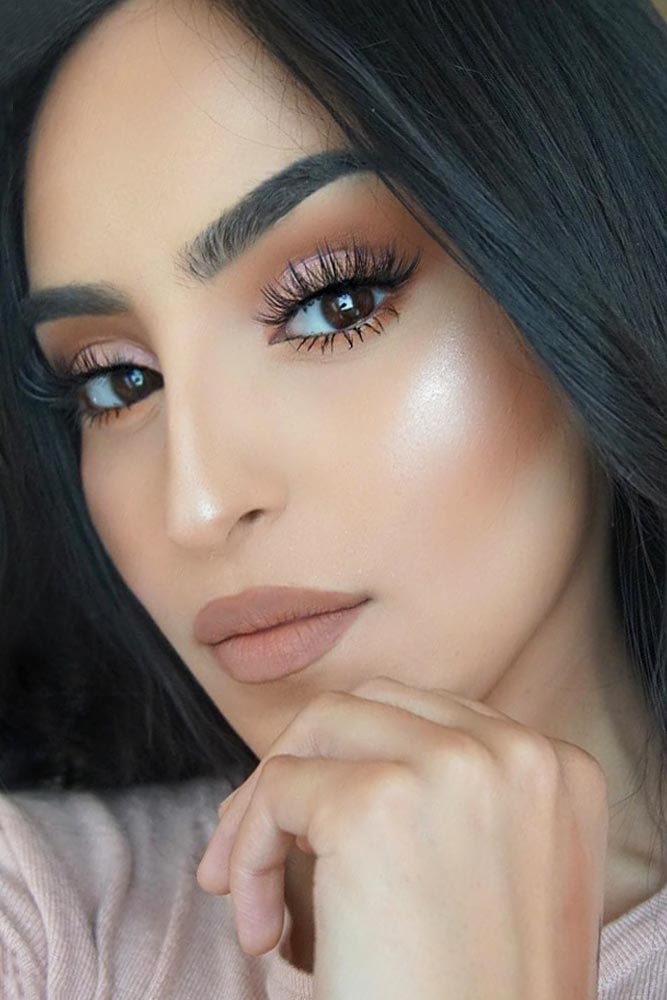 Source: Instagram/justtnic, Instagram/rahmanbeauty
The brown color of eyes doesn't have an opposite on the color wheel that's why you can choose any eyeshadows. To make your makeup in a natural way it is better to use pencils and eyeshadows in earth tones and other natural shades.
Tip #1. The foundation should be kept light. Thus, your skin will look even and clear. As a result, you will appear naturally radiant. Such look is always winning.
Natural Makeup For Girls With Hazel Eyes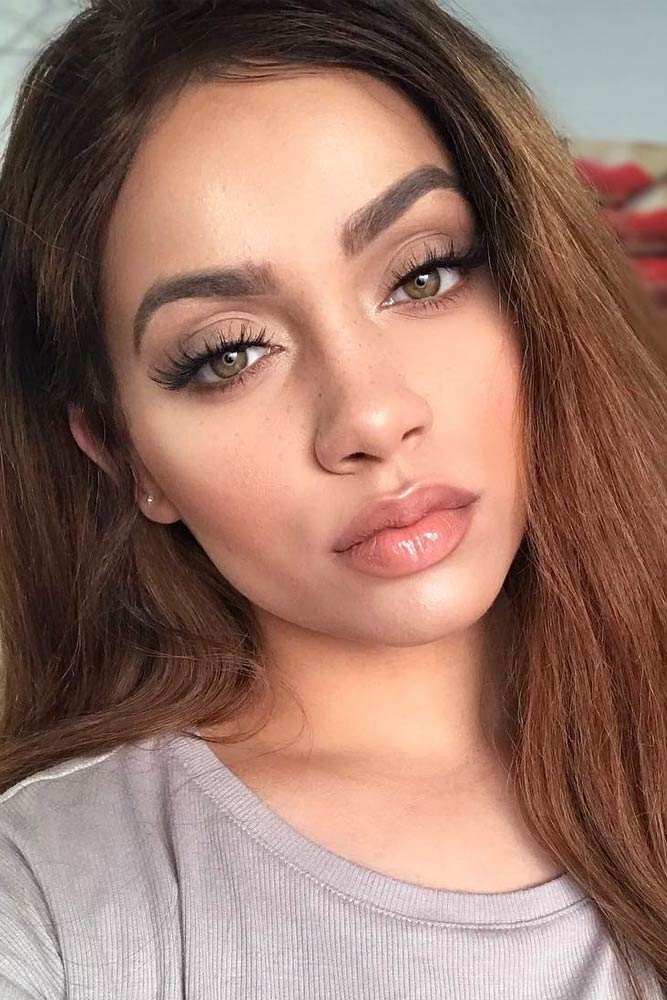 Source: Instagram/mua_myesha
Tip #2. Do not opt for heavy foundation. It's the thing of the past in general and a definite no-no for the daytime makeup. Rather, apply BB cream or tinted moisturizer.
Natural Makeup Ideas For Brunettes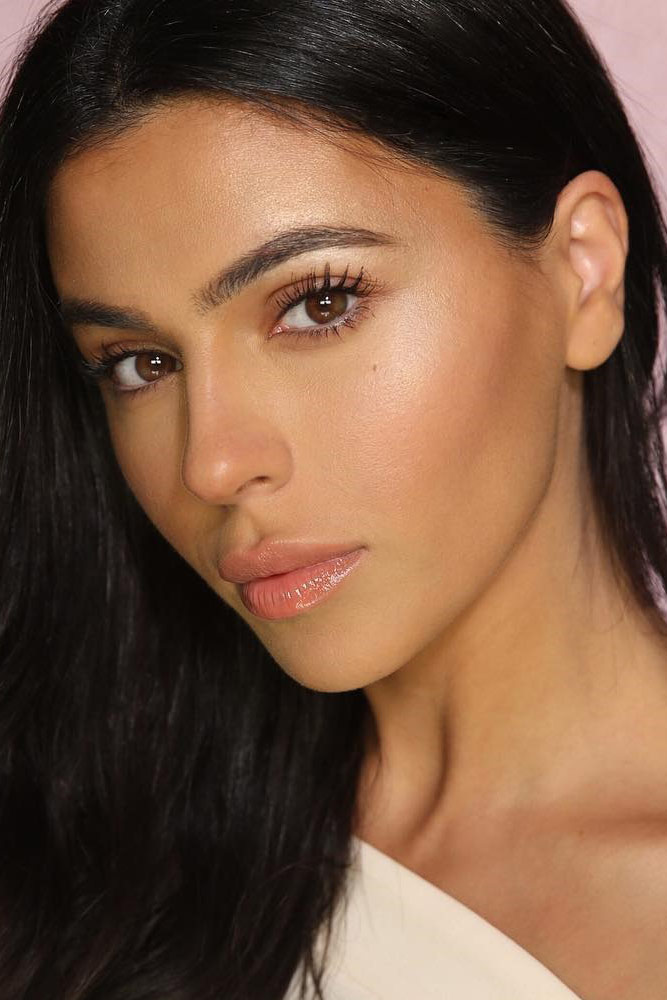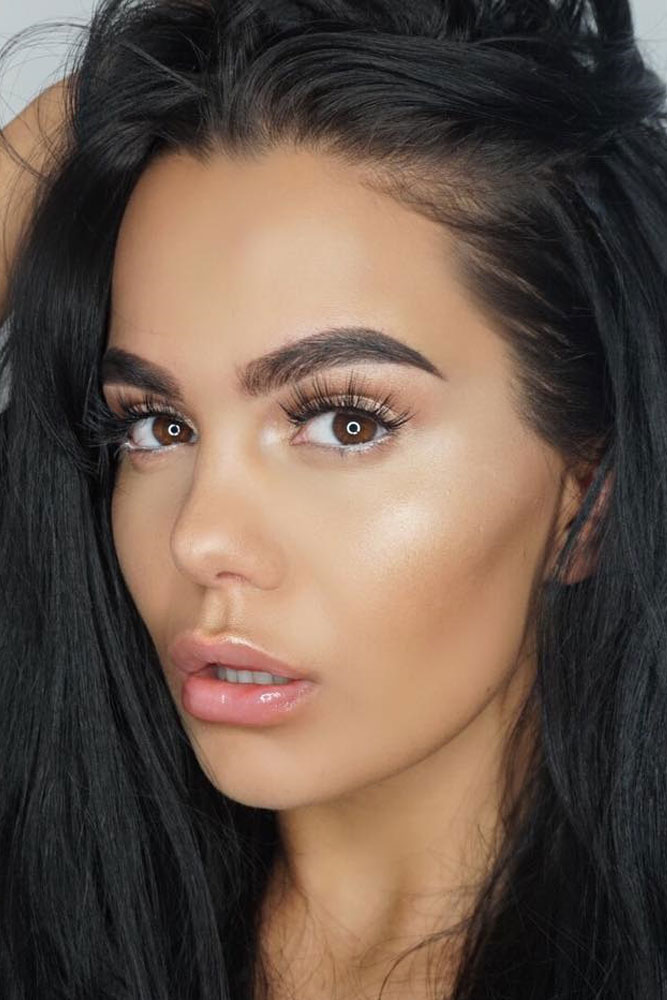 Source: Instagram/tenipanosian, Instagram/xshyox
Tip #3. It is advisable to apply tinted moisturizer or BB cream using a special method of five dots. Put the dots on your chin, each cheek, forehead, and nose – very simple.
Natural Makeup For Girls With Blonde Hair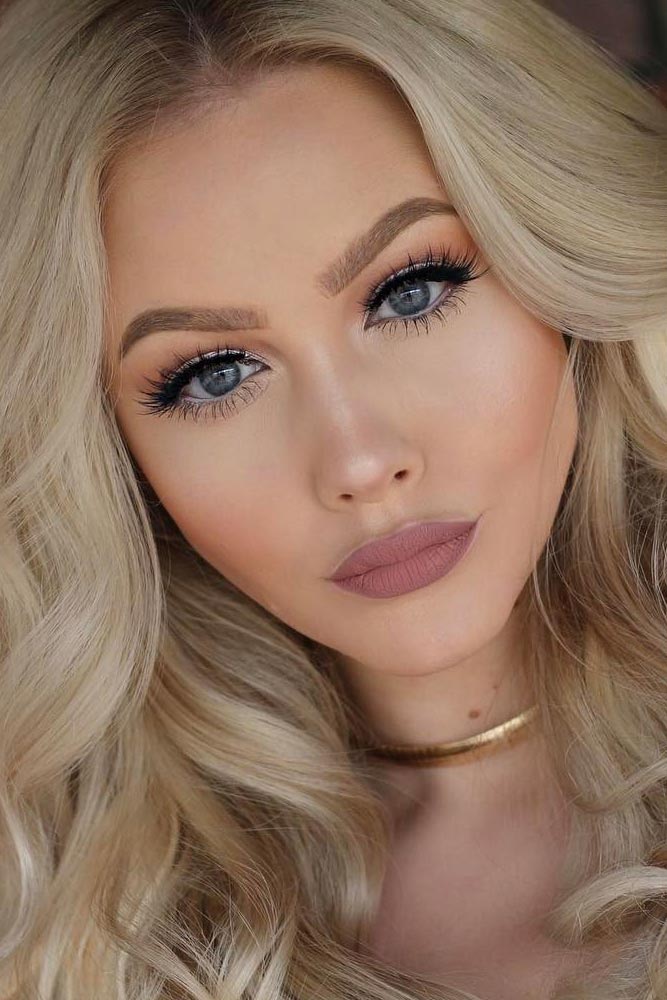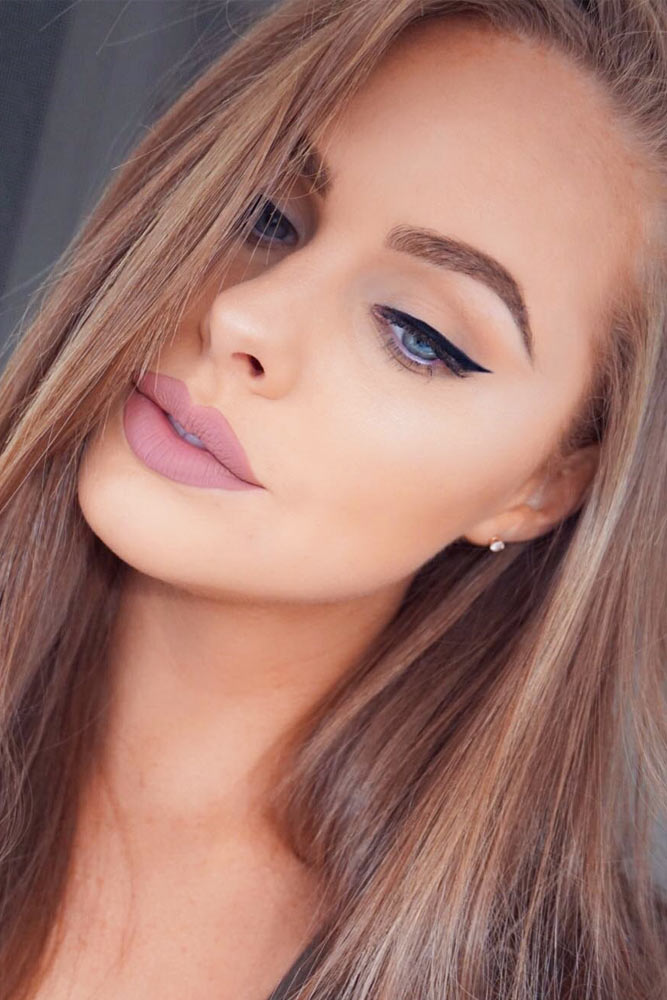 Source: Instagram/jessanista, Instagram/courtelizz1
Tip #4. Do not put on too much concealer. Makeup artists advise to apply just the right amount in order to hide the visible imperfections, not more, and not less.
Natural Makeup For Girls With Gray Eyes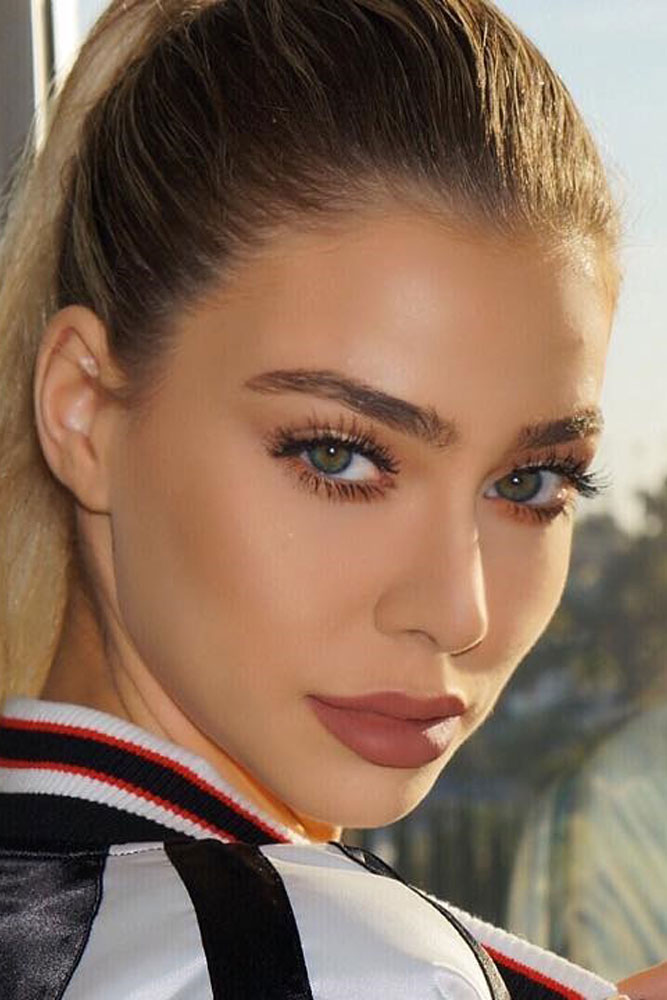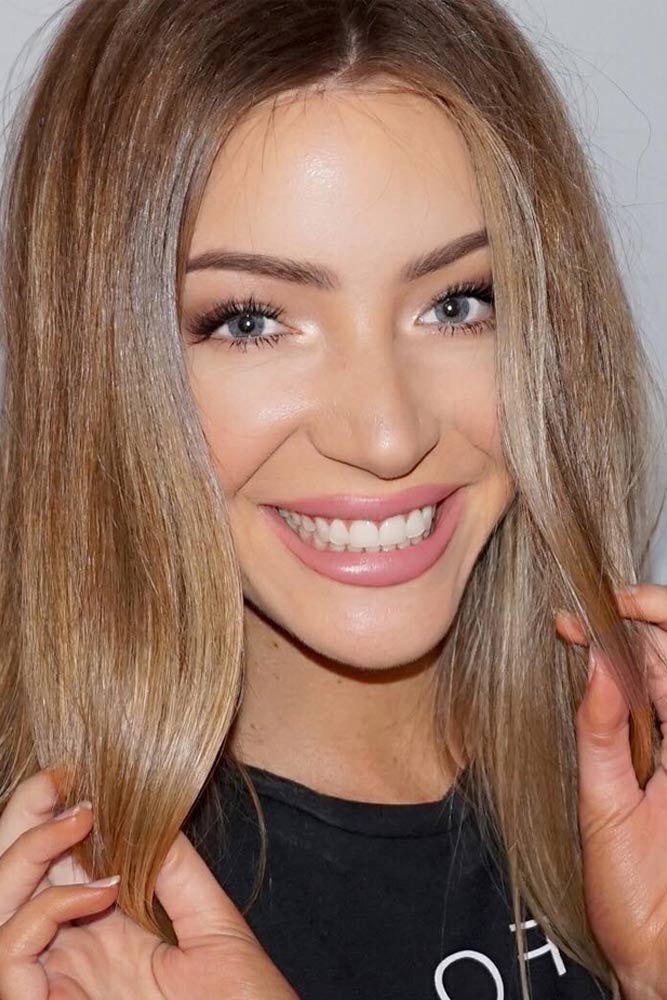 Source: Instagram/babyg, Instagram/_stephanielange_
Tip #5. Do you know how to make the concealer stay on your face for the whole day? Surely, you should purchase a qualitative concealer. But there's a trick: put on powder first.
Natural Looks With Fresh Lips Color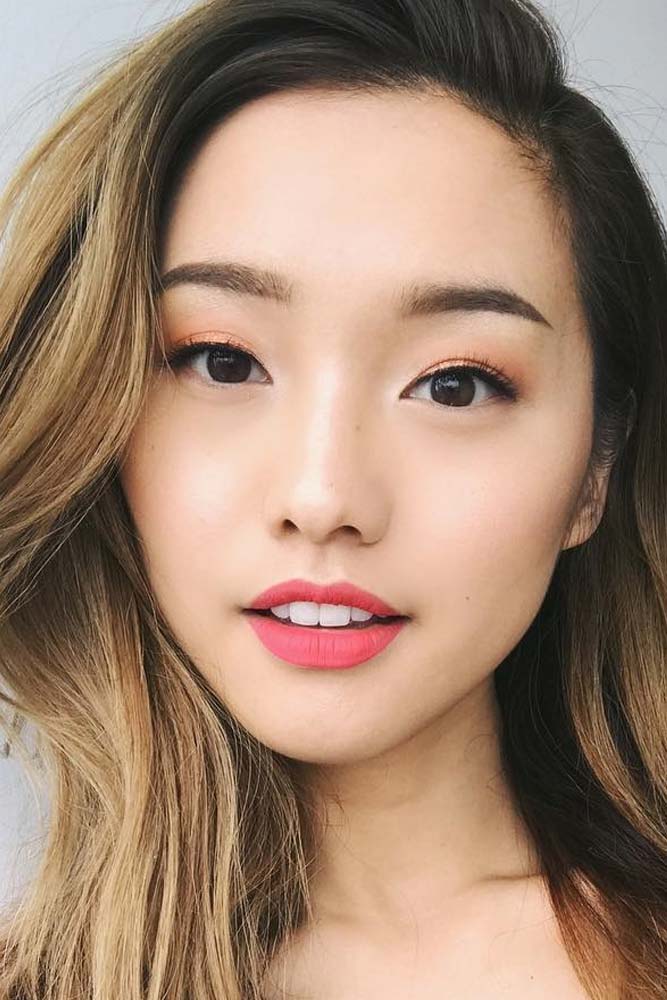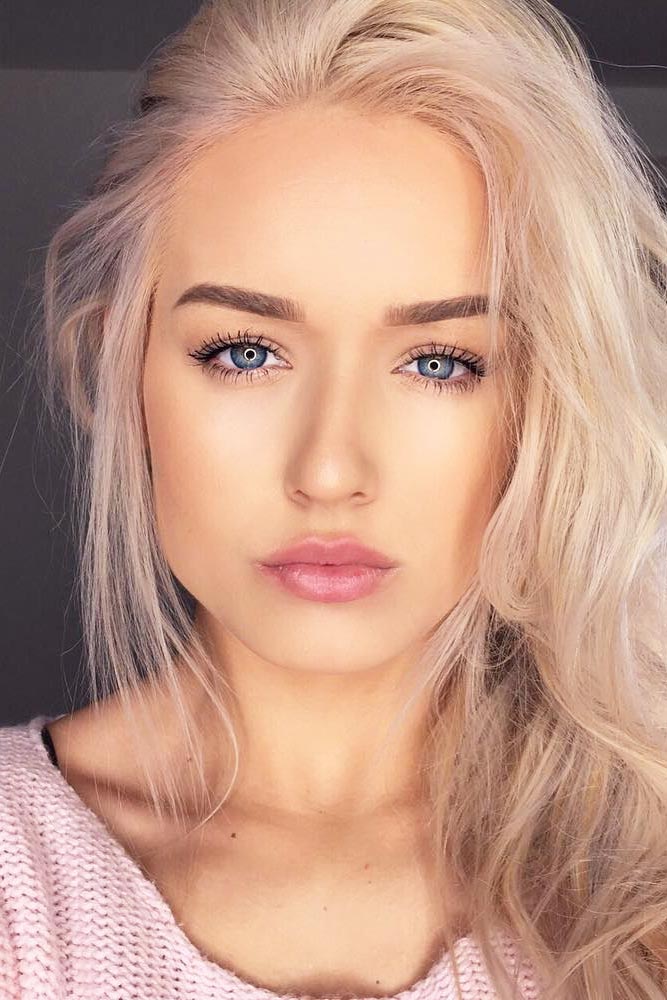 Source: Instagram/imjennim/, Instagram/nicoladamulewicz
Tip #6. Apply a natural shade to the center of your lids. And then take a dark eye pencil and line your upper waterline with it. Thus, your lashes will appear fuller.
Tip #7. Never forget about filling in the eyebrows. In case you wish to appear more awake, add some powder to your eyebrows.
Natural Looks With Matte Lipstick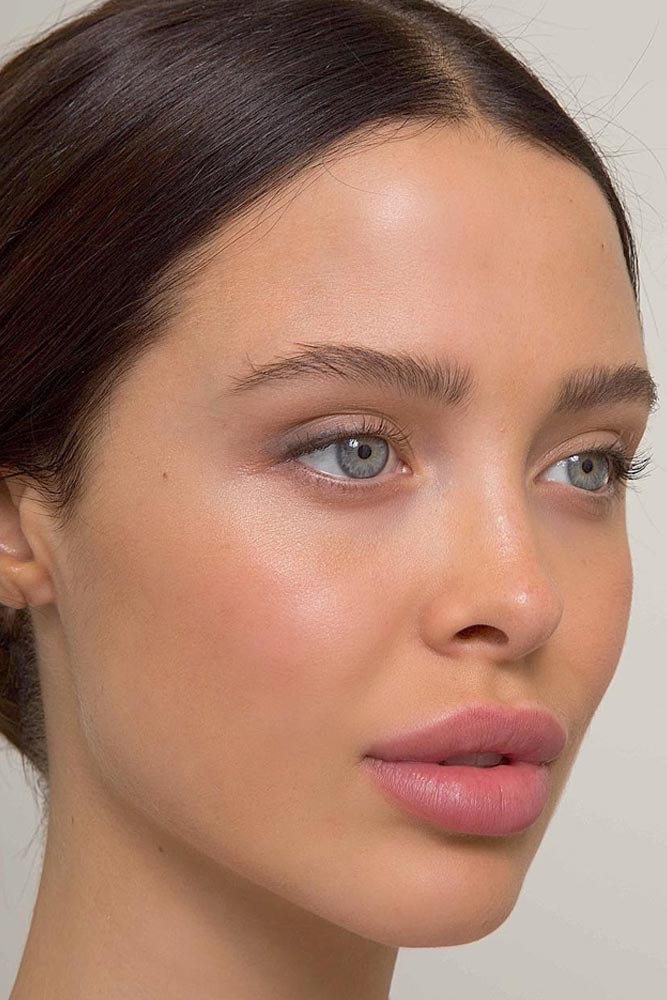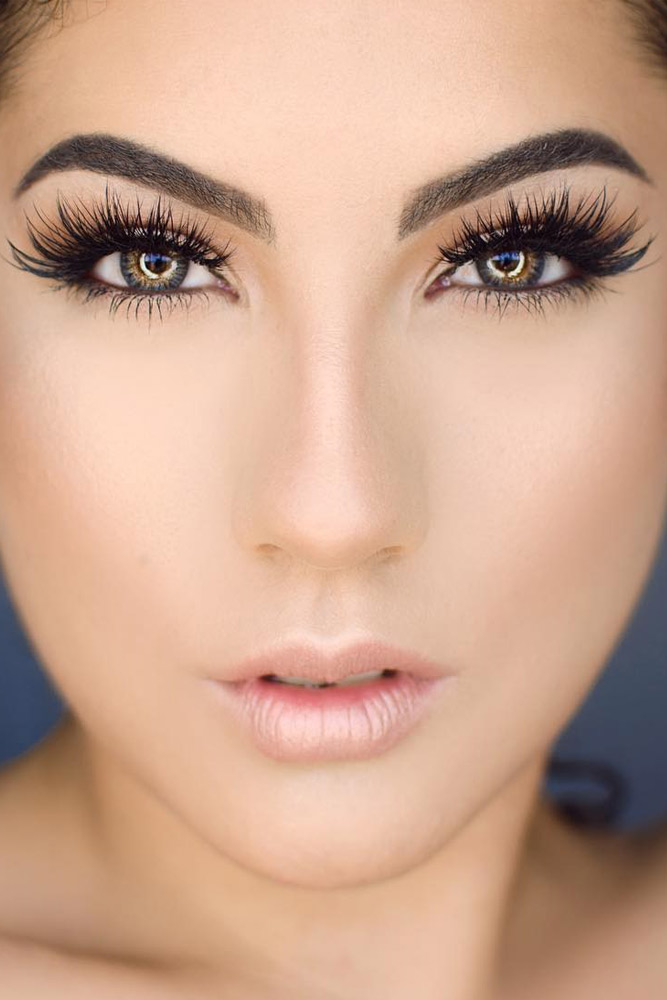 Source: Instagram/marateigen_, Instagram/makeup.by.nessa
Tip #8. It is essential to make your skin appear refreshed. No one needs to know what you were doing at night, and a powder or liquid highlighter will help you keep your secrets.
Tip #9. The foundation and primer should have a similar base, either water or oil. Or, these two might become your enemies and not manage to blend together.
Ideas Of Natural Makeup Rocked By Celebrities
Natural Makeup With Nude Lipstick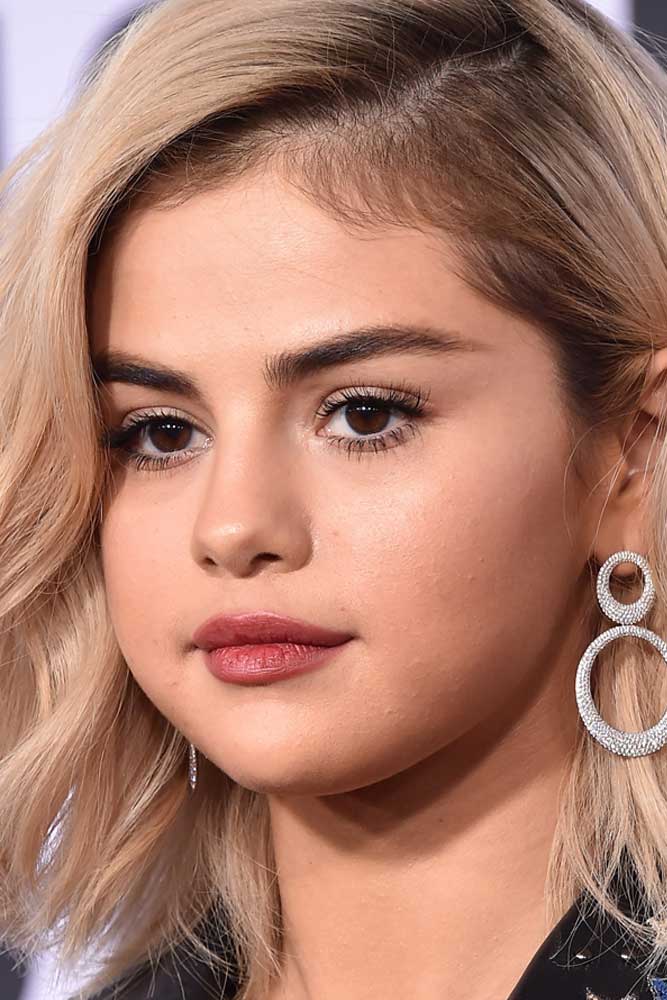 Source: DFree/Shutterstock
Selena Gomez is a real beauty that many girls around the globe trying to look like. However, when it comes to the makeup she prefers to enhance her natural beauty instead of going heavy on makeup. Natural-shaded lips and mascara are all you need to replicate the look.
Natural Makeup With Pin Up Eyeliner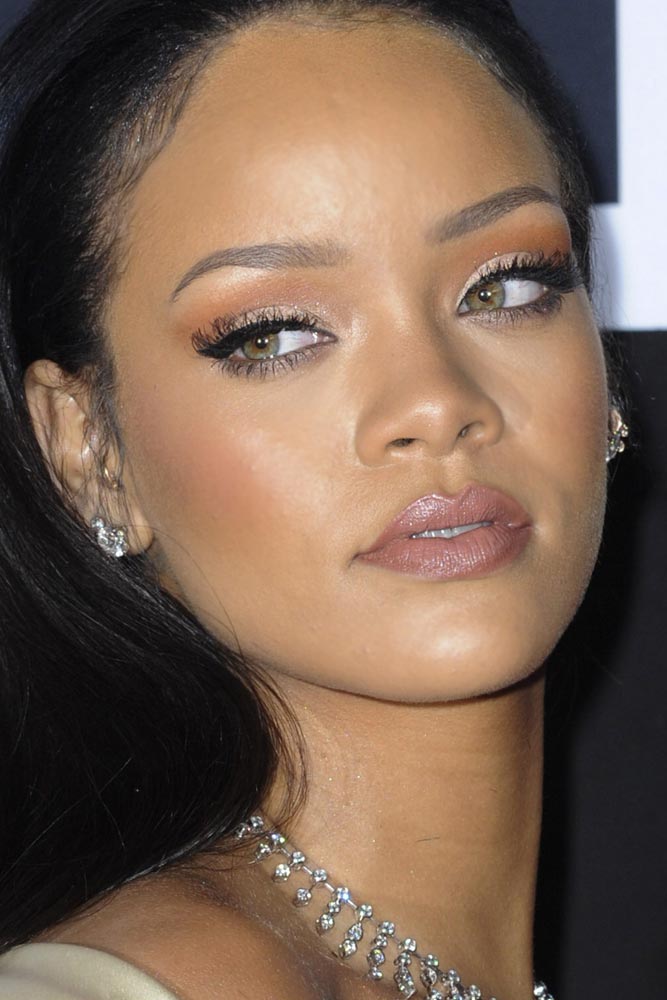 Source: Tinseltown/Shutterstock
Rihanna is the true icon of style. Nevertheless, even Ri-Ri likes it natural from time to time. The truth is that a pin-up liner look combined with neutral lip-gloss look marvelous together.
Natural Look With Classic Black Line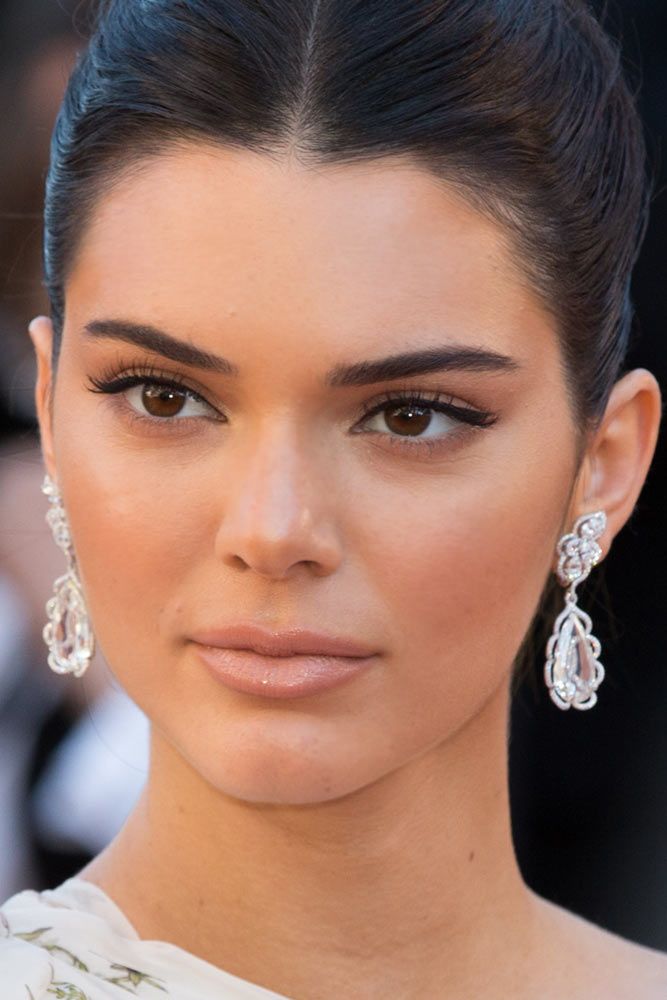 Source: magicinfoto/Shutterstock
The fact is that classic makeup can look quite natural as well. Just look at the way Kendall Jenner rocks the classy black liner with nude lips! Such a look can mesmerize anyone with its femininity and softness.
Natural Makeup With Soft Shimmer Shadow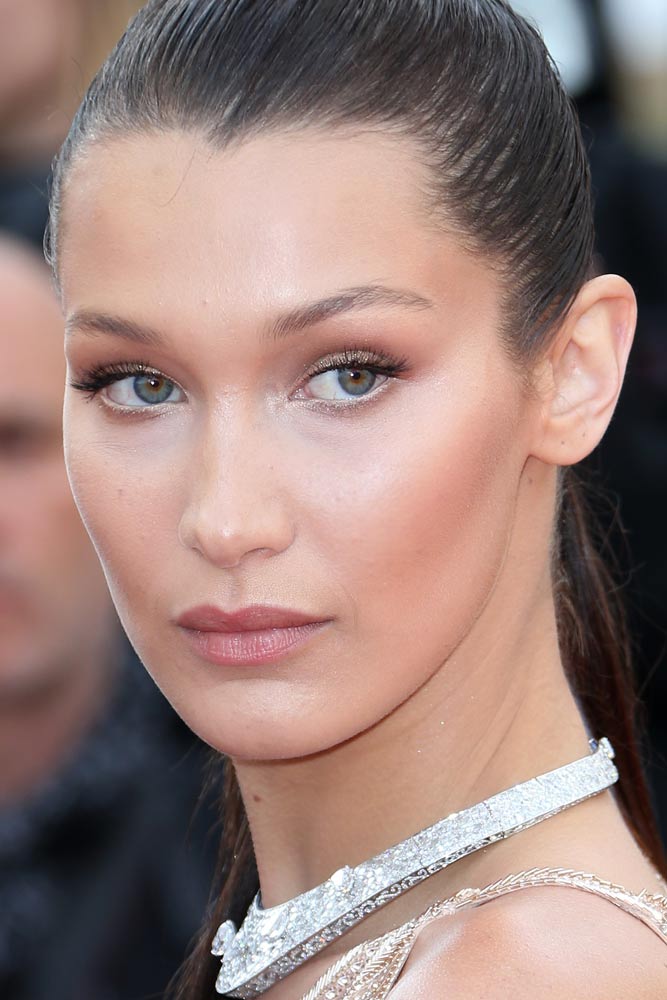 Source: BAKOUNINE/Shutterstock
Very often, many women think that natural makeup means to forget about the eyeshadow. However, that is not true. Just look at Bella Hadid here. Neutral, shimmery shadows add up to the neutral look like nothing else.
Natural Makeup With Lip-gloss And Soft Shimmer Eyes Makeup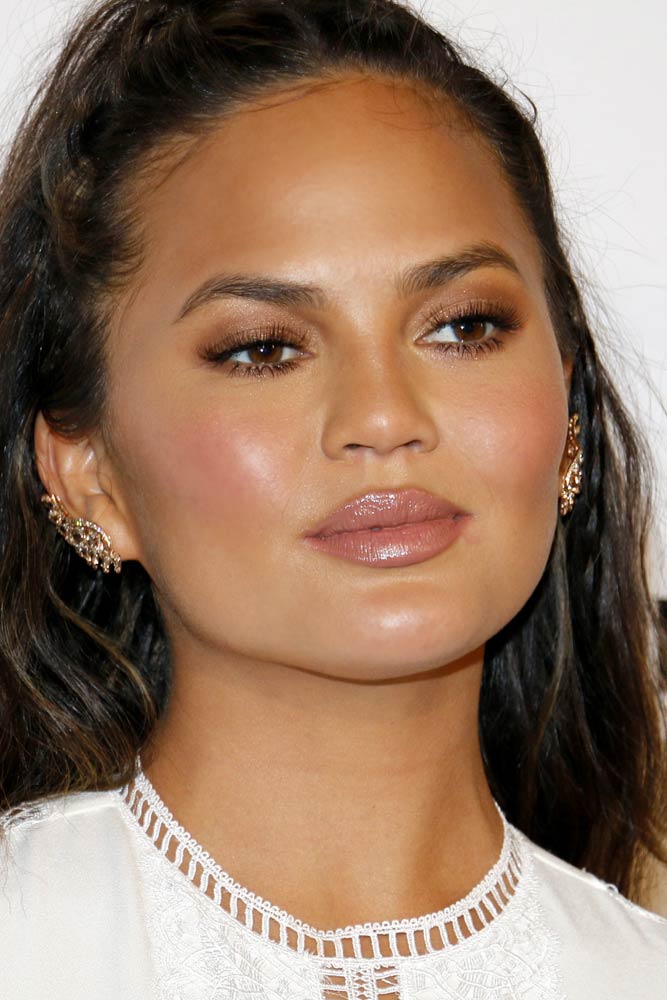 Source: Tinseltown/Shutterstock
The truth is that you can combine a lot of elements in your natural look. For instance, Chrissy Teigen decided to use shimmery shadows and a gentle pink lips gloss, not mention a little blush added to the cheeks. We have to admit that the outcome is truly impressive.
No Makeup Natural Makeup Look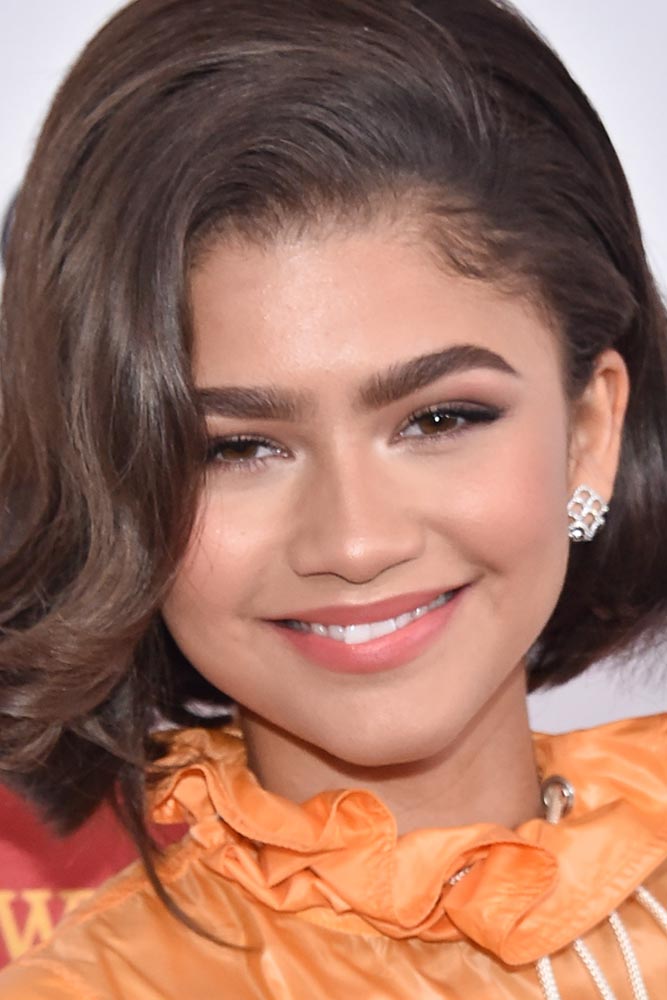 Source: DFree/Shutterstock
If you want to look as natural as possible then you need to take Zendaya Coleman's look into consideration. The thing is that even with the slightest touch of makeup she looks like she is wearing none. Miraculous!
Fresh Peachy Makeup Look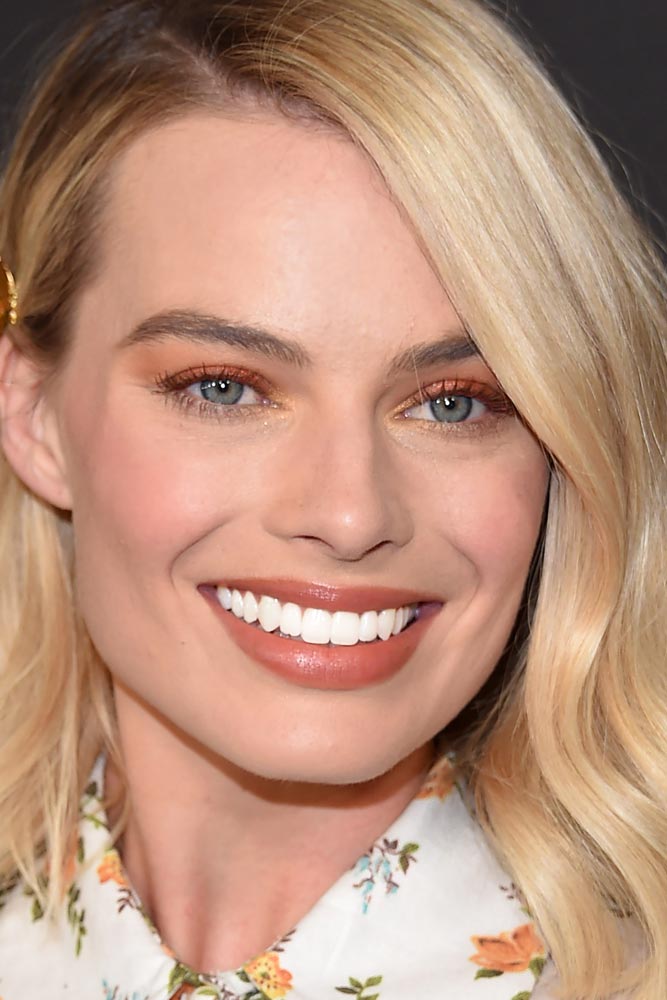 Source: DFree/Shutterstock
It seems that Margot Robbie looks gorgeous no matter what type of makeup she puts on. This time, peach-shaded eyeshadow and the same-hued lipstick create a fabulous effect together.
Glow Natural Makeup With Soft Eyeliner Accent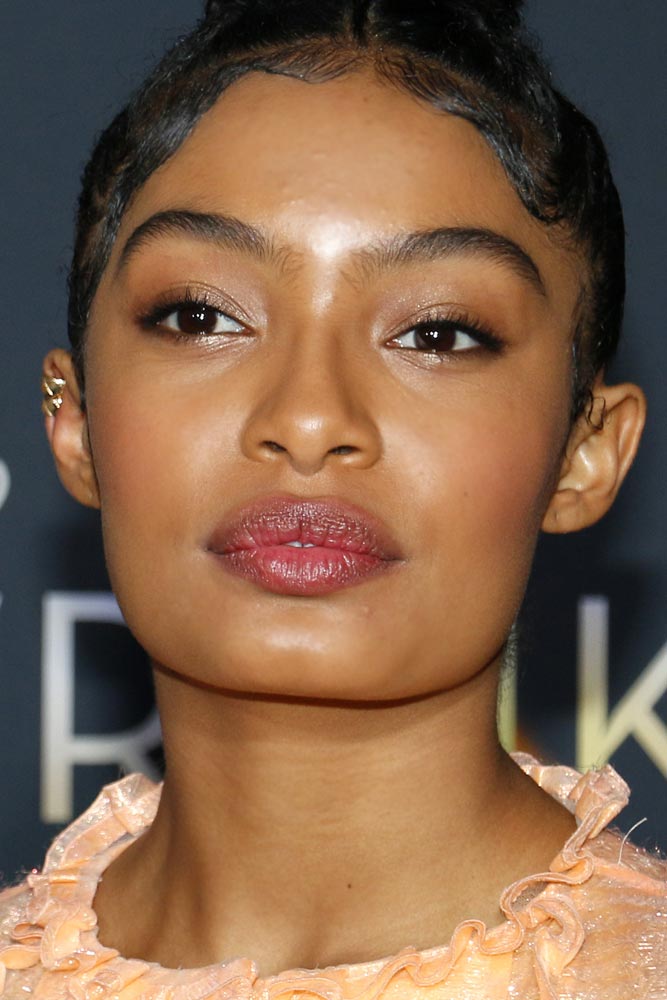 Source: Tinseltown/Shutterstock
Those of you who like the glowing effect the natural makeup can grant you – this look is for you. Yara Shahidi shows it off that natural makeup with a touch of glow to it can transform anything.
Natural Makeup With Nude Matte Lips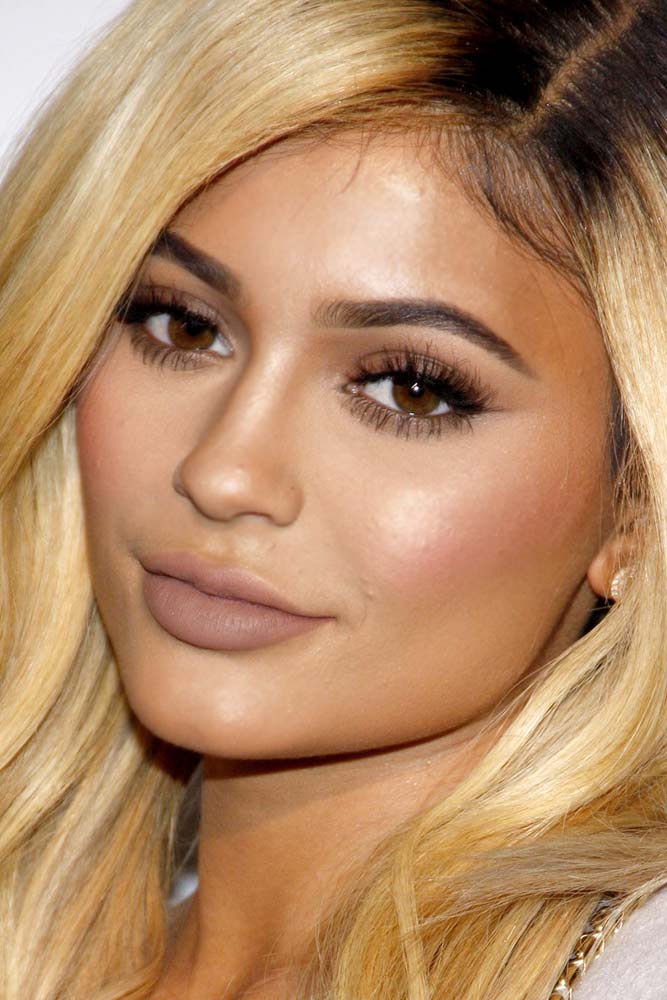 Source: Tinseltown/Shutterstock
Matte lips are all the rage these days. However, when some celebrities prefer bold hues, Kylie Jenner decided to pull a natural lip look off. We must say that the effect she created is truly outstanding.
Soft Eyes Makeup With Natural Lips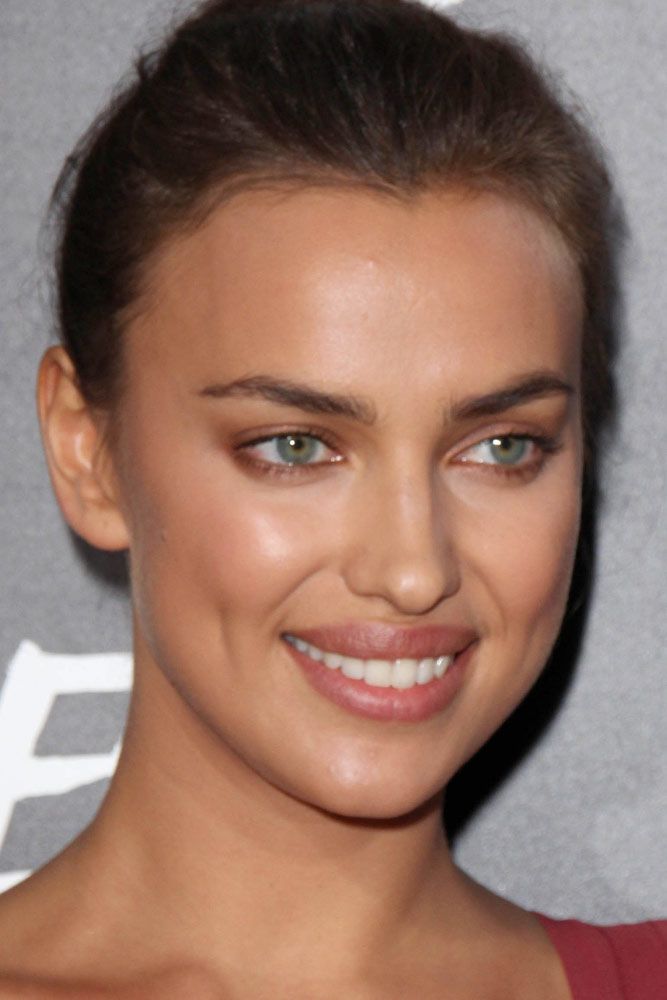 Source: Kathy Hutchins/Shutterstock
Natural makeup does not mean that you can't experiment with some colors. On the contrary, Irina Shayk chooses to match coppery eyeshadow with perfectly natural lips. Truth be told, the result is mind-blowingly ravishing!
REFERENCES:
We interviewed makeup artists to find out what clean, organic, and natural makeup brands are their favorites for impressive color ranges and performance. Source
How to Apply Makeup for a Natural Look. Whether you're just starting to wear makeup or you want to embrace a more subtle look, natural-looking makeup can be pretty and flattering. Source