Short haircuts are making a huge comeback. They are not only (mostly) easy to style and maintain, they are playful, stylish and sexy, too! You might not think you can pull it off, but there are so many cute short haircuts for women that you can easily find one that works for you.
*We may earn money from affiliate links on this page. Please check out our disclosure policy for more details.
If you are feeling daring, why not go for undercut hair. There are short haircuts for women that are "wash and go," while others require a little more time and maintenance. But with such a wealth of styles from which to chose, you won't have to worry. You can certainly find a short haircut to match your style and personality.
Shorter cuts can accentuate your features, elongate a round face, and make you look and feel youthful and vibrant, as well as sassy and sexy. As you get older, you might want a style that is easier to maintain. Or, if you are younger and you want a playful, edgy look, you can opt for one of the trendy new styles with bold colorful highlights. Also, with summer fast approaching, short hairstyles are always in demand! You can always add some flair to your hairstyle with flowers, clips, bows and headbands, or braid the bangs for an elegant look. Who says short hair has to be boring? You can totally jazz up your style with colors and hair accessories. Be bold and make a statement!
Short Haircuts To Suit Your Face Shape
It goes without saying that a perfect hairstyle should enhance your most attractive facial features while disguising any possible flaws. And if you would like to balance out the shape of your face, the right hairstyle will work wonders for you. Here are the best short haircuts women with different face shapes can choose.
Curtain Bangs Shaggy Bob for Round Face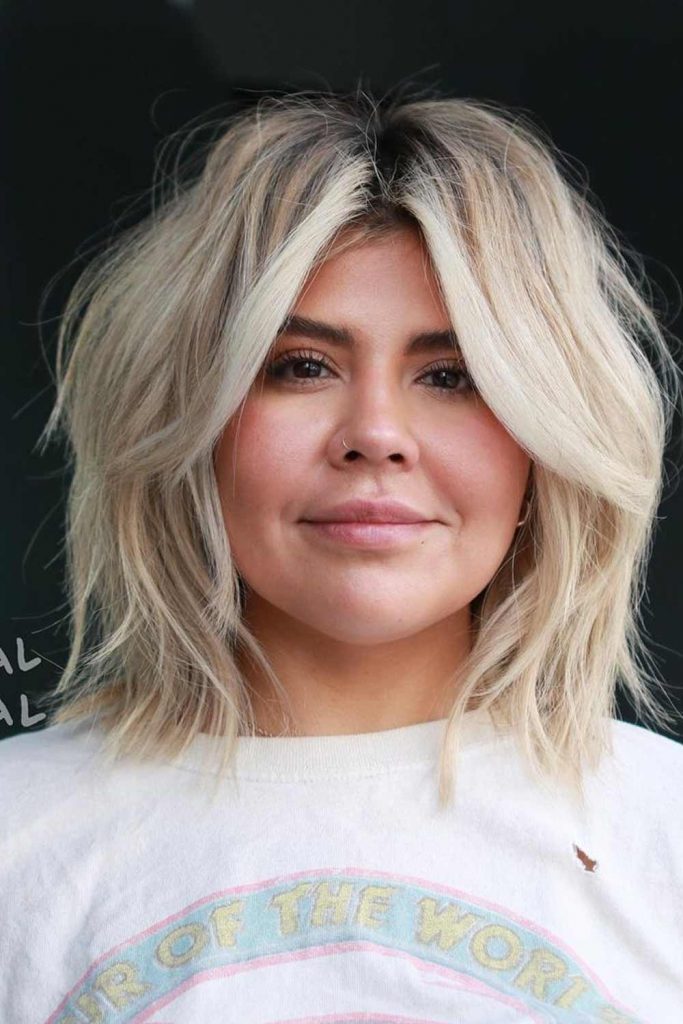 Credit photo: Instagram.com/salsalhair
Curtain bangs are among the most popular short hairstyles for round faces for good reason. As they frame your face, they create an impression as if it is a bit longer than it actually is. Blend the bangs into a short shag haircut, such as a bob, for a more finished look.
Chin-Length Bob for Long Face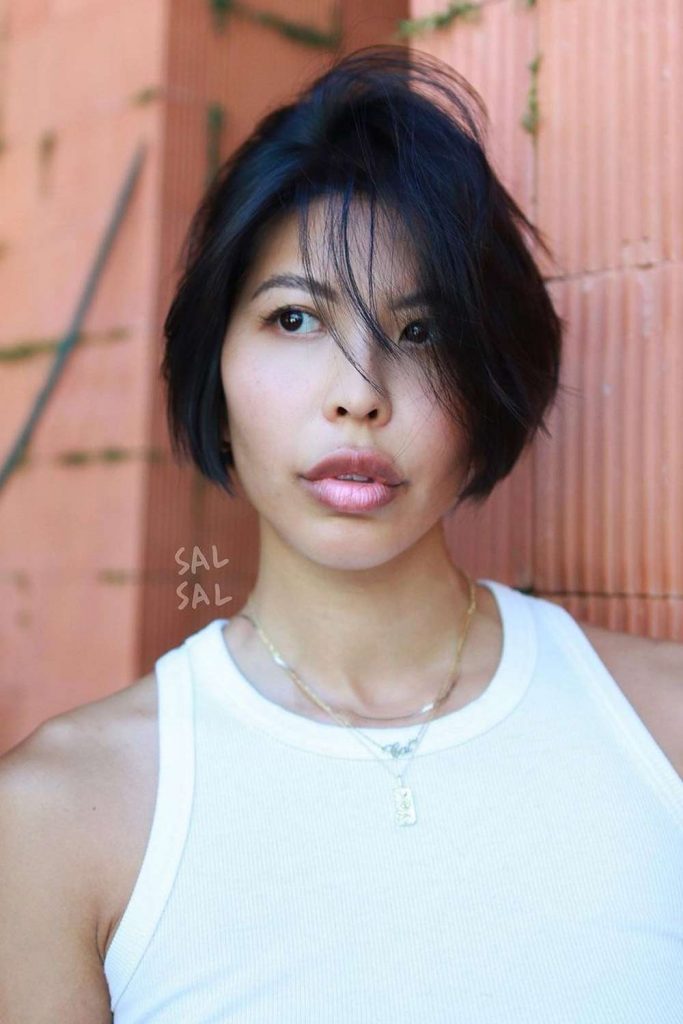 Credit photo: Instagram.com/salsalhair
In case you have an oblong head, you may want to add width to the central part of your face. A bob that finishes right at your chin level will do the job for you. Keep in mind that such short hairstyles look better when they have enough volume. As such, style your hair so that it does not seem limp.
Middle Parted Long Pixie for Square Face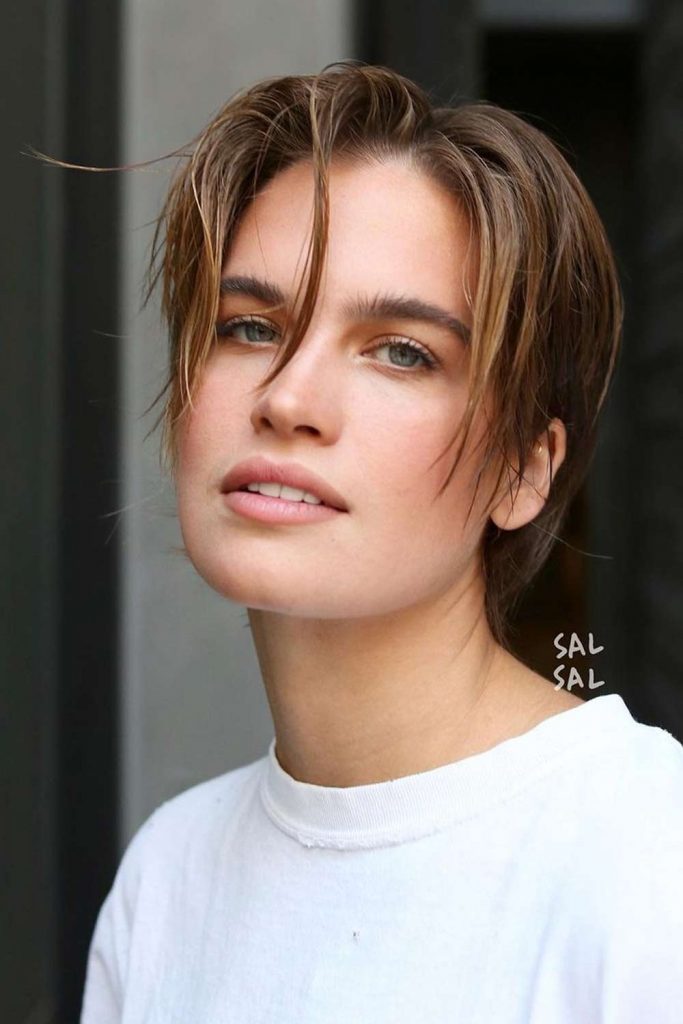 Credit photo: Instagram.com/salsalhair
Square faced women have quite a wide jawline, which can make your face look heavy. To draw the focus away from the prominent bottom part of your face, define hairstyles for short hair with a middle parting. While this can be just anything, a pixie works best in this scenario.
Chin-Length Bob with Bangs for Heart-Shaped Face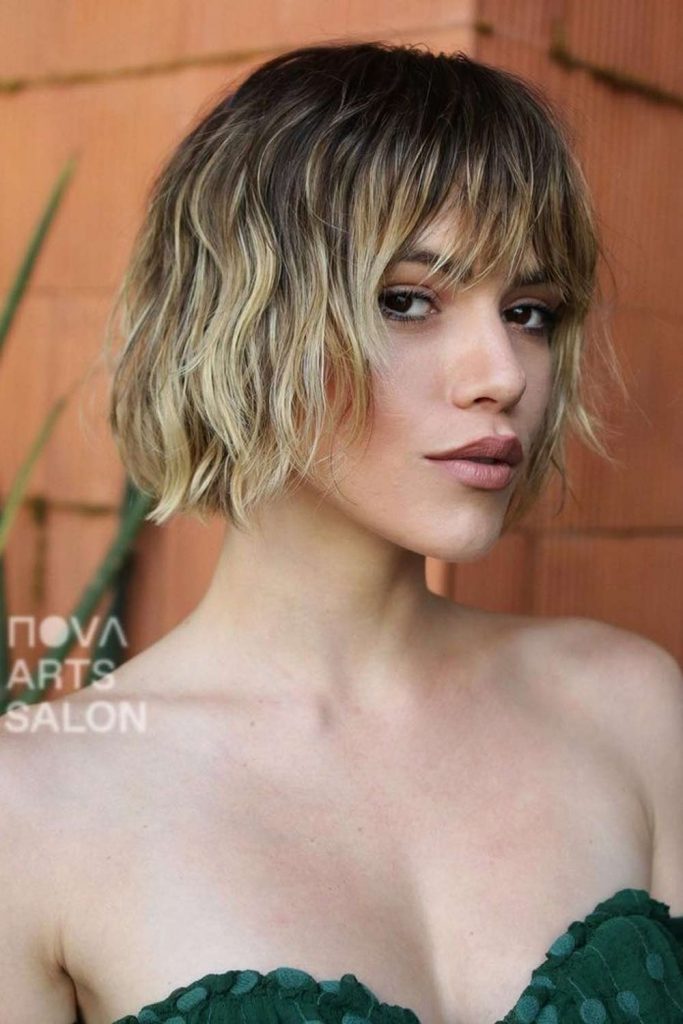 Credit photo: Instagram.com/salsalhair
Women with a heart face shape usually try to accentuate their lower part, as it often lacks definition and fullness. If you have the same bone structure, then a chin length stacked bob accompanied by wispy bangs is a viable solution for you. Tousled strands will make the hairstyle more playful and take your jawline to the spotlight.
Layered Shaggy Side Parted Bob for Rectangle Face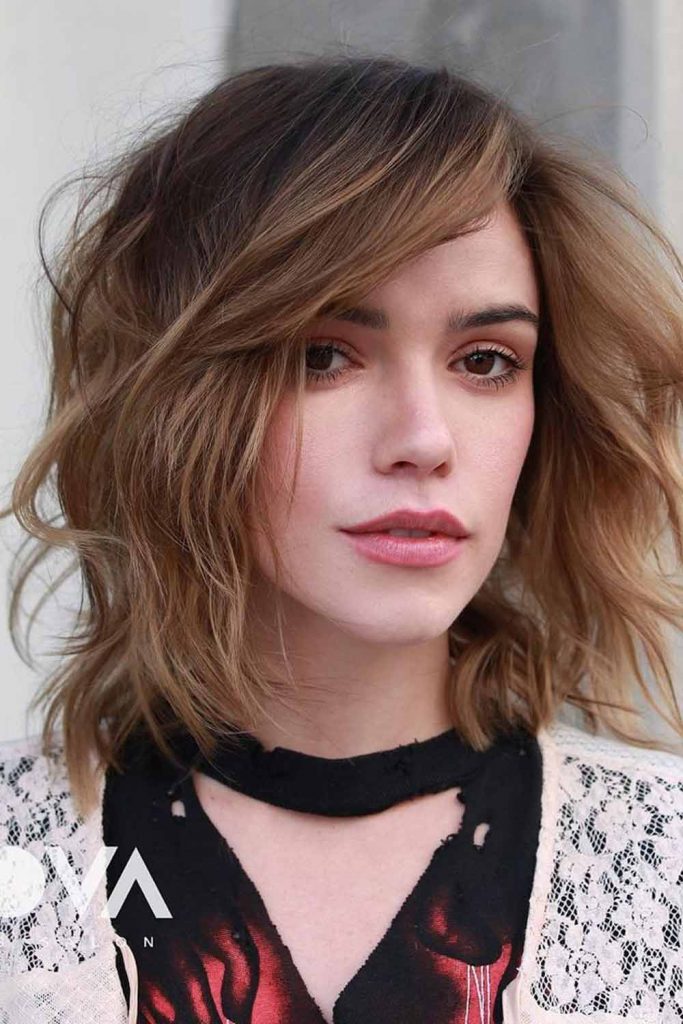 Credit photo: Instagram.com/salsalhair
For a rectangular face shape, you want to make your features softer and less angular. To do this, turn your eyes to short shag haircuts with layers. How to style it depends on your personal preferences, as it is ultimately versatile. Though, not to reinvent the wheel, go for a side parted shaggy bob.
Latest Pixie Haircuts
Womens short haircuts always change, adjusting to modern trends and a pixie is no exception. The length of a pixie cut, which is also known as a pixie crop, is usually between 1 and 3 in. You can make it even or with a top longer than the back and sides. There are multiple variations of pixie short haircuts for ladies. But where did it all start?
Popularized by Audrey Hepburn, pixies were all the rage back in the 1950s when the world was introduced to the movie the Roman Holiday. Following that, the haircut was picked up by Twiggy, Mia Farrow and other famous women of the 1960s. Nowadays, the pixie stays up to date thanks to such beauties as Cara Delevingne, Miley Cyrus, Katy Perry, Pamela Anderson, to name a few.
Advantages of a Pixie Cut:
In case you still need arguments in favor of the pixie haircut, here are the most essential ones:
It does not require much, if any, styling. So, it can save you quite a lot of money and time.
Your facial features look more pronounced.
Room for experimentation. You may not worry much if your hair coloring experiments do not go as intended. Thanks to a short length, your hair will grow out fast and you will be able to chop it
Bowl-Cut Blonde Pixie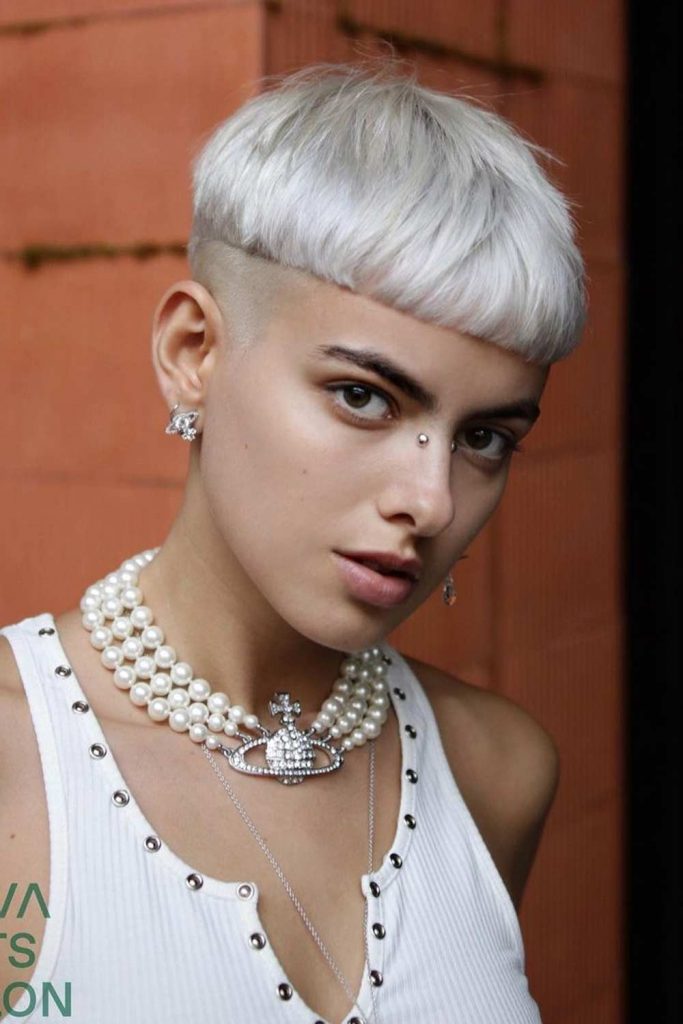 Credit photo: Instagram.com/salsalhair
This hairstyle is not for faint hearted women. Yet, if you feel like you are daring and fashion savvy enough to nail it, then wait no longer to get such a bold hair look. A blonde bowl cut pixie will not let anyone indifferent, as it instantly attracts attention to your head wherever you go.
Layered Boy Cut Pixie with Bangs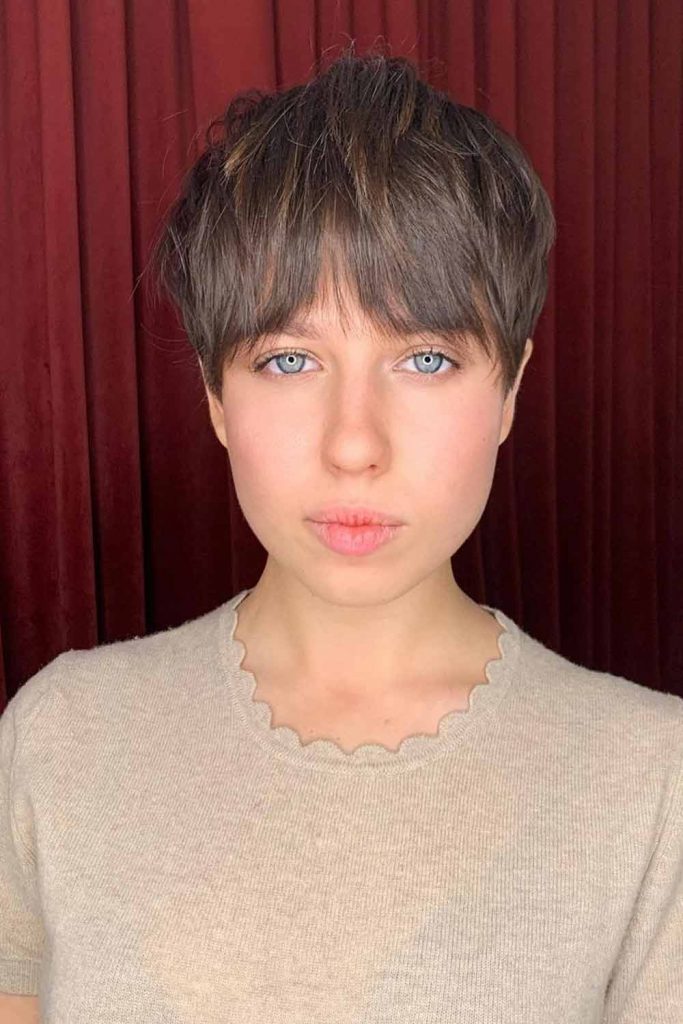 Credit photo: Instagram.com/salsalhair
We all love boyfriend jeans, hoodies and other elements of boy's wardrobe. So why not adopt their haircuts as well? Not fully, but drawing some inspiration from the boy short layered haircuts will not hurt for sure. Take, for instance, this boyish pixie with bangs and layers. Doesn't it look cool?
Choppy Pixie Cut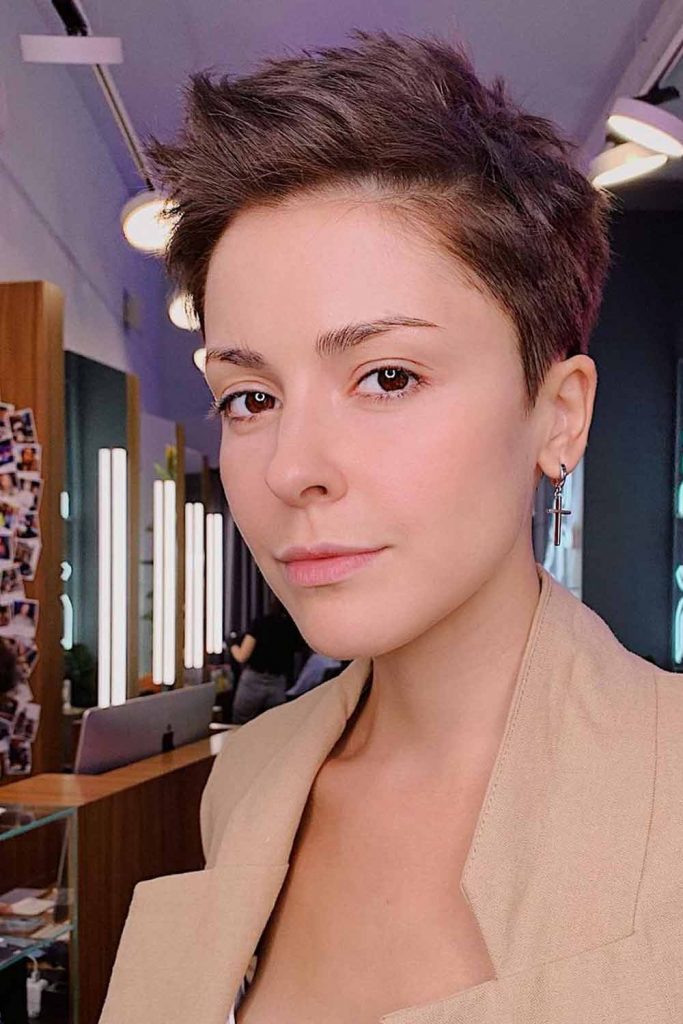 Credit photo: Instagram.com/salsalhair
So that short haircuts for thin hair would not make matters worse but boost the volume and structure of your locks instead, get the strands chopped. Thick chunks of hair appear fuller and denser. Plus, your thin hair becomes quite easy to style and maintain, which is why it is one of the most favorable short haircuts for women over 50.
Side-Swept Ice Blonde Pixie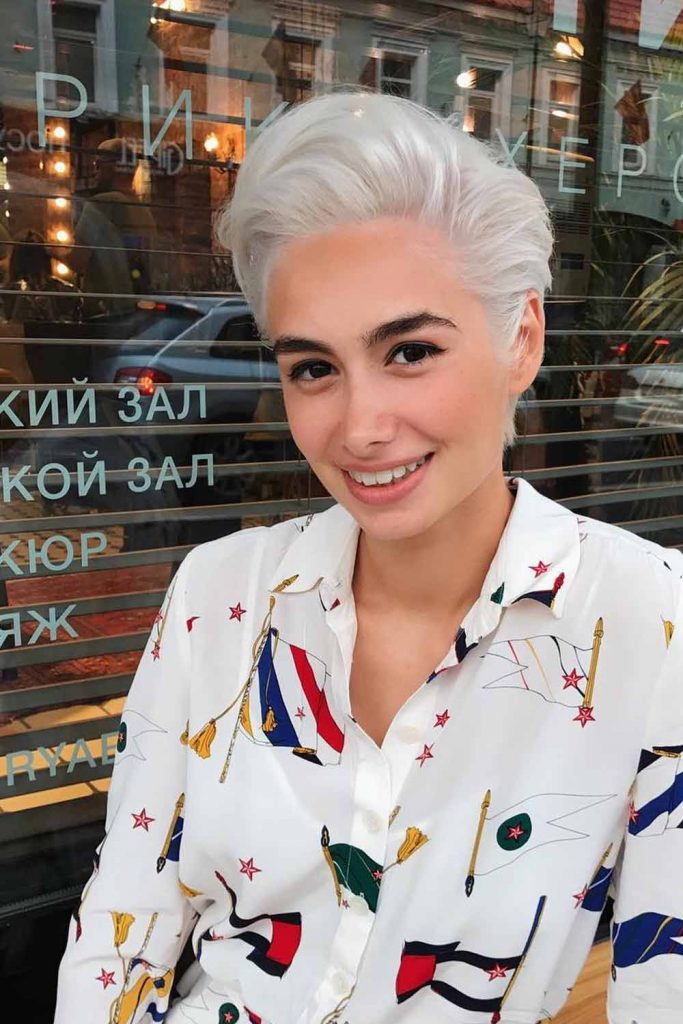 Credit photo: Instagram.com/salsalhair
For short womens haircuts, there are no limits in terms of coloring. Want an edgy and striking hair color? Feel free to get it. Arguably, there is no other haircut that looks as expressive and impactful as an ice blonde pixie. Because it is so bold, it does not call for intricate styling. Simply sweep your hair to the side and you are all set.
The Short, Sassy Crop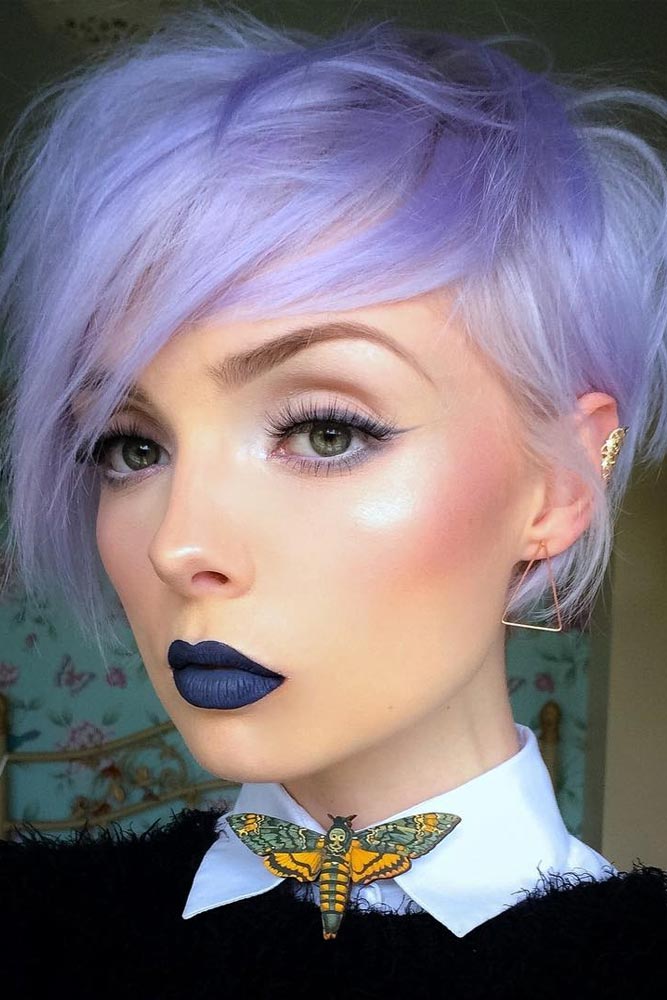 Credit photo: Instagram.com/beautsoup
If you want to go extreme with a bold new look, this style is perfect for you. With its razored edges and asymmetrical style, this is a great look if you want to go really short. This style is excellent for those who want to cut their hair short in order to give it a fresh start and grow it back healthier. It's also a fantastic summer cut, particularly when you have thick hair!
Classy Long Pixie with Side Bang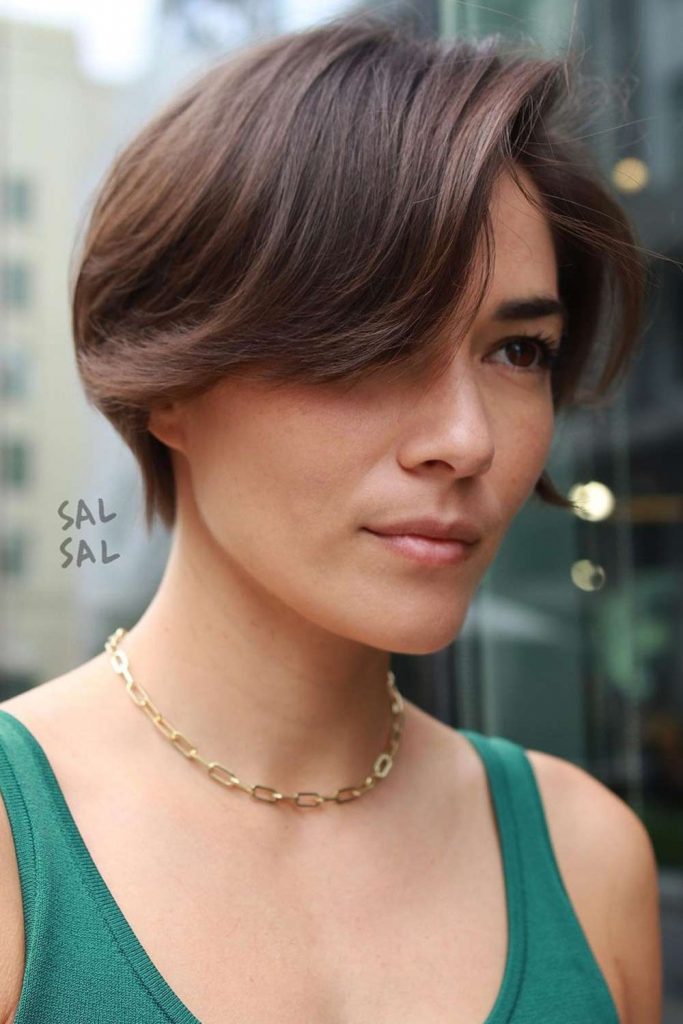 Credit photo: Instagram.com/salsalhair
Short hair offers you plenty of benefits, especially compared to long hair. In addition to being low maintenance and easy to style, it may also work for all types of hair. So, you may not worry that your haircut will appear inexplicit even if you have limp hair. An elongated pixie haircut is exactly what you are looking for. To give the look a little more interest, complement it with side swept bangs.
Dark Pixie Cut with Layers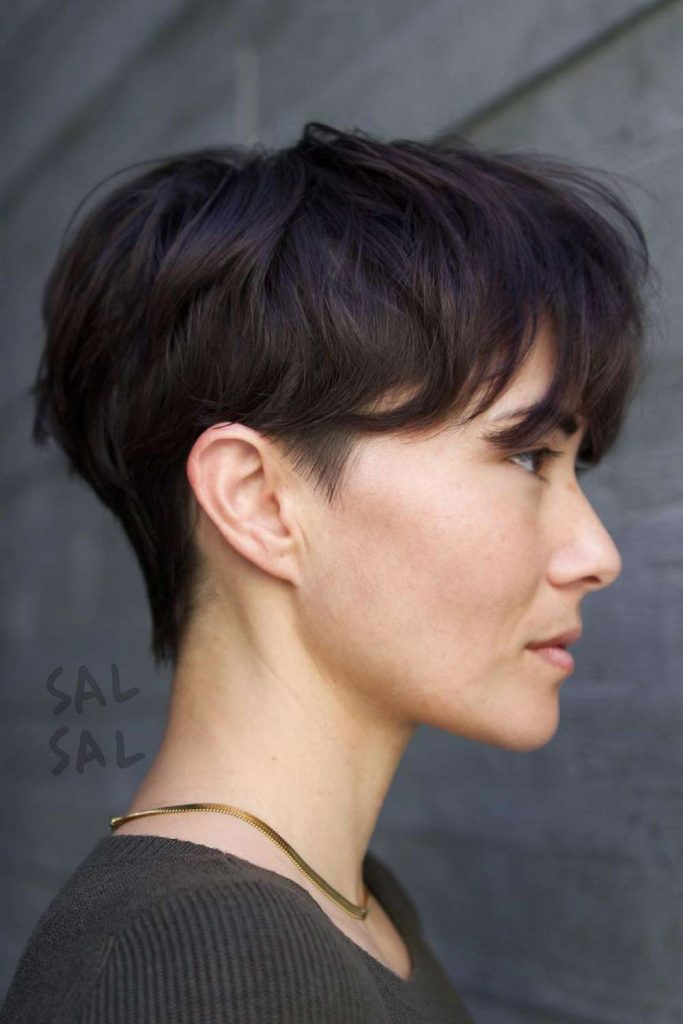 Credit photo: Instagram.com/salsalhair
Dark hair color is very beautiful and rich. However, it may appear flat sometimes, especially when you have fine hair. If you want to change it, consider getting a layered haircut. Those who opt for a pixie bob will never regret it, as when you have layers cut on top, your bob is incredibly easy to shape up.
Short Pixie for Wavy Hair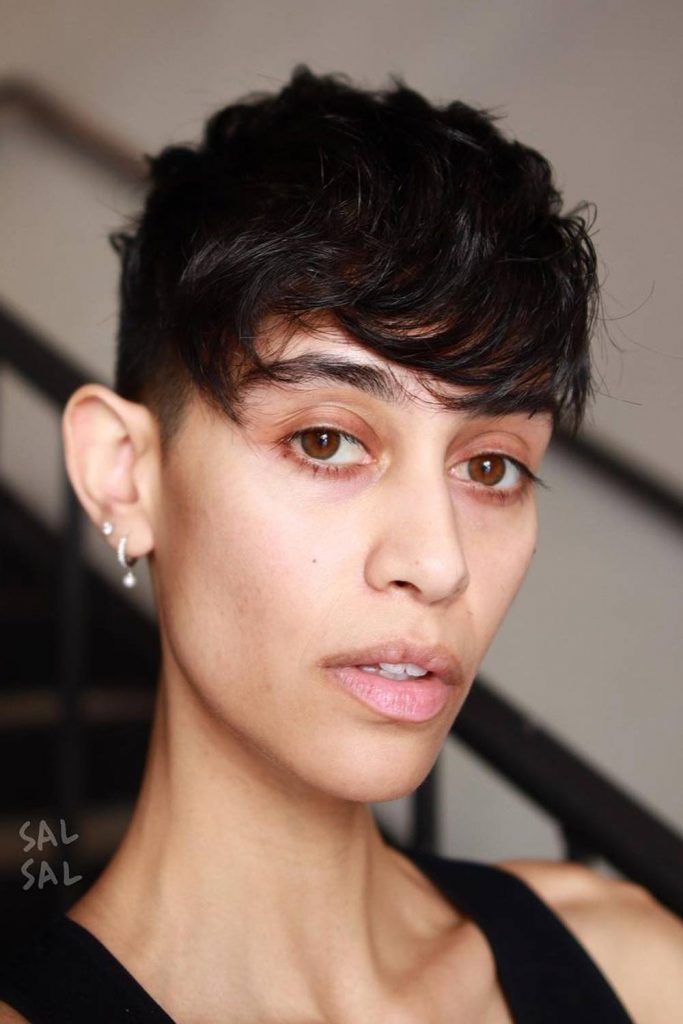 Credit photo: Instagram.com/salsalhair
Short hair has plenty of advantages so it comes as no surprise that so many women go for it. And even more so when it is wavy hair. While being low maintenance, it provides your hair type with much needed oomph and structure. You may then simply emphasize the short hairstyle with just a little bit of hair product and be good to go.
Long Pixie with Messy Crown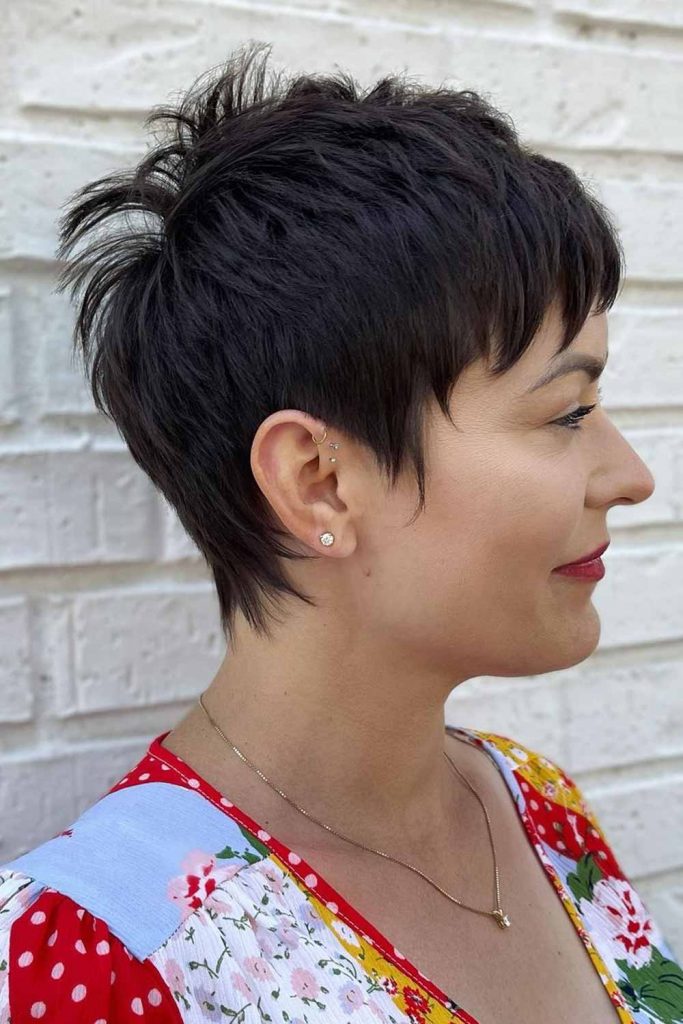 Credit photo: Instagram.com/soraverly
How to style short hair if you have an elongated pixie haircut? Simply ruffle the crown with your hand and a tiny amount of a hair styling product and you are ready to rock short hair at its best. While this short hairstyle is extremely easy, the impression it makes cannot go unnoticed.
Buzz Cut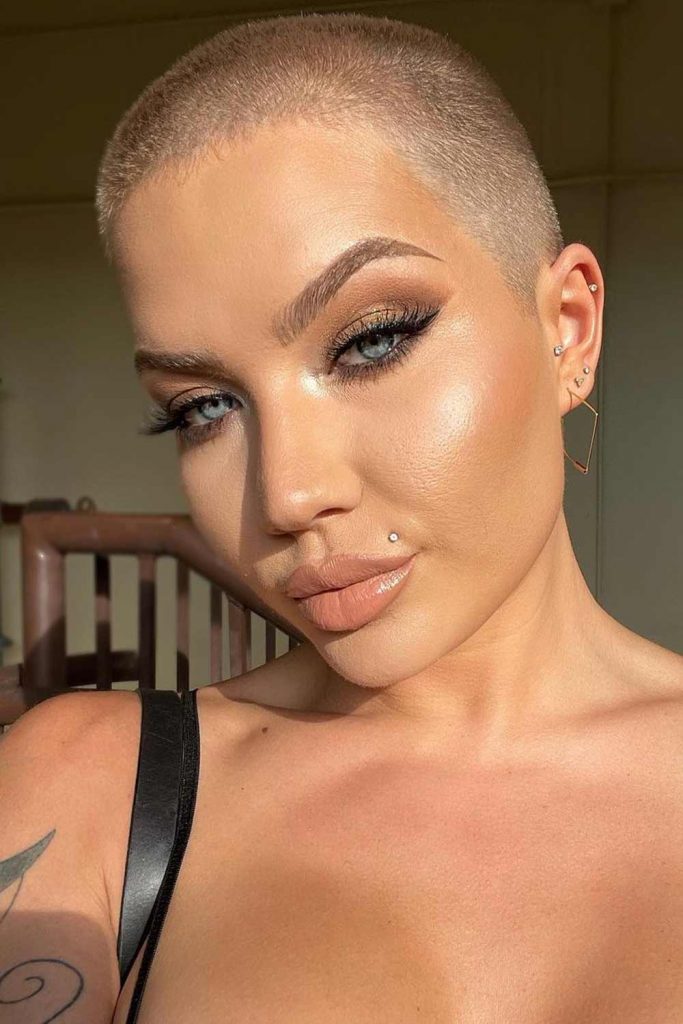 Credit photo: Instagram.com/sky_eyes_
What is the best way to deal with fine hair? Get a buzz cut. While this edgy haircut is apparently for women who have enough fashion bravery, if you decide to venture out for it, you are guaranteed to stand out in the crowd. Plus, styling short hair when it is buzzed will not take you much time, if any. With such bold hair styles, you want to put emphasis on makeup and accessories.
Asymmetrical Silver Straight Pixie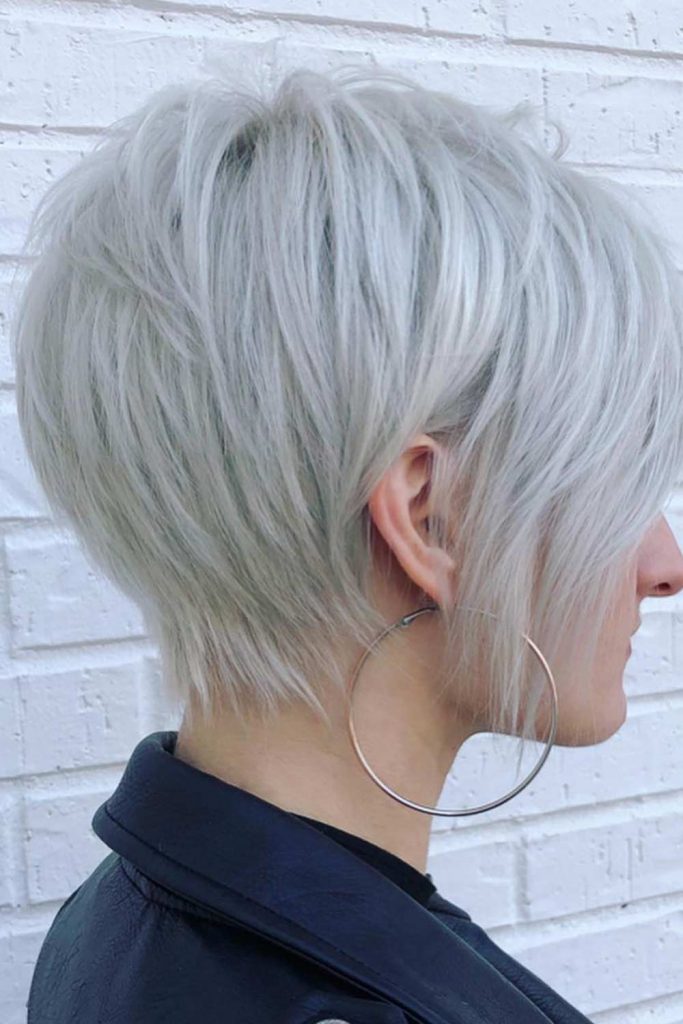 Credit photo: Instagram.com/soraverly
Straight, fine and thin hair may be quite a challenging combo in terms of styling, this is especially common for silver gray hair. But not when you have the right haircut. An asymmetrical pixie makes a world of difference for such a hair type, providing it with structure and volume.
Silver Mohawk with Tight Sides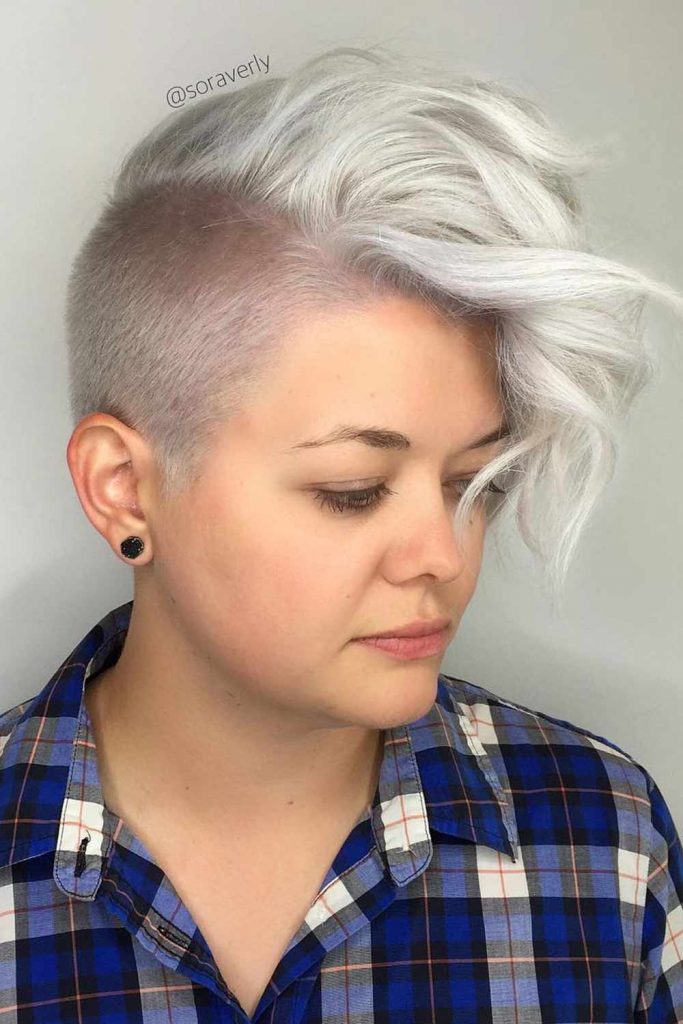 Credit photo: Instagram.com/soraverly
With shaved sides, almost any short hairstyle can become much more fashionable and contrasty and a mohawk is no exception. This is also a great alternative if you want to get this daring hairstyle without shaving off the hair on the sides. The top should be styled a little upright and with enough texture, which is why it is so favorable for wavy hair.
Chopped Undercut Pixie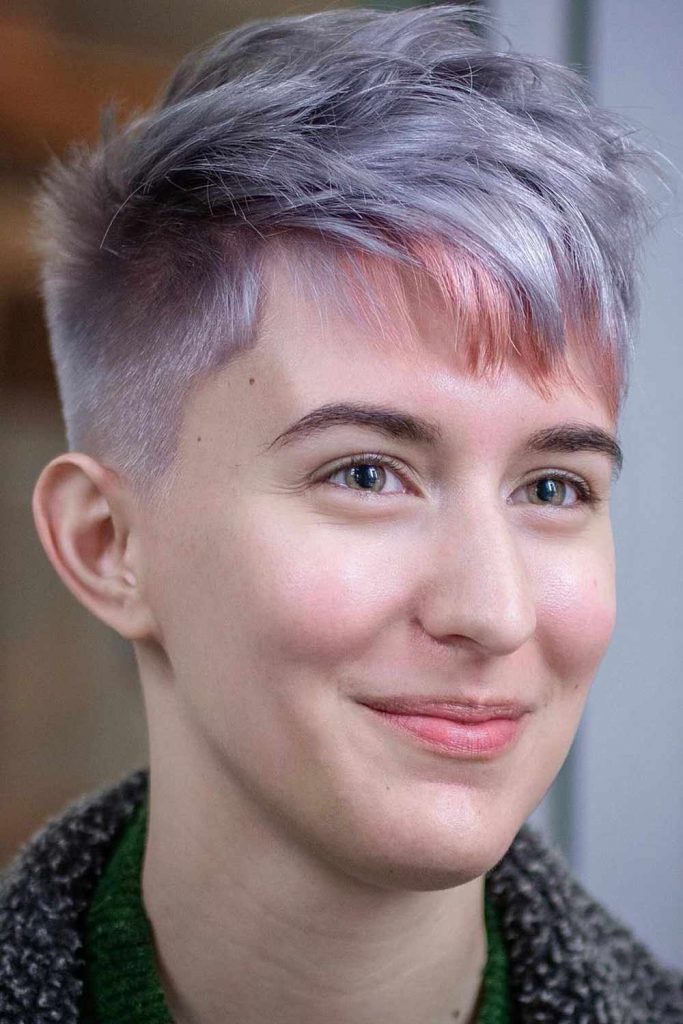 Credit photo: Instagram.com/cutyourhair
Pixie hairstyles can be teamed with a lot of other popular hair styles for thin hair. To give your pixie short hair styles more emphasis and dynamics, consider adding an undercut haircut to them. In this way, you will easily shift the focus to the top, so it is better to get your thin hair strands strategically chopped too.
Super Short Pixie Cut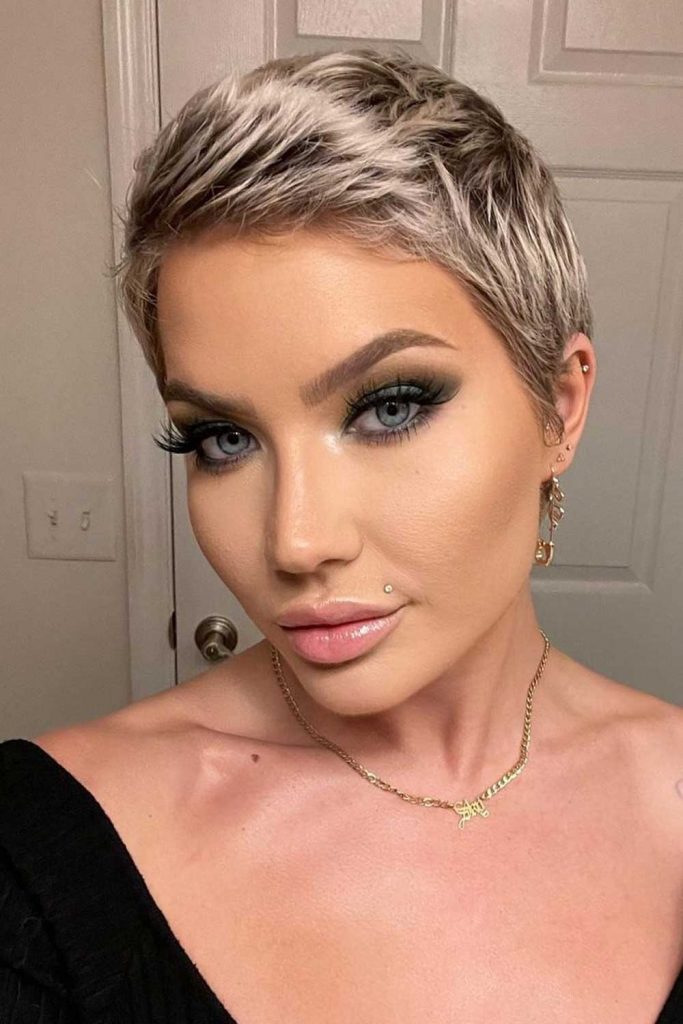 Credit photo: Instagram.com/sky_eyes_
There are numerous great haircut options for fine hair. Yet, if you are not leaning toward anything elaborate, simple super short hairstyles are your failproof way to go. With such short hair, you save a lot of time on styling, so you may spend it doing a more elaborate makeup look.
A-line Bob with Undercut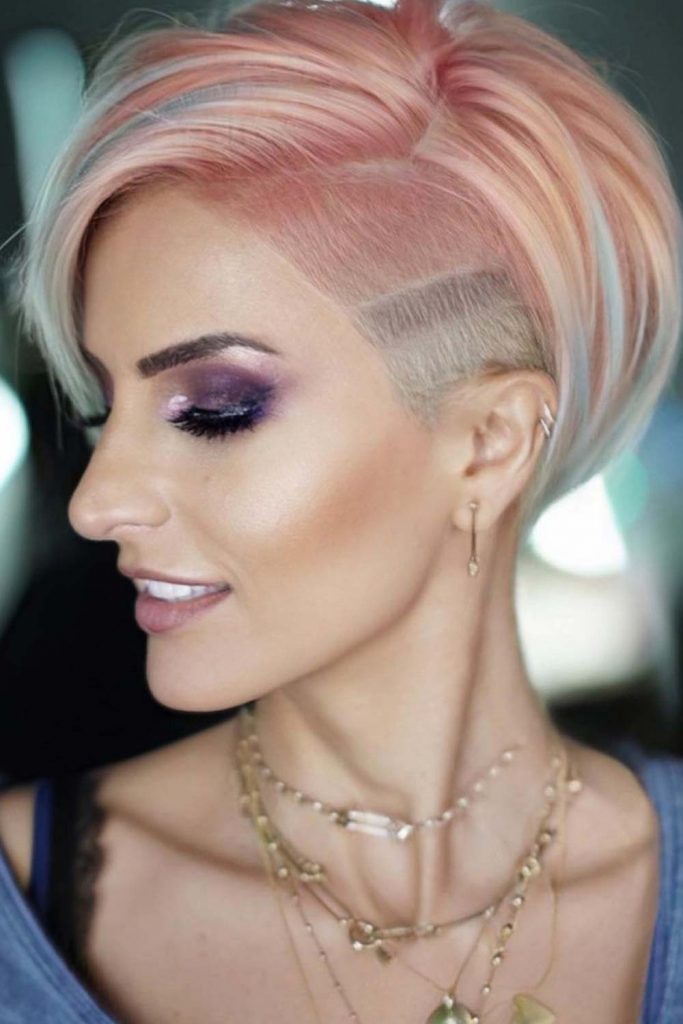 Credit photo: Instagram.com/hairgod_zito
An undercut A line layered bob is anything but boring. It allows you to express your personality and achieve a unique hair look that would become your go to option. You can also get a personalized hair design on the sides or dye it an unusual color. If you prefer rather reserved short hair styles, you can leave your stacked bob like that.
Tapered Blue and Yellow Hair with Shaved Sides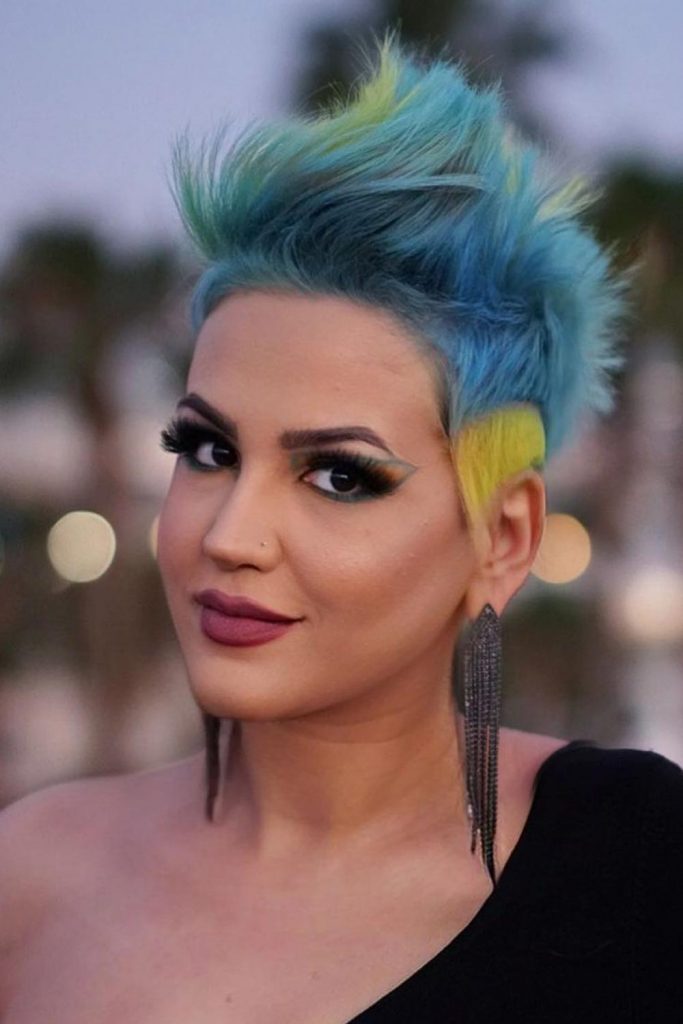 Credit photo: Instagram.com/hairgod_zito
Blue and yellow are a match made in heaven. That is why you can never go wrong with such a combo when it comes to your hair color style. It will obviously draw all attention to your hairstyle, so make sure it is as bold and edgy as your hair color. A tapered short hairstyle with shaved sides is one of the best hair styles to choose from in this case.
Asymmetrical Pink Pixie with Undercut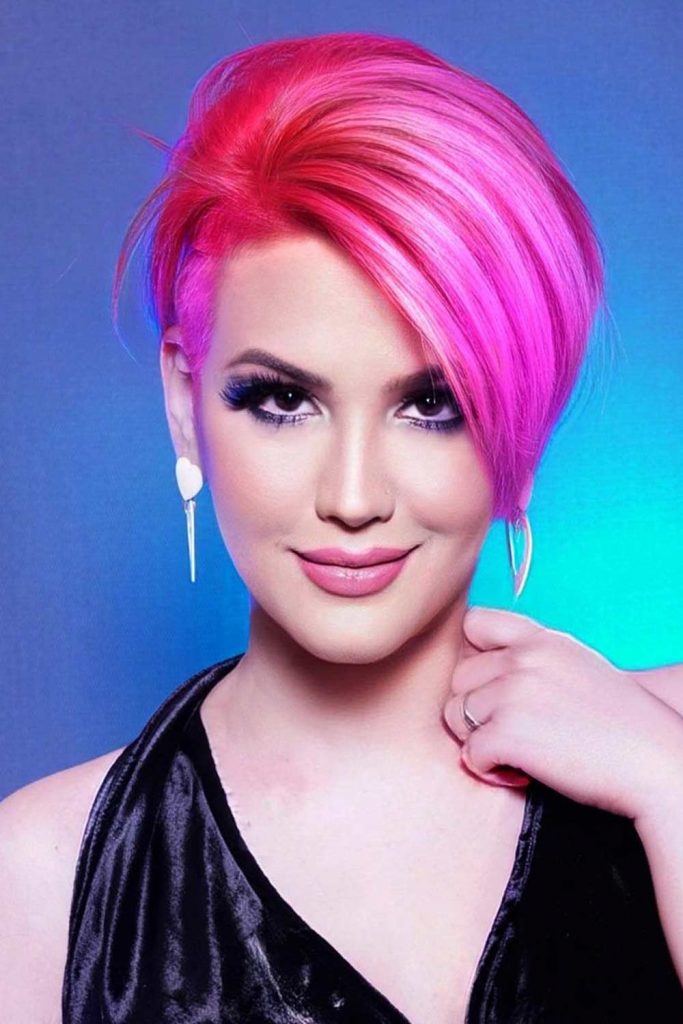 Credit photo: Instagram.com/hairgod_zito
We know you like attention if you dye your hair hot pink. While this hair color is incredibly bold on its own, you can elevate it with an edgy low maintenance haircut. An asymmetrical pixie is an excellent choice for you and even more. Just do not hesitate to combine it with an undercut and we promise, you will not be disappointed.
Short Bob Haircut Ideas
A bob is among those timeless women short hair cuts that you can never go wrong with. Its beauty is in its simplicity and ease of maintenance. Though, it does not make it boring or plain in any way. See for yourself in the fabulous pictures of the short hairstyle ideas below.
Blue Short Bob With Bangs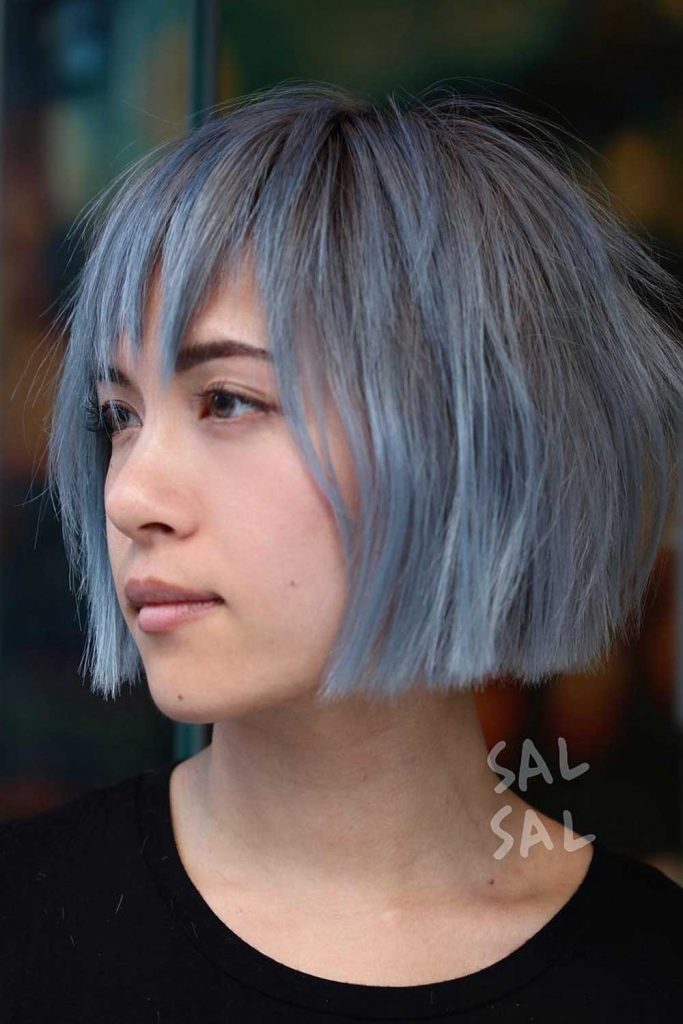 Credit photo: Instagram.com/salsalhair
Do you feel like you do not make the most out of your bob haircut? Have you tried to pair it with bangs? And what about unusual coloring? For example, rather than going with a natural hair color, you can switch it up to pastel blue with dusty streaks.
Blunt Inverted Short Bob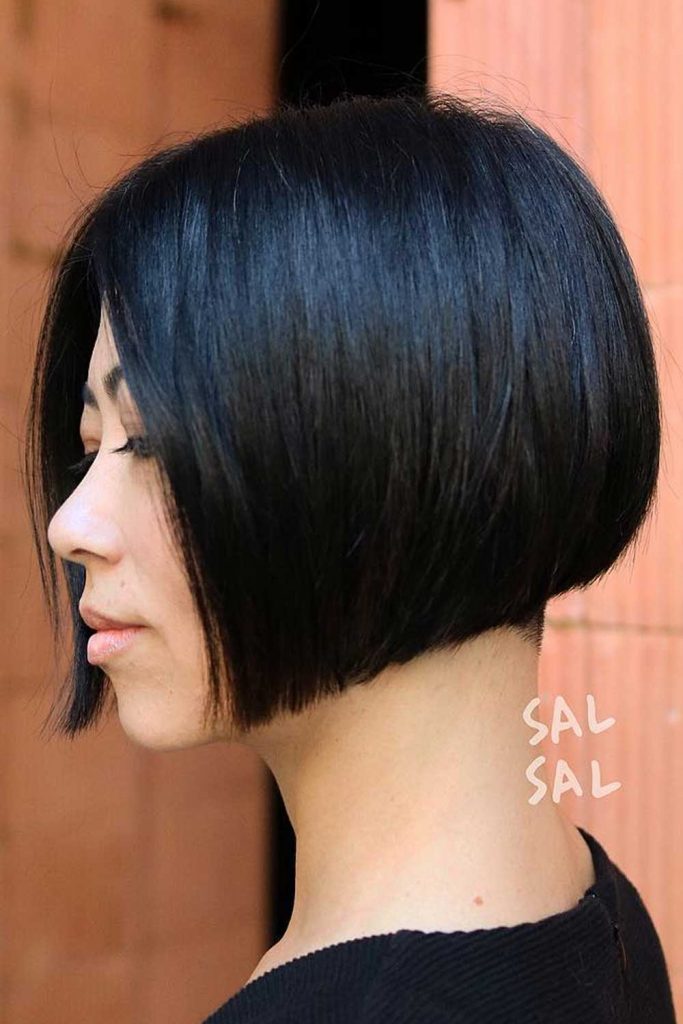 Credit photo: Instagram.com/salsalhair
An inverted bob belongs to short hairstyles for women who need to always look their best. It is elegant, polished and looks appropriate in any ambiance, be it casual or formal. If you get the edges blunt, it will also highlight your beautiful facial traits and frame the face altogether.
Chin-Length Red Bob with Baby Bangs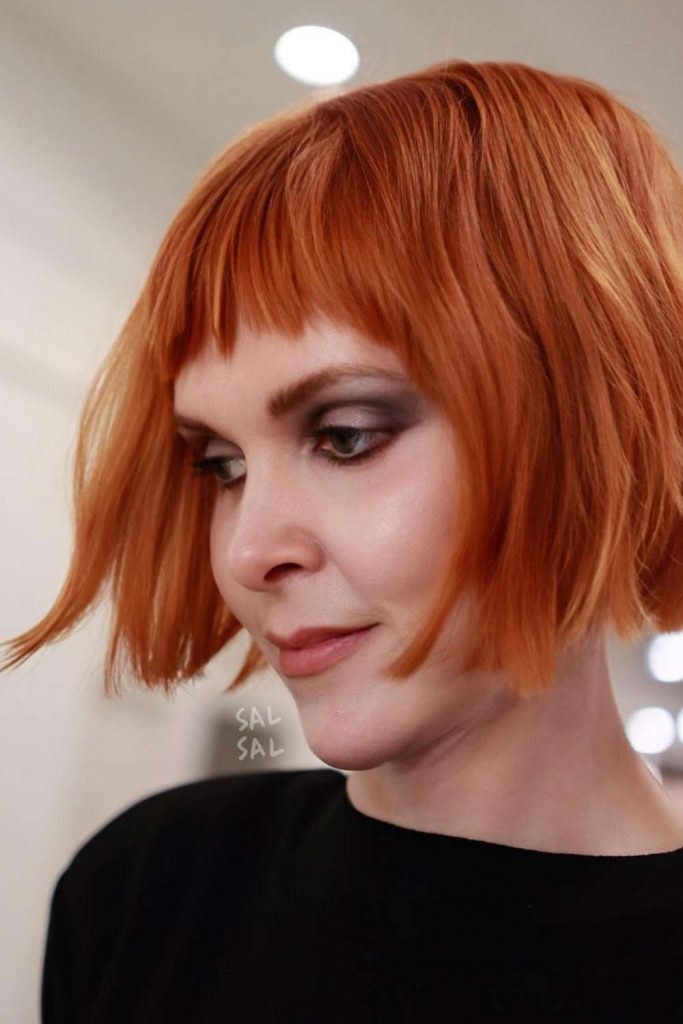 Credit photo: Instagram.com/salsalhair
A surefire way to accentuate your facial features is to get a pixie bob that skims your chin. As the strands fall exactly at your jaw level, they make your jawline appear more chiseled. As such, this haircut will help you to restore balance to your facial features like no other. If you would like to make your short haircut stand out, you should dye your mane red and add baby bangs to the look.
Chin-Length Cut with Swoopy Bangs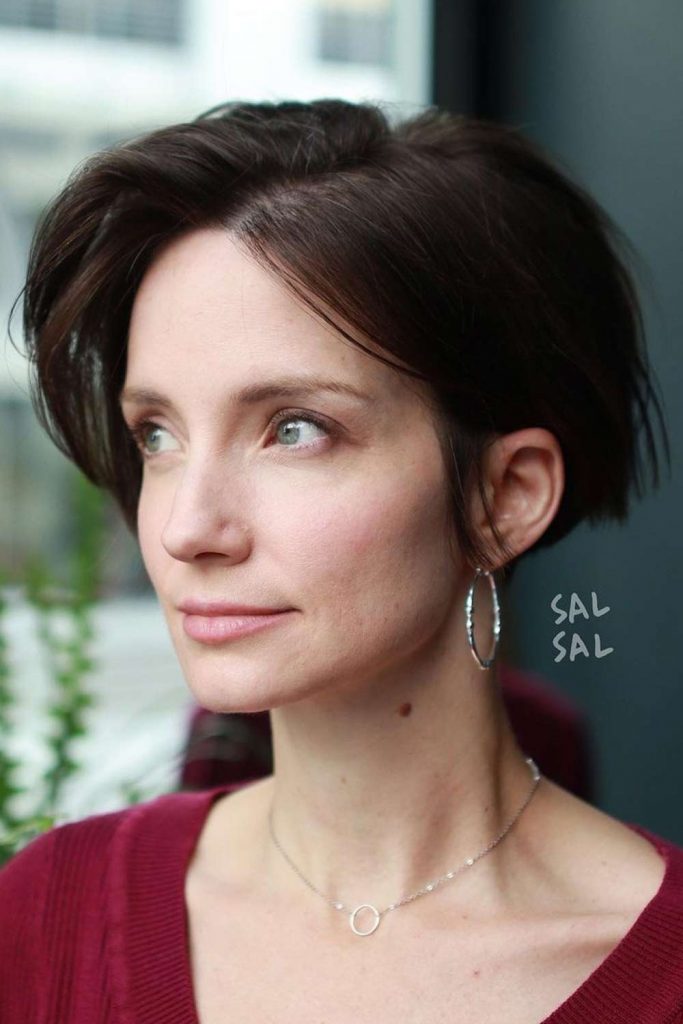 Credit photo: Instagram.com/salsalhair
Another way to wear a chin skimming stacked bob is to pair it with a swoopy bang. As it provides your appearance with an airy and relaxed feel, it is a perfect short hair style for summer. Women with thicker hair will find it especially valuable, as it removes quite a lot of weight without sacrificing the volume.
Straight Textured Blonde Bob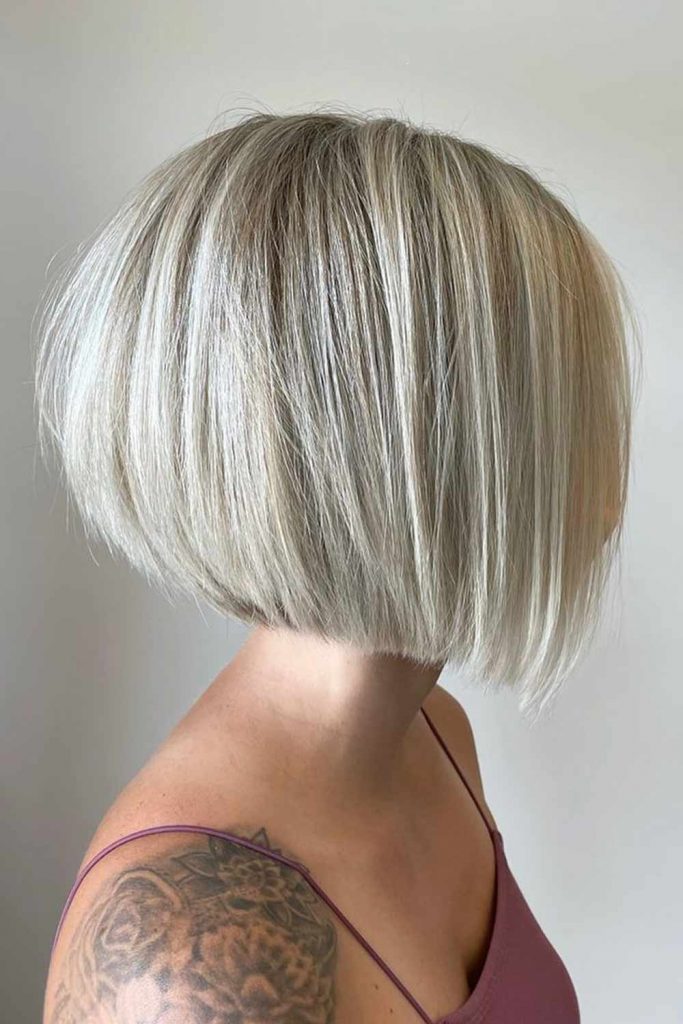 Credit photo: Instagram.com/hairbysaretta
If you have thin straight hair and you are tired of trying to make it look voluminous, we have good news for you. With a textured bob, straight thin hair gains a lot of volume, so you will not have to employ a round brush every time you blow dry your locks. This cut looks especially good on blonde hair.
Sky-High Natural Curls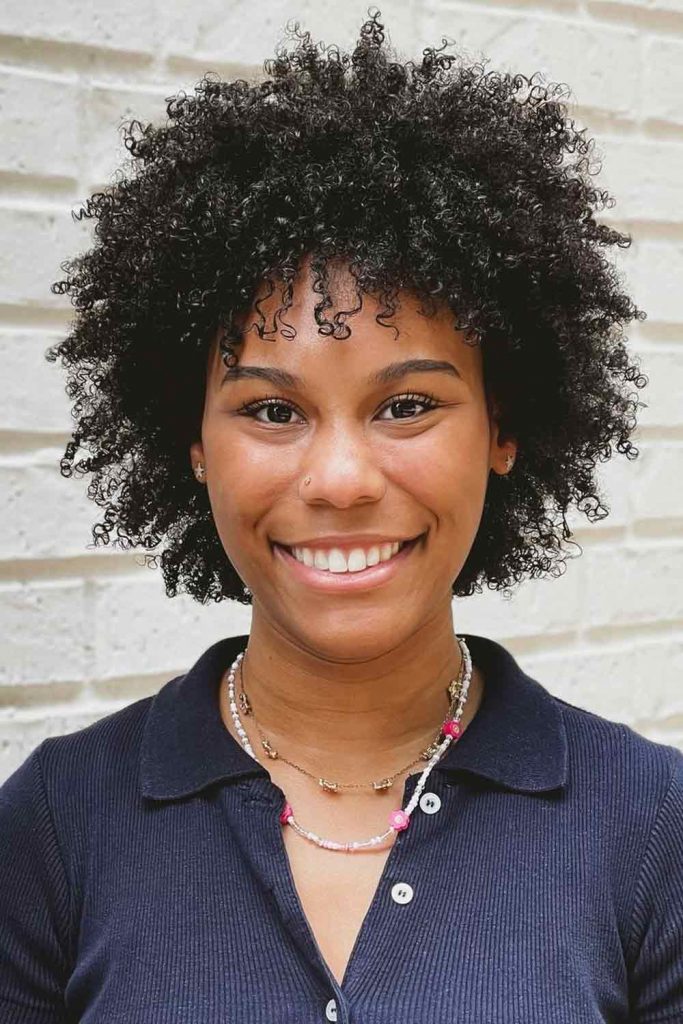 Credit photo: Instagram.com/soraverly
Women with naturally curly hair often shy away from short hairstyles. They are worried that their tresses are going to look unkempt. If you have natural hair, then the best approach to taming it would be to embrace it. Go for a sky high short hairstyle and enjoy the beauty of your curls to the fullest.
Layered Short Bob with Balayage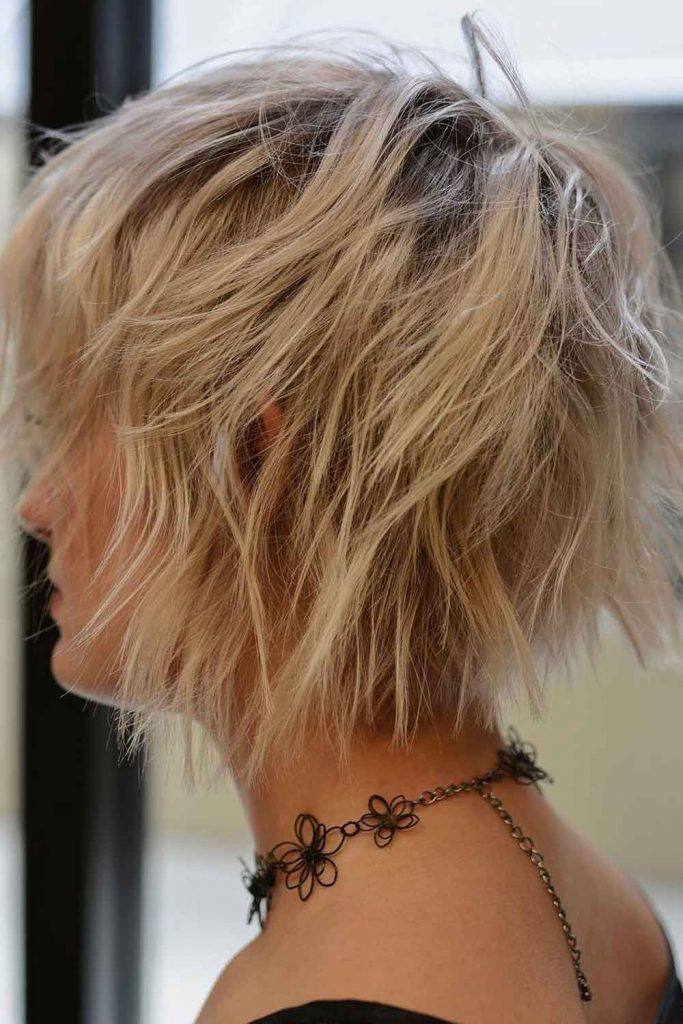 Credit photo: Instagram.com/cutyourhair
Looking for ways to upgrade your pixie bob? You have come to the right place. We have some really good short hair ideas. Ask your hairstylist to cut your stacked bob in layers and paint a balayage into the strands. With this short layered bob, which works amazingly for wavy hair, you are sure to collect compliments left, right and center.
Shaggy Layered Bob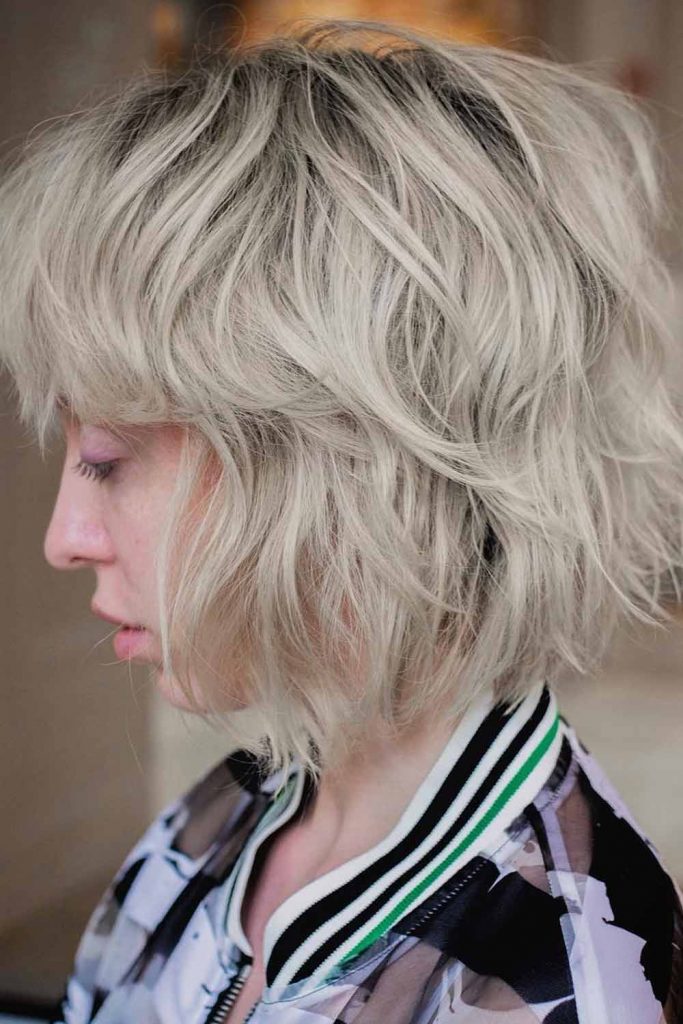 Credit photo: Instagram.com/cutyourhair
A shaggy bob is one of those short hairstyles that women who value their time choose. It can be styled by simply tousling the locks with a hand and a product. What is more, this layered bob is absolutely low maintenance, which is quite a perk if you have thicker hair. Add a bang and some face framing strands to it and you will get one of the best short hair styles.
Short Rounded Bob with Root Lift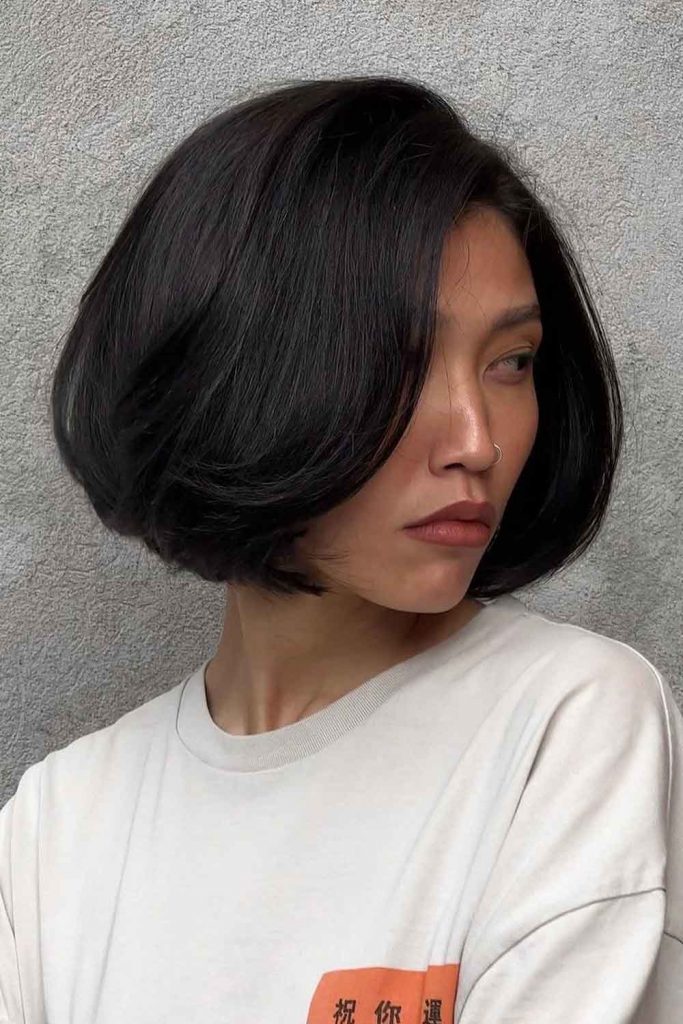 Credit photo: Instagram.com/ryabchik.moscow
Women with straight hair often look for ways to increase volume and add body to their hair styles. And that is when a short bob haircut comes into play. In case you also have thin hair, get the bob curved near the edges and lift it up at the roots. You will most likely need a round brush to achieve this fine hair look.
Side-Parted Blunt Bob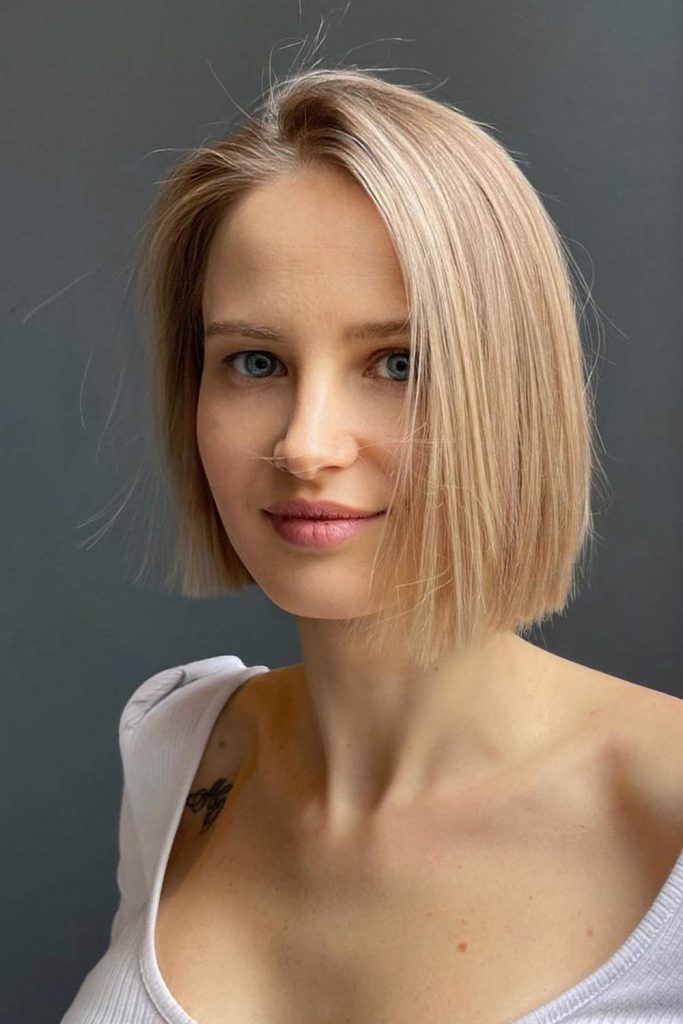 Credit photo: Instagram.com/ryabchik.moscow
Not sure how to wear a blunt bob? You may keep it simple yet elegant. A side part will help you achieve the desired result with minimal effort. All you need to do is to flip your hair to one side and that is basically all. Alternatively, on the shorter hair side, you can tuck your hair behind the ear or secure it with a bobby pin.
Do you dare to cut your hair short?
Anonymous quiz
Yep, why not
Nah, I love my long hair too much
I want, but not sure if that's a good idea
Do you dare to cut your hair short?
Nah, I love my long hair too much
6.82
I want, but not sure if that's a good idea
27.27
Voted : 44
Short Haircuts Celebrities' Choices
Celebrities are one of the best sources of inspiration when it comes to short haircuts for women. They always know what is on trend and match their hairdos to their personal style and appearance.
Miley Cyrus Short Edgy Boy Cut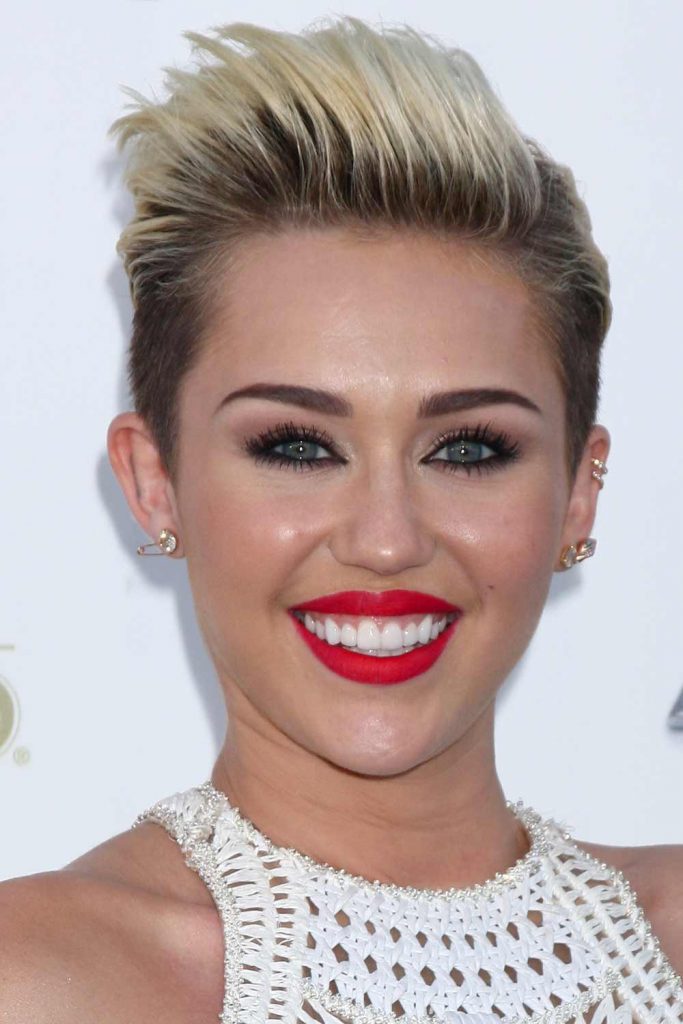 Credit photo: Shutterstock/Kathy Hutchins
Gone are those days when Miley Cyrus was associated with Hannah Montana. The talented musician and actress has stirred the world not only with her shocking behavior and breakthrough music but also with her mind blowing looks. Miley can be considered a real trend setter of short pixie haircuts, as no one but she knows how to pull them off. And this bold short boy cut is a vivid example of this.
Rihanna with Black Edgy Pixie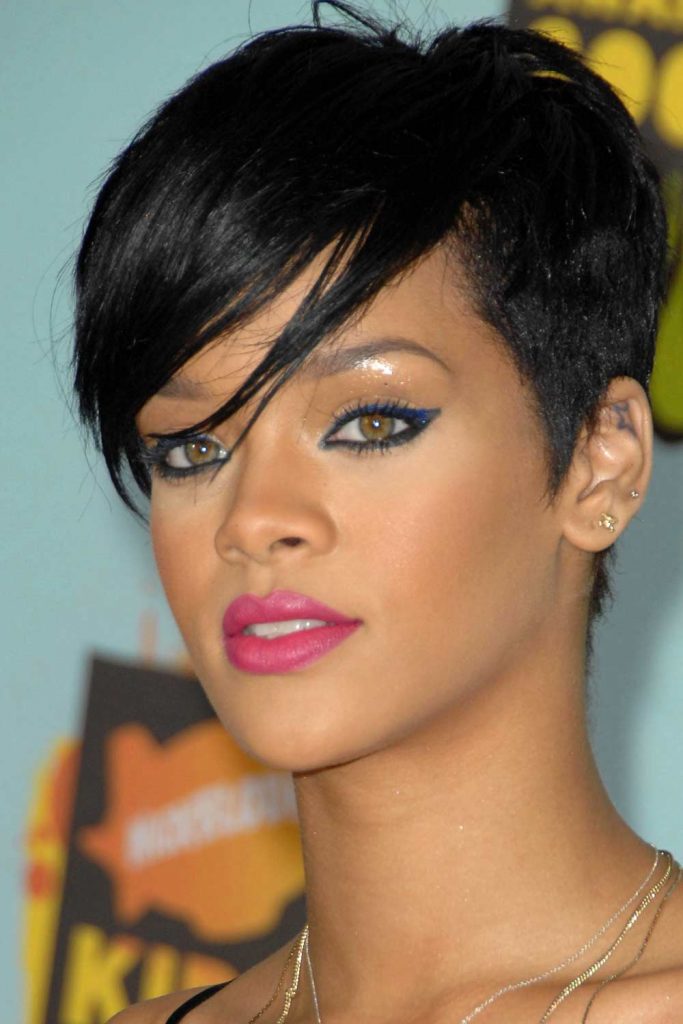 Credit photo: Shutterstock/Everett Collection
RiRi seems to be blessed with so many talents that you can lose count of them. And when she chooses to upgrade her haircut, she is bound to look stunning. The singer opts for a Black pixie cut with slightly elongated asymmetrical bangs, which allows her to show off her natural texture and flatters her face shape flawlessly.
Anne Hathaway with Side Bang Pixie Cut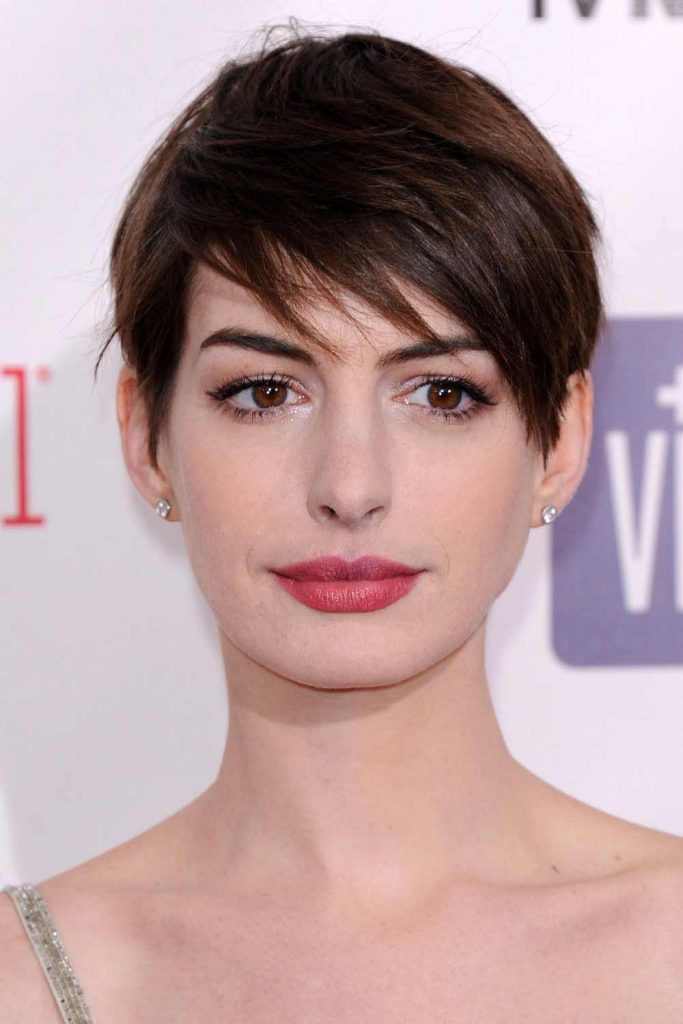 Credit photo: Shutterstock/DFree
Anne Hathaway is one of those fabulous women that look jaw dropping with any hair length. But her take on short hair with bangs cannot go unnoticed. The actress dons a pixie that she complements with a long side swept bang. This combo works wonders for her naturally wavy hair and makes her always look camera ready.
Michelle Williams with Blonde Pixie for Round Face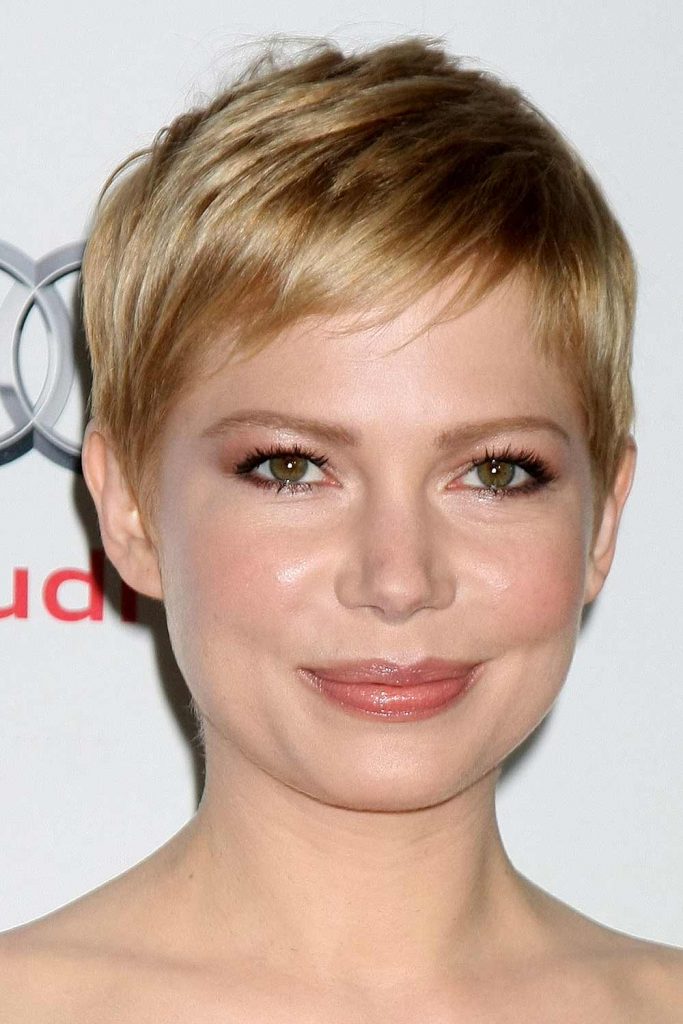 Credit photo: Shutterstock/Kathy Hutchins
Michelle Williams loves cute short hair styles and no wonder. They look extremely good on her face shape and make compliments her fine hair. For her blonde pixie, the actress goes for a bit more volume on top. This simple yet effective move slightly elongates her round face, shifting the focus from the cheeks to the top.
Taylor Swift Round Bob with Blunt Bangs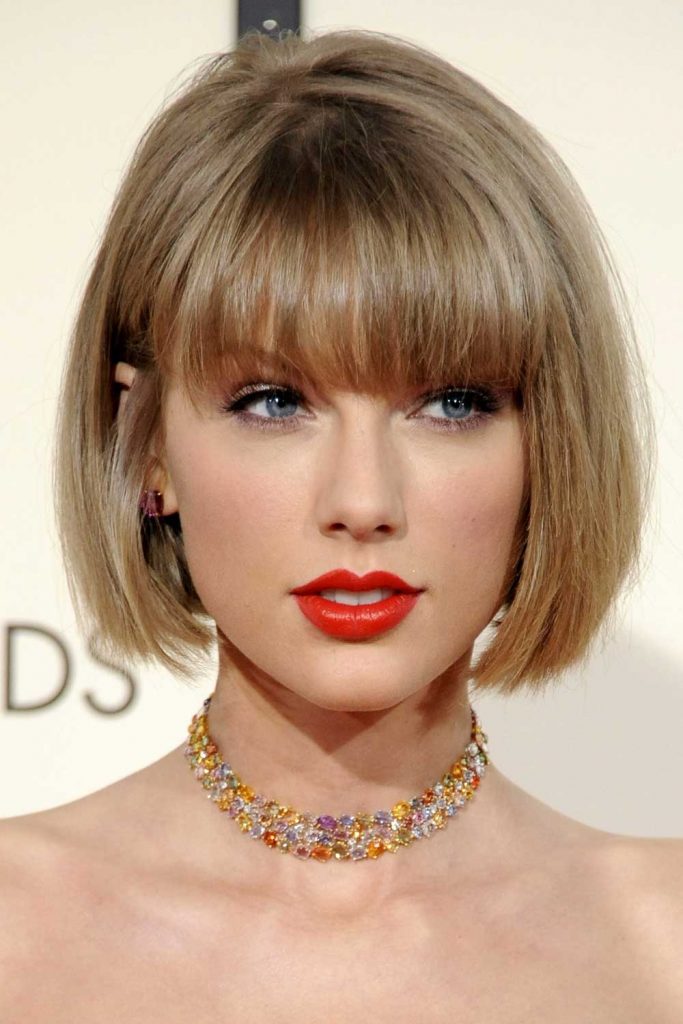 Credit photo: Shutterstock/Tinseltown
Taylor Swift seems to know everything about short bob haircuts. They suit the musician so perfectly that you can call a bob her signature hair look. Pay attention though that almost every Taylor's layered bob features long bangs, which on the one hand, accentuate her ocean blue eyes and on the other hand, make her thick hair easier to manage.
Reese Witherspoon with Blunt Blonde Bob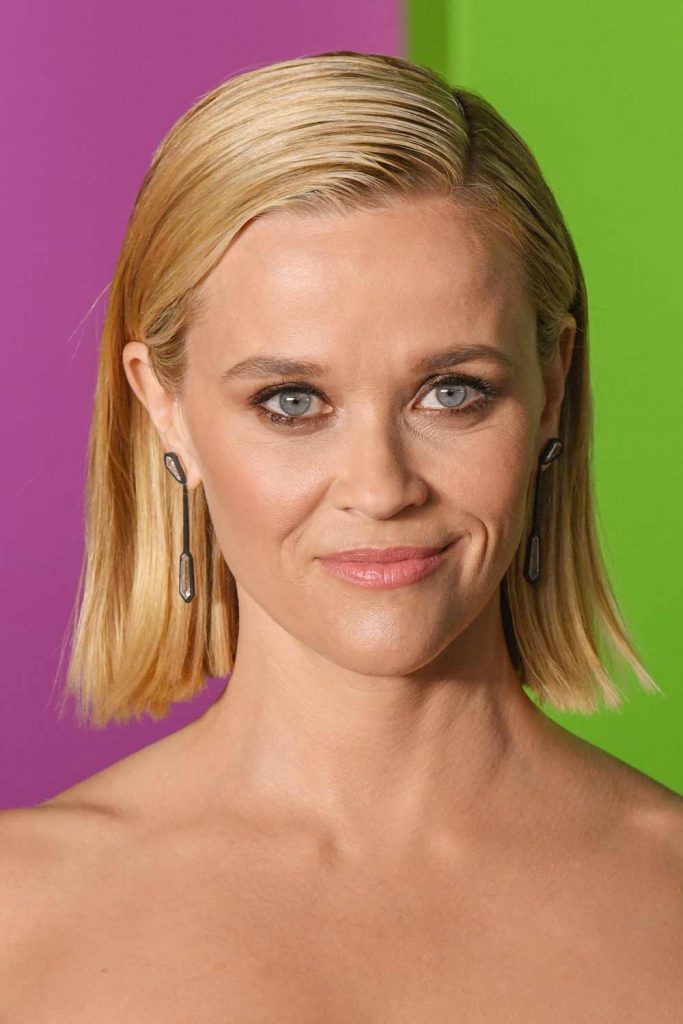 Credit photo: Shutterstock/Ron Ada
Undoubtedly, Reese Witherspoon is one of the most famous Hollywood blondes and she has carried this title proudly over the years. And even if her hair color is pretty much constant, you cannot say the same about her hairstyles. After wearing her blonde tresses long, she chopped them off to a blunt bob.
Scarlett Johansson Side Swept Undercut Pixie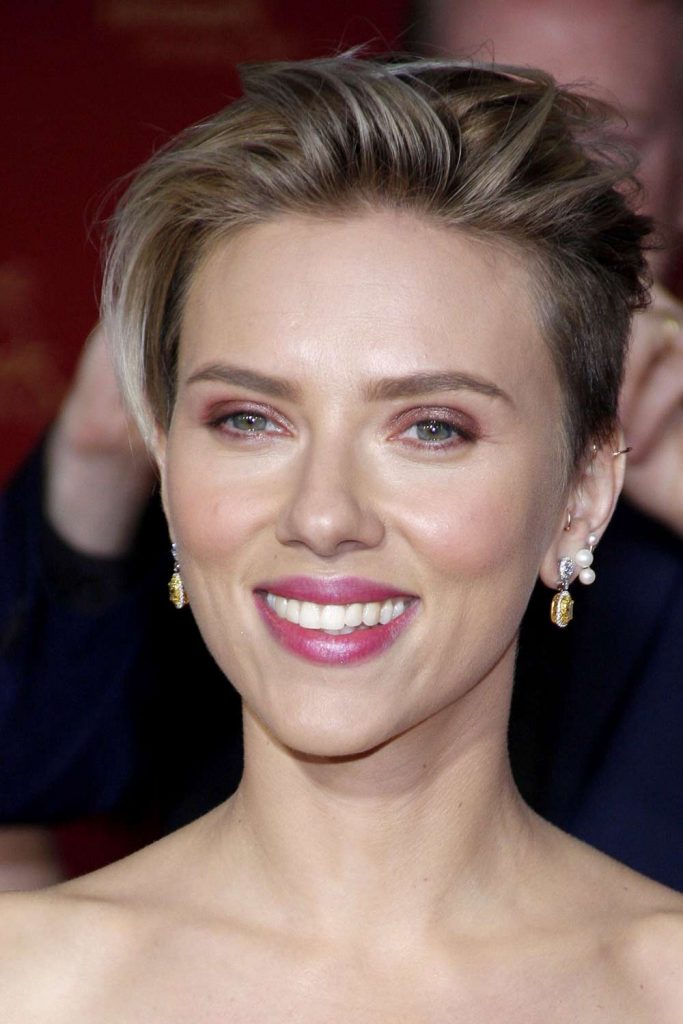 Credit photo: Shutterstock/Tinseltown
Scarlett Johansson takes her pixie haircut to a whole new level of boldness by accompanying it with an undercut. When you trim the hair on the sides so short, it takes the top to the center of attention. And as a finishing touch, the actress styles her lengthy top effortlessly side swept.
Halle Berry Spiky Pixie Cut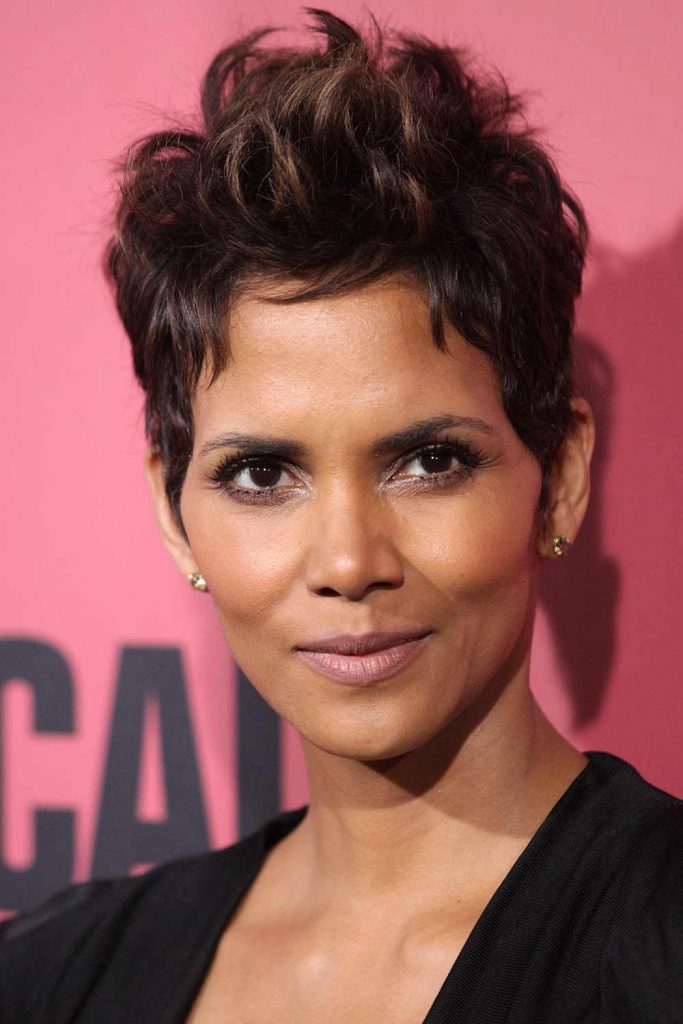 Credit photo: Shutterstock/DFree
Who said that you cannot rock a pixie if you have curly kinks? We are here to prove them wrong. Instead, short curly haircuts have plenty of texture to look voluminous and defined without any exhausting adjustments. Just spike up the tips of your hair and you are good to go. Besides, for thick hair short haircuts like this one is a sure bet.
Katy Perry Vintage Curly Bob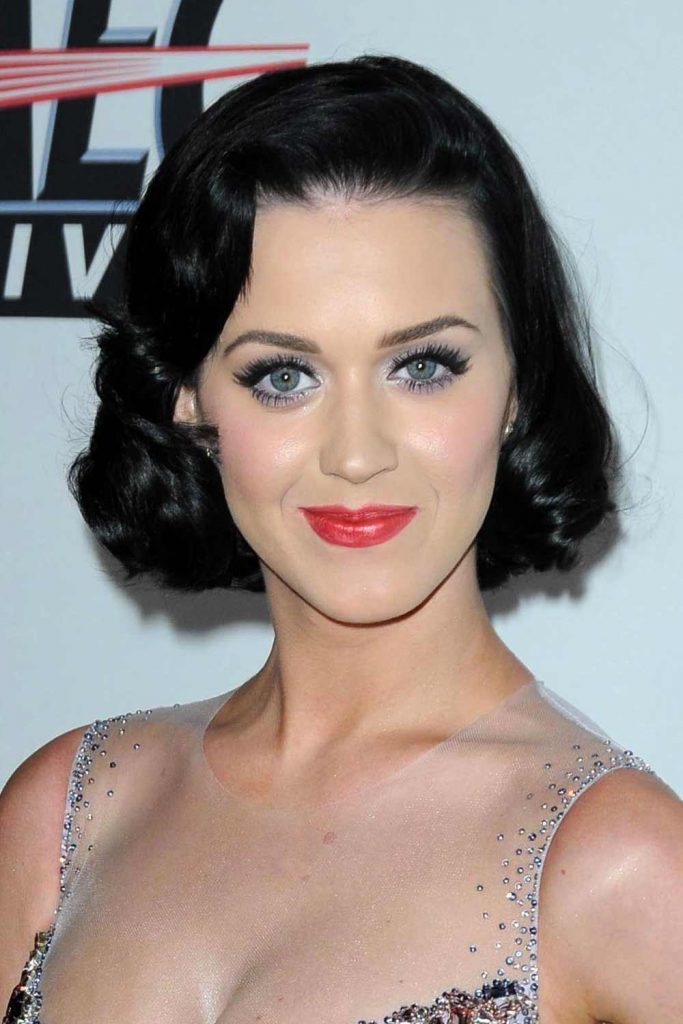 Credit photo: Shutterstock/s_bukley
Not everyone can nail a retro style like Katy Perry. She somehow manages to marry classic with fashion looking elegant and trendy at the same time. For a curled vintage bob, you do not need to have a full head of curls. Just twist the strands around the curling wand, spritz them with a hairspray and you are done.
Charlize Theron Layered Blonde Pixie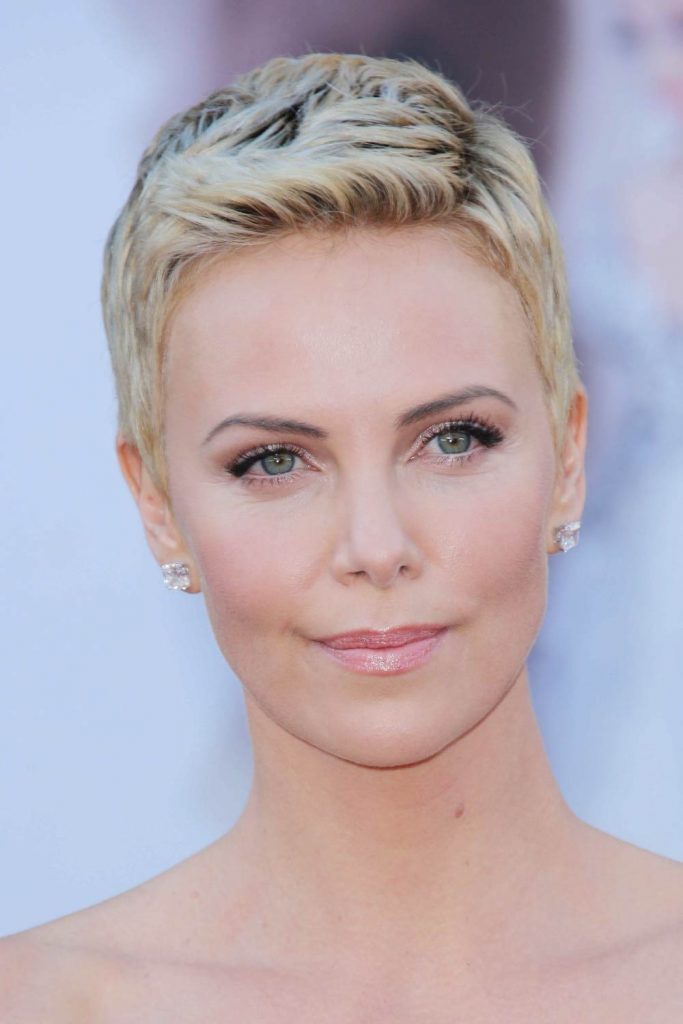 Credit photo: Shutterstock/s_bukley
If you are looking for some good examples of very short pixie haircuts for thick hair, check out a layered blonde pixie Charlize Theron rocks. While it looks quite simple at first sight, it consists of multiple layers cut on different levels and enhanced with blonde coloring and peekaboo dark roots.
Kristen Stewart with Wavy Side Parted Pixie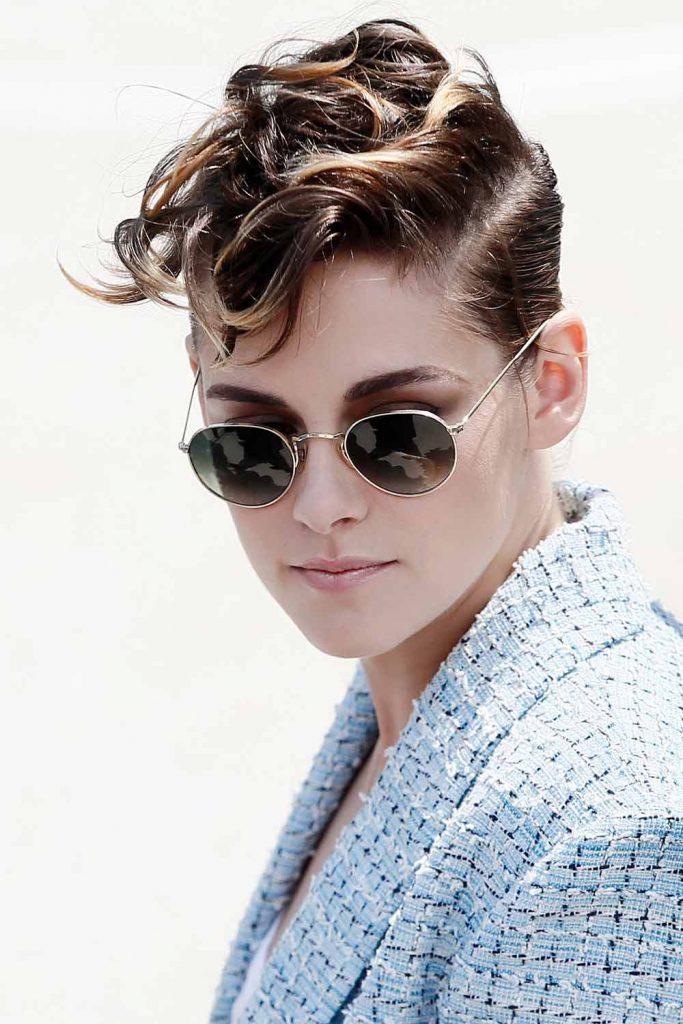 Credit photo: Shutterstock/Andrea Raffin
Being an ambassador of Chanel involves certain responsibilities and Kristen Stewart knows it like no other. Her hair, as well as makeup and outfit, is always on point. And when she gets a pixie, this is not a regular trim. It is a long pixie cut with a side part and wavy bangs, which suits her hair type just right.
Claire Danes Blonde Faux Bob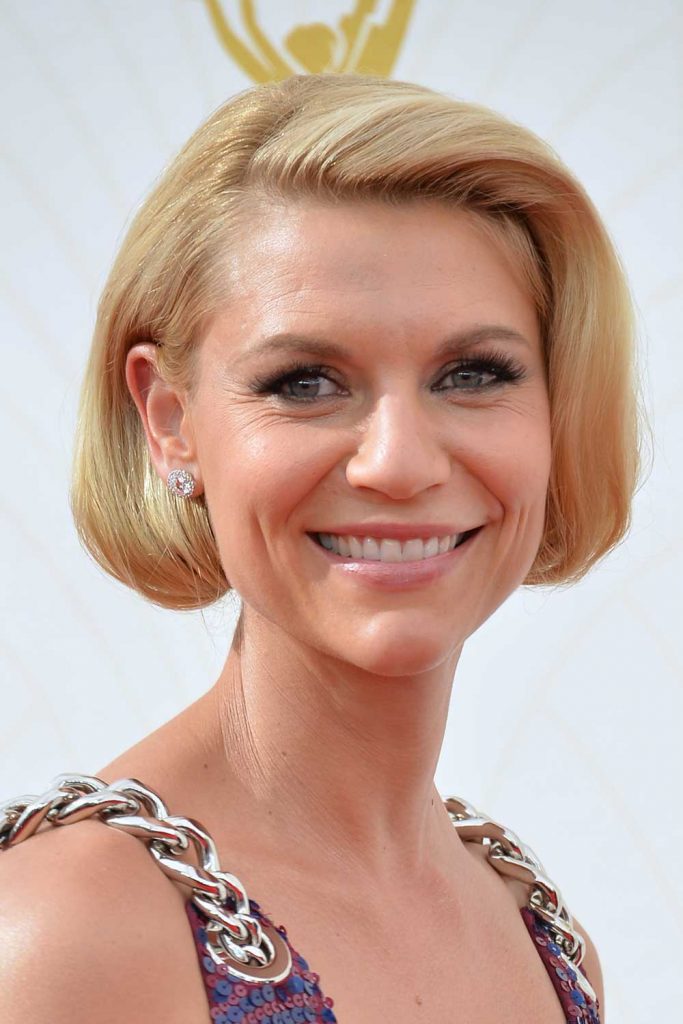 Credit photo: Shutterstock/Featureflash Photo Agency
If you are considering whether you should get one of the short bob haircuts for women, you do not have to commit to it and sacrifice your long hair right away. You can try on the hair look like Claire Danes did. Her faux bob is basically tucked in hair. But look how elegant it comes out.
Victoria Beckham and Inverted Curly Bob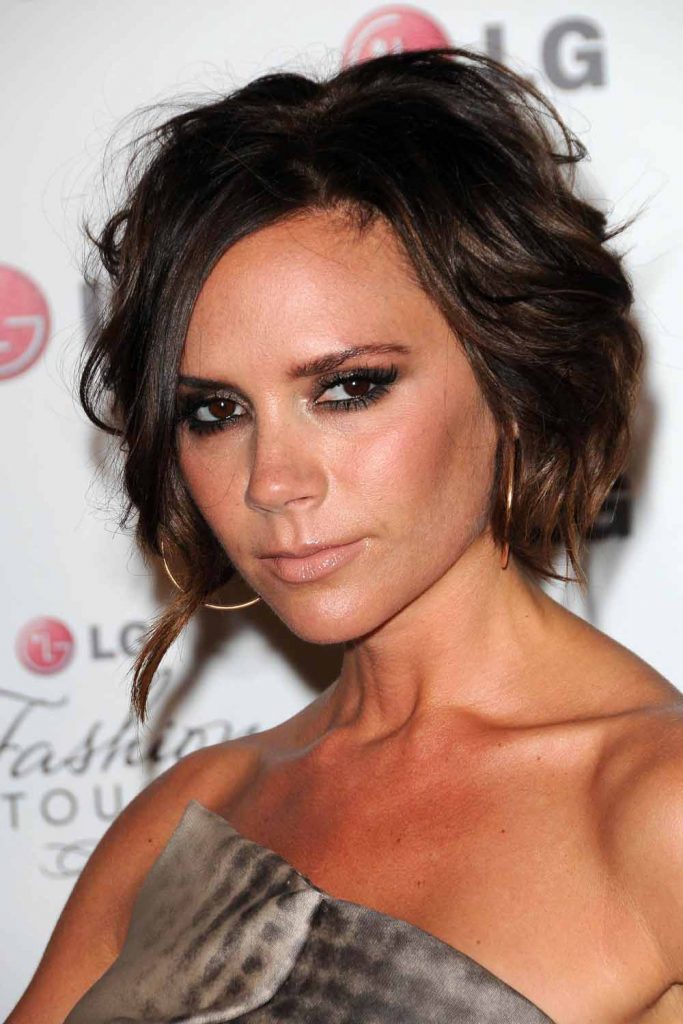 Credit photo: Shutterstock/s_bukley
Victoria Beckham is still one of the most influential fashion icons. So, it is a very good idea to draw inspiration from her looks. An inverted curly bob is how you can put a twist on a regular version of the cut. What is more, it is one of the best fine hair short bob haircuts, as it creates an illusion of an ample mane.
Evan Rachel Wood with Straight Bob Cut with Side Bangs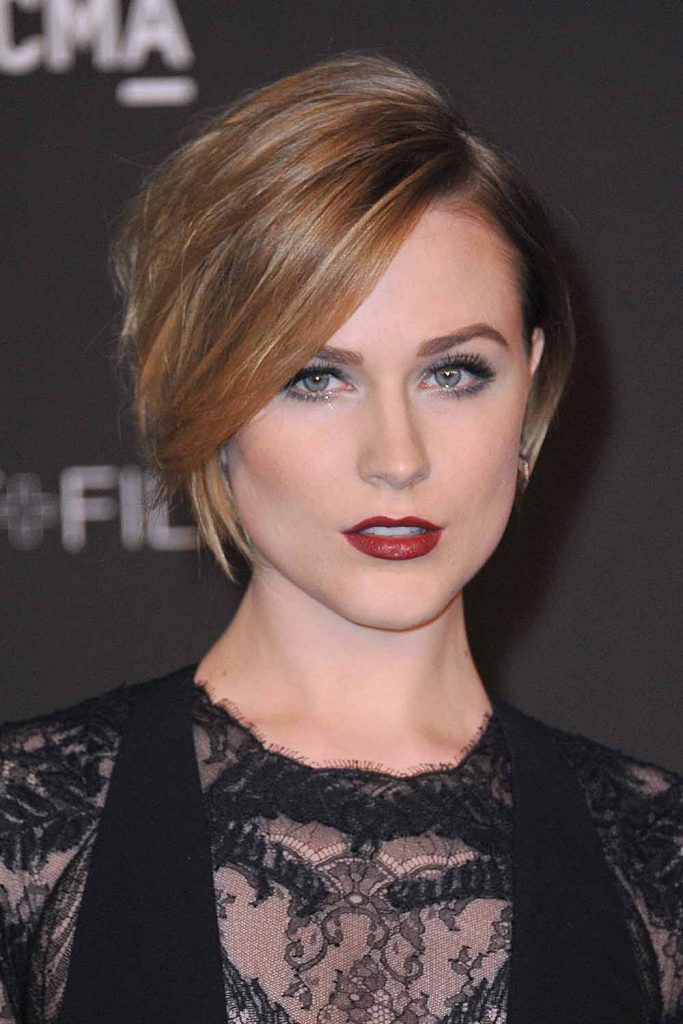 Credit photo: Shutterstock/Jaguar PS
For the Red Carpet, Evan Rachel Wood chose a sophisticated and chic straight bob with a side swept bang. This hairstyle looks incredibly beautiful on her face shape, especially with a slightly messy feel. In this way, you create an added volume, which is very beneficial if naturally you have flat and thin hair.
Anna Faris Blonde Blunt-Cut Bob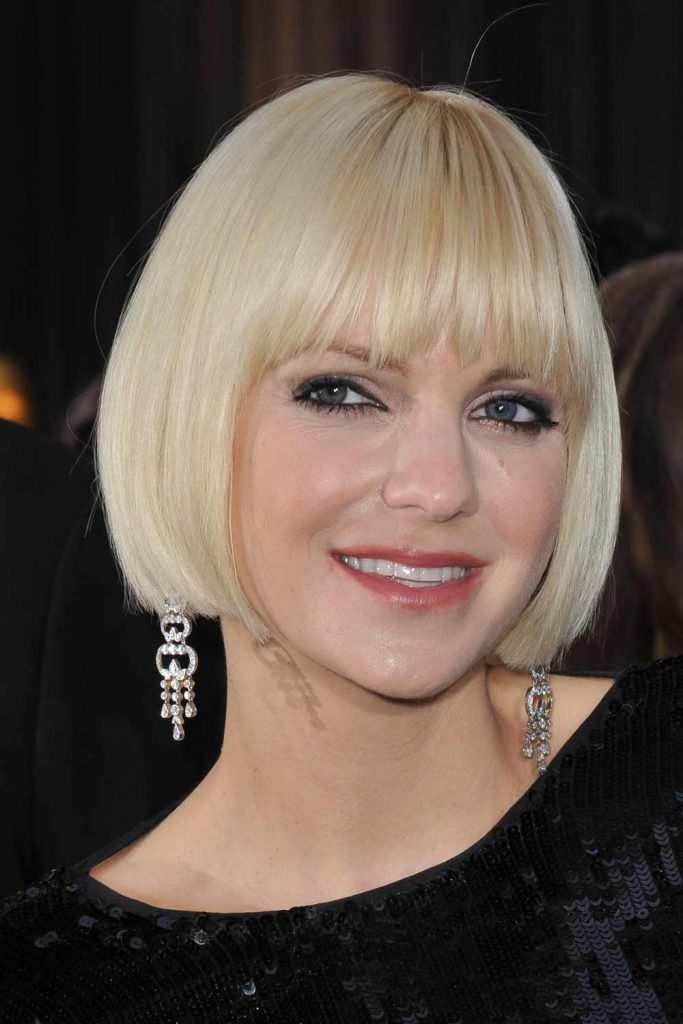 Credit photo: Shutterstock/Featureflash Photo Agency
Another famous blonde of Hollywood also likes short bob hairstyles. Anna Faris turns to a jaw length blunt bob with feathered bangs. A never fail combo and one of the best short hairstyles for fine hair. Of course, to maintain such a length and color, you will need to pay often visits to your hair stylist. But this gorgeous short blonde hair is worth the effort.
We hope we have managed to prove our point that short haircuts are never dull or indistinct. If you style your hair in the right way, it will work wonders for your appearance. On top of that, with the wide variety of styles available, you should be able to flaunt a new hair look every day.
FAQ: Short Haircuts For Women
What is the most popular short haircut?
A pixie is among the best women haircuts for short hair. It is a sure bet for ladies with thin and fine tresses, as the shorter you cut your locks, the stronger they are.
Is short hair better for older ladies?
What makes a short haircut beneficial for mature women is that it gives them a youthful feel. Short hair is playful, movable and visually lifts your face up, whereas longer hair has the opposite effect on older women.
What is the easiest short haircut to maintain?
Lobs, or long bobs, are considered exceptionally easy to maintain. This is more so if you have texturized strands. With it, you do not have to worry that you will look unkept once your hair becomes longer.
Does short hair make you look older or younger?
While short hair hairstyles can make you appear older, this is not always the case. It is more important how you style your hair than how you cut it. And that is when short layered hairstyles with plenty of texture come into play.
Why would a girl cut her hair short?
A woman may cut her hair after terminating a relationship as a way of rejecting the image of who she was expected to be. Let's say, her ex-boyfriend admired her long, blonde hair. She might respond by cutting it short or dying it dark to reject his vision of who she should be.
What is a bad haircut?
The wrong haircut will not match the features of one's face. If the client has a long face, for example, the fringe should not begin at the top. This is due to the fact that long fringe will lengthen the face even further. Of course, there is a plethora of more unfavorable examples.
Was this article helpful?