A pixie cut might be a great option for a self-confident woman pursuing a career or a woman who is a tomboy by nature. It's because a pixie has this unique carefree vibe with a hint of bossiness, and the letter quality is not that common in other haircuts.
Surely, you may hesitate whether to get your hair cut short. But even though we agree that wearing short haircuts can be challenging, once you learn how to manage it you would never wish to grow out your tresses again. And it is not surprising, as a shorter cut has many benefits to offer.
Edgy pixies will grant you a ton of compliments and thus make you feel more comfortable in your own skin. Plus, modern pixies come in various shapes and with many elements that change the image drastically and can enhance your facial features. That's why the Glaminati.com team created for you the list of the best pixie cut ideas. You can change the game by simply adding or removing bangs, layers, or undercuts. Intrigued? Then let's go pick a cool pixie for you.
Pixie Cut Hair Ideas
Credit photo: Shutterstock
i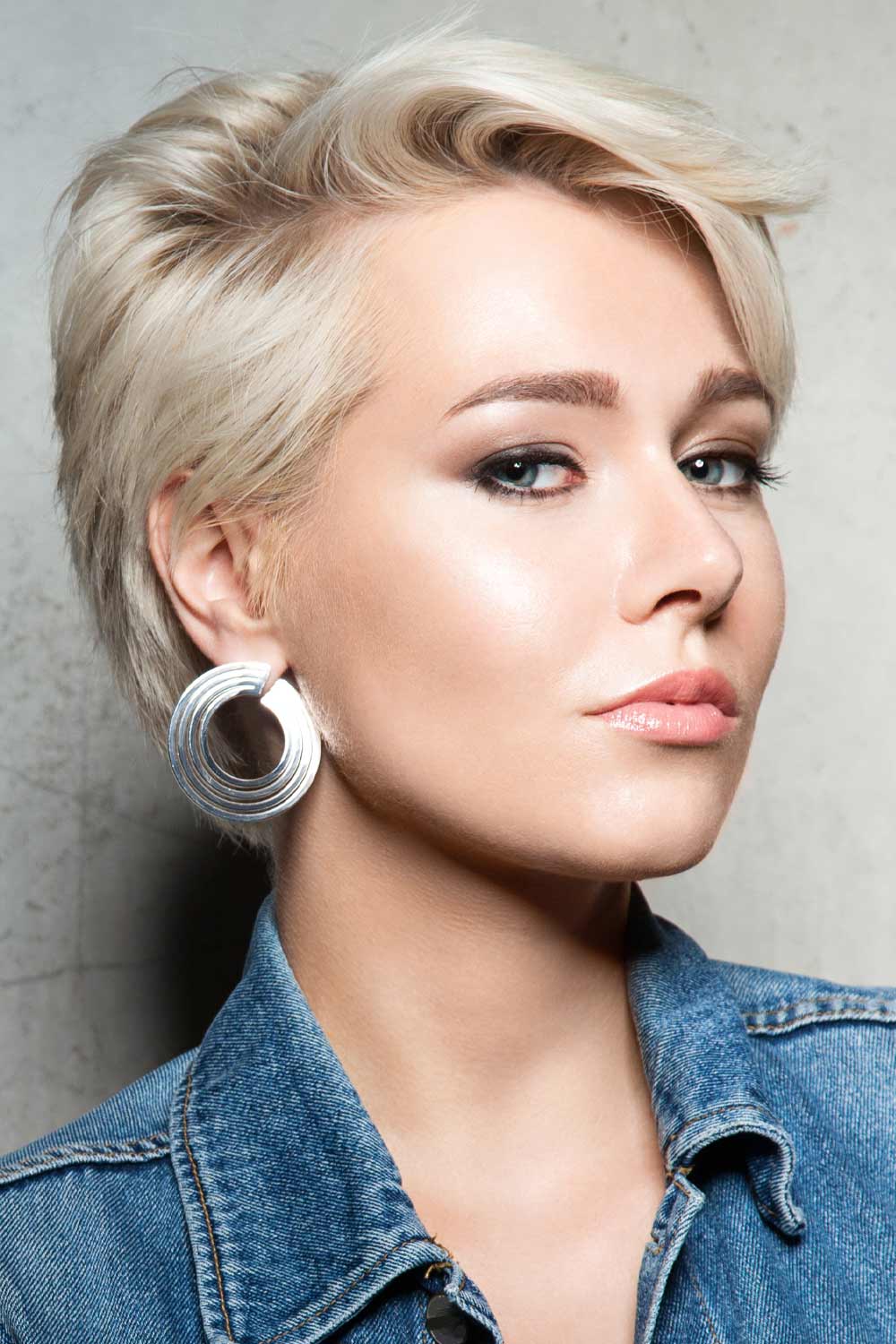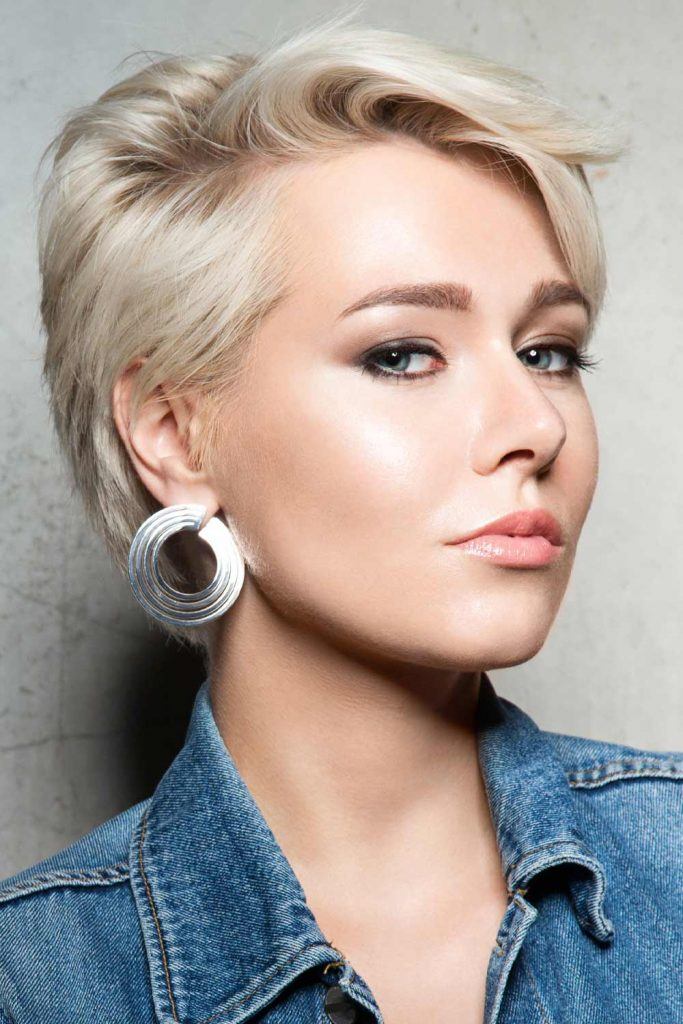 Credit photo: Shutterstock
i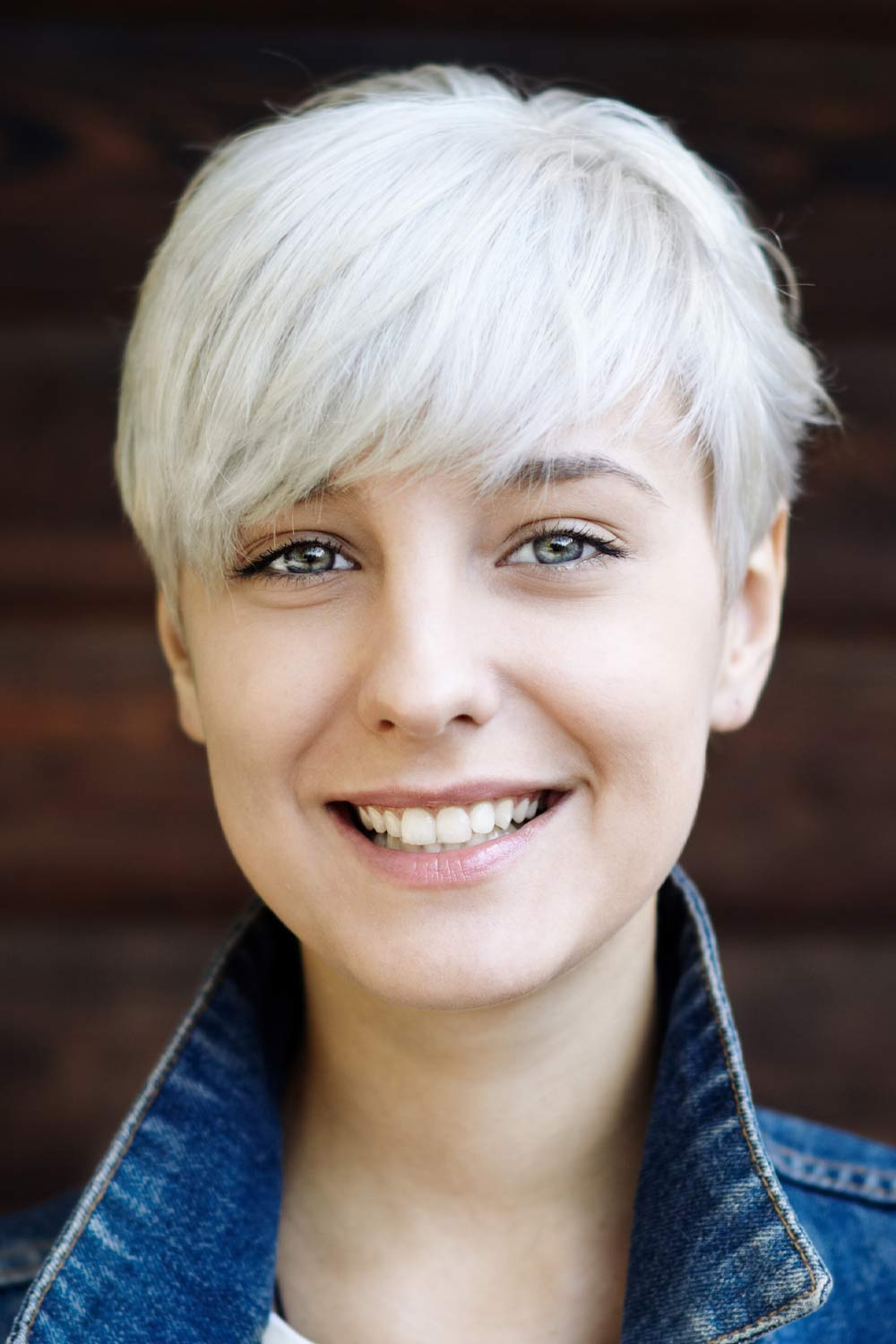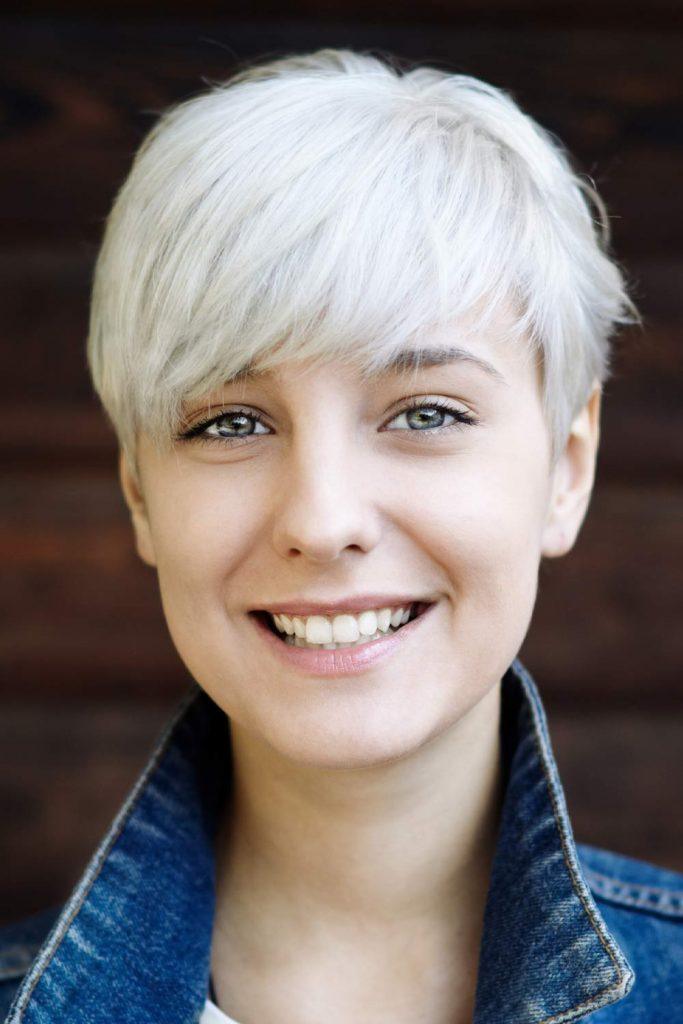 Credit photo: Shutterstock
i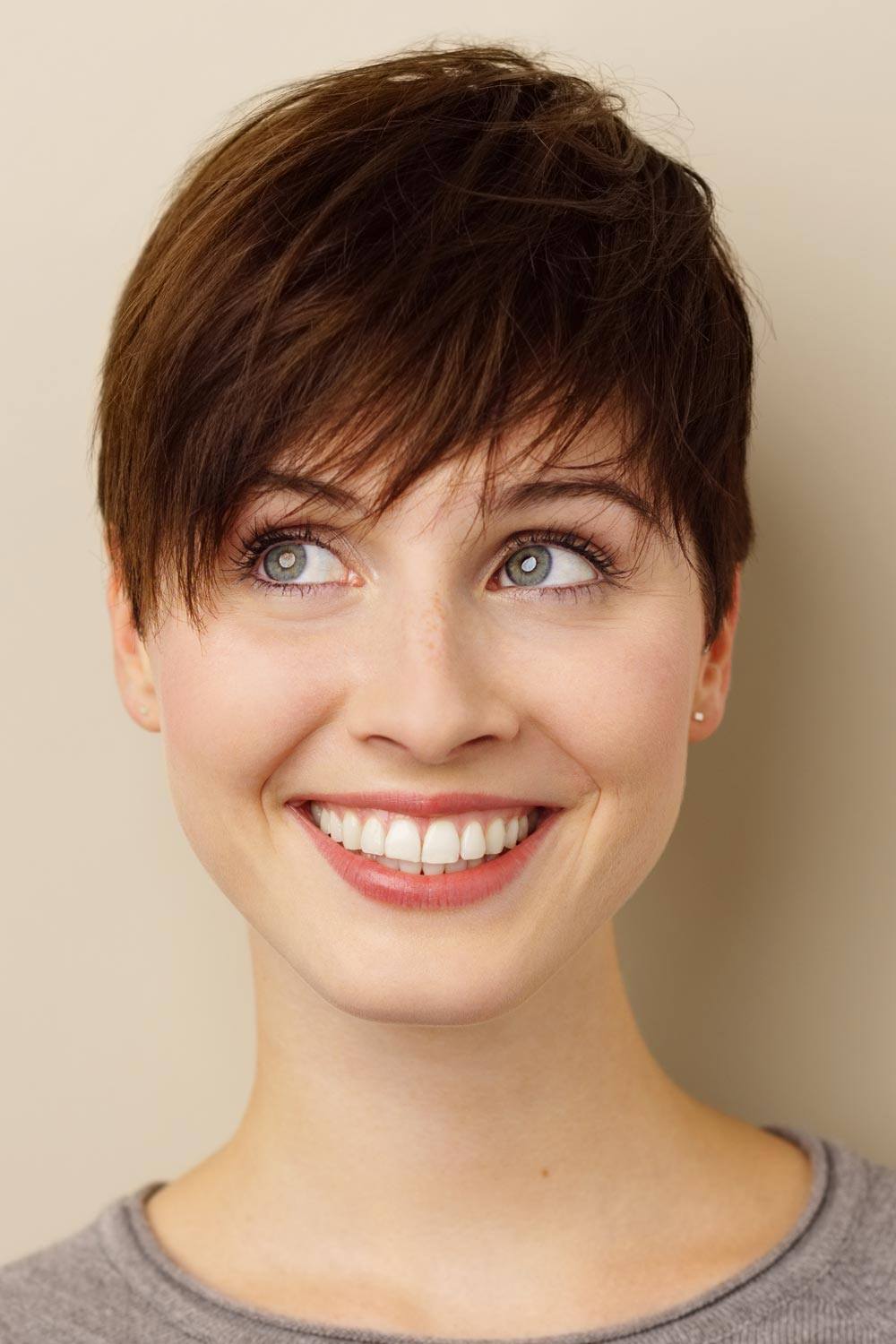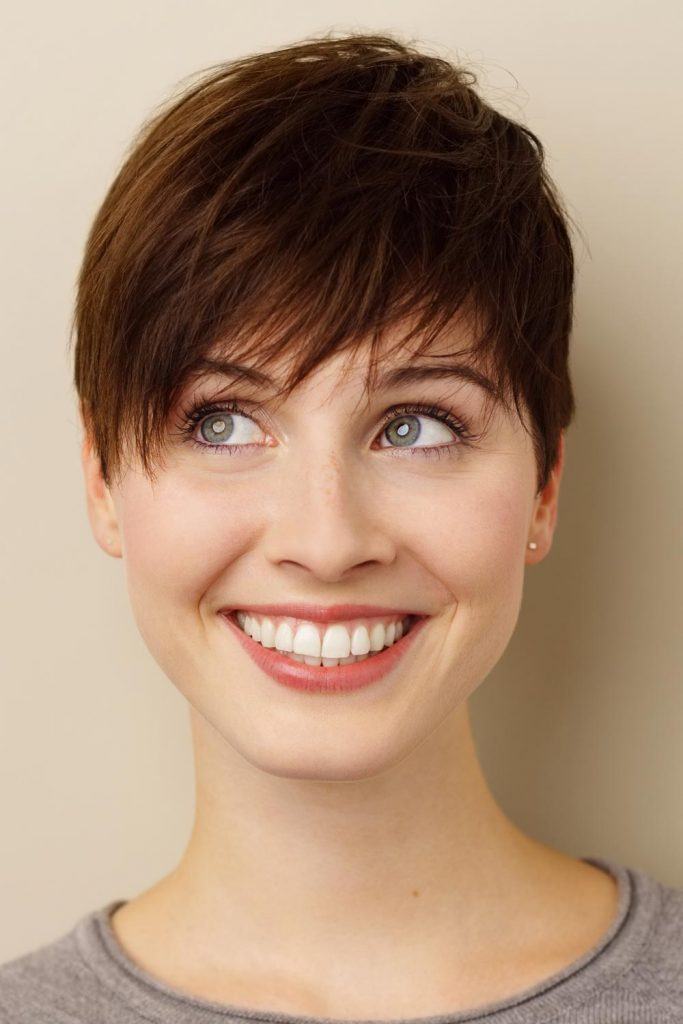 /
It is a common misconception that pixie cuts are difficult to style and can only be styled in one way. As you can see by the pictures of pixie cut styles below, pixies are most certainly versatile and can be styled many ways.
A pixie undercut is a great way to add volume your hair. Ask your stylist for a trendy undercut and some color on the top to add depth and dimension to your pixie. Or ask for a pixie cut with bangs for a sexy and flirty vibe!
Cool Pixie Cuts:
Faux Hawk Pixie Cut
Shaggy Pixie
Side Swept Bangs
Curly Pixie
Wedge Pixie
Punk Pixie
Asymmetrical Pixie
Disconnected Pixie Cut
Feathered Pixie
Tapered Pixie
Choppy Pixie
Preppy Pixie
Razored Pixie
Посмотреть эту публикацию в Instagram
Посмотреть эту публикацию в Instagram
Посмотреть эту публикацию в Instagram
Here are some expert styling tips to help you rock your pixie cut!
Prep your hair with the desired product: texturizing cream, volumizing mousse, shine serum, whatever style you have choose for that day.
Blow dry your hair until it's almost dry. Use a round brush for a straight look or a diffuser for your curly tresses.
Finish your style. Do you want it spiked? Seductively off to one side? A tousled, bed head look Use this time to style your pixie according to your mood or look for the day.
Set your style: Use a quality finishing spray to hold your pixie in place!
Credit photo: Shutterstock
i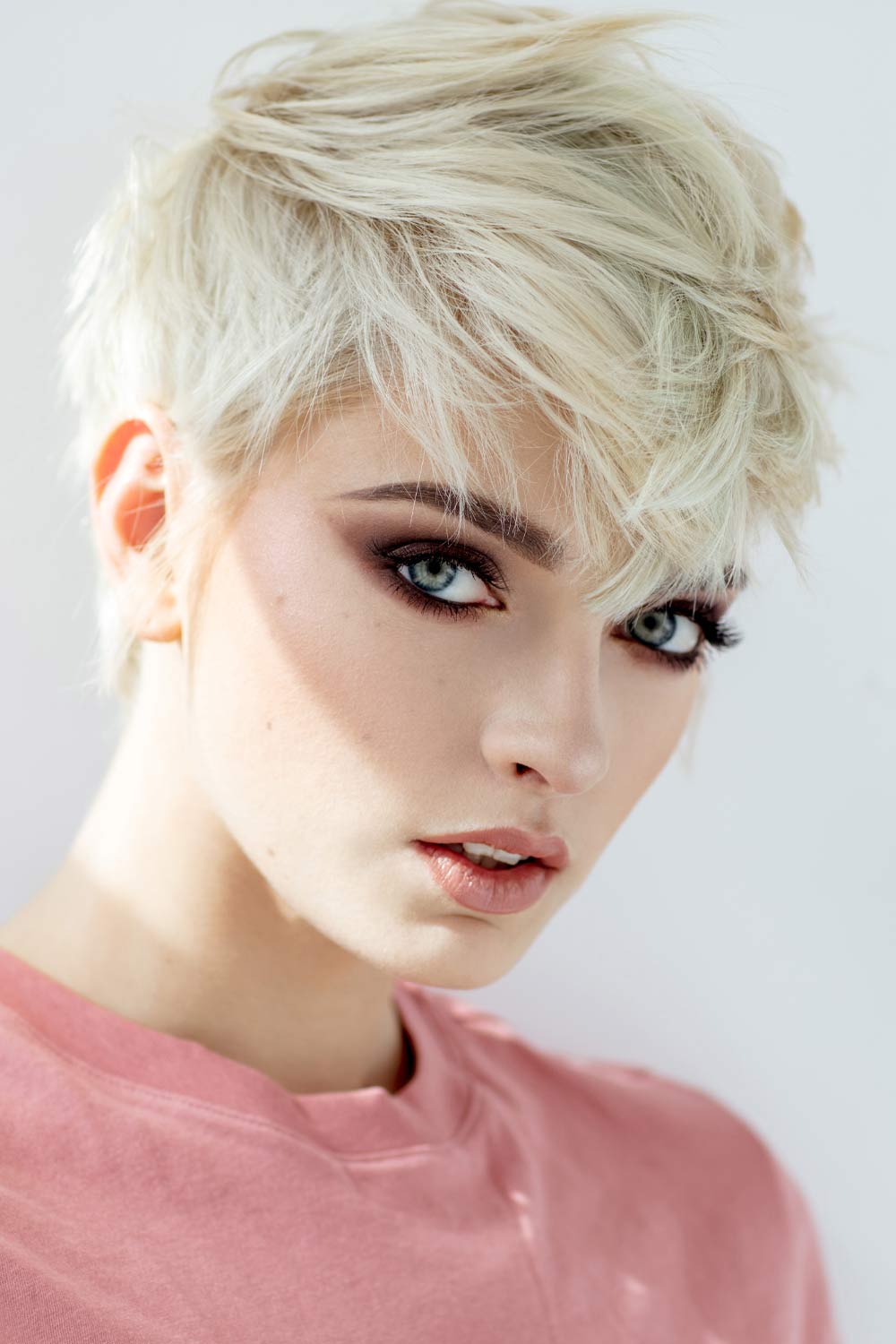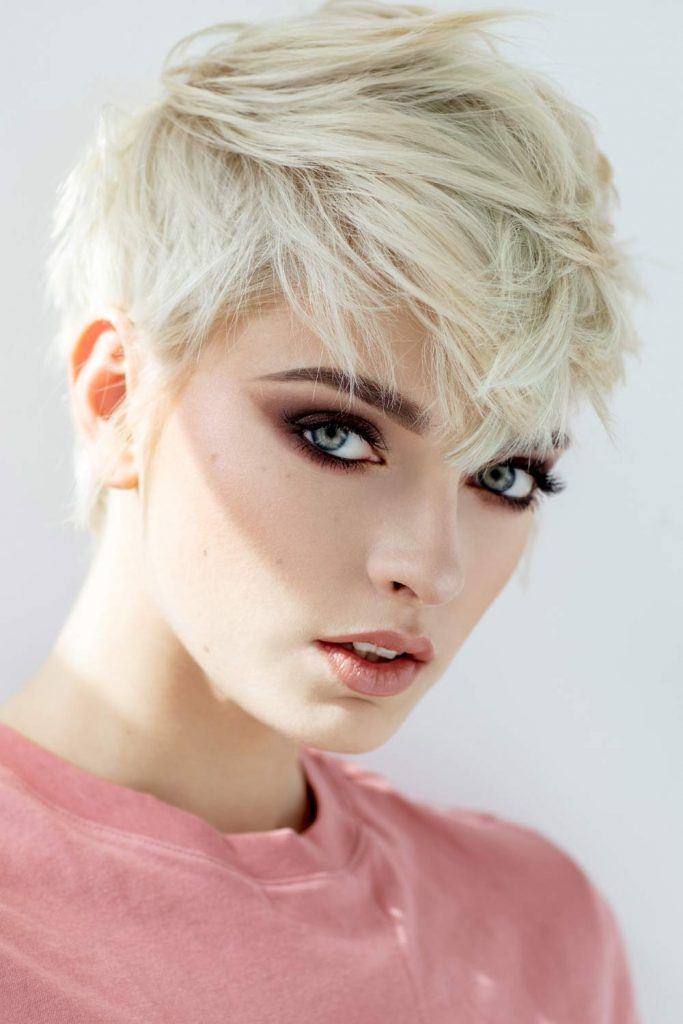 Credit photo: Shutterstock
i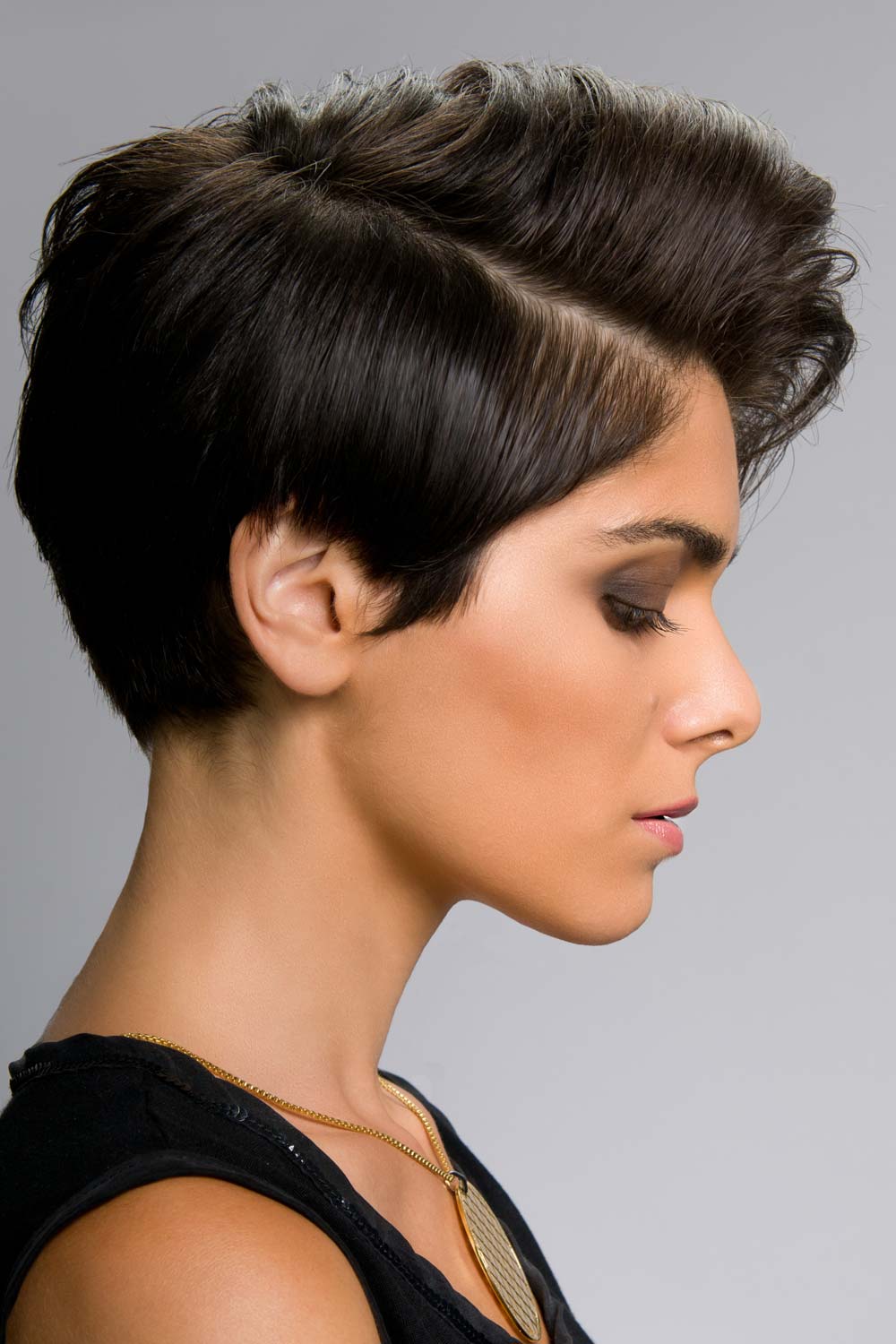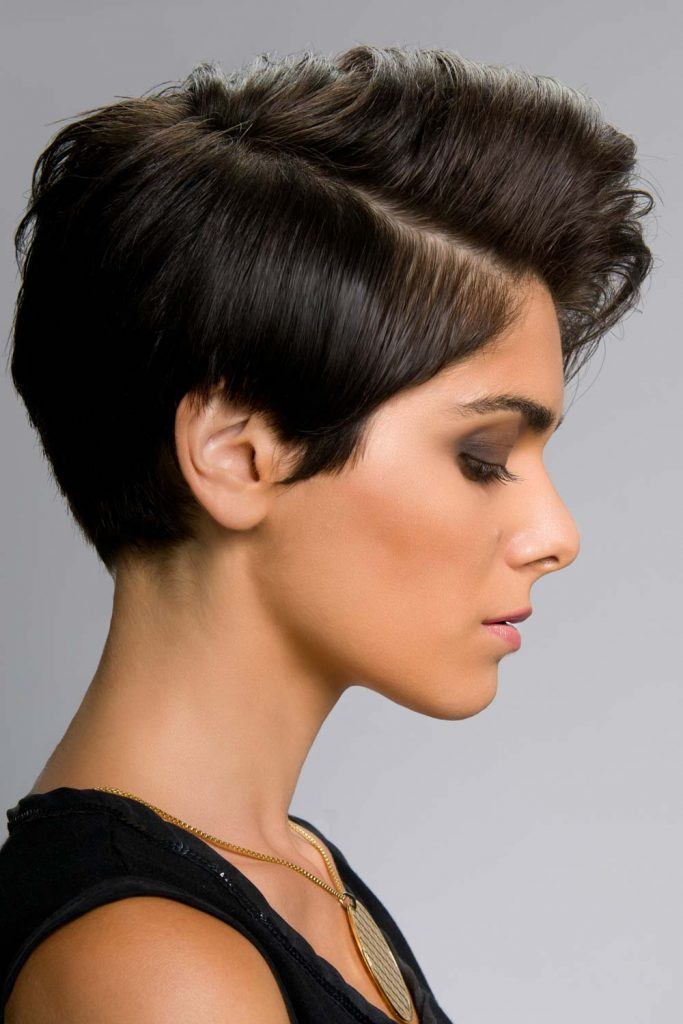 Credit photo: Shutterstock
i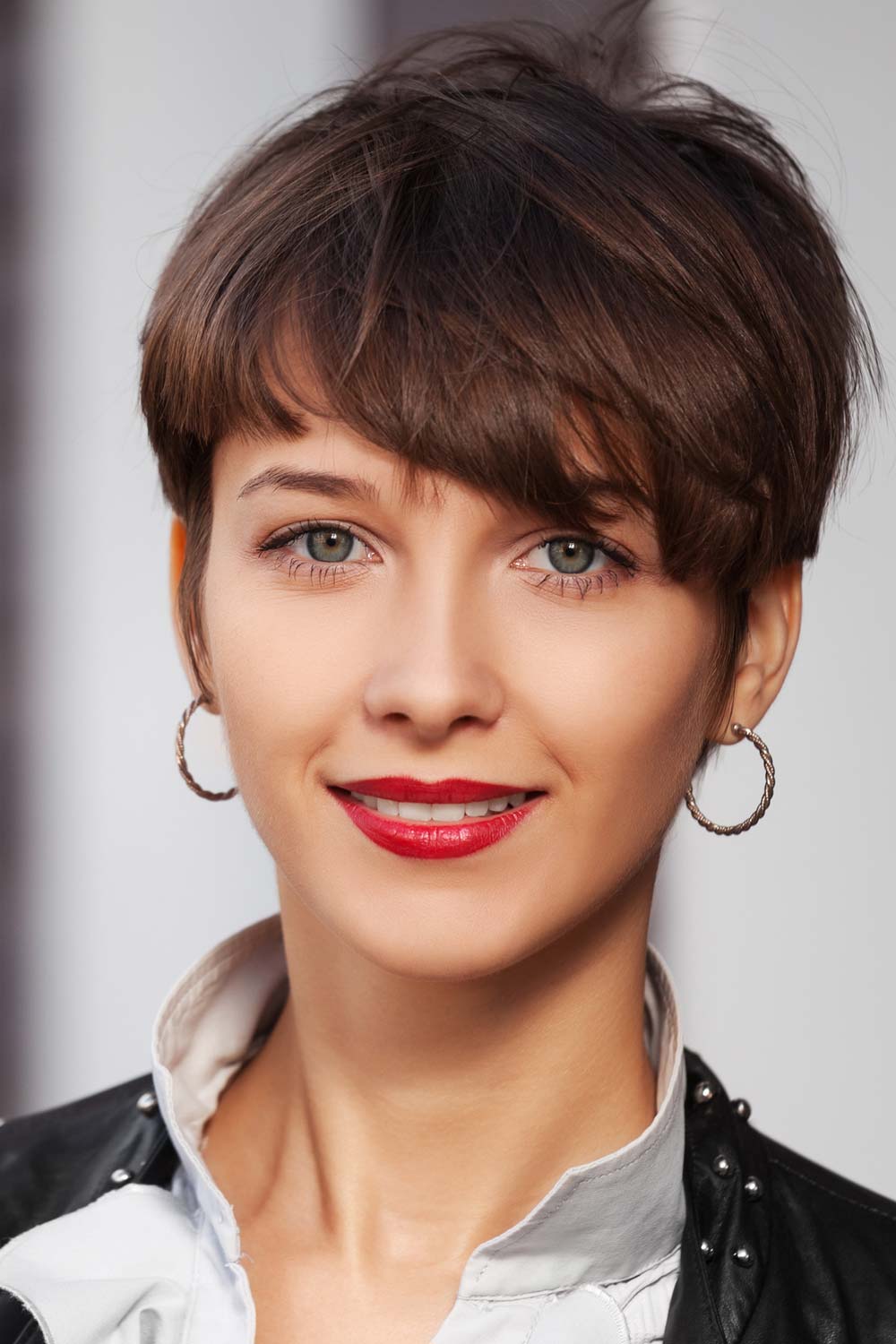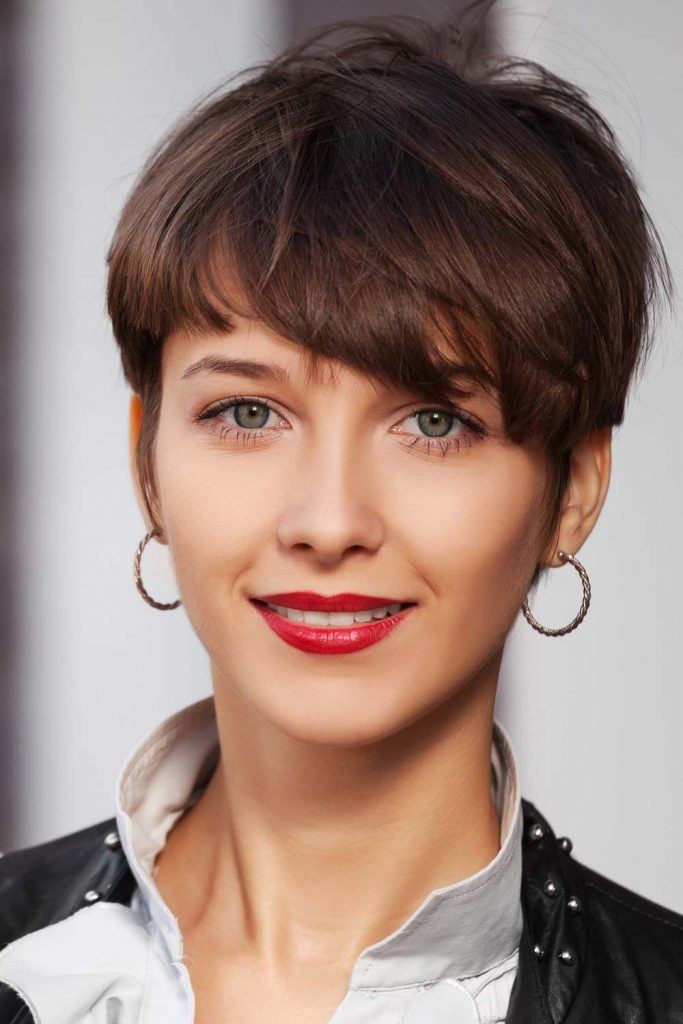 /
Still, not convinced that you can sport a short and sassy pixie? Take a look at some of the styles above. The best thing about a pixie is that you can experiment with color techniques such as ombres and balayage hues to add texture and depth to your tresses. And think of how much cooler your short pixie cut will feel on those hot and humid summer days!
Why Women Prefer Pixie Cuts?
A pixie cut is a sure-fire way to draw attention to your hair. Any woman who has self-confidence can pull off a pixie cut, as they are quickly becoming one the most popular hairstyles for short hair. And as previously stated, you don't have to stick to just one style with a pixie. If you get the right cut, you can style your pixie differently every day!
Take a gander at some of the pics below for short choppy pixie haircuts. As you can see, you can style your bangs to one side, or let them fall naturally over your face for a carefree look. As well, you can curl your hair or slick it back for a more polished look. And if you wake up with a sassy attitude you can always spike your hair for a bold and rebellious look.
Посмотреть эту публикацию в Instagram
Credit photo: Shutterstock
i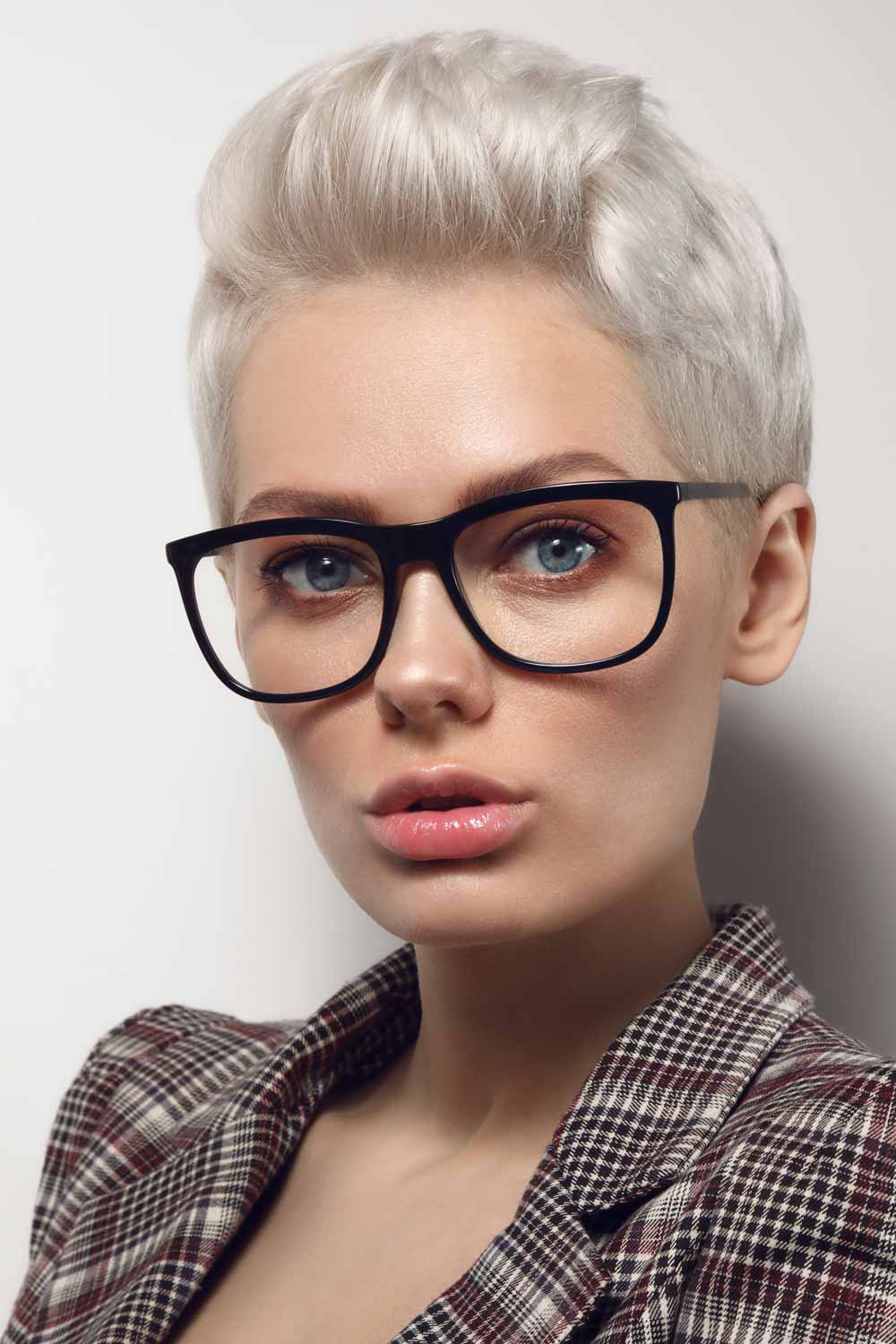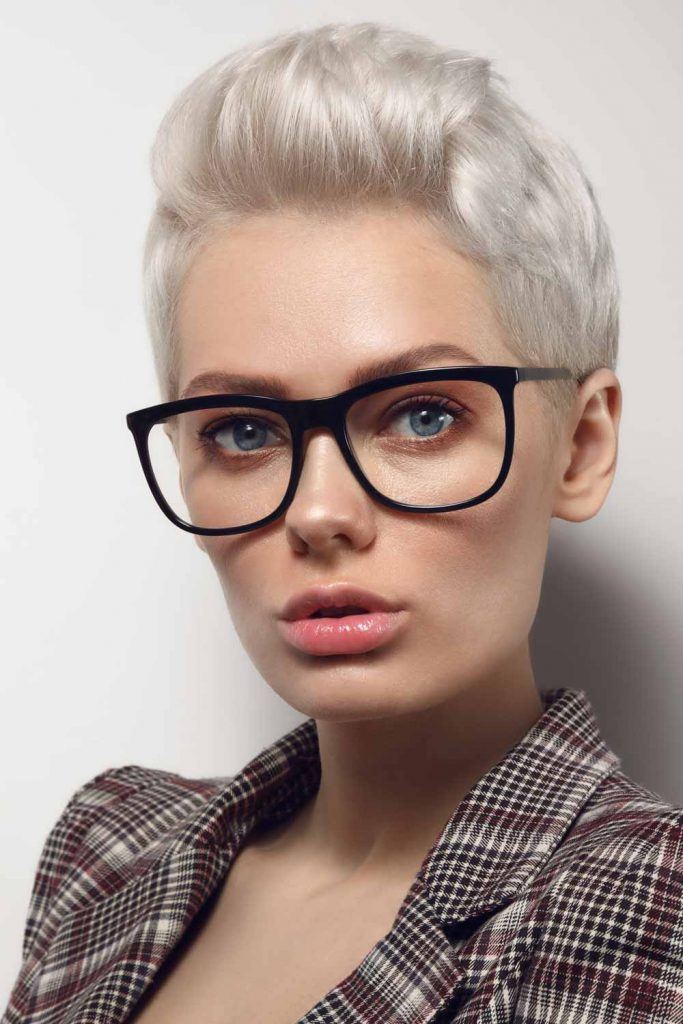 Credit photo: Shutterstock
i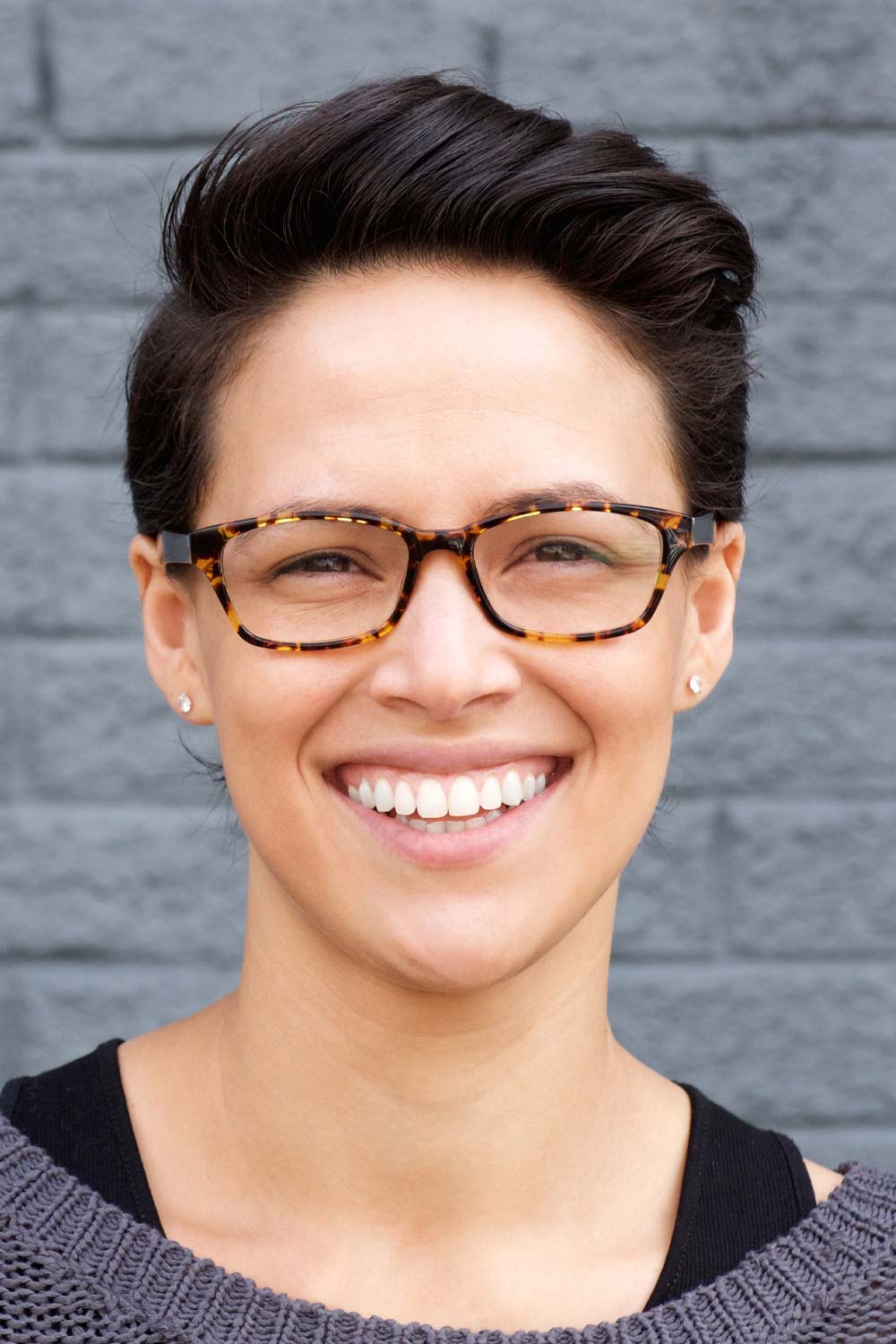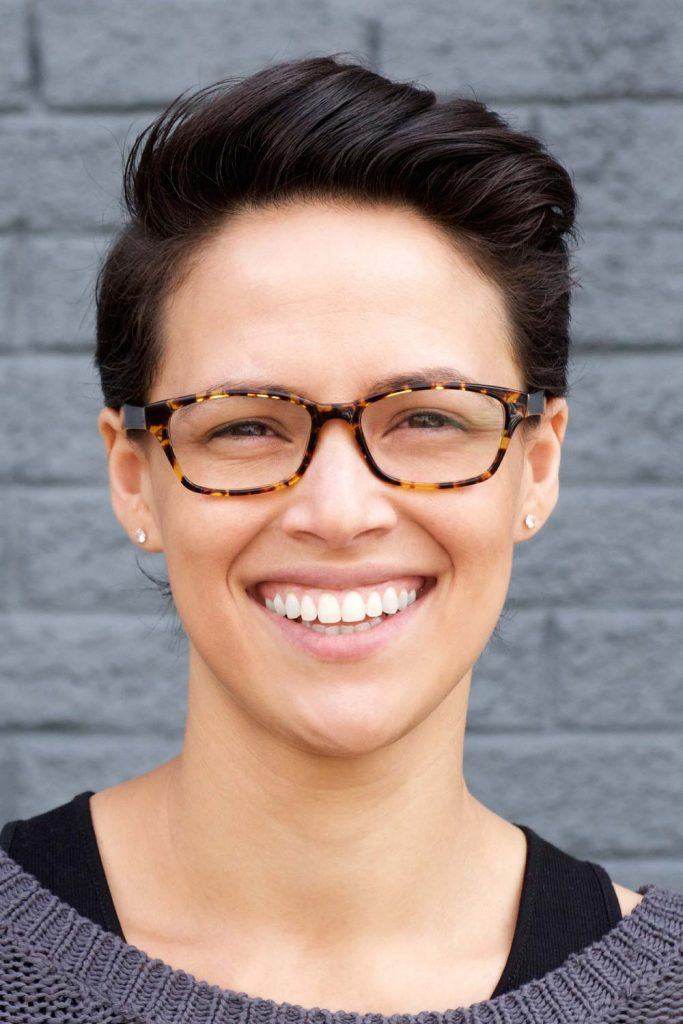 /
Now if you think that styling a pixie cut with thick hair will be a hassle, you couldn't be more mistaken! A pixie cut can work wonders for thicker tresses as it will help remove some of the weight. In addition, it adds texture to your hair for added volume and bounce!
How to Style Your Pixie Cut?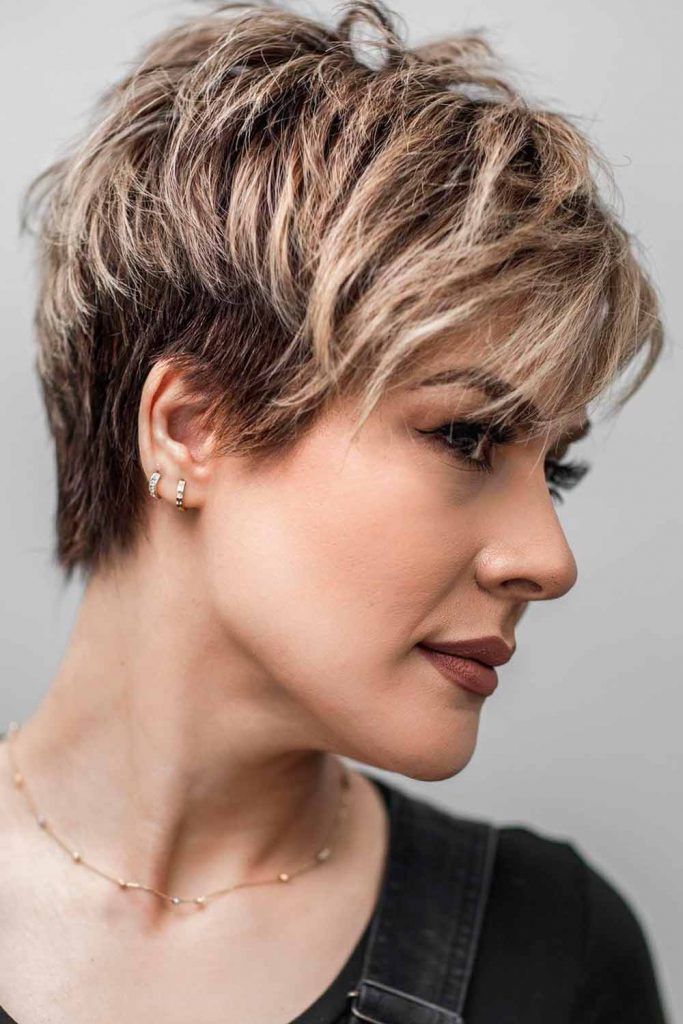 Credit photo: instagram.com/andrewdoeshair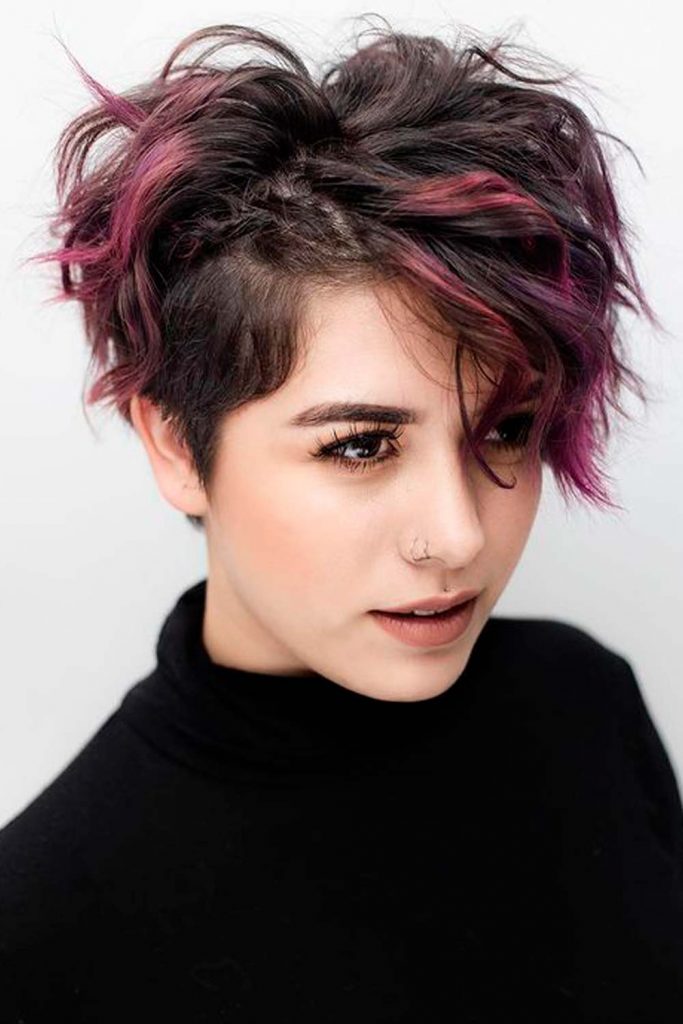 Credit photo: instagram.com/andrewdoeshair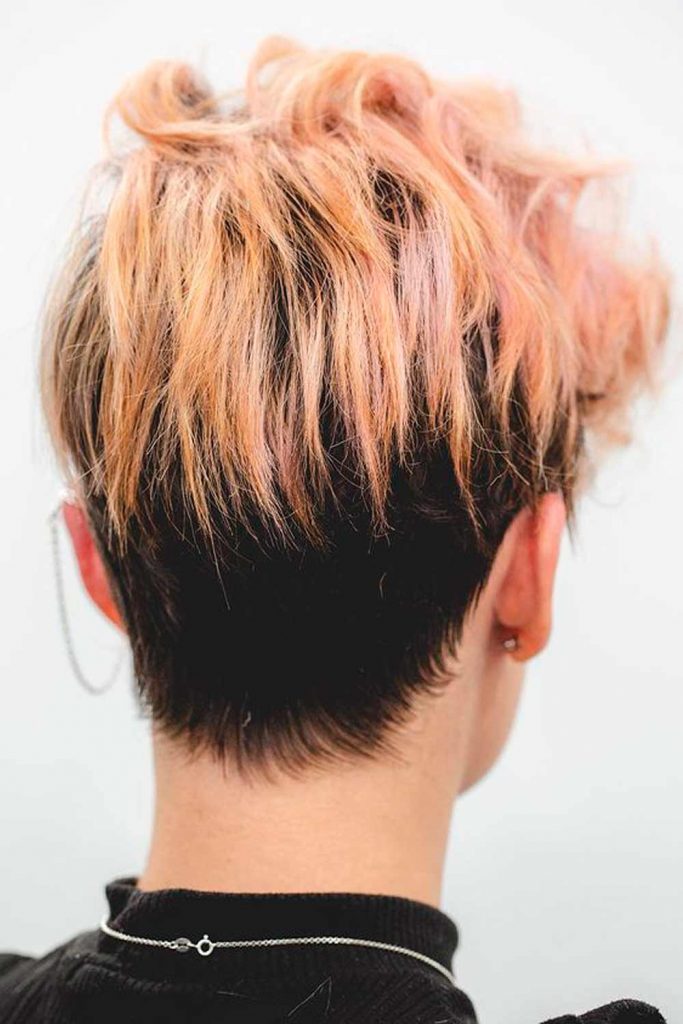 Credit photo: instagram.com/andrewdoeshair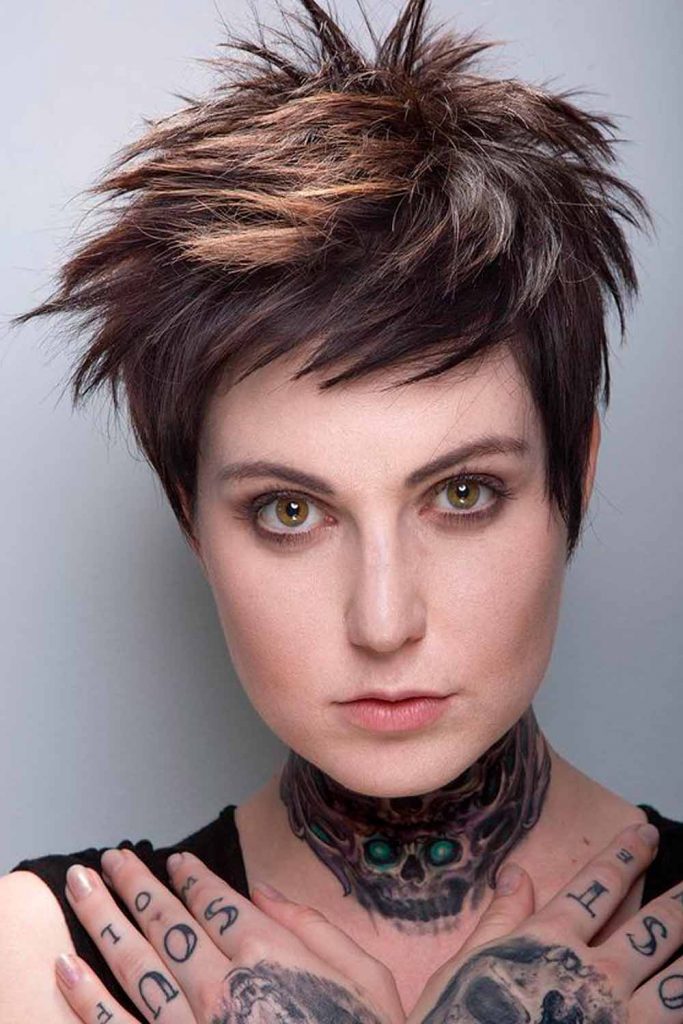 Credit photo: instagram.com/andrewdoeshair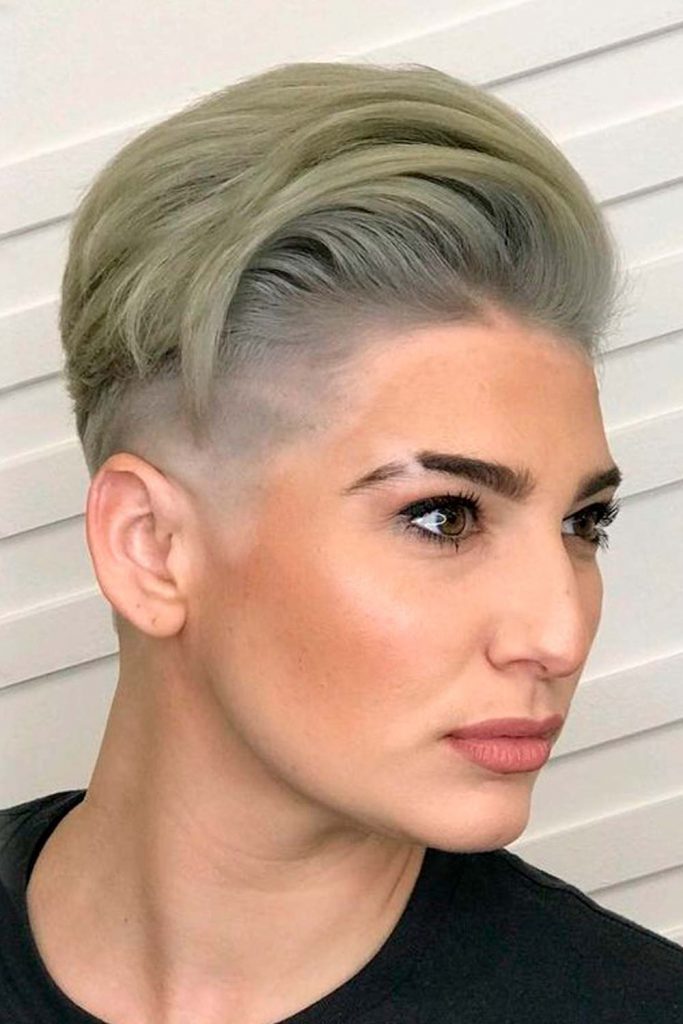 Credit photo: instagram.com/isaac4mayor
Pixie Cut Designs To Try This Year
Perfect Pixie Haircuts With Highlights
Credit photo: @isaac4mayor
i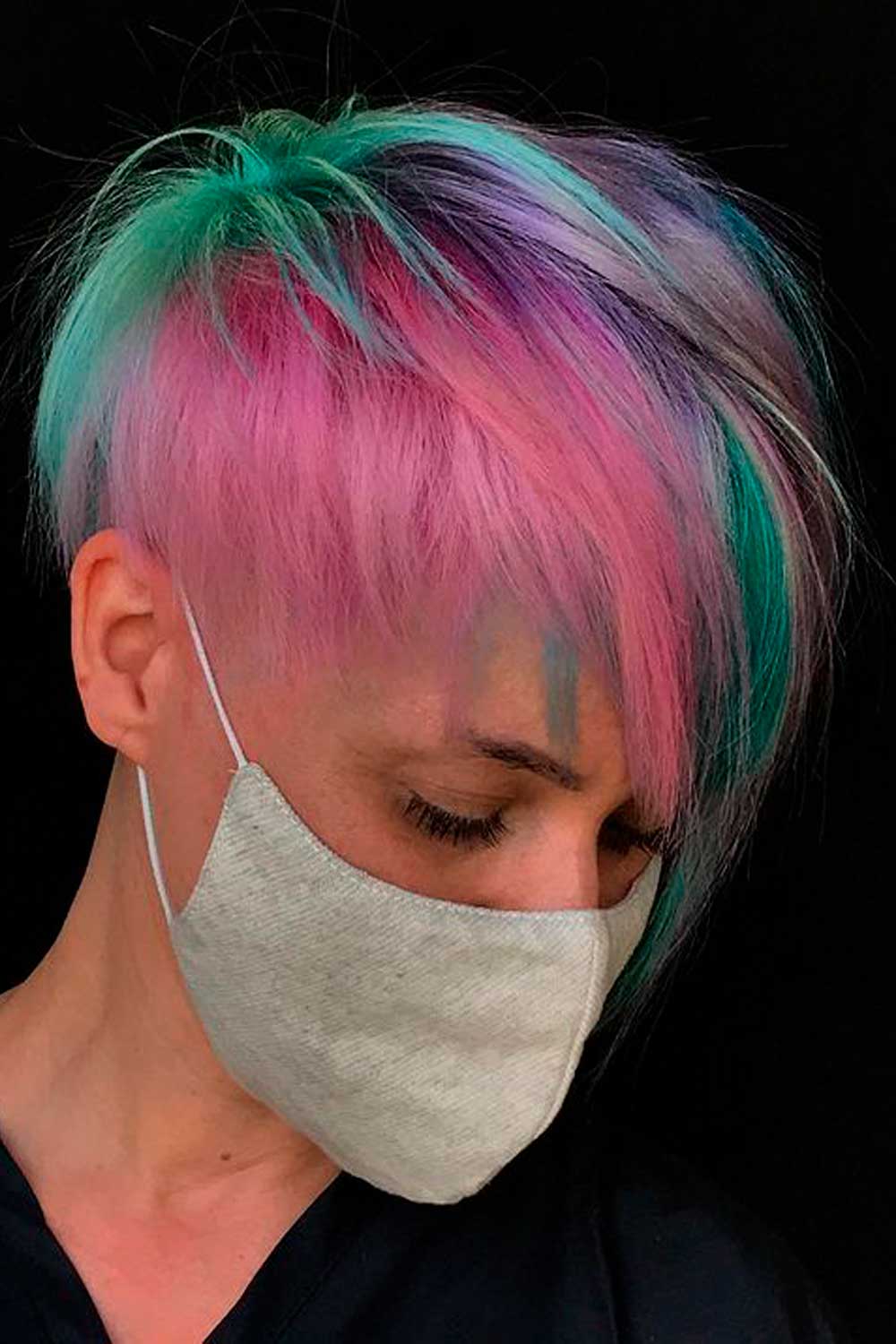 Credit photo: @ro.hsiqueira
i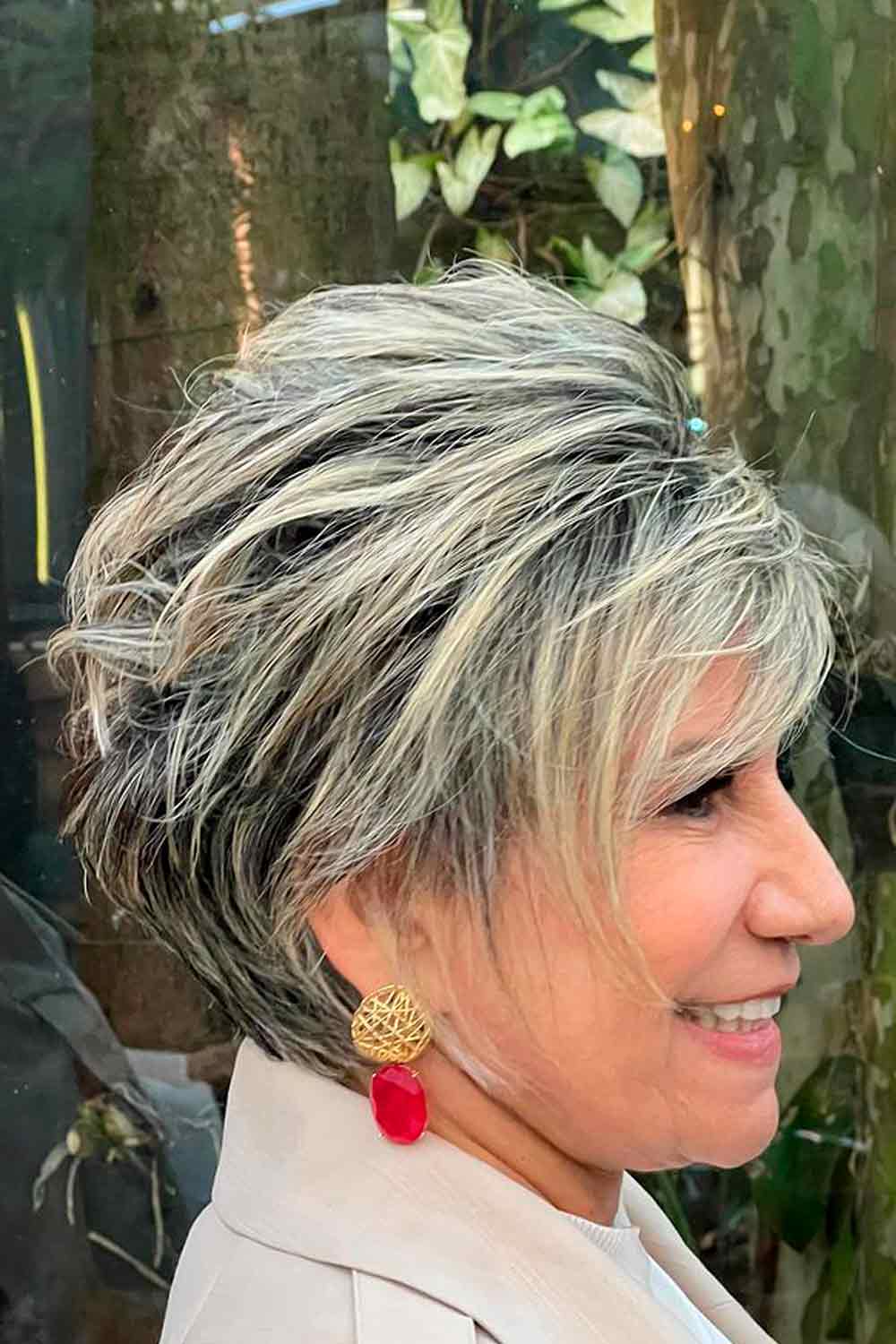 /
Also, liven up your pixie cut. Highlights or lowlights can give your hair a multi tonal look that will add dimension to your hair. If you feel like you need a change, but don't want to go over the top, try some soft balayage tones to compliment your natural hair color.
Awesome Colorful Pixie Haircut Ideas
Perhaps the best thing about a pixie cut is that they are perfect for experiment with bright and bold colors. Whether you want to color your entire head of hair hot pink or go for a rainbow ombre, there is no end to the number of creative and unique hair color ideas for pixie cuts.
So if you are running out of ways how to style pixie haircut, look no further. Check out these awesome pixie cuts that are just bursting with color and charisma!
As you can see from the photos below for pixie cut color ideas, pixies look positively striking with bold and bright colors! Whether you got for a curly faux hawk pixie, a slicked back fuchsia pixie or a colorful orange, pink and yellow ombre pixie with shaved sides, you will certainly be able to find the pixie cut and color combo that works for you!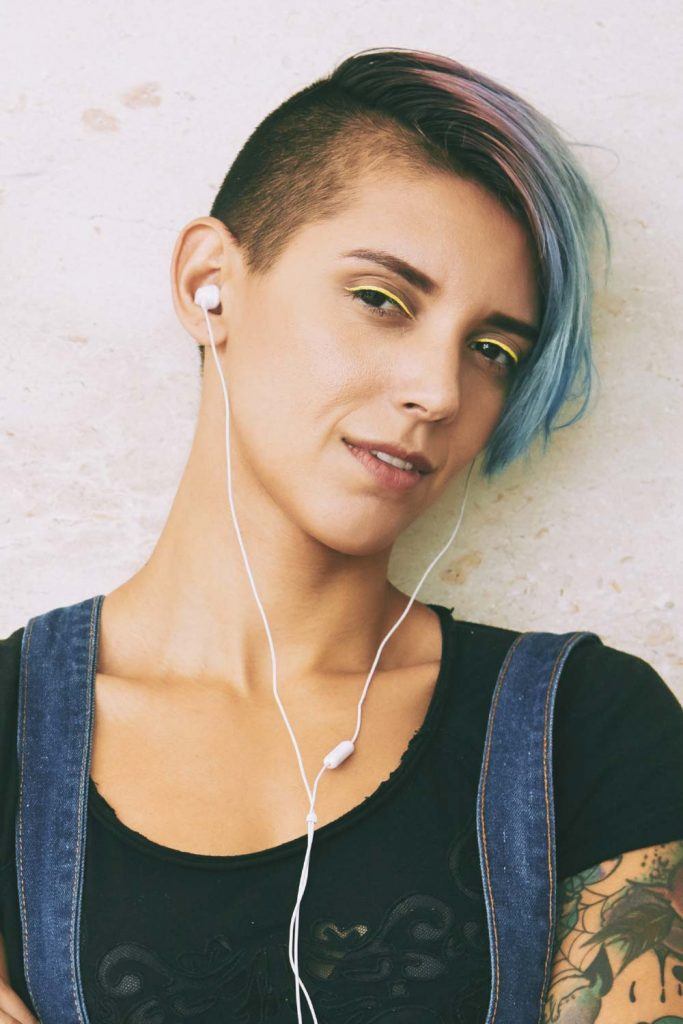 Credit photo: Shutterstock
Some of the best hair color for short pixie cut are those that are bursting with bright colors. In the first photo, a bright crimson red makes this trendy curly faux hawk pop with color. The pink and violet balayage hues in the second picture are perfect for those who love pink! If you really want to be the center of attention, try this pastel faux hawk pixie with shaved sides. The pale orange, pink and yellow tones are perfect for a summer haircut!
Have we inspired you to go try one of these edgy pixie cuts? We dare you to embrace your inner punk rock chick and go for a bold new look that just burst with color!
Swept Back Pixie For Thin Hair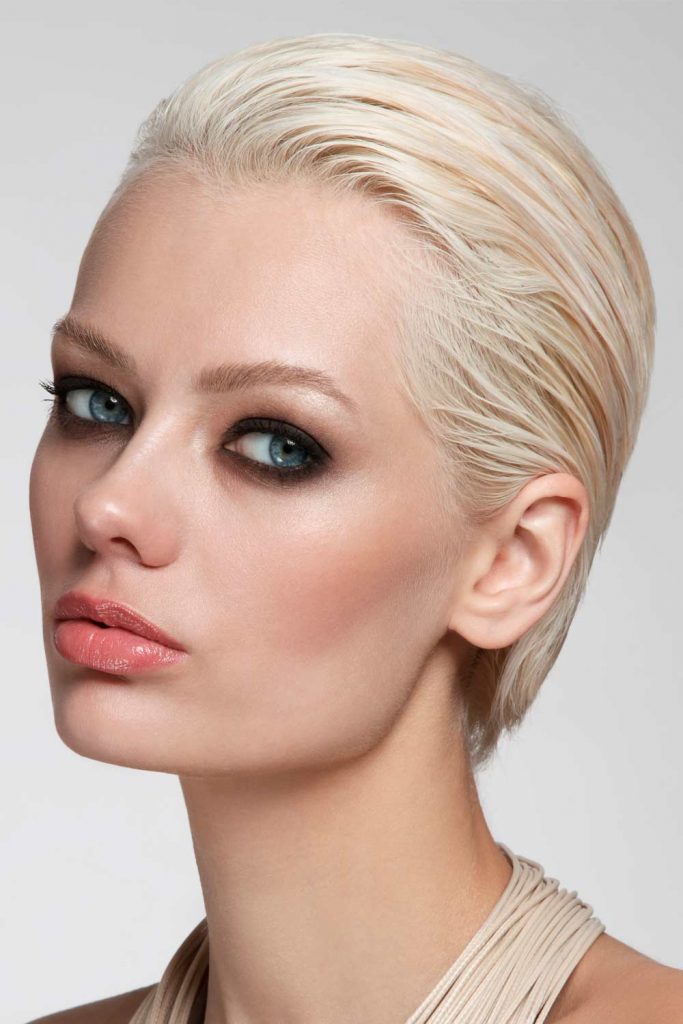 Credit photo: Shutterstock
If you haven't sported a pixie before, it is easy to assume that all the cuts are alike. That is where you are mistaken. The truth is that there not only different cut variation but also versatile ways of styling it. If you do not want your hair to be in the way, just sweep it back and use some hair spray to keep it in place. As simple as that!
Short Undercut Pixie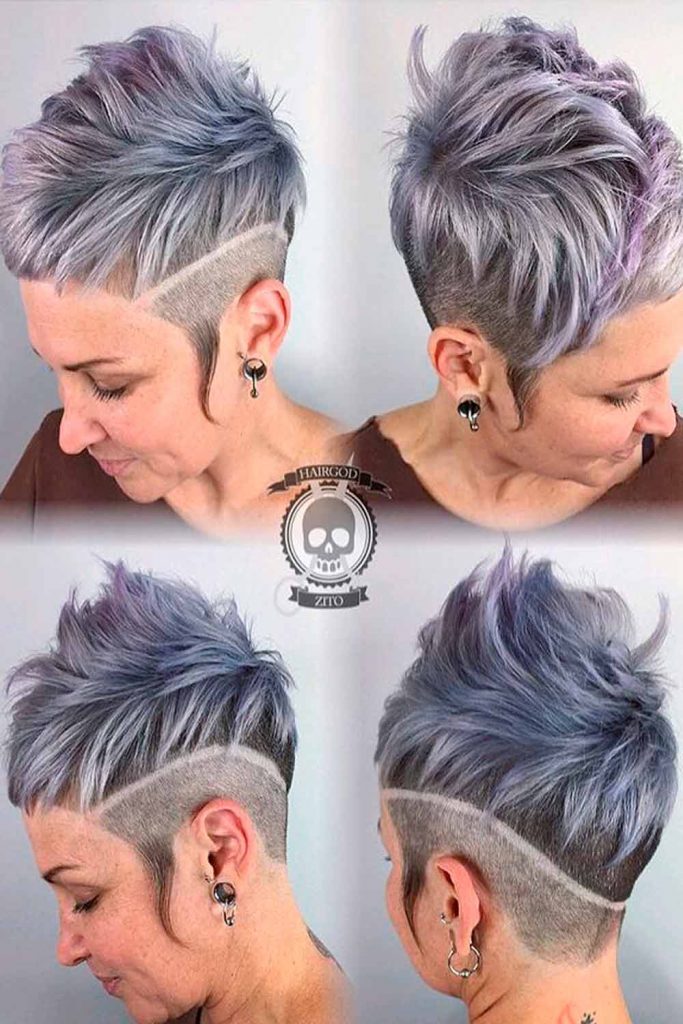 Credit photo: instagram.com/hairgod_zito
Those of you who are always on-the-go and you do not have the luxury of spare time to waste on fixing your hair on a regular basis, we have a way out. All that you need is a short pixie with an undercut to it. With a cut like that you will always look stylish, and it won't take long to manage it in the morning.
Long Pixie With Undercut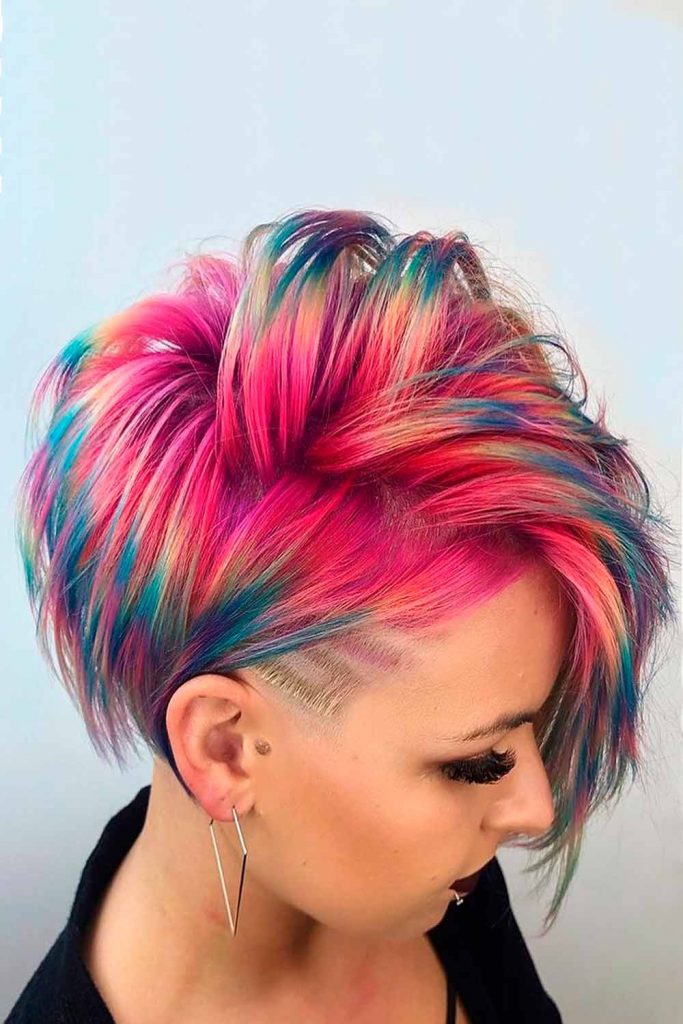 Credit photo: instagram.com/isaac4mayor
It is not a problem if you want to keep your pixie a little longer. In fact, such a cut looks super elegant and will fit almost anyone. Besides, it is easy to style, not to mention the variety of shades you can introduce. Silver color looks magnificent with a short undercut.
Layered Pixie With Highlights
Посмотреть эту публикацию в Instagram
If you need to add some volume and dimension to your hair, we suggest you opt for a layered pixie. The mixture of highlights will create the desired dimension while the layers will add volume. You may use some hairspray to keep the 'do in place.
Edgy Pixie With Long Top And Shaved Sides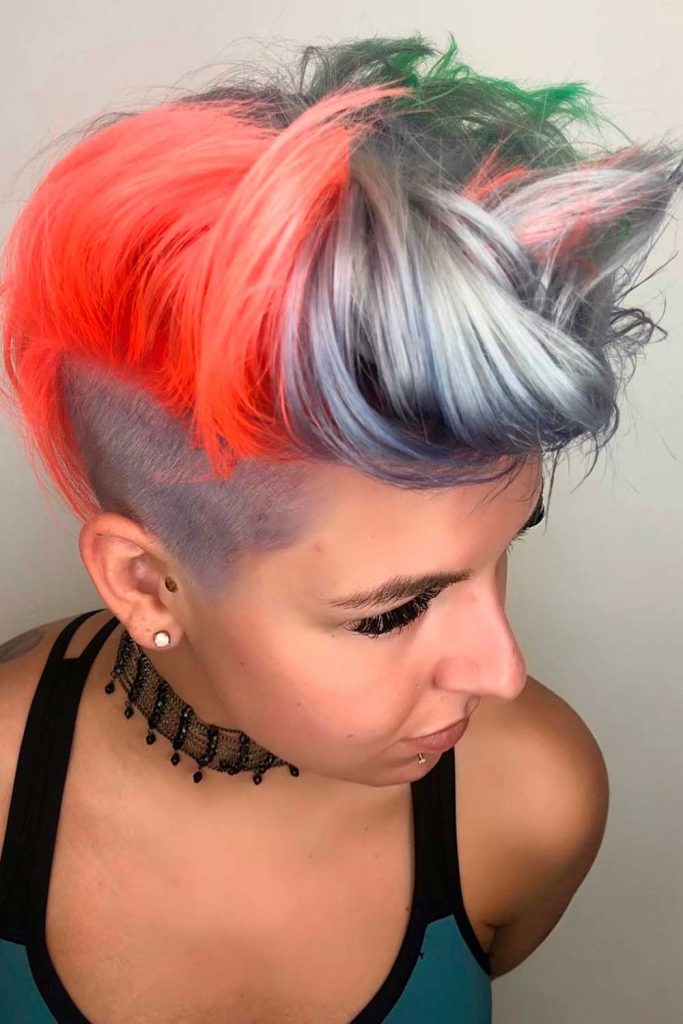 Credit photo: instagram.com/isaac4mayor
For an edgy look, we advise you to combine a two-layered undercut with extra volume on top. Bald fade and long top are the only things you need to come up with such a rebellious look.
Pixie Haircut With Long Side Bang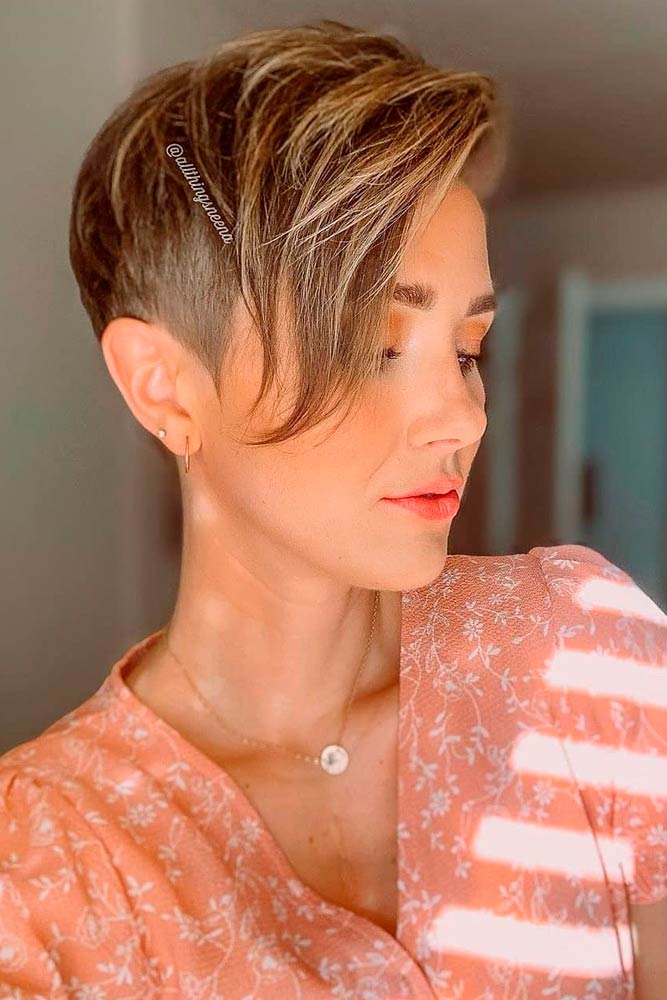 Credit photo: instagram.com/cabelocurto
Ladies who need to smooth out some angles or create them, depending upon the face shape should consider a pixie with a side bang. If you fear that the undercut will ruin the voluminous effect, try to experiment with highlights. Proper dyeing will result in necessary volume and dimension.
TWA Pixie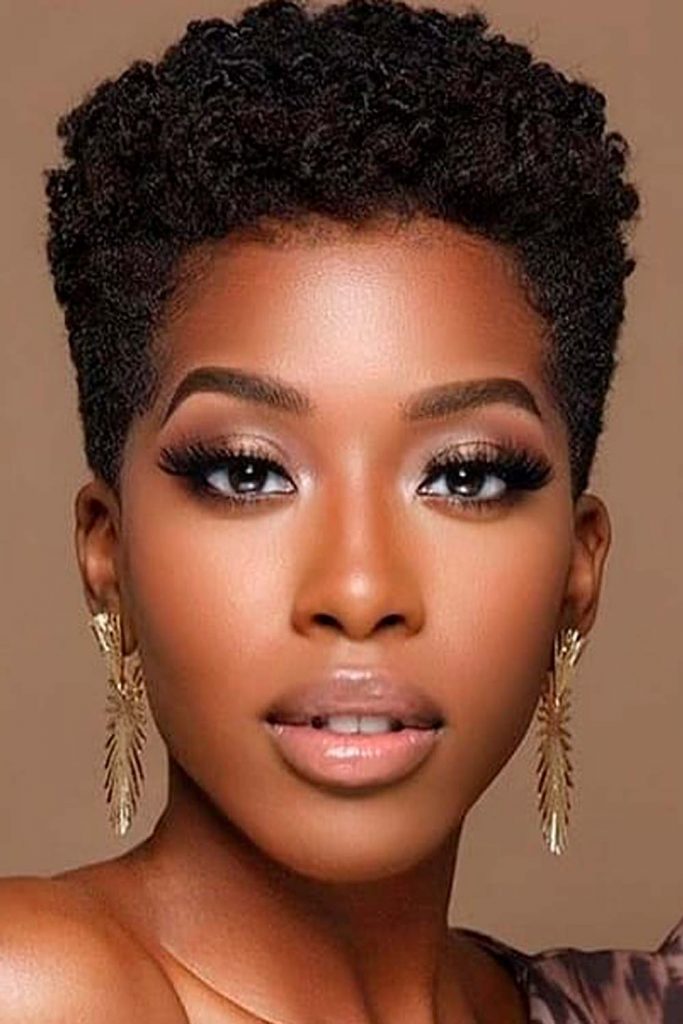 Credit photo: instagram.com/meucabelocurto
One of the main reasons why women opt for a pixie is that it is easier to sport short hair during summertime. However, pixies are also very versatile and stylish, so if you choose it, you will kill two birds with one stone.
Short Pixie With Blunt Bang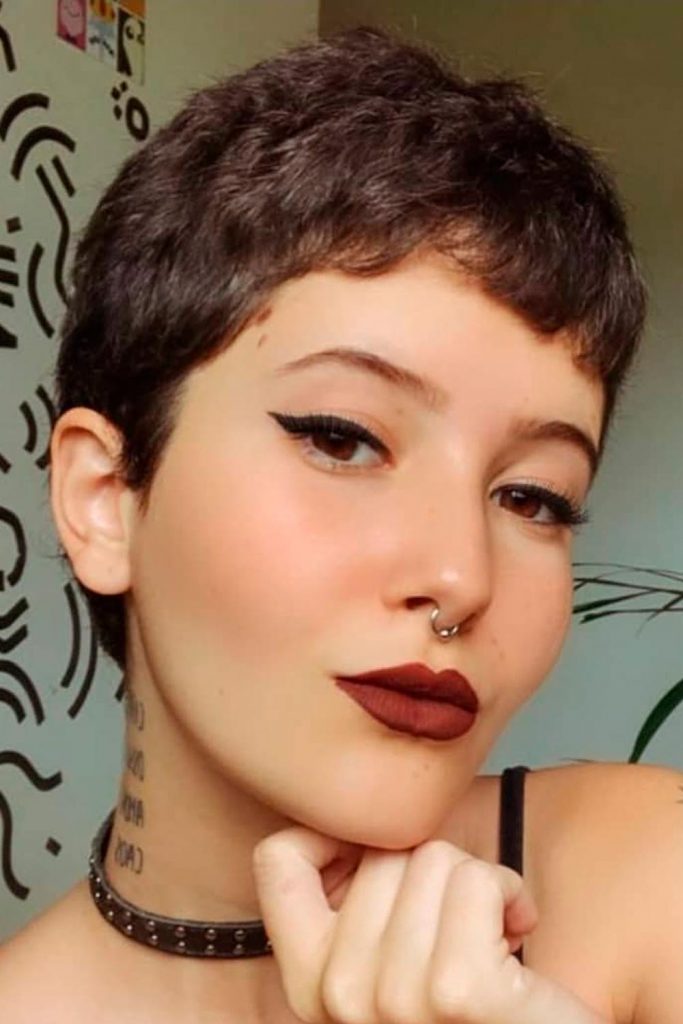 Credit photo: instagram.com/meucabelocurto
The truth is that you do not need to spend a lot of time on stylish such a pixie with blunt bangs. Even a slight touch feels, and it is distinctive.
Pixie With Shaved Design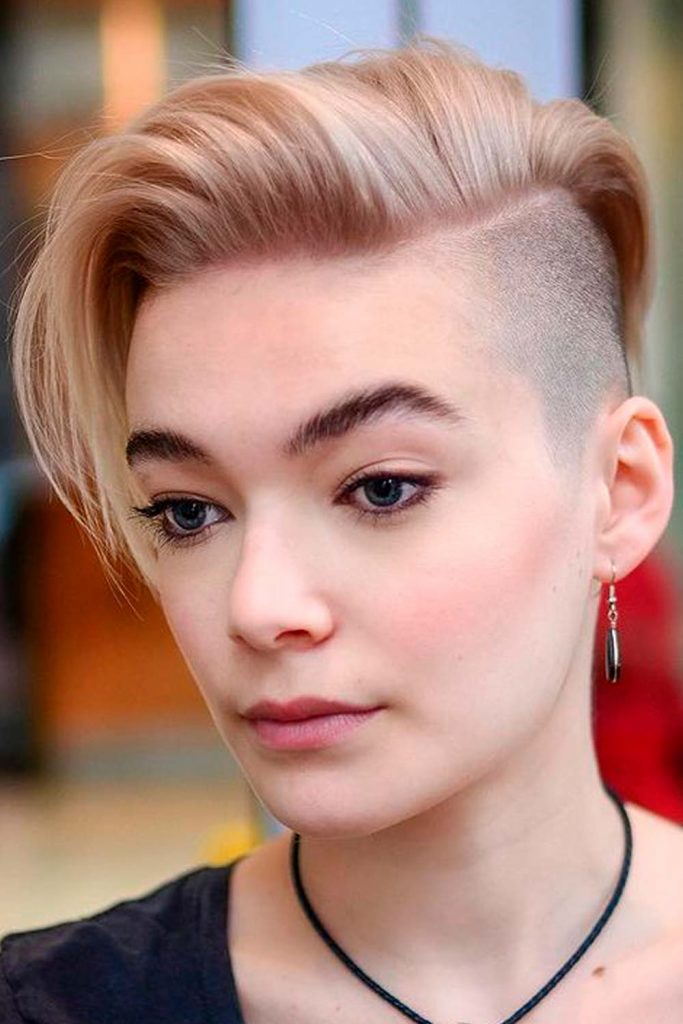 Credit photo: instagram.com/cutyourhair
It is never too much if you decide to go creative with your haircut. You can, shave sides, color your mane in different tones, but you can also create fantastic designs on those shaved sides of yours!
Bright Mohawk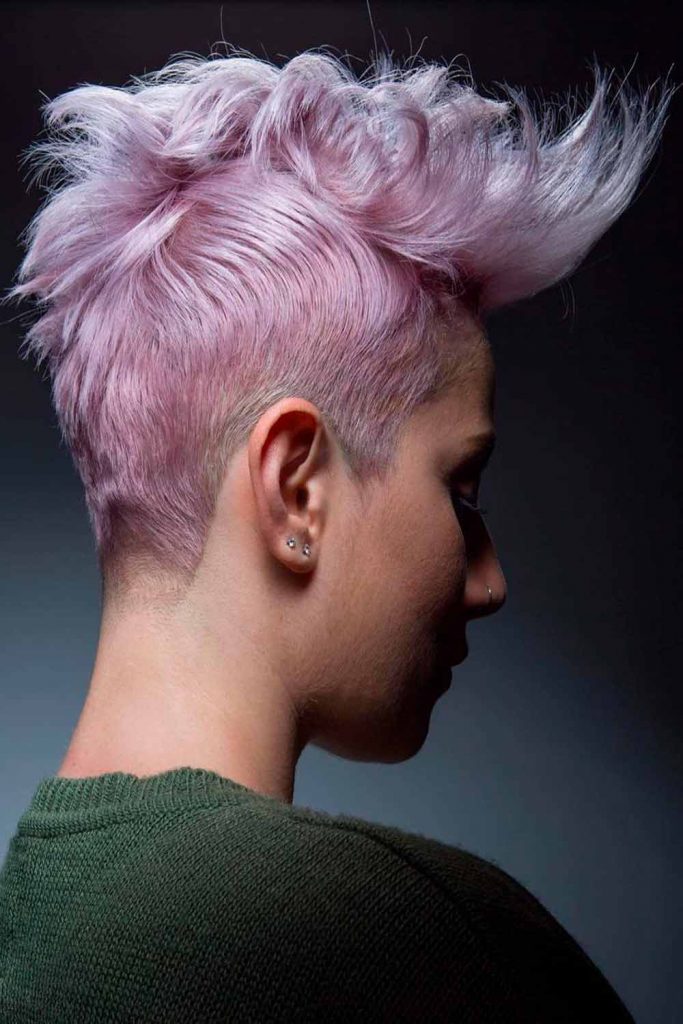 Credit photo: instagram.com/andrewdoeshair
It seems like experimenting with vibrant coloring is a little too much when it comes to long hair. However, there are no limits if you opt for a pixie.
Long Curly Pixie Cut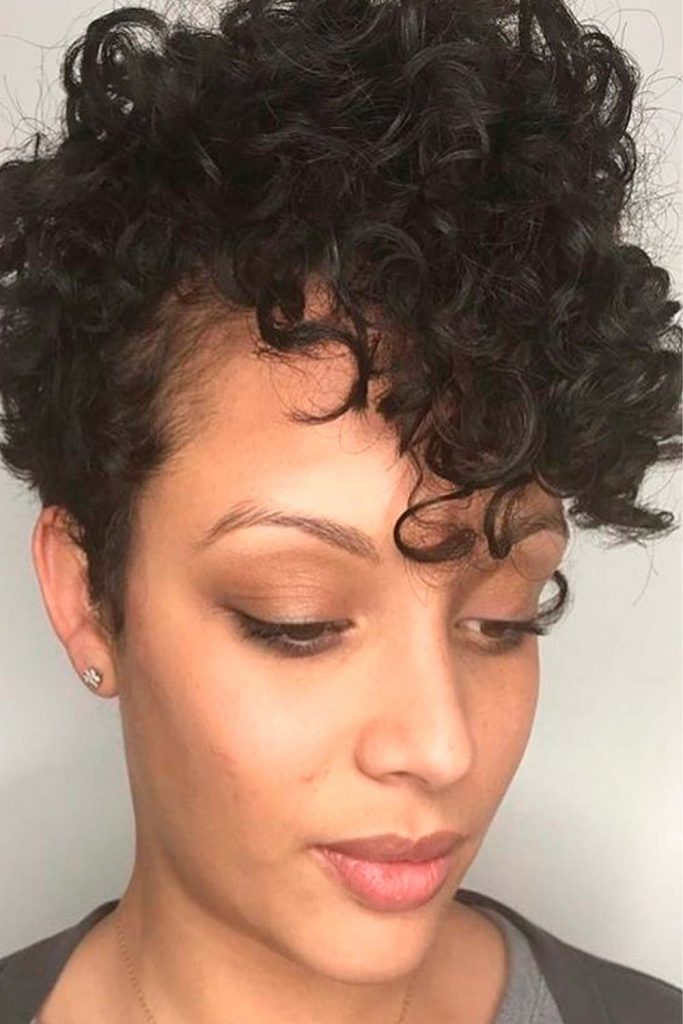 Credit photo: instagram.com/nubiarezo
Some may say that pixie cuts are not for curly locks. We beg to differ. One look at this gorgeous cut, and you will get the point!
Pixie Bob Haircut
Посмотреть эту публикацию в Instagram
Can't decide whether pixie or bob is the haircut you want? We have a surprise in store – pixie bob!
Side-Parted Blonde Pixie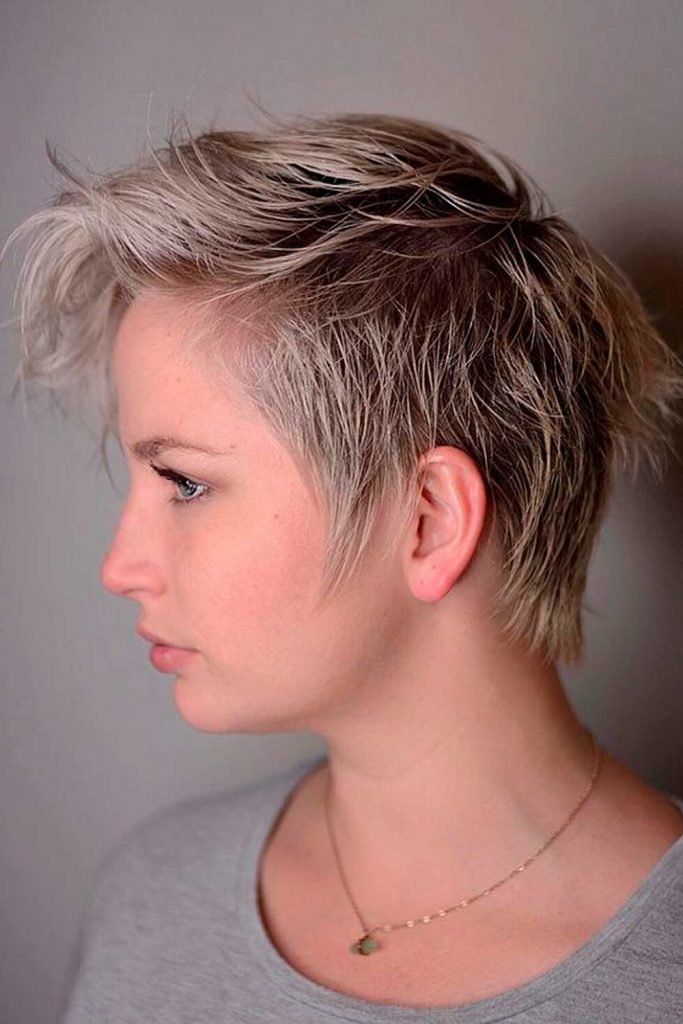 Credit photo: instagram.com/cutyourhair
When deciding between different pixie haircuts, length is probably the most important thing to consider. Super short styles have a bare-it-all effect, while other pixie cuts use longer elements to frame and suit your overall face shape.
This side-parted pixie cut utilizes choppy layers to create long side bangs that will give your pixie cut necessary style and flair. This look is great for lengthening a round face shape by showing off the angularity of your cheekbones. Make it an undercut pixie cut on the back of the head or one side in conjunction with long bangs if you feel like going bold.
Short Choppy Faux Hawk-Styled Pixie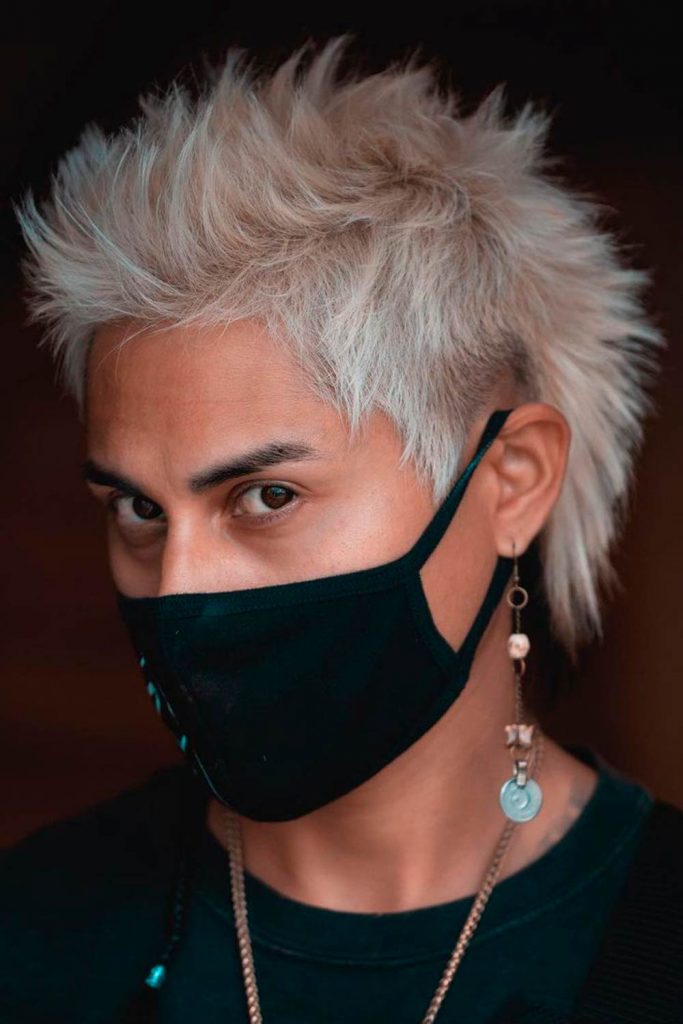 Credit photo: instagram.com/andrewdoeshair
Contrary to what you might expect, short pixie haircuts have a surprisingly feminine effect, so show off your gorgeous face with a cropped cut that makes getting ready a breeze. Sure, in terms of styling, there isn't too much to get creative with on short pixie cuts, but faux hawks are a great option.
This look is all about creating height with short layers at the front of the forehead. Stick all of the front hair up with a lightweight mousse, or create a low, shallow part, as seen on this style.
Sleek Cold Blond Pixie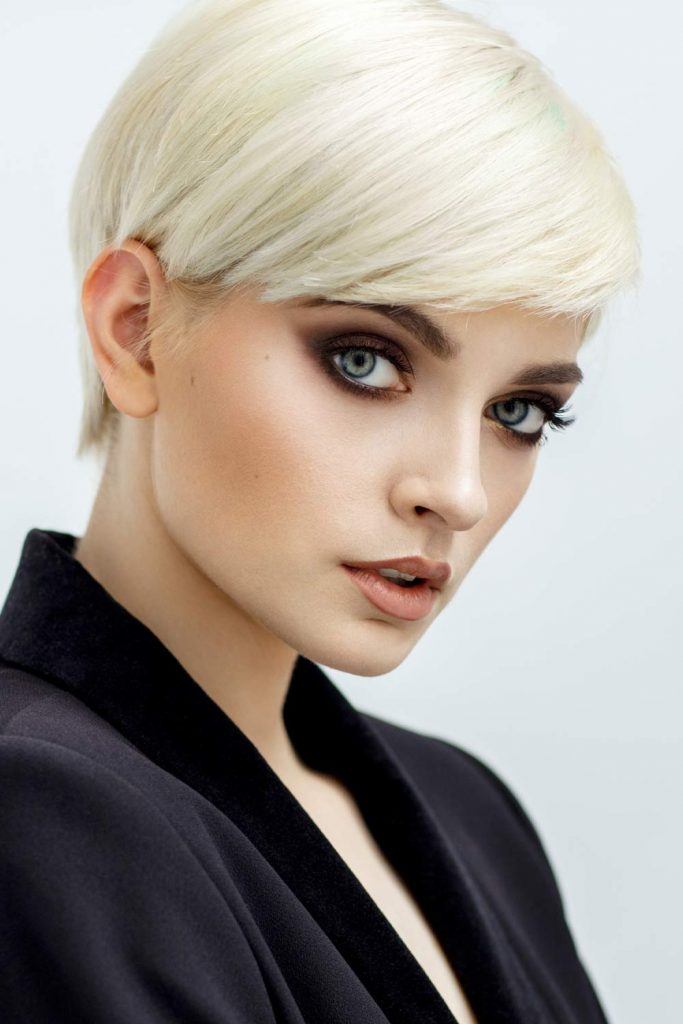 Credit photo: Shutterstock
What's not to love about a short pixie cut in a blonde bob style? The overall effect of this look has a bob vibe without having to take the length beyond the ears. This look is all about using choppy layers to create shape. Side bangs frame the eyes and short layers on the top of the head bring together an overall round shape up top.
As for color, you don't have to choose a classic blond, either. Pixie cut hairstyles are best in dynamic colors, so give your blonde a cool, silver tone, like this one.
Blonde Side Bangs Pixie With Dark Roots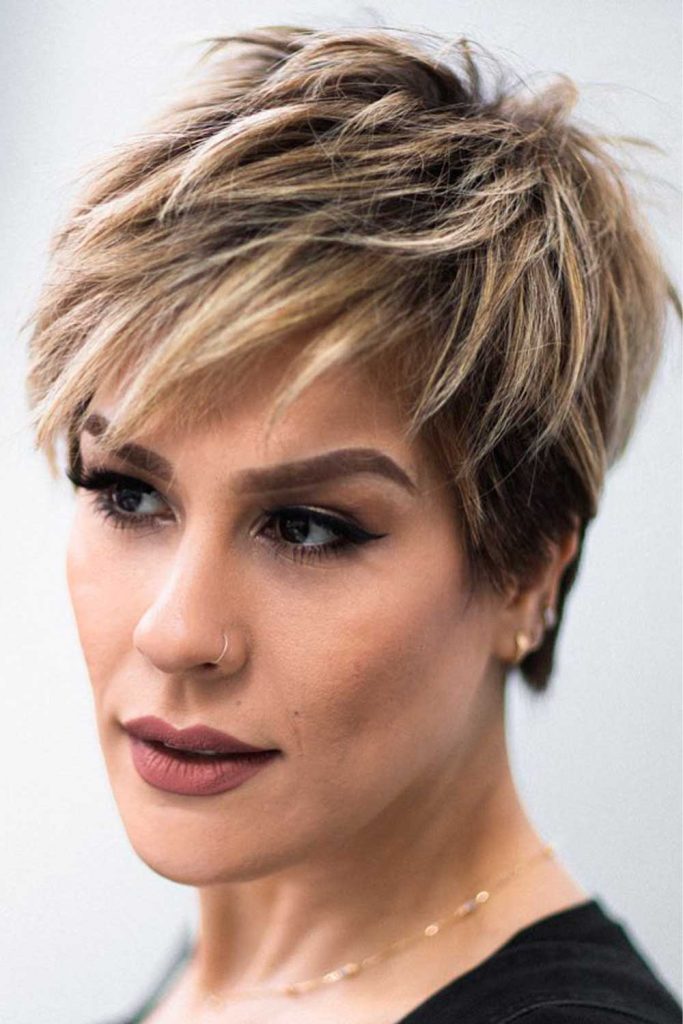 Credit photo: instagram.com/andrewdoeshair
Thank goodness that roots are all the rage these days, especially on pixie cut haircuts. Most commonly, we see dark roots on blonde pixie cuts, though other combinations are possible. The look not only adds depth and dimension to pixie short haircuts, but it also lengthens the time between color appointments. This is great for the health of your hair and saves you some cash as well.
We love the roots look on a short, choppy pixie, but it can work just as well on soft or curly styles.
Slicked Back Wavy Pixie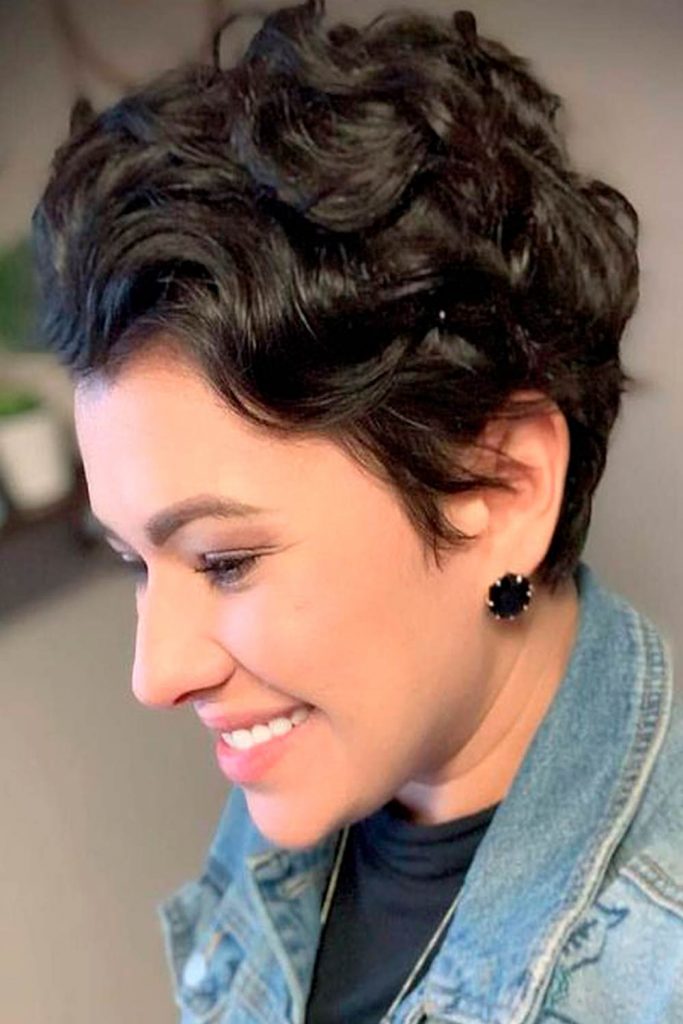 Credit photo: instagram.com/meucabelocurto
Slicked back looks don't have to be for formal events, but they do provide the perfect way to dress up pixie haircuts, if you're looking for a suitable style. The overall effect of a slick back pixie is made up of soft, round lines, even if you're working with a choppy pixie cut.
Whether your even-cut hair is uniformly slicked back or asymmetrically cut, the style is truly stunning. To create this look, blow out freshly washed hair. Use mousse to create height, but don't use a heavy hand. You don't want to weigh this look down!
Undercut Pixie Hairstyle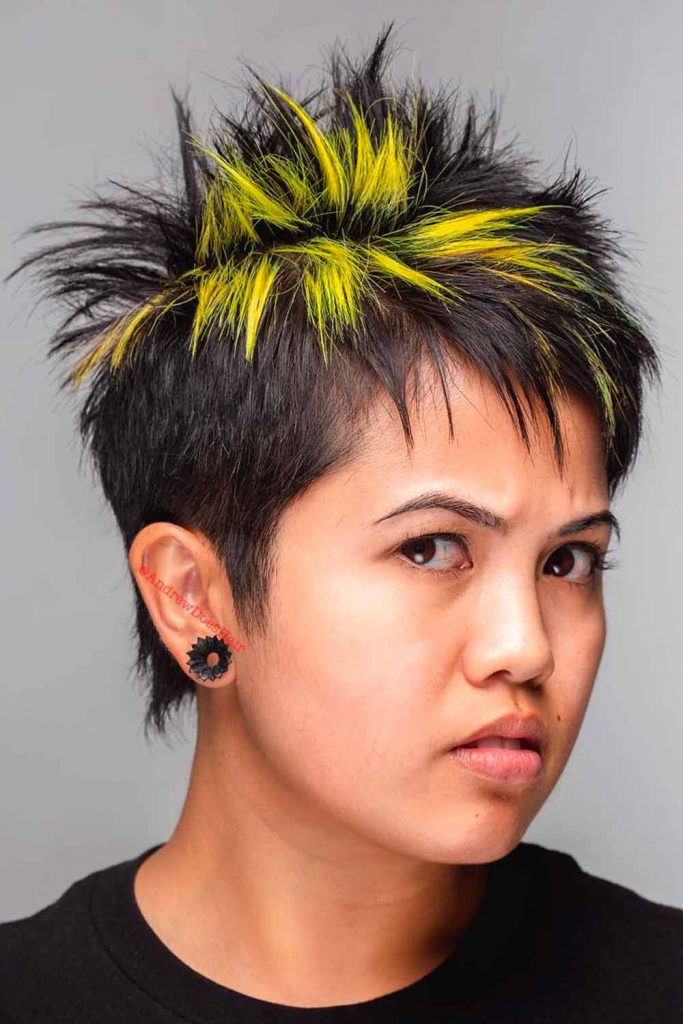 Credit photo: instagram.com/andrewdoeshair
It's fairly easy to create an edgy pixie cut, if that is the look that you desire.
Elements like a buzzed undercut are not only cool, but keep you cool in warm weather, too. Buzz hair into a fade style, the most popular undercut look these days. If you prefer a good amount of length up top, opt or a medium or low fade cut.
If you're worried about an undercut making your hair appear too short, know that you can create some length with a pixie with bangs. Choose a side swept style to create softness on an otherwise choppy look.
Pixie Undercut For Afro Hair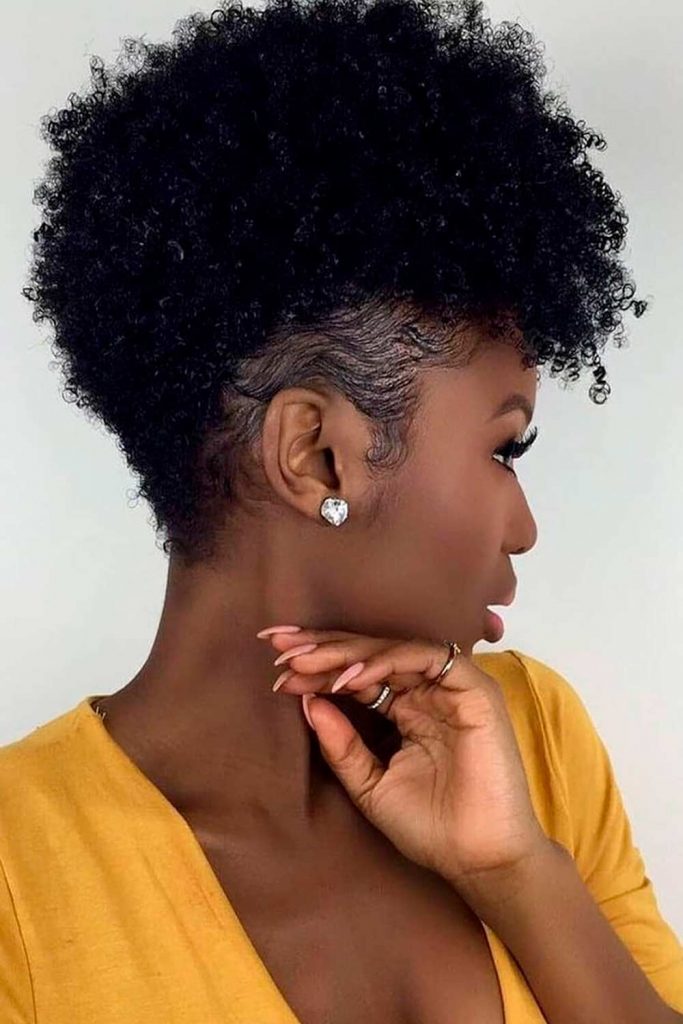 Credit photo: instagram.com/meucabelocurto
Ladies of African American descent look great wearing pixie cuts, whether their locks are relaxed or natural. A pixie cut is a great option for those who want to completely own a short hairdo. Finding a pixie look that is uniquely yours promises to be fun due to the low care requirements of this cut, as well as its wonderful compatibility with afro hair!
Side Bang Blonde Bob
Посмотреть эту публикацию в Instagram
This may not be a short pixie, but it is certainly a wearable, versatile style. The in-between length makes it suitable for babes who want short hair but don't want to worry about complicated styling. A layered pixie cut is the perfect way to give the appearance of a short bob style. Typically, these hairstyles look best with a side part and side bangs. This makes them suitable for virtually every face shape.
Interestingly, it's choppy layers that give this pixie bob its round appearance. The lightness of short layers makes styling and shaping a total breeze.
Celebrities with Pixie Cuts
Credit photo: Featureflash Photo Agency/Shutterstock
i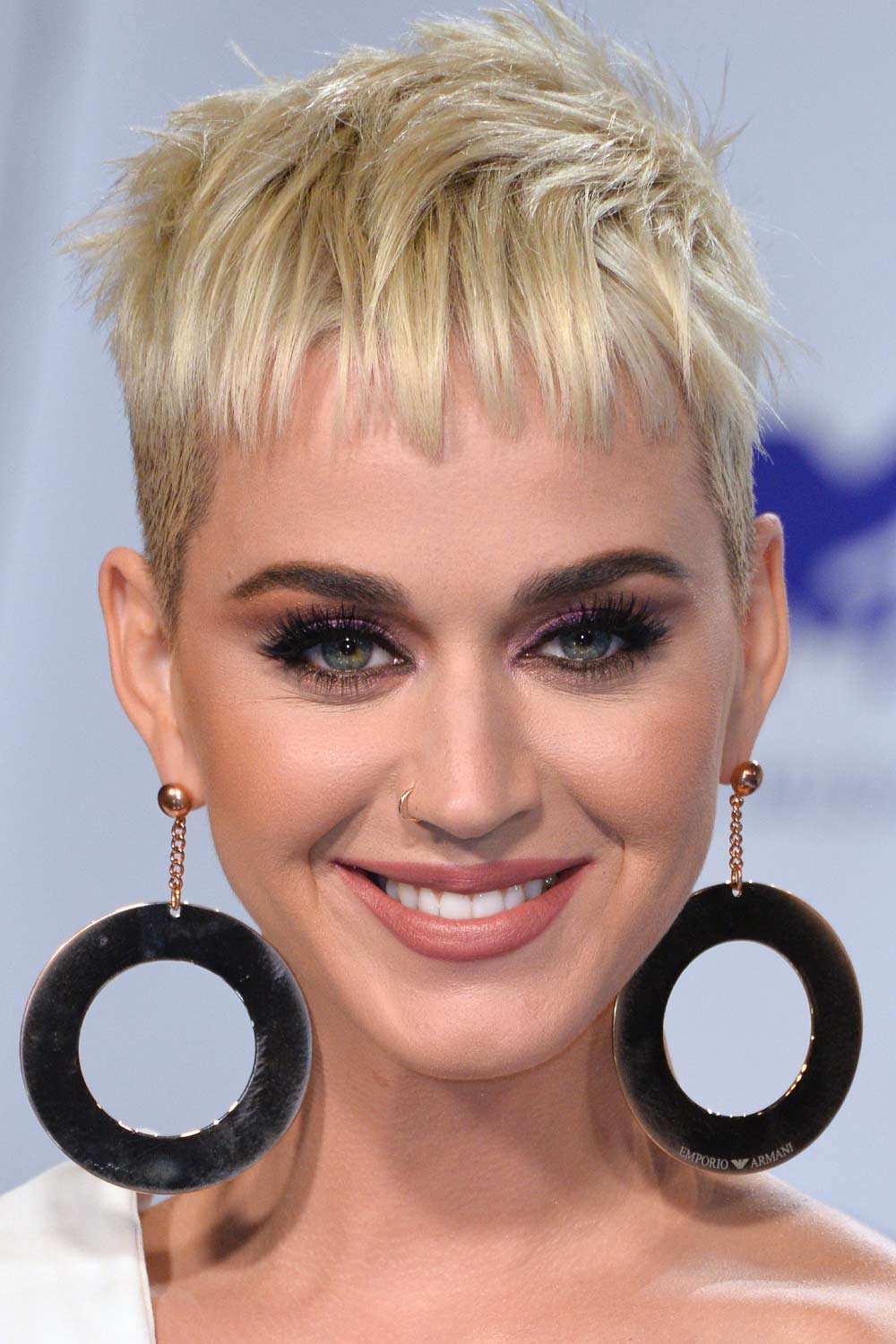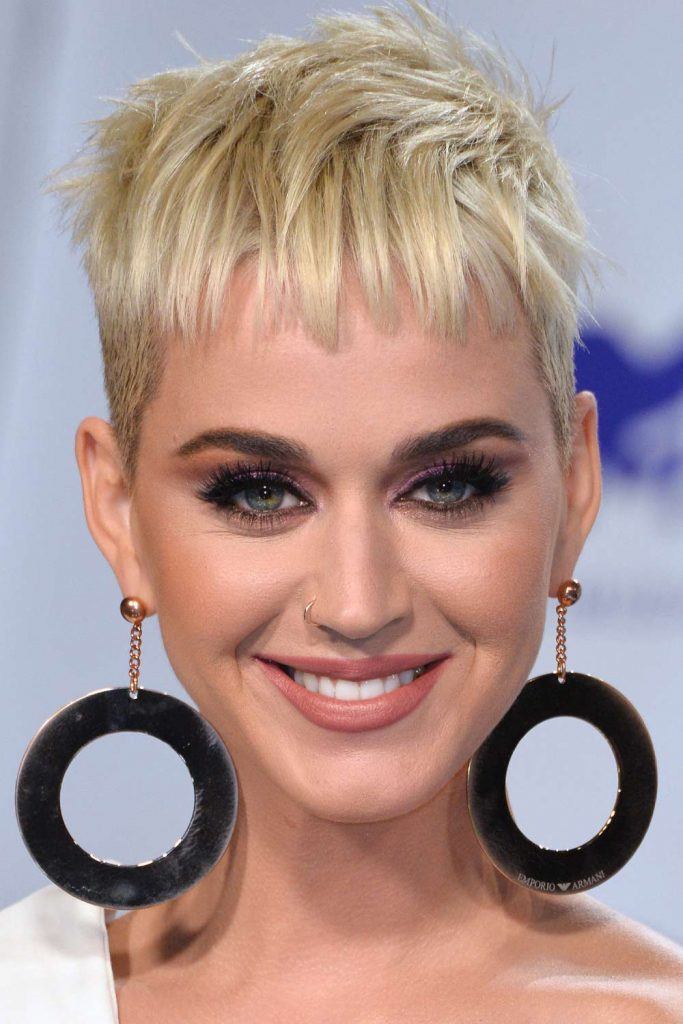 Credit photo: Tinseltown/Shutterstock
i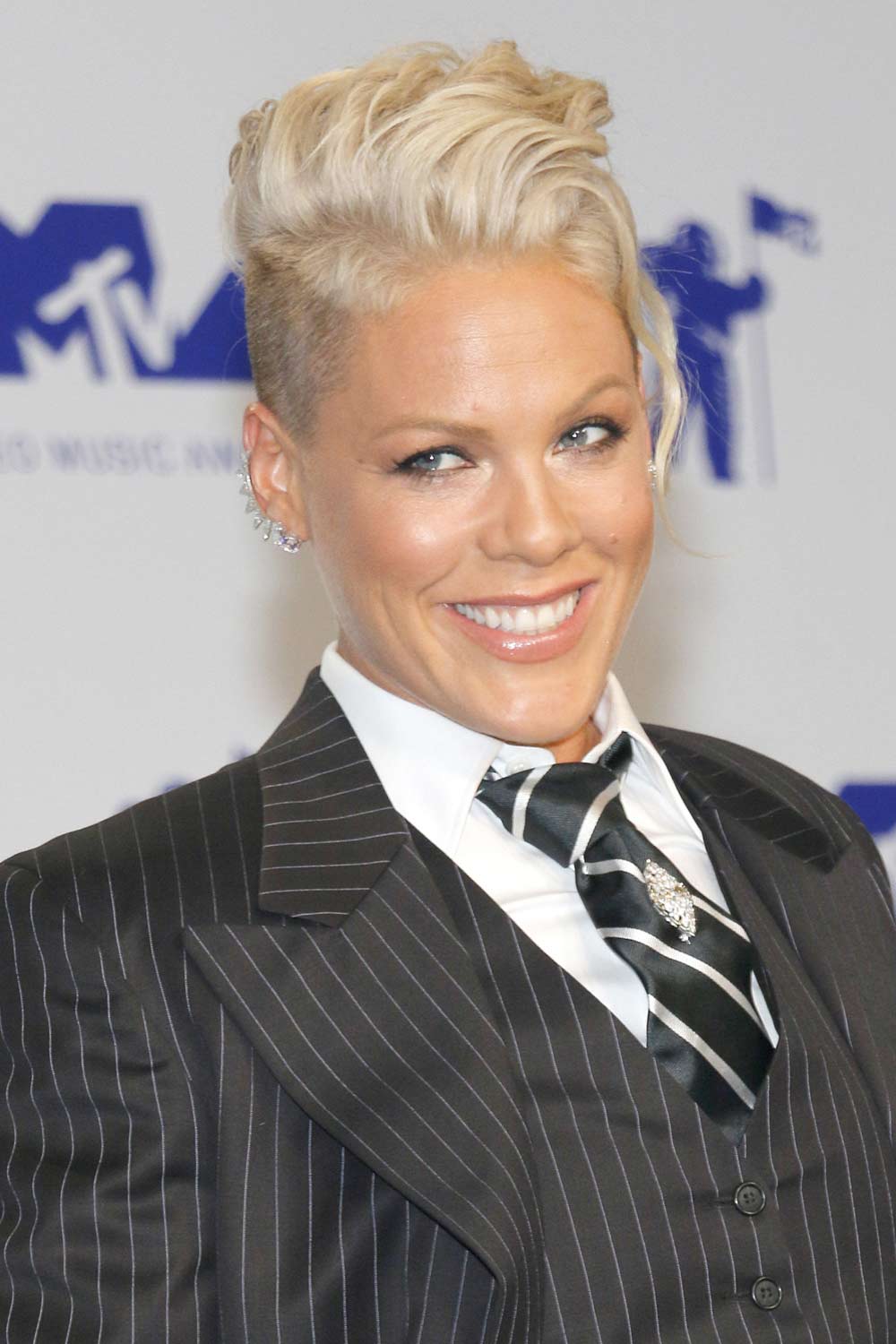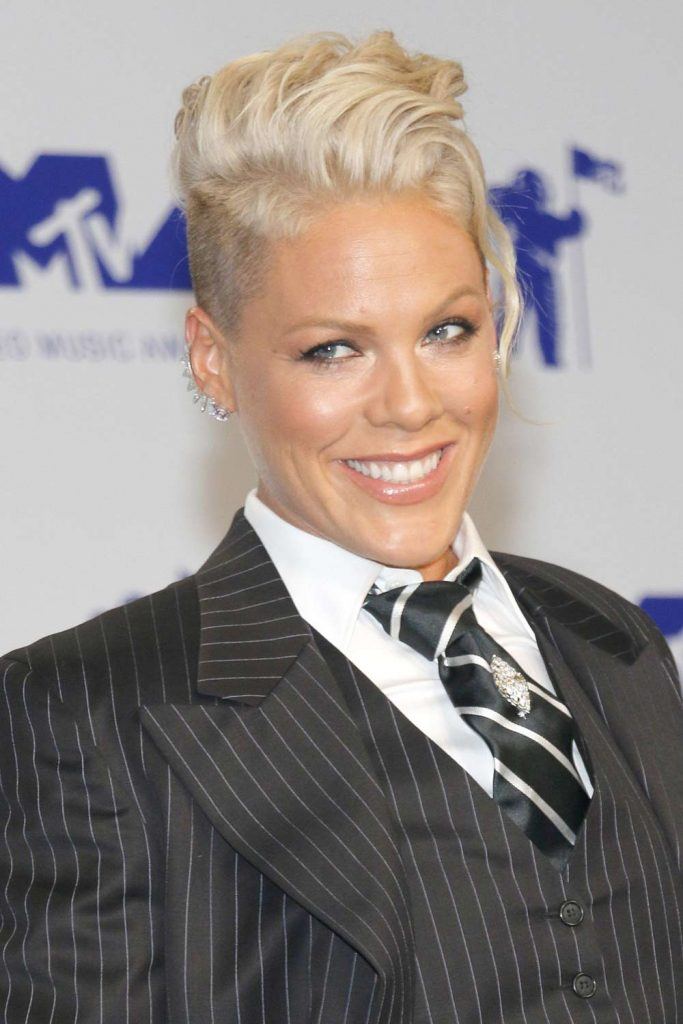 Credit photo: Jaguar PS/Shutterstock
i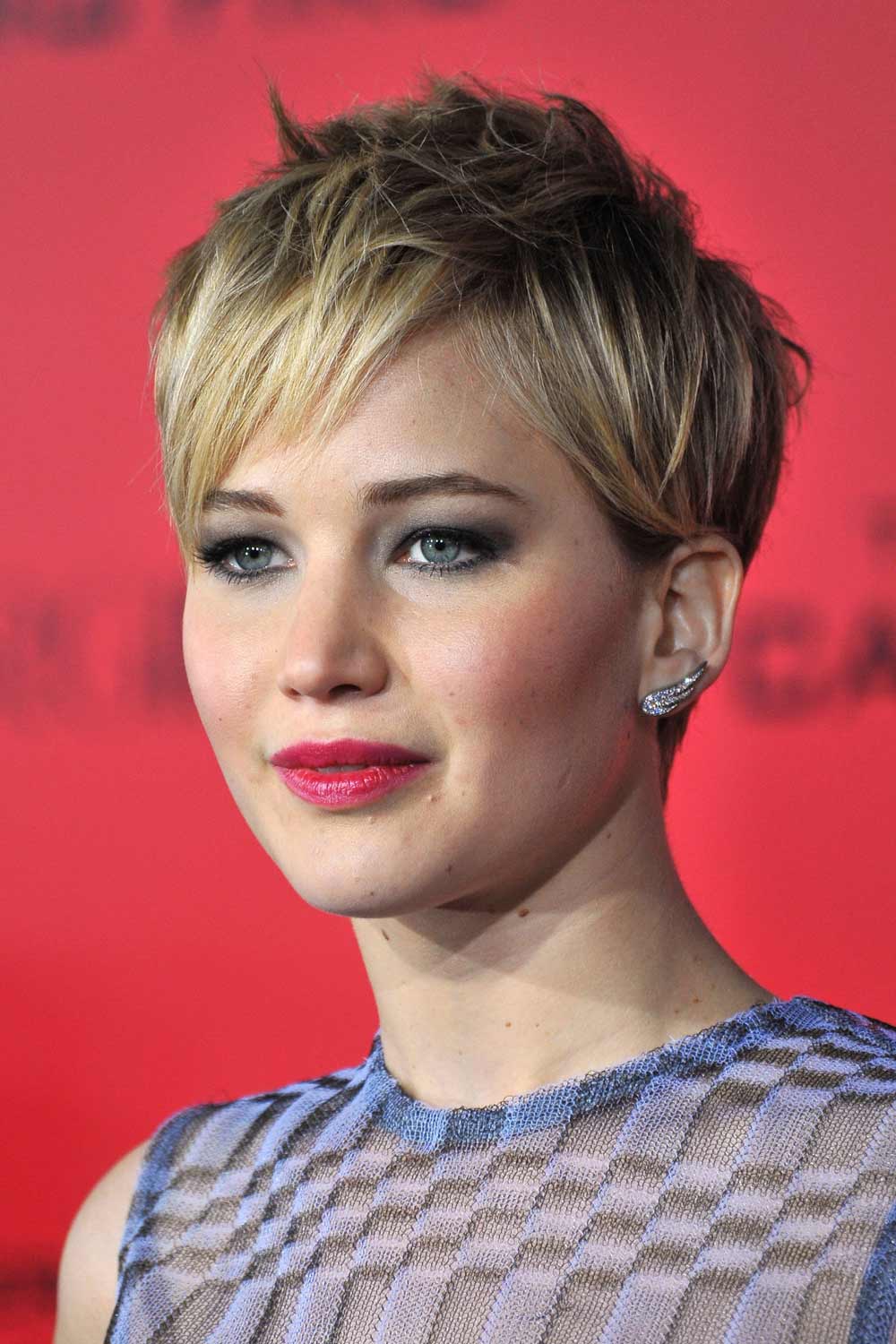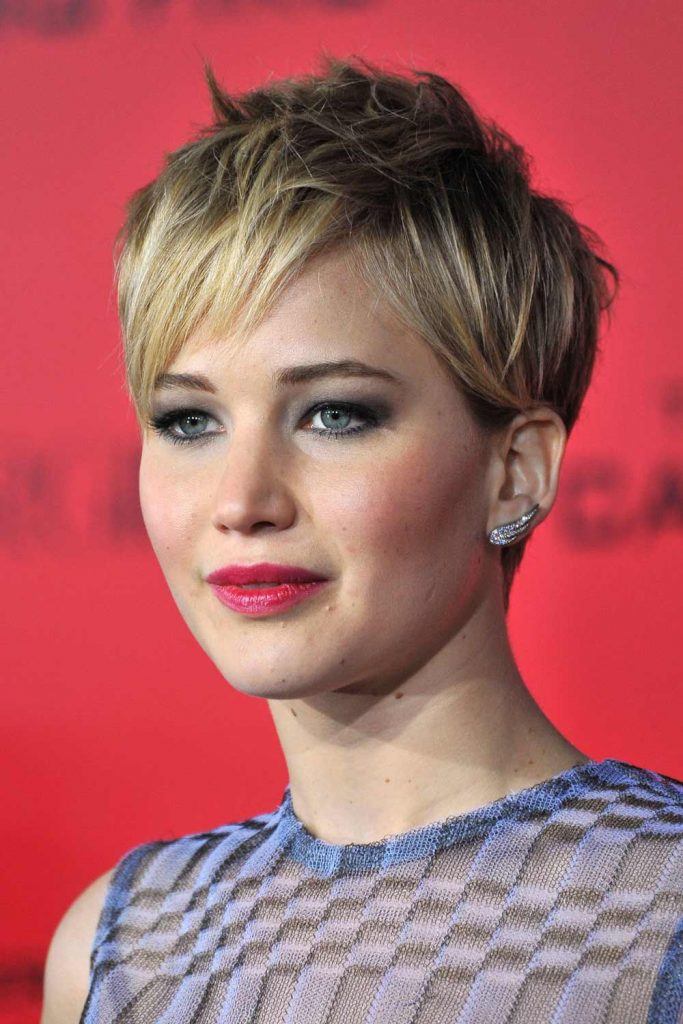 Credit photo: Featureflash Photo Agency/Shutterstock
i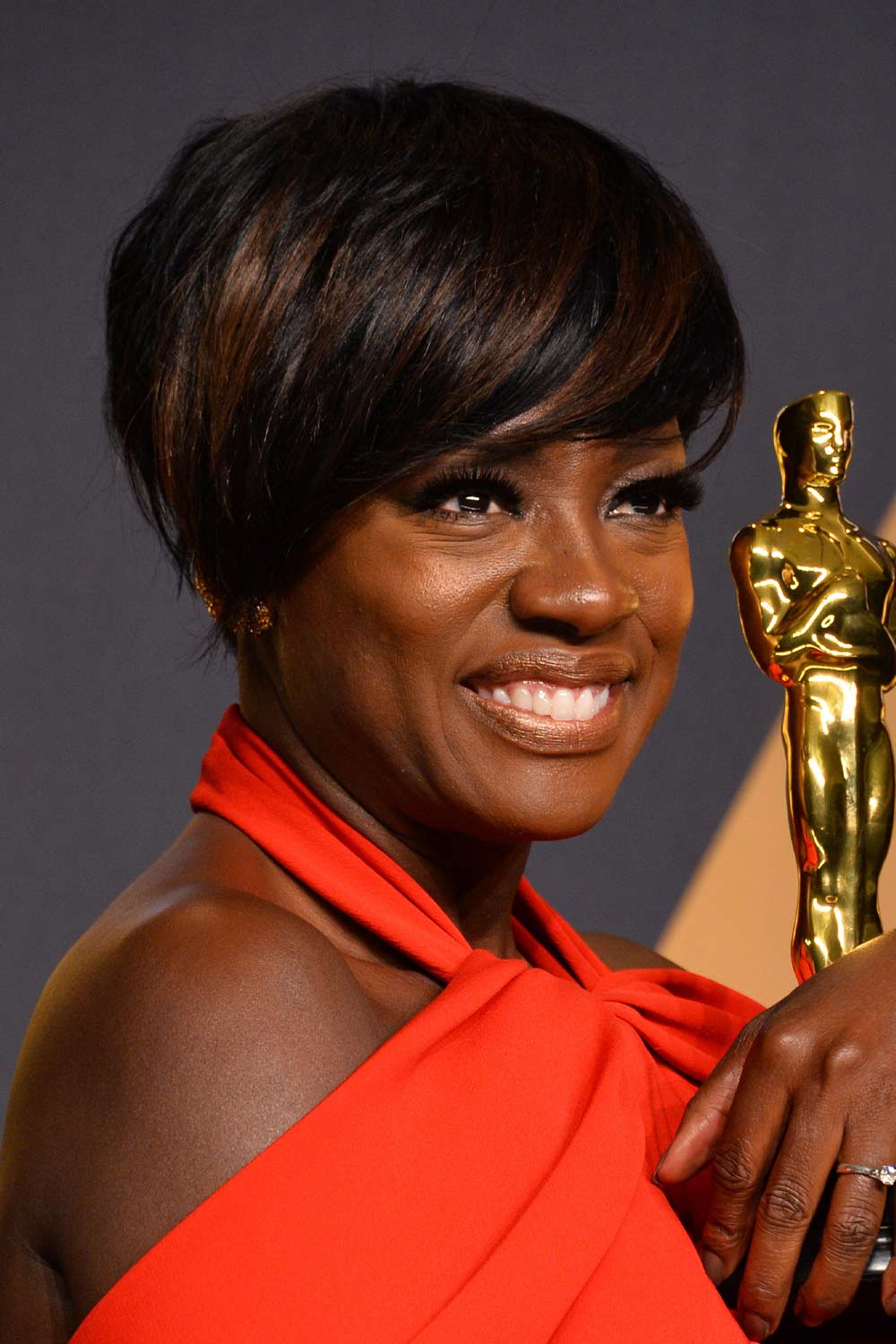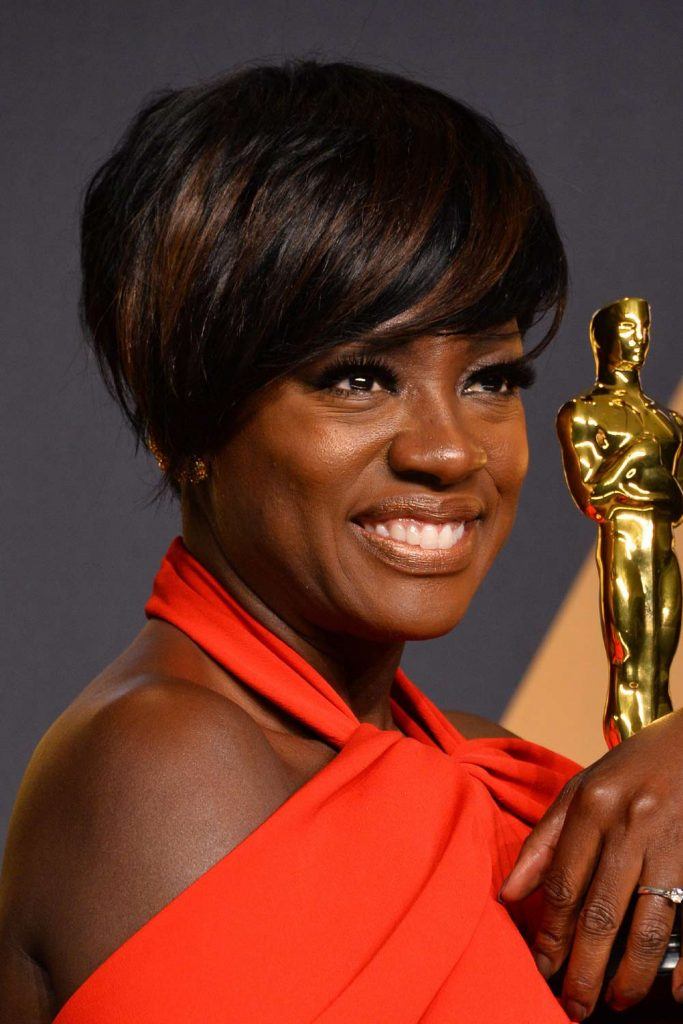 Credit photo: Andrea Raffin/Shutterstock
i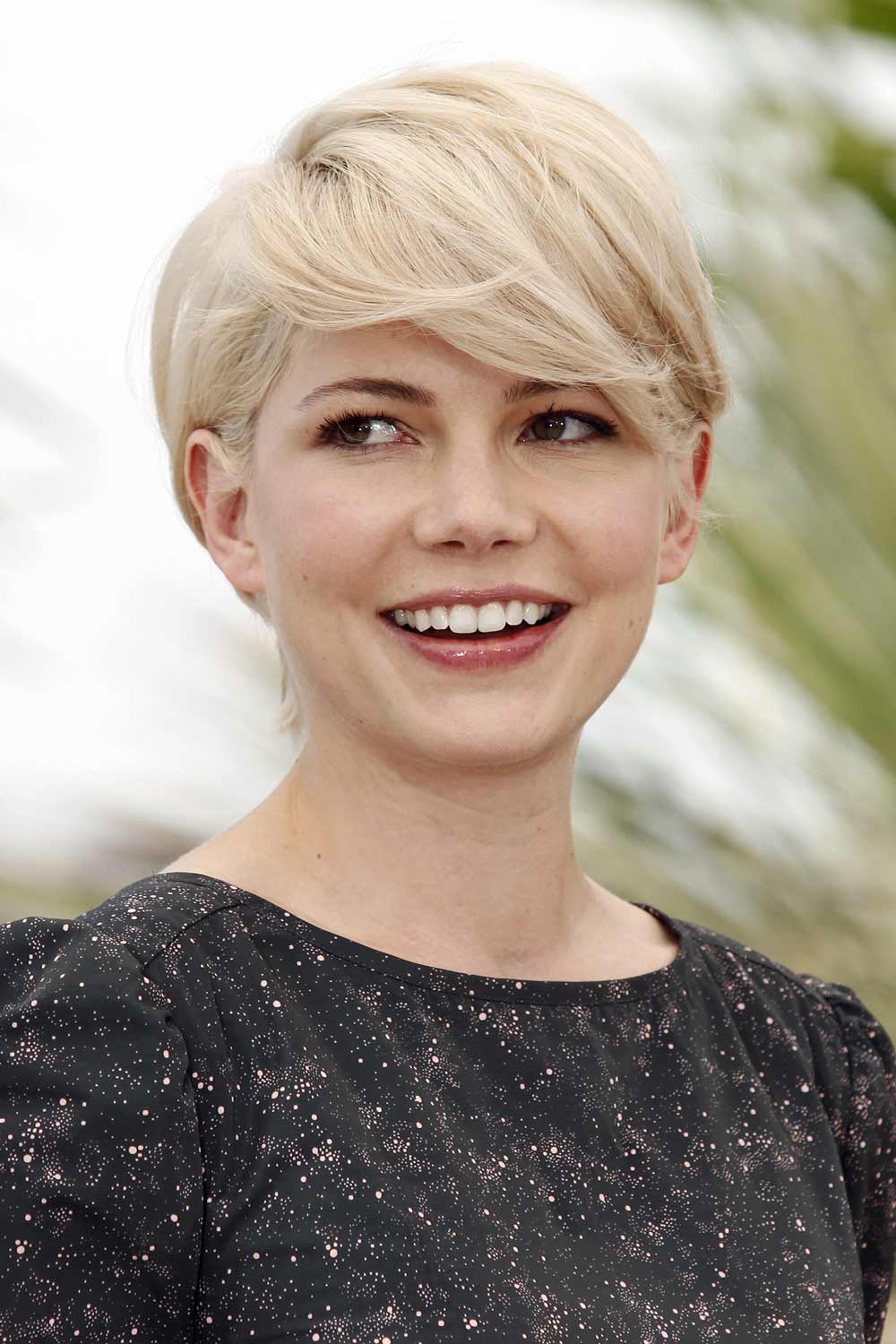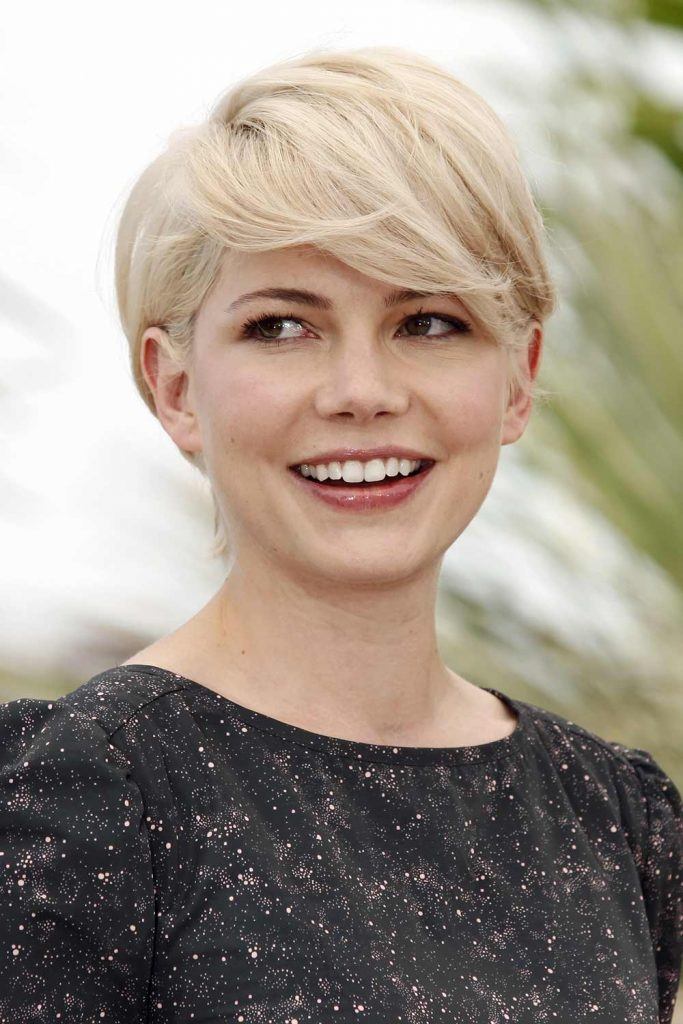 Credit photo: lev radin/Shutterstock
i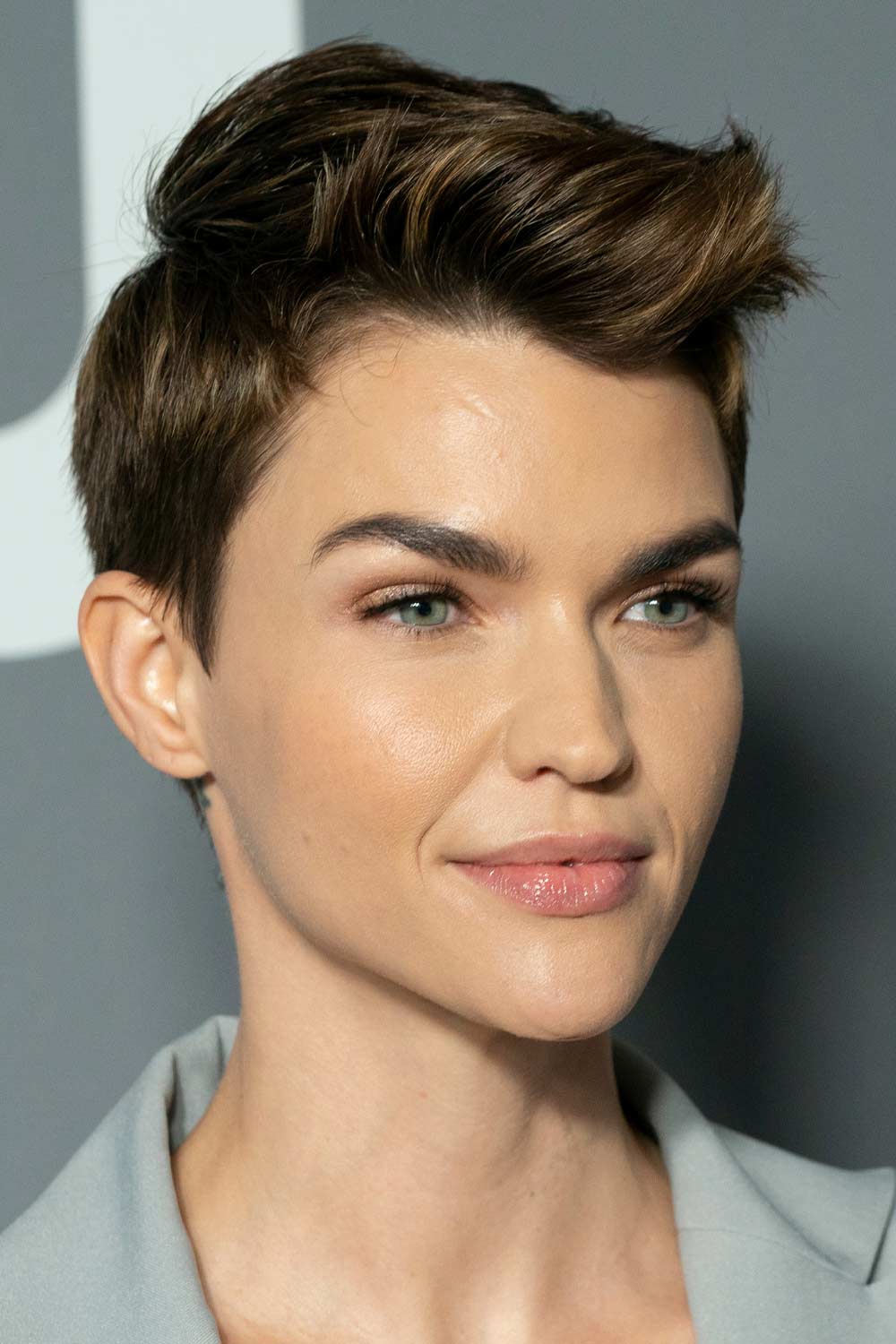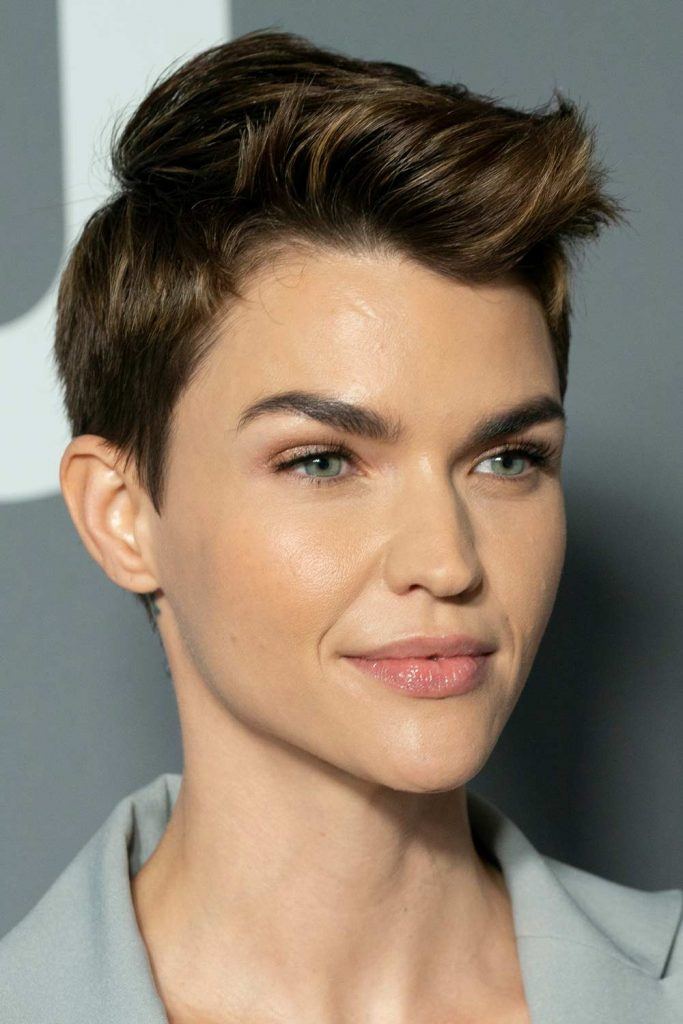 Credit photo: lev radin/Shutterstock
i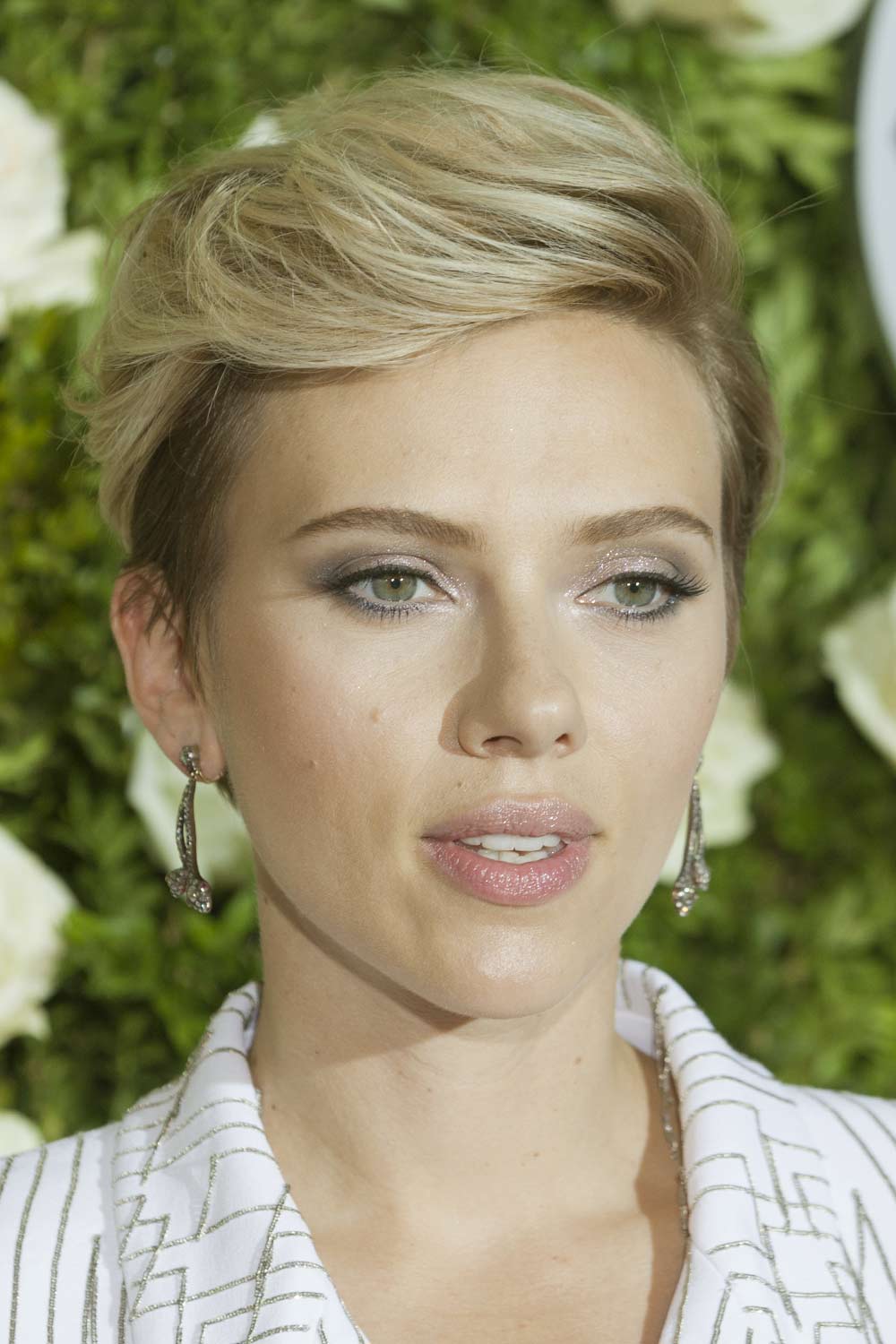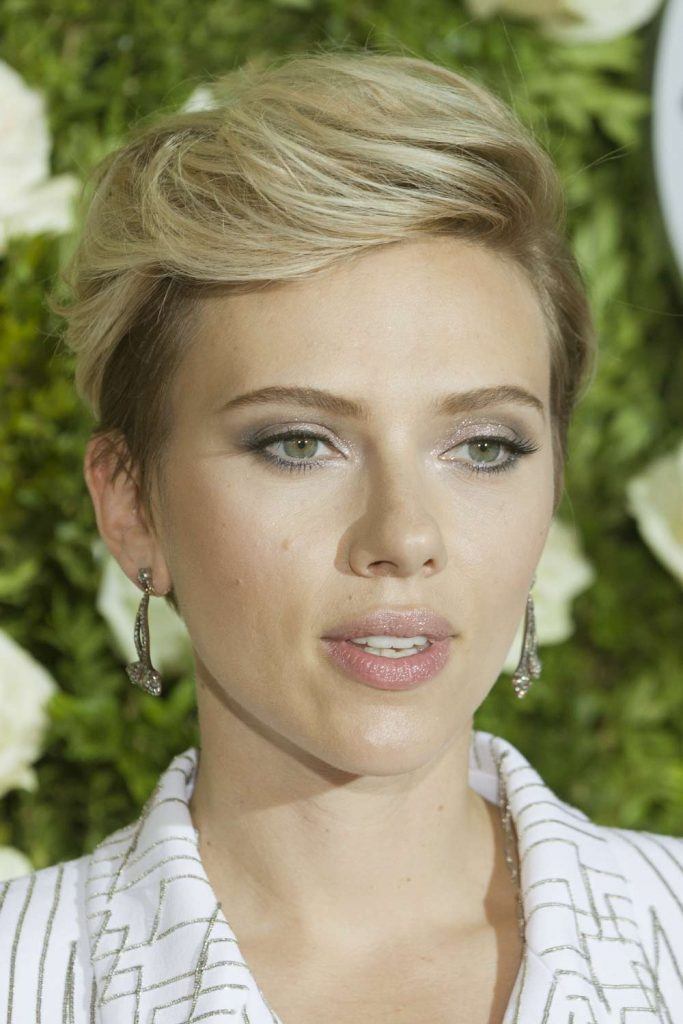 Credit photo: Kathy Hutchins/Shutterstock
i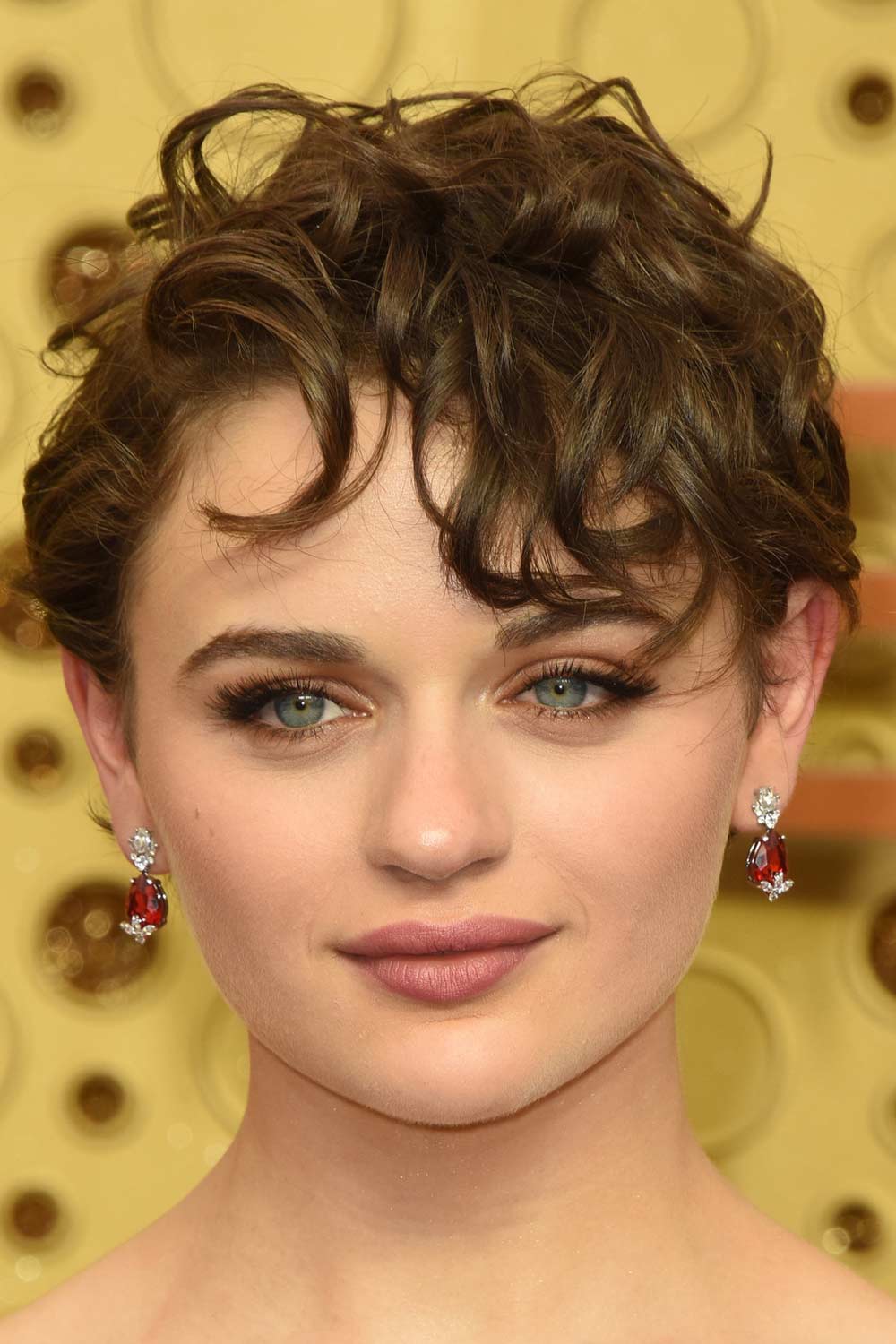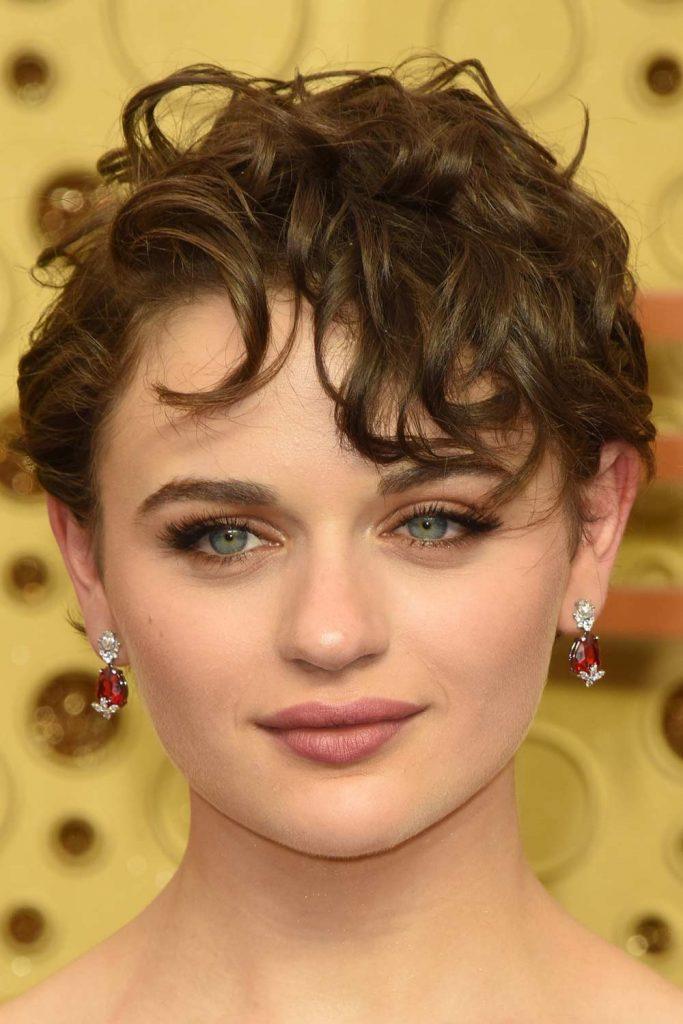 Credit photo: s_bukley/Shutterstock
i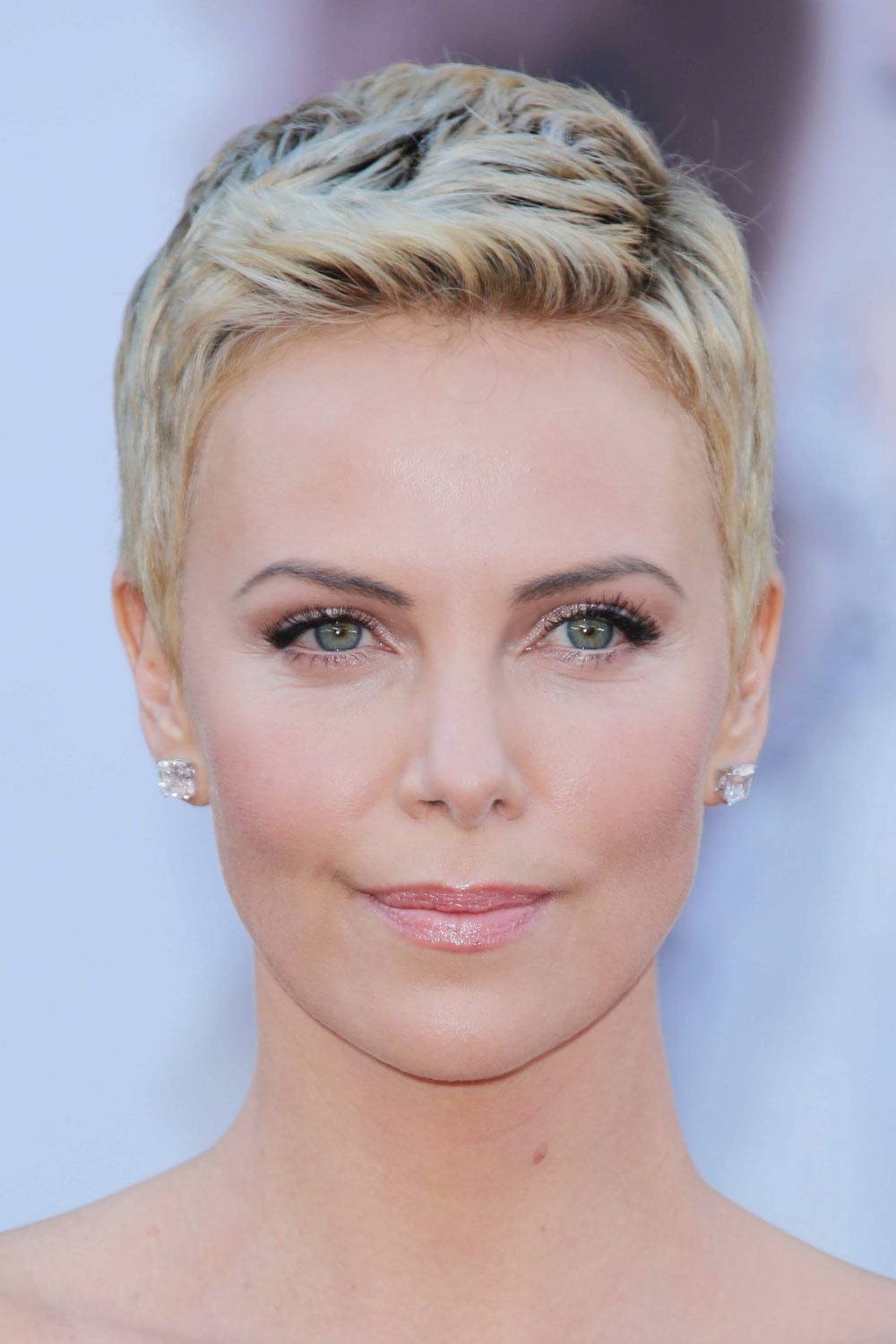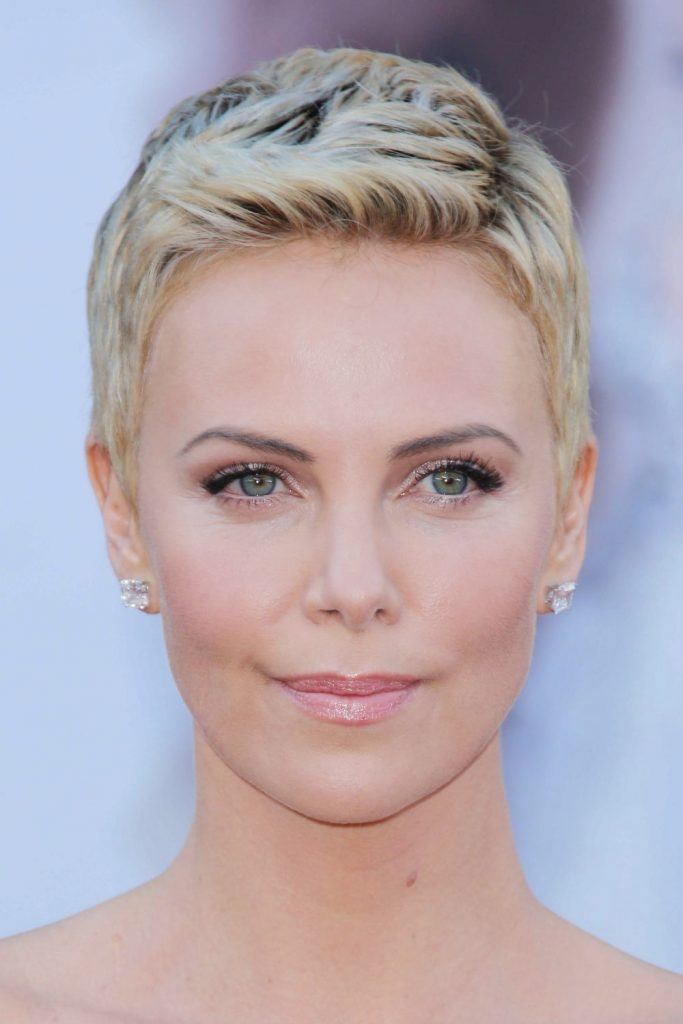 Credit photo: DFree/Shutterstock
i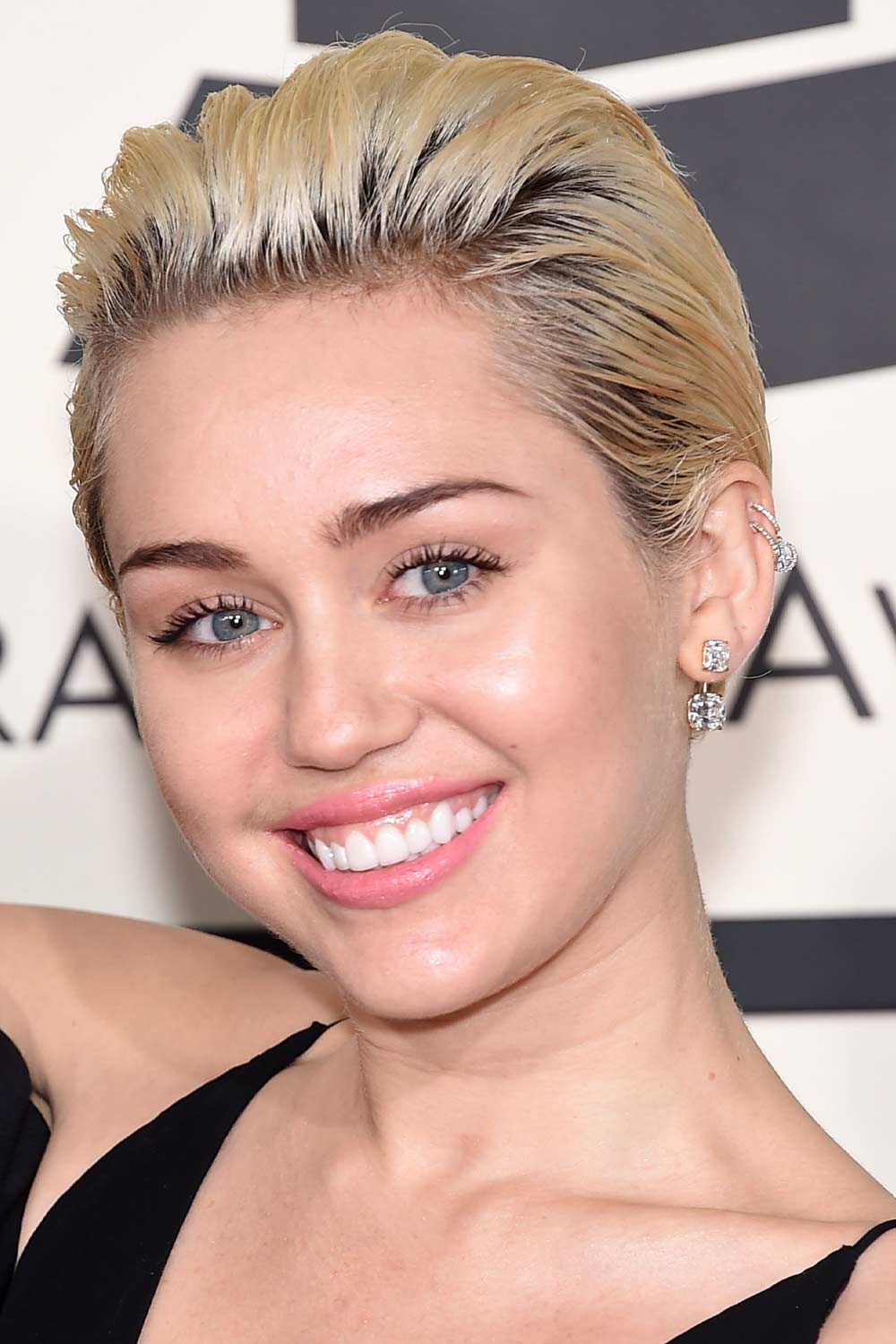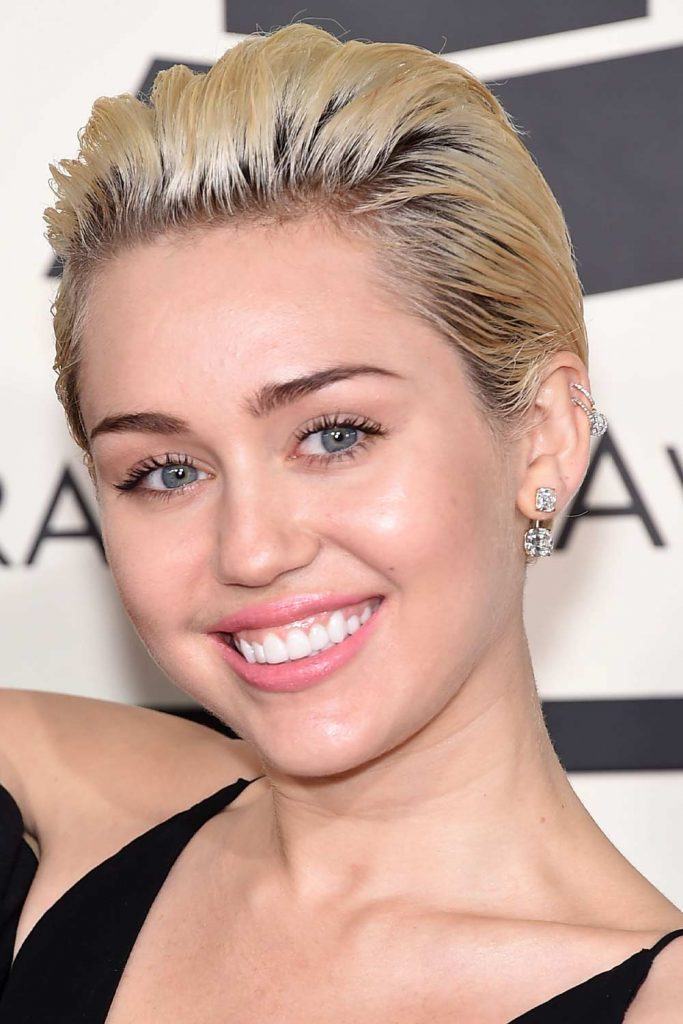 /
Think you have what it takes to rock one of these short and sassy pixies! We do!
FAQ: Pixie Cut
What face shape can pull off a pixie cut?
Almost all pixie hairstyles look amazing on oval, and heart-shaped and square faces. This particular style looks especially flattering and more sophisticated on round face shapes because it provides angles, which are great for softening round face features.
Do pixie cuts make you look older?
It depends on the exact pixie haircut and your facial features. In general, a pixie cut should help you look younger, but if you cut too much hair and choose the hairstyle that does not complement your features, it can make look older.
What's the difference between a pixie cut and boy cut?
Pixie and a boy cut are similar haircuts.
Pixie cut has layers and many gradients of hair length. Hair in the traditional pixie cut is generally thinner towards the ends, but, unlike the boy cut, the hair at the sides and top as well as the fringe remain longer.
Was this article helpful?