Undercut women hairstyles is tempting girls all over the world nowadays. But not every one of us is so courageous to cut or shave one or even both of our temples. Though, for those who are ready to go this road Glaminati.com team created the list of something interesting to pay attention to.
Everything You Should Know About Undercut for Women
What Is An Undercut In Women's Hair?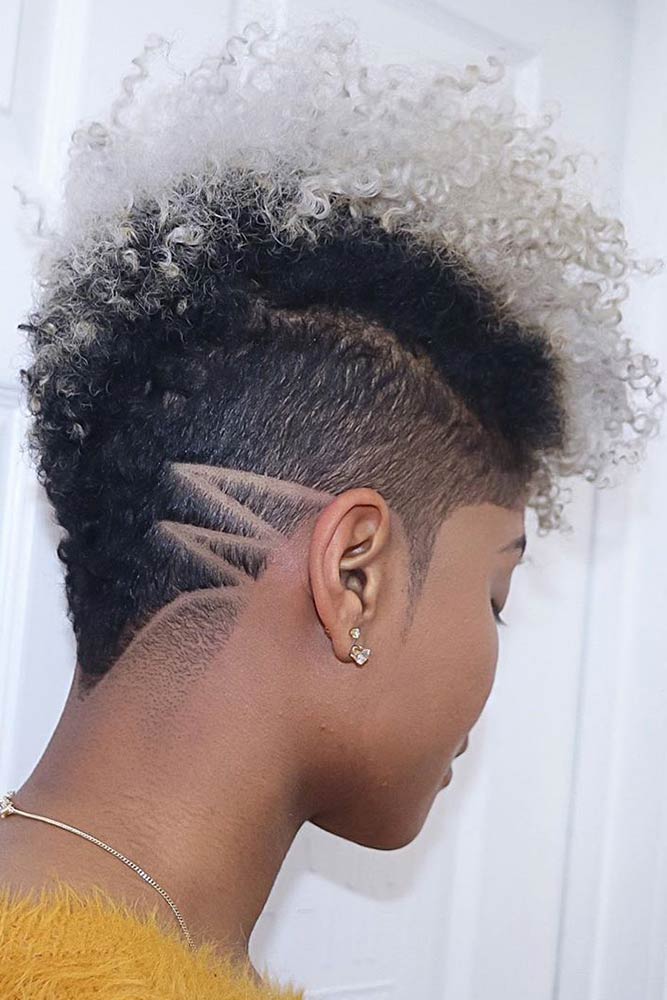 Credit photo: instagram.com/dreamcutsbarberlounge
The hair fashion industry is all about the undercut hairstyle, but no every lady is fully aware of what the notion stands for. The truth is, it is just what it sounds it is. An undercut is a shaved portion of your hair, in the majority of cases, it is cut on the sides of your head or on the nape of your neck.
What makes this cut different from a regular buzz is that the top of your mane remains untouched. Such an approach allows you to experiment with your looks dramatically. You can wear your hair up and show that undercut off, or you can keep it strictly business with your hair down.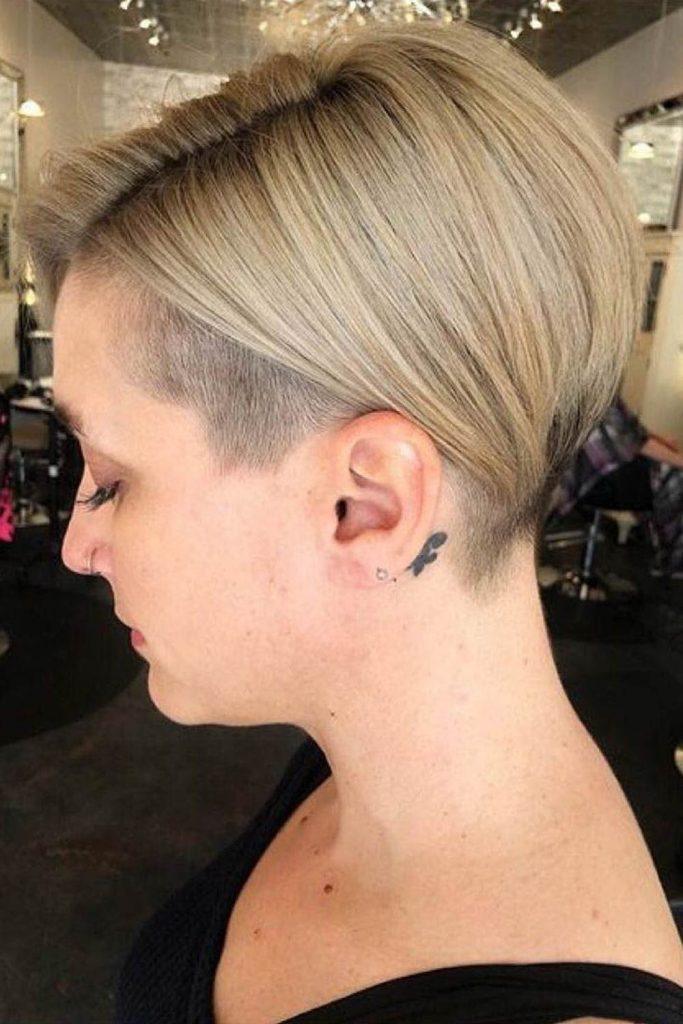 Credit photo: instagram.com/dmillerhairlounge
All in all, an undercut is the best option for those who are all up for experimentation and a dynamic lifestyle. Besides, the trend is gaining popularity by the day. Not to mention that there are countless undercut styles to suit any particular taste.
What Is An Undercut Fade? What Is The Difference Between A Fade And An Undercut?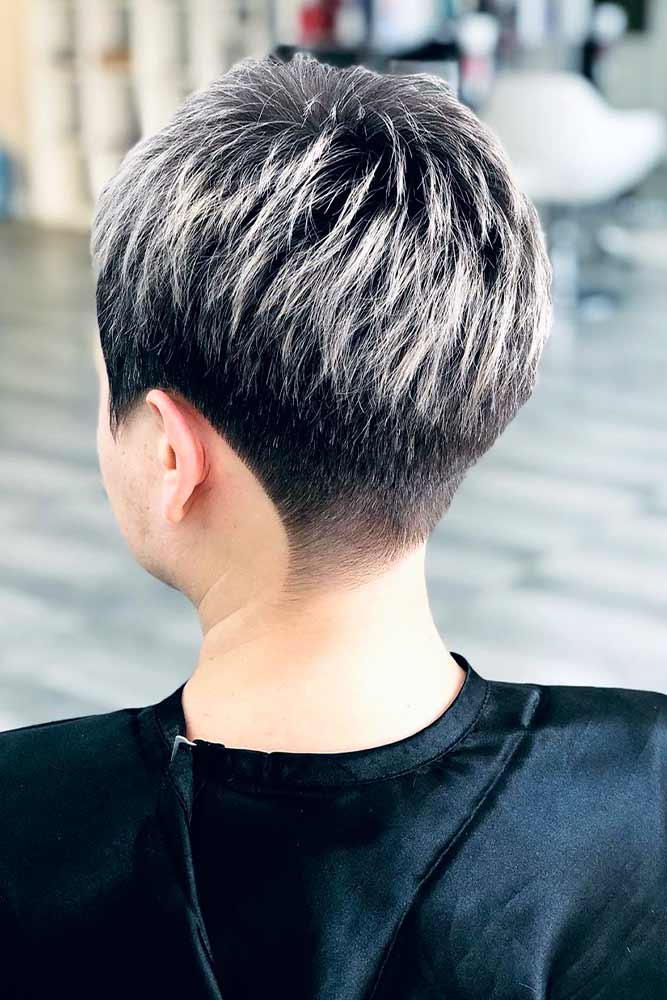 Credit photo: instagram.com/alesya_borovskaya
It is very easy to mix an undercut haircut for a fade, but there is a difference between the too. The thing is, while with a fade, the sides and the back of the head are closely tapered, with an undercut, there is no tapering. At the very same time, the notion of an undercut fade also exists. When you opt for an undercut fade, you should expect the gradual decrease of hair length on the sides and back of your head so that a blurry transition is created.
How Often Do You Have To Shave An Undercut? Undercut Upkeep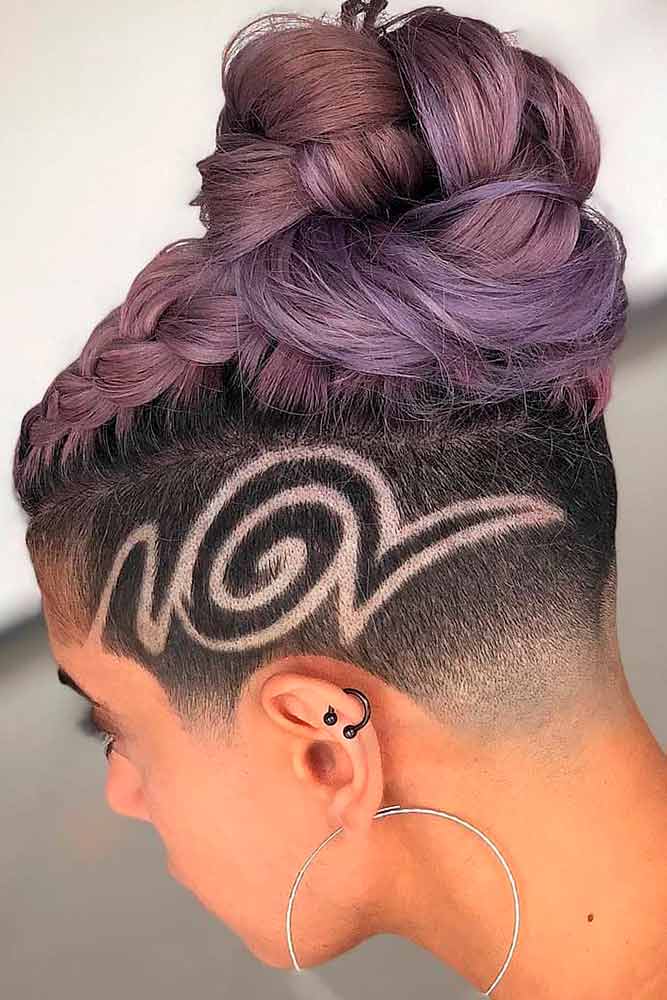 Credit photo: instagram.com/los_cut_it
To begin with, it needs to be mentioned that the frequency that you need to renew your undercut depends upon your hair type. However, most of the hairdressers advise having regular undercut hair touch-ups every two weeks. This is how it takes for an undercut to grow out, and if there is a design to your undercut, it will become less visible after two weeks.
How To Choose The Best Undercut Hairstyle?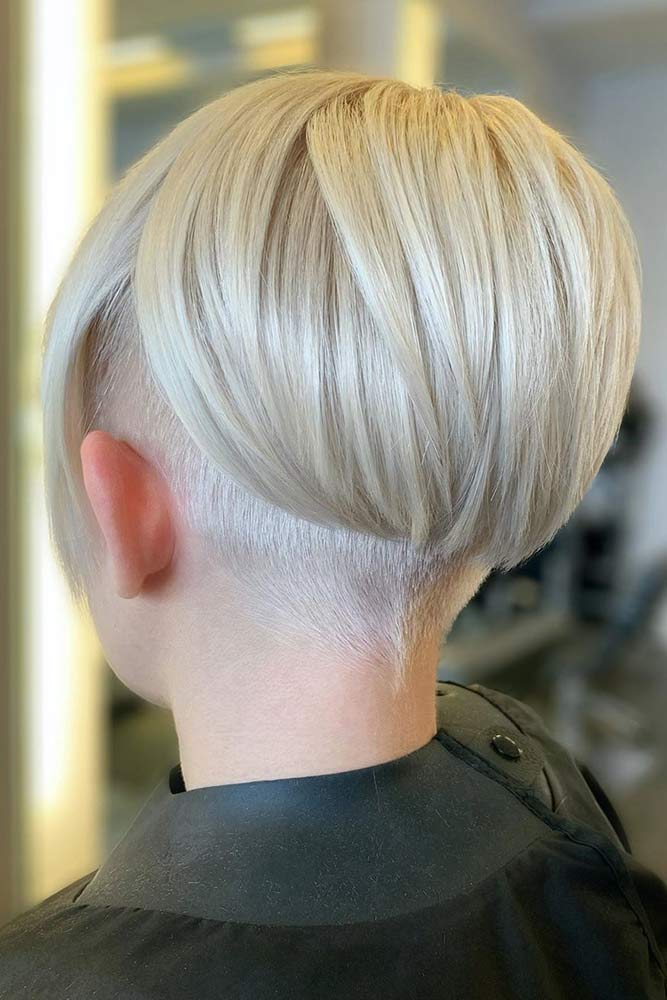 Credit photo: instagram.com/courtneyxcentrichair
Undercuts are indeed extremely popular these days. However, even if you have been thinking about a cut like that for a while now, there is still a list of things to consider before actually getting it.
Lifestyle. If you have a reserved and conservative job, a dramatic undercut may be negatively perceived in the working environment.
Hair type. Undercuts work well with thick and poufy hair types. If you have fine hair, you may lack the required thickness to cover the undercut with when necessary.
Placement. Shaving your sides is the most dramatic type of undercut, while just one side shaved is considered to be a milder variation of the cut. If you want something softer and less noticeable, then you need to opt for the nape of the neck type of undercut.
Depth of the cut. It is all simple here – the deeper is the undercut – the bold will be the result.
How Can A Woman Grow An Undercut?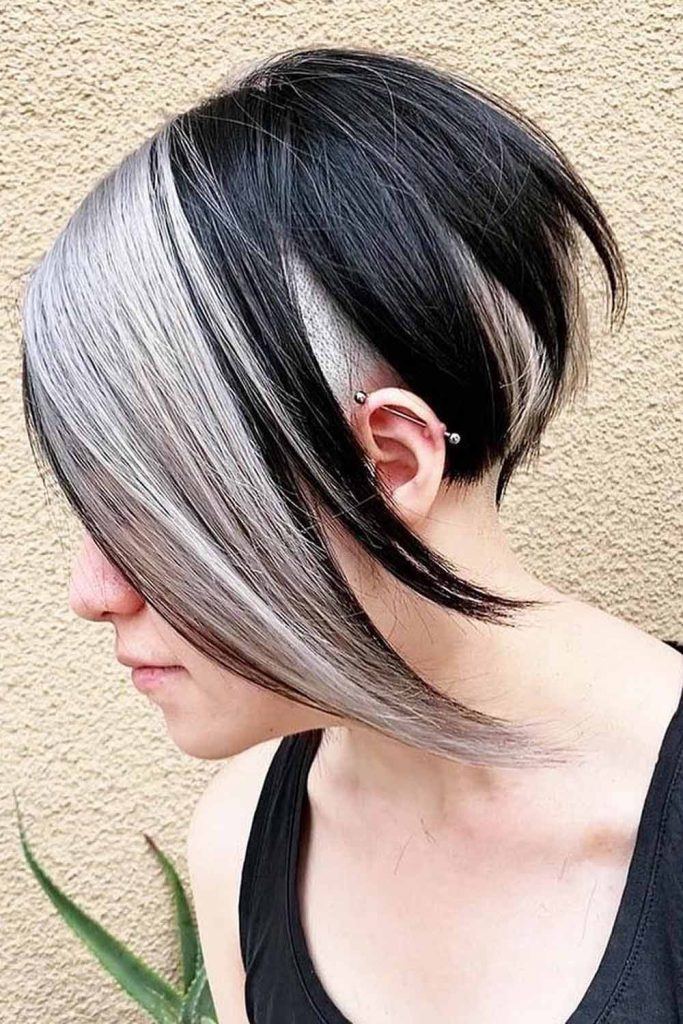 Credit photo: instagram.com/hair_slayerz
No matter how versatile undercut hairstyles may be, there are times when you decide to grow the undercut out. What should you do to achieve that?
Go pixie – there are no better cuts than pixies when it comes to growing your undercut out.
Experiment with parting – you will be surprised how many issues a middle part can solve.
Dye your hair the same shade.
Keep away from shaving the sides again.
Do not trim the sides as well.
Wear hair extensions.
Get an asymmetrical cut.
Stylish Undercut Ideas
Mullet Haircut with Undercut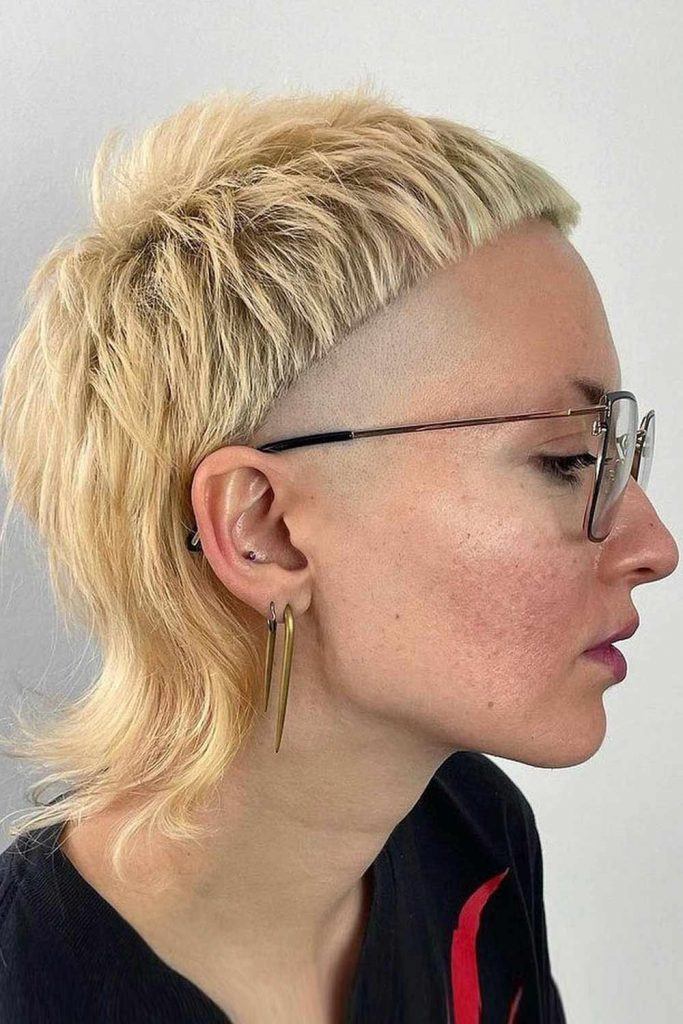 Credit photo: instagram.com/hair_slayerz
A mullet, which is often called the business in the front and party in the back haircut is one of the hottest hair trends at the moment. Yet, it is not the same mullet as it was originally. So that it looks modern and fashionable, go for an undercut mullet. As it implies getting your sides either very short or completely bald, you end up with an intense and high contrast hair look. Want to take it up a notch? Get a textured cut on top and enhance it with a texturizing product.
Orange Colored Undercut Hair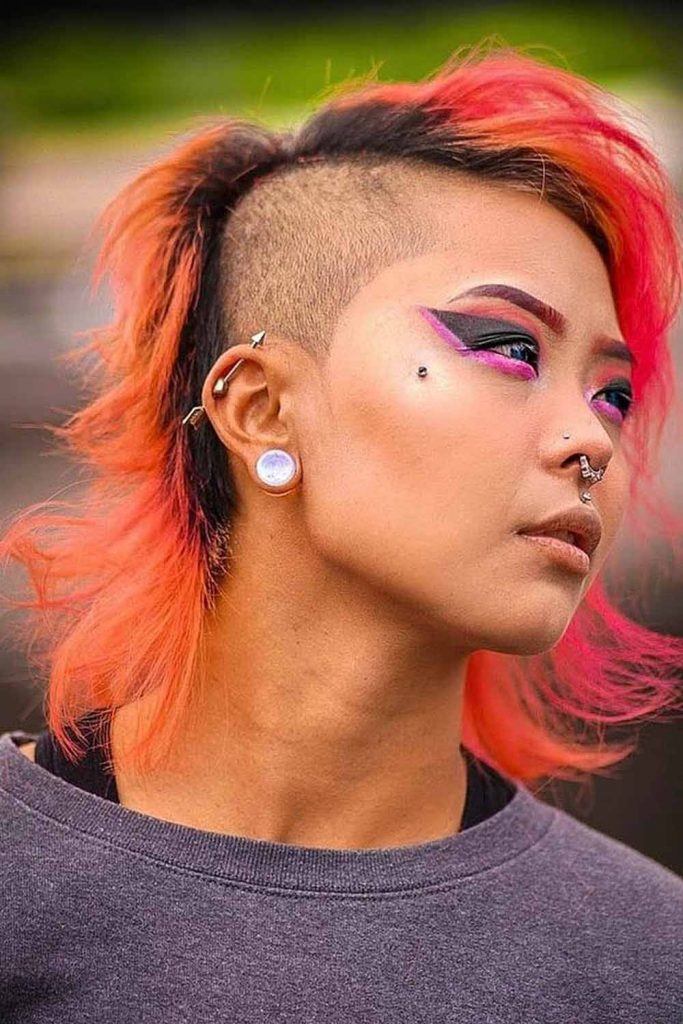 Credit photo: instagram.com/hair_slayerz
Dyeing your hair in a bright and unusual color is one of the best ways to make it stand out. Yet, if you want to make a really strong fashion statement, consider an undercut haircut. What it is going to be depends on your taste and preferences, as the range of options is endless, from short undercut women haircuts to undercut long hair. Just make sure you choose a really flamboyant color, such as bright orange. Keep in mind that if your natural hair color is dark, you will need to bleach your locks beforehand to make the color pop.
Long Rainbow Hair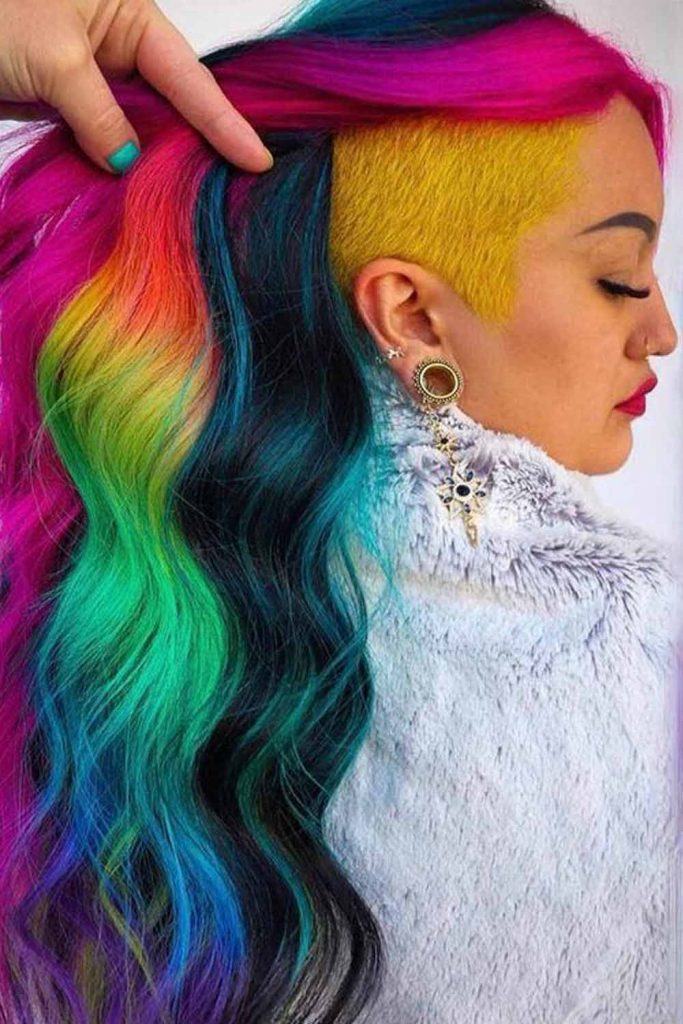 Credit photo: instagram.com/hair_slayerz
An undercut with long hair will not leave anyone indifferent. While it looks edgy and impactful, it is also a great way to make your long locks easier to maintain. As you remove bulk from them, they require less time and effort to style, so you can also experiment with different hair colors. Looking for something eye catching and bold? Incorporate a rainbow into your locks to give your hair look a playful twist. This style, however, needs regular upkeep. Yet, you can rest assured that it will pay you off with a myriad of compliments you are going to collect.
Hair Tattoo with Updo Undercut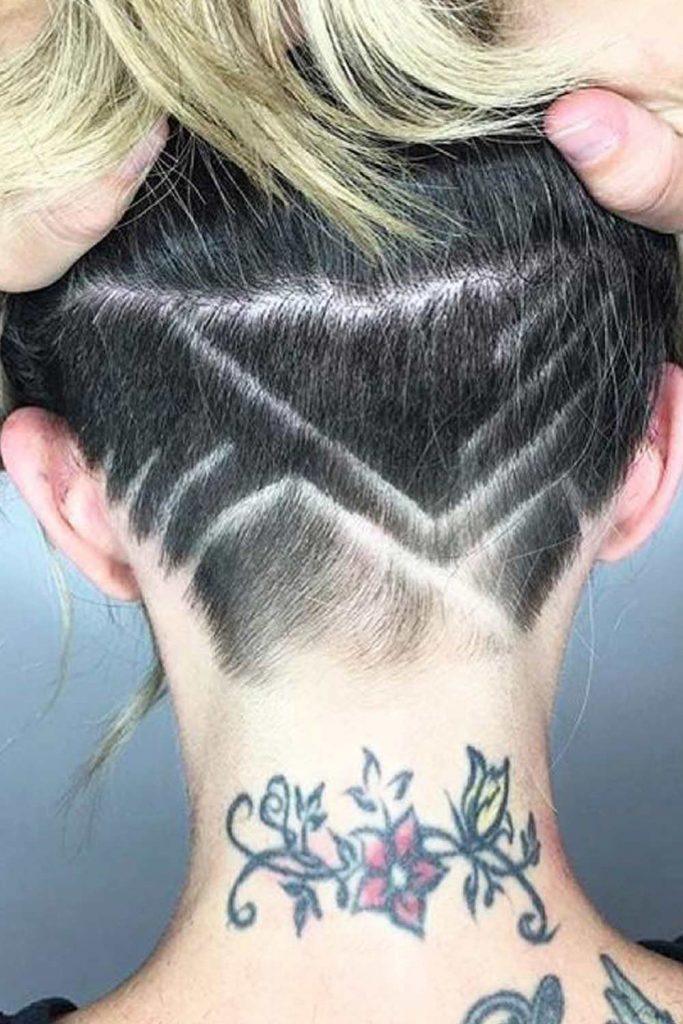 Credit photo: instagram.com/dmillerhairlounge
With an undercut woman haircut, you can get plenty of stunning hairstyles. Thus, if you are up to something elaborate and unique, embellish your sides and back with a hair design. What pattern to choose is totally up to you. In case you prefer low key hair looks, go with a simple line hair design. But, should you feel like going for something more intricate, do not limit your imagination. And to show off your breathtaking women's undercut, style it in an updo.
Choppy Pixie with Side Undercuts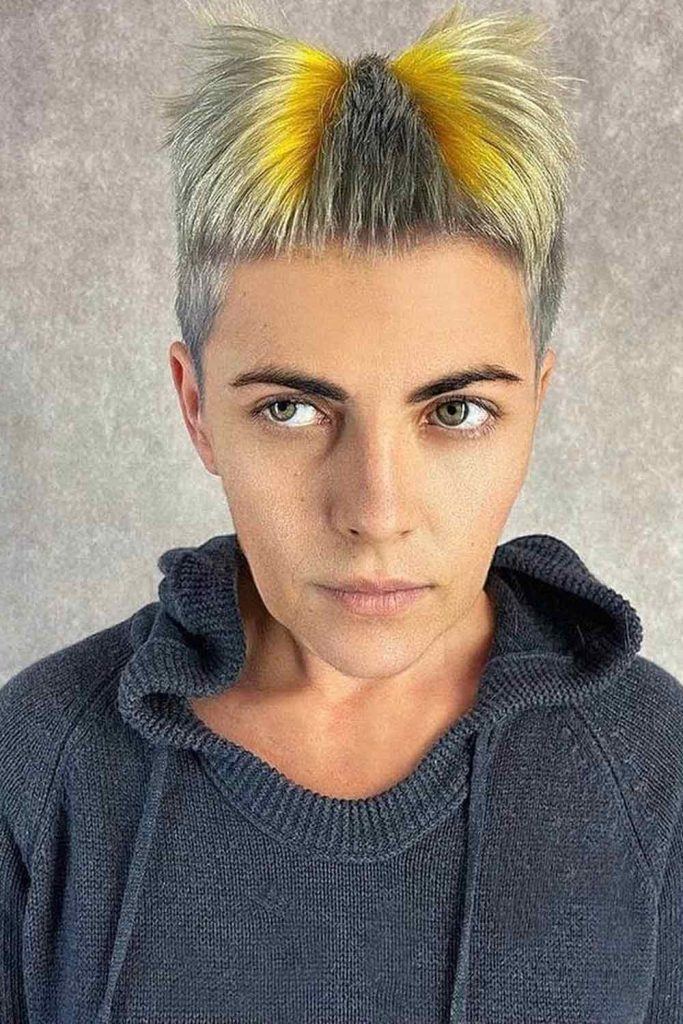 Those whose hair lacks volume and body should add choppy layers to their haircut. Not a fan of long hair? No worries. A layered undercut edgy pixie cut comes out more voluminous and ample. Yet, if you would like to give it a quirky twist, get your sides undercut while leaving the front and back noticeably longer. Such side undercut hairstyles create an illusion of a full head of hair. In addition, the styling and maintenance are absolutely effortless. Just blow dry your hair after washing it using a hair dryer and a round brush and you are all set. Do not forget to spritz your hair with a hairspray to ensure everything stays in place.
Blue Choppy Mullet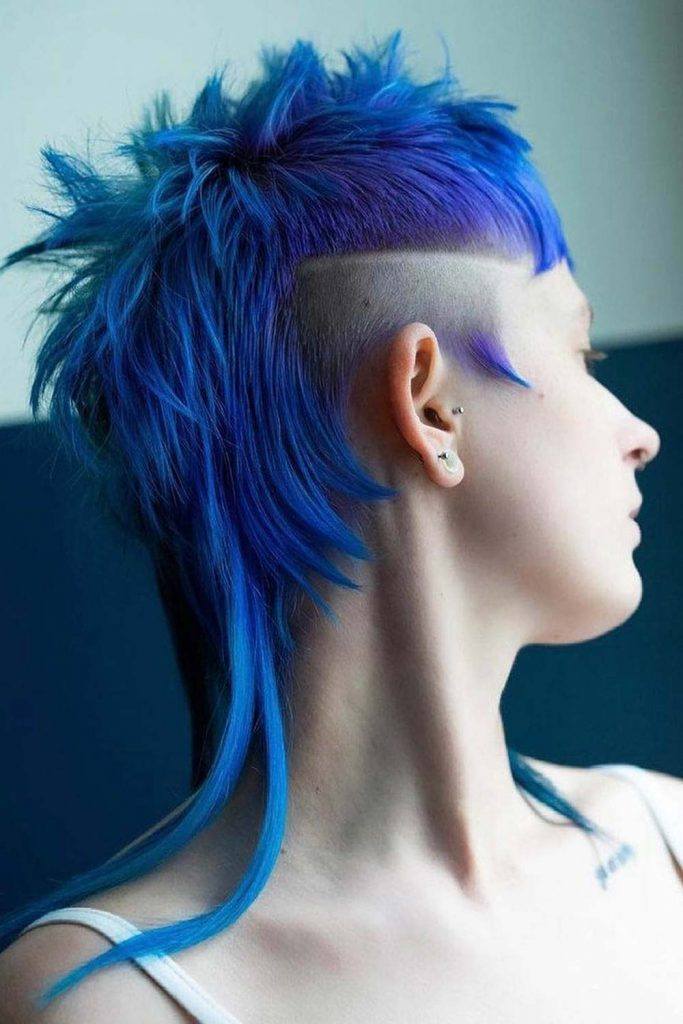 Credit photo: instagram.com/hair_slayerz
Not sure how to upgrade an undercut mullet? Leave the hair in the back quite long and get an undercut short hair cut on top. To pull the look together, get the strands chopped and dye them in a rich blue color. This edgy undercut mullet instantly takes you to the spotlight so you do not actually need any additional embellishments. Optionally, you can accentuate the texture of your haircut by applying a texturizing spray.
Updo Undercut + Shaved Tattoo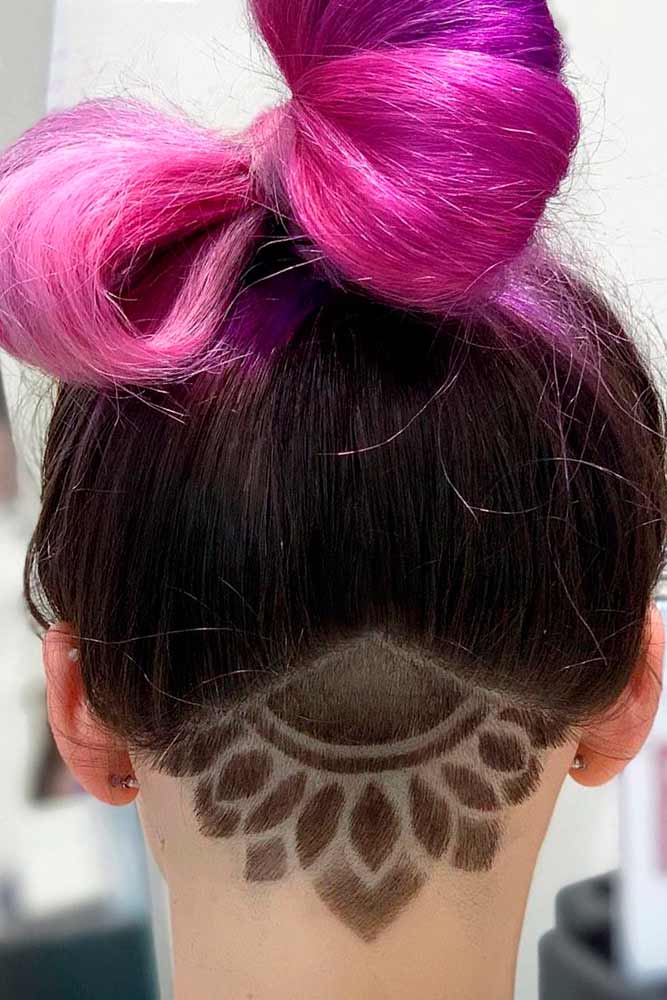 Credit photo: instagram.com/hairmastertanya
An undercut haircut, whatever it is, is an endless canvas to your imagination in the first place. Besides rocking a punky haircut with its shaved sides and cascading long top, you can always add more individuality and character to it by playing around with punky colors or unique hair designs.
Now, imagine how much of a visual impact your undercut could bring if you spruced it up with bold color and shaved tattoo at once! If you prefer a medium-length undercut to its classic idea, you can diversify the common image of the cut by shaving not the sides but the nape. The icing on the cake? A creative mandala design hiding under your hair is key! Besides, it's a nice idea to make every single updo different.
Flamboyant Fauxhawk Undercut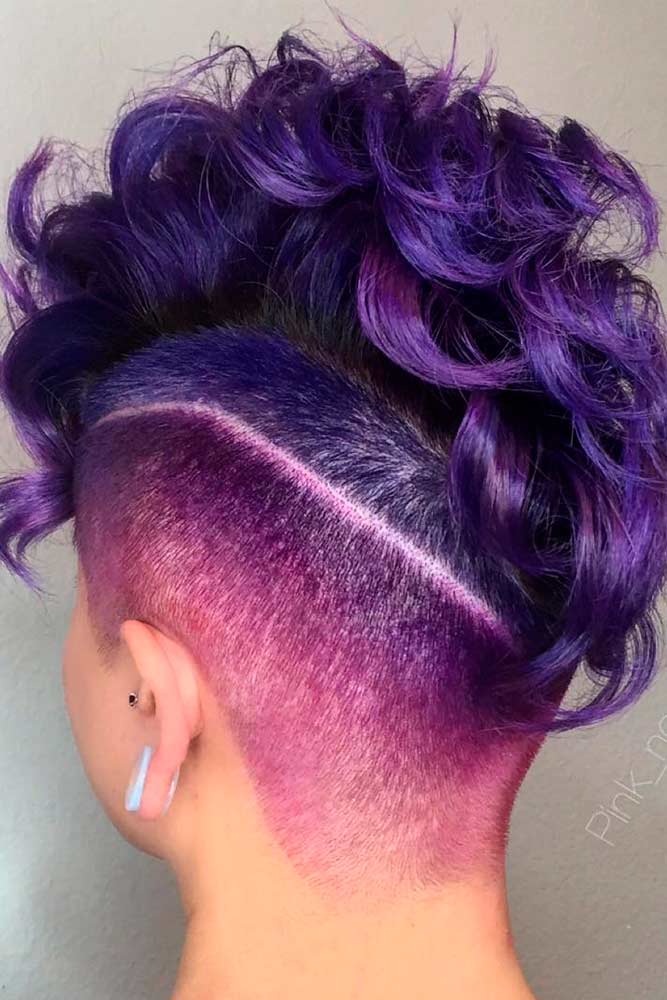 Credit photo: instagram.com/pink_nouveau
Your undercut can be anything you want it to be; the variety of undercut hairstyles knows no limits, just like your creativity! Still, we bet that nothing can compare to the game-changing faux hawk that you can do with your short-to-medium length. Gone are those days when men were the ones who rocked such an amazing, head-turning hairstyle. Now, girls can show off their sense of style with it too! Although the hairstyle is pretty drastic and sassy, it still looks feminine: the curly texture and pleasant play of purple hair shades are what will always keep your girliness in sight.
Long Hair Undercut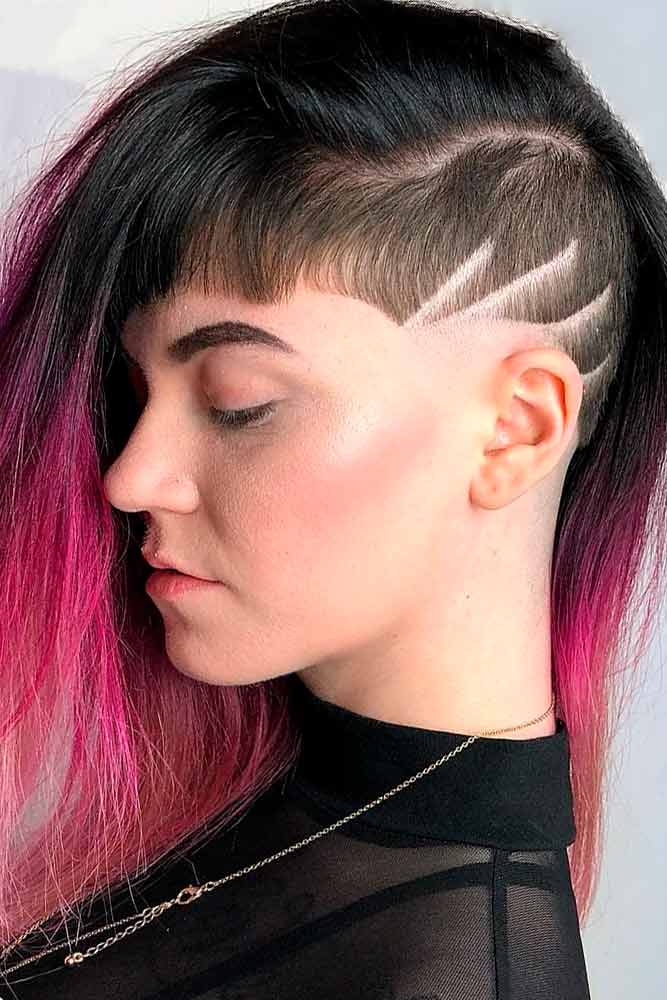 Credit photo: instagram.com/luiiisc_
Want to stay loyal to your long hair and can't help yourself but go wild with it at the same time? Don't worry; there's no undercut long hair can't complement. On the contrary, it can show up in a totally new light on a longer mane. The best way to bring the idea to life is to keep the sides not super tight so that they could blend with the rest of the hair harmonically. A bright ombre, some hair tattoos, and baby bangs will only make the outstanding ensemble complete.
Freehand Design Undercut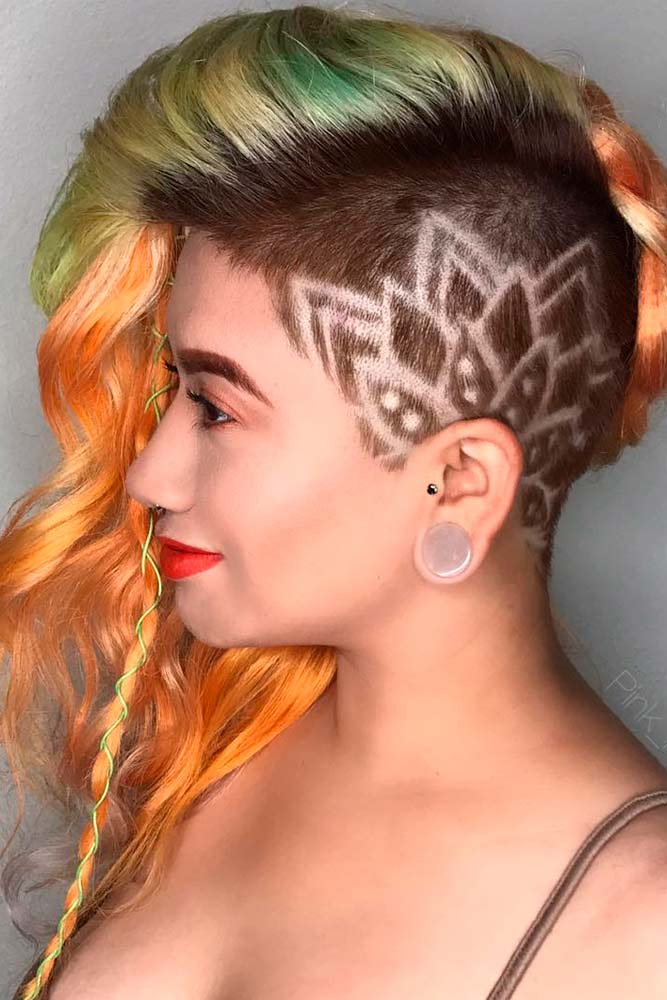 Credit photo: instagram.com/pink_nouveau
Another long undercut is here to show how different the style can be. This time, the look is highlighted by an edgy yet soft floral pattern embellishing the shaved side. Needless to say, getting hair tattoos is a stunning way to balance out your femininity with the inner rebel striving for experiments. Plus, the longer the hair, the more colors you can combine! Here, for example, dark roots transform into a daring combination of delicate pastel shades. Isn't that a perfect style contrast? As for the freehand floral design, it's nothing but an exclamation point of the whole look.
Long & Bright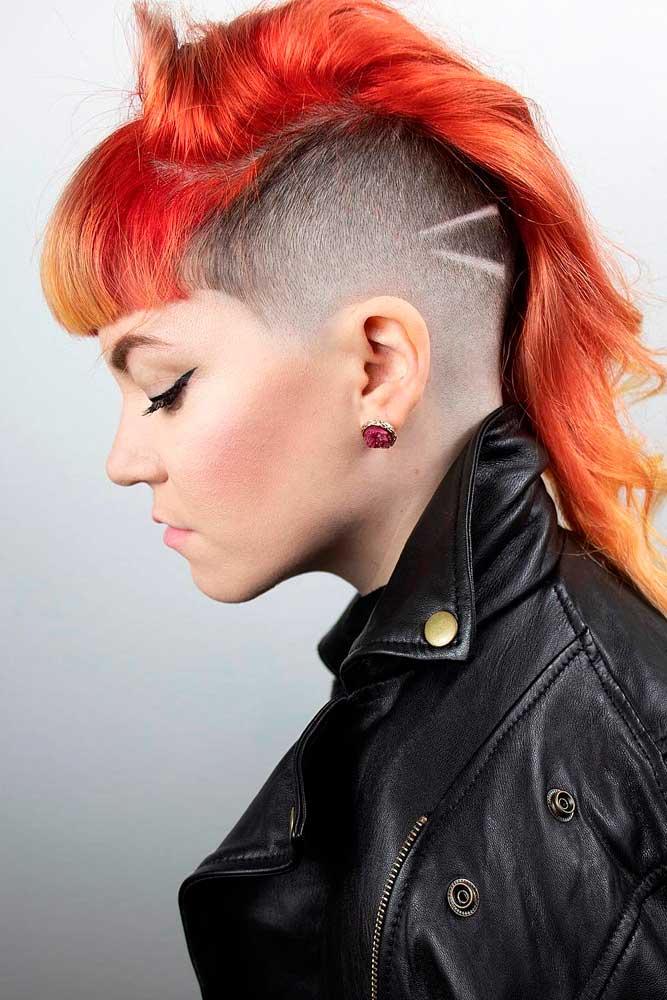 Credit photo: instagram.com/luiiisc_
Women's undercut hairstyles may remind you of the most awesome and trendy hairstyles of all time while being absolutely one of a kind. You may see the once popular Mullet haircut that is also known as 'business at the front, party at the back', as well as a Mohawk variation in this idea. In fact, though every person may come up with his or her own association, it's still an undercut for women. Bangs, shaved sides, a long strip of bright auburn hair running along the head - that's the complete kit for daring women that wants to stand out in the crowd.
Short Skin Fade Undercut + Ombre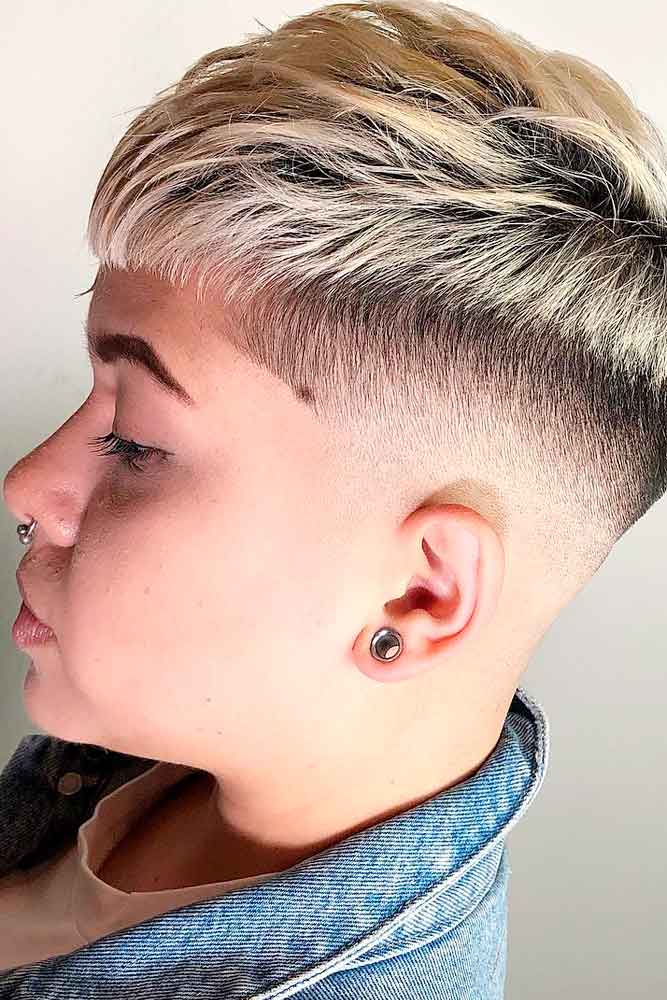 Credit photo: instagram.com/luiiisc_
As you might have guessed already, when it comes to short undercut ideas, 'short' has nothing to do with limitations. The options of customizing a simple short haircut are simply countless, as you can experiment not only with the color but also with length graduations and texture. If you're into distinctive and immaculate hair looks, you will love the way a skin fade accentuates your undercut. Also, you can enhance the spectacular length transition with a classic ombre that gets lighter to the crown. To finish the look, work some texturizing product into your top to add even more dimension to your one of a kind undercut.
Tousled Pixie Undercut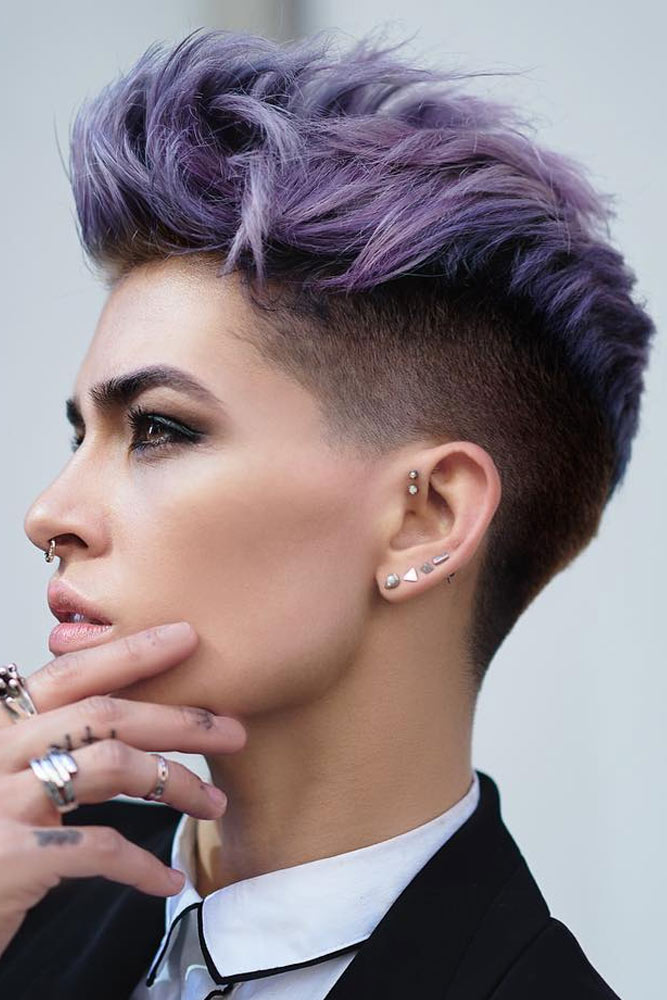 Credit photo: instagram.com/havalava
The popularity of pixie haircuts seems never to fade away, and that's one of the many things that they have in common with undercuts. The good news is, the two overwhelming trends gave birth to the brand new haircut that took over the women's fashion - a pixie undercut. Pairing it with a soft gradual taper, you can create a ravishing duo of the most desirable haircuts for modern women. Let the sides blend with a full top smoothly and try adding more character to the look by tousling things up.
Short Asymmetrical Undercut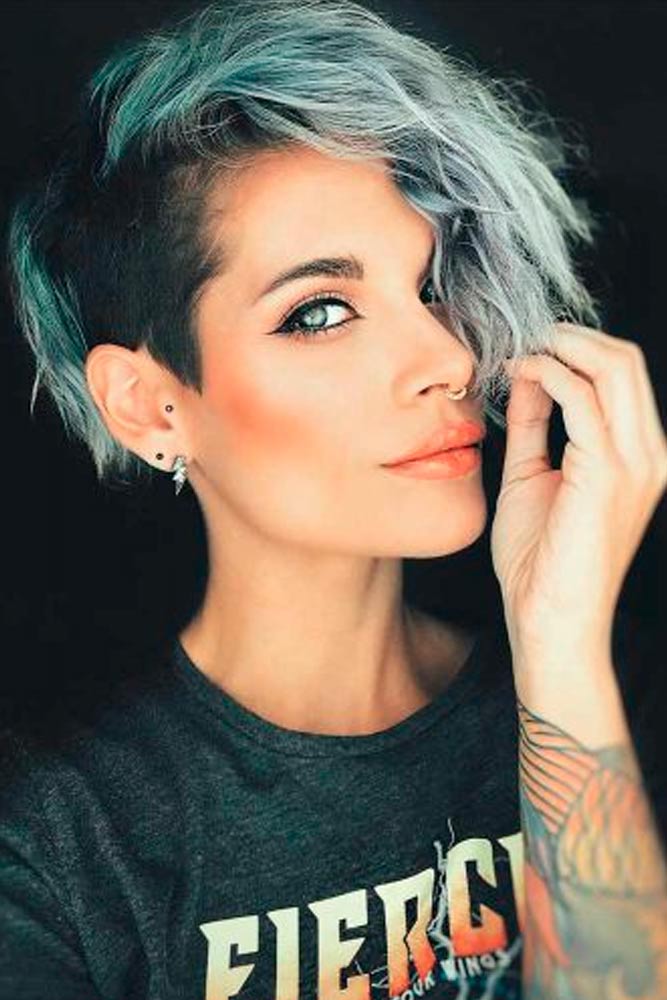 Credit photo: instagram.com/xandervintage
Asymmetry and contrasts are what perfect harmony and balance can't do without. That's why a bit of messiness can finish the look, making it more dynamic and alive. Now, let's talk about side swept undercut ideas that build the balance with the help of asymmetry. As a matter of fact, the only thing you need is to make your top, whether it's short, medium or long, shorter on one side and longer on the other. A touch of imbalance will add a sense of modernity to your look, giving a totally fresh take on the classic undercut.
Spiky Shaved Mohawk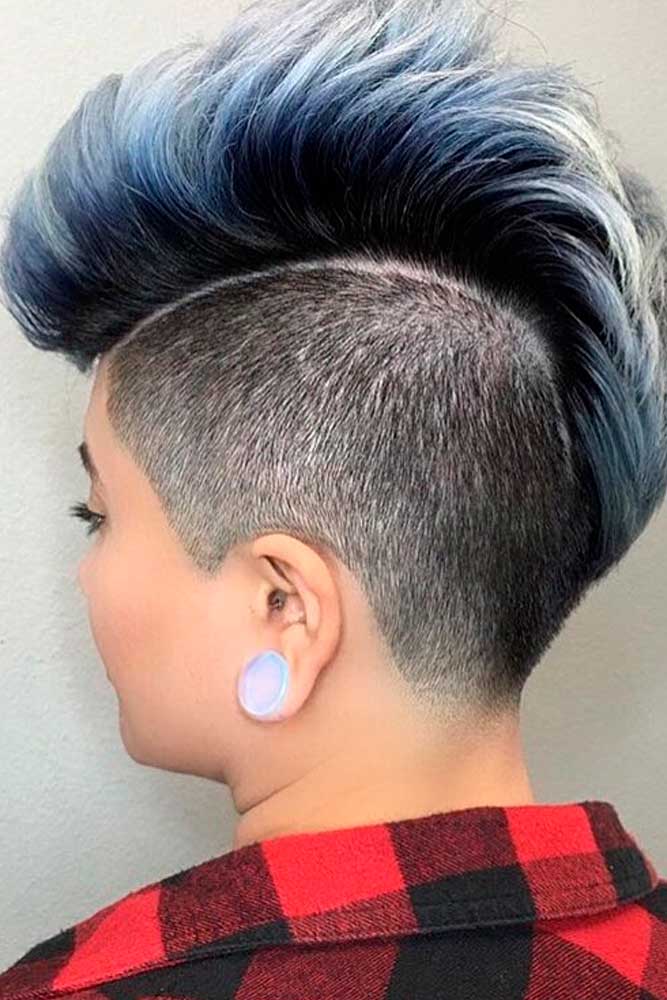 Credit photo: instagram.com/pink_nouveau
Undercut hair may be unpredictable, outrageous, and extraordinary: and that's why we love it so much. Some ladies like to go different by adding a hint of tomboy elements to their casual looks while still looking feminine, whereas others prefer to make their transformations big. If you feel like you belong to the second group, don't even dare to miss this Mohawk in your life. Get your sides shaved, ask your stylist for soft layers on the edges for flexible styling, and don't forget about the color! Set all your daring creativity into motion and your signature take on Mohawk will be really big.
Comb-Over Undercut Hair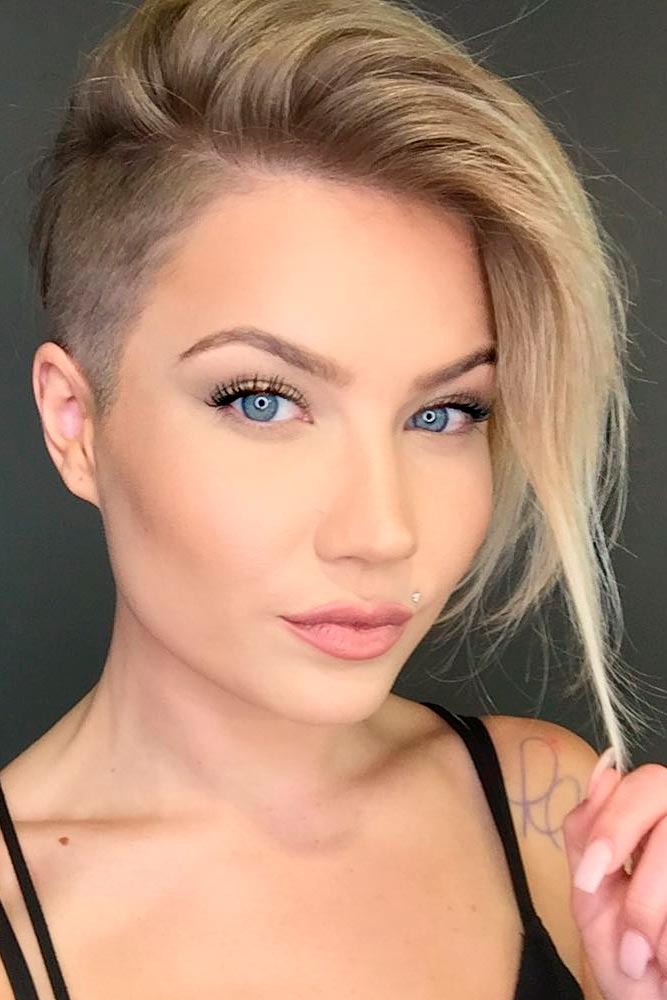 Credit photo: instagram.com/sky_eyes_
All those bright and eye-catching hairstyles are undoubtedly cool, but every girl needs to have something versatile and simple in her hair gallery. The number of casual undercut styles is limitless too, and this comb over is one of the classiest options. With just a pea-sized amount of medium-hold hair gel, you can get a simple yet striking hairstyle you can wear on a daily basis and pair with any outfit: from dresses to jumpsuits. Work the product into your damp hair, set it in place with a hairdryer, directing all your hair toward the back of the head. Voila!
Short Pixie Undercut + Slight Wave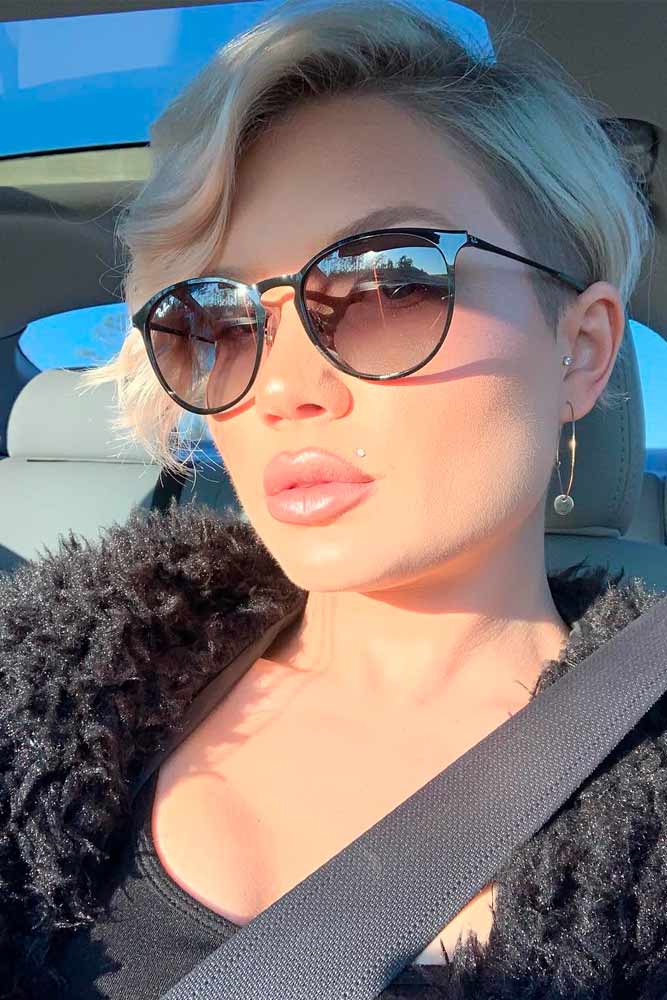 Credit photo: instagram.com/sky_eyes_
Undercut pixie hairstyles also have a bunch of aces in their holes! Not only do they provide low-maintenance hair care routine but also styling freedom you couldn't even dream of. Yes, it's a short haircut. Yet, one lifetime won't be enough to recreate all the styling ideas it offers. So let's focus on something universal; something that works wonders for girls with any hair type and face shape - a wavy pixie undercut.
To flaunt with such a dramatic sexy look, make sure to keep your pixie at a moderate length and your sides pretty tight. Style the shorter side with a brush in one hand and a dryer in the other to achieve a decent sleek texture. Then, just a pass of a flat iron to the front strand of the heavy side will turn your pixie into a flirty playful masterpiece you can show up both at work and at the party.
Curly Deep Part Undercut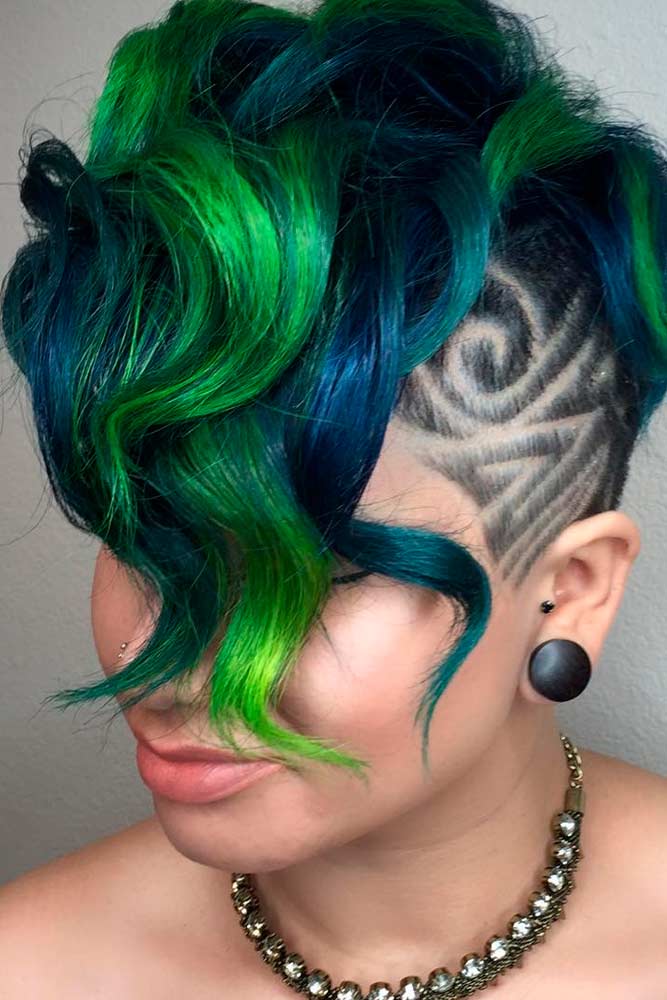 Credit photo: instagram.com/pink_nouveau
It's time to get back to the women undercut options that look as if they came from another world. There's no need to tell you how bold and bright you should be to make such an idea a part of your look: it's one of the few hairstyles that can speak for itself. When you think of a curly undercut, what comes to your mind? Whatever your answer is, blue and green curls hanging out on a creatively designed side-parted undercut will surpass all your expectations.
Tight Undercut For Natural Hair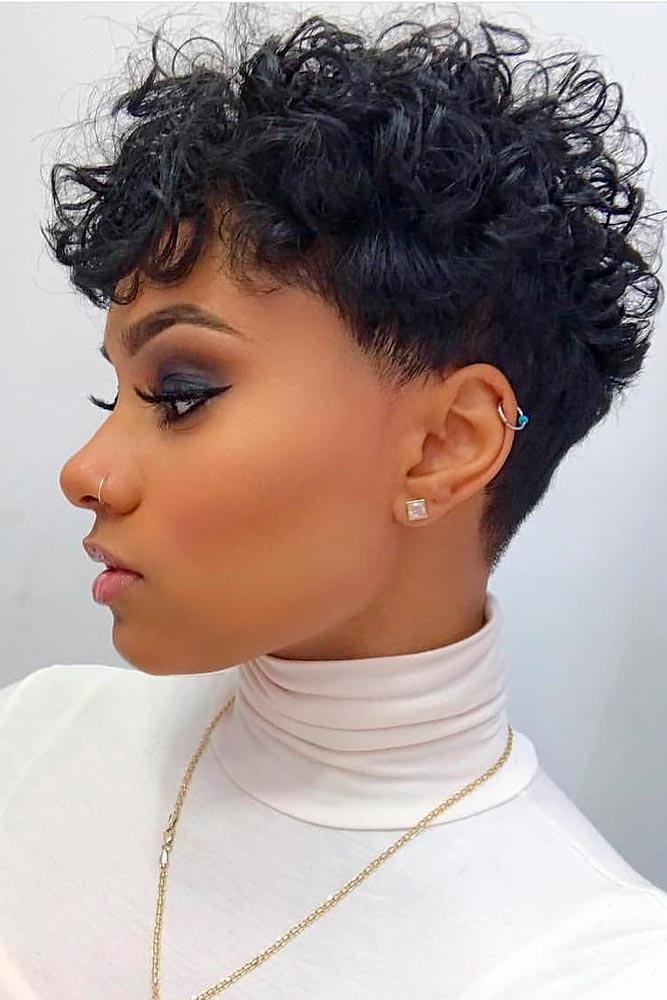 Credit photo: instagram.com/pixiebrasil
It's no secret that natural hair is not only hard to resist but also hard to tame. Cut a long story short, instead of all those time-consuming natural hairstyles, you can go by a totally different, straightforward way. A tight undercut, where all your curls are whipped into a sophisticated and comfy shape is a classy way to embrace your unruly but so gorgeous texture. Think that the idea won't come out on your curls? According to this breathtaking pic, an undercut curly hair texture can't complement is a myth.
Shorn & Tightly Packed Undercut Coils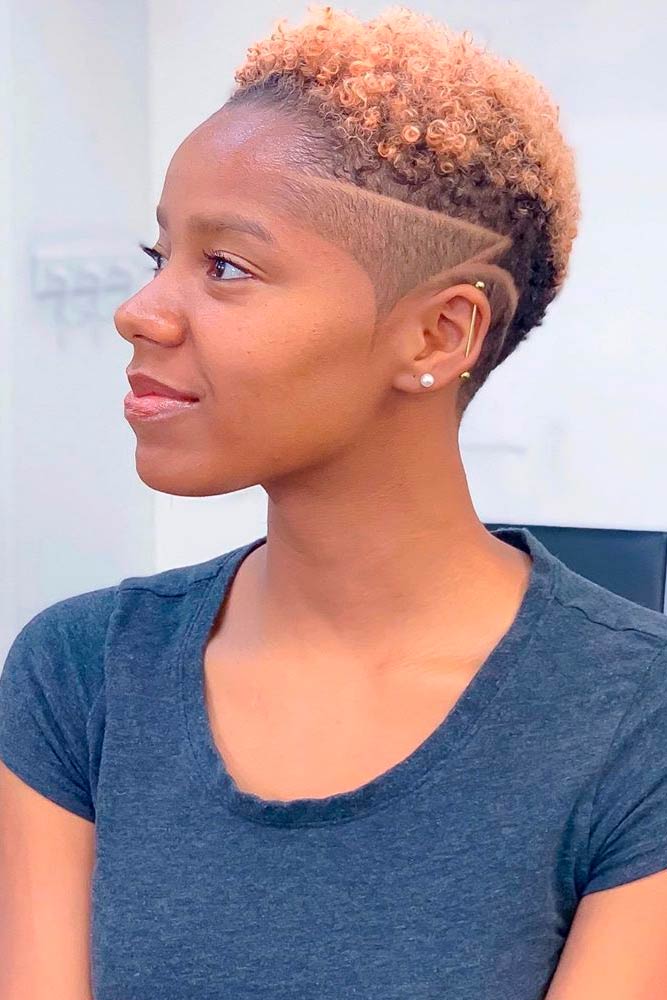 Credit photo: instagram.com/dreamcutsbarberlounge
Meet one more undercut women with naturally kinky and coily hair can't do without! Of course, it takes courage to switch to that short look. But the result is worth the drastic changes, that's for sure! First, once you have your curls shorn and tightly packed into an undercut, you will feel the lightness you never felt before. Second, your mane will get a super edgy, modern look that will be complementary to anything from a simple walk with a friend to a red-carpet walk. Besides, minimalist hair designs won't hurt the ensemble!
Platinum Swept-Back Undercut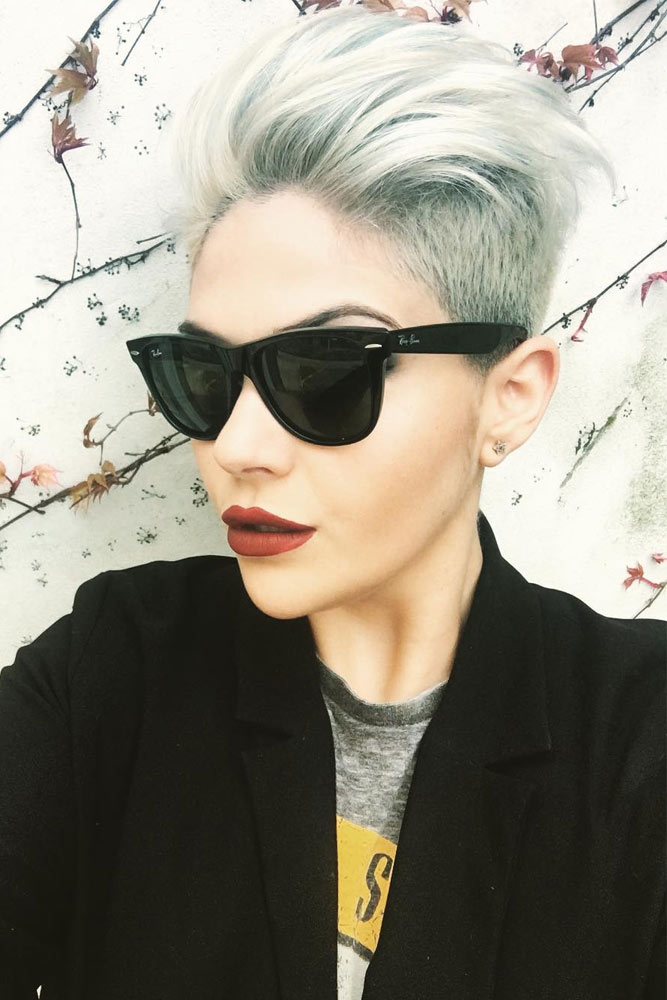 Credit photo: instagram.com/princessstiefel
If not an undercut colored a trendy shade, what can show how modern you are, then? The truth is, this haircut is so sharp and edgy by default that it can enhance the charm of your hair color, taking it to the whole new level. In this way, if you've always dreamed about a salt-and-pepper or whitish shade of blonde, make sure to show its best side with an undercut. By the way, do you notice how voluminous this slick back undercut is? Again, there's nothing complicated. Some firm hair pomade and brushing upward will do the trick. Trendy color + striking hairstyle = an undercut to remember.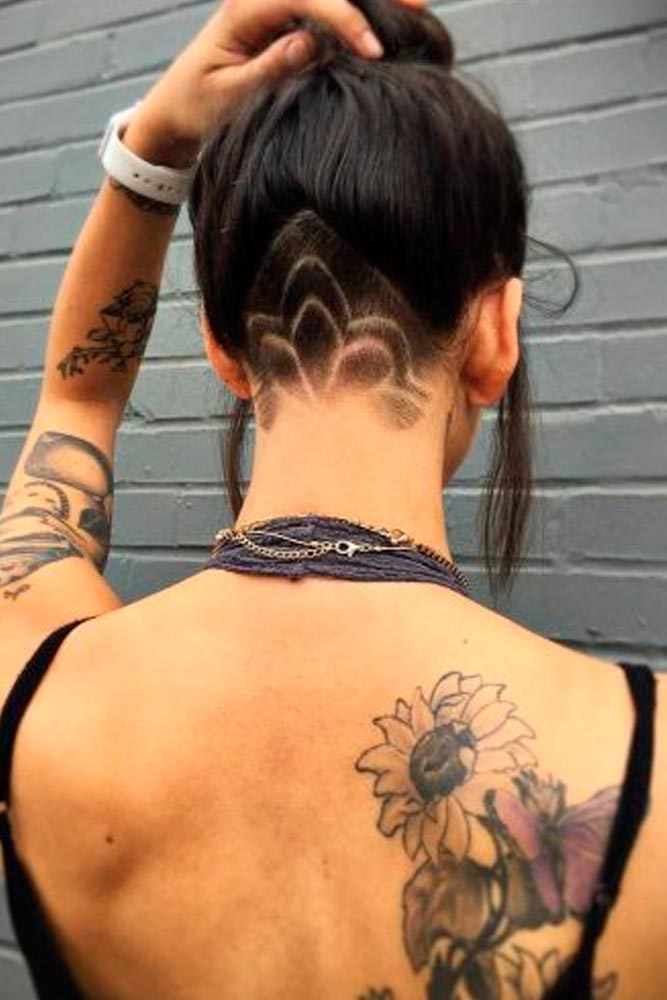 Credit photo: instagram.com/locd_n_grace_llc
They say the undercut is not for everyone, so why don't you show it only to those blessed with a fantastic sense of style? There's a wonderful long hair undercut idea for women who want their haircuts to be versatile in every way. Today, you can wear your hair down, flaunting with a girly look. Tomorrow, you can pull it up and twist your hair in an updo or a ponytail, switching to the modern mode. And it goes without saying that your hidden undercut will look its best with hair design as a finish.
Top Knot Undercut With Geometric Design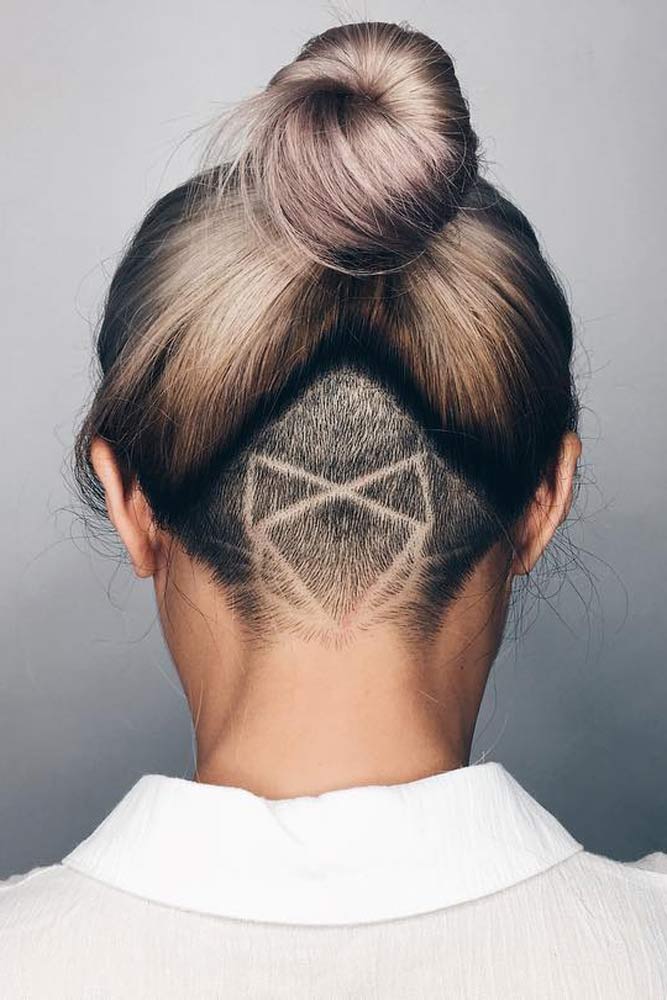 Credit photo: instagram.com/lishrawrs
If you love the idea of undercut ponytail, then you will love how it can transform into an updo. One of the greatest things about hidden undercut designs is that you can rock a couple of different looks a month: they grow out really fast. In this way, when some big occasion is knocking at the door, you can beautify your updo with something that is better than hair embellishments and accessories: design that matches the event. This idea is a cute option for casual wear that can turn into a big-day look whenever you need.
Long Side-Swept Undercut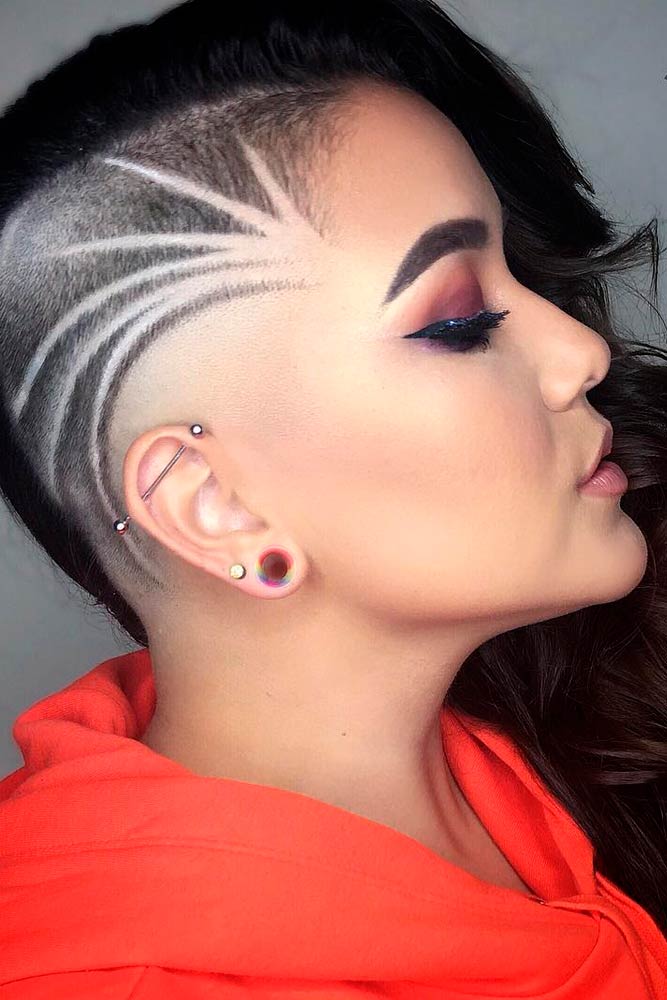 Credit photo: instagram.com/jeffthebarber
Side-swept and side part undercuts are just like blonde and brunette hair colors: they're equally popular, which makes it hard to choose between the two. Knowing the difference is one of the keys to finally pick the best idea for you. The former involves sweeping the hair to one side and setting the style with a styling product, while the latter features a side part that separates one side from the other. Usually, stylists shave off a side part to make the look steady.
The hairstyle that has probably just left you speechless is a side-swept undercut that every girl with shaved sides, long locks, and a comb can recreate.
Super Short Undercut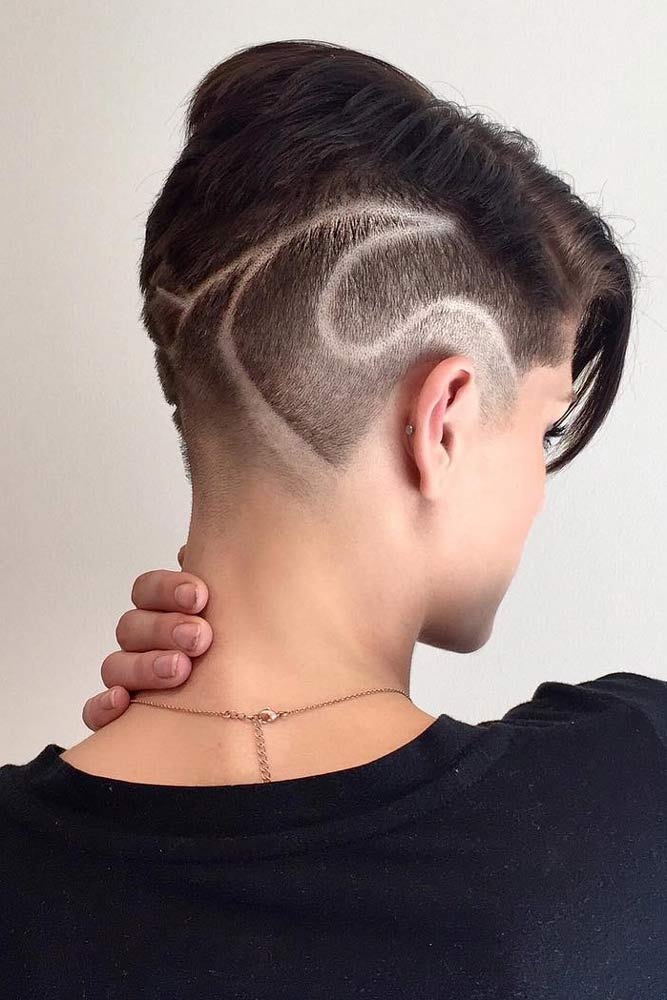 Credit photo: instagram.com/johnny_spanakos
The main reason why girls go so crazy about short undercut haircuts is that it can always be customized based on individual needs and preferences. In other words, they're like chameleons that can adapt to any image possible. For instance, if you'd like to work on your face shape, a short undercut with long face-framing tresses will sort things out. Those who are tired of dealing with very thin or thick hair every morning can go for an idea like this: a minimum of length = a minimum of problems. This haircut is flexible in terms of face shapes and hair types.
Mandala Hair Tattoo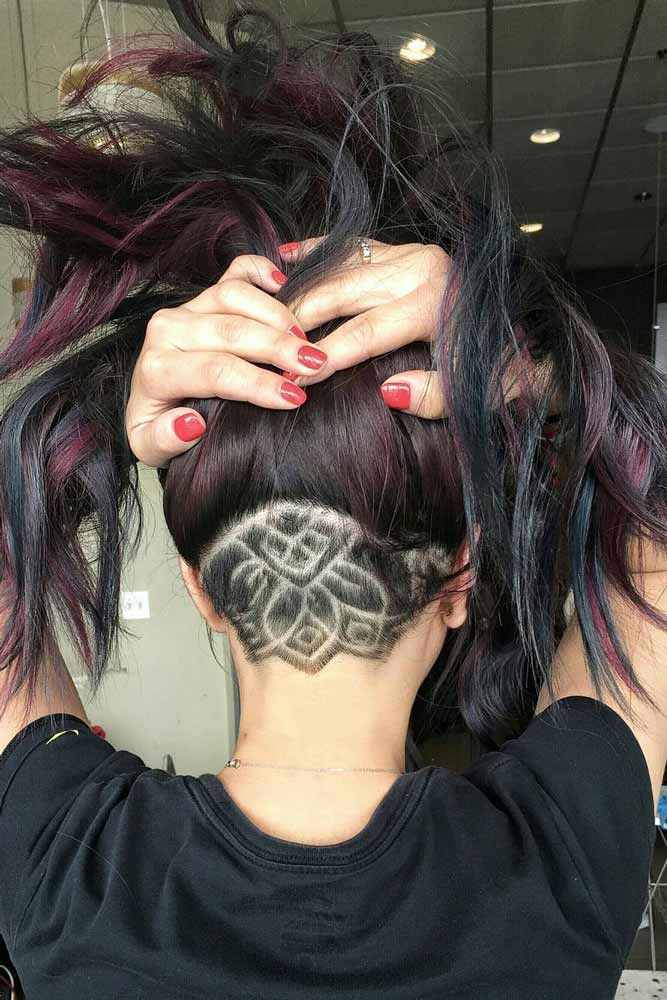 Credit photo: instagram.com/bescene
Mandala tattoo patterns have become unbelievably popular with girls who rock shaved designs, not for nothing! Not only do they express sacred meaning but also have a fascinating, beautiful appearance. They usually resemble flowers, which is why more and more girls are choosing them as a part of your hidden undercut look. The variety of patterns is pretty vast, so there's no way you won't find a unique idea to complement your look. Furthermore, such a delicate detail can spruce up even the simplest hairdo ever: ponytails and buns won't ever look boring with a flower hiding underneath the hair.
Bohemian Hair Tattoo With Grey And Purple Vibes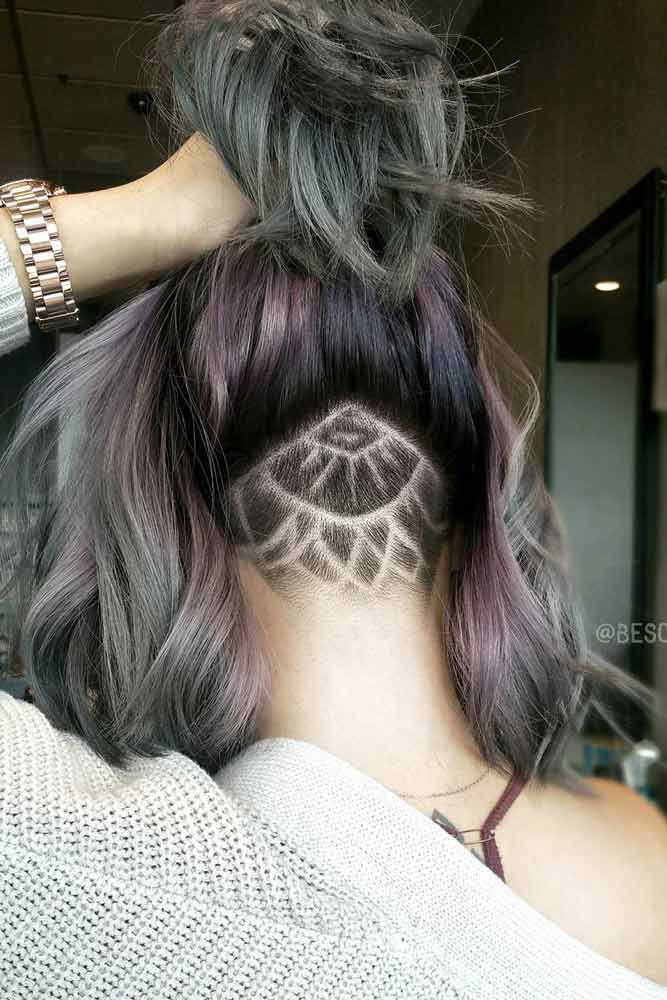 Credit photo: instagram.com/bescene
Though the revival of Bohemian culture is not going to happen, the style it's left behind will never die! Love tribal-inspired outfits, pastel hair colors, and bright patterns everywhere? Let your undercut express it, then. Apart from a boho-reminiscent tattoo, soft faded colors will be a ravishing finish to help your inner bohemian show itself. This idea looks unbearably cute for the smooth blend of magnificent pastel shades and a slightly wavy texture on a short bob. See, not only long-haired babes can go for hidden undercuts!
Abstract Undercut Design + Updo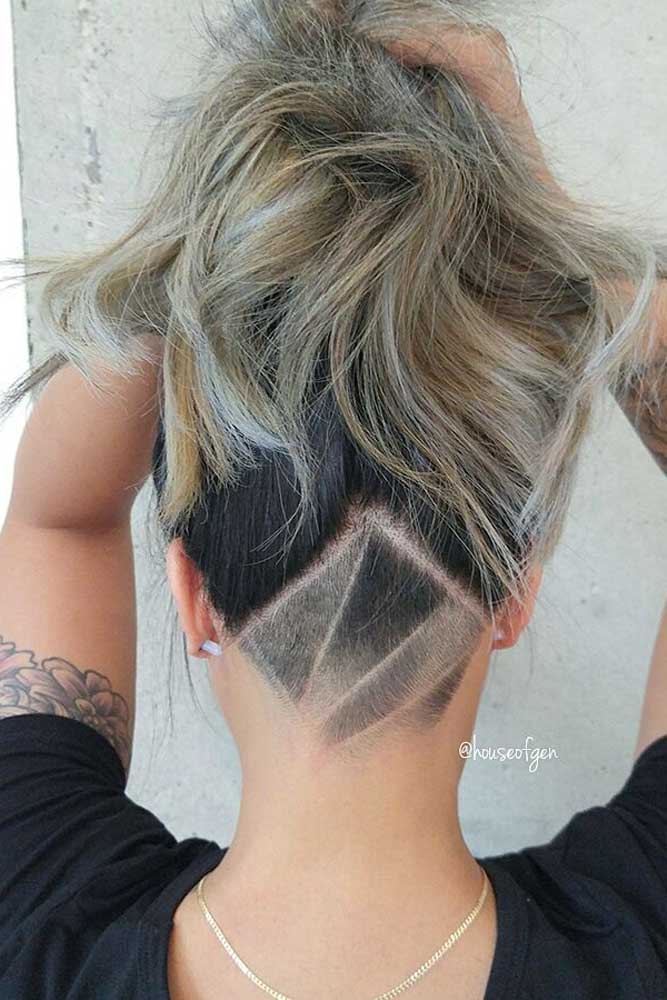 Credit photo: instagram.com/houseofgen
There are two types of characters in this life: static and dynamic. Static characters rarely step out of their comfort zone and keep themselves away from any style experiments so as not to ruin their balanced looks. Dynamic, on the contrary, can't imagine their life without style challenges, jumping from one experiment to another. This undercut is nothing but a piece of art that is meant for those seeking dramatic and extraordinary changes. Despite featuring such a drastic element as a shaved tattoo, the whole look looks pretty harmonic. That is to say, with the right combination of shades that beautify your hidden undercut, you will never lose the sense of balance in your look while rocking something brand new.
Tomboy-Inspired Undercut Hairstyle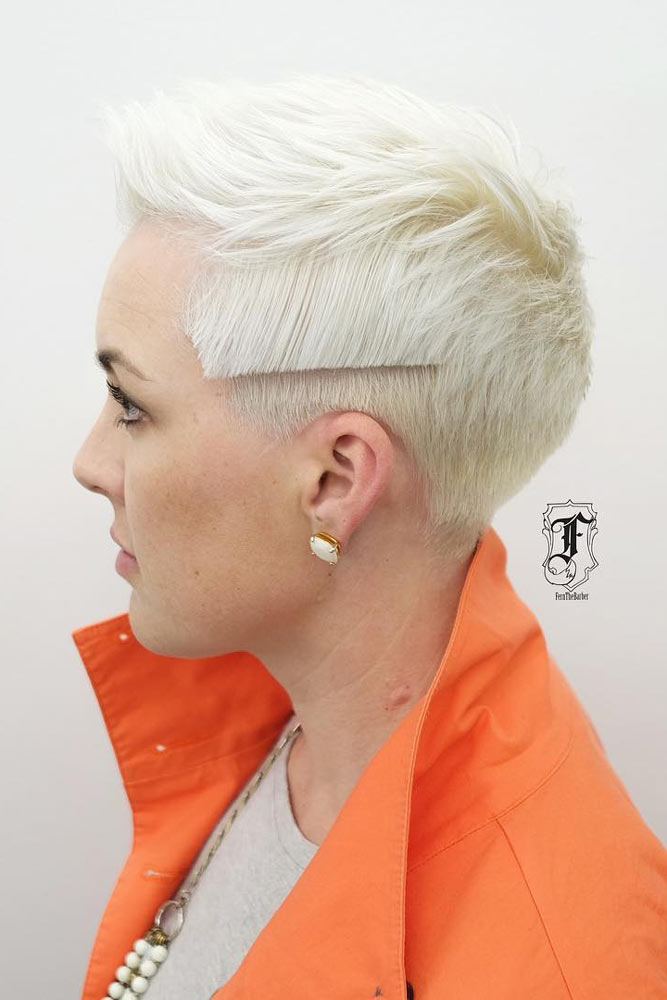 Credit photo: instagram.com/fernthebarber
Tomboy haircuts are about attitude and lifestyle. They wash the line between femininity and masculinity, giving them totally new definitions. At first sight, this undercut hairstyle may seem to be another modern idea for men. But once you add some courage, confidence, and color, you will make it a spectacular idea for women. Believe it or not, such a short haircut can actually deal with your thin hair, giving it a full, decent look that won't require much of styling. And if you want to make the look emphasize your creative personality, make sure to play with temples.
Business Casual Style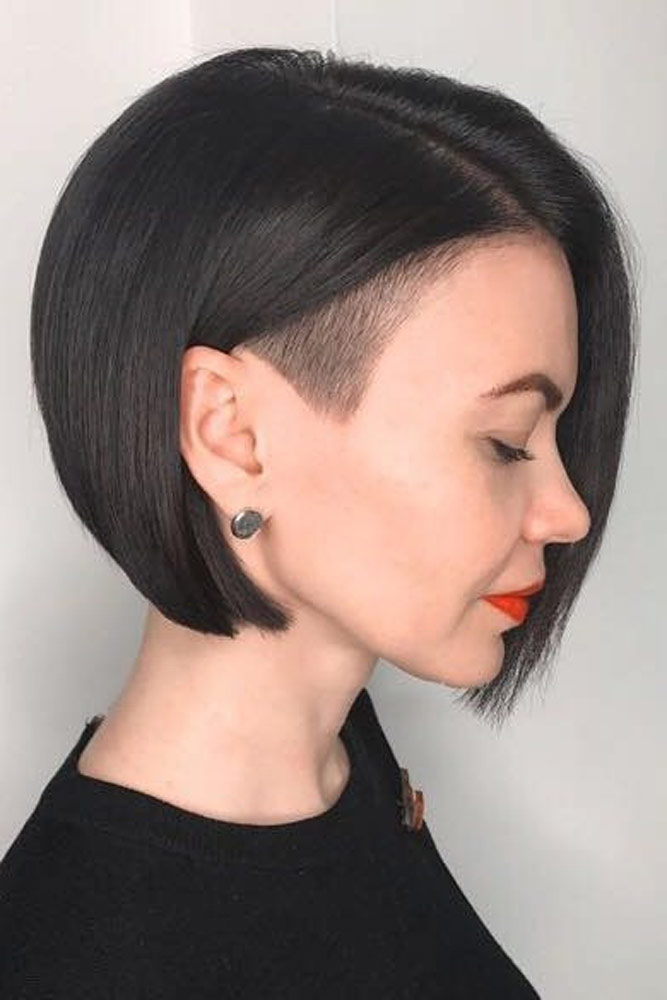 Credit photo: instagram.com/svetlana_xaritonova
As it turns out, you can make a statement without going for super bright colors and crazy chopped haircuts. Just a hint of shaved sides is enough to show everyone what kind of woman you are. And this inverted bob is living proof: every single detail in this look is absolutely neat and immaculate, including the shaved side. This tiny detail will show that you are a woman that can follow common rules and fit in standards while still stand out in the crowd with her unique sense of style.
Messy Undercut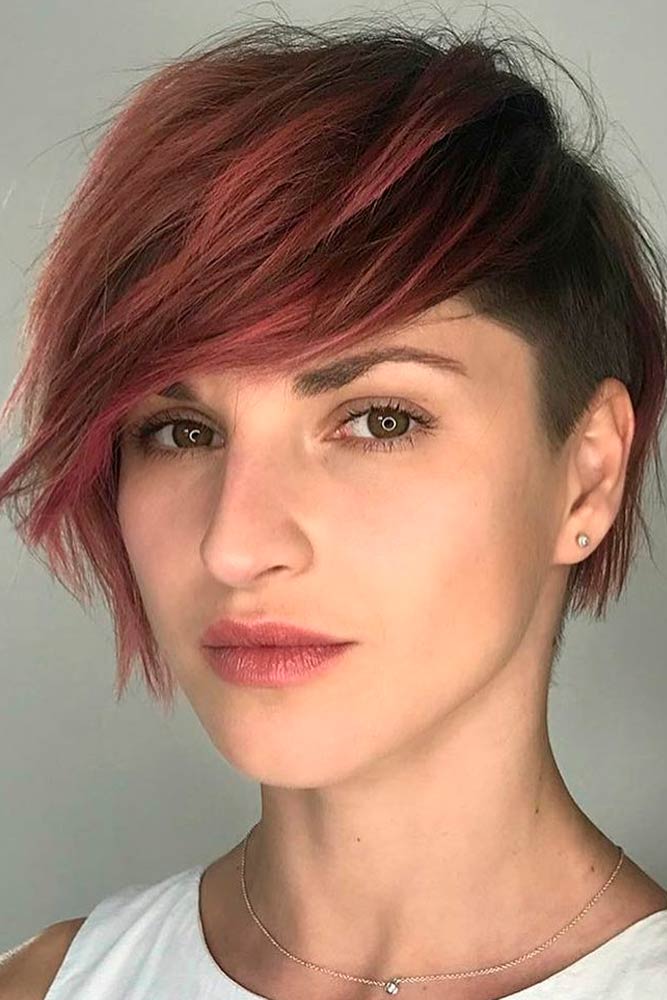 Credit photo: instagram.com/sarahwall_industries
A disconnected undercut, where the top is clearly separated from the sides, is designed to add more contrasts into your life. Such ideas work well for ladies with thin hair, as the contrast of lengths can create the illusion of fuller hair, thus amping up the whole look. And the best thing you can do with such a dramatic and drastic haircut is to add some messiness. Don't worry; you won't mess it up. In fact, by tousling your top, you will add even more volume and movement to your hair, be it a very thin mane or a super thick texture.
Ash Blonde Lob + Shaved Side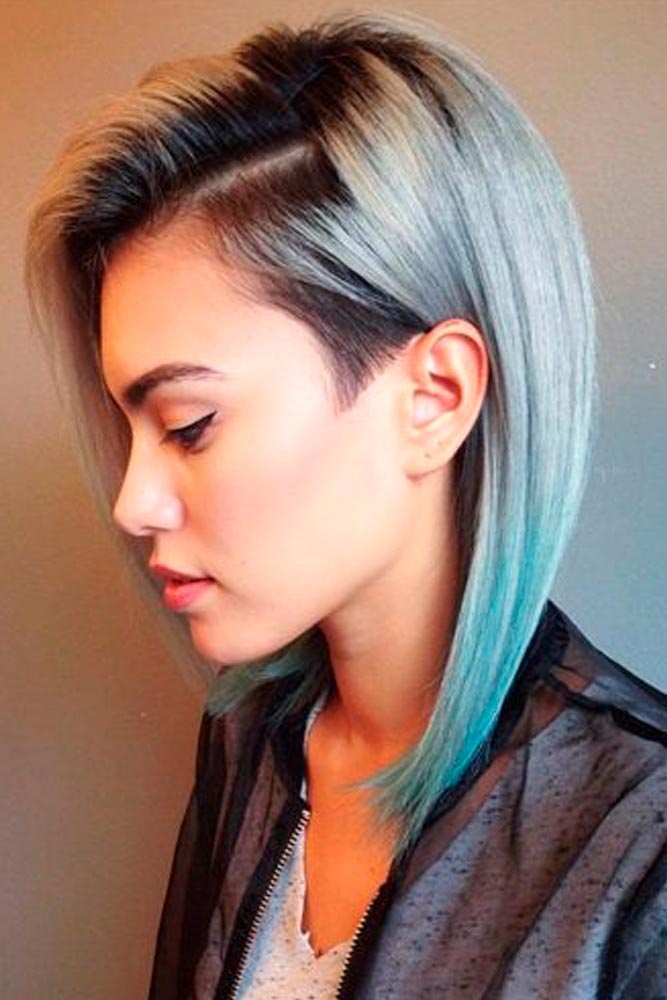 Credit photo: instagram.com/xandervintage
We weren't joking when we told you that an undercut is the best way to enhance your new color. Remember the rule about leaving the roots dark? This is your golden ticket to the classiest color transition ever. If you have naturally dark hair, you can get the most out of your ash gray or blonde color job: just ask your stylist to leave not only the roots dark but also the shaved portion. In this way, you will create absolutely enviable color transition and get yourself less damage simultaneously.
Sleek Coif Undercut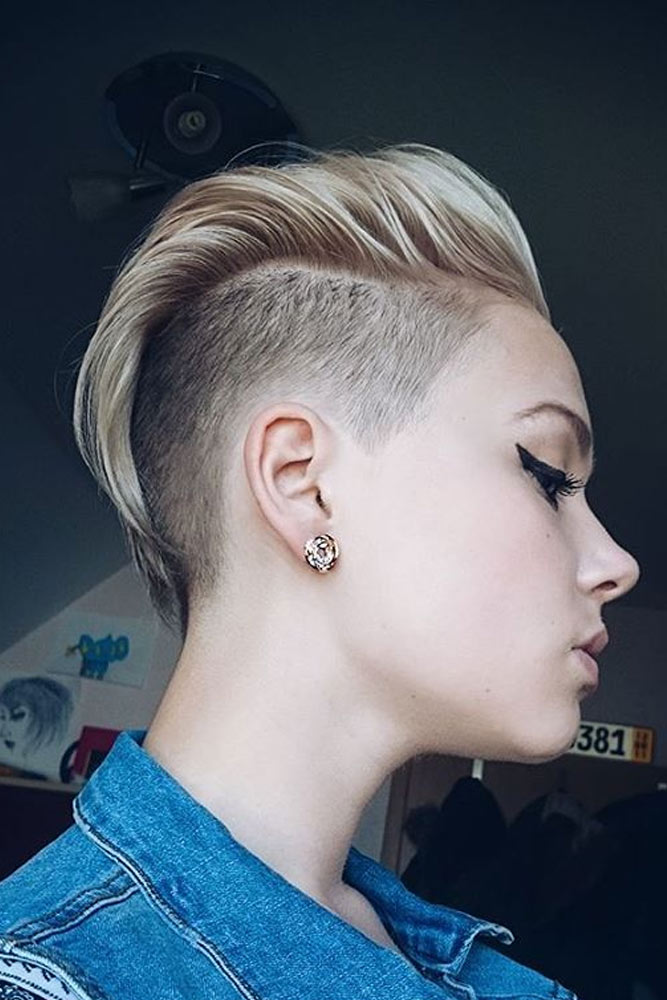 Credit photo: instagram.com/mlsama
If you're wondering how would a mix of Quiff, Mohawk, and Pompadour look like, this picture will satisfy your curiosity. The idea above embraces the most attractive features of the three, forming an amazing evening hairstyle for stylish women. It's as sleek as the classic Pompadour; as distinctive as the Mohawk; as textured as the Quiff. What makes the look so special? The fact that three timeless men's hairstyle can't kill the feminine vibe!
Geometric Undercut Pattern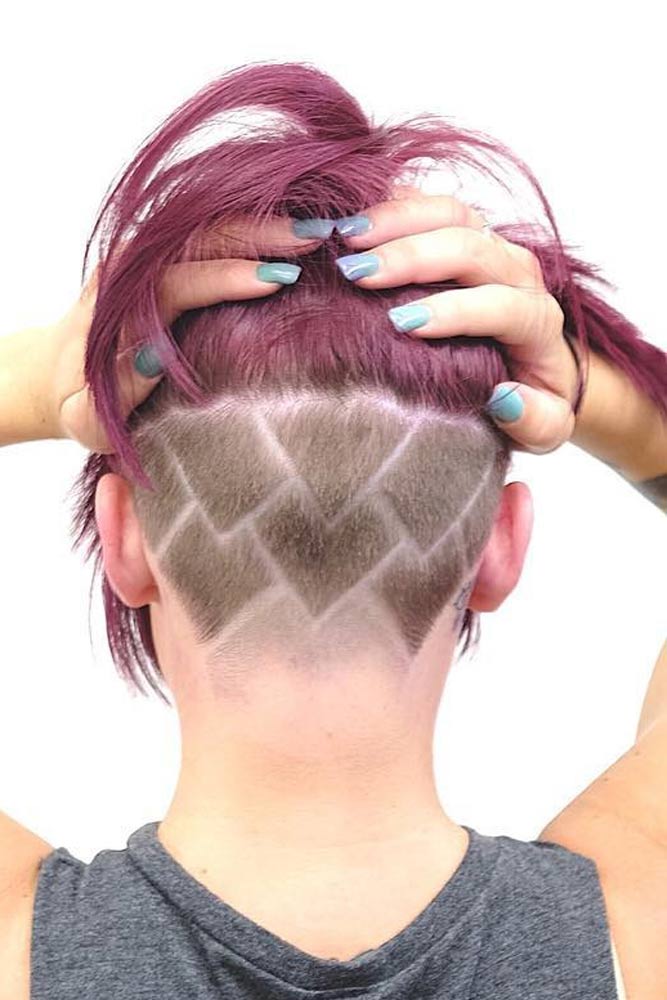 Credit photo: instagram.com/fernthebarber
In contrast to most hidden undercut ideas, this look breaks all possible records. As you can see, this time, the pattern takes over the whole back of the head, while the previous ideas hit only the nape area. Admittedly, its visual impact is even bigger, even sassier, even bolder. If that's what you seek, let your hidden design run wild! And if you're in search of something inspiring, here's one tip: you won't go wrong with geometric design, as they always please eyes. For a more captivating effect, try coloring geometric sections in different colors: brightness will never go out of fashion.
Tapered Temple + Side Part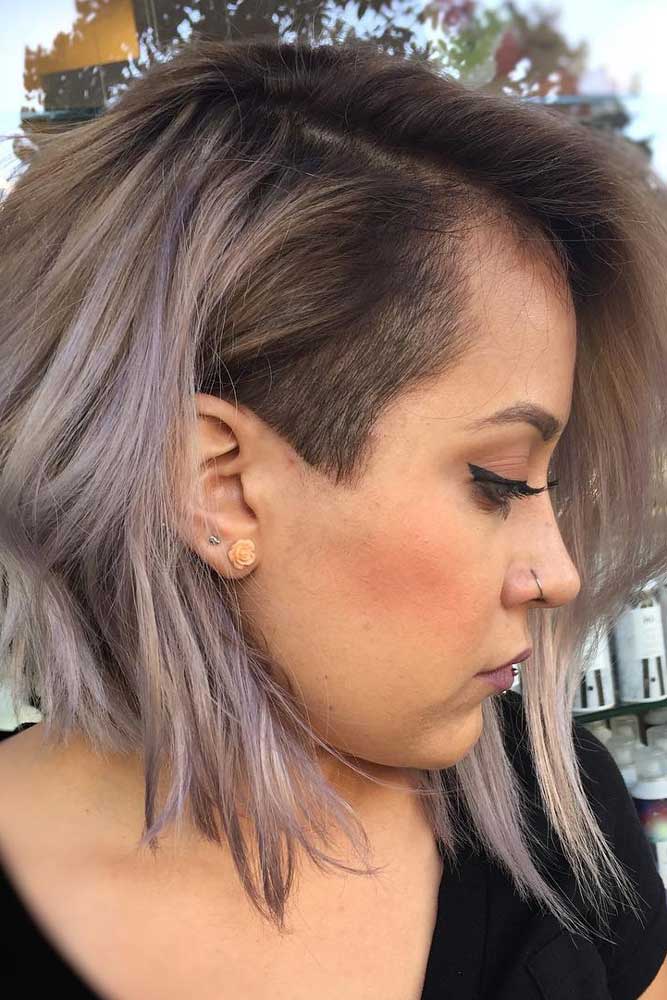 Credit photo: instagram.com/svetlana_xaritonova
How about a subtle version of an undercut to add just a hint of daring beauty to your casual look? Believe it or not, a slight shave or taper on a side can drastically change the character of your look. If you're not into drama but still want to freshen things up, a gentle taper on one of the sides and a side-part will give you the needed chic effect. And if the fear of commitment is the only thing that stops you from getting a soft undercut fade or taper, you can feel free to recreate this idea: once hair starts to grow out, you can change the parting and let it grow.
Stacked And Shaved Haircut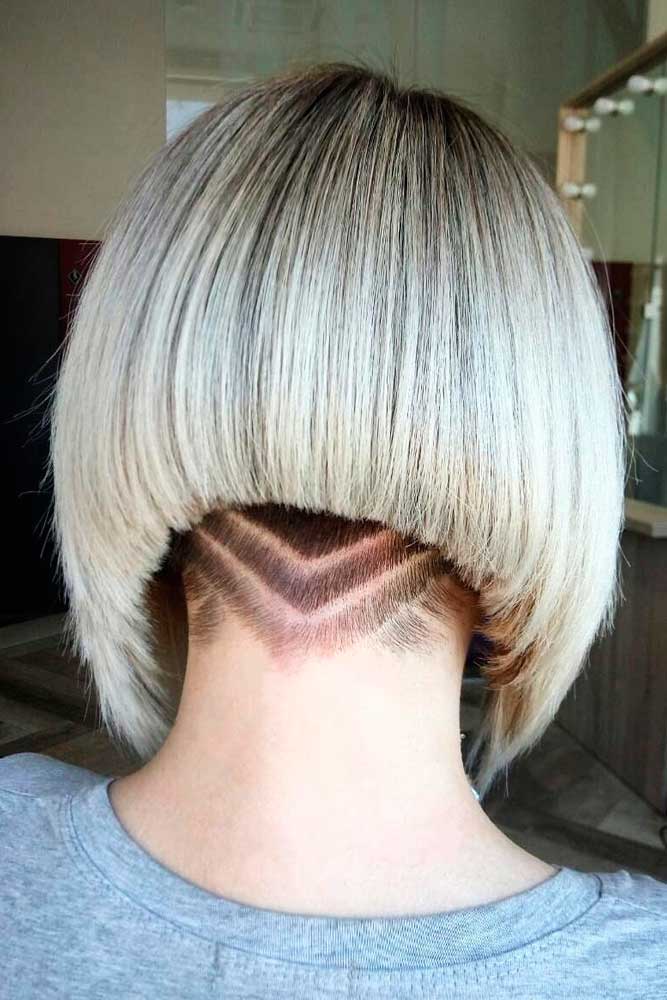 Credit photo: instagram.com/_anastasia_shkilevich_
Here's what can happen if you let your imagination fly with a stacked bob haircut! Who would've thought that the famous structure, where the hair gets shorter to the back could become a nice canvas for undercut tattoos? Now, let's be honest; it's hard to imagine the good old bob without a creative geometric design under the back portion! All in all, it looks not just cute and attention-grabbing but sophisticated, so you can wear it even to the office.
Top Knot With Chevron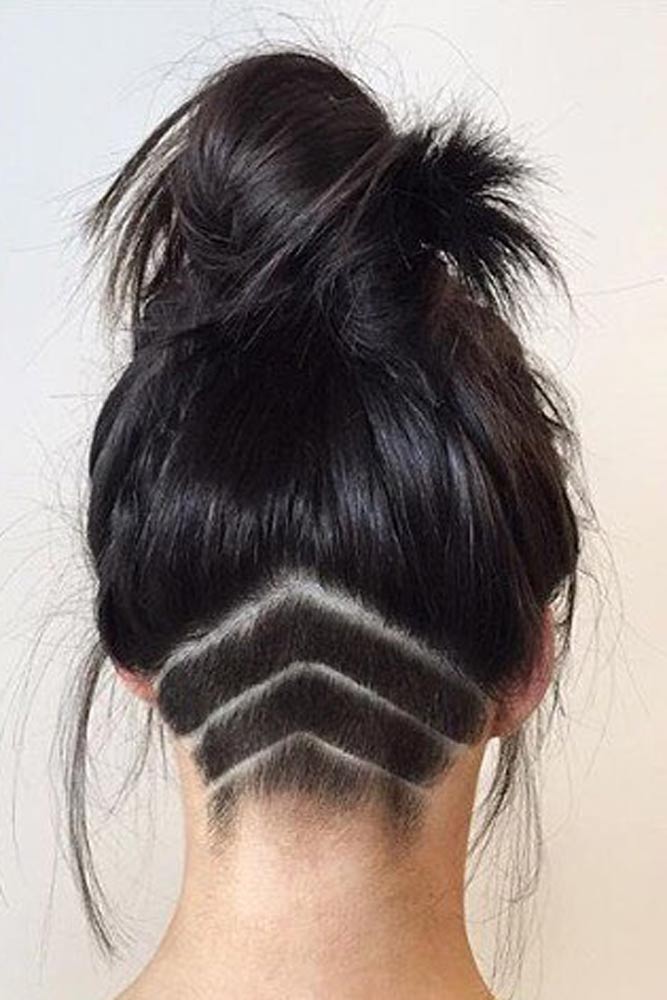 Credit photo: instagram.com/buzzcutfeed
Chevron shaved tattoos were designed for women who appreciate the beauty of minimalism and simplicity in its purest form. As you know, simplicity never fails, so you will only benefit if you go for fewer details in your look, be it accessories or tattoo elements. Just look how harmonic and aesthetically-pleasing this subtle hair tattoo is: it screams about your individuality yet without raising the voice too much. And there's no need to mention that this shaved element, despite being quite simple, can add tons of interest to any hairstyle, from casual to formal.
Under Shaved Pixie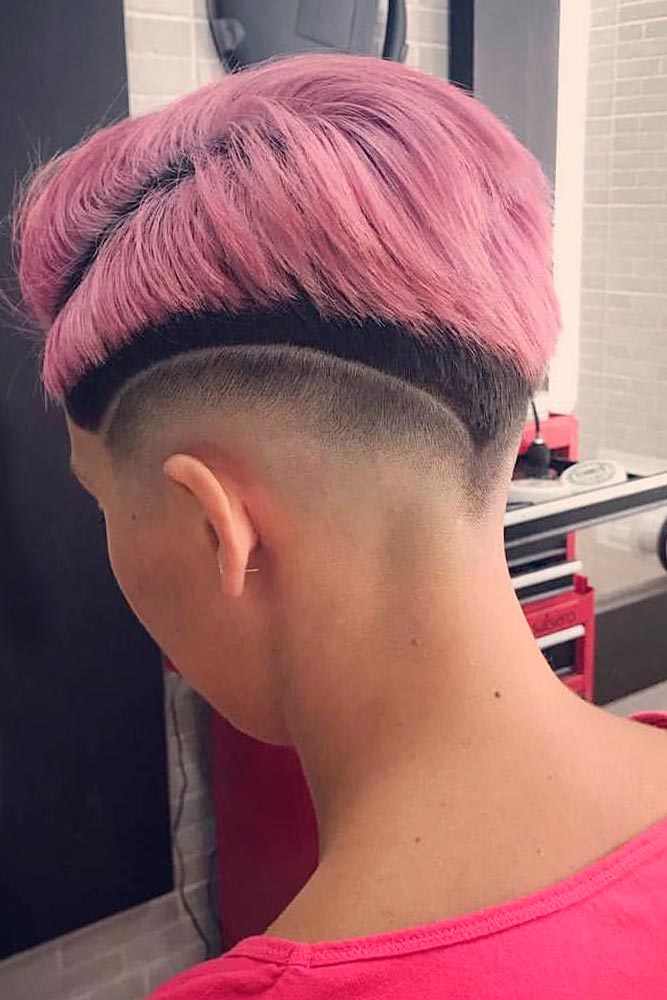 Credit photo: instagram.com/kratkovlasky.cz
When going for a game with an undercut, there are no rules at all. This haircut is like a wild animal that only girls with truly brave souls can tame. And once it's tamed, it will make its best to perfect your look. Even if you wear a pixie and don't really want to say goodbye to it! To add something new to your favorite style while keeping up with it, you can get an undercut literally under the pixie. A play of fades will create a balanced length transition, so don't forget about it, especially if you'd like to finish the look with a funky color on top.
Choppy Graduated Pixie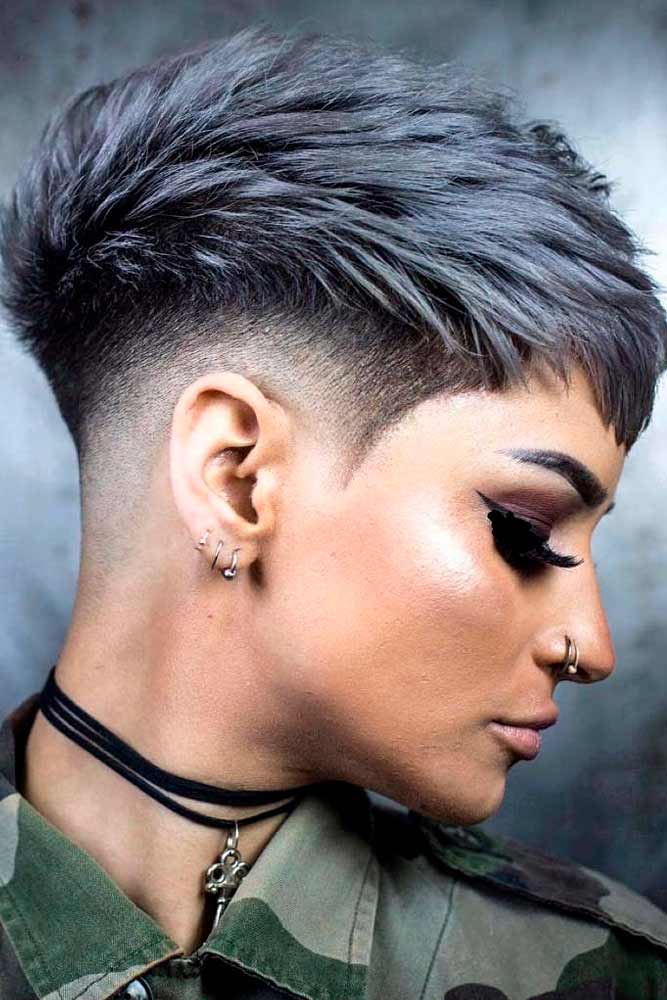 Credit photo: instagram.com/r.braid
Another breathtaking way to combine a chic pixie with an edgy undercut. As you might have noticed, this idea doesn't look similar to anything you've seen before, which brings us to the endless variability and flexibility of the two haircuts. The haircut in this pic features choppy layers that create a spiky texture for the top, gradually cascading to the faded sides. It's neat and precise while being pretty punky and wild: isn't that the best definition for women's nature?
Reversed V Undercut + Plum Hair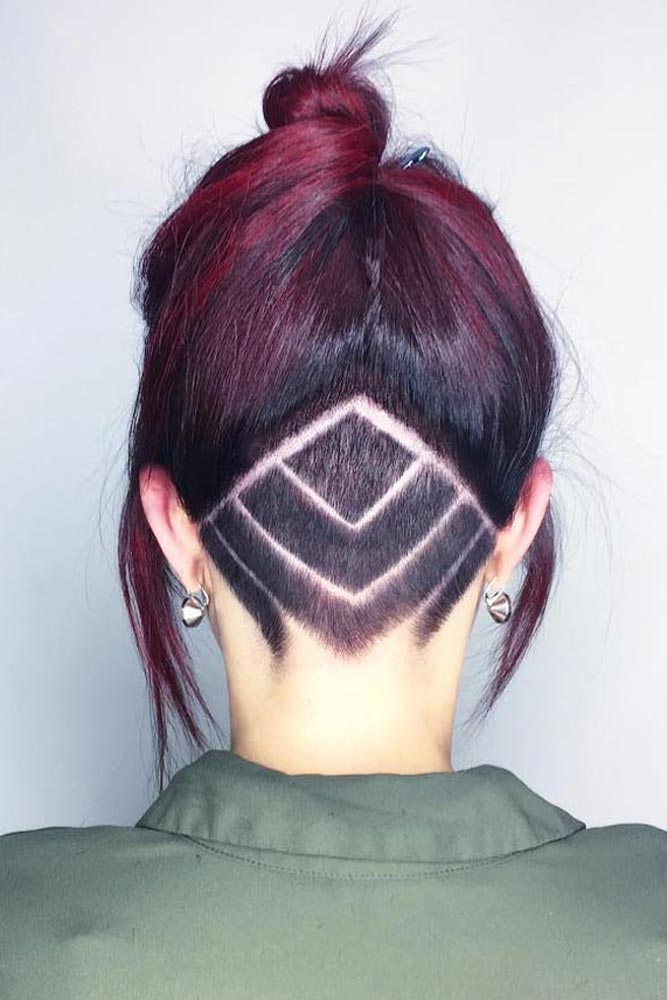 Credit photo: instagram.com/agadondzik
With the right approach to a fade undercut, you can create a contrastive look without drastic ombre and much commitment. One color would be enough to get a distinctive silhouette, just make sure that the hair color stands out on your complexion. Such shades as plum, burgundy, and dark violet work well with pale and fine skin tones. And you will get totally convinced in it when you go for an undercut with shaved design. Remember the idea of a hidden undercut? There's a way to diversify it! A reversed design: simple and tasteful.
Feminine Undercut Hairstyle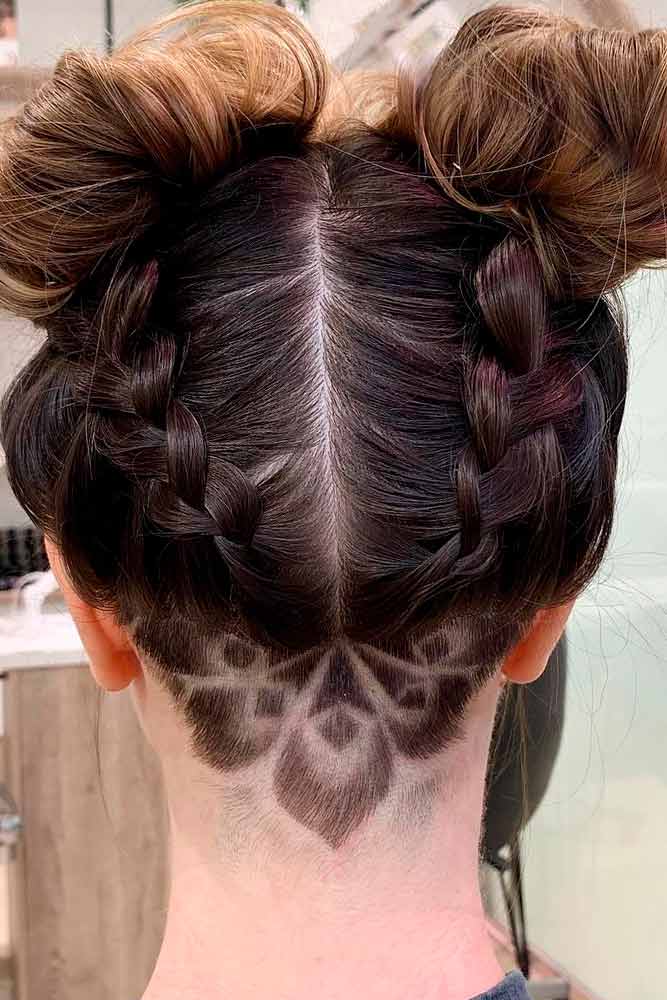 Credit photo: instagram.com/hairmastertanya
How about you to think of an undercut as a dimensional extension of your hairstyle? Just like any other women, an undercut has its gentle, cute, and feminine side. Moreover, it will be there for you whenever you want to create an authentic girly hairstyle. This pic will get things straight: if you are about to create a textured updo featuring buns and braids, you can embellish it not with accessories but with a shaved nape design that follows the pattern of your hairstyle.
Layered Bowl + Undercut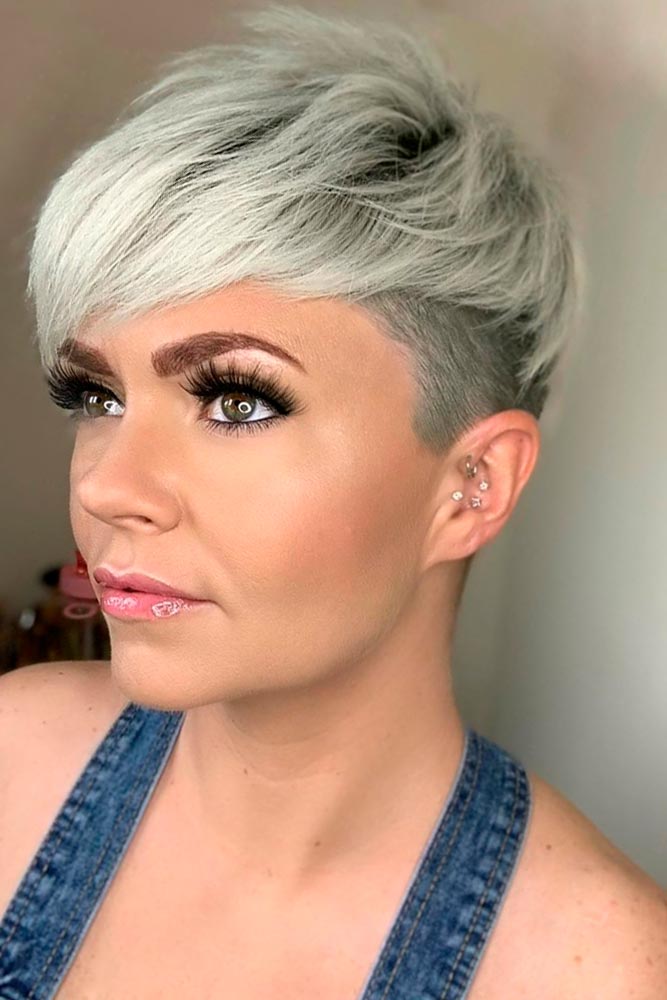 Credit photo: instagram.com/jcx28
We're not going to leave you without layers! Not today. Layers are Fairy Godmothers for all Cinderellas whose hair needs to be whipped into shape. For girls with thick hair, they make the texture softer and more manageable; for girls with thin hair, they provide volume and movement. Therefore, they will be an awesome match to your bowl undercut, as some lightness and dynamics are what the all-over fringe might miss. Obviously, some play of trendy color will only make things better!
Curly Pixie Cut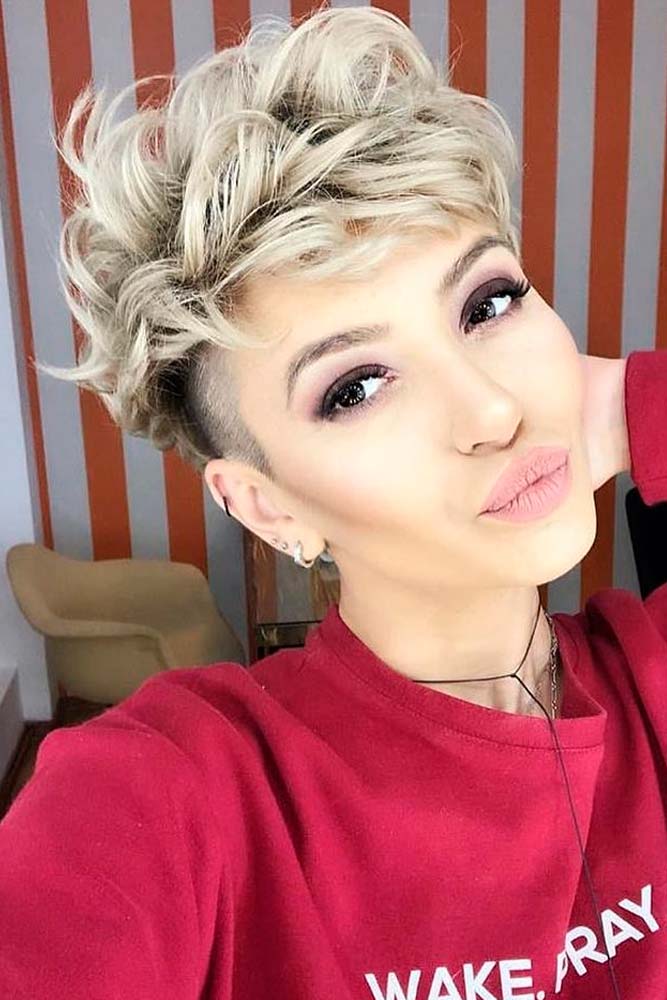 Credit photo: instagram.com/mygiulia
How to make curls stand out? You can apply tons of foams, coat your curls with salt sprays, and even sleep with a softening curl mask. But, all those manipulations won't ever beat the way an undercut amps up the curly top. We're not telling you to step aside from using products for curl definition; we're just sharing the secret of how to take them to the next level. If you opt for a faded undercut with very tight sides, you will see how much attention will be brought right to the top. Isn't that the sexiest way to pull off a pixie?
Deep Buzz Undercut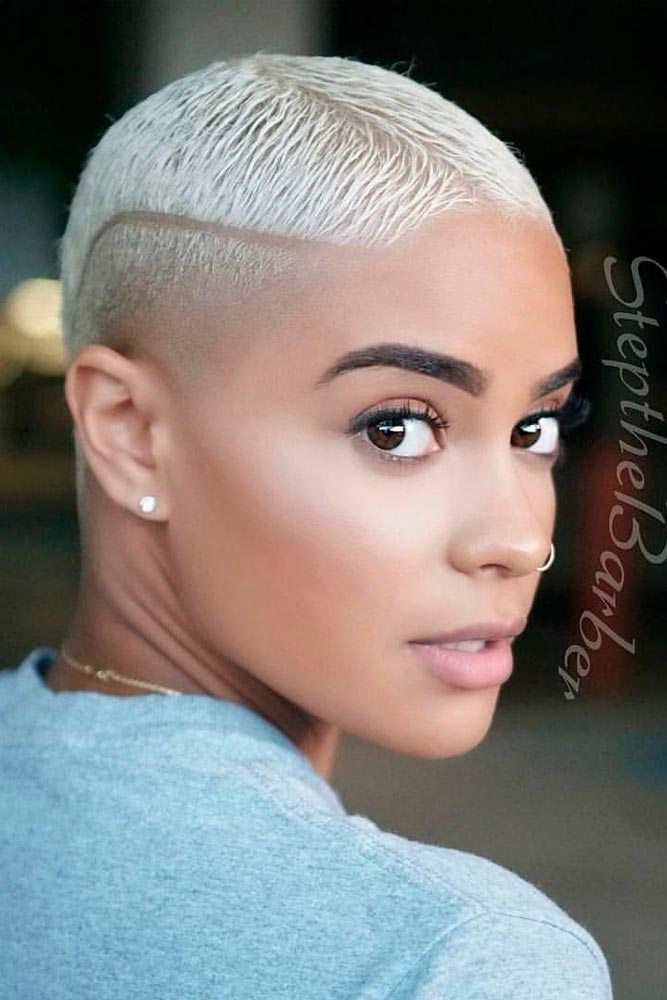 Credit photo: instagram.com/kratkovlasky.cz
While some natural-haired ladies say they're queens and their curls are their crowns, others don't need curls to show who's a queen to everyone. In other words, if you're a queen for real, nothing can hide it. As for this buzz cut, it can even emphasize it, especially if you spice it up with a whitish shade of blonde. Dyeing hair light or ever sporting it bleached is the latest thing in the fashion world of women of color. And it just so happens that the color job reaches its highest when the length is extremely short. For women, a buzz cut is a bold and glam way to keep your face open, showing your beauty and confidence to the world.
Blue Side-Parted Pixie + Undercut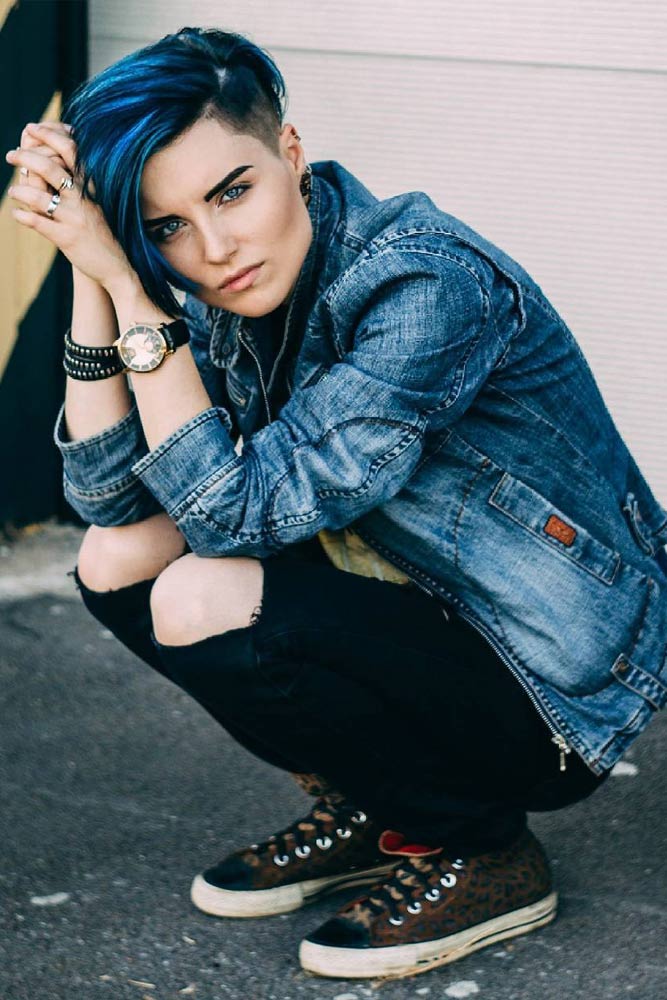 Credit photo: instagram.com/evaleenage
The color you choose to pair with your undercut pixie plays a crucial role in the whole look. In fact, the right color is key to making the haircut express your mood, no matter how punky or delicate the cut is. If you color your side-parted undercut pixie blonde or pastel, it will turn on a peaceful, delicate mode. And if you go for something more vibrant such as blue or purple, your look will be all about drama and stylish freedom.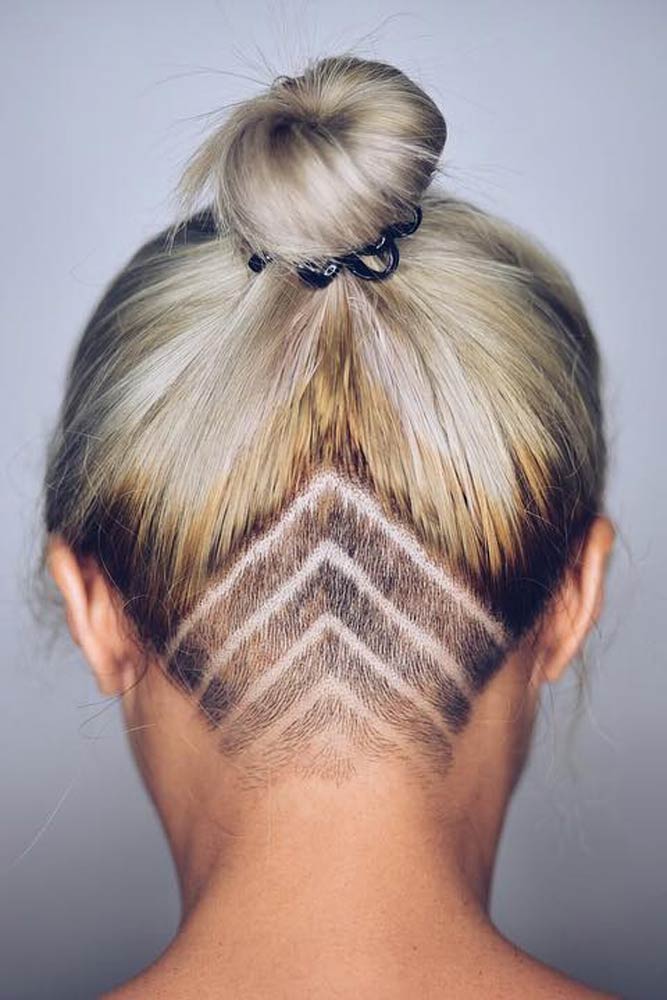 Credit photo: instagram.com/lishrawrs
On blonde hair, hidden undercuts look graceful and refined, notably on nobly pale or whitish tones. To balance out the rebellious shaved design, you can simply switch to a softer light color and put your hair into a minimalist updo. As we've mentioned already, Chevron patterns are something you won't go wrong with: they're unpretentious and different at the same time, which makes them suitable for all images.
Disconnected Pixie Undercut + Blue Layers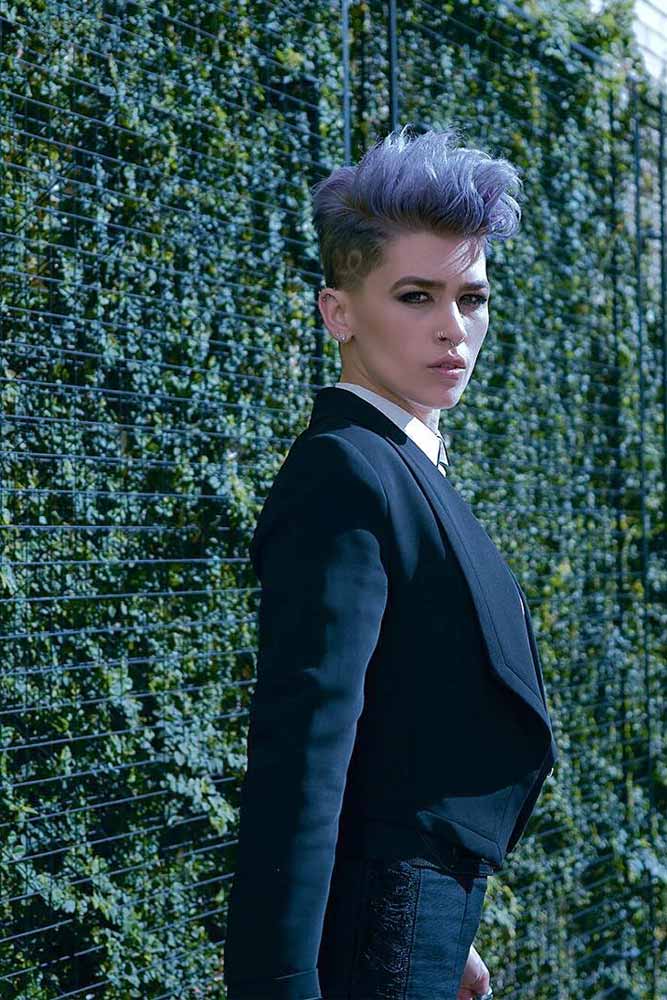 Credit photo: instagram.com/havalava
Here comes an undercut hairstyle female celebrities who are into bright changes can't imagine their life without. Pink, Katy Perry, and Rihanna were the ones who adopted the punky style, showing women from all around the globe that femininity can be different. This pixie consists of a disconnected undercut and a palette of passionate bluish tones. If undercut for women is not art, what is, then?
Reddish Hair + Lined Hair Design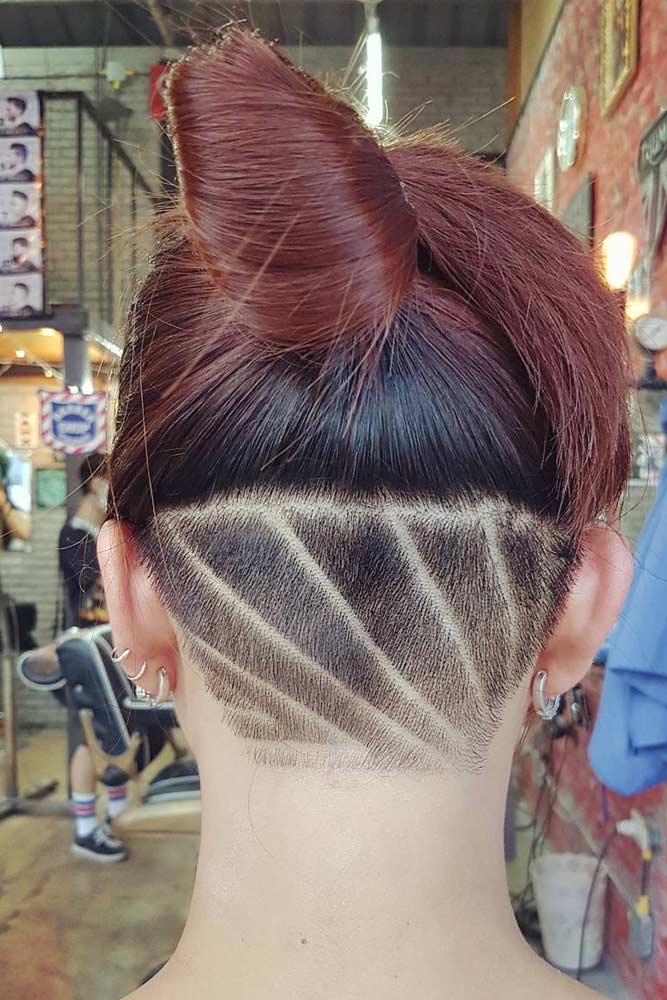 Credit photo: instagram.com/zonier
She flaunts with warm reddish hair that burns like fire in the night once the sun shines down on it. Her dark roots seamlessly blend with the red tone, creating pleasant dimension and dynamic movement to her locks. When she puts her astonishing mane up, she reveals a hidden lined hair design that makes everything clear: she's special'. And that's only the beginning of how people will describe passing you by if you recreate such a splendid look!
Celebrities with Undercuts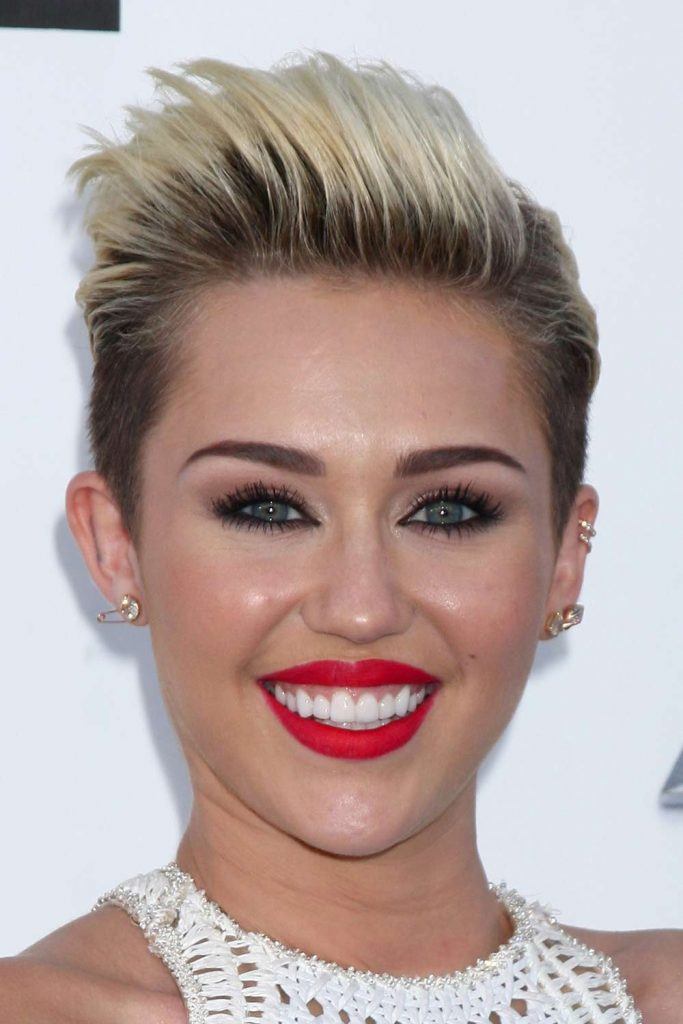 Credit photo: Kathy Hutchins/Shutterstock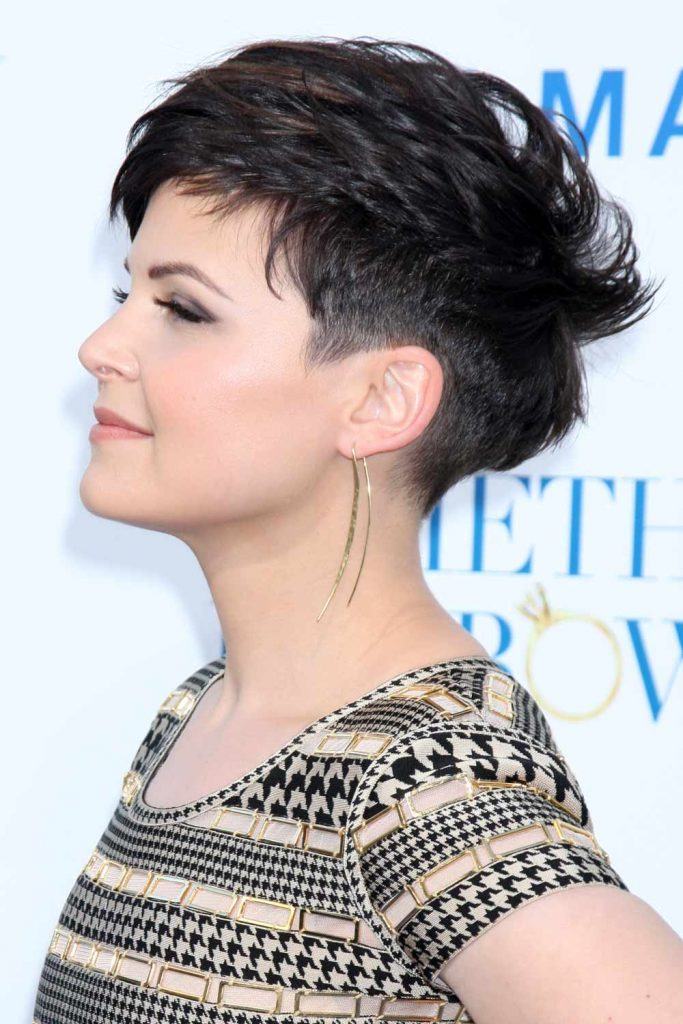 Credit photo: Kathy Hutchins/Shutterstock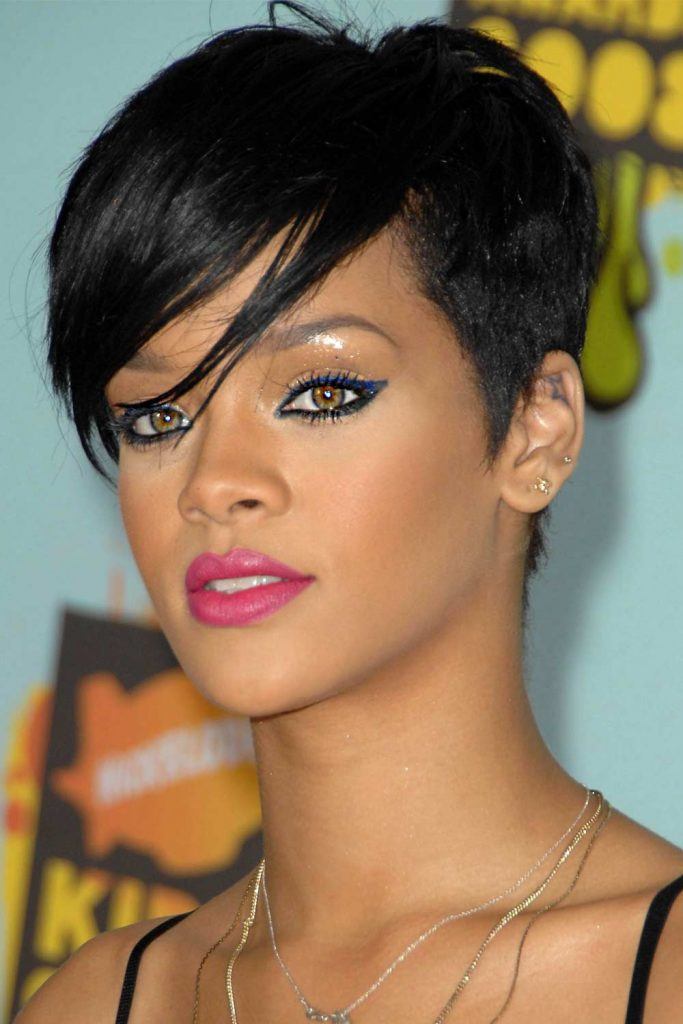 Credit photo: Everett Collection/Shutterstock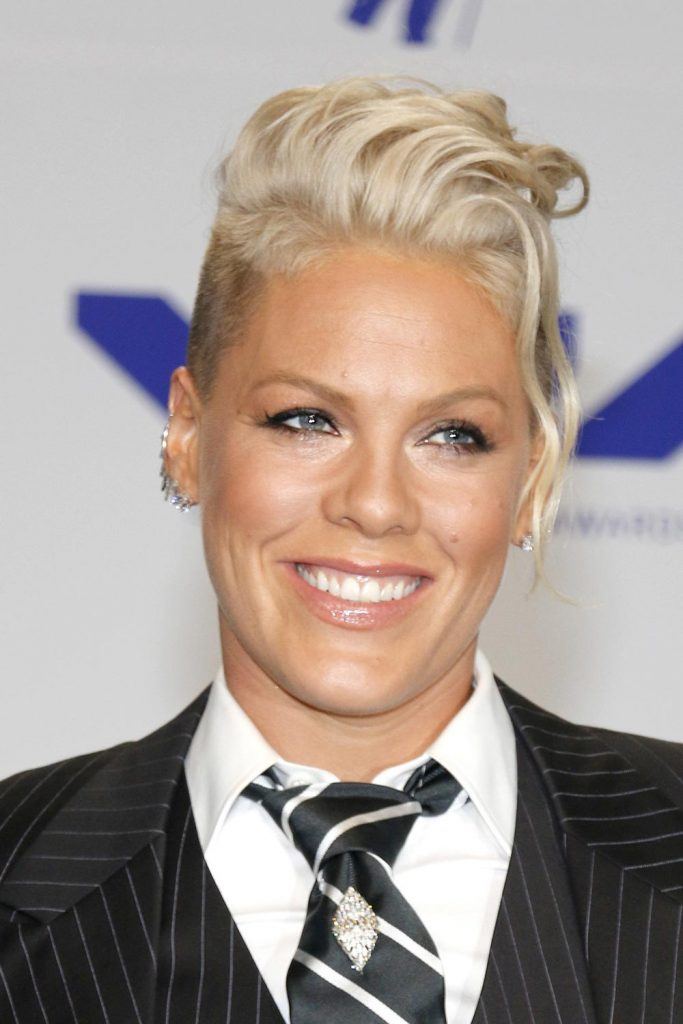 Credit photo: Tinseltown/Shutterstock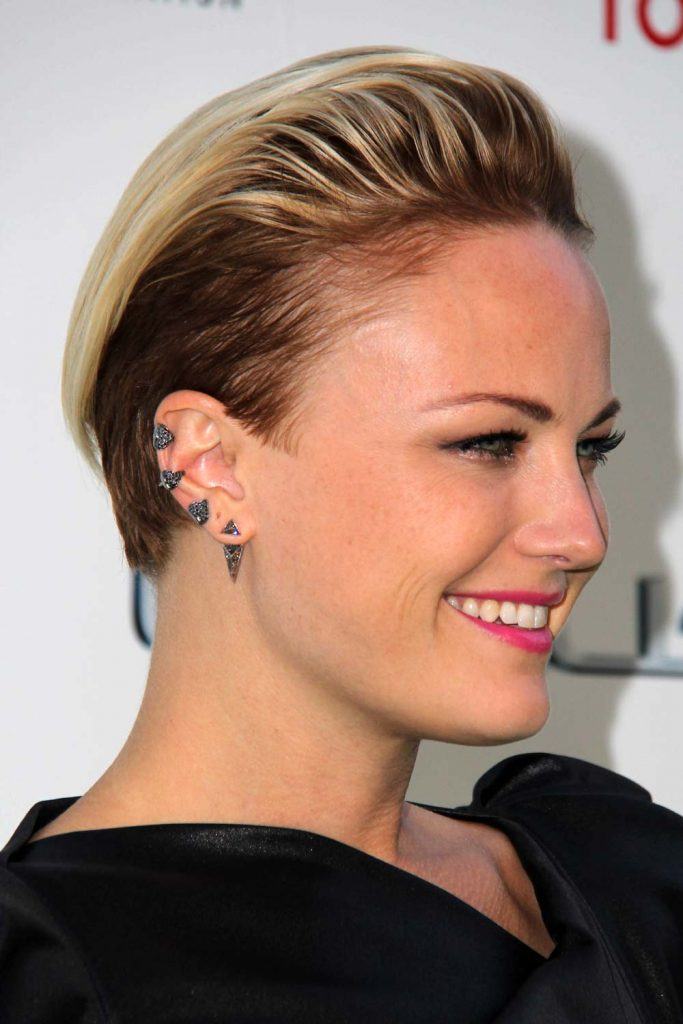 Credit photo: Kathy Hutchins/Shutterstock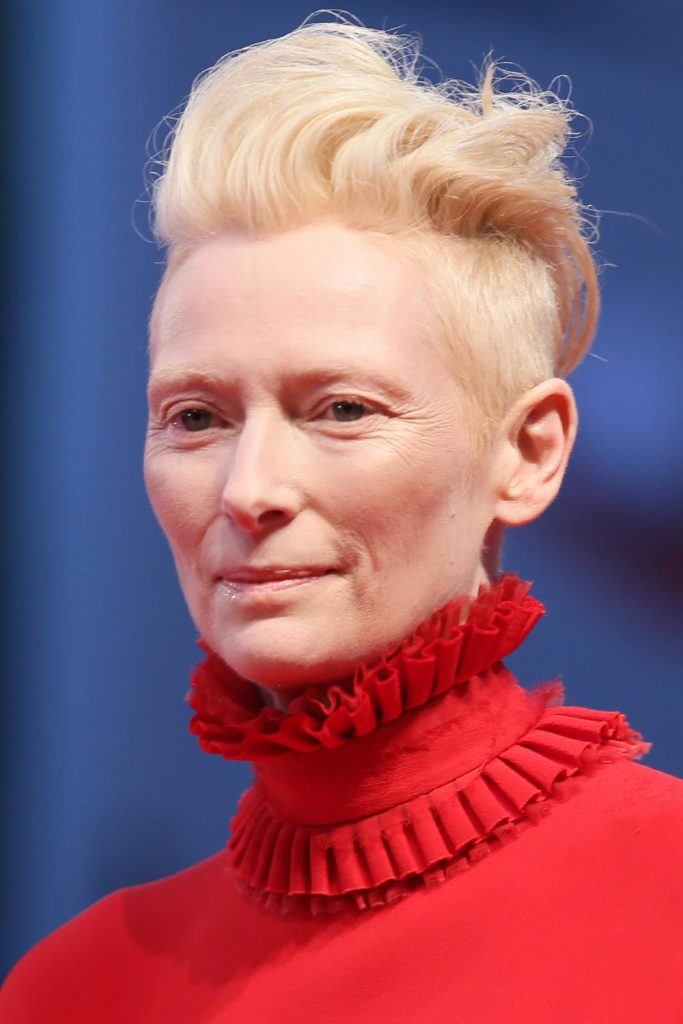 Credit photo: Denis Makarenko/Shutterstock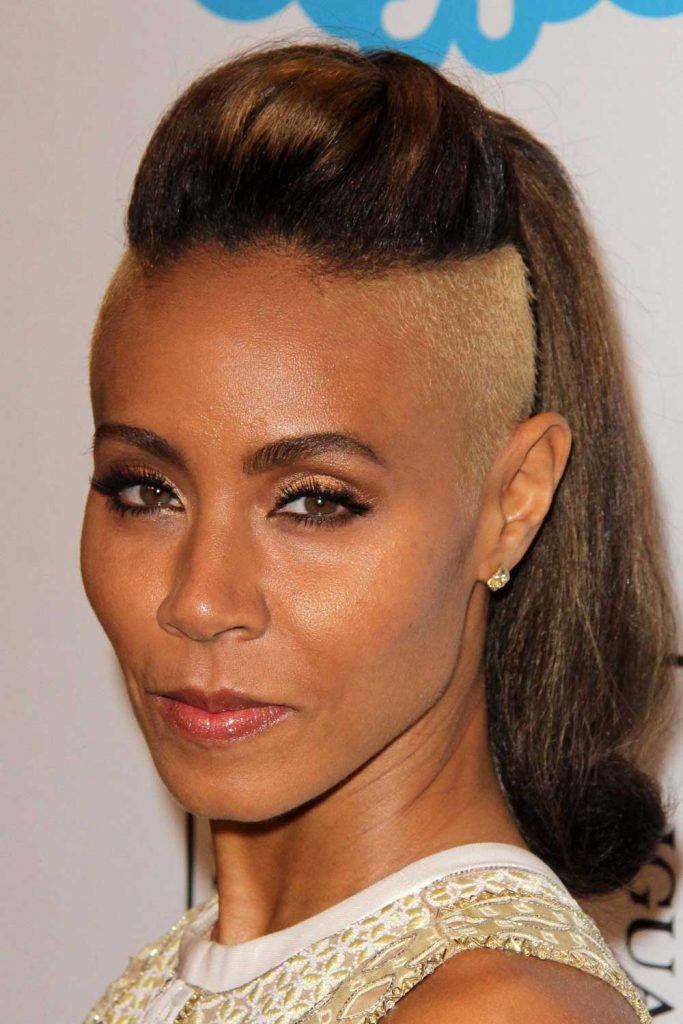 Credit photo: Kathy Hutchins/Shutterstock
FAQ: Undercut Women
Are undercuts hard to maintain?
You need to trim it every 2 – 4 weeks, depending on how fast your hair grows, otherwise the fuzzy little hairs on your neck just stick out everywhere.
Often people will only get their sides and back trimmed, leaving the top untouched for a few months.
On the other hand, your style changes slightly as your hair grows out which allows you to experiment with your looks.
How long does it take for an undercut to grow out?
The American Academy of Dermatology says that hair grows about 1/2 inch per month on average. That's about 6 inches per year. The next question is how radical us your haircut.
If you have really short hair and your undercut is of a softer design, it should only take you a few months to grow out. On the other hand, If you have very long hair, it can take up to two years for lengths to match up.
Will an undercut make my hair look thinner?
It is actually a great haircut for thin hair as it makes the hair on top of your head look thicker since your sides are cut short.
If you don't mind losing some volume on your sides, an undercut is a pretty rocking hairstyle. You can try tightly braiding the part you would shave off, and see if you like the hair you have left.
REFERENCES:
* The undercut is ... the hair on the top of the head is long and parted on either the side or center, while the back and sides are buzzed very short.
Source
* See the best women's hairstyles and haircuts for 2020. Find the perfect look with our expert advice and photos for your next salon visit.
Source
* An undercut is a hair style that can make an edgy statement.
Source
Was this article helpful?