Women from Afro-American region often struggle with stylish hairstyles for their natural curly hair. They either experience difficulty styling their hair or lack the length for natural hairstyles. They also may have extremely brittle and dry hair as a result from experimenting with numerous styling procedures and products. In some cases, the best solution is simply to get their hair cut shortly so they can start fresh with new and healthy hair growth. In the meantime, they are faced with the dilemma of trying to figure out how to come up with stylish and natural hairstyles. Have no fear; there are plenty of cute and stylish options for short and natural hairstyles.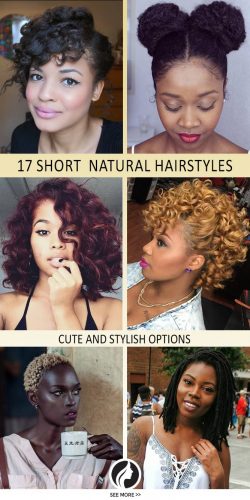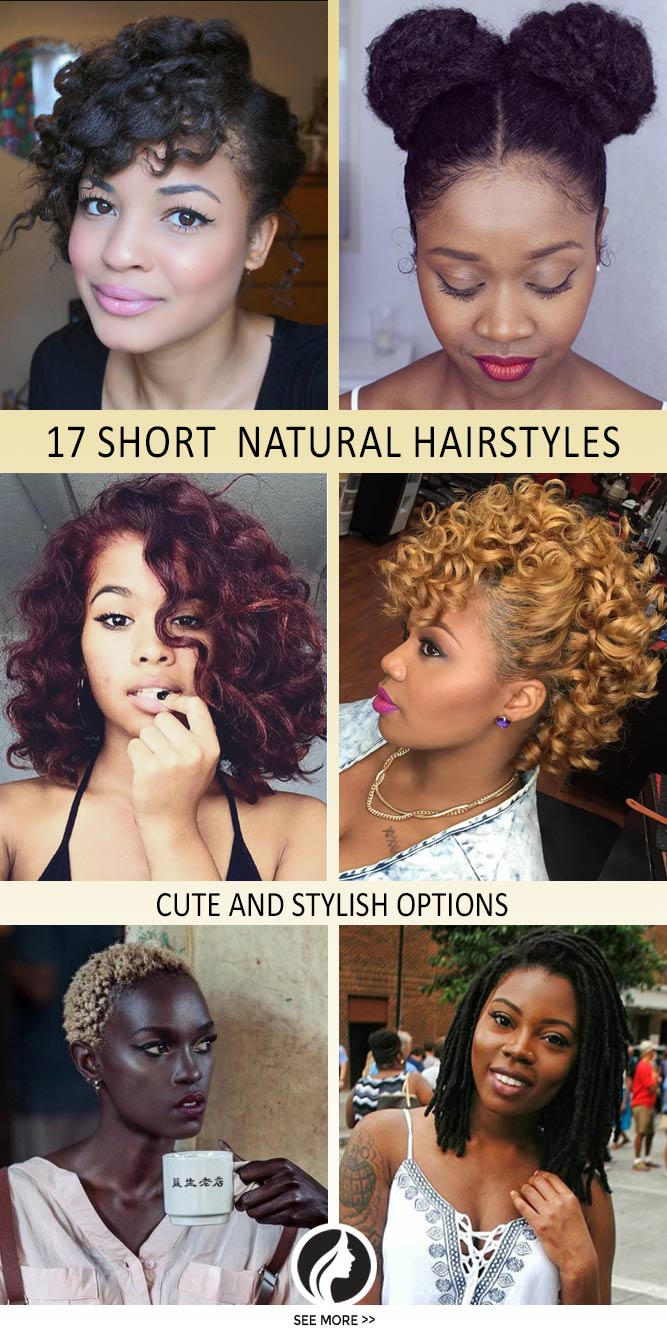 Finger Coils: This hairstyle requires your hair to be healthy and shiny, and avocado hair mask can help you achieve it. Finger coils are an excellent option if you are looking for a short hairstyle with lots of texture.
Twists: Twists add natural volume and look stylish and elegant if you chose to wear them loose or in a fancy updo.
Puffs: It is a variation on the standard bun. If you incorporate variations of braids and twists into your puff hairstyle, you can come up with some truly unique styles that are bound to catch the eyes of the crowd.
Protective Updos: They are not only classy and elegant, but they also protect your hair from the elements.
Fauxhawks/Mohawks: These two cuts never go out of fashion. They are perfect for women who like to make bold statements.
Below are some examples of the above natural hairstyles for women with short hair.
1. Afro American Frohawk
Source: Thehaircompanyusa via Instagram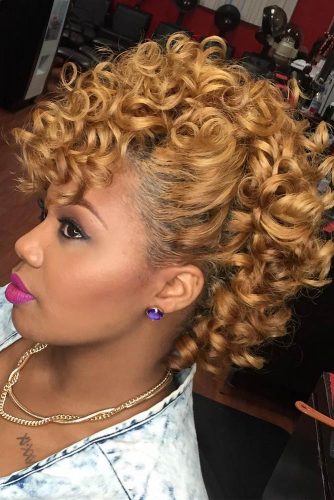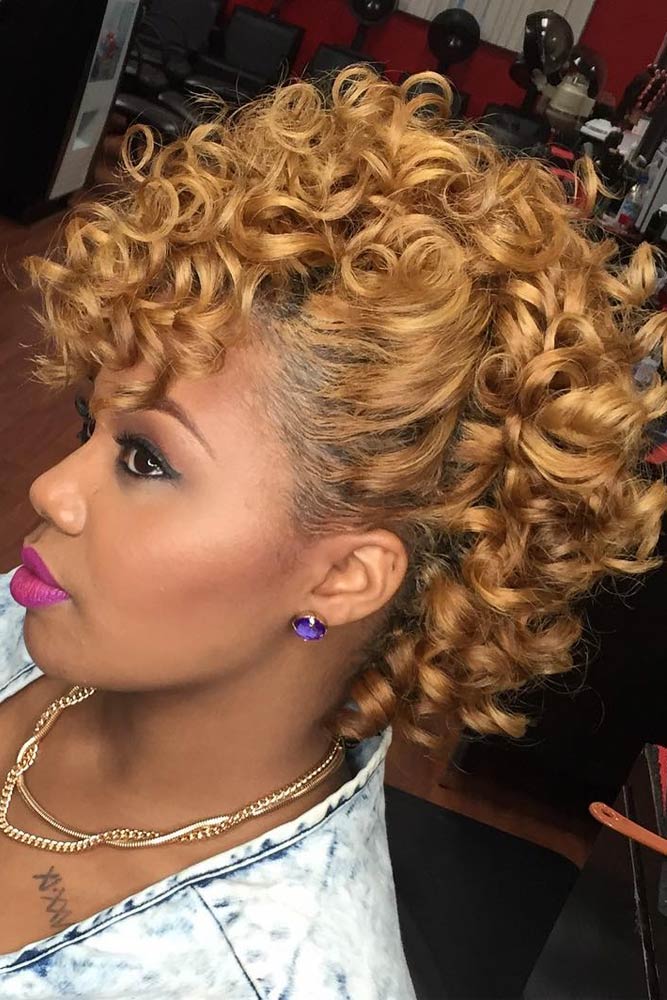 Mohawks are always a "go-to" for those who want to spice up their hair with a fun and unique look. If you are leery of making such a bold statement, this Frohawk is a chic alternative to a standard mohawk. It still has the edginess of a Mohawk, without the commitment.
2. Short Twist Out
Source: Camillerosenaturals via Instagram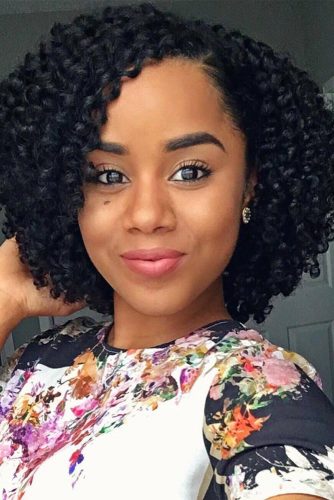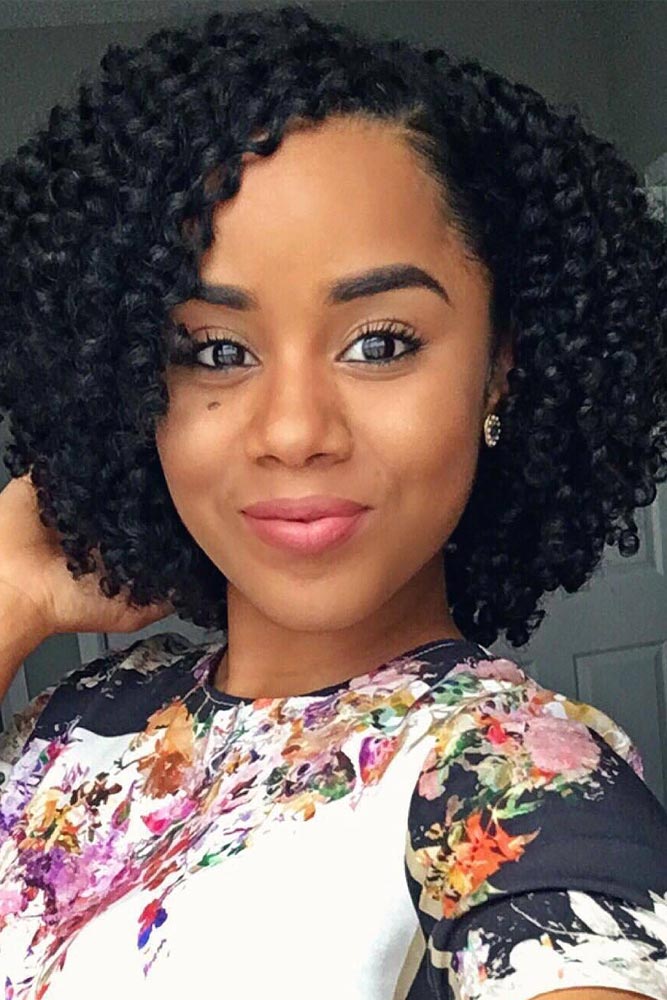 If you are tired of your everyday afro, you aren't the only one. Most women who opt for the natural look get bored with their curls and want to experiment with new styles. A twist out is a simple yet stylish solution. You can always pin one side up to add a more dramatic effect.
3. Short, Curly Hair
Source: esterlymelo via Instagram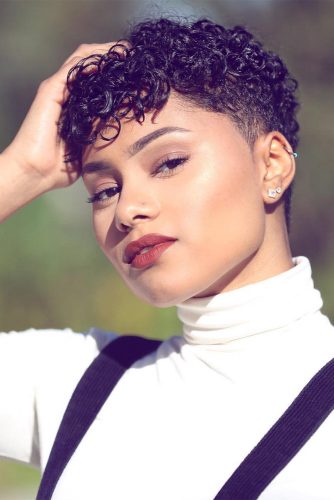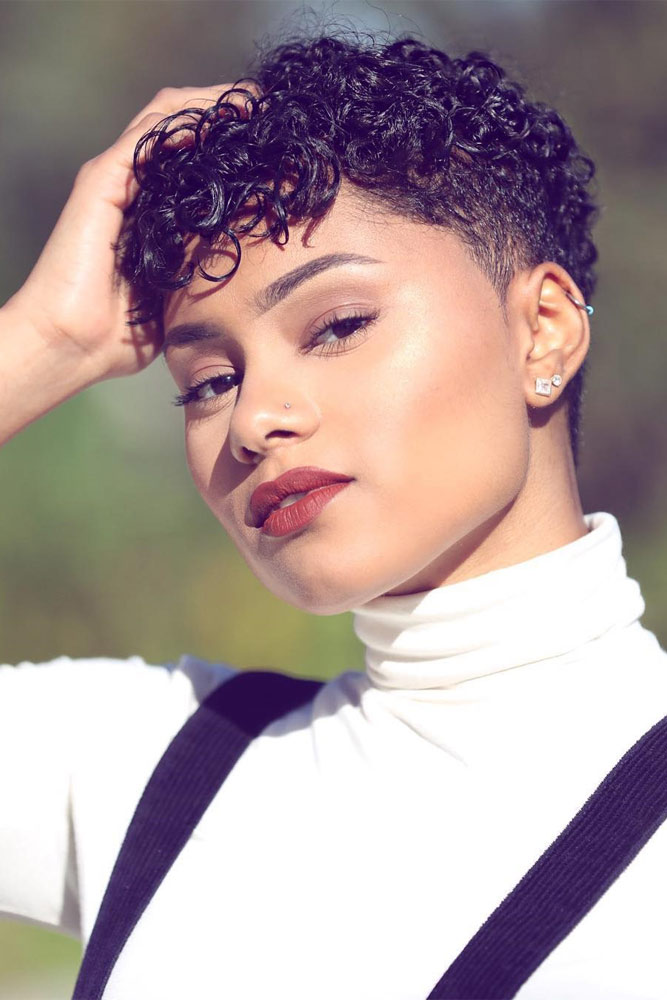 The first rule of a short and curly natural hairstyle is to use products that prevent hair loss and are made for your specific hair type and curl style and texture. But in general, curly hair is short and easy to maintain. Wash and go is a great style for those with naturally curly hair.
4. Natural waves
Source: Voiceofhair via Instagram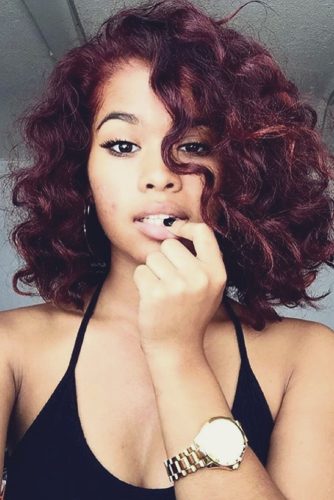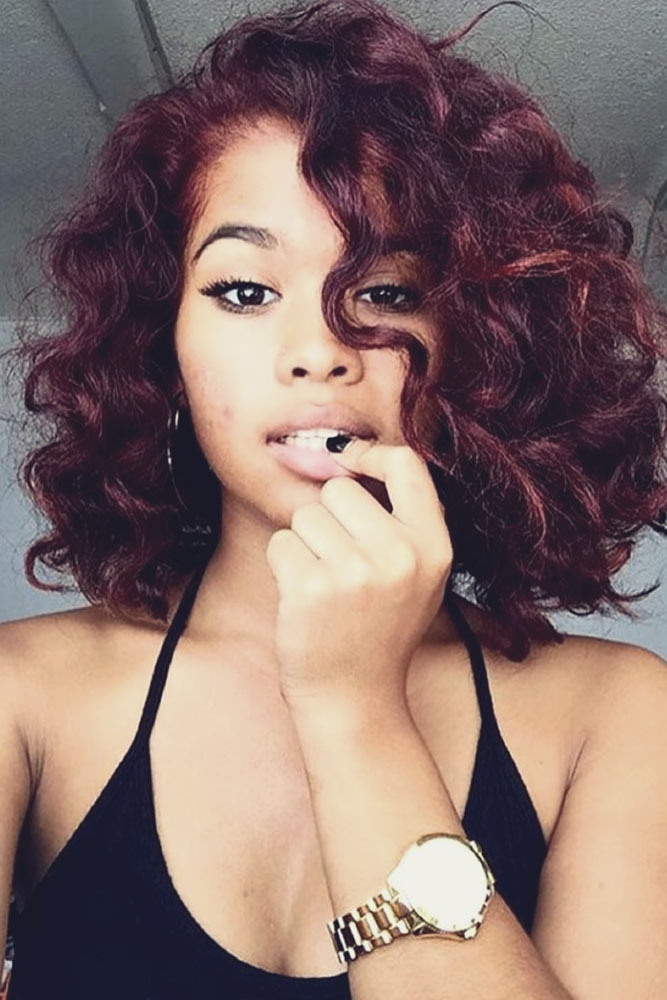 Soft waves may have been a trend in the past, but they are making a comeback with African American women. If you brush your curls it will add extra length and volume. This natural style is great for a night out on the town as it bursts with style.
5. Sectioned Mohawk with Small Coils
Source: JaszyRenea via Pinterest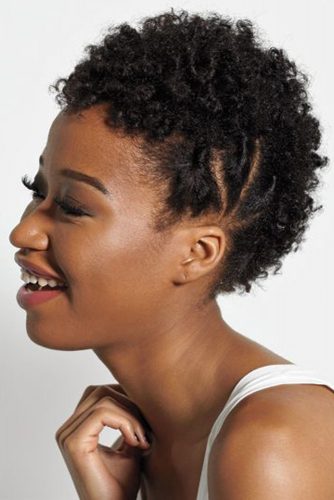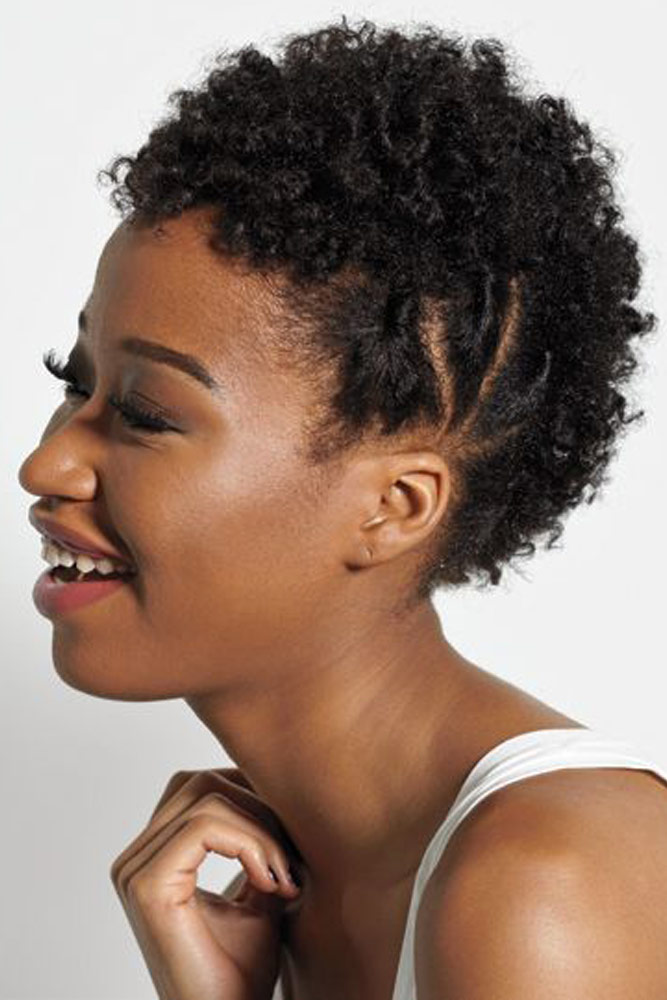 For those who can't pull their hair back into a ponytail, you can pin it into a Mohawk to keep your hair away from your face without struggling to get your shorter hair into a ponytail or bun. For a unique style, add a parted design. Or if you want to be a little more daring, add some spikes.
6. Double Bun and Braids
Source: Flawlesshairstyle via Instagram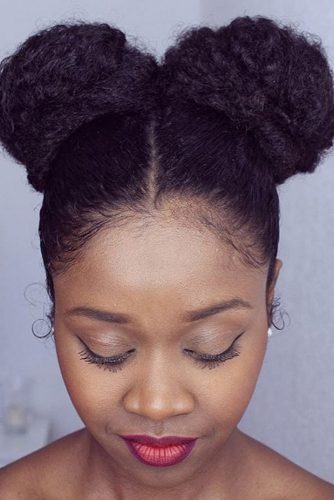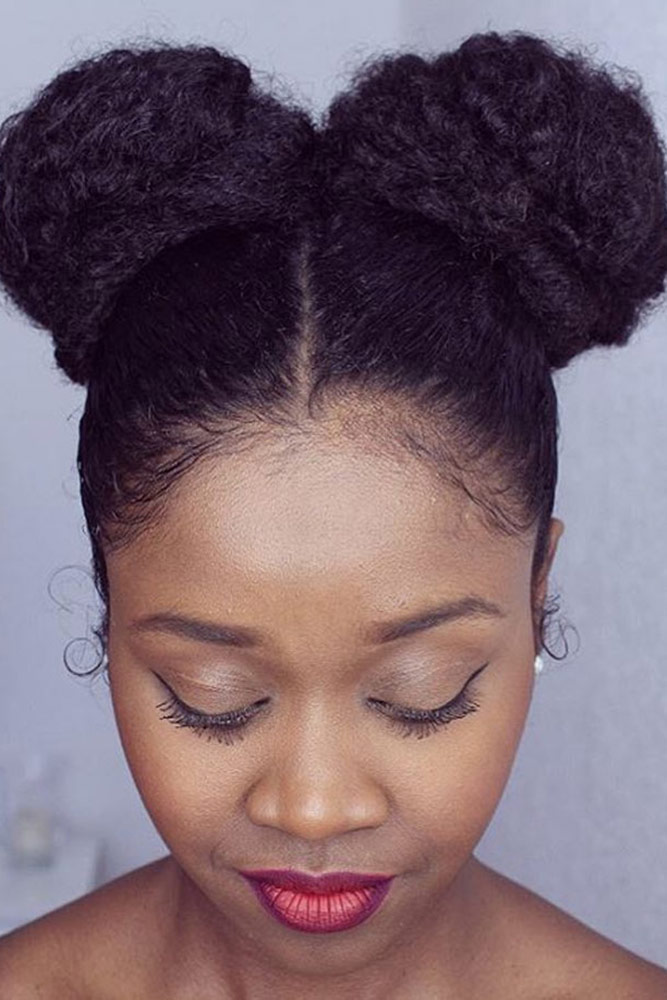 For a fun and natural updo, combine two adjacent front buns with chunky cornrows to get a stunning look. This contemporary style can easily transition from daytime casual to elegant.
7. Curly Icicles
Source: Loretta Allmon-Jones via Pinterest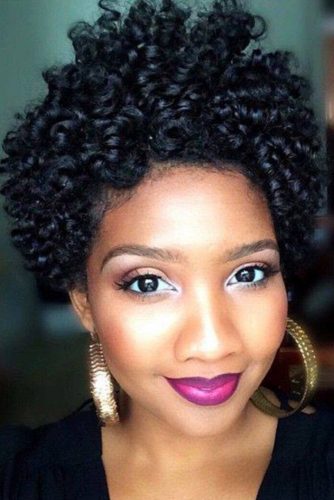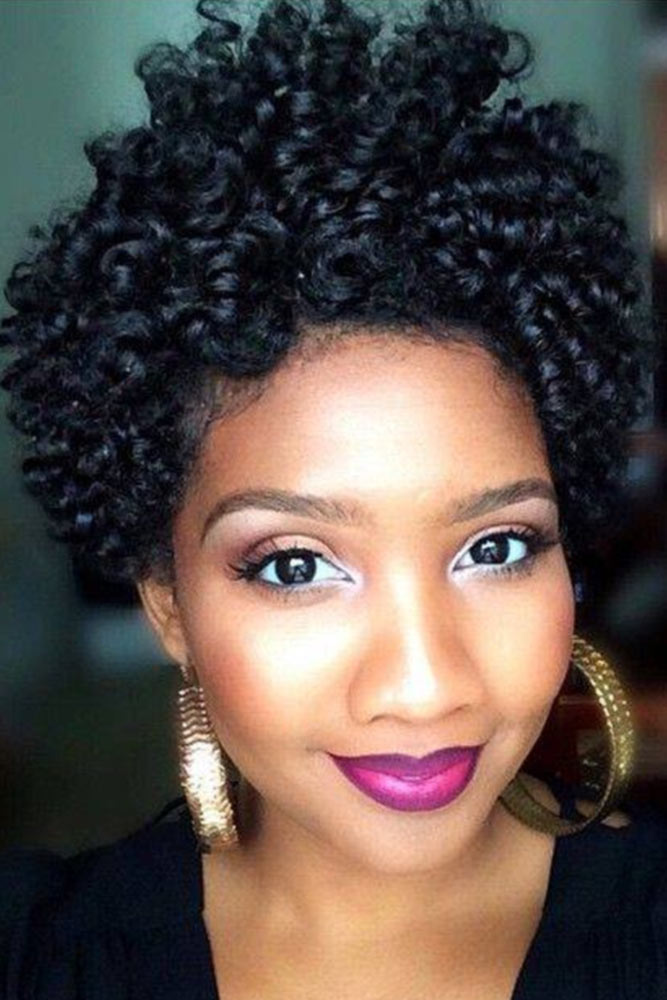 To tame unruly hair and ease excessive volume, shape your hair into firm coils. This style can be worn both casually and elegantly with random coils sticking out to express a rowdy and daring sense of style.
8. Modern and Short Hairstyle
Source: Pwittychika via Instagram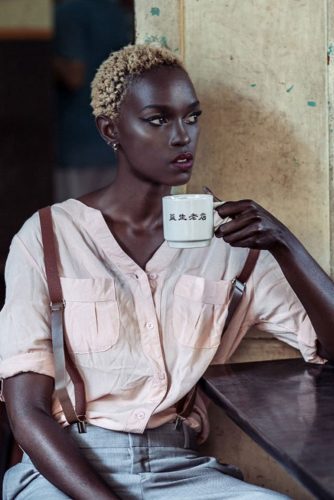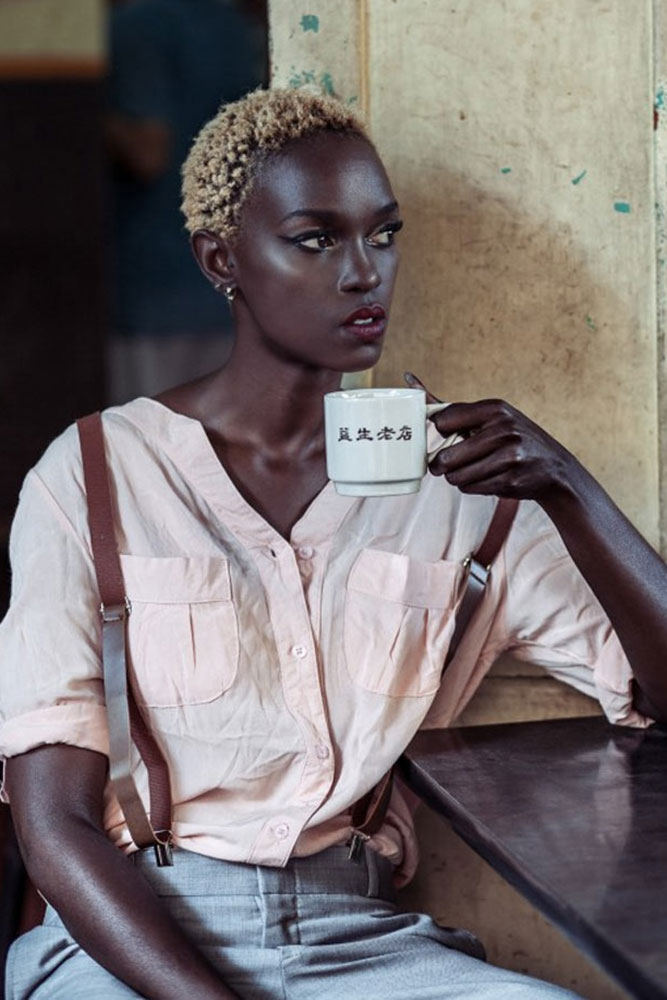 Honestly, very short hair leaves little room for inconvenience, and requires little to no maintenance or styling time. Those with the right-shaped face for short haircuts can rock this short and sassy style with little effort.
9. Sophisticated Twists
Source: Sashabasha2 via Instagram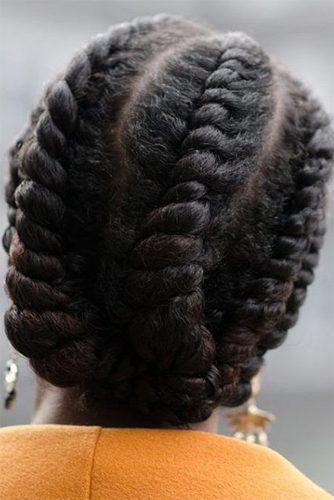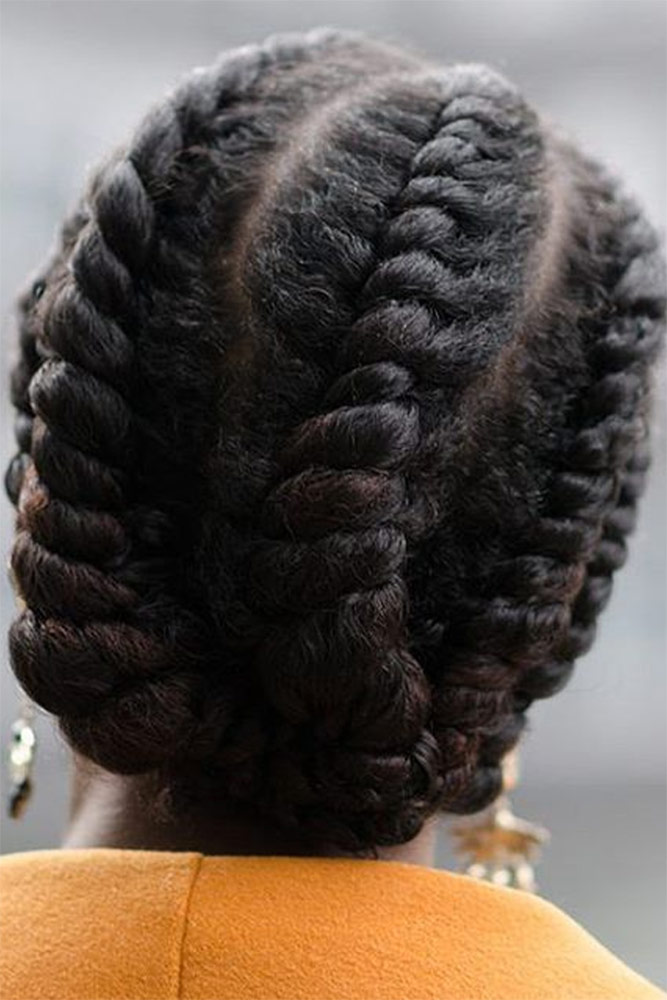 This hairstyle is both sophisticated and protective, yet is quite easy to master. Its simple twists of varying thicknesses simply twisted together and steered over to one side.
10. Sleek Finger Coils
Source: askproy via Instagram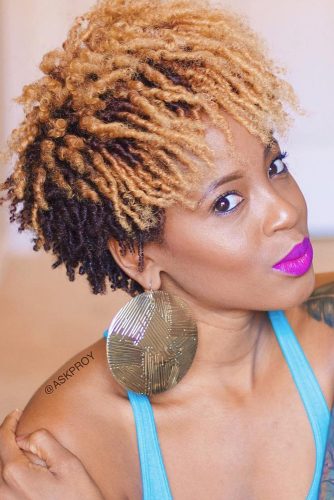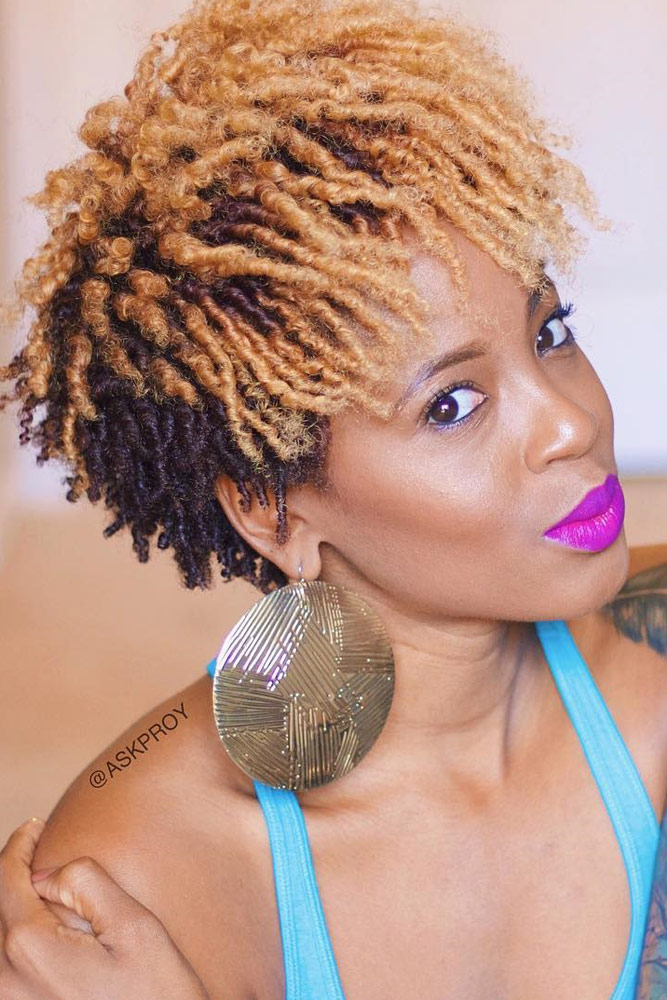 Glossy finger coils combine both charm and carelessness for an air of grace. You can add pastel flowers to make your dark hair and facial features pop. Why not show off your gorgeous eyes?
11. Flat Twists, Asymmetrical Style
Source: Yolandaas Photography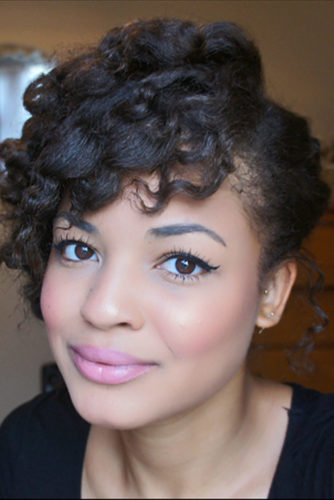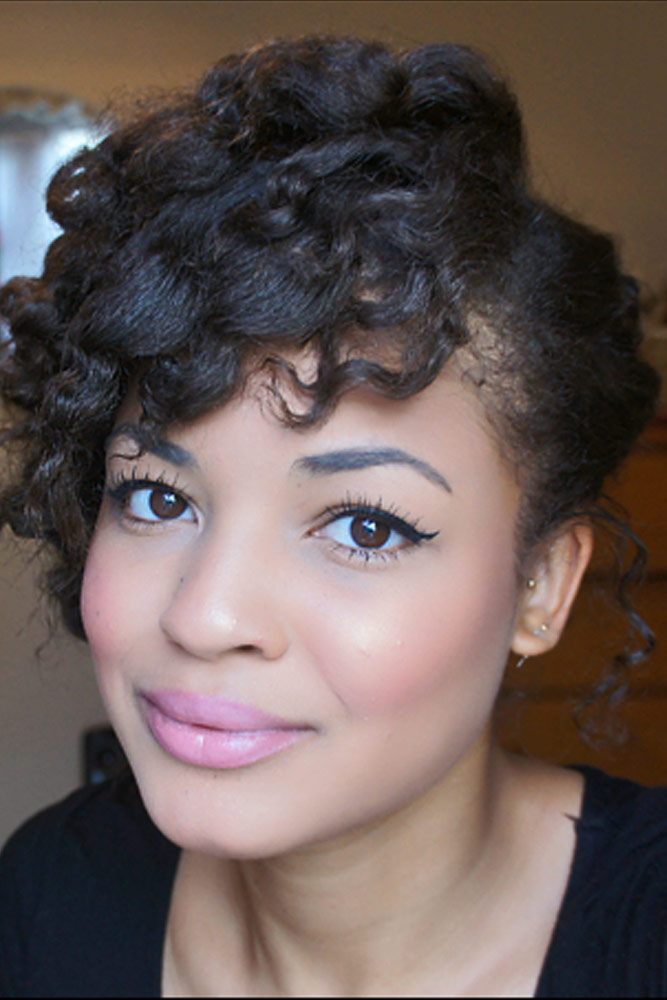 For a neat and refined look, opt for flat twists. Keep one side of your hair sleek with flat twist and guide your curls to the other side for an elegant and fun look.
12. High Bun with Thick Short Curls
Source: zoeallamby via Instagram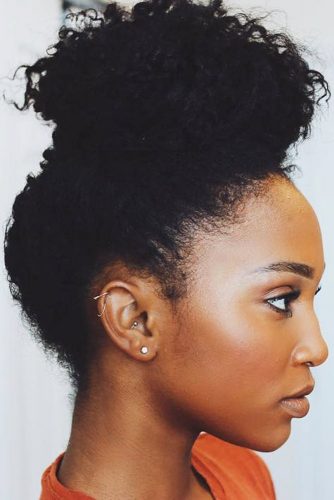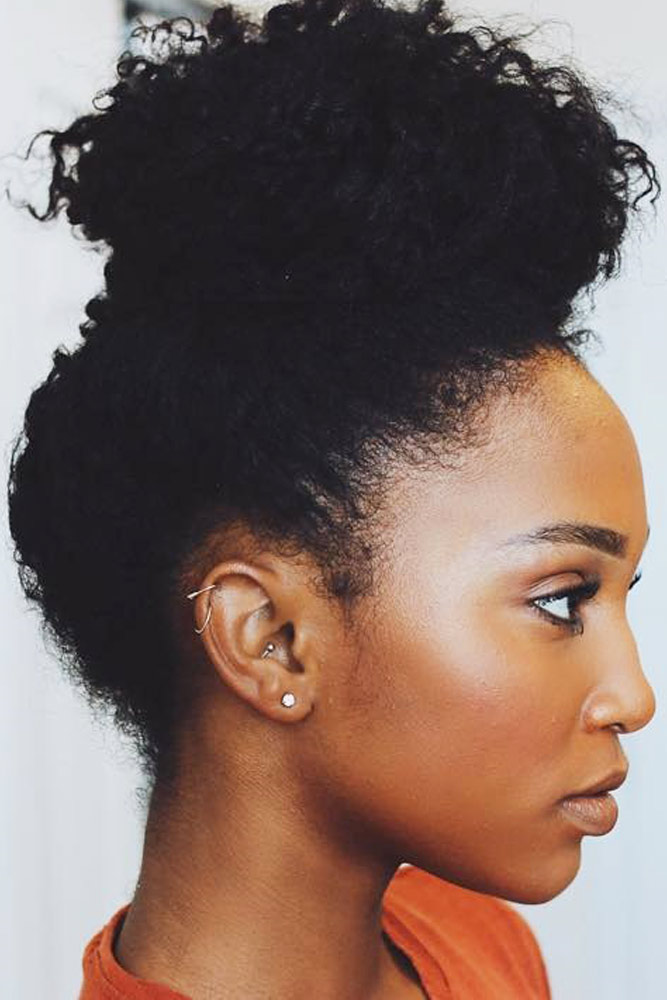 The bun never goes out of style for an elegant and trendy everyday look. This style works great for those who have curly, thick hair. Leave a few loose, messy pieces to add some attitude.
13. Layered Curls
Source: Heygorjess via Instagram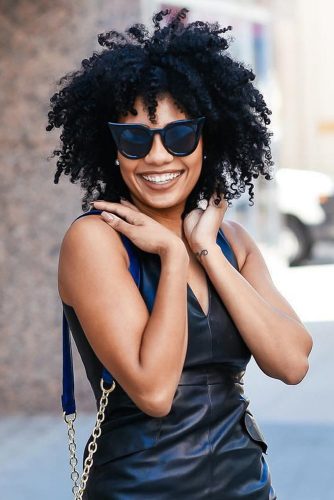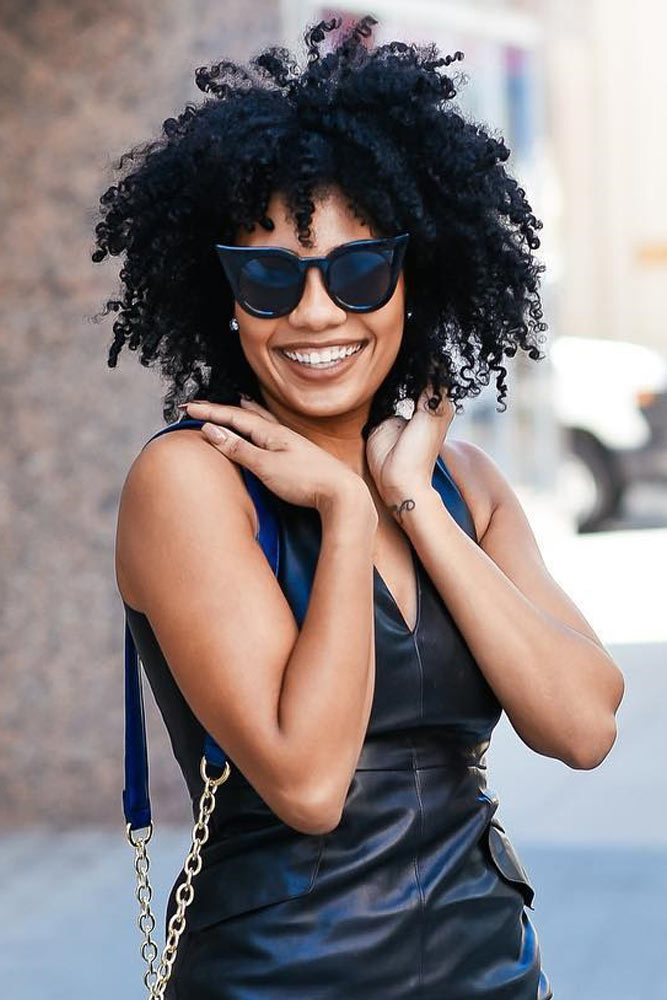 If you want your short curls to have more life, have them layered to make them look natural and add some bounce. A jet black color will add definition to curls for a simple style that fits any occasion.
14. Individual Braids
Source: Porshaparadise via Instagram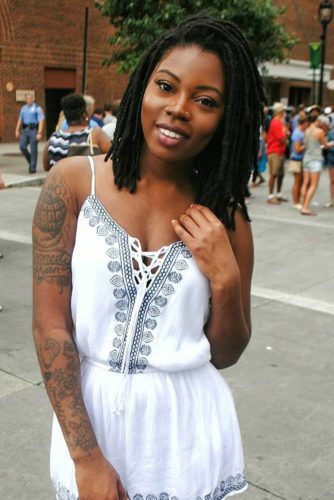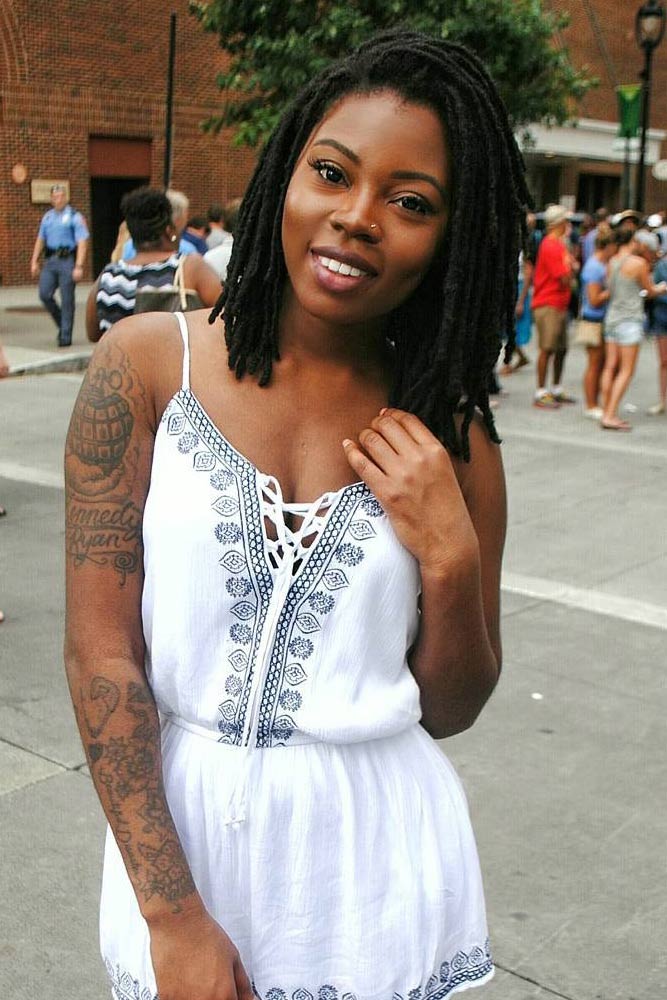 If you are looking for a go-to protective style, braids are more versatile than twists and flat cornrows. Add a cute accessory like a thick hair-band for those with shorter hair. You can rock this style year-round.
15. Flat Twist with Twist Out
Source: Sashabasha2 via Instagram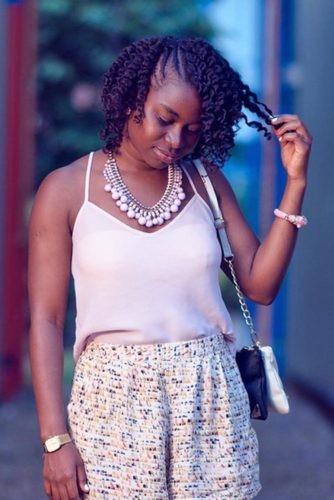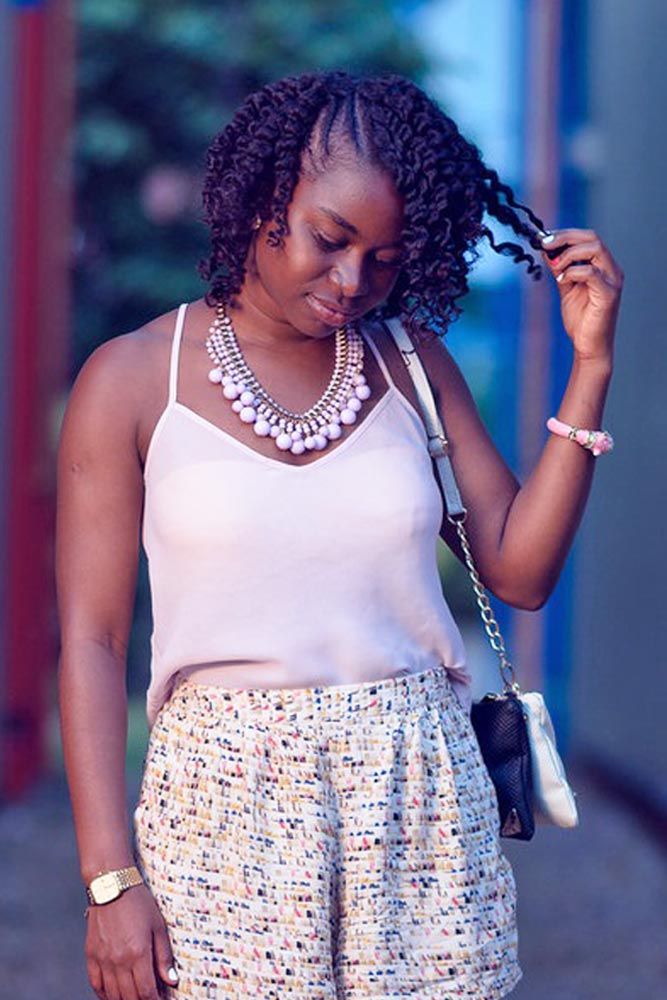 The twist out is an easy way to style short hair without the use of heat. Naturalists who want a protective style opt for this low maintenance hairstyle that can even be slept on without messing up the curls. This hairstyle is also a great way to protect the edges of your hair from breakage.
16. Short and Curly Hair with Closely Clipped Sides
Source: Ayinniya_ via Instagram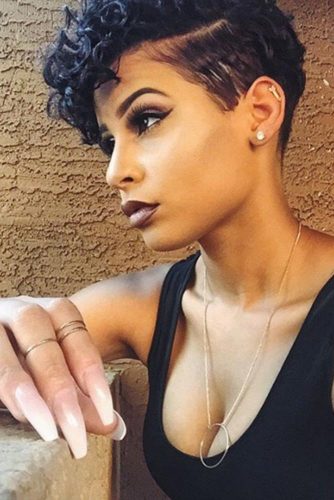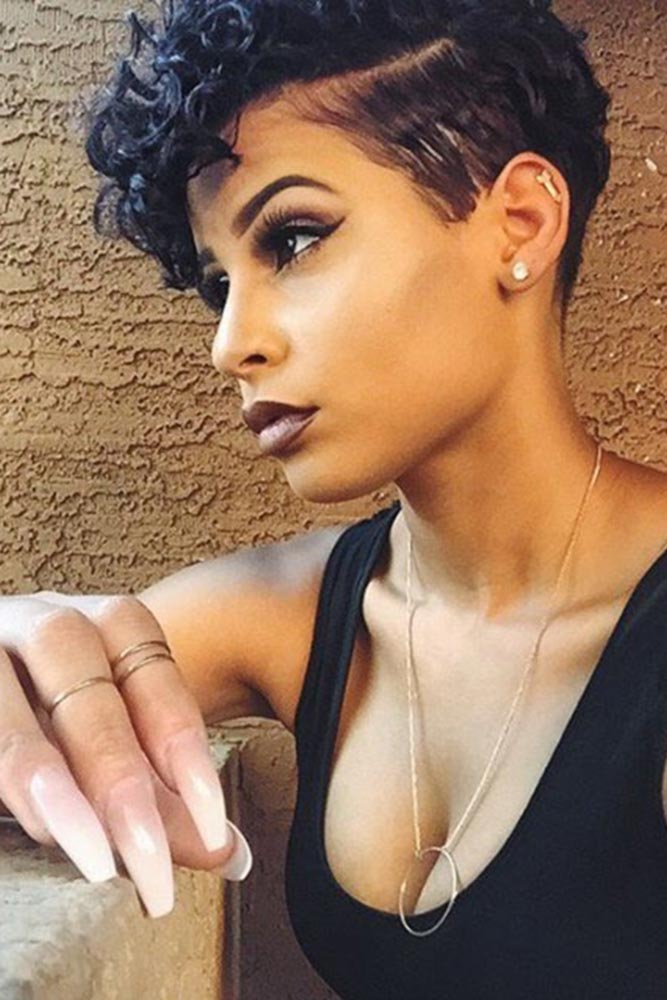 If you want to show off your confident and sexy side, this wild and curly style will make a seductive statement, longer bangs in the front with tapered curls in the back adds a sense of mystery. You can rock this look on a night out on the town or on a romantic evening at home.
17. Natural Twisted Up Style
Source: Sashabasha2 via Instagram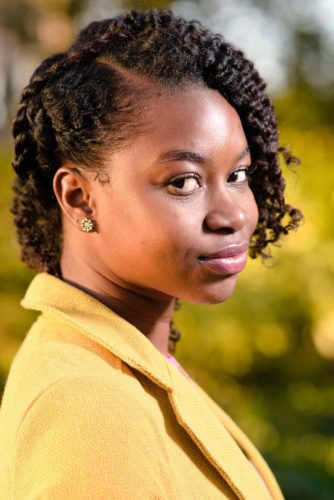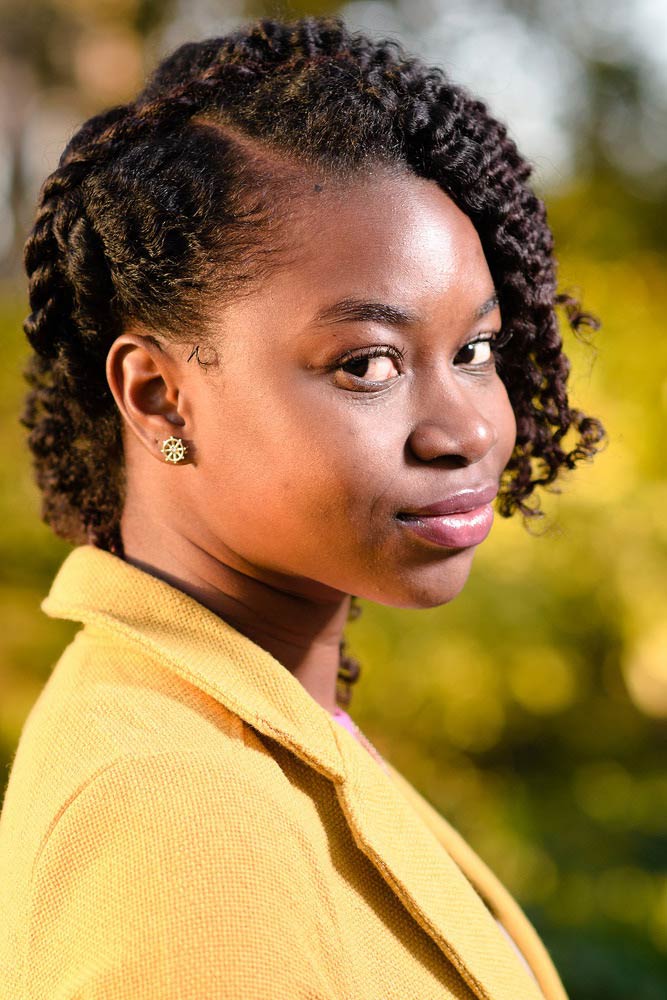 Bored of "wash and go" hair? Add a few twists along your hairline. Twists are a cute and easy hairstyle for various types of texture, as well as any length of hair. For those who are a bit wary of natural Afro American hairstyles, this is a quick and easy way to add some "oomph" to an ordinary afro.
FAQ: Natural Hairstyles
How to do flat twists on natural hair?
Tip: Spray with water, if your hair is dry.
Section your hair from the back of your ear to the other back of your ear. Do a simple braid.
Do a part on the left side following the brow bone and divide it in two. Grab the lower section and twist it inward. Pin it at the end. Repeat on the other section. Go to the right side and do the dame twists moving on to the top.
Add the ends to your braid at the back.
Do the edges and let the hair sit, tie it in a scarf.
You can attach a puff drawstring ponytail at the back.
How to make your curls looser?
Wash your hair. Split your hair into four sections and rake a curl cream through them with your fingers.
While drying, stretch your curls and put the diffuser on top.
Lastly, let them air dry.
Was this article helpful?