Top Layered Bob Haircuts
If you still haven't tried any of the layered bob haircuts, maybe it's the right time to do so. Such haircuts look modern yet stylish, classy yet trendy.
Depending on your face type, you can go either with long layered haircuts or short ones. You can always seek advice from your stylist to decide which haircut will suit you the best.
Layered haircuts will surely add some spark to your overall look making it more interesting and gorgeous.
Main photo
Oscaroscarsalons
Classic Blonde Bob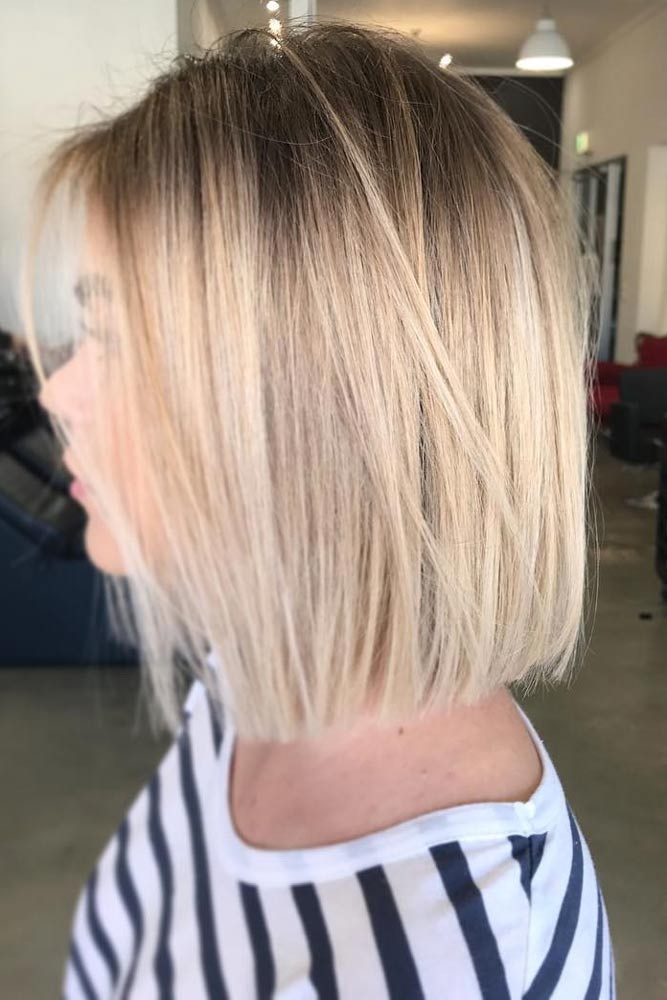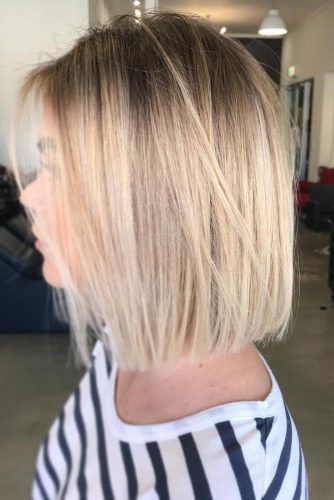 This sleek short bob will look especially good on young girls studying at the college. It looks classy yet a bit messy, and it doesn't require a lot of time for styling. Let the roots grow with your natural color to give it a more careless look: the blonde hair idea above is absolutely gorgeous due to the smooth contrast between the natural and added colors. To achieve such gentle ombre-like graduation, ask your colorist for a subtle blend in the roots area. In this way, your two-toned hair color will come out even.
Source: Kategracie_chelseahair via Instagram
Shaggy Layered Bob Haircut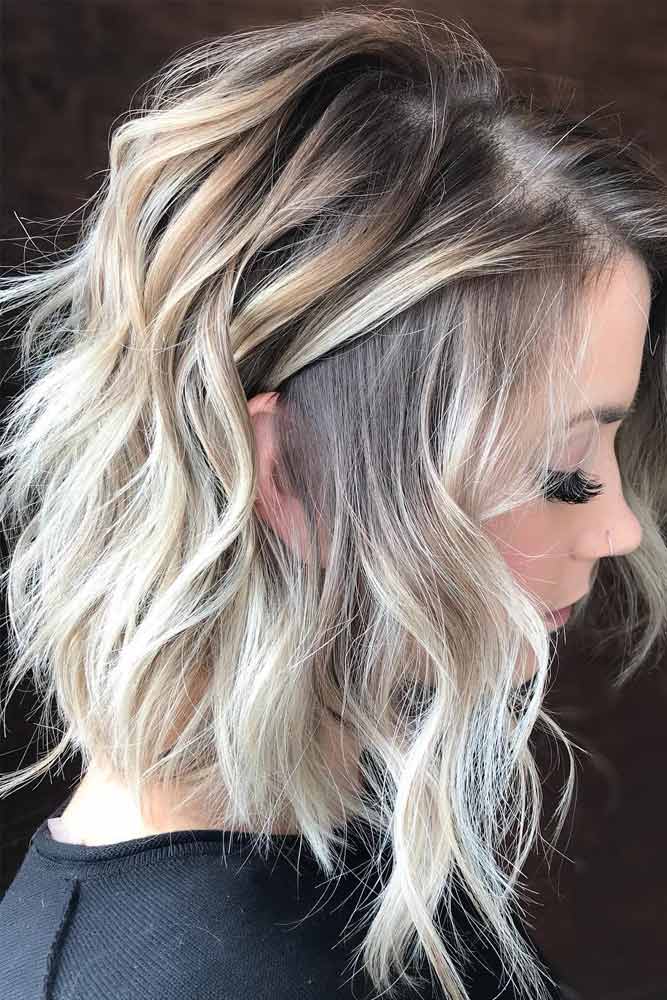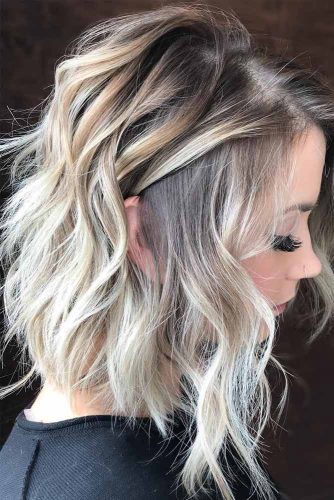 This type of haircut adds a ton of volume. With some highlights on tousled wavy hair, you'll look amazing no matter whether you are going to a party or for a walk in the park. Besides the volumetric effect, a shaggy bob can spice up your hair with pleasant movement, which, in its turn, will create a very dimensional look once it meets your color accents. Such haircuts work best for ladies with fine hair as they can enliven and lift up the weak locks.
Source: alchemyxartistry via Instagram
Messy Blonde Bob Hairstyle
Looking for an interesting hairstyle? Try this careless blonde bob and enjoy your new look! It's perfect if you have an oval face and slightly wavy hair. With a nude makeup added, you are sure to be the queen of the stage. The best thing about this messy hairstyle is that it looks unbelievably effortless and fun, which is a win-win for ladies who love looking natural. If you already have a wavy texture, give it a coat of salt spray to rock the look. And those with straight hair types can simply do the waves themselves, picking little strands and altering the direction of the iron lock by lock.
Source: chelseahaircutters via Instagram
Textured & Messy Brunette Lob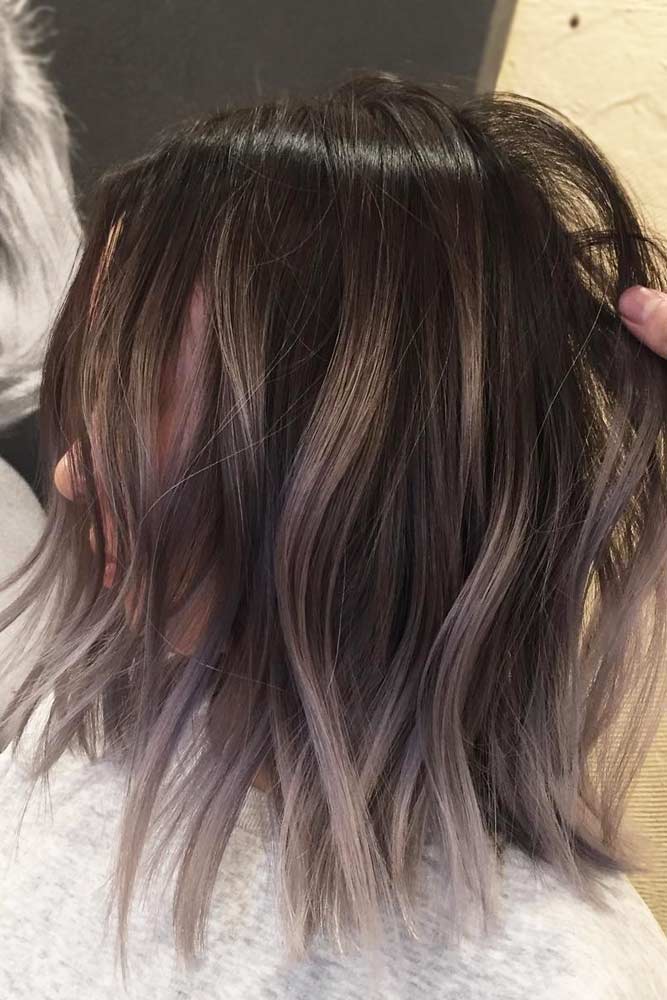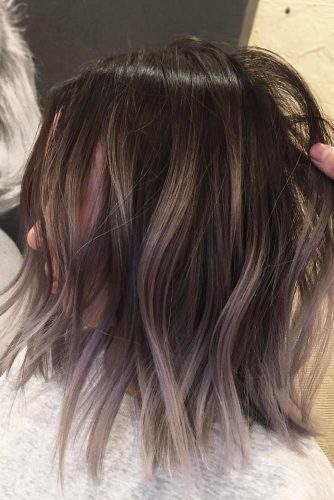 This type of long layered haircuts will look perfect on any occasion. You can wear a lob haircut at work or at the party. You can slightly wave the hair to make it look more voluminous and careless. This look is perfect if you don't want to get your hair trimmed too much and got tired of wearing long hair at the same time. Yes, lob haircuts are considered to be the happy medium between two lengths: not too short and not too long. For such a fascinating texture, you need to ask your stylist for soft texturizing at the ends. Once you got your ends lighter, any hairstyles and colors will look stunning on your cut!
Source: ans0403 via Instagram
Short Wavy Hair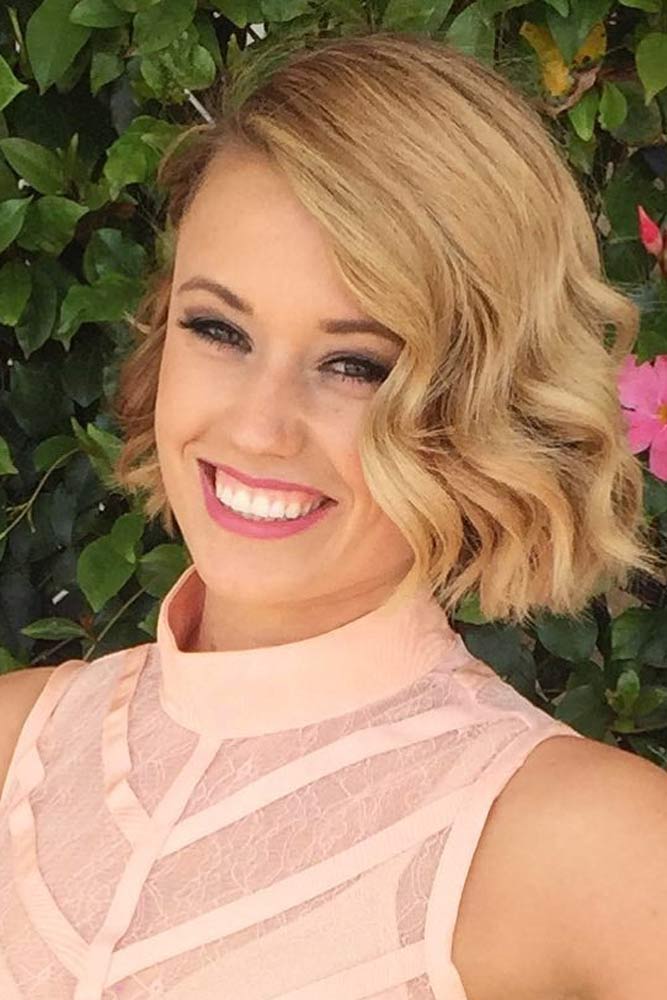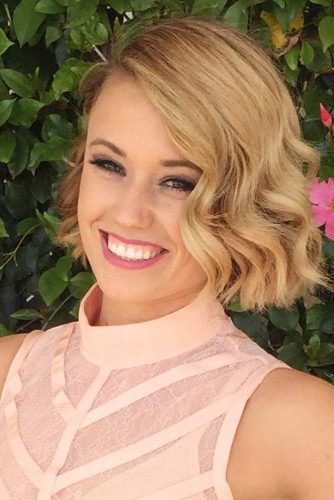 This side part hairstyle is a combination of a classy look with a bit flirtatious and messy one. If you have wavy hair, you can straighten it a bit to make your waves softer. And for ladies with straight hair, we recommend going for loose waves with one pass of a curling iron. Though it's quite a straightforward hairstyle, the way these effortless waves fall on one another make this blonde bob a look to steal. No doubts, it can complement any occasion!
Source: Sohoforhair via Instagram
Soft Strawberry Blonde Locks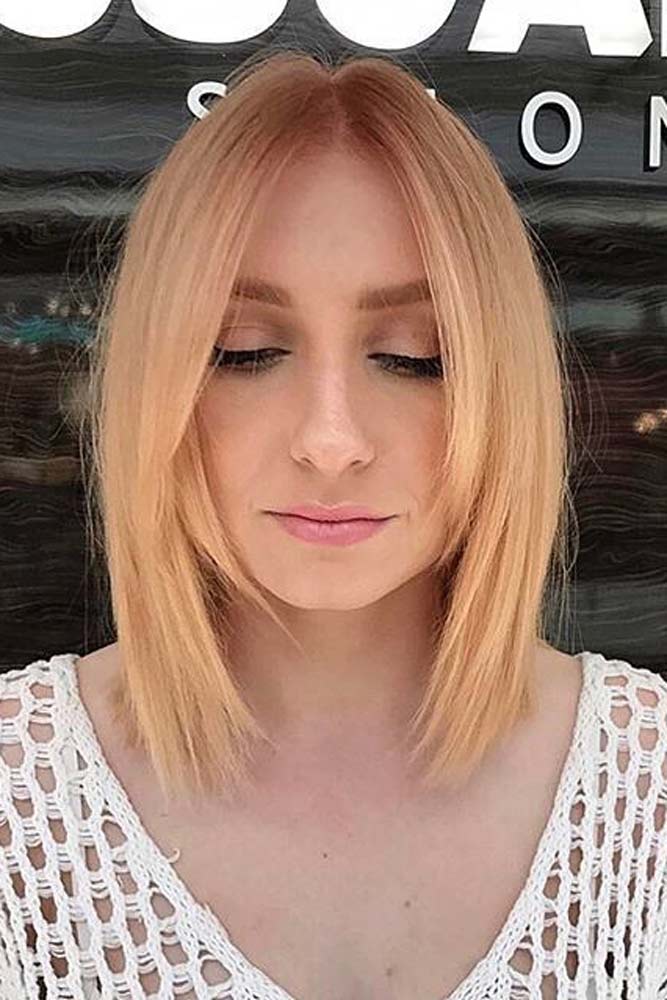 This sleek lob will bring some romanticism into your overall look. Add some soft strawberry hair color, slightly pink lipstick and beige eye shadows, and you are ready to go to Paris, the city of love and romance!
Source: Oscaroscarsalons/ via Instagram
Lovely Textured Bob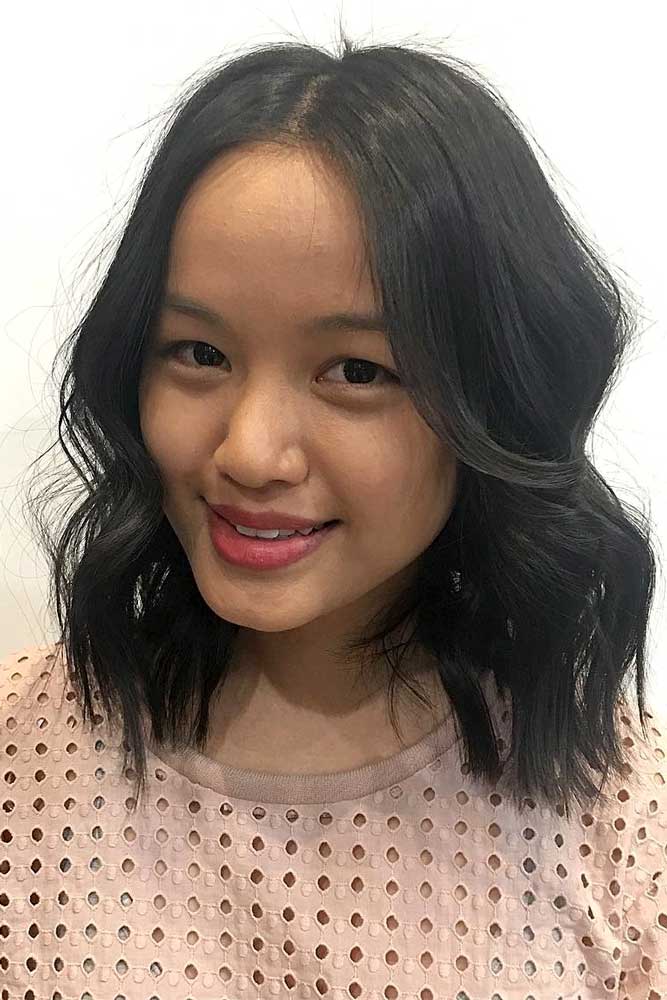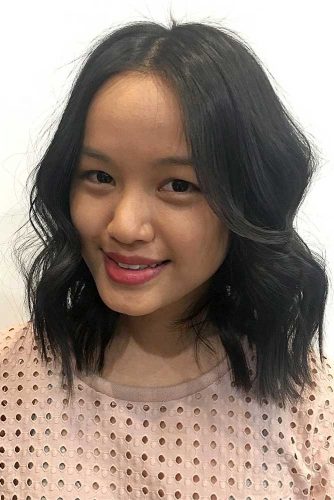 Simply nice, - this is how this haircut can be described. It will look beautiful on any woman with any face features. This is more of a classy type style, yet with some waves added, it can take a more frivolous look.
Source: Oscaroscarcarindale via Instagram
Lob Style for Long Layered Haircuts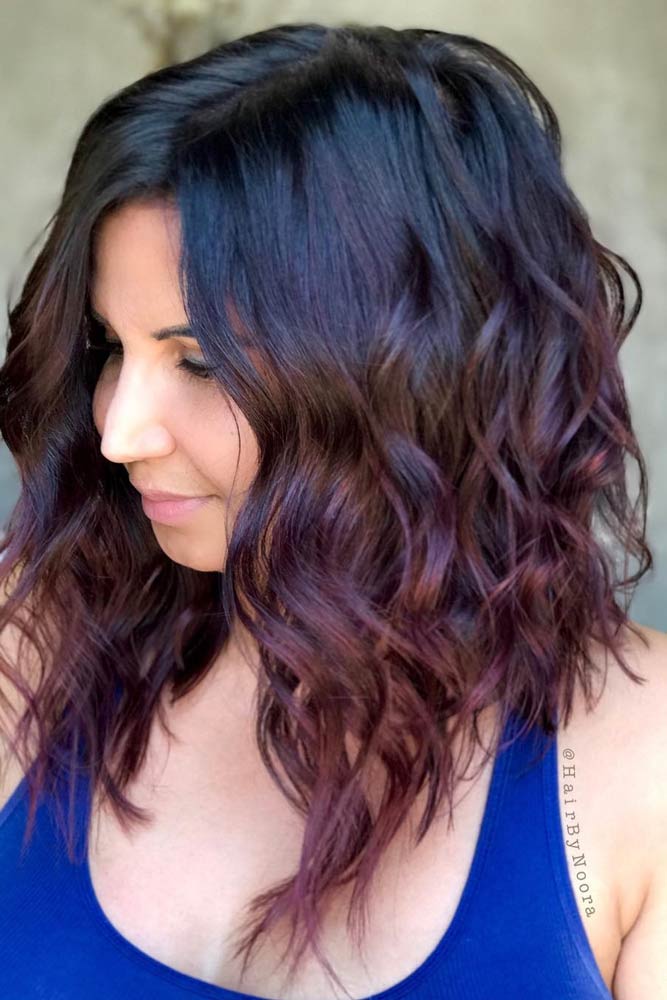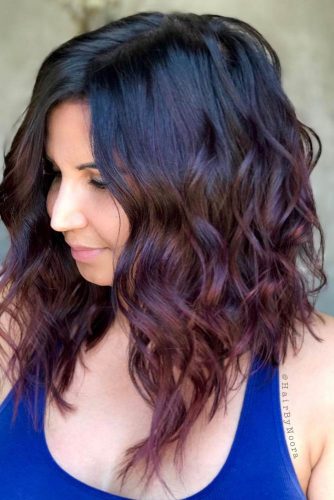 This type of layered bob haircuts is just stunning! Dye the tips of your hair with the reddish tone to give it even more fresh and youthful look! It's perfect for the autumn or winter time as your hair will brighten up some cold and rainy days!
Source: Hairbynoora via Instagram
Rosy Pearls Layered Bob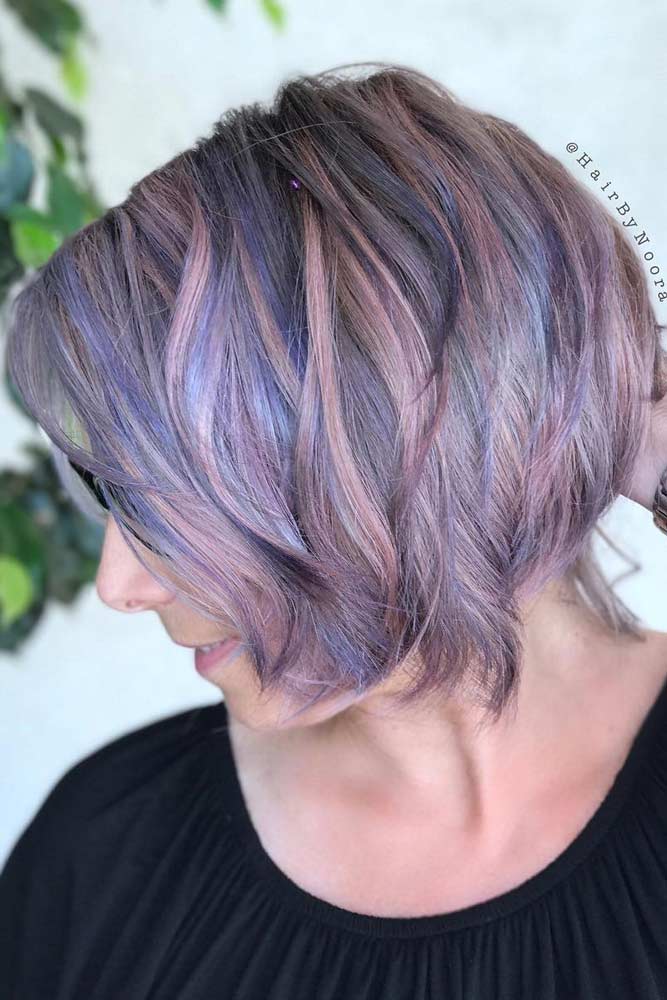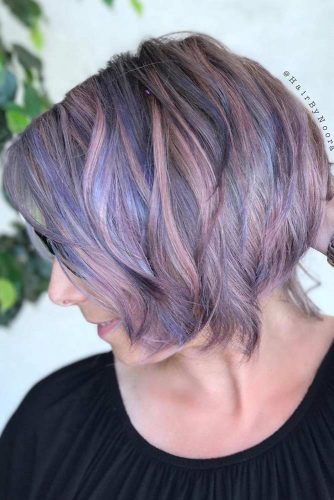 If you want to show your creative part, get bold and experiment with the hair color! Classical bob can look much more original with some rosy and violet streaks. Want to get even bolder? Add some red or blue tint to your haircut and let your imagination flow!
Source: Hairbynoora via Instagram
Chic Warm Colored Bob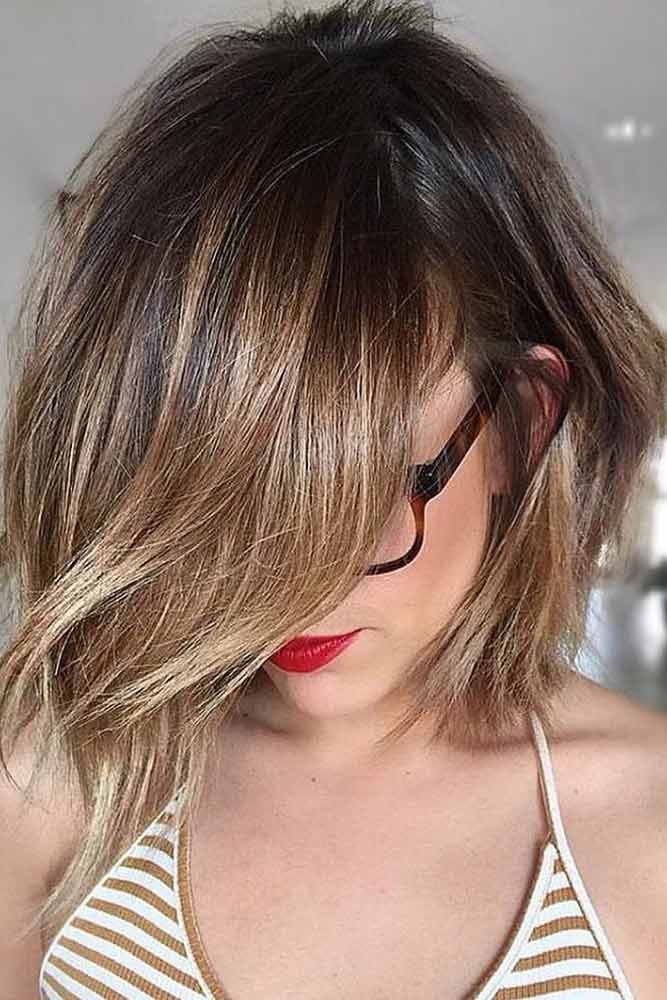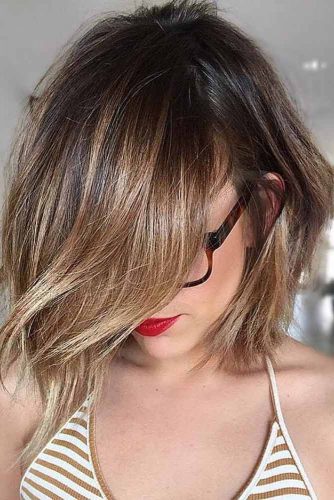 Get ready to impress everyone with your new look! With asymmetrical long bangs and sunny warm color of your hair, you'll look amazing no matter where you are heading to.
Source: Paintedbeaute via Instagram
Brunette Bob With Choppy Ends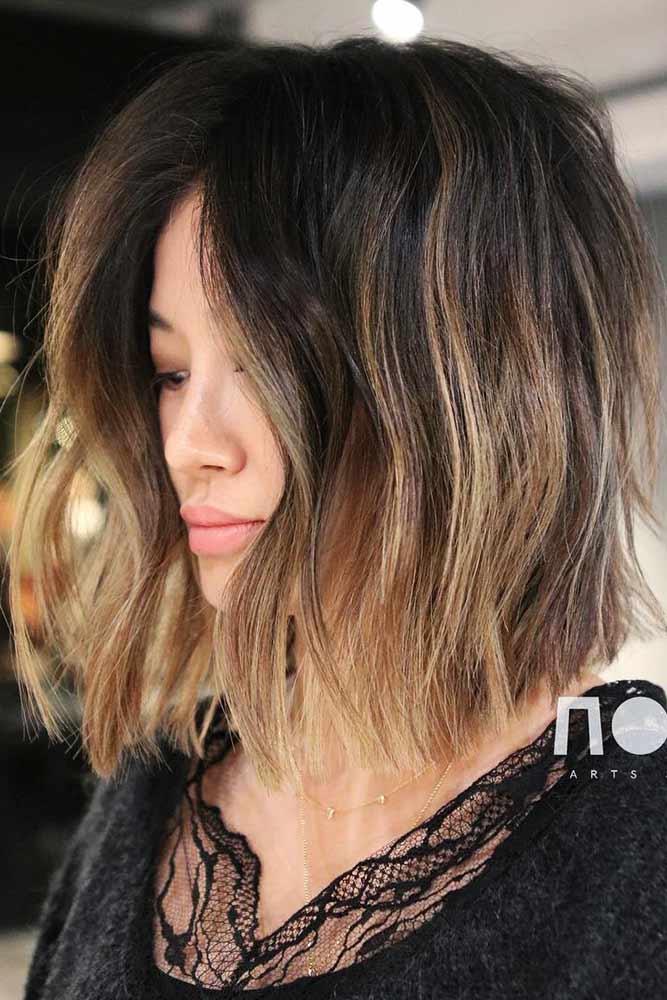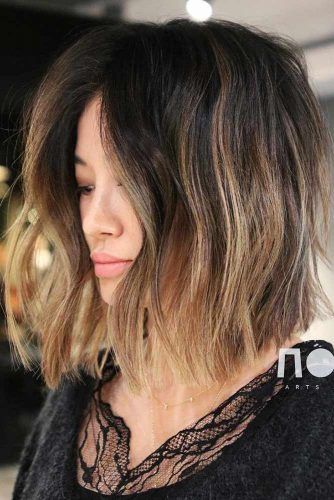 When you aren't ready to fully jump into a new image but want to change something in your style, let your ends do the talking. The truth is, getting choppy ends is enough to turn your haircut into a beautifying masterpiece! This cutting technique involves soft layering at the lower portion which can volumize the whole body. To accentuate the lovely layers, you can pair your hair color with some lighter but matching shade by opting for highlights.
Source: salsalhair via Instagram
Shaggy Ends With Soft Waves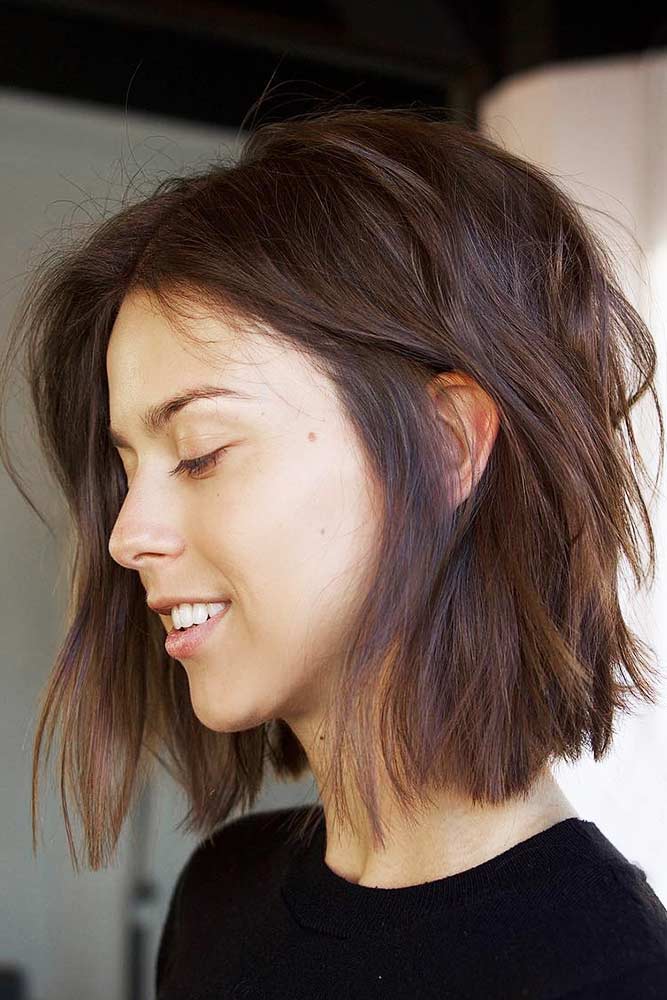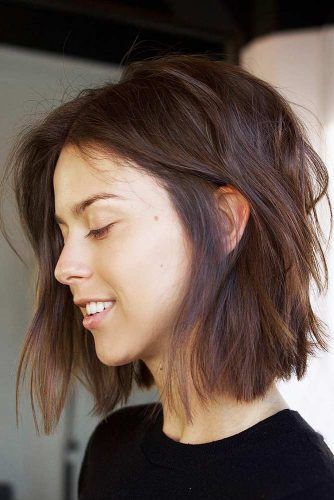 Shaggy ends are another low-maintenance option to freshen up your style without using scissors too much. One of the benefits of such a simple haircut is that all your hairstyles will look more precise, and wavy styling isn't an exception. So now you can imagine why the brunette hair idea above looks so cute and effortless: this is how awesomely soft waves and textured ends can work together. Volume, dimension, and distinctive texture, who could ask for more?
Source: salsalhair via Instagram
Shaggy Razored Layers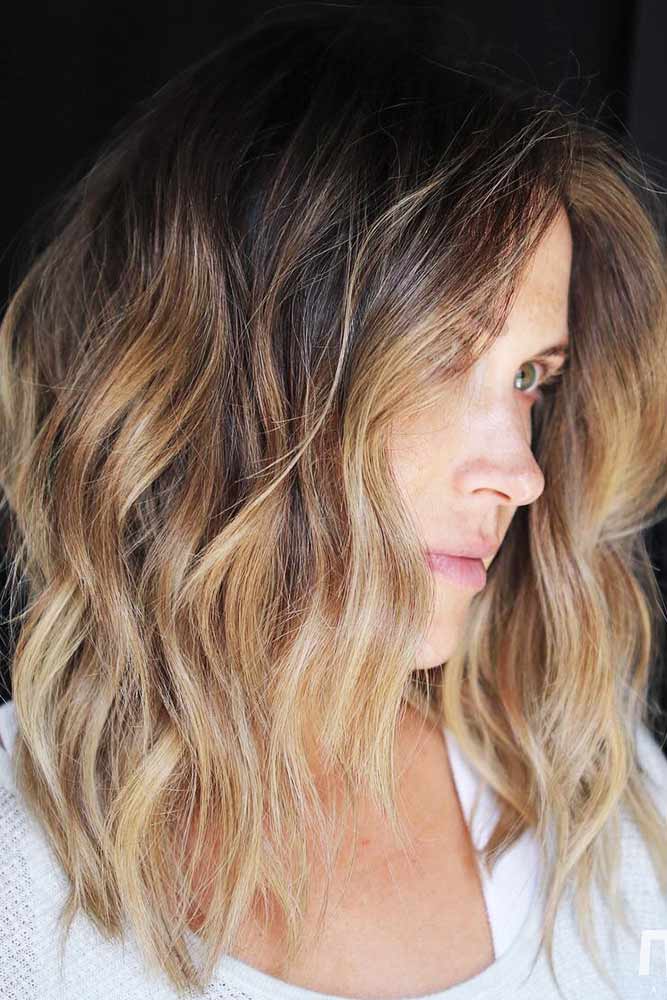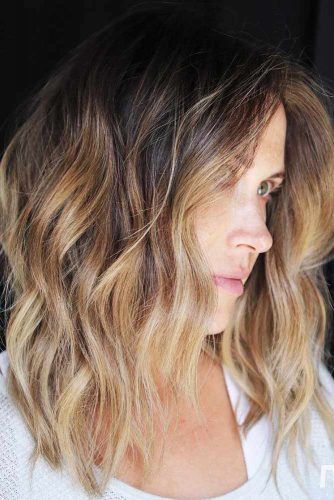 The variety of layered bob haircuts knows no limits. Mainly because you can customize your cut, choosing the areas for every single layer and regulate their size and thickness as well. For example, this shag features short and thin layers that move throughout the whole length, creating a very full body. If you love this effect, why don't make it big? This balayage hair proves that not only scissors can bring a ton of volume; a nice blend of colors is a nice volumetric weapon, too!
Source: salsalhair via Instagram
Bob With Long Side Bangs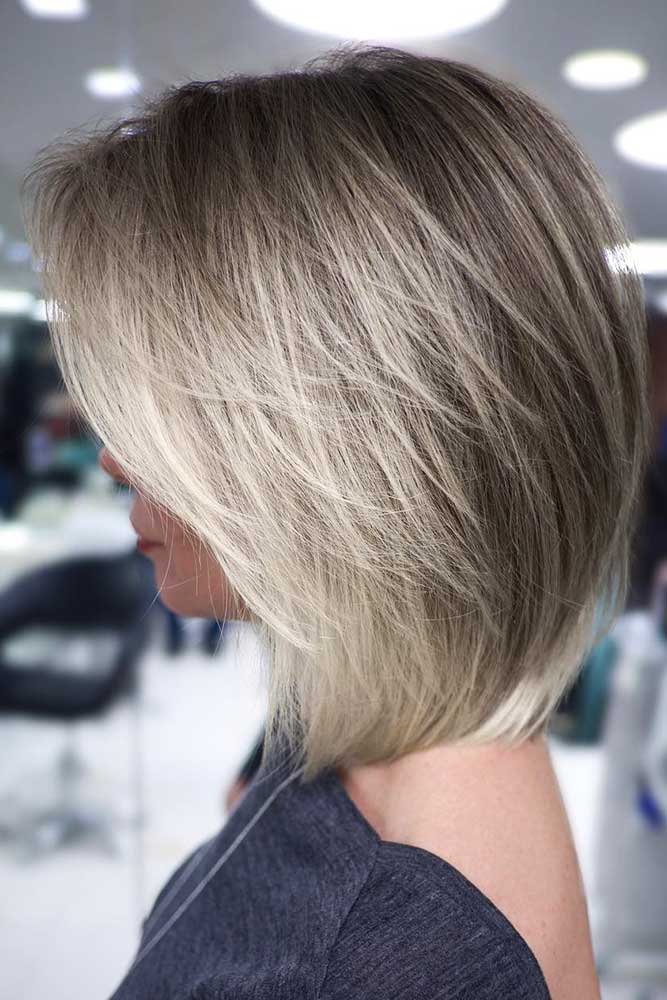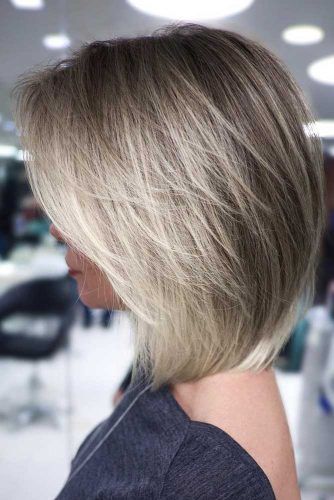 Bangs have always been and will always be the best friends for women. Whether you want to hide up some feature that you consider a flaw or you need to add some more volume to your hairstyle, bangs will be there for you. As you can see, these side bangs create a great shift for the top layer of hair, making the silhouette appear fuller. Make sure that your fringe smoothly melts with the rest of your hair. Of course, it's a job for layers!
Source: salsalhair via Instagram
Graduated Short Bob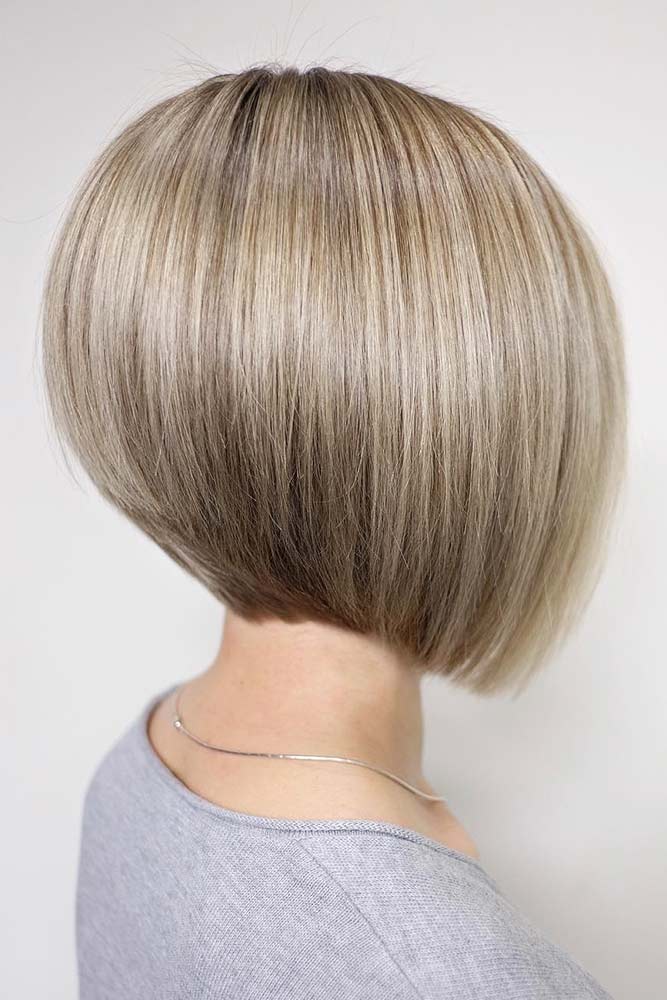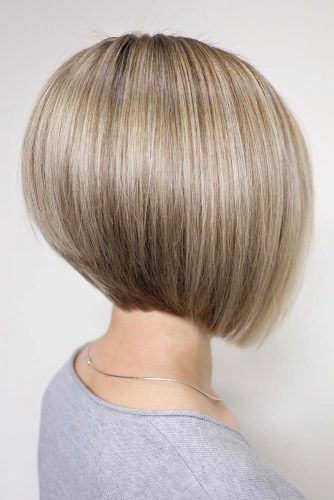 Graduated bob has many names and faces. Usually, it's a short bob haircut that features length graduation that gets shorter to the back. Such a structure allows easy volumetric styling and provides a well-groomed appearance. It looks amazing when it's super sleek, just like in the pic above. To get this look, it's better to work with a round brush while blow-drying your hair. As for wavy styling, this idea will also look great, especially if you go for little waves as they can reveal the full potential of the graduated cut.
Source: gulevich.vladimir via Instagram
Tousled Inverted Bob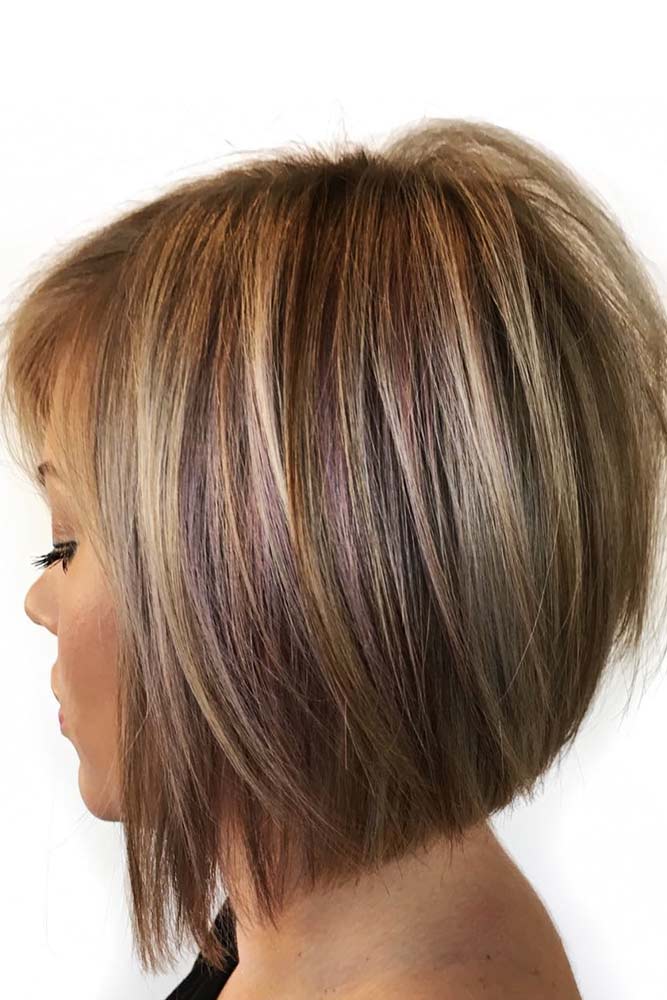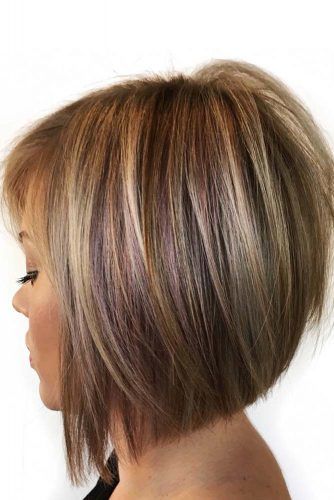 As we've mentioned before, graduated haircuts have a lot of names, and a tousled bob haircut is one of them. This haircut has the same cutting pattern as the previous idea, yet, this time it's styled a bit differently. Some of the top layers are tousled to create a full, airy silhouette and enhance the movement. Due to the pointed body and well-shaped crown, it still looks pretty immaculate.
Source: headrushdesigns via Instagram
Long Feathered Layers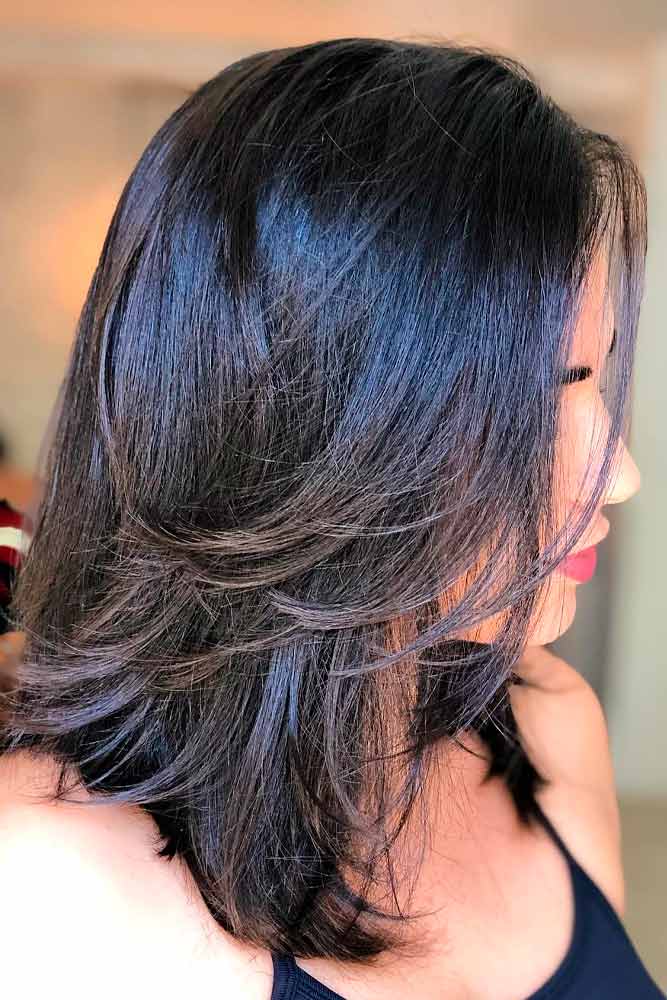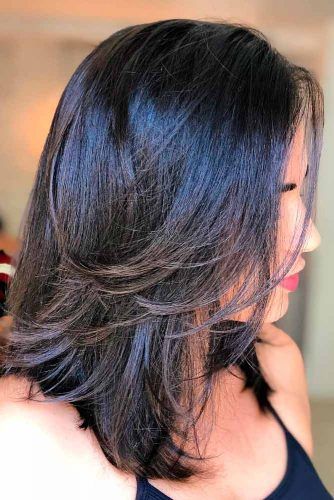 As the name of this cutting technique suggests, feathers are meant to make your hair airy and light. They involve texturizing for long sections at a slight angle, so that the layers curve at the edges. The greatest thing about this type of layers is that it works for all hair types. On thin manes, it provides the needed lift, adding a bulky twist and some more texture. For thicker hair, feathers tame the edges to make them manageable and well-shaped. Therefore, don't even hesitate to ask your stylist for such a long layered bob: there's no way it won't suit you.
Source: ochanelperfeito via Instagram
Choppy Tousled Bob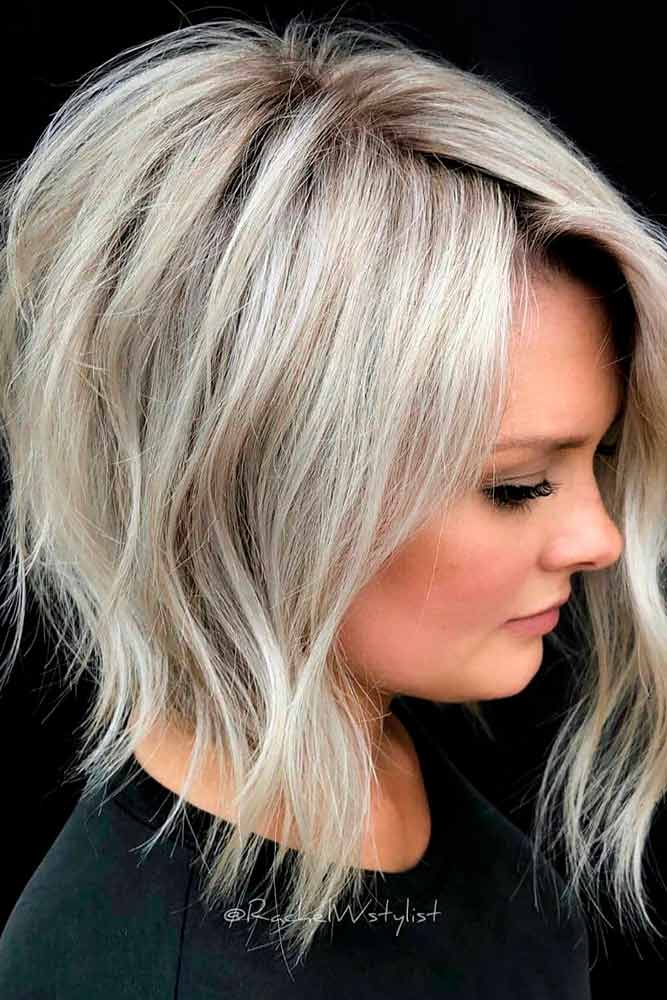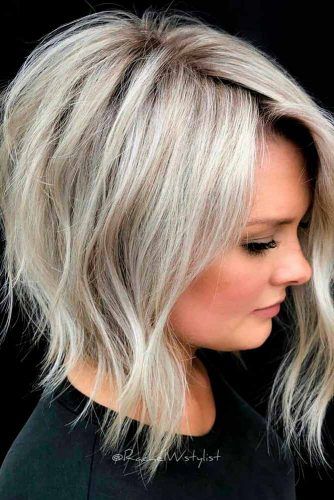 Choppy layers also stand out in the crowd for their amazing versatility. Its lightweight, yet sharp edges can give a whole lotta lift to fine hair and a well-balanced silhouette to a thick mane. Also, a choppy layered bob is very flexible in terms of maintenance: it looks decent at any length, so you can give it a try and then go on to grow out your hair. But, we bet that you won't ever want to change something in your look once you get yourself a nicely chopped layered short bob with a little bit tousled crown. You will love the way the top layers lift up, forming a very modern and voluminous look.
Source: rachelwstylist via Instagram
Long Bob With Subtle Layers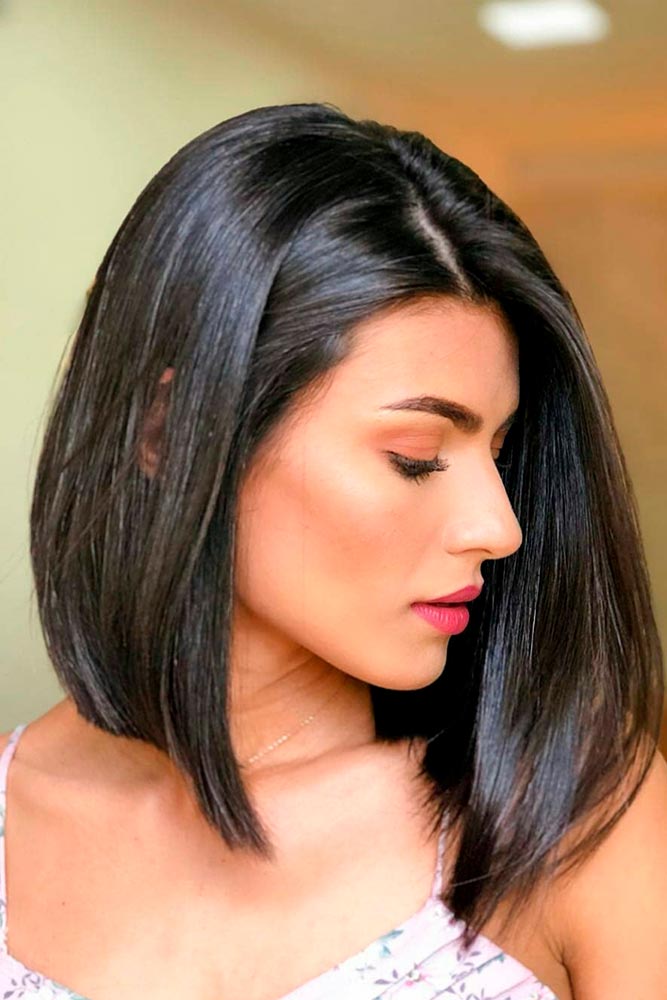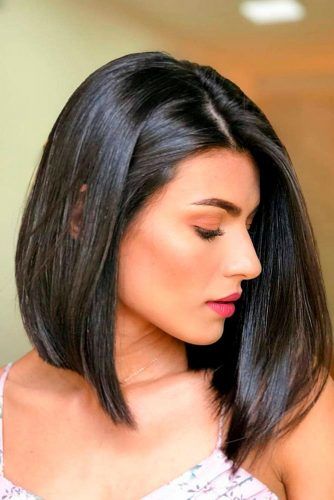 Not all layered bob haircuts for thick hair feature curvy, distinctive layers that you can see from a mile away. There are subtle versions of a layered medium bob that can whip your unruly locks into a well-groomed shape without showing up the layered sections. If you're into perfectly-leveled, even and balanced looks and you think that your unmanageable locks won't give that to you, you can breathe a sigh of relief. Ask your hairstylist for slight gradual layers at the bottom sections: they will give you a neat, manageable body that will make you fall in love with your hair.
Source: rambutseries via Instagram
Dirty Blonde With Layers And Highlights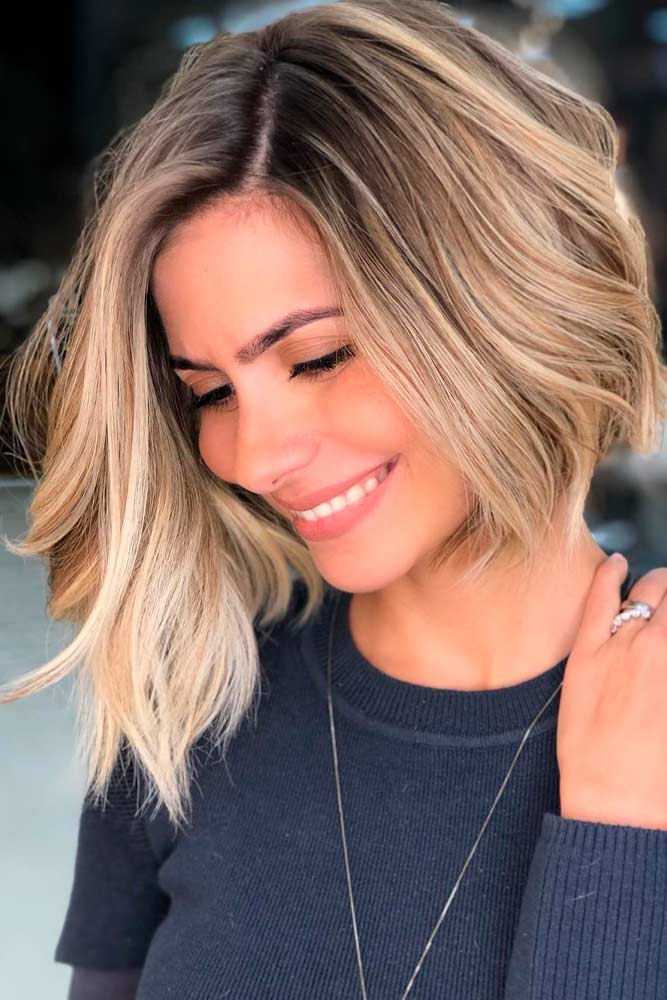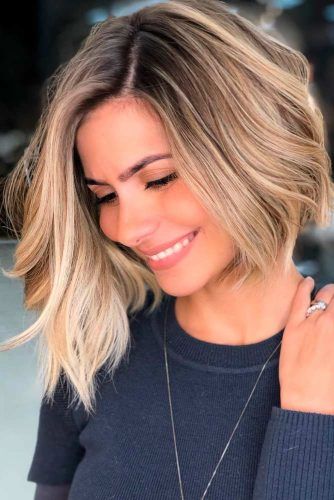 When you want to achieve a radiant look for your short hair, a short layered bob is just what the doctor ordered. But, perfection knows no limits, right? Once you feel you're ready for grand changes, why don't make them big and add some new colors into your life? The truth is, layers look unbelievably radiant with highlights accompanying them. Highlights accentuate the hair, adding more of movement and dynamics to it. Can you imagine how awesomely they will reveal their beautifying power on well-shaped, edgy layers running through your mane? To make the color more dimensional, leave the roots dark and ask your colorist for a smooth blend at this area.
Source: romeufelipe via Instagram
Touchable Easy-To-Wear Bob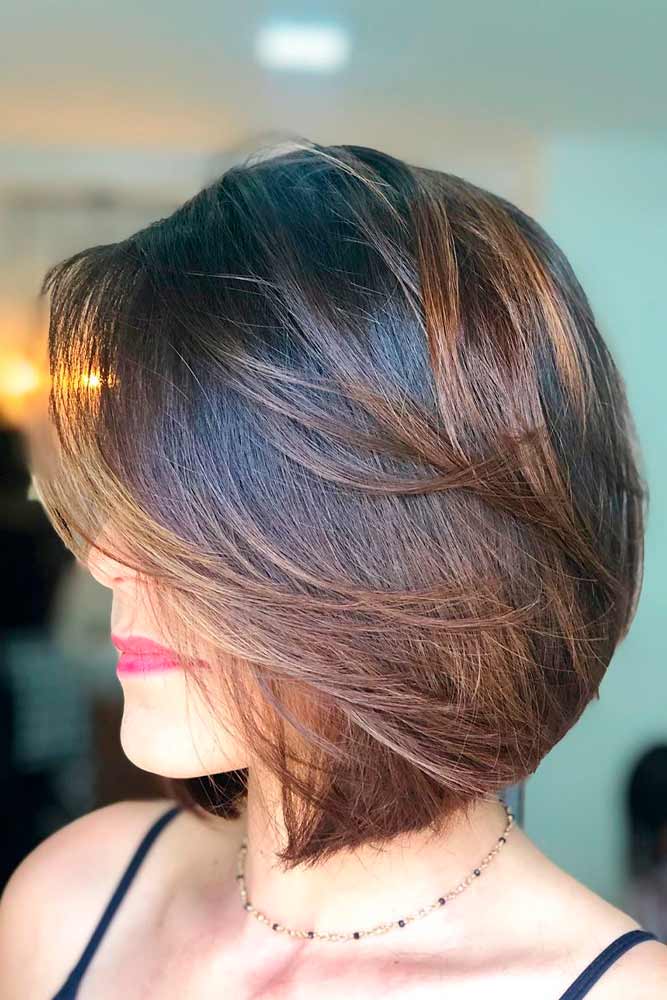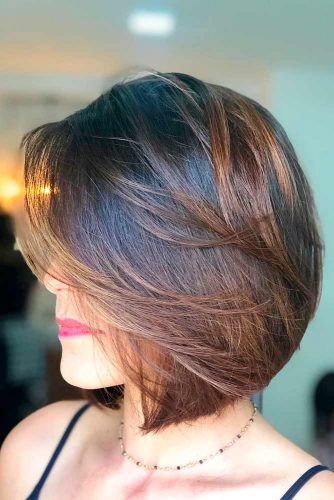 Gone are those days when you were afraid of wind blowing at your hairstyle or didn't even allow people to breathe near your well-styled hair! Here comes a layered bob haircut that will hold the perfect shape throughout the day, keeping you away from a flat look. And the secret of such a style lies in layering at the top portion of your hair. In fact, making the top light and manageable are all you need to rock a voluminous and lively hairstyle. Make sure that the layers fall distinctively on one another, as this is what can create the harmonic and dynamic silhouette that will stay with you the whole day.
Source: ochanelperfeito via Instagram
One-Length Bob With Layered Fringe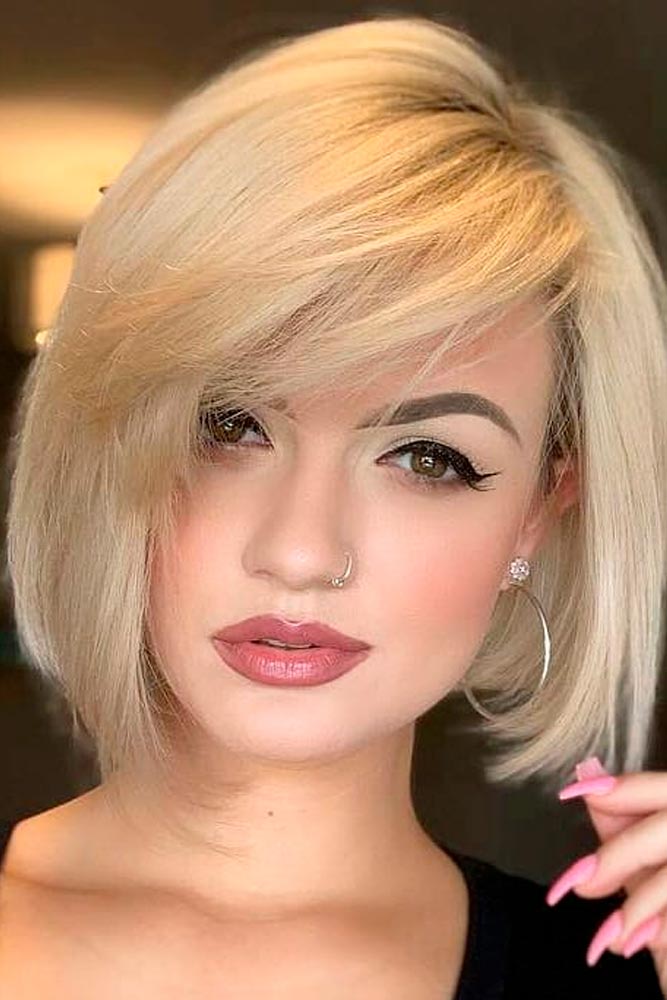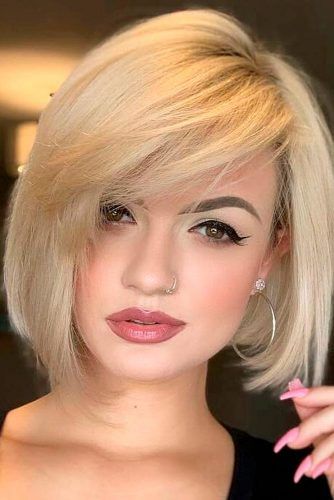 This layered bob with bangs is another proof that bobs can take a personal approach to your hair. Here, you can see a classic blunt bob with slightly curvy ends that curl inward to frame the face. As for the fringe, it's texture is different that the rest of the hair, and this is what makes the cut so special. Instead of getting a layered bob cut, you can go for layered bangs: they will work as an additional layer of hair that would be enough to build a ton of volume. As a matter of fact, it's a perfect idea for ladies with thick hair, as the fringe add the sense of lightness, while the cut is very flexible and whipped into decent shape.
Source: itsmsmonroe via Instagram
Choppy Bob With Edgy Ends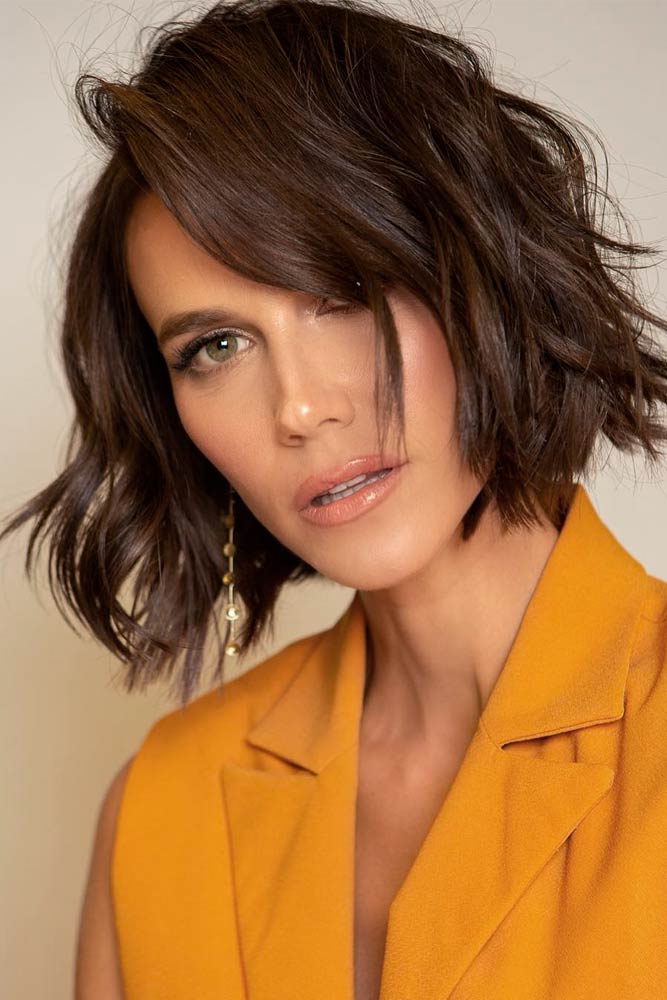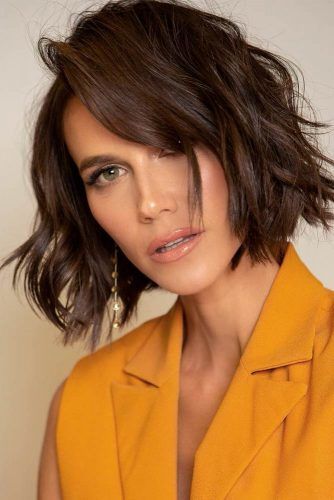 Another breathtaking variation of choppy layered bob haircuts! Words are not enough to express how much you need this haircut if your hair is very thick and porous. The strands that required tons of styling products to get the styles done will finally behave, saving you from stressful styling mornings. The structure of this cut is like a magic wand: it features lots of short, sharply chopped thick layers where every single strand stands out. And the only thing you need to make your hair ready to go out, is to apply salt spray or some lightweight texturizing foam on your damp hair and blow dry it, tousling the hair with your fingers.
Source: rambutseries via Instagram
Inverted Shattered Bob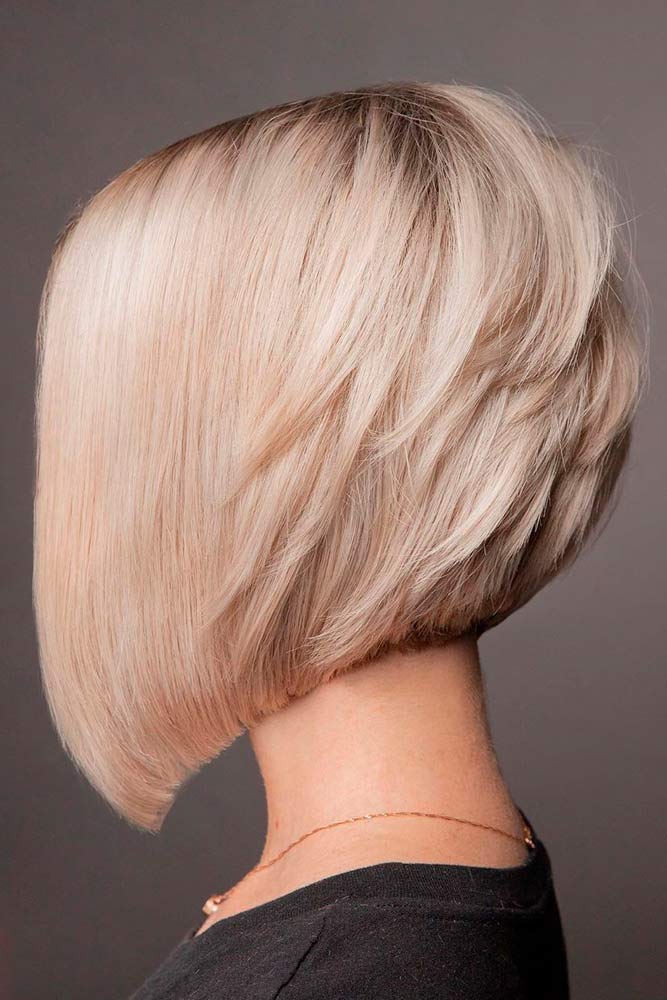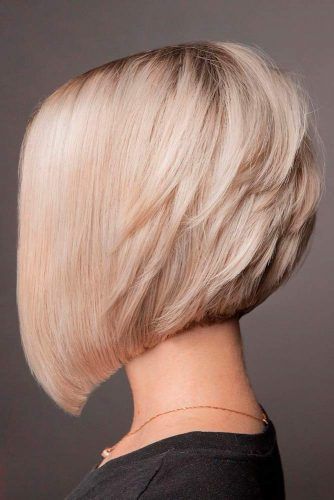 Bob is nothing but a canvas to your imagination! You can adjust, define, and regulate every single detail of your bob. Anything from the texture and structure to layer placement and ends shaping is totally up to you. Let us explain how it works with this layered bob for fine hair. It has a unique customized curve at the ends which makes the layered inverted bob pointed and thus face-flattering. When you look at this masterpiece, you can't miss the playful, wild vibe hittin the crown: this is how a touch of creativity can complement a decent look. And last but not least, such a play of textures is what will make your forget about flat looks of your fine hair.
Source: demetriusschool via Instagram
Disconnected Bob With Dynamic Waves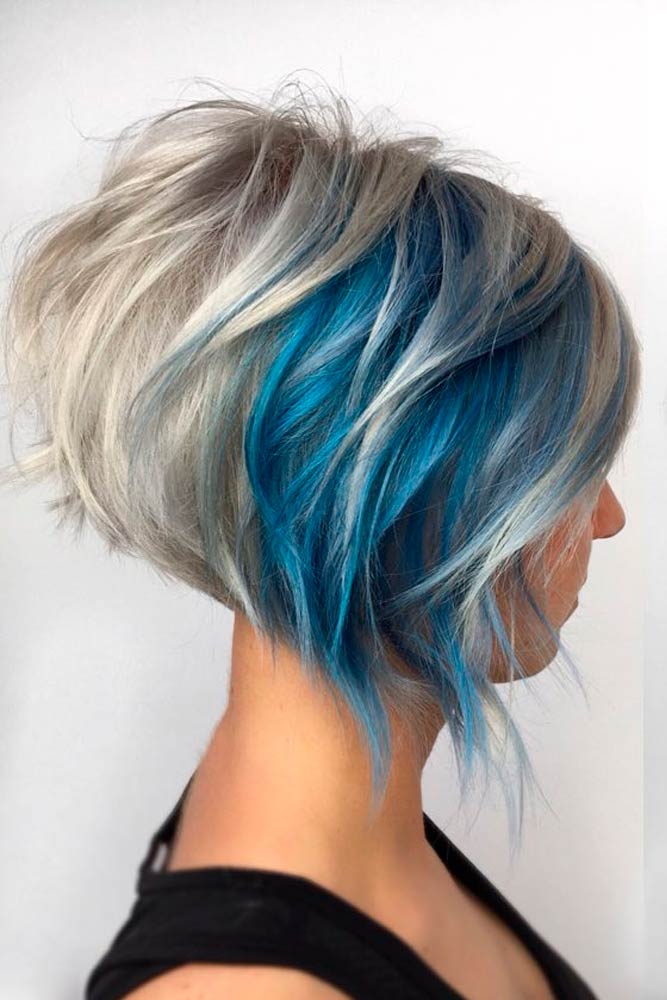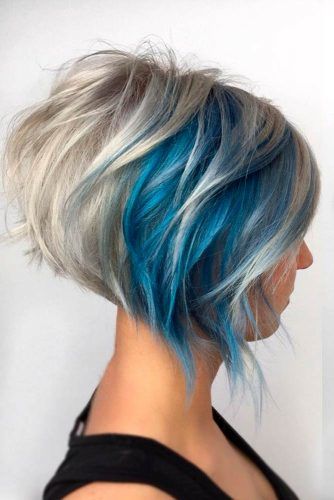 It seems like short layered bob hairstyles like these were designed to leave people speechless. Not only do they add a lot of character to the look but also provide tons of volume and movement to the hair. In fact, a disconnected bob is a classy way to put yourself in the spotlight: the edgy, drastic length contrast looks unbearably modern and different at the same time. Needless to say, this wavy texture isn't the only thing that gives such a dynamic picture. The trendy combo of blue and grey shades also took part in the success of this ensemble.
Source: headrushdesigns via Instagram
Angled Bob With V-Cut Layers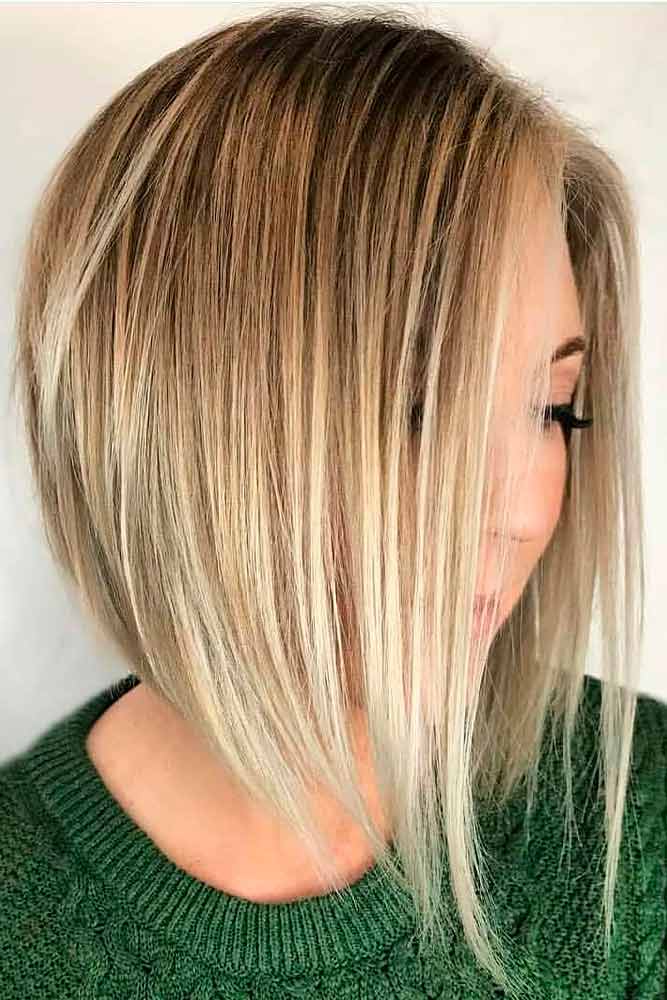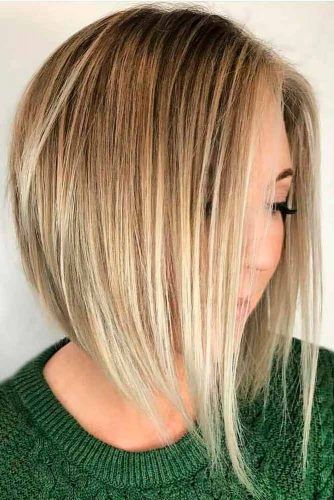 If you're looking for a layered bob for thin hair, congratulations; your search ends here. The great, volumetric body of an angled bob is everything you need to show your fine, sometimes lifeless tresses who's boss. To make it real, you need to go for a gradual haircut with long, sharp hair at the front and shorter locks at the back of the head. And do you notice how special this layered angled bob is? Its V-cut layers give the whole look a lot of edgy character, creating an outstanding sharp silhouette. Besides, these chic ends not only look great; they give a light, manageable texture for your front tresses, thus helping you perfect your styling routine.
Source: rambutseries via Instagram
Disheveled Blonde Bob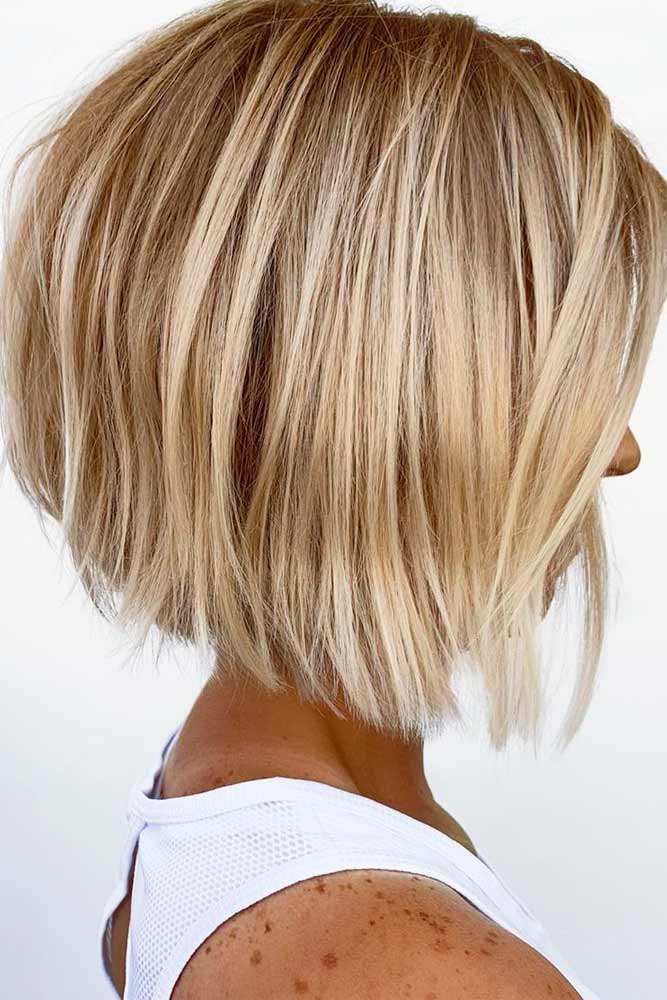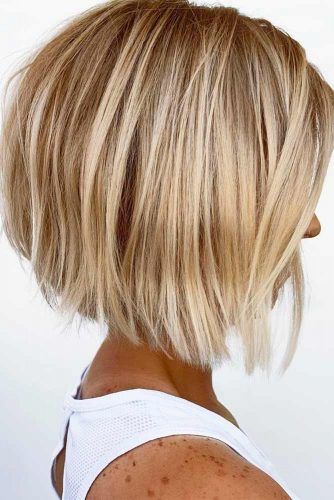 One of the easiest and the most fashionable ways to take your thin hair to the next level is to go for tousled messy looks. And to tell you the truth, even though disheveled hairstyles work universally well for women with all hair types, you should have the right base for that. Of course, we're talking about the right haircut. To make the messy styling show its best sides, amp up the body of your hair, and simply give it a carefree feel, a medium layered bob is a nice start. Layers provide texture so there will be more room for messy locks dancing with one another freely. This blonde shoulder length layered bob is beautified with just a disheveled touch on the top layer. Still, that's enough to add the needed volume.
Source: styled_by_carolynn via Instagram
Bronde Bob With Wavy Layers Throughout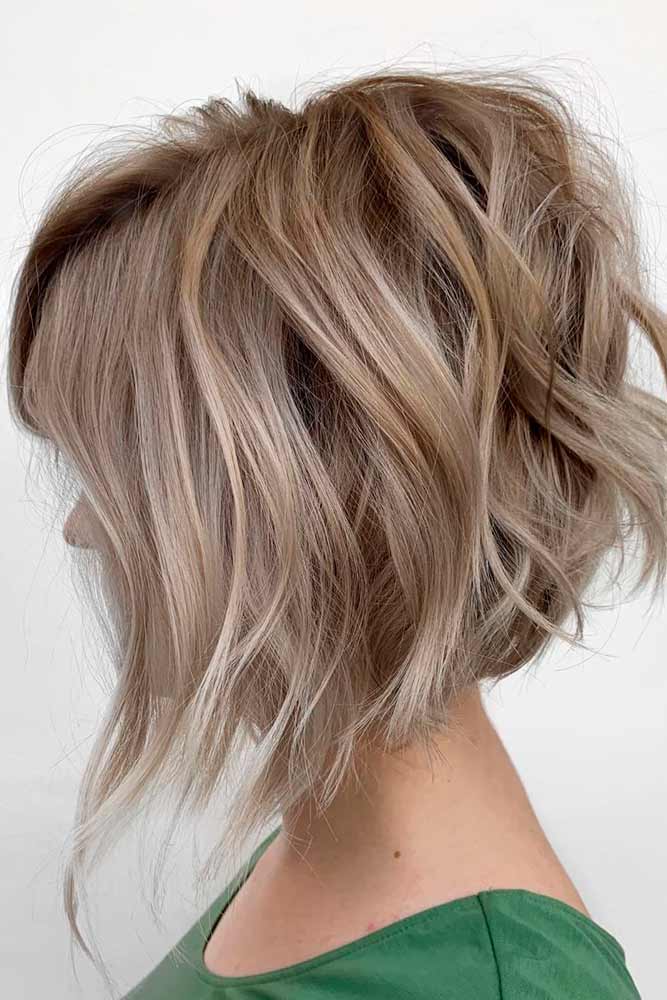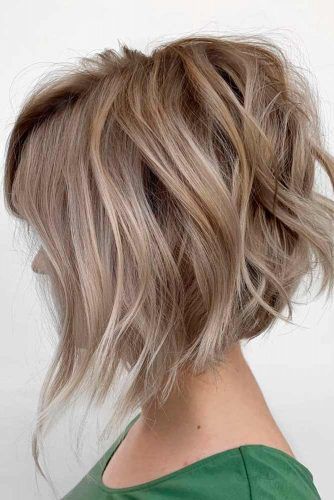 We will never stop telling girls that the best thing they can do with layers is to turn them into waves. Indeed, nothing looks as airy, neat, and gentle as softly waved layers boosting dynamics in your hair. Anything from a layered shaggy bob to a classic lob with a textured finish show up in a brand new life once you spice them up with waves. As for this idea, it's nothing but a genius combination of a haircut and hairstyle. The crown is a little bit shorter than the front tresses, which makes the back super voluminous and the front edgy. Finally, waves are just like the icing on the cake: they accentuate the beauty of the haircut, making it fabulous.
Source: headrushdesigns via Instagram
Textured Layers With Soft Highlights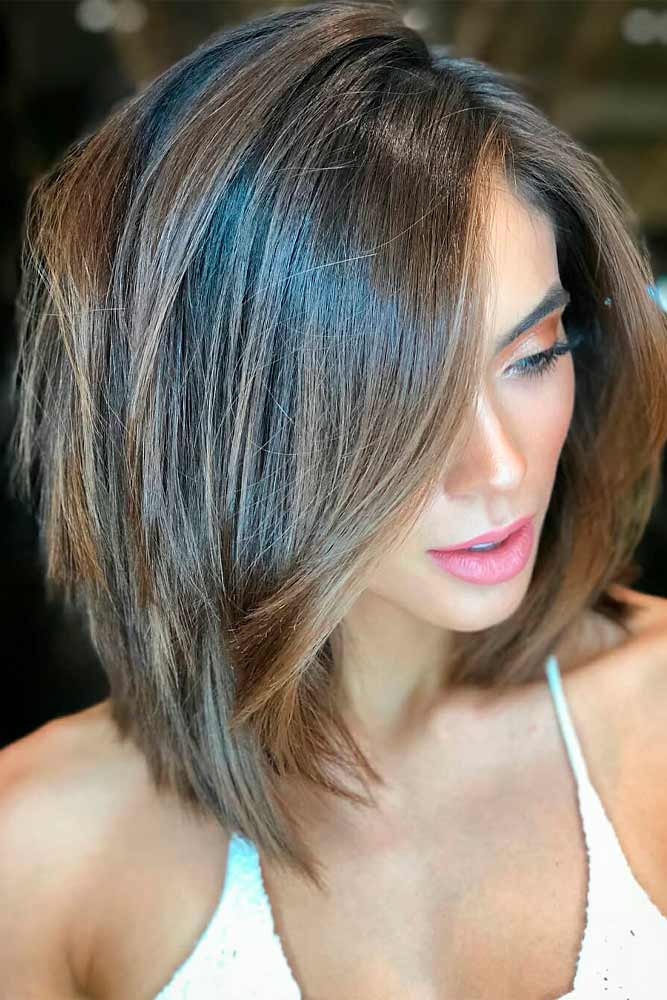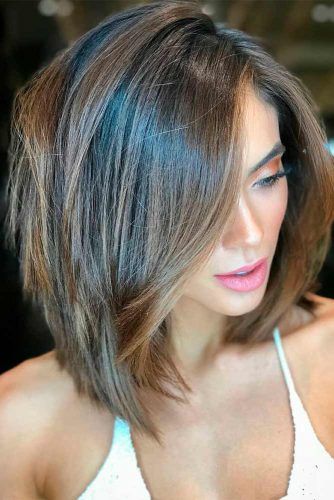 The main advantage of sporting bob layered haircuts is that you can always tailor it based on your face shape, hair type, and preferences. For example, instead of getting a classic layered look where lots of locks stand out, you can create movement in your hair by shaping the edges. Your stylist should make sure that the edges follow the natural pattern of your texture so that they can define them without creating new levels of the haircut. And if you're wondering how to make the look even bigger, soft highlights that match your tone will do the trick.
Source: rambutseries via Instagram
Careless Pixie Bob With Extra-Short Back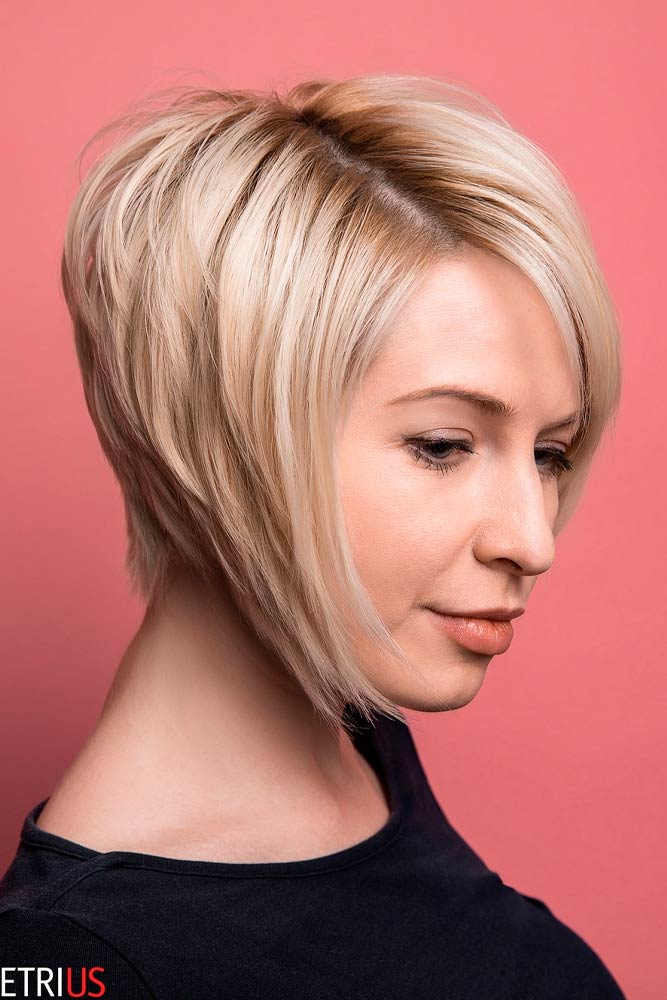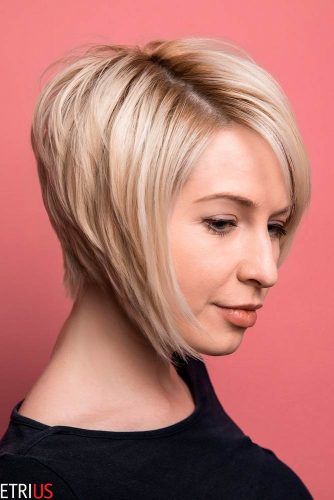 Just like short layered bob with bangs, pixie bob with super distinctive structure are meant to make a woman absolutely confident with her flawless appearance. The major reasons why ladies go for such haircut lies in its practicality; you can fall asleep with wet hair and then have a decent hairstyle when you brush it in the morning. With the right layering, your hair will be soft and manageable, so there won't be those stubborn hairs sticking out. On top of that, such a cut looks smart and sophisticated, you can be sure that people will take your image seriously.
Source: demetriusschool via Instagram
Inverted Long Bob With Swoopy Layers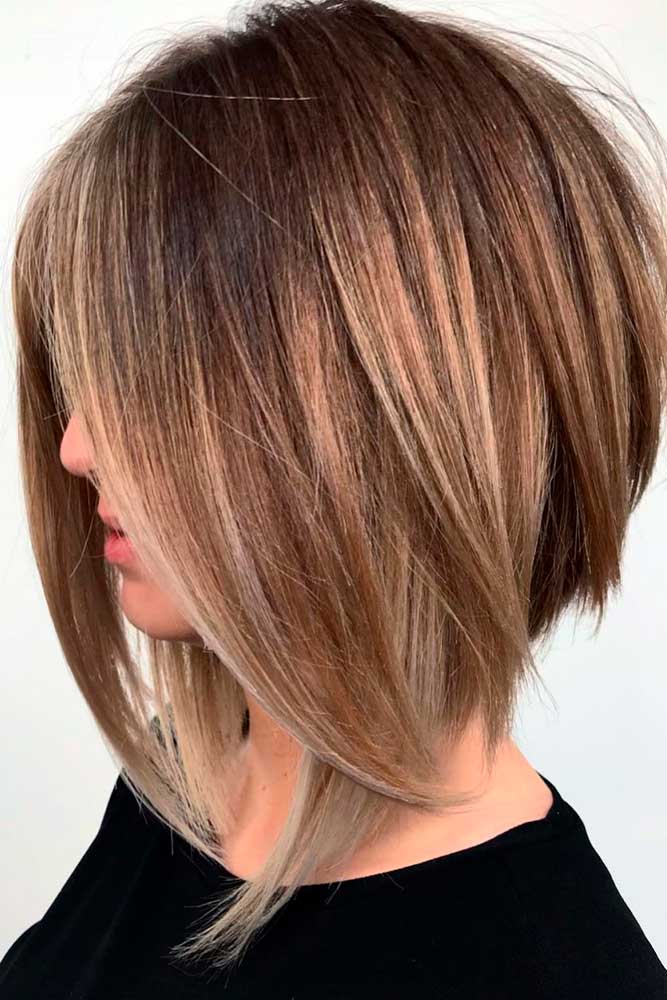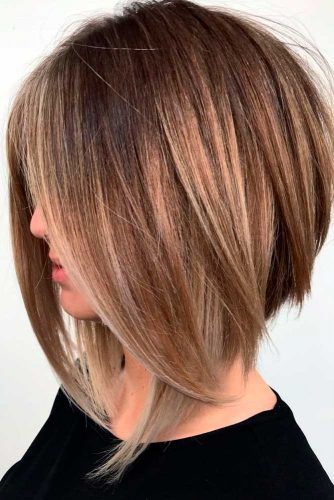 When your bob grows out, don't rush to call your stylist to make it back into its short shape: long layered bob haircuts also have a lot for you to offer. The longer the hair, the more styling freedom you have. Plus, if you're going for a layered long bob, you have much more hair to play around with unique layer placement. This long bob is doomed to have all eyes on it, no doubt! Thick swoopy layers literally stand out from the whole mane, playing by their own rules. Bottom line? The haircut looks indescribably voluminous and, most importantly, unique.</p Source: styled_by_carolynn via Instagram
>
Wavy Bob With Highlights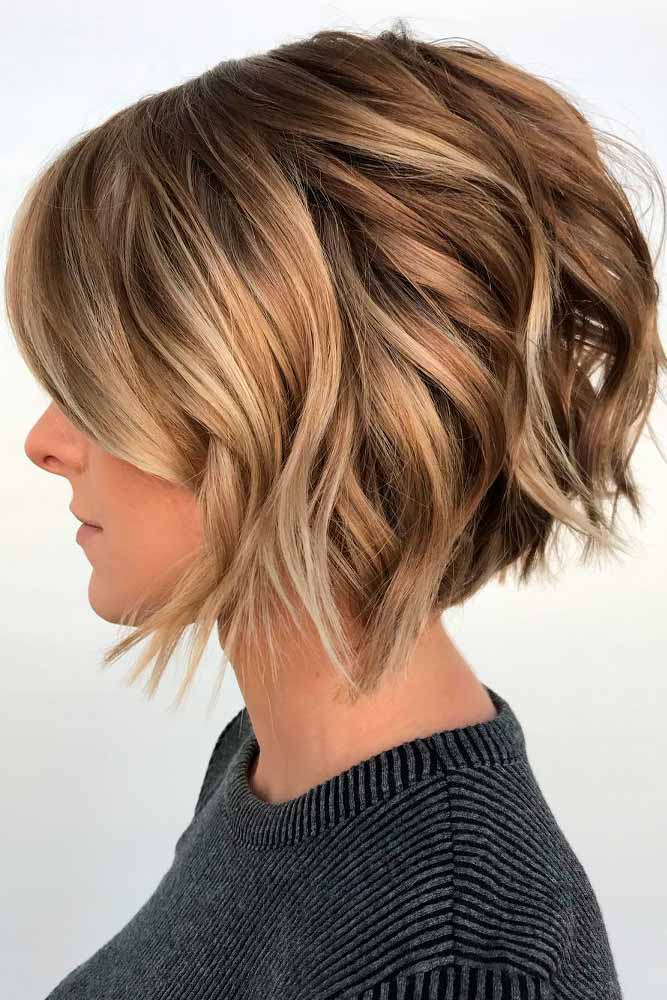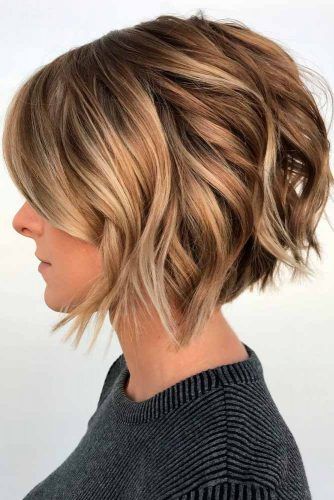 Waves and highlights are like cheese and wine: together, they taste better than either one by itself. Highlights create dimension in the color which results in dynamic movement in the hair while waves make this effect even more alive and noticeable. Cut a long story short: when you've run out of styling ideas, go for something classic. This look is the classic that will never let you down wherever you are.
Source: styled_by_carolynn via Instagram
Voluminous Shaggy Bob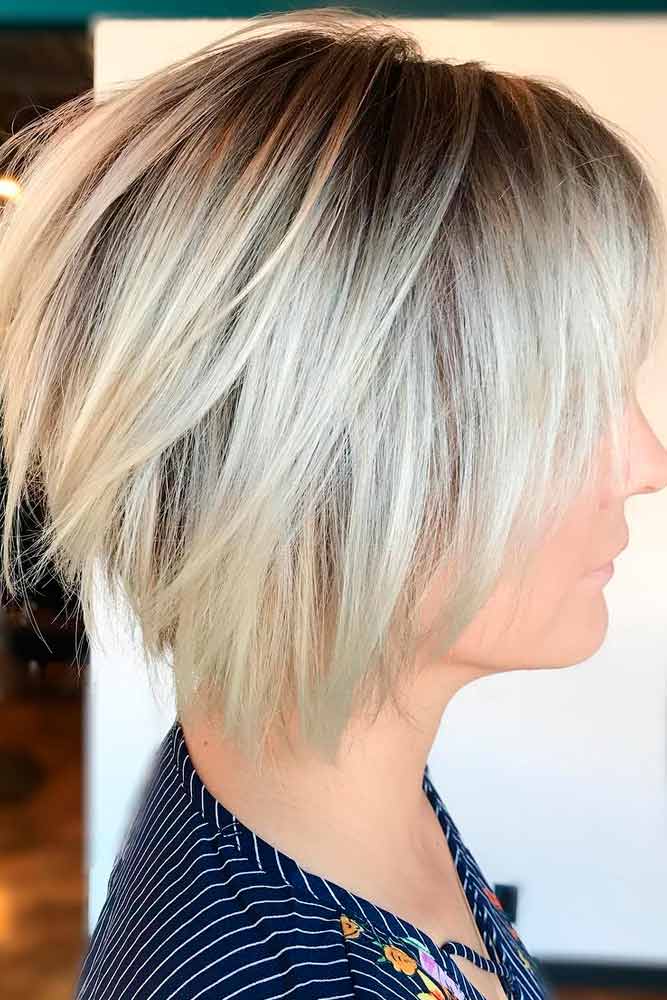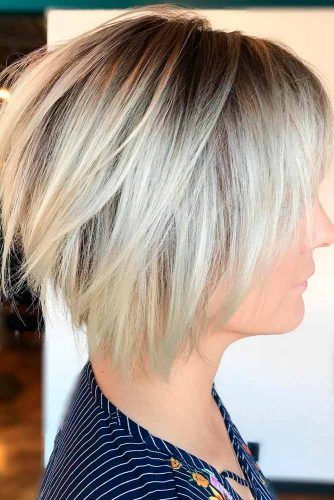 Another shaggy layered bob that can wash away all the traces of thin hair, breathing new life into its weak strands. Shaggy layers are wild and edgy, which is why they create such a weightless, spicy look. There's one thing you should know about them: the more different layers you go for, the more volume you have. If you struggle with your thin hair, do yourself a great favor and transform your flat strands into vivacious layers.
Source: styled_by_carolynn via Instagram
Rounded Bob With Long Bang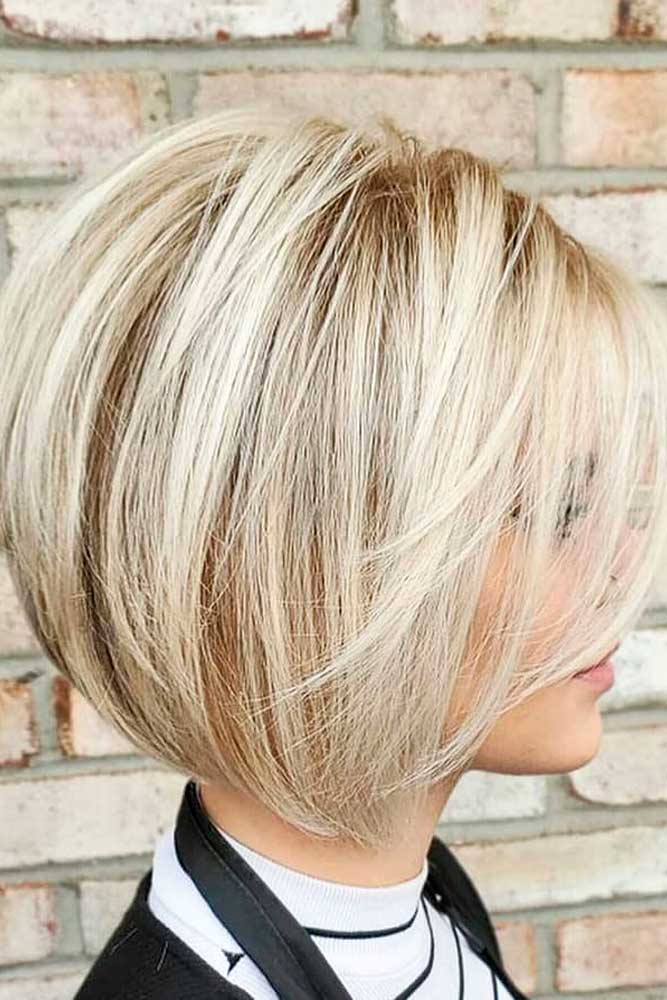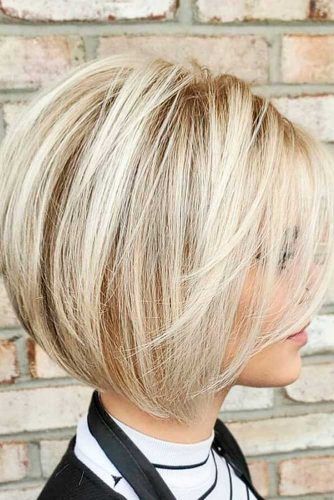 It seems like long layered bob with bangs have come to our world as a hair gift from above. Some may call magic, and we call it true; as the right haircut is all you need to forget about all your insecurities! A rounded bob can steal the show and thus draw attention from your chubby cheeks and round face. Bangs, in their turn, will add even more framing that will also work on your facial features, emphasizing the best ones and masking the ones you'd like to hide. Ask your stylist to blend the bangs smoothly with the rest of the hair so that they fall seamlessly. Yes, layered bob haircuts with bangs are our saving grace!
Source: rambutseries via Instagram
Ash Blonde Lob With Razored Ends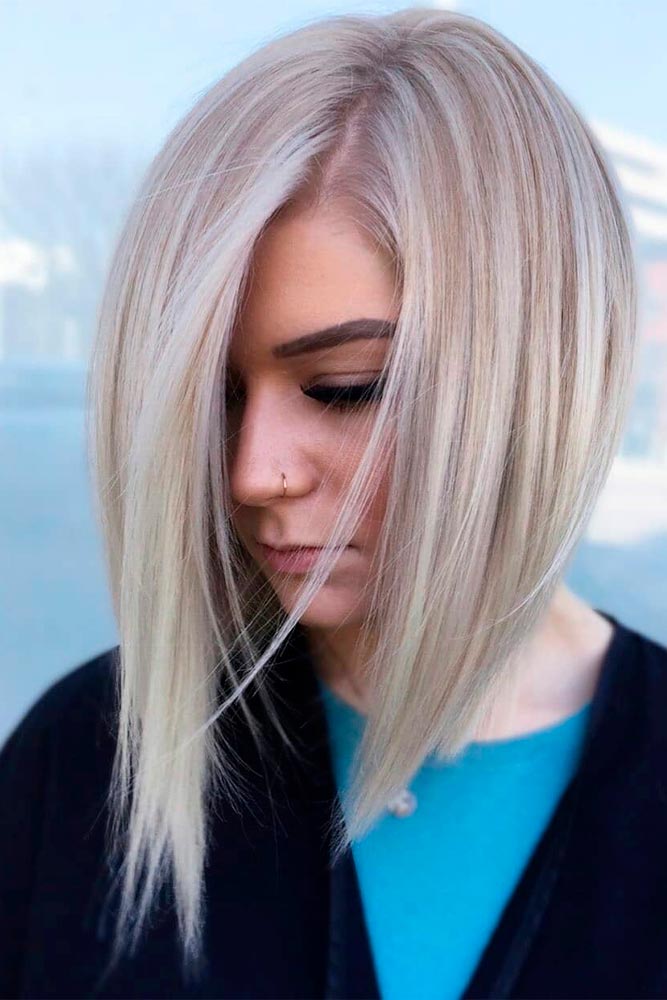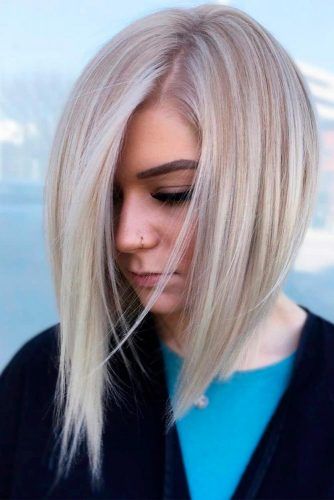 Beauty is in the details, remember? If you are into chic, minimalist looks you know that like no one else. For those who appreciate simplicity in every way, we've prepared an idea that embodies its beauty at its fullest. Razored ends are a simple, yet amaziтпly beautiful little detail that can help your haircut, whatever it is, reach perfection. They're nothing but a slight angular texturing. Well, that's all you need to finish your look with a great sense of edginess.
Source: rambutseries via Instagram
Sleek Layered Pixie Bob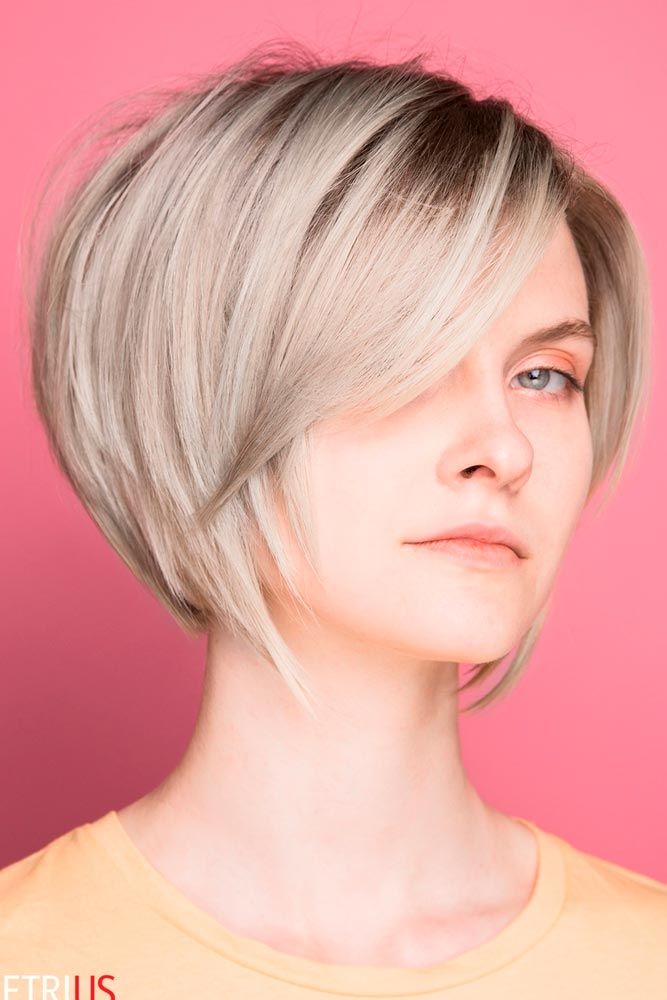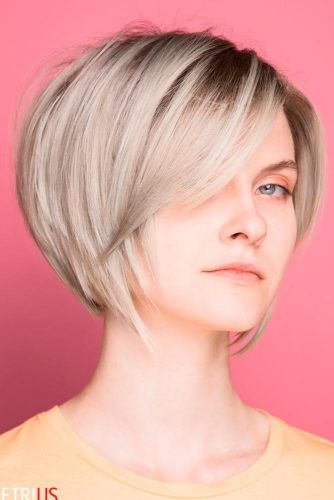 Some haircuts should be exhibited as pieces of timeless art. And this sleek layered pixie bob is surely one of such cuts. Every single detail is well-groomed and balanced, from side bangs falling gently on the face to a perfectly round silhouette that beautifies the face. Now, you may want to sit down for this. Ready? This haircut will adapt to any hair type. There, we said it! This masterpiece has no length restrictions, the only rule is that you should be ready for endless compliments that will flatter you 24/7.
Source: demetriusschool via Instagram