Red hair has always been in style. It's no secret that once we come across a woman with a fiery red mane, we get lost in envy. The good news is, today, every woman can turn into a red-haired goddess. With so many color options these days, the always-ascending color has become even more seductive and, most importantly, more accessible.
From bright and colorful red ombre hair to subtle balayage tones and highlights, the options for red shades are endless! And we are here to show you the most uncommon ways to pull them off.
If you have always longed for red locks, you'll love these mesmerizing shades of red!
Punk Rock Red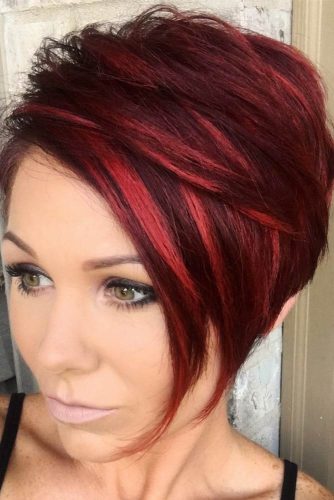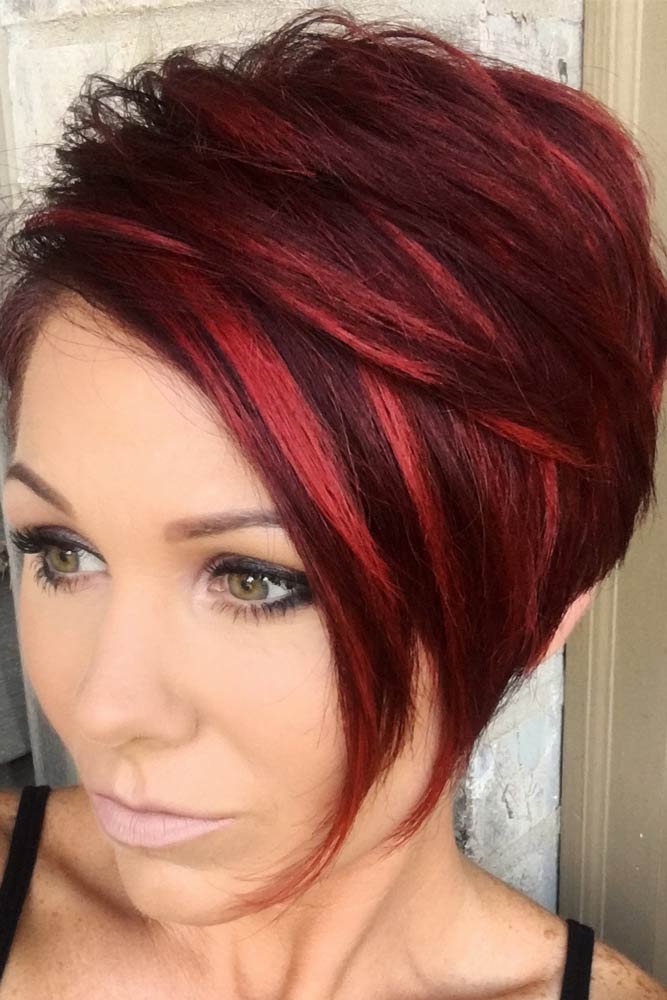 Credit photo: pinterest.com/bonnieangus05
This sassy asymmetrical cut is edgy. But when you add the varying shades of red, your inner punk rock chick comes shining through! The bold shades of red add a ton of depth and movement to fine hair.
There's no better way to enhance the sharp silhouette of your daring haircut than to give it a coat of red hair dye! Based on your complexion, find a shade that suits you best and choose a technique that will intensify your freshly cut tresses. Here, deep plum red hair with highlights add tons of natural movement to the whole look. The base brings out the top, making it stand out from the light skin tone, while the highlights add dynamics to the hair look.
Light Ginger Tresses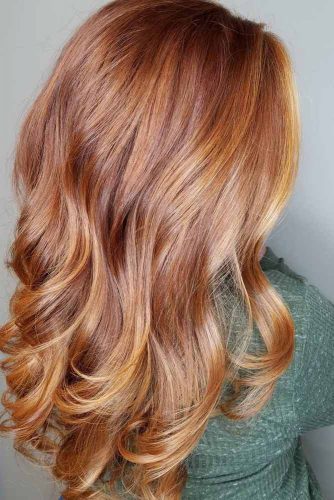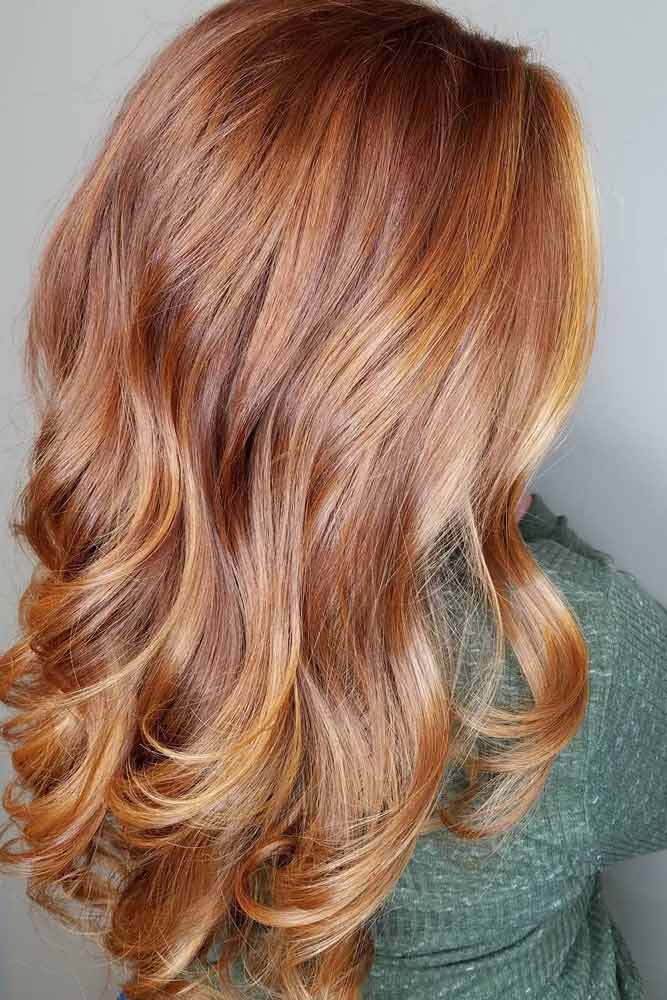 Credit photo: instagram.com/camouflageandbalayage
Today's celebs have made this fun pale shade of red an absolute must-have. This long, shaggy cut combines well with light red tones.
Light red hair can be different: you can choose an option with a brown or blonde undertone, depending on your natural base. What makes this hair look so special is the approach to creating a rich, dimensional color that will accentuate a voluminous haircut. This red-brown hair color was done on a light brunette mane, featuring a muted deep shade for a base and light ginger streaks as highlights. As a result, the color is warm and profound, yet lightweight and vibrant, which is a perfect option for this fall.
Coppery Red Glam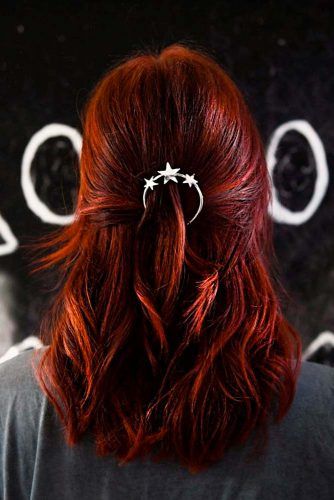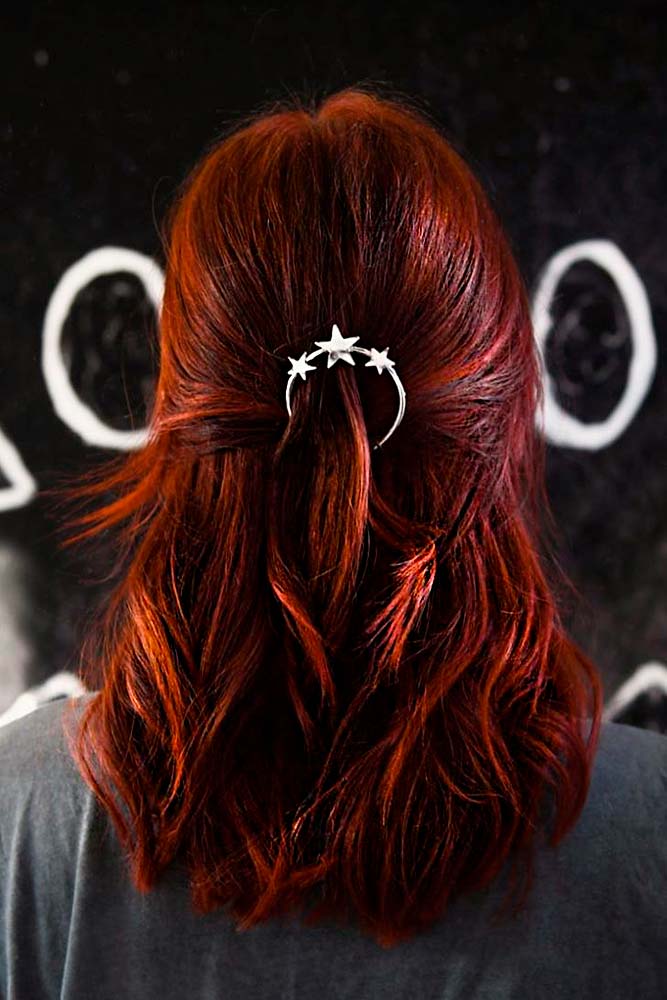 Credit photo: instagram.com/catinawitchhat/
These soft waves are unbearably glamorous. And once you add a coppery shade of red, you'll be the queen of sass. This color is best for those with light eyes and skin tones.
As a matter of fact, copper-red hair color is one of the most diverse palettes. There's no way you won't find a reddish hue to your liking or your eye color and complexion. Basically, coppery shades consist of red and brunette, and you can always choose which of these two will prevail in your hair transformation. If you want to turn on the dramatic mode of your red, you can ask your colorist to make the red pop. Also, don't forget that you can adjust the temperature of your look, playing with the intensiveness and depth of the new color.
Retro Punk Red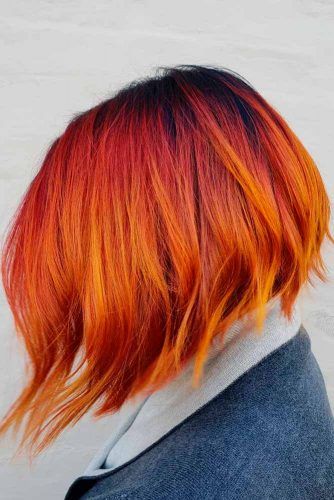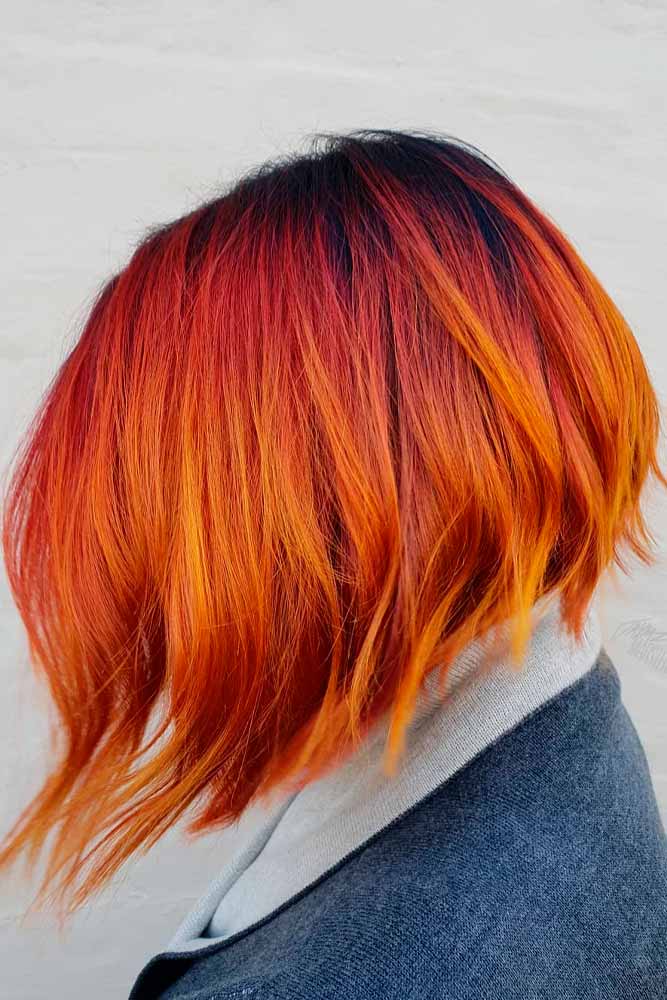 Credit photo: instagram.com/jaymz.marsters/
Sometimes new hair color is enough to create a totally different mood for your look! This bright red hair color simply takes us back to the rise of the punk movement when restless mods would color their hair vivid shades, leaving the roots dark. Even though the roots create a contrastive finish to the look, they don't look drastic due to the nice blend and even color graduation. By the way, black and red hair colors are two shades that can steal the show, and you're the one to decide how to mix them. It can be red hair ombre, balayage, or highlights; the variety knows no end!
Adorable Amber Waves
Credit photo: instagram.com/valenta_photoart/
This light, fiery shade of red really compliments those with green, blue, or hazel eyes. The sexy waves make this style stand out from any crowd.
Amber hair color is different than any other shades of red hair for its spectacular combination of various brown, dark, and reddish colors that clean the line between red and brunette hair. Though this color is pretty deep by default, when the sun shines down on it, it shows its bright, shine-reflecting finish. If you have a pale or fair complexion, you will love the way the color complements your look.
Seductive Pomegranate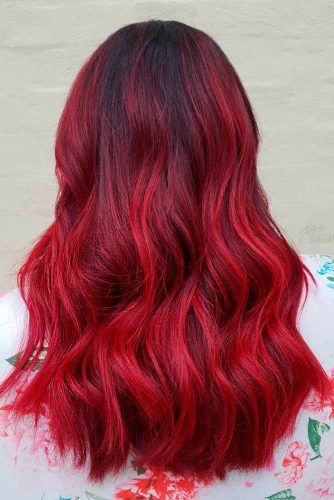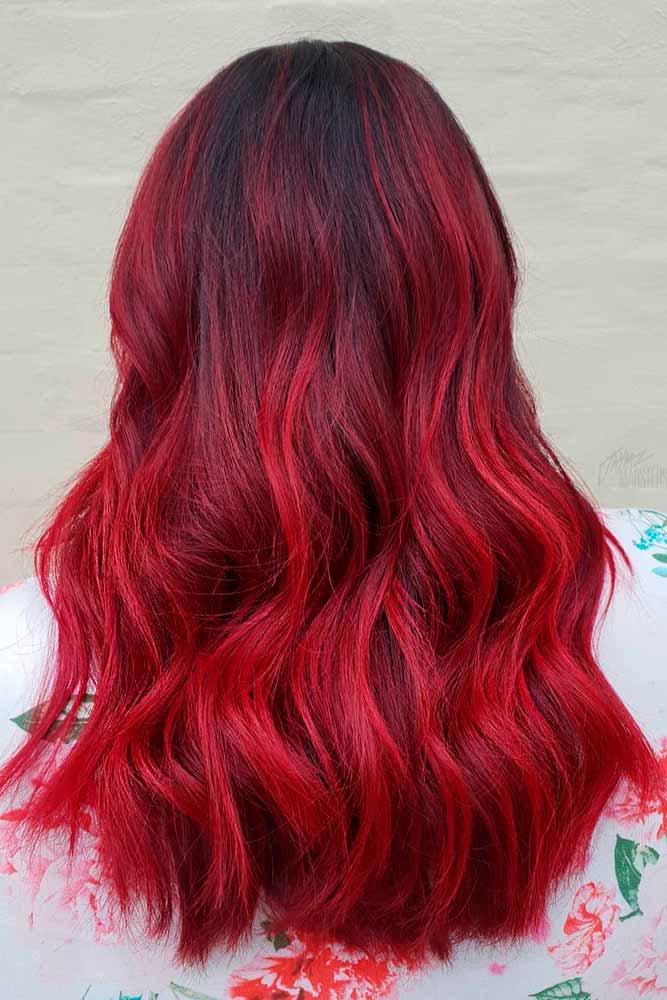 Credit photo: instagram.com/jaymz.marsters/
This enchanting and full wavy style is bold and edgy on its own. If you are feeling especially daring, try this sexy shade of pomegranate red for a totally hip and chic look!
There's nothing like dark red hair color that looks as tempting as a glass of wine at the end of the day, especially if you're a natural dark brunette. To achieve a pomegranate-inspired shade of red, it's better to start with a black or deep brown base. For even color graduation, nothing will work better than ombre applied close to the roots with a seamless blend throughout the length. Choose deep over bright, and you'll get a look worth a red-carpet walk.
Dark Auburn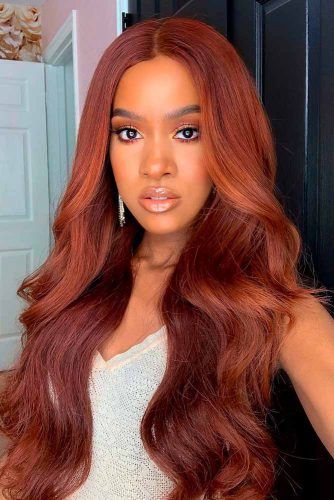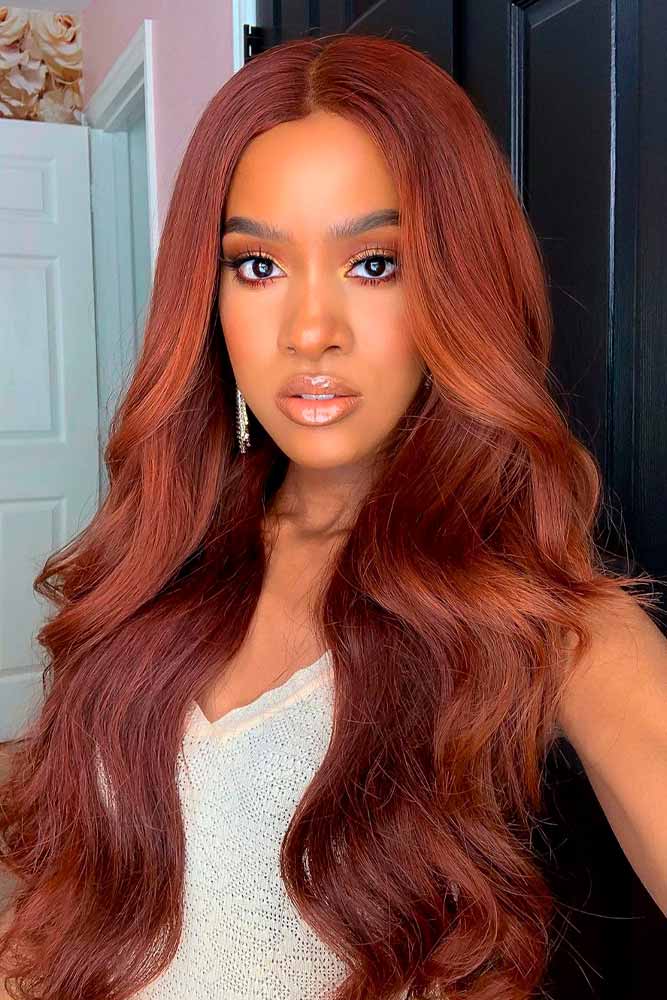 Credit photo: instagram.com/beautybyhermosa
This dark reddish-brown tone is simply gorgeous. If you add some bouncy curls to your long long red hair, you'll add a bit of a flirty vibe to your look!
As you can see, this auburn hair color is another ravishing way to add a touch of reddish charm to your brunette locks. Well, that's where you can actually beat blondes and put an end to the eternal fight between blonde and brunette color choices, as a brown base is a key to achieving natural red hair color. It's hard to see where a brown portion ends and the red begins: the colors are blended so perfectly that they form a stunning single whole.
Dark Hair With Red Accents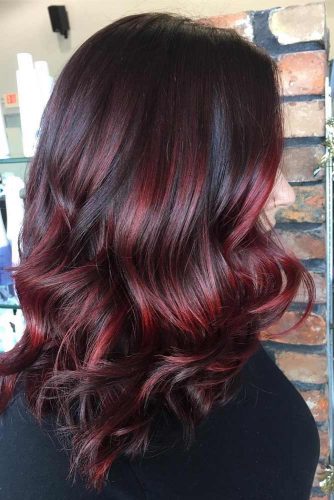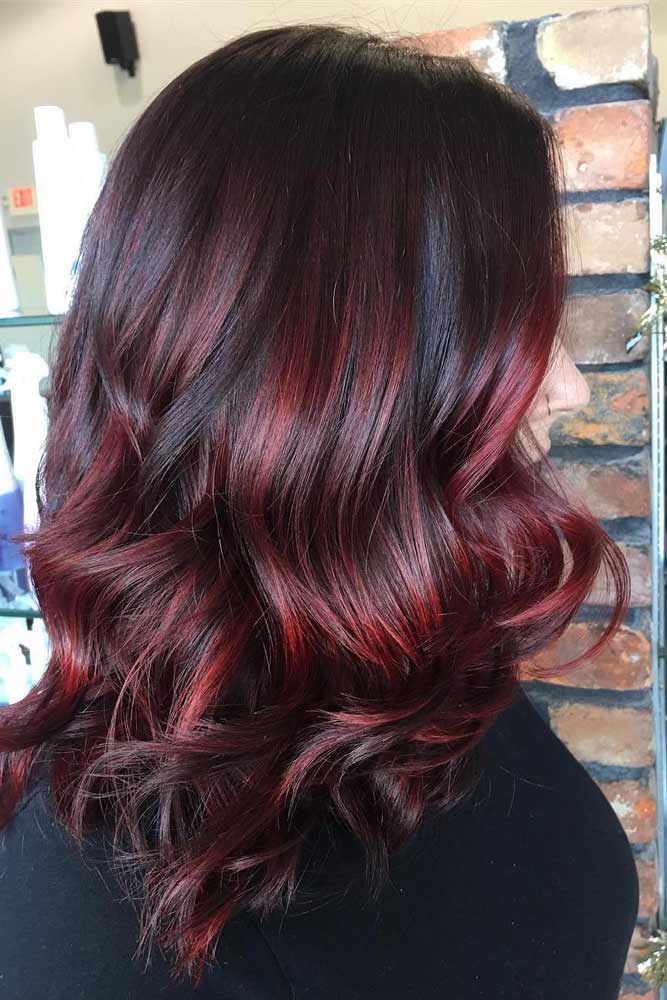 Credit photo: instagram.com/off7thsalon/
This look is really trendy. The dark shade is classy but the fire engine red streaks look like they were perfectly dipped in candy apple red paint.
Deep red hair and a profound dark brown base, who could ask for more? Together, these two give a brand new definition for deep colors, taking the common picture of color depth to the next level. Since both shades have the same dark undertone, they look super balanced even though the red highlights are pretty visible. On wavy hair, this color combo will show its beauty at its best, accentuating your amazing texture with a reddish tone kissing your waves.
Sinful Cinnamon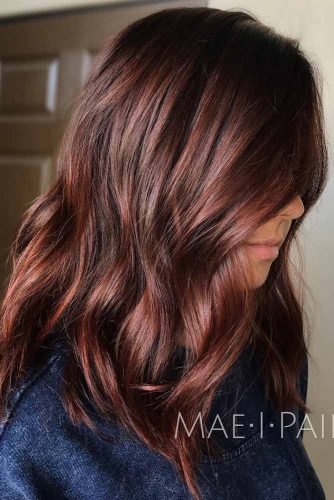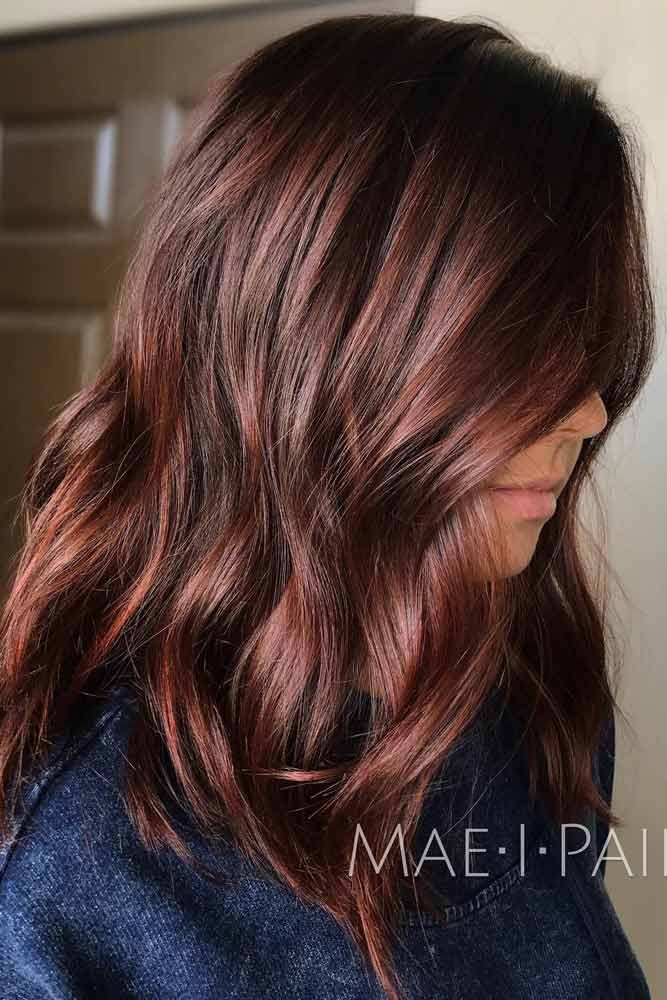 Credit photo: instagram.com/maeipaint/
This sexy shade works best on those with gray or green eyes and peachy skin tones. Curl your longer tresses to make this look even more seductive and sultry.
Do you know why it's called Sinful Cinnamon? Well, it's actually a sin to flaunt with a shade that is so dramatic, effortless, and gorgeous that it makes hearts skip beats! The best thing is, both brown and red hair colors are very balanced and harmonically blended, building the happy medium between two amazing shades. Though the brown color prevails in this color play, it still has a nice red hint adding a fresh take at the brunette base.
Chocolate Red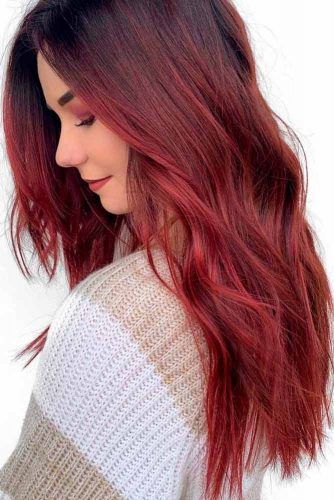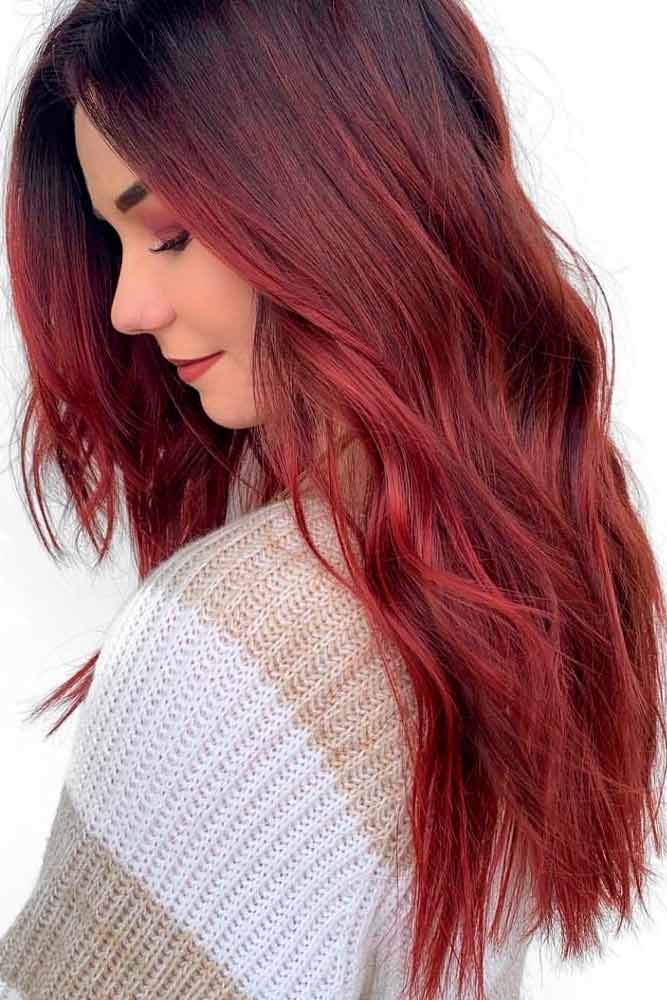 Credit photo: instagram.com/brit_bellasalonandboutique/
This color is super sexy and sophisticated. The perfect blend of red and chocolate tones is so pretty. We think it looks even better with loose waves to add volume to any hair texture.
One day, you will get tired of dark and milk chocolate color options that are super popular today and will feel the need for something more dramatic. Of course, this is where pepper chocolate ombre will come into your life. Unlike the previous ideas we've shown you today, this color is rather pastel than bright or deep. Just like real pepper, this pastel red will spice up your brunette mane with a pleasant soft touch of red hair color, adding some fiery character to your look.
Tomato Red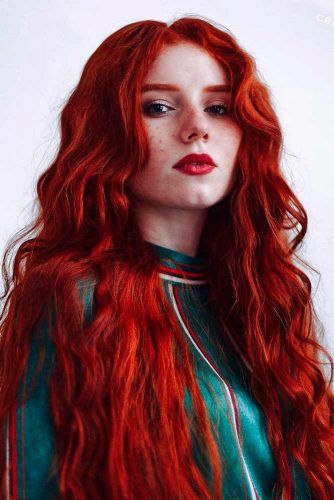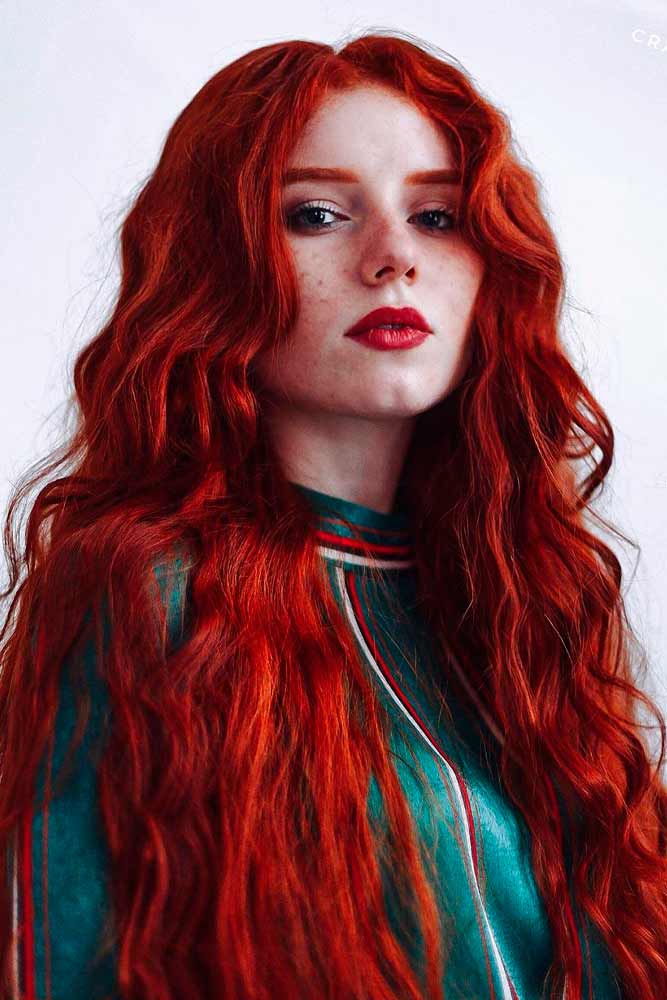 Credit photo: instagram.com/crazy_red94/
This saucy shade of red is the perfect blend of red, orange, and scarlet tones. If you want to spice things up, try this color on your long mane!
Of course, to make this shade look not drastic but authentic, you'll need to color your brows too! Also, this color suits best only girls with pale complexions and peachy undertones, so make sure that your skin tone is light enough. You can't even imagine how fantastic you will look with the classic red lipstick on your lips and this red masterpiece on your hair. Needless to say, even Victoria from Twighlight would feel envious if she had a look at this amazing sultry color!
Bold Burgundy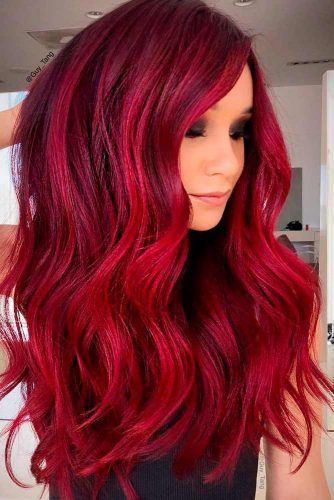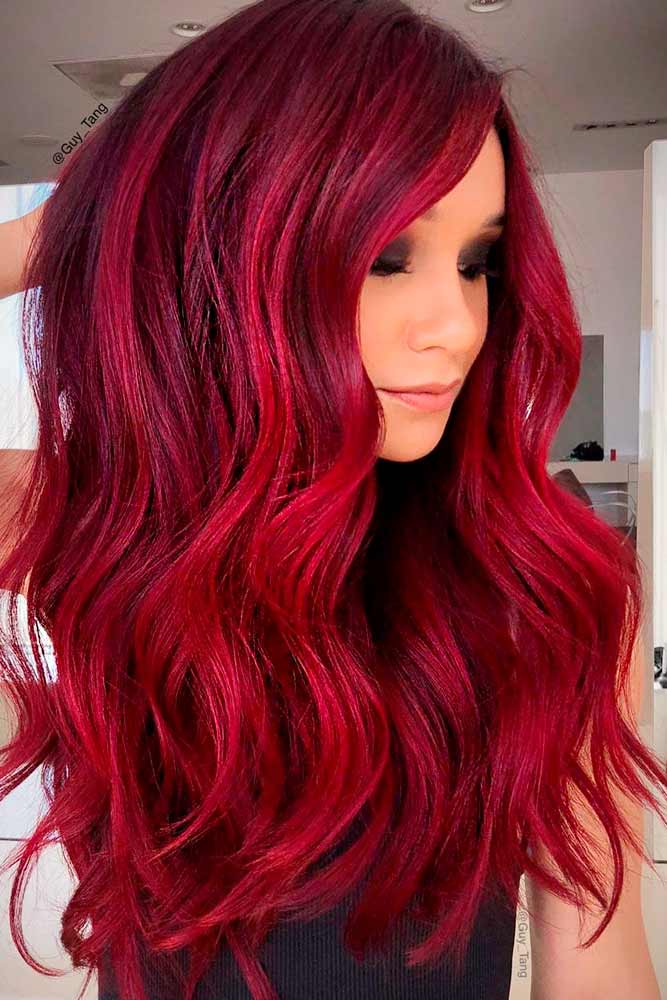 Credit photo: Alishadobson via Instagram
This dark and daring shade works best on those with medium skin tones. The color is similar to smooth red wine and will enhance your darker eyes as well.
We literally forget how to breathe when we look at this flowing mixture of black and burgundy. Some colors are designed to have all eyes on them, and this idea is one of the most prominent examples! Apply this color through highlights over your dark mane and you won't believe your eyes once your colorist finishes the color experiment. The icing on the cake? Wave your mane to see it reach its highest.
Carrot Red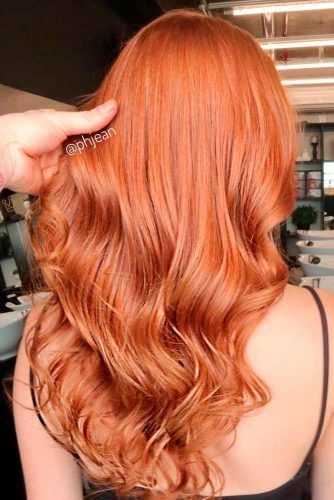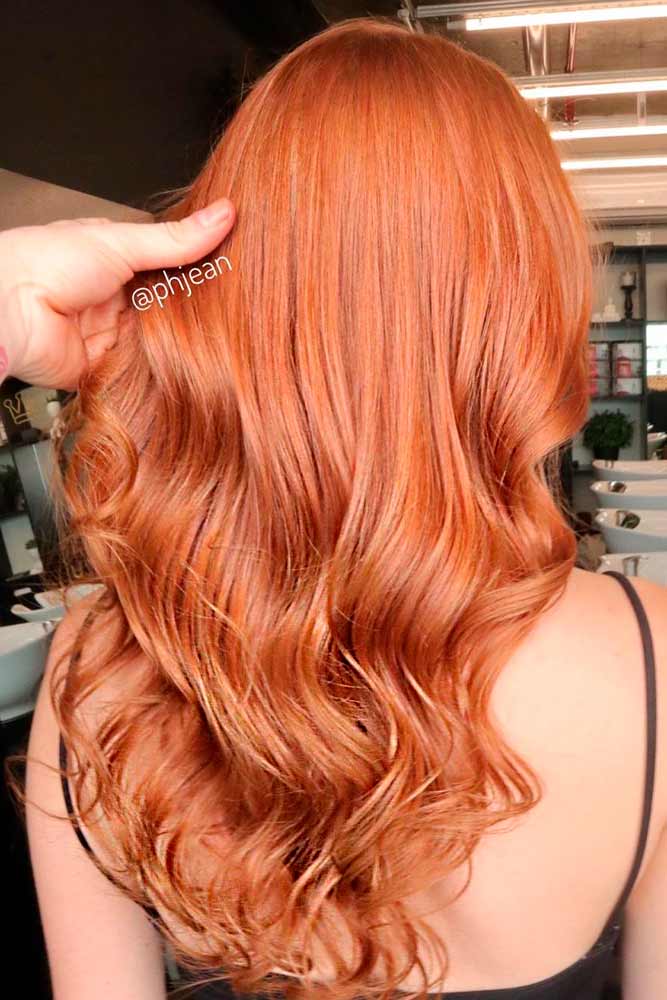 Credit photo: instagram.com/phjean/
This bright orange hue is not for the faint at heart. However, it looks fabulous with soft, beachy waves!
As a matter of fact, not every lady is ready for a commitment of this lightweight carrot-ish shade of red for one simple reason. Yes, this idea will require pre-lightening, as the color is quite light and gentle compared to most red hair color ideas. Apart from some bleach, prepare to switch to a totally new hair care routine, stoking on products designed for color-treated hair. But, all these efforts won't ever feel like tortures because the reflection in the mirror will be just to die for!
Sunset Red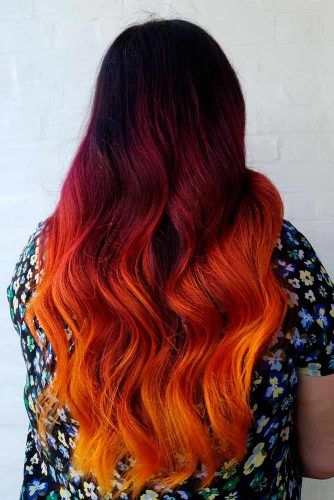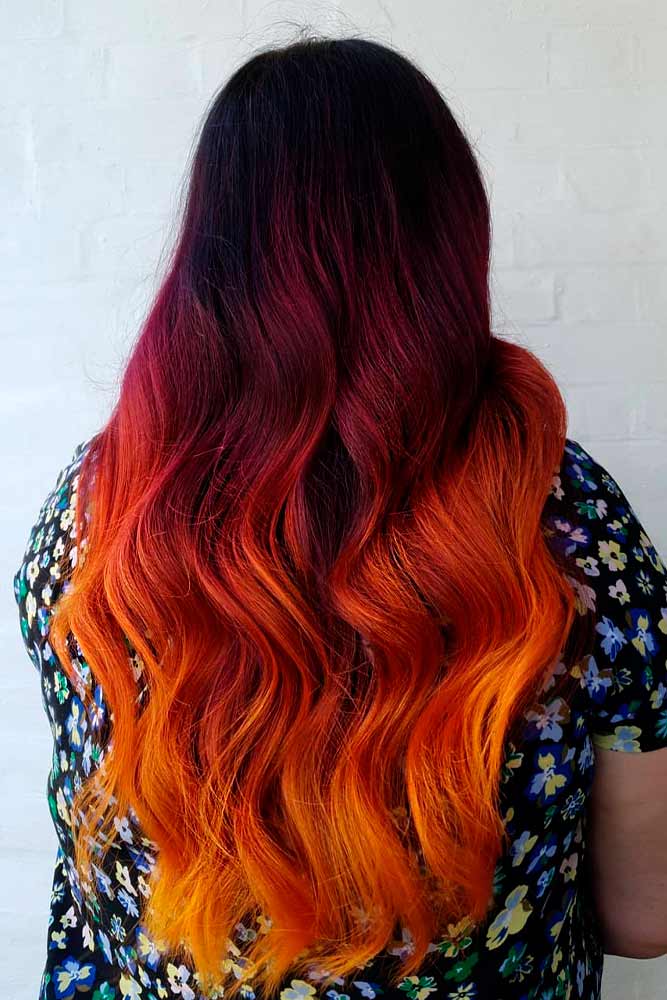 Credit photo: instagram.com/jaymz.marsters/
This pretty red and copper ombre mix will make you think of a summer sunset over the ocean. It works best on those with pale eyes and a dark complexion but you can tone it down a bit if you have a paler skin tone.
Indeed, the way one color transits to another does look like those picturesque inspiring shades of sun drowning in the calm sea. That's what we call a perfectly done coloring job, though! When playing around with ombre, think of whether the chosen colors have a middle ground or not: it's a crucial detail to consider on your way to creating a seamless transition between the colors. If you have a dark mane, start with something like burgundy; it will be a nice base for anything from orange to yellow tones.
Punky Princess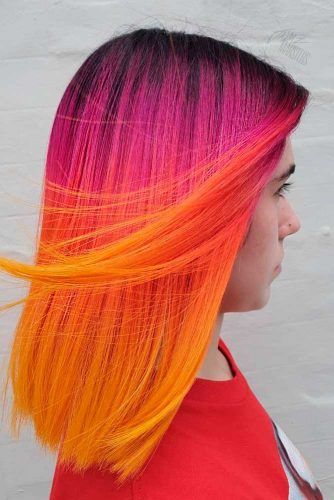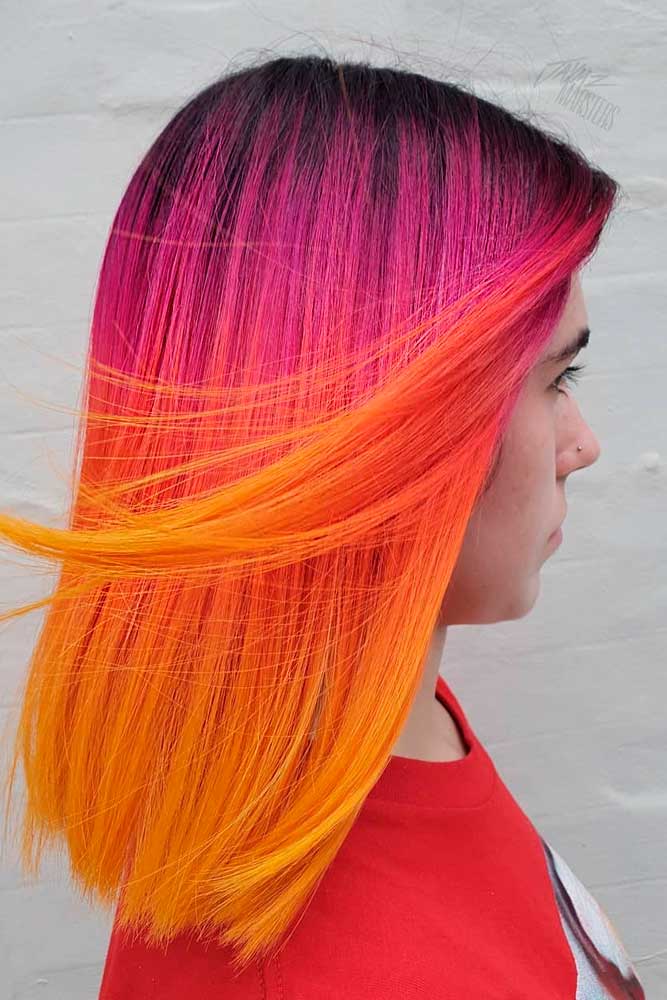 Credit photo: instagram.com/jaymz.marsters/
This super short and straight hair cut is so adorable. Mix in some neon shades of orange, peach, and yellow to give it a punk rock vibe that will make you turn heads wherever you go!
We bet that before you saw this pic you were convinced that orange and pink couldn't make a good team. But this year is meant to prove every woman that all colors can create harmony with the right approach! The short red hair ombre here is created with neons in mind, which instantly makes them match one another. And if such an extraordinary look is not enough for your bright soul, you can leave the roots dark, making them an exclamation point.
Honey Red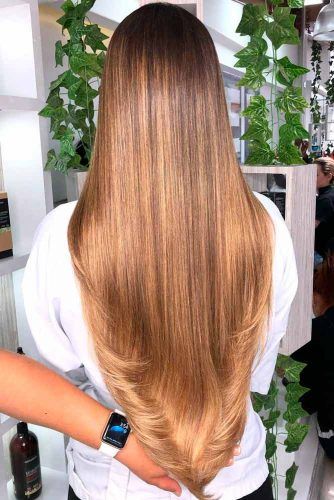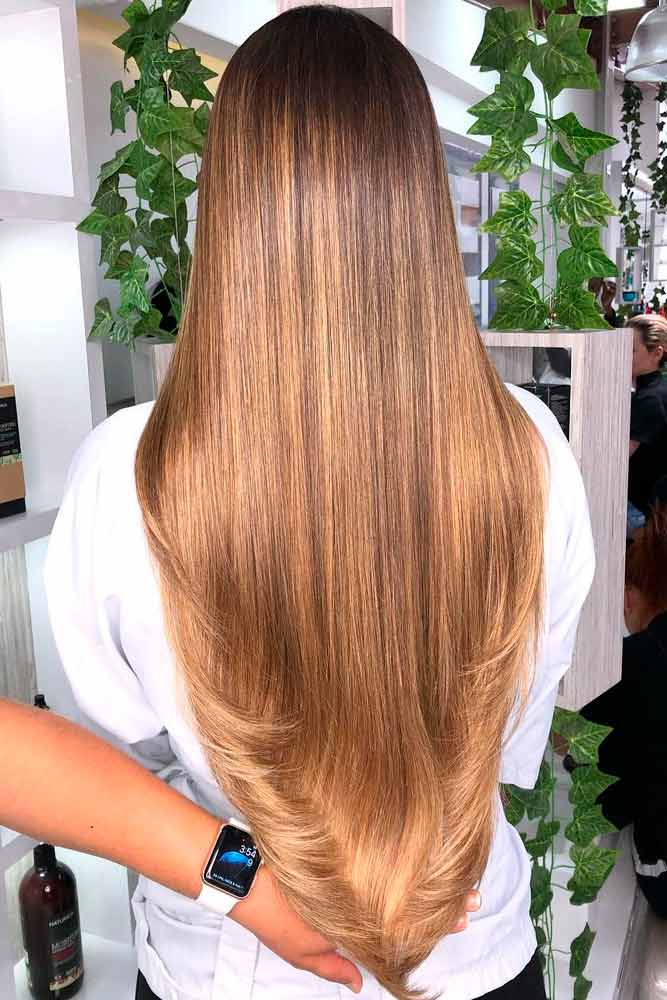 Credit photo: instagram.com/yadiartist/
This pretty light red looks like honey with red undertones. It is perfect for those with lighter eyes as it will make them shine. It will also add depth and movement to finer hair textures.
Red hair color can be different; as different as you want it to be! Just answer one simple question: when you think of red hair, what comes to your mind? The good news is, whatever your answer is, you're right, as your red transformation can be anything from dark red hair with saturated highlights or slightly visible reddish tint coating a blonde mane. If you love the second facet, this idea is you must. Not only does it have a natural look but it's also full of soft reddish warmth that you can see once the light reaches your locks.
Cherry Red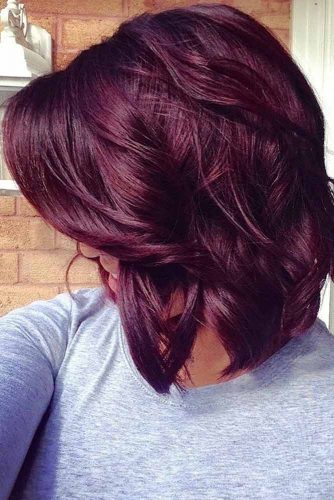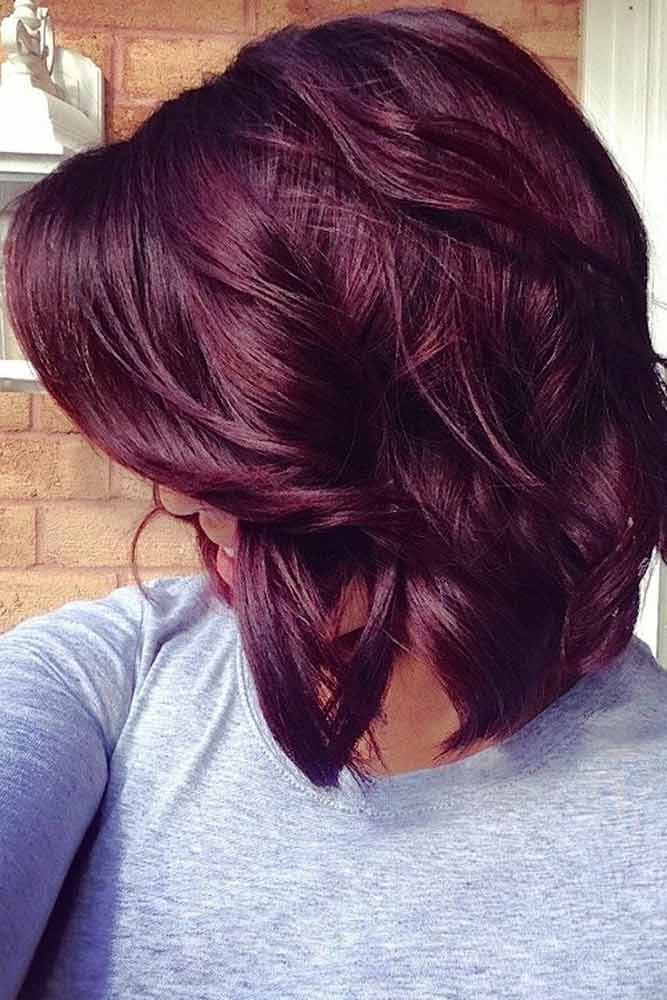 Credit photo: instagram.com/hairbypinkyp/
This profound shade of red resembles cherry cola. It looks especially stunning on this short and sassy, shaggy short bob. If you really want to stand out, you can also add some colorful pink, purple, or orange highlights.
But, we love this color as it is for its sophisticated feel that also enhances the depth of dark hair colors. And you know what? If you have a naturally dark or black mane, recreating this idea will be just a piece of cake. All you need is an intense tint of cherry red shade applied as a transparent layer to your dark hair. Make sure to maintain the color with shampoo and conditioner designed for dark-colored hair to make this fantasy stay longer.
Plum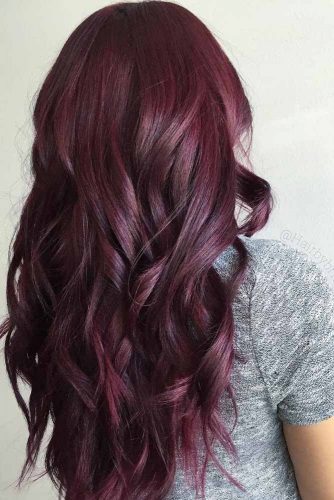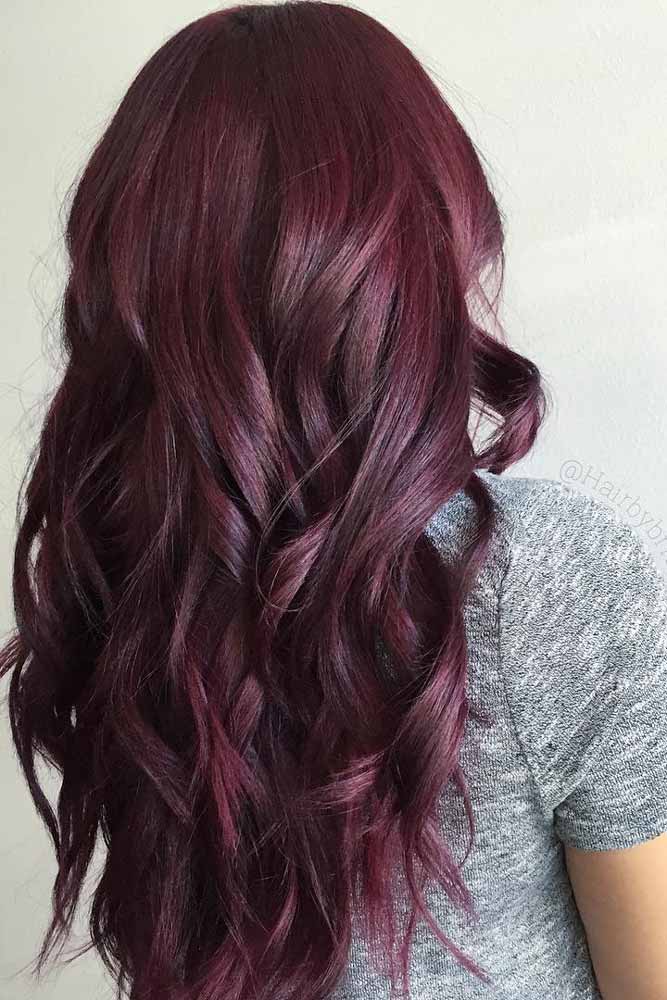 Credit photo: instagram.com/hairbybrittanyle/
This color is best for those with darker hair color and cooler complexions. The purple hair tones will really make your red hair color pop!
Plum looks similar to cherry red, but there's still one moment that makes a difference. Here, the color is achieved in the same way, yet, it focuses on the base rather than on the tint. If you love your natural deep and dark shade but still want to freshen things up, this idea will be your go-to. Opt for a purplish shade of red with moderate intensiveness so that it won't overlap your rich brunette base. Should we mention how wonderful this color looks on long wavy hair?

Are you ready to take the plunge and go red? These sexy shades of red are so much fun! Be sure to take steps to maintain your red hair color. Use dry shampoo and leave-in conditioner instead of shampooing every day to keep the color from fading. Also, avoid using heat on your hair. Only use shampoo and other hair products that are sulfate free and are for color treated hair. And protect your hair from the sun and chlorine in the summer!
What are you waiting for? Go red and embrace your inner goddess for a brave and sultry new look!
FAQ: Red Hair
How do you tone red hair?
You can use blue toner or purple shampoo for toning red hair, those colors will cancel out the orange tones. If you look at a color spectrum wheel, you see that green color is opposite to orange. Therefore, adding a few drops of green food dye to your conditioner helps to neutralize brassiness and enhance your stunning red color.
How can I darken my bright red hair?
If you have bright red hair you can darken it by dying it a dark shade of brown or black. This way red shades will not show through the hair color. Apply the hair dye of a desired color to the roots first and then work your way down.
Was this article helpful?