A bohemian side braid is very romantic and beautiful. It is also perfect for any time of the year. In addition to this, you can practice it for a huge amount of occasions. Despite the fact that it looks extremely complicated, it is actually as easy as ABC. You definitely won't be left unnoticed with this hairdo.
Source: Freckled-Fox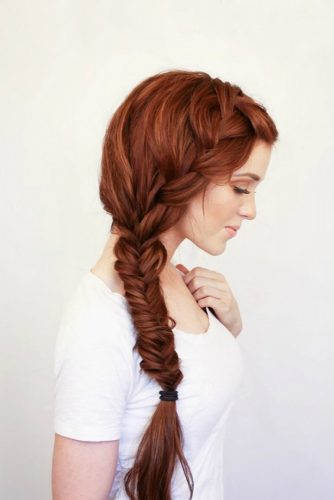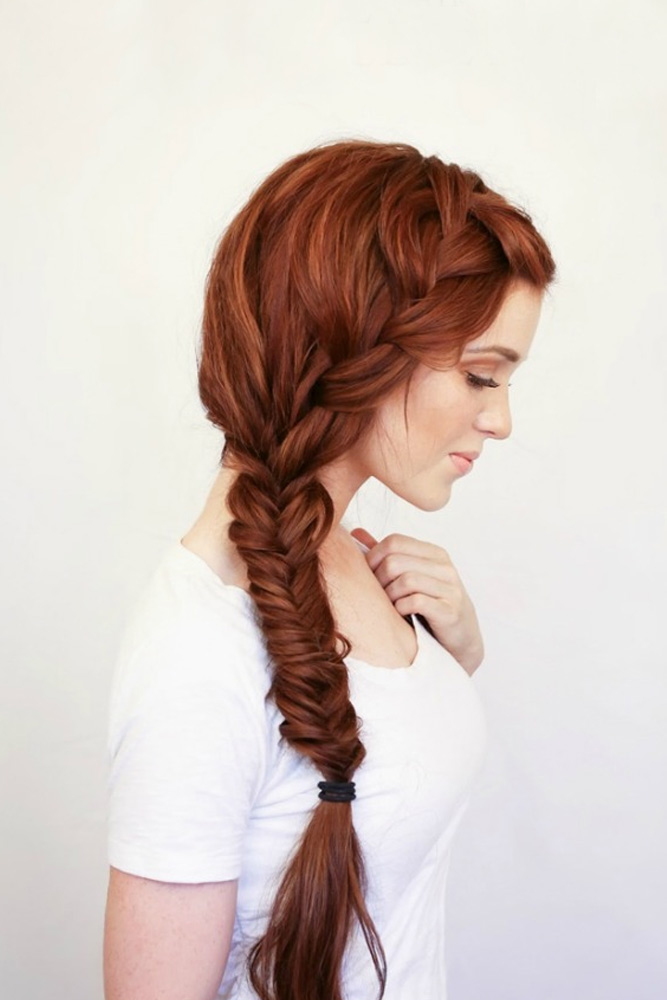 Discover how to master a bohemian side braid with our simple tutorial.
Prepare
First things first we need to prep our hair for a side braid. In order to create texture, spray some dry shampoo. Those who need more volume may tease the roots at the crown. If you have a problem with a 'do lasting the whole day, include a little bit of hairspray.
You also might like: ★ How to Do a Big French Side Braid ★ How to Do a Side Fishtail Braid ★ How to Do a Twisted Side Braid
Braiding Hair - First Step
Make a side part right till your crown. Sweep the rest of your hair to the back. We don't want the part to continue at the back.
Take a part of your hair at the top and divide it into 3 equal strands.
Start braiding by placing side section on the top of a central section and under an opposite side. As you braid along your hairline, start adding strands from the sides. Be sure you don't take strands exactly from the back.
Continue it all the way down and don't forget to add strands from the sides every time before you place sections. When you get to the ear, tie up the braid with a clear hair tie.
You also might like: ★ How to Do a Half Up Side Braid ★ How to Do a Double French Braid With A Ponytail ★ 12 Favorite Braided Hair Tutorials
Braiding Hair - Second Step
Now we will work with the opposite side of the head. Take the rest of your hair and start twisting it away from your face. Swoop the twist around towards the back in order to join the twist and the braid together.
French Braid Into Fishtail
At this point, you should have all of the hair together. Now we turn our French braid into a fishtail. You simply do this by dividing your hair into two sections, and then you take a small section from one side and put it over to the other side. Do the same on the opposite side of the fishtail. When you are done with it, secure your fishtail with a clear hair tie.
As a finishing step, pull out the braid just a little bit to make it looser and add some hairspray to complete it.

Don't be worried if it isn't picture perfect because a sort of a messy finish is exactly what we need.
FAQ: Side Braid
What are accent braids?
Accent braids are a simple way to add some extra flair to your regular hairstyle. Leave your hair down and add a single braid on one side of your head, or make a basic ponytail with a braid. Accent braids look great with half-up, half-down styles and buns, and you can even make a headband out of one.
Are braided pigtails unprofessional?
Pigtails are typically seen as unprofessional. If you're a woman looking for realistic advice on how to succeed in a male-dominated workplace, better look no further and avoid pigtails or tube caps.
Why you should not braid your hair?
If the hair is pulled back too firmly, it can tear off its roots, causing splitting, hair weakening, and follicle damage. Keep the braid slack at the start. Tensile stress is often caused by repeated straining on hair follicles produced by too tight braids.
Was this article helpful?