Shoulder length haircuts are both stylish and practical. If you have really long hair and you're ready for a change but not yet ready to commit to chopping off all of your hair, a shoulder length cut is a great place to start.
Medium length haircuts are really versatile as they are still long enough to wear your hair in an updo or ponytail, but they aren't so long to weigh down your hair. A mid-length hairdo can add a lot of body and movement to your longer tresses. You can add longer layers for even more body and movement. Or, how about a funky ombre or sexy balayage effect to add depth and dimension to your hair? With shoulder length cuts, the possibilities are endless for sexy new styles!
Whether you are looking for bob haircuts or a fun choppy haircut, you can easily find a great way to rock a shoulder length cut.
We have put together a list of our favorite trendy shoulder length haircuts for 2023.
*We may earn money from affiliate links on this page. Please check out our disclosure policy for more details.
Shoulder Lenght Haircuts for Different Face Shapes
Credit photo: Instagram.com/salsalhair
i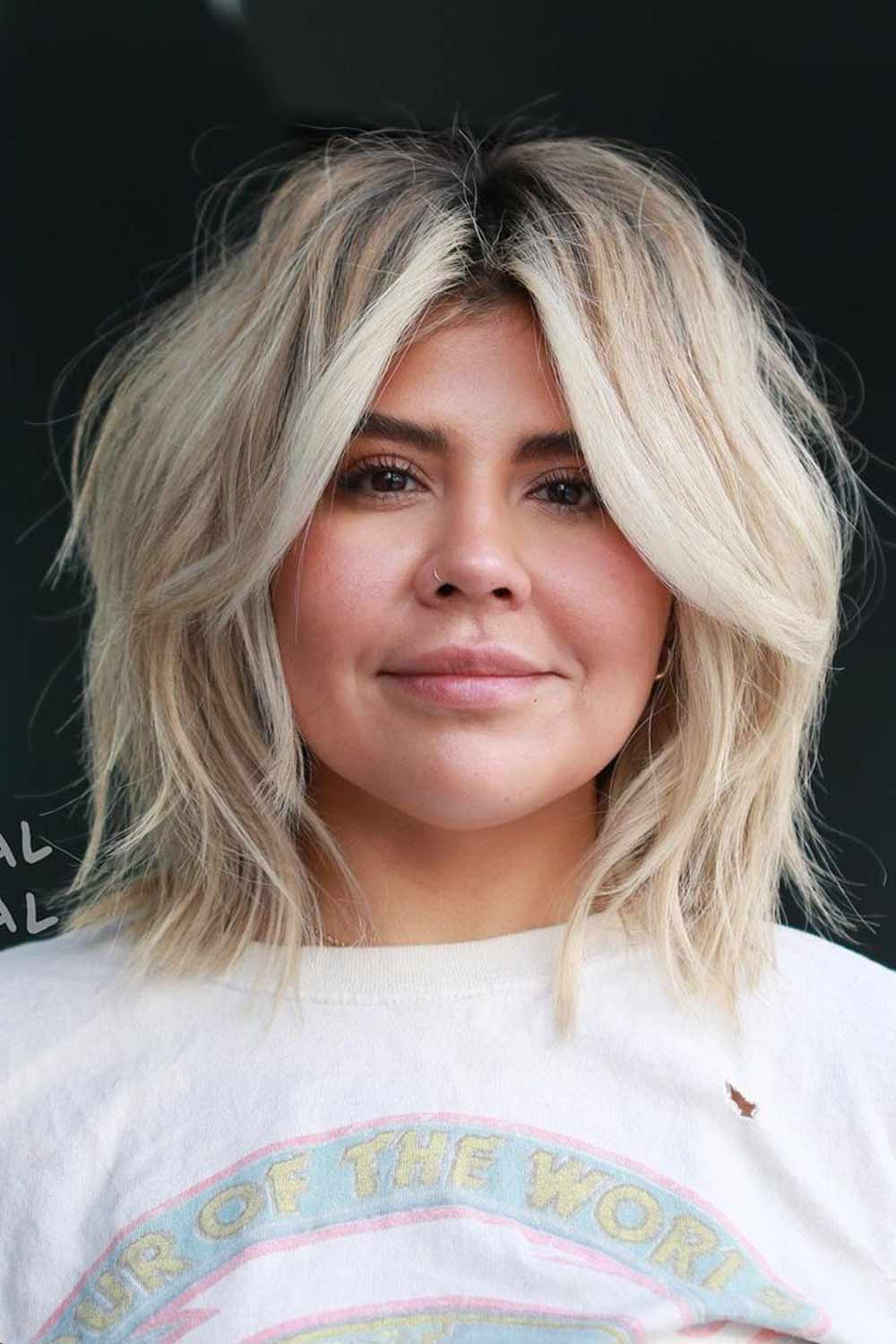 Credit photo: Instagram.com/salsalhair
i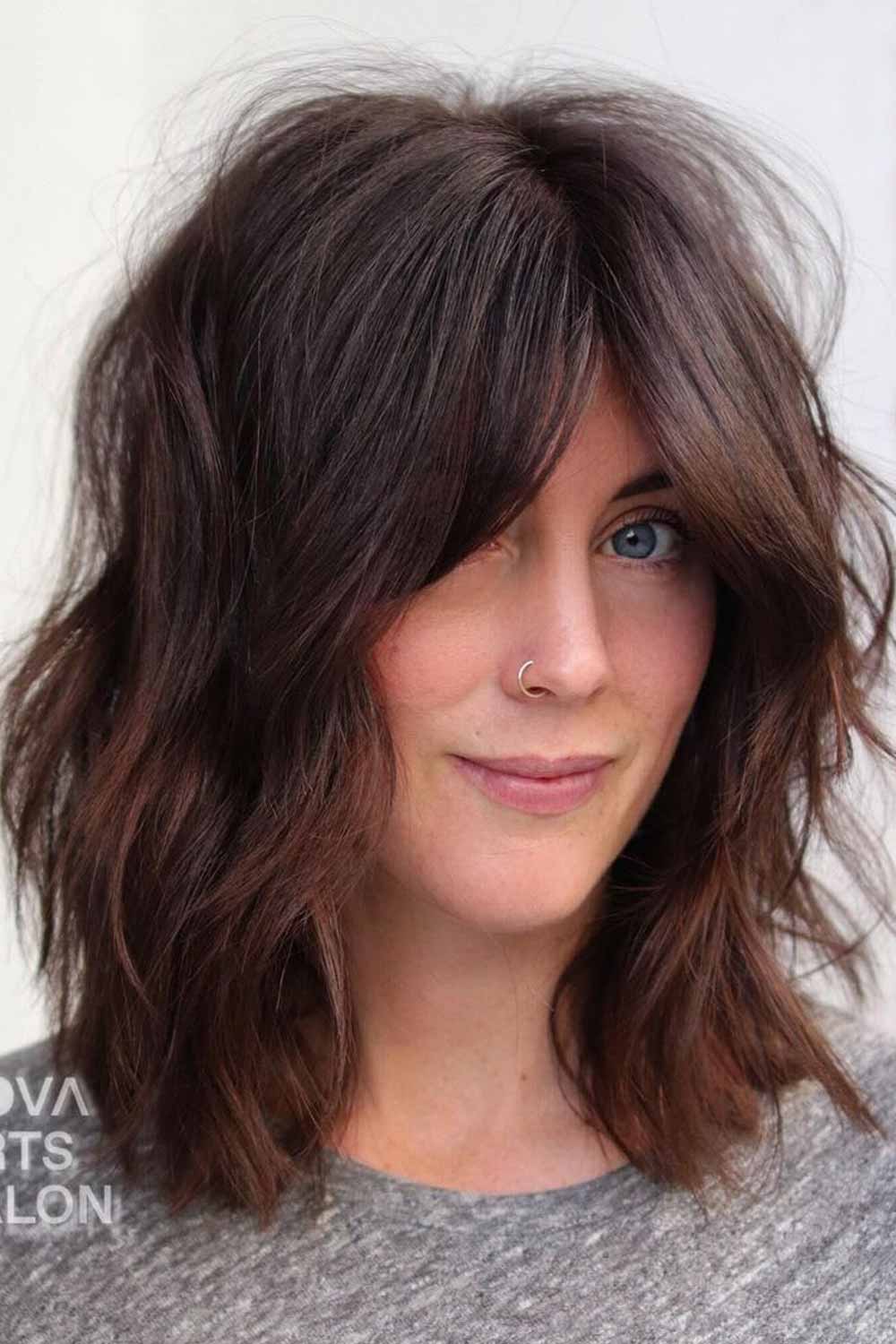 Credit photo: Instagram.com/salsalhair
i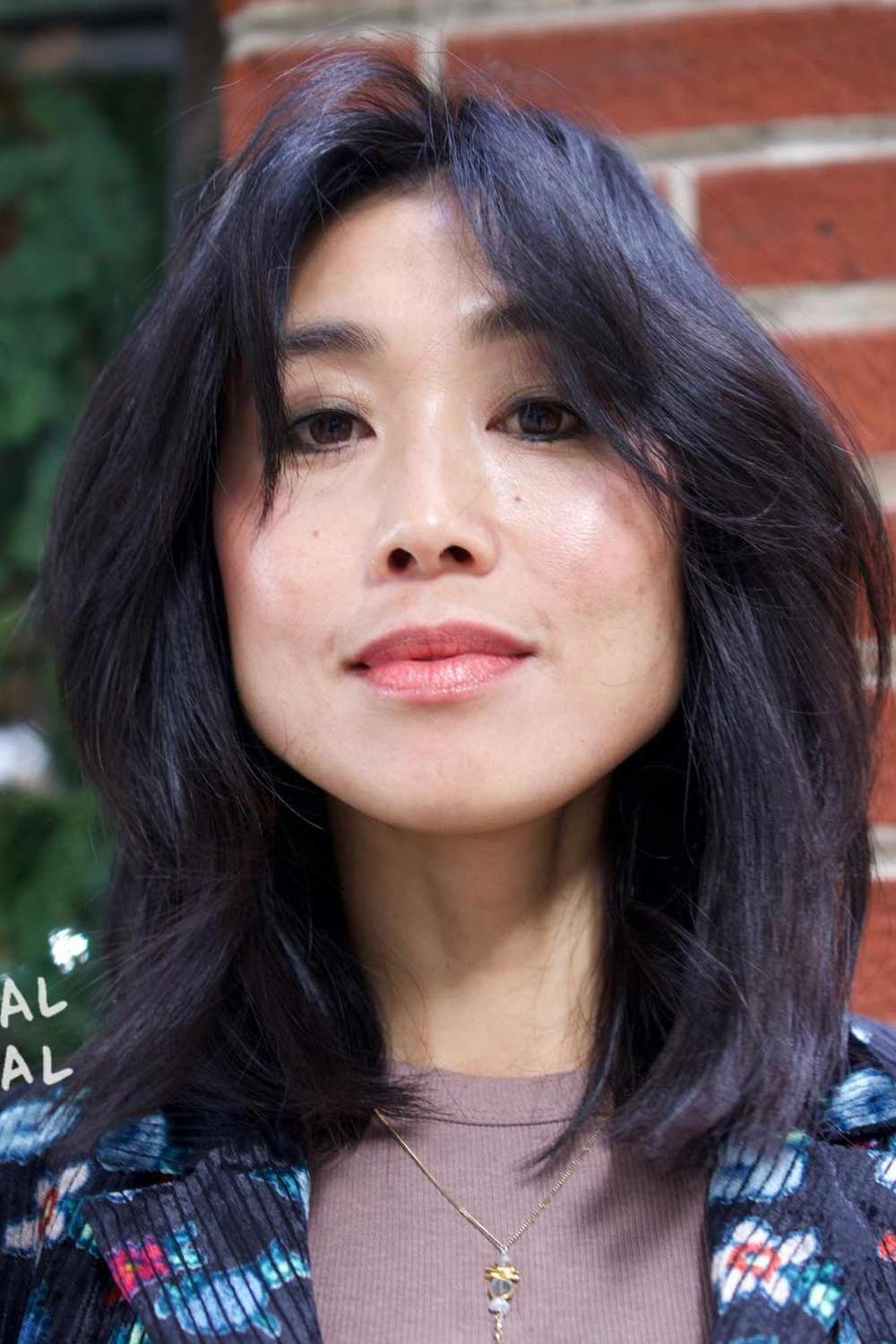 Credit photo: Instagram.com/salsalhair
i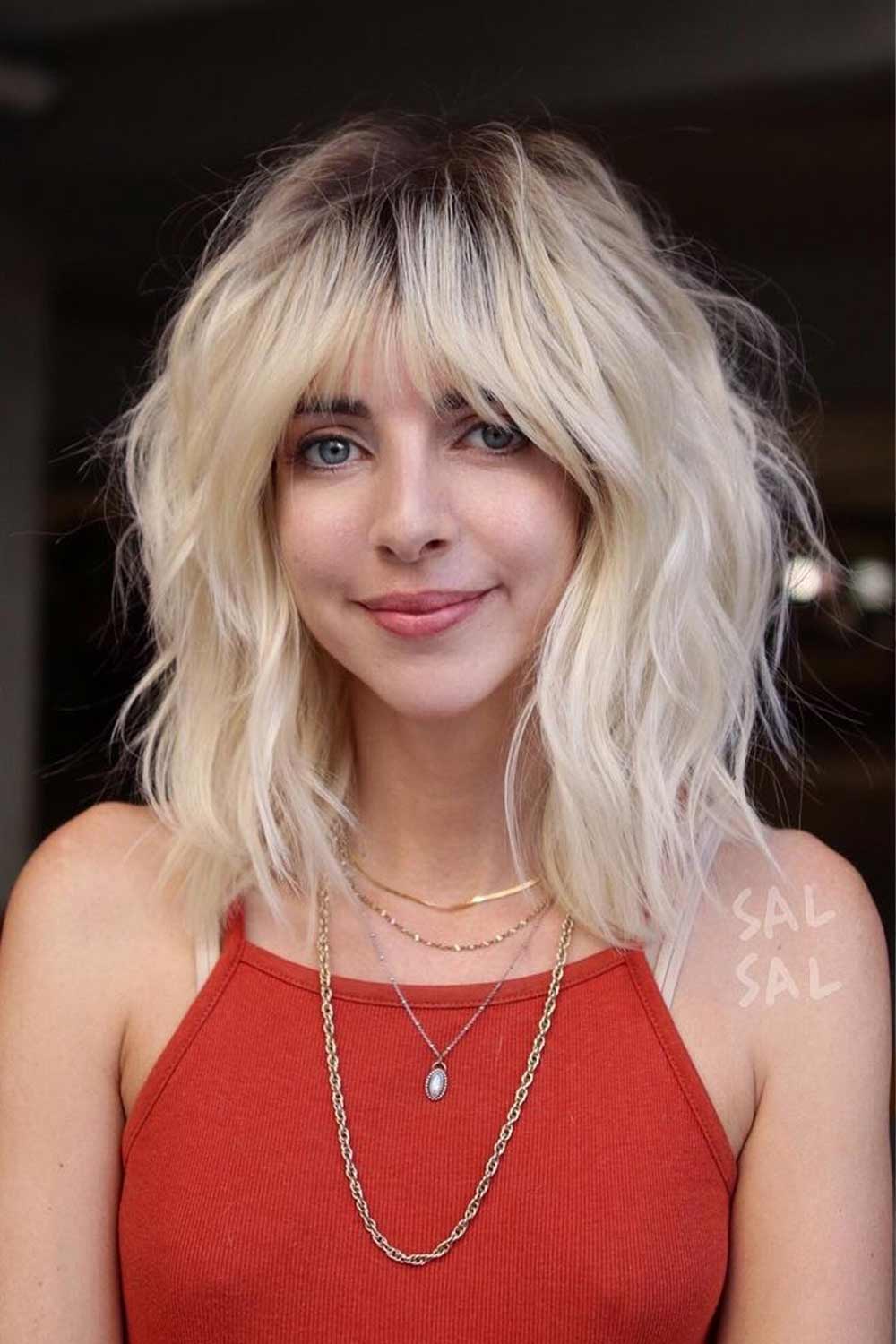 Credit photo: Instagram.com/salsalhair
i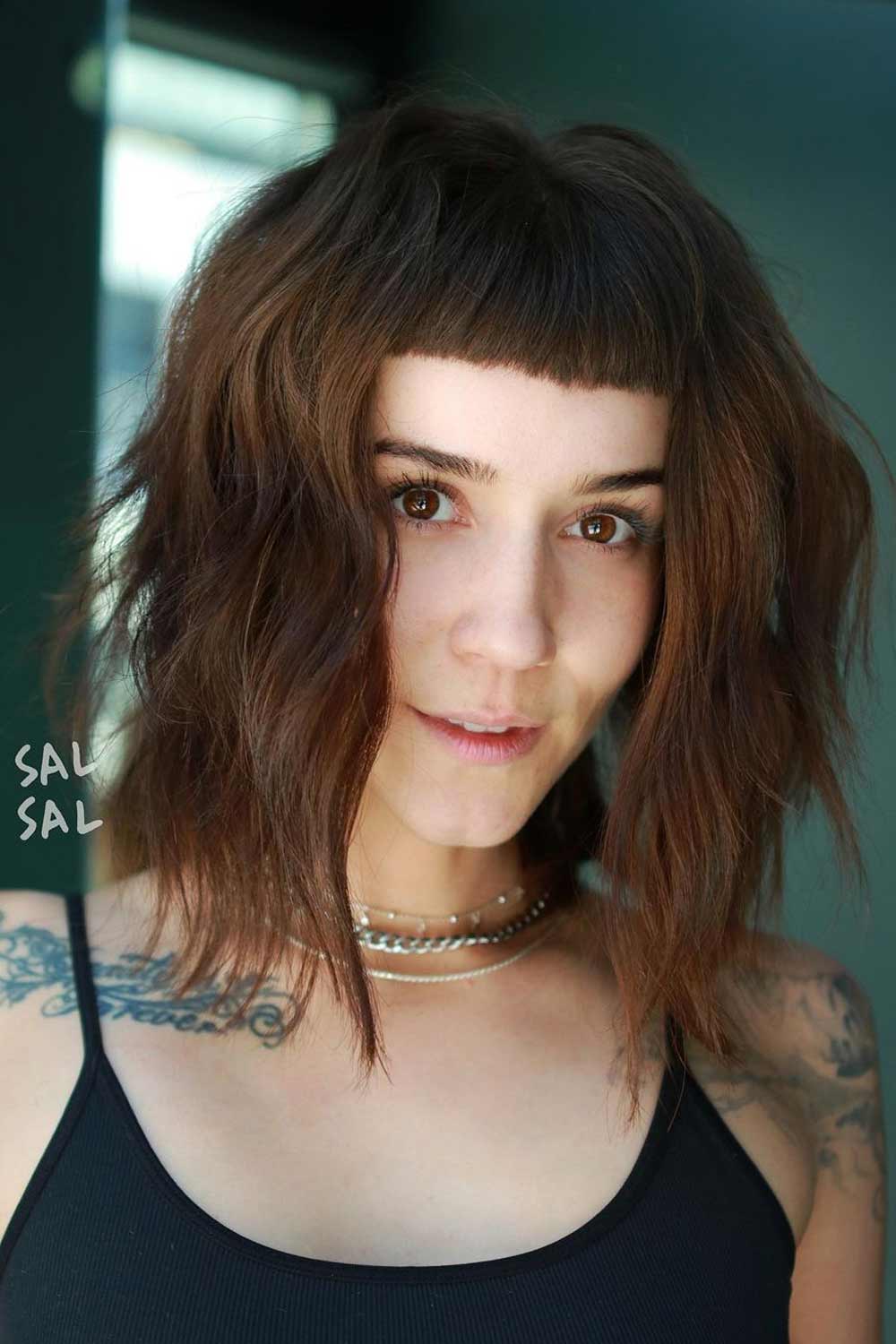 /
Your face shape usually predetermines which hairstyle suits you best, and shoulder-length cuts aren't an exception. Considering the mentioned factor, you must be aware of how to choose the style to show your facial features in the best light. Let us point you in the right direction.
Oval face: if you have an oval face shape – consider yourself the luckiest in the universe since there's barely a look you can't pull off. The shape is the most universal, and layered bob, lob, or shag will look equally well on you.
Round face: the best way to hide away the roundness of your face is to elongate it through a skilfully chosen haircut. Anything with layers and a voluminous top will suit the purpose. We suggest you consider layered bobs/lobs and textured shags in the first place. These styles are known for their slimming advantages.
Square face: many people dream about angular faces, but a square face requires a unique styling approach as the rest of the shapes. It is advised to opt for soft layers to create movement and keep the unwanted angles hidden. A long bob with a side part may be an excellent idea to brood upon.
Heart shape: overall, the heart face shape is simple to work with. All it takes is to balance your face with a side part, and some volume added to the top. That's where layered cuts come of immense use.
Diamond face: this unique face shape can be flattered through chin-length bobs and layered lobs. Don't forget to introduce some volume to the top.
We've laid out the simplest suggestions concerning each face shape, but a skilled stylist will have much more to offer. So, a professional consultation is still on the table.
Shoulder Length Hair Styling
Credit photo: Instagram.com/salsalhair
i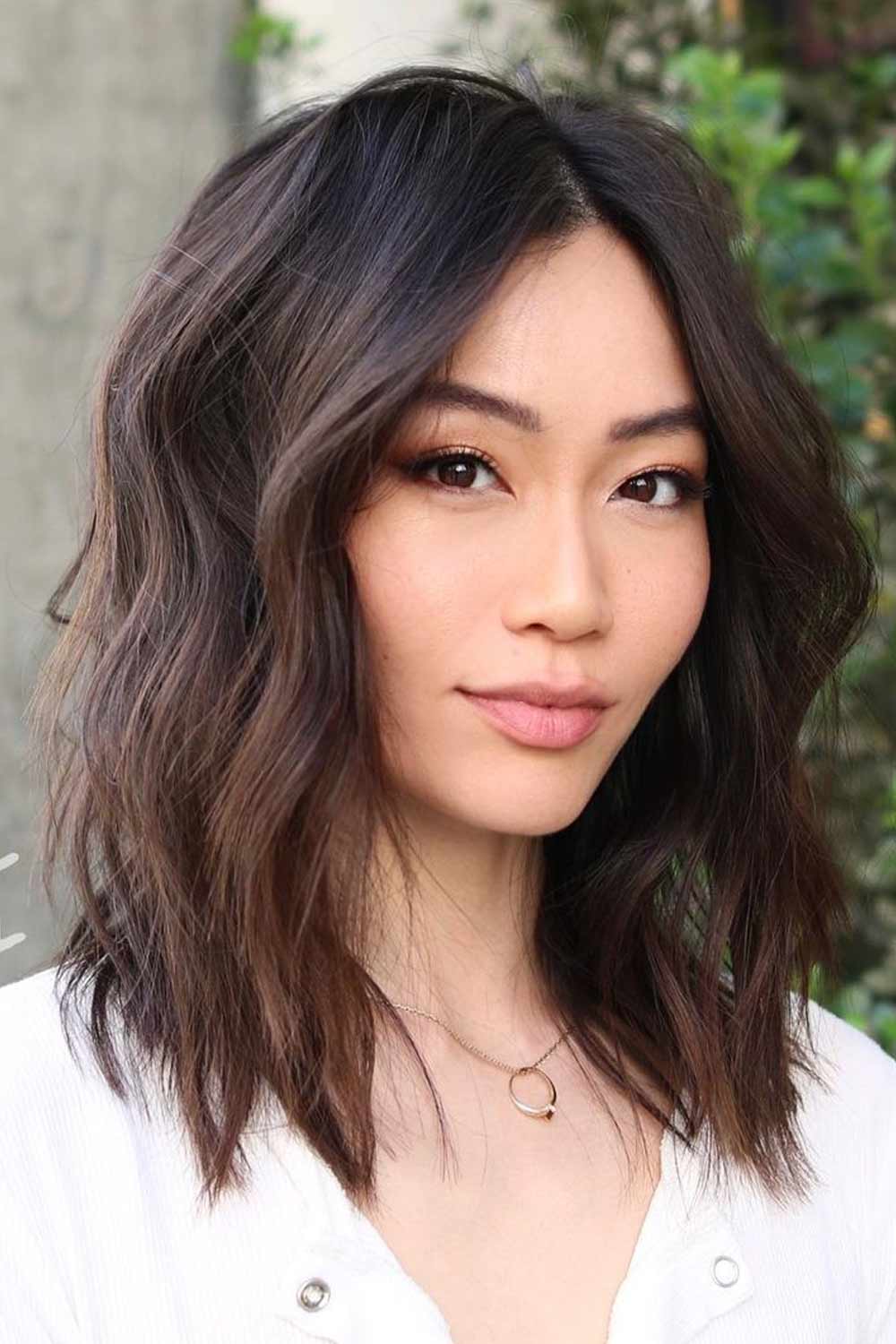 Credit photo: Instagram.com/salsalhair
i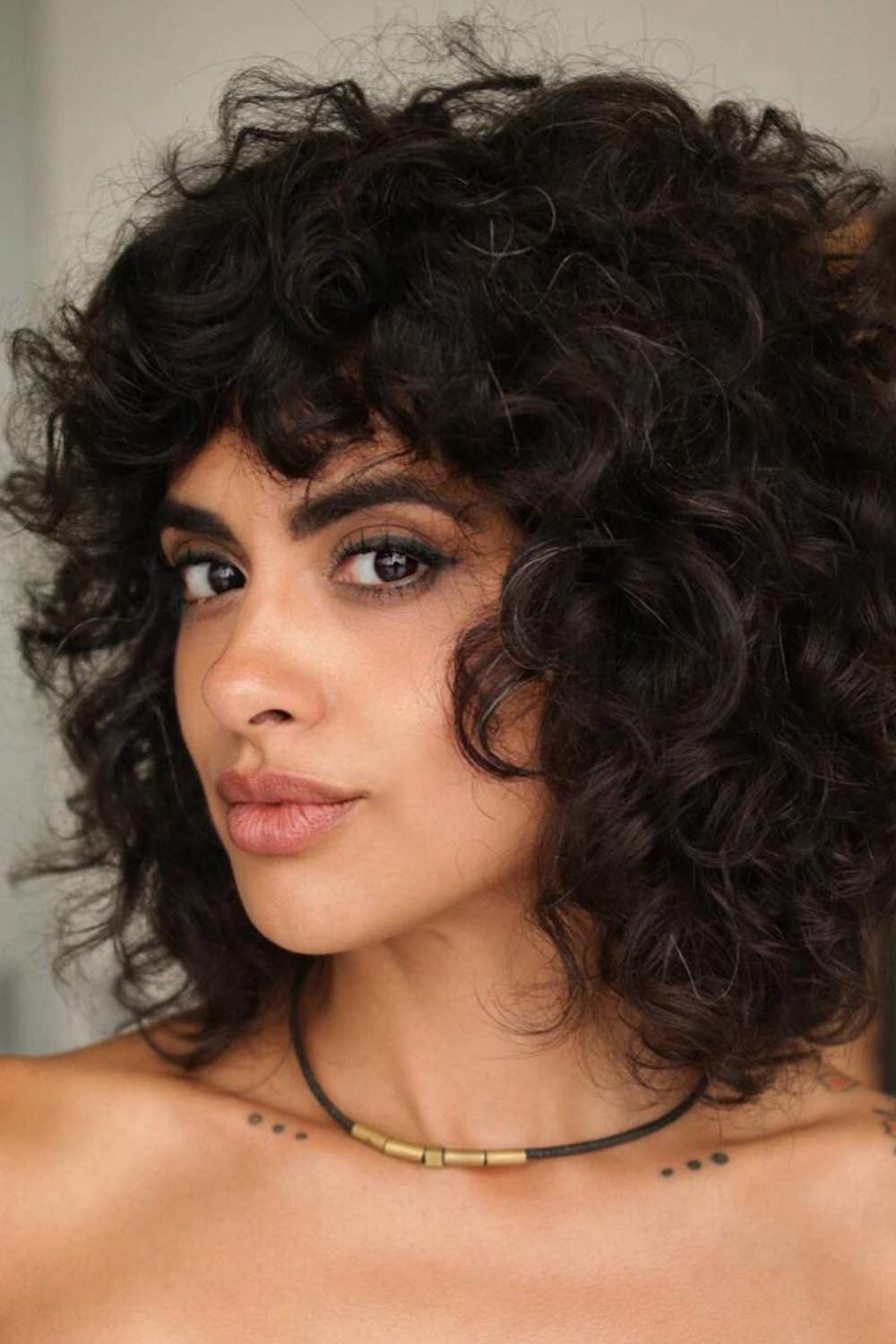 /
After you've come up with a perfect haircut, you must figure out how to style it on a daily basis to preserve the after-salon appearance and charm. There are a few tips that will come of use when dealing with shoulder-length manes:
Products: choosing proper care products is as critical as picking the fittest haircut. You may want to ask your stylist to give you a list of the most reliable products to require. In either case, you should pay attention to those products designed for your hair type and texture in particular. For instance, ladies with fine locks will benefit from volumizing mousses and sprays that add volume to the hair.
Blow-drying: while you may want to limit the styling routine to an acceptable minimum, you should use a round brush any time you decide to blow dry your mane. The brush will help you create the necessary volume and introduce the desired movement to the look. Start at the roots and move down to the ends.
Partings: there will come a time when you'd want to change something about your look, and instead of heading to the salon, you can play around with your part. Try a central part, side part, or even a zigzag to change your style and find the most flattering option for yourself.
Waves and curls: the easiest way to add volume to your hair is to use a curling iron or even a hair straightener. Light waves or tight curls will help you sport a different style on a regular basis, with the bonus of extra volume added in the process.
Hairspray: no matter how great a look you create in the morning, it will fade away the minute you step out of your door. To preserve the desired style for as long as possible, we suggest you use some light-hold spray to secure your efforts in place.
Overall, shoulder length haircuts are incredibly versatile and fun to play around with. So, you shouldn't be afraid to experiment with your look and enjoy the outcome.
Maintaining Tips
Credit photo: Instagram.com/salsalhair
i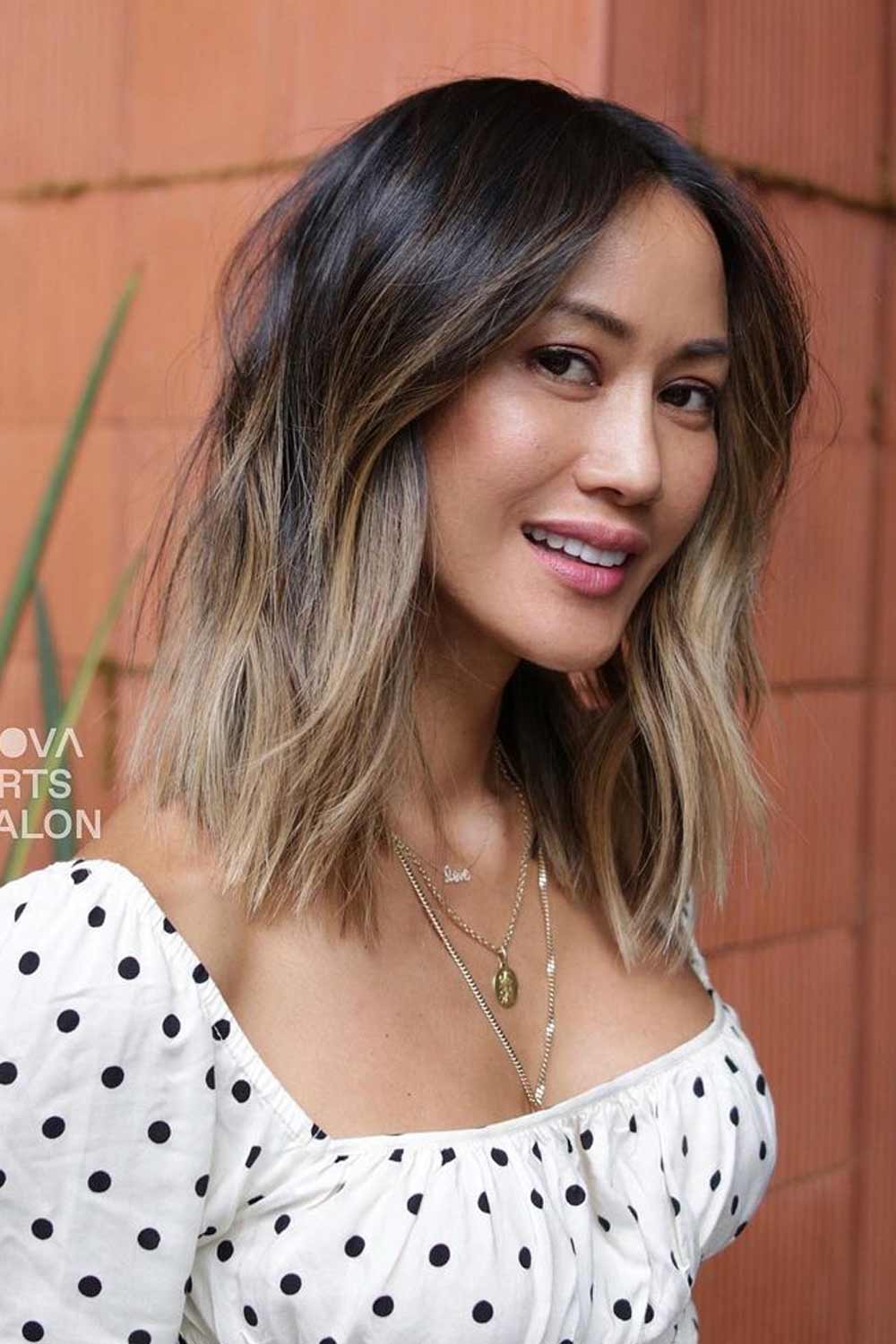 Credit photo: Instagram.com/salsalhair
i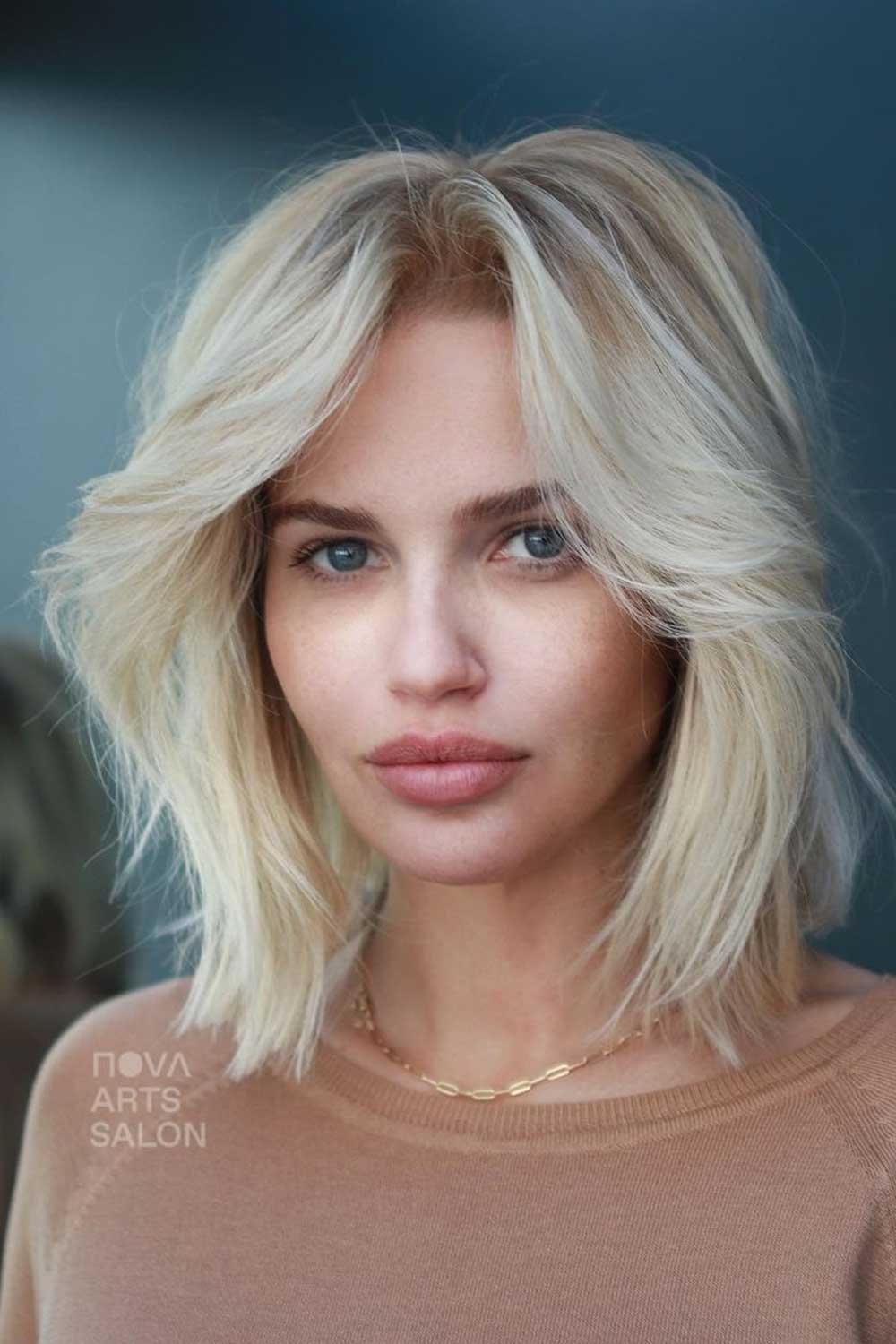 Credit photo: Instagram.com/salsalhair
i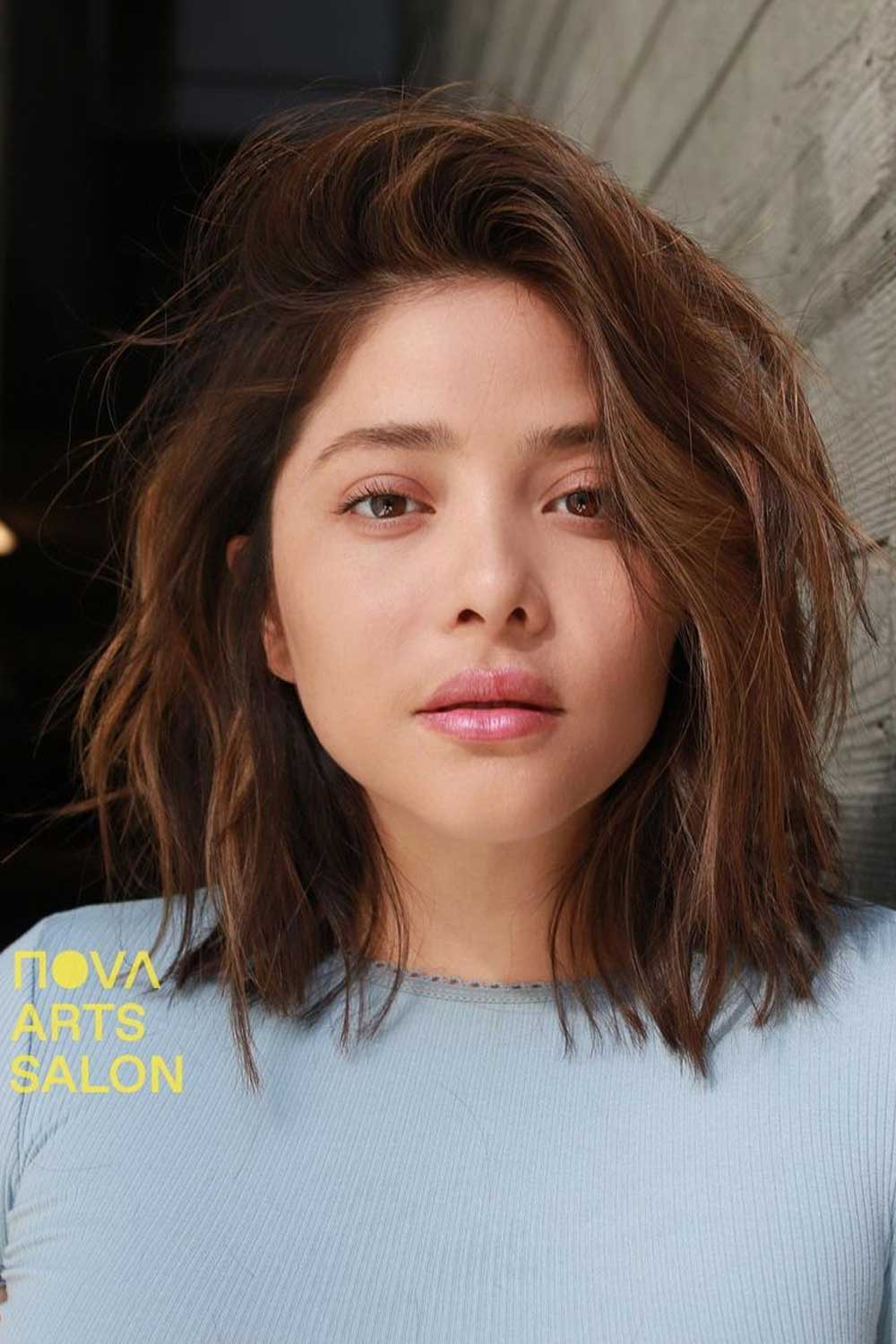 /
No matter how beneficial a style you choose, the health of your locks will play a significant part in the process. Use these compelling pieces of advice to keep your tresses shinning and fresh:
Regular trims: no matter how busy your life gets, you should always go for a scheduled trim to keep the ends from splitting and ruining your polished look. Besides, some haircuts look their absolute best in one length, and as your hair grows out, the style loses its appealing traits. Trim your locks every 6-8 weeks, and you will be surprised at the outcome.
Hair care routine: it's already been mentioned that choosing the proper washing and styling products is critical. Don't neglect your hair type and texture. If you have a curly mane – use a curl-defining mouse. A straight mane will benefit from smoothing serum.
Protection: no matter how useful your curling iron, blow-dryer, or straightener is, you must protect your tresses from the heat. Thus, spreading a protective sprat over your stands before initiating the styling routine is necessary.
Washing routines: washing your hair is mandatory, but overwashing isn't great for the health of your mane. Limit your washing routines to every other day and keep a dry shampoo bottle at hand to battle the bad-hair-day effect.
Embrace your texture: you have to learn how to love your naturally curly or straight texture and use it to your ultimate advantage. Styling your natural hair texture will be twice as manageable rather than going against it.
Follow these simple tips to make your shoulder length haircut look perfect at all times!
Blonde Shoulder Length Haircuts That We Are Sure You Will Just Love
Voluminous Long Silver Bob With Bangs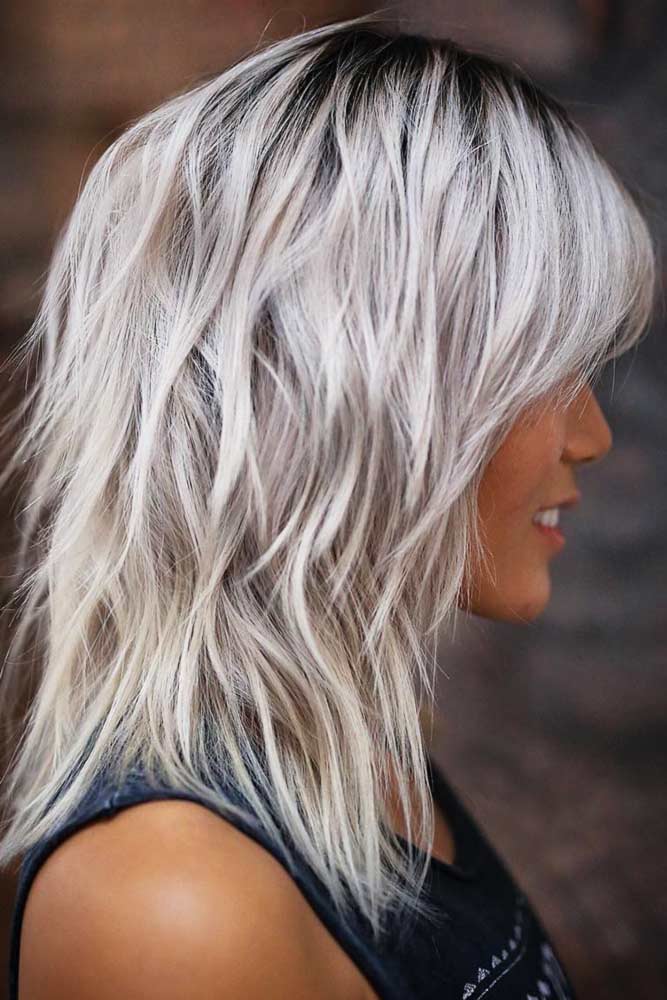 Credit photo: instagram.com/buddywporter
Shoulder length hair is considered a happy medium between short and long hair, not for nothing. The truth is, with the right cut, your hair can embrace the edginess and volume of short locks and the lushness and richness of longer locks. And layered haircuts are the first thing to consider when you want your look to involve all these features.
Such medium length layered haircuts fascinate with their super-dimensional looks, giving a lot of natural movement, texture, and lift to any hair type. For thick hair, they will texture up the ends, thus making your hair more airy and manageable, while creating very full silhouettes for thin locks. Want to rock this summer in a modern way? Go for a long layered bob with bangs that will captivate everyone with your silver hair!
Side Bang For A Trendy Shaggy Bob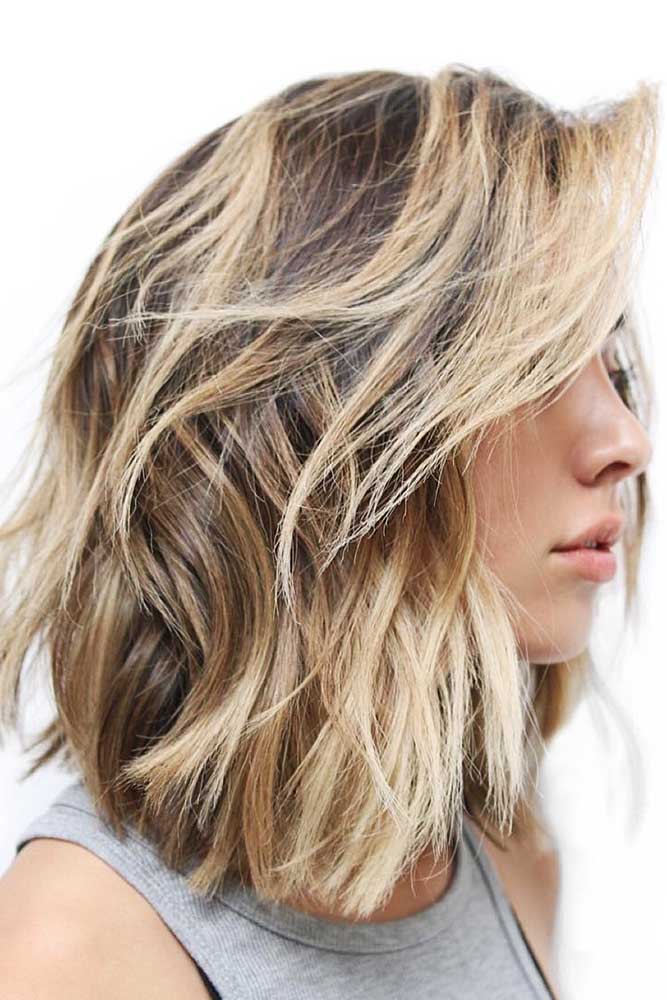 Credit photo: instagram.com/salsalhair
Believe it or not, if you opt for a shaggy bob haircut, you'll never be mistaken in choice, especially if your shag is a bit asymmetrical or angled. Nowadays, the more tousled your look is, the more fashionable and flexible it is.
By flexibility, we mean the countless styling options that edgy layers of shags can give you: you can shape up the cut by waving your dimensional locks and create many new silhouettes by simply changing the parting.
The best thing about the cuts is that they also work well for any hair type, taming fine hair and lifting up thin locks. Want to add some more character and color dimension? Let balayage hair do the talking.
Straight & Blonde Long Bob Haircut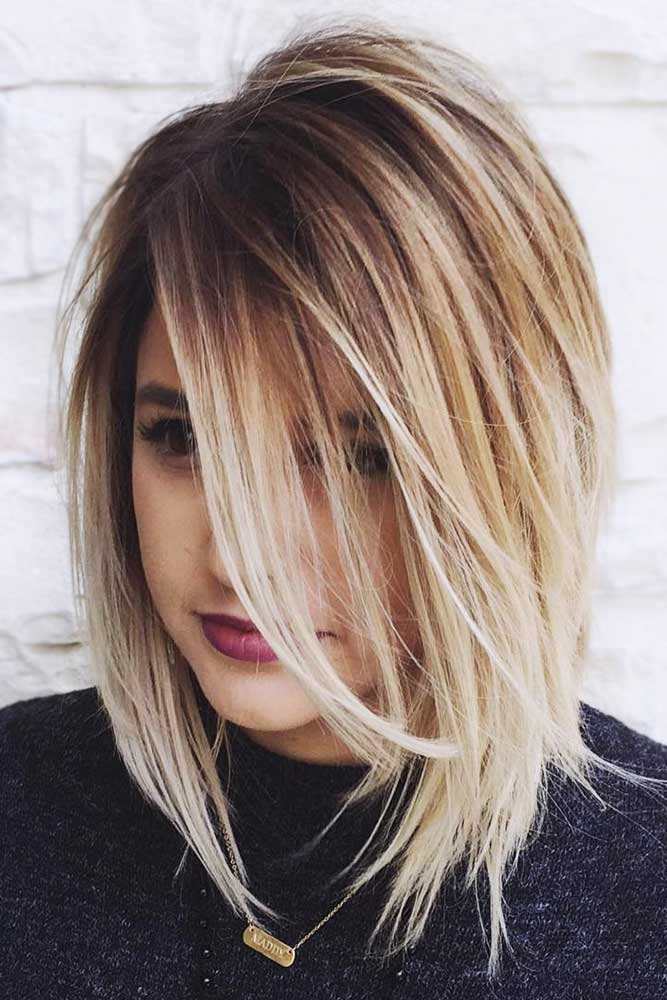 Credit photo: instagram.com/hairbyjessica_
We all know that dealing with straight hair means that you should do your best to keep the look sleek yet voluminous. One of the main problems of straight locks is that they tend to fall flat, regardless of one's hair type and length. And you know what? The right cut is the solution, as always.
Once you give a long bob a try, you'll see the difference: the top will be easier to lift up during styling, and the front will become rounder. And that is awesome for those who'd like to frame their faces. And if it's a blonde bob, achieved with balayage over the brunette roots, you'll forget about flat looks once and for all.
Layered Cut with Bright Highlights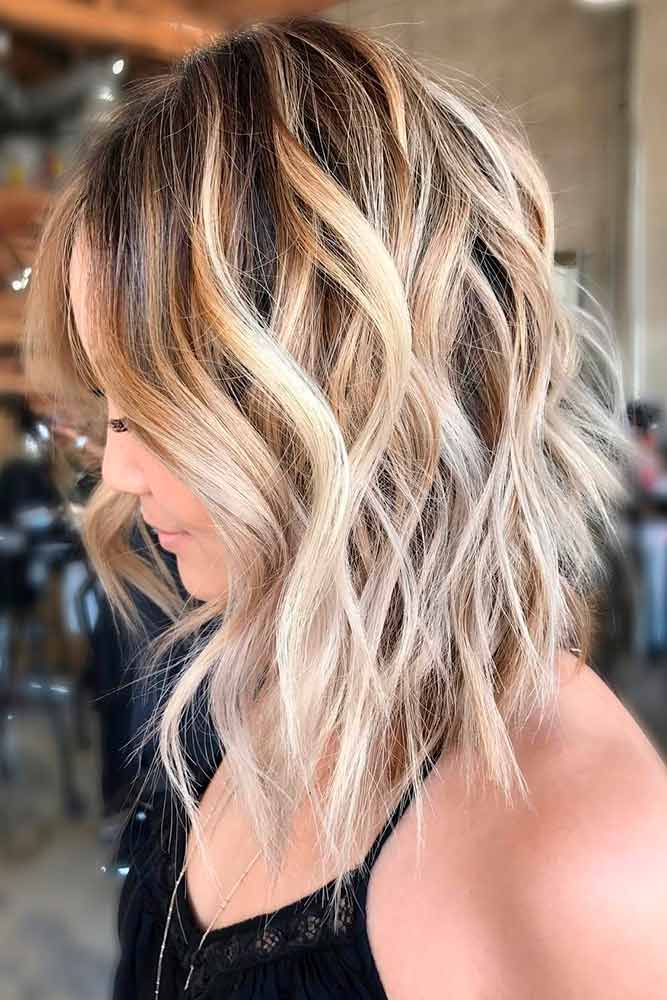 Credit photo: instagram.com/jmalonehair
When layers and highlights come together, everyone gets speechless: the movement of locks and the depth of color play simply make people lose their minds. If you think that it's impossible to bring it to life with your thin hair, it's time for you to rethink the image of your hair with our shoulder length layered haircuts. As a matter of fact, there's nothing bad about having thin hair when you rock the right haircut. And a layered haircut, where lots of layers amp up the silhouette of your hair, making every single strand stand out, is what we mean by the right cut. This shoulder length style is quite playful with dark roots and blonde ombre highlights at the tips. The layers will give you plenty of extra volume on this subtle lob for a fun an edgy look. Voila! Say goodbye to the thin-hair look.
Straight Lob With Blonde Sombre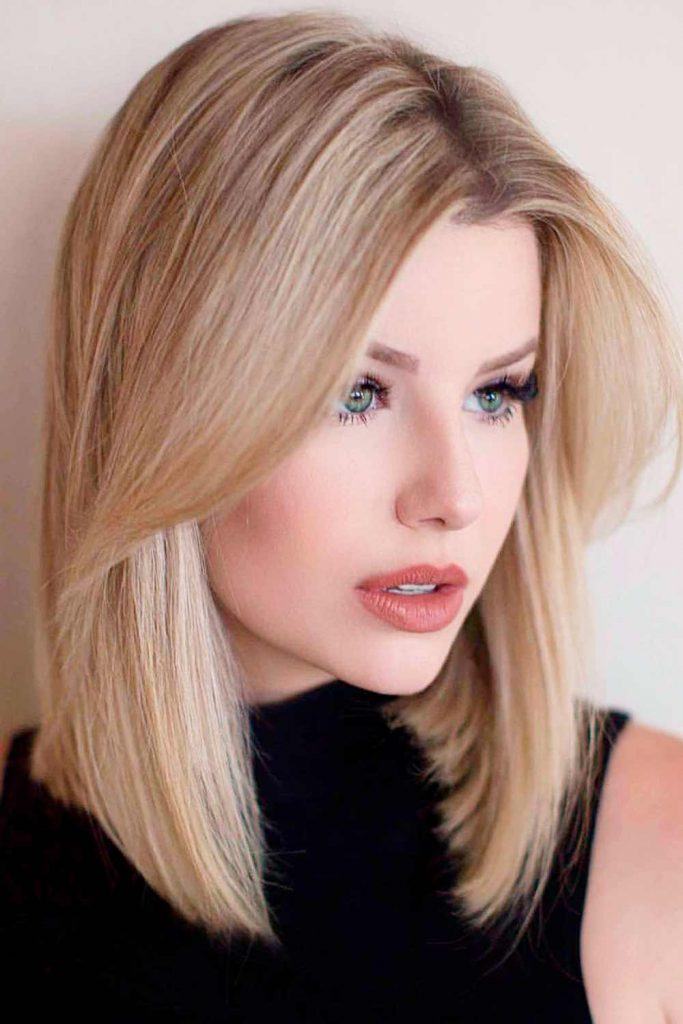 Credit photo: instagram.com/teteclementino
Sombre is a great option for those who want a subtle but stylish change in their hair color. This medium length blend from natural to whitish blonde is soft and sexy. The perfectly straight texture of shoulder length hair makes the color combo flow smoothly from roots to tips, reflecting the shine. Unlike ombre, sombre mixes colors gently, making them form a single whole, yet without giving a one-toned look. But before calling your colorist, make sure that your hair will handle the beauty of such color graduation. In other words, your haircut should be perfectly leveled and balanced so that it can show the color job at its best. Well, classic, one-length lob haircuts for women are something you won't go wrong with.
Blunt Lob With Natural Highlights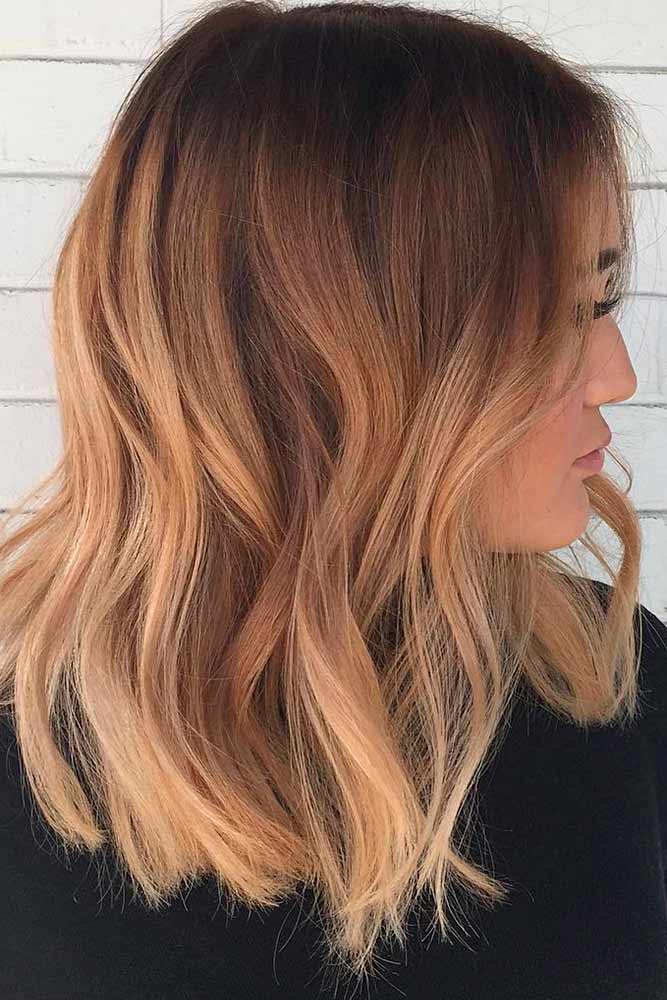 Credit photo: instagram.com/beauty.yais
Now, let's see how shoulder length haircuts work for fine hair. Here, the blunt bob adds volume, and the soft highlights on the dark base add a ton of depth and texture. There's no need to mention how it's important for women to look natural. All those bright makeups and vivid auburn hair colors are all well and good, but we all want to look our best when we switch off the masquerade mode. Such cute shoulder length haircuts as one-length or angled lobs are the synonyms of naturalness: they look good not only when they're styled but also when you let them air dry and do their own thing. Also, there are color combinations that can add a lot of natural shine and dimension to your hair. If you have naturally brunette hair, soft caramel highlights will be a fantastic finish to the effortless look.
Shaggy Blonde Curls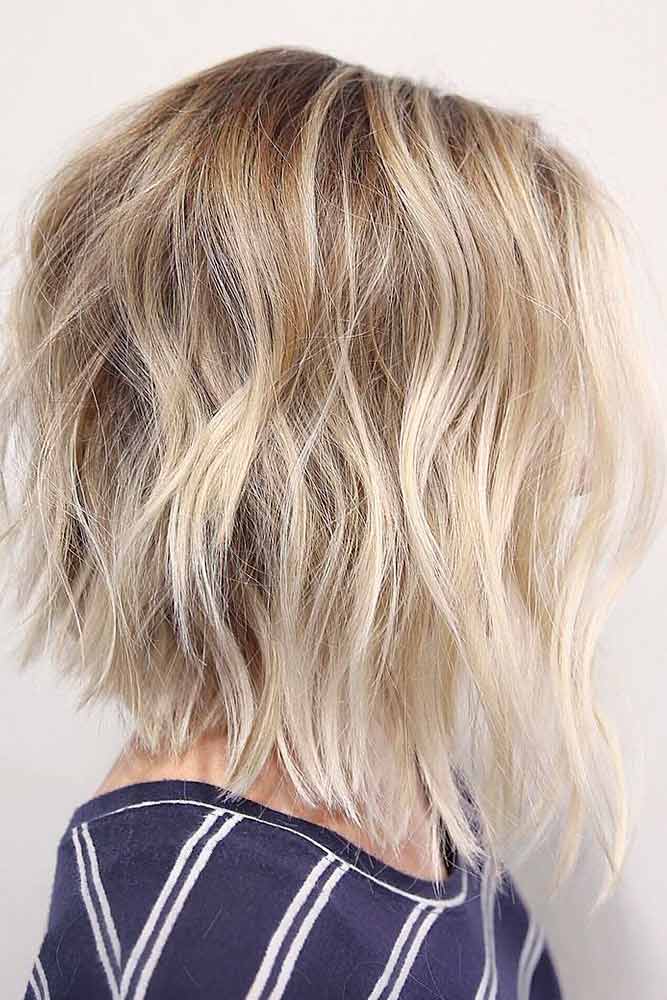 Credit photo: instagram.com/buddywporter
If you want to lighten up your thick tresses, this fun style with layers and whitish caramel on darker blonde hair is fun and youthful. And if you are wondering what shoulder length haircuts for thin hair to choose, look no further than shaggy layers. When dealing with thinner tresses, such layered haircuts as shags are the best weapons to show your flat look who's boss. They come as a variety of different layers, where the longer ones add texture to the front and the shorter ones add volume to the crown. As a result, they turn lifeless hair into a bouncy, airy, and effortless mane full of life. Your natural curls will feel weightless with this shaggy do! Plus, shags look ravishing with everyone's favorite medium hairstyles - beachy waves.
Volumetric Shag With Bangs + Bright Blonde Balayage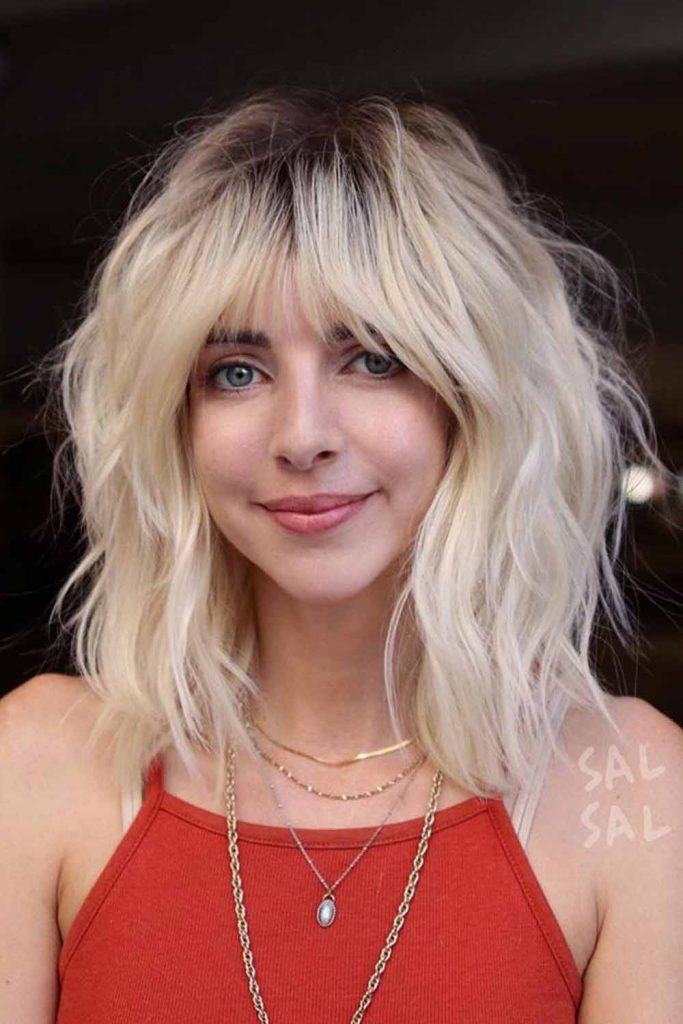 Credit photo: instagram.com/salsalhair
How about shoulder length haircuts with bangs that can change your life for the better? If you still don't believe that a haircut plays a crucial part in your appearance and sense of self, you will have changed your mind by the time you finish reading this. First of all, you can call bangs for help when you feel insecure about some facial features. Second, shaggy layers can give you the natural volume on the crown and movement on the mid-lengths you never knew you had, thus making your thin hair look fuller. Third, it simply looks modern and edgy! One haircut can help you get rid of small imperfections and focus on your best features, so it's a total game-changer.
Straight A-line Bob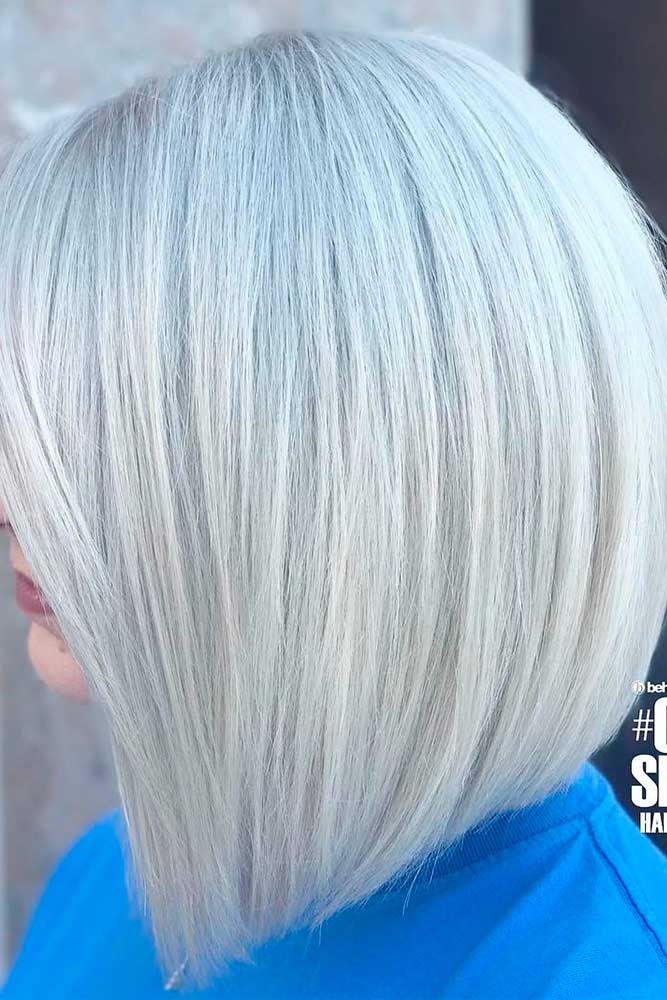 Credit photo: instagram.com/emilyandersonstyling
Although it doesn't feature a fringe, it gives the needed framing touch with its sharp edgy ends that slightly curve at the chin. While being pretty simple in terms of structure, this haircut offers a lot of benefits. First off, it enhances the natural beauty of straight texture, providing a lot of volume on the crown and giving it a slightly round silhouette. Also, it has an ageless appearance that can fit literally every image and taste. Needless to say, this idea of a blonde bob looks extremely ravishing and stylish; it follows the latest fashion with its silvery shade. That means an A-line medium length hair bob is an amazing canvas for color experiments.
Sleek Long Bob With Blonde Highlights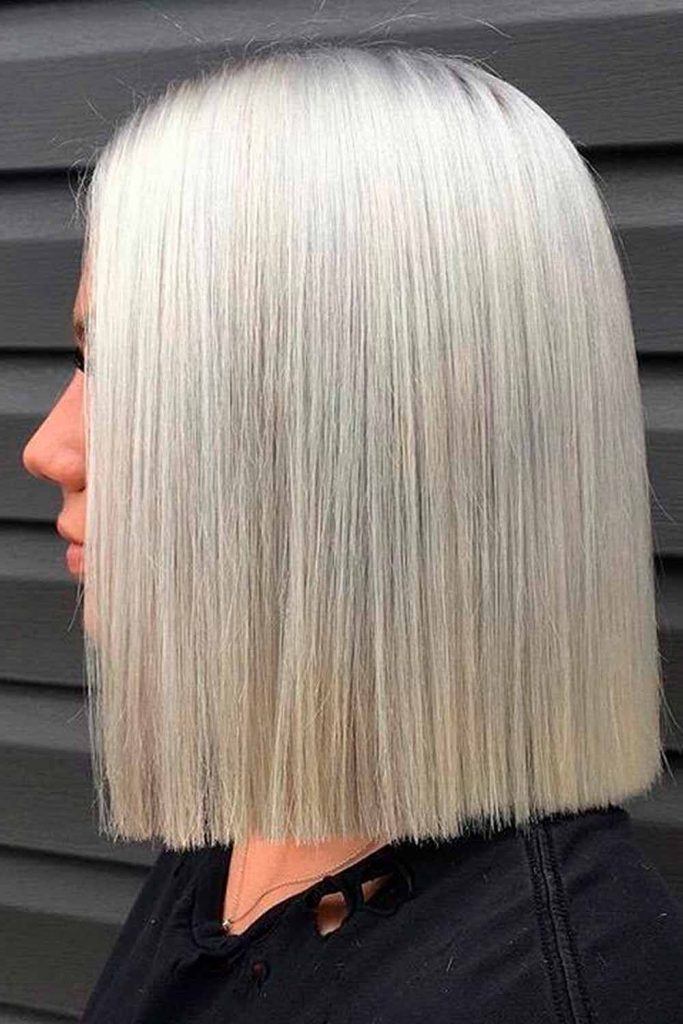 Credit photo: instagram.com/armstrongmccallofficial
Another mind-blowing way to showcase the sleekness of your straight texture! Besides a well-shaped and nicely cut structure of this long bob, its hair color also plays a huge role in such a shine-reflecting finish. Although you can mix as many different shades for your balayage as you want, there are no better combinations than those featuring shades from the same color family. Here, you can see three shades of blonde form a harmonic and balanced whole. Some shades are lighter, and some are neutral, to create a naturally-looking effortless color. Together, this haircut and hair color take the sleek look to the next level.
Face-Framing Long Bob With Subtle Balayage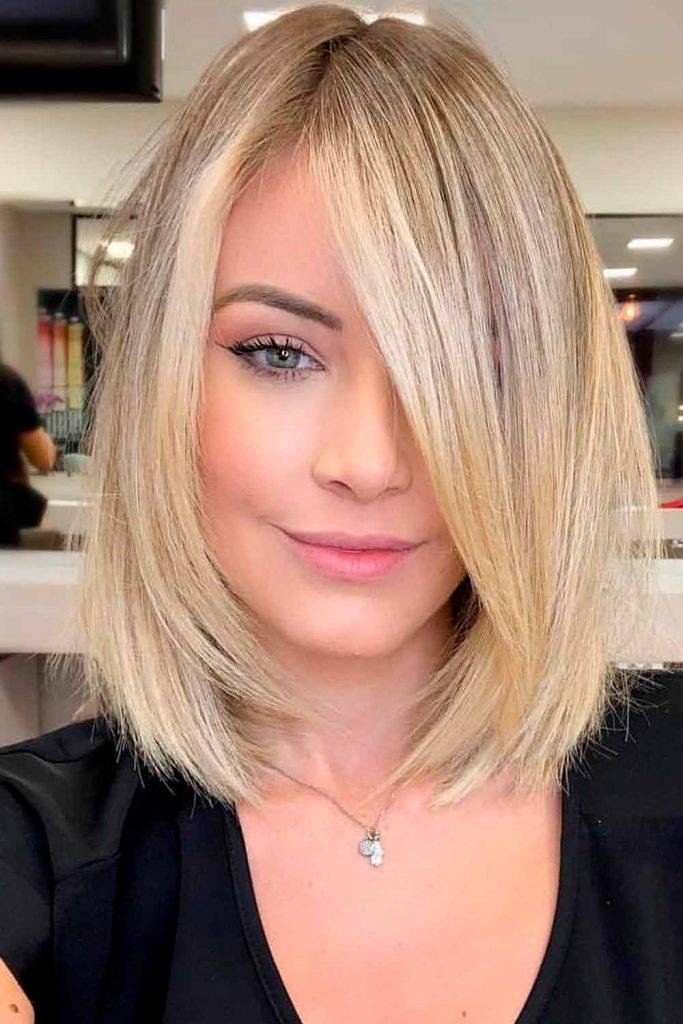 Credit photo: instagram.com/carol
When asking your stylist for a long bob haircut, make sure that he or she will customize the cut based on your facial features. Our haircuts should not only be stylish but also flatter our faces. Find a hairdresser who knows how to cut the front so that it frames your face shape perfectly.
Do you know what else can make your face look more attractive? A new balayage hair color combination is the answer. For example, soft balayage that softly covers your ends, lighting up the base, is a nice way to frame your face.
Layered Lob With Side Bangs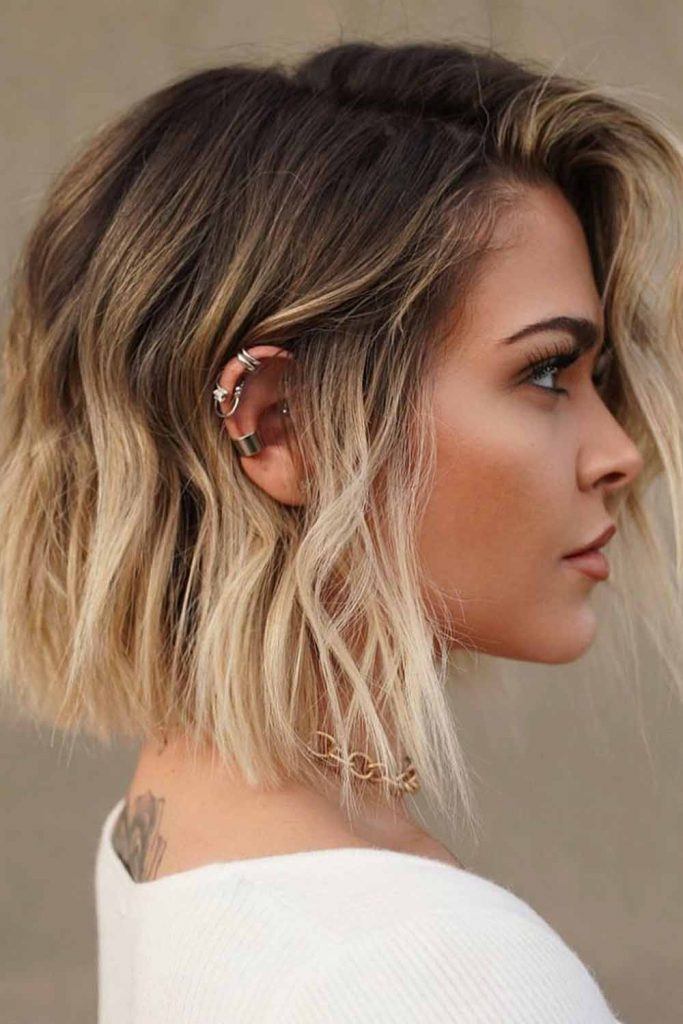 Credit photo: instagram.com/bescene
As for the variety of shoulder length haircuts with bangs, it seems to have a beginning but no end. In fact, what layers and bangs have in common is that they both can be customized and tailored to specific hair type, facial features, and preferences. This layered bob with side bangs looks like a harmonic single whole due to a smooth blend of textures on the top and bottom parts of the hair. Should we mention how stunningly this soft rose hair color complements the look? It simply adds an exclamation point to this hair idea, making layers that fight thin hair even more powerful.
Brown Shoulder Length Haircuts For Your Perfect Look
Long Bob Haircut With Textured, Choppy Ends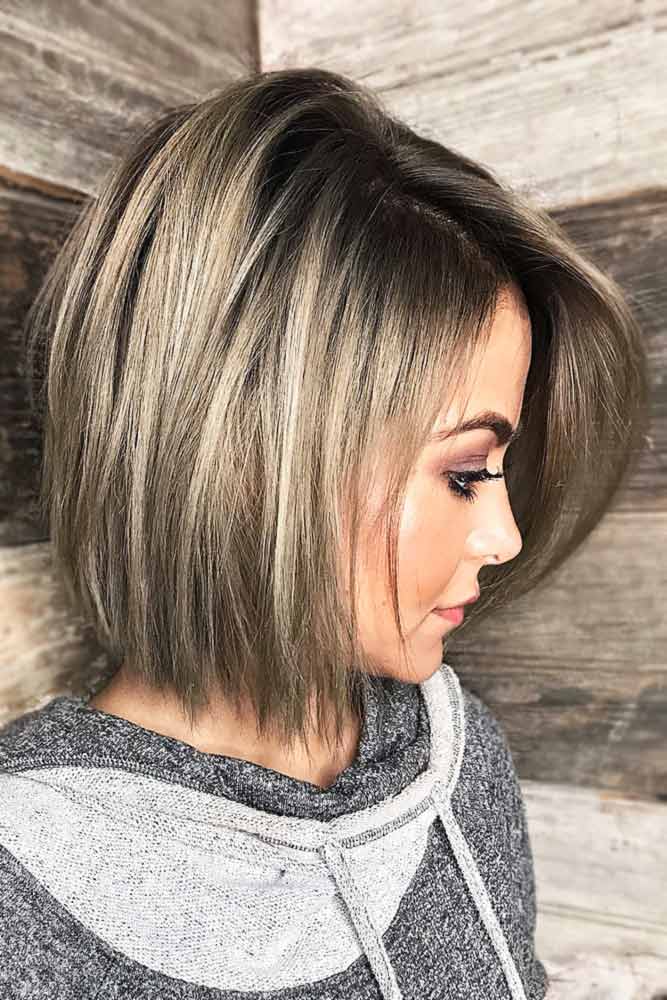 Credit photo: instagram.com/yokii.san
How often do you ask your hairstylist to improve your haircut? Some ladies can flaunt with the same cuts all year around. Yet, when something bothers them, they simply ask for something new, instead of working at the details. We're trying to tell you that you don't need to sacrifice your comfy medium hair length and go for experiments when there's a lack of volume or dynamics: ends chopping
or texturizing will be enough to sort things out. That will provide your long bob, or lob haircut, with very lightweight body, giving a fresh take on your daily cut and style. Also, a side part can give even more volume and movement that we can never have too much.
Classy Wolf Cut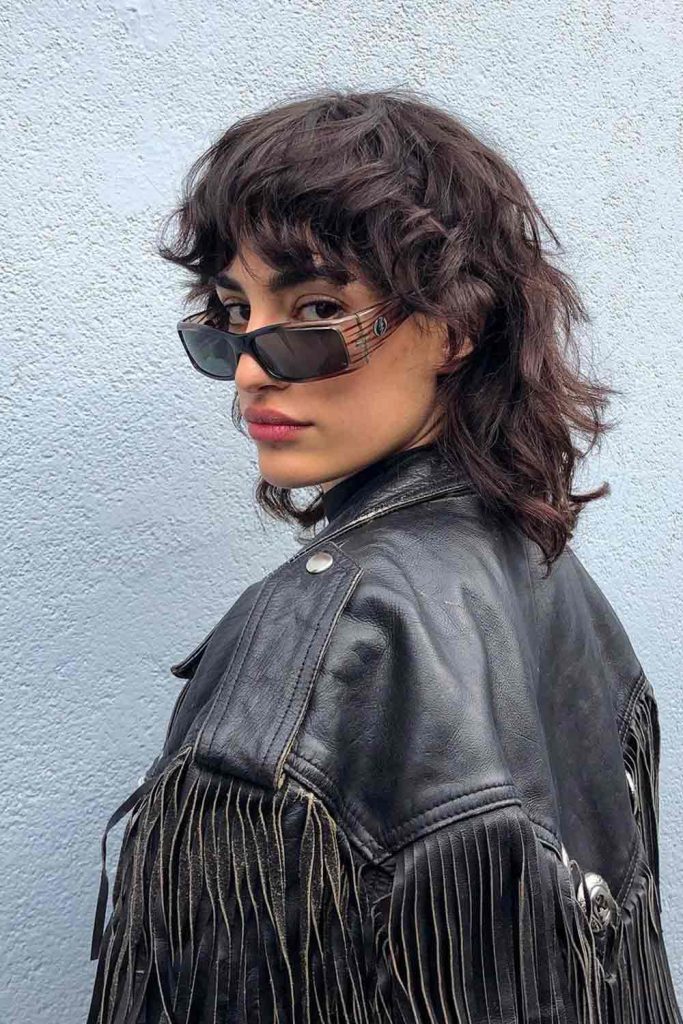 Credit photo: Instagram.com/coiffeurstory
The layered wolf cut is a trendy and stylish haircut for women that features choppy layers and a shaggy, textured look. This cut is perfect for those who want to add volume and movement to their hair, as it creates a natural, effortless vibe. Whether you have thick or thin hair, the layered wolf cut can be customized to suit your face shape and personal style, making it a versatile choice for any woman looking to switch up her look.
Soft Wavy Bob Haircut With Accentuating Highlights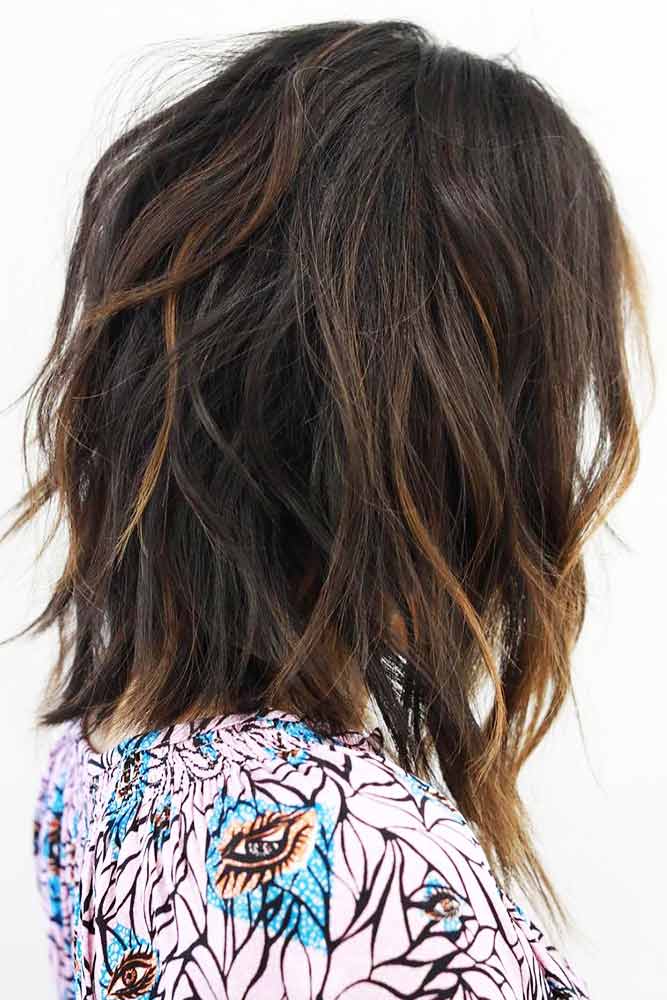 Credit photo: instagram.com/anhcotran
Ladies who wear bob shoulder length haircuts know that nothing works better than wavy hairstyles. Most bobs have different lengths on the front and back, which looks ravishing once it's waved. So, even slight waves can show your cut in a new light.
Now, let's talk about your hair color. Even though it's very important to appreciate your natural shade, we all want to add something new and fresh from time to time. Sometimes the point is not to change the color totally; it's about highlighting or accentuating your base. The modern trendsetters advise ladies with brown hair to try out softly highlighted hair, where their primary shade is emphasized with a matching, yet a bit lighter shade.
Inverted Shoulder Length Bob With Disheveled Waves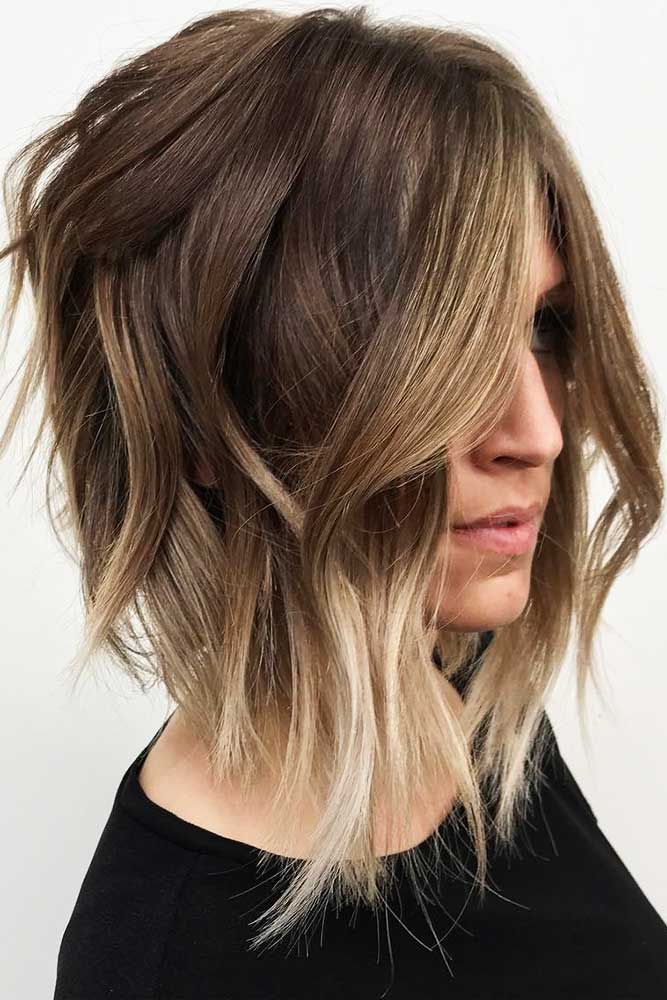 Credit photo: instagram.com/styled_by_carolynn
You already know about the magical power of the inverted bob haircut. Due to the shorter hair at the back, it adds more volume to the crown. And this will give you a possibility to conceal some face shape flaws with the longer front locks.
Such cuts usually come as layered haircuts, which means that you can easily create an attention-grabbing disheveled look that will take your hair texture to the next level.
Shaggy Bob Cut With Saturated Balayage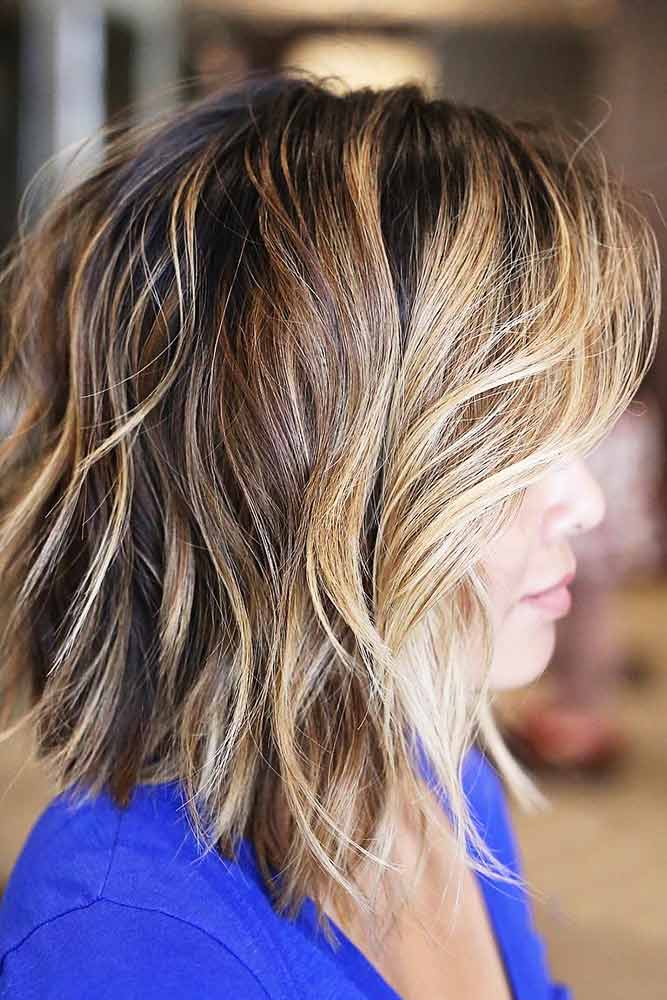 Credit photo: instagram.com/buddywporter
Now that you are familiar with the breathtaking shaggy bob, we'd like to tell you how you can make it even more outstanding. Since it provides your locks with volume and movement revealing layers, why don't you emphasize it? A wavy balayage hairstyle with very saturated highlighting color is a nice way to enhance all the beautifying effects.
Amazing Shaggy Medium Length Haircut
Credit photo: instagram.com/bescene
Well, no wonder it's called amazing: medium layered hair in this look can steal the show with its voluminous finish and wavy charm. The good news is, you can slay people's eyes with this look every single day, as it's undescribably straightforward. Remember that the key to such an effortless hairstyle is properly layered hair. Make sure to get your layers updated and texturized regularly so that they are lightweight and manageable for messy and wavy styling. Here, the shag looks great not only due to its incredible shape and structure but also to the choice of color: a purplish tint for a brown base is a thing!
Bouncy Shoulder Length Cut With A Fringe For Curly Hair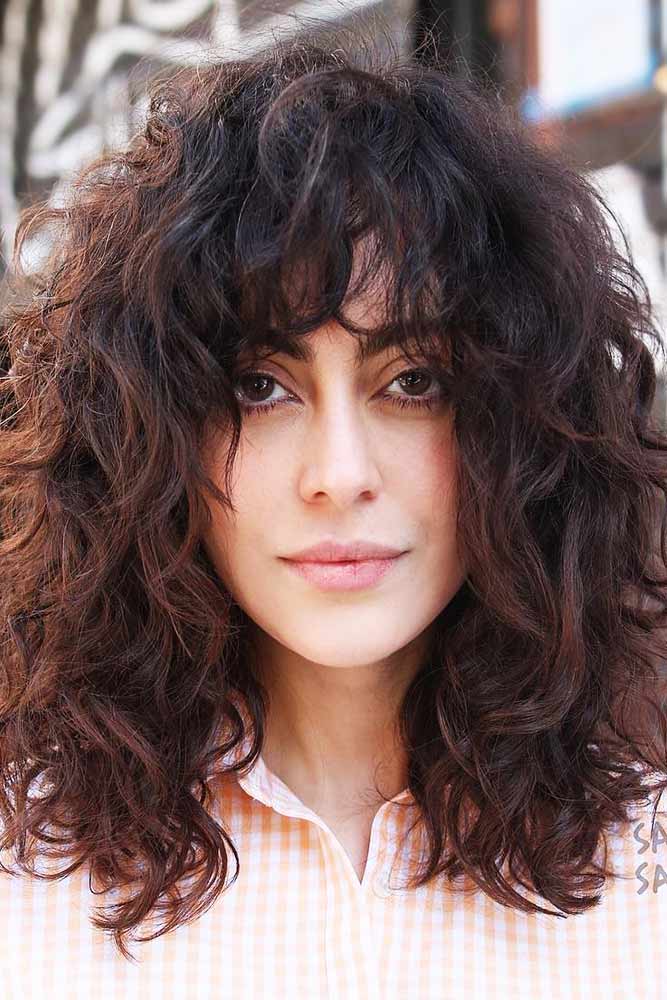 Credit photo: instagram.com/salsalhair
Girls with curly hair who want to give a perfect shape for their texture should keep in mind that nothing can compare to shoulder length haircuts with bangs. If you're a lucky lady with bouncy curls, ask your stylist for a long bob that features a soft above-brows fringe and texturized ends. The ends will give a lift to the silhouette, while bangs haircut will work nicely for your face shape.
Bob with Brown Balayage Tones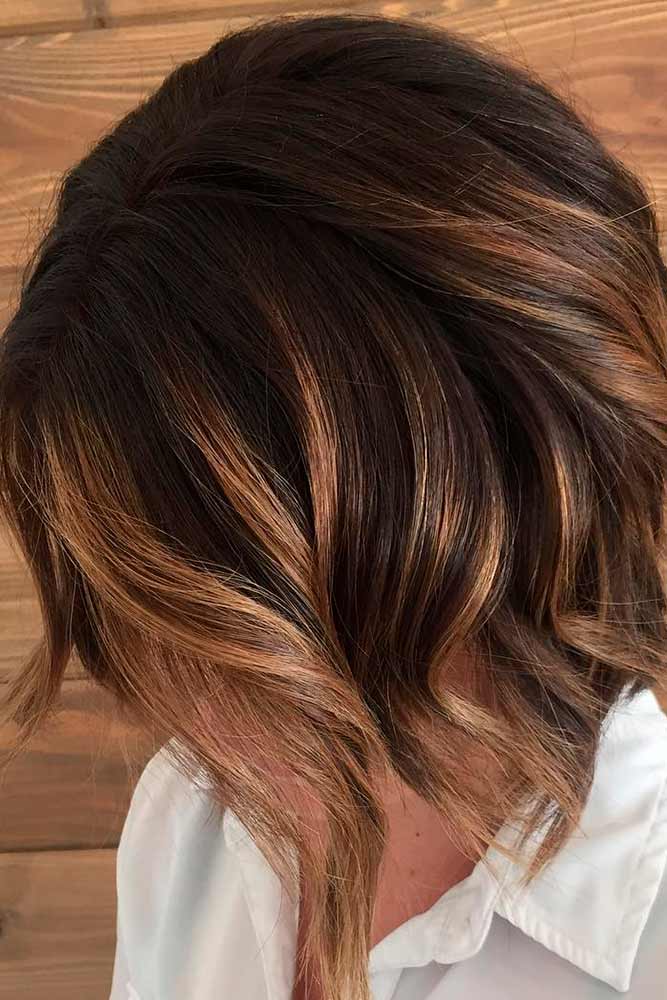 Credit photo: instagram.com/ebielynnftw
If you want plenty of bounce, this "just above the shoulder" bob with caramel tones on a dark brown base is chic and stylish. The truth is, if we had it our way, we would write a set of books devoted to the beautifying power of bob haircuts. There's literally an option for all women's needs and even more. Whether you have thin hair and want to lift your locks up or your thick hair just doesn't hold your favorite styles, that's a challenge that a bob can handle. As for this idea, it's a well-balanced, slightly wavy cut with an absolutely harmonic color duo finishing the look. What makes the look to distinctive is nicely chopped ends that give a defined body to the waves.
Wavy Chocolate Lob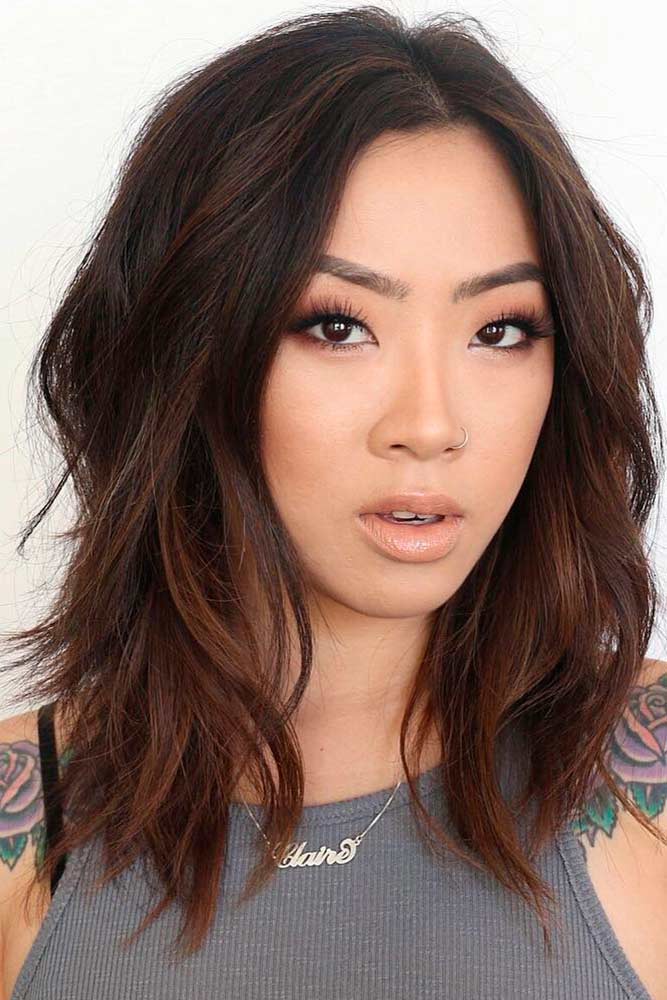 Credit photo: instagram.com/heyclaire
This wavy lob with dark chocolate roots and caramel tones looks like as delicious as molten chocolate flowing into milk. And it goes without saying that the color wouldn't look so dynamic without the charm of sharp layers dancing on the mane. Layered shoulder length haircuts can not only make thick hair behave and volumize thin hair; they can intensify such deep colors as dark chocolate brown. The sharp, a little bit pointed layers breathe new life into the thick strands, making them move freely and thus give a sense of balance. If you'd like to freshen things up, soft choco-balayage on the mid-lengths will give the needed fresh take on your look. This look is fun and flirty if you are looking for something sultry.
Straight Line Haircut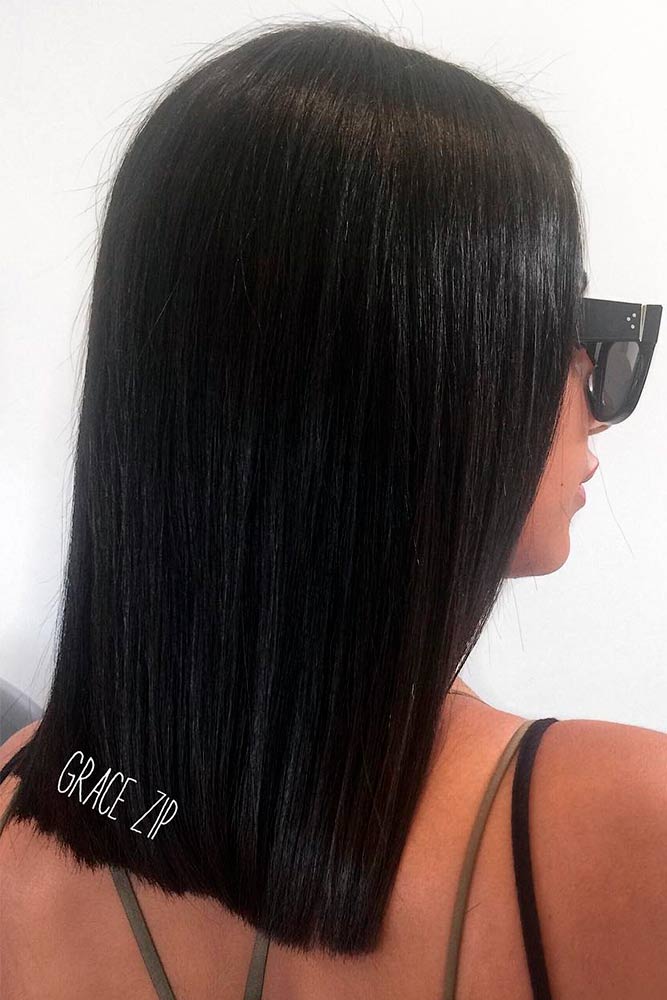 Credit photo: instagram.com/gracezip
And to get the most of this haircut, you need to take the right approach to its care and styling routine. Since it's meant to show off the sleekness and precision of straight hair, you need to ensure that you use products designed to maintain the silky finish of straight hair type. Also, your hair should be perfectly balanced and leveled, so prepare to use some heat on the ends. Consequently, don't forget about a good heat protectant. But don't limit yourself with straight looks only! In fact, this hairstyle looks fantastic when it's waved or curled, so don't hesitate to reveal its other facets.
Messy Waves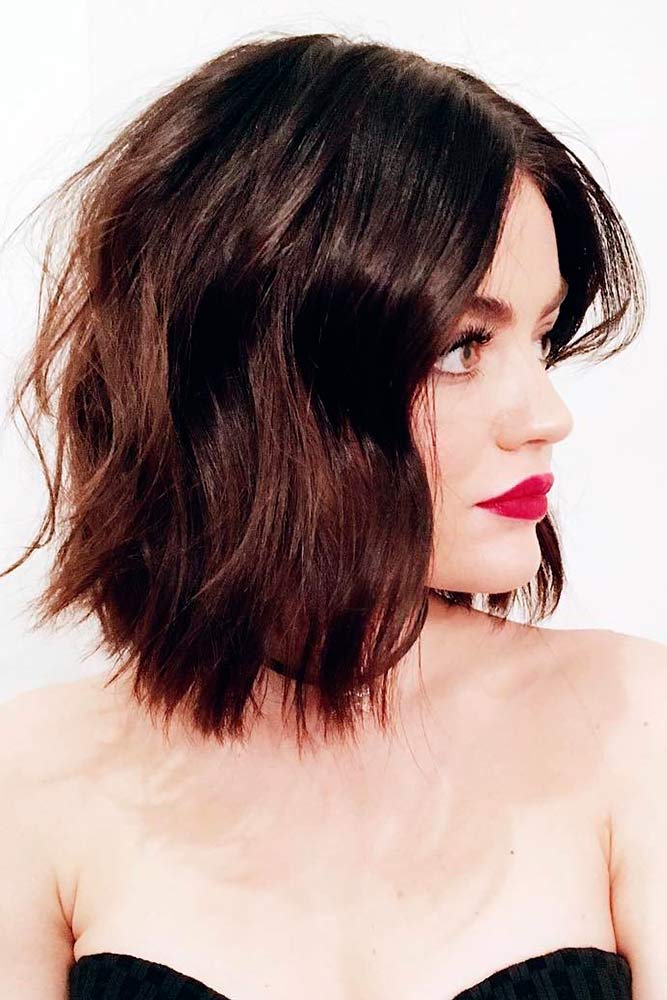 Credit photo: instagram.com/kristin_ess
There's no way the good old messy styling will ever lose its popularity, as it can add a lot of lively movement to even the flattest hair type. While looking especially stylish and red-carpet-appropriate, this hairstyle takes minutes to get it done. For this look, it's better to start with one-length or slightly angled shoulder length layered haircuts. Your styling arsenal should include such must-haves as salt pray, texturizing gel, and hair spray. Some good softening conditioners will also come in handy if you want your hair to be airy. Apply texturizing products on your damp hair and tousle it till it gets a disheveled finish.
Trendy Ombre Hair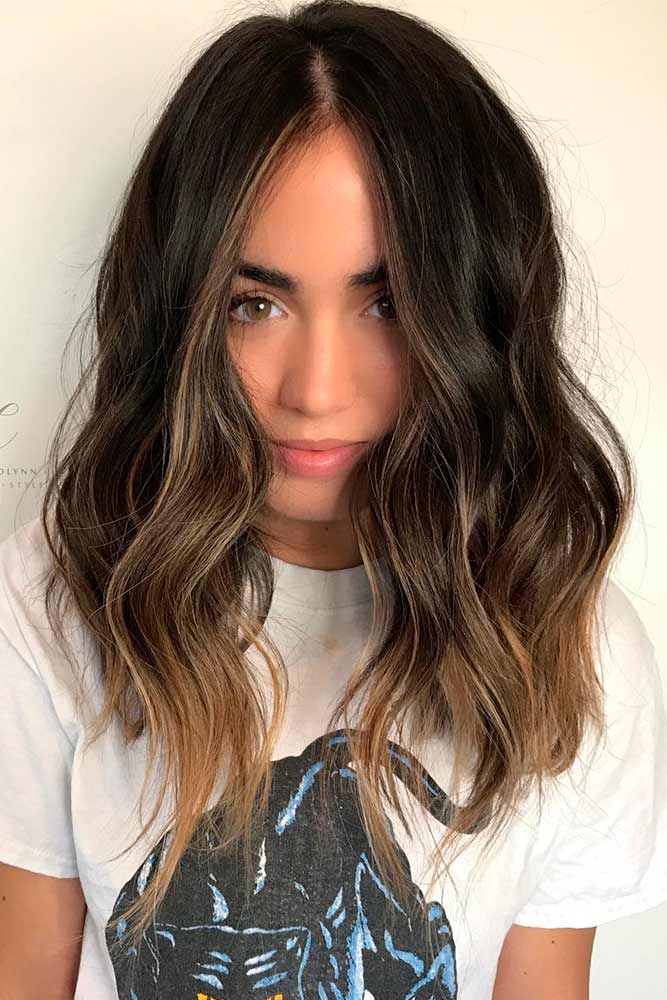 Credit photo: instagram.com/styled_by_carolynn
The choice of color technique can drastically change your appearance, too! Highlights have the power to accentuate your natural hair color, bringing out your eyes and beautifying your complexion. As a mix of various matching shades, balayage can make your look naturally rich and attractive. And last but not least, ombre is meant for those who want some hair changes while staying loyal to their natural shade. By the way, this idea is nothing but an artwork: everything from these effortlessly waved layers to softly blended ombre is totally on point.
Shaggy Layers With Feather Bang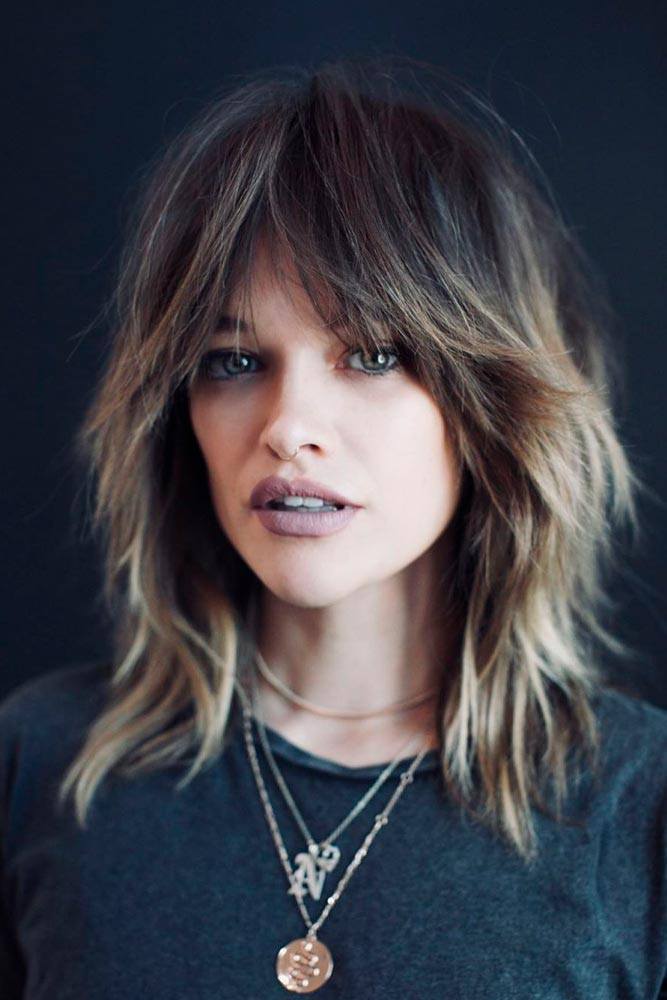 Credit photo: instagram.com/anhcotran
This shag seems to have come from the stylish 80s', where mods and fashionistas would rock those restless shags with their edges facing different directions. As you might have noticed, this spectacular idea also features a fringe, which is perfectly blended with the rest of the hair while looking sharp and edgy. The haircut has not only made a huge comeback but it also turned out to be a fantastic idea for women who want to frame their cheeks or foreheads. Ask your hairstylist for a chopped finish on your bangs to make them truly outstanding.
Shoulder Length Haircuts For Reddish Hair
Messy Blonde Shoulder Length Bob Hairstyle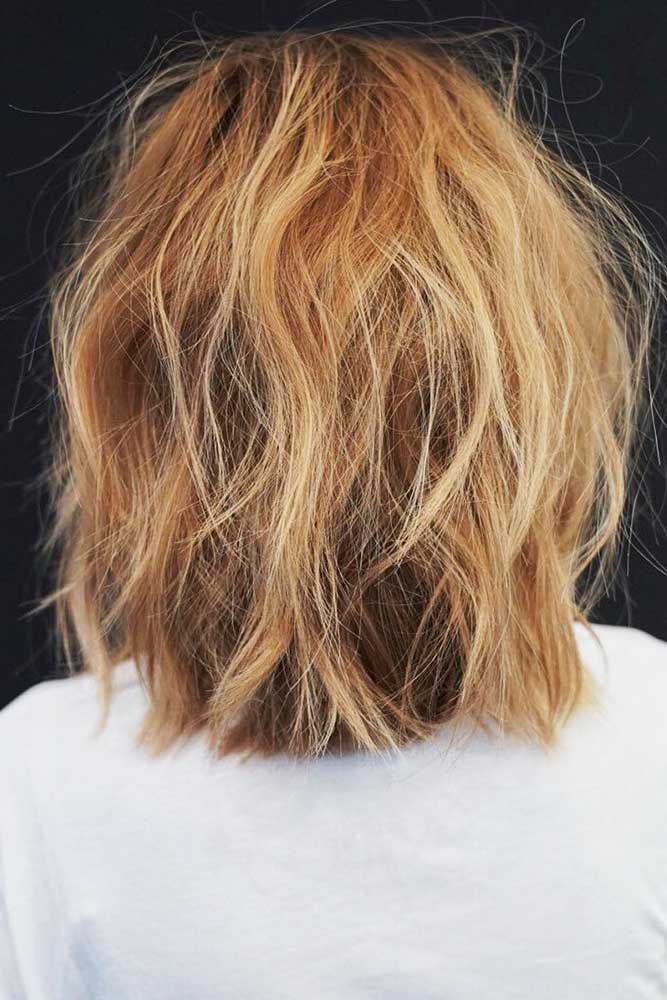 Credit photo: instagram.com/anhcotran
As we've mentioned before, messy hairstyles are a thing these days. Yes, sometimes adding a bit of messiness is the best finishing touch for reaching perfection. Mainly because it's an effortless way to give weak or very unruly locks more voluminous and soft appearance.
Besides lots of wonderful styling choices, shoulder length haircuts are also a huge canvas for color creativity. Have you ever seen how nicely a blonde bob with tousled waves enlivens the look? Well, you should see it in the mirror, then.
Wavy Copper Streaks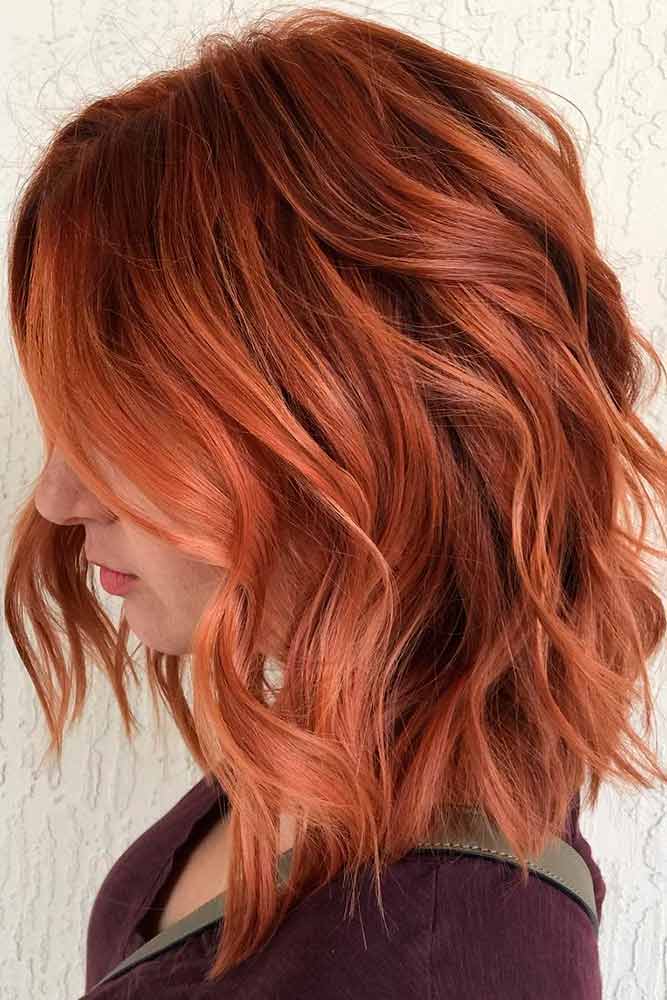 Credit photo: instagram.com/lnven
If you have thick hair, you'll love this wavy cut with its chunky copper balayage tones. And if you have straight, fine hair, you can easily duplicate these sexy waves with a large barreled curling iron. There's one important thing you should keep in mind when looking for haircuts for shoulder length hair: new colors and new haircuts go hand in hand. Of course, you will see yourself in a totally new light once you get yourself a brand new cut. But the visual impact can be even bigger if you complete your changes with a shade of trendy red hair color. This idea is here to demonstrate you how nicely shoulder length bob haircuts and copper tones can work together. The dimension of reddish hues accentuates the movement of hair while the structure of the haircut enhances the depth of the color.
Stylish Layered Tips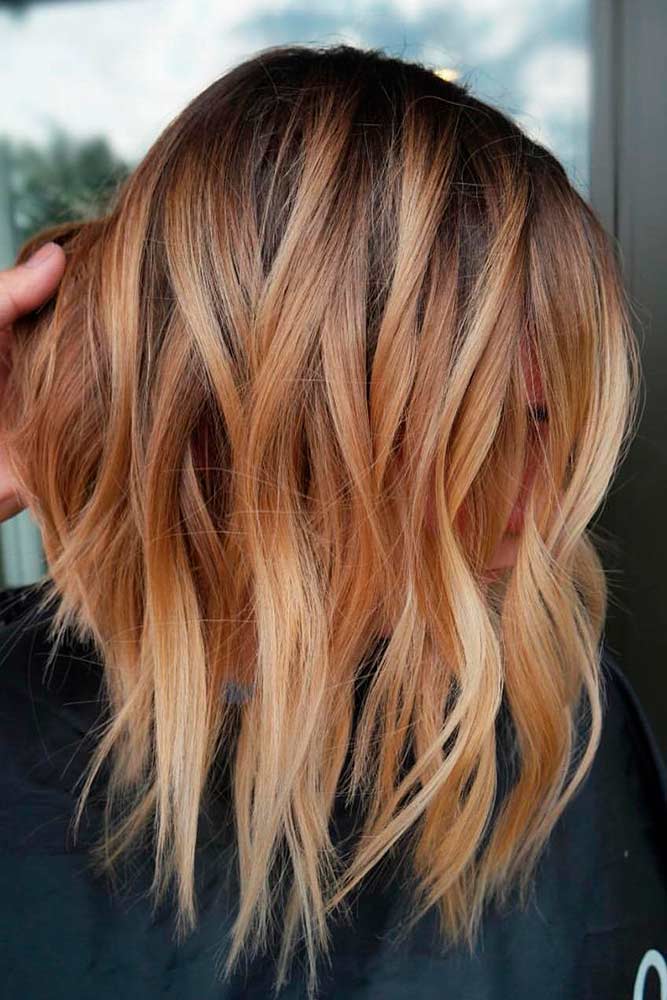 Credit photo: instagram.com/hairbysaiphetkhosa
What do the best shoulder length haircuts look like? Since every woman has her own image of a perfect haircut, truly best haircuts are those that suit individual needs such as face shape, hair type, and personal style. The hair look you see above is a good old lob. But why does it look so special? Attention to details is key! To balance out the fine hair texture, this haircut features soft texturizing and layering at the ends. Taking care of your tips is as crucial as choosing the haircut, as they can accentuate it the right way and work on your hair type as well. If you like the warm brunette-to-blonde color combo, ask your stylist to create a smooth transition from dark brown to bright blonde. Highlighted ends will complete your look.
Chestnut Curly Lob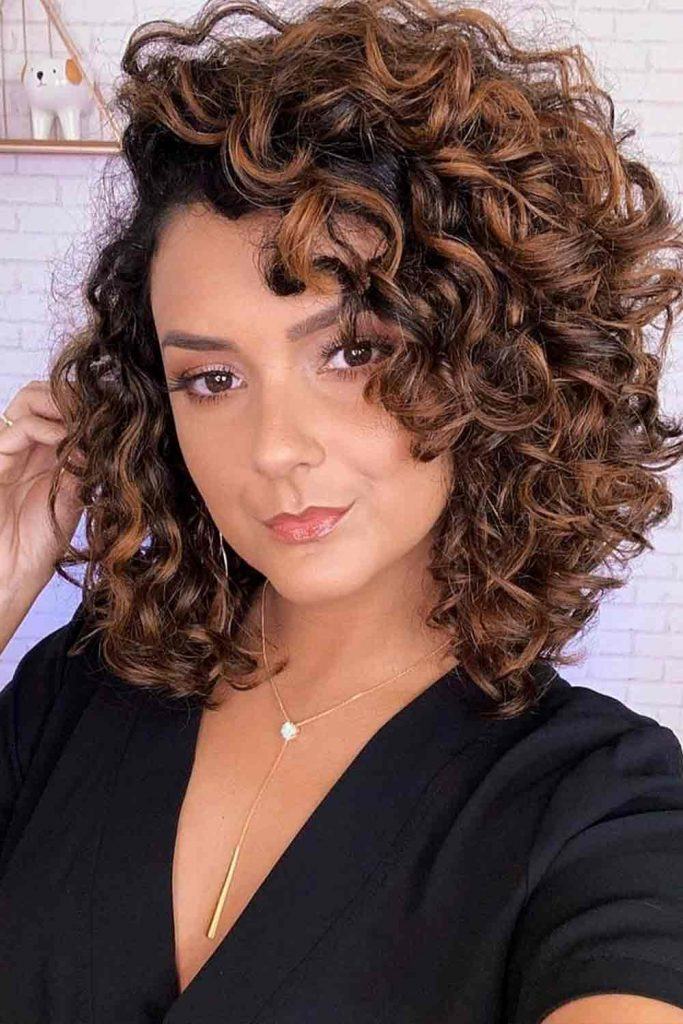 Credit photo: instagram.com/coisasdejessica
To tell you the truth, when you are about to go for change something in your look, your hair is the best idea to start with. But, there are also many moments to pay attention to, as everything from your new haircut to your hair color should match your face shape and lifestyle. If you have no idea what suits you best, you can either consult with a stylist or cut this story short and try something you can't go wrong with. Of course, nothing can beat layered hair colored a natural shade! Layers are easy to style and easy to maintain while providing tons of volume and dynamics to all hair types. If you have naturally brown hair, you will love the way a chestnut hint and layers amp a long bob haircut.
Bright Colored Shoulder Length Haircuts For Brave Girls
Half-Up Half-Down
Credit photo: instagram.com/heidimariegarrett
Medium haircuts, whatever they are, are just the perfect compromise for indecisive girls. When you're about to go for changes but don't really know what they should be, a medium cut will be a win-win option: not too long and not too short, simply perfect. Such cuts are not only easy to maintain; they also offer great styling versatility. Here, for example, you can see one of the countless medium length hairstyles you can create. Although it's nothing but a couple of simple twists on slightly wavy hair, it goes ravishing when you're short of time and still want to look gorgeous. This shoulder length style is the best of both worlds with its half up/half down twisted style. The reddish purplish color is gorgeous and is set apart by the tousled shoulder length waves. Use your favorite barrette, clip, or pin to really play up this fun look.
Loose Neon Ombre Curls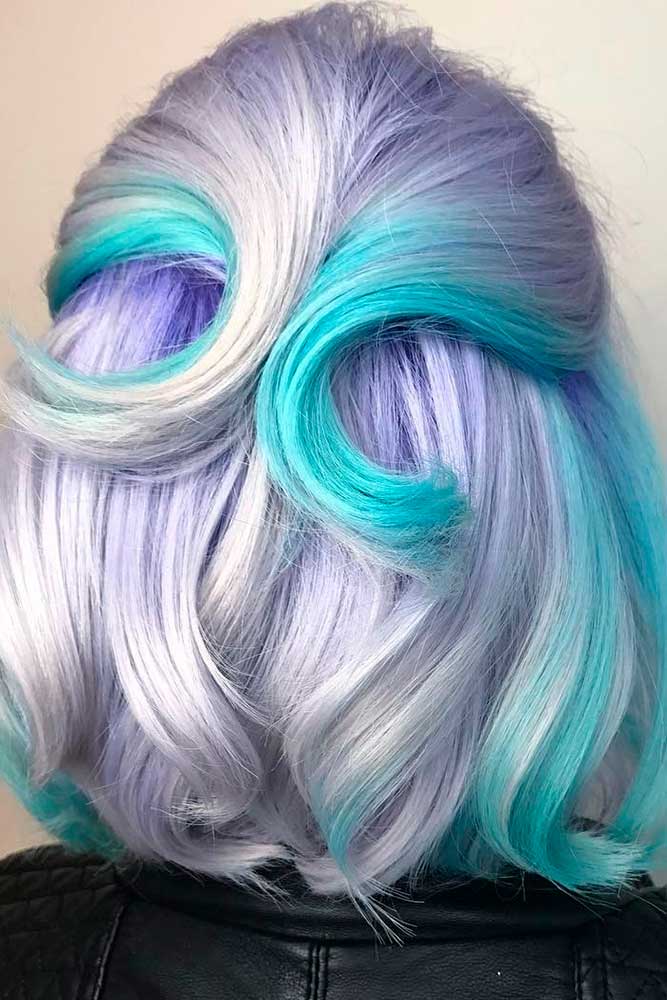 Credit photo: instagram.com/presleypoe
If you are ready to make a drastic change, this curly shoulder length cut with brilliant ombre tones is bold and edgy enough. The soft, romantic curls are given new life with neon tones. It looks like a fairytale come true, isn't it? Both the haircut and the color look absolutely ravishing! The classic bob gets a little bit curvy at the ends, which helps to create more volume visually and frame up the face at the same time. And the magnificent play of mermaid shades is something that takes the bob to a whole new level. Whitish purple stands as a base while neon strands add more drama to the look. Those who want their medium length haircuts look different should definitely copy this idea!
Thick Brown Layers With Lilac Highlights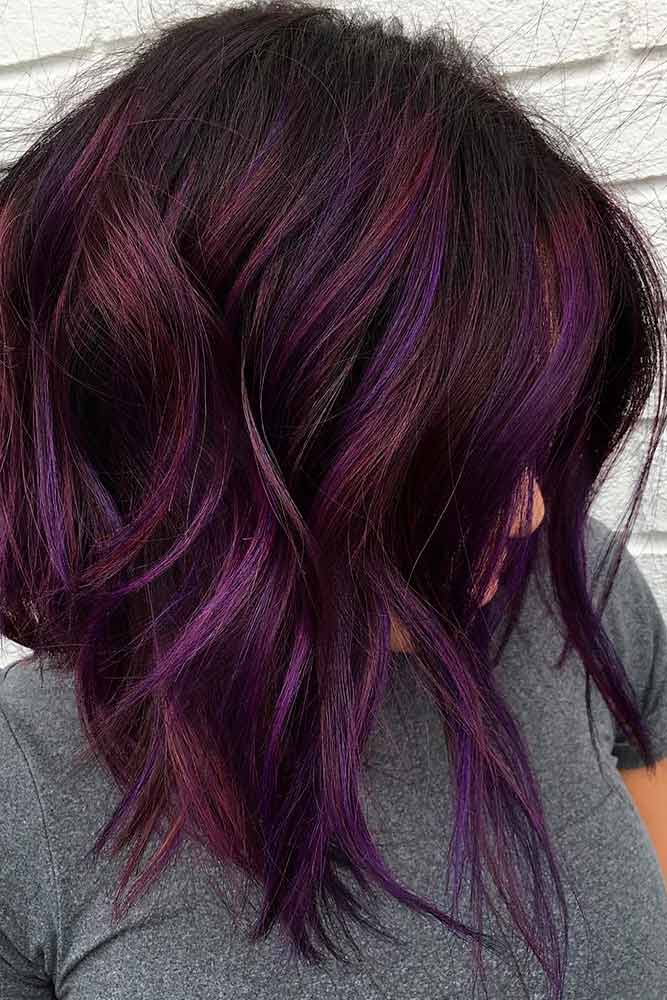 Credit photo: instagram.com/hairbyraquell
Speaking of romantic waves, this wavy cut with a light brown base takes on new life with soft lilac highlights throughout for a totally girly vibe. If you ask your hairstylist about the variety of shoulder length haircuts for thick hair, he or she will tell you that the cuts can be different. To be more exact, as different as you want them to be! And this masterpiece is proof that they won't be fooling you telling that. The longer layers on the front help to create a ton of movement through the whole mane, making the ends airy and manageable for styling. Lilac highlights over thick, voluminous waves are what make the layers move so lively and distinctively. In other words, you can customize your cut as you please: everything from layer placement to colors is always up to you.
Pink And Platinum Blonde Ombre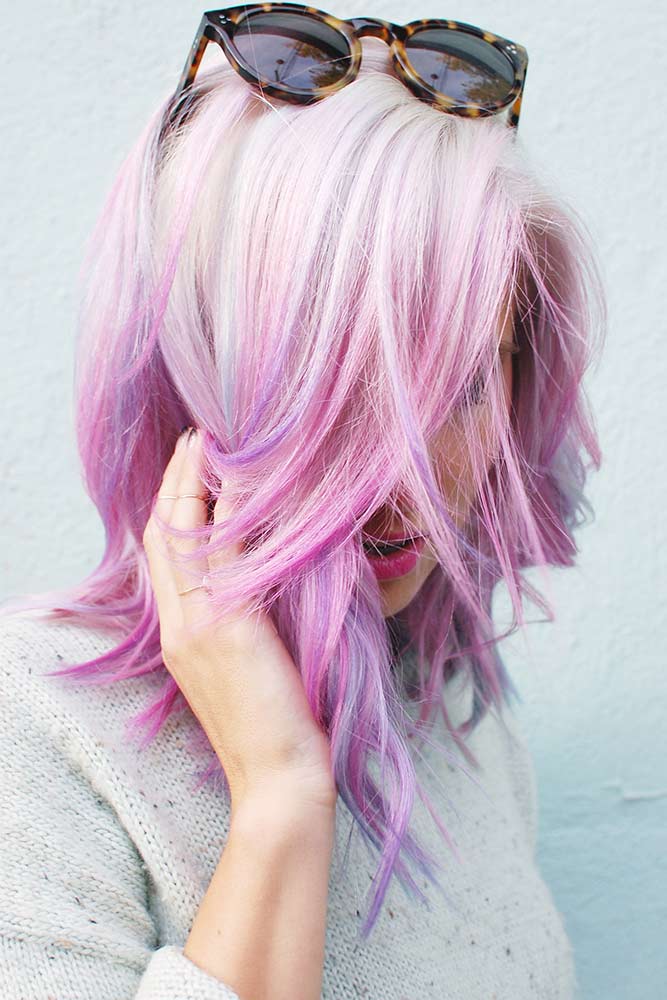 Credit photo: instagram.com/randomactsofpastel
This reverse ombre with pink roots that fade into white blonde tips is totally striking if you're looking for a bold new look. Thanks to the versatility of the medium hair length, you can mix any colors you want: it's a perfect canvas for your imagination. Whether you want to spice up your mane with layers to give it some lift, add some more colors to your life palette or feed two birds with one scone, medium-length women haircuts will be there for all your experiments. Needless to say, words are not enough to describe how unique and feminine this look is. One thing we can tell for sure is that soft layers at the bottom portion of your hair will help the color combo show up at its best. Also, loose ringlets will make this edgy cut a bit more girly and elegant.
Lilac And Silver Streaks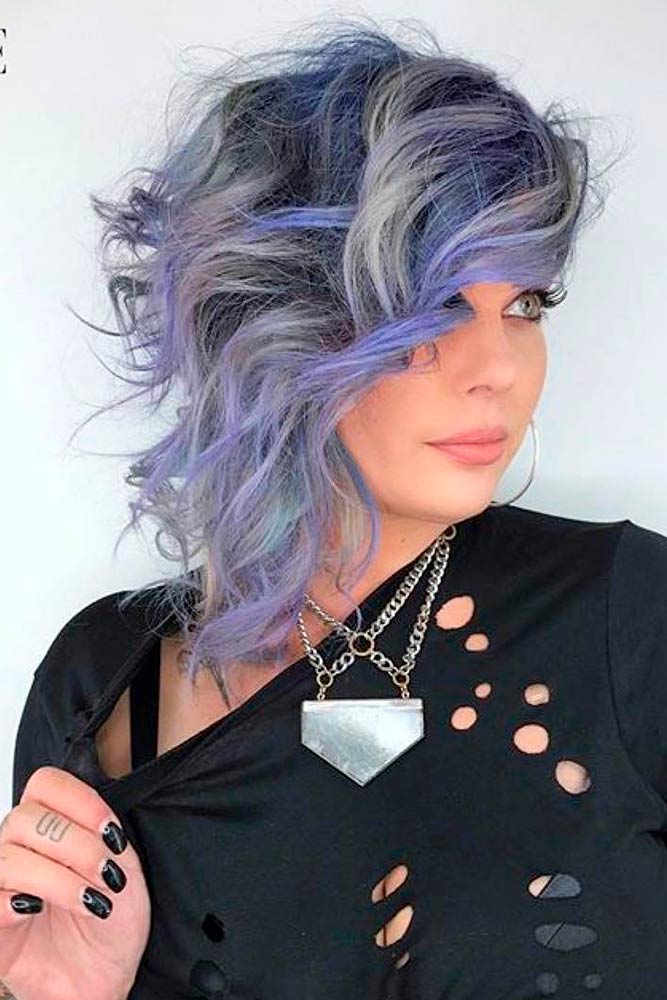 Credit photo: instagram.com/stephygnarstagram
Silver hair is all the rage at the moment. And what looks better with soft silver streaks than lovely light purple hair tones? This lob with its short layers in the back and longer front is a bit more edgy but the lilac strands with silver streaks give it a totally sexy vibe.
Multicolored A-line Bob With Side Fringe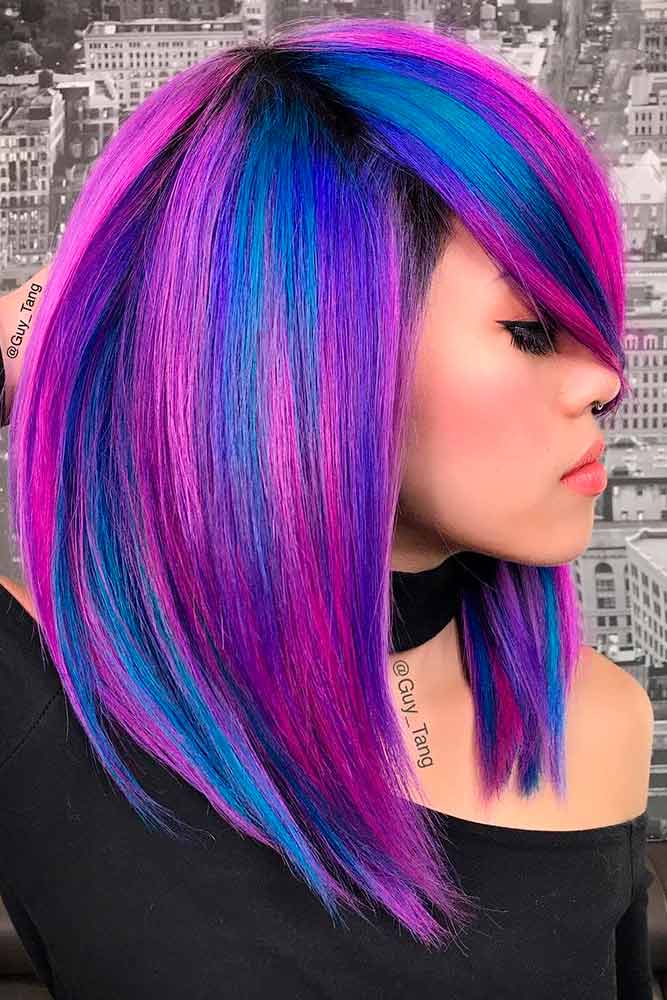 Credit photo: instagram.com/guy_tang
Asymmetrical haircuts will never go out of style. Their angled, a bit outweighed bodies add so much character and individuality to the look that it's hard to imagine the fashion world without them. This idea is one of the shoulder length haircuts for women who want to express their bright selves and look different in every way. You can also enhance the sharpness of your A-line haircut by pairing it with long bangs with pointed ends: it will add even more of an edge. On this haircut, all hairstyles for women will look superb. Still, many stylists recommend wearing it slick and straight. And if you want to have a not only trendy but also an eye-catching look, dye your hair in bright colors. Opt for a blue base, spruce it up with neon pink highlights to stand out in the crowd. You'll be incredible!
Peach Ombre On Long Angled Bob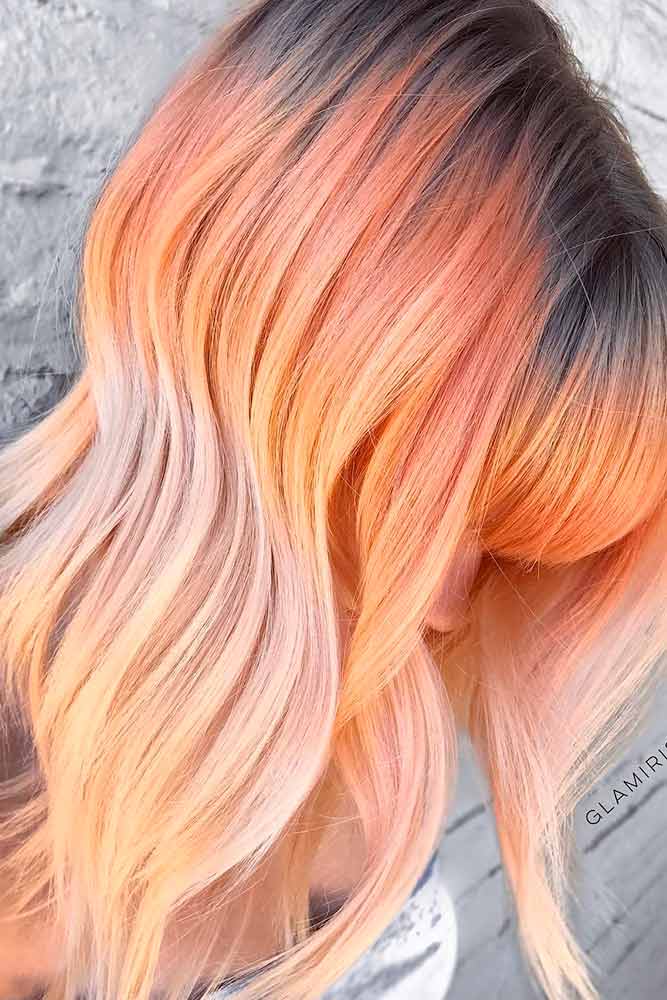 Credit photo: instagram.com/glamiris
Another reason to go for a long bob cut lies in its exceptional maintenance. When your hair starts to grow out, you don't necessarily need to call your stylist for an update. Instead, you can let your locks do their own thing and focus on color experiments. All in all, this haircut looks great on any length. And here's a life hack that celebrity colorists advise their clients! Let your hair grow when you want to try some new color. And once you're ready to get back to your naturalness, go for a haircut update. As a matter of fact, this cut is your chance to try the latest trends in hair colors: that's why you should go for a peachy ombre!
Rainbow Hair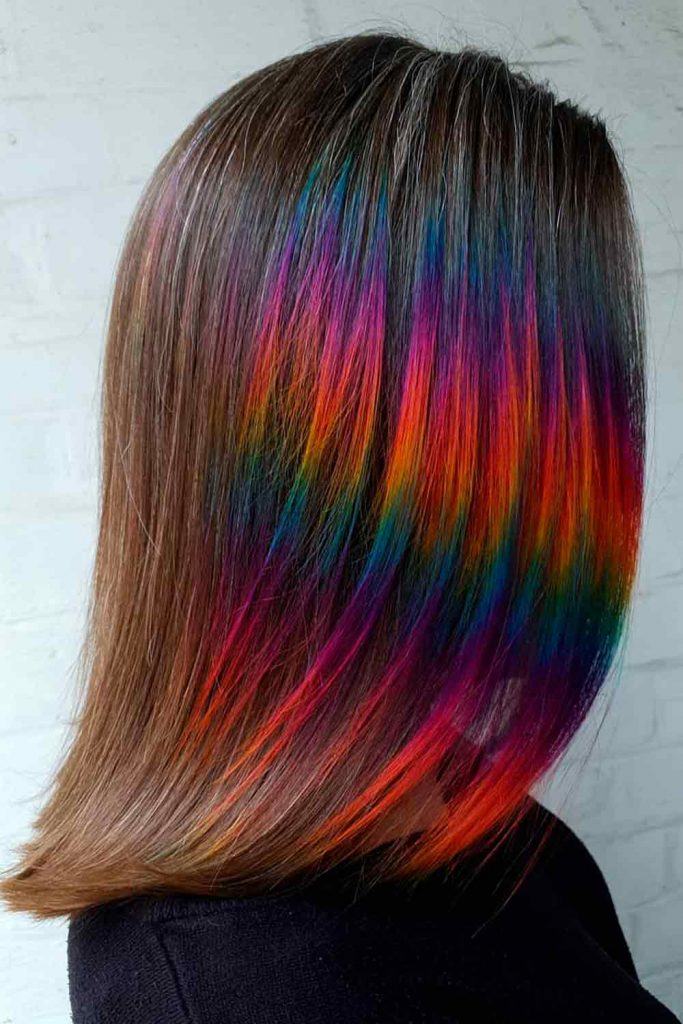 Credit photo: instagram.com/jaymz.marsters
Moreover, on medium length hair the colors you mix are even more visible, which is a win for those who place their bets on colorful looks. If you have guts to recreate one of the overwhelming rainbow hair ideas, you can enhance it by choosing the right haircut. For example, an angled bang or sharply cut silhouette can drastically change the way your colors look. To be more exact, they will intensify their blend and sleekness, as well as accentuate highlights and balayage. Just look at this perfect combination of haircut and hair color to get what we mean!
Texturized Bob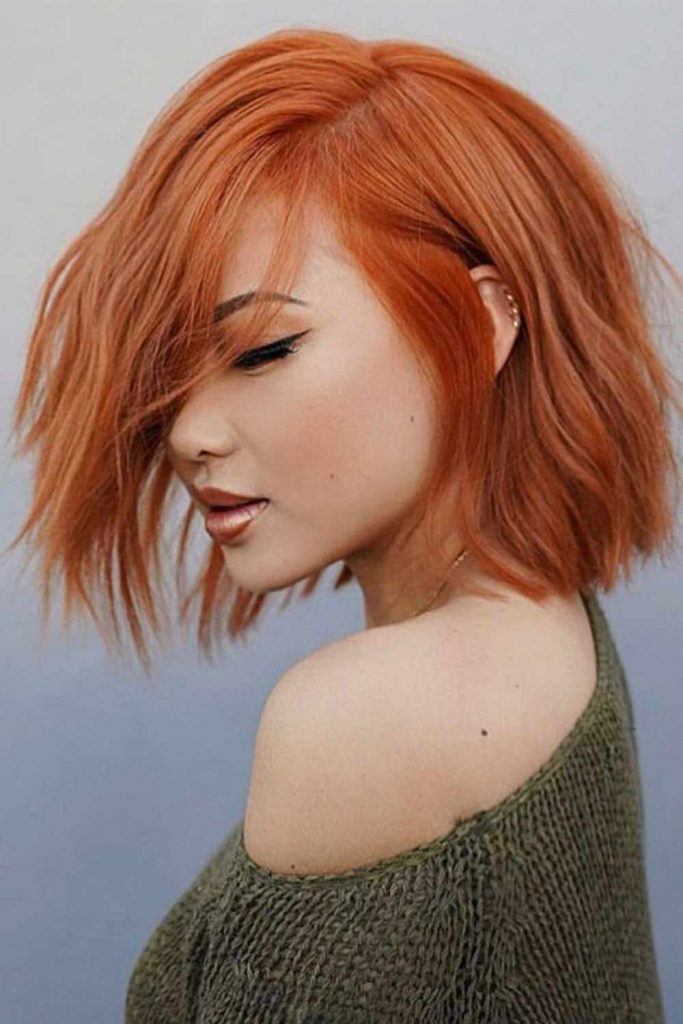 Credit photo: instagram.com/bescene
Modern hairstylists recommend women with thick unmanageable hair get their hair texturized at least once a month. In this way, you can improve your texture, making it more lightweight in some areas. At the same time, you will make it more manageable for styling. Such shoulder length haircuts for women work well for any season and occasion because they provide styling freedom. That is to say, every lady can find an ideal hairstyle for her! With a mid-length bob, you can flaunt with waves and curls. Apart from that, this haircut also allows for sleek styling, be it a side-parted hairdo or back-swept look.
Two Tones Angel Bob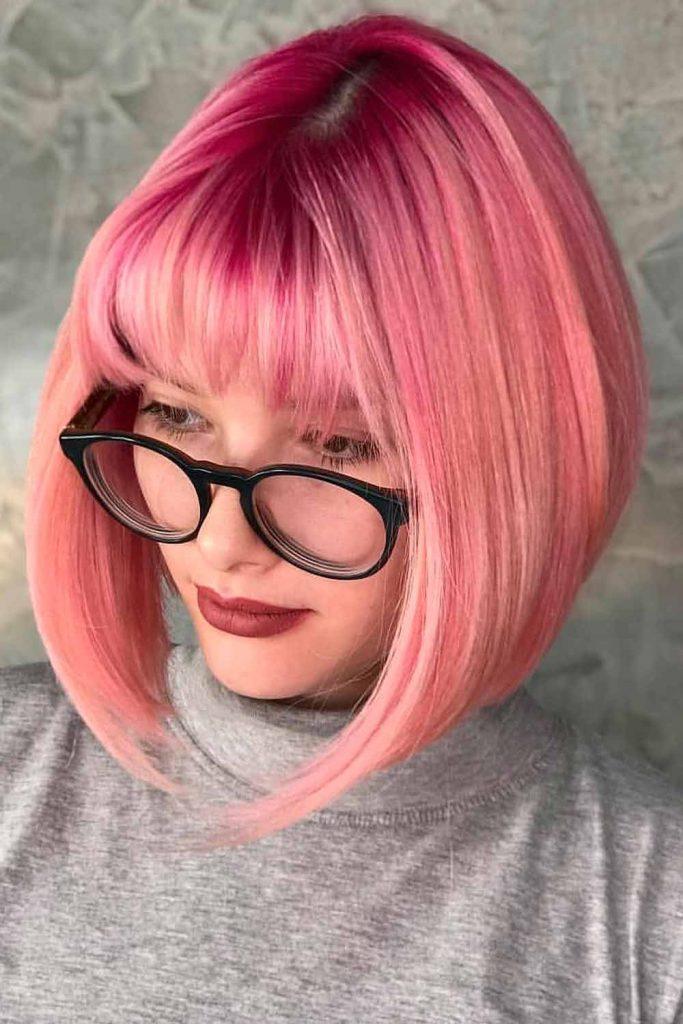 Credit photo: instagram.com/janesanttana
Definitely, straight layers are the musts when it comes to emphasizing the color play of such hallucinating shades. An angled bob haircut with layers, in its turn, will spice them up with movement. Well, that's a win for multi-colored hair! A haircut where front tresses gradually become shorter and more voluminous on the back of the head is another detail that will make your look simply unforgettable. The icing on the cake? This idea has a magical face-framing effect that won't ever hurt.
Unicorn Rainbow Layered Hairstyle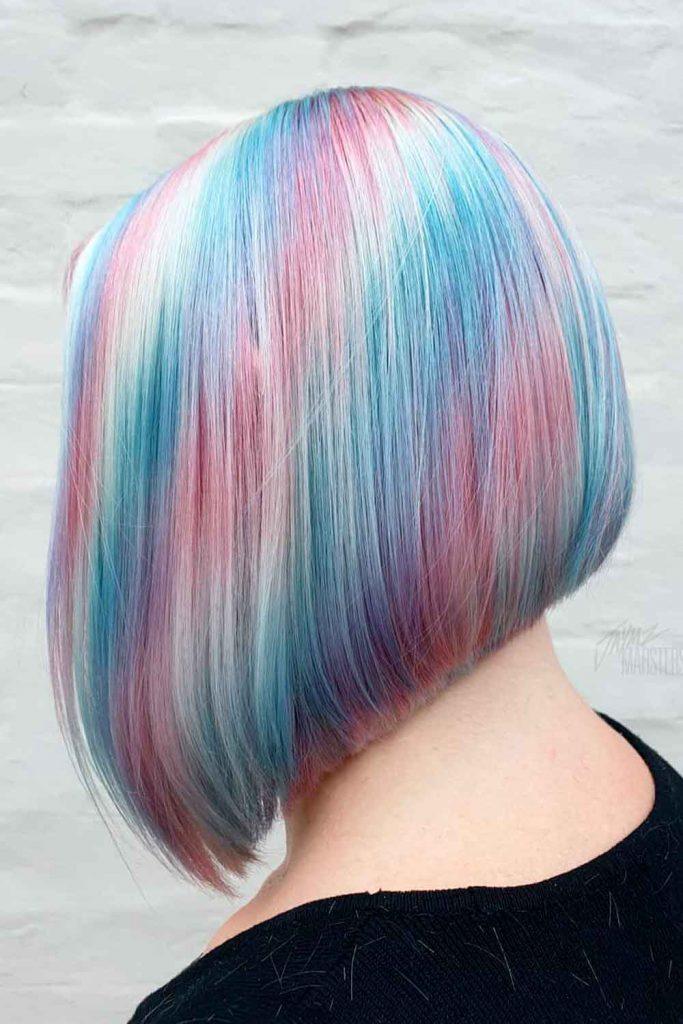 Credit photo: instagram.com/jaymz.marsters
In the world of hair colors, there are two options that can make minds go crazy, hearts skip beats, jaws drop, and eyes envy. Unicorn and rainbow hair trends are all the rage, but not every girl is brave enough to pull them off. Apart from the commitment of bleaching, you need to get used to seeing your colorist pretty often. Also, switching to hair products designed for color-treated hair is mandatory. If all these moments don't matter to you, you can join trendsetters and rock unicorn rainbow mixtures. And it goes without saying that only layered hair can reveal the beauty of these colors at their best.
Cute Shoulder Length Haircuts Ideas From Celebrities
Jennifer Lawrence's Blonde Beach Waves Lob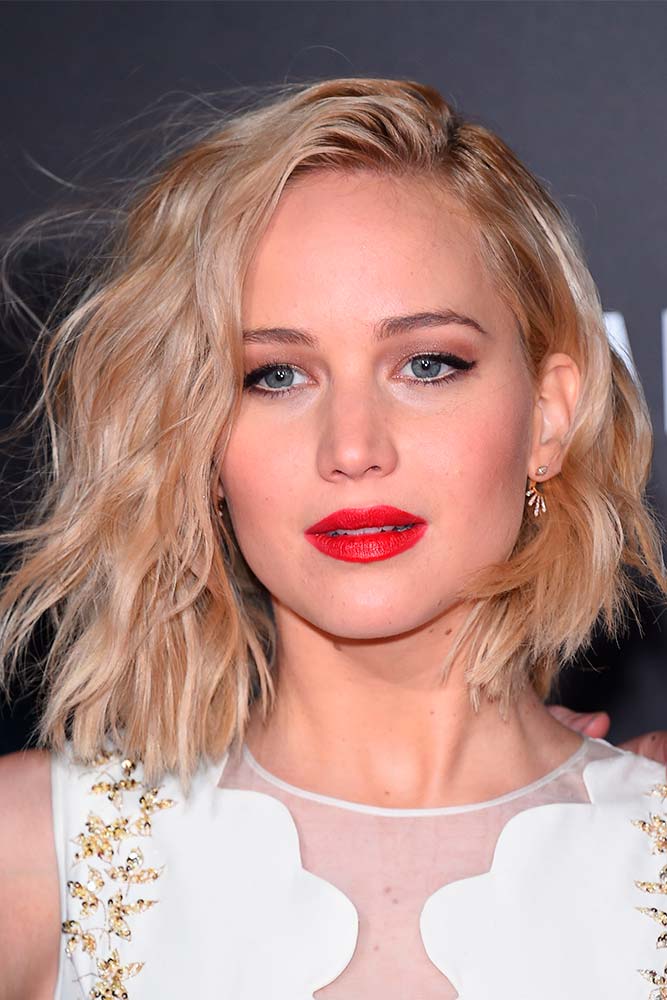 Credit photo: DFree via Shutterstock
Celebrities also find shoulder length haircuts extremely flattering. Jennifer Lawrence's beach wave lob appears carefree and relaxed, being a staple hairstyle for the celebrity. A low side part adds more definition to the look.
Miley Cyrus With Blonde Side Swept Curly Lob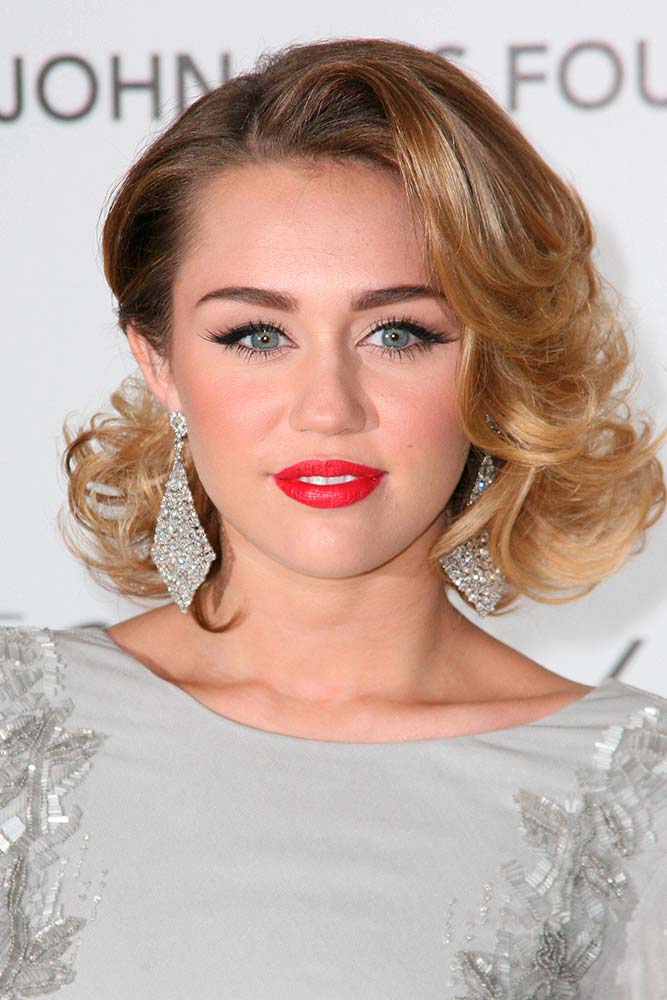 Credit photo: Krista Kennell via Shutterstock
Miley Cyrus successfully channels the look of one and only Marilyn Monroe with her iconic red lipstick, bold winged eyeliner, and soft blonde curls. Though the singer's take on the hairstyle is shoulder length and side-swept for a more modern look.
Jenifer Aniston's Straight Blonde Lob With Highlights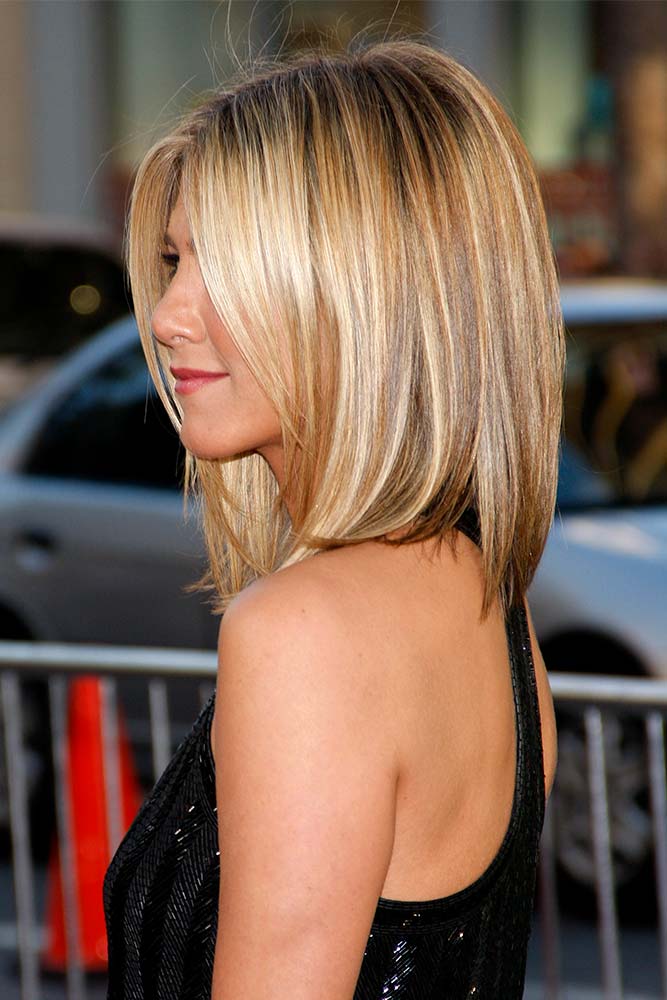 Credit photo: Tinseltown via Shutterstock
Every Jenifer Aniston's hairstyle immediately becomes a fashion statement, and her straight lob is no exception. One thing that almost never changes is Jen's sandy blonde hair color with highlights that add movement and dimension to her hairstyle.
Blonde Blunt Long Bob Of Selena Gomez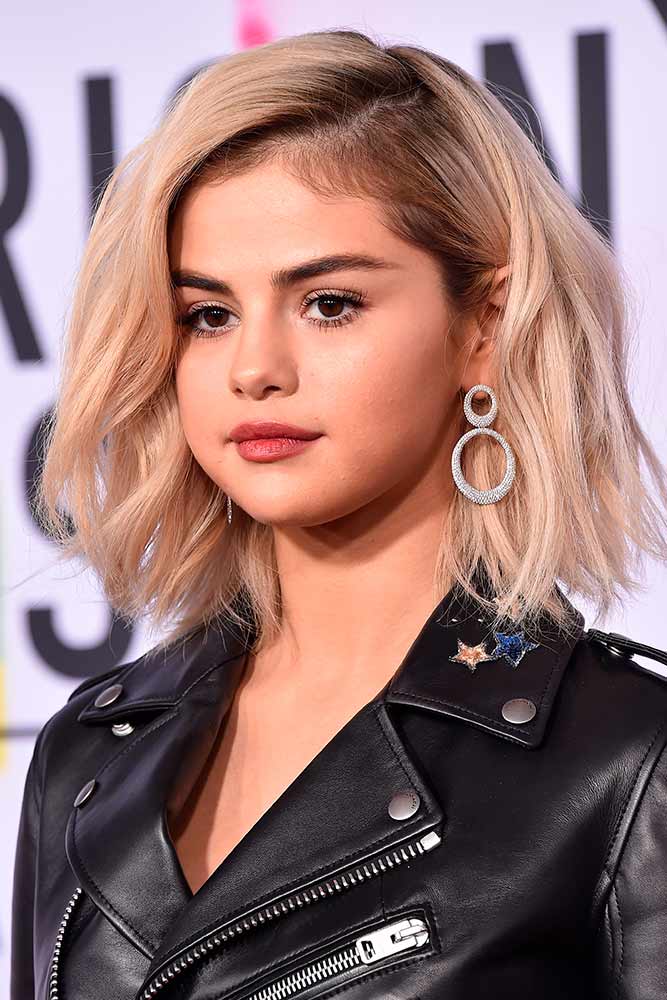 Credit photo: DFree via Shutterstock
We love Selena Gomez no matter what hair color and style she chooses. This Bieber inspired blunt dirty blonde lob sits mesmerizingly on the sweet-voiced singer. It also perfectly complements the rock style she pulls off with ease.
Eva Longoria's Side Swept Brown Lob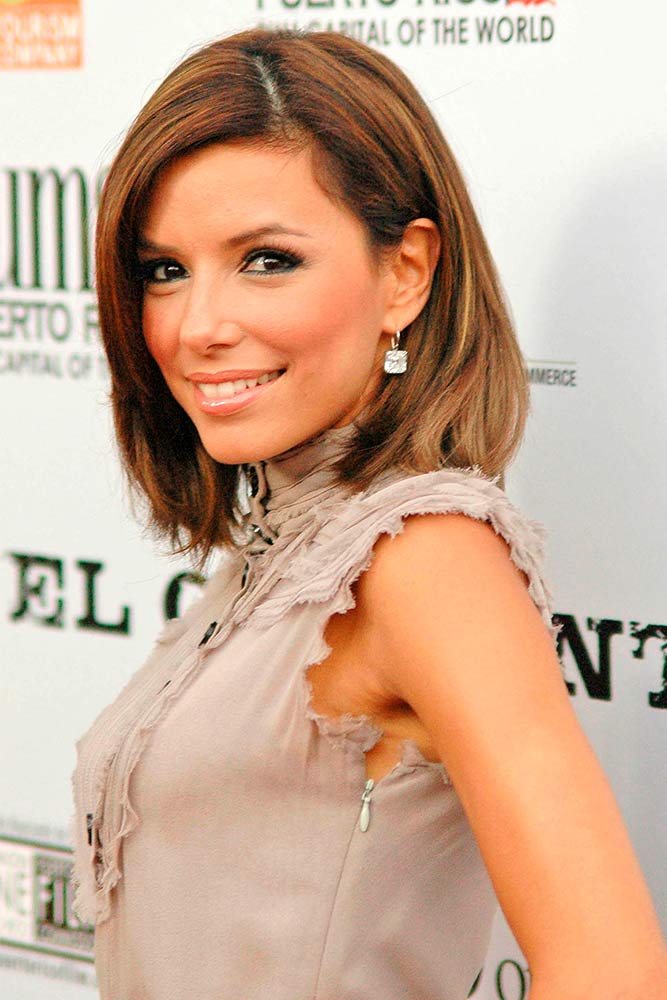 Credit photo: s_bukley via Shutterstock
Although we are used to seeing Eva Longoria with a full head of long chocolate locks, her side-swept golden toffee lob proves that everything looks good on this gorg desperate housewife. The diagonal part brings a stylish touch to her look.
Sophie Nelisse With Sweet Ombre Wavy Lob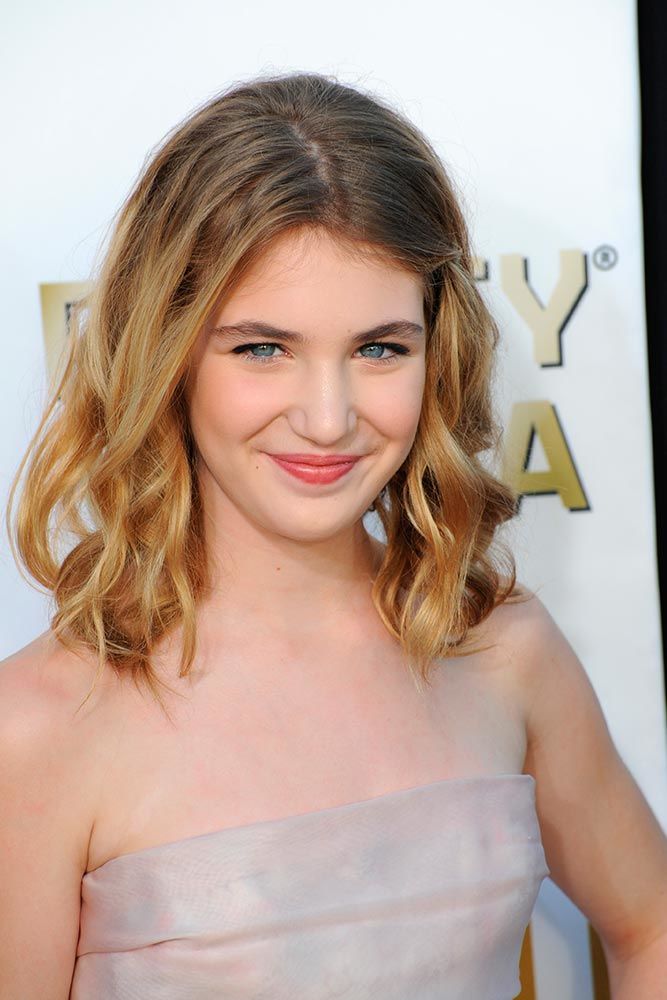 Credit photo: Featureflash Photo Agency via Shutterstock
Sophie Nelisse chooses to look breezy and effortless with her wavy lob. The locks are curled in random directions and divided with a natural center part. In this way, the hairstyle gives a bit messy and careless vibe. A sweet addition to the look is a soft ombre! Starting from her natural color at the roots and melting into a honey shade at the tips, the color nicely complements the style.
Jenna Dewan's Messy Dark Chocolate Long Bob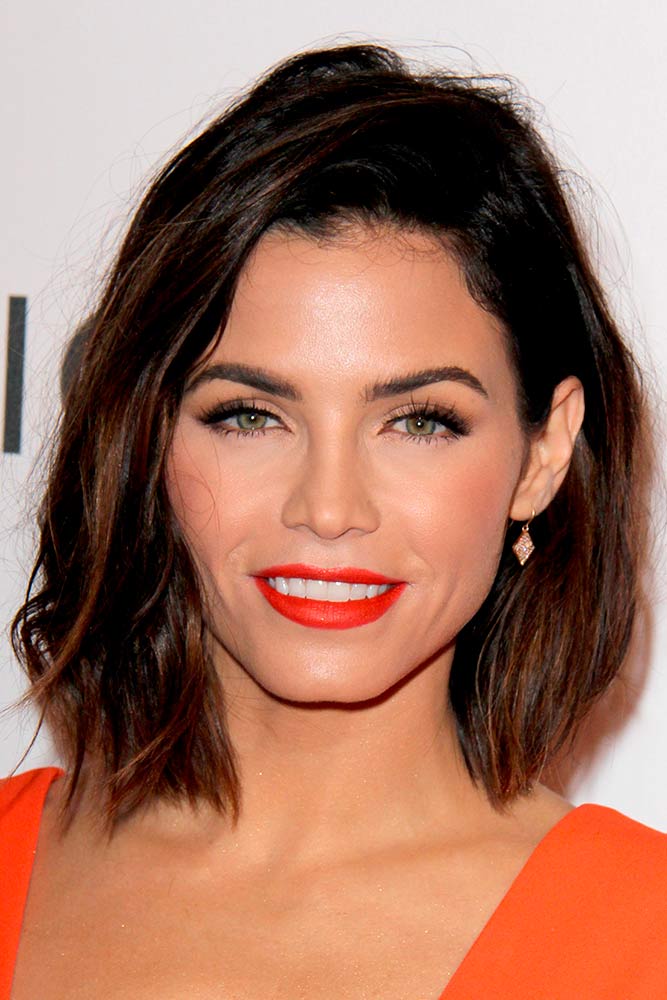 Credit photo: Kathy Hutchins via Shutterstock
Jenna Dewan almost convinces everybody that she wakes up with the hairstyle like this. Though, her flawless makeup is what gives the celebrity away. Even if her long bob looks messy and disheveled, we can only imagine how much time and effort the spent on styling it. Besides, with a shiny deep chocolate hair color, even the messiest "bedhead" lob will be easy to pull off.
Jennifer Lopez With Shaggy Layered Blonde Bob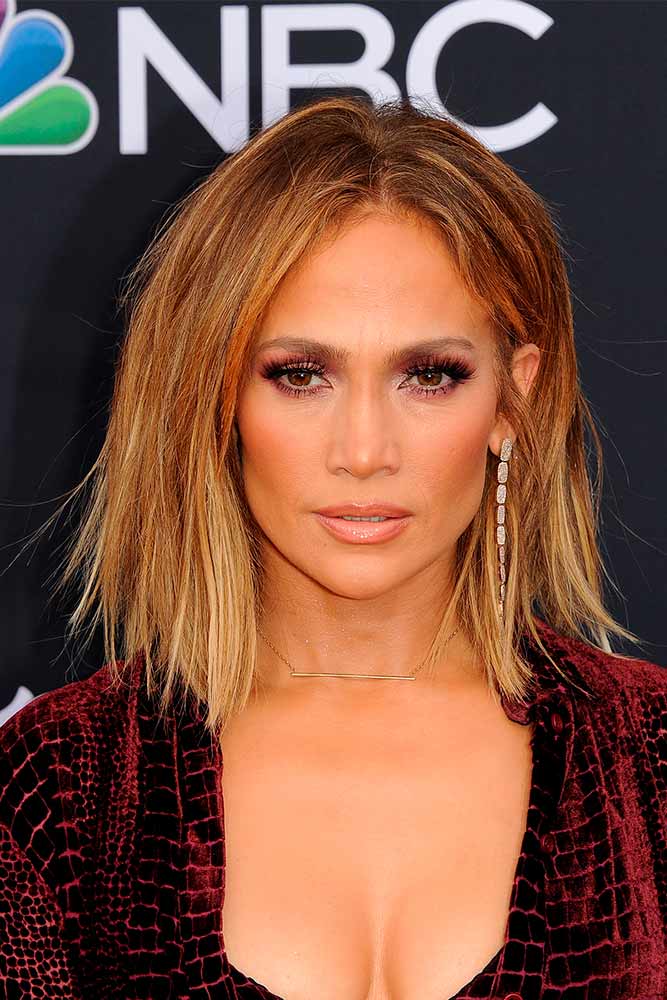 Credit photo: Tinseltown via Shutterstock
Somehow, J Lo manages to look dapper even when flaunting a shaggy hairstyle. Her key to success is impeccable makeup and a flattering outfit. Apart from that, her take on blonde hair color has become a true staple.
Jessica Alba's Brown Ombre Lob With Bang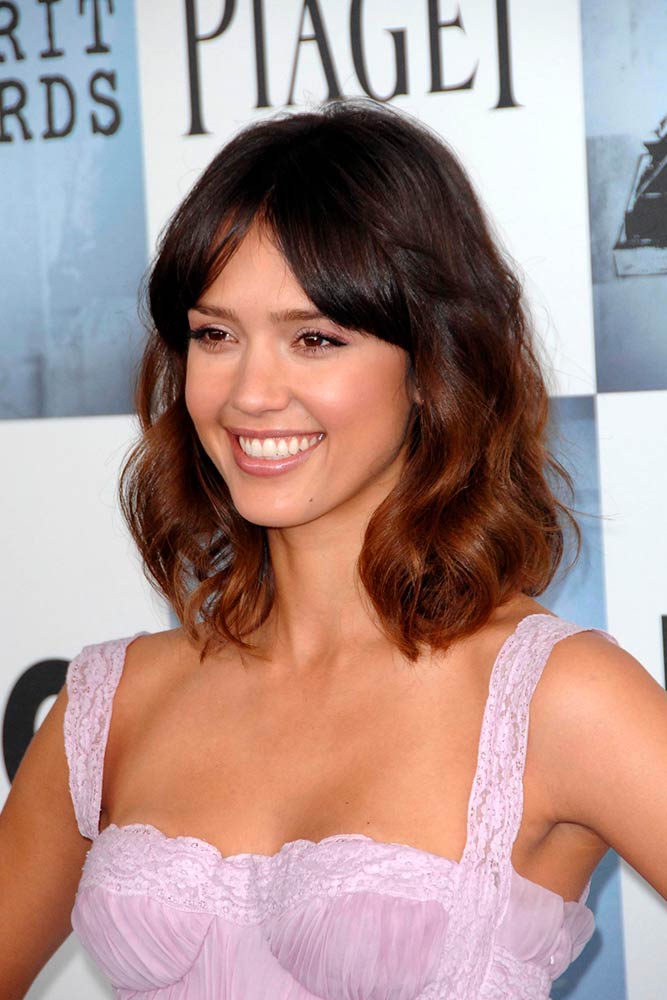 Credit photo: s_bukley via Shutterstock
Jessica Alba knows how to look both cute and hot. Even such a controversial combo as a wavy lob and bangs comes out awe-inspiring on her. And the rich brown ombre makes her always camera-ready.
Retro Waves For Blonde Lob By Charlize Theron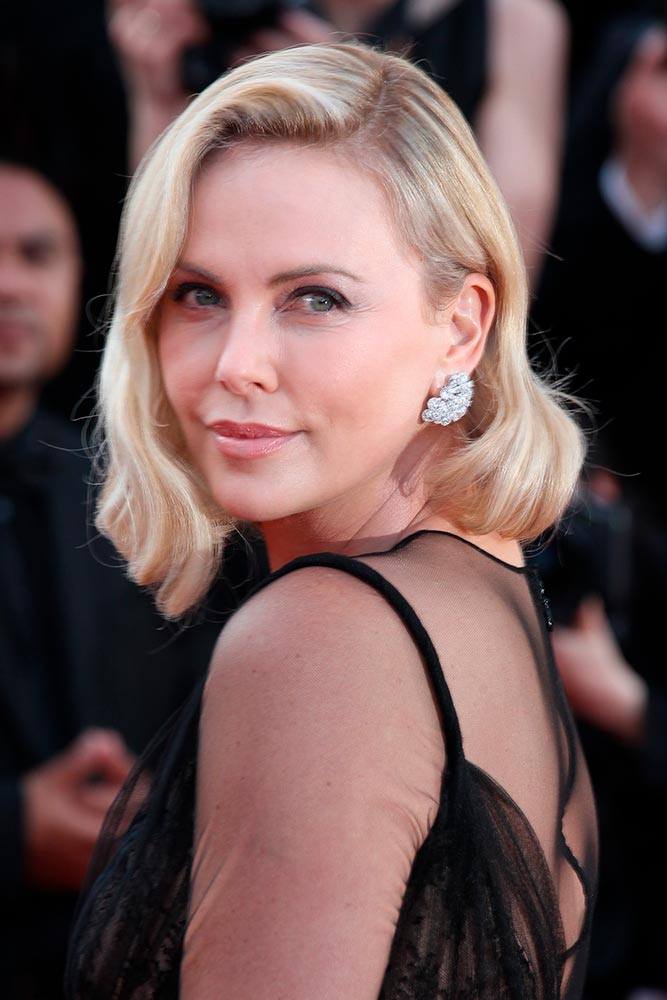 Credit photo: Tinseltown via Shutterstock
Nobody but Charlize Theron knows how to pull off a retro wavy blonde lob so that it looks trendy rather than outdated. With the right outfit and a dose of her personal elegance, basically, any hairstyle donned by the superstar becomes timeless.
So, are you ready for a brave new look for summer? These sexy shoulder length haircuts will really lighten up your locks. Ombre and balayage tones can really add a lot of depth and dimension to your tresses. If you are feeling bold, you can opt for bright neon colors for summer. Or, if you want something more subtle, a simple soft balayage is still quite trendy and chic. Find the look that works for you and get ready for a sassy summer do!
FAQ: Shoulder Length Haircuts
Will I look good with shoulder length hair?
Perfect option can be found for everyone. Sleek and blunt cut is perfect for straight hair, add layers to create some texture and volume. Wavy lob looks amazing on curlier hair. Experiment with a middle or side part and find what suits you best.
Plus, shoulder-length hair requires less maintenance than long or short hair. It allows you to wear your hair completely natural creating an effortless style.
What face shape looks good with shoulder length hair?
Heart-shaped face looks best with shoulder length hair, as it adds volume around the bottom of your face, creating the illusion of a wider jawline. Volume and bands on your shoulder length hair are perfect for those with a long face. Go for a below-your-chin haircut, adding volume on top, if you want to elongate your round face. Curls or choppy ends look flattering on a square face. And nearly every hairstyle complements oval face shape.
Does shoulder length hair make you look older?
Given the right execution, shoulder length hair can make you look 10 years younger. Adding bangs to it can help you hide forehead lines, but works only for those with a high forehead.
Thick hair always looks more youthful when it falls shoulder-length, add face-framing layers for more texture. Shoulder-length cut with a deep side part will help you to hide frizz.
Straight shoulder-length hair with some fullness at the ends will give your hair movement while lifting your face.
Was this article helpful?