Casual outfits are the most common guests in practically all cities around the globe. And it is not surprising, as street style is a great combination of taste and beauty. Have your clothes suit your hectic lifestyle and look super-cool at the same time!
Everything You Need To Know About Casual Style
How Do You Dress Casual?
Source: Instagram/mariecher
What Is Casual Wear For Ladies?
Source: Instagram/melimunchi
What Is Casual Evening Attire?
Source: Instagram/andicsinger
Casual Outfit Ideas
Jeans With Velvet Jacket
Source: Instagram/anunanna
Coat With Pants Casual Outfit
Source: Instagram/mariecher
Leather Pants With Denim Jacket
Source: Instagram/karinjinsui
Business Casual Outfits Idea
Source: Instagram/fashion_jackson
As not every job calls for a three-piece business suit, there are plenty of stylish outfits for work for those who don't adhere to a strict dress code. Business casual outfits are perfect for more laid back jobs or Business Casual Fridays. We love this sleek black head-to-toe look that is professional yet more casual. Pair a black v-neck blouse or long-sleeved tee with black skinny trousers (or jeans if your job so allows). Add your favorite black loafers and don those designer shades. Pair it with a cappuccino satchel to break up the color. This look is perfect as it can easily go from work to play, if you are going out on the town after work.
Cute Casual Outfits For Every Day
Source: Instagram/blvckd0pe
If you prefer a more feminine look, a flowy long skirt is always an option. This green pleated skirt is very feminine and chic. But when you pair it with a white crop top, you add a Boho Chic vibe that's hard to beat. And those shoes are ideal as they embody both comfort and style. Don't be afraid to dress up your cute casual outfits with some trendy accessories such as a bangle bracelet and a long necklace. You can wear your hair long and cascading or up in a funky updo. The possibilities for dressing up this trendy casual look are endless!
Cool Idea For Casual Work Outfits
Source: Instagram/shortstoriesandskirts
There are countless options for casual work outfits, so don't feel like you don't have any choices. The best way to maximize your work wardrobe is to buy pieces that mix and match. A pretty short white skirt is a must-have for every woman. You can dress it down with a pretty top and some fun costume jewelry. Or if you want to add it to your work attire, you can dress it up with a pretty blouse. Don't forget the heels, as they show that you still have a feminine side even if you are dressed to kill.
Casual Outfit Idea With A Denim Shirt
Source: Instagram/andicsinger
Another must have for every woman this season is a denim shirt. Who says denim just has to be reserved for jeans, Capri, and skirts? Denim is very fashionable and super versatile. Pair your button-up denim shirt with a pair of faded black or dark gray skinny jeans. You can sport a t-shirt underneath and wear it unbuttoned for a weekend look. Don't forget to roll up your sleeves or wear a French tuck to give it a carefree vibe. Dress it up with strappy sandals and your favorite purse, and you're good to go! It's one of the trendiest casual outfits for women this season.
Casual Summer Outfits Idea
Source: Instagram/jessi_afshin
Looking for great ideas for casual summer outfits? Look no further! This next look is perfect for those hot summer days. Who doesn't love gingham style linen shorts with a sleeveless blouse! This look is great for lunch with the girls or a walk on the beach. Don't forget your pretty sun hat to top off your outfit and protect your skin from the sun. Add some dangling earrings and a tennis bracelet, and you're ready for a day of summer fun! Wear sunscreen to preserve your gorgeous skin!
Sexy Casual Outfits For A Special Occasion
Source: Instagram/emilyshak
Are you looking for a sexy outfit for a date night or a night out with friends? You don't always need to pull out that little black dress. Sexy casual outfits are great for a night out on the town or a casual weekend event like a day on the beach or a road trip. Pull out your favorite torn skinny jeans and top them off with a sexy deep v neck blouse, bra or cami is optional. A v neck blouse will accentuate your cleavage and give off a totally sensual vibe. Don't forget your favorite sandals, heels are optional.
Casual Outfits With Jeans
Source: Instagram/rubilove
Never underestimate the power of good skinny jeans. Casual outfits with jeans are ideal for almost any casual affair from lunch and shopping with the girls to your favorite weekend activity. And if you want to add a bit of sex appeal, wear a black crop top with your favorite low-rise or high waist jeans. Skinny ripped jeans make this look even more low-key. Black and white tennis shoes are both comfy and stylish, if you are going to walk or move around a lot. Add a pretty gold or silver pendant for some extra bling!
Casual Party Outfits Idea
Source: Instagram/mikutas
Everyone loves a good party, whether it's a bonfire on the beach or a backyard BBQ. For occasions such as these, you will want to break out your casual party outfits. Do you need some inspiration for cute summer outfit ideas? How about a graphic or designer t-shirt paired with a short silver sparkly skirt like this one. You can dress it up with silver bangles and rings and a choker. Wear your favorite silver or white sandals and get the party started!
Dressy Casual Outfits
Source: Instagram/iambeauticurve
And of course, no wardrobe is complete without a sexy black dress. For those occasions that are just a bit more formal such as a bridal or baby shower or a Saturday night date, you can certainly put on that sexy black summer dress! Choose a black dress that is ideal for your body type and then you can work in your accessories to compliment your dress. For dressy casual outfits, sometimes less is more, so break out your favorite black heels and minimize the jewelry. Focus on a sexy fun hairstyle and finish off the look with your favorite summer shades!
Plus Size Casual Outfits
Source: Instagram/iambeauticurve
As not every woman is the same size, we have thrown in some ideas for plus size casual outfits. Show off your body curves with a knee-length yellow skirt paired with your favorite t-shirt. Add a burst of color with a red purse and red shoes. Don't forget your favorite hoop earrings. Beachy waves and red lipstick will really pull this look together for a casual vibe that says you enjoy every moment of the summer and are ready to have some fun!
Cute Casual Outfits
Source: Instagram/b_savy, Instagram/leannebarlow, Instagram/sincerelyjules
Source: Instagram/lucyswhims, Instagram/miamiamine, Instagram/pepamack
Look through our street outfit ideas. Get some inspiration for the next time you go shopping or stand in front of the open wardrobe, having no clue how to combine your items of clothes.
Practical Casual Outfit Ideas
Source: Instagram/jessannkirby, Instagram/jessi_afshin, Instagram/micahgianneli
Source: Instagram/holliewdwrd, Instagram/miamiamine, Instagram/vivaluxuryblog
When combined and accessorized properly, street wear items easily turn into really trendy work outfits. Of course, if you don't have to follow a strict dress code all the time.
Simple And Stylish Casual Outfits
Source: Instagram/cmcoving, Instagram/caraloren, Instagram/eleni_1611
Source: Instagram/hellofashionblog, Instagram/laurenkaysims, Instagram/stephanie_danielle
You can definitely make a statement if you spice up your street clothes just a bit. Pay some attention to small details, and you will notice that even the simplest outfits can work like magic.
Casual Outfit Ideas To Copy Right Now
Source: Instagram/hellofashionblog, Instagramm/sincerelyjules, Instagram/hapatime
Source: Instagram/holliewdwrd, Instagram/kathiischr, Instagram/laurabadura
Also, try to experiment when combining items of clothes for the next time you go out. Sometimes leaving your habitual image boundaries is really refreshing and mood-boosting, too.
Comfy Casual Outfit Ideas
Source: Instagram/audreyannej, Instagram/carodaur, Instagram/somewherelately
Source: Instagram/kenzas, Instagram/thriftsandthreads, Instagram/brightonkeller
Casual style doesn't happen without accessories. The most popular accessories are those that casually accentuate your style – leather strap watches, large bags, sunglasses.
Newest Casual Outfit Ideas
Source: Instagram/carodaur, Instagram/giolucini, Instagram/alma_chillout
Source: Instagram/floralprixcess, Instagram/alma_chillout, Instagram/sincerelyjules
It's not difficult pairing two unlikely pieces together or throwing on an accessory to fresh an outfit, but create a new look has never been easier.
Ideas Of Casual Outfits Rocked By Celebrities
Jeans And Print Blouse Casual Look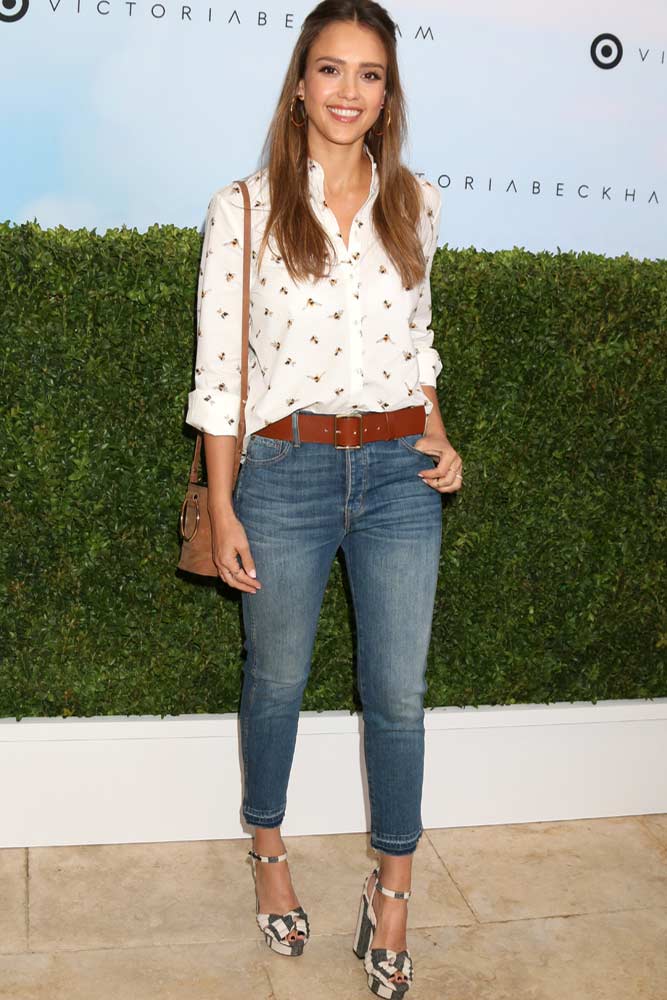 Celebrities like to sport casual outfits as well. This time Jessica Alba proves that the combo of regular skinny jeans and printed blouse look great together. To finish the look, she chose heeled sandals, and that is a wise decision.
Source: Joe Seer / Shutterstock.com
Monochromatic Casual Outfit Idea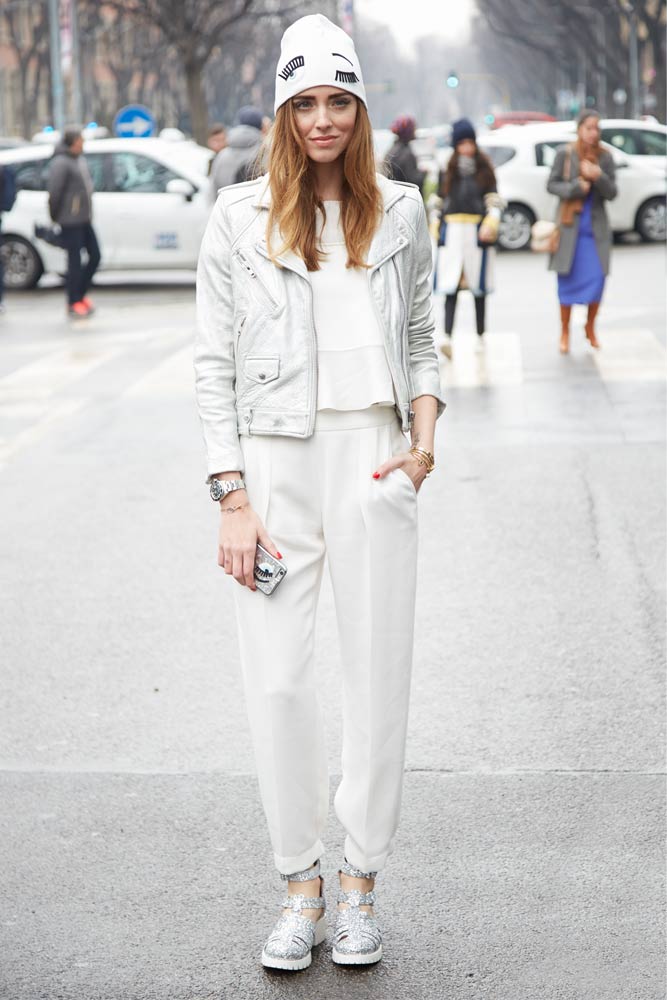 Very often, we think that the casual look is supposed to be different-shaded. However, Chiara Ferragni proves otherwise. We can't but agree that this all-white outfit looks perfect.
Source: andersphoto / Shutterstock.com
Casual Outfit With Jeans And Comfy Jacket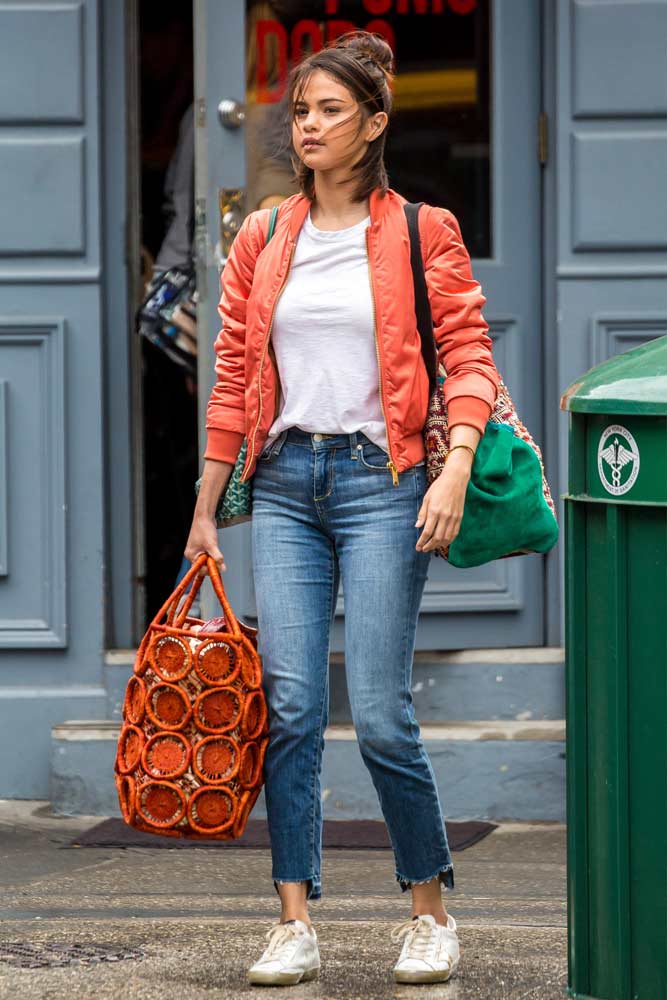 When you wonder what to put on when you go shopping, we suggest you take Selena Gomez's look into consideration. A comfy jacket paired with casual jeans not only looks great but also is quite convenient when it comes to shopping.
Source: Liam Goodner / Shutterstock.com
Print Dress With Sneakers Outfit Idea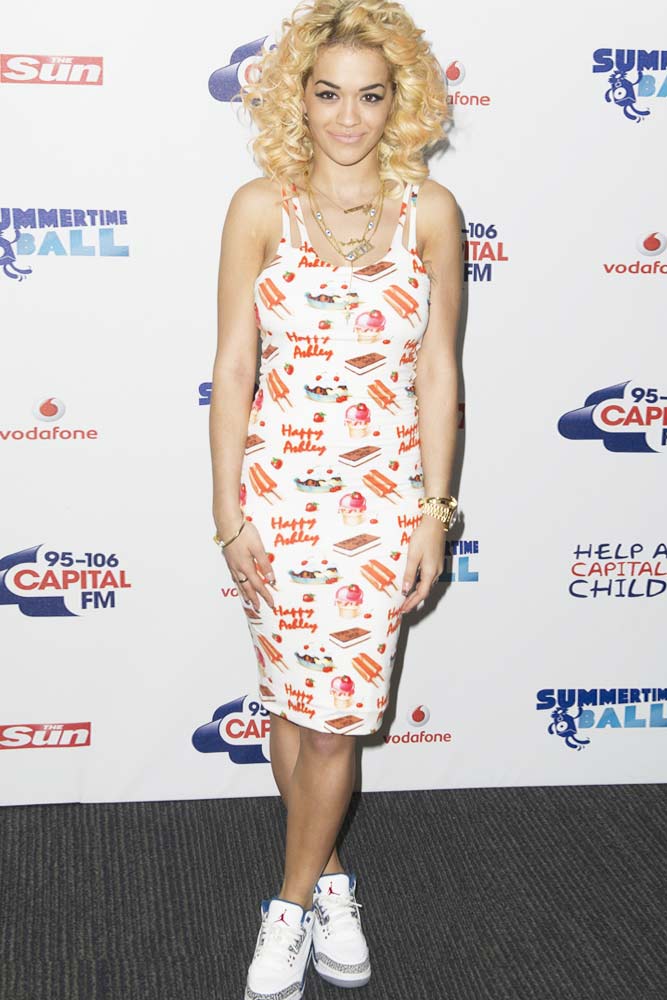 Who said that casual couldn't be feminine-looking? That is right – no one and Rita Ora supports the point. Her print dress with a pair of sneakers can fit in any place or occasion.
Source: Featureflash Photo / Shutterstock.com
Black Suit With Sneakers Outfit Idea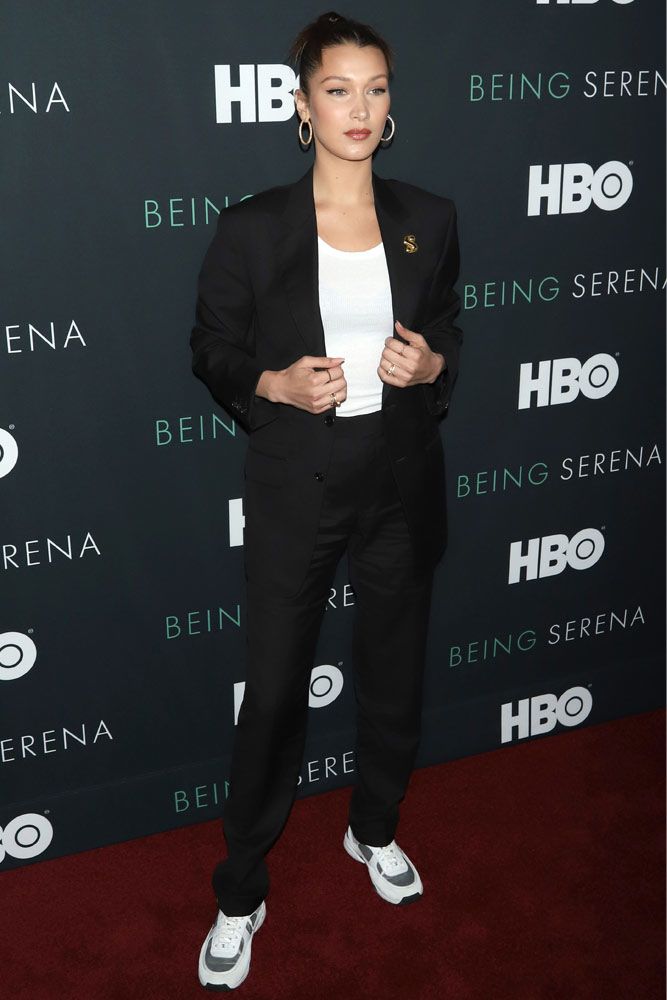 Most women are used to the thought that suits can be pulled off with heels only. It is time to break the rules, and Bella Hadid is the rebellious one. Combining a black suit with a pair of sneakers is a bold but fashionable decision.
Source: JStone / Shutterstock.com
Denim Jacket With Leggings Outfit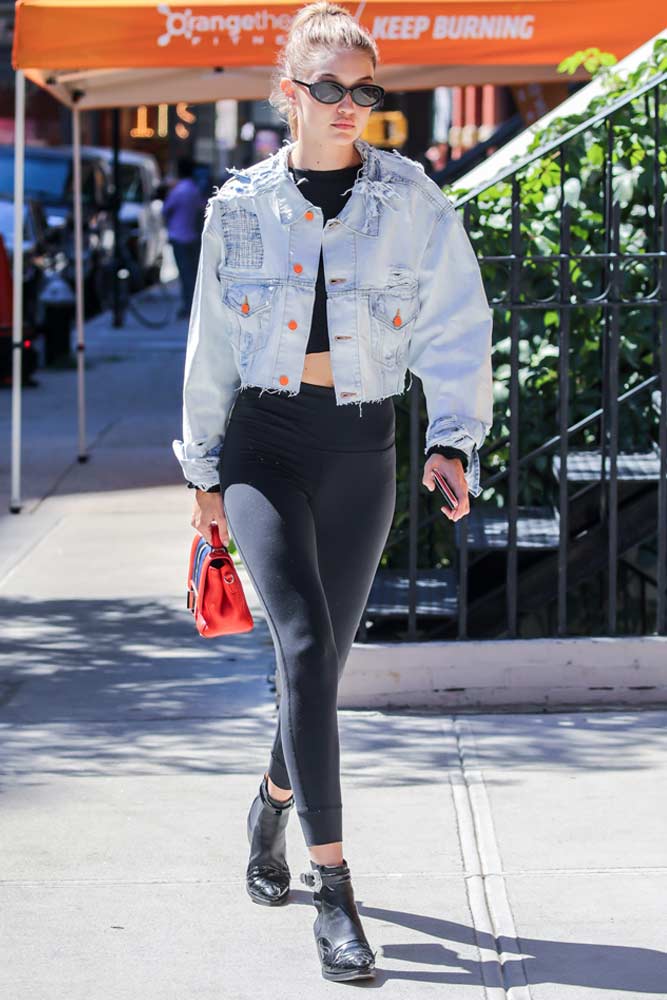 Gigi Hadid does not stand behind her sister and invents her own casual outfit ideas. Denim jacket and leggings seem to be from different planets; nevertheless, the model manages to sport them together perfectly.
Source: Liam Goodner / Shutterstock.com
Ripped Jeans With Colorful Cardigan Outfit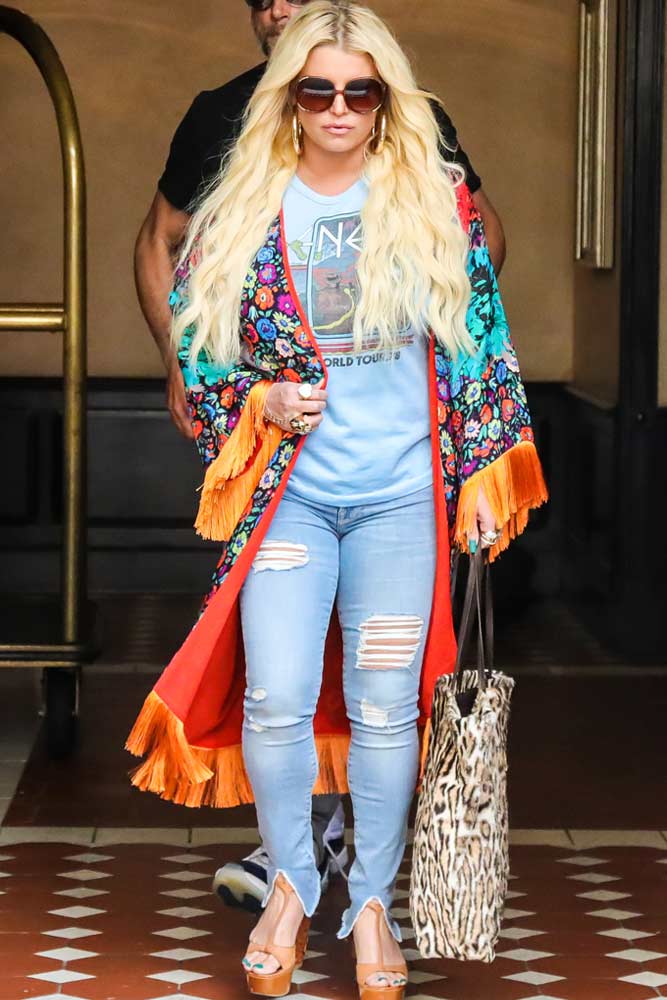 Jessica Simpson shows us that casual depends upon your personal taste. In case you are a fan of bright cardigans, then you will surely add this outfit to your to-pull-off list.
Source: Liam Goodner / Shutterstock.com
Pink Sweatshirt With denim Shorts Outfit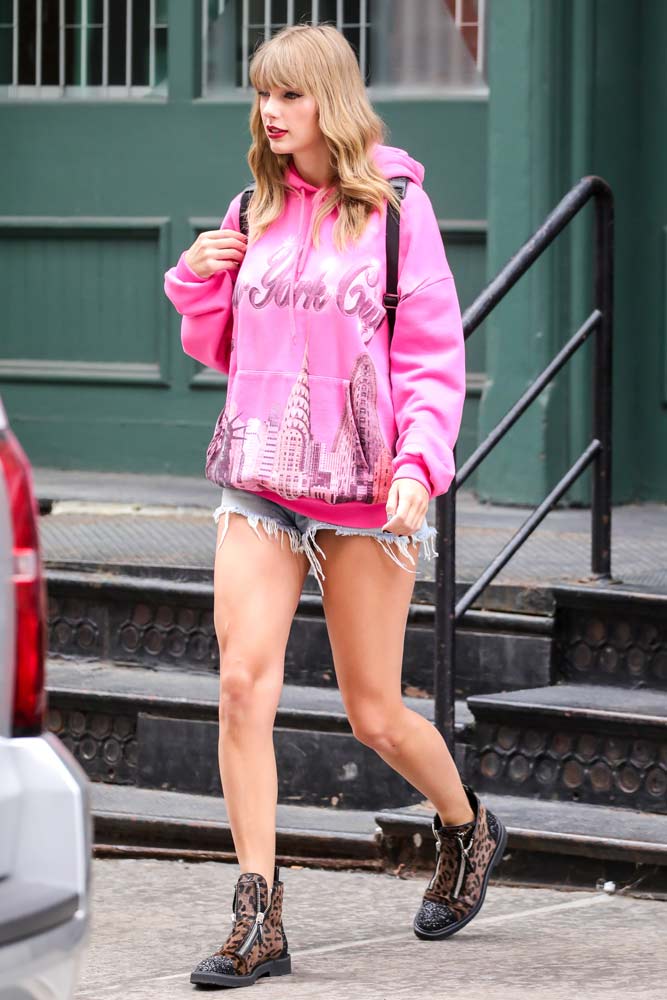 Taylor Swift is not only the icon of style but also of femininity. That is why all of her outfits deserve special attention. This time a pink sweatshirt and ripped jeans shorts completed each other seamlessly and ended up on a gentle but trendy outfit.
Source: Liam Goodner / Shutterstock.com
Casual Outfit With Black Leather Leggings And Cardigan
Lily Collins surely knows how to look both trendy and casual. She paired her leather leggings with a cardigan and achieved the highest level of casual perfection.
Tinseltown / Shutterstock.com
High Waisted Skirt Outfit Idea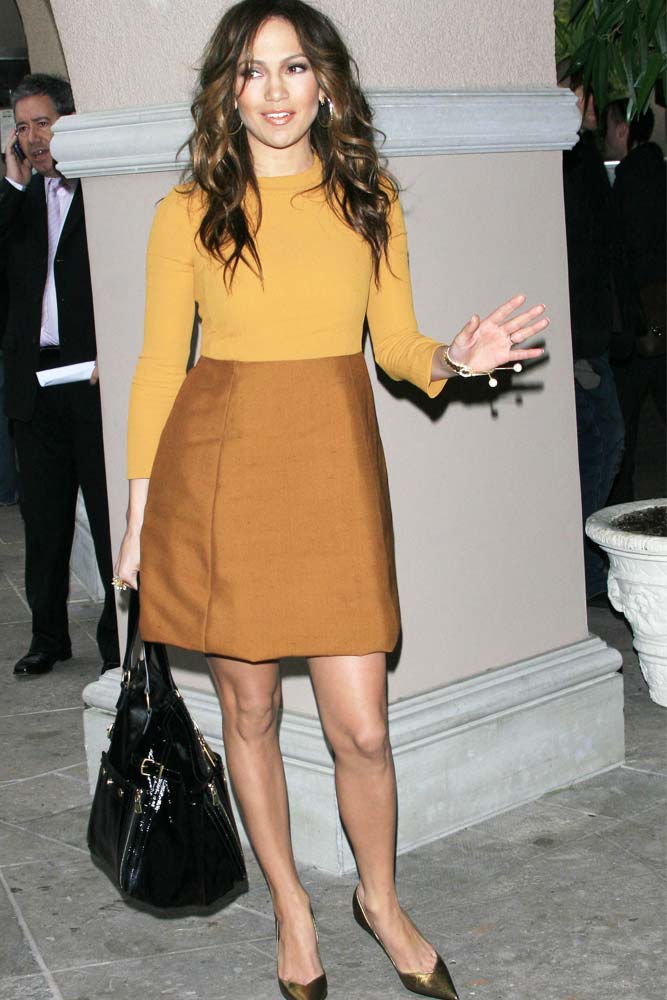 Jennifer Lopez looks elegant no matter what she wears. This time the high-waisted skirt paired with a top on the same color palette and metallic heels resulted in yet another look to replicate.
Source: Joe Seer / Shutterstock.com

REFERENCES:
Casual wear/attire/clothing is a Western dress code category that comprises anything not traditionally appropriate with more formal dress codes: formal wear, semi-formal wear, or informal wear. Source
Smart casual is an ambiguously defined Western dress code that is generally considered casual wear but with smart (in the sense of "well dressed") components of a proper lounge suit from traditional informal wear. Source