High waisted jeans have been trending forever it seems, however, these days the trend is at its fullest. While many people consider high waist jeans a real blessing there are some that may think it is a real curse. The truth is that even though in most cases the high waist is flattering to all body shapes, you still need to know what suits you personally best. That and some many other things about high waist jeans are going to be the subject of our today's survey – so hop in!
Flare High Waisted Jeans Idea
Source: courtneeruthie via Instagram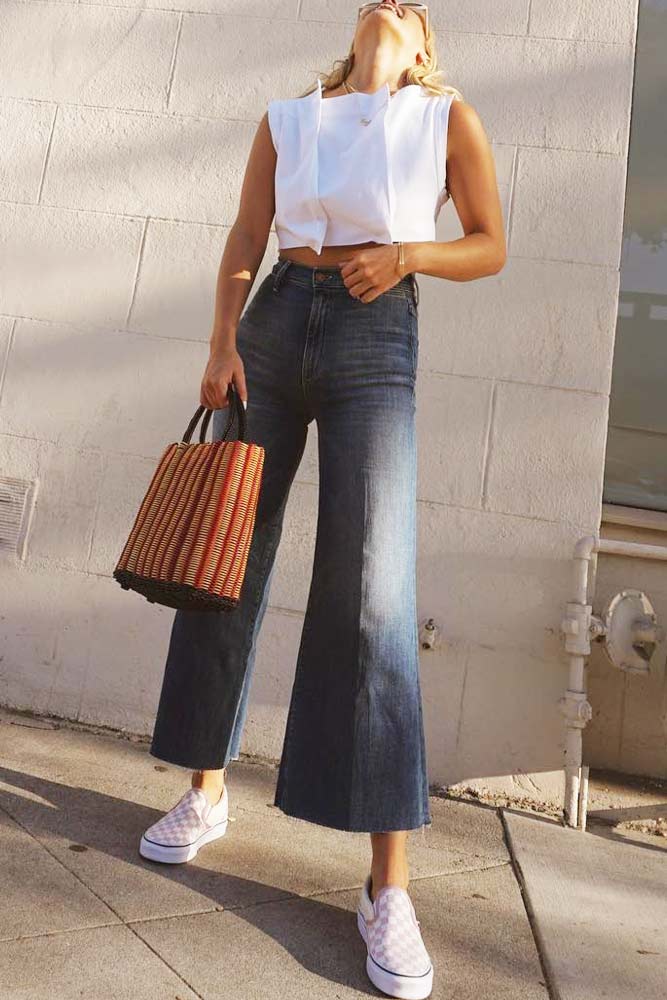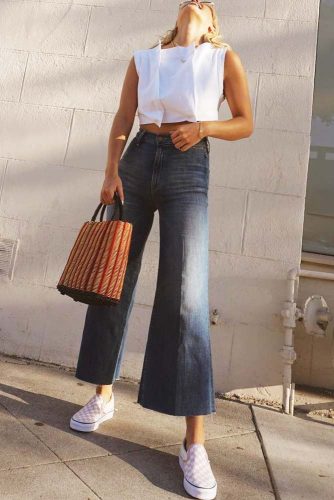 Jeans for women are all different, and you should be able to differentiate between regular jeans and high waist ones in order not to fail with your choice. The thing is that high ways jeans are usually reaching up to your belly button and they tend to cover up all that is unnecessary to be observed while leaving your beneficial sides obvious. For example. Women with long legs and smaller butt will benefit from shortened flare jeans, and a nice white top will only intensify the gorgeous impression.
Dark High Waisted Jeans Design
Source: weworewhat via Instagram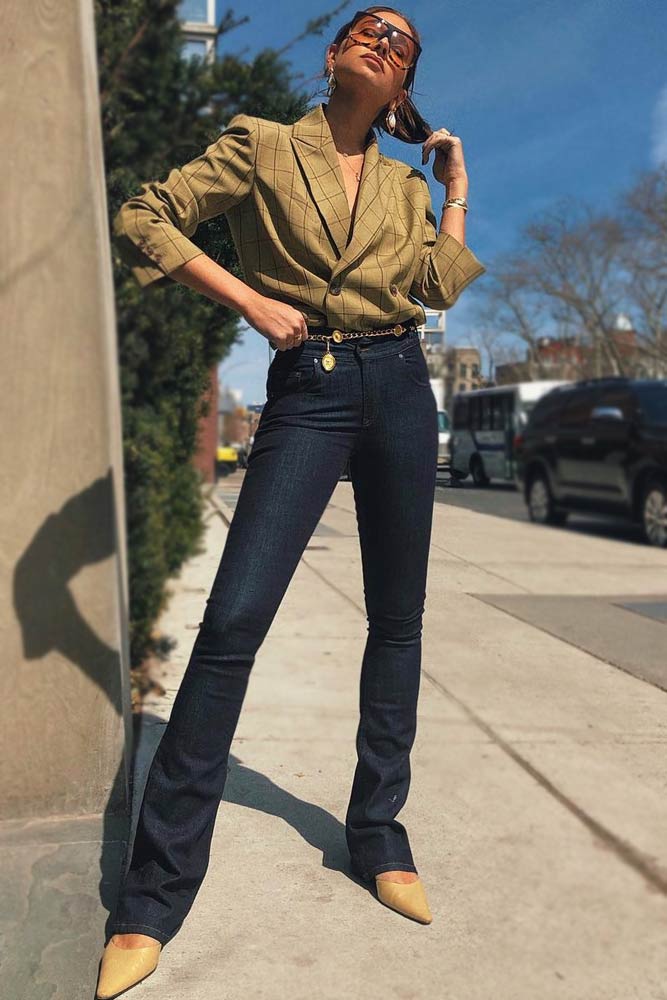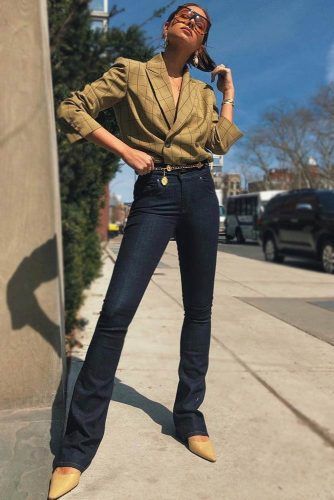 Dark high waist jeans are the choice of many. The thing is that they look almost universal and anything can complement them not to mention the fact that they are beyond trendy these days. What is more a loose shirt, dark jeans and a pair of sneakers make a great look together.
High Waisted Jeans Design With Dark Blue Stripes
Source: courtneeruthie via Instagram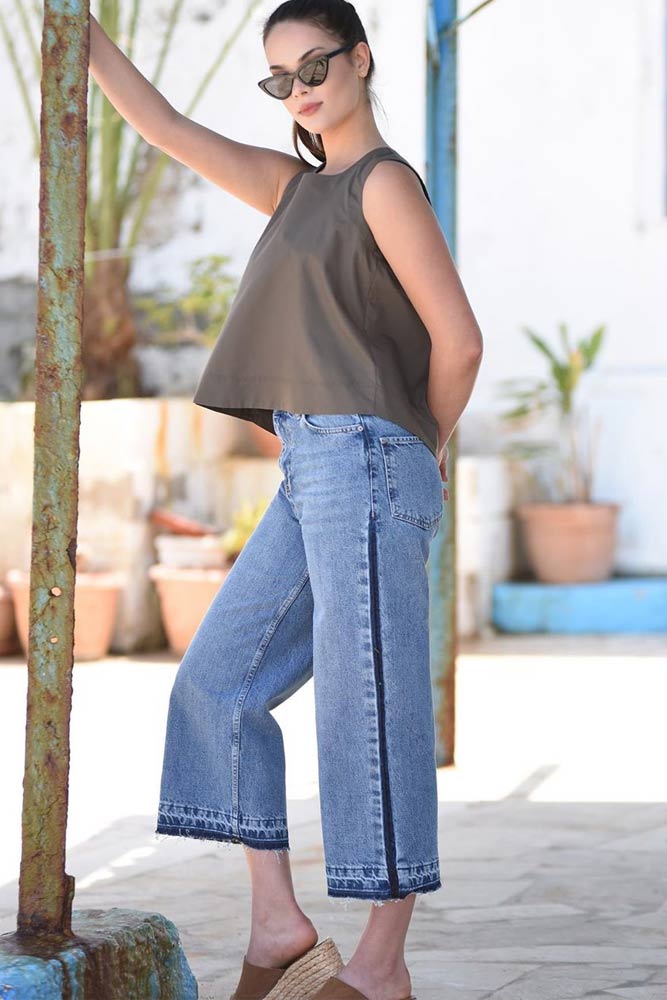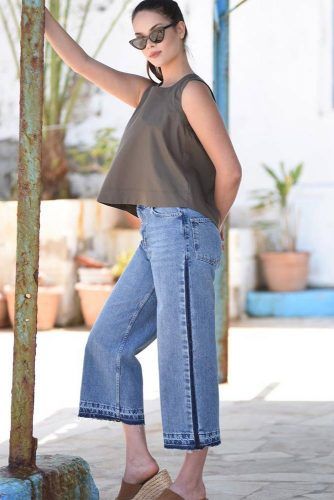 In case you are looking for high waisted jeans for girls who are all about fashion – we have something in store for you too. The truth is that dark blue stripes added to the sides of these jeans add that necessary accent to your look so that there would be no chance to go unnoticed no matter where you are headed to!
Black Skinny High Waisted Jeans
Source: fashionedchicstyling via Instagram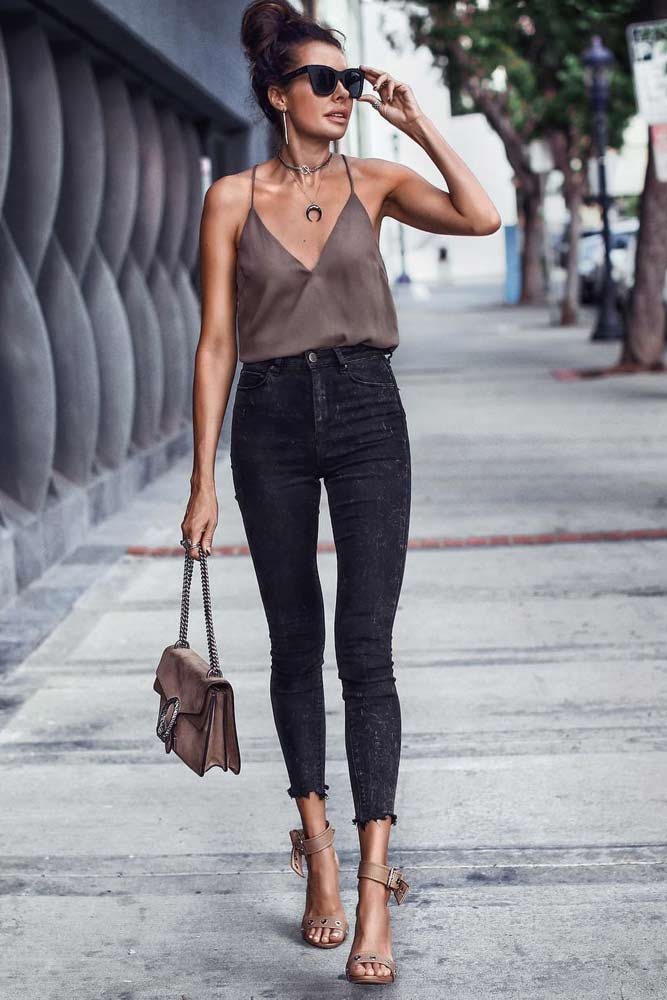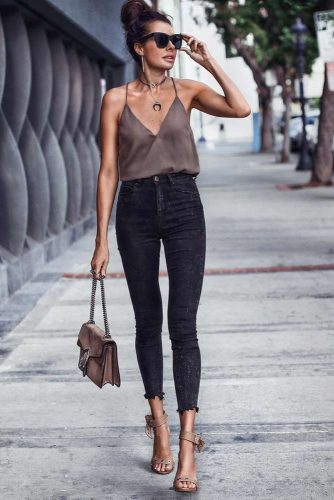 Skinny jeans have been in for a while now too. That is why it is nice to mix and match the trends from time to time. If this is what you would like to experiment with then, we advise you get a pair of high waist skinnies. Completed with silky top these jeans will add a feminine touch to your general outlook and that is great!
Dark Blue High Waisted Jeans Design
Source: gabrielladepardon via Instagram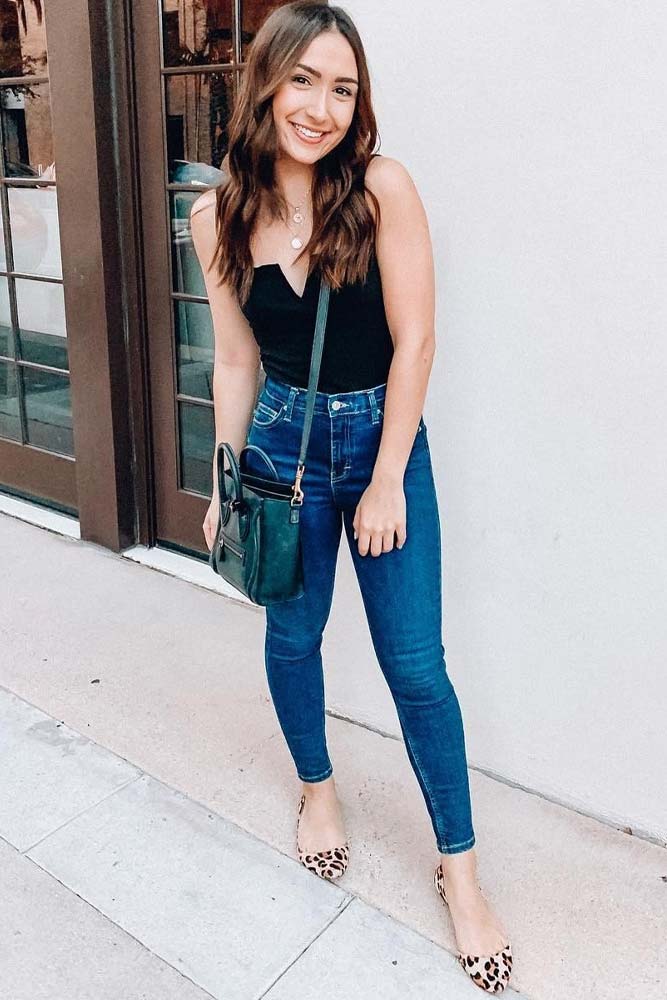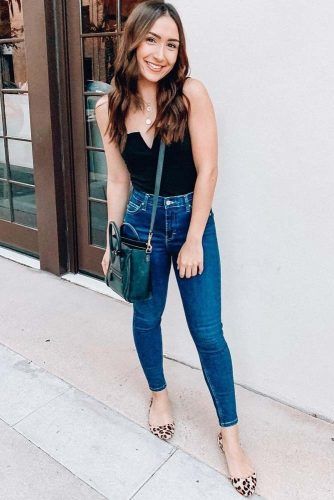 Ragged high waisted jeans for women is not an option for many. However, those of you who would dare to try such a look out may get inspired by this image. A quite revealing top and torn jeans are what you need to look stylish and rebellious.
Light Blue Skinny Jeans
Source: jazy_g via Instagram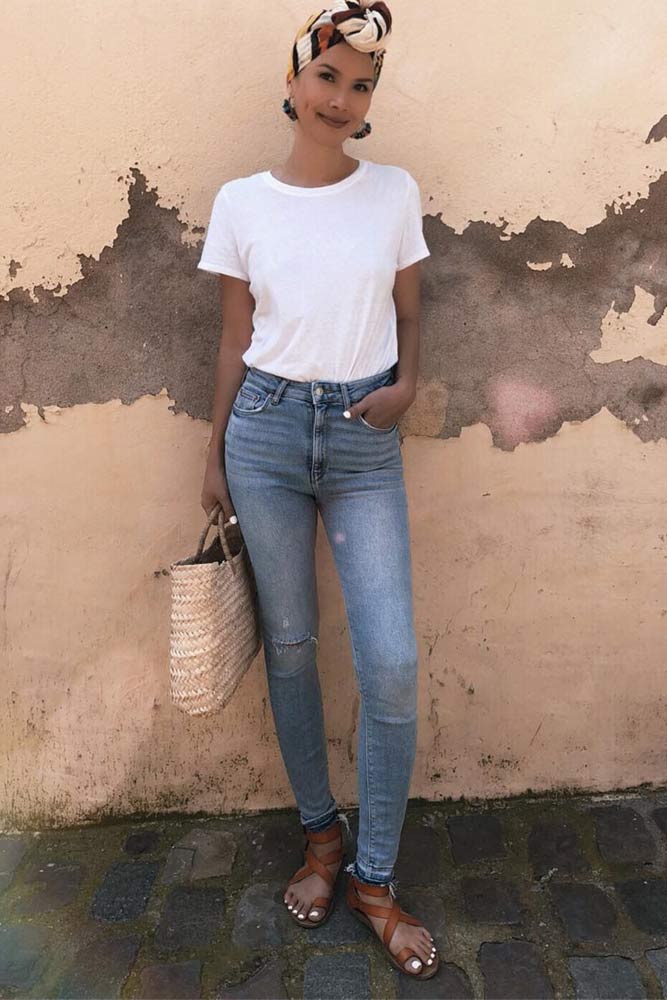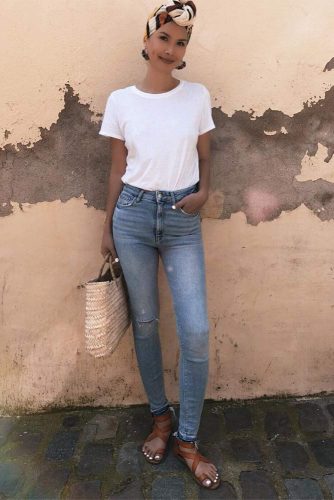 High waist jeans have a magic ability to make any outfit look stylish and unique. For example, there is nothing special about neither the light blue jeans not the white t-shirt but together they a perfect match, wouldn't you agree?
High Waisted Straight Jeans Design
Source: nicholeciotti via Instagram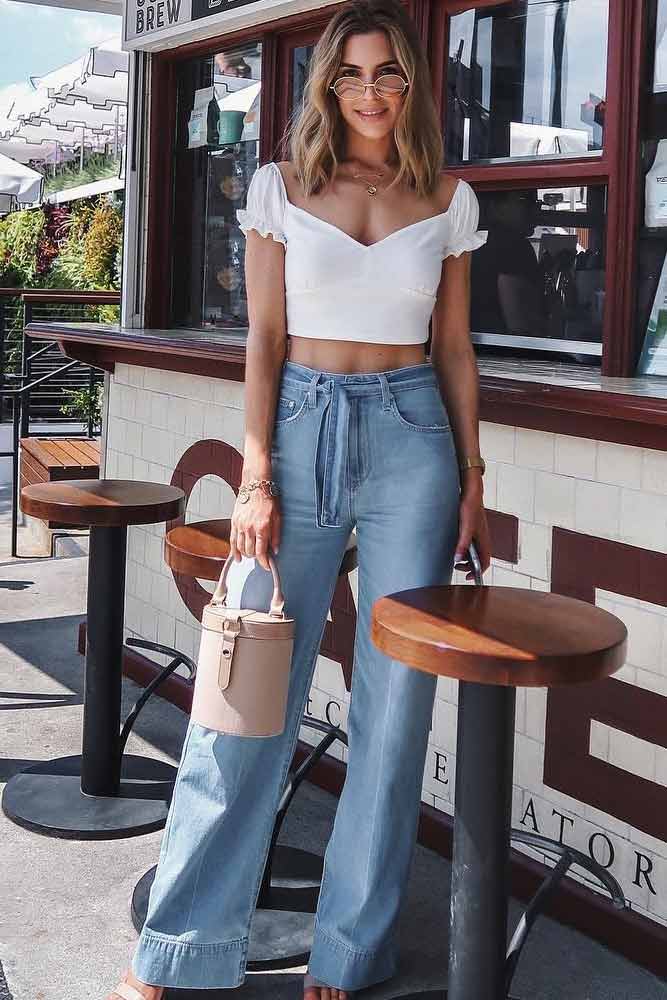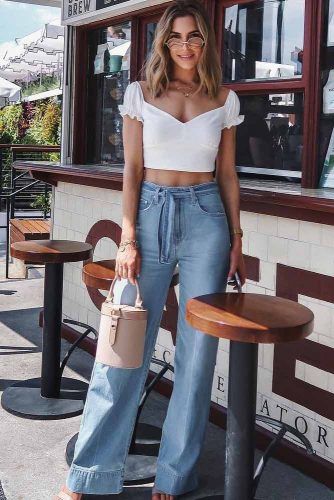 Any high waisted jeans outfit is unique in its own way, but there are examples which are classic. For instance, straight high waisted jeans will suit for everyday wear and won't look out of place no matter where you go. If that is exactly what you need – what are you waiting for?
Ripped Straight Jeans Design
Source: lucyswhims via Instagram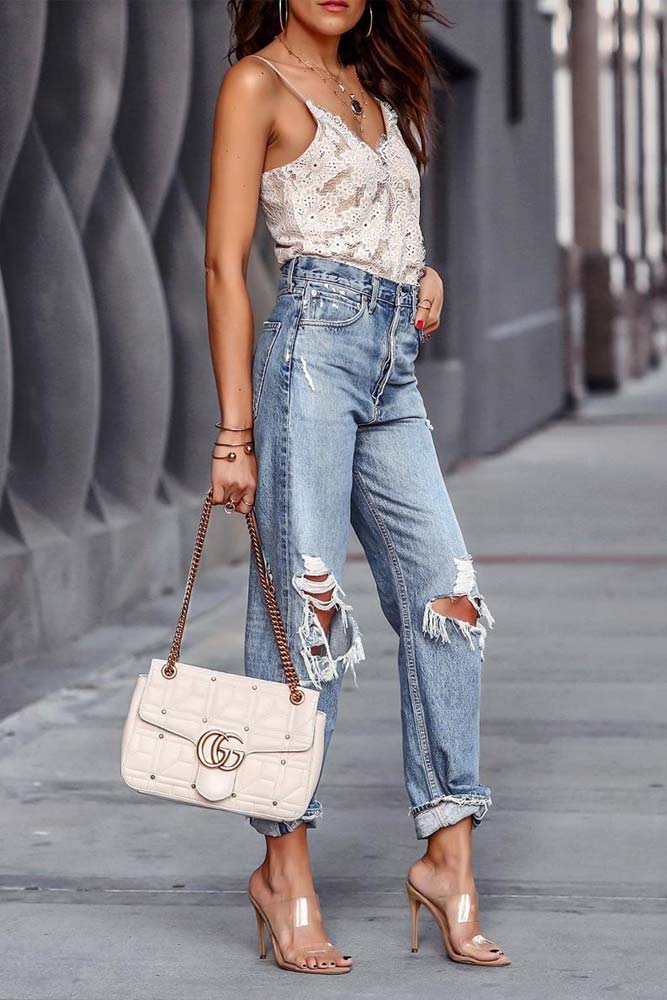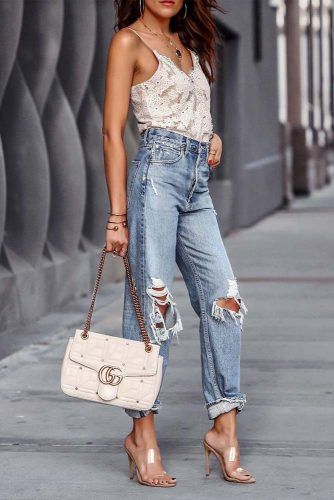 Straight jeans are classy, but they can also have a modern touch. Just like the pair shown on the picture, straight jeans look perfectly universal, but a ripped pattern adds it some fun charm.
Dark Cropped Jeans Design
Source: fashionedchicstyling via Instagram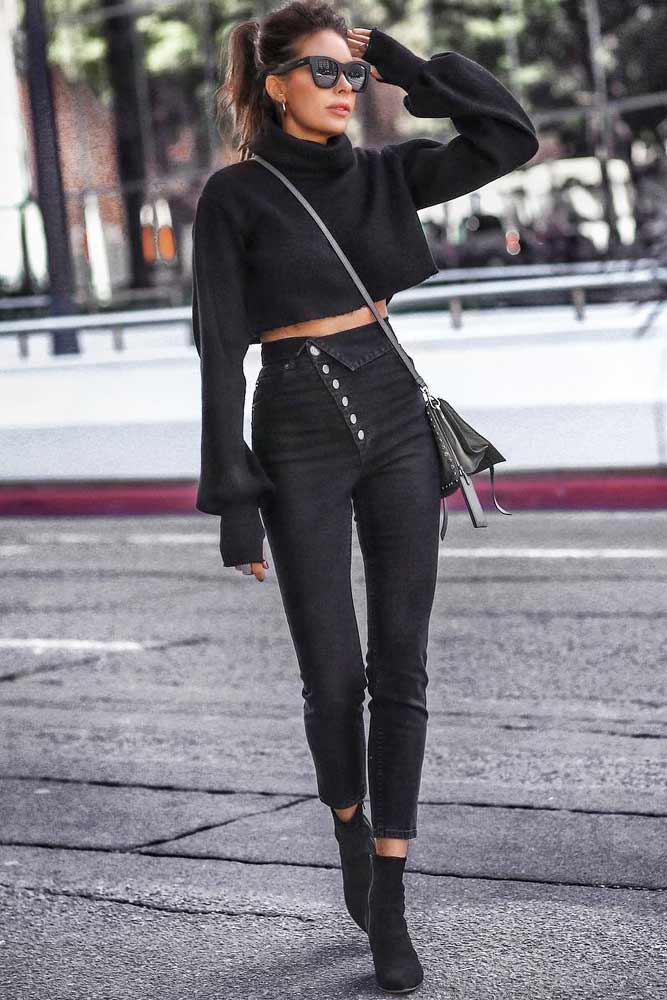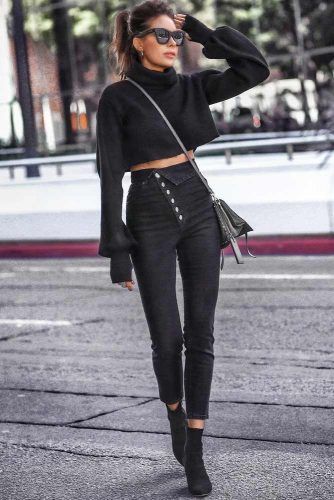 Cropped jeans are all in right now, and a pair of those is certainly a must-have for any fashionista lady. What is more, high waist cropped jeans look absolutely stunning when completed by a crop sweater and black boots. See for yourself!
Dark Blue Jeans For Curved Ladies
Source: solid_bluee via Instagram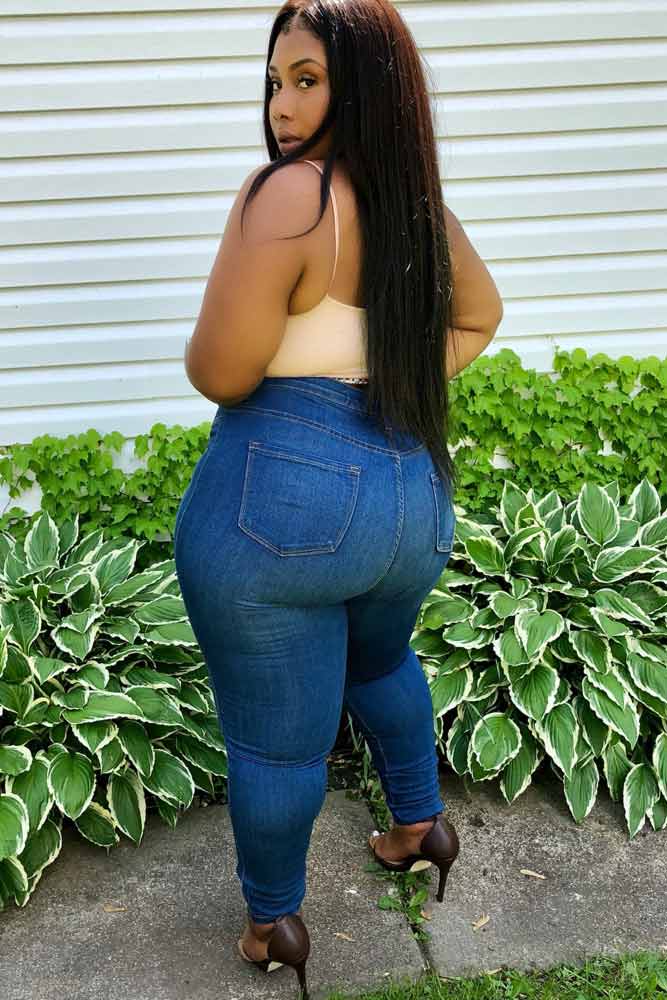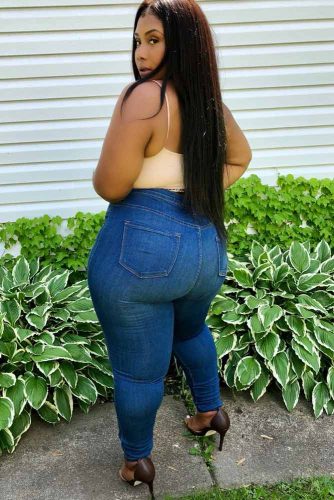 High waisted jeans plus size are a real deal for ladies with some curves. The thing is that there is nothing better to emphasize the curves then tight high waist jeans. However, you need to be careful and opt for the size that suits you best since too tight may not be that good for you.
High Waisted Outfit Idea For Curved Lady
Source: gemstar via Instagram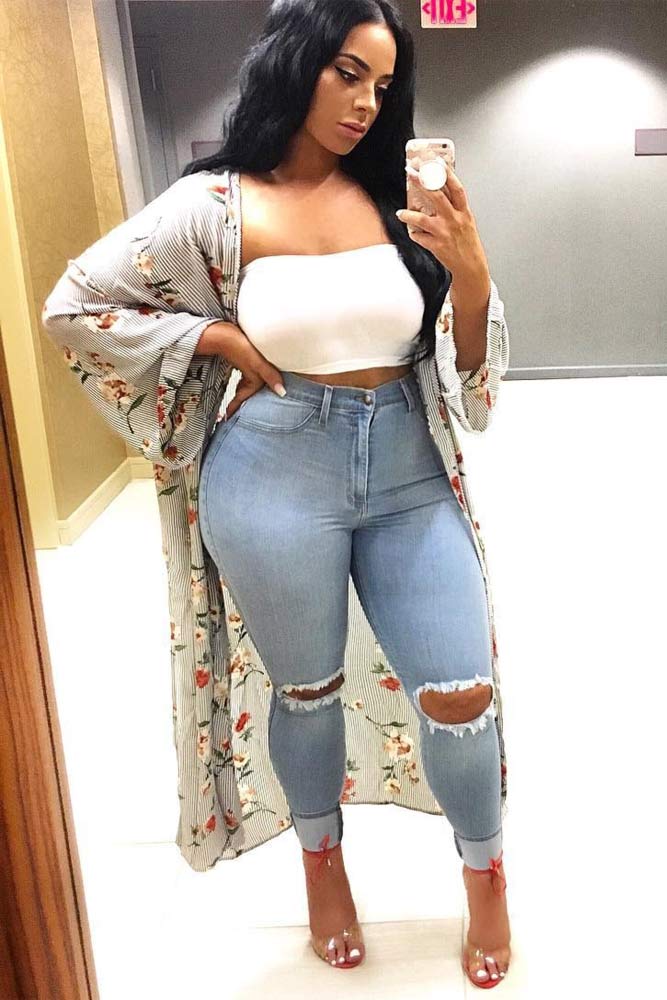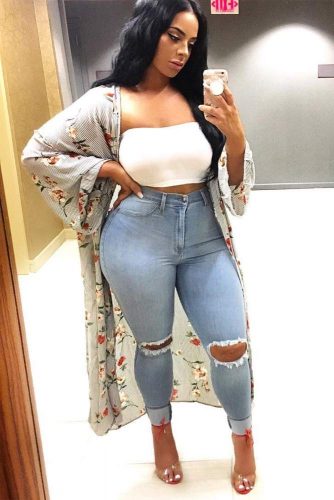 Very often curved ladies may think that they are somehow limited in the range of options to choose from when it comes to jeans. However, that is not true, in fact, almost any kind of high waisted jeans enhances the curves and shows them in the best light. Be it classy skinny jeans or a pair of ripped ones – try them on to see the stunning effect!
Ripped Plus Size Jeans Design
Source: iamisabellarosee via Instagram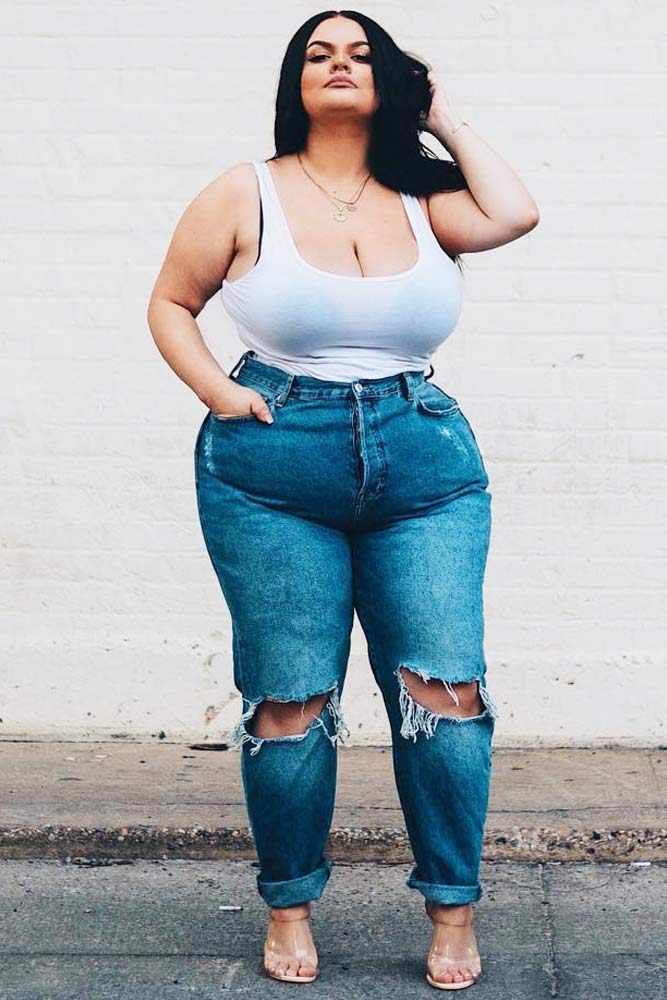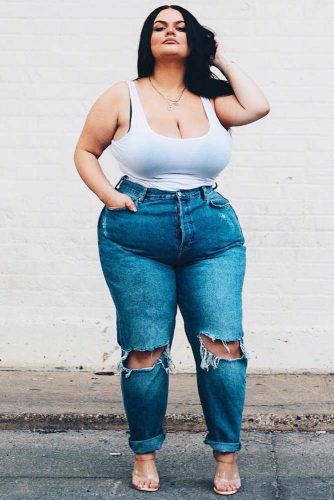 Sometimes it is difficult to come up with a right pair of jeans if you are the lady in need of a plus-sized pair. Yet, all you need to pay attention to while choosing a new pair of jeans – is the rise. The thing is that high rise jeans are the very same high-waisted ones, the higher is the rise the better they will look on you despite the plus size. See for yourself!
Casual Work Look With High Waisted Jeans
Source: julesclaiborne via Instagram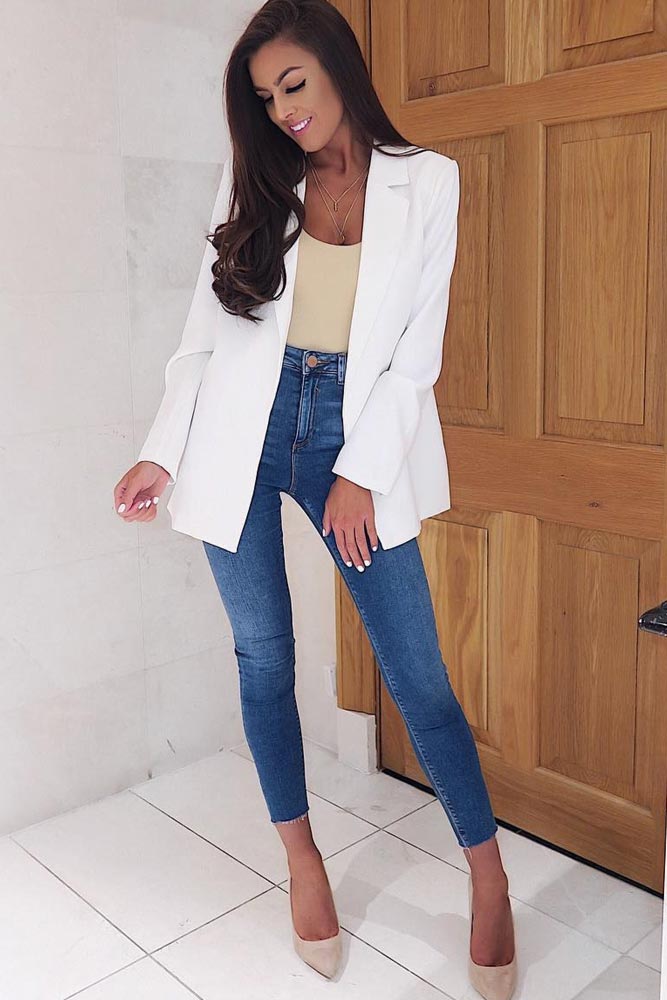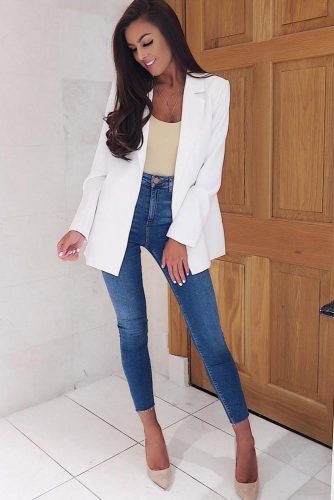 The thing is that many women think jeans to be inappropriate wear for an office, we beg to differ. If you know what to match high waist pair of jeans with you can totally rock an outstanding casual look.
Casual Work Outfit
Source: modatutkusu via Instagram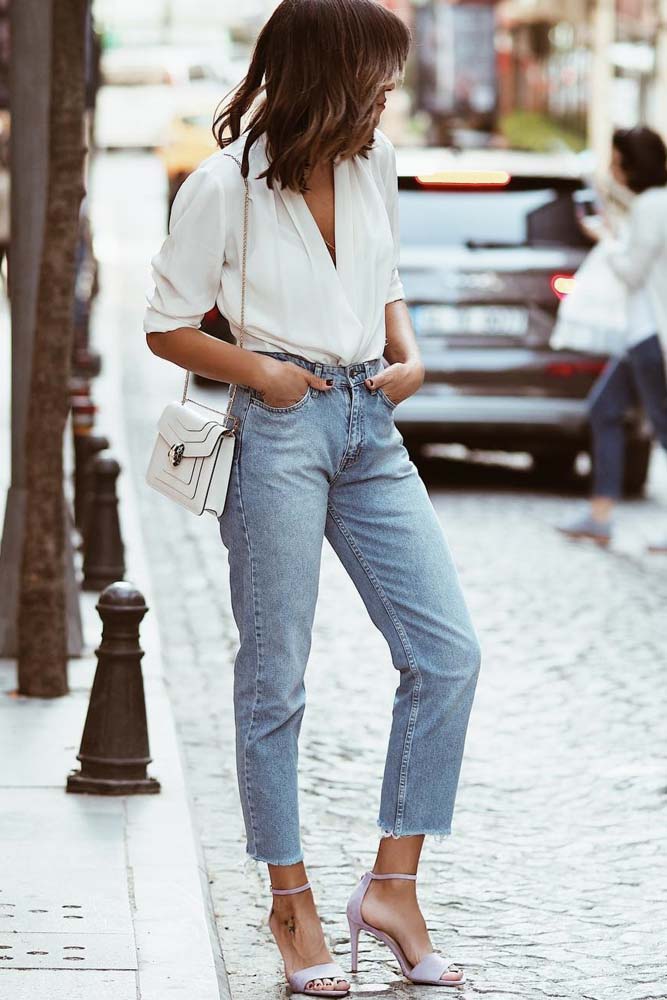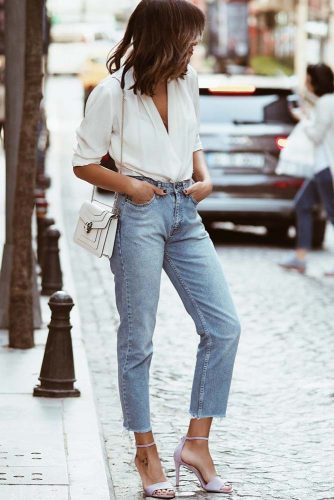 Very often, it is important to come up with a matching top when you are opting for high waisted jeans and are headed to work. What is more, your footwear matters greatly too. For example, the combo of the loose silky blouse, high waist jeans, and heeled sandals are perfect for a hot day in the office.
Work Outfit With High Waisted Jeans
Source: maryorton via Instagram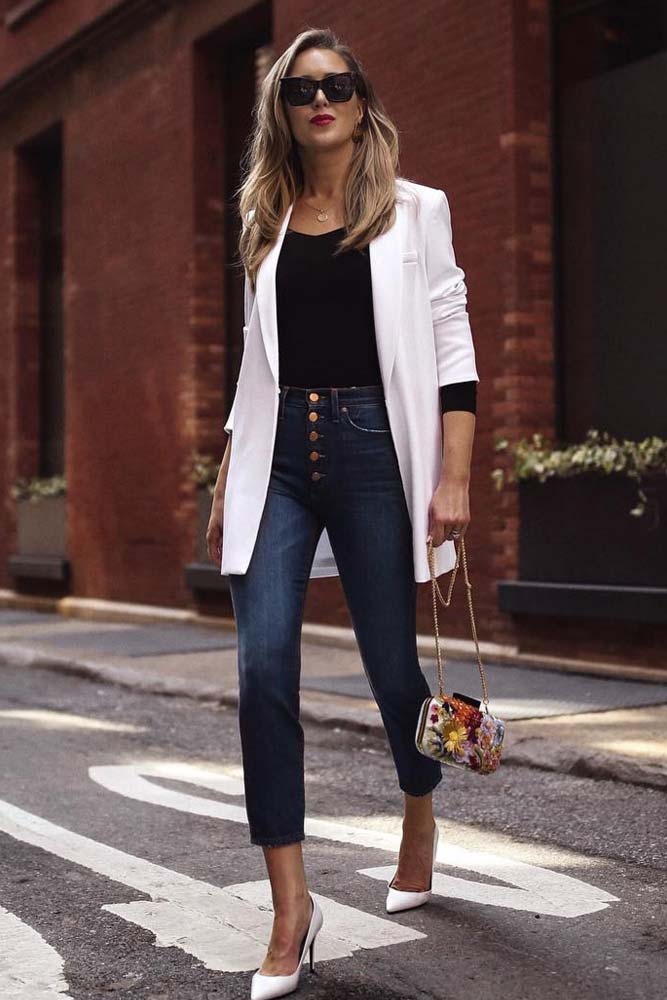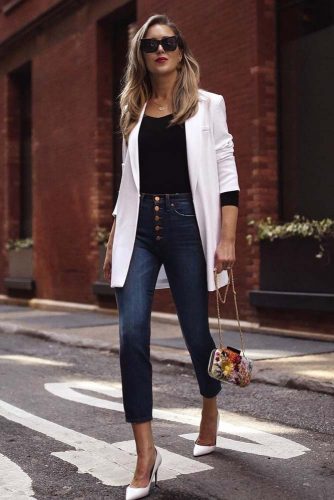 There are times when you come to a conclusion that your work outfits range is somehow limited. That happens if you are still unaware of the fact that those high waisted jeans of yours can be worn to work too. Just look at this elegant outfit with white jacket and white heeled shoes – there is nothing missing there and a pair of dark high waist jeans complete the look like nothing else!
High Waisted Everyday Outfit
Source: micahgianneli via Instagram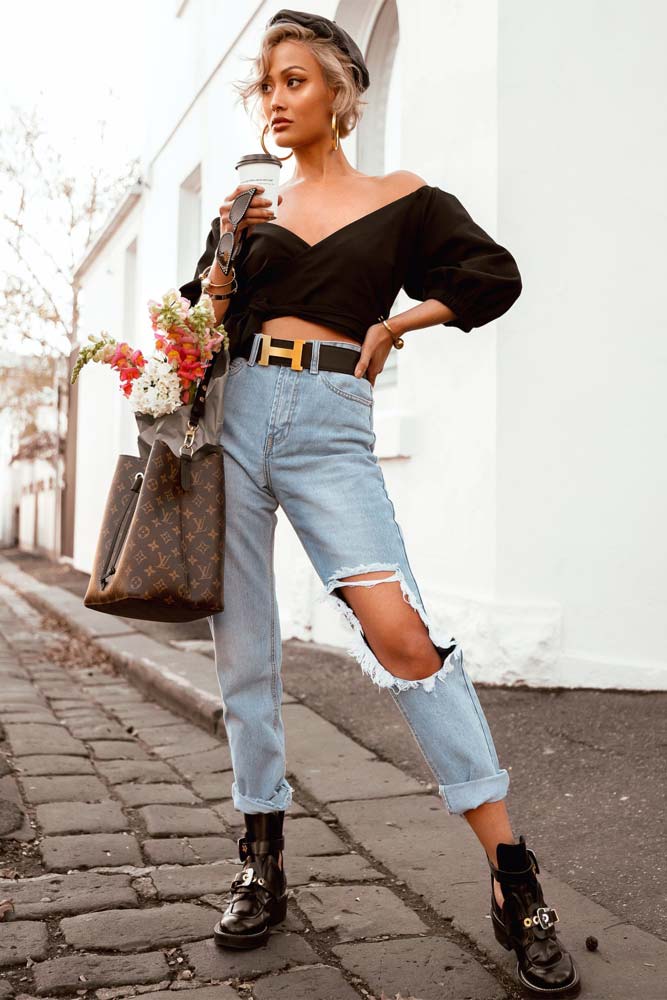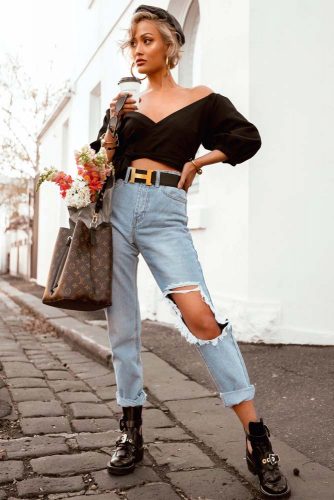 Every lady knows that even a mere journey to the mall requires you to look stylish and trendy. If you do not have a lot of time at your disposal to get ready – just put on a pair of ripped jeans, add up a pair of trendy boots and black top and you are ready to go!
How To Style High Waisted Jeans
Source: stephvillastyle via Instagram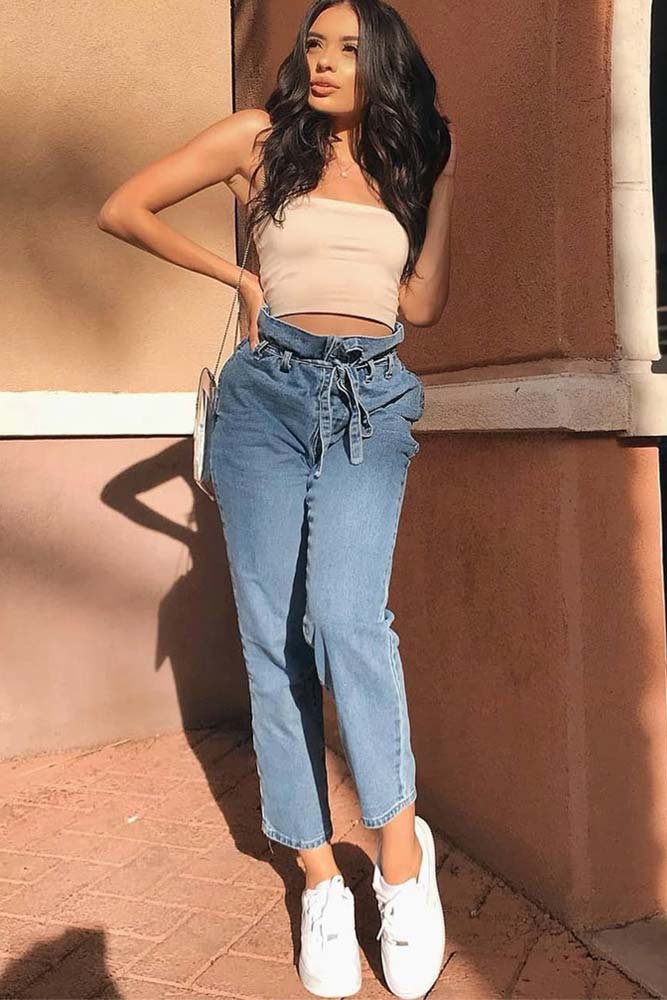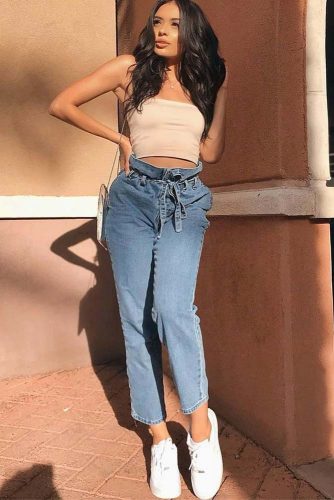 There are also super high waisted jeans out there, and sometimes it may be tricky when it comes to wearing them. That is why we have a ready example to share with you how you can pull such an outlook off. A tight nude-shaded top completes the image just perfectly!
Basic Outfit Idea With High Waisted Jeans
Source: shortstoriesandskirts via Instagram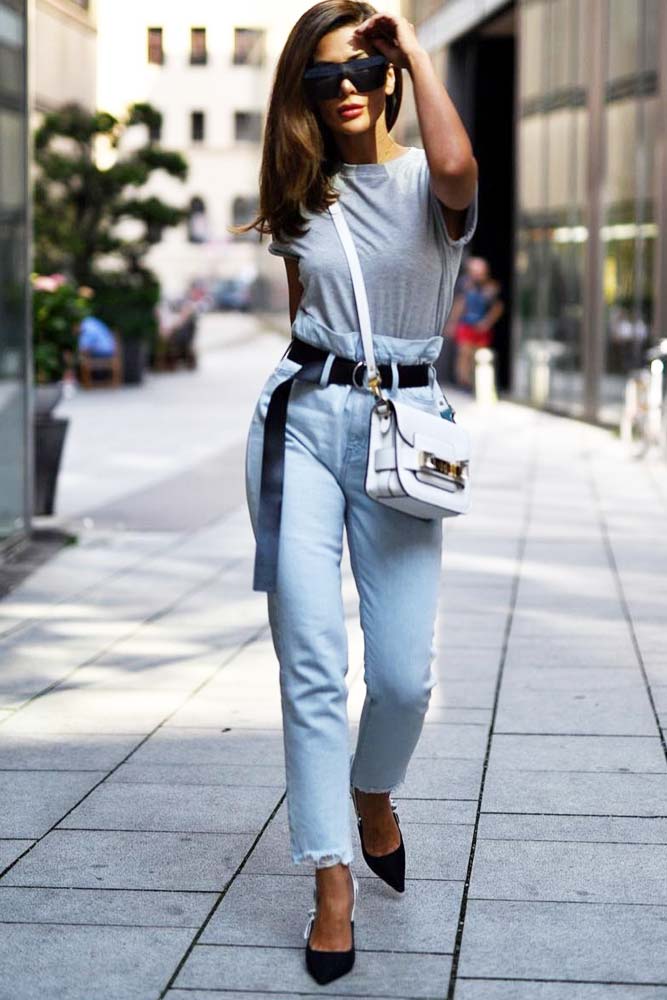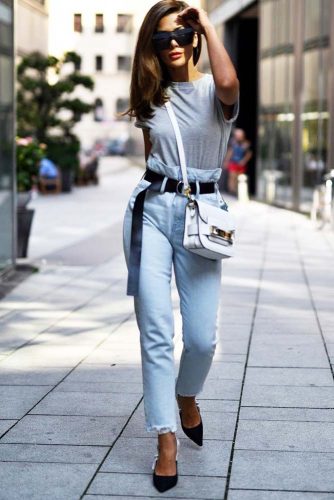 Very often people are not aware of all the looks that can pull off with what lies in their closet. For example, a pair of pumps will go well with a pair of high waisted jeans and a simple t-shirt is what you need to finish off this casual yet stylish look!