Red heels are popular and truly classy. And there is something special about the heels in a red hue. What makes such shoes ultimately sexy? Probably our perception is the result of their history.
Do you know that heels in a red shade were introduced into the fashion world by King Louis XIV? The king issued a decree that allowed only the subjects in his favor to put on heels in red. That was a royal privilege. Thus, red shoes used to make aristocrats stand out.
Nowadays, at the back of mind, we see heels in red as an indicator of privilege and wealth. And that is why we love them so much.
Let's explore red high heels that are in fashion today.
Elegant Open Toe Red Ankle Strap Heels For A Special Evening
Source: d.o.n.n.a.a.n.a.s.t.a.s.i.a via Instagram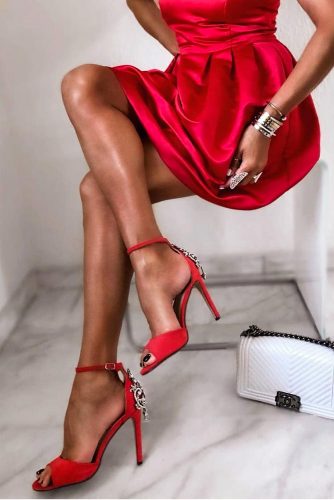 In this pic, a model is wearing a little red dress and sophisticated open toe ankle strap high heels in a red hue. And we can tell from our experience that ladies often wonder if opting for a matchy matchy red outfit is a good idea. Fashion gurus have different views on this matter. But they agree on one thing: if it's a red carpet or black tie occasion, then go for it!
Red Velvet Chunky Heels
Source: lolashoetique via Instagram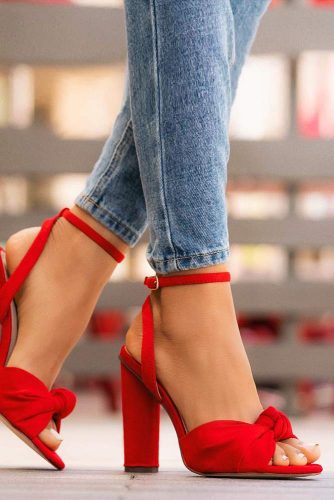 In this pic, a model has red velvet chunky high heels and jeans on. The look is matching and can work for every day. And overall, remember that you can always pair a blue outfit, be it maxi dresses gown or jeans, with red shoes. As for the shade of blue, you can go for anything from navy blue to cobalt blue to baby blue.
Hot Red Chunky Heels
Source: real.shoes via Instagram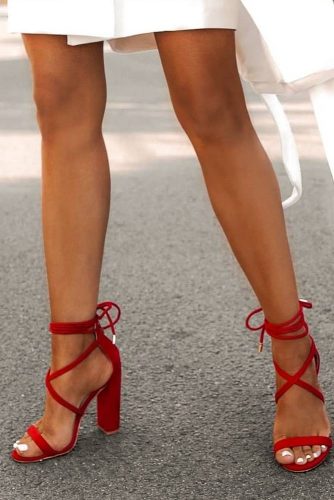 Do you know why it is extremely popular to wear red high heels with a white dress like you can see in this pic? It is because the look is super bright and rich in contrast. Put on this glamorous pair and you will not go unnoticed anywhere. If you wish to reduce the contrast just a bit, go for the heels in a darker hue.
Sexy Platform Heels For Every Day
Source: deezeeshoes via Instagram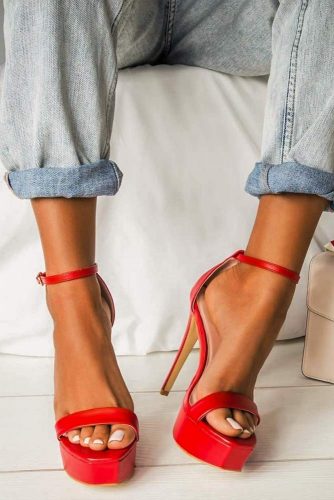 Do you know what the best thing about wearing red high heels is? Even if you buy red heels cheap, they will still make any outfit appear more expensive than it actually is. It's their unique quality, something that not so many things have. As you can see, even when paired with simple jeans, such shoes make the image more seductive.
Red Open Toe Chunky Heels For Hot Girls
Source: deezeeshoes via Instagram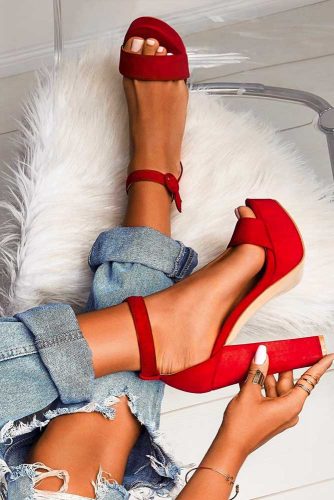 In this pic, the model goes for an everyday image with her open toe chunky high heels in a red shade and cuffed jeans. Overall, when you add high heels to your everyday image, we would recommend that you opt for a design with an improved stability. And chunky heels can grant you that. If your shoes are secure and stable, you will not notice the height of the heels.
Sassy Corset High Heels
Source: deezeeshoes via Instagram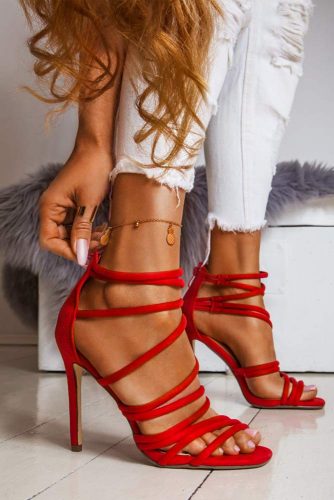 These corset high heels will make you appear sexier the moment you put them on. And speaking of high heels, there is an eternal question asked by every fashionista: how are high heels different from pumps?
Basically, pumps are a type of high heels.
The back sole of high heels is elongated, while pumps do not have this feature.
High heeled shoes have buckles and laces. And pumps typically have neither laces nor buckles.
Pumps are more comfortable than high heels.
Amazing Closed Toe Red Stiletto Heels
Source: deezeeshoes via Instagram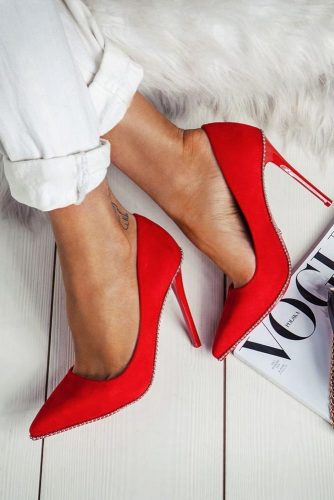 Red heels closed toe like the ones you can see here are especially sophisticated. Such shoes will be appropriate for a day at the office or even for a formal event. Pair these heels with white suit pants and a black blouse. This combo is elegant and classy.
High Heel Sandals For A Luxurious Look
Source: jimmychoo via Instagram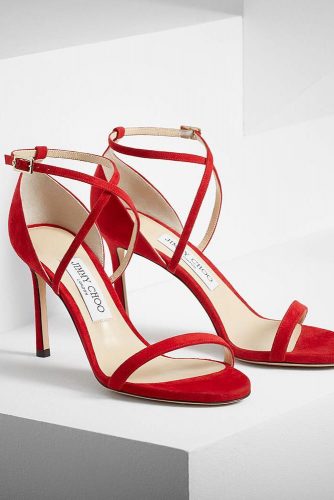 Just look at these exquisite sandals, aren't they amazing? Every time you face a styling dilemma when looking at your crimson heels remember that black and red is the perfect combination. Red shoes will act as a bright accent if you wear a black outfit.
Red High Heel Sandals With Fringe
Source: jimmychoo via Instagram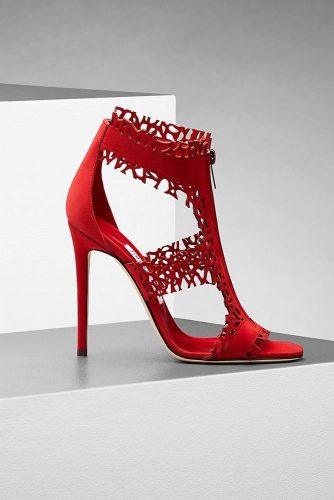 Red heels shoes with fringe definitely have some bohemian vibes. To enhance the boho effect, pair such shoes with a printed and colorful outfit that has a white, grey, or black base and involve some red. Then it will all match.
Unusual Red Heels For A Stylish Woman
Source: elle_ferguson via Instagram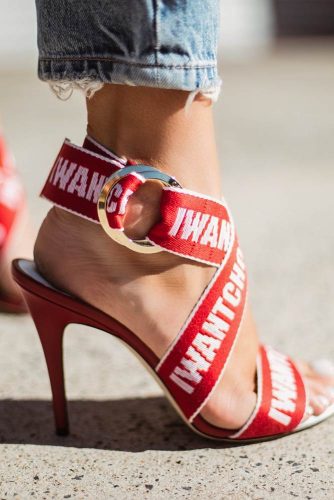 In this pic, you can see fabulous red shoes with wide straps. There is one thing to consider when opting for such shoes. It's better to shop for them in the evening, when your feet get tired and a bit swollen. Then you will make sure that the pair will fit you any time of the day and won't cause any discomfort.
Hot Red Stiletto Sandals
Source: deezeeshoes via Instagram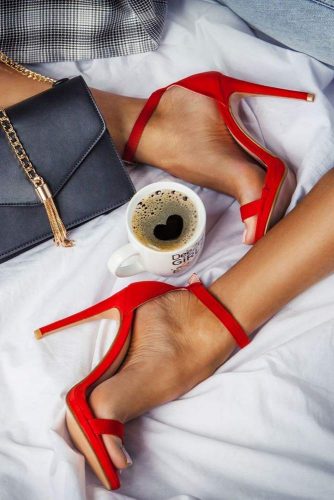 If you are looking for a bold, yet, not screaming red heels outfit idea, we have one for you. Pair your red footwear with jeans, black purse, a light scarf in a soft color. And to take it to the next level, pair it all with a blouse that has a leopard print.
Red Chunky Fantasy Heels
Source: lolashoetique via Instagram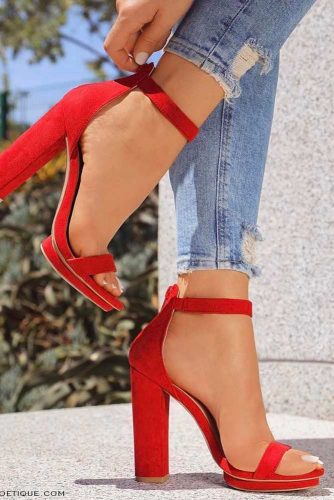 We really love how these red chunky heels look on this model's feet. To make sure that every pair of heels you buy fits perfectly, walk around the store in it while shopping. Thus, you will learn if the heel and sole are comfortable.
Wine Colored High Heel Sandals
Source: lolashoetique via Instagram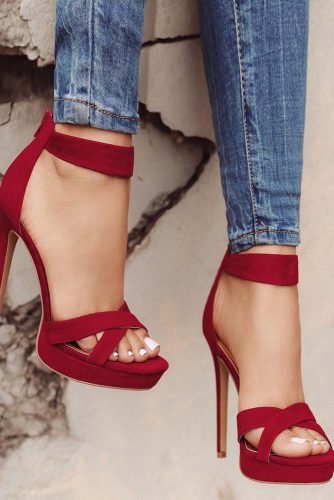 These wine colored high heel sandals were created to make a fashion statement. The heel is high but the sole takes away some of the height, making this pair more comfy to wear all day long.
Red High Heels With A Snake Skin Design
Source: lolashoetique via Instagram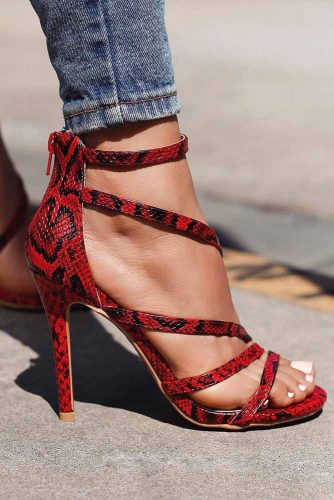 In case your fashion choices tend to be more extravagant, these high heels in a red hue with a snake skin design might be to your taste. Not to go over the board, pair them with plain clothes.
Velvet Stiletto Heels With Rhinestones
Source: lolashoetique via Instagram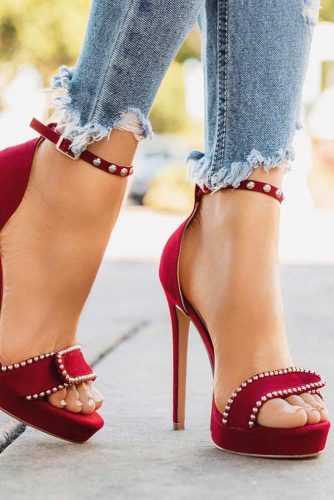 Here are the perfect red heels for prom or any other semi formal to formal occasion. A saturated red hue looks fantastic and really festive when paired with shiny rhinestones. When attending a special occasion, choose the heel height wisely. It must cause no pain for you to have fun while dancing and socializing.
Red Bondage High Heels
Source: lolashoetique via Instagram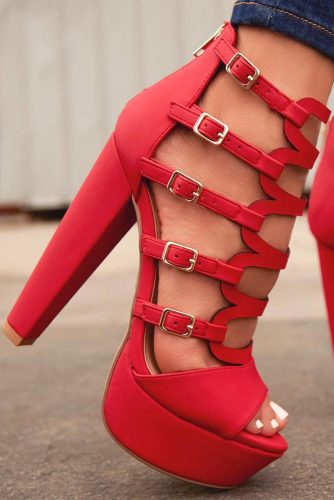 These red heels will work great for a self confident woman who is always on the go. Though being high, these heels are stable and the multiple straps will keep your feet in place.
Sexy Red Heels With Fluffy Pompoms
Source: lolashoetique via Instagram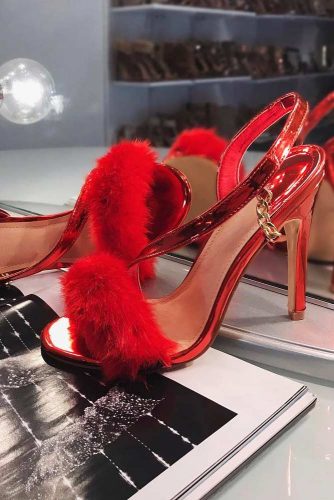 These red high heels embellished with cute fluffy pompoms are sassy and will be appropriate for a date night or a party. This pair will help you out whenever you feel a bit playful.
High Chunky Heels With Ballerina Straps
Source: lolashoetique via Instagram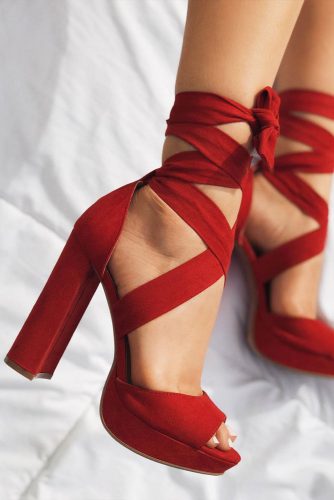 This chunky, platform style heel is super stable, and ballerina straps make this design truly special. Make sure that the ballerina straps are made of soft fabrics that won't cling to your feet too tight.
Closed Toe Heels With Leopard Print
Source: deezeeshoes via Instagram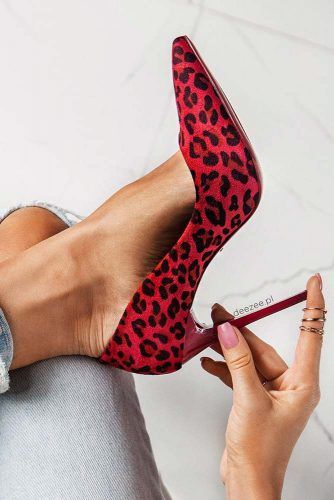 Animalistic prints never go out of fashion, no matter whether clothes or shoes we are talking about. That is why in order to add to your look that trendy vibe, you should better get yourself a pair of red closed toe heels with a leopard print to them.
Elegant Closed Toe Stiletto Heels With Bows
Source: deezeeshoes via Instagram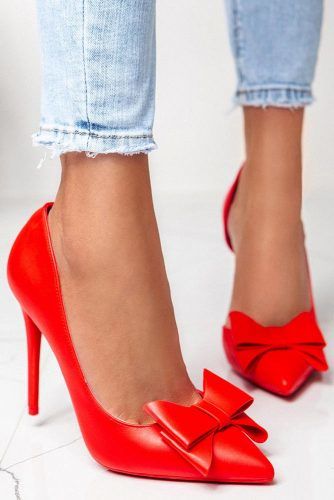 If you are looking for an elegant and stylish pair or red heels, we may have something in store for you. The thing is that stiletto heels with cute bows on the front suit the category perfectly.
Velvet Sandals With Block Heels
Source: deezeeshoes via Instagram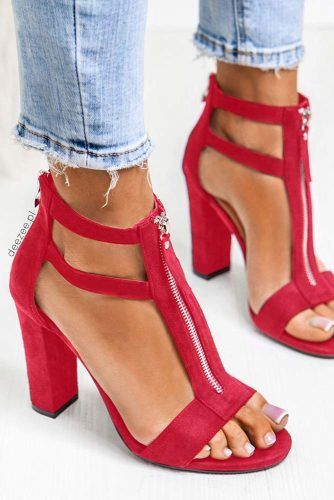 Those of you are looking for a pair of heels that is both practical and fashionable; you have come to the right place. These block heels with a zip in front are precisely the pair you should at least consider.
Red And White Open Toe Sandals
Source: deezeeshoes via Instagram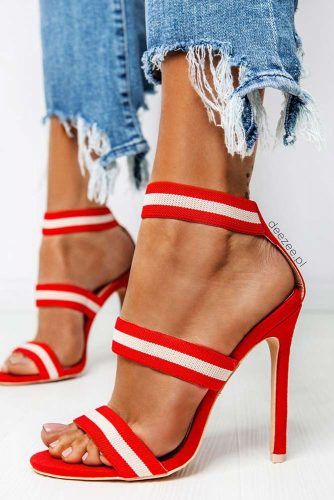 When red is not enough, it is best if you add some white to it. These open toe sandals vibrate the harmony of perfect shading and style; there is no doubt about it.
Braided Block Sandals
Source: deezeeshoes via Instagram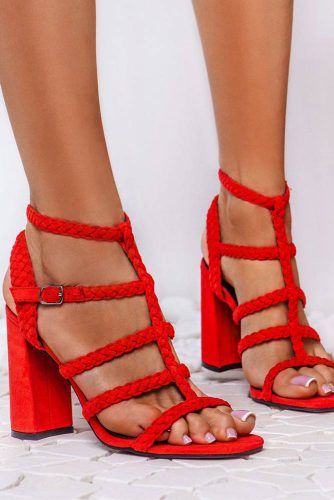 Some ladies like to show their peculiar taste off; if you belong to the category, then you will appreciate these sandals. The braided exterior looks one of a kind while the block heel will keep your feet perfectly comfortable.
Red Ankle Strap Sandals With Transparent Line
Source: misslolaofficial via Instagram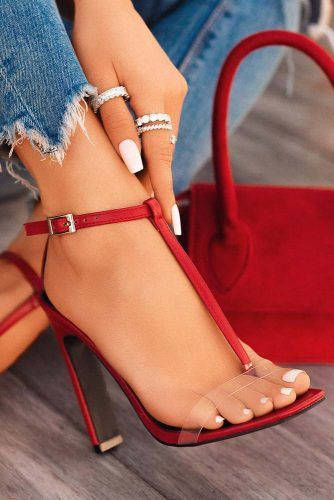 Sometimes, all that matters is the look. This extraordinary pair of red heeled sandals fit in the description like nothing else. Everything seems to be unique and over the edge stylish about this pair, starting with transparent front strap and ending with a stylish ankle strap.
Fluffy Red OTK High Heel Boots
Source: misslolaofficial via Instagram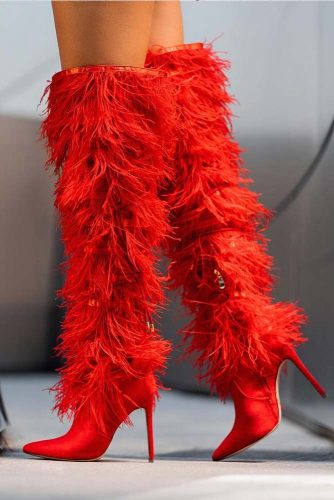 A style is something that makes us different from anyone else. This is what these boots are about. A burning red fluffy material that goes so well with thin heels will amaze everyone around you making you feel confident in any outfit you choose to go with them.
Stylish Stiletto Heeled Boots With A Blue Accent
Source: thecadences via Instagram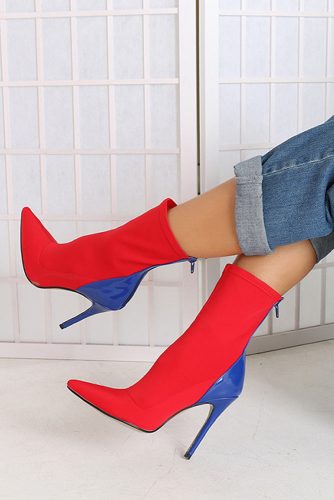 Haven`t you noticed how stiletto boots have taken the market this year? They suit everything. Jeans, skirts, shorts, dresses making them look even more stylish. Would you like to add exciting, colorful detail to your look? Then red boots with a blue accent would be perfect to go with any outfit you choose.
Red Fall Boots With Unique Metallic Heels
Source: aldo_shoes via Instagram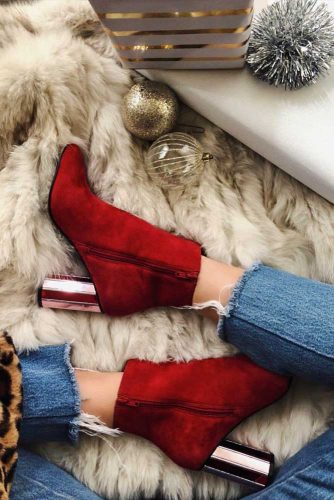 We love how creative designers have been this year adding exciting little details to every kind of shoes. They bring the whole appearance of the boots to a new level. High-end fashion designs are now in reach for everybody. For example, look at these red fall boots with unique metallic heels. Just wow. That`s how they make everyone who sees them feel.
Gorgeous Red Leather High Heel Boots
Source: aldo_shoes via Instagram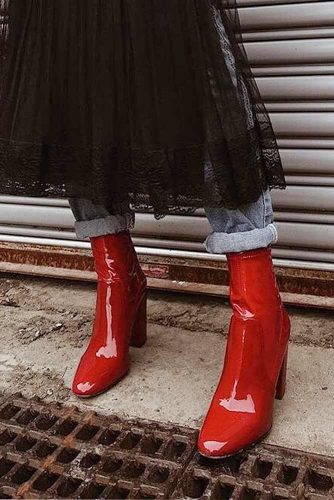 Lacquered shoes are becoming a huge trend this season, and we understand why. Just look how fresh such a material makes the color look. So many interesting combinations can be created to bring in some vibe to the look. We love how appealingly they go with every material they are suited with.
Bright Over The Knee Red Heels
Source: thecadences via Instagram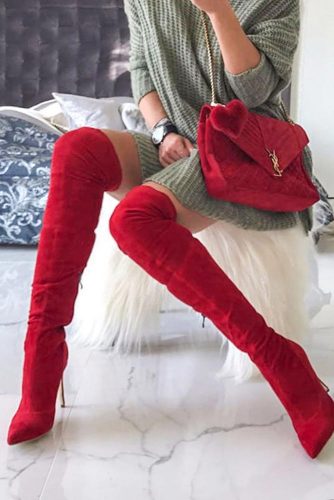 We love how stylish high knee boots look with different outfits. Have you heard of their combination with long over the knee dresses and skirts? That`s the hottest idea in the fashion world right now. If you are a fan of basic colors and would love to try on this trend, we would definitely recommend you choose a bright color for your heels to play with contrasting colors. Just look at how creative red looks in such a look.
Classy Red Heels For Everyday
Source: misslolaofficial via Instagram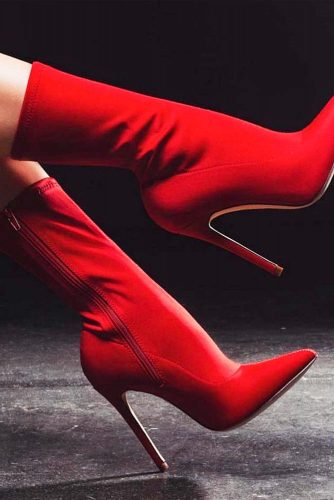 The red color looks super chic if chosen on a well-known pair of shoes. Why don`t you try it on the sock red boots? A silky material will be shining in the light turning such a red color into a sharp detail that is able to upgrade your whole outfit. We love how creative these shoes look even on a daily basis.
Now you know how to make a fashion statement with red high heels. Don't miss more inspirational ideas on our blog.