Modern fashion is outstanding, and we are not trying to exaggerate here. The truth is that these days you can experiment with almost anything that you like and create new fashionable looks on a daily basis, starting with a leather jacket and ending with a fancy cocktail dress. Since summer is right around the corner, shorts are getting more and more attention from the stylists and runaways, especially high waisted shorts. Will all those recent trends in mind, we took the liberty to gather the best shorts-involving looks to show you the full versatility that the item possesses! It is time we discover fresh horizons together!
What Do You Wear With High Waisted Shorts?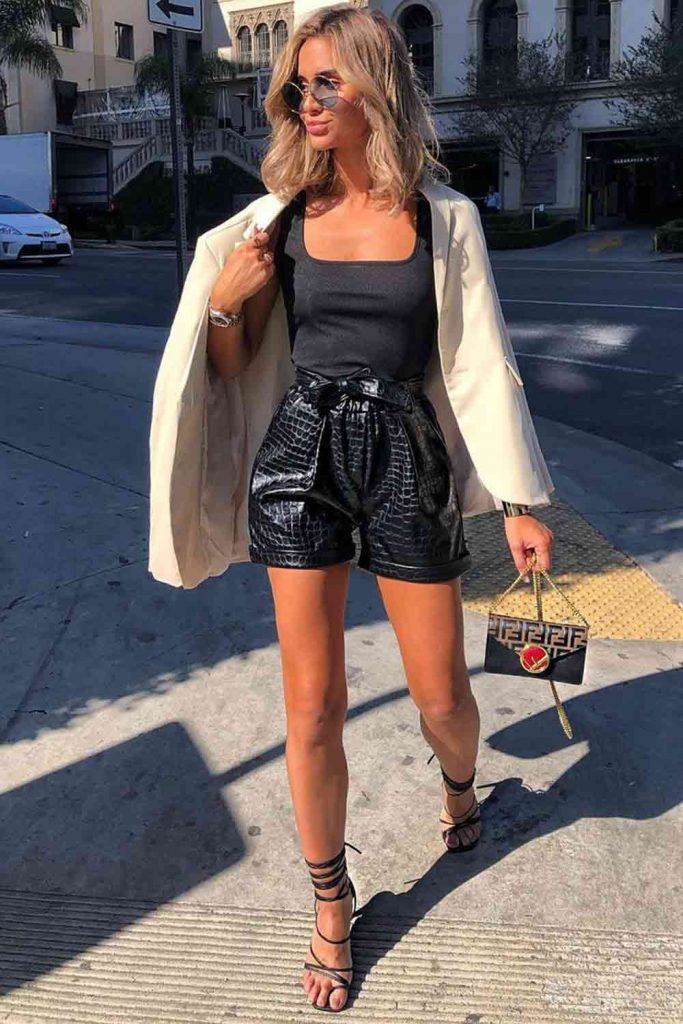 Source: Instagram/emilyshak
At first glance, it seems that there are not that many high waisted shorts outfit ideas that you can play around with. However, that is where you are mistaken. The fact is, as long as your imagination and creativity stretch, you can pull off almost anything with the item. To prove the point, we are going to drop a few possible variations to consider:
Heels – you wouldn't have thought that shorts can look gorgeous with a pair of heels, but it is true. From now on – dressy style involves shorts too.
Tops – there is barely any top that will not come in looking great with a pair of high-waisted shorts. Anything on the scale from crops to buttoned-down shirts works.
Swimsuits – if it is hot as hell outside and you are heading to the beach – put on your swimsuit and just a pair of those lovely high-waisted beauties to complete your ultra-trendy and practical look!
Do High Waisted Shorts Look Good On Everyone?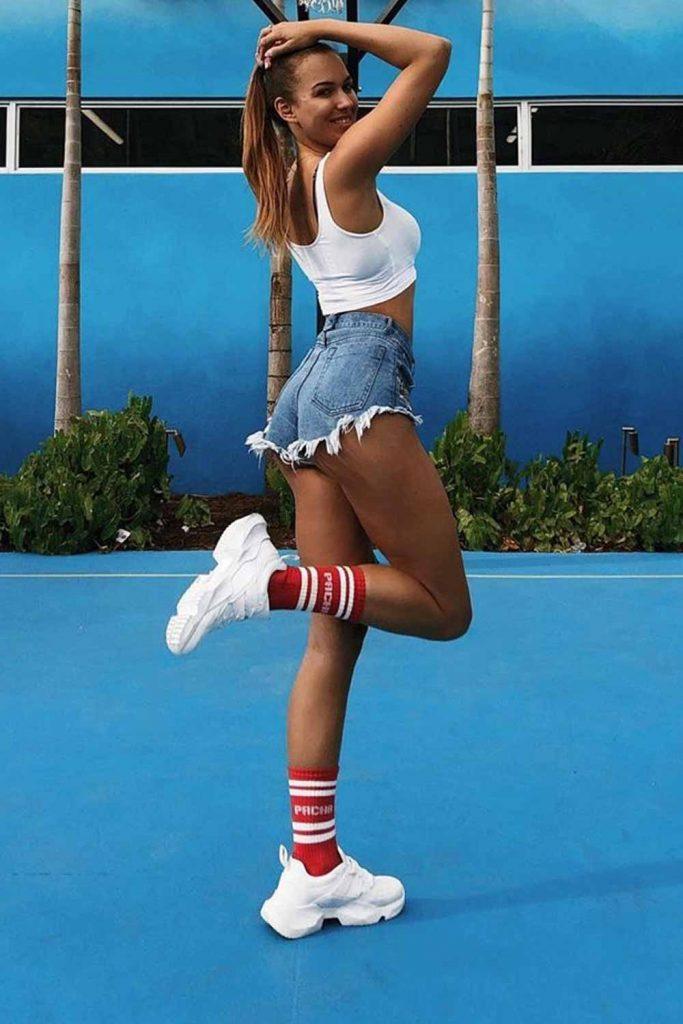 Source: Instagram/nathaliedu
We know that it happens to any woman out there. You see a cute high waisted shorts pair, and you reach out for your wallet, but then you seize your hand since you are not sure whether they will suit you or not. We feel you, girl! We are going to provide you with some effective tips that will help you find the pair that will fit you like the second skin you have never had!
The size – get your shorts a size bigger or a size smaller, and you will never take them out of your closet, trust us. That is why it is essential that you get the size right.
The top – when you are about to get that lovely pair, you need to think about what you are going to wear as your top, make sure that the two items would complement, and merge with one another.
The breasts – it does not matter how it may sound, but with high-waisted shorts, your girls should remain rather up than down. That is why you need to think about investing in a great bra too.
The footwear – unlike all the other shorts types, this one is all about the height. That means that anything too flat will ruin your carefully picked look. Even the smallest heel or platform will work.
The belt – the best way to accent your waist is to wear those high waisted shorts of yours with a belt, as simple as that!
Bikers Shorts Outfits
There is a reason why high waisted biker shorts are extremely popular at the moment. The truth is that you can create almost any look wearing the right bikers. Starting with a lunch-out and ending with a fancy party – all is possible. See for yourself!
Leather Biker Shorts With Blazer Outfit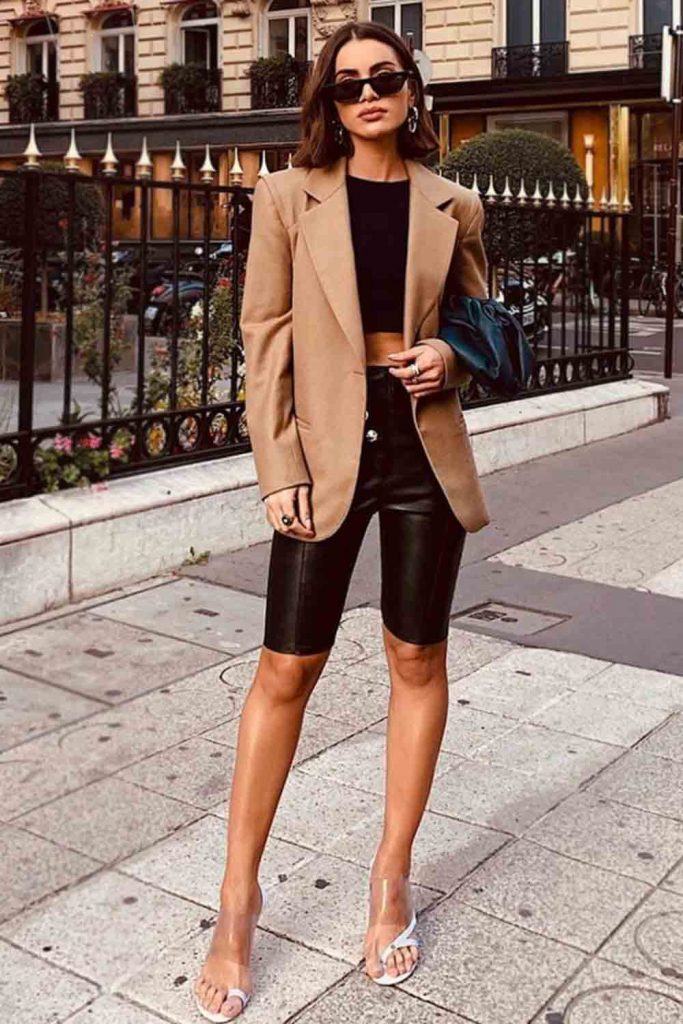 Source: Instagram/camilacoelho
Beige Shorts With Crop Sweatshirt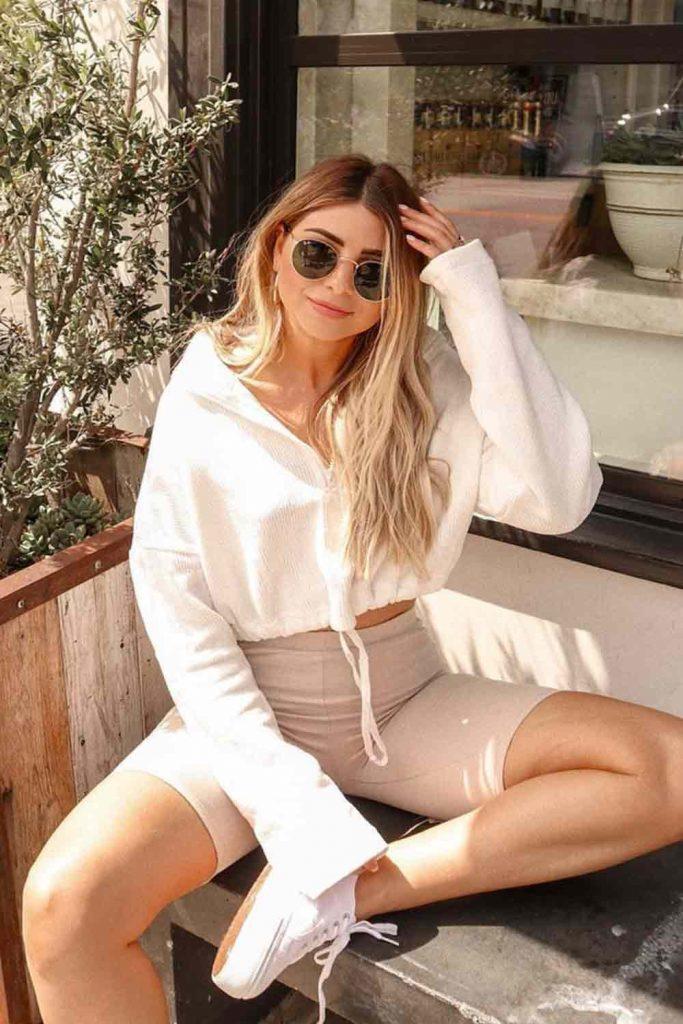 Source: Instagram/josipellicano
Leopard Biker Shorts With T-shirt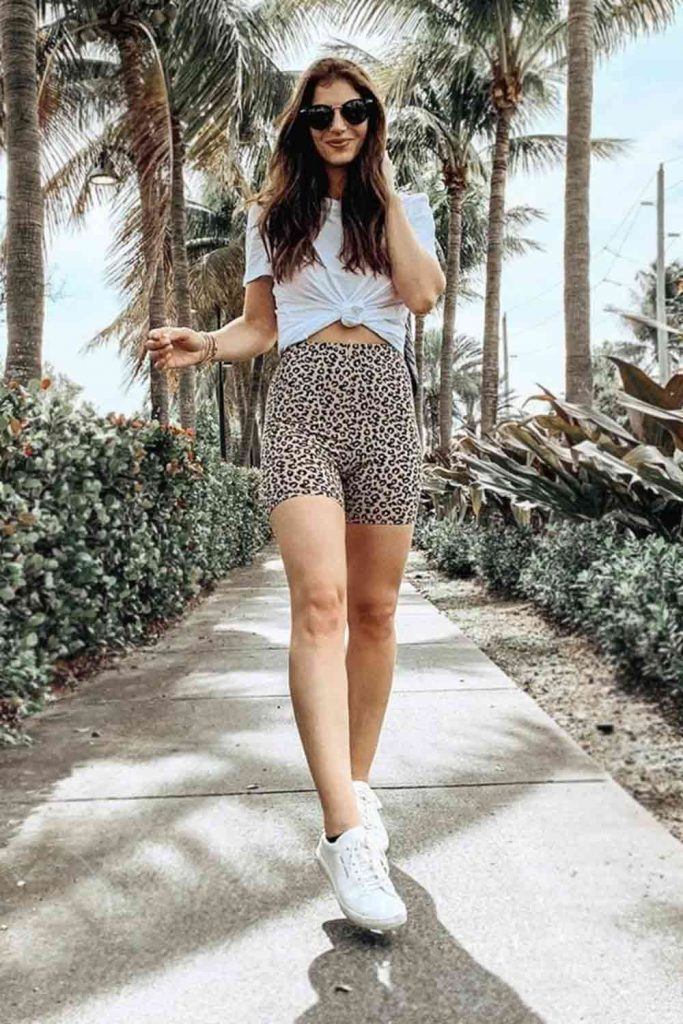 Source: instagram.com/kale_and_krunches
Denim Shorts
There is no doubt that high waisted denim shorts are among the most popular ones among modern ladies. However, if you think that crop tops are the only tops to sport with a pair of such shorts, you are deeply mistaken! There is plenty of fish in the sea, and we are going to prove it to you!
Denim Shorts With Crop Top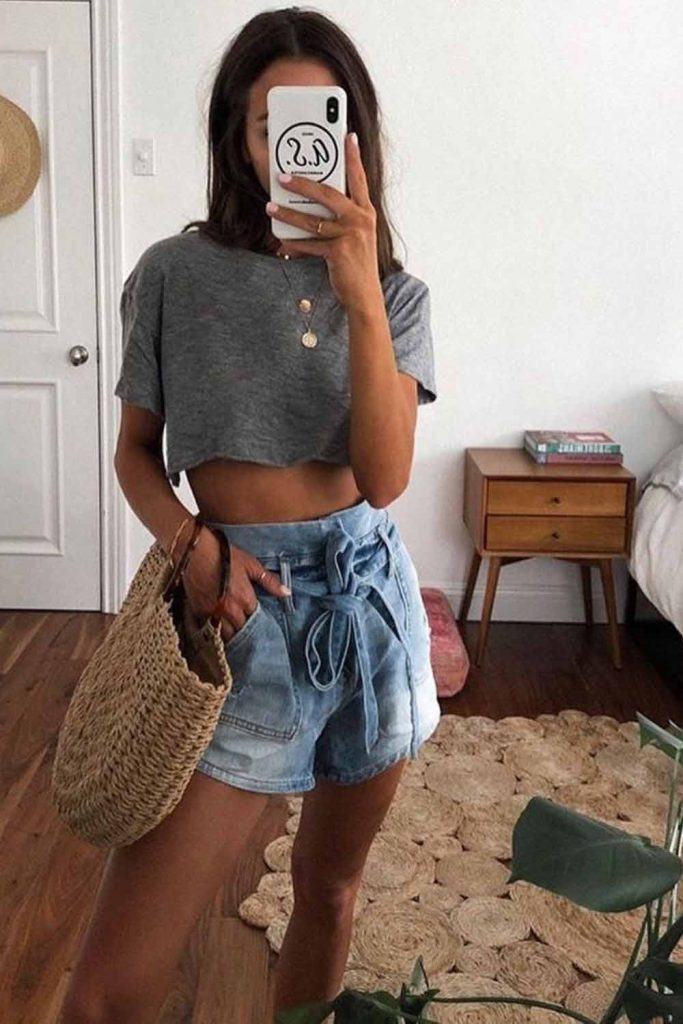 Source: Instagram/danielleebrownn
Denim Shorts With Black Top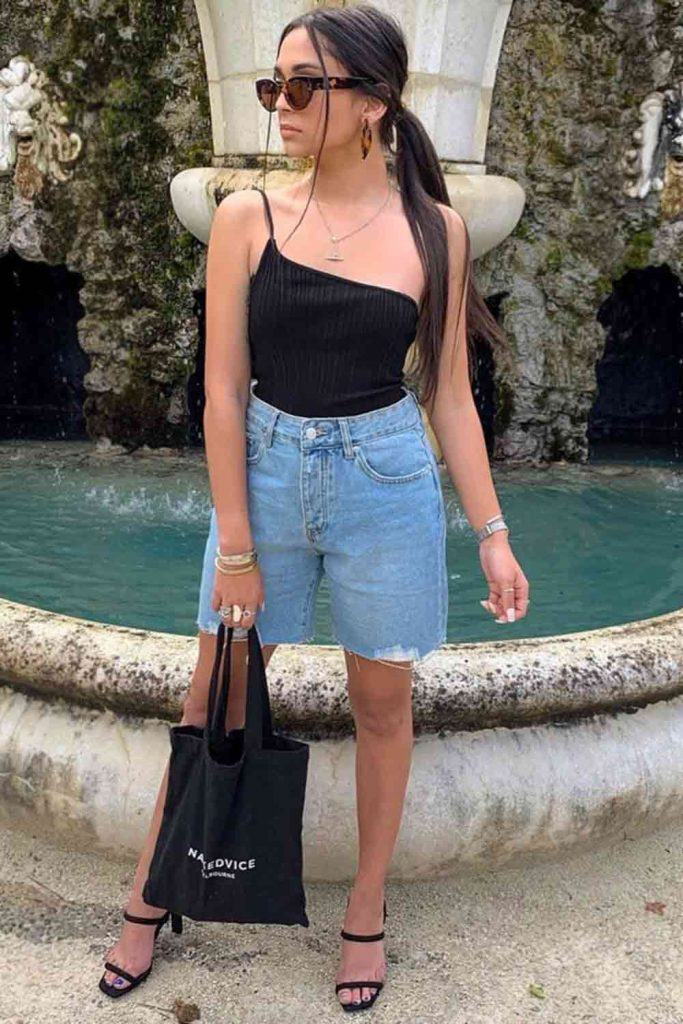 Source: Instagram/anesha_hardy
Mom Denim Shorts With Leather Jacket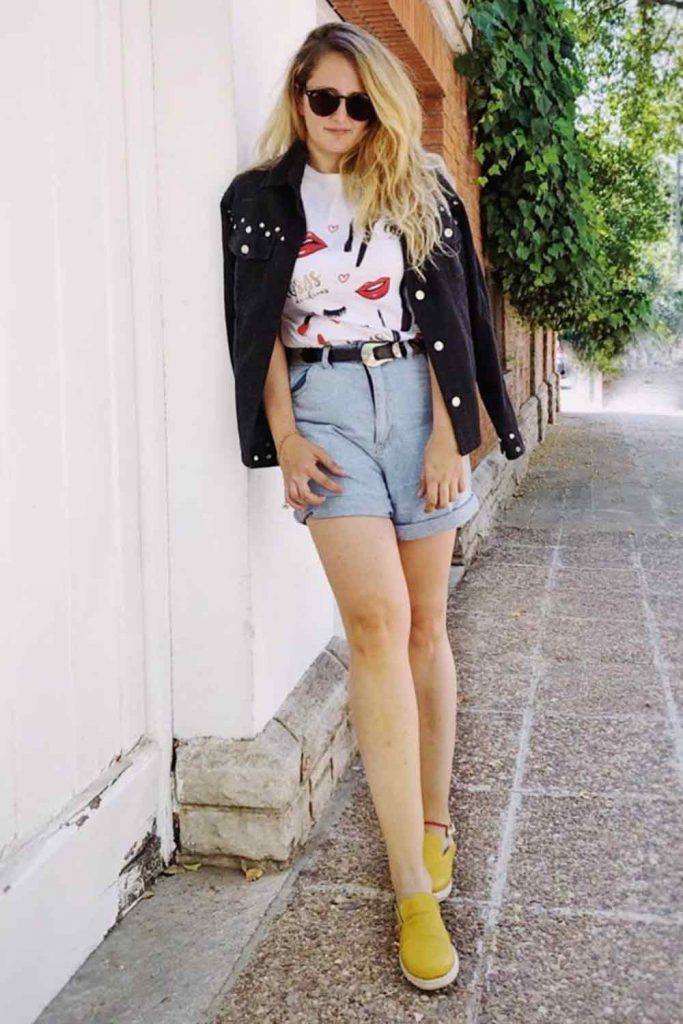 Source: Instagram/muynosotrasok
Distressed Denim Shorts With White Sweater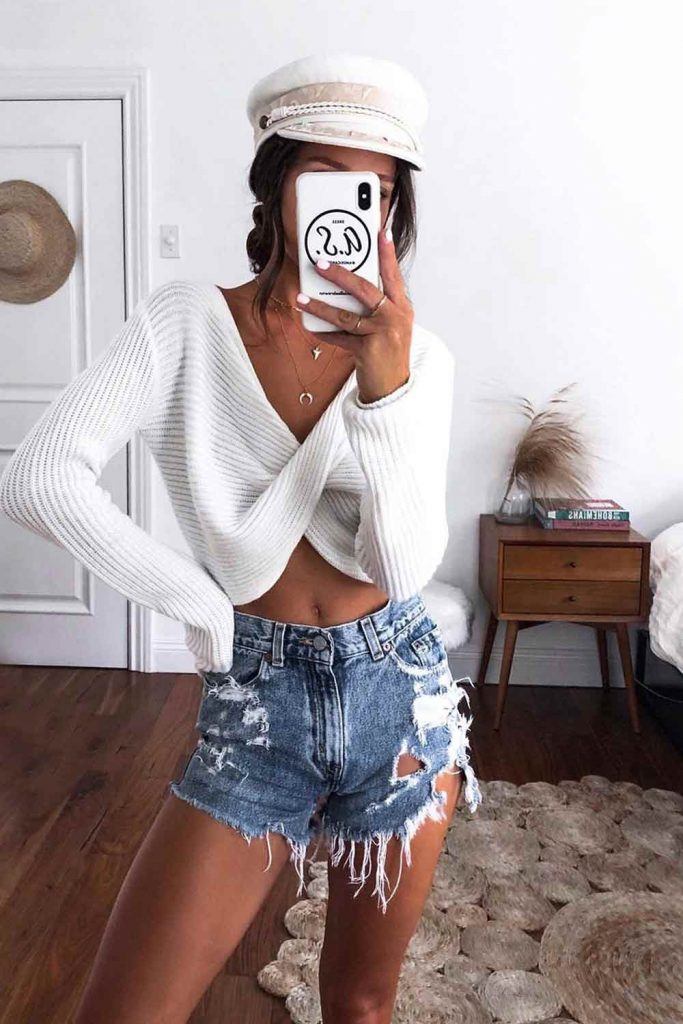 Source: Instagram/danielleebrownn
Denim Short With White Jacket Outfit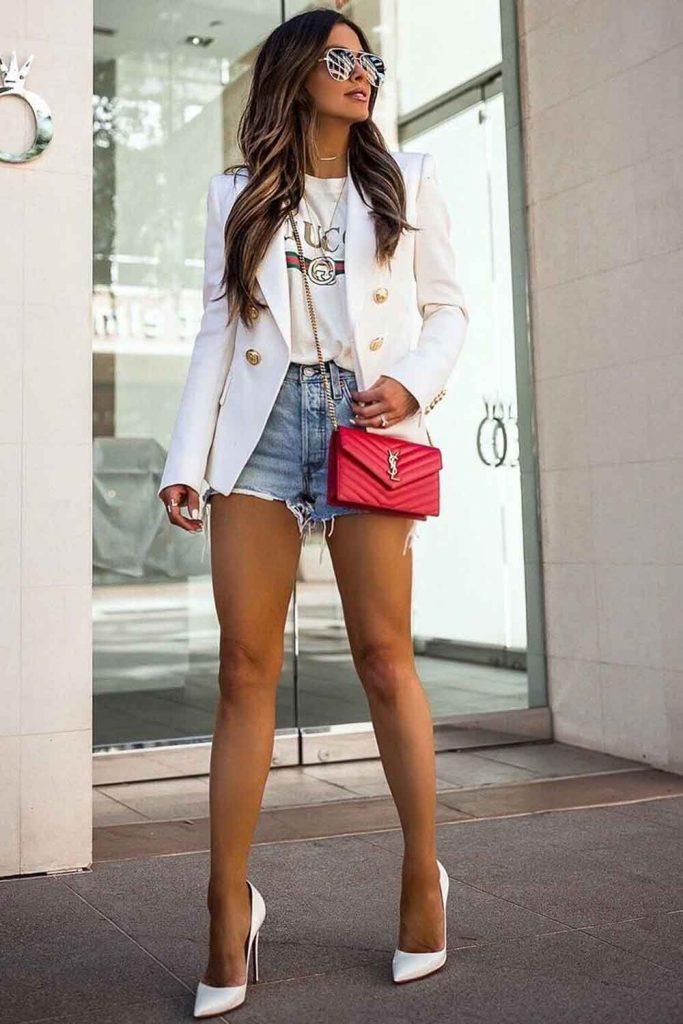 Source: Instagram/miamiamine
Monochromatic Outfit With Denim Jeans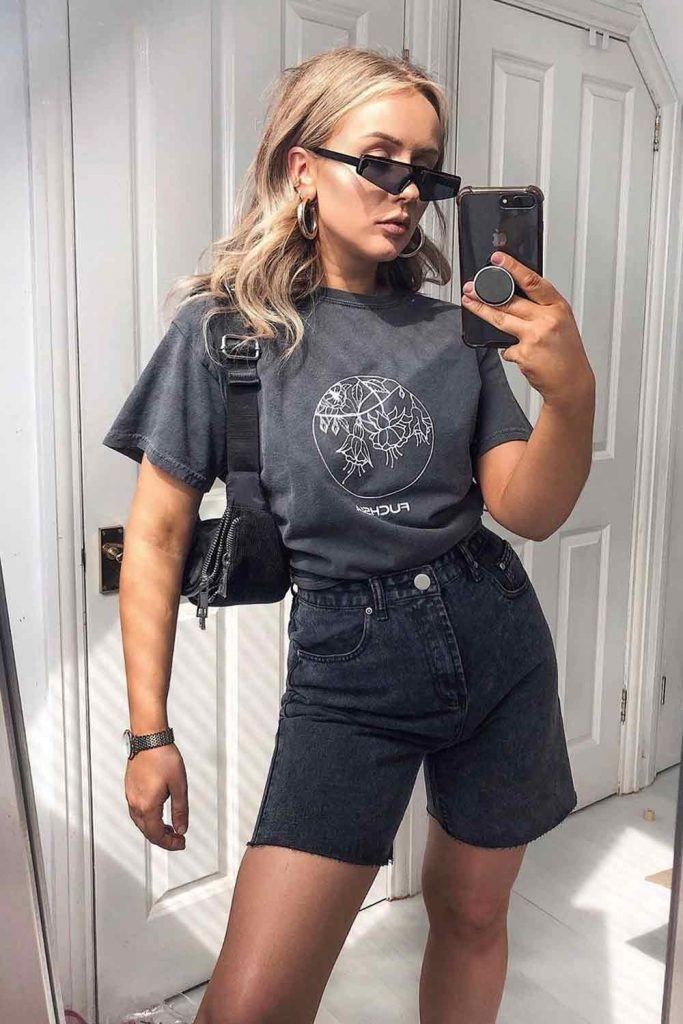 Source: Instagram/amyfuchsia
Fabrics Shorts
If you think that women's high waisted shorts that are made of light fabrics are designed for dressy and elegant outfits – you are right. Well, at least partially. The truth is that if you decide to change out of heels and put on combat boots, the same dressy shorts will acquire that particular edgy and rebellious vibe.
White Shorts With Printed Blouse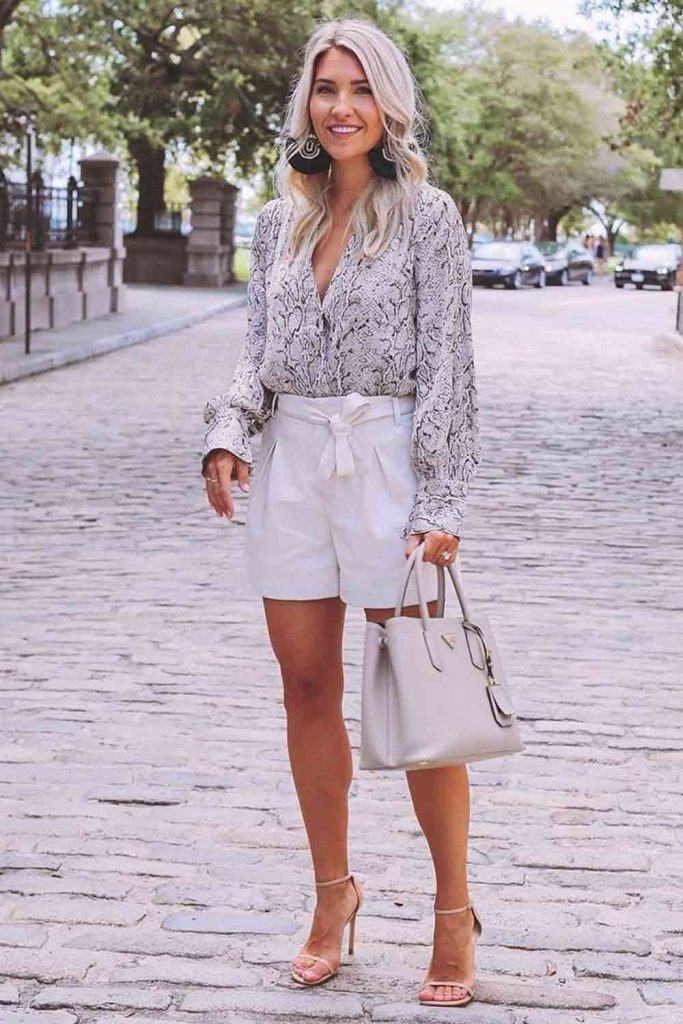 Source: Instagram/holycitychic
Striped Shorts With White Top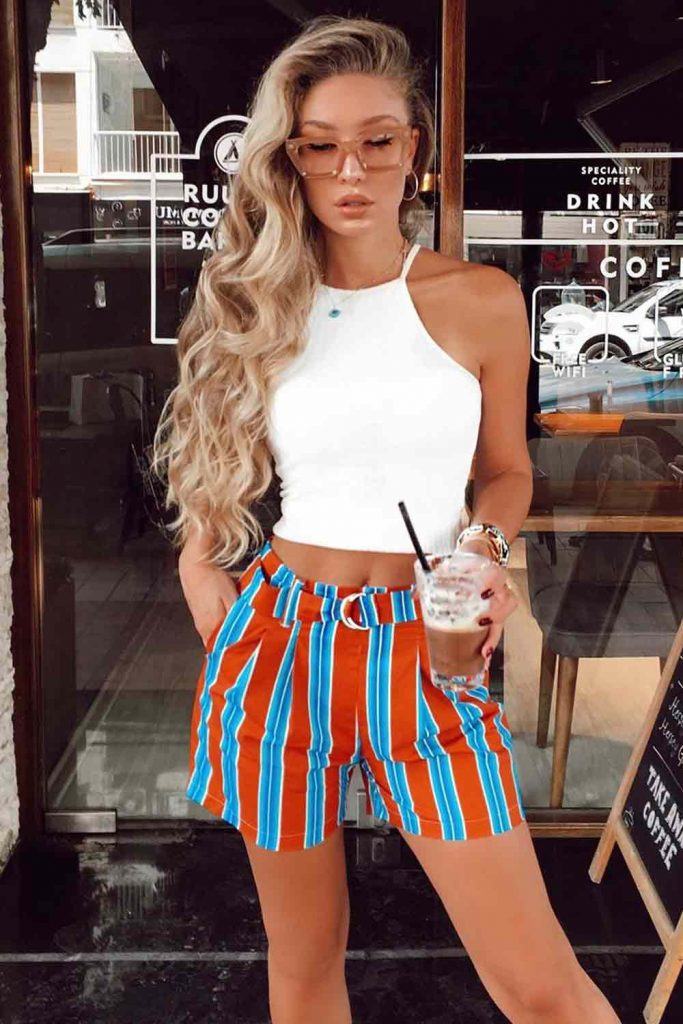 Source: Instagram/ozgebeykoylu
Beige Shorts With Black Top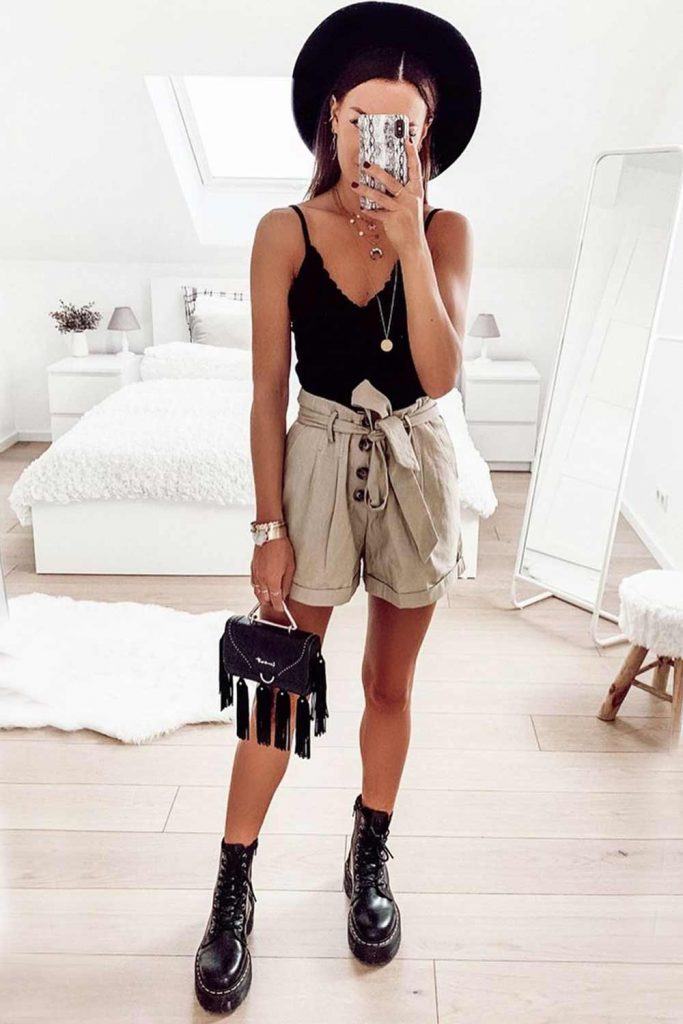 Source: Instagram.com/fashionpuglady
Striped Shorts With White Shirt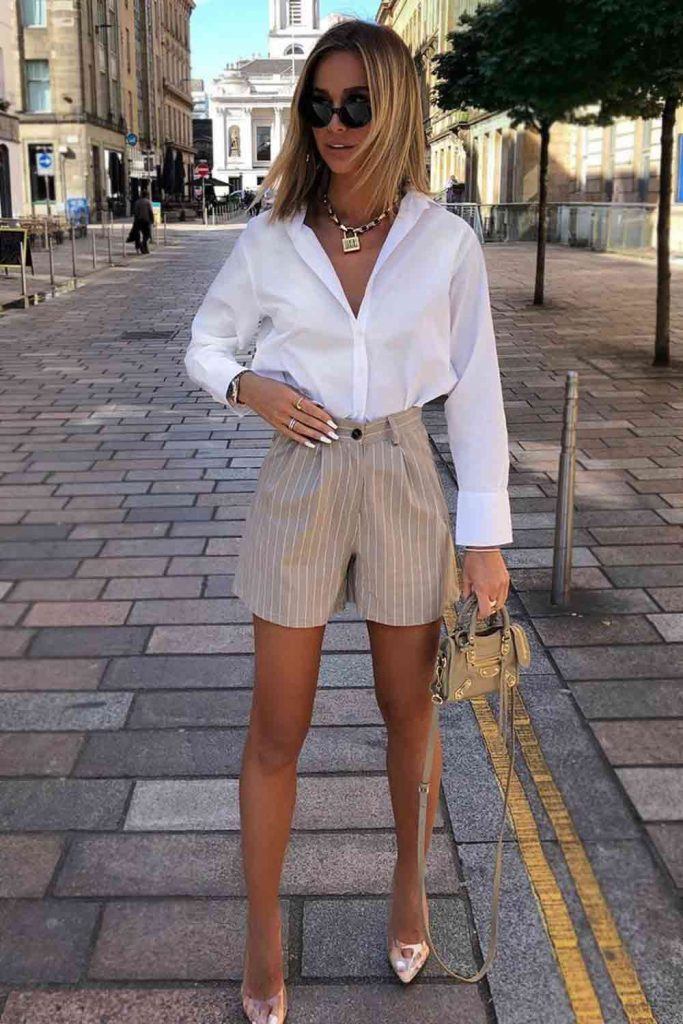 Source: Instagram/emilyshak
All White Outfit With Shorts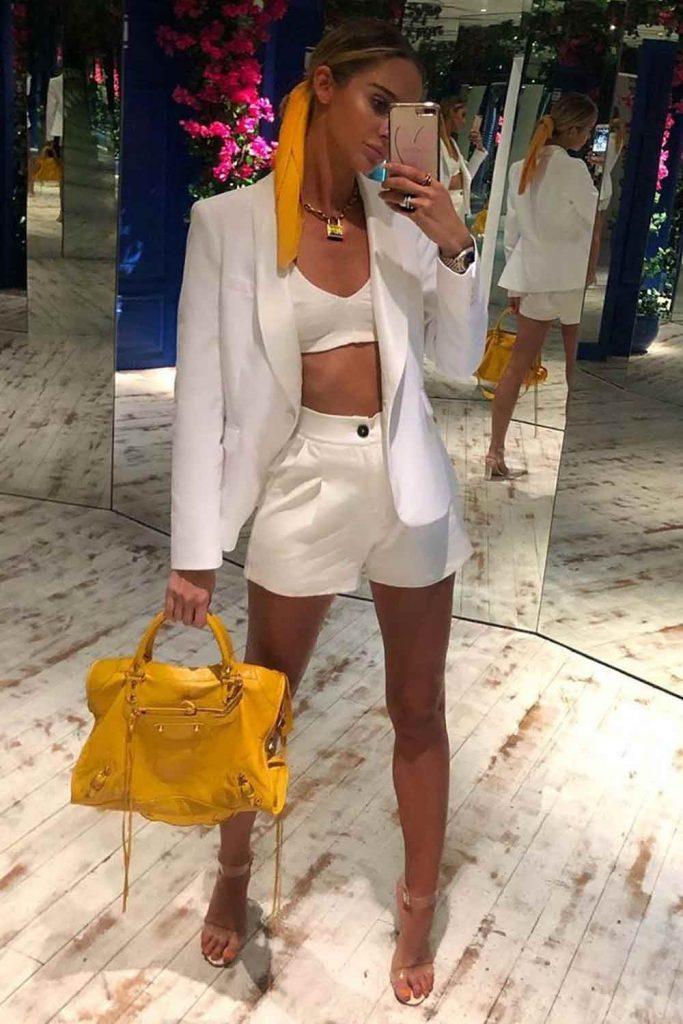 Source: Instagram/emilyshak
White Blouse With Plaid Shorts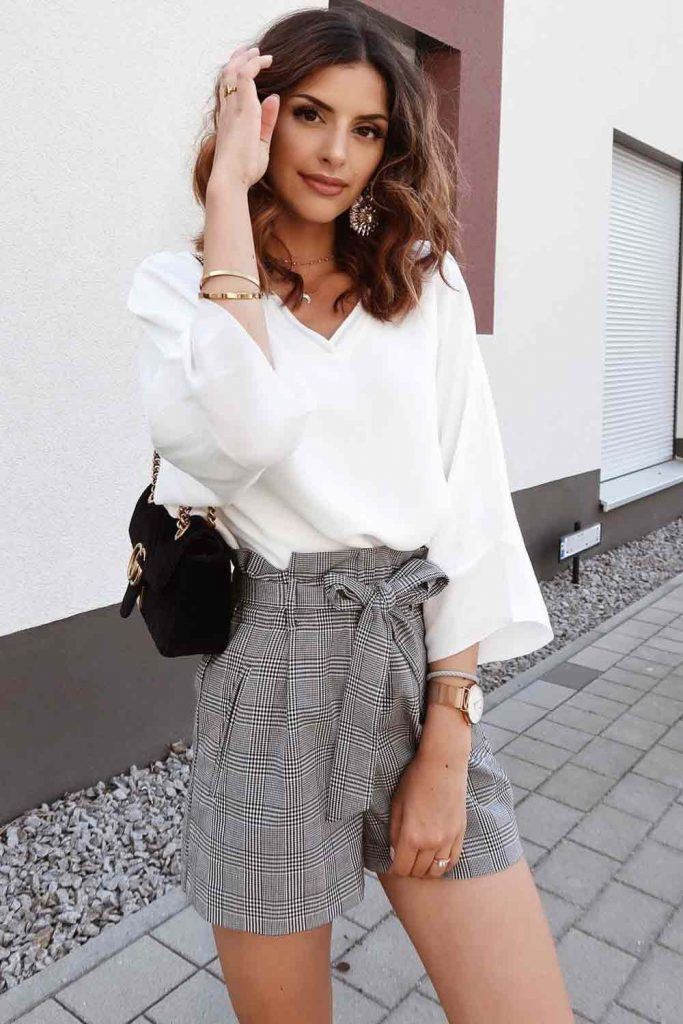 Source: Instagram/sarahsunita
Leather Shorts
Both leather pants and leather shorts outfit are hitting the stage at the moment. However, if you think that high waisted black shorts made of leather are the only option, we suggest you discover fresh horizons and update your wardrobe with these looks in mind!
Khaki Monochromatic Outfit With Leather Shorts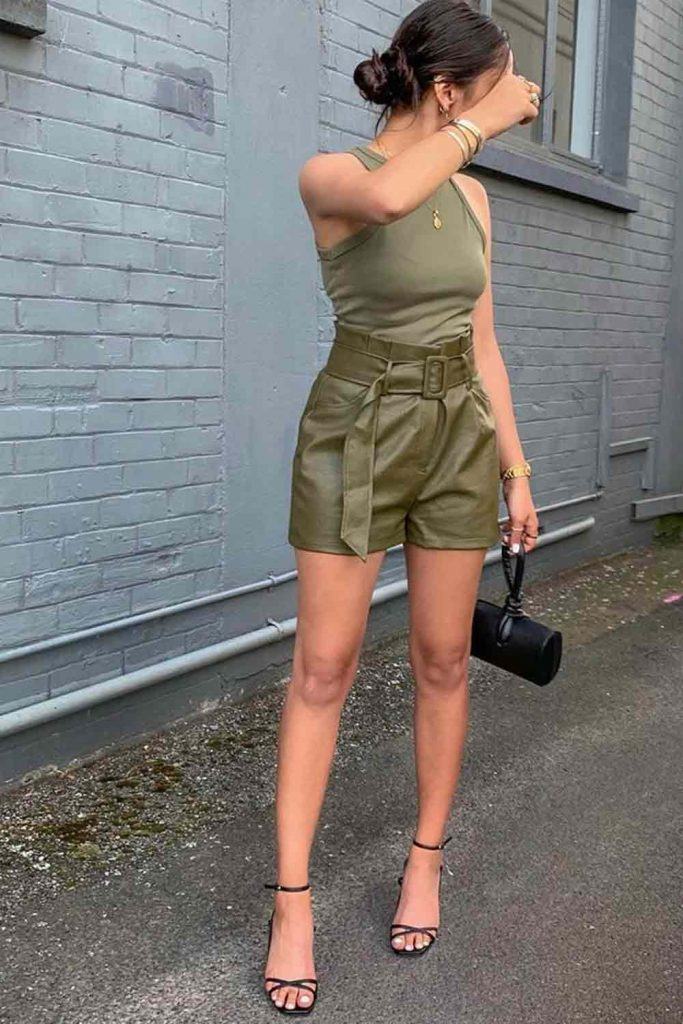 Source: Instagram/anesha_hardy
Black Outfit With Leather Shorts And Lace Blouse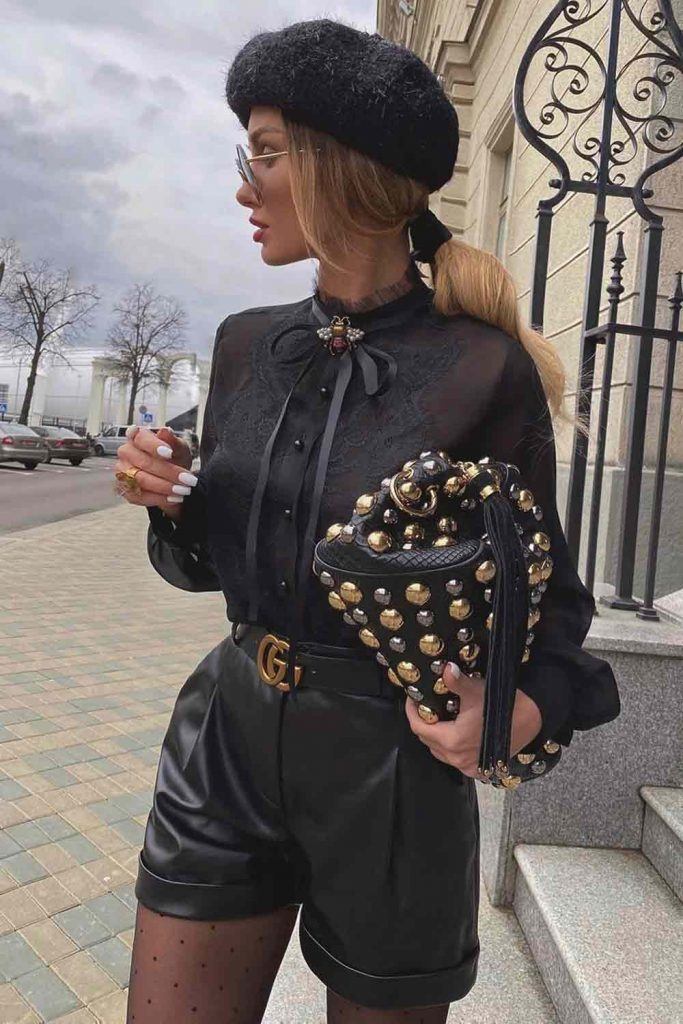 Source: Instagram/victoria_fox0001
White Sweater With Brown Shorts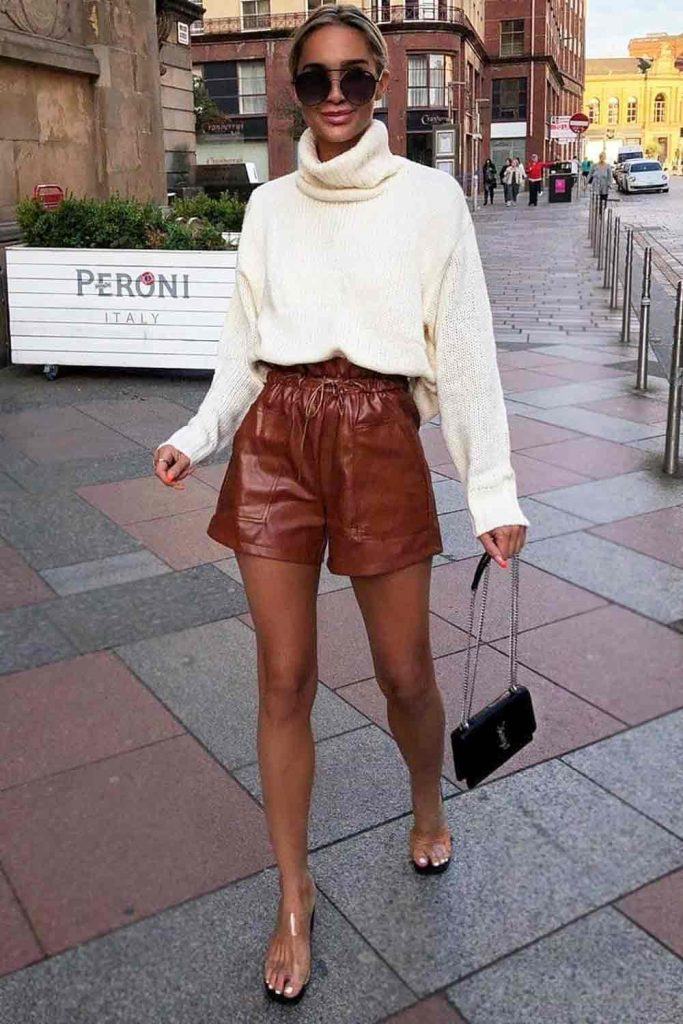 Source: instagram.com/emilyshak
There is barely any lady who wouldn't want summer to start sooner. However, just as we are waiting, it is time we get fully prepared to meet and greet the season in full armor. High waisted shorts are the new trend in fashion, and it is advised that you know all about it!
FAQ: High Waisted Shorts
How do I look good in high-waisted shorts?
If you want to feel extra elegant, wear your shorts with heels. Take a look at the top. With high waisted shorts, a tank or plain t-shirt will look great, but if you prefer a Katherine Hepburn style, pair them with a button-down dress shirt. They'll look great with a cropped top.
Are high-waisted shorts comfortable?
Some people avoid wearing shorts because they just don't want to expose too much skin. The chic of high-waisted shorts, on the other hand, is that they provide lots of coverage and still keep you cool without losing flair.
Can short people wear high-waisted shorts?
You never have to bother about tailoring shorts to fit your small legs because unlike jeans and slacks, they don't have a long inseam. In most circumstances, however, mini size shorts are still more flattering for petite women than conventional size shorts.
REFERENCES:
Shorts are a garment worn over the pelvic area, circling the waist and splitting to cover the upper part of the legs, sometimes extending down to the knees but not covering the entire length of the leg. Source
A high-rise or high-waisted garment is one designed to sit high on, or above, the wearer's hips, usually at least 8 centimetres (3 inches) higher than the navel. Source
Was this article helpful?