There are countless types of jackets for fashionable women to choose from. However, a bomber jacket is the kind that needs a little introduction. The truth is that not so long ago it was thought that such a jacket should be worn by men only. Times have changed, so has fashion, that is why such a masculine item becomes a feminine one in no time. What is more, we are ready to tell you all that you need to know about this piece of clothing so that you can add it to your seasonal collection!
What is a Bomber Jacket?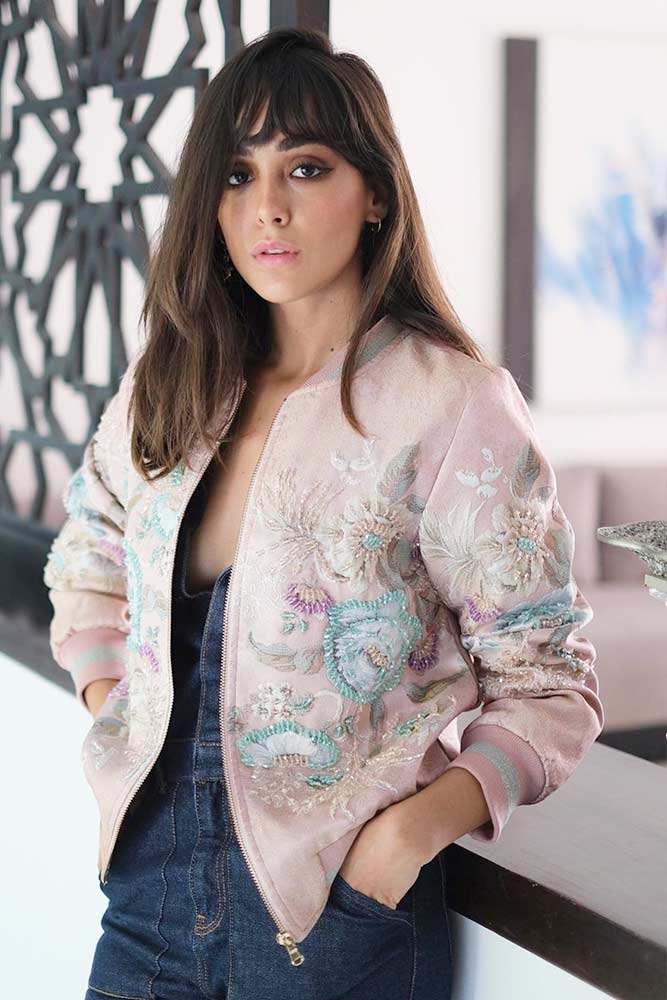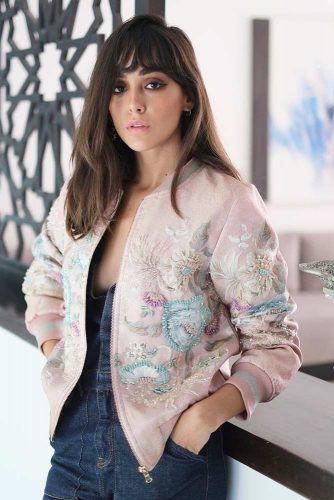 Credit photo: instagram.com/dressup_multibrand
So we are going to begin our discussion by answering your logical question - what is a bomber jacket – in the first place. The fact is that this jacket was introduced into fashion if you can say that referring to the First World War. It was the jacket that pilots wore to keep themselves warm. Since the jacket turned out to be quite practical it was allowed for civilians to wear it too. Originally the jacket was made of leather, but these days there are countless variations to choose from. So if you want a pink bomber jacket, you can easily find one. We are going to talk about them as we proceed. The defining features of a bomber jacket are ribbed cuffs and hem, front zip closure, and a defined neckline.
A Classic Baseball Bomber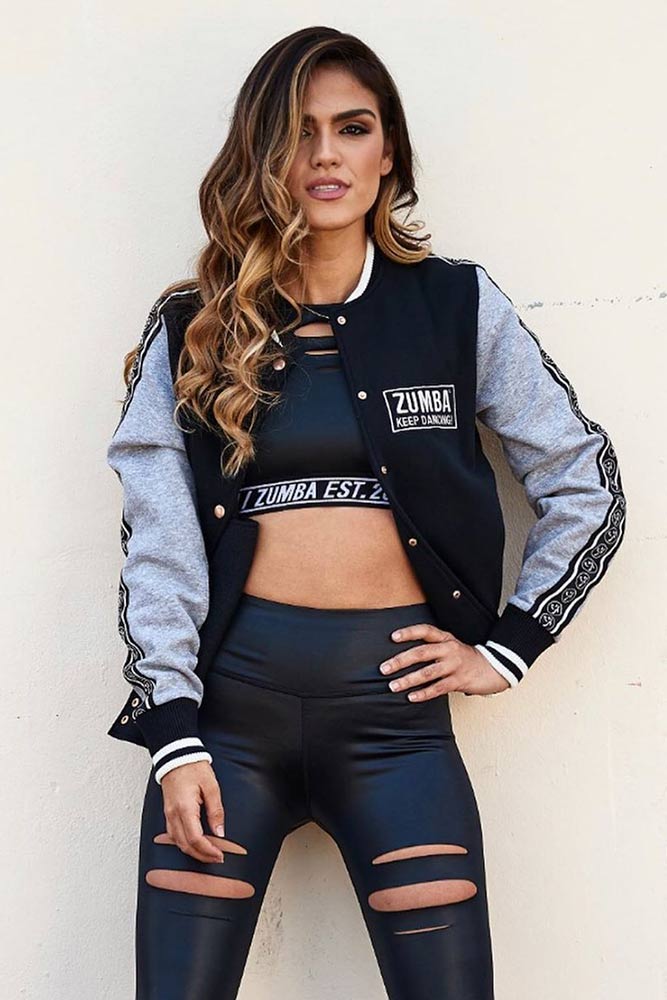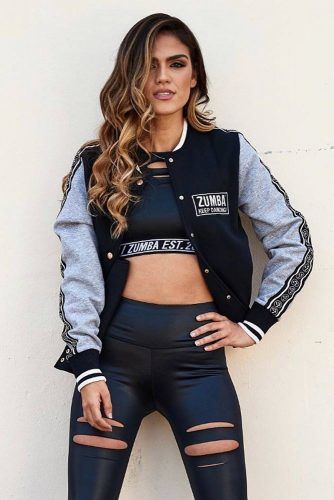 Credit photo: instagram.com/zumbaweargr
We have already mentioned it that there are numerous types of bomber jacket womens fashion offers these days. However, if you want to know how the classic one looks, we are ready to describe it. The casual baseball bomber will suit those of you who prefer active lifestyles since it is sporty and can be worn regularly. It is designed in such a way that you can pair it with basically anything. For the better understand, have a closer look at the presented image.
Long Bomber Jacket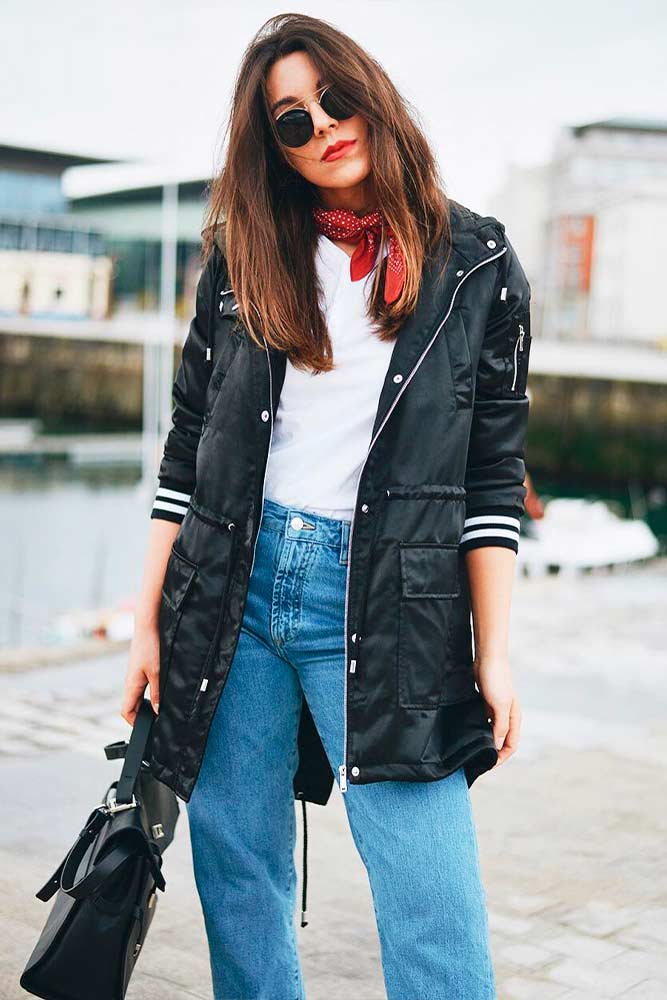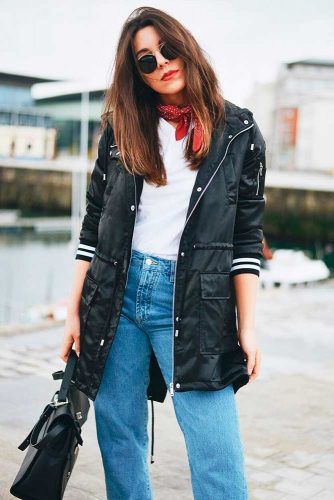 Credit photo: instagram.com/carlaestevezblog
Very often, you can hear that a bomber jacket can be short, up to the hips, only. That is not true. There is a longer option too. The fact is that longer bomber jacket is perfect for colder seasons. Besides, it can be that one item that creates your statement look without taking it over the edge. The only catch is to pair it with slim pants. Otherwise, you will end up looking too chunky.
Leather Bomber Jacket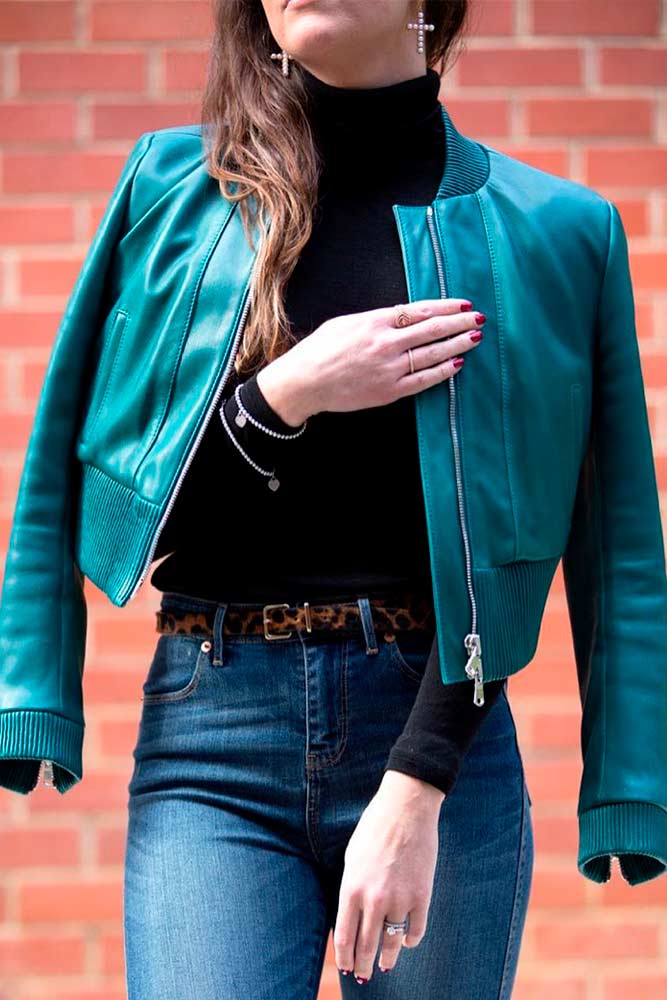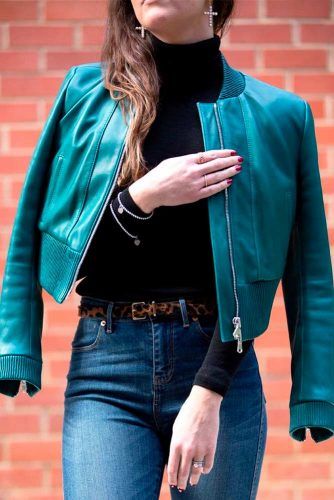 Credit photo: instagram.com/leatherandsoie
As you may remember, leather bomber jacket is the closest representation of its original ancestor. It is quite comfy and warm so that you shouldn't hesitate to put it on when the weather gets a little colder. However, with a leather bomber, it is all about the color. While you can easily pair it with almost anything, dark hues result in edgy looks, while brighter ones create a softer impression.
Metallic Bomber Jacket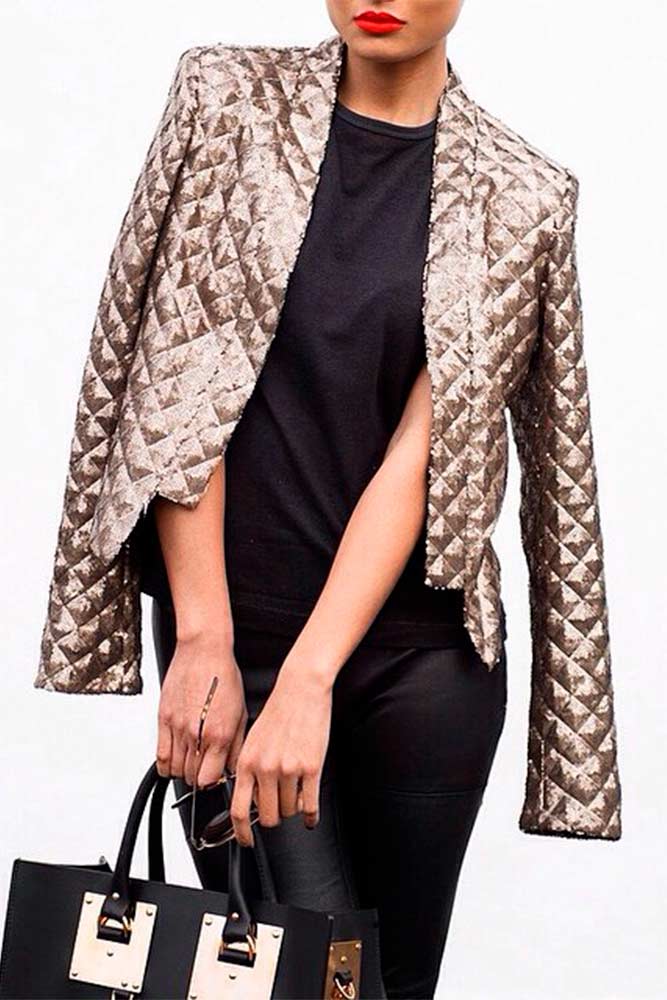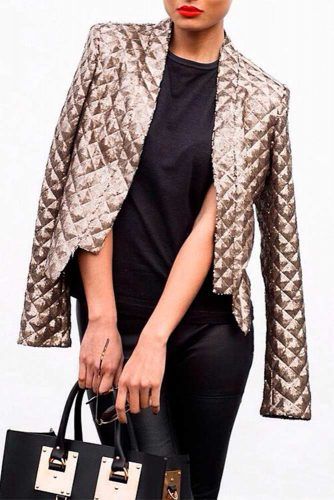 Credit photo: instagram.com/micahgianneli
Truth be told metallic bomber is that one universal piece that every fashionista needs. It is safe to say that it is chic and stylish. However, such a bomber can easily take your look from trendy to over the edge in a blink of an eye . The key is to find the balance between the jacket and the rest of the outfit. You shouldn't mix too many statement pieces in one look. That is why it is always best to mix such a jacket with something more neutral. Keep the rule in mind, and you will always look gorgeous.
Floral Printed Bomber Jacket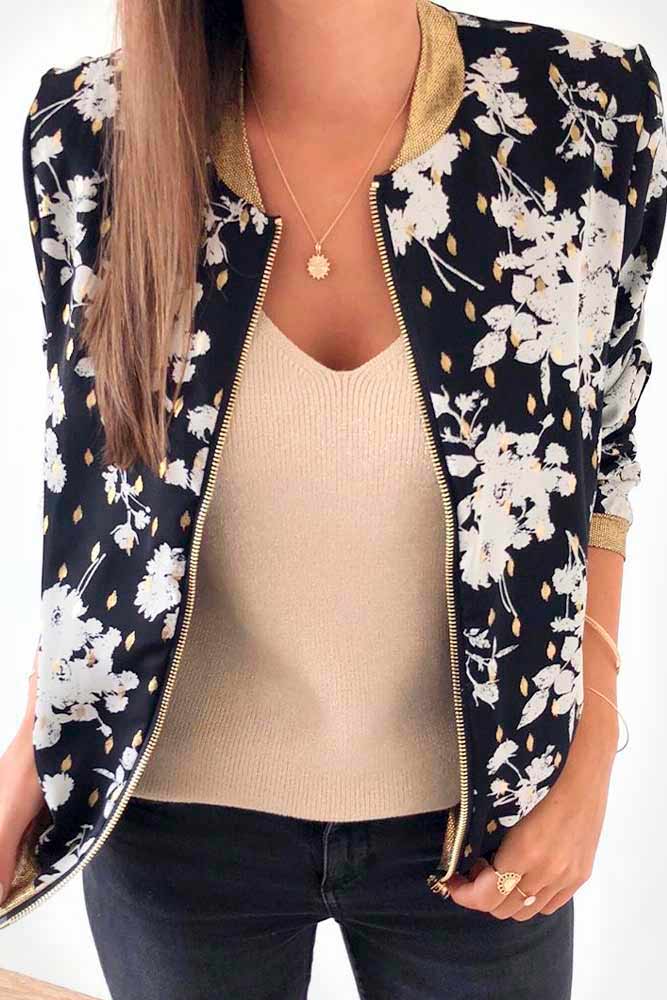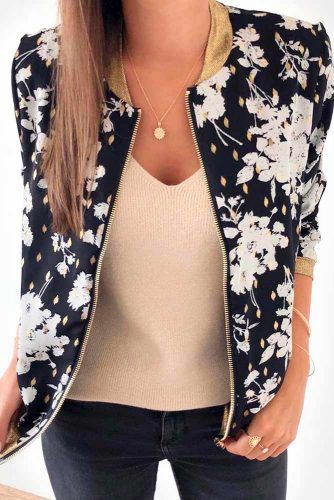 Credit photo: instagram.com/lafee_stylee
Since it is floral bombers we are talking about here, their collection would be incomplete without various prints. Today we are going to discuss a floral print on a bomber. The fact is that this print is not only gentle and feminine but also quite sporty and stylish at the same time. Such a bomber can easily become the statement item even when the rest of your look is quite basic.
Sequin Bomber Jacket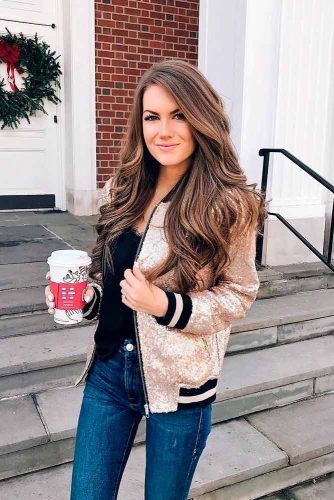 Credit photo: instagram.com/cmcoving
Those of you who are in love with all sorts of sparkly items will fall for a sequin bomber straight away. It needs to be mentioned that a couple of years ago, wearing such a jacket on a regular basis would seem weird, but these days it is pretty normal and stylish. That is why if a little bling is what you need, then do not hesitate to get yourself one of those magnificent bombers!
Bomber Jacket Colors
As a matter of fact, these days you can find almost anything of any color of the rainbow and bomber jackets are not the exception. Choose the color that suits your style as well as your mood and steal all the attention!
Olive Bomber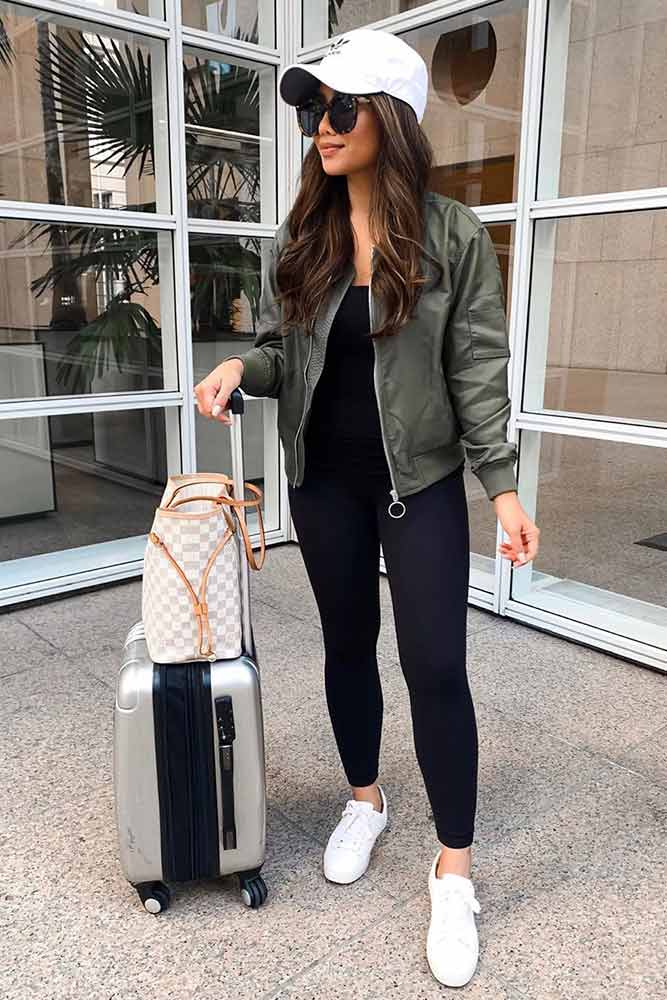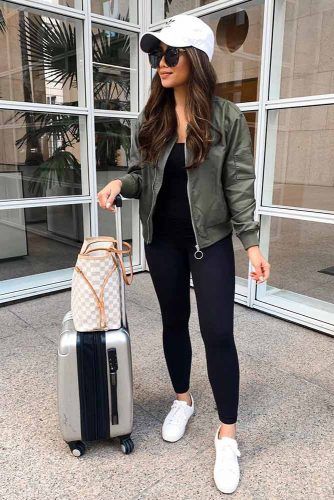 Credit photo: instagram.com/sweetandpetite_
If you ask us, olive is one of the most requested green bomber jacket variations, and there is a reason for that. The fact is that such a bomber still has that military vibe to it, and it is pretty casual at the same time. However, you shouldn't think that such a jacket can't become the center of your look if you pair it with neutral or monochrome outfit, it will become that statement item just like that.
Black Bomber Jacket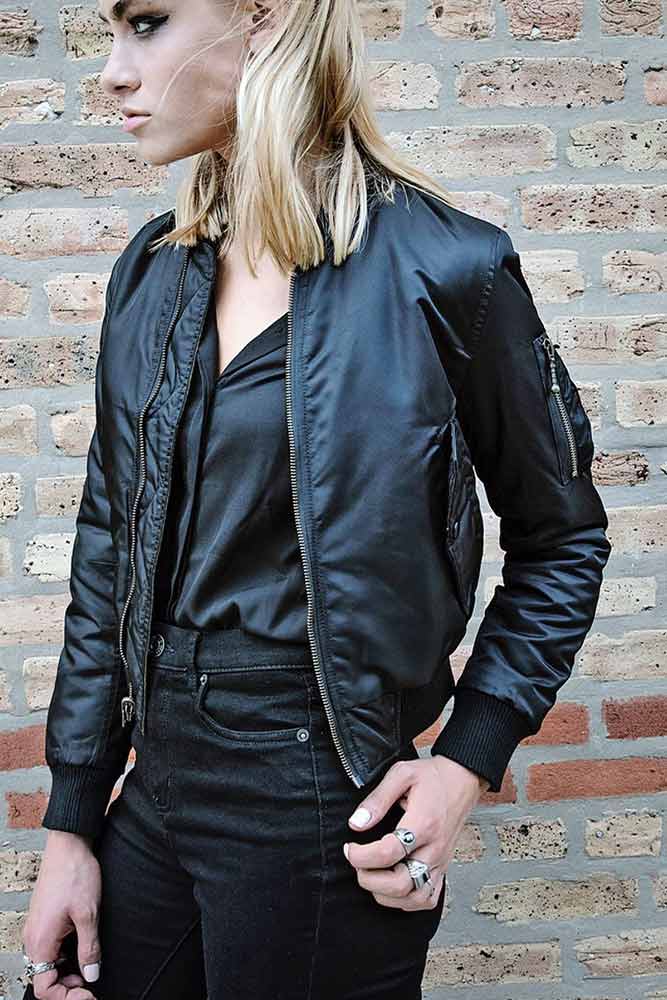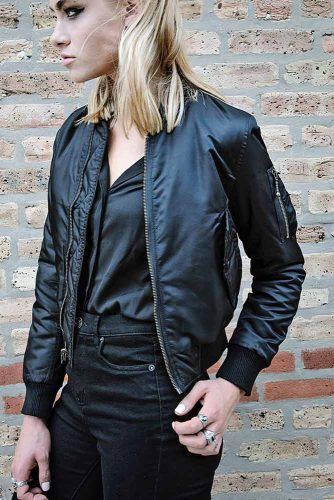 Credit photo: instagram.com/straighttohellapparel
If you think that black bomber jacket, you are totally right. Nevertheless, there are a few hidden tricks about this type of jacket. It all depends upon the material it is made of. The thing is that if a leather jacket adds the touch of edginess to your loo, the nylon one will keep things sporty, and a woolen one will result in the creation of a smart and soft look. As you can see, not only the color matters but also the fabrics.
Burgundy Bomber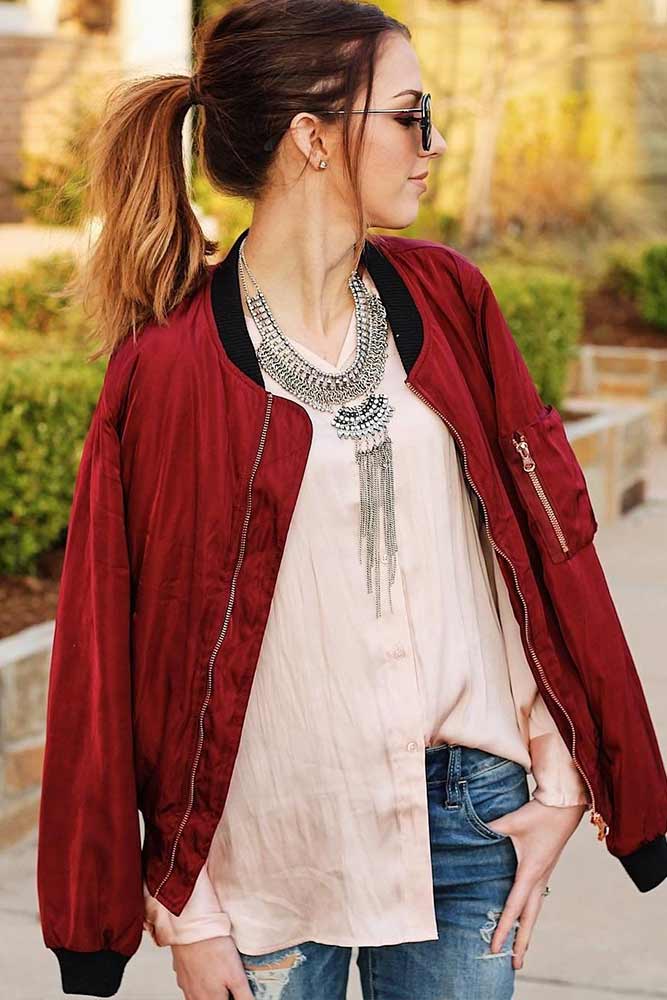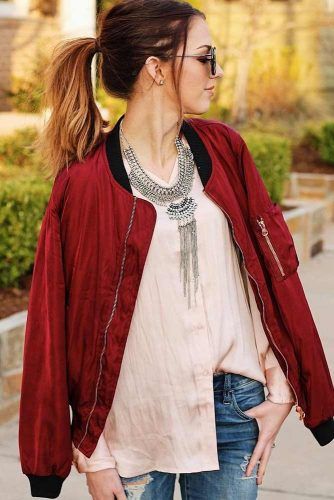 Credit photo: instagram.com/my_a_list
Burgundy red bomber jacket screams attitude, and there is a reason for that. The fact is that punks were the ones to breathe in life into this bomber color. In case you do not know, there is nothing subtle or calm about punks, they are all about the rebellion. So, if you choose such a hue, you need to pair the rest of your look accordingly. However, if the attitude does not matter and you simply prefer the hue, you can as easily incorporate the jacket into your daily look.
What To Wear With A Bomber Jacket
To be honest with you there are no limits when it comes to the question of what to pair your bomber with. Just pick the outfit and put the jacket on. We assure you that the bomber suits anything well, and we are going to prove it!
Bomber Jacket With Jeans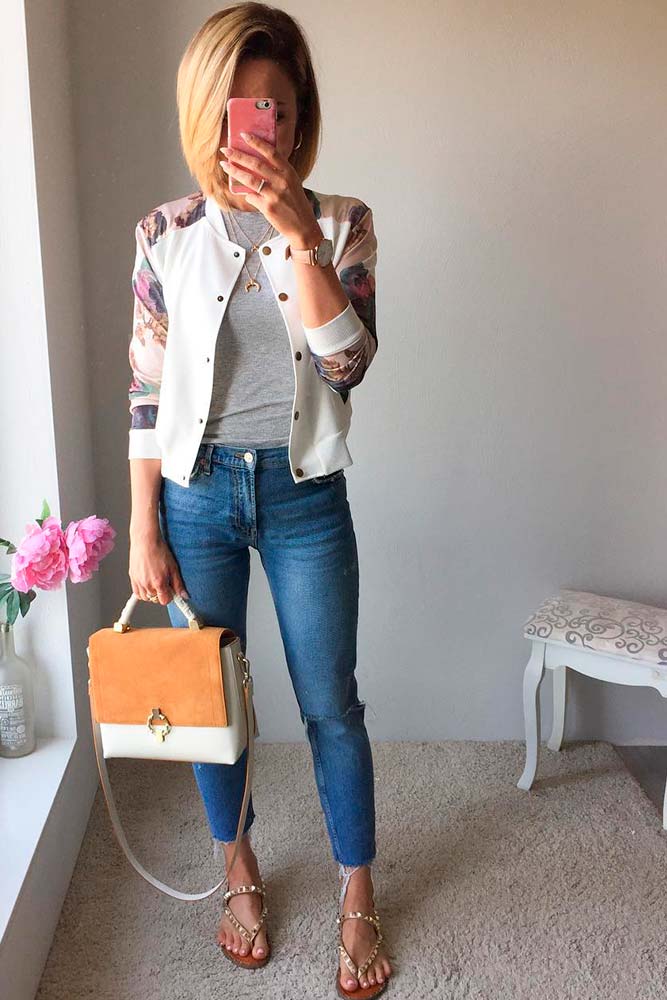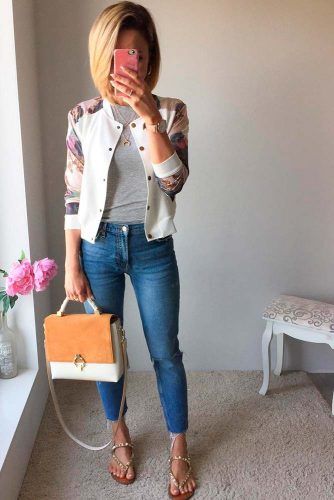 Credit photo: instagram.com/carrys_style_closet
Those of you who are seeking the casual ways to pull a bomber jacket with, we may know a way or two you can try out. Firstly, it needs to be mentioned that bomber and denim combo is the classy one. That is why sporting your fav jeans, and a bomber is always a great idea. Such a look will end up being effortless and casual, what else do you need for daily wear?
Bomber Jacket With Shorts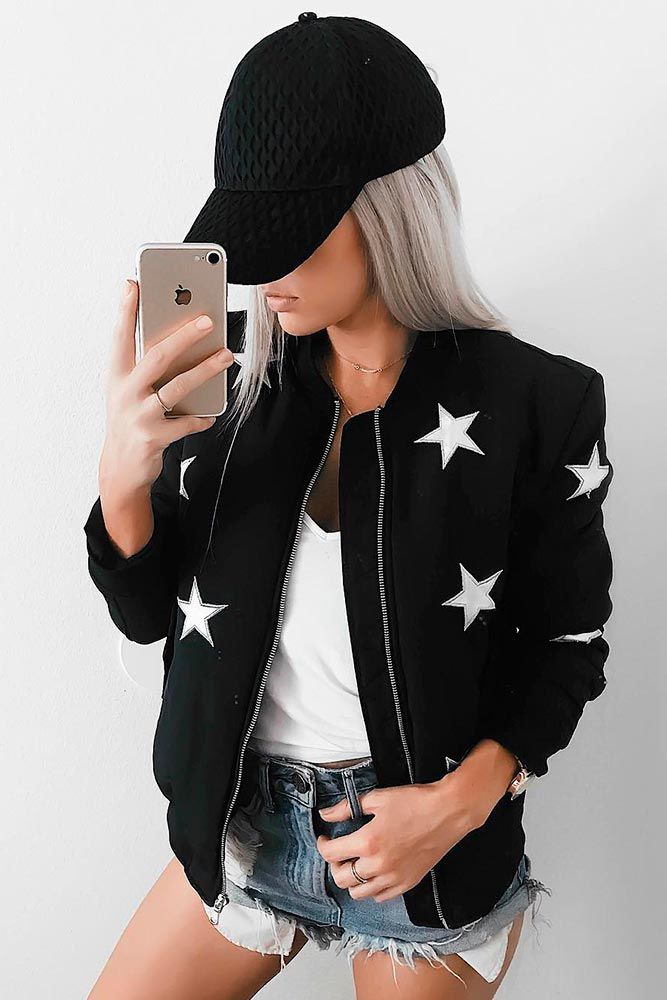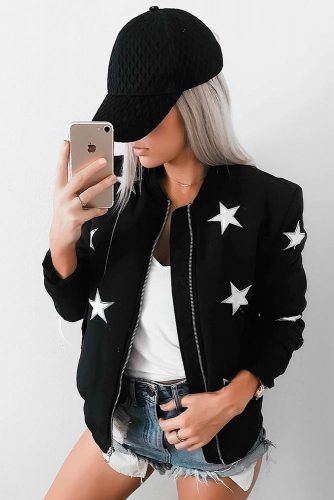 Credit photo: instagram.com/emilyrosehannon
Modern fashion is open to all sorts of experimentation. That is why if sporty and fashionable is your intention then you should at least consider the mixture of a bomber and a pair of shorts. For an even more dramatic effect, you can add a pair of lovely heels to the scene. Either way, such a look will steal adoring glances from everywhere.
Bomber Jacket With Skirt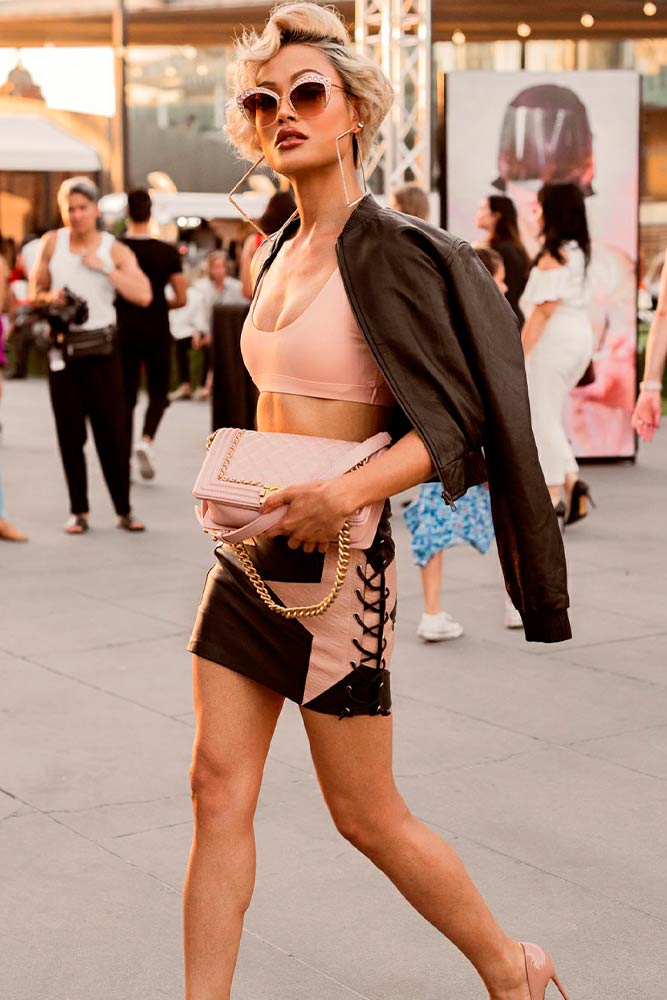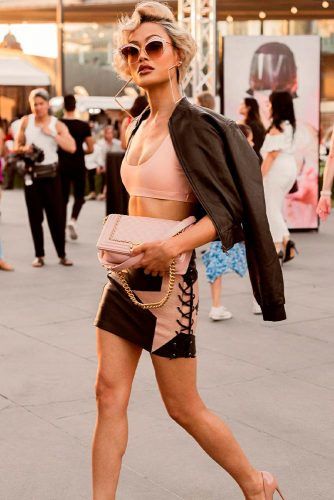 Credit photo: instagram.com/micahgianneli
There is a popular opinion that bombers are quite masculine looking for the most part. If you think the same, we know how you can change things in one minute. There is nothing more feminine than a skirt, right? The fact that bombers go equally well with pants and skirts is the one you should remember. The thing is that lighter or printed bombers will go seamlessly with any skirt of your choice.
Bomber Jacket With Dress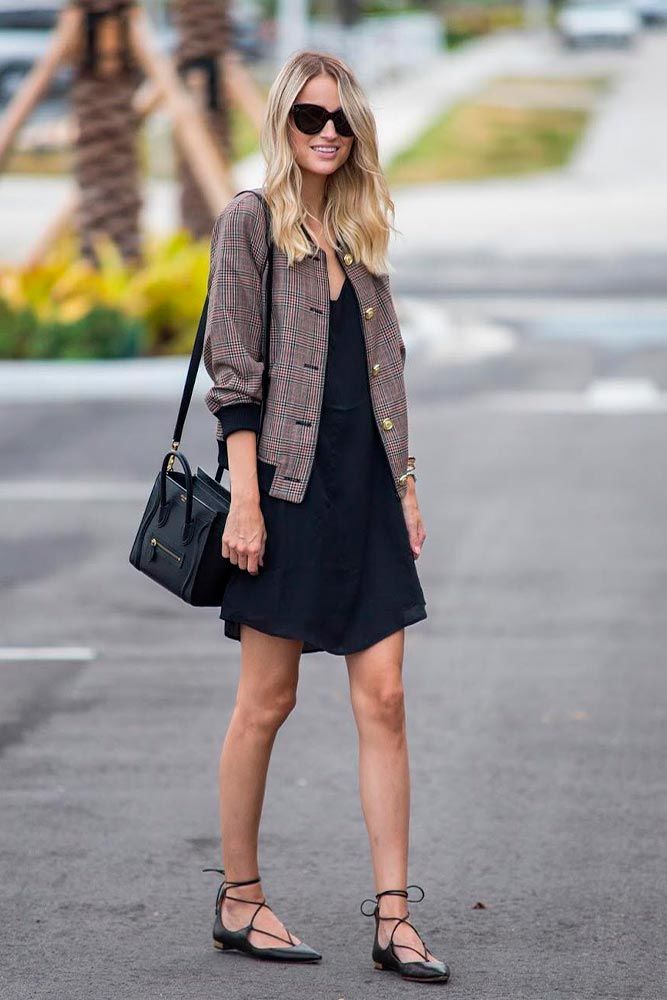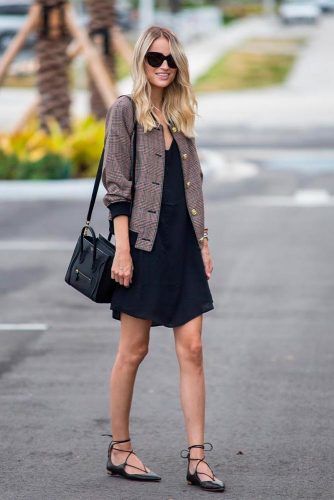 Credit photo: instagram.com/littleblondebook
We have mentioned it that bombers go well with all types of skirts, but that is not just it. The truth is that dresses go well with these jackets too. Pastel or printed bombers will complete your dressy look together with a pair of heels in no time. Once you try such a look on, you will be amazed at how gentle and feminine you look!
When To Wear A Bomber Jacket
You already know that there are many types and colors that bomber jackets come in. How about the occasion that you can sport all that versatility to? Well, you may be surprised, but a properly chosen bomber can be fitted even into a semi-formal occasion. See for yourself!
Casual Outfit With Bomber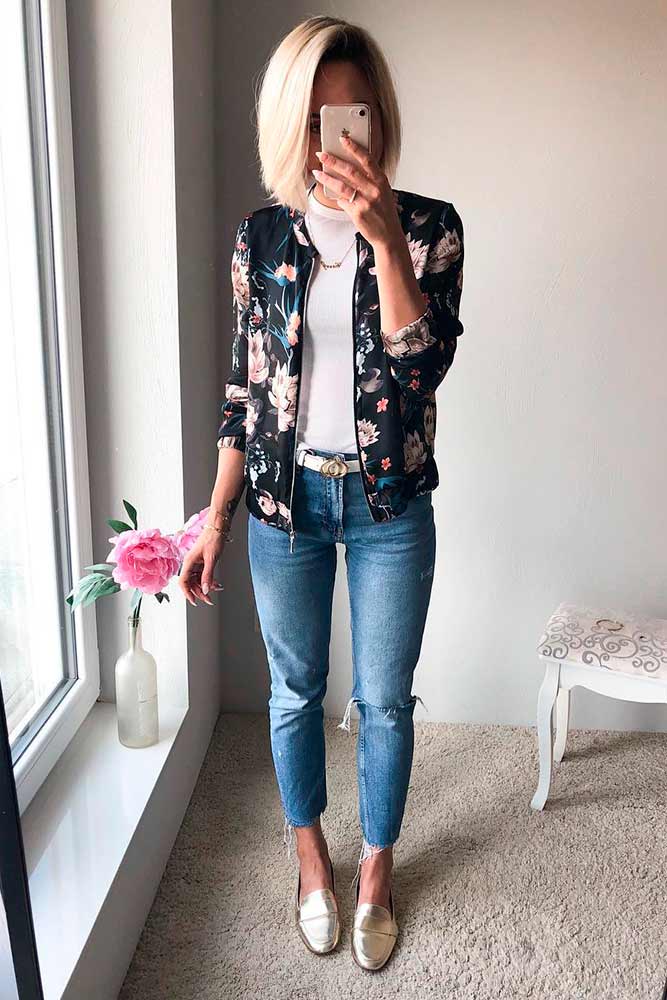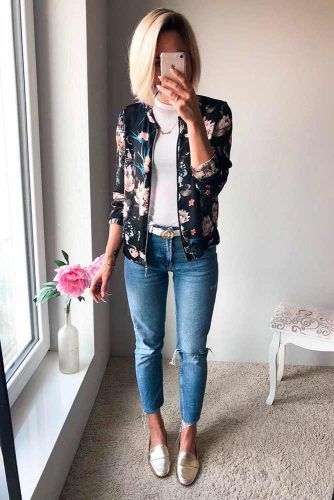 Credit photo: instagram.com/carrys_style_closet
We know that our lives, for the most part, consist of casual occasions. That is why not boring casual wear is so important. The fact is that there is a vast number of looks that you can create with help of a bomber. Starting with a T-shirt and a pair of jeans and ending with a sweater matched by casual trousers. As for the footwear, it is simple – put your sneakers on, and you are ready to roll!
Bomber Jacket For Night Out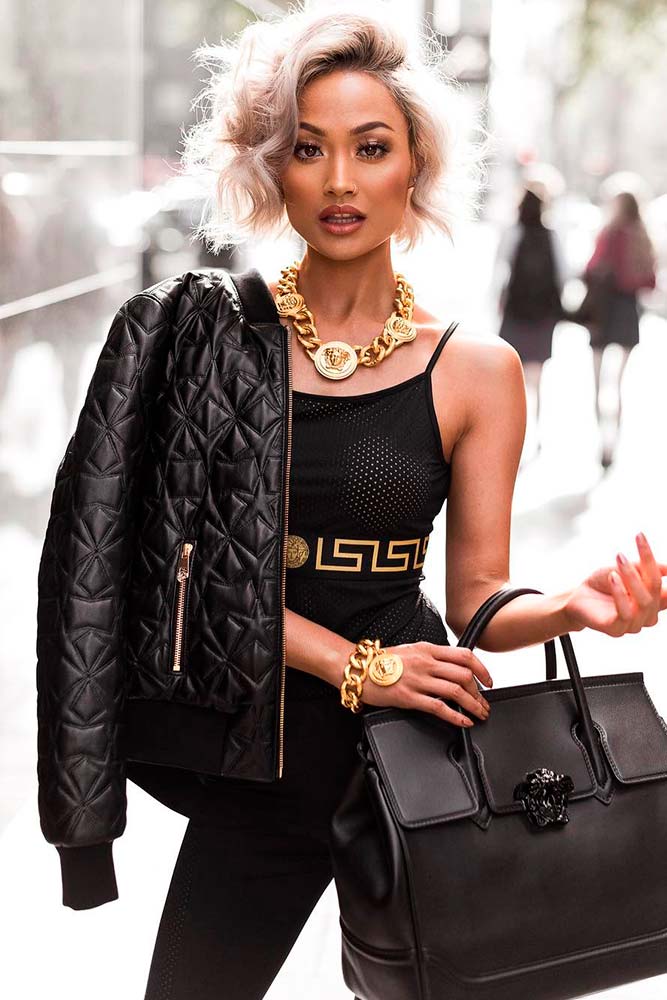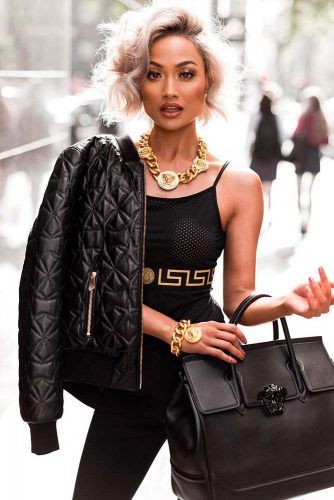 Credit photo: instagram.com/micahgianneli
When there is a party ahead, and you are thinking about a bomber look for s night out, we have one in mind. The thing is that when you are about to go out, there is no need to limit yourself with any boundaries. So, put on your sequin jacket to shine bright like a diamond. Or, you can also balance your bold outfit with a classy bomber. The choice is yours.
Bomber Jacket For Spring And Summer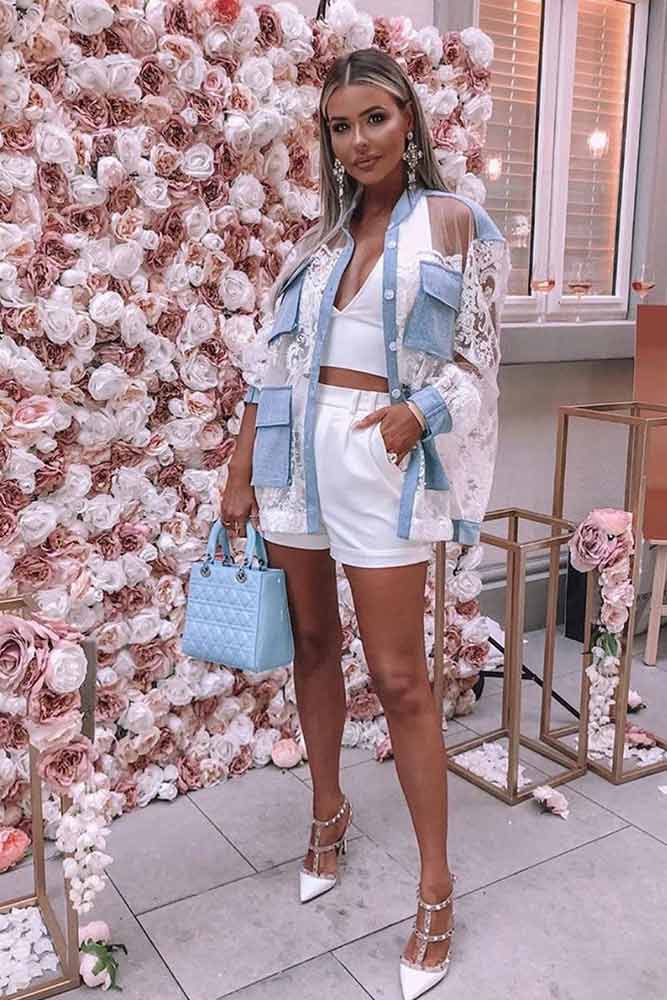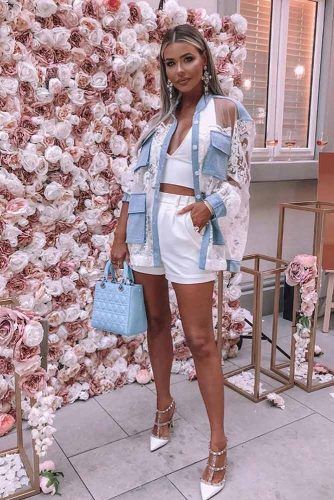 Credit photo: instagram.com/fashionzine
Some of you may think that a denim bomber jacket is the only option for the warm seasons. However, that is when you are wrong. The fact is that there is a whole range of bombers made out of light materials for you to wear when it gets a little chilly during the summer night.
Bomber Jacket For Fall And Winter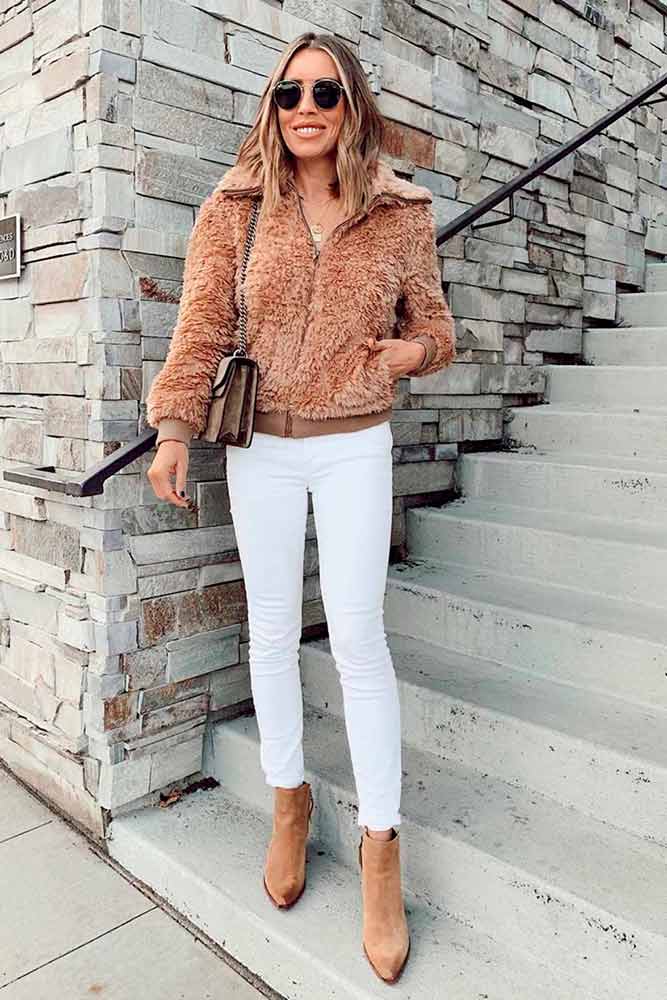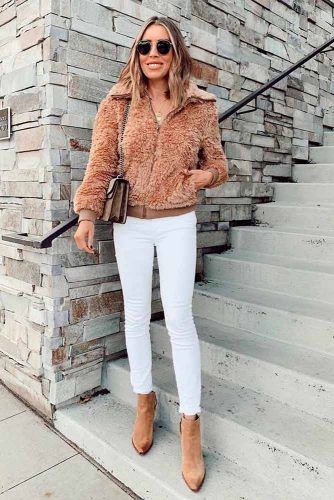 Credit photo: instagram.com/jaimeshrayber
There are so many different variations of bomber jackets that it is natural to assume that there is a bomber for any season and occasion. That is quite true, in fact. The thing is that there are bombers made of warmer fabrics that will keep you warm during cold autumn or winter. Besides, such jackets look incredible cool with voluminous scarfs and boots.
The notion of a bomber jacket is certainly not new. However, there are so many twists and innovations to this jacket that you are bound to be aware of!
FAQ: Bomber Jacket
Are bomber jacket good for winter?
Woolen bomber jackets with shearling lining will keep you warm during winter.
Initially bomber jackets were invented to keep pilots warm. There have been many variations of bomber jackets ever since that you can wear both at the first signs of chilly weather and cold winter.
Can bomber jacket used in rain?
Some bomber jackets are waterproof, there are various options on the market. It is worth to mention, that most bomber jackets are water-resistant. That means that they will resist some water, however, if you are exposed to water for a long time, it might seep in.