Over the knee boots – this trend is here to stay. The question is how to incorporate it into your wardrobe. That's what we are going to discuss today.
Keep in mind that it depends on your height whether you should go for flat boots or pick heels. If you are not tall, it's advisable to choose heeled boots that will not create any extra weight on the lower part of your legs. Otherwise, you may appear shorter than you are.
Read on to discover how to pair your boots with your clothes so that you look awesome this fall.
Cute Outfit With A Pink Skirt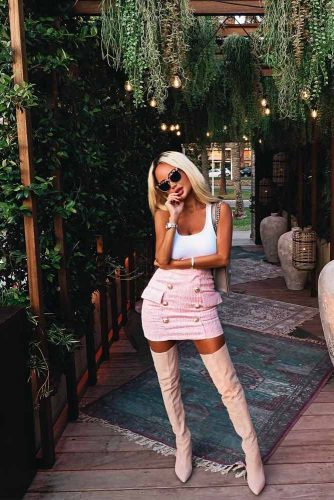 Source: Instagram/beyandall
It's a nice option for those who prefer sassy and daring over the knee boots outfits over classy ensembles. In this pic, you can see that if the fall is very warm, you can show off some skin and look really sexy. This pastel-colored outfit idea looks awesome against the tanned skin.
Plaid Skirt With An Off The Shoulder Top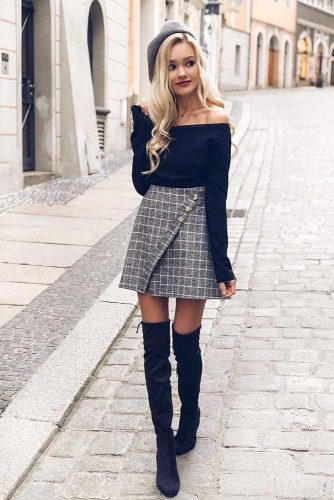 Source: Instagram/milena_blog
If you have over the knee boots black, you can always create a stylish ensemble for the office with them. Especially if they are flat or with a medium-sized heel. This model matches her boots with a grey plaid skirt, a hat, and a black top. Add a jacket – and you get an outfit for the office.
Sexy Leather Corset With A Blouse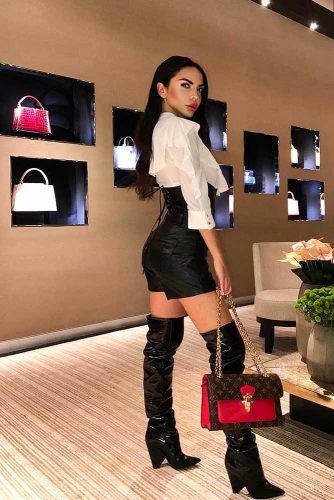 Source: Instagram/giulianatiofficial
The look you can see in this pic is the definition of bold. Leather corsets always make a woman appear her sexiest. But pair one with lacquered leather boots and you risk at driving all men crazy. Or is it something you truly desire?
Short White Bodycon Dress With Sleeves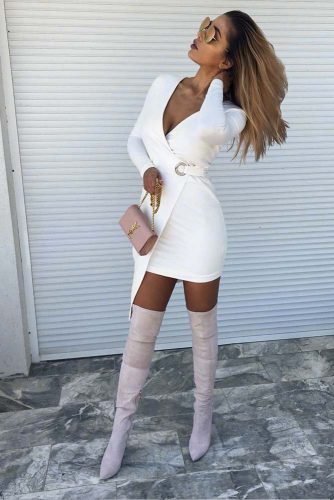 Source: Instagram/katekijo
Are you going on a date this evening? Then put on a white bodycon dress with long sleeves and match it with cappuccino colored boots and a pastel-pink clutch with gold accents. Long sleeves will balance out the seductive length of the dress.
Pair Nude Boots With A Nude Pink Dress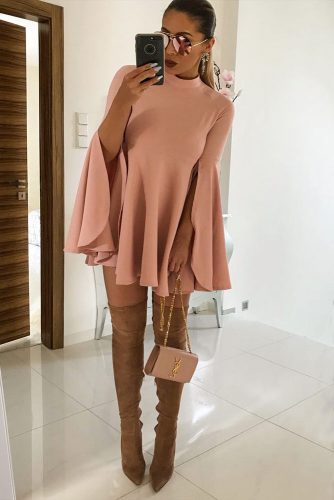 Source: Instagram/katekijo
If you want to sport nude over the knee boots fall 2018 fashion lets you match them with a nude pink dress and a coffee colored clutch. This look is subtle, and the relaxed fit dress design makes this model appear very elegant.
Cream Colored Outfit With A Long Sleeve Dress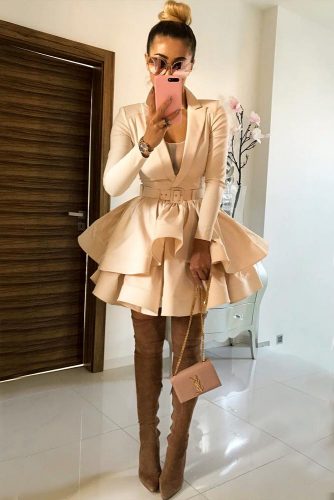 Source: Instagram/katekijo
This short layered dress with long sleeves is a piece of art. It appears like a jacket on the top, then comes the belt, and its bottom is in a completely different, carefree style. This combo of styles in one dress is like fire and ice. Add these sassy boots, and you get an exceptional-looking ensemble.
Long Grey Sweater With Jeans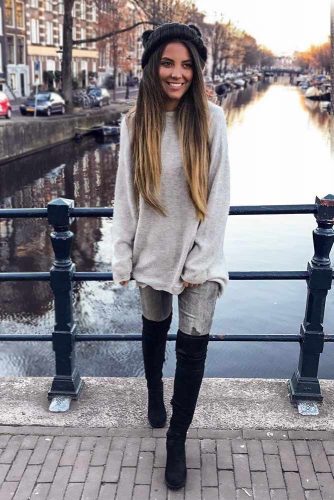 Source: Instagram/Stephsa
This street style image involves a light grey sweater, darker grey jeans, a hat, and boots. Black and grey is a classy combination, and you will never go wrong with it. This outfit will work great for a walk in the park or shopping with the girls.
Back To Black: Leather Jacket And Black Dress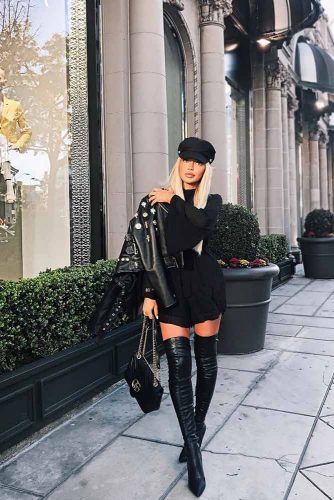 Source: Instagram/beyandall
Not every woman can pull off an over the knee boots leather outfit because it requires a lot of self-confidence. Put on an outfit like shown in this pic, and all eyes will be on you wherever you go. Leather elements like leather jacket only add on to the sexiness of this ensemble.
Cute One Shoulder Sweater And A Plaid Jacket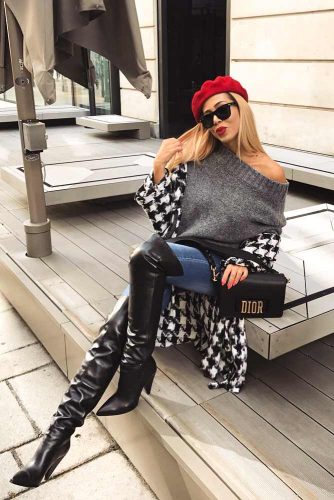 Source: Instagram/katekijo
This outfit idea will work for those women who wish to look feminine and simply adorable. Subtle greys and blacks are spiced up with a bright red hat accent. And with the heels like these, you won't feel any discomfort during the day.
Burgundy Sweater Dress With Black Boots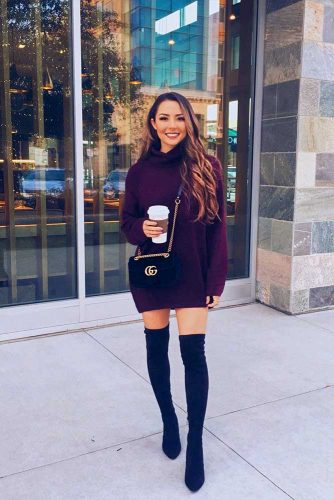 Source: Instagram/hapatime
Sweater dresses have been in for some time already, and it is not surprising. They are warm, comfy, and they can be paired with many kinds of footwear. But we especially love how such dresses look with boots. This image is so flirtatious!
Bright Red Sweater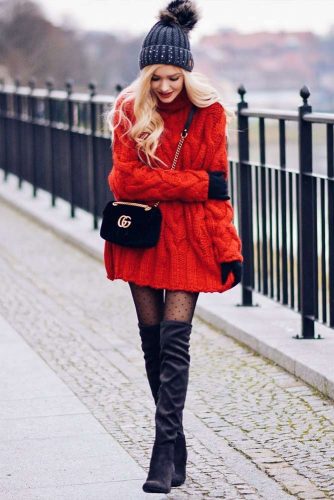 Source: Instagram/milena_blog
Sometimes we need to make our gloomy fall days more cheerful. And clothes can help us boost our mood, especially when the item is as vivid as this red sweater. Let the sweater be the attention grabber and combine it with other more subtle elements in greys and blacks.
Brown Over The Knee Boots With A Pink Top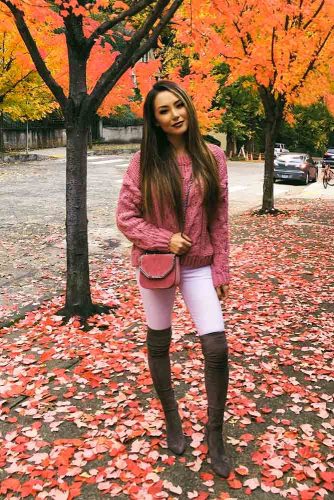 Source: Instagram/hapatime
Are you into fall colors? Then pick an outfit like in this picture. Here the model matches brown boots, white leggings, and a pink handbag and sweater. This outfit is comfortable enough for any weekend activity. And the combination of hues is on-trend.
Red Outfit With A Short Fluffy Jacket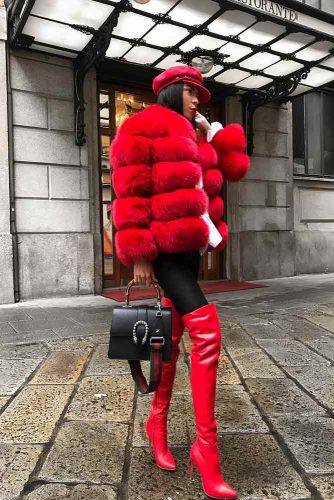 Source: Instagram/giulianatiofficial
These bright red high heel over the knee boots look really provocative on their own. But pair them with a fluffy jacket in the same color, and you will get the Glamour Queen image. Keep all the other elements of the outfit in blacks and whites to balance it out a bit.
Grey Colored Outfit With A Belted Coat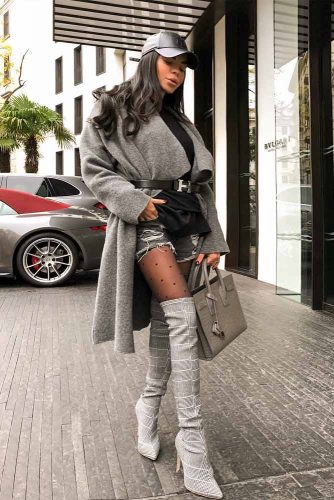 Source: Instagram/giulianatiofficial
This pic proves that going all-grey has nothing to do with being boring. Use grey hues to your advantage, and you will get a sophisticated image. And yes, in greys you can reveal some skin and look sophisticated at the same time. Other colors can't grant you such an effect.
Classy Black And White Outfit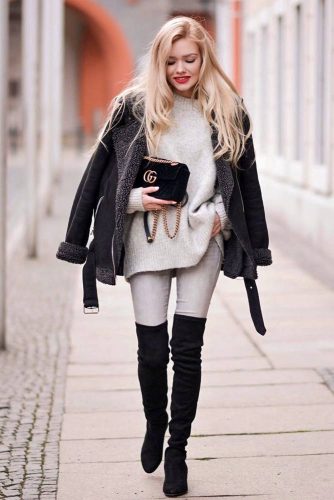 Source: Instagram/milena_blog
Flat over the knee boots are the definition of practicality and comfort. They let you create a more relaxed ensemble, something that will soon become your go-to fall look for every day. This model appears casual yet stylish. And black and light grey combo will never fail you.
Denim Outfit In Blue And Brown Colors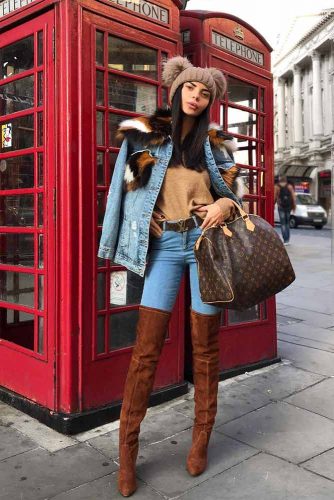 Source: Instagram/giulianatiofficial
Matching over the knee boots with jeans is a timeless option. In this picture, the model alternates brown and blue layers in a cool and stylish way. The outfit is great for everyday wear.
Style Over The Knee Boots With A Coat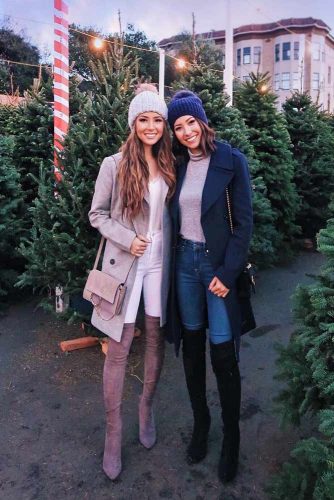 Source: Instagram/hapatime
When pairing your over-the-knee boots with a coat, make sure that the bottom of the coat does not cover much of the boots. Thus, you won't hide their beauty and edginess. As for the color combinations, the possibilities are endless.
Fall Colored Fluffy Jacket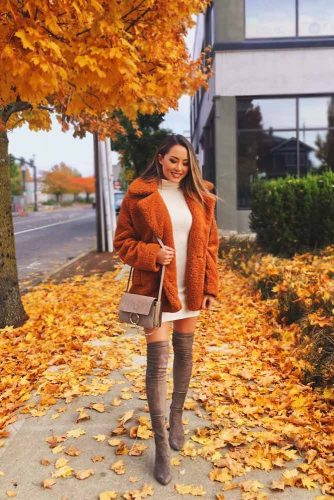 Source: Instagram/hapatime
When we think about fall, orange colored leaves – that is probably the first thing that comes to our mind. Look at this fluffy jacket, isn't it reminiscent of fall? Pair it with coffee colored boots and clutch for a stylish and elegant look.
Print Ruffled Dress With Black Over The Knee Boots Outfit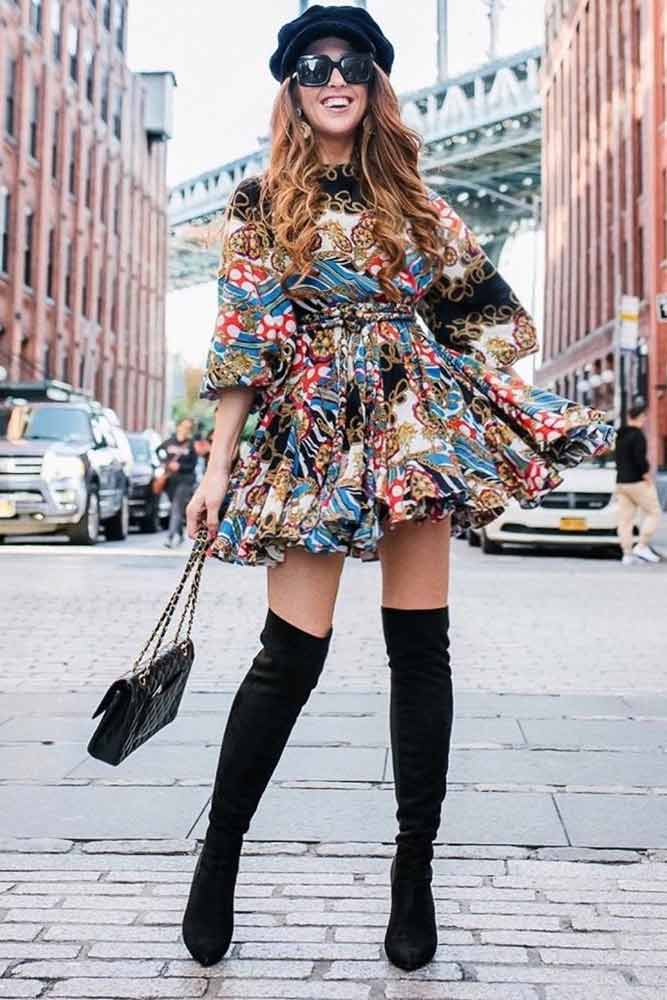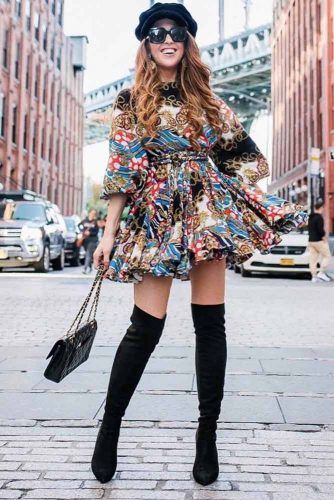 Source: Instagram/themrsgibby
There may be a misleading assumption circling the fashionista midst that light dresses do not go well with OTK boots. Well, that is a truly misleading one since they look with ruffled flowing dresses nothing but flawlessly stylish.
Brown Sweater With Black Jeans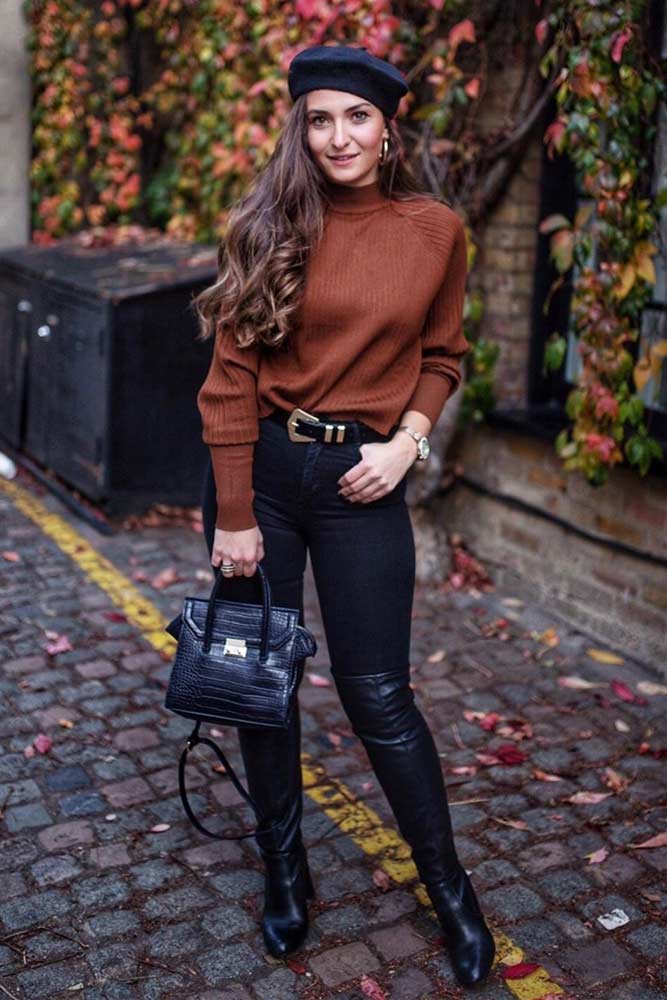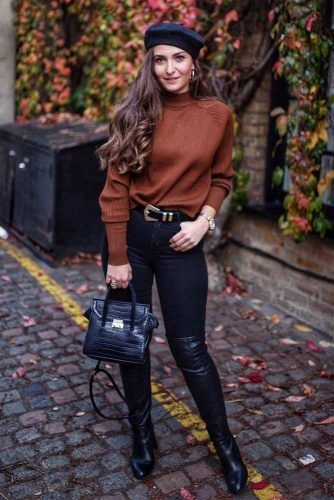 Source: Instagram/nataliamorenouk
There is no reason to hides your gorgeous boots or your slim legs at that point. That is why combining your over the knee boots and skinny pants is such a good idea. To add some contrast touch to the look, we suggest you go for a brown sweater.
Gray Dress With Black Boots Outfit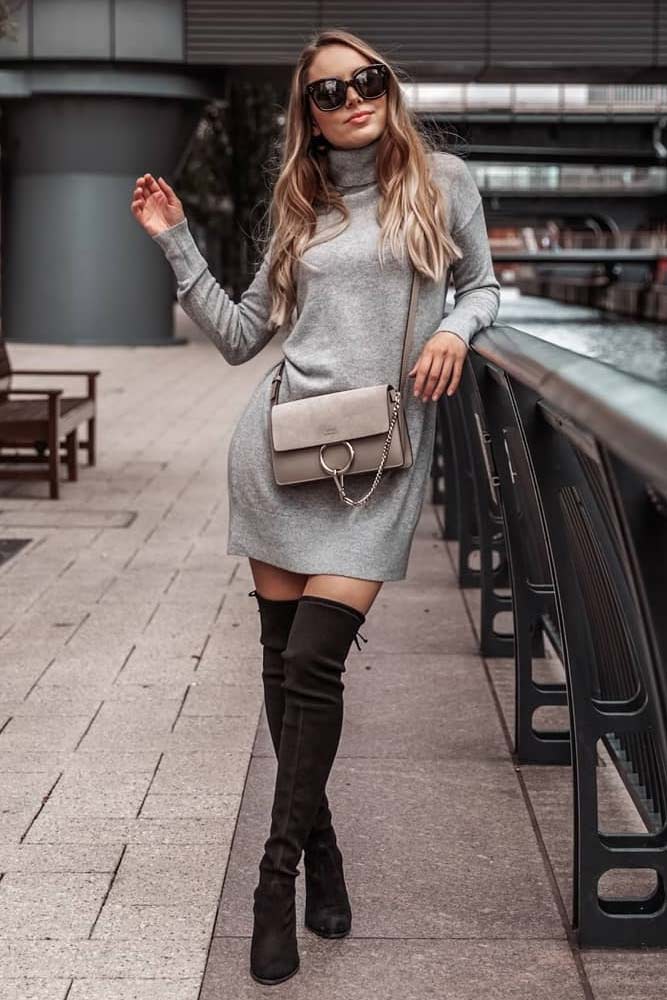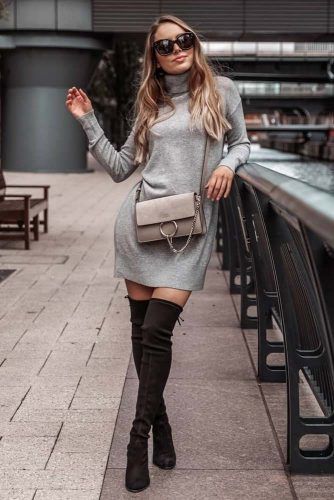 Source: Instagram/girloftoday.xo
In fact, it turns out that both light and warm dresses go perfectly well with a pair of matching OTK boots. In this case, the black suede boots not only complete this sweater-dress look but also keep you warm when it gets chilly outside.
Black Shorts With Plaid Jacket Outfit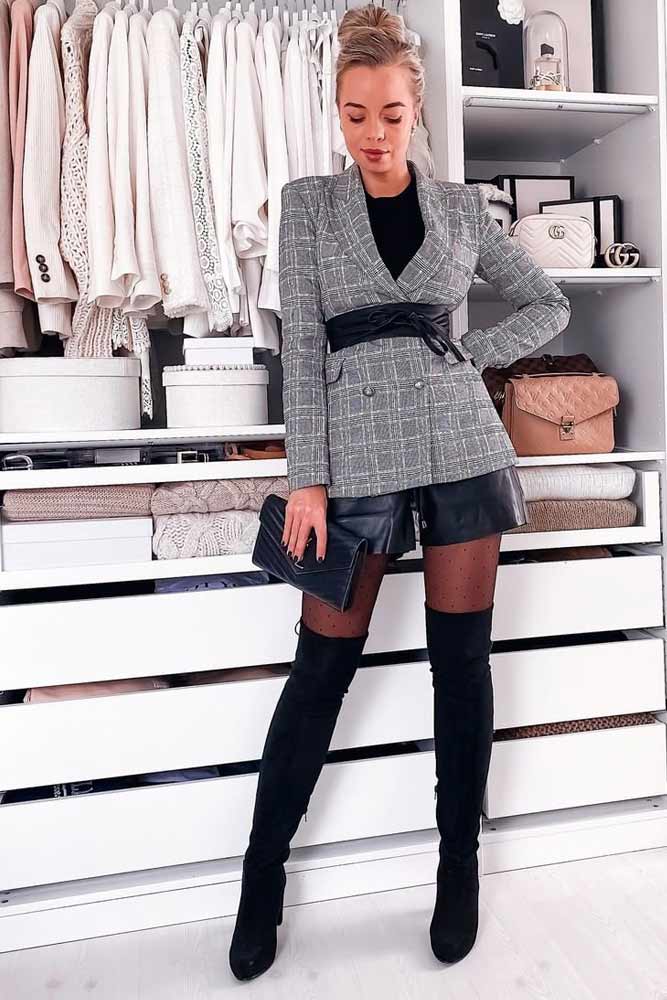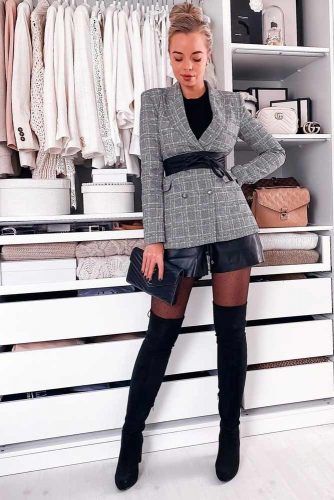 Source: Instagram/my_philocaly
Many ladies think that shorts are reserved for warmer seasons only. That is only partially true. The fact is that properly chosen shorts can complete your fall/winter look just as seamlessly. To achieve the goal, we suggest you combine the leather shorts with a plaid jacket and a part of OTK boots. That is all.
White Sweater With Ruffled Skirt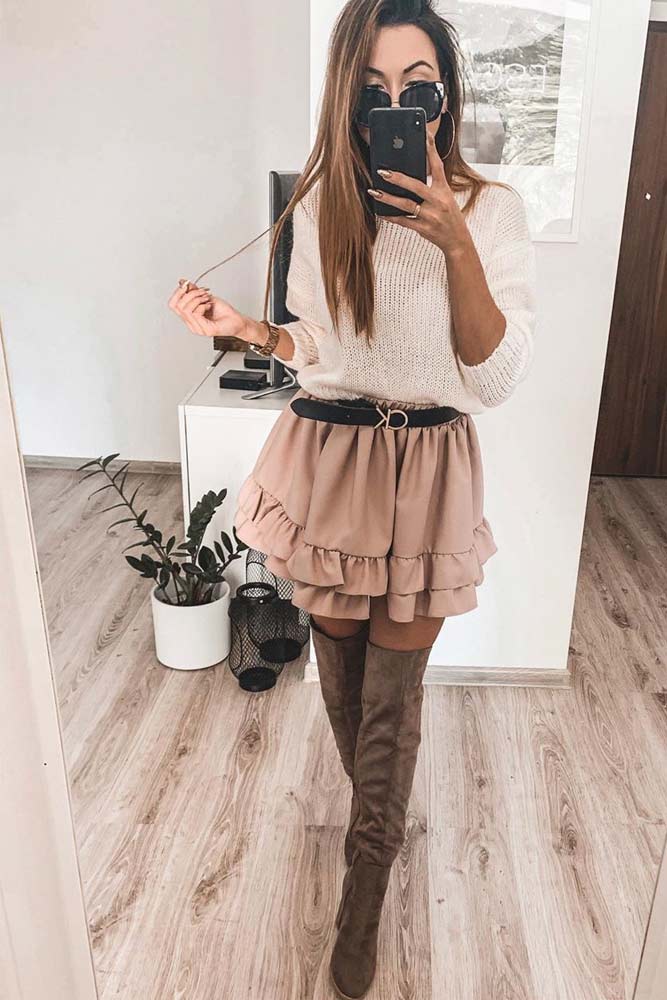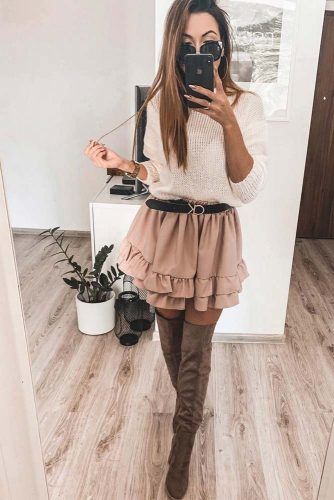 Source: Instagram/deezeeshoes
There are times when certain contrasting materials do not match each other. However, we are not going to mention those today. Instead we are going to prove you that light ruffled skirt and an oversized sweater make a good couple, and a pair of OTK boot takes a look to the whole new level of gorgeous!
Striped Sweater With White Jeans Outfit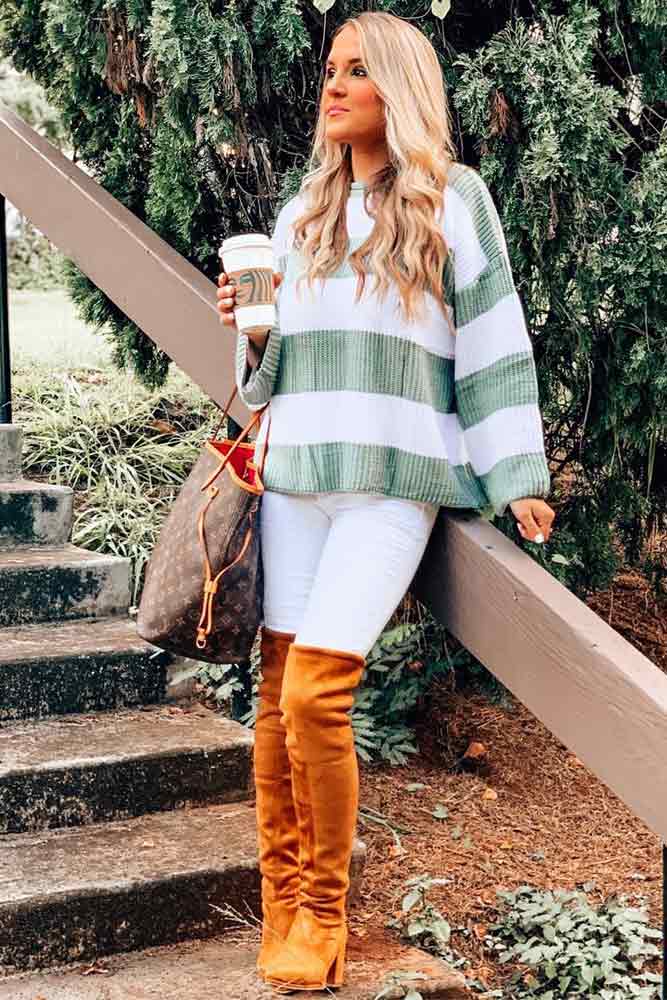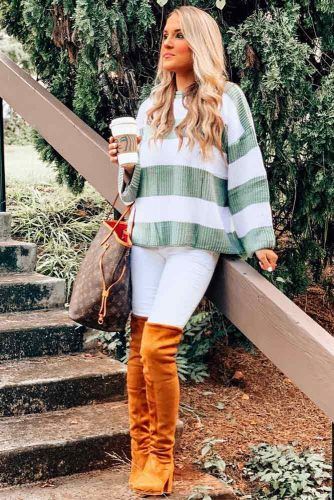 Source: Instagram/hannahkshepherd
Pulling off a white jeans outlook may be tricky at times, especially if we are talking colder seasons here. If you are looking for a casual but trendy as well as cozy look to sport – we have an idea in mind. Why don't you match your brown OTK boots with a pair of white skinnies and a striped sweater?
Flannel Shirt With White Jeans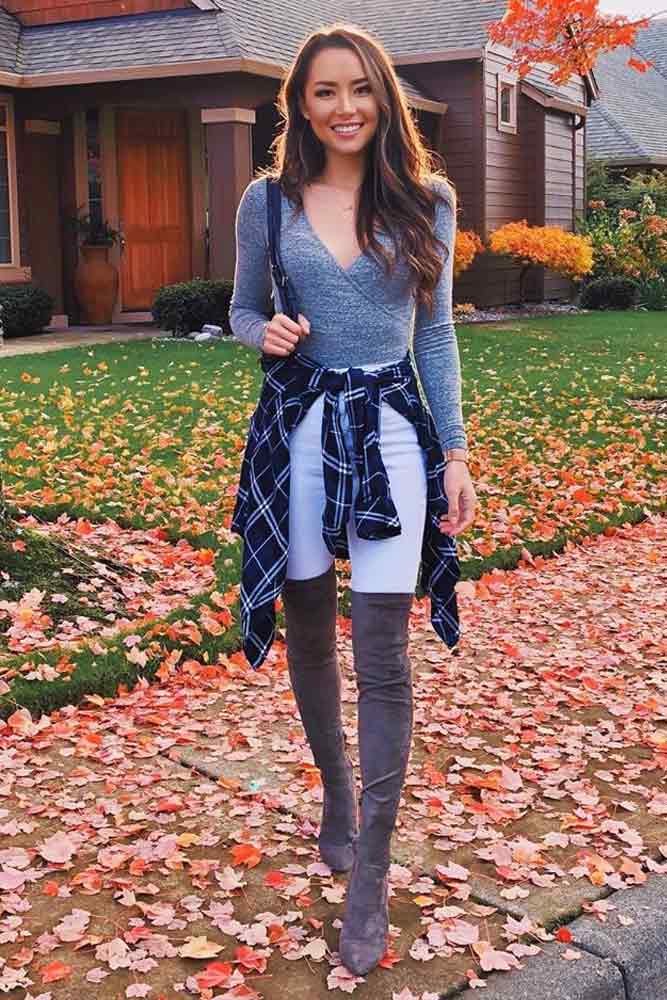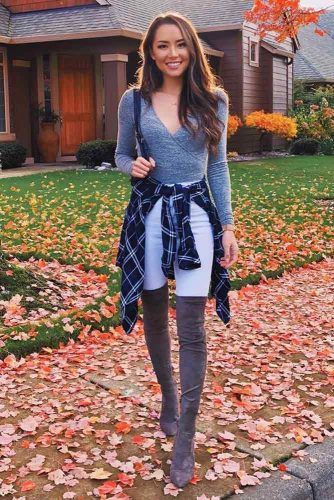 Source: Instagram/hapatime
Another cozy way of incorporating the OTK boots into your casual style would be matching them with white pants and a plaid shirt. You can wrap the latter around your hips for a more relaxed look.
Beige Dress With Coat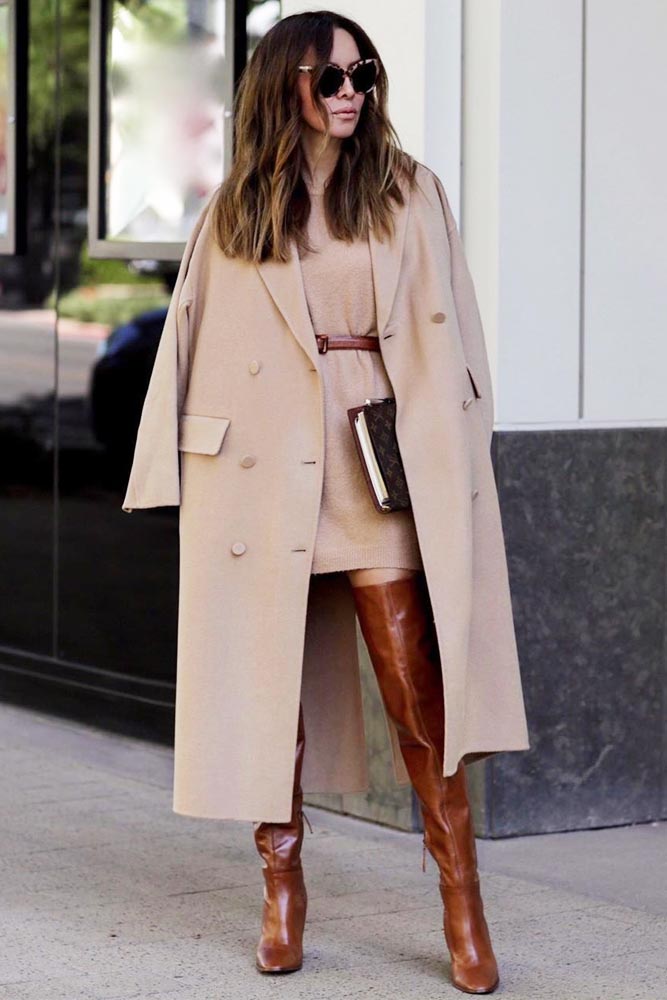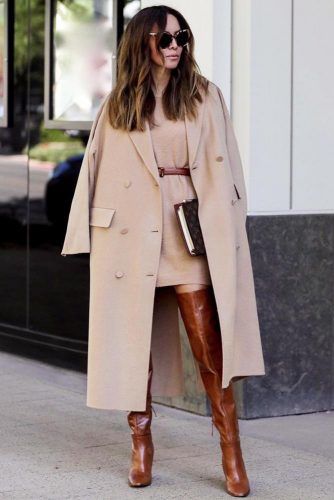 Source: Instagram/lolariostyle
Apart from casual looks, OTK boots look great when introduced into elegant ones too. For instance, a beige sweater-dress paired with the foxy-shaded pair of those looks extremely fab and trendy!
All Black Outfit With Over The Knee Boots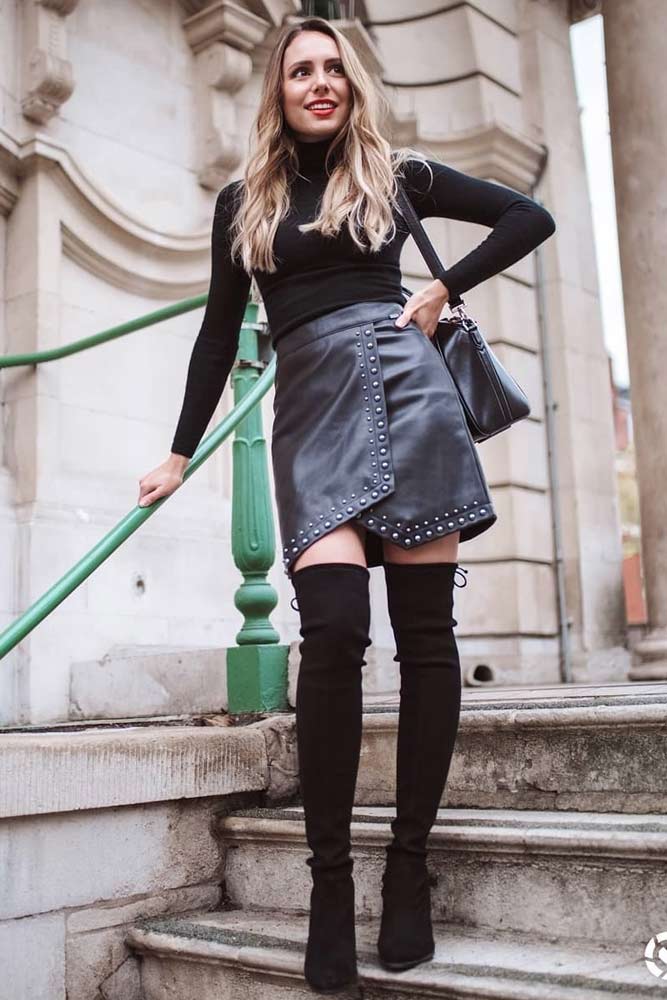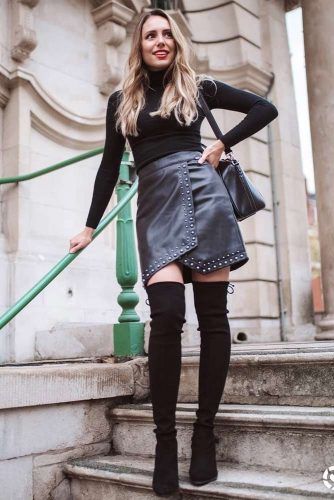 Source: Instagram/girloftoday.xo
Are you craving for some more edginess added to your usual image? We have an idea in mind! Why don't you experiment with a leather skirt, black sweater, and same-hues over the knee boots? We think that the experiment would end up perfect!
Now you know how to rock over the knee boots. This fall will definitely be brighter with our suggestions. Explore more inspo on our blog.