It is a known fact that fashion is constantly suggesting some new ideas to experiment with. However, some classy ideas seem to linger. When you think about plaid pants, it may seem that there is nothing special about this mostly formal wear. However, this season brings in interesting looks involving checked patterns. That is why we suggest you pay attention to these new ideas about how to wear plaid trousers on a daily basis.
Are Plaid Pants Trendy?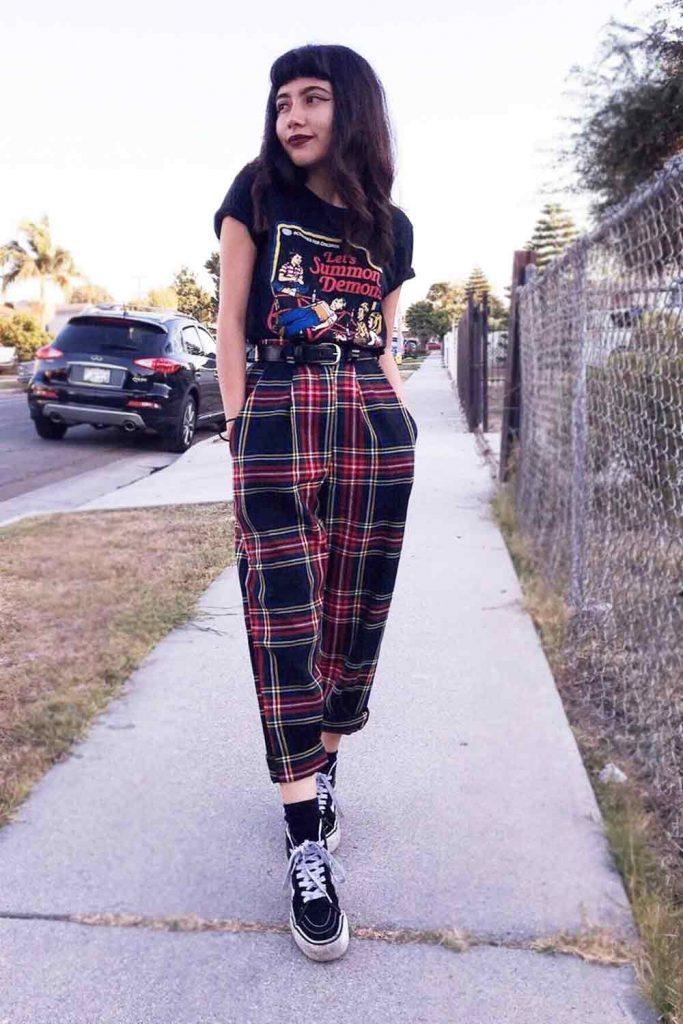 Source: Instagram/moshhbby
If you wonder whether plaid pants are popular today, just look at your Instagram feed — they're more trendy than ever. This eye-catching piece has become pretty diverse in terms of colors and patterns, so now you are free to wear them to work, as well as to show off your unique self through casual wear. Today, girls pull off plaid pants with anything from sneakers to heels, and here you're going to find your best look with the plaid cuties!
Plaid Pants With Jacket Outfits
Plaid Pants With Oversized Jacket Outfit
Source: lauryncakes.com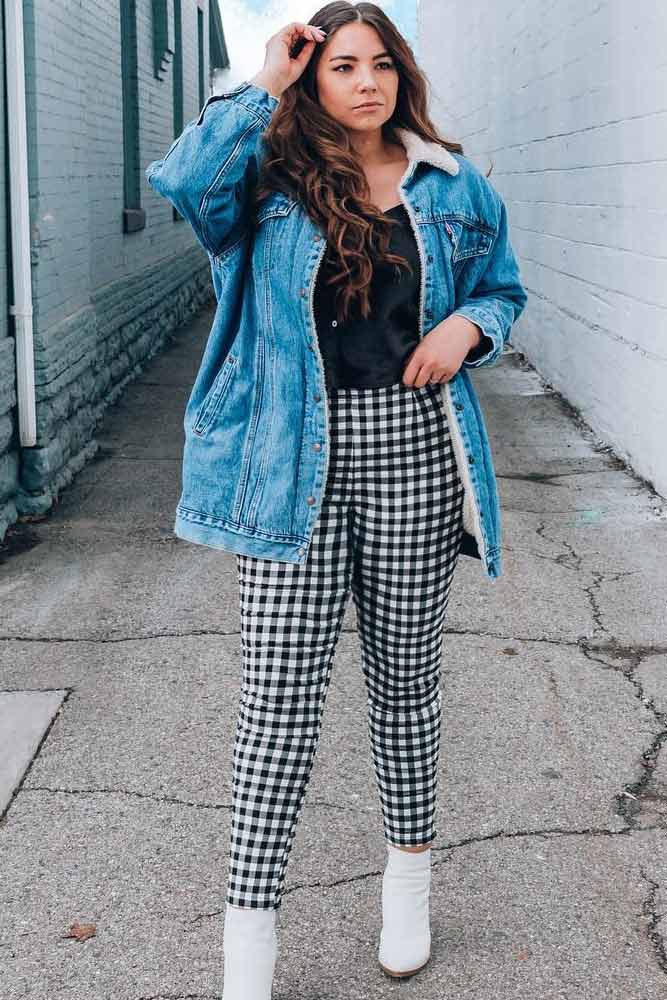 Many of you may think that mid-size plaid pants are non-existent. However, the truth is far from that. Perfectly universal white and black plaid skinnies are all that you need to put on together with a jeans jacket to create an unforgettably stylish look.
Skinny Plaid Pants With Moto Jacket
Source: thefashionhotbox via Instagram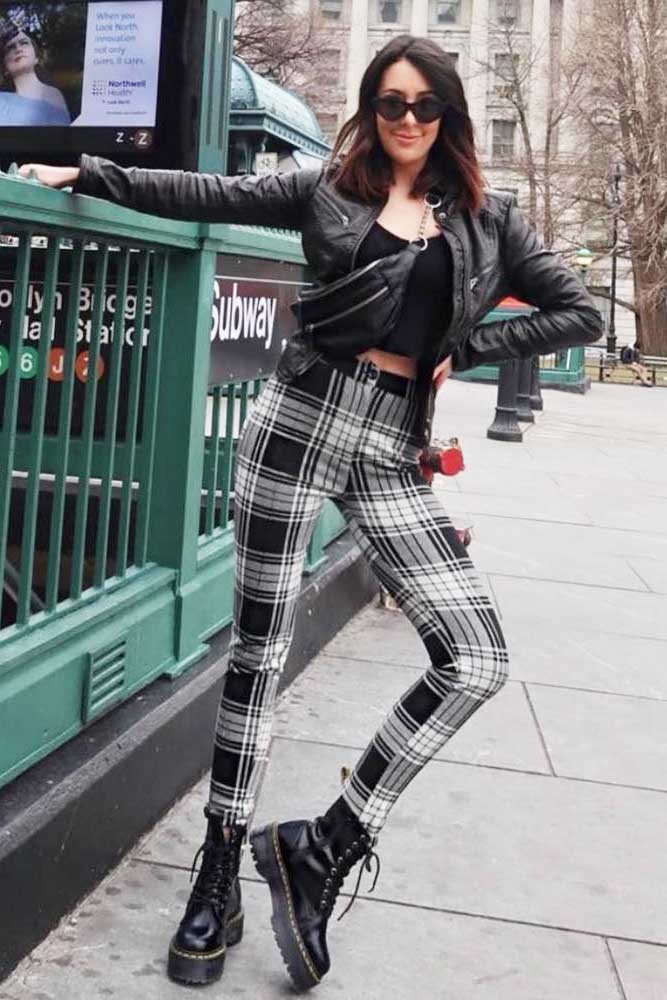 In case you are looking for an edgy, rock style look – we have it covered! Black plaid pants and a moto jacket fit together like a glove. However, you shouldn't forget about the corresponding grunge boots in no case!
Red Plaid Pants With Leather Jacket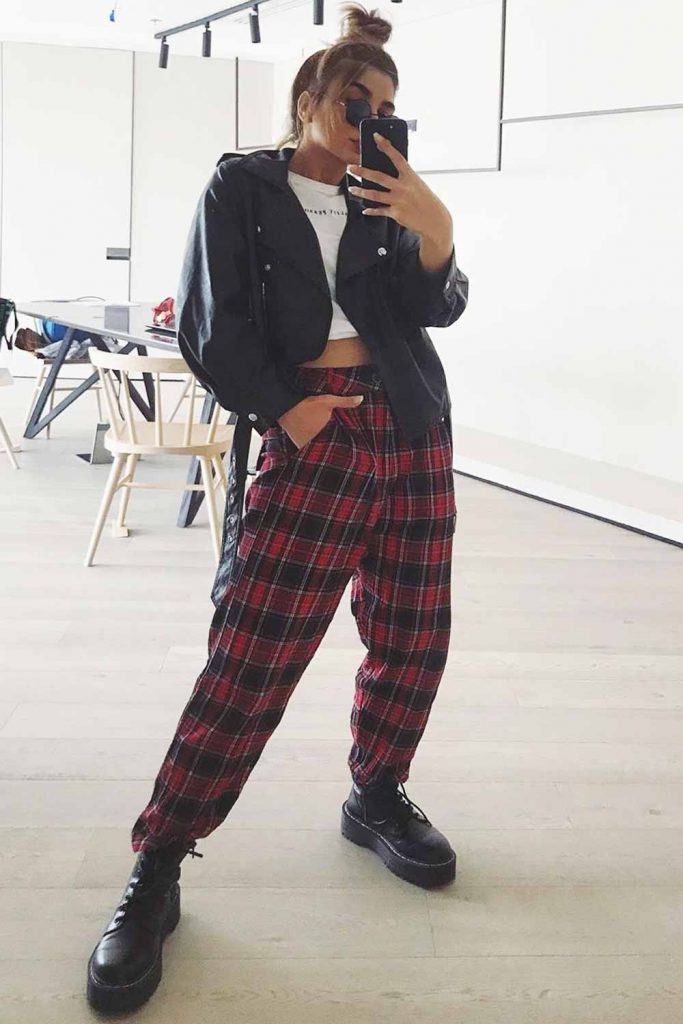 Source: Instagram/delilah.baxan
Leather jackets, boots with massive soles, and red plaid pants: that's the new classic combo for girls of today. Here, the look has some kind of restless and carefree vibes with its over-sized jacket and loose-fitting pants. Apart from nicely matching colors, the materials also play a good team: black leather boots + a leather jacket = a jackpot!
A leather jacket makes this outfit look super grunge!
Pink Plaid Pants With Crop Jacket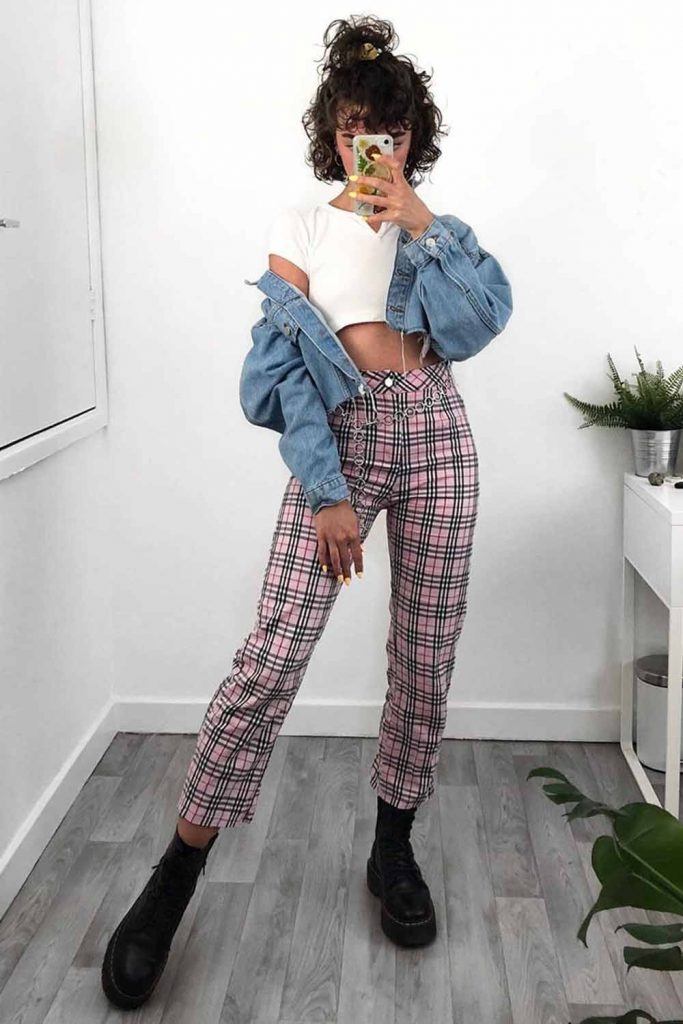 Source: Instagram/sophie.seddon
Since you wear high-waist pants, there's nothing like a cropped jacket. All in all, you want to show off your waist, right? Here, the look brings us back to the lovely vintage times while still having the charm of modernity with those awesome massive boots. A white top, lightweight pink plant pants, and light blue denim jacket look simple but cool at the same time.
Crop Plaid Pants With Black Velvet Jacket
Source: thefashionhotbox via Instagram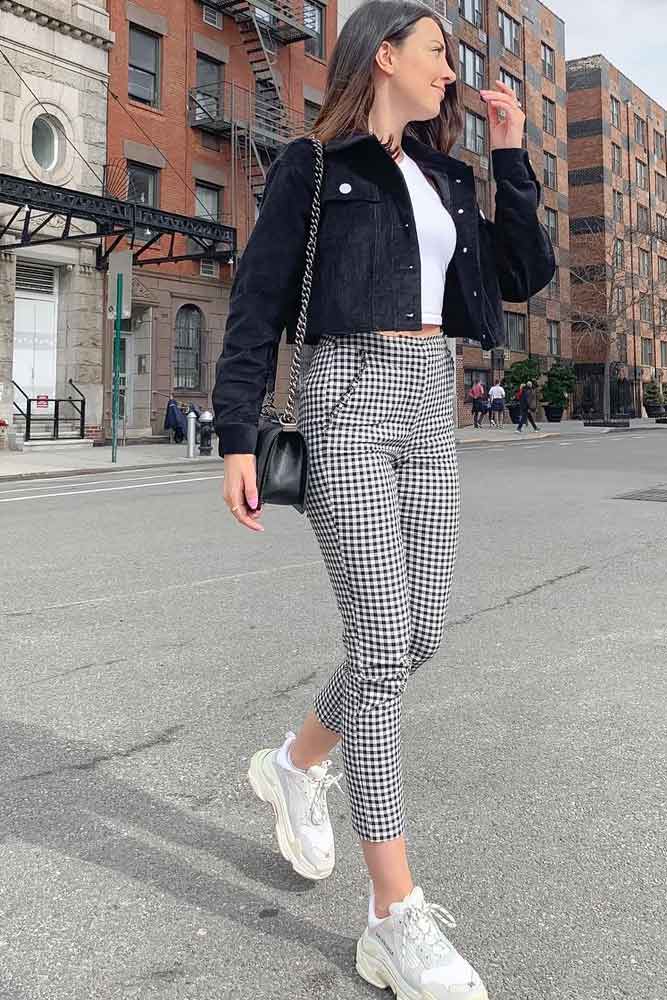 Retro looks are very popular these days. That is why if you are longing to pull off one of them; then we may have an idea. The fact is that everything in this picture can be referred to the past decades. Thus the look is clearly a retro one. However, at the same time, it is also extremely modern.
Plaid pants are not reserved for one season or occasion. In case you think otherwise then you need to browse through this compilation immediately! Once seen, this collection can't be unseen, and we are sure that you will rush to purchase a pair or two of these stylish and particular trousers!
Red Plaid Pants With Dark Blue Denim Jacket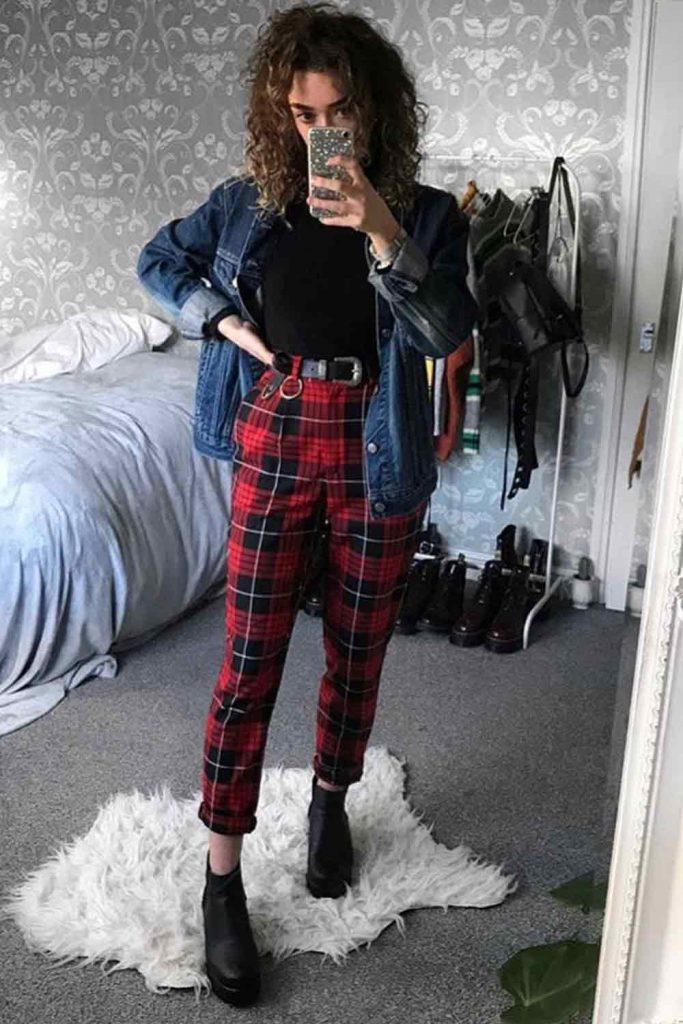 Source: Instagram/sophie.seddon
And here's how one unique item can take basic clothes to a whole new level! Everything in this look is quite familiar to every lady: a classic dark blue denim jacket, dark t-shirt, and moderate Chelsea boots. Of course, we can't leave out the fancy pants that tie everything up in a brand new way. Red checkered pants are indeed the best item for the highlight!
Monochromatic Outfit With Plaid Pants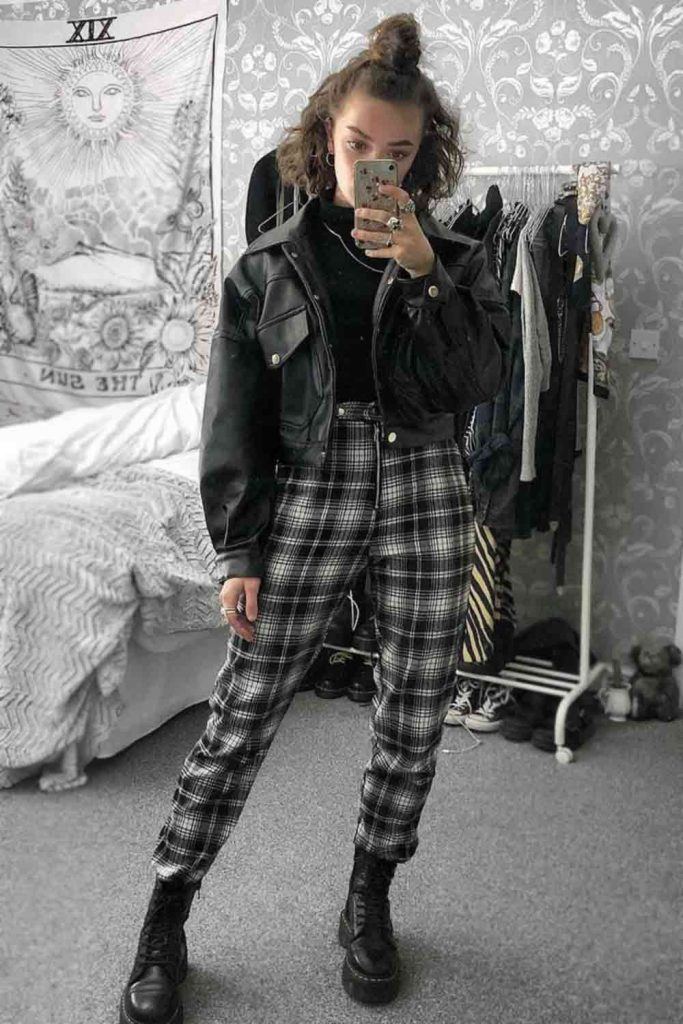 Source: Instagram/sophie.seddon
You don't need to go bright to stand out when you know how to pair trendy clothes. If you like monochromatic plaid patterns, pair it with neutral dark colors like gray and black just like in this pic. Again, this vintage-inspired black leather jacket goes perfectly with the popular massive boots accompanied by b/w checkered pants. Also, you will love the way a turtle neck top complements the punky look.
Plaid Pants With Light Blue Denim Jacket Outfit
Source: rubilove via Instagram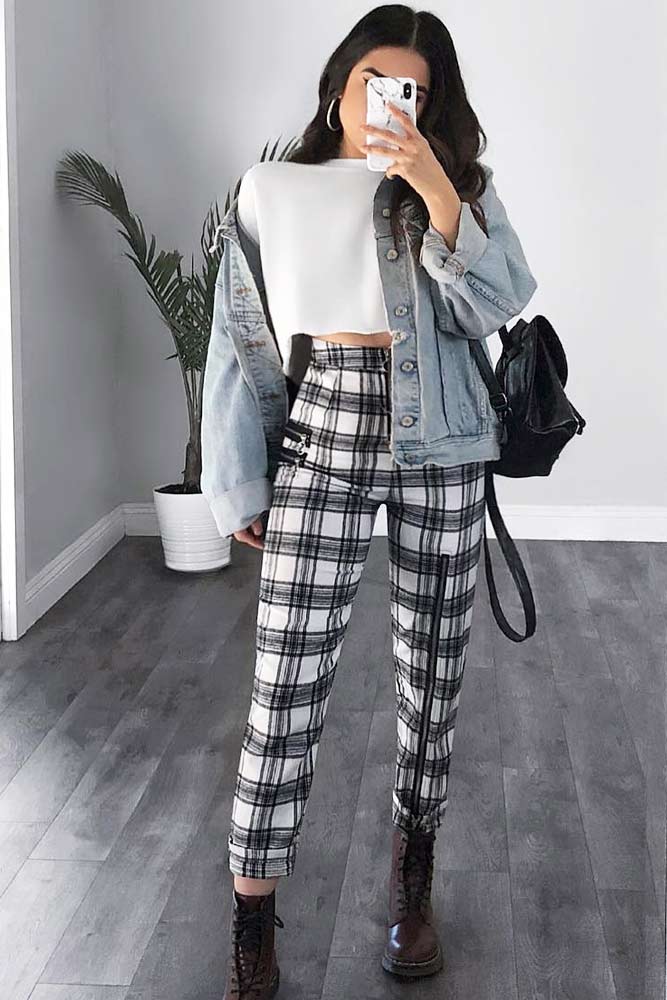 To succeed with an ultra-modern look, you are going to need to play around with separate details. Apart from a crop top and a pair of plaid pants, there is a need for a jacket on. In times like these, denim jacket fits in the look like nothing else.
Outfit Ideas With Tops
Crop Plaid Pants With Burgundy Top Outfit
Source: mari_malibu via Instagram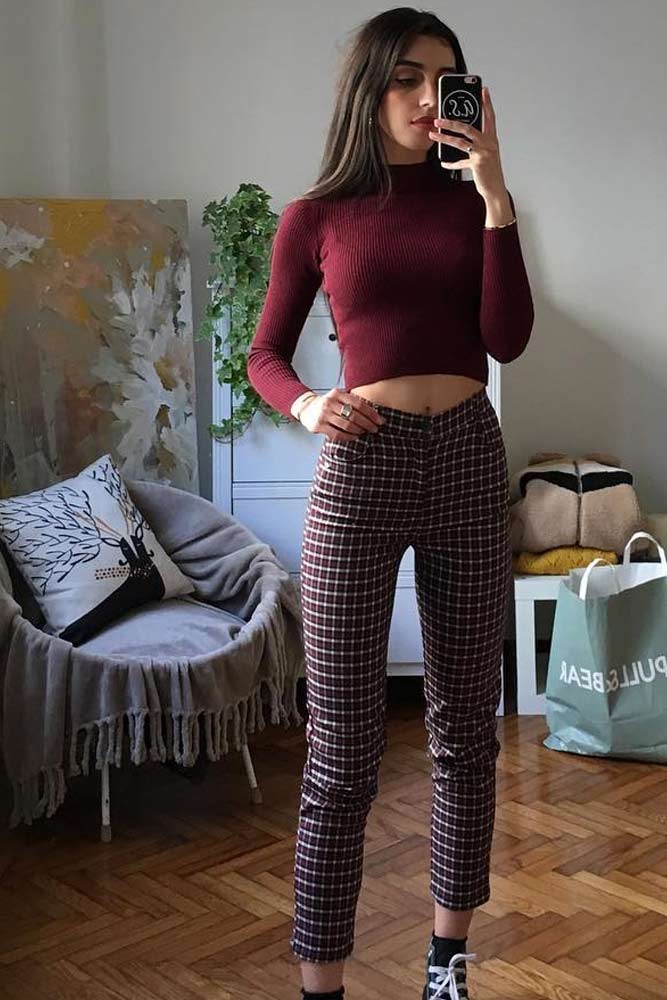 The best way to complement your perfect body is to show it off partially. If you are sure what to opt for when it comes to the top part, it may be quite challenging to come up with something suitable for the bottom. In times like these crop plaid pants come to rescue. We must admit that the result is surely outstanding!
Flare Red Plaid Pants With Black Top Outfit
Source: labellatl via Instagram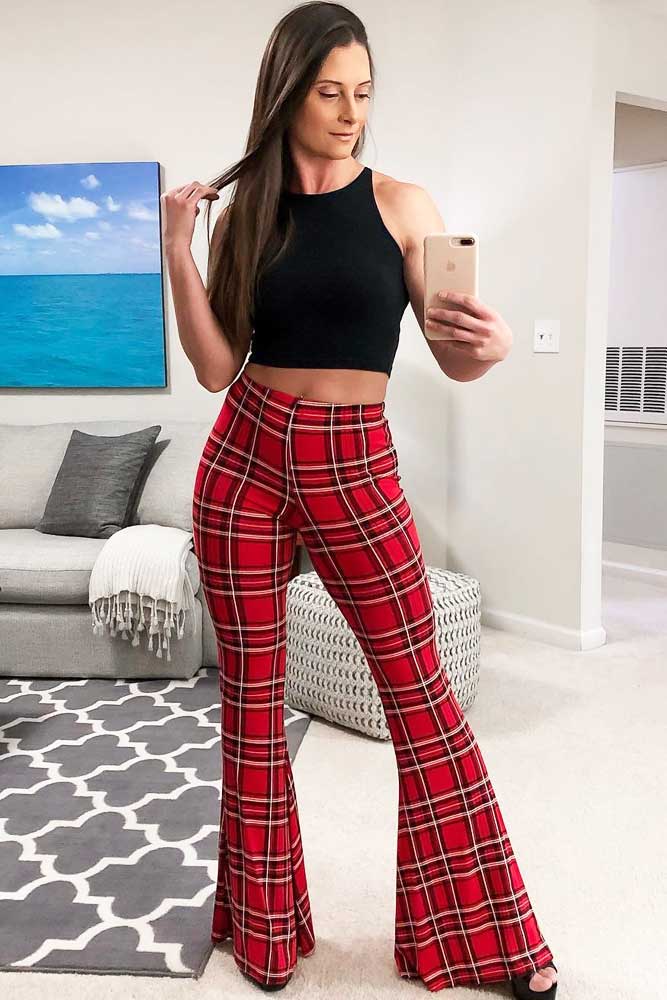 Not everyone knows that flare pants are back in fashion. If you have a pair of those lying hidden in your closet, it is time you take them out and pair together with a sleek black top to succeed with the ultra-stylish outfit.
Red Crop Top With Plaid Pants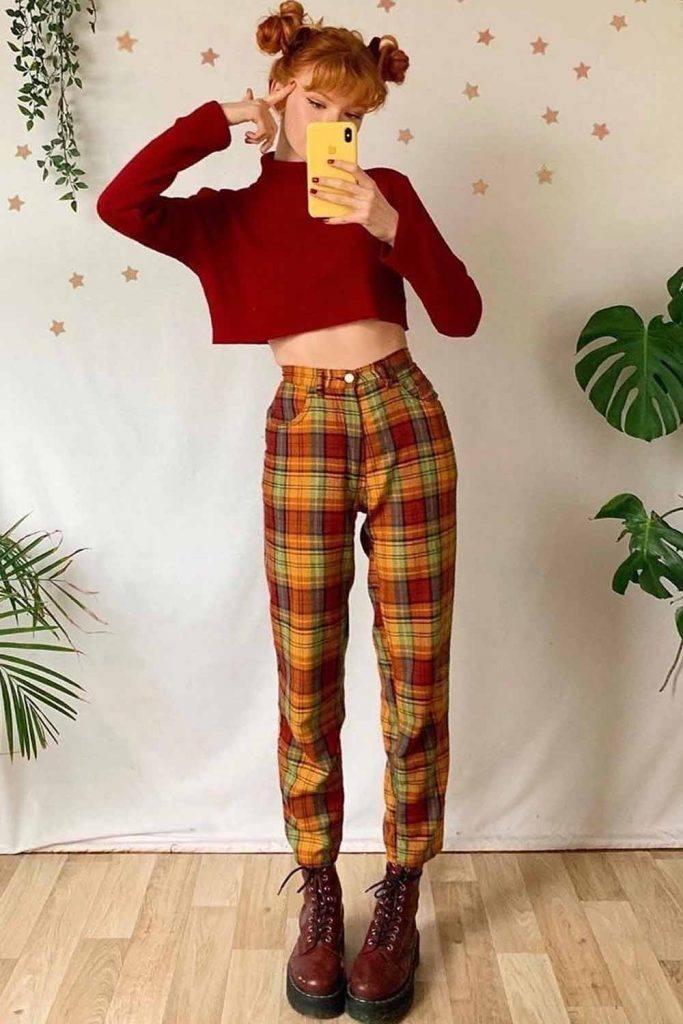 Source: Instagram/retropiece
Well, it seems like going more vintage is simply impossible! The latest fashion has split into super minimalistic modern outfits and retro-inspired pieces. Well, the old trends are back in town, and we're beyond glad to see such a warm fall combo on the top of fashion charts. A cozy pattern of the pants enhances the lovely mood of this red ensemble, bringing us back to the stylish '80s.
Yellow Slim Straight Pants With Crop Top Outfit
Source: nicolealyseee via Instagram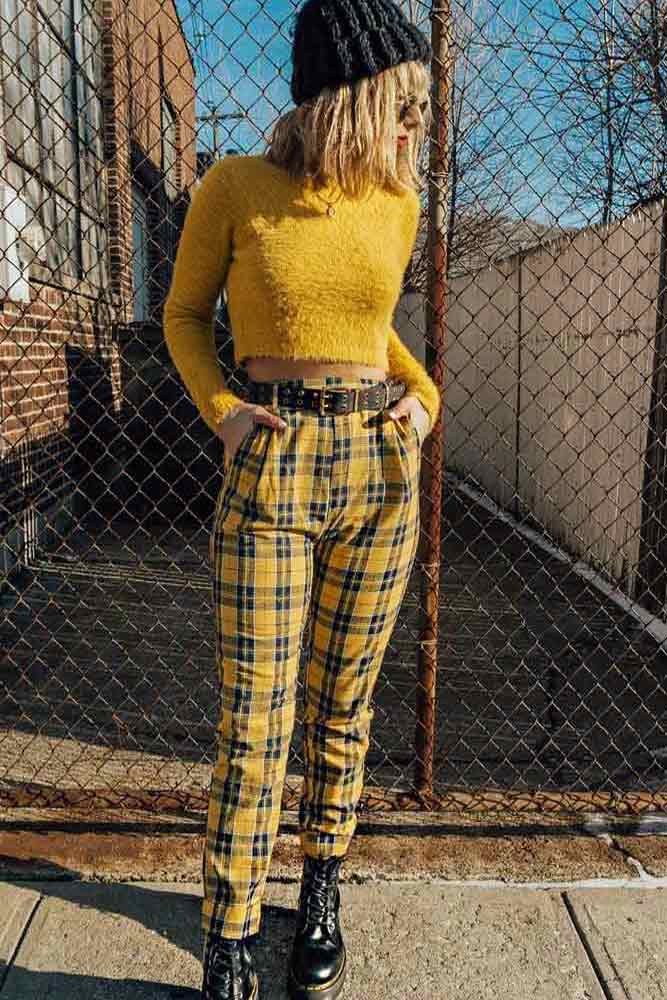 Yellow plaid pants seem to project the energy the minute you put them on. To intensify the sunny and warm vibe, not to mention fashionable, we suggest you wear the same yellow crop top.
Crop Wide Leg Pants With Simple Top Outfit
Source: rosalie_ray via Instagram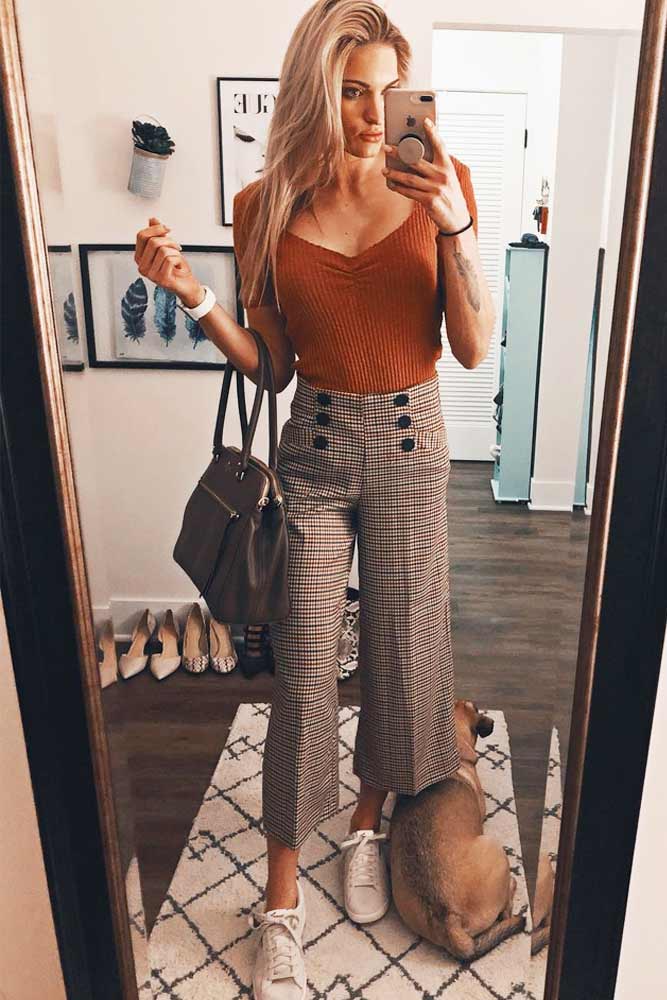 There are times when you need to look both elegant and casual. If that is your case – we know how to achieve it. The combination of simple items can result in an extraordinary look. Put on your wide leg plaid pants and a simple top. Finish the outlook off with a pair of white sneakers. Voila!
Skinny Plaid Pants With Top And Jacket Outfit
Source: beyourwild via Instagram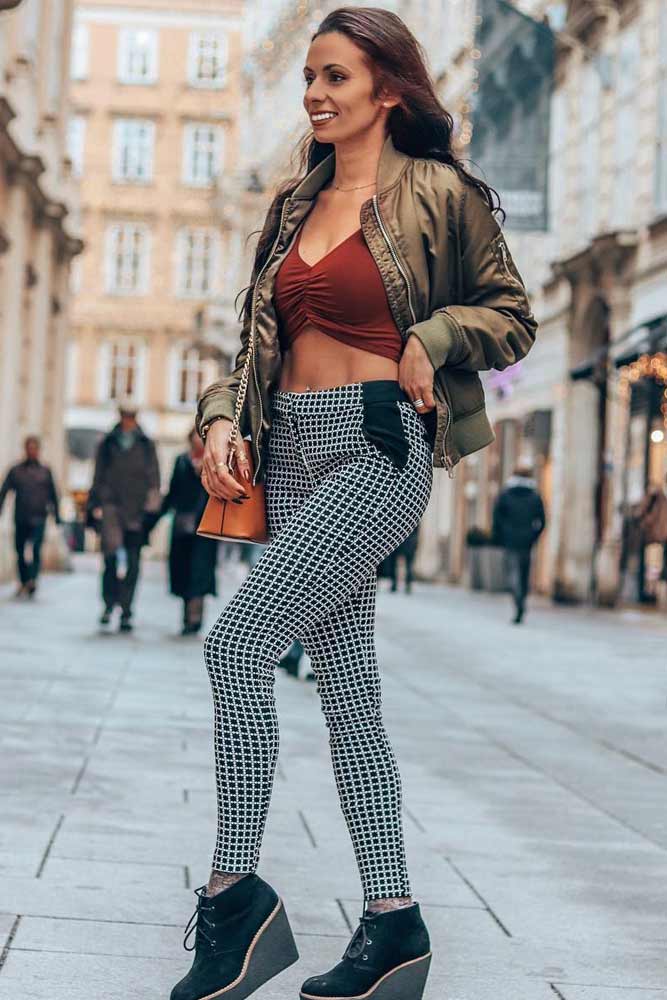 Those of you who are still wondering whether plaid skinny pants are a thing now – the answer is positive. You can wear your fav skinny trousers with a checked pattern completed with a top and a jacket. Such a look is both simple and trendy at the same time.
White Top With Blue Plaid Pants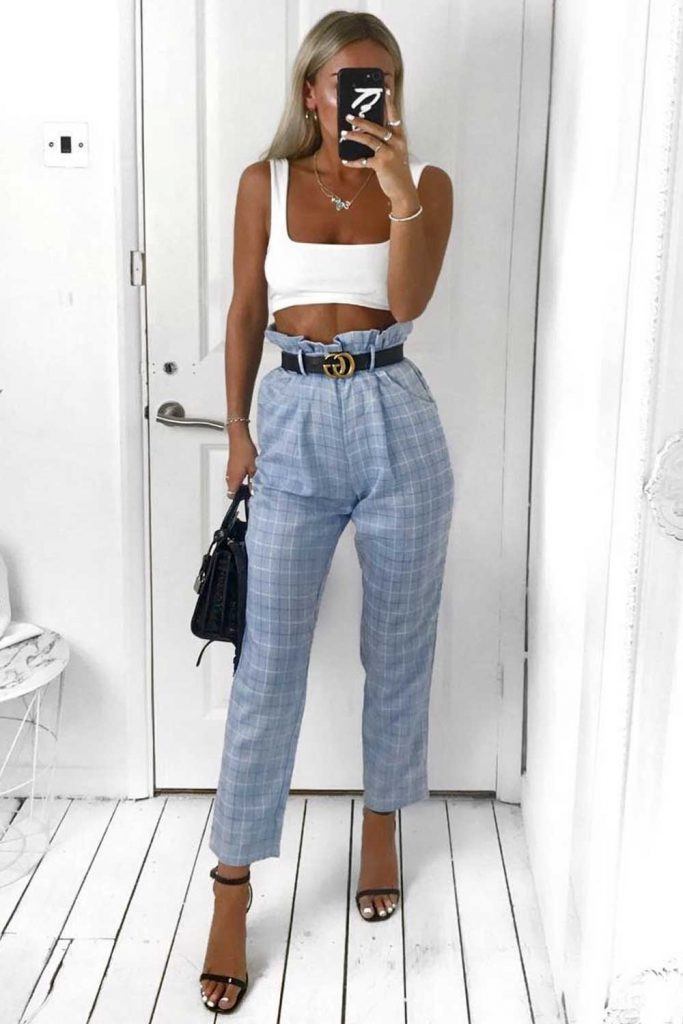 Source: Instagram/emilycocklin
Plaid trousers can be different! They can make a punk queen's look complete, as well as add some cute feminine vibes to an elegant chick's outfit. When wearing pastels, everything is pretty simple yet radiant: just make sure that your mani matches your top and that your belt matches your shoes. Oh, and look how great the pants look with heels!
Plaid Pants With Black Vinyl Coat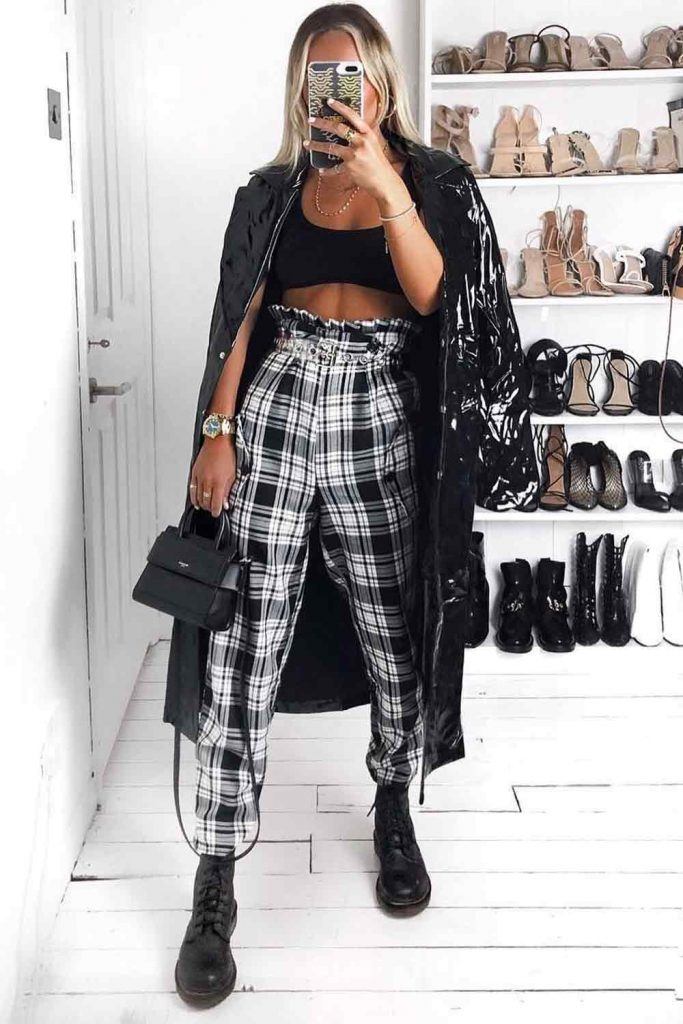 Source: Instagram/emilycocklin
Trends don't come alone, remember? Although vinyl coats take the guts to pull them off, they are huge this year. And, as it turns out, this unique and extraordinary item looks hip with plaid patterns. Obviously, you can't do without massive black boots, especially if you stick to a dark palette. If you'd like to add some feminine touch to this punky outfit, a little black bag will do the trick.
Outfit Ideas With T-shirts
Plaid Pants With Crop Top And Grunge Boots Outfit
Source: kimiperi via Instagram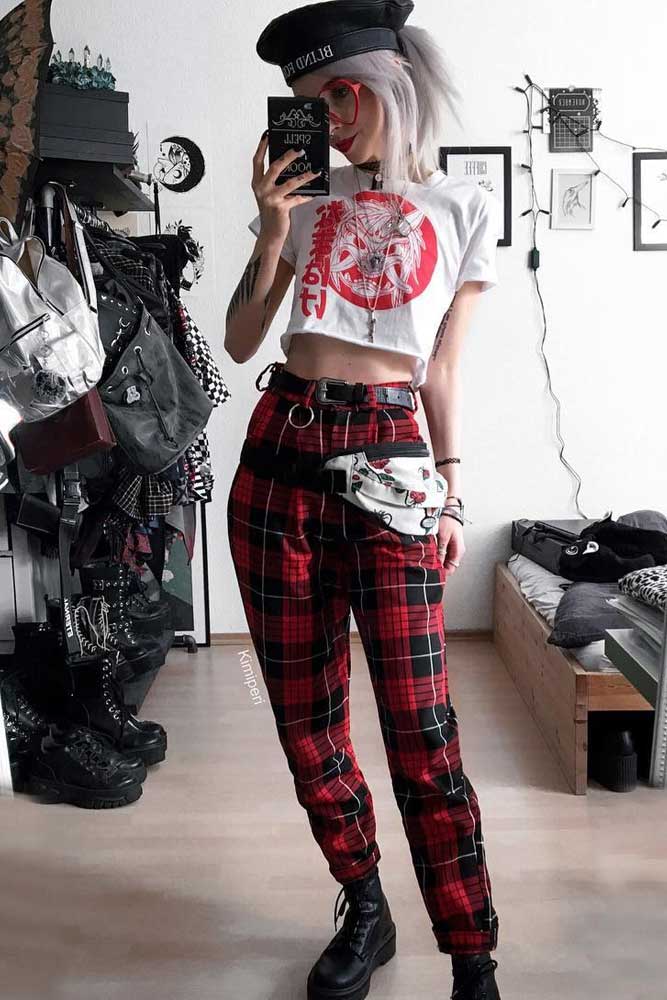 Those of you who are in love with grunge – we have something in store for you too. Black and red plaid pants will complete your stylish crop top and grunge boots like bread and butter. See for yourself!
Wide Leg Pants With Side Pockets With T-shirt Outfit
Source: jujhavens via Instagram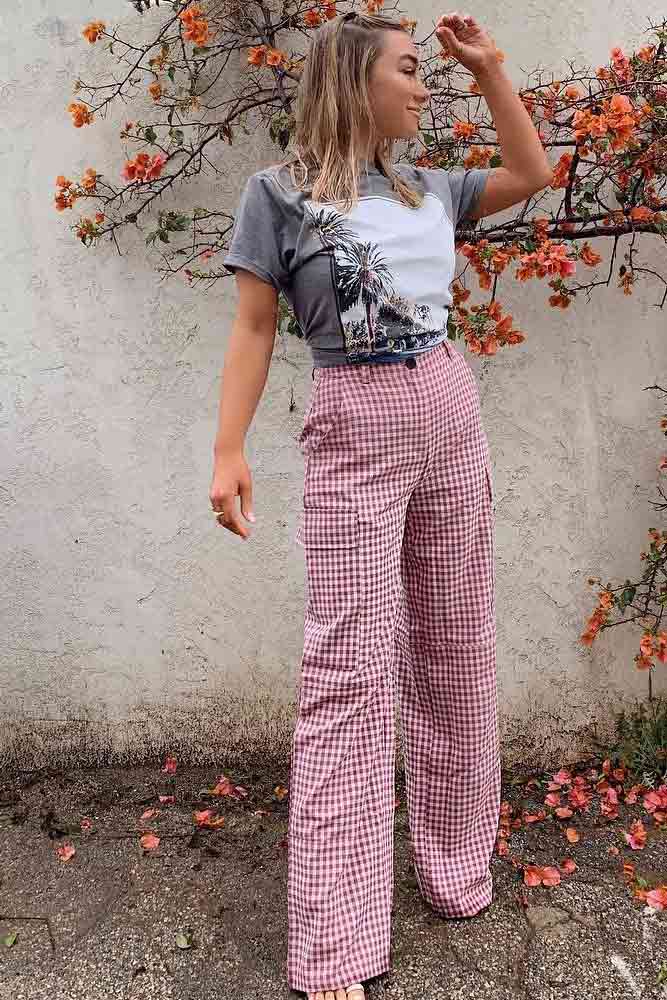 Wide leg pants are back in town, and if you want to kill two birds with one stone, then you should pull off plaid pants look. You can pair such pants with anything you like, however pairing pans with a t-shirt will grant you a more casual look.
Plaid Pants With Cardigan Outfits
Jogger Plaid Pants With Long Cardigan Outfit
Source: nicolealyseee via Instagram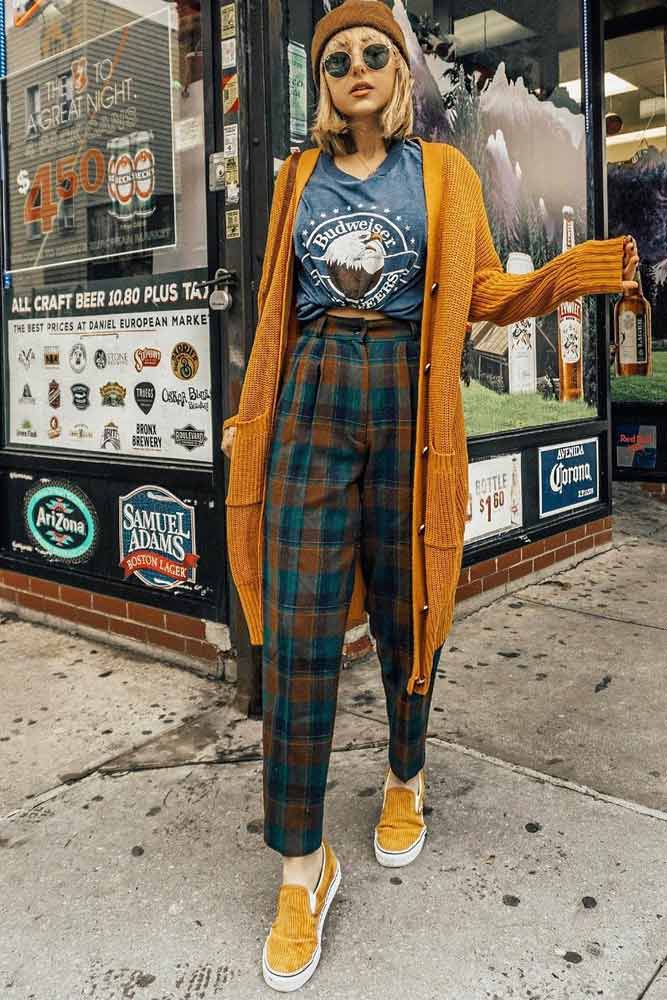 Bright and fashionable ladies who like to stand out in the crowd, we have something special for you! Jogger plaid pants and a long cardigan will help you create a look that will certainly attract amazed glances.
Plaid Pants With Black Cardigan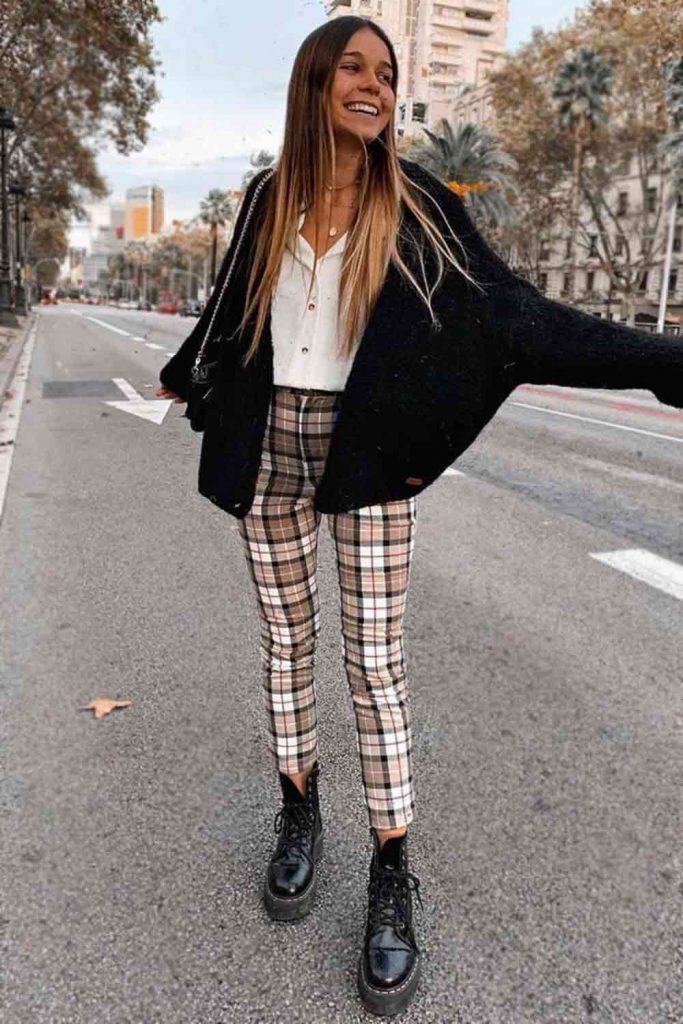 Source: Instagram/aina.simon
Classic Burberry colors with a couple of black elements - that's a look with which you can't go wrong. A simple basic white blouse will do just great for such a combination. You can wear it both loose or tucked in, by the way. Here, the look is finished with the popular massive boots, but you can go with sneakers and trainers.
Slim Gray Pants With Lace Bodysuit And Knitted Cardigan
Source: rubilove via Instagram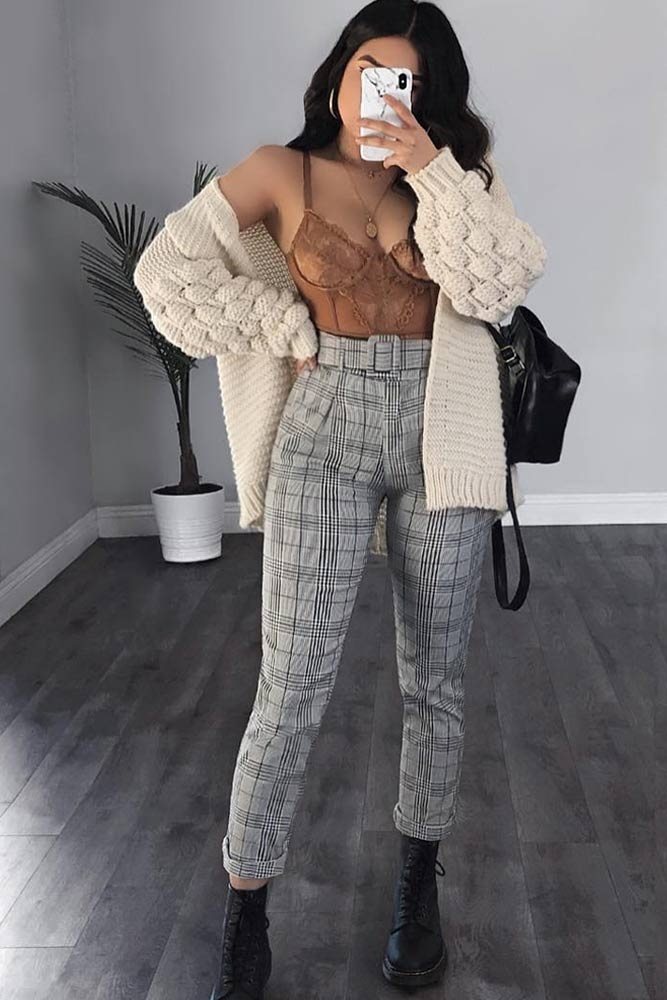 These grey plaid pants deserve special attention since they are the essential detail that affects the whole outlook. The fact is that very often it may seem that lace bodysuit and a knitted cardigan can rarely go well together. However, when you introduce plaid pants in the picture the whole notion changes.
Plaid Pants With Sweater Outfits
Blue Pants With Green Sweater Outfit
Source: lisahahnbueck via Instagram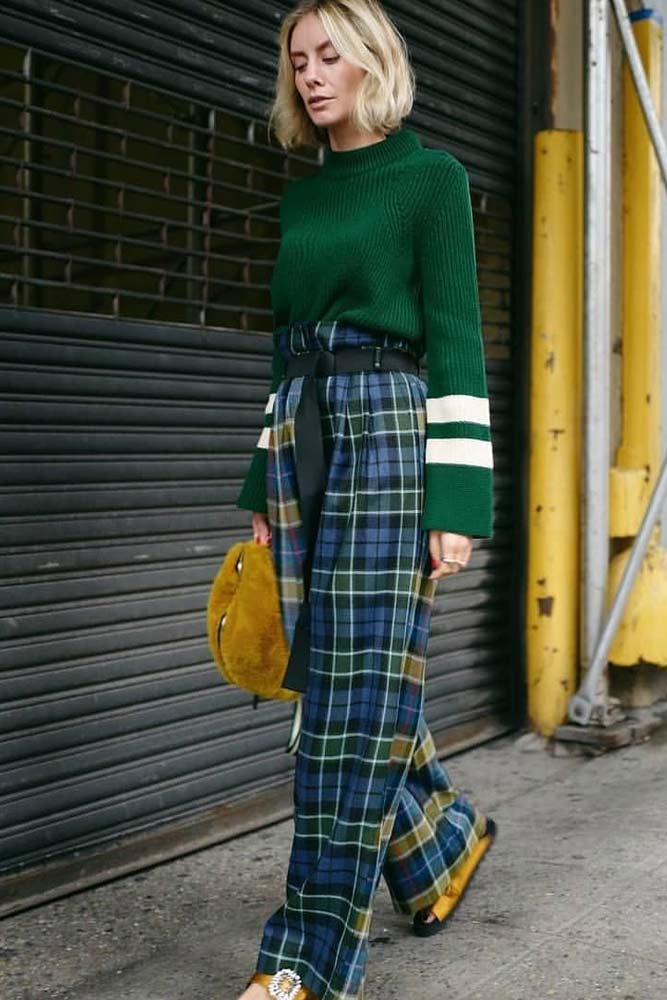 The plaid pants outfit can be extremely versatile and bright. You needn't worry about the fact that you are going to stand out. The thing is that two bright hues like blue and green seem to be created for one another. Such a sweater and pants will keep you both warm and stylish-looking.
High Waisted Wide Leg Pants With Blue Sweater
Source: lisahahnbueck via Instagram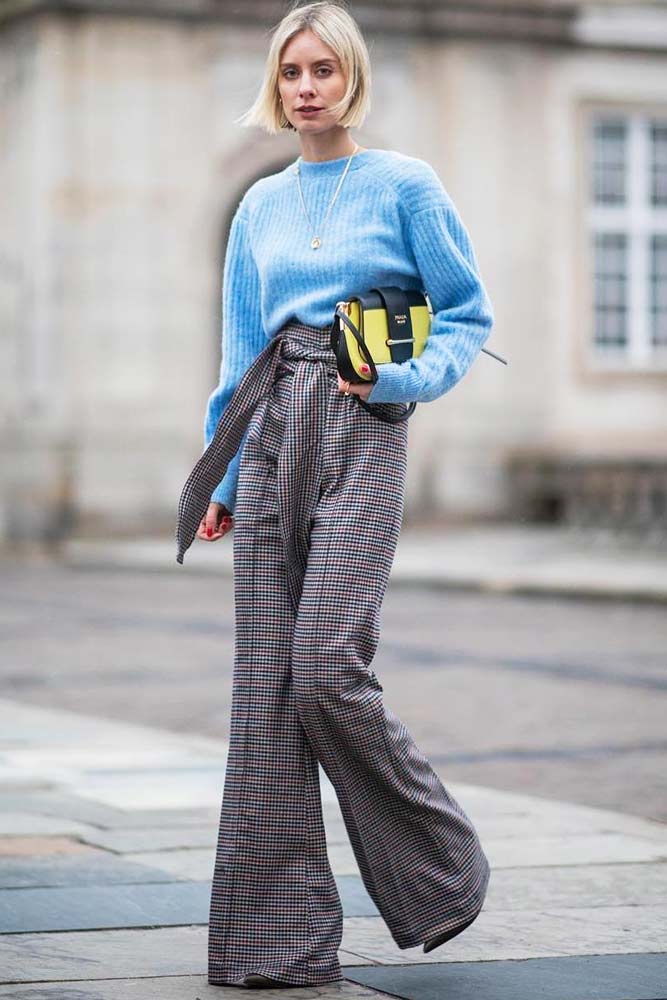 The truth is that high waisted plaid pants are all the rage these days. However, to look over the edge stylish, you need to be a little more open-minded. The fact is that high waist and wide leg is not the most common combo, but it is certainly a killer one.
Red Plaid Pants With Beige Oversize Sweater
Source: modaprints via Instagram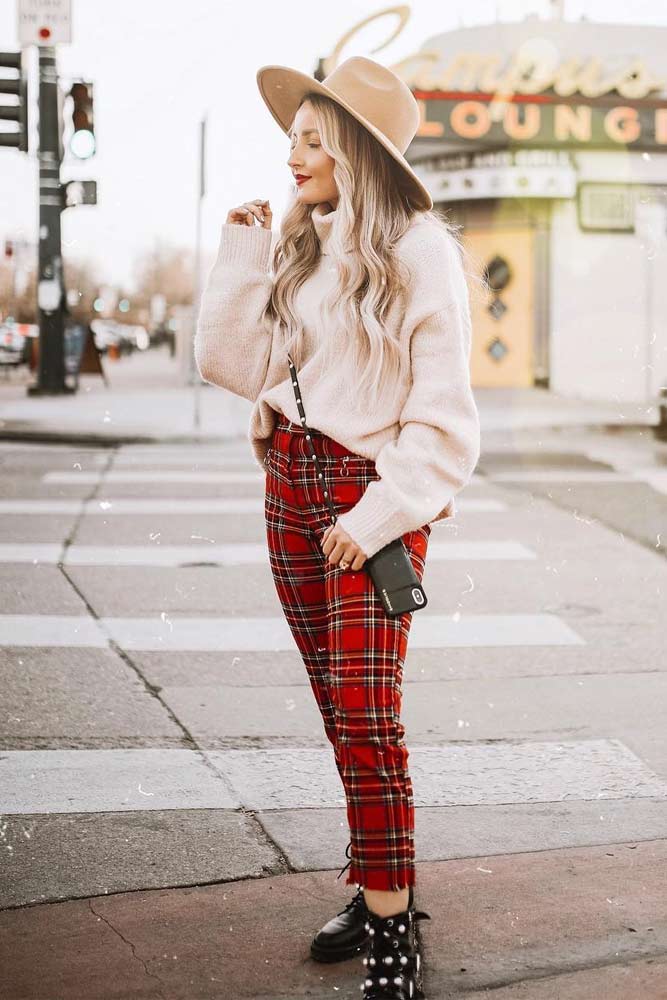 Red plaid pants are truly the classic representatives of the kind. Yet, if you wonder how to combine universal look with a modern touch – there is a way out. All you need to do is to put on an oversized sweater and preferably a nice hat. That is it, as simple as that!
Gray Plaid Pants With Pink Oversized Sweater
Source: street_madonna via Instagram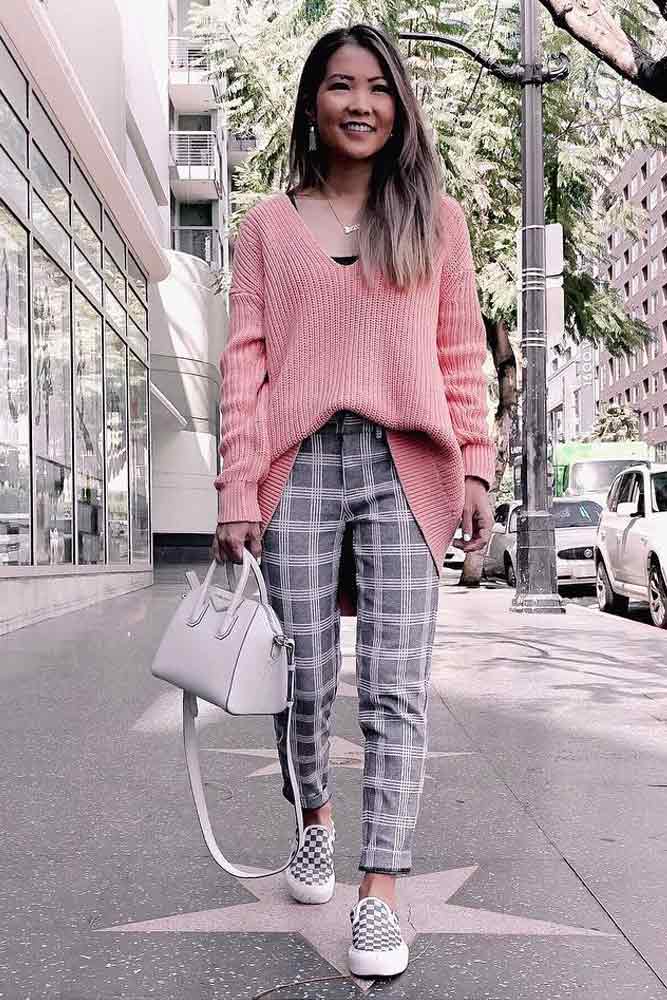 There are so many things that you can combine with plaid pants. However, if you are looking for a stylish and gentle look, then you need to pay attention to this combination. Light grey pants, baby pink sweater and a pair of checked slip-ons. Ready!
Outfit Ideas With Blouse
Gray Plaid Pants With White Blouse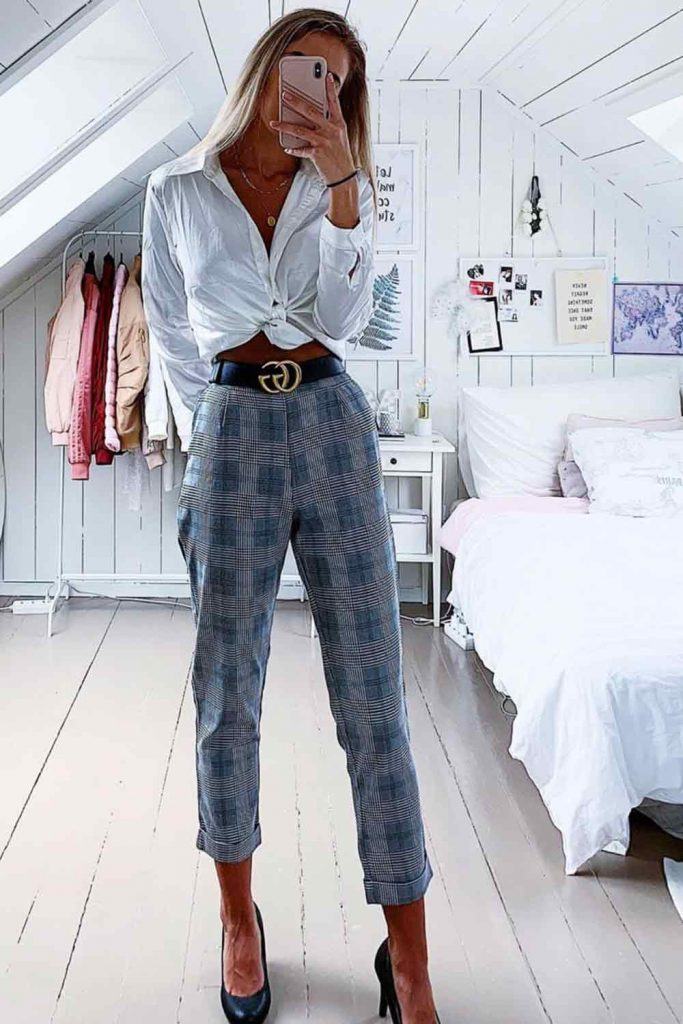 Source: Instagram.com/malinpettersen
Here comes another smart way of wearing plaids! Not only is this look totally appropriate for business casual dress code but it also looks fresh and stylish. The colors are simple this time; now, it's all about the play of textures and accessories.
Classic Outfit With Plaid Pants And Black Blouse
Source: lakshstyle via Instagram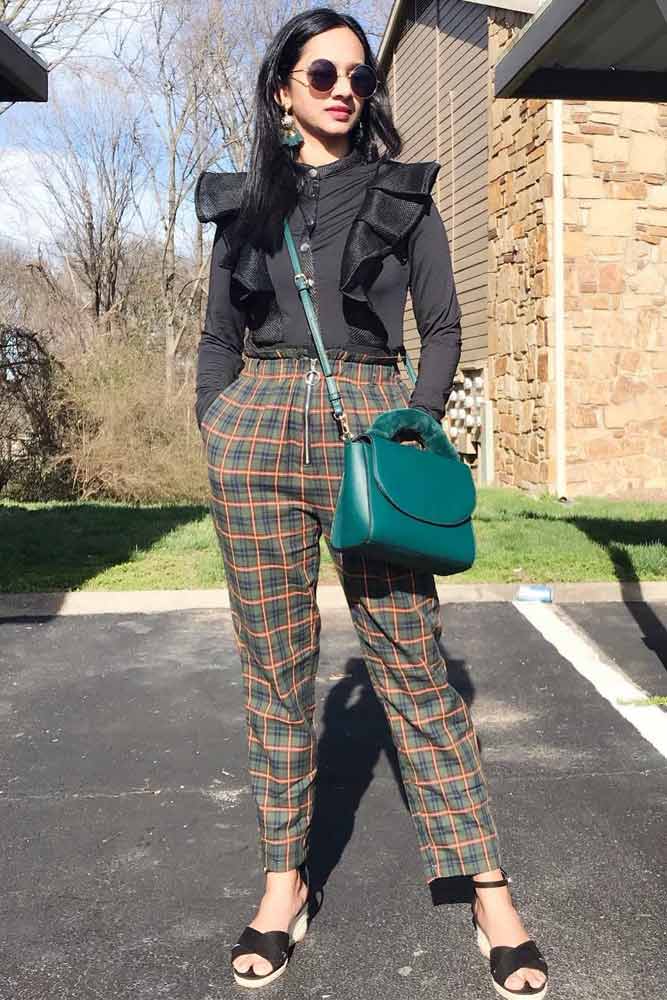 There are times when you need to pull off a classic look despite the desire to look stylish. Well, the truth is that you can easily combine two in one. All you need to do is to pair your green plaid pants with an exquisite black blouse and complete the outfit with stylish accessories.
FAQ: Plaid Pants
How to style plaid pants?
Try to mix plaid and stripes. Take a striped turtleneck that is in the same color palette as plaid pants. Pair them with a oversized pastel color coat to bring the look together and finish off with and a pair of fun flats. This look is great for the office and has a preppy vibe.
How to wear plaid pants?
Combine a vintage t-shirt with a graphic print with your plaid pants. Throw on a leather jacket and finish off this outfit with
strappy heels. This look would be perfect for a night out and has a punky vibe.
For a holiday vibe, pair your plaid pants with a pair of sparkly shoes and a luxe silk top.
REFERENCES:
Trousers or pants (American English) are an item of clothing that might have originated in Central Asia, worn from the waist to the ankles, covering both legs separately (rather than with cloth extending across both legs as in robes, skirts, and dresses). Source
See the plaid pants outfits celebs are wearing and shop the trousers you'll need to re-create the looks. Source