The Trendiest Plus Size Clothing This Season
Some girls might want to feel a lit bit more confidence in their plus size clothing. Our outfits are all about this. Trust us, the options that we have prepared will make you feel like the goddess anywhere you go. The trendiest and the most stylish clothes choices will blow your mind and amaze everyone around you.
Main photo Alena Ozerova via Shutterstock
The Black Culottes And A Transparent Top Outfit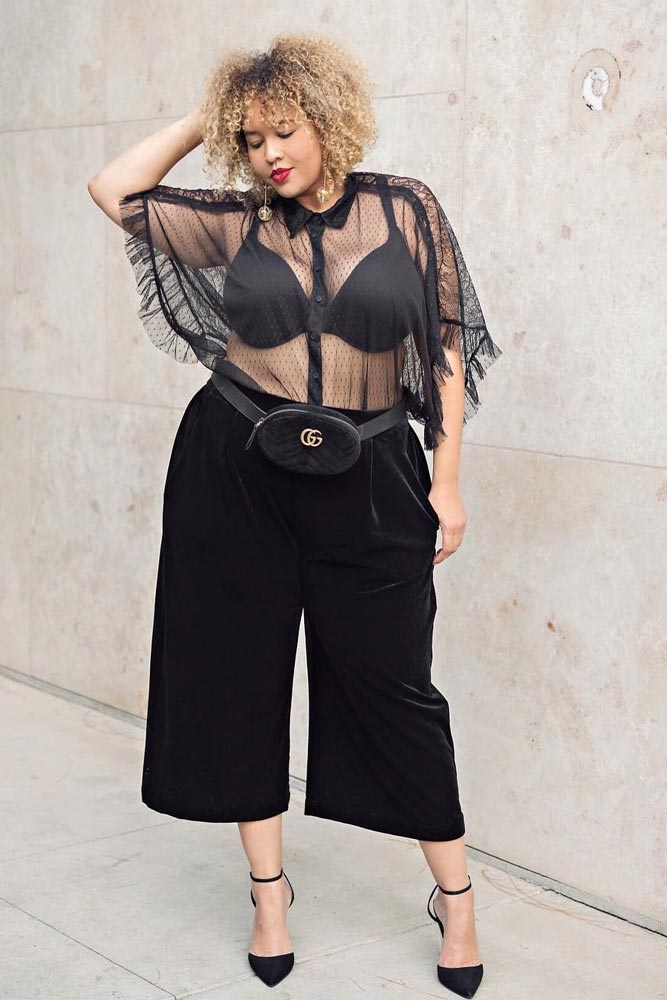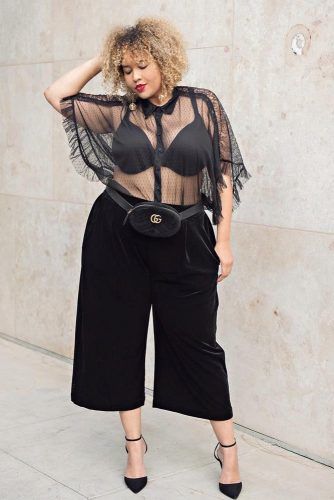 Source: gabifresh via Instagram
Plus size women's clothing must for sure include these culottes. In addition, we will for sure tell you why. First of all, the black color is really flattering for any body size and it will help you to emphasize the beauty of your curves. Secondly, culottes with their silhouette will be perfect to make your curves a bit smaller. Also, this season they are super trendy. Isn`t that a perfect match? Add a transparent top to go with the thick material of the bottoms and it will be a win-win combination!
A Striped Jumpsuit Outfit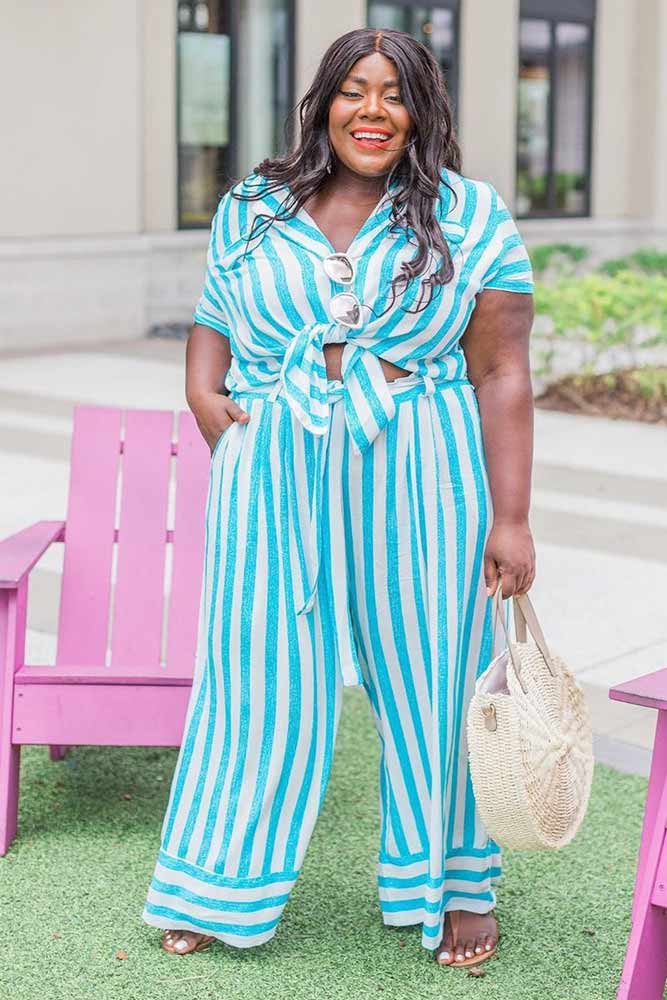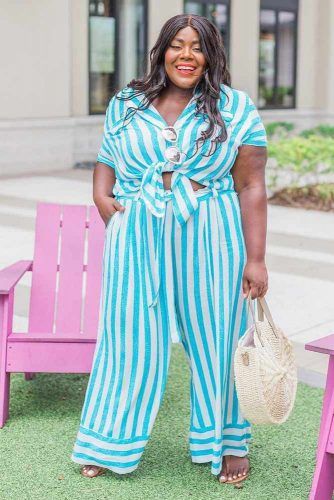 Source: musingsofacurvylady via Instagram
For those ladies that feel a bit unsure about wearing really skinny clothes, we have great options today. This season trendy plus size fashion clothing must include a jumpsuit of really thin material. No matter what size you are, this will be your favorite item. A colorful stripy material will bring so much freshness to your look that you won`t be able to switch it for anything else.
A Shoulder Off Floral Dress Design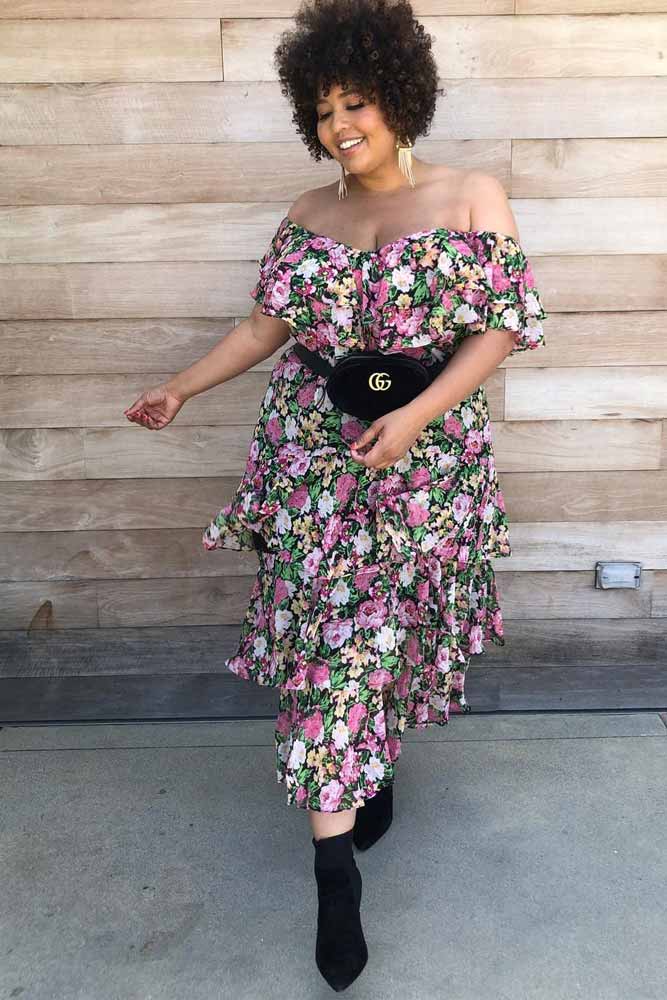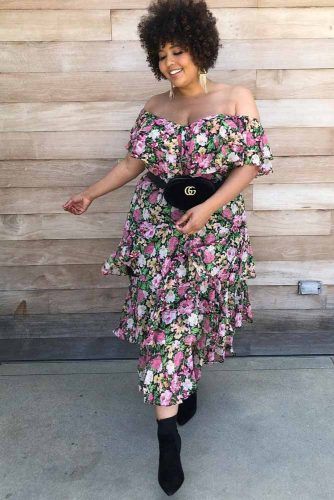 Source: gabifresh via Instagram
Haven`t you noticed how popular these off shoulder items are? We have for sure. There is no wonder about it. There is something so feminine about this design that all girls can`t resist. Adding a floral pattern and it is irresistible. Choose your plus size dress.
A Festive Blue Glitter Skirt With A Crop Top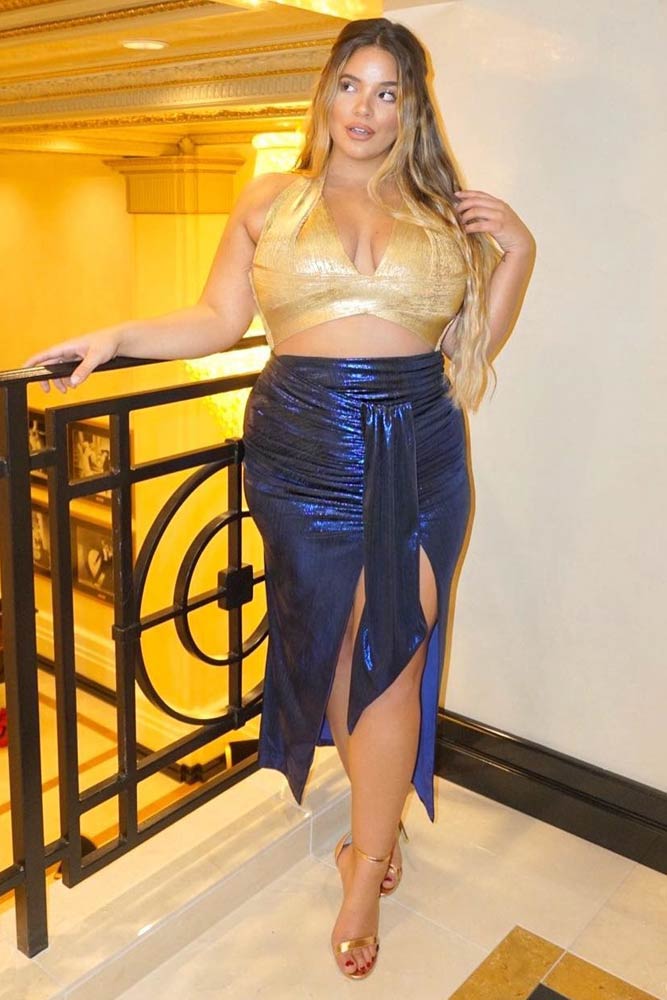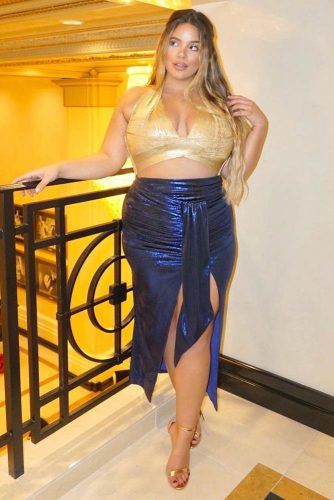 Source: soosavyy via Instagram
We were always super annoyed with the question where that sexy plus size clothing is at. When it comes to sexy, party outfits there are so little options for curvy girls who of course what to feel as sexy as the skinny ones at the parties. But here is the idea that will be your hero on a party night. A blue glitter skirt that has a cut to show off your gorgeous legs and hug your beautiful curves. Add a crop top to make it even edgier and everyone will be amazed by your appearance.
A Pencil Black Skirt With A Bodysuit Outfit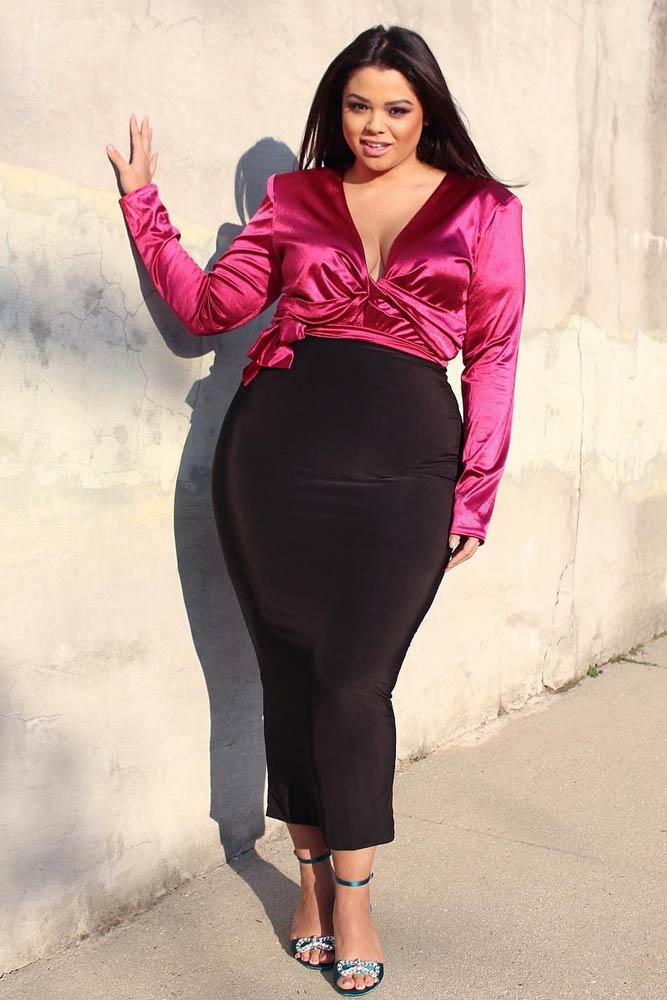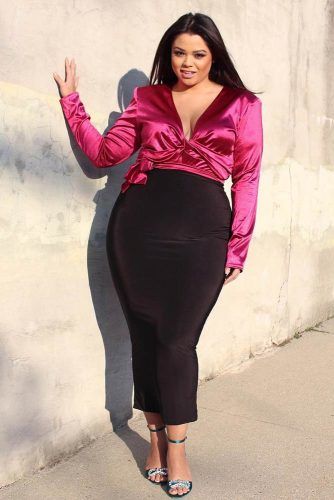 Source: daisy_christina via Instagram
A pencil skirt is a must in the wardrobe of every girl. Choose a black one to emphasize your beautiful body and add a pink bodysuit that will go perfect with it. A bodysuit is one of the best things you can find on the market. One of the most comfortable as well.
A Leather Pants With A White Top Outfit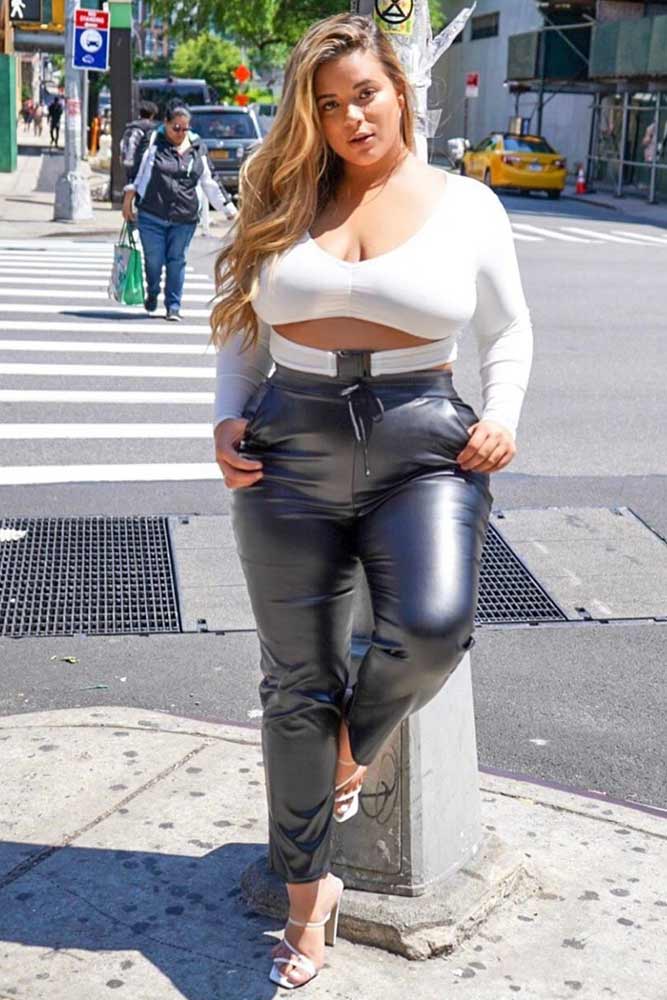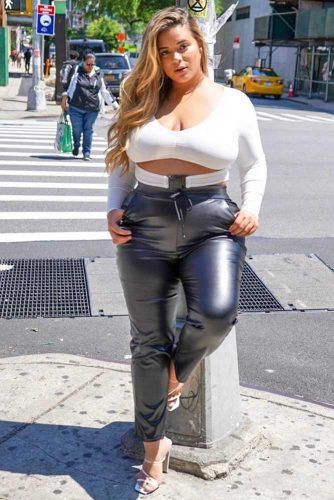 Source: soosavyy via Instagram
Have you ever heard the stereotype that leather clothes are only for really skinny people? We have and we are really fed up with it. Let`s ruin it together. Your women's plus size clothing should for sure include a pair of leather pants that you can combine with an incredible white top.
A Bodycon Beige Plus Size Dress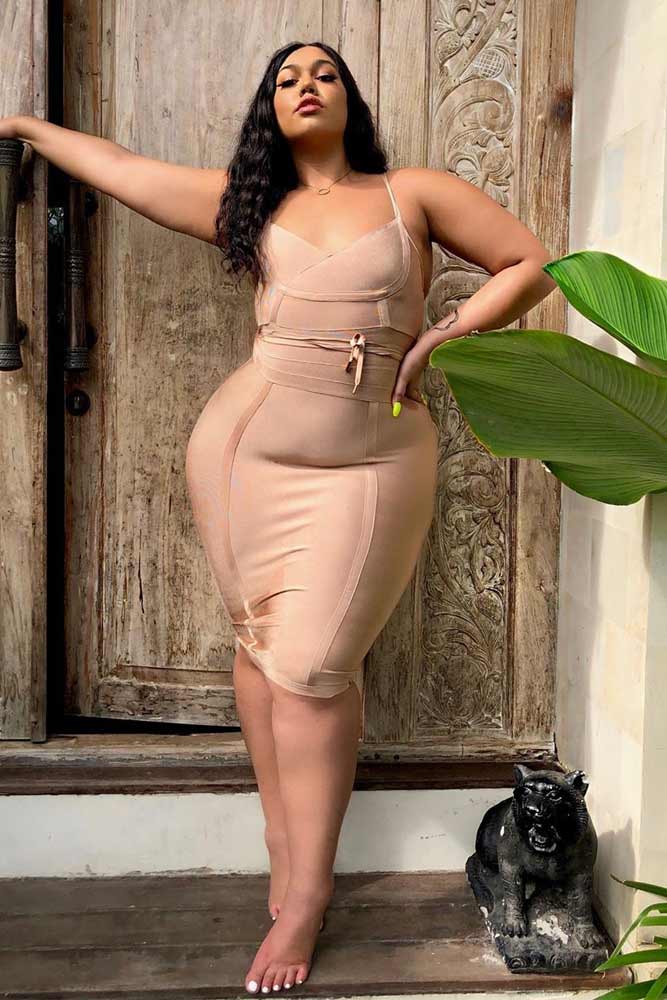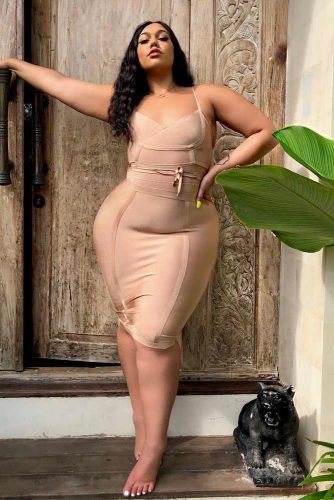 Source: alexusdanisha via Instagram
A tight beige dress is what we sometimes all need to feel sexy and hot. This plus size option will for sure make you feel like the queen of the night. You will own all the attention in the room.
A White Suit Outfit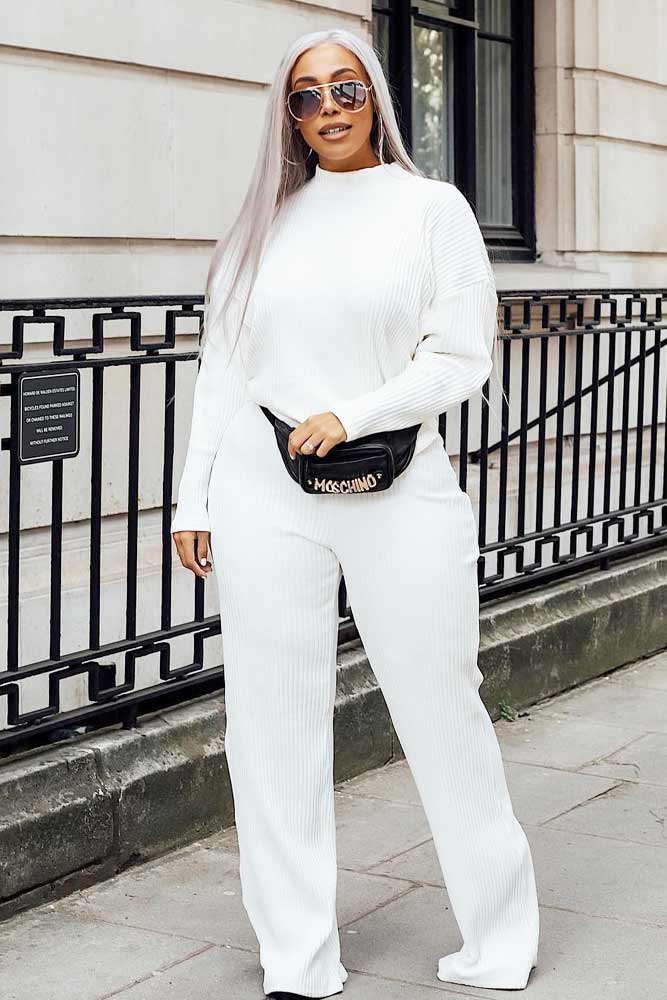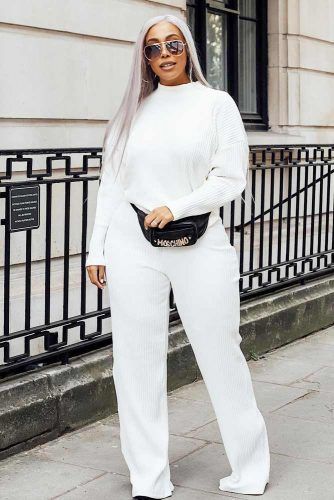 Source: lailaloves via Instagram
Suits of any material and color are on the top right now. Any styles are being discussed but we liked this particular one. This for sure will make you not only comfortable but also stylish and good-looking. Isn`t that what we all want on a daily basis. A great option to go with both sneakers and heels.
A Lace Bodysuit With Shorts Suit Outfit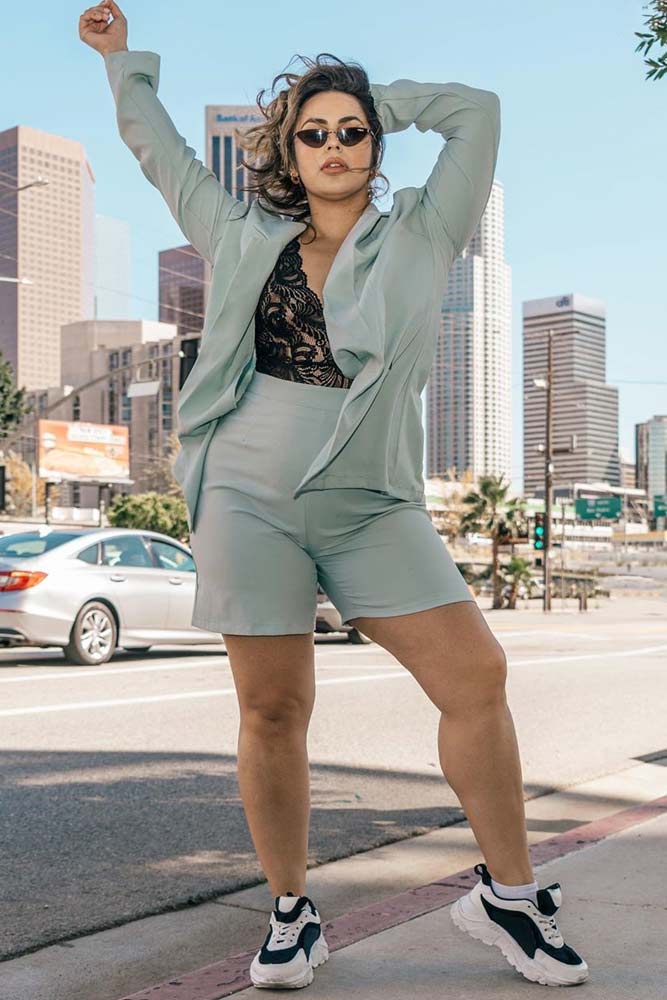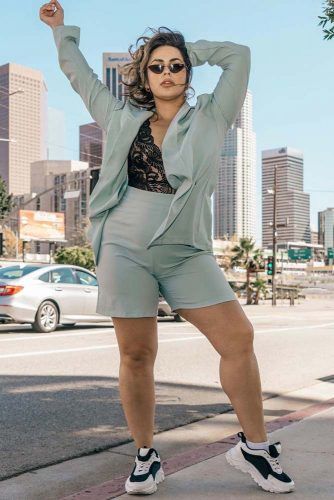 Source: ayeshapi via Instagram
Lace and pj`s are rocking the world right now. The revolution has been made and it is considered stylish to wear them out. Isn`t that your time to shine? Include a lace bodysuit into your plus size women's trendy clothing this season. You will look bomb anywhere you go.
A Red Leopard Denim Suit Outfit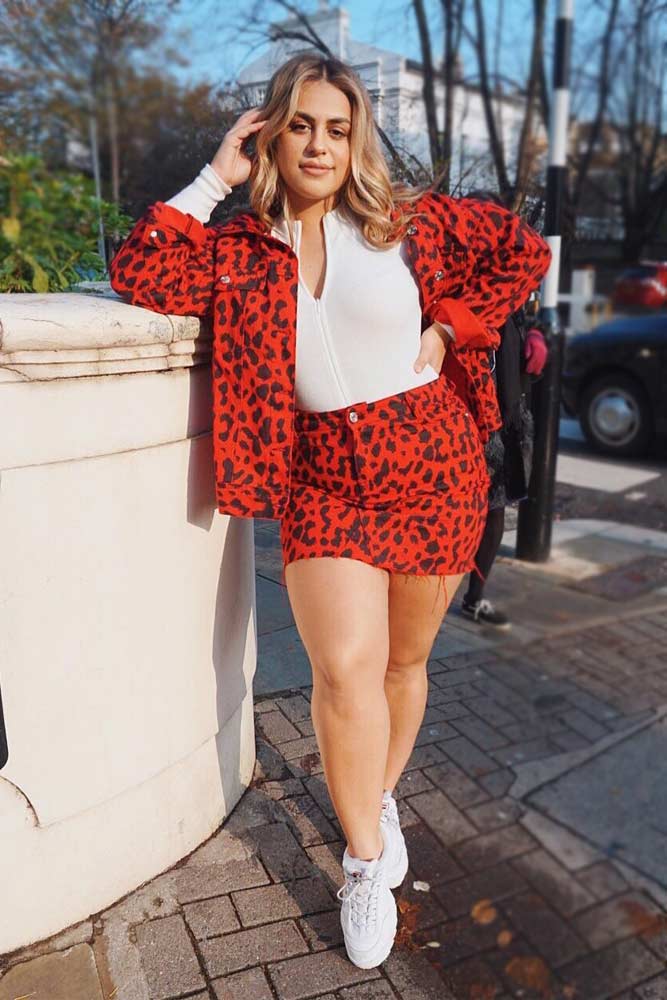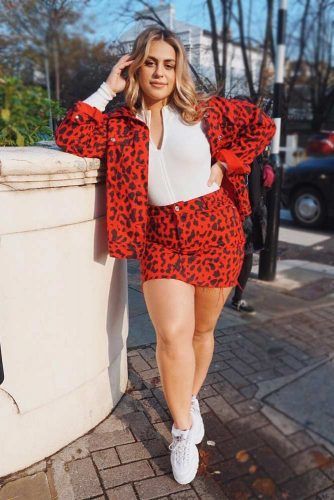 Source: ayeshapi via Instagram
Animal prints are here again and we can`t be happy enough. Would you like to try it? Here is a super spicy red leopard denim suit outfit that will keep all eyes on you. A burning trio of color, style, and material all in one.
A Formal Suit Outfit Idea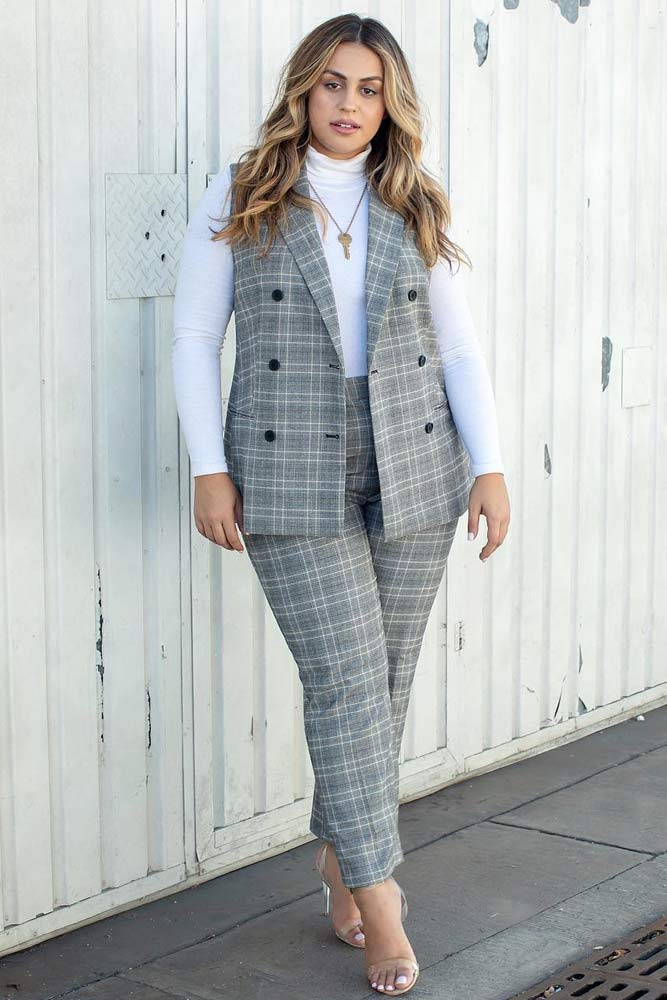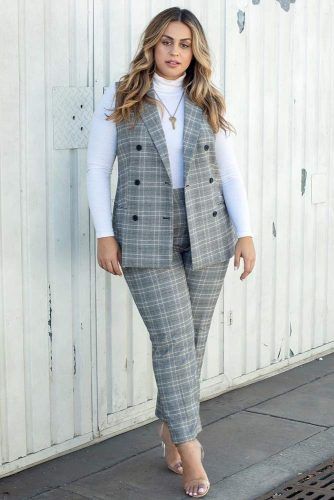 Source: ayeshapi via Instagram
Formal suits are not going anywhere either. Have a look at this checked grey suit we have prepared. Isn`t it super stylish but formal at the same time? Play with accessories or your hair to make your look to appear more relaxed and you are ready for a business meeting or a hard work day in your plus size costumes.
An Asymmetrical Leopard Print Dress Design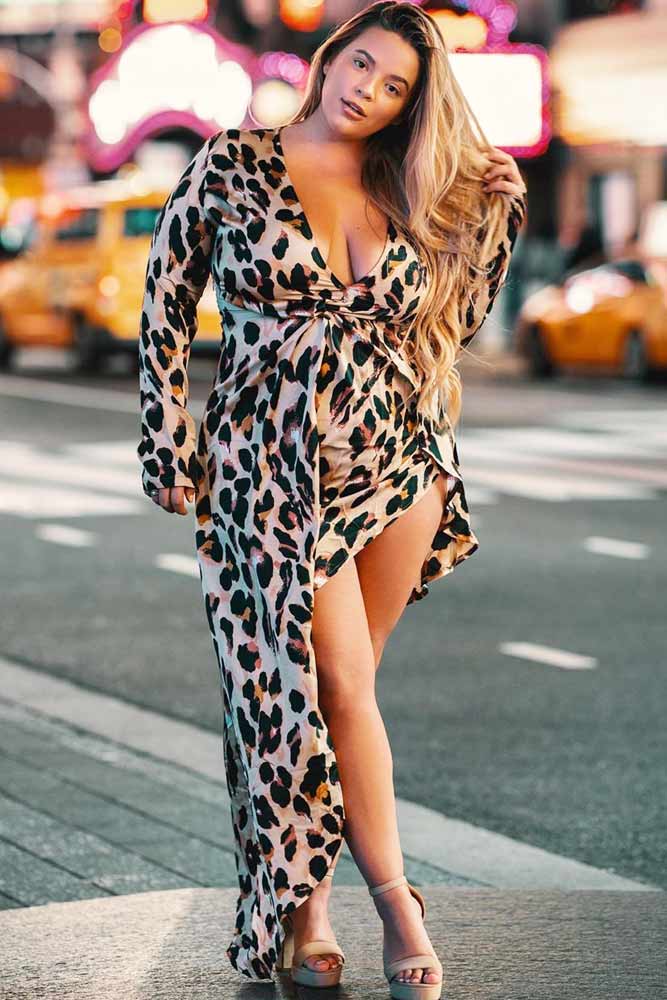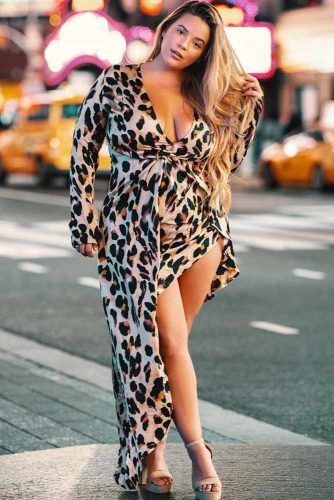 Source: soosavyy via Instagram
Talking about trendy plus size clothing we should definitely mention another leopard item. What about this asymmetrical dress? Made of silky material it will bring a dreamy feel to your look, leaving you sexy with that cut on the leg.
A Snake Jumpsuit Outfit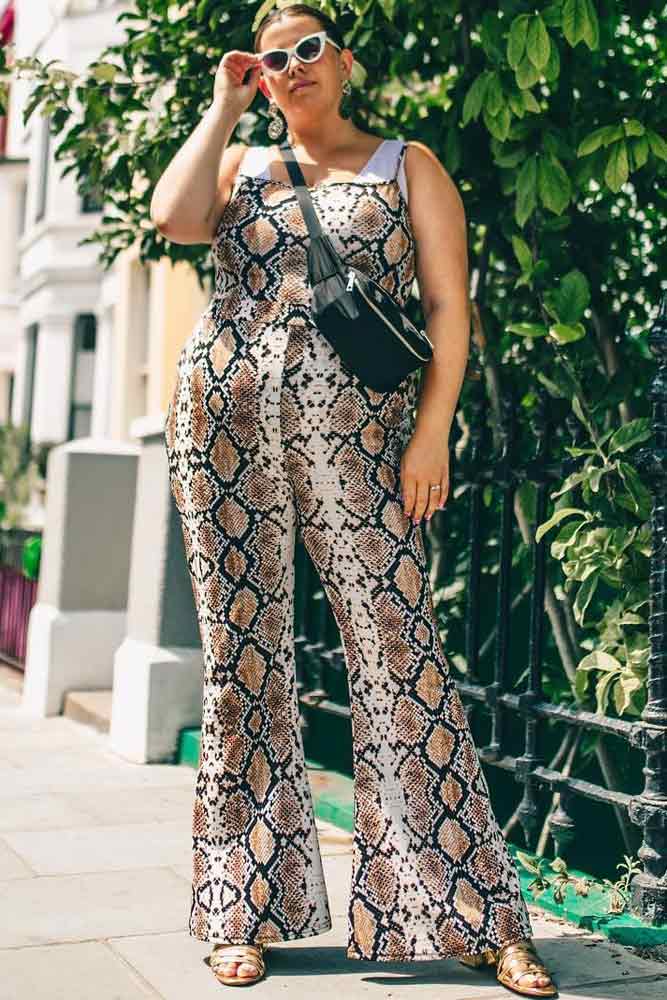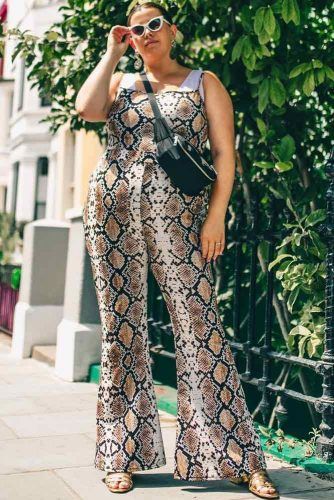 Source: asos_loves_curve via Instagram
Another animalistic print that won`t leave anyone cold-hearted. A snake print will make it to this season`s trend for sure. Have a glimpse at this jumpsuit. Isn`t it daring but beautiful at the same time?
A Denim Shorts With A Black T-shirt Outfit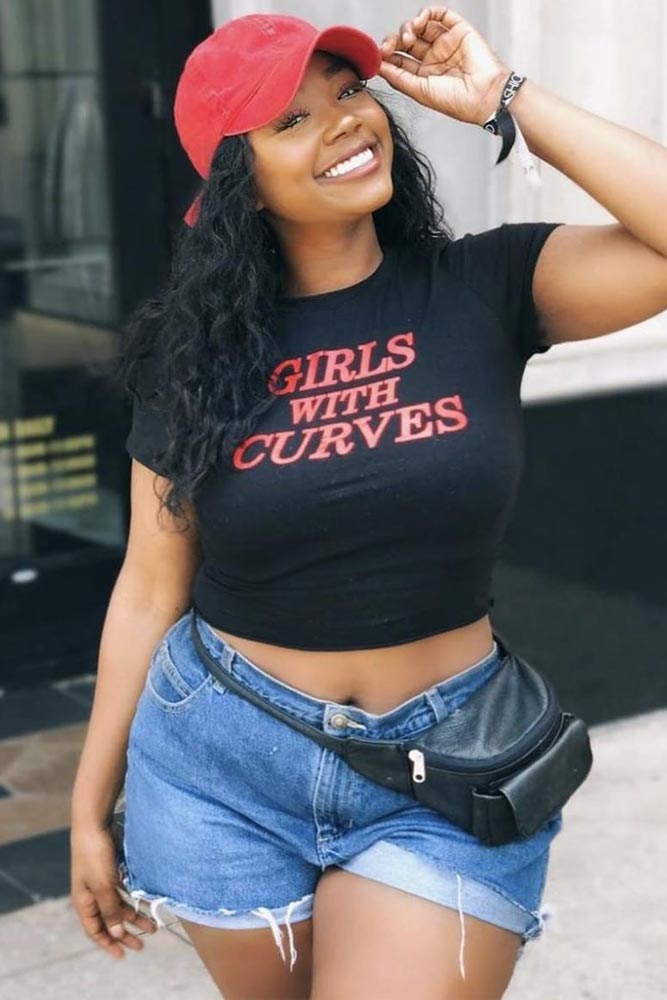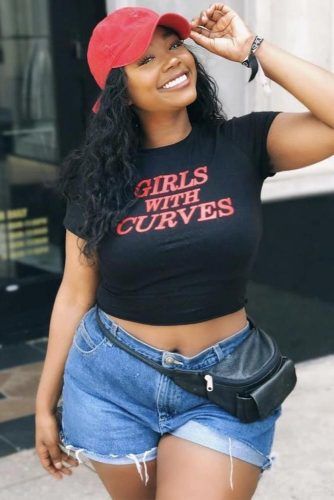 Source: fashionnovacurve via Instagram
Denim short and a black t-shirt should definitely make it to your list of cheap plus size clothing. A comfortable, playful and super hot option that will make you feel confident at any place and time.
A Ripped Jeans With A Crop Top Outfit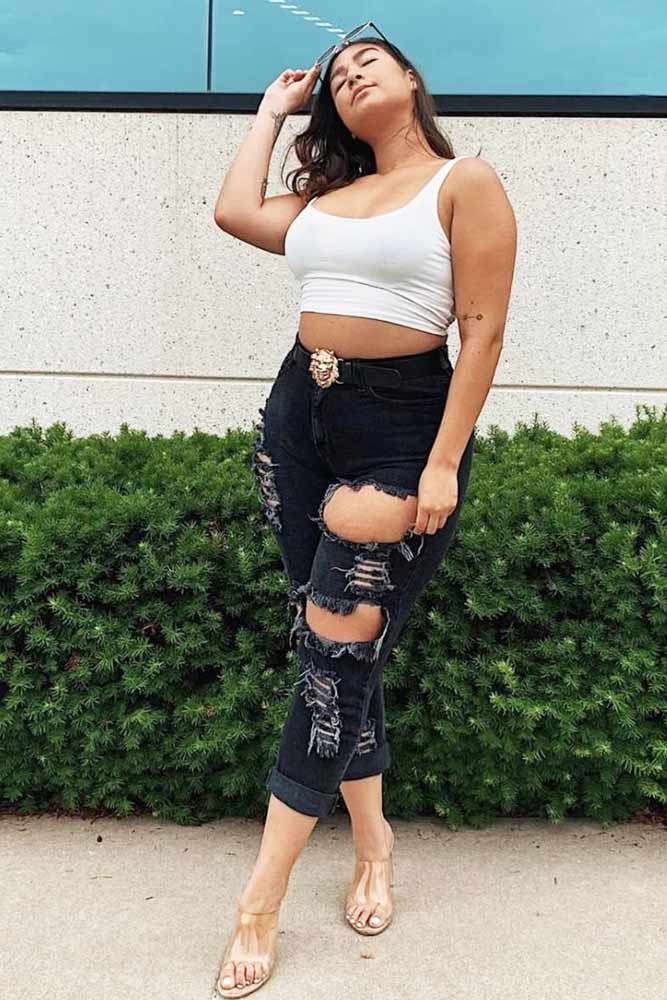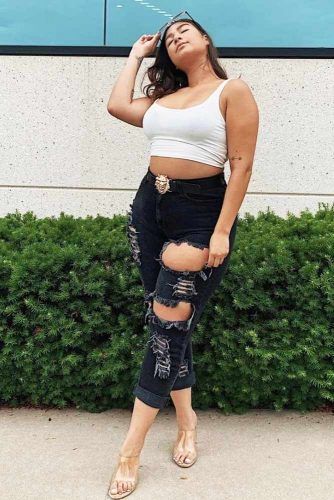 Source: _javierittaaa via Instagram
A new classic of our time is the ripped jeans. Don`t you agree? We love how they look at any body size. What about you? Are you ready to rock this daring item of plus size jeans?
A Black Sport Pants With A Crop Sweatshirt Outfit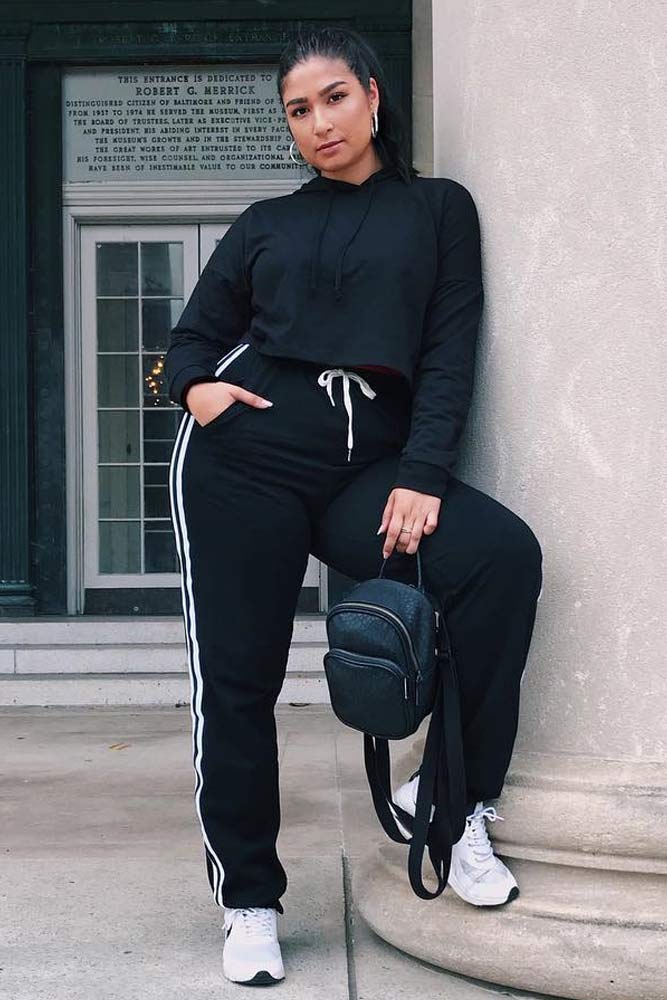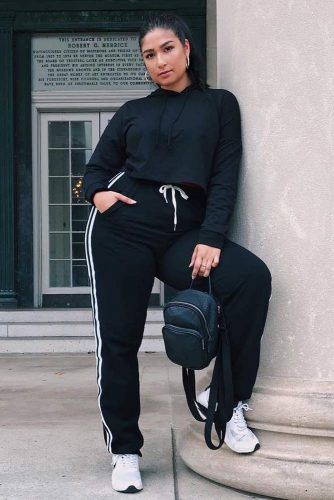 Source: _javierittaaa via Instagram
We are here for the trend of crop tops. Do you share our obsession? They are a great style to help you emphasize your curves. Add them to anything. Jeans, sports pants or shorts and you will look stunning.
A Bodysuit With Vinyl Leggings Outfit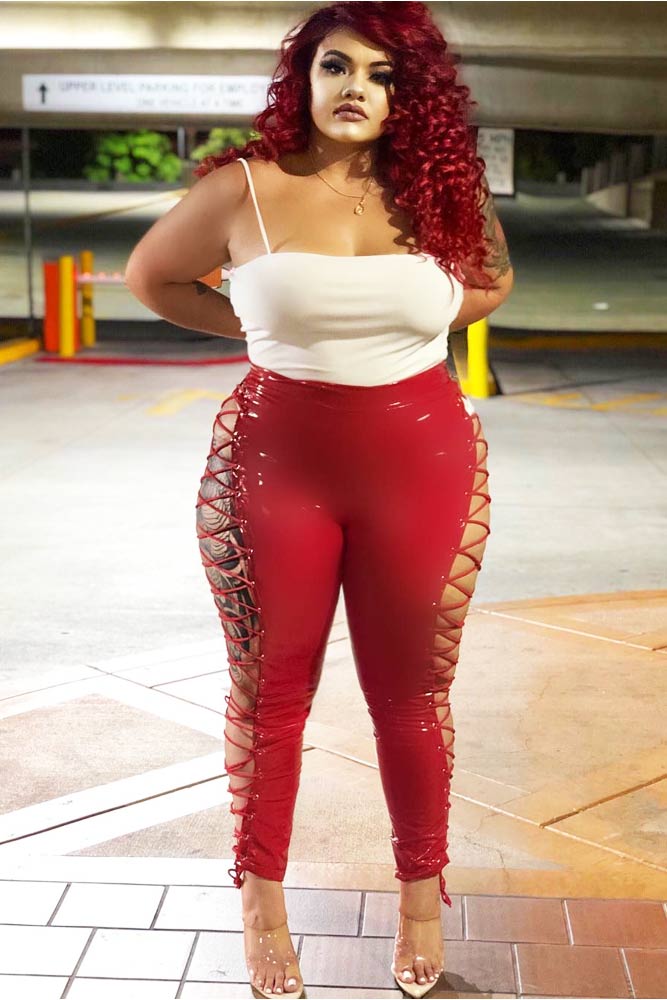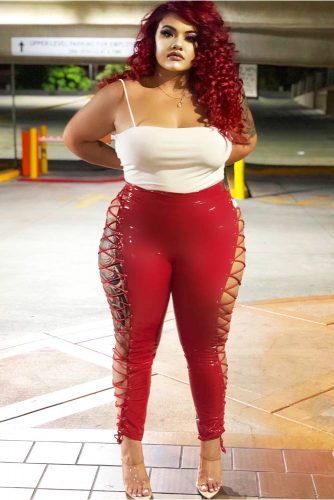 Source: she.be.stephanie via Instagram
Plus size leggings are super comfy, we totally agree, that is why we would like more options to appear on the market. What about these vinyl leggings with cut out at the sides? Trust us, combine them with a bodysuit and you will attract enough attention on the dance floor.
A Bike Shorts With A Lace Bodysuit Outfit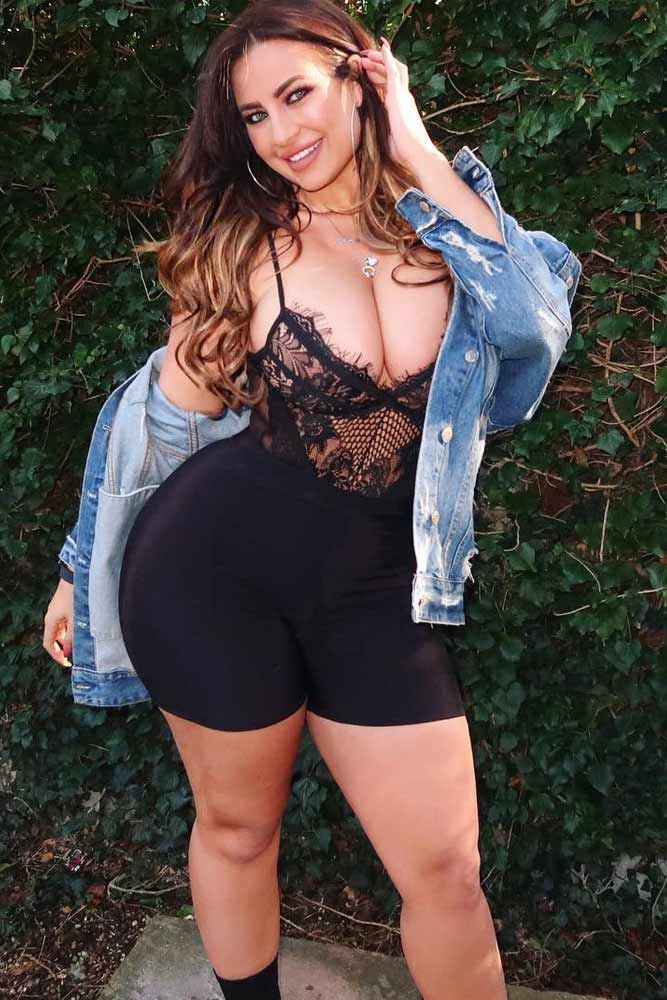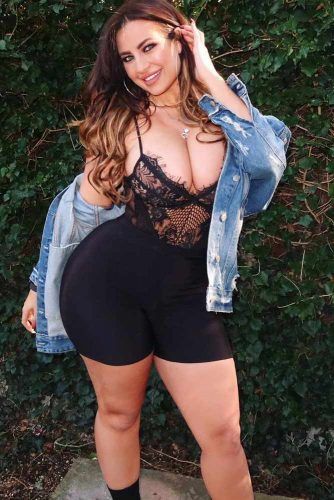 Source: djhannahb via Instagram
Bike shorts have been considered the most needed clothes in the wardrobe of every fashion lover. They are not only super comfortable, but they also will go with anything you choose for the top. We thought a lace bodysuit will look bomb and it does. Here are your favorite plus size clothes. What else can we say?
Plus size clothing can be really fun. We have tried our best to make a list of things that will make you feel confident and stunning in them. Which one is your favorite?