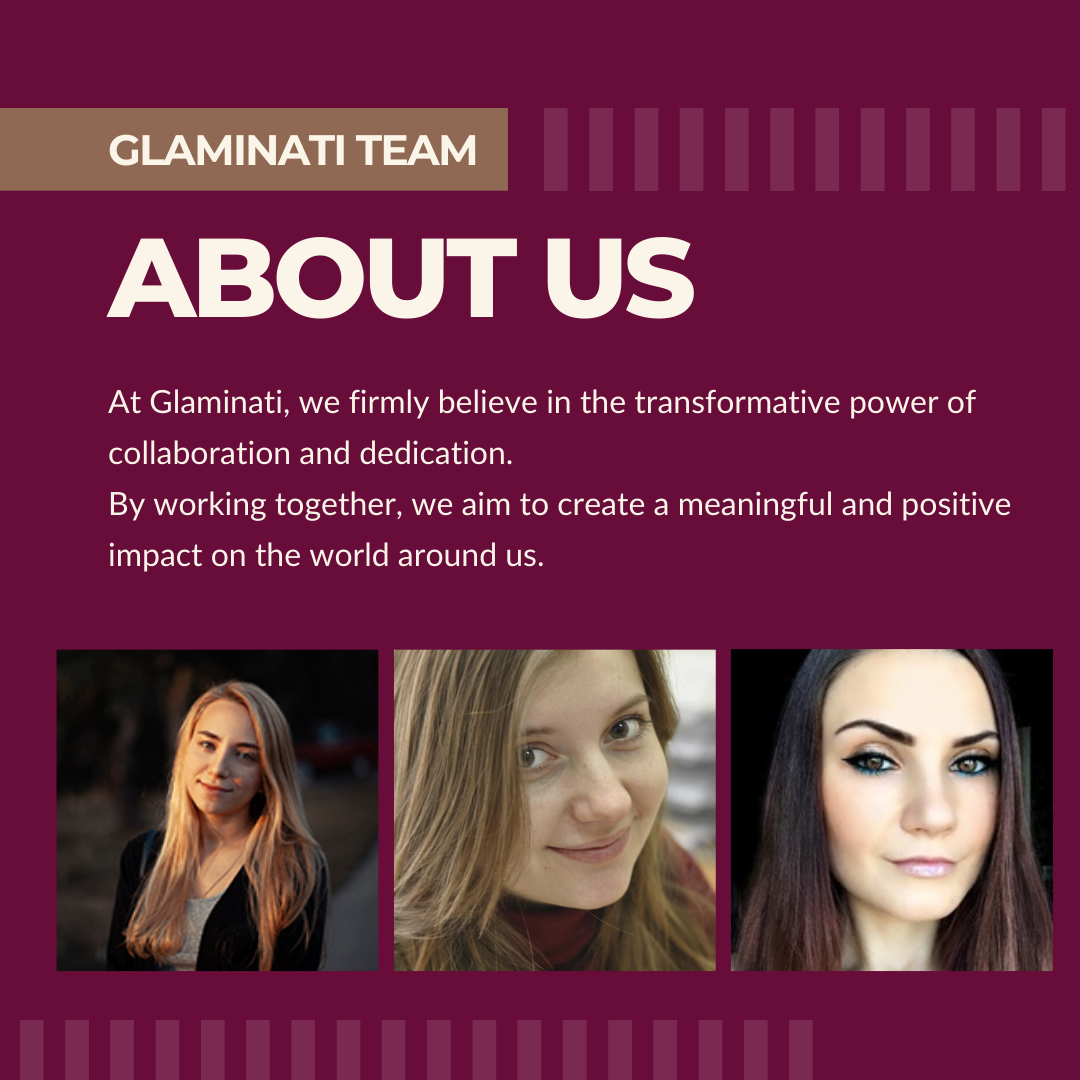 Glaminati is your shortcut to the latest fashion, healthy living, and looking your absolute best
You may have been searching for the right way to apply eyeshadow or looking for new relaxing yoga poses — these are just a couple of possible reasons you got there. Now, let us tell you why you should stay here.
Glaminati.com is a beauty & health devoted online magazine created by different women driven by one common aim — living our best lives. Some of us are experts in the beauty and health industry, and some are mere dreamers who can spend days and nights searching for new trends, beauty secrets, and inspiration to share with modern ladies.
One day in 2013, our passion for getting the most of our lives brought us together, and we created a place where every woman could find a skincare solution, healthy hack, nail-inspiration, and styling tip.
Our mission
Our main aim is to make women always remember how beautiful they are, helping them to maintain their beauty in every way possible. From nails, makeup, and DIY masks to fashion, home decor, and life-changing quotes, we do our best, helping women make everything around them beautiful and harmonious. A modern woman goes to the gym, makes hair appointments, does shoppings, decorates her place, cooks for parties, gets her nails done, and builds relationships. At Glaminati, women of now can find everything about their life routine, learning how to make it better and easier. Besides the beauty and health mission, we also provide our readers with wellness tips and relationship advice. In other words, we cover all the little and special life moments in just one website.
What we do:
We share game-changing health and beauty secrets with women from all around the world. Here's a brief list of fun and useful information that you will see on our website. Of course, it's only the beginning!
Inspiration
Want to get your nails done? We've got tons of the latest designs. Wondering what hair color is going to rock this season? Just see our Hair posts. Don't know what to wear for your prom or date? We've got it all covered.
Fresh & Fair Content
Whether you want to adjust your diet with our hacks or try new our makeup tutorials, you can rest assured the information is tried and checked by our beauty pros and health experts. Plus, we always make sure to keep our content fresh and updated.
Love & Support
All the content you see is made with pure love. When you need some support, we will lend a helping hand with our mind-healing posts. We will also be there for your wedding or prom, showing you amazing dresses and ceremony decorations.
We invite you to share your expertise!
We at Glaminati would be delighted to collaborate with you if you are a true
beauty expert
: a professional hairstylist, nail artist, makeup artist or any beauty expert eager to share your expertise with our readers. So, feel free to contact us! We are also looking for writers, bloggers, and beauty influencers who want to reach a wider audience with their informative articles and be published on a highly popular website. If you have something you want to share,
join us
today!