To begin with, we should define what is business attire. The fact is that some people may view business attire differently. However, that does not mean that some people are right while others are wrong. What you wear as work outfits is usually considered business attire. Nevertheless, there are various kinds of such professional attire ranging from casual to formal. It all depends upon the professional environment you are going to wear it to. We are going to discuss all the kinds so that there is no room left for confusion, and your professional wardrobe is updated.
What are the types of business attire?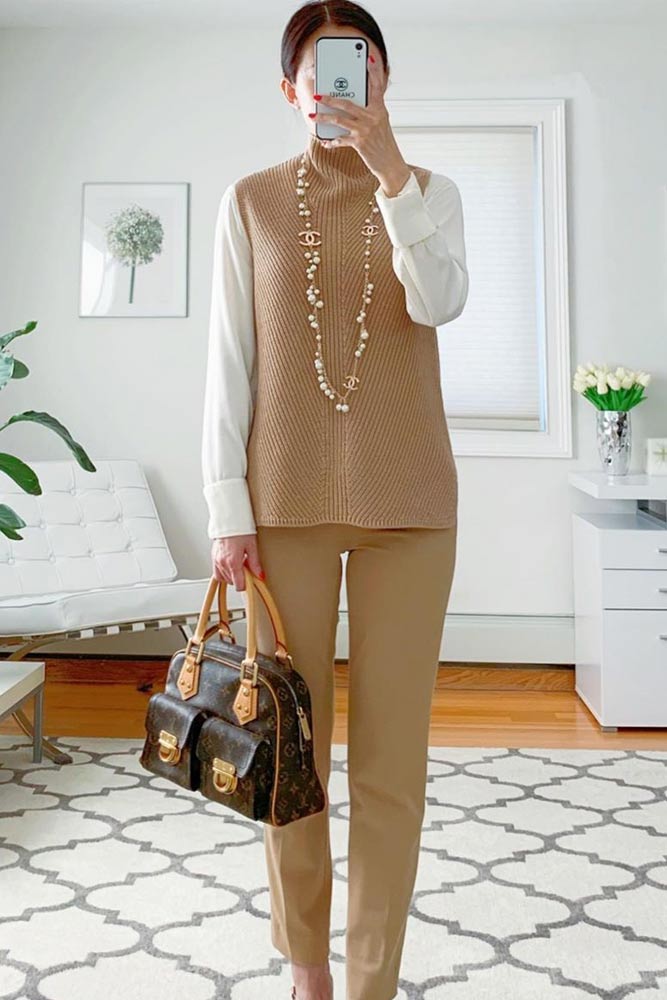 Source: Instagram/pwj_802
There are a few main types of women's business attire. We will discuss all of them in this review. Besides, we are going to share some visual examples for you to inspire from as well.
Casual
Casual attire works well within an office with an informal dress code as well as outside it. To put it simply, that is what you wear daily and what you feel most comfortable in.
Smart casual
Smart casual would be a little fancier and stylish variation of casual business style. You may add some trendy pieces to your look without taking it over the edge while heading to office or interview.
Business casual
Business casual style is something in-between casual and formal wear. You can dress like that to office, meeting, or interview without looking out of place.
Business professional
If you are about to head to a conservative office, then professional business attire is the one you should wear. If you work in finance, law or government institutions, that is the only kind of business attire you should consider.
Business formal
Special dinner or other types of very formal occasions require the formal business type of attire.
Why Is Business Attire Important?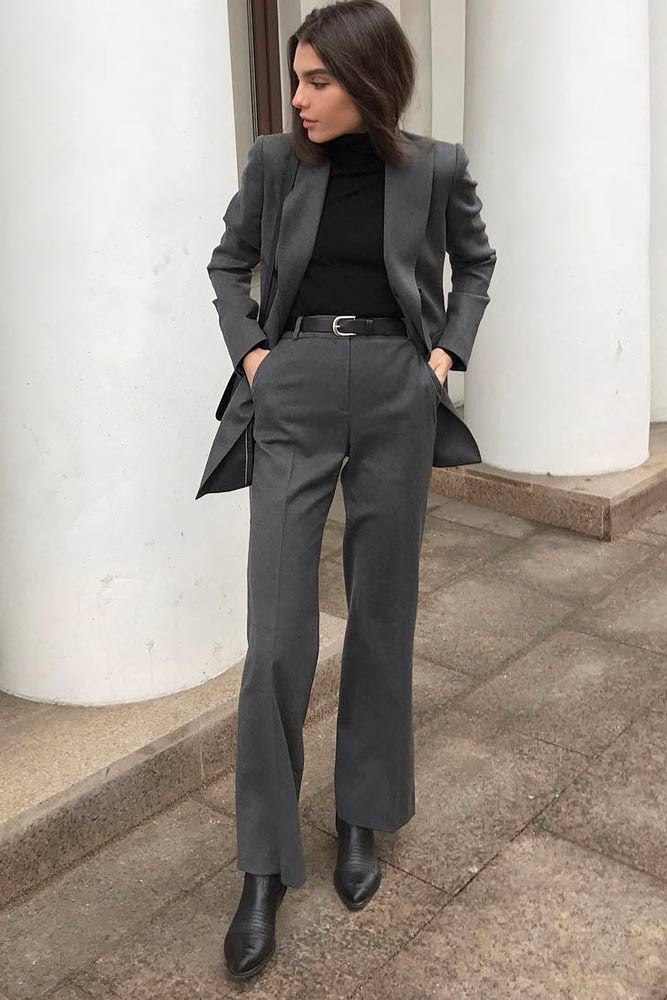 Source: Instagram/mariecher
It is a natural question to ask – why business attire for women is so important these days? The fact is that very often, larger and smaller companies allow the employees to wear anything they feel comfortable in. However, there are still institutions that require a set dress code. Some people find it annoying, but we will explain why it is so essential to look professional in some spheres. The fact is that the way you look speaks louder than you think. For instance, no one would entrust their faith to a lawyer wearing sweat pants to the court. The truth is the more professional is your dress code, the more professional you look in general. People tend to pay quite a lot of attention to the notion. Now, when we figured why it is important, it is time you discover some fresh looks to add to your collection!
Casual Business Attire
Blue Jeans, Print Top And Blazer Outfit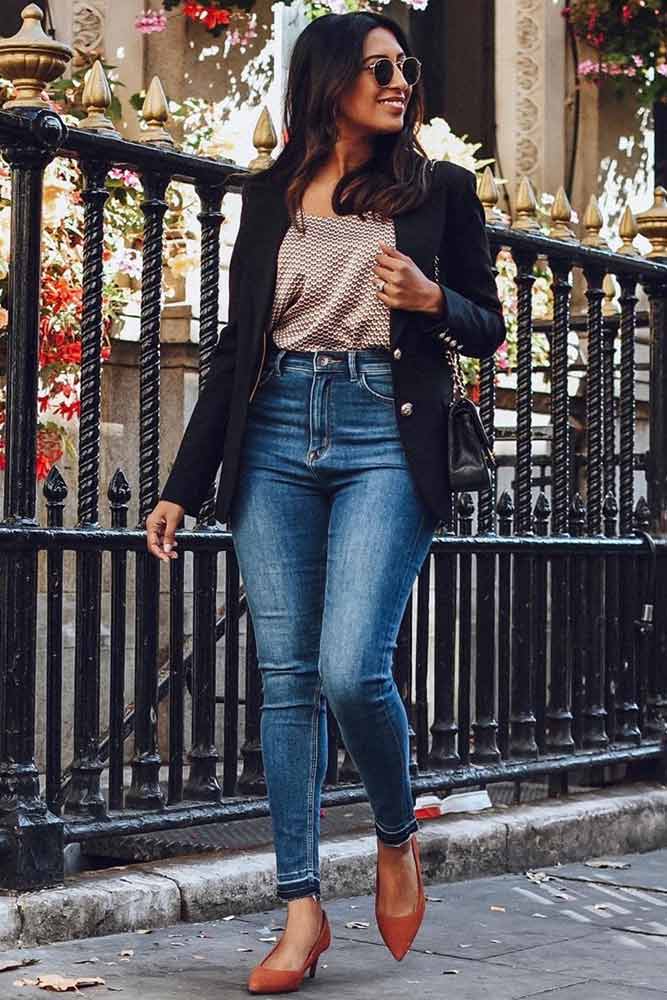 Source: Instagram/trashtotreasured
When you think about your business casual attire, think about the clothes you like and those you feel sporting. Let's say the usual combo of skinny jeans and a print top can be easily pulled off to the office. What adds the look that business touch is the blazer and a pair of heels.
Comfy Sweater With Pants Outfit Busines Attire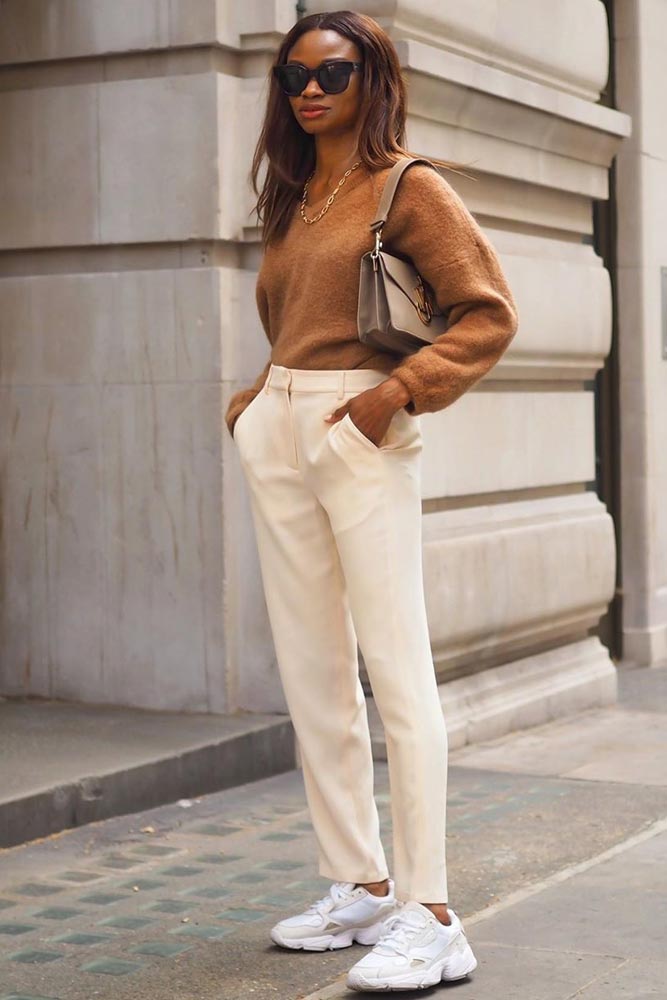 Source: Instagram/symphonyofsilk
You will be surprised at how simple it is to grant your business casual vibe. The main rule is to stick to the comfortless as well as to the same color palette. When it gets a little colder outside, a warm cashmere sweater and a pair of beige pants will turn out to make a super business combo.
Print Skirt With Black Top Outfit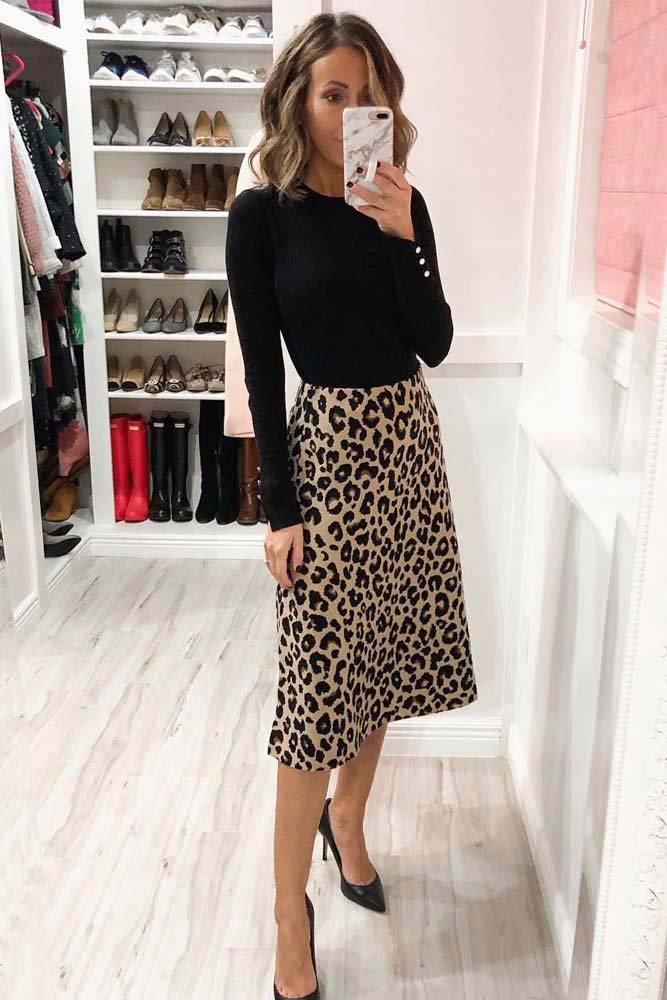 Source: Instagram/lillydemello
Very often business casual women are afraid of animal prints. We know that it is very easy to step over the line with aggressive prints. Nevertheless, if you use them as accents and do not pile them, you will always look elegant. For instance, a printed skirt will go well with a total black look.
High Waist Pants With Sweater Business Outfit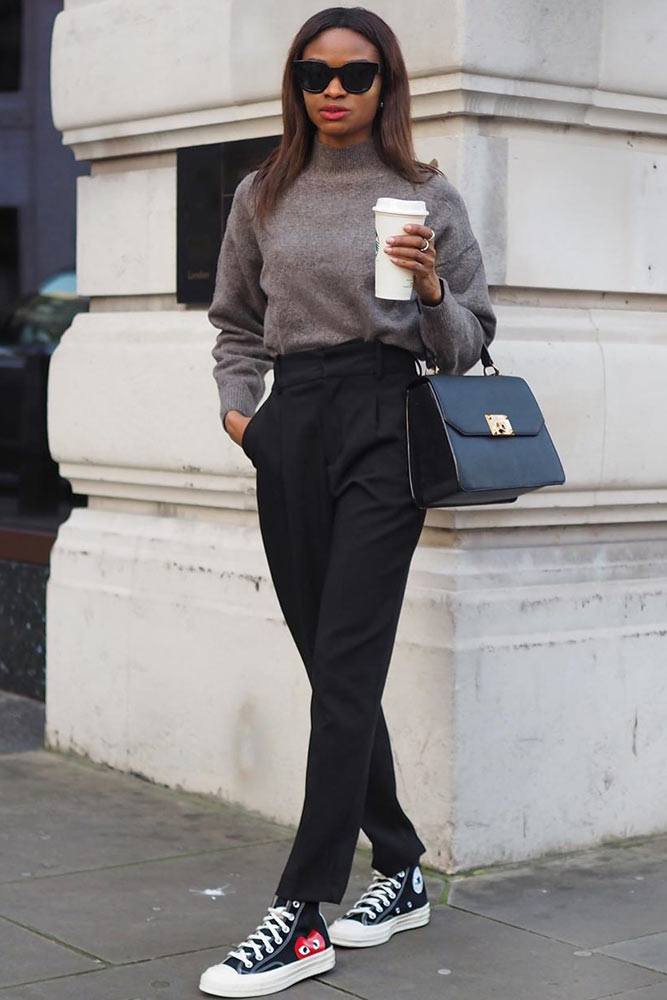 Source: Instagram/symphonyofsilk
White Top With Straight Pants Outfit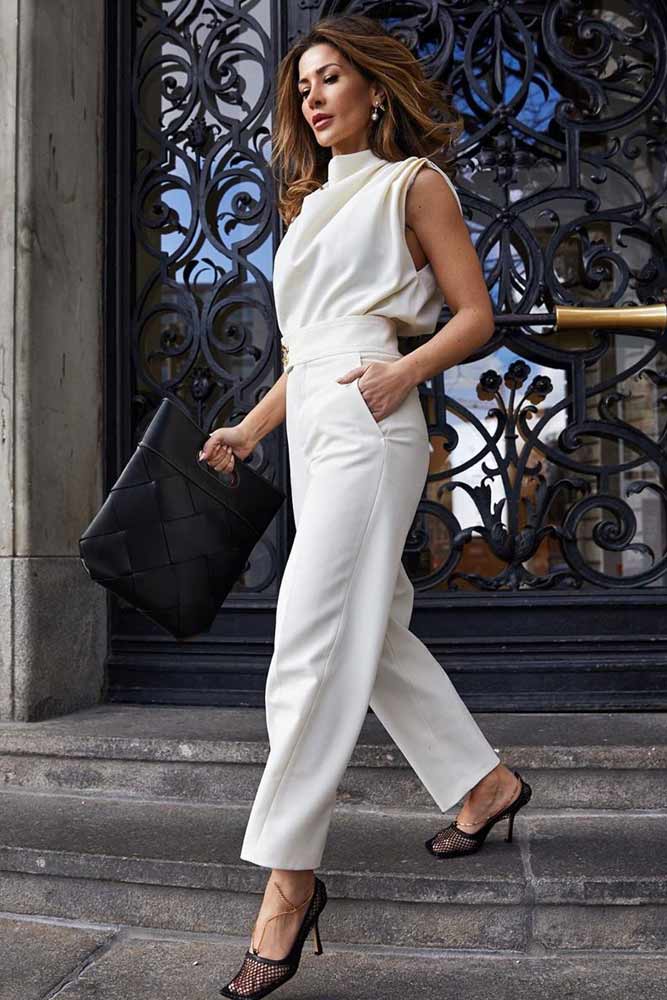 Source: Instagram/shortstoriesandskirts
Smart Casual Attire
White Skinny With Blush Jacket Outfit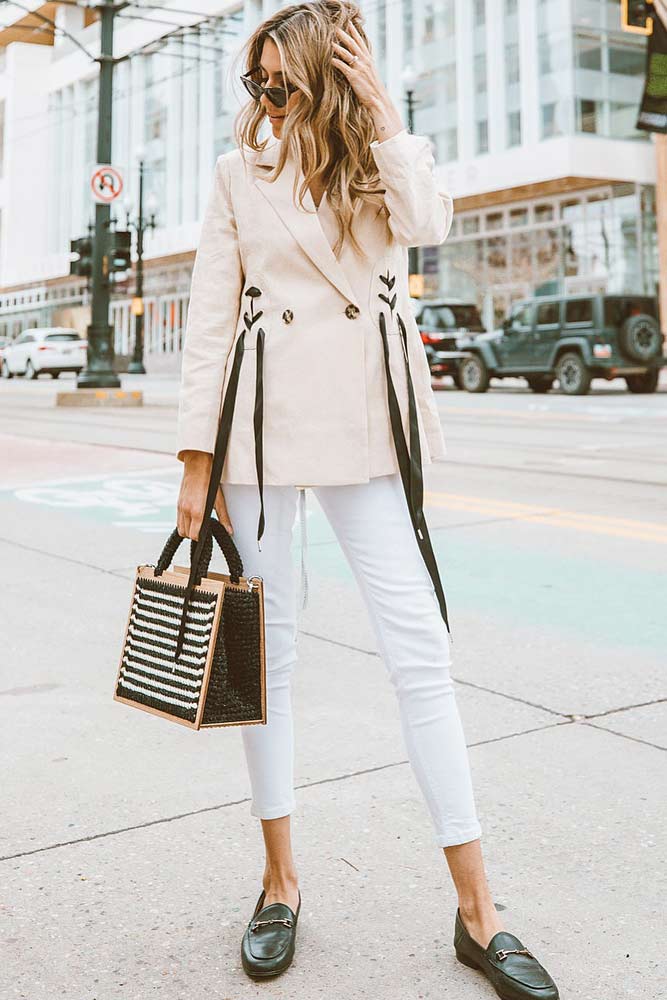 Source: instagram.com/christineandrew
The main point of smart casual look type is that you add some intricacy to your outfit. It seems that there is nothing special about these cream-shaded look. However, the green flats and the purse make the difference.
White Blouse With Black Pants Outfit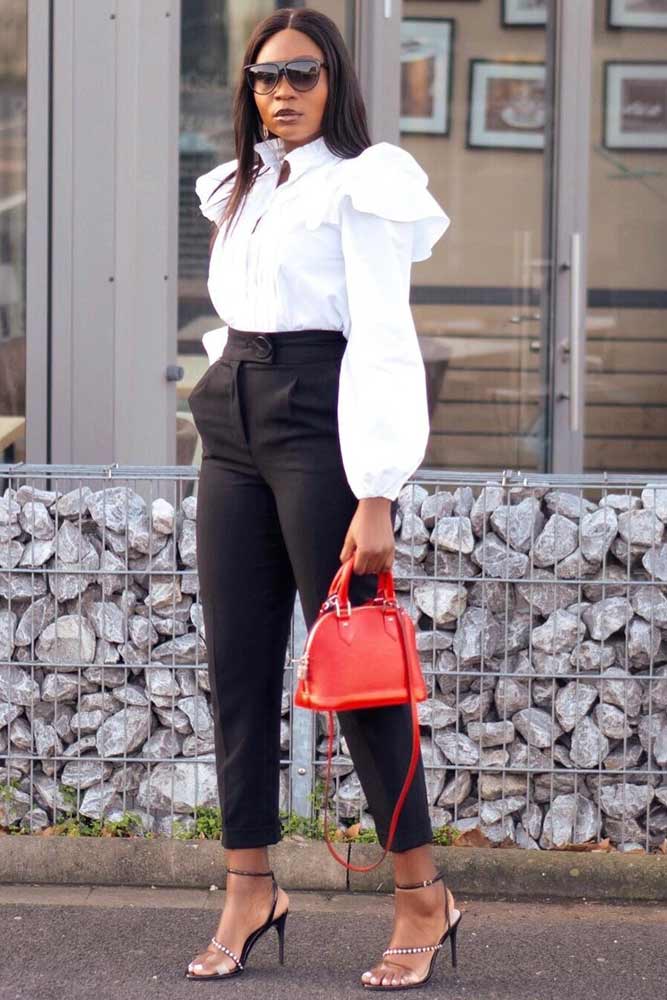 Source: Instagram/aronhilson
Plaid Blazer With White Trousers Business Outfit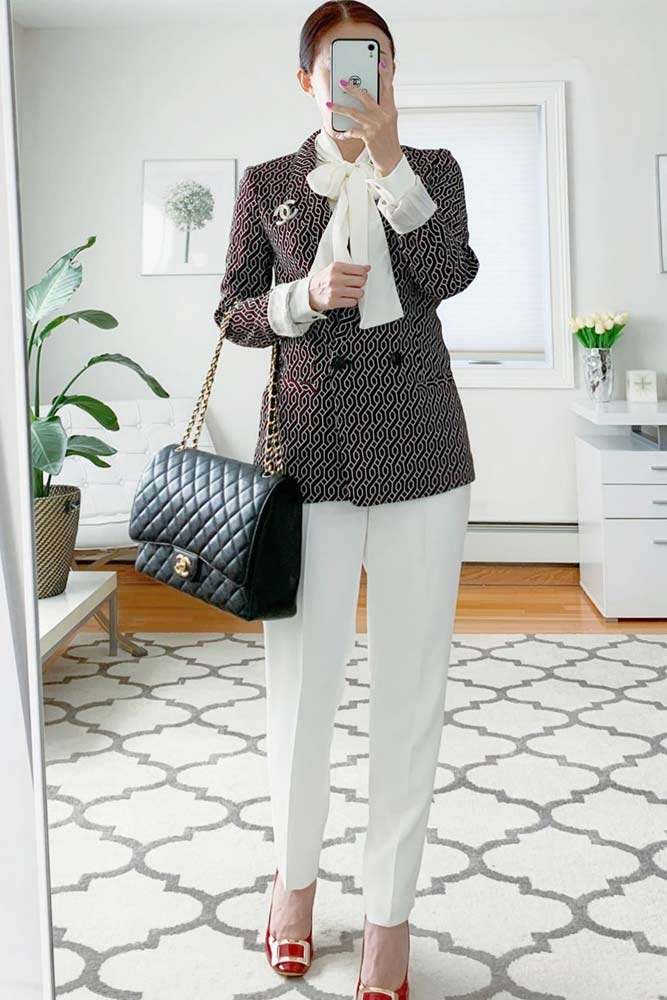 Source: Instagram/pwj_802
Emerald Suit With Blouse Business Attire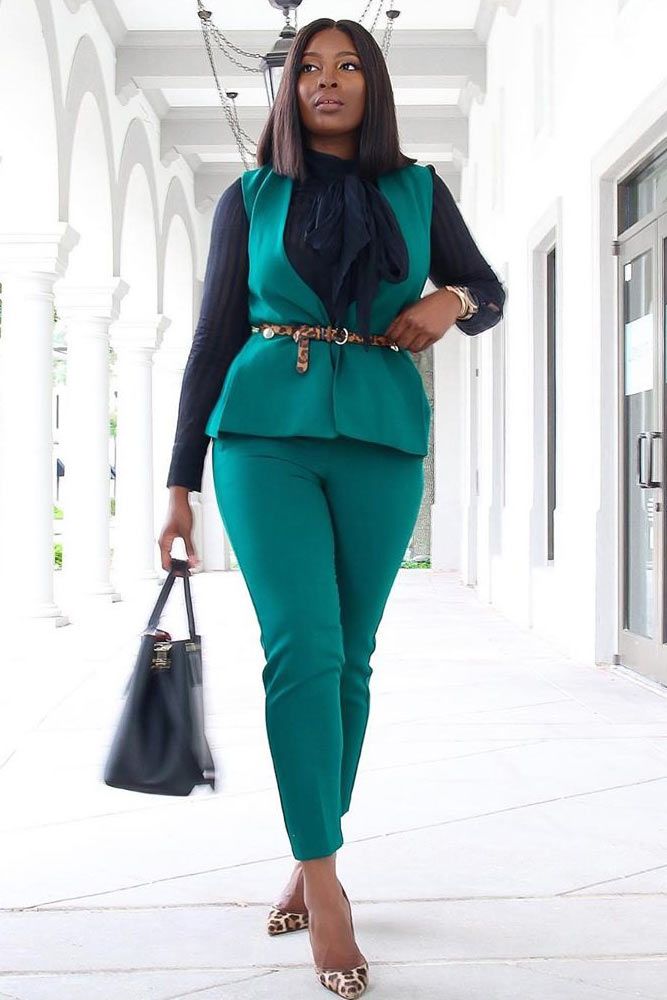 Source: Instagram/ironyofashi
At times, it is easy to assume that plus size business attire is bleak and uninteresting. That is where you are mistaken. Emerald suit is anything but dull, while leopard print shoes and same-printed belt add that necessary authentic vibe to the whole look.
High Waisted Pants With Plaid Jacket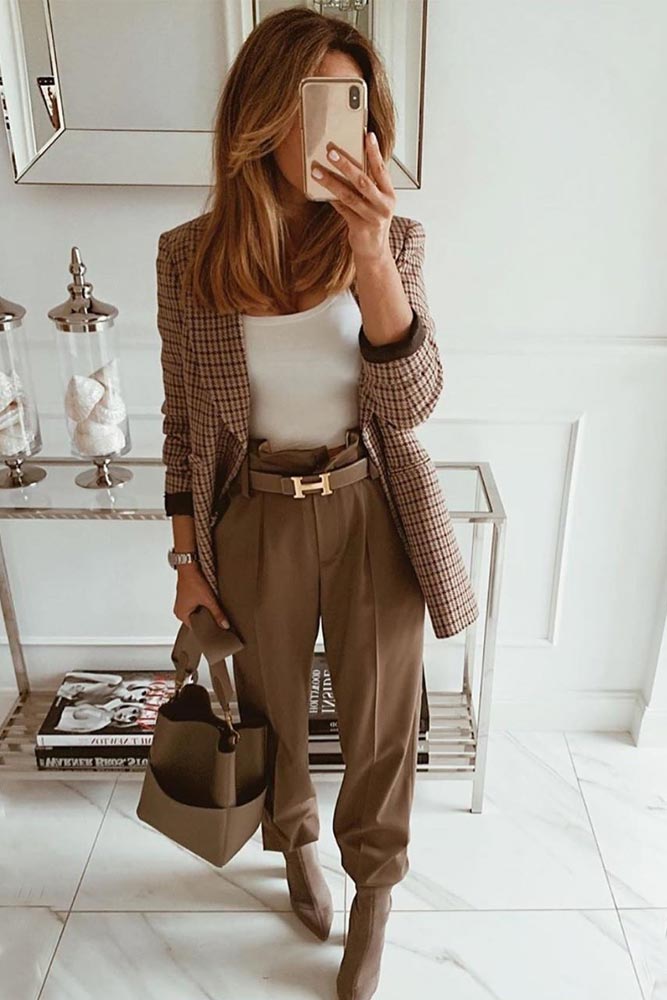 Source: Instagram/mint_label_
If there is that one shade that you are a complete fan of – we feel you. That is why we present to your attention this one-shaded outfit idea. Even though the pants, the boots as well as the purse match, the jacket stands out, and the top reflects the whole design. You can use any other color to come up with such a ravishingly stylish outfit idea.
Interview Attire
White Power Suit Outfit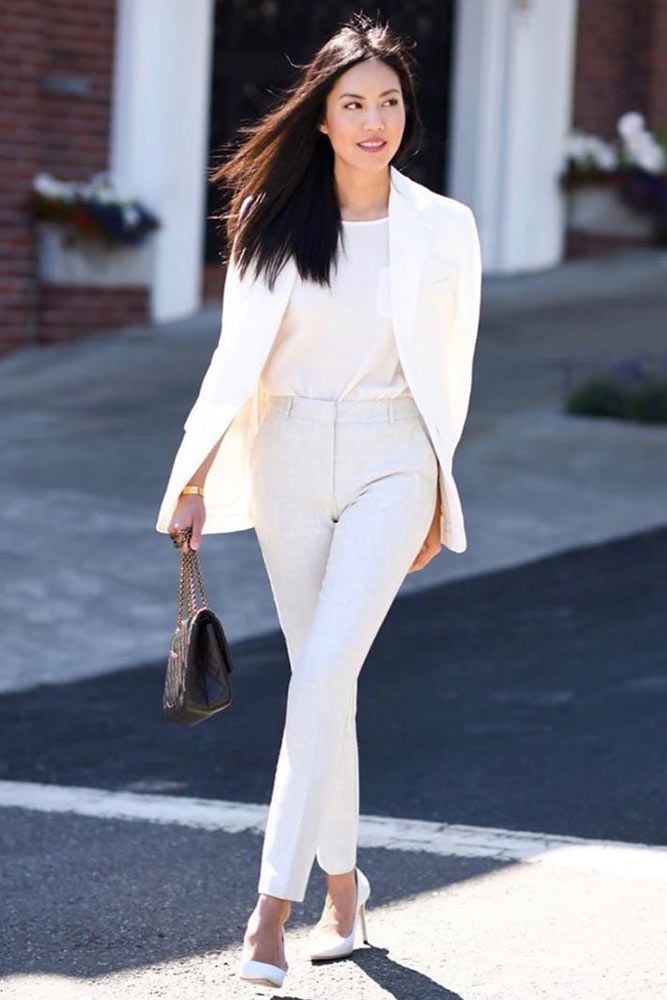 Source: Instagram/9to5chic
Interviews are even more important than your regular office look. As a matter of fact, the way you present yourself may affect whether or not you will get the position. Such a smart business look in while hues accented with a dark purse may be the one you should consider.
Cropped Pants With Plaid Jacket Business Attire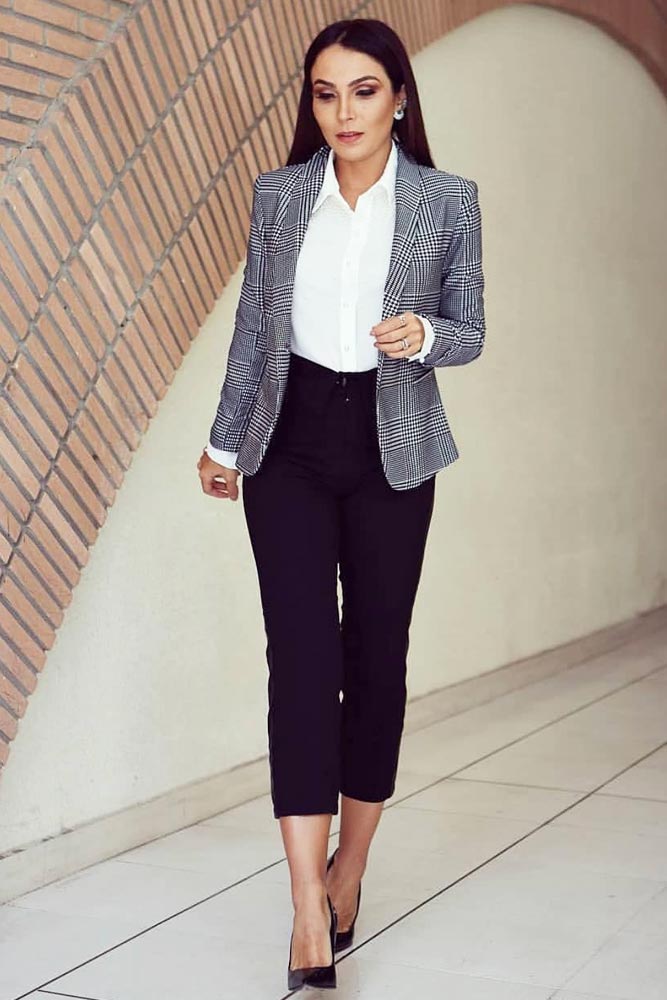 Source: Instagram/lalanoleto
The fact that you are headed for the interview does not mean that you should repress your sense of style. Cropped black pants look both elegant and professional. Besides, the plaid jacket matched with a white blouse will keep the looks leek and very businesslike.
Pencil Black Skirt With White Blouse Outfit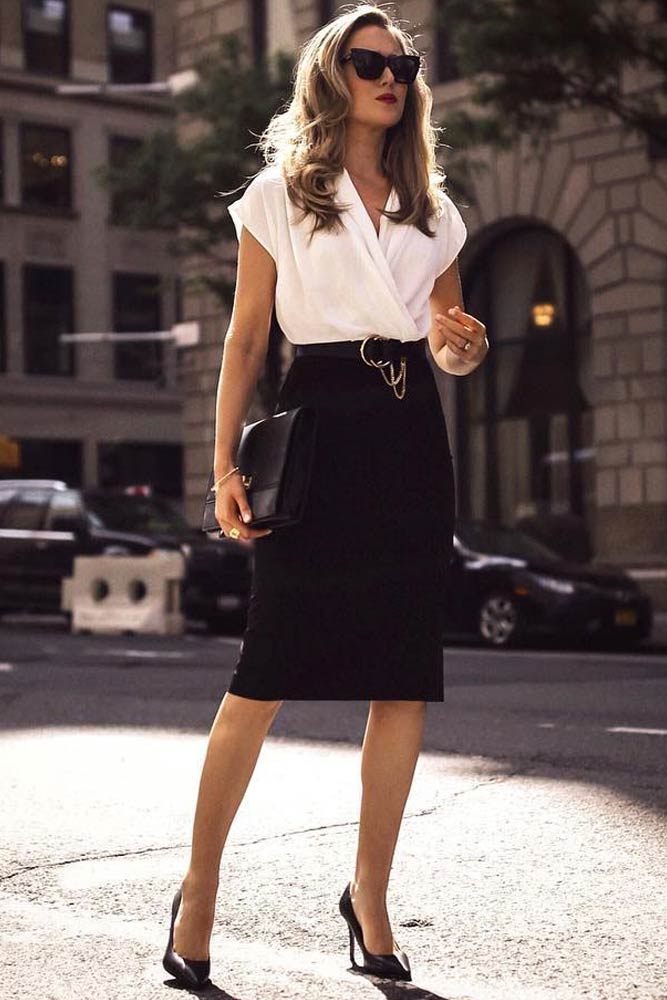 Source: Instagram/maryorton
In case pants are not your cup of tea, you can always wear a skirt to the interview. However, it is best to stick to reserved and classy hues such as black and white when planning the look. Besides, knee-length is a must. In times like this, the pencil skirt is your best bet.
Beige Top With White Pencil Skirt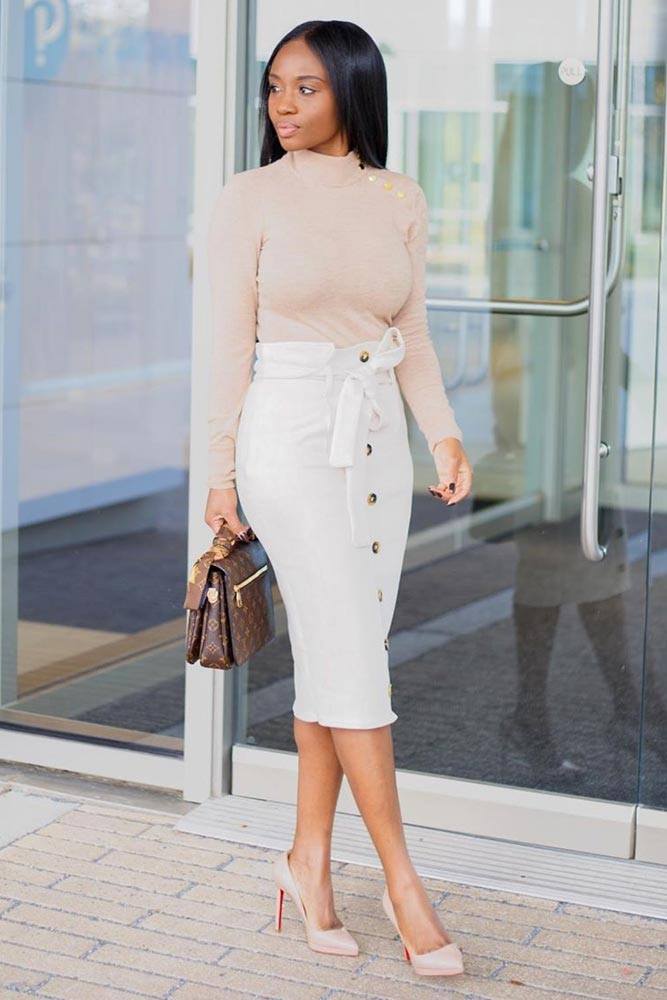 Source: Instagram/prissysavvy
Dark Green Power Suit With Black Top Outfit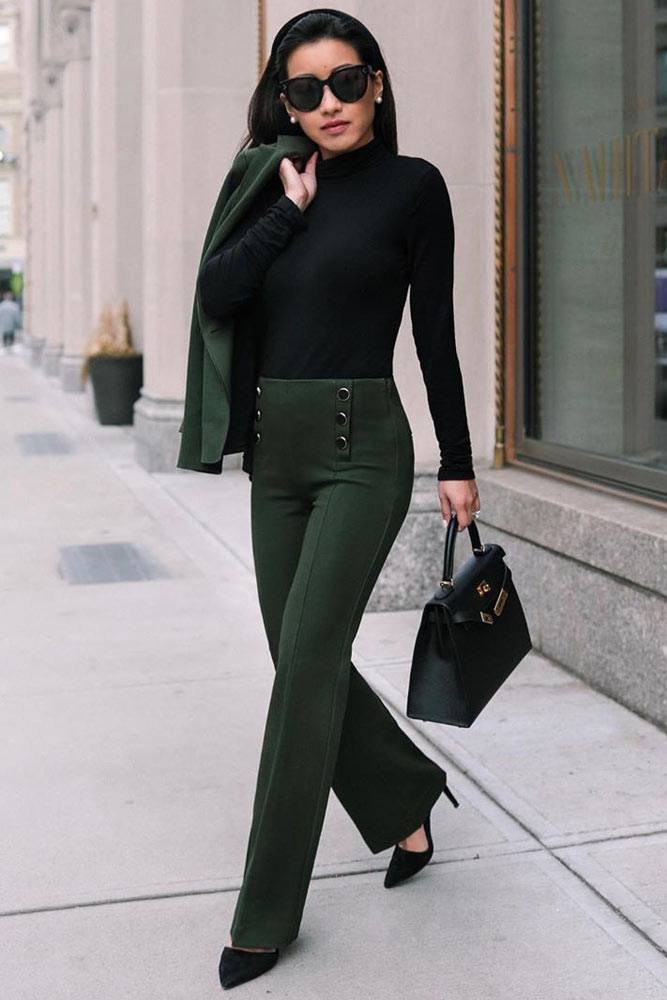 Source: Instagram/jeanwang
Monochromatic Business Attire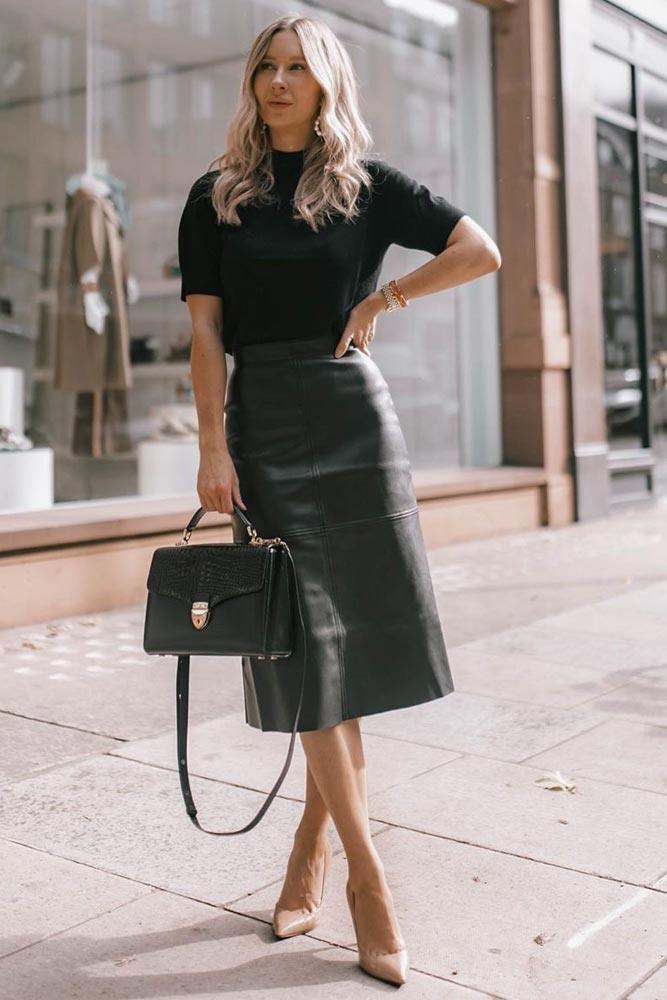 Source: Instagram/shegoeswear
Cocktail Attire
Striped Power Suit Outfit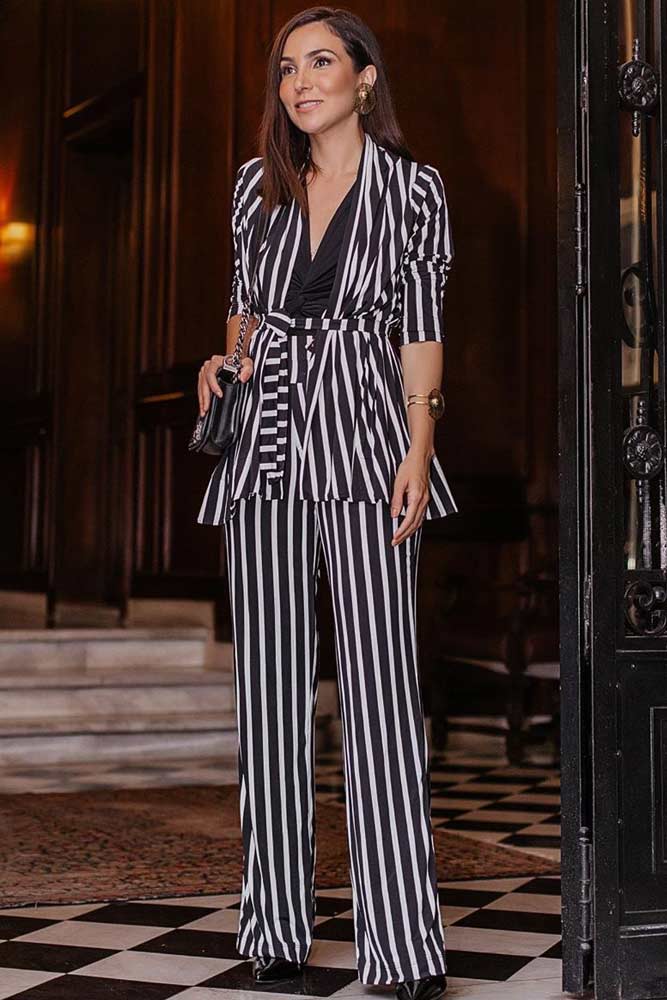 Source: Instagram/lalanoleto
There are many business suit options in a professional fashion. When there is a cocktail attire in need, we suggest you consider striped patterns and loose shapes in the first place. The aim is to look both quite fancy but still formal. Such a power suit combines the two.
Purple Power Suit With White Top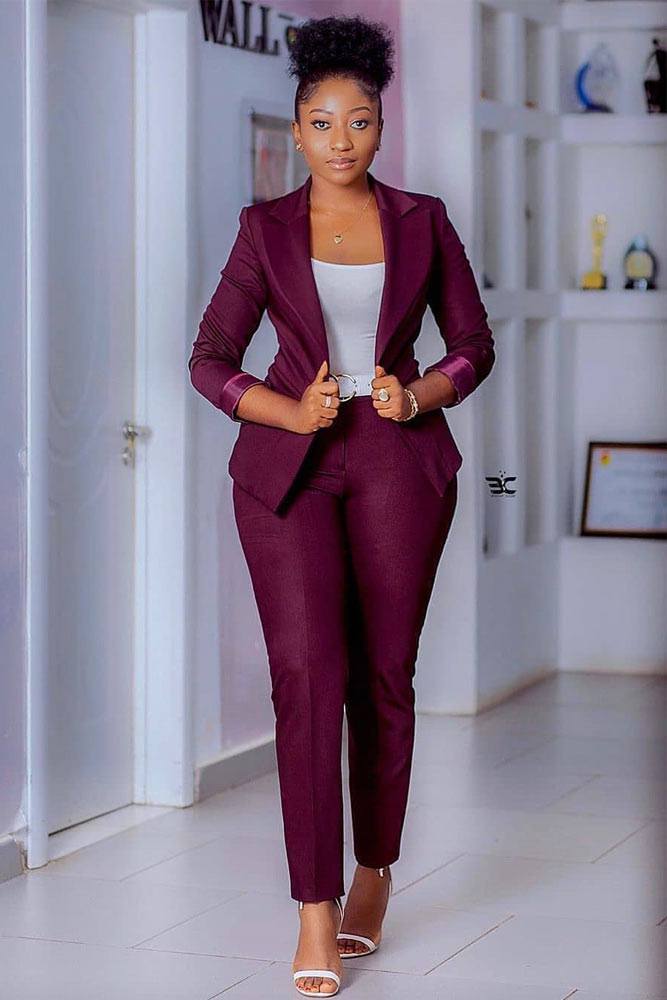 Source: Instagram/abuja_exclusivewomen
Ruffled Blouse With Beige Slacks Business Attire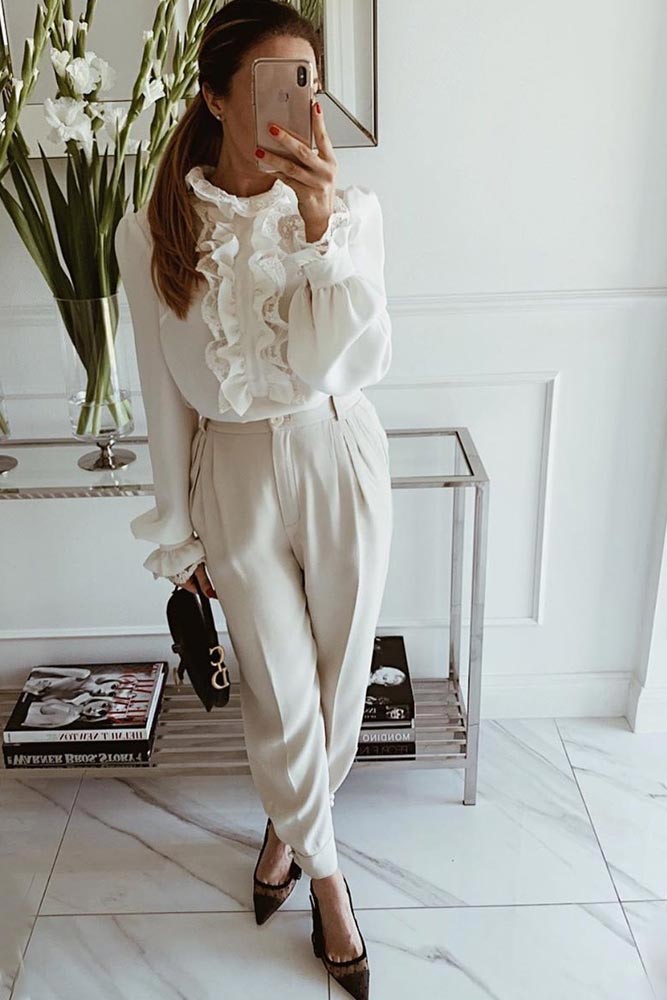 Source: Instagram/mint_label_
There are times when the only thing that you should accent is your blouse. If you are thinking about a beige palette when coming up with your cocktail attire, a ruffled blouse paired with slacks fits perfectly. However, it is best if your purse and heels would be of contrasting shade, though.
Purple Pencil Skirt With Gray Top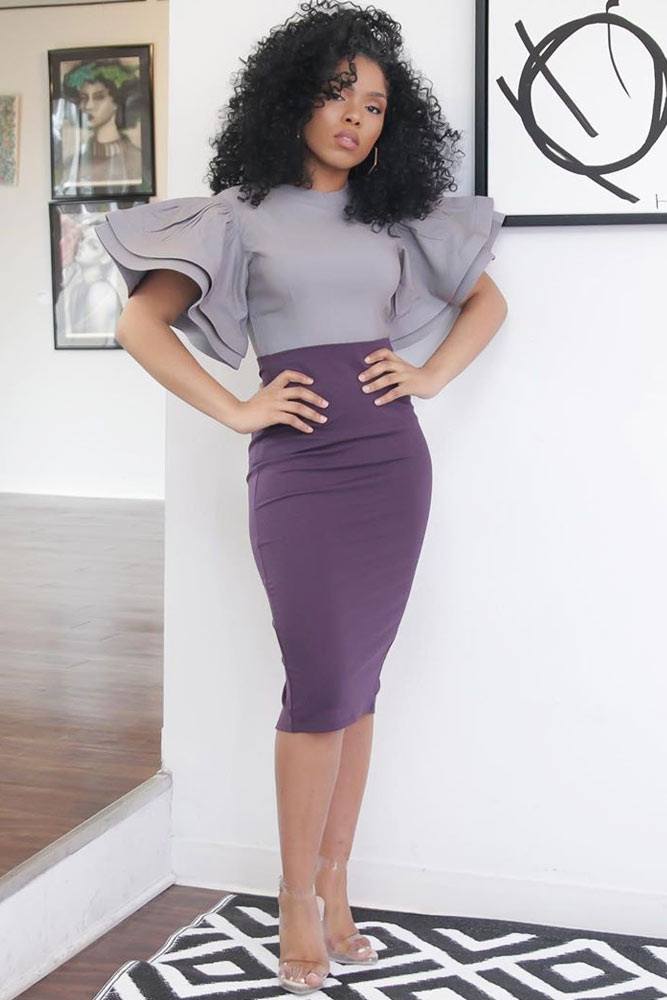 Source: Instagram/thekyradanayacollection
Blue Power Suit Outfit Idea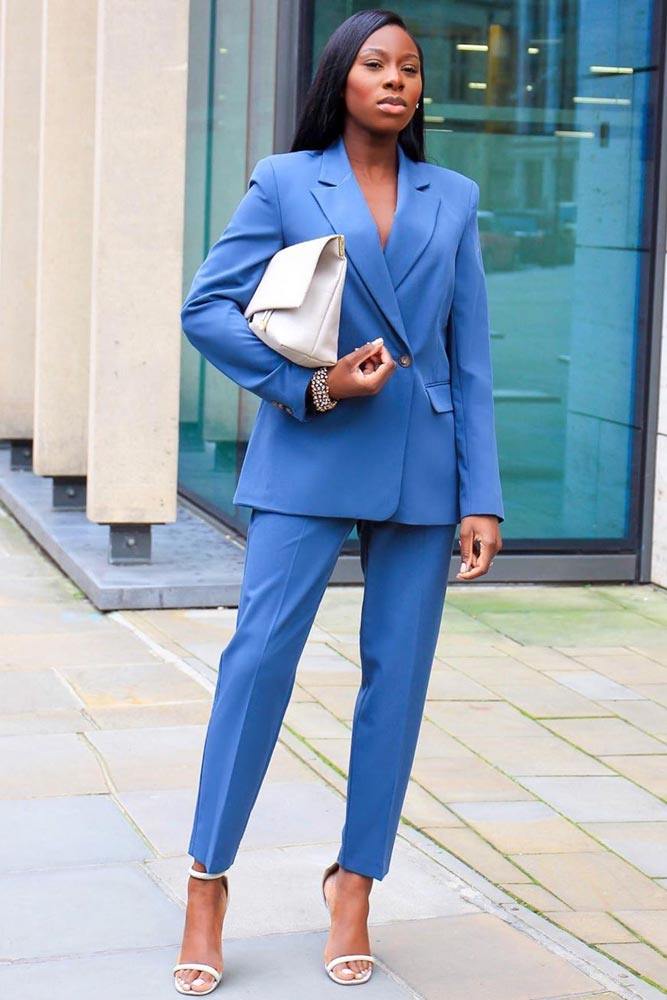 Source: Instagram/amagodson_a
Black Blazer With Sequin Pencil Skirt Outfit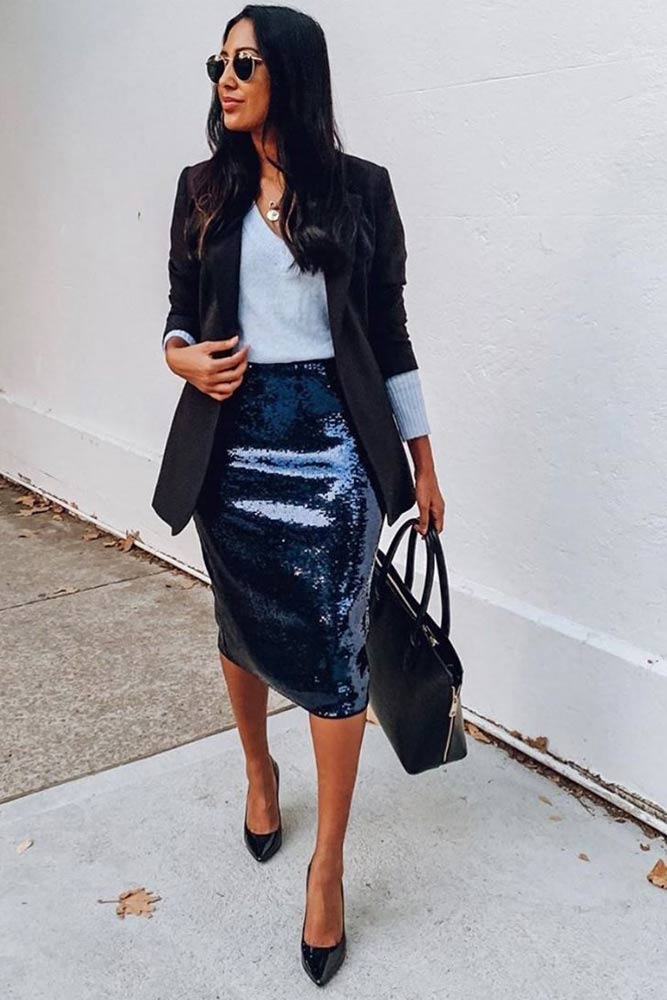 Source: Instagram/trashtotreasured
When it is cocktail attire you are thinking about, you can add some little bling to it too. The key point is not to take it over the edge. The fact is that the sequin pencil skirt suits the idea perfectly, but the rest should be as reserved and classy as possible. See for yourself!
Formal Business Attire
Formal Plaid Dress Outfit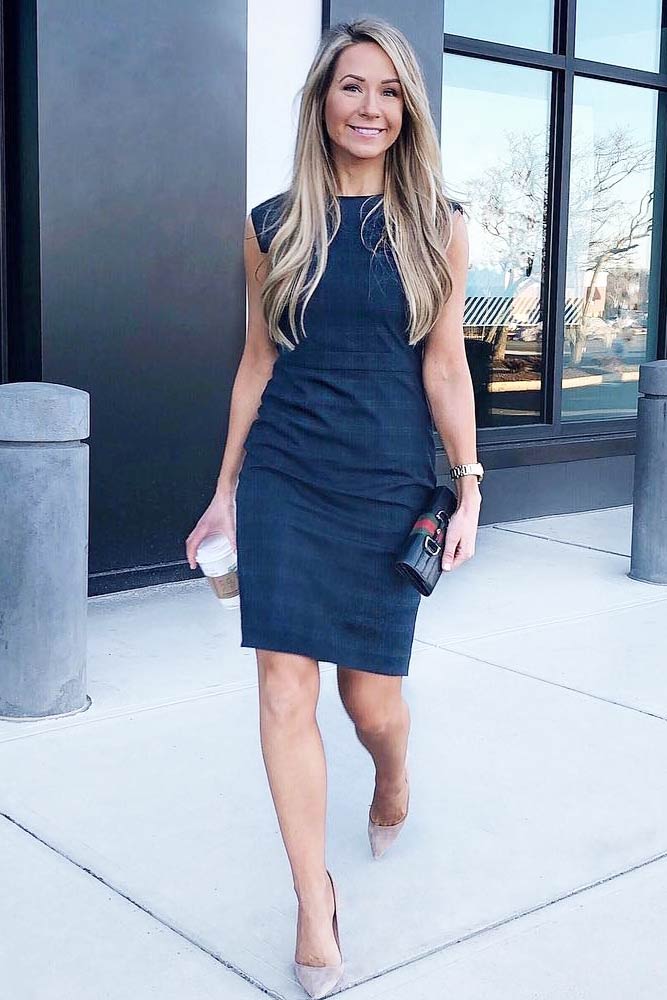 Source: Instagram/treatingthestreetslikearunway
Business style is not all about pants and skirts. It is also about a business dress. However, if it is a formal business style that we are talking about, then you need to consider particular colors, prints, and of course length. Besides, strapless dresses or dresses with thin straps do not fit in the category. This plaid dress is the one you should use as an example.
Classy Power Suit With Black Top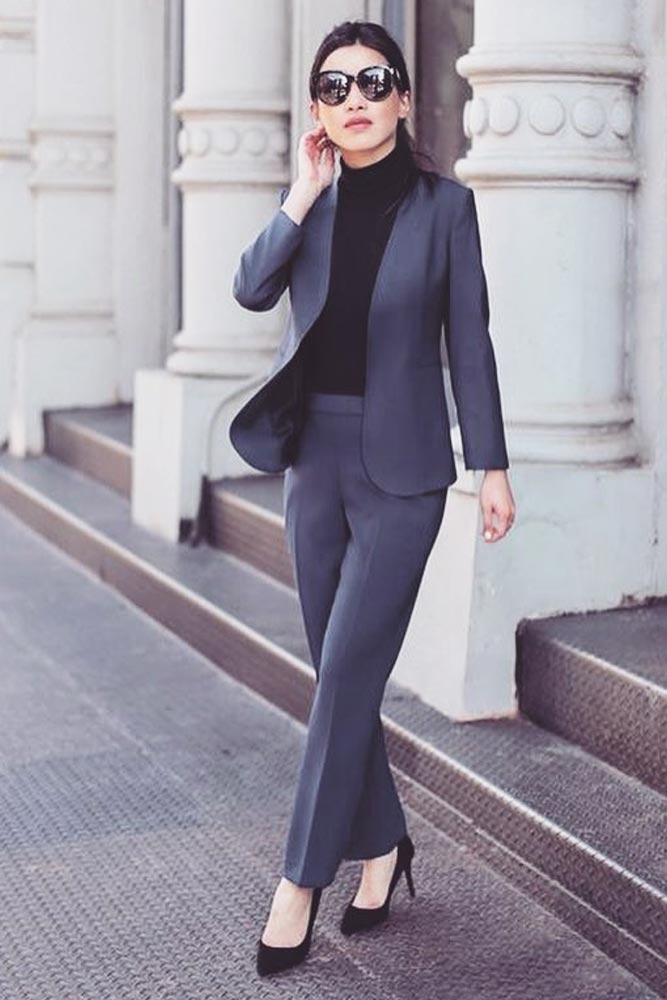 Source: Instagram/jeanwang
Business formal attire includes special suits too. There is no room for fanciness and all the trends. Classy power suits should be both reserved and elegant. However, you shouldn't forget about comfort too. This grey suit paired with a black top is the nest representative of the style.
Gray Pencil Skirt With White Skirt Outfit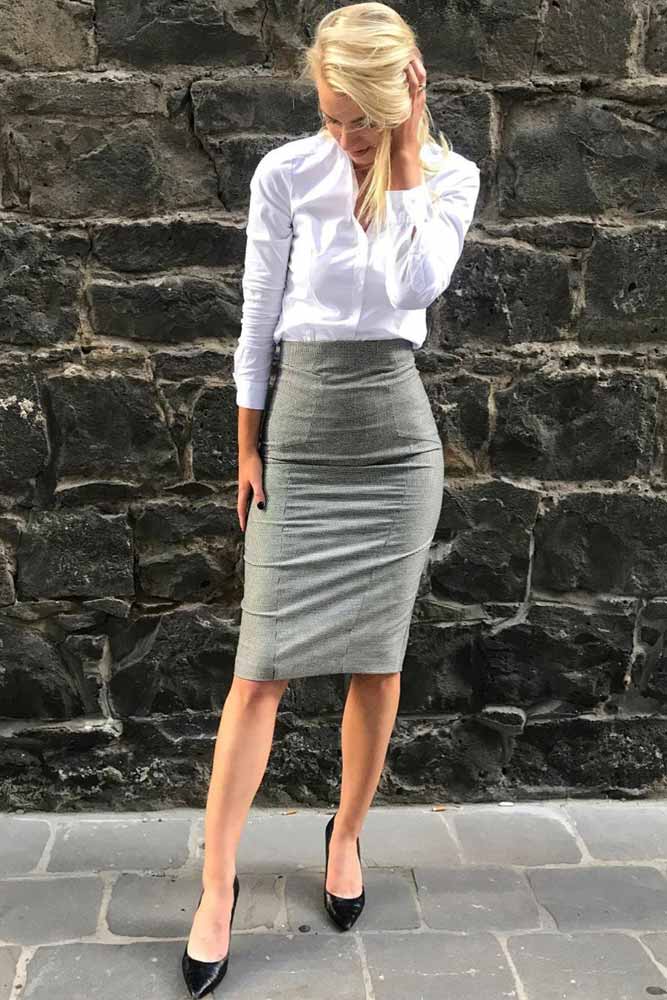 Source: Instagram/herpowersuit
If you are more skirt rather than pants kind of person, then this formal business look will suit your preferences. The fact is that there is nothing special about it, but the outfit still preserves its genuine elegant touch. What is more, there is barely a woman whom such a look wouldn't suit.
Business Attire For Fall-Winter Season
Monochromatic Outfit With Knitted Sweater And Pants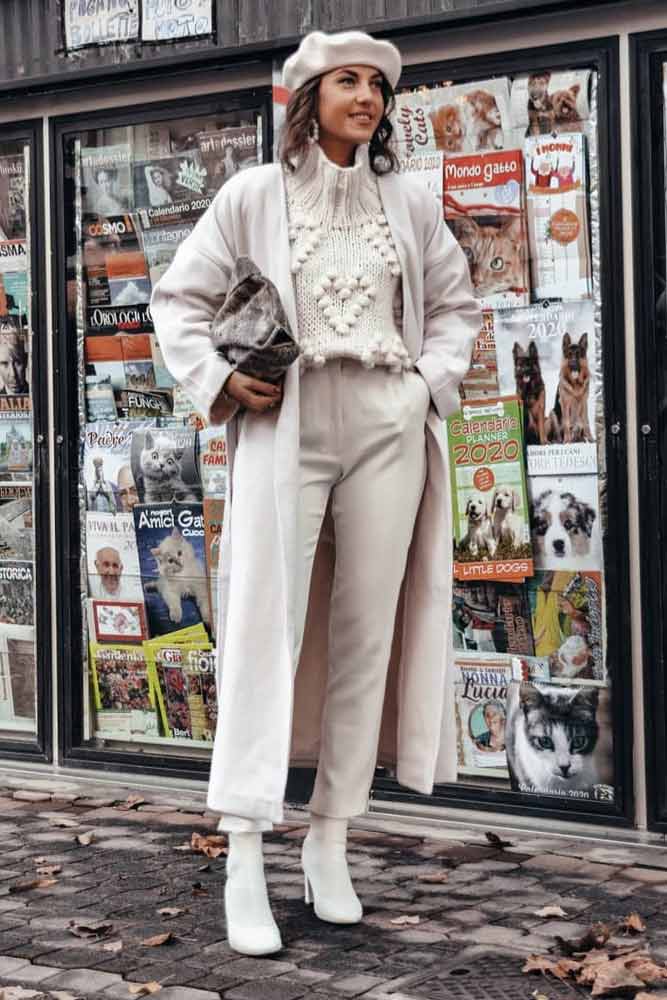 Source: Instagram/cristinasurdu
It may be a little more difficult to look formal and stylish when the colder seasons hit. That is when we are offering you a helping hand. The truth is that the monochromatic ivory look is quite business-looking. While a knitted sweater and warm boots will keep you cozy when the cold wind blows.
Turtle Neck Dress With Blazer Outfit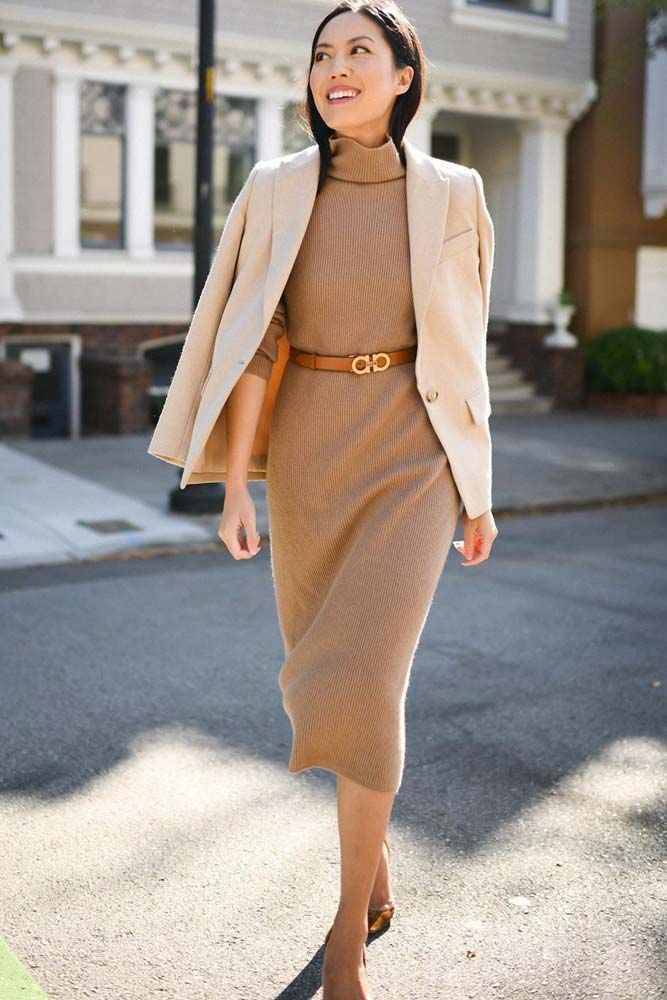 Source: Instagram/9to5chic
There is a lot of room for maxi dresses when it comes to the combo of winter outfits and winter weather, some of them are quite fit for business too. For instance, this turtle neck dress completed with a cozy blazer is the one to consider.
Plaid Suit With Knitted Sweater Look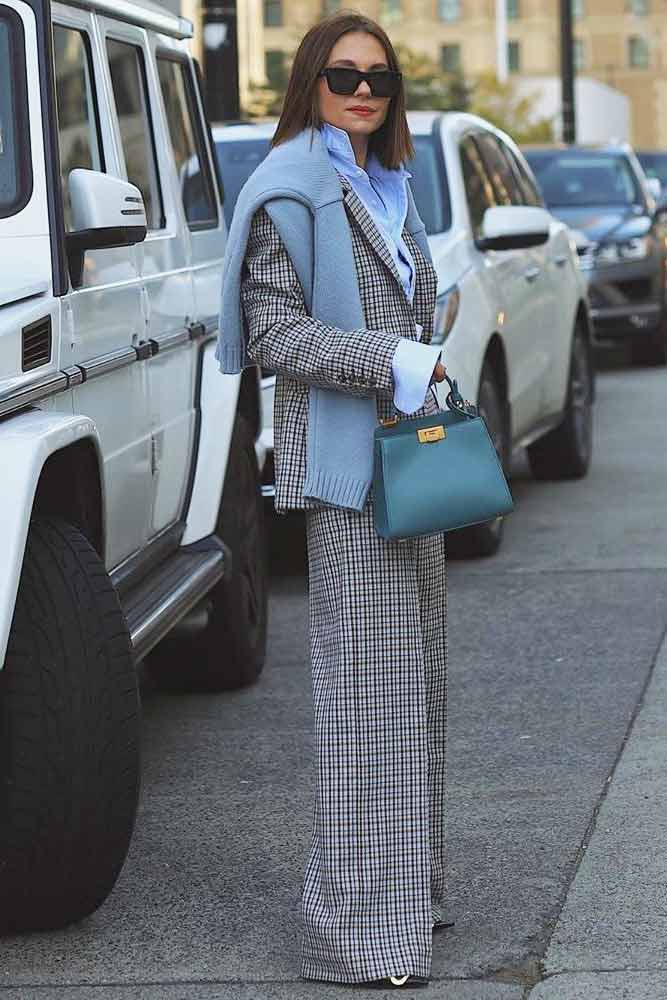 Source: Instagram/aurelafashionista
There are quite a few business professional attire items that form the whole look. In this case, the suit is an element that is a must. However, the shirt and the sweater can be worn together with the suit separately, depending upon how cold it gets.
You do not need to go to work wearing the same suit day after day. Business attire is a lot more versatile than you think, and we are going to prove it to you today!
FAQ: Business Attire
What are the advantages of dress code?
Wearing smart clothes at the office elevates a professional image of the whole company. It is believed that dressing according to a set dress code makes employees more respected in the eyes of a company's clients and its partners. During business meetings it is important to make the right impression while being dressed smart.
What are the disadvantages of dress code?
Having a dress code implies a compliance with the company's rules. That makes it hard to express one's personality through dressing and looking however they like, for example tattoos on visible parts of the body or bright hair colors are not welcomed. Secondly, business attire can restrain movements. Lastly, the company that features a certain dress code can be viewed as a stricter one.
REFERENCES:
Informal wear, also called business wear, corporate/office wear, tenue de ville and (colloquially) dress clothes, is a Western dress code for clothing typified by a suit and dress shirt with necktie for men, and cocktail dress or pant suit for women. Source
Business casual is an ambiguously defined Western dress code that is generally considered casual wear but with smart (in the sense of "well dressed") components of a proper lounge suit from traditional informal wear, adopted for white-collar workplaces. Source
Was this article helpful?