We are more than sure that you have already come across the notion of business casual men outfits. However, unless you had some help, it is hard to decipher what the notion stands for. Is it business? Is it casual? We feel you, and we are ready to reach out a helping hand in helping you understand this new trend better. What is more, we have a ready set of looks that you can introduce into your collection and look fantastic on a daily basis. And don't forget about your haircut, boys haircuts are very important for their look.
What Does Business Casual Mean For A Man?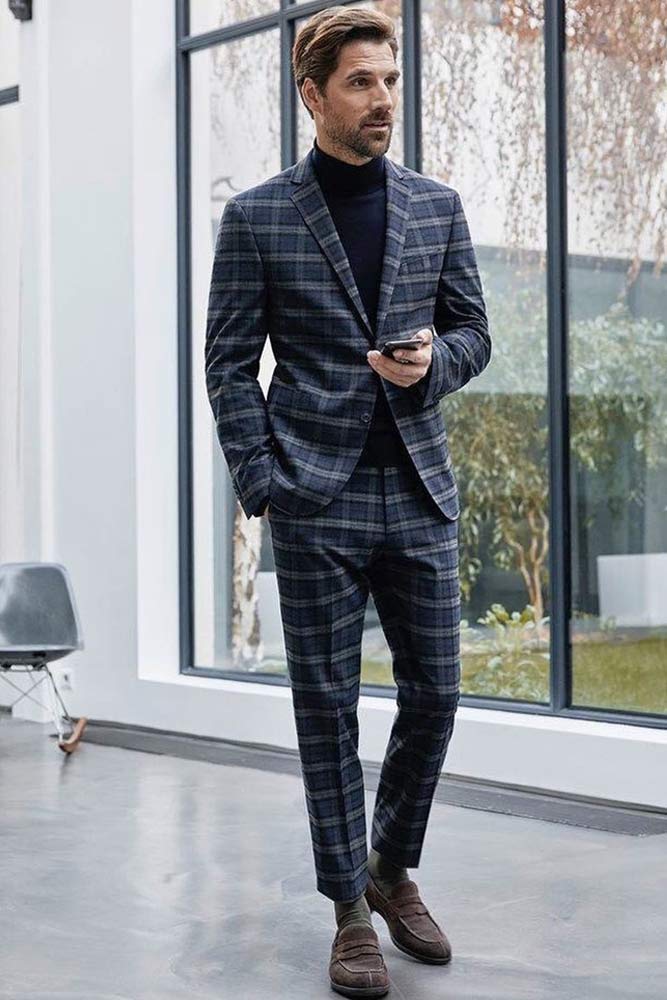 Credit: Instagram/pierrecardin_de
First things first, we should define what is business casual for men. To put it simply, it is the way regular business style goes down a level. It means that it is not that dressy anymore, but it is also not a Friday-night-out casual. When you sport a business casual look, you will feel comfortable, but you will look presentable at the same time. The main aim of this style is to project a neat impression while you are feeling comfy and relaxed, however never too relaxed, and you should remember that.
What Does Business Casual Look Like For A Man?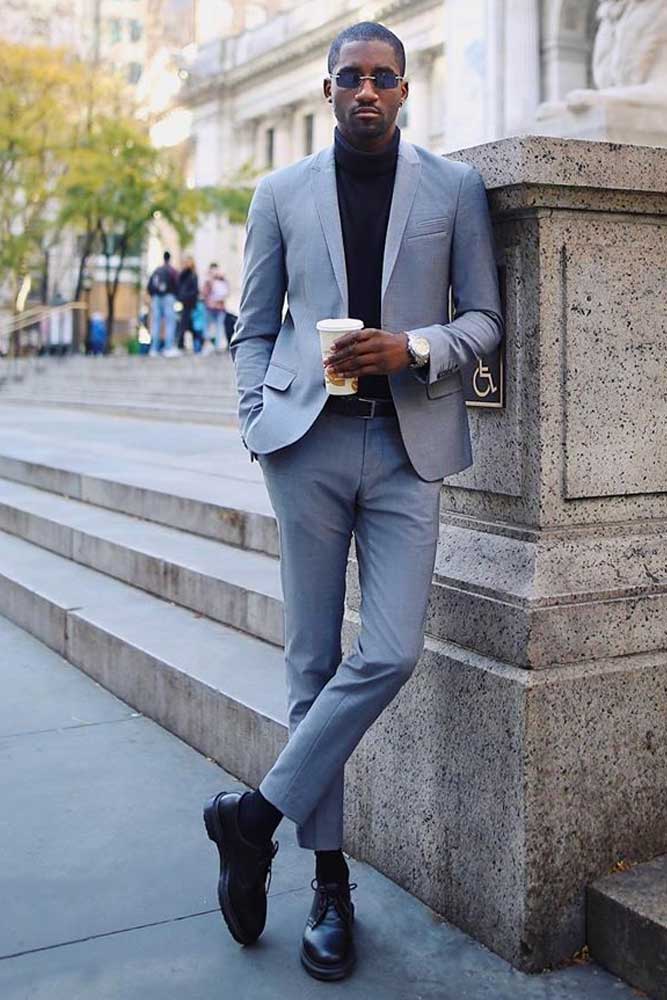 Credit: Instagram/pierre.laurent
To tell the truth, it is a difficult task to get business casual attire for men right. There are many nuances, and one simple detail got wrong can ruin the whole look. Today we are going to share with you two lists which will give you the idea of what to wear and what to keep away from.
Do's
Shirts. The item is taken from business attire, but you are free to get a little experimental with the prints. Besides, you can button down your collar here.
Ties. The same rule applies here, you can either wear one, or you can wear an open collar, the choice is yours.
Trousers. It is the time to experiment with the color, but you should keep it modern and comfy. Cotton and wool pants would be your best bet. If you wonder - Are jeans business casual? – the answer would be no.
Jackets. When it is a little chilly outside, feel free to put on a jacket. You can experiment with the pattern here too, however, you should better keep away from suit jackets.
Shoes. It is essential that you choose the shoes right since neither trainers nor closed lace black cap toes will do. What fits the style best would be suede brogues, chukka boots, or a brown leather Chelsea boots. Your shoes may be your greatest investment, but it is going to be worth it.
Accessories. Do not forget to add some accessories to your look too. However, make sure that you keep them at minimum.
Belts. The belt should match your shoes.
Socks. Various patterns will add some more color to your look.
Refrain from:
Dressy jackets
T-shirts
Polo shirts
Oversized sweaters
Sportswear
Vibrant colors
Casual shoes
Heavy patterns
Business Casual DON'Ts To Avoid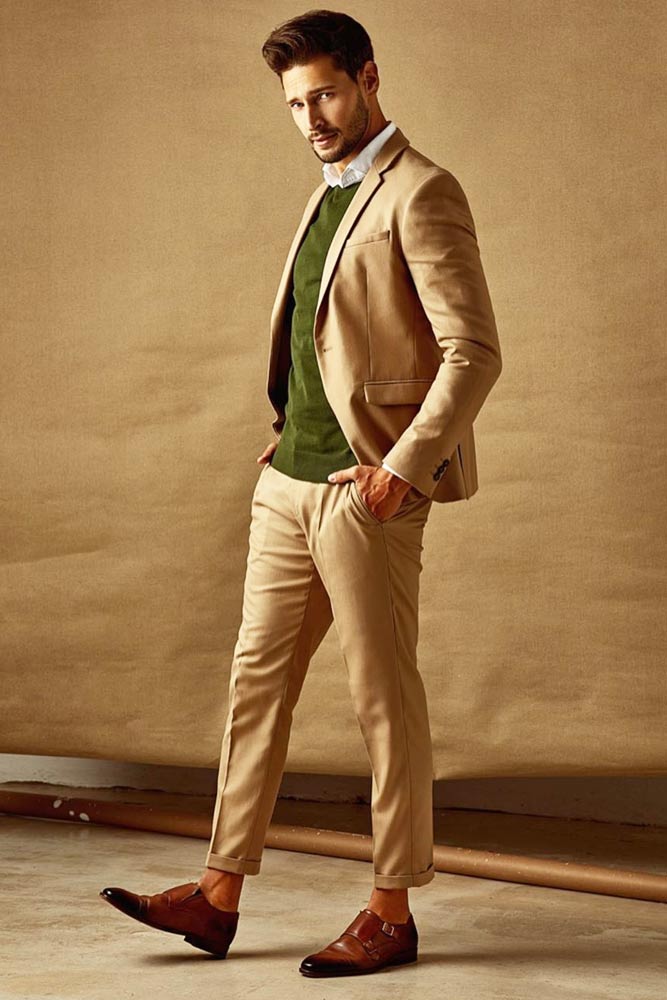 Credit: Instagram/kamilnizinski
In the vast majority of modern offices, business casual is not only allowed, but it is also welcome. However, there are times when business casual is not appropriate. The truth is that there are occasions when only business attire is required. They are:
Meetings with clients
Meetings with managers or executives
Board or committee meetings
Conferences or symposiums
When you are the representative of the company at formal events
Meetings with your employer
When you are invited to a job interview
The list is not that impressive, so it is easy to remember, not to make a mistake that can cost you a lot.
We have shared with you all the essential information as what to know about business casual style, now it is time we show you how it looks like in real life. You can use the ideas for your inspiration too!
Business Casual Men Outfit Ideas
Print Shirt With Beige Pants Outfit Idea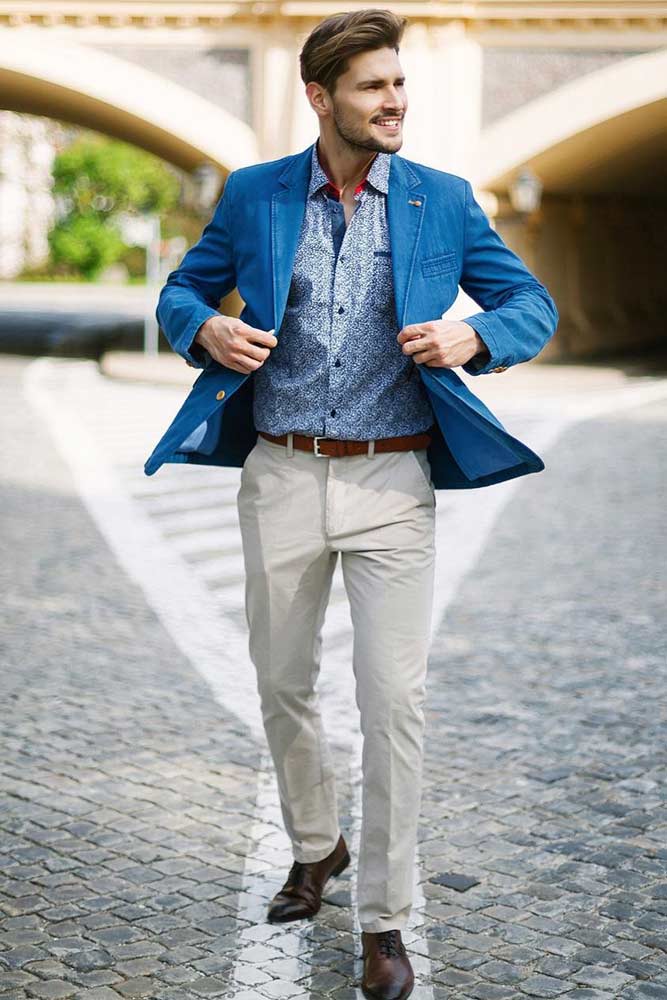 Credit: Instagram/kamilnizinski
As you can see, business casual shirts for men are a little more different than the dressy ones. They still preserve that formal touch while thy project that playful and stylish vibe. Pay attention to the way the belt and the shoe color match.
Color Mix Business Outfit Idea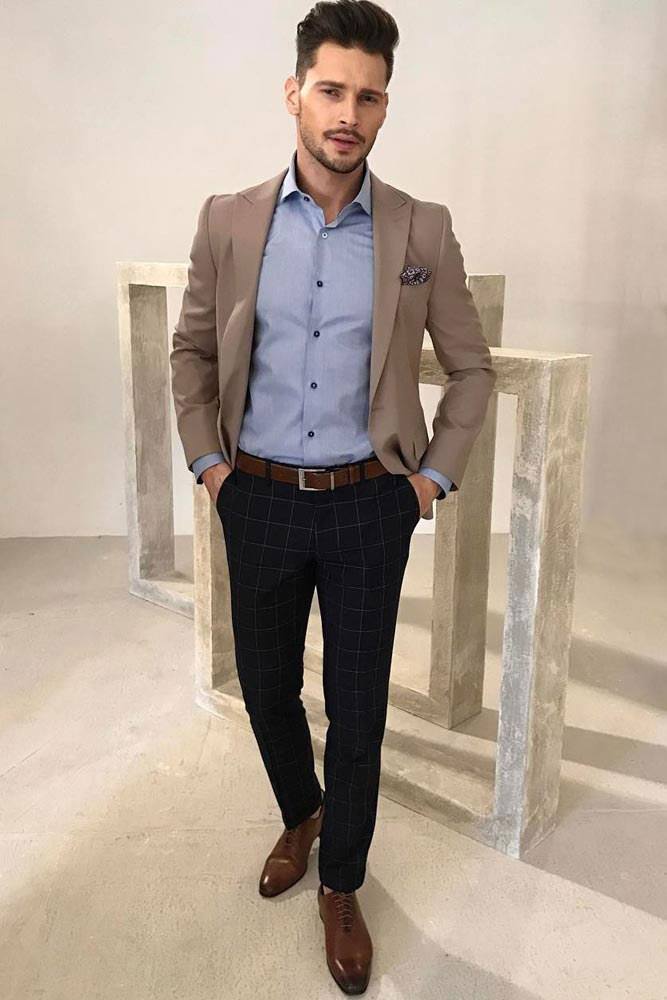 Credit: Instagram/kamilnizinski
If you think that business casual pants and jackets should match, that is not true. In many cases, the best business casual pants for men are those that are a little contrasting with the jacket. On the one hand, it seems that there are too many colors, but the way they interact is flawless.
Deep Blue Jacket With White Pants Outfit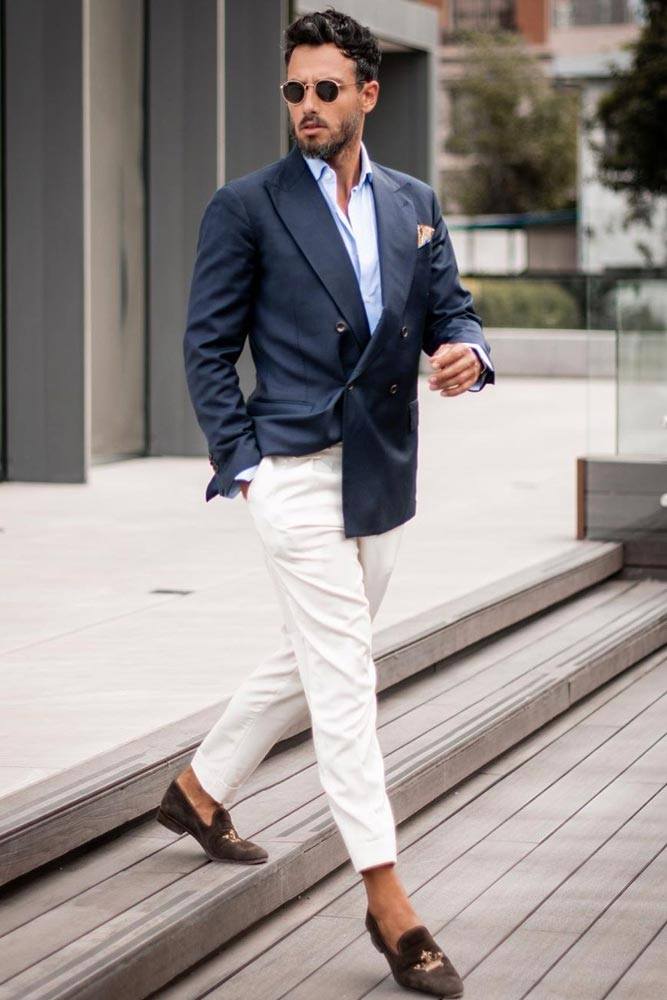 Credit: Instagram/mmarocchino
To be honest with you, stylish business casual men know how to accent the look properly. In this case, the contrast of the pants and jacket are not the only thing that makes this look business casual. Pay attention to the button-down collar and the absence of socks.
Monochromatic Business Outfit With Waistcoat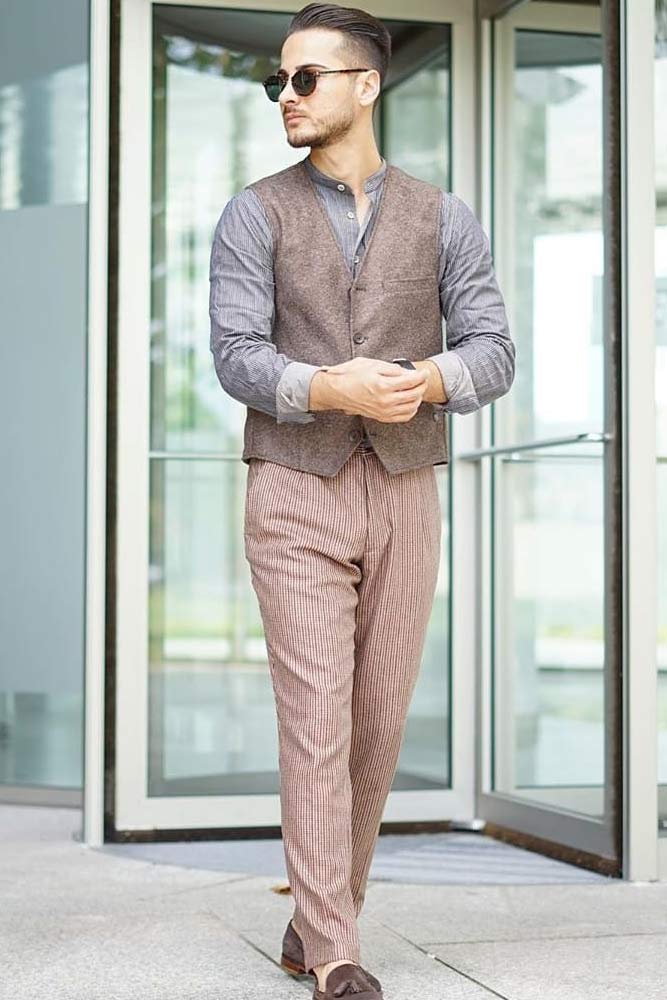 Credit: Instagram/itsmetanju
You do not need to stick to the contrast idea all the time. You can easily wear an outfit that is on the same color palette. However, the prints should stand out, and it is best that they do not match each other.
Business Outfit With Waistcoat And Print Tie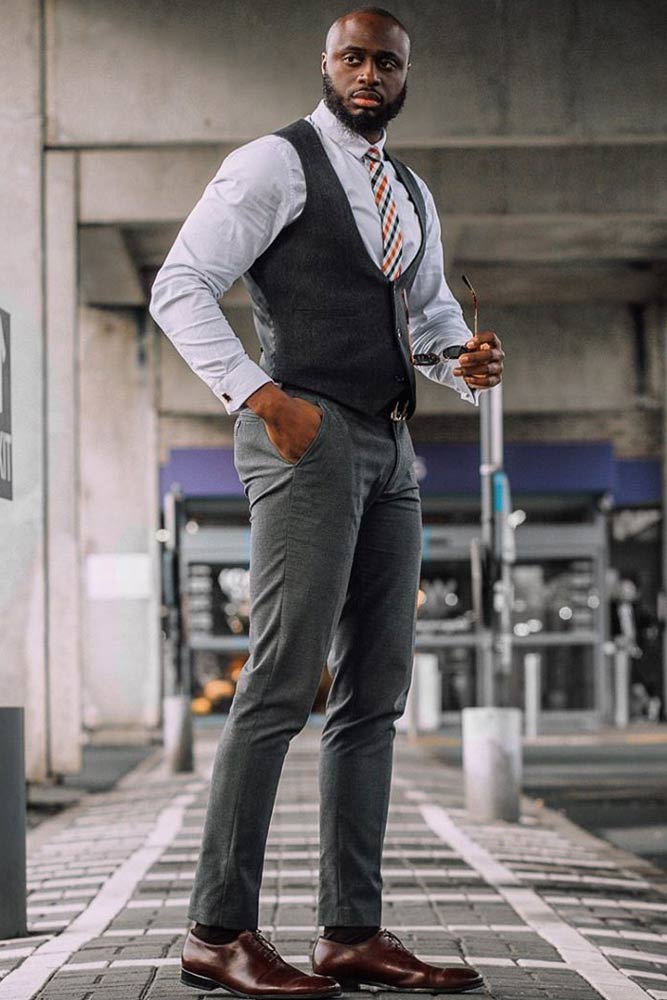 Credit: Instagram/logikriver
One look at this business outfit, and it is hard to realize what makes it different from regular business style. Look closer – the tie and the slacks are the key elements that make this look business casual. Besides, a business casual outfit is where you can show your muscles off a little.
Striped Suit With Deep Blue Jacket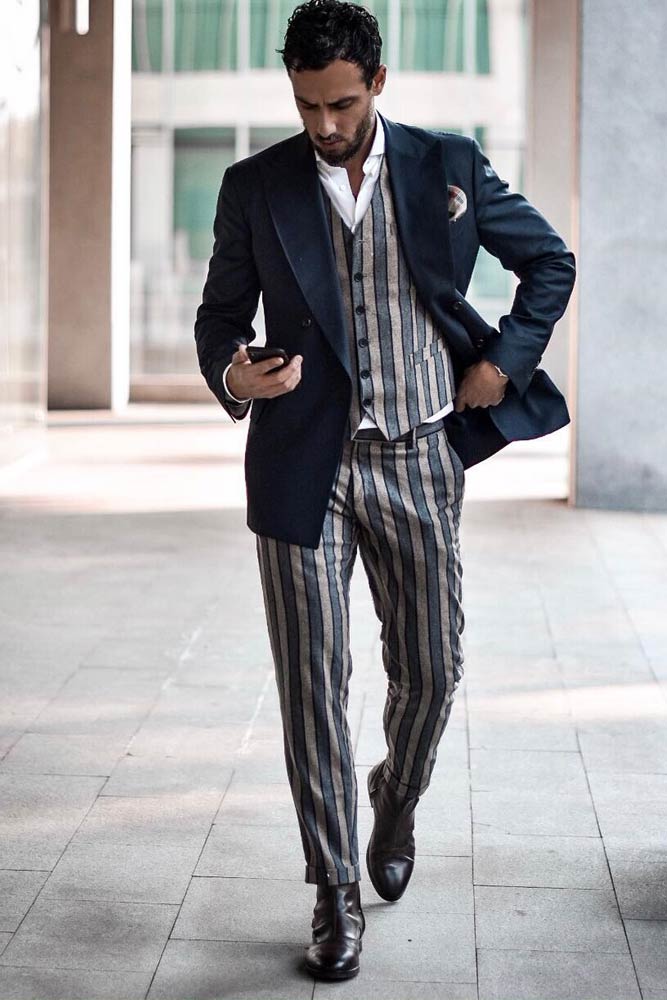 Credit: Instagram/mmarocchino
Stripes are on the edge of popularity these days. However, there is rarely room for them in business style. Well, business casual allows them, so if you want to look ultra-modern, such a striped suit is the one you can introduce into your collection. However, you need to remember that the jacket should not match the pattern in this case.
Deep Blue Power Suit With Plaid Tie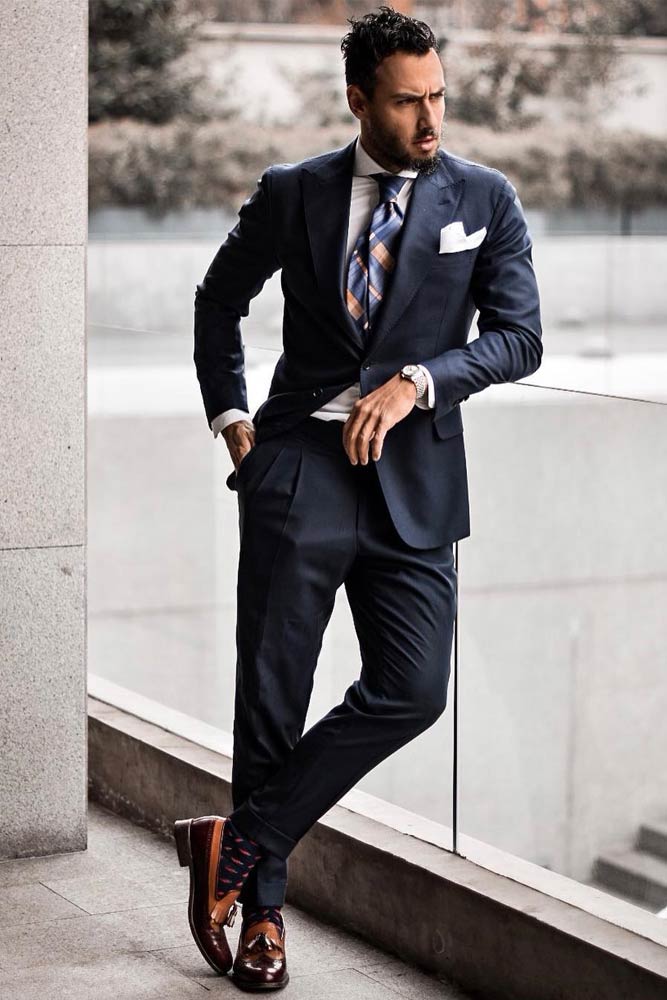 Credit: Instagram/mmarocchino
This is another case when it is difficult to spot the difference between regular business and business casual style. It is true that the suit is classy, so is the shirt, but the combo of the tie, shoes, and socks is what makes the difference.
Business Casual Outfit With Swirls Printed Tie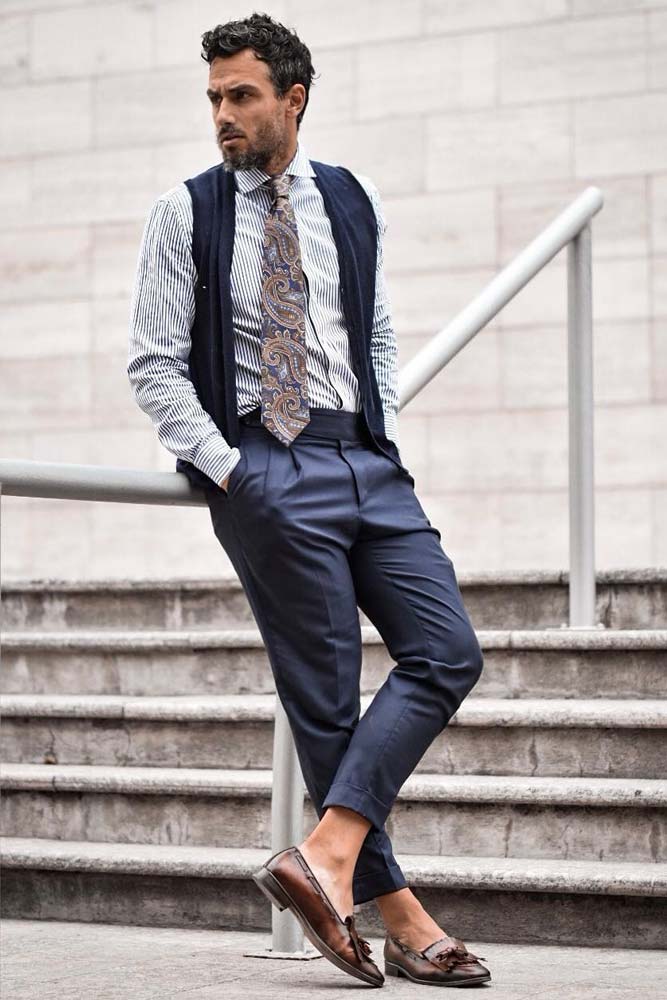 Credit: Instagram/mmarocchino
One of the key rules of business casual style is the desire to experiment with the patterns. It may seem that the swirly tie and a striped shirt won't match. However, when you give it a try you will see that the assumption is a misleading one.
Casual Business Outfit With Classy Gray Tie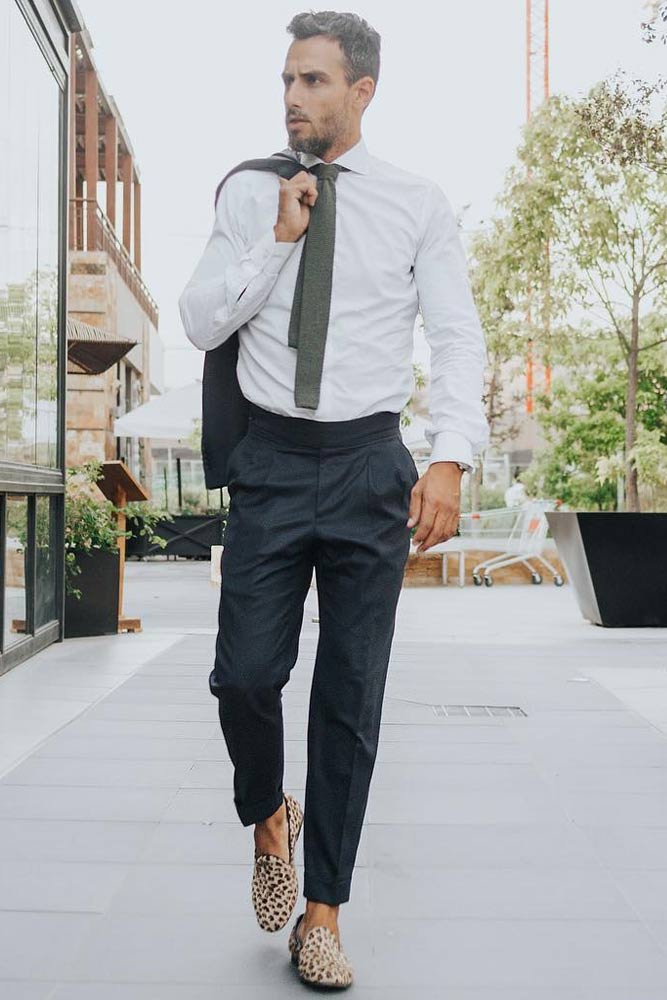 Credit: Instagram/mmarocchino
We have talked a lot about business casual clothing, but what about business casual shoes for men? What shoes are considered business casual? We must say that the range is quite impressive, since anything on the scale from walking shoes, dress heels, flats, conservative athletic, clogs and boots is allowed. Anything that comes with an open toe is a taboo. However, you can skip the sock step when it is warm outside.
Oxford Boots & How To Wear Them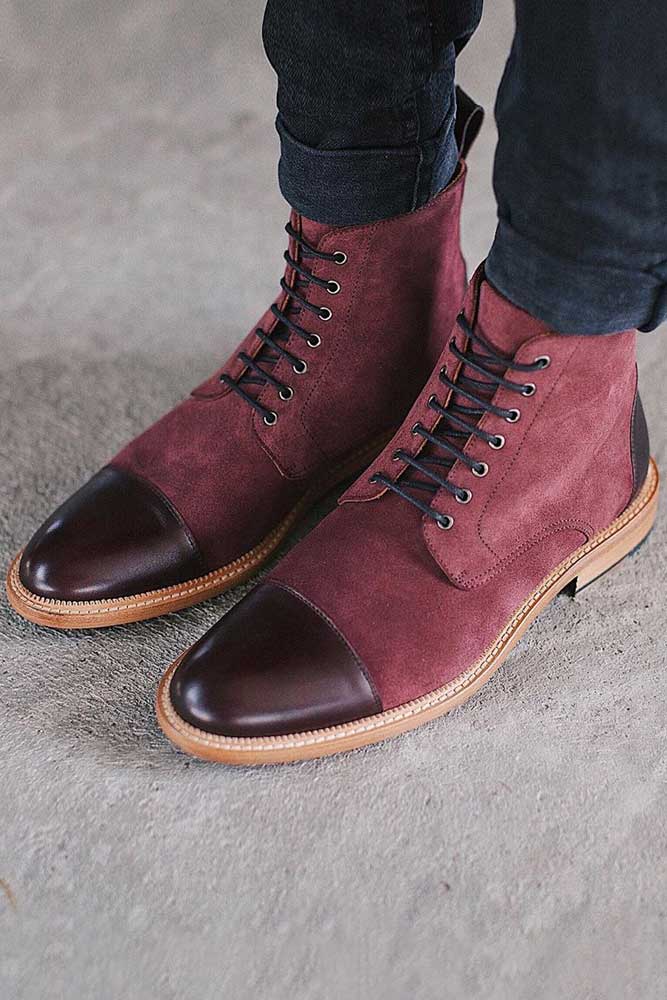 Credit: Instagram/taft
Oxford boots are nothing more than the extended version of Oxford shoes. If you like the shoes, the chances are that you will favor the boots too. One of the main advantages of adding these boots to your collection is that you can easily wear them both with your formal and casual looks.
Monk Strap Shoes & How To Wear Them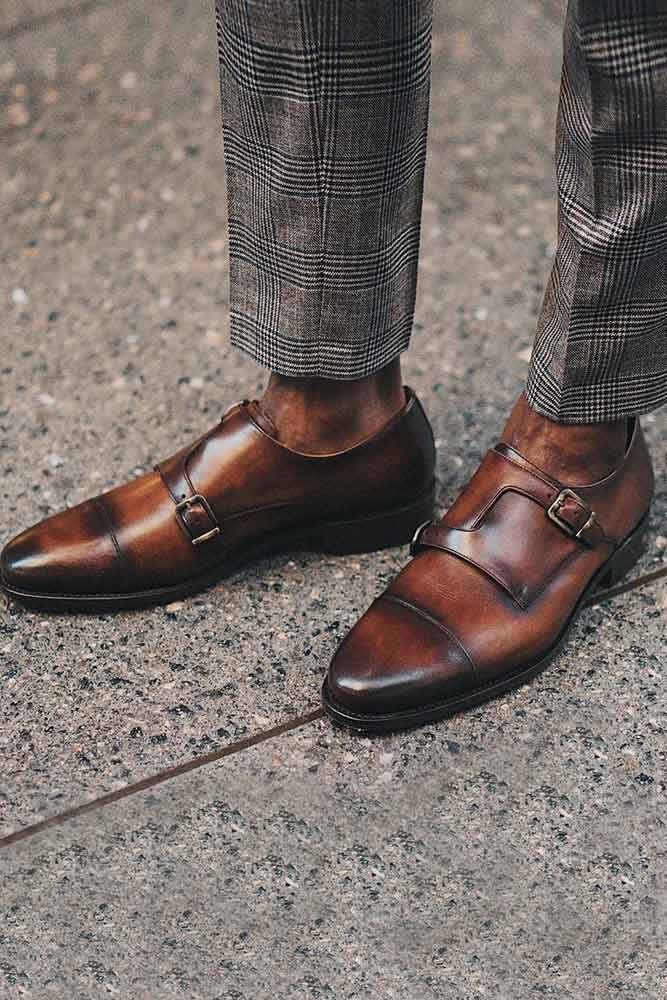 Credit: Instagram/taft
What differs monk strap shoes from all the others is the strap, or double strap in some cases, and the polished leather they are made of. This type of shoes suits the business casual look perfectly. However, if you purchase shoes like that, you will be able to fit them to formal and festive wear as well.
Penny Loafers & How To Wear Them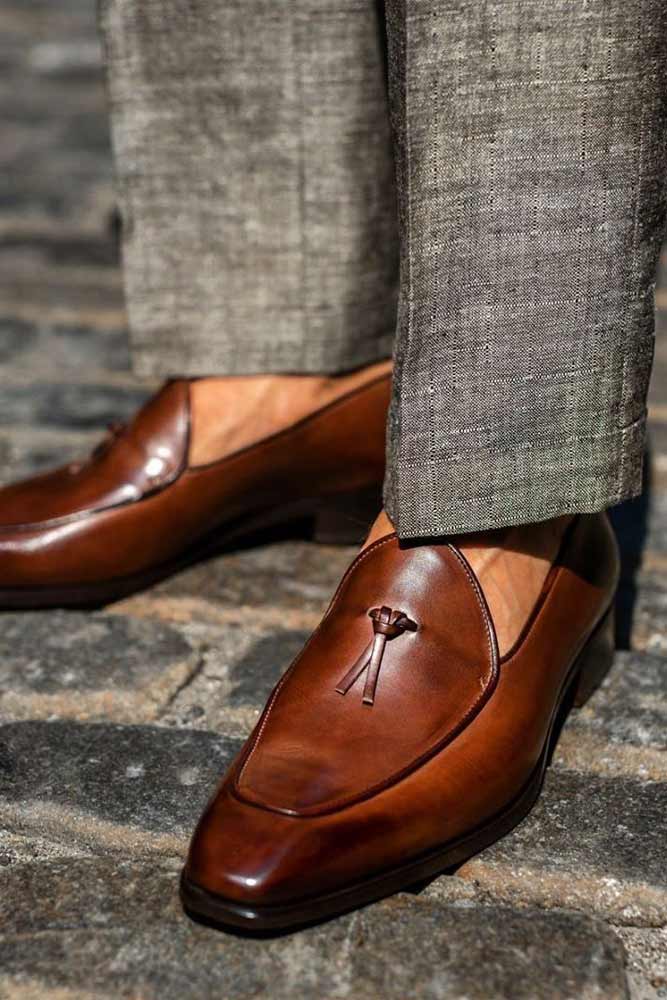 Credit: Instagram/paulevansny
Penny loafers are a little different from regular ones, in the way they feature a leather strip in the front. These shoes fit polished looks seamlessly. Besides, you can choose between leather and suede loafers. The latter ones are perfect for summer.
Power Suit With Black Coat Outfit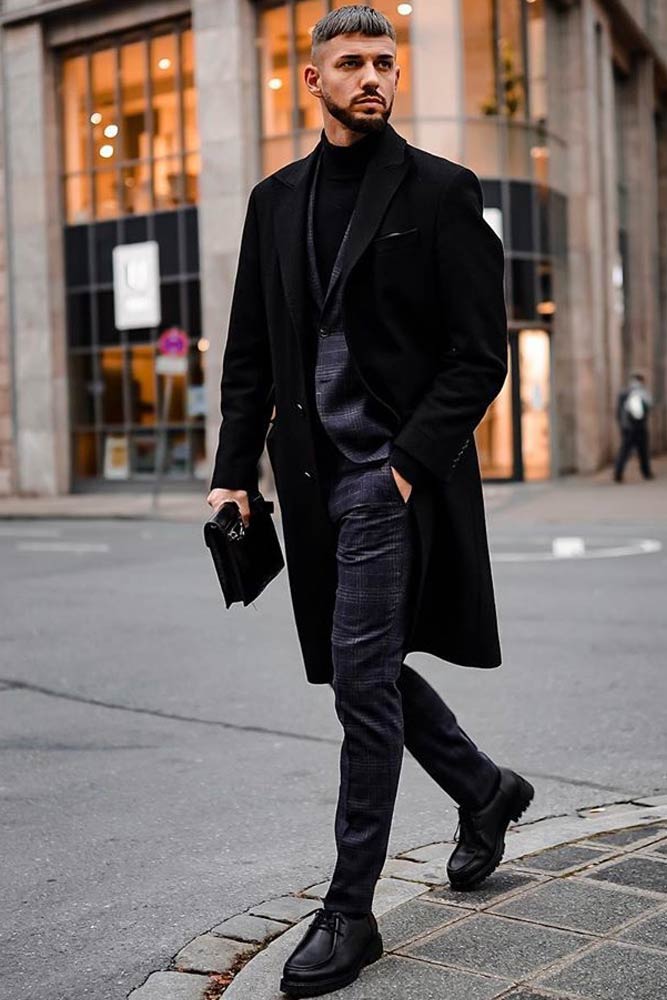 Credit: Instagram/fio_11_
Business casual men winter style does not differ much from what you would regularly wear. The only difference is the coat. However, unlike with business style, you can experiment with the choice of coats to wear. They can range from classy black ones to something brighter, the choice is yours.
Sweater With Gray Pants Outfit Idea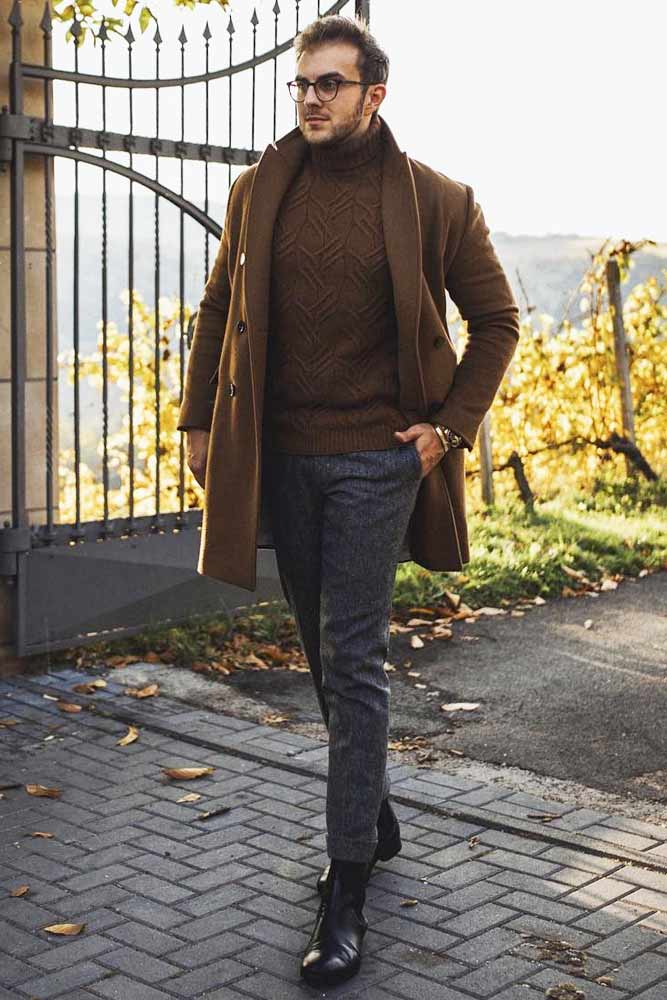 Credit: Instagram/streetandgentle
When it is really chilly outside, you need to add a warmer sweater to the look. While you choose the sweater, we say that matching the sweater and the coat is a worthy idea. However, the pants should stand out.
Black Pants With Light Gray Coat Outfit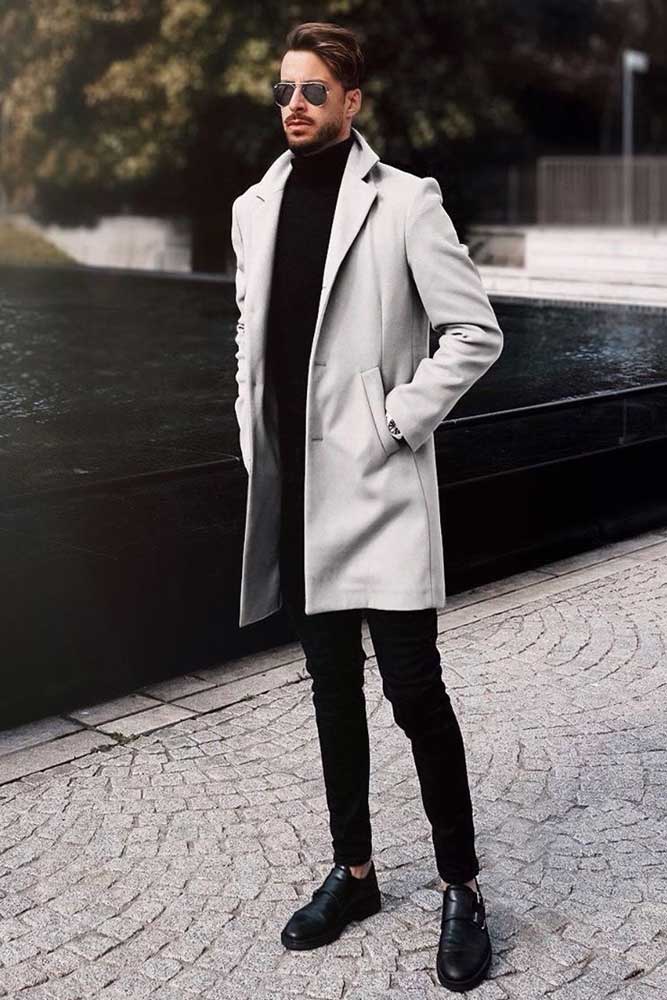 Credit: Instagram/alex__garman
When it is winter time, you can wear some monotonous outfits, but there must be an element that defines your look. In this case, light gray coat is that particular element, and we must say that the result is breath-taking!
Business casual men outfits are many. All of them are comfy and stylish. All you need to do is to learn how to mix and match them.
FAQ: Business Casual Men
What are business casual pants?
Slacks (non-jeans pants) with a blouse or good top, for example, without crops, cotton tank tops or t-shirts, a skirt or a dress are considered business casual.
Is turtleneck business casual?
A shirt with a collar, a sweater or vest over a shirt with a collar, a no collar dress shirt, a turtleneck, a no collar sweater over a shirt are all acceptable options. For business casual, a tie is not required.
Can joggers be business casual?
Teaming the joggers with something more business-appropriate instantly elevates their look. The blouse is then tucked in to give it form and to make the clothes look more put-together. By adding a nice blouse, you can take this outfit from casual to dressy, just like joggers are usually worn.