Bob haircut is best for those of you who are dreaming of some change in your lives but have no clue what to start from. Yet, edgy does not necessarily mean that it can't have a soft and feminine touch if you look close enough. To cut the long story short, we have something for you, and it is up to you to choose whether to go ahead and change or stay in your comfort zone.
*We may earn money from affiliate links on this page. Please check out our disclosure policy for more details.
Bob Haircut Trends for 2023
Looking to freshen up your bob haircut with some of the latest trends? We connected with Olga Markuse, a highly experienced hairstylist based in the UK, to get her expert insights on what's hot right now. Here are some of the bob haircuts that are making waves according to Olga.
There are two main trends for bob haircuts in 2023 – bobs are either uber textured and messy or, on the contrary, super sleek and blunt.

Shaggy bobs, boasting heaps of face framing and volume, are great for thick hair. Overall, this hairstyle would be suitable for any hair type, yet opting for a shorter length and softer layers would be more flattering for fine hair.

A classic blunt bob is a staple haircut that will never be out of fashion. In 2023, this style is particularly sleek and features a strongly defined perimeter line, while it tends to be often combined with curtain bangs.
Keep reading to discover more and get inspired for your next haircut.
The Beauty Of The Bob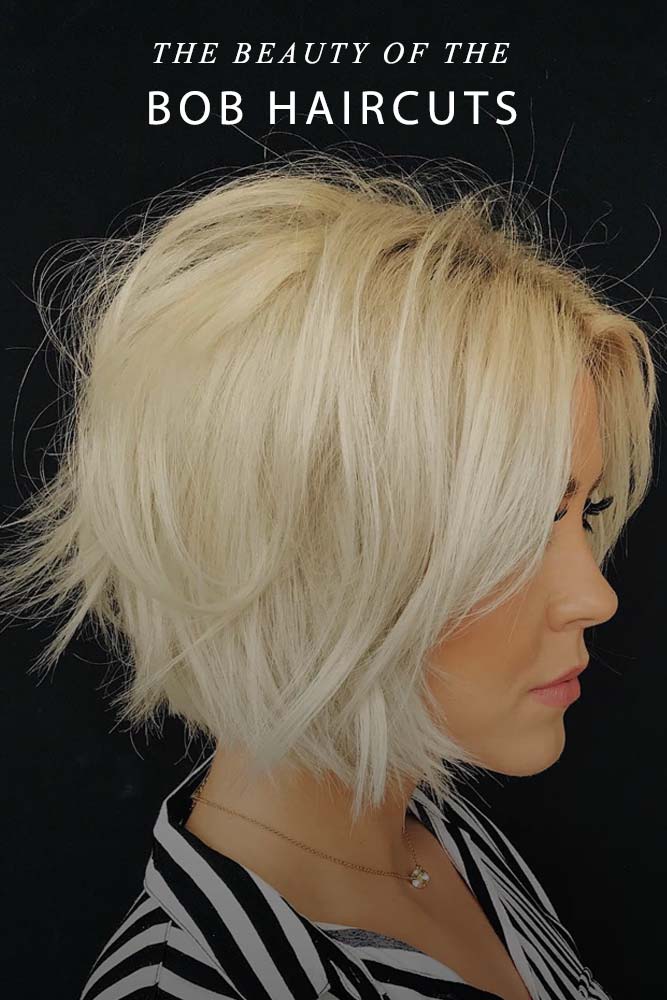 Credit photo: instagram.com/chrisjones_hair
It is not for nothing that the popularity of bob haircuts has spread all over the world. First off, this is one of the most beneficial cuts that can accentuate the best features of a woman and work on her flaws, hiding them up naturally. The bob will suit anyone, no doubts, as there are lots of different types of bob hairstyles. But if you want to get the most out of it, keep in mind these tips.
Bob hairstyles are known for their face-framing magic. It works unbelievably cool for round faces, giving a slight angle to chubby cheeks and hiding the round silhouette with its front tresses. Such haircuts work best for regular, thin to medium textures. But if you rock a thick, curly mane, you can opt for layered bob haircuts because they won't give that awful triangle body.
Bob haircuts stand among the best haircuts for fine hair: the variety of cutting options know no limits. If you have very thin hair that tends to fall flat, a graduated or inverted bob is the right choice. It features various lengths and layers throughout the hair that gives a well-groomed, volumetric body.
To keep up with the immaculate look of your bob, whatever it is, make sure that you have a good flat iron and blow dryer with a nozzle. Most bob haircut styles require a perfect shape, so working with these tools is essential. Plus, it gives you a lot of room for experiments.
Bob Haircuts For Blonds
A-line Bob Haircut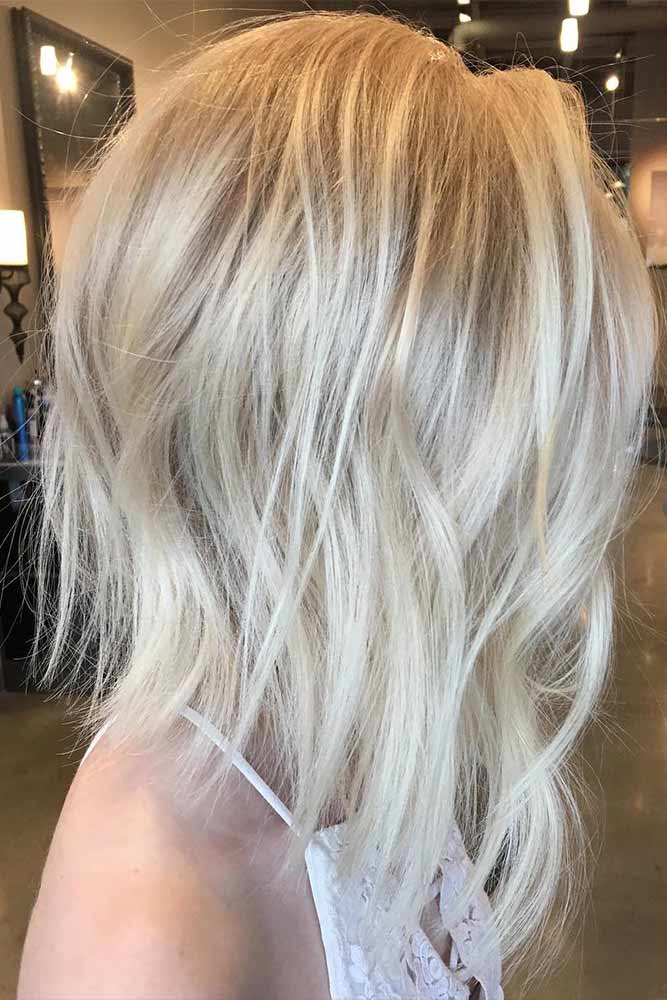 Credit photo: instagram.com/hairbymirna
A-line bob can come into your life as a short, medium, or long bob. The point is that it has no length restrictions while giving a nicely angled body with a flawless framing effect. As the name of the cut suggests, the hair at the front is longer than in the back. In this way, you can have the desired volume at the crown and frame your face with front tresses curving at your chin.
This type of bob is also very flexible in terms of styling, as it allows playing around with the texture: anything from sleek and straight to wavy and curly will look great on an angled body. And last but not least, such cute bob haircuts can not just adapt to any hair type; they can enhance it, getting the most of your texture. Here, for example, the bob is finished with soft movement of layers that amp up the silhouette, giving a volumetric touch to thin hair.
All-Beautifying Layered Bob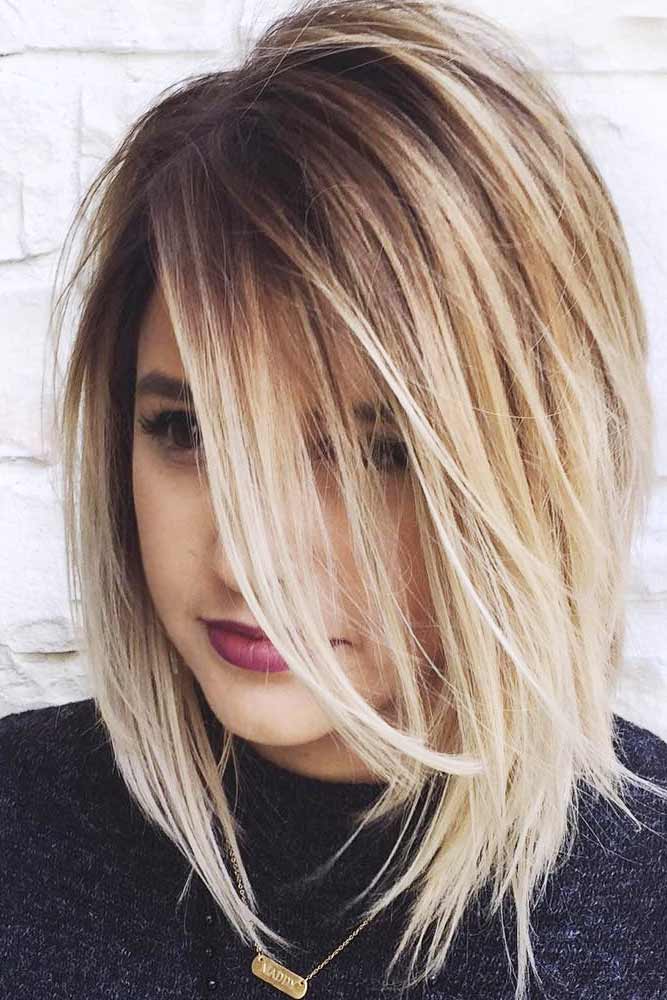 Credit photo: instagram.com/hairbyjessica_
It seems like there's nothing impossible about layers. Whether you struggle with your uncontrollable thick locks or your super weak and thin tresses fall flat after hours of volumetric styling, a layered bob haircut knows how to sort things out. For thin hair, it can bring the needed volume back with its various lengths throughout the hair. And for thick chevelures, it will lighten the texture thus bringing it to the decent shape. Aren't these layered medium bob hairstyles flawless? As for this layered bob, it's meant to satisfy all the beauty needs possible. Its sharp, angled layers curve at the end to form a rounder body that, in its turn, gives a face-framing finish. Due to the edginess of textured ends, every single lock on this mane stands out, thus making the hair appear super full and dynamic. Therefore, it doesn't really matter what face shape and hair type you have, as this haircut will make it look its best anyway.
Classy Inverted Bob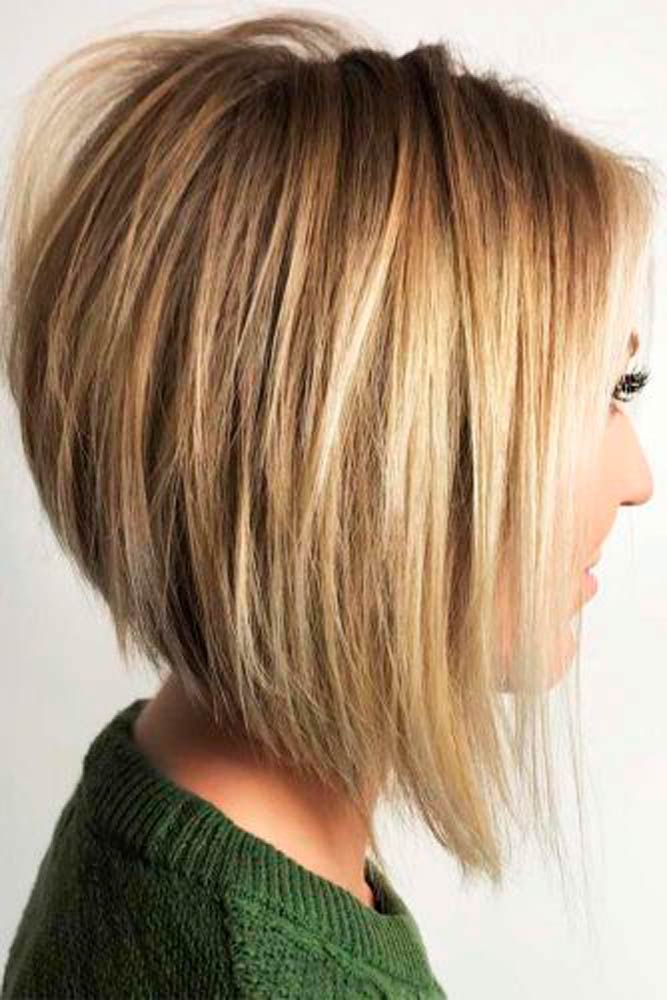 Credit photo: instagram.com/styled_by_carolynn
The medium bob haircut you see above is an inverted bob cut. It's also known as a graduated or stacked bob, as it features stacked layers in the back. One of its best features is that it's not as sharp as A-line bobs but still has a nice round shape that works for any face shape. Those who prefer well-balanced short bob haircuts to those featuring drastic angles and elements, that's the perfect cut to go for. Besides, you can always customize your bob, making it tailored specifically for your hair type and face shape. Of course, layers will do the trick for your locks. And if you'd like the cut to work on your face, you can ask your stylist to adjust the front tresses so that they frame your face a little. A tip: when styling short inverted bob haircuts, make your lightweight tresses more alive by tousling the crown.
Blunt & Sharp Bob Haircut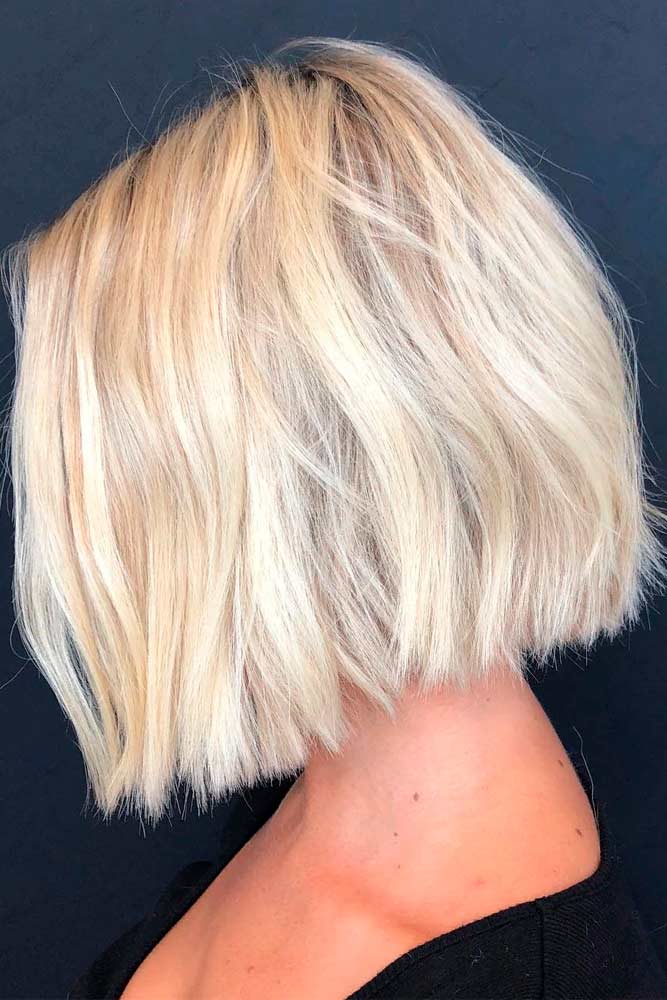 Credit photo: instagram.com/patrick_ina
One-length cut doesn't mean that you can't have a distinctive, sharp look. Once you opt for texturizing at the ends only, you will see your blunt bob appear in a new light. The texture of this layered bob above is changed only at the lower portion, yet, it's enough to lift up the overall look and give a bit of an edge. Well, no wonder they're considered the greatest bob haircuts for thin hair of all time: they can reveal the movement you never thought your hair had. The best thing about such cuts lies in their simplicity, as they can become everyone's desirable wash-and-go if you like unpretentious, carefree looks. You can even forget about drying your hair with a blowdryer; just give it a couple of hours to air dry and tousle it up with your fingers when it's almost dry. Yes, there's nothing more pleasant and easier than dealing with a sharp blunt bob!
Side-Swept Bob Style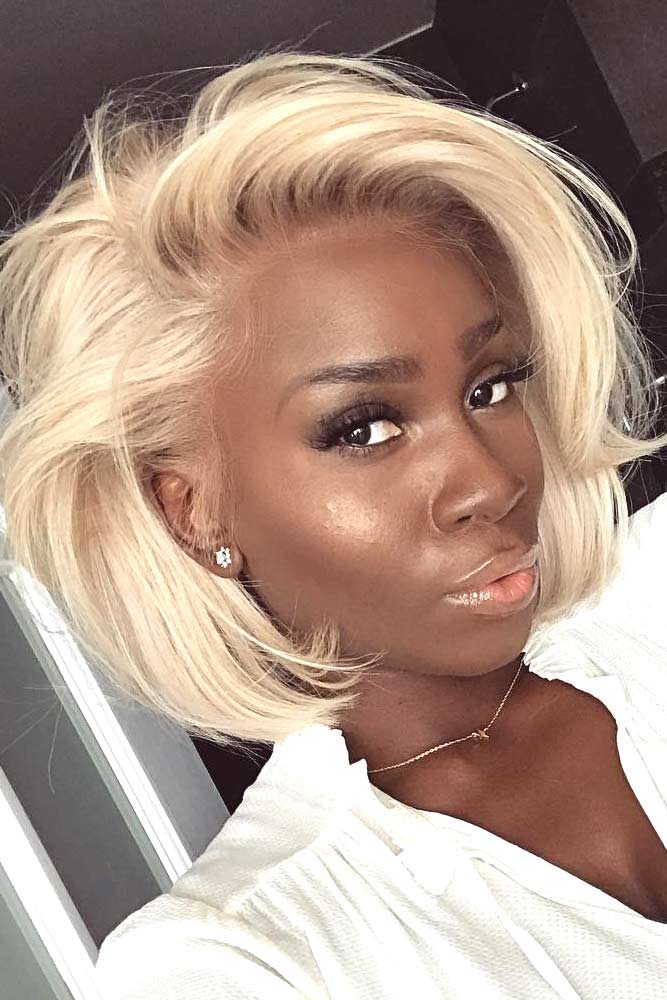 Credit photo: instagram.com/mary___ola
Now we'd like to focus on some common styling tricks that can make your bob even more flattering. This medium bob hairstyle looks so charming and attractive due to the right parting. Sweeping one of the sides is a nice way to get a voluminous and, most importantly, effortless look. For such a hairstyle, one-length layered medium bob haircuts will be the perfect base for adding tons of volume in just a snap. Go for various layers throughout the length to get as much volume as possible and add some flirty vibe to your hairstyle at once. Do you like the blowouts in this pic? Well, you can actually recreate the style if you have layers, round brush, and blow dryer. When your hair is dry and ready, sweep the top to one side and enjoy the versatility of your amazing bob haircut. Obviously, bob haircuts for black women are artistic creations!
Two-Toned Blunt Bob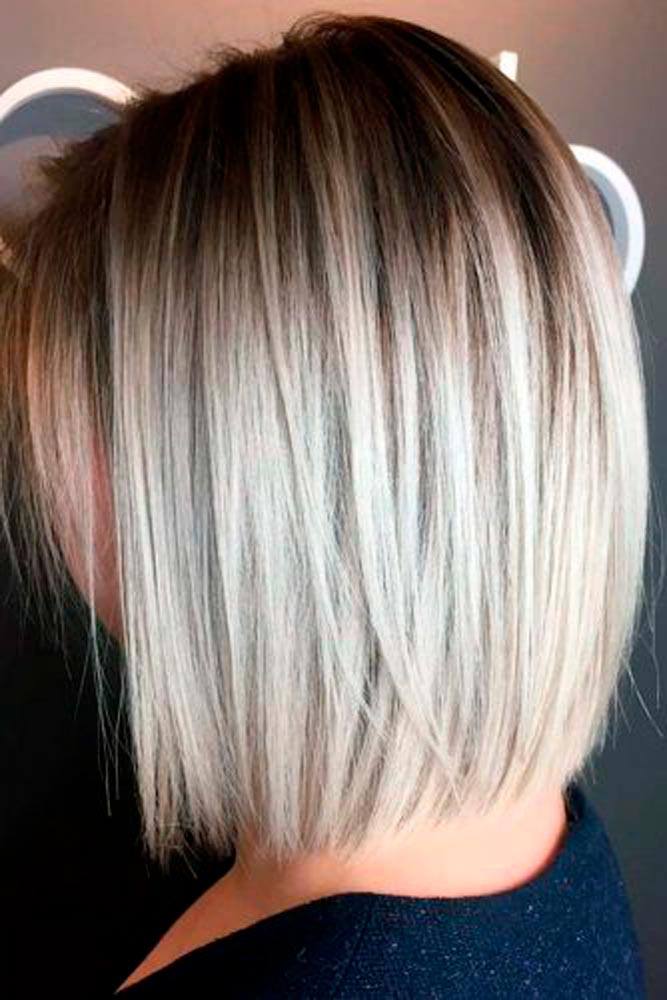 Credit photo: instagram.com/styles.by.sarah
This blunt cut is sleek and stylish and is great if you are growing out your hair. If you want to add some volume, curl the ends in to softly frame your face. Also, this look is classy and chic for a professional look and feel. Since the hair length is at the same level, you will feel absolutely comfortable with it as it grows out: it will be very easy to maintain and style. The right color job may come in handy when you'd like to freshen things up. Smooth ombre, where your roots melt with the added color, can not only give a fresh take on your casual look but also add more dimension to your hair. Dynamic, dimensional looks are something that women with all hair types can't do without: all in all, who wants to rock a dull look?
Layered Volumetric Bob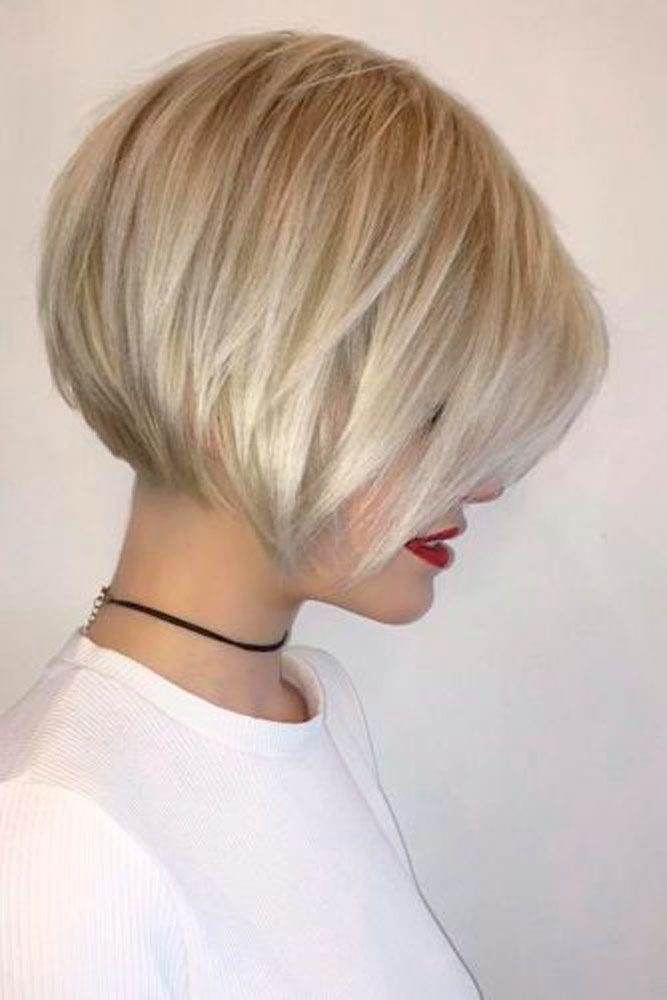 Credit photo: instagram.com/terrashapiro_atjuansalon
This classic lob is always in style and pretty much anyone can rock this timeless haircut. It looks really nice with naturally straight hair and some pretty balayage tones. As one of the most stylist-recommended bob haircuts for fine hair, a layered bob with a round, voluminous crown is the saving grace women of all ages are dreaming of. When dealing with fine hair, this type of bob amps up the body with its short volumetric layers hitting the back of the head. If you give it a try with your thick locks, the silhouette will be less airy, yet still soft and well-shaped. In other words, you can't go wrong with this cut, especially if you finish it with harmonic balayage.
Angled Bob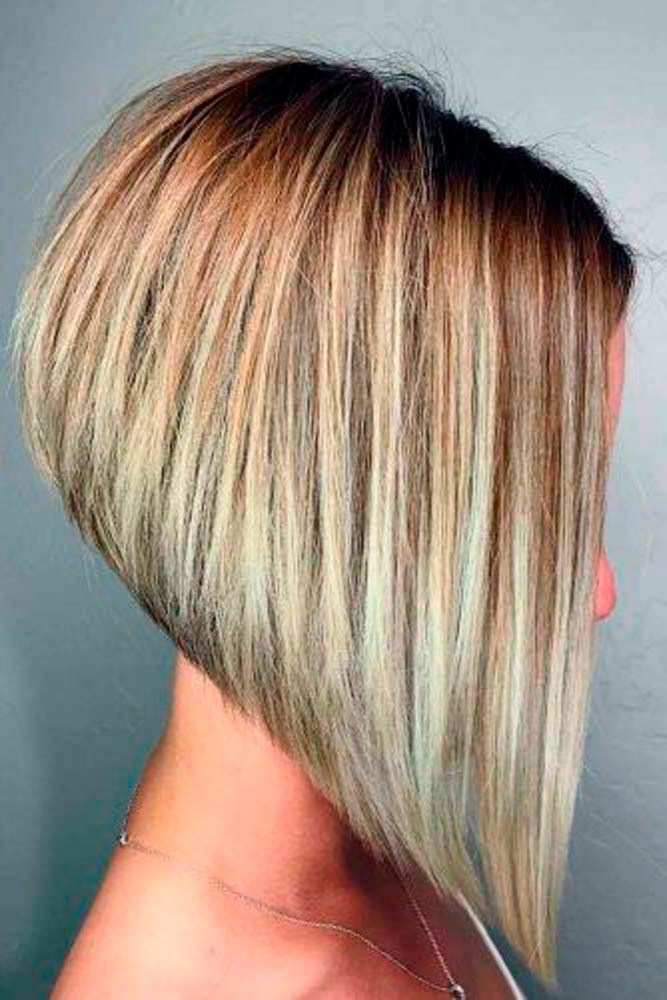 Credit photo: instagram.com/emilyandersonstyling
This medium layered haircut is great for those with really fine hair as it creates an illusion of fullness. Plus, the clean straight lines and the longer length in the front will really soften your facial features. At first sight, people may take such bobs as long bob haircuts. But in fact, the elongated front tresses give a longer look visually, thus creating the illusion of longer hair. If it plays with people's minds with its length tricks, can you imagine how much volume it can bring to your dull hair? What makes the haircut so special is a unique cutting technique that shapes the edges, making them more distinctive and thus fuller. By the way, don't underestimate the power of balayage; it can drastically change your bob for the better. See, this style looks especially cute with some high and lowlights throughout for added depth and dimension.
Short Textured Bob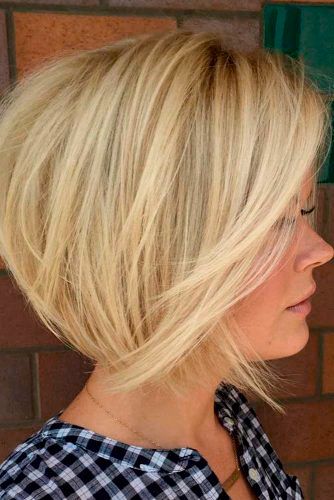 Credit photo: instagram.com/katiezimbalisalon
This short bob is super-adorable with its side swept bangs that fall effortlessly across your forehead. The shorter layers add a ton of volume and softly frame your face for a cute and girly look. Simply wash, add some texturizing cream and go for a fun and flirty vibe! And it goes without saying that this idea is actually another fantastic weapon for fighting thin hair troubles. The once lifeless, dull locks can turn into weightless airy clouds hugging your beautiful face to make it look gorgeous. Apart from that, such texturizing allows for various different styling ideas. Due to the manageable texture of this cut, you can easily switch to curly and wavy mode, as well as play around with styling products meant to spruce up your texture. When your style is ready, don't forget to give it a coat of hairspray.
Choppy Ends With Long Side Bangs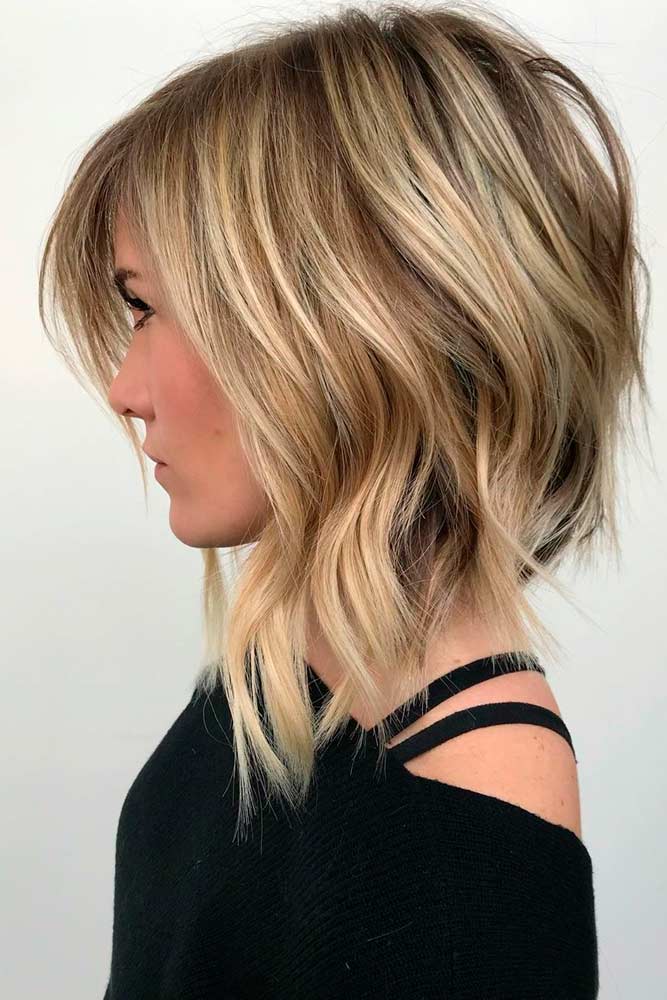 Credit photo: instagram.com/danielmbeauty
This look is good for those with naturally wavy hair as it is pretty much wash-and-go. The fun bedhead waves are super easy to style due to the choppy ends. Simply spritz with some sea salt spray, style your bangs to the side of your choice, and go! The truth is, no matter how long or short bob haircuts for women you choose, choppy layers are something that can make your idea better whatever it is. This little detail makes the ends stand out from the rest of the hair, giving them new, effortless life full of freedom. So if your thick ends tend to let you down during styling, that means they should be tamed with the charm of choppy layers. As for versatility, you can choose specific areas that your haircut will hit: if you want to work on the ends only, so be it!
Short Shaggy Bob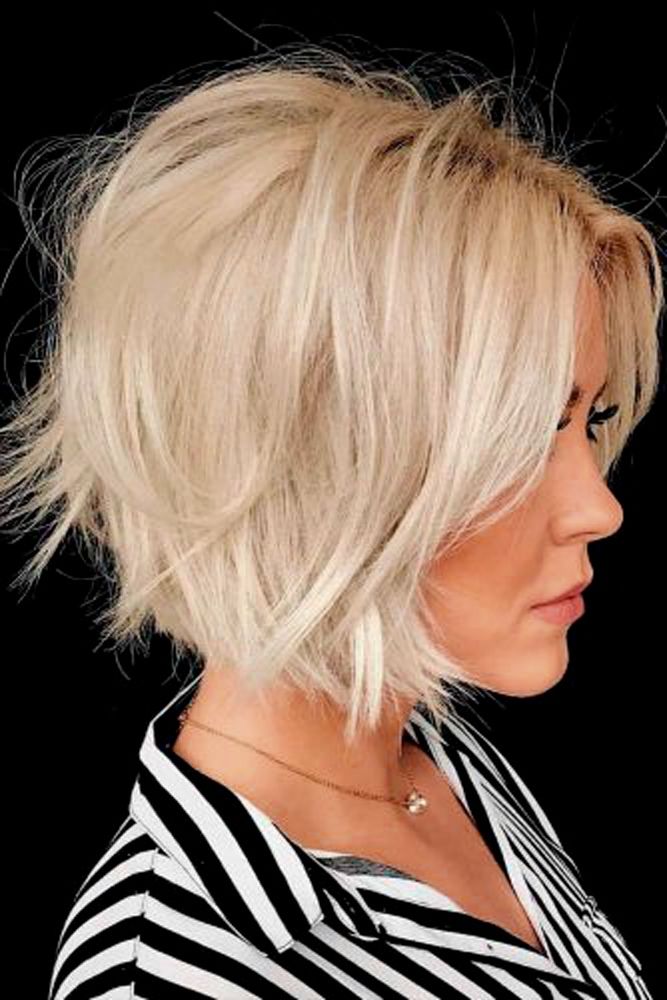 Credit photo: instagram.com/chrisjones_hair
It seems like shaggy bob haircuts are designed to make every single hair dream come true. While some ladies with thin or fine hair take their texture as a curse, wise ones know how to make it a blessing. As we told you already, bad hair types don't exist; wrong haircuts do. When you feel like you're not satisfied with your hair texture, as it needs more volume and life, shaggy layers come in. They're nothing but a lot of short and long layers dancing together on a mane. But the volumetric result full of dynamics and movement is just to die for! This shaggy bob pairs well with blonde hair color, how do you think? And the look is great both for work and casual routine, so you won't have to restyle your tresses after the working day.
Voluminous Short Bob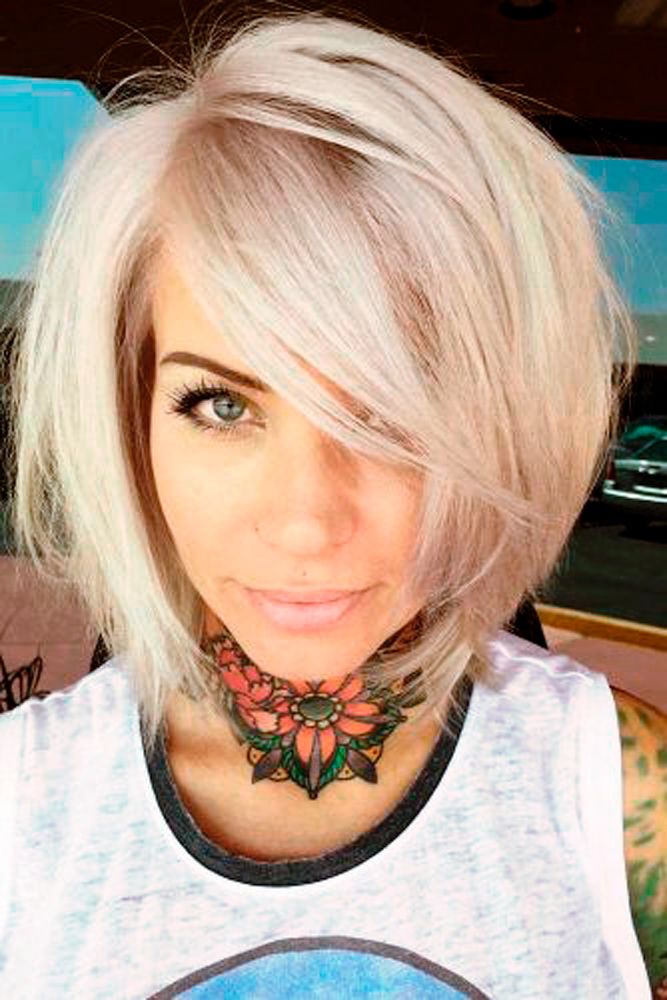 Credit photo: instagram.com/chantalxlaurenxhair
When choosing bob haircuts for round faces, you should make sure that they feature long or graduated front tresses that curve at the chin. As strange as it sounds, to balance out chubby cheeks and round face shape, you should rock a haircut with a round silhouette. The voluminous round body with front framing layers will steal the show, drawing attention from your big face and thus making it appear longer. Make your hair as voluminous as possible, and you will fall back in love with your face shape. This look is great for those with round faces and thinner hair. With layers starting just above the chin, it adds a ton of volume. You can straighten it for a sleek, sophisticated look or use a large curling wand to add loose curls for more of bounce and movement!
Angled Bob For Thin Hair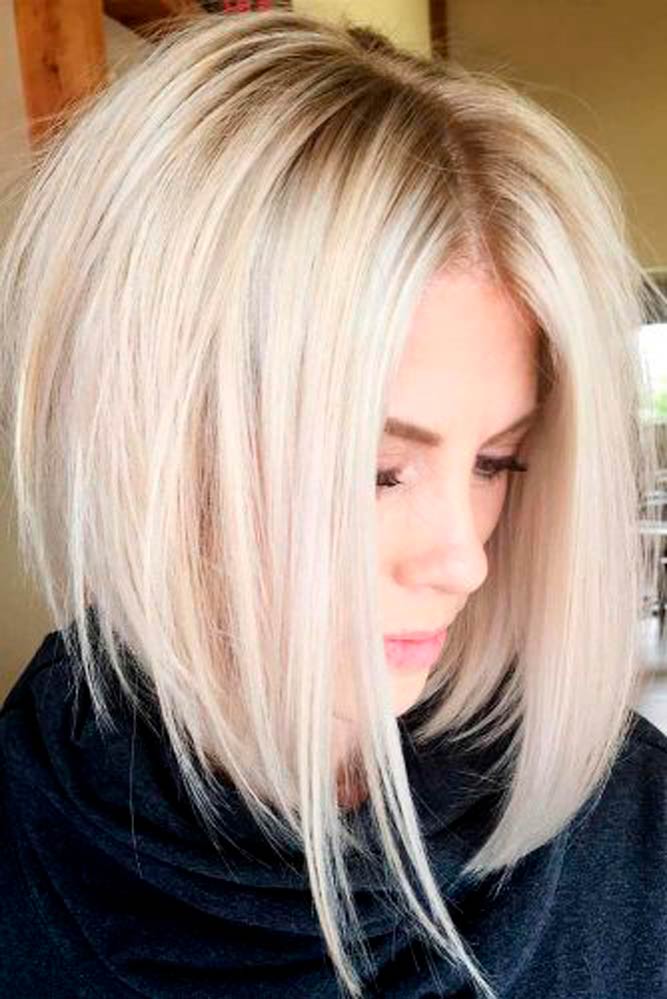 Credit photo: instagram.com/thomastimes
For thin hair, it's crucial to find optimal hair length. It may look its best when it's long and the lack of volume at the roots is balanced with long luscious locks. On the other hand, it may appear fuller when kept at a shorter length, as the hair has less of weight that prevents the lift to come, which is usually the case. An angled bob with subtle layers shaping the ends is the salvation that will make you forget about desperate hours of styling your straight thin hair. This haircut is lightweight and sharp at the same time; just what the doctor ordered!
Short Bob For Thin Hair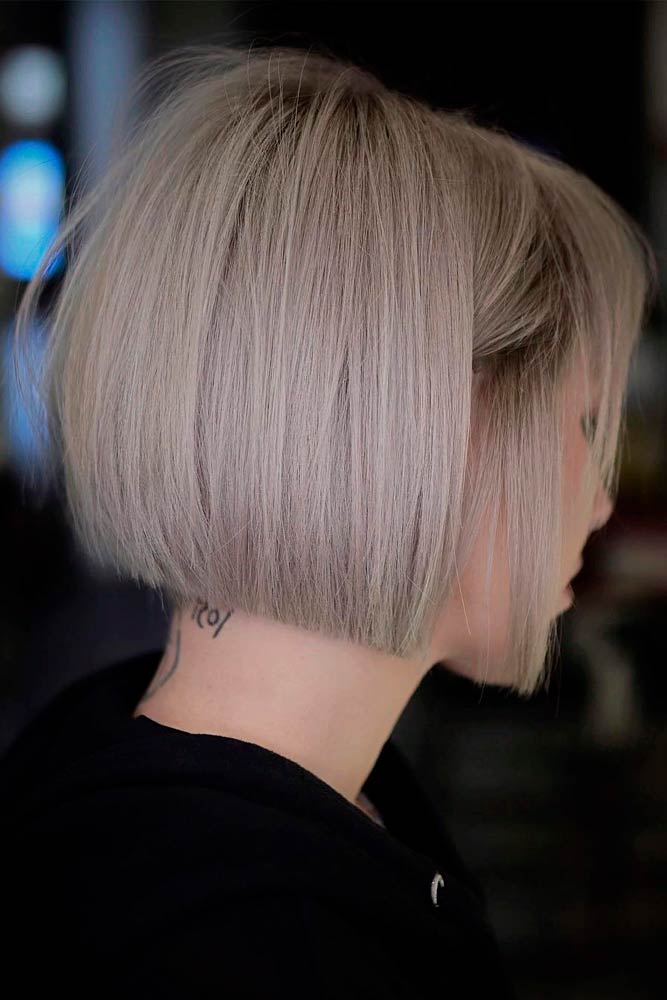 Credit photo: instagram.com/cutyourhair
As it turns out, layered bob haircuts aren't the only way to save your hair from the flat thin look. Instead of going for cuts that require regular upkeep and maintenance of lots of layers, you can simply cut your hair to a short blunt-bob length. Believe it or not, that's enough to breathe new life into your thin hair, removing the extra weight from your locks and letting them show the volume they've been hiding. A round brush, heat protectants, and blow dryer are what will help you keep up with the look!
Straight Lob With Razored Ends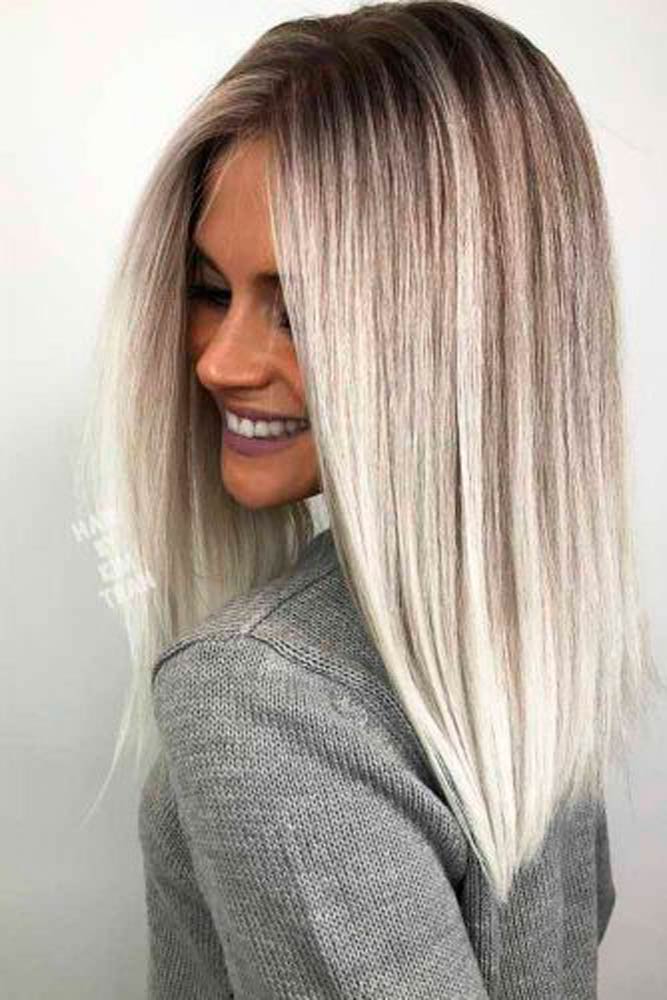 Credit photo: instagram.com/hairbykimtran
When your hair becomes longer, it also becomes tougher to style, especially at the tips. If you let it grow without seeing your stylist regularly, the overall texture may become uneven, resulting in unmanageable ends that ruin the look. That's why you need to work on your ends, as much as you want to save every inch of length. Razored ends are a perfect solution to make your hair behave no matter what length you sport. For a straight lob, it's crucial to have the ends razored, as this tiny detail can make the hairstyle flawless.
Short Beachy Angled Bob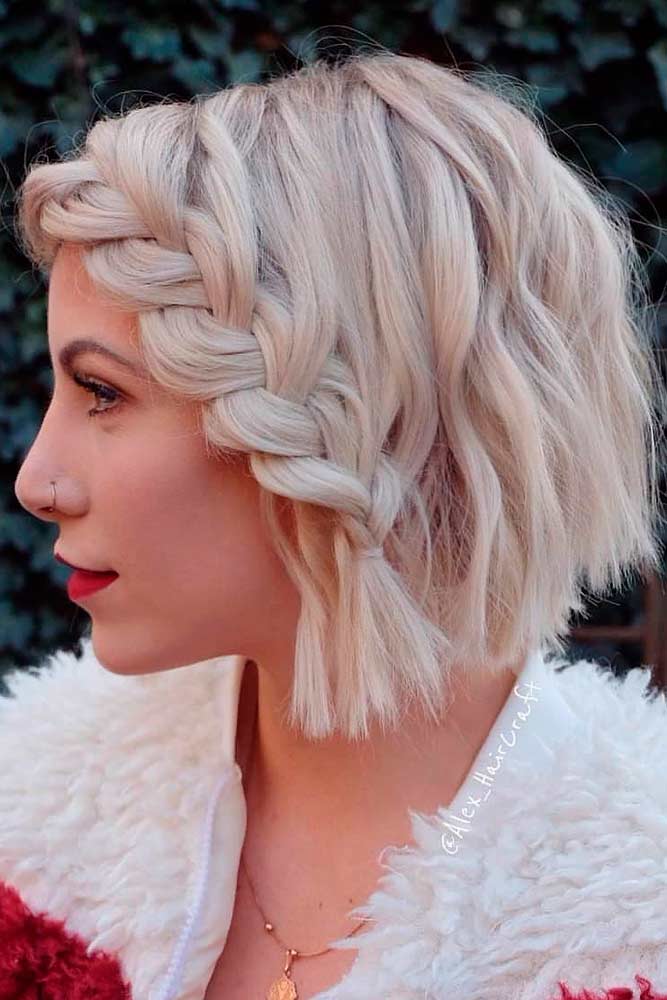 Credit photo: instagram.com/wickeddopehair
Show this picture to everyone who claims that short bob limits you in terms of styling options! Not only do angled bobs have a totally different, outstanding appearance but also offer a plethora of styling ideas. This textured side braid moving from one side to the other is a classy, modern way to show your femininity and glamor at once. Beachy waves complement the ensemble with their lightweight but still so defined texture. Who would've thought that a simple hairdo would turn out to be so magnificent?
Messy Layered Hairstyle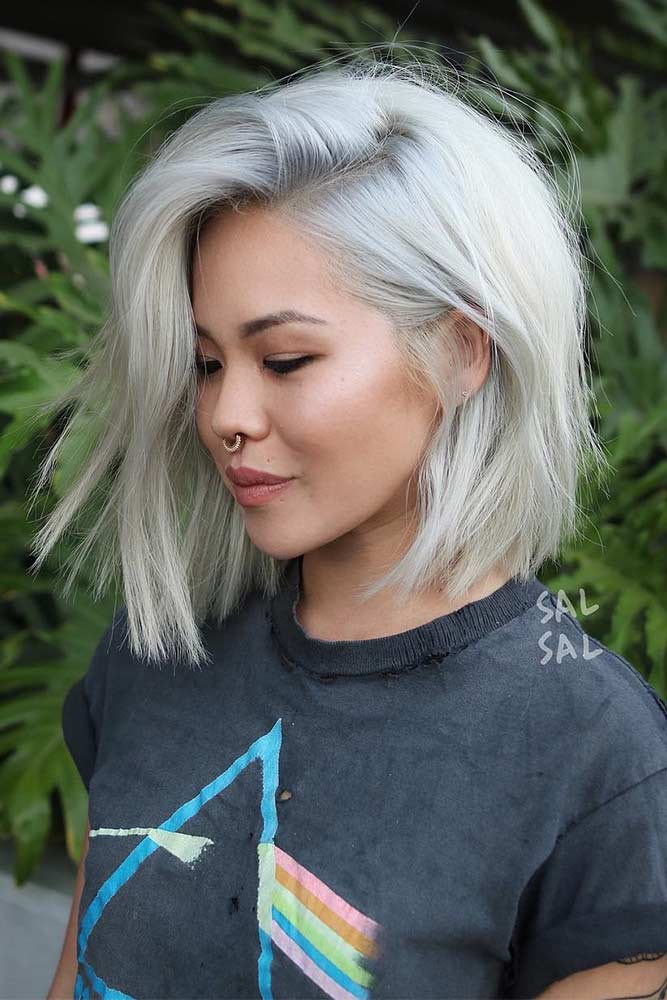 Credit photo: instagram.com/salsalhair
A bit of messiness is the secret of absolute harmony in a casual look! Before telling you how amazing you will look once you spruce up your daily hairstyle with a messy touch, we'd like to share one essential tip: messy looks can't do without layers! Your hair should have at least a couple of layers on the top. Otherwise, the messy hint will fall in less than an hour. Now, just look how wonderful this medium-length bob is! Mess in hair can actually have a positive meaning.
Choppy Wavy Lob For Fine Hair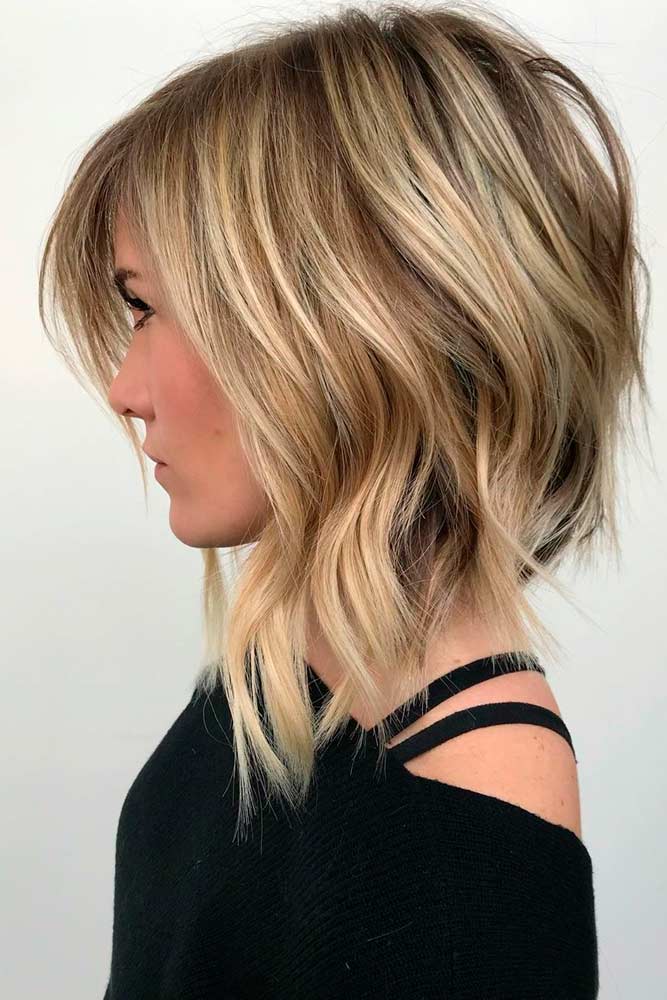 Credit photo: instagram.com/styled_by_carolynn
Waves are one of the few hairstyles that look beautiful on women of any age, with any face shape, hair type, and haircut. But, let's be honest, when it comes to waving your fine hair, you want those waves to be not just perfect; you want them to look special. As you might have guessed, there's a bob haircut that will help you perfect your wavy hairstyles. Choppy layers that move from the back of your head right to the front can make all styles, including the ageless waves, look different.
Sleek Layered Bob With Side Bang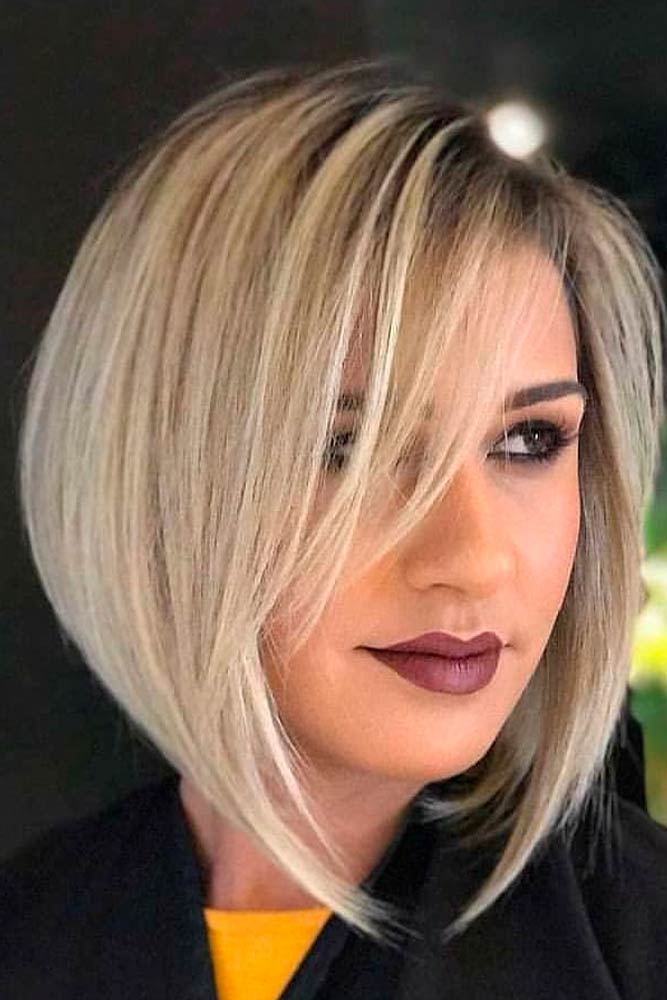 Credit photo: instagram.com/ro.hsiqueira
For some women, changes don't come easily into their lives, as, you know, the comfort zone is pretty powerful. And there's no better motivation for changing something in your look than before-and-after pictures showcasing impressive transformations. In this pic, words are simply useless; the result speaks for itself. If you ever have doubts about getting a bob and you think that everything stylists promise to you are just loud words, look at this pic one more time.
Concave Bob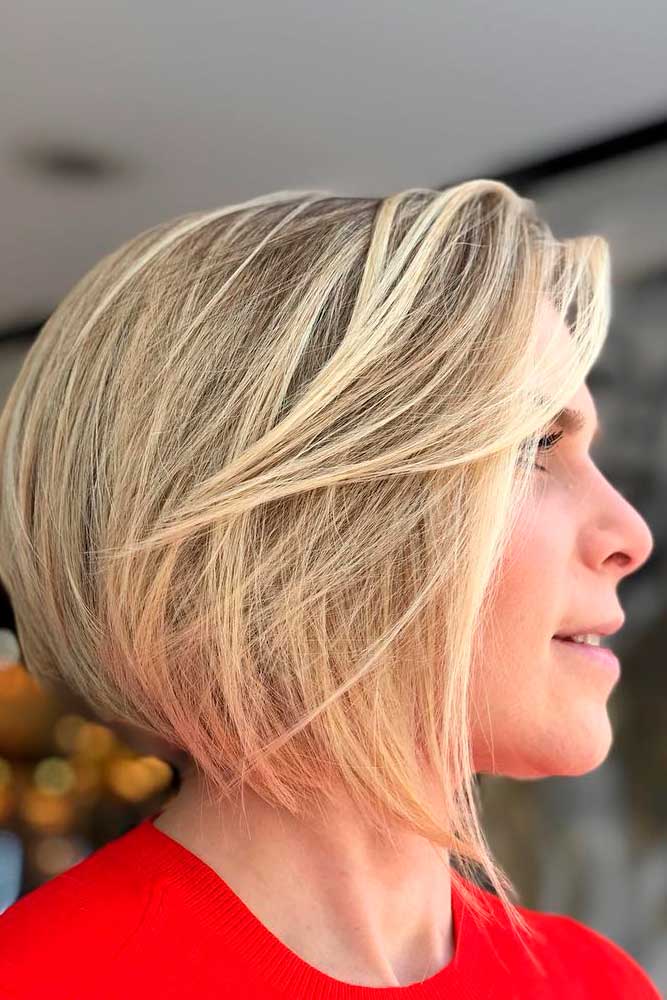 Credit photo: instagram.com/ro.hsiqueira
Score another one to the magic power of bobs! Besides showing you how you can improve your haircut, this picture short bob haircuts with bangs demonstrates what an awesome look you can achieve if you go for short bob haircuts with bangs. The bangs seamlessly blend with the rest of the hair, finishing the curvy round bob with an edgy, pointed flip. See, if your hair looks dull, it's not about your hair type; it's about the right haircut!
Edgy Bob Haircuts For Brown Hair
Bob Cut With Bangs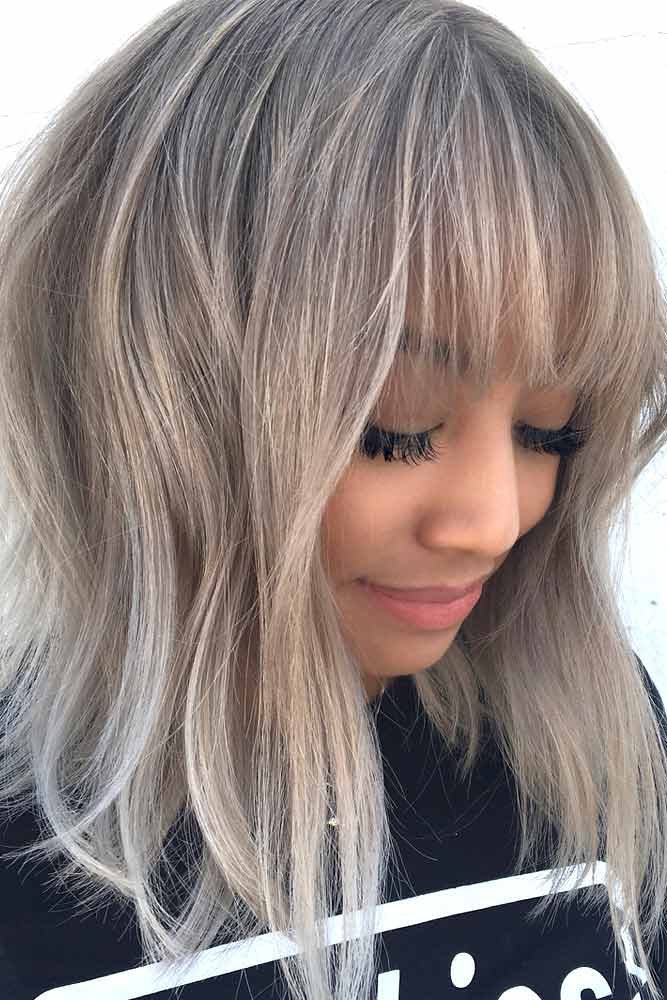 Credit photo: instagram.com/justpeachyhair_
Want to add some framing while keeping up with the volume in your hair? Let bangs into your life, then. But remember that it's very important to choose a fringe based on your face shape: to hide broad forehead, you can opt for baby, curtain, and wispy bangs, and to work on round cheeks or sharp jawline, long side bangs will be the right choice. As for your bob, don't worry; it will look awesome with any type of bangs. Furthermore, a long bob haircut with bangs works ravishingly for women with round faces. The side-locks of the lob can be styled to frame the face at the cheek area, while the fringe will make the framing effect bigger by connecting the beautifying side-locks with a soft layer of hair on the top. And remember: there are no bad face shapes; there are wrong haircuts! Every woman who wants to change something in her facial features should do two essential things: get herself good makeup products and a tailored haircut.
Medium Length Bob With Tousled Layers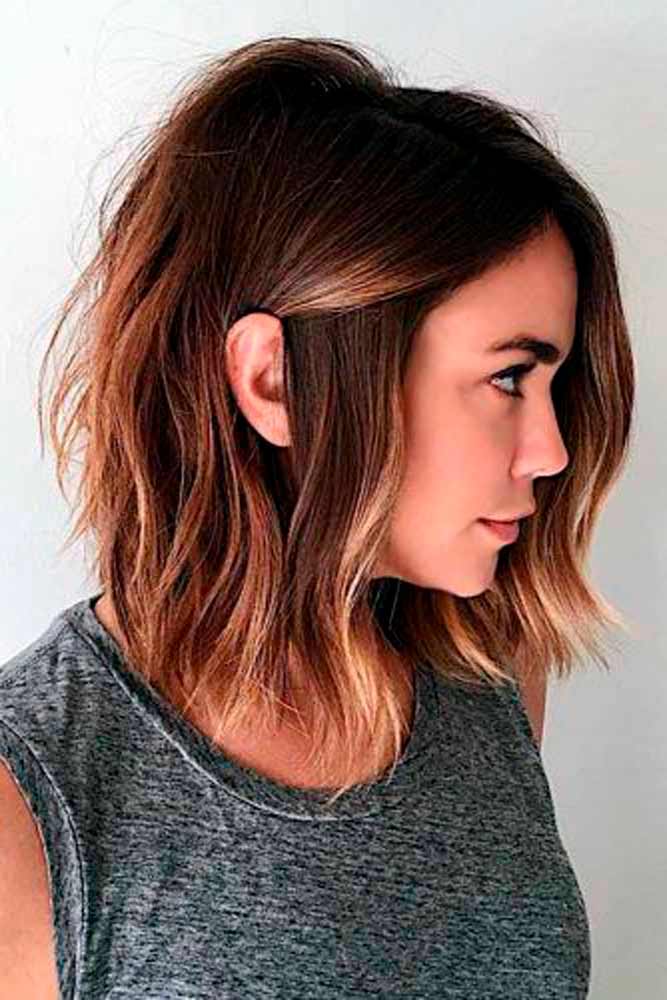 Credit photo: instagram.com/domdomhair
This mid-length cut is just adorable with its wavy, tousled tresses. You can rock these locks loose or pin your hair back for a more sophisticated look. This style also looks great in a messy updo. Getting this haircut is actually feeding two birds with one scone: it's a great haircut and hairstyle rolled into one! Relaxed layers throughout your mid-length bob are the secret of carefree, stress-free mornings. Wash your hair, do some tousling when it's almost dry, and voila - the perfect casual look is ready. If your hair is thick and has a slightly wavy pattern, you will be the one who can reveal the real beautifying power of this haircut, no doubts. Layers will turn to soft waves, and your thick hair will finally become manageable.
Straight & Sleek Bob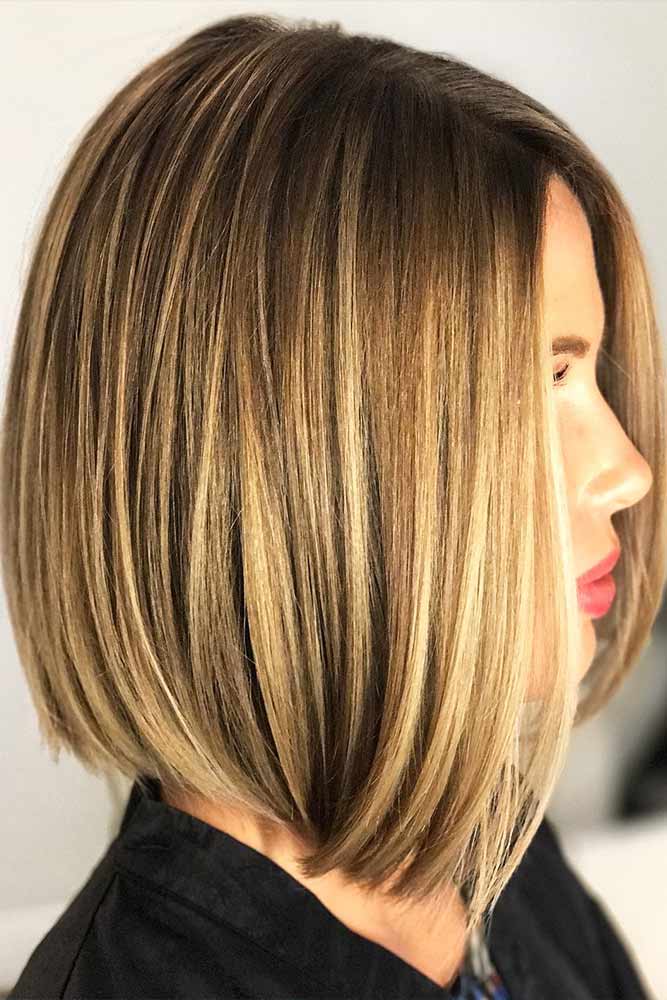 Credit photo: instagram.com/theblondebrunette901
Now, let's take some time to appreciate the amazing classic that has been all the range for decades. Another benefit of such bob haircuts is that once falling flat straight hair can finally show its full potential. You can ask your stylist for a slightly angled bob, where the back portion is a bit shorter. In this way, you will have more volume in this area. Bob cuts usually get a little curved at the chin, giving a very balanced silhouette to your straight hair. A straight and sleek bob is the epitome of decent sexuality that can become a part of your casual, formal, and even festive look. Your task is to do your best to make your straight texture effortlessly smooth and shiny. And to do so, you need to be equipped with products designed for straight styling. If you want to make the effect of sleekness even more enviable, highlights or balayage is the code you should tell your stylist.
Wavy Asymmetrical Long Bob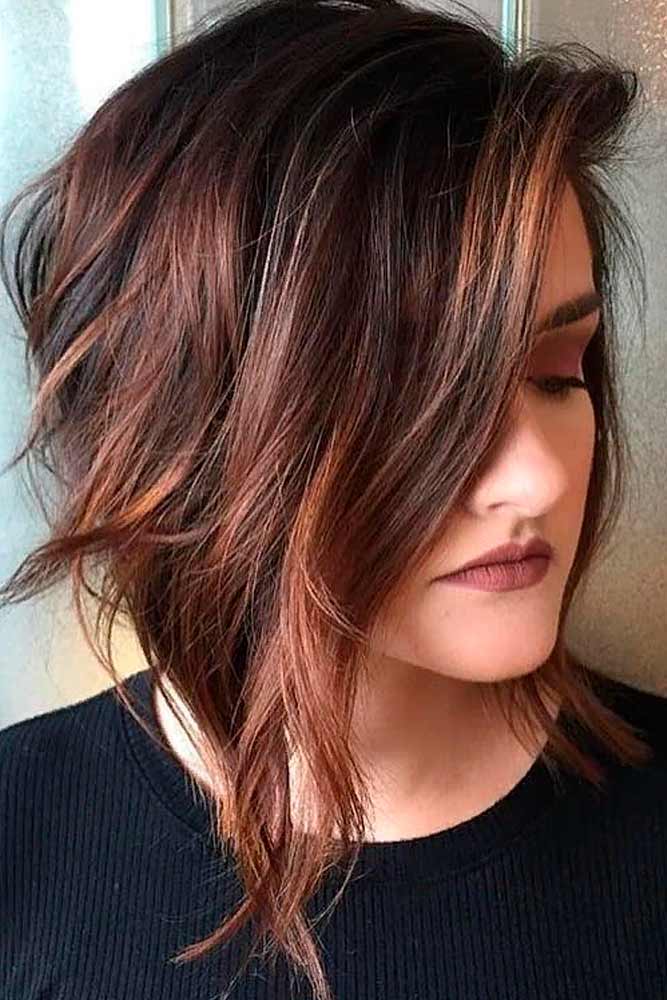 Credit photo: instagram.com/shirlleysherry
Another breathtaking haircut showcasing the endless variety of asymmetrical bob haircuts. Every single lock stands out and every little wave is super defined. The front tresses are thick enough to give a steady volumetric flip at the forehead and thin enough to have an airy, manageable texture. And there's no need to mention that the perfect hair density can't do without layering. When your asymmetrical bob is layered, going for waves is even easier and more fun, which is great for those sporting wavy hairstyles or having naturally wavy hair.
Layered Lob For Thick Hair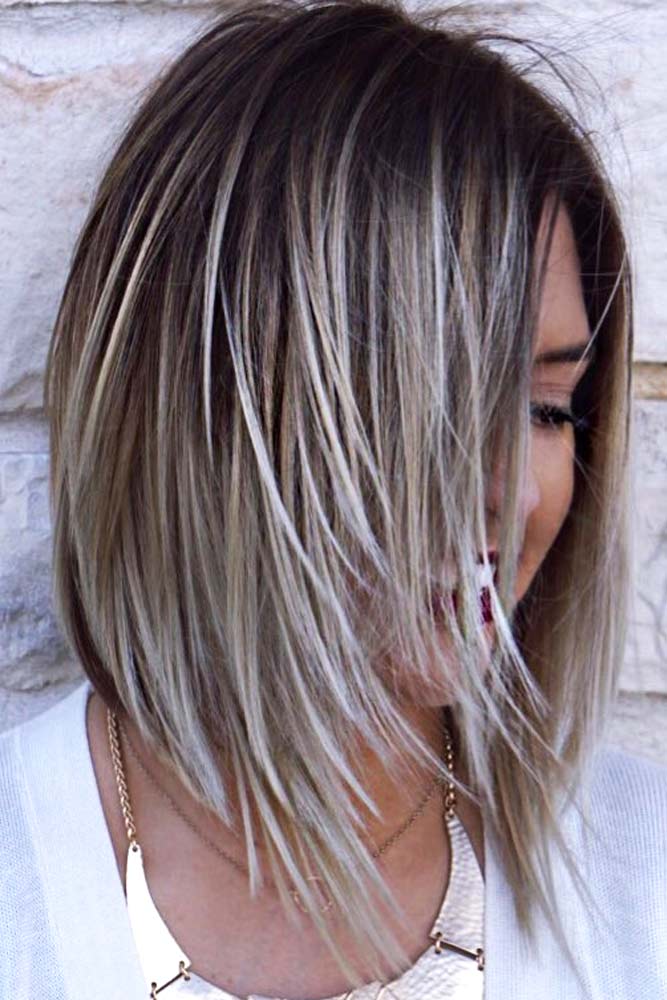 Credit photo: instagram.com/hairbyjessica_
You may remember seeing this lob haircut in your favorite Friends series. Yes, that's the famous haircut with curvy cascading layers that frame the face from the forehead to the chin. This haircut has a good reputation for its unbelievable versatility and ability to adapt to both thick and fine or thin hair. Here, you can see how it works on thicker locks, whipping them into a lively, carefree shape that is absolutely easy to style. Of course, you will need to maintain the look every month or so. And that's the only thing it takes!
Side-Parted Chin-Length Bob For Fine Hair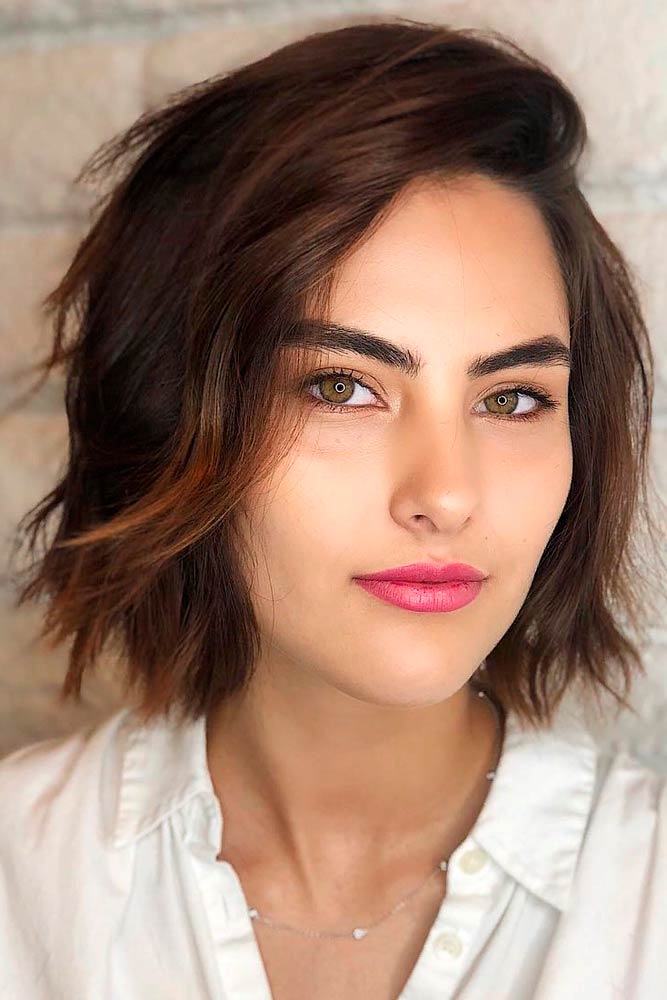 Credit photo: instagram.com/judeviola
Meet a fabulous combination of short haircut and hairstyle that can work wonders for your fine hair! A chin-length bob will set your fine locks free, saving them from the extra weight with a slight texturizing at the ends. A side-part, in its turn, will focus on adding more volume to the hair. To get most of this combo, work some volumizing product into your roots: it will make the lift created by the heavy portion steadier and more defined.
Sleek Blunt Bob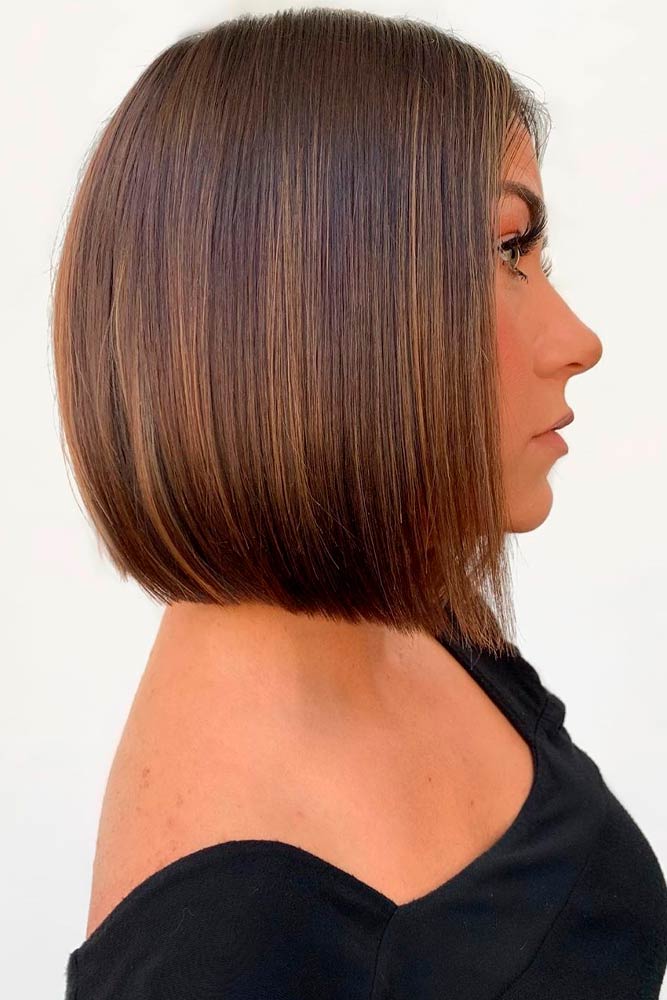 Credit photo: instagram.com/styled_by_carolynn
Blunt bobs are reliable friends that will never let you down. Their structure is pretty simple, so there's no way you will ever fail styling it. Aside from that, it can give your face a little framing touch while fitting any look you want to go for. And when it's sleek, it gives an unbearably sophisticated, hot look. Bottom line? If you're looking for a versatile hairstyle that you won't ever regret getting, look no further than a classic blunt bob.
Short Bob With Blunt Bang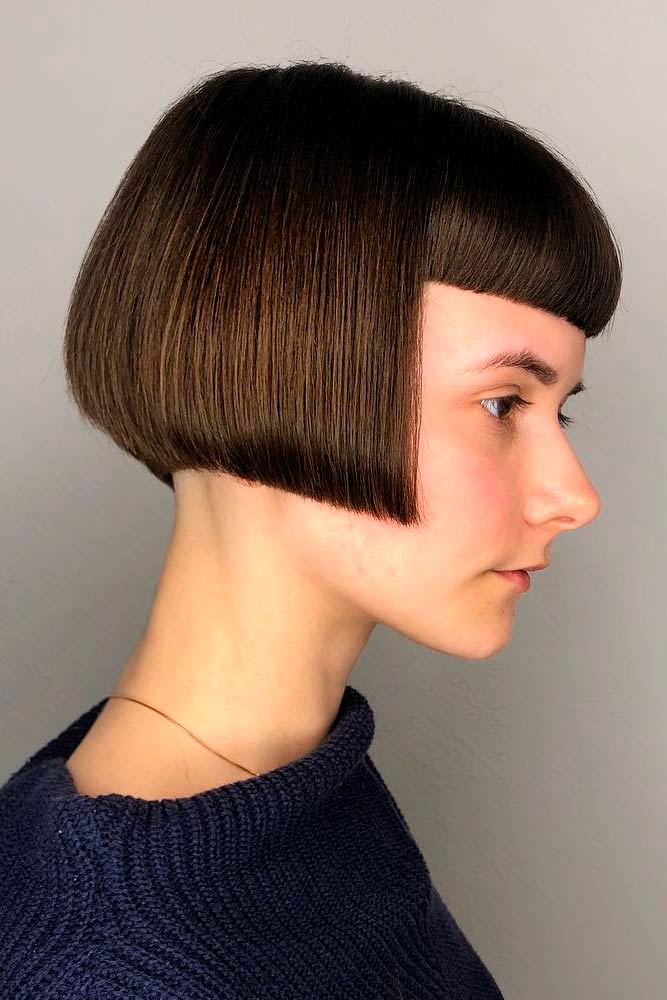 Credit photo: instagram.com/antonhair
Have you ever wondered how would modern Matilda look like? Well, we have, and, most importantly, we've found a perfect answer to that question. Today, simplicity, straight lines, and precise, immaculate silhouette are all the rage. So we bet this classic French bob with a baby fringe is the accurate modern take on the iconic Matilda's look. The sharp angle drawn by the precisely straight fringe and bob is a detail that can work for your round face, balancing out the cheeks.
Edgy Bob Haircuts For Brunettes
Asymmetrical Bob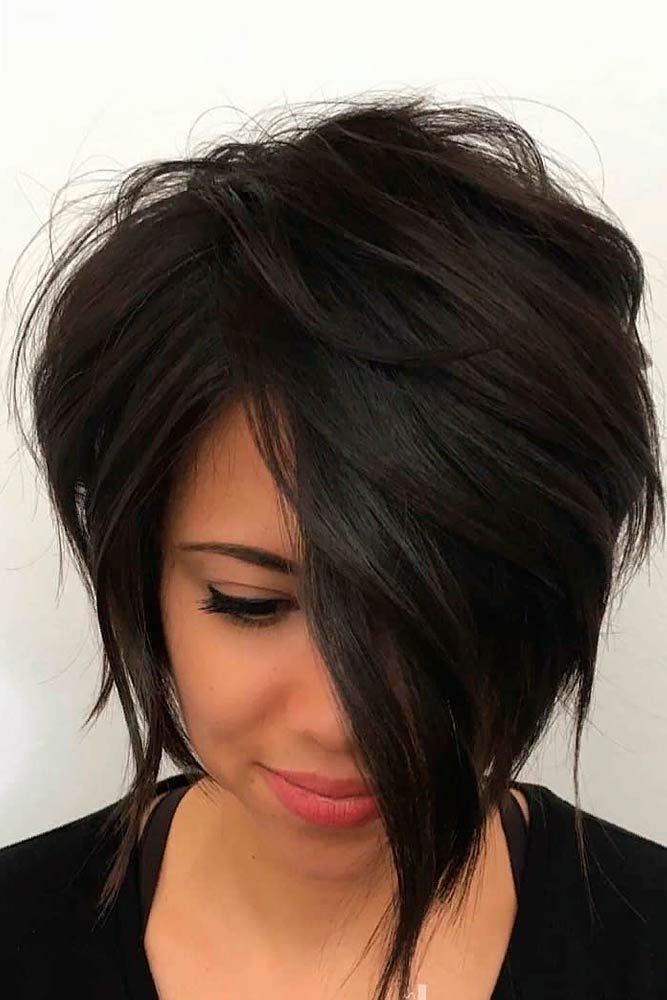 Credit photo: instagram.com/hairgod_zito
Asymmetrical bob haircut also has many faces: it can be a short bob haircut with a dramatic shift of length, a medium bob that fascinates with its outweighed and beautifying body, or a long bob with a little touch of asymmetry. Everything is simple: one side is longer than the other. And your task is to decide what look you want to achieve. In fact, women that decide to go for asymmetrical bob haircuts at least once in their lives don't ever want to change their haircuts after leaving the salon. Unlike A-line bobs, these cuties give a stronger visual impact, complementing a woman's look with its smart and sophisticated silhouette. The heavy portion of the cut provides the hair with tons of volume, while the outweighed side builds perfect balance. If you want a haircut that is as low-maintenance as it's chic, don't dare to skip this idea.
Asymmetrical Levels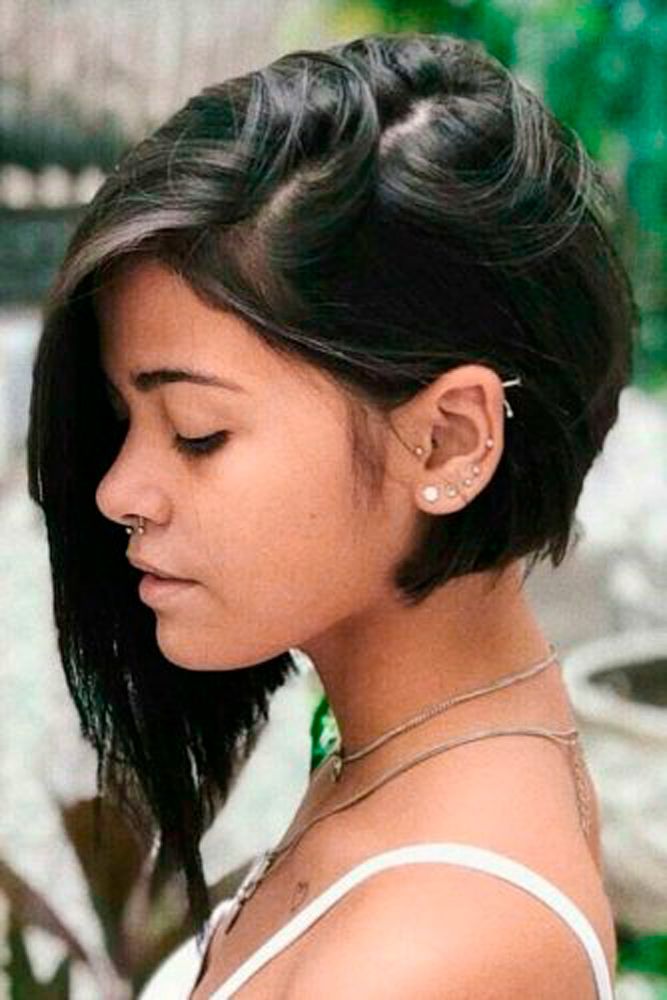 Credit photo: instagram.com/marianaraujovv
Asymmetric bobs have been in for a while already. The contrast of lengths seems to have some magic power, attracting so many women toward this bob option. As a matter of fact, asymmetrical bob haircuts for women are meant for ladies who want to look different while still rocking a comfy and stylish bob. And there are a lot of ways to individualize the cut, making it your signature look. First off, you're the one to decide how drastic the length contrast should be. You can even combine two haircuts, where the shorter one will take place on one side, and the longer on the other. There's just one rule: make your haircut match your personality.
A-Line Sleek Bob For Thick Hair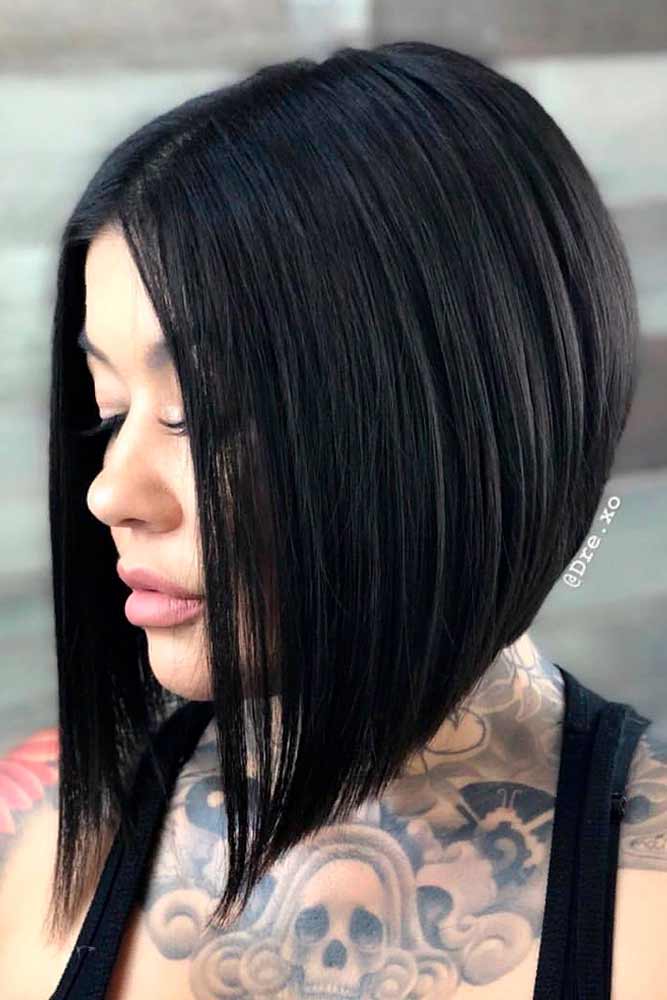 Credit photo: instagram.com/curtosqueamamos
Just like any other hair type, thick hair requires a special approach. The major problem ladies may encounter when styling their thick textures is that the hair has great volumetric potential, yet the weight of the locks doesn't let it show up. And this is where bob haircuts for thick hair come in. Such an option as straight A-line bob is key to mending fences with your hair. This haircut involves cutting the hair at an angle and texturizing at the ends to make them biddable for styling. As a result, you can preserve the fullness on the crown and keep the overall silhouette sharp and distinctive.
Wispy Inverted Lob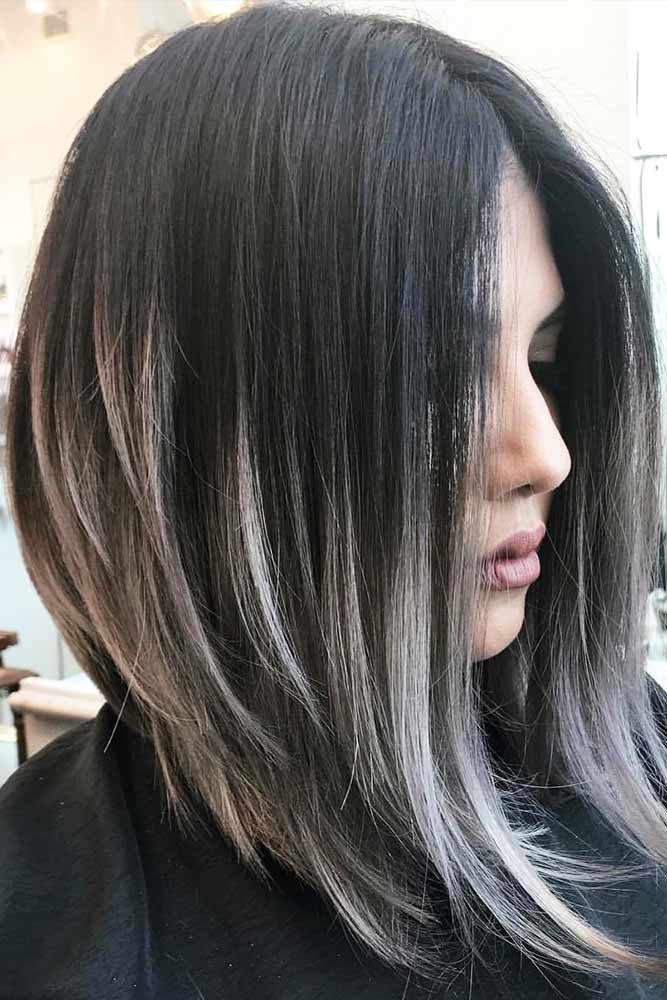 Credit photo: instagram.com/headrushdesigns
Inverted bob haircuts, whether they're short, medium or long, are highly flattering and distinctive. In other words, if you want to rule the spotlight yet without going for some outrageous crops, that's the final stop. A haircut, where short back layers gradually become longer to the front is a stunning option for those in love with face-framing hairstyles. Coupled with wispy ends that add more of an edge, this haircut show your beauty in a brand new light.
Short Blunt Bob For Fine Hair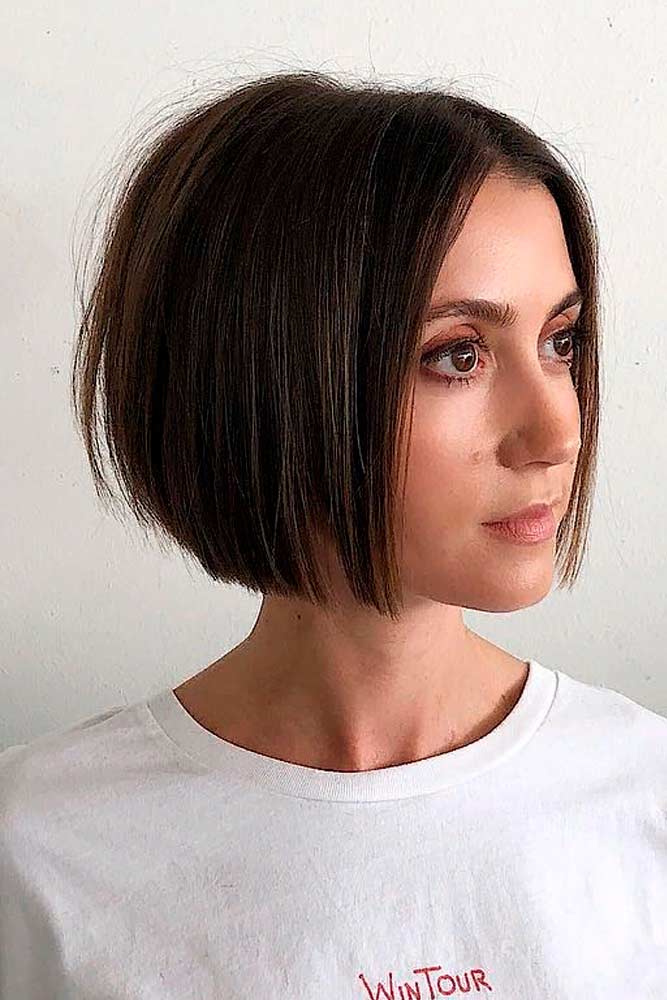 Credit photo: instagram.com/domdomhair
A short blunt bob is probably the easiest and most stylish way to reach harmony with your fine hair. As you know already, the density of fine hair is pretty subtle and therefore tends to fall flat when the hair is too long for it to handle. Consequently, keeping your hair at a moderately short length will help you reveal its real potential. Also, you will get yourself an easy-to-style, low-maintenance haircut that will work awesomely for all outfits, be they feminine or punky.
Stacked Short Bob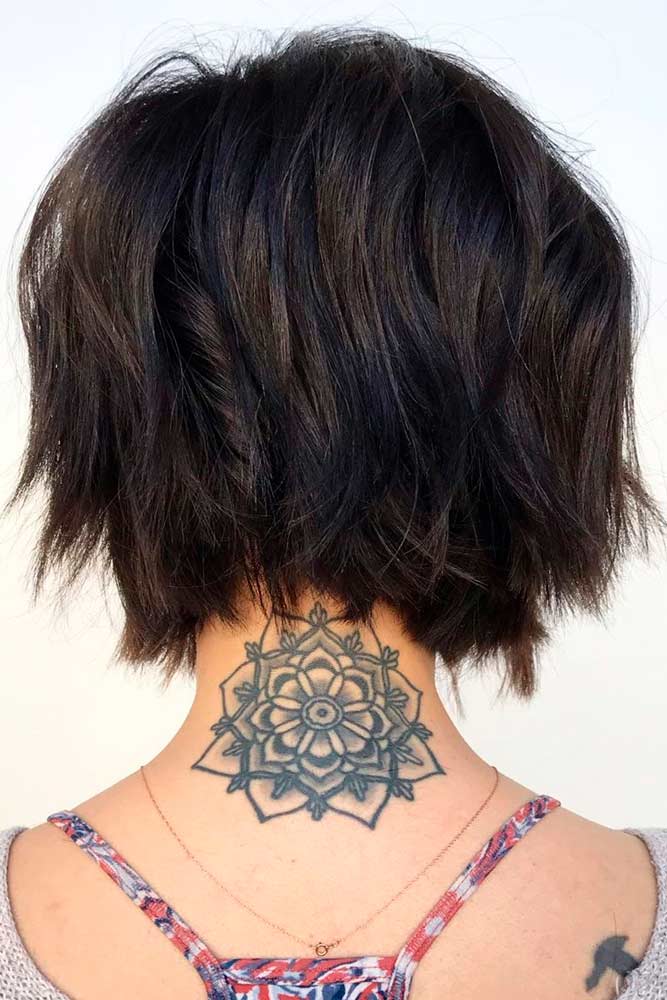 Credit photo: instagram.com/styled_by_carolynn
Short stacked bob haircuts were designed to add more interest and fun to those who keep their looks minimalist in every way. Though this haircut is super short, it still offers a great variety of styling options. You can experiment with the texture of your locks, adding more movement to the shorter ones and curving the longer ones for a face-framing effect. And that's only the beginning of what you can create with a short stacked haircut.
Edgy Auburn Bob Haircuts
Shaggy Layered Lob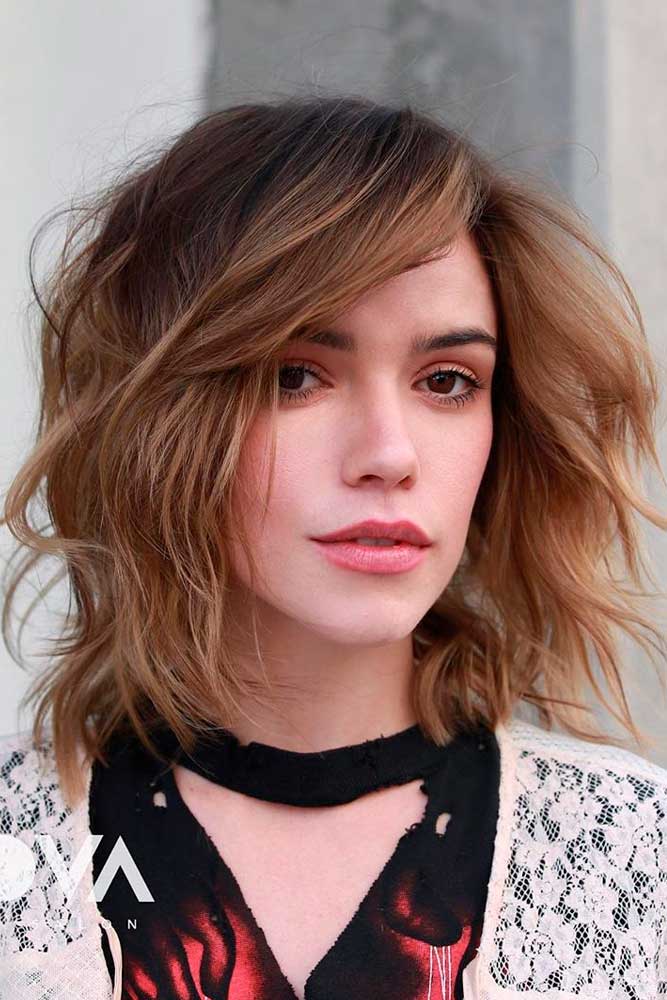 Credit photo: instagram.com/salsalhair
How about shaggy layers that are as airy as weightless feathers? If you appreciate styling freedom and sense of lightness in everything that surrounds you, this haircut is a must for you to try. It can put an end to the time-consuming thin hair styling routine and volume up every single lock of your head. Also, they can take your favorite waves, updos and messy hairstyles to a whole new level. Cut a long story short: your hair will be in good hands.
Shaggy Layered Bob Haircut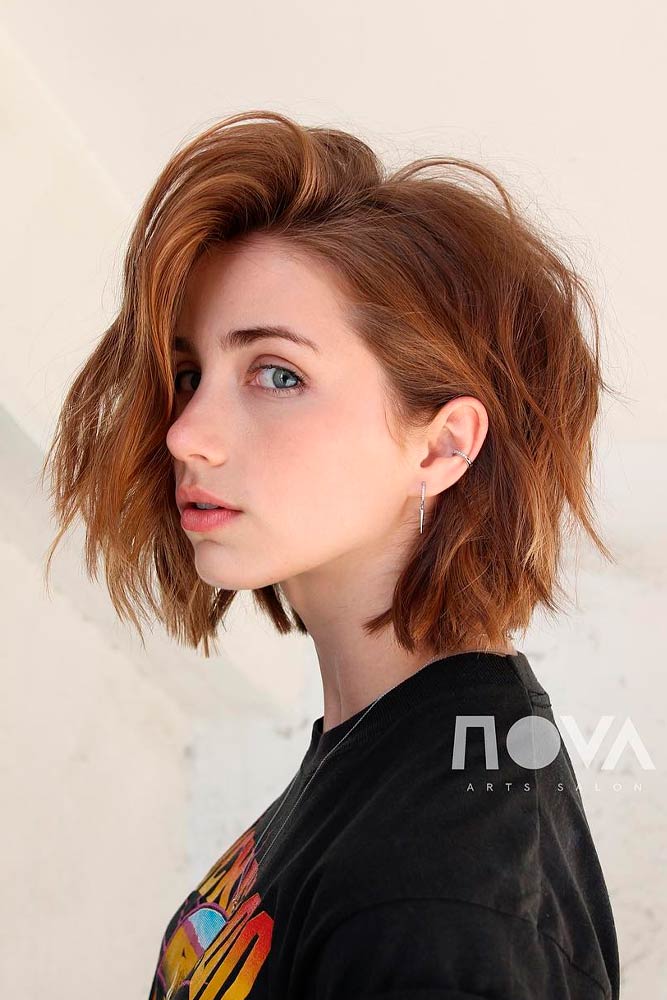 Credit photo: instagram.com/salsalhair
We can't have too much of a good thing, right? That's why we want you to get inspired by one more shaggy bob that can change every look to the better. In cold seasons, it will comfily sit under your favorite hat; in hot summer and warm spring days, it will fill your casual, evening, and formal looks with its voluminous, dynamic vibes. If you still don't have a shag, the information you're going to read will make you call your stylist: it's a wash-and-go that only requires some coats of salt spray.
Long Bob For Curly Hair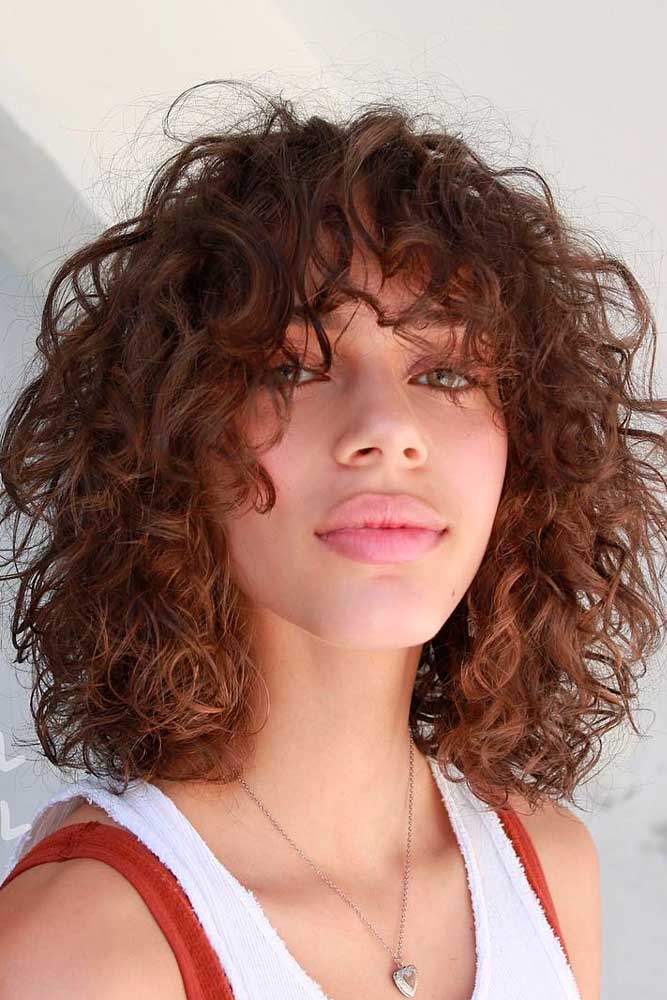 Credit photo: instagram.com/salsalhair
Curls can be demanding, unpredictable, and simply disobedient. Until you get the right haircut for them! And if it wasn't for curly variations of bob haircuts, women with naturally curly and wavy hair would never see their hair defined, bouncy, and well-shaped. Ensure that your hairstylist knows how to deal with curly hair: he or she should work with your dry, not wet hair. Bangs, by the way, are a fantastic match for curly bobs, so you can let some loose curls fall on your forehead.
Edgy Colored Bob Haircuts
Contemporary & Edgy Bob Haircut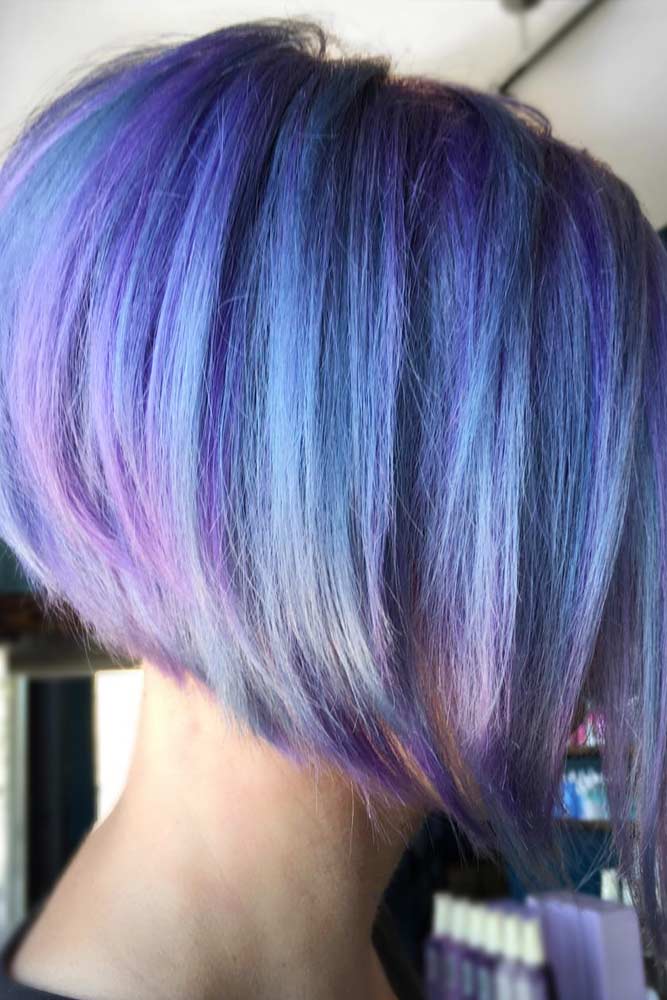 Credit photo: instagram.com/headrushdesignsbyjulieann
The edgy crop that accentuates every single angle of your bob is the cut that follows all the modern trends. Such edgy bob haircuts also go well with bangs, as they give even more room for the pointed oomph. You can make your bob angled, layered, and even asymmetrical: the point is to keep it as sharp as possible. Modern hairstylists suggest women with thin hair trying this haircut when they ask for pixie bob haircuts. And the reason for that is pretty simple: the structure of this cut is a canvas for volumetric styling that keeps the hair voluminous from all perspectives. Ask your stylist for cascading layers that meet at the ends as pointed strands blend together, and the thin hair look will never show up. To accentuate the amazingly detailed haircut, you can finish the look with highlights or babylights, enhancing the sharp edgy locks.
Asymmetrical Bob For Straight Fine Hair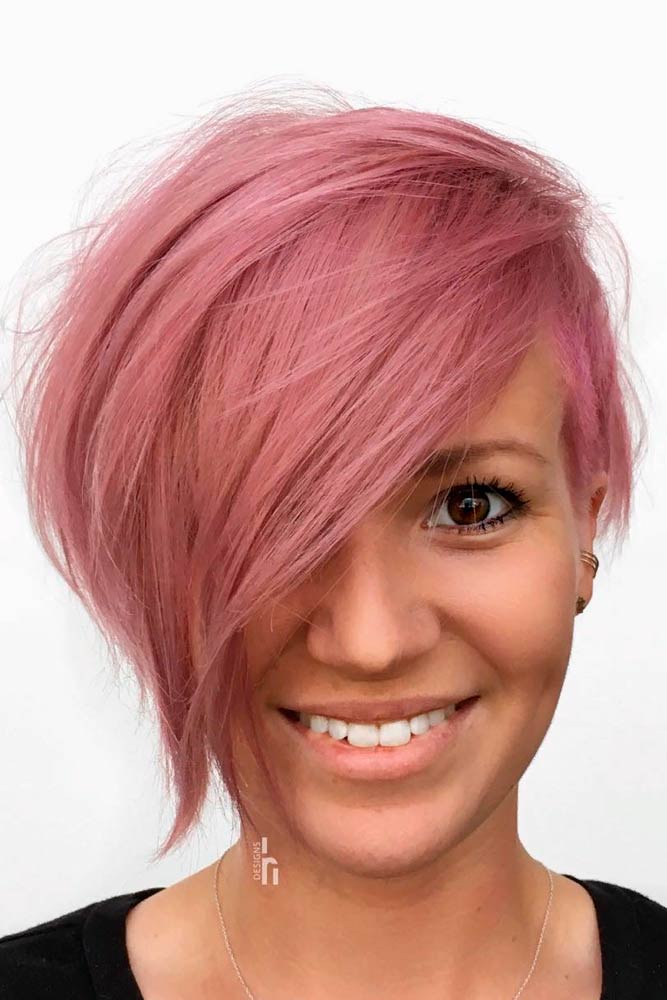 Credit photo: instagram.com/headrushdesigns
We're no strangers to the beautifying power of layered bob haircuts that can instantly amp up fine hair. And this asymmetrical bob is another living proof of how much you can benefit from your hair if you go for the outweighed haircut. One of the sides is drastically longer and fuller than the other. But the amazing voluminous silhouette of the heavy portion is enough to create the perfect balance for the whole look. Needless to say, soft layers enhance the effect, and the bright color makes it even more attention-grabbing.
Wispy Layered Bob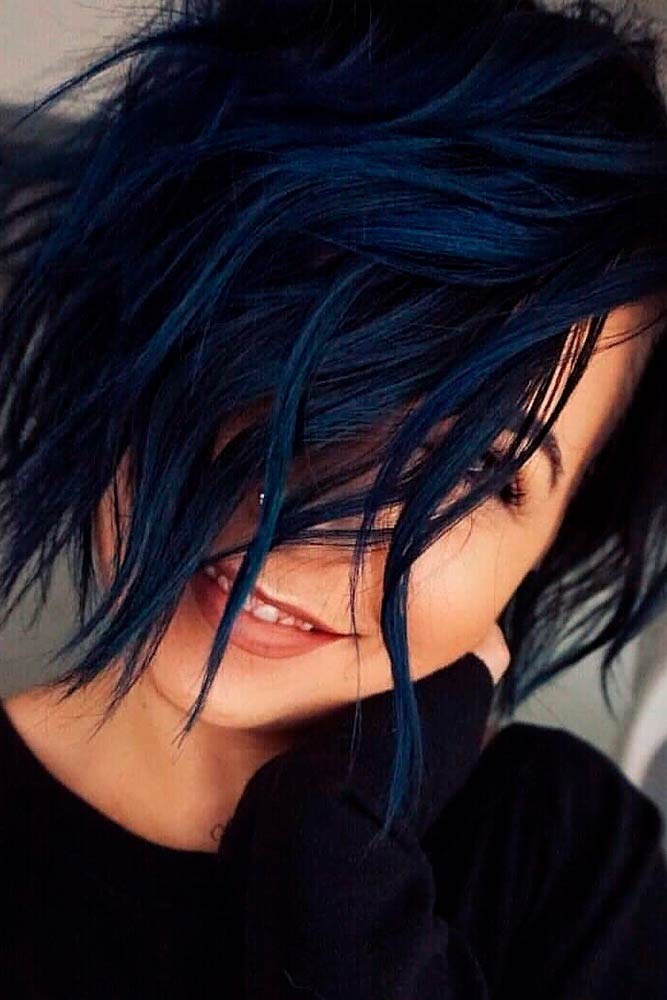 Credit photo: instagram.com/girrlscout
Layered bob haircuts for thick hair can be different; as different as you want them to be! You can choose the length, density, sharpness, and even the placement of your layers, customizing every single detail for a perfect look. And this wispy layered bob is here to show how you can become bff with your thick hair. The wispy haircut features plenty of layers that make every strand fall distinctively. If that's what you seek, ask your stylist for accentuating wispy layers.
Textured Medium Bob For Thick Hair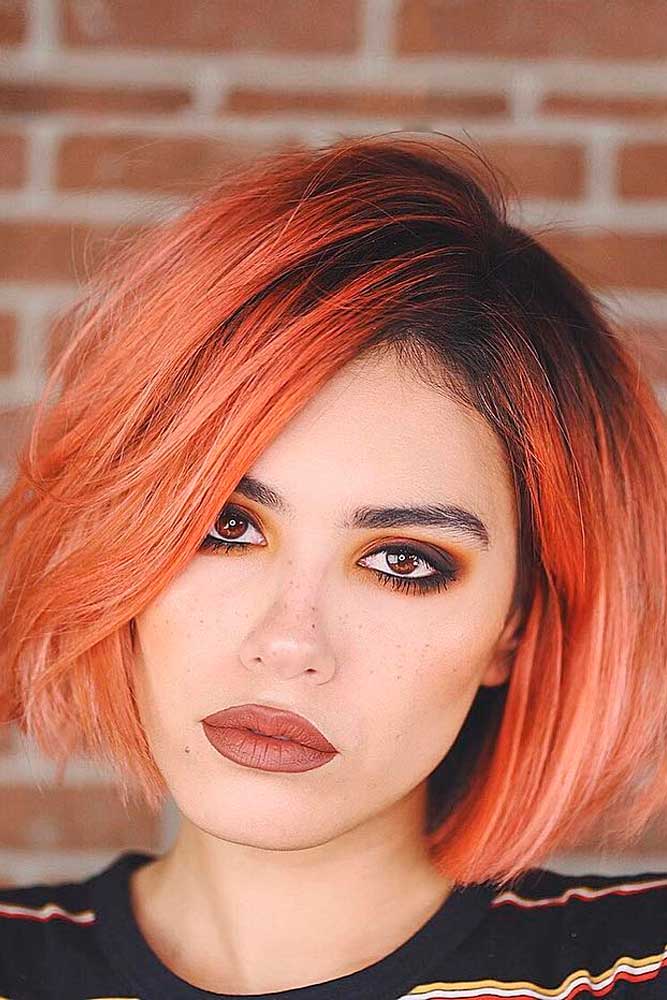 Credit photo: instagram.com/xandervintage
Every time we think we've seen all short layered bob haircuts possible, their variety strikes us with another masterpiece. Ready? Here come thick layers! We're not kidding. The layers you see on this fancy bob are very thick, yet, it doesn't mean they won't work the right way. This time, texturizing layers change the density of the front locks moderately, giving a well-groomed shape without cutting off the weight at the ends. It may take time to master styling thick tresses, but there's one thing we know for sure: your bob will never lack volume. Add some bright auburn hair color for completely look.
Straight Bob With Bangs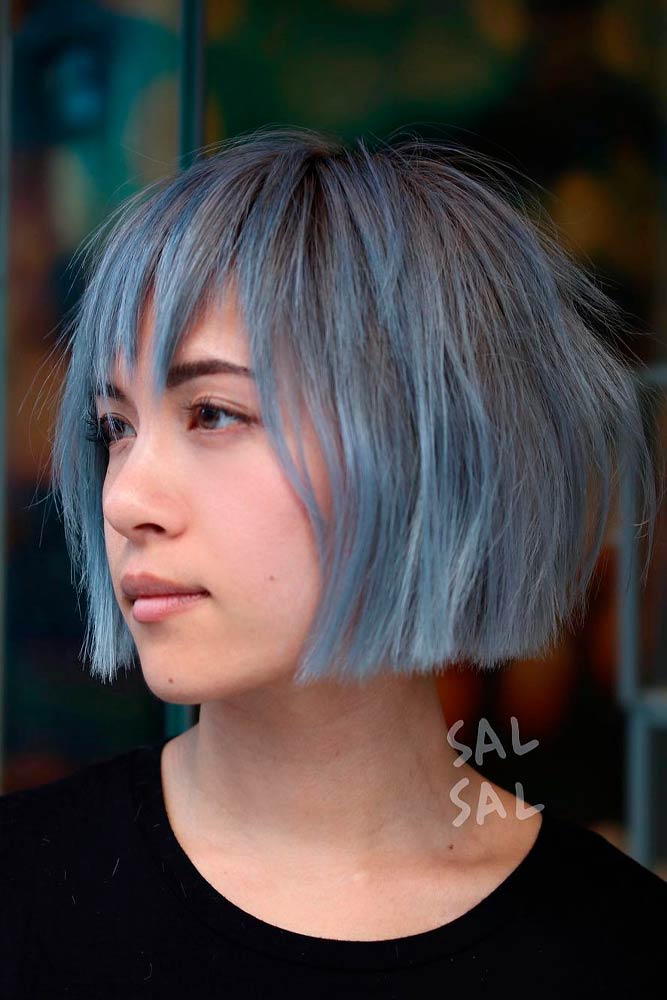 Credit photo: instagram.com/salsalhair
Bangs and bob haircuts always go hand in hand. It just so happens that when those two are combined, they give life to haircuts you can see on runway shows and magazine covers. One of the greatest things about them is the variety that knows no end: there are so many types of bobs and bangs that you can always create a one of a kind duo. Here, a classic straight bob turns into a trend with the help of a thin angular fringe.
Celebrity's Choice
Jennifer Lopez and Her Shaggy Straight Bob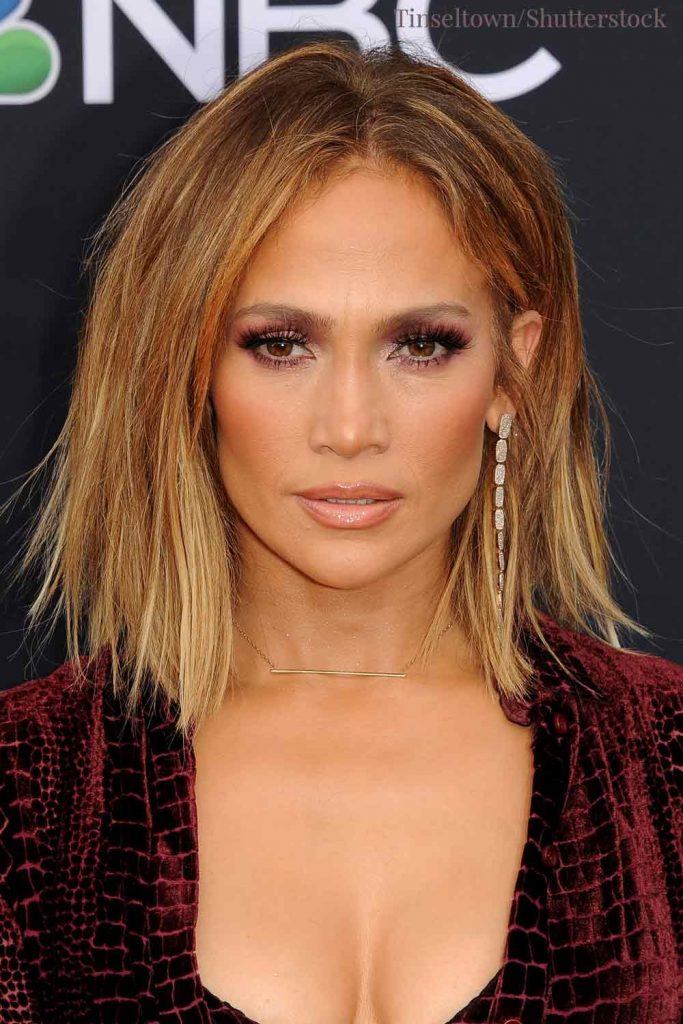 Credit photo: Tinseltown/Shutterstock
J Lo is a true fashion icon in all senses. No matter whether it is her outfits or her hair, they are bound to spread adoration and inspire replicating looks. This time she is wearing a long bob cut with a shaggy twist to it. Spiced up with trendy highlights, the bob cut hair looks slightly disheveled but elegant. The balance is well-preserved.
Jenna Dewan-Tatum's Side Parted Layered Bob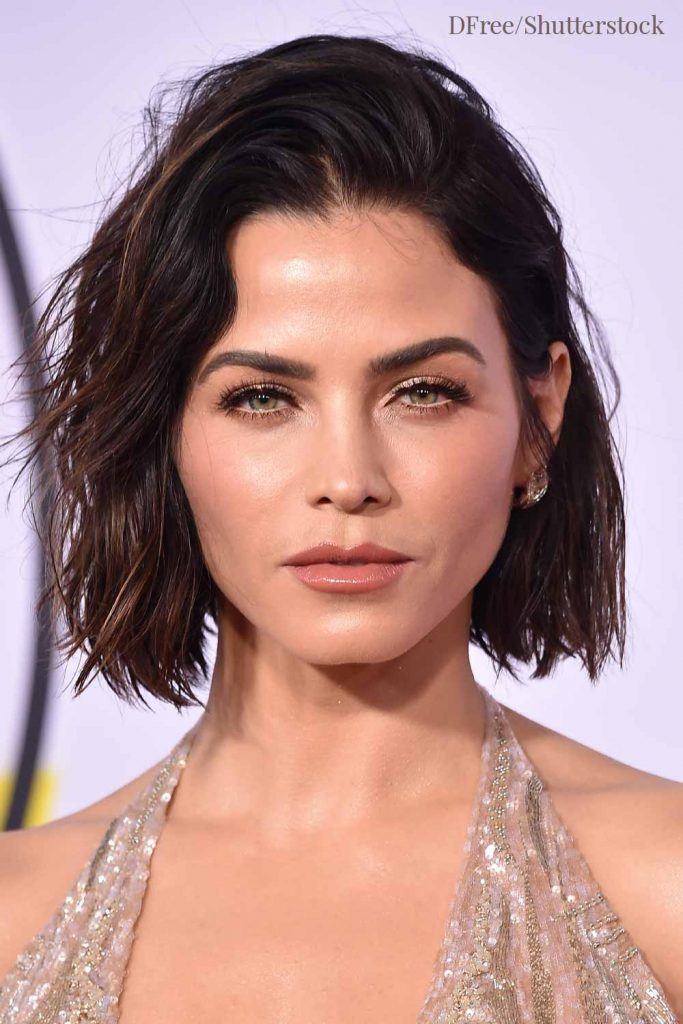 Credit photo: DFree/Shutterstock
The beauty of a layered bob cut lies in its impressive versatility. It seems that Jenna Dewan-Tatum knows how to use all the advantages of a wavy medium bob cut and uses them to your benefit. We must admit that a carefree side-parted bob looks feminine and sassy.
Hollywood Waved Blonde Bob of Charlize Theron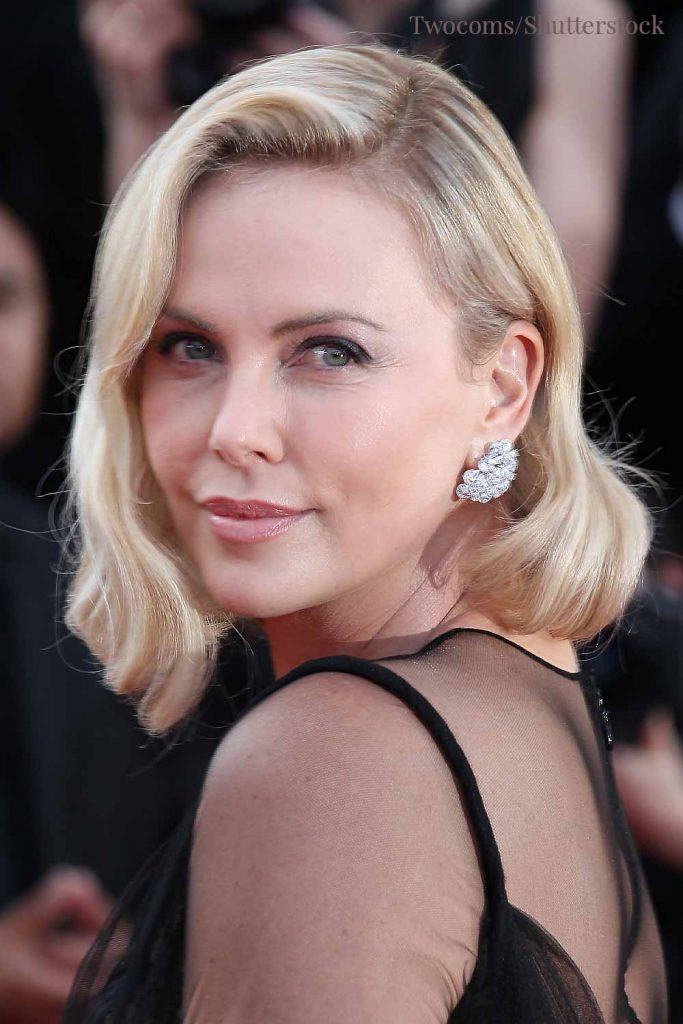 Credit photo: Twocoms/Shutterstock
Charlize Theron indeed is one of those actresses who have tried countless cuts over the years, and a bob haircut shouldn't be an exception. However, among all the bob haircut styles, the waved blonde bob is both classy and iconic.
Kristen Stewart Dark Wavy Bob With Highlights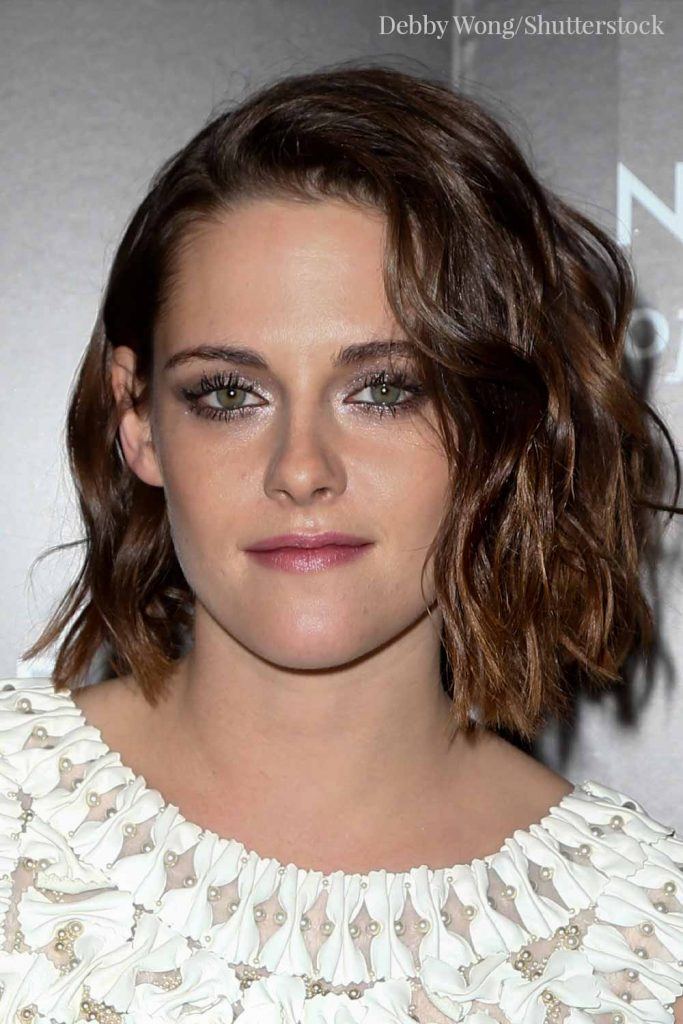 Credit photo: Debby Wong/Shutterstock
The wavy bob is one of the universal styles that is designed to suit almost anyone. The trick here lies in the ability to make it accent your personality and style well too. Kristen Stewart chose to enhance her medium bob haircut with highlights so that the light beach waves bring them up perfectly.
Kirsten Dunst and Blonde Sleek Bob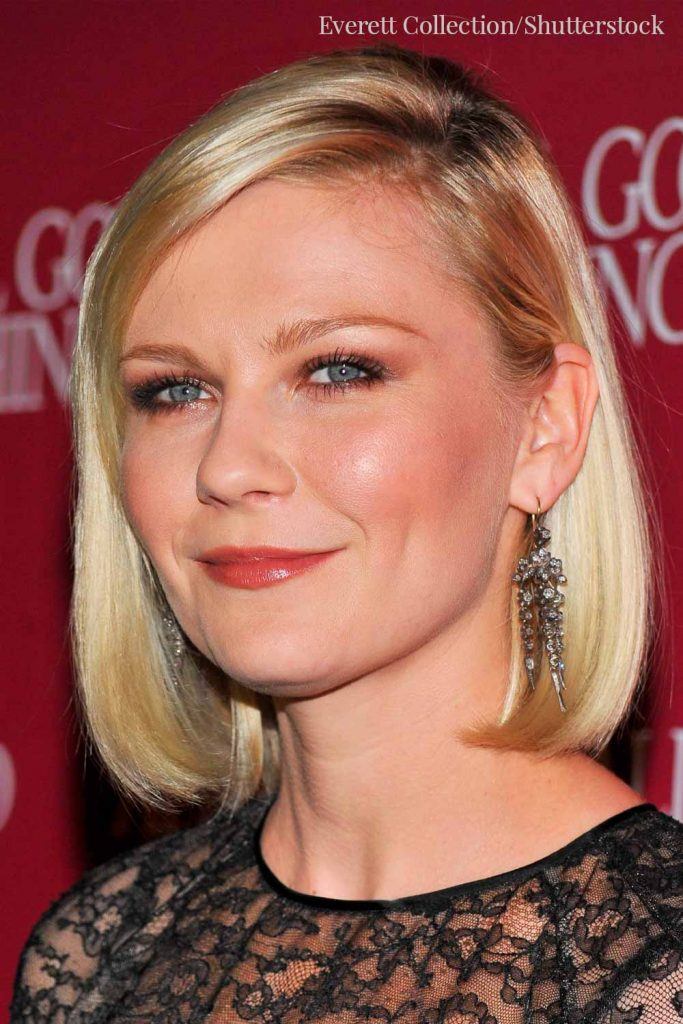 Credit photo: Everett Collection/Shutterstock
Some say that Kirsten Dunst is the queen of bobs, and it may be true. The fact is that no matter whether it is a sleek shoulder-length bob or a long bob cut with bangs, she pulls them off flawlessly. It may be due to the rich golden blond hair hue, don't you think?
Eva Longoria Brown Blunt Bob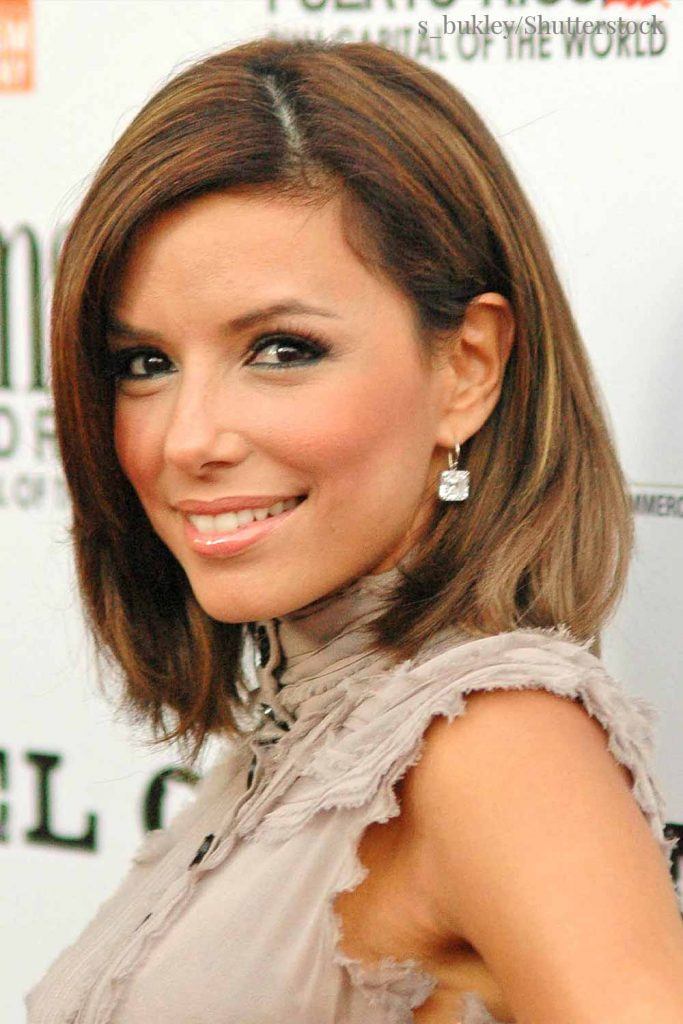 Credit photo: s_bukley/Shutterstock
Sometimes it is easy to assume that a blunt bob is nothing special until you have a closer look a the luxurious brown bob that Eva Longoria wears. With side-swept bangs and sleek side part, the cut can quickly become of the best bob hair styles celebrities sport.
Short Layered Shaggy Bob of Cameron Diaz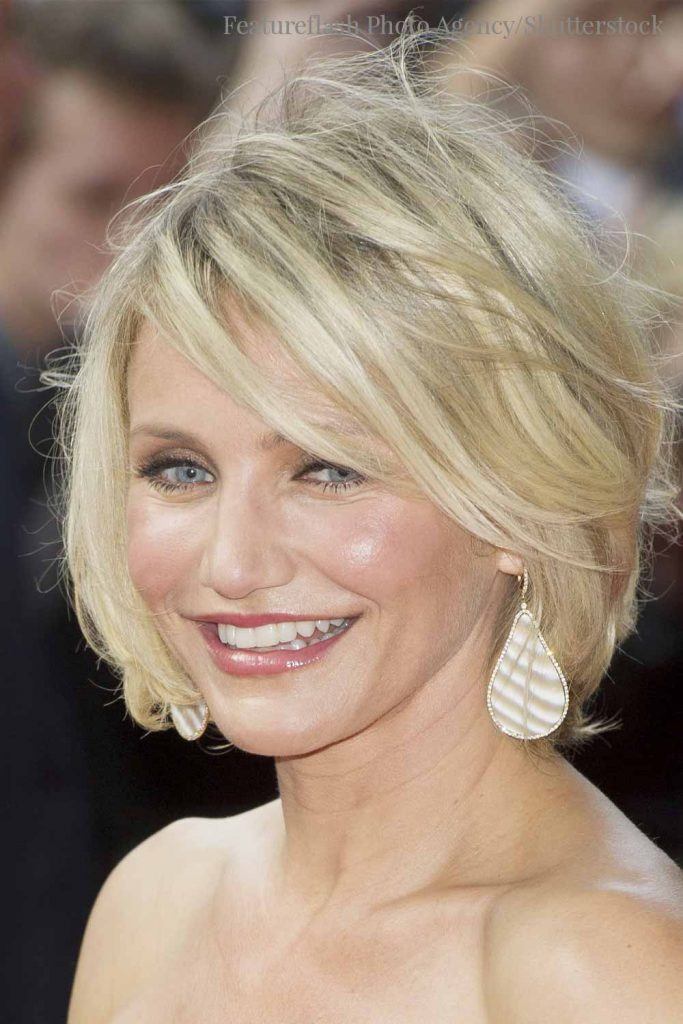 Credit photo: Featureflash Photo Agency/Shutterstock
Dealing with fine hair is a bit challenging, and it seems that Cameron Diaz is familiar with the issue. To solve the volume problem, the star opts for a shaggy bob with bangs.
Alice Eve Cream Blonde Bob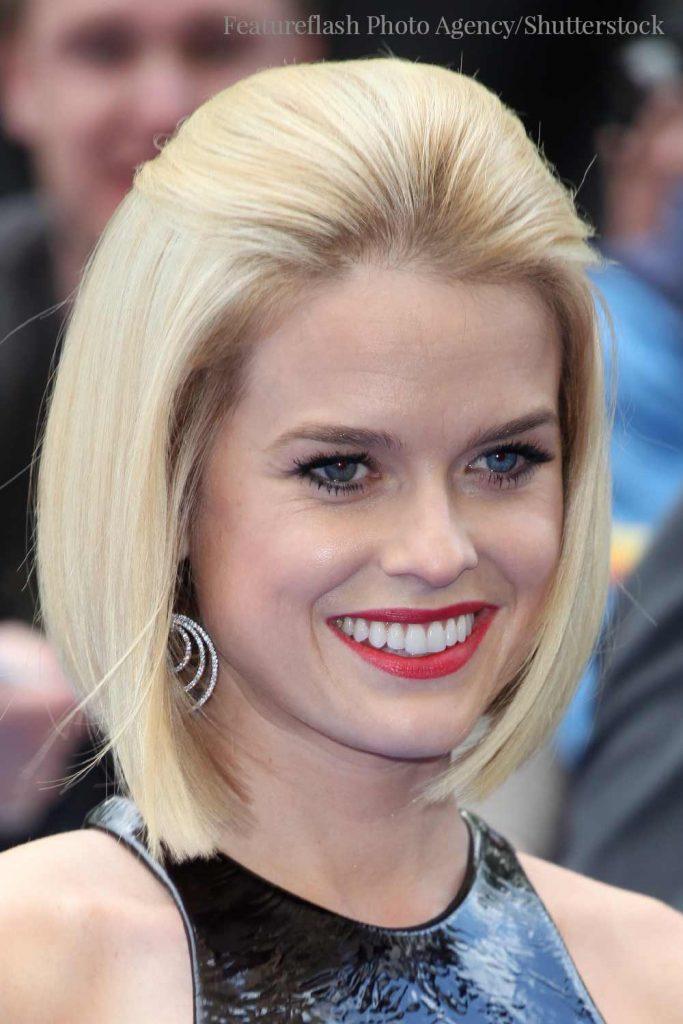 Credit photo: Featureflash Photo Agency/Shutterstock
A simple and straightforward short bob haircut can still be elegant and adorable to look at when styled properly. Alice Eve, with her cream blonde bob and a loose pompadour, proves the point better than any theoretical example.
Ciara's Layered Blonde Bob With Dark Roots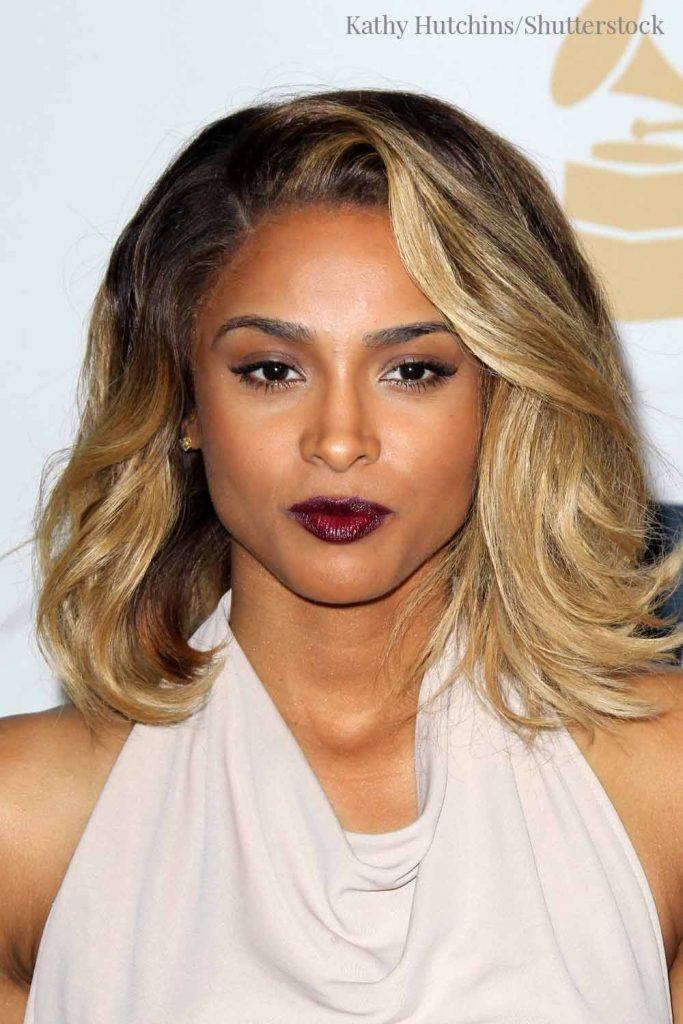 Credit photo: Kathy Hutchins/Shutterstock
Not everyone agrees to believe that a thick mane can be as tricky to manage as a fine one. It is true that a set of bob haircut with layers can become a seamless solution in both cases. Ciara sporting a long bob haircut with outgrown roots looks truly marvelous with her thick layered locks.
FAQ: Bob Haircuts
What are the different types of bobs?
There is a wide choice of bob types, namely stacked bobs, A-line bobs, inverted bobs, layered bobs, classic bobs, concave bobs, blunt bobs, asymmetrical bobs, graduated bobs and lobs, which stands for a long bob haircut.
Do bob haircuts look good on everyone?
A short bob haircut flatters absolutely anyone. Yet, it is important to take your hair type and face shape into account. Thus, for thin locks, you should add a layered cut on top, while for a thick mane you may want to go for a stacked bob or even undercut.
What face shape suits a bob?
While there is a bob haircut for every face shape, oval is considered the one that this haircut suits best. So, if you are lucky enough to have an oval face shape, then no matter your type of hair, you can go for any bob cut you like – layered or blunt, long or short, disheveled or neat, with bangs or face-framing layers. It is totally up to you.