An inverted bob haircut is a trendy variation of a classic bob haircut that is one length. Its front is longer, and it frames a woman's face and thus makes it appear slimmer. And the layers become shorter towards the back, making it more voluminous. (1)
In case you have just got a bob after wearing your tresses longer, you will be amazed at your new styling routine. While it used to take you hours to get and maintain volume, now just some back combing can do the trick and grant you the volume boost that will last all day long.
Now let's discuss your styling options in greater detail.
*We may earn money from affiliate links on this page. Please check out our disclosure policy for more details.

Ways Of Rocking A Truly Versatile Inverted Bob
Wavy Ash Blonde Bob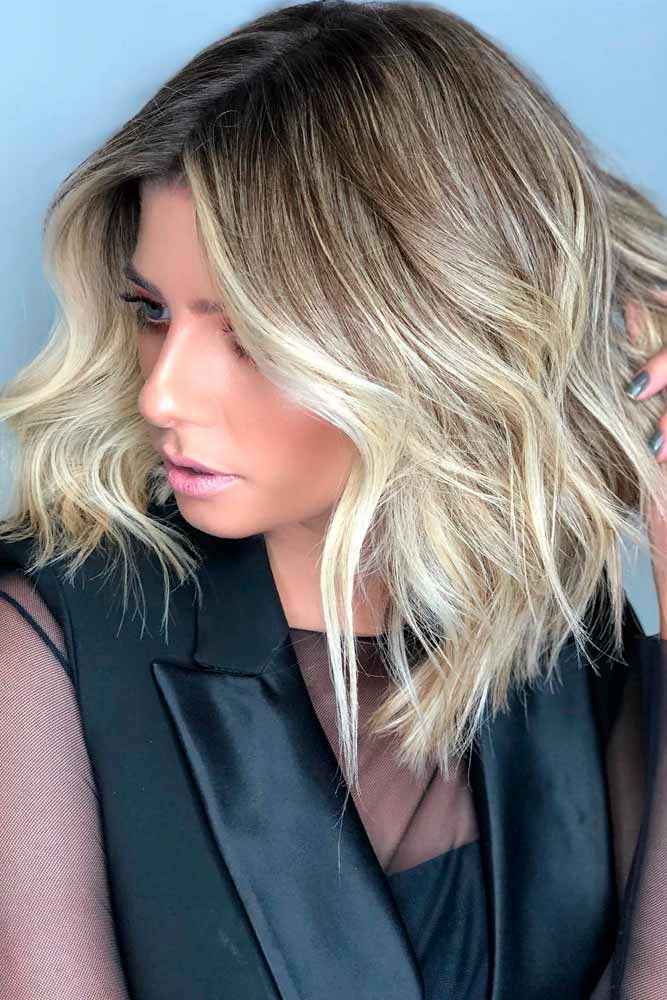 Credit photo: instagram.com/romeufelipe
Inverted bob haircuts are meant for wavy hairstyles. What better way to show off your gorgeous wavy tresses than with a shoulder-length graduated lob? The long layers grant this trendy cut a ton of volume and movement.
What makes this cut even prettier is the ash blonde ombre fade. Start off with a dark ash blonde at the roots and then gradually fade to a creamy ash blonde and finally a pale platinum blonde for a buttery blend of creamy blonde hair that is full of texture and dimension.
Those with naturally wavy locks can simply run a curling mousse through their hair or spray it with sea salt and let it air dry. If you have straight hair, you can add a volumizing mousse and blow it dry with a vent brush to add some bounce. Finally, add big, loose waves with a wide curling iron for even more texture.
Inverted A-line Messy Platinum Blonde Bob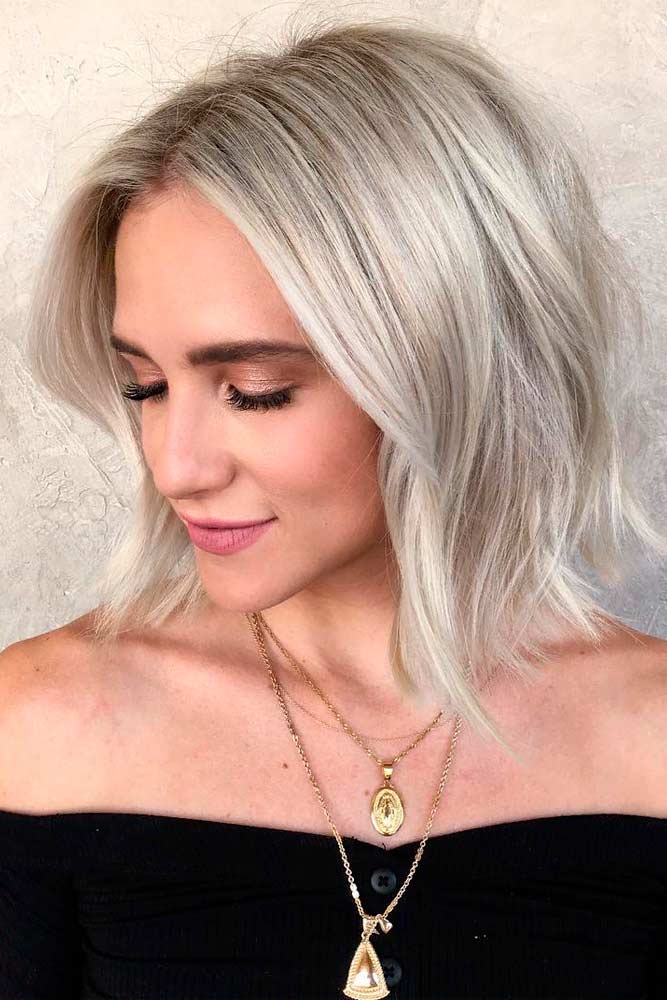 Credit photo: instagram.com/hairby_chrissy
This classic A-line layered inverted bob is great for those who are looking for an effortless style that is both chic and sassy. The long layers are cut just a bit choppy for a carefree, tousled look that just oozes sexiness. (2)
And what is more glamorous and sexy than a shiny platinum blonde? The silvery blonde hues look positively stunning on the long, piecey layers. This messy blond bob is full of texture and movement. But the best thing about it is the relaxed and messy vibe that shows that you are ready for whatever life throws your way!
Cooper Reddish Side-Swept Layers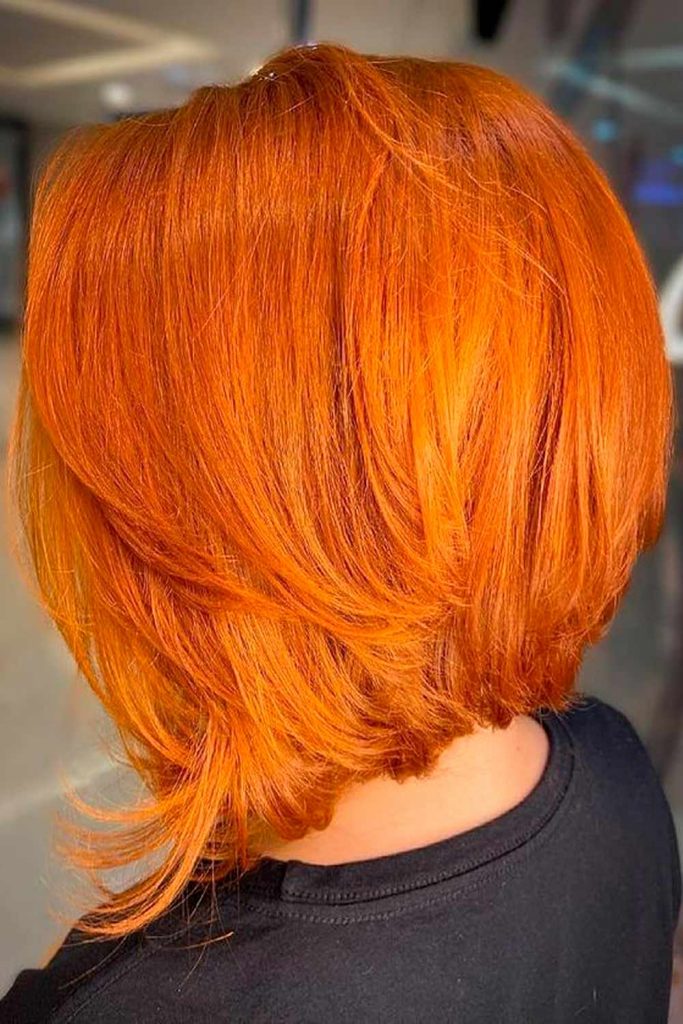 Credit photo: instagram.com/meucabelocurto
Looking for a more daring short bob haircut? We think this reddish gold inverted bob haircut with jagged ends is totally edgy not to mention the playful edgy waves. Ask for a slightly inverted bob with razored ends to give it a slightly punk rock vibe, with long layers throughout to add more fullness.
Reddish hair is all the rage right now, and this hue is just enchanting! Ask for a blend of reddish and a soft gold or cooper to form the dreamy color that will make you look and feel like a fairy princess!
Choppy Inverted Blonde Bob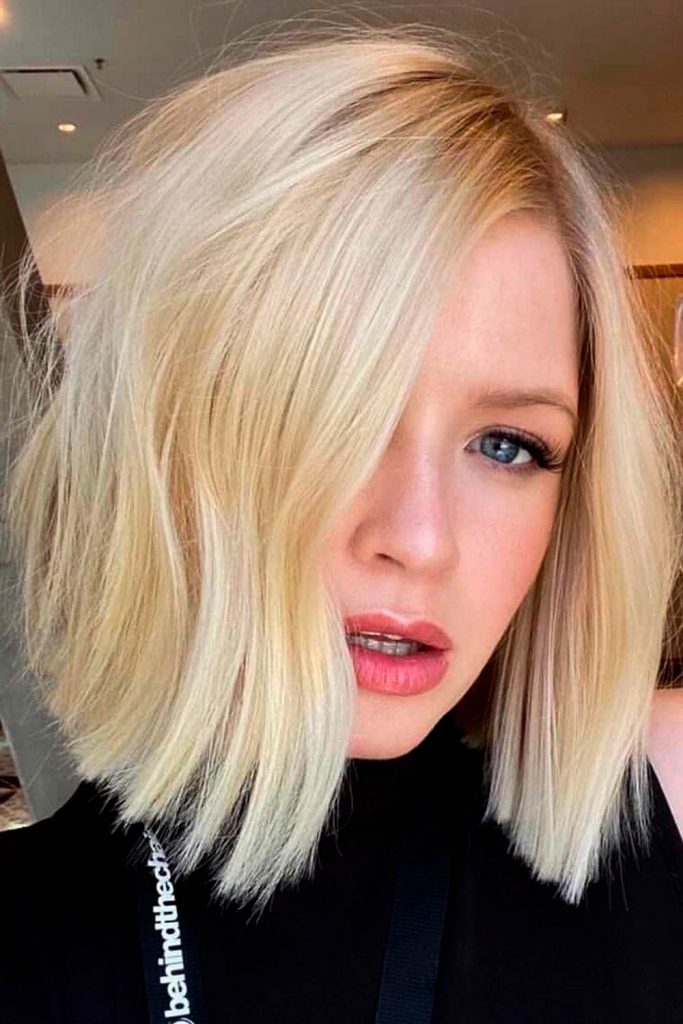 Credit photo: instagram.com/chrisjones_hair
A layered haircut is a great solution for those with fine hair who want to add more volume to their hair. This short inverted angled bob is so cute with its layered back and face-framing front. A short inverted bob will add new life to your hair and is a great way to start with fresh regrowth without going drastically short. Ask for choppy ends to give it some edgy flair.
This blend of balayage blonde hues is so feminine and chic. A soft ash blonde blended with platinum blonde highlights is so shiny and will shimmer like a spun gold in the sun.
Tousled Straight Cropped Inverted Bob With Balayage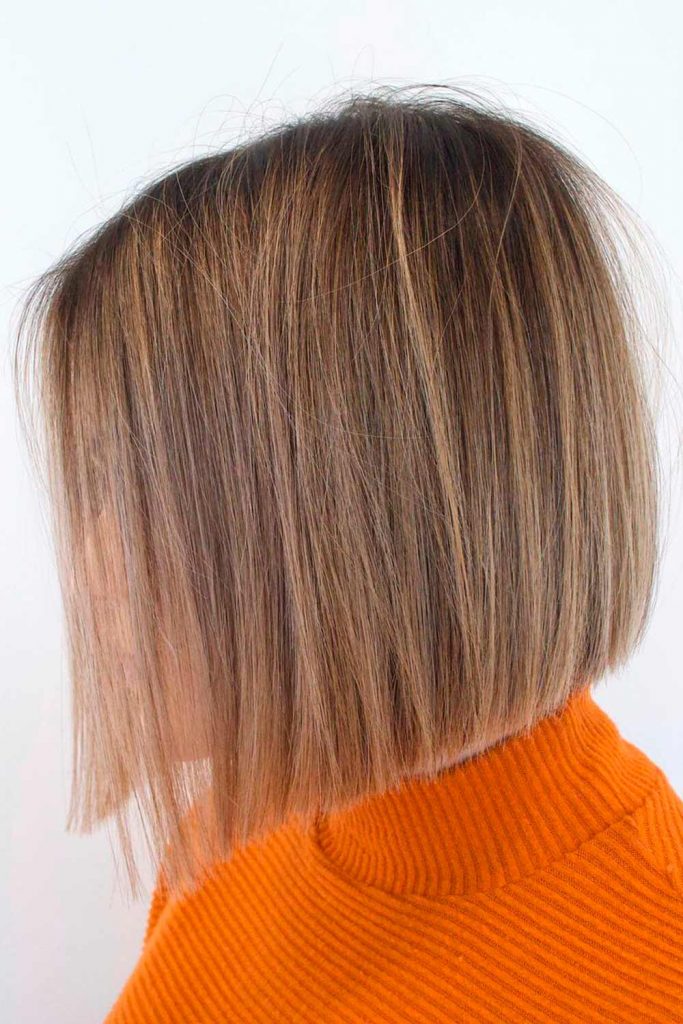 Credit photo: instagram.com/chrisjones_hair
This short inverted bob is so much fun with its dramatic contrast between warm and cool tones. The chestnut brown roots blended with honey brown and ash blonde highlights have a ton of depth if you are going for a truly multi-dimensional look. Balayage hair is very popular as it adds texture to any hairstyle.
This straight short graduated bob is stacked in the back and has long layers throughout. Style it in a slightly messy way for a carefree and relaxed vibe.
Short Simple Bob Cut With Side Bangs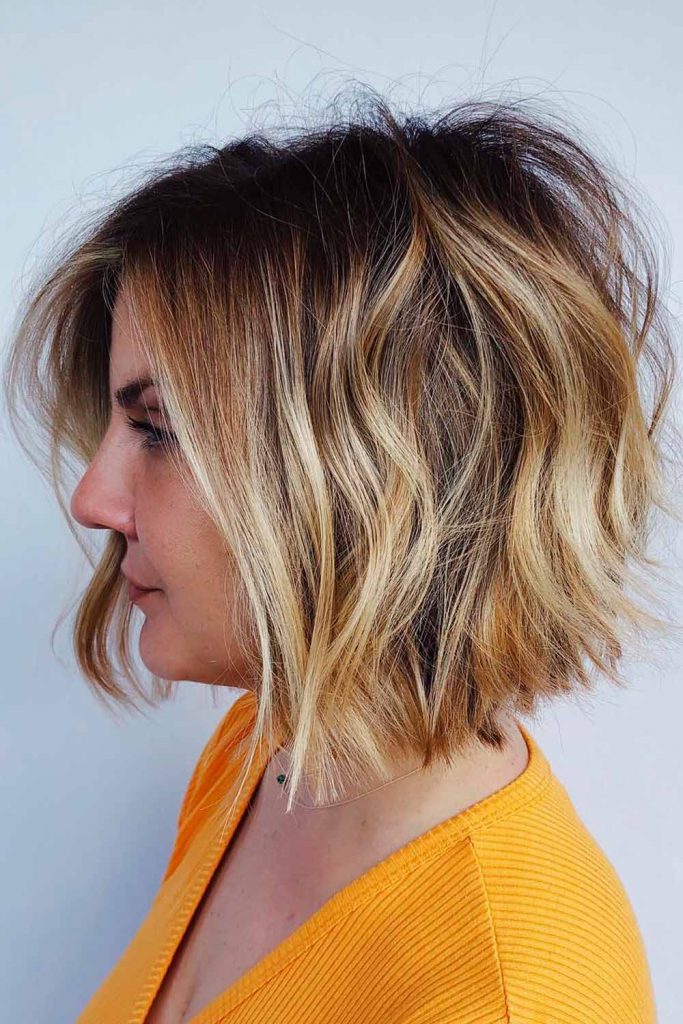 Credit photo: instagram.com/chrisjones_hair
This inverted bob short hairstyle is ideal for someone who wants a refined look that is still feminine and chic. A side bangs haircut is very girly and sexy as the short bangs will fall playfully over your eye. Make a deep side part and style your bangs on one side, so they frame that side of your face perfectly. Ask for long layers for some more volume.
This silvery blonde color is very sleek and sophisticated as the dark and light shades of platinum blonde add depth to this short and sassy inverted bob.
Short Messy Inverted Bob With Choppy Layers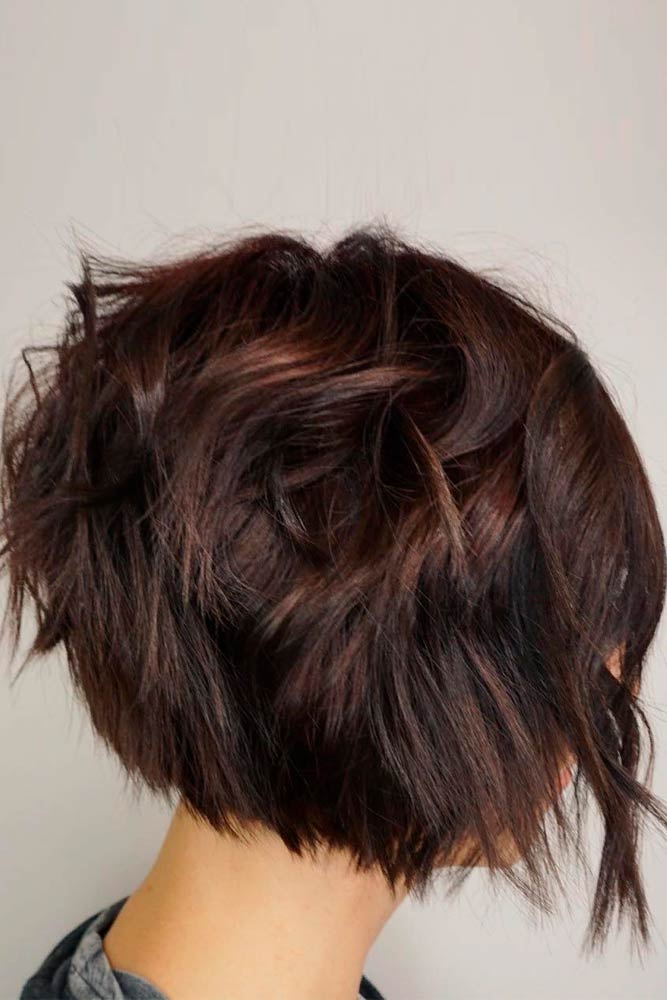 Credit photo: instagram.com/emilyandersonstyling
Short inverted bob haircuts can have a fun and flirty edge. This messy inverted bob with shaggy, razored ends is super cute. Ask for choppy ends and random layers throughout to add some volume and texture. Leave one long piece in the front to give it a playful vibe.
The best thing about a shaggy bob is that you can leave it messy and tousled for a bedhead look that is sassy chic. Make it even more fun by adding some chocolate cherry tones with a blend of chestnut brown and dark auburn highlights. The shaggy layers will give it a windblown look that is very sexy.
Black Rounded Inverted Long Tousled Layers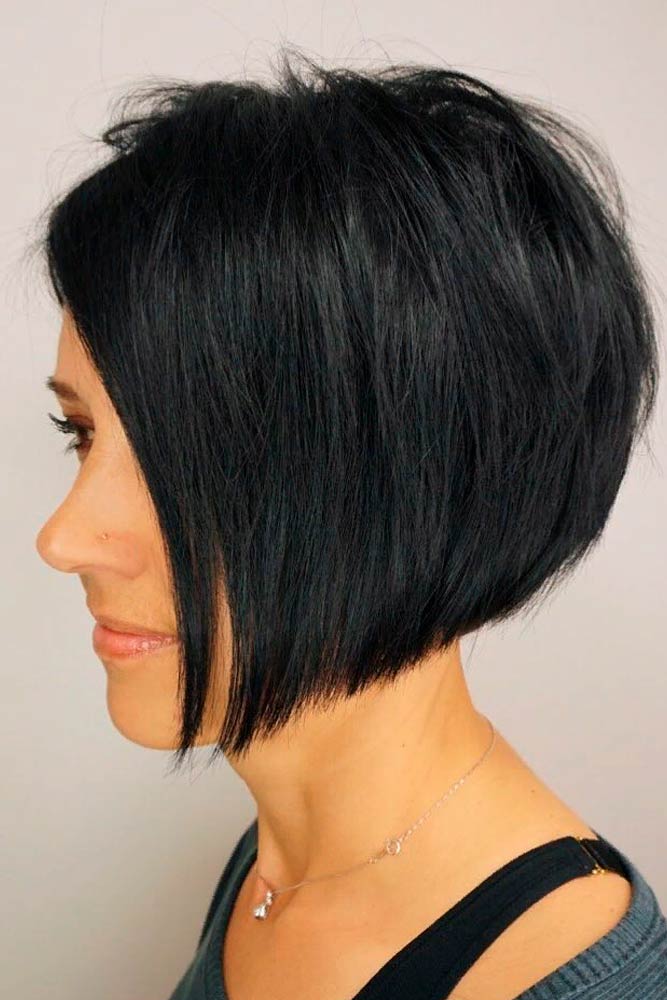 Credit photo: instagram.com/emilyandersonstyling
If you are looking for a short layered inverted bob that is a bit more polished and refined, this rounded short bob may be exactly what you need. The rounded back adds some volume, and the long layers are gradually angled, so they just reach your chin to frame your face softly. (3)
The raven black color is so shiny and sleek. Blow dry your hair straight with a round brush and bring the ends in just a bit. Style it slightly messy at the top to give this classic cut just a bit of an edge.
Rusty Rose Wavy Tousled Inverted Bob for Thin Hair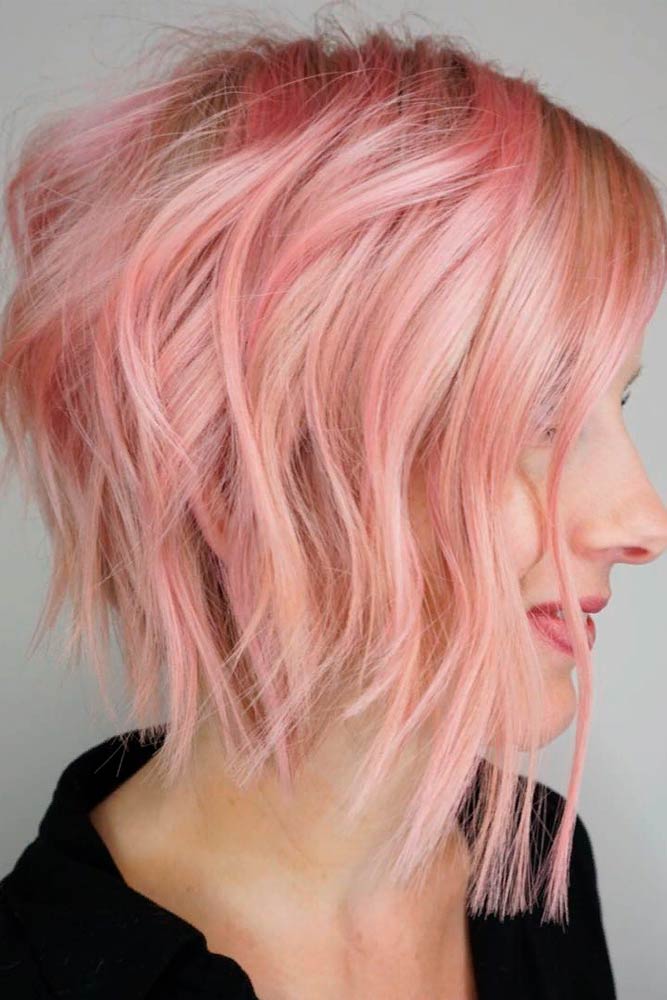 Credit photo: instagram.com/emilyandersonstyling
Rose hair is very much in demand right now, and dusty rose is one of the trendiest and prettiest shades of pink there is! This pale dusty rose is perfect if you are looking for a soft pink color to give your hair a romantic and feminine flair.
This is one of the trendiest inverted bob hairstyles with its very short back and longer front layers. Add some soft, beach waves with your curling wand or flat iron to make this pretty medium length layered haircut stand out. Or if you have been blessed with naturally curly tresses, just spritz your hair with sea salt spray and tousle it for a super sexy look that is playful and chic.
Streamlined Caramel Brown A-Line Bob with Middle Part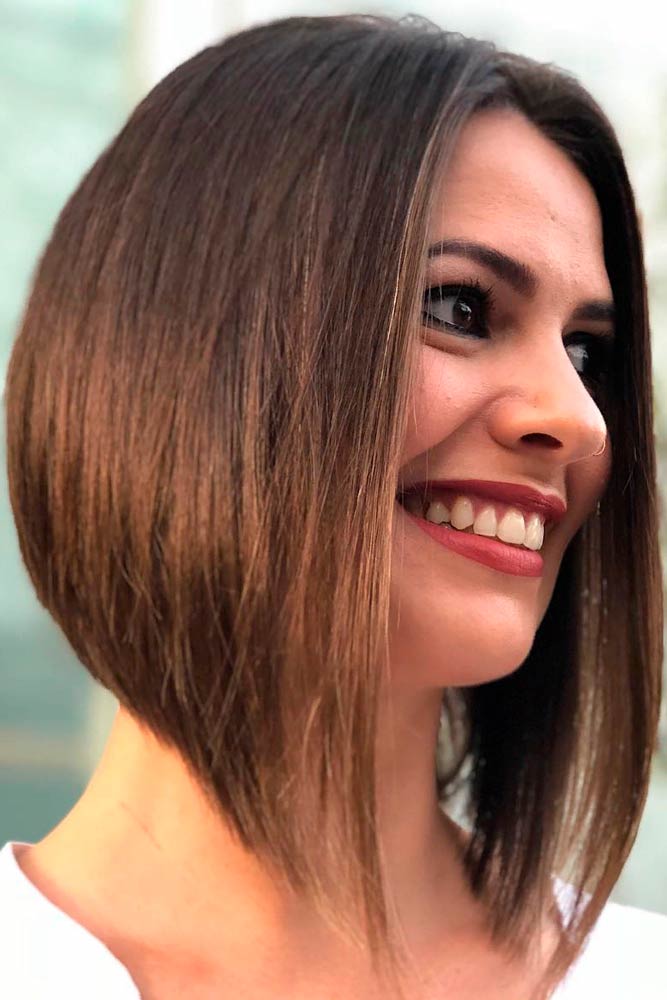 Credit photo: instagram.com/ro.hsiqueira
If you are looking for a more streamlined look, this sleek, straight A-line bob could be just what you are looking for. With its classic A-line cut and longer layers in the front, this inverted bob long is very polished and dignified, but still very trendy.
Ask for a caramel brown bob with light auburn hues to give it a multi-tonal look that is very sleek and sophisticated; such a warm tone is perfect for the holiday season.
Blow dry your hair straight and finish it off with a flat iron for a smooth finish. Don't forget the shine serum so your soft red highlights will glimmer in the sun! Part it in the middle for a refined and classy look.
Messy Inverted Long Bob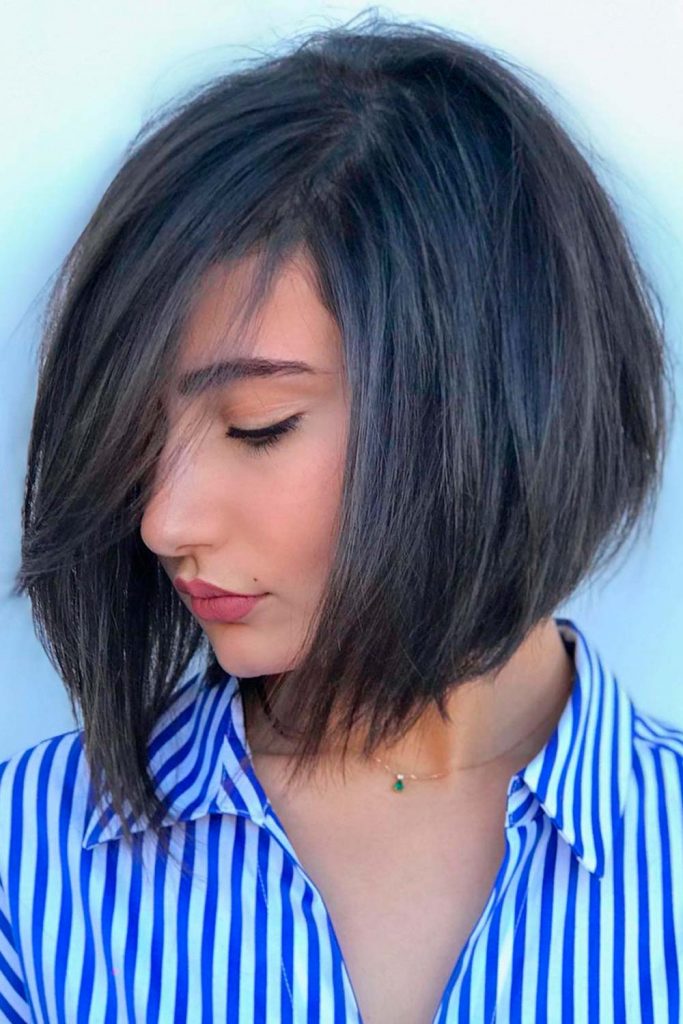 Credit photo: instagram.com/jeanclaudeelmoughayar
One of the greatest things about rocking an inverted bob is that it allows for various creative styling choices. And there's nothing like a sharp-angled body finished with a touch of messiness!
Since you have short layers on the back and long layers in the front, you can play around with different textures by making the crown lively and tousled and leaving the front slightly disheveled.
You can also ask your hairstylist for soft texturizing at the ends on the crown to make the layers even airier and more manageable. Here, the look is a bit tousled. But, that's enough to spice it up with some flirty vibes!
Voluminous Side-Swept Bob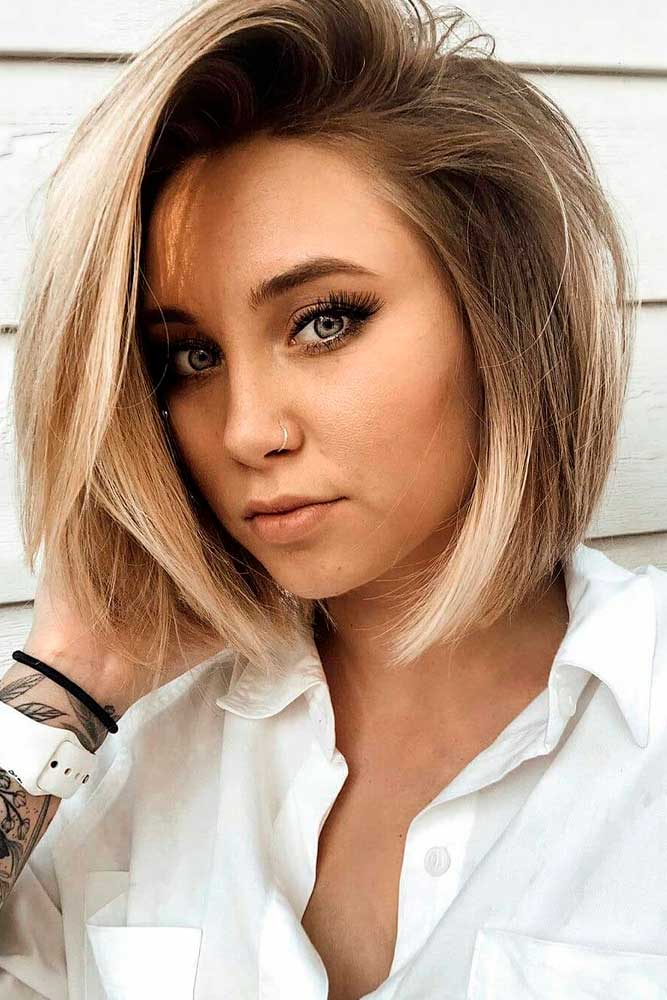 Credit photo: instagram.com/kaitmel
Exceptional volume and dramatic twists are calling cards of bob haircuts. Do you know that you can always enhance these features and simply take your cut to the next level? Of course, an inverted silhouette is key.
Also, hairstylists recommend women to find a perfect length at which the weight of the hair does not outweigh its body to achieve maximum volume. This side-swept bob is nothing but a perfect combination of the right length and styling. Its tresses are so nicely chopped, and the parting so balanced that it's hard to imagine a look better.
Style your hair with a round brush and hairdryer to achieve this kind of volumetric look. A tip: part your hair before working with the dryer to make the side-swept body keep its bounce all day long.
Angled Bob For Brunettes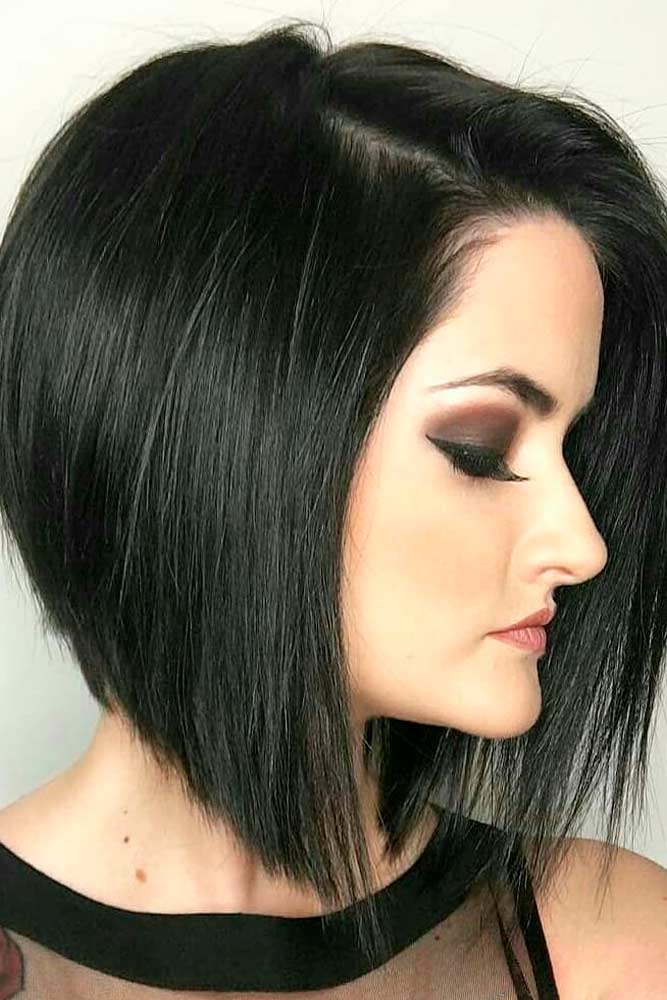 Credit photo: instagram.com/trinnie_hair
If not a distinctive haircut with pointed ends and edgy look, what can emphasize the beauty of dark hair? This precise and ideally leveled silhouette is a fantastic way to accentuate your deep and profound hair color. Needless to say, the graduation of lengths here is pretty dramatic, and you can always regulate it based on your preferences.
As for styling, nothing will work better than sleek and straight texture. Make sure to condition your hair with a product that contains moisturizing and softening oils to make your mane manageable for styling.
Also, don't forget about a heat protectant before grabbing your flat iron: apart from saving your hair from damage, it can give you the needed shine for the illuminating finish.
Gold Blonde Inverted Bob For Thick Hair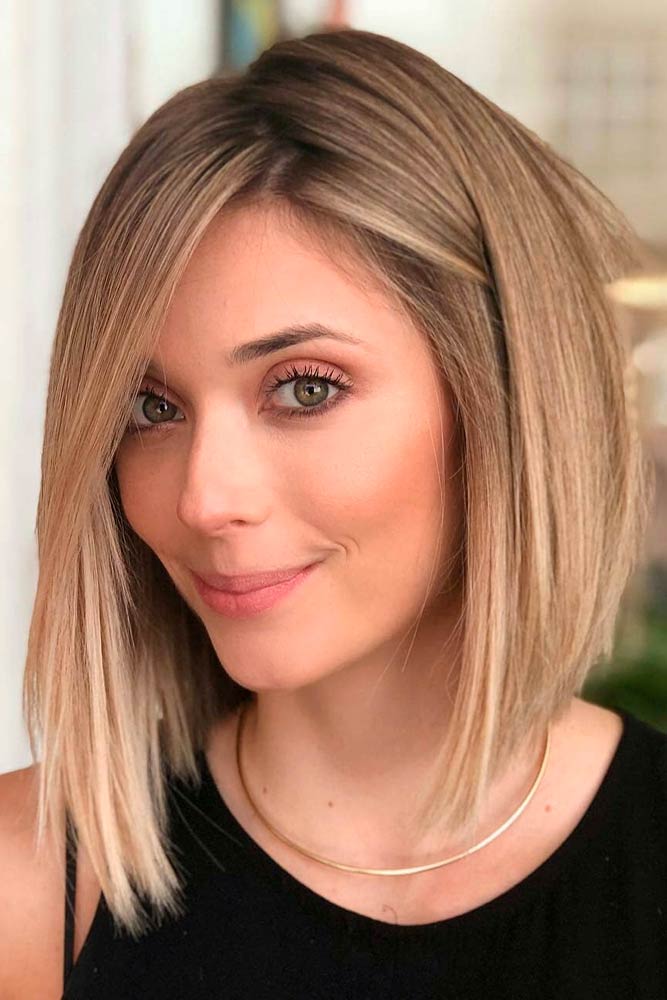 Credit photo: instagram.com/natancorreia
If you think that nothing can tame your thick locks and whip them into a decent manageable shape, this idea is here to prove otherwise. First off, you need to get your hair layered and texturized. For an inverted bob, classic layering with a soft trim at the ends will do just great.
As you know, layers are a saving grace for women who want to reveal the real potential of their hair types. On thick hair, they chop off the extra weight from the length, providing a balanced body with lightweight ends. Well, that's just what you need to show the best side of your hair type!
Just look at this gold blonde bob: we bet you're going to copy not just the cut but also the enviable color from this pic.
Short Inverted Bob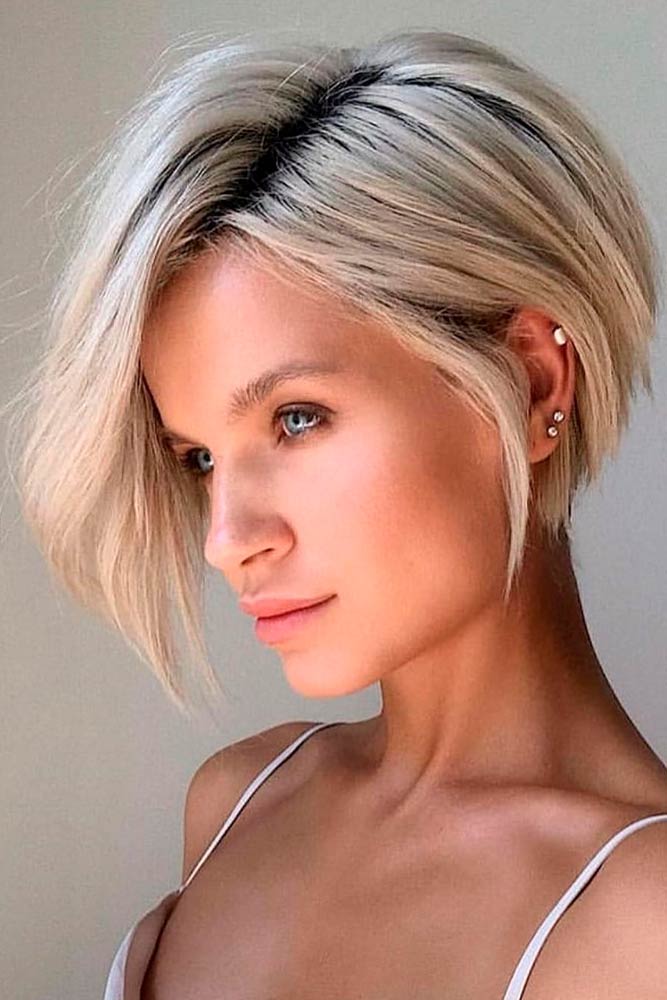 Credit photo: instagram.com/juliana.key
It's time for you to meet one of the most popular short inverted bob hairstyles! There's no need to tell you how different it looks compared to all previous ideas you've seen today, as its look speaks for itself. Besides having an attractive inverted silhouette, this haircut strikes with its asymmetry, making the whole look super modern.
style="text-align: justify;">By the way, such an idea will actually work wonders for thick hair too, as it features a lot of details that can tame those unruly tresses. The good news is, this haircut takes minutes to get it styled: just brush your damp hair and give it a blow-dry.
If you'd like to focus on the texture, apply some texturizing product and tousle your locks when they're clean and dry. And if you want the cut to work on your facial features, just wave the front tresses to see the difference.
Chin Length Inverted Bob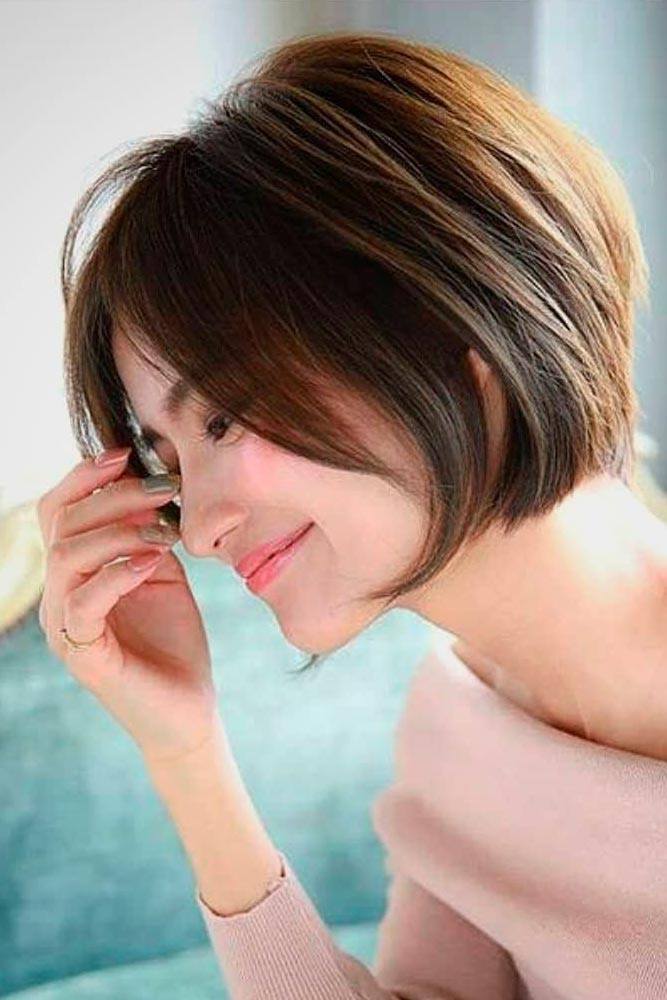 Credit photo: instagram.com/cabelocurto
Chin-length haircuts are officially the most practical choices you can make. But, at the same time, they look unbearably stylish, so you can feed two birds with one scone. Moreover, the length is just perfect for framing, which means you can always beautify your face with the help of your amazing haircut.
Apart from that, it works for all hair types, and this inverted bob for fine hair is no exception. If you have a round face, you can ask your stylist to round up your ends so that the whole length falls on your cheeks.
You will also love the way this cute cut looks with bangs: long curtain bangs that seamlessly blend with the rest of the locks are a must!
Ash Blonde Shaggy Inverted Bob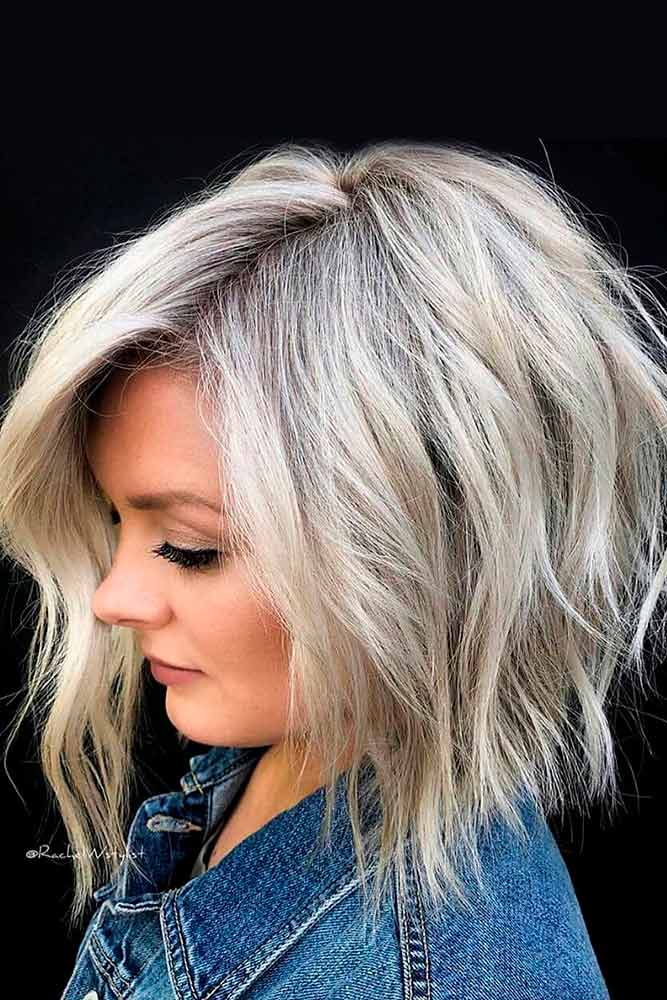 Credit photo: instagram.com/arcscissors
The inverted bob haircut is known by many names. It may come across as a stacked haircut with a cascading structure or a graduated A-line bob with sharp, accentuated layers. Still, its dramatic volumetric silhouette is what will always be its calling card. Wondering why the popular short inverted bob splits into so many similar versions? Well, this haircut allows for endless experiments and customizations where you can tailor the length of your cut, the graduation level, and types of layers.
Here, for example, you can see how you can diversify your inverted lob with a touch of shaggy layers. Such an idea will work wonders amping up thin tresses. The color also plays an important role in your inverted look, so finishing it with a trendy ashy hue will be a fantastic idea.
Sleek Inverted Bob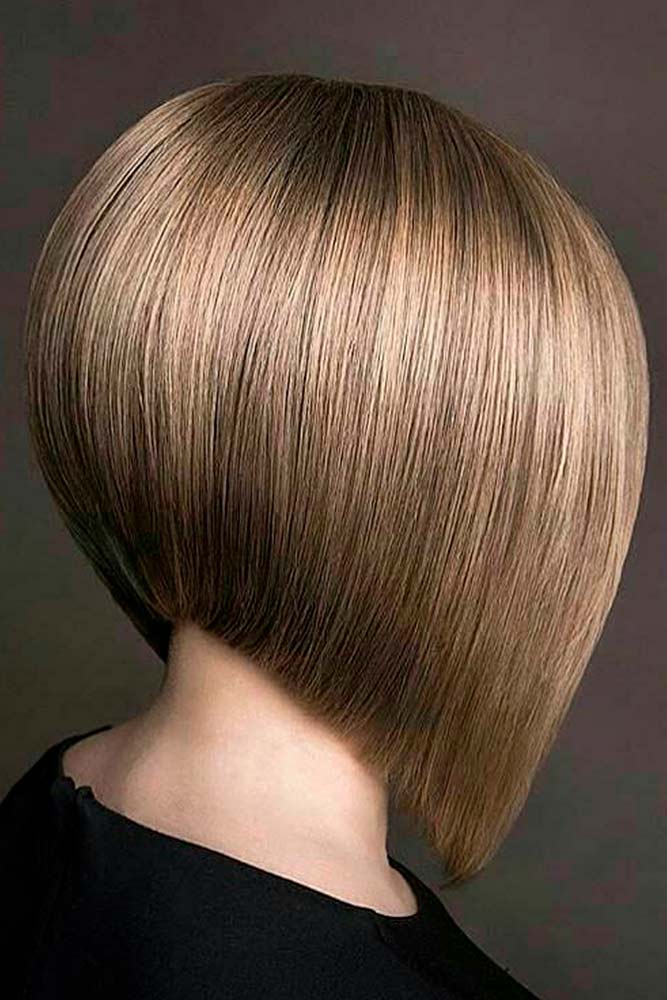 Credit photo: instagram.com/demetriusschool
The best thing about inverted bob hairstyles is that you can pick one with your eyes closed and still get an idea that will work for you. Whether it's a sleek or wavy hairstyle, the sharp-angled silhouette with a voluminous crown has an approach to any hair type. This straight hairstyle is the purest version of a swing bob, which is another name for a merely layered inverted bob cut.
The round-shaped crown curves at the tips so that they nicely align with the gradual structure. As a result, the haircut is absolutely leveled and well-shaped while reflecting the light with its shiny finish.
Reverse Bob With Long Bang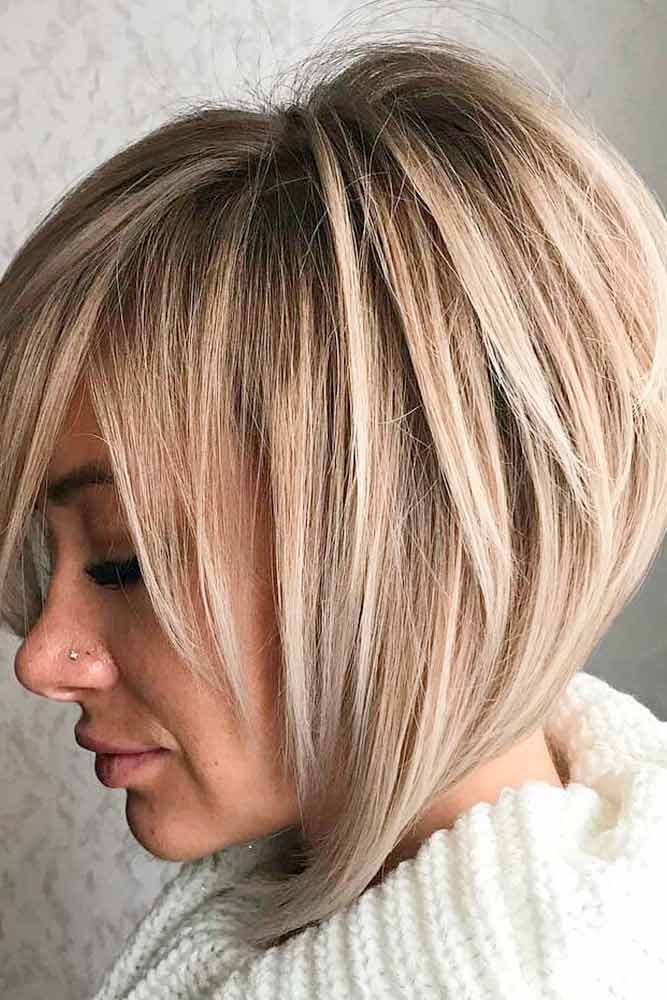 Credit photo: vash_master_novosibirsk
The main reason why women stay away from getting bangs is that they believe it will look too drastic against their haircuts. Well, we would agree if we weren't talking about inverted bob with bangs. Since you can always regulate the sharpness and length of layers, why not add one more additional fringe layer?
Ask your hairstylist to blend the bangs with the rest of the hair to get a seamless blend of textures. As for the type of bangs, it's totally up to you. However, we'd suggest you get a long texturized fringe, as it can perfectly enhance the silhouette of your reverse bob haircut.
Wavy Layered Inverted Bob For Fine Hair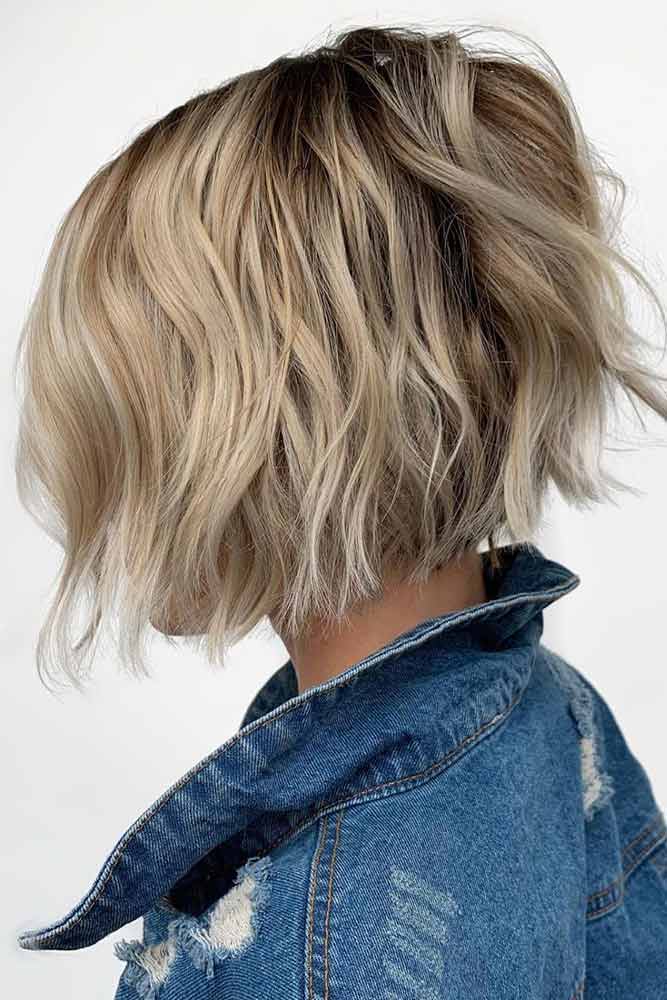 Credit photo: instagram.com/styled_by_carolynn
When choosing between a classic and short layered inverted bob, you should consider your hair type first. If you have a medium texture that behaves during styling, you can opt for the classic inverted bob haircuts. As for those whose hair is either too thick to tame or too flat to build volume, there's nothing like an inverted bob with layers.
This particular idea is a great example of building tons of volume on a thin mane. The truth is, waves and layers go hand in hand when it comes to beating flat looks and lifeless locks. For this reason, you won't go wrong finishing your haircut with a texturizing spray or a pass of a curling iron.
Medium Inverted Bob With Gold Balayage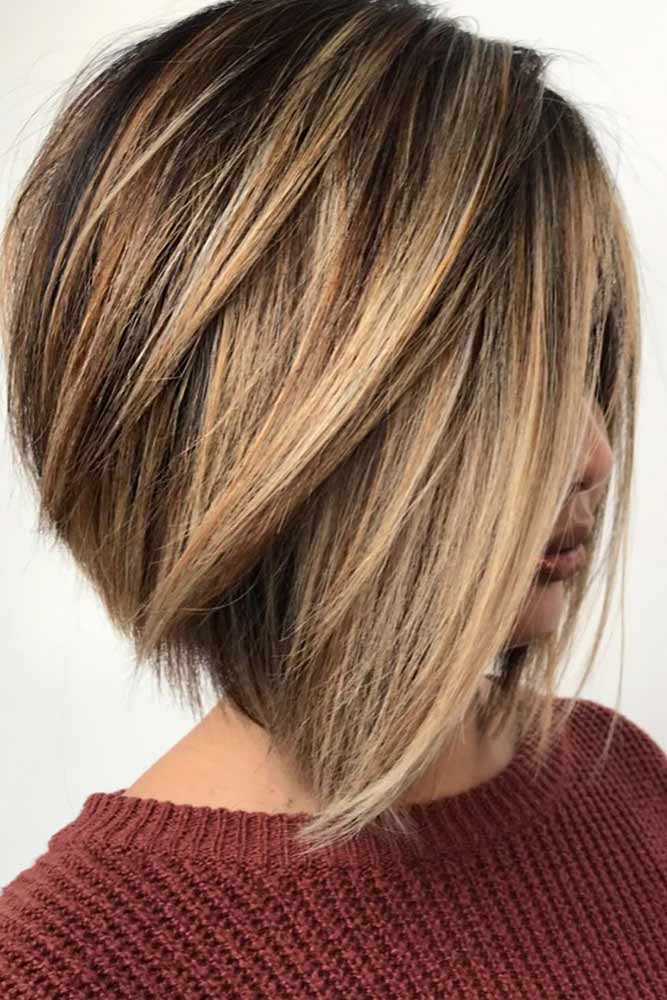 Credit photo: instagram.com/styled_by_carolynn
In contrast to short variations of the reverse bob, medium length inverted bobs give women more styling freedom. Although this haircut isn't hard to maintain, it takes a little bit more time than styling short hair. But, it's totally worth it if you love voluminous looks with a full silhouette, especially if you go for layers.
And, as much as we'd like to focus on the haircut, we can't leave out the color. As you can see, apart from having a volumetric body, this haircut also looks deep and dimensional. In fact, it wouldn't look this radiant if it wasn't for the gold balayage. All in all, this color technique has always been a stunning complement to medium length inverted bobs.
Long Inverted Bob For Thin Hair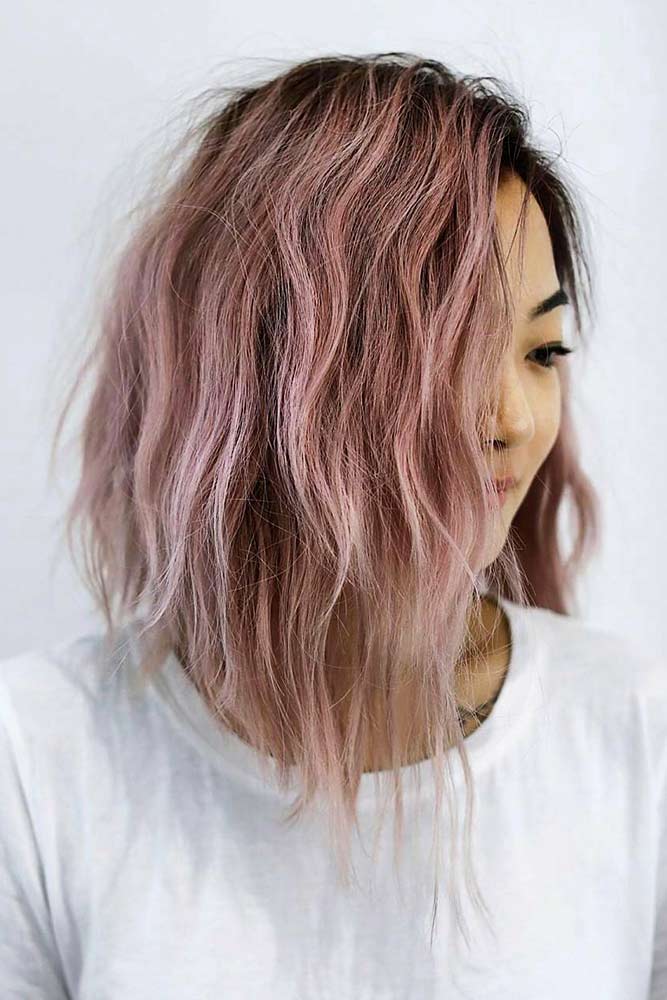 Credit photo: instagram.com/bescene
As your hair grows out, it may lose its natural bounce, especially when it's thin, remember? However, if you grow your inverted bob long, it will never outweigh your look for one simple reason. One word: layers. An inverted long bob can be different depending on your hair type and cutting preferences. So, you still can wear a long haircut with your thin locks!
Keep in mind that to get the most of your hair type, it's better to get both long and short layers throughout the length. Also, don't forget to trim your layers regularly to always keep this effortless volume on point. And last but not least, waves will be your best friends.
Sharp Reverse Bob With Blonde Highlights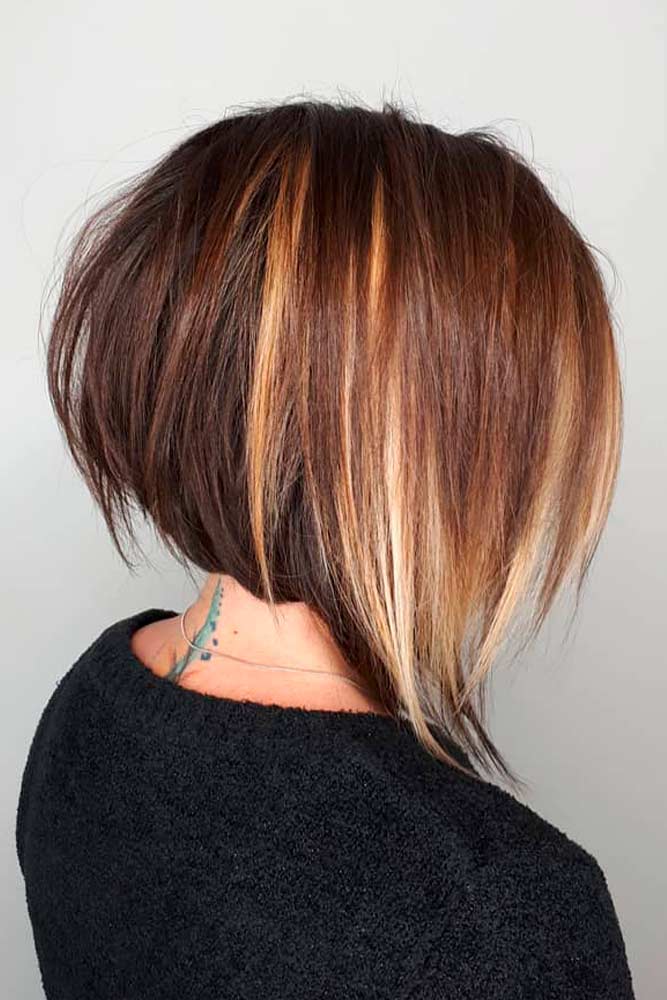 Credit photo: instagram.com/moiseshairstylist
Remember how many times you came to a total misunderstanding with your hairstylist? Even though you were precise with your expectations, you two still had different pictures of the haircut. Can relate? Well, this pic is here to put an end to such situations once and for all. If you like this angled bob with layers so much that you'd like to recreate it, you can show this pic to your stylist.
Besides a detailed structure with specified cutting angles, there's one more thing to pay attention to - the strategic placement of the highlights. In fact, this picture is a guide for women who are ready for a complete hair transformation and want it to be flawless. Indeed, this medium inverted bob looks absolutely balanced with such a harmonic combination of the auburn hair color and cut.
Blonde Inverted Bob With Airy Layers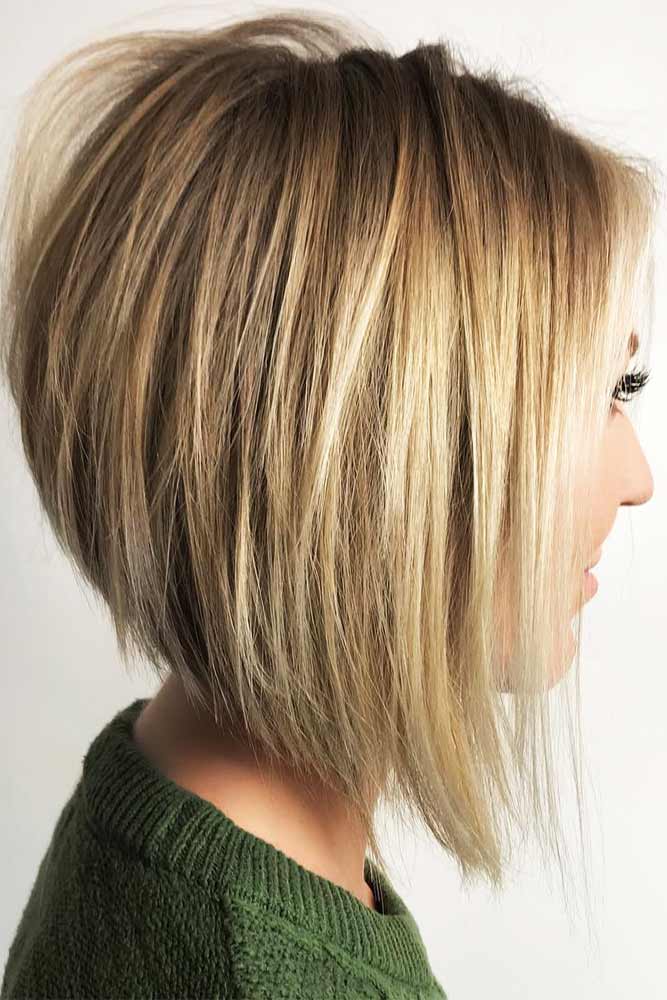 Credit photo: instagram.com/styled_by_carolynn
The shape of your layers can drastically change the way your medium length inverted bob looks. While you can go for subtle layers that gently volumize the top part of your hair, you can also ask your stylist for long dramatic layers on every single strand.
This layered inverted bob is the middle ground between the two. Just like all inverted bobs, this cut features a graduated silhouette that gets longer to the front. But, the graduation line is very moderate, the ends are softly curved, and the layers are gentle. Together, these features form a stylish and balanced look that is voluminous and edgy at once.
Straight Inverted Bob Hairstyles
@meucabelocurto
i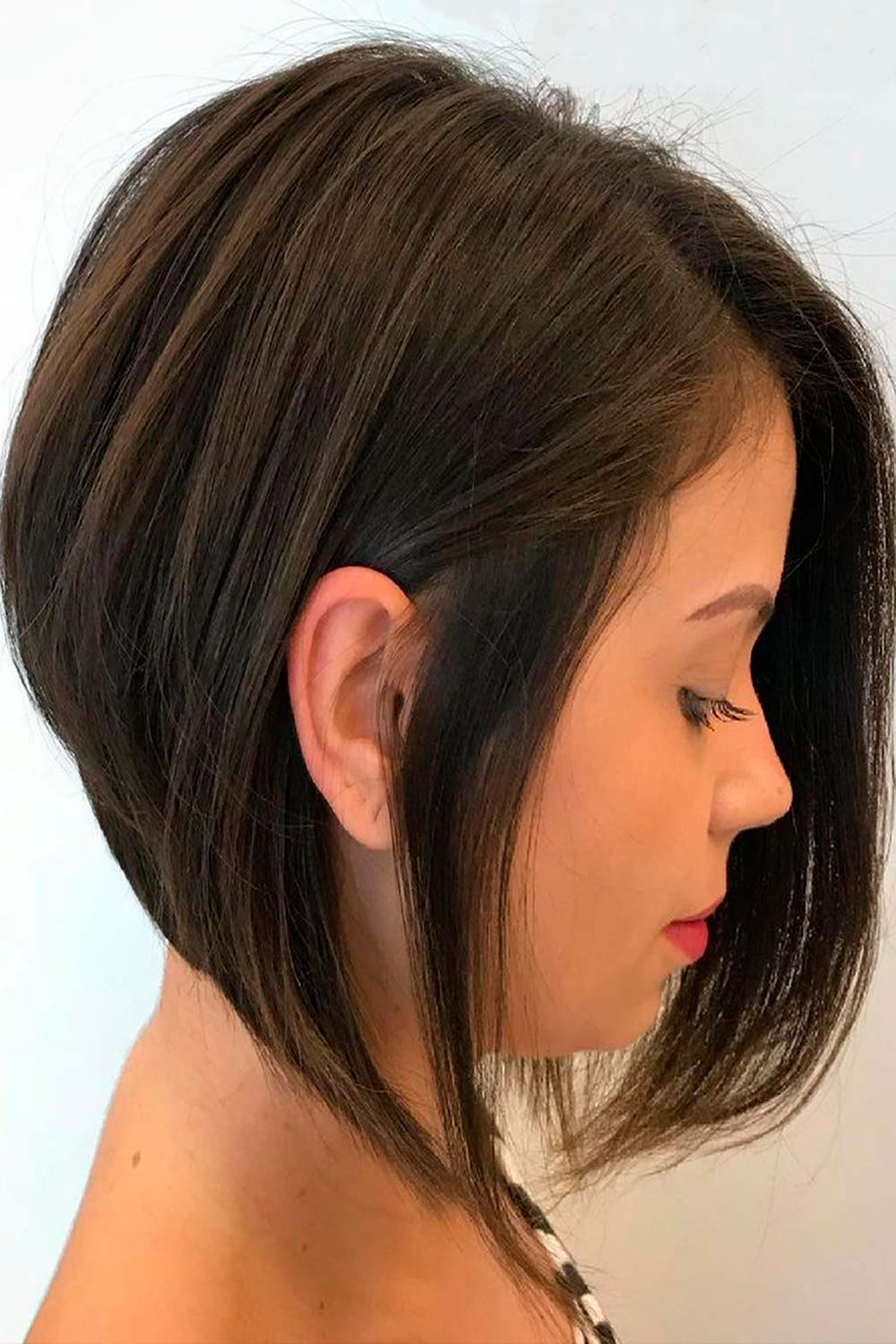 @meucabelocurto
i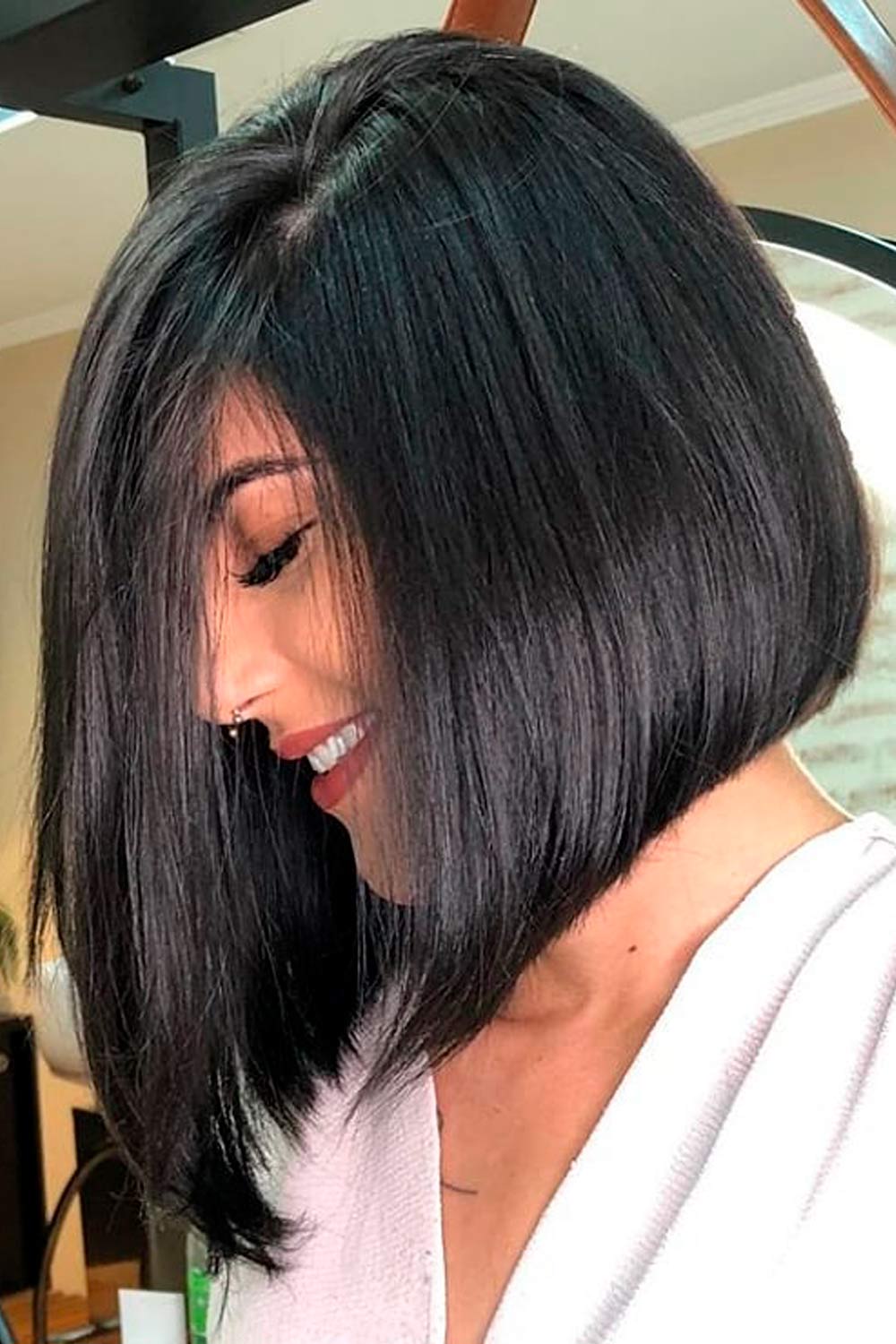 /
When sleek and straight, an inverted haircut looks really stylish and bossy. What can we say, a straight haircut is unlikely to ever go out, and it is awesome. We really love its sharp lines and the unique balance between the longer face-framing front and shorter voluminous back.
Basically, nothing can compare to sleek styled medium length inverted bobs, as such styling emphasizes the accurately shaped sharp lines of the cuts. If you plan to wear your hair straight most of the time, we recommend you skipping tapered bob ideas. Unlike regular medium length inverted bobs, tapered or stacked inverted bob cuts feature a drastically short back portion which is hard to straighten with time. And the good news is, to create a swing bob hair style, all you need is a round brush and oil-based product.
Inverted Bob with Accentuated Edges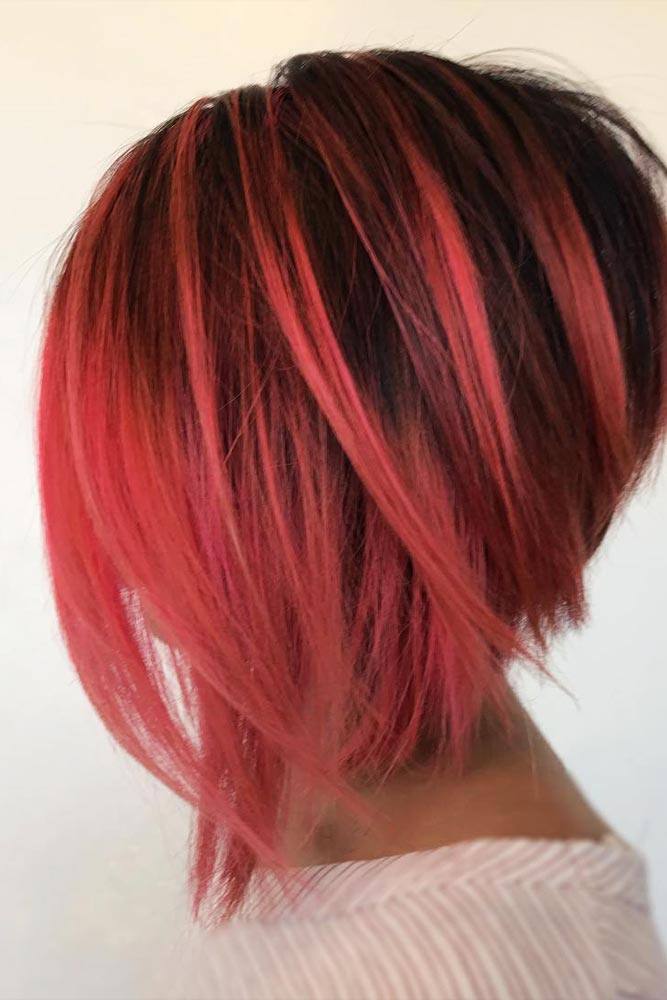 Credit photo: instagram.com/styled_by_carolynn
We can't bring ourselves to call it a haircut. It's a whole mood depicted by a layered angled bob! Not only does this haircut has a strong character but it also gives a great visual impact with the play of shades. The creative approach to the color placement that follows the structure of the haircut is key to reaching perfection. This cut features a drastically longer length at the front, which are the main characteristics of a long swing bob. And if you want to put a strong accent on the longer front, nothing will work better than color. For a dimensional finish, make sure to leave the non-layered portion dark.
Sleek Angled Bob Hairstyles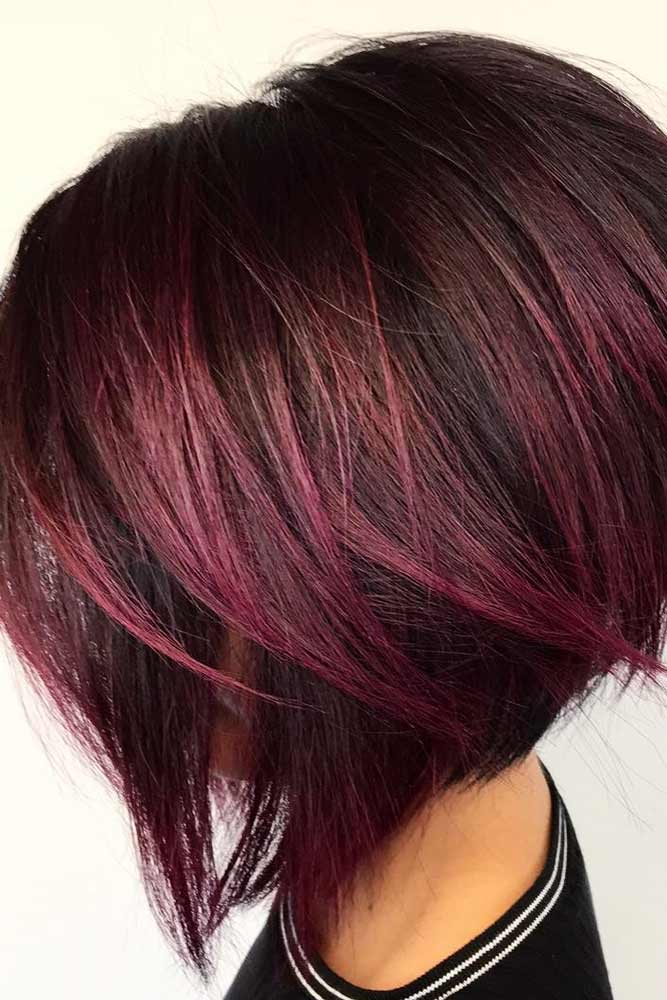 Credit photo: instagram.com/styled_by_carolynn
Angles and sleekness are like cheese and wine: both are good as they are but taste exceptional when combined. These two enhance the charm of one another, forming a totally harmonic duo that will never go out of style. Angled layers will provide your hair with lively movement and dynamics while a sleek finish will give it a chic shine-reflecting appearance. Ensure that your styling arsenal consists of a heat protectant, hairdryer, and flat iron: that's all you need for radiant results like these.
By the way, you can also spice up your angled bob with bangs. This time, we're not talking about the framing, which is also a win-win idea for most ladies. In this case, bangs add a flirty twist to the perfectly straight texture, making some of the front sections stand out. Such a move will add a sense of freedom to your inverted long bob, making it look a little bit more effortless.
Middle-Parted Jagged Bob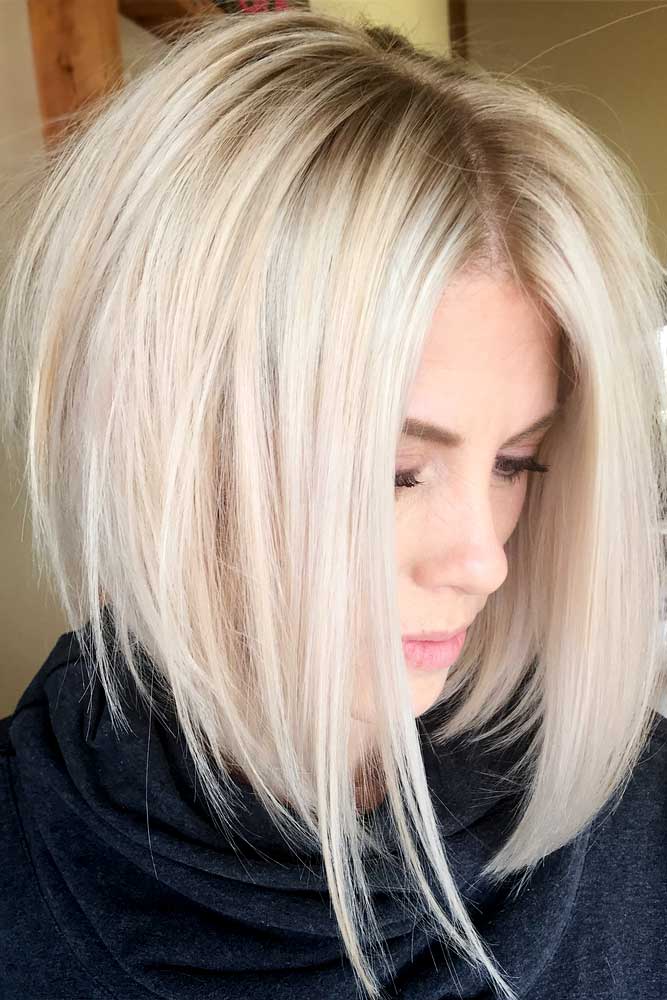 Credit photo: thomastimes
The term "jagged" may apply to different haircuts and styles, and medium inverted bobs are no exception. In general, it's a haircut finished with a soft touch of messiness which can be achieved through both cutting and styling.
This inverted stacked bob features lots of thin sharp layers, and that's what gives this slightly disheveled appearance. The middle part, in its turn, spreads all the locks evenly, thus giving not just a balanced but a face-framing look.
Blue Tousled Hairstyle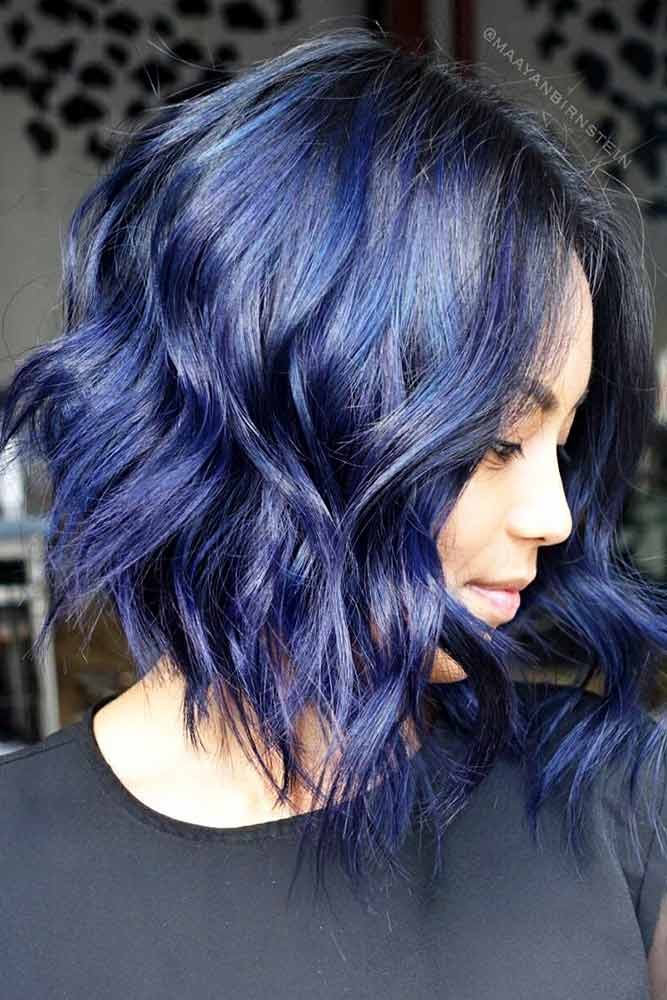 Credit photo: instagram.com/maayanbirnstain
It doesn't matter if you want to wear your inverted bob short or flaunt with a longer look, it will still be a nice canvas for color experiments! Well, this short angled bob haircut embellished with a dimensional play of various blue shades on a dark base is proof.
The best thing is that you can view your brand new color from different angles based on your styling choices. On straight hair, bluish locks will reflect the light and look even richer. And on wavy hair, this color will be even deeper and more intense with the movement of wavy layers.
Long Messy Inverted Bob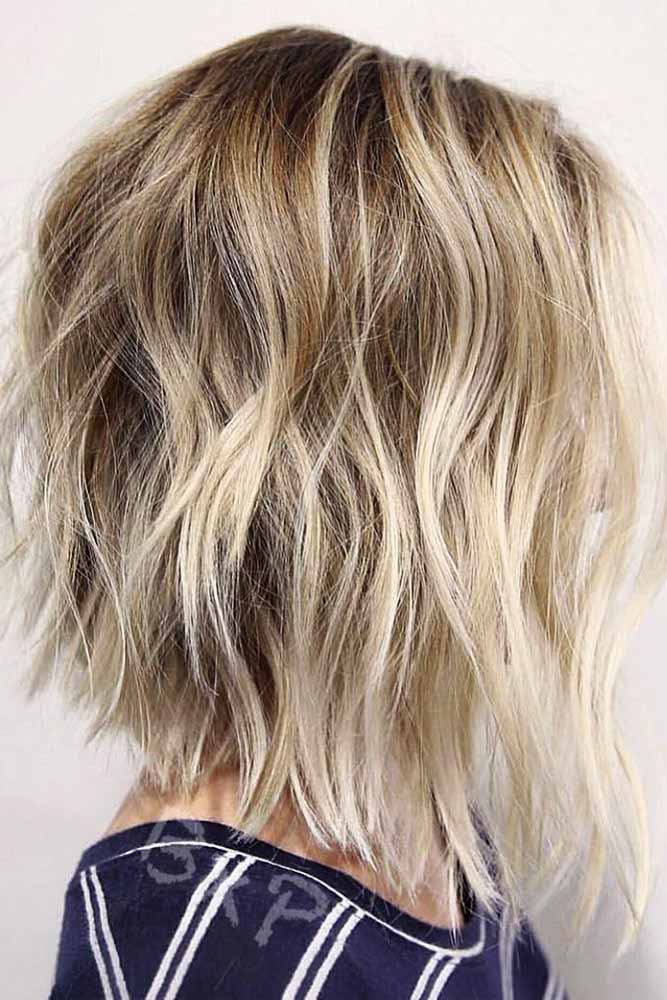 Credit photo: buddywporter
A medium length inverted bob will certainly add some carefree vibes to your image when you choose to style it so that it looks messy. Admit it, a messy bob haircut is flirty and fun! And we can state without any hesitation that this look will work great not only for a day at the office but also for a night out on the town with your friends. The added beach texture makes the waves fall especially effortlessly and soft – the result that is unlikely to be achieved without the deliberate messiness. When styling, apply volume-boosting mousse and texturizing serum, then blow dry your locks, finger-combing them. Finish with medium hold hair spray.
It also should be noted that this hairstyle is the best pick for a long inverted bob with layers, notably if you have thin hair. While it's better to go short for those with fine tresses, you can do with a long angled bob haircut. To do so, you need to switch to a messy styling routine. Don't worry; it's anything but complicated or time-consuming. When spritzed with a texturizer, layers instantly turn into beachy-like waves.
Bright Shattered Bob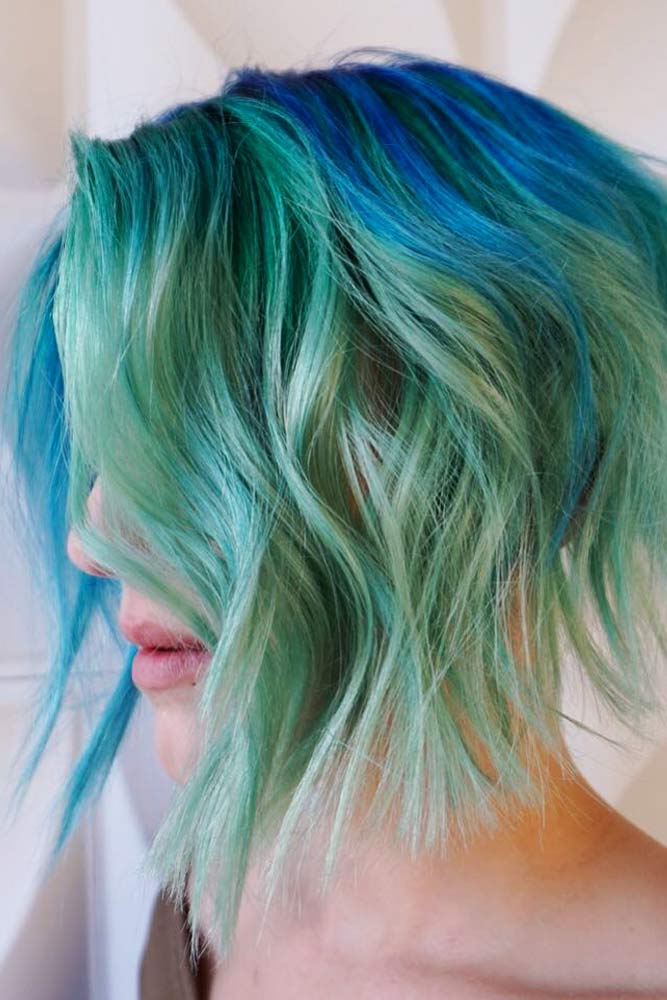 Credit photo: instagram.com/isaac4mayor
How do you like this shattered effect with lightweight ends pointing toward different directions? We weren't joking when we told you that short inverted bob haircuts are as practical as they're beautiful. The ends are lightened not only for the weightless effect but mostly for a lighter feel in thick hair.
When colored, such ends look even striking, not to mention the charm of waves. Apart from cutting off the extra weight from your tips, this structure will enhance the color play. Therefore, don't hesitate to try something new and bright with this haircut.
Coarse Wavy Bob Hairstyle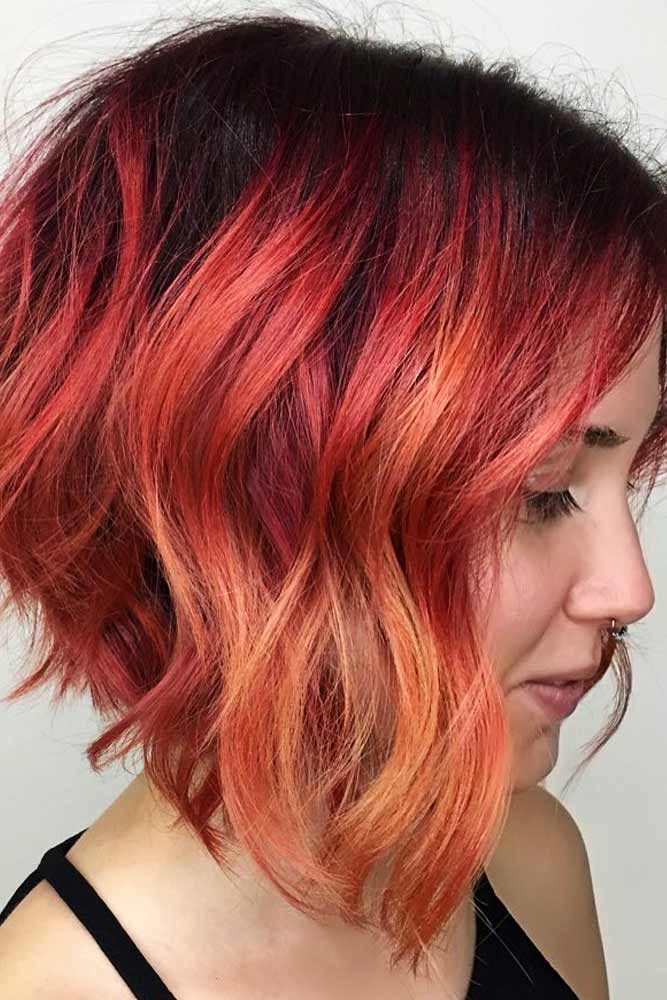 Credit photo: instagram.com/isaac4mayor
Here comes an inverted stacked bob that will finally show your thick hair who's boss. It's no secret how cruel thick hair can be, especially in the mornings when you're short of time. Coarse hair is the boss of all thick textures, as it's most fragile and unmanageable at once. Well, inverted stacked bob will be the winner in this boss fight, that's for sure.
For the best results, make sure to ask your stylist for a classic stacked structure with a tapered back and moderately long top. Of course, your hair can't do without layers. All in all, they will make your thick locks well-shaped and manageable for wavy styling. You also may add bright color accents as like this shade of red hair.
A-line Bob Haircuts With Messy Waves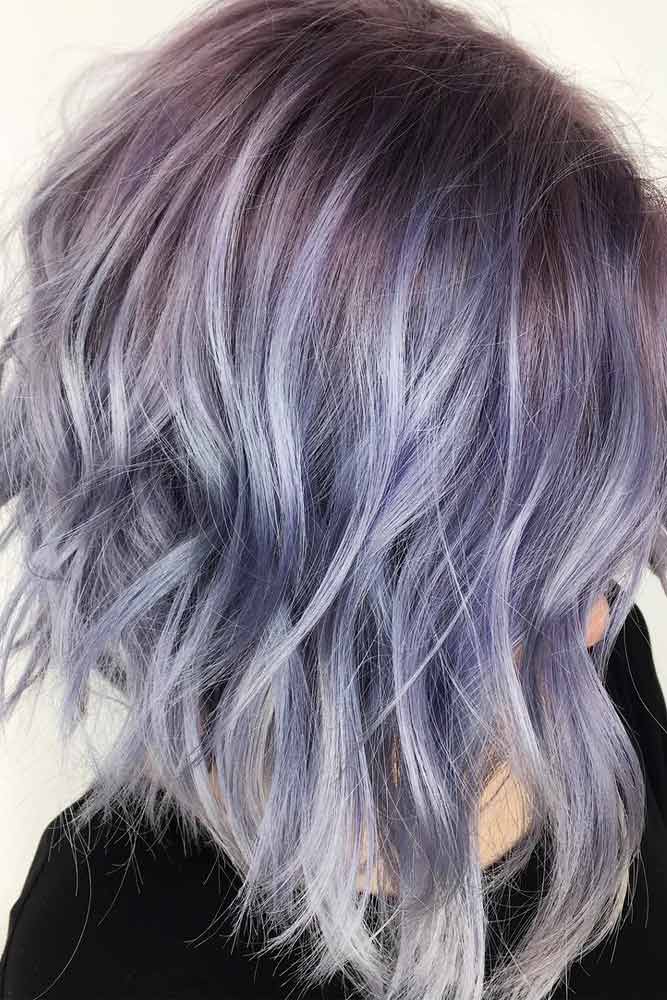 Credit photo: instagram.com/isaac4mayor
Waves and messy texture are an ageless combo with which you won't ever go wrong. Whether your waves are big and thick or thin and loose, they will look gorgeous on an a-line bob! This haircut has a pleasant gradual body that cascades with longer tresses at the front. Now, imagine how glamorous it will look once you bless it with wavy texture! To get the most of this look, tousle your waves as much as you can and give them a coat of hairspray.
If you wonder how you can individualize this look aside from color and layers, we'd like to remind you about bangs. We will never stop telling our readers that even though bangs are a little detail, they can drastically change your look. So, finishing your inverted bob with bangs and layers that connect your locks with a fringe will be a stunning idea. Of course, you should choose a fringe based on your face shape.
Burgundy Ombre Lob For Wavy Hair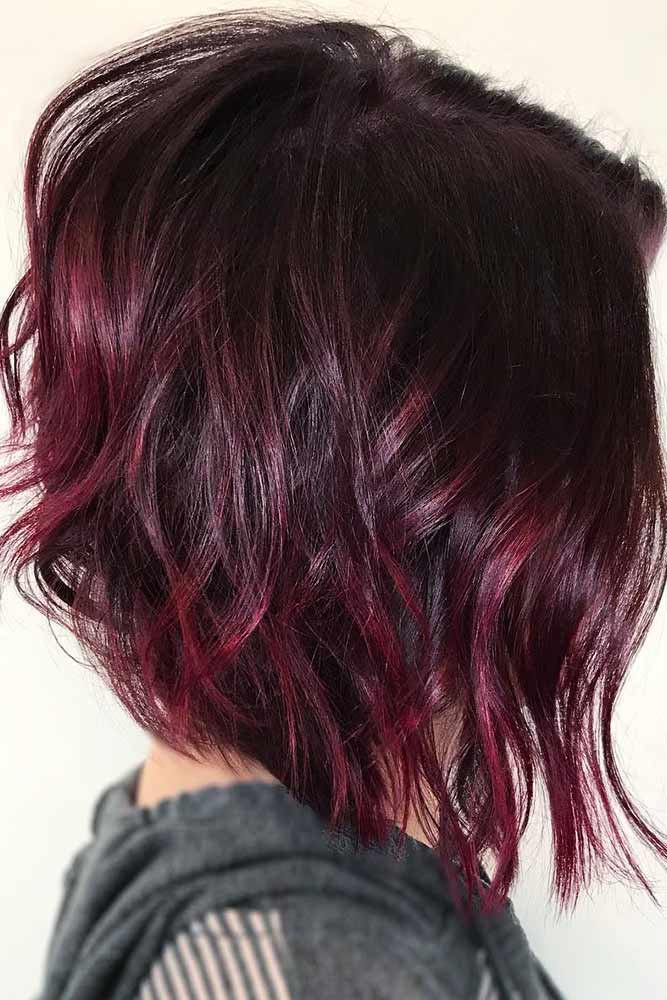 Credit photo: instagram.com/styled_by_carolynn
When you're about to give a fresh take on your lob, there's no need to cut your hair shorter. Instead, you can only change the bottom part, adding an angle to it. By the way, if you get it layered, you may reveal the wavy pattern you never knew you had! Still, the point is that even a little angled change is enough to take the haircut to the next level, breathing individuality into it. Coupled with a dynamic color play like these burgundy highlights on a dark brown mane, your lob will never look basic.
Wavy Long Bob With Highlights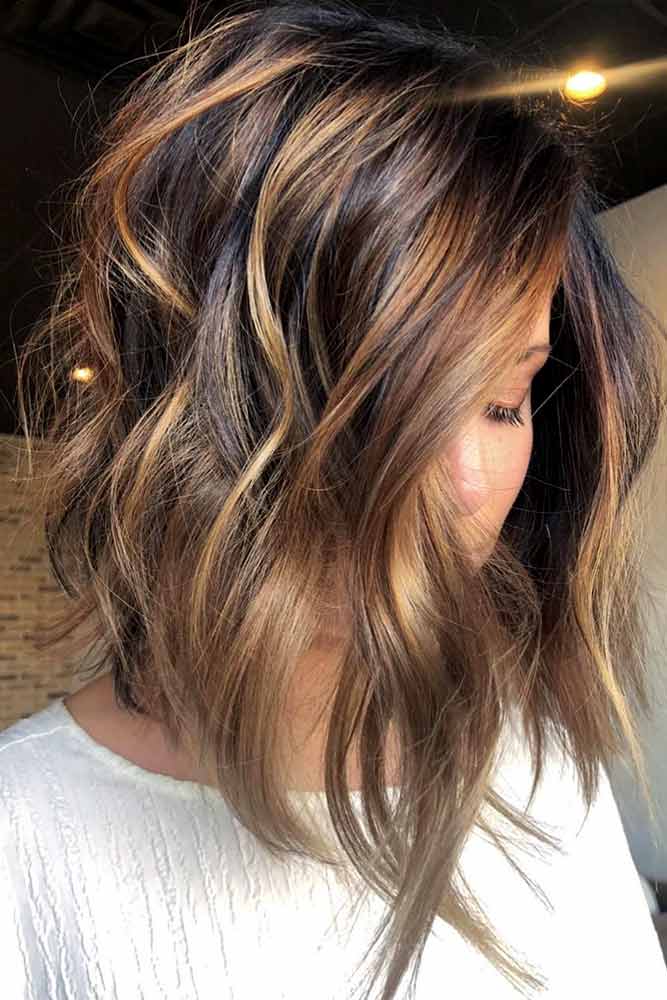 Credit photo: instagram.com/mikaatbhc
Here's another creative, ingenious way to wash away all the traces of thin hair. Though going for a new shade is not for the faint of heart, you should prepare for using heavy artillery to make your thin hair bite the dust.
First, consult with your stylist about layers, deciding which ones will work best for your texture. Then, highlight the most prominent strands with a lighter hue that matches your natural base. Wave your hair, and voila, your hair looks fresh, full, and voluminous!
Inverted Bob With Metallic Waves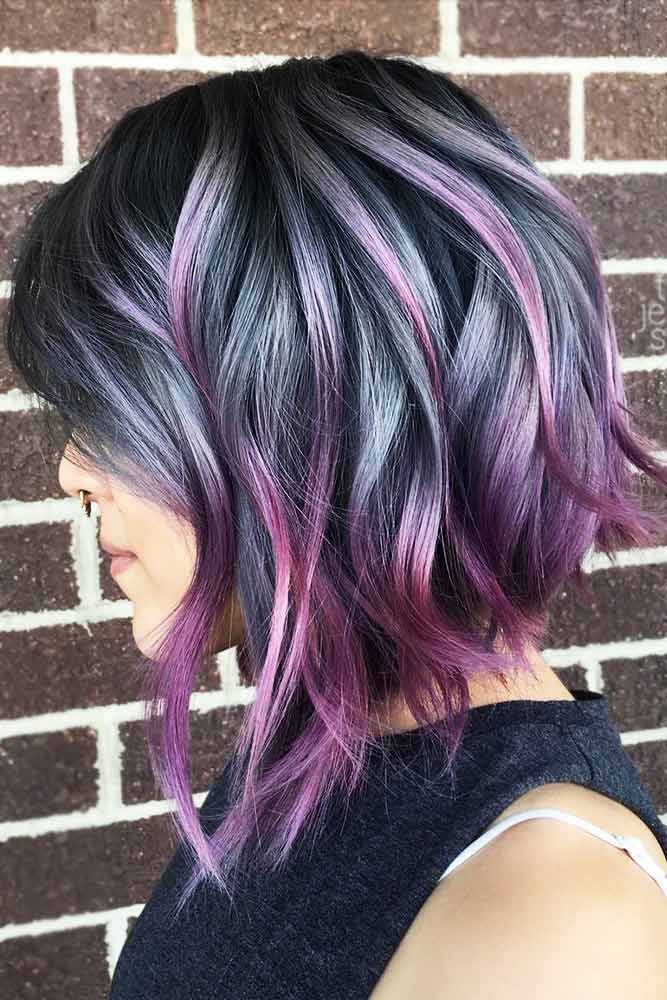 Credit photo: instagram.com/bescene
These haircuts appear especially feminine when waved a bit. The inverted bob medium length allows for the added movement and lift when styled like that. While your tresses are clean and still wet, apply beach wave mousse. Such products will grant you the needed lift, as well as the texture that will last long. Blow-dry your tresses and then use a medium-barrel curling iron to get waves. When all strands are waved, finish with dry texture hair spray. This hairstyle can work great for women with any face shape or hair type.
And if you've got the guts to steal this exceptionally colorful, metallic-inspired look, you should be picky with the products. As a matter of fact, this idea consists of the latest trends in hair cuts and colors. A cascading body, layers, soft disheveled waves, and purple to ashy gray metallic shades are just dazzling! To maintain the colors when styling, don't forget to look for products designed to protect color-treated hair.
Stacked Inverted Bob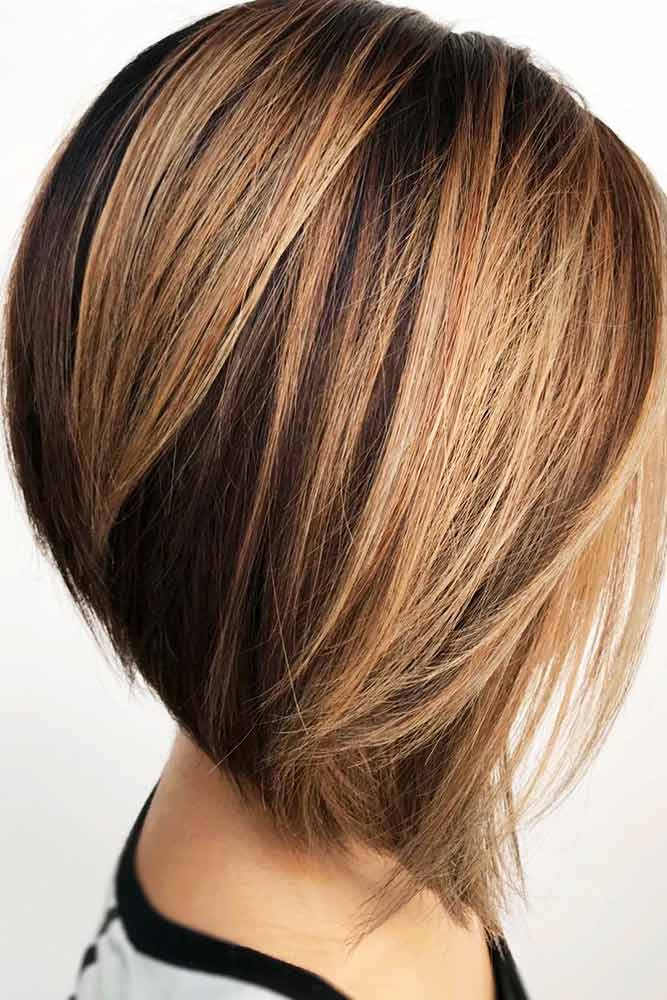 Credit photo: instagram.com/styled_by_carolynn
Who would've thought that the good old light-to-dark color combo would look so mesmerizing? No wonder blonde and brown colors are considered a timeless duo. But, it's not all about the colors. If you have a closer look at this cut, you will see gradual angled layers create depth and dimension.
And you know what? You can get only the top layer of hair layered if you don't want to lose much density. Or, just complement your long inverted bob with bangs. That would be enough to give your cut a volumetric shape, as well as enhance it with the new color. Highlight only the layered portion, leaving your dark mane as it is to make your look truly different.
Inverted Bob For Coarse Wavy Hair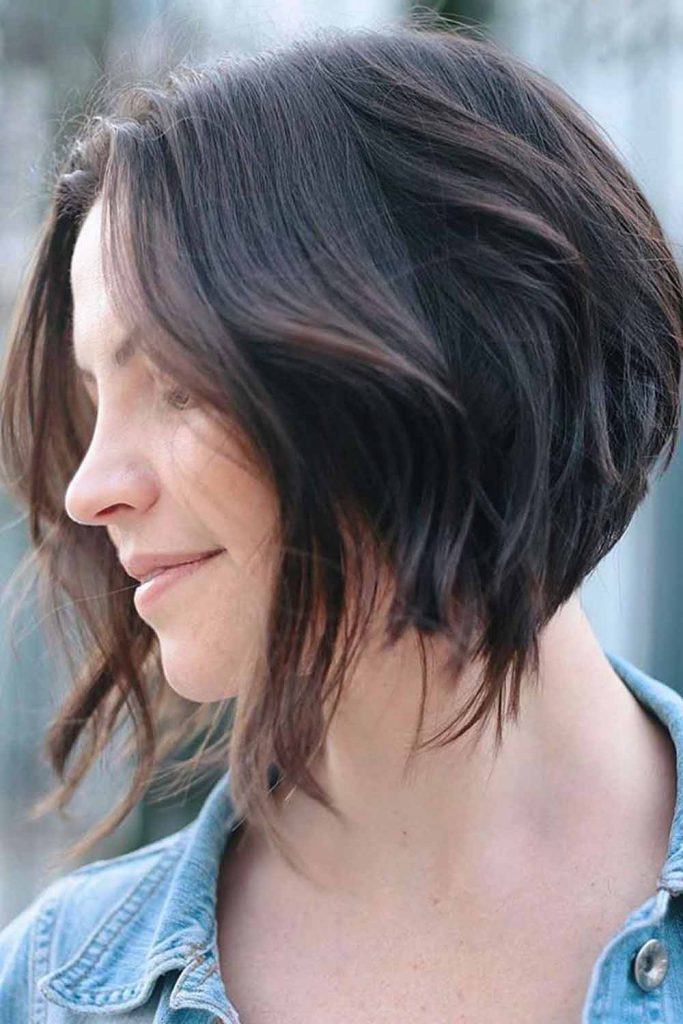 Credit photo: instagram.com/servulo
There are so many short inverted bob haircuts to choose from. However, before you take a pick, you should consider your hair texture in the first place. The fact is that if you are searching for a dramatic bob haircut for coarse hair, then it is best to think about some trendy layers. Those beautiful shaggy waves will add a necessary dimension to your mane. What is more, the reversed wavy pattern will complement your cheekbones in the best way possible. In this case, you do not need to experiment with the coloring since natural hues embrace the style ideally.
Blonde Textured Bob With Root Lift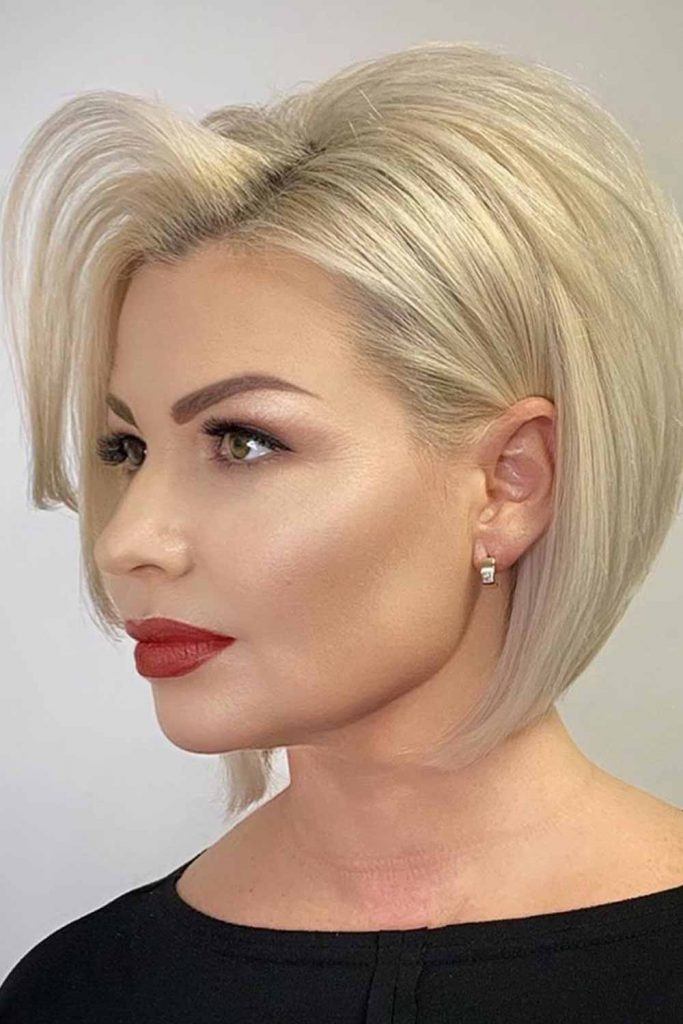 Credit photo: instagram.com/arsentovmasyan_
It is incredible how multifunctional properly-chosen layers can be. If your hair lacks some volume and you think that inverted bob is not the cut to opt for, wait until you have a closer look at this gorgeous layered inverted bob. The beauty of most medium length inverted bobs lies in the fact that they suit almost anyone. Add a little lift to the roots, and you will forget about the fine hair problem once and for all!
Sleek Inverted Bob With Rounded Back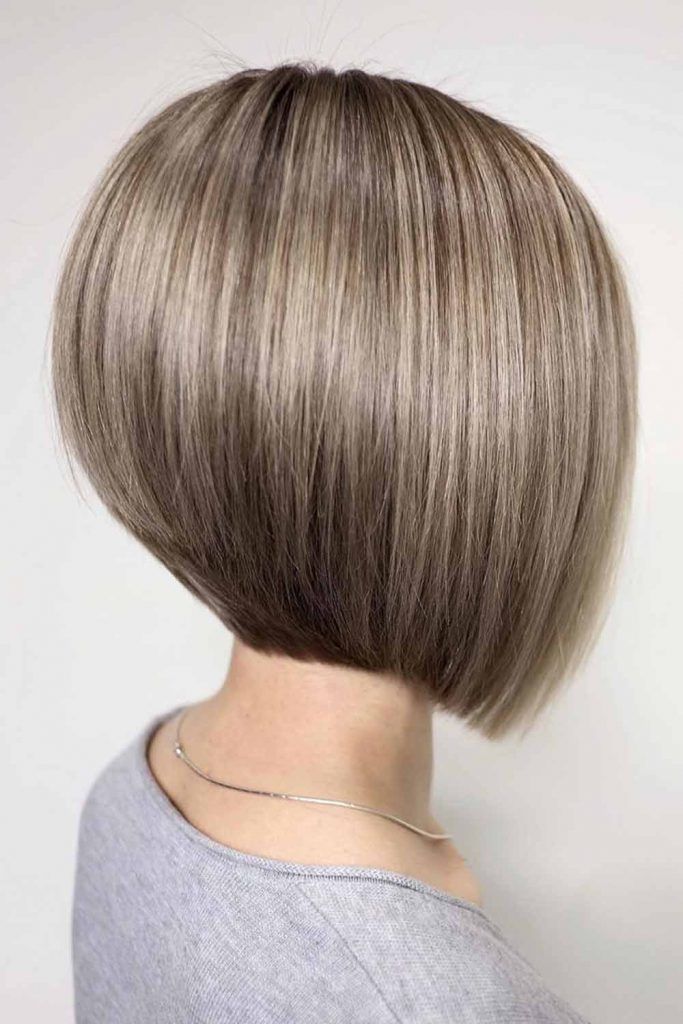 Credit photo: instagram.com/gulevich.vladimir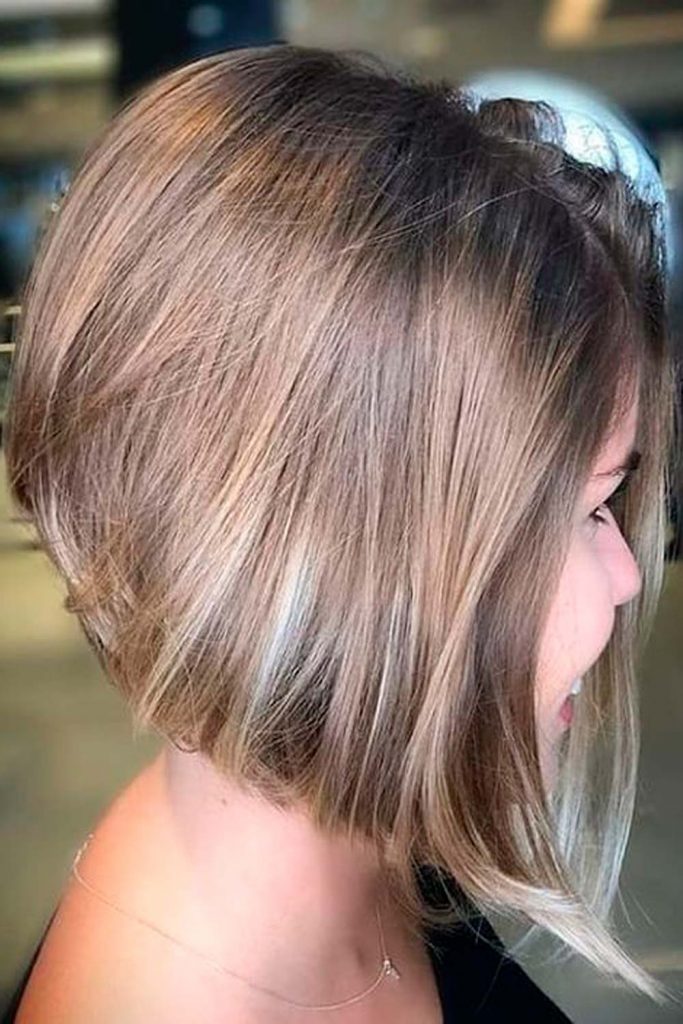 Credit photo: instagram.com/meucabelocurto
Some ladies do not mind spending a little extra time fixing their hair in the morning. If you belong to the category, then an inverted bob with a rounded back is the cut to consider. This is the style that, when adequately styled, will result in a sleek and shiny hairdo that can be worn anywhere. Besides, such elongated bobs usually dip down towards your collarbone so that your face is perfectly framed.
Reverse Bob Cut With Stacked Back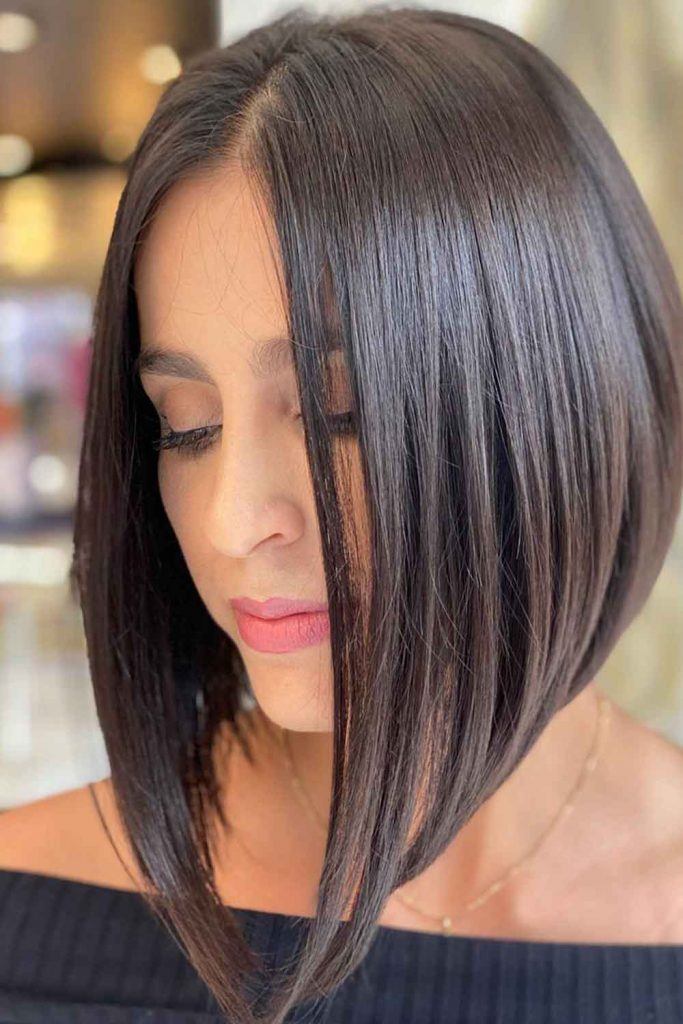 Credit photo: instagram.com/ro.hsiqueira
Many medium inverted bobs are deemed classy, and there are many reasons why. The truth is that when a universal bob does not seem quite modern for you, but you can't take your style over the edge, such inverted bob haircuts come in irreplaceable. Framing sides and shorter stacked back are what reverse bobs have on offer, and we suggest you make use of it.
Blonde Rounded Bob With V-Cut Layers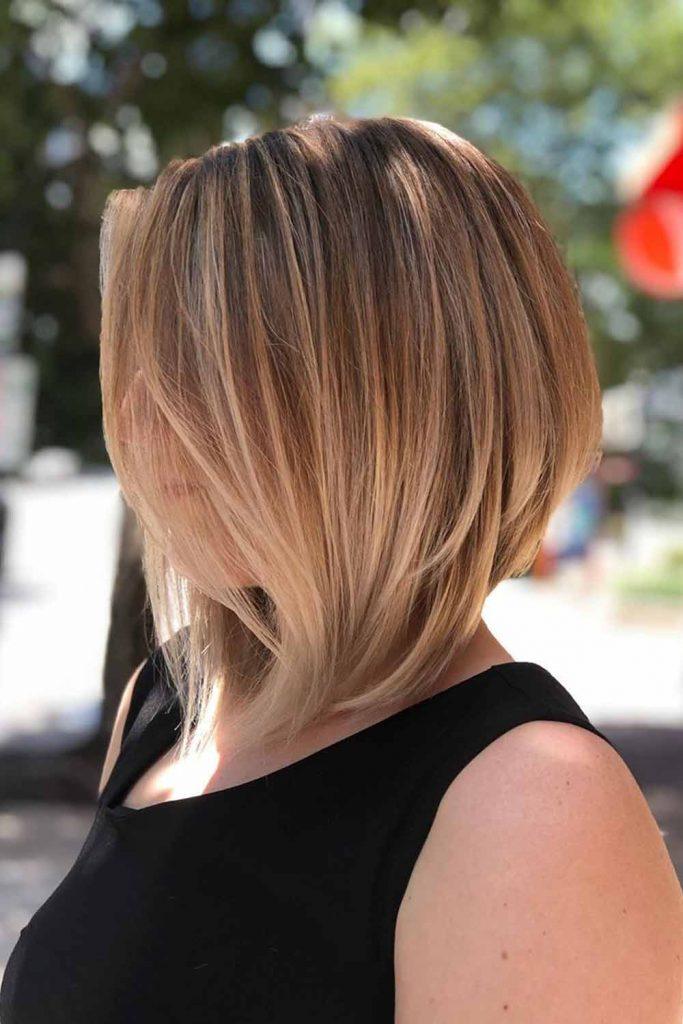 Credit photo: instagram.com/masoncheeseberger
One of the distinctive features of long inverted bob with layers is that they are all different and versatile. For instance, this blonde inverted bob haircut with V-cut layers will fit ladies who wish to get rid of that excess volume that it is never easy to tame. Some of the layers are more obvious than the others, and that is the masterful peculiarity of the cut, don't you think? What is more, it looks absolutely fantastic on natural-shaded blonde hair.
Cropped Wavy Bob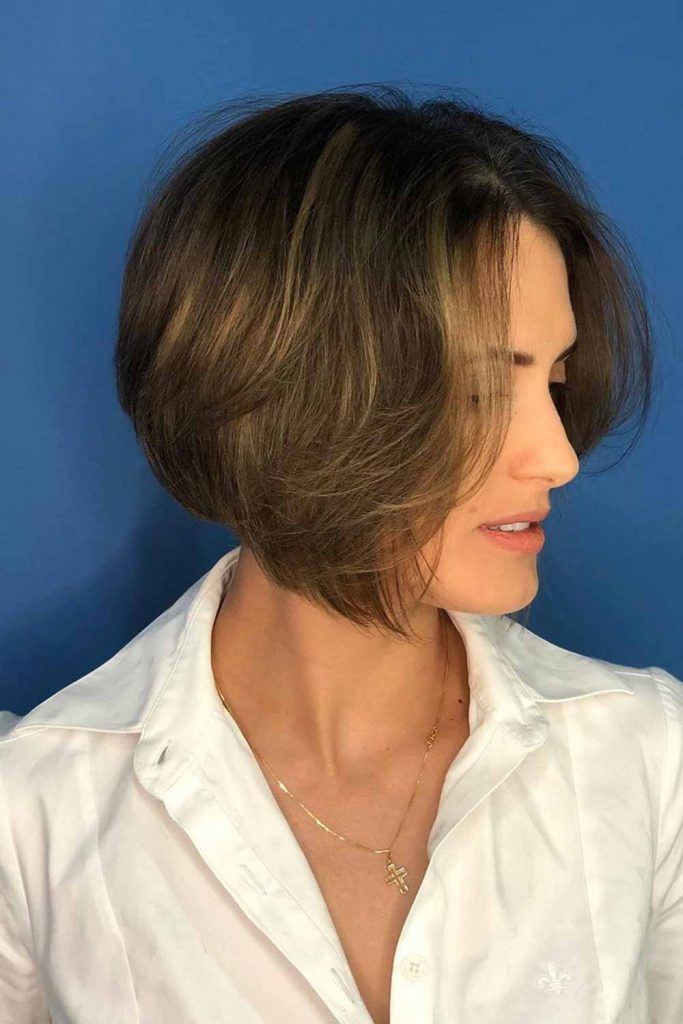 Credit photo: instagram.com/servulo
We are merely bound to point a cropped wavy bob among all other elongated bob hairstyles. The truth is that this magnificent reverse bob short cut is basic and simple to achieve, but the impression it creates is magical, especially if your hair is naturally wavy. The longer sides and stacked back enhanced with scattered highlights will complement any elegant and modern lady, there is no doubt about it.
Medium To Long Bob For Brown Hair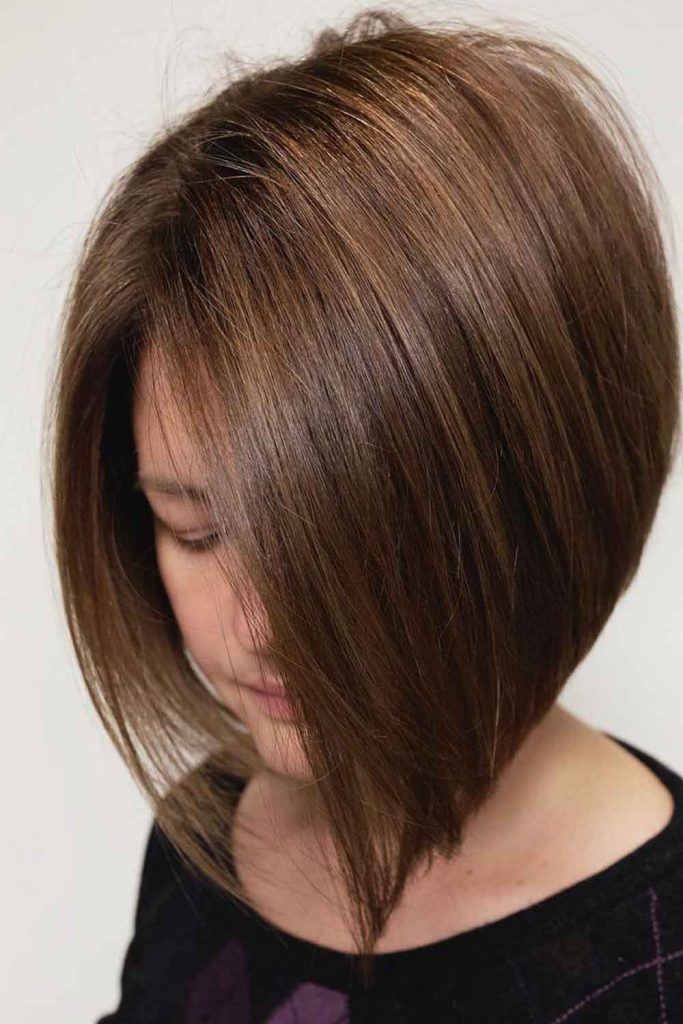 Credit photo: instagram.com/gulevich.vladimir
Those of you who are in search of a perfect long inverted bob, we may have something special in store for you. This fantastic variation of flawless stacked inverted bobs is mesmerizing in its simplicity. The fact is that the dramatic transition between medium and longer tresses is perfectly complemented by the monochromatic hair color, which brings all the attention to the cut instead of taking it away.
Blonde Reverse Bob With Side Bang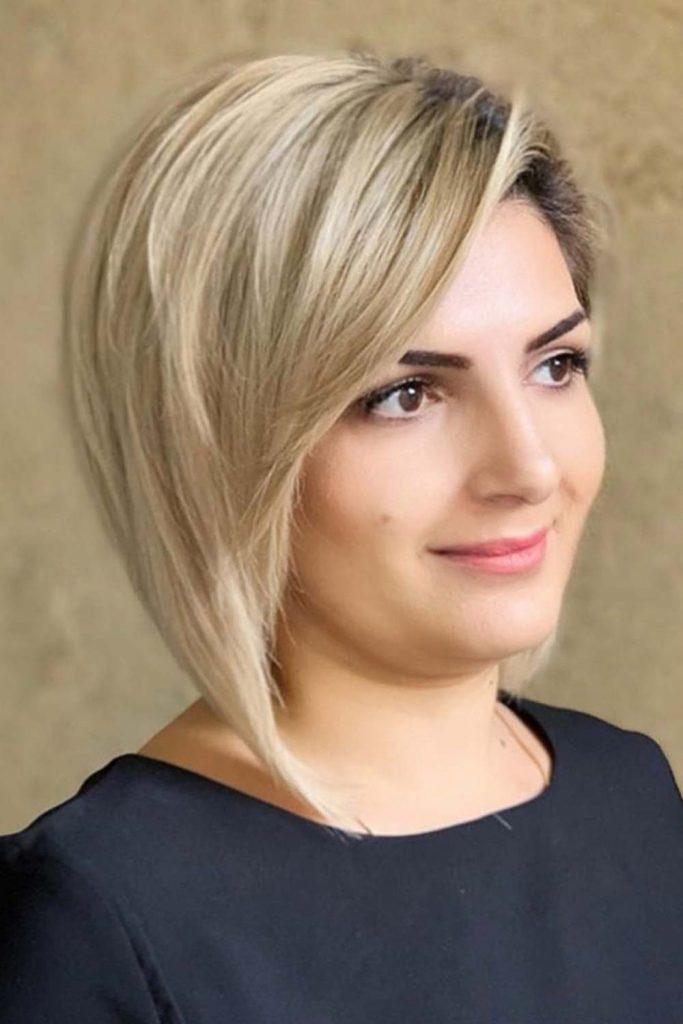 Credit photo: instagram.com/arsentovmasyan_
It is true that a great inverted bob does not necessarily come with a middle part. If you are fonder of a side one, then a reverse bob with side bangs is what you should at least consider. Besides, if your facial features are a little sharp, then the inverted bob with bangs will smooth that sharpness out a bit, and that is a tremendous advantage. There is barely a lady who would resist the temptation to get the cut, would you?
Pale Pink Ombre Bob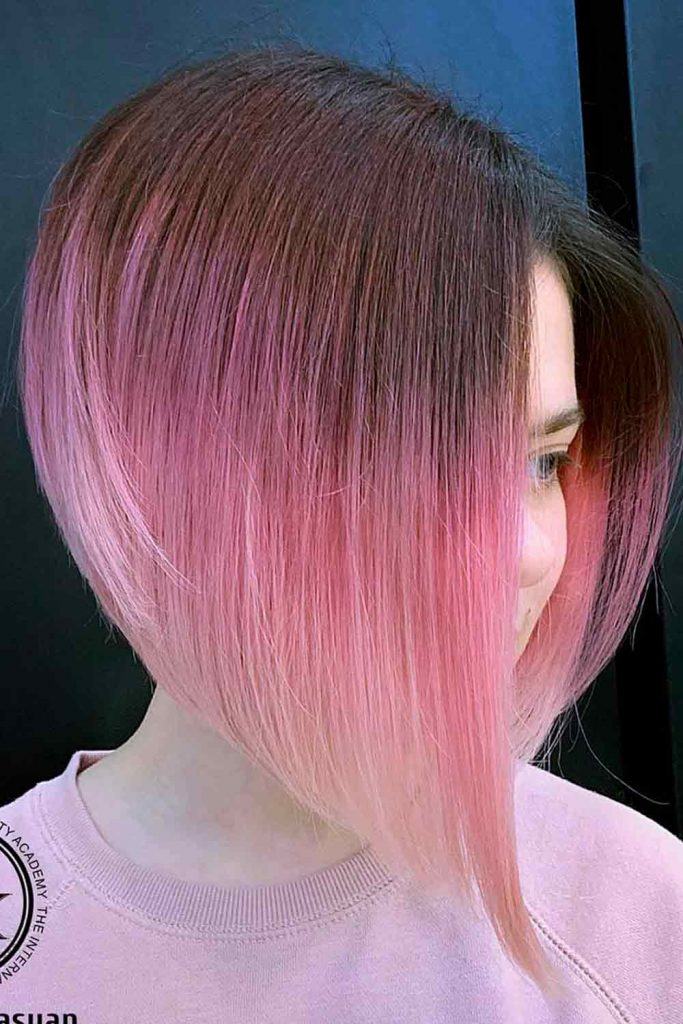 Credit photo: instagram.com/arsentovmasyan_
Who could have thought that there is something as daring and edgy as this cool uneven bob cut? The swing bob hair style, the dramatic transition, and rebellious coloring all coincide in such revolutionary harmony that it is hard to take the eyes off. We think that it is precisely the cut that any modern, trendy, and a little daring young lady should opt for!
Messy Inverted Bob For Brunettes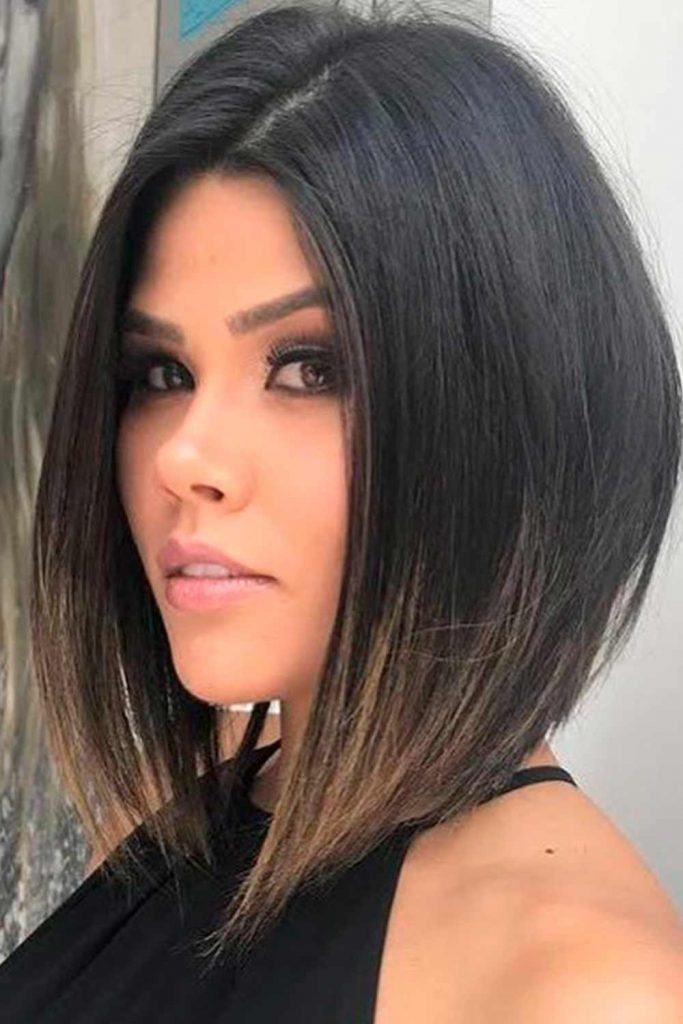 Credit photo: instagram.com/ro.hsiqueira
It may be quite hard to believe, but uneven bob haircut can turn out to be limitless and classy too. This is one of those inverted bob with layers types that can fit almost anyone. If you are a stylish brunette who is thinking about a hairstyle update, this may be your perfect chance to look gorgeous no matter where you are headed, be it a friend's party or a business meeting such a cut won't look out of place in no case.
A-Line Inverted Bob Hair Style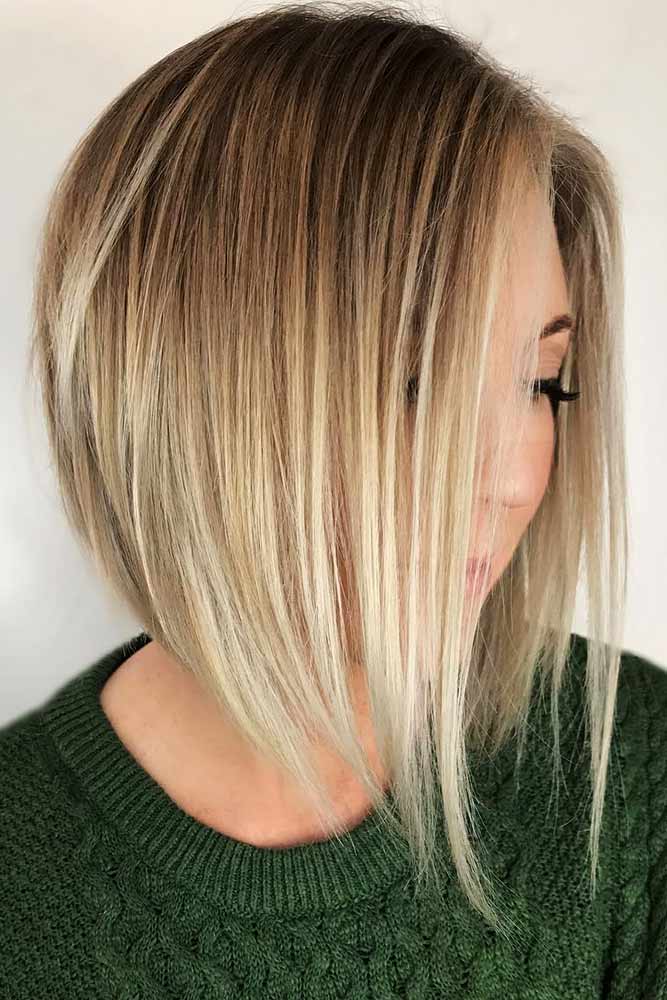 Credit photo: instagram.com/styled_by_carolynn
All bobs have something to amaze us with, but when we see these A-line inverted bobs, we think that they are the real champions when it comes to blowing our minds. This dramatic and crisp angle is what we love the most about this bob haircut. Such haircuts appear quite futuristic and are so reminiscent of anime characters and fantasy movies, especially with added pops of colors. When styling, use special cream for blow-drying to get the necessary hold as well as sleekness. Such a drastic angle will work for babes whose necks are not short. Whether your tresses are thin or thick, you can sport an A-line inverted bob.
Long Inverted Bob Cut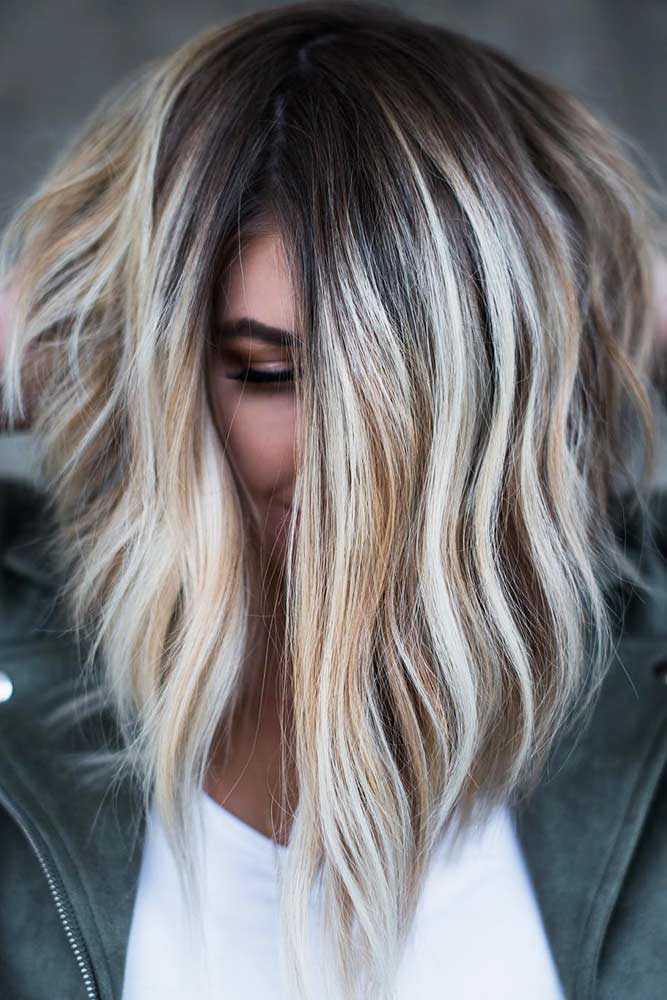 Credit photo: instagram.com/mikaatbhc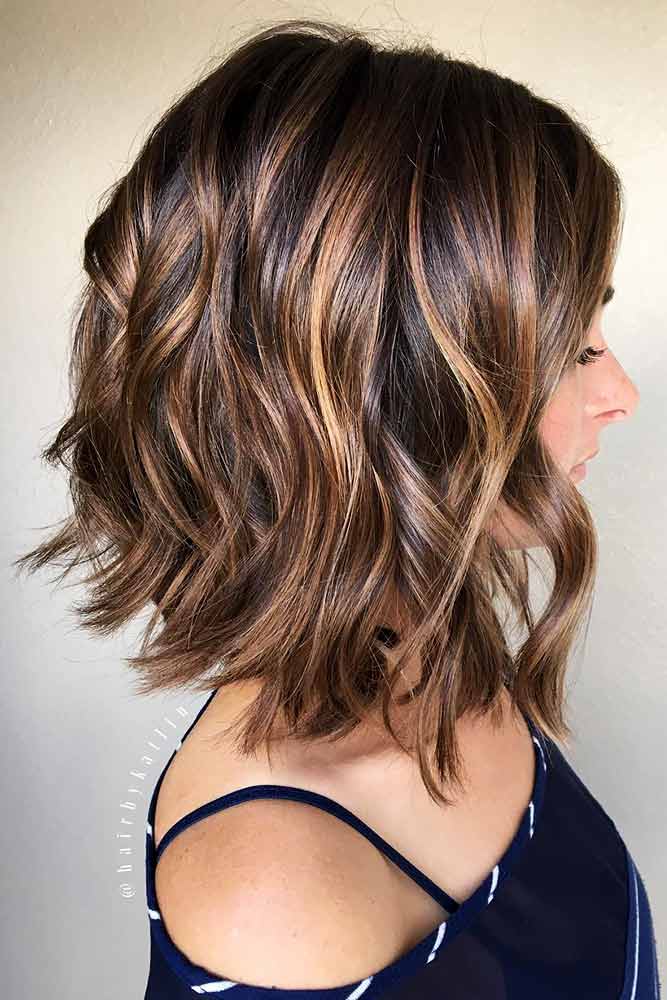 Credit photo: instagram.com/hairbykatlin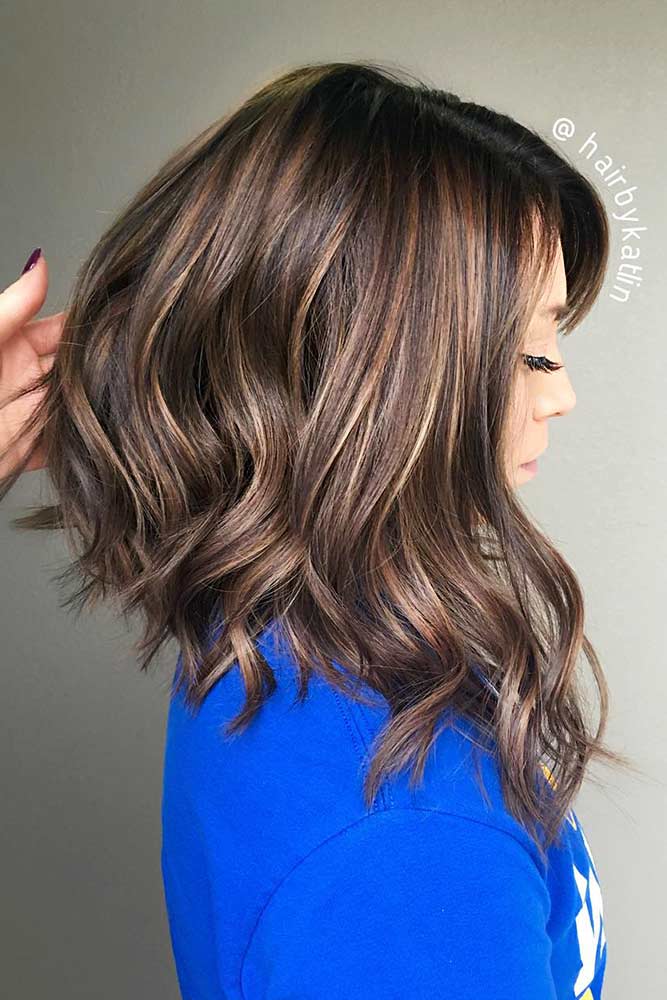 Credit photo: instagram.com/hairbykatlin
An inverted bob long is the answer in case you would not like to sacrifice much length when getting a new haircut. And many babes don't because they think that longer locks make them appear more feminine (we would not argue with this statement). Truly, if you would like to amplify your inner enigma, mysteriousness, individual beauty, then a long inverted bob is to go for. Longer locks at the front create such an intriguing contrast with a dramatically shorter back. And waves will complement a long inverted bob with layers spectacularly.
Medium Length Inverted Bob Hairstyle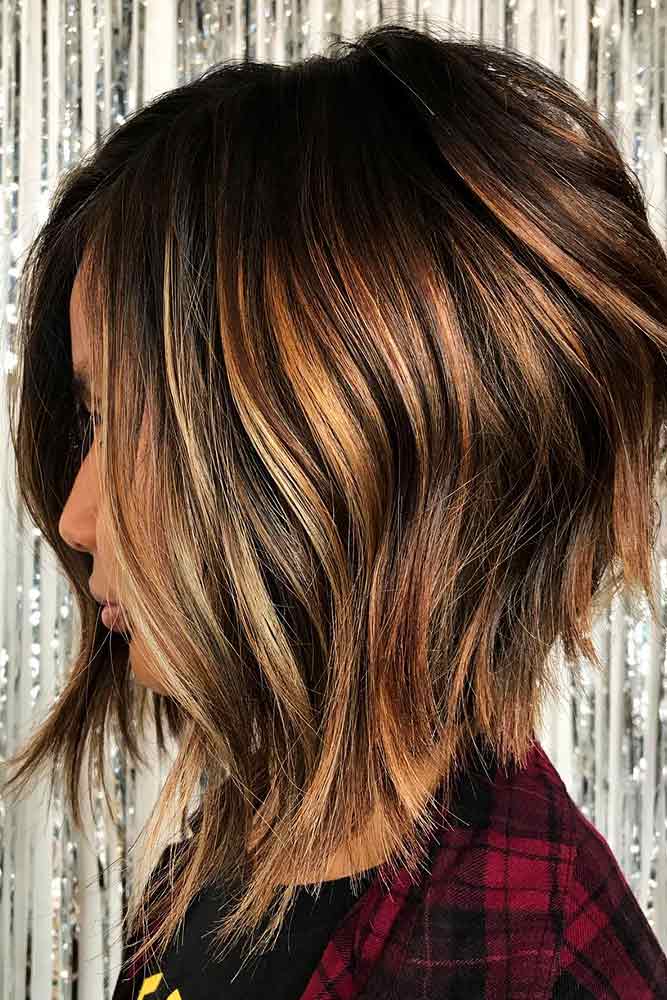 Credit photo: instagram.com/styled_by_carolynn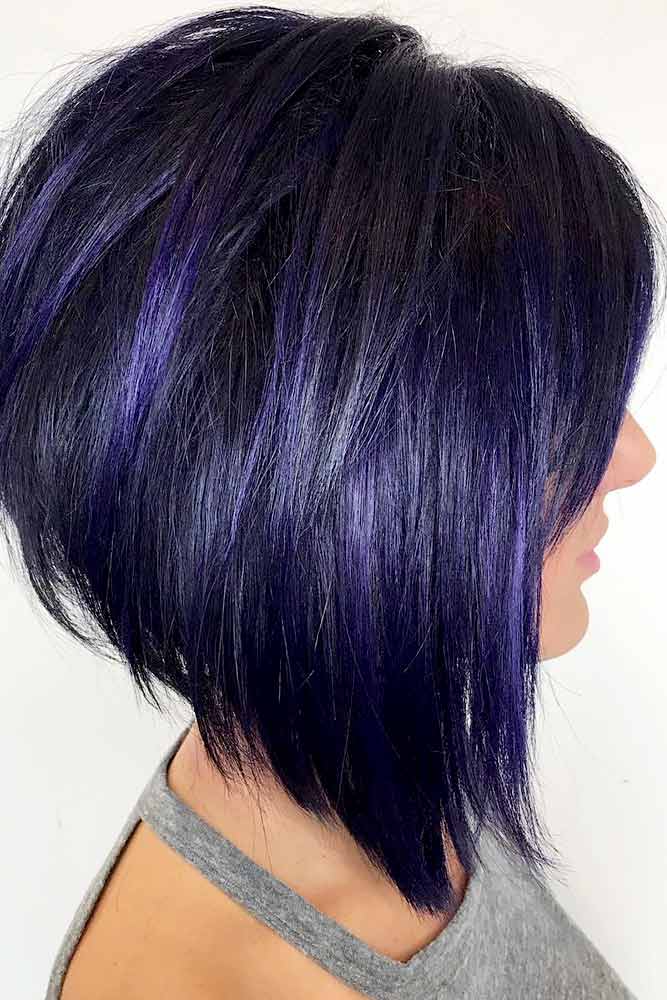 Credit photo: instagram.com/bobbedhaircuts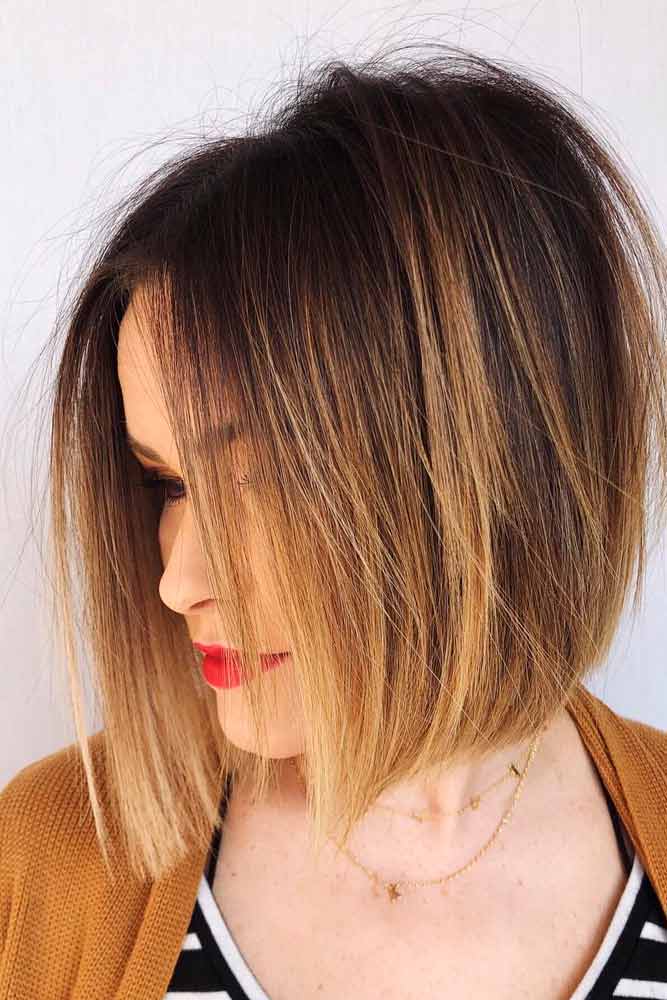 Credit photo: instagram.com/chrisjones_hair
Opt for a medium inverted bob in case you feel like getting a compromise between a more daring short haircut and a more mysterious long bob haircut. And do you know that the best thing about sporting a medium length bob is its versatility? This kind of a bob haircut is a good basis for practically anything. Which means that if you decide to slightly alter the way you look, you will not have to go through the hell on Earth. By the way, Kelly Clarkson and Victoria Beckham were spotted with this variation of bob and looked fantastic.
Short Inverted Bob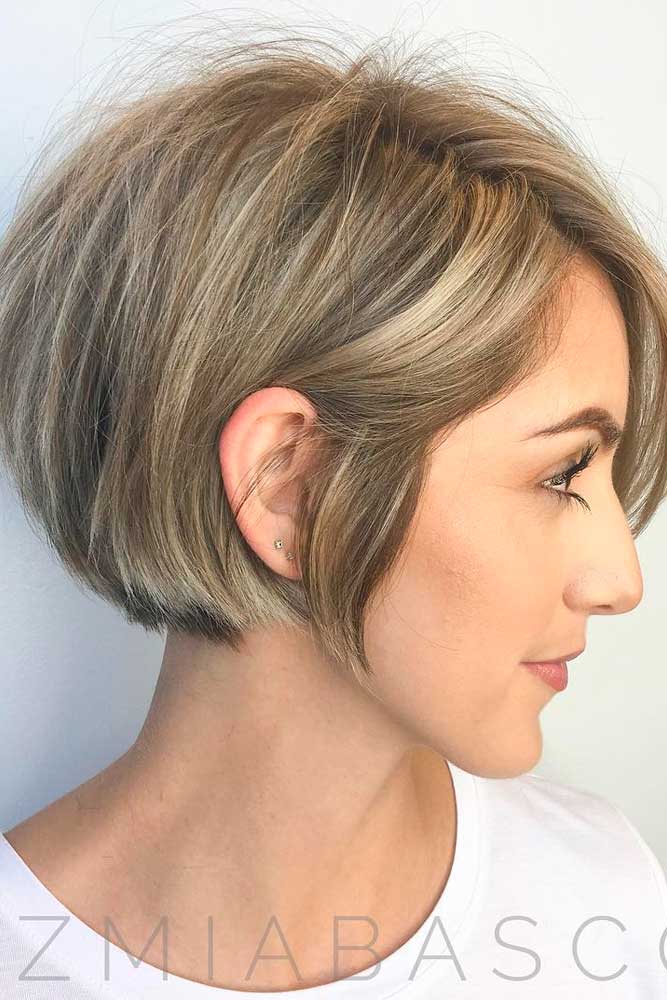 Credit photo: instagram.com/ezmiabascom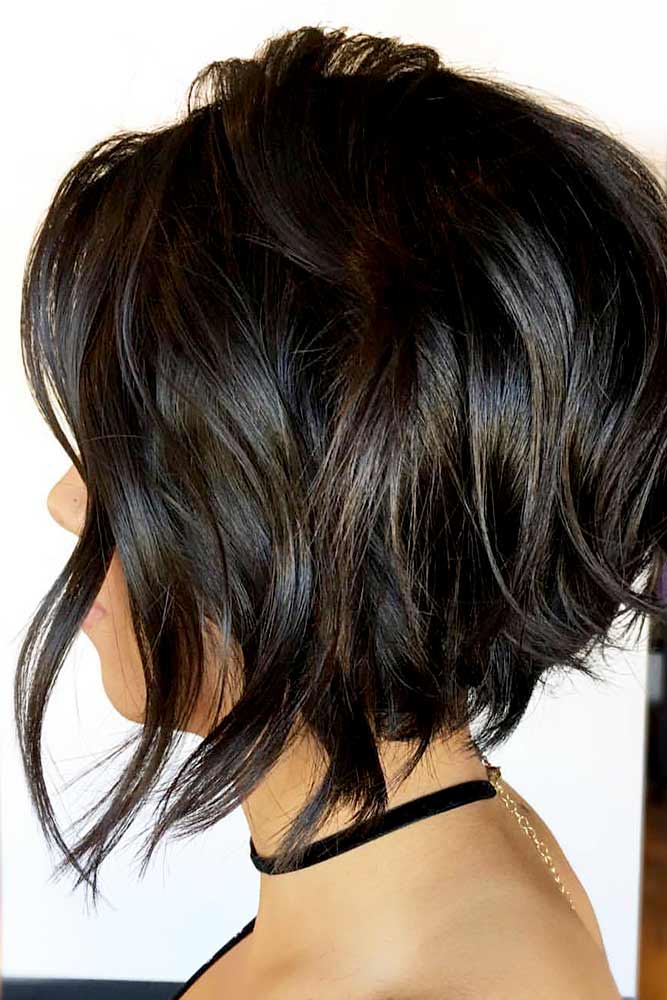 Credit photo: instagram.com/ezmiabascom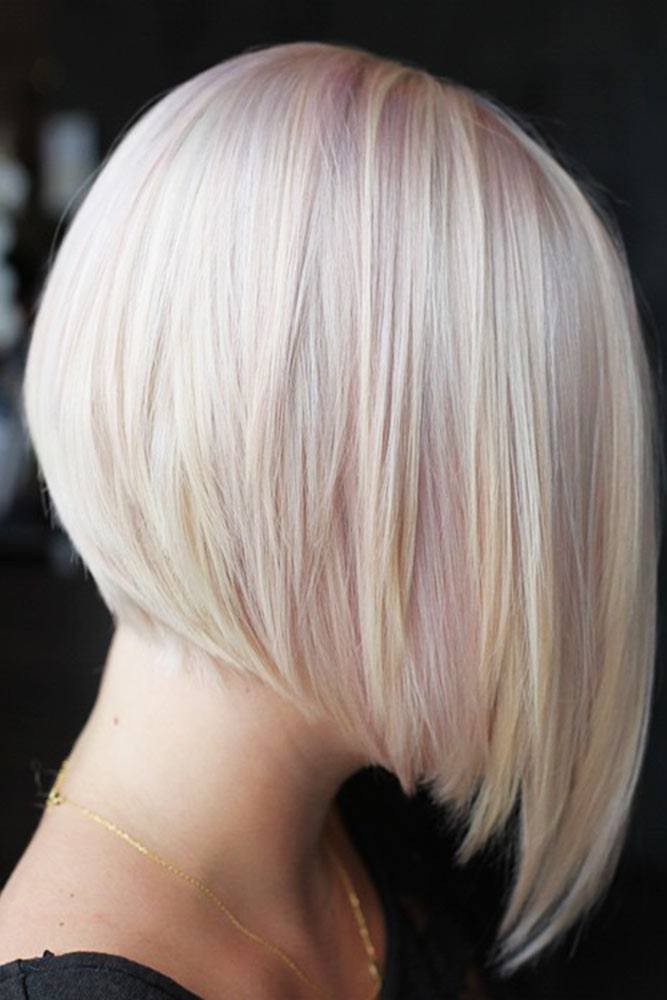 Credit photo: instagram.com/bobbedhaircuts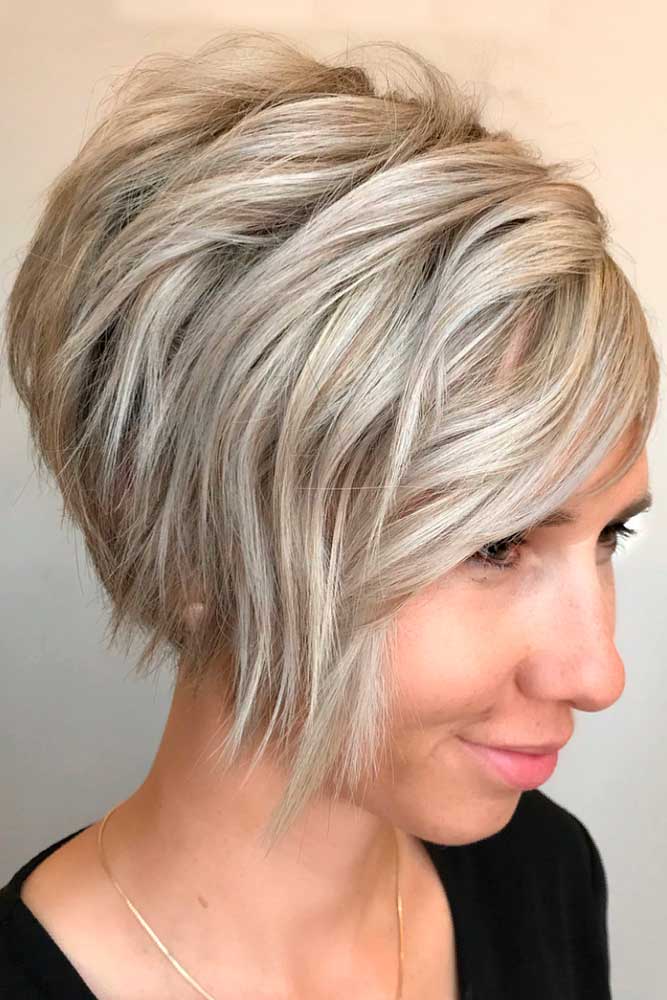 Credit photo: instagram.com/emilyandersonstyling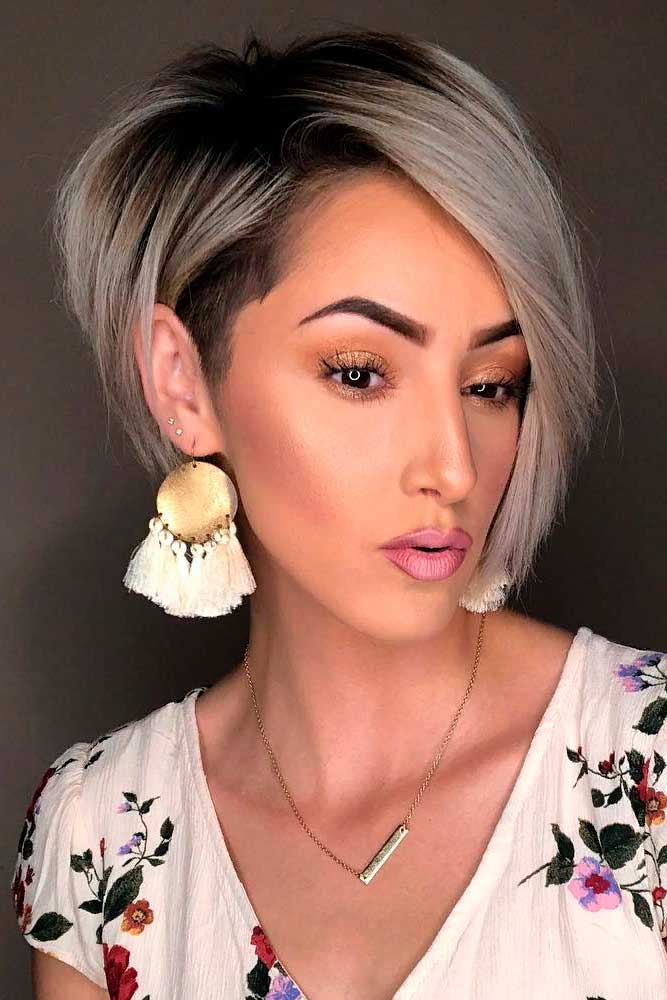 Credit photo: instagram.com/ezmiabascom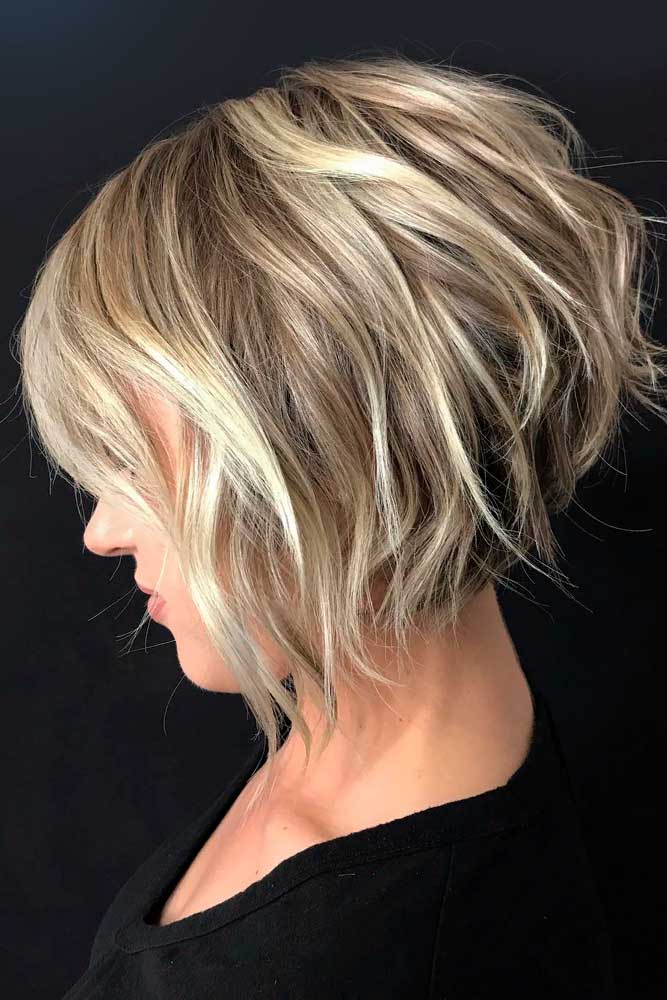 Credit photo: instagram.com/styled_by_carolynn
Rihanna is one of the most well-known fans of short inverted bob haircuts. And there is no wonder why celebs like Rihanna choose to wear a short layered inverted bob – this type of inverted bobs is probably the easiest to style. Tresses just lay perfectly on their own due the density and smoothness. How cool is that!
Brave Colored Inverted Bob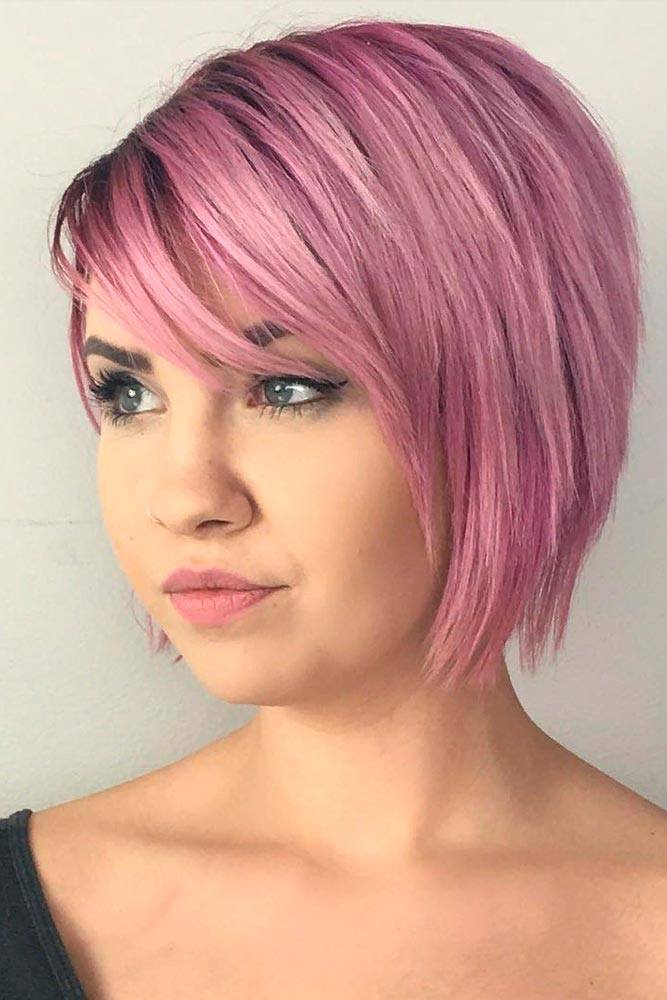 Credit photo: instagram.com/smelaniebell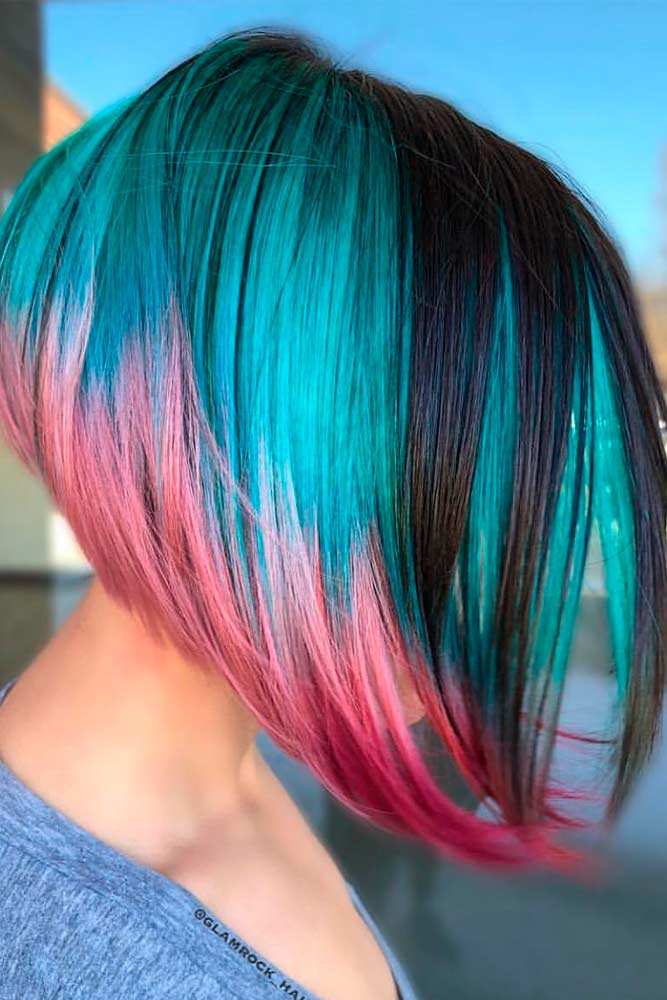 Credit photo: instagram.com/glamrock_hair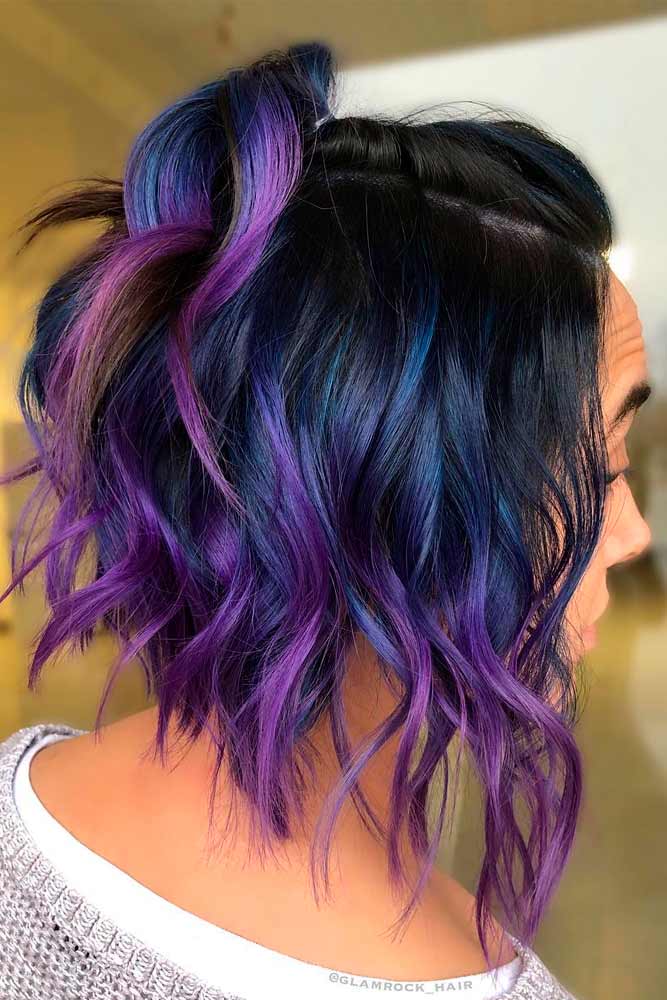 Credit photo: instagram.com/glamrock_hair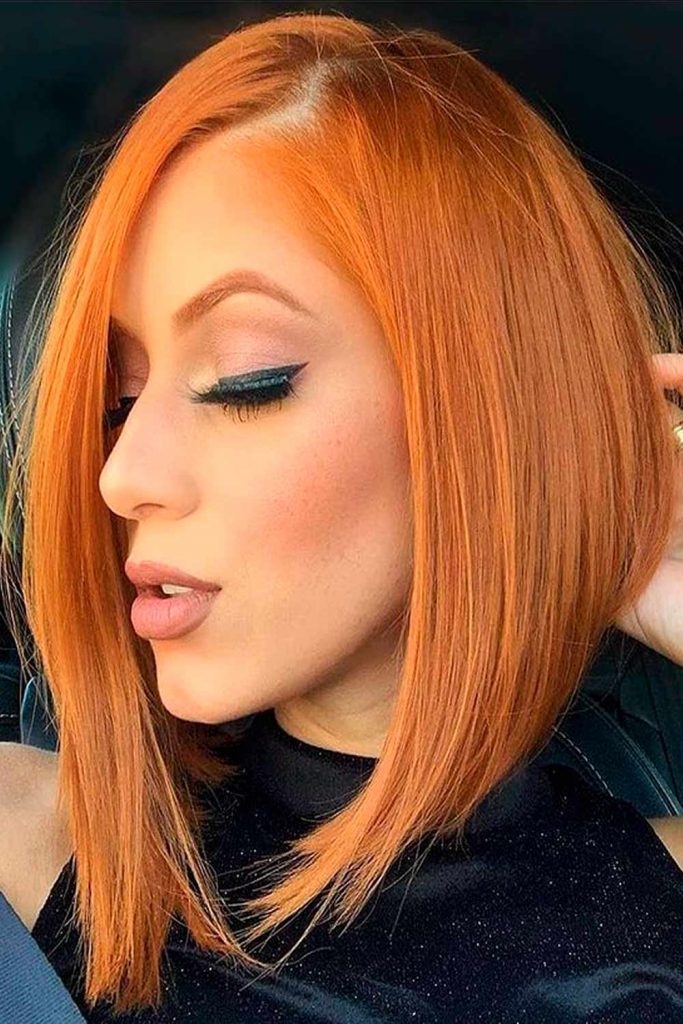 Credit photo: instagram.com/meucabelocurto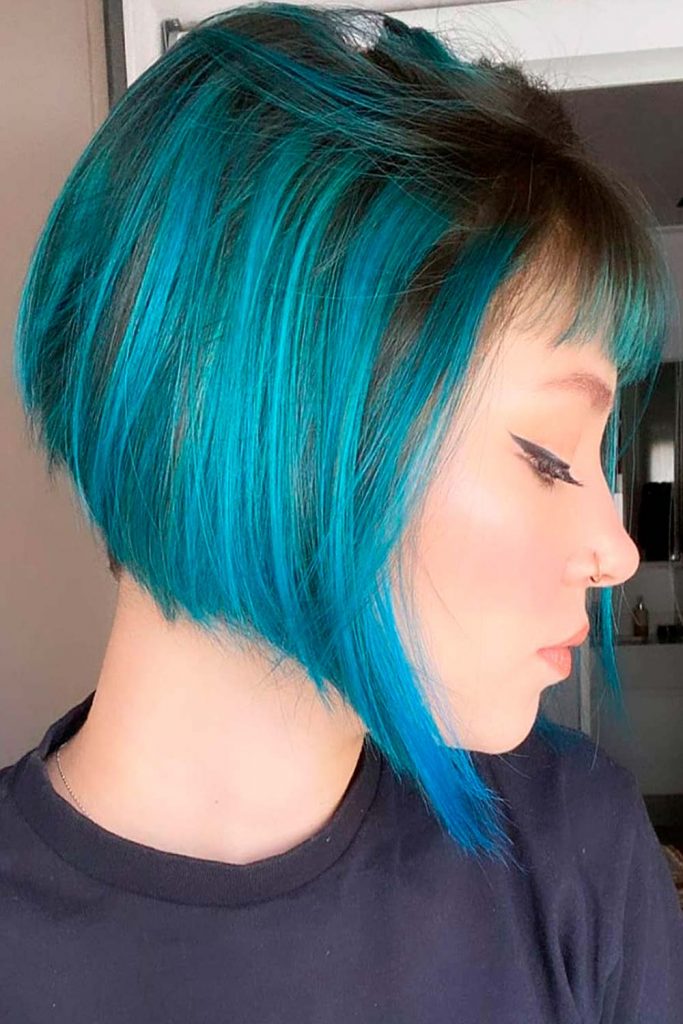 Credit photo: instagram.com/meucabelocurto
If you are a bold and daring lady, who is not seeking ways to hide away from attention, then we suggest you these marvelous and bright inverted bob coloring ideas. Sweet pink or bold purple hair will looks incredible! Take a pick and don't be afraid to stand out from the crowd!
Inverted Bob Looks With Side Bangs For Wavy Hair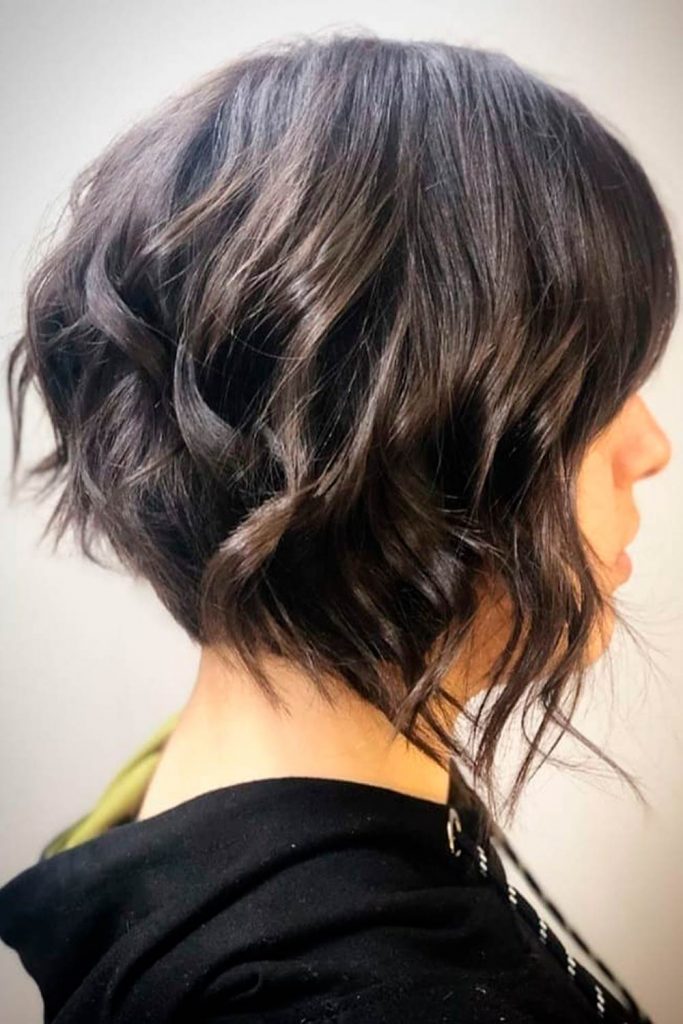 Credit photo: instagram.com/meucabelocurto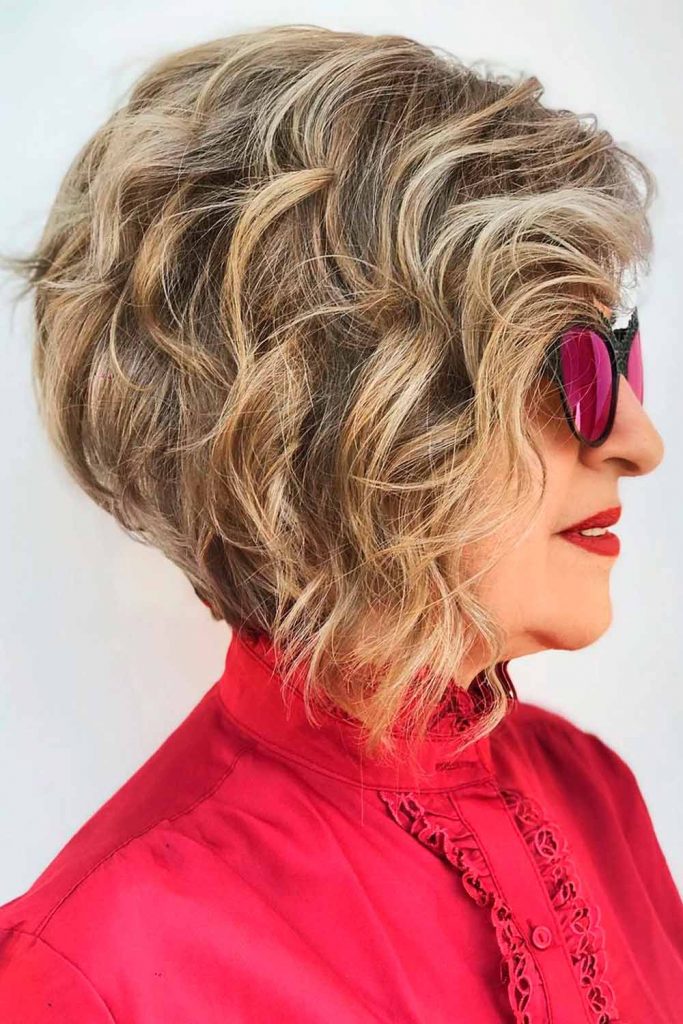 Credit photo: instagram.com/jeanclaudeelmoughayar
Face-Framing Inverted Bob Extra Long Front Locks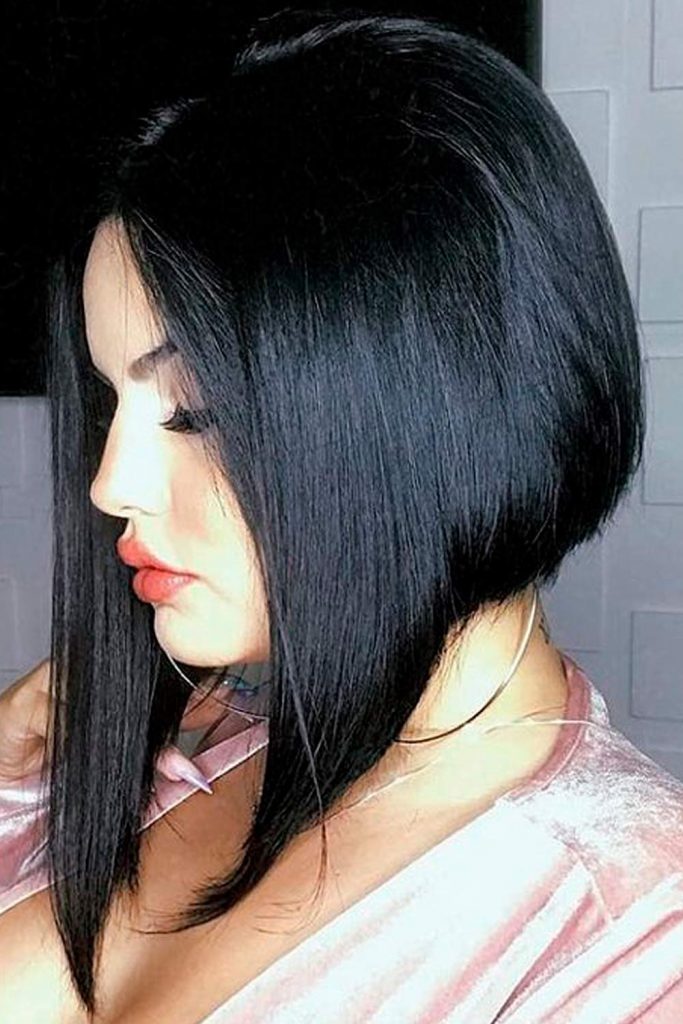 Credit photo: instagram.com/meucabelocurto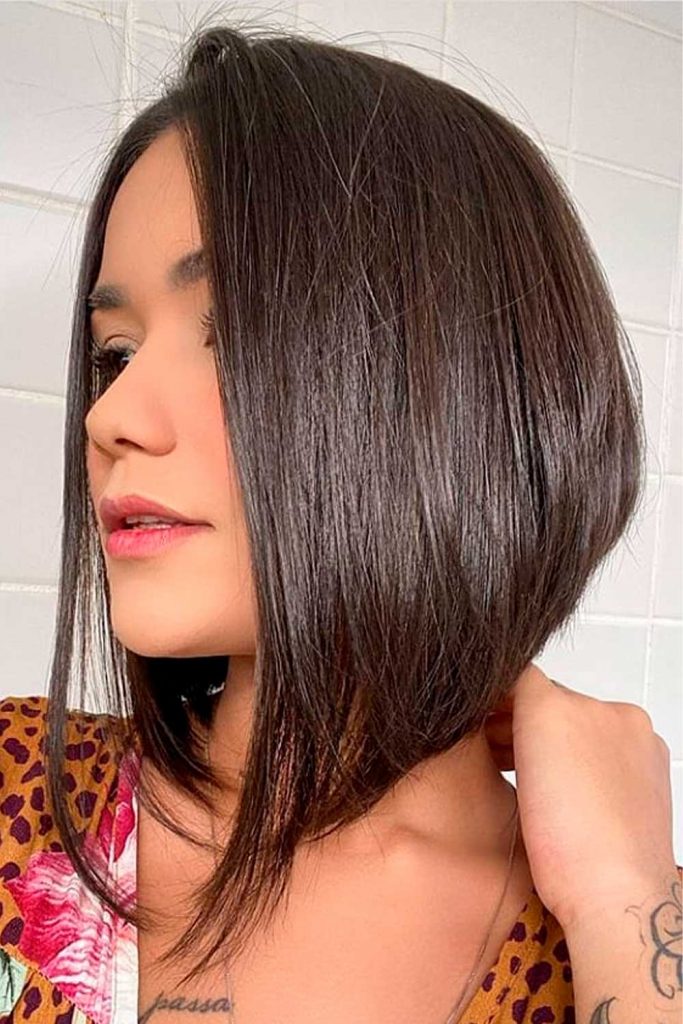 Credit photo: instagram.com/meucabelocurto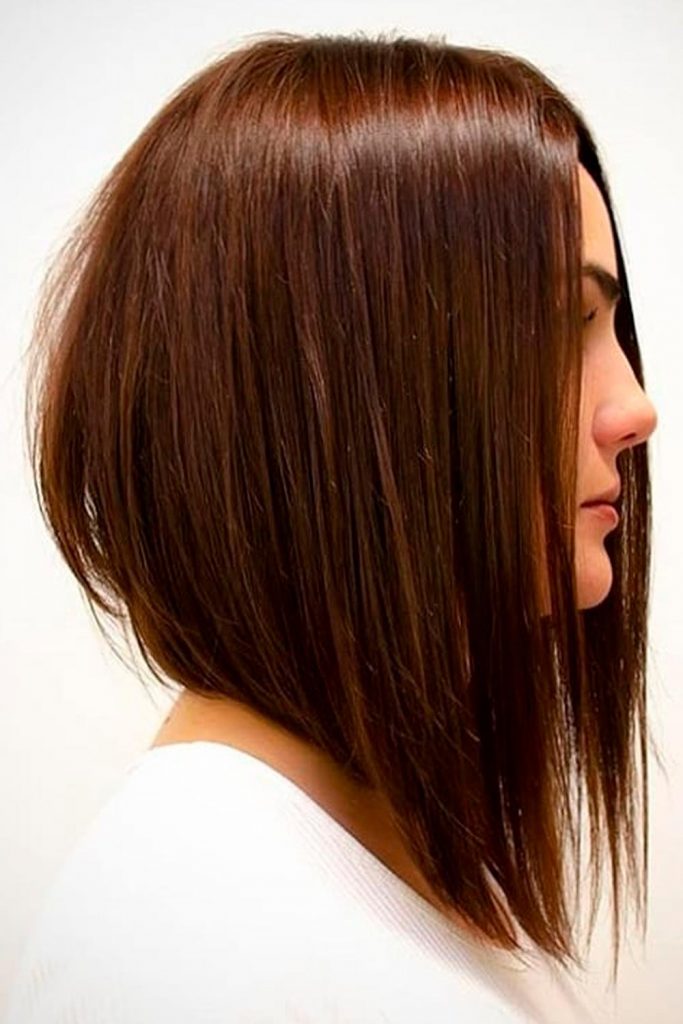 Credit photo: instagram.com/meucabelocurto
Celebrities With Inverted Bob Hairstyles
Krysta Rodriguez With Edgy Inverted Bob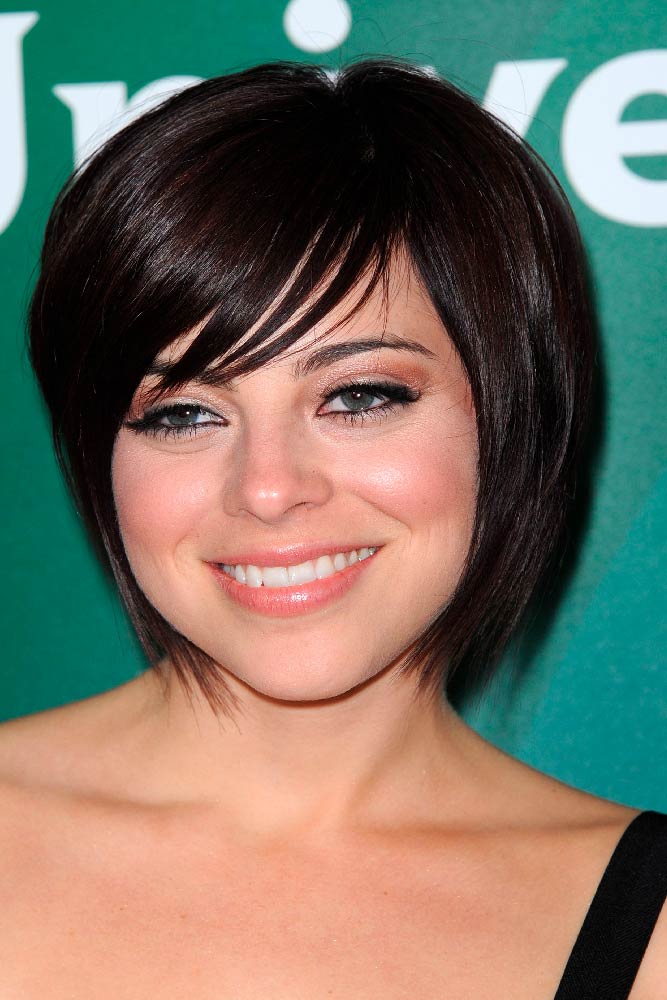 Credit photo: DFree/Shuttershock
A celebrity that wears one of the today's inverted hairstyles is the most effective proof for their popularity! So here comes Krysta Rodriguez, a famous actress that knows the value of stylishness and comfort. Krysta loves to keep her hair short and edgy because such ideas can nicely frame her face and help her feel comfy with her hair. Here she pairs the bob with side-swept bangs to work on her forehead.
Feminine & Curly Inverted Bob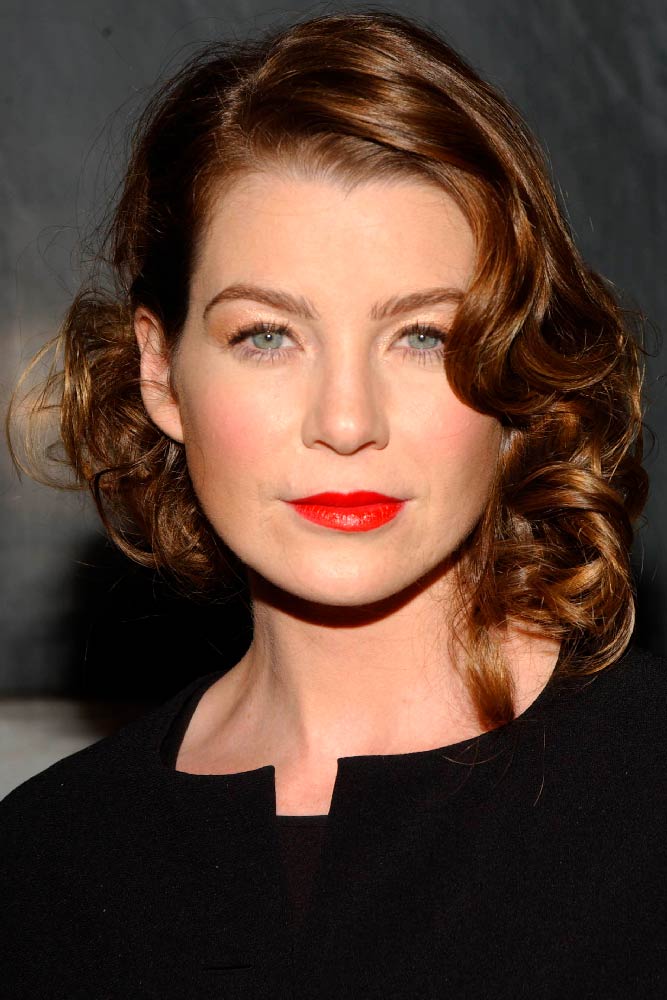 Credit photo: s_bukley/Shuttershock
Ellen Pompeo always slays cameras with effortless and super girly looks, proving that simplicity never fails. This look is definitely worth attention, mainly because of the way her curls reveal the beauty of inverted bob. One side slightly outweighs the other, adding even more charm to the bouncy texture.
Sleek Inverted Bob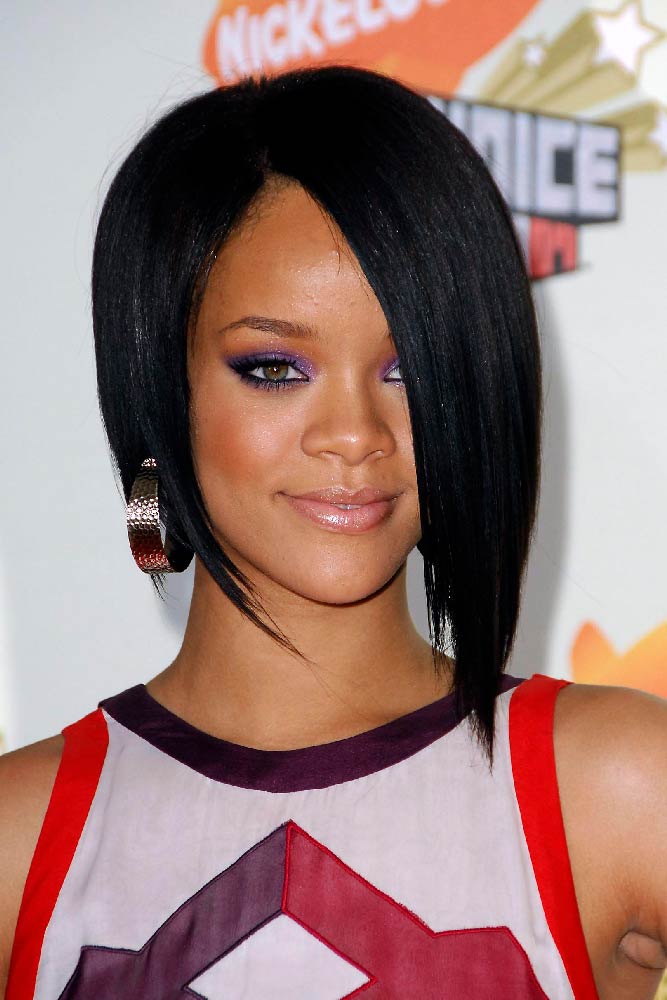 Credit photo: Everett Collection/Shuttershock
The truth is, many modern hairstylists call sleek inverted bob the Rihanna's bob among themselves. Well, this amazing lady has personalized the edgy silhouette of this sharp haircut. To slightly hide her big forehead, she opts for a very sleek option that frames her face with the chic front tresses.
Short & Flirty Curly Bob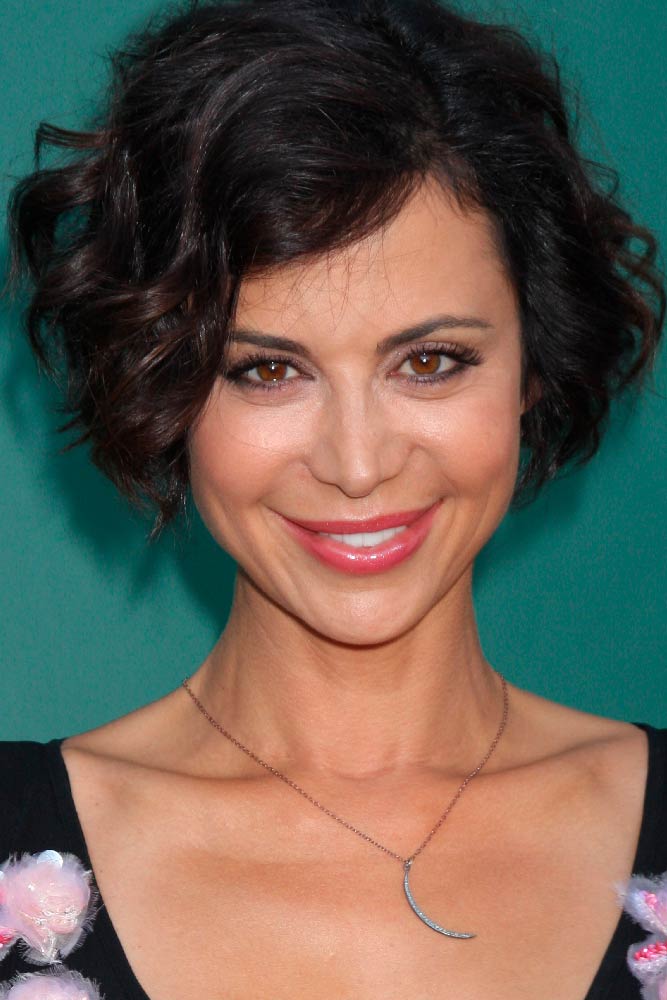 Credit photo: Kathy Hutchins/Shuttershock
Call it magic, call it true. This look of Catherine Bell just takes years off! Yes, the magic of short haircuts and natural textures knows how to impress. Everything about this inverted bob is simple, yet, the short little curls can really steal the show.
Medium Length Graduated Bob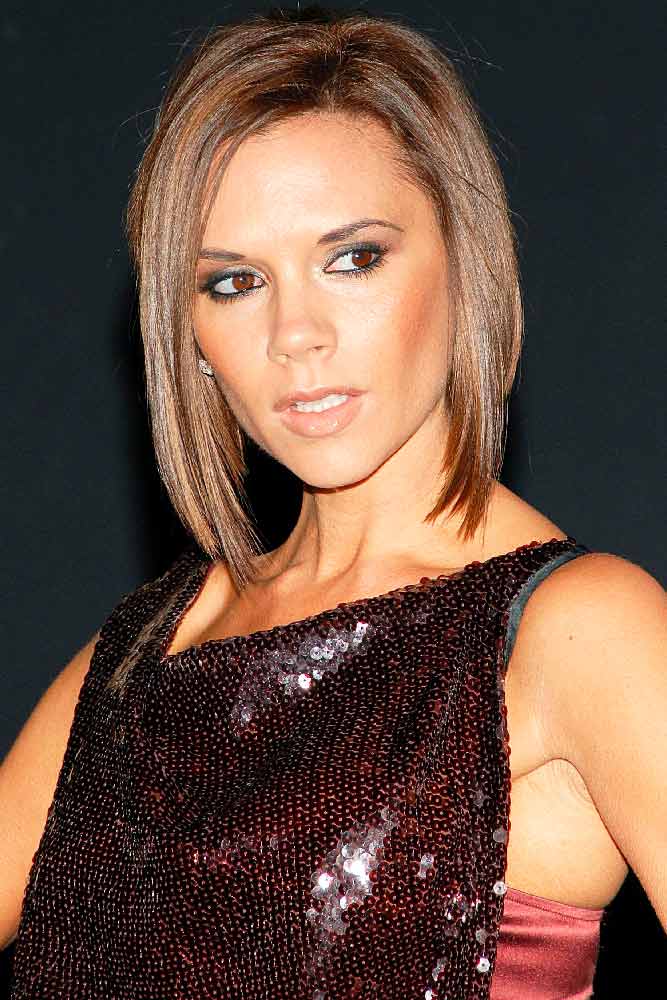 Credit photo: Everett Collection/Shuttershock
Everything that Victoria Beckham touches turns into trends. Not for nothing! She is the one who knows all her flaws and all her best features which helps her to customize a truly perfect, beautifying cut. Here, she goes classic: a graduated bob with slightly choppy ends - the harmony in its purest.
Short Asymmetrical Bob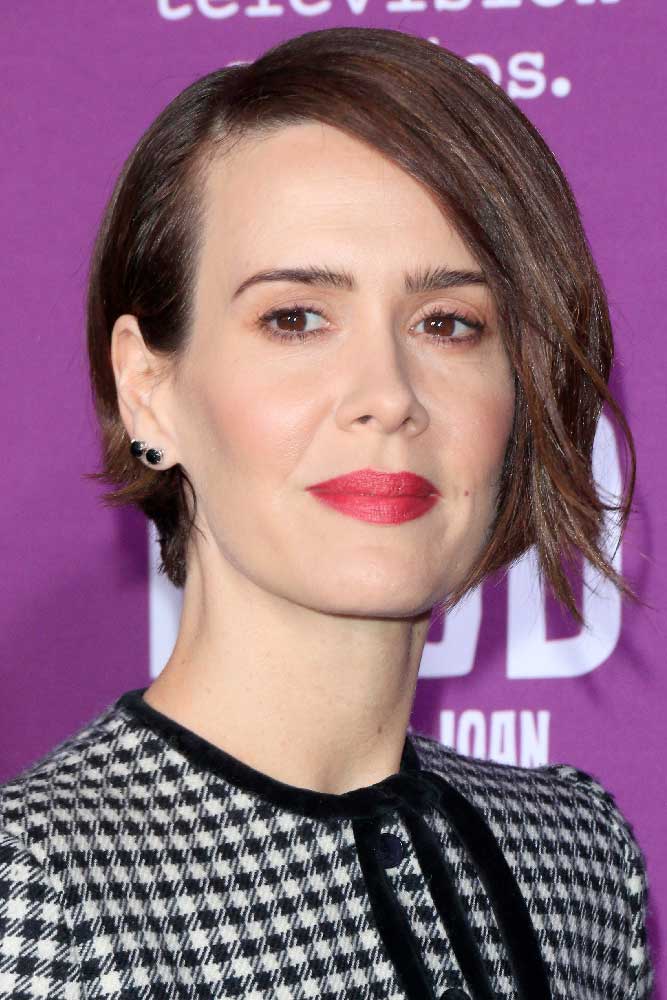 Credit photo: Kathy Hutchins/Shuttershock
We've seen Sarah Paulson with all the lengths possible, and this inverted bob is officially the greatest look. The heavy portion of the asymmetrical haircut adds more width to her face, thus balancing out her oblong face shape. Also, it gives a very elegant and well-groomed body to her thick hair, who could ask for more?
Dark Brown Inverted Bob + Side Swept Fringe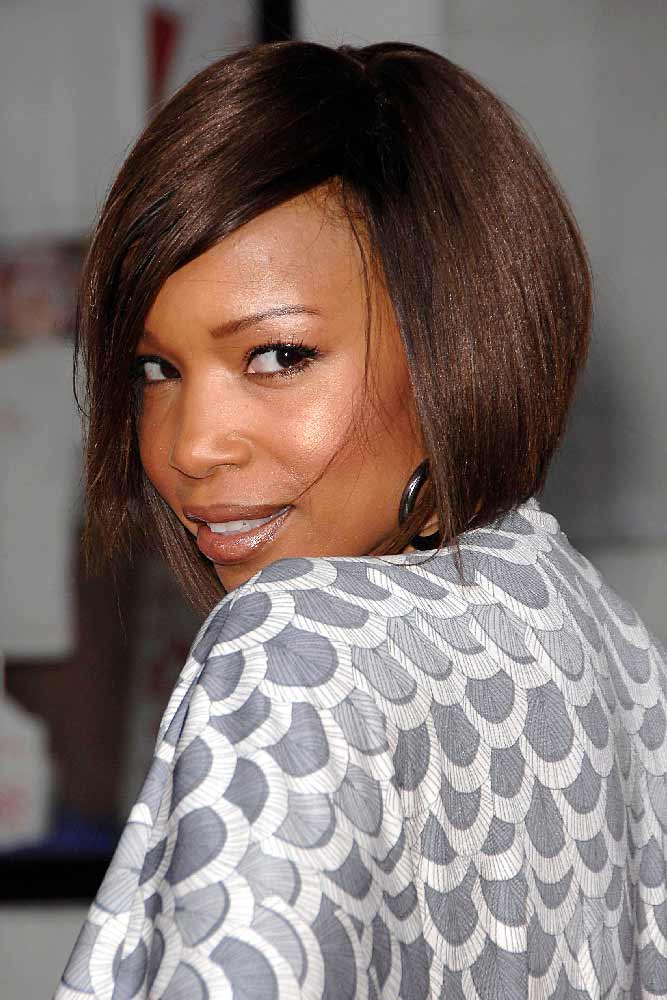 Credit photo: Everett Collection/Shuttershock
Most Elise Neal's looks are all about long blowout hairstyles. But nowadays, the iconic actress opts for fashionable practicality. She rocks an inverted bob with a side-swept fringe to always have a lot of room for volume and framing touches. Needless to say, her loyalty to her natural color adds a lot of charm to the style.
Short & Blonde Inverted Bob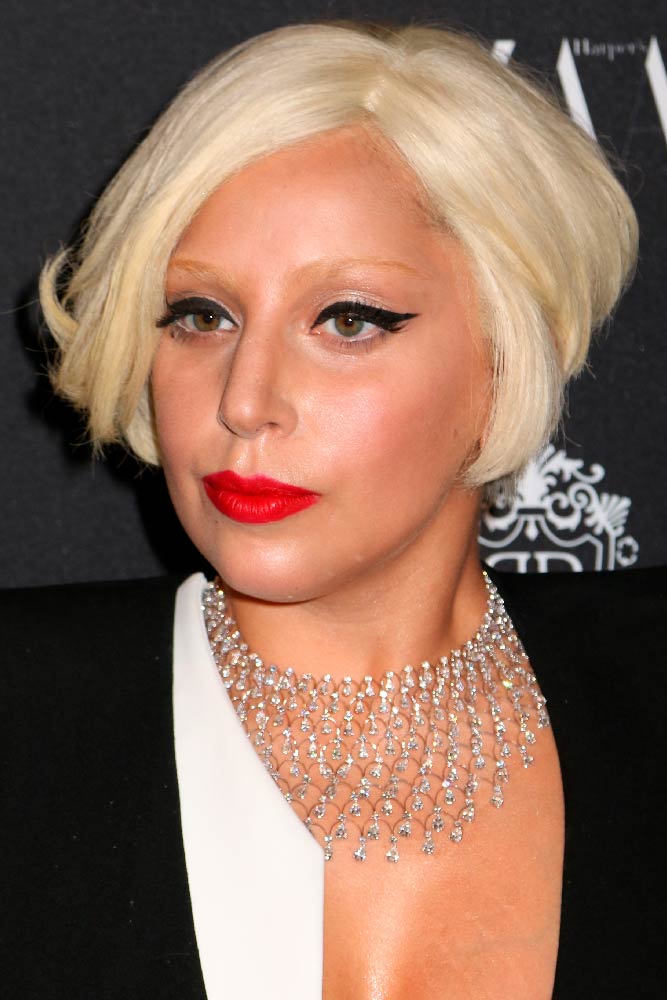 Credit photo: JStone/Shuttershock
No words in the world can describe the outrageous style decisions of Lady Gaga. Even in her chic minimalist look, you can feel the endless rebellious vibe: her short, whitish blonde inverted bob builds a stunning, unusual silhouette. The perfect balance built with imbalance, it's so Gaga!
Blue & Polished Inverted Bob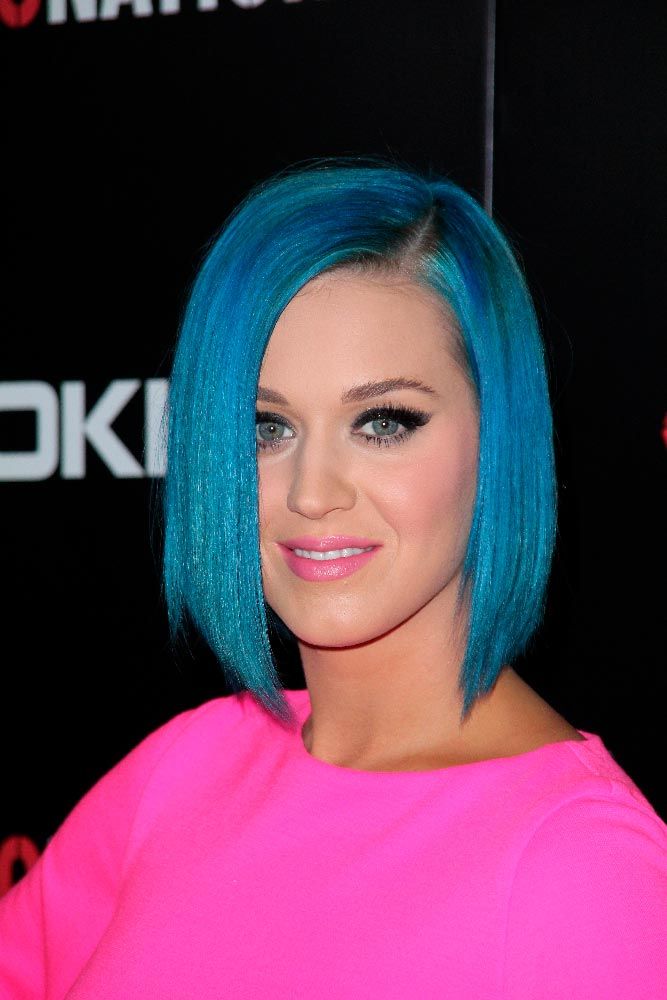 Credit photo: s_bukley/Shuttershock
Katy Perry is never afraid of changes; sometimes it seems like she is a living synonym to experiments. One day she stands in front of cameras with feminine Hollywood waves, and then she blows her fans out with an inverted blue bob. Besides the attractive appearance, it's sleek texture is to die for!
Natural Brown Graduated Bob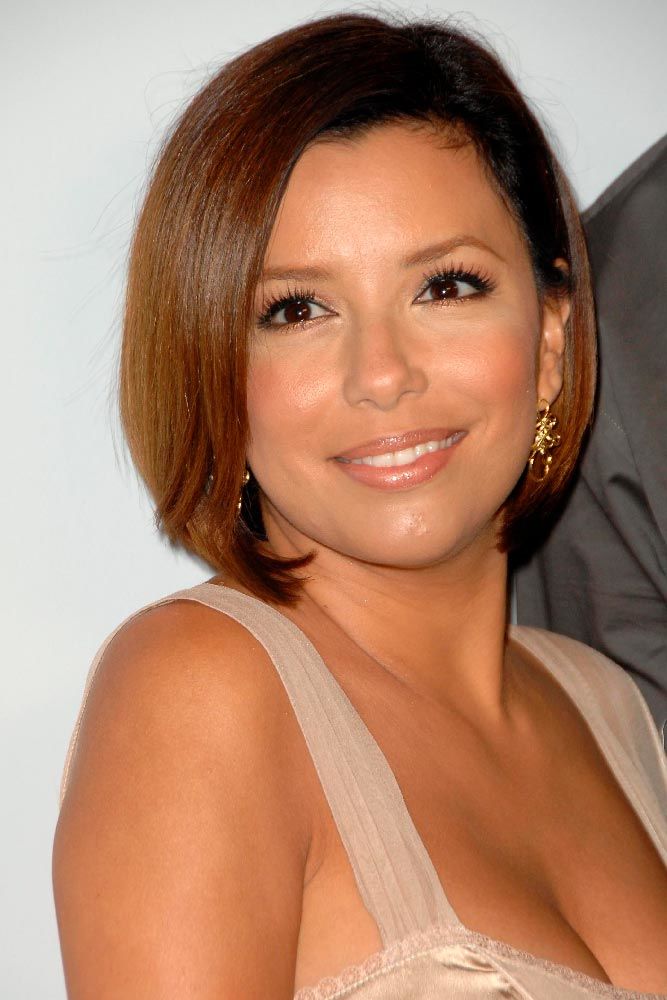 Credit photo: s_bukley/Shuttershock
No doubts, there's no unflattering hair lengths for Eva Longoria. Remember all those enviable long-hair looks that she used to flaunt with in her popular series? Here's how amazing she looks without all those tons of styling products and tools. The inverted bob gently curves in to create a pleasant silhouette while her natural hair color emphasize her beauty.
This post is supposed to help you find your perfect inverted bob, and we hope that now you already know what to ask for next time you go to the salon. Catch more inspo on our blog.
FAQ: Inverted Bob
How do you fix an inverted bob?
Adding some bangs will shorten up the longest pieces around your face or simply pull these pieces back
Add some angles around your face while you wait for the short hair at the back to grow out.
Even out the hair once the shorter pieces at the back of your head are at a length you want your new style to be.
Why does my bob look like a triangle?
If you have thick + wavy hair, blunt cuts can make your bob look like a triangle, where there is too much volume on the sides.
To fix this add layers at the bottom to thin it out, use a round brush to shape it under your chin or just grow it out to be one length.
What is a mom bob?
A "mom bob" is a stereotypical term used when talking about shapeless, bob-like haircut. It's a style that's much longer in the front and too short in the back, possibly with harsh highlights. Basically, it is an outdated style that looks too stiff, without any movement. However, it doesn't mean that bob hairstyle cannot complement your look, there are plenty of bob variations that are capable of truly enhancing your beauty.
Was this article helpful?