Purple hair color variations surprise us with their numerousness and versatility. And taking into account the increasing popularity of purple hairstyles, we think that it is time to discuss this topic in detail. So, today we are going to share with you some cool looks with purple hair. We assure you that you will be amazed with the number of options since you can try anything out on the scale from light highlights to ombre. Of course, it is true that in order to achieve a flawless look you should find a professional hairdresser but it is also possible to succeed with some ideas on your own. The key point is to know what you want and we are here to provide some inspiring ideas!
From Dark Lavander To Frozen Raspberry Ombre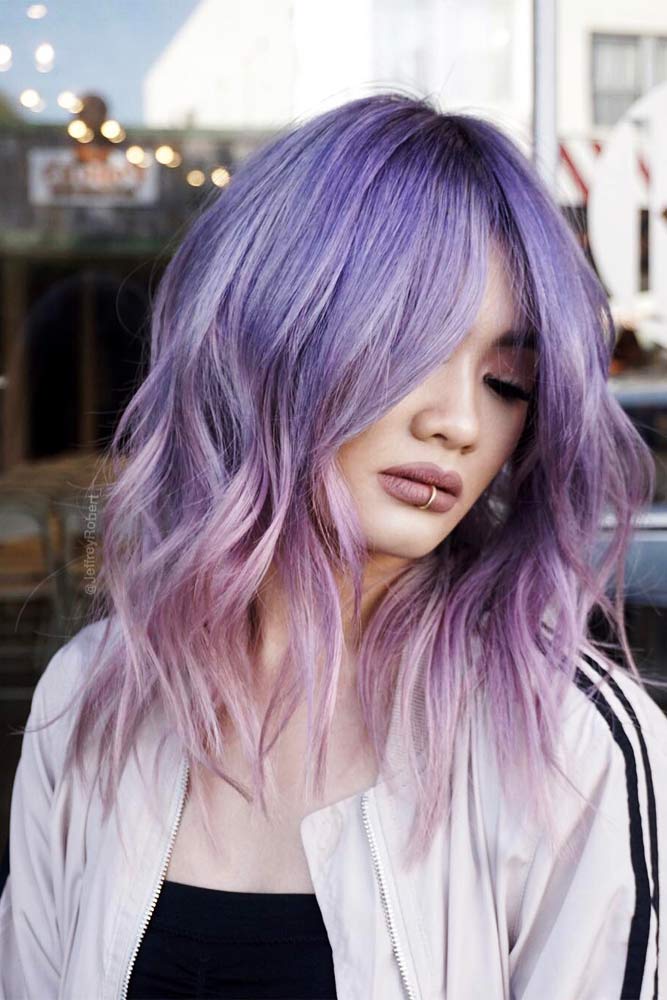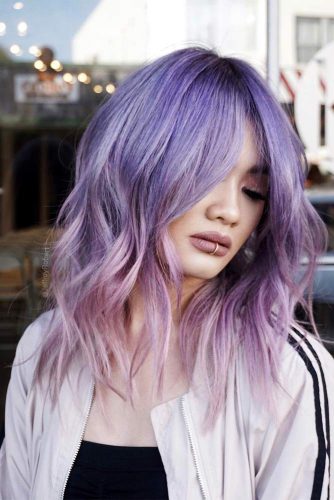 This long layered bob is the perfect haircut for a woman who wants to change her look to something a bit more eye-catching. Not only is this haircut trendy it also has a glamorous flair to it as well. No matter if you're looking to turn some heads or just change up your look, this could very well be the cut for you. This purple hair ombre look is for someone who is not afraid to express herself.
Source: jeffreyrobert_ via Instagram
Royal Purple Bob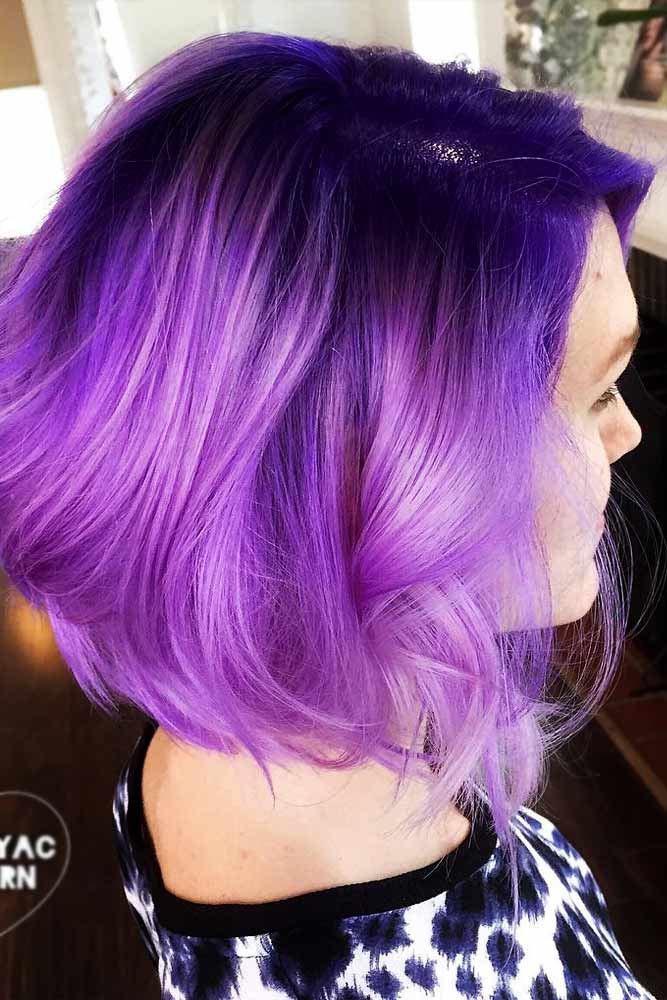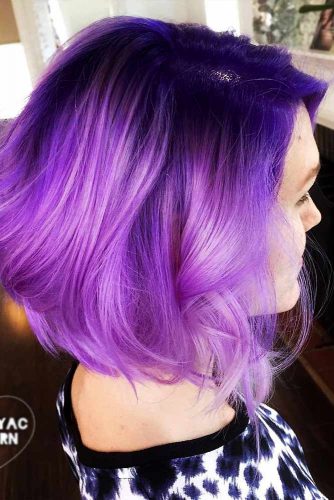 Above you will find the perfect example of a bob hair diva. This color gives off an air of royalty and confidence. It can be somewhat difficult to obtain the desired hues and additional phases may be required. For instance, if you have dark hair then in order to get the desired color bleaching is required prior to applying color. Fret not in the added steps though, your end result will be well worth the hassle with the dark purple hair you acquire.
Source: hairbyac_alcorn via Instagram
From Navy Roots To Valerie Ends Ombre Hair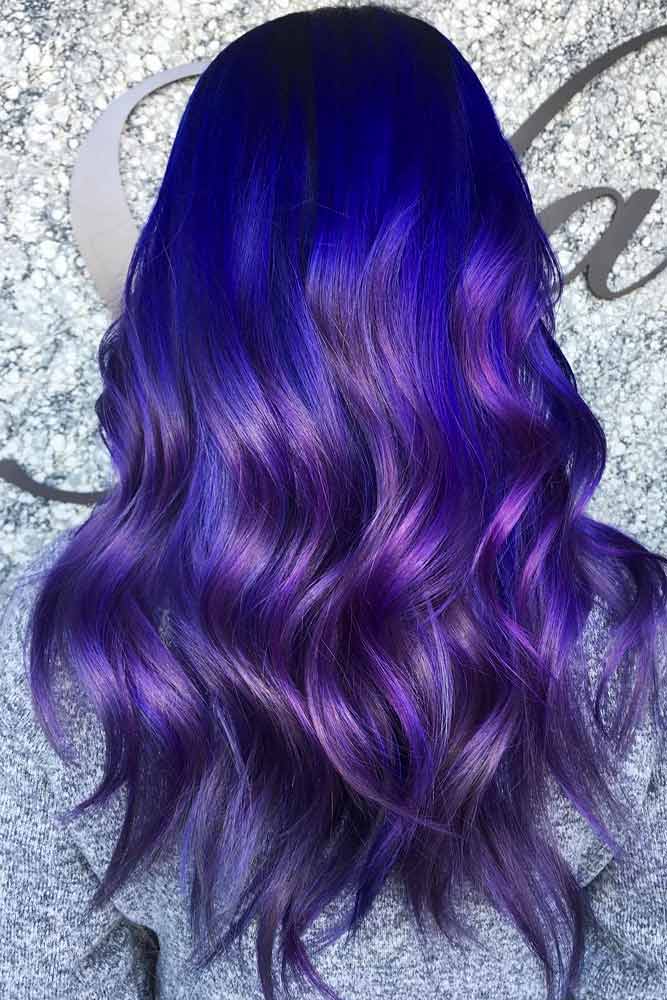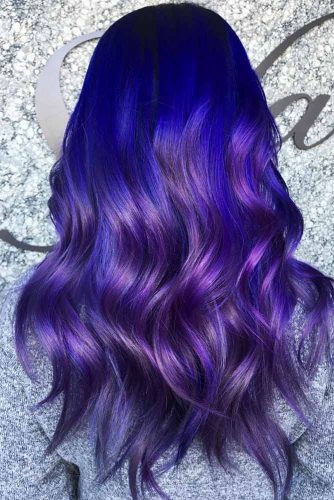 If you have long wavy hair a route similar to this may be the way you want to go. It is bold and daring but exudes a confident personality with its contrasting navy blending into the purple hair tips.If you have a very light skin tone you may want to steer clear of this shade as that it has its best effect when coupled with olive skin tones.
Source: beautybyyasuko via Instagram
Inverted Purple To Blue Ombre Hair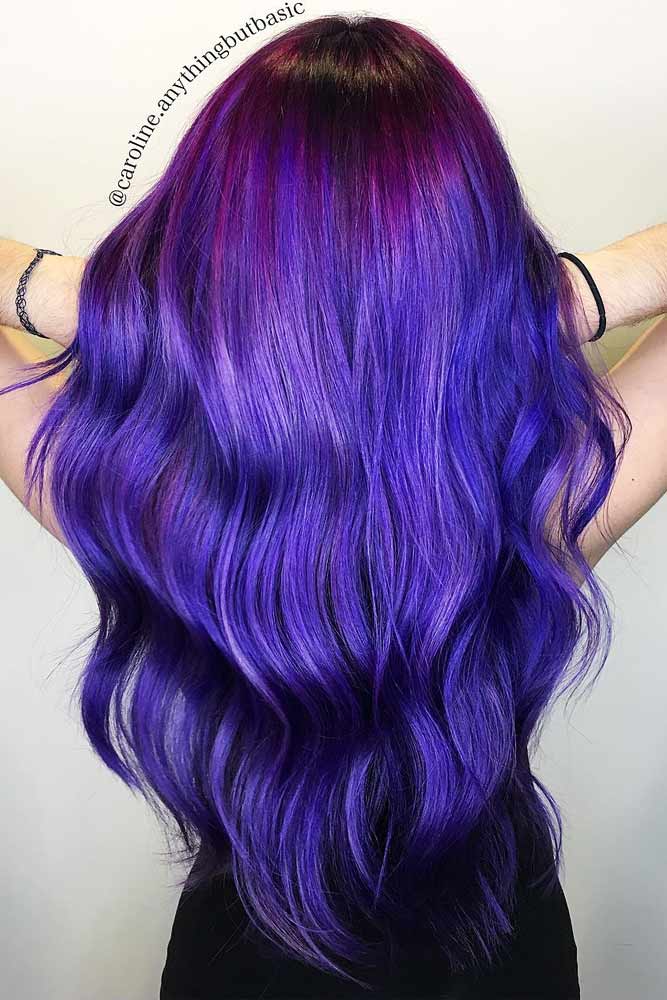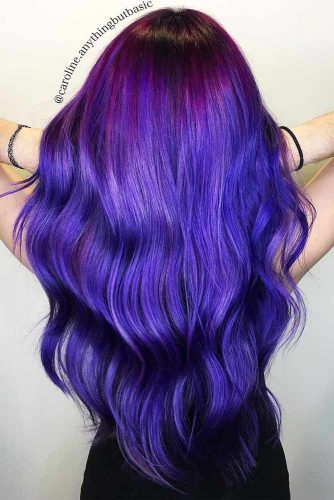 Here is another look that goes well with the wavy purple hair. If you have one length hair you will need to change it up a bit to a long layered cut. Once that is taken care of you will have your friends and co-workers wondering if you're the next superhero due to your evident confidence and resemblance to a comic book character. This is definitely a bold look that will accentuate your best attributes.
Source: caroline.anythingbutbasic via Instagram
Sweet Dream Tresses With Black Roots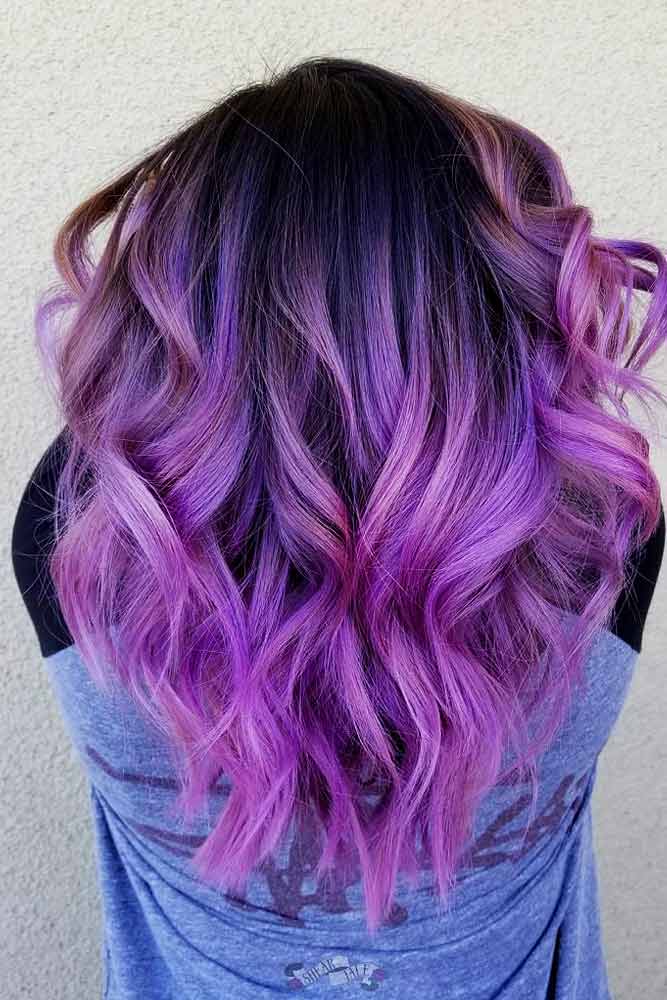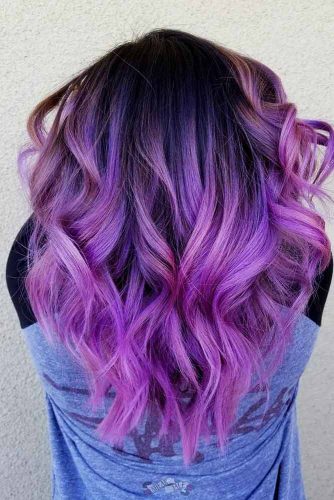 This color is what I like to refer to as a warm purple hair. I feel it best compliments women of a darker complexion as opposed to a lighter skinned woman. This ombre hair allows you to express your lighter, fun type of personality. As with any purple hair style you allow others to see that you don't mind obtaining some attention.
Source: sheartale via Instagram
Teen Spirit Balayage On An Angled Bob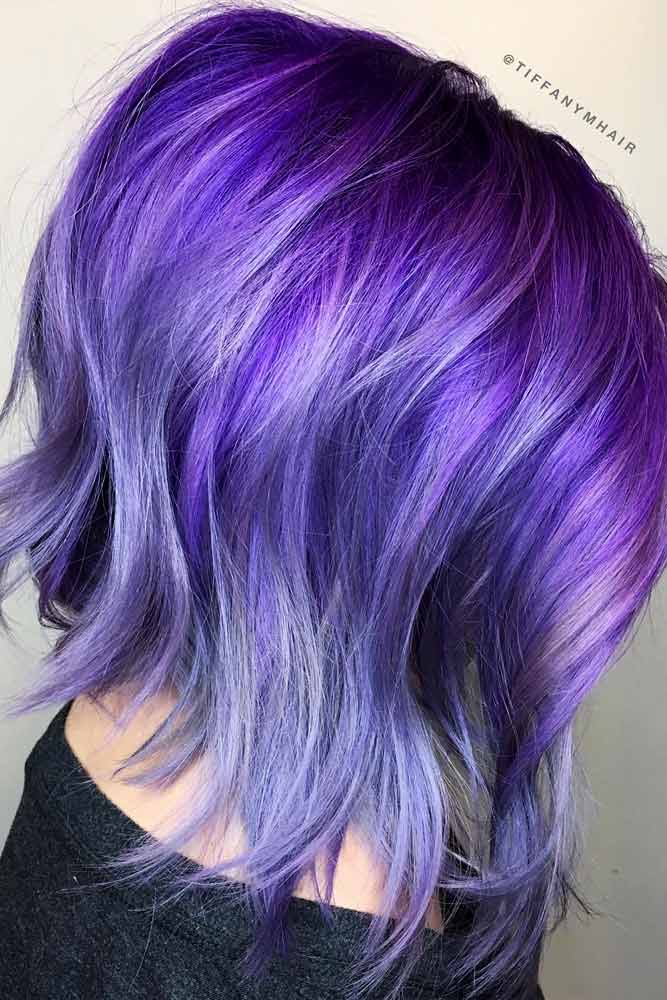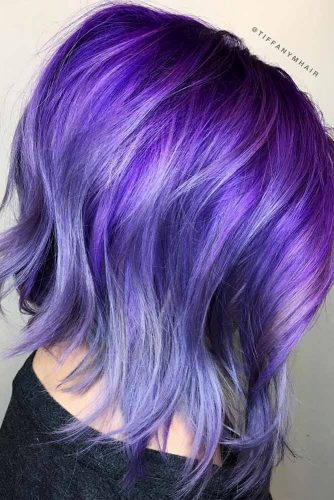 This inverted bob has an edgy look with the cut alone. Add the color splash of purple hair highlights and look-out! The sexy and chic hairstyle is the perfect combination to make a statement of your confidence and security in your persona. This style is certain to highlight your facial features and accent your eyes. With a bold style like this basic make-up application would be perfectly acceptable.
Source: tiffanymhair via Instagram
Gravel Bob With Fuchsia Locks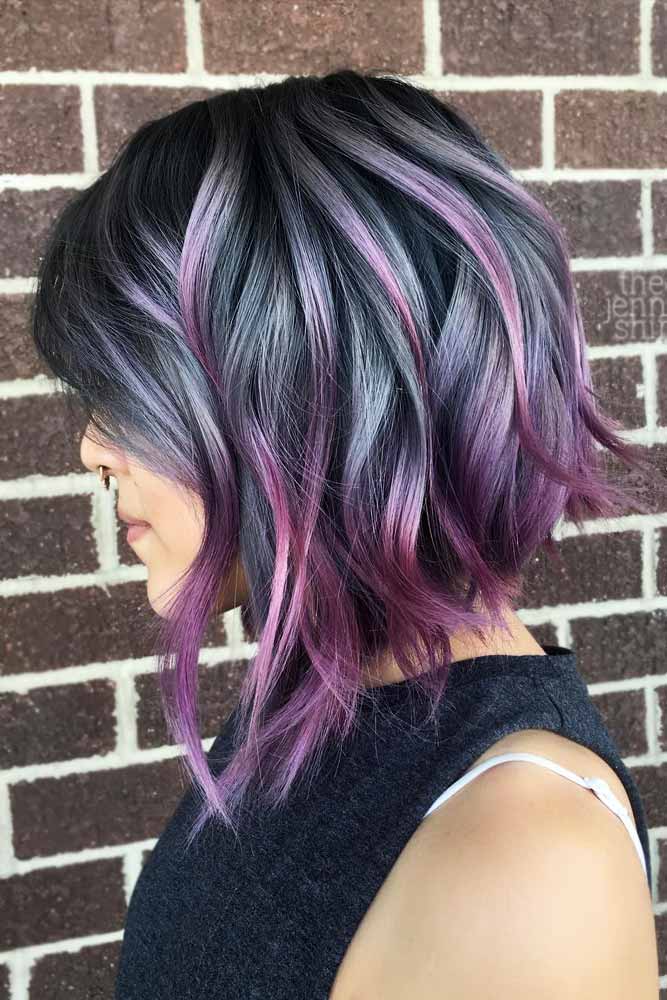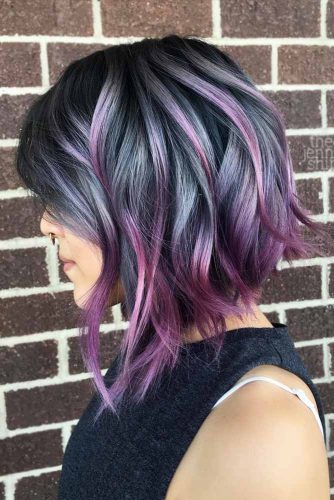 This wavy medium bob is a beautiful example of an ombre adding depth and dimension to a hairstyle. Also, it is proof that you can obtain a decent shade of purple hair without bleaching. Granted the shade of purple may not be as bright as that of bleached hair but it is still a lovely contrast. Try this lovely hairstyle, you're sure to not be disappointed.
Source: thejennshin via Instagram
Deep Purple Highlights In Black Hair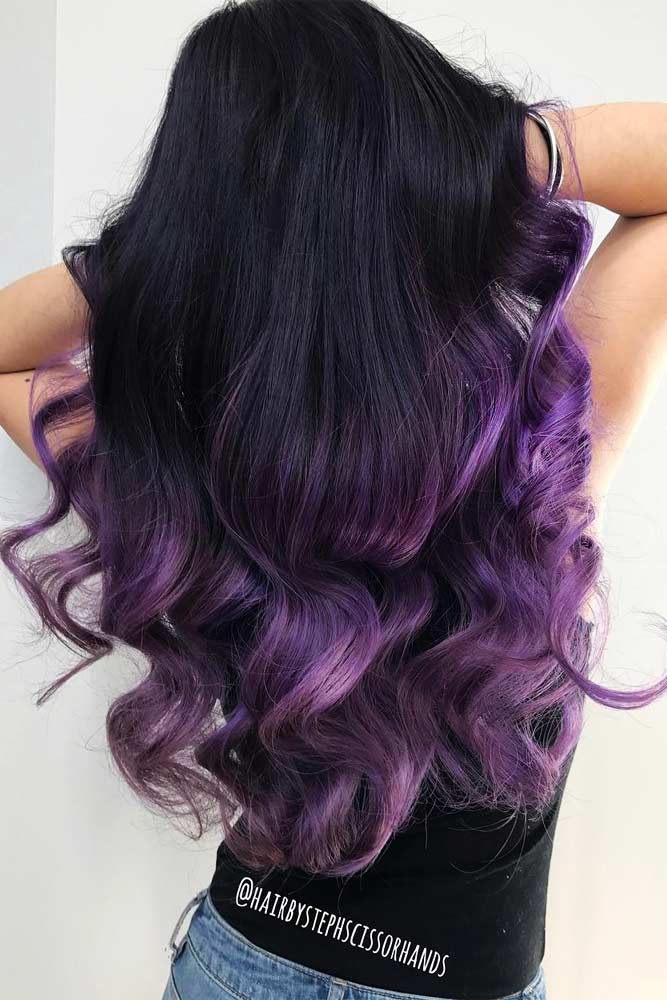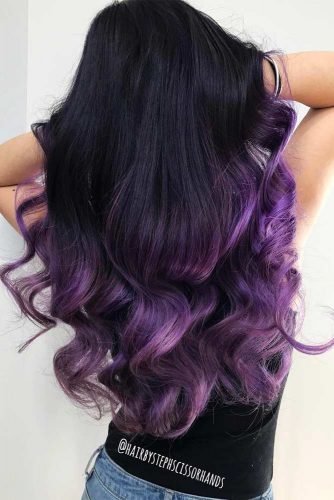 Purple hair on medium skin tones is a really great choice. The color contrast is a real eye-popper and is sure to draw some attention. When using purple highlights in black hair it is sometimes a good idea to bleach first prior to highlighting to ensure a bright vibrant color. This color choice is a dead giveaway to attest to your bold and confident personality.
Source: stephscissorhands via Instagram
Ancient Pink Colored Fishtail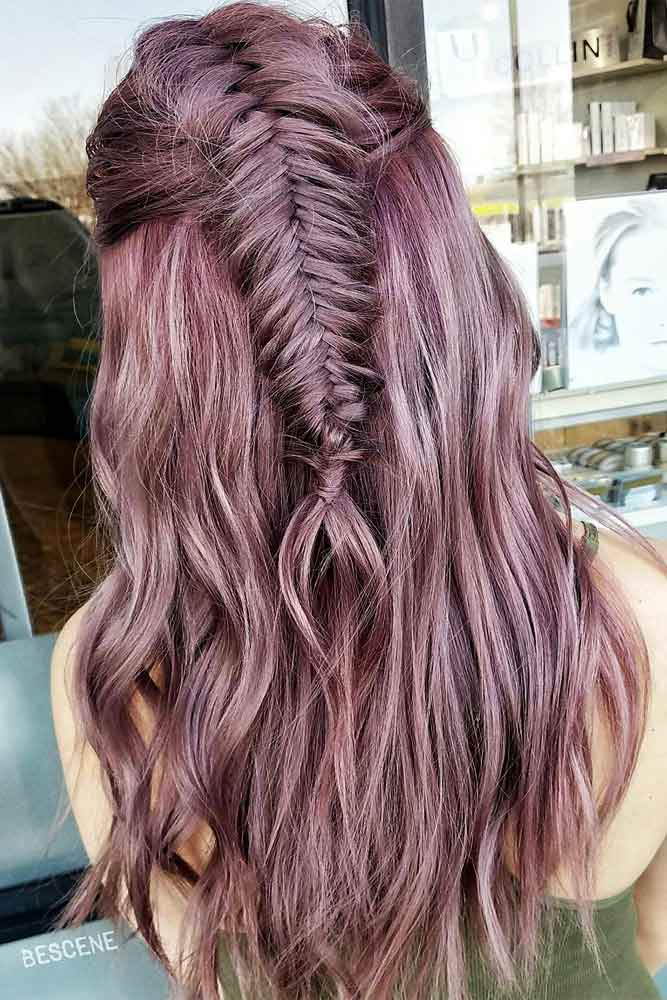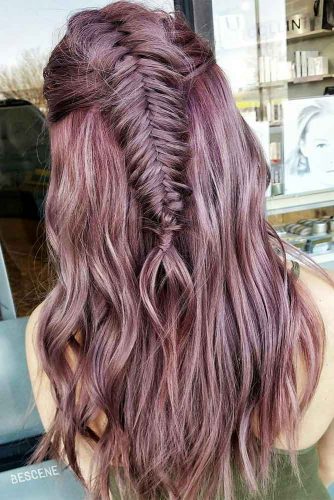 This fishtail braid on this client is a gorgeous accent to her golden lilac color. The accents her length provides allow for this seamless look in this braid. Her color is a great blend with her natural hair color and almost appears as if it could be her natural color. It almost has a chameleon effect with the perfect blending.
Source: bescene via Instagram
Blue Velvet And Purple Wavy Bob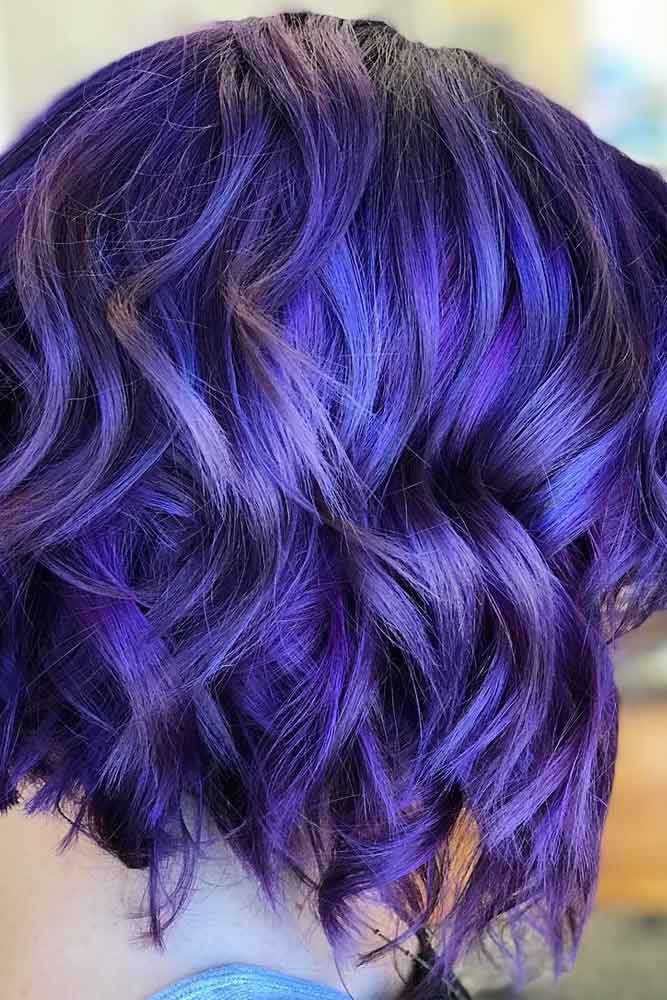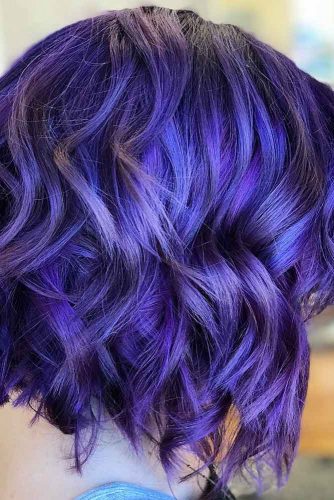 This bob cut is perfect for short to medium hair lengths. It has an asymmetrical A-line style that is complimenting to most facial shapes. The highlights contrasting colors combined with her curly hair purple highlights grouping gives a phenomenal splash of color. There is no room for a shy, cautious nature with a style like this. Put your big girl pants and flaunt it, girl!
Source: mandaharsche via Instagram
Dark Magenta To Gray Ombre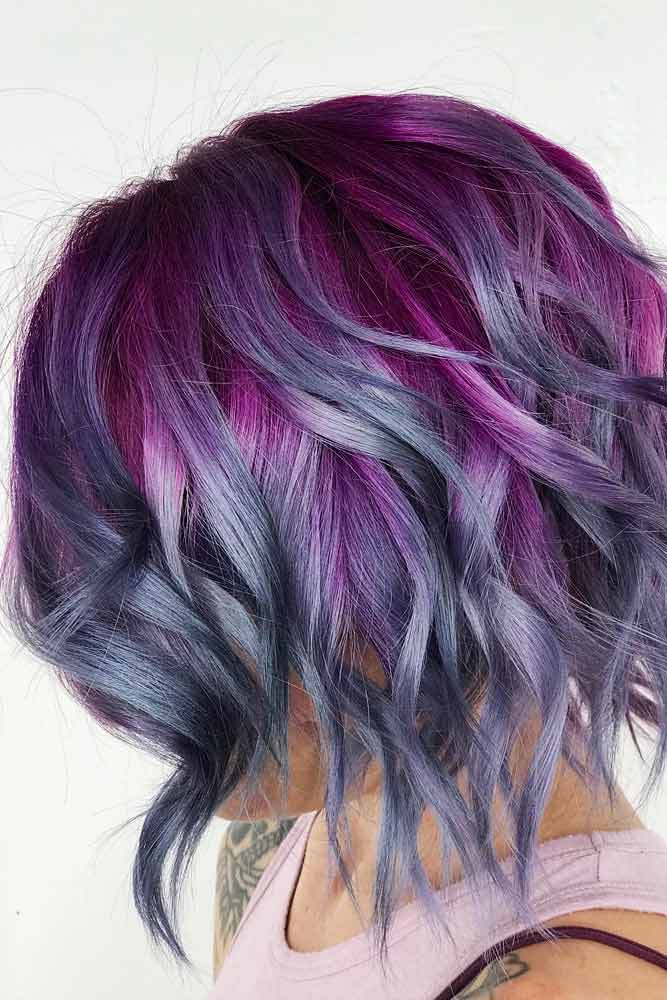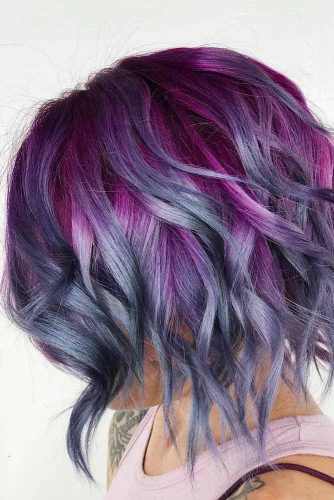 All we can say about this style is wow!! This is a striking blend of the magenta hair and the gray hair. The purple ombre added is pushed this beyond a typical edgy hairstyle over to the work of art category. This stylist outdid themselves with this stunning masterpiece. This client hopefully tipped her stylist well this work of genius is a certain confidence booster. She has taken edgy above and beyond with this creation.
Source: isaac4mayor via Instagram
Blue And Purple Mermaid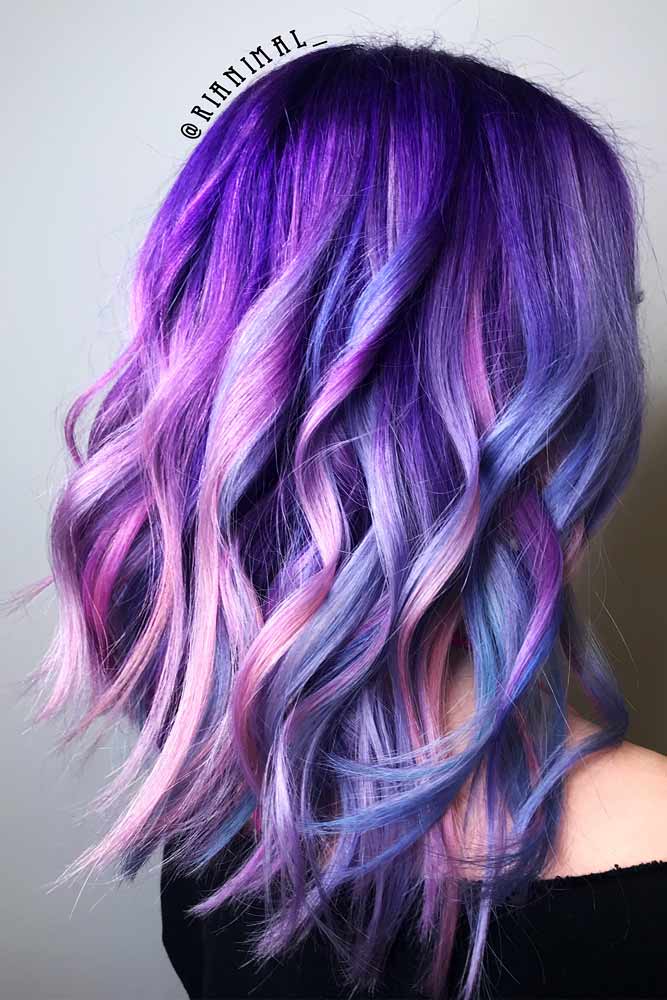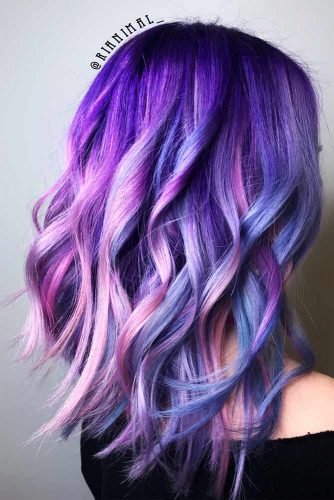 This beautiful mermaid hair look is almost mystical. The shaggy choppy cut accents the mermaid look. The various hues of light purple ombre hair included here are a definite positive. The wavy appearance is also attributive to the so-called mermaid look. Every girl at one point or another has dreamed of being a mermaid. With a style like this, she can have the best of both worlds.
Source: rianimal_ via Instagram
Purple To Light Gray Ombre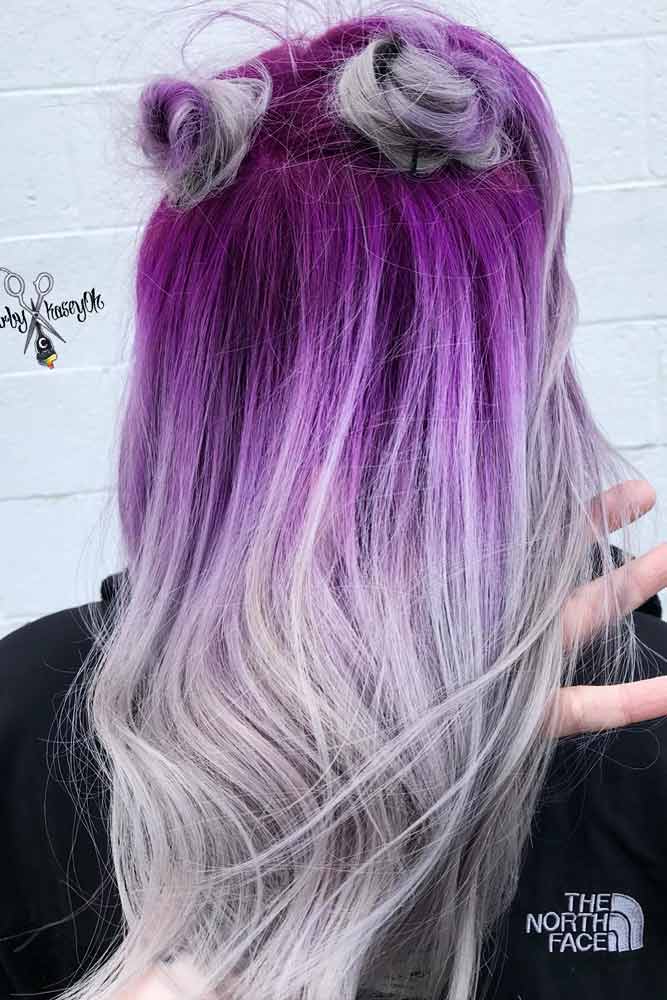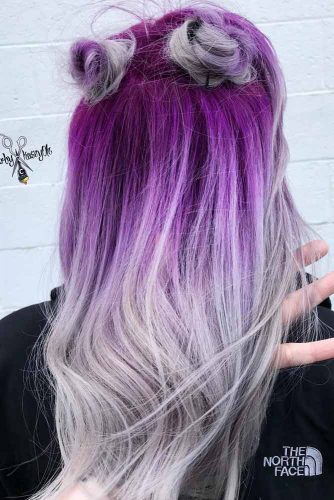 This gorgeous style begins with a darker purple at the roots that fade. From the darker, vibrant purple it fades into a pastel purple ombre hair before washing out into a gorgeous dirty blonde. This is a trendy style that shows your fun side while not being too overpowering. Proof that fun and flirty can truly go hand in hand, even in a hairstyle.
Source: hairbykaseyoh via Instagram
Amethyst Blue Hair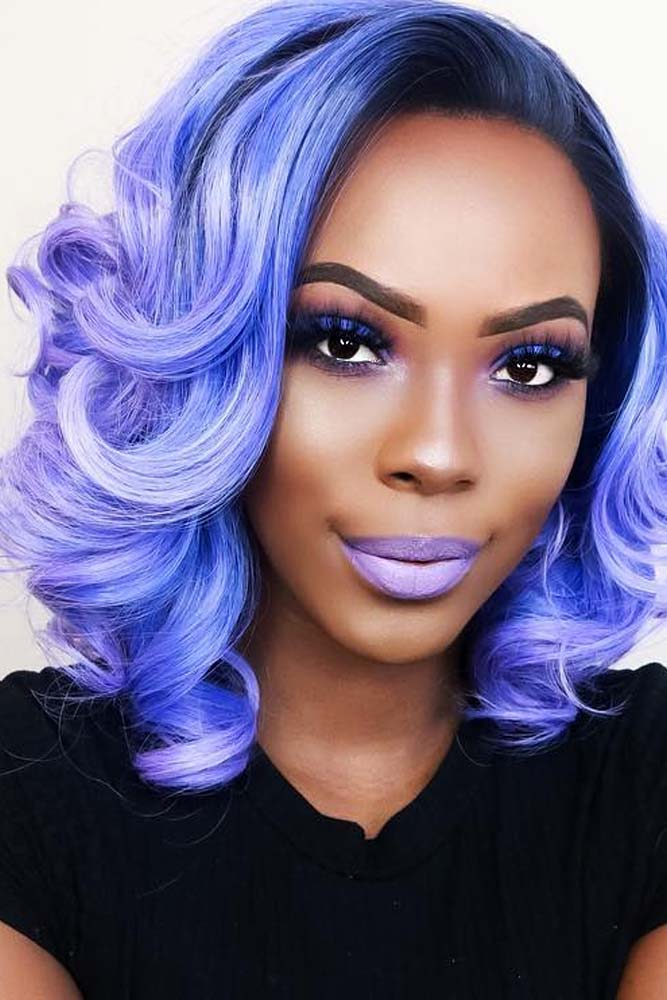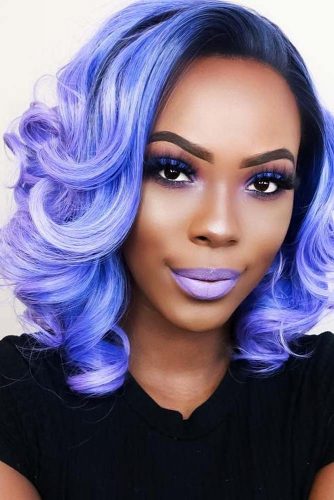 There's just something about the color purple. No, I'm not referring to the movie, this is an article about hair. That being said the use of purple hair on the dark skin, whether well-tanned or naturally blessed, is a breath-taking experience. If you're looking to add an additional wow factor to your hairstyle go one step or maybe ten, depending on your fun gauge, and step into the world of blue hair.There are even mesmerizing blue hairstyles for short hair! Go on! Take a leap!
Source: princess.kaae_ via Instagram
Black, Blue To Viola Ombre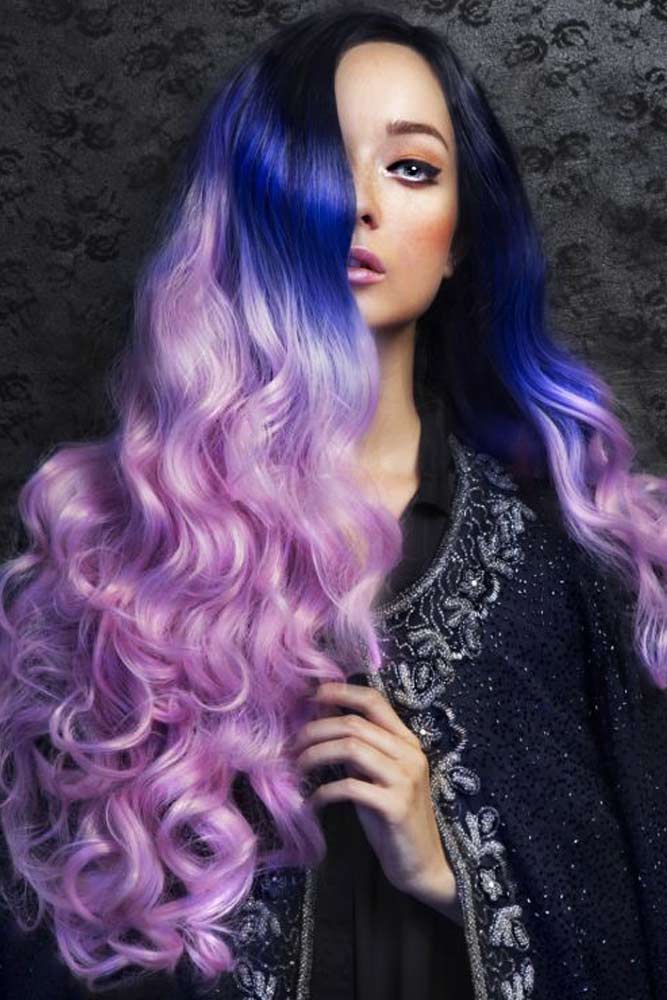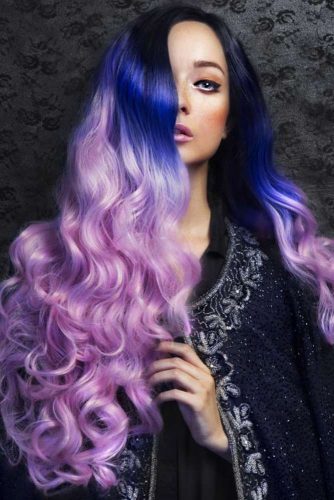 Here is an enticing tidbit of information for you. Most people when they think about a weave make a reference to longer hairstyles. That doesn't have to be the case. The blue ombre bob weave is a nice option to alter your look. Of course, when it is coupled with a long weave hair, the result is all the more show stopping.
Source: daryna_barykina via Instagram
Electric Blue Hair With Plum Spots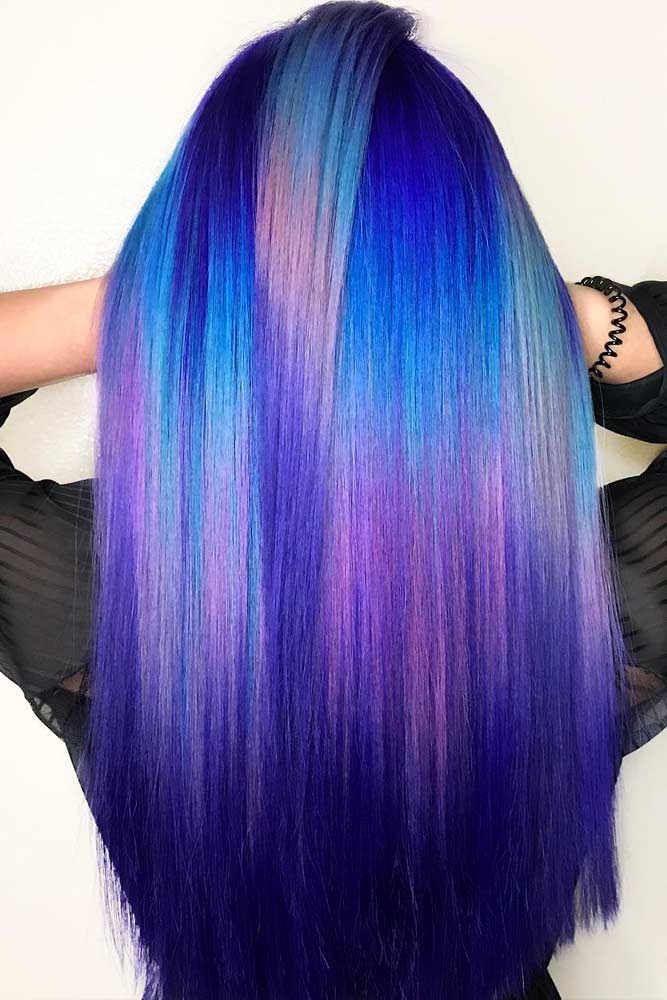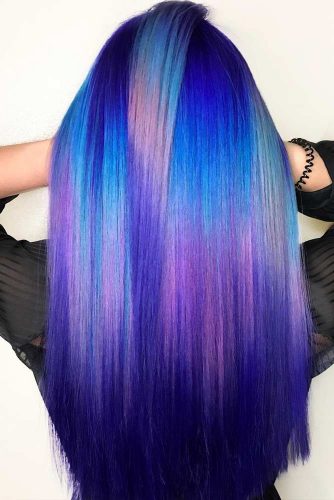 It takes a bold individual to do the purple hair bit in any aspect. If you have long straight hair adding purple highlights in brown hair makes for an eye-popping result. This vibrant color job will most definitely stop traffic. Its colors seem to meld so seamlessly that it is difficult to tell where one starts and the other begins.
Source: presleypoe via Instagram
Mystic Sky Blue To Purple Hair Colors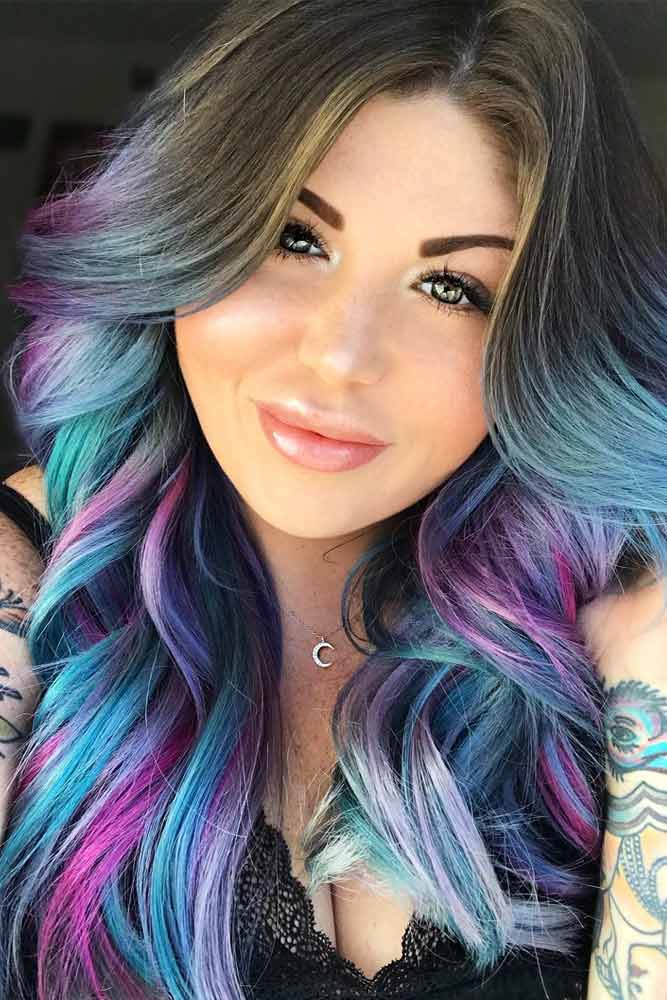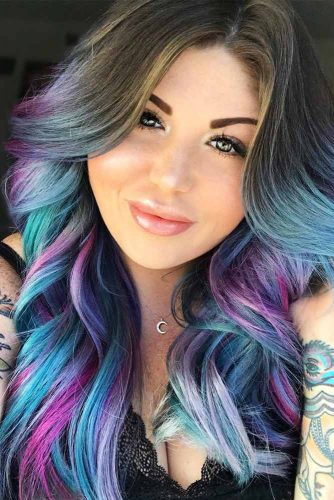 The volume provided when doing blowout hair is astounding. Do not be cornered into thinking that you can only go with dark blue hairstyles for medium hair tones. When you add some splashes of contrasting color you are more than capable of pulling off and lighter blue tone in your hairstyle. The sky is the limit when you are adventurous enough to pursue the options that are outside of the norm.
Source: rebeccataylorhair via Instagram
Three Shades Of Purple: Black Purple, Lavender, And Light Lilac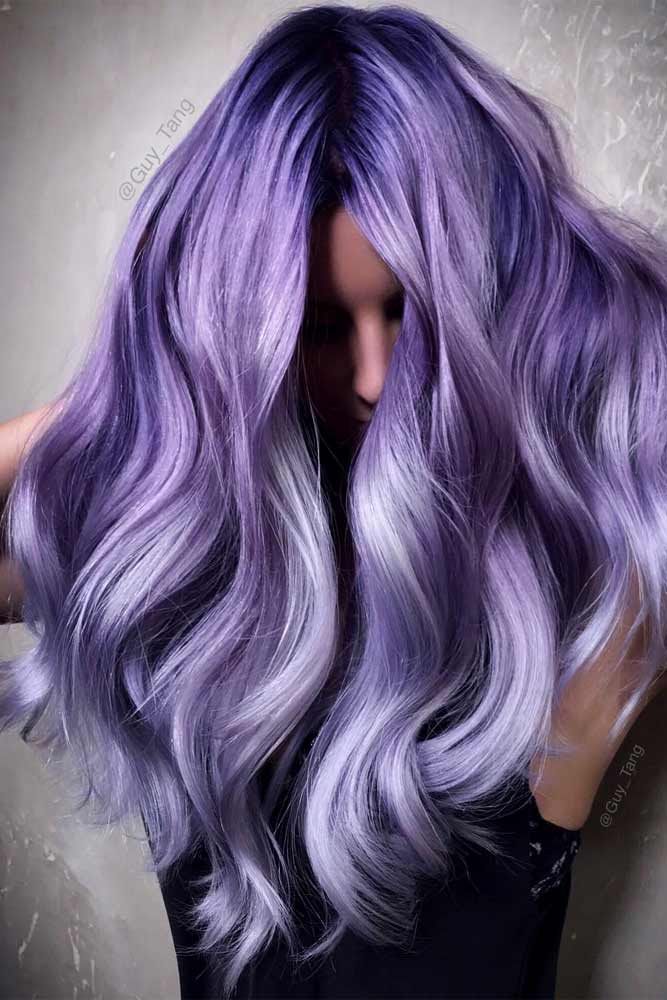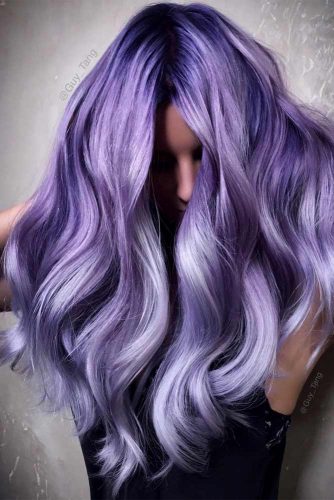 Making the switch from black to purple ombre long hair will definitely put some into a culture shock of sorts. If you have natural black hair you can add purple highlights to achieve a softer transition. Whether you choose for a drastic or a mild transformation your confidence to carry this look will speak for itself. Be daring, be amazing, be deliciously purple, be you!
Source: guy_tang via Instagram
Two-Toned Hair In Pastel Colors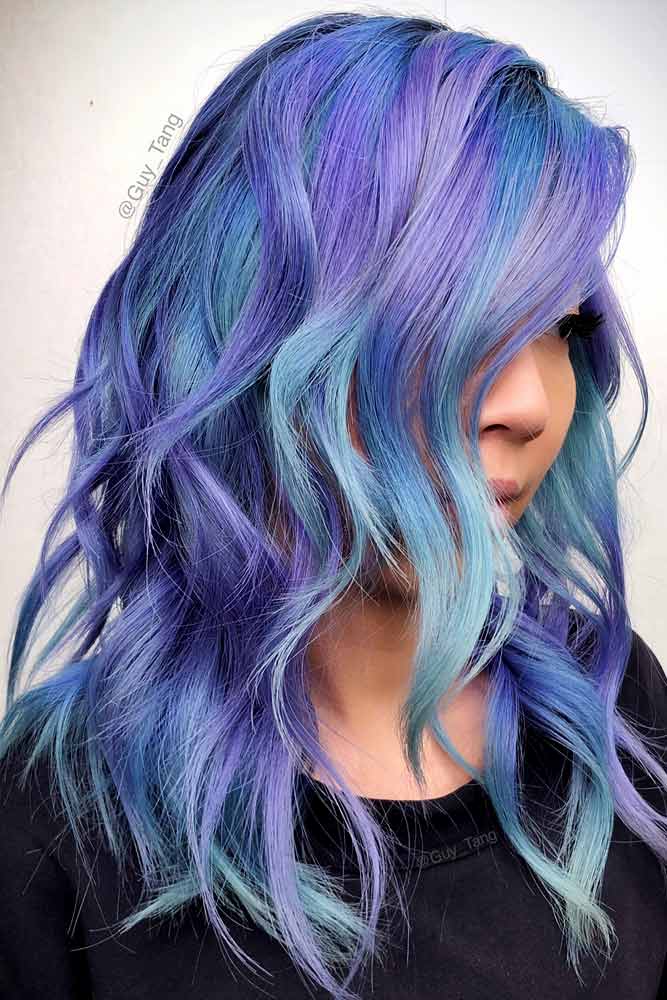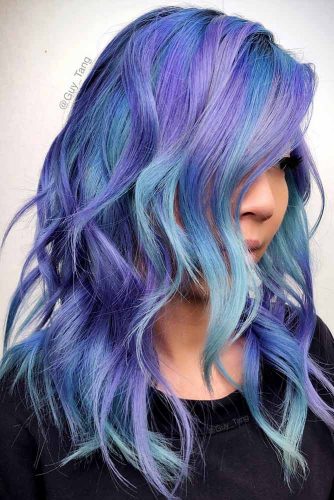 Medium colored hair folks take notice. If you are the type of person who doesn't mind altering their hair color and tones every few days this is the look for you. If you have medium hair with blue highlights and some violet in and voila, you have achieved light violet hair. A mystic and risqué in nature this hairstyle has definite potential.
Source: guy_tang via Instagram
Shock Blue And Purple Colored Long Wavy Hair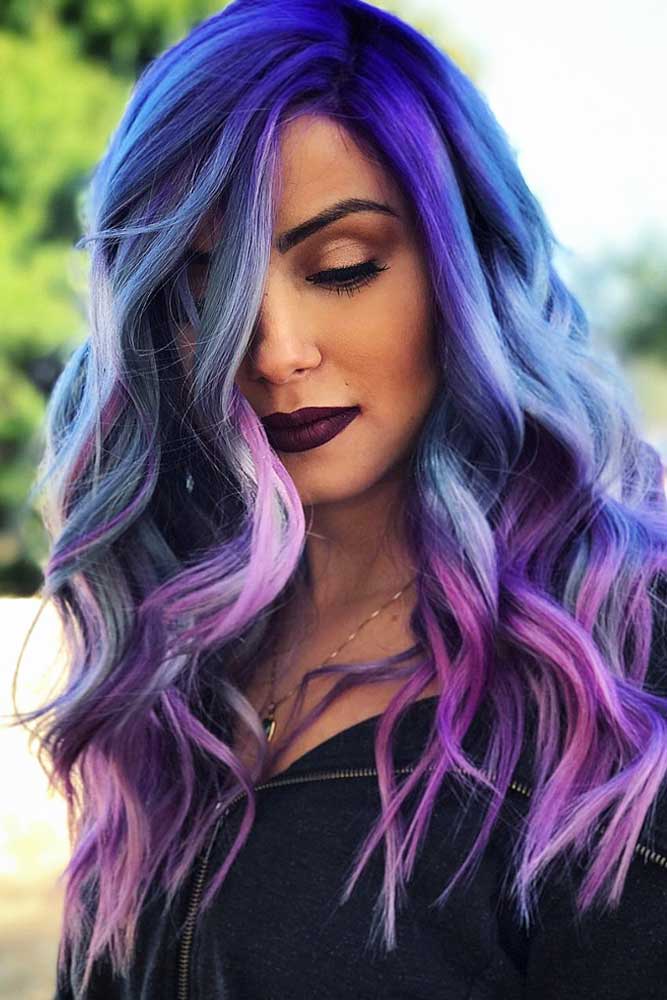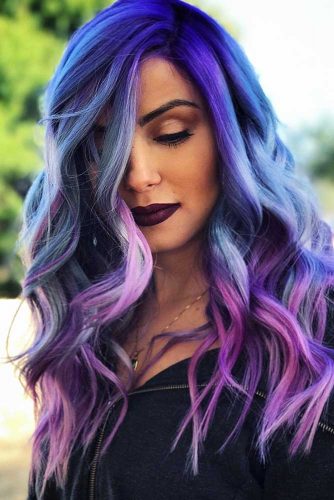 Having long hair can be a hassle. But it also has its rewards. When you add purple highlights to long hair you reach a whole new dimension in trendy styles.Add into the mix that you happen to have long blunt hair and it steps it up another notch. These styles carry easily and add a flare to the overall style. This type of hairstyle will certainly put a spotlight on your daring personality.
Source: hairgod_zito via Instagram
Pink, Flame Blue And Baby Blue Colors For A Wonderful Look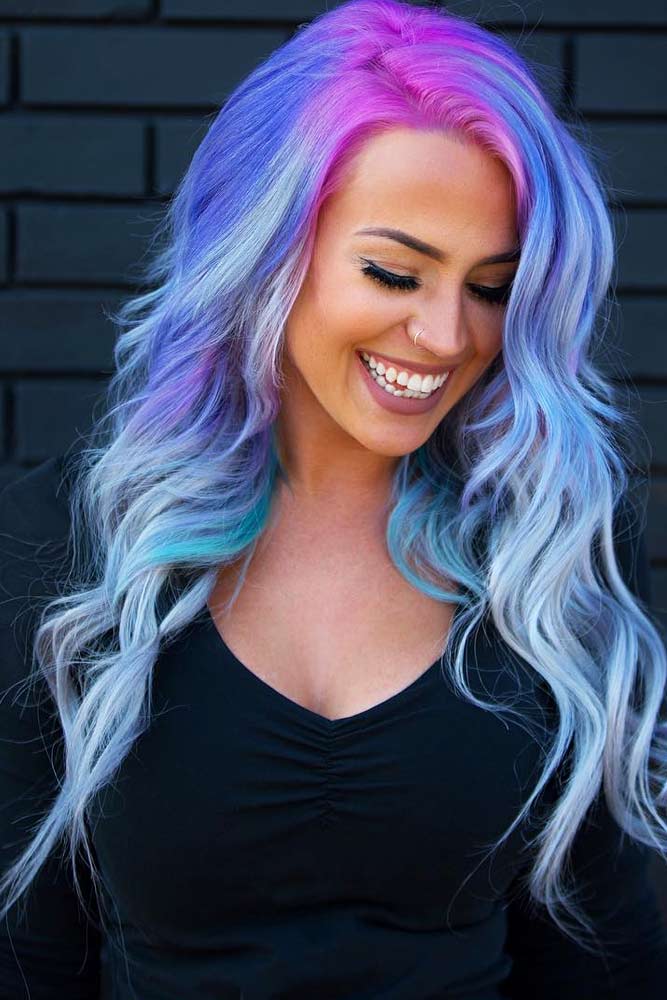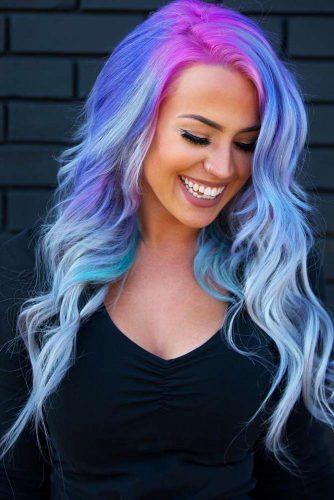 If you are looking to add enthusiasm to your overall look the look no further. Long blue ombre hair is the route that you need to take. This hairstyle is reminiscent of a flaming fire that begins at the roots with a bright purple to blue ombre which as those who know anything about the fire will tell you, the blue flame is the hottest. You're almost guaranteed to set a fire to any room you enter with this amazingly beautiful creation.
Source: hairgod_zito via Instagram
Dark Magenta And Plum Ombre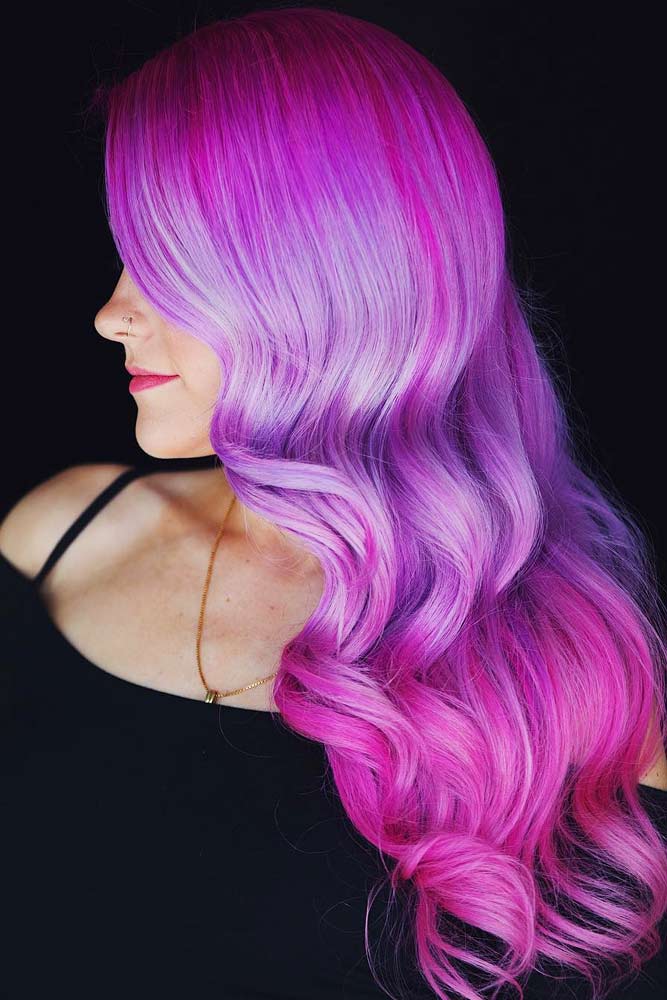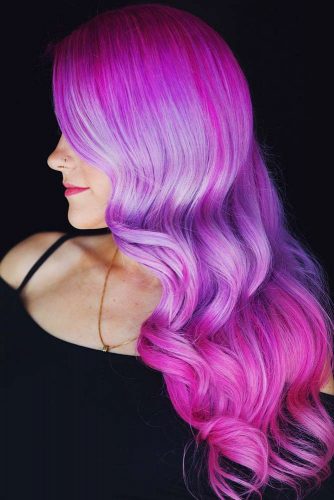 If you're a natural blonde you know that it's true blondes really so have more fun. Although at times it is difficult to carry off certain looks with your lighter skin tone, this is not one of those times. When you add purple highlights to blonde hair you get an absolutely stunning result. You are certain to be the centerpiece of attention with your purple ombre long hair. Step into the spotlight you know its where you belong.
Source: hairgod_zito via Instagram
Pastel Wavy Long Hair Style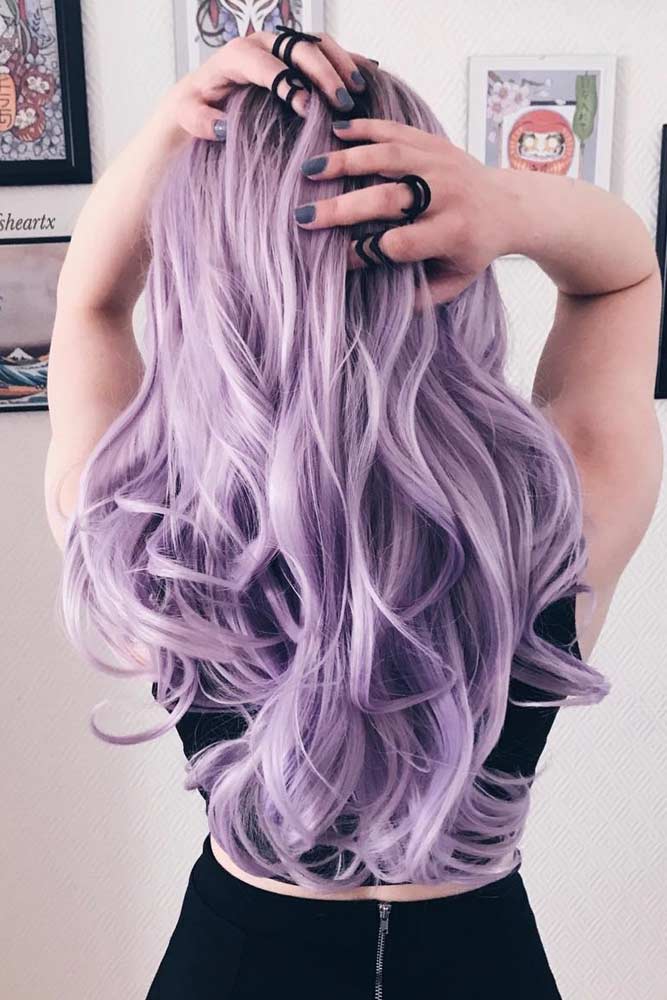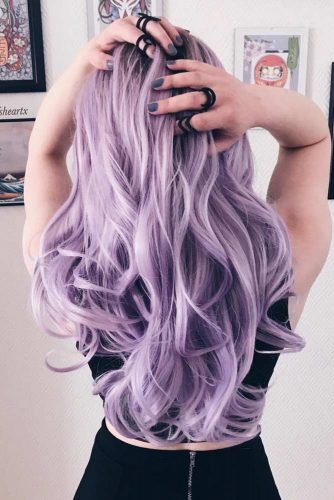 You can easily get a gorgeous hairstyle like this. You will need large hot rollers and light hold hair spray. This hairstyle will be the center of attention wherever you go.
Source: wolfsheartx via Instagram
Long Wavy Hair Style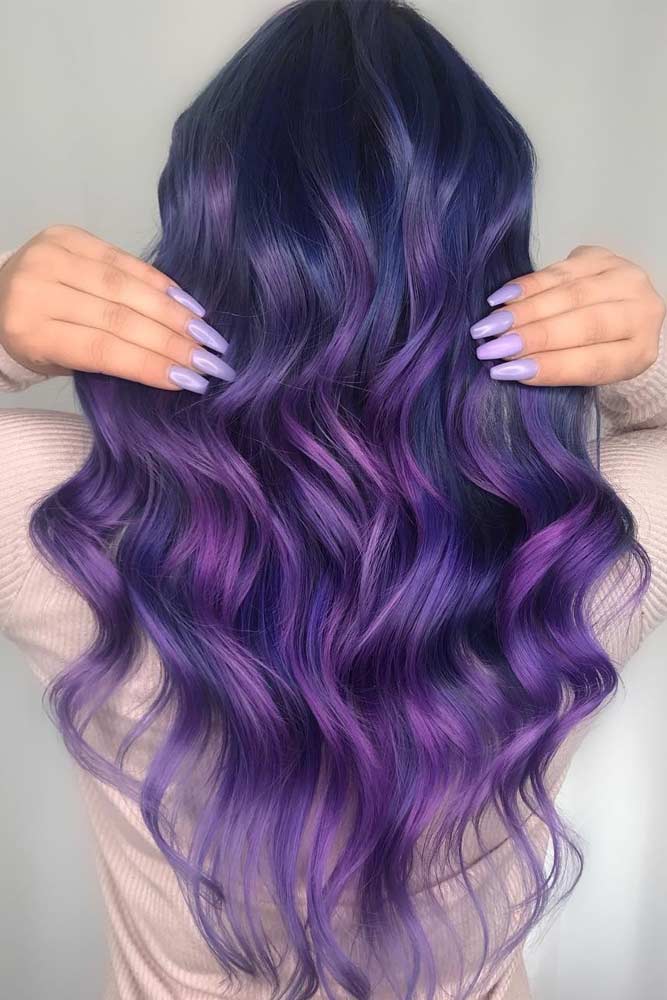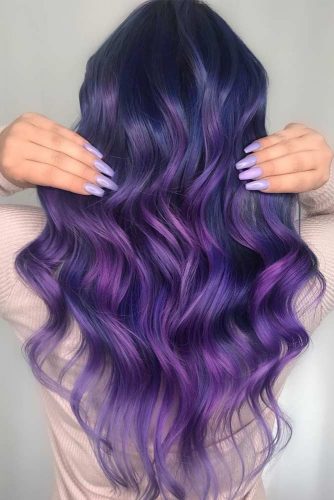 To create a long hairstyle with soft waves like this, you do not necessarily have to use heating tools. While your hair is wet, braid it and go to sleep. In the morning you will get such locks.
Source: kimberlytayhair via Instagram
Purple Ombre Hair Style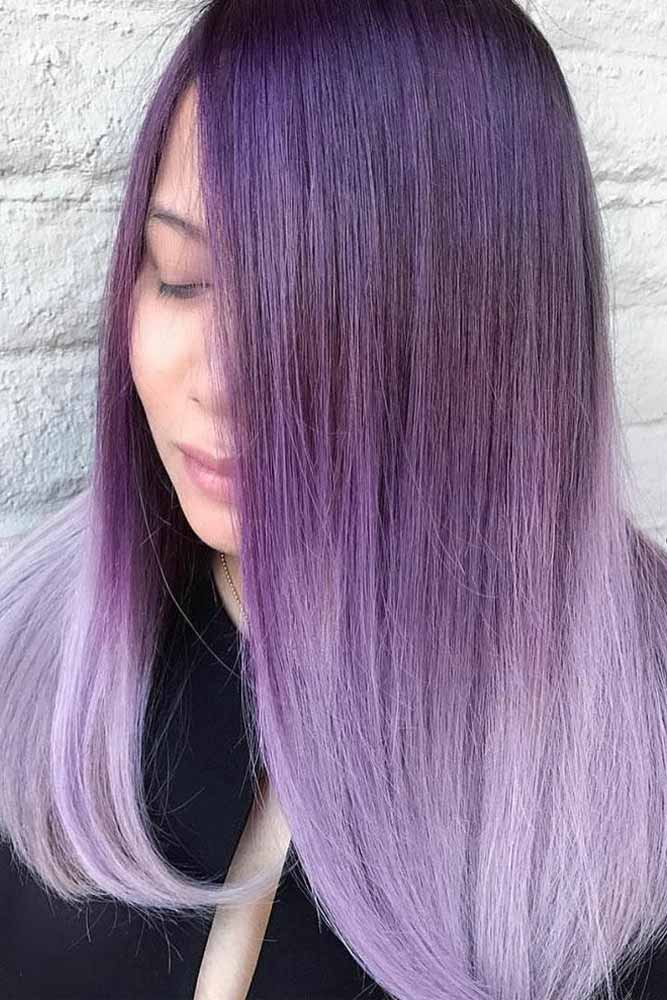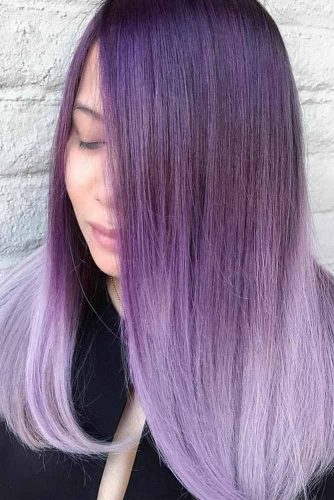 Go for purple ombre, if you want to make a statement with your hair color. Straighten your tresses with a hair straightener, then finish with a spritz of hairspray.
Source: glamiris via Instagram
Indigo Blend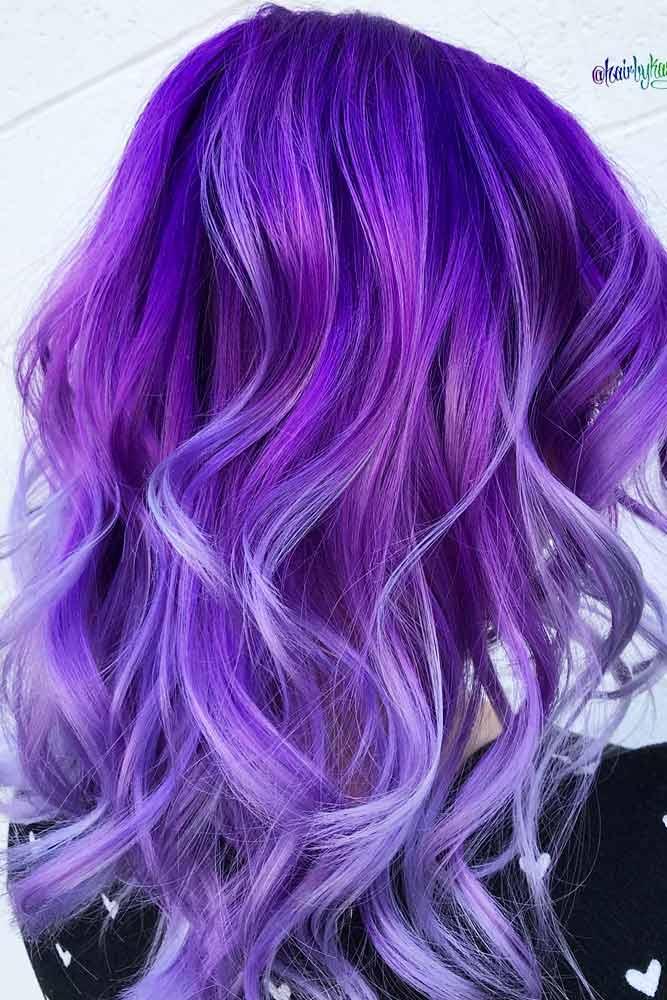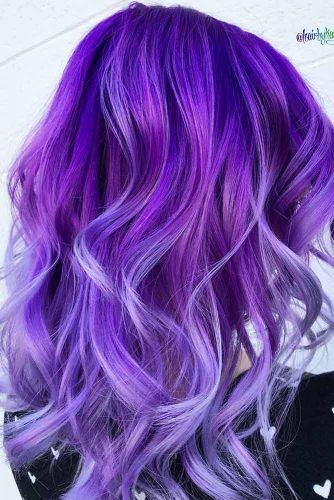 When it comes to playing around with the overwhelming bright purple hair trend, you're the one who sets the rules for the game. Moreover, with the endless purple hair ideas available, you can even make up your own definition for purple. And this indigo blend will be your trusty assistant. In fact, indigo color is a profound shade of blue that transits to rich purple. If you love these two colors, this is the happy medium you can make a part of your head-turning look. To achieve tons of dimension in your color play, let indigo shade sit on the roots. Then, add more character with slightly paler strands that become lighter as they move to the ends.
Source: hairbykaseyoh via Instagram
Deep Purple And Magenta Highlights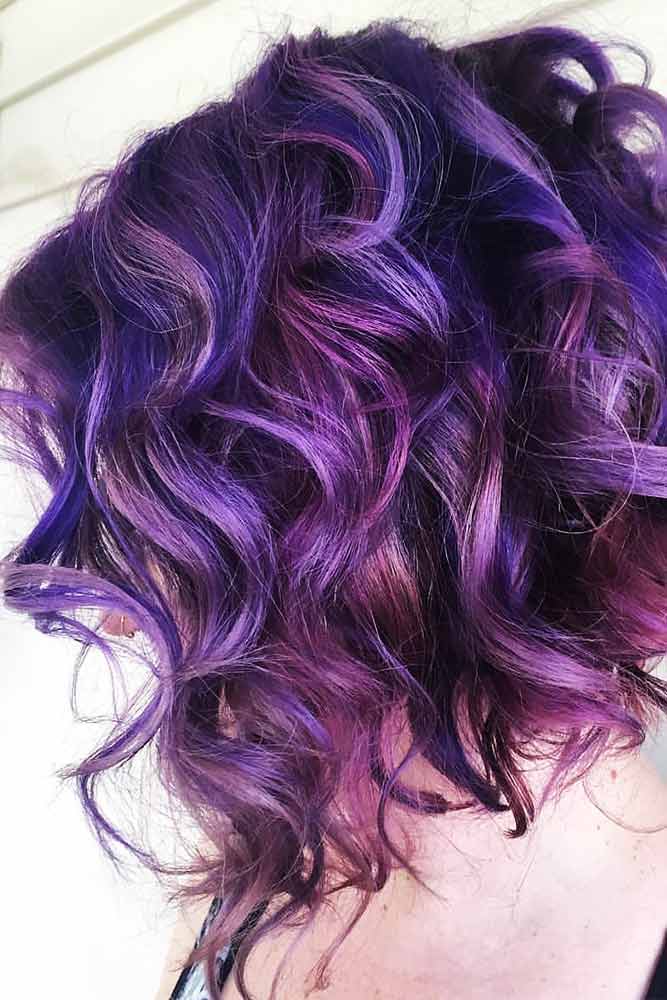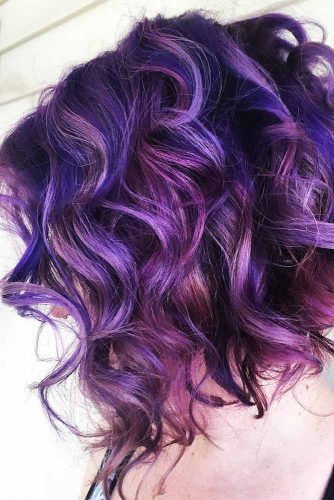 No wonder that the so much popular rock band was named after the darkest shade of purple: it's so enchanting and deep that it's hard to take eyes off. Now, let's imagine what a stunning visual impact you will bring to all the eyes beholding your dark purple hair! And if we're talking about dark purple curly hair, the world is just doomed to be at your feet. If you want to take your curly texture to a new color level, nothing will work better than purple hair highlights. Various bright and deep purple hues will accentuate the depth of the dark primary, while curls will add pleasant dynamics and movement to it.
Source: hotonbeauty via Instagram
Vivid Peacock Highlights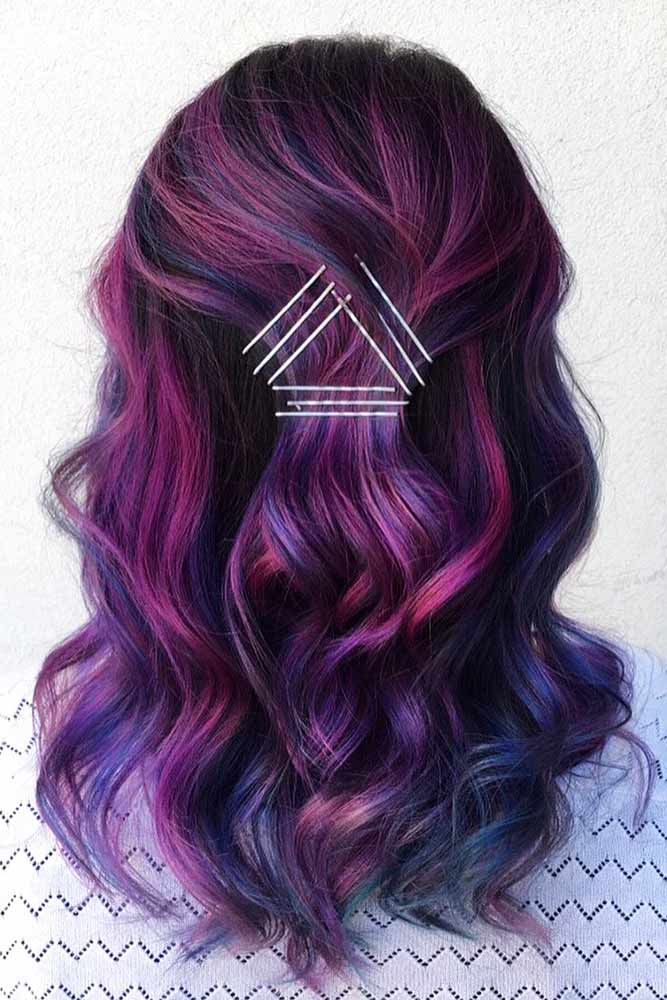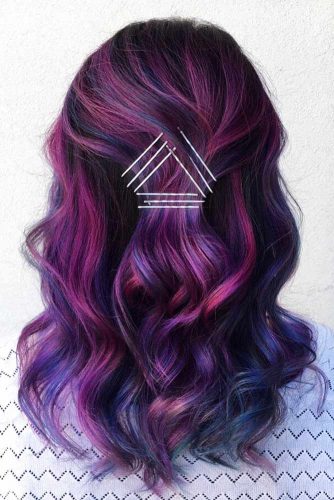 Remember the captivating blue and purple feathers on peacocks' tails? They are actually a huge source of inspiration for those who'd like to turn their hair into a palette of purple hair colors. And admit it, even though such looks don't look natural, the regal flair and feel make it totally appropriate for not only casual wear. Of course, highlights are the best technique to recreate the spectacular color combo. Besides, you can add some more individuality to the popular combination by blending pink and purple hair. As you can see, pink, blue, and purple go ravishingly together.
Source: rachelturleybeauty via Instagram
Indigo And Purple Bob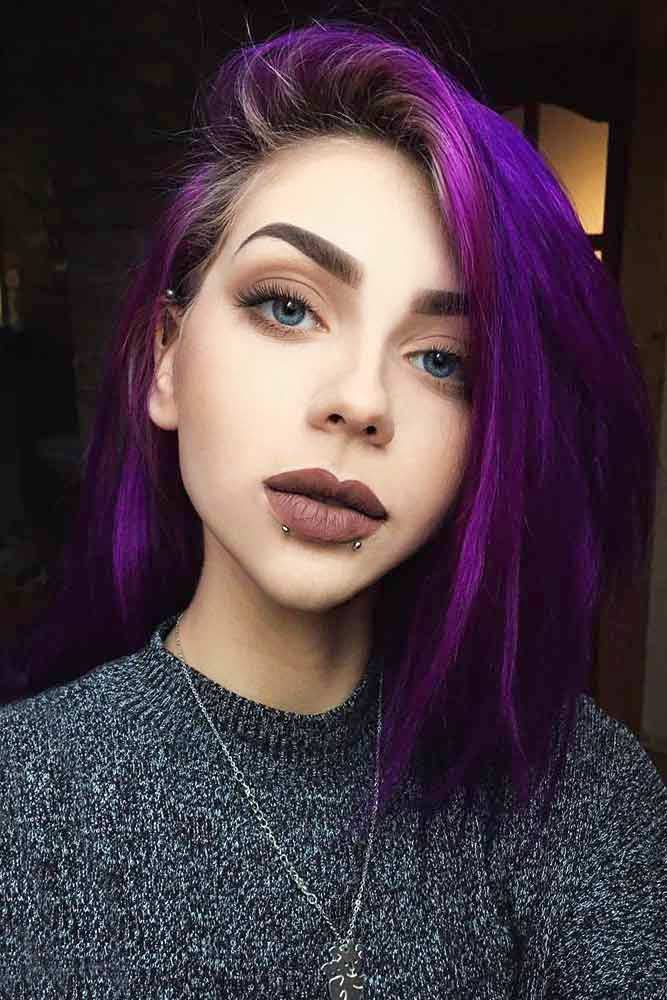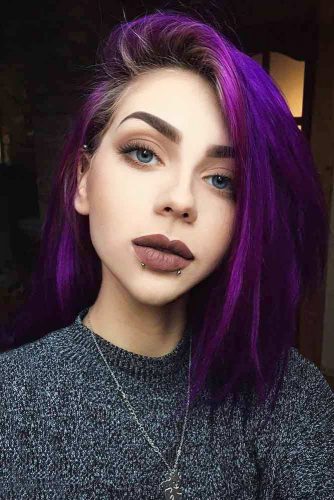 Purple blue hair has many faces, so it may come into your life in lots of different ways. There are variations where the deep purple hair shade prevails, letting the blue run over the main color like a tint. Consequently, there are options that make the blue shade the highlight, leaving purple to act as a soft layer that shows up when the sun shines down on it. And finally, some ideas combine the two shades so perfectly and smoothly, that they form a single whole, complementing one another. No need to mention that this bob is the look we're talking about! The best thing is that the roots are left dark, which means you will save your hair from whole lotta damage.
Source: lastfeastofthewolves via Instagram
Purple Rainbow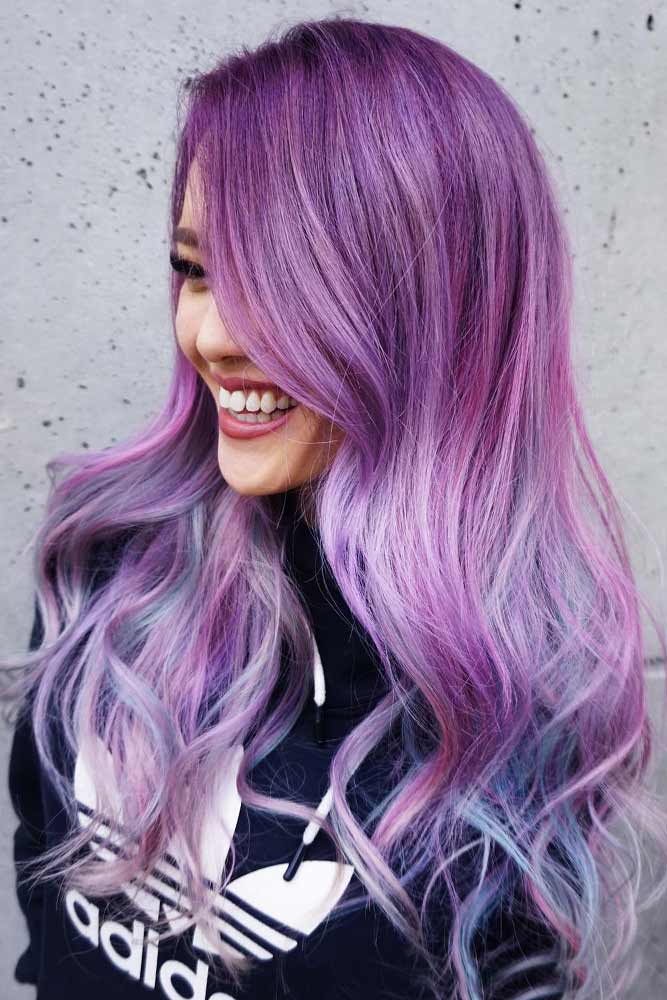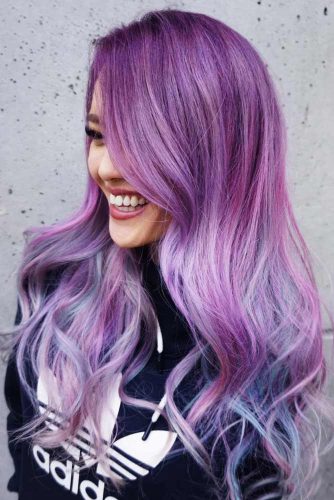 When you think of long purple hair, what comes to your mind? We associate it with a canvas for letting our purple imagination fly and creating a rainbow of the most pleasant purple shades. Since purple hair color has a hue for every girl, you can pick the ones that appeal to you the most and let them stretch down from your roots to the very tips. The darkest shade on roots will visually create lift on the crown, and the rest of the hues will add the needed dimension. In this case, ombre will do the trick. And your task is to make sure all the colors blend smoothly.
Source: evalam_ via Instagram
Nightfall Layers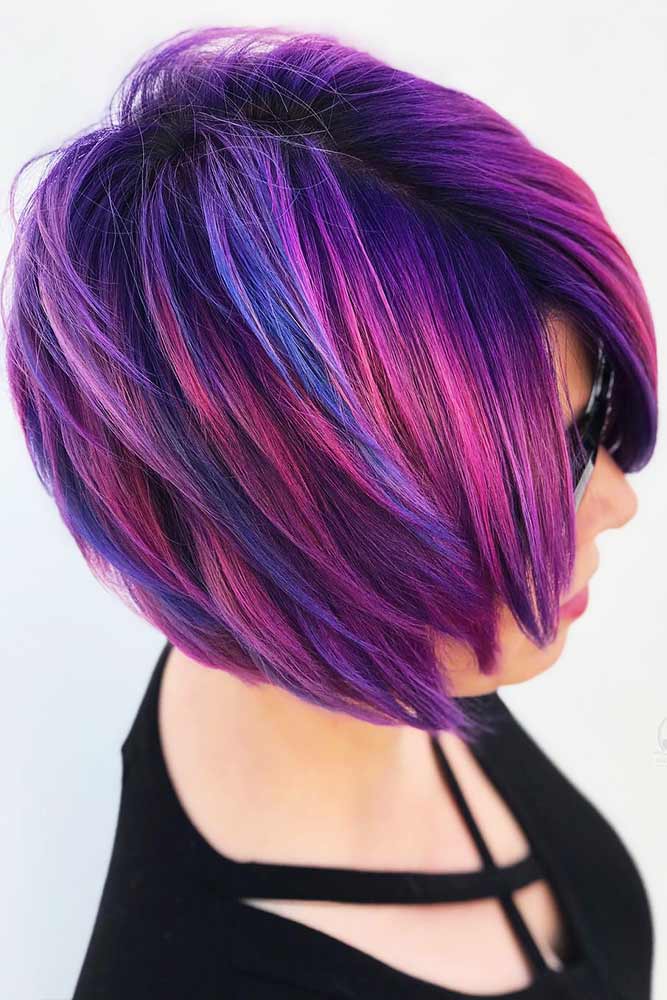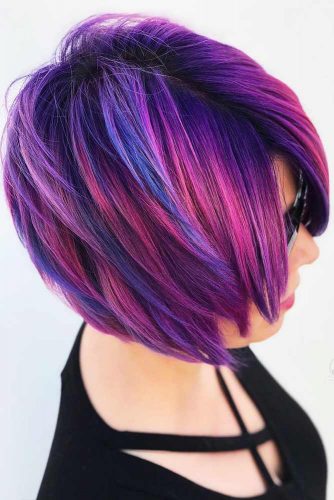 By the way, short purple hair doesn't take a backseat! On the contrary, it never limits you in terms of color transformations, and can feature as many new shades as your soul desires. How about you to give a fresh take at the timeless duo of blue and purple hair? Some more pop colors like pink and fuchsia and distinctive highlights are all you need to bring this idea to life. And don't forget about layers: they have the power to make highlighted hair stand out even more.
Source: bottleblonde76 via Instagram
Galaxy Highlights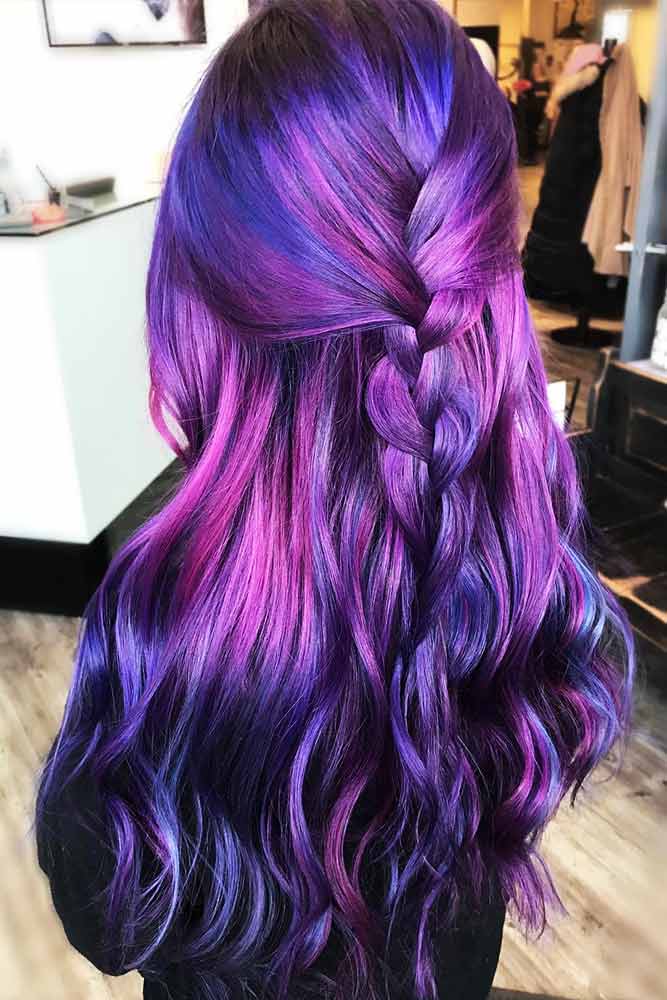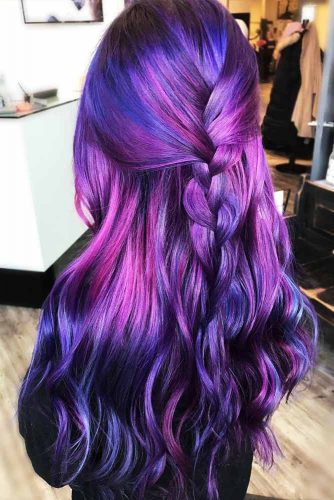 Purple and blue ombre hair is designed to help people get closer to the beauty that is hiding years and miles away from us in the endless space. You may wonder how do these purple and blue hair colors look as if they came from another world, resembling the colors of galaxy. Bright, well-blended highlights with a metallic tint are the secret ingredients of such an ethereal look! To make your hair look like the most amazing galaxy in the universe, let the brighter shade hit the mid-lengths, surrounding it with the deeper hues on the ends and roots. As for metallic hue, it should cover the surface of the whole length to create fantastic shine.
Source: shmeggsandbaconn via Instagram
Amethyst Highlights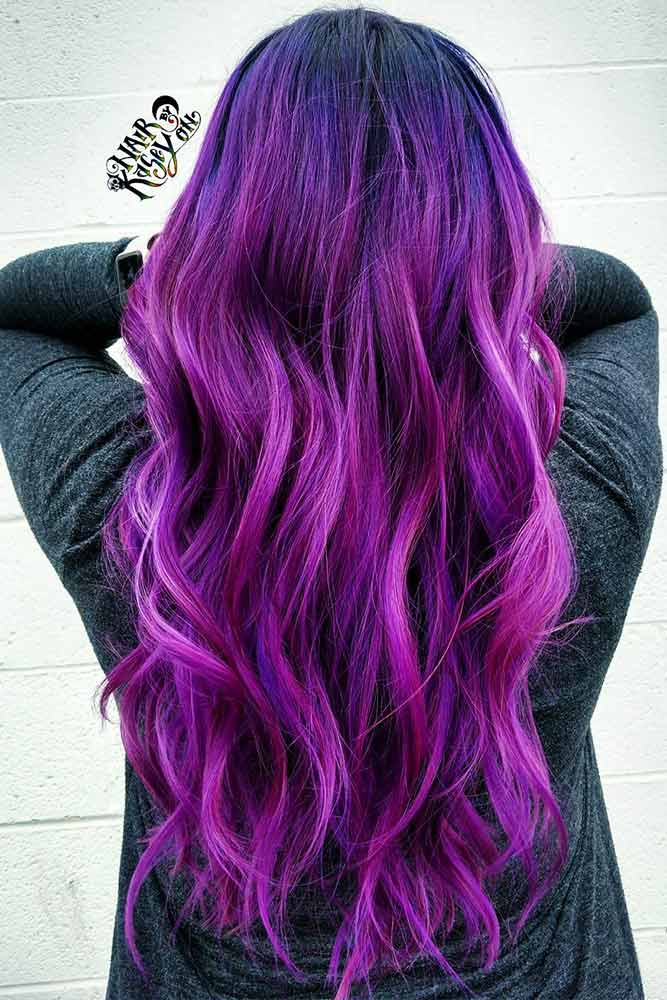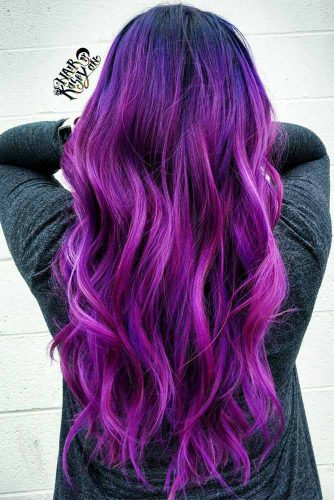 There are lots of legends about amethyst as a precious stone. Most of them describe it as the drunkenness protector stone that ancient Romans would use to sober up. What we can tell you for sure is that its hair version is just the opposite of its long-tailed legends: the magic of shades of purple hair that looks like amethyst can really make people drunk. Who would've thought that purple ombre hair would turn out to be so aesthetically attractive that it could leave people speechless? A smooth transition from your natural roots to a deep purple hue is the first step to reaching this look.
Source: hairbykaseyoh via Instagram
Purple Hair With Dark Roots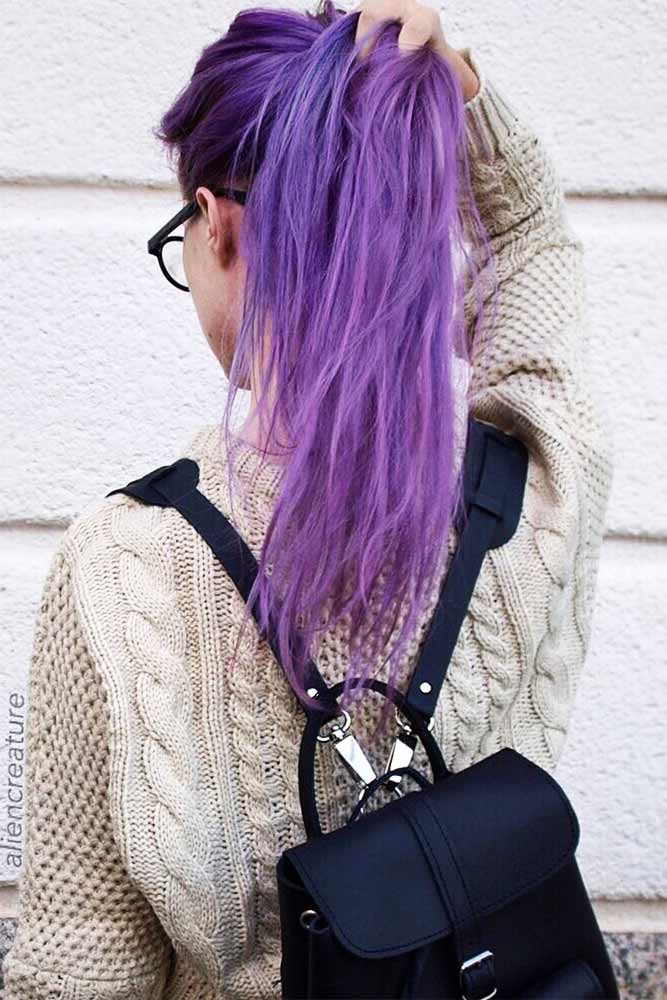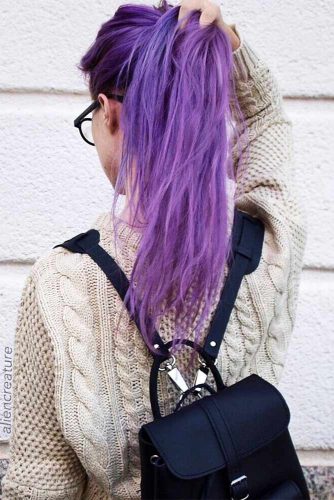 Leaving your roots dark when joining the club of girls with purple hair is not only stylish but also a practical idea. Besides trendy dimension that the added color and your dark base can create, you can benefit from them by saving your hair from much of the damage. It's no secret that all colors that require bleaching are always accompanied by dryness and dullness of hair. But, if you leave the roots dark, it won't be a problem anymore, as you can always revive your ends and mid-lengths by treatment or simply cutting it shorter. Besides, dark roots give a lot of visual depth, which makes all purple hair styles more fascinating and attention-grabbing.
Source: aliencreature via Instagram
Pastel Lilac To Bright Lavender Fade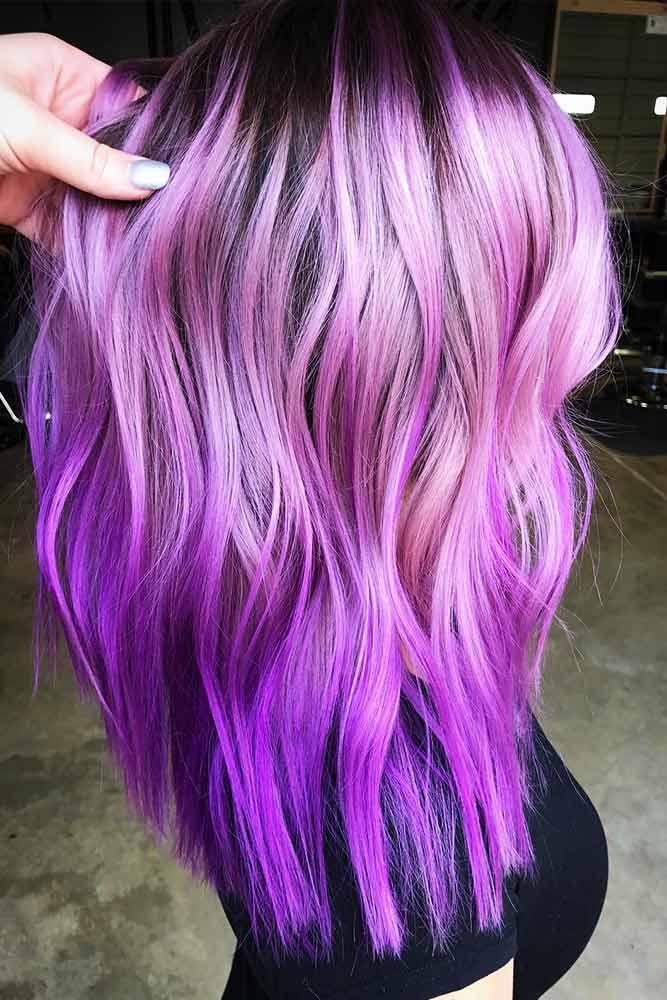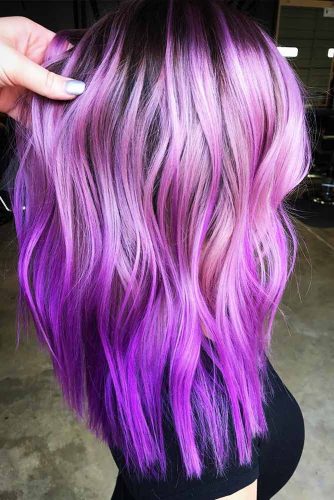 While real flowers are destined to leave us in less than a week, floral-inspired hair colors will go away only when you want them to go. Lilacs and lavenders are probably the most tender, cute, and hence popular blossoms today. So why don't you express it with your hair color? Light purple hair dye mixed with purple highlights on black hair will help you to do that. Since lilac shades are lighter by default, use them as a base. Then, use saturated lavender hues to highlight your hair, thus making your hair color more dynamic. Of course, it's better to leave the roots dark: some dark color on top will only complement the ensemble.
Source: shmeggsandbaconn via Instagram
Blended Orchids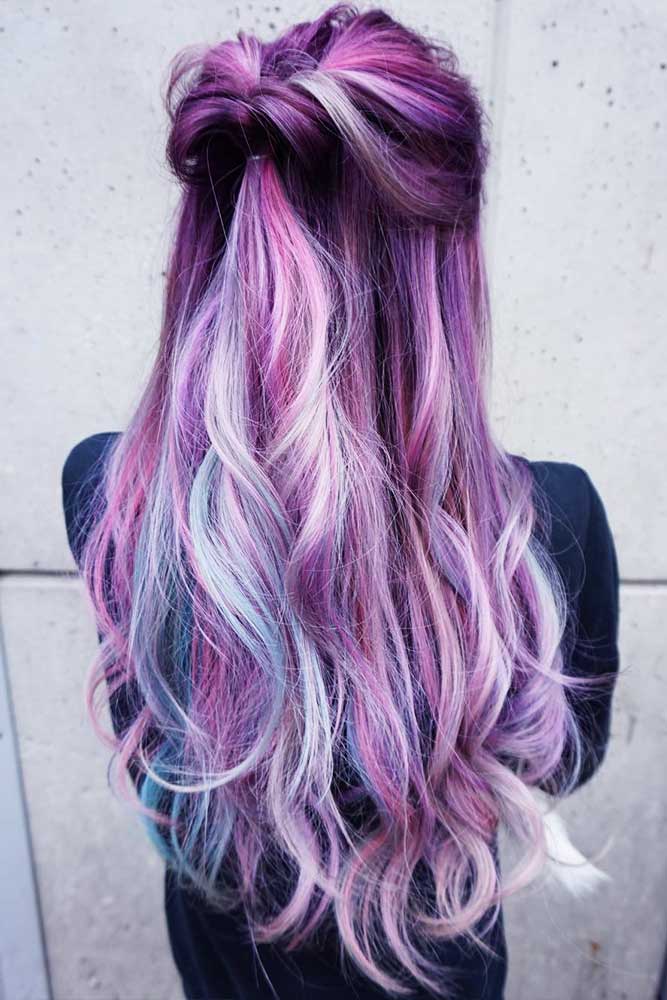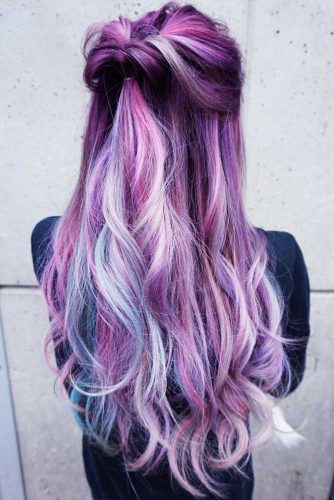 What happens if you put purple, blue, pink, and white orchids in one vase? You will create a beautiful centerpiece for your dinner table. And what happens if you mix purple, blue, pink, and white orchid shades on your long mane? You will create a beautiful masterpiece of purple colored hair to rock this season. For such an astonishing color job, highlights will be the best way to make it real. Once you give it a try, you will see how perfectly purple and white hair can blend together.
Source: evalam_ via Instagram
Magical Down-Do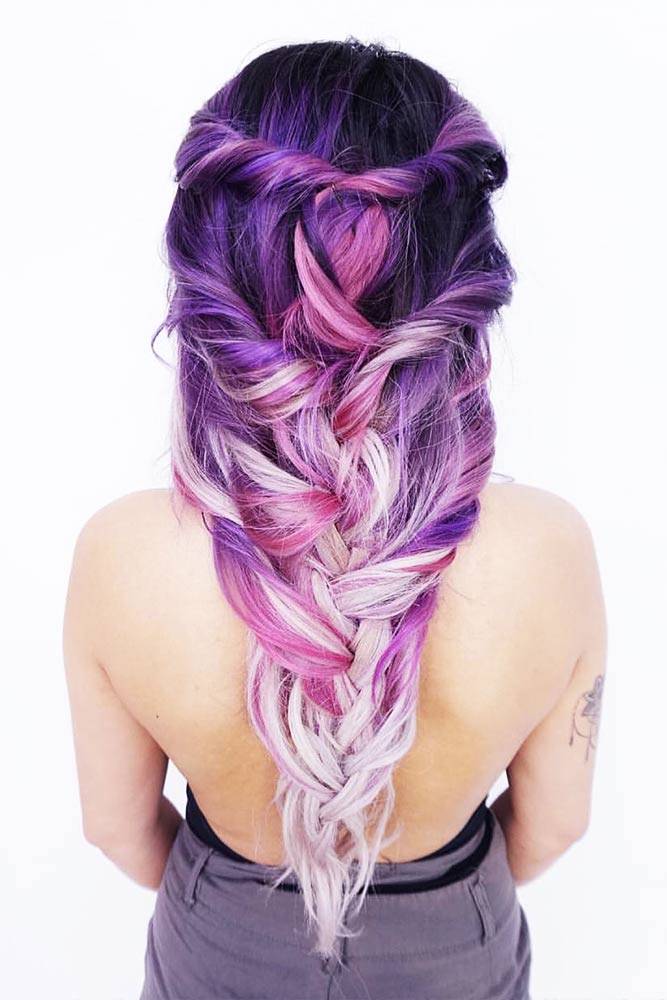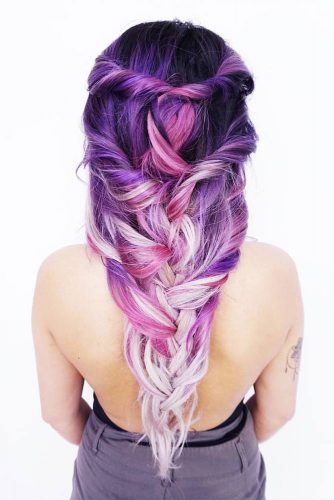 When you are about to show up with a super unique long down-do, new hair colors are what can make your look even bigger. This breathtaking updo looks like a hair dream come true for two reasons. First, it has an outstanding texture. Second, the way this ombre purple hair complements the details of the look is just to die for. Rose, lilac, white, and violet hair shades blended distinctively can help you amp up your updo, whether it's super simple or voluminous and complex.
Source: evalam_ via Instagram
Pastel Lilac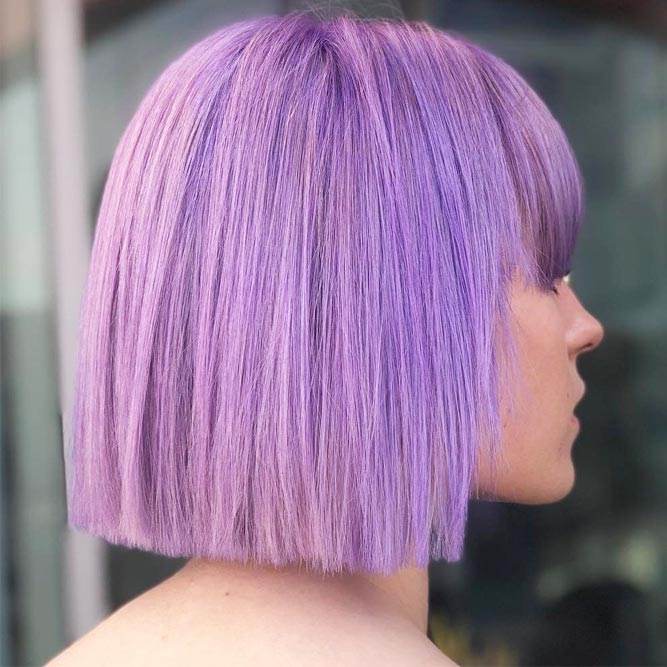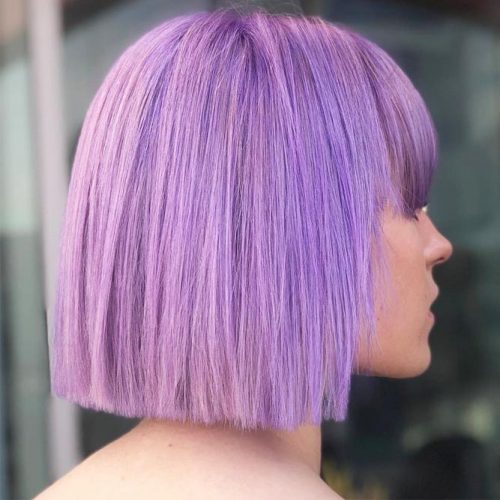 Pastel hair colors seem to have taken the world of fashion, appearing on celebrities and models flaunting on runway shows. Well, not for no reason! Wearing pastel purple hair, for example, is a nice way to go for bright changes and don't look too drastic at once. Workplace dress codes are the main reason why ladies stay away from coloring their hair bright shades, and that's what their pastel versions can handle. Such light purple hair ideas will work wonders, complementing any outfit and looking absolutely appropriate for college or office. Still, there's one thing you should keep in mind: it works best on fair to medium complexions.
Source: doug_theo via Instagram
Molten Purple And Lavender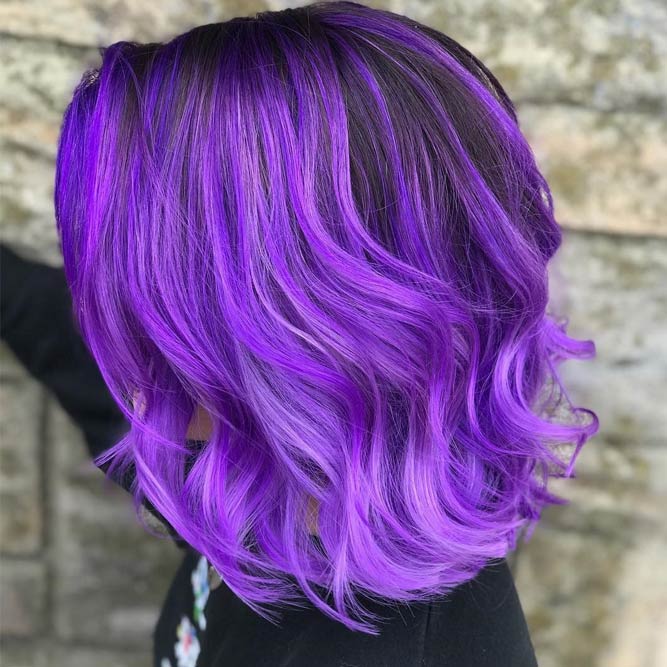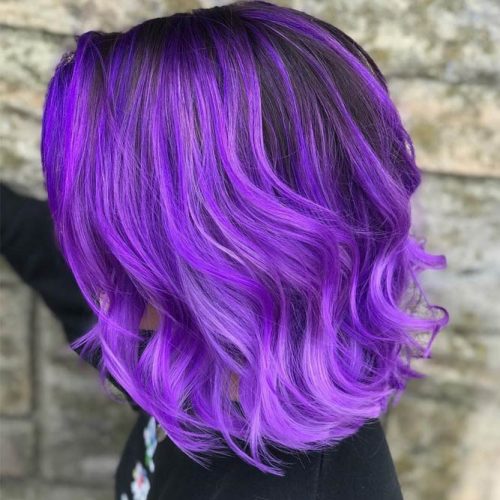 Another short dark purple hair look that you won't ever be able to forget. The colors are so vibrant, deep, and vivacious that they simply dive into your mind, becoming a real purple obsession. The good news is, waves look more bouncy on shorter hair, which means they can enhance the dimension created by the colors. Also, let's not forget that black and purple hair colors go extremely well together, so if you have naturally dark hair, you can make things even better by leaving the roots as they are.
Source: hairby_milly_mermaid via Instagram
Light Lavender Ombre With Dark Roots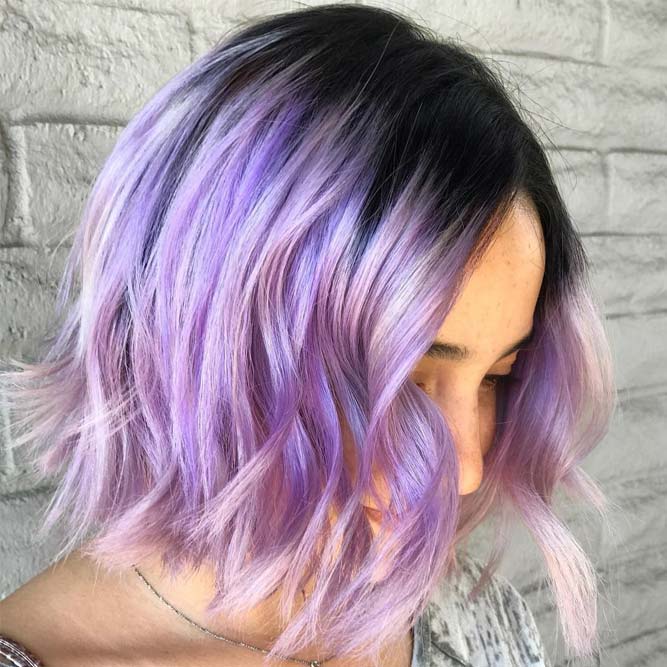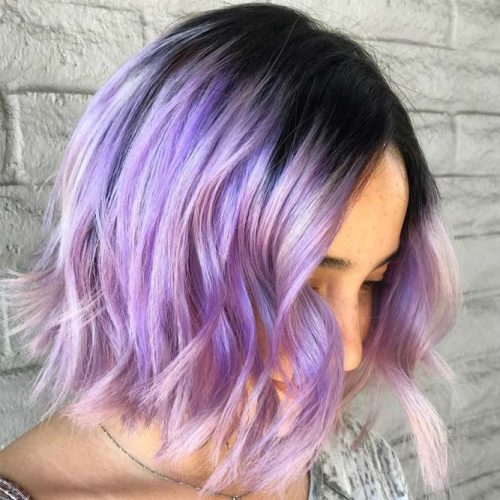 Meet the most enviable purple ombre short hair could ever bring to life! Although the color isn't too saturated, it still doesn't look dull or faded. First off, the contrast between dark roots and light purple highlights makes the whole look more alive and thus shinier. Second, the combination of ombre near the roots area and highlights on the mid-shaft gives a sense of total harmony and unbearable dimension. See, the more details you experiment with, the better!
Source: glamiris via Instagram
Do you like these miraculous purple hairstyles? Now when you know how to get one, we sure you'll rock it.