Have you ever wondered how to do makeup so that it is flawless? To tell you the truth, there is nothing complex about that. All you need is the right products at hand. Finding the ideal products may take a while but the result will be totally worth it. Glaminati.com team collected all the most important information to achieve a perfect look.
How Do You Apply Basic Makeup?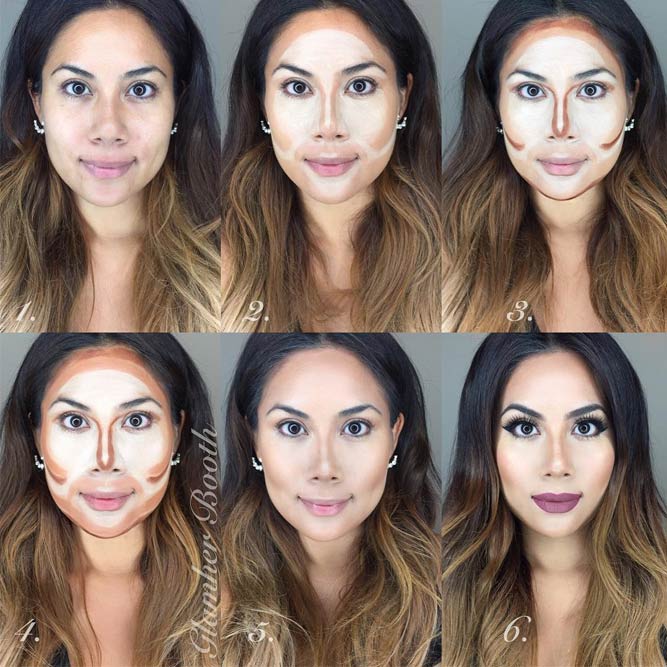 Source: Instagram/glamher_booth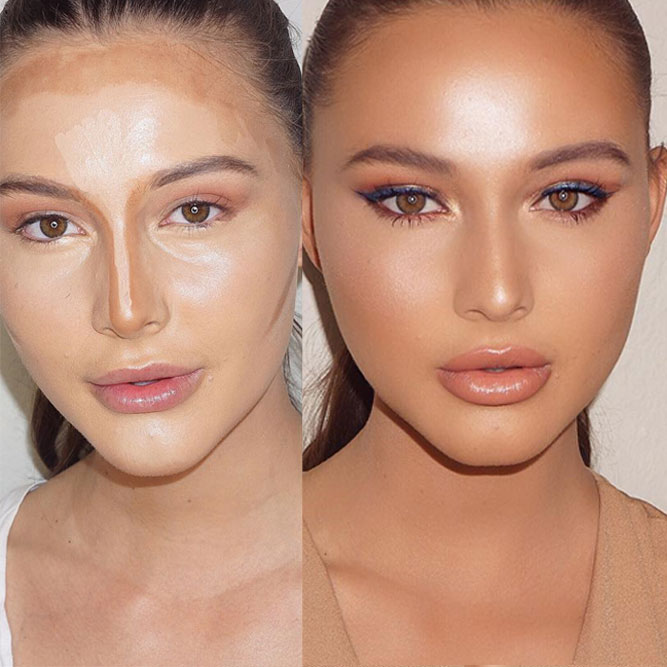 Source: Instagram/josecorella
Very often, the question of how to do your makeup so that you look fantastic arises. However, the truth is that the most complex routine can be not that awarding after all. We say that the basic makeup routine is the one to embrace at first, and then you can enhance and upgrade it according to your needs. We are going to list all the basic steps to take to succeed with simple yet flawless makeup. When applying makeup what goes on first? First and foremost, always clean your face before putting on makeup. Washing your face is your key to success!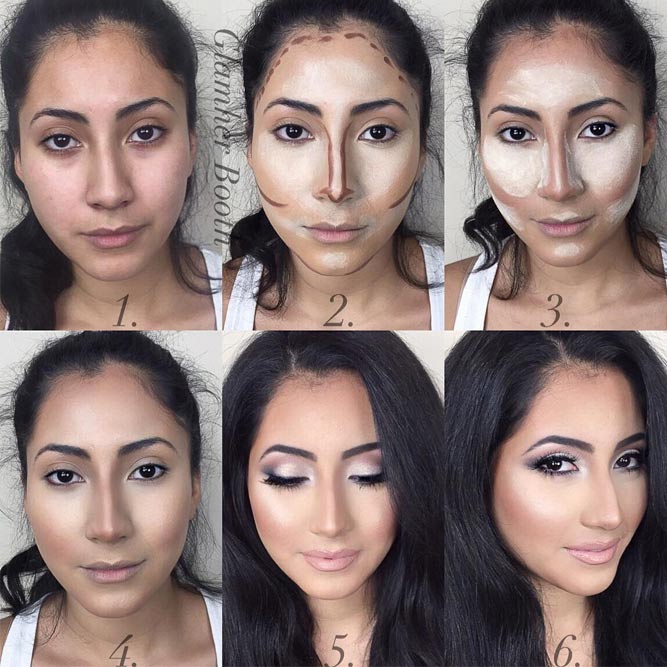 Source: Instagram/glamher_booth
Moisturizing
According to known makeup artists, moisturizing is the key. The better moisturized your skin is, the better it absorbs all the makeup products and makes your look flawless. You can use either your fav moisturizer or a primer, or even both.
The brows
If you find your brows to be the most complex step of your routine, it is best to start with them and then proceed with the rest. However, the step is optional, depending upon your preferences.
Foundation
Now, it is time for the foundation. You should choose the type that fits your skin color best.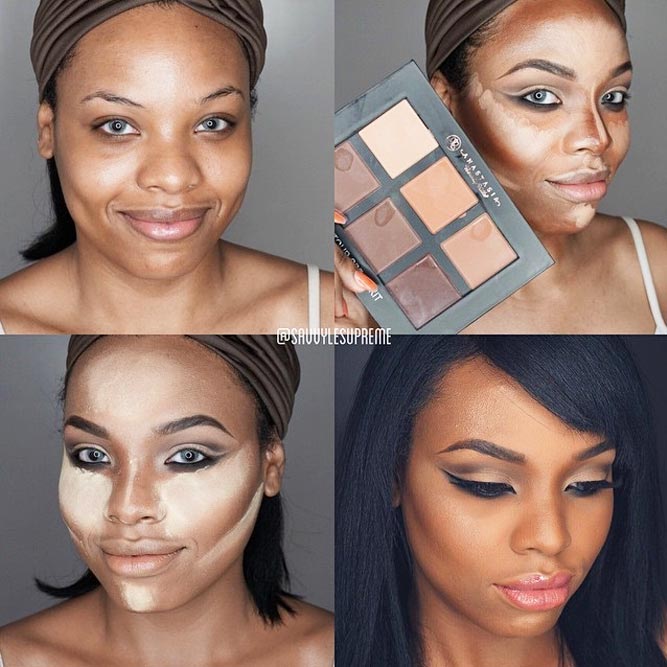 Source: Instagram/savvylesupreme
Concealer
If there are any dark spots to cover, then you should use some concealer too. It is best to use concealer after the foundation is applied so that the products mix well, and nothing looks overdone. Usually, it is advised to use the concealer under your eyes, which is a tone lighter than the foundation itself. Read about the best MAC foundations that we've prepared for you..
Eyeshadow
The eyeshadow step is a tricky one since it usually depends upon the look you want to achieve. It can be natural makeup or a smokey eye look that you intend to achieve. So, the choice is yours.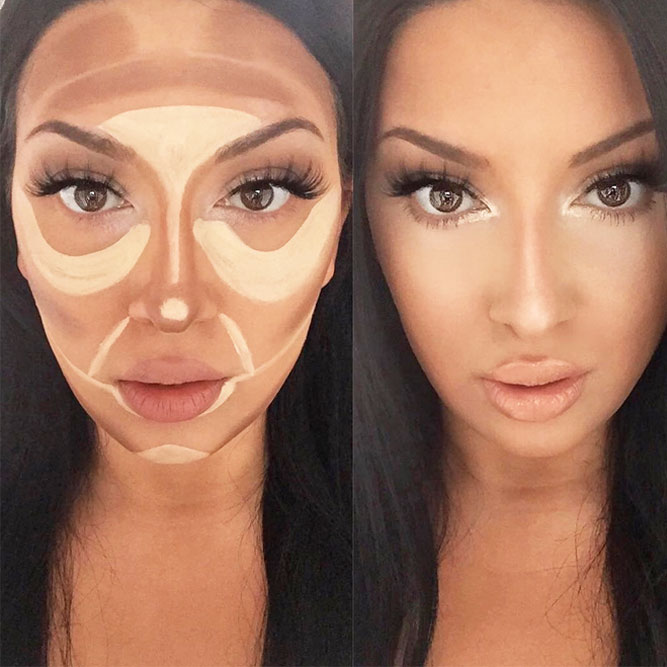 Source: Instagram/kiisbeauty
Liner
It is always a good way to emphasize your eyes with an eyeliner. You can experiment here too. If you want a more complex look, then a winged eye it is, if you wish for something simpler, then a mere lining of the upper lid would be enough.
Blush
You shouldn't forget about some blush that adds color to your face. However, you need to determine your face shape first so that you are 100% sure as to where to place it. Also, choose the blush color that fits your skin tone best.
Highlighter
The highlighter step is a little bit more complicated since there are a few areas to apply it to. First of all, you need to highlight your cheekbones, then move to your brows and nose.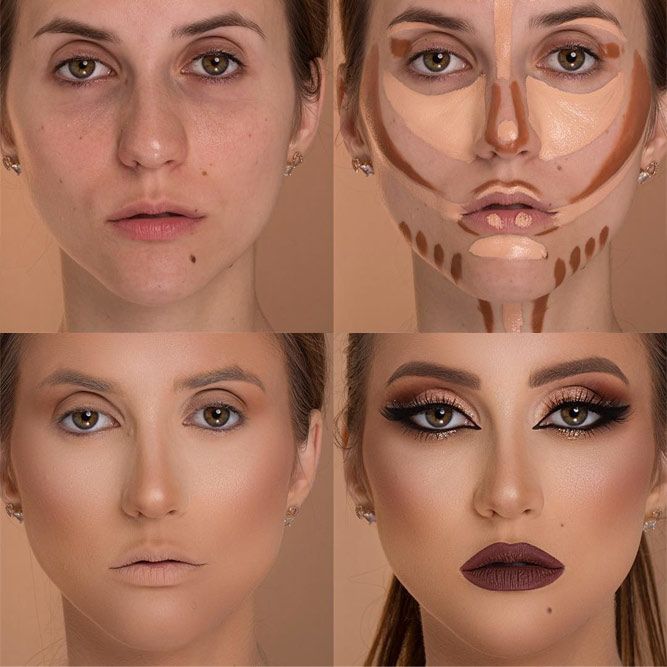 Source: Instagram/samerkhouzami
Contour
The truth is that there is usually no need to contour your face on a daily basis. However, if you feel like it, it is best to do it when all the rest of the makeup is done. In such a way, it is a lot easier to blend everything and get a perfect result.
Lip
To make your lipstick last longer, it is essential that you use a lip liner as well. You can opt for any shade that you see fit.
Setting spray
There is not a chance that you would want your makeup to melt, that is why a setting spray is a must.
What is needed in a makeup kit? What do I need for a full face of makeup?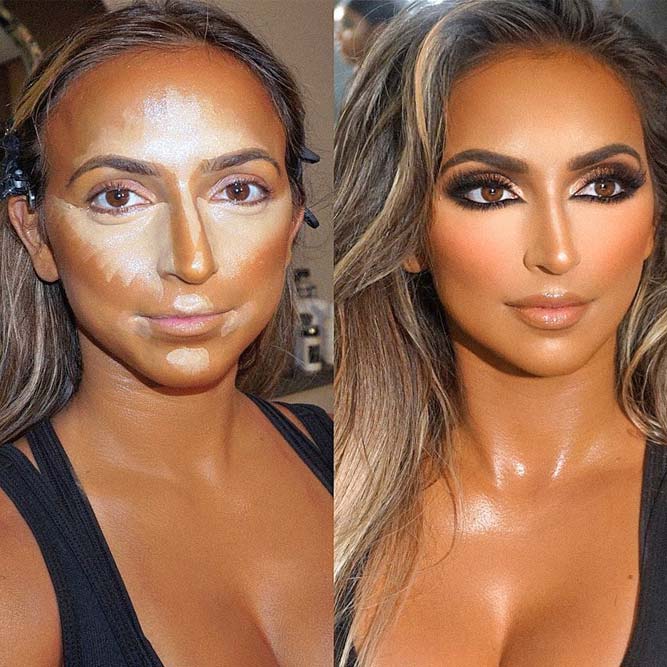 Source: Instagram/paintedbyspencer
Just after you learn how to do makeup for beginners, you need to think about what your makeup kit may be missing. So, today we are going to list of the necessary items that every lady's kit should contain.
Primer – it prepares your skin for all that is going to follow.
Foundation – this is that one product that makes your skin tone look even and flawless.
BB cream – if you are a makeup newbie, then a BB cream is even better than foundation.
Concealer – in case there are any dark spots that you would like to hide away, concealer is the right product to help you with the mission.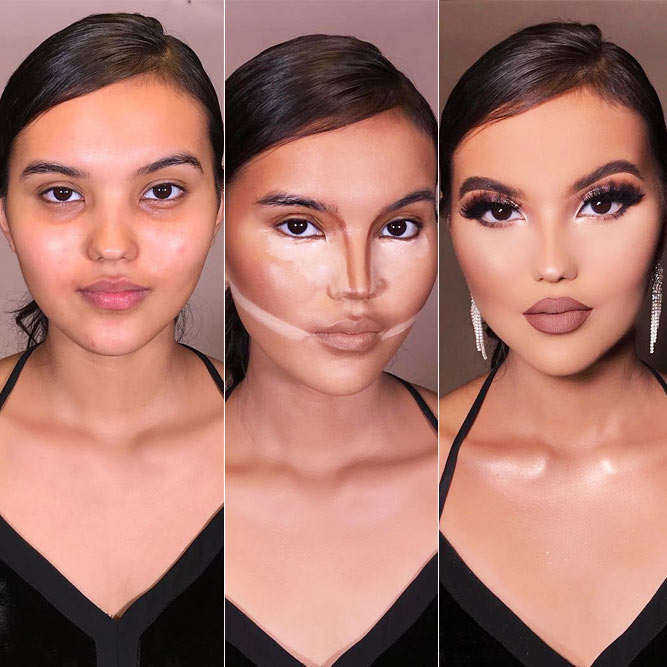 Source: Instagram/prilessamakeup
Blush – is that one makeup product that adds definition to your face.
Highlighter – it may be tricky to find the best-fitting highlighter for your skin tone, but once you do, you wouldn't take it out of your kit ever.
Bronzer – for a sun-kissed look, bronzer is irreplaceable.
Setting spray – if you do not want your makeup to meltdown eventually, then this item is irreplaceable.
Eye primer – just like in the case with the face, you need to prime your lids too.
Eyeshadow – it goes without saying that a set of your fav shades is supposed to be found in your makeup kit.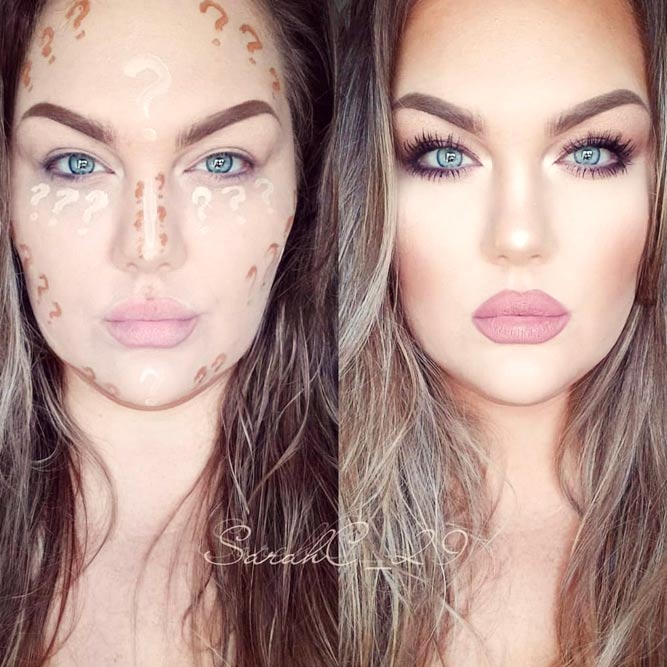 Source: Instagram/sarahc_29
Mascara – those who are not fond of false lashes need a good mascara as well.
Eyeliner – that is one of those items that adds the best definition to your gorgeous eyes.
Eyebrow product – it depends upon which type of products you prefer, but they should have a place reserved in your kit.
Lip gloss – the truth is that lip gloss is making its way back in fashion these days so that you can add one to the list too.
Lipstick – if not modern trends will make you go back to the lip gloss, make sure that all your favorite lipsticks are in the kit.
Brushes – it may not matter how many essentials you have in the kit if there is nothing to apply them with. That is why a set of brushes should be included too.
Lips Makeup Ideas Step by Step
We gathered a few makeup tips to make your life easier.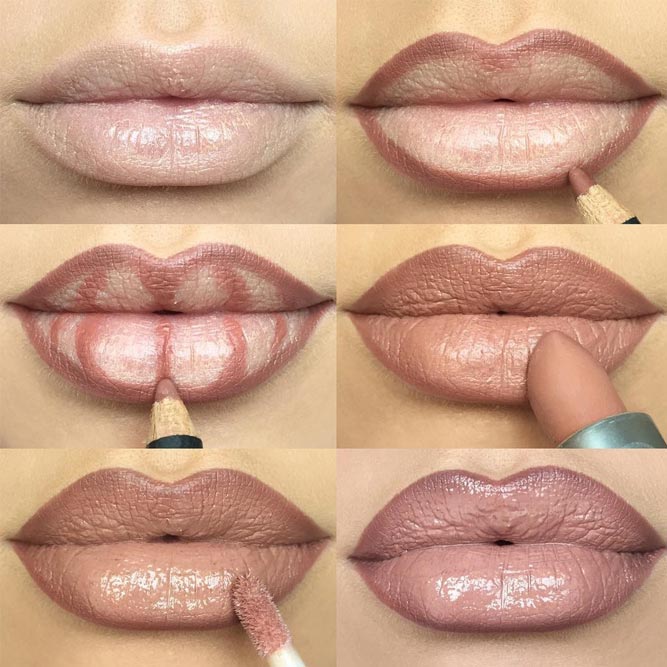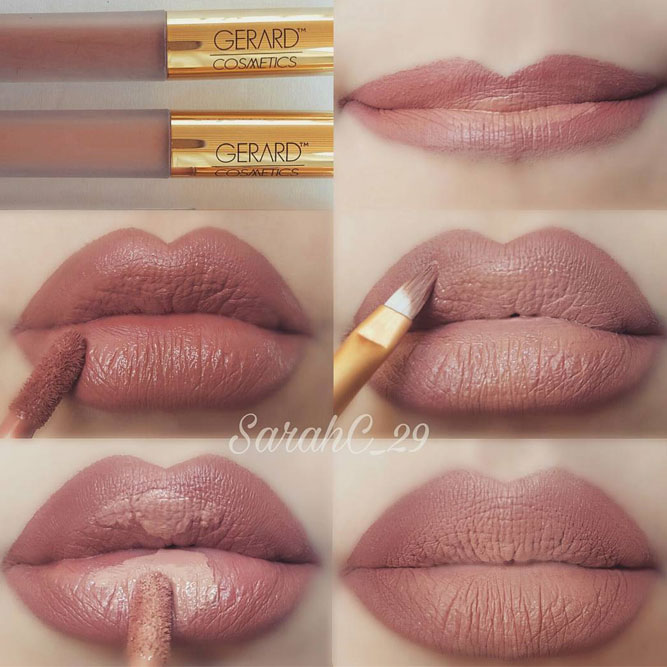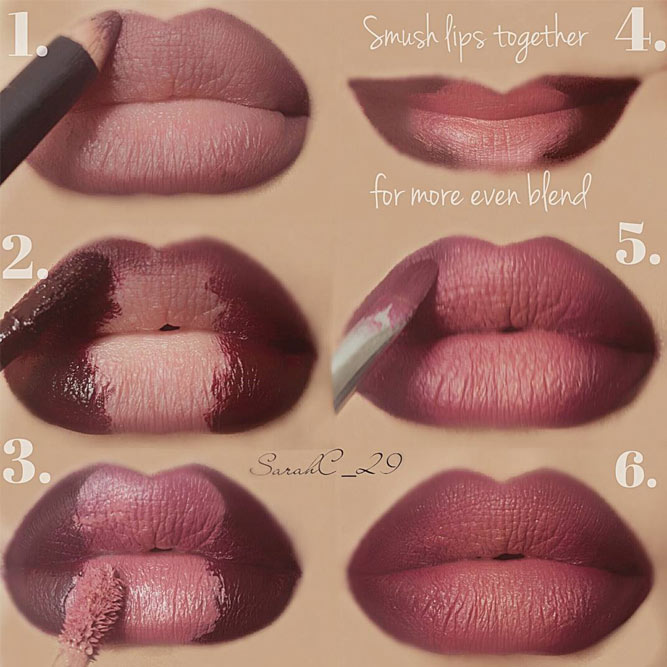 Source: Instagram/bella__makeup, Instagram/sarahc_29, Instagram/sarahc_29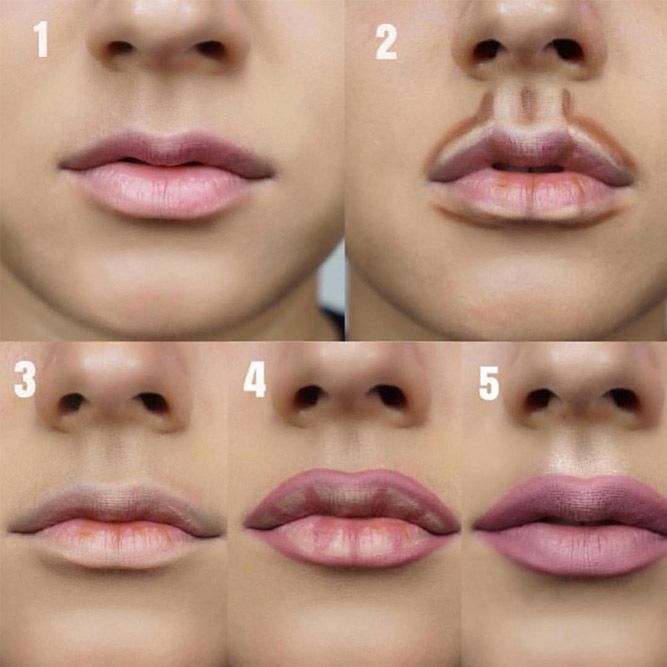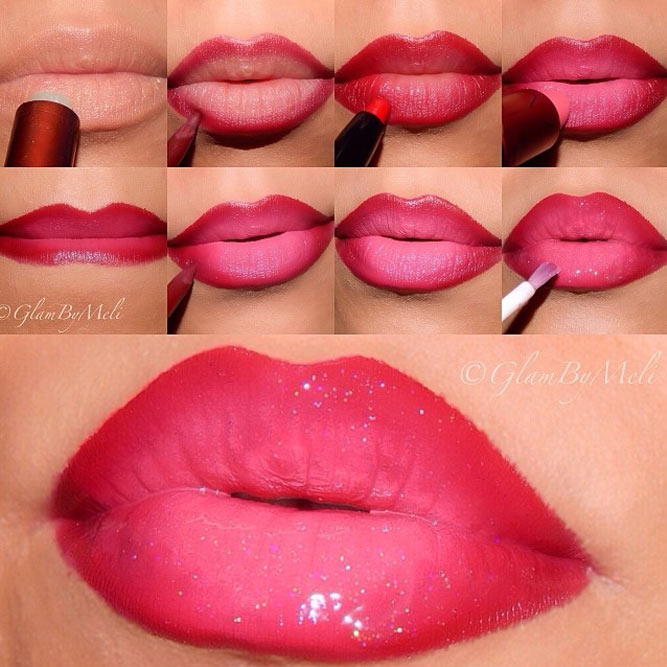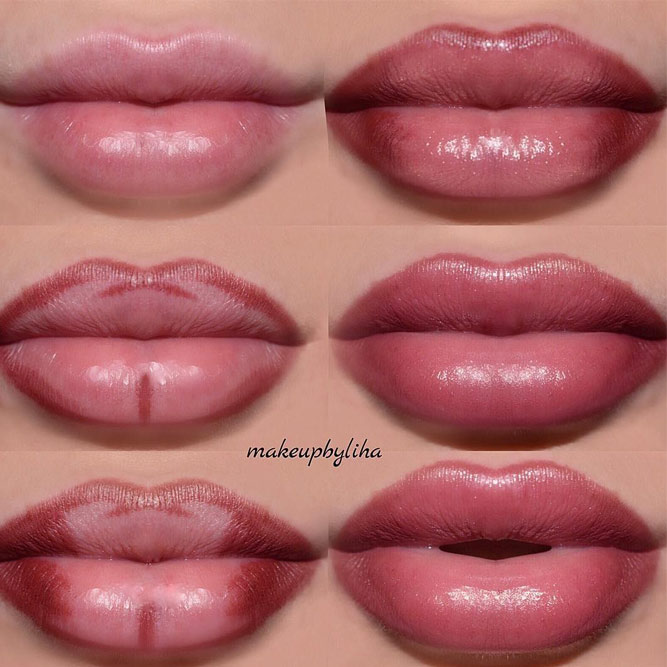 Source: Instagram/samerkhouzami, Instagram/sarahc_29, Instagram/makeupbyliha
There are countless suggestions on how to apply makeup but whichever you choose you need to bear in mind that moisturizing matters. The better care you take of your skin, the less makeup you will require.
Eye Makeup Tutorials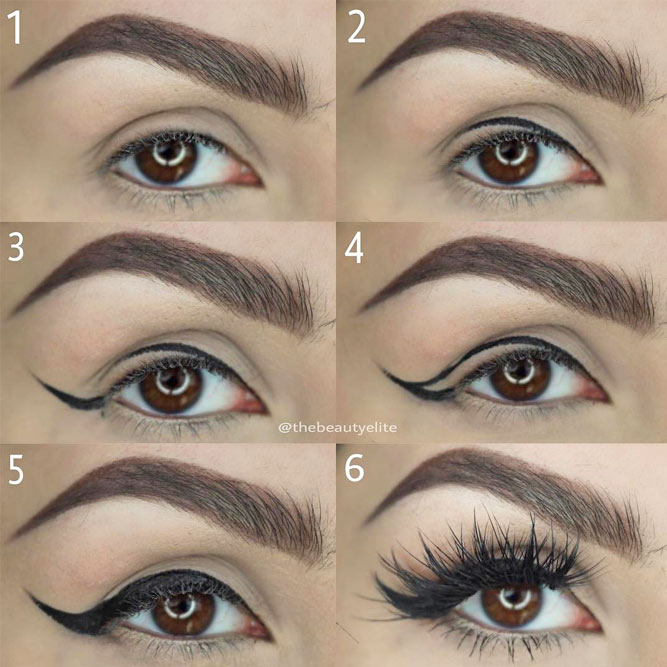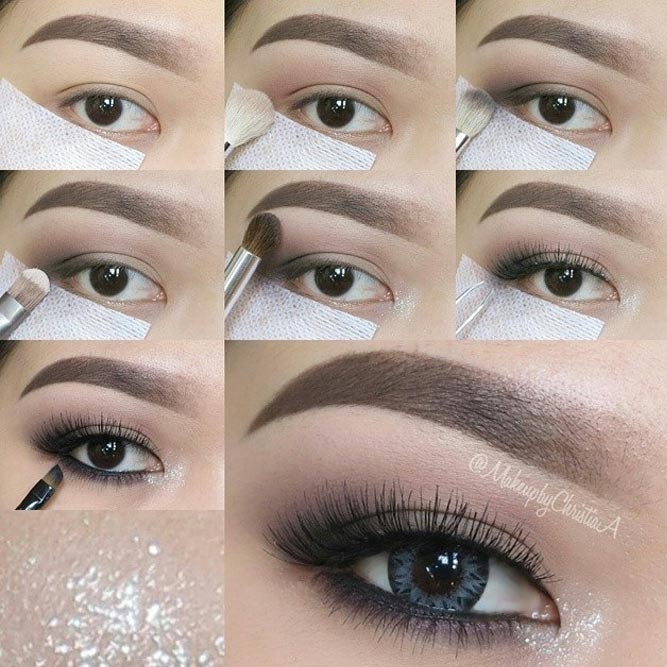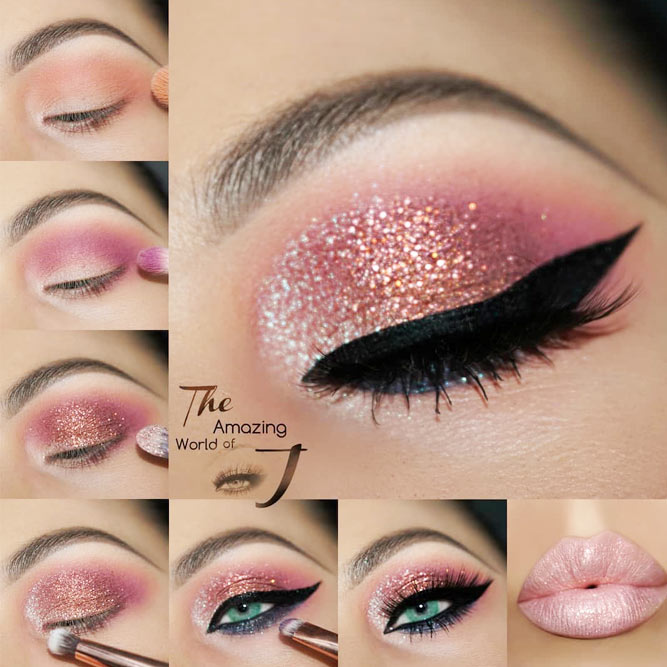 Source: Instagram/thebeautyelite, Instagram/makeupbychristiaa, Instagram/theamazingworldofj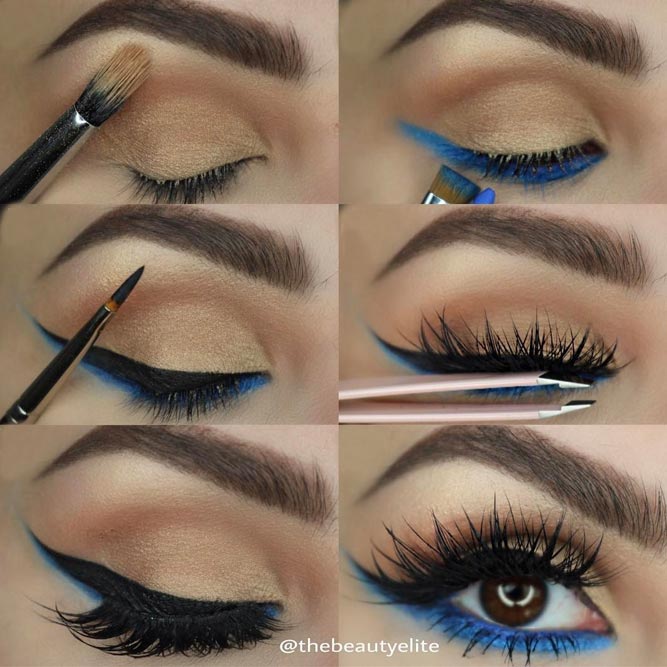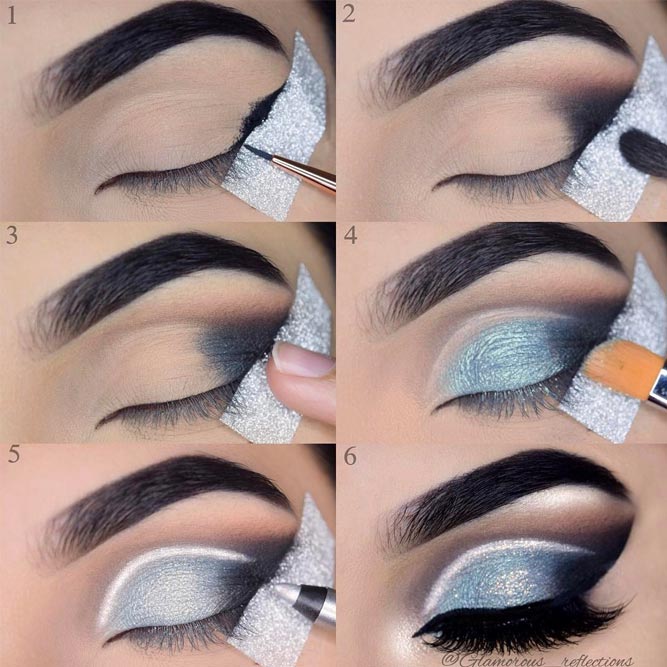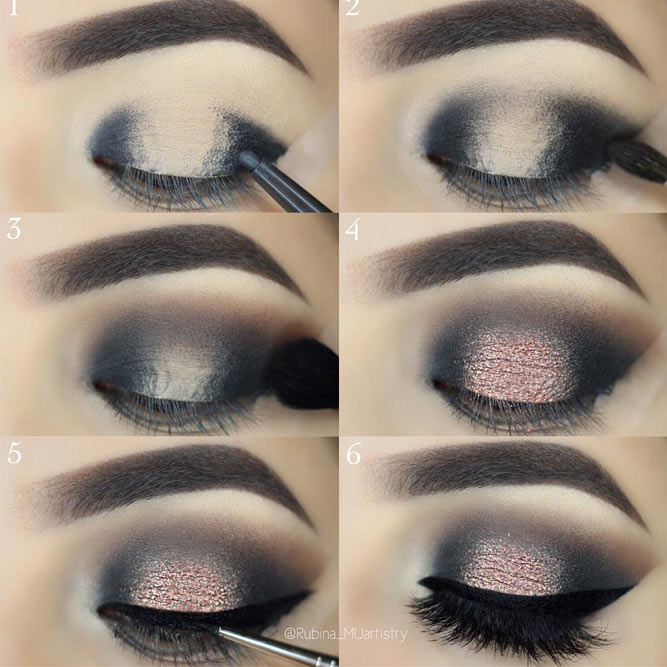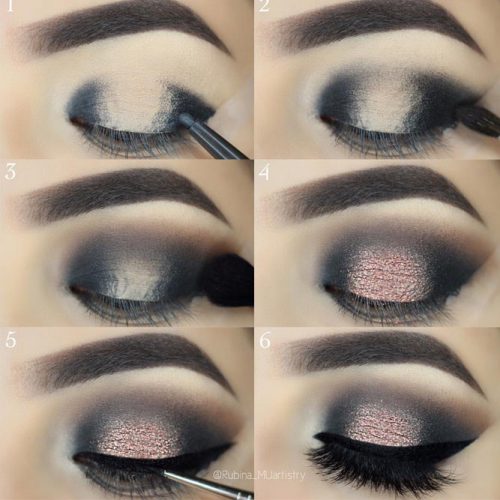 Source: Instagram/thebeautyelite, Instagram/glamorous_reflections, Instagram/rubina_muartistry
If you want to add more expression to your face, just put on eyeshadow. Of course, in order to choose the right tones, you will need to do a little research. But don't be lazy!
How to Contour Your Nose Like a Pro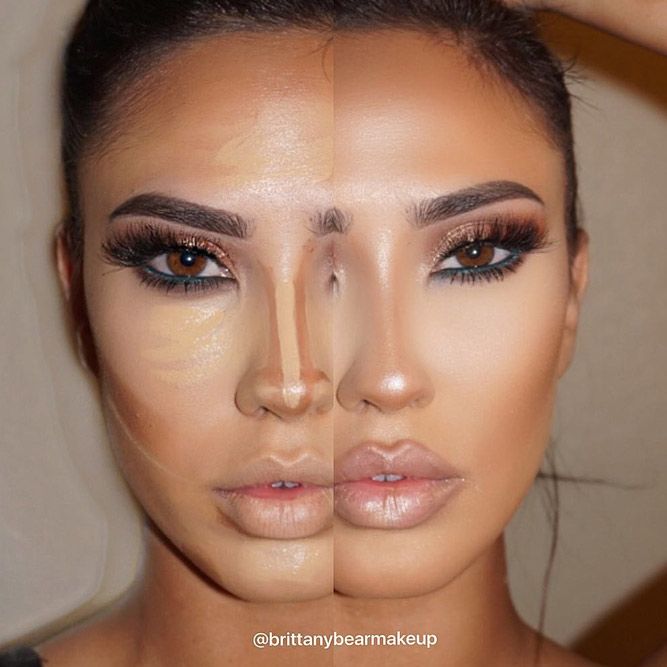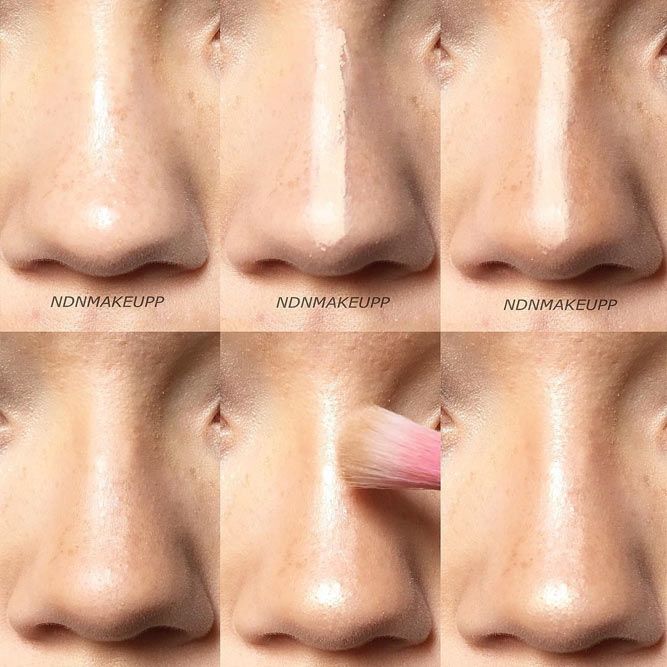 Source: Instagram/mua_nina, Instagram/brittanybearmakeup, Instagram/ndnmakeupp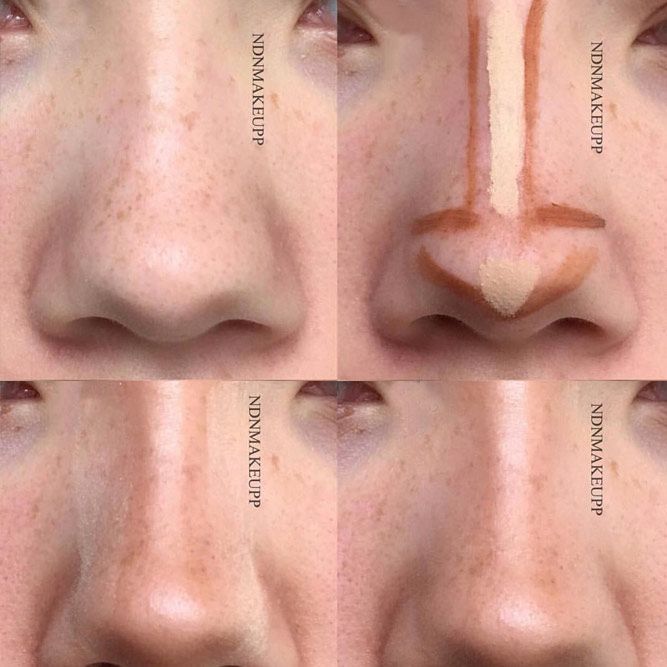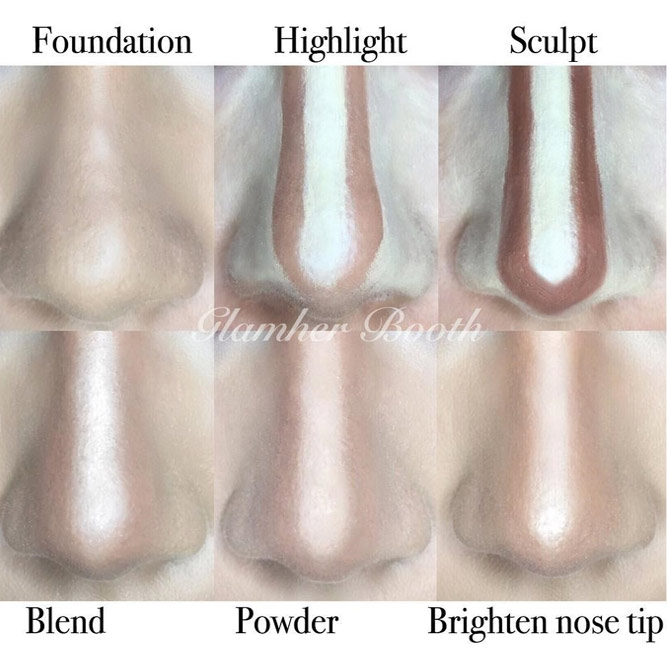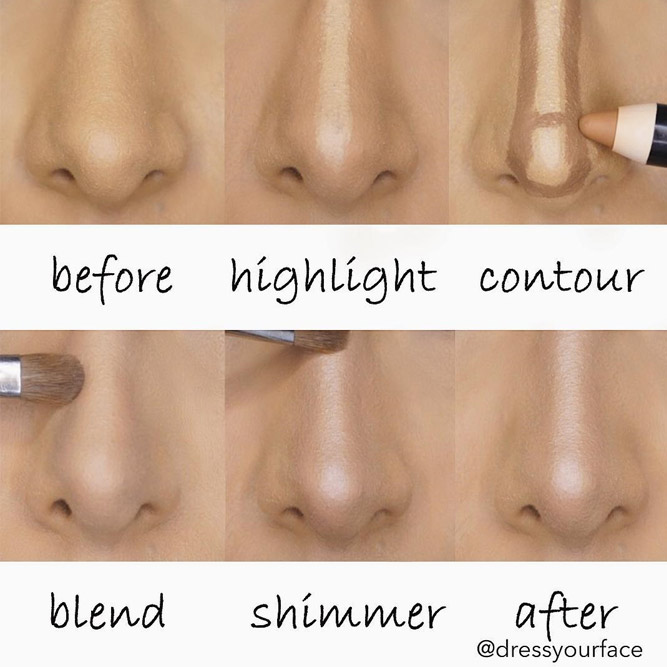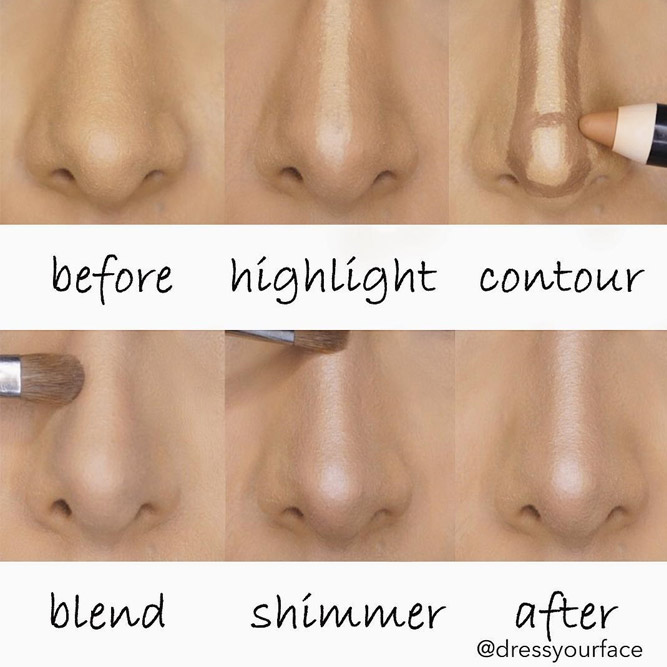 Source: Instagram/ndnmakeupp, Instagram/glamher_booth, Instagram/dressyourface
To finish your stunning look, do not forget about the lipstick. It will always add the necessary emphasis to your face. Do not forget that different occasions require different dress codes!
Contouring matters greatly. The thing is that there is no one-for-all contouring technique since all of us have different face shapes, and it is vital that you know yours before trying to succeed with contouring. What is more, it is essential that you take your skin tone into consideration too.
Eyebrow Makeup Tips
Source: Instagram/sdkmakeup, Instagram/basicgirlbeauty_, Instagram/thebeautyelite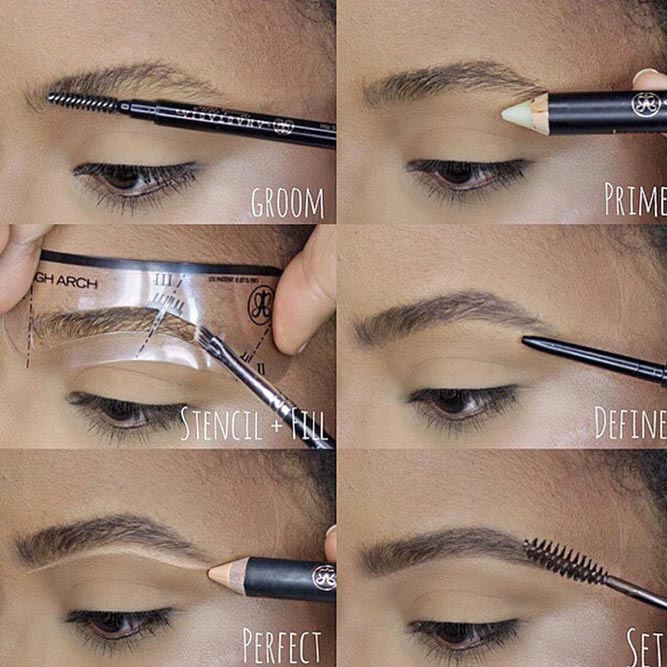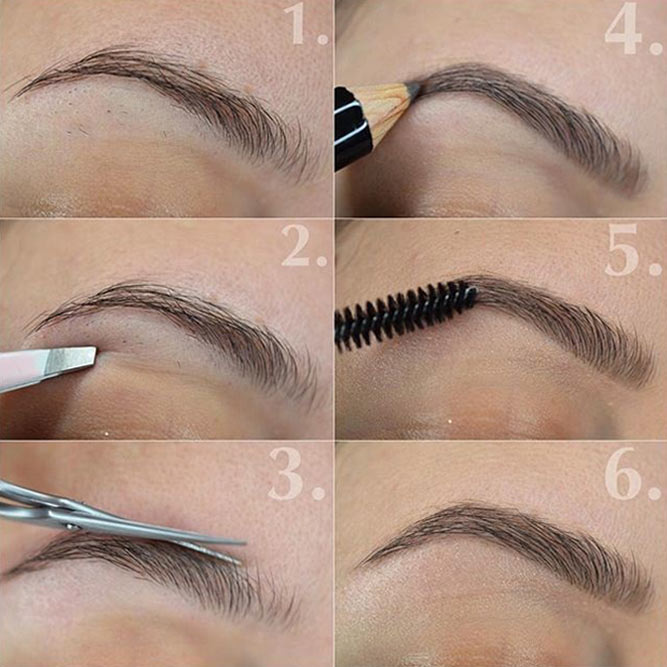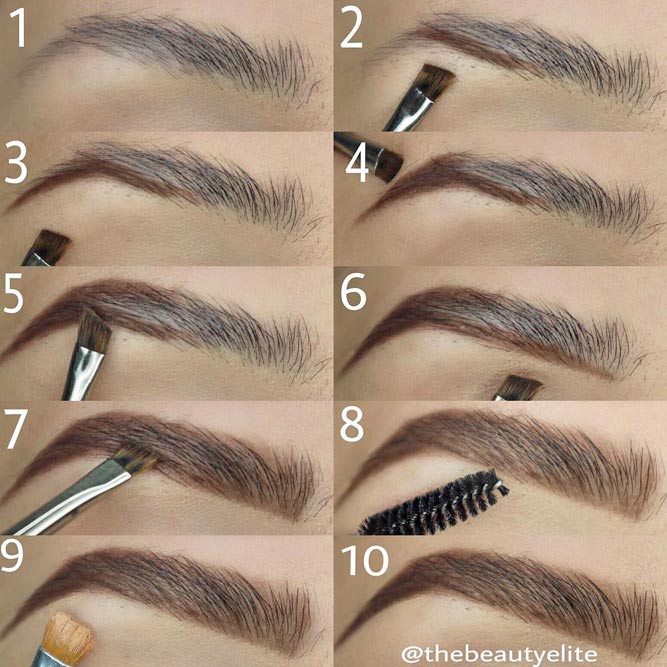 Source: Instagram/makeupbyliha, Instagram/rubina_muartistry, Instagram/makeupbychristiaa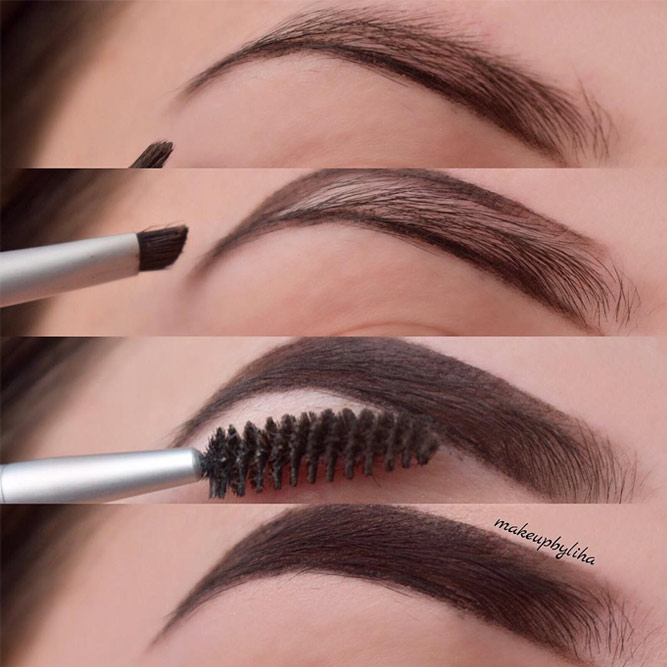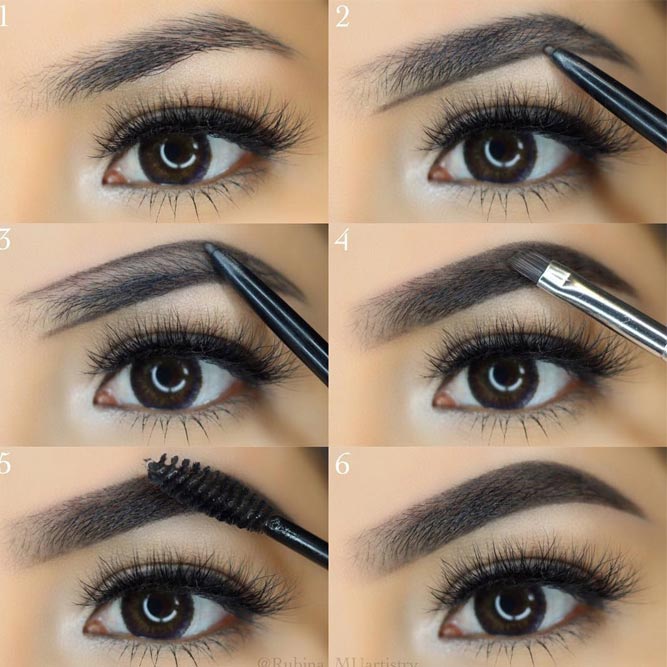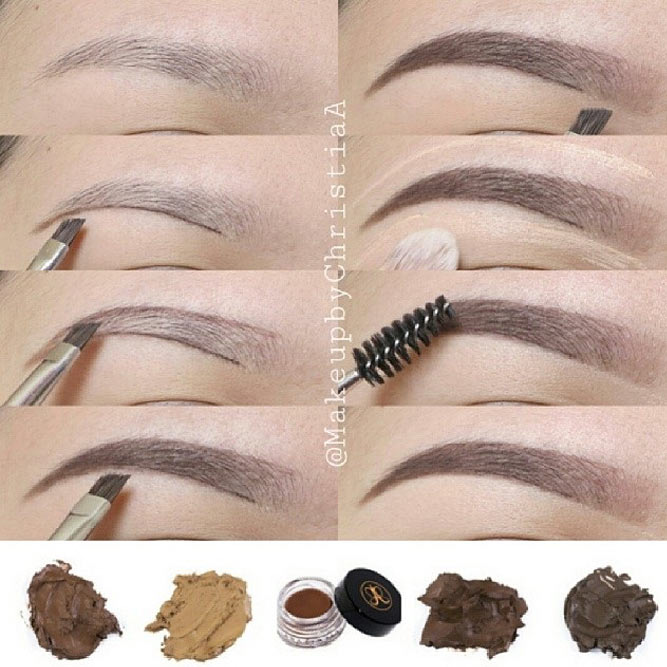 Fill in your eyebrows with light feathery strokes, making sure to accentuate and elongate your eyebrows as much as possible.
How do I remove makeup?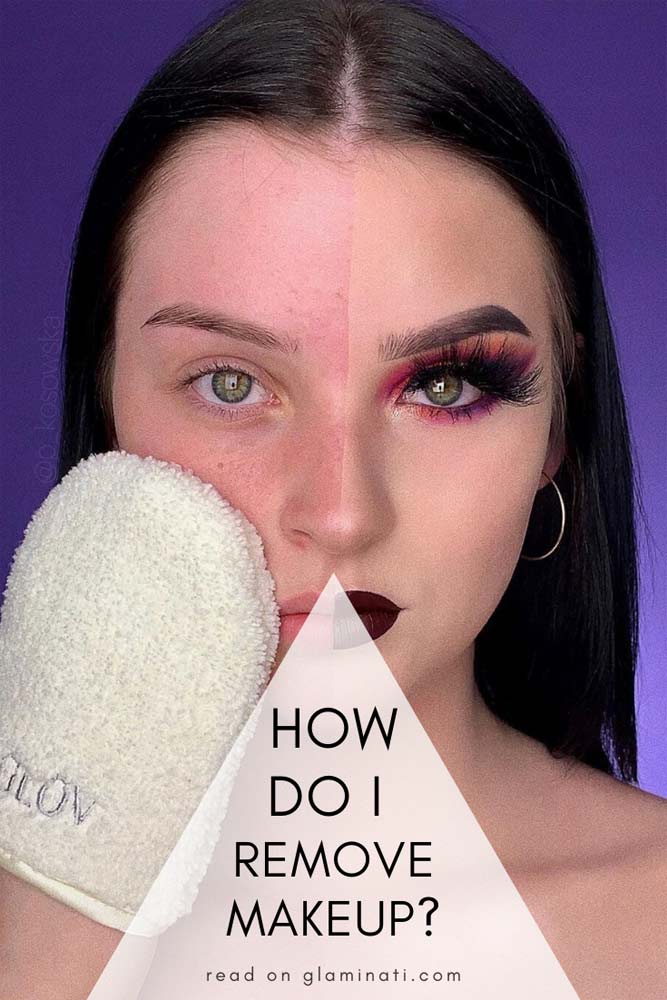 Source: Instagram/glov.official
It is never enough to know how to do good makeup. You need to know how to remove it as well. Just as great you look with your fabulous makeup on, so great your skin will look if you take proper care of it afterward.
Start off with a cleanser
If you have a daily cleanser at hand, it suits perfectly for foundation and blush removal. It is best to apply it and leave it on for a few seconds before you wipe it off with a cotton pad. A little scrubbing is allowed. However, you need to be as gentle with your skin as possible.
Steam heat your face
The best and the least harmful way to remove the remains of your makeup is with the help of steam heat. All you need to achieve is to fill your sink with hot water and hover your face over it for a minute or two.
Wash your face
After you are done with the steaming, you can proceed to the washing procedure.
Pay attention to your eyes
Just like you soaked the foundation off, so should be soaked the mascara and all the rest of your eye makeup.
Remove the excess oil
Just press a cotton pad to your skin to remove all the excess oil that may be still remaining on your face.
Makeup remover for the lips
It may be pretty hard to take off that long-lasting lipstick of yours, we feel you. The best way to deal with the issue is to use your makeup remover on the lips.
Lastly, when you are removing your makeup, make sure that you are not using baby wipes. They are not as good for your skin as you may think.

Source: Instagram/tinahollycouture, Instagram/vivaluxuryblog, Instagram/micahgianneli
FAQ: How To Do Makeup
How do you apply blush for beginners?
Use cream blush because it blends in easily, or take a fluffy blush brush to apply a regular one.
Lifting your face: place your blush higher up on the cheekbone towards your temple between the highlight and
the bronzer to create a gradient effect. This technique accentuates your cheekbones and is great for round faces.
For a heart-shaped face or for a sun kissed look: apply at the apple of the cheekbone (do not drag it down) and also to the temples to balance it out.
For a narrow face or to create a sunburned, youthful look: place it right across the center of the nose and across your face.
How do you apply bronzer for beginners?
Do you have warm or cool undertones to your face? Choose bronzer with the same undertones.
Take a fluffy brush. Coat it in product evenly and tap off the excess. Apply softly following a circular motion close to your hairline and slightly go down.
Following a three shape: temples, down the slope of the cheek and the jawline. Add product to an area you want to hide. If you have a smaller forehead, don't go all the way to your brows. For a longer face focus on your central area more. For a rounder face go towards your mouth.
REFERENCES: