Perfect Makeup Tips And Tricks For Deep Set Eyes
It is not a secret to anyone that our eye shapes vary. That is why when someone is blessed with wide-set eyes the others have beautiful deep set eyes, and there is nothing wrong with that. The only thing is that you need to be aware of all the best ways of bringing your eyes out and of course makeup is in the first place when it comes to that. That is why we are going to share with you a fair share of makeup ideas that suit deep set eyes like bread and butter! Read on!
Cut Crease Makeup Tutorial


Source: Glamdit via Youtube
When you think about gorgeous eye makeup, the first thing that comes to mind is a cut crease one. That is why we think that sharing with you a detailed tutorial is a great way to help you experiment with your daily makeup. When you have a closer look at it, you will understand that creating a cut crease is not that difficult after all!
Black Eyeliner Tutorial

Source: Teni Panosian via Youtube
In case you are looking for a perfect makeup tutorial that will help you succeed with black liner look – you have come to the right place. The thing is that the eyeliner makeup is probably one of the most popular and timeless techniques existing and you are bound to master it, with our help it is easier than easy. What is more, when you wish to hide away your dark circles liner makeup comes in more than useful too.
Gold Smokey Eyes Tutorial

Source: makeupbyliha via Instagram
Despite the shape of your eye, there is always a suitable smokey look for it, and deep set shape is not the exception. This classy smokey eye look is what you need to master to look flawless no matter the day or the occasion.
Purple Smokey Eyes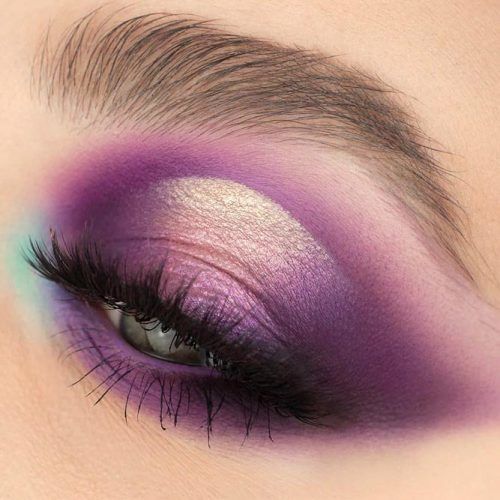 Source: lavieencosmetiques via Instagram
When it comes to most important makeup tips as for the smokey eye makeup – you need to come up with proper hues. That is why you need to pay particular attention to the color of your eyes. For example, deep purple smokey will look majestic on blue eyes.
Nude Smokey Eyes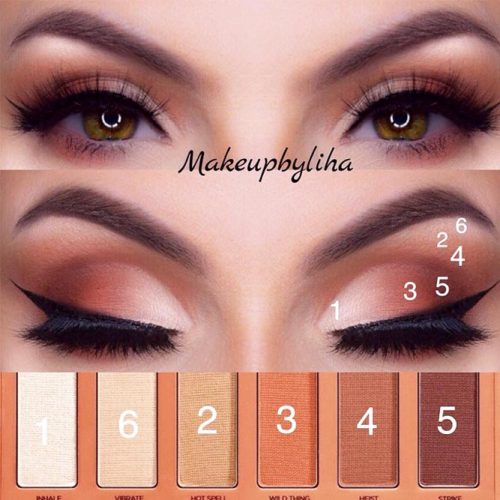 Source: makeupbyliha via Instagram
Not every day is a holiday, but that does not mean that you can't look magnetic. Just opt for a nude smokey eye look during your makeup application, and the flawless look is granted!
Shimmer Smokey Eyes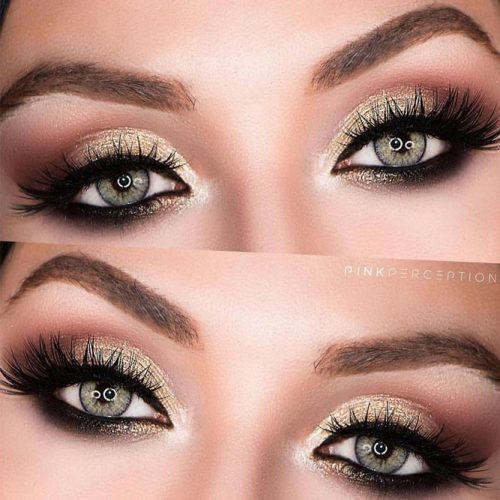 Source: pinkperception via Instagram
A festive look requires sparkle we all know that. That is why when you are going out during the night time do not be afraid of adding some shimmer to the lid space. The lighter the shimmer, the less dramatic the look will be, keep that in mind.
Smokey Eyes Makeup With Color Eyeliner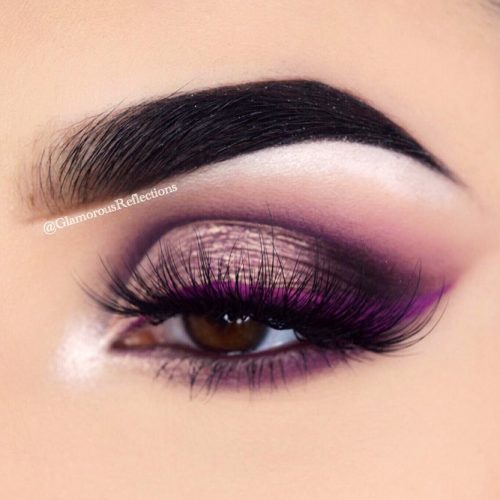 Source: glamorousreflections via Instagram
It should be mentioned that perfect smokey is not about choosing proper eyeshadow hues, you can experiment with the liner as well. For example, the addition of purple liner to this violet smoky makeup takes things to the whole new level. However, it is essential that you do not forget to highlight the inner corner of the eye.
Black Smokey Makeup Idea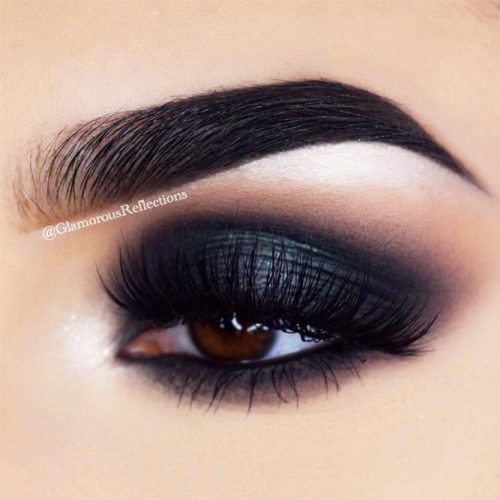 Source: glamorousreflections via Instagram
It is true that dark shades look pretty bold and daring especially if you have black in mind. The truth is that even such a dramatic hue can look elegant if you know how to play it. This black smokey look for brown eyes is the mere perfection, wouldn't you agree?
Glittery Smokey Eye Makeup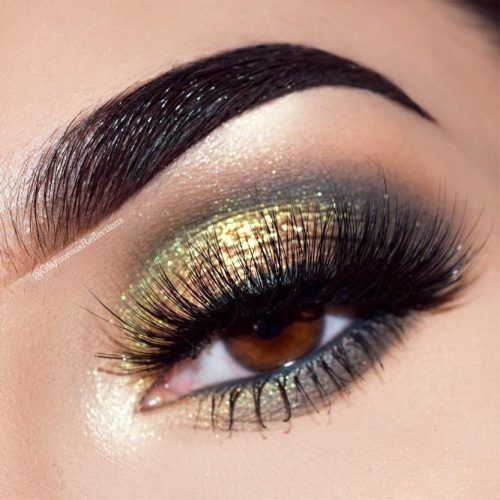 Source: glamorousreflections via Instagram
Glitter is that one thing that always adds necessary bling to your look. That is why you should not leave it out. Adorn your blue eyes with perfectly pink shading involving glitter add some black liner to the upper and lower lash line. Voila!
Simple Pin Up Eyeliner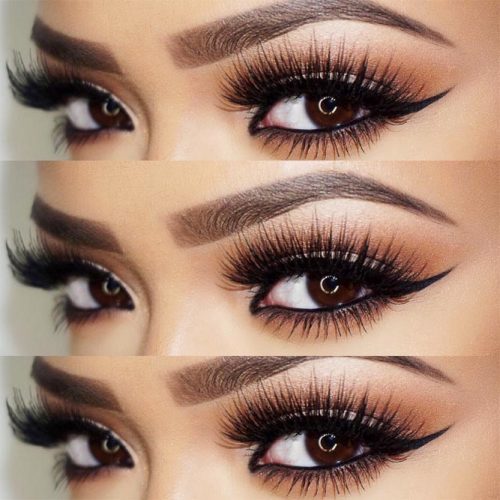 Source: beisly via Instagram
When you are looking for a perfect pin-up the idea we have one in mind. Go for nude eyeshadow and then upgrade the look with smooth and pretty long liner. However, you should not forget about the bottom lash line, add some black liner to it too.
Winged Brown Eyeline With Glitter Shadow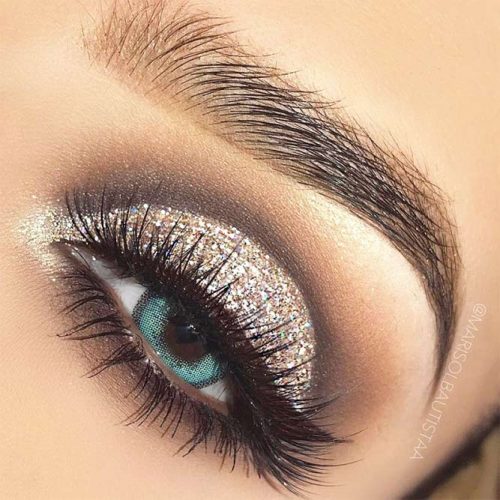 Source: marisolbautistaa via Instagram
If you are not a fan of a bold liner look, then we suggest you experiment a little when you apply makeup. The thing is that brown eyeliner will look no worse than a black one but it will grant you a milder impression, and sometimes that is all that is needed. Besides, you can always spice things up with the addition of glitter.
Bold Arabic Eyeliner Style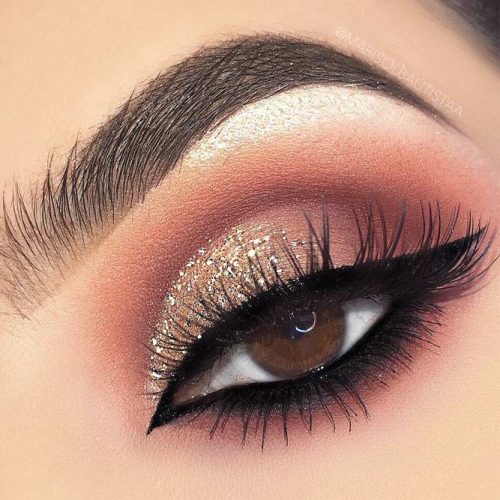 Source: marisolbautistaa via Instagram
The best way to make your deep set eyes stand out is to opt for an Arabic eyeliner style. What makes this look so special is the fact that both the top and bottom part of the eye is outlined. Besides, some sparkle addition is never a waste.
Natural Makeup With Eyeliner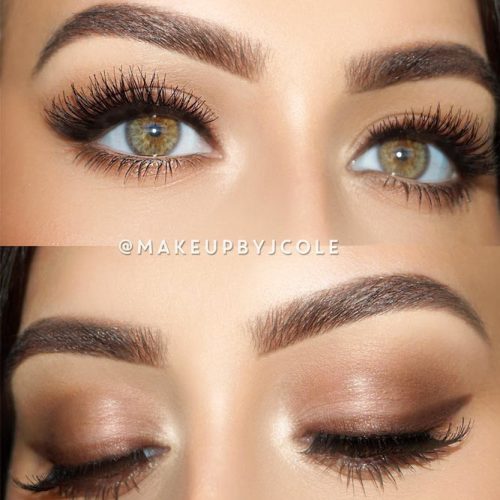 Source: makeupbyjcole via Instagram
Eyeliner look can be very natural-looking all you need to do is to choose a proper eyeliner shade. For example, light brown eyeliner deals with the task perfectly. Do not forget about your lashes when working on a natural look, though.
Soft Nude Eyes Makeup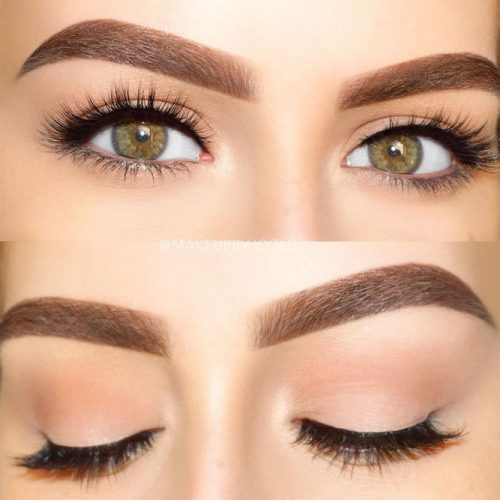 Source: makeupbyjcole via Instagram
Those of you who are in love with nude shades will undoubtedly appreciate this idea. However, the key point here is to create the illusion of wider eyes, and false lashes will help you out her like nothing else.
Natural Look With Smooth Line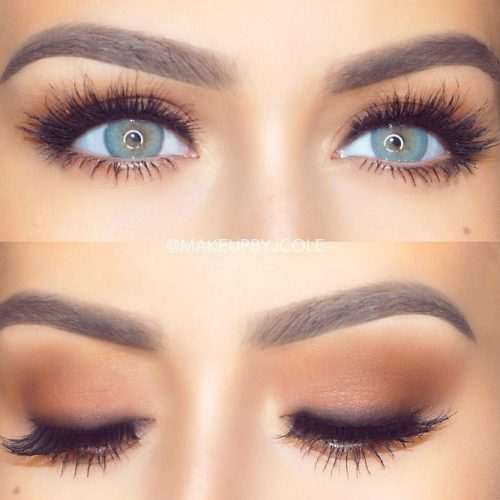 Source: makeupbyjcole via Instagram
In case you wonder whether are deep set eyes attractive – there indeed are, all you need to know are the ways to bring the beauty out. The combo of neutral shading and a smudged black liner look are the keys to achieve that unforgettable but straightforward look.
Peach Cut Crease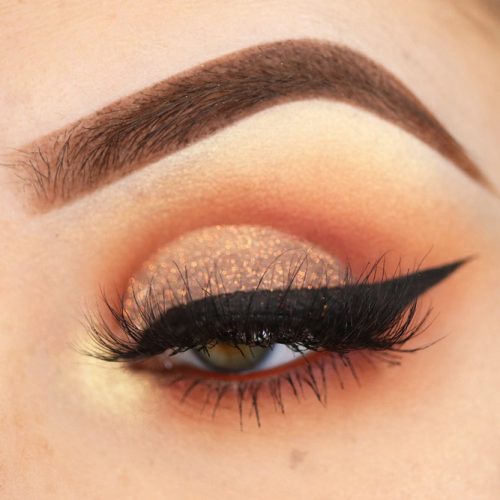 Source: theclassicalmua via Instagram
When you think about peachy shades, you may consider them to be neutral, but that does not mean that the fantastic makeup can't be created with their help. A little bit of peachy glitter and dramatic winged eye added to the upper lash line will make your eyes stand out no matter what.
Cut Crease With Double Eyeliner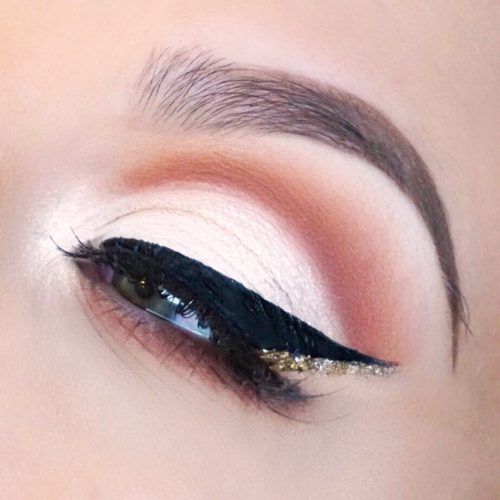 Source: allitrentmua via Instagram
When you are looking for an irresistible cat eye look, then we may have something to suggest. The thing is that the combo of a nude cut crease eye shadows and the double winged eye is indeed a killer one.
Gray Cut Crease Makeup Idea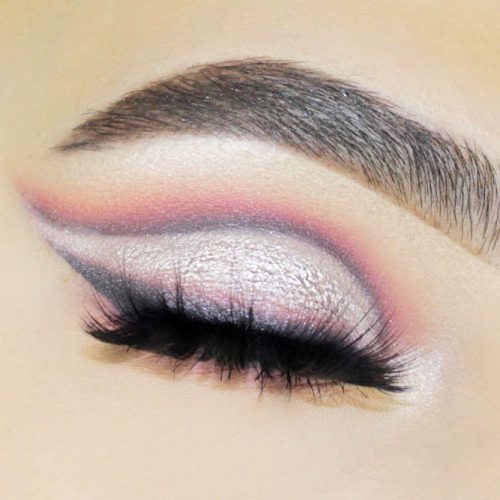 Source: bellamakeup_ via Instagram
This look will undoubtedly require some professionalism to be pulled off, but the result will surely be worth the effort. Do not forget to outline the outer corners.
Deep set eyes are a particular shape that requires a unique approach regarding makeup. That is why we have gathered here all the best ideas for you to inspire and to succeed with your flawless eye makeup!
Bold Blue Smokey Eyes Makeup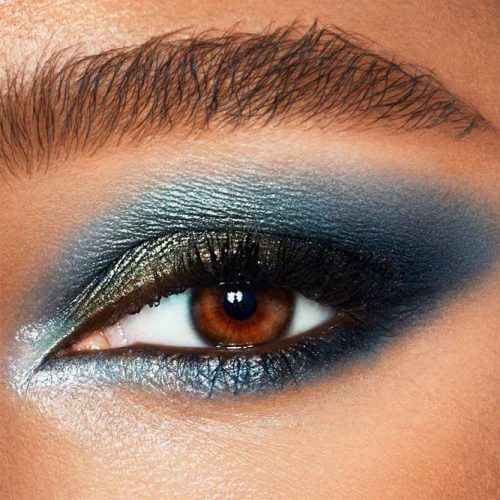 Source: ctilburymakeup via Instagram
Nude Eyes Makeup For Deep Set Eyes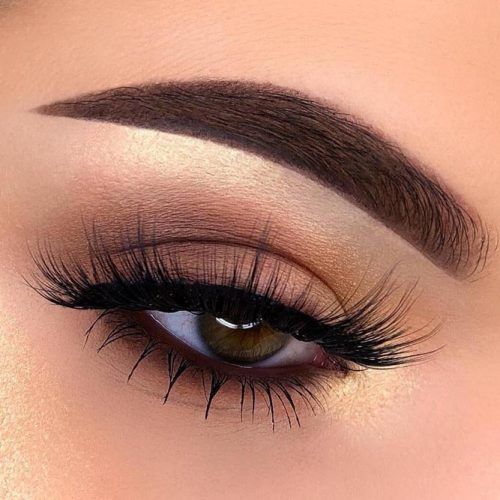 Source: bydanielleathena via Instagram
Eyes Makeup With Bold Black Eyeliner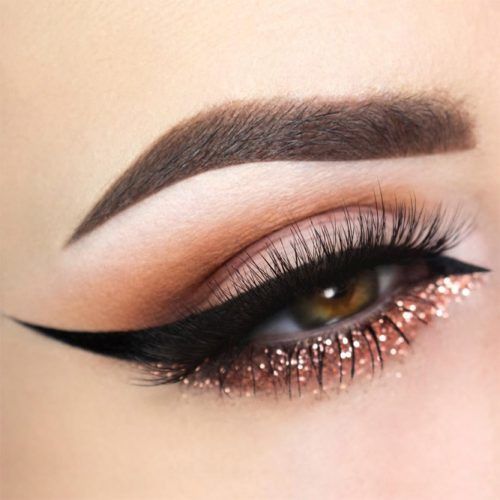 Source: giuliannaa via Instagram