Lighted Makeup Mirror Types To Choose Your Absolute Best
We are all different, but there are some things that unite all the women. Looking flawless everywhere you go is surely one of those things. However, every lady knows that perfect makeup is a part of a successful look creation. And that leads to the thought that there are some means required and one of them would be lighted makeup mirror. Why is that you may wonder? The thing is that no matter how good you are with makeup if there is improper lighting in the room it is almost inevitable that something will look worse than you expect. That is why today we are going to have a look at the range of mirrors that can help you deal with the issue better than anything, all it takes is just a lighted mirror to look fabulous on a daily basis!
Three Magnifying Mirrors In One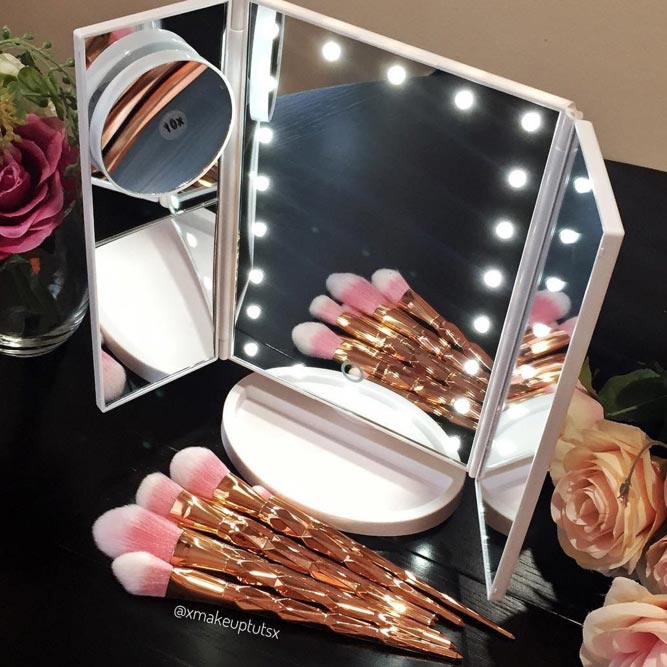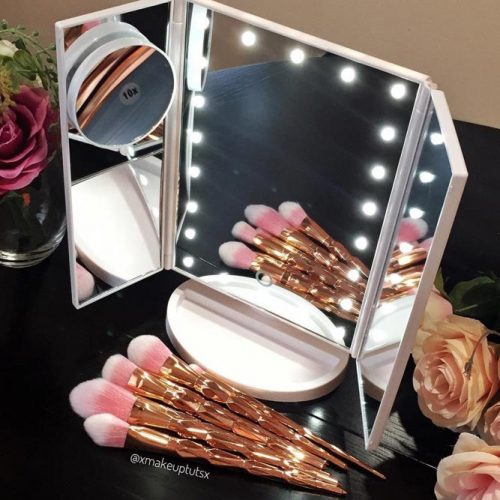 Source: xmakeuptutsx via Instagram
The sole purpose of the magnifying glass is to make the image look closer and more precise. When it comes to putting on perfect makeup one magnifying mirror may not be enough. If that is your case – we have a perfect idea in mind – get three of them in one!
Halo Magnifying Mirror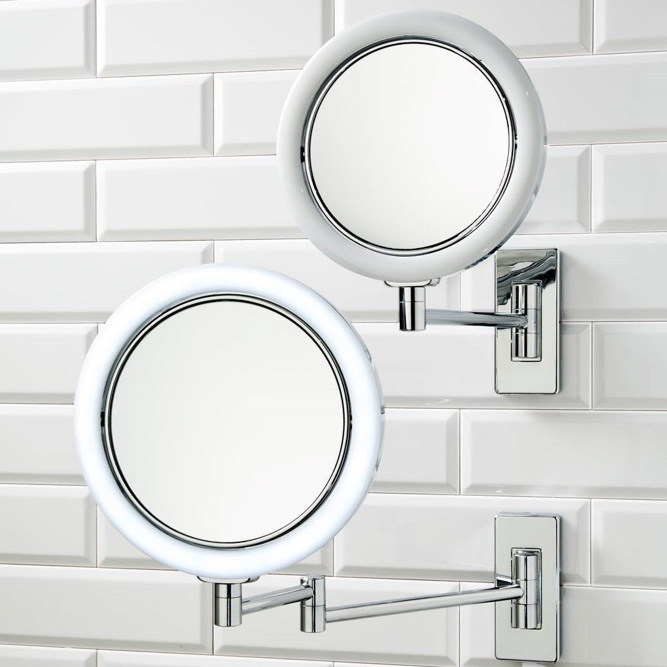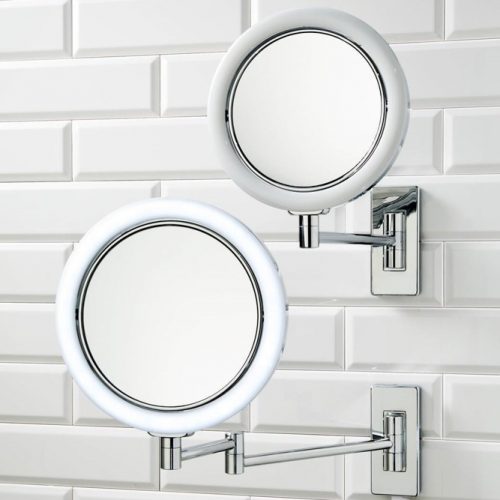 Source: agmhomestore via Instagram
It is true that the more mirrors are in your house, the better. However, there are some mirrors that are multifunctional beyond belief. For example, such a lighted makeup mirror bed bath and beyond speaks for itself. You can carry it around so that you always catch the best reflection of you!
5X Magnifying Mirror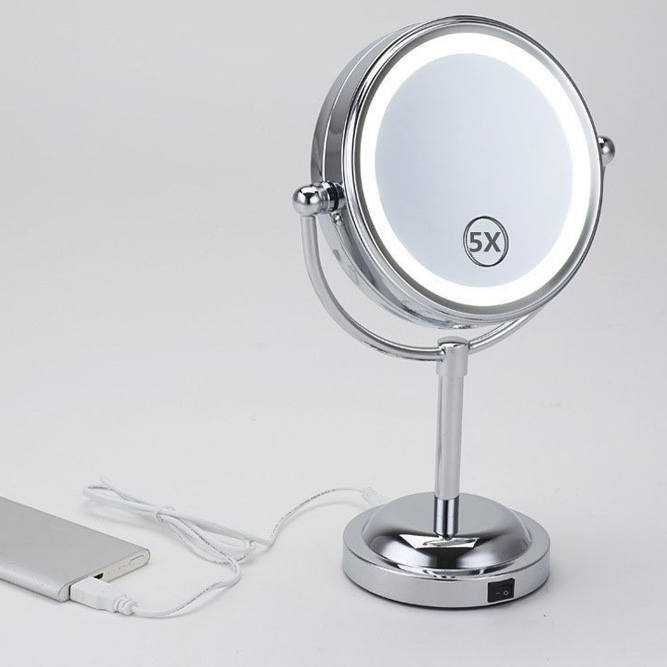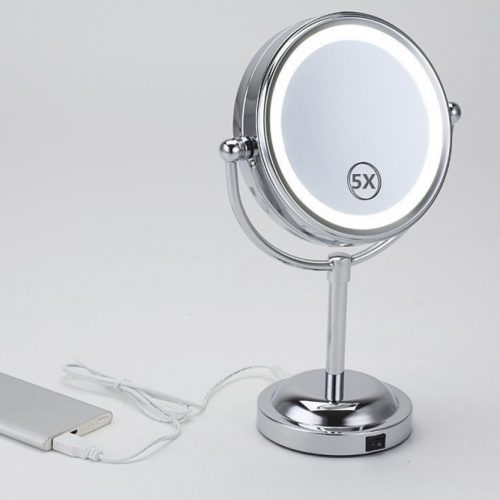 Source: theboxof_21 via Instagram
5x magnification is perfect for your morning routine. Even if you are still sleepy, such a mirror won't let you miss out anything. Besides it has its halo lighted which makes the process a lot more pleasant and effective.
Travel Lighted Mirror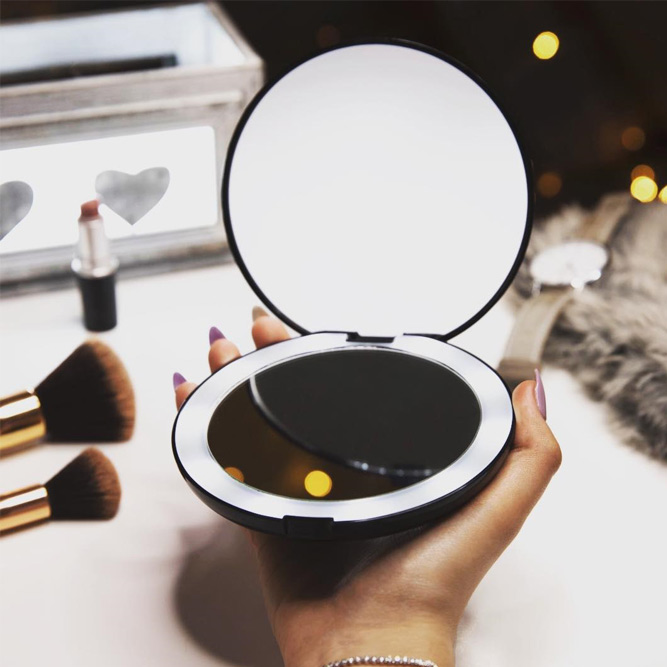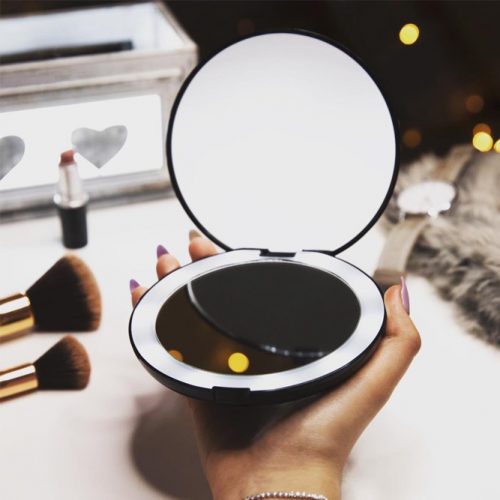 Source: lunalondonltd via Instagram
Travel mirrors are a must for every lady. However, while regular mirrors may seem good enough to suit the purpose we have something entirely different to suggest. What is that you may wonder? Well, that would be a small lighted mirror. If you possess one of those, you can forget about your worries as for the makeup on the road!
Led Little Mirror Design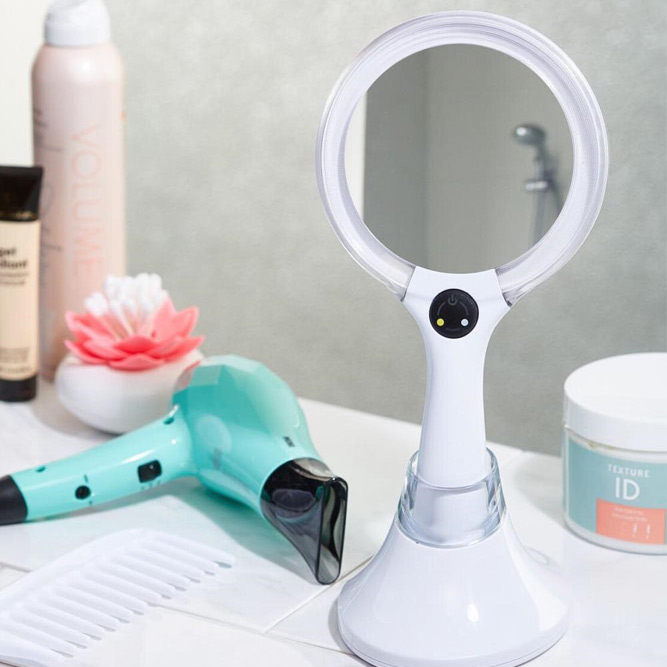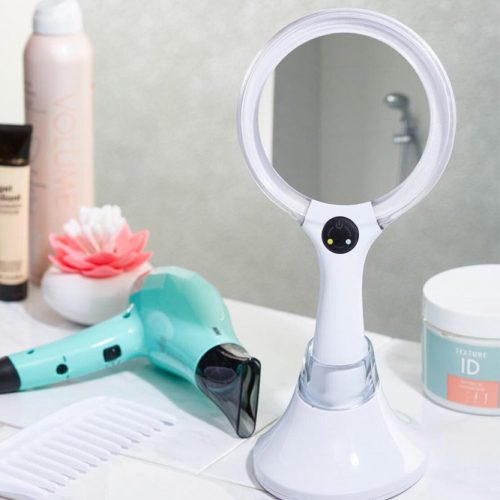 Source: sallybeauty via Instagram
Led lighted makeup mirrors are the most common options for modern makeup vanity tables. It is surely multifunctional, and its size grants a nice set of advantages as well. First of all, you can place it anywhere you like be it a bathroom or a bedroom so that you do not have to wander somewhere specific to put your makeup on. Secondly, it grants the best suitable for makeup light; it is neither too dim nor too artificial so that you have no difficulties to adjust your makeup.
Cosmetic Mirror Design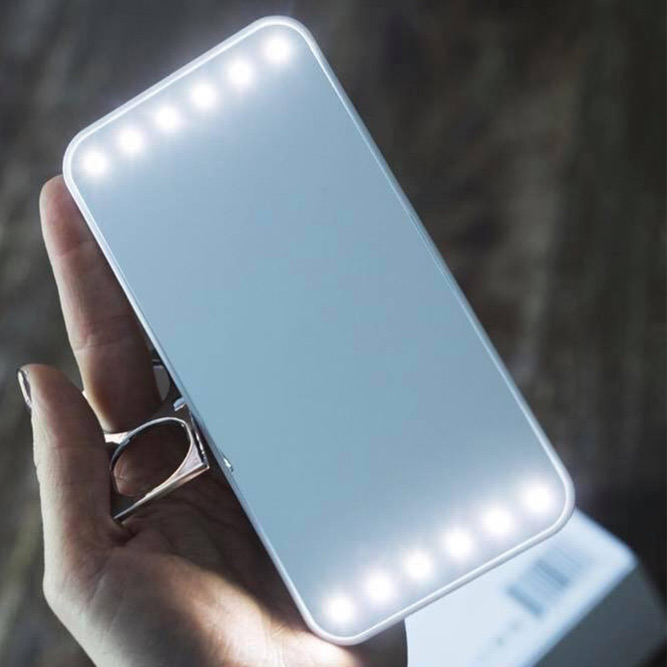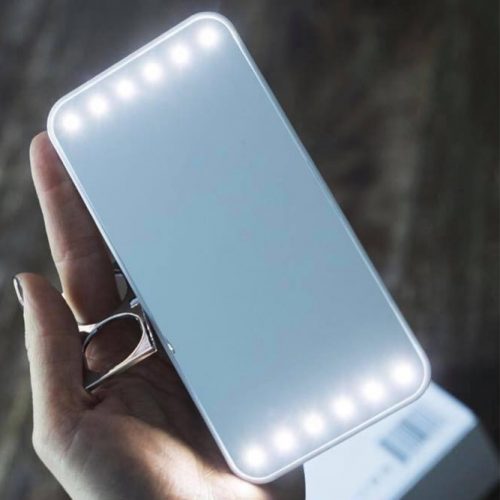 Source: heather_merker via Instagram
The truth is that these days cosmetic mirror comes in all imaginable sizes and design. The one that we are offering to your attention looks like a regular cell phone with perfect lighting to it. You can easily hold it in your hand while finishing off your makeup routine.
Smart Vanity Mirror Design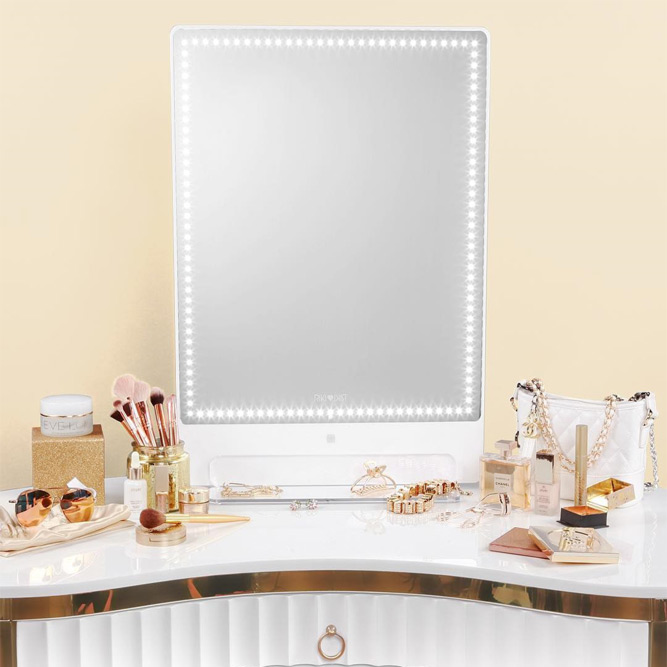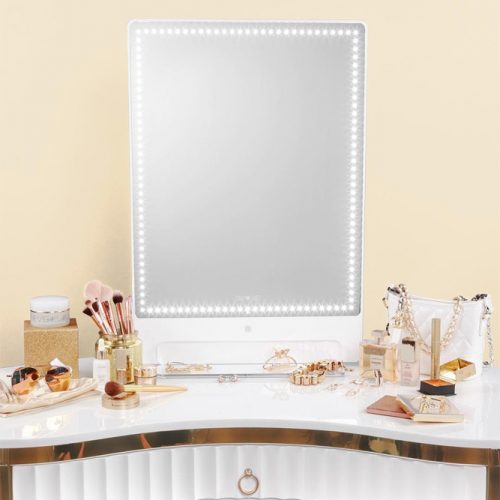 Source: rikilovesriki via Instagram
There are many ladies that dream about a perfect vanity mirror. Well, today you may have found the one you will fall in love with! This LED lights vanity mirror is reserved in its design but fulfilled in the perfect lighting so that there will be not a single day you will look under the weather with such a mirror. It is even safe to say that it is the best house mirror to get in case you are still missing one.
Stylish Led Vanity Makeup Mirror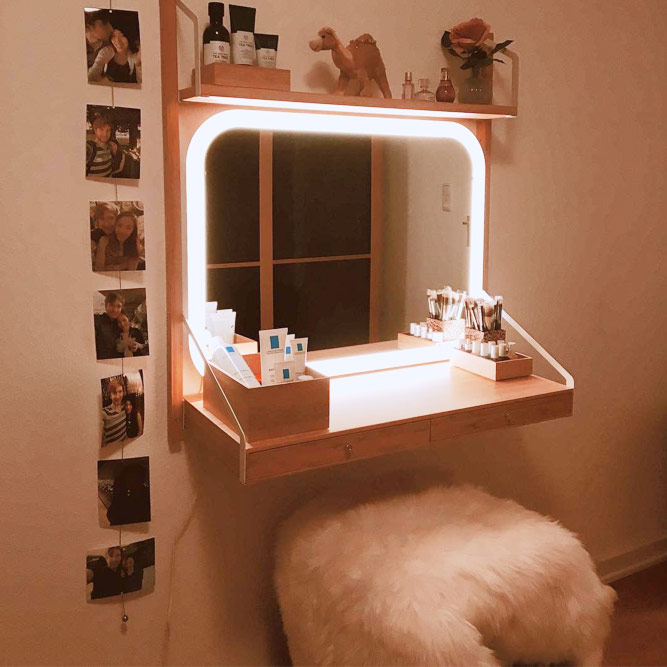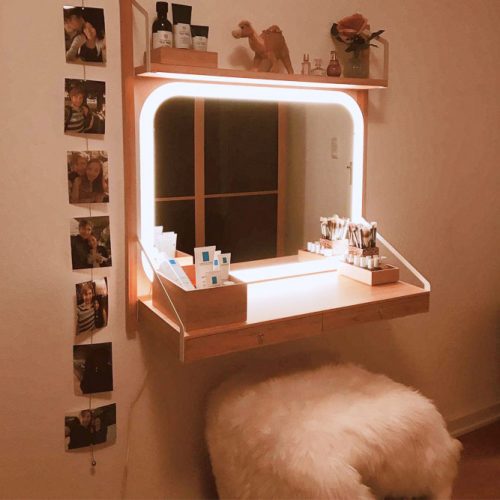 Source: kaninchenundschweinseit2013 via Instagram
Wall mounted lighted makeup mirror is exactly what you need if you like to keep all your belonging in one place and there is a certain room in your house which you prefer to all the others when it comes to makeup application.
Lighted Mirror Transformation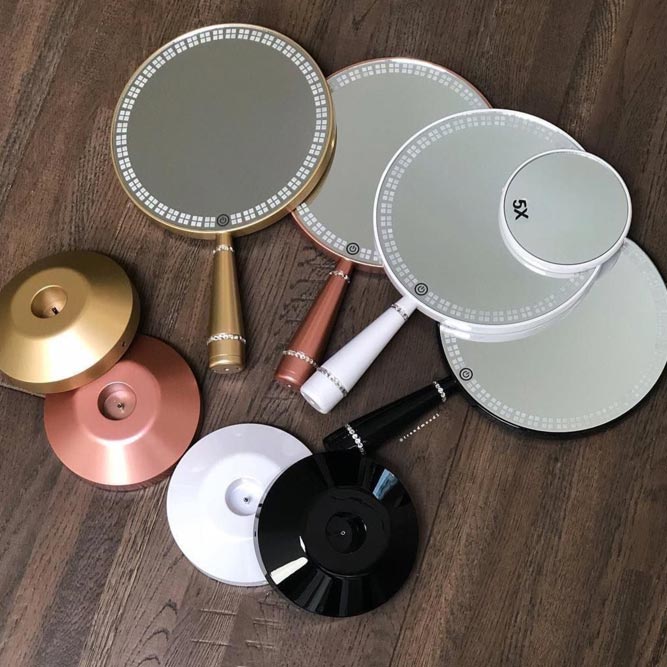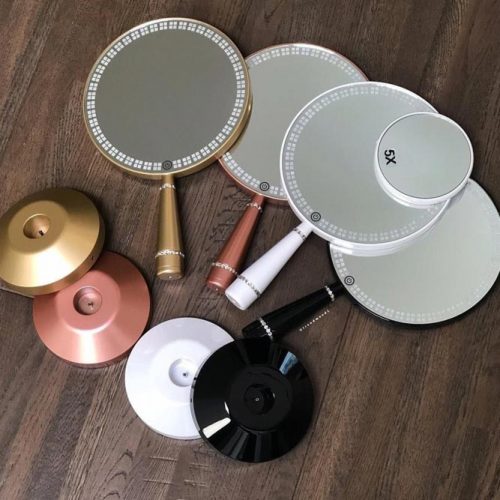 Source: impressionsvanity via Instagram
Makeup application is certainly not the easiest process existing. It required means, precision, and lighting. That is why we suggest to your attention this perfect lighted makeup mirror which transforms and can be taken with you anywhere you are headed. Isn't this awesome? We think it is!
Makeup Mirror With Beauty Items Storage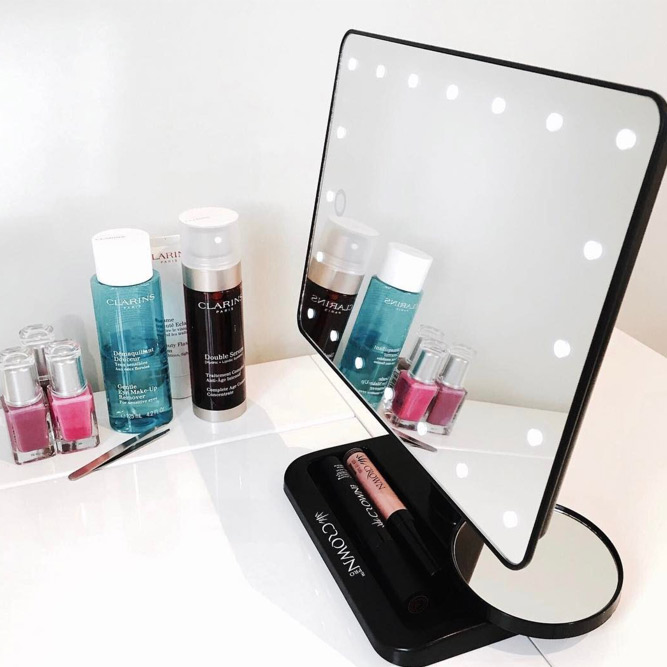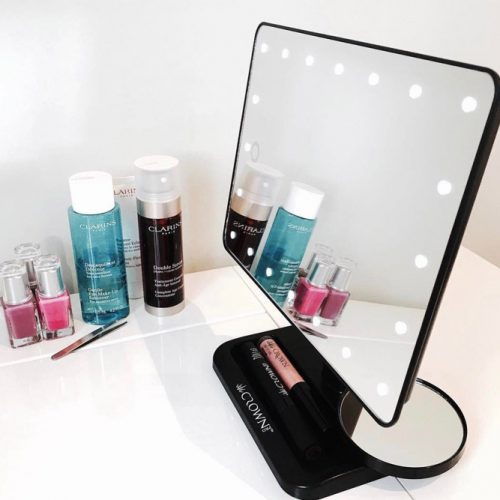 Source: crownbrushuk via Instagram
You know that your mirror perfect when you can store your belonging right in it, right? That is exactly the example that we are suggesting to your attention. With such a mirror you will not only be able to put on ideal makeup, but you will never lose the needed means!
Foldable Lighted Mirror Design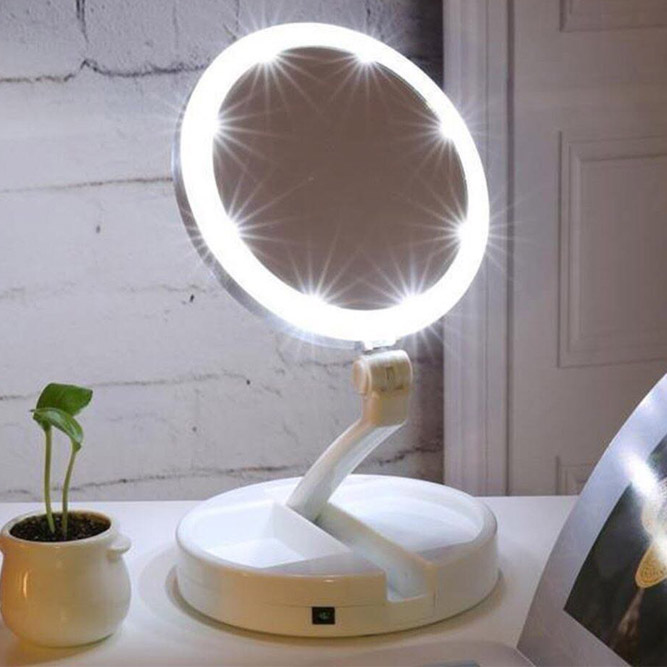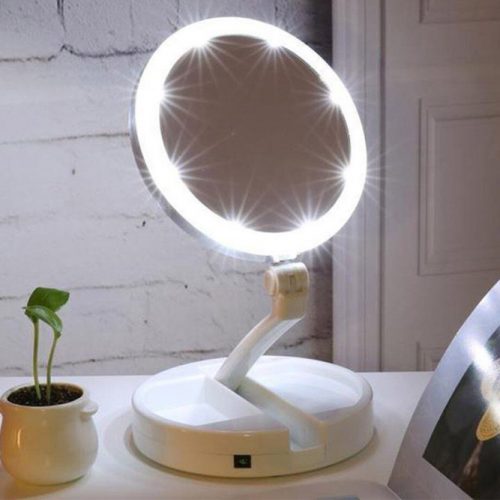 Source: trendymotions via Instagram
There are a situation when you are limited in the room and in a case like this a foldable mirror is a real deal. But this one that we have in mind has some other advantages as well. The thing is that apart from being foldable it also runs on battery power! Do not thank us!
Professional Lighted Makeup Mirror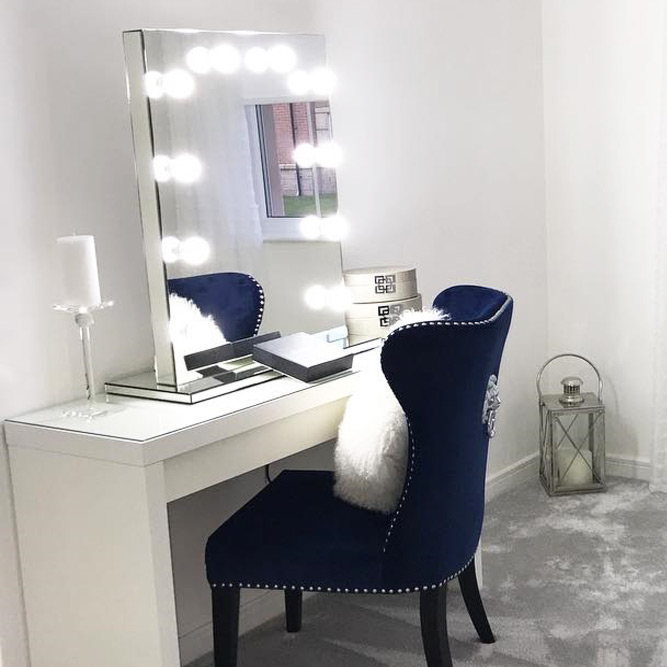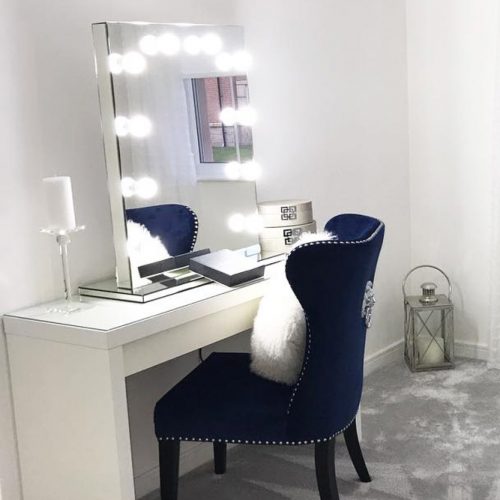 Source: thegrayhome via Instagram
Have you ever wondered why there are those huge bulbs on some vanity mirrors? Well, this is the time to reveal the secret – they are there for you to become a real professional with makeup!
The fact is that professional makeup mirror with lights is not only for professional, the fact that you are just the beginner into the world of makeup does not make you unworthy of such a treasure!
Round Vanity Makeup Mirror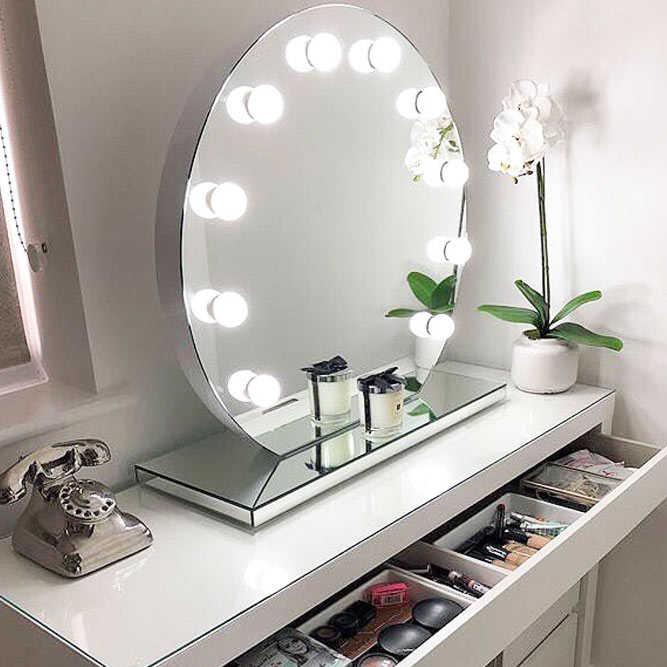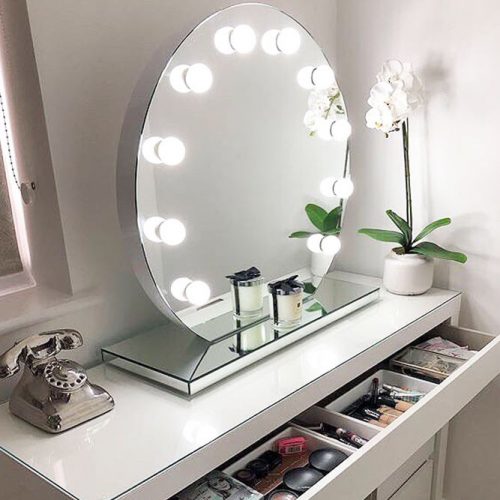 Source: hollywoodmirrors via Instagram
Very often vanity mirrors come in square shapes, and that is something that not every woman is fond of. Well, in case the shape is the only thing that stops you from getting one – we are here to assure you that round vanity mirrors exist and they are just gorgeous!
Oval Vanity Makeup Mirror With Bubble Lights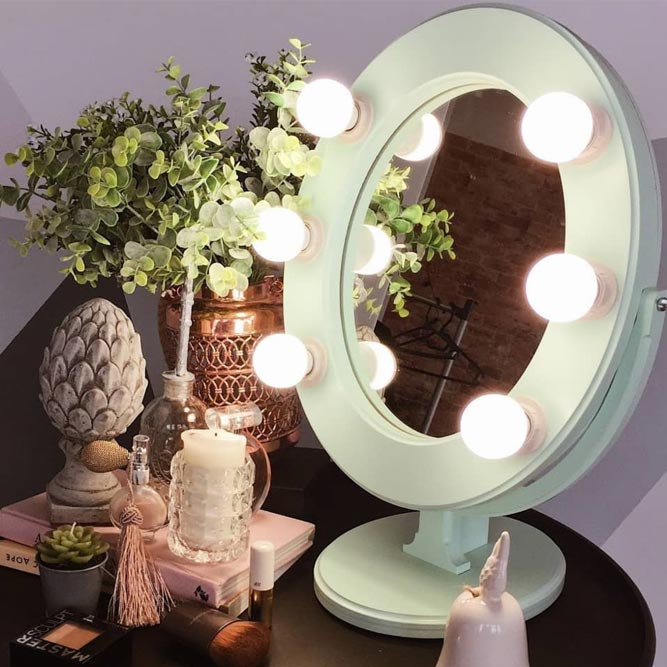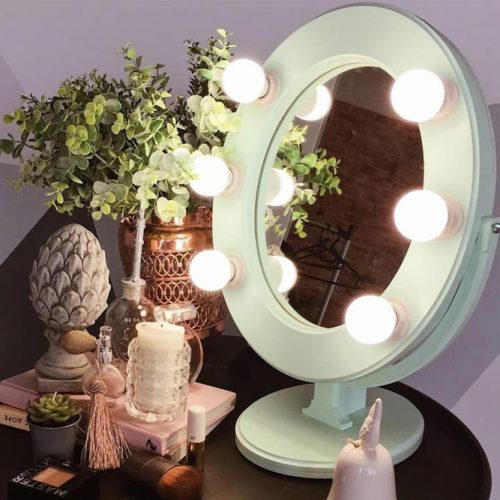 Source: no4niki via Instagram
There is a false consumption that all vanity mirrors are bound to be large in size. The truth is that they come in many sizes and you yourself can choose which one suits you best. For example, this small oval lighted makeup mirror is the perfect proof!
Makeup Mirror With Built-in Bluetooth Speaker System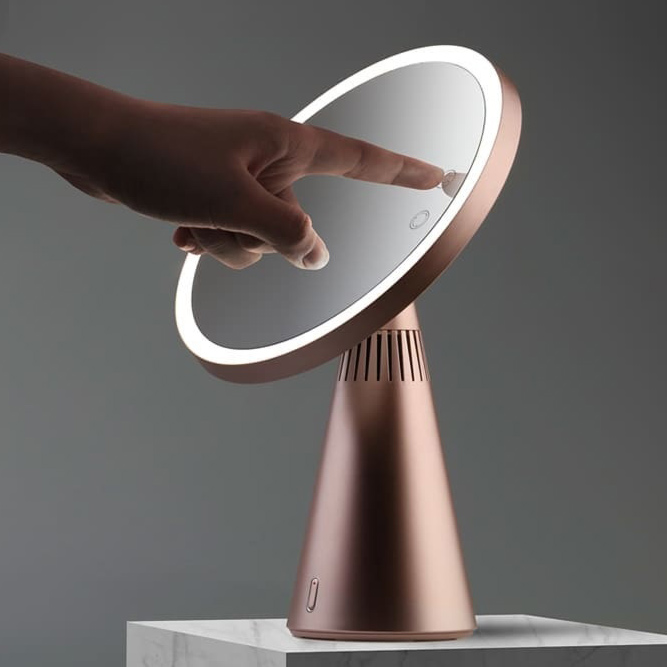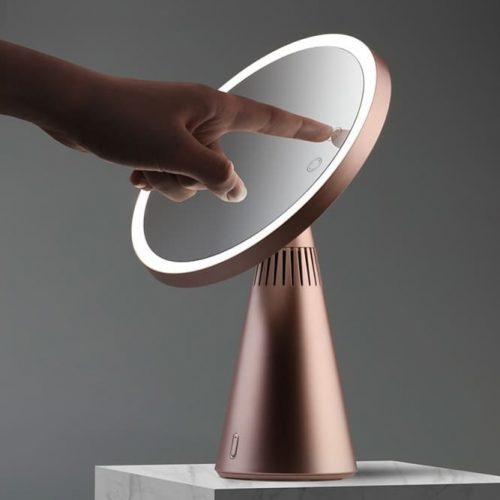 Source: revoltbeauty_official via Instagram
Personal care is the essential part of every woman's life. Make sure that you have all the means necessary to fulfill the goal since care products are only the halfway through, perfectly lighted mirror – is the other half!
Revolt Fascinate makeup mirror is not just a regular mirror, it has Bluetooth option so that you can enjoy your favorite music while working on your new look. What is more, the LED light has three modes, which makes it super effective when you need to adjust your makeup to different lighting. Fascinating, isn't it?
Smart Lighted Mirror With Magnetized Phone Holder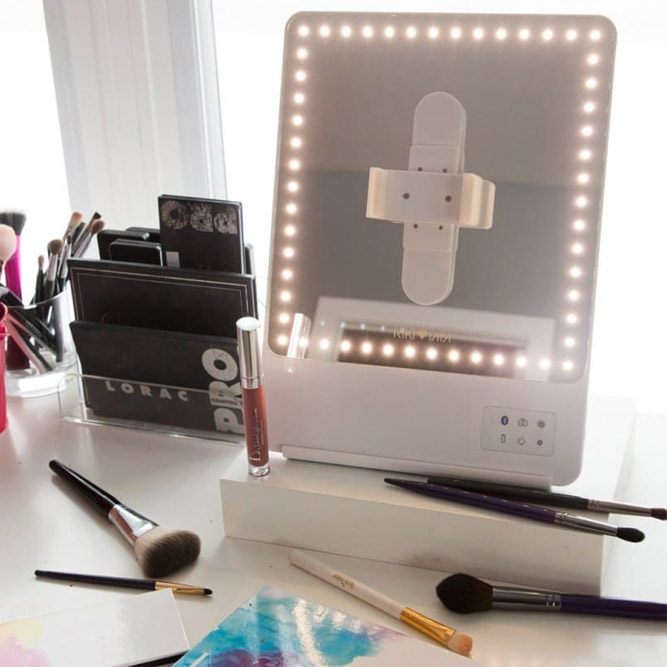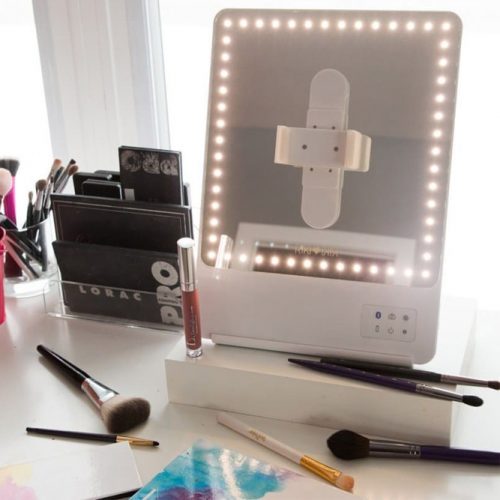 Source: emilyraynemakeup via Instagram
In case you are looking for the best rated lighted makeup mirror, you may as well just have found it. The thing is that cell phones are inevitable parts of our modern lives, and this makeup mirror with a smart holder may be the perfect deal for those who like to film the makeup process or take the photos during the process or right after it.
Cool And Warm Lighted Mirror Design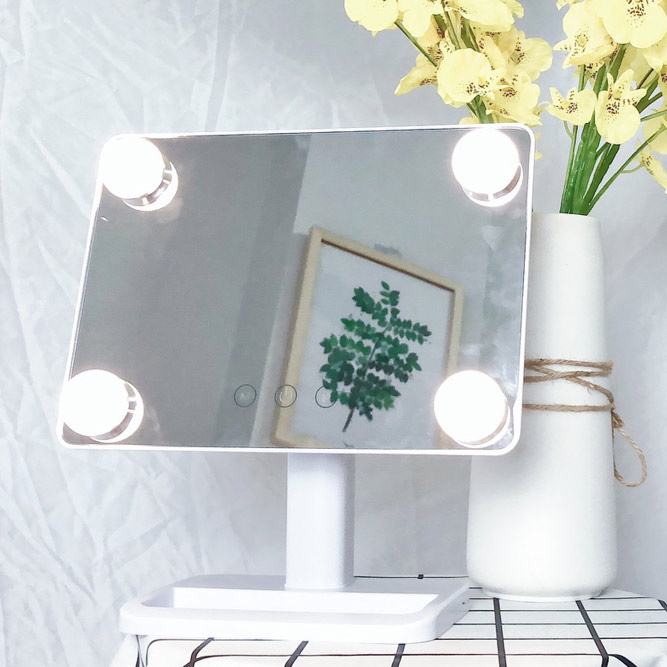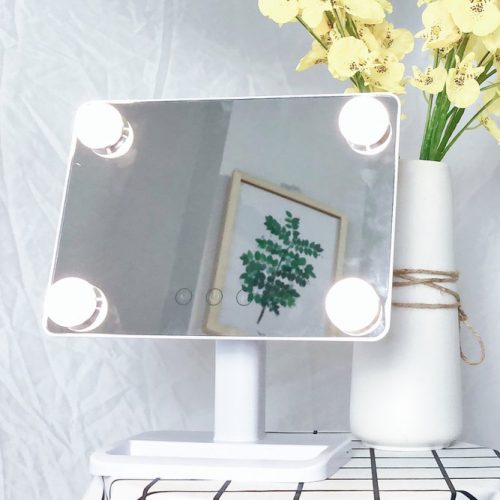 Source: tina_danycase via Instagram
This lighted makeup mirror has gone farther than most of the vanity mirrors since it has a switch from cool to warm light which basically covers all the lighting options to adjust your makeup to. Amazing, isn't it?
Round Makeup Lighted Mirror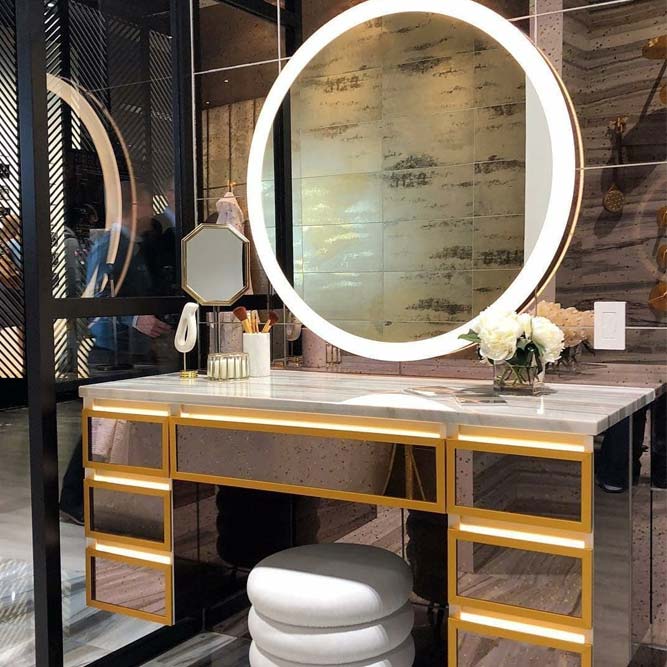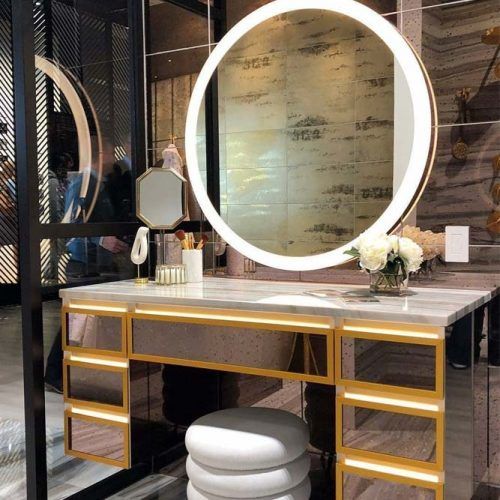 Source: mrserikaward via Instagram
Bathroom Design With Round Mirrors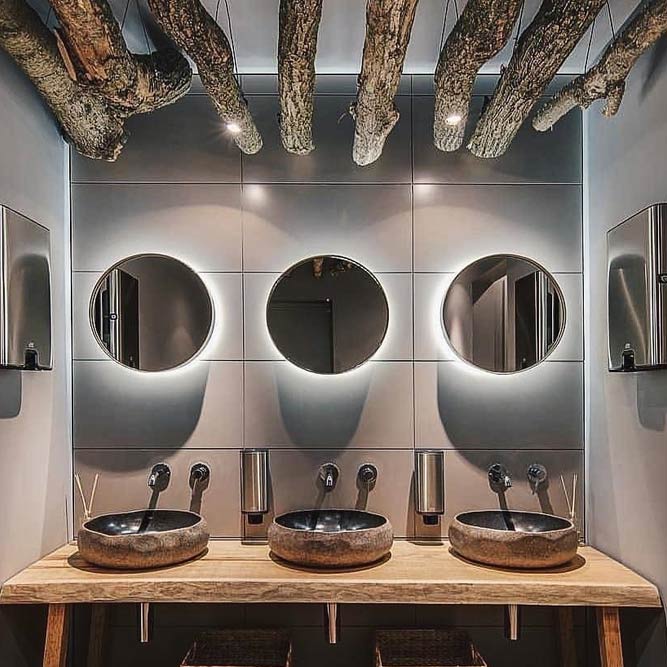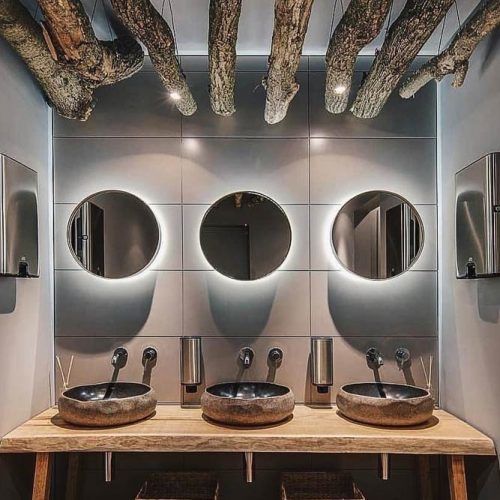 Source: balbekbureau via Instagram
Black Bathroom Design With Lighted Mirror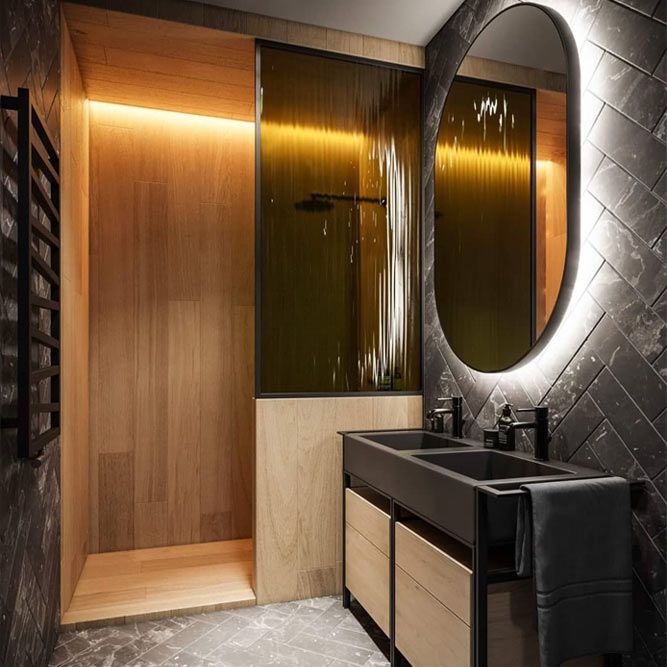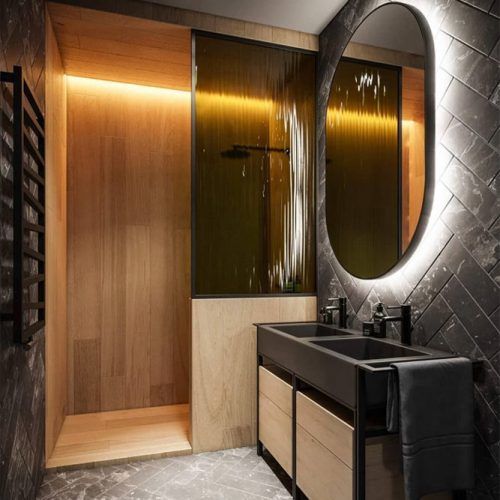 Source: 3dmstudio.eu via Instagram
Smart Lighted Mirror Design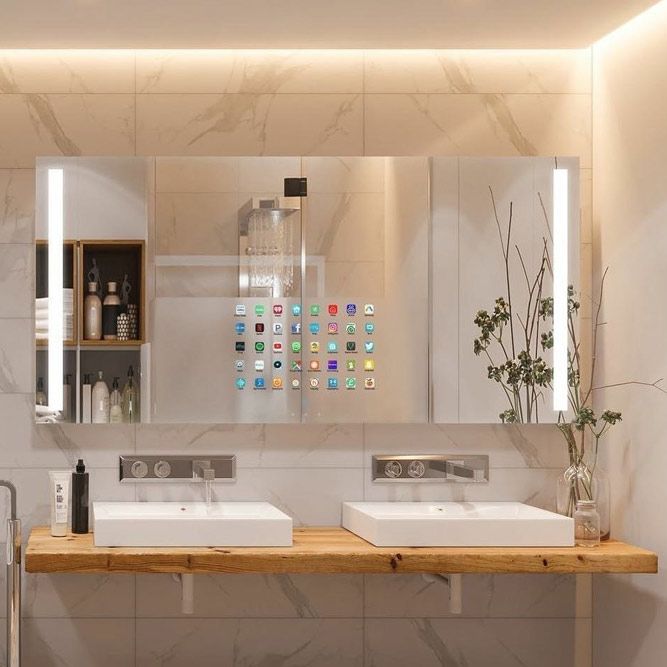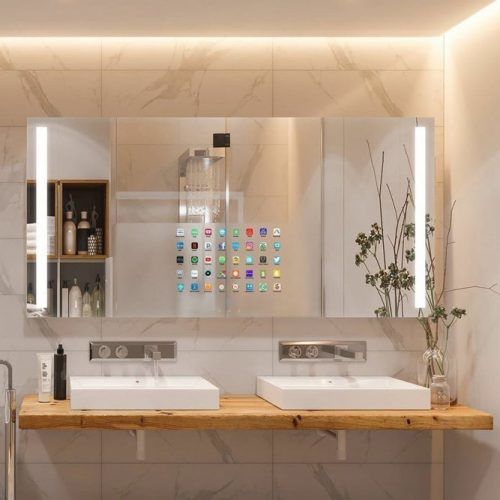 Source: electricmirror via Instagram
Black Bathroom Design With Lighted Mirror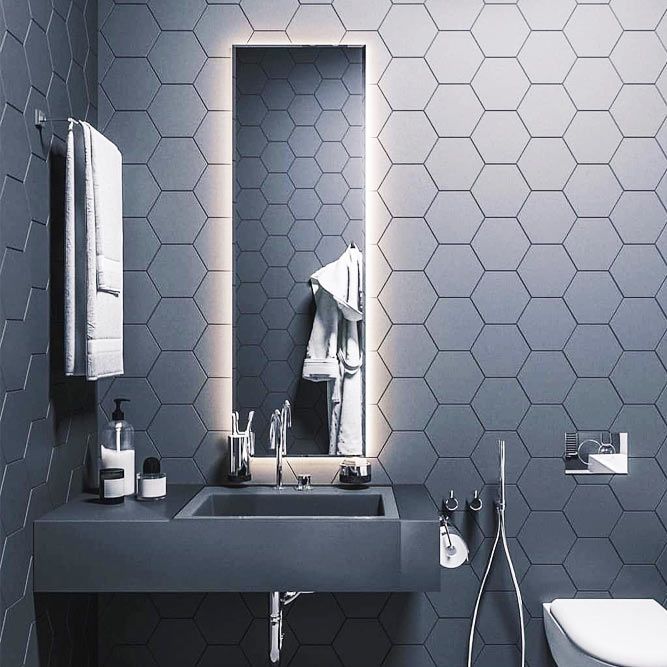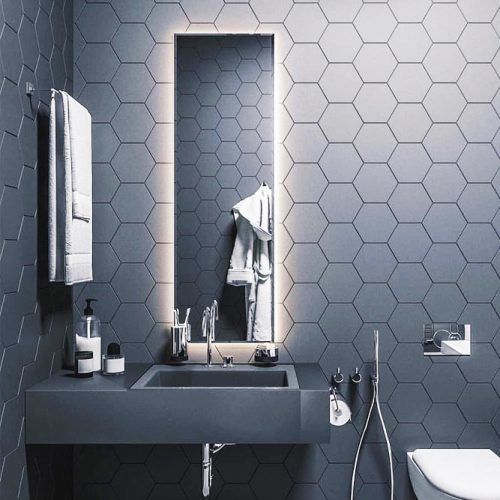 Source: BLACKINDESIGN via Instagram
Modern Bathroom In Gold Colors With Lighted Mirror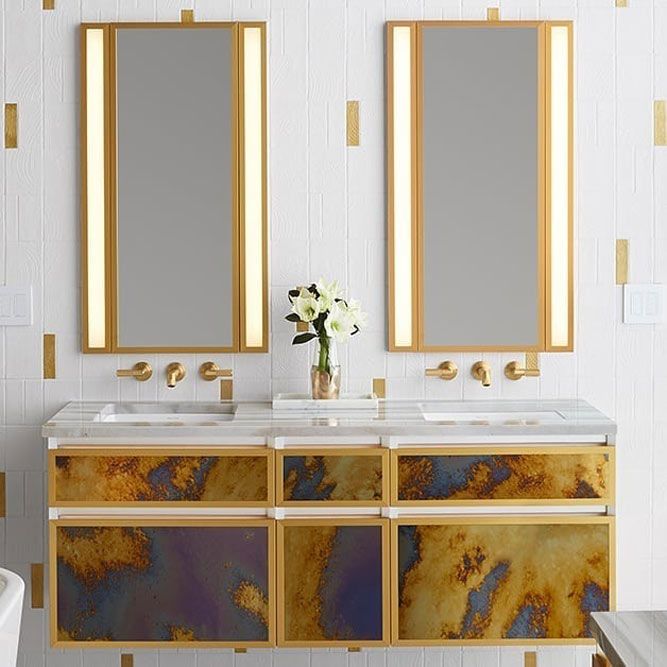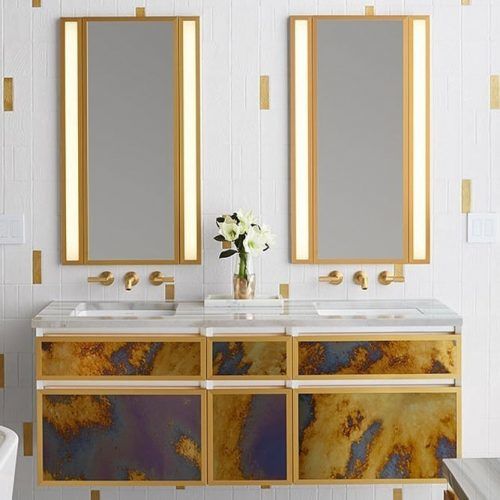 Source: mrserikaward via Instagram
Lighted makeup mirror is a fresh step into the world of flawless makeup. You can be a real profession on your own with one of the mirrors described here!
FAQ: Lighted Makeup Mirror
Is LED mirror good for makeup?
LED mirror are perfect for applying makeup, because they are cool to the touch, which means your makeup, you keep by the mirror, won't melt, and lasts way longer than traditional lighting. In addition, there are LED mirrors that have a built in sensor and turns on when it sees you coming. They come in various sizes and are great for travelling. LED mirrors are charged with a USB cord. Lastly, there are magnifying mirrors that are there to accommodate anyone's needs.
How do you apply makeup with a magnifying mirror?
Firstly, take off your glasses and find a magnifying mirror that equals your eyeglass prescription. Go to the store and find the suitable one, hold the mirror at a distance of about 12 inches so you are neither too far nor too close, you can see perfectly and your makeup brush is not going to bang into the mirror.