What is a makeup vanity table and what makes it so different from a simple desk, you might wonder, hearing this term for the hundredth time? First of all, let's sum up the meaning. It is the nook of worshipping. Worshipping the world of beauty and sending good thoughts to brilliant chemists who grant us the variety and such high quality of today's beauty products.
But more precisely, makeup vanity set consists of a makeup vanity table with lights and a big mirror. The set is finely decorated and tends to look quite modern. The table is customized with drawers – that is the main treasure where you can stock all your beauty relics. Intrigued? Our picture gallery will show you what we mean.
Everything You Need To Know About Makeup Vanity Table
How Deep Is A Makeup Vanity?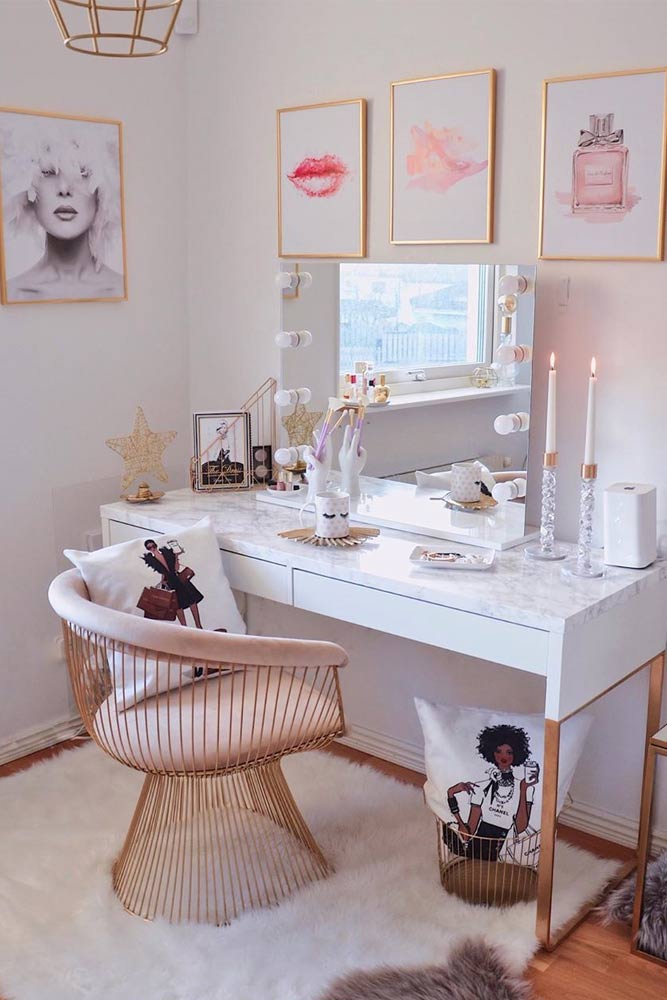 Source: Instagram/inspo_by_israa
Although the depth of the vanity may vary depending on how much space there is at your disposal, on average, it is from 21 to 24 inches deep.
Where Do You Put Makeup Vanity?
It is important to position your vanity close to abundant natural light, as it will allow you to check out your makeup during the daytime before living the house. If the room is well lit with natural light, then you are free to place your vanity anywhere in it. However, if there is not much light that penetrates through the window, then it is better to put the vanity as close to it as possible.
How Do I Organise My Makeup?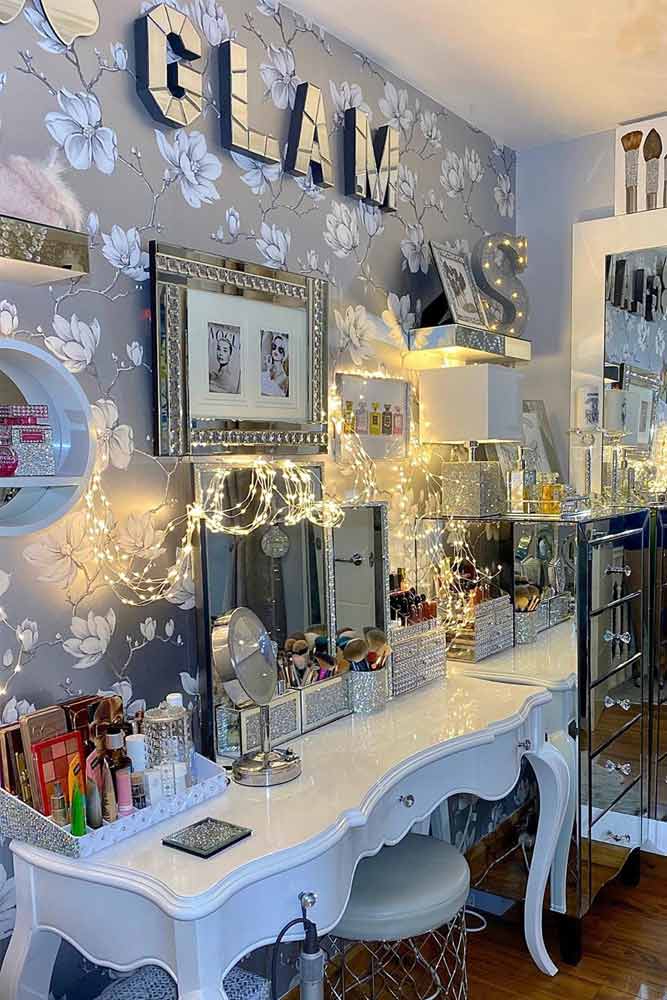 Source: Instagram/lifelooksbetterwhenitsparkles
So that you could easily find and reach the sought-for makeup item, it is better to arrange all of your cosmetics and makeup in clear acrylic drawers on top of your vanity. You can use vanity drawers to store rarely used makeup. However, it pays to stock up on drawer dividers and group items that are alike in the same compartments. To store your brushes in an aesthetic yet convenient way, you can stick them in a clear vase filled with coffee beans or colored marbles.
How Big Is A Makeup Vanity?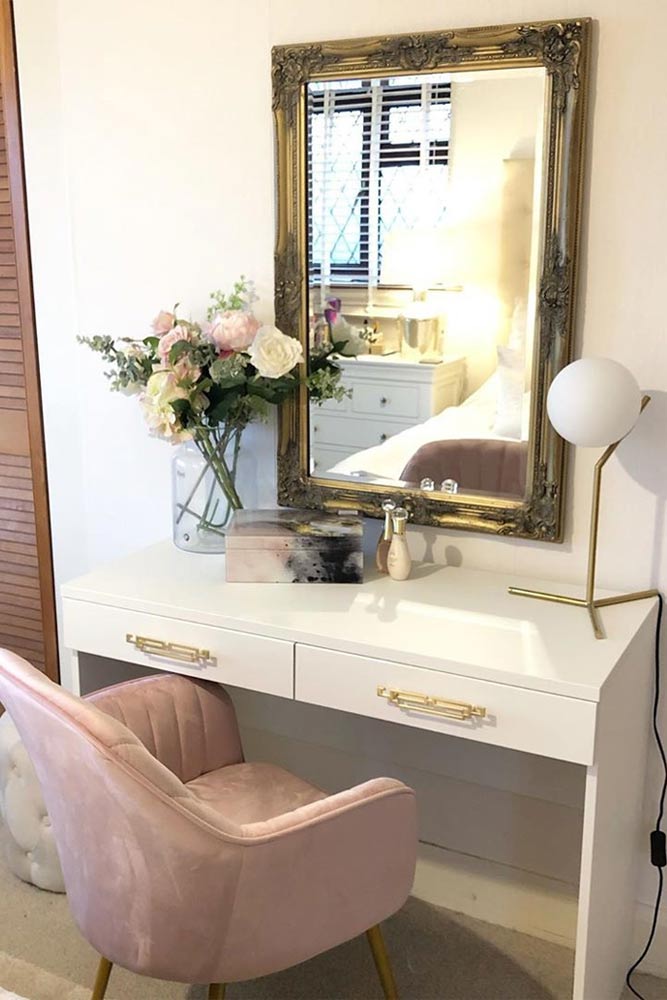 Source: Instagram/griffiths_kirsty
While the size of the vanity is totally up to you, it is advisable that the countertop be 30 or more inches wide. This will provide enough space to accommodate all your stuff. Also, the vanity bench should not be set aside. Its height can be anywhere between 17 and 19 inches, while the countertop of the vanity should be located around twelve inches over the bench.
Why Is It Called A Vanity?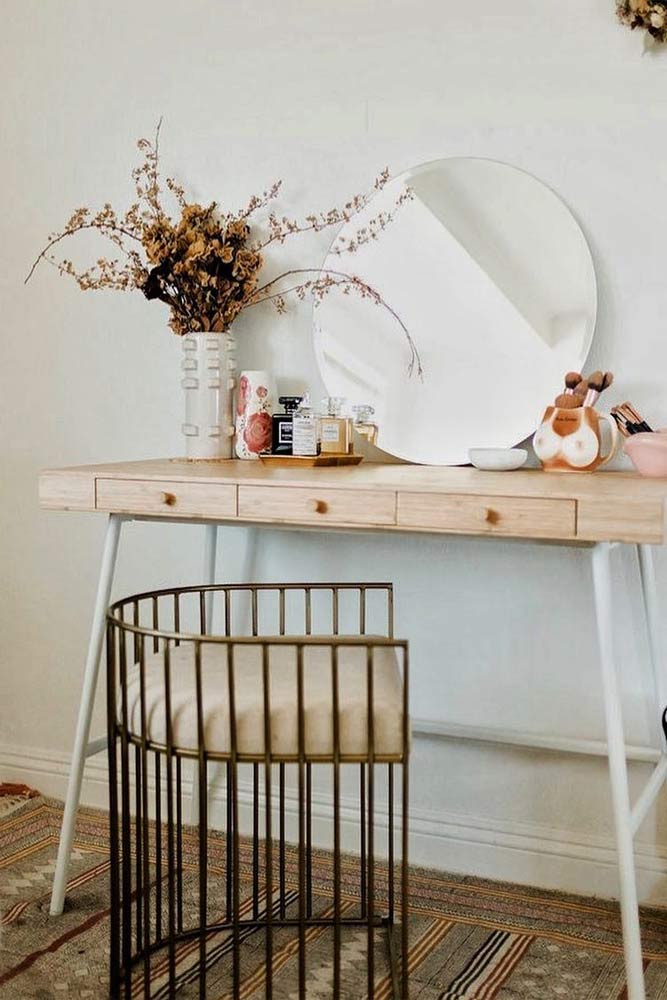 Source: Instagram/byjessicareeves
The term "vanity" stems from the Latin word "vanus," which meant futile or idle in the 13th century. Not until the 14th century, did it gain its narcissistic undertone. The "dressing table" concept had established only by the end of the eighteenth century, while its convergence with the "vanity" concept took place later on and in the US English only.
How Do I Style My Vanity?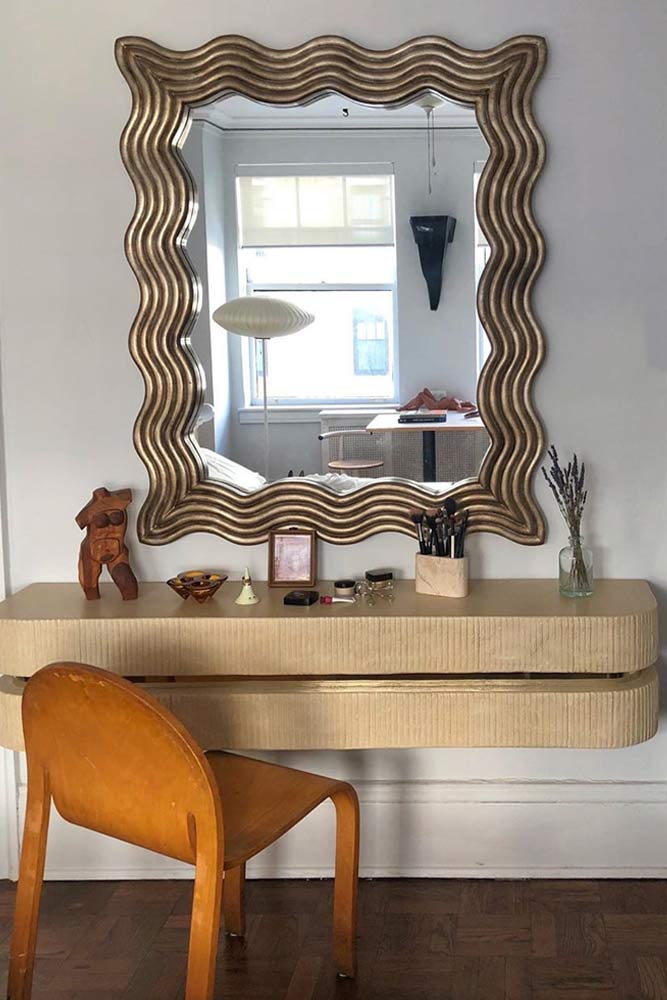 Source: Instagram/carefullypicked
You can decorate your vanity according to your personal preferences and taste. However, there are several surefire ways to spruce it up. First, you can accentuate your vanity nook with accessories with different finishes and textures. Adding shelves to the wall above the table and decking them with art prints, photos, books or vases will become a great source of inspiration. A flower bouquet is a final touch that will instantly bring a sweet and romantic feel to your dressing table and fill in the room with a wonderful smell.
Best Makeup Vanity Table Designs
Designs Of Makeup Mirrors With Lights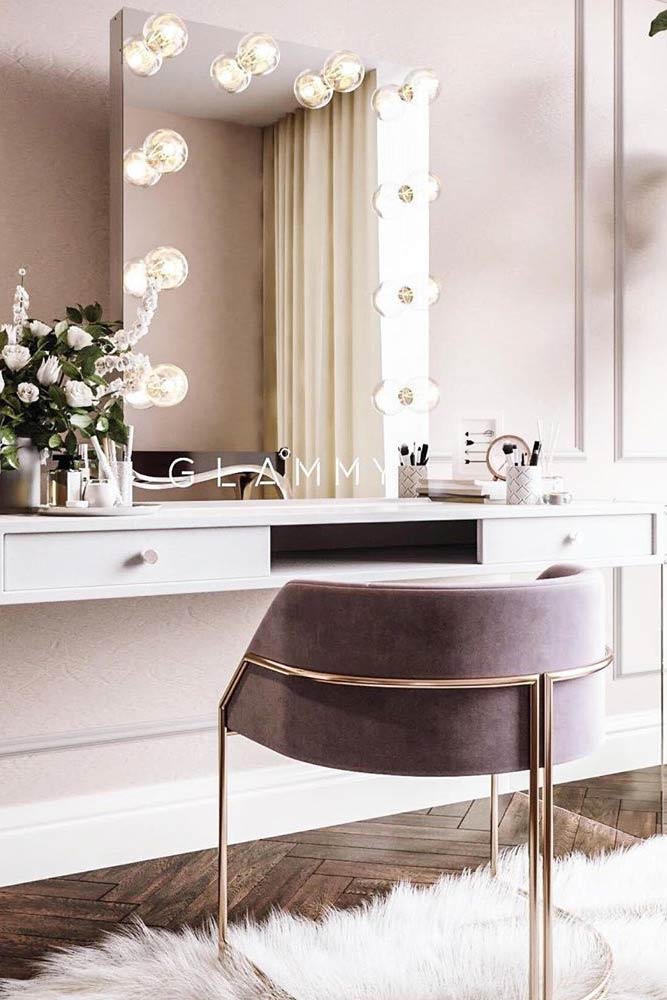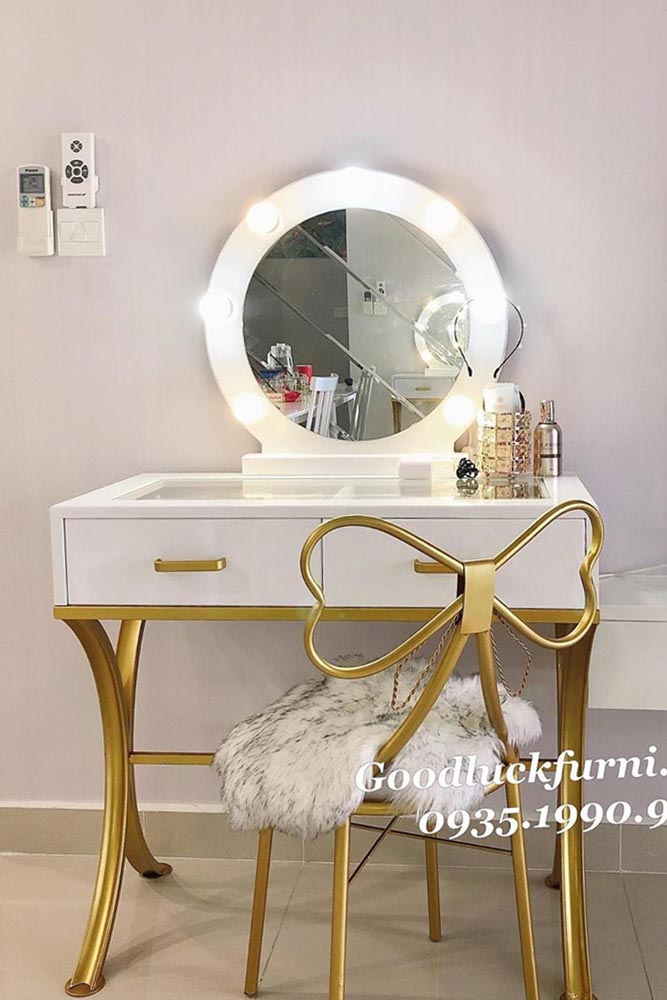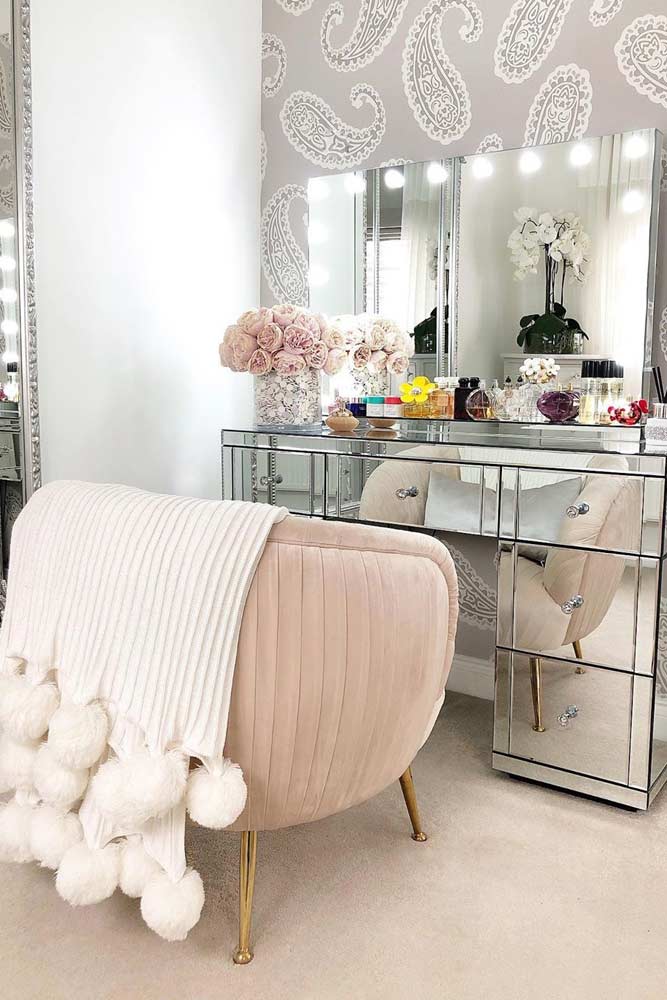 Source: Instagram/glammyvanity, Instagram/bantrangdiemchuyennghiep, Instagram/home_sweet_home_46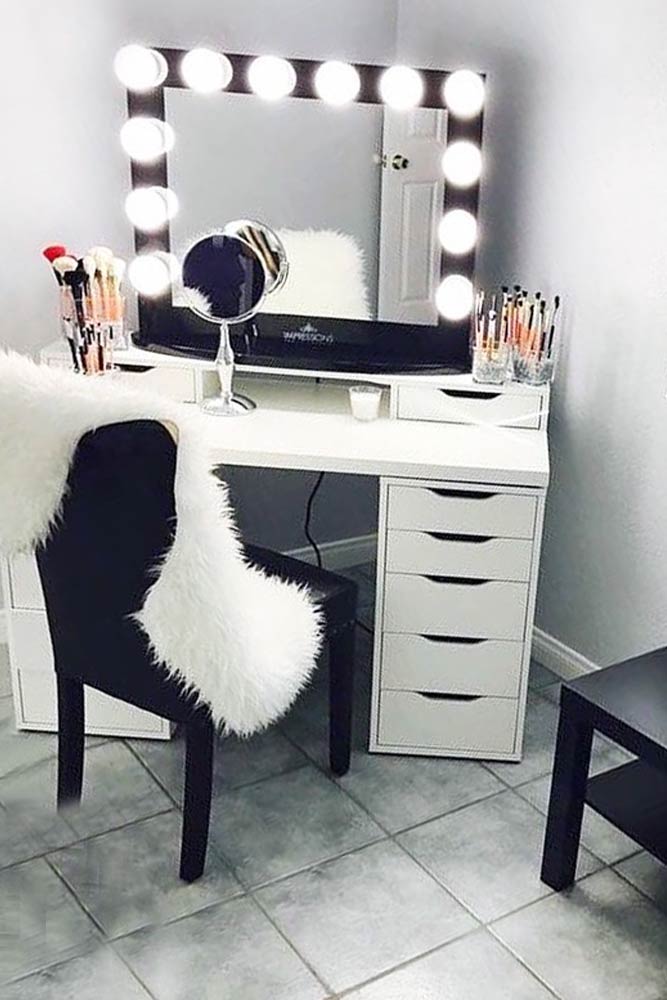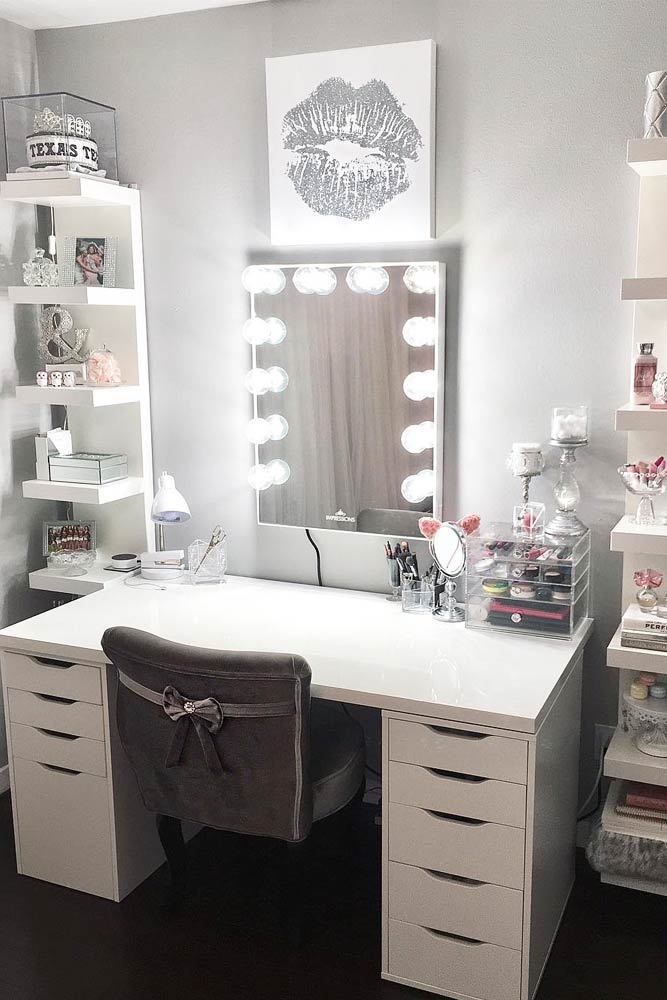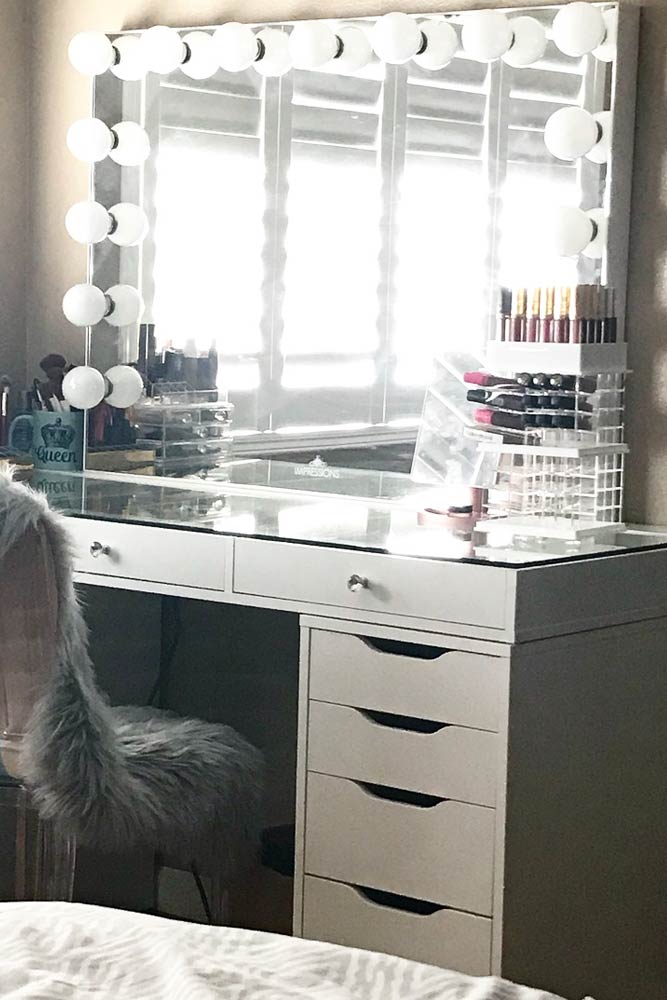 Source: Instagram/impressionsvanity, Instagram/madison_lee22, Instagram/yvonneyae
Here you can see glammed up white makeup vanity tables. Why choose white? Well, it's not your desk for work. It's a desk where purity meets with the change, and the white color will convey the idea perfectly.
Modern Designs Of Makeup Table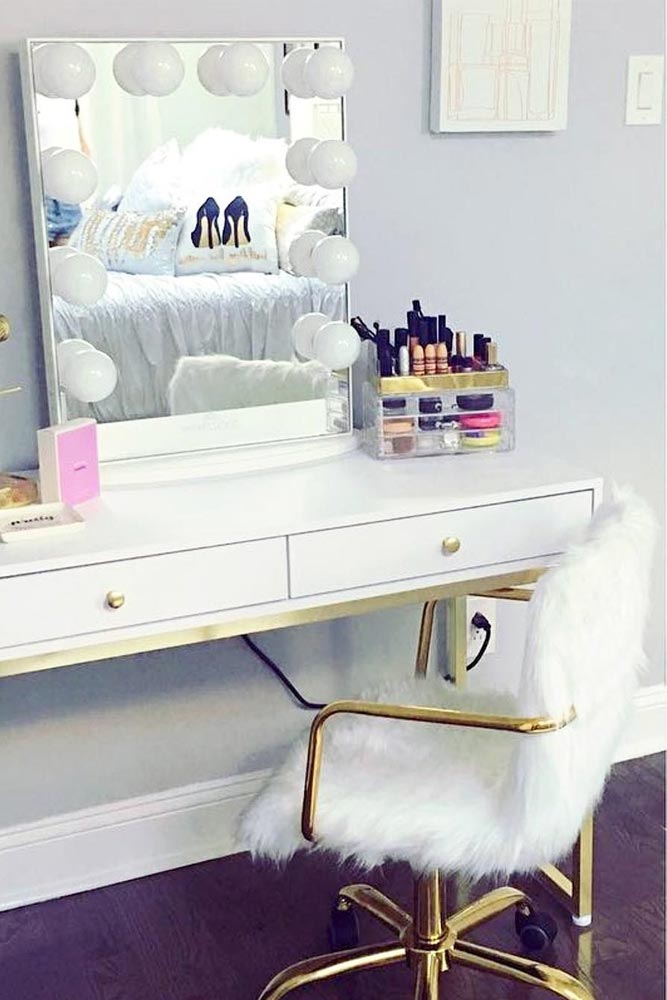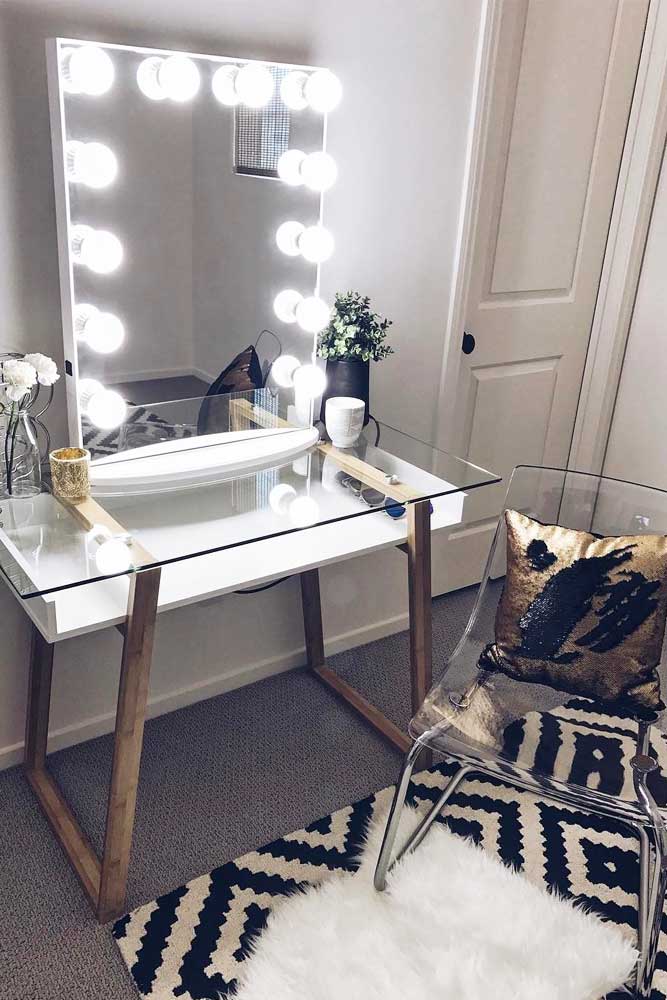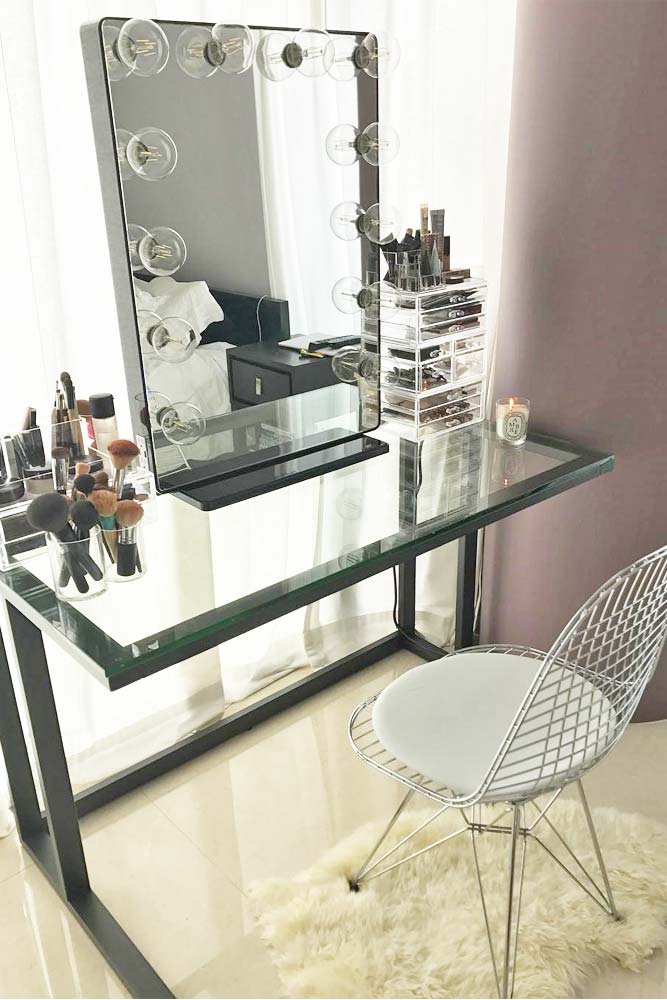 Source: Instagram/impressionsvanity, Instagram/yeeitscathy, Instagram/impressionsvanity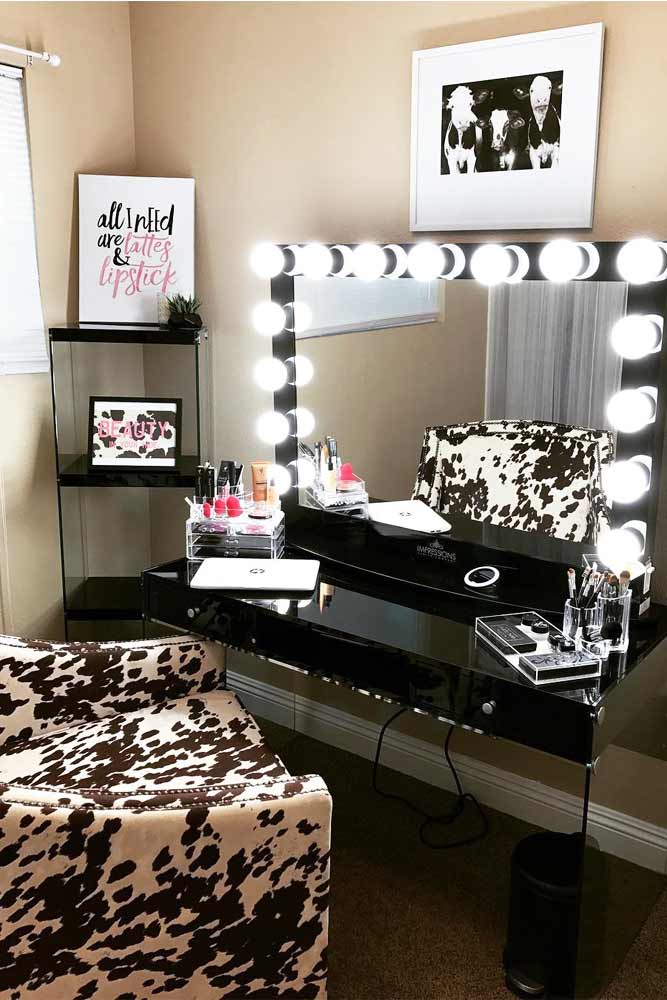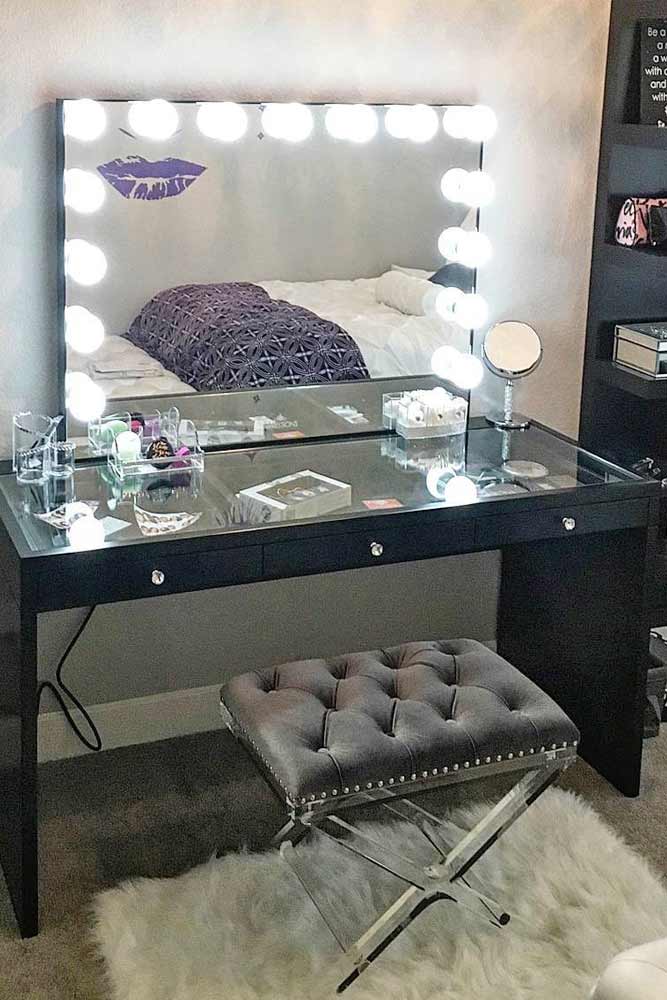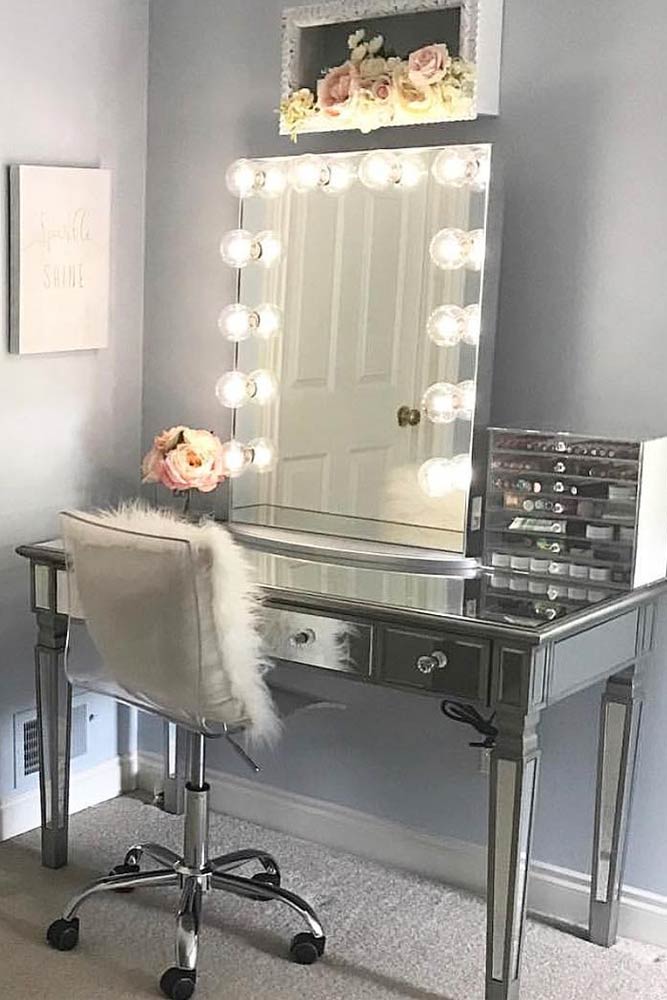 Source: Instagram/beautyinyourhide, Instagram/bedco_furniture, Instagram/decor_for_kids
Here you can observe exquisite designs of makeup vanity with a lighted makeup mirror, which is so crucial to have for makeup lovers! Lights surround the mirror in a way that allows for the maximum lighting, close to natural daylight. Besides resembling a beautifying place for Hollywood celebrities, so many lights have a practical purpose, that is, to make sure that you apply makeup in a flawless way. As only much light can let you do so.
Makeup Vanity Table Designs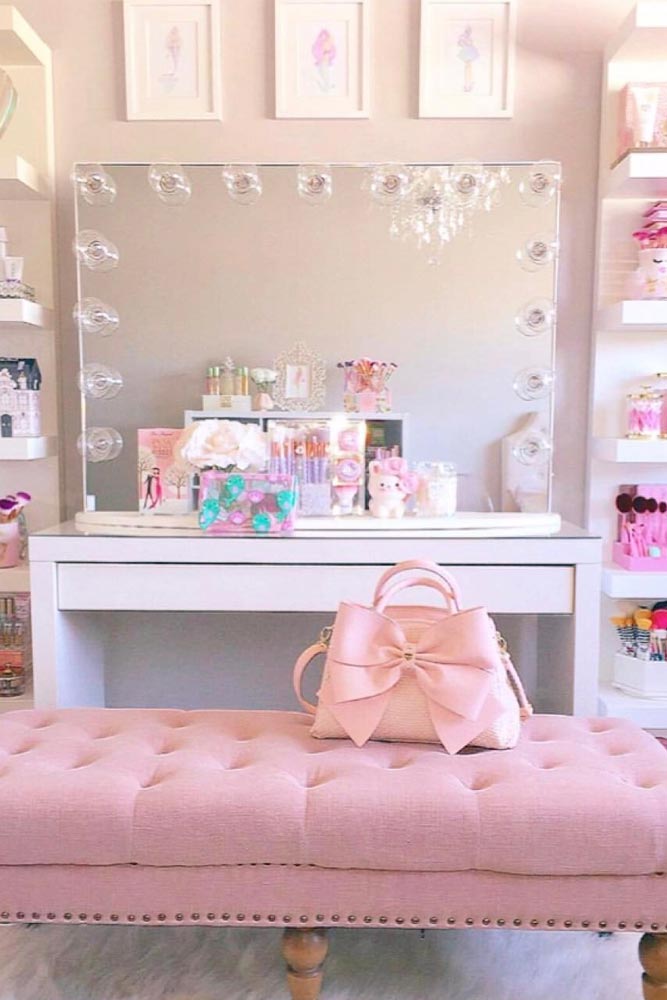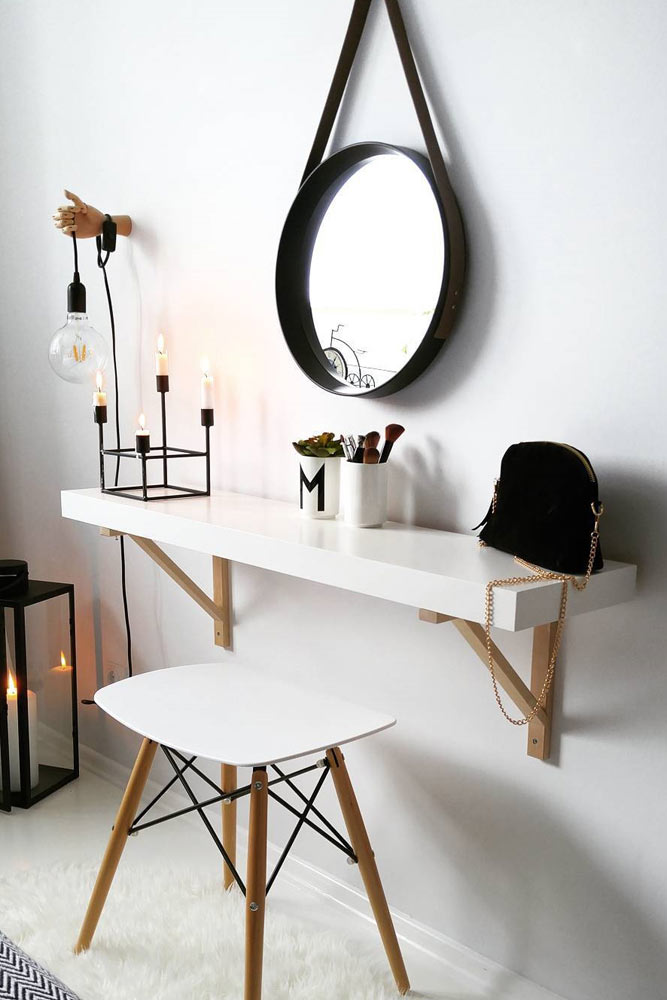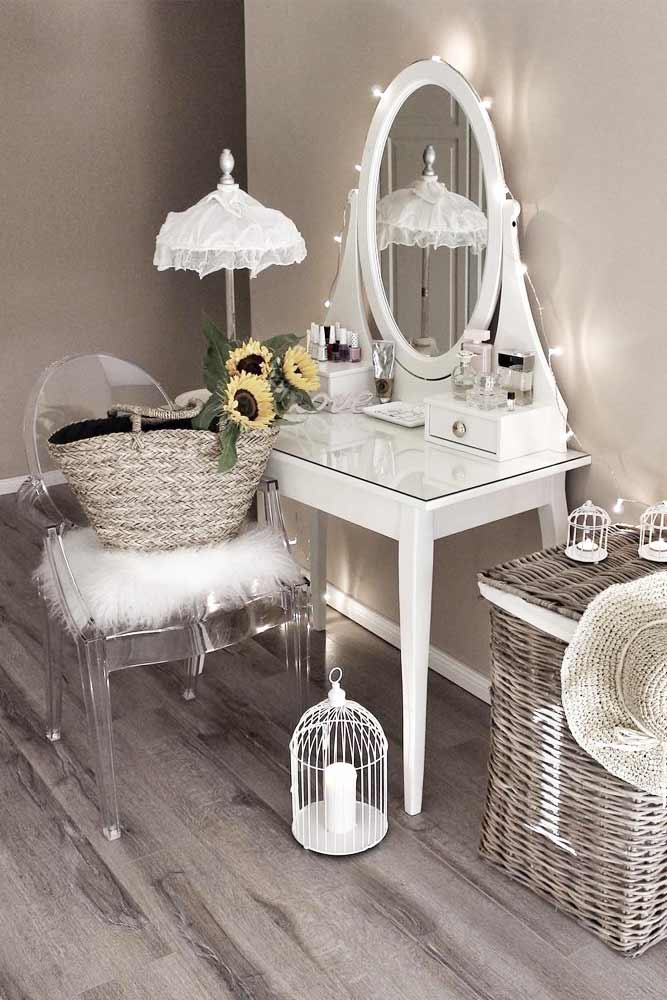 Source: Instagram/slmissglam, Instagram/so.very.me.and.home, Instagram/gozdeee81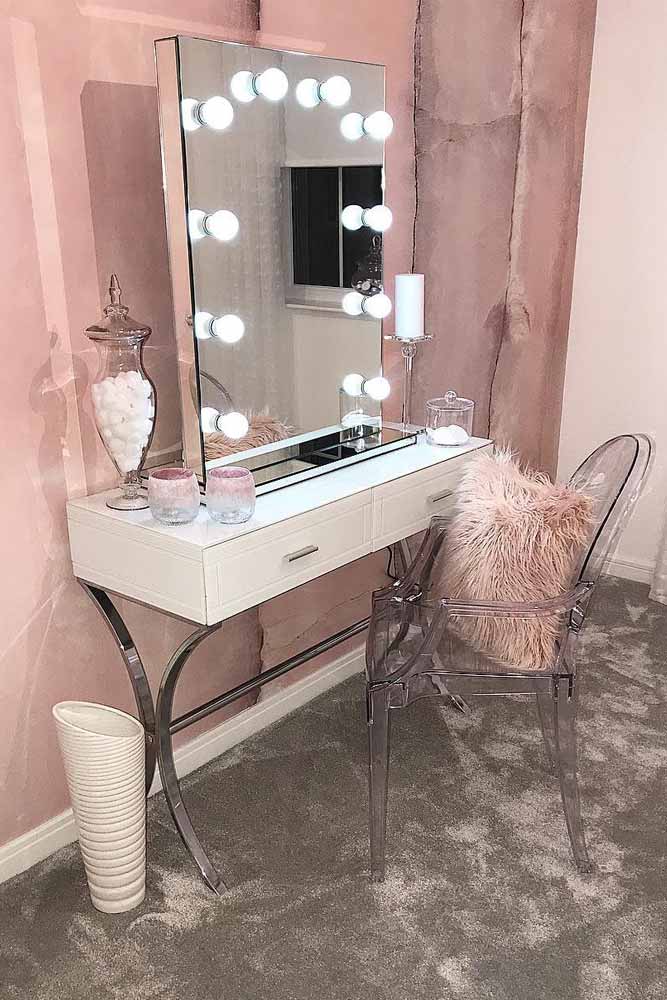 Source: www.hollywoodmirrors.co.uk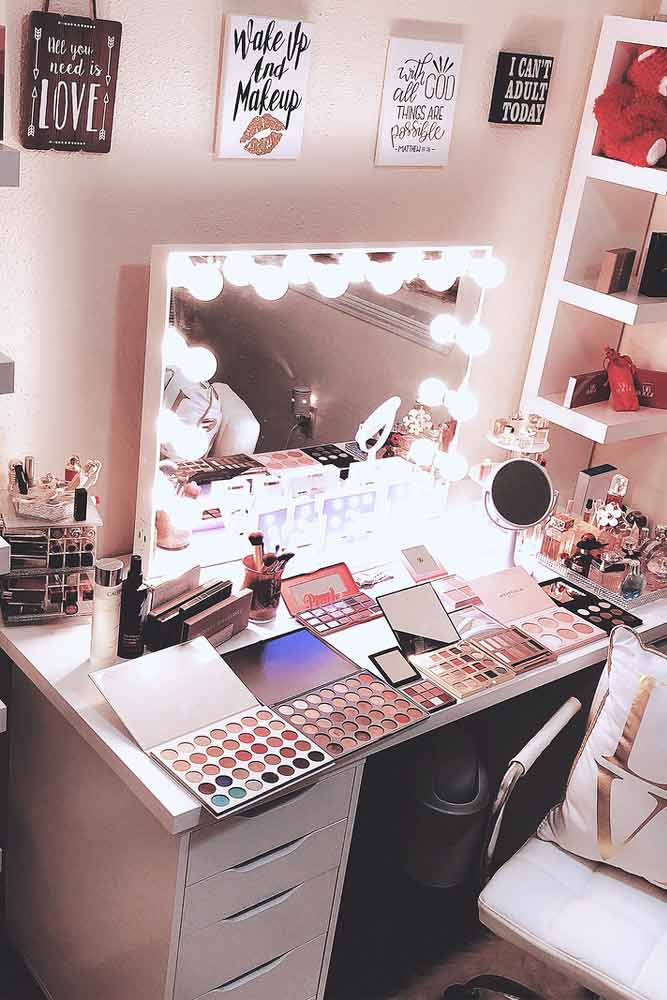 Source: Instagram/homethirtythree, Instagram/xoveeviciousxo
There are many ways how to decorate your makeup vanity table, and it all depends on the design of the table itself. The decorations are then adjusted. Always take into account the style. Is it modern, girly, minimalistic, or rustic? Introduce the accessories accordingly.
Designs Of Makeup Table With Space Storage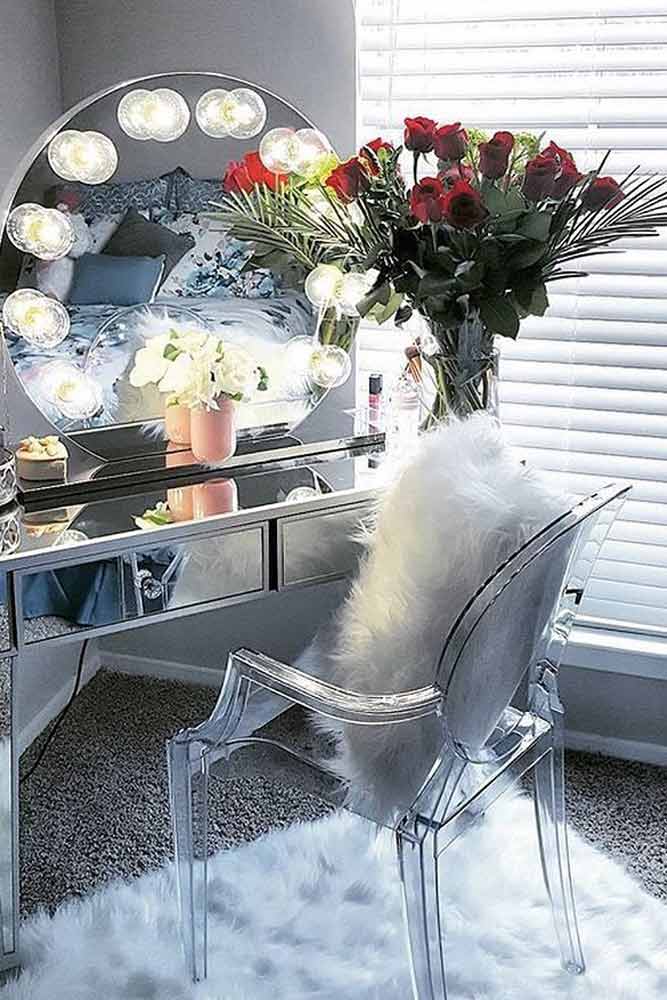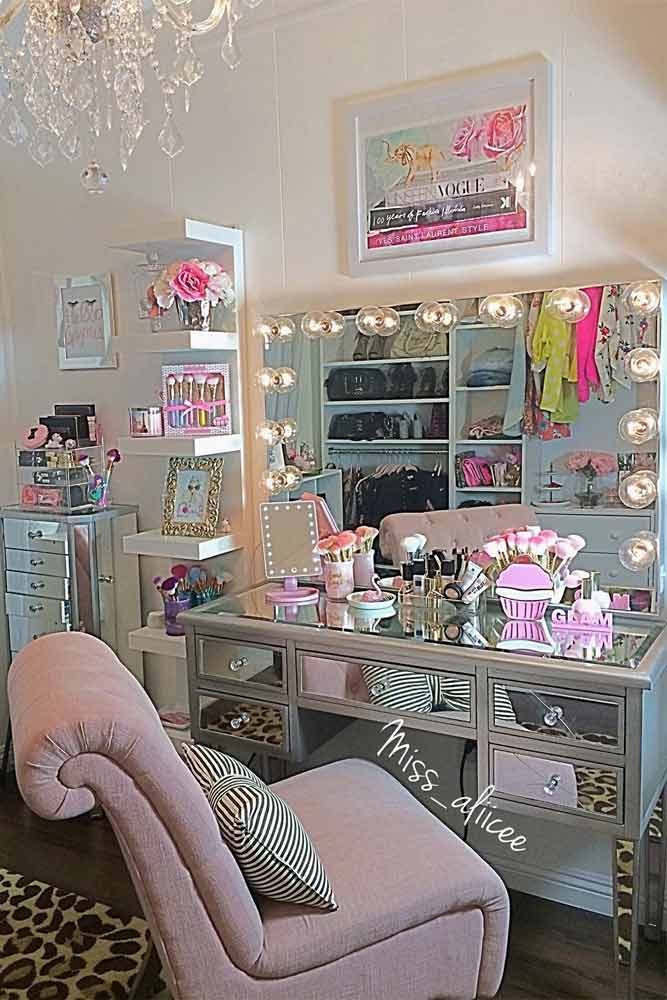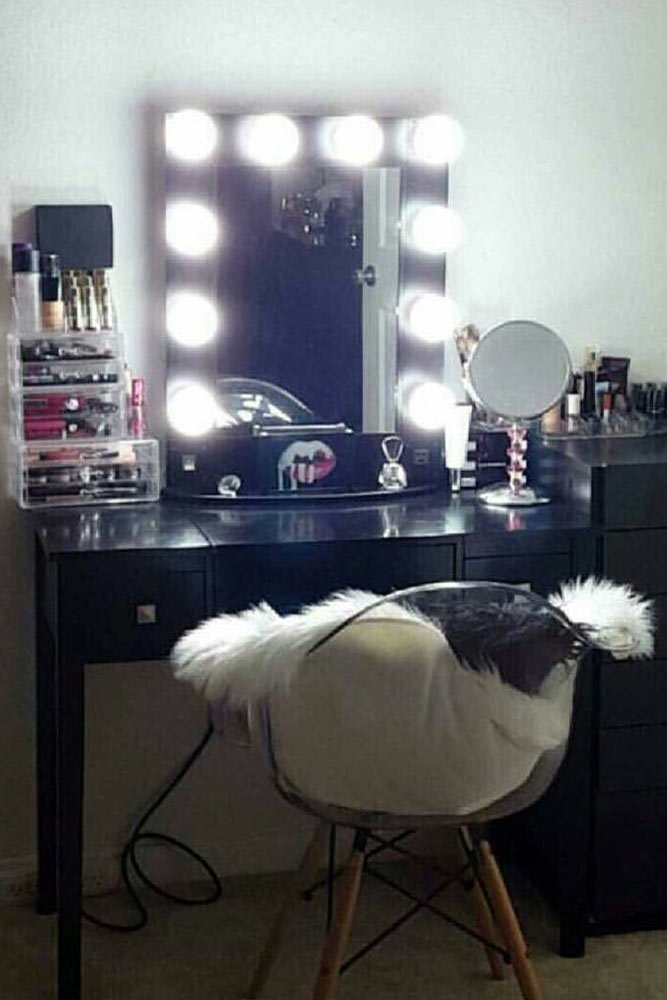 Source: Instagram/impressionsvanity, Instagram/miss_aliicee, Instagram/bedco_furniture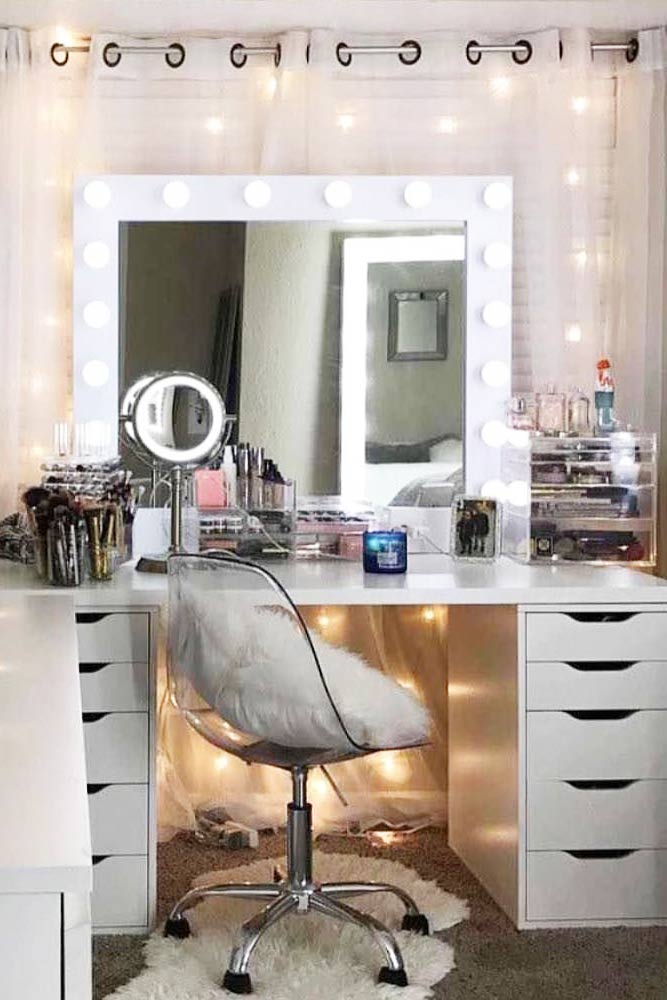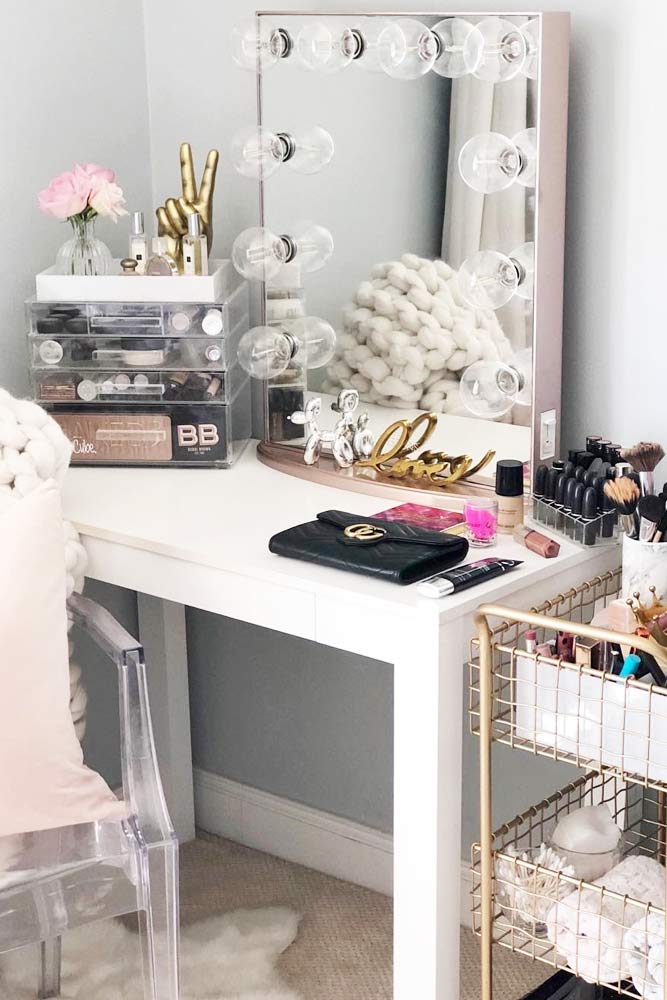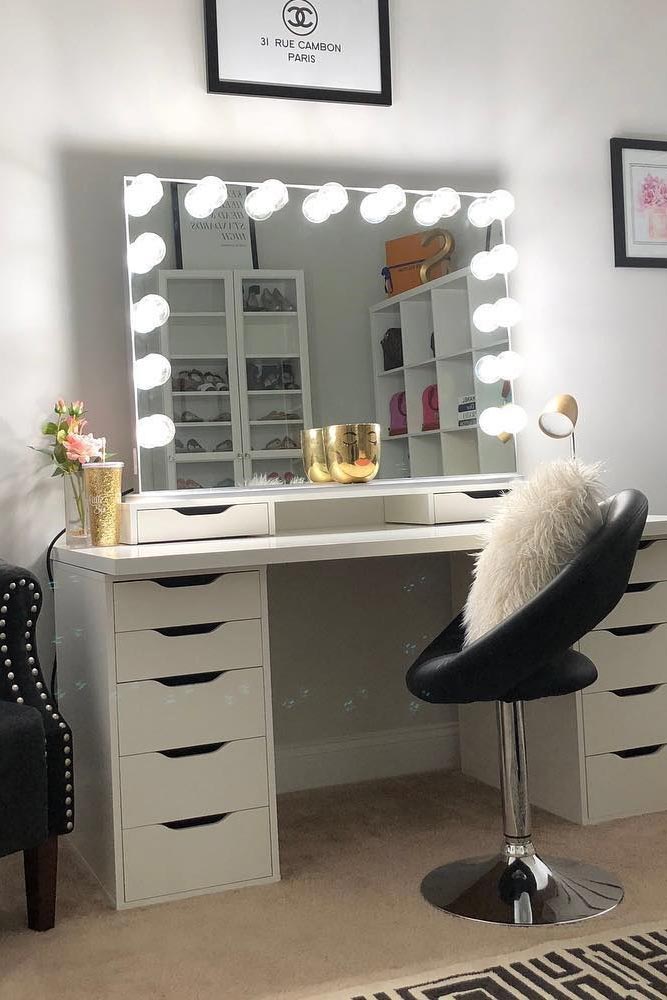 Source: Instagram/drea.m_vanities, Instagram/styledbykasey, Instagram/impressionsvanity
How glamorous these makeup vanity mirror designs look! As you can see, you can keep it very neat and hide most of the cosmetics, leaving some flowers and several accents out. Or, you can put all of your beauty products on display, in an order and tasteful manner, of course. The choice is yours!
Glam Modern Vanity Table Designs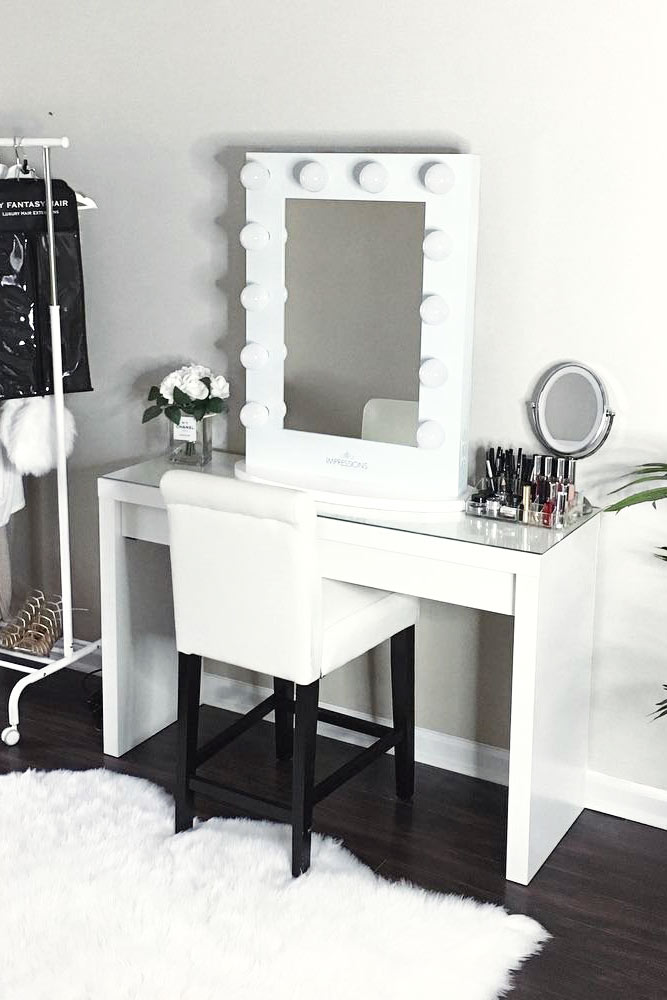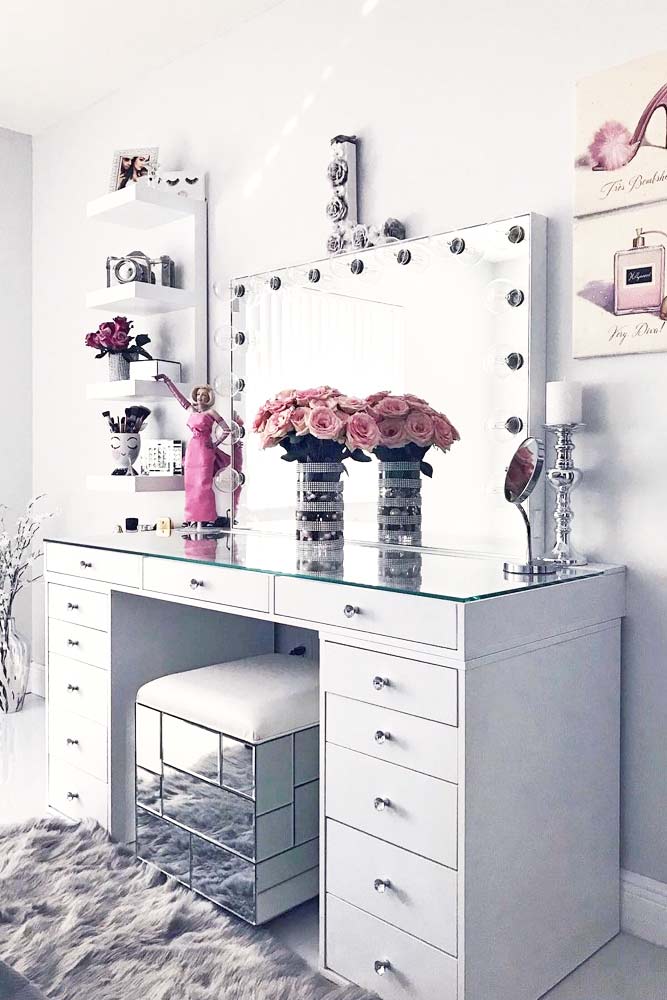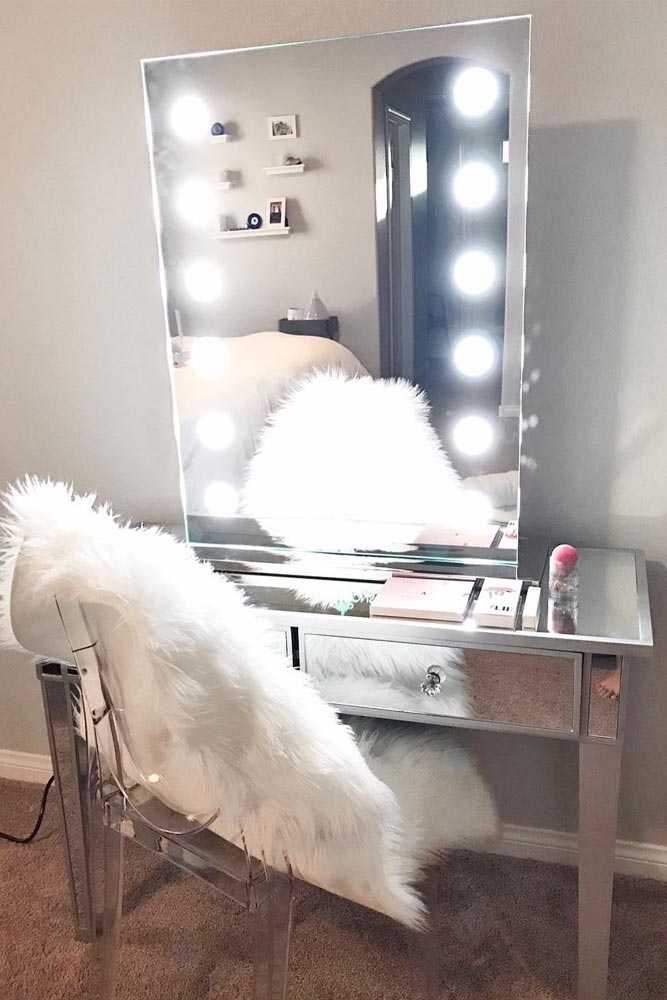 Source: Instagram/ashleymyfantasyhair, Instagram/impressionsvanity, Instagram/impressionsvanity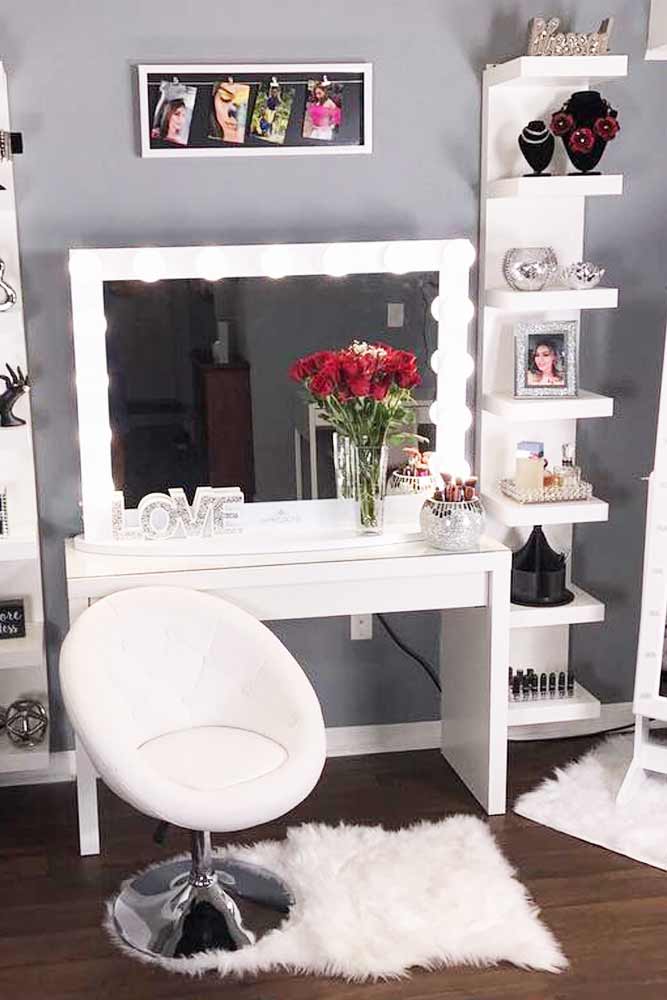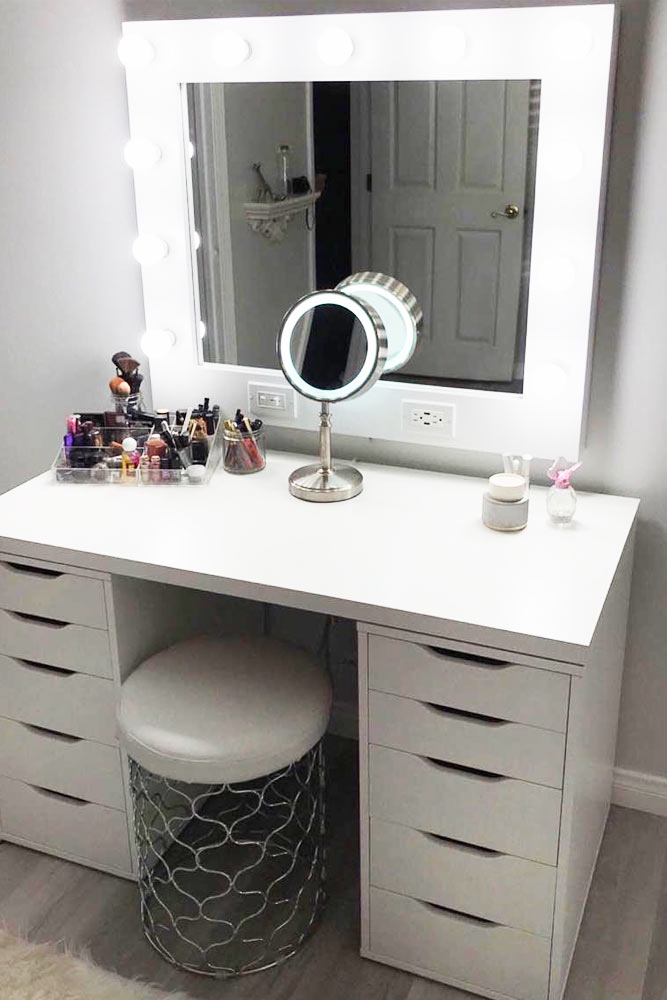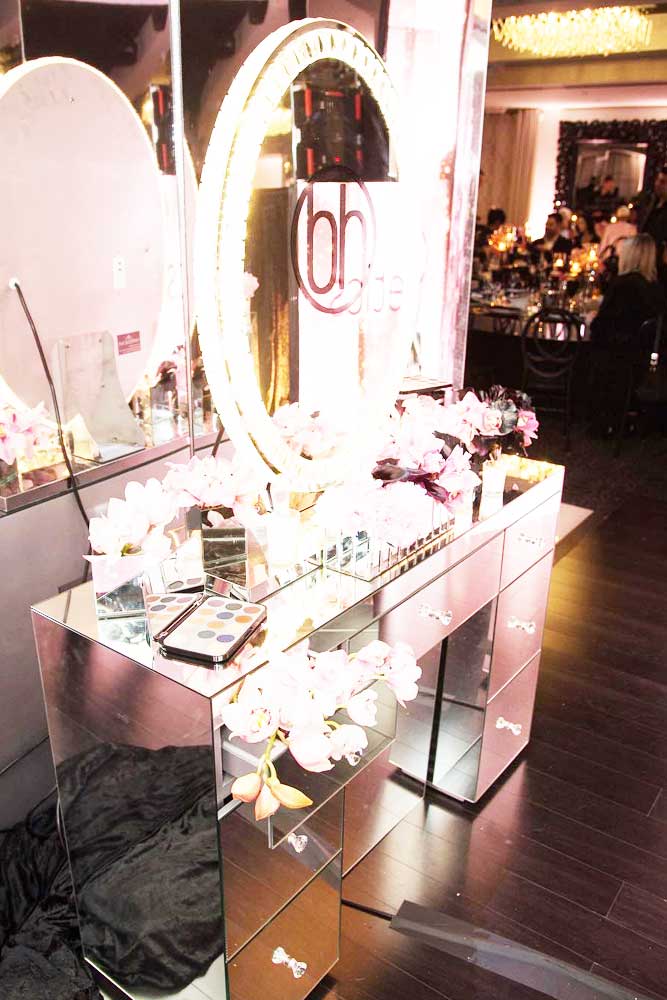 Source: Instagram/glamurosarivera, Instagram/drea.m_vanities, Instagram/wifeoftheparty
To keep your space as clean looking as possible, organize all your makeup inside the makeup desk's drawers and top it off with some beautiful flowers.
Vintage Makeup Vanity Tables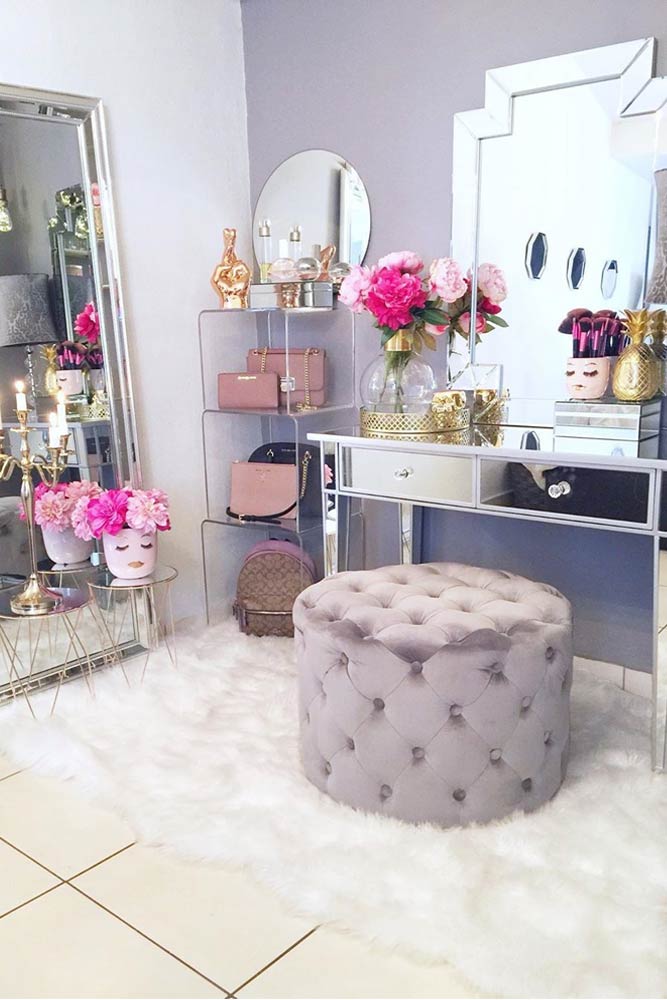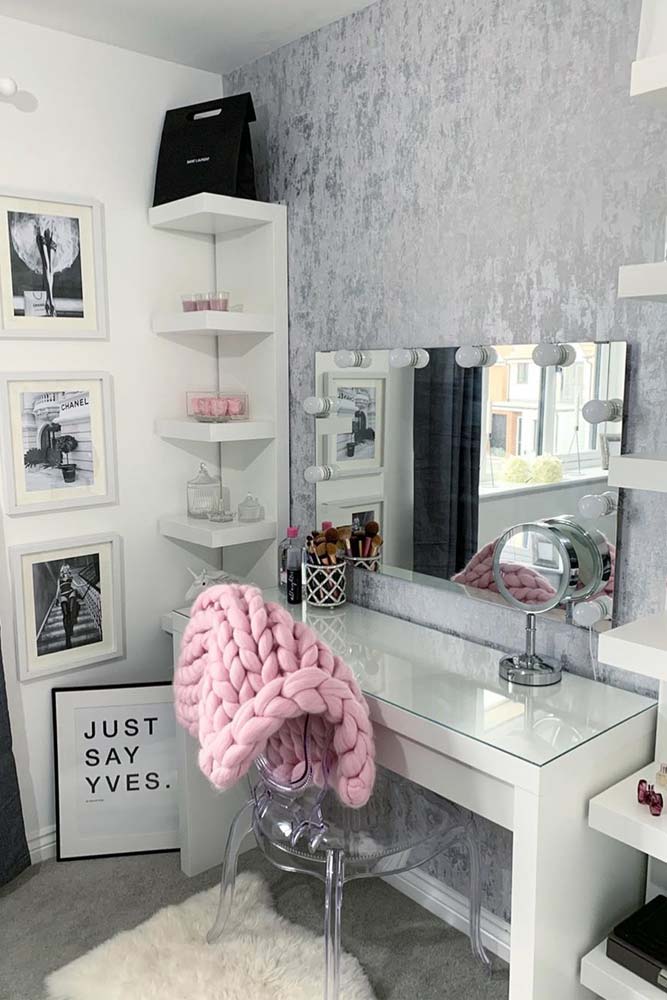 Source: Instagram/lizettes_home, Instagram/_homeofshade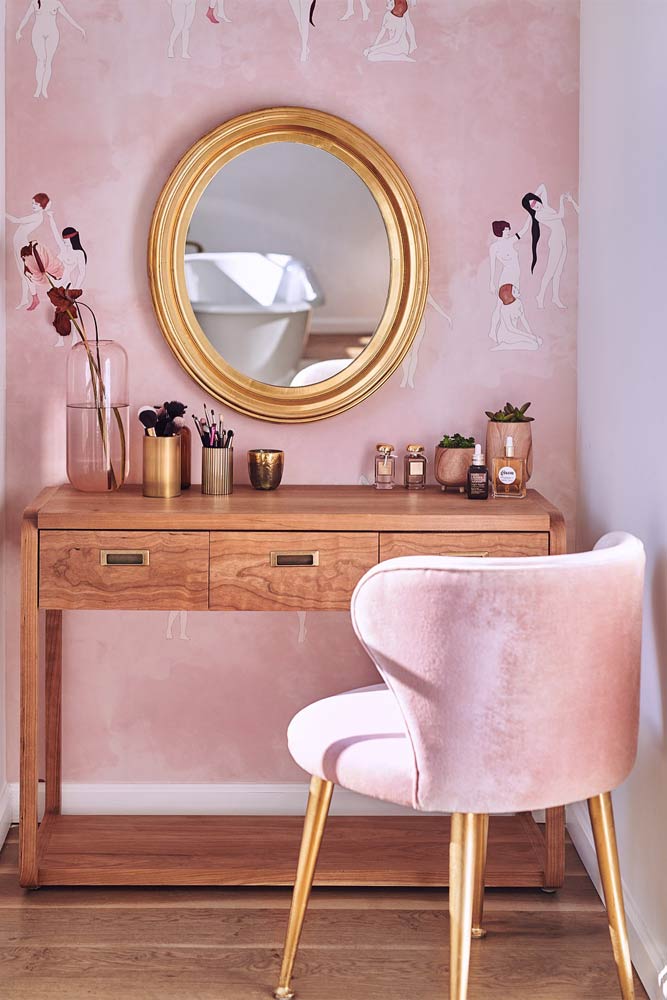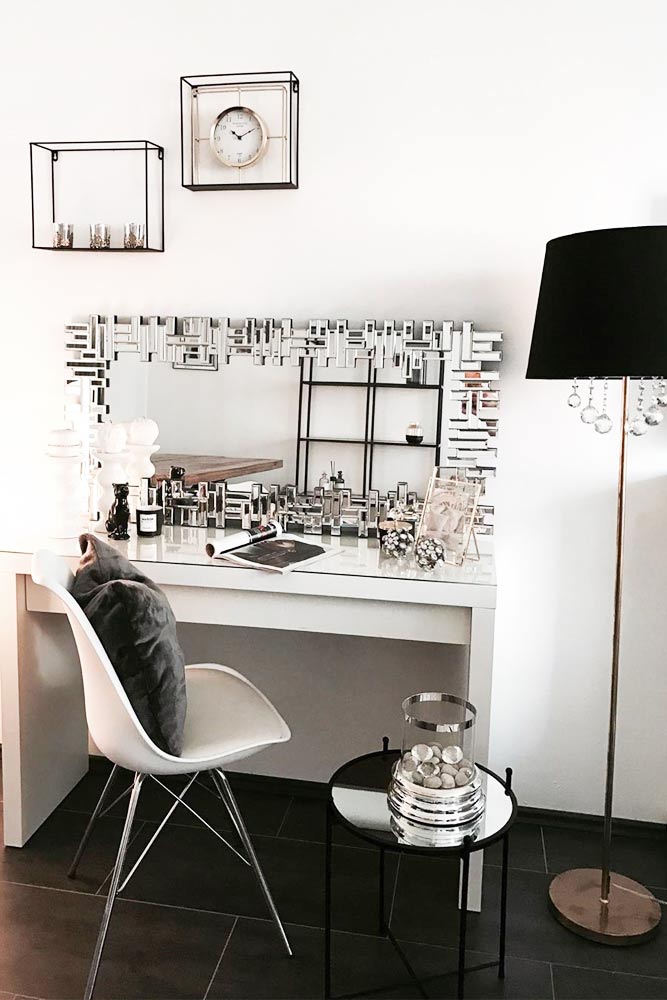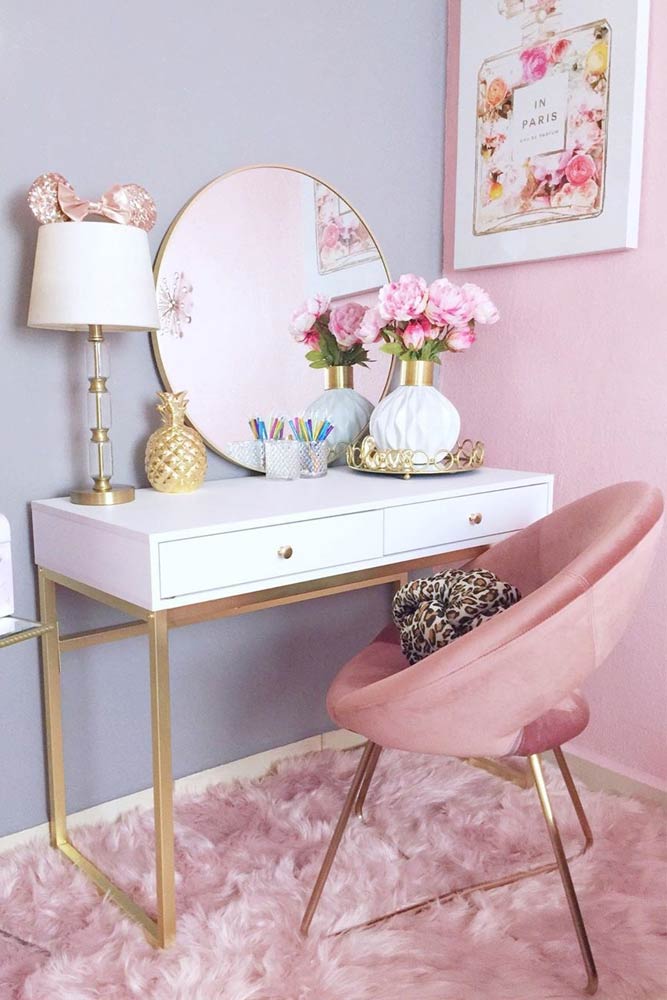 Source: Instagram/violette_fr, Instagram/interior_soz, Instagram/lizettes_home
A modern chair and soft accent pillow or piece of the fur, perfect light, and tastefully chosen accents — can transform a corner into your own little world.

FAQ: Vanity Table
What is the difference between a vanity and a dressing table?
Generally speaking, dressing table is another name for a vanity. Dressing tables were extensively used from 18th to 20th century, they were placed in bathrooms and were popular both by women and men.
How to DIY vanity mirror with lights?
You're going to need a frameless mirror and the lights. Wipe down the mirror and using a measuring tape mark the center of where you're placing the light with a sharpie.
Place the lights at equal distance from each other; the ones at the top are going to be a little bit more spread apart than the ones on the side. Start to stick them from one side and move on to the opposite to make sure both sides are symmetrical.
Lastly, stick the lights to the top side.
Tape the wires to the back of the mirror.
REFERENCES:
A lowboy is an American collectors term for one type of dressing table, vanity, or duchess (Australian English). Source
A designated bedroom vanity is a luxurious and functional feature for a home. Take a look at these inspiring bathroom vanities. Source
Was this article helpful?