Practical And Useful Jewelry Organizer Examples For Every Lady
Women are in love with jewelry; there is no doubt about that. As the years pass, you may notice that there are too many pieces in your collection while some are missing at all. To keep all of your accessories in one place is possible if you have a suitable jewelry organizer at hand. As you may have already guessed that it is going to be the subject of today's survey. Before, we proceed, it needs to be mentioned that every kind of jewelry needs a proper organizer type. For instance, necklaces are better to be hanged while rings and earrings should be kept in boxes with compartments. However, you do not need to worry – we have it all covered!
Mirror Jewelry Cabinet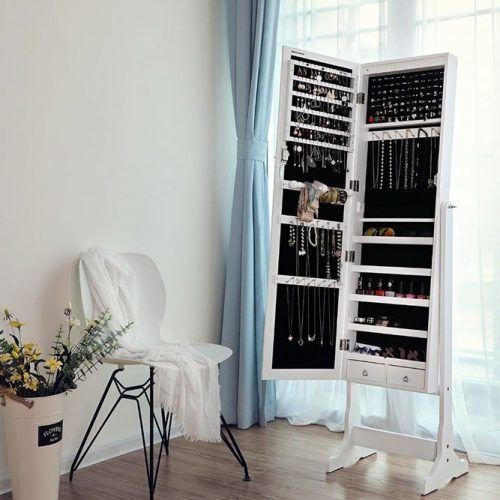 Source: songmics via Instagram
Among all the jewelry organizer ideas, some are difficult to resist. This mirror jewelry cabinet looks like a dream come true. There is a lot of room for every possible type of jewelry. However, you should keep it in mind that you need to invest some into it. So if you are limited in means, there are other suitable ideas to consider.
Wall Mounted Jewelry Organizer Design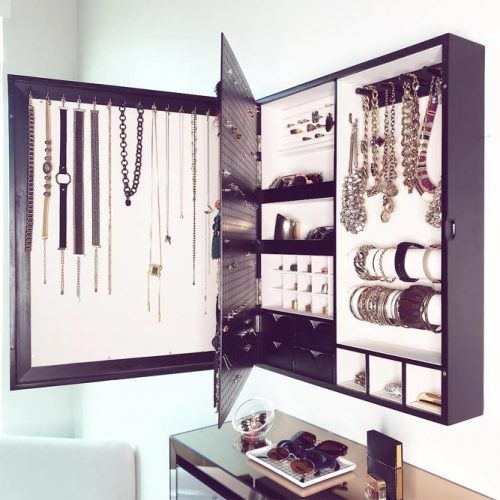 Source: bleachlafurnishings via Instagram
One of the main issues with bid jewelry organizers is that you may not have enough room to fit it in. That is when a wall jewelry organizer come sin more than handy. Not only it is super spacious, but also while hanging on the wall, it will add some more charm and style to your interior.
Rustic Jewelry Organizer Idea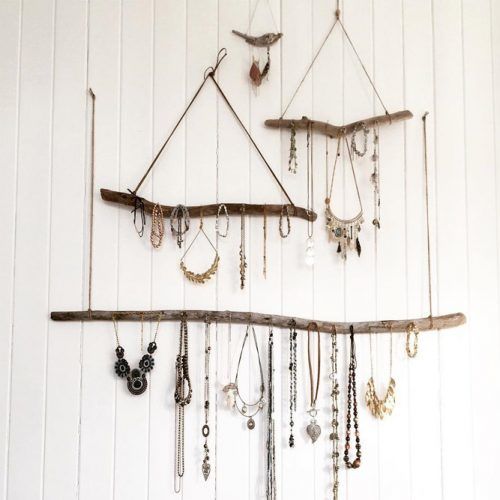 Source: frurokaas via Instagram
In case you are both necklace and vintage décor fan, we have something special in store for you. The thing is that the necklaces are better to be hanged so that they do not tangle. That is when such a rustic necklace organizer may come of use. There is nothing complex about it, and you can even make it on your own.
Wall Hanging Jewelry Organizer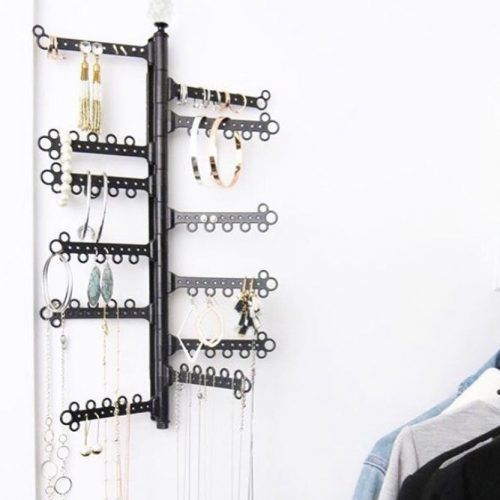 Source: alifebetterorganized via Instagram
Another hanging jewelry organizer that we want to offer to your attention is this wall hanging one. You can easily place it in your bathroom and keep all types of jewelry you have stored on it. As you can see, such an organizer can fit anything on the scare from your bracelets to earrings.
Wood Wall Jewelry Hanging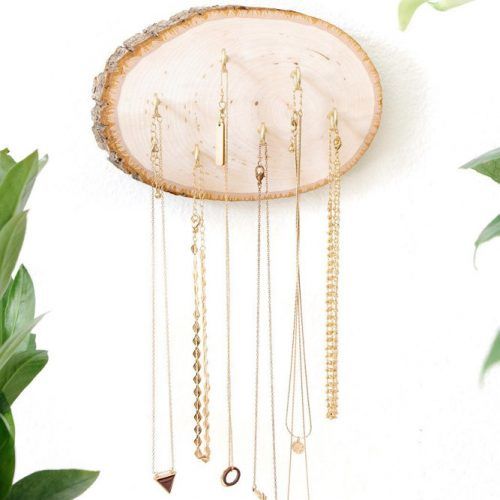 Source: shesawildflowerco via Instagram
If you can't afford a new organizer right now, but the number of necklaces you have keeps piling up, there is a way out. All you need is a piece of wood and a couple of hooks. When combined together they make a super vintage and elegant looking jewelry wall organizer for your favorite necklaces.
Pockets Zipper Jewelry Organizer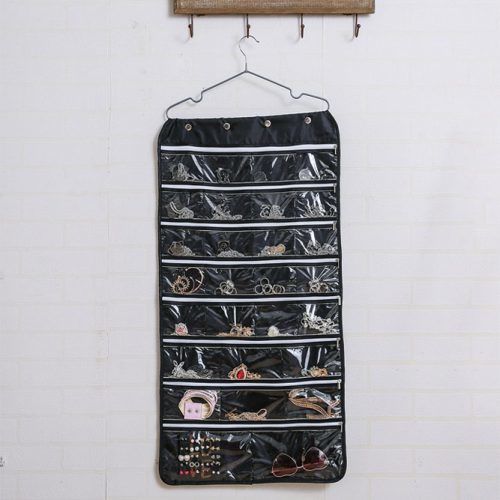 Source: insownibaby via Instagram
It may be surprising how affordable an organizer can be if you switch your imagination on for a while. The fact is that pockets zipper can become your favorite over the door jewelry organizer. Every piece of jewelry has its own pocket so that nothing gets lost. Besides, you can always observe all of your belongings before choosing a piece to wear today!
Jewelry Tray Organizer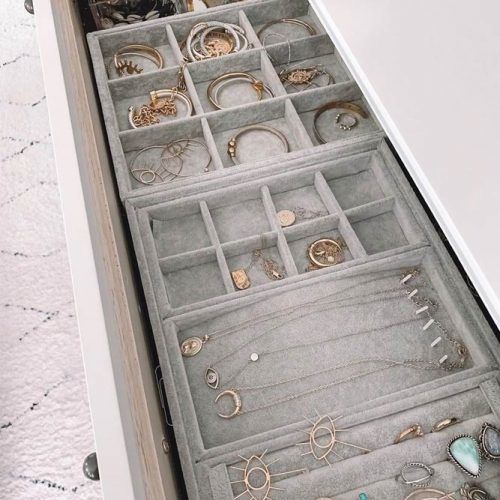 Source: gypsytan via Instagram
If you happen to own vanity with a free drawer, then we know what to fill it with. A tray organizer is the best jewelry organizer. If you wonder why we say so, just take a look at the example. All the pieces are in place as well as in sight beside you can easily hide away your treasures by simply closing the drawer. As simple as that!
Travel Jewelry Organizer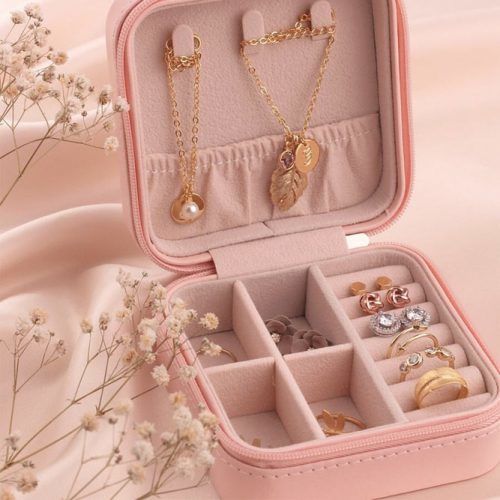 Source: baublebible via Instagram
Very often, we leave one important detail out when planning a trip. What we have in mind is the travel jewelry organizer. Do you like your jewelry lying around your suitcase? No, we don't either. That is why we suggest you get a simple and cute travel box for your jewelry. We promise you that you will never regret the purchase.
Rings Holder Design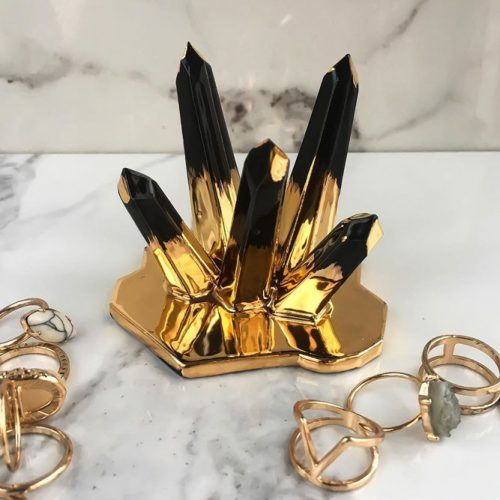 Source: modernmud_ceramics via Instagram
To tell you the truth, a jewelry stand is not a very good organizer for anything but rings. The stand fits your collection of rings; let's assume that you have one, perfectly. So, if you are a ring addict, such a fab stand is that one thing that is still missing from your vanity table!
Acrylic Jewelry Organizer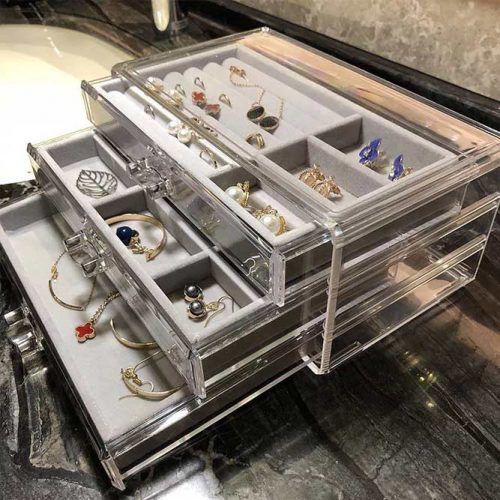 Source: chuanglan_vicky via Instagram
If you do not have a spare drawer to fit your jewelry tray in, then you need a jewelry drawer organizer. We must admit that it is a little space-consuming, but if you have lots of jewelry randomly lying around the flat, this your perfect option to gain order!
Small Jewelry Box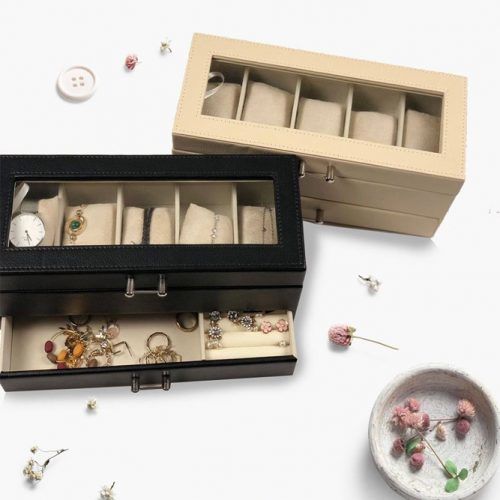 Source: chuanglan_vicky via Instagram
Not all of you may indeed have huge jewelry collections. Sometimes, all you need is a chosen few pieces that you simply adore. But even a small collection needs to be neatly organized. For that, you can use a small jewelry box. Such a box won't take more space than a regular makeup kit but will keep your valued treasures safe.
Hedwig Jewelry Cage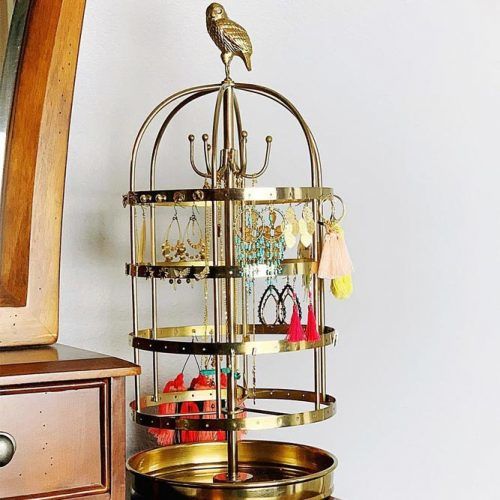 Source: livelifefullofmagic via Instagram
Rejoice Harry Potter fans! If it happens so that you are equally in love with the magic world as well as with jewelry, this jewelry storage cage will steal your heart. There is no wonder why, who wouldn't like to add such a gorgeous piece to the décor. Not to mention the fact that it is highly functional and spacious.
Marble Jewelry Stand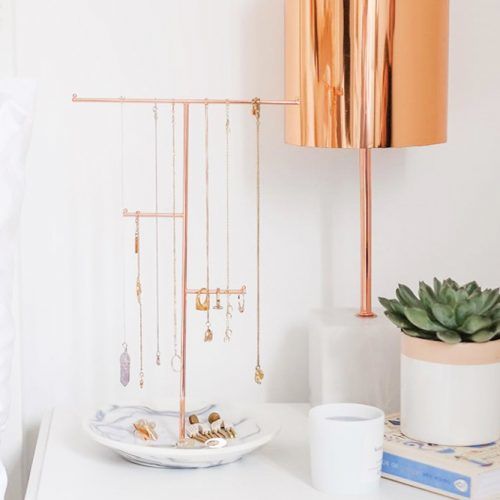 Source: mystackers via Instagram
There is a false assumption that a jewelry organizer stand is supposed to be grand. On the contrary. You can keep such a stand on your bedside table within hand's reach. Even if you forget to take your jewelry off before going to be you can easily do it while in bed without the slightest hint of fear that it will get lost.
Tree Jewelry Stand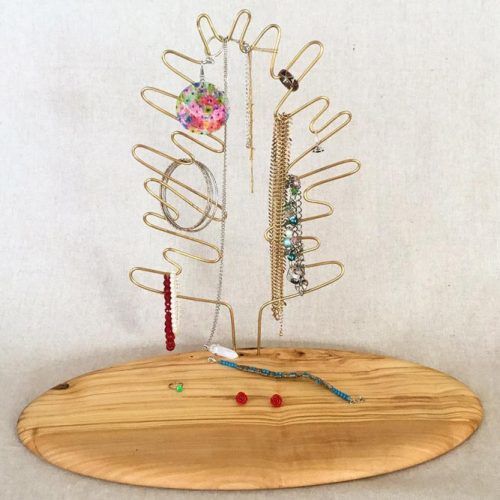 Source: nika.arts via Instagram
With this jewelry tree stand, you can kill two birds with one stone. Let us explain why. The thing is that while keeping all your jewelry in place, such a stand will add that unique and charming vibe to any room it is introduced into.
Earrings Holder Design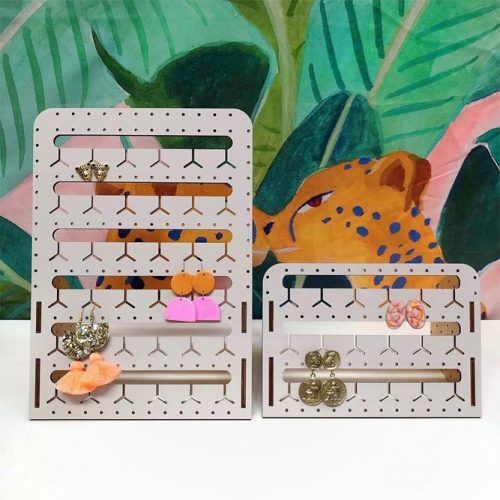 Source: bonmaxie via Instagram
There is no need to invest in a spacious and grand jewelry organizer is all you wear are just earrings. A perfect and practical earring holder is the only organizer required. Besides, while storing all the earrings in one place, it will not take a lot of place itself!
Jewelry Cloches Organizer Idea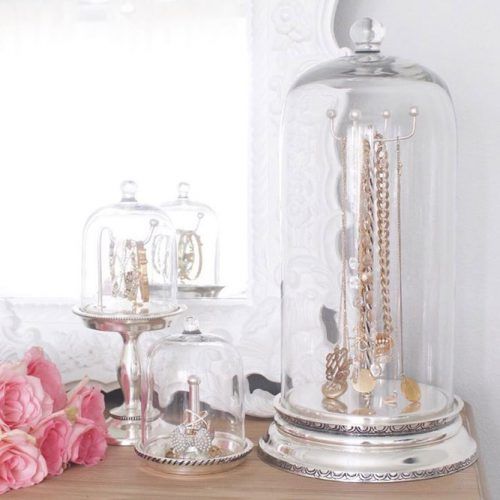 Source: summeradamsdesigns via Instagram
There are cases when women look for not only a useful jewelry organizer but also a work of art. These jewelry cloches belong to the category. They are so gorgeous looking that it is hard to take the eyes off!
Hanging Little Suckers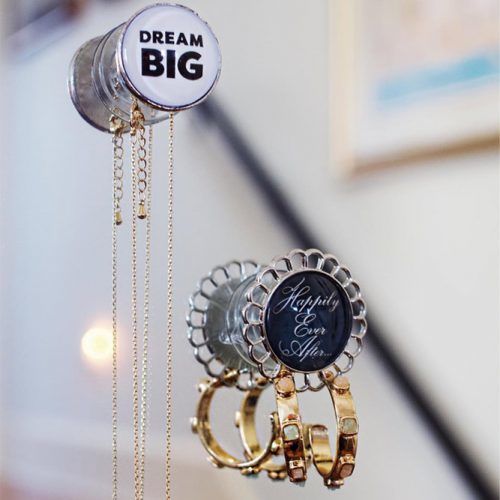 Source: shinylittlesuckers via Instagram
Where do you usually put your jewelry on? We think in front of your mirror. That is why if none of the described above ideas suit your taste, these little suckers might. The thing is that they do not take up any space while keeping your belongings in order and within reach!
Jewelry Cabinet Design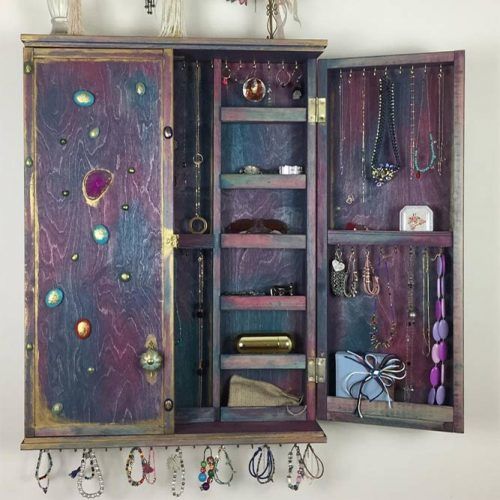 Source: alperthesign via Instagram
If you have a lot of room at your disposal as well some spare means to be wasted on a jewelry organizer, we may have a suitable idea in mind. Is there anything better than a whole cabinet devoted to your jewelry? We think not! However, the choice is yours whether or not to opt or it.
Source: alperthesign via Instagram
How To Make Popsicle Sticks Jewelry Holder

Source: ArtandCraftVille Via Youtube
In case your budget is tight, you can easily create a fancy and useful jewelry organizer on your own. Here is how you can do it:
Gather some popsicles.
Paint them if different colors.
Place two popsicles parallel to each other.
Glue four different-colored popsicles across the two parallel ones.
Add four more popsicles to support your organizer stand.
Create as many organizers as you need.
DIY Driftwood Jewelry Organizer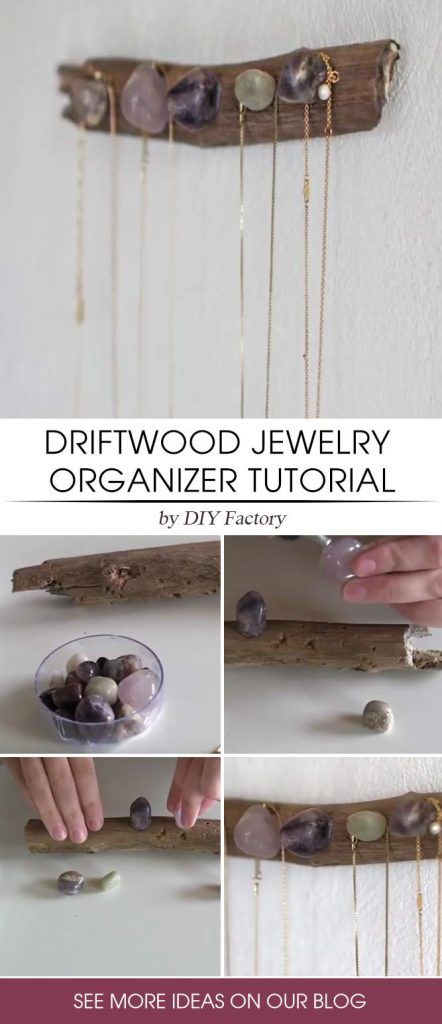 Source: DIY Factory via Youtube
Find a piece of driftwood.
Glue as some decorative stones to the driftwood.
Hang the organizer on the wall.
Decorate it with your necklaces.
In case you are looking for a proper jewelry organizer to keep your collection in place, we have a fair share of ideas to provide you with. Besides, you can not only purchase a readymade example but also make one on your own!
FAQ: Jewelry Organizer
What is a Jewelry organizer?
Jewelry organizer is a place where you can keep your jewelry. It helps you to store your jewelry untangled and safe. There are various types of jewelry organizers like a travel box, tray, hanging zip bag, vertical organizer, a collection of hooks neatly places on the wall etc.
How to DIY earring organizer?
Take a shelf liner that has the holes in it and a photo frame.
Cut out your shelf liner about a half an inch bigger than the backing of the frame.
Flip over that white piece of paper and then put in the backing.
Attach it to the wall with some command strips. Slip earrings into the holes.
Was this article helpful?