Impressive And Affordable Dorm Room Ideas For Everyone
When the college season is right behind the corner, it is time you start thinking about dorm room ideas. Surely, these are no teen bedroom ideas when you can set your imagination free due to the fact that there are no limits or boundaries. When it comes to a college dorm, you are not only limited in space, but you are going to share the room with a stranger. This means that you should be flexible enough to decorate the room in such a way that both of you will feel comfortable about it. Besides, unlike the bedroom you are used to, your dorm room will be your living room, guest room, and study room – all in one. Keeping all the factors in mind, we have come up with a vast range of suitable ideas that you and your roommate can consider.
Flower Wall Decor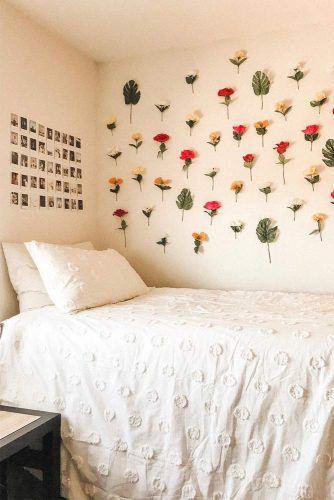 Source: samashley32 via Instagram
There are many things to use to spice up your dorm room. However, wall décor is the first thing that comes to mind, whether you like it or not. If some expensive décor is not an option, you can opt for a budget version. The fact is that even if you spend the least on your wall decoration but pick it with a sense of style, the effect will remain the same. For instance, faux flowers stuck to the wall create that genuine feminine vibe that many seek for. One look at the idea and you will get the point.
Dorm Wall Décor With Neon Signs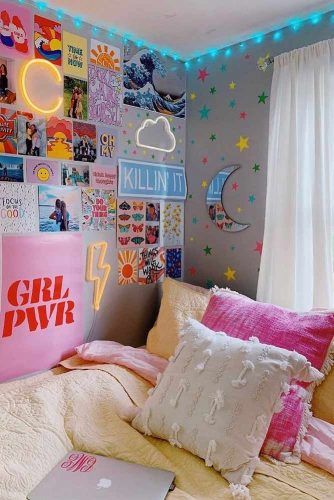 Source: tapestrygirls via Instagram
No matter which college dorm room ideas you prefer most, there should be enough light in the room. That is why neon signs are so popular among student. Of course, you won't be able to study with the lighting like that, but a girly evening party will turn to be simply perfect. Those neon light carry out the special vibe that can't be replicated by anything else.
Dorm Room Idea With Tropical Tapestry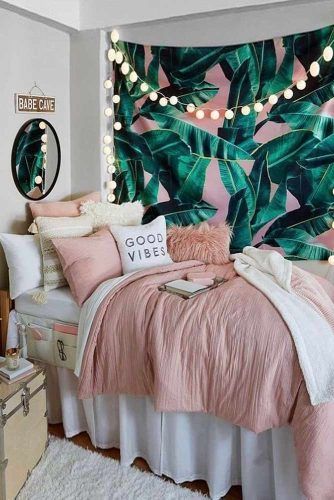 Source: tapestrygirls via Instagram
It is highly essential that you like your dorm, besides it should be comfortable enough for your study as well. Good sleep is an important component of a quality study. This means that among all the dorm room decorating ideas, the one with nature involved will influence your sleep pattern is a good way. This brings us to the point when it is safe to say that tropical tapestry and lots of fuzzy as well as cozy pillows are the elements to consider.
Dorm Room Décor With Wall Signs And Photos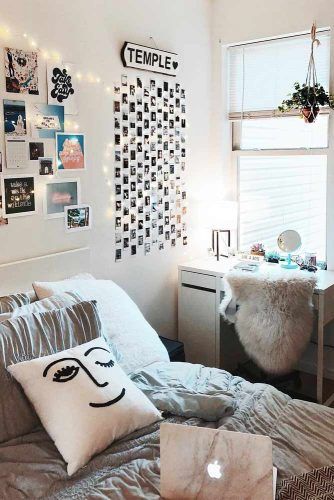 Source: merebanks via Instagram
Just like neon signs, string lights are highly popular among dorm residents. While neon signs have a little harsher vibe, strings of lights create that perfectly mild and sweet atmosphere. If that is what you are looking for then while on a shopping spree for college, get yourself a strong or two of those. Also, in order not to feel lonely while in college, you can bring all your friends and family with you. All you need is a part of your wall devoted to those you love and miss!
Plants For Dorm Room Decor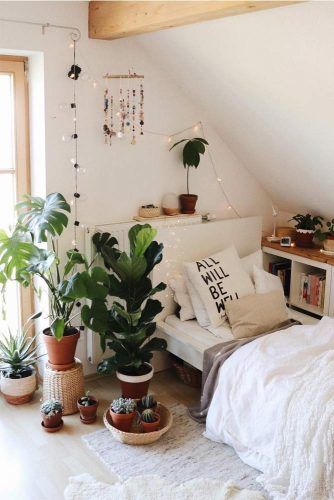 Source: booksandpeonies via Instagram
It is not enough to browse through and consider all possible cool dorm room ideas. It is also important that your dorm becomes your second home, at least for a while. That is why if there were lots of plants in your room at home, you shouldn't hesitate to introduce some into the dorm too. If your roommate is not a fan of those, you can easily keep them on your side. As simple as that!
Dorm Room Idea With Map Wall Decor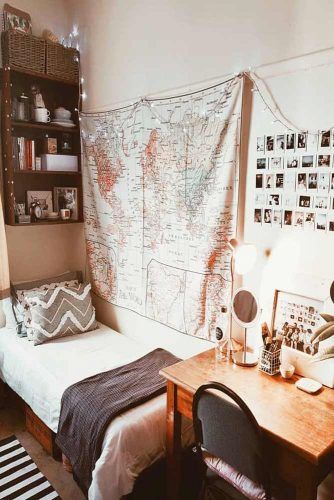 Source: hellohannahjoy via Instagram
Usually, most dorm room ideas girl involves lots of flowers, pink hues, and other puffy elements. However, let's face it – not all the girls are equally in love with an element like that. If you belong to the category, we have a good idea in mind. All you need to do is to decorate the room according to your taste no matter what others may say. If you are into geography or traveling – bring in a huge map and hang it on the wall next to your bed.
Black And White Colors For Dorm Room Decor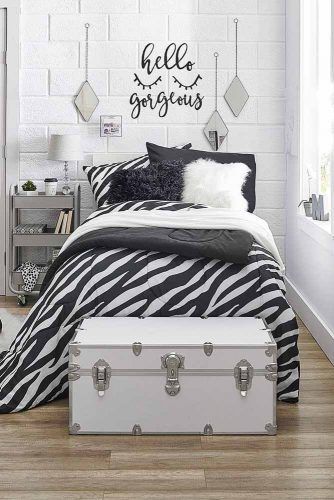 Source: ocmcollegelife via Instagram
Some ladies are looking for more reversed and subtle dorm room decor ideas. In case that sounds like you, then we have something that may come to your taste. Black and white dorm room will look both elegant and stylish. If you are worried that it is not girly enough, you can experiment with the number of pillows as well as cute phrases on your wall.
Bedding Space In Pink Color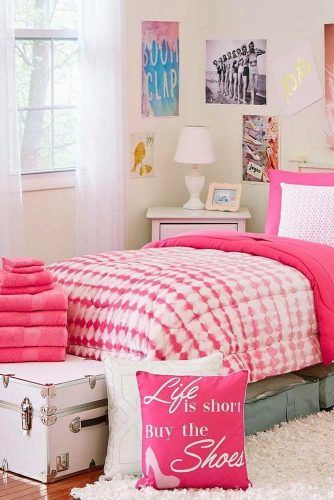 Source: rhinotrunk via Instagram
While some girls like it reserved and strict to the business, others prefer cute dorm room ideas to all the others. For the latter category, we have saved this adorable dorm room idea with pink bed space to it. Motivational quotes, as well as images on the wall, are suitable too.
Dorm Room Décor In Tiffany Blue Theme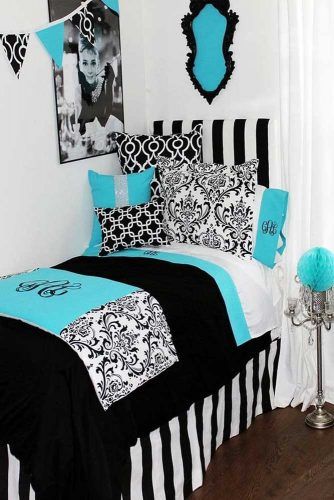 Source: decor2urdoor via Instagram
There are those rare cases when your room if completely yours, and there is no need to share it with a roommate. Such a possibility opens grand horizons to experimentation with the interior. If you are lucky enough to own a single dorm, then these single dorm room ideas will come in more than useful. If classics are your cup of tea, then tiffany blue them is precisely what you need!
Lofted Bed With Rest Space Idea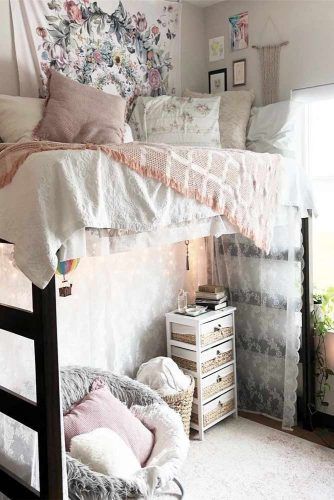 Source: gabriellecreates via Instagram
We have already mentioned it that dorms are usually small, and the amount of thing to fit in the dorm is vast. In times like this, a bed with the rest space will save the situation. It is like owning a bunk bed with the main difference that the first level is devoted to your chill-out area.
Lofted Bed With Study Space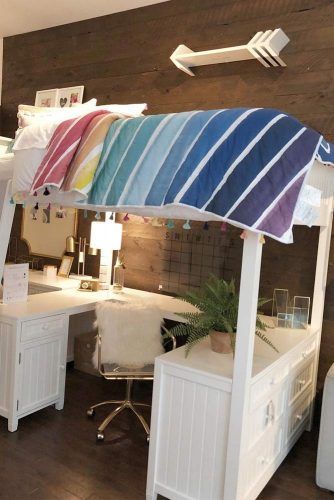 Source: thewoodlands_pbteen via Instagram
You may be surprised at how many small dorm room ideas there actually are. Some of them are worthy of consideration while others not so much. In this case, as you can see, you can easily combine your sleeping area with the study area. However, make sure that there is enough light added to the study area since it may be a little dark there, under the bed.
Lofted Bed With Storage Desk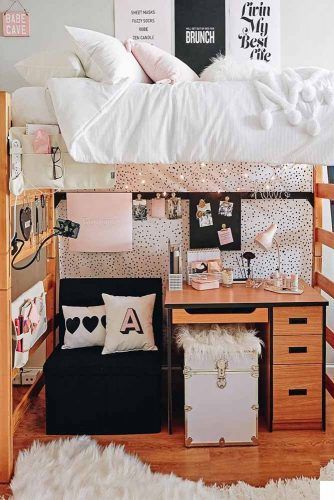 Source: dormify via Instagram
So far, we have discussed the ways of how to combine two in one. This is the way you can combine three things in one area. You can sleep there, study there and store your belongings there too. If you say that it is not one of the best dorm room ideas, we may not agree!
Study Space Organization With Pictures Wall Decor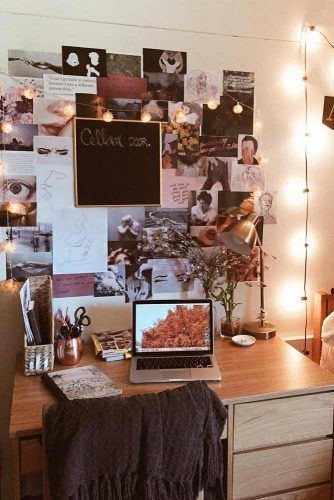 Source: fourletterword via Instagram
When it comes to your study space, it is easier than easy to leave one important thing out. If you think that that the study area is supposed to be just that you are mistaken. The thing is that this particular area should also be motivational so that you not only learn something new but also discover new horizons. That is why your dorm room wall decor ideas are so important when it comes to the study. Hang whatever inspires you and start the survey!
Comfy Poufs For Rest Space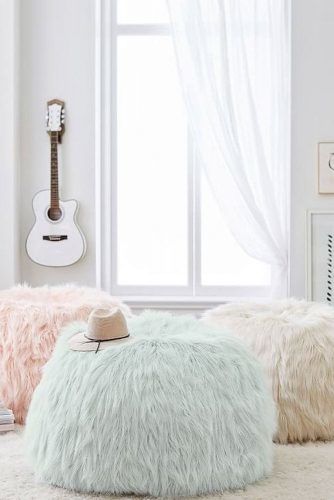 Source: potterybarndorm via Instagram
There are other things to do in college than just study and party, you need some rest too. To have some proper rest, there is a need for a suitable rest area. If you have enough of room in your dorm to afford that, this comfy pouf corner is precisely what you need.
Night Table Design With Jewelry And Stuff Organization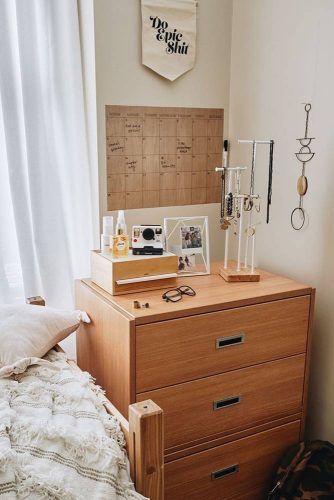 Source: dormify via Instagram
Letting your beauty rest is one of the essential things that every girl does. That is why a place to store your jewelry as well as cosmetics while in college deserves special attention too. Bed night table is one of those pieces of furniture that suit the goal perfectly. Firstly, you will have all your girly stuff within reach, while there is still plenty of room to store other necessary things.
Over The Door Organizer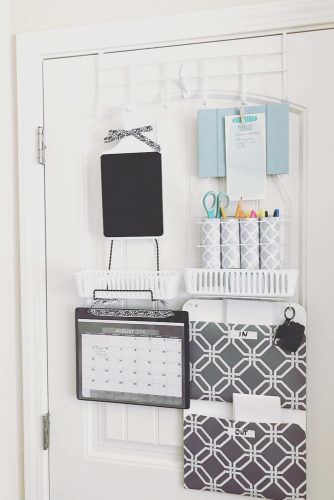 Source: life50nbeyond via Instagram
It is hard to think about the dorm decor if there is nowhere to keep your belongings. There is a way out, though. All you need is a door and an organizer. You may have never thought that storing your stuff on the door is possible, however as you can see – it is. Besides, your organizer may serve the decorative function too.
Shelves Storage Space And Wall Paper Planners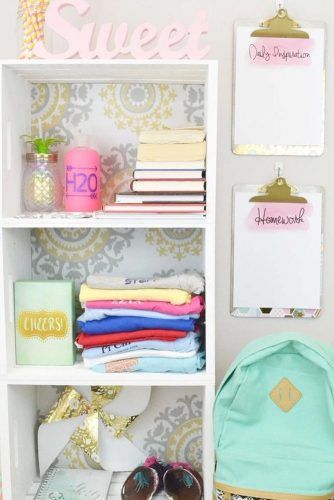 Source: craftboxgirls via Instagram
If you are looking for the simplest as well as the most affordable of all the dorm room storage ideas, we know one. A shelf is that particular storage that we have in mind. While it is spacious and can fit all your books and notebooks, it does not take a lot of space in the room. It is a win-win option; we can tell you that.
Shoes And Clothes Organization Idea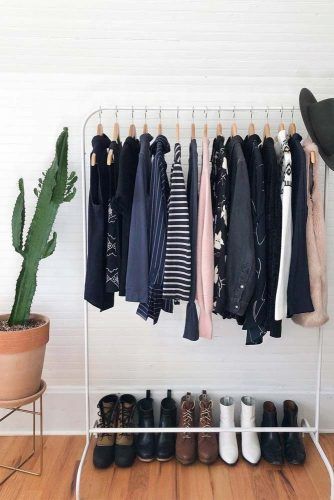 Source: mariekondo via Instagram
There is not a single girl dorm room without closer lying all over it. Unless you come up with another storing idea than a closet. If you want your dorm tidy and your clothes in one place – all you need is a compact shoe and clothes organizer. Even if you use two of those in your dorm, you won't take up a lot of space.
There are so many dorm room ideas that it may be difficult to choose one. Luckily, we are at your service, and we have gathered all the worthiest ideas in one place for you!