The truth is that there are people who either can't imagine their lives without house plants or those who do not care about them at all. If you belong to the former category, then you surely know what a plant stand is. However, not every one of you may know that such a stand is not only the necessity if your house is full of plants. Such a stand can be a perfect décor addition if you know what to opt for. That is why we have gathered here a list of the best and the freshest stands ideas for you to inspire from. Take your pick and transform your flat into a unique and stylish plant-friendly place!
How Do You Put A Plant In A Room?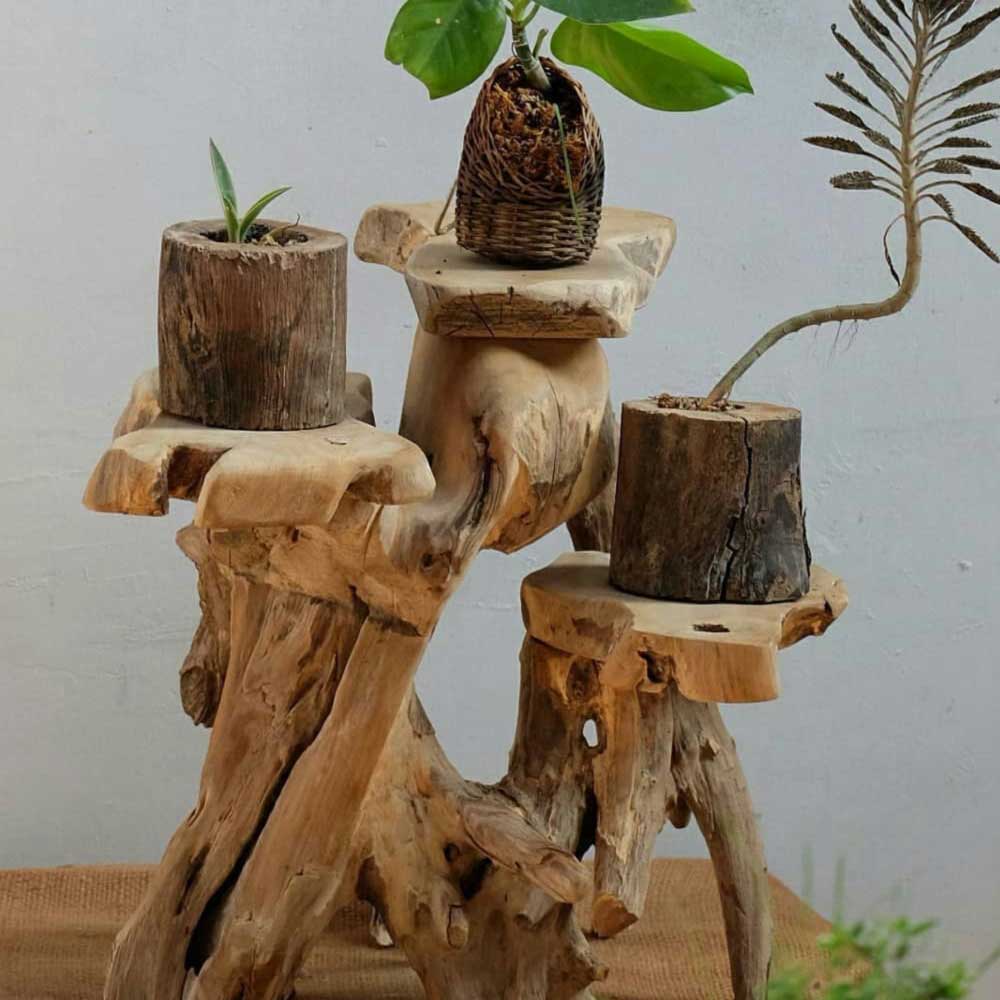 Credit photo: Instagram.com/tanaman_masadepan
You may already know that plants are great oxygen sources, but that is not the only reason why people decorate their houses with plants. Plants are those interior elements that add up to the coziness as well as the uniqueness of your home. Some of you may wonder which are the best places to keep their plants at. First of all, it all depends upon the type of plants you choose since some of them love sunlight more than the others. When you are all set upon the plant choice, you can choose the following places where to place them:
Hanging from the ceiling;
Placed close to the staircase;
Put into a plant corner;
Taking up most of the shelves;
On your windows;
Near the sofa;
Everywhere and anywhere.
Wood Plant Stand Designs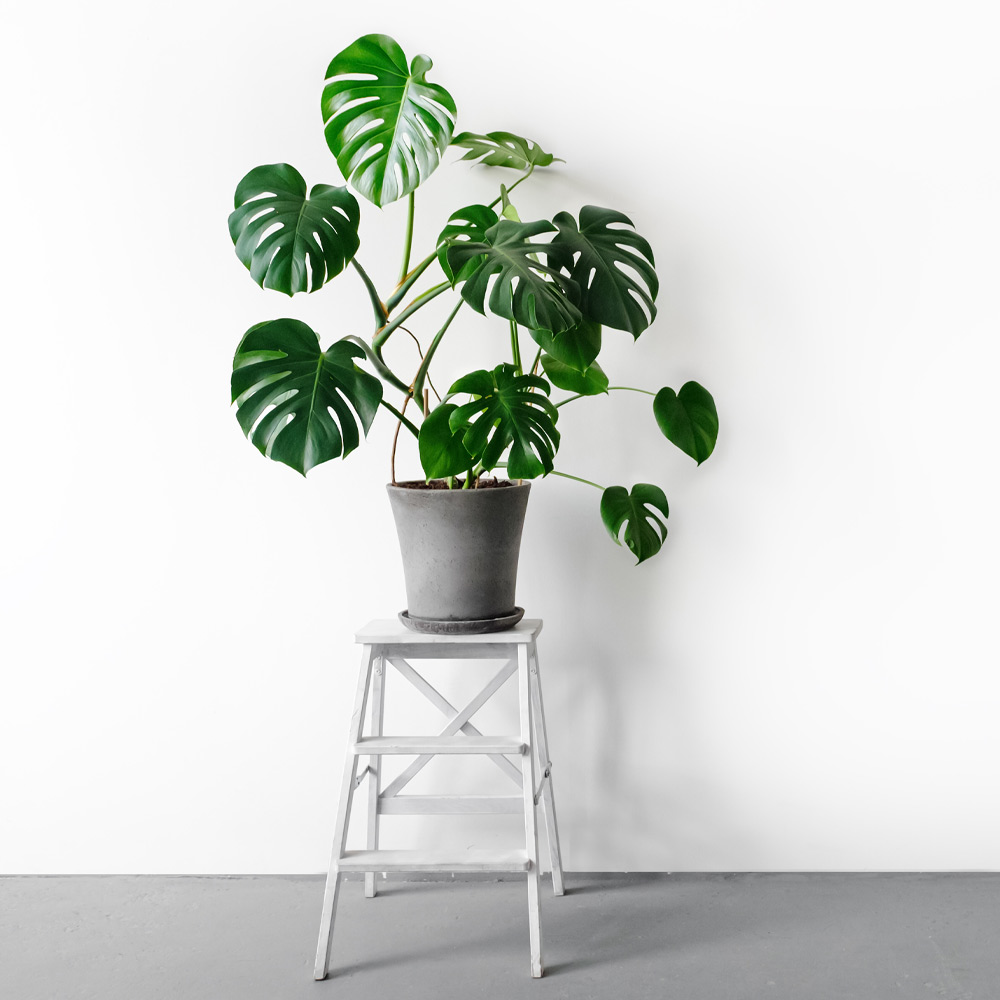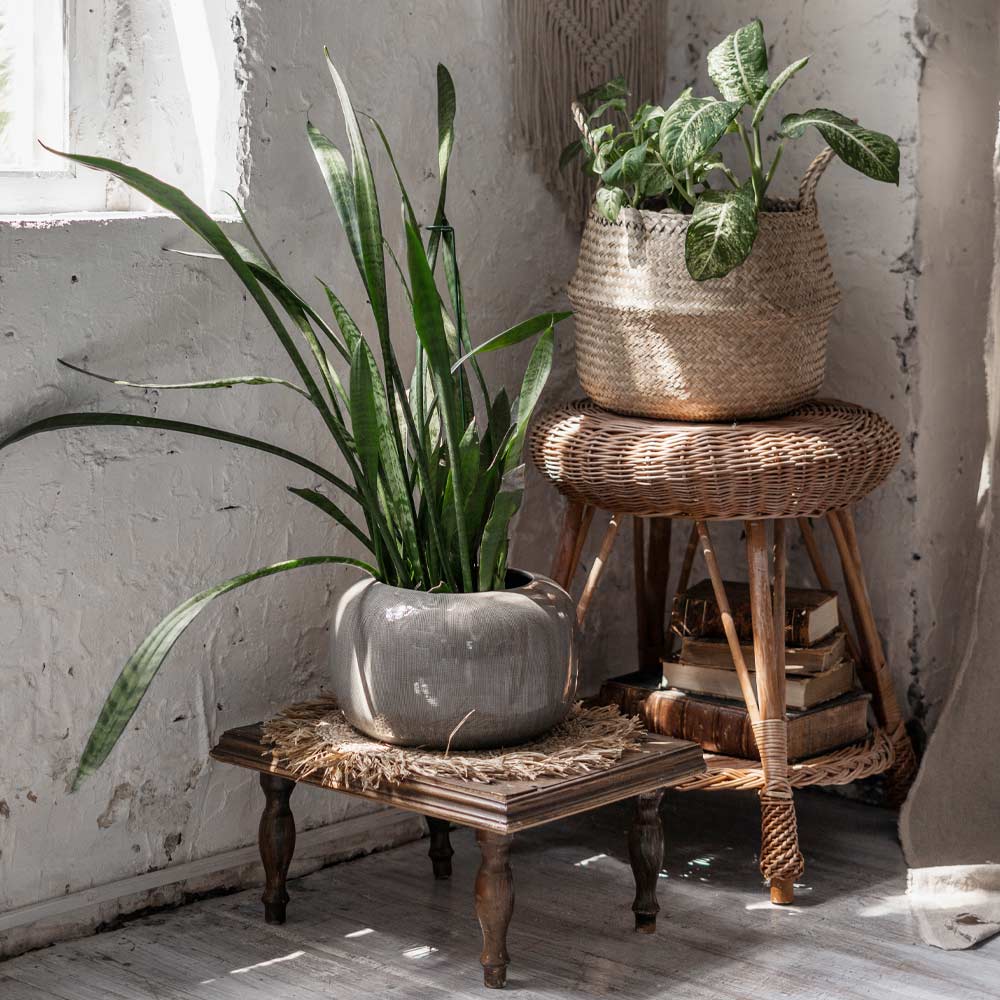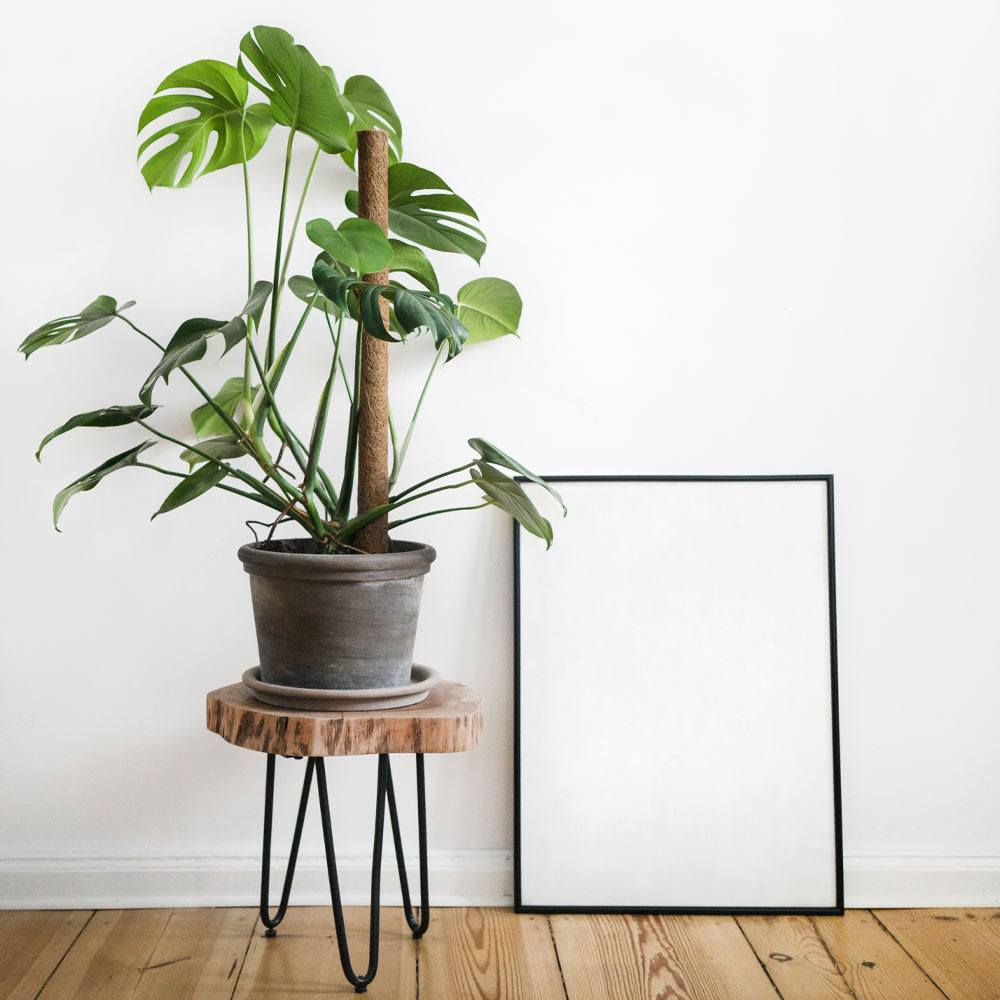 Wood Round Plant Stand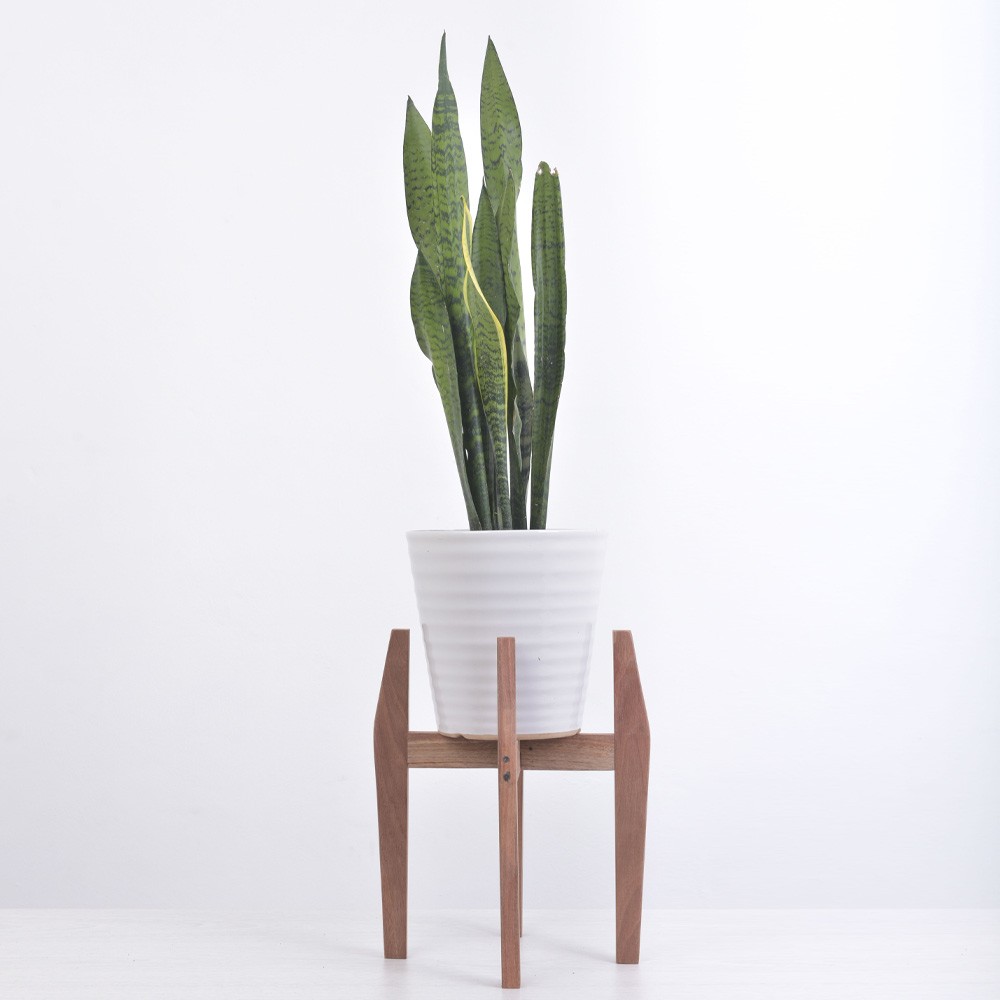 When you are looking for a plant stand indoor option, then there is a list of things to take into consideration. First of all, you need to be sure that the stand will match the interior. If it stands out too much, that is not good, of course, there are exceptions, but it is better to be safe than sorry. Ceramic and wood stand will fit into the modern style decoration. However, do not forget about the matching hues of the room and the stand itself.
Vintage Wood Plant Stands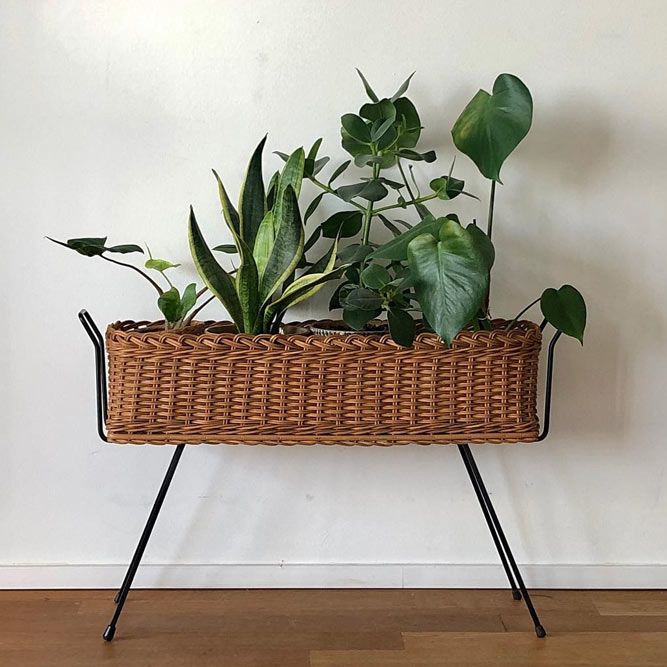 Credit photo: Instagram.com/moebelglueck
The beauty of a small plant stand is that you can fit it in almost anywhere. This comes especially handy when you are limited in space. For instance, this vintage plant stand will not only save up you some space but will also add that vintage charm to the atmosphere and many people would give a lot to achieve that.
Wood Roller Plants Stand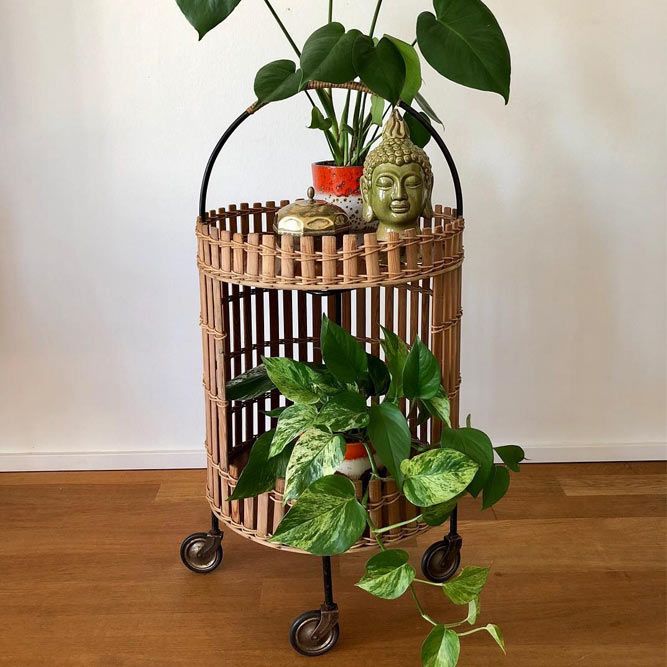 Credit photo: Instagram.com/moebelglueck
The fact is that if you are a real plant lover, then you need such a stand that will help you fit in more than one plant since there are many. This wood roller one is indeed exquisite looking. What is more, it offers the room for two plants, and this advantage can't go unnoticed. Besides, you can easily fit in small trinkets of yours right next to the plant!
Wood Carved Plant Stand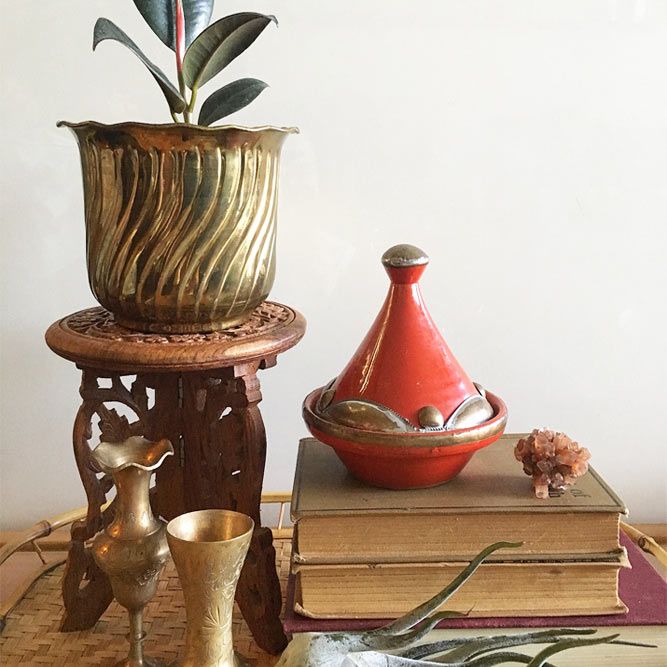 Credit photo: Instagram.com/oniandbau
When it comes to really tiny plants then the most attention is centered at the stand it is placed upon. That is why this carved planter deserves special attention. The thing is that the design and the coloring match the plants perfectly while it also has it is own unique charm that many would appreciate.
Retro Wood Plant Stand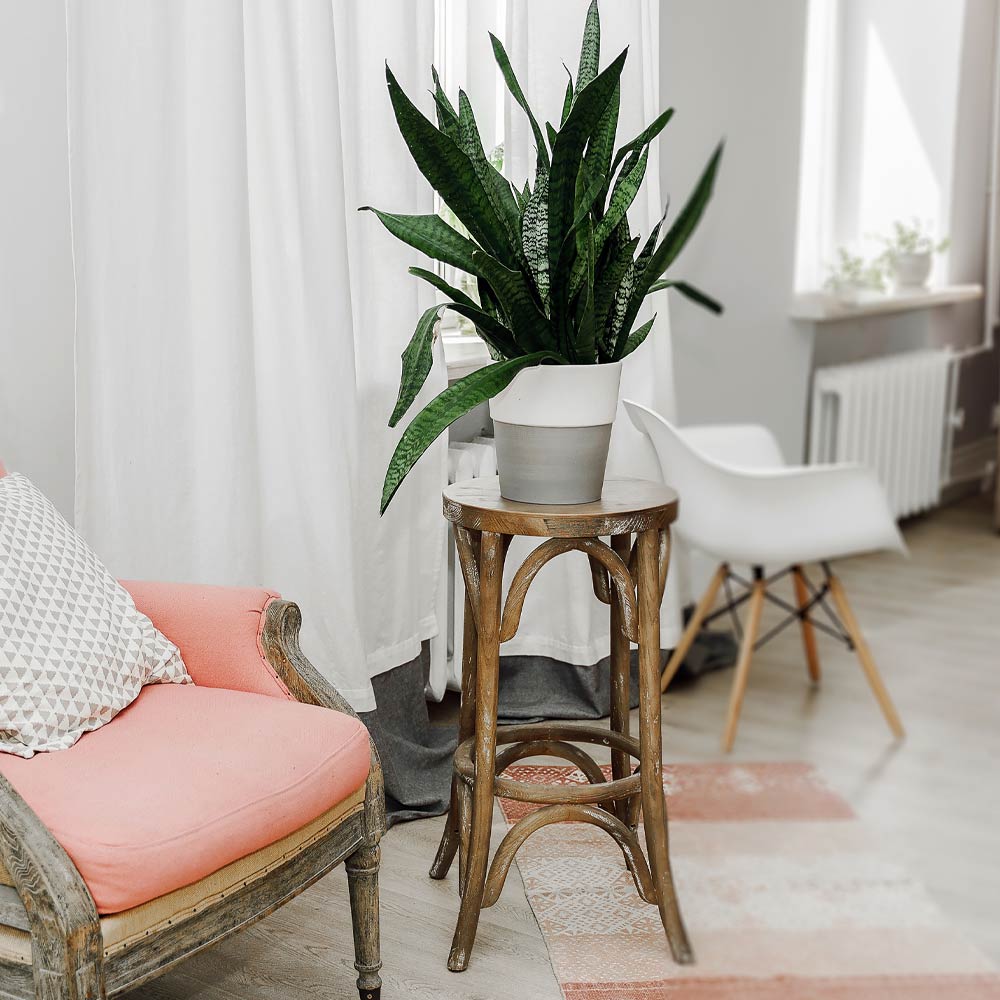 Retro wood plant stand is not something that all will equally appreciate. Only those who value the relicts of the past will notice the whole beauty of this old but unique stand. In case you are looking for the stand to attract admiring glances – this is precisely what you need!
Ladder Wood Plant Stand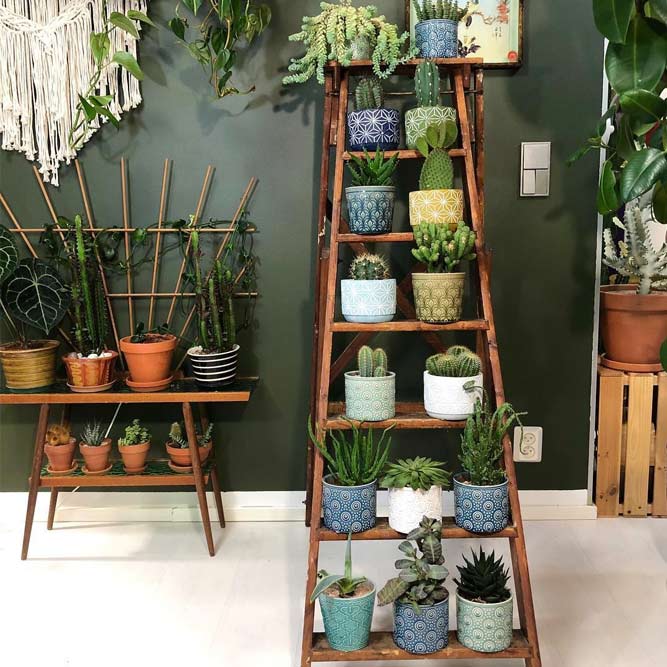 Credit photo: Instagram.com/plantsandcollecting
Not everyone knows but is easier than easy to create a simple but spacious stand on your own. The fact is that all you need is a ladder. Place it anywhere you need, fill it out with pots and plants and you will have a nice decoration and spacious stand in one.
Wooden Stools Stand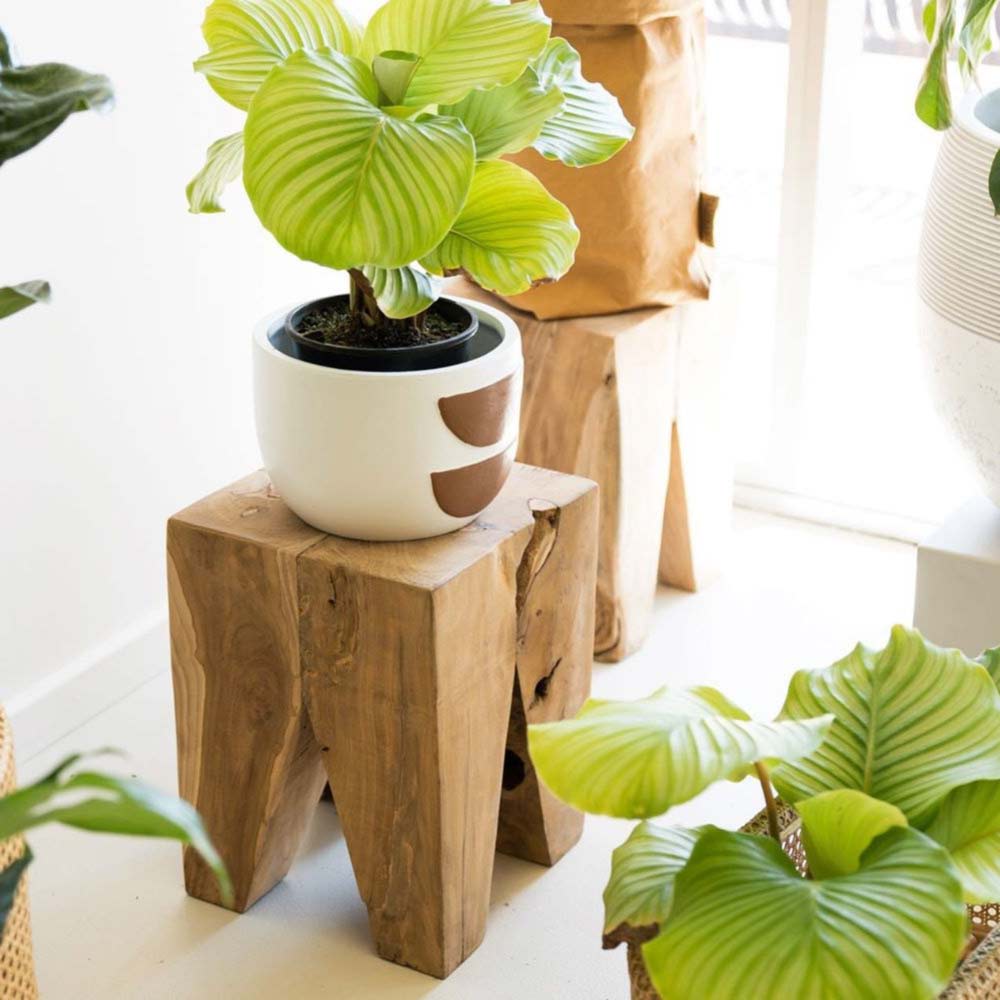 Credit photo: Instagram.com/hass_co_botanics
Keeping things both minimalistic and stylish is sometimes easier than you think. That is why if you have a spare wooden stool at hand, you can easily use it as a perfect plant stand that will add up that gorgeous charm to your plant corner.
Wooden Pots Design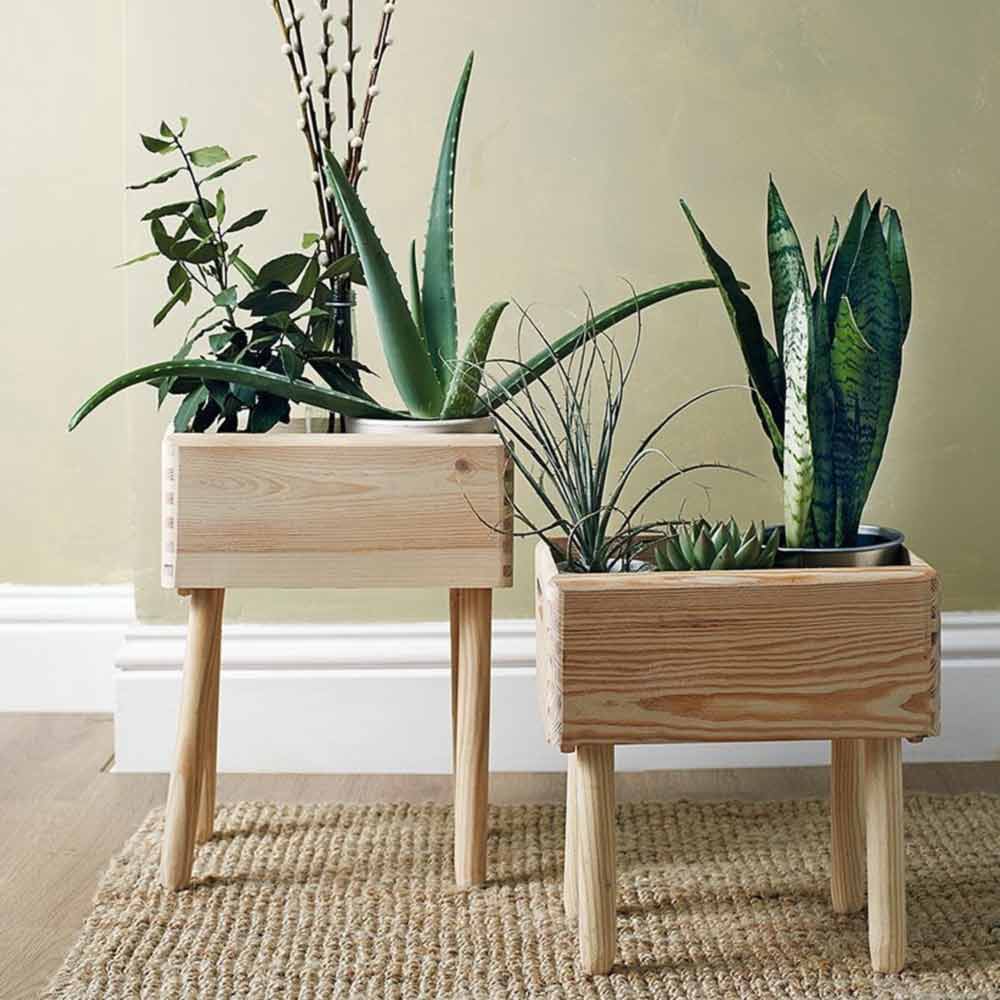 Credit photo: Instagram.com/rylandpetersandsmall
It is amazing how versatile and useful wooden pots can be. It does not take long to find that ideal pot for your plants, but the effect will be breathtaking and surely worth the effort.
Wooden Boxes Stand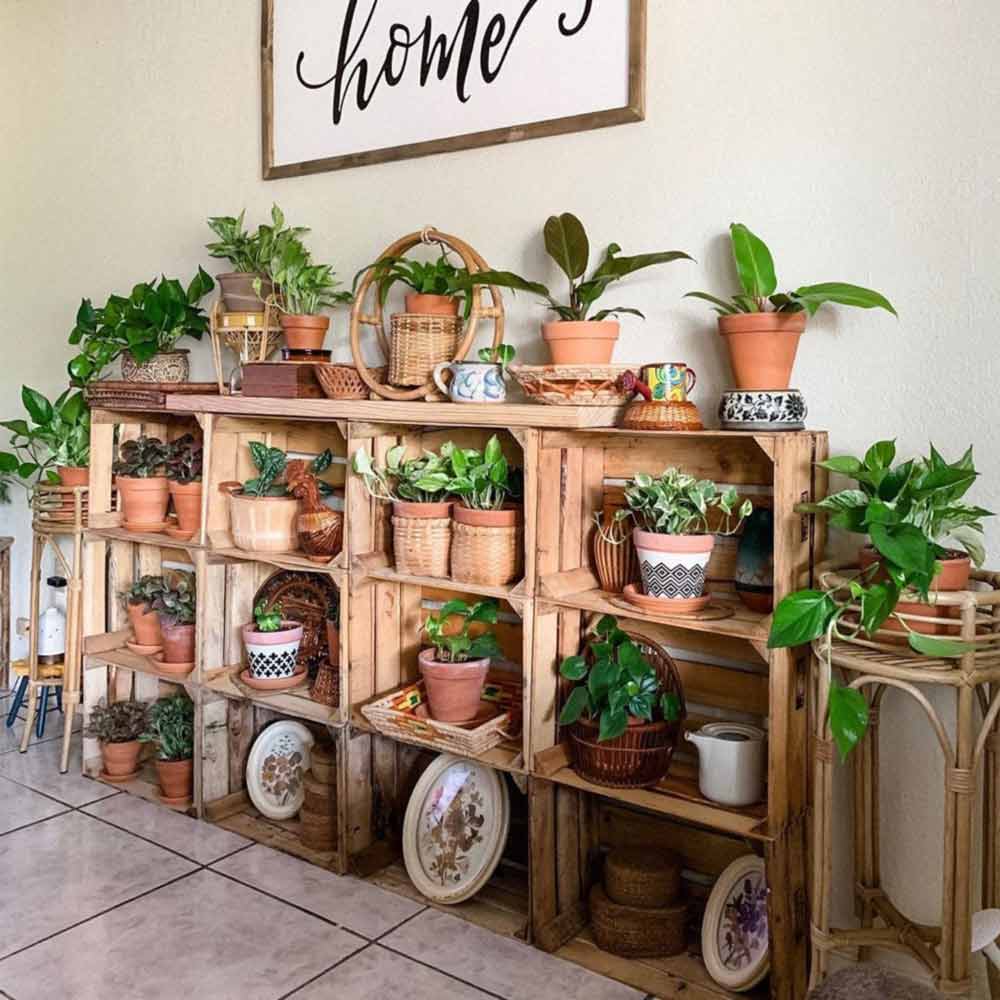 Credit photo: Instagram.com/lizasplantygram
You do not need to invest a lot into your personal wooden plant stand. All you need are a bunch of empty wooden carts joined together to form such a mesmerizing box stand.
Round Shelves Plant Stand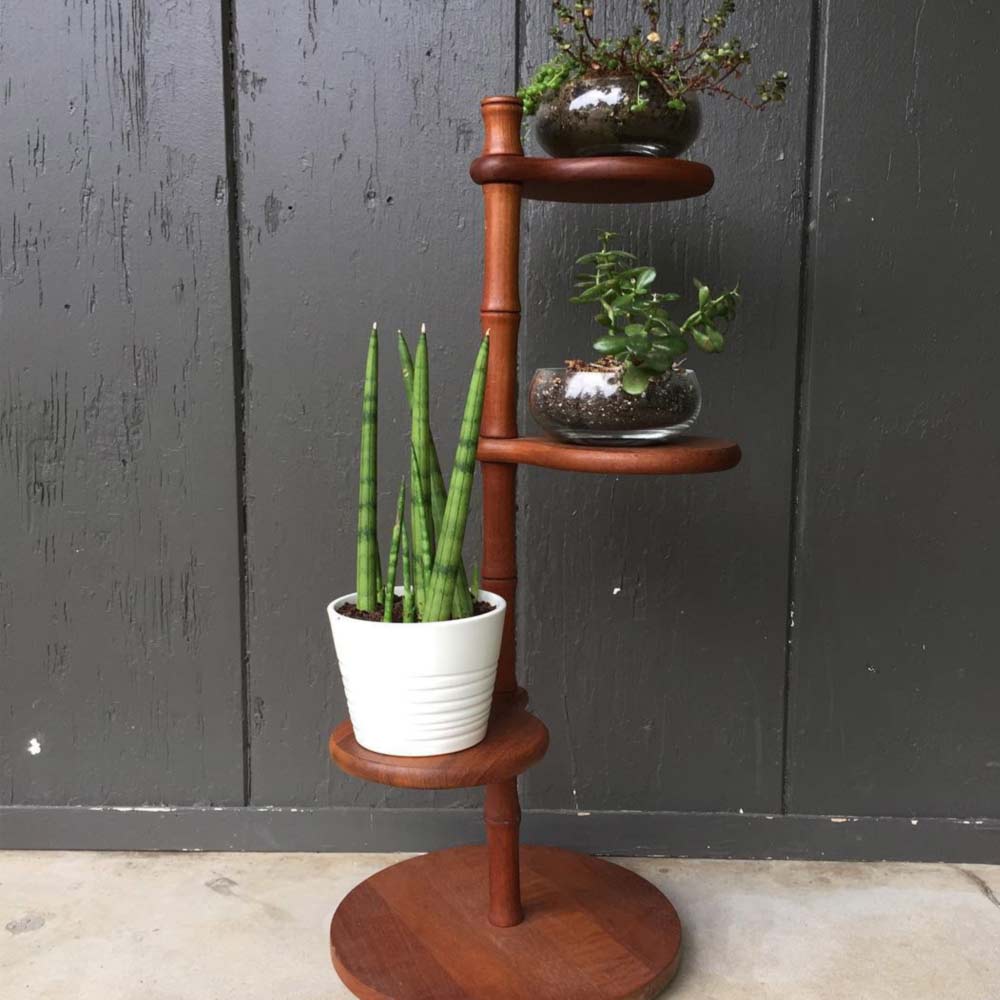 Credit photo: Instagram.com/agvintagefinds
Very often, when you think about wooden plant stands, you imagine them square or rectangular. However, that is not the limit. You can easily introduce a gorgeous round shelf stand into your elegant interior without the loss of style or space.
Metal Plant Stand Designs
Metal Plant Stand With Shelves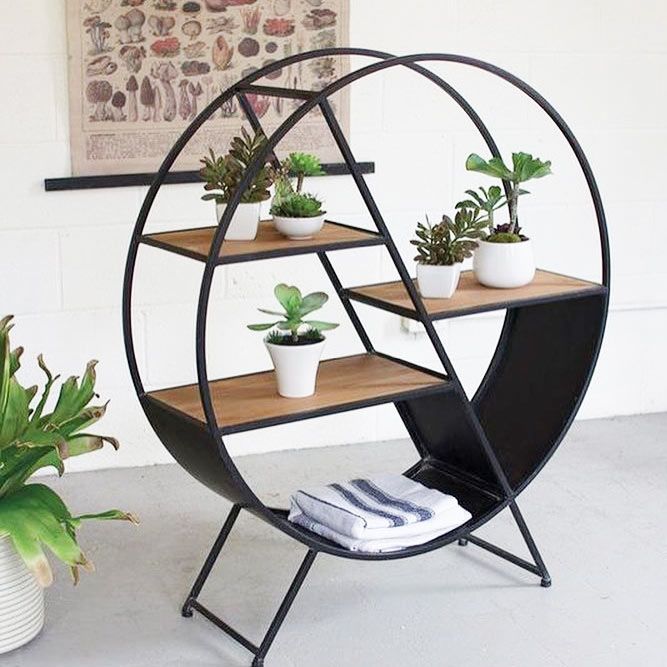 Credit photo: Instagram.com/perkasa.welding
Modern plant stand ideas are many. If you are searching for a useful one, then this metal stand with shelves is precisely what you need. The thing is that you can place your plants on while keeping some other belongings of yours at the same stand. Those of you who value space will surely consider such a practical addition.
Simple Gold Metal Plant Stand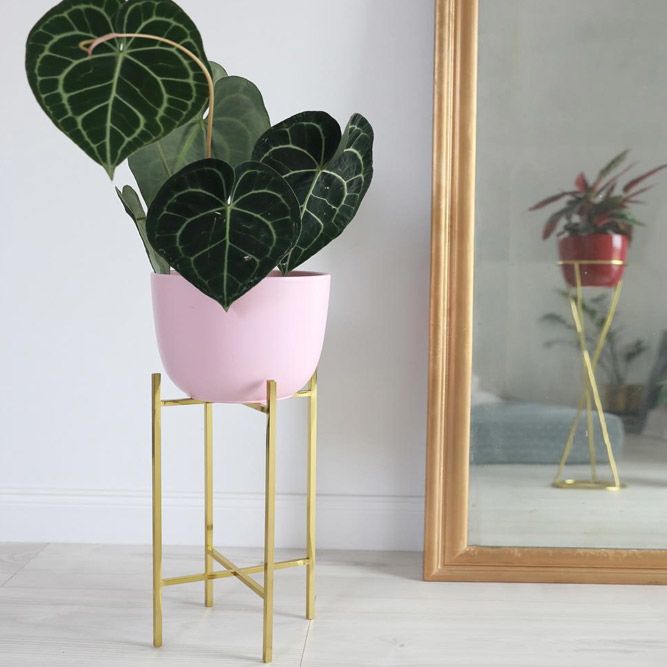 Credit photo: Instagram.com/elementuj.pl
Those of you who are in love with modern minimalism will undoubtedly find this metal plant stand more than charming. The thing is that it is not only compact but also gorgeous looking due to gold coating. What is more, you can combine a few of those stands to create a perfect decoration in the room.
Cubic Metal Stand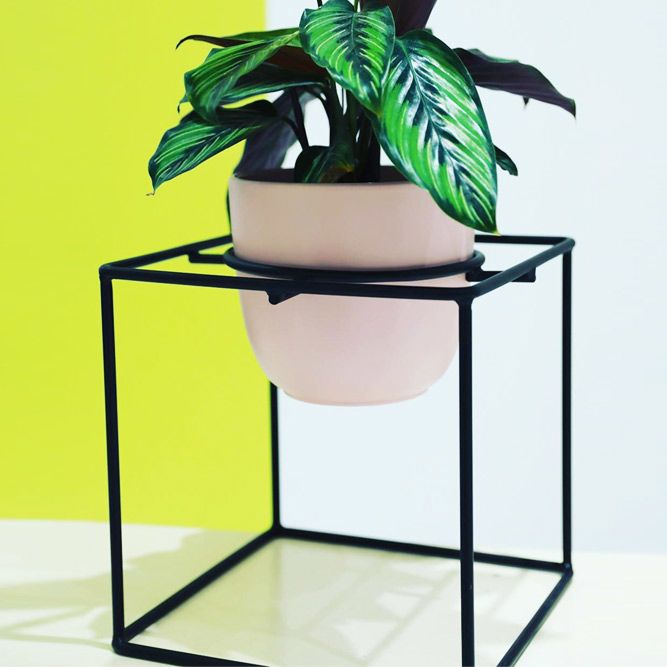 Credit photo: Instagram.com/elementuj.pl
Geometrical patterns are totally in favor now. This means that geometric figures can serve a purpose too. A cubic metal plant stand is convenient, especially if you have kids or pets at home. The thing is that such a stand is not that easy to tip over and parents or pet owners will value this feature above all.
Big Metallic Stand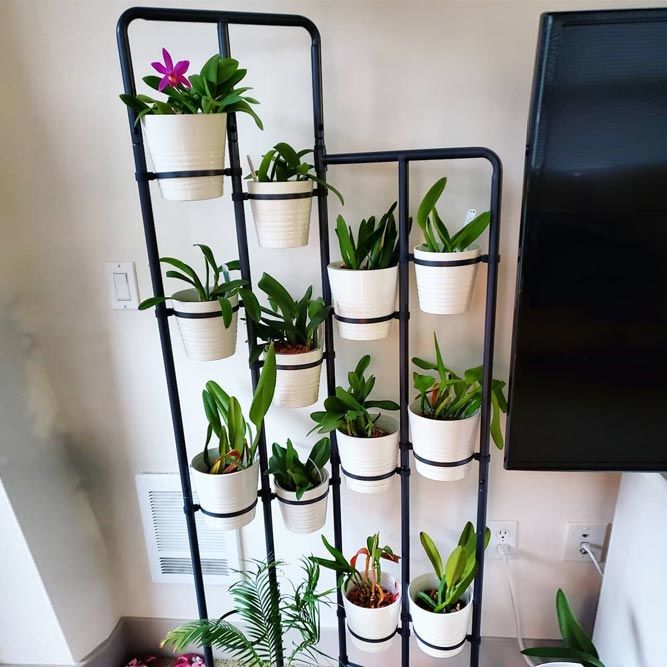 Credit photo: Instagram.com/melelina_cattleya
There are many reasons why you need to consider a metal stand for your plants. The truth is that while it does not take up a lot of space, it offers a lot of room for your plants. What is more, it is usually pretty heavy which makes it durable. In case you have been searching for a stand with multiple plant holders this may be your perfect option.
Triangular Metal Plant Stand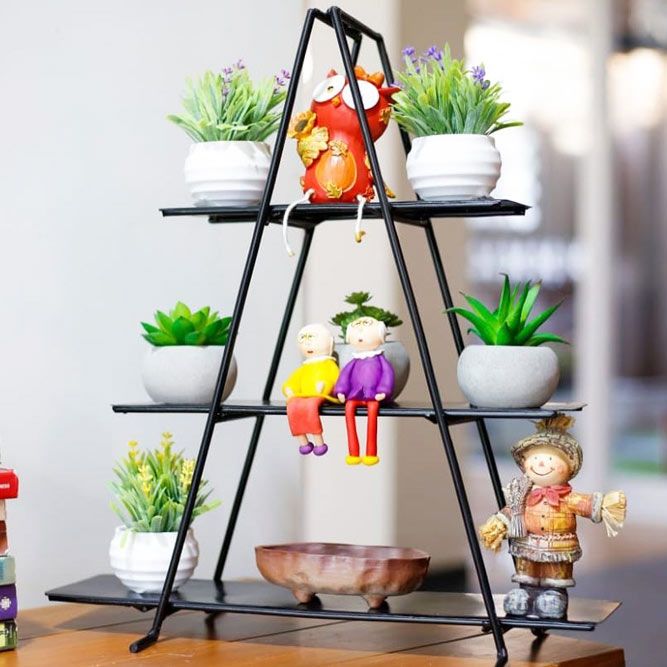 Credit photo: Instagram.com/zengardensbandra
It has been mentioned before that a used ladder can be a perfect addition to your interior in terms of suitable room for plants. However, not everyone is fond of rustic elements in the décor. That is why we are suggesting to your attention this triangular metal stand with plant shelves. In our opinion, it is the perfect equivalent to the good old ladder but with a modern touch to it.
Metal Vintage Stand With Shelve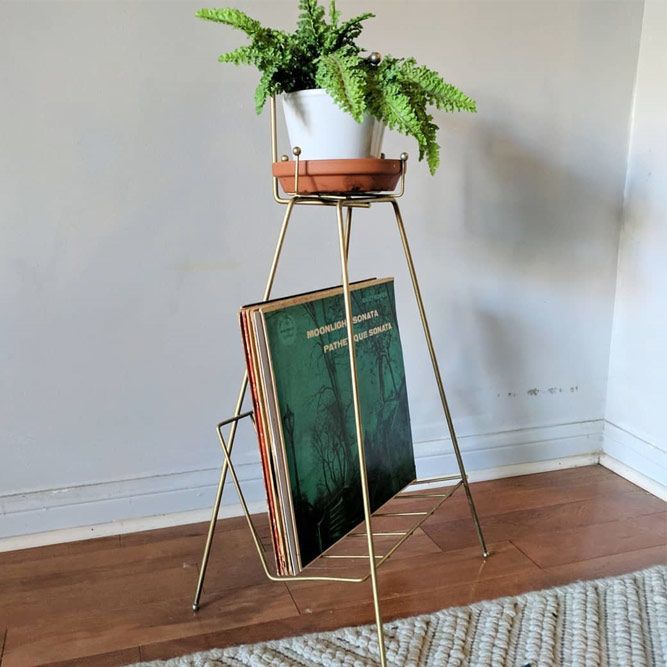 Credit photo: Instagram.com/teak_geek_to
A plant stand can serve multiple purposes. If you do not trust us – have a look at this vintage plant stand with a shelf. You can keep the plant on the top while storing your favorite magazines or vinyl records right beneath it.
Minimalistic White Design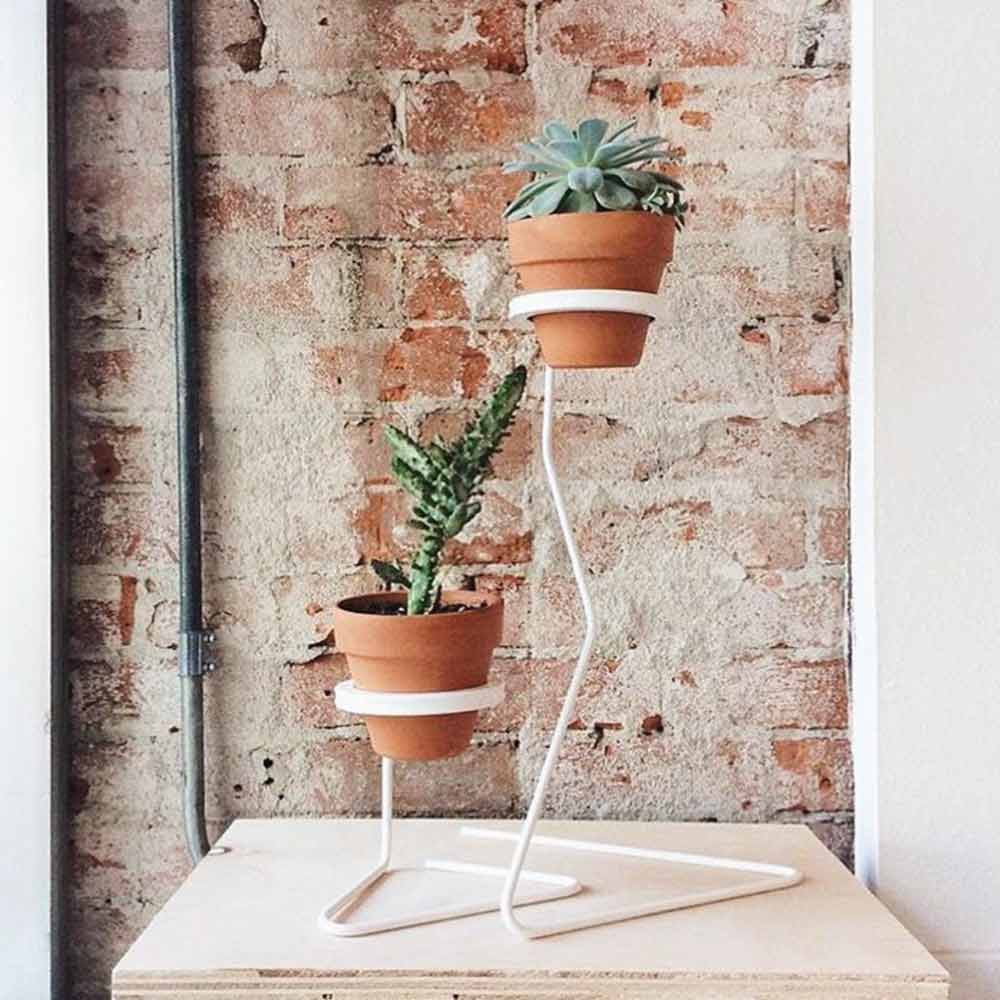 Credit photo: Instagram.com/kuarto.co
If wooden shelves or stands are not your cup of tea and you are looking for something minimal at the moment, we have an idea in mind. Why don't you consider a steel stand painted in pure white?
Black Modern Metallic Stand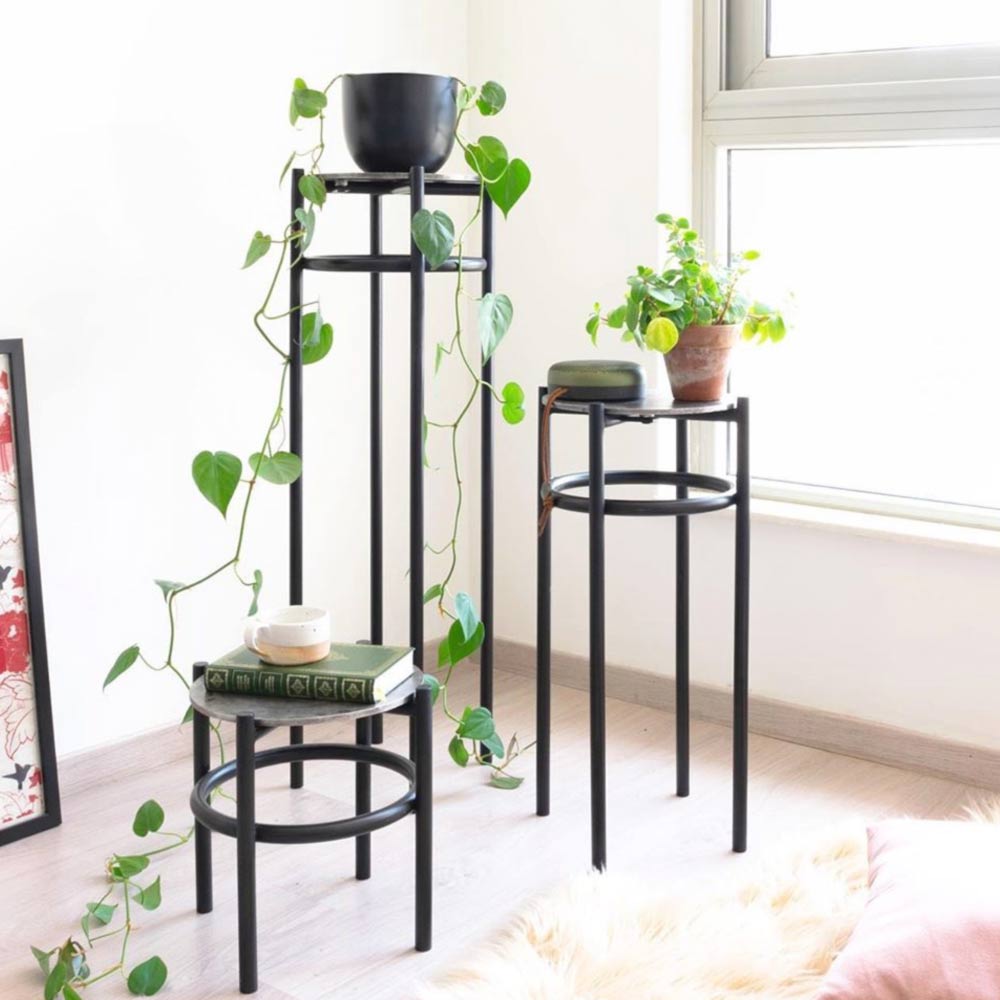 Credit photo: Instagram.com/fleckindia
We agree that loft is the style that many prefer at the moment. That is why we have these gorgeous black stands presented to your attention. Such a metallic stand will update any minimalistic interior. There is not a drop of the doubt here!
Black 6-tiers Plant Stand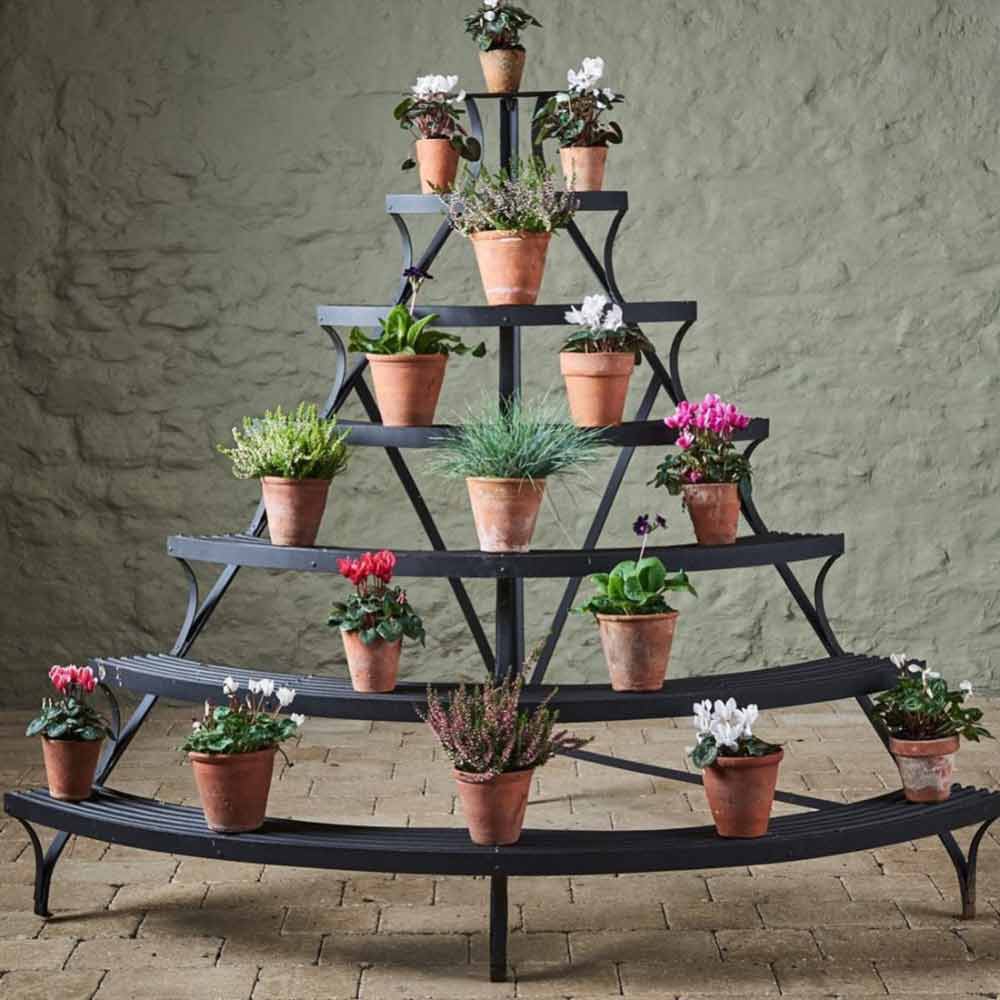 Credit photo: Instagram.com/violetgreydecorative
This stand will come in handy if you are both a gardener and an archeologist at heart. A 6-tier metal pyramid will be able to contain all of your cute plants and will reverberate with that ancient scent that will drive you positively crazy.
Modern Double Metallic Plant Stand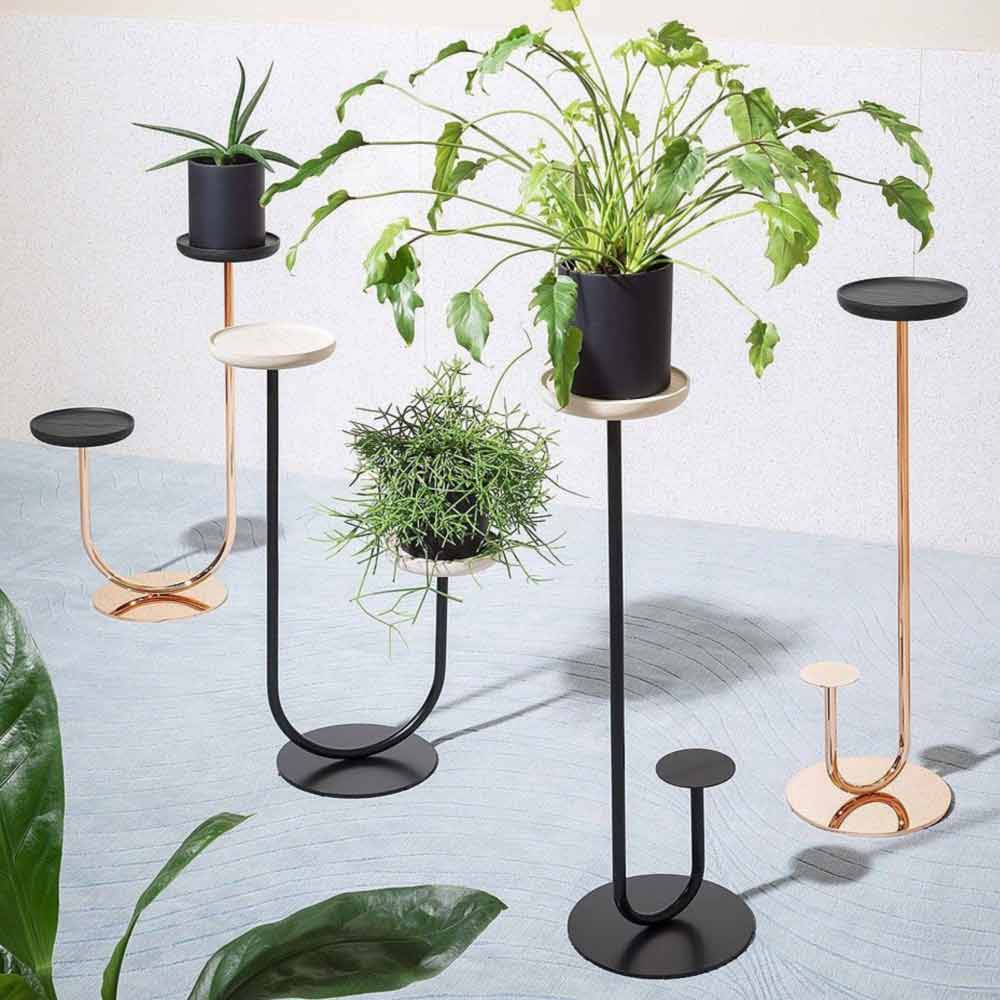 Credit photo: Instagram.com/aplusrdesign
Contemporary designers indeed have no limits, and that is great. At first glance at this metallic stand, it is hard to say whether it is a candlestick or a plant stand. We think that such stands may even steal the attention from the plants themselves.
Table Plant Stand Designs
White Plant Table With Shelf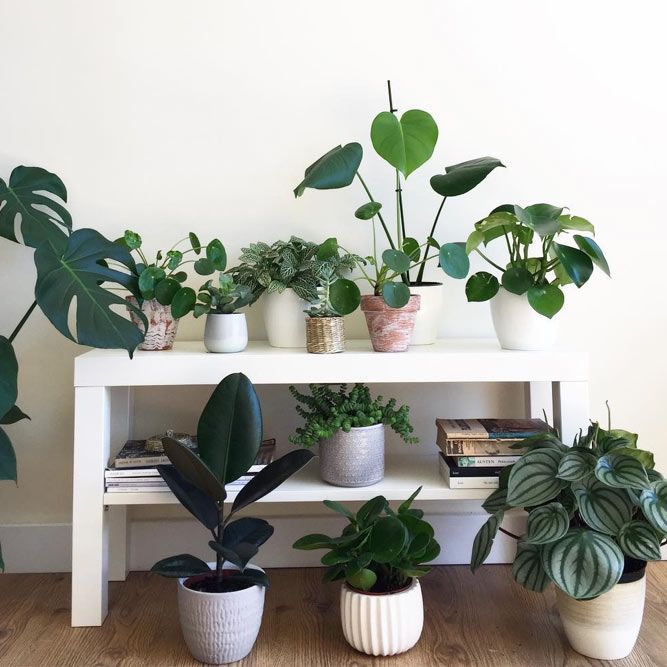 Credit photo: Instagram.com/basillicana
Very often there are so many plants in your possession that a mere stand is not enough. In times like these, we suggest you opt for a plant table. If the table has a shelf beneath – that is even a better table stand. You can keep your plants on the top and the shelf, in such a case, your plants will be safely gathered in one place, and some room around the house will be undoubtedly saved.
Roller Wooden Table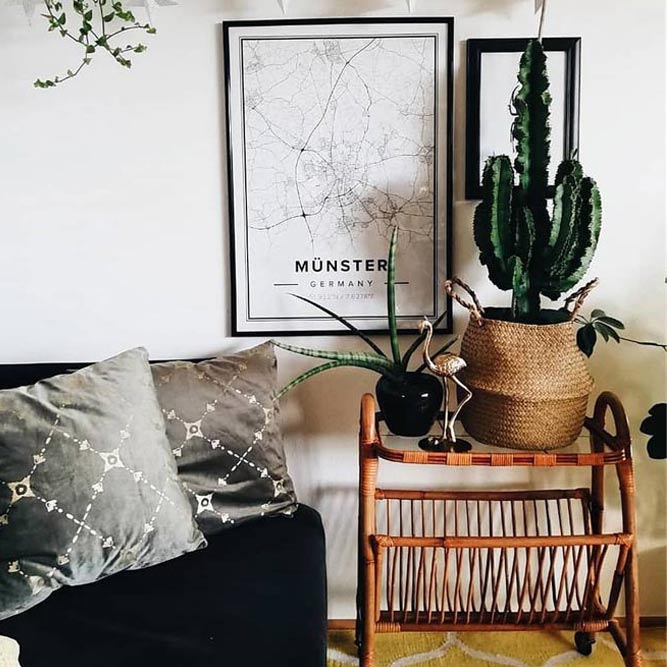 Credit photo: Instagram.com/___about__a__girl___
Portable stand is very often a practical solution. There are times when you need to move your plants since there may be too little or too much sun reaching them. A roller wood stand can solve the problem straight away.
Small Wood Plant Table
Credit photo: Instagram.com/khurungcuatuan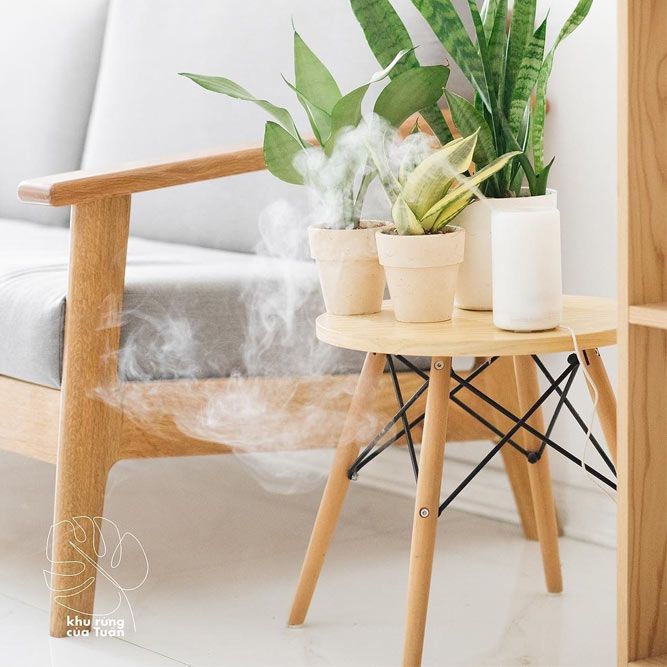 There are times when an intricate stand is undoubtedly not your cup of tea, but there are still plants to be placed somewhere. We think that the best option in a situation like this would be to purchase a simple wooden table. It can efficiently serve several purposes, and that is precisely what makes it is so attractive to opt for.
White Metallic Plant Stand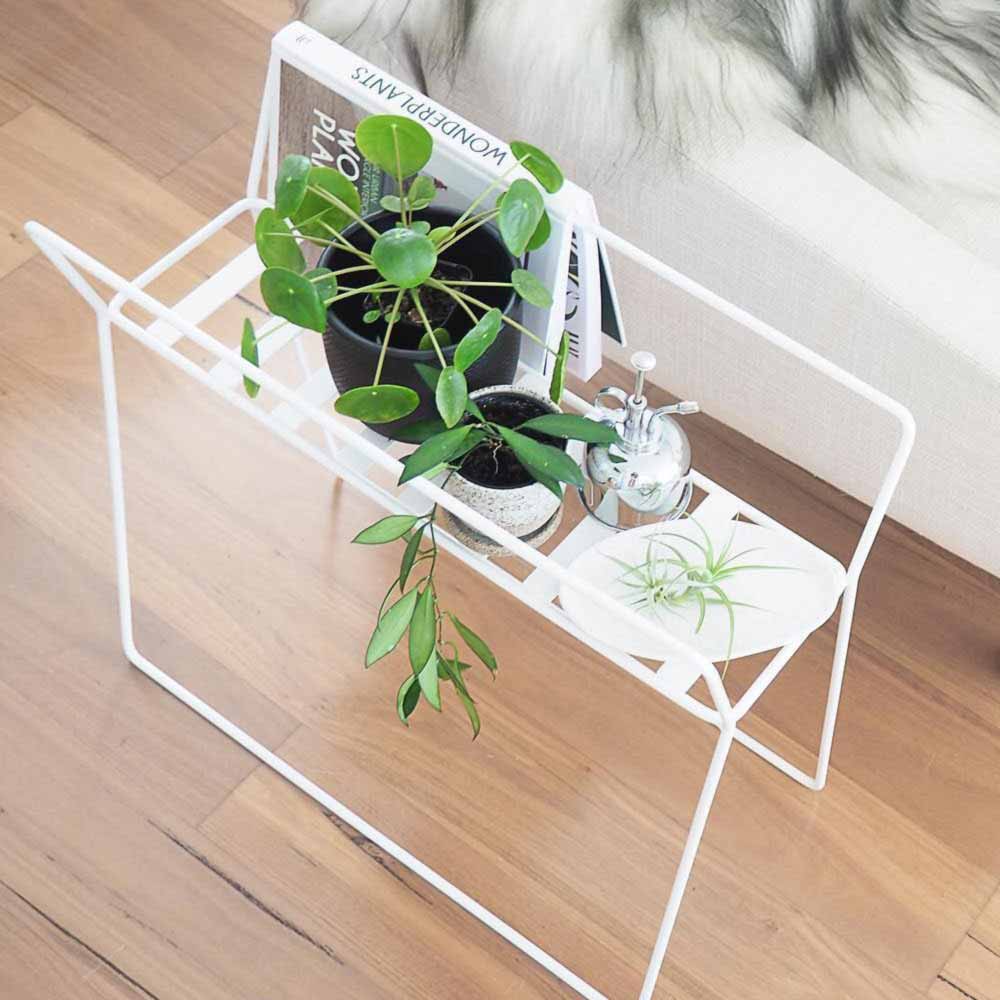 Credit photo: Instagram.com/still.life.studio
Sometimes, when you think that it would be nice to have a stand that can serve multiple purposes, it seems that something like that is impossible. We tell you what – it is possible, and it is affordable. This white metallic stand is the best proof to the point.
Handmade Plant Stand Designs
DIY Guitar Stand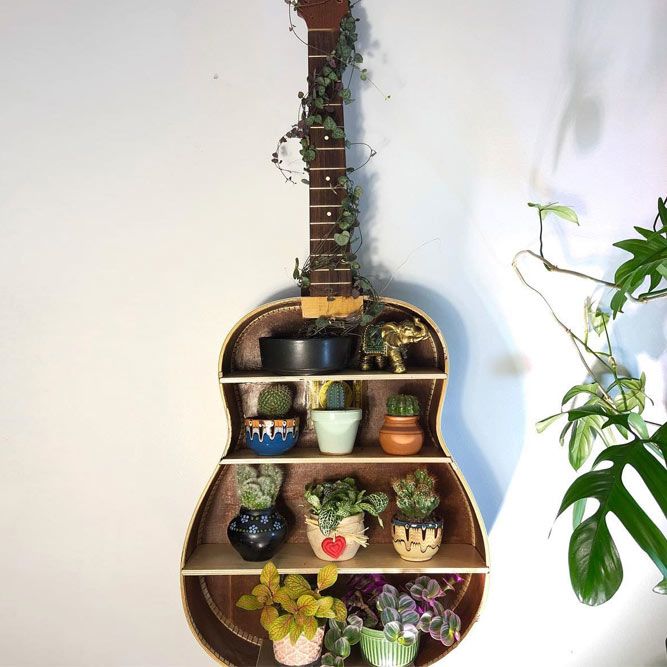 Credit photo: Instagram.com/plantsandcollecting
If you are a very creative person and you happen to have an old unused guitar at hand, we have a suggestion in mind. With just a bit of creativity and some effort involved, you can transform an old guitar into a brand new plant stand!
Old Television Stand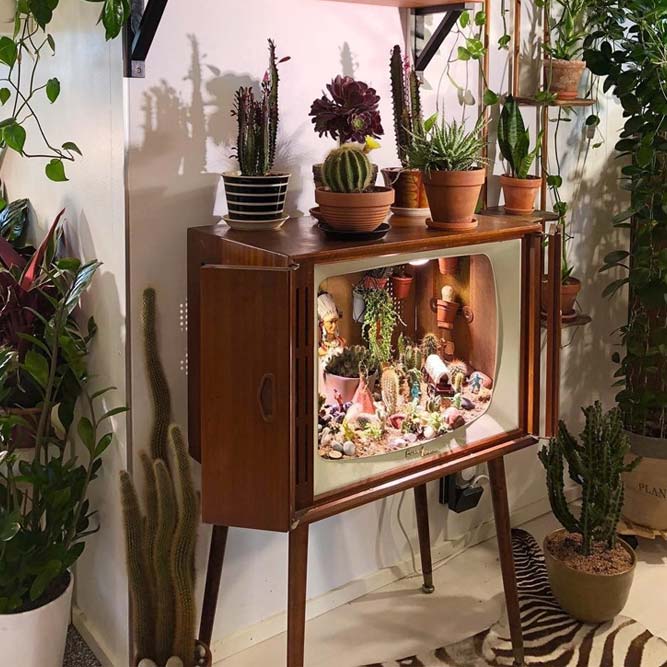 Credit photo: Instagram.com/plantsandcollecting
It is true that most of us have some pile of junk stored somewhere in the house and we are quite reluctant to get rid of it. If the old TV is something, you have lying unused somewhere – why not to breathe in a second life into it? As you can see an old TV can become a pretty plant stand if you are skillful enough.
Rustic Craft Stand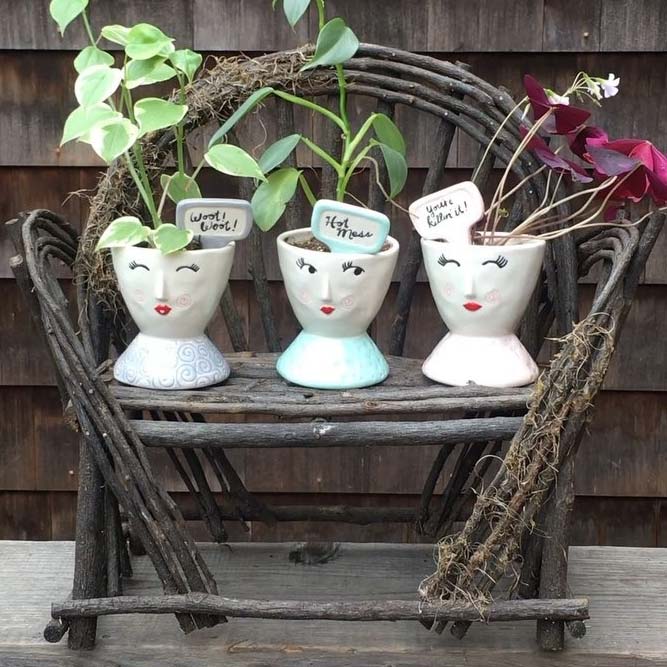 Credit photo: Instagram.com/cyrilcybernated
In times when you know that you can't afford a fancy plant stand – it is time you switch on your creativity and make something of your own. This rustic craft stand is the best proof to the point.
Wood Plant Stand With Shelf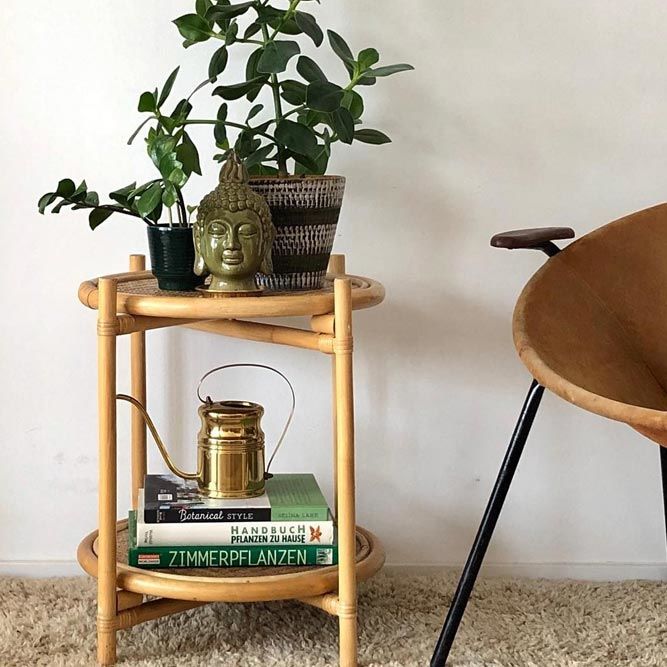 Credit photo: Instagram.com/moebelglueck
A nice decorative wood plant stand will always add that irresistible charm to your room interior. However, if you want your stand to be convenient as well – choose the one with a shelf to store necessary belongings on.
Two-tier Rustic Plants Stand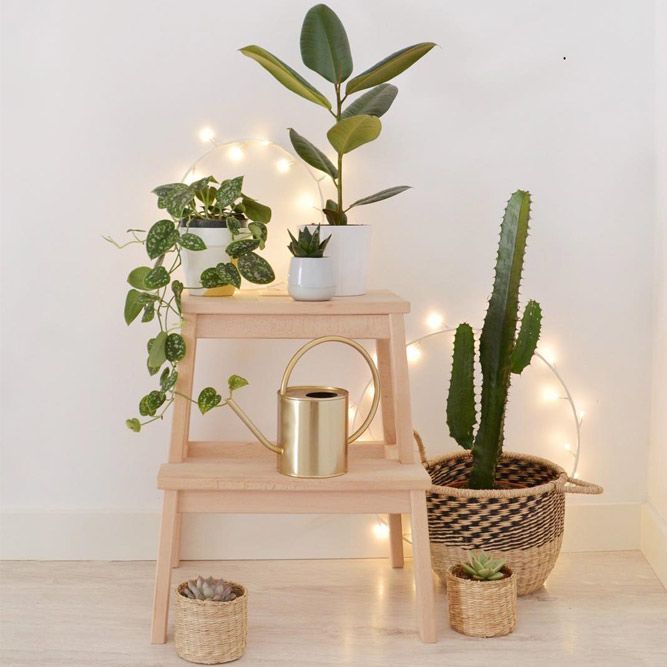 Credit photo: Instagram.com/yaiza_skywalker
Rustic plant stands are not always over the edge complex. Very often a simple two-tier stand can be perfectly rustic as well as perfectly useful since you can use both tiers at once.
Vintage Design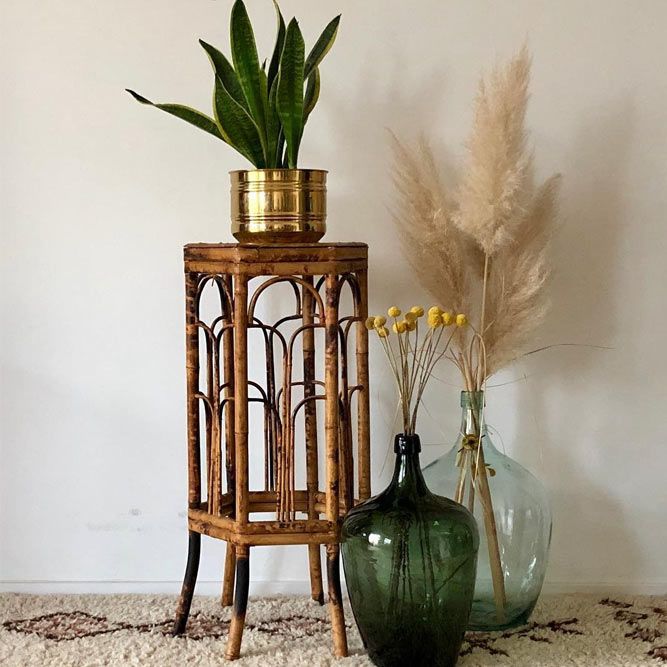 Credit photo: Instagram.com/moebelglueck
Vintage plant stands have that exquisite charm that can't be explained only seen. Very often they are so delicate looking that you may be afraid to place something on, but you need to keep it in mind that first impression can be deceiving.
FAQ: Plant Stand
Are plant stands good for plants?
Plant stands are an excellent way to enhance the appearance of any indoor plant. They give the illusion of height to little plants, allowing them to make a dramatic impression.
What do you put under a plant stand?
Put saucers and trays under an indoor stand to protect the floor from drips. Also, you can move potted plants to larger flowerpots. Use your imagination and reuse the items you already have around your home. For example, turn a galvanized wire tomato cage into a stand by spraying it to suit your decoration.
Should indoor planters have drainage holes?
Regardless of whether your potted plants are indoors or outside, the correct drainage is critical to their health. This method prevents water from accumulating at the pot's base, which can lead to fungus and root rot.
REFERENCES:
A flowerpot, flower pot, planter, or plant pot is a container in which flowers and other plants are cultivated and displayed. Historically, and still to a significant extent today, they are made from terracotta. Source
From minimalists designs to statement pieces, get inspired to show off your plants in any one of these stylish indoor planters. Source
Was this article helpful?