Choosing A Lingerie Chest And Organizing Your Lingerie Is Easy
The ideal lingerie chest is different for every woman. However, we have a guide that will ease the task of picking this piece of furniture disregarding your taste and budget. Here are the most essential things to consider:
The Undergarment Dresser Style
Basically, an accent chest with drawers comes in two styles: traditional and contemporary. A contemporary, also called modern accent chest, involves ornaments, while a traditional chest has some wood-colored carving and is reminiscent of 17-th to 19-th century chests.
The Size of the Storage Chest
When picking the dresser, its size is quite essential. Your first task is to learn the room space. Find the place where you will put the dresser and measure it. Write down the measurements not to forget the figures. Keep in mind that if your room is not big, it's better to go for a small accent chest of drawers.
What It's Made of
Well, the material is also quite significant. The material of good quality will save you from worrying about its condition. Producers use wicker, glass, bamboo, and metal for chests. Pick the one to your taste. But of course, if you wish for something more durable, go for wood. It won't fail you for a long time.
Where to Shop
Will you go to the shop nearby or look for the dresser online? Well, keep in mind that an online purchase might turn out to be different from what you saw in photographs. And in case you go to the shop, you will be able to see the thing exactly as it is. However, the price online is more pleasant. So, any choice will have its perks.
The Functionality of the Dresser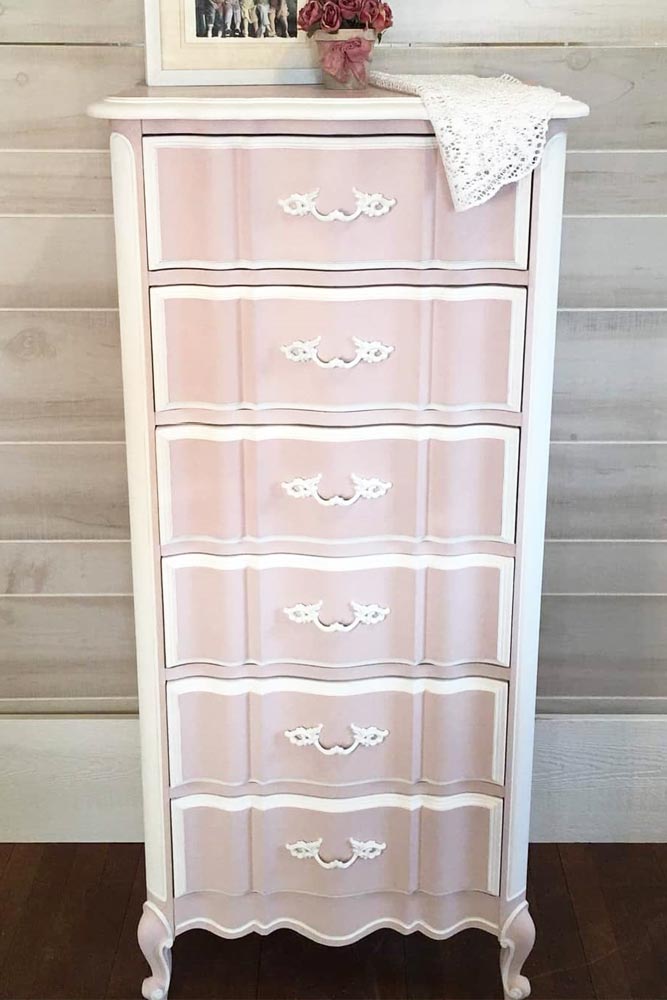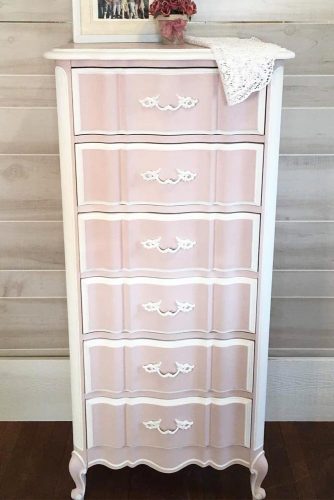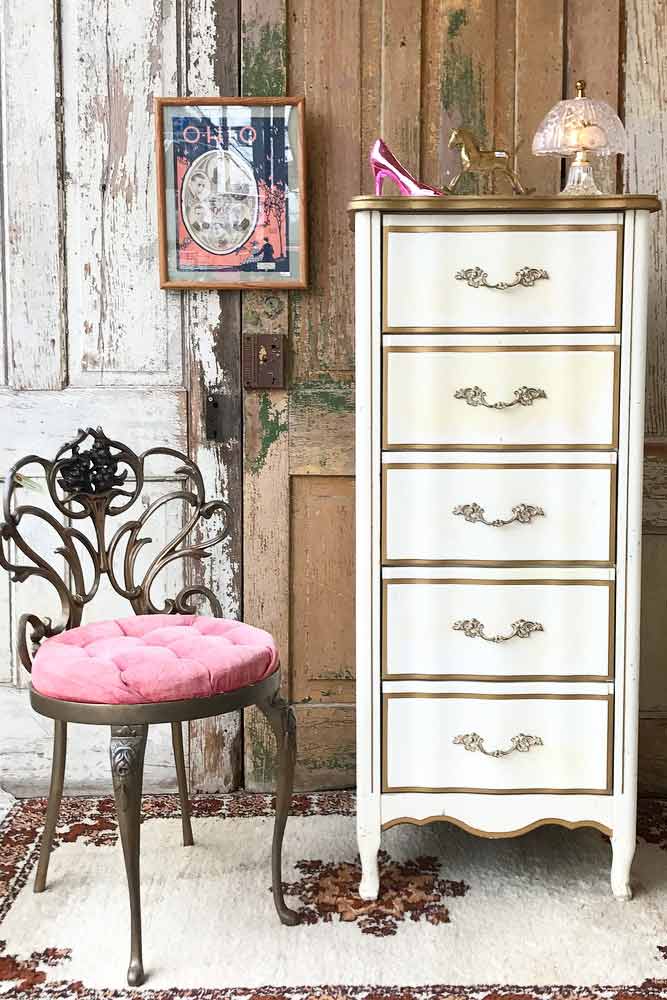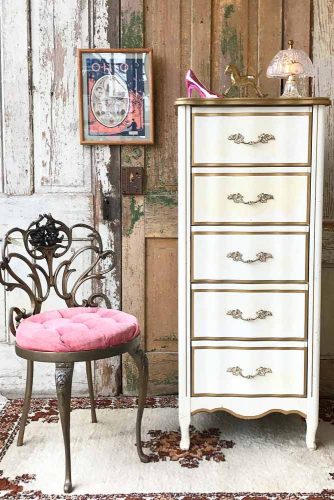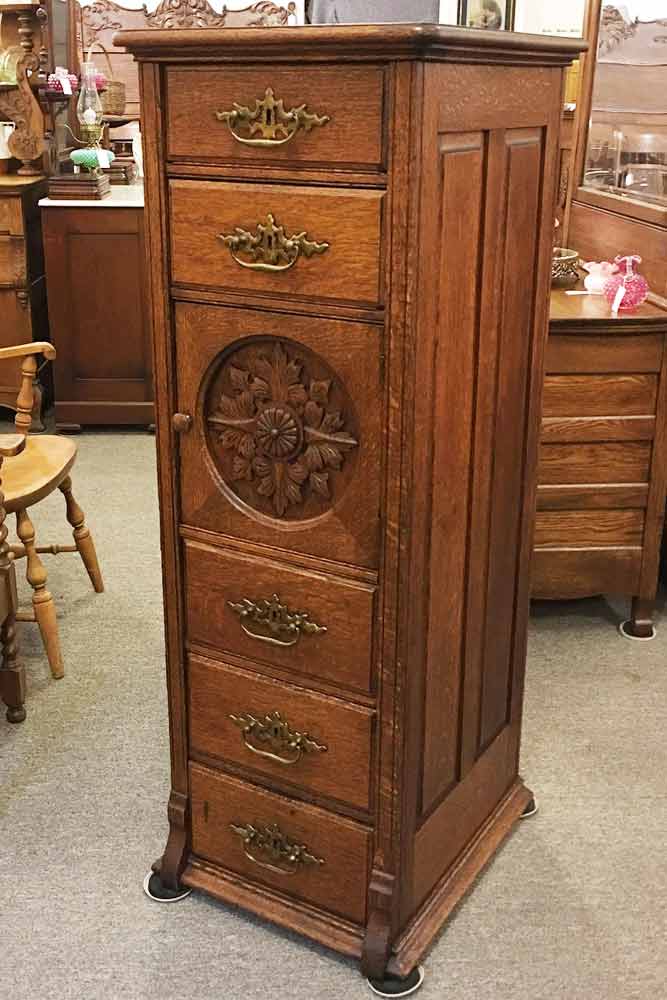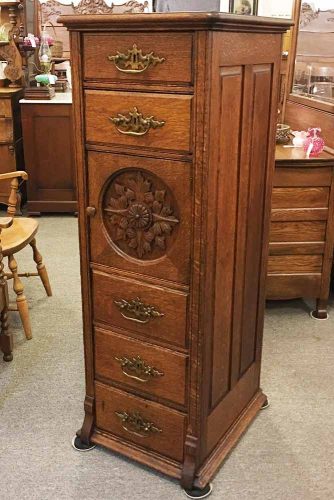 Source: theartisanstyledhome via Instagram, wantantiquelifestore via Instagram, antiques_4u via Instagram
Will you store only lingerie in it? Then purchase a short narrow chest of drawers. But if you would like to store more things in it, opt for a bigger semainier chest, for example.
Are You Ready to Splurge?
Is the price the first or last thing that comes to your mind when you think about buying the dresser? Well, normally chests are not very expensive unless you want something unique. The price will vary depending on its style and material. But as we notice, even the medium price items are created with taste. So, anyone can afford a good storage place for her lingerie.
Accent Chest For Foyer Designs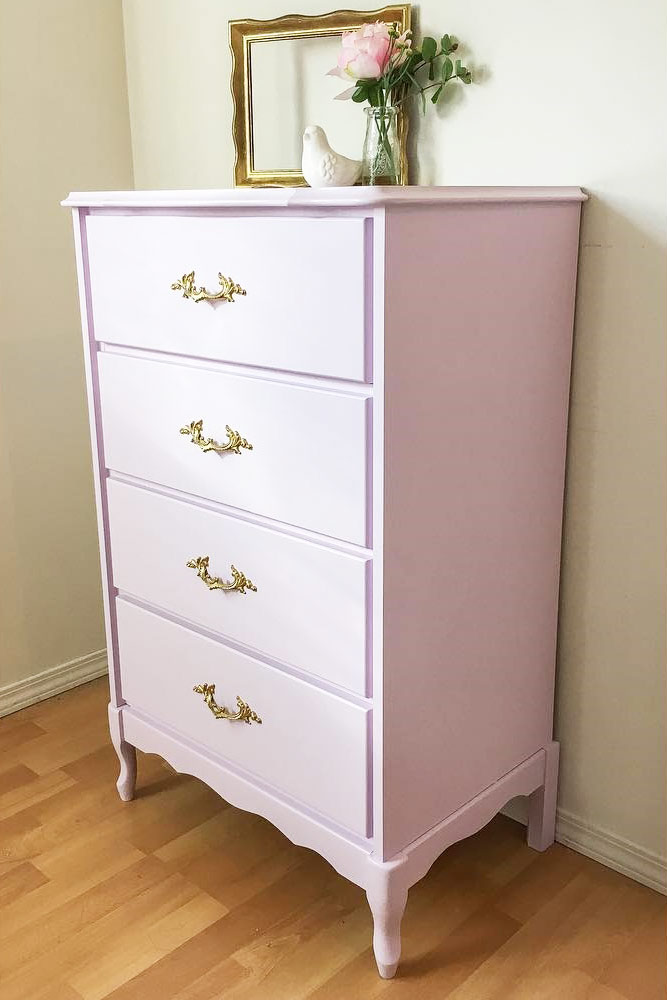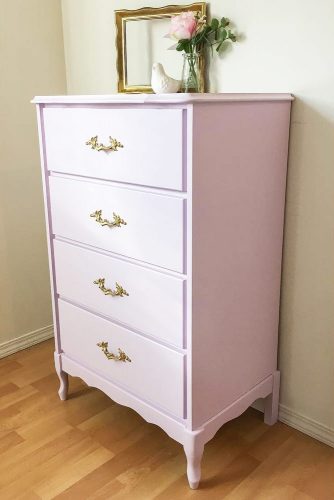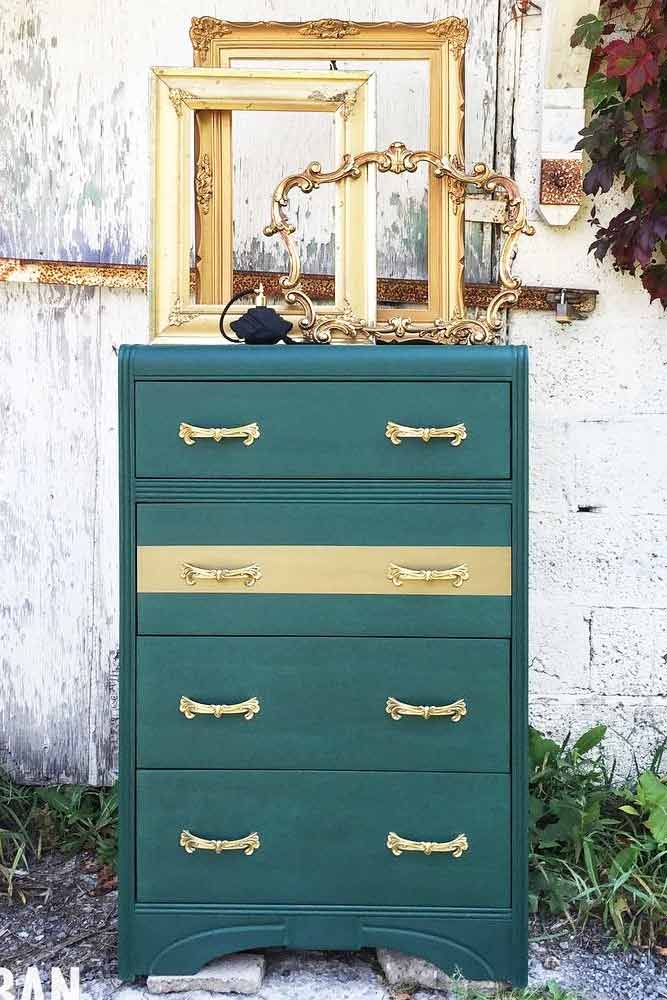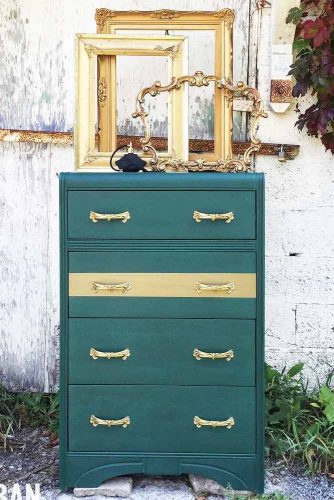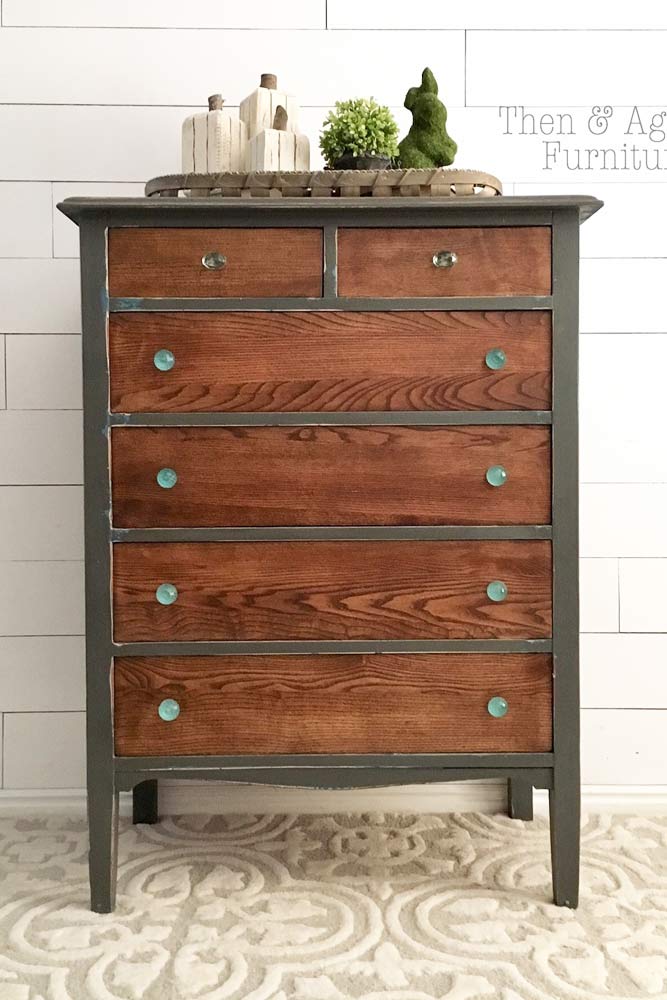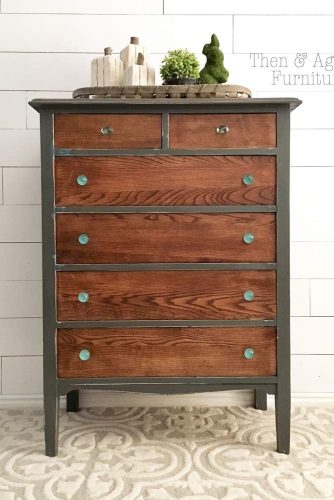 Source: peachpoppydesigns via Instagram, theurbanupcyclerottawa via Instagram, thenandagainfurniture via Instagram
Here you can observe various accent chest for foyer designs. Although, if you are looking for an accent chest for a living room or an accent chest for bedroom, they will work, too. Just keep in mind the overall design of the room where you will place it.
Simple Lingerie Chest Guide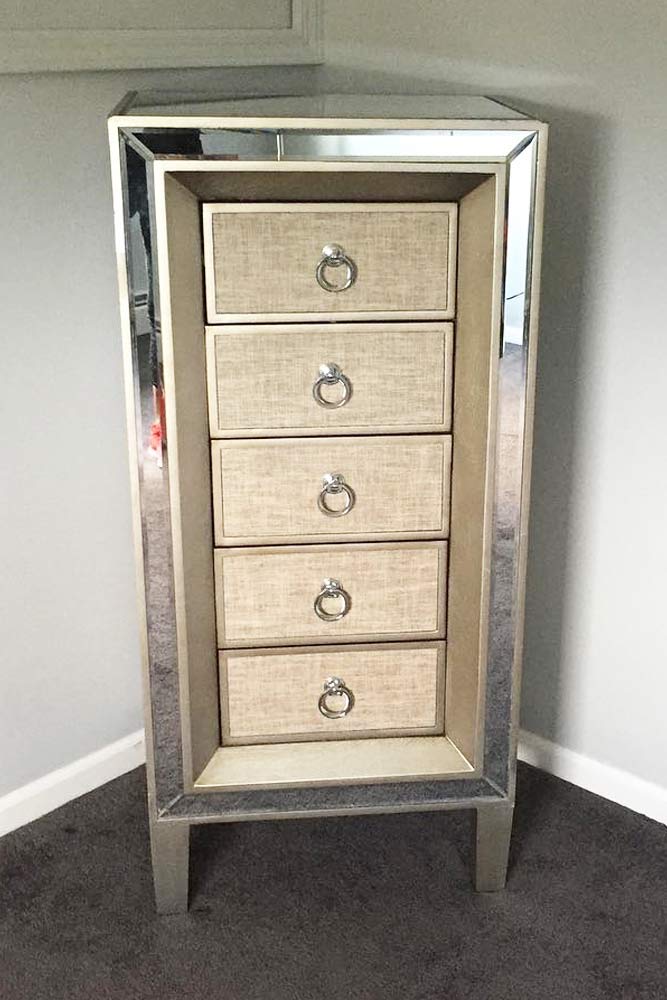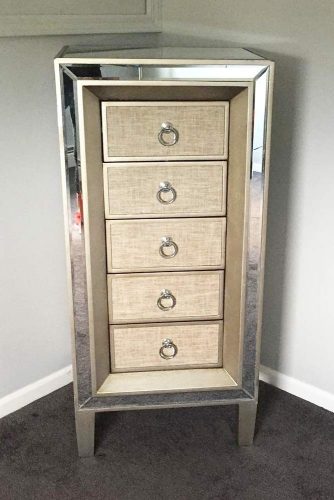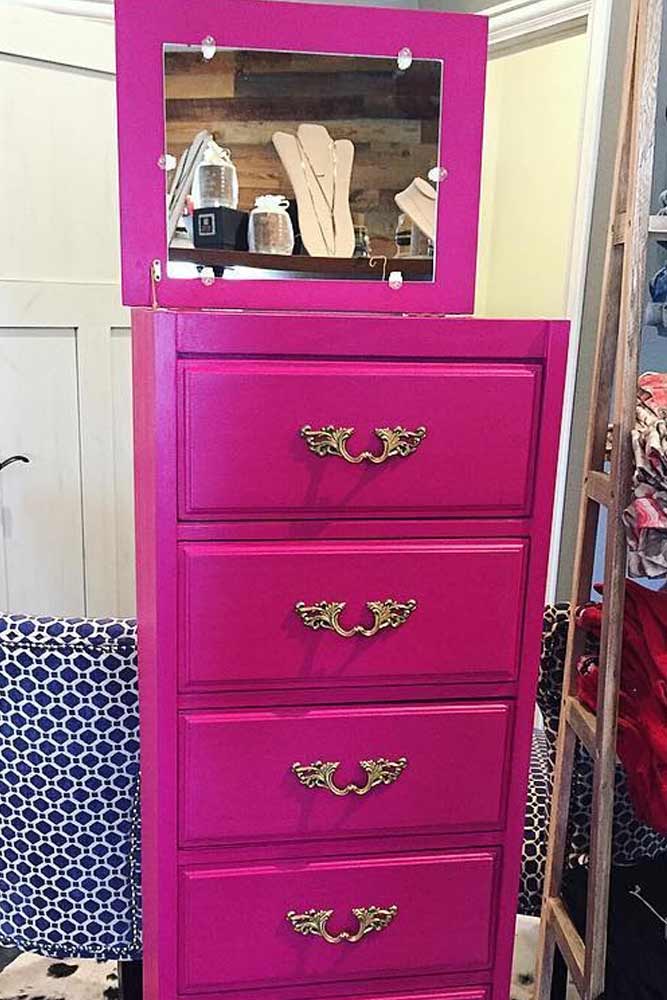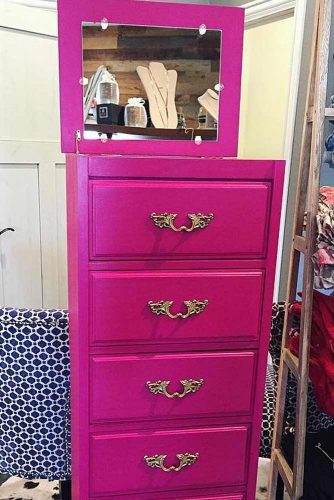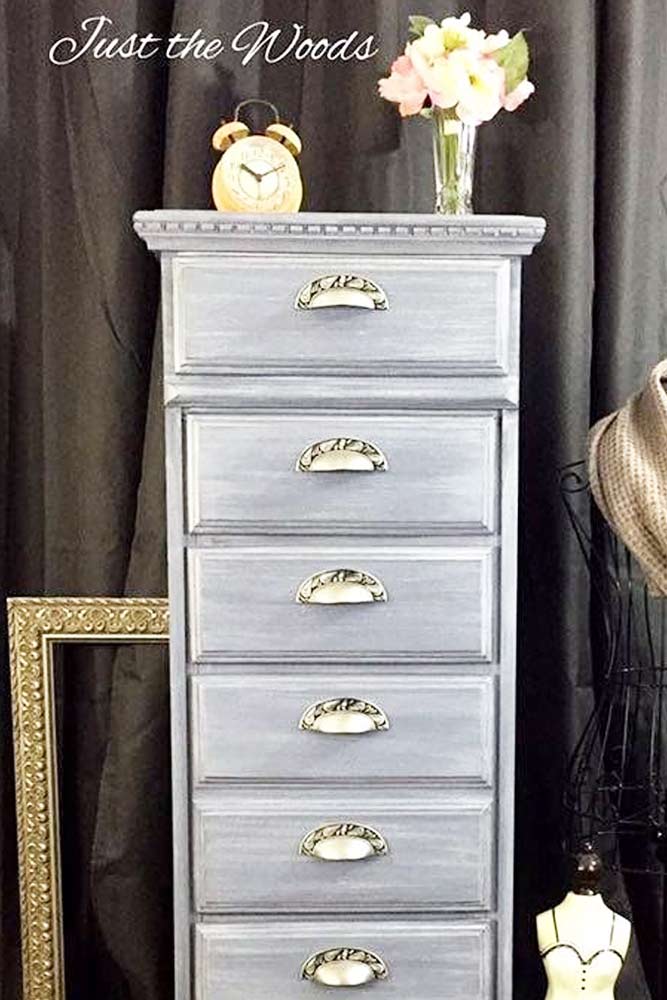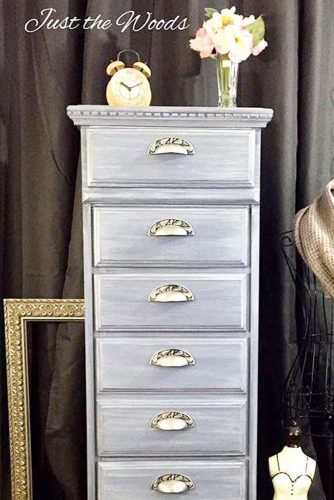 Source: creationsbytania via Instagram, refunk_your_junk via Instagram, dlawlesshardware via Instagram
We think that a semainier seven drawer chest can fit in everywhere, even if space is scarce. This 7 drawer narrow chest is the real king among all tall dressers due to the number of drawers. And if you are looking for narrow dressers for small spaces, that might be it. But pick a smaller chest if you don't need so much space.
Lingerie Organization Hacks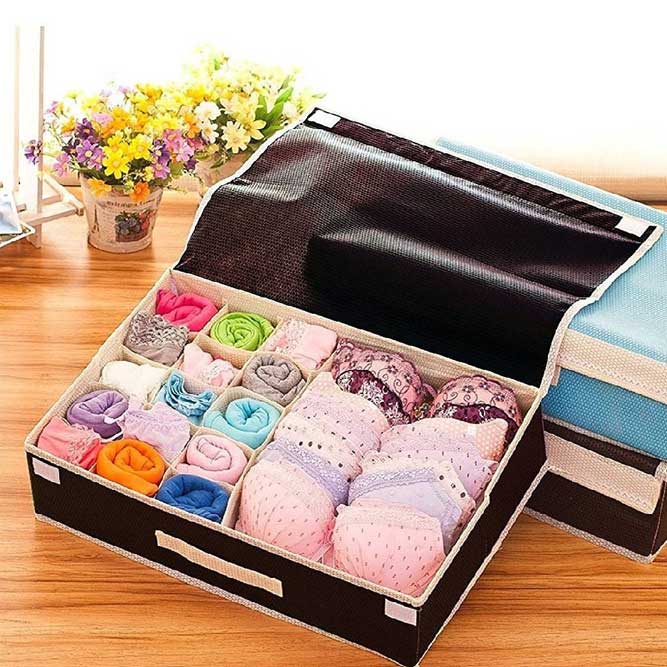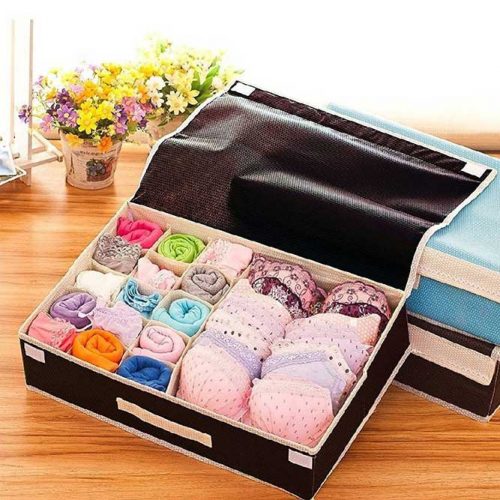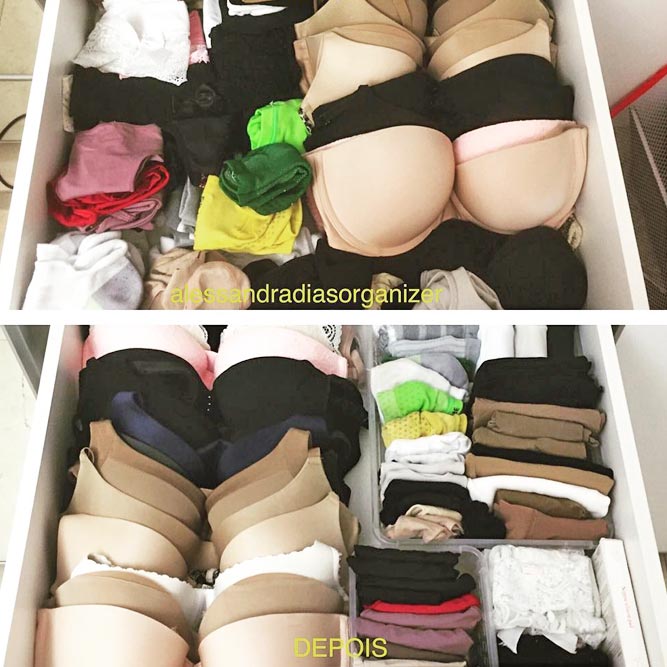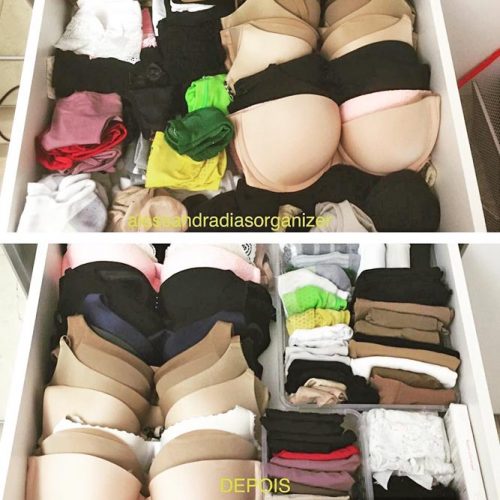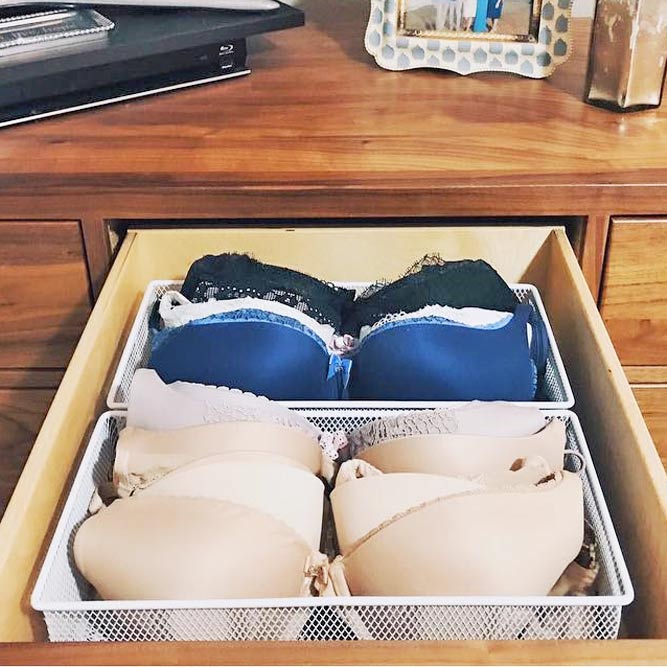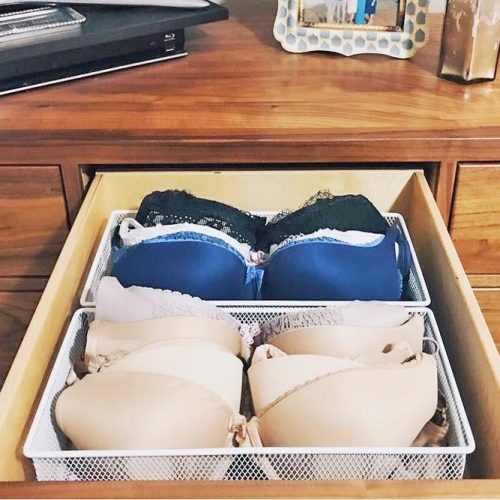 Source: shop_and_ping via Instagram, alessandradiasorganizer via Instagram, sophisticatedorganization via Instagram
Now let's see how to arrange your lingerie so that no space available is wasted and everything is easy to reach.
Sorting Out
Start with getting rid of the items you hate wearing – everything ill-fitting, uncomfortable, scratchy, or tattered should go to the dumpster. Next, buy some drawer dividers and group your lingerie by type, for example, bikini, brief, thong. How to store bras in the drawer? Fold them cup into the cup so that they occupy less space and don't lose their shape.
Division
Drawer dividers, cardboard organizers, and special boxes can save you much time when you choose the lingerie for a particular outfit. The former are ideal if you need to section off Spanx, athletic socks, or sports bras, that is, all shapewear. And stockings, nylons, and trouser socks can be put in bags to prevent any snags.
Arrangement
Think about your own arrangement system that will let you find everything quickly. If your lingerie collection is huge, it's wise to store it in a chest. But if you can't buy any now, drawer dividers will save you. They can be found in various sizes and shapes. But consider the ones made of acrylic or plastic, not wood that can snag. Another option is to go for dividers and boxes covered with fabric. That will prevent snagging, as well.
Keeping the lingerie in sets can also save you much time. Cup into the cup, with panties of the same color inside. It's very convenient. Just take the one set when you need it. And here is the simplest option: make 3-4 sections in a drawer and organize the undergarments by color. Or make 2 sections in a drawer, 1 for bras, and 1 for panties only. But don't separate the matching items – store them in another place.
Lingerie Chest Designs To Inspire You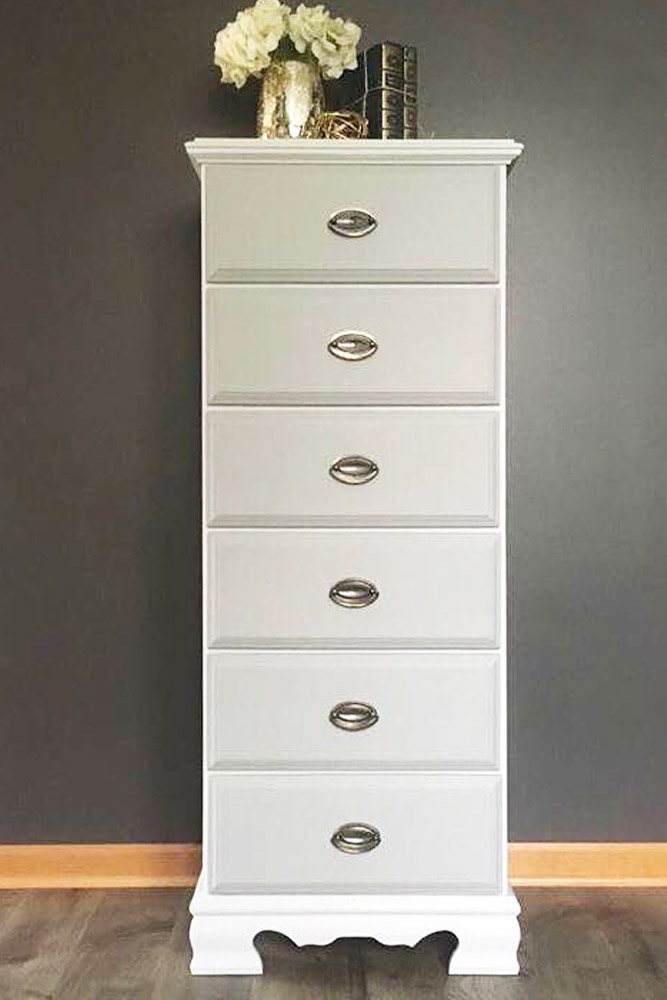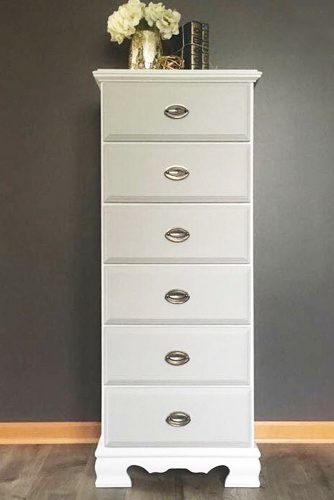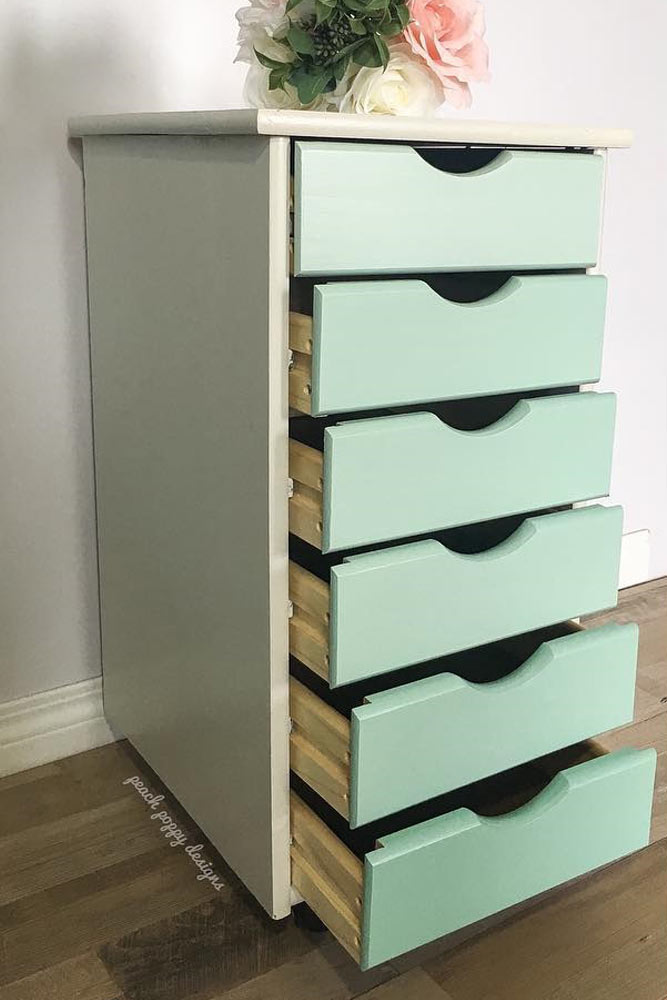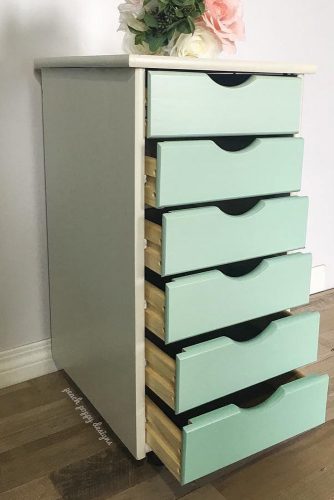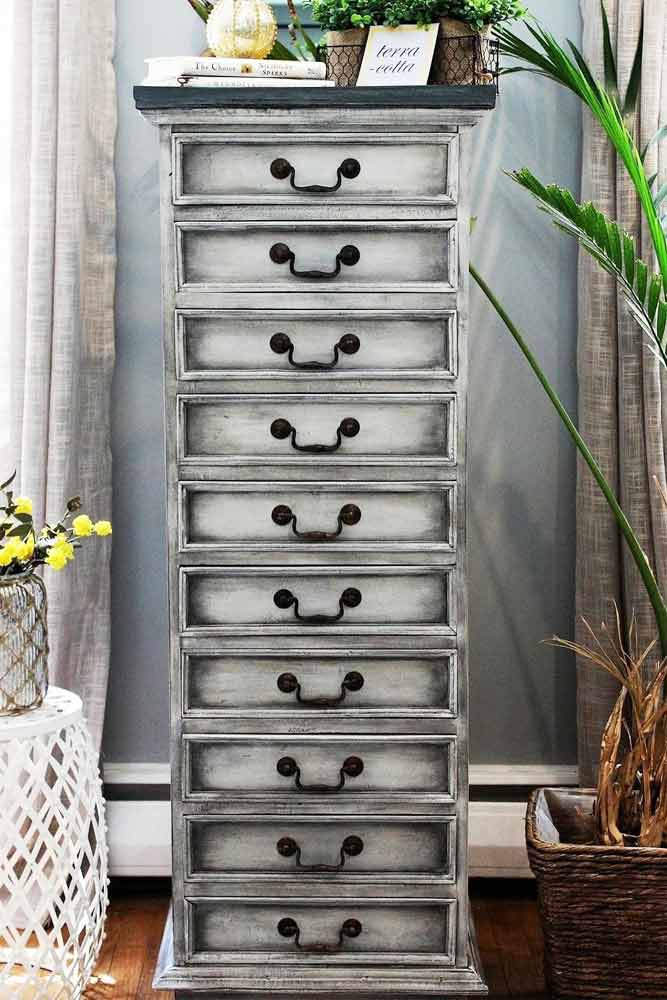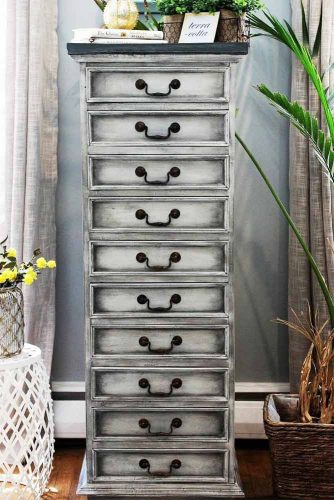 Source: refinddesignbycococlare via Instagram, peachpoppydesigns via Instagram, terracottafurniture via Instagram
We hope that this article will help you to choose the ideal lingerie chest and organize your undergarments in the most convenient way. And remember that you can always find good advice on our blog.
FAQ: Lingerie Chest
What is the difference between a bureau and a chest of drawers?
The difference is simple. The bureau is utilized in offices and libraries, whilst the chest of drawers is mostly used in bedrooms and closets.
What is a highboy dresser?
A high or double chest of drawers, officially known as a chest-on-stand or a chest-on-chest, is often referred to as a highboy. Its lower section is normally wider than the upper section and features three identical-sized drawers.
How tall is a high boy?
Highboy tables are available in three sizes and heights: 24′′, 30′′, and 36′′. This gives you more options when it comes to the size and style of the highboy table you need for your occasion.