Impressive And Handy Hall Tree Ideas Everyone Needs To Consider
When it comes to your house décor, you want everything to be special and unique to create that special personal vibe. If it is a little easier with the larger room décor, let's say the living room or the bedroom, the foyer is the most difficult to decorate. The fact is that in the majority of cases, there is too little room and too many things to fit into your mudroom. That is when a hall tree comes more than irreplaceable. In case you still do not know what it is, a hall tree is such a piece of furniture that most people put somewhere near the wall and hang their coats and jackets onto it. Hall trees usually have lots of hooks, but they come with other types of storage too. So that you can hide away your shoes, coats, and umbrellas when you have a good hall tree at your disposal. As you may have already guessed, that is going to be the main subject of our today's discussion – all sorts of hall trees to fit all tastes and spaces.
Wooden Design With Clothes Space Storage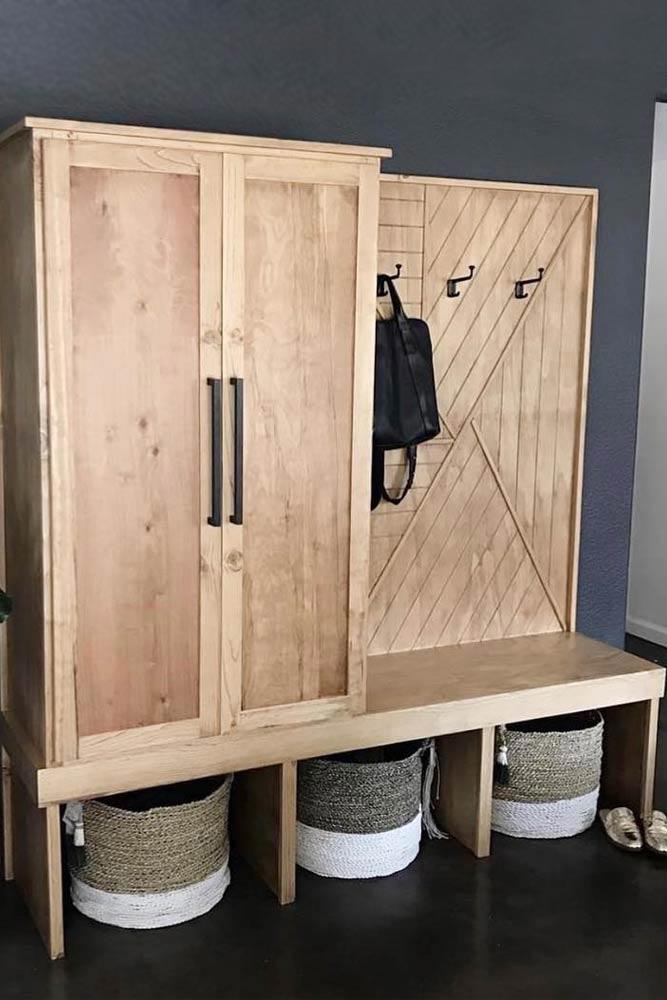 Source: instagram.com/theawesomeorange
We are going to start with a universal hall tree. We say universal because apart from the tree section, there is also a closet and a hall tree bench. Such a hall tree will come in more than handy if your family is a big one and there is a lot of clothes and shoes to hide away so that they do not overcrowd the hallway. Besides, a bench is a practical piece too – you can sit on it, or you can put the grocery bags on it while you undress. The choice is yours.
Industrial Metallic Design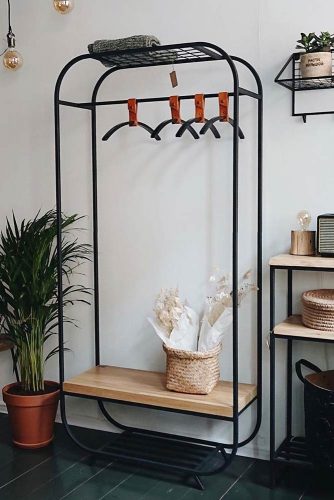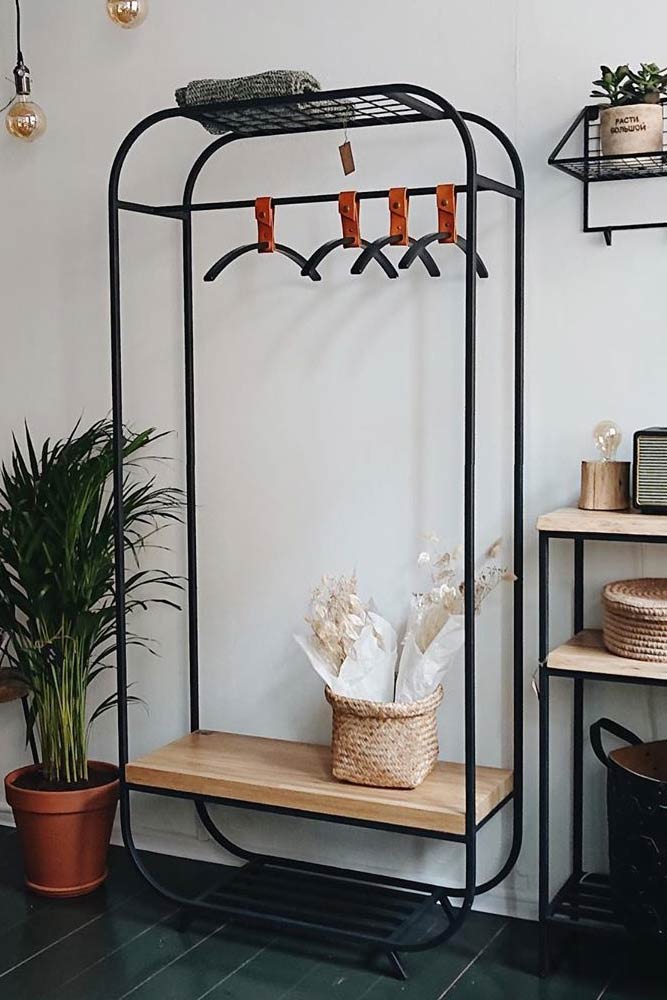 Source: instagram.com/thesarai_
This particular industrial hall tree is not the only type of metal trees. The fact is that due to the wooden bench it is half in half. It is very comfortable but may not feel like it is fully industrial. However, the tree carries out its functions well and adds that peculiar vibe to the whole interior.
Antique Hall Tree Design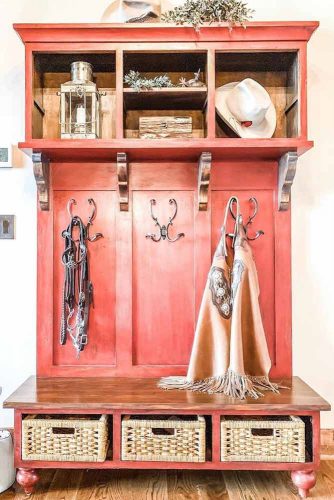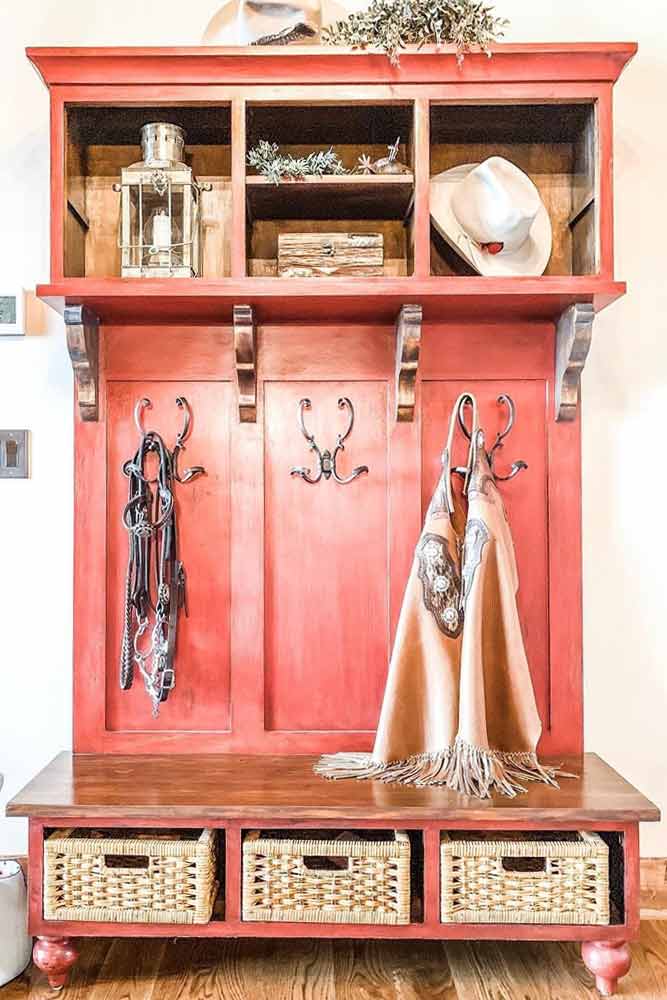 Source: instagram.com/home_asyouare
If you are into vintage decorum then this antique hall tree will come to your taste. The truth is it looks like it was taken out of the 19th-century foyer and was introduced into the modern mudroom. Nevertheless, good looks are not the only things that you should value such a tree for. It is pretty compact but very spacious at the same time. You can store some of your belonging right on top as well as at the bottom.
Industrial Wood And Metal Design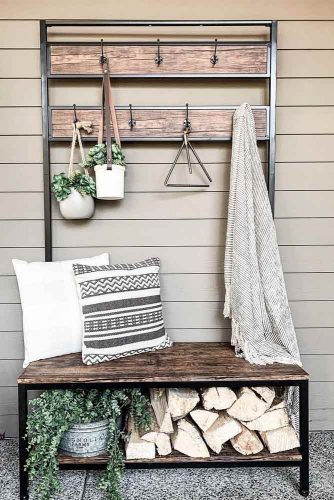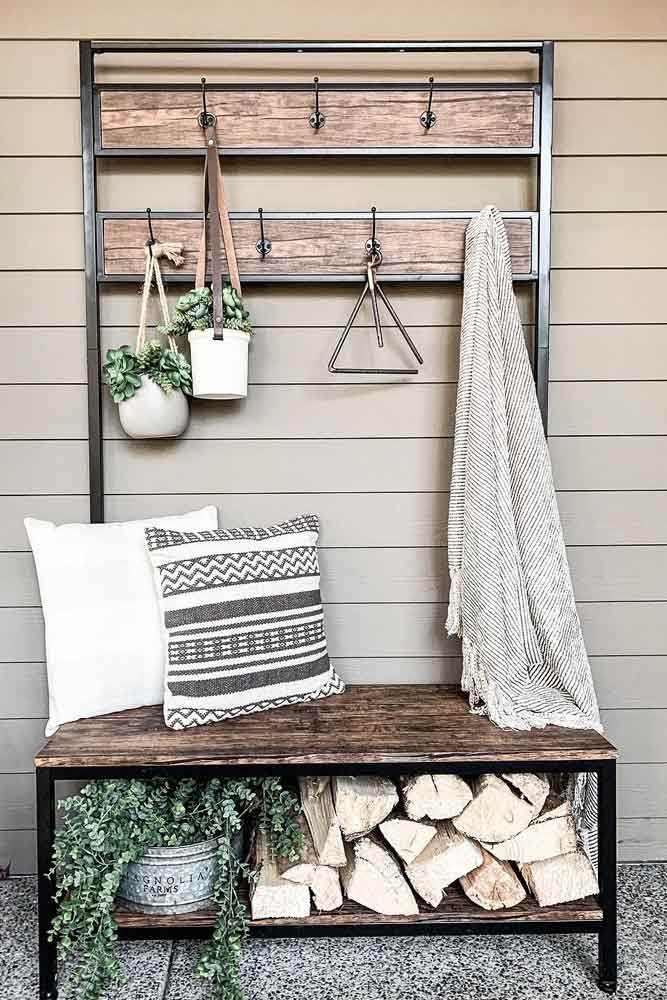 Source: instagram.com/sagelantern
This is another metal hall tree in our compilation. This one is also not fully metal, and that is a good thing. There is rarely any material that adds better to any interior than wood. It is quite small, but you can easily place it into the hall or on the terrace. The bottom compartment can safe as a perfect storage place for the firewood.
Wooden Hall Tree Bench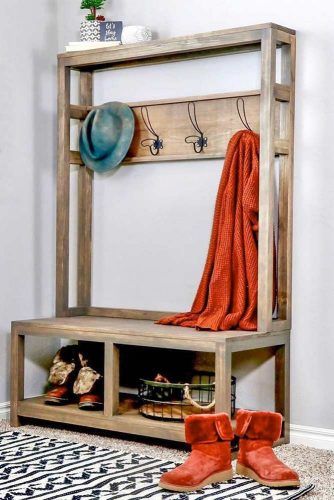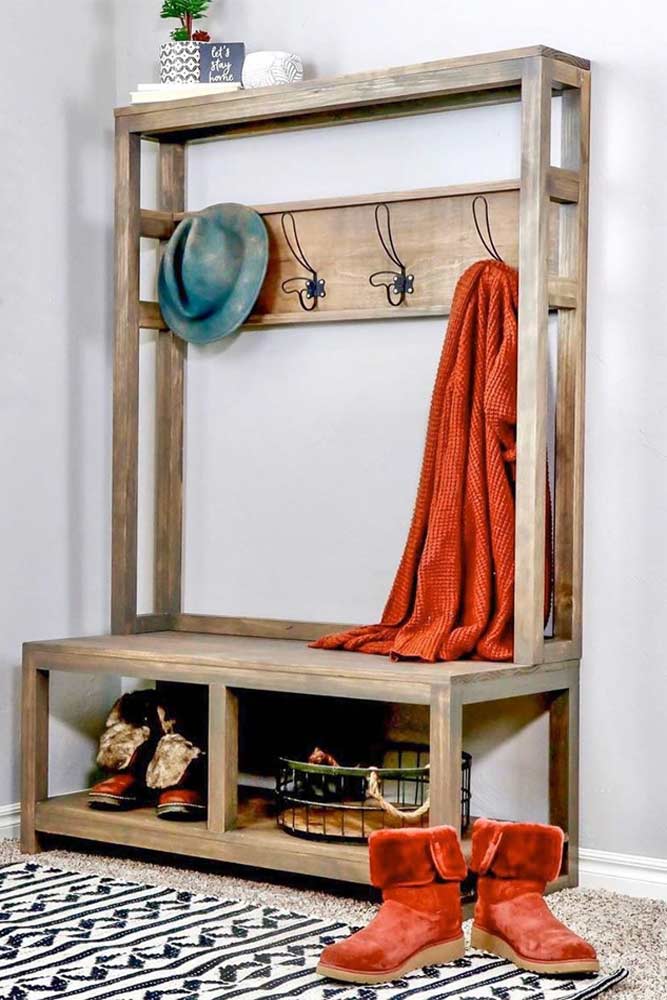 Source: instagram.com/smashingdiy
If you are searching for an entryway hall tree that is both practical and unique but simple – we have an idea in store for you. This wooden hall tree is simple in its design, it may look even somehow rough around the edges, but that grants it that vintage feel. You can put it close to the wall so that it does not take up a lot of space, but on the contrary – saves it. With a tree like that, none of your footwear will be missing ever again.
Small Wooden Design With Blackboard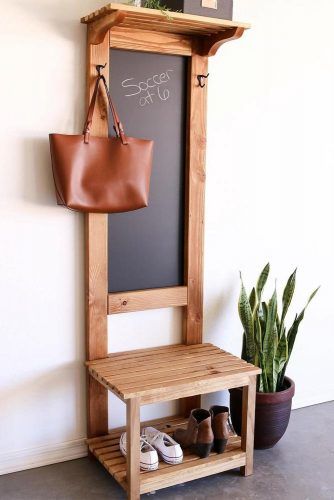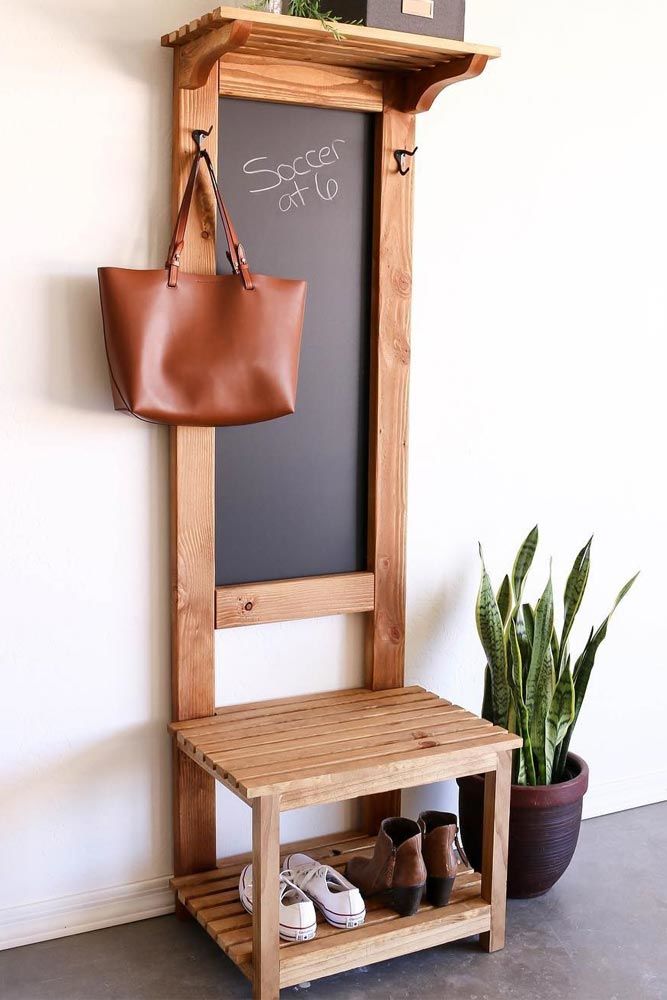 Source: instagram.com/addicted2diy
Those of you who are limited in space should definitely consider a small hall tree. It is all just about the essentials, but there is something special about it too. The backboard. With a piece of furniture like that, you will never miss anything that your loved ones wish to tell you!
Bamboo Hall Tree With Mirror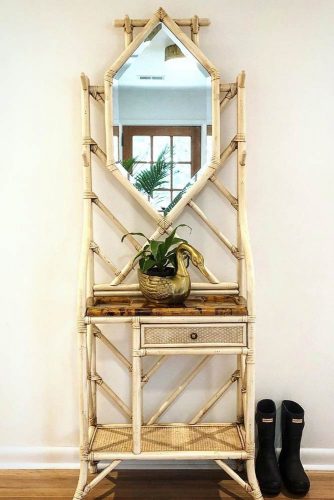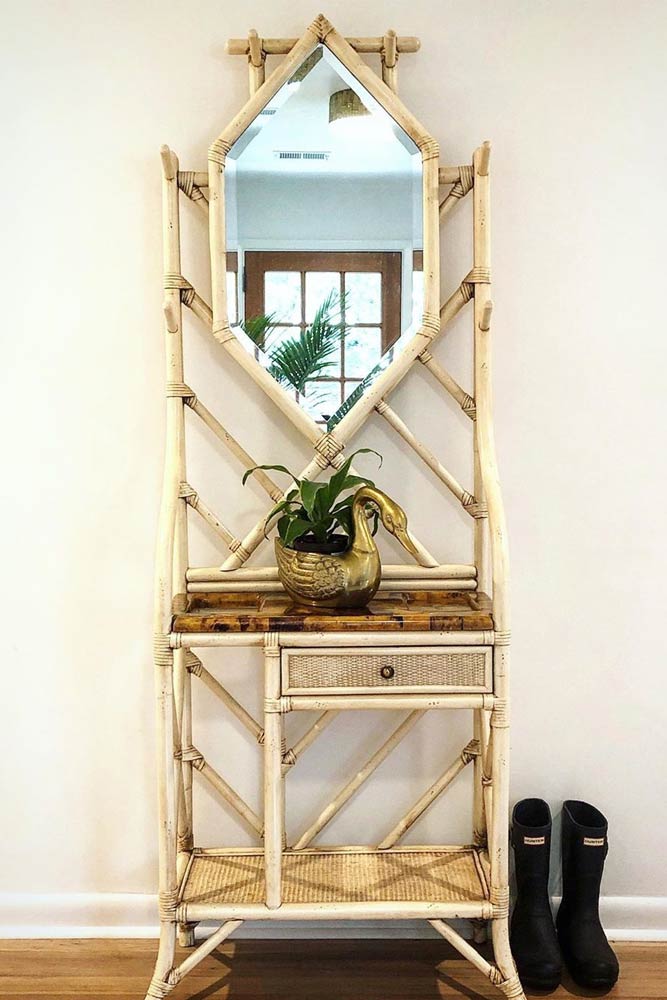 Source: instagram.com/thehuntcharleston
Some hall trees can serve multiple purposes. This particular one, made out of bamboo is a plant stand, a hall tree, and a mirror set. All in one! It should be added that due to the multiple functions this tree carries out, it is still very small and fit into any limited space.
Wooden Design With Shelves Space Storage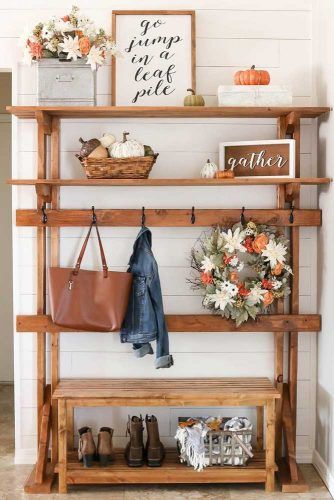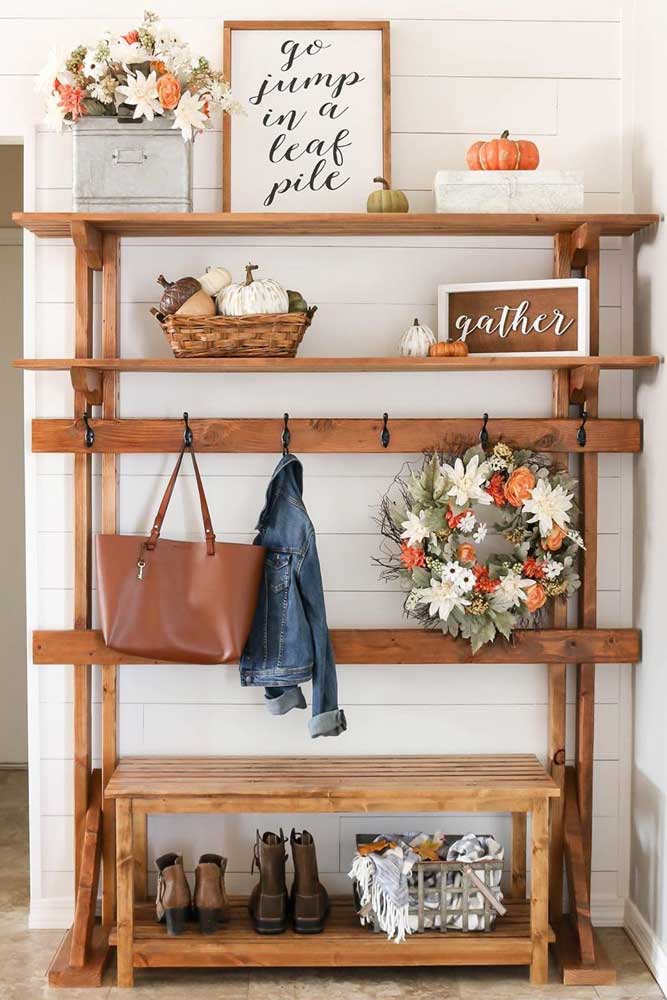 Source: instagram.com/addicted2diy
Some people may still not know that a proper hall tree can also carry out the decorative function too. You can place your seasonal and inspirational items on the shelves of the hall tree. That is why such a hall tree with storage bench and upper shelves is a real deal.
Hall Tree With Shoes Shelves Storage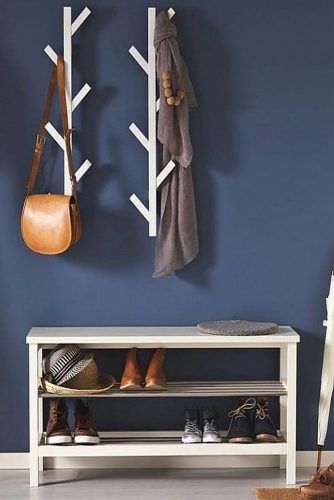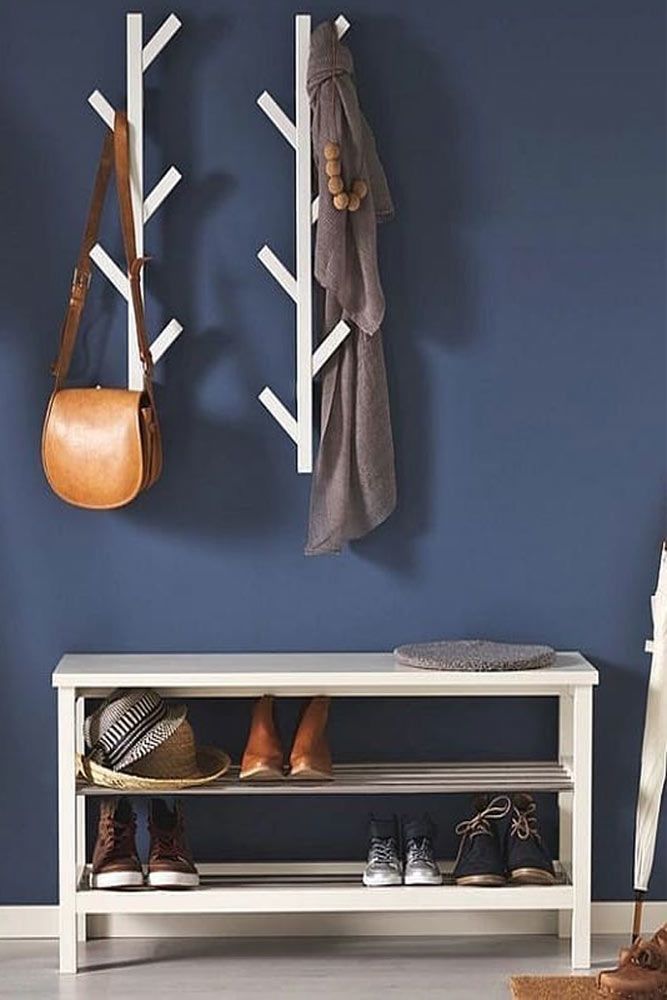 Source: instagram.com/ikea_style_forever
In the vast majority of cases such entryway furniture as a hall tree comes as a part of joint set. However, that is not mandatory. You can easily hand the tree in the wall while the bench it comes with is on the floor, serving both as a bench and a shoe shelf. What is more, you can always by the items separately and make your own personal match.
Minimalist Hall Tree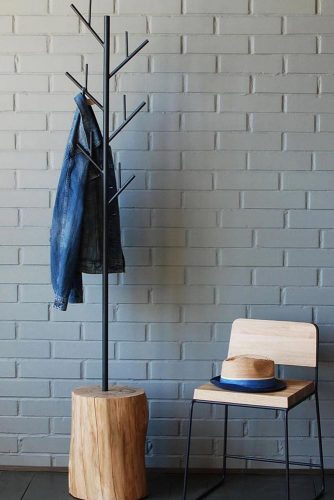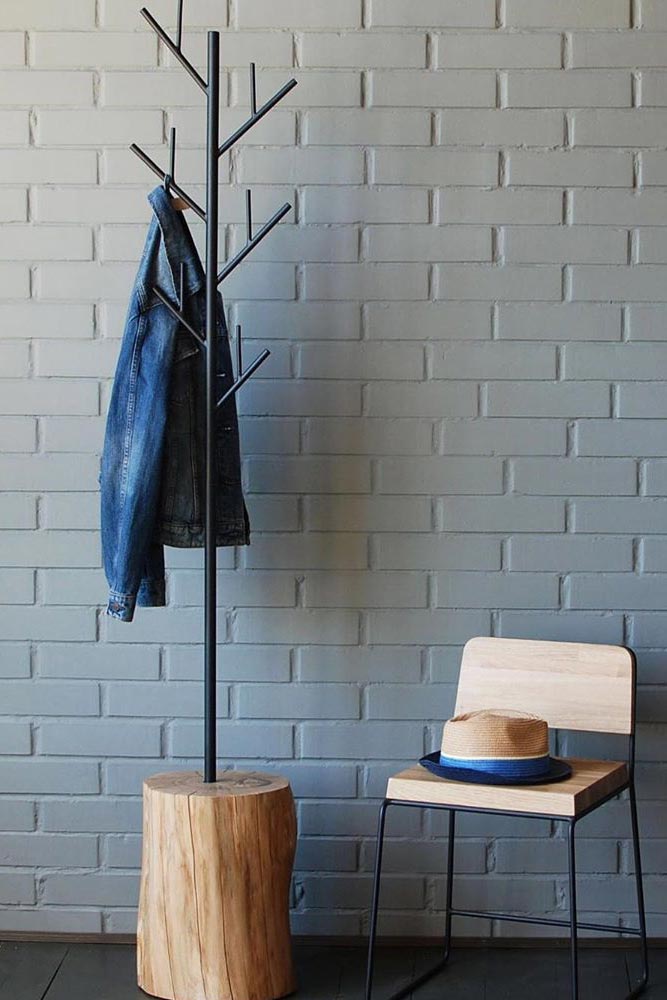 Source: instagram.com/thesarai_
We are not going to deny the fact that there are times when there is a lot of room in the hallway, but all you want is something super minimal. In times like this a simple hall tree coat rack with a chair can be what you need. A word of advice, make the tree rack set contrast the walls so that it is noticeable.
Metallic Vintage Design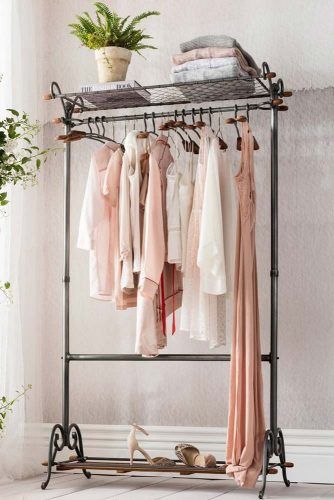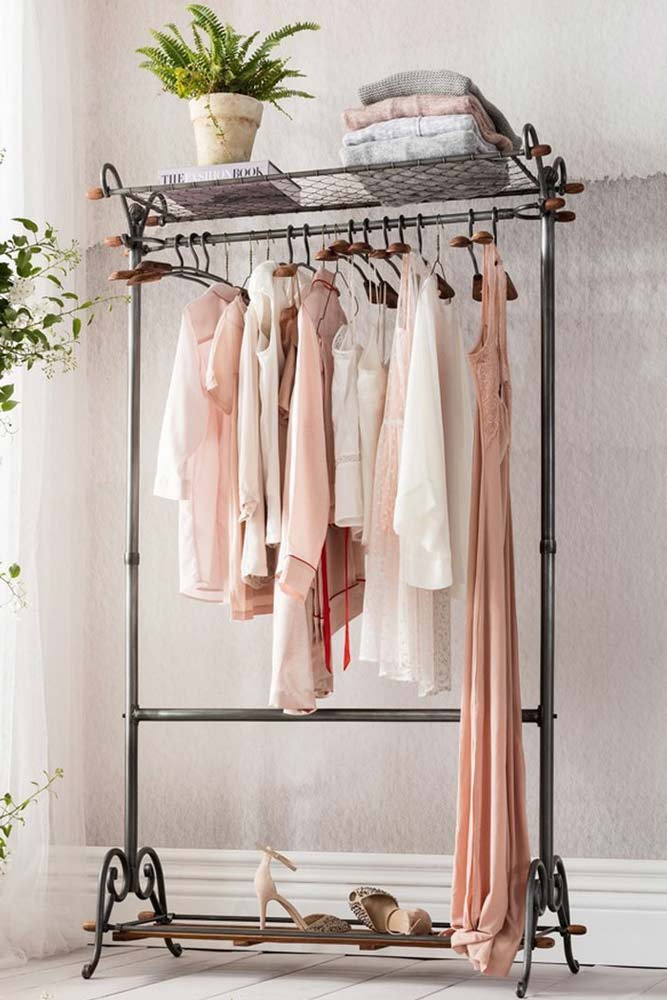 Source: instagram.com/aprioridecor
If we go as far as to the '30s such a rustic hall tree would be found in every house. These days such trees are quite rare, and that is what makes them so desirable for all the rustic décor lovers. Besides, the hall tree is perfectly practical despite the vintage vibe.
Corner Hall Tree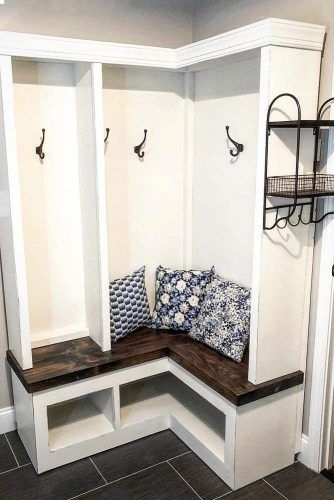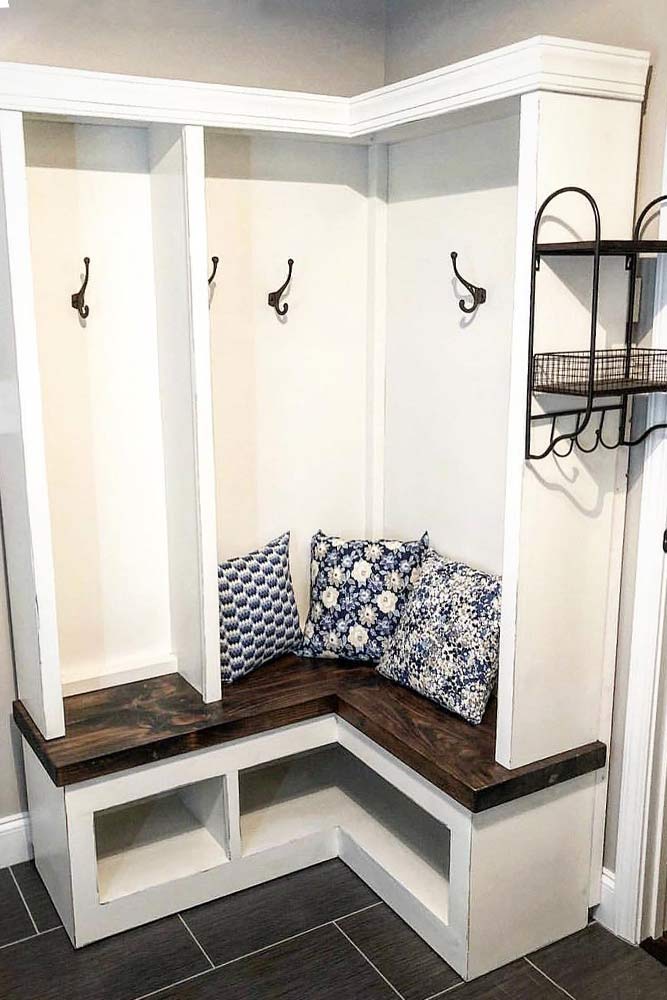 Source: instagram.com/hillbuilditcreations
So far we have discussed hall trees that can be set against the wall, but a large wall is something not all of you can devote to a hall tree. If that is your case, there is still a good way out - corner hall tree. The corner tree will be somehow larger than the regular ones, but at times it is what most us need. Trust us, we know that there is always something to hide away in your household!
Vintage White Hall Tree Design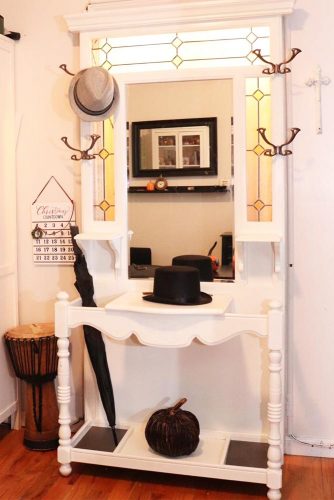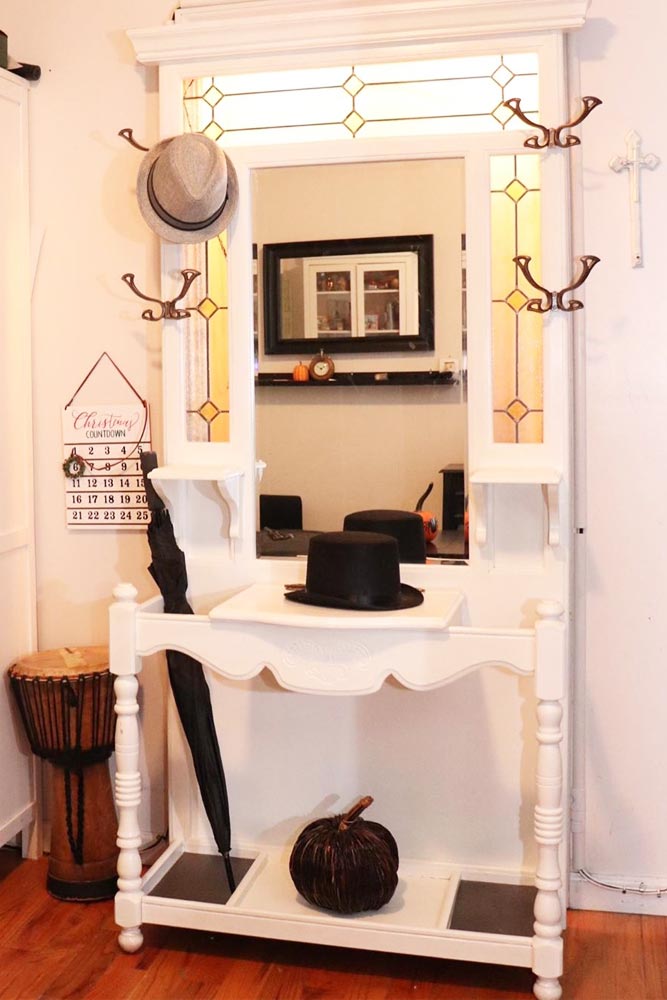 Source: instagram.com/reloving_furniture
If it happens so that you thing there is some elegance missing from your foyer – we know how to solve the issue ion the most effective way. What we have in mind is the white hall tree. One look at this vintage beauty, and you will fall in love with it forever. Apart from its regular options, this one has a table and a large mirror. If you are a lady who is constantly conscious of her makeup, this hall tree will help you fix your makeup even on the go!
Classy Design With Drawers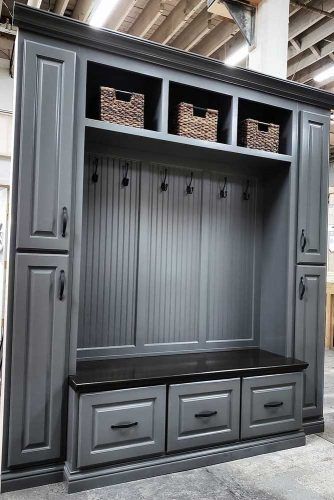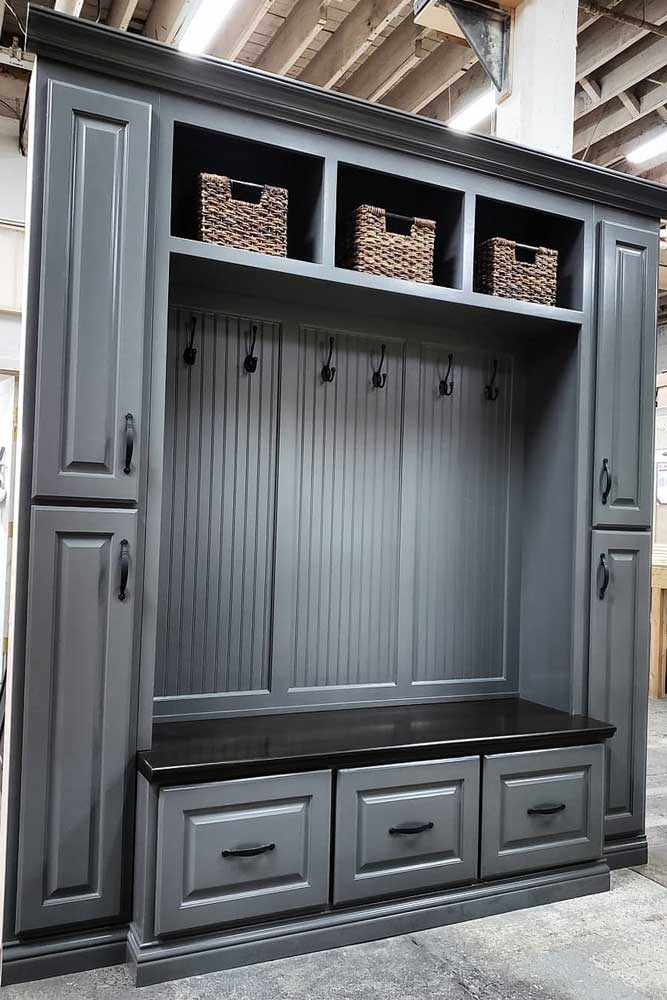 Source: instagram.com/speckcustomwoodwork
Some of you may wonder – what must a classy hall tree look like? Well, this black hall tree is the answer to your question. Yes, it is larger than the average trees, it differs in color, but it is that piece of furniture in the classic meaning of a hall tree. Those of you who do not like the modern streams in the furniture would consider it a real blessing, and we know what we are talking about.
Modern Dark Gray Hall Tree With Enclosed Shelf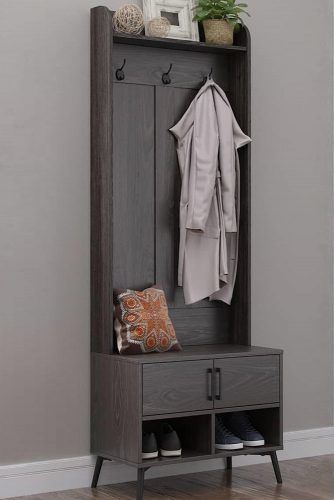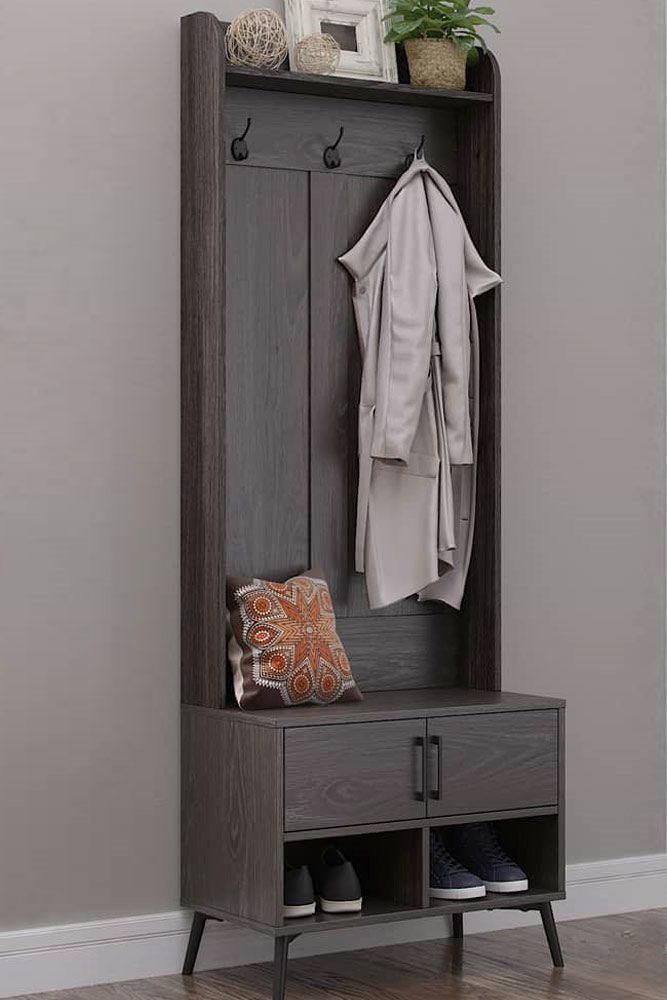 Source: instagram.com/riverridgehome
The beauty of a modern hall tree like this is that it can easily fit in every house. There is barely a chance that you won't have enough room for this modern hall tree. Although we would not advise it if you have a larger family, this is a perfect tree for young couples or for people who live alone.
Black Design With Soft Bench And Storage Space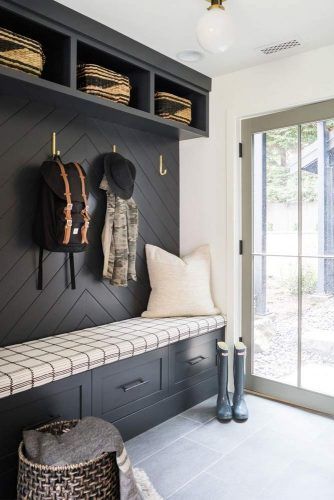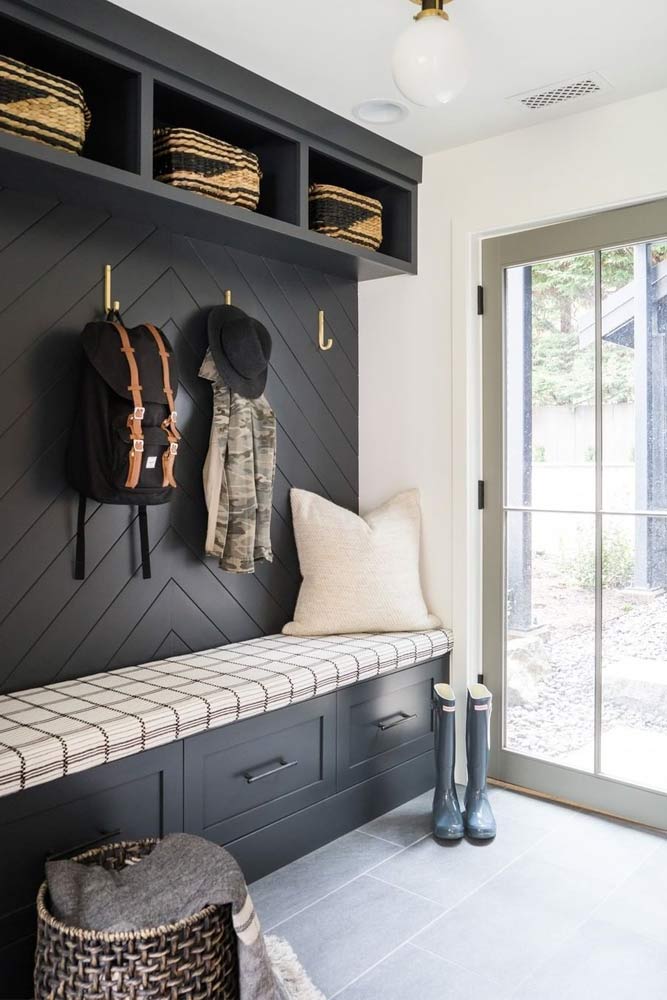 Source: instagram.com/mindygayerdesign
For larger mudrooms, there are special hall tree ideas on offer. Usually, these are big pieces of furniture with lots of shelves and drawers, not to mention the comfortable bench. We say that every larger family needs to consider this particular hall tree. Once you get, you will be relieved with how simple it is to store all of your belongings in just one room.
Wall Mounted White Hall Tree With Lights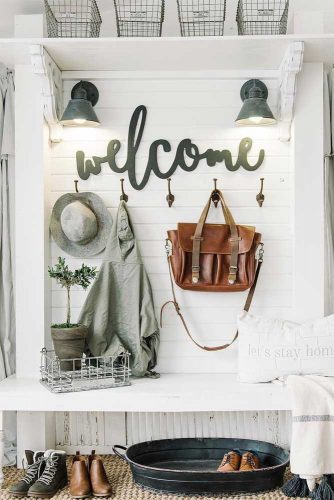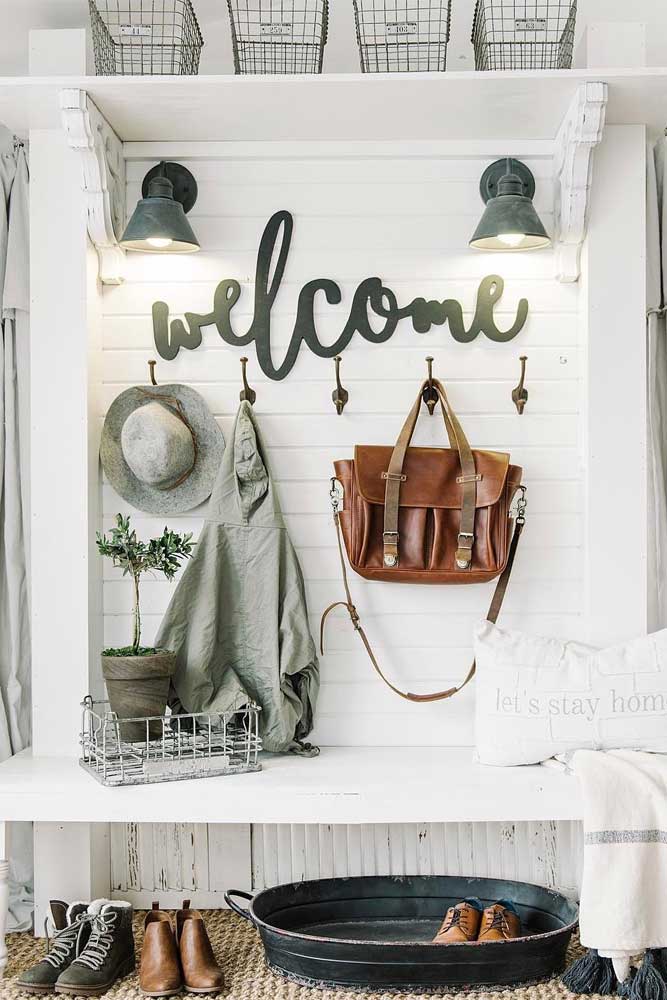 Source: instagram.com/lizmariegalvan
Very often, hall trees come as separate pieces of furniture, but at time you can come across some wall-mounted one. They are in no way any worse than other hall trees, so there are no worries here. For instance this gorgeous white farmhouse hall tree with lights to it will create that unforgettable atmosphere the minute you set your foot in. Besides, it is as practical as all the others.
White Metallic Tree Design With Shelves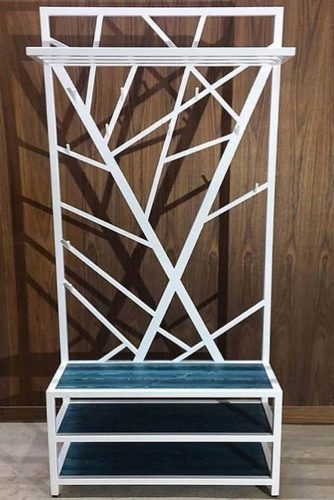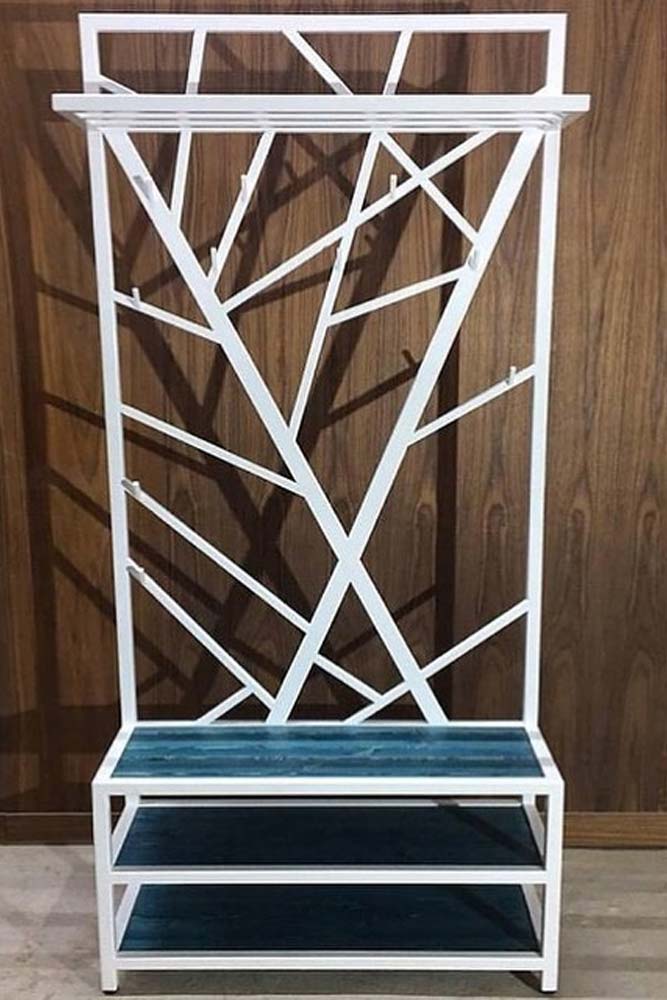 Source: instagram.com/wood_loft_krd
The creative approach is often what many people are interested in. If it happens so that you are one of those people that value creativity above all, then this white metallic tree is what you should pay closer attention too. The way the hooks are arranged is that intricate part about this hall tree. The shelves serve their original function while they complete the design.
Hall tree – haven't heard about it? You have come to the right place! Not only we know everything about it, but we also have a vast range of ideas to choose from depending on your own peculiar taste and preferences!
FAQ: Hall Tree
What do you put in a hall tree?
Once inside, you often need to take off your coat, scarf, hat, and sometimes even your shoes. All of this can be done on the hall tree. Hang your coat and scarf on one of the hooks and store your shoes on the shelves under the bench. This may include small-size things such as gloves, wallets and keys.
Where should you place a hall tree?
Indoor trees are most commonly installed in mud chambers or other front or back entrances. It's the perfect place to hang your coat or jacket quickly or pick it up when you get out. Many people also use trees in the corridor to hang their children's backpacks so they can quickly grab them on their way to school.
Can you put a hall tree in a bedroom?
You can install a hall tree in any room of the house, whether it's the kitchen, bedroom, bathroom, or foyer.
Was this article helpful?