Mudroom Is That Necessary Room That All Need
When it comes to owning your house, you want everything to be perfect about it. That means that not only the interior is bound to be stylish and flawless but also the most convenient to use. It may hit you like a surprise that something like a mudroom has existed for a while now. However, the fact remains, and in case you don't know about such a room it is high time we change it. A mudroom is not room to show off but to enjoy since it is a lot more useful than it may seem from the first sight. Read on to learn more!
A Mudroom – A Tribute To Modern Trends Or A Necessity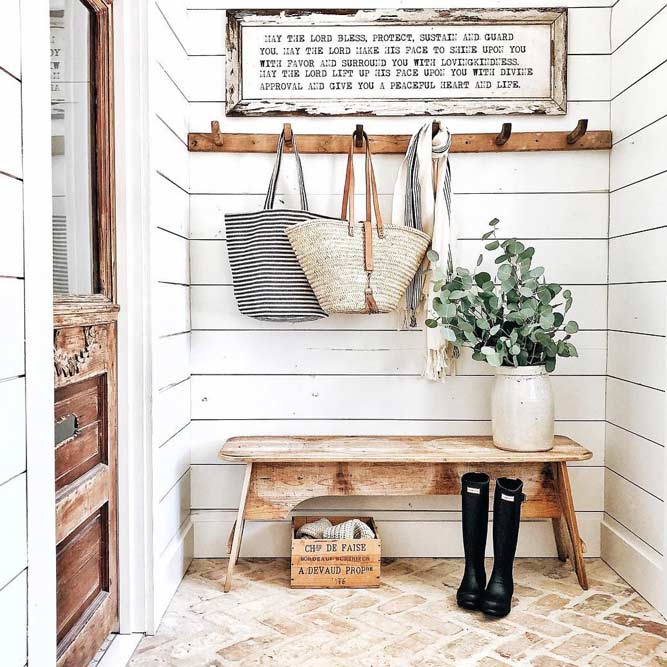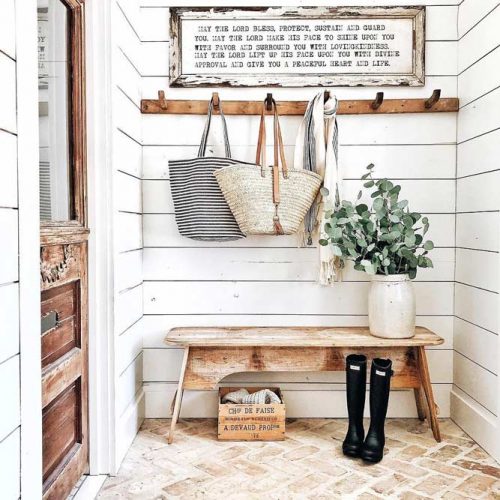 Source: whitetailfarmhouse via Instagram
To begin with, it should be nice to clarify what this special room actually is. The thing is that a mudroom is your second entryway. To put it simply it is that one room in between the outdoors and indoors. Its primary purpose is to serve as a storage room for all the wet clothes, shoes, and sports gear. However, as time passed, it gained a new twist and was transformed into a complete room with peculiar décor. That is precisely what we are going to discuss today. All the best decoration ideas to fit into your mudroom are gathered here. Take your pick or use some of these examples as mere inspiration, the choice is yours!
Bench Design With Cubic Storage Under The Bench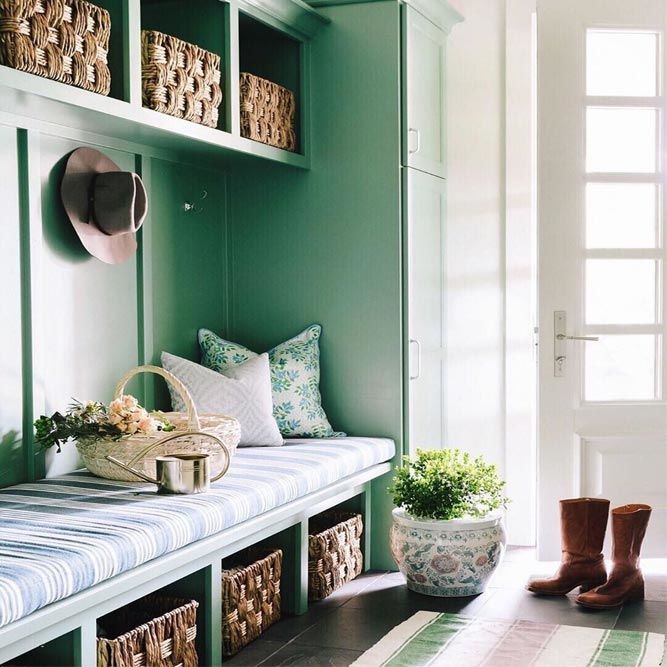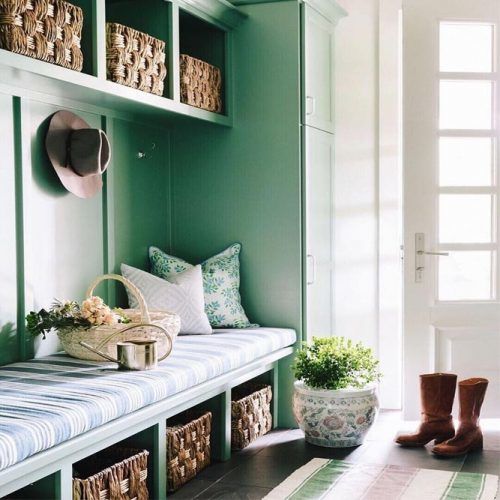 Source: briahammelinteriors via Instagram
The truth is that a mudroom bench is something that is very often neglected. It should be mentioned that it is not the greatest idea to waste such a practical addition to your mudroom as a bench. Not only it provides a necessary sitting space to take your shoes off, but also to place a bag on while undressing. What is more, you can store some of your belongings even under the bench.
Simple Floating Bench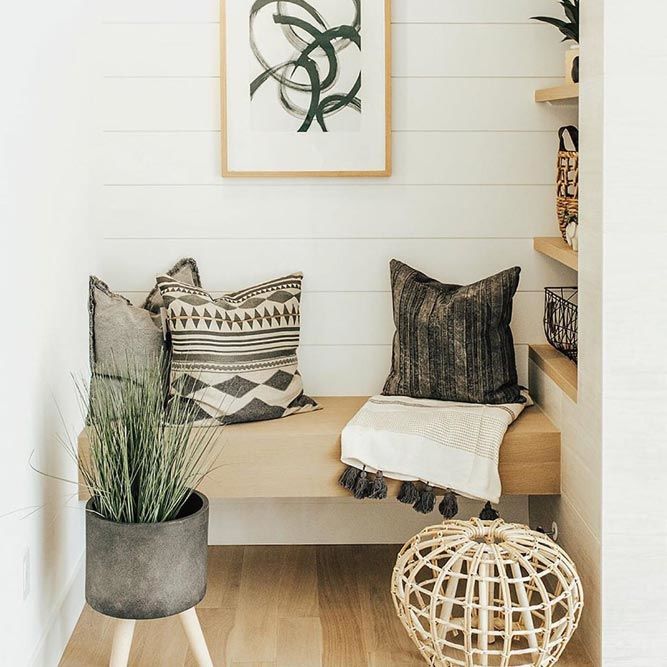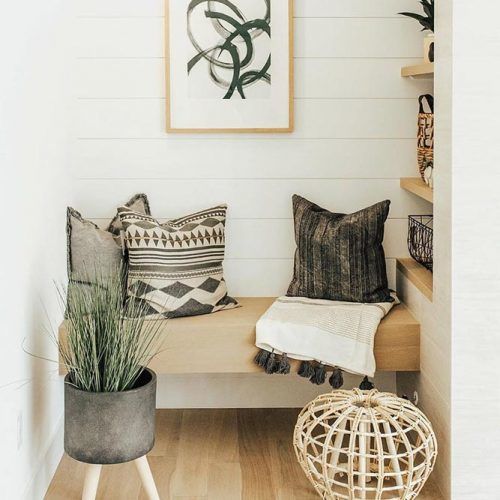 Source: 5girlsoneboy via Instagram
In case you started to think about the bench introduced into your mudroom it is essential that you do not take it over the edge. A simple floating bench is more than enough. It will carry out all its primary functions without making the room look overcrowded. Add a small pillow to create the special atmosphere.
Mudroom Bench With Pillow Surface In Kids Room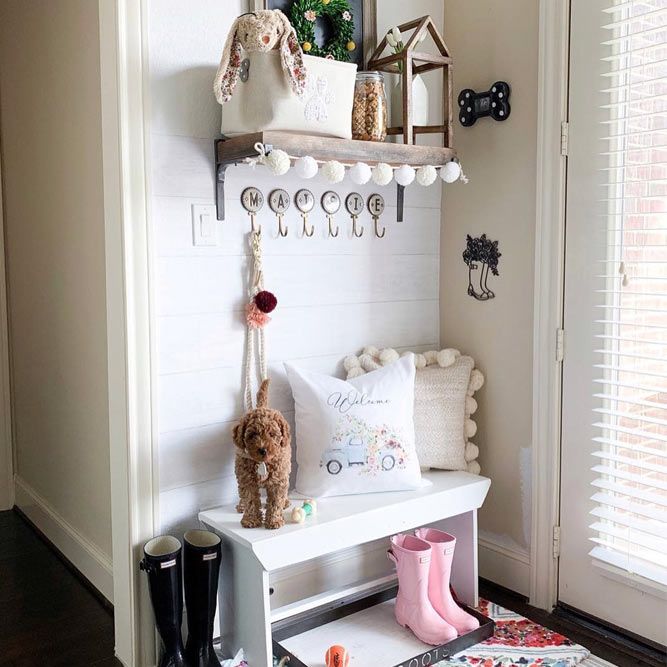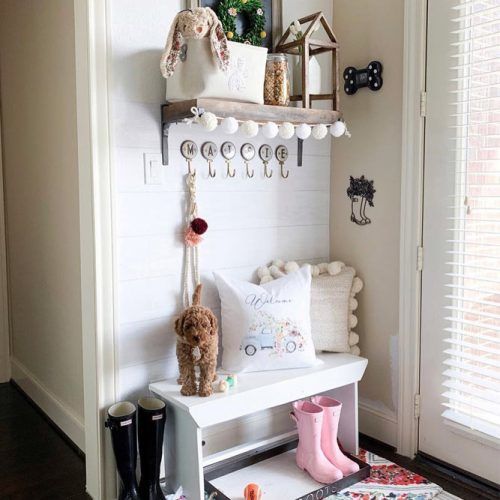 Source: blessedonbluefinch via Instagram
To tell you the truth some of the mudroom ideas can be introduced into your other rooms as well. For instance, a bench with pillows on will fit in just perfectly into your kid's room. Place a small hanger just above the bench, and you will create a personal mudroom area for your kids. It is surely a winning option, and many parents will undoubtedly appreciate it. You can also customize the hall tree in your kid's room with his or her name DIY-ed over the hooks.
Rustic Farmhouse Mudroom Bench With Galvanized Bins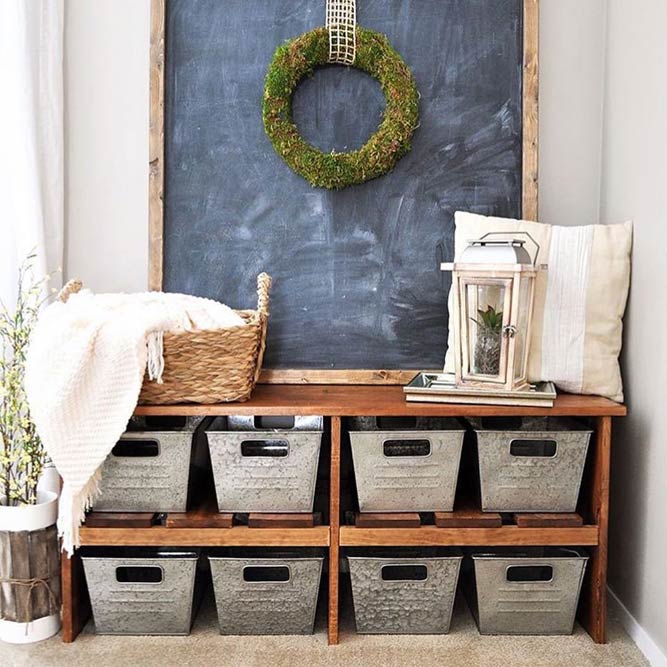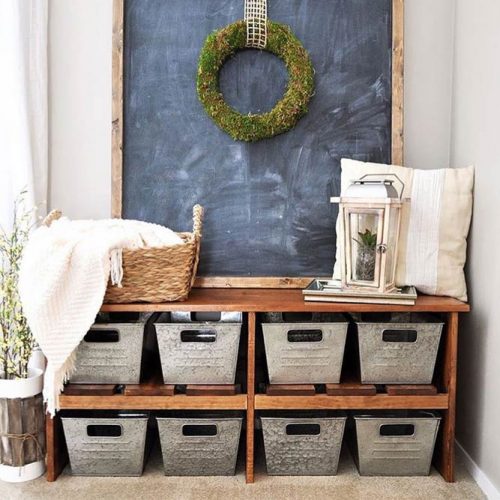 Source: cherishedbliss via Instagram
Of course, your mudroom area is supposed to fit in with the rest of the house. That is why if you are looking for a rustic farmhouse idea – we have something in store for you. Not only a bench is used for storage but all the place over and under it. Those galvanized bins add a special touch to the interior.
Modern Wood Mudroom Bench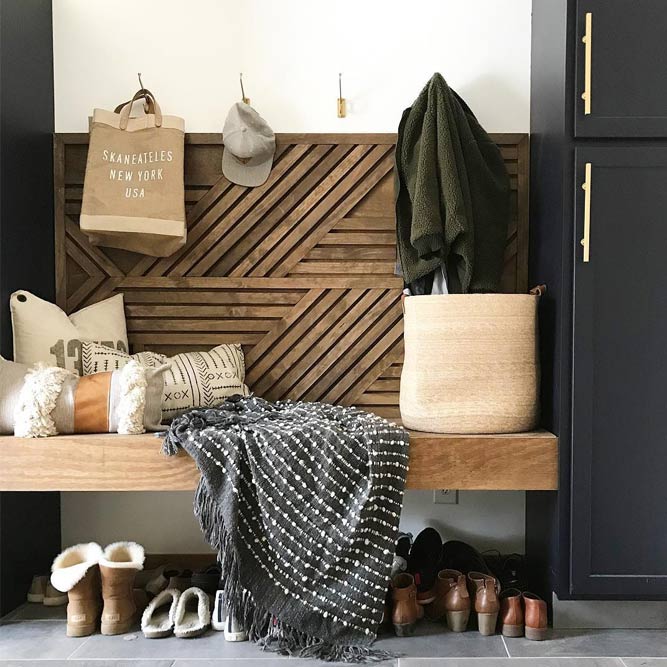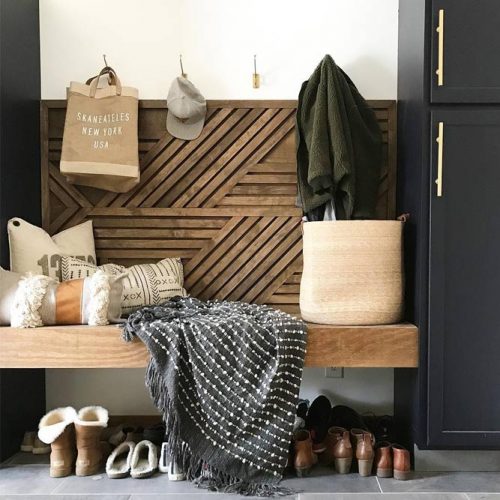 Source: brepurposed via Instagram
Not everyone is equally fond of rustic design ideas. Some people prefer to keep up with modern fashion and style. In case you are one of those then this mudroom design will at least inspire you to come up with something of your very own. This design is very simple and practical just what modernism is all about!
Vintage Mudroom Bench Design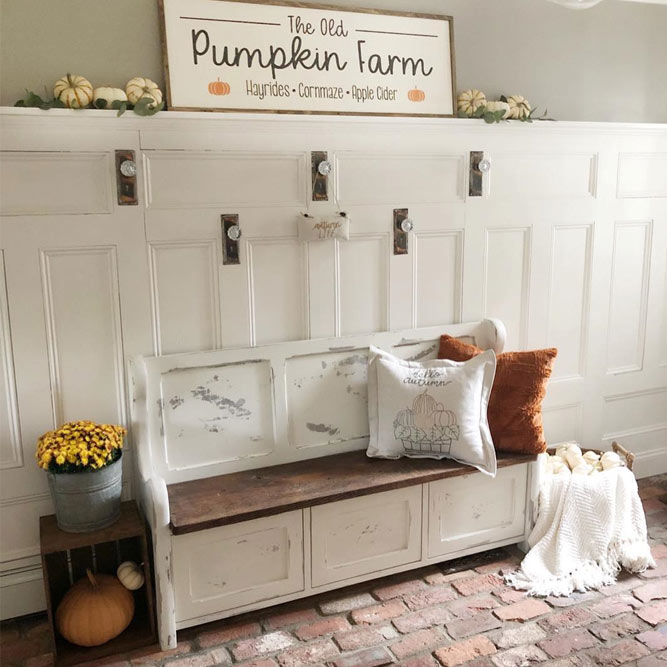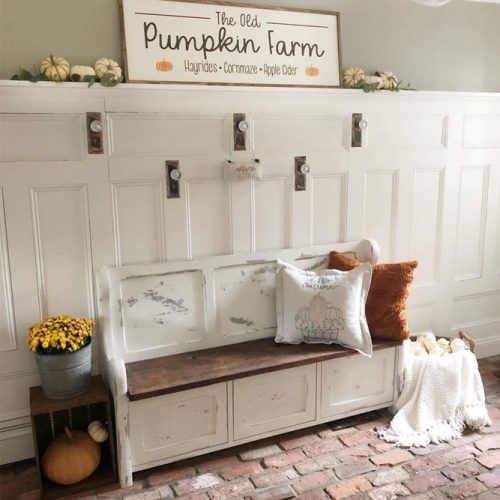 Source: country_dog_homes via Instagram
The beauty of vintage style is that you can transform any old belonging of yours into a stylish masterpiece. Use old doorknobs as vintage hangers and an old wooden bench as a sitting and storing area. Besides, a nice authentic sign will add up to the design like nothing else!
White Classic Mudroom Lockers Designs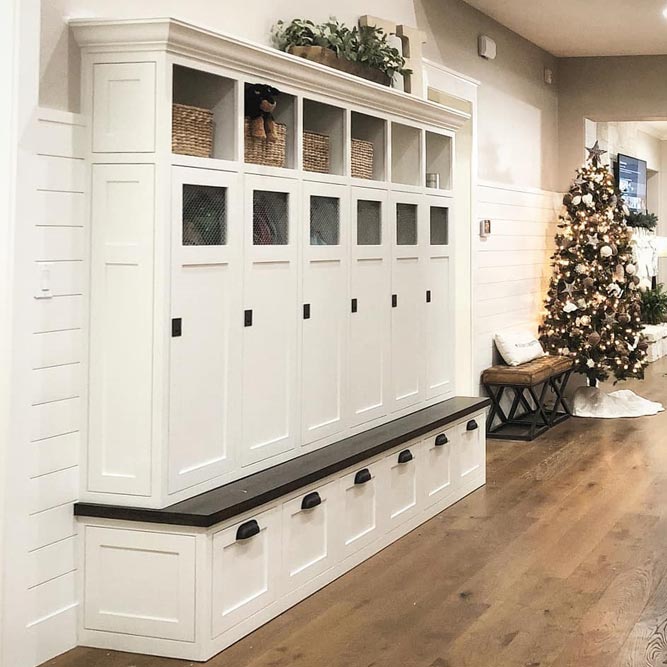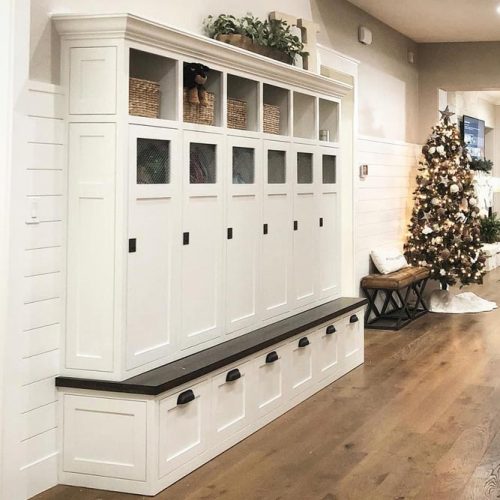 Source: speckcustomwoodwork via Instagram
If you think that lockers are only about schools and gyms – you are terribly mistaken. While mudroom lockers are perfectly compact, they can contain many of your belongings. There is no need for your clothes or sports gear to lie around the house – all you need is a proper locker. A nice white locker will contribute to your classic house décor like nothing else!
Functionality Mudroom With Plastic Lockers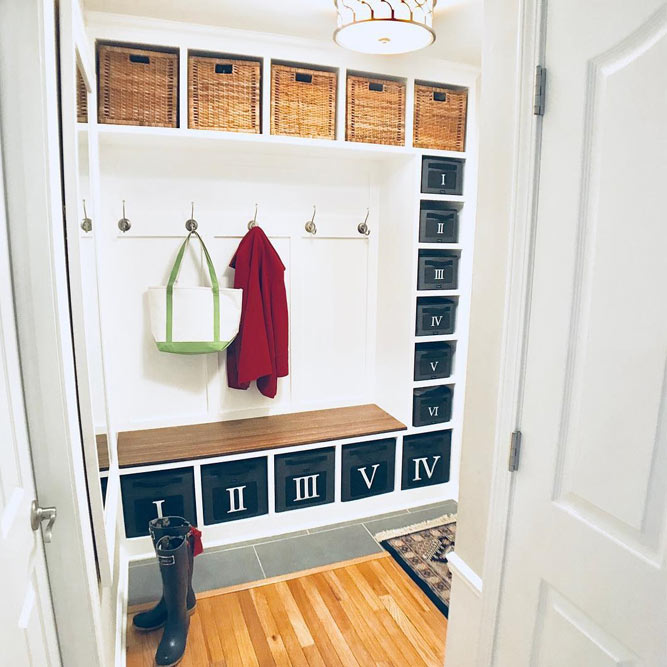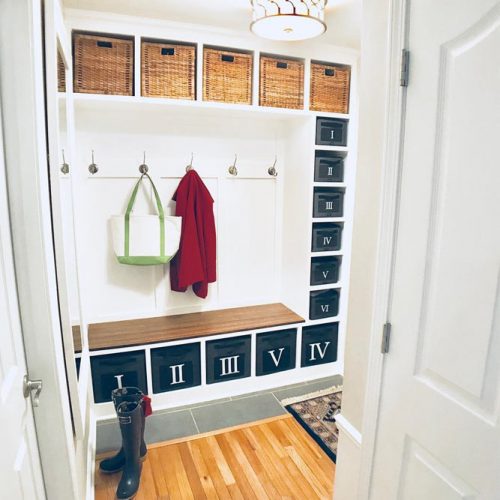 Source: gracethisspaceinteriors via Instagram
It is essential that you are aware of the fact that there are various kinds of lockers. In case the locker in its original meaning is a little too used up for you-you can easily play around with plastic lockers. To make it easier to track what lies where you can enumerate the lockers. In such a case you will kill two birds with one stone – you will keep everything hidden, and you will keep perfect track of it. Mudroom cubbies are truly a miracle of the modern world!
Mudroom Design With Cubbies And Lockers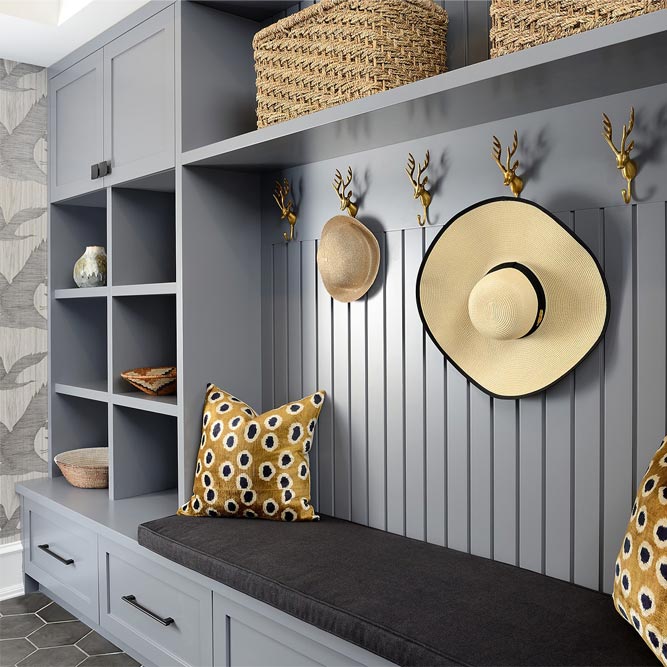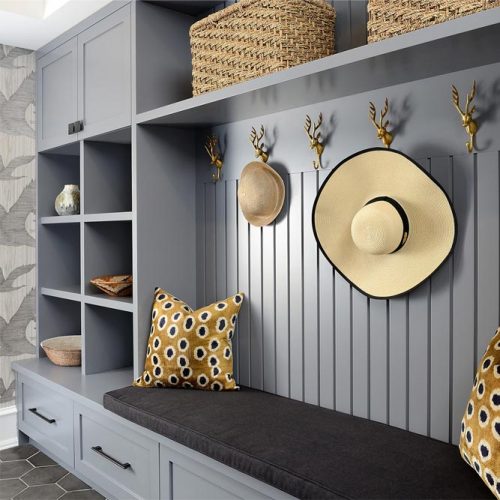 Source: bedfordbrooksdesign via Instagram
The best way to arrange your mudroom cabinets is to combine various styles in one. For example, the mixture of cubbies and lockers is genuinely convenient. What is more, a trendy coloring will intensify the vibe of your décor. Not to mention the fact that deer heads as hangers look genuine and stylish.
Mudroom Bench With Rustic Baskets Storage Space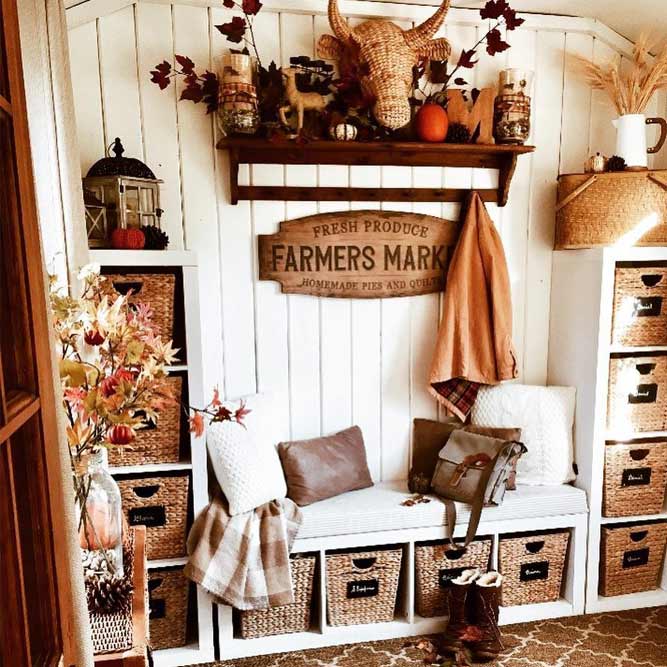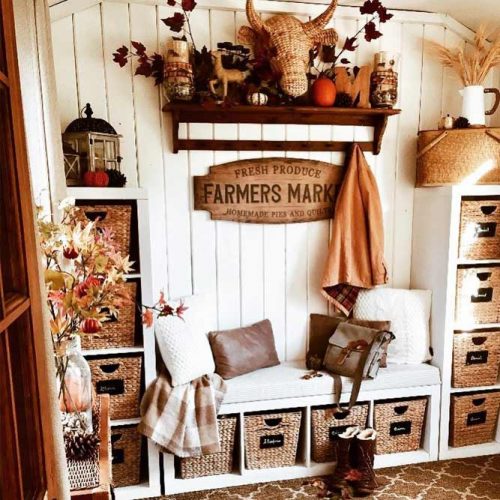 Source: thelongawaitedhome via Instagram
When you have a strong desire to create that excellent rustic vibe in your mudroom all you need to do is to play around with some baskets. It should be mentioned that the more baskets – the better. Also, it is important that you pay attention to the decorative elements such as signs and dried out flowers, they carry that special charm many fall for!
Mudroom Lockers With Space For Your Pets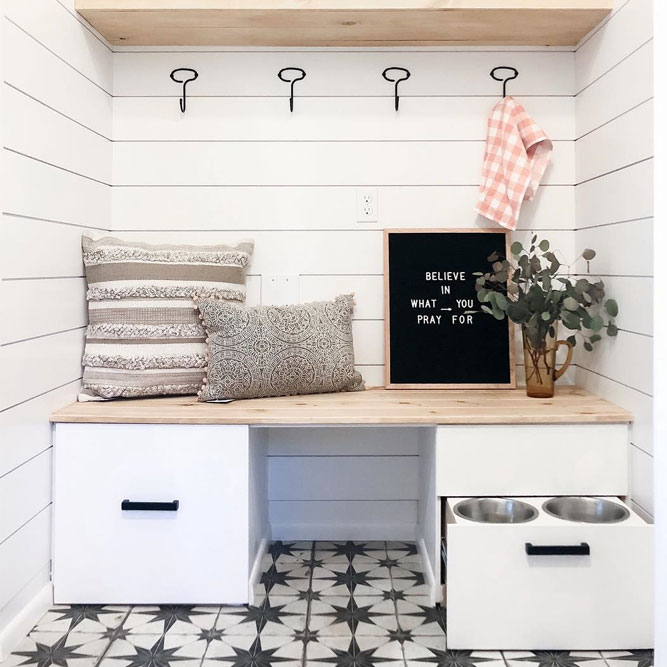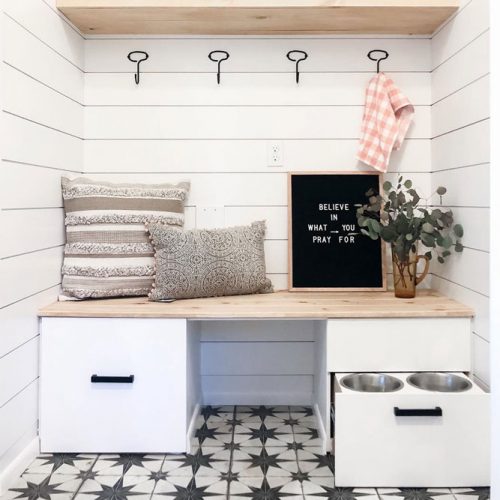 Source: brookeandbree via Instagram
Many people adore their pets and are ready to do almost anything for them. However, it happens so that there is not that much space in your home to devote to the pet area. That is when a mudroom comes in more than handy. You can easily add the feeding space to the locker area. Such a combo is efficient and convenient not to mention stylish-looking.
Small Mudroom With Lockers Near The Window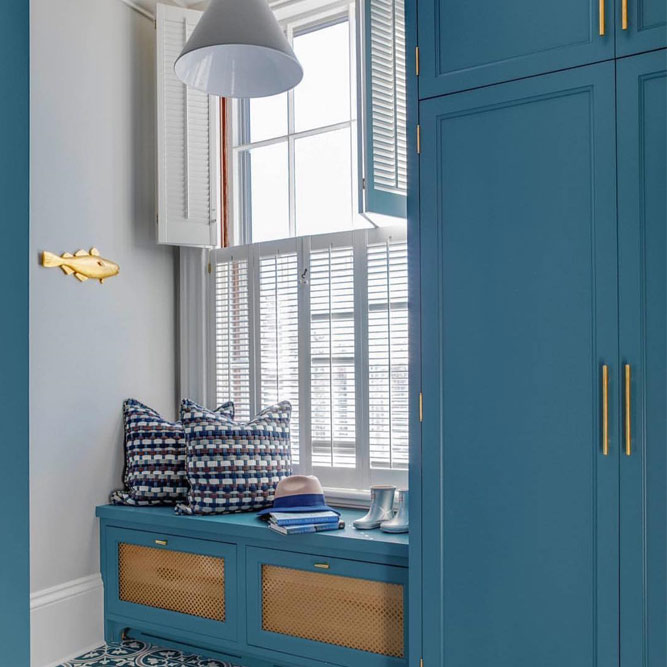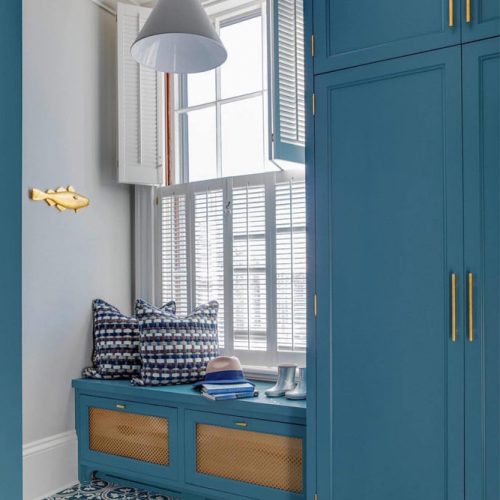 Source: digsdesignco via Instagram
It is true that not everyone has the luxury to afford a considerable mudroom area not to mention all the variety of mudroom furniture. If that is your case – worry not. You can easily take over the area near the window and transform it into a mudroom space. Even a pair of lockers will help you make your house look tidier without your outdoor clothes piling up in the corridor.
Small Mudroom Storage Space In Vintage Style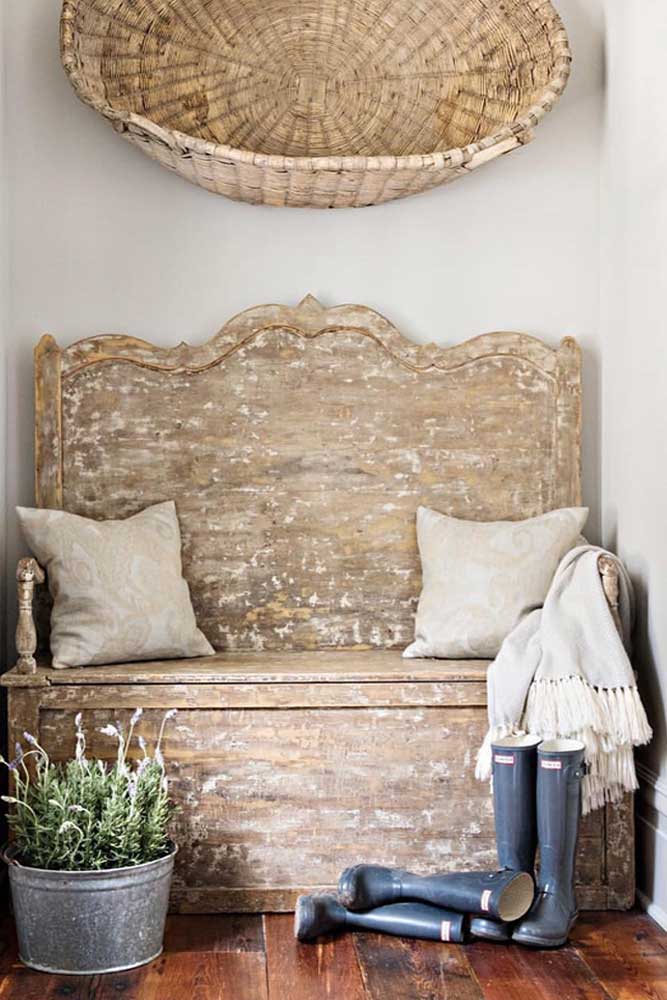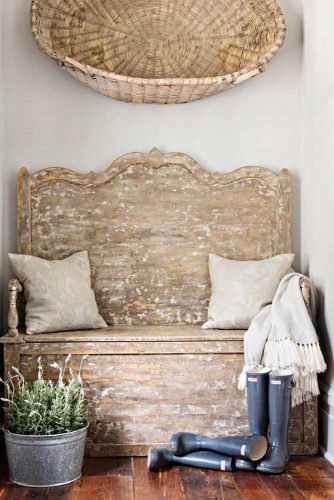 Source: leah_g_bailey via Instagram
Even if there is not that much free space to devote to mudroom storage in your house - there is still a way out. A vintage wooden sofa can help you deal with the absence of space. Besides, you can easily store some of your things just within it. An old basket just above the sofa can offer some space for your hats, and a lovely lavender bucket will fill your house with a magnificent scent.
Metallic Accent For Mudroom Storage Space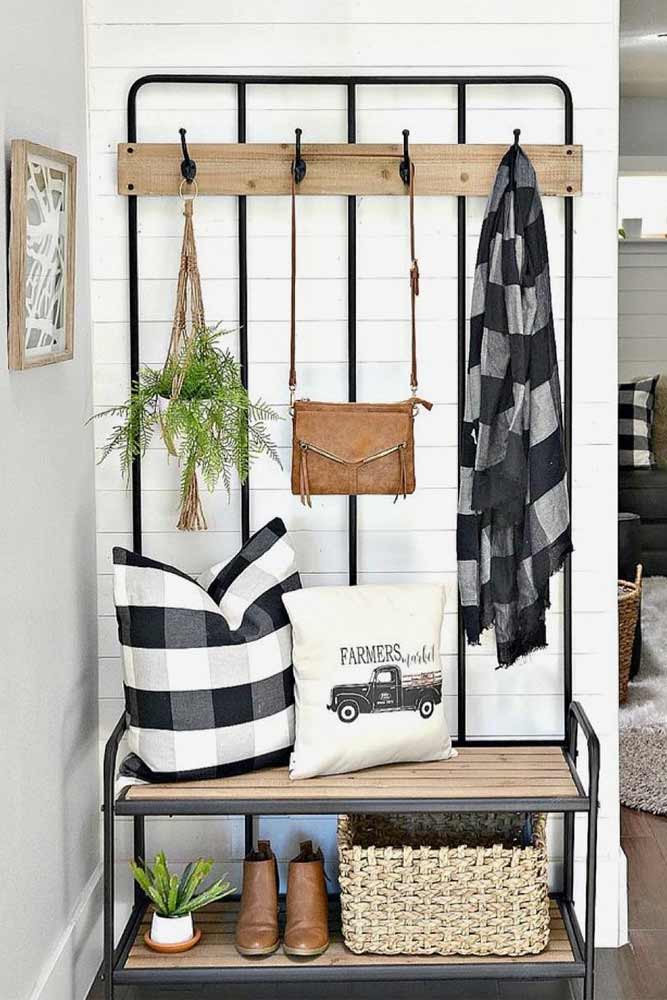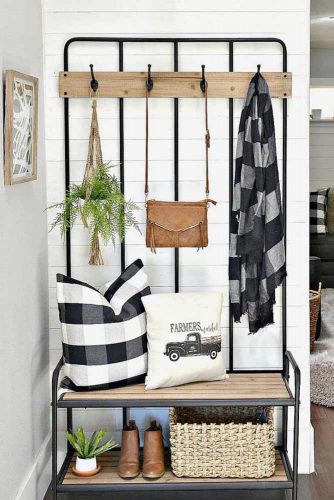 Source: tinydesignliving via Instagram
It is true that some people prefer small mudroom ideas to all the others. In case, you are precisely the minimalistic type of person then this would be a perfect idea for you. The thing is that a tiny metallic rack with a sitting area will fit even in the smallest mudroom.
Rustic Small Mudroom Idea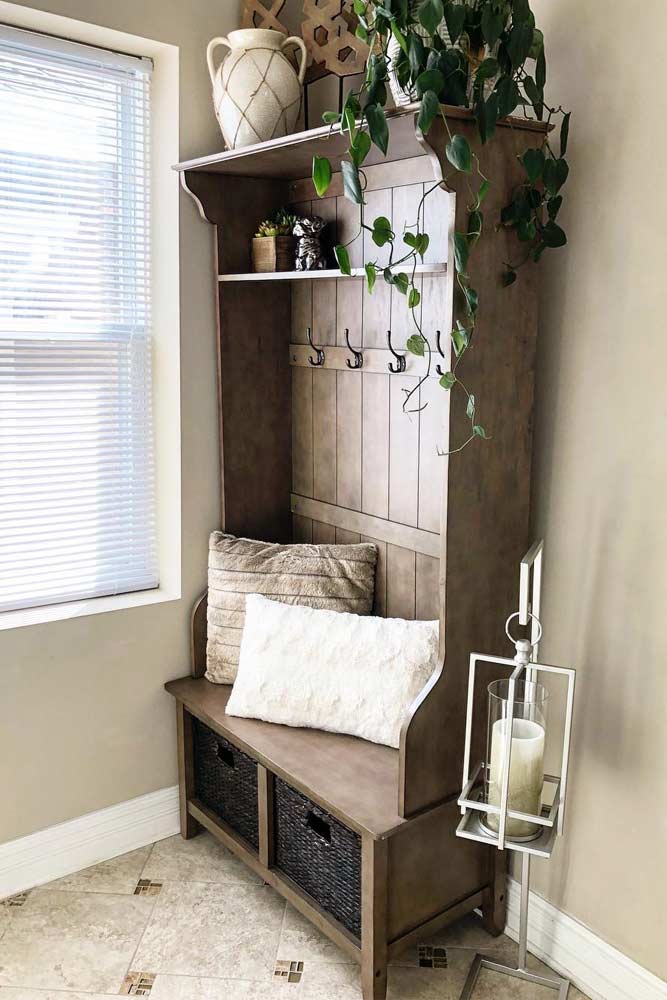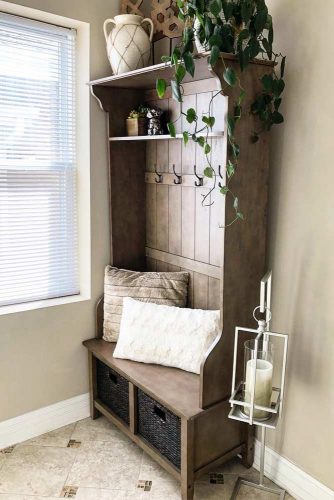 Source: samanthab.homedecor via Instagram
There are times when you badly need a mudroom but the living quarters leave much to be desired in terms of free space. However, there is a way out even of such a situation. A tiny rustic mudroom idea is exactly what you need. Besides, despite the limited space you still can place your fav plants and vases on top. Not to mention a nice candle standing right beside the storing area!
Boho Mudroom Idea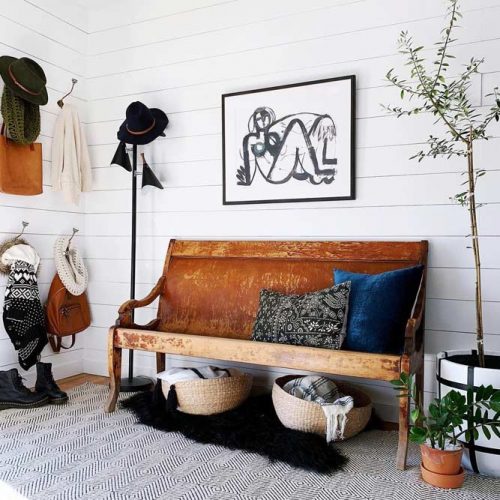 Source: undecorated_home via Instagram
Boho style is not for everyone we must admit it. However, if you feel that it is precisely your cup of tea – help yourself to this stylish boho mudroom design. It seems that there is nothing out of place in the picture but everything is practical and beautiful to look at, at the same time.
Rustic Mudroom Design With Hooks And Baskets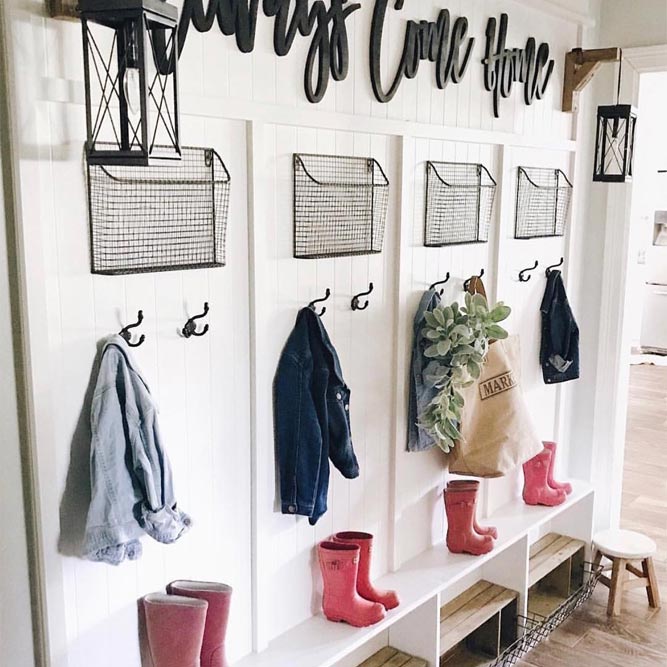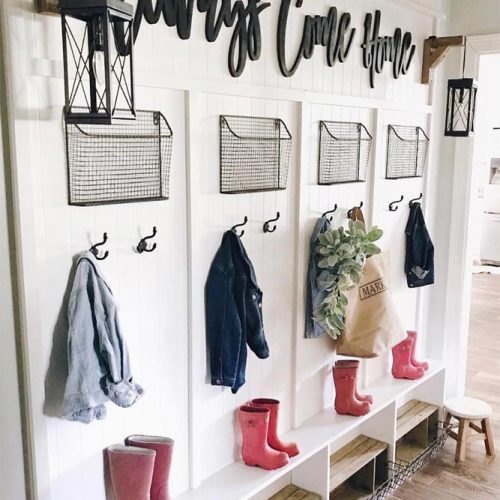 Source: lizturgeon via Instagram
Those of you who have a big family will appreciate this mudroom organizer idea. The thing is that each section is devoted to a separate family member and that is precisely what makes it look so unique while being perfectly convenient at the same time.
Mudroom Idea In French Style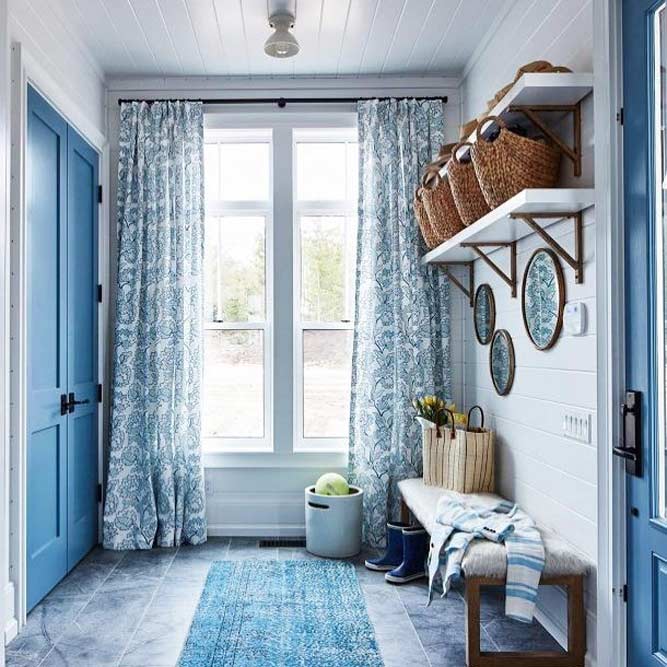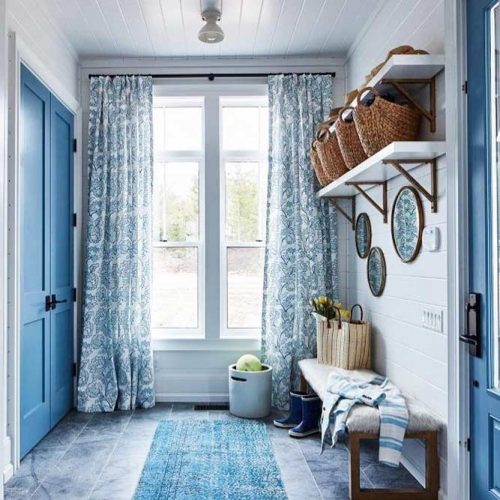 Source: laundryroomlove via Instagram
French décor is on the edge of popularity these days. That is why if you are looking for a super trendy mudroom addition – this one may be just the one you are searching for. Make sure there is a lot of blue hues in your mudroom, and a huge window is also a must-have. As for the rest, just gather up all your favorite elements of décor and combine them into a special French-style mudroom.
Black Mudrom Space With Storage Space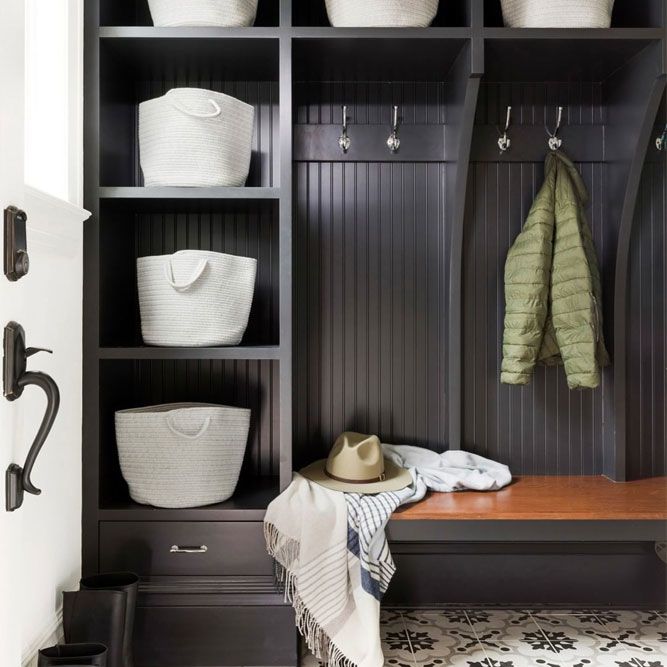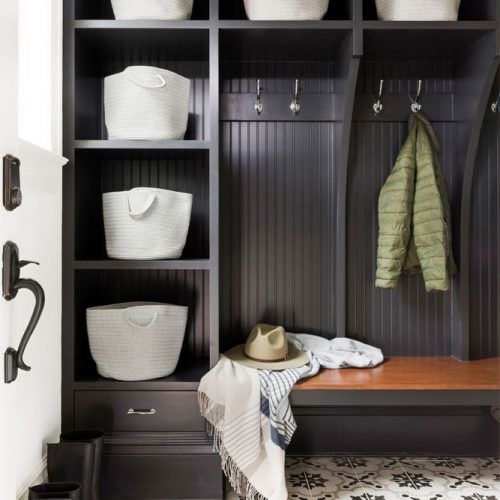 Source: briahammelinteriors via Instagram
Mudroom Locks With Small Under Window Bench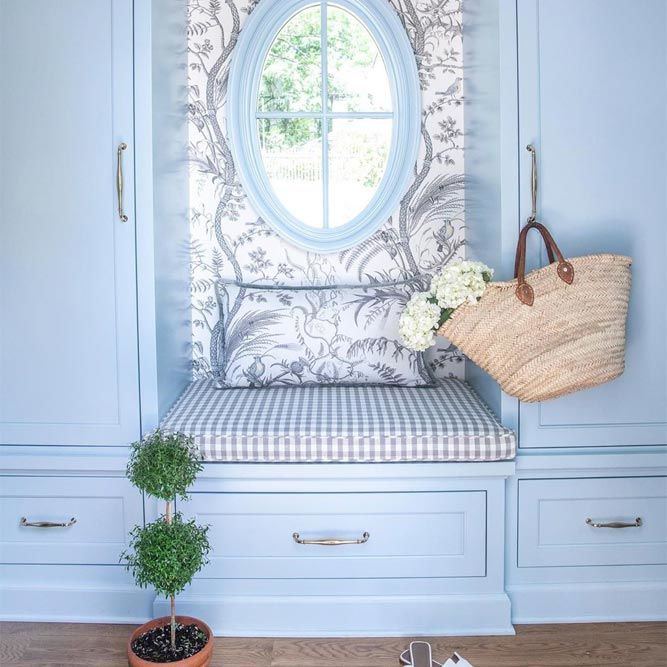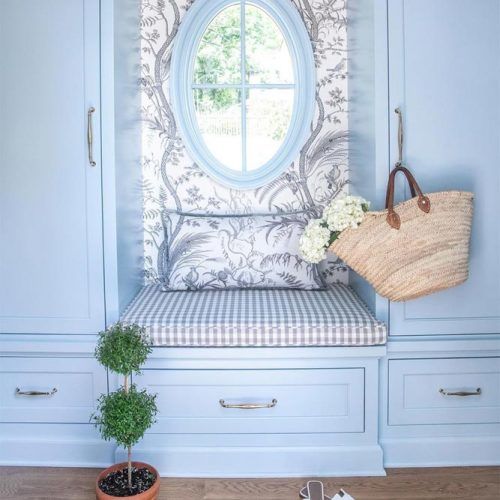 Source: clarybosbyshell via Instagram
Mudroom Space With Chalkboard Accent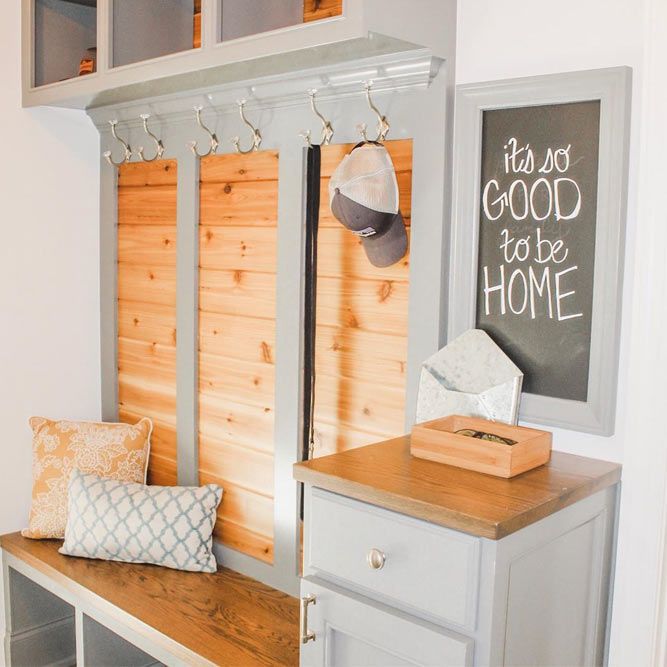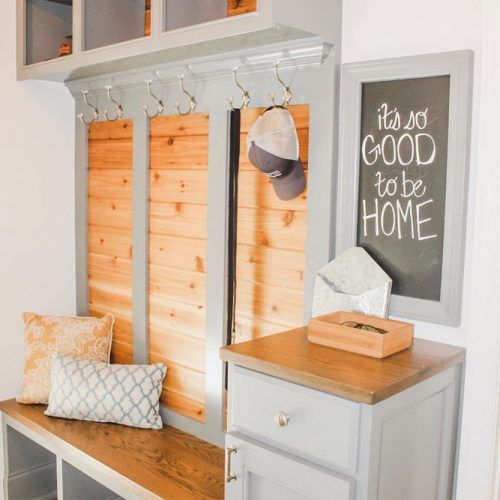 Source: athome.withlo via Instagram
A mudroom is very often underrated. Many people think of it just like of mere convenient room. However, we know how to transform your mudroom into a stylish storage room with its peculiar charm and taste!