Picking the right bathroom vanity is important because its convenience can save you much time in the morning. We all have bathroom clutter, it just goes with the territory; makeup, aftershaves, lotions, potions and little piles of discarded jewelry, it all adds up! Before you know it, your beloved bathtub retreat can disappear under a heap of sundries that no one has the time or energy to sort out, and so it goes on... Well not anymore! It's time to take another look at the space in which you dress and undress, and get things organized with these handy bathroom vanity ideas. Find the ideal vanity for your bathroom. Whether you're searching for a traditional, vintage, or modern look, a stylish vanity is essential to helping the room shine. Have a happy pinning!
Modern Vanities Designs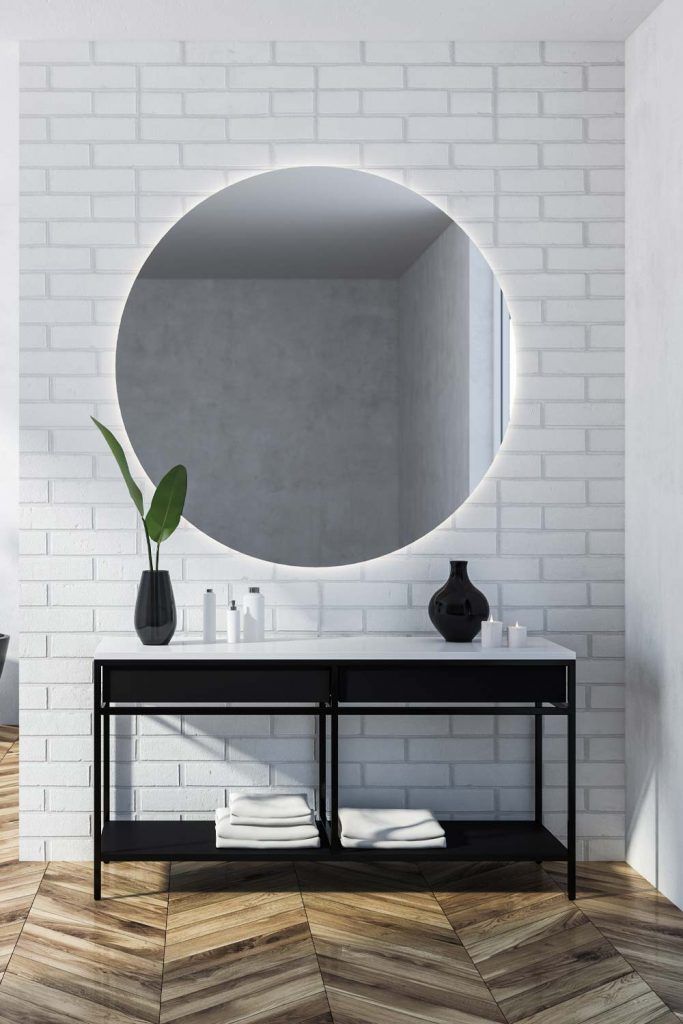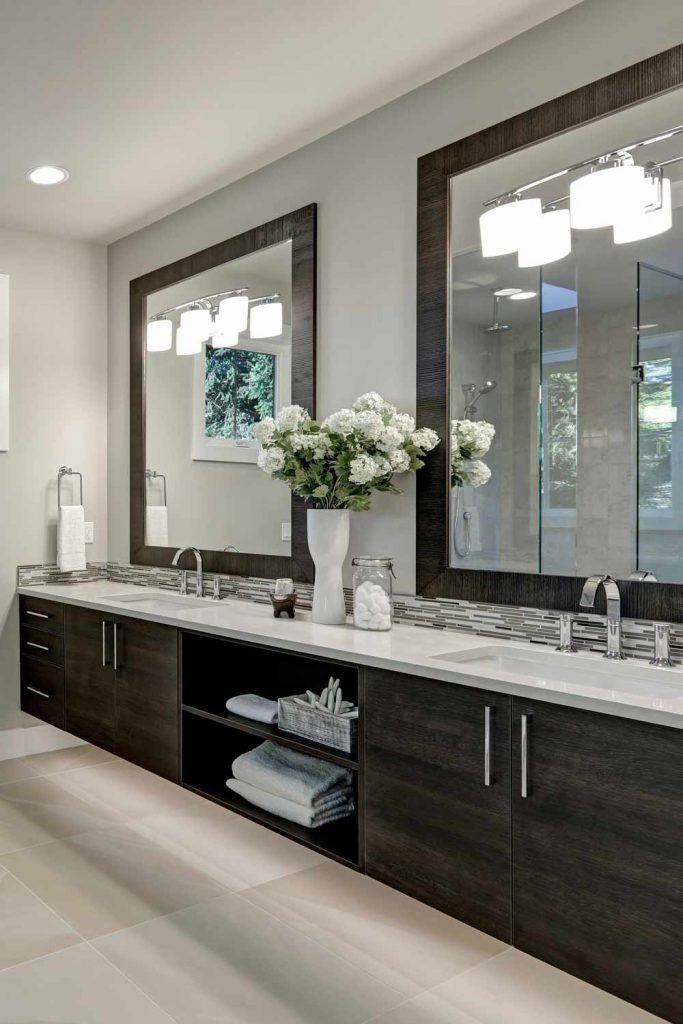 Modern Bathroom Vanity With Copper Washbowl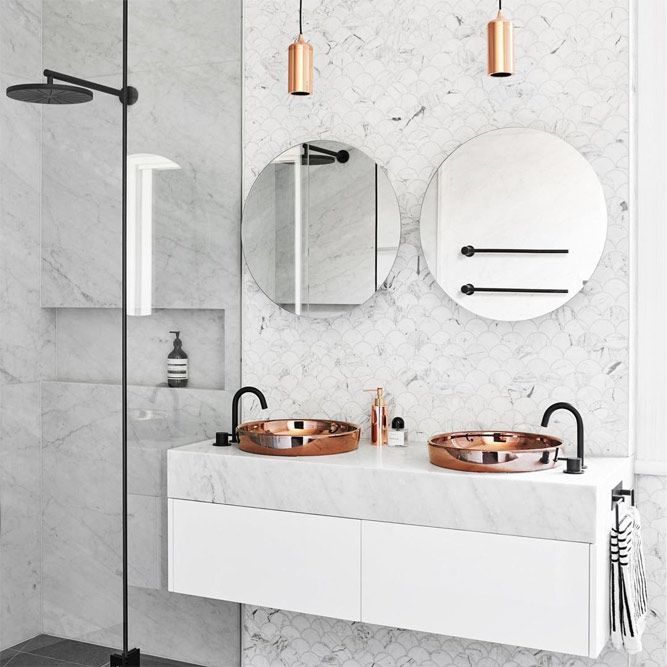 Credit photo: Instagram.com/_danhocking_
Those of you with large families should consider a bathroom with two sinks. Trust us, and such an investment will save you a lot of time in the future. As for the decoration of such a bathroom, we think the modern bathroom vanities are your best bet. The fact is that they are minimalistic and beautiful. Make sure that the washbowl match with the lamp to achieve the ultra-trendy look.
Modern Corner Vanity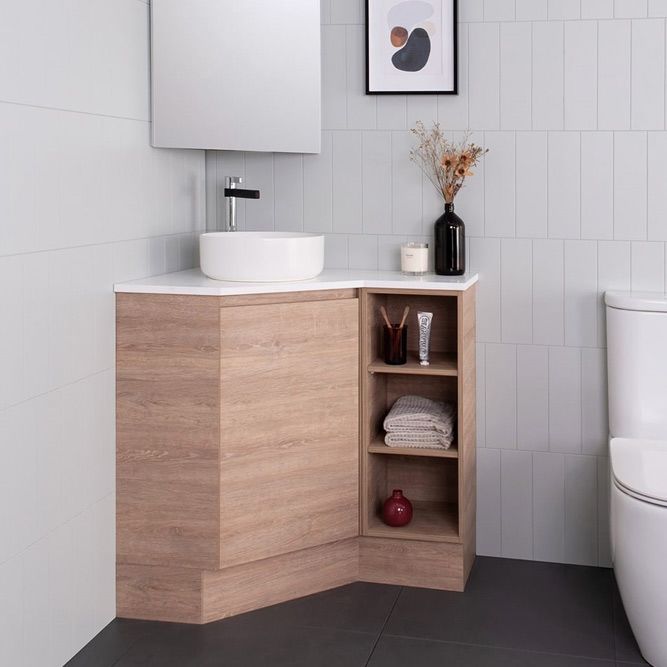 Credit photo: Instagram.com/adpaustralia
It goes without saying that every woman has a huge variety of bathroom accessories at hand. As the family grows, the accessories become even more. That is why in order for your belongings not to lie around in a mess, it is best to introduce a vanity corner into your bathroom. You will be surprised at how many purposes such vanity can serve.
Modern Bamboo Vanity Design With Drawers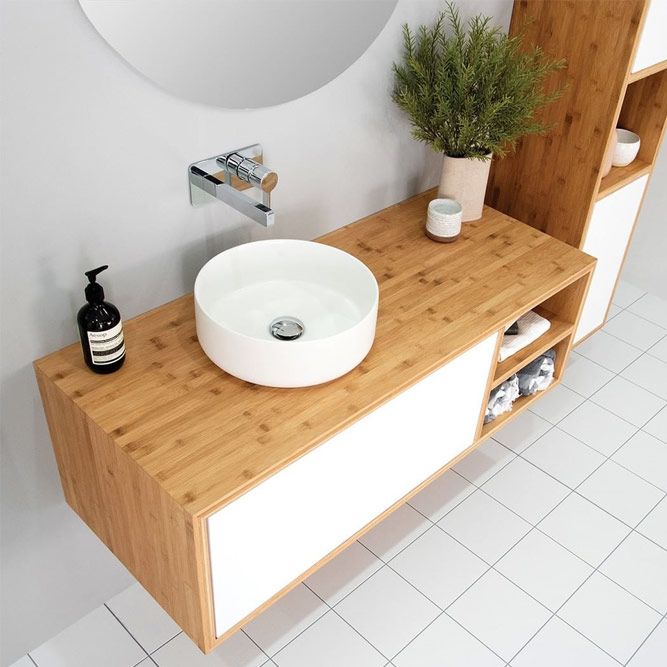 Credit photo: Instagram.com/adpaustralia
It is true that every modern bathroom is supposed to look sleek and elegant, without the overwhelming number of decorative elements involved. If you think the same then this bamboo vanity will conquer your heart. It is not only simple and stylish but also very practical sine due to the number of drawers you will have enough storage at hand to hide the unnecessary bathroom belongings.
Rustic And Traditional Vanities
Rustic Bathroom Vanity With Storage Space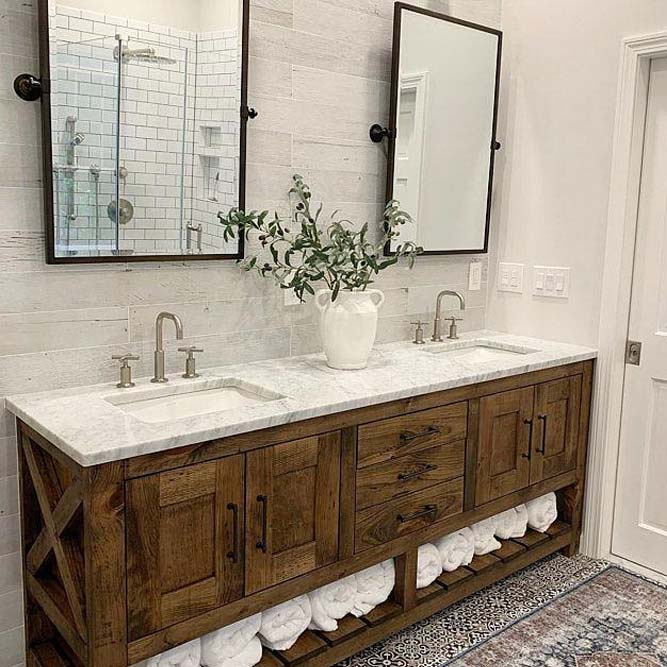 Credit photo: Instagram.com/limitlesswoodworking
When you think about rustic bathroom vanities you may imagine something heave and space-consuming instead of being useful at serving the primary purpose. We must admit that such vanities happen to exist, but this one is surely not one of them. The thing is that the rustic design carries out the necessary vibe while the design serves all the intended purposes. There is enough of space and storage, even for a large family.
Traditional Wooden Bathroom Vanity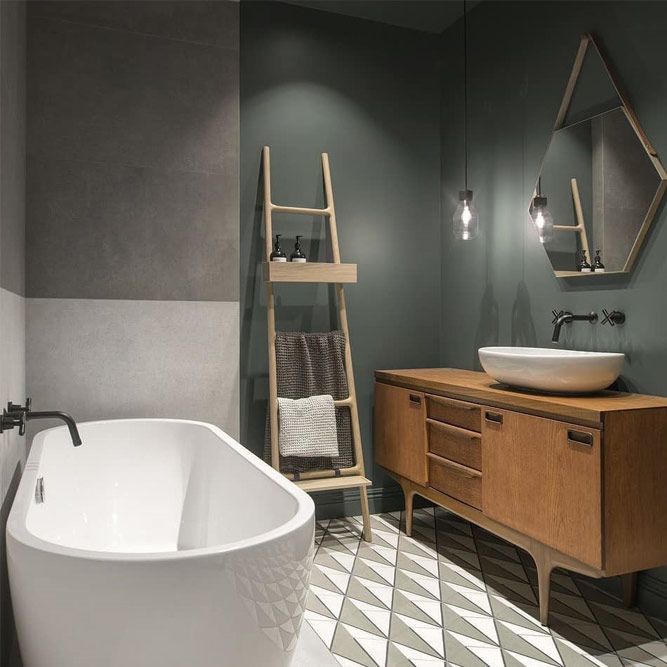 Credit photo: Instagram.com/int2architecture
To tell you the truth, when you consider traditional bathroom vanity, you need to be ready to consider wooden elements. In the majority of cases classy vanities are wood bathroom vanities. There is nothing wrong with it since wooden vanities are not worse than marble ones if not better. Besides, wood is always responsible for that cozy effect when introduced into the interior.
Rustic Vanity Design With Shelves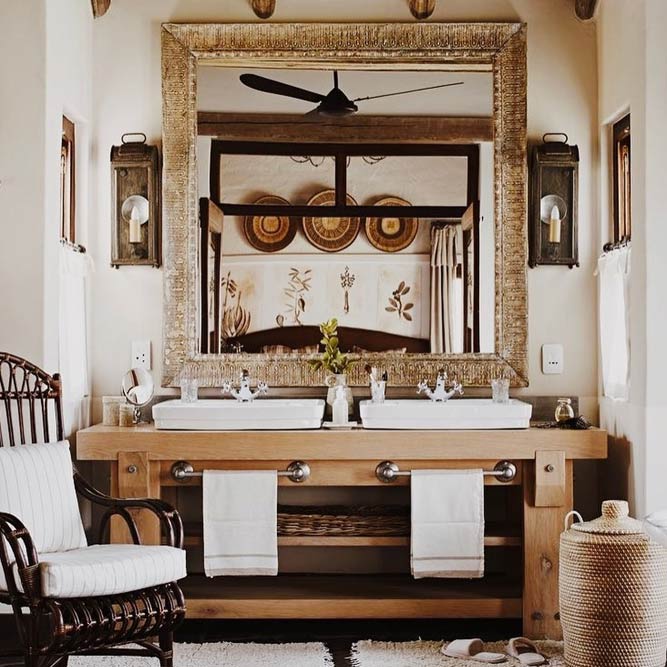 Credit photo: Instagram.com/thehouseofhomebodies
It is highly important that you match the vanity with your bathroom wall décor properly too. That is why when you are opting for a rustic vanity, make sure that there is enough of matching decoration on the walls. Vintage lams and pictures will do. Besides, it is wise to frame the mirror into such a retro frame as well. Do not leave such tiny details as trash bin and towels out.
Classy Vanity Designs
Classy White Vanity With Drawers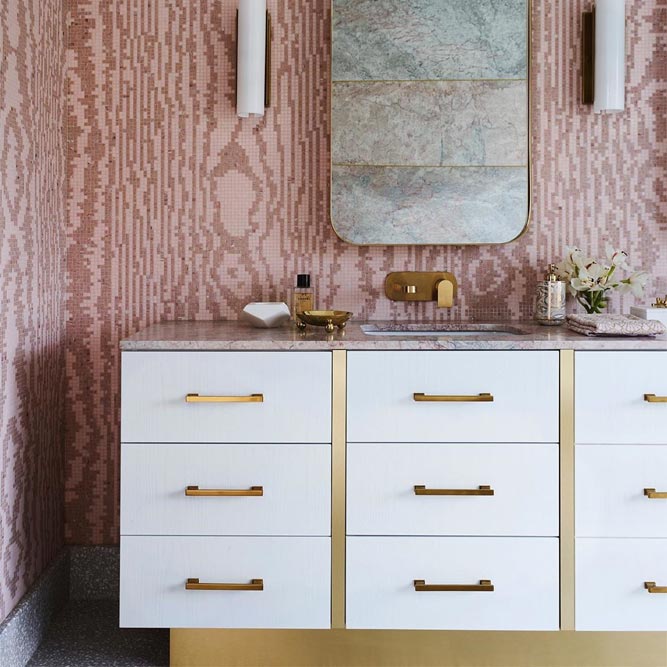 Credit photo: Instagram.com/gregnatale
There are countless bathroom vanity mirrors to consider, that is the fact. However, all the elements you decide to combine in your bathroom should complete each other. We know that may be a tough task to do, but the end result with be certainly worth it. For instance, this white vanity with drawers goes well with the vertical mirror, which the subtle pink wall décor takes the whole design to the next level of gorgeous.
Classy Bathroom Vanity In Dark Hues With Marble Top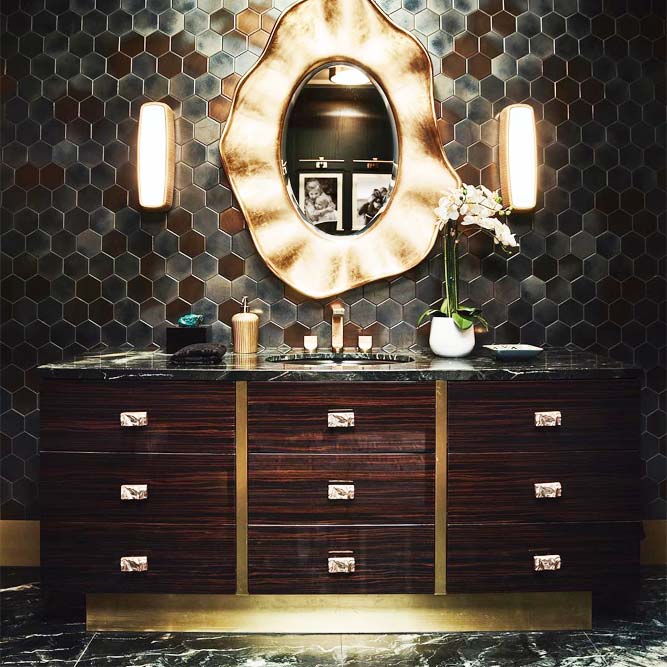 Credit photo: Instagram.com/gregnatale
In many cases when you hear about a classy bathroom, you imagine it in white or light hues. However, that is not always the case. If dark colors are more appealing to you, then we have an idea in mind. The truth is that such a bathroom looks quite futuristic due to the tiles on the walls, besides the abstract shaped mirror adds up to the feel. This can only mean that the rest of the bathroom furniture should be corresponding. That is when mahogany vanity adorned with a gold accent comes in simple irreplaceable. We must say that the bathroom looks fantastic.
Classy Vanity With Mirror Doors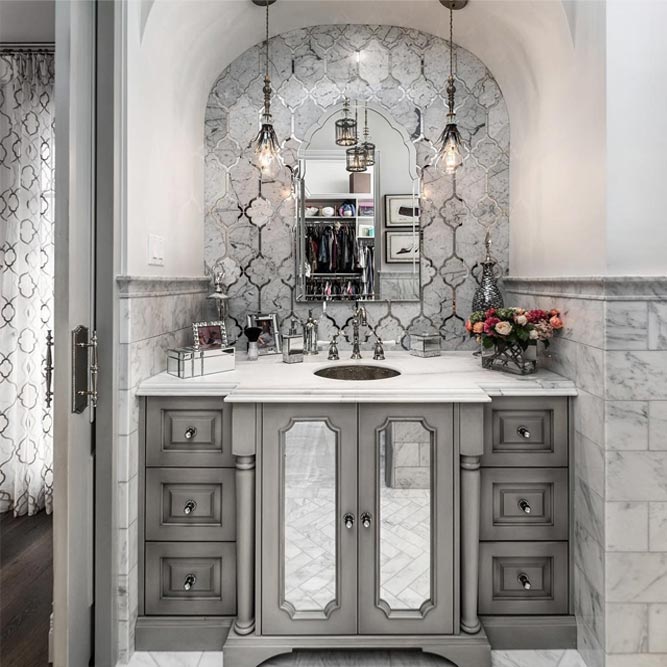 Credit photo: Instagram.com/vincethebuilder
Those of you who are in search of luxury bathroom vanities, this may be just the end of your research. The truth is that such a classy bathroom looks royal at the same time. There is nothing out of place about it. Starting with the candelabrum and ending with a mirror cabinet that the vanity comes with and marble top – everything screams elegance and taste. Let's not forget about the practical side too.
Vintage Vanities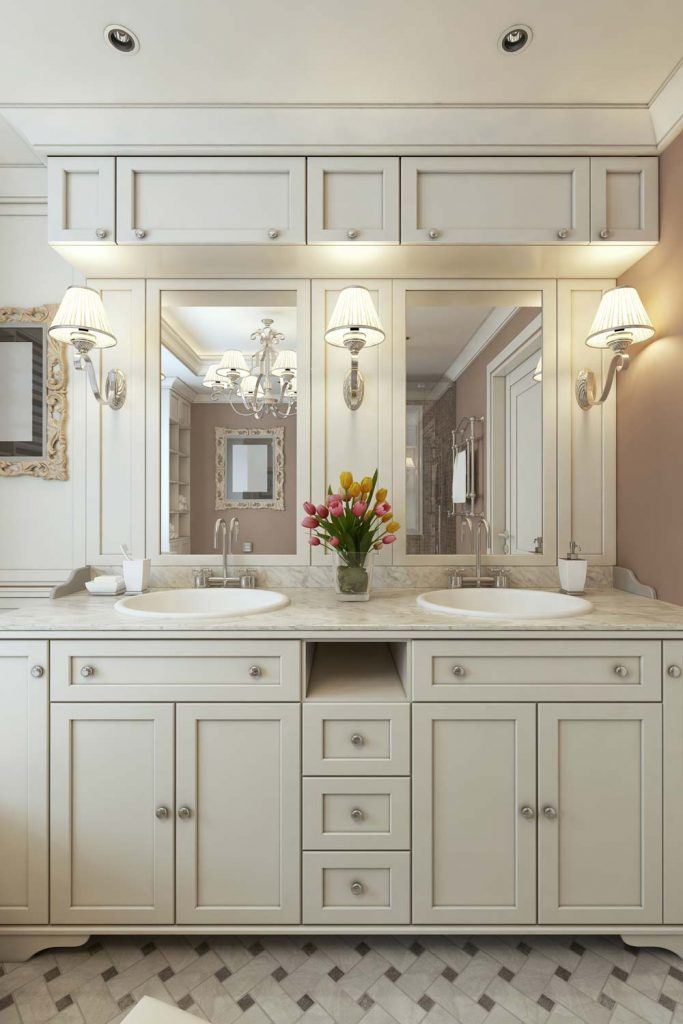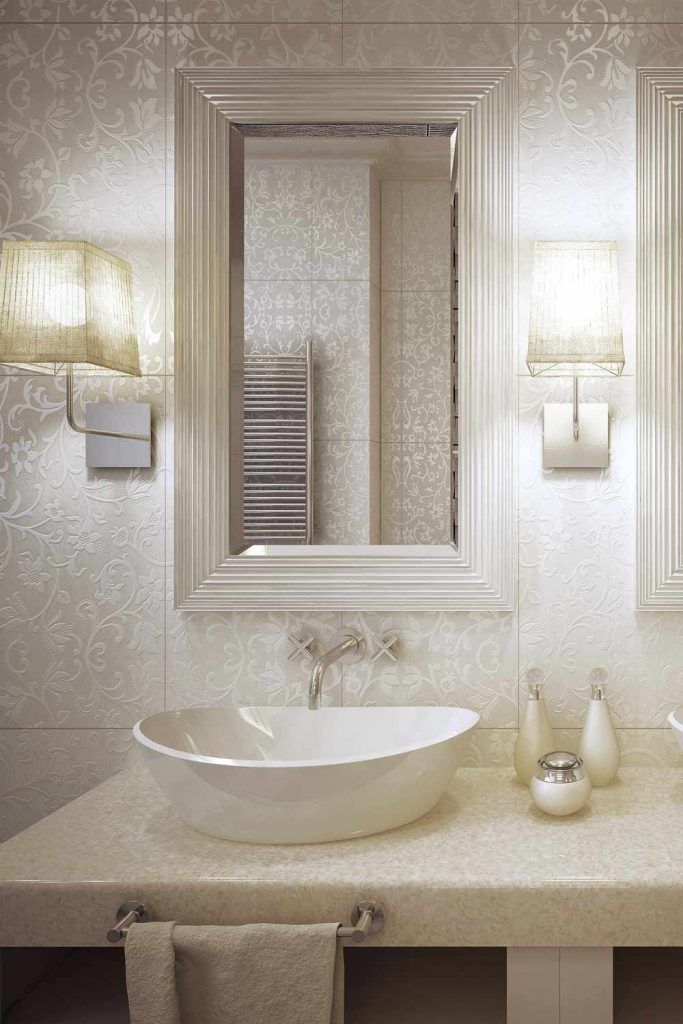 Retro Bathroom Vanity With Pink Washbowl Accent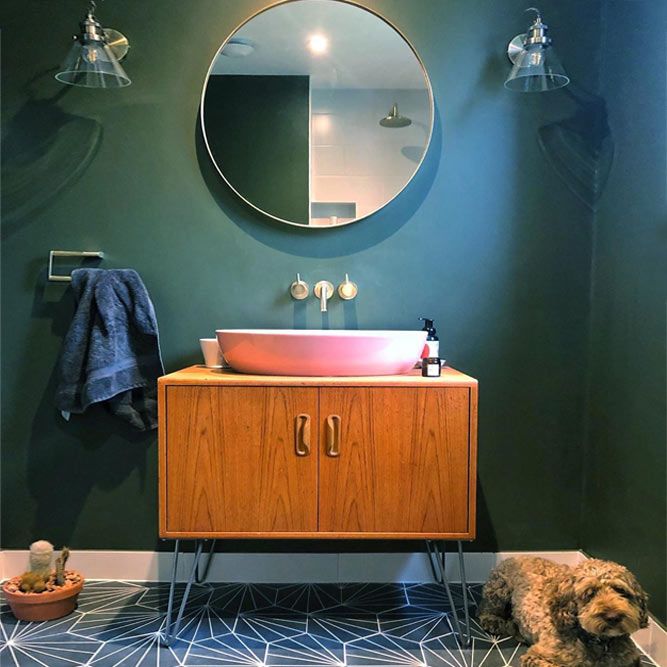 Credit photo: Instagram.com/jenniemaizels
A single sink vanity is irreplaceable when you are a little limited in room. We agree that not everyone can afford a huge bathroom, but smaller ones deserve proper vanity as well. The simple round mirror and a wooden vanity with a washbowl on top will help you recreate that stylish retro vibe even if your bathroom is tiny.
Cabinet Vintage Bathroom Vanity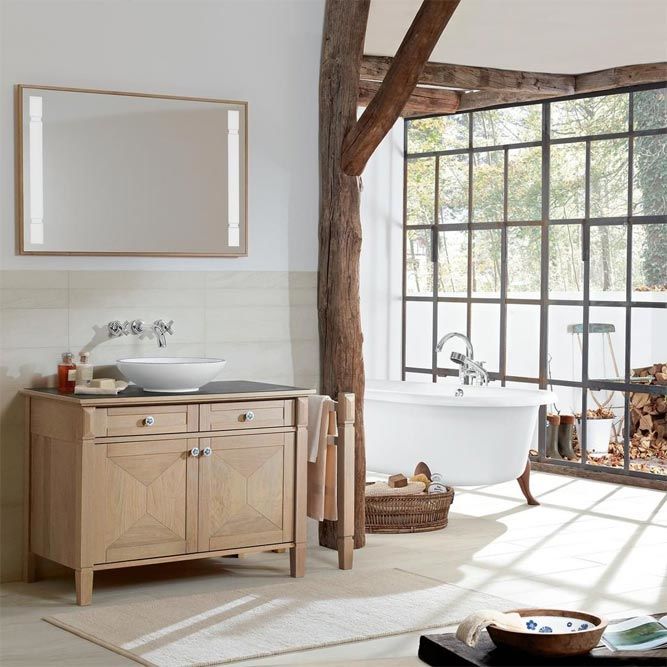 Credit photo: Instagram.com/villeroyboch
Not everyone knows but something as simple and usual as vanity cabinets can be that perfect vintage accent that your bathroom needs. At first glance there is nothing special about this vintage vanity, but upon closer investigation you tend to realize how beautiful it is in its simplicity. Any stylish interior would look even better with the introduction of such bathroom vanity.
Retro White Bathroom Vanity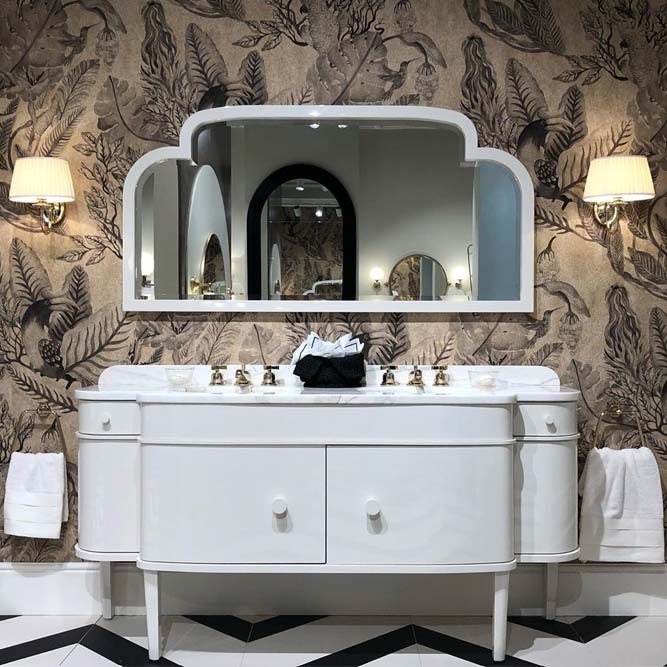 Credit photo: Instagram.com/devondevon_official
Have you ever dreamt about an 80's hotel room vanity they tend to show in retro movies? These days any dream can come true if you know what to opt for. We think that white bathroom vanities are simply the best to carry out the mood. Besides, such vanity will provide not only the unique look but also the necessary storage to keep your bathroom away from messiness.
Luxury Vanities Designs With Marble Tops
Antique Bathroom Vanity Design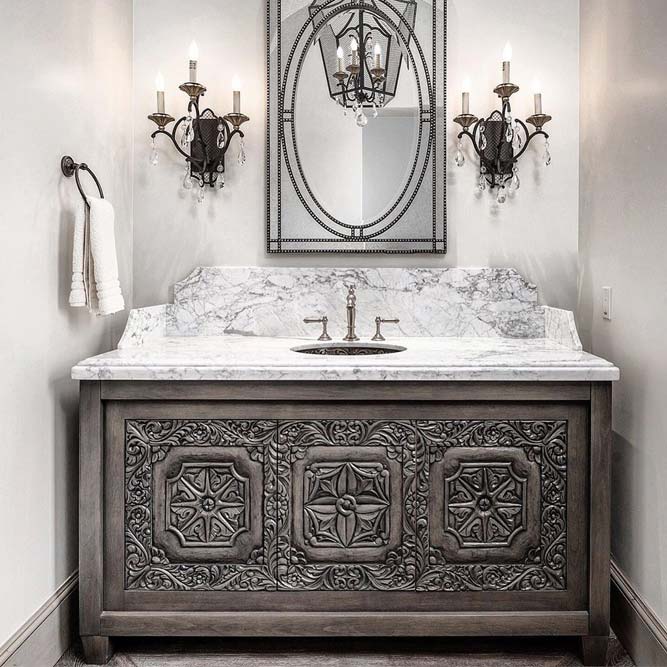 Credit photo: Instagram.com/vincethebuilder
Some people are in love with large bathroom vanities and if you belong to the category, buckle up, we have something special hidden up our sleeve. The fact is that the antique style is nothing but luxurious. This is that perfect style where the more is actually, the better. Make your vanity stand out due to intricately carved patterns, and you will achieve the goal. The mirror with intricate patterns to it as well as a set of antique chandeliers will complete the atmosphere.
Clean Vanity Design With Vintage Accents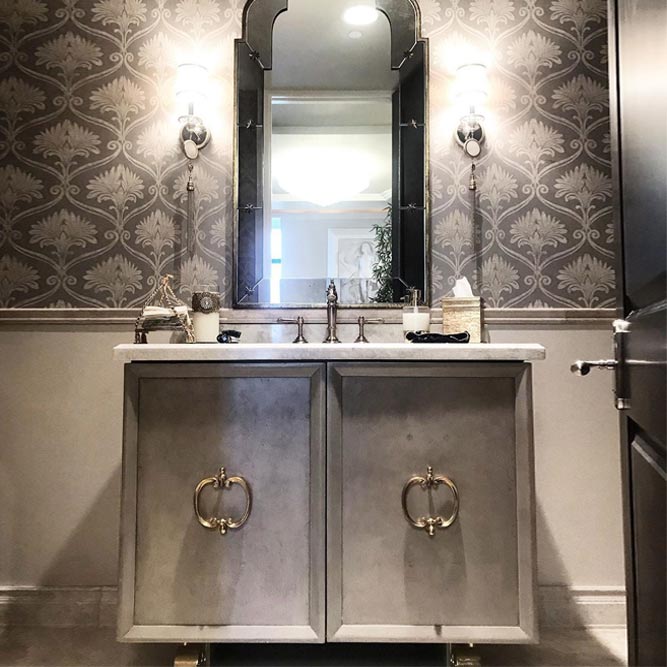 Credit photo: Instagram.com/vincethebuilder
Picking the bathroom vanity is a highly responsible task. You need to make sure that you will love the interior no matter how many times you enter the room. That is why you are a fan of simple and spacious pieces it is best to stick to the same rule when choosing the vanity. Subtle colors, large mirror, spacious countertop, and decorated wallpapers are the definition of clean vanity design. However, there is always a need for particular accents. In this case, the hardware on the vanity as well as the pattern on the walls serves the purpose.
Modern Bathroom Vanity In White And Copper Hues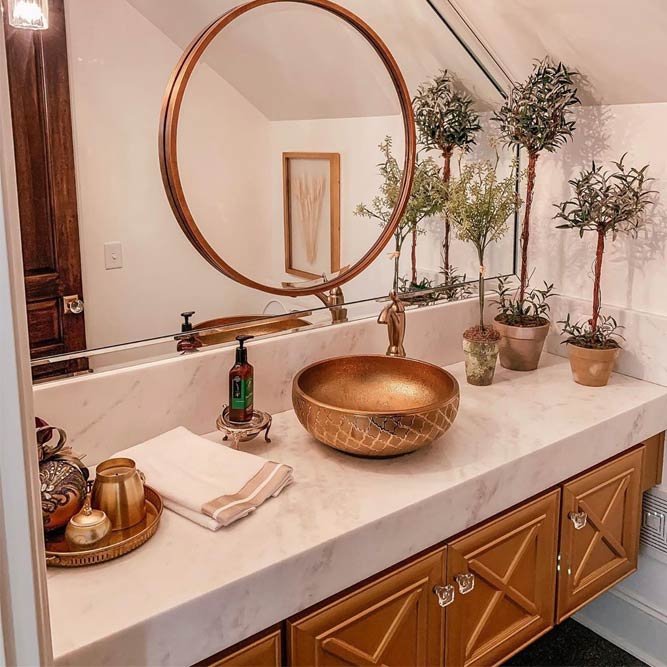 Credit photo: Instagram.com/lifeonthegulfstream
The modern interior is usually represented by contrasting hues. This is not black and white only, there are many other colors that oppose each other beautifully. One look at this copper and white vanity combo will help you get the point. Apart from the color palette the best bathroom vanities should serve their primary purpose and provide a lot of storage space. As you can see, both the top as well as the cabinet part of the vanity is almost unlimited in space so that you won't forget introducing such a piece into your bathroom.
Small Vanity
Small Vanity With Shelves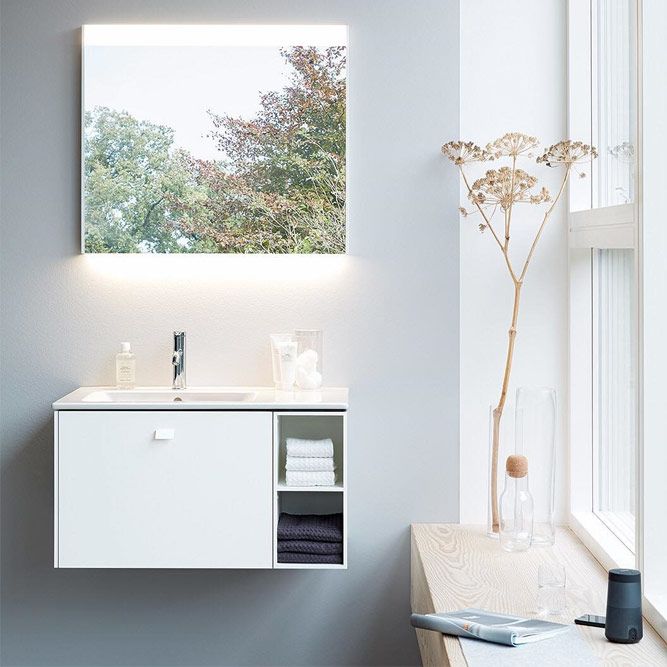 Credit photo: Instagram.com/duravit
Small bathroom vanities deserve special attention since many people think that they are either non-existent or impractical. We are going to prove the opposite. Not only there are many small vanities to choose from, but also they are quite practical. This floating white vanity with a large mirror carries out its main purpose while it also provides storage shelves for all your necessities.
Compact Vanity In Pink Color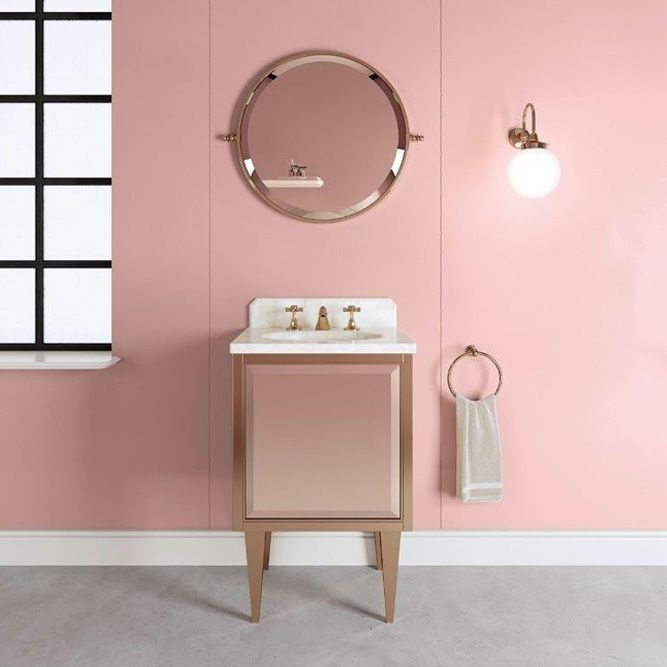 Credit photo: Instagram.com/devondevon_official
It happens so that large bathrooms have enough room to fit in all the storage furniture you may require. That is why when it comes to vanity, a compact one is more than enough. This compact pink vanity is the best representative of the category.
Compact Modern Vanity With Marble Top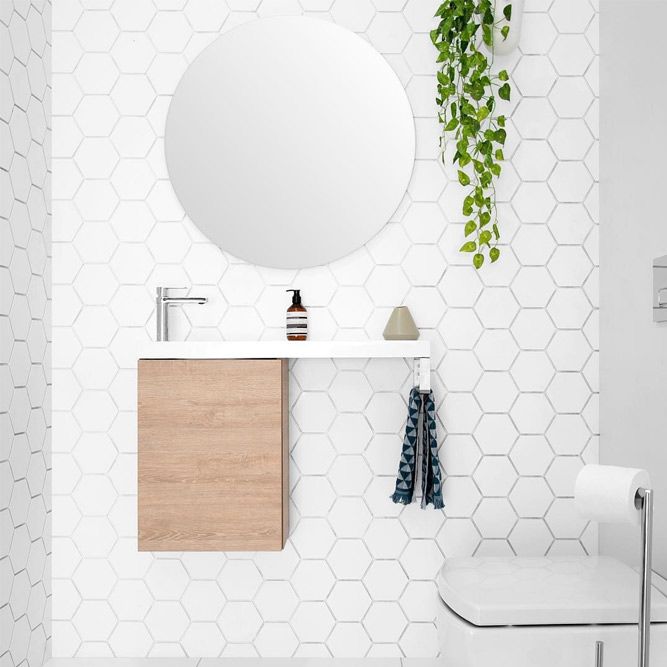 Credit photo: Instagram.com/adpaustralia
In case compact bathroom vanities with tops are the ones that you are interested in most, this one should not escape your attention. The sink and the top are two pieces on the whole. Such an approach ensures that while taking up the least of space, the vanity serves its purpose to the fullest.
FAQ: Bathroom Vanities
Can you waterproof a bathroom vanity?
The easiest way to waterproof a bathroom vanity is to coat the top of the cabinet with a waterproof finish. These can be bought at any hardware store. You will also need to prepare the cabinet before applying the waterproof finish. Polish the wood with sand and then apply a waterproof surface.
Why are makeup vanities so expensive?
Bathroom vanities are so expensive because of their material, size and design. One of the simplest furniture sets to make our bathroom visually attractive while at the same time offering more features is the modern bathroom vanity.
Was this article helpful?