An Easter candy jar can serve as a gift that you can give to anyone: to your friends, acquaintances, family members, co-workers, and neighbors, especially when supplied with heart-warming Easter quotes. Not to mention the fact that it can also serve as adorable decoration for your home.
But whether you use it as Easter decorations or as gifts, you can be sure that it will boost the mood and please the eye. Moreover, you can also have much fun while creating candy jars for Easter and other Easter bunny decorations since it's super simple and insanely interesting.
Are you ready to discover how to customize mason jar gifts and pieces of decor? Let's go!
An Easter Jar Decorating Ideas
Sweet Mason Jar Gifts In Pastel Colors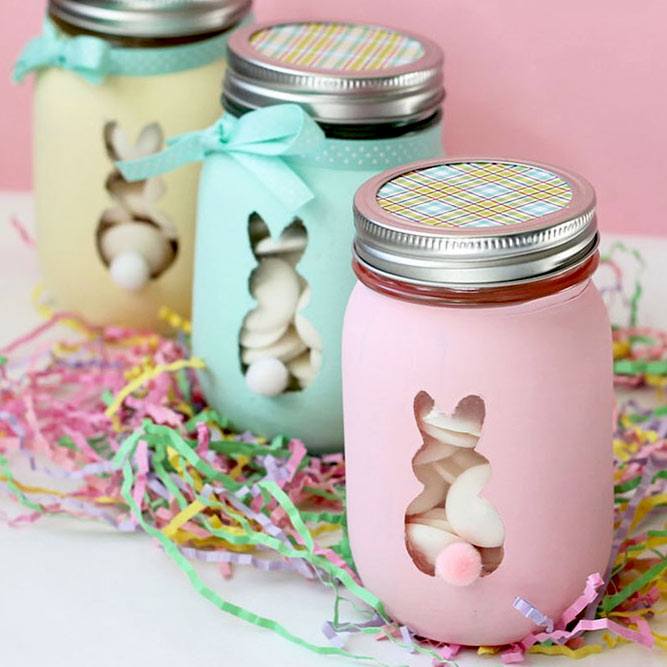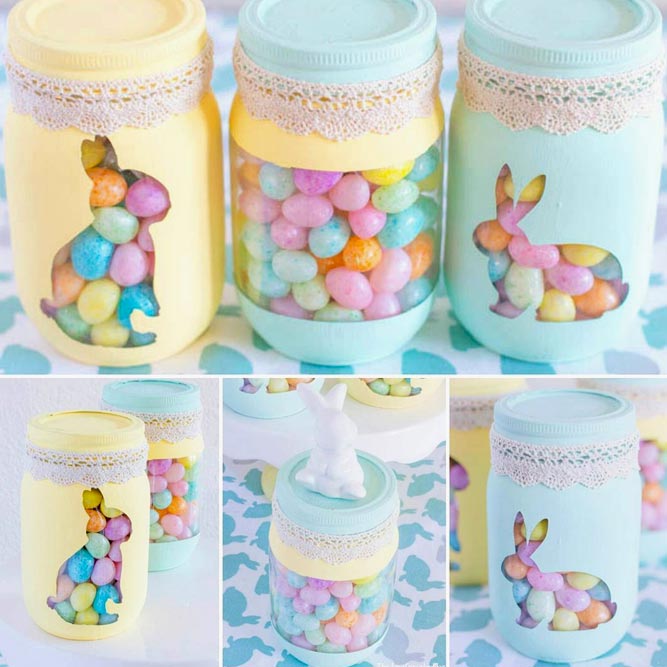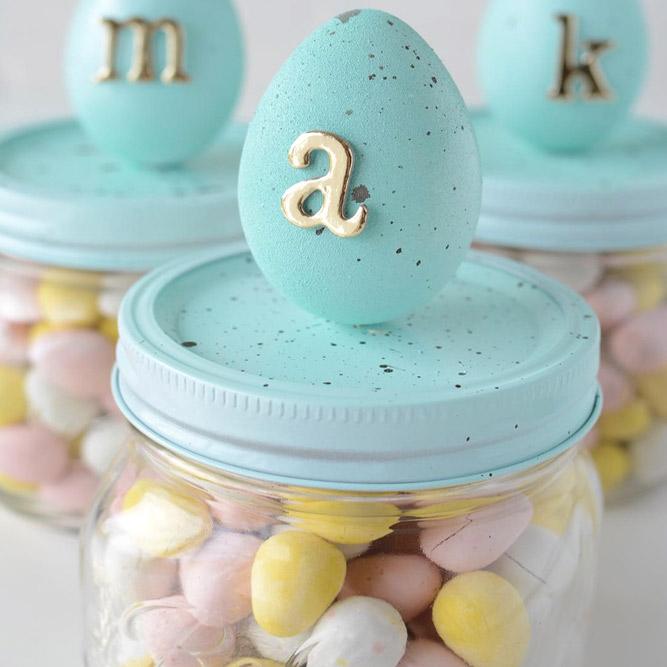 Source: Instagram/amandaformaro, Instagram/javacupcake, Instagram/nobiggie
In case you are looking for cheap Easter decorations that are also pretty and fun to look at, consider such jar gifts done in pastel, springtime colors. The bunny treats that you can see here are sure to cheer up anyone, especially taking into account that they are filled with super delicious candies. And we cannot but mention that you can easily create a mason jar gift with rabbit silhouettes at home, even if you are not that into arts and crafts.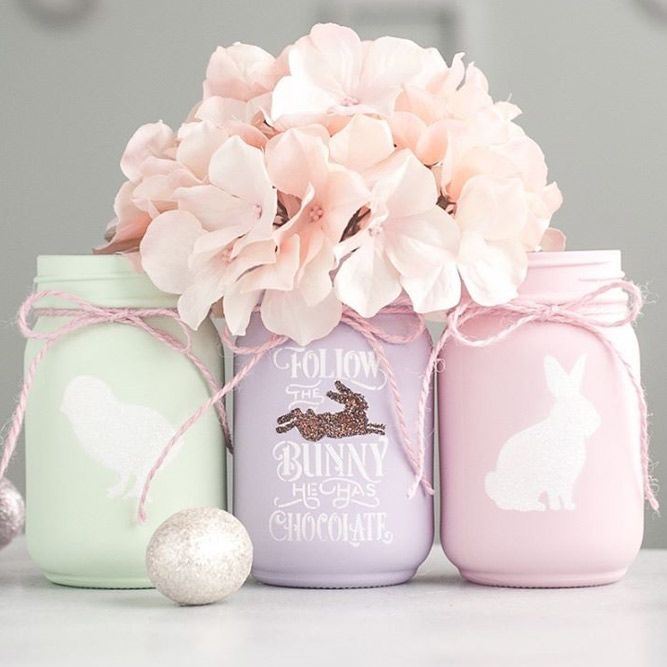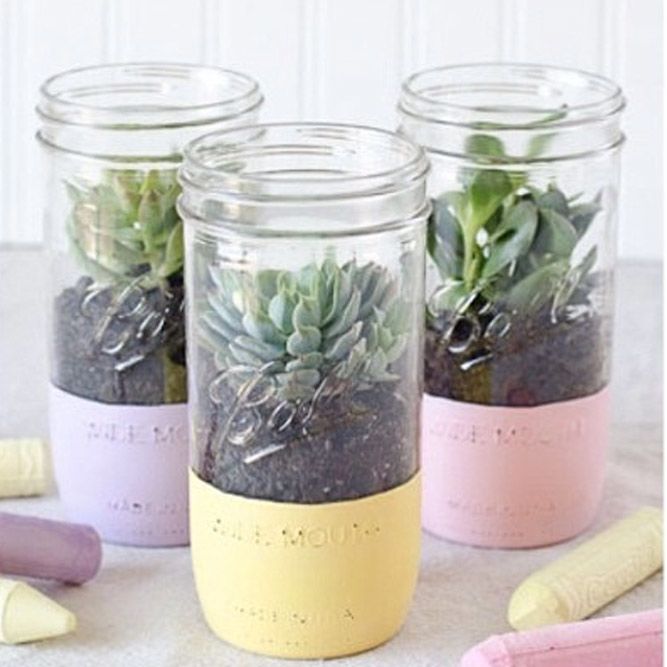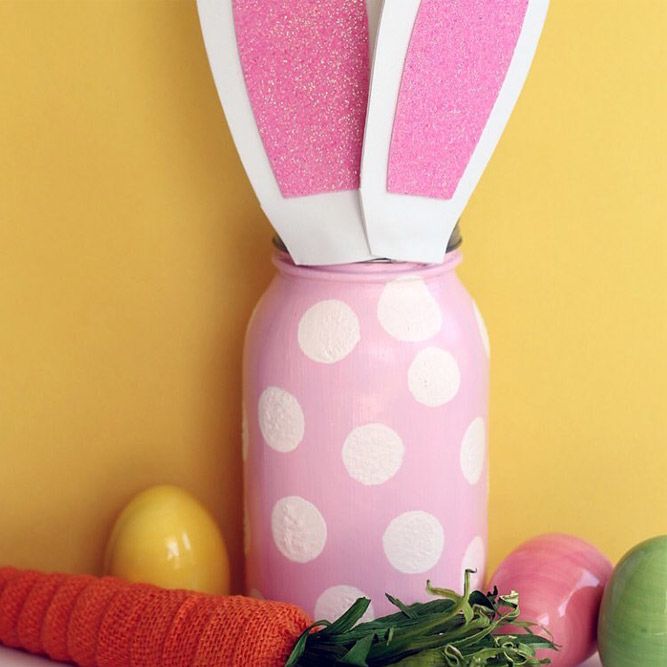 Source: Instagram/kastylesny, Instagram/thegoldensycamore, Instagram/countrychiccottage
Begin with buying vinyl stickers and several mason jars made of glass. Cut a sticker in a bunny shape. Next, apply a sticker to a jar (to its smooth side). You need to ensure that the sticker adheres completely to the jar. So, press it firmly on all edges. Now you will need Chalky Finish or spray paint. Apply one coat to the whole jar and let it dry for about 10 minutes. Don't wait until the paint is completely dry. Instead, peel up that bunny vinyl sticker carefully while the coat of paint is a bit wet. If you decide to use spray paint, just keep in mind that it can easily get inside the jar unless you place it upside down. When the paint gets dry completely, you can wrap the jar with colorful lace trim or ribbon, but it's optional. Air it for a while so that no smell of the paint is left and only then put candies inside. Now, this jar is ready!
Easter Candy Jar With Bunny Symbol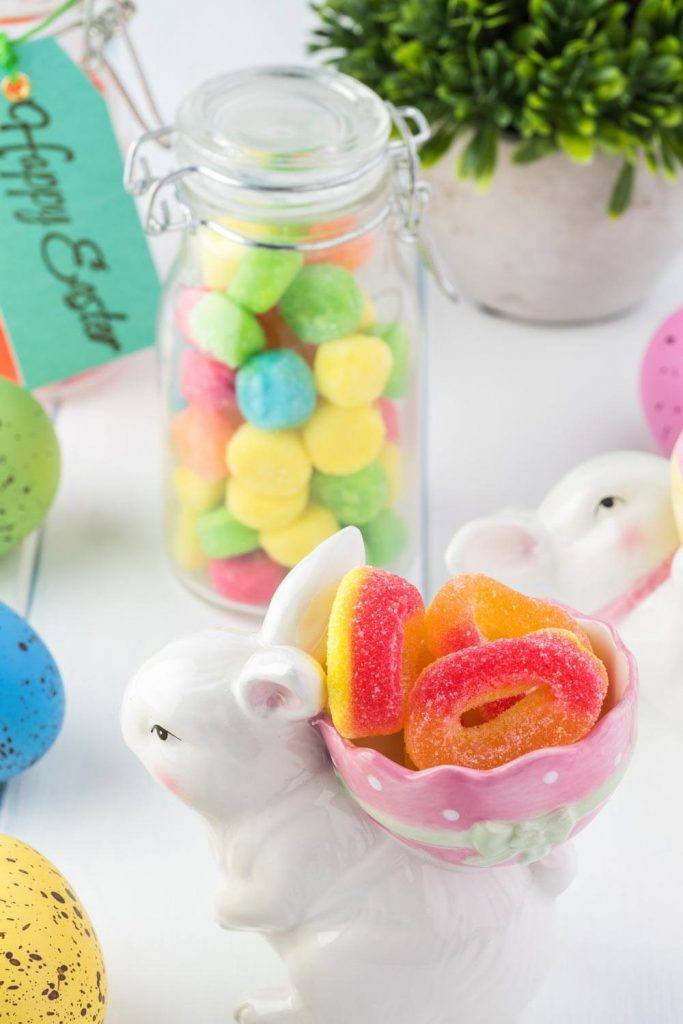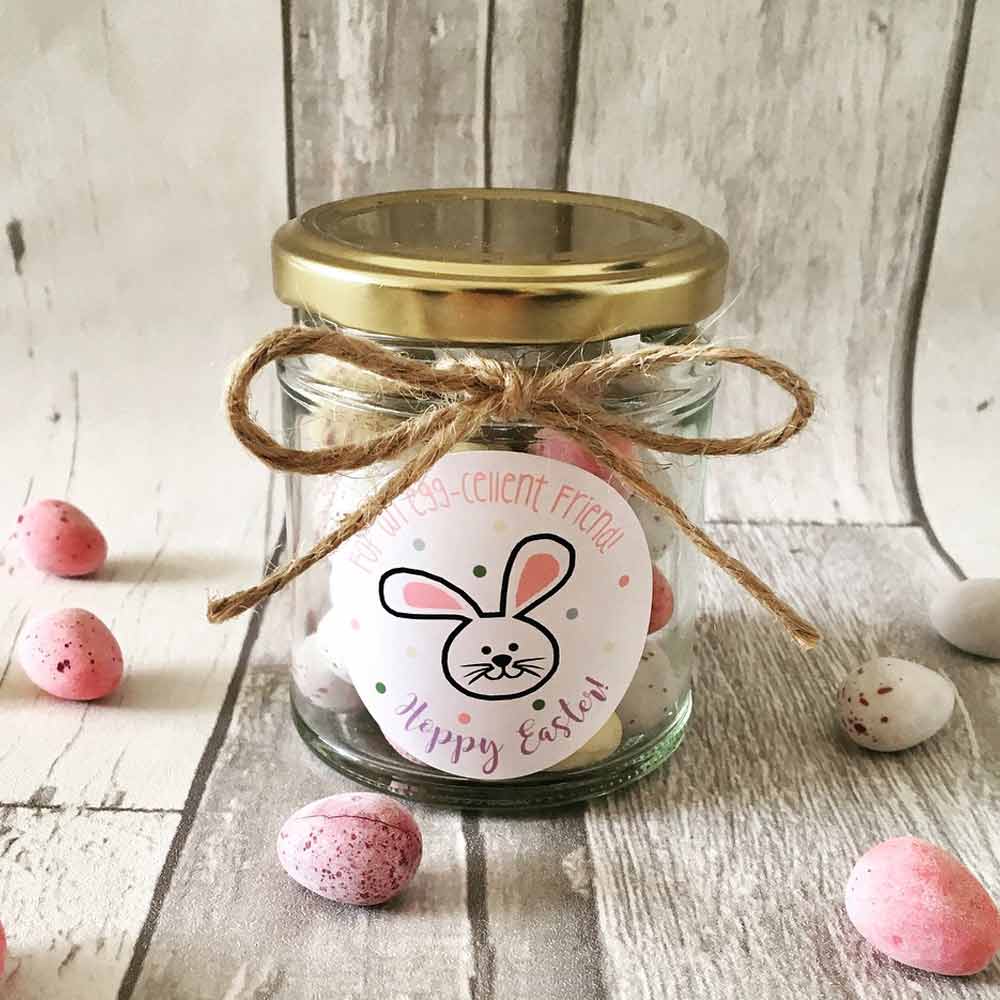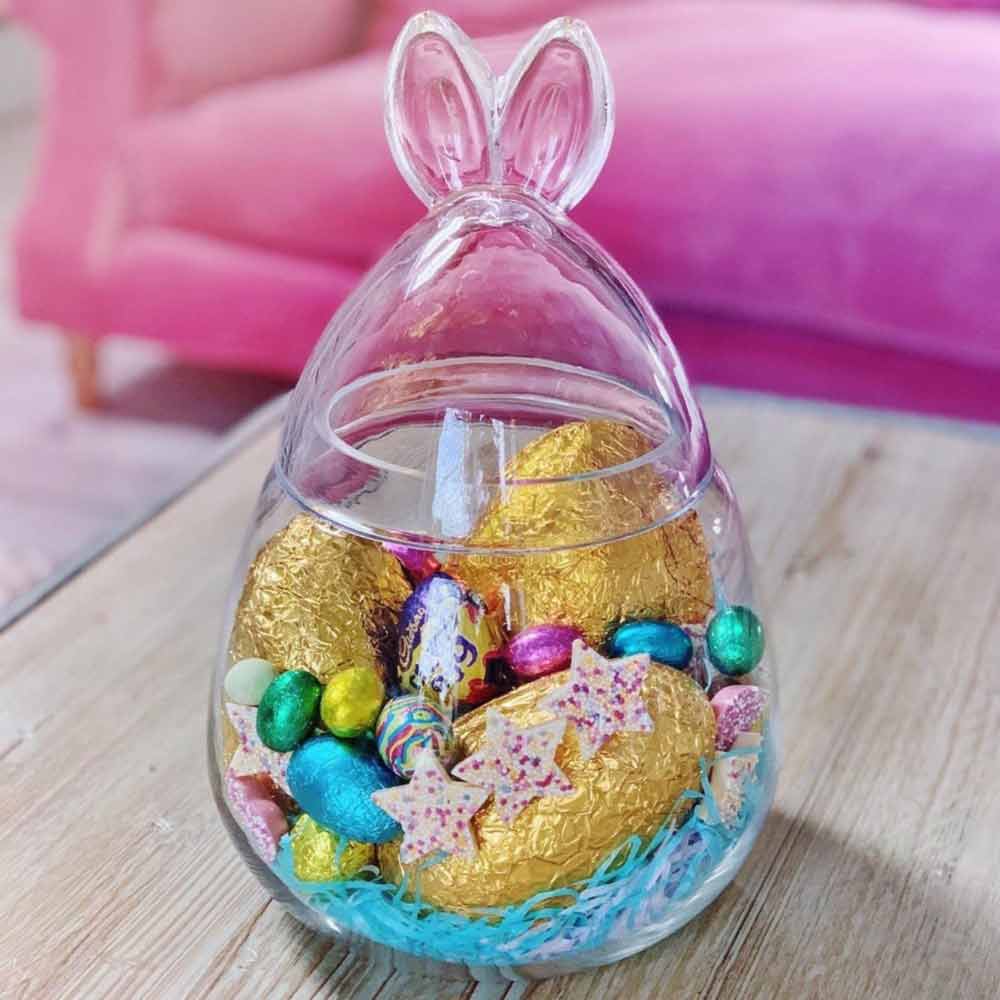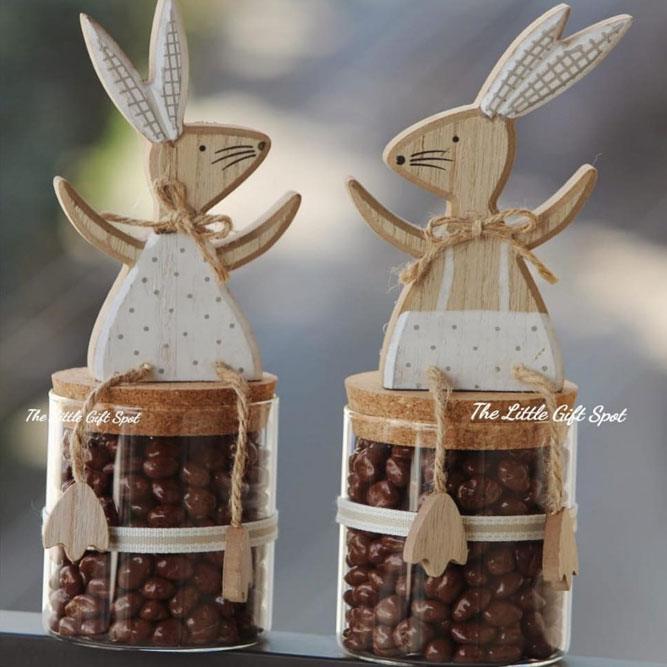 Source: Instagram/lilysandrosesshop, Instagram/sugarlumpsbylydia, Instagram/thelittlegiftspot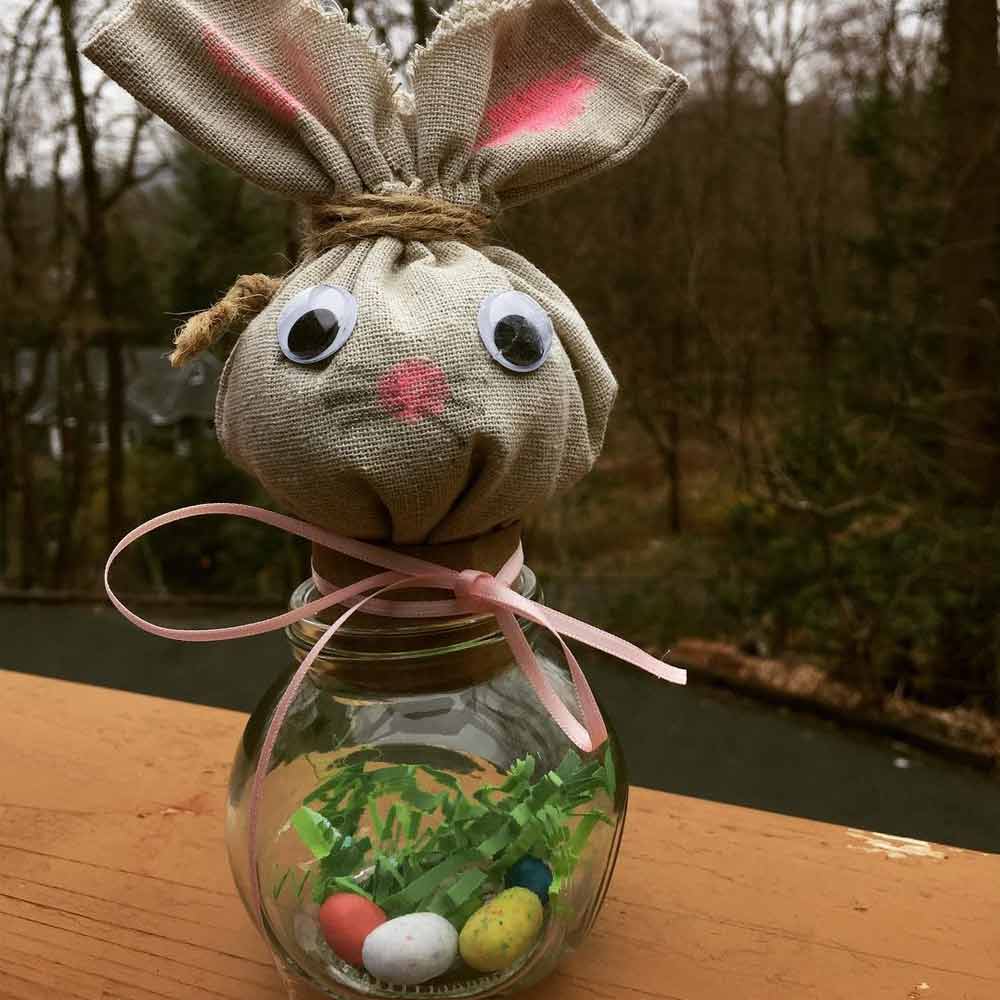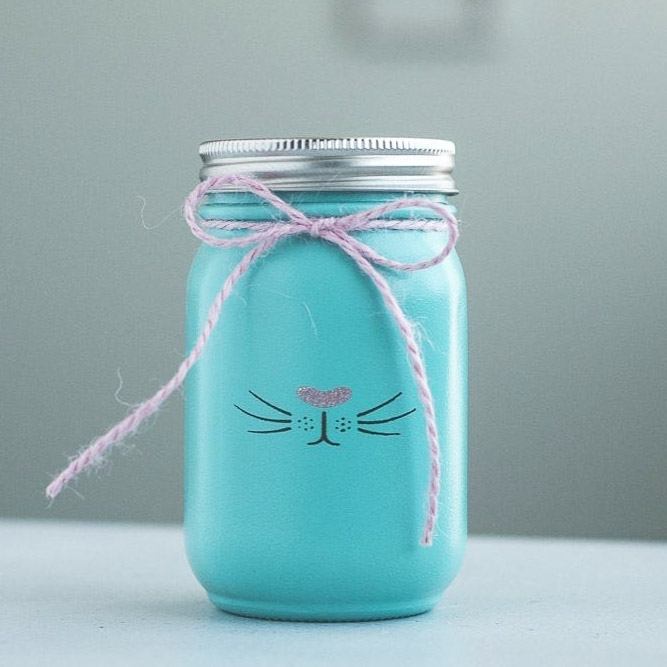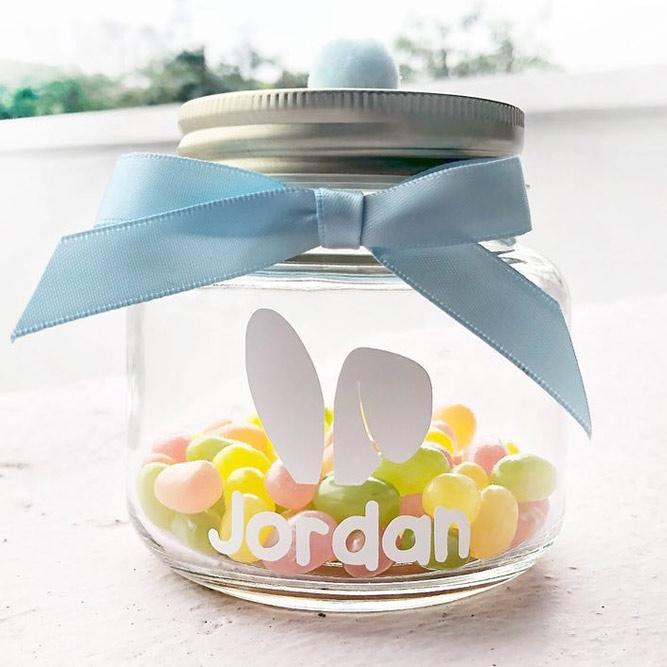 Source: Instagram/handmadeboontona, Instagram/kastylesny, Instagram/thepeppycurator
Each mason jar bunny you can see here is super cute, don't you agree? You can put any candies in these jars, but how would you like to decorate the jar itself?
We can suggest that you use jar toppers in bunny silhouettes for the Easter crafts. And these jar toppers should not necessarily be edible. They can be plastic. And by the way, you can easily find little plastic bunnies in any Dollar Store – they are not expensive at all. A bunny can be painted in any nice color and then glued to a lid. How charming and creative!
Painted And Decoupage Candy Jars Decor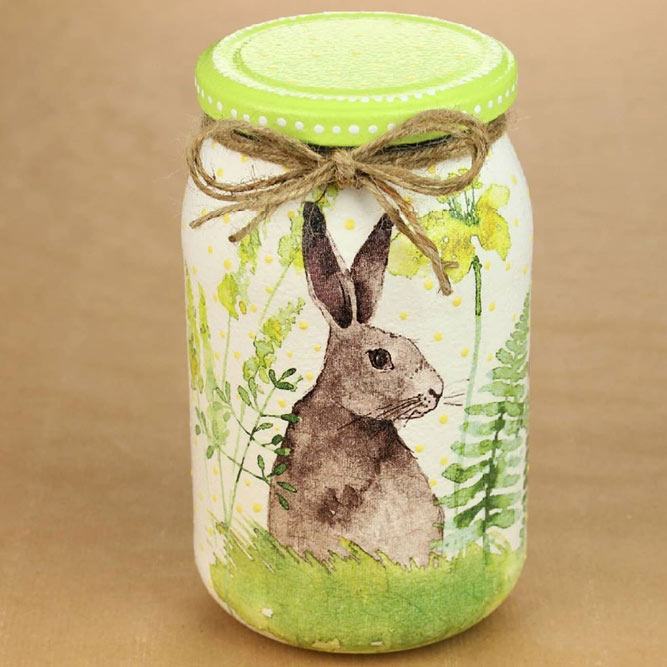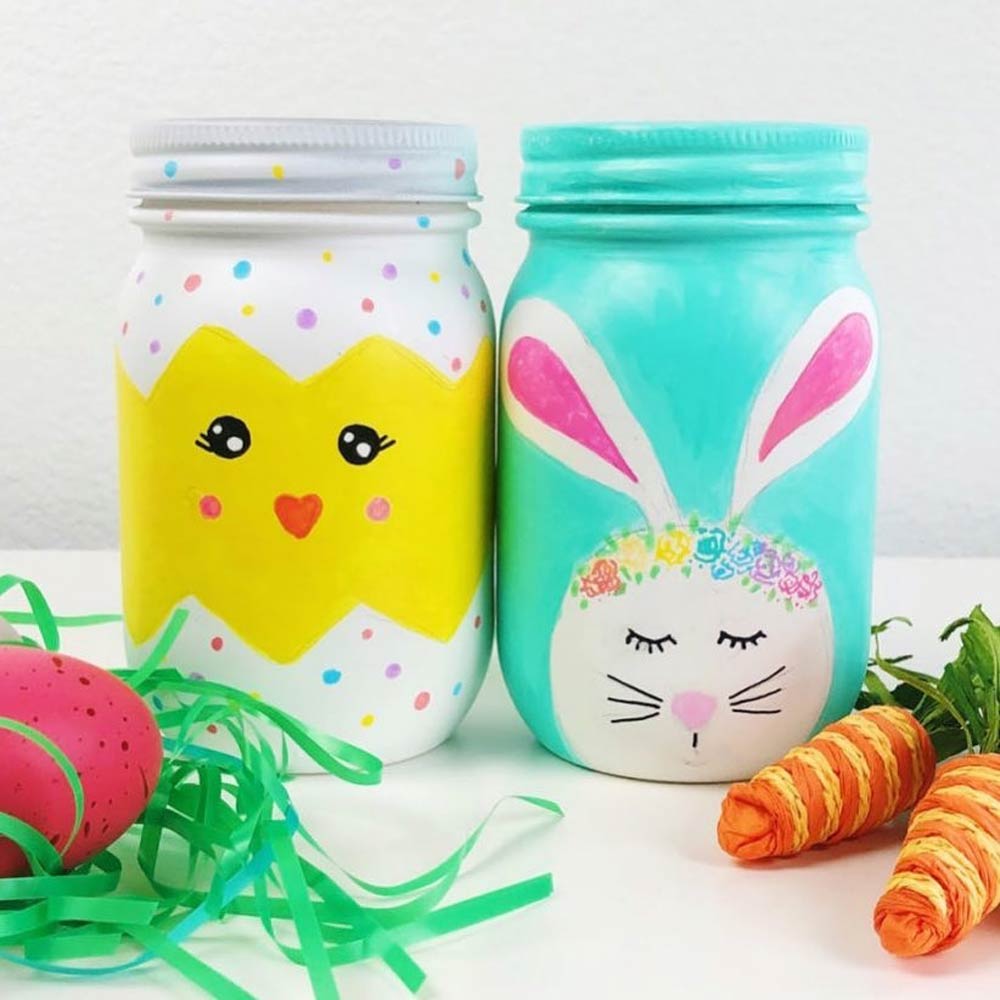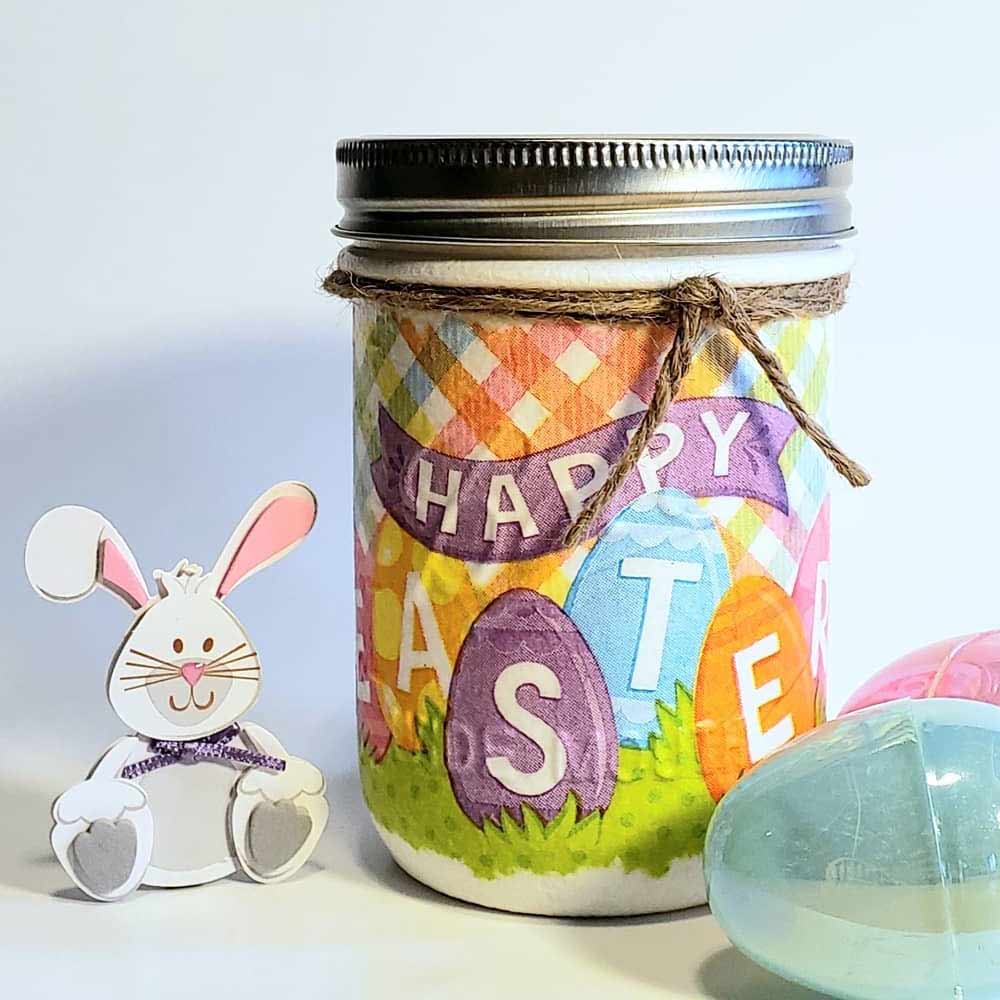 Source: Instagram/livingroom79, Instagram/colormadehappy, Instagram/southern.llama
Ideas Of Candy Jar Decoration With Small Eggs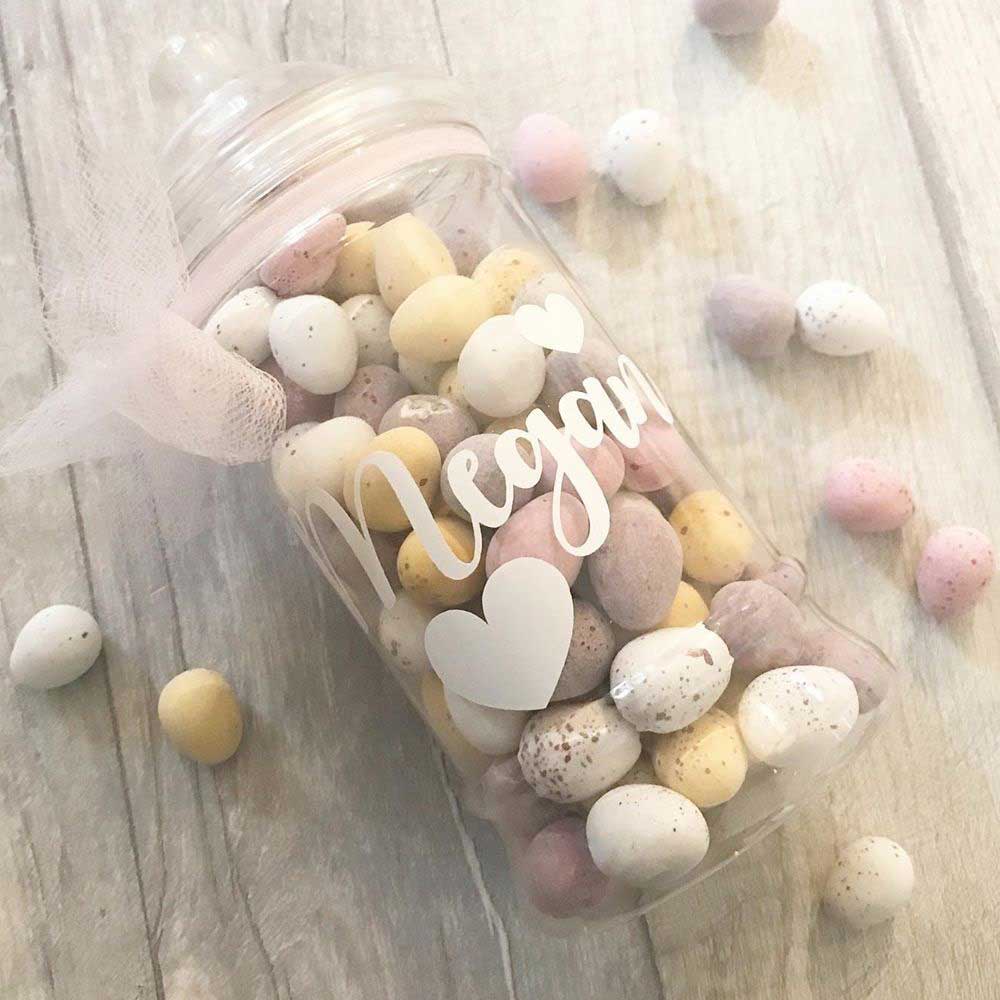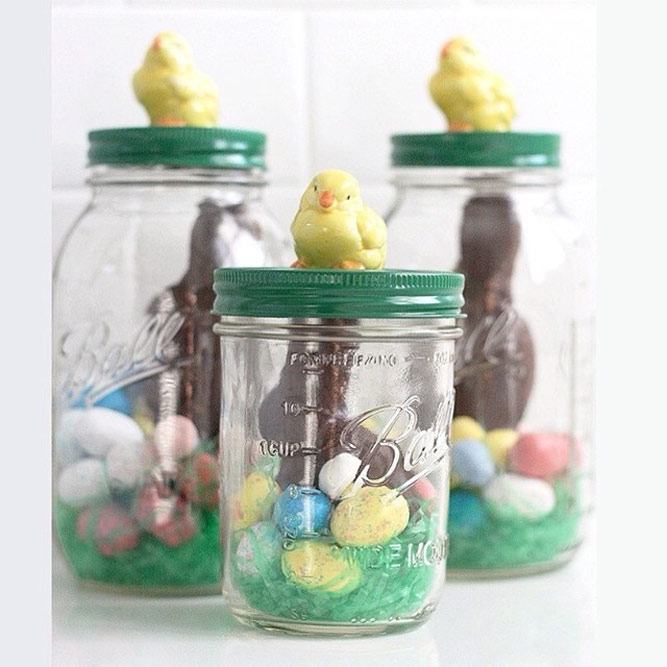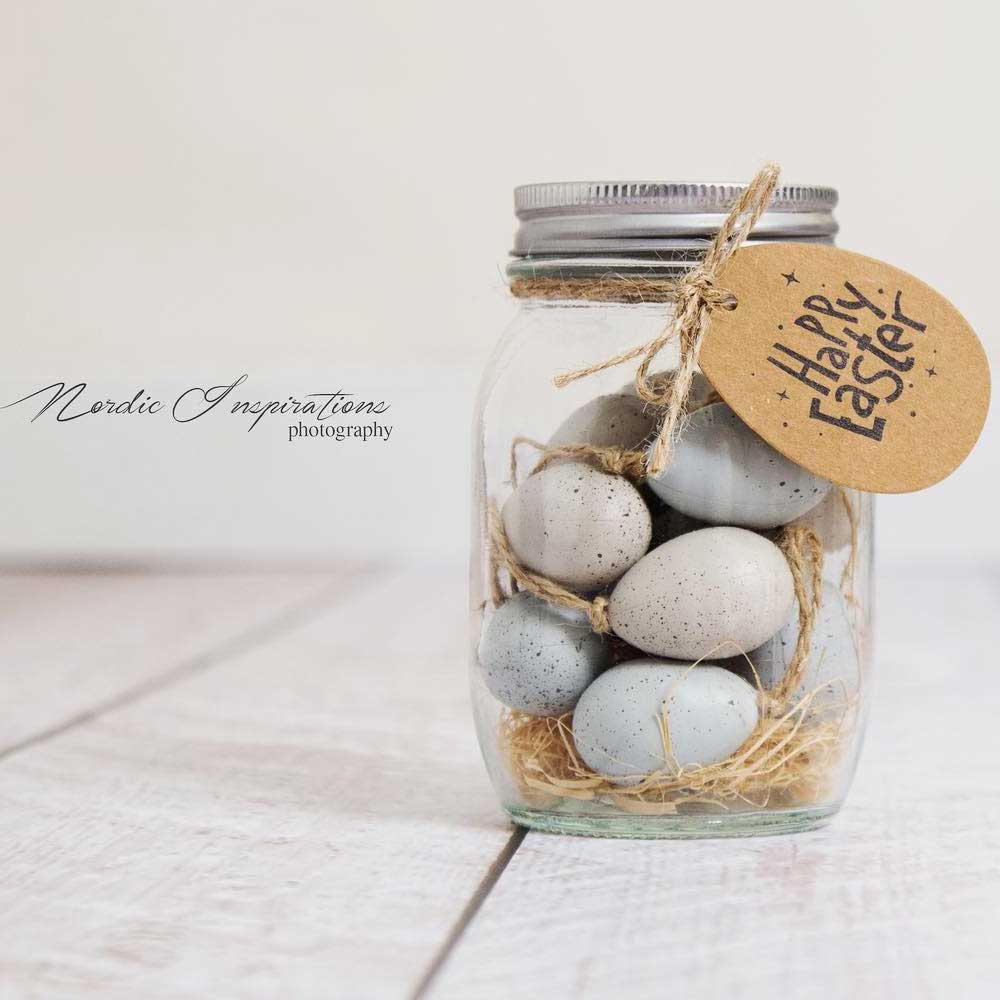 Source: Instagram/lucymaedesigns, Instagram/lollyjaneblog, Instagram/nordicinspirations
These Easter mason jar ideas will embellish any home, and we can tell you for sure that kids will adore them! These jars are so vivid and original.
An Easter Candy Lids Decorating Ideas
Candy Jars With Carrot And Flowers Lids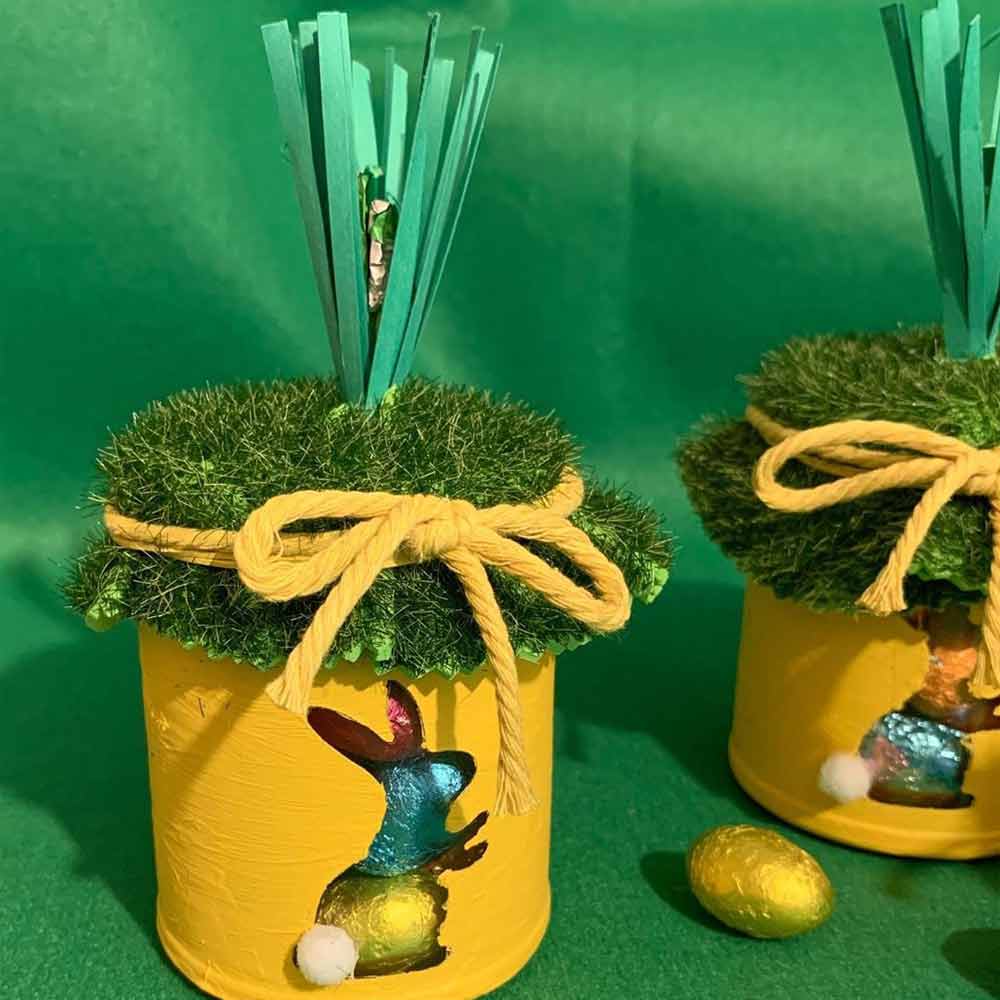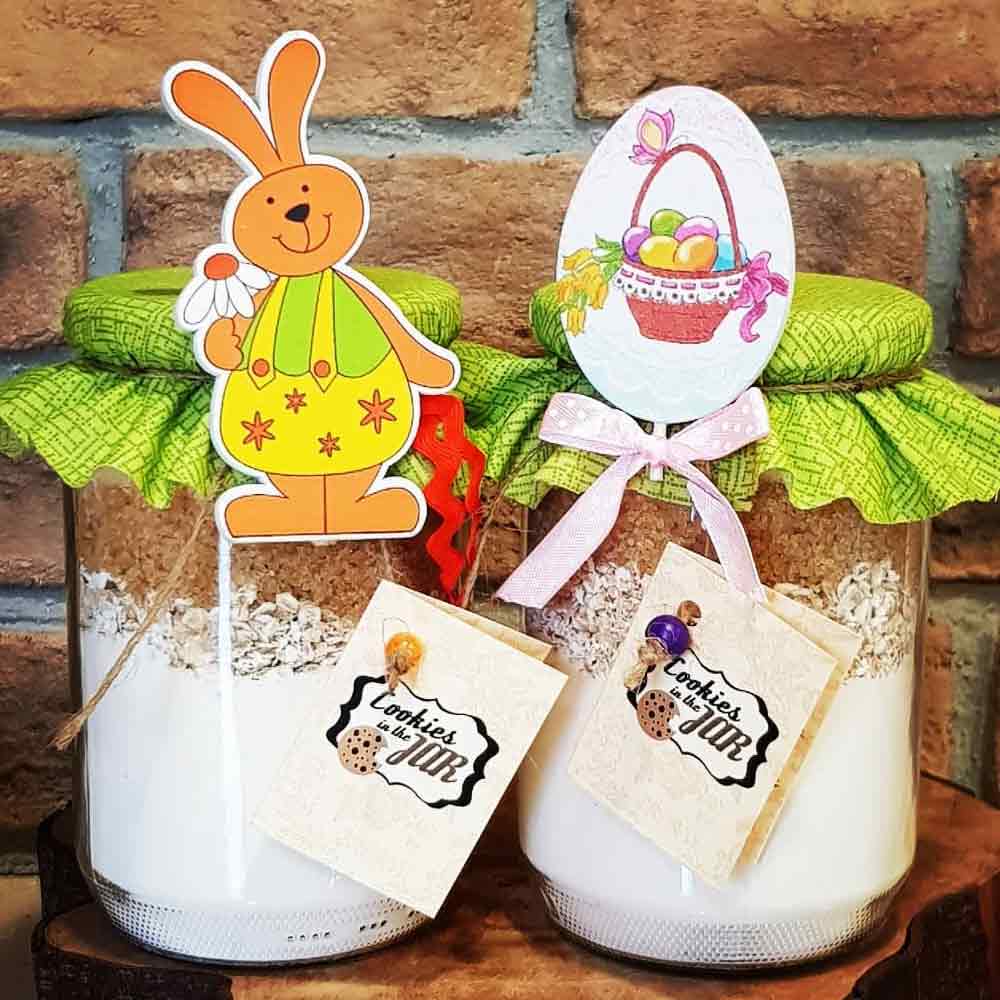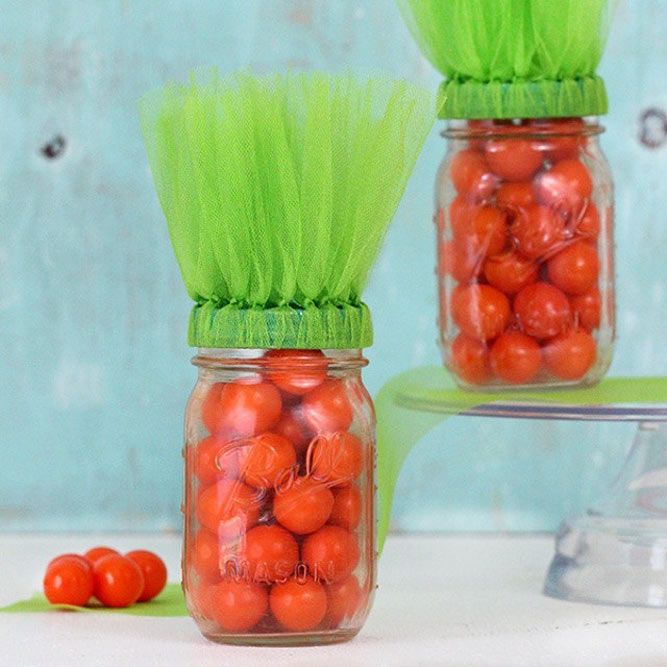 Source: Instagram/wrapit_presents, Instagram/cookies_in_the_jars, Instagram/cutefetti
And if easy Easter crafts is something you are interested in, then these ideas of customization will definitely come in handy. You can simply use glass writing pens of several colors to draw a cute face on a jar, place bright candies inside, and that boring jar will instantly turn into a piece of art! Or, why not add a little card to the jar? This card can tell something mood-boosting to the person who will receive this gift.
Cute Candy Jars With Bunny Ears Lids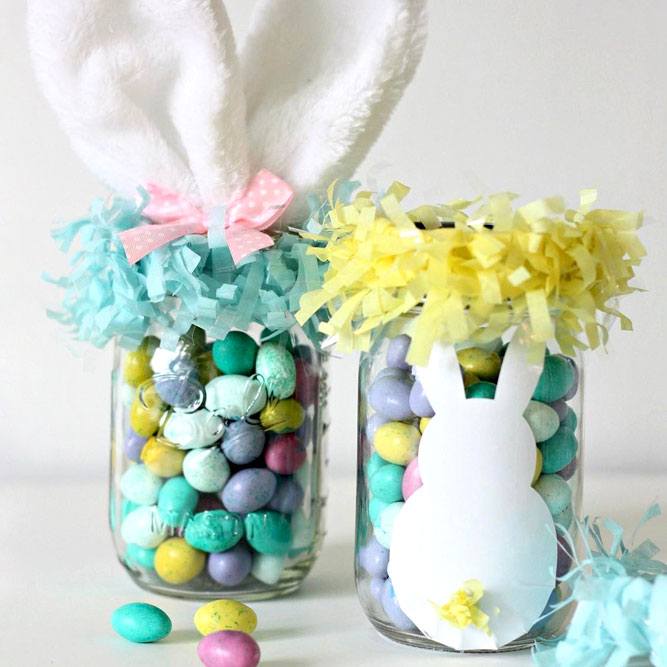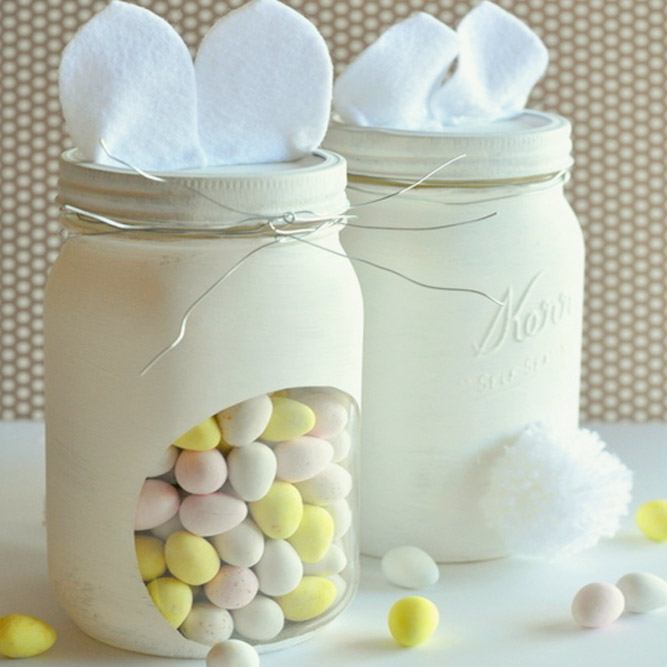 Source: Instagram/nestofposies, Instagram/craftomaniac
Easter mason jar crafts are not time-consuming at all! There are many bunny jar ideas that can be recreated in less than 30 minutes. The simplest option is to take any mason jar made of glass, put some colorful candies inside, and simply place pretty rabbit ears on the lid. And voila, the ideal Easter gift is ready. In case you have no idea where to get the rabbit ears, we can tell you how simple it is. Most Dollar stores sell headbands with rabbit ears at a $1 price. All is left to do is cut away rabbit ears from the headband. Thus, you get those cuties that you can then glue on the lid.
Are you tempted to try Easter crafts for adults now?
Home Easter Decorations: Mason Jar Centerpieces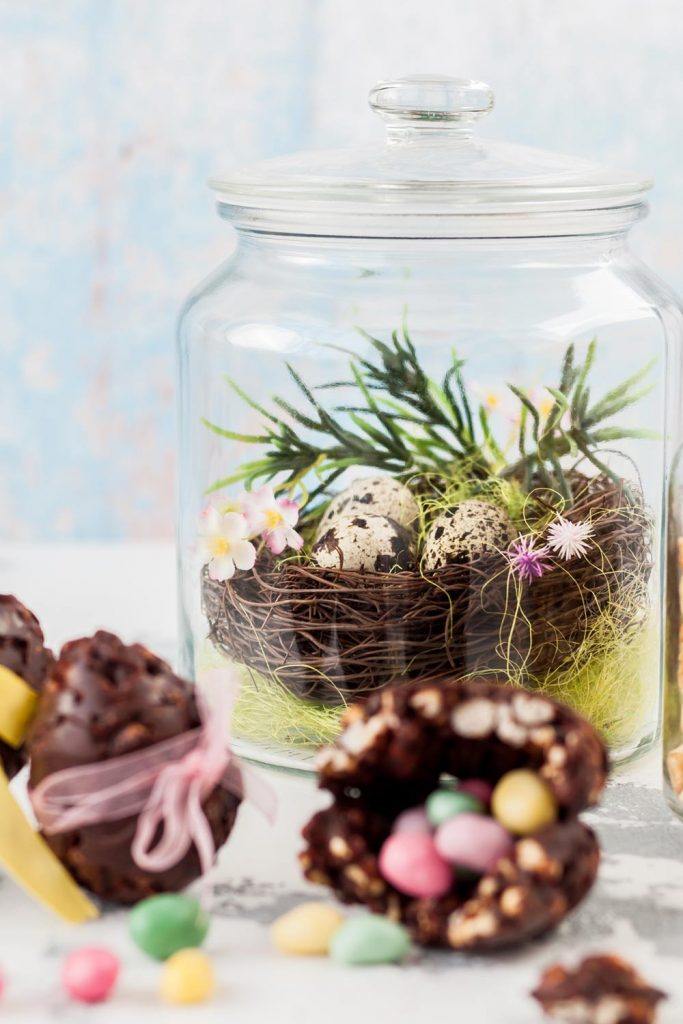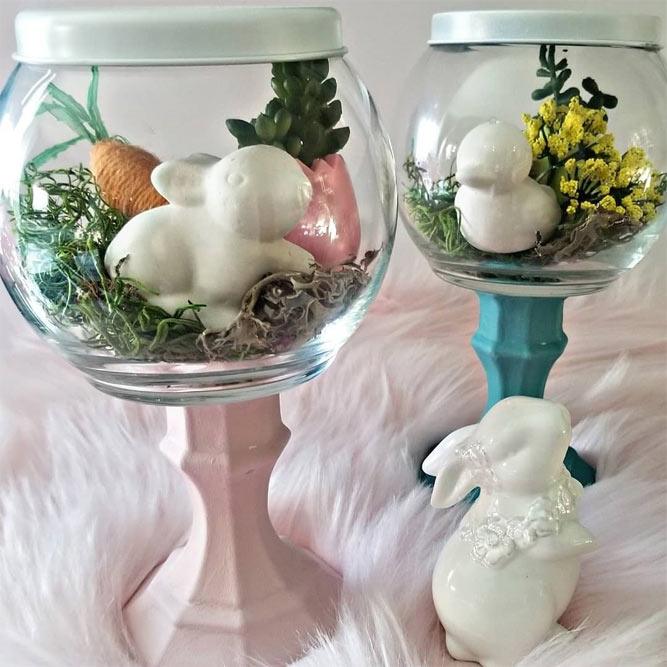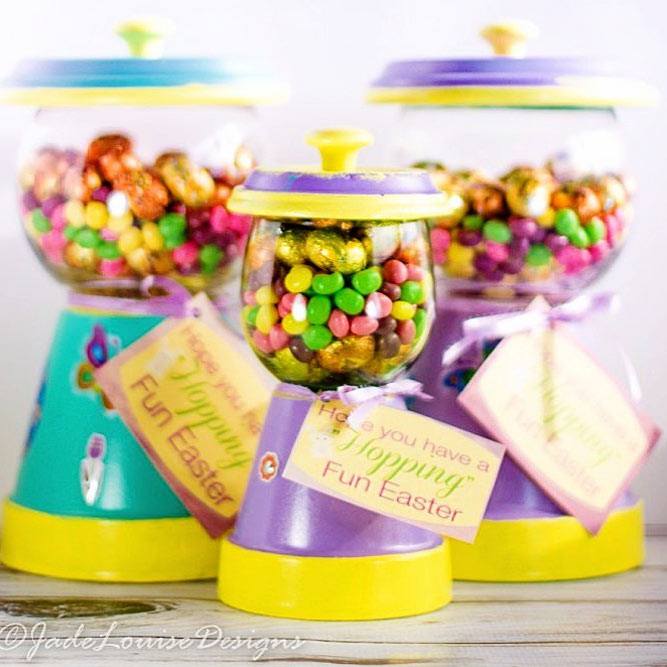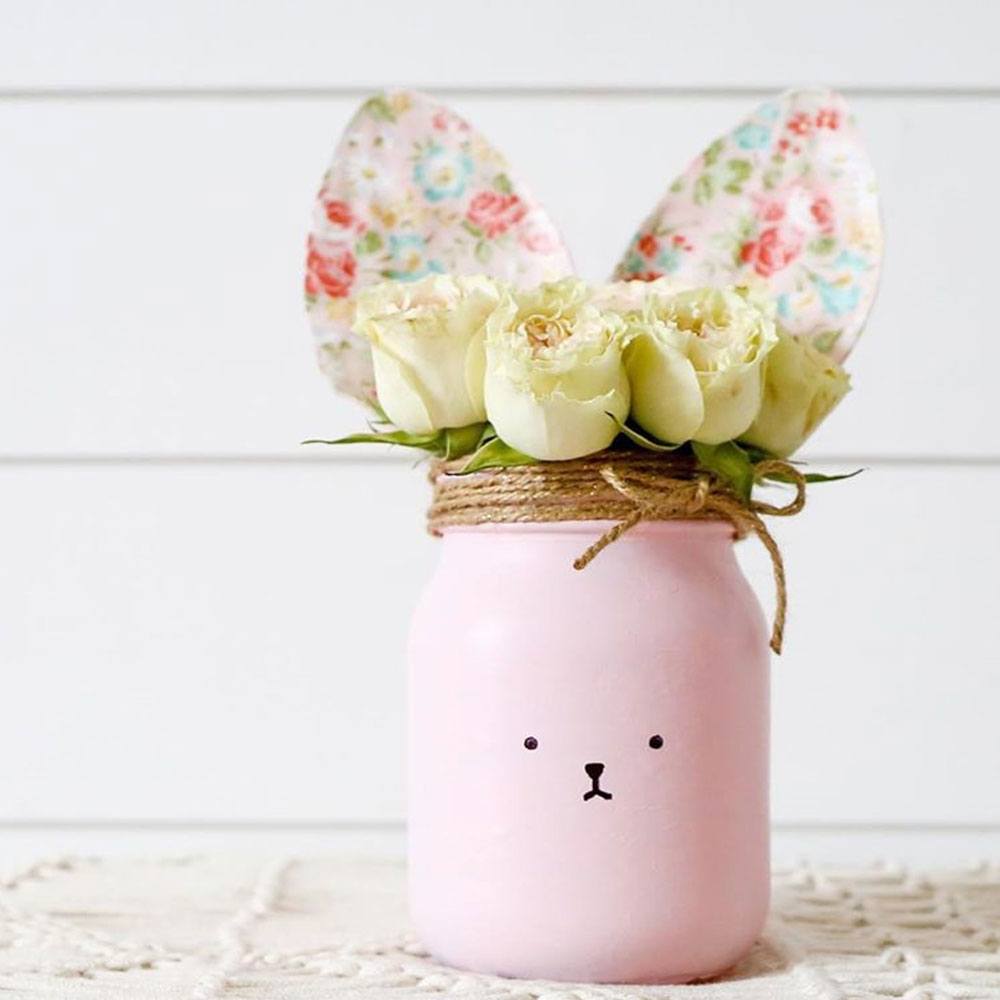 Source: Instagram/thriftyncrafty, Instagram/busycreatingmemories, Instagram/stephaniehannablog
These Easter decorations can embellish your home or dinner table and show all your guests how skillful you are. By the way, mason jars can act as single pieces of decor or as a part of an Easter-themed centerpiece. Just pick some jars in more interesting shapes, and that's half the battle. Add juicy-colored candies in jars, and it's all done!
Easter Decorations with Glass Jars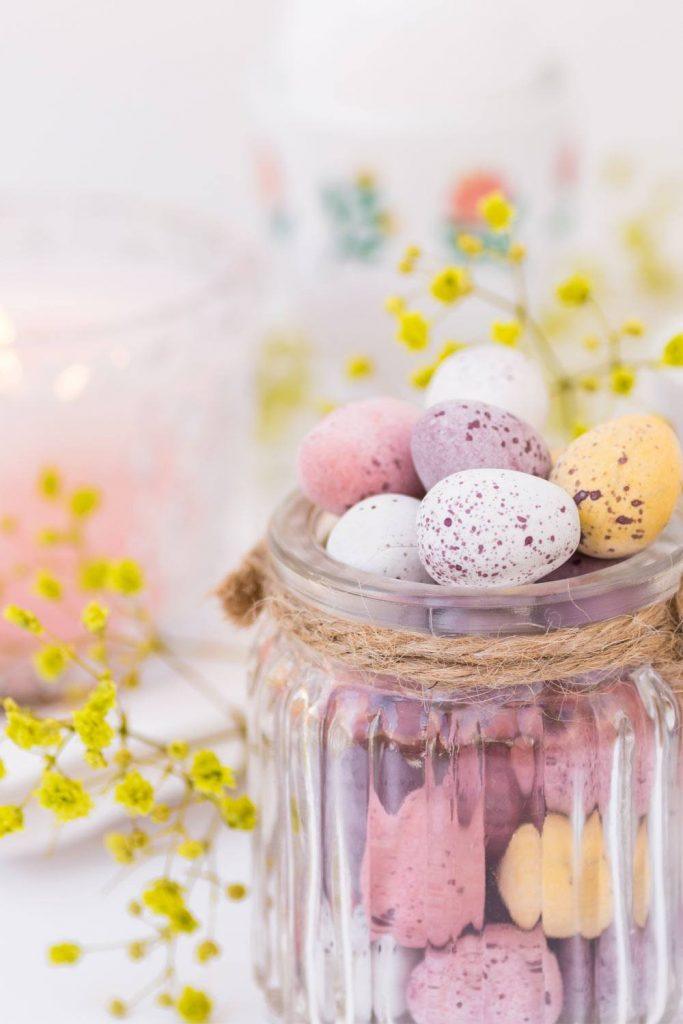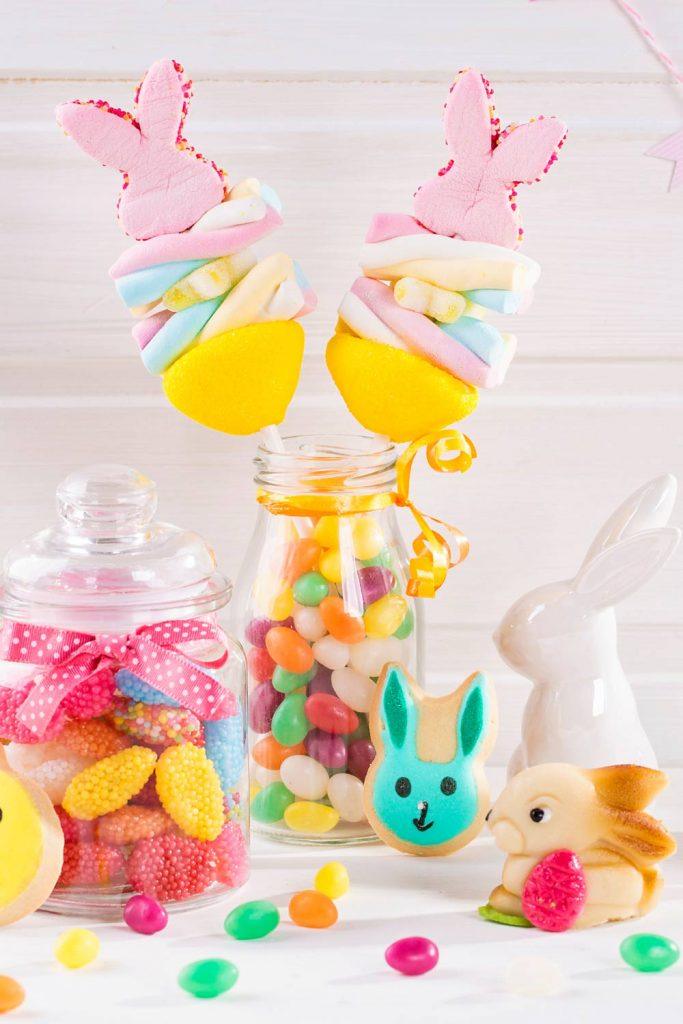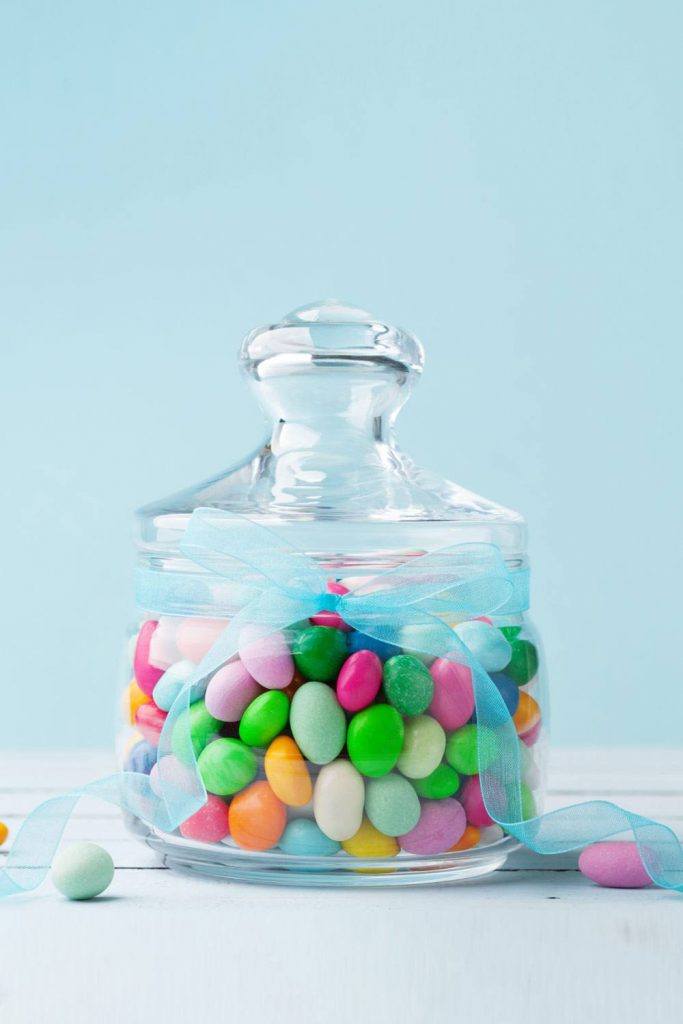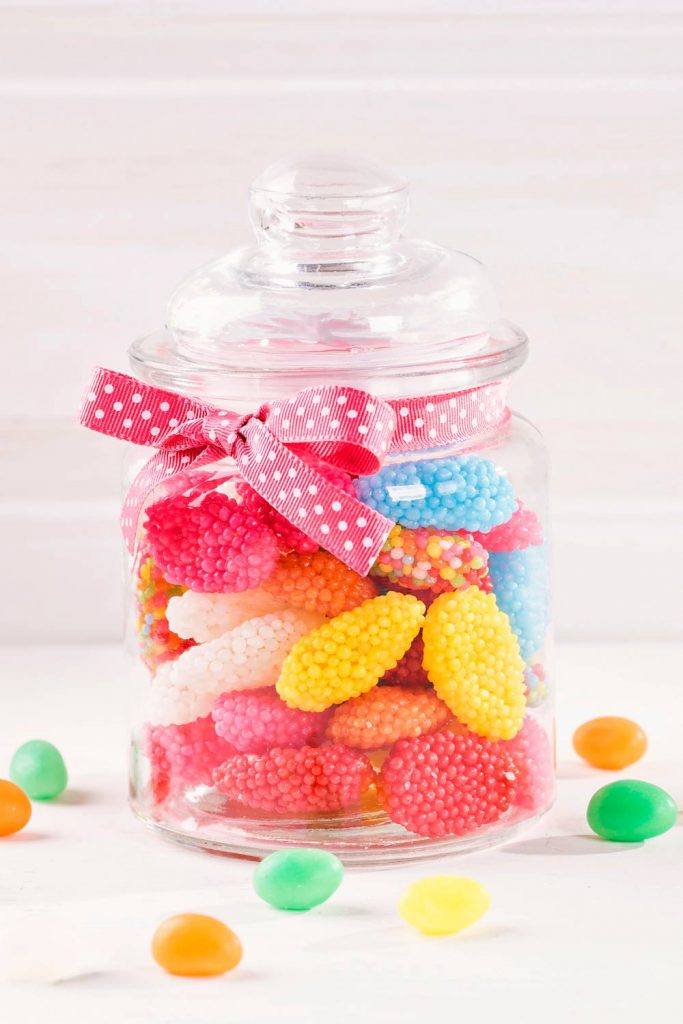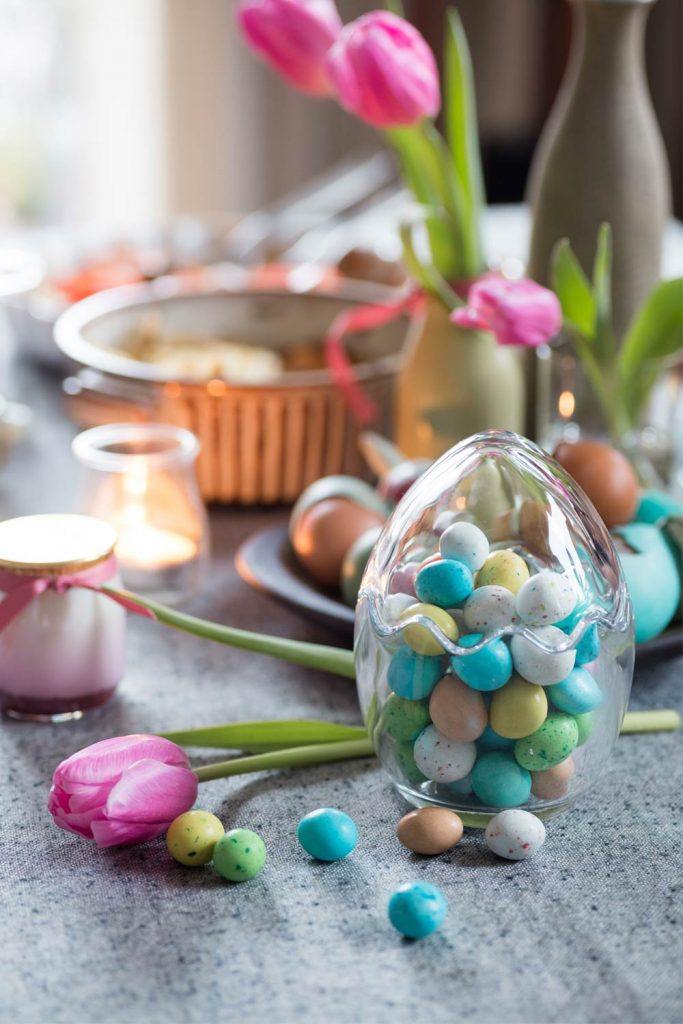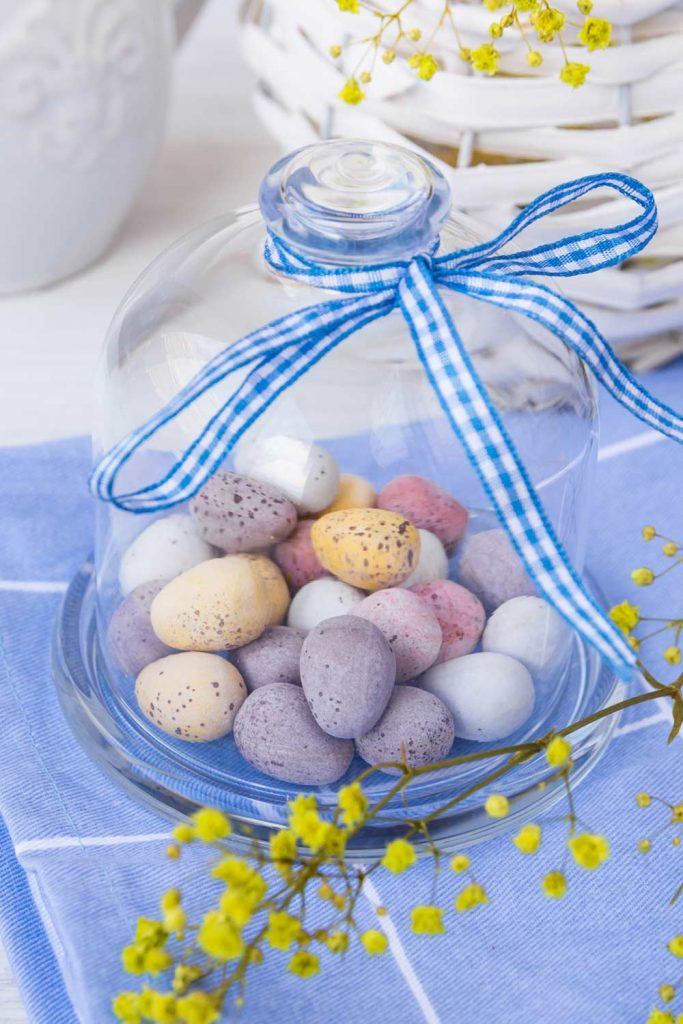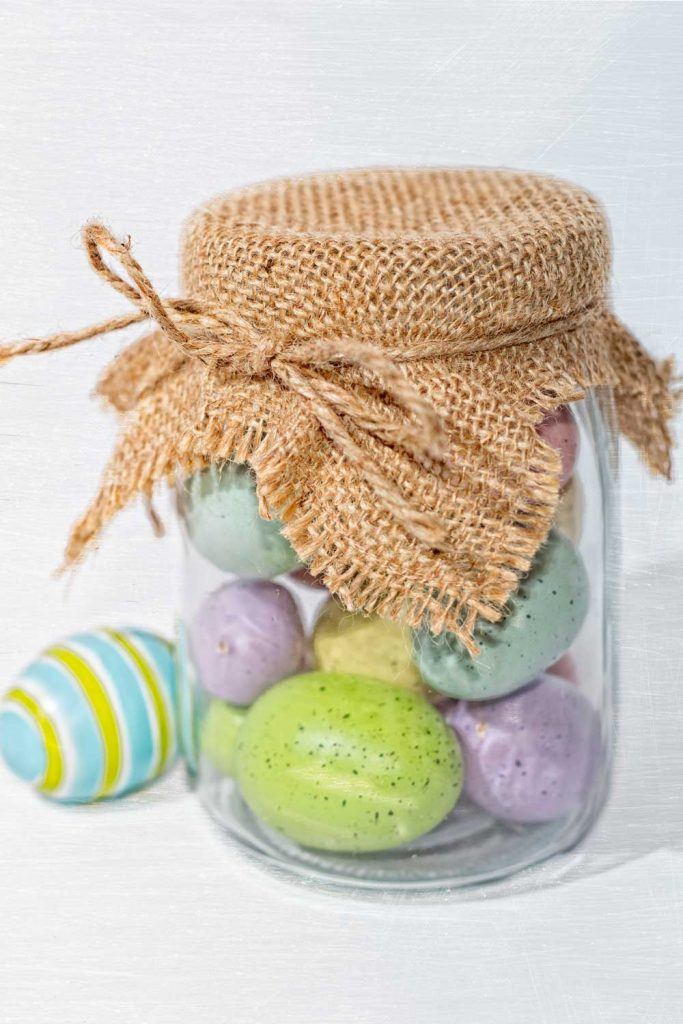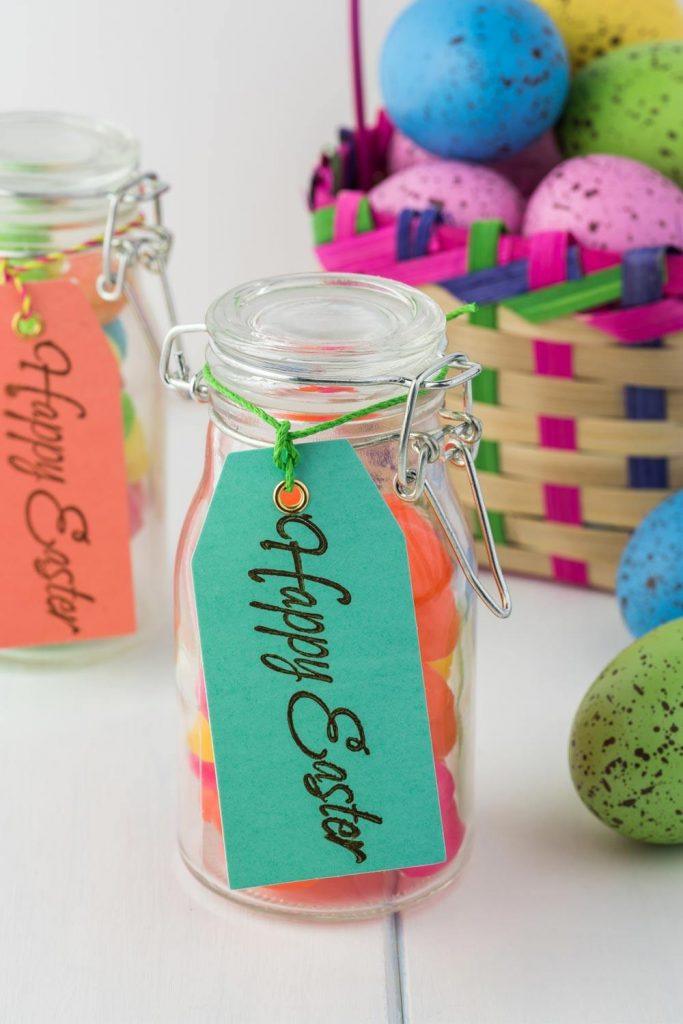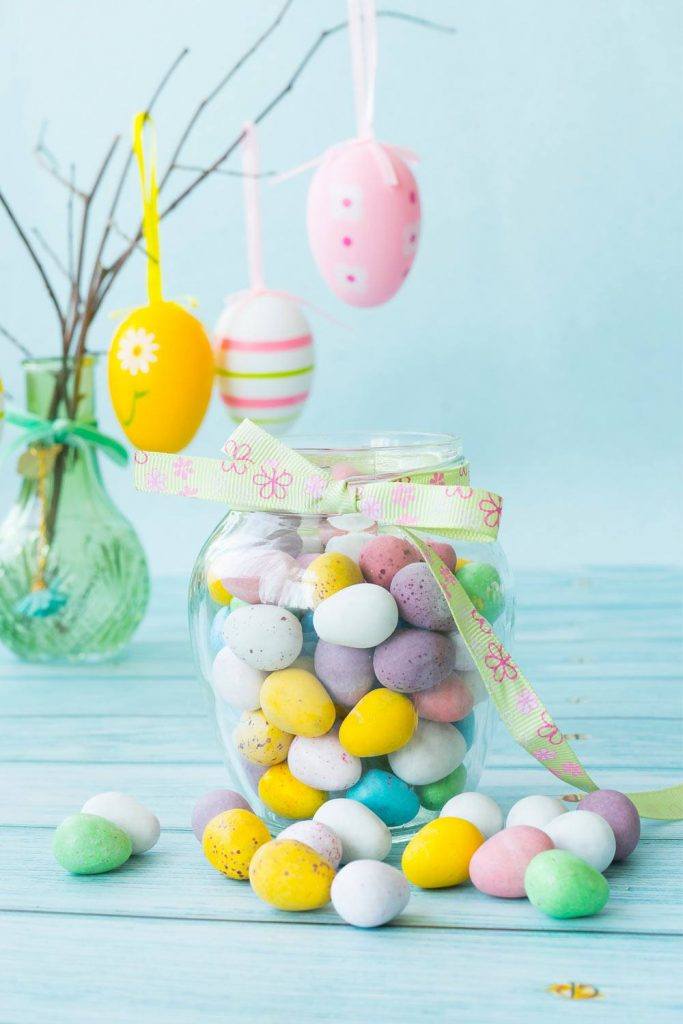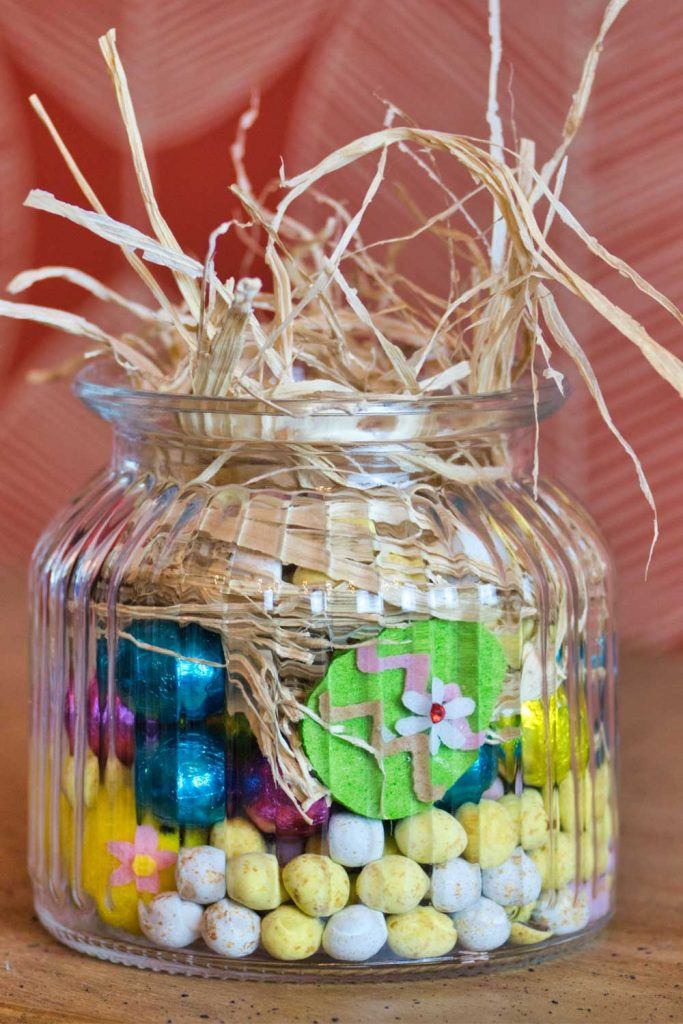 Do you like these Easter candy jar ideas? Just pin the ones you like the most and then recreate them. Everyone will be amazed!
FAQ: Easter Candy Jar
Why is candy given on Easter?
The appeal of Easter candy is thought to be influenced by the end of Lent. For many Christians, Lent means giving up sweets, so Easter is the first time in almost a month that they may eat chocolate. In most years, Easter is only second to Halloween in terms of sweets gifts offered.
What does Easter Bunny have to do with Jesus?
Easter eggs, bunnies, and fluffy yellow chicks in gardening hats all have pagan origins. They were added to the Easter celebration in addition to the Christian custom of commemorating the day Jesus Christ rose from the dead. The rabbit was chosen as its symbol because of the animal's rapid rate of reproduction.
REFERENCES: