Perfect Shoe Storage Ideas To Make Your House More Spacious
The truth is that if you had a flashback a couple of decades ago – shoes were a necessity. However, these days shoes are the detail that accents your individual style. Besides, every outfit requires a separate pair to fit it, not to mention that various occasions demand different shoe type. This brings us to the point when you start to either consider a suitable shoe storage idea or throwing some of your belongings out. In case all your shoes are dear to you – we may have an idea in mind. What if we told you that there were various ideas to introduce into your house which would declutter it as well as would add up to the décor? Sounds interesting? What are you waiting for – read on!
---
---
Wood Shoes Organizer
Source: details.lb via Instagram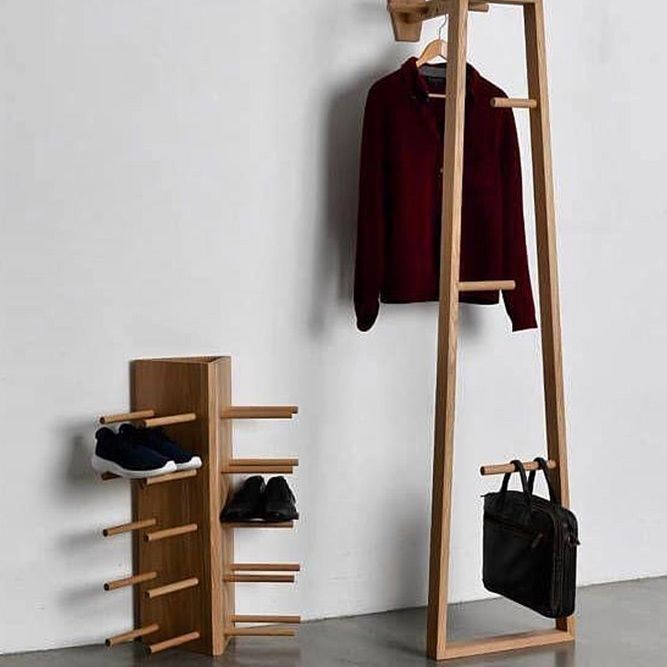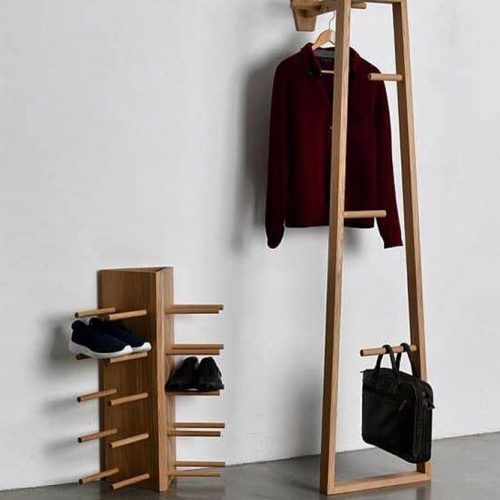 The truth is that there may be indefinite shoe storage ideas; however, that does not necessarily mean that all of them will fit in your house. If you are a minimalistic kind of person and you wish nothing more than more space, we have an idea in mind. The fact is that a mere wood stand can be a perfect shoe organizer. It will not only free up space but will add that modernistic touch to your house. Make sure that your storage is made of the same material as your hall tree, as they should form a harmonic tandem.
Shoe Box Storage
Source: the.shoesbox_my via Instagram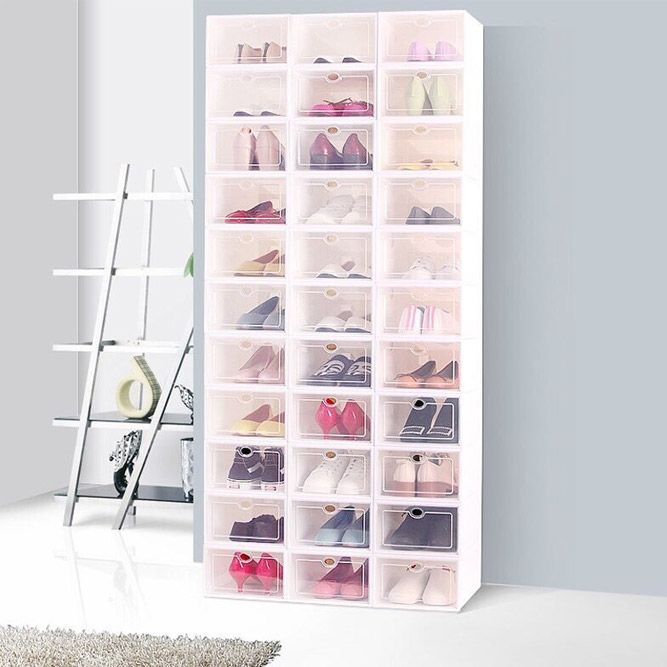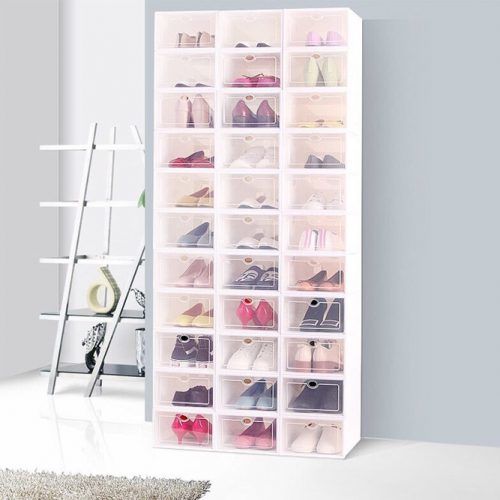 Of course, the minute you think about shoe storage - shoe box storage comes to mind. Yet, instead of piling up regular carton boxes why not to experiment with them a little? The thing is that plastic boxes are as suitable as carton ones. However, they will grant you additional advantages. For starters, plastic boxes are more durable. Besides, they will display your collection so that it will become a separate attraction. It is a win-win option.
Door Shoes Rack Design
Source: viktoria.dahlberg via Instagram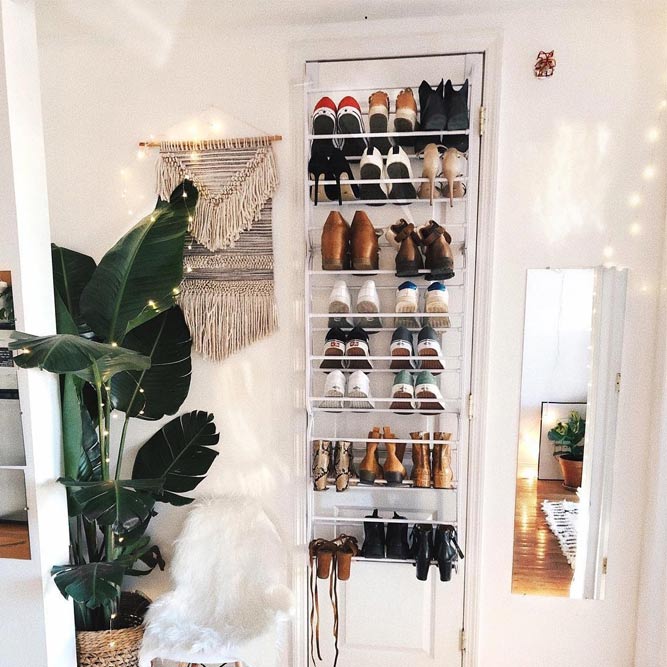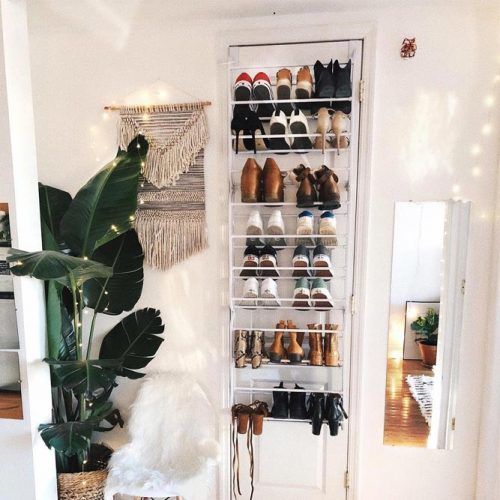 There are times when you merely can't afford spacious shoe organizer due to the simple absence of additional room. What should you do in situations like that? Worry not, we have suitable shoe storage solutions for everyone! For instance, you can easily purchase a door shoe rack, and it will easily solve your dilemma. As simple as that!
Shoes Shelves Storage Space
Source: graziaventrella via Instagram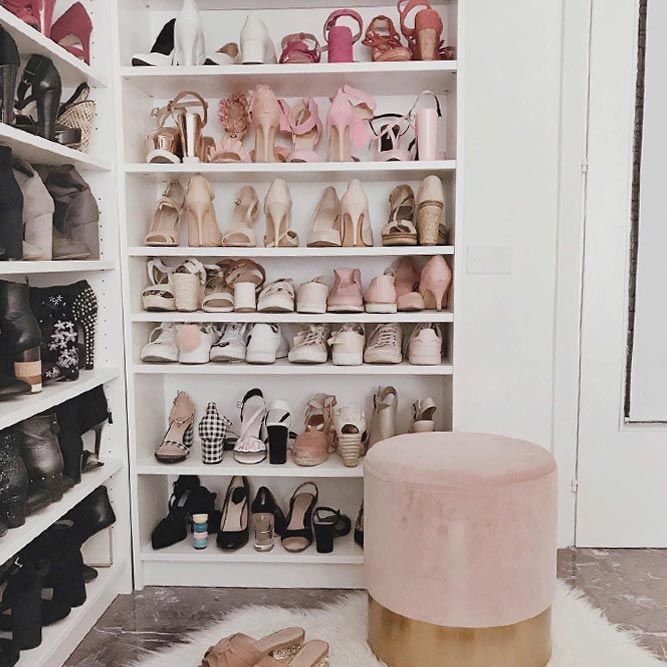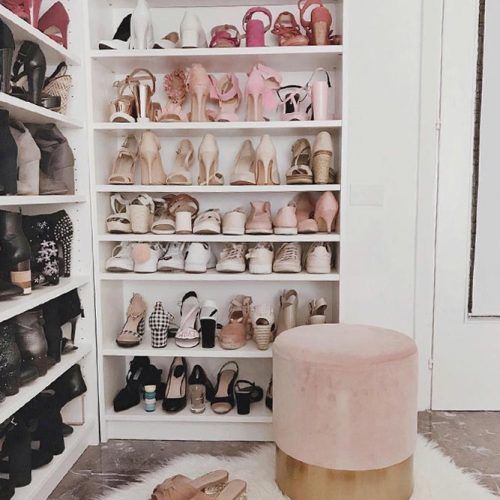 In case you are ready to devote a whole closet to your shoes, it is best if you use such an opportunity with the most benefit. The thing is that you can simply put all the shoes in one room and then spend hours trying to find a suitable pair. However, if you add up shelves to your shoe closet and place all the shoes on display you will not only have easy access to them but will also enjoy the order that is perfectly preserved.
White Shoes Rack
Source: tanas_home via Instagram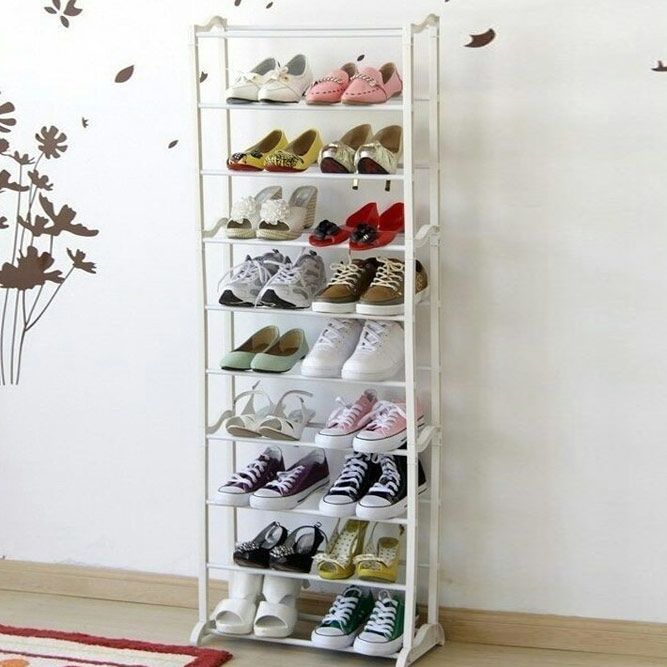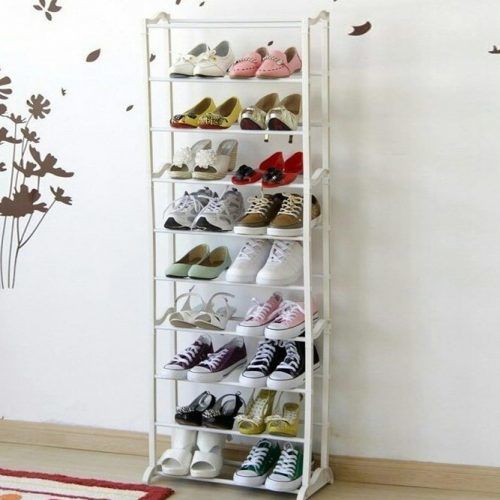 Very often you need to consider not only the material the storage is made of, not even its size – but the color. Of course, once you are planning to introduce shoe storage into your house, you need to make sure that it will fit in seamlessly. In case you are looking for something light and not that noticeable to add up to your white room décor – a white shoe rack is precisely what you need to consider.
24-Pocket Shoe Organizer
Source: tidyliving via Instagram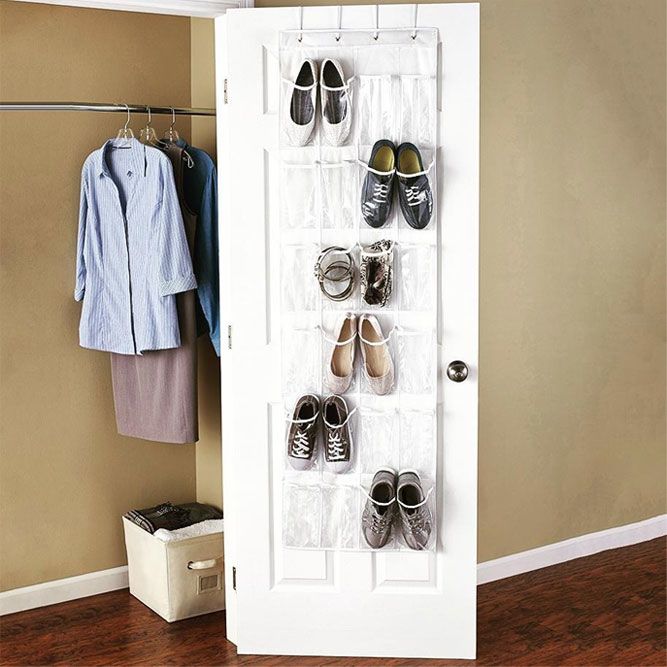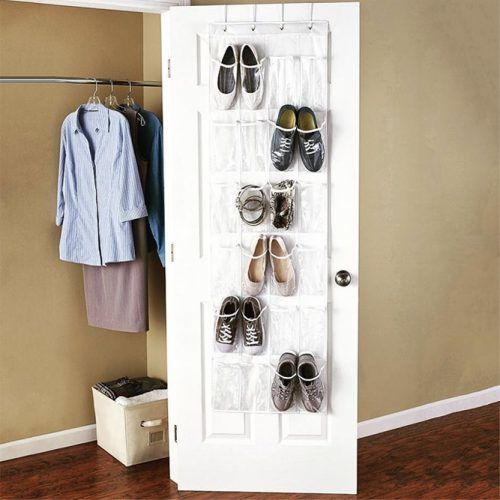 These days there are so many organizers ideas. They are all different in terms of many aspects, but one thing remains – they save up space. If you are looking for some easy to afford an organizer which will integrate into your coat and shoe storage room, then 24-pocket organizer it should be. It will not take up your coat storage space since all you need to do is to hang it on the door.
Underbed Wire Shelf
Source: tidyliving via Instagram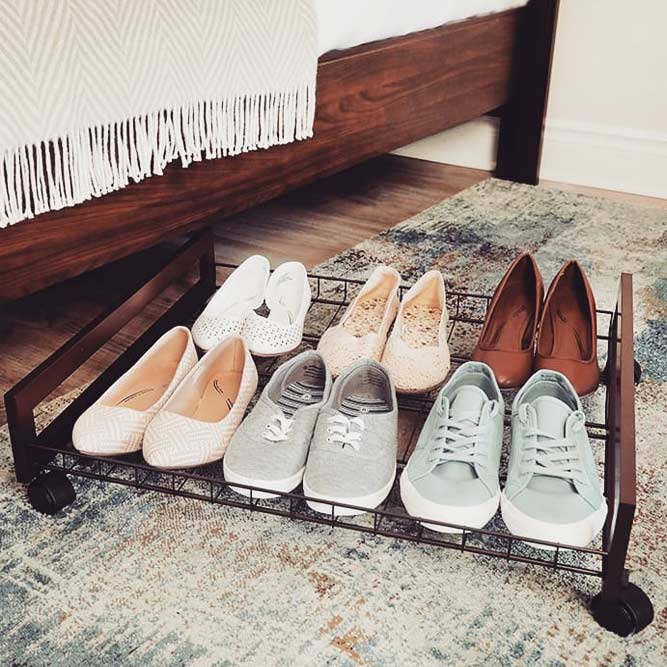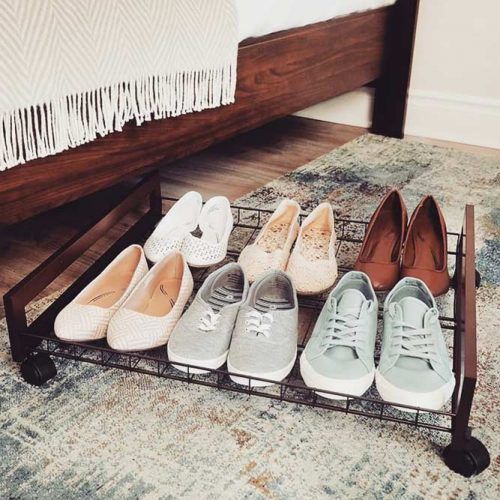 The truth is that there is not always a possibility to hang your shoe organizer on the door or get yourself spacious storage. What should you do in times like these? The answer is simple – get yourself under-bed shoe storage! Such storage is no worse than all the mentioned above. It is still not that space-consuming, and it will bring order to your shoe collection even if it is not that big.
Large Stackable Shoe Storage Drawers
Source: theholdingcompany via Instagram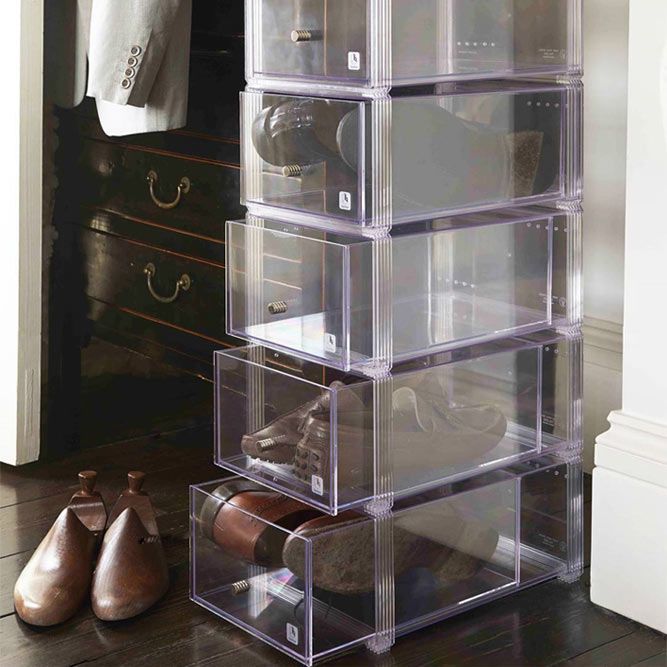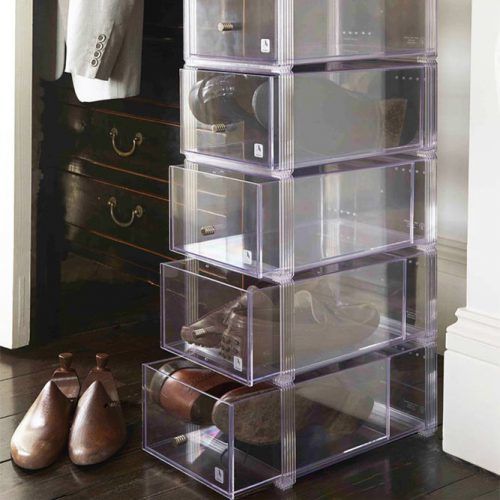 For some people, neither plastic nor carton boxes are a suitable way out, but they are in great need of shoe storage. For those of you who would like to stick to the style, we offer large stackable storage drawers. The thing is that you can get as many of those as you need and then simply place one onto the other and make your very own stylish organizer!
Shoe Cabinet With Adjustable Cubbies In Each Drawer
Source: lazydaneworkshop via Instagram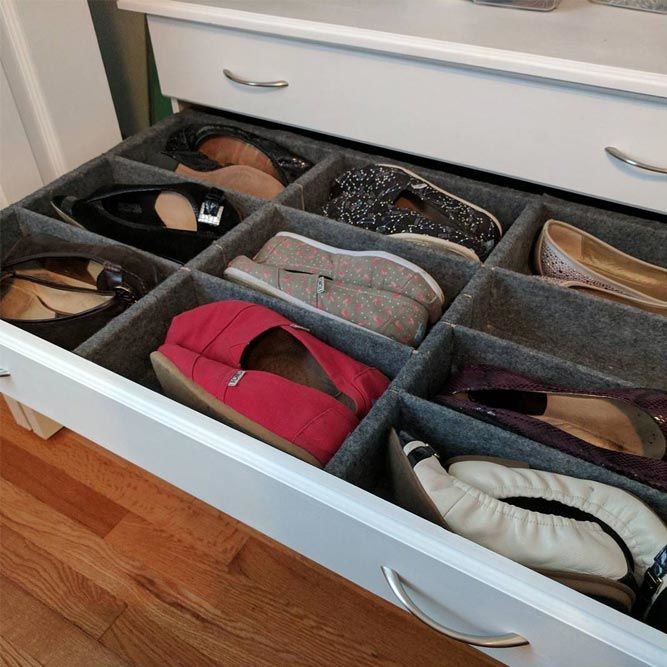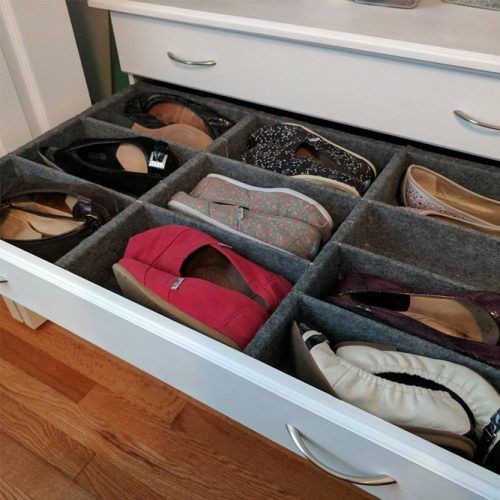 Has it ever occurred to you that you can store all of your shoes in one drawer? But it possible. All you need is a cabinet with adjustable cubbies. You can get yourself as many of those as you need and then adjust them to the size you need judging by a separate pair of shoes. As simple as that!
Entryway With Shoe Drawers Under Bench
Source: coteinteriors via Instagram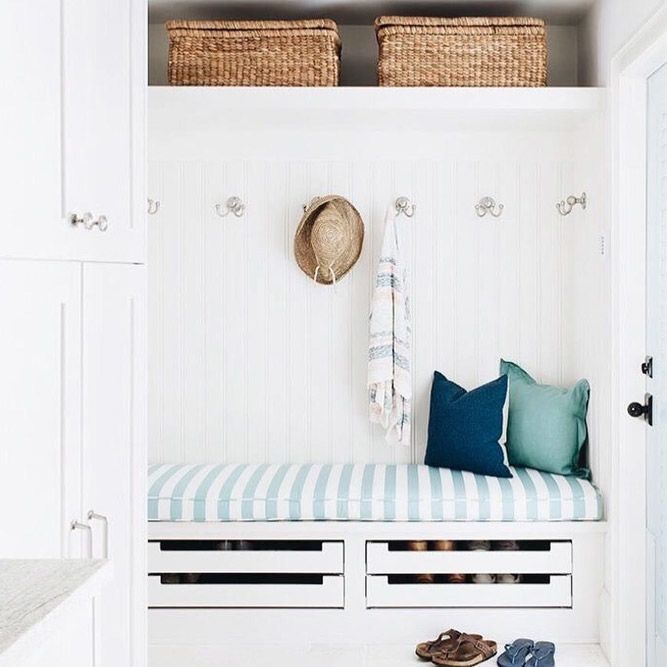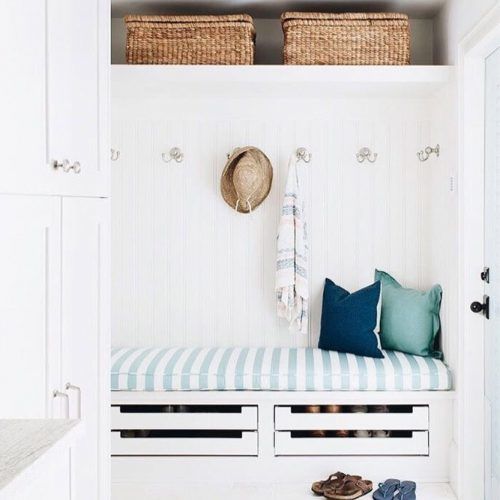 Those of you who are lucky enough to have a spacious entryway can afford many ways to have their shoes stored. However, if you still want to keep perfect order without over-cluttering the entryway - bench with shoe storage underneath it is a worthy suggestion. All you need to do is to place suitable drawers under the bench and keep your shoes there.
Shoe Drawers In Stairs
Source: thehouseinthehollow via Instagram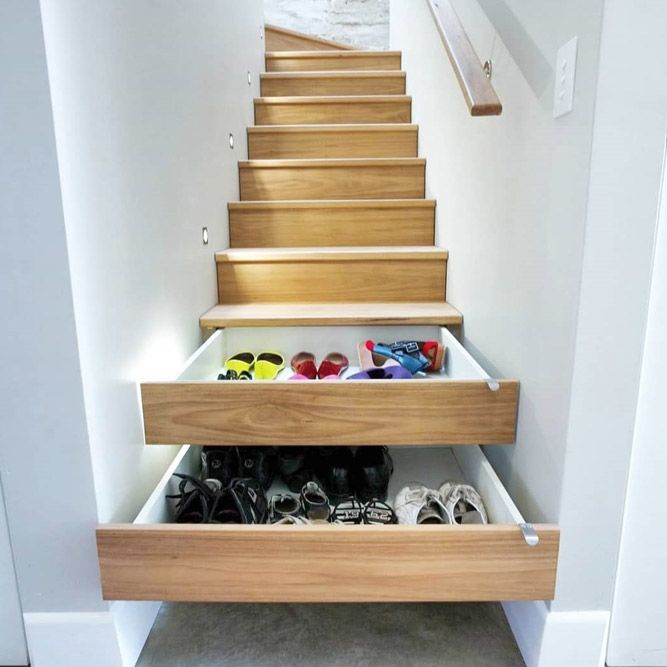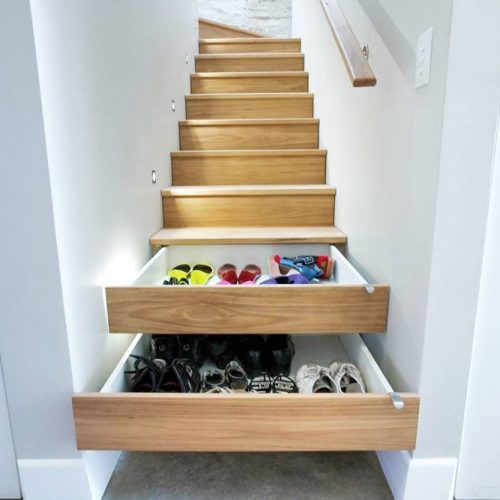 Many people are looking for shoe storage ideas for small spaces; however no one ever considers the stairs. To begin with, stairs already take up space, and there is nothing else to do but to put them to use. Just transform your stairs into shoe drawers, and you will kill two birds with one stone – there will be no wasted space as well as your shoes will be perfectly organized and hidden.
Shelves And Hooks For Shoes
Source: bleachlafurnishings via Instagram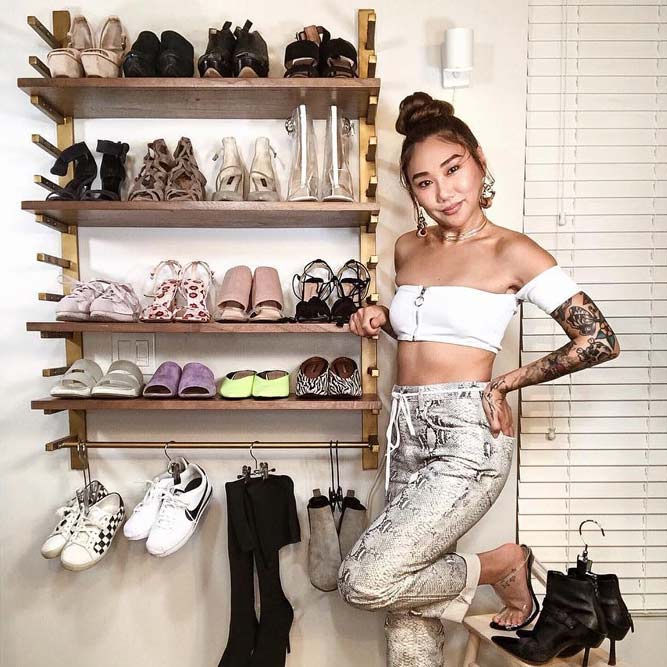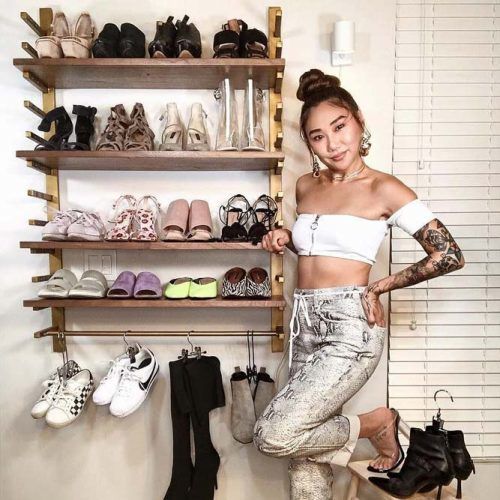 The fact is that when you think about shoe storage, you always think about somewhere to put them in or on. Very rarely people think that shoes can be hanged as well. The point is that the best shoe storage is the creative one! Make your shelves easily adjustable and then add a rale to the bottom so that you can hang your shoes there. Problem with shoe organization – solved!
Rustic Shoes Organizer
Source: rusticdisposition via Instagram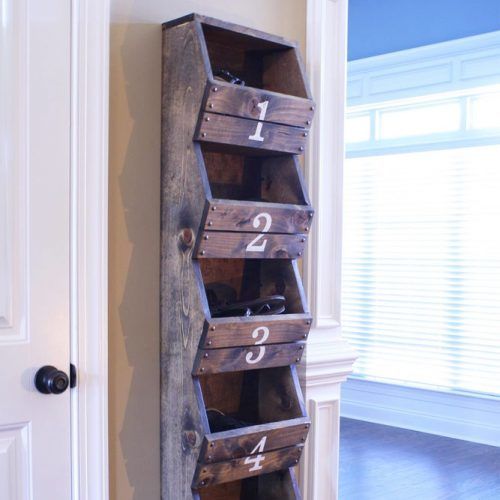 We have already mentioned that separate house décor requires appropriate shoe storage. For example, if your flat is all antic and rustic – a modern shoe rack will certainly look out of place. However, you may be surprised by what you can find on the internet these days. If you want a rustic shoe organizer – just look for it, and we are more than certain that you will find it immediately.
Original Shoe Rack
Source: style_degree via Instagram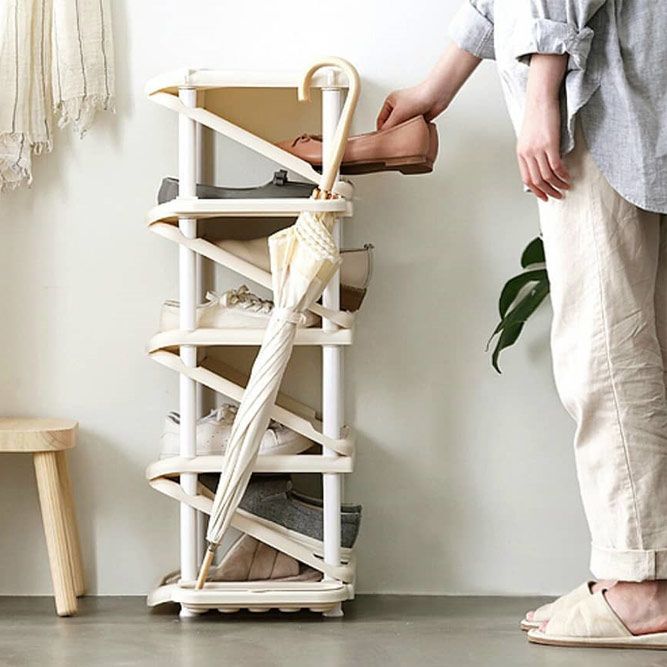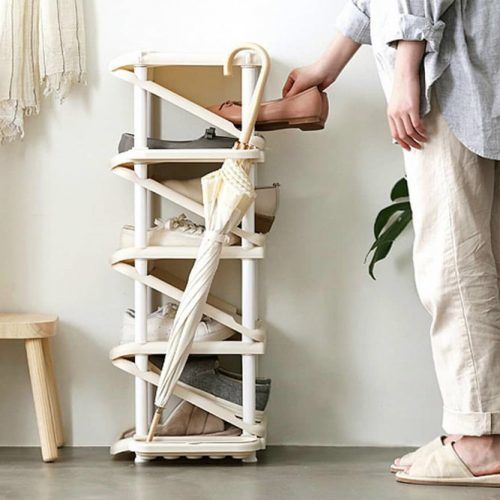 If you feel like neither modern nor rustic shoe organizer is not your cup of tea, then you certainly need creative shoe storage. The truth is they are many, and all you need is just pick the one that suits you most. As you can see in their majority creative shoe organizers are quite compact while they still offer quite the amount of storing area.
White Shoes Cabinet
Source: bykecia via Instagram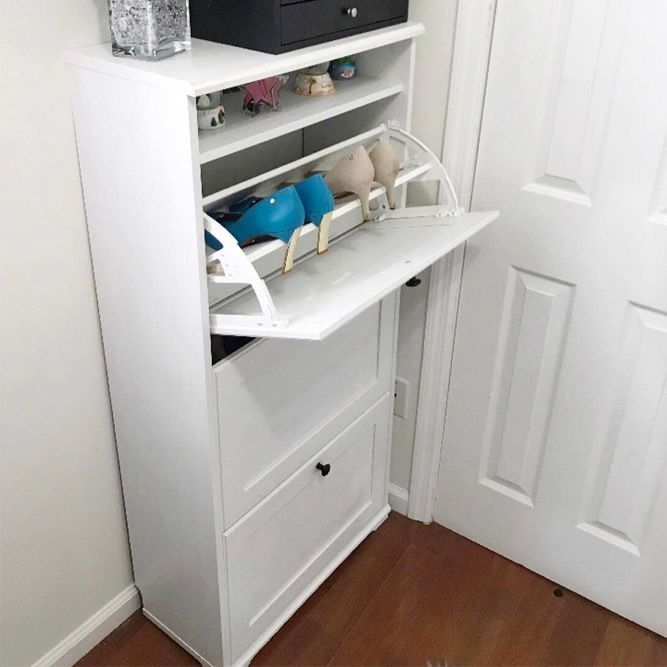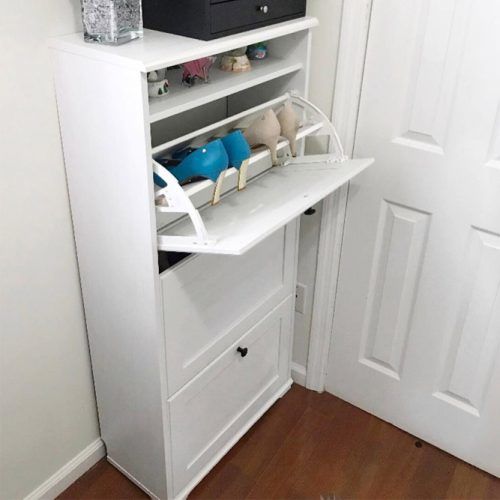 There is also such a thing as a shoe storage cabinet. We must admit it that such a cabinet is neither too antic-looking nor too modern just simple, elegant and spacious. In most cases, such a cabinet adds up to the interior perfectly. Besides, it shouldn't take up too much space as well.
Kids Shoes Organizer
Source: twolittleroads via Instagram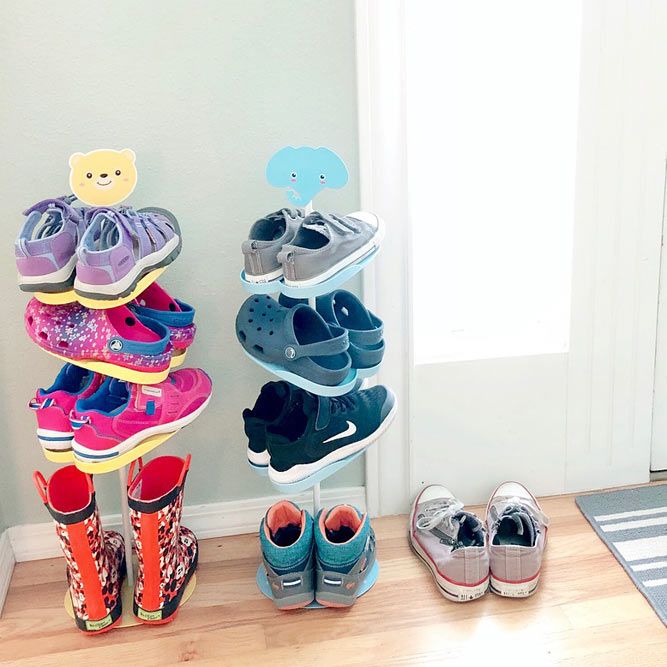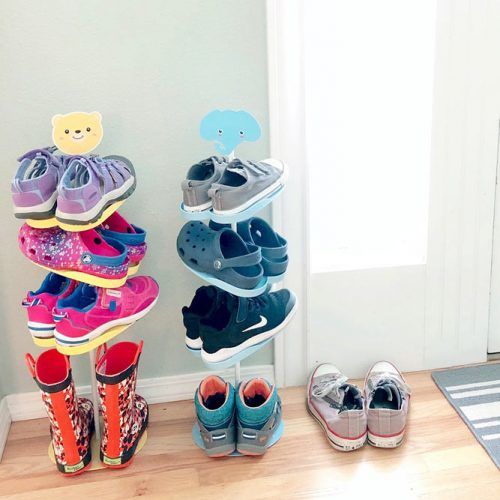 We have discussed shoe storage ideas suitable for adults. For the most part – but what about the kids? The thing is that you will be surprised with funny ideas they have to offer when it comes to kids shoe organizers. Just look at this cute entryway shoe storage, and you will get the point.
Shoes Storage Space Under Bench
Source: lifeonbirchwood via Instagram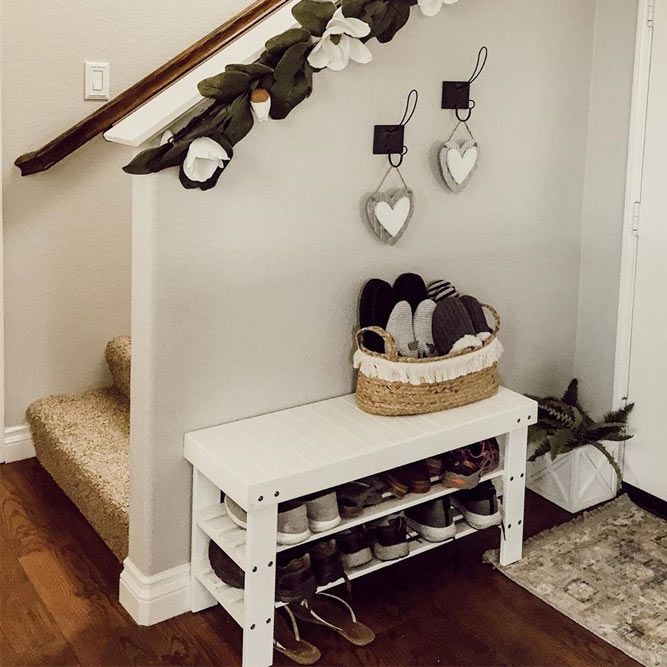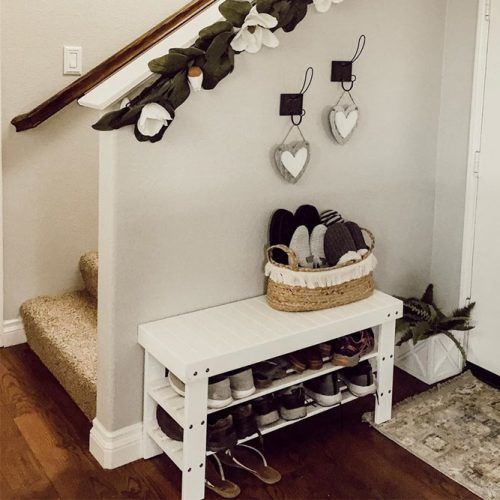 When it comes to the entryway, we have already said that you can store your shoes under the bench there. However, there is one more way – you can get yourself a shoe storage bench. It needs to be said that this is quite a practical idea since you can both get dressed or undressed and store your shoes using the same bench!
Closet Shoes Space Storage
Source: miss_gunner via Instagram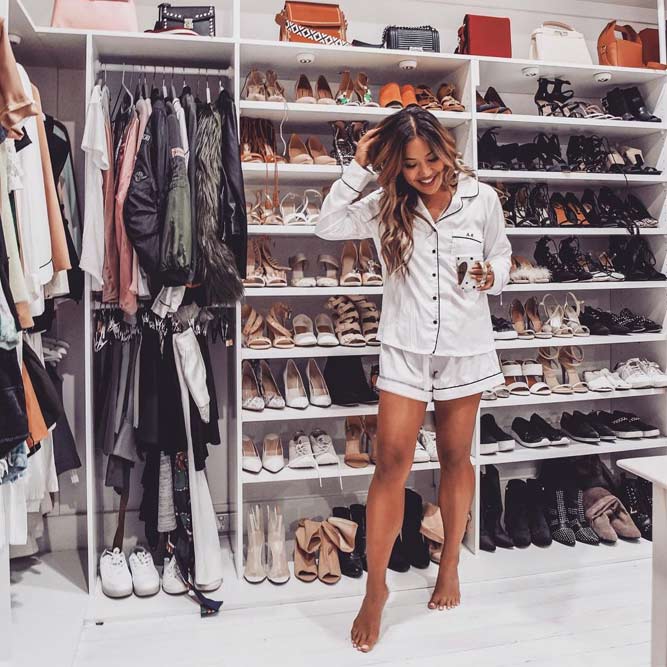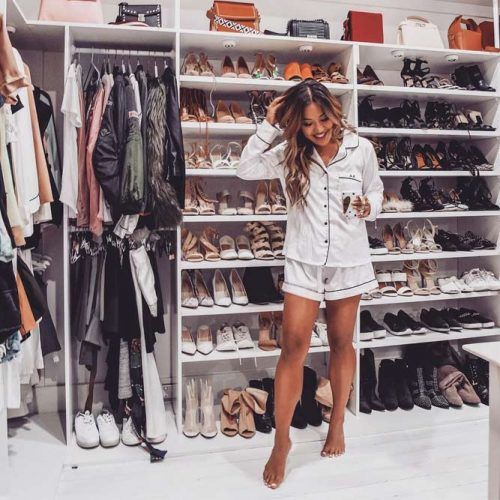 Of course, we couldn't have but saved the closet shoe storage for last. To tell you the truth to have a whole room devoted to your shoes and clothes is a dream come true. However, you should not forget about the fact that in order to be able to find anything from the first attempt in such a room you must maintain a perfect order there!