Farmhouse Décor seems pretty easy when we think of the general idea, although, it may become quite a challenge when you start going deeper into the details. We are here to help you make a choice. Find ideas that will not only match your taste and inspire you but will also save up some money of yours. Are you intrigued? Then read through our suggestions and make the best decision.
Modern Style For Farmhouse Decor
It is not a secret that more and more people prefer modern style nowadays due to the innovative ideas designers come up with. Different structures, lines and details that make everything turn into a gorgeous picture of a modern home. Is it about your taste? Then we are glad to help you out with some inspiration. Simple colors, well-made furniture that will win your heart with its simplicity combined with style and small details will help you create what you would like to see in your place.
Bedroom Design In Modern Style
Credit photo: Instagram.com/theprintedhome
Some people consider modern style dull and boring but we are here to tell you otherwise. Beauty is not always something elegant and loudly screaming, sometimes simplicity is the key. Well done furniture made of wood or with well-combined structures will turn your bedroom into a stylish place. You can choose different colors and mix them together. Add different pieces of décor to make the room cozier. Different cushions with simple patterns, little carpets made of different materials, interesting decorations on the wall and some things of yours will fill your room up with your personal energy making it look and feel gorgeous.
Modern Living Room In Farmhouse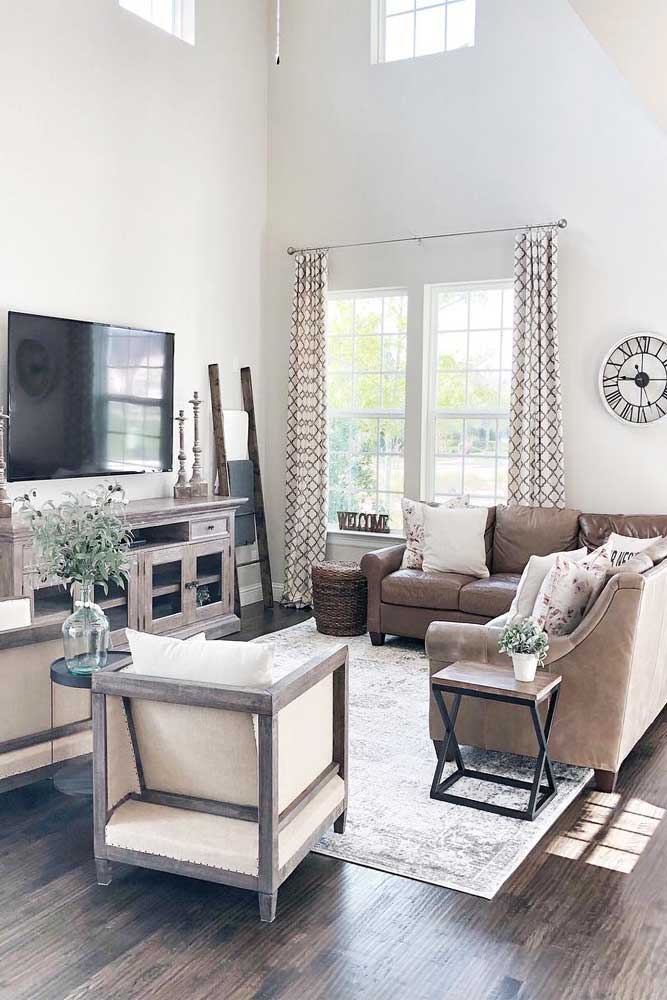 Credit photo: Instagram.com/ceshome6
Farmhouse décor living room is one of the signature pieces of this style, don`t you agree? Huge comfortable sofas of simple design but done out of the best materials and structures completed with details that make the appearance of the whole room pop. Cushions of different basic colors and not loudly screaming patterns, a carpet that can either match or be the complete opposite to the pattern of your sofa, a coffee table or simple but stylish bookshelves above the lounging place. Doesn`t it sound gorgeous? Add cozy things such as piano, fur or plants and it will be the most comfortable place to spend the evening for the whole family.
Modern Kitchen Décor In Farmhouse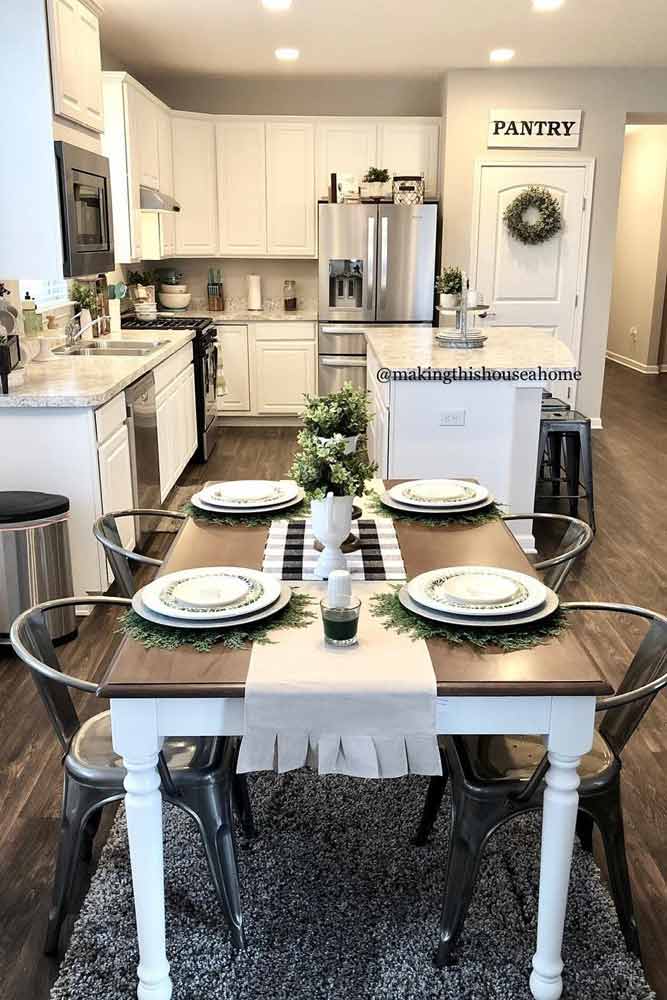 Credit photo: Instagram.com/westwingfr
A modern kitchen design is the dream of every cooking lover. A simple design of the furniture will go so well with different colors and structures. As you have understood, mixing is the key to the modern style. White surfaces with wood cupboards mixed with the natural and white colors will look gorgeous all together. Especially if you add metal colored kitchen appliances. Such different things but when they all come together they look absolutely gorgeous.
French Farmhouse Décor Style
A French farmhouse décor is the true definition of simple style and beauty. Pale colors in contrast with dark décor pieces will make the whole appearance of your home luxurious and cozy at the same time. Different patterns and materials, simple but interesting pieces of décor and mix of colors will inspire you every day.
French Bedroom Design
Credit photo: Instagram.com/savvyinthesuburbs
Would you like to know more about this style? Soft tones of the ocean waters and sunny ones of yellow and green will make the French style appear in your bedroom. Add some colorful accents or keep the room in harmony with some soft colors. For example, you can do that with your choice of a carpet or a wall décor piece. French style is known for its use of natural materials. Wood, stone and a lot more will bring simplicity and style to your room. Wooden furniture, soft pieces of its parts with small pieces of décor that will complete the appearance of the room.
Living Room Décor In French Style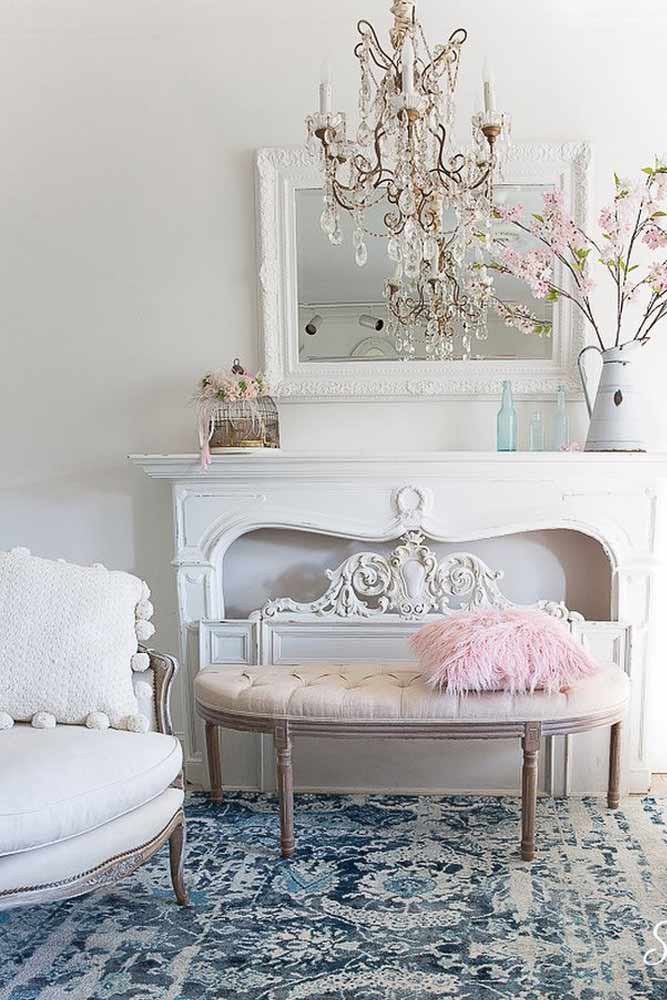 Credit photo: Instagram.com/shabbyfufu
When it comes to the living room, French style is what will amaze you. Usually, a stone made fireplace that is not necessarily working is mentioned. It can be used not only in a traditional way but also as a shelf for décor pieces. When it comes to furniture be ready to get soft little couches that will have a luxurious look. Carved wooden details and structured materials will make them look gorgeous and bring a special atmosphere to the room. If this simplicity of French colors is scaring you, think of getting a chandelier that will bring an accent to the appearance or get some cushions made of a structured material.
French Kitchen Style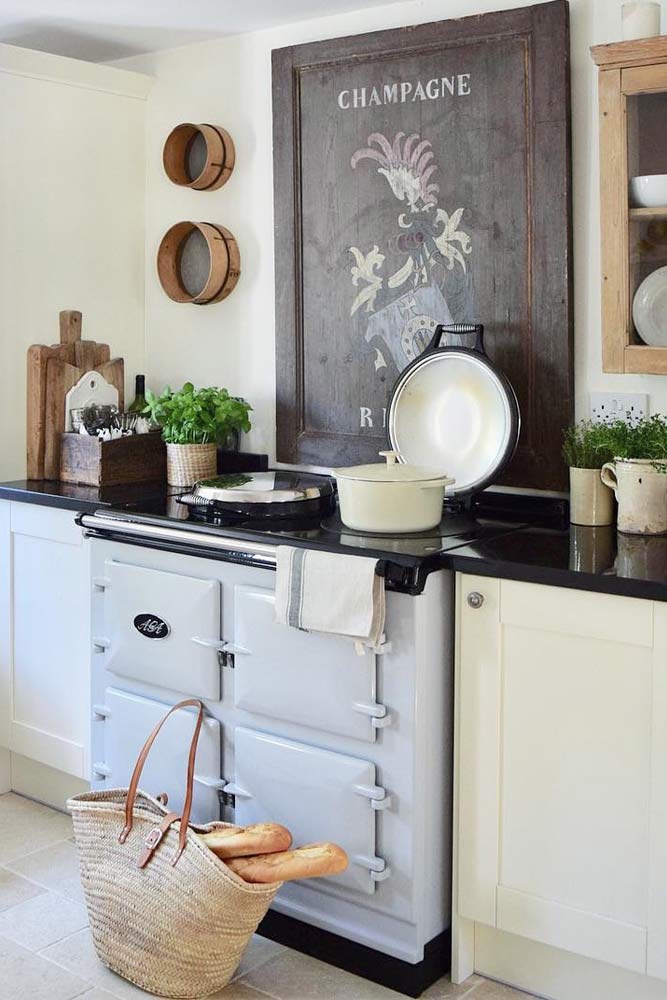 Credit photo: Instagram.com/laid_back_farmhouse
A French styled kitchen is usually a simple little one. Again, contrast can become your best friend here. White cupboards that go so well with glossy black surfaces will work their magic. Small décor pieces on the walls will bring the mood, especially if they are vintage or made out of the natural materials. A good trick to make this room look cozier is to have a few cupboards with a natural wooden texture and glass doors.
Vintage Style For Farmhouse decor
Vintage is such a great choice for those who prefer a great appearance of old-fashioned styles. A great way to bring sheik and luxurious appearance to the place. It is a well-known fact that vintage is not only about the color of the main things it`s about the color of décor that makes this style pop. Soft colors can be used to create a great contrast to decorations. Feel free to use different structures on your furniture and we are sure you will create the best vintage style farmhouse décor ever.
Vintage Bedroom Decorating Idea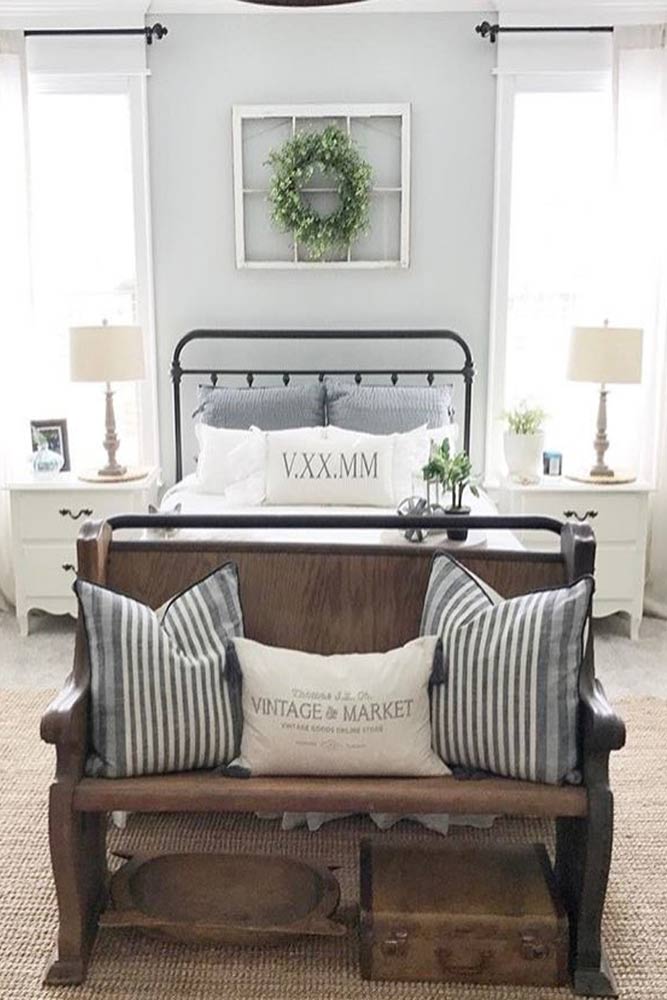 Credit photo: Instagram.com/ourvintagenest
As you have already understood the biggest inspiration for a vintage style comes from good old days. The style of the furniture, little pieces of design and small details that were used years ago in everyday life will fill up the room with a great atmosphere. A bed made of metal and other furniture made out of wood will be completed gorgeously with different posters and decorations from the past. The things should not necessarily be bright, but they have to remind us of the days when everything was completely different from now.
Living Room Décor In Vintage Style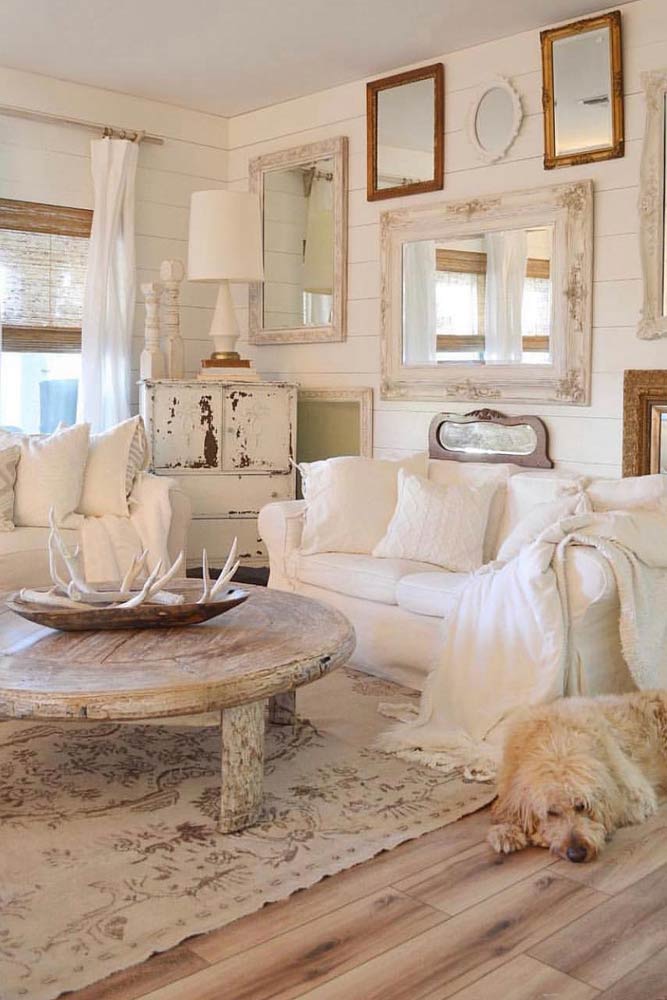 Credit photo: Instagram.com/designsbykaran
A vintage looking living room is what will make your heart beat faster every time you come in. Bright and old-fashioned vintage details will go on so well with soft colored or natural furniture. Add cushions, a carpet and some colorful things to lighten up the mood and the vintage looking room is ready.
Vintage Kitchen Décor Idea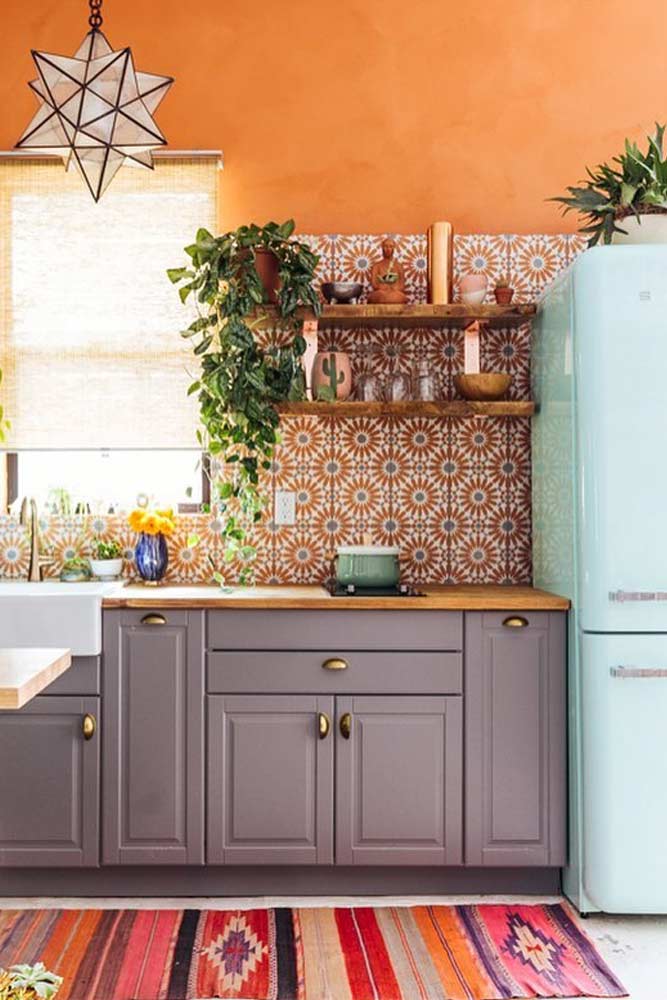 Credit photo: Instagram.com/justinablakeney
Some time ago, it was such a popular tendency to have colorful walls in the kitchen with a contrast soft furniture. Do you remember that? Use some color to bring up the cheerful mood and trust us you won`t regret it. If you like it, you should use some patterned tiles that will add an interesting detail to the whole appearance. Simple shelves with contrast colored pieces, a bright little carpet and lots of plants will make it turn to the kitchen of your dreams.
Rustic Farmhouse Decor
How can you explain the meaning of a rustic farmhouse décor? People believe that it is connected to the wood that is most common in the country you live in. Many wooden pieces should be present to create a handcrafted atmosphere that may bring you closer to the native nature. You can get so creative so don`t even doubt about this heartwarming décor style! Here are some rustic farmhouse decorating ideas.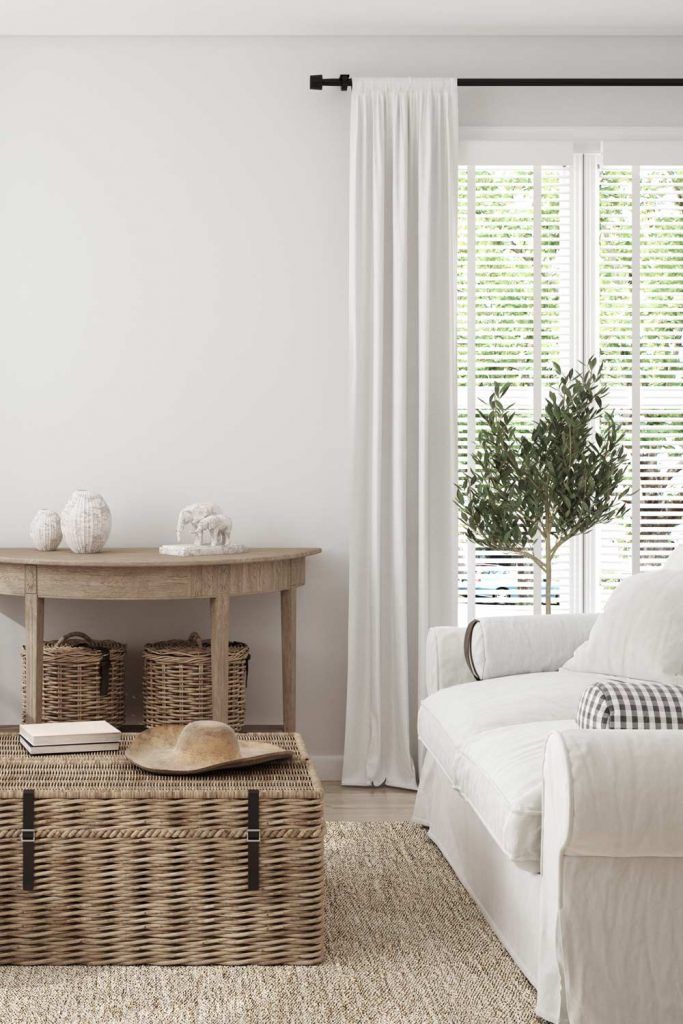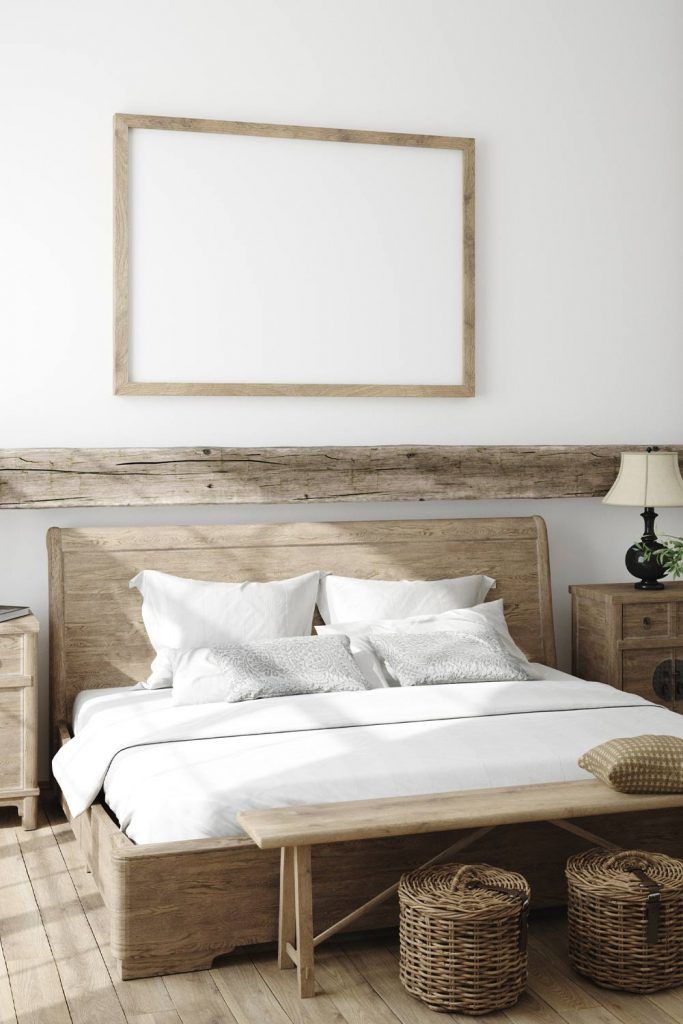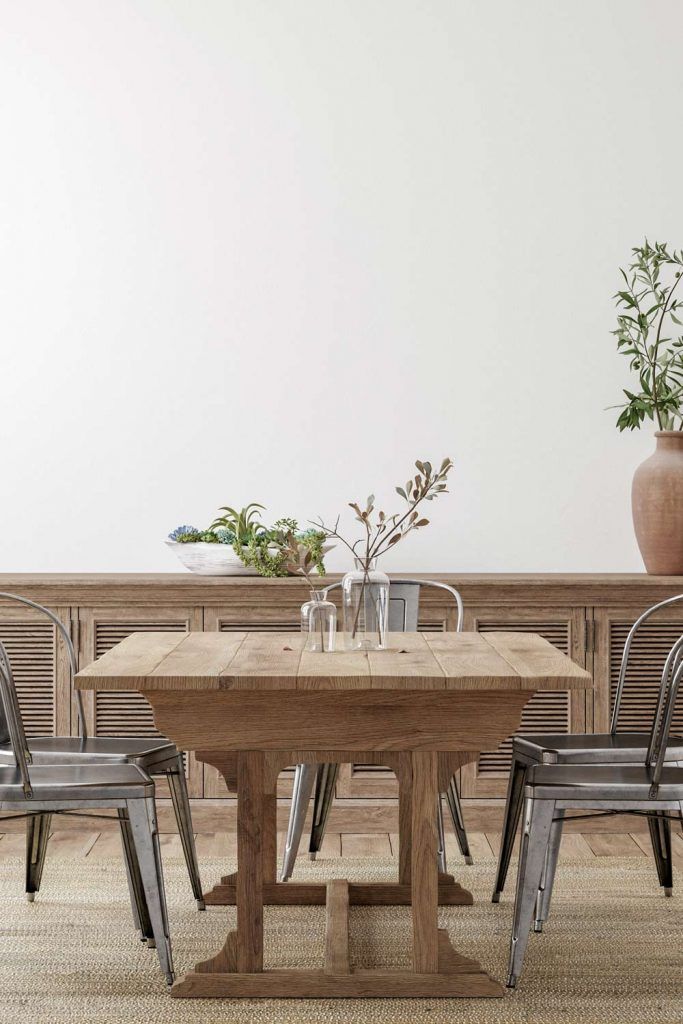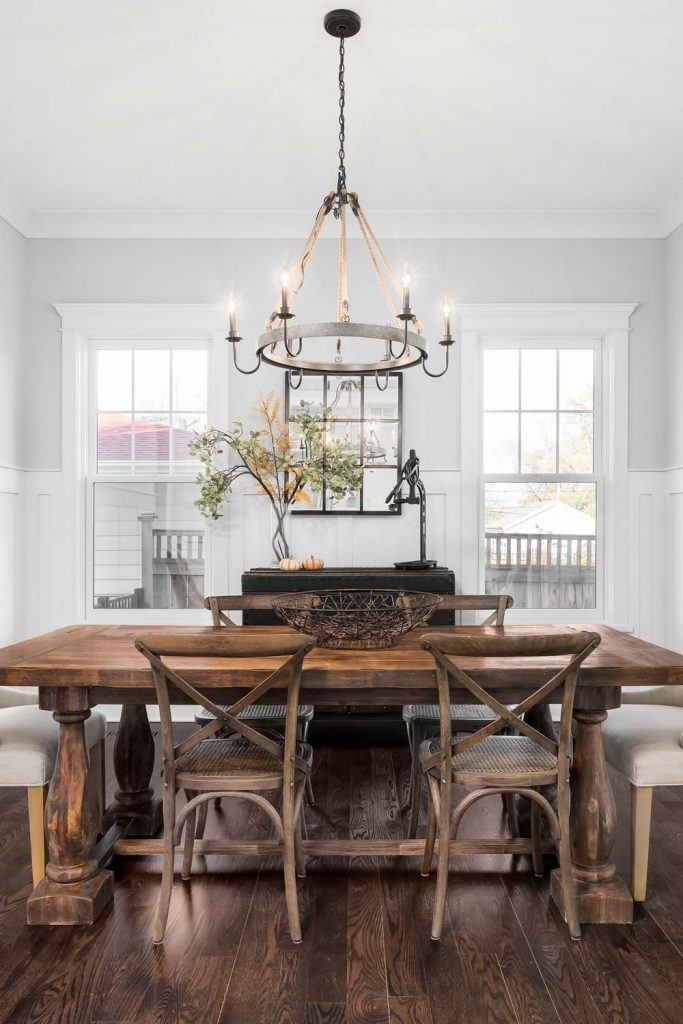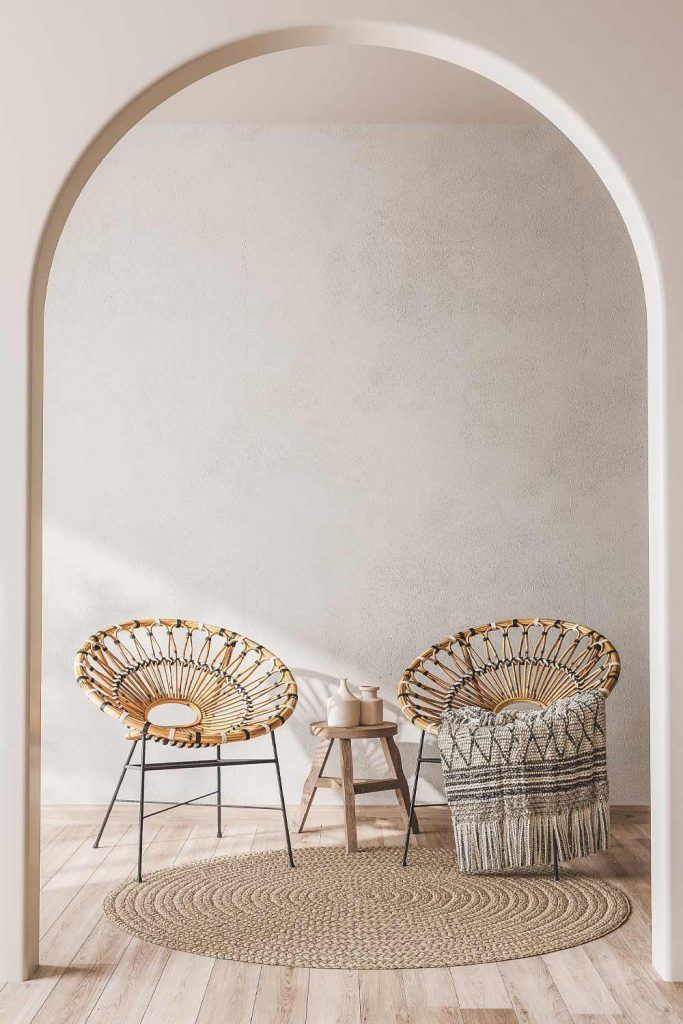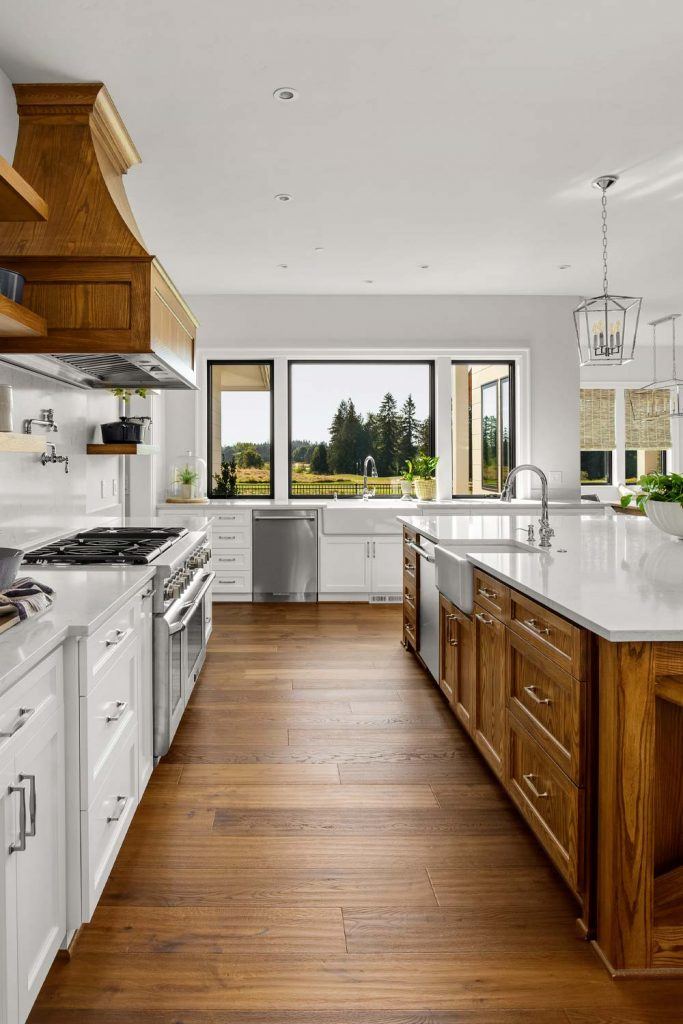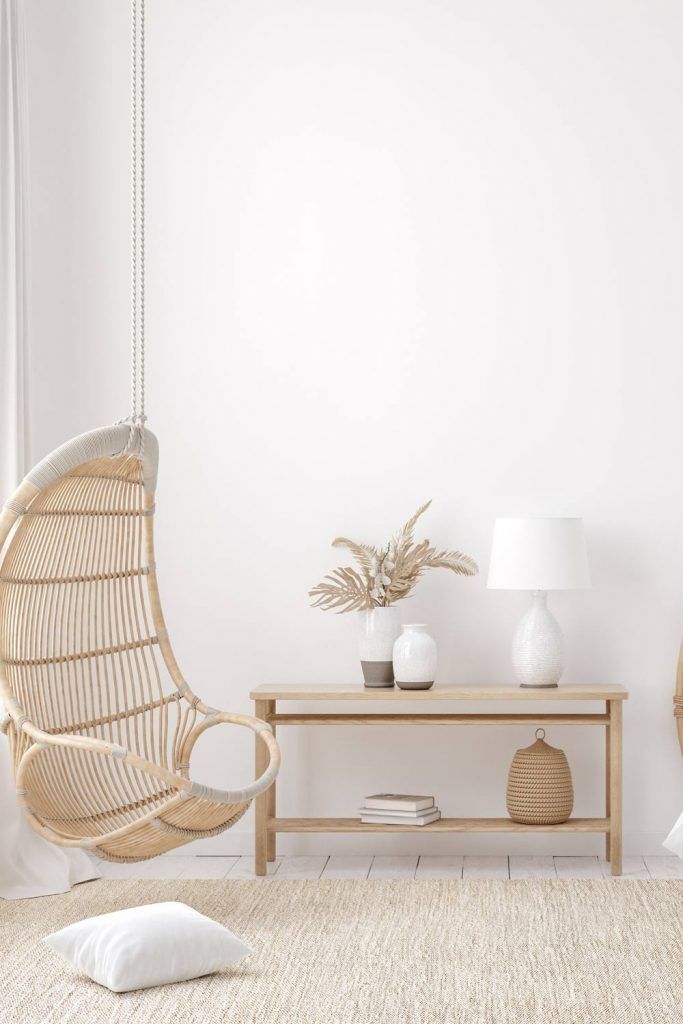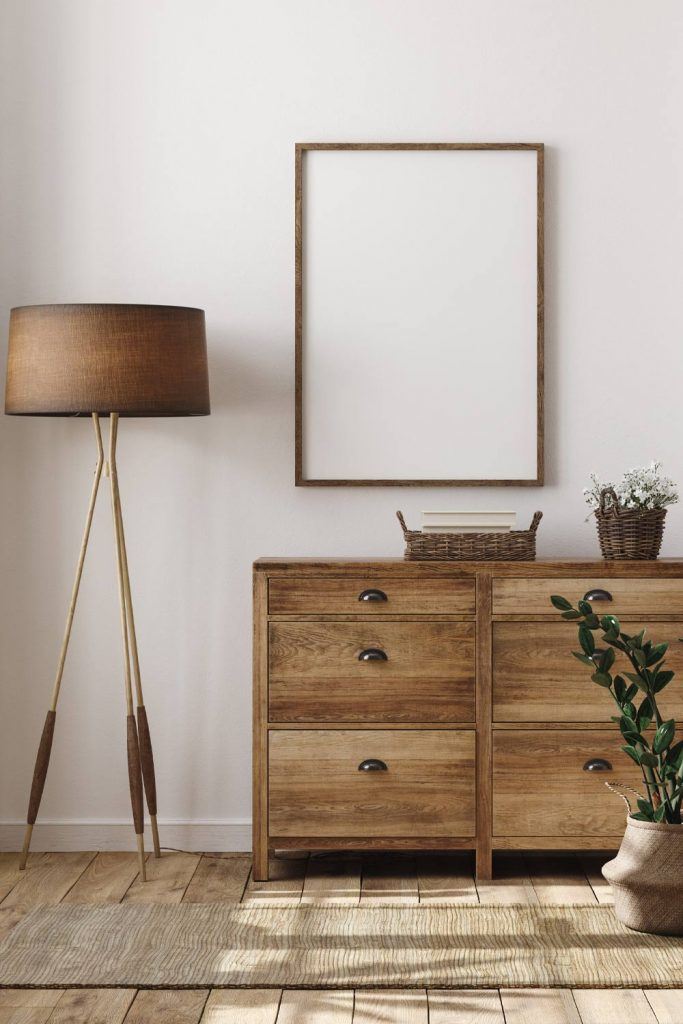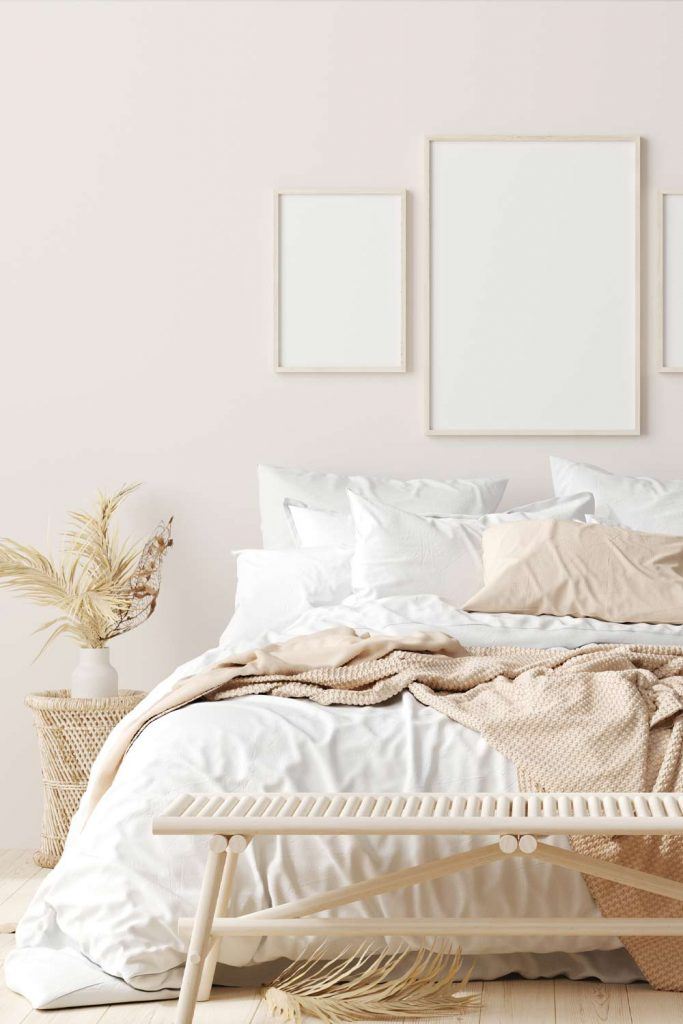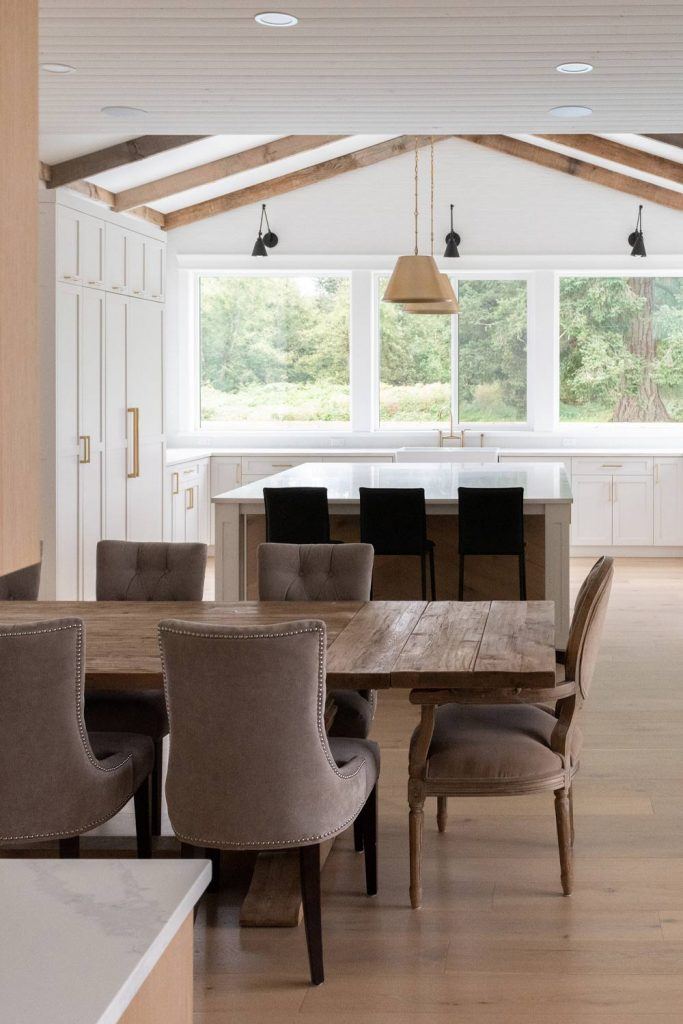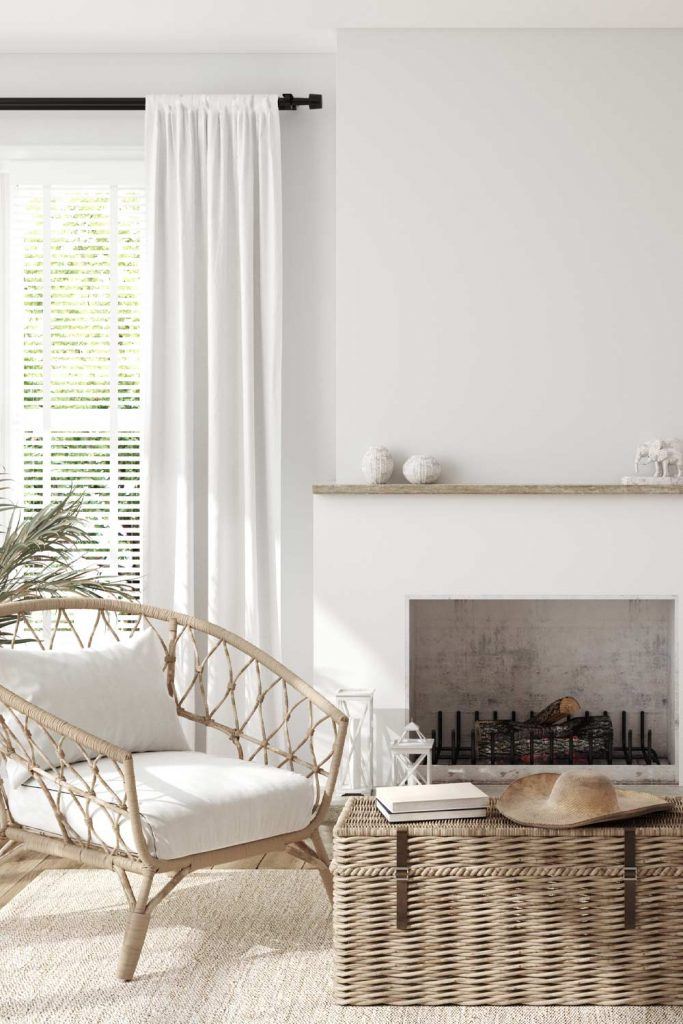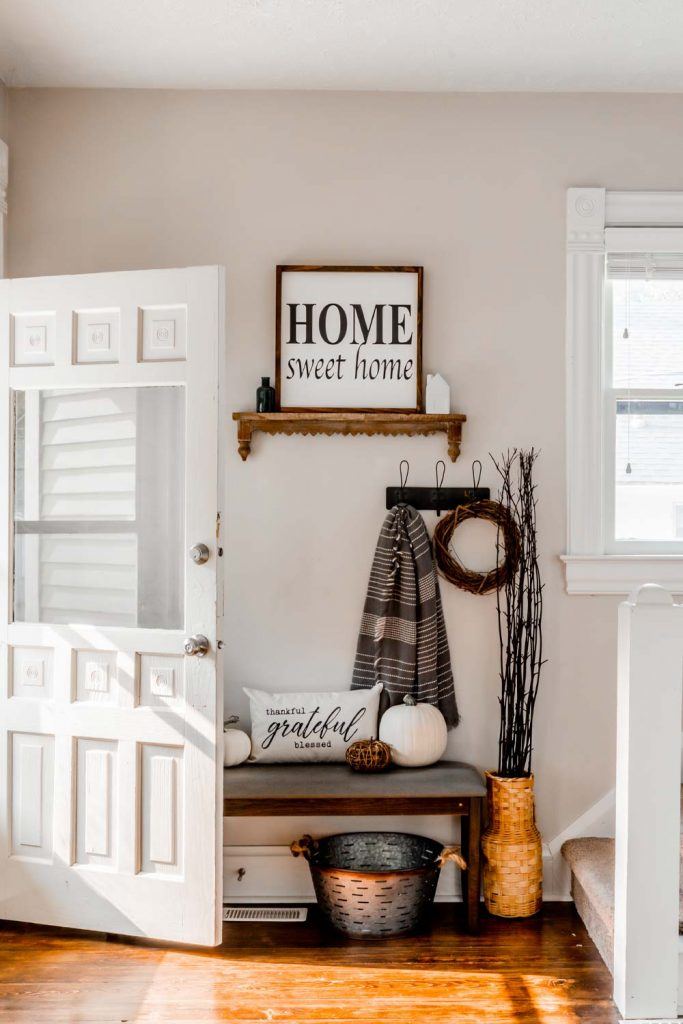 Rustic Bedroom Décor In Cozy Farmhouse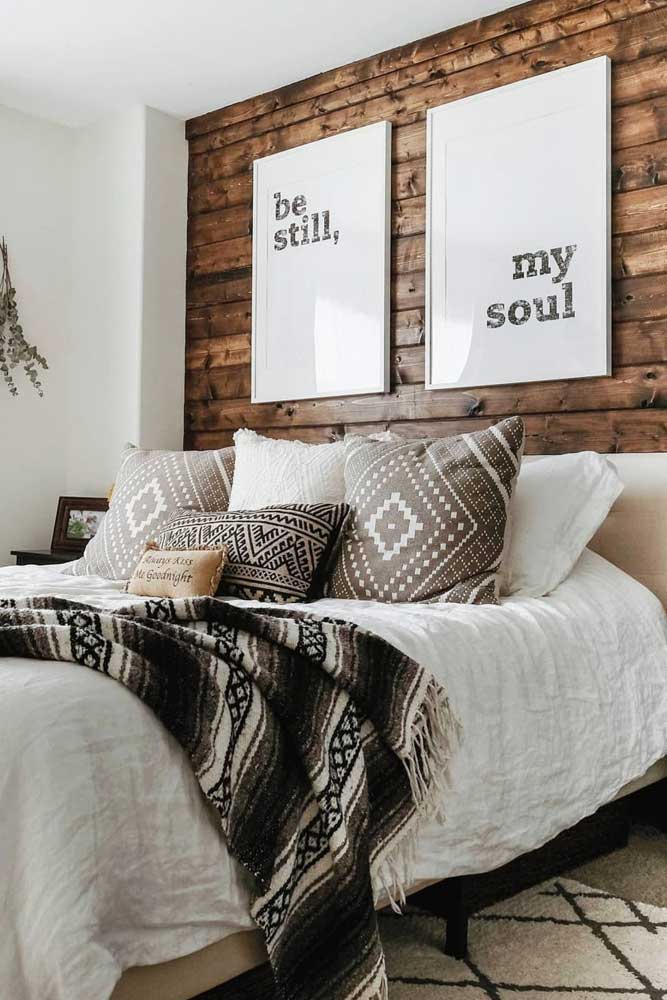 Credit photo: Instagram.com/ashley.joyfullygrowing
As you have already understood rustic décor can`t go anywhere without wood. However, why don`t we go a bit further from the basic wooden furniture? Let`s get more creative and use wood to create a wall that will change the whole appearance of the bedroom. This will bring a great accent to the room and nothing loudly screaming will be needed. Put some basic pieces of furniture in natural colors and add some pieces of décor such as plants or posters to lighten up the mood. Cushions can be used too to create a special décor accent. Put different patterns on and coziness is in your room!
Rustic Living Room Decor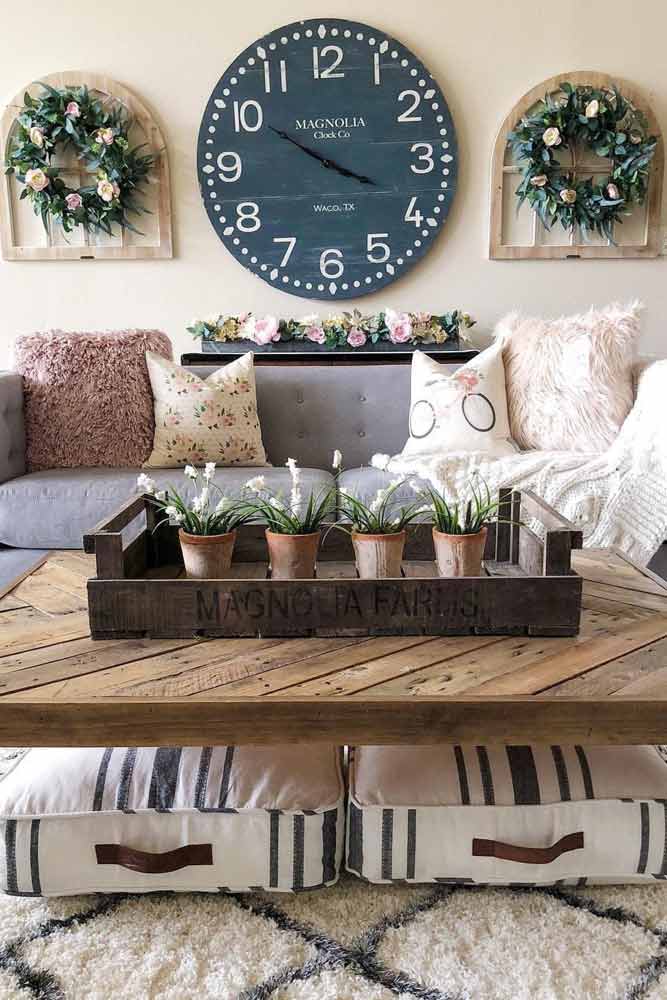 Credit photo: Instagram.com/blessedonbluefinch
When it comes to the creation of the rustic living room, we should remember that natural colors and materials should be used. Soft colored furniture with some pieces of wooden one will be looking all-great together, especially if you add some details. Plants, wooden clocks, frames and soft cushions of different styles will help you create a perfect looking rustic living room.
Rustic Kitchen Décor Idea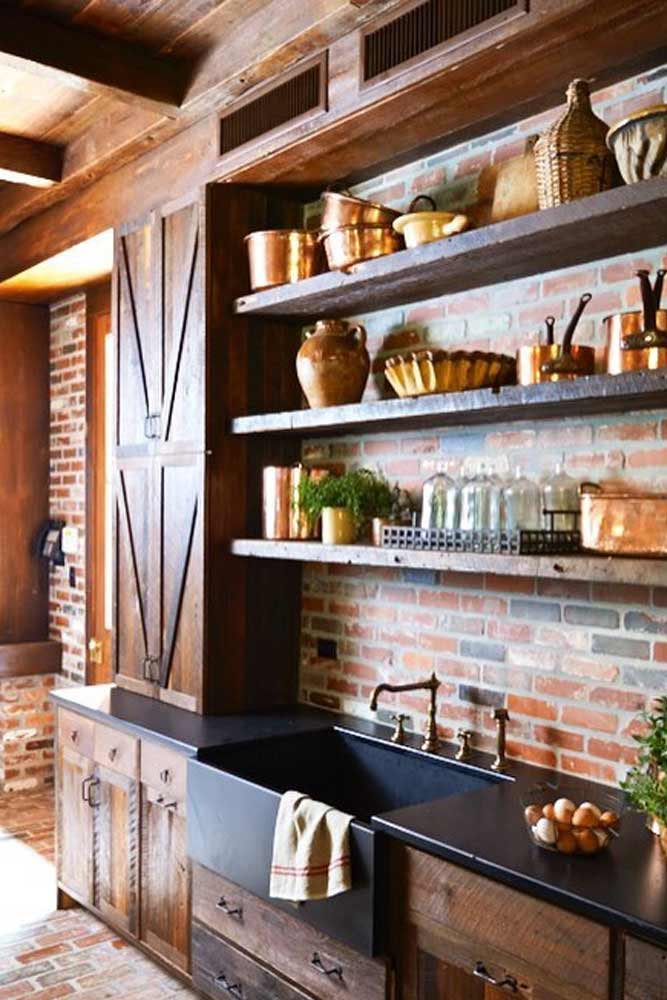 Credit photo: Instagram.com/melissarufty
Bare stonewalls, simple wooden furniture with open shelves will bring a special atmosphere to your kitchen. Natural design basics will bring in the rustic style with simple décor pieces in the pair. Add some plants, pottery and copper dinnerware to complete the design and you`re done!
Rustic Bathroom Decor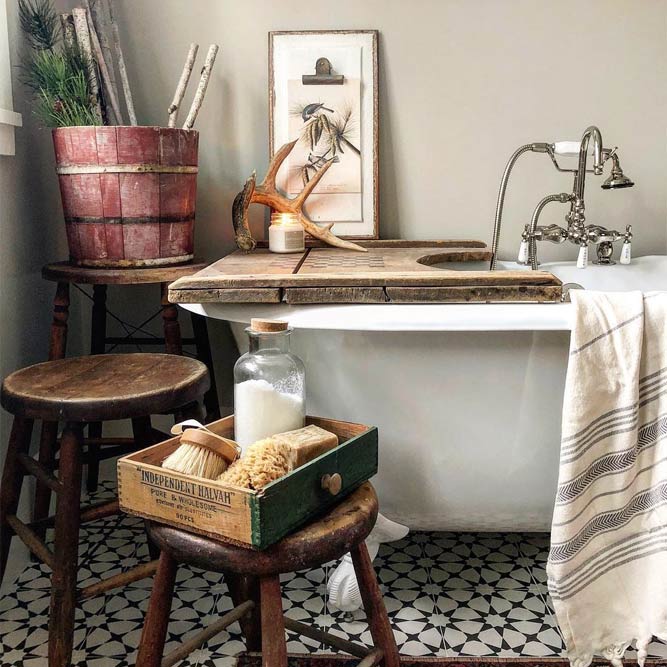 Credit photo: Instagram.com/thecobblershoponconcord
Rustic décor ideas are viral these days, and such an essential room in your house as bathroom can't be left out. That is why if you consider yourself a fan of rustic decoration introduced into the bathroom then this is precisely the set of ideas you need!
Wood Shelves Design For Bathroom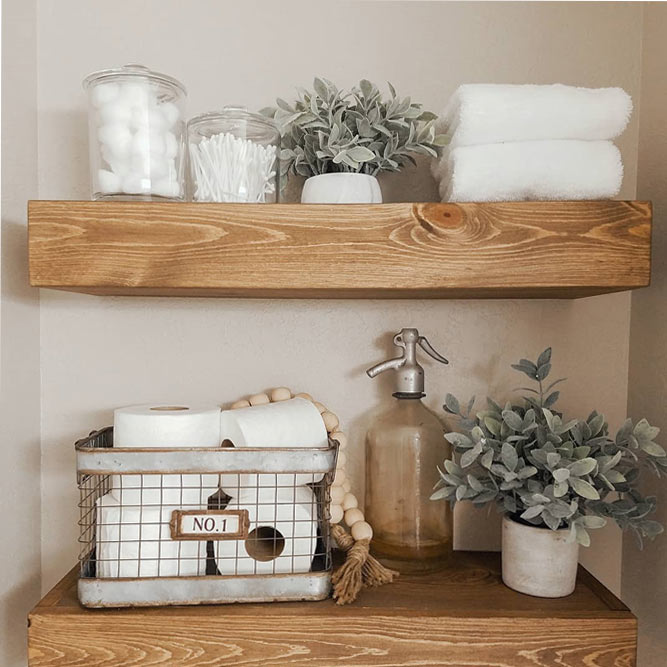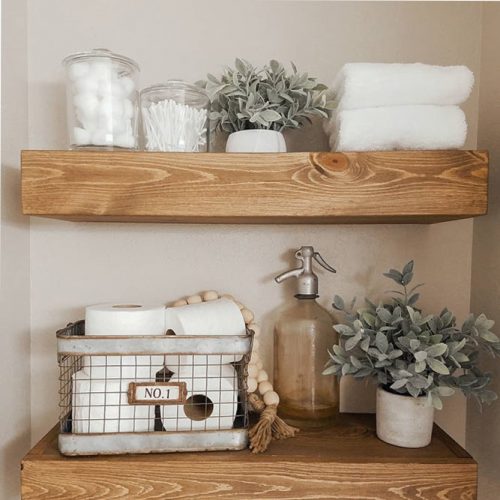 Credit photo: Instagram.com/pinestreetdesigns
It is not the secret for anyone that very often the bathroom is the smallest room of all. That is why you need to use up all the available space practically. By adding some rustic wooden shelves to your bathroom, you will kill two birds with one stone since you will preserve the style and will have necessary room for all the utilities stored.
Vintage Bathroom Design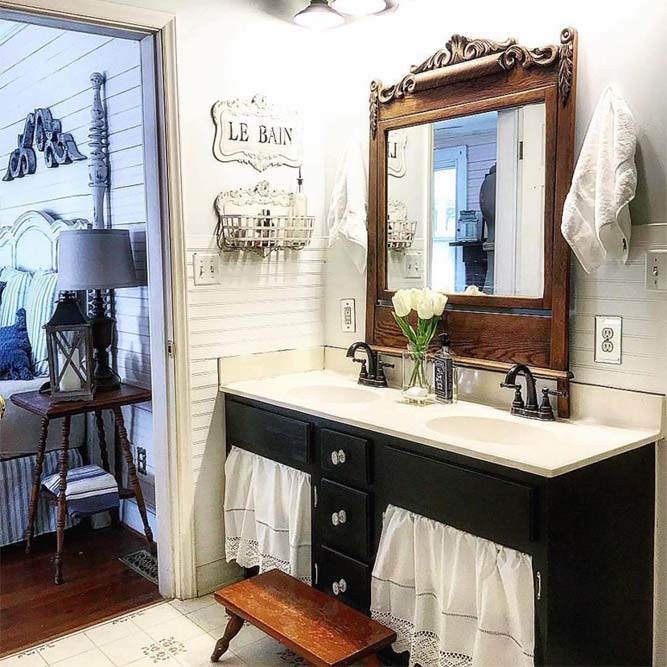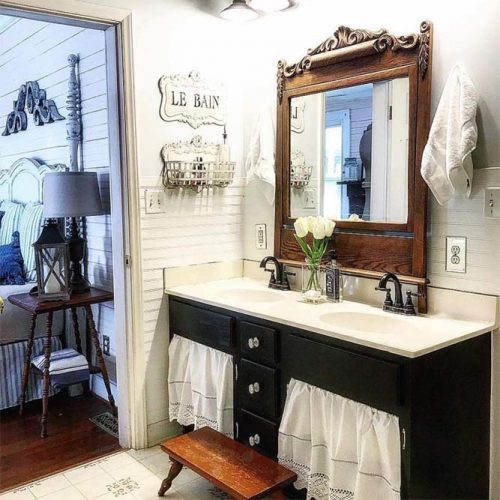 Credit photo: Instagram.com/halfwaytoheavenhomestead
It is easy to grant your bathroom vintage touch. All you need is an old sign, a vintage mirror and curtains hung on the cabinet!
Laundry Design In Modern Style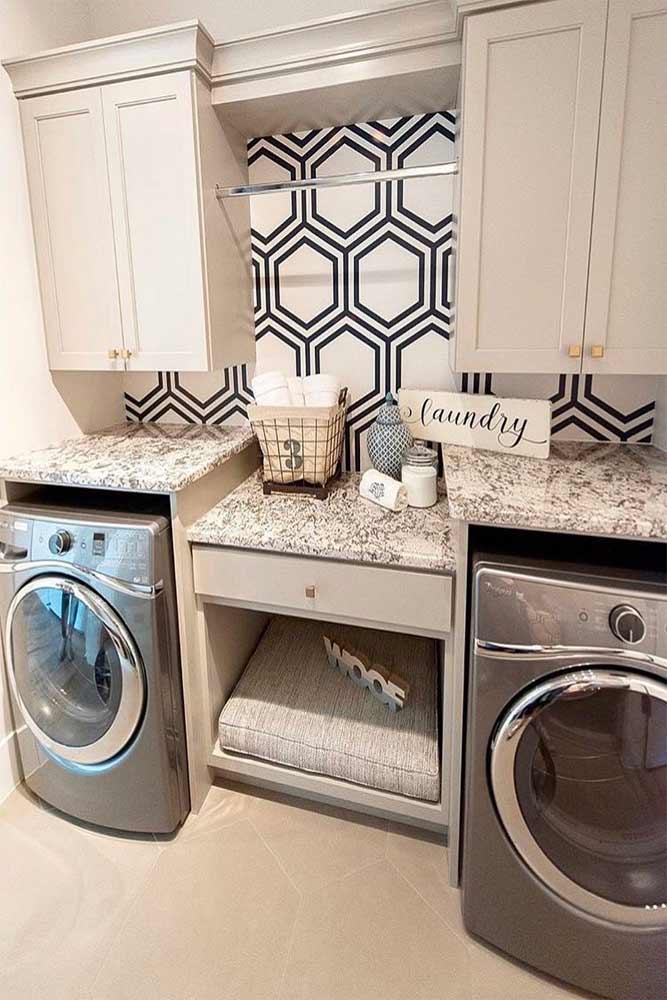 Credit photo: Instagram.com/jenbryantdesign
Modern style laundry needs to be not only practical but also trendy looking. Since the minimalist and calm hues are all the rage these days, you can combine the two to succeed with a neat and elegant laundry room.
Laundry Design In Blue Color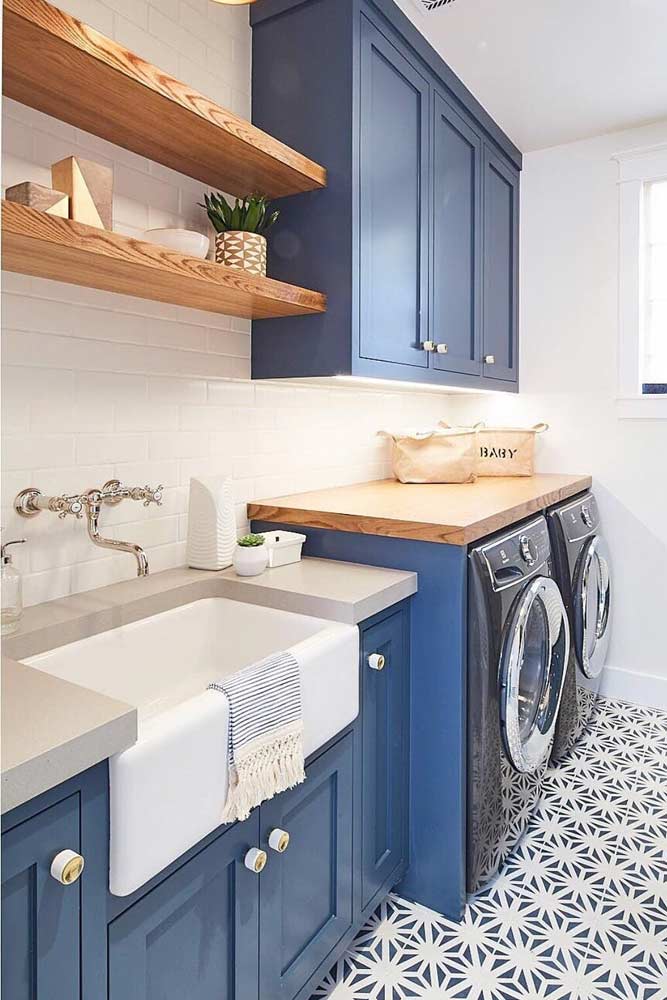 Credit photo: Instagram.com/noelleinteriors
The fact that it is a mere laundry room does not mean that it should lack some brightness. The thing is that even a laundry room should look appealing and stylish and the addition of blue hues will help you complete this task.
Storage Space Organization In Laundry Room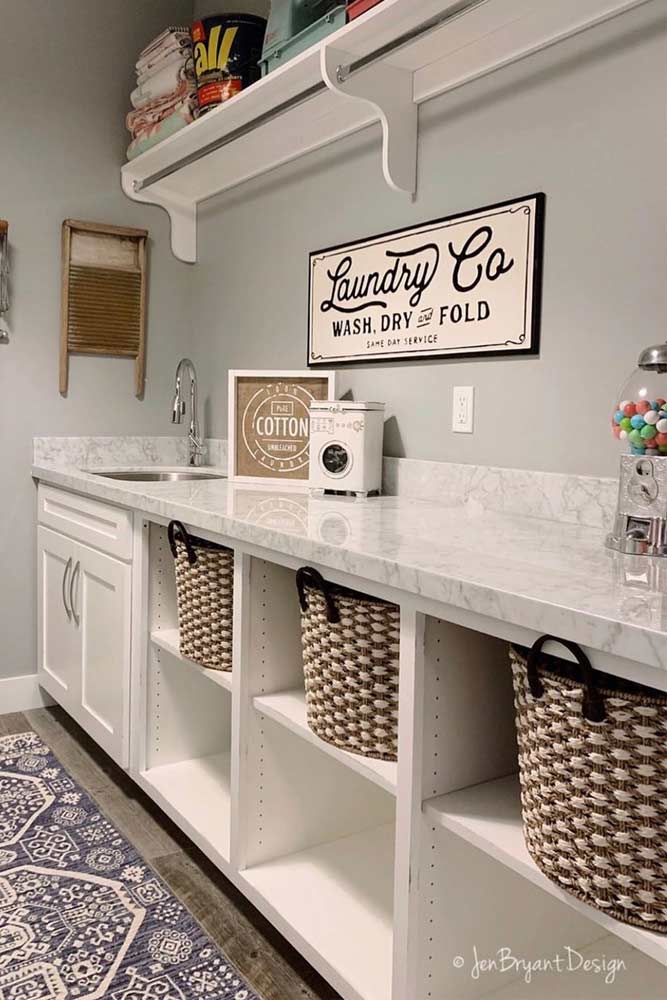 Credit photo: Instagram.com/yvonnechristensendesign
It is not a secret to anyone that proper organization is the key to success. That is why you shouldn't leave any room in your house out, especially the laundry. Make sure that there are enough shelves and baskets to keep all of your belongings in order.
DIY And Cheap Farmhouse Décor Ideas
Would you like to save some money while bringing your favorite farmhouse décor style to life? Then we have three DIY lessons that will help you with that task. These pieces of décor will not only bring a great accent to the room, but it will also have some special vibe from being done by you.
DIY Rustic Entryway Coat Rack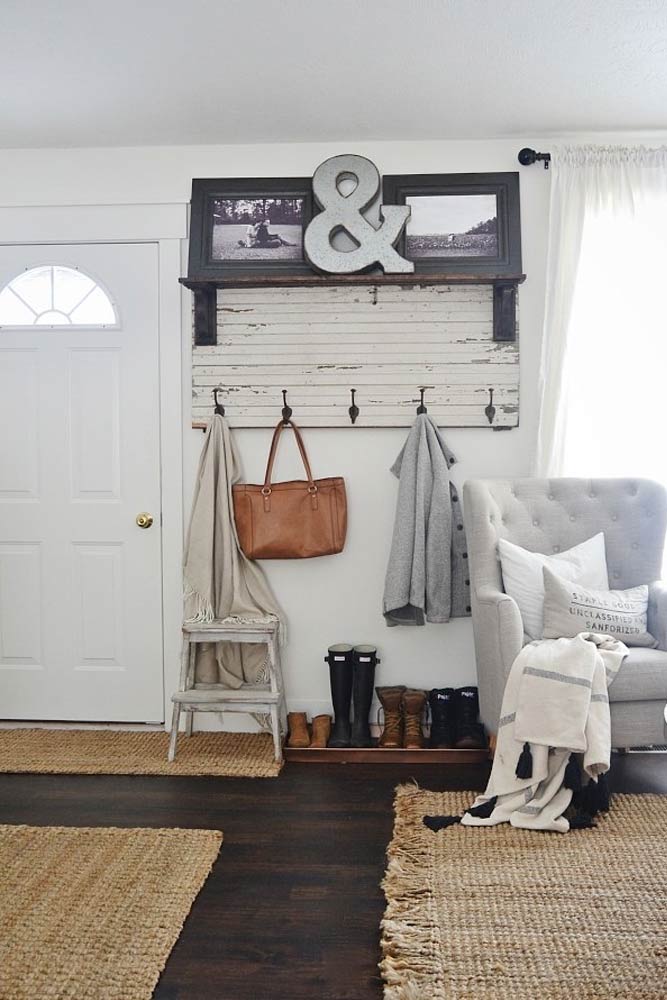 Credit photo: Instagram.com/lizmariegalvan
This farmhouse décor DIY piece will be looking great near your entrance door. How can it be done by yourself? Easily. Find an old wooden door and paint it white if necessary using a technique to make it look a bit older than it is in reality. Add a wooden board at the top to create a shelf for your accessories and fix it with some wood brackets. Buy some hooks and put them on and voila! A great coat rack is done!
DIY Mini Wooden Ladder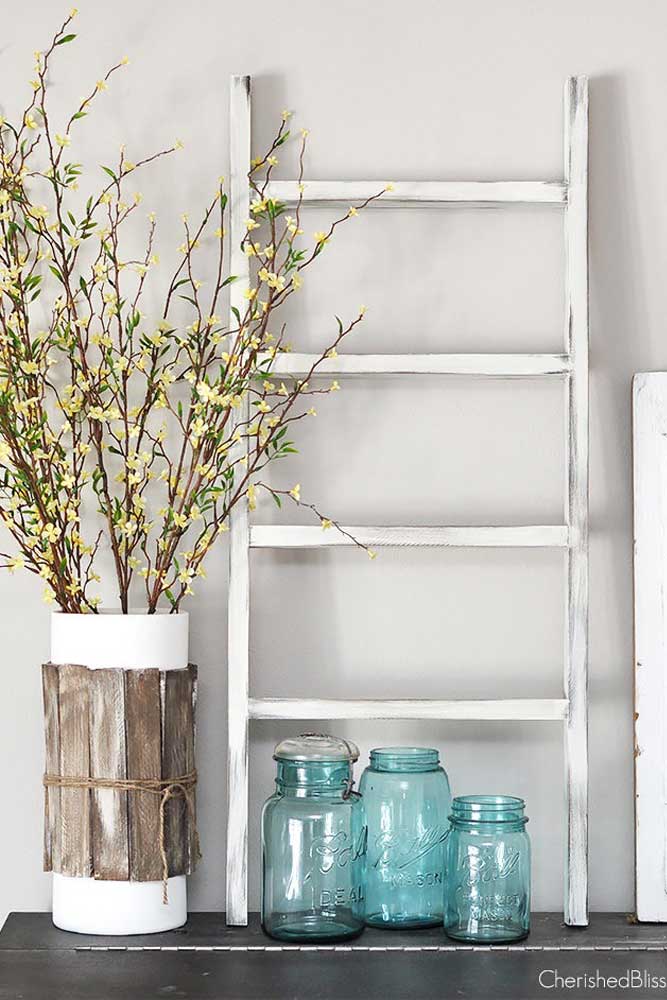 Credit photo: Instagram.com/cherishedbliss
A great piece of décor can be done so easily with just some wood and white paint. Take 2 long pieces of wood and 4 of short ones that will be holding the construction together. Make sure the rungs are of the same size. Nail the details all together to get a little ladder. Put on some Minwax's Dark Walnut Stain and let it dry before painting the ladder white. You don`t have to make it perfect. Leave some uncovered spots to create an old-fashioned style.
DIY Farmhouse Bench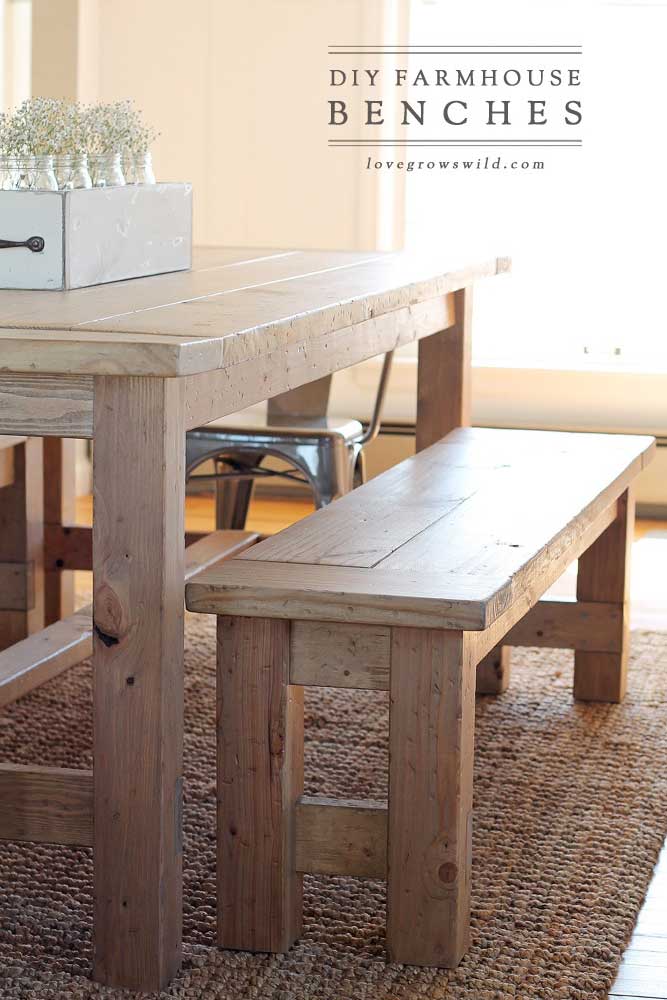 Credit photo: Instagram.com/lizlovegrowswild
Are you dreaming of having a wooden bench in your house? Then make it yourself? You will need:
4 pieces of 4×4 cut to 16 1/2″ (to create legs)
2 pieces of 2×8 cut to 49 1/2″ (to get a long bench top)
2 pieces of 2×8 cut to 14 1/2″ (for the short bench top ends)
2 pieces of 2×4 cut to 54 1/2″ (to have a long apron)
2 pieces of 2×4 cut to 5″ (for the short apron)
2 pieces of 2×4 cut to 12″ (to support)
Take two legs and attach them to the support board with some screws. Repeat with another side. Add a support to two legs and add a short apron in between them. Put a scrap piece of 1×4 below the apron. Repeat the same process with the other two legs. Put on both long aprons to the bench so they connect the legs from different sides together. Take two long boards and connect them on the long sides together with a drill. Add some screws all along the longboard parts to fix the bench. After you are able to decorate the bench in any way, you would like it. We would recommend smoothing the material and putting some color to the wood to match your table.
DIY Apple Wreath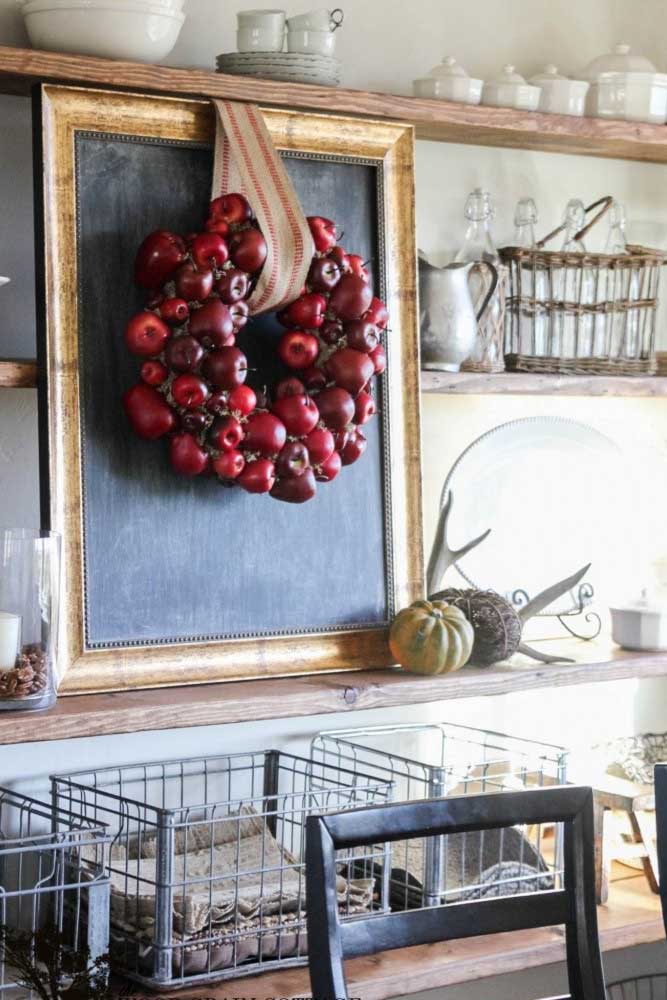 Credit photo: Instagram.com/woodgraincottage
A great piece of décor will be made with your own hands. Are you intrigued? Then let`s do it!
Take a Styrofoam wreath and wrap the burlap strings around it, fixing it with some hot glue. Take some red apples of different sizes and put them on to the form with the same hot glue. To get rid of the spaces between the apples you can add some moss. Add it with a string or piece of cloth to a frame and a great decoration for your home is done! Super stylish!
DIY Driftwood Mirror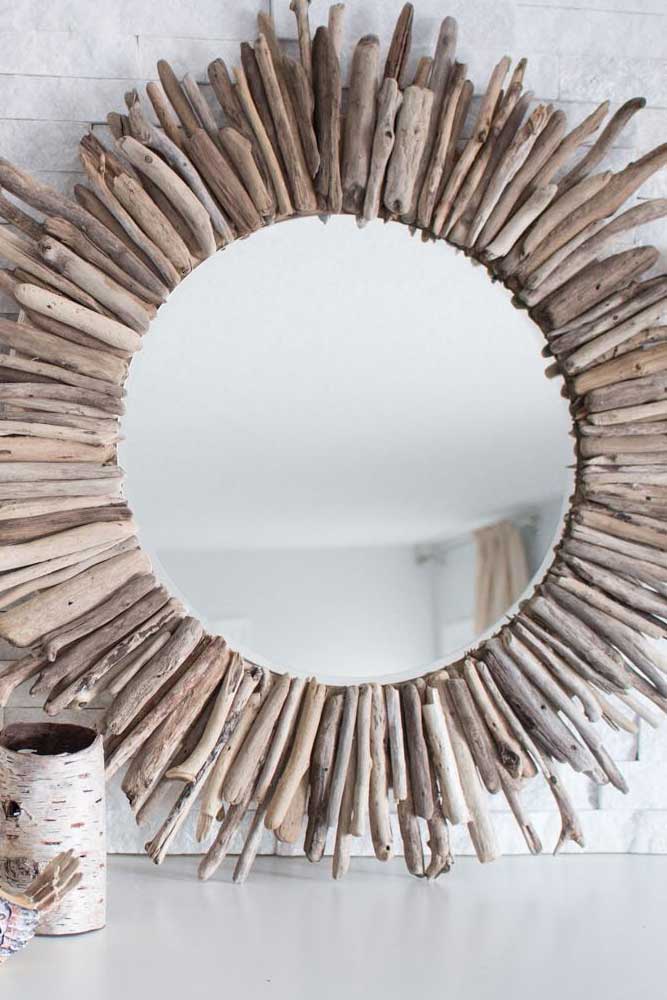 Credit photo: Instagram.com/sustainmycrafthabit
A mirror of an interesting design is what every house needs! Take a round piece of wood that will be slightly bigger than your round mirror or cut it out yourself. Spread the glue all over the back of the mirror and place it to the wood. Leave and let it dry for a few days. Get some driftwood pieces of different sizes and start gluing them with some hot glue to the wooden surface the way it is not visible from underneath.
DIY Orb Chandelier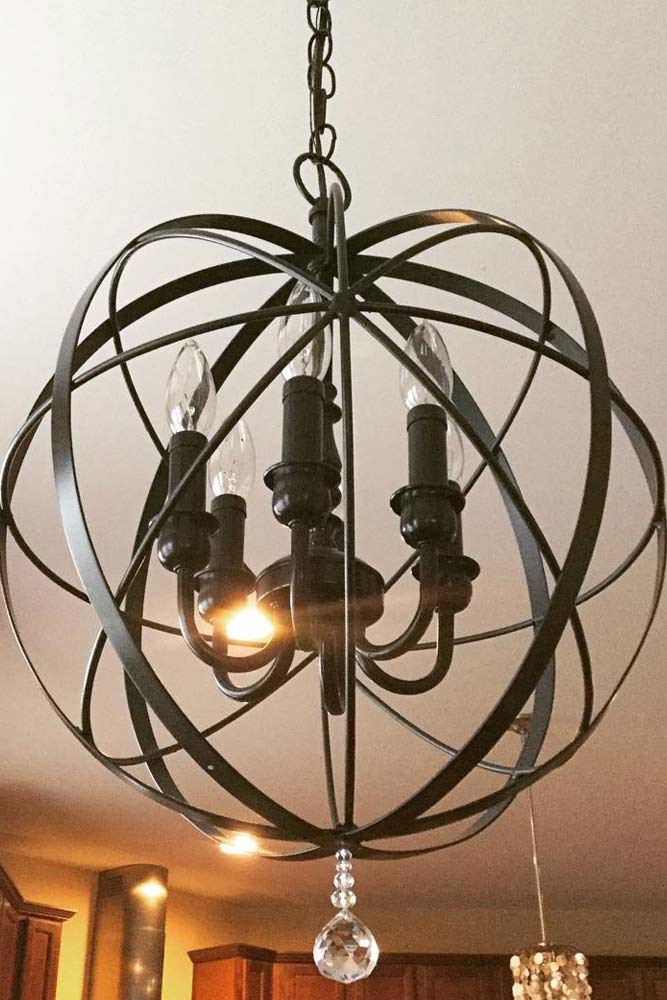 Credit photo: Instagram.com/wuhs
A fancy chandelier can be a great addition to any room, so why not make it by yourself? Buy an orb in the local decor store and a chandelier that will fit inside if you need a new one. Measure how long the connecting rod should be. Rewire and rechain your chandelier if it is needed. Pain the pieces with some spray paint to the same color. When the orb is dry, make a hole for the wire on top of it with the drill, put on two nuts on each end of the nipple, and get the wire through it. Carefully put the chandelier inside with the nipple. The rod has to be long so that it screws into the mechanism with the hook. Secure the rod with two nuts on the outside. Screw the nipple to the hanging hook and you`re done.
A well-design home is a necessity for all of us. It brings a great atmosphere and a sense of coziness. We should always pick what our heart desires and for sure the style we will pick will be the best possible.
FAQ: Farmhouse Décor
What is the difference between farmhouse and country decor?
Although both of those styles promote a traditional look, farmhouse décor is somewhat more modernized and casual than country décor, it incorporates contemporary pieces and more defined lines. Country décor is characterized by curved lines and often leaves wooden furniture pieces in their natural state.
What is the difference between modern farmhouse and farmhouse?
You can encounter modern farmhouses both in the country and the city areas, whereas a traditional farmhouse can be found in rural or suburban areas. Modern farmhouse is characterized by incorporating more white, pastel, off-white tones while a farmhouse is all about
warm and neutral tones.
How to DIY succulent planter for your farmhouse?
Take a round cheese box. Grab a jigsaw and cut 2/3 of the top off. Attach it with some wood clue on the side.
Take some sandpaper and buff all of the rough edges.
Take some clear wax and brushed over the box. Let sit for 24 hours. Buff it over.
Measured the width of the inside of the cheese box and cut an old foam board so it fits on the inside and hot glue it down.
Place floral foam inside and hot glue it down.
Place your succulents and floral moss.