Add A Fresh Touch To Your House With A New Set Of Curtains
Can you imagine your windows without curtains? Of course, it is possible, but for most of us, it would be unusual. That is why so many housewives and interior designers pay such great attention to the range of curtains to be hanged in every room. Taking that into consideration, we have gathered here the list of curtains that will fit in not only every room in your house but also your exquisite taste and style. What is more, all the examples stated here are incredibly trendy and ultra-stylish. Take your pick!
Double Layering Roman Blind & Curtains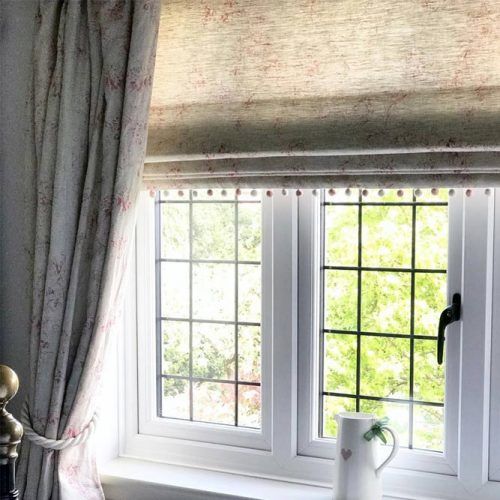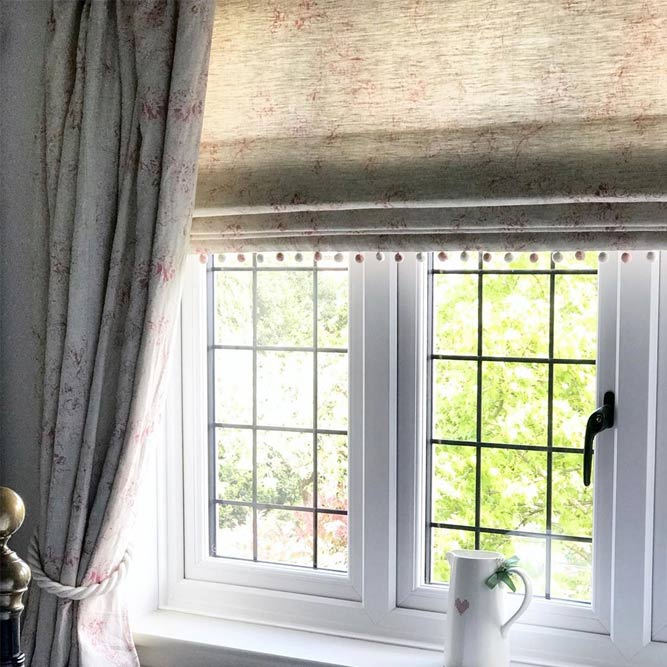 Source: simplyhouseandhome via Instagram
There are times when pure window curtains are not enough to complete your goal. That is when the combo of curtains and blinds come in more than handy. All you need to do is to choose the two matching pieces or opt for a set, and it is done. If you wonder how such a match would look like – take a closer look at those double layering roman blinds and curtains!
Painted Striped Design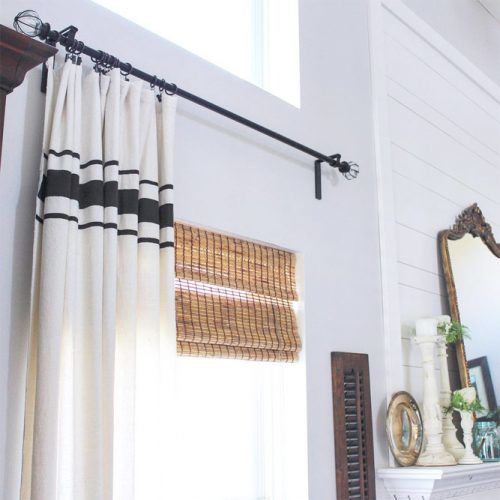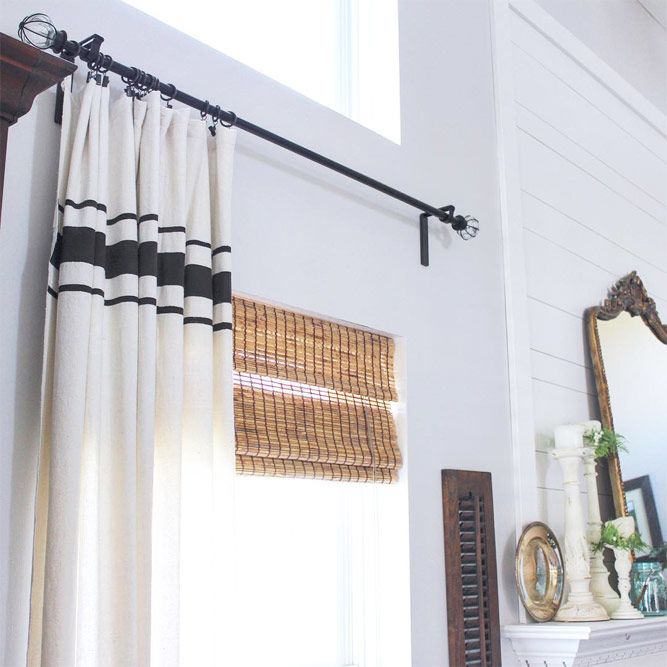 Source: citycottagechic via Instagram
You should, in no case, underestimate the beauty and convenience of black and white design. The fact is that as much as a few strips of black on the top of the white curtain will grant it that intricate stylish vibe that will influence the whole outlook in general. If you are a fan of minimalistic or vintage style, such curtains will be a wise option to consider!
Triangle Patterned Design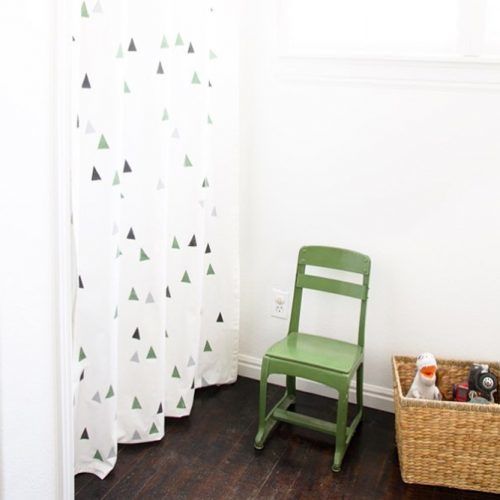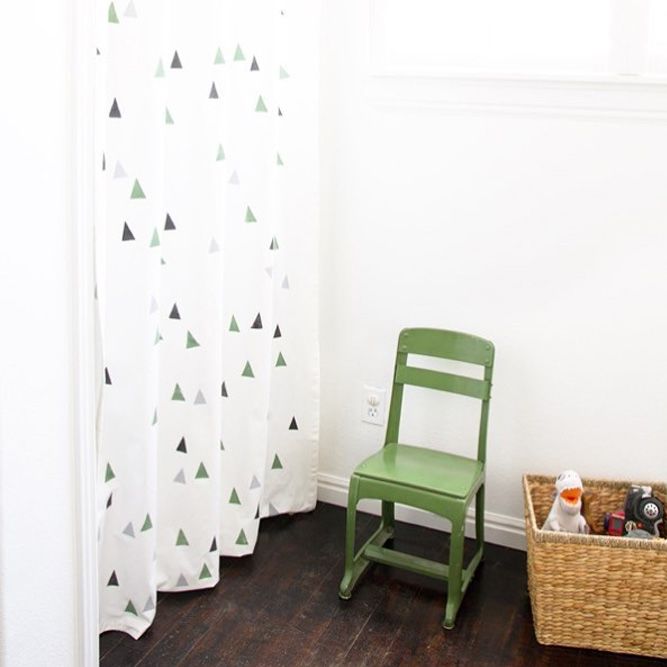 Source: stacyrisenmay via Instagram
There is rarely a question arising as for how to hang curtains, but rather where to hang them and what pattern to choose. The thing is that very often people choose a design that matches the interior hues or at least does not stand out too much. As you can see these curtain with green triangles look incredible cute but subtle at the same time. If you need a curtain to separate the room, this would be the perfect example you need!
Pom Poms DIY Design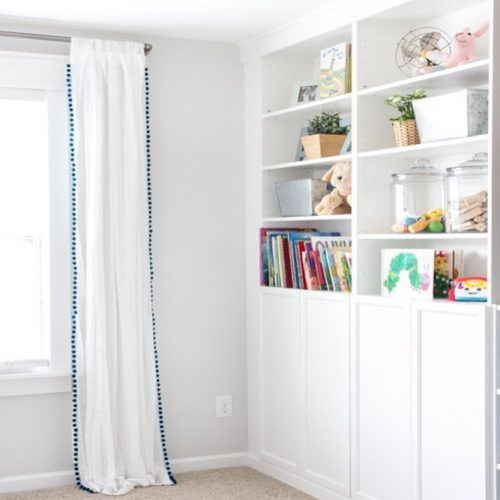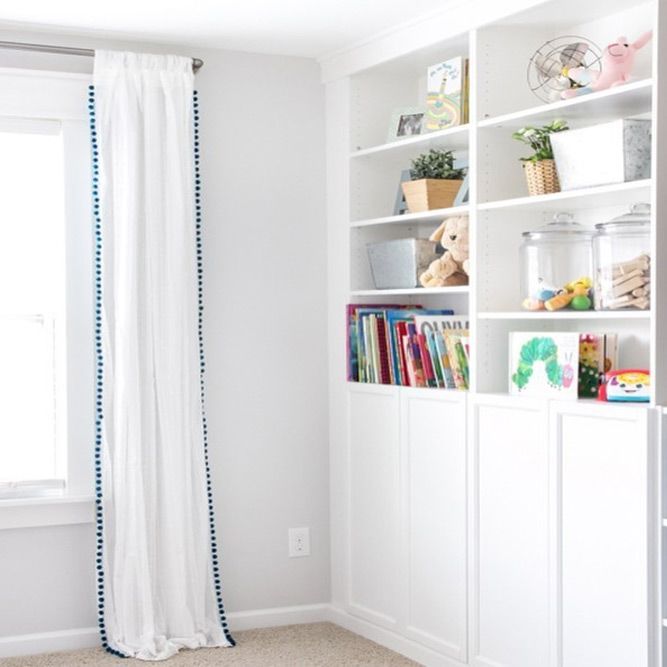 Source: blesserhouse via Instagram
Sometimes you wish you could experiment with your curtains, but the budget you have at hand leaves much to be desired. Worry not; you can easily come up with a fresh design for your curtains on your own with the least of means spent. All you need is some colorful yarn and a bit of spare time. Such cute and bright pom-poms will be a great addition to your good old white curtains.
Bright Painted Design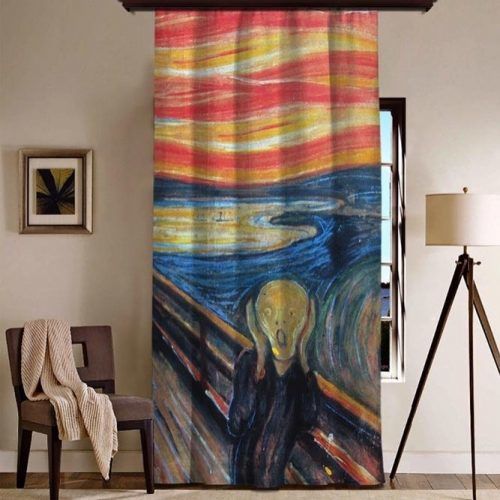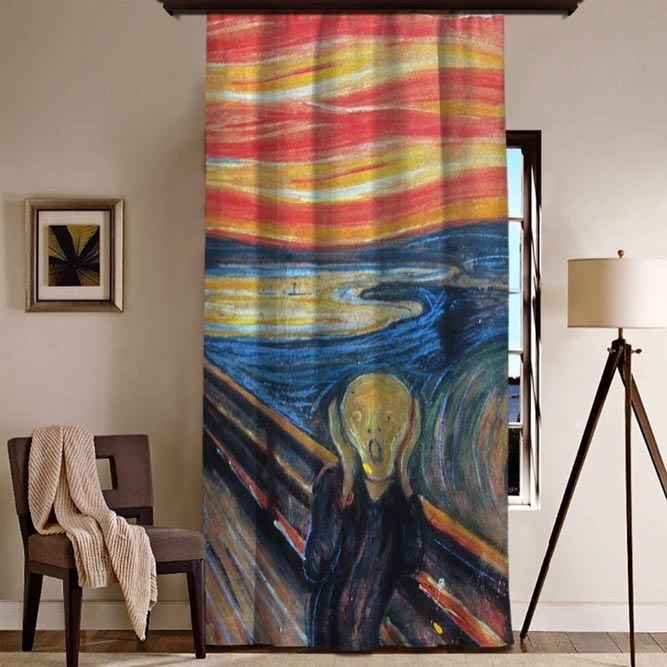 Source: ziganashop via Instagram
We should admit that modern design has taken the whole notion of curtains to the whole new level. For instance, if you are an art fan – you can go as far as to make your curtains look like famous paintings. We must say that such curtains will look unusual to most of your guests, but they will definitely add that artistic vibe to your house; there is no doubt about it!
Macramé Curtains Design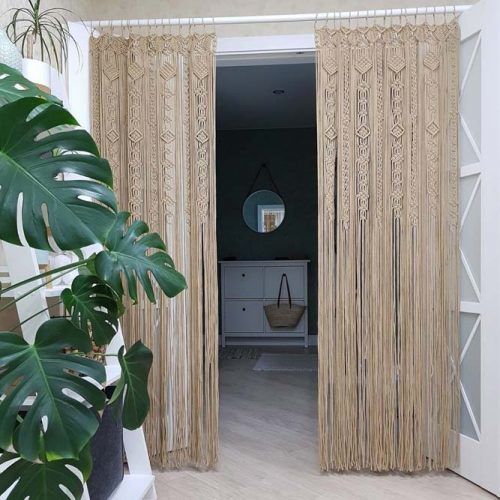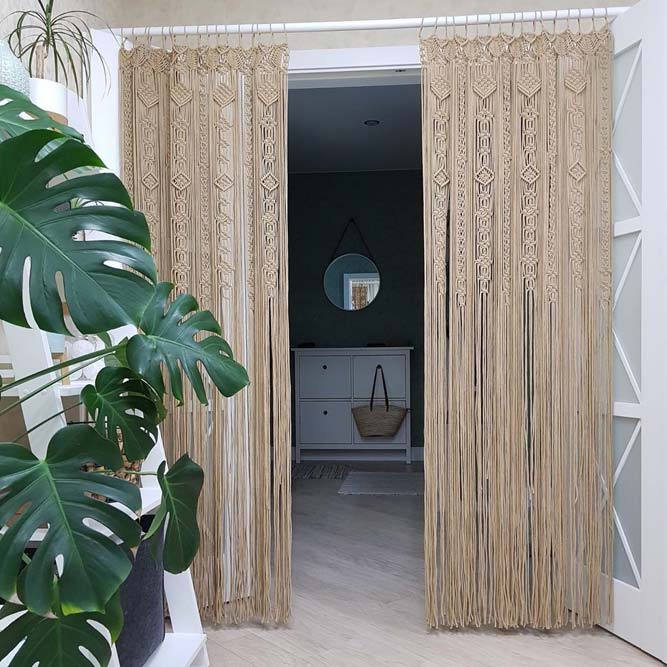 Source: angelisay via Instagram
The rustic interior is more that popular these days, that is why if you are looking for some rustic curtains idea – we have it covered for you! These macramé designs are precisely what we have in mind. Such curtains carry that hippie vibe that will be appreciated by those who are in love with vintage style. Besides, they look ultra-stylish and cute. You can hang them in-between your bedroom and living room for some more privacy.
White Ruffled Design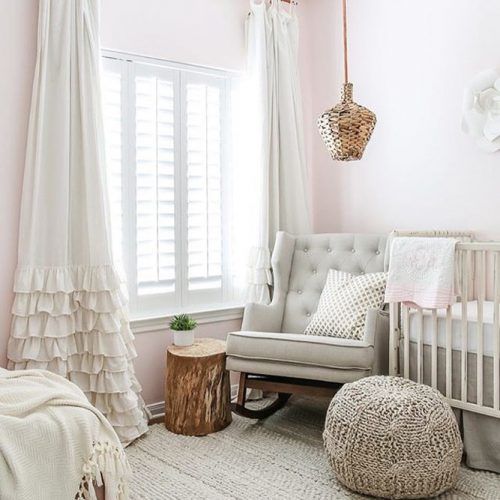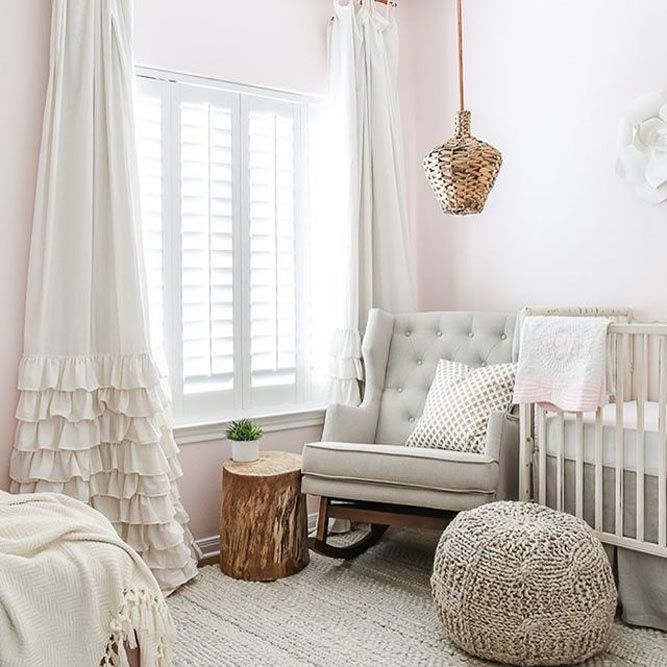 Source: maisondepax via Instagram
Bedroom curtains should carry out a special mission. The fact is that the curtain in your bedroom should be effective and not overwhelming. That is why we suggest you pay attention to white curtains while choosing the ones to be hanged in your bedroom. To add some extra taste to those curtains, you can opt for ruffled ones. Such a design will look gentle and elegant, that is for sure! Besides, it's one of the most popular picks for window seat ideas, as they look best when finished with moderate but exquisite curtains.
Tie Dye Blue Design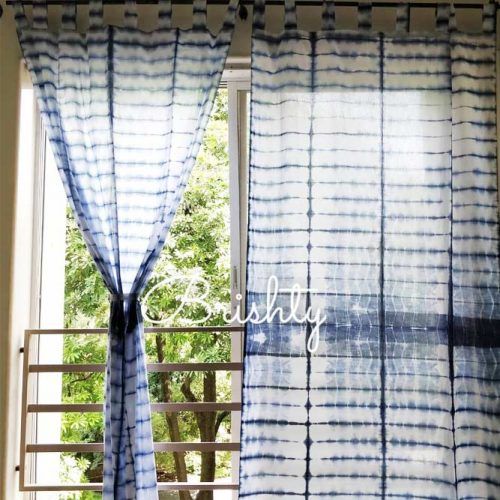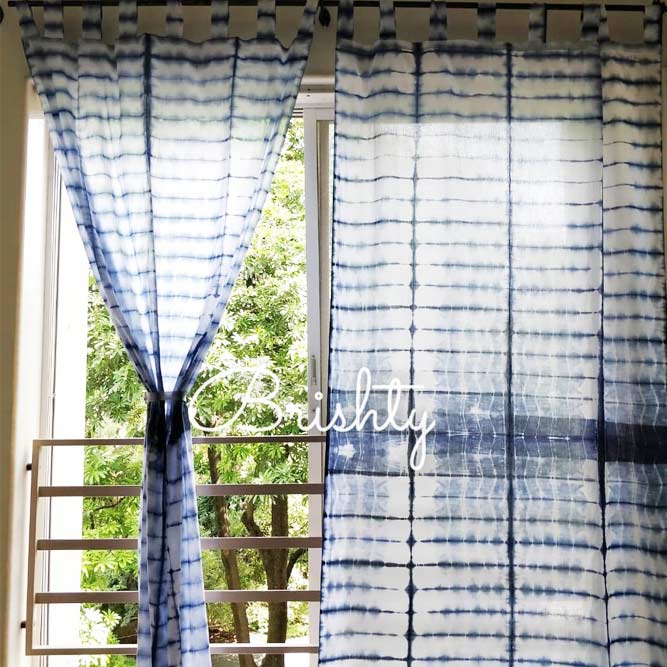 Source: thebrishtystore via Instagram
Once again, we want to point it out, that in order to come up with new curtains, you do not need to actually purchase a new set. You can experiment with your old, plain white curtain to come up with something as intricate and rich in color as these tip dye design. Besides, blue is never out of fashion, quite on the contrary. We are sure that once you embrace the dying technique, you will be unable to stop!
In Opposite Directions Idea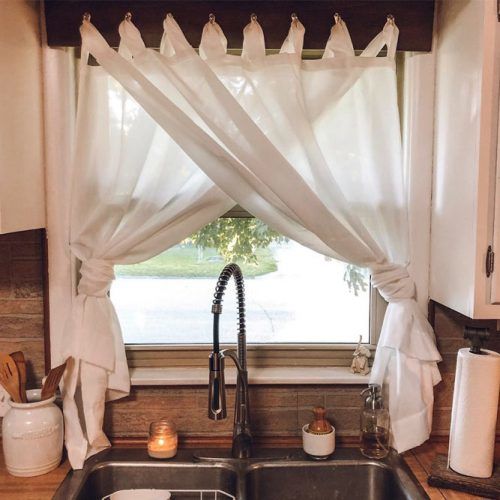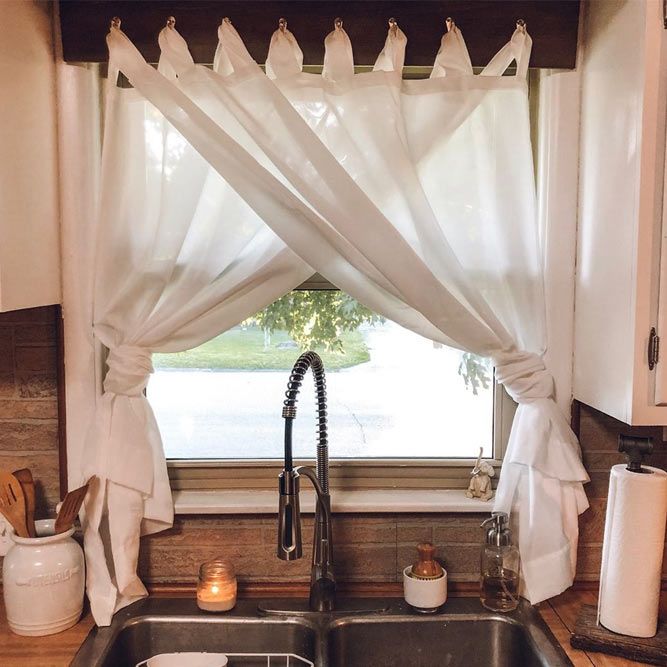 Source: powerspalace via Instagram
Your kitchen curtains can also be unusual and dramatic. We are not talking about some over the edge complex pattern or anything of the kind. We are talking about the way you hand the curtains. Hanging them in opposite directions is precisely what results in drama. Besides, with your curtains hanged this way, you will not mess with taking them away every time you are about to wash the dishes. Elegant and convenient – what else do you need?
Bright Color With Pattern Design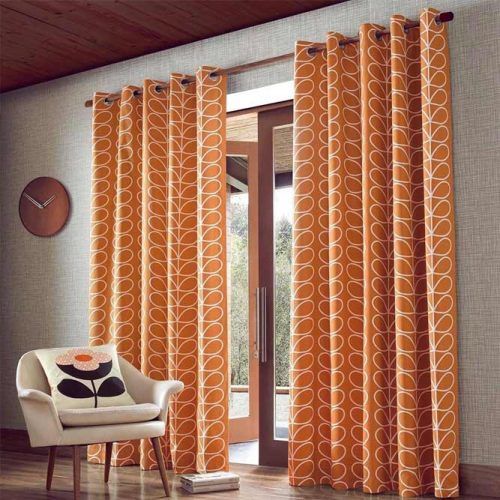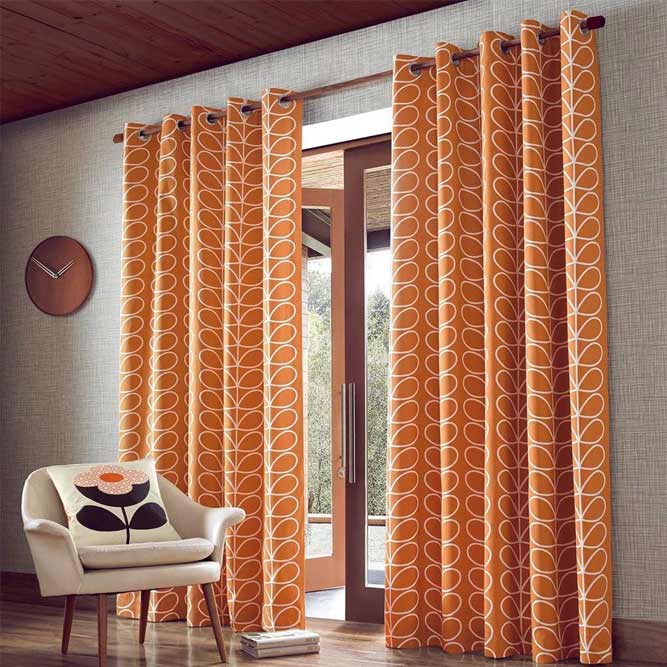 Source: nextofficial via Instagram
Let your living room curtains be bright. That is all that you need to keep in mind when choosing them. The living room is the lightest and the most visited room in the house so that it needs a special atmosphere to preserve. Such bold orange curtains with a great pattern to them are precisely what we have in mind!
Black-Out Roll Design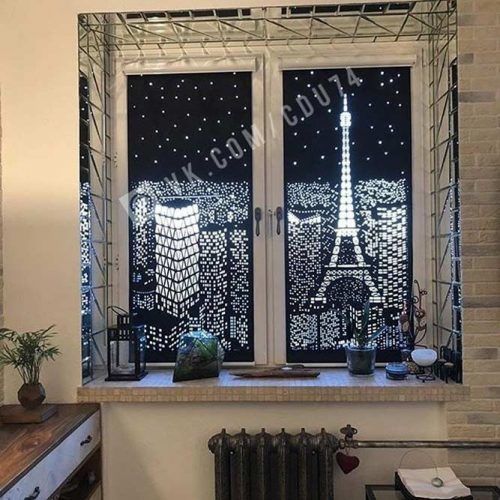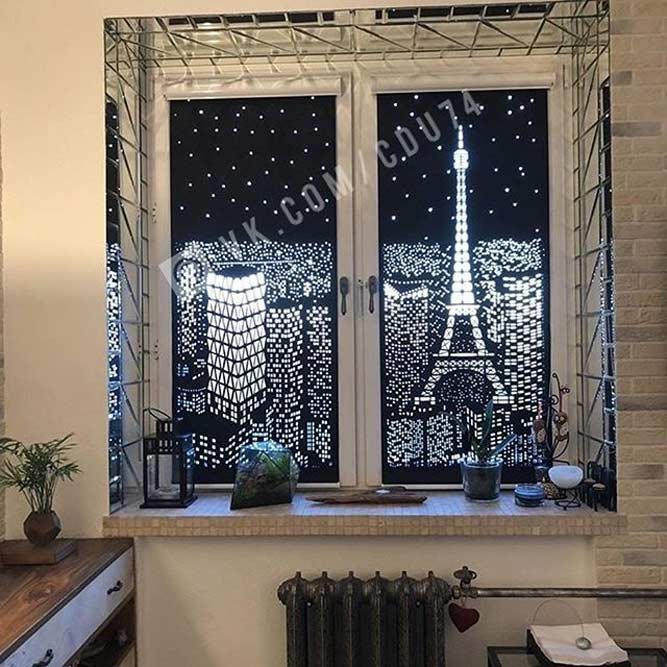 Source: holeroll_jaluzi74_shtory via Instagram
Blackout curtains are created to keep the sun out when you are about to rest. However, you can go a little further than just plain blackouts; you can opt for the ones with a cutout pattern to them. The sun will still be out of your room, but you will be able to enjoy the gorgeous interaction of the pattern and the light coming from the outside. Magnificent!
Beaded Curtains Design With Art Accent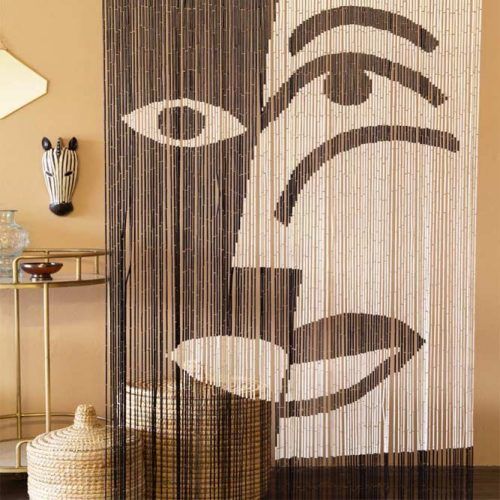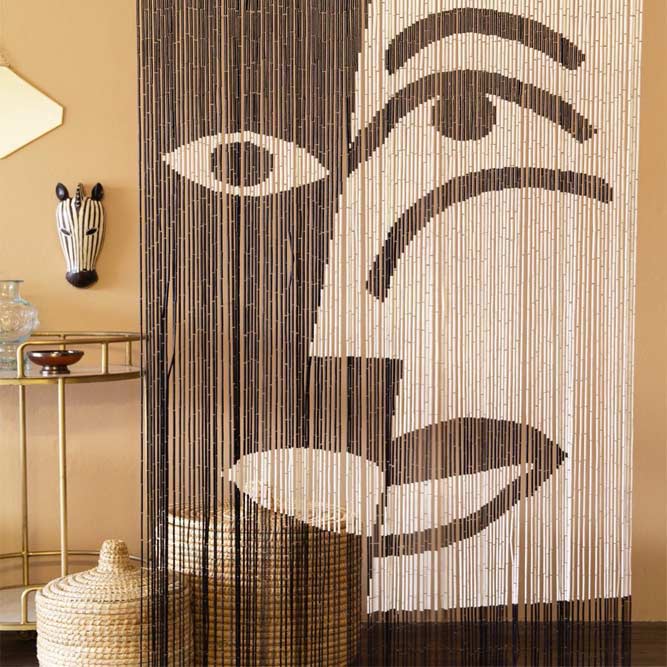 Source: rockettstgeorge.co.uk via Instagram
Just like macramé curtains, beaded ones scream the 80s. However, that does not make them out of date or unfashionable.
On the contrary, many people these days choose beaded design over all the others. You can hang such curtain anywhere you like, be it closet curtains or doorway ones, the effect will be the same. Besides, you can even pick up an artistic pattern to your beaded curtains to add that extra charm to the outlook.
Coral Curtains With Embroidery Border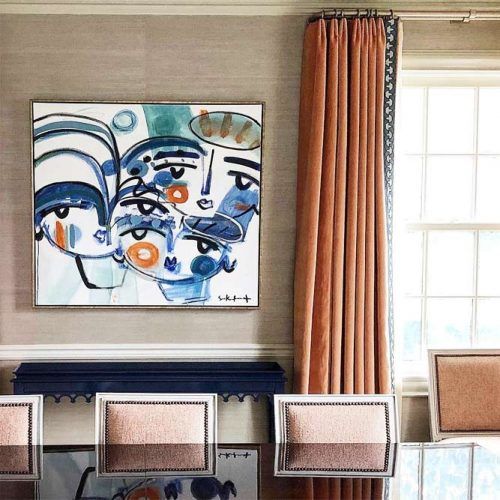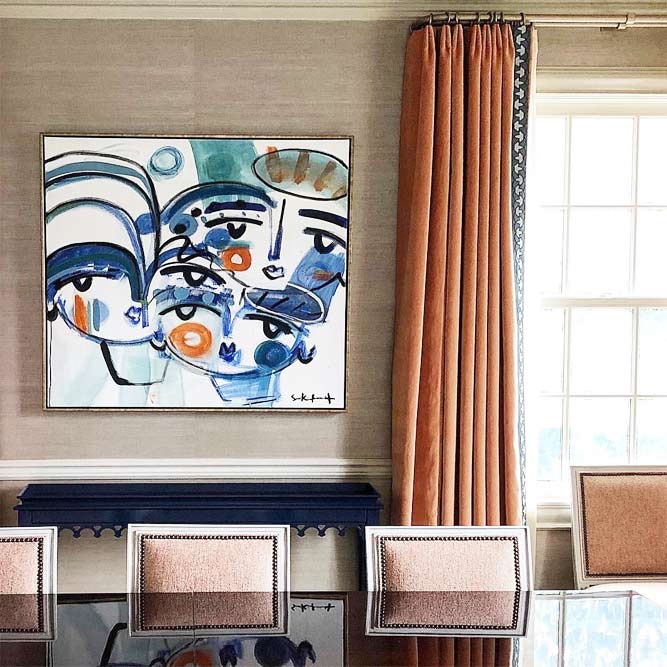 Source: samuelandsons via Instagram
In most cases, we take curtains as a necessary part of your décor, but how about making them a full-weight accent? These coral design with embroidery on them prove that can be that one part of the interior that attracts attention in the first place. To intensify the impression, you can furnish the room using related hues on the same color palette.
Pink Patterned Curtains Design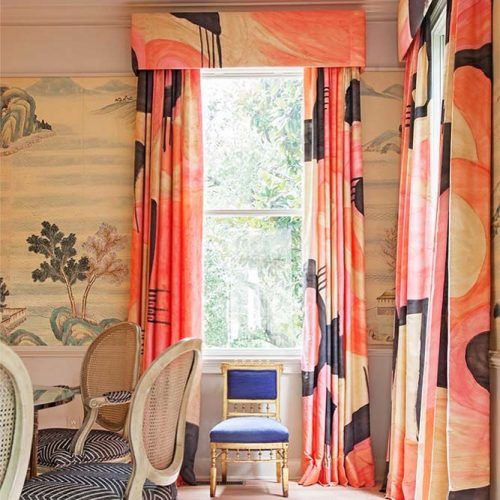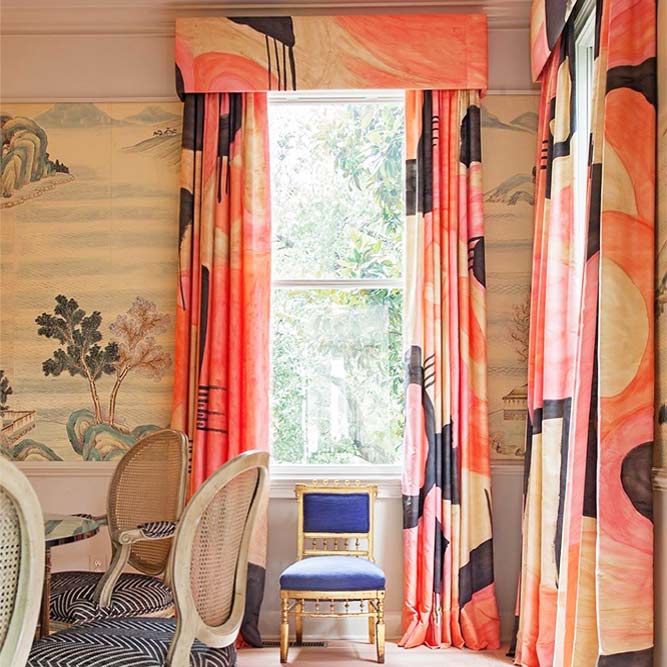 Source: angiehranowsky via Instagram
There are times when distinctive patterns are not your cup of tea neither are solid curtains. Is there a way out? Of course, there is. You can find anything that suits your taste most if you know what to look for. We think that these pink design with an abstract pattern to them belong to the category.
Black Curtains Design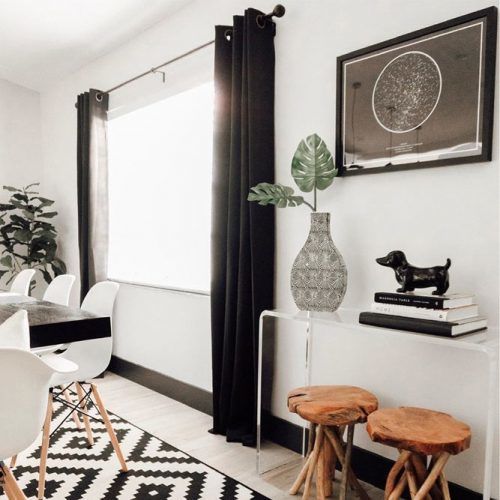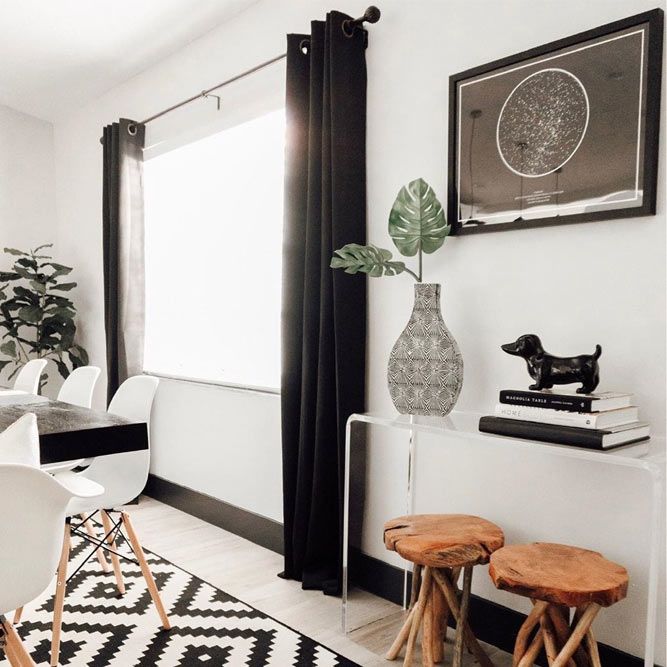 Source: the_floridagirl via Instagram
Minimalism and contrast are always connected. What is more, the two interact and complete each other perfectly. So, if it happens so that you are a fan of both – these black curtains will steal your heart. It seems that there is nothing special about black design, but the minute you see how well they fit into the interior, you will change your mind.
Blue Curtains Design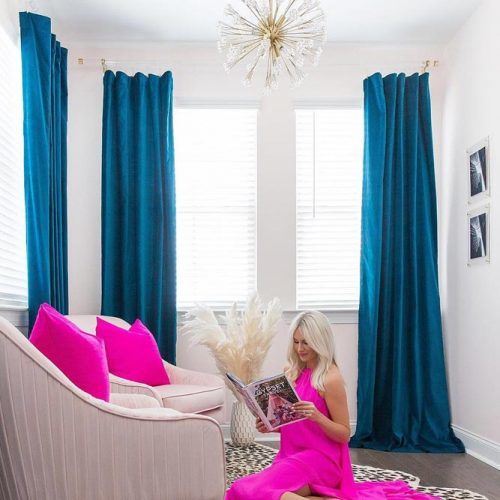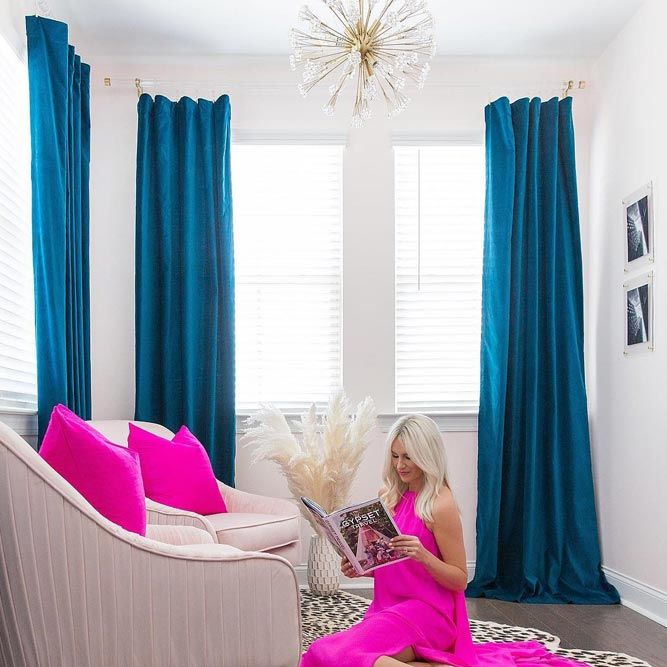 Source: mckennableu via Instagram
There is a false assumption that all the accents in the room are supposed to match each other to result in harmony. We beg to differ. The thing is that if your room is in light hues adding some juicy accent to it, is what most people do. In this case, we have a deep blue design. However, one accent is not always enough, so the designer added another unrelated to curtains accent – the pink cushions. We must say the result is breath-taking!
Yellow And Pink Linen Fabrics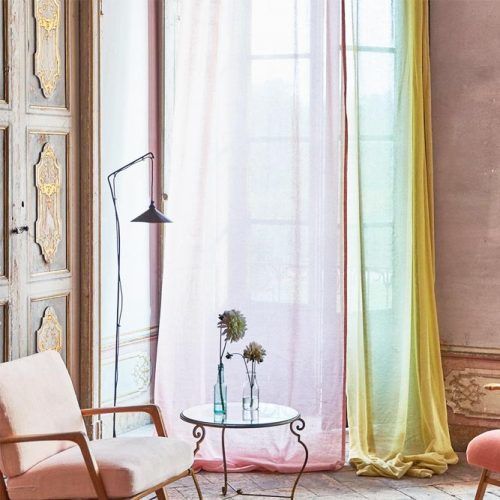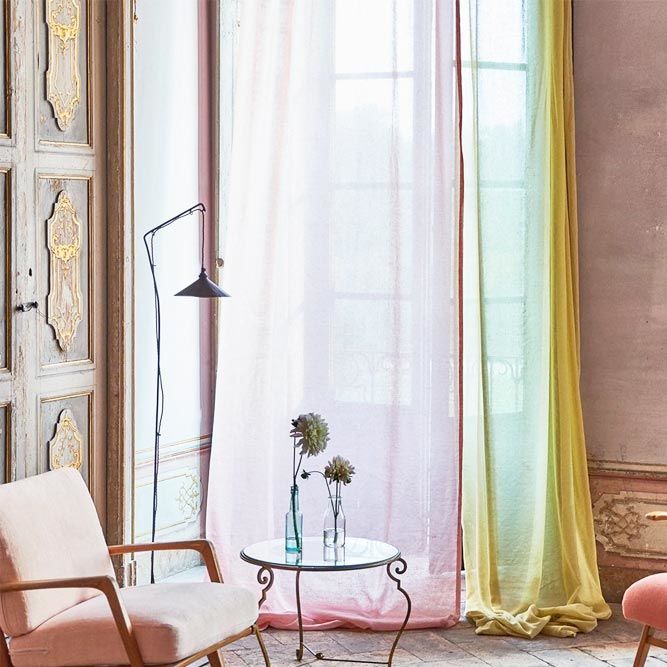 Source: designersguild via Instagram
If you want more color and gentleness added to the room, you choose floral print, and that is an absolutely natural impulse. However, we want to show you that there are other ways too. These colorful curtains made out of linen will result in the same effect, but without flowers all over them. We are more than sure that most of you will appreciate the idea.
FAQ: Curtains
What are four curtain lengths?
There are four curtain lengths that are called: the kiss, the puddle, the brake puddle, the float.
If your curtains kiss the floor, they're hovering on the surface of the floor, this length looks very neat.
The puddle length is hard to keep clean, however, it looks dramatic. To get this length, add an extra 2-4 inches beyond the floor to your panels.
The brake puddle is length is kind of in between kissing the floor length and the puddle length, add 0.5-1 inch beyond the floor.
With the floating method you hang the curtains just 0.5 inch off the ground.
How to choose the right curtain length?
Choose float If you open and close the curtains daily; you have children running about; you have pets; your curtains are not a very dark color.
If you don't mind washing your curtains often, choose puddle.
How to choose the length and width of your curtain rod?
Make sure that your rod is about four to six inches wider than the outer frame of your window. So that when your curtains are open, they're going to be gathered in front of the wall that is on either side of your and then just the edges of your drapes are going to overlap the edges of your window. This will visually make it appear as if you have larger windows.
Where to hang your curtain rod?
Hang your rod halfway to two-thirds up between the top of your window frame and your ceiling. If you have crown moldings, you can hang it about three quarters of an inch below your crown molding. If you have a lot of space between the top of your window frame and your crown molding, it might look weird to hang your rod so close to the molding so
use your own discretion and see what works best.
Was this article helpful?