Living room decorating ideas for modern houses are unusual and creative as a rule. In addition to this, they are in fresh and bright colors. They help to make your room bigger and brighter visually.
Everything You Need To Know About Living Room Decorating
What Are The New Colors For Living Rooms?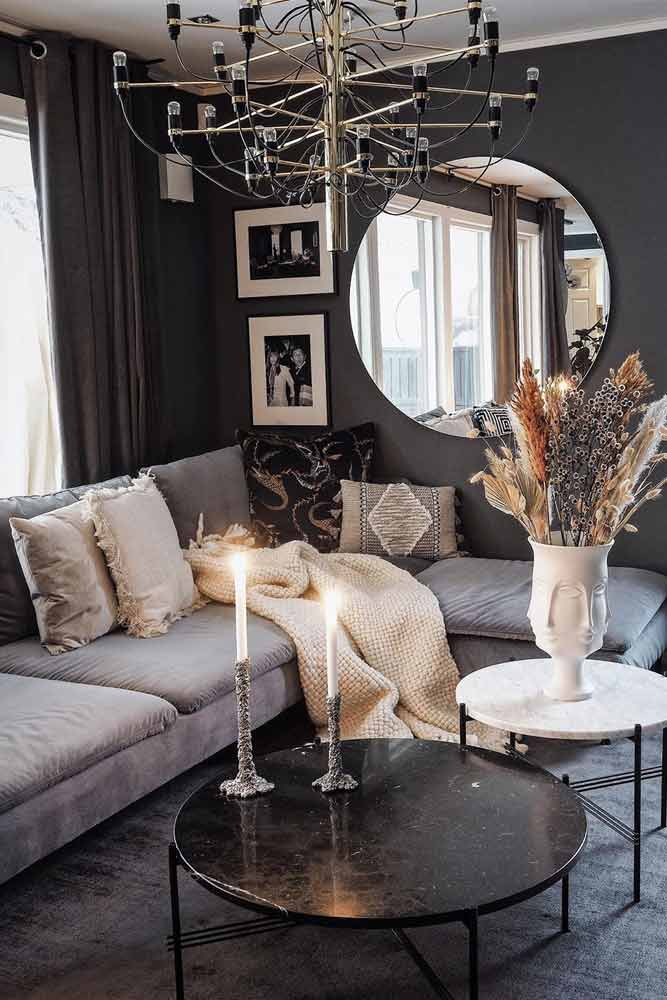 Credit photo: Instagram.com/interiormypassion
If you want to follow the latest trends with your living room colors, then you should consider such a combination as blue and orange. These two colors complement each other perfectly, as they are on the opposite sides of the color wheel. Other modern living room decorating ideas feature but are not limited to the following combos: black and white with powder blue, cream and rouge, faded or dusty pink, gold or citrus and burnt orange, turquoise and chartreuse, pink and mint green and many others. No matter what exact color mix you are going to choose, just make sure it creates the illusion of a bigger room while giving it a cozy and welcoming feel.
What Should I Put In A Living Room?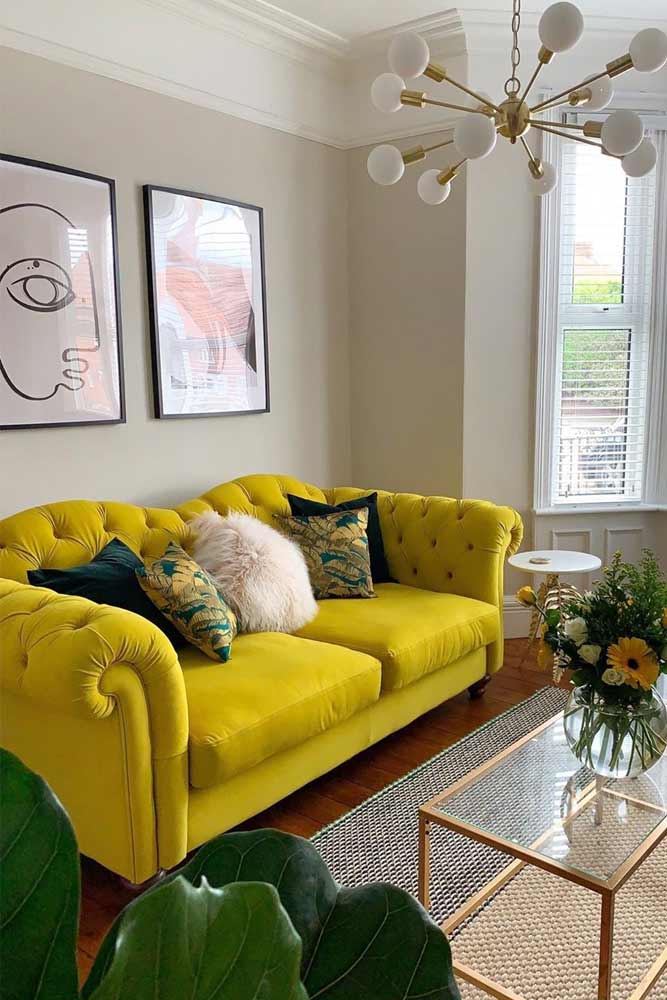 Credit photo: Instagram.com/homeatheathfield
While there are many contributing factors to decorating ideas for living room, from the space available to your personal preferences, some things are definitely worth including. Thus, to make it cozy and comfortable for your pastime, the perfect living room should be furnished with a sofa featuring ornamental cushions and blankets. In front of it, you can put a coffee or sofa table on a rug or a carpet pad and throw a couple of magazines and books onto it. Decorate the room with flowers in vases, plants in pots, lamps, candle holders, or lanterns. In the middle of it, you can put an end or occasional table surrounded by chairs.
The walls can be embellished with sconces, mirrors, art pieces, framed photos, an antique clock, and bookshelves. In the corners, you can put a hall tree, a coat rack, an étagère, a display cabinet, and speakers. The windows can be complemented with shades, blinds, shutters, curtains, or drapes. It is also a good idea to find a place for your pet bed, baskets and boxes, a TV with a CD or DVD player and a telephone.
How Do You Make A Living Room Cozy?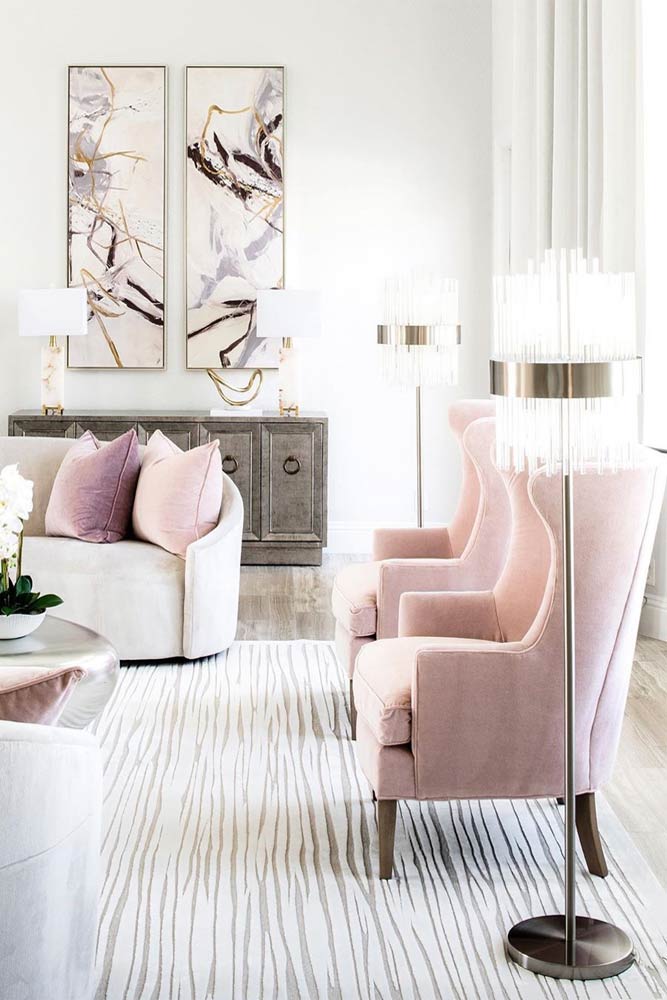 Credit photo: Instagram.com/tinamarieinteriordesign
If you feel uncomfortable because the room is overly tall, you can make it cozier by adding large and tall plants to the corners and spaces that are empty. When it comes to wall decorating ideas living room can appear smaller and snugglier if the walls are two-toned. It means you should indent a couple of inches from the ceiling when painting the wall in a darker shade. Also, you can furnish it with enlarged ottomans, which can feature a coffee table or tray on top, a console table for space separation, a seating nook, bookcases and shelves as well as lengthy curtains, bulky blankets, voluminous pillows and thick rugs for an added touch of warmth.
How Can I Make My Living Room Look Bigger?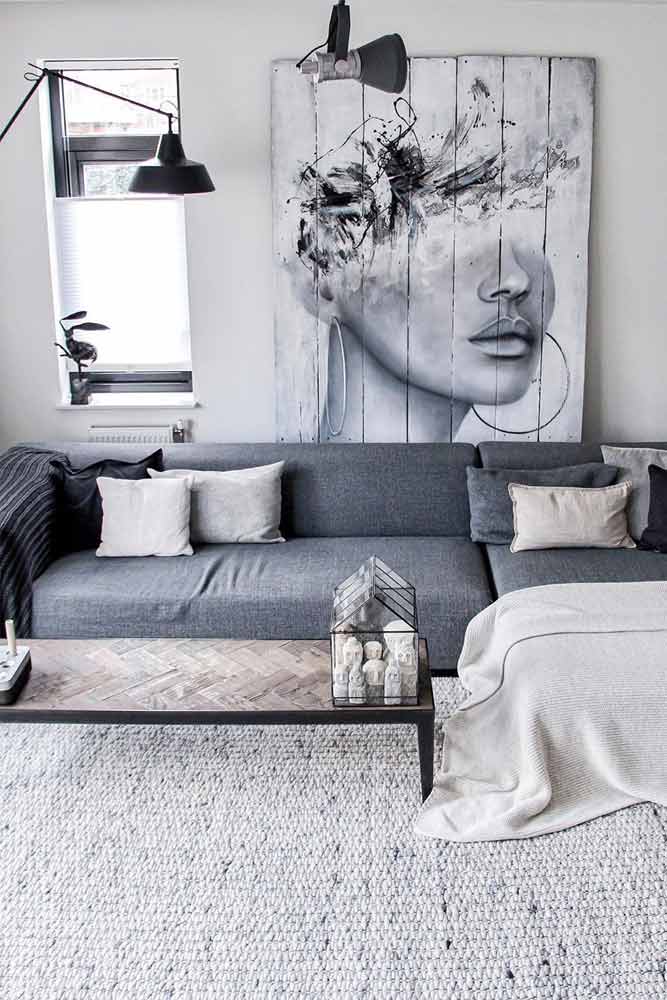 Credit photo: Instagram.com/wonen_bij_chantal
One of the best small living room decorating ideas to make it appear more spacious is playing around with extremely light and dark colors. By going to extremes, you will add depth and contrast to the room and make it visually larger. Also, switch your regular storage furniture pieces to multifunctional or hidden ones. Choose several chunky decorations or furniture items over a lot of tiny ones. Fill it evenly with enough light by utilizing lamps, chandeliers and overhead lighting as well as adding mirrors to the walls that are dark.
Use These Living Room Decorating Ideas To Make Your House Comfortable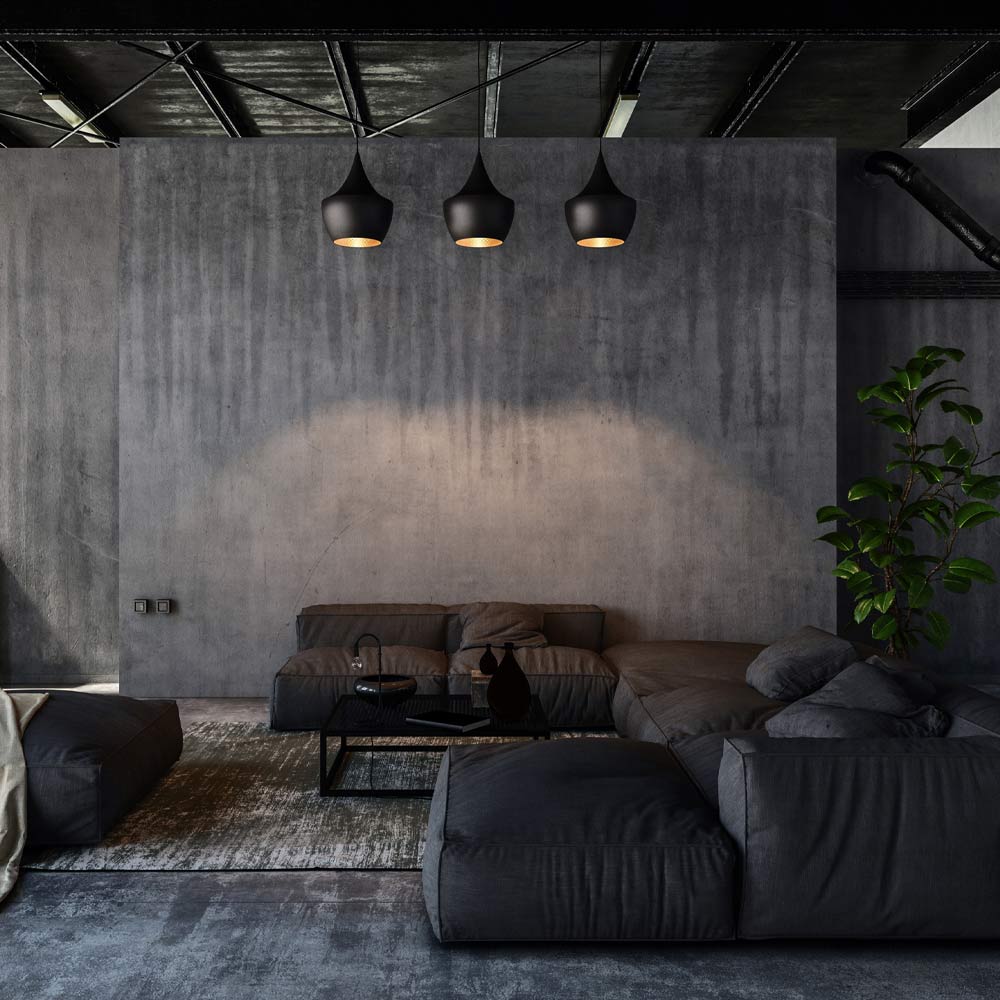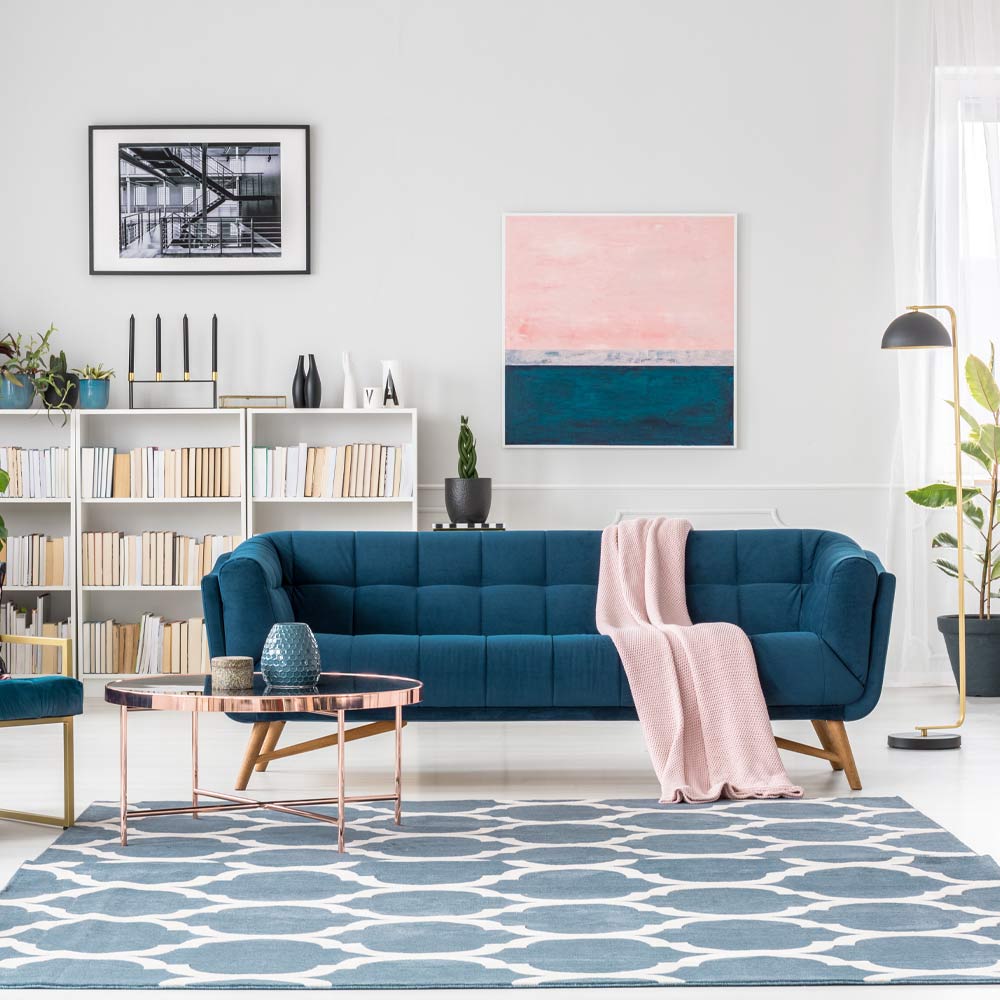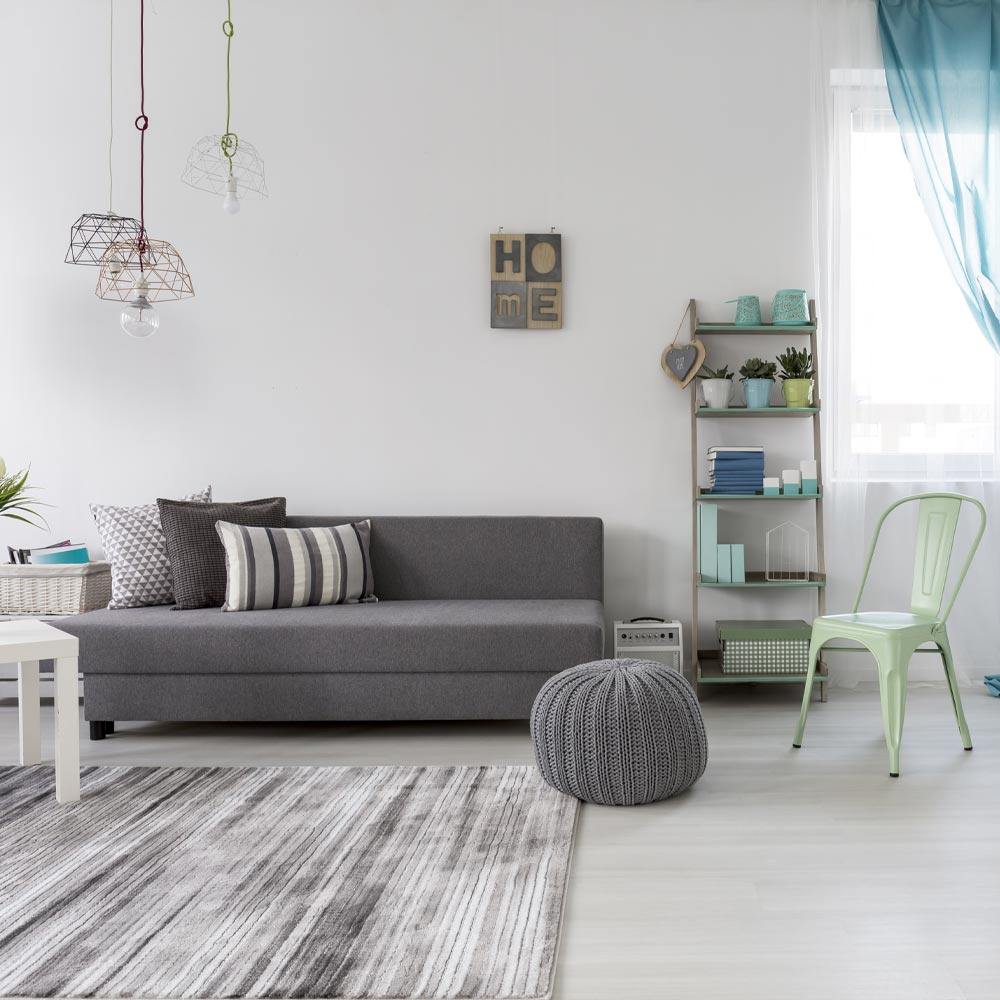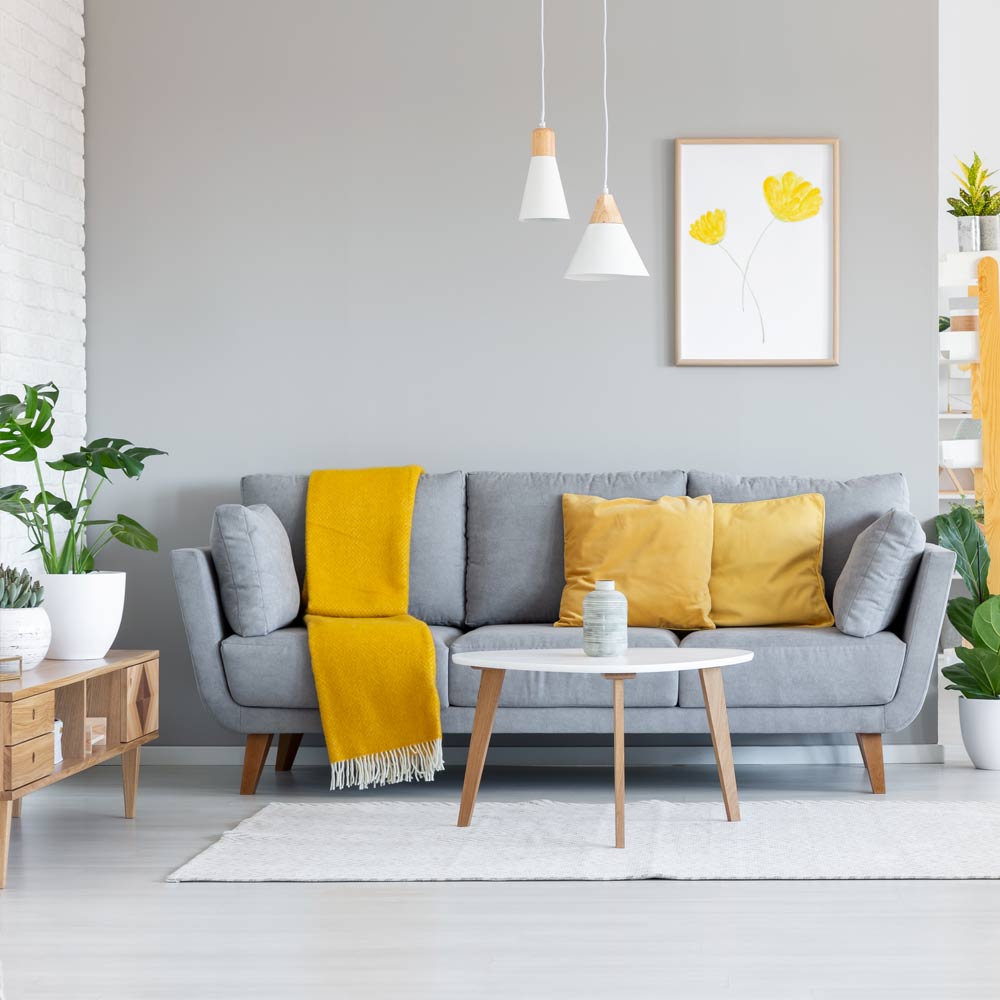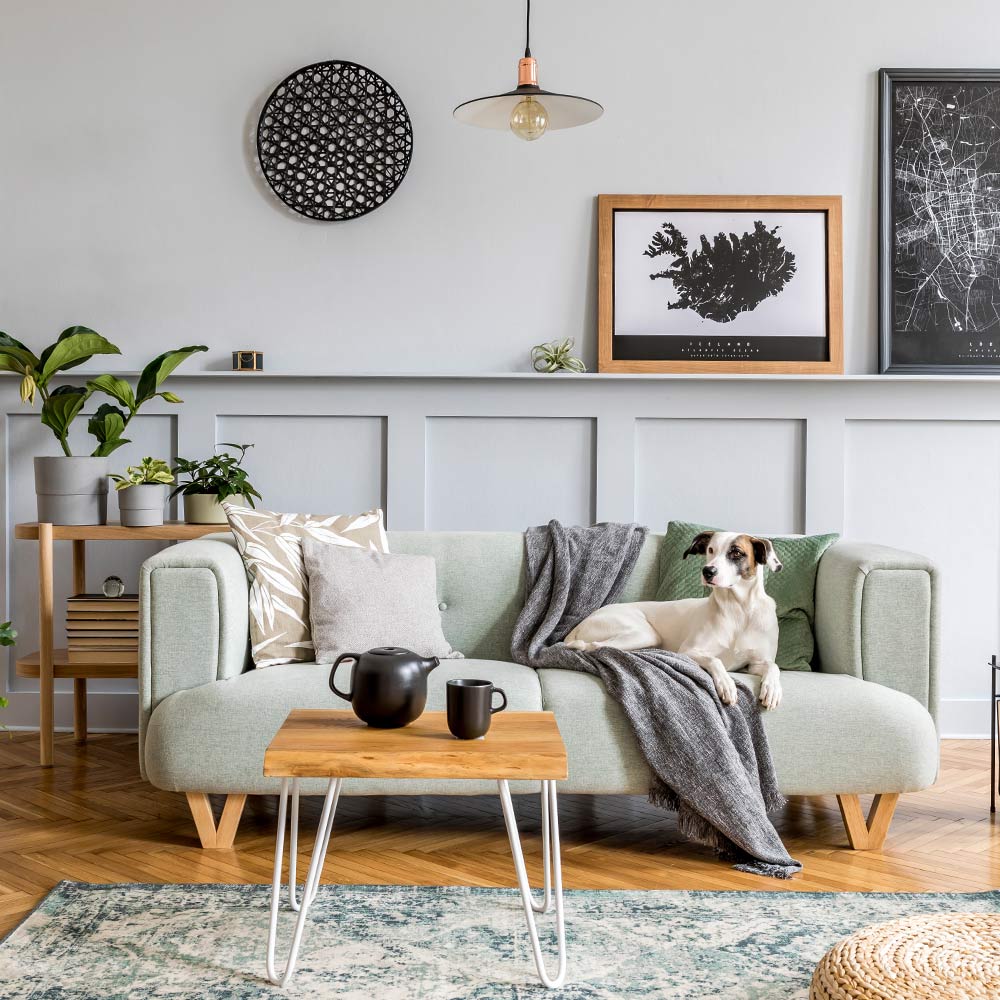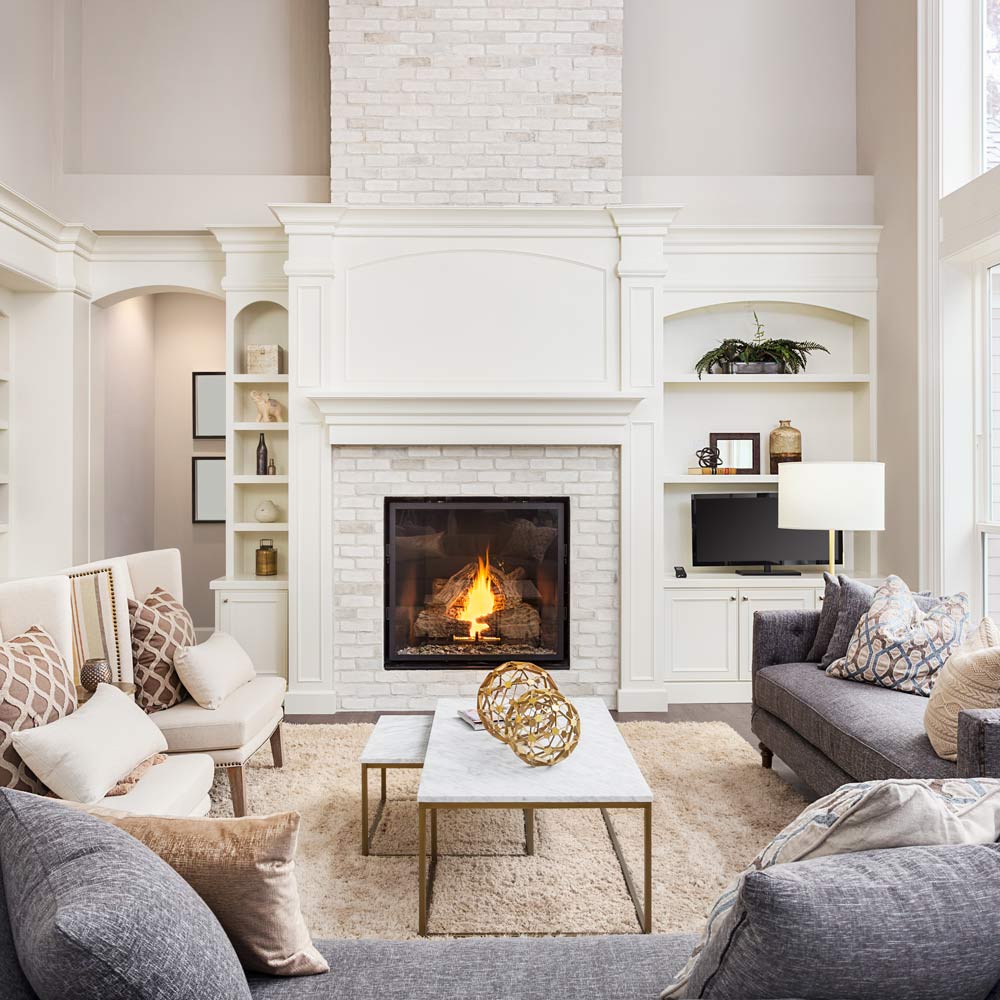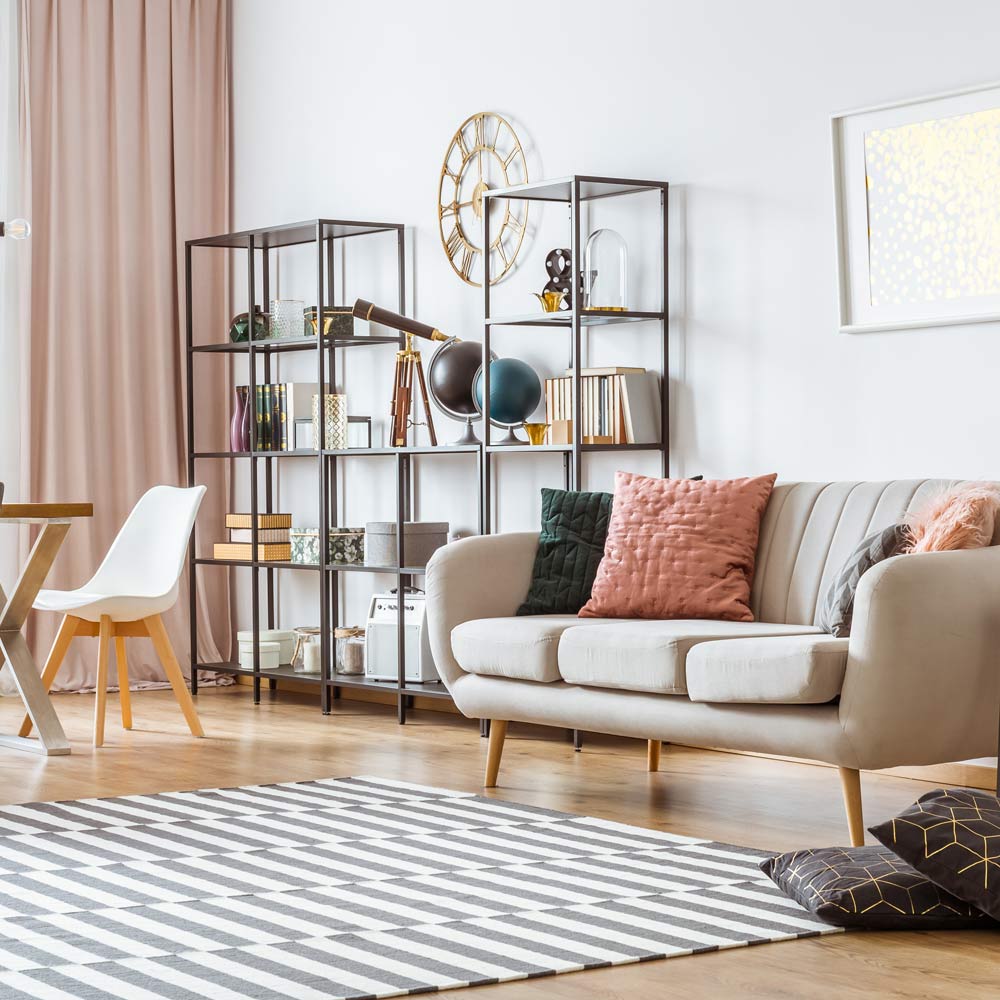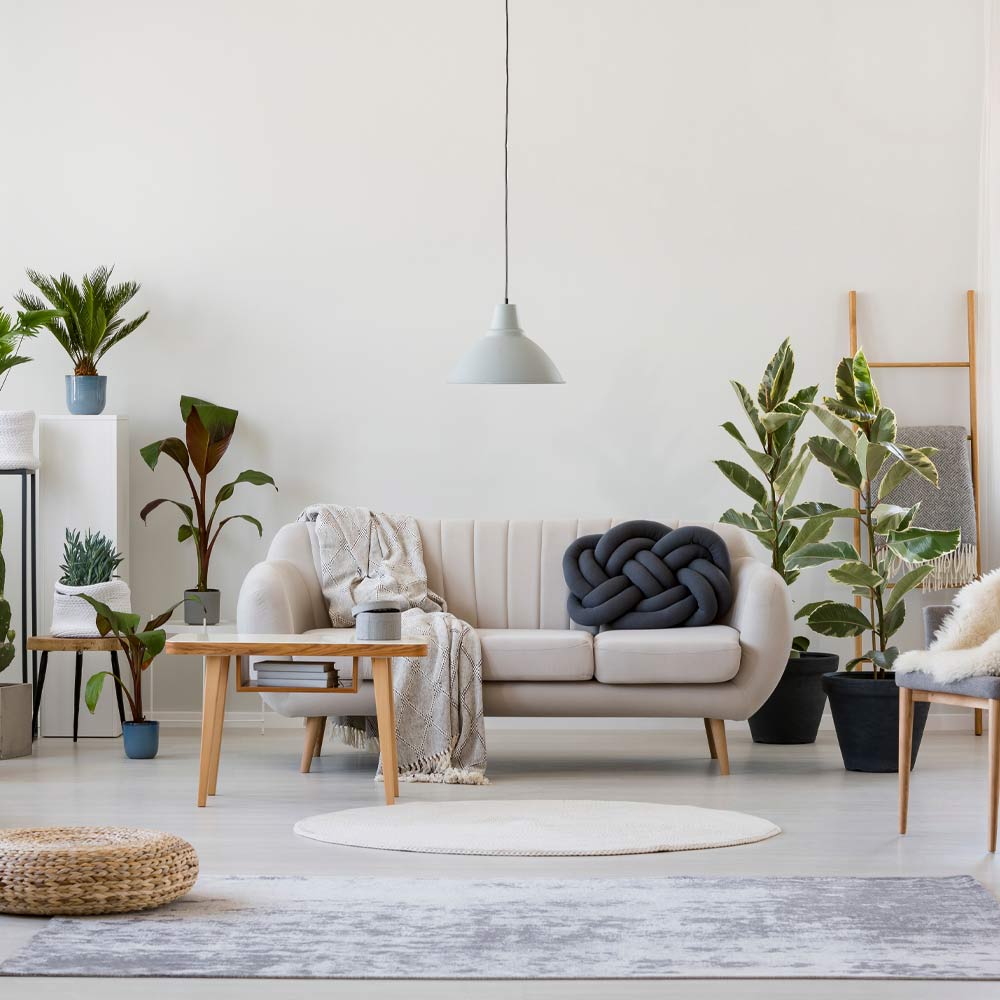 White And Pink Colors For Living Room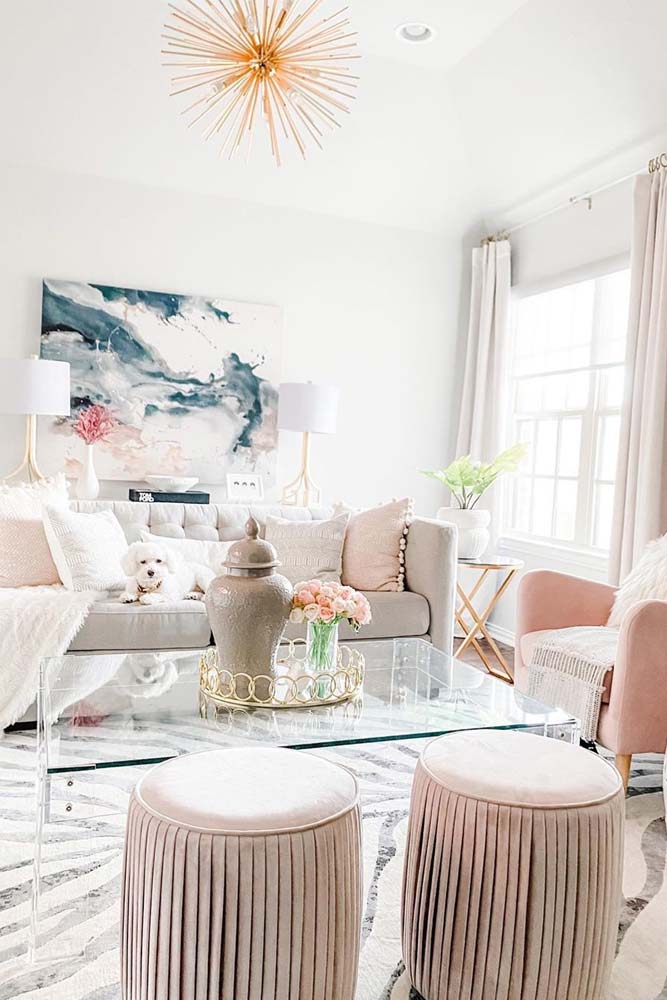 Credit photo: Instagram.com/shannongolddesign
To fill your house with positive vibes, choose light and airy colors for your living room. White will make the room feel more spacious and bright, while powder pink will add a sweet and feminine feel to it. To give the room a pop of color, it is not necessary to paint it over. You can simply add it through colored pillows, patterned sofas, and chairs as well as layered rugs.
Retro Living Room Decorating Idea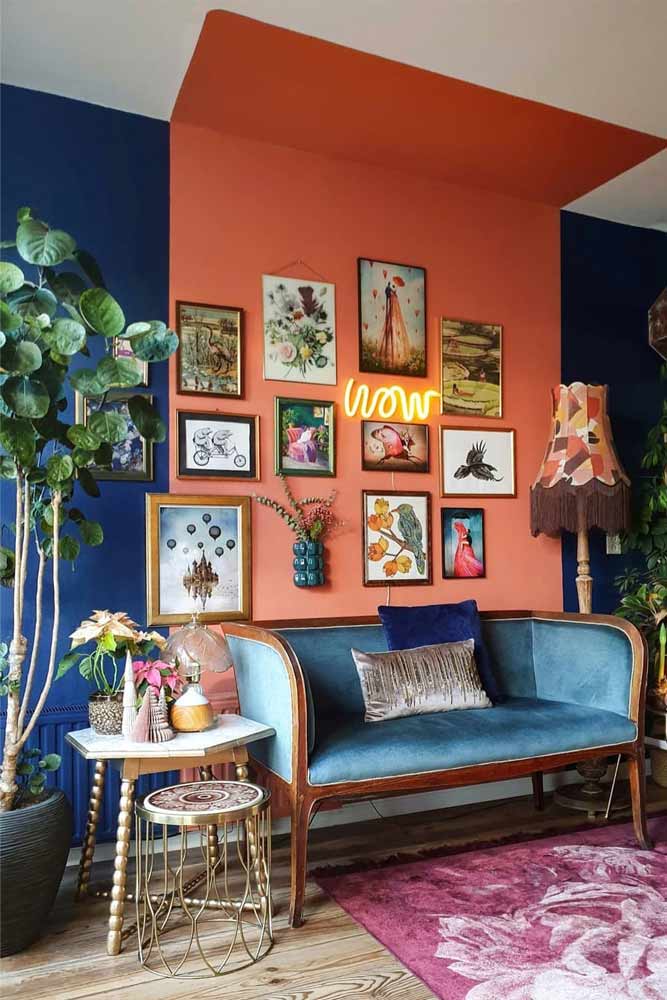 Credit photo: Instagram.com/mindy_schroor
Everything old is new again. Thus, why not draw some inspiration from retro country living room decorating ideas. Rustic furniture with a brass finish will instantly warm up your living room and give it a vintage feel. Add a shabby fringe floor lamp for a retro chic and decorate the wall with your family photos to give the room a personal charm.
Pillows As Home Decorative Elements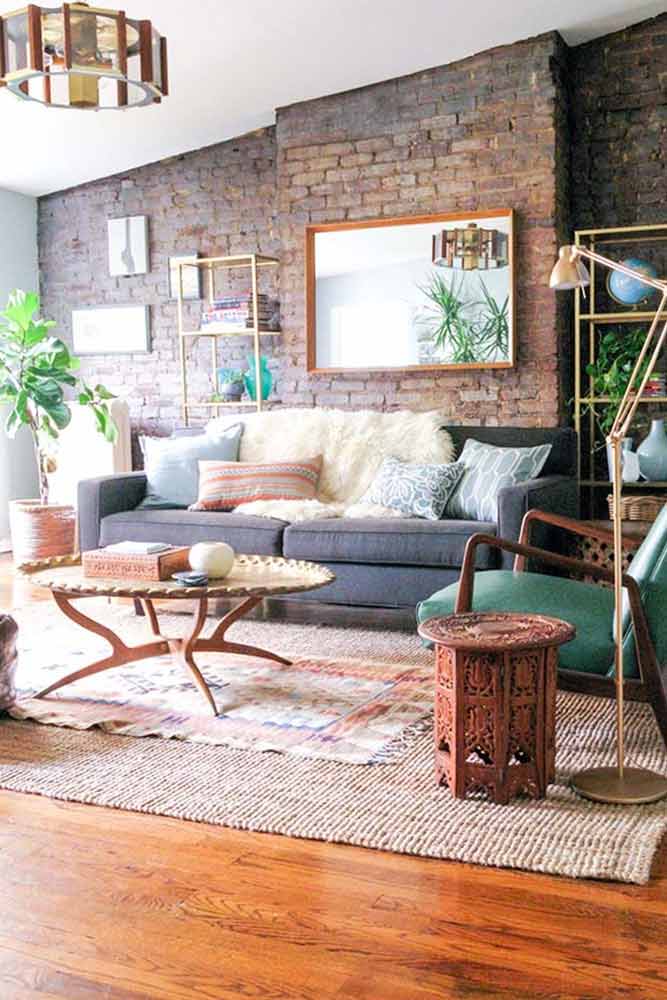 Credit photo: Instagram.com/designsponge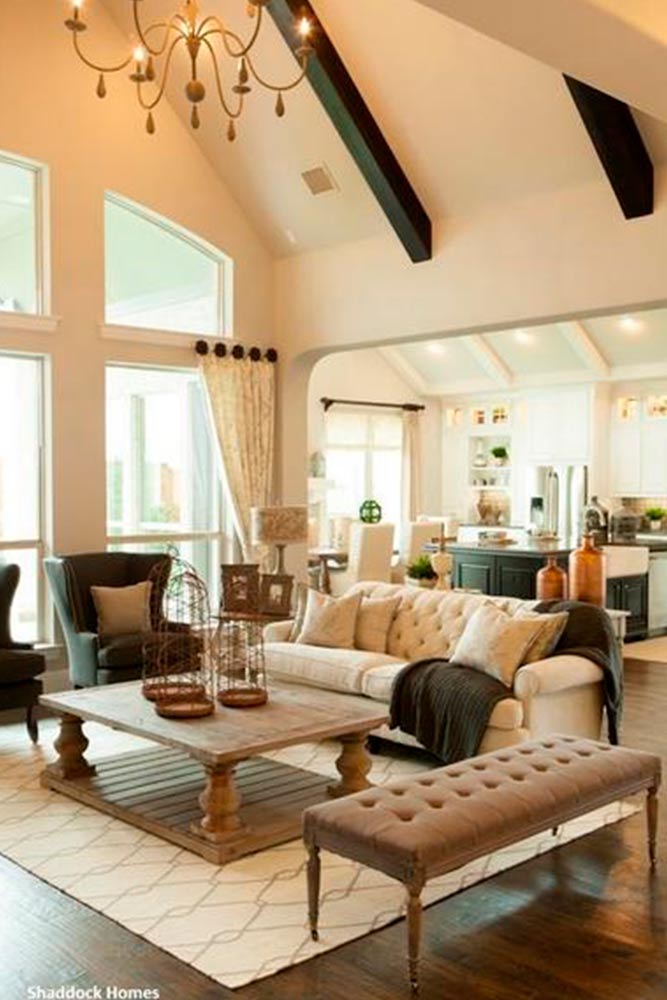 Credit photo: Instagram.com/lightingconnection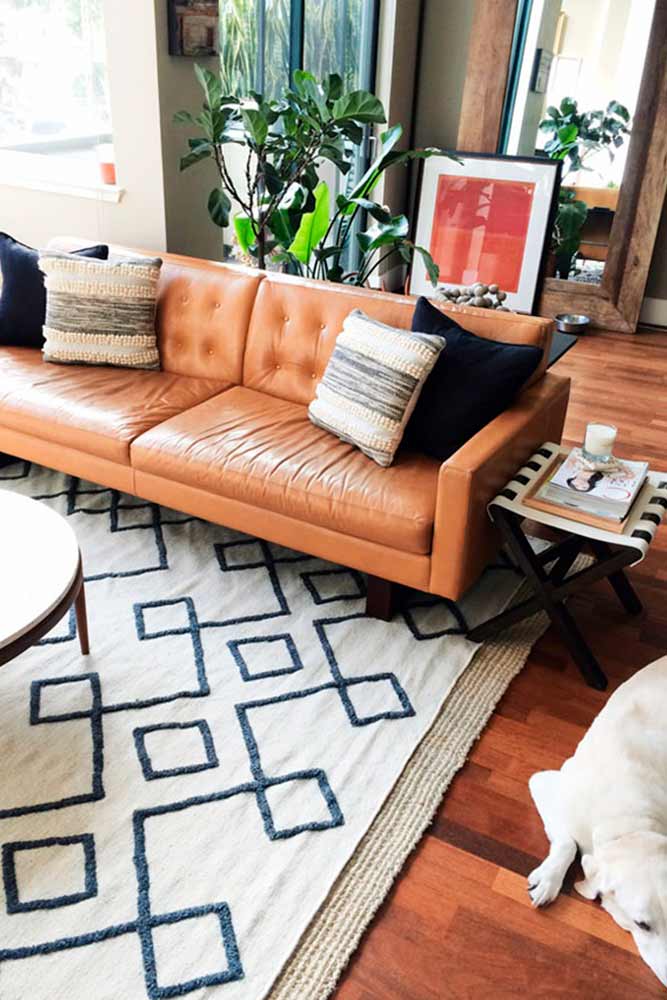 Credit photo: Instagram.com/annabode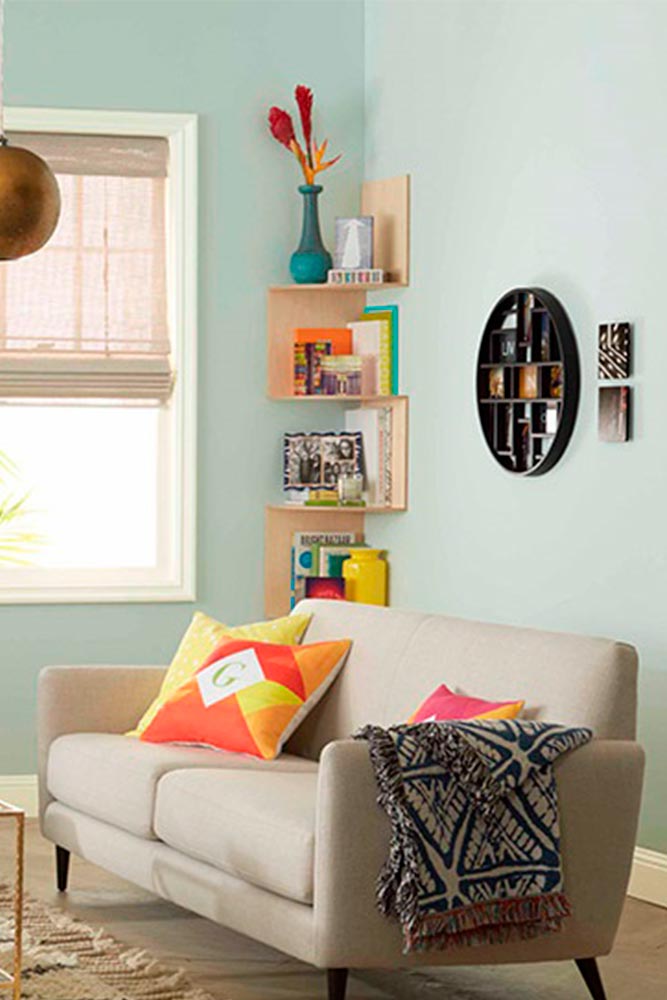 Credit photo: Instagram.com/shutterfly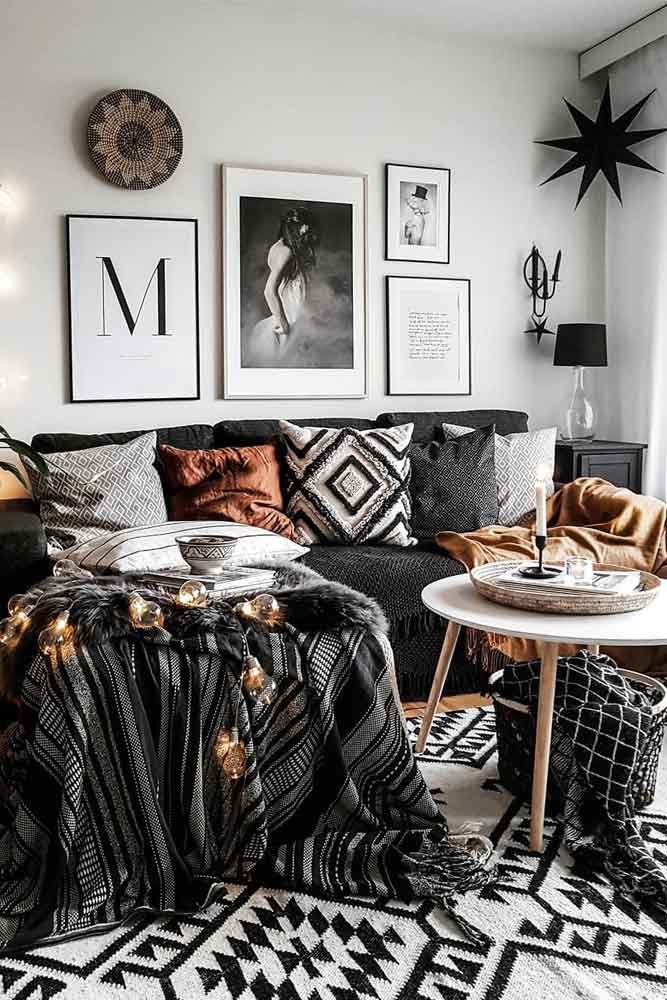 Credit photo: Instagram.com/mk.nordic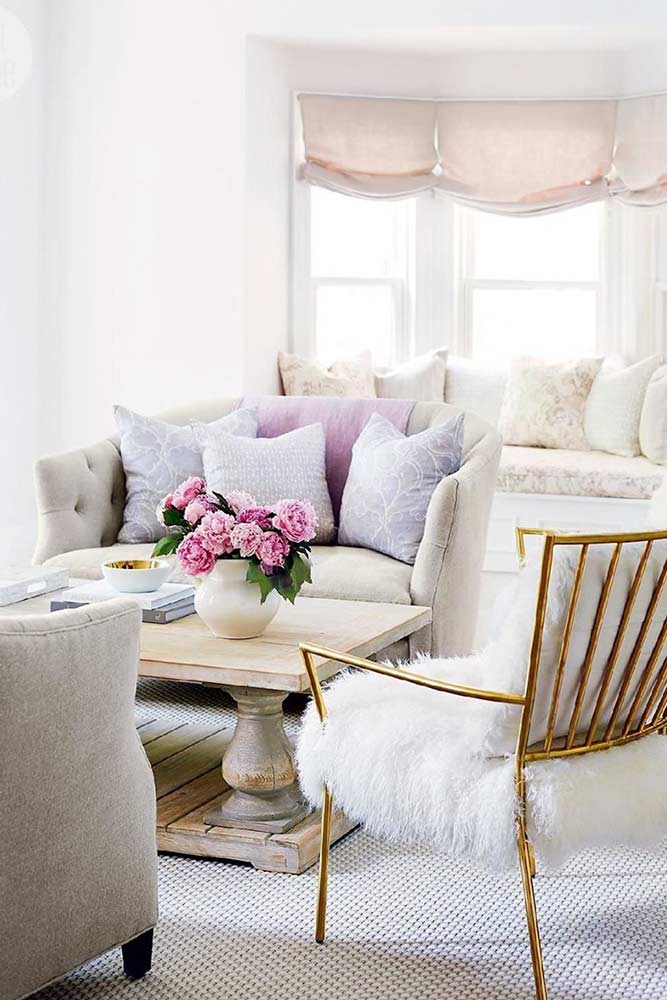 Credit photo: Instagram.com/styleathome
Influential interior designers claim that living room decor should be one or probably two colored. Pillow cases in one color family are great to implement this idea. Besides, using a futon instead of a regular sofa is another trendy idea.
Patterned pillows and cushions can serve as accents to give any area of your house personality and interest and living room is no exception. Even the simplest interior design can benefit greatly from such elements of décor. You can opt for colors either matching the interior of the room for a cozy feel or opposing it to add depth and character.
Wall Decor Ideas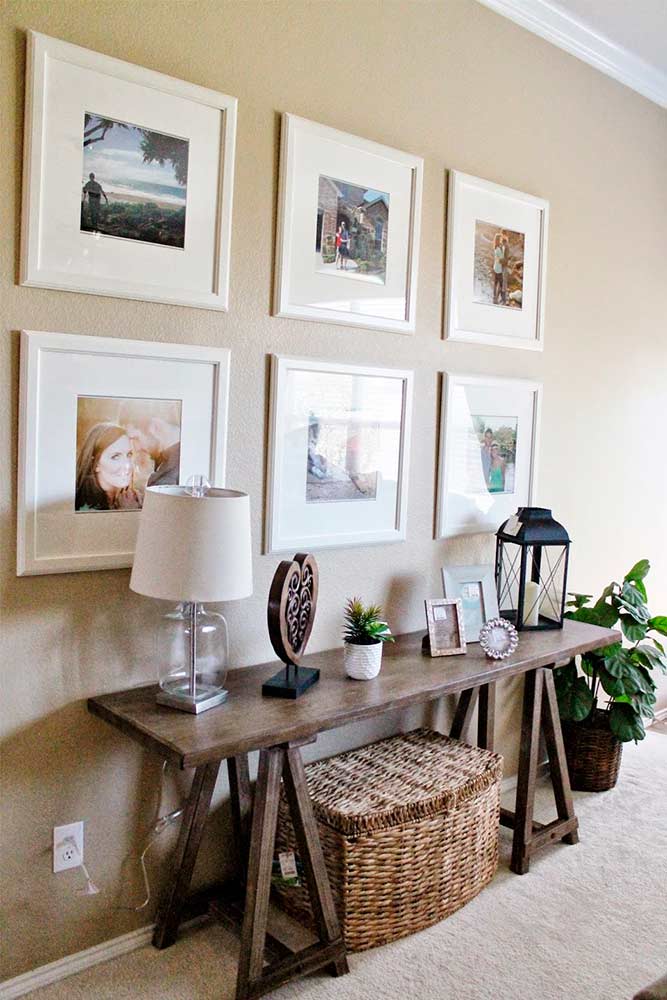 Credit photo: Instagram.com/sarahtuckerup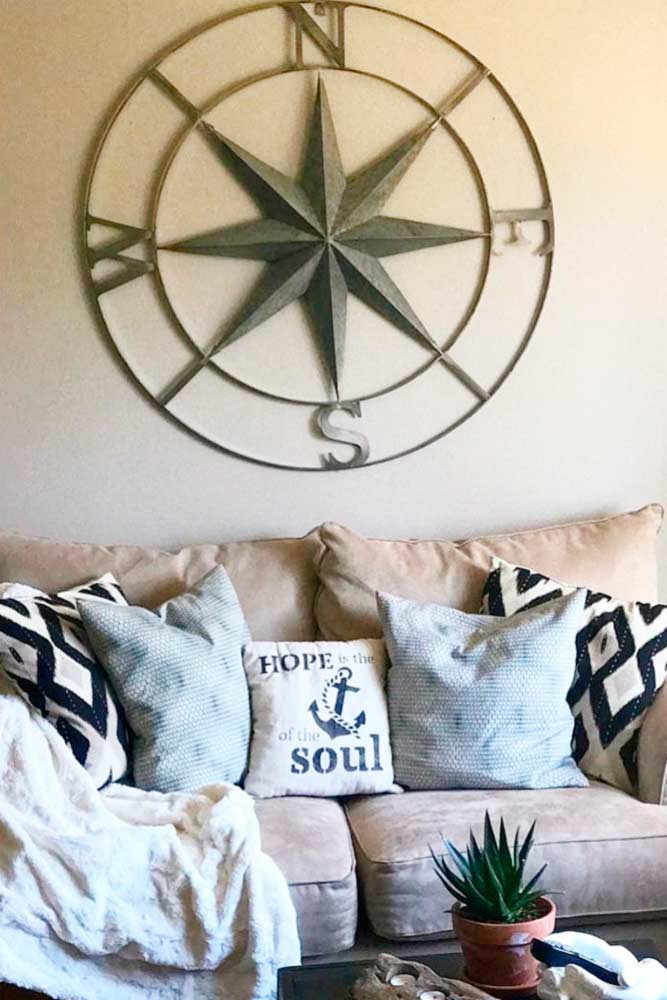 Credit photo: Instagram.com/haven_designs_419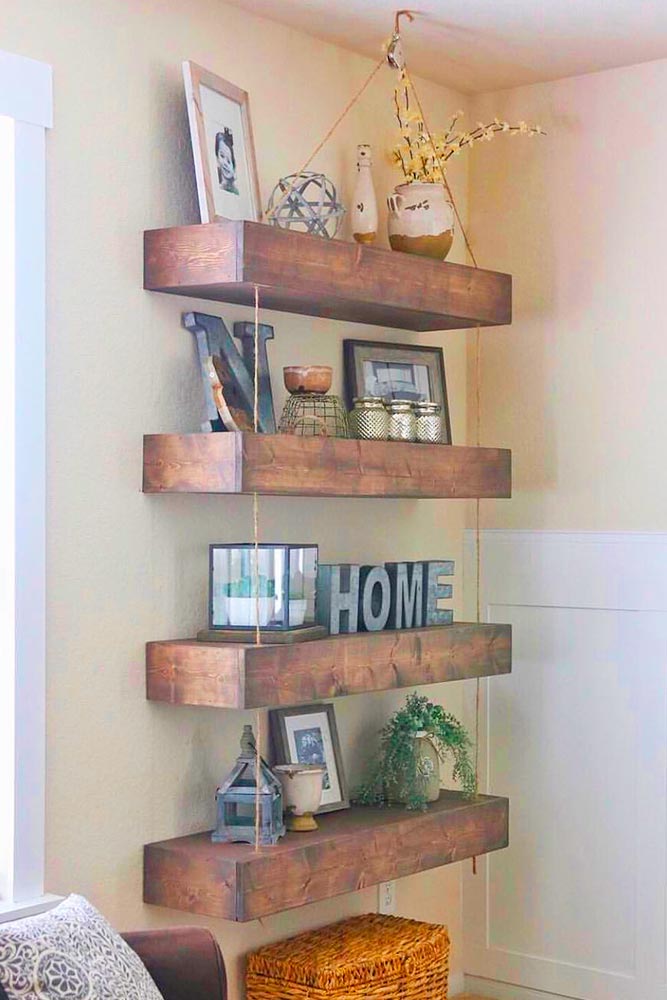 Credit photo: Instagram.com/shanty2chic
Fireplace Design Ideas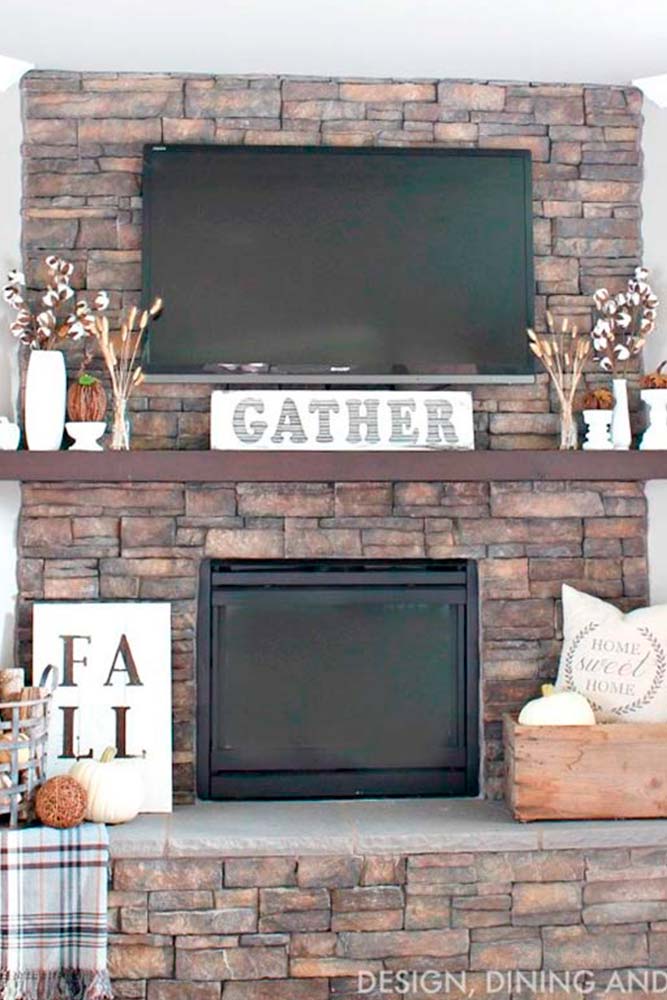 Credit photo: Instagram.com/tarynwhiteaker_designs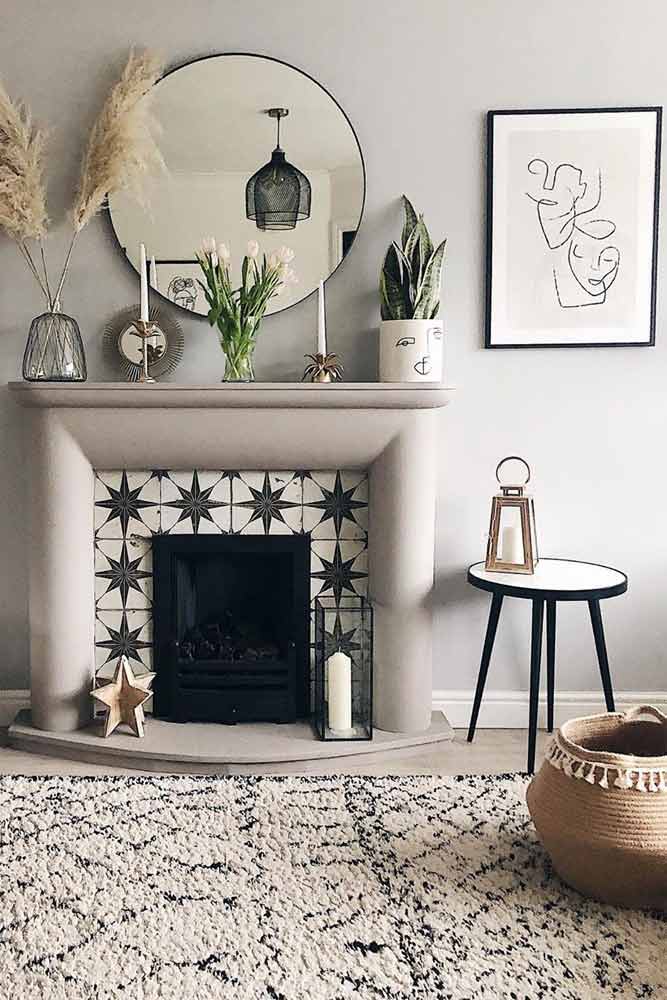 Credit photo: Instagram.com/my_grey_place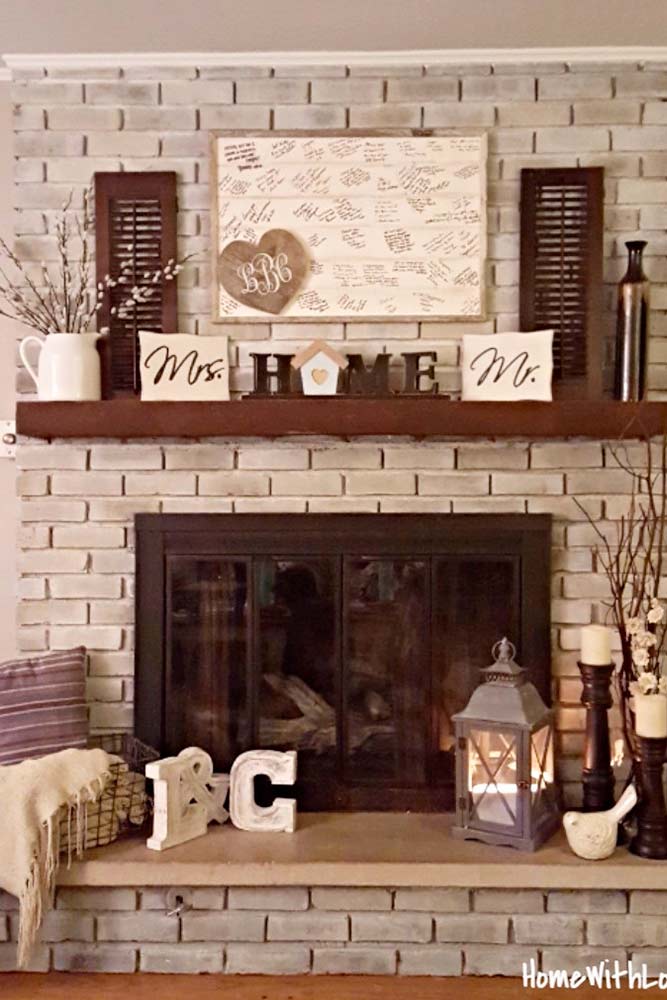 Credit photo: Instagram.com/whimsygirldesign
Contemporary decorating ideas also include rustic wall décor that is very cute and fills your house with warmth. Try wooden photos or mirror frames and shelves.
It is no secret that a fireplace is a great way to instantly add a cozy and warm feel to any room, including the living room. Besides, the mantle provides a lovely display platform for your family photos, favorite books and knick-knacks. Put a sectional sofa with an array of patterned pillows in front of it, throw a thick rug on the floor and your favorite place in the house is all set.
Creative Ways to Place Your TV-set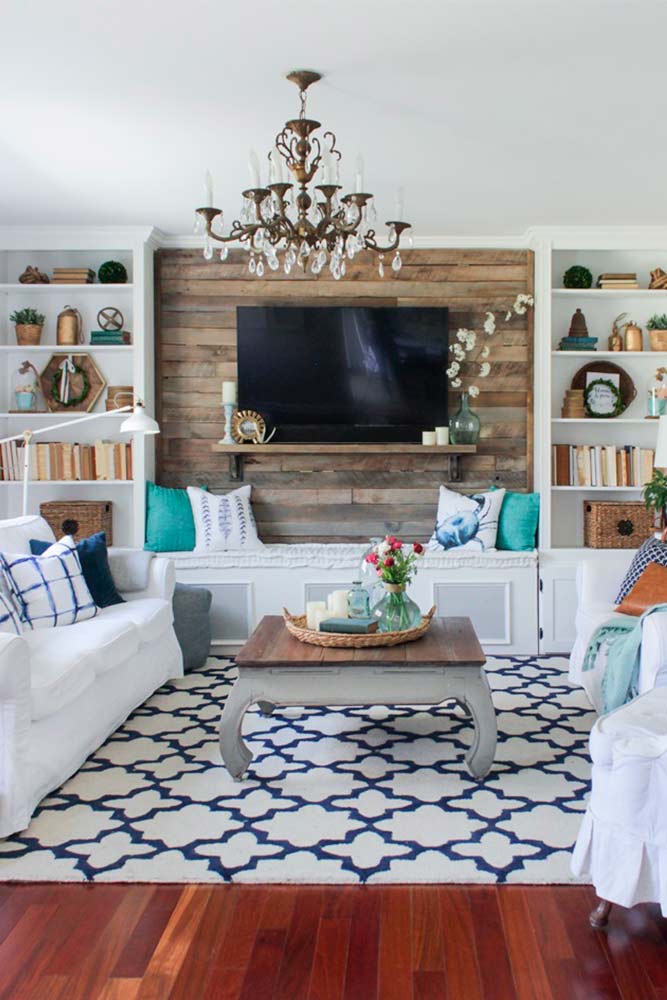 Credit photo: Instagram.com/shadesofblueinteriors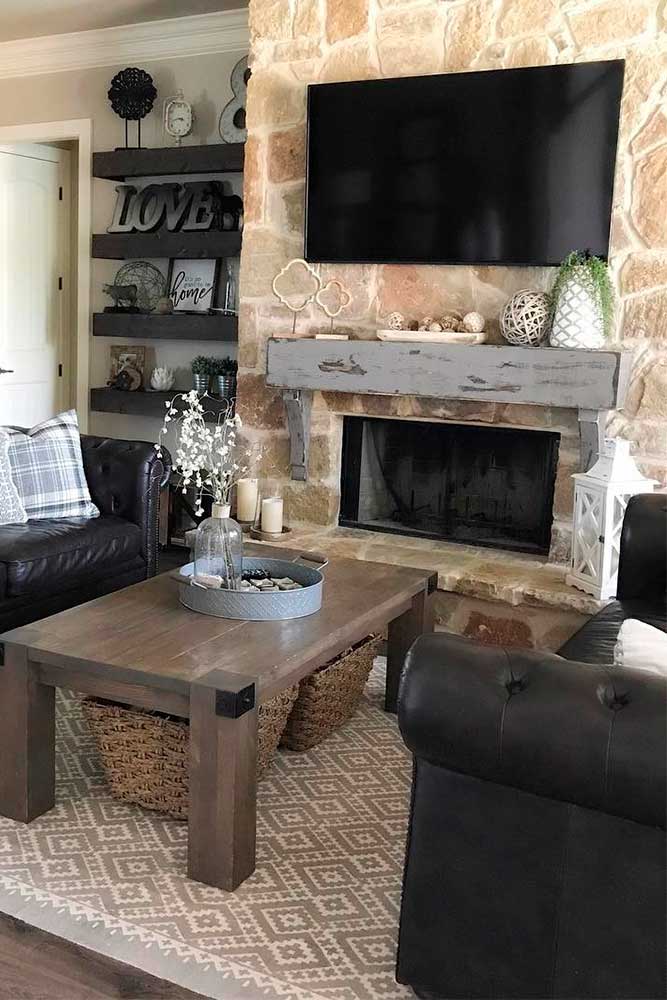 Credit photo: Instagram.com/shanty2chic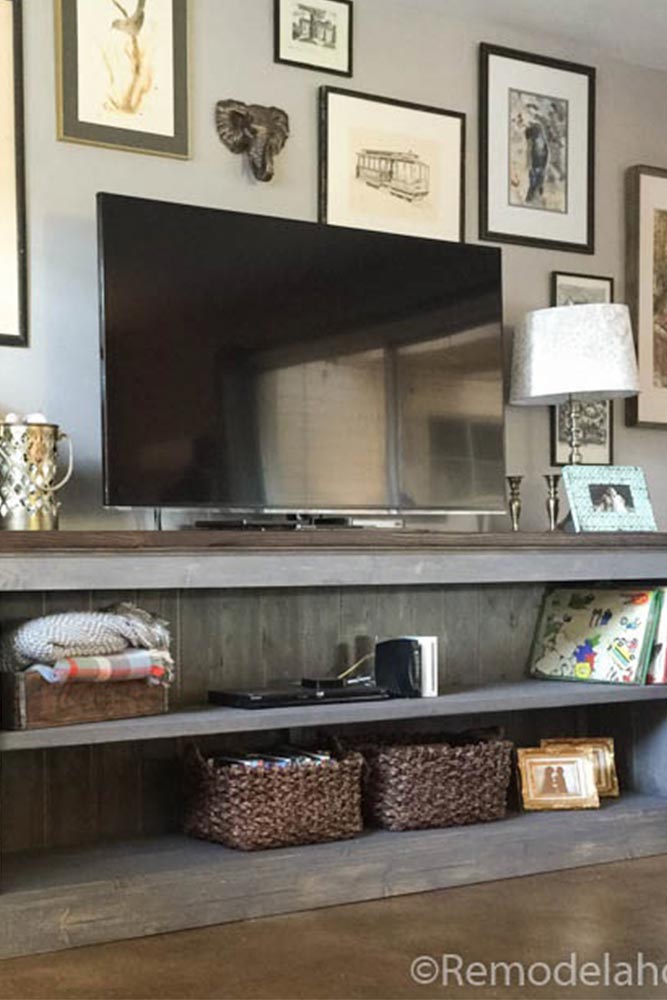 Credit photo: Instagram.com/remodelaholic
Amazing Ideas For Living Room Decorating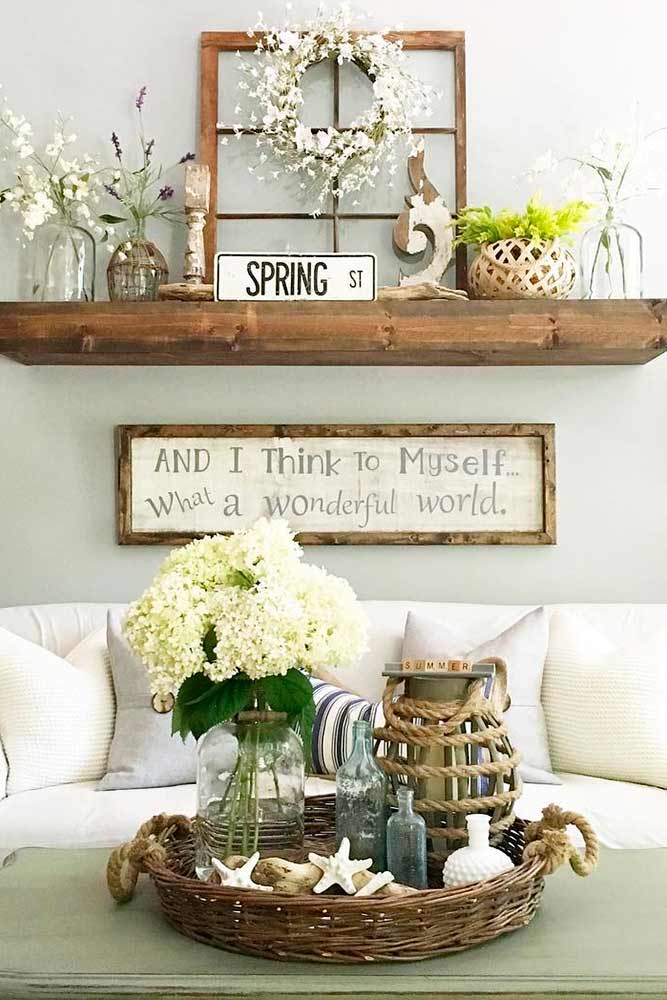 Credit photo: Instagram.com/angelascozyhome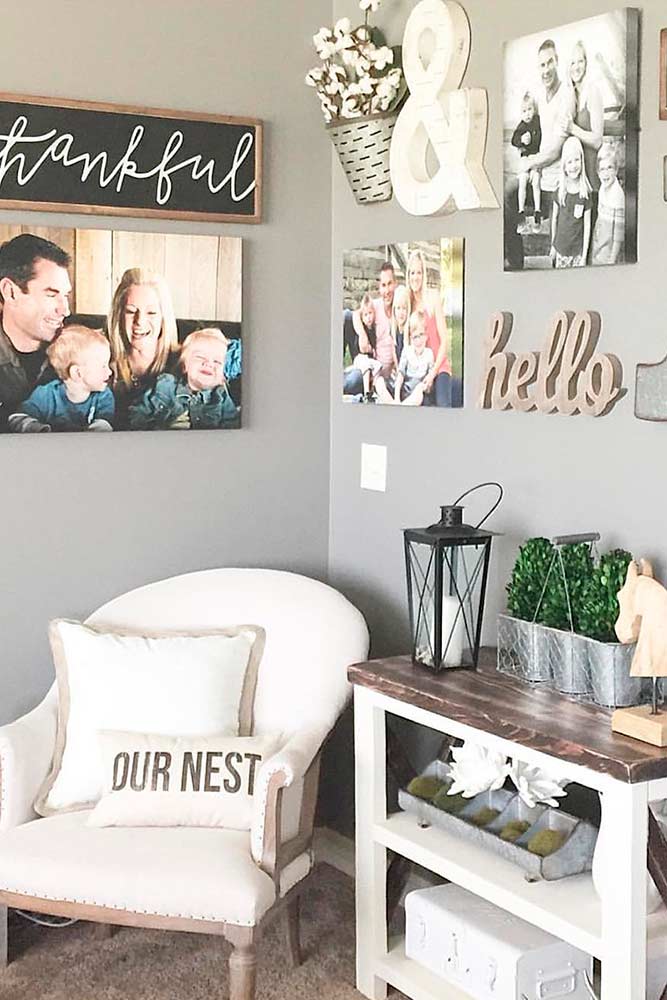 Credit photo: Instagram.com/vineandbranchestx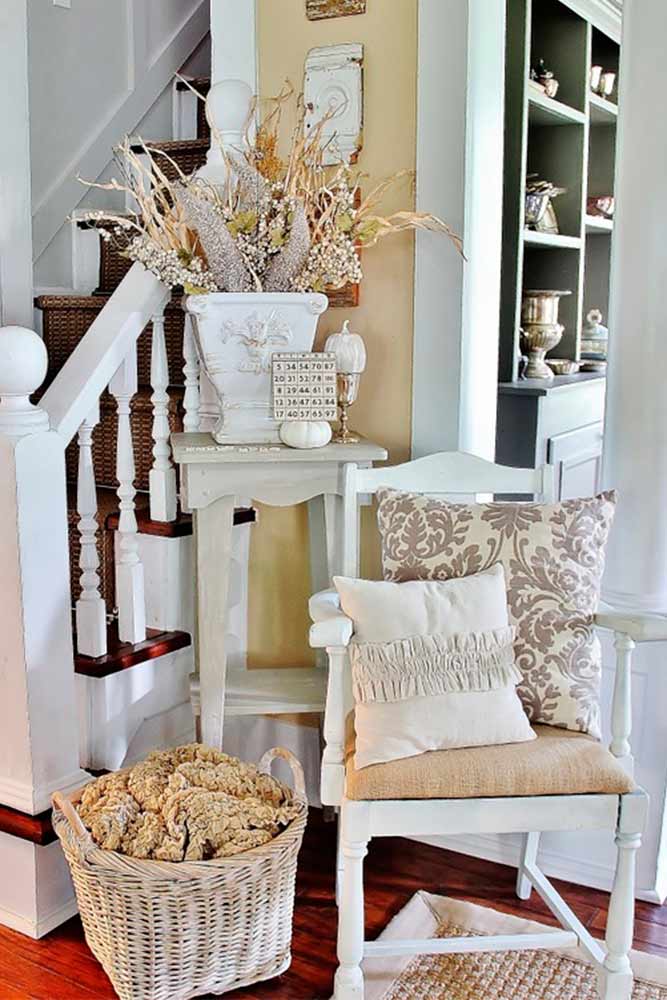 Credit photo: Instagram.com/thecottagemarket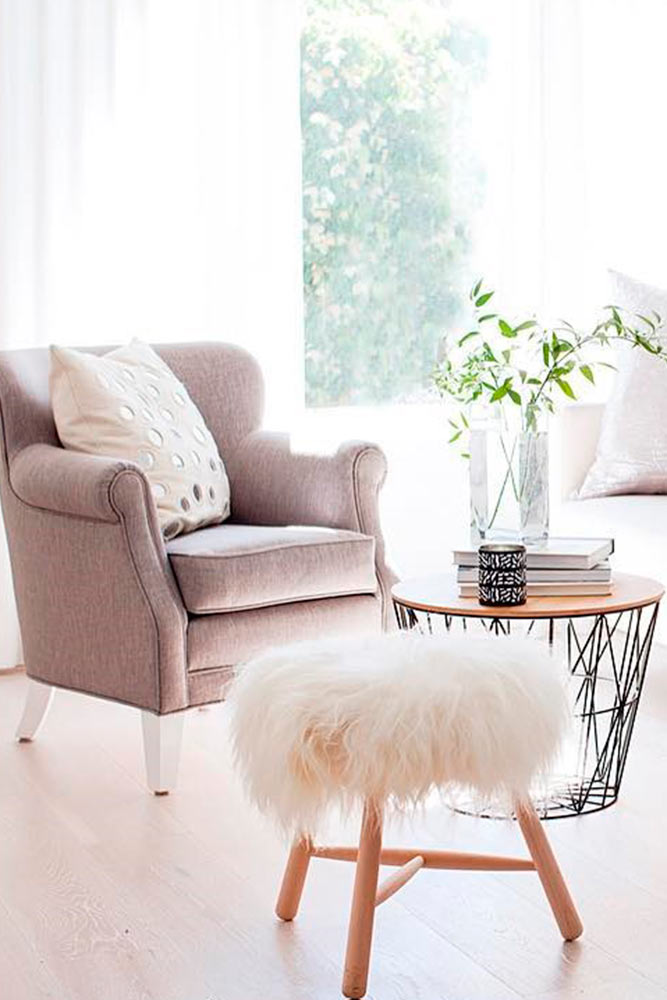 Credit photo: Instagra/pineconecamp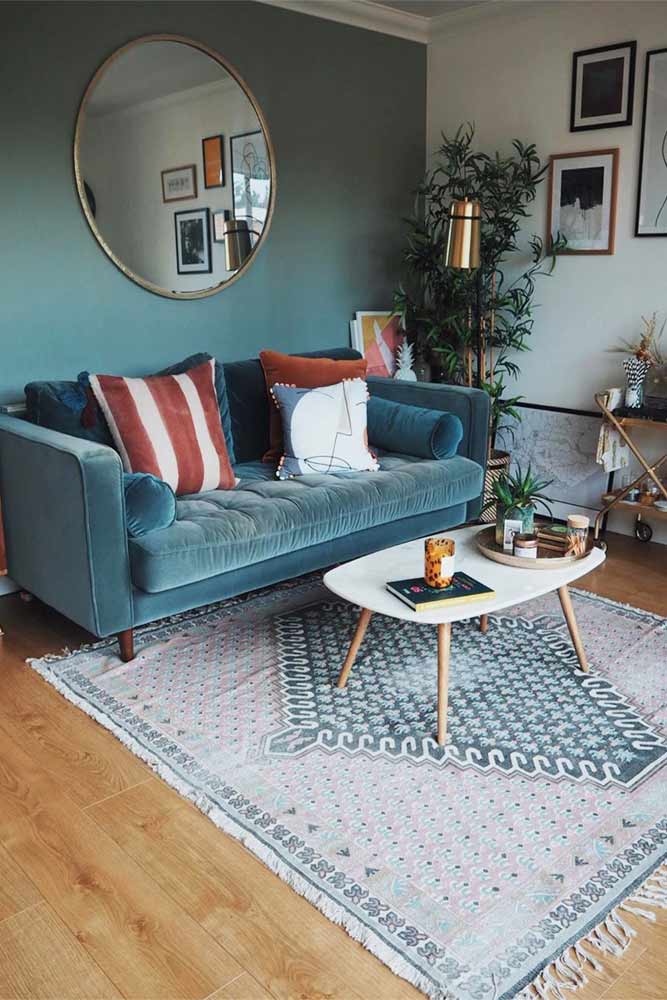 Credit photo: Instagram.com/apogee_interiors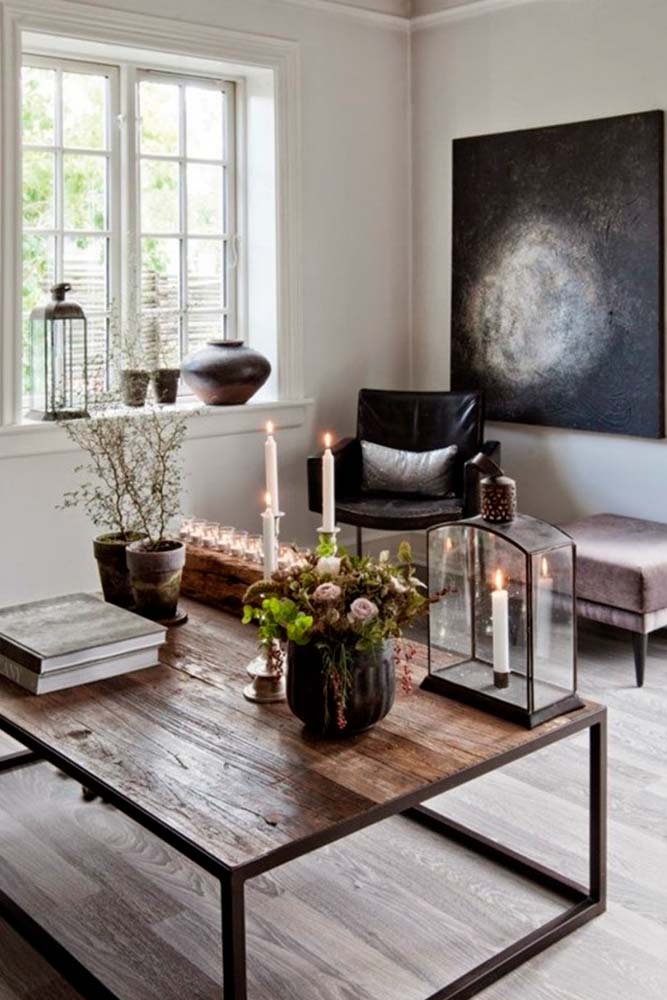 Credit photo: Instagram.com/christina.kayser.o
If you are looking for apartment living room decorating ideas, we have a couple of good suggestions. In case your main concern is a small living room, then you can visually enlarge it by hanging mirrors on the walls, painting them in contrasting colors and optimizing the space with the help of multipurpose furniture. To make it cozier and warmer, throw some decorative cushions on the sofa, add tall plants to the corners and lay a carpet or rug in the middle of the room.
Don't forget to update your fireplace as it is the coziest corner in your room. These ideas will definitely make your house feel like home.
Decorating Ideas with Pictures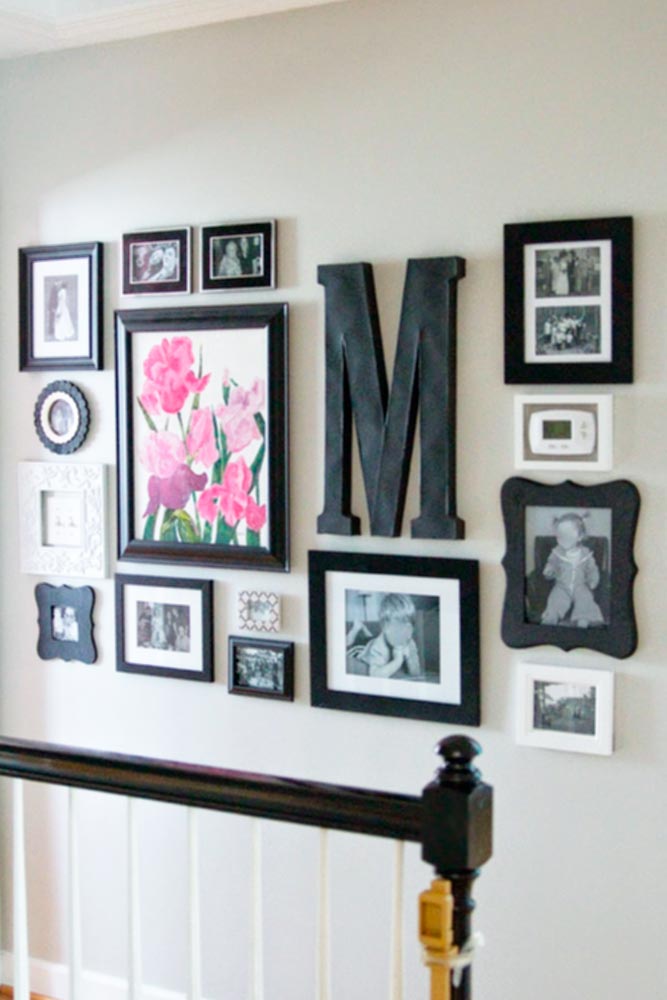 Credit photo: Instagram.com/littlebitsofhomeblog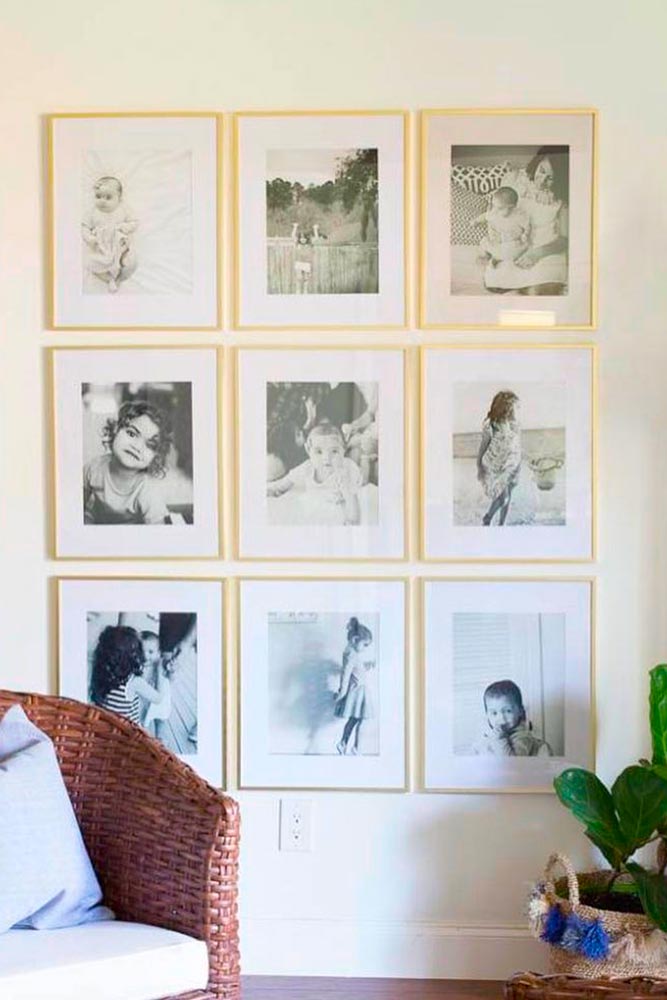 Credit photo: Instagram.com/makinghomebase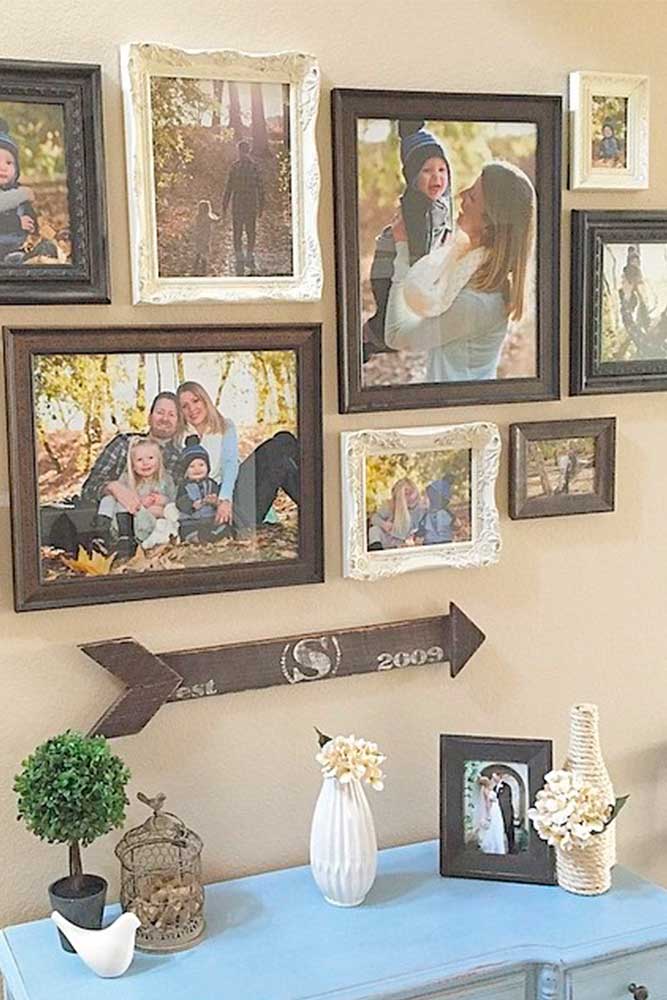 Credit photo: Instagram.com/naptimehomedesign
The living room is the place where the family gathers. Use our ideas to make it truly cozy.
FAQ: Living Room Decorating Ideas
How to add colors and textures to your living room?
Placing a few pillows on your couch allows you to incorporate color and texture into your living room without making a big commitment. Pillows can be changed with the seasons you can immediately change the appearance and refresh home décor.
Place some photographs or painting on the walls and match them to the elements of your interior.
Throw blankets are great items to layer texture and color on your sofa. They immediately add coziness.
Curtains are great to add color and texture.
What makes the living room comfortable?
Placing a rug really brings the interior together and instantly creates a cozy atmosphere. Make sure it feels comfortable under your feet and has a soft texture.
Candles set relaxing mood. It is important to have some scented candles on display to make your space inviting. Moreover, nice candle holders can elevate your interior.
What are essential items for your living room?
Plants or floral arrangements makes your space more inviting and luxurious. Plants also make your homes healthier and reduce noise.
Personal things like souvenirs, artworks or your favorite books create a unique and cozy atmosphere. Add something that is meaningful to your family to give a personal touch to your living room.
Mirrors are the perfect accessories as they make a space look larger and reflect light illuminating the room.
REFERENCES:
In Western architecture, a living room, also called a lounge room, lounge, or sitting room, is a room in a residential house or apartment for relaxing and socializing. Source
There is nothing like crafting a stylish living room design that is suitable for enjoying family time and entertaining loved ones. From an industrial New York City loft to a rustic space in Ibiza, this collection of inspiring living room ideas will make you want to refresh your own space. Source