Kitchen Island Is What Every Modern Home Needs
It is difficult to say that the kitchen island is the freshest trend in existence. It has been in for decades now, however, these days it is getting a new twist. The thing is that décor ideas change as the time passes so must a kitchen island look acquire some fresh twist. Today we are going to treat you with a list of such island ideas so that you can choose the one that suits you best. But, before we proceed, it should be mentioned that you should not rely on the design of the island merely. You need to take it into consideration what your kitchen lacks more – whether it is storage or seating space, or cooking room – think about it in the first place before opting for a kitchen island that comes to your taste. Now, let's have a look at what we have here!
Ocean Inspired Kitchen With Small Wooden Island
Source: homepolish via Instagram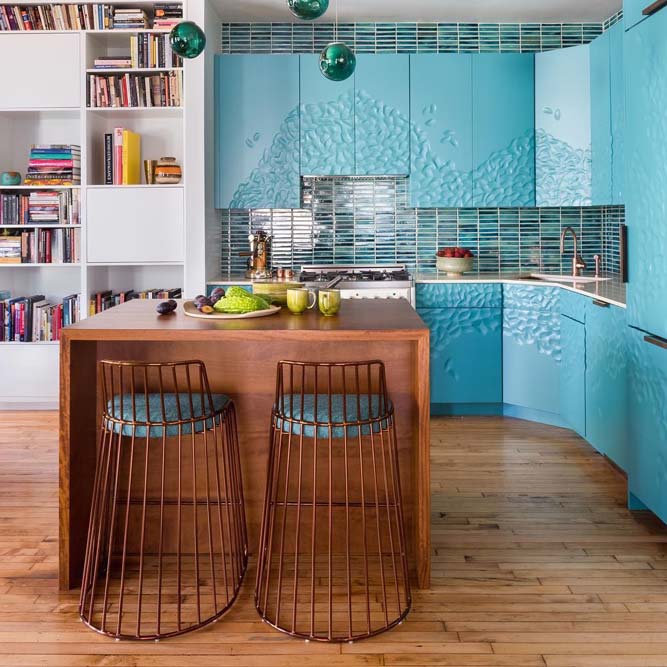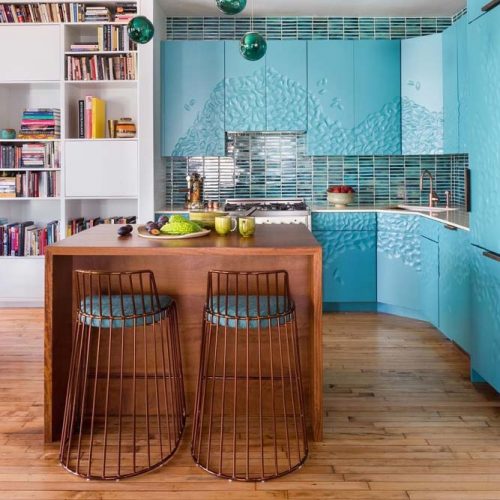 This is the perfect example of how a kitchen can border with the living room. However while the living room seems to be in calm tones, kitchen is in bright ocean blue hues, and that is marvelous. What is more, kitchen island with seating seems to be that exact one thing that is missing from this master kitchen. The fancy modern chairs are completed with the cushions of the same shade of ocean blue, and that adds up to the general look as well.
Wooden Kitchen Island Table With Marble Top
Source: _rafterhouse_ via Instagram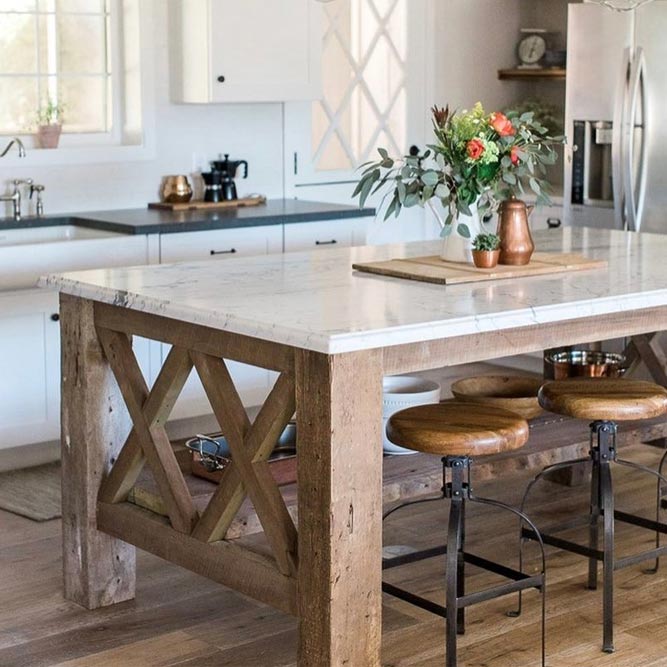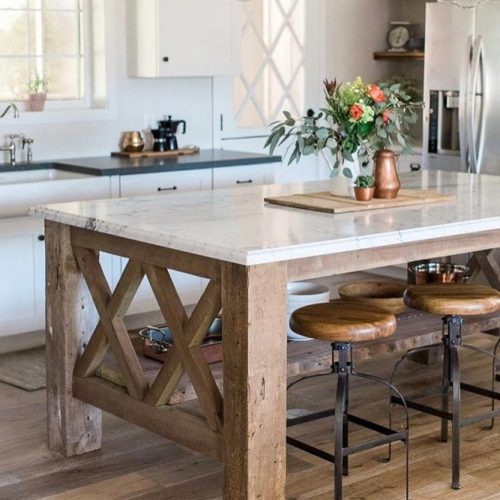 Those of you who are looking for a quite out of date but still marvelous looking kitchen island ideas will just fall in love with this marble top table one. The thing is that this table is undoubtedly placed in the center since there was a lack of seating room, but as you can see there is some spare room under the top and it is used as storage, which seems to be practical not to mention that it adds up to the general vintage vibe.
Neutral Kitchen Island With Chairs
Source: lynnkleonidas via Instagram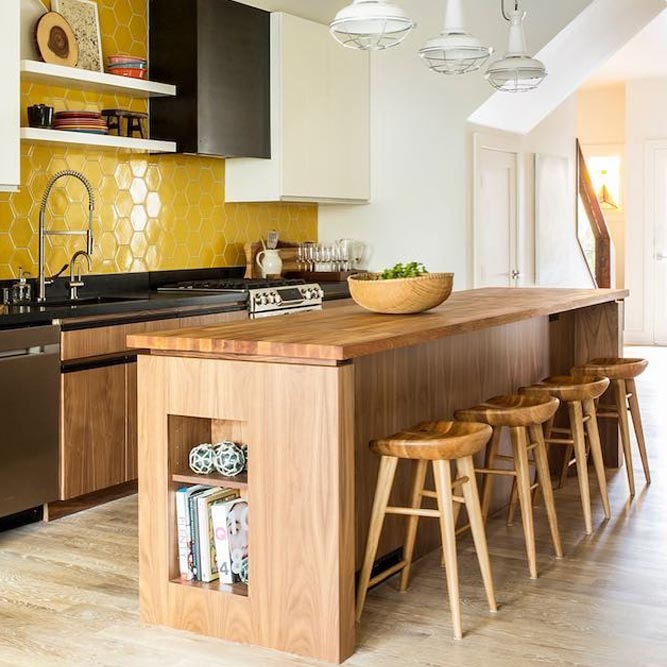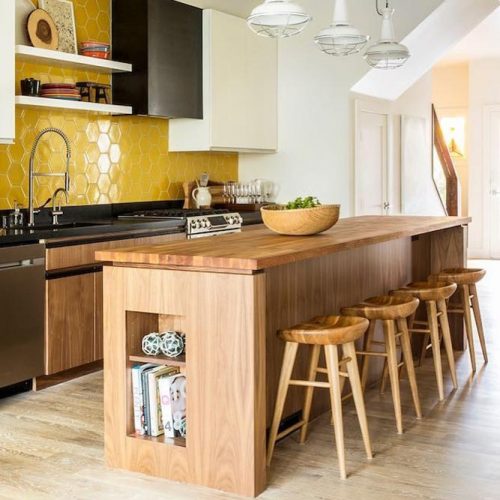 Not everyone likes the kitchen to stand out too much from the rest of the interior. If that sounds like you then we suggest you pay attention to this wooden kitchen island table. It looks quite neutral, but it surely carries out all its primary responsibilities, since the seating room, the table top is what it is meant for.
Rustic Kitchen Island Table
Source: traditionalhome via Instagram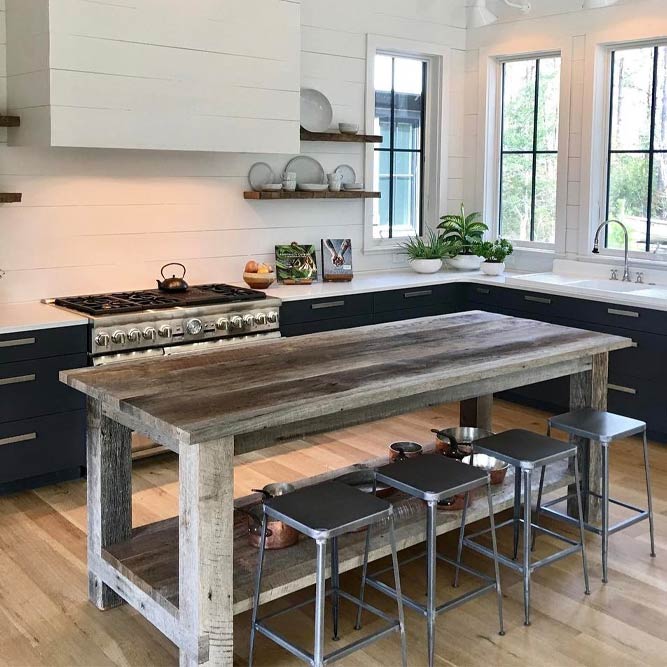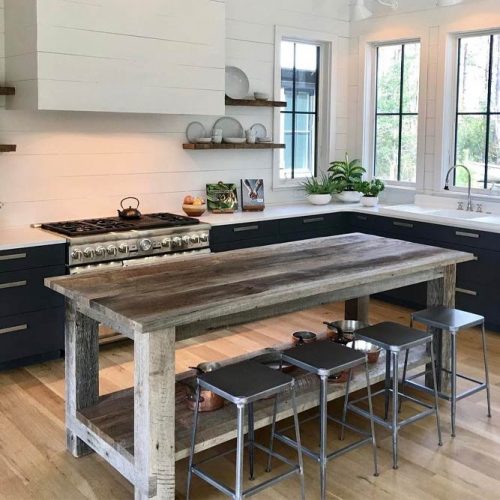 Truth be told, such a rustic kitchen island is a matter of preferences since not everyone will equally appreciate it. The thing is that it may look handmade and simple to some while the others will appreciate it like nothing else. No matter the look, this table still provides necessary storage and seating space which means that it deals with its functions well.
Classic Fully Functional Kitchen Island
Source: a.k.nackfordesign via Instagram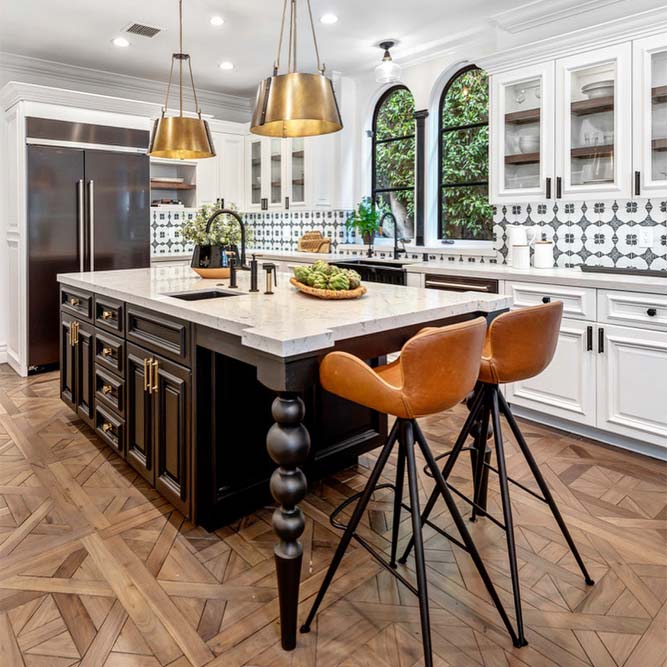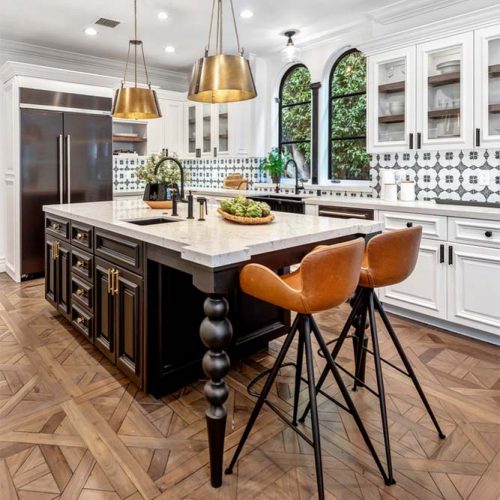 When you are looking for a kitchen island that is fully functional – this is the perfect example of a classic kitchen island with all the necessary additions. As you can see, it takes up a lot of space so that before opting for it you need to make sure that there is enough of room in your kitchen, otherwise, it may take up all the area and that is undoubtedly inconvenient.
Fully Functional Kitchen Island With Shelves
Source: georgia_ezra via Instagram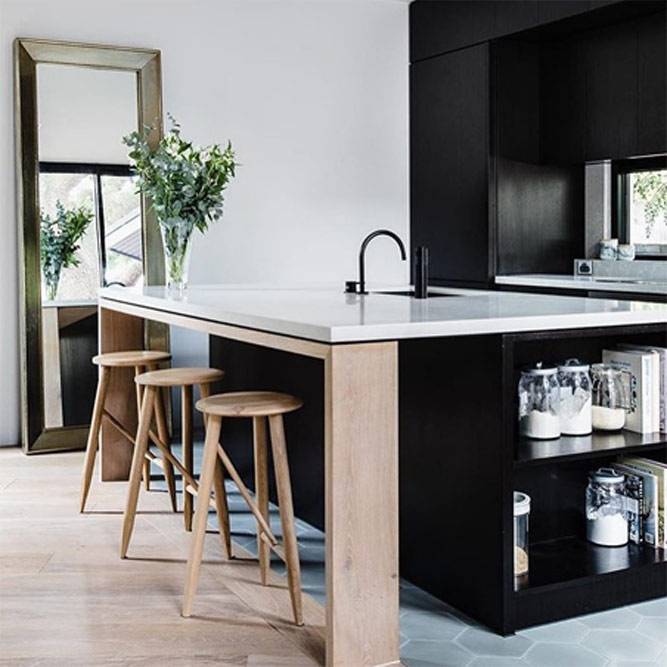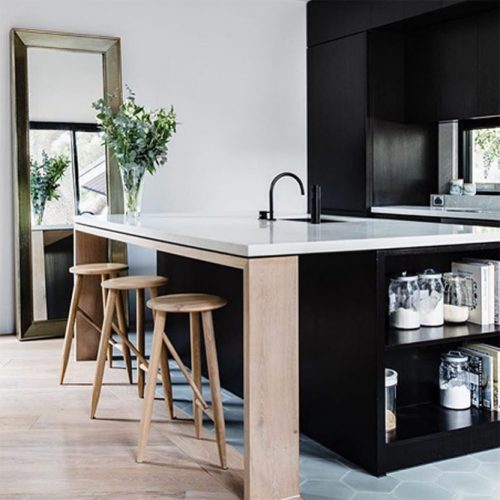 It should be mentioned that it is essential to fit your island to the rest of the kitchen décor. If your kitchen is in classy shades then so should be the kitchen island. For example, here you can see the contrasting coloring of black and white. However gold framed mirror suits the interior like nothing else. As for the functionality, this island is that perfect example of a minimalistic but complete kitchen island.
Kitchen Island Cabinets For Useful Storage
Source: parkandoakdesign via Instagram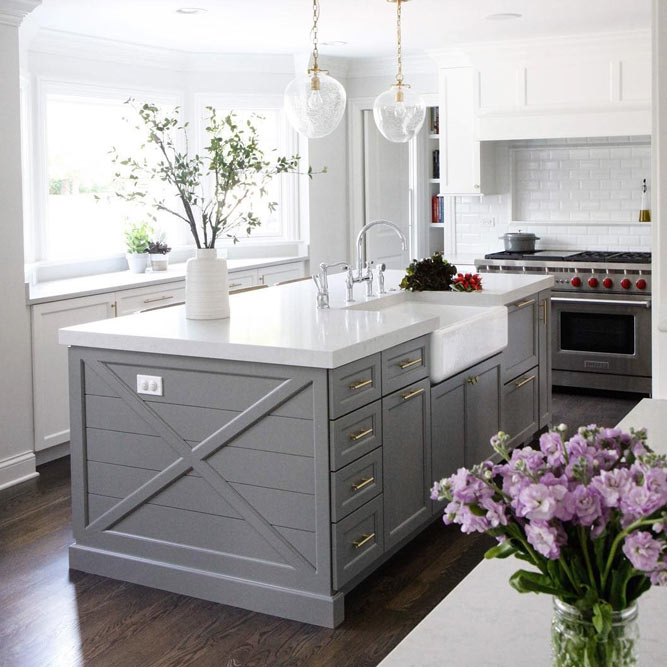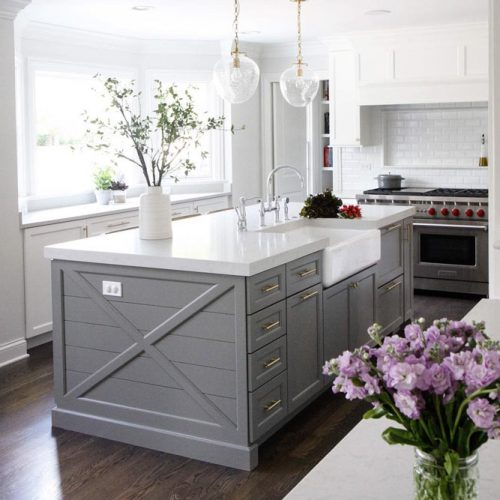 It is true that not everyone has a king-size kitchen, but that does not mean that you can't afford a kitchen island in your average kitchen. Such a kitchen island with a sink and lots of drawers and cabinets will help you deal with the storage problem so that you do not need additional cabinets around the kitchen.
Marble Kitchen Island With Table Seating
Source: jturek via Instagram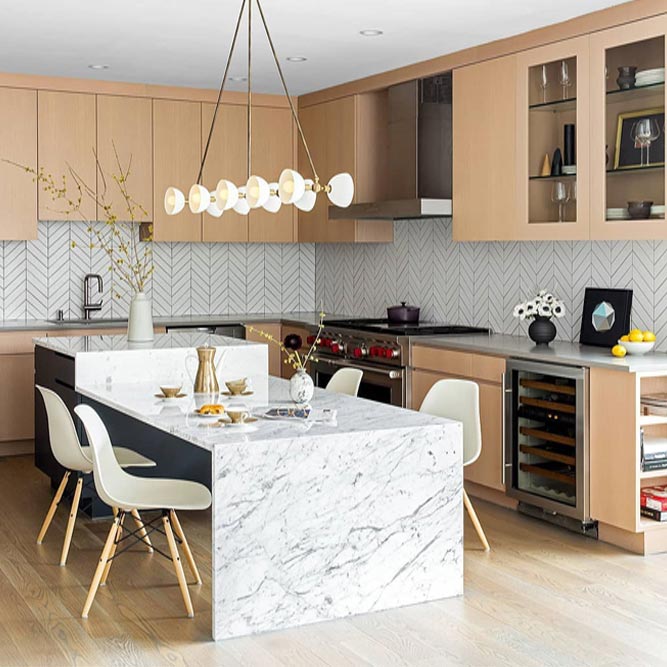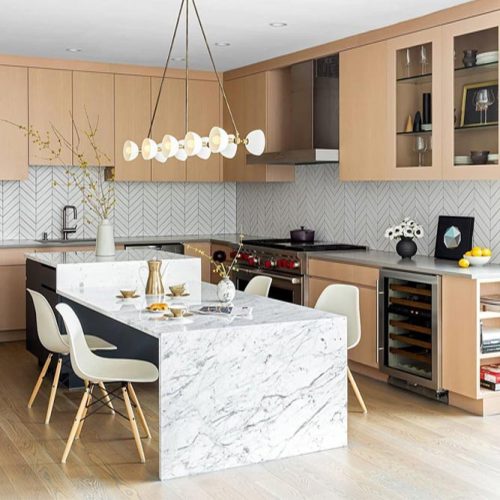 When there is no separate dining room in your house – worry not! There are perfect kitchen island designs, which deal with the problem easily. This marble kitchen island is the combination of the two, and a table with the chairs is exactly what you needed to compensate for the absence of a dining room.
Double-Tiered Cooking/Eating Kitchen Island
Source: starrhomes via Instagram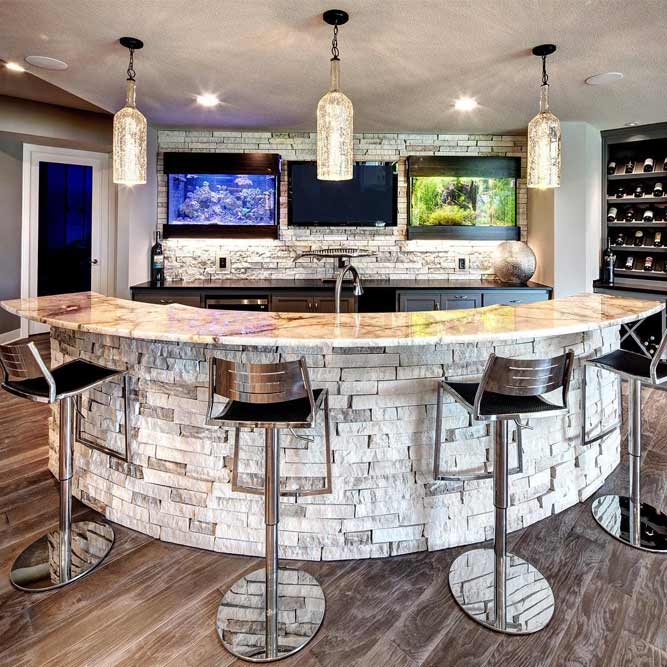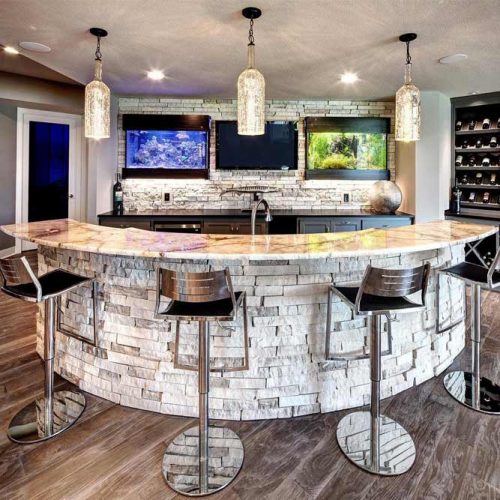 It is easier than easy to transform your kitchen into truly a masterpiece, however you need quite an amount of space to succeed. If spacing is not a problem, then this double-tiered kitchen island with stools is really a dream come true. What is more, such an island is a perfect example of a modern kitchen.
Small Kitchen Island With Storage Space
Source: schoolhouse via Instagram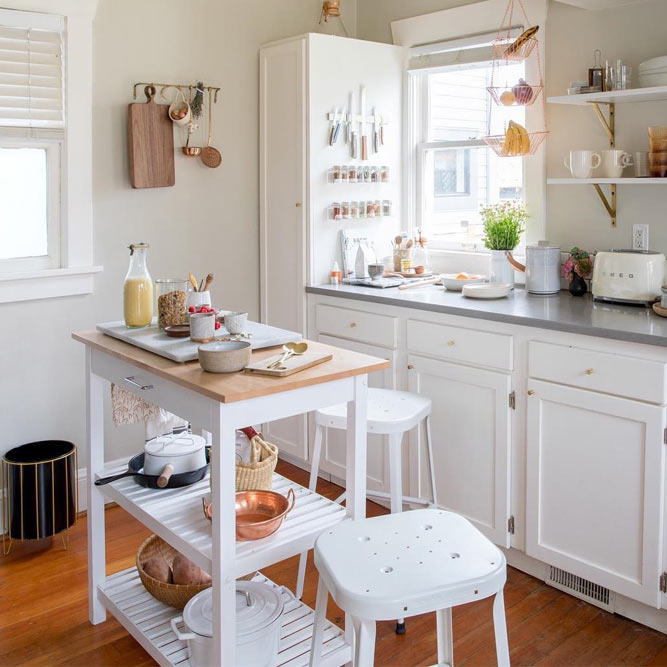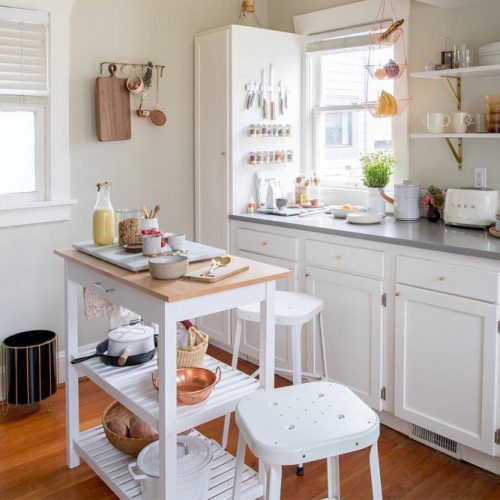 If your family is still young, then this small kitchen island is precisely what you need. What is more, such an option is totally suitable for those on a low budget. The table with levels is a perfect place for storing all the kitchen utilities.
White Color Kitchen With Small Island
Source: deliakenza via Instagram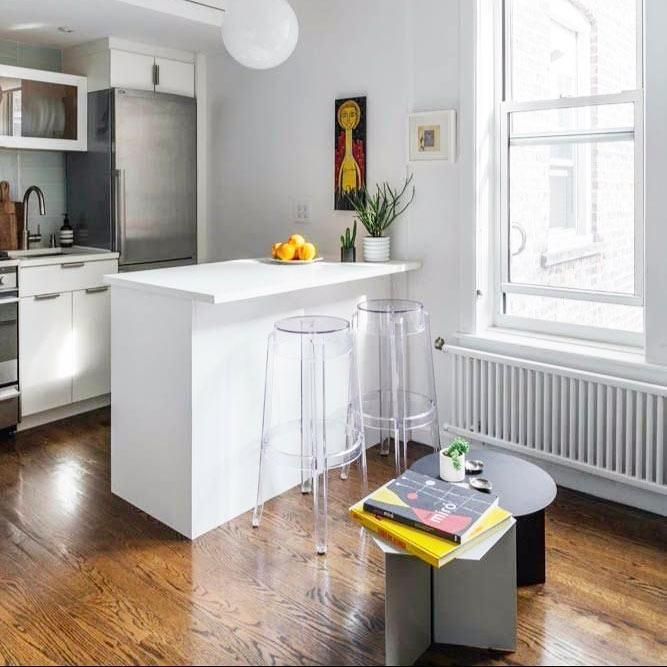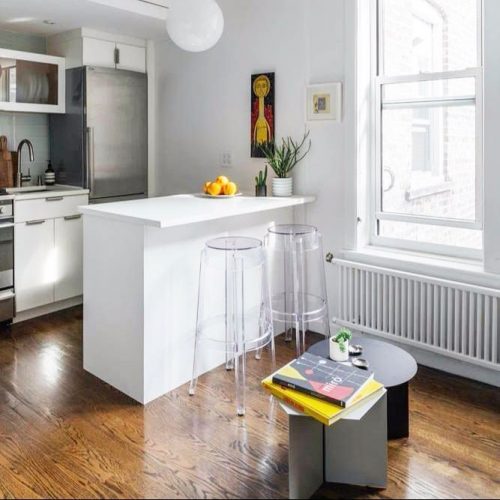 White kitchen island would be a great addition to a modern studio home. The thing is that it is perfectly small and functional – what else do you need, right? Besides, plastic stools are truly the representatives of a modern lifestyle. Even though this island is pretty small you can still use it as for cooking so for dining; it is a win-win option!
Rolling Kitchen Island Cart
Source: foxhollowcottage via Instagram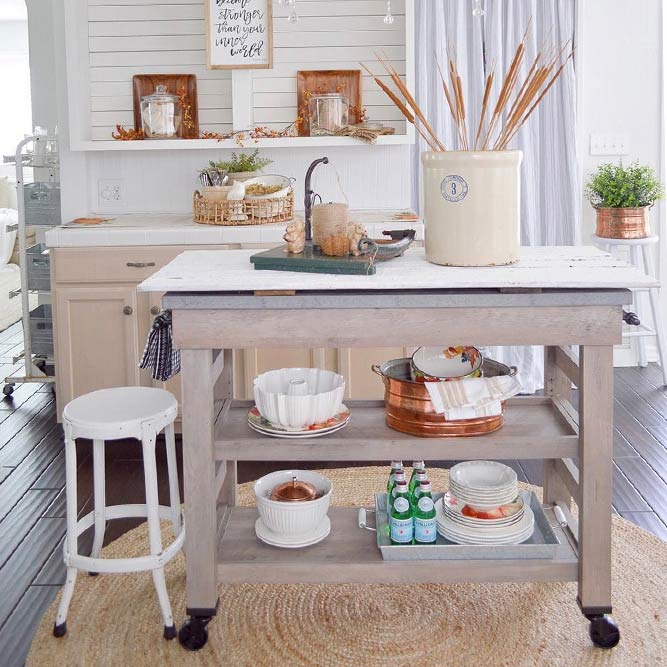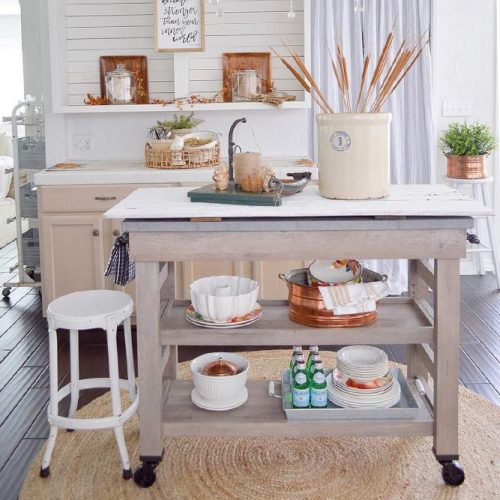 You need to differentiate between portable and permanent kitchen tables. The thing is that portable ones are usually on wheels and can be placed anywhere at that point, while permanent are generally entitled to one place only. If you do not plan to add any electrical wiring to your kitchen island then rolling kitchen island is something you should at least consider.
Small Portable Island With Storage Space
Source: shokodesign via Instagram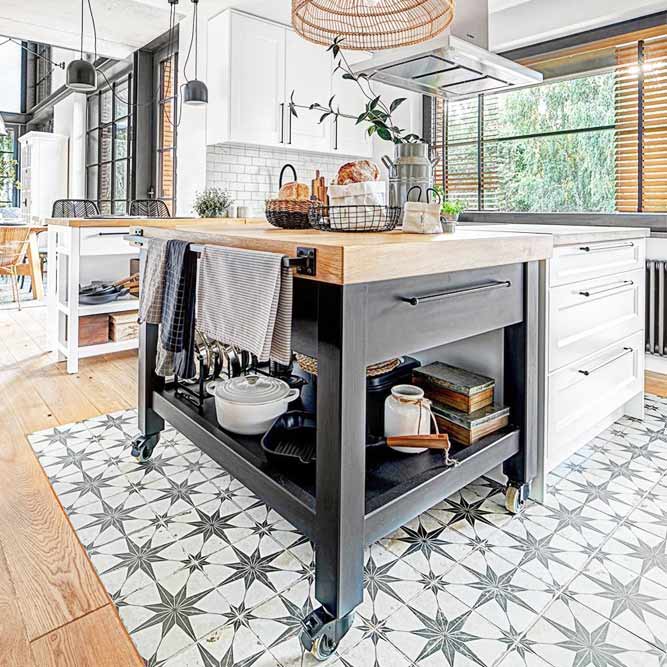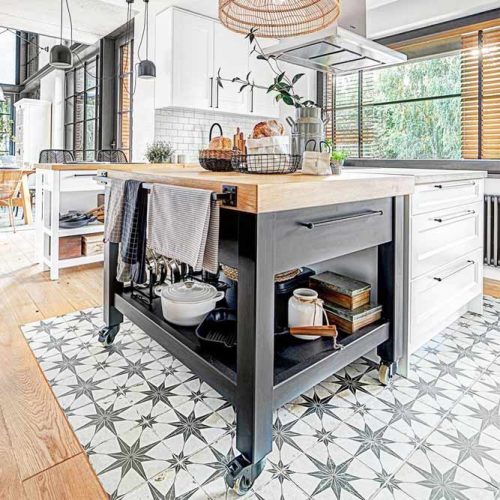 Portable kitchen island is practical due to many reasons. For once, you can put in anywhere, depending on necessity. While it still provides that required storage as well as seating space. This would be a perfect option for those who like to rearrange their kitchens on a regular basis.
Kitchen Island With Resting Space
Source: glam_style_living_ via Instagram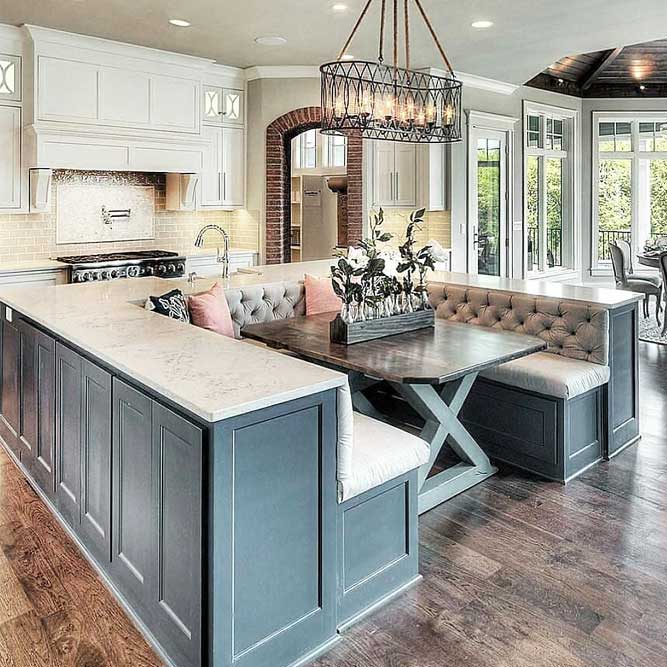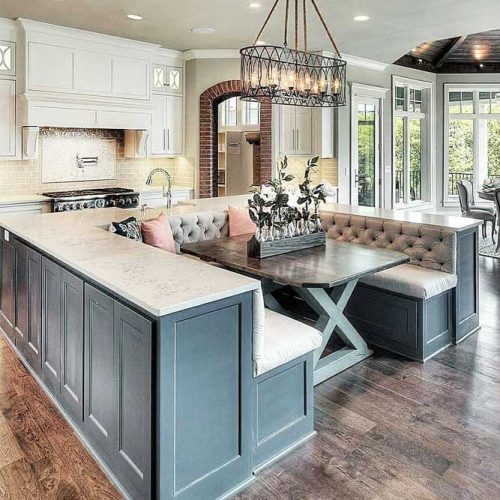 When there is a lot of room at your disposal, you can get as creative as you like. For example, you can make a whole resting place out of simple kitchen island. You can both prepare dinner and then enjoy it all in one room, but the gorgeous interior will surely add those aesthetic notes even to a regular family dinner.
Base Cabinet With Countertop
Source: delpinocustom via Instagram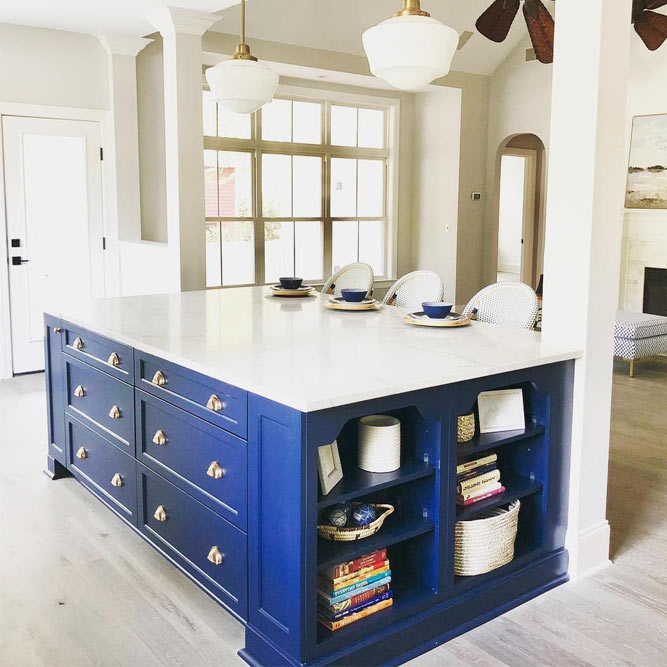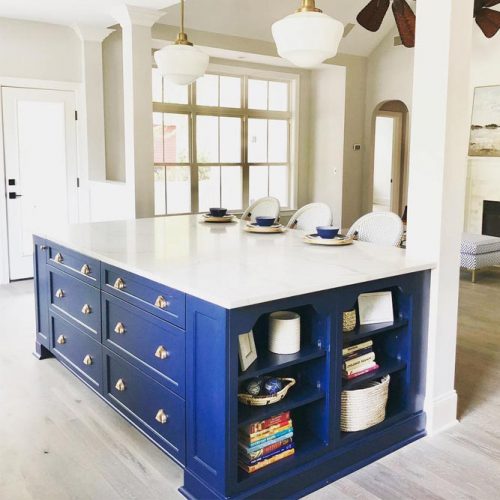 The number of kitchen island cabinets usually plays an important role. Very often the more there are cabinets the most likely you are going to get it. There is no wonder why; the thing is that there is always something to store in the kitchen and the more place there is, the better. Besides, such a bright island with pure white countertop will take any kitchen interior to the new level of stylish!
Big Black Marble Kitchen Island
Source: lakevillecabinets via Instagram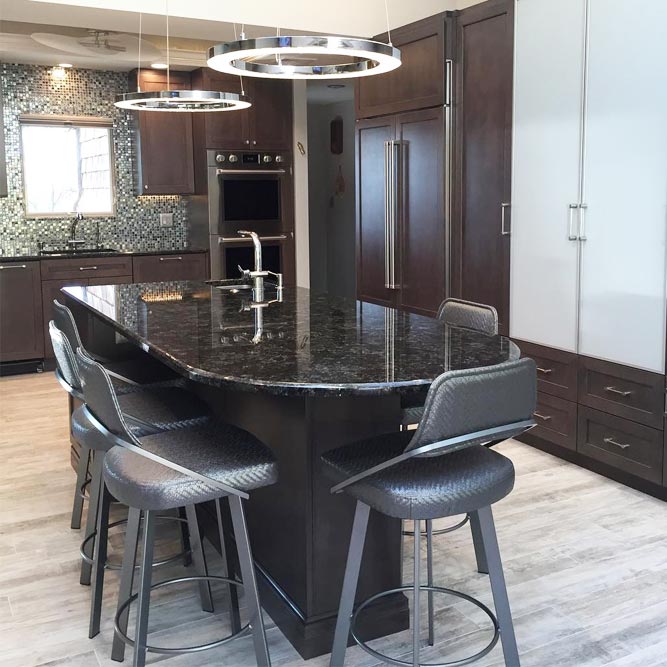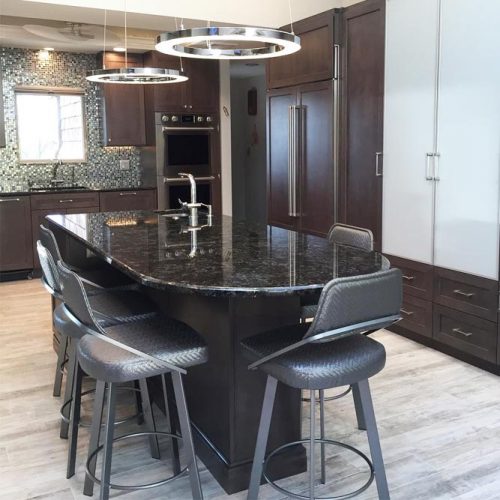 If your aim is a modern kitchen island, then this may be what you have been looking for. Although the kitchen is decorated in dark hues, it does not make it any less attractive or elegant-looking. The combination of a black marble island and black leather seats can win the hearts of even the pickiest of you!
Big Kitchen Island With Bench Seating
Source: lakevillecabinets via Instagram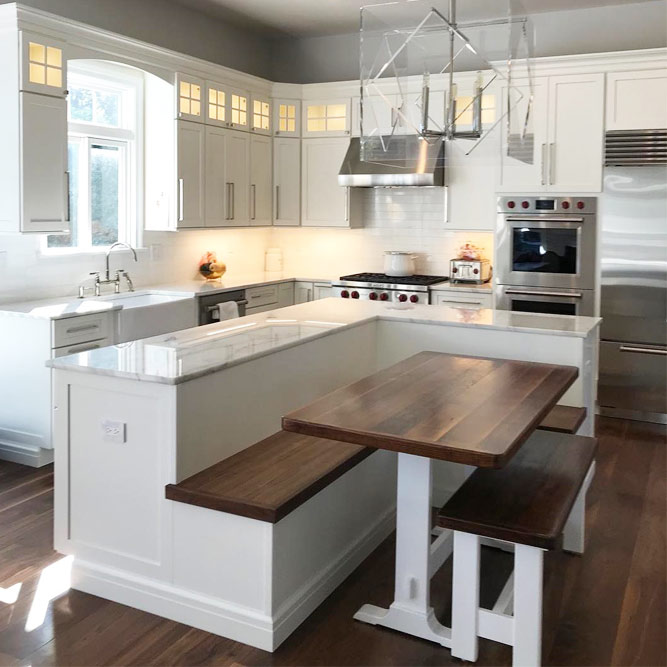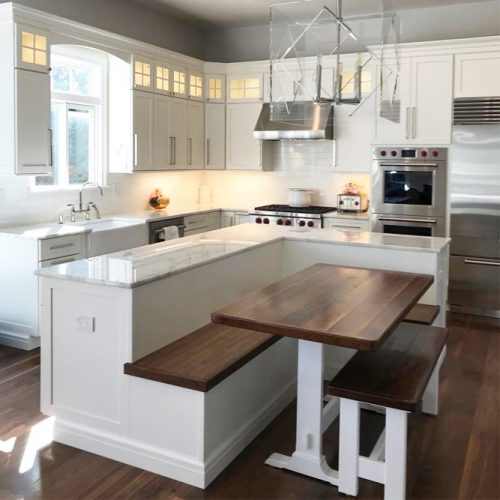 Some people often look for modern and at the same time minimalistic kitchen island. If that is what you have been searching for, then we may have an intricate idea in mind. The thing is that there is nothing out of place about this design, even the seating is a simple wooden bench – how cool is that?
Large Marble Island With Sink
Source: kbhsnedkeri via Instagram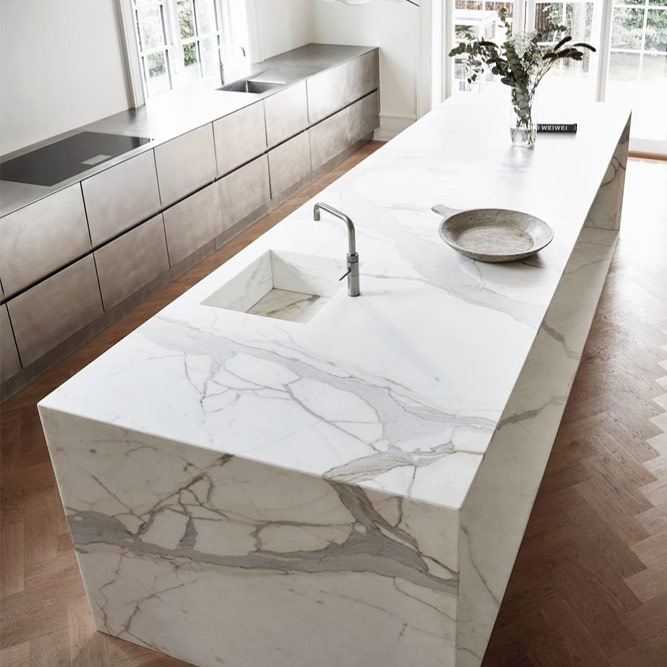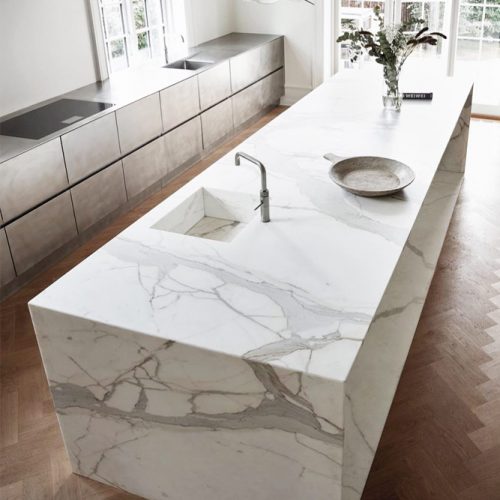 In most cases, we consider modern or rustic designs when it comes to large kitchen island ideas. But, you need to be aware of the fact that futuristic designs are also worthy of paying attention to them. This island is unusual not only because of the material it is made of but also because of the shape itself. It should be noted that such a kitchen island design looks very minimalistic and neat.
Wooden Cabinet With Natural Countertop
Source: salonyagata via Instagram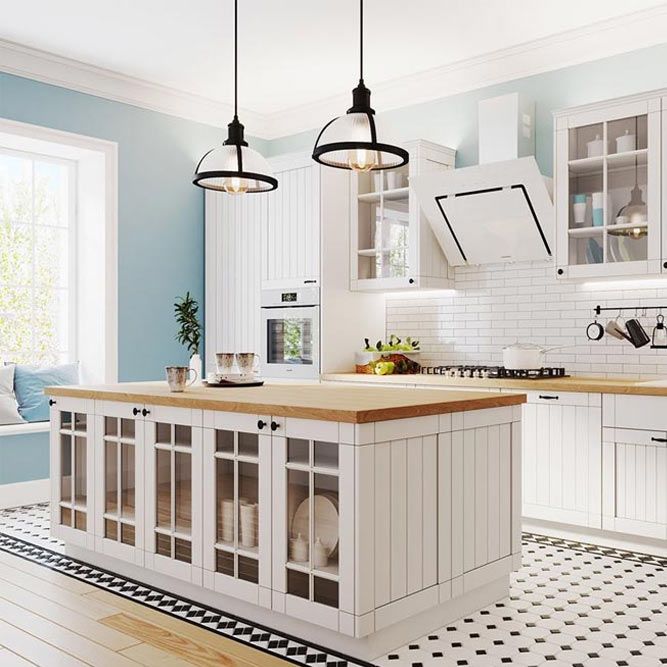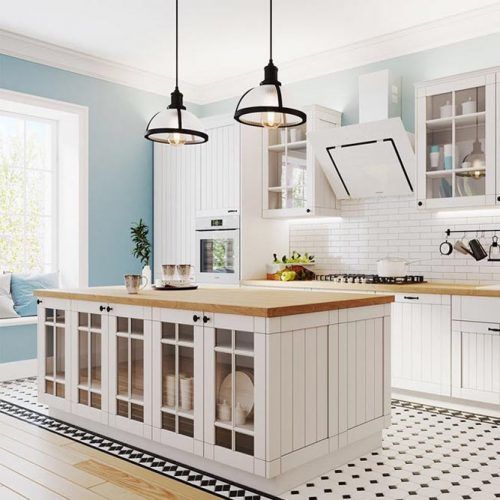 Your kitchen island should be not only convenient and useful but also stylish. That is why we suggest you consider a white wooden cabinet with natural-shaded countertop.
White Marble Kitchen Island With Storage Space
Source: lifeoncedarlane via Instagram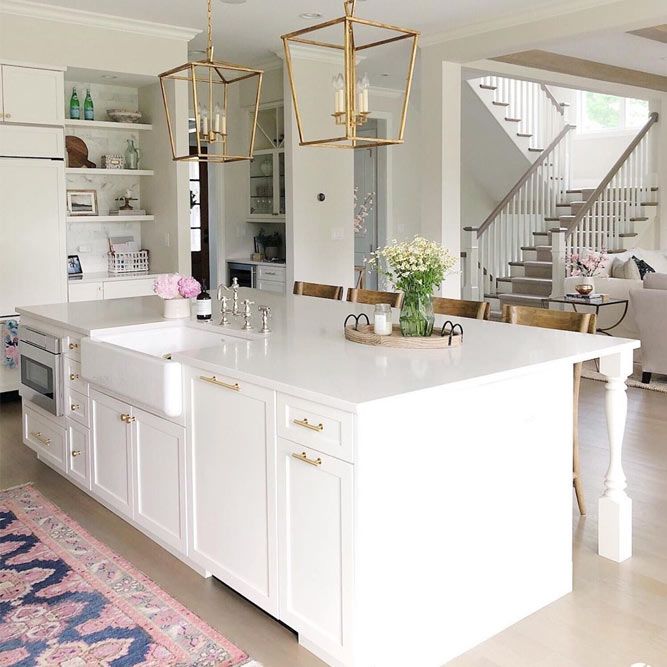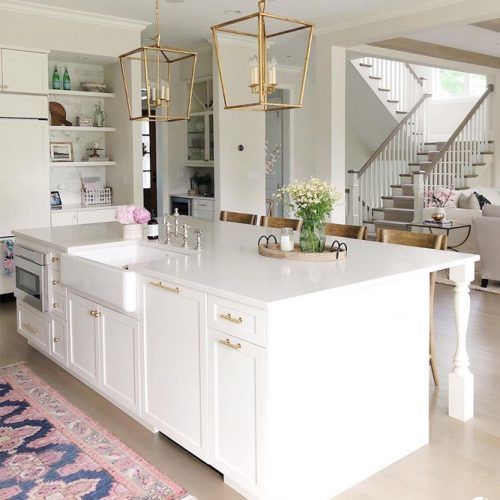 There is nothing more elegant looking than marble. That is why a marble kitchen island will add that indescribable touch to your kitchen as well as to your house in general.
Black And White Kitchen Island
Source: adesignersmind via Instagram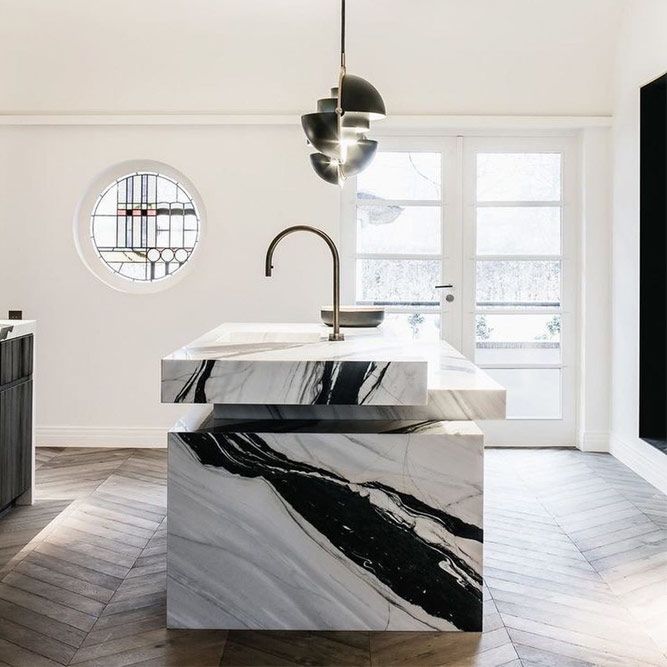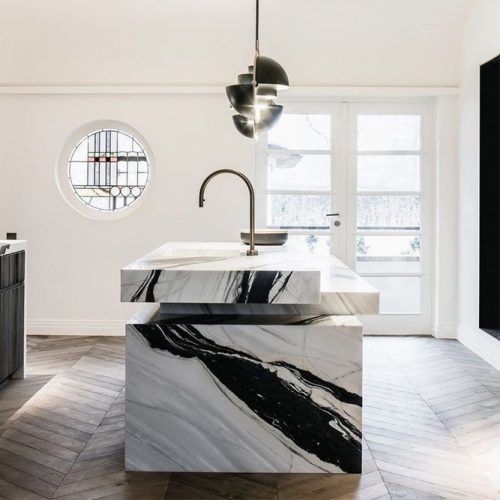 Contrasting colors define the classic approach to the kitchen island. If you think that such a gorgeous idea is something you have been dreaming about – do not hesitate to introduce it into your kitchen!
Gray And White Kitchen Island
Source: theshakerkitchencompany via Instagram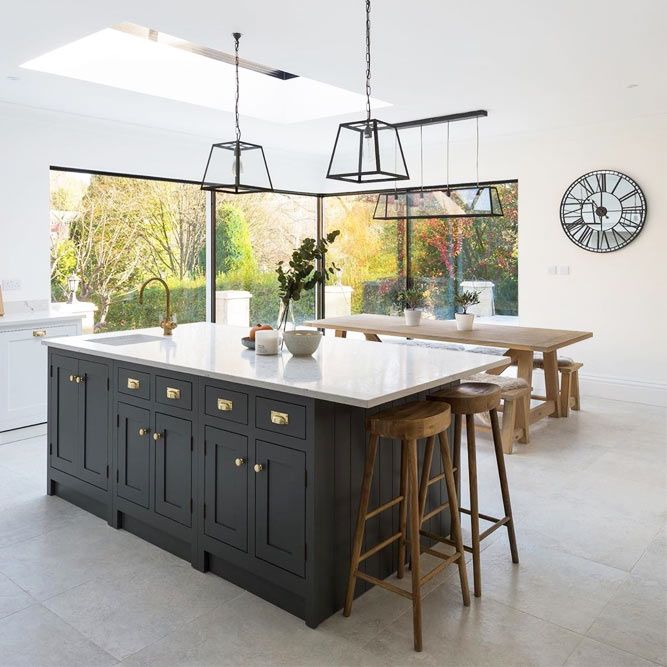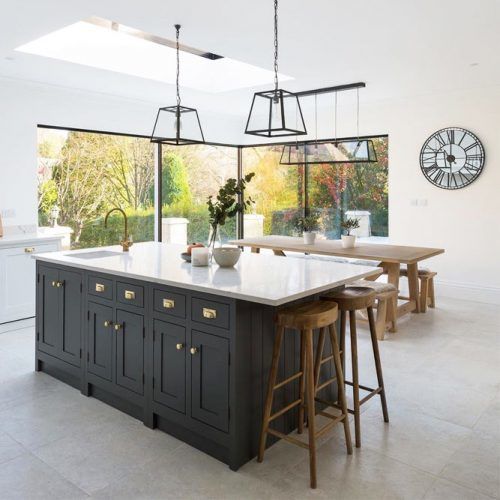 Black and white is not the only combo that fits in a modern kitchen theme. The fact is that light grey and black go well with each other too. In case you have been thinking about a reserved and convenient kitchen, this may be the perfect example.
Small Wodden Kitchen Island With Chairs
Source: fridaflorentina via Instagram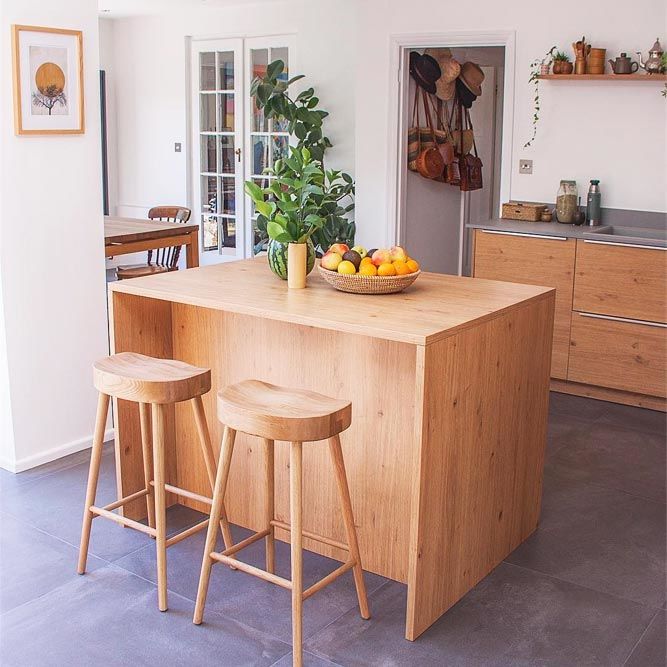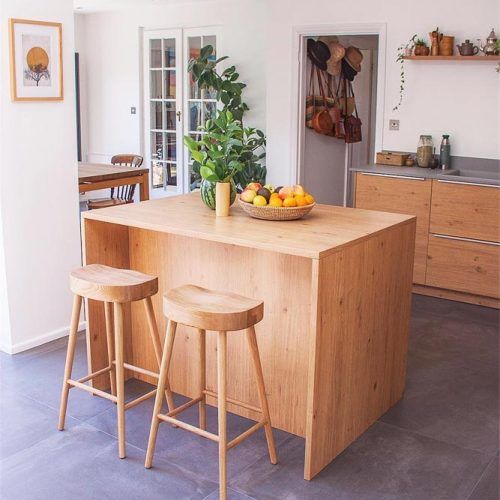 Your kitchen does not necessarily need to be huge to be well-furnished and stylish looking. All you need is a hint of taste and a nice idea in mind. This small wooden kitchen island with chairs can serve as the latter.
Rustic Kitchen Island With Storage Space
Source: provincialhomeliving via Instagram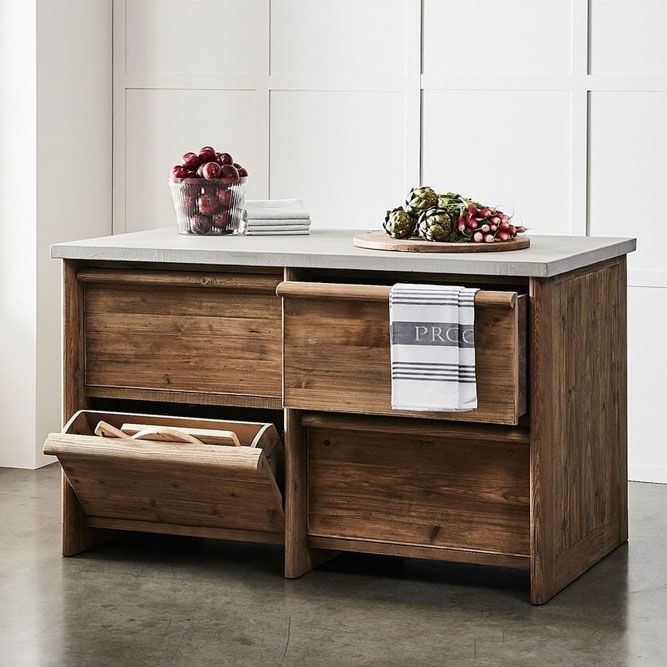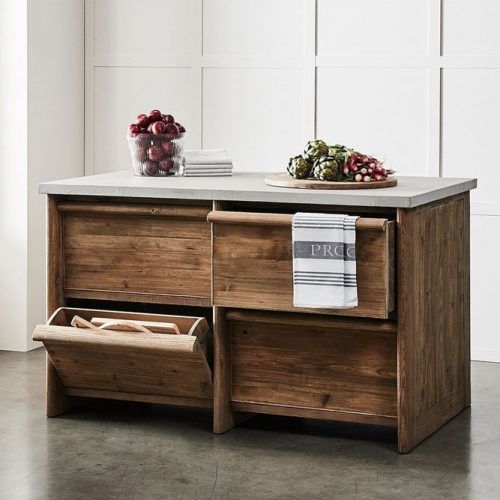 Rustic is on the edge of glory these days. That is why if you are looking for a vintage island to add to your house, then this rustic island with storage space will fit in perfectly.
Kitchen island is often a practical and stylish addition to your kitchen decor. That is why today we are going to supply you with a fair share of ideas to consider when you come up with a decision to introduce one into your interior.