Stylish White Kitchen Cabinets For Your Interior
Stylish and functional white kitchen cabinets can be chosen in our photo gallery. Why go for a white color when decorating your kitchen? White hues are perfect if you wish to create a clean, airy, quiet, and refreshing look in the interior. Also, white furniture can make the impression that the room is higher. Plus, white, as a neutral color, pairs well with so many other colors.
Read on to explore how to incorporate white kitchen cabinets in your interior.
How To Choose White Cabinets For Your Kitchen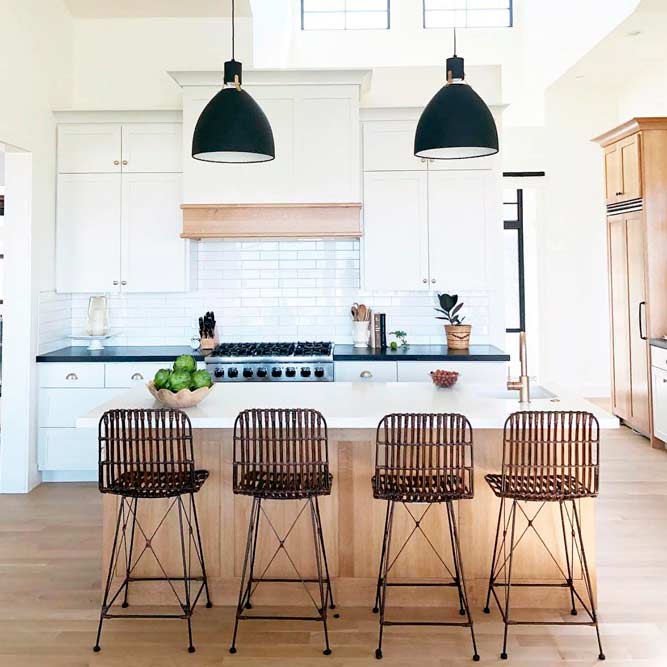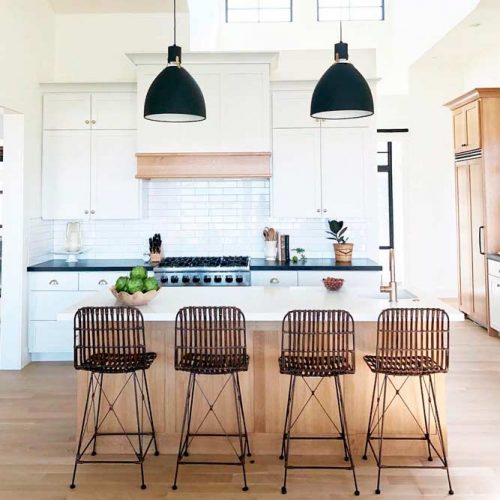 Source: lindsay_hill_interiors via Instagram
First, here are some tips on how to choose white cabinets for your kitchen so that they could serve you good for a long time.
So, you already know that you stick to the white color. But think through the details and accents, too. After all, they will do the talking and determine the style – classic, modern, contemporary or something else.
Good quality is a must. Find the retailer that can be trusted. Check if the track record of the company is good. Remember that while you are cooking, you are very active. So, the furniture must have clean edges so that you could be safe.
This gallery will bring you much inspo. But it is also a good idea to check out some showroom kitchens before making a final decision. If you have one nearby, go and look at how the particular white cabinets appear to live.
Make sure that the style of your kitchen will coincide with that of your home. If your interior has rustic elements, it would be weird to go fully contemporary in the kitchen.
When picking white cabinets, do not forget to measure them so that they could fit your kitchen space. Or, if you have them custom made, ask a representative of the company to visit your home and measure everything.
Choose if you wish your kitchen to be free-standing or fitted. This would also have an impact on the size and number of cabinets.
Classic White Kitchen Cabinets
In its essence, the classic style is about symmetry, distinct geometric shapes, sophistication, restraint, and the appeal to nobility and antiquity. The classic kitchen cabinets – that is the perfect option for those who do not wish to experiment and prefer keeping things plain and clean. Go for one of these designs if you are one of such people.
Perfect White Shades For The Kitchen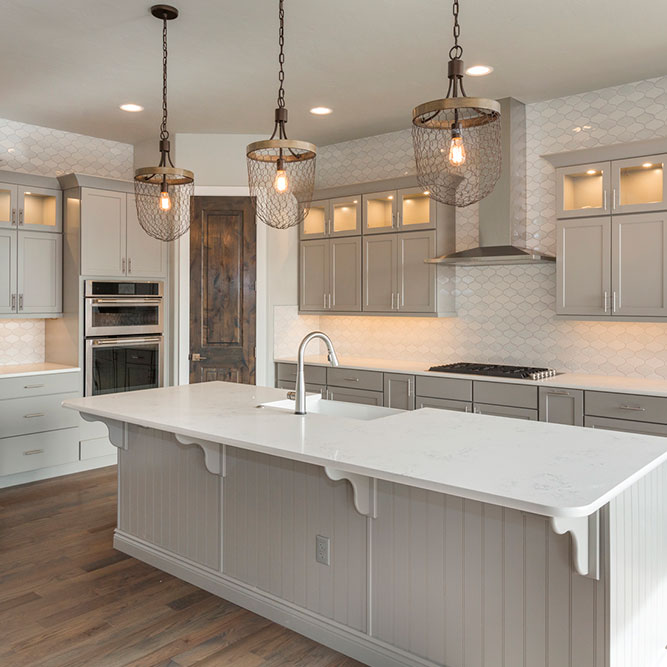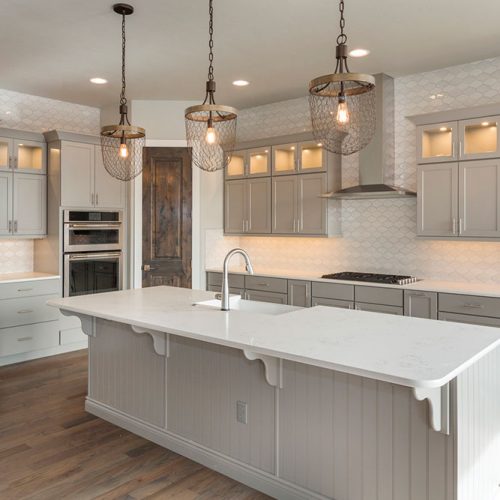 There are so many white kitchen cabinets ideas out there. But here are the best designs we could find. Just look at this amazing design. It is simple yet stylish and elegant. This shade of white is a bit darker than the classic white shade, so the design is quite pleasing to the eye, not striking.
Classic Kitchen With Unique Accented Cabinets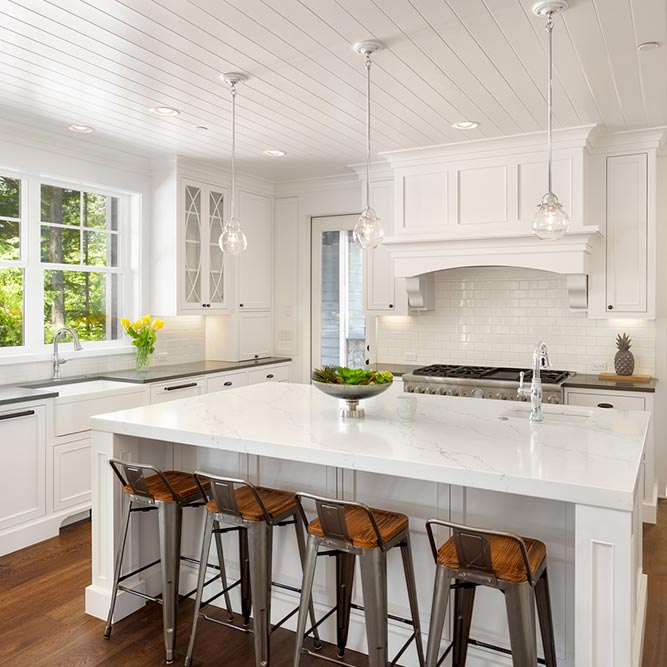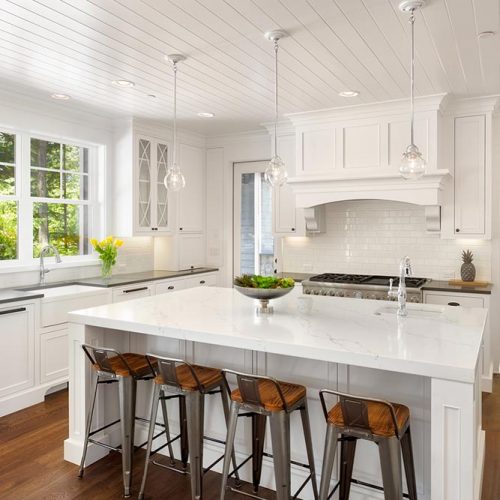 Are you looking for a unique design of kitchen cabinets? You can always get the cabinets custom made. But painting kitchen cabinets white is an awesome idea, too. Then you can add any accents you want. Here is a design idea that will stand out.
White Kitchen Cabinets With A Decorative Frame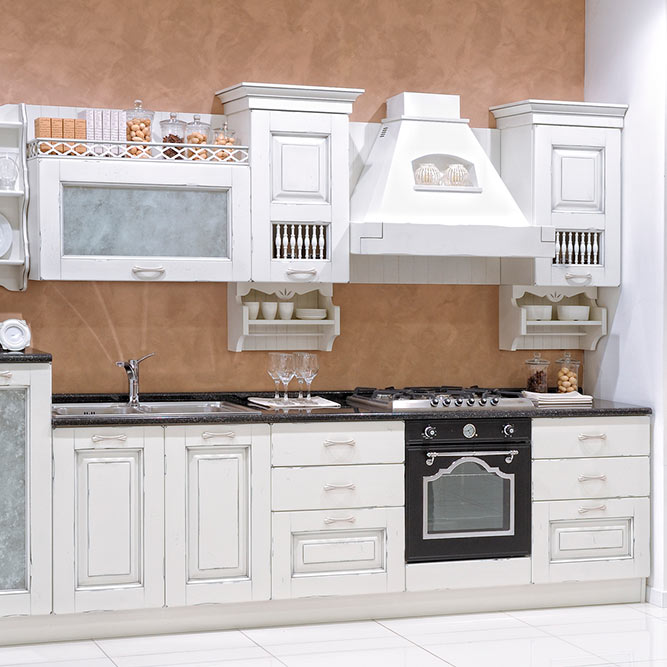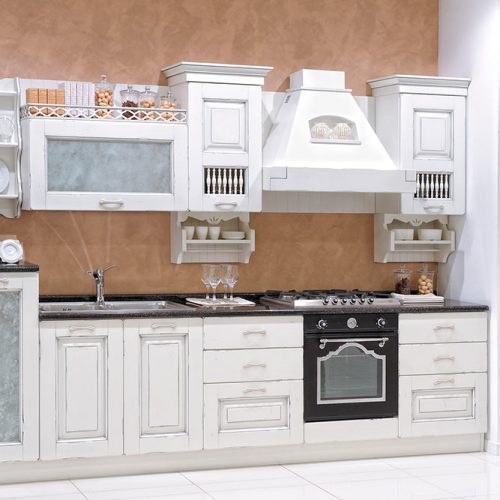 If you don't want to go all white when picking cabinets, you can pick a design like this. Here white is spiced up with a sophisticated decorative frame. The ornate frame makes this design really eye catching. It's a great idea for those looking for an elegant design and smart storage space.
White Kitchen Cabinets With Contrasting Colors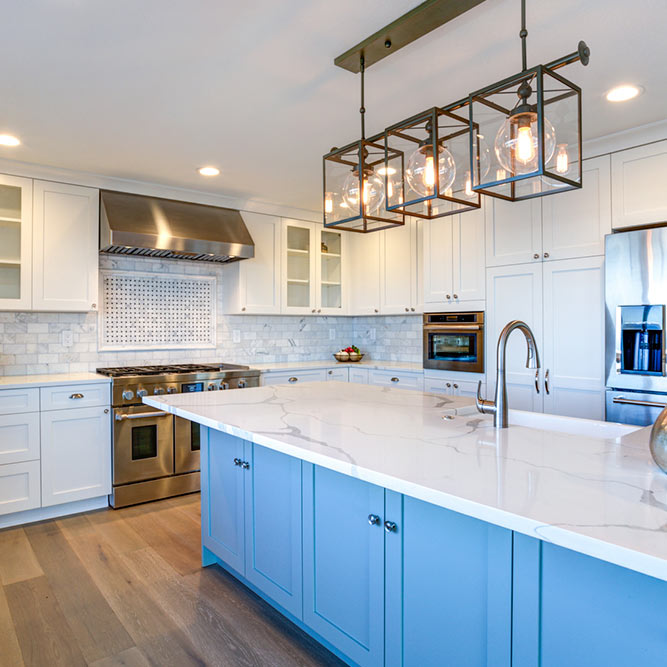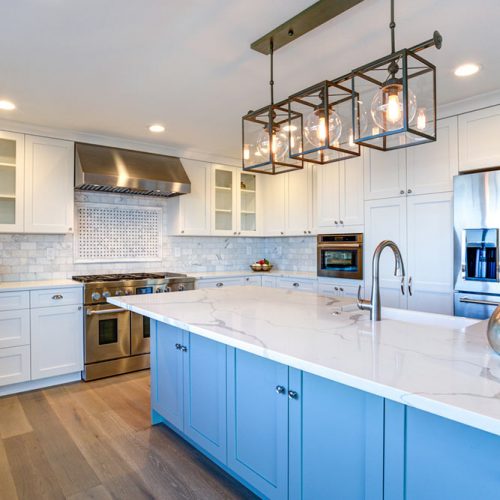 Why not add some contrast to your kitchen design? Here is an interesting idea. Blue bottom cabinets appear contrasting against the white hues. This combo is super cool, in our opinion.
White And Neutral Combination For A More Fashionable Style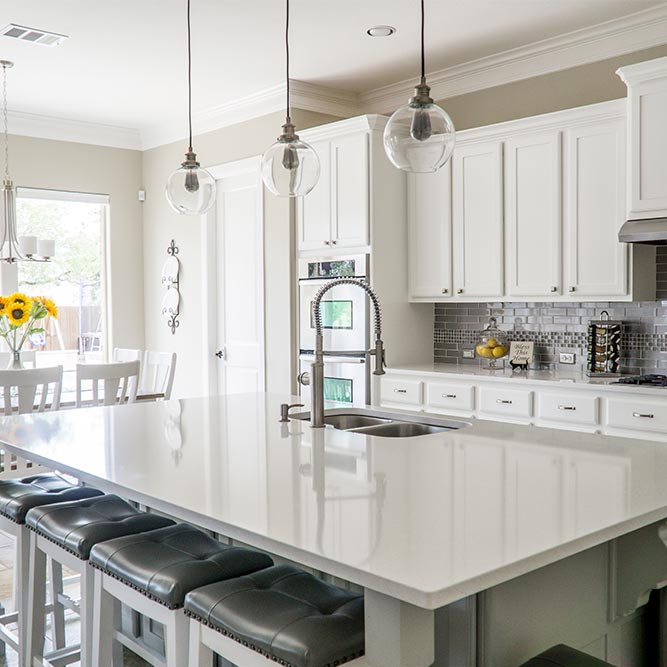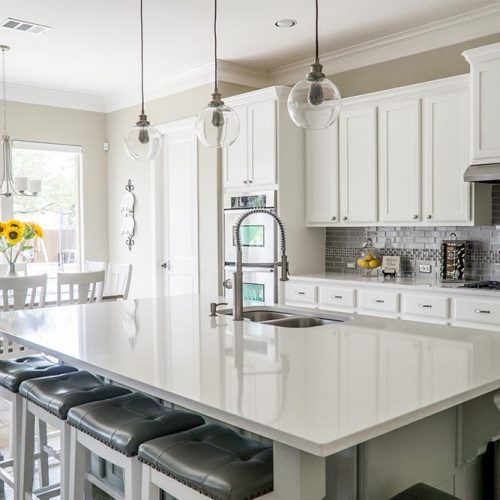 Brighten up the cooking space of your home with antique white kitchen cabinets like the ones shown in this pic. As you can see, here white hues are spiced up with grey accents – the wall and stools. The combination is neutral and very trendy.
Open And Closed Cabinets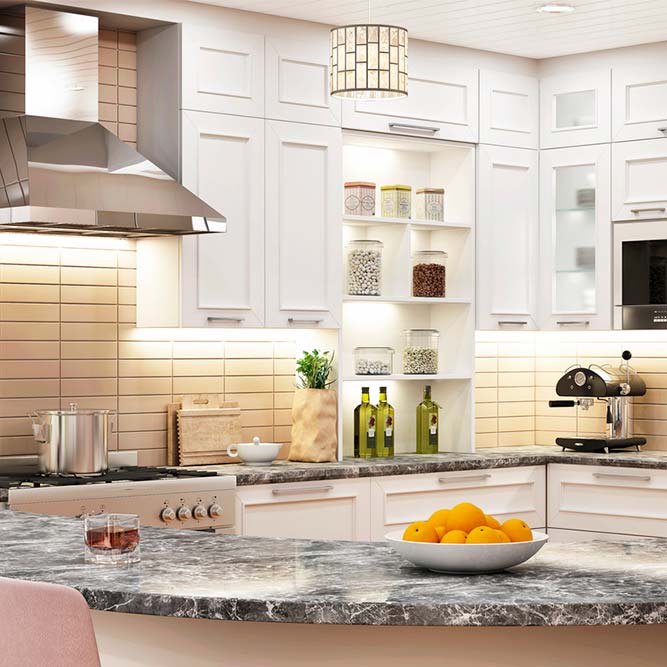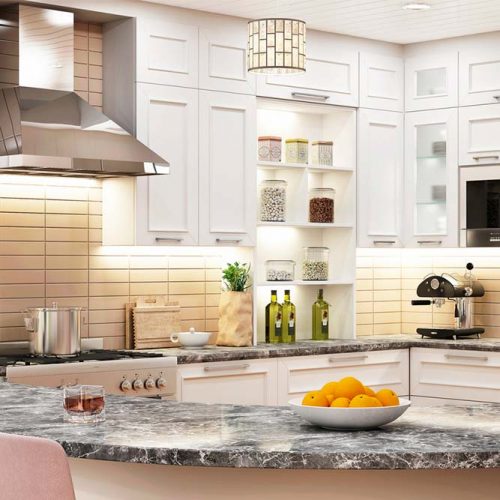 This kitchen design has an interesting feature – the combination of closed and open cabinetry. The varying styles like shown here are cool and harmonious when mixed and matched by professional interior designers.
Modern White Kitchen Cabinets
Crisp lines, balanced features, and warm neutrals - these are the main peculiarities of the modern style when talking about the interior design. In case your home is decorated in the modern style, it would be nice to go for modern when decorating your kitchen, as well. And if you crave for some inspo, these ideas will come to your rescue. White kitchen cabinets look awesome when designed in the modern style.
Modern Farmhouse Kitchen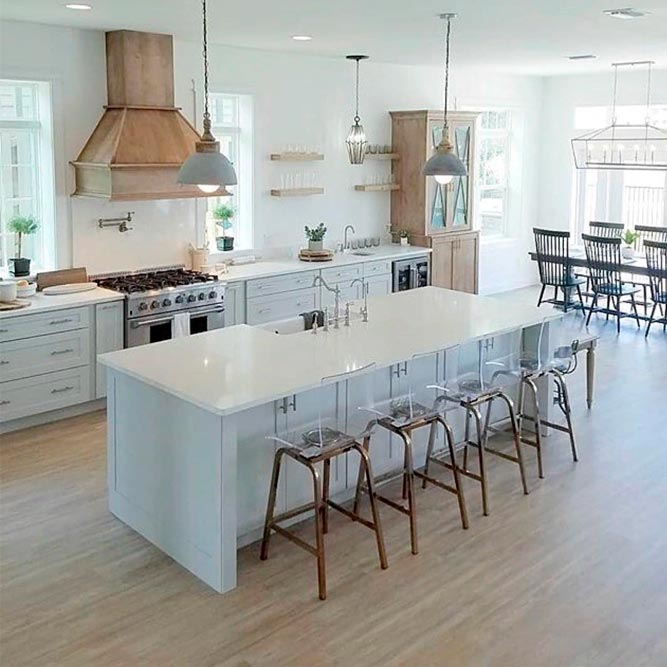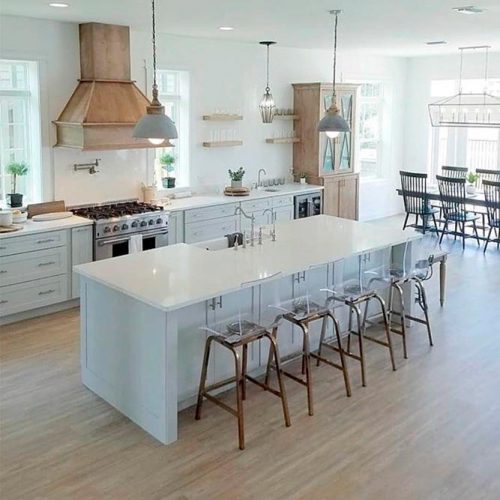 Source: carcabaroad via Instagram
The country style kitchens are the real thing nowadays. Designers have a lot of fun when playing with farmhouse elements so that the overall design is reminiscent of a country, yet, is still modern. In this pic, light brown shelves, a cupboard, and a kitchen hood act as farmhouse style accents.
White Kitchen With Wood Backsplash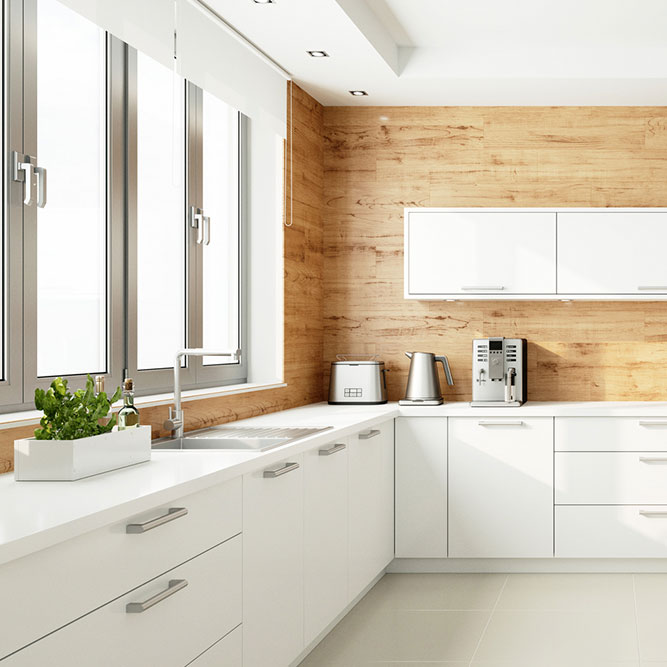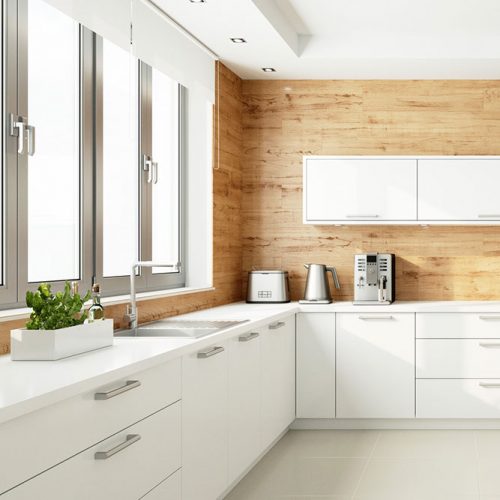 In this pic, you can see an example of creating a subtle contrast in your cooking space. Light brown wood backsplash pairs nicely with white kitchen cabinets in a modern style. We really love the straight lines in this interior design.
White Cabinets With Classic Wood Ones Beneath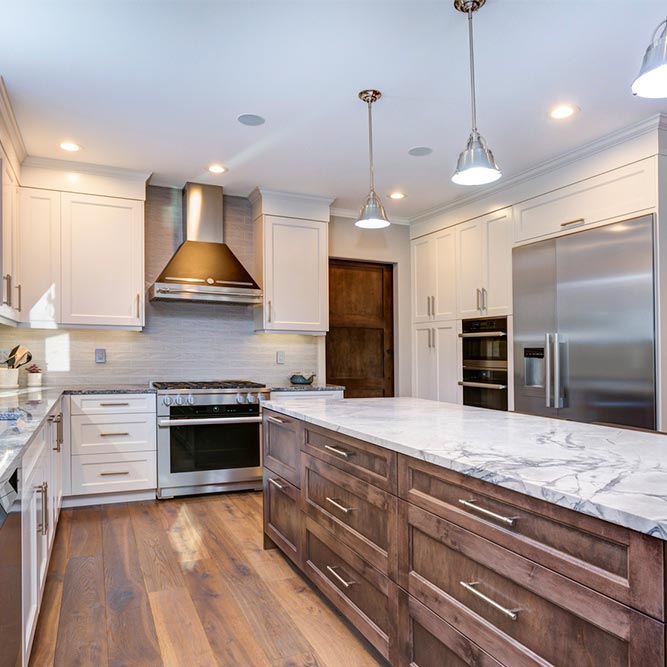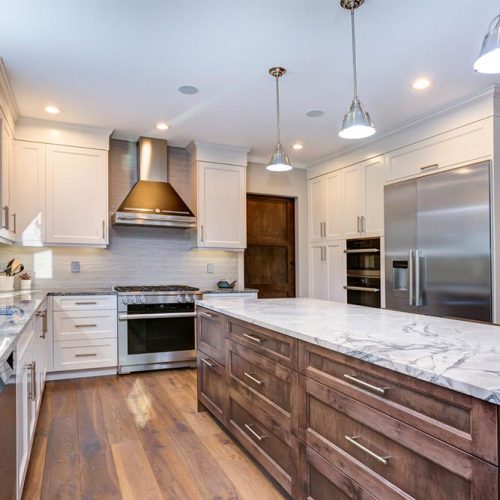 Create some kind of an eco oasis in your kitchen with a design like the one in this pic. Mix and match white kitchen cabinets with classic brown wood cabinets placed beneath for an appealing kitchen design. And the marble worktop does the modern talking in this design idea.
Modern White Kitchen Cabinets With Black Accents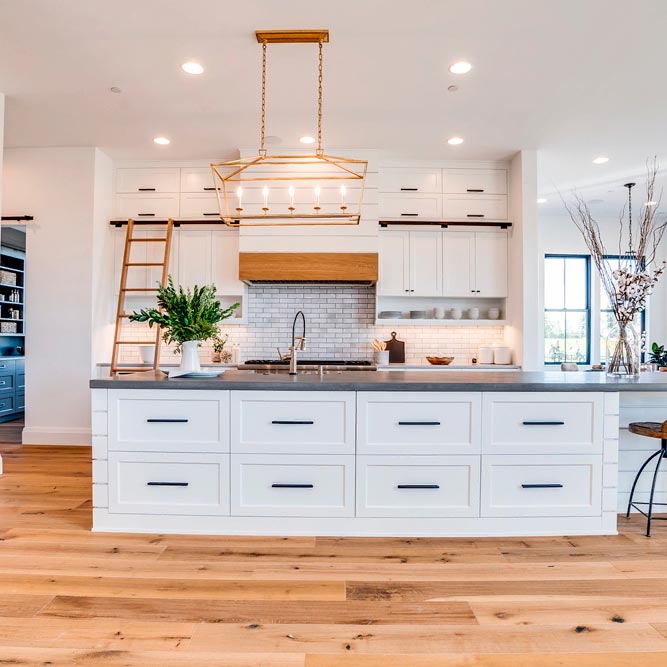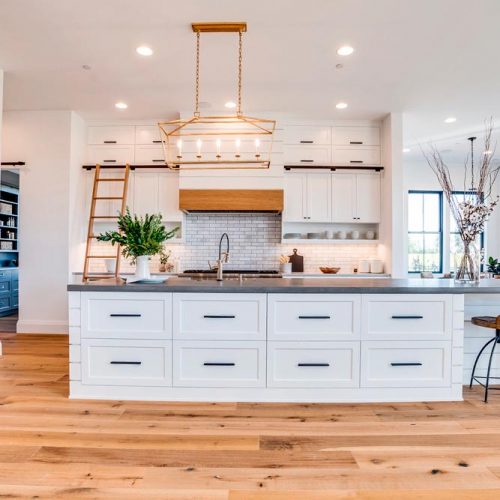 Source: jamieopsahl via Instagram
The black and white combination is classy, and it is something that will unlikely go out of fashion in the nearest future. In this pic, you can see that even little black details like handles instantly take to the next level the white kitchen design.
White Kitchen With A Black Countertop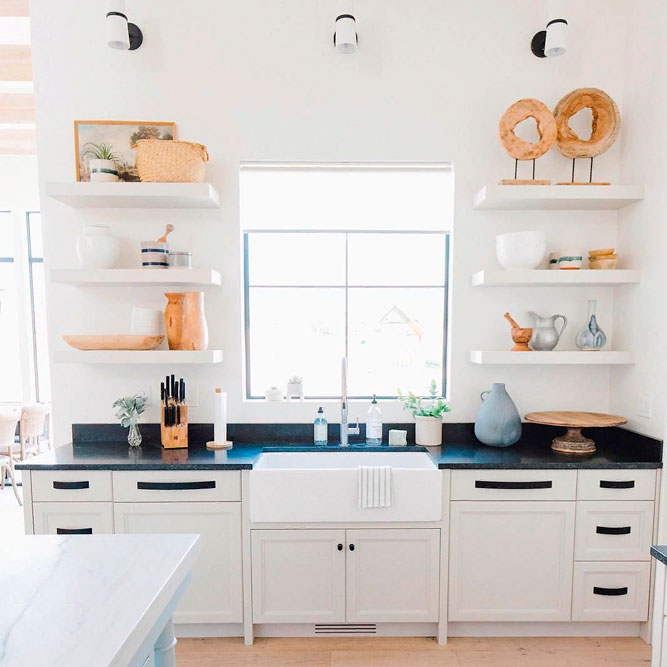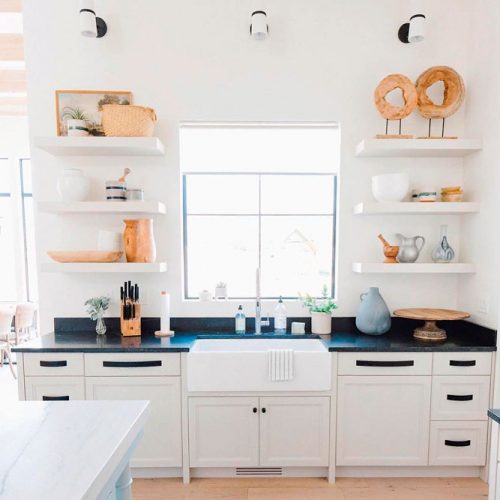 Source: designlovesdetail via Instagram
What we really love about this kitchen design is its appeal and functionality. You can place a lot of things on 6 shelves. So, their purpose is not only decorative. In this pic, the black handles and a countertop create an amazing-looking contrast.
Modern Black And White Kitchen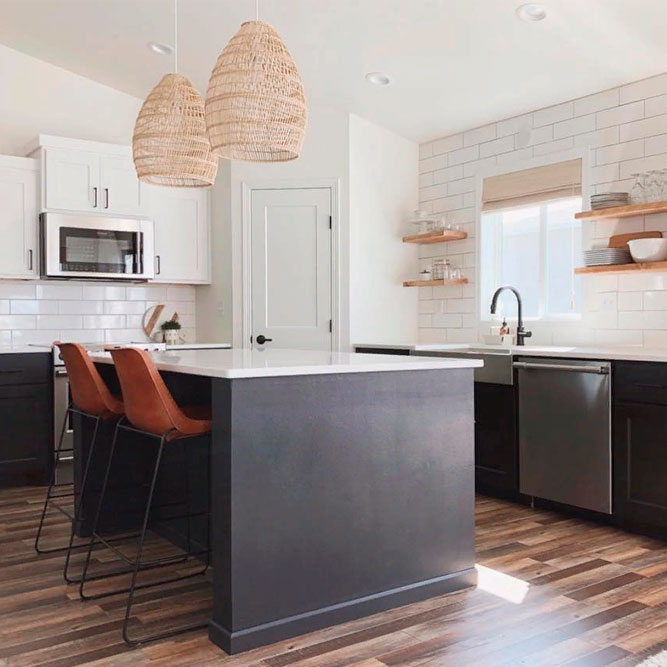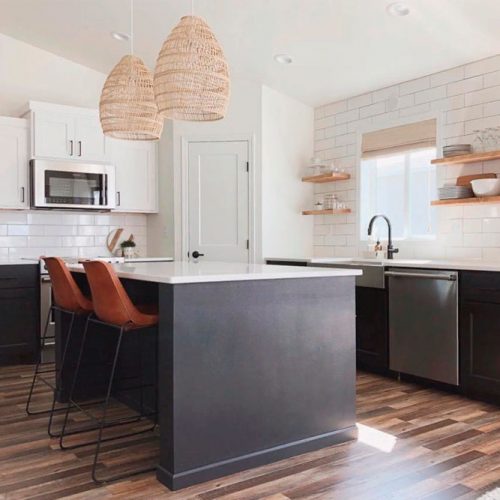 Source: frengpartyof5 via Instagram
When talking about the modern style, we can state the following: the black and white cabinetry is a win-win. This design is a bit black-heavier, so the contrast with white shade is pretty eye-catching.
Contemporary White Kitchen Cabinets
The contemporary style is a thing these days. And there is no wonder why – the kitchen designs in this style are totally fab! The advanced materials like metals and glass, a stricter color palette that typically involves blacks, whites, and greys, and the overall minimalism. If you love all things futuristic, these white cooking space designs will be to your taste.
White Kitchen With A Granite Countertop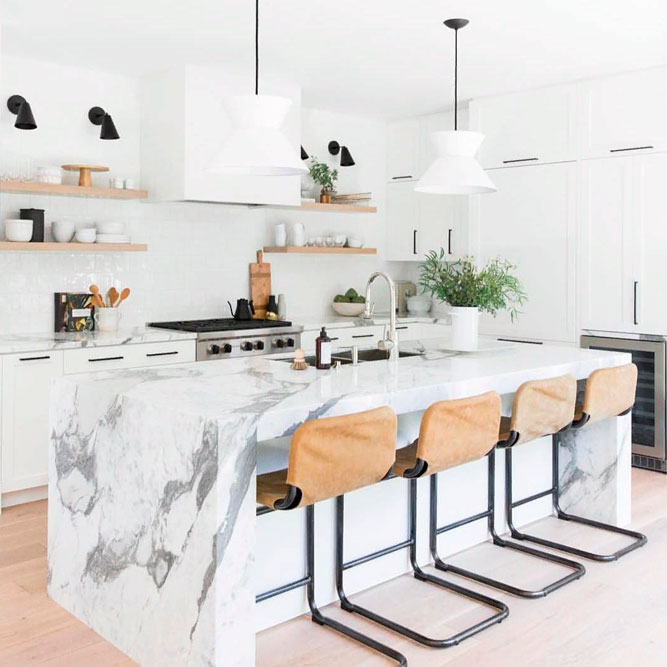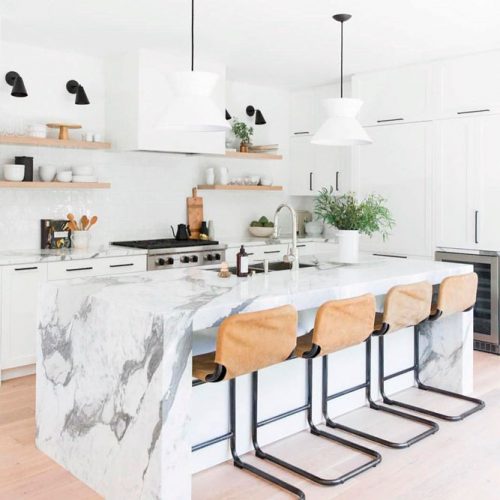 Source: studiomcgee via Instagram
If you want to have a kitchen with character and dynamics, go for a contemporary design like this. The granite accents really make this design stand out.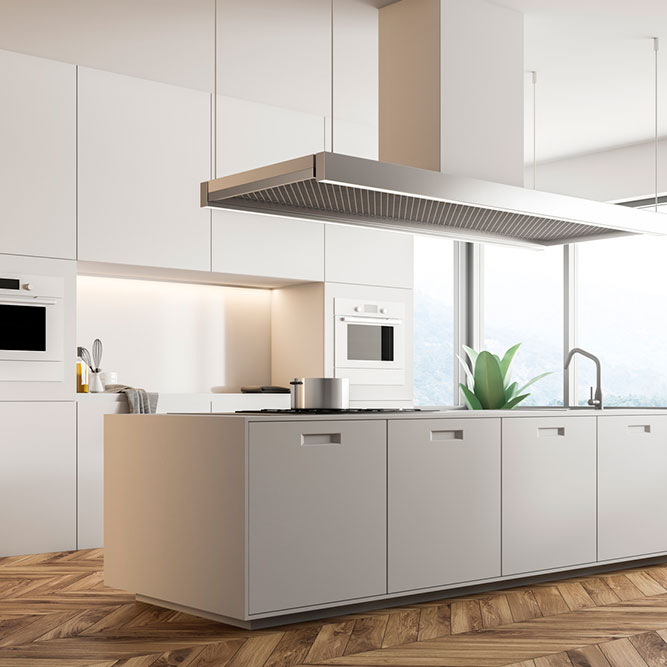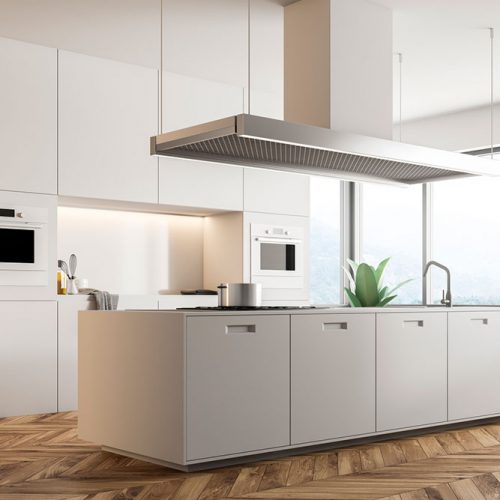 In this pic, you can see a contemporary kitchen design with hidden handles. If you like minimalism, this design will be to your taste. Here white kitchen cabinets look quite polished.
Glossy Finish Cabinets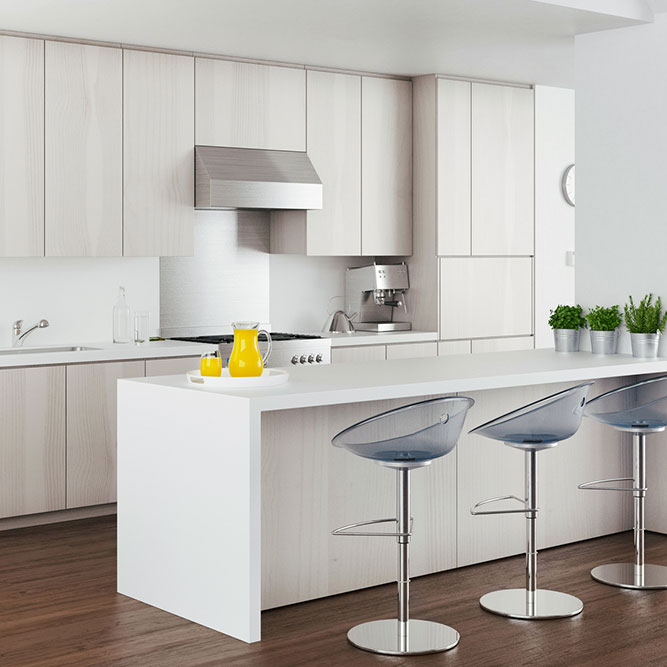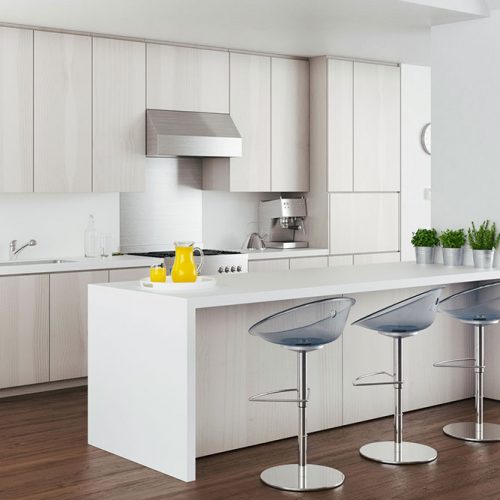 Kitchen cabinets with a glossy finish will make your kitchen appear somewhat futuristic. And in this design, there are also no visible handles for a clean and cool look.
Hallway Lined Kitchen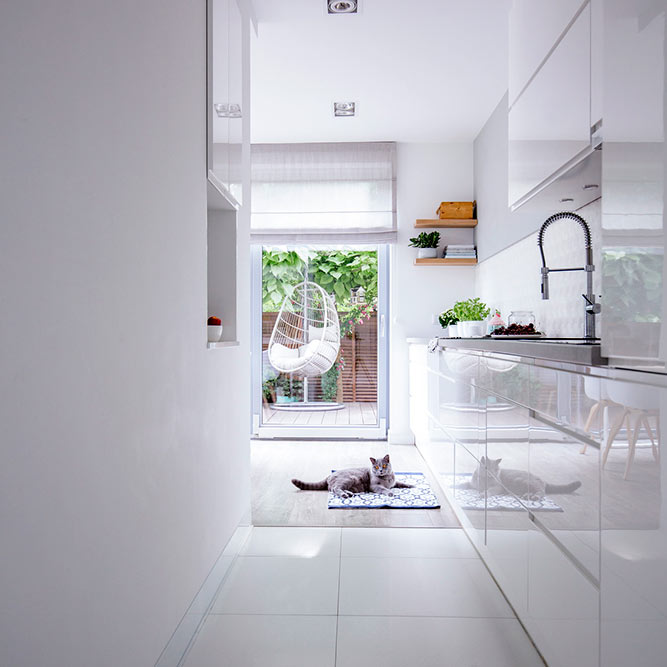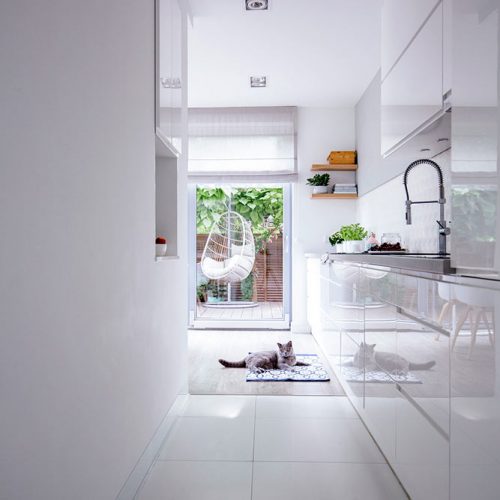 While going for a white cabinets kitchen is a classic option, here you can see something exceptional. The cabinets can also be lined along the corridor or hallway. Thus, you will have more space in your kitchen.
Stylish Kitchen With A Contrasting Wall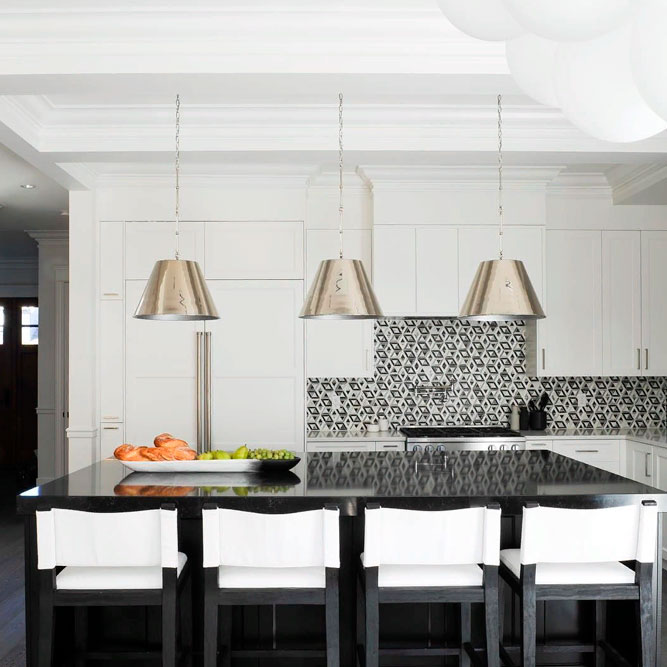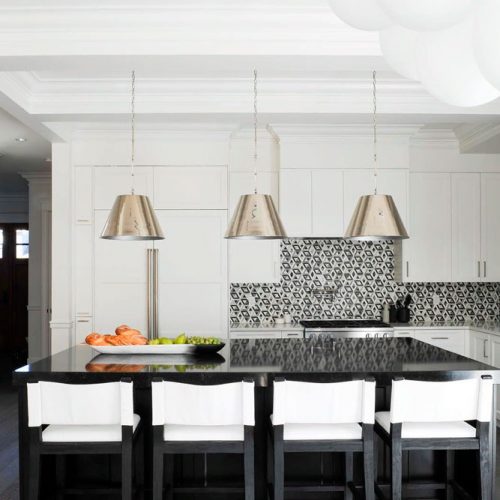 Source: gilliansegaldesign via Instagram
This kitchen design is the definition of Style, in our opinion. The contrasting black design on the wall is what makes the white-colored cabinets stand out here. And the black table adds on to the amount of contrast in this cooking space design.
Contemporary White Kitchen With Gold Accents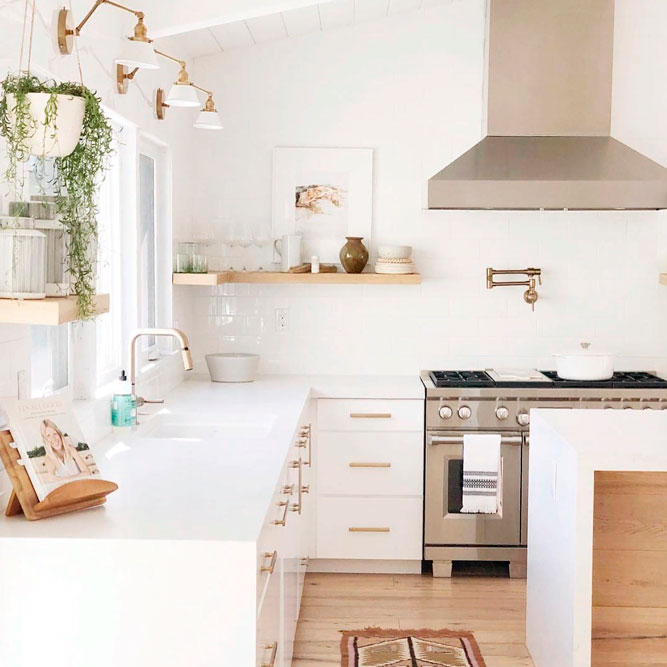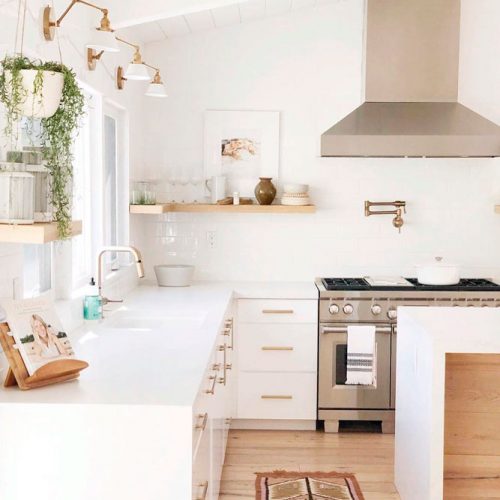 Source: dustylu via Instagram
In this kitchen design, the predominant white hues are spiced up with amazing gold accents. How do you think, will you get a ton of cooking inspo in a kitchen like this? We think that your cooking skills will skyrocket.
Now you know how to incorporate white kitchen cabinets in your interior design. Save the designs you like the most for the next time you decide to redecorate. And in the meantime, we have so many interesting topics for you to explore. Check them out on our blog!
FAQ: White Kitchen Cabinets
Why do people want white cabinets?
White cabinetry will help to brighten a dark environment or a kitchen with no natural light because white reflects light. White cabinets with a glossy finish will provide even more light, creating the illusion of more space.
Do white cabinets turn yellow?
If you expose all-white cabinets and countertops to large levels of direct sunshine, they will most likely become yellow over time. The jaundice-like impact, if not well safeguarded, can cause considerable regret after just a couple of years.
Are white cabinets hard to keep clean?
White is easy to look filthy since it does not hide stains or smudges. Thus it requires extra maintenance to keep the white cabinets in excellent shape. Because white is a way more capricious than other darker hues, you won't be able to hide anything on the surface of an all-white cabinet.